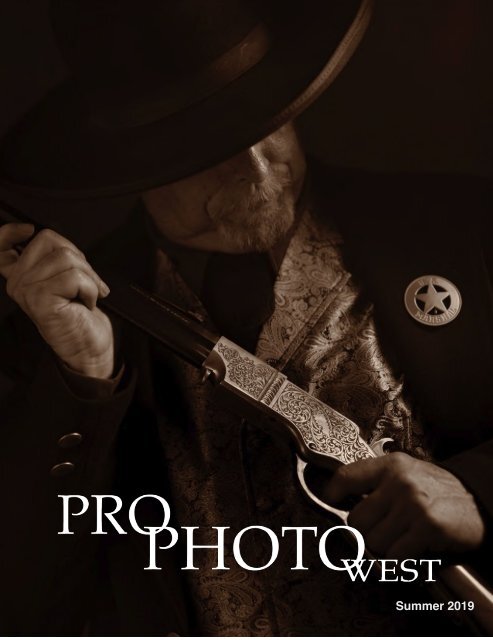 Pro Photo West Magazine Summer 2019
You also want an ePaper? Increase the reach of your titles
YUMPU automatically turns print PDFs into web optimized ePapers that Google loves.
Summer 2019
---
INSIDE THIS ISSUE

6

Letter from

Editor's Message

the Editor

President's

Meet Your Executive Team

8 10 Gadget Girl

Message 11

16

California Business & Arts Degree

24

2020 PPC State Image Competition

Professional Photographers of California
---
SUMMER 2019

Meet your Affiliates

18 California Worshops 20

Bucket List -

Photo Essay

22 Meet your Affiliates

30

Variations on

Portrait Lighting

28

Photo-Biz 101

32

2019 WCS - Tha's A Wrap!

www.prophotoca.com Summer 2019
---
A Message From the Editor

This Summer 2019 is our 4 th issue of Pro Photo West Magazine since we brought it back for you. I cannot

believe it has been a whole year!!!!

First of all, let me thank all of you - for participating, proofing, viewing, reading and sharing. Without you, this

would not have happended. On that note, we still need your help. We are always looking for articles. It doesn't

necessarily have to be photography related, How about a great recipe, or a quick photo hack? Send them in! We

will have all the publishing information on the PPC website in the very near future. If you have any questions

please email editor@ppconline.com

Did you know that you can earn PPC Service Merits if your article is published? How cool is that! If you have an

article that you would like to submit, send it to editor@ppconline.com.

Ok, so now it is time to get down to business. Here it is…this will be our last issue where advertising by any

vendor will be complimentary. Starting with our November first issue, we have set in place new advertising rates

for Pro Photo West Magazine.

Two Page Spread

Full Page

Half Page

1/3 Page

1/4 Page

$ 1200.00

$ 750.00

$ 500.00

$ 300.00

$ 250.00

These rates are per year and include ad placement in 4 issues per year. The advertiser must supply the ad(s) for

the year. Pro Photo West does not design advertisements. The advertiser may choose to run the same ad or

change per magazine issue. Ads must be submitted by the following ad deadlines and submitted to

editor@ppconline.com

October 1 for the November 1 issue

January 1 for the February 1 issue

April 1 for the May 1 issue

July 1 for the August 1 issue

I want to thank all of you who have participated in one way or another! With out you, this could not have been

possible!

ON THE COVER

Paul taken by Tim Meyer at West Coast School of Photography. Paul was one of the wonderful models at WCS. While

teaching his class, Tim took full advantage of Paul in his authentic western wear.
---
A Huge Thank You to Our Sponsors!

Your Support is Greatly Appreciated!

7
---
2019 OFFICERS

PRESIDENT

Pete Rezac, M.Photog.Cr, CPP,

M-PPC, S-PPC

president@ppconline.com

FIRST VICE PRESIDENT

Jim Trapp, M.Photog.Cr, CPP

S-PPC

firstvp@ppconline.com

SECOND VICE PRESIDENT

Diane Costello, M.Photog.Cr, CPP

M-PPC, S-PPC

Professional Photographers of California, Inc. is a non-profit, 501(c)6

trade association of professional photographers, employees, suppliers

and others allied to the profession. Professional Photographers of

California offers a variety of opportunities and benefits to its Members and

is one of the largest state affiliates of Professional Photographers of

America. Pro Photo West is the official publication of Professional

Photographers of California and is published quarterly for the purpose of

keeping Members informed of photographic information, news and

activities of the state. Subscription is included with Member dues.

Articles, with or without photographs, are welcome for review for inclusion

in this publication; however the Editor reserves the right to edit and use

articles on a space-available basis. Materials will not be returned unless a

postage paid envelope is provided. Letters and contributions must include

name, email and phone number. Send all communication, articles or

advertising to the Editor. Articles appearing in Pro Photo West reflect the

opinions of the writer. They do not necessarily represent those of the

Editor or Professional Photographers of California. Permission to reprint

contents of this magazine is granted to similar photographic publications,

provided the author, Professional Photographers of California and Pro

Photo West are credited as the source.

secondvp@ppconline.com

SECRETARY

Tim Meyer, MFA, MA, M.Photog.Cr,

F-PPC, S-PPC

secretary@ppconline.com

TREASURER

Robin Swanson, M.Photog.Cr, CPP,

F-PPC, S-PPC, CPA, CGMA

treasurer@ppconline.com

CHAIRMAN OF THE BOARD

Marcy Dugan, M.Photog.Cr, CPP, M-

PPC, F-PPC, S-PPC

cob@ppconline.com

STAFF

EXECUTIVE

ADMINISTRATOR

Mel Carll, S-PPC

exec_admin@ppconline.com

DIRECTOR,

WEST COAST SCHOOL

David LaNeve, CPP

director@westcoastschool.com

8

Professional Photographers of California
---
www.prophotoca.com Summer 2019 9
---
President's Message

Greetings readers who are about to enjoy this

latest issue of ProPhoto West Magazine! I

hope this finds you all having a great summer

and getting ready for the busy fall season!

Thank you for taking time to enjoy our

magazine and hope the content provides you

some useful information and visual enjoyment!

Cheers!

10
---
Gadget Girl

by Robin Hilton Swanson

Are Your Smart Devices In Peril?

Let me tell you a little story about what recently happened to me and how you can learn from my

misfortune (I'm always happy to help).

A couple of weeks ago (and two days before I was to leave for Oregon) I dropped my iPad. Now, I've

dropped my iPad a few times and never had any damage. Not this time! The ironic thing is that I only

dropped it about 20" (I was showing a picture to my granddaughter). The problem was that it fell onto a

hard floor and struck the corner. I wasn't even worried until I picked it up and turned it over and this is

what I saw…

UGH! I was devastated! Believe it or not, the iPad still worked; unfortunately, I couldn't see anything in the

upper right quadrant of the screen and there was the minor problem of bloody fingers when I touched/

swiped the screen.

OK…I'm a "glass half full" kind of girl and I thought "No problem. I'll just take it to the Authorized Apple

Repair store in my town that has repaired my iPhone screen several times." I immediately called the store

(still thinking I could get it fixed before I left town in 2 days). That is when my "glass half full" began to leak.

The technician told me that it would cost $600.00 to repair and that I had to pay 50% before they could

even order the part. Yikes! Well, even though it was a lot of money, it was still cheaper than buying a new

Summer 2019 11
---
one (a top of the line 1TB iPad Pro with both data and wi-fi … you can do the math). Fortunately, before I

had a chance to go to the store and pay the deposit, a friend asked me if I had purchased AppleCare. I

answered "Yes! I always purchase AppleCare." As it turned out, this was a REALLY GOOD THING

because what I didn't realize is that AppleCare covers accidental damage. I took my shattered iPad to the

closest Apple Store where they instantly confirmed I had AppleCare (by running the serial number). The

"Apple Genius" took one look at my iPad and declared "Oh yeah…that screen is really shattered and the

aluminum chassis is also bent. We can't fix it so we'll just give you a new one". Then, much to my

amazement, with no red tape or claims forms, I received a brand new iPad with exactly the same

specifications as my broken one. The total cost to me was $49.00 (which was the deductible on my

AppleCare). The frosting on the cake came when he also helped me restore my new iPad from the Cloud

backup I had made prior to going to the Apple Store. He also helped me erase all the data off my old iPad.

YAHOO! Thirty minutes after arriving at the

Apple Store I walked out with a brand new

iPad that was a clone of my broken one

(minus the damage).

So, what lessons did I learn from this

experience?

LESSON 1 - PROTECT YOUR DEVICES

(PHYSICALLY)

The truth is, if my iPad was in a more

protective case, it probably would have

survived the fall. This holds true for all

tablets and smart phones. Get a case that

is going to absorb shock and protect the

corners of your device. That being said…

expensive is not always the best! I had an

official Apple Smart Keyboard Folio

($199.00). It was very slick and worked

seamlessly with the iPad Pro. The problem

was that the iPad attached to the folio

magnetically, therefore, when I tipped my

iPad backwards to show my Granddaughter

a picture, it detached from the case and fell to the floor. Also, there was no place to store my Apple Pencil.

Although the Apple Pencil attaches to the iPad magnetically (where it also charges), it easily falls off

making it prone to loss or damage. Before I left the Apple Store, I purchased a Logitech Slim Folio Pro

Case with Integrated Bluetooth Keyboard ($129.95). This Keyboard Folio is exactly what I needed. It

securely holds and protects my iPad; has a really nice backlit keyboard with the added bonus of a full row

of iOS shortcut keys; and last but not least, it has a place to store my Apple Pencil.

In retrospect, I could have avoided a lot of expense and inconvenience if I had taken the following things

into account when selecting cases for my smart devices:

CONSIDER THIS WHEN SELECTING A TABLET OR SMARTPHONE CASE:

1. PROTECTION:

a. Will the case absorb shock in case of a fall?

12
---
Gadget Girl

b. Does the case completely protect the corners with shock absorbing material?

c. Does your device also require protection from spills or water? Some smartphone & tablet

cases are waterproof.

d. Does your screen require additional protection from scratches and chips? (Consider buying

a case with an included screen protector)

2. FUNCTION:

a. Consider the ease/difficulty of opening and closing the case as well as

ease/difficulty of inserting and removing your device from the case.

b. Do you require a keyboard? Get a case that does double duty…Protects

and provides a keyboard.

c. Do you need the smart device to be detachable from the keyboard? Make

sure that your device is still protected when detached from the keyboard.

d. If you have an iPad Pro, make sure there is an open space in the case to

charge your Apple Pencil.

e. Check out the different keyboard layouts. If possible, type on the

keyboard to test for feel and spacing.

3. STYLE:

a. How much weight does it add to your device?

b. How much bulk does it add to your device?

c. Is the case aesthetically pleasing to you?

Summer 2019

13
---
Gadget Girl

LESSON 2 - PROTECT YOUR DEVICES WITH A PROTECTION PLAN

Lucky me…I had AppleCare. This experience made me wonder, what other plans are out there for other

devices? As it turns out, there are a plethora of choices. Some are specific to a brand; i.e.

AppleCare for Apple devices; Device Protection for Pixels for Google devices; Moto Care for Motorola

devices; and Samsung Protection Plus for Samsung devices. Most of these plans are available at the

time of purchase. In addition, there are third-party Insurer Warranty Plans; i.e. SquareTrade, Mobile

Rhino, ProtectCell, GoCare, etc. These days, most retailers like Apple, Target, Best Buy, etc. will offer

some sort of protection/warranty plan when you buy tech devices. Before you say "NO", find out how long

you have to make this decision. Usually you will have at least 30 days to make up your mind.

THINGS TO ASK/LOOK FOR WHEN COMPARING PROTECTION PLANS:

1. What is the term of the plan; One year, two years, etc.

2. When does the plan begin; Immediately or when the original manufacturer's

warranty ends.

3. What is the cost of the plan? Is it a one-time cost or is it a monthly charge?

4. How many and what type of devices are covered?

5. What does the plan cover?

a. Accidental damage (spills and drops)

b. Theft or loss

c. Mechanical damage

6. Does the plan include Tech Support?

7. Is there a deductible?

8. How easy/convenient is the claims process?

9. What is the turnaround time for repair or replacement?

10.Is there a claim limit?

a. How many times per plan period can you submit a claim?

b. Is there a dollar limit?

11. Eligibility window? How long do you have (after buying your device) to purchase

a protection plan?

12.Does the plan provide a new replacement device in case it is not repairable? If

so… Is the replacement a NEW device or a REFURBISHED device?

AND FINALLY…READ THE SMALL PRINT! (That is where they put the "other restrictions" clauses.)

IN CONCLUSION: Do yourself a favor! When you are investing those BIG BUCKS in smart phones

and tablets, spend a few more dollars to protect your new devices with a good case and a protection/

warranty plan.
---
California Business & Arts Degree

Larry Skibiski, CPP, M-PPC

The Photographic Business & Arts Degree was established by the

Professional Photographers of California to encourage its members to

continue their professional education and to recognize those members

who have satisfied the requirements for the degree.

The degree program promotes success in the photographic profession

through a greater knowledge of both the technical and artistic aspects

of the photographic process, as well as the principles of marketing and

business operation.

The degree is intended as an incentive for members of Professional

Photographers of California to pursue the education needed to

become successful in the business of professional photography.

Many of our members have completed the requirements and received

their degree and here is how you can too.

DEGREE REQUIREMENTS

Successful completion of 300 hours of accredited education distributed

in the following three areas is required for the degree:

o

o

o

100 hours of Art (may including photographic printing,

transparency or negative enhancement, black & white or color

lab theory and/or practice, electronic imaging, etc.)

100 hours of Business (includes marketing, business

management, computers, public relations, business law,

accounting, economics, etc.)

100 hours of Camera (lighting, posing, etc.)

These courses can be taken at a professional photography school,
---
Degrees & Awards

community, state, or private college or university. Proof of the completion of these courses will be

accepted from PPC accredited courses with an accreditation form, copy of a PPA Merit Certificate

issued by the school, or a transcript from a college or university. Each applicants education is

individually evaluated by the Business and Arts Degree Committee for accuracy with hours credited

according to past practice.

HOW TO GET STARTED

A one-time application fee of $50 is required to apply for the Business and Arts Degree. Degree

applicants must be current members of PPC. Once an applicant has completed the requirements for the

degree, they will be awarded a certificate and medallion at the next annual PPC awards ceremony. For

each 100 hours of approved education a person completes beyond the initial requirements for the

degree, they will be awarded a "bar" to add to the ribbon. There are no continued fees beyond the initial

application fee.

For more information and to receive an application, please email Larry Skibiski at

larryskibiski@me.com.

Summer 2019

17
---
18

PPC California
---
Workshops Present

Summer 2019 19
---
BUCKET LIST - A PHOTO ESSAY

By John Grusd, M.Photog, M-PPC

There are always those "Bucket List" images that, given the opportunity, I have to attempt. They are the

iconic images that we've all seen and there are thousands of examples from thousands of photographers.

Think, "Tunnel View" in Yosemite, sunrise at Zabriskie Point in Death Valley, sunset at Horseshoe Bend on

the Colorado River or in this case, the view through Mesa Arch in Canyonlands National Park.

You're usually shoulder to shoulder with other photographers and you're really just imitating the works of

others who photographed there before you. It's hardly a solitary or unique endeavor. "So why bother?", you

might ask.

There are several reasons, really. Among them are that it's fun and you still have to make it happen! It

becomes a sort of congenial affair among like-minded artists. We joke around, tell stories and give each other

tips while we wait (in this case) for the sun to rise. You have to be prepared for the challenge when the

moment (and the light) is right and there is a satisfying sense of accomplishment if (When!) you get a good

image.

The main reason, at least for me, is that I always learn something. Copying the idea, in this case, is a great

way to learn. You have to put yourself in the mindset of those who came before. Creative considerations have

to be made. Technical adjustments still have to be completed on the fly by you. The conditions are never the

same and it's not just Paint-by-Numbers. You can learn a lot! And in the end, you always put a little bit of

yourself into the final piece.

On this morning, the anticipated sunrise happened, disappointingly, behind a layer of clouds. People began to

pack up and leave. By waiting awhile longer however, there was a "second" sunrise as the sun peeked above

the offending clouds. I adjusted the height of the camera so that just a sliver of the sky would be visible

between the tops of the clouds and the bottom of the arch. It was all over in a matter of seconds. I probably

won't return very soon to replicate this particular image but I'm extremely happy I was there for this one!

All Photographs © 2018 John Grusd Photography. All Rights Reserved.
---
A F F I L I A T E S H I G H L I G H T S

AVPP - All Valley Professional Photographers

Arthur Argote

President

allvalleypp.com

Walter Wright

Vice President

CIPPA - Channel Islands Professional Photographers

Larry Skibiski

President

www.cippa.org

Vice President

GCPPA - Gold Coast Professional Photographers

Sandra Cortez

President

goldcoastppa.info

Michael Collins

Vice President

IEPPV - Inland Empire Professional Photographers

Nick Seth-Smith

President

ieppv.com

David Schulman

Vice President

PPLAC - Professional Photographers of Los Angeles County

John Grusd

President

pplac.org

Eleanor Gray

Vice President

22
---
PPOC - Professional Photographers of Orange County

Duane Murphy

President

ppoc.org

Trudy Brown

Vice President

PPSDC - Professional Photographers of San Diego County

Janet Bark

President

ppsdc.com

Monica Royal

Vice President

PPSV - Professional Photographers of Sacramento Valley

Kimberly Olker

President

ppsv.org

Suzanne Hambleton

Vice President

HPP - Hispanic Professional Photographers

Rutilo Corona

President

Nicolas Curtis

Secretary

https://www.facebook.com/groups/1621796218145137

PPSCV - Professional Photographers of Santa Clara Valley

Roberto Gonzalez

President

Jim Skintauy

Vice President

https://www.ppscv.net

Summer 2019

23
---
Are You

24

Professional Photographers of California
---
Ready?

www.prophotoca.com Spring 2019 25
---
THE RACE IS ON

Above: Tim Mathiesen

"Gold Cup Winner"

It's Photographic Image Competition!

The 2020 PPC State Photographic Image Competition will be held

Friday, October 11, 2019

VFW Hall, 2784 Stockton Blvd., Sacramento, CA 95817

Registration opens September 1, 2019

Deadline to register and upload your images: Monday, October 7 at 9am Pacific Time.

Registration is open to anyone. Awards to PPC members only. Entry limit is 10 images.

For details: https://ppconline.com/membership/education/image-competition/

Follow us on Facebook for updates! https://www.facebook.com/ProfessionalPhotographersofCalifornia/

Previous Page: Larry Skibiski

"I've Got This"

26
---
Summer 2019

27
---
Robin Swanson, CPA, CGMA

Many photographers are at a point where they need to decide whether they

should treat their photography income as a hobby or take the plunge and treat

it as a legitimate business. The three main considerations are:

1. How much income does your photography business generate?

2. What expenses do you incur in generating that income?

3. Are you engaging in the activity with the intention of making a profit?

IF IT IS A BUSINESS

In general, taxpayers may deduct ordinary and necessary expenses for

conducting a trade or business. An ordinary expense is an expense that is

common and accepted in the taxpayer's trade or business. A necessary

expense is one that is appropriate for the business. Generally, an activity

qualifies as a business if it is carried on with the reasonable expectation of

earning a profit.

In order to make this determination, taxpayers should consider the following

factors:

• Does the time and effort put into the activity indicate an intention to make

a profit?

• Does the taxpayer depend on income from the activity?

• If there are losses, are they due to circumstances beyond the taxpayer's

control or did they occur in the start-up phase of the business?

• Has the taxpayer changed methods of operation to improve profitability?

• Does the taxpayer or his/her advisors have the knowledge needed to carry

on the activity as a successful business?
---
• Has the taxpayer made a profit in similar activities in the past?

• Does the activity make a profit in some years?

• Can the taxpayer expect to make a profit in the future from the

appreciation of assets used in the activity?

The IRS presumes that an activity is carried on for profit if it makes a profit

during at least three of the last five tax years, including the current year.

IF IT IS A HOBBY

Prior to the Tax Cuts and Jobs Act (TCJA) you could deduct Hobby expenses

up to the amount of income. This deduction was taken on Schedule A of your

personal income tax return (1040) as a miscellaneous itemized expense

subject to the 2%-of-adjusted-gross-income (AGI) deduction. THIS IS NO

LONGER THE CASE! Beginning in tax year 2018 and going forward to 2025,

the TCJA eliminated the miscellaneous itemized expense deduction from

Schedule A thereby eliminating the ability to deduct hobby expenses.

What does that mean for you? If your business is considered a hobby, then

you must report the gross income from the activity on your tax return but you

can no longer deduct the expenses you incurred in generating that income!

OUCH!!!

In conclusion, take a long, hard look at your photography business. Think about

the above considerations and how they relate to your situation. Just

remember, if you are charging for your services then chances are that some of

your clients may be treating your services as an expense on their tax returns.

So, whether you report the income as a business or as a hobby…make sure

that you report it!

Spring 2019
---
Variations On Portrait Lighting

Tim Meyer, MFA, MA, M.Photog.Cr, CPP,

M-PPC, S-PPC

There are many approaches to portrait lighting. A very common contemporary technique

is called hatchet light. Normally this consists of a key light coming from the front of the

subject and two lights coming from behind creating accent lights on the sides of the face

and/or body. (See Figure 1.) This

technique seems like a new idea to

many, however, photographically

its roots can be traced to Edward

Steichen who used it extensively in

the early 1900's. Today, examples

of this lighting style can be found

in today's celebrity, beauty, sports,

and high school senior

photography, just to name a few.

In one of the advanced portrait

classes at Brooks, Power of the

Portrait, students are given the

assignment to take common portrait lighting

techniques and find and execute interesting, creative

variations on them. Included are some examples from

recent student work from this class.

Brooks student, William Navarro, produced the image

in Figure 2. By removing the key light from the

foreground of the image, while maintaining the hatchet

lighting coming from the sides, he created a theatrical,

mysterious interpretation of his subject. This lighting

technique can often be seen in current theater

productions or in cinematography. The famous image

by Arnold Newman, taken in 1963 of Nazi industrialist,

Alfried Krupp, used this technique which illustrated a

fearsome, demonic character.

In Figure 3, Dito Jati moved the edge lights forward on

the subject. Each light alone produced a split lighting

pattern on the face. Both lights combined produced a

lighting style that looks amazingly close to a

30
---
traditional frontal lighting style. Both lights are, however, coming from 90 degrees on

either side of the subject. There is a familiarity to the look, but this novel use of

lights results in a very different character than the normal frontal approach. Although

I have seen this style in contemporary

photographs, it appears to be a relatively

underutilized variation. (As a note, in this

particular image, Dito also added colored

edge lights and background lights.)

Nicole Copeland‐Perez created the final

image. (See Figure 4.) This was

accomplished by moving the lights even

farther forward and flagging the body from

the light. What remains is the light hitting

only the mask of the face and not much of

the body. Since the light comes from both

sides of the subject, it is relatively easy to

protect the body from the light. This has

similar properties of the previously

mentioned hauntingly different frontal light

seen in Figure 3. Because it hits only the

face, it has an element of uniqueness.

Normally a light that hits only the

face would be harsher and more

specular, this style has a look all

its own. I have rarely seen this

technique used historically or in

modern photographs. (Nicole also

added a hair light and a flare

element to the portrait.)

These four portraits are just a

few examples of the many

variations of portrait lighting

available to the photographic

artist. Sometimes slight

variations on a theme can create

dramatically different results.

Summer 2019 31
---
That's A Wrap!

What a great year! We can't wait for next year! 2020 is going to be even bigger and better with a few new plans in the

works! In the mean time, check out some of our favorite faces that make this a wonderful week-long school for

photographers!

32
---
Summer 2019

33
---
34

Being among people who share the passion

of photography, who care about others, and

want to keep learning new concepts and skills

to continue to improve, is both inspiring and

fun.
---
Summer 2019 35