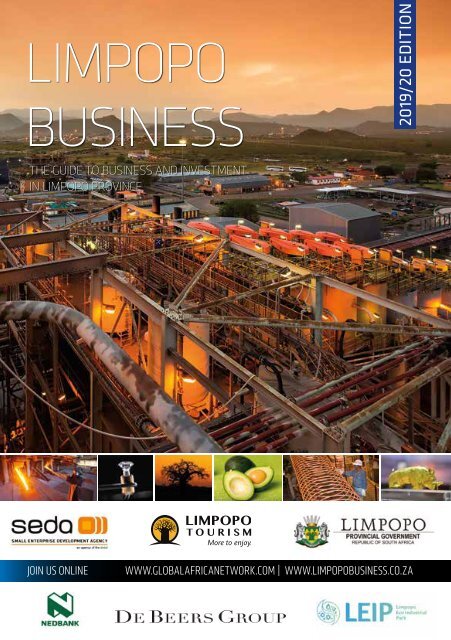 Limpopo Business 2019-20 edition
The 2019/20 edition of Limpopo Business is the 11th issue of this highly successful publication that, since its launch in 2007, has established itself as the premier business and investment guide for the Limpopo Province. Limpopo has several investment and business opportunities. In addition to the regular articles providing insight into each of the key economic sectors of the province, there are special features on various Special Economic Zones (SEZs) which aim to drive industrialization in the province and the initiatives which are further enhancing the tourism offering in Limpopo. News related to mining, agriculture, transport and logistics, education and development finance is carried in overviews of the main economic sectors in the province. To complement the extensive local, national and international distribution of the print edition, the full content can also be viewed online at www.globalafricanetwork.com Updated information on the Limpopo is also available through our monthly e-newsletter, which you can subscribe to at https://www.globalafricanetwork.com/subscribe/, in addition to our complementary business-to-business titles that cover all nine provinces as well as our flagship South African Business.
The 2019/20 edition of Limpopo Business is the 11th issue of this highly successful publication that, since its launch in 2007, has established itself as the premier business and investment guide for the Limpopo Province.

Limpopo has several investment and business opportunities. In addition to the regular articles providing insight into each of the key economic sectors of the province, there are special features on various Special Economic Zones (SEZs) which aim to drive industrialization in the province and the initiatives which are further enhancing the tourism offering in Limpopo.

News related to mining, agriculture, transport and logistics, education and development finance is carried in overviews of the main economic sectors in the province.

To complement the extensive local, national and international distribution of the print edition, the full content can also be viewed online at www.globalafricanetwork.com Updated information on the Limpopo is also available through our monthly e-newsletter, which you can subscribe to at https://www.globalafricanetwork.com/subscribe/, in addition to our complementary business-to-business titles that cover all nine provinces as well as our flagship South African Business.
SHOW MORE
SHOW LESS
You also want an ePaper? Increase the reach of your titles
YUMPU automatically turns print PDFs into web optimized ePapers that Google loves.
LIMPOPO

BUSINESS

2019/20 EDITION

THE GUIDE TO BUSINESS AND INVESTMENT

IN LIMPOPO PROVINCE

JOIN US ONLINE

WWW.GLOBALAFRICANETWORK.COM | WWW.LIMPOPOBUSINESS.CO.ZA
---
ONE CARD FOR

EVERYDAY BANKING.

THE SAME CARD FOR INVESTING.

Bank smarter with the Money Account. From just R4.95 a month.

Discover the smartest new way to bank – and invest – with the Money Account from

Old Mutual. Make payments, buy prepaid airtime and electricity, swipe for purchases – and

invest in a unit trust fund every time you do. It's one card for everyday banking and the same

card for investing. All in the palm of your hand.

Open your Money Account at any Old Mutual branch or apply

online today at moneyaccount.co.za

DO GREAT THINGS EVERY DAY

Old Mutual is a licensed financial services provider. Old Mutual Unit Trust Managers is an approved

Collective Investment Schemes management company. Fees and costs are available on our website.

The Old Mutual Money Account is an offering by Old Mutual Transaction Services (Pty) Ltd (Reg

No.2012/225985/07), in association with Bidvest Bank Ltd (Reg No.2000/006478/06), a licensed financial

services and registered credit provider NCRCP17, and Old Mutual Investment Administrators (Reg No.

1988/03478/07), a licensed financial services provider and Old Mutual Unit Trust Managers (RF) (Pty) Ltd is

a registered manager in terms of the Collective Investment Schemes Control Act 45 of 2002. The fund fees

and costs that Old Mutual Unit Trust Managers charge for managing your investment are set out in the

relevant fund's Minimum Disclosure Document (MDD) or table of fees and charges, both available on Old

Mutual Unit Trusts Managers' public website, or from Old Mutual Unit Trusts Managers' contact centre.

Old Mutual is a member of the Association for Savings & Investment South Africa (ASISA).
---
Introduction

CONTENTS

CONTENTS

Limpopo Business 2019/20 Edition

Foreword4

A unique guide to business and investment in Limpopo.

Infrastructure is a key driver in job-creation and

development6

A message from the Premier of Limpopo, the Honourable

Chupu Stanley Mathabatha.

Creating a conducive climate for investment 8

A message from the Interim CEO of the Limpopo Economic

Development Agency, Dr Matata Mokoela.

Special features

Regional overview of Limpopo 10

New mining projects, investments in Special Economic Zones

and superb tourism assets are expected to underpin economic

growth in Limpopo.

Boosting economic growth 14

Sector-specific industrial zones are set to transform Limpopo's

economy.

Marula Industrial Hub 22

Plans are in place to boost the use of a super fruit.

Destination Limpopo 24

Biodiversity holds great potential for growth in the tourism

industry.

Economic sectors

Agriculture40

Five Agricultural Development Zones have been declared.

Mining44

Eight new investments are bringing jobs to Limpopo.

Construction and property 58

Infrastructure and state housing are potential markets for

builders.

1

LIMPOPO BUSINESS 2019/20
---
CONTENTS

Energy59

Large energy users are going off-grid.

Transport and logistics 60

The new Musina Intermodal Terminal is operating.

Banking and financial services 70

Banking choices are expanding very quickly.

Development finance and SMME support 74

Big companies are using their supply chains to support

small business.

Education and training 86

Training is a key provincial priority.

References

Key sector contents 38

Overviews of the main economic sectors of Limpopo.

Index88

Maps

Limpopo locator map

13

ABOUT THE COVER:

Credit: Des Jacobs for Implats. Marula Mine, which is 73% owned

by Implats, comprises two decline shafts and a concentrator

plant. In FY2018 the operation produced 85 100 ounces of

platinum in concentrate.

LIMPOPO BUSINESS 2019/20

2
---
Terms and Conditions apply. Handles/usernames are illustrative only. Any similarity to any other handle/username on any platform,

or otherwise, is coincidental.
---
FOREWORD

Limpopo Business

A unique guide to business and investment in Limpopo.

The 2019/20 edition of Limpopo Business is the 11th issue of this

highly successful publication that, since its launch in 2007, has

established itself as the premier business and investment guide

for the Limpopo Province.

Limpopo has several investment and business opportunities. In addition

to the regular articles providing insight into each of the key economic sectors

of the province, there are special features on various Special Economic Zones

(SEZs) which aim to drive industrialisation in the province and the initiatives

which are further enhancing the tourism offering in Limpopo.

News related to mining, agriculture, transport and logistics, education

and development finance is carried in overviews of the main economic

sectors in the province.

To complement the extensive local, national and international distribution

of the print edition, the full content can also be viewed online at www.

globalafricanetwork.com Updated information on the Limpopo is also

available through our monthly e-newsletter, which you can subscribe to

online, in addition to our complementary business-to-business titles that

cover all nine provinces as well as our flagship South African Business.

Chris Whales

Publisher, Global Africa Network Media

Email: chris@gan.co.za

CREDITS

Publisher: Chris Whales

Publishing director:

Robert Arendse

Editor: John Young

Online editor: Christoff Scholtz

Art director: Brent Meder

Design: Tyra Martin

Production: Lizel Olivier

Business development manager:

Shiko Diala

Ad sales: Gavin van der Merwe,

Sandile Koni, Sam Oliver, Gabriel

Venter, Vanessa Wallace, Jeremy

Petersen.

Managing director: Clive During

Administration & accounts:

Charlene Steynberg and

Natalie Koopman

Distribution & circulation

manager: Edward MacDonald

Printing: FA Print

DISTRIBUTION

Limpopo Business is distributed internationally on outgoing

and incoming trade missions; to foreign offices in South

Africa's main trading partners; at top national and international

events; through the offices of foreign representatives in

South Africa; as well as nationally and regionally via chambers

of commerce, tourism offices, trade and investment agencies,

provincial government departments, municipalities, airport

lounges and companies.

Member of the Audit Bureau of Circulations

PUBLISHED BY

Global Africa Network Media (Pty) Ltd

Company Registration No: 2004/004982/07

Directors: Clive During, Chris Whales

Physical address: 28 Main Road, Rondebosch 7700

Postal address: PO Box 292, Newlands 7701

Tel: +27 21 657 6200 | Fax: +27 21 674 6943

Email: info@gan.co.za | Website: www.gan.co.za

ISSN 1993-0119

COPYRIGHT | Limpopo Business is an independent publication published

by Global Africa Network Media (Pty) Ltd. Full copyright to the

publication vests with Global Africa Network Media (Pty) Ltd. No part

of the publication may be reproduced in any form without the written

permission of Global Africa Network Media (Pty) Ltd.

PHOTO CREDITS | Des Jacobs for Implats, Amplats, De Beers Group,

flickr/SA Tourism, iStock, Palabora Mining Company, Photoflurry

Productions Photography, Roads Agency Limpopo, Thaba Moshate

Casino, Hotel and Conference Centre, Thavani Mall, University of

Limpopo, SAB Foundation.

DISCLAIMER | While the publisher, Global Africa Network Media (Pty)

Ltd, has used all reasonable efforts to ensure that the information contained

in Limpopo Business is accurate and up-to-date, the publishers

make no representations as to the accuracy, quality, timeliness, or completeness

of the information. Global Africa Network will not accept

responsibility for any loss or damage suffered as a result of the use of or

any reliance placed on such information.

LIMPOPO BUSINESS 2019/20

4
---
I'M AN

ENTREPRENEUR.

AN INNOVATOR.

AND A GAME

CHANGER.

NOW I JUST NEED BIG VALUE

FOR MY SMALL BUSINESS.

You've got what it takes to succeed. All you need now

is for your money to up its game for your business,

with a business bundle from Nedbank. Save up to 40%

on banking fees, get 35 free transactions a month,

Greenbacks rewards, discount on your point-of-sale

device, and a dedicated banker. All this and more for only

R219 per month! For more information call 0860 116 400

or search 'Business Bundle' on nedbank.co.za.

SAVE UP TO

40%

ON BANKING

FEES

nedbank.co.za

Terms and conditions apply.

see money differently

Nedbank Ltd Reg No 1951/000009/06. Authorised financial services and registered credit provider (NCRCP16).
---
MESSAGE

Infrastructure is a key

driver in job creation and

development

Limpopo Premier Chupu Stanley Mathabatha outlines his administration's

priorities in welcoming potential investors to the varied economy that is

already receiving interest from China and elsewhere.

We are fresh into

the 6th Provincial

Administration

after our most

successful national and provincial

general election. This was an

election which was fought on the

Chupu Stanley Mathabatha,

Premier of Limpopo

promise of growth and development of the economy for jobs and

a decent quality of life. This is a promise which we intend to keep,

working in partnership with all our social partners and stakeholders.

Our collective focus is on the creation of jobs, the need to end

poverty and the urgency of building a better life for all. This requires

greater focus and determination, and our set targets and objectives

can only be realised through working together as government,

business, organised labour and other groups and organisations.

As we prepare to implement the manifesto priorities of the

ruling party, we move from a premise that over the past 25 years

the lives of the people of South Africa have changed for the better.

Millions of people have houses, electricity and access to clean

drinking water. Children from poor communities have access to

free education. In the past five years the number of HIV-positive

people on antiretroviral treatment has doubled while the overall

rate of new infections is decreasing. Over 17.5-million of our most

vulnerable citizens receive social grants. We advanced the cause and

rights of workers to organise, collectively bargain, refuse dangerous

work, and to strike.

Our work is guided by the conviction that without ignoring our

collective achievements, so much more can and must still be done.

Infrastructure

One of the key drivers of employment creation in the province is the

government's deliberate investment in infrastructure projects. By the

end of the 2018/19 financial year, provincial infrastructure expenditure

stood at above R5.5-billion. We look forward to spending more of

the province's infrastructure grants on capital infrastructure projects

which will help to stimulate the economy and create jobs for the

people of Limpopo.

LIMPOPO BUSINESS 2019/20

6
---
MESSAGE

Several new mining projects are in the pipeline that will boost the Limpopo economy, Image: Des Jacobs

Significant progress has been recorded with regard to the delivery

of certain key projects in this province, which we can be proud of.

The Musina-Makhado Special Economic Zone (SEZ) programme is

beginning to take shape. This SEZ initiative is expected to revitalise

Limpopo's industrial economy by utilising our local mineral resources

and integrating the industrial chains of both the upstream and

downstream activities. Several plants will be constructed under this

SEZ project. These include a coal washery, a coal-fired power plant,

a coking plant, a stainless-steel plant, a high-carbon ferrochrome

plant and a silico-manganese facility. Supporting administrative

services such as houses, hotels, shopping malls, healthcare facilities

and schools will also be constructed.

This project is expected to create no fewer than 20 000

jobs for the people of this province. The recent mission which

I led to the People's Republic of China has given even more

impetus to our Musina-Makhado SEZ programme. Through this

mission, Limpopo Province was able to attract a total investment

commitment of R100-billion, which will go a long way to

creating much-needed jobs and other economic opportunities,

especially for the youth.

Mining and tourism are dynamic sectors

Mining is the biggest contributor towards the Provincial Gross

Domestic Product (PGDP) at 24.5%. Jobs in this sector increased from

71 000 in 2013 to 103 000 in 2017/18. With new mining projects in the

pipeline, these figures are expected to increase by a further 3 000.

Mining in Limpopo yields significant quantities of coal, copper,

diamonds, gold, iron ore, nickel, platinum group metals, rare earth

minerals and tin to South Africa's mineral industry. Limpopo has 147

mining projects that are currently operational, and we envisage a

further eight new projects in the

Capricorn and Sekhukhune Districts.

These projects are expected to

attract investments worth R2.5-

billion and create around 3 000 jobs.

We are also excited about the

new investments in the Ivanhoe

Mine in Mokopane. The current

investment in this mine is at R4.5-

billion. We are looking forward to

the mine going into full operation

by 2024. This mine is expected to

create well over 25 000 jobs.

The other job driver in the

province is the tourism sector. The

good news is that our domestic

tourism sector has also been doing

well over a sustained period of time.

According to the latest available

figures from StatsSA, Limpopo has

since 2014 received over 27. 5-million

domestic travellers. During the

same period, our province was able

to attract 7.8-million international

tourists. We intend to build on these

figures as we position our tourism

sector to become a major job

creator in the province.

Together, let's grow Limpopo

and bring to life the dream of a

better life for all.

7 LIMPOPO BUSINESS 2019/20
---
MESSAGE

Creating a conducive climate

for investment

The Interim CEO of the Limpopo Economic Development Agency, Dr Matata

Mokoele, explains how LEDA is building infrastructure and supporting

initiatives to attract investors.

Dr Matata Mokoele, CEO

The Limpopo Province

investment climate is

characterised by highvalue

sectors that drive

world economies in many ways.

Agriculture, tourism and mining

continue to define the future

economic growth trajectory for the

province. Traditionally, these sectors

boosted gross domestic product

through their primary activities. As

the world evolves and new opportunities emerge in the industrial value

chains, these sectors are increasingly becoming key to economic growth

through the transformation and industrialisation of the province.

Limpopo Province, whose employment is largely driven by the

government sector, adopted the Limpopo Development Plan five

years ago as a socio-economic transformation blueprint. It outlined

how the government in collaboration with civil society institutions

could unlock economic growth through appropriate policy. For

instance, mining and agriculture were identified as the linchpin for

industrialisation through the beneficiation of these resources.

The province continues to see steady growth in hunting which can

be a springboard in the tourism sector for growth and transformation.

The province continues to lead the country in terms of arrivals from

the African continent and the tourism sector's contribution to job

creation is significant.

These developments and future economic growth are driven

through institutions such as the Limpopo Economic Development

Agency (LEDA) which develops and promotes SMMEs and cooperatives,

investment promotion, business funding and caters for

the provision of industrial parks. These industrial parks, situated across

the five districts of the province, stimulate manufacturing in line with

the Limpopo Development Plan and National Development Plan.

LEDA is collaborating with National Department of Trade and Industry

(dti) in refurbishing industrial parks in Seshego and Nkowankowa. The

goal is to revitalise rural and township economies.

The Limpopo Development Plan, which is due for revision for the

next five years, has laid a very good foundation for the MTF period.

Local and international investors have many avenues for exploring

collaboration with local emerging enterprises.

SMMES and co-operatives

Support for SMMEs and co-operatives in the province is well

documented. LEDA has created and implemented a business incubation

LIMPOPO BUSINESS 2019/20

8
---
MESSAGE

strategy for emerging and existing enterprises which

focuses on registrations and formalisation, training,

business planning, access to funding and finance,

and access to markets. The programme has registered

success for most participating businesses. In the 2018

financial year, 294 enterprises were assisted in various

programmes and were able to sustain 1 343 jobs.

LEDA entered into an MoU with the Companies

Improving and Intellectual the lives Property of the Commission citizens of Limpopo (CIPC) where is

all the business overarching registration aim of services the Limpopo will be Development

offices Plan. The at lower economic cost. To levers date, 26 that 399 can enterprises bring

delivered at

LEDA

were that improvement assisted with services about present ranging investment from registrations, opportunities,

amendments particularly and annual in the returns. sectors The that turnaround have been on

identified business registrations as key drivers is of less growth: than mining, five working tourism days,

and improvement agriculture. that ensures that entrepreneurs are

able The to Limpopo access business Development opportunities Plan (LDP) at is the targeting

time three possible. broad areas for improvement and develop-

earliest

ment: socio-economic, infrastructural and institutional.

Every department of the Limpopo Provincial

Industrial parks

Government has targets within the LDP which

are LEDA's translated industrial into parks actionable are host programmes to enterprises to in be the

implemented manufacturing within and time-frames.

services sectors across the five

districts Development of the province. is defined In line as with broad-based promoting improvements

investment in these standard industrial and parks, quality the of agency life for is

more

the collaborating people living with throughout the dti the on province, a programme to which to

all increase institutions lettable (including space for government, rentals. This strategy business, aims

labour to increase and citizens) manufacturing contribute. across Increased the value job creation,

and higher make connections incomes, better between access industrial to good public players,

chain

services emerging and enterprises sound environmental and the management Black Industrialists are

the Programme. measures of Phase the development 1 of the revitalisation plan. in both

Seshego The plan, and Nkowankowa currently in is its complete. implementation This included

phase, security is features further supported to the entire by area a spatial and investment

afoot to framework commence in with public phase and 2. private The plans sector

have

plans are

industrial parks in Vhembe are also well underway.

Limpopo Development Plan

Improving lives, and creating a conducive environment for investment.

LIMPOPO BUSINESS 2017/18

20

Broadband

The province is rolling out broadband in the province

to support the socio-economic development

imperatives set out by the National Development Plan

and Limpopo Development Plan. The stimulation of

economic development is embedded in cost-effective

communication technologies that are available,

accessible, reliable and affordable. The Broadband Act

calls for connectivity to society at large to ensure that

costs of doing business are reduced and the country is

transformed towards a knowledge economy that can

infrastructure, transact with an integrated the world public with ease. transport To date policy the Data

and Centre, land policies. which is the nerve centre of the network, the

This Call Centre article focusses and the on Network the economic Operating aspects Centre are

and completed. the potential Forty-four of the (44) LDP sites for private have been investors connected

to participate. to the network, offering free Wifi services to students

Key at Library elements Gardens of the and Limpopo to the Development broader community Plan at

the Polokwane Civic Centre.

are: industrialisation (beneficiation of mining and

agricultural products and produce); mining (local

suppliers, improved training and access to sector

Community services

for entrepreneurs); infrastructure development;

agri-processing; Through its subsidiary SMME promotion; Great North and ICT Transport, and the LEDA

knowledge provides economy essential services (establish in a transporting WAN footprint). commuters

Mining and passengers is currently to various the most destinations important on part a daily of basis.

the Transport provincial is economy, the backbone contributing of the economy nearly 30% and through to

GDPR. this Many subsidised platinum service, mining it developments provides households on the with

eastern discounted limb of fares, the Bushveld enabling Complex commuters have to spurred get to work

growth and to in go that about region. their One business. of the goals of the LDP

is to see Risima more Housing beneficiation Corporation from the Finance mining sector, breaks new

which ground will annually support through the goal various of further housing industrialising

schemes the province's to residents economy. throughout Related the to province. this is an Risima is

development

emphasis equally on active the in manufacturing providing products sector. and services in the

In housing response, sector the in rural two areas, Special townships Economic and Zones cities. In the

(SEZs) year at ahead, Musina Risima and Tubatse will endeavour promote to increase manufacturing.

of Specific products manufacturing and services as value-chains a contribution are to transforming

identi-

its portfolio

fied Limpopo for each area, Province, based traditionally the base a rural mineral province, being to an

industrial powerhouse in terms of mining, agriculture

and tourism.

We invite all investors to join us in our journey

towards a prosperous future.

Website: www.lieda.co.za

9

LIMPOPO BUSINESS 2019/20
---
A REGIONAL OVERVIEW OF THE

LIMPOPO

PROVINCE
---
New mining projects, investments in Special Economic Zones and superb

tourism assets are expected to underpin economic growth in Limpopo.

By John Young

With R150-billion in committed

investments so far, Limpopo's

newest major project, the

Musina-Makhado Special

Economic Zone (SEZ), has every chance of being

a real game-changer.

The SEZ takes advantage of one of Limpopo's

greatest strategic advantages, namely its location.

With a stated aim of benefitting the economies

of the region, including neighbours Botswana,

Zimbabwe and Mozambique, the SEZ is expected

to create more than 20 000 jobs in a range of

sectors. The largest projects will be in minerals,

mineral beneficiation, energy and logistics.

Another SEZ at Tubatse in eastern Limpopo,

together with an industrial park designed to

promote and enhance opportunities along

the value chain that the marula fruit can bring,

and the revitalisation of industrial parks at

Seshego and Nkowankowa point to the fact

that parks are a central plank of provincial

economic planning.

Mining continues to be biggest contributor

to provincial Gross Domestic Product (GDP)

at 24.5%. The number of jobs in this sector

reached more than 100 000 in 2018, up from

just over 70 000 in 2013. With several big new

projects underway, a significant number of

new jobs will be created in the short term.

Tourism is seen as one of the biggest potential

earners (and employers) with almost limitless

potential. The sector within tourism that is

receiving the most attention from authorities at

the moment is biodiversity but there are equally

unrivalled opportunities in adventure tourism,

culture and heritage, birding, golf and the list goes

on. Nearly eight million international tourists have

visited the province since 2014 and more than

27-million South Africans have visited some part

of Limpopo in the same period. The combined

land area of Limpopo's national, provincial and

private game and nature reserves is 3.6-million

hectares. According to the Premier's office, the

tourism sector employs about 22 400 people.

Limpopo covers about 10% of South Africa's land

mass and is home to about 10% of the country's

population. The 2011 census recorded 5.4-million

residents. The main languages of the people of

Limpopo are Sesotho, Xitsonga and Tshivenda but

English is widely used in business and government.

The Limpopo Province's 125 754km² covers

a remarkably diverse geographical and cultural

landscape that is also rich in minerals and

agricultural products.

The N1 highway ("Great North Road") is a key

reason for the province's important role in the

nation's logistics sector. It passes through Limpopo

from the south to the border town of Musina and

on to Zimbabwe and its neighbours in the Southern

African Development Community (SADC). The busy

N11 highway links the province to Botswana to the

west and Mpumalanga Province to the east.

Most of South Africa's logistics operators

have a presence in the provincial capital city of

Polokwane and freight logistics hubs have been

established in that city and in Musina.

Transport within the city of Polokwane is

being transformed by the introduction of a bus

rapid transport system, Leeto la Polokwane. In

the province as a whole, 22.6% of households in

Limpopo use bus transport and 45.8% use taxis.

Great North Transport falls under the

Limpopo Economic Development Agency. The

company has more than 500 buses, covers about

36-million kilometres every year on 279 routes,

employs more than 1 200 people and transports

37.6-million passengers.

The Polokwane International Airport (PIA) is

wholly owned by the provincial government

and run by the Gateway Airports Authority Ltd

(GAAL), an agency of the Limpopo Department

of Transport. It has the potential to be an
---
SPECIAL FEATURE

important regional cargo airport. SA Airlink offers

21 flights to Johannesburg six days a week. The

airline also provides links between Phalaborwa

and Johannesburg, and between Hoedspruit and

Johannesburg and Cape Town.

The province has a sophisticated rail network

which Transnet Freight Rail aims to further expand,

primarily to haul the province's vast reserves of coal

away to the coast at Richards Bay.

Growth plans

The Provincial Government of Limpopo has

committed itself to the Limpopo Economic Growth

and Development Plan (LEGDP), which aims to build

a stronger, more industrialised economy and to create

jobs and reduce social inequality.

Existing manufacturing in the province is centred

on mining areas (smelters and refineries), agricultural

estates (juices and concentrates) and Polokwane

(food and beverages). Agri-processing is strong,

with Pioneer Foods, McCain, Granor Passi, Kanhym,

Westfalia and Enterprise Foods prominent, but this

sector still has potential to grow.

When it comes to exports Limpopo punches

above its weight because of the abundance of

mineral wealth under the ground, and the superb

fruit and vegetables that the province's farmers

cultivate. Potatoes are grown, together with 75%

South Africa's mangoes and tomatoes; papayas

(65%); tea (36%); citrus, bananas and litchis (25%)

and 60% of the country's avocadoes. ZZ2 is one of

the country's largest agricultural enterprises. ZZ2

is most famous for the large quantity of tomatoes

and avocadoes produced but its product range is

also large: mangoes, onions, dates, cherries, apples,

pears, stone fruit, almonds and blueberries.

The best-performing subsector of South African

exports in recent years has been fruit and nuts. Limpopo

has been a major contributor to the country's excellent

export record: fruit and nuts from the province's eastern

regions are hugely popular in international markets and

Limpopo's commercial farmers are extremely efficient.

The province has huge reserves of coal, platinum,

chromium, uranium clay, nickel, cobalt, vanadium,

limestone and tin. Demand will always fluctuate, and

the commodities cycle has recently been very volatile,

but the world will always need minerals.

Limpopo assets include the largest diamond mine in

South Africa, the biggest copper mine in South Africa,

the biggest open-pit platinum mine in the country and

the biggest vermiculite mine in the world. The province

has 41% of South Africa's platinum group metals

(PGMs), 90% of South Africa's red-granite resources

and approximately 50% of the country's coal reserves.

Antimony, a highly strategic mineral found in large

quantities in China, is another of Limpopo's major assets.

The Provincial Government of Limpopo has

committed to allocating 20% of state procurement to

enterprises owned by both women and young people.

This is line with placing "young people at the centre of

our economic development programme", in the words

of Premier Mathabatha.

Limpopo's regions and major cities

Limpopo's dry, cattle-rearing, western areas contrast

with the subtropical regions of the east where forestry

thrives and the central regions where vast plantations

produce 60% of the country's tomatoes. The area

north of the Soutpansberg Mountains is semi-arid. The

Waterberg mountains stretch over 5 000km². There are

five district municipalities in Limpopo and the capital

city is Polokwane (population 629 000).

LIMPOPO BUSINESS 2019/20

12
---
SPECIAL FEATURE

Polokwane

The centrally situated city of Polokwane is the capital of

Limpopo Province. Located on the Great North Road

(N1 highway) and almost equidistant from the highdensity

population of greater Johannesburg and the

neighbouring countries of Botswana, Zambia, Zimbabwe

and Mozambique, Polokwane's upgraded international

airport plays an increasingly important regional role.

Polokwane is the province's main centre for industry,

commerce, education and medical services. The city is

close to big concentrations of mineral deposits and to

fertile agricultural lands. Its industries reflect this diversity.

Large industrial concerns such as Silicon Smelters (one

of the biggest of its kind in the world) and a big brewery

run alongside at least 600 industrial enterprises of a

smaller scale. The range is broad: soft drink and fruit

juice manufacture, confectionery, bricks, clothing, meatprocessing,

packaging and jewellery.

Polokwane has excellent hotel and conferencing

facilities. It is a good starting point for tourism trips into

the province and beyond. Unusually, the city has its own

game reserve on 3 200 hectares of semi-bushveld land.

Several annual festivals are held in Polokwane, including

the Mapungubwe Arts Festival. Nearby Moria attracts up

to a million people every year, when the Zion Christian

Church celebrates Easter.

www.polokwane.gov.za

Tzaneen

while one of the major road links between Gauteng

and the Kruger National Park also passes through the

area, providing excellent logistical links for tourism

and business.

www.greatertzaneen.gov.za

Phalaborwa

Known as the Gateway to the Kruger National Park,

Phalaborwa is situated in such a moderate climatic

belt that it is also sometimes known as the town of

Two Summers, so similar are the summer and winter

temperatures.

Phalaborwa has a good airport and the town's

proximity to the Kruger National Park makes it a

tourism hub. The town has several attractions of its

own. Cruises on the Olifants River are popular and

the highly regarded Hans Merensky Country Club golf

course hosts national tournaments. The prospect of

meeting wildlife on the fairway adds spice to the golf

experience. Palaborwa Mining Company (PMC) is the

major economic driving force in the area. Copper has

been mined in the region for many centuries, with

evidence from as far back as 400AD having been found.

The popular Marula Festival is held in Phalaborwa

in February every year. This not only promotes the

iconic fruit (and its associated foods and beverages)

but is a celebration of local arts and crafts and music.

Sports events such as golf and soccer tournaments and

half-marathons are held to coincide with the festival.

www.phalaborwa.org.za

A subtropical climate and fertile soils combine to make

greater Tzaneen one of South Africa's most productive

areas in fruit and vegetables. Steep valleys and gently

sloping mountains provide ample opportunities for

tourism of all sorts.

The Letaba Valley produces a large proportion of

South Africa's mangoes, avocadoes and tomatoes.

Citrus fruits also thrive, as do macadamia nuts, litchis,

paw-paws and bananas. Forty sawmills operate in the

area, drawing on the heavily forested hills around the

city. Tzaneen is the economic hub of the region, with

a population of 80 000.

The Phalaborwa Spatial Development Initiative

passes through the Greater Tzaneen Municipal Area,

13 LIMPOPO BUSINESS 2019/20
---
SPECIAL FEATURE

Boosting economic growth

Sector-specific industrial zones are set

to transform Limpopo's economy.

Mineral beneficiation is a vital part of Limpopo's economy. Photo: Impala Platinum.

In July 2016 the national cabinet approved the

Musina-Makhado Special Economic Zone (SEZ).

Located in the far north of Limpopo in the

Vhembe region, Musina-Makhado is strategically

located near the border of Zimbabwe and on the

Great North Road which links South Africa to the

broader Southern African region.

The location of the Musina-Makhado SEZ, with

links to Zimbabwe, Botswana and Mozambique,

promotes the Trans-Limpopo Spatial Development

Initiative. Logistics will be one of the key focus areas

of the SEZ. Soon after the announcement of the

designation of the SEZ, the National Department

of Trade and Industry (dti) said that a consortium

of Chinese investors, Sino, has agreed to put R40-

billion into the Musina-Makhado SEZ where they

will operate the mineral beneficiation operations.

The initiative has already attracted investors in

the form of the Eco-Industrial Solutions (EIS), the

private sector investor behind the Limpopo Eco-

Industrial Park (LEIP). LEIP aims to be an integrated

industrial development comprising five major

industrial components that sets new standards

in sustainability. Set on 6 400ha of land, the LEIP

will include a nature reserve, two residential

estates and schools. The Limpopo Economic

Development Agency (LEDA) is working with EIS

to establish a petrochemical cluster within the

Musina-Makhado SEZ.

LEDA is the key driver of the provincial

government's drive to boost the economy

through investment. LEDA is an agency of the

Limpopo Department of Economic Development,

Environment and Tourism (LEDET). LEDA's brief

LIMPOPO BUSINESS 2019/20

14
---
SPECIAL FEATURE

is to contribute to accelerated industrialisation

in Limpopo by stimulating and diversifying the

industrial base of the regional economy. The focus

is on high-impact projects that will spark growth

in a variety of sectors and create employment

opportunities.

Two key areas of focus relate to Special

Economic Zones and Corridor Development and

to land, property and infrastructure development

(including business parks and industrial parks).

As these targeted areas grow, the infrastructure

and associated industries will act as a magnet for

other businesses and industries in the same sector,

together with service industries.

A Musina-Makhado Skills Development Plan has

been approved by the provincial government.

A second application for an SEZ at Tubatse is

pending. Tubatse is in the Sekhukhune District

Municipality and hosts a number of mining

operations.

The SEZ in Tubatse will focus on the beneficiation

of platinum group metals (PGM) and mining-related

manufacturing. The province of Bashkortostan in

Russia has also expressed an interest in the SEZs

of Limpopo.

Phase one of the SEZ project would see a 280ha

site developed to accommodate a mining suppliers

park, light manufacturing, heavy manufacturing,

logistics, a solar energy cluster and a PGM

beneficiation cluster.

sector infrastructure, an integrated public transport

policy and policies on land development.

Key elements of the Limpopo Development

Plan are: industrialisation (beneficiation of mining

and agricultural products and produce); mining

(local suppliers, improved training and access to

sector value chains for entrepreneurs); infrastructure

development; agri-processing; SMME promotion

and ICT and the knowledge economy (establish a

WAN footprint).

Mining is currently the most important part of

the provincial economy. Recent platinum mining

developments on the eastern limb of the Bushveld

Complex have increased this effect but global

commodity prices have been uncertain in recent

years. One of the goals of the LDP is to see more

beneficiation from the mining sector, which will

support the goal of further industrialising the

province's economy. Related to this is an emphasis

on the manufacturing that needs to grow, and this

is where the SEZs' role becomes critical.

While the Limpopo Development Plan is aligned

with the broader National Development Plan, there

are also several national Strategic Infrastructure

Projects (SIPs) which affect Limpopo.

Three in particular are expected to make a big

impact, namely SIP 1 (Unlocking the Northern

Mineral Belt with Waterberg as the Catalyst), SIP 6

(Integrated Municipal Infrastructure Project) and

SIP 7 (Integrated Urban Space and Public Transport

Programme).

SPECIAL FEATURE

Other national SIPs of relevance relate to green

Limpopo Development Plan

energy, agri-logistics and rural infrastructure,

The Great North Road

regional integration and water and sanitation

The SEZ and industrial

passes through

parks being

Limpopo

promoted in infrastructure.

from the south to the border

town of Musina and on

the province fall within a broader framework. The

Limpopo Development

to Zimbabwe

Plan

and

(LDP)

its neighbours

improvement in the Southern and African development:

targets three

broad areas for

socio-economic, Development infrastructural Community. and institutional.

Every department The busy of the N11 Limpopo highway links Provincial

Government has the targets province within to Botswana the LDP to which

are translated into the actionable west and Mpumalanga

programmes to be

implemented within

Province

time-frames.

to the east.

Most of South Africa's logistics

operators have a pres-

The plan is supported by strategies relating to a

spatial investment

ence

framework

in the provincial

in public

capital

and private

city of Polokwane and freight

logistics hubs have been

established at that city and

at Musina.

15 LIMPOPO BUSINESS 2019/20

Limpopo covers about 10% of South Africa's The province also has a sophisticated rail net-
---
INTERVIEW

Promoting a

symbiotic relationship

between people,

planet and profit

Webster Mfebe, Chair of the

Limpopo Eco-Industrial Park

Board Chair Webster Mfebe outlines the steps to be taken

by Eco-Industrial Solutions to create the ground-breaking

Limpopo Eco-Industrial Park.

BIOGRAPHY

Webster Mfebe, Chair of the

Limpopo Eco-Industrial Park,

has won several awards in

construction and leadership. He

is the CEO of the South African

Forum of Civil Engineering

Contractors (SAFCEC) and has

accumulated a wealth of senior

leadership and management

expertise during nearly 40 years

in the mining, construction

and engineering industries,

broadcasting and politics.

Webster has addressed

international conferences

on political and economic

issues and has contributed to

business intelligence articles in

some publications.

What does your company do?

Eco-Industrial Solutions (Pty) Ltd (EIS) is committed to integrated and

sustainable industrial property development. Its slogan is "Industry

Nurturing Nature". EIS is developing the Limpopo Eco-Industrial Park

(LEIP) project, powered by renewable energy and municipal waste

syngas, to be the world's first zero solid-waste, carbon neutral heavy

and light-industrial park integrated with a 2 200-hectare nature park.

This development recognises and promotes a symbiotic relationship

between people, planet and profit.

The LEIP is a multi-billion-rand project that will significantly

contribute to growing an inclusive economy and creating new

jobs, particularly in the Limpopo Province. The LEIP project provides

a fully serviced and secure platform for heavy and light industrial

tenants as well as incubating and supporting Small, Medium

and Micro Enterprises (SMMEs). The LEIP Master Plan is based on

principles derived from the field of industrial ecology to create a

closed loop or circular economy, which benefits local communities

whilst integrating and preserving the environment. No flaring of

emissions will be necessary, as all waste gases and solid waste will

be gasified at extremely high temperatures without interrupting or

requiring process changes to tenants' business models.

How was the company formed?

EIS was formed by founding members who share the vision and

passion to create job opportunities through environmentally friendly

industrialisation and shared benefits to local communities.

In response to some of the major challenges facing humanity

today such as ecological collapse followed by social uprising,

LIMPOPO BUSINESS 2019/20

16
---
INTERVIEW

due to rapidly increasing climate change and

environmental degradation of the life support

systems, EIS was specifically formed in 2011 to

address these problems by implementing technoeconomically

viable and sustainable industrial

development projects.

What is the ownership structure of the

company?

The project development company, EIS, is 89%

black-owned and 57% black women-owned,

while the LEIP project is 65% black-owned with

90% board control. Local Limpopo Vhembe

District citizens have been allocated 10% of

the ownership of the LEIP with Musina Local

Municipality as the proxy shareholder. Funds

and dividends are to be used for developmental

activities identified by the communities

themselves, including bursaries and other

communal co-operative activities such as

farming and agro-processing.

Why have you chosen northern Limpopo

as the location for the park?

EIS recognised the future growth potential of

the Musina Municipality, considering its location

adjacent to the Beitbridge border post as a

gateway for doing business in Southern Africa.

After a rigorous site-selection process, the

site in Musina was deemed ideal based on its

accessibility as well as its strategic location. The

national N1 highway and Transnet's north-south

rail line traverses the site, providing major links

to the rest of South Africa and superior access to

neighbouring countries to the north.

Please explain what is unique about the

LEIP. Why is it a game-changer?

The LEIP demonstrates that ongoing industrial

pollution can be stopped through the

application of existing, technically proven

and commercially available technologies,

for example, plasma waste gasification and

the combination of viable renewable energy

options. The LEIP's design incorporates these

essential technologies through creative

application and funding. Worldwide, people

are panicking about the state of the environment

and the fate of future generations. With increased

awareness and more developed consciousness

coupled with technological advancements, the

LEIP pioneers the transition required in terms of

altering humanity's development pathway to a

sustainable one.

As a mega-industrial and residential growth

point and an infrastructure CAPEX in excess

of R10.7 billion, the LEIP will be a catalyst for

transforming Musina into a mega-city. Musina

will become South Africa's most sustainable and

desirable fully integrated industrial-residential

growth point, facilitating socio-economic

transformation and inter-regional trade, to the

lasting benefit and well-being of all South Africans

and SADC.

Musina's growth into a mega-city will be

underpinned by beneficiation of local and

regional resources, manufacturing of industrial

chemicals and information technology

components, as well as agro-processing and

superior logistics services that enable improved

inter-regional trade.

The layout of the park was dictated by

consulting ecologists and heritage specialists who

used sensitivity maps to indicate areas suitable for

development and areas that should be preserved

as part of a nature reserve. Typically, ecologists

and heritage specialists are involved during the

environmental authorisation process, which is too

far down the line in terms of the broader project

development process, at which point impacts are

mitigated rather than avoided by protecting the

environment from the outset.

The LEIP is committed to transformation

and to replicating its transformation blueprint,

where applicable, in all its future eco-industrial

developmental initiatives. All contractors and

services providers will be made aware to comply

with the contractually obligated transformation

requirements.

How many people will be employed at

the park?

Total LEIP: Direct jobs: 58 967. Total including indirect

and induced jobs: 289 251.

17 LIMPOPO BUSINESS 2019/20
---
PROFILE

Eco-Industrial Solutions

The Limpopo Eco-Industrial Park will set new standards in

ecologically sound industrial development.

Eco-Industrial Solutions (Pty) Ltd (EIS)

was established to create an innovative

industrial park combined with a nature

park in the northern area of Limpopo.

The Limpopo Eco-Industrial Park (LEIP) will be

Africa's first zero solid-waste eco-industrial park.

Municipal waste and renewable energy will be

utilised to provide syngas and power for industrial

enterprises within the park. Waste from the park

will be contained and disposed of within the park

through the application of plasma gasification

technology and a closed-loop water management

system.

Background

In South Africa air pollution kills an estimated

20 000 people per year, 780 000 people in Africa

and worldwide nine-million people per year.

Coupled with the plight of unemployment in Africa

and more specifically in South Africa, the expertise

of the founding members covers heavy industrial

development in various countries globally,

experience in implementing environmental

protection as well as the realisation of institutional

mega-projects.The Musina, Vhembe, region is

blessed with an abundance of natural resources,

accessible labour and existing major infrastructure.

The LEIP concept has been successfully integrated

into the Integrated Development Plan (IDP) and

Spatial Development Framework (SDF) of the

Musina Local Municipality.

Furthermore, the LEIP concept is in tune with

the spirit encapsulated in South African President

Cyril Ramaphosa's vision of a "New Dawn",

predicated on the twin pillars of "Renewal and

Rebuilding".

Vision

To find techno-economically viable solutions

to the challenges facing humanity. To promote

industrialisation in a way that is beneficial to local

communities as well as the environment.

Motto

Industry nurturing nature.

The concept

The world's first zero solid-waste eco-industrial and

integrated nature park. The Limpopo Eco-Industrial

Park will illustrate the symbiotic relationship between

people, planet and profit by demonstrating their

mutually beneficial co-existence, thereby preserving

Mother Earth for future generations.

Location

Musina, northern Limpopo. Near Beitbridge border

post and part of the Musina-Makhado Special

Economic Zone.

LEIP components

1. 450MW PV Solar Power for agro-processing,

buildings and water heating and supply excess

to the Eskom grid.

2. Two approved off-channel dams with

20 million cubic metres water storage capacity.

LIMPOPO BUSINESS 2019/20

18
---
PROFILE

STRATEGIES TO MITIGATE RISK AND

PROMOTE THE CIRCULAR ECONOMY

• Ensure that all toxic materials, other

waste and gases are disposed of within

the LEIP.

• Reduce food waste and recycle key

nutrients (N, P) through their recovery

from food waste and waste water.

• Generate power through solar PV and

municipal waste syngas and export

excess power to the grid. Use Eskom

power for construction only.

• Capture heat and gas emissions to

supplement electricity supply.

• Protect and integrate sensitive areas

throughout the LEIP.

• Responsibly manage the value chain

of waste materials such as metals,

plastics and wood.

• Waste concrete and bricks will be

crushed and mixed with local hard rock

into a uniform and usable construction

material.

3. Blue Drop status drinking water and

environmentally friendly waste-water

treatment facilities.

4. A Nature Reserve comprising 2 286 hectares of

environmentally sensitive tourism area.

5. 80 chalets in the integrated nature reserve.

6. Two residential eco-estates: Musina Eco-

Housing Estate (3 797 units) and Singelele

Equestrian Estate (903 units).

7. Waste gasification plants for residential and

industrial waste.

Game-changer

Plasma waste gasifiers will be used extensively. This

technology has been used elsewhere to transform

waste to energy, but the LEIP aims to take this a step

further by ensuring that no waste leaves the site. The

target is for the industrial park to be a self-contained

unit with a zero-waste impact on the surrounding

countryside and communities.

Timeline

2019/20: Bankable project studies to be finalised.

Infrastructure construction proceeds (including LEIP

East basic infrastructure, Transnet Intermodal Terminal

Facility and bulk water and sewage treatment facilities).

Musina Eco-Housing Estate construction begins.

2021: Construct truck stop and warehousing, agroprocessing

facility, PV solar farm 1 000ha, plasma

gasification facilities, ITC development centre.

2022: Establish a balanced renewable energy system

that is integrated with waste gasification and syngas

generated power. Construct copper processing plant.

Establish nature park, including 80 chalets. Establish

Industrial Ecology Research Centre.

2023: LEIP East Operations commence with

commissioning of utilities, infrastructure and

financial management systems. Commission SEZ

operations. Construct LEIP West basic infrastructure,

to accommodate a chemical plant complex including

ammonia-urea, methanol and resin, by utilising carbon

engineering technology to generate the required

feedstock hydrogen (H2) and carbon monoxide (CO),

the basic building blocks for these plants.

Impact

• GDP impact 2019: R744 million

• GDP impact 2025: R17.2 billion

• GDP impact (direct and induced) from 2019 to

2025: R61.3 billion.

CONTACT DETAILS

Head Office

Eco-Industrial Solutions (Pty) Ltd, Modimolle

0510, Limpopo, South Africa

Phone: +27 87 702 6065

Email: ceo@eco-industrialsolutions.org

Website: www.limpopoecoindustrialpark.com

19 LIMPOPO BUSINESS 2019/20
---
FOCUS

Building skills and creating

jobs through partnerships

The Limpopo Eco-Industrial Park is set

to make a huge economic impact.

The Limpopo Eco-Industrial Park (LEIP) is

an integrated and sustainable industrial

development that is aligned with and in

support of South African government

goals articulated in the National Development Plan

and the Industrial Policy Action Plans.

The LEIP is a private-sector initiative driven by

Eco-Industrial Solutions (EIS), but the development

incorporates significant partnerships at local,

provincial and national level illustrating the inclusive

philosophy of the developers.

The park, through its various industrial

components, will create tens of thousands of direct

and indirect jobs over the first five years, provide

about 4 900 permanent housing opportunities in

the town of Musina and add more than R15-billion

to the revenue of the provincial government. It will

also provide a boost to the national tax base.

Among the projects to which the LEIP initiative

will contribute via partnerships are the National

Development Plan, the Green Economy Plan, and

the achievement of South Africa's Transformation

and Sustainable Development Goals.

In January 2019, South African President Cyril

Ramaphosa attended a Business Economic

Indaba organised by Business Unity South

Africa (BUSA), on the sidelines of which the

Public Private Growth Initiative (PPGI) made a

presentation on 18 projects from 19 economic

sectors, representative of opportunities for

South Africa's private and public sectors to work

together to combat unemployment and stimulate

the economy. The LEIP is project number 17 on

the list of 18 PPGI projects which were promised

full government support, while engagements

within the PPGI platform will take place with the

LIMPOPO BUSINESS 2019/20

20
---
FOCUS

Presidency over the next five to 10 years, with a view

to implementing sectoral plans.

Partnerships

Several key partnerships with EIS involve NECSA,

SAFCEC, Lepelle Northern Water, Transnet Freight Rail,

Musina Local Municipality and LEDA.

SAFCEC will be responsible for quality monitoring

of their construction members.

The Nuclear Energy Corporation of South Africa

has signed an agreement with EIS and LEIP to jointly

develop and implement plasma gasification of

municipal and gaseous waste on a localised scale,

thereby minimising the adverse impacts of longerdistance

logistics.

The Lepelle water utility has signed up to be

the LEIP's water service provider. Plans for a Special

Economic Zone (SEZ) in the Musina area have been

aligned with Transnet's requirements.

Transnet Freight Rail intends to operate its new

intermodal terminal facility within the LEIP as a dry port

extension of a seaport. It is expected to have an initial

storage capacity of 50 000 units. A train ferry is intended

that will be able to carry roughly 1 000 vehicles per day

across the Beitbridge-Zimbabwe border.

The Musina Local Municipality has approved the

land development application for the LEIP and will at

financial close become an equity partner in the project,

holding a 10% share on behalf of the local communities.

LEIP is the first part of a broader initiative, the Musina to

Africa Strategic Hub Initiative (MUTASHI), of which the

Musina-Makhado SEZ is the other major component.

The Limpopo Economic Development Agency

(LEDA) has signed an agreement to work with EIS to

establish the LEIP as the Musina SEZ Operator within

the Musina-Makhado SEZ.

Economic and social benefits

The LEIP has been designed to ensure that local women,

youth and disabled people benefit from the project.

The housing developments are designed as integrated

communities with the natural environment and with

amenities such as five schools, a children's hospital

as well as local churches, shopping and community

centres. The following innovations are aimed at

benefitting local communities:

• Establish a Research and Development

Industrial Ecology Faculty within the LEIP

in collaboration with local universities

(University of Venda and University of

Limpopo). The LEIP aims to support

innovation, research and development,

community engagement and literacy and

numeracy.

• A Skills Development Centre and Trade Test

Centre is to be built and fully equipped in

consultation with the Department of Higher

Education and Training (DHET), which will

invite the participation of the various Sector

Education and Training Authorities (SETAs).

The goal is for the skills centre to also be

available for use by learners from the SADC

region.

Transformation

The transformation imperatives of the LEIP project

as a private development are mainly aimed at

contributing towards the empowerment of the

following targeted groups of South African citizens:

• Youth (in support of the Youth Empowerment

Service YES programme)

• Women

• People with disabilities

• Military veterans

• Rural and township communities.

• Only construction companies rated no less

than Level 2 BEE status will be contracted

to do work at the LEIP, and such companies

will be vetted to assess their state of

competence and readiness to undertake

quality construction services. In special cases,

for technical reasons, contractors and service

providers with less than Level 2 BEE status will

be allowed if they form SMME partnerships

with locals, who will jointly carry out the work

on site.

21 LIMPOPO BUSINESS 2019/20
---
SPECIAL FEATURE

Marula

Industrial Hub

Plans are in place to boost the use of

a super fruit.

The Marula Festival has become a popular

annual event. When the 15th annual

Marula Festival comes around in 2020,

there will be additional reasons to celebrate

as that is the anticipated launch date of the

Marula Industrial Hub.

The Marula Festival attracts more than 30 000

people over two weekends in February and serves

to highlight the marula fruit and its uses. At the

moment, these are mostly confined to making

traditional beer and supplying the raw product for

the manufacture of the famous Amarula Cream

Liqueur. Outgrowers, mostly small-scale women

farmers, supply Distell with the fruit.

The theme for the festival for the next few

years will be "Discover the Wealth of Marula",

in line with the idea of expanding the fruit's

usefulness. But the festival itself is not just about

beer – although there is a lot of beer! The 2018

festival programme included a marathon, a

career expo, a dance challenge, performances

of gospel and jazz bands, a golf day and a trade

exhibition. The economic benefit to the local

economies of Ba-Phalaborwa and the Mopani

District economies is about R45-million annually.

The Marula Industrial Hub will provide a platform

to further exploit the tasty marula fruit, which has a

high vitamin C content and is much loved by elephants.

The Limpopo Department of Economic Development

and Tourism (LEDET) wants to see the University of

Limpopo doing more research on the possible uses for

the fruit, including jams and cosmetics.

Facilities at the hub will include a centre for research

and processing facilities to create more value from the

raw product. Advisors will be available to help small-scale

farmers and SMMEs enter the formal economy.

The marula tree is a protected species that is

protected by environmental laws. The tree and its fruit

are also part of the cultural heritage of the region. The

Festival of The First Fruit, "Ku LumaNguva/Go Loma

Morula", is a ceremony performed by traditional leaders

at the marula season's beginning. Only at the conclusion

of the ceremony can drinking begin.

The Marula initiative is consistent with the

broader agricultural sector plans for Limpopo. The

provincial government has identified five Agricultural

Development Zones (ADZs) across the province,

including the Mopani District within which the

Marula Industrial Hub is located. Programmes to

increase productivity have been presented to smallscale

farmers. In the year 2017/18 more than 50 000

small-scale producers received support in the form of

irrigation infrastructure, livestock infrastructure and

other production inputs.

LIMPOPO BUSINESS 2019/20

22
---
MADE

FROM

AFRICA

DRINK RESPONSIBLY.

AMARULA.COM

MADE FROM MARULA FRUIT
---
Destination Limpopo

Biodiversity holds great potential for

growth in the tourism industry

Transforming the wildlife sector and creating

opportunities for communities

and small businesses in tourism sector

are priorities for national and provincial

authorities.

Supporting local businessmen and women

to enter the formal tourism market is part of the

Industrial Development Corporation's brief. The IDC

backed local entrepreneur Mofasi Lekota in his hotel

venture in the provincial capital, Park Inn by Radisson

Polokwane. The development finance institution is

also getting behind projects in Magoebaskloof and

Thohoyandou.

Almost 70% of South Africa's number one tourist

attraction, the Kruger National Park, falls in Limpopo,

and yet relatively few local communities benefit

materially from the park, beyond wage earning.

In 2018 the celebration of the International

Day of Tourist Guides was hosted by the Limpopo

Department of Economic Development and

Tourism (LEDET) at the Mopani rest camp in the

Kruger National Park. At this gathering, the National

Department of Tourism announced a new approach

to supporting small, micro and medium enterprises

(SMMEs). Incentives and market support are to be

offered in order to compete in the global market.

Tour guiding is seen as an area with strong growth

potential. The National Registrar of Tourist Guides

works within the department.

Wildlife farming and hunting generates enormous

amounts of money but South Africans who were

previously excluded by law still have very little access

to this sector. According to calculations done by a

Professor in Tourism at the University of the North

West, Peet van der Merwe, trophy and biltong hunters

contributed a combined R13.6-billion to the South

African economy in the 2016/17 season. The number

of direct jobs created in this period in Limpopo was

17 806 (The Conversation). In 2018, the formal wildlife

auction turnover for the whole of South Africa was

R750-million, as reported by Yolande Groenewald

in the Mail & Guardian. A buffalo bull was sold in

2016 for R178-million. LEDET aims to create wider

opportunities within these sectors via its Wildlife

Transformation Policy.

When President Ramaphosa visited Limpopo

in 2017, it was to launch the National Biodiversity

Economy Programme. Planners believe that the

LIMPOPO BUSINESS 2019/20

24
---
SPECIAL FEATURE

Tour guiding can boost local employment.

biodiversity economy can achieve an average

annualised GDP growth rate of 10%. Limpopo is rich

in natural resources and heritage.

Between 2014 and 2018, Limpopo received more

than 27. 5-million domestic travellers and 8-million

international tourists. As more infrastructure is

rolled out and partnerships created between the

public and private sectors, more investment and job

opportunities will result.

According to the Limpopo Premier's office, the

tourism sector employs about 22 414 people.

The 5-in-5 strategy aims to increase visitor

numbers to five-million in five years.

A new event on Limpopo's calendar caused

great excitement in 2018 with the first riding of the

Tour de Limpopo, a four-day UCI Africa Tour 2.2

stage race which started and finished in Polokwane,

with a stopover in Tzaneen. A range of sponsors

enthusiastically endorsed the race, promoted by the

Limpopo Tourism Agency (LTA). Hotel@Tzaneen and

Europcar South Africa were sponsors and race officials

were provided with cars by Audi Centre Polokwane.

Regular events are holding their own as well:

the annual Limpopo Marula Festival in Phalaborwa

attracts more than 30 000 participants and is

estimated to inject upwards of R45-million into the

provincial economy. Several neighbouring countries

are well represented in the attendees and 13 cooperatives

operating under the Mukumbi Industries

brand normally brew about 12 000 litres of marula

beverages for the thirsty crowds. Other marula

products are also sold such as nuts, body lotions,

jam, cooking oil and soap.

The LTA also backs the Mapungubwe Festival,

which is growing in stature every year. In addition to

the popular musical performances, crafters have an

opportunity to display their crafts and generate good

income during the festivities.

The tourist authority has six focus areas:

• Golf and game

• Hunting and safari

• Family and recreation

• Special interest

• Mega-conservation

• Meetings Incentives Conference and Events

(MICE).

Varied assets

Limpopo Province has varied tourism assets that include

the bare bushveld of the north, misty mountains

in the central highlands, hot springs, a unique cycad

forest, excellent golf courses, the Kruger National Park

and numerous luxury private game reserves.

Kruger, Mapungubwe and Marakele are all national

parks and they are run by South African National Parks

(SANParks). There are a further 53 provincial nature

reserves managed by the Limpopo Department of

Economic Development, Environment and Tourism

(LEDET). Many of these reserves are communally

owned but jointly managed by the province and

communities. The combined land area of Limpopo's

national, provincial and private game and nature

reserves is 3.6-million hectares.

The provincial government has committed

to enhancing the value of Limpopo's two

UNESCO World Heritage Sites, Makapans Valley

and Mapungubwe, where the superbly crafted

little golden rhinoceros, a relic from medieval

times, was found in 1932. This is also a priority

programme in the National Tourism Sector

Strategy. The Waterberg Biosphere Reserve is a

UNESCO protected site.

A new drive to promote home-stays is underway

in the northern part of the province. Getting tourists

to eat mopani worms and learn about local traditions

and cultural practices would help to generate

income for villages and hamlets otherwise outside

the mainstream economy.

25

LIMPOPO BUSINESS 2019/20
---
SPECIAL FEATURE

In support of the arts and culture sector, a potential

area of growth for tourism in Limpopo, a performance

theatre is to be built in Polokwane.

The South African Golf Tourism Association says that

up to 10% of visitors to the country are attracted by its

golf courses, and Limpopo's offering has been extended

and improved in recent years. At the high-end of the

luxury offering are the Zebula Golf Estate and Spa (west

of Bela Bela) and the Legend Golf and Safari Resort.

Adventurous visitors can choose from off-road

biking, hunting, elephant rides and tough 4x4 trails.

A vast array of different cultures can be experienced,

from the Rain Queen and her people in the central

districts, to the myth-inspired art of the Venda in the

north, to the bright geometric house designs of the

Ndabele people in the Sekhukhune District.

Hotels and casinos

The 160-room Park Inn by Radisson Polokwane has

opened in the provincial capital. Located near the

golf course and the Peter Mokaba Stadium, the hotel

also has conference and event facilities.

Tsogo Sun runs the Garden Court Polokwane,

which has 180 rooms ranging from executive suites

to family rooms.

The Protea Hotel group has two hotels in the

province. The Protea Hotel Landmark in Polokwane

has 80 rooms and six conference venues. Just outside

the city is the Protea Hotel Polokwane Ranch Resort

where guests can walk with lions. The hotel is on a

1 000-hectare nature conservancy and specialises in

catering for weddings.

In Mokopane near the Waterberg mountains, the

family-run The Park Hotel Mokopane has 125 rooms

and can cater for up to 400 conference delegates. The

three-star hotel recently added 25 self-catering units.

The Fusion Boutique Hotel in the provincial

capital offers five-star quality in 30 en-suite rooms

and two exclusive suites. Sun International runs

the Meropa Casino and Entertainment World near

Polokwane. In the province's northern regions at

Thohoyandou, there is the Khoroni Hotel, Casino and

Convention Resort. This is a Peermont venture and

there is a three-star Peermont Metcourt Hotel in the

complex. The Limpopo Gambling Board regulates

the industry and grants licences. The Mopani District

was recently granted two new bingo licences.

The most recent casino licence was awarded

to Peermont Global Resorts for the official launch

and operation of the Thaba Moshate Casino, Hotel

and Conference Centre in the Greater Tubatse Local

Municipality. There are 237 limited pay-out gambling

machines in the province, and licences of one sort

or another generate more than R50-million for the

provincial government.

ONLINE RESOURCES

Limpopo Department of Economic Development,

Environment and Tourism: www.ledet.gov.za

Limpopo Tourism Authority:

www.golimpopo.com

Marula Festival: www.limpopomarulafest.co.za

South African Golf Tourism Association:

www.sagta.co.za

South African National Parks:

www.sanparks.co.za

26
---
Limpopo will soothe

your soul

MESSAGE

Nomasonto Ndlovu, CEO of the Limpopo Tourism

Agency, extends a warm welcome to visitors.

We welcome everybody to our

peaceful Province of Limpopo

which offers an opportunity to

see Africa's Big Five, while the

adventurous can go abseiling, bungee jumping,

rock climbing, walking on trails, caving, horse

riding or kloofing. For those who enjoy more

relaxed and conventional sport, the province

offers some magnificent golf courses. We

guarantee everybody the enjoyable and breathtaking

tranquillity of nature's fauna and flora.

It is heart-warming to note that visitors to our

province can expect to receive a warm welcome

in our people's homes. The Limpopo Tourism

Agency and Traditional African Homestays –

South Africa (TAH-SA) has found a solution to

the concept of homestays in South Africa. We are

proud that this award-winning organisation is in

Limpopo and continues to make an impact in the

lives of the poor women in the Makhado Municipal

area. Makushu village is an international tourist

attraction visited by tourists from England, USA,

Holland, Australia and Germany. The village now

has 25 homestays and TAH-SA hopes to expand

to other areas.

A wonderful surprise is in store for visitors to

the Modjadji Cycad Reserve, boasting some of

the oldest and largest cycad specimens on earth.

The natural forest can be viewed in its prehistoric

state thanks to its strict protection by succeeding

generations of Modjadji ("rain queens"), the

hereditary rulers in the area.

Limpopo is a land of beautiful and contrasting

landscape with hidden gems, exquisite flora and

fauna, expansive national parks and nature reserves,

mountain passes, rivers and productive fruit farms.

Less than 100km north-east of the capital of Limpopo

Province, Polokwane, lies the Magoebaskloof

mountain range. This area is known as "The Land of

the Silver Mist" and offers incredible views, mountainbike

trails and canopy tours along zip lines. Then there

is the Mapungubwe UNESCO World Heritage Site, the

"Cradle of Humankind", and archaeological sites such

as Sterkfontein and Makapans Caves.

Some of the flagship events that visitors can

look forward to include: the Tour de Limpopo

cycle race, the Limpopo Golf Championship, the

Limpopo Marula Festival and the Mapungubwe

Cultural Festival.

We look forward to welcoming you in Limpopo.

27

LIMPOPO BUSINESS 2019/20
---
LTA 2pp interview, pp 28-29

INTERVIEW

BIOGRAPHY

Nomasonto Ndlovu has wide experience in brand marketing, communication

and events in the private and public sector. She worked as Strategic Executiv

Director for the City of Tshwane before taking senior marketing positions in

South Africa's most

visited province pulls

South African Tourism.

ahead

fields as varied as banking (Standard Bank) and fast-moving consumer good

(Unilever in South Africa and Kenya). In 2005 she joined KwaZulu-Natal's

tourism board and then worked as the global manager of business tourism at

South Africa's most visited province pulls ahead

The CEO of the Limpopo Tourism Agency, Nomasonto Ndlovu explains how

The CEO of the Limpopo Tourism Agency, Nomasonto

locals can become valued tourists.

Ndlovu, explains how locals can become valued tourists.

Nomasonto Ndlovu

BIOGRAPHY

Nomasonto Ndlovu has wide

experience in brand marketing,

communications and events in

the private and public sector. She

worked as Strategic Executive

Director for the City of Tshwane

before taking senior marketing

positions in fields as varied as

banking (Standard Bank) and

fast-moving consumer goods

(Unilever in South Africa and

Kenya). In 2005 she joined

KwaZulu-Natal's tourism board

and then worked as the global

manager of business tourism at

South African Tourism.

How How many visitors has has Limpopo Limpopo had had in in recent recent years? years?

Destination Limpopo enjoyed a lead a lead as the as the most most visited visited province province in the coun

the since country 2016 from to 2018 2016 despite to 2018 despite fluctuating fluctuating figures. figures. Limpopo's Limpopo's performance can b

performance depicted over can the be past depicted three over years the as past follows: three years as follows:

Year

Domestic

Trips

International

Arrivals

2016 8.3-million 1.5-million

2017 5.1-million 1.8-million

2018 3.3-million 2.1-million

Do

Do

you

you

have

have

a strategy

strategy to

to

increase

increase

these

these

numbers?

numbers?

LTA has a marketing strategy which gets reviewed annually for

purposes LTA has of a maintaining marketing relevance. strategy which It is aligned gets to reviewed the National annually Tourism for purposes of

Sector maintaining Strategy relevance. (NTSS), Limpopo It is aligned Tourism to Growth the National Strategy Tourism (LTGS) and Sector Strategy

the (NTSS), Limpopo Limpopo Development Tourism Plan. Growth The Agency Strategy has developed (LTGS) and another

Limpopo

strategy Development that would Plan. address The Agency the visiting has developed friends and another relatives strategy (VFR) that would

segment address to the be visiting transformed friends into and holiday-makers. relatives (VFR) This segment makes to be transformed in

up holiday a big number makers. of This our segment domestic makes tourists up but a big with number less spending, of our domestic touris

as but they with often less do spending, not view as themselves they often as do holiday-makers. not view themselves This plan as holiday make

seeks This to plan increase seeks the to increase domestic the tourists domestic that tourists visit the that province visit the for province for

holidays, against those that are VFR, thus improving spend, length of

stay and geographic spread. LTA will develop consumer insights that

will assist in developing well-targeted campaigns and interventions.

We will also develop a targeted all-year-round campaign that focuses

on the VFR market in order for them to explore extending their stay

to enjoy the tourism attractions in the province, thereby positively

contributing to tourism and economic growth.

What sectors are you focussing on?

The Agency focuses on several clusters to achieve its vision of being

a leading tourism destination in Southern Africa. LTA reviewed its

clusters and has finalised a new structure. The clusters are as follows:

LIMPOPO BUSINESS 2019/20

28
---
INTERVIEW

Culture and Heritage, Family and Recreation, Sport

and Wildlife Safari, Safari and Hunting, Business and

Events and Special Interest.

Our campaigns are all-encompassing with

specific events supporting other respective clusters

such as adventure events like 4x4 off-road challenges

and cycling events. The Agency also sometimes

invites media and influencers to the province to

familiarise them with some products and attractions

in the province. These trips often provide positive

feedback which lead to more visits to the province.

What role do festivals play in the tourism

offering of the province?

Events play a key role in driving people from one

place to the other. LTA partners with several festivals

as they draw people to the province. The role of LTA

in these events is to assist by bringing the marketing

element to make sure they are successful. Provincial

flagship events like the Limpopo Marula Festival

and the Mapungubwe Cultural Festival are the two

government-organised events that LTA annually

partners with and assists in marketing for their

success. The Agency has identified several other

events and festivals that have the potential to grow

to the level of the two provincial festivals. Other

festivals that also draw more people are organised

in various districts and local municipalities such as

the Phala Phala Royal Festival in Vhembe District,

Collins Chabane Cultural Festival, Thobela FM Gospel

Festival and Sekhukhune Gospel Festival. Festivals

contribute immensely to the provincial economy.

Please comment on the first Tour de

Limpopo cycle race in 2018.

Limpopo Tourism Agency Board and the MEC for

Economic Development, Environment and Tourism

(LEDET) officially welcomed the organisers and the

teams that participated in the inaugural Tour de

Limpopo road race, at Park Inn Hotel in Polokwane

on 22 April 2018. This was the first international

road cycling stage race to be hosted in Limpopo

Province and South Africa. The fully-catered

stage race is a UCI Africa Tour 2.2 stage race for

professional teams. The Tour de Limpopo aimed

to set a new precedent in stage racing, one that

would develop and leave a legacy of continued

and sustained cycling development and investment

into community SMMEs as service providers to

the event. This was an opportunity to showcase

Limpopo Province as a premier Adventure Tourism

destination with so much to enjoy. This was a

perfect platform to showcase via livestreaming

the beauty of attractions such as Magoesbaskloof,

Moria Zion City, Modjadjiskloof, the Sunland Baobab

and Debengeni Falls.

What is the mandate of LTA?

Limpopo Tourism Agency (LTA), established in

respect of Limpopo Tourism Act No 2 of 2009, has

witnessed a metamorphosis since its inception 14

years ago. Limpopo Tourism and Parks (LTP) at the

time was also responsible for conservation including

management of provincial nature reserves, but in

2007, the Limpopo Executive Council resolved to

transfer the conservation function to Limpopo

Economic Development, Environment and Tourism

(LEDET). It was against this background that the

legislation for the establishment of the LTP Board,

Limpopo Tourism and Parks Board Act No 8 of had

to be repealed to give way to the new one. From

then on the entity remained with the management

of state-owned resorts (Limpopo Wildlife Resorts)

in provincial nature reserves. In August 2015,

the Board underwent a strategic workshop to

internalise the new piece of legislation governing

it, Limpopo Tourism Act No 2 of 2009. The entity

was commissioned to review its marketing strategy

in line with the new Act. The Executive Council

also issued Resolution No 7 of 2015/16, which

further directed that Limpopo Wildlife Resorts be

transferred to LEDET. This left LTA with only one

focus or mandate, of marketing Limpopo Province

as a leading tourist destination in Southern Africa.

Limpopo Wildlife Resorts (LWR) would be promoted

like all other tourism products in the province.

29

LIMPOPO BUSINESS 2019/20
---
FOCUS

Business tourism on a

growth trajectory

Limpopo's venues range from game lodges to conference centres.

Limpopo is undoubtedly on a growth trajectory

in respect of business tourism.

Evidence of this trend comes in the form

of the International Fellowship Evangelical

Students (IFES) World Assembly which was held in

July 2019 in Bela Bela at ATKV Klein Kariba.

The conference attracted an estimated 1 200

delegates from some 160 countries, who spent

about two weeks in the region. The idea to bring the

conference to Limpopo was born out of engagements

by Limpopo Tourism Agency (LTA) at Meetings Africa

2018, confirming the importance of this marketing

platform. The agency will also host International

Association of Schools and Institutes of Administration

(IASIA) at ATKV Klein Kariba from 19-25 July 2020.

Limpopo offers unique conference, meetings,

incentives and other venues with relevant resources

and superb settings. In recent years, the meetings

and incentive industry within Limpopo has grown

significantly. Limpopo's MICE (Meetings, Incentives,

Conferences, Exhibitions) products are conveniently

situated within one-and-a-half to three-hour's drive

from Johannesburg. Access to most of the venues is

made easy, as the province is served by three airports

with direct flights from Johannesburg and Cape Town.

Limpopo offers a wealth of conferencing and

exhibition facilities, including custom-built centres

designed to the highest international specifications,

facilities at hotels, educational institutions and

theatres. Conference venues in the province range

from country lodges to large conference and

exhibition centres in the cities. While in Limpopo on

a business mission, conference goers will be spoilt

for choice with a plethora of offerings from wildlife

to adventure activities.

Three South African cities are currently excelling in

the business tourism sector, namely, Johannesburg,

Durban and Cape Town. Limpopo does not have the

same sort of large infrastructure that these centres

can call on such as convention centres, but the LTA is

now focussing on creating awareness about what the

province has to offer in the business tourism space.

While Limpopo is still striving towards its goals

in taking full advantage of the opportunities in

tourism, the MICE sector undoubtedly presents an

opening for the province as a destination to focus

LIMPOPO BUSINESS 2019/20

30
---
FOCUS

on providing big entities or corporate organisations

with opportunities to host a variety of activities. This

includes incentive trips and team-building sessions

which would be ideally suited to what the province

has to offer.

LTA already has a Business Tourism Strategy in

place that guides it on what needs to be done in the

marketing space and on the supply infrastructure

and tourism demand side. The entity is ready to

establish a dedicated conventions bureau unit to

begin searching for and bidding for events from

associations in the country and beyond, for example,

mining chambers, the Mango Association and Grain

Association. LTA intends to secure the calendars of

these organisations to lobby for their events to be

held in Limpopo Province.

It must be emphasised that there are excellent

facilities throughout the province although

transformation is critical given a low number of

previously disadvantaged enterprises working in this

space. The Agency will work closely with Limpopo

Economic Development, Environment and Tourism

(LEDET) to address this challenge.

Limpopo Province continues to be one of the

major recipients of tourism arrivals in South Africa

given its broad tourism product offering and appeal.

Limpopo Tourism Agency will continue to build and

strengthen partnerships with the industry, local

government and other key stakeholders in order to

deliver on its mandate. The Agency will capitalise on

this advantage to support and nurture its business

tourism profile.

The Agency will continue to maximise its

competitive advantage of being bordered by three

countries in the SADC region, namely, Botswana,

Zimbabwe and Mozambique. These countries

are seen as a low-hanging fruit as the distance

to Limpopo for business events and conferences

is shorter than anywhere else in the country.

Destination Limpopo's prospects in business

tourism are enormous with the upcoming Makhado

and Tubatse Special Economic Zones (SEZs) that will

inject R44-billion in investments to the province's

economy thereby creating 22 800 direct jobs. This

will also contribute to business tourism growth in

the province.

31 LIMPOPO BUSINESS 2019/20
---
FOCUS

Destination Limpopo

More to Enjoy

Limpopo offers a mosaic of exceptional scenic

landscape, a fascinating cultural heritage, an

abundance of wildlife species and many nature-based

tourism opportunities. Limpopo

is the land of myths, legends, beautiful scenery and

landscapes as well as majestic baobab trees.

The province consists of living cultures, ancient

places, nature reserves and national parks, trees,

things to do and things to experience but all of them

will leave the visitor with a greater insight into what

makes Limpopo the Great North.

Limpopo borders Botswana, Zimbabwe and

Mozambique. It is a prime wildlife destination with

a host of game and nature reserves. The climate in

the Limpopo Province is quite hot since the area

is bisected by the Tropic of Capricorn. Visitors will

find that they can enjoy long sunny days and dry

weather on most days.

There is spectacular game viewing and birding

in the province, as well as a mix of African cultures,

intriguing folklore and legend and prehistoric treasures.

It is home to the Mapungubwe World Heritage

Site, as well as Modjadji, the fabled Rain Queen, and

the age-old relics of the Makapansgat Valley. It is

here that the Venda artists live and thrive, and where

places like Lake Fundudzi and the Vondo Forest are

considered to be sacred.

The birding at Nylsvley RAMSAR Wetland is a

magnet for nature-lovers and many golf enthusiasts

have the extreme 19th hole at Legend Golf and

Safari Resort on their bucket list. The province

is endowed with bountiful natural resources,

including 54 provincial reserves and many private

game reserves.

The city of Polokwane is at the heart of the province

– a growing urban hub with its sights set on

the future, yet with a heart and soul steeped in

traditional values. Limpopo is a fascinating province

and conference delegates or visitors will enjoy the

wild beauty of the area combined with incredible

cultural insights and numerous adventure attractions

that will keep them coming back for more.

Limpopo Tourism Agency is charged with the

responsibility of marketing the province as the

leading tourism destination in Southern Africa with

"More to Enjoy".

LIMPOPO BUSINESS 2019/20

32
---
ADVERTORIAL

Making it easier to do business with Nedbank

Whole-view Business Banking

Loderick Lubisi, Nedbank Provincial General Manager for Retail and

Business Banking for Mpumalanga and Limpopo, explains how

Nedbank can help business owners in the region.

on what's most important to you – running your

business,' says Lubisi.

In line with our new brand proposition encouraging

clients to see money differently, our Mpumalanga

and Limpopo agriteams are committed to providing

key support, as well as advisory and business services

to all roleplayers involved in the agrispace in both

provinces. We will share our financial expertise

and play a role in advancing profitable, sustainable

practices throughout the agricultural production and

consumption value chain.

There is good news for Mpumalanga

and Limpopo business owners and

entrepreneurs seeking a unique banking

experience: Nedbank Business Banking

has business managers, located across

both provinces, specialising in commercial

industries as well as the agricultural sector.

Lubisi says his team is ready to assist clients with

professional advice, industry-specific solutions

and a comprehensive range of financial products

and services.

'At Nedbank Business Banking we believe that you

need a financial partner who not only understands

your circumstances and aspirations, but also provides

you with relevant solutions and a banking experience

that is hassle-free. This allows you to concentrate

We recognise that farmers today face many

challenges and that to remain competitive they

continually have to improve and adopt best practices

and new technologies.

'We encourage you to see money differently with

Whole-view Business Banking', says Lubisi.

'We are also involved in a number of initiatives with

the public sector, ensuring that such partnerships

support provincial government goals in respect of job

creation and growing the economy,' Lubisi concludes.

Should you be interested in taking your business to the

next level, please call Loderick Lubisi on

+27 (0)13 759 4910, send an email to

loderickl@nedbank.co.za or

visit www.nedbank.co.za.
---
ADVERTORIAL

Nedbank Business Bundle is a game changer

with savings and personalised services for

small enterprises

The new Business Bundle from Nedbank is a game changer for small

enterprises in Mpumalanga and Limpopo, offering the best value for

money when compared to rival offerings.

With the country's challenging economic

environment, the Business Bundle not only

offers you personalised banking services,

but also critical tools to save – with up to

40% savings on monthly banking fees –

contributing directly to the bottomline at a

time when every cent counts.

In line with Nedbank's new brand proposition to see

money differently, the Business Bundle resonates with

the bank's commitment to do good by promoting

small enterprises.

'As a bank for small businesses we are committed

to partnering with entrepreneurs to help grow their

businesses. As such, Nedbank is always looking at

ways in which we can help unlock the value of our

clients' businesses. We support their business growth

journeys by providing practical tools to help them

run their businesses,' says Loderick Lubisi, Nedbank

Provincial General Manager, Retail and Business

Banking for Mpumalanga and Limpopo.

'Small businesses are the lifeblood of our economy.

Nedbank has, over the years, instituted various

interventions aimed at giving support to the smallbusiness

sector.'

Trust us to protect your business against

everyday risk

Stella Tedeschi, Regional Manager of Broker

Channels for Mpumalanga and Limpopo, says

Nedbank Insurance is not a one-size-fits-all

business.

Nedbank Insurance has evolved into a business

that provides integrated insurance to individual

and business clients. Our offering comprises

comprehensive short-term insurance solutions,

life insurance solutions and investments.

Nedbank Insurance provides a comprehensive

offering of short-term products on behalf of

blue-chip insurers. Should you be interested in

expert advice on the type of cover that is exactly

right for your business needs, look no further.

Nedbank has a team of specialists ready to provide you with

information necessary to allow you to make an informed

decision. For more information call Stella Tedeschi on

+27 (0)12 436 7659, send an email to

stellat@nedbankinsurance.co.za,

or visit www.nedbank.co.za.

To see how Nedbank can help your small business reach its

goals call Loderick Lubisi on +27 (0)13 759 4910, send an

email to loderickl@nedbank.co.za or

visit www.nedbank.co.za/business.

Nedbank Ltd Reg No 1951/000009/06. Nedbank Ltd Reg Authorised No 1951/000009/06 financial

Authorised financial services services and registered and registered credit credit provider provider (NCRCP16).
---
SIGN UP

FREE

TAKE SMALL STEPS.

GET GREAT REWARDS.

LEARN TO MANAGE YOUR MONEY BETTER AND GET ACCESS TO ALL THE

SUPPORT AND TOOLS YOU NEED TO ACHIEVE YOUR GOALS IN THREE

EASY STEPS.

Step one: Sign up to Old Mutual Rewards for free.

Step two: Earn points for every smart money move you make.

Step three: Enjoy the benefits and rewards.

With a free credit report to monitor your credit score and access to the 22seven

app that tracks your budget, you can start earning points immediately.

Points that you can re-invest into your Old Mutual Money Account, donate to

charity, use to buy airtime and data or spend at any of our great retail partners.

DO GREAT THINGS EVERY DAY

Old Mutual Rewards (Pty) Ltd. (Registration Number 2018/095769/07) is brought to you by Old Mutual Limited.
---
HOW IT WORKS

ENGAGE, LEARN & EARN

SPEND

LEARN AT OUR

MONEYVERSITY

MAKE A MONEY SMART

BUDGET PLAN

BUY AIRTIME

& DATA

BUY STORE

VOUCHERS

REQUEST A FREE

CREDIT REPORT

EARN EVEN MORE

WITH OLD MUTUAL

PRODUCTS

MANAGE YOUR MONEY

WITH 22SEVEN

INVEST YOUR POINTS

INTO YOUR OLD MUTUAL

MONEY ACCOUNT

DONATE

TO CHARITY

SPEND YOUR POINTS WITH OUR GREAT PARTNERS

THE TIME IS NOW to get rewarded for being money smart.

Sign up today at oldmutualrewards.co.za
---
KEY SECTORS

Overviews of the main economic sectors of

Limpopo

Agriculture 40

Mining 44

Construction and property 58

Energy 59

Transport and logistics 60

Banking and financial services 70

Development finance and SMME

support 74

Education and training 86
---
OVERVIEW

Agriculture

Five Agricultural Development Zones have been declared.

Limpopo's fruits and vegetables form an important part of

South Africa's export basket and more than 45% of the annual

turnover of the Johannesburg Fresh Produce Market originates

in the fertile province.

The percentage contribution of Limpopo agriculture to national

agriculture is 7.6% although its contribution to provincial GDP is just

2.3%. Agri-processing has enormous potential to expand in every

subsector. The establishment of agri-parks and co-operatives and

support for youth in farming are key provincial government initiatives.

Cotton growing is experiencing a renewal in the province.

Companies like ZZ2 are major contributors to the country's annual

production of 120 000 tons of avocadoes. Of the current crop, about

half is produced in two Limpopo regions, Letaba and Tzaneen. Exports

are rising exponentially. In response to this demand, and the potential

of the Chinese market, almost 1 000ha per year of new land is being

planted with avocadoes in South Africa.

The same amount of new macadamia planting is underway every

year, according to the Macadamias South Africa (SAMAC), adding to

the existing 19 000ha.

The other big sellers are mangoes and tomatoes. Limpopo grows

three-quarters of South Africa's mangoes and two-thirds of its tomatoes.

The Waterberg District produces large quantities of red meat, Capricorn

has potatoes in abundance, Vhembe in the north specialises in citrus and

subtropical fruits, Mopani has those fruits too – and the Mopani worm.

The Sekhukhune region in the south-east produces grain and the marula

fruit that goes into Amarula cream liqueur.

SECTOR INSIGHTS

The IDC's support of a

blueberry operation created

62 new jobs.

The Limpopo Department

of Agriculture and Rural

Development has identified

five Agricultural Development

Zones (ADZs) where support will

be given to farmers to promote

production in the sector. More

than 1 000 small-scale farmers

are being trained annually to

improve their skills and to improve

production. Irrigation schemes

have been revived in eight

districts to assist farmers.

The Provincial Government

of Limpopo's nine-point

economic plan includes

RAAVC (the revitalisation of the

agriculture and agri-processing

value chain).

LIMPOPO BUSINESS 2019/20

40
---
OVERVIEW

National government's Industrial Policy Action Plan (IPAP)

acknowledges agri-processing as one of the best sectors for

labour-intensive growth. In that context, the decision by Dursots-

All Joy to relaunch and upgrade the tomato processing plant in

Modjadjiskloof, Tzaneen, is important for the larger economy. At

least 15 commercial farmers now have a ready market for one of

Limpopo's chief products and there is potential for the factory to

employ as many as 300 people. There is a shortage of tomato paste

in South Africa.

More support for farmers comes in the allocation of R32-million

by the provincial government of the construction of the Molemole

Agricultural Office in the Capricorn District Municipality. In addition to

tackling drought, the Limpopo Department of Agriculture and Rural

Development has had to put a strategy in place to fight Fall Army Worm.

All of South Africa's major retailers have enterprise development

programmes which connect farmers to suppliers. In Limpopo

Woolworths supports independent farmers by buying their produce

and Spar channels produce from smallholders through its Fresh

Assembly Point in Mopani.

Massmart's five-year programme, which tailed off as the company

focussed more on the manufacturing sector which is relevant to their

main business, trained more than 700 farmers in logistics, food safety

and financial management. At its peak, the programme was supporting

164 smallholder farmers.

Another example of an initiative to link farmers to markets was

a Market Linkage Information Day, organised by the Limpopo

Department of Agriculture and Rural Development (LDARD) in 2018

at Soekmekaar.

The Limpopo regional office of the Industrial Development

Corporation (IDC) has helped expand the province's agricultural

sector by supporting the creation of two blueberry operations near

Tzaneen. Tzaneen Blueberries used its own money to establish 17.5ha

of blueberry plantations but approached the IDC to fund later stages

of development. The IDC's R13.5-million assisted in the building of a

packhouse. The expansion created 62 jobs.

In terms of the Provincial Red Meat Cluster Development as

ONLINE RESOURCES

Agro-Food Technology Station, Limpopo University: www.ul.ac.za

Citrus Growers Association: www.cga.co.za

Deciduous Fruit Producers Trust: www.dfpt.co.za

Limpopo Department of Agriculture and Rural Development:

www.lda.gov.za

Macadamias South Africa: www.samac.org.za

South African Subtropical Growers' Association:

www.subtrop.net

a catalyst towards sustainable

rural livelihoods development

through livestock farming, the

Nguni cattle loan project saw a

total of 350 livestock breeding

animals distributed in 2017/18

to 16 farms. The scheme, a

partnership between LDARD,

the Industrial Development

Corporation and the University

of Limpopo, aims to improve the

quality of breeding stock. It also

forms part of the development

of a provincial Red Meat Cluster.

Companies

ZZ2 is the major brand of Bertie

van Zyl (Pty) Ltd, which produces

160 000 tons of tomatoes per

year. Westfalia is another huge

enterprise, part of the Hans

Merensky Group, and it is the

world's largest avocado grower.

It also produces significant

quantities of mango, litchi,

citrus and macadamia and has

three agri-processing plants in

the province. Greenway Farms

supplies about 45% of the freshmarket

carrots consumed in

Southern Africa under the Rugani

brand.

The two most active

agricultural companies in

Limpopo are NTKLA (with its

headquarters in Modimolle)

and Afgri, South Africa's biggest

agricultural company, which has

its headquarters in Centurion

(Gauteng).

NTKLA is a shareholder in

Venda Roller Mills in Thohoyandou

and operates 10 grain silos, 23

retail outlets, 28 flour depots and

one cold storage facility.

41 LIMPOPO BUSINESS 2019/20
---
PROFILE

Mahlolane

Agricultural Projects

Creating sustainable employment.

Vision

To create sustainable employment opportunities

for young people and encourage them to look no

further than farming.

How do we realise that goal?

Seek partnerships with provincial government and

agricultural schools to provide internships and create

export markets.

Mahlolane Agricultural Projects is an

agricultural production company currently

operating at remotely located

Lepelle Nkumpi Municipality.

The company was formed in 2014. Production

capability is based on 30 hectares of land that is

prepared for crops, which include tomatoes, green

peppers, cabbage and spinach. There are 15 employees,

with scope for at least 30 more people to

be employed.

Underpinning the project is the idea that hard

work promotes peace and happiness. This is captured

in the Latin saying "Labor pacemque felicium".

Mission statement

To demonstrate crop farming as a sustainable commercial

venture for young and seasoned farmers.

Company objectives

• The company's short- to medium-term ambitions

are to attract tourism through crop- and

stock-farming activities.

• Our company to be used as an agricultural

school for primary and secondary schools to

visit and learn first-hand about farming.

• To provide local crèches and primary schools

with crops and vegetables at affordable prices.

• To encourage retail stores and supermarkets at

shopping malls to buy local, freshly produced

products.

• To serve and aid strong and aggressive

protection of food security in our province.

ONLINE RESOURCES

Mahlakoleng Village, Ga–Mphahlele 0736

Limpopo Province

General Manager, Pontsho Gloria Mooa

Tel: 076 296 8544

Non-executive Director, Richard Mooa

Tel: 082 467 3049

Email: richardm@globeflight.com

LIMPOPO BUSINESS 2019/20

42
---
Making farming a

success story

FOCUS

Ambitious plans to grow Mahlolane Agricultural

Projects into a sustainable model.

Non-executive Director,

Richard Mooa

Richard Mooa is a man on

a mission. As a man who

has achieved success in

more than one field, he

set out in 2014 to plough back to

the community and environment

where he grew up. As he puts it, it

was his way of saying, "Thank you

for raising me, I now want to do

something for you."

The vehicle was Mahlolane

Agricultural Projects (Pty) Ltd,

which has continued to grow

over the five years of its existence,

and now stands ready to further

expand, if sufficient support can be

found and beneficial partnerships

can be created.

Tackling problems

The project was designed as a

sizeable, affordable and wellmanaged

project to relieve the

pain of hunger among povertystricken

people, especially families

without breadwinners, from

nearby villages in the Lepelle

Nkumpi Municipality area in the

Capricorn District Municipality.

The other major goal was to address the question of jobless youth wandering

the streets aimlessly and hopelessly. These are the youth without any formal

education or any form of training that could help them to support themselves.

Farming was chosen as the solution, the way to bring hope and selfconfidence

to these two target groups. The project faced many challenges,

not least from people who did not believe that it could work.

But Mooa was driven. Remembering that time, he says, "Just because I did

not know where I was at that time, did not mean that I did not know where I

wanted to be." He wanted to help people and make a difference in their lives.

Partnerships

Of the project's current status Mooa is upbeat, "I am so delighted at the progress

so far," but he wants the project to achieve much more. He is looking for

partnerships and the support of agricultural institutions and departments at

local, provincial and national levels.

There are many reasons to support MAP, both social and economic. These

include:

• the creation of employment for local people

• encouragement of youngsters to work and get to love farming as a

career

• the use of animal manure as a means of soil fertilisation

• local pride in a special project of its own

• employees being given a chance to be leaders in their own right.

Huge potential

The challenges faced by the project are real, not least the dryness and the

heat of the area and the fact that movable assets require constant repairs and

maintenance. Access to capital would make it possible to expand production,

sink boreholes, install a pivot irrigation system, fence off areas and buy seed

and equipment. A marketing strategy and a website would help the project

achieve its full potential.

Potential partners – private and public – could provide the assistance to

take this project a long way.

"We are blessed in that we work with young and highly ambitious people,

determined to be role models in their own rights," says Richard Mooa. "We

believe we have a viable and highly profitable commodity here," he says.

Moving to the next level will depend on the quality and quantity of resources

that are made available.

43

LIMPOPO BUSINESS 2019/20
---
OVERVIEW

Mining

Eight new investments are bringing

jobs to Limpopo.

Mining companies are increasingly concerning themselves

with environmental issues. A R1.5-billion project to improve

air quality at Anglo-Platinum's Polokwane smelter will be

finalised in 2020. The Sulphur Dioxide Abatement project

will reduce carbon emissions by 96%, create 500 construction jobs and

provide contract work for about a dozen Limpopo companies. The

smelter is shown in the main picture on this page.

Anglo Platinum's (Amplats) Mogalakwena mine produced a record

1 170 000 PGM ounces in 2018, an improvement of 7%. The company

recorded a number of improvements in efficiencies (operating time

of concentrators rose to over 94%) and the company is investigating

possible expansion of the mine complex.

The sale in late 2018 of Glencore's stake in the Mototolo PGM mine and

chrome plant marked the end of that company's foray into platinum. The

purchase of Glencore's 39% stake takes Amplats' share in the complex

SECTOR INSIGHTS

Amplats' Polokwane smelter

has installed sophisticated

air-quality equipment.

up to 89%, giving Amplats access

to a further 130 000oz of platinum

and improving the prospects

of working on the adjacent Der

Brochen. The deal was worth

about R1.5-billion.

Eland mine, after being put on

care and maintenance, was sold in

LIMPOPO BUSINESS 2019/20

44
---
OVERVIEW

expansion projet at its Zondereinde mine just south

of Thabazimbi. By building a second furnace at the

facility, Northam is making provision for reaching

a goal of processing one-million ounces of PGMs.

The cost of the expansion, which was partly born

by Heraeus, is R900-million.

Heraeus South Africa has offices in Gauteng

and runs a precious metal chemical compounds

production and refinery site in Port Elizabeth.

Limpopo contributes 4% of coal mining in South

Africa, according to the National Department of

Mineral Resources, but it is likely that within the next

three decades, the province will be supplying about

half of South Africa's coal. Limpopo's Waterberg coal

field is estimated to contain about 75-billion tons

of coal.

This is where Exxaro operates its Grootegeluk

mine. Nine plants serve a 4km long and 120m deep

opencast mine on a 1 200ha site. Originally intended

to supply the nearby power plants, Exxaro is now

eyeing the export market with countries such as

Ethiopia, Egypt and Pakistan potential markets. By

2023 Exxaro hopes to be producing 60-million tons

of coal from its sites in Limpopo and Mpumalanga.

Its current annual production is 47-million tons.

New projects

2017 by Glencore to Northam for R175-million. In

2019 plans were being put in place to re-open the

mine because of higher prices for rhodium. The

company intends spending R300-million at Eland

and R1.5-billion at Booysendal.

Impala Platinum (Implats) has an interest in two

big operations on the eastern limb of the Bushveld

Igneous Complex. Marula (in which Implats is a 73%

shareholder) is in Limpopo, about 50km north of

Burgersfort. South of the same town, in Mpumalanga,

Implats (49%) is in a joint venture with African Rainbow

Minerals (ARM) at the Two Rivers mine.

Northam bought the Tumela block from

Amplats and invested heavily in a smelter

Eight new mining projects in the Capricorn and

Sekhukhune districts are expected to attract

investments worth R2.5-billion and create about

3 000 new jobs. There are currently 147 active

mining projects in the province and the sector

contributes 24.5% to the Provincial Gross Domestic

Product (PGDP).

According to the Office of the Premier, the number

of jobs in the sector increased from 71 000 in 2013 to

103 000 in 2017/18. The soils of Limpopo are rich in

platinum group metals, coal, copper, diamonds, gold,

iron ore, nickel, rare earth minerals and tin.

Other major investments in Limpopo include an

ongoing project by De Beers to convert its Venetia

45

LIMPOPO BUSINESS 2019/20
---
OVERVIEW

NEW WIMSA CHAIRPERSON RAISES THE BAR

Selected as one of the "Top 100 Global Inspirational Women

in Mining" by Women in Mining UK in 2018, Thabile Makgala

was recently appointed to the position of Chairperson of

Women in Mining South Africa (WiMSA).

Thabile holds the position of Executive: Mining at Impala

Platinum but getting to the top was no easy journey.

Thabile recalls "numerous obstacles while navigating my

mining career path". Her qualifications include a master's

degree in business administration from the University of

Stellenbosch Business School and a Bachelor of Science

degree in Mining Engineering (Cum laude), from the

University of the Witwatersrand. But as the first female

mining engineer graduate at Goldfields Kloof and Driefontein

division (now Sibanye Gold), it soon became clear that, as she

recalls, "the industry had not adequately prepared itself to

accept women in mining".

"The response to women's needs (infrastructure, personal

protective clothing, and policies) was slow and very little was

in place to address women's issues."

Her extensive experience has given Thabile insight into what

is needed. "Women and men should hold equal representation

in the workplace," she says, "and mining companies should

prioritise and advocate for diversity, inclusion, parity and

for greater recognition of female leadership within their

organisations."

Thabile is encouraged by progress made by women in mining

but wants to see "more deliberate and proactive action".

Her hope is that in 10 years, "the fundamental elements

such as empowering, caring, showing respect, connecting

and growing our female talent, would have been achieved".

mine from an open-pit mine to a verticalshaft

mine, and a multi-billion new

platinum mine project led by a Canadian

firm. Venetia mine is by far the most

important part of De Beers' South African

operation, accounting for 3.1-million of

the 5.4-million carats recovered by the

company from its six operations.

Ivanplats, the subsidiary of the

Canadian company, has started sinking

shafts at its new mine near Mokopane

south-west of Polokwane. Ivanhoe has a

64% stake in Ivanplats with 10% owned

by a group of Japanese companies

including ITOCHU Corporation and Japan

Gas Corporation.

Mineral beneficiation is a key

component of the newly accredited

Musina-Makhado Special Economic

Zone (SEZ) in the far north of Limpopo.

The De Beers Group's Venetia

mine in northern Limpopo is a giant

project in every sense.

LIMPOPO BUSINESS 2019/20

46
---
OVERVIEW

Impala Platinum is a major presence in Limpopo.

In 2018 nine Chinese companies committed to

investing more than $10-billion in projects related

to the zone's four main areas of activity: a coking

plant, a power plant, an alloy factory and the

manufacture of steel.

The planned Tubatse Platinum SEZ will focus on

mining, as its name implies. According to LEDA, 17

new mines were established in the greater Tubatse/

Burgersfort/Steelport area between 2001 and 2016,

and a further 22 new mines are planned.

The focus at Tubatse will be on the beneficiation

of platinum group metals, magnetite, vanadium

and chrome. The other strong mineral focus in

the eastern part of the province is at Phalaborwa

where Palabora Copper, a subsidiary of Palabora

Mining Company, produces about 45 000

tons of copper annually, most of which is sold

domestically. It runs a smelter and a refinery and

also mines magnetite, vermiculite sulphuric acid,

and nickel sulphate.

ONLINE RESOURCES

Minerals Council South Africa: www.mineralscouncil.org.za

Department of Mineral Resources: www.dme.gov.za

Geological Society of South Africa: www.gssa.org.za

South African Institute of Mining and Metallurgy: www.saimm.co.za

47

LIMPOPO BUSINESS 2019/20
---
PROFILE

Ties with China build

a better Phalaborwa

Since 1956, PMC has been South Africa's

sole producer of refined copper.

and the mine produces other by-products such as magnetite,

vermiculite, sulphuric acid, anode slimes and nickel sulphate.

Chinese investment

Palabora Copper (Pty) Limited

is an incorporated operative

subsidiary of Palabora

Mining Company (PMC), a

copper mine that also operates as a

smelter and refinery complex in Ba-

Phalaborwa Municipality, Limpopo

Province in South Africa.

The mine is 80% owned by a

Chinese Consortium comprising HBIS,

Tewoo, General Nice and CADFund

through Smart Union Resources

South Africa. The rest of the equity

is jointly owned by the South African

government through the Industrial

Development Corporation (IDC), a

black empowerment consortium,

PMC employees and communities.

Since its incorporation in 1956,

Palabora Copper (PC) has been South

Africa's sole producer of refined copper,

The Chinese Consortium acquired PC in 2013 when PC was

facing two possible scenarios: (a) culmination of the life-ofmine

and (b) no overhauling of the smelter which was outdated

and facing shutdown. The first scenario would have resulted

in the loss of employment for more than 3 500 employees

(direct and indirect) while the second scenario would have

led to the loss of jobs for more than 700 off-stream employees

at the smelter.

Soon after the sale transaction, the new owners fostered

partnerships between PC and Chinese companies in areas

such as economic development, trade, skills and technology

transfers to achieve ground-breaking and substantive results

in extending the life-of-mine, refurbishing the smelter and

building a floatation plant.

To this end, the Chinese Consortium approved R10.4-billion

to extend the life-of-mine to beyond 2033, R878-million to

refurbish the smelter to ensure that PC continues to produce

copper rod, and R199-million to construct the floatation plant

to improve copper recoveries, operational efficiencies and to

reduce operational costs.

LIMPOPO BUSINESS 2019/20

48
---
PROFILE

Looking into the future

Palabora Copper is undertaking a life-of-mine

extension project known as the Lift II. The project

aims to extend the life of the business up to 2033.

The project includes the magnetite reclamation

and beneficiation study aimed at creating

additional revenue from the legacy stockpile.

The company committed about R700-million

to the pre-feasibility study and approximately

R10-billion is expected to be spent throughout

the development of the project.

The employer of choice

Since its inception, Palabora Copper has been

at the forefront of employment practices in

the local mining industry. Palabora, which

employs an average of 3 700 employees (Lift

I and II) aims to remain industry competitive

through its favourable conditions of

employment.

This is reflected in the utmost importance

with which the safety and health of

employees is regarded in order to remain efficient

and profitable as a business.

The company has written and developed its

code of ethics to follow strategic imperatives

which include: providing a safe and healthy work

environment for all employees and contractor

employees and practising sound environmental

management to ensure the sustainable

biodiversity of the natural environment within

which it operates.

Palabora Copper acknowledges and respects

its stakeholders' interest and concerns, striving to

be a leading corporate citizen within the mining

industry and supplying a high standard of quality

products and services, reliably and responsibly,

at national and global level. Palabora Copper is

certified as a Top Employer.

For more information:

www.palabora.com

49 LIMPOPO BUSINESS 2019/20
---
FOCUS

PMC's support for ongoing

sustainability drive is paying off

Palabora Mining Company is an energy-efficiency leader in

the mining sector.

The water quality of the Olifants River (above) and the Selati River are constantly

monitored as part of PMC's Environmental Management Programme.

Palabora Mining Company's code of ethics

includes consideration given to the healthy

work environment of employees but also to

ensuring that sound environmental management

is pursued so that the biodiversity of the

natural environment in which PMC operates can be

sustained for many years to come. These are among

the company's strategic imperatives.

Energy Management Programme

Mining activities are inherently very energy

intensive, so PMC launched an Energy Management

Programme in 2012 to curb the half-a-billion-rand

energy bill which was continually growing. PMC

collaborated with a consulting company, resulting

in the employment of 12 energy specialists and

project managers who would, in conjunction with

mining personnel, identify, implement and sustain

energy cost-saving projects. As a result, 117 initiatives

were identified. Following stringent technical and

financial adjudication processes, 31 projects were

implemented.

Step 1: Identify energy cost-saving opportunities

and ideas through data collection and process

analysis.

Step 2: Scope the ideas in terms of cost and return.

Step 3: Prioritise the ideas based on ease of

implementation, highest return and least cost.

Step 4: Develop an implementation plan for the

suite of projects submitted to management and

board members for approval.

Step 5: Implement the approved plan.

Step 6: Continuous measurement and verification

of each project's performance to ensure the

sustainability of the programme.

LIMPOPO BUSINESS 2019/20

50
---
FOCUS

As a result of adherence to the Productivity

Approach over the past five years the company

has saved R232-million through avoided energy

costs. These consist of:

• Electricity savings worth R181-million

• Coal and liquid fuels savings worth R43-million

• Water savings worth R8-million.

With the help of external funding mechanisms

worth R28-million the Energy Management

Programme had a net benefit of R173-million by

the end of July 2017.

Palabora Mining Company's Energy

Management Programme has not only created

a sustainable model but has also emphasised

the company's standpoint regarding its

environmental responsibility. PMC is now an

energy-efficiency leader in the mining sector.

Going green

The company is a certified ISO 14001

business, that subscribes to worldleading

practices. Located directly

adjacent to the world-renowned ecotourism

attraction, the Kruger National

Park, Palabora Copper coordinates several

onsite wildlife management and cultural

heritage programmes as part of its

ongoing sustainability drive.

Over the past years, Palabora Copper

has retained a record of being one of the

safest mines in South Africa and Africa.

This is particularly due to the stringent

SHEQ regulations and procedures in

place, and the effective management of

contractors on site.

51

LIMPOPO BUSINESS 2019/20
---
FOCUS

Women of PMC

Experience, skill and drive underpin

three success stories.

A

number of highly motivated women are

making stellar careers for themselves in

mining at PMC and providing inspiration

for scores of other women in the sector.

Matsela Ntsepe: Process Engineering

Manager

Matsela Dolphinah Ntsepe is a chemical engineer with

more than 17 years of experience in diamond, coal

and copper mining. Matsela is Palabora Copper's (PC)

Process Engineering Manager for the Smelter Retrofit

Project, a position she earned through hard work and

ascending through the ranks. Matsela started her career

as a Metallurgical Trainee and rose through various

levels including System Engineer, Refinery Technical

Metallurgist, Refinery Technical Superintendent,

Concentrator and Magnetite Technical Superintendent

and Refinery Operations Manager.

Matsela's experience in the mining industry

embraces equipment evaluation and selection, plant

process audits, treatment and optimisation, initiation,

implementation and management of processes,

maintaining and improving safety and financial and

human resources management.

Matsela or "Tsela" serves as the current Chairperson

of the Women in Mining (WiM) PC branch and is an

Ex-Officio Executive Member in the Limpopo region.

In addition, Tsela is a member of PC Transformation

Committee and a Trustee of PC Essop.

Matsela holds a National Diploma and B-Tech in

Chemical Engineering from Witwatersrand Technikon and

a Management Development and Financial Management

Programmes from the University of South Africa.

Being able to acquire mining technical qualifications

is hard and being a manager in the mining industry is a

difficult ladder to climb. Matsela has achieved both while

maintaining her humility and promoting the needs of

others. Tsela proved that a woman does not need to

behave like a man to be smart, support other women

and make it in the mining industry.

Matsela Ntsepe: Process Engineering Manager

As the member of the PC Transformation Committee,

Tsela influences and facilitates the direction of PC's

future strategic transformation agenda. This includes

recommendations on local economic development

projects that take gender mainstreaming and equality

into consideration.

Tsela is a finalist for the Limpopo Mine and Safety

Council's Women Achievers Award and the Standard

Bank Women in Science Award.

Manyabela Mailula: Manager for Training,

Development and Contractor Management

At only 35 years of age, Manyabela Mailula has more than

13 years' experience in technical research and mining in

countries such as Turkey, Georgia, USA and South Africa.

Manyabela is Palabora Mining Company (PMC) Manager

for Training, Development and Contractor Management.

She holds a National Diploma in Metallurgical

Engineering from Vaal University of Technology, a BTech

in Metallurgical Engineering (Tshwane University of

Technology), Honours in Management of Technology

(University of Pretoria), a Higher Certificate in Education,

Training and Development (University of Johannesburg)

and a Work Place Assessor Certificate from the Drum

Beat Academy.

PHOTO FLURRY PRODUCTIONS PHOTOGRAPHY

LIMPOPO BUSINESS 2019/20

52
---
FOCUS

Manyabela Mailula: Manager for Training,

Development and Contractor Management

Manyabela started her career as a Metallurgical Trainee

at ASA Metals (Dilokong Chrome Mine). She joined PMC/

Palabora Copper (PC) as a Smelter Training Officer and

ascended to the position of Operational Readiness

Manager. Manyabela's current responsibilities include the

development of PC's training and development strategies,

policies and standards.

Manyabela is the Chairperson of Limpopo Region's

Women in Mining. She is Chairperson of Employment

Equity Skills Development and serves as the member

of the board of Phalaborwa's Technical and Vocational

Education and Training (TVET) College.

Training and development policies influence how the

company perceives safety, gender parity and employment

equity. Manyabela has used her role at PC to create training

materials that allow for gender freedom and flexibility.

Manyabela is a finalist for the Limpopo Mine and Safety

Council's Women Achievers Award and Standard Bank

Young Achiever of the Year Award. The latter award is for

women who have achieved a lot before the age of 40.

Zani Kutumela: A leader without a title

Zani Kutumela, 35, is an author, social activist,

motivational speaker and mother. She has a BA Degree

in Communications, with majors in English and Journalism,

from the University of Johannesburg.

Palabora Copper (PC) employs Zani on a full-time

basis as an Administrator for the Training Department. Her

work involves interacting with people from diverse social,

political, economic and cultural backgrounds. The majority

interact with PC in order to get some type of assistance

(securing employment or learnership opportunities or a

contract). Zani is required to appreciate socio-economic

dynamics and balance the socio-economic imbalances

which exist in society.

Zani indirectly plays a role in ensuring that PC

training, procurement and learnership opportunities

are in line with the national transformation agenda and

the demands of local communities.

As an author, Zani published a poetry collection

titled Re-routing in 2018. Her poems criticise gender- and

children-based violence. Other poems in the anthology

speak to her love for Africa and pride in being an African.

As a social and gender activist, Zani is committed to

alleviating poverty and to opposing violence. She has

for the past three years dedicated time and financial

resources to donating food parcels, sanitary towels,

school shoes and blankets to disadvantaged families

and children, of which the majority are women. This

she achieves by asking for donations, and sometimes by

utilising her own limited resources. So far in 2019, Zani

has donated 156 pairs of shoes to Zamani Primary School

and 46 winter blankets to Phulabyehola Primary School.

Zani has also adopted Thabelang Disability Centre

based in Makhushane. The Centre houses 56 physically

challenged adults and children from the Phalaborwa

municipal area. Zani regularly donates food parcels and

her commitment has helped attracted sponsorships: a

borehole has been dug and paint donated.

Zani is a finalist for Limpopo Mine and Safety

Council's Best Poverty Alleviation Project Award and

Standard Bank Young Achiever of the Year Award.

Zani Kutumela: Social activist and author.

53 LIMPOPO BUSINESS 2019/20
---
FOCUS

Addressing

community needs

Electrification, water supply and a crèche upgrade are

recent projects undertaken by Marula Platinum Mine.

Recent initiatives

Marula Platinum Mine is 73% owned by

Implats and is one of the first operations

to have been developed on the

relatively under-exploited eastern limb

of the Bushveld Complex in South Africa. The mine is

in the Limpopo Province and employs approximately

3 500 people. Black economic empowerment forms

a key component of the Marula operation, and our

partners together own 27% of the company.

Marula's social investment strategy focuses

on addressing the needs identified within its

host communities. The mine invests in local

socio-economic development initiatives, drives

transformation, and engages with community

representatives and government officials at all levels.

Makgoma Chrome is a joint venture that assists local

communities with the extraction and marketing of

chrome from tailings.

However, it is through Marula's core activities

– employing people, paying taxes and procuring

from host communities – that it makes the biggest

contribution to the socio-economic development of

the Sekhukhune District and the Limpopo province.

Water supply: The installation of an electric pump

and three JoJo tanks in the Seuwe community in

the Mashibiring section. The pump supplies water to

500 households, approximately 5 000 people in the

village and a nearby crèche and secondary school.

Crèche revamp: Karabo Crèche, an early childhood

development centre in Mashibiring, now consists

of an office, kitchen, sick bay and three additional

classrooms. The donation brings to an end many

years of struggles with the daily running of the centre

because of limited space and inadequate facilities.

Village electrification: The Maahlapa section in

Ga-Mashishi Village has been electrified from the

proceeds of the chrome project. Phase two of the

project will see another 108 houses electrified.

Literacy: Ongoing full-time literacy classes are

provided at the mine, and Marula invests in skills

development through learnerships, short courses

and workplace training.

Supporting local business: Preferential procurement

and investment in enterprise and supplier

development provide important opportunities for

social and economic transformation. During the 2018

financial year, Marula procured R101-million worth of

goods and services from local companies.

CONTACT INFO

Contact: Alice Lourens, Group Head: Investor

Relations and Corporate Communication

Tel: +27 11 731 9033

Email: alice.lourens@implats.co.za

LIMPOPO BUSINESS 2019/20

54
---
ENRICHING LIVES

in many ways

Implats' commitment to sustainable mining

businesses creates employment and stimulates

local business opportunities and the development

of social infrastructure around its operations.

Implats is proud of its contribution to the

economy and the role it plays in bringing about

economic transformation – enriching lives in

many ways.

Coole Adv 18361
---
INTERVIEW

Safety first at

Venetia Mine

Gerrie Nortje, General Manager at Venetia Mine, outlines all the

steps that are taken to keep miners as safe as possible.

Gerrie Nortje, General

Manager at Venetia Mine

BIOGRAPHY

Gerrie Nortje began his career

with Anglo American in 1997

as a bursar studying Mining

Engineering. On completion of

his degree, he worked at various

Anglo American Thermal Coal

operations before becoming

Operations Manager at Xstrata.

He re-joined Anglo American as

a Principal Mining Engineer and

transitioned into a Lead Open

Pit Mining role during 2014 as

a member of the Technical and

Sustainability team. At head

office he was involved with a

variety of projects across the

group's business units.

What are the key principles behind keeping a

mineoperation safe?

All mines should be constructed and operated as per the design to eliminate

and, where not possible, mitigate risk in every part of the process. Quantifying

the risks to which our employees and communities are exposed forms a key

pillar in Safety Management. Engineering controls remain the most effective

and as a result are the highest on the hierarchy of controls.

At De Beers and Venetia Mine, we pride ourselves in our first value, which

is "Putting Safety First". This means that all our employees and contractors

are empowered to work safely, stop unsafe work, withdraw from an unsafe

area and escalate any unsafe conditions. This is an expectation from every

employee. The safety culture and one of transparency and collaboration is

absolutely critical. Not tolerating risk and being unconditional about safety

every single day remains paramount in succeeding. Fatigue management

is also important.

What programmes are in place to promote safety?

We have in excess of 20 workstreams focusing on elimination of fatalities.

Controls keep people safe and critical controls keep people alive. We are

improving all our critical controls and verifications.

What are some of your achievements in tackling safety?

Before we talk about successes, we should first reflect on the tragic death

of Maggie Semata on 25 March 2018 in the ore-processing plant at Venetia.

The loss was devastating for Maggie's family, everyone at Venetia Mine, De

Beers Group and Anglo American. I have taken a stance that no Venetian

will lose his or her life ever again.

Is Zero Harm achievable?

There is no doubt that Zero Harm is achievable. Some departments at Venetia

have never suffered an injury in 27 years since commencement of operations.

Will mechanisation assist in advancing safety?

Removing employees from harm's way will remain one of the most effective

measures, so yes it will. Mechanisation and automation play a critical role in

keeping our employees safe. It also provides opportunities for employees

to develop other skill sets.

LIMPOPO BUSINESS 2019/20

56
---
INTERVIEW

Moving more

Giants

Project aims to translocate 300 elephants.

The second translocation of elephants

from the Venetia Limpopo Nature Reserve

(VLNR) in South Africa to Zinave National

Park in Mozambique has taken place.

The first herds of elephants made the 1 700km

road journey to Zinave in the last week of June 2019.

The final herds arrived at Zinave on 11 July​, bringing

the total number of elephants moved in 2019 to 53.

During the first phase of the project, 48 elephants

were translocated. These elephants, moved in family

groups, consisted of matriarchs, younger males and

females, and calves. Those elephants have been

seen integrating with other herds at Zinave and

have been thriving with more space and food now

available to them.

The translocation is part of a major conservation

effort – "Moving Giants" – that aims to move some

200 elephants over three years to secure the future

of the VLNR, which was under threat due to too

many elephants affecting the broader ecosystem,

and to help repopulate Mozambique's elephant

population.

VLNR is partnering with Peace Parks Foundation,

a transfrontier conservation organisation whose

aim is to re-establish, renew and preserve

large functional ecosystems, and Conservation

Solutions, experts in wildlife management whose

team manage the challenging logistics and

veterinary care of the elephants throughout the

process. Peace Parks co-manage Zinave National

Park with the Mozambique government and have

ongoing responsibility for the wellbeing of the

elephants.

Werner Myburgh, CEO, Peace Parks Foundation,

said, "The future of the African elephant is bleak in

most parts of Africa, except for the southern Africa

region where the outlook on their population

numbers are stable and even, in some cases,

increasing. Zinave National Park in Mozambique

is one of these places and brings hope as a new

founder population is on the rise."

Anglo American is backing up its investment in

the elephant translocation initiative by providing

Peace Parks with a further US$500 000 investment

from the Anglo American Foundation to enhance

and extend anti-poaching support measures. Peace

Parks has been working with local communities

to ensure that the introduction of the elephants

to the park has a positive impact for their human

neighbours.

57 LIMPOPO BUSINESS 2019/20
---
OVERVIEW

Construction and

property

Infrastructure and state housing are

potential markets for builders.

SECTOR INSIGHTS

A provincial theatre is in the

planning stages.

The Risima Housing and Finance Corporation, a division of the

Limpopo Development Agency (LEDA), is helping citizens of

the province to become homeowners. Since 2014, Risima has

assisted 1 037 beneficiaries with loans of up to R1.5-million.

The gap market – people who earn too much to qualify for social

(RDP) housing but don't earn enough to be granted bonds – is a

hot topic. Opportunities exist, but the risk profile is different. A new

association caters for this subsector, the South African Affordable

Residential Developers Association (SAARDA).

Risima has introduced the Finance Linked Individual Subsidy

Programme, for those earning between R3 501 and R15 000 per month.

Risima and the Department of Cooperative Governance, Human

Settlement and Traditional Affairs (COGHSTA) distribute grants to cover

a deposit or to make up the shortfall between an asking price and what

the applicant can afford.

A non-mortgaged financial product assists government employees

to get a foot on the property ladder. Risima is also exploring cooperation

with mining houses such as Exxaro, Amplats and Northam at Thabazimbi.

The Provincial Government of Limpopo has built more than 320 000

houses since 1994. A budget of R3.9-billion has been assigned by National

Treasury towards the Limpopo Academic Hospital. Clinics are also

ONLINE RESOURCES

Black Business Council in Built Environment: www.bbcbe.org

Construction Industry Development Board: www.cidb.org.za

South African Property Owners Association: www.sapoa.org.za

being built, providing more work

opportunities in the construction

sector. A start has been made on a

provincial theatre, with R15-million

allocated to allow planning for the

project to get underway.

A large development is under

way in Thohoyandou. A 27ha

site is being converted into

Thavhani City which will include

an office park, automotive-related

businesses, private healthcare, a

library, an information centre and

a sports stadium. Thavhani Mall

(pictured) is already functioning.

Its anchor retail tenants include

Woolworths, Edgars, Pick n Pay

and SuperSpar. The partners in

the R1-billion project are Thavhani

Property Investments, Vukile

Property Fund and Flanagan &

Gerard Property Development.

The Enterprise Development

and Finance Division of LEDA not

only offers loans to businesses in

the construction and property

sector but runs specialised

training in vocational skills

such as bricklaying, plastering,

carpentry, plumbing, electrical

and welding.

LIMPOPO BUSINESS 2019/20

58
---
OVERVIEW

Energy

Large energy users are going off-grid.

The Mogalakwena Mine run by Anglo American Platinum

(Amplats) is a large energy user. The mine's concentrator relies

on constant and reliable electricity supply. With energy

comprising a significant portion of costs and national utility

Eskom experiencing difficulties in terms of its debt and its ability to supply

reliable power, the mining company is investigating the installation

of a large solar PV project. In early 2019 the project was at the "request

for interest" stage.

Anglo Platinum has pioneered an underground mining locomotive

powered by a fuel cell. Platinum coating greatly enhances the hydrogen

absorption capacity of fuel cells. Mining group Exxaro is sponsoring

the roll-out of alternative energy near its remote Tshikondeni mine

east of Musina.

Implats is already using natural gas to supply its refinery in Springs.

Phase one of the project will see 20 Doosan fuel cells generating 8MW

of power. The long-term goal is to generate 22-30MW.

The huge Eskom project at Medupi power station is over budget and

behind in implementation. Three of the plant's six units are operating

(although there have been some problems) and two more will come

on stream in 2019. When the plant is completed, the Lephalale area will

become a petrochemical hub and energy complex.

An Energy and Metallurgical Cluster is an important component of

the new Special Economic Zone that has recently been approved at

Limpopo Projects

Project MW Location Operational

Tom Burke Solar Park 60MW Lephalale,

ONLINE RESOURCES

Waterberg DM

August 2016

Witkop Solar 29.68MW Polokwane September 2014

Soutpan Solar Park 28MW Blouberg,

SOURCE: IPPPP, Provincial Report IV, March 2017.

Capricorn DM

July 2014

The provincial government's Green Economy Plan has identified solar

and biomass as the main kinds of renewable energy for Limpopo. With

National Department of Energy: www.energy.gov.za

huge silicon reserves in the province, there is also potential to produce

solar Southern panels and African solar Biofuels charges for Association: cell phones. www.saba.za.org

Nine South biogas African digesters Photovoltaic have been installed Industry in Association:

the Vhembe District to be

controlled www.sapvia.co.za by young entrepreneurs trained by the University of Venda. A

group of 31 students is studying Energy Management Systems as part of

the provincial plan.

SECTOR INSIGHTS

The Musina-Makhado Special

Economic Zone (SEZ) will be

a power generator.

Musina-Makhado in the far north

of the province.

The two local municipalities

have been allocated R147-million

by provincial government for

infrastructure upgrades, including

electricity.

The National Department

of Energy's Renewable Energy

Independent Power Producer

Procurement Programme

(REIPPPP) has been very successful

so far. The three photovoltaic solar

projects located in Limpopo have

a combined investment value of

R3.6-billion.

The provincial government's

Green Economy Plan has identified

solar and biomass as the main kinds

of renewable energy for Limpopo.

With huge silicon reserves in the

province, there is also potential

to produce solar panels and solar

chargers for cell phones.

Nine biogas digesters have

been installed in the Vhembe

District to be controlled by young

entrepreneurs trained by the

University of Venda. A group of

31 students is studying Energy

Management Systems as part of

the provincial plan.

Online resources

59 LIMPOPO BUSINESS 2019/20

National Department of Energy: www.energy.gov.za

Southern African Biofuels Association: www.saba.za.org

South African Photovoltaic Industry Association: www.sapvia.co.za
---
OVERVIEW

Transport and logistics

The new Musina Intermodal Terminal is operating.

The official opening of the Musina Intermodal Terminal near the

Beitbridge border post is further confirmation of Limpopo's

status as a leader in transport and logistics. Located in the

town of Musina on the N1 highway leading to Zimbabwe, the

terminal is used to move cargo from road to rail.

Warehousing facilities on site make for loading efficiencies in the

main cargoes such as chrome, fertiliser, coal, fuel and citrus. Bulk and

containerised cargo are handled, with an annual capacity of threemillion

tons per annum.

Logistics is a vital feature of the Limpopo economy for two reasons

– the province has huge volumes of minerals and horticultural

products to be transported to markets elsewhere and the province

is strategically positioned.

In addition to the N1 highway, the N11 is a primary road corridor and

there are nine provincial road corridors. Freight volumes on the N11 (to

Botswana and Mpumalanga) have increased since 2006, whereas the

R33 carries less traffic.

The building of the Musina-Makhado Special Economic Zone

(SEZ) will further boost Limpopo's importance as a transport and

logistics hub.

Roads Agency Limpopo (RAL), of which the provincial government

is the sole shareholder, accounts for about a third of the budget of the

Limpopo Department of Public Works, Roads and Infrastructure. It

has been successfully focussed on tackling a backlog of infrastructure

maintenance, but it has also created partnerships with the national

roads agency and private companies to deliver roads.

The South African National Roads Agency Limited (SANRAL) is

involved in two major road projects in support of the Musina-Makhado

SEZ. The N1 is to be re-routed and a new single carriageway created in

the Musina CBD. A bypass into ZCC Moria, the site of huge gatherings

every Easter, has been completed. Elsewhere, RAL is working with

Implats to build 17km of road near the company's Marula mine.

SECTOR INSIGHTS

The Great North Transport

company runs more than

500 buses.

Since 2014, some R2.6-billion

has been spent by the provincial

government on building bridges

and upgrading gravel roads to tar.

Polokwane is the site of

major investments in transport

infrastructure. SANRAL is building

a R640-million ring road and a bus

rapid transport system is being

introduced to the provincial

capital. The scheme is called

Leeto la Polokwane. Within the

province more broadly, 22.6% of

households in Limpopo use bus

transport and 45.8% use taxis

(2013 Household Travel Survey).

Outside Polokwane, the towns

of Tzaneen, Lephalale, Burgersfort

and Musina (a border post with

Zimbabwe) are all important in

the field of logistics.

Great North Transport falls

under the Limpopo Economic

Development Agency. The

company has more than 500

buses, covers about 36-million

LIMPOPO BUSINESS 2019/20

60
---
OVERVIEW

kilometres every year on 279 routes, employs more than 1 200 people

and transports 37.6-million passengers.

In addition to ownership of Great North Transport buses, the

provincial government has 26 private bus subsidy contracts. In 2018/19,

R737-million was spent on bus subsidy services.

South Africa's major logistics companies have facilities in Polokwane,

and some have warehouses and forwarding facilities in other parts of the

province. RTT has offices in Makhado. Limpopo's biggest exports (minerals

and fruit and vegetables) require dramatically different levels of handling.

Minerals are poured in great volumes into the freight trucks of Transnet

Freight Rail (TFR) and taken onward to Richards Bay Coal Terminal.

Companies such as Freezerlines, Fast 'n Fresh and Cold Chain have

developed specialist techniques in getting delicate fruits to market and

to port undamaged. Grindrod has a Perishable Cargo division which

specialises in transporting cargo by air.

The large national logistics company Value Group has only four major

regional depots outside Gauteng: in Cape Town, Durban, Nelspruit –

and Polokwane. This illustrates the importance of the Limpopo Province

and its capital city in the national logistics chain.

IMPERIAL Logistics Southern Africa has 70 companies in its group

structure, including Kobus Minaar Transport, a firm that began in

Tzaneen transporting fruit and vegetables. Other active companies

ONLINE RESOURCES

Gateway Airports Authority Limpopo: www.gaal.co.za

Limpopo Economic Development Agency: www.lieda.co.za

Limpopo Department of Public Works, Roads and Infrastructure:

www.dpw.limpopo.gov.za

Limpopo Department of Transport: www.ldot.gov.za

Roads Agency Limpopo: www.ral.co.za

Transnet Freight Rail: www.transnet.net

in Limpopo include Dawn Wing

Logistics, Kargo, F&R Logistics and

Aramex SA.

Polokwane International Airport

(PIA) is wholly owned by the

provincial government and run by

the Gateway Airport sAuthority Ltd

(GAAL), an agency of the Limpopo

Department of Transport. It has

the potential to be an important

regional cargo airport.

SA Airlink caters mainly to the

business market and offers 21

flights to Johannesburg six days

a week. The airline also provides

links between Phalaborwa and

Johannesburg, and between

Hoedspruit and Johannesburg

and Cape Town.

Many game reserves have

airstrips and regional airports in

the eastern part of the province

provide easy access to the Kruger

National Park. Eastgate Airport at

Hoedspruit is close to the Orpen

Gate. Phalaborwa's airport is

notable for its African-themed

terminal which includes a zebrapatterned

floor. Musina, near the

border with Zimbabwe in the

north, hosts the province's other

regional airport.

61 LIMPOPO BUSINESS 2019/20
---
PROFILE

Gateway Airports

Authority Limited

Accelerating change to improve aviation.

Gateway Airports Authority (SOC)

Limited (GAAL) is a strategic entity of

the Limpopo Department of Transport.

It has the fundamental responsibility of

providing passenger and cargo services through its

airport, Polokwane International Airport, while also

providing aviation support services.

The geographical location of the province

provides the airport with numerous business and

economic opportunities. Limpopo Province, which

is the Gateway to the rest of Africa, shares borders

with Botswana, Zimbabwe and Mozambique. The

airport is therefore a strategic entity to boost and

to benefit from trade relations between South Africa

and the rest of Africa.

GAAL's annual performance plan for 2018/19

shows a clear understanding of the priorities of

the Limpopo Provincial Government; purposefully

to contribute towards the growth of the provincial

economy and the creation of employment

opportunities in line with the Limpopo

Development Plan.

Customer services targets as set out in the annual

performance plan will ensure the success of the

ultimate strategic objectives as set out by GAAL.

Polokwane International Airport welcomes

thousands of business people and visitors to our

province annually. Our airports welcome millions of

business people and visitors to our country. We are

proud that our world-class infrastructure supports

economic growth, job creation and contributes to

the tourism value chain.

Commitments

GAAL is committed to running the airport efficiently

and ensuring we remain relevant while contributing

towards the province's economy.

GAAL is also committed to addressing the

challenges to increase the frequency and number

of flights as well as utilising bigger aircraft to

unlock the latent demand in Limpopo and to build

a culture of flying to complement the prevailing

road travel preferences. GAAL is committed to its

corporate social investment and to live up to its

corporate citizenship responsibilities and to deliver

on the plans and targets put forward in the annual

performance plan.

All of these commitments are made with the

prime objective of accelerating change in order to

improve aviation in Limpopo.

CONTACT DETAILS

Physical address:

N1 North Makhado Road

Gateway Drive

Polokwane

0700

Postal address:

PO Box 1309, Polokwane, Limpopo 0700

Tel: +27 15 288 0122

Email: marketing@gaal.co.za

Website: www.gaal.co.za

LIMPOPO BUSINESS 2019/20

62
---
Leading the growth of the

aviation industry in Limpopo

The Gateway Airports Authority Limited (GAAL) provides aviation

services and maintains the Polokwane International Airport.

Mission Statement

• To operate and develop public

airports within the province of

Limpopo

• To create an intra-Limpopo flight

operations network to feed

Polokwane International Airport

(PIA)

• To develop PIA as the hub of the

SADC region and the north region

of South Africa

• In collaboration with our key

stakeholders, to stimulate economic

and social development for the

people of Limpopo.

GAAL core values

Passionate - Living our values and pursuing

our goals, shared vision and commitment

to our mission with passion

Integrity - Enabling trust and respect in

all our actions by doing the right actions

all the time and being accountable and

ethical

Agility - Ability to move quickly, easily and

accurately in compliance with aviation and

other applicable legislations

Commitment - Appetite and thirst for new

challenges, and caring for the business'

success

Customer-centric - Providing innovative

all-round service delivery to the customer

needs and positive experience

Tel: +27 15 288 0122 | Website: www.gaal.co.za
---
MESSAGE

Limpopo's airport

authority is exploring

business opportunities

GAAL's new CEO, Masingita Baloyi, envisages turning the Polokwane International Airport

into a hub for airfreight and passengers by setting up a feeder network for all the airports

within the province.

GAAL CEO, Masingita Baloyi

BIOGRAPHY

Masingita has a wealth of

experience in aviation. He

holds a bachelor's degree in

Administration from the University

of Limpopo and a programme

in e-Commerce from UNISA

Graduate School of Business

Leadership. He is currently

studying for a Master of Business

Leadership. Masingita has worked

at the University of Johannesburg,

South African Airways (cargo and

revenue management) and First

Rand Bank. He was GM: Human

Resources of the Independent

Development Trust. Before joining

GAAL, he was a management

consultant at ATA Research.

LIMPOPO BUSINESS 2019/20

The Gateway Airports Authority Limited is a state-owned company

under the custody of the Limpopo Department of Transport. Despite

the entity's listing as a schedule 3D public enterprise in terms of the

Public Finance Management Act, it is administered in accordance with

the Companies Act of 2008's scope and limitations. GAAL's mandate is derived

from its articles of association dated 29 March 1995, which is for GAAL to act as

airport manager and administrator within the province.

GAAL seeks to create prolific business opportunities to better maximise

the utilisation of its assets and resources so as to generate sufficient revenue

to be a financially sustainable entity that generates modest profits. Among

other prospective business opportunities are the plans the entity has to lease

45 hectares of land to potential investors for business opportunities that

will be in support of the growth, development and operations of the entity.

The entity is also currently looking to secure alternative passenger and/

or commercial airline operators as well as increase routes from OR Tambo

International Airport to other airports such as Lanseria, Cape Town International

Airport and King Shaka International Airport on a 1, 5, 7 schedule.

Another business prospect that the entity is looking to secure is that of

a reputable restaurant that will operate from the Polokwane International

Airport. Such business prospects will allow the entity to make the Polokwane

International Airport an optimally functioning airport that serves the needs

of its clientele.

Infrastructure

The airport has successfully installed positive pressure ventilators in the airside

as well as upgraded and maintained its runways and lights. Other completed

developments include the construction of the JOC operating centre. An

infrastructure development that is currently still in the supply-chain process is

that of upgrading and maintaining the airport's board signages.

Aeronautical services

This service focusses on all airline operations, including private chartered flights.

Non-aeronautical services

This service includes: general aviation, car rentals, travel agencies, retail stores,

aviation fuel supply, hangars and office rentals.

64
---
Celebrating Nelson

Mandela 100: Creating

Legacies Towards

World-Class Public

Transport

FOCUS

Leeto la Polokwane increases momentum for faster, more inclusive

growth that heralds an economic transformation in a sustainable way.

By Musa Ndlangamandla

A new study of transport systems in 35 major cities around the

world has revealed that an efficient public transport network can

provide these cities with an economic value of up to R3-trillion

($238-billion) annually by 2030. The best transportation systems

are those in cities that can move people quickly, efficiently and

comfortably to their destination. This is according to Londonbased

consulting firm Credo, which conducted The Mobility

Opportunity study.

Like other leading cities, the City of Polokwane is already

achieving this with the roll-out of an Integrated Rapid Public

Transportation System (IRPTS) that features modern infrastructure,

easy connections across various modes of transportation, and,

above all, a clear strategy of how to meet future needs.

Executive Mayor of Polokwane Councillor Thembisile

Nkadimeng, above, asserts that an efficient and cost-effective

As South Africa gears itself to

be the next big emerging

market story of 2018

(according to Goldman

Sachs), the public transport sector is

at the heart of reigniting economic

growth and investment to ensure

sustainable livelihoods.

65

LIMPOPO BUSINESS 2019/20
---
FOCUS

public transport system not only connects

people to daily life but also spurs socio-economic

development, sustainable job creation and improved

access to markets.

The City of Polokwane was chosen by the

government, through the National Department

of Transport (NDoT) to be among 13 cities in South

Africa to introduce the Integrated Rapid Public

Transport Network (IRPTN). For Polokwane the

vision has found expression in the multi-modal

transport service aptly called "Leeto la Polokwane"

– It is Our Journey.

The project is implemented in phases with

Phase 1 covering the Central Business District and

Seshego corridor. The project has resulted in the

construction of a trunk route and the upgrading of

road infrastructure.

The majority of road infrastructure has been

constructed, including the following:

• a trunk route between Seshego and the City

• trunk extensions

• feeder routes

• feeder stops

• non-motorised transport (NMT) infrastructure

• a control centre at the new Peter Mokaba

Stadium

• a layover facility

• Leeto la Polokwane is characterised by

dedicated bus lanes, modern buses, smartcard

payment systems, modern bus stations that

are safe and comfortable, and a control

centre to speed up public transport and give

passengers a better quality of service

• Go-Live 2019 will in the interim operate

kerbside until the depot and bus station are

ready. Buses will in the interim be operated at

the layover facility.

"We are well on track towards our Go-Live targets.

We have set our sights on delivering the high-quality

public transportation infrastructure that the City

of Polokwane, and indeed the greater Limpopo

Province, needs to build and sustain a more productive

economy. The progress that has been made so

far in the implementation of Leeto la Polokwane is

testimony to this," says Executive Mayor Nkadimeng.

"We will ensure that the people of Polokwane

benefit fully from this project, through job

opportunities, skills transfers and meaningful

participation through stakeholder engagement."

Honouring Nelson Mandela and

Albertina Sisulu

Executive Mayor Nkadimeng adds that Leeto la

Polokwane was one with South Africa in honouring

the Nelson Mandela and Albertina Sisulu Centenary.

"The central theme for this year is to celebrate

these great leaders and keep their legacies alive

LIMPOPO BUSINESS 2019/20

66
---
FOCUS

by making an individual and collective

contribution towards the attainment of

a South Africa where everyone has equal

opportunities for self-determination.

As Leeto la Polokwane we note and

acknowledge the cooperation and support

of the people we serve. Such partnerships

and dedication to a better South Africa

continue to ensure that the project remains

on course for Go-Live. These achievements

are also a testament to the hard work and

dedication that the City has tackled this

project with," she says.

Interaction with taxi and bus

owners

Since inception of the project in 2012, the

municipality has ensured proper and active

stakeholder engagement. The taxi and bus

industry is among the key stakeholders

which fully participate in and benefit from

the total value chain and wealth creation of

the transportation industry.

"An MOA has been signed between the municipality

and the four Taxi Associations involved in Phase 1&2 of

the project. Working with the University of Limpopo's

Turfloop Graduate School of Leadership (TGSL), owner

members were trained on the Taxi Industry Capacitation

Programme with modern business and operational skills

in order to create the space and capacity to ensure

a successful integrated transport system for our city

and value-add for the entire industry," Executive Mayor

Nkadimeng says.

In 2017, the TGSL programme successfully offered

professional business development training to

approximately 100 taxi owners across Flora Park-

Pietersburg, Moletjie, Seshego-Polokwane and

Westernburg Taxi Associations in Polokwane.

Participants received a Professional Certificate in

Business Management Skills for the Public Transport

Sector upon completion. The programme comprises four

modules, namely: Introduction to General Management;

SA Companies Act and Corporate Governance;

Communication, Problem-solving and Negotiation Skills;

and Introduction to Public Transport Management.

"We have also seen the signing-off of the Great North

Transport (GNT) Market Survey Results in October 2017, as

an important milestone which presents the municipality

67

LIMPOPO BUSINESS 2019/20
---
FOCUS

THE TAXI

INDUSTRY IS

AN IMPORTANT

STAKEHOLDER

WITH A WEALTH

OF EXPERIENCE,

KNOWLEDGE AND

VESTED INTEREST

IN THE SUCCESS OF

THE PROJECT

with a clear picture of the market share of GNT, a significant

partner in the Leeto la Polokwane project. I want to

emphasise that the GNT is an important stakeholder with

a wealth of experience, knowledge and vested interest in

the success of the project. This achievement also serves

as a resource for understanding the value, amount and

number of those affected in Phases 1 and 2 of the project,"

she says.

Through great effort and hard work by the project

team, coupled with cooperation and unity of purpose

with key stakeholders, the following milestones have

been achieved, among others:

• Establishment of the Transportation Directorate and

appointment of a substantive Director of Transport

Services to drive strategy and implementation

• Significant road infrastructure network

upgrades were completed

• Full Non-Motorised Transportation (NMT) Planning

and supporting by-laws/policies, awareness

programmes, integration with donor-funded NDPG

and MIG projects in terms of specifications

• Signing of MOA with industry regarding sitting

allowances

LIMPOPO BUSINESS 2019/20

68
---
FOCUS

• Signing of MOA with Great North Transport

• Completion of Market Surveys for GNT and taxi

industry

• System naming

• The utilisation of council land instead of acquisition

of private land

• The same design standards are being used across all

grants in the municipality, eg same NMT on Public

Transport Network Grant (PTNG); and employment

of over 180 workers a month through the Expanded

Public Works Programme (EPWP).

Meanwhile, Executive Mayor Nkadimeng adds that the

systems and processes to deliver a world-class project

were also put in place.

To date 36 Universal (UA) Compliant buses (21 x 12 metre and

15 x 9 metre) have been procured and installed with Automated

Fare Collection (AFC) and Public Transport Management

System (PTMS).

PTMS's primary aim is to monitor

the movement of public transport

vehicles and increase the comfort of

their passengers around the controlled

urban network. It provides the means

of dynamically monitoring the location

and status of Public Transport Vehicles

to determine performance according

to prescribed route schedules and

to identify any operational problems

quickly. This is an innovative and

complex system which has two major

components: integrated e-ticketing

and Automatic Vehicle Location by

GPS (AVL).

She adds that significant progress

is being made to have a fully-fledged

depot.

"The project is a sustainable package

of measures that will transform our

province into a healthy and effective urban

environment as it integrates Bus Rapid

Transit (BRT) with non-motorised transport,

progressive land-use approaches and carrestriction

interventions," Executive Mayor

Nkadimeng says.

"This has spurred economic growth

in our city through upgrades in public

physical infrastructure within a wellplanned

spatial context and has ensured

sustainable job creation while ushering in

a clean, green, safe and healthy province.

Such improvements have a positive

impact in promoting local businesses and

stimulating investments."

At a national level, the project is

aligned with the National Development

Plan 2030 (NDP). Adopted by all political

parties represented in the National

Assembly, it is government's blueprint to

eliminate poverty and reduce inequality

by the year 2030.

The system will go operational before

the end of 2019.

69 LIMPOPO BUSINESS 2019/20
---
OVERVIEW

Banking and financial

services

Banking choices are expanding very quickly.

The first new banking licence in nearly two decades was

issued in 2017, to TymeDigital by Commonwealth Bank SA.

The bank will have no physical branches although Tyme's

Money Transfer product, which it launched in 2016, is available

at Boxer and Pick n Pay. African Rainbow Capital is the venture's BEE

partner. The banking licence is the first to be issued since Capitec was

granted a licence by the South African Reserve Bank in 1999.

In a province with a high proportion of rural citizens such as the

Limpopo, the prospect of Postbank being upgraded to a full-service bank

is positive news. The current Postbank focusses on taking deposits and

savings accounts. Postbank has secured a R3.7-billion loan to enable it to

open its own loan book. The large geographical footprint of the Post Office

will make the bank easily accessible to even remote parts of the country.

Two other state-owned enterprises are looking to create banks, The

Ithala Development Finance Corporation is an enterprise funder in

KwaZulu-Natal that has applied for a banking licence. At national level,

SECTOR INSIGHTS

South African businesses

are lining up to register new

banking licences.

there is a plan to create a Human

Settlements Development Bank.

The focus will be on financing

housing for poorer households

and for large state-funded

housing projects. Part of the drive

is to integrate cities better and to

combat the legacy of the spatial

divide that apartheid left behind.

The Limpopo Economic

Development Agency intends

LIMPOPO BUSINESS 2019/20

70
---
SEE MONEY DIFFERENTLY WITH

WHOLE-VIEW

TM

BUSINESS BANKING

With Whole-view Business Banking from Nedbank, there's one bank with one view across

your business, allowing us to create unique business and financial solutions together.

You'll get partnership advice from a dedicated local client service team, supported by

a team of specialists. By having the full picture we'll have a deeper understanding of your

business, which will take it further than ever before.

Sometimes, a change in approach can change everything. Partner with Nedbank today.

Search Whole-view Business Banking or email business@nedbank.co.za.

see money differently

Nedbank Ltd Reg No 1951/000009/06. Authorised financial services and registered credit provider (NCRCP16).
---
OVERVIEW

establishing a local life insurance company. These initiatives aim to make

banking more accessible for rural communities and to make finance more

readily available to small and micro-sized businesses. Trying to integrate

small business into the mainstream economy is a major goal of national

and provincial governments in South Africa.

VBS Mutual Bank, one of three mutual banks in South Africa, was

placed under curatorship in 2018. The appointed curator was not able

to confirm all deposits. In the lead-up to the bank not being able to

meet its commitments, municipalities had been making deposits to the

bank although these violated restrictions put in place by the National

Treasury. VBS began life as the Venda Building Society in 1982. The Public

Investment Corporation held 34% of equity.

To support entrepreneurial students, the University of Limpopo

has set up the Limpopo Student Seed Fund together with the SAB

Foundation. The signing ceremony for the fund is shown in the

photograph on the previous page. Support will be offered to businesses

that promise to find solutions to social problems such as unemployment

and hunger.

Ubank is owned by a trust that is managed by the Chamber of Mines

and the National Union of Mineworkers (NUM). It has about 100 branches

and a strong presence in Limpopo because of its focus on the mining

sector. Ubank has about half-a-million clients.

South Africa's four big retail banks (Nedbank, Absa, Standard Bank

and First National Bank) have a solid presence in the major towns in the

province. Agriculture is an important focus area for banks and so they

have established specialised units such as Nedbank Agribusiness. Focus

areas for this unit are agronomy (grain, oil seeds, sugar and cotton),

livestock (including game farming), horticulture (fruit and vegetables, for

example), and secondary agriculture which covers agricultural processing

and storage.

The two most active agricultural companies in Limpopo are both

registered financial service providers. NTK, a subsidiary of the Free

State-based VKB, has access to lending for farmers and insurance

products. Afgri offers the same services under the brand Unigro, and

it has another service called Gro Capital Financial Services which offers

ONLINE RESOURCES

National Credit Regulator: www.ncr.org.za

Office of the Auditor-General of South Africa: www.agsa.co.za

Post Bank: www.postbank.co.za

South African Institute for Chartered Accountants:

www.saica.co.za

more sophisticated products such

as trade finance, foreign exchange

and currency, and interest rate

hedging.

Banks are actively working to

sign up more of the unbanked

population. Nedbank has Approveit,

which allows customers

to accept or reject an Internet

transaction by cellphone. Nedbank

also has partnerships with shops

such as Boxer Stores and Pick n Pay

where customers can have access

to financial services in previously

unserviced areas.

Some of Nedbank's other

innovations include Home

Loans Online Digital Channel

and Market Edge, together with

the Nedbank App Suite. The

Keyona Plus account includes

funeral cover, a loan facility and a

method of transferring money. The

Nedbank4me account is tailored to

the youth market.

The insurance market has

adapted to specific market

segments, including middleincome

earners. A typical example

of a new product is Old Mutual's

iWYZE medical gap cover,

designed to pay the difference

between what a medical aid

scheme is willing to pay and the

fee of the hospital or doctor.

Relative newcomer, Capitec,

is rapidly moving towards

being part of a Big Five and it

announced in 2018 that it would

partner with Centriq Life to enter

the insurance market. Capitec

has no fewer than 69 branches

and ATMs outlets in Limpopo,

suggesting that its low-cost

banking model is popular.

LIMPOPO BUSINESS 2019/20

72
---
SMME Development Programme

Limpopo Jewellery Business Incubator's SMME

Development Programme identifies jewellery

businesses which need assistance with developing

and growing their businesses. After a needs

analysis interview is conducted, a comprehensive

development and growth plan is put in place.

The entrepreneurs enter a three-year incubation

programme where they are offered business

assistance, training and development, guidance,

mentoring and ongoing support.

.6 CENTER PRODUCTION

jewellery

and the

aim is to

Entrepreneurs who meet the following

sure The its Centre requirements manufactured should its apply: own jewellery

pieces for

Entrepreneurs

exhibitions,

who have

shop

formal

sales

trading

and

jewellery

the

ufactured bridal boutique Interested in town. entrepreneurs The main should aim email is to their

team: boost sales applications and to: also to ensure its

sustainability. Mabatho Malatji: mabatho@slji.org.za or

Frans Nkuna: info@slji.org.za

3.6 CENTER PRODUCTION

Tel: +27 15 293 0214​

Below are Fax: some 086 of 232 the 7348 products manufactured

The Centre manufactured its own jewellery

and repairs by the Centre Production team:

pieces for exhibitions, shop sales and the

bridal boutique in town. The main aim is to

boost sales and also to ensure its

sustainability.

businesses and also those who are trading without

a formal business. Entrepreneurs who have

passion in the jewellery sector with or without a

jewellery qualification.

Who qualifies? South African citizens. Youth and

adults.

The following documents are required for

application: Application letter; CV with supporting

documents; company registration documents (if

applicable); portfolio of evidence.

Benefits include full access to a workshop with

state-of-the-art machinery, business skills training,

mentoring, facilitate access to market and funding.

Technical training is offered in metal, glass beads,

costume and traditional beads.

New physical address:

Seshego Industrial Park, 7 Freedom Drive,

Zone 6, Seshego 0742

Email: info@slji.org.za

Website: www.slji.org.za

Below are some of the products manufactured

and repairs by the Centre Production team:

Limpopo Jewellery Business Incubator (LJBI) is a jewellery

design and manufacturing business incubator which

is unlocking the potential of technical graduates and

promoting entrepreneurship.

Products illustrated here range in price from R150 to

R550.

The LJBI offers training in jewellery design and

manufacturing and fosters a culture of entrepreneurship

among marginalised black communities.

Accreditation and licences:

• Precious Metal Jeweller's permit

• Member of JCSA

• Full accreditation by MQA

• ISO 9001:2015 certificate

• Import and Export permit

• Member of Proudly South African
---
OVERVIEW

Development finance

and SMME support

Big companies are using their supply

chains to support small business.

SECTOR INSIGHTS

The University of Limpopo

has started a Seed Fund for

students with business ideas.

Chairman of Zizwe Opencast Mining, Howard Maimela, Kgosi

Manotshe Ramokoka and senior general manager of Amandelbult

Complex, Patrick Morutlwa.

The provincial government, through its departments and

agencies, has since 2014 given financial support amounting

to more than R51-million to 1 200 co-operatives. In the same

period, R193-million was provided to SMMEs.

In partnership with the Small Enterprise Development Agency (Seda),

the provincial government has established a construction incubation

centre at Steelpoort in Sekhukhune to train emerging contractors. A

jewellery incubation centre in Polokwane trains young jewellery makers.

Local, provincial and national government have all committed to

spending more of their budgets through small businesses and cooperatives.

The Limpopo Provincial Government reports that in 2017,

government departments paid invoices within 30 days 96% of the time.

The University of Limpopo has launched the Limpopo Student

Seed Fund which aims to promote social innovation among students.

Sponsored by the SAB Foundation, the new fund will see R400 000

distributed to students whose businesses tackle social issues such as

hunger, violence and unemployment.

A concerted strategy to strengthen and develop the economies of

the townships and villages of Limpopo has been launched. Spearheaded

by the Limpopo Economic

Development Agency (LEDA), a

unit of the Limpopo Department

of Economic Development,

Environment and Tourism (LEDET),

the plan has eight focus areas

which include making licences

and permits easier to obtain, that

government departments buy

from small, medium and microenterprises

(SMMEs), indigenous

products are supported and

protected, and encouraging small

businesses to support one another

through the clustering approach.

The revitalisation of the

Seshego and the Nkowankowa

Industrial Parks is intended to

boost the local economy, with

SMMEs expected to benefit the

most. The National Department of

Trade and Industry has committed

R21-million to revitalising the

Seshego Industrial Park which will

provide trading and storage space

for businesses of all sizes.

LEDET has signed

memorandums of understanding

with the South African Bureau

of Standards (SABS) and with

LIMPOPO BUSINESS 2019/20

74
---
OVERVIEW

Productivity South Africa. These agreements aim to help SMMEs within

the province become more competitive. Ten SMMEs and 10 co-operatives

are currently being assisted. LEDA intends establishing a bulk-buying cooperative.

The plan is to enlist more than 200 members whose collective

buying power will give them an advantage in purchasing stock.

The National Department of Small Business Development (DSBD)

has several programmes to assist SMMEs and co-operatives. These

include:

• The Black Business Supplier Development Programme, a costsharing

grant to promote competitiveness

• The Co-operative Incentive Scheme, a 100% grant.

The National Gazelles is a national SMME accelerator jointly funded

by Seda and the DSBD. The aim is to identify and support SMMEs

with growth potential across priority sectors aligned with the National

Development Plan and Seda's SMME strategy.

Private sector

Large companies in Limpopo are supporting new business ventures by

allocating service functions to local businesses and through training

and mentoring.

Anglo American Platinum has extended the contract with Zizwe

Batlase for the provision of strip-mining services at its Amandelbult

Complex. Zizwe Batlase is 51% owned by the local community of

Baphalane through the Baphalane Community Trust, named Batlase.

Since 2016, Zizwe Batlase has been providing employment, SMME

development, infrastructure development and business opportunities

to local and small businesses in the community.

The Implats Group spent 36% of its procurement budget with

Limpopo companies in 2017/18. The Marula platinum mine alone spent

R54-million on goods and services in the Sekhukhune District where the

mine is located on the eastern limb of the Bushveld Complex.

De Beers Consolidated Mines plays a big role in the economy

of northern Limpopo through its Venetia Mine. The company has

ONLINE RESOURCES

Industrial Development Corporation: www.idc.co.za

Limpopo Department of Economic Development, Environment

and Tourism: www.ledet.gov.za

National Gazelles: www.nationalgazelles.org.za

Shanduka Black Umbrellas: www.shandukablackumbrellas.org

Small Enterprise Development Agency: www.seda.org.za

Zimele: www.anglozimele.co.za

launched two business incubators

in local municipalities, Blouberg

and Musina. The De Beers

Zimele Venetia Mine Business

Hub has created more than 495

jobs since it was established to

support entrepreneurs through

low-interest loans, mentorship,

coaching and skills development.

Local procurement has given

chances to 15 local companies, in

fields such as road maintenance,

the canteen, small civils work and

the supply of tyres and batteries.

More than 20 small businesses

are registered as clients with

the Shanduka Black Umbrella

incubator in Lephalale. The

sectors in which these companies

operate range from plant hire

and construction to training and

marketing. Individual mentors

for these enterprises are drawn

from the local TVET college, the

Limpopo Economic Development

Agency and private businesses.

The major banks all have SMME

offerings. Standard Bank runs a

Community Investment Fund

and Nedbank offers an enterprise

development product for businesses

with turnovers up to R35-million.

The Seda Technology

Programme (STP) is a key method

of helping businesses scale up to

the point where their products

pass muster in the commercial

world. A jam manufacturer may

need assistance in getting the

necessary health certificates

before being able to sell to a big

retailer, for example. Nachem

Chemical, a company making

cleaning chemicals in the Vhembe

District Municipality, is an example

of a company that has used the

STP to good effect.

75

LIMPOPO BUSINESS 2019/20
---
INTERVIEW

Koenie Slabbert

BIOGRAPHY

Koenie Slabbert began his

career as an apprentice in tool,

jig and die-making. Promotion

to Supervisor inspired him

to sign up for training at his

own expense. Courses at

the Production Management

Institute of South Africa led to

a Higher Diploma in Production

Management and a BSc

Honours through the PMI/

University of Hertfordshire. A

Master's Degree in Operations

Management followed. Before

joining Seda, Koenie was an

industrial engineer at Limac. He

has been Provincial Manager

from June 2007.

Technology Incubation

Centres are spurring

growth

Koenie Slabbert details how the Small Enterprise Development

Agency in Limpopo is helping small businesses.

What is the key business proposition of Seda Limpopo?

The Small Enterprise Development Agency (Seda) is an agency of the

Department of Small Business Development (DSBD) which provides

non-financial support to small enterprises and co-operatives. Seda

has by far the biggest network of offices in the country. Limpopo has

five branches, one in each municipal districts and three co-location

points. Seda has presence in some townships and rural areas and has

programmes targeting youth and women from all sectors.

Seda Limpopo supports three Technology Incubation Centres affording

start-ups a well-equipped and protected environment in which to develop

and grow for a period of three years. Incubation has been proven to reduce

the failure rate in the first few years of small enterprises' cycle.

Seda interventions involve exploring possible new revenue streams,

improving competitiveness and productivity in the business.

Are there particular economic sectors in which you

specialise?

Seda assists all types of business and cuts across a number of sectors

that are key to job creation. These include: agriculture and agroprocessing,

manufacturing, engineering, renewable energy and

services (ICT and tourism). Seda has also prioritised small enterprises

and co-operatives owned by youth, women, people with disabilities

and people in townships and rural areas.

What are the challenges and opportunities for small

businesses in Limpopo?

One of the challenges is access to markets; another is access to funding.

There are great opportunities in exporting of primary produce and

value-adding through agro-processing initiatives. Manufacturing and

technology and ICT initiatives are other areas of potential.

Do the branches deal with different kinds of business

support depending on where they are located?

It is very important for Seda to ensure that its branches provide a series

of packaged products and services to assist businesses in various phases

of operation. The dynamics of the economic imperatives will differ from

LIMPOPO BUSINESS 2019/20 76
---
INTERVIEW

region to region, but Seda has four phases of business

development as offered to its clients:

Seda Business Talk provides practical answers and

guidance to potential entrepreneurs wanting to start their

own business and get it right the first time. Assistance

includes: business advice and information; small enterprise

training and seminars; business registration.

Seda Business Start provides businesses with

instruments and techniques to plan their operations for

a better chance of success. Focus is placed on: business

planning counselling and support; business incubation;

facilitation of access to finance; basic business skills and

training; introduction to co-operatives course.

Seda Business Build focusses on clients who want

to sustain and strengthen their businesses. Assistance

provided: technical support; networking and business

linkages; capacity-building systems and mentorship;

tender advice/procurement; export orientation;

technology transfer; starting and managing a co-operative.

Seda Business Grow focusses on clients who wants

to grow their business and expand nationally and

internationally. Assistance provided: export development;

business systems development; co-operative support;

growth strategies; technology transfer.

What are Seda's key programmes?

• The Export Development Programme develops

export-ready small enterprises that are globally

competitive and able to grow markets

• The Seda Technology Programme seeks to

stimulate economic growth and development

through technology transfer, increasing the

access to and use of technologies and offering

technical support

• The Co-operatives and Community

Public Private Partnership Programme

promotes the establishment and growth of

viable co-operatives and collectively-owned

enterprises

• The EMPRETEC Programme is an integrated

capacity-building programme of UNCTAD

targeting SMEs and entrepreneurial skills.

What is the Seda Technology Programme?

The Seda Technology Programme (STP) is a division

of Seda which focuses on sustainable

enterprise development through technology

business incubation, monitoring, evaluation,

improvement of service and product quality

and standards, and technology-transfer-funding

services and support.

STP seeks to make it easier for small enterprises

to gain access to technology and technical

support, while improving their sustainability

and international competitiveness. STP is a

programme of the Department of Small Business

Development.

The Incubation Unit is designed to strengthen

technology commercialisation and harness the

entrepreneurship of the technology community

in South Africa.

The Technology Transfer Unit promotes

and facilitates the transfer of technology

that is appropriate, effective and competitive

to small enterprises. The unit offers the

following services: grant funding for the

acquisition of technology, such as equipment

and machinery, to facilitate technology

transfer; improving access to technology

information by small enterprises; improving

access to technology-transfer funding

through structured referrals to the funding

institutions; linking inventors/universities or

science councils with small enterprises or

entrepreneurs with matching needs.

The key mandate of the Quality and

Standards Unit is to ensure that small

businesses have access to Quality Improvement

Programmes that can give small enterprises

a sound foundation to be competitive and

sustainable. The unit offers: management

systems development, implementation;

product testing and product certification;

product design and packaging; SMME

management systems auditing.

Does Seda have programmes to

assist women and youth in business?

We have capacity-building programmes

focusing on women.

77

LIMPOPO BUSINESS 2019/20
---
FOCUS

Small businesses thriving

through Empretec

programme

Seven years of success.

The Small Enterprise Development

Agency has adopted Empretec, which

is a capacity-building programme of the

United Nations Conference on Trade and

Development (UNCTAD).

The programme aims to promote

entrepreneurship and to enhance productive

capacity and international competitiveness of small

and medium-sized enterprises (SMEs) of developing

countries and economies in transition. The Empretec

programme is designed to provide training,

technical assistance and an institutional base for the

formation, expansion and transformation of SMEs.

The programme identifies promising entrepreneurs,

provides them with training aimed at developing

their entrepreneurial skills and understanding basic

business procedures, assists them in the preparation

of business plans and in obtaining finance for their

business ventures, helps to arrange mutually

beneficial connections with larger national and

foreign companies, and makes available long-term

support systems to facilitate the

growth and internationalisation

of their ventures.

Empretec training sessions

have been proven to have a

positive impact over seven

years. Data shows that the

survival rate of SMEs of

Empretec graduates is almost

twice as high as that of non-

Empretecos, and that over

80% of participants reported

a steady and efficient growth

of their business as a result of

participation in the programme.

Seda Limpopo has hosted 10 Empretec sessions

so far and more training sessions will be rolledout.

Empretec promotes a methodology of

behavioural change that helps entrepreneurs

to put their ideas into action and helps fledging

businesses to grow. Innovative, experiential and

competency-based entrepreneurship training

initiatives such as UNCTAD's Empretec programme

are key components of a dynamic and sustainable

entrepreneurship ecosystem.

As Seda Limpopo continues to roll out

the programme in all local municipalities in

the province, the programme also benefits

from the support of many different strategic

partners, including De Beers Venetia Mine and

the National Department of Tourism. Other local

donors and partners are invited to form part of

this opportunity which yields tangible impact

on the lives, businesses and communities of

entrepreneurs.

LIMPOPO BUSINESS 2019/20

78
---
Seda offices

Seda contacts

Provincial Office

Koenie Seda Slabbert Limpopo - Provincial Provincial Manager Mopani Branch

Tel: Office +27 15 287 2940

(located in Tzaneen)

Fax: +27 15 297 4022

Email: Mr kslabbert@seda.org.za

Koenie Slabbert: Provincial Ms Maseje Nchabeleng: Branch

2nd Manager Floor Suite 6, Maneo Building, 73 Biccard Street, Manager Polokwane 0700

Postnet Tel: Suite +27 15 32287 Private 2940 Bag X 9307 Polokwane 0700 Tel: +27 15 306 6400

Fax: +27 15 297 4022

Fax: +27 15 307 2233

Seda Email: Vhembe kslabbert@seda.org.za

Branch

Email:

Mr Marcus Physical Mukumela address: - Branch 2nd Floor Manager mnchabeleng@seda.org.za

Tel: +27 15 960 8700

Nictus Building

Physical address: 2nd Floor

Fax: 086 634 8964

68 Hans van Rensburg Street ABSA Building

Email: mmukumela@seda.org.za

Old Polokwane Mutual Building, Old Group Scheme Offices, Mphephu 13 Danie Road, Joubert Thohoyandou Street 7950

0699

Tzaneen

Seda Capricorn Branch

0850

Mr Peter Capricorn Maredi - Branch Manager

Tel: (located +27 15 290 8720 in Polokwane) Waterberg Branch

Fax:

Mr.

+27

Peter

15 290

Maredi:

8736

Branch Manager (located in Mokopane)

Email: pmaredi@seda.org.za

Tel: +27 15 290 8720

Mr Steve Botha: Branch Manager

1st Floor Pharmarama Building, 68 Hans van Rensburg Street, Polokwane 0699

Fax: +27 15 290 8736

Tel: +27 15 492 9600

Seda Email: Waterberg pmaredi@seda.org.za

Branch

Fax: +27 15 491 7361

Mr Steve Physical Botha address: - Branch 1st Manager Floor

Email: sbotha@seda.org.za

Tel: Nictus +27 15 Building 492 9600

Physical address: Old Nedbank

Fax: 68 +27 Hans 15 491 van 7361 Rensburg Street Building

Email: Polokwane sbotha@seda.org.za

40 Retief Street

Old

0699

Nedbank Building, 40 Retief Street, Mokopane

Mokopane

0600

Seda Mopani Branch

Vhembe Branch

Martin Rafferty - Acting Branch Manager

(located in Thohoyandou) Sekhukhune Branch

Tel: +27 15 306 6400

Fax: Mr +27 Marcus 15 307 Mukumela: 2233 Branch (located in Groblersdal)

Email: Manager mrafferty@seda.org.za

Mr Sabelo Ntshangase

27 Peace Tel: +27 Street, 15 960 1st Floor, 8700Prosperitas Building, Tzaneen Tel: +27 0850 13 262 9430

Fax: +27 15 962 4285

Fax: +27 13 262

Seda Sekhukhune Branch

Email: mmukumela@seda.org.za Email: sntshangase@seda.org.za

Mr Sabelo Ntshangase - Branch Manager

Physical address: Bindulavhathu Physical address:

Tel: +27 13 262 9430

Email: Office sntshangase@seda.org.za

Building

Mutual Building

Bareki 3rd Mall, Floor Shop No. 20B, Cnr Chris Wild and Van Shop Riebeek 4 and Street, Office Groblersdal 10, 12 0407

Thohoyandou

Hereford Street

0950

Groblersdal

0470

We have built a strong team in the province made up of 16 Business

Advisors, two Regional Facilitators and five Information Officers who have

the responsibility of making measurable differences in the businesses that

they assist. This team of Business Advisors works closely with a team of

carefully selected service providers who possesses expert knowledge in

different functional areas of business and industry sectors.

For more information contact us at: 015 287 2940 or visit our website: www.seda.org.za

TOGETHER ADVANCING SMALL ENTERPRISE DEVELOPMENT
---
FOCUS

Local business benefits from

spirit of Chinese investments

and technology exchanges

PMC is supporting progress and development through community initiatives.

BRICS describes the group of Brazil, Russia,

India, China and South Africa working

together to promote development. The

Palabora Mining Company success story

shows that amid cultural differences and global

economic uncertainties, cooperation by companies

from BRICS can create a favourable environment for

growth, technology exchanges and the buiding

of international cooperation in the spirit of BRICS.

Before commissioning and construction of the new

floatation plant at PMC, the executive managers and

senior managers travelled to China for fact-finding

and comparative analysis missions on floatation

plants to be built at the site in Limpopo. As part of

resource sharing, skills and technology transfer, the

main Chinese contractor has subcontracted work to

various South African companies.

Skills transfer

Palabora Mining Company's smelter refurbishment

project and construction of the floatation plant are

being implemented in partnership with China's

Beijing General Research Institute of Mining and

Metallurgy. In addition to technology transfer,

BGRIMM has contractually committed to employ 90%

of unskilled labour and 80% of the semi-skilled labour

from the Phalaborwa area and transfer new skills to

PC employees who work at the smelter. The aim is

to empower employees to operate and maintain the

refurbished smelter once it is completed.

Community development initiatives

Collaboration between Palabora Copper, the Chinese

Consortium and BGRIMM does not only extend to

tangibles, considerable investments and technology

transfer opportunities, but is also benefitting the

communities of Phalaborwa. Since 2013, the Chinese

Consortium – through PC – has spent more than

R186.5-million in socio-economic development

initiatives in Phalaborwa. These include:

Enterprise and Supplier Development

Palabora Copper has implemented enterprise and

supplier development programmes to empower

Phalaborwa's Small, Medium and Micro Enterprises

(SMMEs) to so that they are able to grow and shine

the economic candle of Phalaborwa beyond the

life of PC.

LIMPOPO BUSINESS 2019/20

80
---
FOCUS

Renovation of schools

Palabora Copper has renovated Block C of Matome

Malatjie High in Maseke Village and painted Lepato

High School in Makhushane to ensure that pupils

study in a conducive environment.

Bus shelters

Palabora Copper has constructed 19 bus shelters

around the Ba-Phalaborwa Municipal area to

ensure that bus users wait for busses in the

shade, considering the heat in Phalaborwa.

Instilling the love of sport

Palabora Copper understands the positive effect

of sports on youth. As a result, Palabora Copper

supports township sporting events and has hosted

several soccer tournaments to instil the love of

sports in the youth.

Construction and rehabilitation of roads

Palabora Copper believes that rehabilitation and

construction of roads signifies the company's

seriousness about socio-economic development.

Roads are an essential part of human endeavour, a

symbol of progress and development.

In collaboration with the Ba-

Phalaborwa Municipality and

other strategic stakeholders, PC

established a road rehabilitation

project which involves tarring of

roads and streets in Namakgale,

the biggest township in

Phalaborwa.

To date, Palabora Copper

has collaborated with various

strategic stakeholders to

rehabilitate the Ackson

Malatji, Zakes Ngwasheng

and Maphutha Malatji roads.

The amount spent on the

rehabilitation of these roads is

over R44-million.

81

LIMPOPO BUSINESS 2019/20
---
FOCUS

Turning dreams into

lasting realities

Zimele improves the sustainability of SMEs.

Development Agency (Seda) more than 150

SMEs from Musina and Blouberg benefitted

from business courses.

• The relationship with the National Youth

Development Agency (NYDA) resulted in five

local youth-owned businesses gaining access

to equipment worth R50 000.

• 27 local businesses employing more than 84

people were supported through Enterprise

Development Programmes.

• AWOME (Accelerated Women Owned Micro

Enterprises) was launched in partnership with

the UN Women organisation which aims to

reach 500 women.

Zimele, which means "stand on one's own

feet" was introduced to local communities

near mines to bring about sustainable black

economic empowerment through the creation

and support of small, medium and micro-enterprises

(SMMEs). In 2017, De Beers Zimele changed

its strategic focus from being a funding initiative to

one that targets capacity-building and improving the

sustainability of SMMEs.

Over the last three years, De Beers Zimele at

Venetia Mine has made huge strides in supporting

and developing sustainable enterprises though the

Enterprise and Supplier Development programmes.

Measures were introduced to make available

procurement opportunities from the mine to local

businesses.

Enterprise Development

• 52 SMEs have enrolled on an SME incubation

programme with the focus on operational and

financial management and marketing.

• Through partnership with the Small Enterprise

Local procurement and supplier

development

There are now 34 locally owned companies doing

business with Venetia Mine and they employ in excess

of 340 people. The Bussing Empowerment transaction

led to community members now owning 40%

of each of the newly established companies called

Hope Diamond Transport and Millennium Diamond

Transport. They employ more than 120 people.

Chibadura Trading was appointed as the supplier

for Venetia Mine LDV tyres, EMV rims and LDV batteries.

Strategic partners Bridgestone and Global Wheel are

providing training.

Aucor Limpopo was established in partnership

with the biggest auction company in Africa. In 2018,

Aucor opened its doors in Bochum. Two locally

owned construction companies were appointed to

do construction on the Venetia Underground Project.

De Beers Group is committed on the journey of

"turning diamond dreams into a lasting reality" for the

communities in which it operates.

LIMPOPO BUSINESS 2019/20

82
---
New crèche brings joy

Madimbo community receives new facility from Venetia.

FOCUS

On Friday, 26 July 2019, De Beers Venetia

Mine handed over the keys to the

newly-built community crèche in the

small village of Madimbo.

The project was undertaken in partnership with

Basil Reed, with the core focus of providing adequate

infrastructure to support childhood development.

The children have now moved from an old fourroomed

house into a big, bright, modern, fullyequipped

building, which is kitted out with a variety

of educational toys and learning resources. Catering

for 126 children between the ages of two and five,

the crèche is also furnished with small plastic tables

and chairs.

Run by principal Precious Mahada, the crèche

strives to educate preschoolers despite a lack of

resources. Mahada said that she could not believe

that the facility is now theirs to operate in.

"As you can see, there are no playgrounds for our

children in our community. Many parents cannot

afford to buy toys for their children, yet toys can

play a big role in a child's development. This new

crèche will offer them that opportunity, all thanks to

thanks Venetia Mine and their partnering contractor

Basil Reed. Today, I am completely overjoyed and

speechless," she said.

The new facility is a much safer environment

in which to play and learn. The upgrade is allencompassing,

with everything from the kitchen

to the ablution facilities and classroom being newly

furnished.

Bonani Nyabane, Social Performance Specialist

at Venetia Mine, said, "As De Beers, we are excited

to hand over such a beautiful facility to the most

important members of our society, our children. We

are committed to the development of our children

and will continue to work to ensure that there is an

improvement in the level of education in communities

in which we operate."

For Mahada, what started as a small request for a

few blankets and toys, turned into something much

greater. "I don't think there is anybody here who is

not happy about this development. Thank you to

Venetia; I promise to take care of this facility and will

continue to raise these children, care and protect

them," she said.

The toddlers were visibly excited as they enjoyed

their new play areas and toys.

83

LIMPOPO BUSINESS 2019/20
---
FOCUS

Ikefree Projects looks

to take its mission

to a higher level

Patience Nqaba wants to grow the company and create jobs.

Ikefree Projects is a maintenance and services

company that operates in the Musina area and

is growing through its exposure to the De Beers

Zimele programme and opportunities on offer

through the Venetia Mine.

Patience Nqaba, the co-owner of the business,

says that when Ikefree Projects was established about

five years ago, it was with a desire to not only promote

innovation in Musina, but to inspire confidence in the

hearts of unemployed young people.

And when she agreed to kickstart the business,

she admitted the plan was to keep going despite

having encountered difficulties, as she could

clearly see how valuable the business would be

to the community of Musina.

But rather than just keep going, Nqaba has

committed to taking the business to a much

higher level. And with the help of her life partner

and co-owner, Ikemeleng Mokoena, she is driving

Ikefree Projects in doing just that.

"We realised there was a gap and asked

ourselves how we could effectively penetrate the

market. It was not easy but when we came across

the opportunity at Venetia Mine, things started

LIMPOPO BUSINESS 2019/20

84
---
FOCUS

picking up. We applied for

a tender, and have never

looked back since," she says.

The business offers

a full spectrum of civil

maintenance services to

residential and commercial

properties, including

building, painting, plumbing,

carpentry and tiling. Nqaba

says that Ikefree Projects

currently employs 29 skilled

and driven young people to

help the company grow, and

to allow them to improve

their craft.

"A lot of young people

from our community who

are willing to do this kind

of work do not have the necessary tertiary

education but because they have the skills, we

take them on. Right now, we have added four

other young people to join us for a three-month

basis, and even though it is just a short period, I

think they will leave this place more skilled than

before," she said.

Together, Nqaba and Mokoena are working to

make the business an important part of the ecosystem

in Musina as they have also recently started a food

delivery service in partnership with Nando's.

"We recently signed a contract with Nando's to

deliver orders to their customers and are in the

process of approaching other fast food franchises

in and around Musina. This has been one of our

greatest achievements as we continue to receive

positive feedback from them," she said.

In addition to this, Ikefree Projects signed a

contract with Top 40 JSE company, Tiger Brands,

to provide maintenance services to their property.

"It was purely by chance that we landed the

contract. We conducted some research and

realised they had no maintenance company.

Thereafter, we pitched and presented our

proposal, and they were highly impressed with

our profile as we had listed Venetia Mine as one

of our clients. They then gave us a contract to

renovate an office. As the saying goes, the rest is

history," says Nqaba.

With the help of the De Beers Zimele

programme, the owners of Ikefree Projects

are now equipped to run the business more

efficiently than before.

"We are continuously trained in interpreting

financial statements and budgeting, and we are

shown how to create provision for unexpected

expenses. We are also guided on how to apply for

tenders and how to market the business better

while complying with the mandatory regulations,"

she says.

Like any business, Ikefree Projects has the broad

goal to be a trusted and sustainable company in

Musina. The business owners are actively laying a

solid foundation that will enable it to do just that.

"The goal is to continue doing what we are

doing but at an even larger scale. Yes, there

will be challenges and equally, there will be

opportunities. And thanks to the exposure

Venetia Mine has given us, we – the small

business that secured a contract with Tiger

Brands – shall continue to move steadily

forward," she laughs.

85

LIMPOPO BUSINESS 2019/20
---
OVERVIEW

Education and training

Training is a key provincial priority.

The provincial government saw to the training of 190

teachers through the Continuous Professional Teacher

Development Programme in 2017/18. Training was also

provided to 53 curriculum advisors in mathematics,

science and technology (through the Continuous Professional

Development Centre) and 1 141 teachers were trained in numeracy

and mathematics teaching strategies.

In 2017, libraries were constructed in Eldorado, Rooiberg and

Ramokgopa with the following villages due to receive libraries in 2018:

Phokwane, Maphalle, Zamani and Mahlabathini.

The province's relationship with Cuba is paying off handsomely in

that 145 graduates of the medical student programme were working

as doctors in the province in 2018. A further 328 students are currently

studying in the Caribbean.

Tertiary education and training

There is a plan to establish a Manufacturing Support Centre to

make sure that the right skills are being taught to support industry.

Participants include the Limpopo Tooling Initiative Advisory Board,

the Technology Information Agency and universities.

Impala Platinum, with Limpopo subsidiary Marula Platinum, has a

partnership with the National Department of Minerals and Energy and

the Da Vinci Institute for Technology Management, which focuses on

the training of black women in the mining industry.

The Medupi Power Station Joint Venture (Grinaker-LTA, Murray

& Roberts and Concor) has a training facility where about 1 300

local people have been trained to qualify for jobs on this complex

building site.

De Beers has established a Skills Development Centre linked to its

Venetia Mine. The centre caters not only to mine employees, but also for

local school pupils and adults from the community of Alldays.

The Sefako Makgatho Health Sciences University is now an

independent university in Gauteng Province and Limpopo University

ONLINE RESOURCES

Limpopo Department of Education: www.edu.limpopo.gov.za

National Education Collaboration Trust: www.nect.org.za

Turfloof Graduate School of Leadership: www.ul.ac.za

SECTOR INSIGHTS

Local doctors trained in

Cuba are working across the

province.

has a separate Medical School. The

University of Limpopo is organised

into four faculties: Humanities,

Management and Law, Science

and Agriculture and Health

Sciences.

University of South Africa

(Unisa) has a regional support

centre in Polokwane and agencies

at Makhado and Giyani.

The University of Venda

for Science and Technology

(Univen) is situated in

Thohoyandou. Univen has eight

schools, with Environmental

Sciences, Agriculture and Rural

Development and Forestry

illustrating the practical emphasis

of the institution. The university

has invested more than R1-billion

over the last decade in new

infrastructure.

There are seven Technical

and Vocational Education and

Training (TVET) colleges in

Limpopo: Capricorn College,

Lephalale College, Mopani East

College, Mopani South College,

Sekhukhune College, Vhembe

College and Waterberg College.

The Turfloop Graduate School

of Leadership (TGSL) is based in

Edupark, Polokwane, and offers

three master's degrees.

LIMPOPO BUSINESS 2019/20

86
---
SALGA Limpopo

PROFILE

A pilot project is promoting rural densification.

The South African Local Government Association is an

autonomous association of all 257 South African local

governments. SALGA comprises a national association with

one national office and nine provincial offices. The SALGA

Limpopo Provincial Office is in Polokwane. Membership of the

association is voluntary.

Targeted rural densification programme

Densification is about increasing the intensity with which land is used.

The aim is to create more compact and sustainable settlements by

building more on a smaller geographic footprint. Population distribution

has a major impact on the provision of public amenities and facilities

such as transport, utilities and social infrastructure.

In Limpopo, Thulamela Municipality in the Vhembe District

Municipality is being piloted for this project. Thulamela is in the far

north-east of the province and borders the Kruger National Park. The

town of Thohoyandou is a regional centre.

Current challenges

• Unserviceable locations. Due to the remoteness of some of the

settlements, service installation is exacerbated by treacherous terrain.

• Spatially disoriented and economically unviable locations.

Dispersed rural areas are on the periphery of economic

opportunities.

• One-dimensional rural development approach. The current

approach is inordinately focused on capital investment, with

little attention given to addressing structural challenges.

• Discretionary land allocation. There are instances of outdated

methods in the allocation of land by tribal authorities.

Rural densification benefits

Higher densities lead to higher population thresholds which increases

social returns on infrastructure investments. Higher densities also create

CONTACT INFO

Acting Provincial Executive Officer, Ledile Molope

Physical address: 125 Marshall Street, Private Bag X9523,

Polokwane

Tel: +27 15 291 1400 and 082 268 5163

Fax: +27 15 291 1414

Email: lmolope@salga.org.za and mraboshakga@salga.org.za

SALGA Limpopo has appointed a

new Acting Provincial Executive

Officer, Ledile Molope.

more viable private investments

and the cost of basic infrastructure

is considerably reduced in a dense

development.

Higher densities create viable

social services based on minimum

population threshold standards,

whereas dispersed settlements

are inextricably linked to poverty

and underdevelopment. An added

benefit is that higher densities

create a significantly lower

environmental footprint.

SALGA's value proposition

All work on this project is internally

sourced, which is the first time a

specialised service of this nature

has been done internally without

the aid of a service provider.

Cost saving for municipalities

can be achieved in township

establishment applications and

support is offered directly and

quantitatively.

87

LIMPOPO BUSINESS 2019/20
---
INDEX

INDEX

De Beers Group of Companies — Venetia Mine...................................... 56, 82-85, OBC

Distell ​(Amarula)​.........................................................................................................................................23

Eco-Industrial Solutions​................................................................................................................. 16-21

Gateway Airports Authority Limited (GAAL)​.................................................................... 62-64

Implats​..............................................................................................................................................................54

Leeto la Polokwane​.......................................................................................................................... 65-69

Limpopo Eco-Industrial Park...................................................................................................... 16-21

Limpopo Economic Development Agency (LEDA) .............................................................. 8

Limpopo Jewellery Business Incubator.......................................................................................​73

Limpopo Office of the Premier​........................................................................................................... 6

Limpopo Tourism Agency ​.......................................................................................................... 27-33

Mahlolane Agricultural Products​.....................................................................................................42

MTN​...................................................................................................................................................................... 3

Nedbank​.............................................................................................................................................5, 34, 71

Old Mutual........................................................................................................................................... ​IFC, 36

Palabora Mining Company (PMC)​................................................................................... 48-53, 80

SA Airlink.......................................................................................................................................................​IBC

Small Enterprise Development Agency (Seda)​............................................................... 76-79

South African Local Government Association (SALGA).....................................................87

LIMPOPO BUSINESS 2019/20

88
---
Get straight

to business

Travel effortlessly

46609

Time is money.

Spend it wisely.

Airlink offers convenient flights from Johannesburg to

Phalaborwa and Polokwane. With more than 25 years of

customer-focused experience, Airlink connects you to the

widest network and choice of flights within southern Africa

and St Helena.

flyairlink.com @fly_airlink Fly Airlink
---
VENETIA

UNDERGROUND

PROJECT

The future of South African

diamond mining.

The new US$2 billion Venetia underground

mine ranks as the biggest single investment by

De Beers Group in the South African diamond

industry.

Excavation work for the underground

extension got under way in 2013, the year

De Beers celebrated its 125th anniversary.

Production is scheduled to begin in 2022,

climbing to full production in 2025. Over

the course of its life, the underground mine

will treat about 132 million tonnes of ore

containing an estimated 94 million carats.

The underground project will extend the life of

Venetia mine to 2046, securing the future for

our host communities.