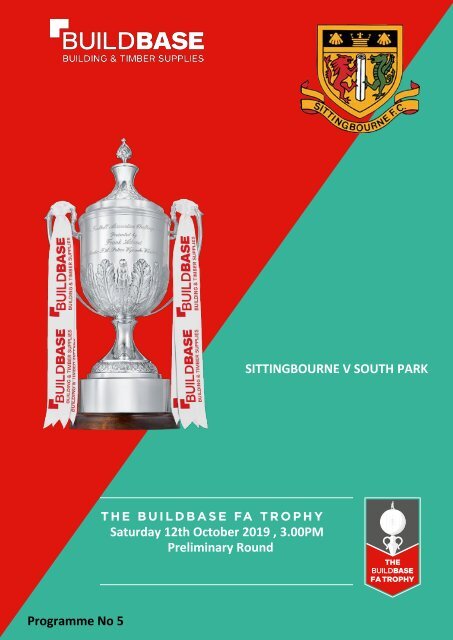 You also want an ePaper? Increase the reach of your titles
YUMPU automatically turns print PDFs into web optimized ePapers that Google loves.
SITTINGBOURNE V SOUTH PARK

THE BUILDBASE FA TROPHY

Saturday 12th October 2019 , 3.00PM

Preliminary Round
---
Sittingbourne Football Club is a UK company limited by guarantee:

Company registration number, 11360242.

Registered office: The Martin & Conley Stadium,Woodstock Park,

Broadoak Road, Sittingbourne, ME9 8AG

Who's Who

President: Alan Barty

Vice Presidents: Tania Spice, Andy Spice, and John Cooper.

Directors: Maurice Dunk (Chairman), Ken Medwyn (Vice

Chairman), Peter Pitts (Company Secretary) , John Pitts

(Treasurer). Colin Page, Alan Barty, Glen Parkes, Mick

Sayce, Andrew Marjeram (Non Exec).

Other Committee Members : Edward Lucas (Mens First

Team Secretary), Danny Appleton (Turnstile Manager).

Roger Pudner (Head Groundsman),

Other Key Personnel: Faye Goatham (Turnstile), Jackie

Mount (Programme sales), Tony Rickson (Match reporter),

Sandra Pitts & Lynne Lucas (Boardroom), Clive Phillips

(Club shop), Dudley Hird & Tony Rickson (Club Historians).

Roger Wilkins (Head Steward)

The Isthmian League and Singbourne FC strongly supports the FA

statement that there should be a zero tolerance approach against

racism and all forms of discriminaon. Accordingly any form of discriminatory

abuse whether it be based on race or ethnicity , sexual

orientaon, gender, faith, age, ability or any other form of abuse

will be reported to the Football Associaon for acon by that Associaon.

(The FA 0800 085 0508 / kick it out 020 7253 0162)
---
SITTINGBOURNE V SOUTH PARK

SATURDAY 12th OCTOBER 2019, KO 3.00 PM

Manager: Chris Lynch

Ast Manager: Darren Blackburn

Coaches: Josh Hall,

Physio: Marc Wheeler

Kit Manager: Warren Chambers

Team Assistant: Harry Chambers

Manager: Jay Lovett

MATCH OFFICIALS

Referee - Mark Pond (Billericay)

Assistant Referee's: Joshua Smith (Tunbridge Wells), Jack Owen, (Sevenoaks)

GOALS

SUBSTITUTE

PLAYER NO

PLAYER NO

SUBSTITUTE

GOALS

Tom Benham

Jordan Perrin

Lewis West

Emmanuel N'daw

Lewis Chambers

Cory Walters-Wright

Lex Allan

Enoch Adjei

Chris Webber

Tom Fagg

Chris Barnard

Jason Fregene

Tyron Guthrie

Kane Phillip

Johan Caney Bryan

Stefan Lawrence

Joshua Oliver

Sid Sollis

Adam Woollacott

Gregor Shaw

Sam Freeman

Louie Downey

Alejandro Piedrahita

Elliott Cross

Kay Conteh

Harry Pollard

Haydon Skerry

Andrew Herring

Charlie Pitcher

Callum McAllister

Reece Williams-Bowers

Alvis Azah

Leon Moore

Harry Docherty

Alfie Rogers

Sam Renfry

Henry Arnold

Chevan Xavier

Sahr Kabba
---
John's Jottings

Good afternoon everyone, welcome to The Martin & Conley stadium, Woodstock Park.

It's Buildbase FA Trophy day. And incidentally non league day.

After being defeated in the Emirates FA cup by Bognor Regis Town this is the main cup competition

that we are left in. Our visitors are old Isthmian rivals who have switched to the Isthmian

South-Central League this season, South Park. Welcome to their Players, Officials and supporters

and a welcome also to this afternoons match officials. We last played South Park at their

ground last season in the Velocity Trophy and we ran out 2-1 winners with our goals coming from

Johan Caney-Bryan and Bola Dawodu, (pic by Ken Medwyn below.)

It's been quite some time since we have played a competitive match, 24 th September to be exact.

That was a velocity Cup match at home to VCD Athletic and this was a great match for the neutral

spectator being a 4-4 draw. The fourth goal, which was an equaliser for VCD Athletic, was

incredibly the fourth time in as many matches that we have conceded a 90+ minute goal to lose

or draw a match from a winning position. In the velocity trophy this season if a match is level on

90 minutes there is a penalty shoot out to decide who gets a bonus point. This was won by us

with five perfect penalties. We also have a new keeper, Jordan Perrin, to thank for saving one of

VCD's penalties.

South Park are, at the time of writing these notes, in eleventh place in their division. However,

they have only lost one league match out of eight winning one but drawing five. In the Emirates

FA Cup they beat Canterbury City 2-1 at home in the preliminary round and then lost to Badshot

Lea (Combined Counties League) 1-3 again at home in the first qualifying round.

Chris Lynch has had a difficult time with having players out injured. The latest is Shaun Brown

who was signed to replace Gillingham youngster Roman Campbell who did so well for us. Roman

is now out on loan with Enfield Town. Unfortunately, Shaun received a knee injury at our Emirates

FA Cup match at Bognor Regis Town. It now seems that this injury requires an operation

and Shaun will be out for possibly a couple of months. Some better news is that long term injury

player, Tom Loynes, is now back in light training and we can look forward to seeing him again on

the pitch in the not too distant future.

Welcome to three new players. Jordan Perrin is a goalkeeper who has been with Wigan Athletic.

Whilst with them he played on loan at FC United of Manchester. Adam Woollcott is a midfield

player who signs for us from

Hythe Town. Sid Sollis is a striker

and another to sign from Hythe

Town. Sid started as a youth

player at Margate and featured

for their first team.

Next match for us is on Tuesday

when we entertain Ramsgate in a

Kent Senior Cup match. This will

be postponed if we draw todays

match with any replay being at

South Park on that day (7:45pm).

John
---
From the Programme Editor

Its non league day today and hopefully we will get a bumper crowd in to see our ourselves and

our old adversaries South Park battle it out to proceed to the next round of the Buildbase FA

Trophy. Ourselves and South Park come in at the preliminary round and already some clubs,

including Ramsgate, are already out having been defeated at the extra preliminary round stage.

Because of all the work that goes in to produce a programme I pondered on whether or not to

make this a joint programme covering today's match and Tuesday's Kent Senior Cup tie, but

decided against it as the Trophy games are, like the FA cup games, extra special.

This programme continues with two features that I know have gone down well, namely a continuation

of the history of programmes, which in this issue covers more substantial programmes

before the Great War, and also our very own Paul Martin continues with some fascinating stories

of his "special games". I've also included details of a football exhibition at Maidstone Museum

that is made up of items from Kent. I can't say if there is any Sittingbourne Memorabilia as

I haven't visited yet.

I know it was a disappointment when I had to remove the club shop from the website however I

am going to partially reinstate it to sell pin badges. The badges are of good quality and they are

on sale today from me, price £3.75 and they will also be available by post (postage free) if you

order from the shop on the website.

Player sponsorship. If you have already sponsored a player for this season then please let me

know so that I can add you to the player sponsorship page. If you want to sponsor a player

then details are further on in the programme.

Finally, some local football news and I start with the surprising resignation of the Chatham Town

Manager James Collins. It's a surprise because they sit at the top of the Southern Counties

East Premier Division. No reason for the resignation has been give. The replacement is ex

Brickie Scott Lindsay. The other big local news is that Ebbsfleet United have been fined a massive

(for a non league club) fine of £12,000 for failing to control their players over a long period

culminating in a fracas at a home game a short while ago against Aldershot. A fine like this

would be the death knell of a number of clubs that I know off.

Peter

Non League Day

Sponsors of our videographer

65+ Sensational Summer ideas – perfect to keep your

kids happy and engaged through the coming months!

Go to www.creativesteps.co.uk to read about this fantastic

magazine available as a hard copy or a digital e

copy.

Single Digital copy is £4.00

Annual Digital copies are £12.00

Single hard copy is £5.00

Annual hard copies are £29.50
---
Bournecreet House, Bonham Drive, Sittingbourne, Kent,

ME10 3RY, T: 01795 426775, E: info@denmaur.com
---
South Park— A Brief History

The club was founded in 1897 and joined the Redhill and District Football League as a founding

member. The facilities of the club were very basic to start with, with the club playing on a sports

field between Crescent and Church Roads. 1925 brought a partnership with the local cricket club

which formed the South Park Sports Association, the aim of the association was to improve athletic

facilities for the two clubs and as a result the people of South Park.

The new association found suitable land on Whitehall Lane, the current home of South Park F.C.,

and purchased four acres through subscriptions and door to door collections. Further purchases

of two and four acres respectively ensured that the ground would remain a permanent sports

home by vesting them to the National Playing Fields Association. The entire allotment was renamed

"King George's Field" in 1935.

The club took a hit during and immediately after World War II, however an air raid shelter on King

George's Field proved to be a defining feature of the landscape for the club in its rebound after

the war. Donations ensured that amenities were added to the shelter, such as a clubhouse, showers

and toilets, to provide the club much needed improvements to fulfill their sporting aspirations.

After this period the club remained playing in the local leagues, where they achieved some success

over the years.

In 2001, nearby club Reigate Town Football Club moved into South Park and merged with the

current club. As a result, the club was renamed South Park & Reigate Town Football Club until

2003 when they reverted to South Park Football Club. Even more renovations were made to King

George's Field with the installation of floodlights and new changing rooms.

2006 saw the club's promotion from the Crawley & District League to the Combined Counties

Football League Division One. The club's first ever FA Vase match was held in 2008–09, a second

qualifying round 2–1 home defeat to Shoreham.

In 2010, South Park participated in the FA Cup for the first time. They beat Greenwich Borough

and Horsham YMCA to set up a tie with Cray Wanderers. That season also saw the club gain

promotion to the Combined Counties Football League Premier Division, and won a cup double of

the Combined Counties Division one cup and the Surrey County premier Cup.

In the 2011–12 season South Park reached the last 32 of the FA Vase competition where they

were eventually overcome by the holders Whitley Bay.

In the 2012–13 season the club achieved its best ever performance in the FA Cup, reaching the

fourth qualifying round, where they were beaten 3–0 at home by Metropolitan Police.

South Park updated their badge in July 2018. In October 2018, manager Mick Sullivan, who

joined at the start of the season, left the club. Jay Lovett was named manager later that month.
---
Sittingbourne FC—Mens 1st Team Squad

Tom Benham: Goalkeeper. Joined Sittingbourne at the beginning of the 2019-2020 season Experienced

keeper who has also played for Faversham Town and Canterbury City.

Sponsor: sponsored by Andy H Carpet Fitters

Jordan Perrin: Goalkeeper: Jordan joined Wigan Athletic and spent 2 years in their under 18's

squad before signing professional terms as an apprentice ahead of the 2016-17 season. To

gain experience he was loaned out to Stockport Town and then in October 2018 to FC Utd of

Manchester. Jordan Joined the Brickies in September this year.

Sponsor: sponsored by Andy H Carpet Fitters

Chris Webber: Defender. Club Captain. Joined Sittingbourne from Canterbury City at the beginning

of 2017-18 season. Has also played for Billericay and Faversham Town.

Sponsor: The Bonus Ball

Lex Allan: Defender. 6' 7" Lex was spotted playing in local football and offered a trial with Sittingbourne.

It soon became clear that he had great potential. This potential has been spotted by

a number of scouts and Lex was invited to play in trial matches and he has not looked out of

place in the company of more experienced players.

Ben Fitchett: Defender. Joined Sittingbourne FC for this season from Margate. Ben has also

played for Hythe Town.

Jason Fregene: Defender. Joined Sittingbourne at the beginning of the 2019-20 season. Last

season he played for Holland & Blair and has also played for Gravesham Borough and Whitstable

Town. Whilst at Holland & Blair he won the Players player of the year award.

Caleb Roberts: Defender. Made a very impressive debut for Sittingbourne in the away league

win at Ramsgate at the beginning of the 2019-20 season. His previous club was Canvey Island.

Lewis West: Defender. Released by Millwall at the end of the 2018-19 season and signed for

the Brickies at the beginning of the 2019-20 season. A fine defender who will soon catch the eye

of league scouts.

Lewis Chambers: Midfield, Lewis signed for the Brickies in March 2018. He impressed right

from his first game for the club. He has played for Maidstone United youth. Has a very long

throw.

Chris Barnard: Midfield. Signed for us last season from Margate. He was with the Dover Athletic

academy before then and has also played for Faversham Town.

Izzy Adebayo: Midfield. Previous club was Faversham Town. Has also played for South Park

and Tilbury.

Cory Walters-Wright: Midfield. Made his debut for Sittingbourne in the first game of the 2019-

20 season at Whitstable Town. Cory has previously played for Canterbury City, Chatham Town

and Sheppey United.

Continued
---
Sittingbourne FC—Mens 1st Team Squad

Tom Loynes: Midfield / Forward. Tom first played for Sittingbourne in the 2012-13 season. In

between playing for us he has played at Ramsgate, Whitstable Town and Sheppey United.

Since returning to The Brickies at the beginning of the2017-18 season he has shown that he

has lost none of his skill and enthusiasm. Out injured at the moment after having a knee operation.

Tommie Fagg: Midfield / Forward. A graduate from the Soccer Elite Football Academy, and

Ashford United. The tall striker then signed Harlow Town in February 2016 to bolster the attack,

making six appearances for the Hawks in the Isthmian Premier Division. He signed for the Brickies

at the beginning of the 2018-19 season.

.Liam Middleton: Forward. Joined Sittingbourne in January 2019. Previously played for Canterbury

City.

Emmanuelle N'Daw: Defence / Midfield Joined Sittingbourne for this season. Emmanuelle is

versatile player who can play in right defence or midfield. Has played youth football for Blackpool

FC but was included in tow pre-season friendlies under the then manager Ian Holloway's

regime. Also played for Redbridge FC.

Johan Caney- Bryan: Forward. Joined Sittingbourne at the beginning of the 2018-2019 season.

Immediately made an impact when he scored two goals in a preseason friendly. Johan was

awarded a scholarship at the University of East London whilst being a third-year sport and exercise

student following an impressive display playing for The UEL football Club.

Kane Phillip: Forward. Kane is in his second spell with us. Kane has also played for Herne Bay

Enock Adjei: Forward. Joined Sittingbourne at the beginning of the 2019-20 season from The

Arsenal Development side. He has been captain of SCEFL Welling Town and also played for

Millwall and Thamesmead.

Shaun Brown: Forward. Shaun joined the Brickies at the beginning of the 2019-2020 season.

Powerful players who scored for fun when with SCEFL side Corinthian.

Josh Oliver. Midfield: Joined Sittingbourne at the beginning of the 2019-20 season. Promising

youngster who completed a 3 year scholarship at the FAB academy, National Sports Centre,

Bisham Abbey.

Sid Sollis. Forward: Sid joined Sittingbourne in September 2019. Sid started his career as a

youth with Tonbridge Angels and has played for Leicester City's under 23's, Margate, Whyteleafe,

Ashford Utd (loan from Margate,), Sevenoaks Town (loan from Margate), East Grinstead

Town and Hythe Town after a brief spell out of the game. Proven goal scorer. Sid is on

joint terms with Canterbury City

Adam Woolcott: Adam has recently signed for us from Hythe Town.
---
MFW supports and advises a wide range of local tradesman and businesses.

Our services can be tailored to suit your needs and to ensure you get the information to help run and

grow your business.

We offer:

- Bookkeeping (as frequent as required)

- VAT Returns compliant with Making Tax Digital

- Management Accounts

- Business advisory services

- Payroll

- Personal Tax and advise

Let MFW take care of your accounts, to allow you to focus on your business.

Contact Teresa or Nicola today to see how we can help you on:

01795 479111

sittingbourne@mfw.co.uk

www.mfw.co.uk
---
14 SEPTEMBER 2019 -

18 JANUARY 2020

MAIDSTONE MUSEUM

An exciting new

football exhibition

coming to Maidstone.

Log on to

museum.maidstone.gov.uk

to find out more.

COME ALONG -

IT'S FREE!

PLUS Free exhibition

Activity Books for youngsters!
---
Football Exhibition in Maidstone

Maidstone Museum is staging a major new football

exhibition. Entitled 'Maidstone: United in

Football', it runs from September 14 to January

19. Its focus is the extraordinary job football has

done over time in bringing people together. As

well as the ups and downs of Maidstone football,

it sheds light on the contributions of Kentish

benefactors, administrators and businesses,

plus the area's innovative contributions to sport,

including women's football.

Hundreds of football-related objects are coming

together, some dating to the 19 th century. They

include a priceless collection of memorabilia

compiled by mercurial football boss Jim Thompson.

Many others of exceptional historical interest

are being secured on loan, the highlight perhaps

being the Manchester United strip worn by

Kent-born David Sadler at the 1968 European

Cup final. It promises to be a once-in-a-lifetime

display.

Football aficionados from all over Kent have

contributed with information or exhibits. A full

programme of linked educational activities has

been devised with youthful visitors from around

Kent in mind. Special events for both young and

old are planned, including an intriguing talk on

the unique role of Kent in shaping world sport.

The exhibition is being curated by Stones fan

John Bunyard. He told us, "It began as the story

of Maidstone United, but broadened out once I

started delving into Kentish football origins. It

now taps into the roots of even national football,

which inevitably brings in a lot of clubs and

even more personalities – not to mention other

sports. Anyone who likes Kent sport and loves

their football will relish it".

Thanks to the generosity of former Margate FC

chairman Gordon Wallis, admission charges are

being waived. A full-colour book is being produced

to accompany the exhibition, which is

sponsored by Golding Vision, Gullands Solicitors

and iMUSC.

The Museum is close to both Maidstone East

station and the Fremlin Walk multi-storey carpark.

See the Events page on Maidstone Museum's

website for information on opening times.
---
ENGLAND GERMANY

v

SATURDAY 9 NOVEMBER 2019 — 5.30PM

TICKETS £15 ADULTS / £1 KIDS

THEFA.COM/TICKETS

WEMBLEY

STADIUM

CONNECTED BY EE
---
DATE OPPOSITION COMP Sc ATT 1 2 3 4

5

17 Aug 2019

20 Aug 2019

24 Aug 2019

26 Aug 2019

31 Aug 2019

03 Sept 2019

07 Sept 2019

14 Sept 2019

17 Sept 2019

21 Sept 2019

24 Sept 2019

12 Oct 2019

15 Oct 2019

19 Oct 2019

22 Oct 2019

26 Oct 2019

02 Nov 2019

05 Nov 2019

09 Nov 2019

16 Nov 2019

23 Nov 2019

30 Nov 2019

03 Dec 2019

07 Dec 2019

14 Dec 2019

26 Dec 2019

28 Dec 2019

04 Jan 2020

11 Jan 2020

18 Jan 2020

25 Jan 2020

01 Feb 2020

04 Feb 2020

08 Feb 2020

15 Feb 2020

22 Feb 2020

29 Feb 2020

07 Mar 2020

14 Mar 2020

21 Mar 2020

28 Mar 2020

04 Apr 2020

11 Apr 2020

13 Apr 2020

18 Apr 2020

25 Apr 2020

Whitstable Town

Cray Valley PM

Uxbridge

Ramsgate

East Grinstead Town

Sevenoaks Town

Bognor Regis Town

Faversham Town

Ashford United

Guernsey

VCD Athletic

South Park

Ramsgate

Hythe Town

Phoenix Sports

Hastings United

Haywards Heath Town

Cray Valley PM

Herne Bay

Chichester City

VCD Athletic

Burgess Hill Town

Sevenoaks Town

Whyteleafe

Whitehawk

Phoenix Sports

Ramsgate

East Grinstead Town

Three Bridges

Hythe Town

Whyteleafe

Guernsey

Ashford United

Whitehawk

Sevenoaks Town

Hastings United

Haywards Heath Town

Herne Bay

Chichester City

Faversham Town

Three Bridges

Whitstable Town

Cray Valley PM

Phoenix Sports

VCD Athletic

Burgess Hill Town

League

League

FA Cup Pr

League

League

Velocity Trop

FA Cup 1stQ

League

League

League

Velocity Trop

FA Trophy Pr

Kent Snr Cup

League

Velocity Trop

League

League

Velocity Trop

League

League

League

League

League

League

League

League

League

League

League

League

League

League

League

League

League

League

League

League

League

League

League

League

League

League

League

League

A

H

H

A

H

A

A

A

A

H

H

H

H

H

A

H

A

H

H

A

H

A

A

A

H

A

H

A

H

A

H

A

H

A

H

A

H

A

H

H

A

H

A

H

A

H

1-1

1-3

2-0

2-1

2-2

2-2&

0-3

0-1

1-2

0-1

2-2$

318

166

159

208

177

59

339

312

225

139

71

Benham

Lawrence

Benham

Benham

Benham

Benham

Benham

Benham

Benham

Benham

Perrin

Next home match

West

West*

West

West

West*

N'daw*

West*

N'Daw *

Fitchett

Fitchett*

Fregene*

N'daw

N'daw*

Fregene

Fregene

Fregene

Fregene

Fregene

Fregene

Fregene

Fregene

West

Chambers

Chambers

Chambers

Chambers

Chambers

Guthrie

Chambers*

Chambers

Chambers*

Fagg

Allan

Walters-Wright

Walters-Wright

Walters-Wright

Roberts

Walters-Wright

Allan

Walters-Wright

Allan

Walters-Wright

Allan

Fitchett

Ramsgate, Kent Senior Cup, Tuesday 15th October, KO

7.45PM

KEY to above grid:

@ = After Extra Time

& = Lost on Pens

$ = (Velocity Trophy pen win extra point)

+ = Own Goal

# = Sent Off

1,2,3, etc after players name = goals scored

* = Subs used and players substituted

& = Velocity - penalty loss

$ = Velocity - penalty win - extra point
---
6 7 8 9 10 11 12 14 15 16 17

Allan

Allan

Allan

Walters-Wright

Allan

Roberts

Allan

Walters-Wright

Allan

Walters-Wright

Phillip

Adjei*

Campbell1

Barnard*

Adjei*

Adjei 1

Phillip*1

Adjei*

Phillip*

N'Daw

Middleton

Oliver*

Webber*

Webber

Guthrie

Oliver*

Barnard

Oliver*

Webber

Fitchett*

Fagg

Barnard

Fagg

Campbell 1p#

Brown

Brown 1

Campbell 2

Campbell 1

Campbell

Brown

Campbell

Caney-Bryan1

Barnard

Caney-Bryan*

Sollis*

Fagg

Fagg

Fagg*

Fagg

Fagg*

Middleton*

Fagg

Fagg

Oliver

Caney-Bryan*

Barnard*

Bernard*

Adjei

Lori*

Lori*

Lori

Lori

Barnard

Phillip*

Lori*

Middleton

Fregene

Roberts

Roberts

N'daw

N'daw*

West*

N'daw

West

West

West*

Webber*

Brown*

Oliver

N'daw

Guthrie*

Guthrie

Webber*

Guthrie*

Guthrie*

Middleton *

N'Daw*

Pearse*

Guthrie*

Fregene*

Oliver

Middleton*

Roberts

Barnard

Barnard*

Lori

Adjei*

Phillip*

Chambers*

Lori*

Adjei*

Lori

Caney-Bryan*

Webber*

Adjei*

Phillip*

Adjei*

Oliver

Pearse

Moulon

Caney-Bryan

Lori*

Caney-Bryan*1

Caney-Bryan*

Caney-Bryan*

Caney-Bryan*

Caney-Bryan*

Lori*

Cullen-Cooper

The Offical Sittingbourne FC Website

for up to the minute news and stats.

www.sittingbournefc.co.uk

News, Reports, Fixtures, Photo's, Ex Players,

Brickies Lottery winners, Directions and much

more. Also an extensive archive.

Follow us on Twitter @SittingbourneFC
---
Paul Martin—Special Games

Paul continues his reminiscing with Portadown 0 Red Star Belgrade 4 - October 1991

I have only managed to see one live game in Northern Ireland but what a treat this was. One of our

local representatives sponsored this European Cup game and "Head Office" dispatched two of us

from London to provide support. I was most excited to be going especially as the Company were

picking up the tab! What I didn't realise was that we were required to draw the raffle on the pitch at

half-time and present a Man Of The Match Award to the best Portadown player on the pitch after the

game as well as doing some local PR.

But I am jumping ahead. Irish hospitality is legendary and ours started as soon as we reached the

hotel. After a couple of drinks (I am very partial to a Bushmills or two) we were whisked to Shamrock

Park for more drinks and a buffet in the Boardroom. More Boardroom drinks at half-time (Portadown

2-0 down at this stage) after our raffle adventure and then dragged back to the Boardroom after the

game. By this stage my hotel bed was calling but, no, off to a different hotel and a large meal (this

started about 11pm). Needless to say, we were not up very early the following day! A crowd estimated

at 5,000 watched the game. Red Star Belgrade had won the first leg 4-0 as well for an 8-0 aggregate

victory.

Manchester United 2 Newcastle United 0 (FA Cup Final 1999)

I have had a fascination with the FA Cup and its history since a small boy but never had the opportunity

of attending a Final. For my 50 th birthday, I received a ticket to the Final – what a fabulous present.

Goals from Teddy Sheringham (11 mins on as a sub for Roy Keane) and Paul Scholes (53

mins) sealed the victory.

Manchester United rested several players because of the Champions League Final with Bayern Munich

four days later. They lined up with Schmeichel, Gary Neville, May, Johnsen, Phil Neville, Beckham,

Keane, Scholes, Giggs, Cole and Solskjaer. This is probably the only time I saw these players

live!

Not so many well-known faces in the Newcastle side except for Alan Shearer, Steve Harper, Gary

Speed, Rob Lee and Nolberto Solano.

Not the most exciting of games if I remember correctly but I have attended a number of England Internationals,

Amateur Cup Finals, Trophy Finals and Vase Finals and the atmosphere at this FA Cup

Final topped the lot!

AS Roma 3 Parma 1 – 2002

I have only been to Rome the once for a short break with my long-suffering wife. Despite throwing

coins in the Trevi Fountains I have yet to make a return trip. The visit coincided with a Roma home

game so tickets were purchased.

Sunday was a pretty unique day. The morning was spent in St Peter's Square with a vast crowd while

the Pope, John Paul II, made his tour of the Square in his Popemobile after morning prayers. I am not

Catholic but the atmosphere was amazing.

From there to the Olympic Stadium which held the 1960 Olympics. Apart from the Opening and Closing

Ceremonies the stadium held the Athletics and Equestrian events and the track was still in place.

Our only Gold Medal in this Stadium in 1960 was Don Thompson in the 50km walk (older readers will

remember him). Dorothy Hyman, Peter Radford and David Broome also won medals for Great Britain

in this arena.

A crowd of 61,870 saw the home side win 3-1 (2-1 at half time). The home side included Christian

Panucci, Cafu, Emerson and Gabriel Batistuta. Parma included Cannavaro, Hakan Sukur and Junior.

Another electric atmosphere and many flares! - Part 3 will be in next Saturday's Hythe Town

programme.
---
@drakesplumbing

BOTH TRADE

AND RETAIL

WELCOME!

GREAT PRICES

ON A HUGE

RANGE OF STOCK!

PLUMBING, HEATING &

BATHROOMS

AT DRAKES SITTINGBOURNE!

From pipe and fittings to a set of basin taps or a

whole new bathroom suite, visit Drakes Sittingbourne

for competitive prices on a huge range of stock! Our

bathroom showroom showcases the very best bathroom

products and accessories from your trusted brands!

www.drakes.biz

Drakes Sittingbourne, Eurolink East, Unit

12 Styles Close, Sittingbourne, ME10 3BF

01795 427216 • sbsales@drakes.biz
---
Appearances
---
A series of articles by the author of the book 'A History and Guide to Football Programmes'

describing how programmes have changed over a century-and-a-half of Association

Football. These articles will appear throughout the season in the Sittingbourne FC

programme.

More Substantial Issues Before the Great War

The fund-raising potential of football programmes became widely appreciated by clubs in the

years which followed the turn of the century, and by the outbreak of the Great War, clubs had become

polarised into those who published multi-page, advertising-included recognisable match

programmes, and those who published nothing at all. Few, if any, remained with the half-way

house of a simple team sheet.

Some of these early programmes were substantial affairs, providing a comprehensive coverage

of club matters, commentary on football topics and description of visiting clubs. "The Villa News

and Record", for instance, comprised 20 pages and was arguably superior to the club's programmes

some 50 years later. Birmingham City (or just plain Birmingham as they were then

known) favoured a very large page size, with a cover of blue paper and white internal pages.

A curiosity amongst programmes from the early decades of this century was the "Everton and

Liverpool Official Football Programme" .... "the only programme issued by Authority of the

Everton and Liverpool Clubs." This was a substantial, 16 large page edition, which covered both

city clubs, featuring the first team match of one, and the reserve team fixture of the other, both

played on opposite sides of Stanley Park on the same afternoon. This, apparently, happy collaborative

arrangement persisted for many years on Merseyside, before the clubs reverted to their

19th century habit of issuing separate match programmes.

The Sheffield clubs were early and prolific programme issuers, with Wednesday being one of the

last clubs to feature team selections on the front page. Their 16-page productions from the early

1900's were arguably before their time. It was not only League clubs who were beginning to

make their programmes bigger and better. Hartlepool United, who did not join the League until

after the Great War, had "Martin's Key Card and Official Programme" issued on their behalf as

early as 1909/10. This consisted of 12 pages, only three of which were given over to advertisements.

By the outbreak of the Great War, those clubs who regularly issued programmes were publishing

multi-page issues which we would recognise today - minus the gloss, colour and photography of

course. Universal programme production across the country did not happen until the 1920's.

For more information and advice on programmes and programme collecting, please visit

www.pmfc.co.uk.
---
Saturday 7 th September 2019

By Peter Pitts

FA Cup—Preliminary Round

Bognor Regis Town 3 (Muitt (2) (11 & 13

mins), Lethbridge 30mins)

Sittingbourne 0, Attendance 339

Bognor Regis Town had gone beyond the 1 st

Qualifying round stage of the Emirates FA

Cup in each of the last 4 seasons but over the

same time the Brickies had never progressed

beyond that stage so the odds were stacked

heavily against them doing it this time, and so

the 3-0 defeat was perhaps a foregone conclusion.

In truth Sittingbourne were never in it

once the Rocks first goal went in.

Sittingbourne made 7 changes from the lineup

that drew at Sevenoaks in midweek. Included

in that number was leading scorer Roman

Campbell who was not allowed to play in

this fixture at the request of Gillingham. However

the Rocks were able to field two strikers

on loan from Portsmouth, both of whom had

featured for the EFL League one side in the

Carabao cup. These two (Dan Smith and Brad

Lethbridge,) plus Jimmy Muitt proved far too

hot to handle for the Brickies defence.

The first goal came after 11 minutes when

Ashton Leigh's cross found Muitt completely

unmarked in the Sittingbourne box and he

gave Tom Benham no chance with his shot. A

minute later came Sittingbourne's only real

effort on goal (apart from twice when the ball

went into the net but offside was given,) when

Chris Webber fired in a powerful shot that was

caught by Rocks keeper Peter Durin at the

second attempt. But a minute later the Rocks

doubled their lead with perhaps a fortuitous

goal that was given to Muitt who mishit his

shot and the ball actually cannoned off a Sittingbourne

player and into the net.

The Rocks had rocked the Brickies! And they

were first to the ball too many times.

Chances continued for Bognor and on 25

minutes Dan Smith should have scored when

he was through on goal but he curled his shot

wide, there was however a hint of Smith being

offside and it looked as though even he

thought that.

Match Report

The third goal really put the game to bed for

the Rocks, and that came on the half hour

when Muitt was again involved, this time

crossing the ball to the far post where Lethbridge

had oodles of time to plant his shot into

the net.

The half ended with another chance to the

Rocks as Dan Smith took advantage of slack

marking but his soft shot was easily saved by

Benham.

Benham was in action immediately after the

start of the second half when he pushed away

a shot from Smith after a mazy run by the

Rocks striker.

Despite plenty of running Sittingbourne were

just not able to trouble Durin in the Rocks

goal.

Neat passing movement on the edge of the

Brickies area between Muitt and Letherbridge

ended in Benham saving another Letherbridge's

shot.

At last the Brickies were showing a bit more

fight without really getting that final shot in.

But at the other end Muitt hit a Brickies post.

It could have been four when a suicidal back

pass was made but Benham just managed to

get back to his goal and hook the ball off the

goal line. The final chance of the game went

to Smith but again it was a weak shot that

went wide.

It must be said that the fantastic Sittingbourne

fans never stopped trying to encouraging the

team so for me they were the Brickies men

and women of the match!

A deserved victory then for Bognor Regis

Town who claim the £4,500 prize money.

Bognor Regis Town: Peter Durin, James

Crane, Ashton Leigh, Doug Tuck (Tommy

Scutt 73 mins), Ben Clark-Eden, Keaton

Wood, Harvey Whyte (C) (Dan Simmons 81

mins), Tommy Leigh, Dan Smith, Jimmy Muitt,

Brad Letherbridge (Victor Hensel 73 mins).

Subs not used: Charlie Williamson, Charlie

Searle.

Sittingbourne: Tom Benham, Lewis West

(Chris Barnard 55 mins), Jason Fregene, Lewis

Chambers (Tyrone Guthrie 46 mins), Cory Walters-Wright

(Yellow Card), Lex Allan, Enoch

Adjei (Kane Phillip 66 mins), Chris Webber (C),

Shaun Brown, Tom Fagg, Festus Lori, Subs not

used: Abdel N'Daw, Johan Caney-Bryan

Officials

Referee: Ciaran Barlow, Assistants: Derek Pratt,

Jack Darling.
---
BetVictor Isthmian League South East—Up to Date

P W D L F A +/- Pts

1 Hastings United 8 5 3 0 10 2 8 18

2 Sevenoaks Town 8 5 1 2 14 8 6 16

3 Ashford United 6 5 0 1 15 5 10 15

4 Guernsey 8 4 3 1 18 14 4 15

5 Cray Valley PM 7 4 2 1 10 5 5 14

6 VCD Athletic 8 4 2 2 15 14 1 14

7 Chichester City 6 4 0 2 10 7 3 12

8 Phoenix Sports 8 4 0 4 17 15 2 12

9 Whitehawk 8 3 2 3 13 11 2 11

10 Faversham Town 8 3 1 4 10 13 -3 10

11 Haywards Heath Town 7 2 3 2 10 9 1 9

12 Whitstable Town 8 2 3 3 10 12 -2 9

13 Hythe Town 8 3 0 5 8 12 -4 9

14 Whyteleafe 4 2 1 1 9 6 3 7

15 Herne Bay 7 2 1 4 9 16 -7 7

16 Burgess Hill Town 7 2 0 5 16 19 -3 6

17 Three Bridges 7 2 0 5 7 14 -7 6

18 SITTINGBOURNE 7 1 2 4 7 11 -4 5

19 Ramsgate 6 1 1 4 7 13 -6 4

20 East Grinstead Town 8 0 3 5 11 20 -9 3

BetVictor Isthmian League South Central—not including

Chertsey Town v Northwood and Uxbridge v Ware 8/10/19

1 Hanwell Town 7 6 1 0 25 6 19 19

2 Westfield 8 6 1 1 23 5 18 19

3 Tooting & Mitcham United 7 6 1 0 16 4 12 19

4 Harlow Town 8 5 1 2 16 15 1 16

5 Bracknell Town 8 4 2 2 17 10 7 14

6 Chalfont St Peter 8 4 2 2 18 12 6 14

7 Uxbridge 7 4 1 2 14 7 7 13

8 Waltham Abbey 8 4 1 3 24 18 6 13

9 Ware 6 3 3 0 15 9 6 12

10 Chertsey Town 6 3 2 1 12 7 5 11

11 SOUTH PARK 8 1 6 1 13 13 0 9

12 Marlow 8 2 3 3 13 14 -1 9

13 Barking 8 2 2 4 12 15 -3 8

14 Chipstead 8 2 2 4 9 12 -3 8

15 Bedfont Sports 8 1 3 4 4 14 -10 6

16 Northwood 7 1 1 5 10 21 -11 4

17 FC Romania 8 1 1 6 12 29 -17 4

18 Hertford Town 8 1 1 6 8 27 -19 4

19 Staines Town 6 0 2 4 8 15 -7 2

20 Ashford Town (Middx) 8 0 2 6 7 23 -16 2
---
Match Reports by Tony Rickson

Saturday, 14th September 2019

BetVictor Isthmian League South East Division

Faversham Town (1) 1 (Adesite 44) Sittingbourne

(0) 0, Attendance: 312

Goalkeeper Tom Benham will have left the field

cursing his mistake that gave Faversham Town

the only goal of this local derby.But, to be fair,

every one of his Sittingbourne colleagues made

a mistake or two – a misplaced pass or a mistimed

tackle – it's just that goalkeeper errors

are more exposed than everybody else's.

Not that Sittingbourne played badly, in fact their

first half performance was among their best 45

minutes of the season.But they didn't convert

some good moves into goals and ended the

game looking a bit one-dimensional with Lewis

Chambers' massive long throws their chief

weapon. But Faversham, with their twin centrehalves

both ex-Brickies, were exemplary at

keeping them out and winning the aerial challenges,

and Sittingbourne's second half play

never matched up to the earlier stuff.

Sittingbourne made five changes from the team

that lost to Bognor Regis in the FA Cup the previous

week, Roman Campbell, Chris Barnard,

Abdul Ndew and Kane Phillip returning, with

Ben Fitchett coming straight in after rejoining

the club the previous day. He lined up in an allpigtailed

central midfield alongside Chambers,

having played in defence throughout his previous

spell at the club.

In pleasant September sunshine, Sittingbourne

made a positive start and threaded together

some impressive build-ups with Campbell's

quick-footed hold-up play excellent and Tommie

Fagg popping up all over the place in a very

hard-working display.

Fagg had a powerful shot deflected wide, Phillip

volleyed an early chance over, Campbell so

nearly got to a couple of headed chances,

Fitchett forced a comfortable save out of keeper

Watkins, and Jason Fregene, outstanding otherwise,

put his shooting chance out of the

ground.

It was all Sittingbourne, winning the ball back all

over the pitch, with Faversham restricted to the

odd breakaway, Benham making a good save

at the end of one of them.

But it all went horribly pear-shaped at the end of

the first half when Fregene played a back pass

to Benham. He looked as if he didn't realise

how much time he had, and tried to kick it out

first time. It skewed off his foot, straight to Faversham's

Adesite just a few yards away, and

he seemed almost embarrassed at having the

opportunity to put it straight into the empty

goal.Faversham had been dominated in the first

half but they turned it around after the break

and worked altogether harder to keep Sittingbourne

out and preserve their lead.

Benham was probably the busier of the two

keepers, making a couple of good saves, while

at the other end, sub Enoch Adeji created an

opening but shot straight at the keeper, Lex Allan

had a headed chance saved and a powerful

Chambers effort was headed out for a corner by

the mighty Matt Bourne. He doesn't seem to

have aged a day since starring for Sittingbourne

back in the Bourne Park days.

So a second successive game for Sittingbourne

without scoring, and in all honesty a pretty disappointing

result. The fans were once again unstinting

in their support, and at least the team

played well for half a game and kept plugging

away for a whole one.

Faversham Town: Luke Watkins, Donvieve

Jones, Jamie Maxted, James Miles,

Matt Bourne, Josh Dorling, Michael Freiter

(Robert Lawrence, 82 min),

Mitchell Chapman, Max Morgan (Jack Sellens,

76 min), Anthony Adesite

(Rolandu Onu, 87 min), Ryan Khanye (Yellow

card). Subs not used: Steven

Mills, Harry Earls.

Sittingbourne: Tom Benham, Abdul Ndew

(Johan Caney-Bryan, 68 min), Jason

Fregene, Lewis Chambers, Lex Allan (Yellow

card), Cory Walters-Wright,

Kane Phillip (Enoch Adjei, 57 min), Ben Fitchett

(Tyrone Guthrie, 57

min), Roman Campbell, Tom Fagg, Chris Barnard

(Yellow card). Subs not

used: Lewis West, Festus Lori.

Referee: Mr C Pullen; Assistants: Mr W

James, Mr R Mortimer
---
Brickies Lottery Results

The lottery is now even more attractive. There is now an annual prize (in December) of £500, and

each month a prize of £100. In addition Each week there are draws for £40 ( 3 prizes except for

the week when there is a £100 prize when there will be two £40 prizes).

Now is the time to join our lottery, see John Pitts or Peter Pitts (On the PA) or the bar for a form,

cost is just a £1 a week! (Payable monthly. Quarterly or annually)

Week Commencing 7th October 2019

£100, Ticket number 356, Doris Goodman, Sittingbourne

£40, Ticket number 024, Terry Miller, Sittingbourne,

£40, Ticket number 682, Roy Wellard, Sittingbourne.

Week Commencing 30th September 2019

£40, Ticket number 104, Don Ralph, Sittingbourne

£40, Ticket number 368, Warren Chambers, Sittingbourne,

£40, Ticket number 616, Ted Overy, Sittingbourne.

Week Commencing 23rd September 2019

£40, Ticket number 146, Peter Dixon, Bapchild.

£40, Ticket number 469, Trevor Davies, Sittingbourne,

£40, Ticket number 632, John Fordham, Bapchild

Week Commencing 16th September 2019

£40, Ticket number 649, Barry Young, Sittingbourne.

£40, Ticket number 159, Hilary Carey, Sittingbourne,

£40, Ticket number 348, Michael Barrow, Sittingbourne
---
John Clarke IBF / BSF President
---
Sponsorship Opportunities

Match Day Sponsor - this gives the sponsor and guests (Up to four)

access to the boardroom to enjoy half time and post match food and

drink. Costs of this is a very reasonable £175

Matchball Sponsor - £50

Mascot - An ideal present for a football mad youngster = £50 Includes

mascot plus three guests plus Hospitality.

Man of the Match - Your chance to be the official "Man of the Match"

awarder £15

Sponsor a Brickie and have your name in the programme as a sponsor

for the entire season, rates are:

Complete Player...............................£50

Socks only........................................£10

Shorts only.......................................£15

Shirt only...........................................£20

Boots only.........................................£15

Web site advertising—An exciting opportunity to advertise on a web

site that has a verifiable 3000 plus hits a month. Box Advert, £75. All

enquiries for web site advertising to Peter Pitts via

bournefc@hotmail.com or call 07785 906627

Inside Programme Advertising: (Black & White or Colour). From

£50.00 (Business card size)

Ground Perimeter Boards: Size 8 feet x 3 feet = £200, then £150

per year renewal.. Other sizes negotiable

For any of the above see any committee member. Or email

andrew@sittingbournefc.co.uk
---
Phil