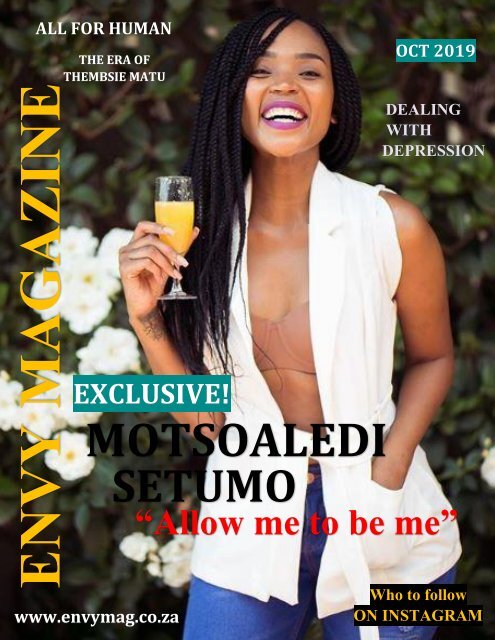 You also want an ePaper? Increase the reach of your titles
YUMPU automatically turns print PDFs into web optimized ePapers that Google loves.
ENVY MAGAZINE

ALL FOR HUMAN

THE ERA OF

THEMBSIE MATU

OCT 2019

DEALING

WITH

DEPRESSION

TRAVEL GUIDE

&TIPS

EXCLUSIVE!

MOTSOALEDI

SETUMO

"Allow me to be me"

www.envymag.co.za

Who to follow

ON INSTAGRAM
---
Listen to the best profiling

podcasts.

Visit www.envymag.co.za

Or follow us on social media

@envy_magazine @envy_magazn envy_magazin
---
PREVIOUS ISSUE
---
"Everything in life, even the negative things, are one and the same and

make up this thing we call existence. – Willow Smith
---
Editor's note

Yes, 2019 is slowly coming to an

end, and you probably feel like you

have not done all the things you set

yourself to do at the beginning of

the year. That's how we all feel

every time we reach the end of the

year

You have lived up to this month of

October, celebrate the things you

achieved. It doesn't matter how

small they are. Be proud of the

person you are becoming each day.

Take time to appreciate the people

around you and find inspiration in

what is to come.

Remember the year is not yet over,

anything is possible. Cut yourself

some slack, don't be too harsh and

focus on the positive and what you

want to achieve.

In this month's issue we decided to

bring you up close and personal

with Motsoaledi Setume and

Thembsie Matu. Enjoy!

Love, A
---
HOME

Kitchen From HGTV

Dream Home 2019

709 Bar Stool

R599.00

discountdecor

Chrome Plated Zinc Alloy

Water Taps Basin Kitchen

Wash Basin Faucet

Hot&Cold

R199

Wish
---
TABLE OF CONTENTS

12 Cover

16 Spring Gym

18 Thembsie Matu

24 Depression

26 Foodie

32 Travel

13 Poetry
---
China Anne McClain
---
CONTRIBUTORS

Athabile Mrasi

Editor-in-Chief

Facebook: Taba Mrasi

Instagram: @iamathamrasi

Abongile Ndevu

Lifestyle Editor

Facebook: AbongileNdevu

Instagram: @abongilendevu

Vuyokazi Vika

Beauty Editor

Facebook: VuvuVika

Instagram: @vuvuvika

Content producers

Avela Luke

Fhumulani Lukoto

Puseletso Nthate
---
"ALLOW ME TO BE ME"

By: Athabile Mrasi

South African actress

Motsoaledi Setumo

shares that most people

find it hard to

differentiate between

her television character

and her real-life

character. Being onscreen

every day may

make people believe that

the role you are playing

is really who you are.

She says that sometimes

people prejudge based on

your tv character. "I am

the total opposite of

Mmabatho. People never

really understand that and

the judge you based on

her actions or personality

and not give you space to

be who you are. Can I be

Motsoaledi? Allow me to

be me," says Motsoaledi.

.

Even though Mo more has

been in the industry for

three years fully, she

admits that her life

changed immensely when

she joined 'The Queen',

Msanzi's most watch

telenovela.

"A huge change in my life

came when I started acting

on 'The Queen'. Most

people started noticing the

role, and because The

Queen is one of the mostwatched

television shows.

Fans of the show have

fallen in love with

Mmabatho and others,

well…", she says.
---
As much she loves and

respects her followers,

she sometimes feels

like they are crowding

her especially when

she is at the mall with

her grandmother.

"I understand that when

someone who has been

watching you on screen

is seeing you in person,

they want to take a photo

or strike a conversation

with you. But sometimes

people can be so rude.

Great me first, I am a

human being then is you

see if I am eating with

food in my mouth, can

you wait?"

Fashion and Beauty

Mo who always looks

stylish and on point

confesses that she is a

lazy dresser and that her

fashion icon is Rihanna,

Keke Palmer, and

Moneoa.

"I always go for simplicity

and comfortability. If you see

me wearing heels, you should

know I am uncomfortable

and angry. I am a sneaker

kind on a girl," says

Motsoaledi.

Her fashion sense is the same

as her beauty and makeup

choice. "I have powerful

features, so I always go for a

natural look when it comes to

make-up. On my daily basis,

I just apply, foundation,

mascara and I ready to go."

Keeping Your Acting Job

For an artist to be able to

keep their job, Motsoaledi

says you always have to be

professional but sometimes

there is nothing you can do if

your storyline is no longer

part of the show.

"It doesn't matter how good

you are at times. If your

storyline cuts, they let you

go. But you do need to be

disciplined though."

Envy magazine 12
---
POETRY SESSION

If You Were Mine

A poem by Augustus Waters

If You Were Mine

A poem by Augustus Waters

My love for you defined, is harmony in sounds

Inside my heart it's found

My stars were found aligned

From since I fell in love, but you are not mine

There is no rest when you are on a quest of

connecting souls

The type of bond whose description is found in

ancient scrolls

As far anatomy goes, you and I are made from

the same stuff

Flesh, blood, bone but why can't we feel the

same way??

OH! I already know the answer you don't have to

say

That's because you are not mine

See, I'm the type of guy that can only be with

one woman at a time and that's only if I can see

a future between us and if Genies were real and

I could find one to give me three wishes

My first wish would be to spend a day with you

My second wish would be to spend a night with

you

My third wish would be to spend more time with

you

You have a beautiful mind that's why I fell for

you

And your beautiful smile is how I got hooked to

you

I know how I feel but I just can't quite say it to

her face

That's why I wrote this poem and I speak as if

her and I are face to face

If you were mine

I'd create a space in time where the moon and

sun shine in the same sky at the same time

when you and I see eye to eye

If you were mine

Ndingabambha ndiyeka

Ndiyek' ubambha ndiyeka

Ndibambhe wena wedwa

If you were mine

I'd text my ex like 'Yo, stop calling me'

If you were mine

See, a woman with good physical appearance

got me hanging from the edges of her curves

but a woman with good conversation got me

hanging from the edges of her mind

That's my definition of Ubuhle Bendalo

Kalok' ubuhle bufihlakele angekhe ubone

inkangeleko ogqiba ugqibe ngelithi ubuhle

bugqibelele

Ngakhakathi bukhangele

That my definition of Ubuhle Bendalo

You are the whole package got me thinking and

wishing

If you were mine I'd write a love poem

Dumb question, if I wrote a love poem would

you be mine?

My love for you defined, is poetry and sound in

harmony combined

Inside my heart it's found

My stars were found aligned

From since I fell in love, but you are not mine
---
Model: Syleez

Poet and rapper

Photographer: @Blackmanseason Envy magazine 14
---
Spring Back Into shape

After The winter

By: Abongile Ndevu

As much as we all try to stick to our workout

routines, the cold weather and shorter days

during winter often lead to less working out

and more Netflixing. Suddenly you realize

that days are longer, and the temperature

starts to rise which calls for swimsuits.

Summer body season is around the corner!

HOW TO SPRING BACK TO SHAPE

1. Find a workout buddy

When you don't have someone to exercise with,

it has been cited as a barrier to regular workouts

among both women and men. Having a workout

partner comes with benefits. You get interested

in trying out new types of workouts if you aren't

doing it alone. A work out partner can also

motivate you when you feel like giving up

during the middle of a routine; plus, there is

somebody to relate with after a particularly hard

work-out. It also allows you to commit to

something with somebody.

2. Set yourself realistic goals.

Start by committing to working out two or three

times per week. That will help you get back into

the habit of making it a priority. You'll also need

to be realistic about the results you expect to see,

if you've been sedentary all winter and packed

on the pounds, don't expect to start working out

in October and have a six-pack by November.

3. Choose workouts that are best for you.

A lot depends on your individual goals, you and

your partner might have different body goals so

be sure to take up on exercises that will suit your

needs and goals on the time frame you've set for

yourself.

4. Don't skip the warm-up

If you are anxious to get back to a routine and

see results, it may be all too easy to think that

it's better skipping the warm-ups and spending

your whole hour at the gym. This is a trap you'll

have to work hard to avoid. A proper warm-up is

not essential for your safety, but it also leads to a

more beneficial workout!

5. Don't forget to stretch!

Just as important as the warm-up is, the

cooldown and stretching portion of your workout

routine is essential. Many people finish their

workout and head straight for the door without

even considering stretching. A good cool-down

routine will help decrease soreness after a

workout, which can be essential to helping you

stick to your workouts.

6. Make sure you fuel properly

If your workouts are making you feel dizzy or

lightheaded, you are either dehydrated or not

eating enough before your workout. Nutrition

isn't just important if you're trying to lose

weight; it's also important to make sure you're

eating enough and drinking enough water to

safely fuel your work out.

7. Don't beat yourself up

Getting back into a workout routine isn't easy.

Even if you start slow keep being consistent.

There may be days where you will give in to the

call of the couch. The worst thing you can do in

those days is beat yourself and decide to give up.

Throwing a towel isn't worth it. Cut yourself

some slack especially early on. Don't let missing

a single day take the steam out of your engine!
---
Envy magazine 16
---
THEMBSIE MATU
---
THE ERA OF

THEMBSIE MATU

She is writing her own histrory

By: Athabile Mrasi

Thembsie Matu is more than just

an actress, she has joined the

fashion industry by storm with

her female clothing line

'Nomabhongo'. She says her

grandmother used to call her

'Nomabhongo when growing up

because she loved beautiful

things.

"I wanted to use the name for

something else. But when the

clothing came into the picture, I

knew it was the right name to use.

Now I will use it every time, it is

part of my brand," says Thembsie.

She says one of the things that

motivated her to start her clothing

line was seeing people interested in

everything she was wearing.

"People would ask me where I

bought my clothes and they

would be very interested to

get the same outfit as mine.

As much as I didn't pay that

much attention to it, I noticed

when people started making

theme parties and wear like

my character Petronella, then

I knew. People approached

me about designing, we talked

and took it from there. That's

how my clothing line

'Nomabhongo came about."

Nomabhongo clothing line

caters to all sizes and shapes.

People request what they

want. And she says she

creates clothes for women to

feel good in themselves.

Thembsie plays the role of

Petronella on The Queen,

Mzansi's most-watched

Telenovela. She shares that

people should invest in the

craft as she has been in the

industry for more than three

decades.

"You have to study the

industry that you are in, the

technique and you do not have

to go to big schools, as long as

you will be learning. Also, you

have to love what you do and

should be just about being

famous," says Thembsie.

She has a huge social media

following, Thembsie says she

finds it hard to keep up with

constantly engaging on the

platforms, but she loves and

enjoys interacting with her

followers when she gets time.

"Back in the day there were no

social media platforms, you

had to sell yourself. Now I

have Adapted well. I know that

my following is true and

authentic."

"Study your craft

and the technique."

Envy magazine 18
---
CRISTYLES

"Every time, I

release a song it's

something fresh

and different."
---
Sifiso Peter Mkhwanazi better known

as Cristyles is making waves with his

single "Love your shoes". It's out in

all digital Envy magazine play caught stores. up with him to talk about his latest

single, what inspires him to make music and more.

By: Abongile Ndevu

1. As a producer/ song writer what

influenced the transition from being behind

the scenes to being on stage performing?

I just felt like I was ready, I had learned a lot behind the

scenes so now I want to have the experience of

releasing a commercial song and perform them.

2. Would you say having the technique of

producing your own music makes it easier as

an artist?

It makes it very easy, because initially my biggest

challenge was finding a producer that would understand

exactly the sound and instruments I prefer. So, I had to

teach myself

3. Your stage name Cristyles, how did it

come about?

It's simple (C)clever (R)real (I)intelligent Style.

4. "Love your shoes" that's a catchy name

for a song title, tell us more about the

inspiration behind the single?

Well, the single was inspired by my love for shoes, I

collect shoes, sneakers like I'm crazy, so I put myself in

a position of a man admiring his woman's shoes, the

way they fit, the way she dresses for them.

5. As an artist who would you say has been

your influence when it comes to music?

I was inspired a lot by Usher, R Kelly etc., from the

styles of music and writing, but I listen to a lot of

classic lately.

6. Share with us some of the struggles you've

experienced as an artist in South Africa and

how have you managed to overcome those

struggles?

Primarily it was finding a studio that would give me

the kind of quality I want. I have overcome that by

owning my own record company and my own powerful

studio. I also have visual equipment for shooting video

and documentaries.

7.What's for next year?

In the next year I'm getting into audio visuals, I'm

extending my company CLT music into CLT audio

visuals, that will be the division that will mostly deal

with TV and film adverts. Everything is already in

order, just waiting to launch and start doing big things.

8. What is the best part about making music?

Being creative. I think being creative is the best gift

and just being in the creative space goes beyond any

imagination. Bringing a song to life is life itself.

9. Any coming up events where your fans

can go watch you perform?

No performances yet, I'm still busy with ground work.

I think more effort must be put into developing the

brand ground up. So, for now it's making sure the song

is available to people, more interviews then I will be on

tour promoting.

Single can be downloaded

and streamed in all digital

streaming services.

Envy magazine 20
---
DIFFERENT TYPES

AND CAUSES

OF MISCARRIAGE

By: Fhumulani Lukoto

Within the first 20 weeks of pregnancy

some women experience an unplanned

expulsion of a fetus from the womb. The

medical term used to identify this

potential complication or loss is known

as Spontaneous abortion. But since it

sounds very hush and insensitive, the

preferable term to be used is

Miscarriage.

Studies show that women in their childbearing

years, have 10-20% chances of having a miscarriage

and an increase in maternal age affects the chances

of miscarriage.

DIFFERENT TYPES OF MISCA

RRIAGE:

• Threatened miscarriage is some degree of

early pregnancy uterine bleeding

accompanied by cramping or lower

backache. The cervix remains closed.
---
• Incomplete miscarriage is when abdominal or

back pain is accompanied by bleeding with an

open cervix. Miscarriage is inevitable when

there is dilation or effacement of the cervix or

there is rupture of the membranes.

• Complete Miscarriage is when the embryo or

product of conception have emptied out of the

uterus, bleeding should subside quickly as

should any pain or cramping.

• Missed miscarriage is when embryonic death

has occurred but there is not any expulsion of

the embryo.

• Recurrent miscarriage defined as 3 or more

consecutive first trimester miscarriage.

• Blighted Ovum is also called an embryonic

pregnancy, a fertilized egg implants into the

uterine wall but fetal development never begins.

• Ectopic pregnancy is when a fertilized egg

implants itself in places other than the uterus,

most commonly the fallopian tube.

• Molar pregnancy is a result of genetic error

during the fertilization process that leads to the

growth of abnormal tissue within the uterus.

•

While there are some things that increase the risk of

miscarriage, generally it isn't a result of something that

you did or didn't do. During pregnancy your body

supplies hormones and nutrients to your developing

fetus. Most first trimester miscarriages happen because

the fetus doesn't develop normally.

CAUSES OF MISCARRIAGE MAY INCLUDE:

• Hormonal problems, infections or mental health

problems.

• Lifestyle (smoking, drugs use, malnutrition,

excessive caffeine and exposure to toxic

substance)

• Implantation of the egg into the uterine

lining does not occur properly

• Maternal age and Maternal trauma.

Since most causes are due to chromosomal

abnormalities, there is not much that can be done to

prevent them. If a specific problem is identified

with testing, then treatment options may be

available. One vital step is to get as healthy as you

can before conceiving to provide a healthy

atmosphere for conception to occur.

Emotional treatment is highly needed for women

who go through miscarriage, unfortunately

miscarriage can affect anyone. It is very important

that lines of communication are open with family,

friends and health care provides during the time.

Remember having a miscarriage doesn't mean you

won't conceive again in future.

PAL's and Rainbows

Support Group

Angel Mommies

Support Group

There is no fee to attend

The Second Thursday of

every month from 6 to 7h30

pm Venue to be confirmed.

Contact Shannon Roach

082-583-6915

Envy magazine 22
---
Is depression slowly becoming an

epidemic most people are suffering

and dying from?

By: Vuyokazi Vika

To get help you can reach out to

the following

South African Depression and

Anxiety group

0112344837

Suicide crisis

0800567567

Adcock Ingram Depression and

Anxiety helpline

0800708090
---
Depression is proving to be a number one killer. It is a feeling

that is categorised by sadness, feeling, how you

think and act. You become disinterested in your

normal daily activities and see yourself stuck in

an unexplainable position, unfortunately to

some leading to suicides. It is high time that the

topic is discussed as often as we can to prevent

the high number of deaths caused by it.

According to the World Health Organisation, one

in three South Africans will suffer a mental

health episode in their lives. Of these, 75% will

go untreated.

The unprocessed negative emotions that have

been bottled up pile up to be a burden. They

disconnect from the outside world. It is a vicious

cycle that keeps them trapped in a negative state

emotionally and physically.

It is very important to take care of our minds and

beat the emotions that are stored in our

subconscious mind, whether it is pain, rejection,

desperation or suffering. It is hard when you

literally feel trapped in this downward spiral of

sadness and depression that is why it is very

important to speak about it and not suffer in

silence, seek professional help.

Who is prone to depression?

According to psychologist there is no time frame

for when you can feel depressed but most often

than not, it strikes during your teens leading to

adulthood and in some cases to your seniors. It is

very important that you are aware and able to

point out when it strikes. Here are some

depression symptoms:

• Trouble sleeping or sleeping too much

• Feeling worthless or guilty

• Thoughts of death or suicide

• Feeling sad

• Loss of interest in activities that you once

found pleasure in

• Difficulty thinking, concentrating or making

decisions

Busiswa Shozi, 26 from the rural of Peddie in the

Eastern Cape was diagnosed with clinical depression

in her first year of university.

"School work got overwhelming, never in my wildest

dreams did I think that I could feel the way I did

seeing that I am a very strong woman," she said.

"It is very fortunate that though depression is viewed

as an illness, but it can be treated. All medicines can

cause side effects, typically unwanted effects

increase when dose rises. These side effects usually

vary from one drug to another, but it is very

important that if diagnosed with depression for your

wellbeing take the medication and finish the course,"

says Busiswa.

Most of us hold on to so much motions that it is very

to start living the cause of life and not the effect. It

also is liberating to take charge of your healing

journey and how you'd like to change the content of

your script.

To get help you can reach out to the following

• South African Depression and Anxiety group

0112344837

• Suicide crisis

0800567567

• Adcock Ingram Depression and Anxiety

helpline

0800708090

Envy magazine 24
---
Instagrammers

To Follow
---
Food

Our

This month's recipe courtecy

Ingredients

BBQ Sauce:

1 cup finely

chopped onion

2 cups cider vinegar

6 ounces tomato juice

1/2 tablespoon pepper

1 teaspoon garlic

powder

Pinch cayenne

Dash hot sauce, such as

Tabasco

1 teaspoon sugar

1. For the sauce: Puree the onion in a blender with

1/4 cup water. Place the pureed onion in a 2-quart

saucepan with additional water to cover. Bring to a

boil, then reduce the heat. Cook, stirring constantly

until the water has almost evaporated. Add the

vinegar, tomato juice, pepper, garlic powder,

cayenne and hot sauce and mix well. Bring to a boil,

and then stir in the sugar. Immediately remove

from the heat. Set 1 cup aside for the roast. Let the

remaining sauce cool completely, then refrigerate

for later use.

2. For the roast: Put the quartered onions in the

bottom of a 5- to 6-quart slow cooker. Mix the

brown sugar, paprika, salt and pepper and rub it

over the pork roast. Then place in the slow cooker

on top of the onions. Drizzle the reserved 1 cup of

sauce over the roast. Cook the roast in the slow

cooker on low for 10 to 12 hours, checking after 10

hours for tenderness.

3. Remove the meat and onions from the slow cooker.

Discard the onions and finely shred the pork.

Reserve the juices from the slow cooker to add to

the meat for desired juiciness.

4. Serve on a bun with the juice.

Roast:

2 medium sweet onions, such as Vidalia, quartered

2 teaspoons light brown sugar

1 teaspoon smoked paprika

2 teaspoons salt

Pinch black pepper

One 4- to 6-pound Boston butt pork roast, bone-in

Buns, for serving

Slow-Cooker Georgia

Pulled Pork Barbecue

Envy magazine 26
---
RECIPES

Bloody rum punch

The bloody rum punch is a

sangria recipe that has a few

twists which make it perfect for

Halloween parties, be warned

though because this punch has

a reputation of being very

strong. This is actually a very

simple punch to construct, it

uses just a few common

ingredients and should be

made up ahead of time to let

the flavor develop

Ingredients

1 (750 ml) bottle rum

1/2 (750 ml) bottle red wine

6 ounces lime juice (fresh)

6 ounces triple sec

6 ounces simple syrup

2 limes (sliced into thin wheel)

2 red oranges (sliced into thin wheels)

Directions

The construction of this punch takes no more than

10 minutes of your time, keep chilled for at least 2

hours before serving.

Have fun decorating your punch bowl with fake

spiders or cobwebs (on the outside of the bowl).

You could also make some creepy garnishes like

eye balls or pumpkin tops using oranges and limes

to float in the punch.
---
CARAMEL APPLES

Ingredients

2 cups of sugar

1/4 cup light corn syrup

1/2 cup heavy cream

2 tablespoons of unsalted

butter

1/2 teaspoon pure vanilla

extract

Kosher salt

6 medium very crisp apples

(such as Honeycrisp, Red

delicious), well washed and

dried.

Nonstick cooking spray, for

the parchment

Directions

Special equipment: a candy thermometer; 6 candy apple

sticks, large lollipops sticks or dowel rods, cut to 5-inch

lengths with one end sharpened.

1. Add the sugar, corn syrup and 1/2 cup water to a small

saucepan over medium- high heat. Stir a few times before

the sugar begins to boil to combine the ingredients. Attach a

candy thermometer to the inside of the pan and bring the

syrup to a boil. Cook until the syrup begins to turn an amber

color, the swirl the syrup to even out the color. Continue to

cook until syrup is a deep amber and the thermometer reads

between 375 and 380 degrees, then remove from heat.

Carefully pour in the cream and gently whisk to combine.

Stir the butter, vanilla and a pinch of salt until smooth. keep

off the heat but keep the thermometer attached to the pan.

2. Pierce the apples through the stem ends about half way

through with candy apple sticks. Line a baking sheet with

parchment and lightly spray with nonstick cooking spray.

3. When the temperature of the caramel reads around 190

degrees, dip an apple, using the stick as a handle and

swirling to coat completely. Allow excess caramel to drip off

the bottom and use a spatula to help remove any large

amount of caramel, as it will pool around the apple when

you set it down to cool on the lined baking sheet. Repeat

with the remaining apples, gentle heating the caramel on the

stove over low heat, stirring, if it gets too thick for dipping.

Allow the caramel to set and cool completely before serving

or wrapping apples, about 1 hour.

Envy magazine 28
---
Picture by: Bella Miranda
---
"LEARN TO LOVE

YOURSELF

ALL THE OTHER STUFF

WILL NOT MATTER."

KEKE PALMER

Envy magazine 30
---
REASONS WHY YOU SHOULD VISIT PORT ALFRED

By: Vuyokazi Vika

Port Alfred is popular for being amongst the most serene places, if you want to just unwind, find peace

and tranquillity, this is the perfect place for you. Port Alfred offers an idyllic setting for a memorable

holiday. Guests can spend their days exploring this charming town by enjoying boat cruises and other

water sport activities, play golf and take in the beauty of nature.

HERE ARE THINGS YOU COULD DO IN PORT ALFRED.

Kowie History Museum

The Kowie History museum is focused on

displaying the social history of the historic Albany

District and the activities of the early settlers

between 1820 and 1889. The museum is housed in

Port Alfred's old post office. The town is well

known for its large variety of shells along the shore

and there is a fascinating collection of sea shells

from the Port Alfred area on display.

Three Sisters Horse Tails

Tailor made hiking and horse-riding adventure

breaks on a coastal farm halfway between Port

Elizabeth and East London. They offer a three-day

"African adventure" starting off with a horse ride

along remote beach to fisherman's Beach cabin.

This horse riding offers an opportunity to explore

the beaches, forests and rivers on horseback.

Delicious meals are provided for the riding

adventure and gear is transported between camps.
---
Three sisters horse trails

The Big Pineapple

Standing 16.7 meters tall situated in a

small settlement of Bathurst. The

gigantic structure is not just a cell phone

tower in disguise but rather a tribute to

the agricultural success of the prickly

fruit. Early farmers struggled to grow

any crops here until the first pineapple

top was planted in 1865. You can visit

with your family the interior boasts

tourist shop to learn about the pineapple

industry or find a little memento. Head

to the Porcupine Pub afterwards and try

their popular pineapple cocktails.

Visit the safari now website to see other

fun, exciting things you can do whilst in

Port Alfred .

The Big Pineapple

Kellys beach

Kellys beach

The sandy beach is situated near the Kowie

River estuary mouth and is well worth the

visit. Two viewing decks offer fantastic

viewpoints to watch whales, beach goers and

a breath-taking sunset. It is clean, safe and

exceeds the standards of environmental

standards.

And if you feel tired to travel, just next to the

Kelly's beach is the Hallards hotel.

Envy magazine 32
---
What to watch

On Netflix

Childhood sweethearts have a

falling out and don't speak for 15

years, only reconnecting as adults

when Sasha runs into Marcus in San

Francisco. Although the old sparks

are still there, the couple live in

different worlds.

On Netflix

A grieving teenager finds an

unexpected connection with two

classmates at her new high school

when they all land in the same

Shoplifters Anonymous group.
---
Model: Zoey Mayekiso

Travel and Tourism graduate

Photographer: @Blackmanseason
---
WWW.ENVYMAG.CO.ZA