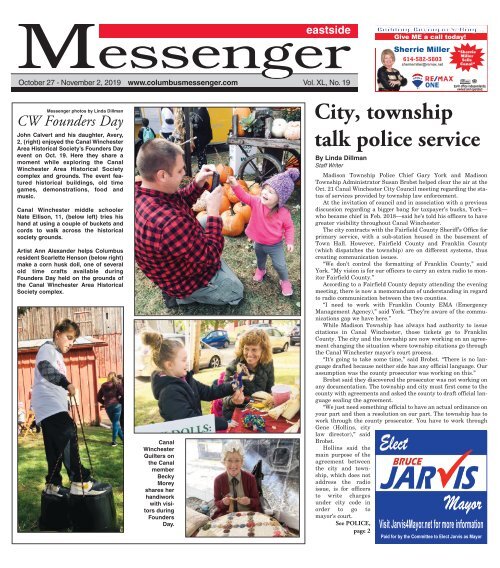 Eastside Messenger - October 27th, 2019
Create successful ePaper yourself
Turn your PDF publications into a flip-book with our unique Google optimized e-Paper software.
eastside

October 27 - November 2, 2019 www.columbusmessenger.com Vol. XL, No. 19

Building, Buying or Selling...

Give ME a call today!

Sherrie Miller

614-582-5803

sherriemiller@remax.net

"Sherrie

Miller

Sells

Canal"

Each office independently

owned and operated.

Messenger photos by Linda Dillman

CW Founders Day

John Calvert and his daughter, Avery,

2, (right) enjoyed the Canal Winchester

Area Historical Society's Founders Day

event on Oct. 19. Here they share a

moment while exploring the Canal

Winchester Area Historical Society

complex and grounds. The event featured

historical buildings, old time

games, demonstrations, food and

music.

Canal Winchester middle schooler

Nate Ellison, 11, (below left) tries his

hand at using a couple of buckets and

cords to walk across the historical

society grounds.

Artist Ann Alexander helps Columbus

resident Scarlette Henson (below right)

make a corn husk doll, one of several

old time crafts available during

Founders Day held on the grounds of

the Canal Winchester Area Historical

Society complex.

Canal

Winchester

Quilters on

the Canal

member

Becky

Morey

shares her

handiwork

with visitors

during

Founders

Day.

City, township

talk police service

By Linda Dillman

Staff Writer

Madison Township Police Chief Gary York and Madison

Township Administrator Susan Brobst helped clear the air at the

Oct. 21 Canal Winchester City Council meeting regarding the status

of services provided by township law enforcement.

At the invitation of council and in association with a previous

discussion regarding a bigger bang for taxpayer's bucks, York–

who became chief in Feb. 2018–said he's told his officers to have

greater visibility throughout Canal Winchester.

The city contracts with the Fairfield County Sheriff's Office for

primary service, with a sub-station housed in the basement of

Town Hall. However, Fairfield County and Franklin County

(which dispatches the township) are on different systems, thus

creating communication issues.

"We don't control the formatting of Franklin County," said

York. "My vision is for our officers to carry an extra radio to monitor

Fairfield County."

According to a Fairfield County deputy attending the evening

meeting, there is now a memorandum of understanding in regard

to radio communication between the two counties.

"I need to work with Franklin County EMA (Emergency

Management Agency)," said York. "They're aware of the communications

gap we have here."

While Madison Township has always had authority to issue

citations in Canal Winchester, those tickets go to Franklin

County. The city and the township are now working on an agreement

changing the situation where township citations go through

the Canal Winchester mayor's court process.

"It's going to take some time," said Brobst. "There is no language

drafted because neither side has any official language. Our

assumption was the county prosecutor was working on this."

Brobst said they discovered the prosecutor was not working on

any documentation. The township and city must first come to the

county with agreements and asked the county to draft official language

sealing the agreement.

"We just need something official to have an actual ordinance on

your part and then a resolution on our part. The township has to

work through the county prosecutor. You have to work through

Gene (Hollins, city

law director)," said

Brobst.

Hollins said the

main purpose of the

agreement between

the city and township,

which does not

address the radio

issue, is for officers

to write charges

under city code in

order to go to

mayor's court.

See POLICE,

Visit Jarvis4Mayor.net for more information

page 2

Paid for by the Committee to Elect Jarvis as Mayor
---
PAGE 2 - EASTSIDE MESSENGER - October 27, 2019

www.columbusmessenger.com

Veterans Day in CW

Halloween fun!

CW trick-or-treat

and Halloween party

Trick-or-treat in Canal Winchester

will be on Oct. 31 from 5:30-7:30 p.m.

The VFW Post 10523 Halloween party

starts at 7:30 p.m. at the Frances Steube

Community Center at 22 S. Trine St.

Canal Winchester Human Services will

help sponsor entertainment for the

evening.

Trick-or-Treat will be held rain or

shine. Please use discretion when allowing

children to participate.

POLICE

Continued from page 1

"The amount (of revenue) is minimal,"

said Hollins, "but it allows us to have control

and a little more say about what happens

with the charges."

Brobst said there are "very, very" few

townships in Ohio that have two cities

within their boundaries and nothing similar

within Franklin County. Madison

Township covers both Canal Winchester

and Groveport.

York said, while a similar situation

exists in Groveport–which operates its

own police department–there is no formalized

agreement between the two entities,

but the process works "seamlessly." He

trick-or-treat

•Canal Winchester -

Oct. 31 from 5:30-7:30 p.m.

•Groveport -

Oct. 31 from 5:30-7 p.m.

•Hamilton Township -

Oct. 31 from 6-8 p.m.

•Lithopolis -

Oct. 31 from 6-7:30 p.m.

•Madison Township -

Oct. 31 from 5:30-7 p.m.

•Obetz -

Oct. 31 from 5:30-7:30 p.m.

called the Canal Winchester situation

unique, but felt there is an easy fix.

"If we write a citation here, why shouldn't

it be heard here in mayor's court," said

York, whose department operates on a

budget of approximately $3.4 million. "We

have to sit down and talk about how to

make it work in Canal Winchester. At the

end of the day, we're here to provide safety

and it doesn't matter what the color is of

the uniform."

Hollins said he could have a resolution

ready for consideration in time for a

November council meeting.

The city of Canal Winchester, with

Canal Winchester Senior Citizens, Inc. and

VFW Post 10523, will host a Veterans Day

celebration on Nov. 9. The public is invited

to join veterans, local leaders, and distinguished

guests for this patriotic event set

in historic downtown Canal Winchester.

Pancake breakfast for veterans

A complementary pancake breakfast for

veterans and their families will be held

from 8:30-10 a.m. at the Frances Steube

Community Center, 22 S. Trine St. The

breakfast will be served by volunteers

headed by Canal Winchester Senior

Citizens club members, with food arrangements

by the family of the late Fred

Bivens, U.S. Air Force veteran and longtime

club member. Other breakfast volunteers

will include youth from Canal

Winchester's Boy Scout Troop 103 and Girl

Scout Troop 2053.

Veterans March and Ceremony

The Veterans March begins at 10 a.m.

at the Frances Steube Community

Center's 22 S. Trine St. and travels west

down East Waterloo Street, turning at

South High Street to end at Stradley Place

(located next to Canal Winchester

Municipal Office Building at 36 S. High

St.). A traditional Veterans Day ceremony

will be held at Stradley Place immediately

following the Veterans March.

Marching veterans will be joined by military

vehicles provided by Motts Military

Museum. The ceremony includes remarks

from Canal Winchester Mayor Mike Ebert

and VFW Post 10523 Commander Rick

Williams, as well as a patriotic keynote

Messenger holiday publication schedule

The Messenger will alter its print publication

schedule for the upcoming holiday

season. The Messenger will publish print

editions of the newspaper that will be

delivered to your home on three consecutive

Sundays on Oct. 27 and Nov. 3. The

address by Dr. Dana Robinson-Street, a

U.S. Navy veteran who served during the

1991 Gulf War. Other highlights include a

performance of the "National Anthem" by

Canal Winchester City Councilman Mike

Walker, patriotic selections by the Canal

Winchester High School Marching Band

and Select Vocal Ensemble, a 21 gun

salute, and the playing of "Taps."

Photo exhibit

During October, event organizers

request submissions of veteran photos, to

be included in an honorary window exhibit

at the municipal building and highlighted

during the Nov. 9 celebration. (Note:

Photos previously submitted to the Canal

Winchester Community Affairs office will

be exhibited again and do not need to be

resubmitted.)

Photo submissions should be copies of

an original photo, show veterans or active

military personnel in uniform, be no larger

than 5x7 inches and include the following

information: name, branch of service, service

dates or number of years served, and a

phone number or email address for any follow-up

questions.

Photos can be dropped off at the Canal

Winchester Municipal Building, 36 S. High

St., or The Frances Steube Community

Center, 22 S. Trine St. Submissions may

also be submitted electronically on the

city's website or emailed to alemke@canalwinchesterohio.gov.

Submit photos by Oct.

31 for inclusion.

Visit www.canalwinchesterohio.gov or

call 614-834-9915 for information.

Natural gas aggregation contract

Madison Township's current natural

gas aggregation is up at the end of

November 2019. Consultant Scott

Belcastro from Trebel has been monitoring

rates as they hit an all-time low the end of

August, then started rising slightly in

September.

Belcastro shared information with the

Madison Township trustees on a new contract,

which allowed the township to lock

in a fixed rate for 24 months, beginning

Dec. 1, 2019. The new rate is $.3749/Ccf

and will remain with Volunteer Energy

Services of Ohio.

According to the Madison Township

trustees, the current contract is a fixed

adder of $.01281 plus the NYMEX price

(which could vary each month). At the time

we secured our Dec. 1, 2017 contract the

price was $.4241/Ccf.

There is no cost to join, no switching

fees and budget billing is available by calling

Columbia Gas at 1-800-344-4077.

Information will be sent to residents in

late October and they will have two weeks

to opt-out of the program, as with previous

contracts. To participate in the program,

nothing needs to be done by the resident.

A follow-up postcard/letter will be sent by

Columbia Gas which notifies the customer

they will be switched (to the new program).

This is a "second chance," just in case they

didn't want to participate in the new program.

This step helps prevent door-to-door

and phone solicitors from switching

accounts without authorization of the resident.

Specific questions may be directed to

Trebel LLC at 1-877-861-2772.

print publication and delivery dates for the

remainder of 2019 will be: Nov. 17, Dec. 1,

and Dec. 15. After that, print publication

will resume every other week following the

holidays on Jan. 12.

Thank you for reading the Messenger!
---
www.columbusmessenger.com

October 27, 2019 - EASTSIDE MESSENGER - PAGE 3

CW Middle School students dig gardening

By Linda Dillman

Staff Writer

Green thumbs are growing at Canal

Winchester Middle School.

The school is working with a Battelle

STEM Ohio design challenge promoting

teamwork in designing a solution for food

security.

Eighth grade math teacher Sheree Daily

and science teacher Pat Mariscal reported

on the innovative curriculum project, first

conducted during the 2018-19 school year,

at the Canal Winchester Board of

Education's Oct. 21 meeting.

"It all tied in with collaboration and critical

thinking," said Mariscal. "We started

Township police officer investigation update

In a press release dated Oct. 16,

Madison Township Administrator Susan

Brobst stated, "On Sept. 12, (Madison

Township Police) Officer Matthew D.

Kidwell was given notice of departmental

charges of misconduct. The charges

against Officer Kidwell were as follows and

constituted misfeasance, malfeasance,

nonfeasance, misconduct in the office, neglect

of duty, gross immorality, incompetence,

or failure to obey orders in the performance

of official duties: 1) Violation of

direct order related to administration

leave; 2) Dishonesty in an internal investigation.

In accordance with the township's

resolution 202-19, the township agrees to

no longer pursue charges of misconduct

against Matthew D. Kidwell and considers

the investigation closed. The township

makes no determination regarding any

alleged misconduct by Mr. Kidwell. No further

comment will be provided."

Franklin County drug overdose statistics

The Franklin County Coroner's Office

released its preliminary overdose death

statistics for the first six months of 2019.

From Jan. 1 to June 30, 2019 the

Franklin County Coroner's Office saw 254

people die of overdoses. This is approximately

an increase of 4 percent from the

same period last year.

Opiate-related deaths accounted for 85

precent of overdose deaths for the first half

of 2019. Fueling this was fentanyl which

accounted for 75 percent of all overdose

deaths.

Carfentanil-related overdose deaths

accounted for 1.5 percent, similar to the

same period in 2018. Heroin-related deaths

accounted for 5 percent of all overdose

deaths, a further decrease from the same

period in 2018.

Cocaine, methamphetamine and benzodiazepine-related

overdose deaths:

•Cocaine: 41 percent, an increase of 2

percent from 2018;

•Methamphetamines: 10 percent, no

change from 2018; and

•Benzodiazepines: 3 percent, a

decrease of 3 percent from 2018.

Looking at race and ethnicity, 28 percent

of those who died of overdose deaths

were African-American, an increase of 7

percent from same period in 2018. The percentage

of Hispanics who died of overdose

deaths remained at 3 percent in 2019 as

compared to 2018.

The number of males dying of overdoses

continues to be higher than that of females.

The first half of 2019 saw 69 percent of

males dying and 31 percent of females.

This is a slight shift of about 2 percent

more females.

The top five zip codes in Franklin

County with the highest number of overdose

deaths for this period were: 43211,

43223, 43229, 43207 and 43204.

Run Your 'Stache Off 5K run/walk in CW

The sixth annual Run Your 'Stache Off

5K run/walk and 1K kid's run will be held

Nov. 19 at 9 a.m. at Canal Winchester

High School, 300 Washington St. The event

is a Fairfield County Sheriff's Office

fundraiser (that has raised more than

$20,000 to date) with 100 percent of the

funding benefitting St. Jude Children's

Research Hospital. The race is open to all

who wish to participate regardless of age or

mustache growing ability. There will be

food, music, and Fairfield County Sheriff's

Office SWAT Team equipment and vehicles

on site for viewing. Race day registration

is from 8-9 a.m. with the 1K for kids

age 10 and under at 9:05 a.m. and the 5K

run/walk at 9:15 a.m.

For entry fee amounts and registration

information visit the Run Your 'Stache Off

5K - FCSO Facebook page or visit runsignup.com/Race/OH/CanalWinchester/Ru

nYourStacheOff5k.

them (the students) with a challenge and

they worked together."

The challenge? Work as a team to imagine,

design and prototype a solution to

increase food security in your life, community

or world. Students were grouped

through their interests into 16-17 teams.

In fall 2018, the student-led teams

decided to grow edible plants in a pair of

hydroponic water towers donated by Mount

Carmel Hospital and the Franklin County

Healthy Food Access Program.

Through trial and error, students

learned how to germinate, plant, pollinate

and care for a variety of herbs and vegetables.

In November, daily connection activities

promoted interest in the design challenge

while addressing middle school core

values.

"The kids had to check everything on a

daily basis," said Daily, "and while watching

a movie, they ate vegetables they grew

instead of popcorn. Through their gardening

efforts, they worked on food security in

the community."

Mariscal said students also learned

about different cultures and what they

grew in their gardens.

In addition to the hydroponic gardens

and as part of the design challenge, students

researched different types of gardens

such as rooftop, raised beds, and container

CW leaf pick up

The city of Canal Winchester will conduct

curbside leaf collection through Dec.

13. To avoid water backup in the event of

rain, leaf piles must be placed behind the

curb along the street.

Leaf piles may contain leaves only, as

sticks, grass trimmings and other yard

waste can cause damage to leaf collection

equipment. Regular yard waste will continue

to be picked up by Waste

Management during scheduled trash collection.

Eastside Messenger Newspapers

2019 Election Section

Reach ! over 14,000 households in Canal Winchester and Madison Township

Community VOTES you need to WIN!

Last Chance

Week 3, November 3rd

Deadline: Oct. 29th

Your Vote Can Make a Difference

Reserve Your Space Today!

Contact Theresa Garee

Phone: (614) 272-5422 Email: eastads@columbusmessenger.com

gardening in advance of presentations to

Battelle representatives, community members

and school personnel earlier this year.

"We then had an exhibition night in mid-

March," Mariscal said. "They presented

their prototypes and evaluations were conducted.

We were then allowed to bring one

group to a showcase at Battelle in May."

On May 6, 106 middle school students

ended the school year by organizing and

filling 20 garden beds on the grounds of the

Canal Winchester Human Services building

for senior citizens living nearby, in

addition to gathering all the debris and

planting their own garden plot on the property.

VTWL to meet

The Violet Township Women's League

will meet Oct. 29 at 6:30 p.m. at American

Legion Hall, 7725 Refugee Road,

Pickerington. The speaker will be Rhonda

Ludwig, YMCA regional vice president of

operations and executive director. Visit

www.vtwl.org or Facebook for information

about the VTWL. Contact by email at

vtwl07@gmail.com or call Bobby Shaw,

614-828-8151 or 907-351-846. Membership

is open to all women living in Violet

Township and surrounding communities.

FREE

Ad Size

1/8 Page

1/4 Page

1/2 Page

Full Page

*Prices are per paper.

200 Word Story

Cost

Ad Rate

$ 130.00

$ 175.00

$ 250.00

$ 395.00
---
PAGE 4 - EASTSIDE MESSENGER - October 27, 2019

columbusmessenger.com

eastside

Messenger

(Distribution: 13,559)

Rick Palsgrove................................Eastside Editor

eastside@ columbusmessenger.com

Published every other Sunday by

The Columbus Messenger Co.

3500 Sullivant Ave., Columbus, Ohio 43204-1887

(614) 272-5422

BIRTHDAY • ENGAGEMENT • WEDDING • ANNIVERSARY

• GRADUATION • RETIREMENT

IN MEMORIUM • ARMED FORCES

Say it with an announcement ad in

the Messenger and spread the word.

You can download the appropriate form from

our Web site or stop by our office

Monday-Thursday, 8:30 a.m.-5 p.m.

Friday, 8:30 a.m.-2 p.m.

Columbus Messenger

3500 Sullivant Ave.

614-272-5422

www.columbusmessenger.com

SUPPORT

your

Community Paper

Through advertising, community newspapers like the

Messenger have always been FREE papers. In these

tough economic times we are asking you the reader to

help offset the current decline in advertising revenue by

participating in a VOLUNTARY payment program*.

To those who have already participated -

We Thank You.

For those who would like to, below is a form

you can mail with your DONATION.

*This is not a subscription.

.Name:

Address:

City/State/Zip

3500 Sullivant Ave., Columbus, OH 43204

1 year ($9) 2 year ($18)

Eastside Westside Southwest

Southeast

Every year around this time, my obsession

begins.

All things pumpkin.

Pumpkin cookies, pumpkin butter,

pumpkin candles, pumpkin donuts, pumpkin

pie Blizzards - I love it all.

Frankly, as we seem to be stuck in our

second summer and the leaves are still a

few weeks away from transforming into a

palette of warm reds, browns and oranges,

I could use some pumpkin to get me in the

fall spirit. In fact, as I write this, I'm drinking

a pumpkin spice latte.

If you're like me, you appreciate the

aroma and feeling you get when cinnamon,

nutmeg and clove attack your scent and

taste receptors.

These sweet, warm spices instantly

sweep you away, giving you the same comforts

of hearing leaves rustling in the wind

and crunching under your feet on a crisp,

cool morning.

And here's why you shouldn't apologize

for your obsession with pumpkin.

It's science.

You heard that right. Studies show that

we're conditioned from a very early age to

love fall and everything associated with it.

Think about it. As a child, what are

some of our fondest memories? For some,

it's going back to school and seeing friends

again. For others, it's trekking through the

neighborhood with a plastic orange pumpkin

or pillow case from your bedroom full of

candy. Or, gathering around the dinner

table that's stacked with comfort foods for a

Thanksgiving feast, followed by an afternoon

of football.

We associate these memories with something

we love and enjoy, and therefore tie

these memories to a specific season.

Even for adults, it marks a new beginning

for many. As summer comes to an end,

time turns into a clean slate. In fact, a

study published in the Journal of

Personality and Social Psychology found

there is a relationship between time and

motivation, and that seasons can serve as

temporal landmarks that structure our

perception of time.

There's also the fact that many establishments

only offer special flavors associated

with a certain season (think peppermint

in the winter, or peach in the summer).

This has both economic and psychological

implications and may partially explain

why we're especially drawn to a certain flavor

at a specific time of the year.

As it turns out, pumpkins also hold historical

significance in America. According

to the History Channel, pumpkins have

been grown in North America for 5,000

years.

The Colonial Williamsburg Foundation

adds that pumpkins were cultivated independently

by indigenous people in North

America and South America, and that

researchers have found seeds at archaeological

sites dating back more than 6,000

years.

Pumpkins also helped sustain colonists

after the crops they

brought with them

from Europe didn't

survive.

And while the

most popular pumpkins

today are grown

to be porch decor

rather than a staple

in our diets, pumpkins

are still a $5-billion-a-year

industry,

according to the foundation.

Thanks to our

pumpkin-flavored staples

that appear on

store shelves each

www.columbusmessenger.com

columns

e science behind our obsession with pumpkin

Life Moments

Christine

Bryant

year in September, even thousands of years

later we still know how to enjoy pumpkin,

even when it doesn't make sense (there's

recipes out there for dishes like pumpkin

chili and pumpkin burgers).

So next time you feel a little guilty about

loving everything pumpkin or like you're

conforming to a cultural phenomenon, just

remember, your pumpkin bliss is a little bit

of history, science, expert marketing and

just plain goodness all in one.

Christine Bryant is a Messenger staff

writer.

Same story, different decade

Shortly after the off-beat "dramedy" "Shaun of the

Dead" helped breathe new life into the zombie genre in

2004, the general public put it back in the grave. Book

and movie lovers had turned their attention to beautiful

undead creatures and other dystopian worlds, leaving

little room for reanimated corpses to occupy space.

Those feelings changed, however, with the strong

interest in AMC's adaptation of Robert Kirkman's popular

comic, "The Walking Dead" as well as the release

of a small-budget horror/comedy called "Zombieland."

When the latter debuted, movie and television studios

held their breath as the box office opened in 2009,

and then promptly exhaled fumes of cash as it reignited

the fuse of interest in the living dead. In the following

years, "Zombieland" has continued to retain and

gain a massive following of fans due to its humor, creative

use of gore, and an excellent cast of actors who

made it such an enjoyable film to watch.

A decade has passed since the premiere of both

movie and television show and interest in the genre

has once again waned. Despite the lack of public want,

AMC continues to create spin-offs of "The Walking

Dead" universe and "Zombieland" has been the recipient

of the sequel treatment.

Like many other films, "Zombieland" did not need a

sequel. It ended with resolution, or as much as one can

be found in an apocalyptic wasteland that is, and no

further details were required or really desired. But

because studios like to squeeze the life out of everything,

here we are

with yet another

unnecessary followup

to a perfectly great

stand-alone.

It takes place several years

after the events in the first film

and little has changed in the

world. The dead are still being

made, zombie kills of the week are

still a thing and our little band of

misfits are still together.

Rather than roam the country

looking for fellow survivors, the

fearsome foursome have settled

into the most unlikely of places —

The Reel Deal

Dedra

Cordle

the White House. Tallahassee (Woody Harrelson) has

declared himself president, bringing a "real dignity to

the office," Columbus (Jesse Eisenberg) has taken to

shopping for hidden treasures to find the perfect

engagement ring for his survivalists sweetheart

Wichita (Emma Stone) and Little Rock (Abigail

Breslin) has been dealing with a found-family version

of the seven-year-itch.

For a while, things are stable at 1600 Pennsylvania

Avenue but their lives are upended when a member of the

group decides to leave the nest in the cover of darkness.

See SAME, page 8
---
www.columbusmessenger.com

October 27, 2019 - EASTSIDE MESSENGER - PAGE 5

Franklin County Children's Services levy on ballot

By Christine Bryant

Staff Writer

A renewal levy on the Nov. 5 ballot will

continue funding for a public agency that

focuses on strengthening families in

Franklin County.

The current tax issue that provides

funding to Franklin County Children

Services will expire at the end of this year.

If voters approve the 3.1-mill levy (Issue

10) in November, they will extend funding

to the agency for another 10 years.

Expected to generate more than $85.6

million annually, Issue 10 currently costs

property owners in Franklin County about

$84.50 per $100,000 in valuation. This

amount would not change if voters approve

the renewal.

Deborah Armstrong, communications

director for Franklin County Children

Services, says nearly two-thirds of the

agency's annual budget of $212 million is

funded through two levies. In 2014, voters

approved a separate 1.9-mill, 10-year levy.

The agency weighed placing a replacement

levy on the ballet, which would have

increased the amount property owners

would pay, but chose instead to pursue a

renewal levy because of adequate reserves

in place that can help sustain the agency

until the previous 1.9-mill levy expires.

"We felt the agency had enough funding

to sustain itself until the next levy comes

up for renewal in five years," she said.

Each year, the agency serves more than

30,000 abused and neglected children. In

2018, it placed more than 2,300 in foster

care and almost 2,000 with relatives. The

remaining number of children are served

within their own families, she said.

"One of the things our agency focuses on

is ensuring family-like settings for all children,

particularly our older teens,"

Armstrong said. "That includes working to

recruit more foster homes for children,

increasing the number of children who are

able to be placed in kinship care with other

family members, and being able to provide

support to those family members."

Areas of focus include the opioid crisis

and the impact of it on Franklin County

families, as well as the effects trauma

events have on children and families.

"Many of our families and children are

involved in traumatic situations, from

domestic violence to mental illness to dealing

with the stressors that come from

poverty," Armstrong said. "All of these are

very stressful situations for families and

children, so we're learning more about that

impact and trying to develop partnerships

in the community define resources that can

help address a lot of these issues we are

seeing in families."

There are many ways the public can

help, from volunteering with the campaign

to granting a child's holiday wish.

"Our goal is to help educate the community

about the different ways we protect

children and all the different partnerships

we rely on," Armstrong said.

•Franklin County Children Services is

mandated by law to investigate cases of

abuse, neglect and dependency. Every

year, Franklin County Children Services

helps more than 30,000 abused and neglected

children. The agency offers services

and support to families in crisis so their children

can live in stable homes and become

productive citizens.

•The agency works at keeping children

with their birth families but, when that is not

possible, placement with relatives is the preferred

choice. Kinship care has grown significantly

in the last few years. In 2018, FCCS

placed 1,941 children with kinship caregivers,

an increase of 74 percent since 2014.

•For those children who cannot return

home, Children Services finds loving temporary

or foster families to provide care.

•When a permanent solution is needed, the

agency is successful in securing caring and

committed adoptive families. More than 800

children were adopted in the last five years.

•The opiate crisis has increased the

placement costs of the agency. More children

are in care and their needs, both physically

and emotionally, are more intense.

•Traumatic events and exposure to trauma

disproportionally affect children in child

welfare and require more intensive services.

Children Services offers services, such

as the Therapeutic Arts Program and mentoring

that help children deal with trauma,

grow stronger and provide healthy outlets

for their emotions.

•Up to 67 percent of the agency's operating

funds come from two 10-year levies—

spread five years apart - a 1.9 mill levy that

was renewed in 2014 and a 3.1 mill levy,

passed in 2009 that expires at the end of

2019. The other 33 percent of funds come

mainly from state and federal dollars.

•The 3.1 mill levy accounts for 42 percent

of the agency's income. Without continuation

of this levy, vitally needed services

to abused and neglected children will be

impacted.

•The Franklin County Commissioners

have decided to place the 3.1 mil renewal

levy on the November 2019 general election

ballot. This levy will not increase taxes.

It will also be a 10 year levy.

For information on the Franklin County

Children Services renewal levy or to learn

about ways to volunteer with the agency,

go to committee4children.com or childrenservices.franklincountyohio.gov.
---
PAGE 6 - EASTSIDE MESSENGER - October 27, 2019

www.columbusmessenger.com

Lung Cancer?

Asbestos exposure in industrial,

construction, manufacturing jobs, or the

military may be the cause. Family in

the home were also exposed.

Call 1-866-795-3684 or email

cancer@breakinginjurynews.com.

$30 billion is set aside for asbestos

victims with cancer. Valuable settlement

monies may not require filing a lawsuit.

Winchester

Dental

Call us today to schedule

an appointment.

Winchester Square

Shopping Center

614.834.1834

Ladan Pourmoghadam

D.D.S.

Be a Part of Our

Local Worship Guide

Our upcoming Worship Guide is geared toward

celebrating faith and helping readers connect with

religious resources in our community. Make sure these

readers know how you can help with a presence in this

very special section distributed to more than 18,000

households in the East area.

The cost is $20 per issue. (must run two twice)

Contact us today to secure your spot in Worship Guide.

614.272.5422 • kathy@columbusmessenger.com

A Special Section From

Now offering our

'Smile Plan' to our

non-insured patients

columbus

Look Great

Feel Great

Sleep Great

Providing Gentle,

Caring Dentistry

In a Comfortable

Setting.

Accepting New Patients

Most Insurances Accepted

Messenger photos by Rick Palsgrove

Kerry Sherrill of Metro Parks Slate Run Living Historical Farm is shown here inserting sorghum stalks

into the horse powered sorghum press. The press squeezes the sorghum juice from the stalk into a

bucket. The juice is then boiled down to make sorghum molasses.

How sweet it is!

By Rick Palsgrove

Eastside Editor

Fall is a busy time down on the farm as various

crops are harvested from the fields, including

sorghum which is used to make molasses.

Sorghum molasses is a thick, dark brown syrup

used to sweeten many of the cakes, cookies, as well

as baked beans made at Metro Parks Slate Run

Living Historical Farm, which depicts life on an Ohio

farm in the 1880s. The molasses can also be poured

over biscuits or pancakes.

"Sorghum is very sweet," said Mike Huels of Slate

Run Living Historical Farm. "It's not as sweet as

sugar cane, but it is still very sweet."

The sorghum is harvested in the fall when it is at

its peak. Farm workers strip the leaves from the

sorghum stalks and cut off the seed heads. The

sorghum stalks are then fed by hand, one-by-one

1880s style, into a horse powered press. As the press

turns, it squeezes the juice from the stalks and the

juice is then collected in a bucket. The flattened, dry

stalks come out the other side of the press and are

laid in a circle around the press to give Marcus, the

farm's horse, more traction as he walks around to

power the press.

Slate Run Living Historical Farm's Dave Trotter

said the farm uses a sorghum press from the late

19th century made by the Chattanooga Plow

Company.

"It's a simple machine that needs little maintenance,"

said Trotter. "It has three gears - one big one

on the main cylinder and two on the small cylinders."

After the sorghum juice is collected, it is poured

into a large, flat evaporator pan and boiled over a

fire. The thin, green juice slowly boils down into a

thick, brown syrup. While it boils, the farmers use a

hand held skimmer to remove the impurities that

boil to the surface in the evaporator pan.

Mike Huels of Metro Parks Slate Run Living

Historical Farm skims off the impurities as the

sorghum juice boils down into molasses in the

evaporator pan.

Huels said it can take around four hours to boil 10

to 12 gallons of sorghum juice down to about two gallons

of syrup. He said this is a much better yield than

what can be obtained during maple sugar season in

the late winter when it takes about 40 gallons of

maple tree sap to get a gallon of maple sugar.

Huels said our farming ancestors would use

sorghum, maple sap, and honey from beehives to

make their own sweeteners because refined sugar

purchased from a store could be expensive.

The process of making sorghum molasses takes a

lot of work, but the tasty payoff is worth the labor.
---
www.columbusmessenger.com October 27, 2019 - EASTSIDE MESSENGER - PAGE 7

Village of Lithopolis

Downtown

Spotlight

Envy

Nail Spa

Lithopolis events

The following community events

will btake place in the village of

Lithopolis in the coming months. See

you in Lithopolis!

•Dec. 14: Simply Christmas

events (facebook: Simply Christmas

in Lithopolis).

Open Late 'Til 8!

See you in Lithopolis for Open

Late 'til 8 on the second Thursday,

(Nov. 14 and Dec. 12).

Enjoy, shopping, restaurants and

live entertainment as we head into

the holidays.

Lithopolis

trick-or-treat

Trick-or-treat in Lithopolis is Oct.

31 from 6-7:30 p.m.

www.OldeCountryStoreLithopolis.com

Family Owned and

Operated Since 1926

36 East Columbus Street

Lithopolis, OH 43136

(614) 837-4705

Eileen Law Benson & Kathlynn Benson Moling

Proprietors

614.829.2428

Providing professional

nail & waxing services

87 E. Columbus St., Lithopolis, OH 43136

Walk ins welcome, Appointment Preferred

Mon.-Fri. 10-7 Sat. 10-5 Sun. 11-4

Mention ad and receive

10% OFF

Voters to decide on tax increase

By Rick Palsgrove

Eastside Editor

Voters in Lithopolis will decide

on a proposed 0.5 percent increase

on the village income tax on Nov. 5.

According to Lithopolis Mayor

Joe Taylor, the village's current

income tax revenue collections are

approximately $900,000 per year.

"This is a replacement tax," said

Taylor. "If it doesn't pass, it will

reduce the budget by approximately

$300,000. It's not a levy, it's

income tax. It only effects working

residents, retired residents aren't

taxed."

The additional funding raised by

the proposed income tax increase

would be used for public infrastructure,

safety, and parks improvements

and maintenance.

Taylor said the funds would distributed

as follows:

•55 percent would be spent on

street construction, maintenance

and repair, estimated at $165,000

yearly.

•15 percent would be used for

trucks, specifically a new snowplow

truck to replace the village's 14-

year-old truck at a cost of $45,000

yearly.

•15 percent would go towards

Faler Feed

Store, Inc.

Serving Central Ohio Since 1936

4360 Cedar Hill Rd. P.O. Box 277

Lithopolis, Ohio 43136

(P) 614-837-4494

(F) 614-837-3273

Falers4360@sbcglobal.net

FalerFeedStore.com

The Pump House

Pizza & Burgers

Spirits

614-837-6823 • 614-837-9306

Dine In and Carry Out

17-21 E. Columbus St. Lithopolis, OH 43136

Mon. - 4pm-11pm

Tues.-Sat. 11am-11pm

www.facebook.com/thepumphouse2017

Fairfield County's "Best Kept Secret"

police personal services specifically

salaries and fringes for one parttime

police officer. The money

would not be used for pay raises or

current paid positions. Estimated

cost is $45,000 yearly.

•15 percent would go for parks

unrestricted capital improvements,

estimated at $45,000 yearly.

"We are a bedroom community

and rely on income and property

tax to provide services to the village

residents," said Taylor.

On the ballot

Lithopolis voters will consider

the following candidates and issues

on the Nov. 5 ballot (information

provided by the Fairfield County

Board of Elections):

•Lithopolis mayor (vote for one):

Eric P. Sandine and John W.

Stertzer, Sr. (write-in).

•Lithopolis village council (vote for

two): Amy S. Brown and Amber

Daniels (write-in).

•Bloom-Carroll board of education

(vote for two): D. J. Chapman,

Jimmy Johnson, Matt Kidwell, and

Jen Sherman.

•Lithopolis village income tax: A

proposed 0.5 percent increase for

public infrastructure, safety, and

parks.

www.pedregalrestaurant.com

44 E. Columbus Street, Lithopolis, OH 43136

Hours:

Mon.-Thur. 11:00 AM - 10:00 PM

Fri. & Sat. 11:00 AM - 10:30 PM

Sun. 11:00 AM - 9:00 PM

Phone: 614-829-2394 Fax: 614-829-2396

DAILY SPECIALS

HAPPY HOUR 4PM-8PM EVERYDAY

Yesteryear's

Antiques, LLC

614-266-3418

Always buying antiques &

collectibles, odd and unusual

70 E. Columbus St., Lithopolis, OH 43136

Open 7 Days a Week 11am to 6pm

Please "Like & Follow" us on Facebook

Photo courtesy of Wagnalls Memorial

"Matilda: e Musical"

Wagnalls Community Theater's "Matilda the Musical"

will be performed at: 7:30 p.m. Friday (Oct. 25 and Nov.

1), 7:30 p.m. Saturday (Oct. 26 and Nov. 2), and 3 p.m.

Sunday (Oct. 27 and Nov. 3); sensory-friendly performance

3 p.m. Saturday (Nov. 2), in the Wagnalls

Memorial Library auditorium, 150 E. Columbus St.,

Lithopolis. Tickets: $17 (regular), or $12 (for children

and senior citizens. Pictured here is Juliana Chianese,

9, who plays "Matilda." For information email wagnallscommunitytheater@gmail.com.

This is a rehearsal

photo of the cast of "Matilda" in a scene that takes

place during the song titled, "School Song," where the

older children of the school welcome the new children

by telling them how horrible it is going to be, particularly

warning about headmistress Miss Trunchbull.

&

Hours:

Mon-Thursday 4-10

Friday 4-1am

Saturday 2-1am

Sunday 2-10

9 E. Columbus St.

Lithopolis, OH 43136

(614) 829-3186

Your Local Realtor celebrating 20 years of

helping Home Buyers and Sellers!

Tammy Roof Elliott

614-226-6953 (mobile)

TammyRoofElliott.com

PLEASE SUPPORT THESE BUSINESSES!
---
PAGE 8 - EASTSIDE MESSENGER - October 27, 2019

UFOs

A discussion on the UFO phenomenon,

both past and present, hosted by Cameron

Jones, will be held at Wagnalls Memorial

Library, 150 E. Columbus St., Lithopolis,

at 1 p.m. on Nov. 16. The presentation will

look at the best evidence and most amazing

encounters. For information call (614)

837-4765 or visit www.wagnalls.org.

Sp[gh_tti

Dinn_r

GROVEPORT

PRESBYTERIAN CHURCH

275 College Street

Saturday - November 2, 2019

4:30 PM - 7:00 PM

ADULTS: $7.00

CHILD (under 12): $4.00

ALL YOU CAN EAT!!!!

around Canal Winchester and the surrounding area

Hopeful Hearts

Clothing Ministry

Hopeful Hearts Free Children's

Clothing Ministry - a free baby clothing

distribution for sizes infant to 5T, as well

as shoes, blankets, bibs, small toys and

other baby needs - is open the third

Saturday of the month from 10 a.m. to

noon at Hope United Methodist Church,

83 E. Columbus St. in Canal Winchester.

Everyone is welcome to come in and shop

for your free children's summer clothing

needs in sizes Infant to 5T. Everything is

free and all are welcome. Drop off donated

items at the church. Clothing for all seasons

is needed. Call (614) 837-7548.

Drug Drop Box

The Madison Township Police

Department provides an opiate prescription

"Drug Drop Box" for the community. It

is located in the lobby of the Madison

Township Police Department, 4567

Madison Lane, and is accessible to the public

Monday through Friday 8 a.m. to 5 p.m.

Anyone can dispose of new or old pills,

including prescription medications, or any

other illegal substances and place them

into this box with no questions asked.

eastside

History of Wagnalls

Learn about the history of The Wagnalls

Memorial, 150 E. Columbus St., Lithopolis,

from its founder herself, Mabel Wagnalls

Jones. Librarian and Wagnalls historian

Carol Gaal, will dress as Mabel and give

tours of the building from Mabel's perspective.

Learn about Mabel's family, her

famous friends (such as Harry Houdini and

the author O. Henry), and why she wanted

to gift the city of Lithopolis with the

library. You will even visit the "tower

room." which is usually off-limits to library

guests.

Tours are the second Wednesday of

every month at 7 p.m. They are free of

charge and open to the public.If you have a

larger group that would like a private tour

Alan is at the shelter

waiting to meet you.

This 1-year-old friendly

guy was returned to the

shelter because he

played a little too rough

with a senior dog companion.

He's not

aggressive at all, but if

he has a friend in the

house, they should be

ready for a high-energy, active partner. Get

out of the house and meet Alan and enjoy this

wonderful weather together. He is up for

adoption at the Franklin County Dog Shelter.

FYI: 614-525-3647 or www.franklincountydogs.com

Rubble has been

returned twice to the

shelter over the past

couple weeks. This guy

is high energy. He can

also be a little snippy

when he plays, which

means he might not be

great with smaller kids.

Rubble needs an active

home. He loves other

dogs and wants to play with them non-stop.

He's a fast runner, and can jump about four

feet into the air. Does your home have the

energy to tire out Rubble? He'll play fetch well

SAME

pets of the week

www.columbusmessenger.com

outside of the public tour times, email

smayzum@wagnalls.org or call 614-837-

4765 ext 126 to make arrangements.

GriefShare support group

Groveport United Methodist Church,

512 Main St., will offer GriefShare:

Surviving the Holidays, from 2-4 p.m. on

Nov. 9. The program is a seminar for people

facing the holidays after a loved one's

death. It features video interviews with

counselors, grief experts and others who

have experienced the holidays after a

death. Workbook provided. Registration is

not required but helpful. Contact 614-836-

5968, register online at https://www,griefshare.org/holidays/events/31233,

or email

groveportgriefsharegroup@gmail.com.

after the sun has set. Meet this guy today at

the county shelter.

FYI: 614-525-3647 or www.franklincountydogs.com

Alfalfa is a go-getter

who needs lots of exercise

and attention. He's

great with other dogs

and just wants to play all

day, so tennis balls and

toys are a must. By the

end of the day, he will

cozy up and fall fast

asleep. This sweet boy is

awaiting is furever

home. Come meet him today at the Franklin

County Dog Shelter and fall head-over-paws.

FYI: 614-525-3647 or www.franklincountydogs.com

pets of the week

These furry friends are available

for adoption at local rescues and

shelters.

Continued from page 4

In the ensuing aftermath, new survivors

are found, advanced zombies are

discovered, and the squabbling band must

come together once more to find the rogue

in their family.

While there is plenty of humor found

within, most stemming from Harrelson's

cheeky character and the introduction of

two new "love interests", there is little

deviation from the plot in the original

movie which makes the sequel feel redundant.

Despite the lingering stench of staleness,

it was nice to check back in with the

quartet. Each of the actors continue to play

their characters with aplomb and their

delight to be inhabiting these oddball survivors

reaches those in the audience. They

have fun with the (albeit dated) material

and we have fun as a result; not as much

as they are having, but you can find some

joy watching this film nonetheless.

Grade: C+

Dedra Cordle is a Messenger staff writer

and columnist.
---
A local chapter of Special Olympics Ohio

formed in the Groveport/Canal Winchester

area. The mission of Special Olympics Ohio

is to provide year round sports training and

competition in a variety of Olympic type

sports for intellectually disabled individuals.

For information contact local coordina-

www.columbusmessenger.com October 27, 2019 -- EASTSIDE MESSENGER - PAGE 9

tors Penny and Cassandra Hilty at groveportspecialolympics@gmail.com

or at (614)

Bed tax grant program

North Pole Village

395-8992 or 395-6640. Donations may be

sent to Groveport Special Olympics, P.O.

Box 296, Groveport, OH 43125.

The city of Canal Winchester is accepting

applications for its 2020 Transient

Occupancy Tax (Bed Tax) Grant program.

The grant program is open to non-profits

or private organizations located within

the city of Canal Winchester to help fund

projects that will enhance Canal

Winchester for residents and/or visitors to

the community. Grants are funded with

the hotel/motel tax revenue collected by the

city of Canal Winchester.

Canal Winchester has levied a 6 percent

transient occupancy tax (bed tax) that is

imposed when lodging is furnished to transient

guests by a hotel, motel or similar

business. One half (3 percent) of this tax is

contributed to Destination: Canal

Winchester, the designated visitors and

convention bureau for Canal Winchester.

The second half of the tax is designated by

Canal Winchester City Council to fund the

annual Bed Tax Grant Program.

Grant applications are competitively

reviewed and awards are made to those

projects meeting all requirements and the

intent of the program. Grant applications

are available on the city's website and at

the city of Canal Winchester's municipal

building, 36 S. High St., Canal Winchester,

OH 43110. Completed applications must be

submitted in person or by mail to the attention

of the finance director at the above

address no later than Nov. 30, 2019. City

council will make award determinations in

December. Award checks will be drawn in

early 2020 and all awards must be used

within the 2020 calendar year. Contact

Amanda Jackson at ajackson@canalwinchesterohio.gov

or 614-837-6937.

CW Library Branch

The Canal Winchester Branch of the

Columbus Metropolitan Library, 115

Franklin St. (located in the rear portion of

the former school at 100 Washington St.),

is open Monday through Thursday from

noon to 7 p.m. and Friday and Saturday

from noon to 6 p.m.

Barber Museum

The National Barber Museum in Canal

Winchester is located at 135 Franklin St.

(behind the former CW High School building).

The museum, housed in approximately

5,000 square feet, showcases art, artifacts,

and memorabilia from decades of the barbering

profession — from the early days when

surgeons and barbers served as one to the

present when those seeking a trim. Hours

are Friday and Saturday from 11 a.m. to 4

p.m. or by appointment (614) 837-8400.

Special Olympics

Wagnalls Memorial Library

Wagnalls Memorial Library, 150 E.

Columbus St., Lithopolis, is open Monday -

Thursday: 10 a.m. to 8 p.m., Saturday: 10

a.m. to 2 p.m. and closed on Friday and

Sunday. For information call (614) 837-

4765 or visit www.wagnalls.org.

Lithopolis Garden Club

Lithopolis Garden Club meets the first

Tuesday each month at 1 p.m. in the

Community Building at Wagnalls

Memorial in Lithopolis. Anyone interested

in gardening and meeting other gardeners

are invited to attend the meetings.

Veterans Day

in Groveport

The city of Groveport and American

Legion Robert Dutro Post 486 will host the

annual Veterans Day ceremony on Nov. 11

at 3 p.m. in Veterans Park, 439 Main St.,

Groveport. Motts Military Museum

Director Warren Motts will serve as the

master of ceremonies.

The speaker will be Dr. Dana Robinson-

Street, Lt., U.S. Navy, who served in

Operation Desert Storm.

The Groveport Town Hall art gallery,

648 Main St., will host Jeneane Miles'

North Pole Village from Nov. 12 to Dec. 31.

The display includes more than 125 light

up houses and 250 accessories of an old

fashioned village decorated for the holidays.

For information call 614-836-3333.

Eastside Messenger also

available at these locations

Besides home delivery in "The Bag" and

in the Sunday Dispatch, the Eastside

Messenger is also available at the following

locations: Frances Steube Community

Center, The Wig Wam Restaurant, Shade

on the Canal, Canal Winchester Library,

Canal Winchester Municipal Building,

Huntington National Bank in Canal

Winchester, and Wagnalls Memorial.

Self-defense for Young Men

A "Self-defense for Young Men" class

will be held Nov. 2 from 9-11 a.m. for young

men ages 12-17 (age as of Nov. 2, 2019) at

the Groveport Police Department, 5690

Clyde Moore Drive, Groveport. Groveport

Police officers will serve as instructors.

Class size limited to 20 participants. The

class teaches how to defend oneself if

attacked or provoked. Sign-up at the

Groveport Recreation Center, 7370

Groveport Road, or online at www.groveportrec.com.

For information call 614-836-

1000. Cost is $10.

CLASSIFIED ADS

Deadlines: Southeast and West editions, Wednesdays at 5 p.m., • East, Southwest, Madison editions, Tuesdays at 5 p.m.

All editions by phone, Tuesdays at 5 p.m. • Service Directory, Tuesdays at 5 p.m. • Main Street Mailbox, Tuesdays at 5 p.m.

ASSOCIATION ADS

ASSOCIATION ADS

xInformation

NOTICE

THe Coumbus Messenger

will be having

three (3) consecutive weeks of

Publication starting with the

October 20th issue,

October 27th issue and

November 3rd issue.

Deadlines remain the

Tuesday before Publication date.

Thank you for

your continued patronage.

Information

INFORMATION

Have Something

To Sell?

Need To Rent

That Property?

Try The

Messenger!

For Info On Placing

An Ad Call

614-272-5422

ASSOCIATION ADS

Wants to purchase minerals

and other oil and gas

interests. Send details to

P.O. Box 13557, Denver,

CO. 80201

IF YOU OR A LOVED

ONE WERE DIAG-

NOSED with OVARIAN

CANCER or MESOTHE-

LIOMA after use of talcum

products such as

baby powder or Shower

to Shower you may be

entitled to compensation.

Contact Charles H.

Johnson 1-800-535-5727

[WANTED] CARS/

TRUCKS WANTED!!!

All Makes/Models 2002-

2018! Any Condition. Running

or Not. Competitive

Offer! Free Towing! We

are Nationwide! Call Now:

1-888-368-1016

Denied Social Security

Disability? Appeal! If

you're 50+, filed for SSD

and denied, our attorneys

can help get you approved!

No money out of

pockets! Call

1-866-376-3163

Lung Cancer? Asbestos

exposure in industrial, construction,

manufacturing

jobs, or military may be the

cause. Family in the home

were also exposed. Call 1-

866-795-3684 or email

cancer@breakinginjurynews.com.

$30 billion is

set aside for asbestos victims

with cancer. Valuable

settlement monies may not

require filing a lawsuit.

SELL YOUR ANTIQUE

OR CLASSIC CAR.

Advertise with us. You

choose where you want

to advertise. 800-450-

6631 visit macnetonline.

com for details.

ASSOCIATION ADS

GENERIC VIAGRA and

CIALIS! 100 Pills $99.00

FREE Shipping! 100%

guaranteed. 24/7 CALL

NOW! 888-889-5515

Call Empire Today® to

schedule a FREE inhome

estimate on Carpeting

& Flooring. Call

Today! 1-855-404-2366

CARS/TRUCKS WANT-

ED!!! All Makes/Models

2002-2018! Any Condition.

Running or Not. Top $$$

Paid! Free Towing! We're

Nationwide! Call Now: 1-

888-985-1806

CASH PAYOUT? 70

years old and kids are

grown? Do you need that

life insurance or is a big

life settlement cash payout

smarter? Call Benefit

Advance. 1-877-332-9643

VIAGRA & CIALIS! 60

pills for $99. 100 pills for

$150 FREE shipping.

Money back guaranteed!

1-844-596-4376

HUGE COIN AUCTION

Saturday, Nov. 2, 2019

9 AM. Rare; Gold, Shipwreck,

Uncirculated Silver;

Presidential Sets;

200+ Morgan & Peace

Dollars. Complete list online.

Onsite Security.

Solamko Fair Grounds,

Quarryville, PA Lefever

& Hart Auctions AY2206

717-669-1483 www.

LHAuctions.com

DISH TV $59.99 FOR 190

Channels + $14.95 High

Speed Internet. Free Installation,

Smart HD DVR

Included, Free Voice Remote.

Some restrictions

apply. Call 1-855-270-

5098

Attention all Homeowners

in jeopardy of Foreclosure?

We can help stop

your home from foreclosure.

The Foreclosure

Defense helpline can help

you save your home. The

Call is absolutely free.

1-855-516-6641

xInformation

NOVEMBER GIVEAWAY

Place a prepaid classified line ad in our paper

during the month of NOVEMBER

and be registered to win a

$50 Gift Card from

The Columbus Messenger

Newspapers.

All ads received by mail, in person, e-mail or

phone will be included in the drawing.

Drawing will be held November 27, 2019

and the winner will be notified and published

in our December 1st, 2019 issue .

GOOD LUCK TO EVERYONE!!!!

Information
---
PAGE 10 - EASTSIDE MESSENGER - October 27, 2019

www.columbusmessenger.com

CLASSIFIED ADS

Deadlines: Southeast and West editions, Wednesdays at 5 p.m., • East, Southwest, Madison editions, Tuesdays at 5 p.m.

All editions by phone, Tuesdays at 5 p.m. • Service Directory, Tuesdays at 5 p.m. • Main Street Mailbox, Tuesdays at 5 p.m.

xEmployment

xCraft Shows/Bazaars

NOW HIRING

$13 - $16

General Warehouse

$14.50 - $18.50

Forklift Operators

1st, 2nd, 3rd & Weekend Shifts

Groveport, Lockbourne

NOW HIRING!

Local High Volume Pharmacy

Immediate 1st, 2nd & 3rd shift positions available

for Pharmacy Clerks and Technicians.

$

1000 SIGN ON BONUS

Looking for energetic associates

in a fast pace environment.

NEW Starting rate: $11.50 per hour

Shift differential $1.50 an hour

Please apply at: jobs.kroger.com

Use Zip Code 43217

Must be 18 years of age & have high school diploma or GED.

Call 614-333-5012 for more details.

ADVERTISE

Your Holiday

Craft Show

Bazaar, or

Bake Sale!

Call Kathy

Classified Display Rep

Columbus Messenger

Newspapers

Holiday Bazaar

Good Shepherd

Community Church

210 Obetz Rd., Cols. OH

November 2nd - 8:30 to 4:00

Several new vendors,

homemade soups, and

much more!

Benefits, Weekly Pay & More

Apply Now: www.apply.prologistix.com

ASSOCIATION ADS

Cross Country Moving,

Long distance Moving

Company, out of state

move $799 Long Distance

Movers. Get Free

quote on your Long distance

move 1-844-452-

1706

Portable Oxygen Concentrator

May Be Covered by

Medicare! Reclaim independence

and mobility

with the compact design

and long-lasting battery of

Inogen One.

Free information kit! Call

888-609-2189

DISH Network $59.99 For

190 Channels. Add High

Speed Internet for ONLY

$14.95/month. Best Technology.

Best Value. Smart

HD DVR Included. FREE

Installation. Some restrictions

apply. Call 1-855-

837-9146

ASSOCIATION ADS

HEAR AGAIN! Try our

hearing aid for just $75

down and $50 per

month! Call 800-426-

4212 and mention 88272

for a risk free trial! FREE

SHIPPING!

DENTAL INSURANCE

from Physicians Mutual

Insurance Company.

NOT just a discount

plan, REAL coverage for

(350) procedures. Call 1-

877-308-2834 for details.

www.dental50plus.com/

cadnet 6118-0219

AIRLINE MECHANIC

TRAINING - Get FAA

Technician certification.

Approved for military

benefits. Financial Aid if

qualified. Job placement

assistance. Call Aviation

Institute of Maintenance

866-453-6204

Employment

ASSOCIATION ADS

Earthlink High Speed Internet.

As low as $14.95/

month (for the first 3

months.) Reliable High

Speed Fiber Optic Technology.

Stream Videos,

Music and More! Call

Earthlink Today 1-855-

520-7938

SELLING YOUR OWN

PROPERTY? Need to

advertise it in your local

paper and others like it?

We have the placement

services to help you.

Contact MACnet MEDIA

@ 800-450-6631 or online

at MACnetOnline.

com

BE YOUR OWN BOSS!

INDEPENDENT

CONTRACTORS

WANTED

If you have a reliable car and would like to

earn extra money, then why not deliver?

• Deliver 1 or 2 days a week

• Flexible delivery hours

• Work close to home - often in or

near your neighborhood

CONTACT US

1-888-837-4342

www.thebag.com

ASSOCIATION ADS

Get NFL Sunday Ticket

FREE w/ DIRECTTV

Choice-All Included Package.

$59.99/month for 12

months. 185 Channels

PLUS Thousands of

Shows / Movies On Demand.

FREE Genie HD

DVR Upgrade. Call 1-855-

781-1565 or satellitedeal

now.com/cadnet

HARRIS 5 MINUTE

BED BUG KILLER!

Fast, Effective Treatment.

Available: Hardware

Stores, Home Depot,

homedepot.com

Two great new offers from

AT&T Wireless! Ask how

to get the Next Generation

Samsung Galaxy S10e

FREE. FREE IPhone with

AT&T's Buy one, Give

One. While supplies last!

CALL 1-866-565-8452 or

www.freephonesnow.com/

/cadnet

• Deliver 7 days a week

• Delivery before dawn

• Work close to home - often in or

near your neighborhood

CONTACT US

614-461-8585

www.dispatch.com/delivery

ASSOCIATION ADS

Elminate gutter cleaning

forever! LeafFilter, the

most advanced debrisblocking

gutter protection.

Schedule a FREE

LeafFilter estimate today.

15% off and 0%

financing for those who

qualify, PLUS Senior &

Military Discounts. Call

1-855-402-0373

Applying for Social Security

Disability or Appealing a

Denied Claim? Call Bill

Gordon & Assoc., Social

Security Disability Attorneys,

1-855-498-6323!

FREE Consultations. Local

Attorneys Nationwide

[Mail: 2420 N St. NW,

Washington DC. Office:

Broward Co. FL (TX/NM

Bar.)]

614-272-5422

ASSOCIATION ADS

READER

ADVISORY

The National Trade Association

we belong to has

purchased the following

classifieds. Determining

the value of their service

or product is advised by

this publication. In order

to avoid misunderstandings,

some advertisers do

not offer "employment"

but rather supply the

readers with manuals, directories

and other materials

designed to help

their clients establish mail

order selling and other

businesses at home. Under

NO circumstance

should you send any

money in advance or give

the client your checking,

license ID or credit card

numbers. Also beware of

ads that claim to guarantee

loans regardless of

credit and note that if a

credit repair company

does business only over

the phone it's illegal to request

any money before

delivering its service. All

funds are based in US

dollars. Toll Free numbers

may or may not

reach Canada. Please

check with the Better

Business Bureau 614-

486-6336 or the Ohio Attorney

General's Consumer

Protection Section

614-466-4986 for more

information on the company

you are seeking to

do business with.

Craft Shows/Bazaars

ASSOCIATION ADS

Become a Published Author.

We want to Read

Your Book! Dorrance

Publishing-Trusted by

Authors Since 1920.

Book manuscript submissions

currently being

reviewed. Comprehensive

Services: Consultation,

Production, Promotion

and Distribution. Call

for Your Free Author's

Guide 1-877-626-2213

IMPORTANT

NOTICE

The following states: CA,

CT, FL, IA, IL, IN, KY,

LA, MD, ME, MI, MN,

NE, NC, NH, OH, OK,

SC, SD, TX, VT and WA

requires seller of certain

business opportunities to

register with each state

before selling. Call to

verify lawful registration

before you buy.

HELP WANTED

HOBBY LOBBY

Now Hiring

Seasonal Help

Flexible Hours

Apply within the store at

4219 Buckeye Parkway

Grove City

HELP WANTED

NOW HIRING

Commercial

Janitorial

All Shifts

Full and Parttime

Call Now

614-804-1256

Home Health Aides

$13.00/hr. after 90 days

$15.00/hr. Premium Shifts

Performance Bonus and

Paid Time Off after 1 yr.

One yr. experience working

for an employer in a caregiver

11/10 A&M

role is required.

To apply, please visit

v-angels/galloway/employment

DATED SALES

FREE

Garage Sale

Signs

When You Stop By

Our Office At:

3500 Sullivant Ave.

And Place Your

DATED SALE AD

11/24 W/SW/M
---
www.columbusmessenger.com

xCome & Get It!

October 27, 2019 - EASTSIDE MESSENGER - PAGE 11

xClassified Services

COME AND GET IT

Deadlines are Tuesdays by 5 pm.

Call For Publication Schedule 614-272-5422

Need to Get Rid of Something Fast - Advertise It Here For FREE!

FREE Garden Straw for gardens or bedding. Call for appointment for

pickup. Circle S Farms, 9015 London-Groveport Road, Grove City,

43123

Grove City - 614-878-7980

FREE for Pickup Hospital Bed, Electric, Temper-Pedic Hospital Mattreee,

ISheets Included. In perfect working order. Will need truck.

DS - Colulmbus 43235 - 614-457-2654

ATTENTION: Come & Get It will be ending

in our 11-17-19 issue and will resume in

April 2020. Thanks to all that used it!

. Come and Get It! is a bi-weekly column that offers readers an opportunity to pass

along surplus building materials, furniture, electronic equipment, crafts, supplies,

appliances, plants or household goods to anybody who will come and get them - as

long as they're FREE. NO PETS! Just send us a brief note describing what you want

to get rid of, along with your name, address and phone number. Nonprofit

organizations are welcome to submit requests for donations of items.

Send information to The Columbus Messenger, Attention: Come and Get It, 3500

Sullivant Ave., Columbus, OH43204. Deadline is Tuesdays by 5 pm for following

Mondays publication. Messenger Newspapers is not responsible for any

complications that may occur. Please contact us when items are gone. 272-5422

Come & Get It!

xAdult Care

WANT TO BUY

WANTS TO Purchase

minerals and other oil &

gas interests. Send details

to: P.O. Box 13557,

Denver, CO 80201

We Buy Cars & Trucks

$300-$3000.614-308-2626

Welcome

Adult Care

WANT TO BUY

We Buy Junk Cars &

Trucks. Highest Prices

Paid. 614-395-8775

$ Cash At Your Door $

for junk or unwanted cars

(Free Tow). Call

614-444-RIDE (7433)

MISCELLANEOUS

FOR SALE

Large Selection of

Chandeliers to

choose from.

All in working condition.

Going Out of Business!!

614-271-2469

Carolyn's

Cottage

Private Assisted Living

3036 Woodgrove Dr.

Grove City, OH

Michelle Preston - Owner

614-991-0652

614-376-9761

VACATION RENTALS

Englewood, Florida

Palm Manor Resort

Within minutes of white

sand Gulf beaches,

world famous Tarpon

fishing, golf courses, restaurants/shopping,

Bush

Gardens. 2 BR 2 BA

condos with all ammenities,

weekly/monthly, visit

www.palmmanor.com

or call 1-800-848-8141

APPLIANCE REPAIR

Washer, Dryer, Stove &

Refrig. Repair 875-7588

BASEMENT

WATERPROOFING

Walker's Basement

Waterproofing. BBB

Accredited 614-359-4353

BLACKTOP

SANTIAGO'S

Sealcoating & Services LLC

Quality Materials Used

Driveway Seal

& Repairs Fall Special

11/10

A&M

Top Seal Cracks

Commercial & Residential

Fall Clean-Ups

Mowing, Mulching, Edging

"Ask for whatever you need"

BBB Accredited

FULLY INSURED

Call or text for Free Est.

614-649-1200

BLACKTOP SEALING

Driveways & Parking Lots

614-875-6971

CARPET CLEANING

DIRT BUSTERS

Any 5 areas $75. Home

Powerwash $99 to $200.

614-805-1084

Specializing in Pet Odors

CONCRETE

D.J. & DAD KIMMLE

CUSTOM CONCRETE

10-27

All Types E/SE

Free Estimates

All Work Guaranteed

614-206-0158

ALL-CITY CUSTOM

CONCRETE

All Types Concrete Work

New or Tear Out-Replace

37 Yrs. Exp.

(614) 207-5430

Owner is On The Job!

AJ's Concrete,

Masonry

Good Work - Fair Prices

Block Foundations

Driveways • Sidewalks

Epoxy/Overlay Floors

Bonded-Ins. • Free Ests.

Now Accepting Credit Cards

614-419-9932

EDDIE MOORE

CONSTRUCTION

Quality Concrete Work

Lt. Hauling & Room Add.,

Block Work & Excavation

Stamp Patios,

Bsmt. Wall Restoration

37 Yrs Exp - Lic & Ins.

Free Ests. 614-871-3834

10/27 A

HOME

IMPROVEMENTS

Building the life you've dreamed about!

MONESI CONSTRUCTION

Commercial • Residential • Insurance

CONCRETE • CONCRETE / PAVING / BASEMENTS / PAINTING / KITCHENS / BATHS PATIOS

DECKS PAINTING / ADDITIONS / PATIOS / DECKS / RENOVATIONS

/ ADDITIONS

RENOVATIONS STAINING / WATER / POWER PROOFING WASHING

/ POWER WASHING

We Work Year Round

• FREE ESTIMATES •

Licensed • Bonded • Insured

Adrian Monesi • General Contractor

(614) 218-2570 (614) 588-4568

• (614) 588-4568

email: MonesiConstruction@gmail.com

amonesi@columbus.rr.com

Visa/MC accepted

GUTTERS

Low Price-Great Service

5 & 6" Seamless gutters,

covers, siding, gutter clng.

Bill 614-306-4541

EPP

Seamless Gutters

Mikey 614-927-9132

licensed/bonded/insured

HAULING

DEAN'S HAULING

614-276-1958

HEATING

HEATING

Complete System Clean & Check

$49.95

Free Carbon

Monoxide Testing

Gas-Oil-Electric Heat/Pumps

All Makes • All Models

43 yrs exp. • Sr. Discount

614-351-9025

HOME

IMPROVEMENTS

CandC

See The Difference

Plumbing & Electric

Install Hot Water Tanks,

Dishwashers & Disposals

Also Fencing & A

Interior/Exterior Painting

No Job Too Big Or Too

Small - We Do It All

614-702-3691

10-27

KLAUSMAN HOME

IMPROVEMENT

Siding-Windows-

Doors-Roofing-Soffit-

Fascia-Gutters-Trim

Earn FREE Seamless

Gutters with Siding Over

1000 Sq. Ft.

FREE Shutters with

Soffit & Trim

EPA Certified

Member of BBB

Financing Available

Over 20 yrs exp. • Free Est.

Licensed-Bonded-Insured

Owner & Operator

James 614-419-7500

10/27 A

10-27 A

HOME

IMPROVEMENTS

HOME

IMPROVEMENTS

C&JHandyman

Services LLC

Minor Plumbing &

Electric

Install Hot Water Tanks,

Dishwashers & Disposals

Also Fencing &

Interior/Exterior Painting

Free Est. ~ 18 Yrs. Exp.

614-284-2100

SINCE 1973

Phil Bolon Contr.

Windows & Siding

Decks, Kitchens, Baths

Room Additions,

Flooring, Roofing

Bsmt Waterproofing

Deal With Small Non-Pressure Co.

45 Yrs. Exp. - Refs. Avail.

Lic.-Bond-Ins.

Free Est. - Financing Avail.

Member BBB Of Cent. OH

O.C.I.E.B. ID #24273

614-419-3977

or 614-863-9912

INFORMATION

HOME

MAINTENANCE

TABBY'S

HOME MAINTENANCE

SERVICE

614-935-1466

Finishing Carpenter for all

your extra home repairs or

Honey-do-list. over 40 yrs.

exp. Sonny 614-325-1910

JOE'S HOME MAINT.

Home Repairs, Roofing,

Siding, Gutters, Soffits,

Misc. Int. Repairs

Int. Painting

Call Joe 614-778-1460

37 Years Exp.

LAWN CARE

LET US MAINTAIN

YOUR LAWN & GARDEN

FOR YOU

Summer, Spring,

Winter or Fall

WE DO IT ALL!!!!

Lawn Cuts, Edging,

Trees & Shrubs, Garden,

Mulching, Hauling,

Garden Pond &

Home Maint.

Free Ests. Low Rates

$20 & Up

Kevin - 614-905-3117

MOVING

A Complete

Moving

Reasonable, Reliable

No Job Too Small

PUCO #150692-HG

Free Estimate

614-878-1179

Aaron Allen Moving

Local Moving Since 1956

Bonded & Insured

614-299-6683, 263-0649

Celebrating 60 yrs in business

PAINTING

Walker's Interior Painting

Free Est. 614-359-4353

Painter Over 30 Yrs Exp.

Free Est. Reas Rates

Daniel 614-226-4221

A Job Well Done Again

A lic. General Contractor

Some Skilled Services

Incl: Painting • Stucco,

Repair•Carpentry•Exterior

Drainage & Home Maint.

Call Today! 614-235-1819

PLUMBING

ALL IN ONE

PLUMBING LLC

"One Call Does It All"

$25 OFF LABOR

With This Ad

A

614-801-1508

All Major Credit Cards Accepted

All About Drains & Plumb.

Will snake any sm drain

$125 + tax. 614-778-2584

POWER WASHING

MRS. POWERWASH

Any house wash $149 + tax

Single deck $69 + tax

2 Tier deck $99 + tax

Best Wash In Town

Over 45,000 Washes

Ashley, 614-771-3892

INFORMATION

Classified Services

10-27

A/M

ONLY

$50.00

For This Ad In Our

East & Southeast

For Info Call

272-5422

10-27 A

10/27 A&M

11/10

ROOFING

Robinson roofing & repairs

30 yrs. exp. Lifetime Cols.

resident. Lic./bonded/Ins.

Reas rates. Member of

BBB. Dennis Robinson

614-330-3087, 732-3100

SEWING MACHINE

REPAIR

REPAIR all makes 24 hr.

service. Clean, oil, adjust

in your home. $39.95 all

work gtd. 614-890-5296

TOP SOIL

Alexander Hauling

Driveways topped w/new

limestone. We also deliver

Topsoil - comtil - sandmulch.

Specializing in

residential. 614-491-5460

Bobcat Service Avail.

TREE SERVICES

BURNS TREE SERVICE

Trimming, Removal &

Stump Grinding.

614-584-2164

TROTT

TREE & LANDSCAPE

Tree Trimming

& Removal

Also Stump Removal

Free Est. - Fully Ins.

Call 614-235-3791

Cell 614-738-0682

Brewer & Sons Tree Service

• Tree Removal

• Tree Trimming 10-27

A&M

• Stump Grinding

• Bucket Truck Services

Best Prices • Same Day Service

614-878-2568

A&M

Fast Tree Service

Tree Removal,

Stump Grinding

Free With Access,

Pruning, Shaping

Insured, Free Est.

Payment Plans Avail.

614-837-8367

614-863-1522

INFORMATION

LOOK TO

THE PROFESSIONALS

IN OUR

SERVICE DIRECTORY

For Service

"That Is Out Of This World"

11/10

A

11/27

E/SE
---
PAGE 12 - EASTSIDE MESSENGER - October 27, 2019

www.columbusmessenger.com

• STUFF, STUFF, MORE STUFF • COME TO WATERBEDS N STUFF • STUFF, STUFF, MORE STUFF • COME TO WATERBEDS N STUFF •

EAST

LANCASTER

CHILLICOTHE WEST

815 S. Hamilton 1251 N. Memorial Dr.

Bridge St. SUPER STORE

614-239-7270 614-654-3385

740-775-1171 W. Broad/Wilson

REYNOLDSBURG

Kroger Ctr.

St. Rt. 256

614-276-4722

614-861-4560

• STUFF, STUFF, MORE STUFF • COME TO WATERBEDS N STUFF • STUFF, STUFF, MORE STUFF • COME TO WATERBEDS N STUFF •

• STUFF, STUFF, MORE STUFF • COME TO WATERBEDS N STUFF • STUFF, STUFF, MORE STUFF • COME TO WATERBEDS N STUFF •

• STUFF, STUFF, MORE STUFF • COME TO WATERBEDS N STUFF • STUFF, STUFF, MORE STUFF • COME TO WATERBEDS N STUFF •