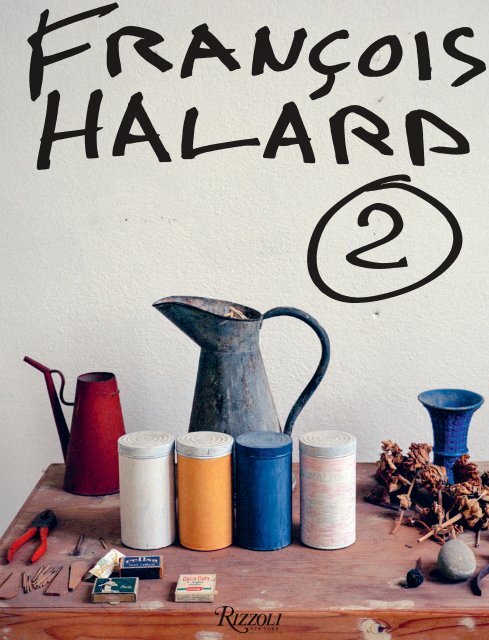 You also want an ePaper? Increase the reach of your titles
YUMPU automatically turns print PDFs into web optimized ePapers that Google loves.
"I'm like a water diviner.

I pick up my

camera and let myself

be guided."

Bice Curiger

Let's begin with a general

question: what's the subject

of this book?

François Halard

The book is about

artists and photography. I am

looking to establish new

relationships between them.

I'm not just photographing the

studios and homes of

artists, I want to appropriate

these interiors and interpret

them through the medium of

photography.

BC I think of you as a

photographer of the invisible.

Not in an esoteric sense—

you're not trying to capture

a person's aura or halo

of colored light and then

interpret it. But you do show

us a part of reality that

speaks about what is not

visible in the photograph.

FH I have often been

asked why I photograph the

interiors of dead artists.

To me, it feels like they are

still there. When I spent

two days alone in Giorgio

Morandi's studio, I really had

the impression that he was

there, that he was with me.

I tried to take photographs

that were an homage

both to his work, and to

the series of photographs

taken by Luigi Ghirri of

Morandi's two home studios

in 1989/90. I can only

translate things I love.

BC Your perspective is

so different from the usual

style of interior design

photography. While those can

often feel like an inventory,

or even a collection of

trophies, your photographs

focus on the atmosphere and

your own presence. It seems

as if the space is talking

to you, that all the visual

signs are talking to you, that

there is a silent dialogue

going on.

FH There's a difference

between my personal work

and a magazine article—

when you work for yourself,

you are not obligated to

give an accounting of the

space to someone else,

to give a factual description

or an "objective" representation

of that space. You are

free to say: "If I only want

to photograph one part of

a table, that's my choice."

BC And in fact, one of the

photographs in your book

only shows a part of a table

whereas in an interior

design magazine, you would

have had to show the

entire piece. In another image,

your eye lingers on a

hallway that others might

not even have looked

at—and then we realize that

there is so much more:

a small door opens onto a

cupboard painted in divine

colors. This detail captures our

attention and is more

revealing than anything else.

FH You sometimes can

convey more through a detail,

by showing just a little,

by suggesting, than by

photographing something in

its entirety.

BC The personal tone of your

photographs is a truly

artistic tone. Your sensitivity

as a photographer echoes

that of the artist (or collector)

whose studio or apartment

you are documenting for

posterity. You are adding your

vision to theirs.

FH Exactly. I am lucky

enough to do the kind of work

that involves looking at

works of art and spaces that

inspire me, that I can then

appropriate, so to speak,

by incorporating them into my

own world.

A quick word about my

childhood: I was born paralyzed

on one side, so for a long

time I had difficulties with

language. Most of the time

I was alone in my room.

The rare contacts I had with

the outside world were

through books, photographs

and paintings. And yet, the

enclosed space of my room

became a space of liberation

from the moment I began

photographing it with my

father's camera. That was

how I opened myself up to

the world. By photographing

an object I liked that

I wanted to add to my little

collection, by photographing

a place that made me

dream, I could make it mine.

I could not have taken the

photographs I take today

had I not experienced that

period of introspection.

BC Which brings me to

Arles, your chosen city.

Many houses in Arles have

remarkable façades that

you can't see because the

streets are so narrow.

And then one day, walking

down a small street you

walked down hundreds

of times, you look up—and

there in front of you is

a stunning façade! It's

interesting that you feel so

at home in Arles…

FH It's because of its secret

side. I like secrets. I try

to lead an anachronistic life
---
in Arles. I enjoy being alone

at home or in my studio.

I'm like a bubble within

another bubble, a little circle

inside a larger one…

BC Let's look at the book

more closely. There is

a beautiful narrative in the

sequence of the series:

one thing leads to another.

FH We worked very hard

on the selection and

layout. This is my fifth

book collaboration with Beda

Achermann, the art director

from Zurich. We began

with nearly fifty stories, and

each one was comprised

of nearly fifty photographs.

The pile of photocopies

was almost one meter high!

We reduced, reduced

to the max, to achieve the

strongest visual and narrative

intensity. The advantage

of doing this with Beda is

that he is already very

familiar with my work, and

each time, he tries to

push my personal vision

even further.

He forces me to be even

more abstract, more radical.

To make no concessions.

Working together is

wonderful.

BC The book begins with

what looks like pages from

a scrapbook…

FH For many years, I wrote

and glued things in notebooks

so that I would not forget.

I don't like using a computer

[he mimics the gesture of

typing with one finger], so if

I want to remember something,

I need to write it down.

The result is a kind of collage,

an unsophisticated to-do list.

The pages reproduced here

deal mostly with Italian

topics. It wasn't premeditated,

but Italy has always had a

very strong influence on me.

For obvious visual reasons:

the architecture, the gardens,

the sea… Arles is the

most Italian, the most Roman

city in France. It's where

I discovered antiquity—and

how it can be modern.

And indeed, the works of

Cy Twombly, or Umberto

Eco, show that the themes

of Italian art are incredibly

modern. I shot my first

personal photographs when

I was sixteen, in the Giardino

Giusti, an Italian garden

near Verona. That's when

I discovered that photographing

something I like gave me

a great sense of peace.

It allows me to concentrate,

to enter an almost

meditative state of mind.

BC I especially like the

moment when the garden

appears in the book's

narrative. Before that, we

are mostly looking at decay,

faded colors, the patina

of time—in short, we are

in suspended time. And

suddenly, the immediacy of

the moment is upon us;

life, fragile but bursting with

colored petals…

FH Dries Van Noten is

obsessed with his garden. For

him, it's almost his most

important work. Photographing

these flowers at their

short-lived peak, made me

think of fabrics that a stylist

drapes over his models.

My book is also a tribute

to famous people who are

obsessive in their taste—noted

figures like Eileen Gray,

Dominique de Menil

or Yves Saint Laurent and

Pierre Bergé…

BC In your photographs

of Dominique de Menil's and

Louise Bourgeois's homes,

taken well after their deaths,

we can still feel the

presence of these "obsessive"

women. Louise Bourgeois,

for example, is "represented"

in a drawing and on the

cover of a videotape tucked

in a corner…

FH My photographs are filled

with those kinds of references.

In Louise Bourgeois's studio,

I photographed the cover of a

book entitled "Women Artists"

featuring a portrait of a young

Muscovite woman wearing

a Greek costume, painted by

Élizabeth Louise Vigée

Le Brun, another pioneer of

the art world. I also included

the detail of a horizontal

line of nails and hooks on a

door, emphasizing the shape

of a cross. This references

the spiritual dimension of

Louise Bourgeois's art, and

its lasting relevance.

BC In the book, you

often shift from an opulent

décor to its opposite,

to something barren, decayed,

not decorative but filled

with meaning.

FH It's difficult to make

something other than

decorative with photographs

of decorative art. That's

the real trick for me. How

to use a decorative art space

to lead the viewer toward

something else. Sometimes,

showing a personal detail,

something that is not staged,

can reveal a lot about

an artist. At that point it's

no longer a frozen photograph

of an interior, but can

become a narrative…

BC

You work on intuition…

FH On intuition, yes, but

it's reinforced by the deep

understanding that I have
---
about the work of Bourgeois,

Philip Johnson, Charles

James… When I walk into

the space of an artist whose

work I have thought about

for a long time, all the

knowledge I've acquired over

time comes into play. Instead

of keeping my distance,

for fear of misunderstanding

something sacred because

it is unknown, I dive head

first into the subject matter,

without a second thought.

I'm like a water diviner.

I pick up my camera and

let myself be guided.

BC You have captured the

audacity of these interiors,

of their layout, in the

way you photograph them.

The series on the de

Menil home is startling in

the way you play with

the light and its reflection.

Are we inside? Outside?

A very simple and yet very

refined piece of furniture

like the large mustard color

heptagonal ottoman will

become a symbol. It almost

functions like a cog at

the center of a welcoming

space that invites one to

linger.

FH This double page reveals

many things. It was a

bold move to combine Philip

Johnson's architecture with

Charles James's interior

design. Collectors often

live in similar spaces, with

the same paintings hung

in the same way by the

same interior designers.

In this instance, Dominique

de Menil did something

wild: she asked James to

do the interior design of

a Johnson house when she

knew very well that they

would not see eye to eye!

It's important to show

the risk involved. My friend

Miquel Barceló is also

partial to these kinds of

marriages. He hung a

Picasso directly over his

own drawings on the wall.

And he placed an Ettore

Sottsass piece of furniture

against a rough surface

that was never repainted.

His collection ranges

from Tintoretto to Warhol…

BC When I curated the Venice

Biennale in 2011, I included

three large Tintoretto

paintings to underscore the

slightly absurd and artificial

separation between the

world of the old masters

and contemporary art. Every

artist has a relationship

with art history, no artist

works in a vacuum. But the

public often sees only a

compartmentalized presentation.

Today's art allows us to

look at yesterday's art from

a new perspective.

Let's take a closer look

at one of the artists featured

in a series in your book:

Ugo Rondinone, whose

large-scale drawings of forests

reflect his strong connection

with those of the old masters.

As a curator, he exhibited

many artists whose works

had unjustly remained in the

shadows. Another example:

so many books about Morandi

speak of his ascetic lifestyle,

but the photographs that

you, as an artist, have taken

of his house in the countryside

of Bologna reveal very

concrete aspects of that

intentional austerity. Those two

beds, with the cross in

between, the armoire with

the suitcases…

FH Morandi lived an

excessively austere existence,

almost like a priest, with

his two sisters. The only

freedom he allowed himself

was in his paintings. His

home in Grizzana has no

distinguishable characteristics,

it's like any other. But

when he recreates it in a

painting, his whole personality

comes to life on the canvas.

Sensuality doesn't exist in

reality. It is born in the

painter's eye. I tried to show

both, the banality of the

concrete and the poetry of

the imaginary. To highlight

the monochromatic feeling,

I softened the colors of certain

shots in postproduction.

BC You have an eye for

surfaces. The chipped and

worn patina of Morandi's old

metal pitcher, for instance.

You can't see that in his

paintings. But you see it in

your photograph, which

shows that this object exists

in separate reality from

painting—photography

(which is another form of

painting)… And your series

on Marcante Testa, the

new interior design studio in

Turin. The way you frame

the line of a piece of

furniture to make it stand

out… immediately confirms

your appreciation for refined

craftsmanship.

FH I was thinking of Gio

Ponti when I shot those

photographs. The same artistic

metalworkers who once

worked for him, work today

for Andrea Marcante and

Adelaide Testa. It's my

tribute to a tradition from

the 1970s. Seamless soldering

is extremely difficult. For

me, it's as beautiful a craft

as traditional French

marquetry.

BC Some of these photos

come close to abstraction

because you are standing so

near the surface of the
---
objects. The same applies to

your series on Eileen Gray's

Villa E-1027.

FH The most beautiful

photographs of that mythic

house were taken during

the 1930s. Today, the soul of

the period is missing. The

best way to recapture

that spirit is to take close-up

shots—and reach a kind

of abstraction. I dreamed of

photographing the Villa

E-1027 ever since I was a

child. Things happen in their

time, you just have to wait.

BC Now another story,

about the Glasgow School

of Art.

FH That mythic building,

by Charles Rennie Mackintosh,

probably the most beautiful

Art and Crafts structure

ever built, had just sustained

very serious damage from

a fire. I barely had an

hour and half to visit the

construction site. The

photographs I took on the

fly feel like stolen shots.

And when I wanted to show

them in 2018… a second

fire destroyed everything!

It felt like destiny, an

unavoidable stroke of fate!

BC You also did a book

on New York photographer

Saul Leiter…

FH … though 1,500 copies

were printed, you can't

find it anywhere. We both

lived on the same street

in the East Village, but we

didn't know each other.

One day, my friend Suzanne

Demisch called: "I just

bought the apartment of

my next-door neighbor, Saul

Leiter. Do you want to

come by and take some

photographs?" I grabbed my

cameras and ran over…

It was as if he had just

gone out to do an errand.

The smell of developer

was still in the air. All

those intimate photographs

of the street—Saul Leiter

had taken them from those

very windows. I immediately

shot what he could see

from there. It was like

being inside his head. When

I get to do things like

that, I'm in ecstasy. It's very

very intense.

BC Intensity is something

you look for…

FH Yes! I need things to

vibrate!!

BC Finally, can you talk

about the series on your

house and your objects?

FH I bought this house

because it reminded me of

Cy Twombly's Bassano

home in Teverina, north of

Rome. When you're under

that Italian spell, it never lets

you go! I wasn't even

thirty then, and spent many

years restoring it.

I didn't have any money,

so I slept in a bed right in

the middle of the rubble.

Back then, it looked more

like the stark and punk

interiors of Rick Owens than

the town house overflowing

with art objects that we see

on the photographs.

But—alas—I can't resist things

that tell a story, so the

house quickly filled up.

A gift from Miquel [Barceló]

here, something from Julian

[Schnabel] there… I've had

many houses and at one

point everything was shipped

back to Arles, so many

items remained there because

I had nowhere else to

put them!

BC What was your approach

when you photographed this

series?

FH In 1935, Walker Evans

was commissioned to put

together a portfolio for

MoMA's "African Negro Art"

exhibition. He created

a kind of repertoire of

nearly five hundred African

works shot in 20×25 cm

format against an almost gray

background.

I wanted to honor this work.

My African masks are

like my good luck charms,

I take them everywhere.

Some have protective qualities,

others are more serious…

Certain objects tell stories

of past travels: my wife,

Isabelle Dupuy Chavanat,

likes Japanese ceramics from

the 18th century, and those

objects remind us of our

trip to the Land of the

Rising Sun. All these objects

speak to one another, do

things together. I photograph

them with delight, with

pleasure, as if they were

beautiful women. They bring

me the same sense of

gratification.

Bice Curiger studied art history in Zurich, where

she was born. She co-founded the art magazine

Parkett in Zurich and published 101 issues

over 33 years. From 1993 to 2013 she was also

the curator for the Kunsthaus, Zurich's beaux-arts

museum. She was the head curator of the 54th

Venice Biennale in 2011. Two years later, Curiger

was appointed Artistic Director of the Fondation

Vincent van Gogh in Arles.
---
James Brown photograph by Diane Arbus © 2019 Diane Arbus Estate courtesy Fraenkel Gallery, San Francisco // Marilyn Monroe, actor, New York, May 6, 1957 / John Lennon, musician, London, England, August 11, 1967

Photographs by Richard Avedon, © The Richard Avedon Foundation // All images of works of art by Miquel Barceló © 2019 Miquel Barceló // All images of works of architecture by Luis Barragán © 2019 The Barragán

Foundation, Birsfelden, Switzerland // Artwork by Christian Bérard © The Menil Collection // All images of works of art by Louise Bourgeois © 2019 The Easton Foundation // All images of works of art by Georges

Braque © 2019 Artists Rights Society (ARS), New York / ADAGP, Paris // All images of works of art by Brassaï © 2019 Brassaï Estate / Art Resource // All images of works of art by James Brown © 2019 James Brown //

Photo by Lucien Clergue © Atelier Lucien Clergue // All images of works of art by George Condo © 2019 George Condo courtesy Skarstedt Gallery, New York // All images of works of art by John Currin © 2019 John Currin

and Gagosian Gallery, New York // All images of the de Menil House © The Menil Collection // Photograph by David Douglas Duncan / Photography Collection, Harry Ransom Center, The University of Texas at Austin //

Artwork by Luis Fernández © The Menil Collection // All works of art by Dan Flavin © 2019 The Estate of Dan Flavin, the Chinati Foundation, and Artists Rights Society (ARS), New York // All images of works

of art by Lucian Freud © The Lucian Freud Archive / Bridgeman Images // All images of works of art by Alberto Giacometti © Fondation Giacometti, Paris // All images of works of art by Antony Gormley © 2019

Antony Gormley courtesy White Cube, London // All images of works of architecture by Eileen Gray © 2019 Cap Moderne // All images of works of art by Damien Hirst © 2019 Damien Hirst courtesy White Cube, London //

All works of art by Donald Judd © 2019 The Donald Judd Foundation, the Chinati Foundation, and Artists Rights Society (ARS), New York // Artwork by Horst-Egon Kalinowski © 2019 Horst-Egon Kalinowski / Artists

Rights Society (ARS), New York / VG Bild-Kunst, Germany // Michèle Lamy photograph © 2019 Steven Klein // All images of works of art by Jeff Koons © 2019 Jeff Koons and Gagosian Gallery, New York //

All images of works of art by Le Corbusier © 2019 Fondation Le Corbusier/ ADAGP, Paris // All images of works of art by Fernand Léger © 2019 Artists Rights Society (ARS), New York / ADAGP, Paris // Loulou de la

Falaise, Paris 1984, © JP Masclet // All images of works of art by Giorgio Morandi © 2019 Artists Rights Society (ARS), New York / SIAE, Rome // Image of work of art by Kenneth Noland © 2019 The Kenneth Noland

Foundation / Licensed by VAGA at Artists Rights Society (ARS), New York // Artwork by Claes Oldenburg and Coosje van Bruggen © 2019 Claes Oldenburg and Coosje van Bruggen, the Chinati Foundation, and Artists

Rights Society (ARS), New York // All images of works of art by Pablo Picasso © 2019 Estate of Pablo Picasso / Artists Rights Society (ARS), New York // All images of works of art by Elizabeth Peyton © 2019

Elizabeth Peyton courtesy Gladstone Gallery, New York // All images of works of art by Richard Prince © 2019 Richard Prince and Gagosian Gallery, New York // All images of works of art by Ed Ruscha © 2019 Ed Ruscha and

Gagosian Gallery, New York // All images of works of art by Ugo Rondinone © 2019 Ugo Rondinone courtesy Gladstone Gallery, New York // Untitled, 2015, oil on map, 49 × 34 inches (124.5 × 86.4 cm), © Julian Schnabel

Studio // All images of works of art by Andres Serrano © 2019 Andres Serrano // All images of works of art by Kees van Dongen © 2019 Artists Rights Society (ARS), New York / ADAGP, Paris // All images of works

of art by Andy Warhol © 2019 The Andy Warhol Foundation for the Visual Arts, Inc. / Artists Rights Society (ARS), New York // Front cover: The Morandi studio, Grizzana, Italy © 2019 Artists Rights Society (ARS),

New York / SIAE, Rome // Back cover: The Louise Bourgeois townhouse, New York, New York © 2019 The Easton Foundation