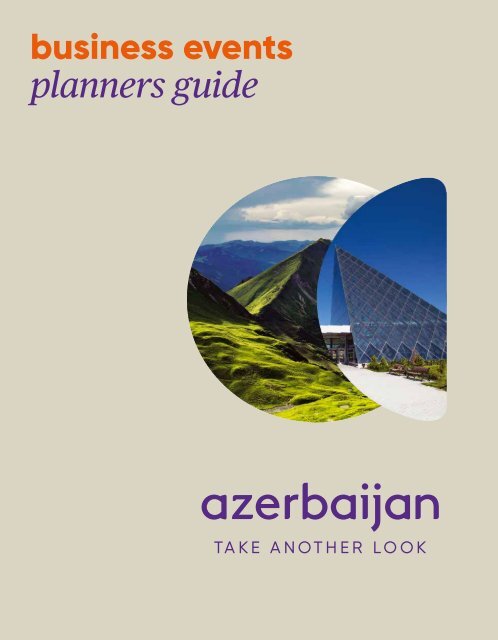 19203_ACB_AzCB MICE Brochure_V.2_QR_PREVIEW
Create successful ePaper yourself
Turn your PDF publications into a flip-book with our unique Google optimized e-Paper software.
usiness events

planners guide
---
salam

hello

Content

Salam1

Look at Azerbaijan 4

World map 6

Business events infrastructure 8

Venues10

Special venues 14

Hotels & meetings in Baku 18

Hotels & meetings beyond Baku 26

Map of Azerbaijan 32

Azerbaijan is a country of unique nature, unmatched

culture, and centuries of customs, traditions and

cuisine; a place that will not fail to meet even the

highest expectations of the most sophisticated guest

while upholding its hospitable and friendly Caucasian

roots. Here eastern colours combine magnificently

with western progress.

Beyond business 34

Plan your trip 42

About us 44

1
---
Historically situated on the

Great Silk Road, straddling

various geopolitical, economic

and cultural landscapes of its

surrounding nations, Azerbaijan

has long intrigued the world's

greatest minds: scientists,

travellers and historians alike.

Nestled amongst the Caucasus

Mountains, Azerbaijan may not

be a large country, but it is one

of great ambition, diverse culture

and dazzling venues. This is a

contemporary nation crisscrossed

by history: the combination of

cultural heritage, welcoming spirit,

and modern city life will be sure to

leave a lasting impression.

Being a modern and progressive

country, Azerbaijan has much

to offer those in search of the

perfect event location and an

exceptional experience to go

with it. Firm in its own identity,

yet open to a wide range of

global influences, the nation is

rapidly transforming into a prime

international business events

destination. So, allow us to

divulge our secrets! And prepare

to be pleasantly surprised by all

that Azerbaijan has to offer.

2

3
---
LOOK AT AZERBAIJAN

wholehearted hospitality

multicultural modernity

Hospitality

Azerbaijan is world-famous for

the warm hospitality of its people;

there is a saying that "the guest is

the flower of the house." Certainly,

treating one's guests with respect

is a tradition that has been passed

down for centuries and is still taken

very seriously today. Our naturally

hospitable manner blends naturally

with high standards of service,

spanning from convention venues

to hotels and accommodation.

Even in the alleyways of Baku's Old

City to Gabala in the foothills of the

Caucasus Mountains, visitors are

guaranteed a heartwarming smile

and a memorable welcome.

Safety

Business delegates can rest

assured that while they are visiting

Azerbaijan, they are in safe hands.

The country is one of the safest

tourist destinations in the world,

praised for its low level of petty

crime, allowing delegates to easily

explore, discover and enjoy their

surroundings with minimal concerns

for their security. The Local Host

Committee is fully aware that

delegates' safety and security are

crucial elements of any international

event and will ensure that the

highest level of coordination is

provided as such.

Infrastructure and modernity

As Azerbaijan's economy diversifies,

the country has been enthusiastically

positioning itself to host major

sporting and cultural events and

become the prime regional hub for

business meetings and conventions.

As a result, Azerbaijan now has a

fabulous portfolio of new, stateof-the-art

hotels, restaurants and

venues, some of which are among

the country's most remarkable 21 st

century architectural masterpieces.

The most notable are the capital's

iconic Flame Towers, the brand-new

Baku Convention Centre and the

fabulous Heydar Aliyev Centre — all

of which can provide the ideal space

for large-scale conventions and

trade events, as well as smaller, more

exclusive meetings and conferences.

Cost-efficiency

Azerbaijan is among the most costeffective

countries in the world. For

example, an average stay in Baku

costs noticeably less than in any

other European metropolis. The very

competitive rates for top quality

services provided at beautiful,

ultramodern hotels will definitely add

value to any business event.

Cultural diversity

It's not difficult to feel the warmth

and humanity of Azerbaijani culture.

Into Baku alone flow Turkic, Persian

and Russian influences, helping to

form a proudly distinct locale dotted

with art galleries, theatres and music

venues. Elsewhere in the country,

a love for literature shines through

the many streets named after local

writers while native communities with

their own languages and customs

populate charming villages in

Azerbaijan's beautiful countryside.

Delegates are invited to taste local

wine in medieval caravanserais, sip

fragrant Lankaran tea in traditional

teahouses, or be mesmerised by

the soothing sounds of the national

music genre — 'mugham.'

Culinary creativity

Azerbaijan has a deliciously wide

variety of foods to offer throughout

the country. From European to

Asian fusion to Azerbaijan's own

rich and refined traditional cuisine,

the country will not only tantalise its

visitors' palates, but their cameras

too. Delightful restaurants range

from impressive minimalist works of

21 st century art to teahouses and

caravanserais of the 19 th century and

beyond.

4

5
---
WORLD MAP

4 hrs

Moscow

4 hrs

Minsk

3 hrs

Yekaterinburg

Krasnoyarsk

London

Frankfurt

2 hrs

Paris

Vienna

Kiev

Nur-Sultan

1 hr

Madrid

Barcelona

Rome

Istanbul

Ankara

Tbilisi

Baku

Aktau

Tashkent

Almaty

5 hrs

8 hr

Tehran

Beijing

Tel Aviv

Cairo

New Delhi

Accessibility

Baku enjoys all the mystique of being an ancient

Silk Road port but can just as easily serve as a wellorganised

modern transport hub that dominates the

eastern Caucasus region. With great transport links

to the rest of the world, over 20 operating airlines and

more than 50 direct flights to various destinations

across the globe, Azerbaijan's capital city can always

stay connected.

Azerbaijan's vision of developing excellent domestic

and international transport infrastructure is epitomised

at Heydar Aliyev International Airport. This aesthetic

delight of great architectural ingenuity has even

been recognised as the best airport in the CIS for

both facilities and service. From here, new multilane

highways mean that you can reach the city by car in

barely 25 minutes.

Riyadh

Air links are especially frequent to European, Turkish,

CIS and Middle-Eastern destinations, with some direct

flights to as far as New York and Beijing. Beyond

the capital, there are also airports in Nakhchivan,

Zagatala, Lankaran, Ganja and Gabala with numerous

airlines operating on a daily basis.

Doha

DubaiBy plane

Azerbaijan is well connected

with the world thanks to its welldeveloped

six international

airports. Baku's main gateway,

Heydar Aliyev International Airport,

is situated just 25 km from the city

centre, and is served by major

airlines including Azerbaijan Airlines

(AZAL), Aeroflot, Turkish Airlines,

Lufthansa and Qatar Airways,

Emirates, Fly Dubai, among many

others.

By train

Direct links are available to a

number of destinations within the

CIS. Overnight trains are available

from Russia, Georgia and Ukraine

on a regular basis, while there is a

less regular train from the Belarussian

city of Brest that calls at Minsk.

The Baku-Tbilisi-Kars railway perfectly

connects Azerbaijan and

Georgia to Turkish and European

railway networks. Passenger

services on this route are to be

launched soon.

By car

Azerbaijan's transport infrastructure

has enjoyed massive investment

in recent years. The country

is connected to Russia, Iran and

Georgia while the Nakhchivan

exclave has direct road links to

Turkey and regular bus services all

the way to Istanbul. The 'northern

route' from Baku to Tbilisi can also

offer an easy and very picturesque

journey between the Azerbaijani

and Georgian capitals via the historic

cities of Shamakhi and Sheki.

6 7
---
BUSINESS EVENTS INFRASTRUCTURE

world-class amenities

dazzling venues

Welcome to the heart of

Eurasia!

Imagine a city that houses

ambitious 21 st –century

architecture, century-old

European elegance and a

UNESCO-listed medieval Old

City all within an ancient fortified

wall. This is Baku: one of the best

locations for meetings and events

that you may never have even

heard of. Over the last decade,

Azerbaijan's beautiful capital has

been steadily building indepth

its experience of planning and

hosting international trade fairs,

conferences and mega-events

from Eurovision to the Formula 1

Grand Prix. The city's range of

state-of-the-art meeting facilities

has grown into a remarkable

portfolio that includes several

unforgettable masterpieces.

Add impeccable international

hotels, suave restaurants and a

remarkable ambience of heartfelt

hospitality and you'll be hard

pressed to beat Azerbaijan — an

inspiring, professional, yet good

value business events destination.

8

9
---
VENUES

setups and seating

capacities

VENUES

Baku Convention Centre

purpose-built perfection

TS BS CS

Baku Expo Centre 5000 4500 7000

Baku Convention Centre 3500 940 800

VENUES

Heydar Aliyev Palace 2150 - 2000

Heydar Aliyev Congress Hall in Gabala 1200 300 300

Heydar Aliyev Centre 1000 700 1000

Baku Business Centre 180 - -

Baku Crystal Hall 25000 - -

Elite Events Hall 2200 1000 1300

Buta Palace 2000 1000 1500

SPECIAL

VENUES

Boyuk Saray 1500 1200 2000

Elektra Events Hall 800 420 1000

Ateshgah 400 300 200

Stone Chronicle Museum 400 150 400

Yanardag 400 60 100

International Mugham Centre 350 80 130

Carpet Museum 200 100 350

Villa Petroleum 100 100 350

Marionette Theatre 49 30 50

Gazelli Art House - 100 230

Museum of Modern Art - - 250

Baku's very special, purpose-built convention centre

is a multifunctional building with flexible rooms and

spacious public areas covered by an uninterrupted,

elegantly curved shell. The impressive, open-plan space

offers unobstructed views across to Baku's greatest

architectural masterpiece: the Heydar Aliyev Centre.

At its heart lies the auditorium, suitable for up to 3,500

visitors, flanked by 15 conference rooms and spacious

networking areas. A VIP room on the second floor can

also accommodate up to 200 guests.

Well connected

10 minutes to the city centre

25 minutes (23 km) to the international airport

Unbeatable flexibility

3,065 m 2 multifunctional auditorium with 3,500 seats,

15 break-out rooms, 1,000 m 2 of networking space.

Excellent digital infrastructure

Wi-Fi, 405 m 2 LED monitor.

Large in-house inventory

Light and sound equipment.

TS — theatre style BS — banquet style CS — cocktail style

Dedicated team

From planning and communications to execution, the

Baku Convention Centre team will support you with

experience and ideas.

10 11
---
VENUES

VENUES

Baku Expo Centre

Spacious venue of international standards only

a short drive from the airport

Heydar Aliyev Centre

The curvy centrepiece of Baku's

21 st- century skyline

This spacious multipurpose events

complex is designed to host everything

from industry exhibitions to conferences,

seminars to product demonstrations.

The complex has a total area of over

20,000 m 2 shared across three wellequipped

pavilions. Among its facilities

are conference halls, meeting rooms, a

business centre and food court. It is within

just a few kilometres' drive of the airport

and a 20-minute drive from Baku city

centre, with a car park capacity of over

500 cars.

World-famous architect Zaha Hadid

designed the crown jewel of Baku's

architecture. It flows seamlessly from

the plaza around it, joining the exterior

and the interior to represent the

inclusion of all in a place of shared

ideas. Business representatives and

congress-goers get to see the best

of all: the stunning auditorium and a

series of meeting spaces that are sure

to impress even the most cynical. The

maximum capacity of meeting facilities

is up to 1,000 people.

Heydar Aliyev Palace

The perfect choice for large-scale theatrical events

Entirely refurbished in 2008, this large concert

hall was constructed in 1972 and has since

hosted many big-name concerts. Over 2,000

guests can be seated in 30 rows, all facing a

stage that is equipped with laser visual effects,

advanced LED screens, a piano and two VIP

dressing rooms. There are cloakrooms, vaulted

stairways, a welcoming foyer and glistening

marble floors. The venue is excellently placed

in the central Winter Park, within walking

distance of all the top hotels.

Heydar Aliyev Congress Hall in Gabala

The ideal place for business to meet recreation

Baku Business Centre

Seaside location with the latest appliances

Set beneath the Caucasus

Mountains and surrounded

by lush forest 4 km from the

centre of Gabala in northern

Azerbaijan, the Heydar Aliyev

Congress Hall is truly a unique

location for business events

for up to 1,200 people. The

gilded interior is equipped

with the latest technology and

houses the best chefs and

service professionals. The hall

can accommodate about

300 persons in cocktail and

banquet set ups.

The Baku Business Centre's

main attraction is its seaside

location, situated on the Baku

Boulevard close to all the city's

best hotels, restaurants and

cultural attractions. Its 4,664 m 2

area is fully equipped to host

business forums, presentations

and conferences. On the

ground floor is a showroom

suitable for 350 seated guests,

with three conference rooms

on the second floor and a

restaurant overlooking the

Caspian suitable for 300

seated visitors.

12

13
---
SPECIAL VENUES

SPECIAL VENUES

Baku Crystal Hall

Sports-hall sized arena with extra flair

Boyuk Saray

For a full-on festival of gilded glitz

If you're expecting stadium-size crowds but want

an indoor arena, then be sure to consider the

Crystal Hall. Built to host the 2012 Eurovision Song

Contest finals, the multi-purpose sports and

concert arena can hold up to 27,000 spectators. Its

name comes from the diamond-faceted exterior,

inlaid with arrays of dynamic LED lights for an extra

special light show in the evenings.

The corridor around the arena's perimeter is

divided into two, with 15 entrances on each side,

two transportation access points and several

booths to supply food and refreshments.

Elektra Events Hall

Modern, hip and technically top of the range

Beyond the walls of its classical white façade, Boyuk

Saray has a vast chandelier-lit interior that feels like a

21 st -century Versailles. While this venue is best known

for its top celebrity weddings, it is versatile enough to

be transformed to host concerts, fashion shows, and

conferences for up to 2,000 guests. The complex is

situated in the Neftchiler suburb, 8 km east of the city

centre.

Elite Events Hall

Handy for horses, great for groups

What sets the Elite Events Hall apart

from its competitors is its location at

a large equestrian centre, designed

for horse racing and riding lessons. A

number of high-profile events have

been hosted here, including the Mr

and Miss Azerbaijan beauty contests.

While the large ballroom-style hall

can accommodate approximately

1,500 people, separate meeting rooms

can seat 30, 50 or 150 people. Less

than 10 minutes' drive east of Baku's

international airport and 30 minutes

from the city centre, the Elite Events Hall

is also very conveniently located.

While the Elektra Events Hall is Baku's

top venue for professional live music

of various genres, it is flexible enough

to host events of all kinds: from

bodybuilding to stand-up comedy

to DJ contests. If you're looking for a

concert-style venue with excellent

acoustics and top-of-the-range

audiovisual technology for about 600

people, then this may be your best fit.

Ateshgah & Yanardag

Discover Azerbaijan's fire-worshipping legacy

Experiencing Azerbaijan's ancient

history would be a great addition

to any successful event in Baku.

Both the Ateshgah reserve, with

its fire temple, and the Yanardag

reserve, where eternal flames have

burned naturally for centuries,

are within a 30-minute drive of

the city centre and allow you to

discover how Baku became a hub

for Zoroastrian and Hindu fireworshippers.

Both are ready to

host outdoor parties and events

which a local events management

team can help to organize.

Buta Palace

Providing major events with modern facilities and a touch of traditional style

The Stone Chronicle Museum

A journey through time

Not far from Baku's international

airport and 20 minutes' drive

from the city centre, the Buta

Palace is a venue that combines

contemporary banqueting

facilities with traditional

Azerbaijani design: the Buta

itself is a national symbol of

our Land of Fire. The dividable

main hall is styled like an

ancient caravanserai, capable

of accommodating up to 2,000

visitors, while the smaller hall of

650 m 2 can seat up to 400.

This unusual museum celebrates

the prehistoric stone carvings found

in Gobustan and Gala, medieval

gravestones and handmade

sculptures by Huseyn Hagvas,

presenting its visitors with a short

journey through the history of

Azerbaijani art. What's more, all of

this is presented under the roof of

an old power station, built in 1901

by the Siemens brothers to supply

energy to the newly developed oil

fields. This quirky setting, located

close to the Caspian just south of

the Old City, offers meeting facilities

for up to 200 people.

14

15
---
SPECIAL VENUES

SPECIAL VENUES

The International Mugham Centre

A piece of architectural wizardry

Azerbaijan's mugham music is recognised by

UNESCO as part of humanity's cultural heritage.

Baku's International Mugham Centre was built

as a place to perform, promote, preserve and

popularise this musical genre. But that's not to say

that this mid-sized theatre isn't also an ideal venue

for a range of other activities! The centre can offer

seating for up to 350 people facing a small stage

and an elegant in-house restaurant. Designed in

the form of two traditional 'tar' instruments, this

stylish, modern building is centrally located on the

Baku Boulevard.

Marionette Theatre

Loveable secret mini-theatre in the heart

of the Old City

Little-known even to Baku's natives, this

delightful little venue is hidden away

in a recently restored neoclassical

stone building right in the heart of the

UNESCO-listed Old City. Built in the

1880s, primarily for puppet shows, the

2016 restoration has created a small

stage with comfortable rowed seating

for up to 60 people, with plenty of extra

space for drinks receptions.

Carpet Museum

The remarkable rug-shaped home of Azerbaijani carpet weaving

The Azerbaijani carpet is a key centrepiece in

our national culture, and only an innovative

rug-shaped architectural wonder could do it

justice. Situated on the Baku Boulevard, the

carpet museum houses the largest collection of

Azerbaijani carpets in the world; 6,000 of them

bring to life the past, patterns and philosophies

of our carpet weaving traditions. The museum's

600 m 2 lobby is good for receptions, while

conference rooms on the first and third floors can

host up to 70 and 46 seated visitors respectively.

The fully equipped exhibitions hall is decorated

with traditional carpets from all of the seven

schools of Azerbaijani carpet weaving.

Gazelli Art House

A chic setting ideal for more intimate gatherings

Located between the central and business districts, this

stylish European style gallery, which also has an exhibition

space in London, hosts local and international artists that

express themselves in diverse formats: from painting and

photography to graphics and installations. With its Dover

Street branch bringing cutting-edge exhibitions to London,

Gazelli is one of Azerbaijan's most internationally minded

private galleries for modern and contemporary art. With

white, art-decked walls and professionally savvy staff, the

gallery can handle up to 100 people. There is all necessary

equipment for lectures and seminars.

Museum of Modern Art

Open and spacious home of Azerbaijani avantgarde

Villa Petrolea

An exclusive setting with an intriguing history

Well over a century ago, long

before the Nobel Prizes were

founded, the Nobel brothers

played a key role in Baku's first

oil boom. The mansion that

they built for themselves in 1884

has been preserved, restored

and turned into a fascinating

museum. Upstairs, in the style of

a London gentleman's club, is

a remarkable, highly exclusive

conference venue decked

with priceless masterpieces

of Azerbaijani art. The seating

can be arranged rectangularly

for a hundred guests, with two

booths for interpreters, and an

integrated projection screen.

Baku's Museum of Modern Art, conveniently located close

to the city's business hub, has a collection of over 800

pieces, most of which are avant-garde nature and the

work of Azerbaijan's brightest painters and sculptors of the

last 70 years. The open and spacious museum also has

a children's art room, library, video room, restaurant and

art café. Within a building by architect Jean Nouvel, the

fascinating interior was designed by Altay Sadikhzadeh

whose humorously surreal work forms a core component

of the collection. For informal meetings or cocktail

events of up to 250 delegates, the museum makes for an

original and thought-provoking setting. And the location

is very accessible, just east of the Port Baku business

development.

16

17
---
HOTELS & MEETINGS IN BAKU

setups and seating

capacities

HOTELS & MEETINGS IN BAKU

TS BS CS

Boulevard Hotel Baku, Autograph Collection 1300 700 900

Boulevard Hotel Baku,

Autograph Collection

Fairmont Baku, Flame Towers 1000 600 600

JW Marriott Absheron Baku 1000 600 1000

Hilton Baku Hotel 720 320 500

Bilgah Beach Hotel 600 350 800

Pullman Baku 525 350 480

With size, space and so much seaside,

this hotel prides itself on being the largest

conference hotel in the country and is well

capable of hosting a wide range of events.

23 km from Baku airport

818 guest rooms

6 meeting rooms

1 ballroom

boulevardhotelbaku.com

Four Seasons Hotel Baku 500 297 500

Hyatt Regency Baku 400 330 600

Excelsior Hotel & Spa Baku 250 150 400

Sheraton Baku Airport 220 180 270

Ramada Hotel Baku 150 230 230

Intourist Hotel Baku, Autograph Collection 50 100 50

Dinamo Hotel Baku 30 80 100

Fairmont Baku,

Flame Towers

A stunning hotel situated in the iconic

Flame Towers with chic bistros and

relaxation options, plus plenty of space

for all types of functions.

27 km from Baku airport

318 guest rooms

9 meeting rooms

2 ballrooms

fairmont.com/baku

Park Inn by Radisson Baku Hotel 350 150 350

Holiday Inn Baku 320 200 350

Burj Sahil Hotel 146 - -

JW Marriott Absheron

Baku

Qafqaz Baku City Hotel 85 - -

Winter Park Hotel Baku 70 60 -

Close to the Boulevard and business

district with cutting-edge conference

technology, catering services and

sophisticated venues.

TS — theatre style BS — banquet style CS — cocktail style

24 km from Baku airport

237 guest rooms

10 meeting rooms

1 ballroom

marriott.com

18 19
---
HOTELS & MEETINGS IN BAKU

HOTELS & MEETINGS IN BAKU

Hilton Baku Hotel

Conveniently located between the

business district, Baku's best attractions

and nightlife, the Hilton is also well

equipped to host business events.

Four Seasons Hotel

Baku

A beautiful Beaux Arts-style building just

steps away from the Old City's medieval

walls with an ornate ballroom evoking

classical 18 th -century France.

24 km from Baku airport

309 guest rooms

18 meeting rooms

1 ballroom

hilton.com

25 km from Baku airport

171 guest rooms

5 meeting rooms

2 ballrooms

fourseasons.com

Bilgah Beach Hotel

Hyatt Regency Baku

This dramatic waterfront setting creates

an incomparable location for meetings

and events by the golden sands of the

Absheron coast.

From modern events spaces and meeting

rooms to state-of-the-art catering

facilities, the Hyatt Regency Baku is one

of Azerbaijan's premier conference hotels.

21 km from Baku airport

176 guest rooms

14 meeting rooms

14 villas

2 ballrooms

bilgahbeachhotel.com

24 km from Baku airport

159 guest rooms

12 meeting rooms

2 ballrooms

hyatt.com

Pullman Baku

Together with a full range of conference

and banqueting facilities, this is the only

hotel in Baku with its own aqua park.

Excelsior Hotel &

Spa Baku

Glamourous location near the Heydar

Aliyev Centre offering four elegant private

meeting rooms fit for all types of events.

30 km from Baku airport

280 guest rooms

6 meeting rooms

1 ballroom

gilanholding.com/tourism

25 km from Baku airport

61 guest rooms

3 meeting rooms

1 ballroom

excelsior.az

20 21
---
HOTELS & MEETINGS IN BAKU

HOTELS & MEETINGS IN BAKU

Sheraton Baku Airport

Dinamo Hotel Baku

Offering an excellent range of facilities

for business and leisure travellers at the

airport, the Sheraton Baku Airport allows

rest and recuperation as soon as you

step off the plane.

The iconic Dinamo Hotel is one of

Baku's best examples of architectural

constructivism, ideal for intimate meetings

and well catered to with a range of

professional services.

0 km from Baku airport

205 guest rooms

5 meeting rooms

sheraton.marriott.com

24 km from Baku airport

28 guest rooms

1 meeting room

dinamohotelbaku.com

Ramada Hotel Baku

A luxury seaside hotel close to the city

centre with first-class conference facilities

for those eager to combine business with

downtime on the beach.

Park Inn by Radisson

Baku Hotel

The Park Inn welcomes all types of

meetings and events and offers reliable

service in the heart of the city.

17.1 km from Baku airport

80 guest rooms

3 meeting rooms

ramadabaku.com

25 km from Baku airport

248 guest rooms

6 meeting rooms

1 ballroom

parkinn.com

Intourist Hotel Baku,

Autograph Collection

Stylish venue with a fully-equipped

meeting room overlooking the Caspian

waterfront, the Intourist is a remodelled

version of a 1930s classic.

Holiday Inn Baku

A towering hotel with easy access to

Port Baku Mall and the business district

offering business travellers plenty of

flexible meeting space.

27 km from Baku airport

150 guest rooms

1 meeting room

intouristhotelbaku.com

23 km from Baku airport

223 guest rooms

5 meeting rooms

1 ballroom

ihg.com/holidayinn

22 23
---
HOTELS & MEETINGS IN BAKU

HOTELS & MEETING IN BAKU

Burj Sahil Hotel

A large, modern business hotel that's

excellent value for money with rooms and

restaurants providing fantastic views of the

Baku Boulevard and Baku White City.

27 km from Baku airport

104 guest rooms

2 meeting rooms

qafqazhotels.com

Qafqaz Baku City

Hotel

Harmoniously merging national and

international styles, the huge Qafqaz City

Hotel Baku has excellent conference halls

in the heart of the business and commercial

district.

23 km from Baku airport

316 guest rooms

2 meeting rooms

qafqazhotels.com

Winter Park Hotel

Baku

Great social and business facilities with

easy access to the city and business

centres, this hotel aims to reflect Baku's

ancient traditions of hospitality

and culture.

21 km from Baku airport

173 guest rooms

3 meeting rooms

winterparkhotelbaku.com

Flame Towers

24 25
---
HOTELS & MEETINGS BEYOND BAKU

setups and seating

capacities

HOTELS & MEETINGS BEYOND BAKU

TS BS CS

Gabala Qafqaz Resort Hotel 500 250 -

Gabala Qafqaz Sport Hotel 200 70 -

Gabala Qafqaz Riverside Hotel 150 90 -

Gakh El Resort 700 540 600

Ganja Ramada Plaza 200 176 200

Guba Quba Palace Hotel 1000 600 200

Gusar Pik Palace, Autograph Collection 300 320 300

Gusar Park Chalet, Autograph Collection 300 160 300

Gusar Shahdag Hotel & Spa 180 150 210

Shabran Qalaalti Hotel & Spa 180 120 150

Shamakhi Shamakhi Palace Sharadil 400 350 -

Qafqaz Resort Hotel

Nestled beneath an emerald green forest in

the foothills of the snow-covered Caucasus

Mountains, the Qafqaz Resort Hotel is a great

spot for combining business with pleasure.

5 km from the centre of Gabala city

9.6 km from Gabala International Airport

240 km from Baku airport

98 guest rooms

20 villas

1 meeting room

qafqazhotels.com

Qafqaz Sport Hotel

A luxurious hotel near Gabala city centre

offering a range of room types, cottages

and two large conference halls near the

magnificent Caucasus Mountains.

Sheki Marxal Resort & Spa 400 350 350

Gabala Qafqaz Karvansaray Hotel Gabala 100 40 -

Gabala Qafqaz Thermal & Spa Hotel Gabala 72 - -

Gusar Zirve Hotel 120 - -

2 km from the centre of Gabala city

25 km from Gabala International Airport

245 km from Baku airport

96 guest rooms

21 cottages

2 meeting rooms

qafqazhotels.com

Qafqaz Riverside Hotel

Situated amid stunning scenery next to the

Damiraparan River, this hotel blends a luxurious

interior with maximum comfort and marvellous

nature.

TS - theatre style BS - banquet style CS - cocktail style

4 km from the centre of Gabala city

25 km from Gabala International Airport

239 km from Baku airport

123 guest rooms

38 villas

4 meeting rooms

qafqazhotels.com

26 27
---
HOTELS & MEETINGS BEYOND BAKU

HOTELS & MEETINGS BEYOND BAKU

EL Resort Hotel

The first 5-star hotel in the Gakh region with

a magnificent countryside setting home

to diverse flora and fauna, historical ruins,

mountain rivers and mineral springs.

4.8 km from the centre of Gakh

40 km from Zagatala International Airport

361 km from Baku airport

134 guest rooms

1 meeting rooms

1 ballrooms

elresort.az

Pik Palace,

Autograph Collection

Set in the glorious Caucasus Mountains with

world-class skiing options and events venues

catering for everything from boardroom-style

gatherings to conventions for hundreds.

29.8 km from the centre of Gusar city

220 km from Baku airport

167 guest rooms

1 ballrooms

pikpalaceshahdag.com

Ramada Plaza

Modern, functional and not far from

Azerbaijan's second city of Ganja with a

range of business services and function

rooms.

6 km from the centre of Ganja

3.6 km from Ganja International Airport

386 km from Baku airport

181 guest rooms

4 meeting rooms

ramadaplazagence.com

Park Chalet,

Autograph Collection

Merging a rustic atmosphere with luxury

design, breathtaking views and superb

meeting facilities.

29.8 km from the centre of Gusar city

220 km from Baku airport

164 guest rooms

4 meeting rooms

parkchaletshahdag.com

Quba Palace Hotel

Shahdag Hotel & Spa

Along with excellent facilities for business

meetings, Quba Palace Hotel caters also for

luxury holidays as a golf course, a spa and

wellness centre and heliport.

7 km from the centre of Guba city

201 km from Baku airport

212 guest rooms

26 villas

1 ballroom

2 meeting rooms

qubapalace.com

Spacious, contemporary and elegant,

Azerbaijan's first contemporary mountain lodge

offers refined luxury and top-notch hospitality.

29.7 km from the centre of Gusar city

220 km from Baku airport

172 guest rooms

4 meeting rooms

shahdag.az

28 29
---
HOTELS & MEETINGS BEYOND BAKU

HOTELS & MEETINGS BEYOND BAKU

Qalaalti Hotel & Spa

A vast resort in the Great Caucasus combining

5-star luxury with splendid business meetings

opportunities and a comprehensive spa and

health clinic.

46.2 km from the centre of Shabran city

145 km from Baku airport

167 guest rooms

6 villas

3 meeting rooms

galaalti.az

Qafqaz Karvansaray

Hotel Gabala

With an interior inspired by an ancient Silk

Road caravanserai, this boutique hotel in

Gabala is a tranquil escape with a classy

conference room.

1 km from the centre of Gabala city

22 km from Gabala International Airport

240 km from Baku airport

159 guest rooms

1 meeting room

qafqazhotels.com

Shamakhi Palace

Sharadil

Qafqaz Thermal & Spa

Hotel Gabala

Perched on the slopes of the Caucasus

Mountains in the Shamakhi region, Shamakhi

Palace Sharadil is a blissful escape in the

heart of Azerbaijan.

19 km from the centre of Shamakhi

161 km from Baku airport

102 guest rooms

4 meeting rooms

1 ballroom

shamakhipalace.business.site

Surrounded by the outstanding natural beauty

of Gabala's Yengija Forest near a therapeutic

water source that's been used by locals since

ancient times.

18 km from the centre of Gabala city

40 km from Gabala International Airport

250 km from Baku airport

61 guest rooms

1 meeting room

qafqazhotels.com

Marxal Resort & Spa

Zirve Hotel

One of the top luxury hotels in the country

that also maintains a very homely feel and is

surrounded by lush mountain forest.

Located next to the ski lifts, Zirve Hotel

Shahdag combines superb skiing and fitness

facilities with state-of-the-art meeting and

conference rooms.

4 km from the centre of Sheki city

300 km from Baku airport

390 guest rooms

210 cottages

3 meeting rooms

marxalresort.az

28.9 km from the centre of Gusar city

220 km from Baku airport

43 guest rooms

5 meeting rooms

shahdag.az

30 31
---
MAP OF AZERBAIJAN

one journey

many roads

Tbilisi

GEORGIA

RUSSIA

Zagatala

Gakh

Gusar

Khachmaz

Kur River

Sheki

Guba

Gazakh

Gabala

Shamkir

ARMENIA

Ganja

Naftalan

Mingachevir

Yevlakh

Shamakhi

Sumgait

Baku

Barda

Araz River

TURKEY

Agdam

Khankendi

Shusha

Fuzuli

AZERBAIJAN

Agjabadi

Araz River

Shirvan

Salyan

Kur River

CASPIAN

SEA

Nakhchivan

Jalilabad

Neftchala

IRAN

Lankaran

32 33
---
BEYOND BUSINESS

EXPLORE AZERBAIJAN

vibrant culture

breathtaking landscapes

Sheki

Once situated on the legendary Silk Road, this charming

city in the northwest of Azerbaijan is well worth a visit for its

unique architecture, ancient handicrafts and the fun humour

of the local people. One of Sheki's top spots is the Palace

of Sheki Khan, a display of lavish decorations including

'shebeke' — the local art of building mosaics from coloured

glass, set in a wooden latticework and assembled without

nails or glue. Local guides can bring both this architectural

monument and the khanate period to life with their expert

commentaries.

Goygol

Lake Goygol is undoubtedly one of Azerbaijan's most iconic

sights. Nestled high in the Lesser Caucasus Mountains of

the Goygol National Park, approximately one hour's drive

from the city of Ganja, this lake came into being after a

12th-century earthquake sent rocks crashing into a river from

the peak of Mount Kapaz. The deep blue lake (Goygol itself

means 'Blue Lake' in Azerbaijani) is surrounded by lush forests

rich in wildlife, including red deer, vultures, bears and lynx. For

centuries this landscape has been a source of inspiration for

Azerbaijani writers, artists and musicians.

Ateshgah

Baku Boulevard

Beyond the Old City there is no better way to get a feel for

Baku's relaxed, Mediterranean atmosphere than by strolling

along the Boulevard — the capital city's promenade. This

beautiful sweep of coast offers hours of pleasant strolling

along the waterfront with ever-changing views of the city.

Heydar Aliyev Centre

World-famous architect Zaha Hadid designed the crown

jewel in our modern architecture. Not a single straight

line was used in the centre's design, resembling a wave

reaching from the ground to the sky and back down again.

It symbolises an eternal cycle, bridging the past and the

present to unite people under shared ideas. The centre

regularly plays host to international exhibitions.

Ateshgah & Yanardag

The fire-worshipping Zoroastrians left their mark at Ateshgah,

where the Fire Temple enthrals visitors with its spouts of

flame. The present-day temple, adopted by the Hindu

merchants and pilgrims, dates from the 19 th century, and

features 16 inscriptions in Sanskrit or Punjabi that harbour

centuries-old secrets. Indians were travelling here along the

Silk Road. Less than a 20-minute drive away from Ateshgah,

a 10-metre wall of flames in Yanardag — Burning Mountain

— rises from atop a hill. The natural flames are as old as the

time of Marco Polo, and continue to mesmerise those who

view it from near and afar. Let the warmth of the flames,

worshipped by Zoroastrians for over hundreds of years, sink

into your soul.

34

35
---
BEYOND BUSINESS

Gobustan

Gobustan and mud volcanoes

Who doesn't love an Indiana Jones movie full of adventure,

mystery, suspense, and of course historical artefacts?

Gobustan, a UNESCO-listed World Heritage Site, is truly a

movie set. From prehistoric artworks to a real treasure trove,

the past of the Azerbaijani people comes to life in Gobustan.

Nearby you'll find examples of some of Azerbaijan's roughly

350 mud volcanoes, almost half of the world's total. These are

caused by subterranean gases trying to escape through the

earth's surface which creates a bizarre lunar landscape of

gurgling mud pools.

Shirvanshahs' Palace

Once home to the Shirvanshahs that ruled most of today's

Azerbaijan between 9 th -16 th centuries, this UNESCO World

Heritage Site in Baku was constructed in the highest point of

Icherisheher between the 12 th -14 th centuries. Not only is the

palace a timeless example of medieval Islamic architecture,

but also a contemporary museum.

Khinalig

This picturesque village is located at over 2,000 metres

above sea level and is said to be connected to the story of

Noah who may have dropped anchor here. Due to the steep

terrain, the village's 380 houses — all between 200-300 years

old — are built very close together, with each roof doubling

up as the courtyard for the house above. As descendants of

one of the Caucasian-Albanian tribes, the locals here can

speak a completely unique language. Travelling here will

allow you to discover this intriguing place and experience its

breathtaking scenery and ancient traditions for yourself.

Khinalig

36

37
---
BEYOND BUSINESS

RECHARGE YOUR BATTERIES

Chovgan — a traditional horse sport

Chovgan, Azerbaijan's ancestor of contemporary polo,

is a traditional sport played atop a Karabakh horse

dating back 2,400 years. It was once one of the most

popular sports across the Middle East and remains

one of the most beloved games in Azerbaijan today.

Experience the thrills of seeing a match for yourself!

Hiking in the majestic Caucasus Mountains

With such beautiful forests, fresh air, outstanding

mountain views and unique flora and fauna, there is

no better way to appreciate the magic of rural villages

than on foot. Visitors are more than welcome to join

eco-friendly hiking tours through mountain villages

such as Griz, Gala-khudat, Zarnava, Laza and Khinalig,

as well as the Hirkan, Shirvan and Absheron national

parks. You can also explore the majestic landscapes

of the Caucasus Mountains or the lakes, waterfalls and

wilderness of southern Azerbaijan with experienced

guides by your side, who will be happy to share local

stories and traditions from nearby settlements.

Kitesurfing in the Caspian

For aquatic adventures, look no further than kitesurfing

on the lagoon at Shuraabad, approximately one hour's

drive north of Baku. After mastering the basic skills

in the lake's shallower waters, visitors can challenge

themselves to take on the Caspian's magnificent open

waters.

Feel the spirit of the Silk Road

From carpets and antiques to cosmetics, watches and

cars, Baku's malls, boutiques and show-rooms have all

the luxury brands. If it's timeless character and superb

craftsmanship guests are looking for, Resm Jewellery

has all the answers. Alternatively, you can head to the

Menzer Hajiyeva Showroom to discover its 'kelaghayi'

headscarves, imprinted with vivid yet chic patterns

inspired by years of creative history. And for a real

Azerbaijani experience, lose yourself in the colour and

commotion in and around traditional eastern bazaars

found in all major towns and cities.

Hammam experience

A place for cleansing and contemplation, relaxation

and conversation. Azerbaijan's hammam culture may

have waned in popularity in recent years, but many of

the city's elders still remember with fond nostalgia the

weekly ritual of visiting the city's public baths to relax,

socialise, share news and gossip.

Adventure and romance in Gobustan

GAZ-M20 Pobeda? GAZ-21 Volga? GAZ-13 Chaika?

For delegates interested in an alternative way of

discovering Baku, retro car services can offer guided

city tours and cater to any other private-hire needs.

For the more intrepid traveller, riding a jeep through

Azerbaijan's picturesque valleys, rugged hills and

shallow rivers is a more adventurous way to get

acquainted with the country and its natural beauty.

Best golf experiences in Azerbaijan

If delegates can spare a day for a round of golf, it

should be spent at Dreamland Golf Club. This stunning

yet challenging course is perfect for golfers of all

abilities and spreads across 330 hectares of Baku's

lush green suburbs. Alternatively, golfers with more

time to spare could also travel to Guba to play on the

National Golf Club course and take in its breathtaking

mountain views.

38

39
---
BEYOND BUSINESS

Plunge into Baku's nightlife

Baku is a city of contrasts, colours, culture whirled

together by the Caspian winds, making it the perfect

spot for vibrant nightlife. Whether international or

local, guests can experience the best of Baku's bars

and lounges. Take a break from the city-life frenzy

at the glamorous JW Marriott Absheron Hotel Baku

and immerse yourself into the magical atmosphere

of Buddha-Bar Baku. Guests can also embark on

an exciting virtual journey along the coast of South

America at the Pasifico lounge, inspired by the colours,

textures, flora and fauna of the rainforest.

Ancient vineyards, unique tastes

Azerbaijan has been making wine for thousands

of years. The varied terrain of our fast-improving

wineries across the country has resulted in a myriad

of aromas and flavours. The Fireland Vineyards tour

and Enoteca Meydan in Baku's Old City are the two

most praised wine tasting experiences in Azerbaijan,

where vinicultural traditions intertwine with modern

technology right before visitors' eyes.

A local tea ceremony in Icherisheher

The pleasure of drinking good tea — usually with wild

herbs picked from the mountains — is something of

a sacred tradition for Azerbaijanis. The small, cosy

teahouses dotted around the Old City will be glad

to offer an armudu glass of local tea with oregano

or rose water, complemented of course by delicious

sweets, jams and nuts.

Exclusive delicacies for classy experiences

Azerbaijan's most famous fish is the beluga sturgeon,

which don't reach reproductive age until they are

around 20 years old. It should come as no surprise

then that beluga caviar is now one of the world's

most highly regarded and expensive delicacies. And

somehow, it seems to taste even better when taking in

the marvellous view of the Caspian Sea, a glass of our

sparkling champagne in hand.

Conquering the snowy peaks of the Caucasus

The luxury resorts at Shahdag have world-class

amenities, 14 well-prepared slopes, friendly instructors

and diligent staff. For the more advanced skiers, black

runs and other challenging pistes await discovery at

the Tufandag Mountain Resort in Gabala.

40

41
---
PLAN YOUR TRIP

useful information

& facts

Country Size

86, 600 km 2

Population

10 million

Weather

Summer +27; Winter +4

Electricity

EU standard 220V50 Hz

Time zone

4 hrs ahead of GMT. Since 2016, we no

longer put the clocks forward an hour

in summer, so while the time is 4hrs/3hrs

ahead of UK/Western Europe in winter,

that drops to 3 hrs/2hrs April-October.

Religion

While we are a secular country,

most of the population follow Islam.

Muslim dress code is not enforced

nor expected. Alcohol is very widely

available. All religions have somewhere

to worship in Azerbaijan.

Dining

Pilaf with fragrant saffron, juicy kebabs

roasted over coals, freshly-caught

fish, and sweet fruit and honey for

dessert — Azerbaijan's cuisine is full of

flavours and surprises. However local

restaurants offer not only traditional

dishes, but also a variety of food

options, such as vegetarian, vegan,

organic, halal, kosher, etc. Due to

having 9 different climate zones

and an arable land mass of 38.9%, a

huge variety of fruits and vegetables

are cultivated here. With impressive

growing credentials, Azerbaijan is

no stranger to organic produce and

healthier options. Baku has an excellent

selection of restaurants, from Japanese

fusion to Italian.

Shopping

Most international goods are available

in Baku, which has a phenomenal

range of designer boutiques. Export

certificates are only required for carpets,

art and antiques. There's a 125 g limit on

exporting caviar.

Language

Our state language is

Azerbaijani, which is similar

to Turkish. Many people

speak fluent Russian. Basic

English is understood by

most of the population.

A few mountain villages

have their own unique

languages.

Visa

For some nationalities visas

are available upon arrival.

For others e-visas can be

obtained within 3 days via

evisa.gov.az. We advise

you to check requirements

before booking your trip.

Money

Our currency is the manat

(AZN). Card payments are

accepted at most shops

and restaurants in the

country. Mastercard/Visa

ATMs are very widespread

and available in main

towns. Changing money

back is no problem.

BakuCard

BakuCard is the official

pass including free public

transport, entry tickets for

selected city museums and

attractions, plus discounts

and special offers at

shops, cafes, restaurants

and much more.

24 Hours – 24 AZN (12 Euro)

72 Hours – 45 AZN (22 Euro)

1 Week – 70 AZN (35 Euro)

Public transportation

Only the capital, Baku, has a metro

system, which operates between 06:00

and 00:00. Stations, trains and facilities

are clean and safe, with trains running

every two – three minutes. There are two

lines – Red Line from Icherisheher to Hazi

Aslanov, and the Green Line from Khatai

to Darnagul.

Buses are an inexpensive way to travel

in Baku. Bus schedules are generally

available at bus stops.

On the bus and Baku underground one

journey costs 30 qepiks, taxis are also

widely available as an alternative option.

Baku has several licensed taxi firms.

The most famous of them are Baku Taxi

Company and 189 taxi, while UBER and

other taxi apps are also available.

Driving

An international driving licence is

advised. Car rental is increasingly

available in Baku.

Telephone

The country code is +994, the dial out

code from Azerbaijan is 00.

Mobile operators

Azercell, Bakcell, Nar

Contact information

of Azerbaijan International Airports:

Baku's Heydar Aliyev: +994 12 497 2727

Ganja: +994 22 267 1830

Nakhchivan: +994 35 644 4727

Gabala: +994 24 205 4403

Internet

Most good hotels are fully equipped with

Wi-Fi connection throughout, and big

hotels will also have business centres with

at least a few computers. Major hotels

sometimes charge for Wi-Fi, but it's free

in dozens of cafes, parks and restaurants

across Baku and beyond. Mobile phone

providers offer relatively inexpensive

dongles so that you can access the web

through 3G mobile networks.

42 43
---
ABOUT US

Azerbaijan

Convention Bureau

The Azerbaijan Convention Bureau (AzCB) is a part

of the Azerbaijan Tourism Board and the lead entity

for the promotion of business events activities. It has

a mandate from the State Tourism Agency authority

to implement the strategy for business events

industry development in Azerbaijan.

The strategic objectives of the AzCB

are to put Azerbaijan on the global

map as a premium business events

destination by providing valuable

information and support services,

identify potential events, lead

effective communication and lobbying,

present the interests of partners and

stakeholders and enhance research

activities on behalf of the destination.

AzCB is a platform incorporating

public and private entities who

work together in order to generate

Azerbaijan and AzCB's partners with

additional and profitable all-yearround

business. We also serve to

grow the number of business events

in Azerbaijan through our network of

representative offices in Europe, Asia,

CIS, and the Middle East, our first point

of contact in international markets.

AzCB is a Member of ICCA and is

fully dedicated to helping business

events industry professionals in all

aspects of event planning. Our team

has indepth knowledge of the country

and very close working relationships

with companies throughout the

tourism, events and business events

industries. AzCB experts will work with

you right through the process, from

planning and bidding to funding and

welcoming your delegates.

AzCB services include:

• Analysis of congress and meeting

requirements;

• Liaison with national and local

government institutions;

• Bid preparation and support;

• Venue search;

• Site inspection arrangements;

• Development of pre- and post-tour

programmes;

• Connecting clients to domestic

Destination Management Companies

(DMC's) and Professional Congress

Organizers (PCO's);

• Tentative reservations for business

events venues and room allotment;

• Help with social events, guides,

excursions and transfers;

• Access to promotional collateral,

videos, images and brochures about

Azerbaijan.

We believe Azerbaijan is the best

place to hold your business event!

Business Events Industry Alliance

Azerbaijan has a well-developed

infrastructure of venues and business

events service providers with extensive

expertise. AzCB works with a range of

carefully selected partner companies

including event venues, top quality

hotels, special venues, PCO's and

DMC's along with airlines and others.

Together we formed the Azerbaijan

Business Events Industry Alliance

(ABEIA) to attract conferences,

meetings, incentives and other

business events to the country.

We serve as a reliable and objective

point of contact for agents and

planners considering Azerbaijan

as a destination for their business

events, and aim to make sure that

their meetings run as smoothly and

enjoyably as possible. Our extensive

in-country network of partners

enables us to facilitate contact with

local hotels, venues and events

organisers, who following the creation

of the ABEIA have become one

streamlined country product.

To see the full list of partners, visit

meetinazerbaijan.com.

Heydar Aliyev Centre

44
---
meetinazerbaijan.com

Azerbaijan.Travel

experienceAzerbaijan

scan qr code to download the brochure

Published by:

Azerbaijan Tourism Board,

96E Nizami Street,

3rd floor, Landmark I

Baku, AZ1010, Azerbaijan