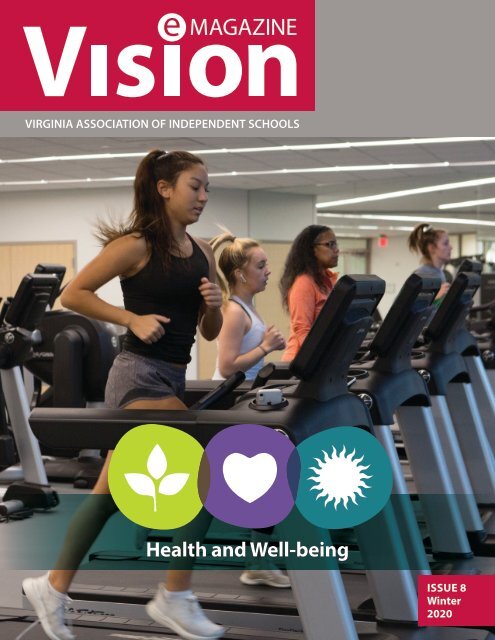 Vision eMag Winter Issue 2020 - Corrected
Health & Well-being
Health & Well-being
SHOW MORE
SHOW LESS
You also want an ePaper? Increase the reach of your titles
YUMPU automatically turns print PDFs into web optimized ePapers that Google loves.
e MAGAZINE

VIRGINIA ASSOCIATION OF INDEPENDENT SCHOOLS

VAIS Health & Well-being Summit

Health and Well-being

ISSUE 8

Winter

2020
---
e MAGAZINE

CONTENTS

2

5

7

9

11

13

15

17

We Started with a Wellness Wheel

A Playful, Musical Way to Health and Well-being

The Langley School: SEL In Action

Questions of the Soul: Caring for the

Whole Student

Creating a Healthier School Community

Growth Mindset and Brain Education:

Equipping Students for Social, Emotional,

and Academic Well-being

Healthy Girls, Healthy Communities

A Place to Connect

Editorial Advisory Board

Kim Failon, Director of Communications, VAIS

Lelia Grinnan, Director of Accreditation, VAIS

Interested in writing an article for an upcoming

Vision? Contact: Kim Failon, Director of

Communications, VAIS, at kimfailon@vais.org

We Started with

a Wellness Wheel

By Sherrie Page, RN, MSN, Health and Wellness

Coordinator, St. Catherine's School

CONNECT. COLLABORATE. LEAD.

ISSUE 8

Winter

2020

The health and wellness of our students, always paramount,

has become an even greater focus. The concerning national

trend of increased mental health concerns reported in children

and teens has made this a call to action. The National Council for

Behavioral Health reports that 1 in 5 teens lives with a mental

illness, and suicide is the second leading cause of death for ages

10-24. Even more concerning for our all-girls school, Twenge's

(2018) landmark meta-analysis of two national surveys of

adolescents in grades 8 thru 12 (N=506,820), shows the increase

in adolescent depression and suicidality between 2010 to 2015

was exclusive to females. Twenge hypothesizes that the increase

in screen time and social media associated with depressive

symptoms is even more detrimental to girls versus their male

counterparts. Of corresponding importance, Twenge's research

revealed decreased depressive symptoms in adolescents who

spend in-person, non-screen time involved in social activities,

print media, sports/exercise, and attending religious services.

This finding gives us hope, as it represents our campus life.

By virtue of being a church college preparatory school, built

around an interactive green, with multiple clubs, social events,

libraries, and a nationally recognized athletics program, our

School supports mental health resilience on multiple levels.

However, these variables have always been a part of our school's

fabric. Yet, just like reports all over the country, our students

increasingly report feeling more stressed and overwhelmed.

In an effort to address these national trends and proactively

institute measures to safeguard student health, St. Catherine's

created a new position, Health & Wellness Coordinator, to

work alongside Health and Wellness Advisors in each division.

Together, this team, in conjunction with other school-based

health experts, works to review, evaluate, and implement

wellness programming. To assist with these efforts, we created

a 5-spoked Health & Wellness Wheel Model (see Health &

Wellness Wheel for visual graphic) to assess the following areas:

2
---
Intellectual, Emotional, Spiritual, Physical, and Social. These

five components show the interrelationship that comprise the

health of the whole person. If one area of health is compromised,

all areas of health are affected. The better a student's health in

all facets represented on our Wellness Wheel, the greater the

chance she will reach her fullest potential. We then applied our

"wheel" to the School's offerings across all grade-levels to assess

strengths and opportunities for improvement.

Our immediate focus was mental health. Using Twenge's

research as a guide, we asked ourselves: Do our students

currently have the age-appropriate understanding and tools

needed to reduce stress? Do they know when stress symptoms

become worrisome, crossing the line into concerning anxiety

or depression? Are we teaching enough digital wellness to help

students use technology and social media in the healthiest way

possible? Are students forming behavior patterns that support a

lifetime of health, well beyond our campus?

The ultimate answer to all of these questions was to add

more mental health and stress-reduction education, across

grade-levels, to combat this growing epidemic. Our first step

was to build on existing programming. We increased mental

health education in our Lower School, Middle School, and Upper

School health classes. Then, we scheduled more guest experts to

speak on these topics to students, faculty, and parents. Knowing

social media has a strong effect on females, our Technology

Department researched digital wellness programs to support a

positive relationship between our students and technology. We

are set to begin implementing a new digital wellness curriculum

this January in grades 4 through 12.

Through an all-hands-on-deck approach, we added mental

health programming in multiple areas. Aside from health

classes, Yoga and mindfulness offerings increased in our P.E.

classes, athletics programs, chapels, after-school offerings, and

student-led clubs. We are currently taking detailed inventory

of our curriculum to ensure that at every grade level, students

are taught a stress-reduction tool as part of the established

curriculum (see side-bar for some of our favorites). Finally, we

are adding more wellness programs for faculty and staff so that

they have the understanding and tools to role-model positive

mental health and overall wellness.

Helpful Hints:

1) Lower School: Keep it fun and simple. By 4th grade, students can

understand the mind-body connection, noticing their individual

somatic stress symptoms to apply the tools they learned in

previous grade levels to reduce stress.

2) Middle School: Creativity Rules! This age loves hands-on,

experiential learning. Our Seventh Grade Overnight Wellness

Retreat, in the mountains of Virginia, has been a huge success.

Students start the day with chapel, then immerse themselves in

nature with trail hikes, candlelit labyrinth walks, camp fires, and

outdoor mindful group activities, all while totally unplugged

from technology.

3) Upper School: Base mindfulness and stress reduction on scientific

research and incorporate student feedback and representation.

It needs to feel authentic for new wellness programming to be

accepted by Upper School students.

Sidebar: Coping Strategies per Division

Early Lower School: "Beanie Baby Breaths" Place a favorite stuffed

animal on your belly and take deep breaths. Watching the animal

rise and fall refocuses the mind, and deep belly breaths activate

the parasympathetic nervous system.

Later Lower School: Hand Model of "Flipping Your Lid" Students

learn to understand the relationship between the amygdala and

the prefrontal cortex.

Early Middle School: "Gratitude Diagrams" Drawing gratitude

diagrams is an easy way to focus on the positive.

Later Middle School: Make "Breathing Beads" Create a short

keychain-like lanyard, by stringing three beads onto leather

string. Use these breath beads to inspire and guide three deep

breaths when feeling stressed.

Early Upper School: Understanding the Science of Mindfulness.

Students learn how to activate the parasympathetic nervous

system through mindfulness and breathing exercises.

Later Upper School: Planning for college. Each student should be

able to recognize their individual stress symptoms and coping

strategies, know the signs of when additional help is needed, and

understand how to access mental health services.

Twenge, M., Joiner, T., Rogers, M. and Martin, G. Increases in Depressive Symptoms,

Suicide-Related Outcomes, and Suicide Rates Among U.S. Adolescents After 2010 and

Links to Increased New Media Screen Time. Clinical Psychological Science (2017), 1-15.

3

4
---
A Playful, Musical Way To

Health and Well-being

By Colin MacLeod, Celtic Fiddle Guru and Guest Writer

Performance at Good Shepherd Episcopal

School, Richmond, December 2019

Performing at the VAIS Leading Learning

Conference, November 2019

Whilst research has long suggested that listening to classical music

is good for relaxation and your brain, one of the few ways to give

the brain a total workout is to learn a musical instrument.

The purpose of my teaching students through Celtic music, culture,

stories, and my online learn-by-ear programs is to spark that brain

benefit in children. Students of any age can develop self-confidence and

pick up their instrument through the playful journey of learning by ear.

During November 2019, I paid a visit to a private school in

Charlottesville, VA and hosted a series of Celtic Music and Story concerts

to seven audiences over four hours. When I asked how many of the

students played a musical instrument, almost all raised their hands,

shouting out what their instruments were. "Guitar! Violin! Ukulele!"

The resident music teacher invited a number of her first-year

students to participate. The students themselves were amazed

that within twenty minutes, they were playing, walking, and

keeping time with one another on a piece of music they had

never heard before. The look on each face was of delight and

accomplishment. Everyone, including the teachers, was dancing

to the Celtic rhythms and having fun. I marveled at the selfconfidence

of these first-year music students, some of whom

had only been playing their instruments for a month. They

were willing to embrace something new and try it without any

thought of failure. Convincingly, learning a musical instrument

contributed to a sense of satisfaction and self-worth.

I used no sheet music - all learning or playing music was

accomplished by ear! Students had fun on their journey,

cultivating habits of growth and perseverance by trying

something new without fear or judgement of being perfect,

thus fostering a sense of well-being. When students tried

playing by ear, resilience and confidence emerged. Learning

by ear became its own motivation with self-competition

rather than competition among students.

Yes, I am a pied piper, of sorts. Using my violin and believing

in the magic of music, I encourage the practice of playing by ear.

The benefits--confidence, risk-taking, letting-go, and creating

beautiful music--abound. Have I convinced you too?

To contact, Colin MacLeod, reach him at Colin@CelticGURU.com.

5

6
---
Thoughts

Feelings

The Langley School: SEL In Action

By Dr. Sarah Sumwalt, Ph.D., Director of Social & Emotional Learning at The Langley School

At The Langley School in McLean, VA, we know that socialemotional

learning: 1) furthers students' academic

achievement, 2) builds students' resilience, adaptability, and

authenticity, and 3) prepares students to flourish in a diverse

and global environment. As such, we offer a comprehensive

Social and Emotional Learning (SEL) program that works in

tandem with the academic program and Langley's core values to

foster students' emotional intelligence, cultural responsiveness,

and health and wellness. The Langley School's custom-built

SEL program is a three-pronged program that incorporates

foundational knowledge, skills, and strategies to help our

students develop strong skills in emotion awareness and

management, a deep understanding of their own and others'

identities, an appreciation of diversity with a focus on equity

and inclusion, an ability to respond to social injustice, and a solid

foundation in understanding the brain, body, and relationships

in order to make healthy decisions.

The Langley School's SEL program is taught across our school,

which spans preschool through eighth grade. In our Primary and

Lower School divisions, SEL lessons are taught by our teachers

and counseling team and are woven into morning meeting

discussions, curricular lessons, and daily practices. Starting in

Behavior

fifth grade, students participate in a SEL class once per sevenday

cycle, which allows us to more deeply cover topics related

to emotional intelligence, cultural responsiveness, and health

and wellness. As we have built The Langley School's curriculum,

we have relied heavily on research out of the fields of education,

psychology, child development, health, and human development

and sexuality in order to ensure that we are including skills and

knowledge known to predict future success.

As a clinical psychologist, I have utilized my own clinical

background to think about the cognitive, emotional, and

behavioral skills and techniques that we know foster healthy

decision making. For example, in my sixth-grade SEL class, I have

built a unit centered around the cognitive triangle, which visually

depicts the connection between our thoughts, our feelings,

and our behavior. The cognitive triangle, which provides the

framework for Cognitive Behavioral Therapy, is a simple, yet

powerful, tool that is relevant outside of the therapeutic context

given our tendencies as humans to misinterpret and make

assumptions when situations are unclear. Furthermore, the

cognitive triangle provides an important set of tools that allows

individuals to challenge negative thoughts that over time can

lead to feelings of anxiety and depression.

In my sixth-grade SEL class, students first learn how thoughts, feelings, and

behaviors influence one another and how changing one can dramatically change

the consequences of events. Students also learn about a variety of unhelpful

thinking styles, otherwise known as assumptions or misinterpretations, that

often occur following ambiguous situations. Common unhelpful thinking styles

include mind reading (imagining you know what someone else is thinking) and

catastrophizing (imagining the worst case scenario). Students learn about these

various thinking styles and then engage in a variety of role plays to bring them

to life. We also spend time watching video clips from movies such as "Inside Out"

and identifying the presence of unhelpful thinking styles. Then, we learn how to

challenge these types of thinking styles, including examining the evidence and

rating the likelihood of the outcome actually occurring. We practice challenging

thoughts through role plays and additional video clips. Lastly, students practice

reframing their unhelpful thoughts by generating more realistic (and generally

more positive) ones.

I recently sought the reflections of a number of my sixth-grade students

about the cognitive triangle unit. Here is what a few of them had to say:

"This skill could be used if I'm feeling like I'm not good enough or I'm doing the mindreading

thinking error, or any other error. I know how to stop myself from thinking

that way and can redirect my thought process."

"I think that it was really useful to learn about different strategies for reforming

unhelpful thoughts. I think that I will also be able to use that in my daily life."

"I have learned how to get rid of negative thoughts. It helps me focus before tests and

when I have a negative thought, I can get rid of it. When I have a negative thought,

not only can I identify it, I can challenge the thought and it usually goes away."

My hope is that this set of cognitive skills will provide our students with a

healthy framework with which to deal with the abundance of thoughts that

come up during stressful situations, such as taking tests or receiving a lower than

expected grade, as well as when navigating complex social situations and dealing

with conflict.

If you are interested in doing a similar lesson with your middle schoolers,

here are two resources that I've found especially helpful:

Conquer Negative Thinking for Teens: A Workbook To Break The Nine Thought Habits

That Are Holding You Back by Mary Karapetian Alvord and Anne McGrath

The Worry Workbook for Teens: Effective CBT Strategies To Break The Cycle of Worry

& Anxiety by Jamie Micco

7

8
---
Questions of the Soul: Caring

for the Whole Student

By the Rev. Tyler L. Montgomery, Chaplain and Assistant to the Headmaster

for Student Wholeness, Woodberry Forest School

When one of our students has anxiety

or depression, the solutions

that independent schools often provide

are counseling/therapy, drugs, or

a combination of the two. This is a reasonable

response if our lead question

is, "How do we care for sick students?"

What would change if we shifted our

central line of questioning: "Why are so

many more children getting sick?" or

perhaps more important, "Why do we

get sick at all?"

Material problems require material

solutions. For example, the solution

for strep throat is antibiotics. It is also

true that immaterial problems require

immaterial solutions. For example, the

solution for loneliness is connection.

The material and immaterial parts of our

being are wrapped together in one dynamic

bundle, so it would be foolhardy

to separate them; however, there seems

to be a universal human tendency to focus

on material solutions to anxiety and

depression at the expense of their immaterial

components. In the common

mind/body/spirit triptych of the independent

school world, the spirit is often

a distant third place.

I am persuaded that the epidemic

of anxiety and depression coursing

through independent schools is primarily

a crisis of the soul. When a student

has anxiety or depression, we have become

too reliant on drugs and therapy

to "fix the problem," and we have neglected

the underlying and preponderant

spiritual despair that is growing in

our society. If you need evidence of this

spiritual despair in secondary schools,

try asking a group of students, "What

are you looking for?" They will likely be

stymied by the question, so press on

with "Why are you here? Why are you at

school?" An overwhelming body of data

and anecdotal observations suggest

that most students think that they are in

school "to get into a 'good' college." And

why do they want that? "To get a good

job," they might respond. Why is that

important? "I don't know," they might

vacillate, "So that we can make money

and be happy." Try this for yourself to

see where you end up.

The tragic majority of our students

are materialists who have drunk fully

from the only glass of existential purpose

that our overtly materialist society

has placed to their lips: he or she who

dies with the most stuff wins. What does

it mean to be happy? Our independent

school students largely believe that it

means working hard to get into a selective

college to work hard to get a good

job so that they can work hard to earn

enough money to send their children to

an elite school like the one that they are

currently attending. Welcome to the rat

race. Be beautiful. Be powerful. Be rich.

Be famous. That is the default religion of

our society, and we are blind if we cannot

see the power and ubiquity of that

message radiating through the screens

that are now attached to our students'

bodies. It is no wonder that our children

are sick.

At Woodberry Forest, our starting

point for what we call the Wholeness

Initiative has been connection. We believe

that we are hardwired to connect,

both to other people and to existential

visions of meaning and purpose for the

soul. We are trying to look critically at

how to foster authentic connections

between students and between students

and teachers. We are introducing

alternative learning experiences with

the primary goal of building relationships

around a campfire. At the same

time, we are attempting to provide new

avenues for students to engage with

the big questions while strengthening

the traditional sources of existential

purpose like chapel and Bible class. We are investing a large

share of our professional development resources into "relational

learning" with educational expert Michael Reichert because

we believe that our students will learn best when they

are connected to a meaningful relationship. We are trying to

openly challenge materialism, using the chapel's bully pulpit

to expose the charade of college admissions and to offer an

alternative in the example of Jesus. These are small steps, and

we are far from perfect, but we hope that they will guide us

back to a place that is grounded in spiritual health.

I attended a breakfast gathering a few years ago hosted

by the provost of a "top-ten university" according to the great

idol of U.S. News & World Report. He made the statement that,

"X University is no longer in the business of teaching students

what it means to live a good life, and, if we are being honest,

neither are most universities. What we [i.e. selective universities]

do is try to attract the best and the brightest students,

give them almost unlimited resources, and let them figure it

out for themselves." If we accept this testimony, some of the

great centers of learning in our republic have recused themselves

from the most important questions of the human soul:

Who am I, and what is the purpose of my life?

Anxiety and depression abound when the human soul

is starved of connection and a vision of existential purpose.

What are we doing at independent schools to provide an alternative

to the default materialism of our culture? Are we

honest with ourselves about our own complicity in maintaining

the narratives of elitism that benefit our institutions?

Are we intentional about providing a counter-narrative to

materialism that offers our students a vision of the good life

that is not based on wealth, power, beauty, and fame? Do we

make explicit, public claims as an institution about existential

truths, or do we shy away from them for fear of those who

might disagree with us? These are the kinds of questions that

might lead schools towards a place that can feed a student's

soul. The questions that we ask determine the answers that

we receive. It is time for independent schools to ask the big

questions about our current anxiety and depression epidemic.

Our souls are starving for them.

9

10 ision
---
How does one integrate wellness into a school community

and program?

Collegiate School, a JK-12, co-ed independent school based

in Richmond, Virginia, began asking that question in 2005, when

a one-time activity, a Middle School Wellness Day, sparked

interest in helping students thrive beyond the classroom. That

event launched the beginning of the Collegiate student Link It &

Live It wellness program, which emphasizes the importance and

interrelatedness of sleep, healthful eating and physical activity,

and how together, they impact the heart, brain, and body. Middle

School student teams lead the charge by presenting skits during

assemblies, hosting recess activities, and presenting challenges

throughout the school year.

In 2010, Collegiate expanded the Middle School wellness

initiative to a school-wide program for all students and

Creating a Healthier School

Community

By the following Collegiate School faculty members: Sarah Baker, JK-12 School Wellness Chair;

Anne Hogge, Social and Emotional Wellness Chair; Annie Richards, CPAC Committee Chair;

Kathy Wrenn, Physical Wellness Committee Chair and Employee Wellness Coordinator

employees. The current employee program includes step

challenges, nutritionist consultations, lunch and learns, afterschool

fitness classes, and much more. This initiative not only

enables employees to live healthier lives, but also heightens

feelings of community, both within and among school

divisions. (This year, the design of the employee program is

modeled after the book Well Being: The Five Essential Elements

by Tom Rath and Jim Harter.)

As the wellness program has evolved, an important stage in

its development has been the inclusion of wellness as one of the

School's strategic pillars, with a goal of ensuring cohesion and a

sense of unified purpose around wellness initiatives school-wide.

With this in mind, several committees were formed to explore

and facilitate the infusion of wellness habits and programming

into the life of the School and into the curriculum.

The Collegiate School Wellness Committees and

Subcommittees are:

• Social Emotional Wellness Subcommittee (counselors,

academic services personnel, service learning staff, inclusion

committee members, health education faculty, summer

programs faculty, and classroom teachers)

• Physical Wellness Subcommittee (nurses, athletic staff, outdoor

programs faculty, physical education faculty, health education

faculty, and classroom teachers)

• Intellectual Wellness Subcommittee, also known as the

Academic Affairs Council (division heads, assistant division

heads responsible for academics, academic technology

staff, fine arts staff, Director of the Institute for Responsible

Citizenship, and Head of School)

• Collegiate Prevention Advisory Committee, (CPAC) our largest

subcommittee, comprised of key administrators, counselors,

teachers and parents, many of whom are represented on other

committees as well

Each of the subcommittees is chaired, and the four chairs

comprise the School Wellness Steering Committee, which is

overseen by a JK-12 School Wellness Chair.

Additionally, the School appoints Employee Wellness

Ambassadors, representatives from Lower School, Middle School,

Upper School, Athletics, Physical Plant, and the Operational Staff

and Instructional Staff, to make programming decisions discrete

to employees.

The inclusion of parents on the Collegiate Prevention Advisory

Committee represents Collegiate's understanding that parents

and the culture of the home heavily influence student health and

wellbeing. Current wellness efforts have focused on increasing

the home-school connection and informing parents about

research on, or news about, wellness trends important to their

children. While the School routinely equips parents with resources

and information, School leaders recognize that having parents

participate in well-researched and engaging programs and in

open conversation is the means through which real learning will

occur. Recent efforts have included hosting a guest speaker for

parents of 5th-12th Graders who shared positive strategies for

using social media and hosting a panel of community members

whose lives were affected by substance use.

But What About Stress?

It is a rare piece on wellness these days that doesn't mention

stress or its pathological manifestations, including anxiety or

depression. This piece is no exception. Collegiate has been

in the forefront of considering students' stress levels for more

than a decade, when Annie Richards, the School's Upper School

Department Chair of Health and Wellness, contacted colleges

which Collegiate students routinely attended and asked, "What

can we do better to help incoming and current college students

while they are still here under our care?" The answer was clear

across the board: stress management was the number one

concern from our next-level counterparts.

This research led the School to offer mindfulness classes to

its freshmen in 2008, a course of study that is now offered in

various manifestations throughout Collegiate's JK-12 experience,

culminating in an elective in mindfulness open to seniors.

Annie recently contacted colleges and universities again to

lend some longitudinal element to her research, and this time

social media was the number one reported concern. University

professionals shared that students are experiencing emotional

instability surrounding self-comparisons, fears of being excluded,

questions of self-worth, and concomitant anxieties. These findings

have led the Middle and Upper Schools to work hard this year to

implement programming that addresses the ways in which social

media use - which we accept as a given in children's lives - can be

positive, fulfilling, and affirming.

The Importance of Starting Early

The benefit of being a JK-12 school - especially one, like

Collegiate, where students typically come young and stay through

graduation - is that such communities can begin laying the

foundation of wellness as soon as students carry their little tote

bags onto campus. Lower School counselors and teachers begin

the important work of social-emotional learning by incorporating

related lessons and teaching related skills each day.

Every month, school counselors teach JK students and

teachers a new mindfulness practice, and most teachers

incorporate these practices on a daily basis. This learning

continues through 4th Grade in regular counselor- and teacherled

lessons. These lessons are reinforced in small counseling

groups and individual work.

In addition to mindfulness, school counselors and teachers

are laying the groundwork for social-emotional wellness by

introducing lessons and facilitating discussions that help foster

a positive self-concept and the adoption of healthy coping

strategies. So often, school counseling is viewed as a responsive

intervention. Collegiate's counseling staff actively demonstrates

how counseling is essential to the wellness curriculum.

The Work: Not Finished but Very Much in Earnest Begun

Across Collegiate School, faculty and staff recognize that

student wellness is the sine qua non for learning. By teaching

our students the tools for safe and appropriate self-care early, we

strive to empower them to learn, grow, and positively engage

with their community and the world in healthy and resilient

ways. The work is not done, but at Collegiate, it has - very much

in earnest - begun.

11

12
---
13

Growth Mindset and Brain Education:

Equipping Students for Social, Emotional,

and Academic Well-being

As I reflect on the first four months in my new role as school

counselor at Congressional School, students' need for

tools to manage their emotions surrounding stress and worry,

responsibilities, and relationships, has been evident. Our

students, just as other students in public and independent

schools across the country, are capable, creative, and curious,

but find themselves battling thoughts and emotions that

interfere with taking risks and making mistakes, essential parts

of social, emotional, and academic learning and development.

To counter these misunderstandings and fears which

perpetuate feelings of depression, anxiety, and struggles

with self-worth, I began working with our Learning Center

and classroom teachers to create a multi-tiered initiative for

teaching the elements of Carol Dweck's Growth Mindset to

students in Kindergarten to Eighth Grade. This initiative is

focused on learning how the brain functions and develops,

By Rebecca Ginnetti, School Counselor, Congressional School

understanding the zones of emotion, and identifying the

emotional regulation tools for social and academic situations. At

Congressional School, I utilize the American School Counselor

Association (ASCA) model for the delivery of services, which

emphasizes creating and implementing data-driven, multitiered

interventions. I am also collecting formal and informal

data from students, teachers, and parents/caregivers to monitor

and evaluate outcomes and impact.

In our lower grades, Growth Mindset lessons begin in

Kindergarten with learning the differences between having

a "brick" or "fixed" brain vs. a "growth" brain and zones of

regulation. A more intensive curriculum begins in first grade

with eight classroom lessons focused on topics such as zones

of regulation, learning through making mistakes, stretching

and exercising your brain, and how to get "unstuck." Small

group lunch bunch sessions are provided for students who

are identified as needing more support, while individual

sessions are provided as needed. Each student has a growth

mindset journal with worksheets, tools, and spaces for journal

writing. Students utilize their journals when experiencing a

"brick" brain moment and add to their journals throughout

the year. Journals will move with the students through the

elementary grades. Students completed pre-test surveys and

will complete post-test surveys after the last lesson. Students

in grades 2, 3, and 4 also receive classroom Growth Mindset

lessons and small group lunch bunch sessions throughout

the school year. Partnering with parents and caregivers is key.

Through direct email communication, podcasts, and weekly

classroom and community highlights, parents and caregivers

are informed and can reinforce growth mindset language and

concepts at home.

During the middle school years, taking risks and embracing

mistakes become more challenging. Stakes are perceived to be

higher, especially for students applying to high schools, which

is the case for Eighth Grade students at Congressional School.

Finding time in already full middle school schedules has been

challenging. Utilizing student advisory time and collaborating

with advisors who develop a strong rapport with their

students, have been effective avenues for conversations about

understanding stress, worry, brain functions, and emotion

regulation tools. Lunch bunch opportunities for students

to practice recovery tools and restorative practices such as

mindfulness, yoga, and art (which students need after managing

multiple exams or deadlines) offer other ways to provide growth

mindset resources for students. Partnering with teachers when

students are facing lower than expected grades to facilitate

personal reflection of academic and emotional preparation

for exams, learning from mistakes, and reinforcing self-worth

through journal writing and interactive activities, are additional

opportunities I have used to reinforce growth mindset and

redirect negative thought cycles.

Victor Frankl writes, "Between stimulus and response there

is a space. In that space is our power to choose our response. In

our response lies our growth and our freedom." This quote from

A Man's Search for Meaning is a powerful conversation catalyst I

use with Seventh and Eighth Grade students to discuss emotion

regulation and student choices, not only in the academic realm

but also in their relationships. While Growth Mindset lessons

tend to have an academic focus, integrating Growth Mindset

tools (zones of regulation, emotion regulation tools, self-talk,

self-advocacy, and understanding the brain) as emotional and

physical well-being strategies into my classroom lessons, small

group lunch bunch sessions, and individual counseling sessions

helps to develop students self-awareness and self- regulation.

These growth mindset emotion regulation tools are key to

health and sexuality lessons on maintaining emotional wellness

and healthy relationships. With these tools and understandings,

students will be able to assess the severity of a problem or

misunderstanding, determine the level of emotional response,

and identify healthy, productive responses to conflict. Growth

mindset tools also equip students to communicate boundaries

and needs, obtain consent, and resolve misunderstandings and

conflicts with peers in face-to-face or online situations, such as

texting, social media, and other forms of peer communication.

Community commitment to a growth mindset benefits

everyone. I am fortunate to work in a community that believes

in the power of "yet." We are not there yet; Congressional

School's social, emotional, and physical wellness efforts are a

work in progress. I am learning, evaluating, and experimenting

with lessons and resources daily. The "power of yet" inspires

me as a school counselor to continue collaborating with

administrators, educators, and families to take calculated,

educated risks in pursuing ways to promote students' social,

emotional, and physical well-being.

14 ision
---
pictured from top:

Dean of Students, Nicole Brown; Director

of Athletics, Laura Clay; and Director of

Counseling Services, Jenneil Gross-Kriever

Healthy Girls, Healthy Communities

An excerpt of a conversation with Dean of Students, Nicole Brown; Director of Athletics,

Laura Clay; and Director of Counseling Services, Jenneil Gross-Kriever, LCSW at Chatham Hall,

the all-girls boarding and day school in Chatham, Virginia.

Our approach is multi-faceted, including opportunities to grow social,

emotional, spiritual, and physical wellness, as well as to develop financial

and occupational literacy.

junior appeared in my doorway recently and asked to speak with me. "Of course!" I replied

A enthusiastically; yet, I instinctively began scrolling through the topics we would likely be

exploring. Roommate conflict? A relationship upset? Challenges in a class? "What's going on?" I

asked. "Oh, nothing really," she said, settling in on my office couch with a smile. "I just wanted to

ask you how you are doing."

At Chatham Hall, thankfully, tender moments when girls demonstrate authentic kindness

and a desire to connect are a common occurrence. The pillars upon which our school is built

are strong. We speak often of honesty, respect, compassion, and integrity, but the way in which

these values are lived out in real time is due to our commitment to proactively nurture the health

and well-being of every girl. Our approach is multi-faceted, including opportunities to grow social,

emotional, spiritual, and physical wellness, as well as to develop financial and occupational

literacy. We carefully attend to the spaces

where we live and work, recognizing

that environments that foster a sense of

calm are pivotal when considering the

health and wellness of a community.

Richard Weissbourd of the Harvard

Graduate School of Education, recently

spoke at The Association of Boarding

Schools national conference and highlighted

the importance of helping students

grow solid, trusting relationships

anchored by adults. Authentic, nurturing

relationships are at the core of all

strong schools, particularly girl schools;

thus, our programming is relationally

based. We watch the growth unfold over

time, particularly for new students.

At Chatham Hall we are proud to

say that we work as a team to ensure

that every girl creates a web of support

that she can rely upon throughout her

school experience and beyond. The

trusted advisors, peers, student leaders,

teachers, coaches, administrators, parents,

and counselors who comprise this

web will assist her in navigating challenges

or disappointments, and she can

lean on them to celebrate each success

and moment of growth. We believe it is

critical that each girl is able to identify

the people on her unique and growing

web and to continue to construct it over

time. Here, the girls come to see and

hear, from adults and even peers, something

different. They begin to soften and

to trust as they make authentic connections,

laugh, and learn to embrace the

care and support we offer.

As adults, we are constantly evaluating

our programming to ensure that

our approach to health and wellness

is holistic and that we dedicate appropriate

time to this mission. We are

unafraid to model for the girls an ability

to recognize when we could do better,

do more, or do differently as a school

family. We ask questions and work to

answer them honestly. And, carrying

forward, we work to extend the competencies

that girls learn at Chatham Hall

into their college and adult life.

When we tend to the heart and spirit,

alongside the body and brain, we grow

truly empowered young women, poised

to launch into their futures. They are

able to lead and succeed, articulate

their boundaries, advocate for their own

needs, and care for themselves in order

to best care for others and the world.

As we all know, the days are busy;

the hours are short; and there are times

when we must close our doors. Yet it is

so important to leave the doors open,

as often as possible, so that girls can

practice, with the people they trust,

who they want to be in the world. They

will come to sit on your couch, look you

in the eye, and tell you, in their own way,

"Look what my time here has meant to

me! Look at who I have become!"

15 16
---
A Place to Connect

By Libby Addison

There's something new at The Potomac School in McLean this

winter. Nestled in a hillside at one end of the school's 90-

acre campus is the Spangler Center for Athletics and Community

– a 76,500-square-foot facility that opened just before

Thanksgiving. The center's amenities include a gymnasium with

two full-size competition courts; an indoor walking/jogging

track; seven squash courts with spectator seating; a student

lounge area; and a fitness center, strength and conditioning

room, and multipurpose studio, all outfitted with state-of-theart

equipment and technology. As a sports complex, a gathering

place, and more, the Spangler Center promises to be a vital asset

for the health and well-being of the Potomac community.

C.J. Remmo, the school's interim operations manager for

athletics, observes, "Everybody is really excited about this new

building, and I think its facilities are already attracting our

students to healthful choices. In addition to the students who

come here to practice or play their sports, I see students, faculty,

and staff coming to work out or just get in a little exercise – by

taking a few laps around the track, for example. The beauty of

this center is that it offers options for all levels of fitness and

athletic ability, so everyone gets to enjoy it."

If you stop by the Spangler Center after school, you'll

see what C.J. means. On a recent afternoon, the boys varsity

basketball team was warming up for practice in the spacious,

modern gym. The fitness center was buzzing with Intermediate

and Upper School students running on treadmills, pedaling

exercise bikes, and lifting weights. And in the multipurpose

room – a large, airy space with floor-to-ceiling windows that

look out onto the school's wooded nature trails – Potomac's K-8

health coordinator, Gay Brock, was leading a yoga class.

Gay says, "We always start with a vigorous practice, but lately

we've been finishing up with a guided meditation, and students

love that. The sun is setting, the room is quiet, and we all get the

chance to relax. What I try to do with my students is to introduce

a way to slow down and take a step back from the stresses of

everyday life."

Gay also brings these techniques into her health classes,

and other teachers, in all four Potomac divisions, have adopted

some of her methods. She explains, "One technique that a lot of

people here like is called 'square breathing.' I've been using it in

my classes for about seven years; it's a great way to help students

settle down and get focused. In this practice, we inhale for four

seconds, pause at the top of the breath, exhale for a count of

four, and pause again. Students have told me over and over that

learning square breathing has helped them get through the

more stressful parts of their day, whether at school or at home."

There is value, Gay believes, in learning to calm and center

oneself, both inside and outside of the yoga studio.

For students who are interested in yoga but unable to take

a class, the Spangler Center offers an exciting alternative. Its

multipurpose studio is outfitted with Wellbeats virtual fitness

technology – a system that offers more than 400 classes, from

yoga to Pilates to Zumba and beyond, at the touch of a button.

C.J. observes, "At Potomac, physical fitness is part of the curriculum.

In the Lower and Middle Schools, our kids take PE. And in the

Intermediate and Upper Schools, all students participate in athletics.

Everyone can benefit from the lessons that athletics teaches –

teamwork, sportsmanship, leadership, perseverance. And the physical

and emotional rewards of being active are well-documented."

Potomac's Head of School John Kowalik agrees, noting, "As we

developed the plans for this new center, one of our goals was to

ensure that it would be a valuable resource for everyone at Potomac.

We are already seeing that vision come to life in many ways."

John also emphasizes that the Spangler Center supports the

strong sense of community for which The Potomac School is

known. He explains, "We celebrated the building's opening with

a ribbon-cutting as part of our annual Thanksgiving Assembly.

There were nearly 1,500 people present for that event – students

from kindergarten through twelfth grade, faculty and staff,

trustees, parents, and friends – and the gym didn't feel crowded!

We are committed to being a connected community, but before

the Spangler Center, we did not have an indoor space large

enough to comfortably accommodate all-school events. This is

one more important way that this new facility will enhance the

Potomac experience for everyone."

Libby Addison is a member of The Potomac School's Communications staff.

17 18
---
The VAIS Educator Exchange will allow all VAIS educators to connect

with your peers across VAIS to share and get feedback on new ideas

and questions. You are free to join different communities to follow

conversations of interest to you.

Please log-in to the VAIS website (vais.org) and then click the

Educator Exchange button at the top right corner. Your first step

is to update your profile. If you have questions on how to add

or reply to a discussion post, add a library entry or update your

profile, please click on the Help/FAQs link on the gray navigation

bar. If you need help with your log-in, please contact Joan Fargis

at joanfargis@vais.org.

Let's get connected!

CONNECT. COLLABORATE. LEAD.

9100 Arboretum Parkway, Suite 310, Richmond, VA 23236

ph: (804) 282-3592

VAIS.ORG VAIS.org VAIStweets

VAIS Mission: The Virginia Association of Independent Schools is the leader in advancing and advocating for independent school education in Virginia.