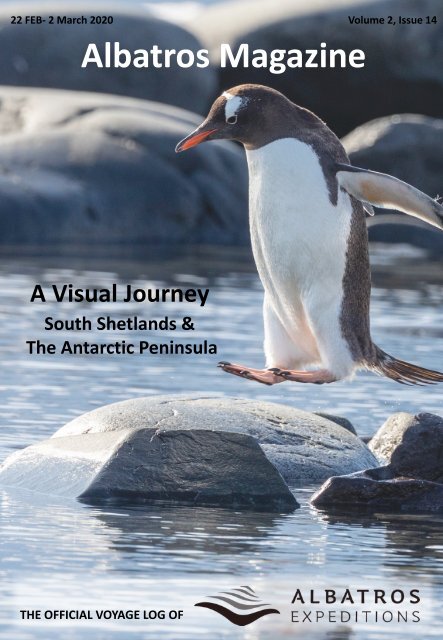 South Shetlands & The Antarctic Peninsula 22 Feb 2020 - 14
You also want an ePaper? Increase the reach of your titles
YUMPU automatically turns print PDFs into web optimized ePapers that Google loves.
22 FEB- 2 March 2020

Volume 2, Issue 14

Albatros Magazine

A Visual Journey

South Shetlands &

The Antarctic Peninsula

THE OFFICIAL VOYAGE LOG OF
---
Albatros Magazine: A Visual Journey

Editor-in-Chief:

Layout & Design:

Amanda Dalsgaard

Gaby Pilson & Shelli Ogilvy

Front Cover Image:

Back Cover Image:

Photography Contributors:

Gentoo Family Shayne Mcguire

Elephant seal Sandra Petrowiz

Sandra Petrowitz

Yuri Choufour

Werner Kruse

Renato Granieri

Gaby Pilson

Shannon Jensen

Shayne Mcguire

Phillip Hunter

Amanda Dalsgaard

22 FEB- 2 March 2020 Volume 2, Issue 14
---
TABLE OF CONTENTS

The Voyage

Meet the Team

Day 1: Southward Bound

The Seven Sisters of Szczecin

An Unlikely Antarctic Explorer

Day 2: Rolling Our Way South

Penguins! Fun Facts for the Antarctic Adventurer

Day 3: Our Our Way to Antarctica!

Ice is Nice – Glacier Fun Facts

Whales: Friendly Giants of the Sea

Day 4: Our First Day in Antarctica

The Geological Structure of the Antarctic Peninsula

Day 5: In the Footsteps of Charcot

When and How the Earth Got Cold

Day 6: The White Continent

Fire in the Antarctic

Day 7: The Final Stop Among the South Shetlands

Day 8: Northward Bound

Antarctica: A Continent for Science

A Brief History of the Zodiac

Day 9: The Beagle Channel

King of the Southern Winds

Day 10: Home Again

By the Numbers

A Final Note

3

4

5

6

7

8

9

10

11

13

14

15

16

18

19

21

22

25

27

29

30

32

33

34

35
---
The Voyage

3

The following map traces the approximate route that the M/V Ocean Atlantic took during

our voyage to Antarctica. You can find more information about our day to day activities,

landings, and excursions on the following pages. We hope that this magazine serves as a

reminder of all of the wonderful memories you made while experiencing the Antarctic with.

o

22 FEB- 2 March 2020

Volume 2, Issue 14
---
4

Shelli Ogilvy

Assistant Expedition

Leader

Samuel Gagnon

Expedition Leader

Barbara Post

Assistant Expedition

Leader

Ted Creek

Zodiac Master

David Reid

Kayak Master

Wan Meng Chieh

Kayak Guide

Isabelle Howells

Equipment Master

Nadine Smith

Shop Manager

Rose Li

Guide

Christophe Gouraud

Lecturer & Guide

Shayne McGuire

Photographer

Amanda Dalsgaard

Lecturer & Guide

Kevin Burke

Lecture & Guide

Ab Steenvoorden

Lecturer & Guide

Lisa Pettenuzzo

Lecturer & Guide

Mariam Pousa

Lecturer & Guide

Christina Langer

First Aid Responder

Marta

Lecturer & Guide

Sanna Kallio

Lecturer & Guide

Chloe Shang

Shop Assistent

Steve Egan

Guest Services

Rashidah Lim

Guide

22 FEB- 2 March 2020

Volume 2, Issue 14
---
5

Day 1 - Southward Bound

22 February 2020 - Embarkation Day

From all over the world, passengers arrived on the

dock in Ushuaia for a 15:00 embarkation onto the

M/V Ocean Atlantic. Our Antarctic expedition was

finally coming to fruition.

The ship's doctor all the guest's by taking body

temperature readings with a small gun shaped

thermometer that he pointed at everyone's

foreheads. It was a funny way to welcome people,

but we were glad for the precautionary measures

with 'Corona-virus' spreading around the world.

One of the expedition guides joked that they were

uploading memories of Antarctica for us and then

going to send us home again! Ha.

After we checked into our rooms and had some

tea, we were given a safety briefing and practiced

an emergency drill. The sound of the seven short

blasts and one long was not to be mistaken. We

gathered at our muster stations for roll call and

learned where the lifeboats are.

We reconvened in the Viking Theatre for a 'meet

and greet' with the ship's Crew and Expedition

Team. Our Expedition Leader, Sam, introduced us

to the Hotel director Oliver, who proudly

introduced his team that would be taking care of

us for the duration of the trip. Following this, was

an introduction of the Expedition Team.

We dinned as the sun set and the glassy Beagle

Channel gave way under us. The farms of the

southernmost residents in South America were

picturesque against the rugged mountains jutting

out seemingly just a stone's throw away on either

side of the narrow channel. The dining room

buzzed with excitement as we exchanged stories

with our new travel companions answering the

question, "…so what made you want to come to

Antarctica?"

After dinner the warm summer air of the

continent, lured us out onto the decks to watch

the albatross, terns and skuas dance in the ship's

wake. What a beautiful evening, and the salty

fresh air so calming; such a grand way to wind

down for bed and get a good sleep. Tomorrow will

be an exciting day on the Drake Passage.

22 FEB- 2 March 2020

Volume 2, Issue 14
---
The Seven Sisters of Szczecin

David MacDonald, Lecturer (Geology) & Expedition Guide

6

M/V Ocean Atlantic was launched in 1986 as the last-built of the 'Shoshtakovich' class of ice-strengthened

passenger vessels, alongside six sister ships, together known as the "Seven Sisters of Szczecin.

Her original name was Konstantin Chernenko

(Константин Черненко), after the President of the

USSR (1984-1985). She was renamed Russ (Русс) in

1989, and spent much of her life working in the Russian

Far East.

She was purchased by Albatros Expeditions and

completely refitted in 2017. She is now a 200-

passenger expedition vessel and is one of the strongest

polar cruise ships afloat. Here are some fun facts about

the "Seven Sisters":

• All seven ships were built by Stocnia Szczecinska

shipyard in Szczecin, Poland between 1979-1986

• Main engines: 4 x Skoda Sulzer 6LZ40 total power

12800 kW, giving a maximum speed of 18 knots

• Most of the class have one bow thruster (736 kW)

and one stern thruster (426 kW); however, two

ships, including ours, built in 1986, have two stern

thrusters, each of 426 kW

• Feature Siemens stabilisers for seaworthiness

• Although built as ferries, they have a strengthened

car deck for transport of tanks

• Two of them had diving chambers

• MV Mikhail Sholokov had hull demagnetising

equipment so it could operate in minefields

• All of these ships have been scrapped except ours

and Konstantin Simonov – now Ocean Endeavour

Our ship has had a complex history:

1986-1987 In Baltic traffic, then Vladivostok to

Japan & S Korea

1989 renamed to Russ

1997-1999 In traffic Stockholm-Riga; 2000

Odessa-Haifa; 2002 back to

Vladivostok transporting cars from

Japan

2007 Sold to Sea Ferry Shipping in Majuro

and renamed 2010 to Atlantic;

renovations in Italy and in traffic

Stockholm-Helsinki-St. Petersburg

during summer and laid up (October

2010) in St Petersburg

2012 Sold to ISP in Miami and renamed to

Ocean Atlantic under Marshall

Islands flag

2013 Used as a hotel ship in the German

bight wind farm project

2015-2017 Laid up in Helsingborg and taken to

Gdansk in Poland, where totally

refitted

2017 Chartered to Quark Expeditions

2017-present Chartered to Albatros Expeditions.

22 FEB- 2 March 2020

Volume 2, Issue 14
---
An Unlikely Antarctic Explorer

Gregers Gjersøe – Snowshoe Master & Expedition Guide

In a suburb of Wellington, New Zealand, the local

cemetery is home to a rather unassuming grave.

The final resting place of Henry "Chippy" McNish,

one of the survivors of Sir Ernest Shackleton's

1914 Endurance Expedition, the grave is also a

memorial to one of the most improbable of

Antarctic explorers.

McNish himself was a carpenter onboard the

Endurance, though he didn't travel alone. During

the expedition, McNish brought along a cat that

followed him around like an overpossessive

wife. Soon enough, the

crew named the cat Mrs. Chippy,

although the expedition quickly

realised that Mrs. Chippy was a

gentleman, not a lady.

Mrs. Chippy was an unusual cat,

though an avid adventurer,

having climbed the Endurance's

rigging lines on several

occasions. Mrs. Chippy also did

some very provocative strolls

across the roofs of the dogs' kennels

and even once fell into the frigid water

below. Thankfully, the crew heard her cries and

quickly turned the ship around so they could

pluck her up from the icy cold waters and get her

to safety.

Also onboard the Endurance was a young man -

Perce Blackborow. Perce had travelled to Buenos

Aires looking for new employment, but wasn't

hired; at 18, his youth and inexperience counted

against him. Somehow, he managed to sneak

aboard the ship, and he hid in a clothing locker

for three days. Eventually, he was discovered,

and Shackleton was furious with him, but was

sent to work in the galley where he became great

friends with Mrs. Chippy.

In January of 1915, the Endurance got trapped in

the Antarctic pack ice. McNish's work prevented

the ship from flooding, but he couldn't do

anything to stop it from being crushed. The ship

was abandoned and, much to McNish's despair,

Shackleton ordered Mrs. Chippy to be shot, as

they couldn't take her on their survival journey.

Now, the group had to make it back to safety. For

months, the expedition drifted through icy

waters until they made it to Elephant Island.

Once at Elephant Island, Shackleton set out

in a 22-foot-long open boat and made

an 800-mile crossing through the

rough waters of the South Atlantic

to South Georgia. McNish was

one of the five men who

accompanied Shackleton,

making improvements to the

boat to make the voyage

possible.

For the next fifteen years, McNish

lived a difficult life in Wellington

before passing away in 1930. He never

forgave Shackleton for shooting Mrs.

Chippy.

Nearly 30 years later, in 1959, the New Zealand

Antarctic Society realised that McNish had been

given a very poor burial in an unmarked grave.

The Society raised funds for a headstone and

even reunited McNish and Mrs. Chippy by adding

a life-sized bronze statue of Mrs. Chippy to the

grave.

Now Karori Cemetery near Wellington is a

pilgrimage site for Antarctic history buffs, who

visit McNish's grave and see Mrs. Chippy

watching over him once again.

7

22 FEB- 2 March 2020

Volume 2, Issue 14
---
Day 2 - Rolling Our Way South

23 February 2020 – Drake Passage South

8

A rocking and rolling sea greeted us for our first

full day together onboard the Ocean Atlantic as

she sailed us southwards toward the promise of a

snowy white continent, lost at the edge of the

known world. A lovely breakfast as the skies

lightened, gave us a nutritious beginning for the

events of the day. It was a relaxed yet

adventurous start as many of us were still finding

our sea legs as our ship lurched challengingly

across the Drake Passage.

@ShayneMcguire

Our ornithologist Ab rolled out an entertaining

introduction to the Seabirds of the Southern

Ocean, surprisingly, given the conditions, to a full

house, providing us a great taste of the

encounters we could look forward to with these

feathered friends who accompany us on our

passage to Antarctica. Interest was high and the

theatre full of curious questions about our winged

companions. Time 'flew' and before we knew it, it

was time for a mandatory IAATO briefing. After

Expedition leader Sam gave us a preview of some

introductory thoughts and perspectives about

Antarctica and how to be a respectful tourist, we

enjoyed a great lunch put on by our consistently

creative galley team, fueling us for an afternoon of

further activities.

After lunch and a siesta for many of us, Amanda

welcomed those up and about to an excellent

overview of the whales we may encounter in the

region, giving us some important understanding of

the lives and ways of these most engaging

creatures of the seas we were entering.

Throughout the afternoon as the sea state

continued, many of us wandered out on the aft

deck to inspect the view of the wild seas, mingled

with our naturalists and other travelers over tea,

or photographed the many wondrous seabirds

that chaperoned our sea journey.

A sweet snack at tea time flowed into an invitation

to join Shayne for her valuable insights and tips on

photographing in Antarctica. Soon enough, a day

of various briefings, social occasions and

educational presentations brought us to our

official welcome to the journey by the Master of

our vessel and our captain Georgii as he toasted to

an expected successful Expedition ahead. This

toast lead us into a delightful evening meal as we

steamed south towards the horizon. Some

gathered after dining for a screening of Frozen

Planet to fuel dreams of the icy realms ahead.

Late in the night, we would cross the Antarctic

Convergence-the gateway into Antarctica's unique

biological zone and would soon consider ourselves

embraced by the great white continent.

@ShayneMcguire

22 FEB- 2 March 2020

Volume 2, Issue 14
---
Penguins! Fun Facts for the Antarctic Adventurer

Gaby Pilson, Hiking Master & Expedition Guide

For many of us, the chance to see penguins waddling around in the snowy vastness of Antarctica is the reason

that we came to the White Continent. These charismatic sea birds are a fan-favourite for visitors to Antarctica,

but even cuddly-looking penguins are incredibly well adapted to one of the harshest environments on Earth.

9

1

2

3

4

5

Depending on what book you read, there are 19

species of penguins. If you count all of the

subspecies, there are 25 total varieties of

penguins in the world, however, there are only

four truly Antarctic species of penguins: the

Adélie, Gentoo, Chinstrap, and Emperor. All of

the other penguins in the world live south of the

equator yet north of Antarctica, with the

exception of one species in the Galapagos whose

range barely crosses into the northern

hemisphere.

The largest penguin to have ever lived was the

now-extinct mega penguin, which weighed some

115 kg. These days, the largest penguin is the

Emperor Penguin, which tips the scales at 23 kg.

Alternatively, the smaller gentoo penguin weighs

just 15 kg.

Although they nest, breed, and socialize on land,

penguins rely on the sea for survival. As

swimming and diving birds, penguins are adept

at fishing and must head to the ocean for their

sustenance. Indeed, the deepest diving bird in

the world is the Emperor Penguin, with a

record-breaking dive of 535 meters!

Penguins are amazing swimmers. They spend

much of their day searching for food in the

ocean, particularly for their favourite meal of

krill, squid, and small fish. The fastest swimming

penguin is the Gentoo, which is known to reach

speeds of upwards of 50 kilometres an hour

while zooming through the water.

Penguins are highly social birds, choosing to

nest in large colonies, where they will also raise

their young. Many penguin chicks, after

hatching stay with their parents for a few weeks

to a few months before forming large "crechés,"

many hundreds of individual teenage penguins

in size.

22 FEB- 2 March 2020

Volume 2, Issue 14
---
Day 3 – On Our Way to Antarctica!

24 February 2020 – Drake Passage South

10

Our second day at sea, and already people were

getting used to the motion of the ship through the

waves and were becoming accustomed to life on

the water. Today, we had a few more tasks to

prepare ourselves for our first landing, including a

briefing on how to safely travel in the zodiacs.

Antarctica is a unique environment with a

sensitive ecosystem, that can easily be disturbed

by visitors. Because of this, we take extra

precautions with the equipment that is taken

onshore to check that it doesn't have any seeds of

vegetation that could cause a nuisance to the local

area. Having made sure our outdoor kit was biosecure,

we piled into the lecture theatre with

plates loaded with tea-time treats and settled in

for Christophe's presentation about penguins.

For many, seeing penguins will be one of the

highlights of visiting the Antarctic Peninsula, and

for good reason. These charismatic critters are so

at home in this hostile environment and that is

thanks to some of the interesting adaptations that

they have. Christophe talked us through some

remarkable facts about their life cycle, their

hunting habits and their breeding and social lives.

The briefing, which explained the plans of our first

landing, and recap was followed by a delicious

dinner in the Vinland Restaurant. That evening,

our fellow guest on board, Kurt, gave a moving

and inspiring talk to a full house, giving us the

opportunity to learn about the charity he is

involved with that provides education, resources

and nourishing meals to children with disabilities.

.

@ShayneMcguire

22 FEB- 2 March 2020

All photos © Sandra Petrowitz

Volume 2, Issue 14
---
Ice is Nice – Glacier Fun Facts

Gaby Pilson, Hiking Master & Expedition Guide

Glaciers have, quite literally, shaped our world. Without glaciers, the rolling hills and wide valleys we know

today would look very different, but it turns out that these icy giants have a much longer and more storied

history than many of us would initially suspect. Here are some of the best fun facts about glaciers:

11

1

Not just anything can be a glacier. In fact, there's

a size requirement that a piece of ice has to

meet to become a glacier. Anything considered a

glacier must be at least 0.1 km 2 (nearly 25 acres)

in area to be worthy of the name. Although

there's a minimum size requirement to be

considered a glacier, there's no upper limit to

glacierhood. The longest glacier on earth is the

Lambert Glacier of Antarctica, which measures

out to some 434 km (270 mi) long. The world's

largest non-polar glacier is the Fedchenko

Glacier of Tajikistan, which measures a

respectable 77km (48mi) long.

© Renato Granieri

2

© Renato Granieri

Glaciers are formed by snowflakes. Although it's

crazy to think that a tiny snowflake can create

something as large as a glacier, without snow,

glaciers would never exist in the first place. To

form a glacier, massive amounts of snow must

accumulate and persist in a single location all

year long for hundreds, if not thousands of

years. During this time, the individual snowflakes

found in the snowpack change in a process

known as snowflake metamorphosis, where

individual ice grains fuse together and get bigger

and air bubbles get smaller. Once the icepack

builds up enough mass to start flowing downhill,

then, voila! We have a glacier.

3

Glaciers are found all over the world, not just in

the polar regions. While the majority of glaciers

and glacial ice is concentrated in high northern

and southern latitudes, glaciers are found even

near the equator, such as on Mount Kilimanjaro

in Tanzania and in the mountains of Ecuador.

That being said, about half of the world's

200,000 glaciers are found in one place: Alaska.

There, glaciers cover a whopping 72,500 km 2

(28,000 mi 2 ) of the US state's total area. That's a

lot of ice.

© Werner Kruse

4

Glaciers are basically really, really, really slow-moving rivers. To be considered a glacier, a large mass of ice

must be physically moving downhill. This movement downhill is driven by gravity and is the main reason

why glaciers also act as major agents of erosion. Since glaciers move downhill, they often remove and

transport large boulders and chunks of rock, depositing them much further downhill then where they

started.

22 FEB- 2 March 2020

Volume 2, Issue 14
---
Drake Passage

Drake Passage

© Sandra Petrowitz © Sandra Petrowitz

Elephant seal

Gentoo chic

© Sandra Petrowitz

© Sandra Petrowitz

Drake Passage

22 FEB- 2 March 2020

Volume 2, Issue 14
---
Whales: Gentle Giants of the Southern Sea

Amanda Dalsgaard – Lecturer (Marine Biology) and Expedition Guide

13

@ P.M.Hunter

When one talks about whales, we must

acknowledge the vast diversity of whales on earth

and the uniqueness of each species. All whales fall

into an order of marine mammals known as

Cetaceans. The scientists who first discovered and

named this order of marine mammals, used the

word cetacean or 'ceatacea' from the Greek

'ketos,' meaning monster.

Long ago, when whales were first scientifically

observed and recorded, people believed they

were monsters, due to their size. Today, we know

much more about the gentle giants that roam our

planet's seas, thanks to a number scientific and

technological advances, our knowledge of these

creatures will only continue to grow.

The order Cetacea is divided into two sub-orders,

Odontocete and Mysticeti. Odontocete, meaning

'toothed-whale', includes all of the whales and

dolphins with teeth. Mysticeti comes from the

Latin root meaning "mustache", and includes all of

the whales that have baleen plates instead of

teeth. It's important to keep these differences in

mind when trying to observe whales from a ship

as this information can help identify cetaceans

from far away.

Interestingly enough, however, toothed whales

have only one blow hole or spout, while baleen

whales have two. Plus, many whales can be

identified from afar using the size and shape of

their spout blow as well. For example, grey whales

tend to have spouts shaped like hearts, while

orcas have low bushy spouts.

Another distinguishing characteristic that sets

these two sub-orders apart is the way that they

communicate. Odontocetes use a method of

communication called echolocation. This is best

described as a series or clicks and precise sounds

that are then reflected back to the animal and

allows the whale to 'see' their environment

through noise. It is the same communication style

used by bats in terrestrial ecosystems. Mysticetes

on the other hand, communicate through a variety

of low-frequency songs. These songs have been

described by scientists as being beautiful,

mysterious and sometimes gloomy, with the males

being the most active singers of the Mysticeti clan.

Regardless of the kind of whale you see however,

any encounter with one of these graceful marine

giants, however brief, is sure to be a memorable

experience for years to come.

Since whales are marine mammals, they must

breath air to survive. They do so by breathing at

the water's surface through their blow holes.

22 FEB- 2 March 2020

Volume 2, Issue 14
---
Day 4 – Our First Day in Antarctica!

25 February 2020 – Damoy Point and Port Lockroy

14

After two full days crossing the Drake Passage, the

bridge officers of the Ocean Atlantic and

passengers alike were glad to at last reach some

calmer waters. Guests were told at the recap the

evening before that early morning, we would be

travelling through the Neumayer Channel –

arguably one of the most scenic and spectacular

channels in all of the peninsula. Shortly after six

am, the early sun was kissing the summits of the

surrounding peaks. The tallest mountain on the

peninsula could just be seen with a pink sunny

summit. Rising to 2826m high, Mount Francais is

often shrouded in cloud and obscured from view.

Those out on deck early were treated to an

amazing morning.

@ShayneMcguire

@ShayneMcguire

Today was also the first chance for the kayaking

program participants to acquaint themselves with

their kayaks and explore the waters and ice in

Dorian Bay near Damoy Point and Jougla Point

near the entrance to Peltier Channel. The weather

was spectacular and by lunchtime everyone had

forgotten about the 'spicy' Drake Passage crossing.

During lunch, the Ocean Atlantic re-positioned to

Port Lockroy. The incredible weather stayed with

us as the guests split between visiting the restored

buildings of the early British scientific station on

Goudier Island and embarking on a scenic zodiac

cruise.

The first excursion of the day was at a place called

Damoy Point. A well maintained hut on shore is of

keen interest for anyone visiting. This area was

used as a staging post for the British Antarctic

Survey. On the ice shelf nearby, there is a runway

from which scientists could be flown south to

Rothera Station and beyond without waiting for

the sea ice to clear. A colony of Gentoo penguins

were the first animals seen by many of the happy

guests on board.

@ShayneMcguire

22 FEB- 2 March 2020

@ShayneMcguire

Today, the Bransfield House is used as a museum,

gift shop and post office. When the base was

established. Goudier Island was attached to

nearby Wiencke Island by a glacier, but this has

since retreated sufficiently for the island now to

stand alone in the harbour. A quick but thorough

re-cap featured Sam, Isabelle, Sanna and Ab

before the dinner bell sounded and the dining

room became a boisterous and noisy gathering of

very happy guests and expedition staff. Without

doubt, a spectacular first day in Antarctica!

Volume 2, Issue 14
---
The Geological Structure of the Antarctic Peninsula

David Macdonald, Lecturer (Geology) & Expedition Guide

This cartoon shows what the Antarctic Peninsula looked like 100 million years ago (mya). The main points to

note are:

• The peninsula was a continuation of the Andes. They were connected until 35 mya

• The peninsula was a volcanic arc from about 200 mya3 until about 25 mya

• Volcanism ended 50 mya in the south and 20 mya off Brabant Island

• Only the South Shetlands Islands have any volcanic activity now

15

There are three main geological domains, each formed of multiple rock units:

1. The basement domain (grey and brown colours) contains sediments scraped off the ocean floor which were

changed by heat and pressure (metamorphosed) in the subduction zone and during folding and

deformation. These metamorphic rocks span a wide range of ages from 299-65 mya. They tend to be older

on the east coast of the peninsula. These rocks are best seen in Paradise Harbour, at the shag colony near

Brown Station.

2. The igneous domain contains rocks crystallised from magma. This includes both plutonic rocks (where the

magma crystallised slowly within the earth's crust) and volcanic rocks (where the magma was erupted as

lava and ash). Again, the rocks span a wide range of ages from about 210-25 mya, and the younger rocks

tend to be in the west. These are the commonest rocks seen in the Peninsula and are well displayed in the

South Shetland Islands (e.g. Half Moon Island, or Yankee Harbour) or on the peninsula (e.g. Cuverville

Island). Plutonic rocks form Goudier Island at Port Lockroy.

3. The sedimentary domain contains rocks eroded from the volcanic arc and deposited in sedimentary basins,

either on the eastern, Weddell Sea side (in a very large structure called the Larsen Basin), or in smaller

basins to the west (the largest of which is the Fossil Bluff Basin on Alexander Island). Sedimentary rocks are

not seen on most peninsula cruises (unless they visit the area of James Ross Island), although there are

sedimentary rocks with abundant fossils interbedded with volcanic rocks west of Hannah Point, in Walker

Bay.

22 FEB- 2 March 2020

Volume 2, Issue 14
---
Day 5 – In the Footsteps of Charcot

26 February 2020 – Peterman Island and Port Charcot

16

It was an especially early wake up call for an

especially exceptional view. At 6:00 am we rose to

Sam's voice on the loudspeaker announcing our

transit through the Lemaire Channel. World

famous, and for good reason, this was not an

event to be missed for a bit more sleep, so we

bounced out of bed for a viewing on the bow.

With a few high clouds to offset the orange sky

and the sun rising behind the mountains, we

threaded the needle through the narrow channel.

A rainbow appeared, backdropped by the charcoal

clouds; we couldn't have asked for a more

beautiful morning.

At lunch there was a barbecue on the back deck

that trumped all other barbeques! What can beat

the sweet smells of summer picnics to be eaten

whilst cruising amongst icebergs?

@ Amanda Dalsgaard

Breakfast was at the usual 7-8 am slot and we

quickly got ready for the morning's excursion at

Petermann Island. As we approached the shore,

we could see a cross to the left along the beach

commemorating three British researchers that had

perished crossing the sea ice. On the shore, the

red flags led us to a fork in the path with a high

viewpoint over an iceberg-filled bay to the left and

to the right we met our first Adelle colony. Ab was

there to tell us the differences © Sandra Petrowitz between the Adelle

and Gentoo penguins.

@ShayneMcguire

@ShayneMcguire

The afternoon excursion was a landing at Port

Charcot and a cruise through Pleneau Bay- an

iceberg graveyard, where "icebergs go to die". On

our walk as we crested over the sun cupped

snowfield to the iceberg laden bay at the back, we

came upon many penguins that had been ravaged.

The mystery was, why were they killed and not

eaten?. A mad fur seal was the suspect as they are

the only kind of seal that could move fast enough

to impose such damage on a colony. It was a sad

sight and a disturbing part of nature to witness.

The zodiac cruise amongst the icebergs in Pleneau

Bay was an antithetical contrast with a magical

meander amongst the crystalline shapes melting

out from the large blocks that not long ago were

stranded on the shallow ocean floor.

At 18:00 we had another chance to cross the

Lemaire Channel and this time in the evening light.

We had a group picture taken on the bow of the

ship by Shayne; it will be great to remember all

our new friends that we met on this journey.

The evening ended with Rose's entertaining

banter over a bingo game and her all too

memorable cue to ring out an emphatic "WOW"

whenever mock amazement is required. For the

duration of the trip, the occasional "WOW" could

be heard ringing out from the dinner tables.

Another amazing day in Antarctica and fun was

enjoyed by all.

22 FEB- 2 March 2020

Volume 2, Issue 14
---
Paradise Harbour

Paradise

Harbour

Chinstrap penguins

Paradise Harbour

Neko Harbour

22 FEB- 2 March 2020

All photos © Sandra Petrowltz

Volume 2, Issue 14
---
When and How the Earth Got Cold

David Macdonald, Lecturer (Geology) & Expedition Guide

The Earth's climate has two end-member states:

greenhouse and icehouse. In a greenhouse climate,

there are no polar icecaps (although there may be

valley glaciers in high mountain areas) – the climate of

the Cretaceous Period (144-65 million years ago) is a

typical greenhouse. We are currently in an icehouse

climate, since there are icecaps at or near both poles.

Although life on Earth goes back 3.5 billion years, the

main expansion in numbers of species and hence of

easily found fossils occurred 540 million years ago.

During the time from then until now, greenhouse

climates have dominated, with three periods of

icehouse climate, lasting a total of about 100 million

years. Our current icehouse period began abruptly 35

million years ago, with formation of an icecap in

Antarctica. Why did it happen then, and why did it have

such an abrupt beginning?

Water temperature (°C)

Antarctic convergence

October 2019

8

6

4

2

0

54 56 58 60 62 64

Latitude (°S)

18

Figure 2: Temperatures in the Drake Passage from Friday 25

October to Sunday 27 October 2019 as Ocean Atlantic sailed south

across the Antarctic Convergence, where the sea temperature falls

below 4°C.

It was the severing of the link between the Antarctic

Peninsula and Tierra del Fuego that allowed deep cold

water to circulate around the planet at 50-60°S and

thermally isolate Antarctica from the rest of the world.

This situation continues today (Figure 1)

The key area for this was the Drake Passage, which is

the western end of the Scotia Sea (Figure 3). Geological

and geophysical studies of the sea floor show that the

Antarctica-South America link was severed by the

growth of ocean crust, beginning 35 million years ago.

Opening of this deep-water gateway cooled the planet

and turned Antarctica into the white continent.

Figure 1: Thermal structure of the Southern Ocean showing the

position of the Antarctic Convergence (Polar Front) at the junction

of the dark blue and mid blue shading. This is the line of the 4°C

isotherm, where Antarctic surface water plunges below cold

temperate water.

The first, and most important factor was that we had a

polar continent. Antarctica was in roughly its present

position over the South Pole, so would have had

strongly differentiated winters and summers. However,

although the former supercontinent of Gondwana had

largely broken up by then, there was still a land bridge

to South America and Antarctica was still forested,

probably with a migratory fauna. Warm currents bathed

Antarctica's shores and, 35 million years ago, the

temperature of the Southern Ocean was a relatively

mild 6°C.

22 FEB- 2 March 2020

Figure 3: The Drake Passage and the Scotia Sea formed from 50

million years ago, when there was slow extension between South

America and the Antarctic Peninsula which stretched the crust and

allowed surface waters to circulate through this former land

bridge. The temperature of the southern Ocean fell from 12°C to

6°C between 50-35 million years ago, then abruptly fell to 0°C

when the deep water gateway of the scotia Sea opened, sundering

the link between Antarctica and South America and allowing

continuous circulation of deep water, thermally isolating

Antarctica.

Volume 2, Issue 14
---
Day 6- The White Continent

27 February 2020 – Paradise Bay and Neko Harbour

19

Waking up knowing that today is the day that we

would land on the Antarctic mainland, we checked

outside of our windows with baited breath to check

if the weather would hold. The luck we have had so

far held strong, and the surface of the water was

mirror calm apart from the ripples left from the ship.

@ShayneMcguire

We sailed into Paradise Harbour and away onto the

zodiacs with the standard full split of half the group

on land and the other half zodiac cruising. This was

with the exception of the kayakers who were

enjoying their forth outing of the voyage.

On the zodiacs, we travelled around the rocky

cliffs covered in beautiful lichens and algae to a

Blue-eyed shag colony with many chicks just

starting to leave their nests and settling on ice

bergs all around. We proceeded into Skontorp

Cove where we had views of the incredible glacier

fronts and witnessed first-hand the power of the

polar icecap through various calving events.

The afternoon brought us another Humpback

whale on our way to Neko Harbour. We took a

narrow channel sailing past the colourfully painted

Chilean base Gonzalez Videla, on our way towards

our afternoon location. At this point, we no longer

believe the expedition team and their dire

warnings that Antarctic weather can be bad as we

can see for miles across this perfect bay. Landing

on a gravel beach we are spoilt with a larger

colony of gentoos either rearing their fluffy chicks

or else trying to conserve energy as they moult

away their last years feathers. Another viewpoint

and some relaxing peace and quiet.

@AmandaDalsgaard

@ShayneMcguire

At the landing site, a set of stairs lead us up and

through the Argentinian 'Brown Station', where a

small colony of Gentoo penguins resided and the

expedition team organised a route up to a stunning

viewpoint. Everywhere we looked there were

glaciers, ice and mountains, perfectly reflected in the

mirror that the sea has become. Meanwhile, the

staff told stories of the peculiar situation of the

bases doctor having burned it down after a long year

away from his love.

On the water as well as the normal icebergs the

harbour seems to be filled with tiny wilsons storm

petrels dancing on the surface of the water picking

up tiny krill as they go in a pure masterclass in

precision. To top it off a mother and calf

humpback whale.

Once everyone was back on-board, the outdoor

activities were not quite finished yet Polar plunge

began, and 78 of us having apparently lost our

minds in the sun, deciding to jump from our warm

ship into the icy water.

22 FEB- 2 March 2020

Volume 2, Issue 14
---
Port Charcot

@Sandra Petrowitz

Gentoo Chics

@Sandra Petrowitz

@Sandra Petrowitz

Humpback

Crabeater Seal

© Sandra Petrowitz

@ShayneMcguire

@Sandra Petrowitz

Port Charcot

22 FEB- 2 March 2020

Volume 2, Issue 14

@Sandra Petrowitz
---
Fire in the Antarctic

Gregers Gjersøe, Snowshoe Master & Expedition Guide

Fire is one of the greatest threats in Antarctica thanks to

the region's very dry climate, frequent strong winds,

and nearly complete lack of liquid freshwater. Due to

the continent's isolation with and little possibility of

rescue for weeks or months, a fire in the Antarctic is a

potentially very disastrous event.

Although it is covered in snow and ice, the cold

temperatures of Antarctica make the White Continent

very dry. As it is one of the windiest places on Earth,

there is almost always a strong wind blowing much of

the time, more than strong enough to fan any flames.

As the temperatures across the whole continent of

Antarctica is averaging below freezing, there is unlikely

to be very much liquid water to fight fires. So, the

response to fire is usually to make sure everyone is out

of danger and safe and then stand back and watch it

burn itself out.

Bases in Antarctica are often designed to survive fires

because they are made up of a number of separate

buildings, each with a significant distance between

them. Many bases have emergency supplies stored in a

hut near the base but well away. In these huts, there

are often enough supplies and ample shelter for the

base's crew to be able to survive a fire or emergency

until help can arrive.

The Argentine Antarctic base and scientific research

station, "Brown Station," is named after Admiral

William Brown, the father of the Argentine Navy.

21

Located on the Sanaviron Peninsula along Paradise

Harbour's Danco Coast, from 1951 to 1984 it served as

a permanent research base, though, since then, it is

open only during the summer season.

During its heyday, the station was home to one of the

most complete biology laboratories on the Antarctic

Peninsula, featuring a main house, as well as an

additional building exclusively for scientific research.

This building was equipped with three labs, a

photography workshop, an emergency radio station, an

office and a library.

Unfortunately, Brown Station's original facilities were

burned down by the station's doctor on 12 April 1984

after he was ordered to stay on for yet another winter,

despite the original terms of his contract and his desire

to see his fiancé once again. As you can imagine, the

stress of Antarctica's harsh winter conditions can take

its toll on residents and explorers of the region, driving

them to take extreme measures to get back home.

The doctor simply couldn't bear to stay on for another

winter and he couldn't stand the isolation as the days

drew darker. His solution? To force an evacuation of

himself and his colleagues in the only way plausible

manner: by burning the station down.

After the fire, the station's personnel were rescued by

the USS Hero and taken to United States' Palmer

Station. Argentina later rebuilt the base, but it is now

only occupied during the summer months. The station's

doctor was sent to prison for arson and his fiancé

decided to call off the engagement.

© Werner Kruse

22 FEB- 2 March 2020

Volume 2, Issue 14
---
Day 7- The Final Stop Among the South Shetlands

28 February 2020 – Halfmoon Island and Whalers Bay

22

On our last day of excursions, we were starting to get

used to our routine: an early morning wake up, zodiac

embarkation, landings, and recap, but all of that could

not prepare us for the excitement that the day ahead

would bring. Although we have had very warm

weather in the previous days, today, true Antarctic

conditions appeared with snow and cold ocean wind

on our faces.

Signs of the explosive history of this volcanic caldera

tinge the ice and earth here, giving the landscape a

dark, ashy complexion. Deception Island has a long

human history as well. The harbour was first used by

British and American sealers who used Deception as a

hunting base for fur seals. Over the years the

populations of fur seals were disseminated in the

South Shetland Islands and the sealers moved to new

areas. They were then replaced by the whalers who

arrived in the early 1900's. Like the sealers, the

whalers used the bay as safe and protected place to

process their catch. By 1912, the Norwegian Hektor

Whaling Company established a permanent land

station to process the whale carcasses more

efficiently. Once whale oil lost its value in the market

place, the whaling station shut-down and was

abandoned in 1931.

@ShayneMcguire

The day began at Halfmoon Island, which is

predominantly inhabited by chinstrap penguins,

forming several colonies throughout the crescentshaped

land. The chicks present were grown and

molting, showing a very fun, slightly awkward, 'hairstyle'.

We watched as their parents comically popped

onto the rocky shore as they came back to their

colony after feeding out at sea.

Those who were not on land, enjoyed a short Zodiac

cruise around the scenic coastline. The brief

appearance of a shy Minke Whale made us smile,

while we also got the chance to observe some

friendly fur seals pups jumping in and out of the

water.

After a beautiful morning, we embarked back onto

the Ocean Atlantic and sailed along the northern

edge of the Bransfield Strait towards Deception

Island. Onboard, after enjoying another fabulous

lunch in the Vinland Restaurant, many people headed

to the outer decks to experience the dramatic

Neptune's Bellows- the entrance way to the active

caldera and Deception Island.

@ShayneMcguire

The caldera was particularly rich with life this

afternoon – a marked juxtaposition to the skeletons

of the old Norwegian whaling station rusting on

shore. We also roamed the shores of Deception

Island, dwarfed by the landscape surrounding us; In

awe of the history that had come and gone.

Upon arrival, the initial wind and the swell in the

waters of the Whalers Bay caused some concern, but

our experienced Zodiac drivers felt confident in their

ability to handle the conditions. Luckily enough, the

wind and the swell more or less abated, and we

enjoyed a stunning cruise with a bright sunset over

the caldera's ridge. We spotted a handful of cheeky

chinstrap penguins walking very close to the fur seals,

while some blue eyed shags watched us from the

cliffs inside the bay before we wrapped up the

afternoon and headed back to the ship.

22 FEB- 2 March 2020

Volume 2, Issue 14
---
Molting Chinstrap

Neptune's Bellows

23

@ShayneMcguire

Half-moon Island

@ShayneMcguire

@ShayneMcguire

Blue-eyed shags

@ShayneMcguire

22 FEB- 2 March 2020

Volume 2, Issue 14
---
Detaille Provisions

Deception Island

Base ¨W¨

@ShayneMcguire

Gentoo

Neumayer Channel

@ShayneMcguire

Leopard Seal

22 FEB- 2 March 2020

@ShayneMcguire

@ShayneMcguire

Volume 2, Issue 14
---
Day 8- Northward Bound

29 Februrary 2020 – Drakes Passage, At Sea

25

Our first day at sea on our way back to Ushuaia

started with the well-known wake-up call by Sam

at 7:45 am. With light winds and a cloudy sky, it

seemed to be a relatively calm day on the Drake

Passage. Breakfast was followed by an informative

lecture by Sanna about the physical natural history

of Antarctica. Sanna shared her knowledge of ice,

rocks and Antarctic glaciers with us all.

@AmandaDalsgaard

Following the lecture, our stretching master and

dance teacher Rashida, offered an invigorating

stretch class in the Bistro. The class was just what

we needed after over a week of enjoying tasty

food prepared by our talented chefs onboard.

Roughly thirty of us left with a big smile and a 45-

minute workout completed.

In the afternoon, Amanda invited us back into the

Viking Theater to learn all about the six different

types of seals that are found in the Southern

Ocean. And before we knew it, it was the most

important time of day again- teatime! The galley

team served a beautiful assortment of cakes,

sandwiches and even ice cream Sundays!

@AmandaDalsgaard

Our daily recap followed and was rather intriguing.

First, Sam told us the story of the Ocean Atlantic

and it´s turbulent history. Being built in Russia in

1986 and launched in 1987, the ship has travelled

as far as the Eastern coast of Russia, where it

served as a ferry to and from Japan. The story

behind cabin no 502 was interesting as well. In the

year 2000, soon after the Russian election,

Vladimir Putin took the Ocean Atlantic on a oneweek

holiday together with his wife and his two

daughters. In 2017, Albatros Expeditions started

running trips on the OA to Antarctica and around

the Arctic regions.

Following the ship's history, Christoph made us all

laugh during his amusing recap about penguin

poop and the pressure behind the action. Ab, one

of our birders on board, emphasized the

impressive wingspan of the seabirds we have seen

during our trip. To help us visualize the size of

these birds, he used a rope stretched across the

room to exemplify the wingspans of these birds

and left us speechless after seeing the wingspan of

a wandering Albatross. The largest flying bird on

our planet with a wingspan of 3.5 meters!

@AmandaDalsgaard

Shelli wrapped up the recap by revealing the

secrets held within the big, red waterproof bags

that went ashore for every landing. In case of a

rapid weather change where it would be

impossible to get back to the ship, the bags

contain emergency equipment such as food,

emergency blankets and bothy bags (similar to a

parachute that turns into a tent), water bottles

and toilet paper. After dinner, Karaoke provided

all onboard with another successful and

entertaining evening event in the Viking Theatre.

22 FEB- 2 March 2020

Volume 2, Issue 14
---
Gentoo & Adelie

@AmandaDalsgaard

Fur Seal

@SandraPetrowitz

Humpbacks

@SandraPetrowitz

@AmandaDalsgaard

Lemaire Channel

22 FEB- 2 March 2020

Volume 2, Issue 14
---
Antarctica: A Continent for Science

David Macdonald, Lecturer (Geology) & Expedition Guide

Until the advent of mass tourism, Antarctica's tagline was: "A continent for science".

Antarctica affects the rest of the world in a variety of

ways, so "Antarctic Science" should really be "Global

science that happens in Antarctica". Although many

early expeditions were purely geographical in scope,

there were some important scientific expeditions in the

late 19 th to early 20 th centuries. In this "Golden Age" of

exploration, there were many scientific contributions

from Antarctica which changed our view of the earth's

evolution and environment.

27

As a result of these organisations and better logistics,

the rate of scientific discovery soared, and new polarspecific

studies proliferated. Some highlights include:

• 1957-58: The International Geophysical Year (IGY)

was an 18-month collaboration between 67

countries. Antarctica was the focus, with 12 nations

participating. Many new scientific stations were

created and the IGY was a resounding success as it

led directly to the Antarctic Treaty

Indeed, three expeditions brought back proof that

Antarctica once had a warm climate. Scott's first

expedition (1901-1904) found coal from 250 million

years ago in the Transantarctic Mountains;

Nordenskjӧld's Swedish Antarctic Expedition found

warm-water fossils on James Ross Island; and the Scotia

Expedition under Bruce (1902-1904) dredged

fossiliferous 500 million-year-old limestone from the

Weddell Sea. Scott's second expedition (1910-1913)

found fossil leaves(Glossopteris) in the Transantarctic

Mountains. These fossils belong to an extinct order of

seed ferns from 299-252 million years ago, only found

in the southern hemisphere continents and India. They

were used by Wegener in 1924 in his work on

continental drift to reconstruct the former

supercontinent of Gondwana.

In the years after the First World War, the focus

changed from individual expeditions to national

pursuits, such as the British Discovery Investigations –

the first permanent oceanographic body in the world.

During 33 years (1918–51) of pioneering work, the

research ships collected an enormous amount of

oceanographic, biological, and geographical data.

Among the results of the investigations was the

discovery of both the Mid-Atlantic Ridge and the

Antarctic Convergence - the natural boundary of

Antarctica.

By the end of the Second World War, the move to

create national organisations was complete, with the

formation of the Falkland Islands Dependencies Survey

(now British Antarctic Survey), the Australian National

Research Expeditions) and other civilian operations

(France, New Zealand, South Africa, etc).

• 1959-1996: The discovery and delineation of

subglacial Lake Vostok is a great example of scientific

cooperation. Lab studies showed that ice under very

high pressure reverts to water and in 1964, seismic

soundings from Vostok Station were used to

measure the thickness of the ice sheet. This

suggested the existence of a subglacial lake. British

airborne ice-penetrating radar in the 1970s detected

unusual radar readings, suggesting a freshwater lake

below the ice. In 1991, a radar satellite revealed

that this subglacial water body is one of the world's

largest lakes. We now know that there are at least

140 subglacial lakes in Antarctica.

• 1980-present: The US-funded collection and curation

of Antarctic meteorites has recovered about 22,000

meteorites from Antarctica (about 75% of all known

meteorites worldwide). There are samples from the

Moon, Mars, and asteroids.

• 1985: In hole in the ozone layer over Antarctica was

discovered from ground-based instruments at Halley

Bay and Faraday (British Antarctic Survey).

• 1986: Research at McMurdo Station, the main U.S.

scientific station in Antarctica, established that

chlorofluorocarbons (CFCs) as the probable cause of

the Antarctic ozone hole (US NSF). These two bits of

work lead to signing of the Madrid Protocol on 1987,

banning CFCs.

22 FEB- 2 March 2020

Volume 2, Issue 14
---
Whalers Bay

Whalers Bay

@SandraPetrowitz

@SandraPetrowitz

Gentoos

Elephant Seal

@SandraPetrowitz

@SandraPetrowitz

Neptunes Bellows

@AmandaDalsgaard

22 FEB- 2 March 2020

Volume 2, Issue 14
---
A Brief History of the Zodiac

Steve Traynor, Zodiac Master

In expedition cruising, the most important tool we use is the Zodiac inflatable boat. These manoeuvrable,

reliable, robust vessels are the workhorse of the expedition cruise industry, from the north of Svalbard to

the southern end of the Antarctic Peninsula. They have a long history – as you can see from the stages

below, many different inventions needed to come together to create the craft we use today.

1838 Charles Goodyear (USA) discovered the process for vulcanising rubber (a US patent was granted

in 1844) – this process is used for hardening and strengthening rubber.

1843 Goodyear's process was stolen by Thomas Hancock (UK) using the process of reverse

engineering; less controversially, Hancock invented the "masticator" – a machine for re-using

rubber scraps – this made the rubber industry much more efficient.

1845 The first successful inflatable boat (Halkett boat) was designed by Lieutenant Peter Halkett

(UK), specifically for Arctic operations. Halkett Boats were used by the Orcadian explorer, John

Rae, in his successful expedition to discover the fate of the Franklin Expedition.

1866 Four men made the first crossing of the Atlantic Ocean from New York to Britain on a threetube

inflatable raft.

1896 The original Zodiac company was founded by Maurice Mallet (France) to produce airships.

1909 The first outboard motor was invented by Ole Evinrude in Milwaukee, Wisconsin.

1912 The loss of the Titanic and subsequent shipping losses during World War 1 proved the need for

inflatable rafts for use as supplementary lifeboats.

1919 RFD firm (UK) and the Zodiac company (France) started building inflatable boats.

1934 The airship company, Zodiac, invented the inflatable kayak and catamaran

1942 The Marine Raiders – an elite unit of the US Marine Corps – used inflatable boats to carry out

raids and landings in the Pacific theatre.

1950 Alain Bombard first combined the outboard engine, a rigid floor and an inflatable boat (built by

the Zodiac company).

1952 Alain Bombard crossed the Atlantic Ocean with his inflatable; after this, his good friend, the

famous diver Jacques-Yves Cousteau, started using them.

1960 Zodiac licensed production to a dozen companies in other countries because of their lack of

manufacturing capacity in France.

29

22 FEB- 2 March 2020

Volume 2, Issue 14
---
Day 9- The Beagle Channel

1 March 2020 – Drake Passage

We enjoyed a nice chance to sleep-in until 7:45

am. The Drake was much more lively this morning

with long rolling swells rolling us back and forth in

our beds, and once upright we often were walking

at an angle to keep balance.

In the morning Expedition team member Lisa, held

a presentation on the details of the Antarctic

Treaty. Throughout the morning the birders were

our on deck hoping to get a glimpse of more

albatrosses, however conditions were a bit

challenging, nice to get some fresh air though.

In the afternoon the kayakers had a debrief of

their great adventures gliding along the surface of

the sea, dipping their paddles left and right. Such a

surreal experience to be fulling immerged in the

ocean of Antarctica, so close and personal. They

shared photos and experiences together, all put

together 22 individuals had the chance to explore

the icy waters of Antarctica.

In the late afternoon we had a slideshow of all of

Sandra's photos from the expedition. Such a

talented photographer; she really captured all our

experiences in crystal clear stillness for us to

remember forever.

The charity raffle was fun and managed to raise a

beneficial sum for the important charities we have

learned about.

The evening events were literally 'capped' off with

a toast from our Captain, a farewell to the hotel

team, and a cast back of the recaps of all recaps

with Sam walking us through the nine last amazing

days of our lives.

The Captain's dinner was our last "festival" for the

trip and our last grand display and consumption of

chocolate as well as to enjoy our new friends

made on the ship. Tomorrow we will be saying

good-bye, and hopefully in the future a new hello

again.

30

© Sandra Petrowitz

22 FEB- 2 March 2020

Volume 2, Issue 14
---
Ushuaia

© Sandra Petrowitz

© Sandra Petrowitz

Cape Petrel

© Renato Granieri

Drake Passage

@AmandaDalsgaard

© Sandra Petrowitz

© Sandra Petrowitz

Humpback Whales

@AmandaDalsgaard

@ShayneMcguire

22 FEB- 2 March 2020

© Sandra Petrowitz

Volume 2, Issue 14
---
King of the Southern Winds

Sandra Ophorst, Lecturer & Expedition Guide

32

The wandering albatross is an impressive bird with the

world's largest wingspan of up to 3.5 meters in length

and a weight of up to 11 kilograms. Unfortunately, the

number of wandering albatrosses is rapidly declining

with only 20,100 individuals left as of October 2019

(Red List, World Conservation Union)

The wandering albatross is rarely seen on land and

gathers only to breed, at which time it forms large

colonies on remote islands, such as South Georgia. The

female lays a single white egg and both sexes share

incubation, which lasts about 60 to 80 days. Both sexes

feed the youngster by regurgitating food, a process

that can continue for up to nine months.

The nesting cycle of wandering albatrosses is so long,

they can't complete it in one year. So, they nest every

other year. When young albatrosses become

independent and leave their nest site, they begin a

multi-year foray on the open ocean and will not return

to land until they are old enough to breed. This can

take up to 10 years of their 50 year average lifespan.

The wandering albatross is famous for its dynamic

flight. They turn into the wind to gain height, then glide

back down to the sea to gain speed. Sometimes they

glide for hours without rest or even a single flap of

their wings. Indeed, this principle was used to design

airplanes, especially gliders that have albatross-like

wings.

As a result of these wings, however, an albatross'

landing process often looks a bit comical as their

narrow wings do not allow for a slow approach. So,

they often land on their feet and then tumble forward

and slide on their bellies. The biggest threats to the

wandering albatross are pollution and large-scale

commercial tuna fisheries. These tuna fishing boats are

equipped with up to 20,000 fish baited hooks and

these lines can be up to 100km long.

Unfortunately, these fishing lines often attract

albatrosses get caught up on the hooks and drown as

they are cast out at sea. Organisations such as Hookpod

are trying to save the albatrosses from the dangers of

long line fishing vessels by providing fishing boats with

"hookpods" that cover the barb and point of the hook

during setting, reducing the likelihood of an albatross

by-catch.

© Sandra Petrowitz

22 FEB- 2 March 2020

Volume 2, Issue 14
---
Day 10- Home Again

22 February 2020 - Ushuaia

After last night's end-of-voyage festivities, we awoke

much too early for our final morning on the Ocean

Atlantic. Although we wish we could stay, we started

the process of leaving behind the ship and the people

we've come to know so well over the past week.

Our bags were packed and stowed in the corridors,

ready for our early-morning busses and flights back

home. After nine whole days immersed in the

landscapes and amongst the wildlife of the Antarctic,

it was time to return home or to wherever our life's

journeys bring us.

And so – farewell, adieu, and goodbye. Together we

have visited and incredible and vast wilderness. We

have experienced magnificent mountain vistas, seen

icebergs roll and crack, felt the power of the elements

and seen how quickly they can change. We enjoyed

wonderful food and comfortable surroundings aboard

the Ocean Atlantic.

33

We boarded zodiacs and cruised through icy bays at

the end of the Earth. We shared unique moments,

held engaging conversations, and laughed together

over tea or wine. We've made new friends and

experienced the power of expedition travel.

We hope the expedition team has helped make this

the trip of a lifetime - one that will persist in your

memories for weeks, months, and years, to come.

Although we must say good-bye to these places we

have come to know and love, it is a fond farewell as

we are all true ambassadors for the Antarctic and all

the beauty it holds.

On behalf of Albatros Expeditions, our captain and

crew, the expedition team, and everyone else who

helped make this journey a resounding success, it has

been a pleasure travelling with you. We hope that you

will come back and experience these wonderful places

with us once again!

22 FEB- 2 March 2020

Volume 2, Issue 14
---
By the Numbers…

34

Voyage Statistics:

Southernmost Point: 65 o 11.03' S, 64 o 08. 14'W

Total Distance Travelled: 2,147 nautical miles 3,864 kilometre

Excursion Locations:

Cuverville Island: 64 o 41'00'S 62 o 38'00'W

Port Lockroy: 64 o 49'00'S 63 o 29'00'W

Damoy Point: 64 o 49'00'S 63 o 29'00'W

Deception Island: 62 o 59' S 60 o 29' W

Port Charcot: 65 o 06' S 64 o 01' W

Petermann Is:

Whalers Bay:

Ushuaia:

Neko Harbour:

Brown Station:

65 o 10' S 64 o 10' W

62 o 59' S 60 o 34' W

54 o 45' S 68 o 23' W

64 o 50' S 62 o 33' W

64 o 53' S 62 o 52' W

During our time on the M/V Ocean Atlantic, we consumed:

Beef

Lamb

Pork

Poultry

Cold Cuts

Fish & Seafood

Eggs

Milk

Cheese

Ice Cream

Vegetables

Fruit

Wine

Beer

Toilet Paper

477 kg

119 kg

400 kg

300 kg

55 kg

391 kg

4920 pcs

418 ltr

80 kg

209 ltr

1647 kg

1874 kg

311 btls

1116 cans

672 rolls

22 FEB- 2 March 2020

Volume 2, Issue 14
---
A Final Note…

35

As any good expedition comes to a close, many of us experience the

effervescent excitement that comes when we immerse ourselves

completely in an adventure. Although we all came into this voyage with

our own expectations and personal motivations, on the ship, we quickly

learned that the best plan is the one that we end up doing.

While weather and the landscape

can conspire against us in the

southern latitudes, the right mindset

can make all of the difference.

Wind, rain, sleet, and snow make no

difference when we come prepared

for an adventure and all the

excitement it holds. Whether you

saw what you came for or you

experienced something else

entirely, when you set out on an

expedition, you come for the

mountains and the wildlife, but stay

for people and places you meet

along the way.

Although we all eventually have to

leave behind our beloved Ocean

Atlantic, there are always a few

things we can take home from an

expedition:

• An acceptance and embracement

of adversity and uncertainty

when the natural world alters

our plans.

• A fondness for the wild and a

strong desire to keep remote

natural locations as beautiful and

free as they can be.

• An insatiable interest in learning

more about the people, places,

and cultures in some of the most

remote parts of the world.

As you unpack you bags, you may

find souvenirs and keepsakes from

your journey. Your camera may be

filled with countless photos,

however blurry, of the many

animals and mountains that have

crossed our paths. At the end of the

day, however, what matters most is

the experience of, the journey to,

and the memories of these wild and

wonderful places.

Best wishes from all of us on the

expedition team as you continue on

with your adventures!

Sam Gagnon

Expedition Leader

Barbara Post

Assistant Expedition Leader

Thank you for experiencing the Antarctic with us at Albatros

Expeditions. We hope to see you aboard the Ocean Atlantic

again in the future!

Shelli Ogilvy

Assistant Expedition Leader

22 FEB- 2 March 2020

Volume 2, Issue 14