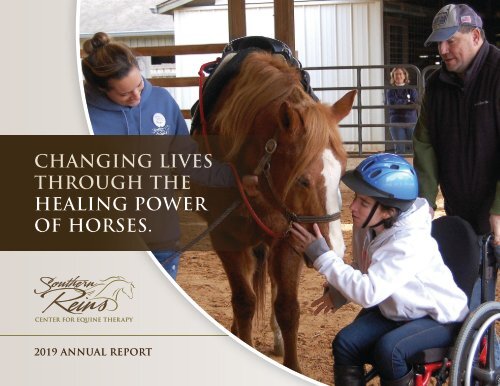 Southern Reins 2019 Annual Report
Create successful ePaper yourself
Turn your PDF publications into a flip-book with our unique Google optimized e-Paper software.
CHANGING LIVES

THROUGH THE

HEALING POWER

OF HORSES.

2019 ANNUAL REPORT
---
Kayden
---
DEAR FRIENDS,

Over the past five years, Southern Reins has experienced significant

growth and program expansion to serve our community. With a

passion for improving the quality of life for people with disabilities

and hardship, we are inspired and in awe each day with the positive

and meaningful benefits our horses provide to their participants. The

generous support of donors and community partners has given us the

means to grow our services to a climbing roster of 240 individuals. To

have the opportunity to experience such exponential growth attests

to the previously unmet need for services such as ours, and we are

grateful to support our people with special needs in such a significant

way. Participants take part in programs including adaptive horseback

riding, Occupational Therapy incorporating Hippotherapy, Making

Strides Recreation Therapy, Unbridled Horsemanship, Silver Stirrups,

and PATH Intl. Equine Services for Heroes. To have the opportunity

experience such exponential growth attests to the previously unmet

need for services such as ours, and we are grateful to support our people

with special needs in such a wonderful way.

Using horses, we are able to provide transformative experiences that

contribute in incomparable ways to physical, cognitive and emotional

well-being for people with disabilities and hardship. We see children

with autism spectrum disorder grow in their communication and

sensory processing ability at the farm.. For individuals with cerebral

palsy, adaptive horseback riding helps loosen tight muscles, improving

fine motor skills and eye-hand coordination. Veterans who work with

our horses experience decreases in anxiety and stress, as well as reduced

symptoms of trauma. Milestones such as these happen every day.

The passion and dedication of our team are essential contributors to

the growing success of Southern Reins, and their personal investment

to provide creative and compassionate experiences is unmatched.

Paired with the generous donation of time and talent by our

enthusiastic team of volunteers, we have been able to increase our

capacity to provide equine-assisted activities and therapies to children

and adults throughout the Mid-South.

As we look forward, we are excited about future opportunities to provide

meaningful experiences with our horses to serve even more people

throughout our community; using the healing power of horses to improve

the quality of life for children and adults. There is still much more to do.

On behalf of our entire organization, we are grateful for the generous

support of so many who have made our programs possible, and we look

forward to continuing our work to provide meaningful moments at the

farm for decades to come.

COURTNEY SMITH

Chairman

JILL HAAG

Executive Director

SOUTHERN REINS | 2019 ANNUAL REPORT 1
---
MEET JULIA

"Julia has loved horses since she was four years old and learned to ride when she

was around eight. She is now 33, and her life has given her a lot of challenges. Julia

has dealt with epilepsy and "partially" controlled seizures for all of her life. This

has affected her ability to process information, as well as her behavior and physical

abilities. She was able to walk until she was 12 or 13. Since then, she has had to use

a wheelchair due to her cerebral palsy and frequent falls. Before this, she had always

seen herself as just like everyone else. Now, she looks at herself and says, "I just want

to be normal."

As Julia's physical limitations have increased over time, we have worked hard to find

places for her to experience her love of horses and riding. What we have found here

at Southern Reins is truly wonderful. The facility is outstanding, and the staff and

volunteers who are here every day make this place outshine everything else we have

seen. The instructors challenge Julia during every session, and she has to work with

her horse to learn and practice new skills. She is challenged, and for at least one hour

every week, Julia is the most "normal" she can be.

Julia is the happiest I have ever see her when she is in the saddle on Jazz. Her smile

says everything, and her time spent at Southern Reins carries over into the rest of her

life – and for weeks afterward. Jazz is rock solid and unflappable, and is absolutely

tuned into Julia when she is riding him. He may be more aware of her seizure activity

than any of us, and yet he is always patient and gentle with her.

To everyone here, we can only say thank you for all that you give to Julia and all of

the others who find help here. For Julia, it is great to be in control of something she

loves. And for her family, it is great to know there are others out there who care and

who can, and do, make a difference."

JOEL KASERMAN, JULIA'S DAD

2

SOUTHERN REINS | 2019 ANNUAL REPORT
---
"Julia is the happiest I have

ever see her when she is in

the saddle on Jazz. Her

smile says everything,

and her time spent at

Southern Reins carries

over into the rest of

her life – and for

weeks afterward."

Julia riding Jazz

SOUTHERN REINS | 2019 ANNUAL REPORT 3
---
Caroline

4

SOUTHERN REINS | 2019 ANNUAL REPORT
---
ABOUT SOUTHERN REINS

After years of dreaming of a non-profit

that combined the founders' passion for

horses and the desire to help people with

disabilities and hardship throughout

the greater Memphis area, Southern

Reins began its mission in July of 2015,

and offered its first program in the

fall of that same year by serving 12

participants. The need for a program

offering activities and therapies using

horses was made evident by the quick

and exponential growth as Southern

Reins' now serves 240 individuals.

Southern Reins offers adaptive horseback riding,

Occupational Therapy incorporating Hippotherapy,

Making Strides Recreation Therapy Program,

Silver Stirrups Program, horsemanship and barn lessons

through our Unbridled Horsemanship Program,

equine-assisted psychotherapy and PATH Intl. Equine

Services for Heroes. We offer sessions throughout the

year and all activities are conducted by PATH, Intl.

certified riding instructors, AHA certified therapists and

mental health professionals.

Through healing power of horses, Southern Reins

was born, and continues to improve the quality of life

and life skills for people with disabilities and hardships

throughout the Mid-South.

SOUTHERN REINS | 2019 ANNUAL REPORT 5
---
6

SOUTHERN REINS | 2019 ANNUAL REPORT
---
CASE FOR SUPPORT

In the greater Memphis area, there are 322,690 residents with disabilities

age 5-64 who have the opportunity to benefit from equine-assisted activities

and therapies offered by Southern Reins Center for Equine Therapy.

With a focus on access and inclusion, compassion and caring, education and

collaboration with community nonprofits and partners, Southern Reins has

increased the number of people served significantly since its inception.

Southern Reins subsidizes the cost for

EVERY PARTICIPANT in our program through

generous grants and donations received from

individuals, businesses, clubs and foundations.

2015 22

2016 76

2017 98

2018 189

2019 240

0 50 100 150 200 250

Total Participants

SOUTHERN REINS | 2019 ANNUAL REPORT 7
---
DEMOGRAPHIC INFORMATION

AGE – 2019 (Most Recent Year)

2-5 Years (5%)

6-10 years (10%)

11-18 years (19%)

19-30 years (15%)

31-50 years (19%)

51-65 years (10%)

66+ years (22%)

8

SOUTHERN REINS | 2019 ANNUAL REPORT
---
"JP absolutely LOVES riding horses.

Rain is his favorite. When decorating

his new bedroom, he selected couple

of prints of horses instead of the usual

Grizzlies or Tigers posters. He looks

forward to every Saturday for his

session at Southern Reins. Thanks for

providing this life changing option –

adventure – for my son."

JP and therapy

horse Rain

DENNY SIMS, JP'S DAD

SOUTHERN REINS | 2019 ANNUAL REPORT 9
---
Cooper

10

SOUTHERN REINS | 2019 ANNUAL REPORT
---
SUSTAINABILITY

Southern Reins is dedicated to ensuring financial and

organizational sustainability. Our 5-year Strategic Plan

was created to ensure we can meet the demands of our

continued program growth.

PROGRAM

DEVELOPMENT

ORGANIZATIONAL

AWARENESS

FINANCIAL

SUSTAINABILITY

PEOPLE

FACILITY

MANAGEMENT

To ensure the sustainability of Southern Reins, we are:

Developing a program growth matrix to identify ways to increase

efficiencies to reduce the funding gap and ensure necessary infrastructure is

in place for expansion.

Increasing organizational awareness to attract, develop and retain donors,

volunteers and advocates for our program.

Evaluating funding streams to identify additional revenue sources, and

maintaining an operating reserve.

Investing in our people to implement a succession plan, Board and staff

development, and volunteer engagement and recognition.

Identifying the capacity of our facility and preparing for maintenance and

facilities improvements.

SOUTHERN REINS | 2019 ANNUAL REPORT 11
---
Stacey

12

SOUTHERN REINS | 2019 ANNUAL REPORT
---
COMMUNITY PARTNERS

We are honored to have developed community

partnerships with fellow non-profits. By sharing

resources, we are able to greatly multiply the

positive effects that all of these programs provide

to the people we serve.

SOUTHERN REINS | 2019 ANNUAL REPORT 13
---
STATEMENT OF FINANCIAL POSITION

For the year ending December 31, 2019

ASSETS

Cash and Cash Equivalents $ 703,667

Accounts Receivable 12,252

Unconditional Promises to Give, Net 102,300

Prepaid Expenses 12,417

Property and Equipment, Net 1,295,450

Total Assets $ 2,126,086

LIABILITIES AND NET ASSETS

Liabilities

Accounts Payable and Accrued Expenses $ 23,879

Deferred Revenue 2,200

Total Liabilities $ 26,079

Net Assets

Without Donor Restrictions $ 2,026,842

With Donor Restrictions 73,165

Total Net Assets $ 2,100,007

Total Liabilities and Net Assets $ 2,126,086

14

SOUTHERN REINS | 2019 ANNUAL REPORT
---
STATEMENT OF ACTIVITIES

For the year ending December 31, 2019

REVENUE

Jockeys and Juleps Derby Party $ 309,109

Other Events 1,083

Capital Campaign 53,070

Contributions 232,308

In-Kind Contributions 17,103

Program Service Revenue, Net 73,948

Other 4,507

Interest Income 4,052

Gain on Sale of Property and Equipment 2,228

Total Revenue $ 697,408

EXPENSE

Program Services $ 314,674

Management and General 76,513

Fundraising 114,952

Total Expense $ 506,139

Change in Net Assets $ 191,269

SOUTHERN REINS | 2019 ANNUAL REPORT 15
---
Julie and therapy

horse Ozzie

"Southern Reins has opened up a whole new world of

possibilities for our residents at Trezevant Episcopal

Home. They have given back them a piece of what

Alzheimer's has taken away, particularly their sense of

pride in accomplishment and adventure.

In a time in life where their bodies and minds are

trying to limit them, the staff and volunteers at

Southern Reins shows them that it's never too late for

new experiences or to rediscover old passions."

MARGARET MORTON, RECREATION THERAPIST

AT TREZEVANT MANOR

16

SOUTHERN REINS | 2019 ANNUAL REPORT
---
"The amount of confidence and "ownership"

that Sharron has gained through this program

is immeasurable. She thinks of "her"

volunteers and trainer as family, she shows

up on time for travel, she plans ahead,

checks the weather, etc. We appreciate

the love and support she has been

given through Southern Reins. The

scholarship program has allowed

her to participate and feel a sense

of belonging outside of Baddour.

We are truly grateful for this

opportunity and know that

Sharron feels the same way!"

MELISSA BAKER,

THE BADDOUR CENTER

Sharron and therapy

horse Fred

SOUTHERN REINS | 2019 ANNUAL REPORT 17
---
AnnElise

18

SOUTHERN REINS | 2019 ANNUAL REPORT
---
Our Mission

To serve individuals with

physical, cognitive and emotional

disabilities and hardship by

providing equine-assisted activities

and therapies to empower, inspire,

nurture and succeed.

Our Vision

Our vision is to provide

transformative experiences

through equine-assisted activities

and therapies to serve the

growing needs of the

Mid-South community.

BOARD OF DIRECTORS

CHAIRMAN

COURTNEY SMITH

VICE CHAIRMAN

KIM JORDAN

SECRETARY

LEE ALEXANDER

International Paper

TREASURER

CHARLES BURKETT

First Horizon Foundation

BOARD MEMBER

CLIFF HUNT

Standard Construction

BOARD MEMBER

KEVIN KIMERY

Kimery Wealth Management

BOARD MEMBER

LANCE MOLL

FedEx Freight

BOARD MEMBER

JILL HAAG

ADVISORY BOARD

VALERIE CALHOUN, FOX-13 News

MIRANDA HARBOR, FedEx Freight

BRUCE HOPKINS, First Horizon Bank

BRETT HUGHES, Harris Shelton

WHIT MARBUT, AutoZone

GARY LYNCH, Lynch Ranch

BRIDGET TRENARY

BILL WILLIAMS, Allen Electric

KAKKI WRIGHT, Full Circle Equine Services

OUR TEAM

JILL HAAG

Executive Director

SARA ZURENKO

Program Director

DIANE KIRKSEY

Volunteer & Program Coordinator/Instructor

MARIAH JOHNSON

Instructor

AMANDA COBB

Therapist – Occupational Therapy

GINNA RAULS

Community Liaison

KATHARINE ALLEN

Barn Staff

ALICIA LARTIGUE

Barn Staff

TERRY LEMMON

Barn Staff

CARRIE ROSS

Barn Staff

ELENA SMITH

Barn Staff

SOUTHERN REINS | 2019 ANNUAL REPORT 19
---
VOLUNTEERS

800+

TRAINED

VOLUNTEERS

Volunteers contribute as

horse leaders, sidewalkers,

horse and barn care, and for

special events.

311

ACTIVE

VOLUNTEERS

Program volunteers are the

cornerstone to our program,

offering support, encouragement

and friendship to all the

participants we serve.

9,235

SERVICE

HOURS

In 2019, volunteers donated

9,235 hours of service in

support of our program.

20

SOUTHERN REINS | 2019 ANNUAL REPORT
---
Volunteer

Brenda Heindl

"Southern Reins is one of the best – if

not the top – non-profit organizations I

have had the pleasure to be a part of.

It is rewarding to work with program

participants that include people

with disabilities, veterans, seniors

and the inspirational children

from Youth Villages. The staff,

board members, supporters,

other volunteers and the horses

are dedicated to the work

Southern Reins does, and

all are so appreciative of

volunteer support.

Come see for yourself –

sign-up today to be a part

of the Southern Reins

experience as a participant,

volunteer and supporter!

The contributions of time,

resources, donor dollars and

more made by ALL come

together to make Southern Reins

a great place to learn, grow, give

back, make friends, and have fun."

BRENDA HEINDL,

PATH INTL. REGION 5

VOLUNTEER OF THE YEAR

SOUTHERN REINS | 2019 ANNUAL REPORT 21
---
Micah and therapy

horse Possum

22

SOUTHERN REINS | 2019 ANNUAL REPORT
---
MEET SOUTHERN REINS'

PROGRAM DIRECTOR AND

HEAD INSTRUCTOR:

SARA ZURENKO

Sara Zurenko has been a part of the Southern Reins team from day one.

An avid equestrian since the age of 6, Sara's passion for horses growing

up in Charlotte, North Carolina led her to begin her equestrian career as

a trainer and professional equestrian at the age of 16.

"I moved to the Memphis area in 2005 and ran

my own boarding facility. The barn grew to have

a fantastic group of clients with a variety of

interests; including horse showing, trail riding, and

English and Western disciplines. As an instructor,

my lesson program specialized in English in the

Hunter/Jumper discipline, where I had multiple

students locally showing at the A level. After many

years working in the show horse industry, I was

introduced to PATH Intl. from founding board

members of Southern Reins, and after looking into

the program, I began to wonder why I hadn't been

working with people with disabilities and teaching

adaptive riding my whole life!"

Sara had taught students who were on the Autism Spectrum in her

regular lesson program, and she was excited to learn more about

focusing on programming to serve people with disabilities. In 2015,

she received her PATH Intl. certification as a Therapeutic Riding

Instructor, and she officially joined the Southern Reins family as the

Head Instructor and Equine Director.

Since 2015, Sara has gained additional certifications as a PATH Intl.

Certified Therapeutic Riding Instructor and Mentor, and a PATH Intl.

Equine Specialist in Mental Health and Learning.

"There has been tremendous growth in the industry of equine-assisted

activities and therapies, and it is amazing to be a part of providing

greater opportunity to celebrate the ability of people with disabilities

here in our community." says Sara. "I knew horses would be a big part

of my life since I was young, and seeing how our horses improve the

quality of life and improves life skills for our participants makes me so

proud to be a part of it."

SOUTHERN REINS | 2019 ANNUAL REPORT 23
---
Kaitlyn and therapy

horse Rebel

24

SOUTHERN REINS | 2019 ANNUAL REPORT
---
Veteran Charita with

her service dog and

therapy horse

SOUTHERN REINS | 2019 ANNUAL REPORT 25
---
916 Billy Bryant Road

Collierville, TN 38017

WWW.SOUTHERNREINS.ORG

information@southernreins.org • 901-290-1011