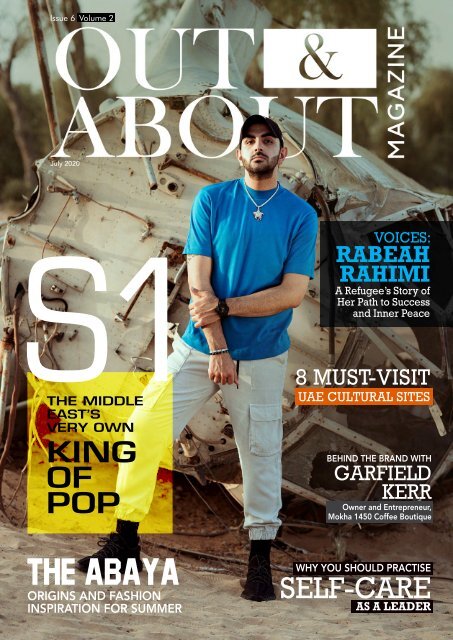 Out and About Mag. Issue 6 Vol. 2
A celebrity-free, gossip-free publication, designed to celebrate and highlight "real people", passions and places. We do not promote celebrity-related content as we believe the standards of that culture are not those of the "everyday individual".
A celebrity-free, gossip-free publication, designed to celebrate and highlight "real people", passions and places. We do not promote celebrity-related content as we believe the standards of that culture are not those of the "everyday individual".
SHOW MORE
SHOW LESS
You also want an ePaper? Increase the reach of your titles
YUMPU automatically turns print PDFs into web optimized ePapers that Google loves.
Issue 6 Volume 2

July 2020

S1

THE MIDDLE

EAST'S

VERY OWN

KING

OF

POP

VOICES:

RABEAH

RAHIMI

A Refugee's Story of

Her Path to Success

and Inner Peace

8 MUST-VISIT

UAE CULTURAL SITES

BEHIND THE BRAND WITH

GARFIELD

KERR

Owner and Entrepreneur,

Mokha 1450 Coffee Boutique

THE ABAYA

ORIGINS AND FASHION

INSPIRATION FOR SUMMER

WHY YOU SHOULD PRACTISE

SELF-CARE

AS A LEADER

1
---
We are what we repeatedly do. Excellence,

then, is not an act, but a habit.

Aristotle

2
---
Editorial

Editor in chief

Marsha Fry

marsha@outandaboutmag.com

Editor

Shella landayan

info@outandaboutmag.com

art

advertising

Art director

nakul thanekar

nakul.thanekar89@gmail.com

sales & marketing director

Andre Marshal

+971 50 127 8820

sales@outandaboutmag.com

general enquiries

On this

month's

cover

Interview: S1, The Middle

East's Very Own

King of Pop

Photographer: TG Media

Styling: S1

hello@outandaboutmag.com

outandaboumagofficial

outandaboumagofficial

outandaboutmagofficial

www.outandaboutmag.com

Published by Out and About Style FZE

(Registered at Fujairah Creative City)

3
---
Editor's

Welcome

Starting over requires no

explanation to anyone,

requires no specific date,

requires nothing more than

you saying, 'It's time'.

~Anna Pereira

Most of us experienced rebirth and a period of reinvention

at one point in our lives. You might have asked yourself

many times, "Can I carry on?" or "How can I begin

again?"

Continue, even though the road is difficult and

treacherous. Rainbows are a testament to a new beginning

after torrential rains, and so is a sunrise after a long night.

To give birth to a new you means being open to a whole

new world of possibilities and positive changes. Get up

and work hard again, and be a better you! With resilience,

faith, and courage, you can go through everything!

4

A brief announcement to all our valued readers: starting

this issue, we are now Out and About Magazine—and

we still carry with us the vision to spread inspiration,

encouragement, knowledge, and positivity wherever you

are out and about!
---
Features and Highlights

In our Fashion feature, we researched for the wonderful

history of the ubiquitous abaya, adding styling tips as well

to slay the summer with it. Check out The Abaya: Origins

and Fashion Inspiration for Summer. Perseverance,

creativity and authenticity: Dominique Devereaux

Bedford reveals her story and passion as a stylist and

designer. Read her interview and be inspired!

We are all beautiful and unique, a fact that we should

be proud of. Love your skin inside and out through

Understanding Shades and Undertones and Picking

the Right Foundation for your Undertone! Do you want

to save the planet while staying clean and glowing? Read

on Reusable Makeup Removers: 7 Recommended

Products to learn how. Find these articles in our Beauty

section.

Gracing our Behind the Brand feature is a passionate face

of entrepreneurship: Garfield Kerr, CEO of Mokha 1450

Coffee Boutique. He generously shared with us his love

for coffee, to 'always do what you love and never be afraid

to fail'. We listened to his personal thoughts and insightful

perspectives on success, failure and entrepreneurship.

Reaching your dreams is not an easy journey. Actress

Rabeah Rahimi fought her way to achieve her goals

in life. Find her story in I brought My Dreams From

Afghanistan To Berlin in Voices. In Taking Lessons, we

meet the transformational CEO and entrepreneur, Asil

Attar, who believes that "each one of us is unique and

has something special to offer". She shares that one of

her passions is enabling others to follow their dreams—

to inspire, motivate and empower them. Feed your mind

and soul with Rabeah and Asil's stories of inspiration and

success.

Working hard and reinventing one's self from time to time:

The Middle East's Very own King of Pop, S1, says that

this is the key to staying relevant and interesting. Meet

S1 in our Talent Pool feature and find out more about

his passion for music and journey in the entertainment

industry.

Understanding our personalities is important to assess

our own behaviour and emotional responses. Do You

Know Your Attachment Style? If you want to know,

read on about this informative article in our Lifestyle

feature. Learn new ways of dealing with anxiety and stress

through Neuro-Linguistic Programming. To improve

your leadership skills and gain productive habits, we're

here to tell you Why You Should Practise Self-Care as

a Leader.

If you want to make healthy and delicious food that you

can easily store in the fridge, we've got you! Read our 5

Mason Jar Recipes in our Food section. At this time, we

all know that exercising in gyms is still not the best option

to pursue your fitness goals. In our Fitness feature, we

listed Absolute Home Fitness Essentials so you can stay

fit in the comfort of your own home.

You can plan your travel bucket list in advance, so if you're

looking for places to go where you can learn the UAE's

rich and beautiful culture, we recommend 8 Must-Visit

UAE Cultural Sites in our Travel section.

To continue to enrich your knowledge and build

confidence, read our articles in For the Culture section.

Check out Leisa Grace Wilson's tips for aspiring and

bustling entrepreneurs in The Number One Reason Most

Startups Fail and learn how to avoid the pitfalls. Yvonne

Mtengwa's regular column in The Reinvented Chronicles

features 8 Hacks to Invoking Courage in Difficult

Times, which is exactly what we need during these trying

times. Jerome Douglas, on the other hand, encourages us

to raise our own flags, to Be Proud of the Truth About

You. Finally, we feature Atomic Habits by James Clear in

our Book Review feature. Atomic Habits discusses the

power of letting go of old habits, developing new and

productive ones, and maintaining them on a regular basis.

A Better You is a Happier You

Remember not to be afraid to start again. This is your own

fight and no one else can control it but you. The world

welcomes and encourages those who wish and aim to be

better and stronger. Know this: a better you is a happier you.

Out and About Magazine, with the team that made

this Edition possible, would like to send you an infinite

amount of encouragement and positivity to continue your

journey to success and inner peace!

outandaboumagofficial outandaboumagofficial outandaboutmagofficial

5
---
6

www.jacquieachie.com
---
7

www.jacquieachie.com
---
8

www.jacquieachie.com
---
9

www.jacquieachie.com
---
11

CONTENTS

JULY 2020

SECTION 1

FASHION

• Dominique Devereaux Bedford, Designer and Stylist, House of Devereaux

• The Abaya: Origins and Fashion Inspiration for Summer

33

SECTION 2

BEAUTY

• Makeup Madness with Liv: Understanding Shades and

Undertones

• Beauty Recommendations: Picking the Right Foundation

for your Undertone!

• Reusable Makeup Removers: 7 Recommended Products

51

SECTION 3

BEHIND THE BRAND

• Garfield Kerr, Owner and Entrepreneur, Mokha 1450

Coffee Boutique

61

SECTION 4

VOICES

• Rabeah Rahimi, Actress

68

SECTION 5

TAKING LESSONS

• Asil Attar, CEO and Entrepreneur

109

SECTION 8

TRAVEL

• 8 Must-Visit UAE Cultural Sites

76

90

SECTION 6

TALENT POOL

• S1, The Middle East's Very Own

King of Pop

SECTION 7

LIFESTYLE

• Do You Know Your Attachment Style? The

Psychology Behind Attachment Styles and their

Associated Behaviours

• Neuro Linguistic Programming: The Smart Way

To Deal With Anxiety And Stress

• Why You Should Practise Self-Care as a Leader

114

SECTION 9

FOR THE CULTURE

• The Number One Reason Most

Startups Fail

• The Reinvented Chronicles with

Yvonne C. Mtengwa: 8 Hacks To

Invoking Courage in Difficult Times

• Be Proud of the Truth About You

• Book Review: Atomic Habits by

James Clear

102

FOOD

• 5 Mason Jar Recipe Ideas

106

FITNESS

• Absolute Home Fitness Essentials

10

Out and About Magazine tasks no responsibility for unsolicited

photographs or material. The photographs in this publication are for

illustration purposes, unless otherwise specified.
---
FASHION

FEATURE

DOMINIQUE

DEVEREAUX

BEDFORD

DESIGNER AND STYLIST,

HOUSE OF DEVEREAUX

HOUSE OF DEVEREAUX/

DEVEREAUX LLC

@houseofdevereaux

@Devereaux LLC

11
---
1. TELL US A BIT ABOUT YOURSELF.

I was born and raised in Texas. I have been a lover of fashion

since I was a little girl. From paper dolls to designing and

recreating my clothing in high school, fashion and I have

always shared a connection. My educational background

includes both a Bachelor of Arts and Masters of Science

in Fashion Merchandising and Business. I have worked in

almost every facet of the industry from interning in TV, film,

fashion event production and sourcing, marketing, product

development and retail operations.

2. HOW DID YOU GET STARTED AS A CUSTOM

FASHION DESIGNER?

I truly began to take my craft seriously in college, creating

collections of dresses and showcasing them in local pageants

and on-campus programmes. I even started an on-campus

organisation called FashioNation geared towards assisting

students of all majors in their exploration of different industry

avenues from makeup to photography to marketing and—

of course—my speciality, design. Designing has always

been an outlet for me, and I was fortunate to have a support

system of family, friends, and colleagues who believed in

my abilities early on.

3. WHAT DOES STYLE MEAN TO YOU?

Style is an outward reflection of inward confidence. It allows

you to show up in the world and visually present yourself

in the way you want people to perceive you. As a custom

designer and a fashion stylist, I believe that style speaks

volumes about who you are and who you want to become

without having to say a word.

12
---
13
---
14
---
4. WHAT/WHO INSPIRES YOUR DESIGNS?

I love this question—as I am inspired by powerful and influential

women, both famous and those living their everyday lives. Influential

women are not only icons like Josephine Baker and Jacqueline

Kennedy Onassis who serve as my muses but the kind of women whose

outlook on life has inspired and continues to inspire me to create, like

my grandmother and sister.

I am especially inspired by TV and film, and many of the collections

pay homage to dynamic women of the silver screen like the original

Dominique Deveraux portrayed by Diahann Carroll and Alexis

Carrington played by Joan Collins of the 1980s hit show Dynasty. I

love this era because it represents a time where high glamour, style,

power dressing and opulence were celebrated.

Strength, courage, resilience and sheer determination are what these

women represent and I am inspired by their journey. My pieces are

used as storytelling platforms in which to share a bit of their history—

both good and bad with the world.

5. WHAT MAKES HOUSE OF THE

DEVEREAUX'S CLOTHES DIFFERENT

FROM OTHER FASHION DESIGNERS?

The House of Devereaux specialises in power

suiting but with a twist that I like to call the

new classic. We take classic blazers and suiting

silhouettes and turn them on their heads by

paying attention to details. The mantra of the

House is #ItsAllInTheDetails. Therefore, we

utilise luxury fabrics like velvets, silks, satins

and crepes with a smooth hand, in rich colours

or tones like emerald green, cobalt blue and

metallics and then add texture with accents of

fringe, leather and other trims.

That's just the bodice—the defining piece de

resistance is the interior of each Devereaux

design as they are specially lined with our

signature leopard print pattern made of

100% genuine Italian silk. Every piece that

comes from The House will have an accent of

leopard print throughout no matter what. For

us, leopard print is not a trend or fading fad.

One of my previous employers, Reginald,

would wear a sport coat or blazer to work

almost every day and tell us, "When you

look good, you feel good—" and that's so

very true. I think my passion for wanting to

make my clients feel good is what makes

me different, as well. I live for the reaction

of when someone first tries on one of my

pieces and feels the silk lining against their

skin. The House of Devereaux specialises in

elegantly emotive fashion and that's what

differentiates us.

15
---
6. WHO WEARS HOUSE OF

DEVEREAUX?

This brand is created for the bold

professional and I think that the term

professional has been redefined. A

modern-day professional is not just your

typical 9 to 5 working woman, but also the

entrepreneur looking to make waves in her

industry, or the woman who wears many

hats such as wife, mother and classroom

volunteer at her kid's school. However,

she still understands the importance of

carving out time to take care of herself.

She appreciates being the only person

wearing something in the room and people

take notice. She values quality, luxury

clothing with attention to detail that not

only properly fits but can be transitional

throughout her wardrobe.

He is someone who is self-assured and likes

for his personal style to be reflective of that.

He takes pride in his appearance and also

appreciates brands that take pride in what

they create as well. I say he, because The

House has now branched into designing

for men and we are so excited.

7. WHAT IS YOUR FAVOURITE

PART ABOUT BEING A DESIGNER?

That's a two-part answer: the first is when

someone audibly gasps when they see

or feel what I have created. That moment

when they are left speechless is everything

to me. It's the feeling of knowing that some

really appreciates and sees my hard work as

beautiful that makes this profession great.

Secondly, having full creative control over

what I make. If something is too extra, as I

call it, or not enough, I have the full power

to alter, change and execute it in whichever

way I wish, as long as the client and I are

happy and that is an incredible feeling. My

clients trust my ability to deliver beautiful

and original pieces and that trust is truly

valued.

16
---
17
---
18
---
8. DESCRIBE YOUR CREATIVE

PROCESS?

While creating for The House is fun, it's still

a business and so I have to treat it as such. I

can't just grab any kind of fabric and I have

to remind myself that when creating for my

brand—it's not strictly based around my

singular sense of style. Therefore, it cannot

be one-note, and I must create a plan.

When coming up with a piece for a

collection, I first create a mood or inspiration

board. This includes imagery, words,

sketches, ideas as well as the muses that I

am inspired by. My mood boards serve as

a plan or road map by assisting me in my

vision for what direction I see the collection

taking. I began selecting the fabric, notions

and trim that fit the look I am trying to

achieve and then methodically add and

subtract from the board. Anything that

seems forced is taken away until the board

is complete. I liken it to being a puzzle—

every piece must perfectly fit in order for

the collection to create the perfect picture

and tell a story.

Then comes the sourcing of the materials,

keeping in mind that not all pieces are

created equal when it comes to cost,

creation, and execution. The selection

of fabric is probably the most important

aspect because I want my clients to feel

like they are receiving quality, and so that

means that every dollar or dirham matters.

When a fabric is right, I can't contain my

excitement because at that moment just

from feeling that tiny swatch of fabric, I can

envision a piece coming together.

9. WHAT CHALLENGES HAVE

YOU FACED AS A DESIGNER?

I decided to step out on faith and become

a full-time designer and stylist when I

was struggling to find local employment

here in the UAE. I had spent my first two

years pounding the online pavement and

searching for a position where I felt my

expertise would best be utilised and it

was crickets. Pair that with the fact that

I was an expat woman, newly married

to an incredibly encouraging husband

and now embarking on a journey to

entrepreneurship in an entirely different

country with different laws and regulations.

At that time, everything in my life was new

and so needless to say it required a lot of

research and patience.

With that research came learning about the

trade licensing process, which can be costly.

However, I want to be acknowledged, and

respected as a legal entity and I understood

that necessary investments had to be made.

The most recent challenge has been the

pandemic and having to conduct business

virtually when I am accustomed to offering

in-person consultations. There is no greater

joy than spending an afternoon with a

client in their home or on a personal

shopping excursion and getting to learn

more about each other while grooming

their confidence. There are just some

things that virtual communication can't

capture or replicate. Now I am completely

relegated to conducting business through

virtual interfaces.

Additionally, there were several in-person

showcases I was set to participate in as

well that have been cancelled and fabric

vendors who have temporarily closed. My

business is international and maintaining

proper communication with clients and

vendors or logistics across time zones can

also prove challenging. These unplanned

circumstances have caused disruptions

to my business operations, but there is

nothing Devereaux can't handle.

19
---
20
---
21
---
10. TELL US ABOUT A PROJECT OR

COLLECTION YOU CONSIDER YOUR

GREATEST ACHIEVEMENT SO FAR.

First, one of my greatest achievements

is starting a business internationally—

growing my support from a trunk show of

15 women in my apartment in 2018—to

being the featured designer at a showcase

at Hakkasan Emirates Palace in November

2019. Finally, hosting a virtual trunk show

in June 2020, while not being the most

technologically savvy has been my most

recent success. The outpouring of support

I have received from all over has been

incredible.

Secondly, both of my collections are amazing

achievements because I completed them

under two years of being in business, and

they not only represent parts of me but the

women who inspire me. They are constant

reminders of the sweat equity and the not

so glamorous days when things aren't going

as planned and yet the satisfaction of how it

all comes together so beautifully in the end.

Each piece and every detail is a personal

achievement that has allowed my creativity

to be found and my confidence to flourish.

11. WHAT'S THE BEST PIECE OF

ADVICE YOU'VE EVER RECEIVED?

The best advice to date comes from a

fellow creative, Melarie Odelusi who often

says, "If it's not a hell yes, then hell no."

What I interpreted from that is everything I

create and every decision I make regarding

my business should speak to the soul and

voice of my brand, and that which doesn't

serve me must go. This really helps me trust

my intuition and go with my gut.

12. WHAT ADVICE WOULD YOU

GIVE TO SOMEONE STARTING OUT

IN FASHION DESIGNING?

No idea is a bad idea unless it's prohibited

by the law. Trust your instinct, carve out

your own way and your own lane and once

you are in cruise control, stay in your lane.

Don't try to be anything that you aren't

because authenticity is key to maintaining

creative control. Identify your niche, really

work on it and through it, and don't be

afraid to ask for help because you can't

do it all by yourself—trust me I have tried.

Lastly, a support team or system is more

than necessary: it's invaluable.

13. WHAT DO YOU DO OUTSIDE

OF FASHION?

Sleep. Exercise. Laugh. I love a good belly

laugh, and I love to play games. I especially

love to travel or go on an adventure. There

is nothing like visiting a cool museum or

exploring a cool piece of architecture to

get my creative juices flowing. I love to eat

hence why I mentioned exercise. Trying new

foods, watching shows about exotic foods

and restaurants or cultures is my thing.

When I first moved to the UAE, I would

watch Chopped marathons all day long. I

also love dancing alone at home when no

one's watching—it's good calorie burning

and good for the soul.

14. WHAT'S THAT ONE QUOTE

YOU LIVE BY?

Allow me to share three quotes instead of

one:

"Sometimes, God will break your heart to

save your life."

-Pastor Kevin Brown

"Experience is a hard teacher-because it

gives you the test first and the lesson after."

- Unknown

"Today you are you-that is truer than true.

There is no one alive more 'youer' than

you."

- Dr. Seuss

22
---
23
---
24

www.jacquieachie.com
---
THE ABAYA:

ORIGINS AND FASHION

INSPIRATION FOR SUMMER

Abaya is a flowing garment that reaches

the feet and has long, loose sleeves. It's

loosely fitted to wear over regular clothes

for complete body coverage. Abaya is an

ancient garment dating 4,000 years back.

Like most fashion garments, it carries

an indistinct history in the pre-Islam era

before it became synonymous with Islam

and Muslim women, taking a more vivid

proper body-concealing form followed

with a niqab or burka to conceal the hair

and face, except the eyes.

You may have a typical image of abaya in

your mind: all black, loose and shapeless,

but due to modern fashion and intervention

from various designers all over the world,

abayas have become available in a variety

of colours and styles. The concept of full

body covering is the same, only the styles

have changed with more focus on different

fabric weights and adornment techniques.

Abayas have seen modernisation on a

larger scale and aren't much similar to

those of the yesteryears. Today, we'll

unravel the history and the evolution of

abaya.

25
---
AMINA ALBAHRI

@amina.albahri.beauty

26
---
BEFORE ISLAM

It is alleged that Mesopotamians wore a

loose garment, pretty much similar in style

and length to an abaya, though it wasn't

termed as one before. Also, it came as a

thought that pre-Islam abaya was not as

skin-covering as the abaya that appeared

in light of the rise in Islam and sketched a

greater strict body-concealing image.

Some scholars also put forward that during

the pre-Islam era, abayas carried a status

symbol and not simply a symbolic religious

practice. Wealthy women would differentiate

themselves from the women of the working

class who couldn't afford something as

extravagant as a veil covering the face.

THE ADVENT OF ISLAM

The arrival of Islam in the 7th century

cemented the idea that women should clothe

themselves from head to toes, masking the

face and concealing most of the skin. Such

was not only to abide by the faith Muslim

women belonged to, but part of it was for

one's own good to protect themselves from

becoming the subject of lewd behaviour.

Therefore, abaya earned an important

reputation; it came to symbolise Arabic and

Muslim culture, just as how the kimono is a

cultural object and symbol to the Japanese

and the saris to the Hindus. Today, non-

Muslims, wear abayas to blend in with the

Arabic community, considering the act as an

indication of cultural and religious respect.

THE PRE-OIL ERA

The typical bedouin abaya displayed a

square-necked form with a gold-trimmed

neckline and two holes meant for the

arms. This was worn by the upper-class

Arab women and those not belonging to a

prestigious background opted for a simple

abaya to cover their bodies. Black was the

colour of choice. Today, the abaya has been

reshaped into a fashionable guise offered

in various styles and assortment of colours

than we can possibly imagine.

DISCOVERY OF OIL

After oil was discovered in the Arab world,

abaya experienced a transition, suddenly

transforming from shapeless to shapely,

wool to silk, and even the length has been

adjusted to reach a little above the feet. As

the 1970s drew to a close, abaya became

more glamourous and was definitely made

more obliging to one's preferences.

THE 1980S

This was the period of the shoulder abaya

taking the form of a long cloak-like robe with

full proper sleeves and a complementing,

shorter shayla as the head cover. Different

fabrics, embroidery and ornamental

decorations were put to test. The abaya

became airier and more flowy owing to the

use of georgettes, silks, crepes, and similar

wispy materials.

OMANIYAH ABAYA

In the 1990s, omaniyah abaya was

introduced, with its name inspired by the

country it came from—Oman. This abaya

style is closed in the front as opposed to

the open-front version of the past. It also

featured an opening for the head for ease of

wear. During this time, experimentation was

still on the rage and varieties of laces, ironedon

stones and sparkles were brought to the

picture. Now, the markets and souks sell sets

of abaya and shayla pairings and matchings

in a variety of sartorial embellishment.

27
---
THE 20TH CENTURY

In the 20th century, experimentation

with the abaya reached new heights—

from beautiful cuts to gorgeous

emblazonment, sparkly lines of work

to flamboyant statements, and even

those simply verging on the strange

side of things. At this point, abaya

was becoming a fashion statement

in every form.

The abaya is slowly drifting away from

its original image and the message

it portrayed. Many incoming abaya

styles convey a narrower or a wider

belt to enhance and promote

waistlines.

Today, the abaya has undergone

a turn of events and experiments,

more as a sign of functionality as it

births one's individualism. It's not

necessary that only a practicising

Muslim woman can wear an abaya;

there are those who wear it because

they like it and will continue to do so.

Just like any other traditional

garment, it's a garment for defining

Muslims and thanks to the bevy

of fashion designers in the world,

they've globalised this ubiquitous

piece to bring a change and

awareness to those with conflicting

mindsets in the world.

28
---
SUMMER

FASHION

ABAYA

LOOKS

HIND AL MADANI @HINDALMADANI

ROUA ALMAWALLY

@ROUA_ALMAWALLY

Light and pastel shades feel cooler on

the skin. They throw off heat and keep

the body well-ventilated to keep you

dry and provide maximum comfort. If

you want to opt for darker shades, find

pieces that are lightweight and allow air

ventilation like cotton and chiffon.

@MODESTLYWRAPPED

NOURHAN ELGOUHARY

@NOURHANELGOUHARY

29
---
OPT FOR PRINTS

There's no compulsion on

picking solids all the time,

change up the typical look

with floral-printed abayas or

those with stripes for a summerappropriate

look. Experiment

with different fabrics and invest

in lightweight materials to keep

you breezy under the sweltering

heat. There are even cottonmade

abayas available that

look like the modest version of

summer dresses.

FINCHITUA BY FEIRUZA @FINCHITUA

CREATE A

STATEMENT

You can get more worth out

of your abaya if you create a

statement. In this case, neutrals

are your best friend for a

monotone or a monochrome

approach. This is totally an eyecatching

take on the abayas and

causes head-turning attention.

Plus, we find this approach best

for summer, it's appropriate

for daytime and perfect for

attending parties.

Make the most of this season

by choosing the best weather

appropriate abaya for you!.

30

ZAINAB ISKANDER @ZOZOKAHRAMANA

ROUA ALMAWALLY

@ROUA_ALMAWALLY
---
CHERRY BLOSSOM

Model: Lili Nagy

Hair and makeup: Liv Rideg

Headpiece: Milla Sonja Couture - Eva Kelemen

Photo: Jozsef Balogh

Retouch: Anna Petrova

Location: Studio Madison, Budapest, Hungary

31
---
FLORAL BEAUTY

Model: Tatyana Gonzalez

Photo: Jozsef Balogh

Retouch: Anna Petrova

Makeup: Liv Rideg

Headpiece: Milla Sonja Couture - Eva Kelemen

Assistant: Szabo Pal

Location: Studio Madison, Budapest, Hungary

32
---
BEAUTY

M A K E U P

M A D N E S S

WITH

UNDERSTANDING

SHADES AND

UNDERTONES

33
---
NEUTRAL

UNDERTONE

NEUTRAL

UNDERTONE

34

WARM

UNDERTONE
---
COOL

UNDERTONE

Finding your perfect shade of

foundation, knowing your skin tone,

understanding what your undertone

is, and what kind of makeup works for

you are mostly every makeup users

struggle, especially for those who

are in the beginning of their makeup

journey. For 21 years working in

the makeup and fashion industry, I

noticed that these are the things that

people are having a hard time with.

In this article we will give you very

useful tips and tricks on how to

understand your skin tone, undertone

and what makeup works for you.

IDENTIFYING YOUR SKIN TONE

Skin tone is the colour of your skin. The ranges vary: light,

medium, dark. Choosing the right and exact shade of your

foundation that is not lighter or darker than your skin will

give you a fresh, beautiful look all day long. Your skin tone

can change during summer and winter, it can go lighter or

darker depending on the actual season.

UNDERSTANDING AN UNDERTONE

Undertone is the underlying hue of your skin. Knowing your

undertone will make your life much easier when it comes to

choosing the correct foundation shades. Your skin tone may

change but your undertone will always be the same during

all the seasons. There are three different undertones: warm,

cool and neutral.

• For people with WARM UNDERTONES, the

underlying colours of their skin are peach, gold or

yellow.

• COOL UNDERTONE means the underneath colour

of your skin is reddish and bluish.

• People with NEUTRAL SKIN UNDERTONES have

the mixture of both cool and warm tones.

KNOWING YOUR UNDERTONE

Grab a piece of silver and gold jewellery. Take a look at

what looks good on you. If silver looks amazing on you,

then you have a cool undertone. If gold looks better,

then you have a warm undertone. If both look good on

you, then you have a neutral undertone.

MAKEUP BASICS

When it comes to makeup application, I always advise my

students to look at the face. Check out the skin, eye, hair,

eyebrow and lip colour and apply the same colours on the

face. When you do this, you will get beautiful and naturallooking

makeup. If you want to go for a dramatic look,

apply the darker shades of the colours you see on the face.

If you want to go for a soft look, go with the lighter shades.

Remember, if you are playing around with the same colours

as you can see on the face, you can't go wrong with it.

Applying a beige, bronze, brown, taupe, and peach shades

will always give you a lovely look.

Every colour has its warm and cool tones. If you would like

to add colours, like rose, pink, red, purple, green or blue to

your eye makeup, the same rule applies. All you will need

to do is to choose the right tones of colours and you will

35
---
WARM

UNDERTONE

have your beautiful makeup done.

Experimenting and practising is the key. Of course, don't

forget to have fun while trying out these easy tips.

HOW CAN WE KNOW WHEN WE ARE NOT USING

THE RIGHT COLOURS, TONES OR TEXTURES?

• You're not using the right shade when your visage

looks older in the mirror. This problem appears

really often because of wrong shade and tone of

the foundation, too much or wrong colour of the

blush, heavy contours, wrong tones on the eyes, or

using wrong colour of the lipstick

• You look tired. Too much texture on the skin and

excessive makeup under the eyes gives you a tired

and gloomy look.

• You have a feeling that you are wearing a mask.

Inappropriate texture of the foundation for your skin

type or too much foundation and powder can give

you a caked up look.

• Your skin looks greyish or has an ashy colour. This is

a nightmare for people who have bronze and darker

skin tones. It happens if you choose a lighter and

light coverage foundation for deeper skin tones.

There are some occasions when we have to give

the skin a lighter colour, but in this case we have to

choose a full coverage foundation to make sure it

will give a healthy glowing beautiful skin colour and

not an ashy look.

Makeup enhances our confidence and natural beauty.

Keep in mind that we are all equally amazing and beautiful

people

Liv Rideg is an award-winning professional makeup

artist and hairstylist with 21 years of experience in the

beauty industry. She is currently based in Europe but

has worked across the globe, including a spell in Dubai.

Liv specialises in bridal, beauty, glamour, creative and

fantasy makeup. She has also been teaching makeup

techniques and different styles since 2010.

36
---
BEAUTY

RECOMMENDATIONS:

PICKING

THE RIGHT FOUNDATION

FOR YOUR UNDERTONE!

We celebrate beauty in diversity! Love

your skin by picking the right foundation

for your skin undertone. The perfect

shade will reveal your skin's natural

beauty, and by staying true to your hue,

your best self is going to shine through!

Picking the Ideal Shade

Sometimes, picking the ideal foundation

shade is a tricky ordeal. The shade might

look suitable at first glance or even on

initial application. The mismatch is

identified once it becomes apparent

that your face is not giving that natural

glow—either the shade is too pale or

too dark, or even lifeless and boring!

Hence, it is essential to identify your

natural colour before splurging your cash

in the nearest beauty bar. To accomplish

this, determine your undertone. Your

skin undertone is different from your

skin tone as the former is the underlying

hue or colour that your skin casts, while

the latter is the range of darkness to

lightness of the skin itself. Most people

fall into one of the three undertones:

• Cool, which means your skin is

more blue, red, or pink.

• Warm, which means your skin is

more golden, yellow, or peach.

• Neutral, which means your skin

will have a combination of cool

and warm colours.

The classic rule applies: a warm

undertone looks best with gold or

yellow-based foundations, while shades

with rose, red, or blue bases are suitable

for those with a cool undertone. We

listed different foundations for the three

types of undertones—from lightweight

foundations that will give you a natural,

no-makeup look to full coverage ones

for a longer staying, glam look!

37
---
FOUNDATIONS

FOR WARM

UNDERTONES

1. NARS ALL DAY LUMINOUS

WEIGHTLESS FOUNDATION

A light foundation that can give

you full coverage up to 16 hours.

One drop goes a long way. A

good shade for warm undertones

is Barcelona, perfect for medium

to medium-deep skin with a

peachy undertone.

3. BOBBI BROWN SKIN

WEIGHTLESS LONG WEAR

FOUNDATION SPF15

This product is formulated with

SPF 15 to give you additional

protection from the sun. It feels

light and airy but sports a medium

to full coverage. Golden Beige is

for people with light to medium

skin with a gold undertone.

2. FENTY BEAUTY PRO

FILT'R HYDRATING LONG

WEAR FOUNDATION

This foundation is cruelty-free and

will give you a natural finish with

instant hydration. It has 50 shades

you can choose from. Shade

No. 240 is perfect for people

with medium skin with a yellow

undertone.

38
---
4. L.A. GIRL PRO

COVERAGE LIQUID

FOUNDATION

This is a lightweight foundation

perfect for all-day wear. It is a full

coverage foundation formulated

without parabens, ideal for those

who want to avoid synthetic

chemicals in their cosmetics.

Soft Honey is for medium skin

suitable for warm undertones.

5. MAYBELLINE NEW YORK

SUPER STAY FULL COVERAGE

LIQUID FOUNDATION

Looking for a long-lasting

foundation? This is perfect for

you! Formulated to last for 24

hours to give you a full coverage

finish without the worry of pore

clogging. Golden is a perfect

shade for medium skin with warm

undertones.

39
---
FOUNDATIONS

FOR COOL

UNDERTONES

1. TOO FACED BORN THIS

WAY FOUNDATION

A flawless and natural finish

foundation that can easily give

you a no-makeup look, this

foundation can give you a natural

medium to full coverage. Golden

is for medium skin with a rosy

undertone.

3. ESTEE LAUDER DOUBLE

WEAR STAY IN PLACE MAKEUP

A matte foundation that will last

for 24 hours, waterproof and can

withstand heat, Estee Lauder

Double Wear is just perfect for any

season. Auburn is a suitable shade

for people with cool undertones.

2. DIOR BACKSTAGE LIQUID

FOUNDATION

Dior Backstage promises a glowing

look and perfect blending with the

skin. You can sport a natural look

with this foundation or you can

opt to get full coverage. 3 Cool is

for light to medium skin with cool

undertones.

40
---
4. GIORGIO ARMANI

LUMINOUS SILK

FOUNDATION

Many MUAs swear by Giorgio

Armani for a lush, medium

coverage that dramatically

hides skin imperfections. It also

applies easily and will give you

a flawless and natural glow from

within. Shade No. 8.25 will suit

people with cool undertones.

5. MAKEUP FOREVER

REBOOT FOUNDATION

Looking for a foundation that has a

satin finish? This is the right one for

you. It reduces the look of wrinkles,

giving you a hydrated and glowing

complexion. If you have medium

skin with a red undertone, shade

R370 will suit you.

41
---
FOUNDATIONS

FOR NEUTRAL

UNDERTONES

1. CHARLOTTE TILBURY

AIRBRUSH FLAWLESS

FOUNDATION

A lightweight and long lasting

foundation that has heat-proof

and waterproof formula. This

foundation is promoted as crueltyfree

and vegan. 5.5 Neutral will

suit people with medium skin with

olive neutral undertones.

3. AQUA NUDE WATER-

INFUSED PERFECTING FLUID

GUERLAIN

This foundation will give you

hydrated and perfect skin. It

contains SPF 20 for additional sun

protection. 03N Natural is perfect

for medium skin with neutral

undertones.

2. MARC JACOBS

REMARKABLE FULL

COVERAGE FOUNDATION

This foundation is perfect for

people with oily and combination

skin types and provides longlasting

wear up to 24 hours.

Bisque Medium 26 is for fair with

neutral undertones.

42
---
4. PAT MCGRATH

SKIN FETISH SUBLIME

PERFECTION FOUNDATION

A liquid foundation that will give

you a smooth-looking skin and

medium coverage, this product

is suitable for dry, combination,

oily and normal skin types. If you

have medium skin with olive and

neutral undertones, Medium 21

is for you.

5. NAKED SKIN

WEIGHTLESS ULTRA

DEFINITION LIQUID MAKEUP

Naked Skin promises a radiant,

glowing look and long wear for

up to 24 hours. This foundation

will also help reduce wrinkles and

blurs skin imperfections. 6 Warm/

Medium is for medium skin with

olive undertone.

43
---
REUSABLE MAKEUP REMOVERS:

7 RECOMMENDED

PRODUCTS

Cotton pads and face wipes are one of the most popular options when it comes to

cleaning our faces and removing makeup. However, these products are not good for our

environment. Disposable wipes and pads are filling our landfills, clogging our sewers and

even polluting our oceans. Imagine if all of us use disposable pads and wipes: where do

all the garbage go? Change starts with the small things that we are able to do. Purchasing

biodegradable products and minimising the consumption of disposable products can

definitely help the environment.

Reusable makeup removers, as an eco-friendly alternative to disposable makeup

removers, can massage your face and also remove dead skin cells, resulting in glowing

and healthy skin. Most of these reusable removers are super absorbent and can remove

your makeup using warm water, cleanser or your favourite makeup remover liquid or

balm.

We listed seven reusable makeup removers that are definitely worth adding to your

beauty essentials!

44
---
1. NUGILLA MAKEUP REMOVER CLOTHS

This eco-friendly makeup remover is made from

finely woven fibre that is very gentle on the skin. It

can be rewashed easily with warm water or you can

just pop it in your washing machine.

2. ORIGINAL PINK MAKEUP ERASER

Waterproof mascara? Matte lipstick? These hardto-remove

cosmetics can be easily removed with

this cute, pink cloth using just plain water. This

brand claims that one of this product is equal to

3,600 face wipes!

3. FACE HALO REUSABLE MAKEUP

REMOVER PAD

A product that is PETA Approved and 100 %

cruelty-free: this tiny pad can easily fit your makeup

bag and is perfect for your travel needs.

4. JANE IREDALE MAGIC MITT MAKEUP

REMOVER

Jane Iredale created a makeup remover mitt

that you can easily slide in your hands and easily

remove makeup even in those hard to reach

areas.

45
---
5. ODOXIA REUSABLE MAKEUP

REMOVER PADS

This product is ideal for people with sensitive

skin. These are natural bamboo pads which

also makes it organic and super eco-friendly! 6. DANIELLE MAKEUP

REMOVING CLOTHS

These colourful reusable makeup

remover cloths can be washed up

7. BLOOMING BEE CHARCOAL BAMBOO

REUSABLE MAKEUP REMOVER PADS

This product is made from 100% plant material and

one pad can be used 1000 times. It is made from

natural bamboo cotton that cleans the face gently

and naturally.

to 500 times. The material gives

you that fresh and clean feeling

after a makeup removal session.

Opting for reusable products will help the

environment and save money spent on

disposable face wipes and cotton pads. Since

these products can be used with warm water,

you will also be able to cut down the cost of

purchasing makeup remover liquids or balms.

These are only product recommendations, and

you know what is best for your skin. Stay pretty

and healthy while taking good care of nature

with these amazing and helpful products!

46
---
COLOUR SHINE

Model: Lili Labodi - White Model Management

Photo: Jozsef Balogh

Retouch: Anna Petrova

Hair and makeup: Liv Rideg

Location: Studio Madison, Budapest. Hungary

47
---
BRONZY

GODDESS

48

Model: Eleni Balogh

Photo, hair and makeup: Liv Rideg

Retouch: Anna Petrova

Location: Studio Madison, Budapest, Hungary
---
49
---
50
---
GARFIELD KERR

CEO of Mokha 1450 Coffee Boutique

@mokha1450

www.mokha1450.com

51
---
Tell us a bit about yourself.

I have lived in Dubai for over five

years. I had a career on Wall Street in

corporate law before transitioning to

working in private equity, which led me

to the coffee industry. I enjoy working

out and I'm very active in sports.

How did you get started in business?

I have always worked at varied

business ventures throughout my

undergraduate and postgraduate

schooling and absorbed everything

I could along the way. I have also

been fortunate to have some amazing

mentors early in my life from whom

I learned as much as I could about

corporate governance and leadership.

Tell us about your business ventures

to date

Most of my business ventures involved

executing the dreams of others—such

is the life of a corporate lawyer or

having a career in finance and private

equity. My own business, Mokha 1450

Coffee Boutique, is the first step

forward to execute a vision that is my

own.

What is your vision for yourself as a

brand?

Mokha 1450 is a lifestyle brand that

aims to be a leader in coffee culture.

We actively nurture and cultivate longterm

relationships that incorporate

ethical, fair practices, which in turn,

empower the farmers we work with to

deliver exceptional coffee consistently.

From sourcing and roasting rarefied

single-origin coffees to pouring the

ultimate cup, our expertise delivers a

personal touch throughout the process

to incorporate 'The Heart of Coffee' in

everything we do.

Mokha 1450 is committed to serving

exceptionally rare and superior

speciality coffee that remains faithful

to the very origin of coffee culture.

As connoisseurs, it is our obligation

to deliver the finest coffee—from the

most gifted growers from every part of

the world.

We achieve this through our dedication

to echo the sincere traditions of early

coffee culture and build long-standing

relationships to help support the

communities involved.

What are your success habits?

My successful habits involve always

attempting to do things to the highest

degree possible without settling. I try

not to be average in pursuing and

executing my endeavours, and while I

will often fail, at least I will have tried

and given my best efforts to succeed

at the highest level. I also try to be

as inclusive as possible, to empower

others, as well as interact with others

with a strong moral code as my

baseline.

What are you passionate about?

Coffee! I am very passionate about

coffee and sharing the incredible

sensory experience of drinking great

coffee with others. I am also passionate

about Mokha 1450's incredible team

and the pride they take in delivering a

one-of-a-kind experience.

52
---
53
---
54
---
55
---
How do you determine if a business idea is

going to be successful?

There is really no way of telling if a business

idea will be successful. Many times, you

will have a brilliant idea that is not scalable

and there is no way of knowing that prior to

executing the business model. However, I will

say that if you identify a product or service that

meets a need, then this will more likely than

not be successful if executed properly. As an

old axiom goes, "There are no new ideas, just

proper execution."

Do you believe there is some sort of

pattern or formula to becoming a successful

entrepreneur?

I think true entrepreneurship has a small

element of innateness to it. The kids that ran

lemonade stands, or did other things to raise

money as kids, are generally on the fast track

to being true entrepreneurs.

However, for the rest of us, there are two

worn-out clichés that have an element of

truth to them, though not necessarily how

they are meant. The first is that you should

always do what you love—but what if I like

eating chocolate cake and sitting on the

couch? I can't see how one could generate

a steady revenue stream from doing that

thing that I truly love. However, the element

of truth to that cliché is that if a venture is

truly interesting to you, then you will apply

yourself more earnestly and enjoy working at

it much more than attempting a project that

you find uninteresting or are merely engaged

in because others advised it as worthwhile or

profitable.

The second is that you should never be afraid

to fail. I understand what this is meant to get

at, but I think you should be very afraid of

failure. If you are not afraid to fail, then you will

not commit maximally to anything. The fear of

falling on your face makes for better decisionmaking

and a higher level of concentration

and execution. People who are fine with

failure generally fail at things. I think the more

accurate advice is that you should never let

failure weigh too much on your self-esteem or

be the sum value of your efforts. You should

attempt to learn from your failures and try very

hard not to make the same mistakes again,

knowing well that you will fail at some point in

the future but doing everything in your power

to avoid it.

56
---
57
---
58
---
Tell us about a time you had to deal with

failure and how you dealt with it.

I once had to restructure a company whose

business model I did not fully support. I

worked hard at it as the delivery manager

but failed at coming close to the desired

end result. The more I failed, the more I

blamed the business model instead of

my efforts. I dealt with this initial failure

by taking a step back and looking at the

fact that the many hours I spent working

on the matter at hand was not yielding

anything close to the desired effect. I

then asked for help and brought in a few

experts in the field and only later realised

that I never really understood the business

model as well as I had assumed. It was only

after being humbled and admitting my

shortcomings that I was able to delegate

to the right individuals and get the project

back on track, but the entire experience

was quite harrowing.

If you could start all over again, what

would you do differently?

I would be much nicer to people.

What advice would you give to someone

starting out on their entrepreneurial

journey?

I would say be prepared to work harder

than you would work for someone else;

be driven by data and do your homework.

Many ideas that seem brilliant on paper

fall apart very soon once it makes contact

with the real world. Know what the points

of failure are and have a solution before

moving forward. Any business plan that

requires luck as a matter of necessity may

not be the best plan.

Know when to call it a day and try

something else, especially when there is

time and money involved. Many times,

people believe they have put too much

time, effort and money into an idea to give

up, but putting even more time, effort and

money into a failing venture makes you feel

even worse when you have to pull the plug

much later. Furthermore, it violates the

eternal law of the universe that says when

you find yourself in a hole, stop digging.

What's the best piece of advice you've

received?

Always do what you love and never be

afraid to fail. The ability to be self-aware,

humble, and read people well are skill sets

that complement each other, and when

combined and practised frequently, it can

take you far in life.

If you were to write a book about

yourself, how would you name it?

When I die, people will all look back and

say, "He's dead now."

How do you look after your mental

health?

I run a lot. Research shows that running

and exercising makes you smarter. Studies

also show that daily exercise improves

life expectancy regardless of past activity

levels. It is also a smart thing to run and

exercise with the people you love, in order

to really enjoy the activity.

What's that one quote you live by?

Generally, I'm not too fond of quotes as

they encourage daydreaming more than

doing. However, when I am stuck, I always

tell myself that there is no problem in the

universe that time and hard work can't

solve. Even the most intractable problem

will lose its hold over you with the passage

of enough time.

59
---
60
---
VOICES

I BROUGHT MY DREAMS

FROM AFGHANISTAN TO BERLIN

A Refugee's Story of

Her Path to Success

and Inner Peace

Rabeah

RAHIMI ACTRESS

@rabeah_r

61
---
Success means having inner satisfaction and pure calmness. You

will know that you achieve it once you have peace in your heart and

mind. Inner peace is important to me as much as it is to everyone

else. I'm proud of what I have accomplished through the years,

despite the hardships and pain I sadly experienced. Hopefully, my

work in the entertainment industry will give pleasure to others when

they see it.

Like everyone else, my life towards success isn't easy. I was a

refugee from Afghanistan, and I was ten years old when I moved

to Germany. It was a big culture shock for me. The people, their

behaviour and everything were very different from what I knew

and what I experienced. I had to learn to adapt. Berlin has a great

culture—it's very green everywhere—parks are everywhere. I'm

very grateful for the chance to have a new life here. Girls can go to

school, enjoy free education, and achieve everything they dream of.

I was traumatised because of the war in Afghanistan. If I don't

have a fundamentally positive attitude towards life and without

the necessary support from people around me, I would certainly

not achieve this point in my life. I can't imagine my life without my

friends and they make me very happy.

Even though I have a dark past, I'm still a dreamer. I often lie in

the grass with my dog, gaze at the blue, sunny sky and think of

happy thoughts. I love cycling and discovering new streets, seeing

beautiful and colourful buildings and meeting new people. I'm a

happy-go-lucky person and I love everything about my life.

I discovered that I love acting. I find it incredibly exciting to slip into

different roles with different lives and characters. I feel alive through

acting and it gives me great pleasure. Sometimes, when I'm sad

and the haunting memories come back, acting helps me to process

them and eventually calm me down.

62
---
63
---
64
---
65
---
So far, the biggest achievement in my life happened

when I got a role in a film called 'Twins'. I was with Gérard

Depardieu who is incredibly talented and gave me

important tips. He always reminds me with the words:

"Don't play it—feel it." In addition to my acting career, I'm

currently studying directing at the film school in Berlin. I

find it very exciting to get professional knowledge about

film-making.

My dream is to create my own film in which I can tell my

personal story. I would like the film to encourage others

to start a new, meaningful life: far from home, despite

all the adversities. Sometime in the near future, I also

believe it is wonderful to have my own family—a loving

family to whom I can share my love, full support and

happiness.

We all know that life is a series of ups and downs. Expect

hardships and remember to learn from it. A painful past

isn't a great memory, and it is something that we can't

change. We can get courage from our darkest memories

to continue life and make sure to do everything better

for our own selves, our families and the world's future.

The most important thing we need to learn is to follow

our hearts, try to realise your dreams, and most of all, to

be proud of yourself.

66
---
67
---
TAKING

LESSONS

Asil

Attar

CEO AND ENTREPRENEUR

www.asilattar.com

www.turban-thinker.com

www.salt-fashion.com

@asil_attar

@turbanthinker

@saltfashionltd

68
---
69
---
Tell us a bit about yourself.

I was born in Iraq and of mixed heritage: Iraqi

and Indian. I left Iraq when I was about two years

old and was brought up between the UK and the

US. My parents left the Middle East in the 1950s

and moved to the US. They later returned briefly

at the time when I was born and eventually

settled in the UK.

I attended American curriculum schools in the

UK and graduated with a Bachelor's Degree

in Interior Design. I'm proud to have built a

successful career in fashion, luxury, retail, and

business—working incredibly hard throughout

my 30-year journey.

I'm known as the Hybrid. The first half of my

career was spent working in creative roles—as

a buyer, creative director, and brand director.

I worked the second half of my career as a

transformational leader in senior executive roles,

for the later 11 years as CEO of fashion groups in

the Middle East. My role as CEO has gained me

a reputation for turning businesses around and

restructuring them, introducing new visionary

strategies and bringing positive change. I would

describe my leadership style as transformational

and people-centred. I focus on my teams and

engage my business emotionally on the journey,

leaving a lifetime impact.

What does success mean to you?

Success is reaching a position with positive

influence—leaving a legacy through transferring

knowledge to other people and creating social

impact.

What is your secret sauce?

Hard work, passion, humility—leading and

driving everything through my ethics and values:

this is uncompromisable and must be with me all

the time.

What are you passionate about?

I'm definitely passionate about making a difference

to people's lives, knowing that with the roles that

I have gained come with a huge responsibility. I

ensure that I'm mindful of each and every decision

that I make, which affects other people; therefore,

people are always on top of my mind.

Another passion of mine is to enable others to

follow their dreams—to inspire, motivate and

empower them. Each one of us is unique and

has something special to offer. You just have to

bring their confidence to the forefront for them

to realise that and in turn, this will eventually

bring out their passion.

You have had a lot of firsts, but what does

it mean to be the first female CEO of Damas

Jewellery in over 100 years?

I'm very proud of my achievements, especially

as a female, championing empowerment and

representing the potential of women. Having

said that, I am passionate about empowering

men and women as we all serve an example for

each other.

My achievements are the outcome of my hard

work, passion, drive and continually being aware

that we are constantly learning no matter what

position we reach, which pushes me to keep

going.

Despite their potential, many women don't

see themselves as future CEOs. Why do you

think this is so?

The fact that a small single-digit representation

of women in senior roles or on the board is a key

factor; this, however, should motivate women

more. It is up to us to change the mindset that

we can't do it. We must see ourselves as capable

of achieving anything we set our minds to.

Without women driving this mindset, change will

not happen. There are thousands of women that

will follow, and it's up to us to unite and empower

them to do so.

What would you say are some of the best

strategies to promote diversity in the

workplace?

I always had a diverse workplace and I have hired

people with different ethnicities and cultures. I

represented a mini melting pot. It isn't something

that is a strategy. It is part of who I am, how I was

raised, my respect for humanity, and my stance

that we are all capable no matter what. Promoting

diversity in the workplace is an innate part of my

leadership style and is definitely natural.

70
---
71
---
What is your advice to the next

generation of female CEOs?

Remember that it took you hard work and

a great deal of effort to reach the position

that you are in. Stay true to yourself, be

humble and understand that you are an

example which everyone is looking up

to. Ensure that you use your status to

promote positive change and impact, as

well as inspire others, especially women.

You have given a lot of years to the

fashion industry and seen its growth

over time. How would you describe the

future of fashion?

Fashion is an evolving field. I have

been fortunate enough to survive three

recessions and four amazing decades.

Experiencing recession has taught me so

much.

One thing I do know that whilst we are

currently going through an unusual

and unprecedented global impact, this

will bring many innovative and creative

thinkers to the table, as well as gamechangers

that will question the past and

look for a brighter, optimistic future.

I believe that with so many people's

priorities and focuses on reshifting,

consumers are looking for unique,

relatable, ethical, well-made products,

and not simply fast fashion. They want the

story-telling—the experience—to know

who made the products and how they

are made. This means that there will be a

great shift towards ethical and sustainable

products.

This pandemic has propelled this trend to

the forefront; whilst in the past, getting

companies to champion sustainability in

fashion churned slowly.

What advice would you give your

20-year-old self?

I know its cliché, but cherish every

moment. It goes by as fast as a flash.

Remember, even though you think you

know everything, you actually don't.

72
---
73
---
Name 2 books you recommend and why

I don't read much 'cause I literally don't have the time. The only book I

read is the Quran, that is what I make time for. My religion is the most

important thing to me, grounding me and directing me.

Who inspires you with awe and why?

My mother and father inspire me so much. They were teenagers when

they took a decision to leave Iraq and venture into the big wide world.

My father worked incredibly hard and was a pioneer of solar energy

in the 1970s. We grew up understanding the importance of the

environment and respect for nature. He was so humble, charitable,

uncompromisable in his ethics, and he never accepted wrong—no

matter who or what. He taught me to stand up for my beliefs and

support others that were less fortunate, to do good and live a life of

integrity.

My mother was beautiful and creative. She taught me everything about

fashion, colour, and art. She ensured that I would learn to read and

write Arabic, even though we lived away from our home country. She

was an empowered, strong woman, hardworking while taking care of

her family.

My parents were both unwell from an early age and I never quite got to

see them in their prime state. Despite that, they remained passionate,

beautiful, and strong—inspiring and helping others. May they rest in

peace.

What are your top two strategies for dealing with difficult

situations?

For many years, working with thousands of people and being

responsible for many, I have learned that you must think before you

react. You must never handle situations when you are in the heat of

the moment. Stay calm, be open-minded and be honest. My style is

holding brutal but positive conversations, focusing on the solution

instead of the problem itself.

How do you look after your mental health?

I am also known as the Turban Thinker because of the different heads

that they claim I have under my turban. I have a blessed ability to

multi-task and think in many different ways. However, this is mentally

challenging for me: controlling my thoughts and managing the speed

of my work.

My faith is the foundation of my mental wellbeing. I pray, read the

Quran, and ensure that a couple of hours at the start and end of the

day is for some alone time.

What's that one quote you live by?

My greatest gift is possessing the ability to see the spark of potential

in everything and everyone, and to inspire others to see it too. This is

a paradigm I live by.

74
---
75
---
TALENT POOL

S1

THE MIDDLE

EAST'S VERY OWN

KING OF POP

Official_S1

Official_S1

Uncut with S1

S1

76
---
77
---
78
---
79
---
Being amongst the most successful English artists to come

out of the region and making it internationally, what was the

biggest challenge you faced?

The biggest challenge was to get recognised in the industry

internationally without staying in the US. It took a lot of proving

my skills and collaborating with many international artists,

producers, and songwriters. I had to show that I was capable of

creating hit records.

You have been a Recording Academy Member for the past 5

years and have attended several Grammy Award shows, how

was that experience?

A lot of people underestimate the importance of the Recording

Academy, thinking it is just about awards. Definitely, the Grammys

is an important show and awarding body, having a long history of

recognising music and artists' successes, but the Academy plays

an even bigger role behind the scenes. They fight for the rights

and protection of musicians, producers, and writers.

The Recording Academy also supports Musicares Foundation,

which provides money and services to musicians in emergencies

and crises. I have attended many award shows, but the times I

attended the Grammys were all great experiences on another

level. It is an unreal experience to see all the glamour, the talent,

the variety of artists, the people behind the scenes of the biggest

records and legends all under one roof. I was incredibly lucky to

have had the opportunity to see Prince take the stage one of the

times I attended. I am always proud to attend the Grammys and

represent the Middle East and Germany.

How would you describe your musical style?

I consider my style unique. It's a combination of Pop and RnB, with

a twist. It's the S1 sound. You will always recognise the S1 sound

because it is so different. I love exploring and experimenting so I

don't limit myself to sounding one particular way.

What are you passionate about and why?

My biggest passion is making music, whether it be a song for

myself or for another artist. I love the entire process from finding

a beat to creating a melody, writing the lyrics, and making a hit

that will impact people in so many different ways. Once I start

on new music, I get lost in that world and my creativity begins to

flow. There is no greater feeling than hearing feedback from fans

about a new song that I've released. They share their personal

connection to my songs and how it either got them through a

tough situation or that their kids memorised all the lyrics, or even

that they danced to it at their parties! I have always been an

entertainer and live for good vibes. After making a song in the

studio, it is amazing to bring it to life on stage.

80
---
81
---
What do you do outside of

music?

I have a podcast called Uncut with

S1. I have several businesses, my

biggest being in entertainment,

and at the moment I am working

on a project. I can't reveal too

many details just yet, but it is a

new show that I'm filming and

it's going to be big and super

entertaining!

Tell us about Young Millionaire

Entertainment and why you

started it

Young Millionaire Entertainment

has been my baby for almost 10

years. We've grown so much and

I am so proud of our team and

what we have accomplished. I

started the company because

I felt like my team and I could

bring so much more creativity

and quality to the market.

Coming from the entertainment

industry, I experienced going

on tour and performing on so

many different platforms all over

the world, and so I wanted to

bring back my expertise, share

it with people in the region, and

perfect all the missing pieces.

How has social media impacted

your career?

This is a great question because

when I had my first big break at

16 years old, the whole social

media game wasn't as relevant

as it is today. When I would run

into fans, they would tell me

that they saw me on MTV, or

that they heard my song on the

radio, or saw my album in Virgin

and my face in magazines and

newspapers—whereas now it's

all about Instagram, YouTube,

Tiktok, Snapchat or any other

platform. With time, I adapted.

To answer your question, I think

it has made a lot of things much

easier and quicker to get things

out there. Back then, it was

mandatory to get your song on

MTV heavy rotation to get any

kind of exposure, but now, people

themselves can just upload on

YouTube and it is guaranteed to

get some kind of exposure.

82
---
83
---
84
---
How do you see music events evolving as a

result of the current situation with Covid-19?

I see a current trend going around in Europe

and the States where drive-thru cinemas are

being converted into drive-thru music events

or stand-up comedy events. Obviously, such

experiences are only temporary as they are

nowhere near as thrilling and exciting as a

typical event; therefore, they aren't a threat.

Eventually, once a vaccine will be widely

available, things will go back to normal.

You started your music career at an early

age, what advice would you give to young

aspiring artists?

My advice would simply be to believe in

yourself, to set a goal, to chase that goal

until you achieve it, despite what others may

think or say. Always remember that anything is

possible if you put your mind to it. You should

look at things like a muscle: the more you keep

working on it, the stronger it gets.

People like Walt Disney, Oprah, Elvis, Lady

Gaga, Albert Einstein, Steve Jobs, and Michael

Jordan, though from different industries, all

have something in common—they all got

rejected before they made it big! Keep in

mind, rejection should fuel your motivation.

Why Dubai as a base?

Dubai is the greatest city in the world. The

food here is amazing and you have the perfect

combination of city and beach. You have all the

moods in one place.

For my career, Dubai is well-situated

geographically, making travel to most countries

convenient. The service and hospitality in the

UAE is unmatched and I realise that every

time I leave. A major factor is that security

is paramount here. I was born in beautiful

Germany and moved to Dubai when I was

8 years old. I have since then created such

beautiful and memorable memories with my

family, friends, and fans. Every time I fly back

into Dubai, I feel like I missed it so much.

Who do you admire with awe and why?

I admire all the strong, determined and

hardworking women out there. Whether they

leave the house to work or stay at home to care

for their children, or even do both, women are to

be praised, respected, and treasured worldwide.

Having said that, I love my mom and appreciate

everything she has done and is doing for me, my

siblings, and family.

Since you were one of the first Teen Stars in

the Middle East and continue to stay on top

of the game, how have you managed to stay

so relevant?

I think the quality of your work will always speak

for itself. If you work hard, provide amazing

content, and reinvent yourself from time to time,

I would say that's the key to staying relevant and

interesting. Always stay true to yourself and be

honest with your fans and followers.

What's next for S1?

New music and a new show coming soon too!

Make sure you all follow me on my social media

to stay updated and hear it first.

What's that one quote you live by?

"Everybody is a genius. But if you judge a fish

by its ability to climb a tree, it will live its whole

life believing that it is stupid."

–Albert Einstein

85
---
86
---
87
---
88
---
89
---
LIFESTYLE

DO YOU

KNOW YOUR

ATTACHMENT

STYLE?

THE PSYCHOLOGY BEHIND ATTACHMENT STYLES

AND THEIR ASSOCIATED BEHAVIOURS

What Are Attachment Styles?

Attachment styles are the different ways we interact and behave in

relationships. During early childhood, the interaction between the parent

and child defines the child's attachment style.

While attachment styles can shift throughout the years, research shows

that patterns established in childhood have a strong impact on adulthood

relationships. Nevertheless, it is also common for adults to adopt a

combination of traits as they go through different life experiences and

relationships.

History

These attachment styles are based on the attachment theory and research

in the 1960s to 70s. John Bowlby did extensive research on the concept of

attachment. His work was expanded by psychologist Mary Ainsworth who

identified three attachment styles: secure, anxious, and avoidant. Later on,

researchers Main and Solomon added a fourth style—the disorganised style.

90
---
THE 4 ATTACHMENT STYLES

• Secure

A secure attachment is developed in childhood when the child's

needs are regularly met. Children exhibiting a secure attachment

style feel comfortable around their parents. They don't feel

separation anxiety when the parent leaves and they're happy when

they return. The child feels safe, nurtured, and in touch with their

parents. They seek comfort from parents when frightened and have

an easy time expressing emotions.

Adults with a secure attachment style have low avoidance and

low anxiety when dealing with social interactions. They feel

comfortable with their emotions and relationships. They know how

to draw boundaries, express their emotions in a healthy manner,

and feel secure, trusting, and connected to their partners. Overall,

individuals with a secure attachment tend to have a positive view

of self and others and form trusting and long-lasting relationships.

• Anxious

An anxious attachment style is developed in childhood when the

child receives an inconsistent amount of love and care. Children

who are anxiously attached tend to be apprehensive of strangers.

They display considerable distress when separated from a parent or

caregiver and do not seem reassured or comforted by their return.

Adults with this attachment have low avoidance but high anxiety

with social interactions. They are very concerned with what others

feel about them, and because of this concern, they are dependent

on others for feelings of validation and approval. They need

constant reassurance and communication. In relationships, they

want to feel a secure, safe, and loving bond with their partners but

because of their desire for excessive intimacy, oftentimes they can

become overly involved, clingy, and possessive. They tend to have

a lack of trust and they have a difficult time believing that their

partners actually love them. Overall, individuals with an anxious

attachment style tend to idealise their relationships but live in

constant fear of abandonment and rejection.

• Avoidant

An avoidant attachment style is

developed in childhood when only a

portion of the child's needs are met.

For instance, the child may not be

left hungry but are left emotionally

dismissed. The parent may not give

the child permission to cry or have

little to no response when the child

is hurting. This attachment style is

almost the opposite of a preoccupied

or anxious style.

People in this category have high

avoidance but low anxiety with social

interactions. They are uncomfortable

with intimacy, affection, and love. They

generally feel that they are independent

of everybody else and think that they

do not need relationships. They do not

invest much emotion in relationships

and experience little sadness when

a relationship ends. They can often

appear distant as they do not share their

feelings often. They tend to rationalise

their emotions and deny their own

feelings to avoid confrontation.

91
---
• Fearful/Disorganised

A fearful or disorganised attachment is developed

in childhood when the primary caregiver offers

inconsistent emotional support and/or abuse

or neglect. This attachment style is more of a

combination of preoccupied and dismissive styles.

Main and Solomon proposed that inconsistent

behaviour on the part of parents might be a

contributing factor. They also argued that parents

who act as figures of both fear and reassurance

to a child contribute to a disorganised attachment

style.

When the child feels both comforted and

frightened by the parent, confusion results.

Despite craving intimacy, people with disorganised

attachment style have a difficult time connecting

with others while simultaneously wanting to

remain independent and distant. These individuals

usually get into very dysfunctional and unstable

relationships. They have high avoidance along with

high anxiety in social interactions. They generally

see themselves as flawed and not worthy of loving

and caring relationships. Overall, these individuals

tend to have a "push-pull'' dynamic where they

want to feel close and loved but since they expect

to get hurt, they want to avoid any feelings of

intimacy at the same time.

By understanding our attachment styles, we can

shed more awareness on our thoughts and actions

in our relationships. Furthermore, by understanding

our partner's attachment style, we can better

understand why they too act or think a certain

way. Enhanced understanding and awareness can

help partners have more compassion and better

communicate with one another as they navigate

through the ups and downs that come their way.

TANNAZ

HOSSEINPOUR

About the author

Tannaz Hosseinpour, founder of Minutes on Growth Coaching, is a Dubaibased

certified life coach specialising in mindset and relationships. She

helps millennials manifest and cultivate empowered lives through oneon-one

coaching, online programs, podcast episodes and social media

content. She is the host of her self-improvement podcast, Minutes on

Growth, available on Spotify, Apple and Google Podcast. She holds a

Masters of Law degree in alternative dispute resolution, specialising

in family mediation. Since 2017, she is also the CEO and founder of

TP Education Consultants, an educational consultancy firm based in

Toronto, Tehran and Dubai.

Website: www.minutesongrowth.com

Facebook: www.facebook.com/minutesongrowth

92
---
NEURO LINGUISTIC PROGRAMMING:

THE SMART WAY TO DEAL WITH

ANXIETY AND STRESS

Nowadays, adapting to the new circumstances of life

compels your brain to think and behave similarly to a

first day at school scenario where you don't know what

to expect. You enter a new world with different sets of

rules and guidelines that provoke naturally high levels

of stress.

I fell in love with Neuro-Linguistic Programming (NLP),

a psychological methodology, when I was heartbroken

and couldn't deal with the emotional toll for over a year.

I felt so emotional yet so angry for the fact that I have

been left alone after years of promises for a lifetime

commitment. Anxiety took over my health, and day after

day, I got worse.

I remember my NLP teacher inviting me to do a technique

on a broken heart cure that I jumped into passionately

as I was sick of being depressed. The technique we did

on emotional freedom tapping enabled me to create

a healthier and better-looking image of myself. It took

me exactly 24 hours to throw away all the stuff I kept

devotedly for over a year. I have reframed my statement

from being left and lonely to living free and independent,

and actually starting to enjoy it.

It seemed a logically reasonable solution to stop the

vicious and purposeless cycle of making the same

mistakes in life over and over again and not being able

to interpret the pattern. I guess the NLP course found

me and offered itself to me as an instant gratification of

my desire to get out of my painful body.

NLP teaches us how to programme our linguistics aiming

to change our neuronal network and communication. As

my NLP teacher said: "Think of your mind as a flexible

tool and not a fixed one; instead of a mindset, think of it

as a mindflex." Start looking at unconventional and outof-the-box

ideas that are feasible now and implement

them at the earliest rather than going through regrets

over the lost reality. What she uses as an example is a

jelly that adapts to the shape of the mould. Similarly,

through powerful NLP techniques, you can shape your

mind into a form to suit your desired outcomes.

The basic internal protective mechanism of our brain is

called the 'fight-flight-freeze': the response to threat,

anxiety and fear. Dissect fear to understand that it is not

real and accept stress as a good stimulus in your life

to promote growth, resilience, and strength of mind.

Since you love your life, choose and work towards a

flexible mind and learn new ways to move ahead on

your journey.

93
---
Three Powerful Techniques to Deal with

Anxiety and Stress

Circle of Excellence

This is an easy yet very powerful NLP

technique that can help in times of inability to

move ahead in life or when you're missing a

sense of direction.

Think of the time when you felt best as an

individual or a leader, or when you felt great

at anything you do. Analyse the circumstances

where and when you felt it, the colours

associated with the scenario, the intensity of the

achievement, the words that you remember,

or even the taste or smell connected to that

experience. Get all of your senses involved in

that memory. All the collective experiences of

these memories are what we are going to call

your 'excellent state'.

Set up a 'circle' on the floor, one big

enough where you can stand. Associate the

experiences of excellence with standing on

this circle: this is what you're going to call

your 'circle of excellence'. Focus and let your

senses flood your mind to effectively anchor

the 'excellent state' to your circle.

Imagine stepping inside your circle of

excellence. Go back and forth and make

observations. Evaluate all the feelings and

senses you had. The 'excellent state' should

return whenever you go step into the circle.

You can decide to put that 'circle of excellence'

in the chair where you study, work, or in the

bed where you sleep. You will have a more

productive or more tranquil state of mind.

The Spinning Feeling

This technique allows you to locate and

reshape a bodily feeling of stress and anxiety

and give it a different positive sensation. This

method works by lending a sense of direction

and speed to negative feelings, such as

94
---
mentally 'reversing' the direction and spin of these

feelings in the mind will also change or divert the

negative feeling into positive ones.

Think of a situation that caused you anxiety. Think

about the feeling: what triggers it and what result it

yields. Close your eyes and immerse yourself in that

situation. Observe your own bodily responses: do

your eyes go up and then down, or both ways? Where

does the feeling originate—right, left, or centre of

the body? Does your body clench or vibrate?

Follow the path of the feeling in your mind and

notice its size: does it start small and grow big? Is

it within the body or beyond the body? Track the

path of the feeling as it enters and exits through the

same points, making a 'disk' as it 'spins'. Note the

direction: is it clockwise or counterclockwise? You

may even see that this 'disk' has a colour.

To reshape the negative feeling into a positive one,

the trick happens in the mind: this time, reverse the

direction of the spin and change the colour of the

'disk' to a pleasant one, add some sparkles to it, and

make it fun and amusing!

Put yourself back in another situation where you

most likely have the old response and see if you

can get the old response again using the 'spinning

feeling'. You can try this method whenever you're

experiencing a stressful and anxiety-laden situation.

Time Line Therapy®

The Time Line Therapy® is anchored on the concept

that memories are stored in a linear or chronistic

manner in our brains. With this therapy, you will

reframe your perspectives about an upcoming

challenge and prepare yourself to perform at your

best. An individual's 'timeline' is the result of the

unconscious process of storing his or her memories,

as well as how he or she unconsciously distinguishes

the difference between a past memory and a future

projection.

To apply this technique, imagine a timeline of your

past, present and future. You should be able to point

your past, present and future to any direction from

your body. Visualise your timeline clearly.

Think about an event that is causing you stress.

Close your eyes and visualise that future situation

playing out. Where do you feel that nervousness in

your body? Rate the strength of the feeling from one

to ten. Open your eyes and take a deep breath.

95
---
Take a moment to close your eyes and ask yourself for the

opportunities of this future event that can benefit you. If

things went better than you can ever imagine, what are

the benefits of taking on this challenge and what could

make you excited about this opportunity? See what you

like to see, hear what you like to hear, and feel it.

With your eyes closed, go back on your timeline. You

are in the present moment of your timeline, facing the

future. Imagine floating above the timeline until you are

on a comfortable height looking from above. Gently turn

into the direction of your future as far as you need to go.

Float all the way in the future and go even further until

you are an hour past the successful completion of that

event. The event is completely over, and you made it

through; you realise that everything turned out even

better than you imagined. Gently turn and look back

towards the now, from a safe place in your future back

to your present moment. Notice that the anxiety you had

before is completely gone.

At the moment, you will come back to the present to

prepare yourself for the success of that event. Your

subconscious mind made all the adjustments you need

for this event to happen with all its success. Take another

deep breath in and all the way down to your belly and

wake up. Try to think about that event again. You might

even realise that the anxious feeling has become more

elusive.

NLP to combat stress and anxiety

Many recent studies suggest that NLP has potential

as a therapeutic tool in the treatment of symptoms of

anxiety and depression associated with post-traumatic

stress disorder (PTSD). Studies also show that individuals

who work with NLP experts experience a dramatic

improvement in their emotional states.

Much of our modern anxiety is based on the fear that

we are not in control of our own minds. NLP takes a

different approach to treating anxiety as it taps the

power of the subconscious mind to make big changes

within our consciousness. NLP also utilises the power

of language to bridge our conscious and subconscious

mind, using techniques that may help us feel better, be

more resourceful, and be more empowered to live a life

we appreciate and desire.

ABOUT THE AUTHOR

VYARA TOSHEVA

Wellness, Spa and Retreats

Business Consultant

In over 19 years, Vyara Tosheva has gained professional

experience in hospitality, leisure and wellbeing. Vyara

graduated in Tourism Management and holds a Master's

Degree in Psychology and Sociology. She also holds a

Bachelor's Degree in Tourism, as well as internationallyaccredited

certification courses in Hospitality and Spa

Management. She travels the world to enhance her

expertise through further certifications in Ayurveda,

Wellness and Fitness Consultancy, Coaching and

Psychology.

She is a certified NLP and EFT master coach and Reiki

practitioner. She also led the opening of The Retreat

Palm Dubai, the first wellness retreat resort in the UAE

and GCC, as well as the Rayya Wellness and Poli-clinic

Centre. She created and managed the first holistic

96

retreats in a hotel environment where in-house and

visiting master practitioners, energy workers and doctors

combine their knowledge with fitness, spa and beauty

professionals to deliver transformational retreats.

As a consultant, she advises and consults hospitality and

spa executives on the creation of wellness projects and

their execution.

Vyara's mission is to empower busy executives to create or

enhance their business models geared toward a wellness

lifestyle on both professional and personal levels. Her

vision, on the other hand, is to create worldwide wellness

and health retreat centres that provide premium services

for its employees, guests and visitors.
---
WHY YOU SHOULD

PRACTISE

SELF-CARE

AS A LEADER

Effective leaders are those who understand the importance of their

wellbeing and find ways to live a healthy, balanced life. It is important

to point out that work-life balance does not exist as we imagine it. This

I know as a senior leader: in most cases, it is impossible to balance work

and life perfectly. The reality is that there will be days when you need

to focus solely on work while personal time with family and loved ones

take a backseat. Then, there are days when you must focus on family,

and your work is likely to be on the sidelines. It is about prioritising

each day, week, and month, and recognising when it is time to give for

work and when it is time to give for family life and personal activities.

So, let us call it prioritisation instead. Having the right partner by your

side also makes a huge difference for many leaders, as leaders need

support and understanding when they need to take time away from

family commitments.

Stress is one of the common symptoms of not practising self-care. When

stress sweeps in, one is bound to fall sick. Being sick will not help you nor

97
---
your team. If you are to get one takeaway from this

article, I hope it is the following statement: Ignoring

self-care will send a message across your team that

everything else is important other than you, and

they will be influenced to follow your example.

Imagine the kind of loss an organisation can face

when a leader's productivity decreases, which is

followed by a decrease in the productivity of his

or her team members. In addition, this situation

creates a company culture where it is a norm to

work long hours, take little leave time, work on

weekends, not take time for self-care, poor health

habits, or whatever other trends that a leader may

be setting for the organisation. Surely, there are

times or 'seasons' in every business where the team

members have to work late hours, but that should

not be the norm.

A leader's job is to lead by example, by creating

a productive and positive environment, as well as

practise and promote self-care and wellbeing around

them. The success of a team starts with a leader. A

leader's path to success starts with self-care. When

you, as a leader, take care of your own self, you will

have the energy and right frame of mind to support

98
---
and help others. As a leader, you are the role

model for others. When you take care of yourself,

others will do the same. By taking care of yourself,

you are letting the world know that personal

health is more important than continuous work

and must be followed by everyone. As a result,

positivity and overall performance are bound

to increase. A leader who prioritises self-care

and personal downtime can be noticed to have

enhanced wellbeing and performance in multiple

areas of professional and personal life.

Leadership truly requires continuous effort and

long working hours, but relaxation and rest are

equally important. Leaders need to understand

that every minute is crucial, but working every

minute of each day can take a toll on your body,

ultimately affecting your productivity. You must

make time for yourself and not feel guilty about

it. A few ways leaders can include self-care in

their daily lives are the following: practising

meditation, exercising, getting quality sleep,

planning a fun activity together with family, taking

family vacations, implementing healthy eating

habits, spending time with loved ones, creating

a peaceful home atmosphere, maintaining a

gratitude journal and surrounding yourself with a

positive environment at work and at home.

As long as your body and mind are healthy, the

rest of the things can be sorted equally in work

and in life. Make time to take care of yourself

so that you can be a better you, a better family

member, and a better leader.

ABOUT THE AUTHOR

ELENA AGARAGIMOVA

Managing Partner at Bessern and Talent Development Specialist

Elena is an entrepreneur, talent development specialist, and education advocate

with a deep interest in neuro and behavioural sciences. She is known for her

ability to drive change within individuals and organisations that are looking to

reach their potential and maintain their competitive edge in the business world.

She has started her career in higher education, having worked across various

institutions, departments and regions. In her recent years, she dove into business

and joined Bessern, as well as founded a learning and developing consultancy,

as well as several other projects within the talent development arena.

She is an engaging skilled trainer and talent development specialist, credited

with combining operations, education, and international expertise to design

and deliver programs for diverse audiences. Elena has a strong passion for

L&D, promoting creative and engaging workplaces and all about optimising

performance through the development of others. As a career coach, Elena has

over ten years of experience working individuals across different generations,

supporting them in achieving their professional and personal goals.

99
---
VYBE WOMAN

T A P P I N G I N T O Y O U R

Serenity & Strength

5 Powerful Neurolinguistic

Programming Techniques,

Emotional Freedom and

Emotional Intelligence

Techniques to calm busy

minds, instill relaxation

and strengthen the

confidence and ability to

move towards desired life

goals.

Includes:

Circle of Excellence and

Power

The Chocolate Journey

of Pleasure

Building Self

Confidence

Create Your Best Self

Embracing your Power

and your Shadow Self

And a bonus ...

100
---
Sit Back & Relax

5 mind-shifting,

fresh-perspectives and

life-transforming techniques,

combining the best tools from

mind science pre-recorded

practices

VALUE PACK: 199 AED

FOR THE FIRST 20 SUBSCRIBERS

BONUS: 1 complimentary

NLP & EFT session

(ORIGINAL VALUE: 1500 AED)

Once you place your order,

your weekly episodes will be sent to your

inbox

for the next 5 weeks

"TAPPING INTO YOUR SERENITY &

STRENGTH"

REQUEST NOW

Send an email to info@vybewoman.com

to receive our full list of services.

For inquiries or to set an appointment,

call 0559839777 or email info@vybewoman.com

101
---
FOOD

5 MASON JAR

RECIPE IDEAS

Summer is finally here! Aside from the sultry summer mornings, another thing to look

forward to is the variety of food and drink that you can prepare and enjoy with your

loved ones. Jumping on the recent trends, mason jar recipes are perfect for trying

this summer. Not only are they chic and beautiful to look at, but these recipes are

also quite convenient and easy to make. Here are five amazing and delicious mason

jar recipes that you can easily try at home!

102
---
1. Fruit and Yogurt Breakfast Parfait

What better way to start your morning than having a mouthwatering breakfast

parfait? This easy-to-make, gluten-free breakfast provides more than enough

fuel to start your day. To make this delightful treat, follow the steps below:

• For the ingredients, you'll be needing the following:

• 170 grams of creamy Greek yoghurt

• 1 teaspoon of chia seeds

• ⅓ cup of oats

• 2 tablespoons of milk

• Preferred mixture of fruits and berries

• Using a bowl, mix Greek yoghurt with oats, chia seeds and milk, and then stir it

together.

• Place your yoghurt mixture in the mason jar.

• Add a half cup of your chosen fruit-and-berries mix. It's recommended that you

use frozen fruits and berries since they produce berry sauce that spreads in your

parfait.

• Place the remaining yoghurt mixture and stack it with the remaining berries and

fruits, then chill it overnight. In the next morning after waking up, you can enjoy

a yummy and healthy breakfast-on-the-go.

2. Oriental Chicken Pak Choi Mason Jar Salad

For lunch or dinner, this oriental chicken pak choi salad recipe will make a big hit on

the dining table. It is easy to make and is the perfect way to use leftover vegetables

and stir-fried or grilled chicken.

• Ingredients:

• 170 - 220 grams sliced chicken breast

• 1 tablespoon of sesame oil

• 1 tablespoon of tamari soy sauce

• 1 - 2 tablespoon of sesame seed

• 1 tablespoon of slivered almonds

• 1 teaspoon of honey

• 1 teaspoon of chilli pepper flakes

• 1 - 2 cups of chopped cabbage

• 1 cup of shredded carrots

• 1 small baby pak choi bunch

• 1 small oriental or portabella mushroom

• Sea salt and black pepper to taste

• In a skillet, grill your chicken slices and season it with sesame oil, tamari, chilli

flakes, honey and sesame seed. Set this aside in a bowl once cooked.

• Mix the remaining sesame oil and tamari with mushrooms and then toss it to

cook. If there's any excess oil or tamari, set it aside in a bowl.

• After cleaning and slicing the pak choi in half, lightly steam in a microwave for it

to soften. Do this for about 30 seconds to a minute.

• Next, you'll have to layer the ingredients in the jar. Start by placing the cabbage,

then mushrooms and some chicken. Wrap the sliced pak choi around the jar and

then add your carrots. If you want, you can pour the leftover oil and/or tamari

you used earlier.

• To top it off, sprinkle the almonds and the sesame seeds. You can then seal and

store it for later.

103
---
3. Vegan Red Curry Cup o' Noodles

A healthy alternative to a college favourite,

this DIY ramen-in-a-jar packs a lot of flavour

and is perfect for lunch.

• Ingredients:

• 2 teaspoons of red curry paste

• 1 teaspoon of brown sugar

• 1 teaspoon of soy sauce

• 1 teaspoon of chilli-garlic sauce

• ½ teaspoon vegetable bouillon paste

• 1 cup of cooked ramen (or any noodle of your choice)

• ½ cup of sliced spinach leaves

• ½ cup of mixed frozen vegetables

• ⅓ cup of coconut milk

• 2 tablespoons of chopped scallions

• Lime wedge and sesame seeds to taste

• Optional: ⅓ cup of baked tofu for more flavour.

• In a bowl, mix and whisk both the curry and bouillon paste as well

as the chilli-garlic sauce, soy sauce, brown sugar and coconut

milk. Then, pour this mixture into your jar.

• Next, you'll have to layer your noodles, vegetables, tofu and

spinach. Make sure to leave spaces for the water.

• Place the scallions and lime wedge in a tiny plastic bag and

squeeze out the air. Place the plastic into the jar and seal it.

• When ready to serve, remove the plastic bag and add boiling

water. Seal the jar once again and let it sit for about 2 minutes.

• After that, add in the lime and scallions.

4. PB & J Mug Cake

Of course, summer is not summer without

desserts. This quick and easy recipe will surely

satisfy your sweet tooth.

• Ingredients:

• 130 grams of plain all-purpose flour

• 110 grams of light brown muscovado sugar

• 90 grams of unsalted butter

• 60 grams of peanut butter

• 3 small eggs

• 90 ml of milk

• 6 tablespoons of the jelly of your choice

• 1 tablespoon of baking powder

• ¼ teaspoon of salt

• ¾ teaspoon of vanilla extract.

• To start, melt your butter in the microwave. Once melted, slowly add the

peanut butter until it forms into a smooth mixture.

• Then, add in the jam as well as baking powder, flour, milk, sugar, salt,

vanilla extract and eggs into the mixture. Mix well.

• Next, pour this mixture into the mason jars. This recipe can make 3

servings. Add ½ tablespoon of jam on each jar.

• After this, microwave the jar until the cake rises over their rims. Let it sink

for a moment before quickly microwaving it again. Repeat this process

until the cake is thoroughly baked.

• Once out of the microwave, let the mugs cool for a few minutes. When

you are serving the mug cake, make sure to have 1 tablespoon of

chopped skinless peanuts (preferably unsalted) and 1 teaspoon of sifted

confectioners' or icing sugar to sprinkle on top.

104
---
5. Summer Tiramisu

Another dessert that you can enjoy, this sweet

tiramisu will leave you wanting more. Summer

ain't summer without tasting this classic dessert.

This recipe makes 4 servings you can enjoy with

your family and friends.

• Ingredients:

• 12 pieces of dried ladyfinger cookies

• 1 cup of cold heavy cream

• 1 cup of mascarpone cheese

• 1 cup of cold, strong coffee

• 1/3 cup of powdered sugar

• 6 teaspoons of Kahlua (optional)

• 1-2 ounces of dark chocolate.

• To start, mix your cream and sugar and whip

this combination until you see soft peaks.

Add in the mascarpone cheese (make sure

that it's soft and has room temperature)

and gently fold it in the mixture until these

ingredients combine.

• In another bowl, mix the cold coffee and

Kahlua.

• Grabbing your ladyfingers, cut the biscuit

into 2.5 cm pieces then dip it in the coffee-

Kahlua mixture Then, place all of the pieces

into each of the mason jars.

• Add in a spoonful of the cream-mascarpone

mixture into each biscuit layer. Layer it

once again with another round of biscuits,

followed by another layer of cream. Repeat

until you're satisfied. For the final touch,

add in a generous amount of shaved

chocolate.

• It's best to refrigerate the tiramisu for a few

hours to allow the ingredients to mix and

settle fully.

Which among these mason jar recipes would you

try first? Undoubtedly, summer is one of the most

exciting seasons to try and enjoy different treats!

105
---
FITNESS

Being home for longer periods

of time can make you feel

lethargic and bored. Exercise

makes your body work, and

it activates all your senses. It

also releases dopamine and

adrenaline, both of which

elevate your moods and add to

your physical strength.

ABSOLUTE

HOME FITNESS

ESSENTIALS

You don't always need fancy

and high-tech gym equipment

to be on top of your fitness

game. Few people realise that

a fit and strong body can be

created and maintained with

just a few essentials. We have

crafted for you a list of essential

home exercise equipment that

you need. They are easy to find,

store, and won't take much

space in your home!

1. Resistance Bands

If you only ever purchase one piece of

exercise gear in your life, let it be a pack of

resistance bands. They practically take up

no space and are literally weightless. When

you push against a resistance band, your

muscles must engage in fighting the tension.

You have to press your legs against the band

even when you are standing just for doing a

simple squat. This means that your muscles

are almost constantly at work when a

resistance band is involved in your workout.

They are highly versatile and you can use

them for an upper body or a lower body

workout without ever touching a dumbbell.

106
---
2. Medicine Ball

Medicine balls are an extremely efficient and fun

tool for building your core strength. It is simply a

ball with added weight ranging from 1 to 10 kgs.

Not only is a medicine ball perfect for powering

up your lower limbs, they're also great for your

abdominals. Medicine balls are used for a variety

of movements ranging from squats to lunges with

chest twists and can improve your response time

and response intensity. Make sure you choose

the right weight when picking a medicine ball.

3. Skipping Rope

The skipping rope is an evergreen piece of fitness

equipment that is recommended by fitness

gurus for conditioning and high-intensity interval

training (HIIT). They are extremely affordable,

and you need only a small space for jumping

rope. It is a great way to get your heart pumping

and ready for a hard-core workout!

4. Exercise Mat

Add an exercise mat to your home workout

routine and feel the difference. A mat will give

you a comfortable personal space to do your

exercises. A mat stays put and allows you to do

push-ups, planks, sit-ups, without the risk of your

hands or feet slipping away during a session.

When you pick an exercise mat, make sure to

check the material, so it is leak-free and easy

to wipe down. Look for a length that is at least

15 cm longer than your height. Usually, exercise

mats are about 1.2 cm in thickness, which helps

shield your body from the hard floor.

5. Kettlebell

These heavy-duty tools are perfect for functional

exercises that combine cardio and strength

exercises. Kettlebells are more preferred than

barbells or dumbbells as they are off-centred

in weight. Exercises done with kettlebells fix

misalignments, asymmetries and weaknesses

in the body. Kettlebells help build endurance.

Some well-known exercises you can do with

a kettlebell are the sumo squat, the kettlebell

swing, the single-arm kettlebell row and the

kettlebell windmill.

107
---
6. Foam Roller

Foam rolling is a self-myofascial release technique.

These amazing rollers made of foam help you cool

down after a heavy-duty workout, relax the tension

in your muscles and improve flexibility. A foam

roller is lightweight and is a great addition to your

home workouts. You can literally store it along with

your rolled-up exercise mat in the corner of your

room. Foam rollers are known for the treatment of

fibromyalgia symptoms and also assist in reducing

inflammation.

7. Pull-up Bar

Pull-up bars are the most effective exercise for toning

your upper body. It is quite possibly also the hardest

bodyweight exercise that you can do. It is easy to

install bars that leverage on the doorframe. From

there, you can do several exercises like the simple

body pull up, a chin-up, a mixed grip pull up which

uses an upper hand grip, and an underhand grip,

among others. It tremendously strengthens your back

muscles, your core power and helps target muscles

from a different angle.

8. Step Platform

Step platforms are simply stepping stools that allow you

to get all the benefits of a high-intensity cardio workout

with less stress on your joints. It is ideal for burning those

calories and reducing fat. Step aerobics performed on

a step platform can also boost your mood and energy

levels. People struggling with osteoporosis can enjoy step

aerobics and find that it improves bone strength. There are

several variations of exercises that you can try on the step

platform like a simple right, a simple left, an A-step, a turnstep

move and an across the top move. A step platform

is easily available, budget-friendly and can be stored in

limited spaces, like under your bed!

9. Dumbbells

Definitely one of the most commonly found exercise

equipment, dumbbells are certainly a home fitness

essential. Most of us grew up watching our older

brothers flex those triceps with an heirloom dumbbell

that belonged to our dads. Dumbbell exercises create

both intra- and inter-muscular coordination that leads

to greater levels of muscle activation. Whether you

own one or a pair, dumbbells can be used to focus

singularly at one set of muscles at a time. Reverse

lunges and rotational presses are the most widely

performed workout moves with dumbbells.

No matter what your home workout routine is, or how much equipment you have with you, long term results only come with consistency

and dedication. Watch your posture while you exercise and remember to have fun!

108
---
TRAVEL

8 MUST-VISIT

UAE CULTURAL SITES

Well-known for its modern skyscrapers, luxury hotels, and fabulous

beaches, UAE boasts a variety of must-visit cultural sites firmly rooted

in Arab-Islamic traditions. While blending international influences

and a strong dedication to local heritage, UAE's cultural sites provide

visitors with an interesting look into the past, present, and future of

this magnificent country.

109
---
Heritage Village, Abu Dhabi

Heritage Village, which was built in 1997, takes you back

in time to relive Abu Dhabi's history. Visitors are given a

historical view of old traditions and customs, complete

with photos and displays. During your visit to Heritage

Village, you will have the opportunity to experience the

traditional desert way of life with the simulation of an

old souk, a mosque, and a pre-modernised Abu Dhabi.

Featuring public workshops where craftsmen show

traditional skills such as metalwork, pottery, weaving, and

spinning, Heritage Village provides an interesting glimpse

into the Emirate's past. The craftsmen at Heritage Village

often interact with visitors, sharing their vast knowledge

of the history of traditional Arab craftsmanship. The spice

shop within the village offers a range of dried herbs,

handmade soaps, and plenty of souvenirs to collect.

Qasr Al Muwaiji

Home to generations of the Al Nahyan family and the

birthplace of Sheikh Khalifa in 1948, Qasr Al Muwaiji

is one of the most prestigious historical places in the

country. It is preserved by the Abu Dhabi Tourism

and Culture Authority and built in the early years of

the 20th. Qasr Al Muwaiji, also a UNESCO World

Heritage Site, gives a picture of the lifestyle of the

ruling family before the country became what it is

today. The magnificent site functioned as both the

home to an oasis in the desert, as well as a place

of authority and focus for the community. Providing

visitors with a variety of historical and traditional

experiences, this architectural treasure includes oral

narrations of important moments in Sheikh Khalifa's

life, from his early childhood to his leadership and

achievements. The museum located inside the

property provides the public with the chronology of

the members of Abu Dhabi's ruling family connected

to Qasr Al Muwaiji and the Al Nahyan Family.

110
---
Sharjah Art Museum

Sharjah Art Museum offers art lovers a unique

opportunity to admire the variety of collections

and temporary installations in one of the largest art

exhibitions in the Gulf region. Visitors can explore

fascinating masterpieces of local painters and wellknown

Arab artists who have contributed to the vast

history of the Arab art world. Showcasing artistic

creations and collections of more than 500 artworks

of various mediums and techniques, this three-level

museum holds a variety of temporary exhibitions and

art events throughout the year. The Art Library consists

of over 4,000 titles in Arabic, English, and other

languages, along with visual and audio materials.

Umm Al Quwain Museum

Built inside a fort that was once home to the

Emirate's ruling family, UAQ Museum is home to

artefacts unearthed at Ed Duris. Known as one of

the largest archaeological sites in the UAE, Ed Duris

is slated among the most important lost cities of

Arabia. At Umm Al Quwain Museum, you will also

find exhibits showcasing the history of the war in

the region and several artefacts from the excavated

site Al Dur, a coastal city from 200 BCE to the third

century CE. The museum is still one of the bestmaintained

structures located in the old souk area

of the Emirate known as Madeena Al Qadeema.

With buildings over 150 years old, the area has the

traditional look and feel of the city.

111
---
Al Qattara Arts Centre

Al Qattara Arts Centre has been developed around the

earlier Bayt Bin Ati Al-Darmaki and was opened in 2011.

A traditional mud-brick tower and house located on a

mound overlooking the date-palm gardens of Qattara

Oasis, the Centre offers a variety of cultural and artistic

programmes on local artistic traditions and practices. Al

Qattara Arts Centre also offers a dry studio for a variety

of activities such as music classes and art crafting, and

a wet studio available for drawing and painting classes.

The Centre contains a fully equipped pottery studio, a

digital room for photography and computer classes, a

spacious calligraphy studio, an exhibition hall, and a café.

Additionally, it includes a gallery, library, and a visitor's

reception area.

Sheikh Zayed Grand Mosque

The iconic Sheikh Zayed Grand Mosque is known as

one of the world's largest, most gorgeous mosques.

Conceived from the vision of the late Sheikh Zayed

bin Sultan Al Nahyan, the UAE's first president and

the ruler of Abu Dhabi, the Sheikh Zayed Grand

Mosque was created to celebrate cultural diversity

while merging architectural styles from different

Muslim civilisations. The mosque's architects are

British, Italian, and Emirati, and design inspirations

were borrowed from other Islamic countries

like Turkey, Morocco, Pakistan, and Egypt. This

magnificent architectural monument with a capacity

of 40,000 worshippers has an open-door policy that

invites tourists and worshippers from all around the

world to witness the spectacular onion-top domes,

the reflective pools throughout the courtyard and

the renowned prayer hall, that not only overflows

with blissful sunlight but also houses the world's

biggest handmade chandelier and carpet.

112
---
Qasr Al Watan Presidential Palace

The newest cultural landmark in Abu Dhabi, Qasr Al

Watan opened its doors to the public as an invitation

to discover the exquisitely crafted tribute to the

Arabian heritage and artistry through architecture

and design. Visitors will see examples of Arabian

craftsmanship and art as well as create traditional

calligraphy on interactive screens and explore

centuries of knowledge in books focusing on the

UAE in the Qasr Al Watan library. In addition, Qasr

Al Watan invites visitors to learn about the cultural

traditions and values as well as explore a historical

legacy of knowledge and understanding of the UAE.

Those visiting at night will enjoy the light and sound

show told in three acts covering the past, present,

and future vision of the country.

Louvre Abu Dhabi

Louvre Abu Dhabi is an art lovers dream! The first

museum of its kind in the Arab World, Louvre Abu

Dhabi displays works of historical, cultural, and

sociological importance from ancient times to the

contemporary era. Comprising 9,200 sq m of galleries

including the Permanent Gallery and the Temporary

Gallery, the Louvre Abu Dhabi was designed by

Pritzker-prize winning architect Jean Nouvel. Nouvel

designed a falaj-inspired water system running through

the museum, inspired by ancient Arabian engineering,

while the dome borrows inspiration from the palm

leaves traditionally used as roofing material in many

parts of the country—thus recreating parts of UAE's

integral cultural elements.

ABOUT THE AUTHOR

MONIQUE L. SPEARMAN is a freelance multi-faceted writer,

curator and creator. Blending a passion for content creating,

social media marketing, photography and travel, Monique

created her blog website RaineyAmore.com in the spring

of 2017 as a hobby. Raineyamore.com is a lifestyle, fashion,

beauty and travel brand that encourages men and women

from around the world to live their best lives, out-loud.

Inspired by the aesthetics of different cultures, Monique

wants to show the world, "Everything has beauty, but not

everyone sees it!"

113
---
FOR THE CULTURE

THE NUMBER ONE REASON

MOST STARTUPS FAIL

You may be new to business or have the greatest business idea that you

are about to launch. Before you launch your business or even continue,

take some time to read this article. It may save you a lot of time, money

and heartache. In this article, I will outline some of the major reasons

why many startups fail and what you can do to mitigate them.

In a recent article by Denise Lee Yohn, an admired brand leadership

expert, she outlined what she believes are the top reasons startups fail.

She noted that many people get caught up with the well-publicised

success stories of startups, especially tech startups. They will usually

raise huge amounts of money and believe that they can become socalled

'unicorns'. There is nothing wrong with being optimistic when

going into business, but the reality is that in the long run, about 97% of

new businesses fail within the first five years.

114
---
GOING INTO BUSINESS FOR THE WRONG

REASONS

Why do you really want to start or run a business? Taking

time to ask and answer this question could be the difference

between success and failure. Business is hard, and many of

us do not have the temperament to handle the highs and

lows. We hardly hear of the struggles involved in starting

and running a successful business. When the rose-coloured

glasses are yanked from our faces, and we see the reality,

many of us run for the hills. To be able to avoid this pitfall,

take time to carefully examine your motives and resolve

before going into business. Speak with other business

owners. Get a mentor, if you can; this does not have to be

a physical mentor, but it can be someone you admire in

business whose story you can follow closely online. Learn

from their mistakes and seek guidance.

LACK OF FUNDING

Not having enough capital will derail any good business

or business idea. Although I am not a massive fan of going

after venture capital funding immediately, you have to

ensure that you have some capital to see you through the

initial startup phase. Getting investments from family and

close friends might be the best option to start with if you

do not have savings of your own. Now here is the clincher:

don't take other people's money if you are not willing to

invest your own. To help make the most of your funds, start

small and test often. The advice given in The Lean Startup

by Eric Ries, one of my favourite books, is to test, test, and

test. Do not add features or services without knowing if

they will add value or revenue. Ensure that the money you

are spending will yield the best results for your business.

This will help you to conserve on your spending.

NOT MEETING CUSTOMER'S NEEDS

The customers you start with, or the ones you have, will

change over time. They mature and their needs change

so your company must keep up with them. Not staying

abreast with your customer's needs will cause you to go out

of business faster. To mitigate this common mistake, make

sure you communicate constantly with your customers, not

just to tell them what you are offering, but to genuinely find

out what they want from your business or company. The big

mistake many companies make is not listening to what their

customers are telling them. Sometimes, your customers will

not verbalise what they want, but they will leave clues by

showing you where they have moved to and what they are

now doing or buying. If you see that your customers are

moving to another business or service for something that

you do not offer, pay attention. This might be a sign for you

to add or subtract from what you are currently doing.

THE NUMBER ONE REASON WHY STARTUPS

FAIL

According to Denise Lee Yohn, the number one reason why

most startups fail is there is no market need. Yes, you read

that right. We often have great ideas, enough money, did

lots of market research, hired the best team and did the

work but our businesses fail because not enough people

are willing to pay for what we are offering. She said that

startups fail when they are not solving a market problem.

You may be wondering how this could happen if you have

done good market research. Many people will give you

buying intentions or show buying indications, but when it

is time for them to part with their cash, they are no longer

interested. The best way to test a product is to launch it

and see if you get enough buyers on a consistent basis to

support or even grow the business.

Create shortages on purpose. Do people ring and ask when

it will be available? Can you generate serious enquiries or

even a waiting list? Can you get advanced orders? These

are sure-fire ways of knowing whether or not you are on to

success. Examine where your product or service lies in the

order of needs. Is it considered a need or a want? Companies

or services that fall into the 'wants' category may struggle

when people are forced to make tough choices on how

they spend their money. This is true, especially nowadays. If

you have just started or about to start on the road to being

a business owner, ask yourself which of these categories

does your product or service fall in.

Although many startups fail, many succeed, and you can be

one of the success stories if you just take the time to do the

necessary work. Good luck!

ABOUT THE AUTHOR

LEISA GRACE WILSON is an educator, entrepreneur and

blogger. She currently lives in Abu Dhabi with her seven-yearold

twin boys and husband. Leisa is passionate about personal

development, entrepreneurship, finances and the world of

education. You can connect with Leisa by visiting her blog www.

leisagrace.com or connect with her on Linkedin https://www.

linkedin.com/in/leisagrace/

115
---
THE REINVENTED CHRONICLES

BY YVONNE MTENGWA:

8 HACKS TO

INVOKING COURAGE

IN DIFFICULT TIMES

116

You've seen the headlines. You've been tuned in to

news report after news report and opened just about

every video that appears on your feed. Perhaps

things haven't been all that bad for you as much as

they have been for others over the past few weeks,

but still, your mind is clouded, and it almost feels like

you are drowning under the weight of what's going

on outside your walls. Your family members, friends

and coworkers have been affected by the perils of

our times in one way or the other. There are so many

things to say yet many in our midst are silent. Or are

they? Maybe it's us who are silent.

What part can we play in being the change our world

so desperately needs? What can one do to muster

courage during difficult times?

Courage is defined as the "mental or moral strength

to venture, persevere, and withstand danger, fear,

or difficulty", according to the Merriam-Webster

dictionary. The past few weeks have presented us

all seemingly unending moments of reflection and

introspection. Courage, to me, has been something a

little less bravado in definition, as I have come to view

it as merely pushing through the pains and frustrations

of difficult times.

To be bold enough for change, either in our lives

and for the sake of others, requires us to stand when

others are running, to stare at fear in the face, or

to choose to remain steadfast in your ethically and

morally acceptable beliefs. Having courage simply

means going for it, or trying something different,

when everything is telling you to quit or challenging

you to do things the way you've always done them. If

you are reading this and are struggling to figure out

how to pick up the pieces during, or in the aftermath

of troubled times, keep reading. I hope that as you

do, you'll find a few words to give you the courage to

keep going.
---
1. LET YOUR FAITH GUIDE YOU.

I am a God-fearing woman who believes that there is

nothing I could ever experience that God hasn't already

equipped me for. It is part of His plan, and only He can give

me the strength needed to push through the dark tunnels

of life. In moments of weakness, I choose to believe that

God is all-knowing; and because I was brought into this

world by Him, He will be faithful to watch after all that

concerns me. We've all experienced some loss–a loved

one, a job or hard-earned money, opportunities and so

on. But the truth of the matter is as long as we have breath

in our being, we are to keep going for this thing called life

to be worth our while. Turning to some form of inspiration

in helping us do so is a must.

Now, there are some in our midst that do not believe in

religion or spirituality and that is a reality we must accept

and live with. I am of the belief that times will arise when

we'll need inspiration from a higher power than ourselves.

2. CHANNEL YOUR ENERGIES TOWARDS

THE POSITIVE.

We hear this so much that sometimes we skate right past

this unshakeable truth. Trying times require us to fight the

struggle by shining light on it. Open those books that

inspire positivity and listen to those sermons or messages.

Find and focus on pursuits that inspire positive outcomes.

What's that one thing you've always known you needed to

do, but you blamed limited time for not doing? Could it

be becoming a part of initiatives to build your community,

volunteering with the nearest charitable organisation, or

starting an exercise regime so you can feel better about

your body? Maybe it's just being more thankful for the

things you do have because let's face it, gratitude is an

incredible ray of light on dark situations.

3. THERE'S ALWAYS A LESSON IN THE

MADNESS.

It's often when things go wrong that we learn how to be

and do better. Recurring bouts of sickness led me to be

more disciplined about what foods I ate, and that exercise

and an apple a day would not simply keep the doctor away.

Enduring copious amounts of stress at a job I didn't enjoy

but stayed at because I needed the salary taught me that

there is more to developing a passion-filled career than

money. Experiencing culture shock as a young immigrant

living in America made me realise how culturally sheltered

I was, and just how much I needed to learn how to foster

friendships with people who I viewed to be far different

from me. The lessons we learn during difficult seasons

really do equip us for bigger and better. In the words of

the great motivator Zig Ziglar, "Difficult roads often lead to

beautiful destinations. The best is yet to come."

4. HARD TIMES INSPIRE CREATIVITY—

AND CHANGE.

There were times I had to figure out how to make a

whole new meal out of a few dollars or leftovers. A life of

gratitude is often inspired by having gone without. When

we focus on what we have as opposed to what we do not,

while still finding a way to communicate or activate the

steps towards the change we need to see, we can usher in

a new tide with time. You've heard the adage that nothing

changes until we do, and oftentimes we need to be more

creative in getting our point across or solving problems.

Can you think of a time wherein you had to channel your

inner creativity to keep things moving along?

117
---
5. THE GREAT QUESTION: WHAT'S

WITHIN YOUR CONTROL?

Being an adult will teach you this: there are many things

we can control but there are also just as many we

cannot. People are complicated. Hectic situations arise

and some have nothing to do with human behaviour

at all. A global pandemic at the onset of this decade

is teaching us where to focus our energies, how to

adapt to today's norms, and what to do to keep from

falling sick or putting ourselves at risk. Some have lost

their jobs and are looking for a way out or into a whole

new situation. Knowing what you can control is a good

start towards appreciating the power you have to keep

pressing in. Do what you can with what you have—

materially and skillfully—and put all the other things

aside. There are no spoils to concerning yourself with

things that no strength or intellectual contribution of

yours can change.

6. REMEMBER THAT YOU'VE PROBABLY

BEEN HERE BEFORE.

No one's life is void of drama. The challenges will come,

and they come packaged differently for each person.

And you know what? You've gone through some hard

times before but you are still here. When you believe that

you will get through this too, it shifts your perspective

and ramps up your emotional intelligence to the levels

needed to help you overcome the challenges you face.

7. DON'T STAY IN THE CAVE.

It's very easy to close the world off when things go

wrong. Somehow, we think we are the only ones

going through hard times and no one gets our pain

and frustrations. Friends or community circles are very

important. Don't let the devil have a party out of your

thoughts. Rather, seek counsel from your relationship

and social circles and talk to people you know you can

trust to give you a needed word of encouragement and

practical support when you need it. No man is an island

and believe me when I say this: being vulnerable isn't

a weakness.

118
---
8. FORGIVE YOURSELF, THE SITUATION AND OTHERS.

We have a tendency to blame ourselves or others when things go south. Sometimes it's not us but

them. They say bad things happen to good people, but then we still need to make peace with

what is and not focus on what could have been. You are hurt and your feelings are valid, but real

courage is acknowledging that sometimes life doesn't work out as we thought it would and we

are still required to move on because the world doesn't stop for us to gather ourselves. Forgiving

oneself and the situation wipes out the negative emotions that deter us from moving on. Don't

add internal luggage to an already heavy situation.

Courage requires us to not only confront situations but accept the need to make or support

changes. Difficult situations present an opportunity for us to dissect, discern, activate, and create,

not only within ourselves alongside others. And so while it remains to be seen what the rest of this

year will bring forth, I like to stand on the words of Joseph Fort Newton's take, wherein he states:

"We cannot tell what may happen to us in the strange medley of life. But we can decide what

happens in us, how we can take it, what we do with it—and that is what really counts in the end."

ABOUT THE AUTHOR

Yvonne Chiedza Mtengwa is the author

of "Reinvented: Challenging insecurity to

live authentically through faith", a book

encouraging women to confront their

issues with relationships, insecurities

and self-fulfilling prophesies, in an effort

to truly discover who they were created

to be. It's available for download on

https://payhip.com/b/Oi7Y#!

She is also a co-author of Amazon

Bestseller "Dear Fear Volume 2: 18

Powerful Lessons on Living your best life

on the other side of Fear"- a compilation

of short stories by American visionary

author Tiana Patrice.

Passionate about travelling, writing

about and experiencing leisure and

lifestyle brands, Yvonne is a marketing

and communications strategist, is the Cofounder

of www.Quintessentialf.com, a

Christian lifestyle movement for women,

and also runs www.yournarratives.com,

a boutique communications agency

specialising in entrepreneurial design

and shaping the narrative of women-led

lifestyle and social development brands.

Check her out on IG on @quintessentially_yvonne or visit and subscribe to her

website on www.ReinventedToday.com for more tips on everyday reinvention.

119
---
BE PROUD OF THE

TRUTH ABOUT YOU

The world is our biggest classroom, and there are so many

lessons to learn around us, inside us, and about us. Most of

the time, other people's perceptions about ourselves often

depict the truth about our lives. We often see celebrities

with their beautiful and inspiring stories and personalities,

but what if those stories are not true? Should we learn how

to balance living up to people's expectations and sticking

to the true version of ourselves?

BE PROUD OF THE TRUTH ABOUT YOU.

The truth is, whatever you believe is what makes you.

'Belief kills and belief cures' is a well-known Jamaican

saying which promotes the fact that the truth lives in your

mind. Consider the inspiring life story of Barack Obama,

120

the former President of the United States of America.

He believed he could be the first African-American to be

elected in the office; however, he also knew that it would

not be an easy journey. He believed in his desire to to help

others, and eventually, he became a community organiser.

He was proud of what he is and where he came from. It was

the same belief in himself that helped him to grow into a

figure he dreamed of being.

We all have our own origins, backgrounds and beliefs,

which collectively make us all unique. Be delighted by what

you can bring to the table. Share everything that made you

with confidence and smile. Cultivate that self-confidence

and walk with the assurance that you are what you believe.
---
MANAGE SOCIETY'S EXPECTATIONS.

Keep in mind that whatever people might think of

you; it should bother them more than it should you.

Never allow their opinions to dictate how you lead

your life and express who you are. These should not

distract you from sticking to the values and principles.

However, keep in mind that the opinions and

expectations of others can be a gold mine for

self-improvement: you can learn new lessons,

perspectives, or hidden talents based on other

people's observations. Your values are constantly

developing, and you may add or shed some of those

as you move closer to reality.

Society's expectations are giving us so much

pressure, and because of that, many people tend to

lose their identities. Most of us want to satisfy what

others want to see. We must learn how to draw the

line between our own values and the desire to satisfy

other people. As humans, we often need to go with

the flow, but still, we need to keep our individuality

and respect diversity and personal differences. Our

main goal is to enjoy life while carrying our own

unique selves.

WHAT THE WORLD STATES AS TRUE IS

NOT ALWAYS TRUE.

What might be true is not true until you believe it.

Subjective truths result from our personal perceptions

and observations. In considering what others think

about our lives, shield yourself from their version of

truths that you honestly know to be untrue, and keep

your head held high.

We must strive to stand out and be proud of ourselves

and our own values. Be proud of what you believe in,

and dare to be proud of your own truth.

ABOUT THE AUTHOR

JEROME DOUGLAS

Jerome Douglas is a 27-year old trained teacher, poet and writer from the

beautiful island of Jamaica. His personal philosophy is "If it is for me to

be, then it is up to me." He attended the Catholic College of Mandeville

in Jamaica. Additionally, he is a community builder and humanitarian who

volunteers his time to help with the academic and social well-being of

people in his Central Jamaica community and surrounding areas.

121
---
BOOK REVIEW

ATOMIC HABITS BY JAMES CLEAR

In this month's review, we dive into a book that talks about the power of letting go of old habits,

developing new and productive ones, and maintaining them on a regular basis.

James Clear is a stellar writer who tells us that improvements of a slight degree,

which may not always be visible, show significant results in the long run. He

terms this concept as the Law of 1%. Atomic Habits is about making atomic or

minuscule changes for the better. The essence of the book is captured in the

eight major questions that it poses to the reader.

122
---
1. WHAT ARE HABITS?

A habit is essentially a routine or practise that is performed

regularly. It's an automatic response to a specific situation. Each

habit can be broken down into a cue, a craving, a response,

and a reward. With repetition, the responses that reap the

maximum rewards tend to become habits.

2. WHY IS HABIT BUILDING IMPORTANT?

Firstly, the way we respond to our situations is a powerful

method to change the outcomes. Habits make the process of

taking action consistent and automatic. By building a healthy

habit pattern, we will ultimately reach our goals. The thing

about goals is that they are shared by winners and losers

alike. While goals are about the destination, habits are what

make the journey enjoyable. The writer believes that changing

one's habits can ultimately change a belief or beliefs, which

consequently, will end up changing future outcomes.

3. WHAT ARE SOME EXAMPLES OF GOOD HABITS?

While the writer doesn't list out a page of good habits

anywhere in the book, the examples of good habits scattered

through the chapters are:

• Healthy habits on health and fitness: eating healthy,

cooking at home, drinking enough water regularly,

exercising, sleeping early

• Habits to nurture the mind and promote relaxation:

Journaling, meditating, relaxing, sending thank you notes

• Habits to stimulate the mind: Learning or practising a

skill, decluttering

• The habit of promoting financial independence: Saving

money

4. WHAT ARE SOME EXAMPLES OF BAD HABITS?

Atomic Habits talks about several bad habits that we struggle

with, and how bad habits draw more energy from ourselves

and can require extra efforts to get rid of. Some examples of

bad habits mentioned in the book are:

• Smoking, drinking alcoholic beverages, eating junk food

• Negative thinking, having a short temper, stressing

• Procrastination, watching too much TV, playing too

many video games

• Overworking or underworking

• Overspending

5. WHAT HABITS SHOULD I BUILD?

The best approach to build a sustainable lifestyle is to accept who

you are and what you love. Don't fight your unique personality

but leverage it to your advantage. Explore approaches and try

to analyse what fits perfectly for you. Ask yourself:

• What feels fun?

• What gets you engrossed?

• What comes naturally?

• What gives more than average returns?

Focus your efforts on habits that excite and engage you while

being aligned with your personality and core strengths. You

will still need to put in the hard work, but it'll be much easier

to build habits that are more enjoyable. This will also increase

your odds of success.

6. HOW TO BECOME AWARE OF YOUR HABITS?

If you are a person who is habituated with picking on a pimple,

you will be unaware of doing it unless somebody specifically

points it out to you. The more you repeat this pattern, the

less likely you are to ask yourself what you are doing or stop

yourself from doing it.

Over time, the cues that trigger our habits become so common

that they begin to disappear; for example, the candy on the

table or the remote on the couch. To tackle this, we must first

begin the process towards habitual change by developing our

awareness.

7. HOW LONG DOES IT TAKE TO BUILD A NEW HABIT?

Every habit is different, but all of them depend on repetitive

behaviours which grow progressively stronger with practice.

It can take thousands of repetitions to build a habit. The

quality of behaviours may also affect the duration of building

a habit. Take note that simple behaviours, which are easy to

pick, remember and repeat, as well as connected behaviours

which have a clear and quick cause and effect relationship with

the reward, are easier to stick to and become habits. Strongly

emotional behaviours trigger bigger and satisfying rewards

which also require fewer repetitions until they become a habit.

8. HOW CAN I BUILD AND BREAK HABITS

EFFECTIVELY?

To be able to change habits successfully, you must identify the

wrong or unproductive habits and ought to change them the

right way. To change the right habits, focus on:

• What kind of outcomes do you want?

• What kind of person are you aiming to become?

• What quick habits can you work on to get to your goals?

The writer goes on to explain how building a scorecard which

lists one's own habits makes one more self-aware. Write down

a list of your daily habits. Label each habit as good, bad, or

neutral. Lastly, rearrange the habits, and then add and design

new habits you wish to develop.

Set clear and doable implementation guides. Say, "I will go for

a run on Sunday at 6 in the morning". Stack your habits, such

as, "After a run, I will have a glass of green juice". Make your

new habits as specific as possible as vague ideas will lead to

procrastination.

James Clear also encourages you to proactively join groups

where your desired behaviour is already a norm, and you also

have something common with the group. Since we have a

strong natural desire to conform with the people around us,

it is important to associate with people who already possess

your goal habits.

Atomic Habits is a book well worth a read, as it is written in

a clear and encouraging way to influence readers. Since our

habits reflect our inner personalities and eventually, our lives, it

is necessary to have them aligned in the right direction.

123
---
124
---
125
---
DISCLAIMER: The information presented in Out and About Magazine does not constitute a replacement for financial, health, legal, or other professional

advice and is instead general in its nature. We do not take into account your specific needs or circumstance and you should not act upon any advice

without fully understanding your current legal, health, financial or other situations. Although we always do our best to bring high-quality information to

our readers, we reserve the right to augment or delete information in any way and at any time. Out and About Magazine accepts no liability for any loss

or damage that may arise from the use of any element of our website or magazine.

126