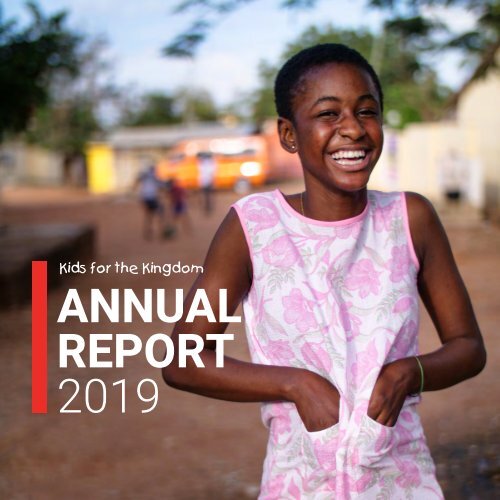 Kids for the Kingdom Annual Report 2019
Annual Report
Annual Report
SHOW MORE
SHOW LESS
You also want an ePaper? Increase the reach of your titles
YUMPU automatically turns print PDFs into web optimized ePapers that Google loves.
Kids for the Kingdom

ANNUAL

REPORT

2019
---
Kids for the Kingdom is transforming the living conditions and

spiritual lives of children especially in third world and war-torn

countries so that they can transform their nation for Christ.
---
Message from the Executive Director

Dear Ministry Partners,

Thank you for your prayer and support for Kids for the Kingdom this past year. Your continued,

generous financial support enabled our national indigenous teams in 17 countries to minister

to 175,816 needy children, families, and widows. Each one heard the Good News of the Gospel

message at one of Kids for the Kingdom's feeding programs, Bible clubs, orphanages, clean

water projects, disaster relief centers, schools, medical clinics, or one of our many other

outreach programs and project centers.

Almost two years ago Kids for the Kingdom received a donation that will enable us to cover all of

our administrative overhead and send 100% of your gifts directly to each of our projects. We are

now even more able to partner with you in bringing practical aid in one hand and the Good News

of the Gospel message in the other hand to those most in need around the world!

Timothy Dabel

Executive Director

Kids for the Kingdom, Inc.
---
Partnering with indigenous teams

in 17 countries around the world

providing disaster response,

family development, clean water,

medical care, and the good news

of the Gospel message to children

and their families.
---
ACTIVE PROJECTS

COUNTRIES

320 17 175,816

CHILDREN REACHED
---
Kids for the Kingdom

Clean

Water

Projects

A typical water well can be installed by Kids for the Kingdom's

teams for $3,908 and can provide clean, safe drinking water

for thousands of people over the course of the 20 year

lifespan of the well.

In developed countries, we often take clean, safe

drinking water for granted. But in much of the world,

clean water is virtually impossible to obtain. People

in those areas are forced to bring dirty, disease ridden

water home to drink and cook with. They constantly

worry if they are making their children and families

sick with the water they draw from muddy puddles

and streams. Kids for the Kingdom takes a unique

approach to helping supply people to clean, safe

water. Each community applying for a water

well provides the manual labor to help install the well

- and houses and feeds the drilling team. After the

well is in, the beneficiaries are required to set up

a board of directors to oversee the water well and

collect a small fee from each user. This empowers

the local community to take ownership over their

water well and provides a small fund to maintain and

repair the well as necessary. A partnership with Kids

for the Kingdom creates a relationship of equals

and gives communities 'skin-in-the-game' by

allowing them to participate in the work, giving them

ownership of the project.
---
Kids for the Kingdom donor and D.I.R.T. project founder Joshua Salvaterra

smiles as he visits the water well he funded over 7 years ago. The well is

still in operation at the local school providing hundreds of children with

clean, safe drinking water every day.

One of the greatest needs in developing countries is a reliable source

of clean drinking water. 1 in 10 people lack access to clean, safe water.

Dirty, disease ridden surface water drawn from streams or ponds

carries dangerous water-borne parasites. As each new water system

is dedicated our team leader tells the village people the story of Jesus

talking to the woman at the well. "Jesus told the woman at the well that

when she drinks from the water in the well she will thirst again. However,

Jesus says, 'Whoever drinks the water I give him will never thirst again.'

This 'water' that Jesus offers is the gift of eternal life." This is the Gospel

message in uncomplicated terms. Each time someone draws water

from that well they are reminded that 'Jesus is the living water.'

60,022

people are currently benefiting

from clean water provided

by projects funded by

Kids for the Kingdom.
---
Kids for the Kingdom

Bible Clubs

In 2019, thousands of kids made a decision for Christ at one of Kids

for the Kingdom's 101 Bible clubs in villages, pocket slums, and back

alleys around the world.

I will instruct you and teach you in the way which you should go;

I will counsel you with My eye upon you. - Psalm 32:8
---
At Kids for the Kingdom's Bible club in Germany, over 100 local German children mixed with refugee kids

from Syria, Afghanistan and Iraq hear the Gospel Message each Friday.

In Kenya, 952 children receive a hot meal with fresh fruit along with the Good News of Jesus each week.

In India, 3,927 children hear the Gospel Message and receive a hot, nutritious meal each week.

In Zambia, 1,610 children receive quality education along with a daily Bible devotional and a nutritious meal.

...He said to them, 'Let the little children come to me, and do not hinder them,

for the kingdom of God belongs to such as these. - Mark 10:14
---
Kids for the Kingdom
---
Kids for the Kingdom is transforming the living conditions and

spiritual lives of children especially in third world and war-torn

countries so that they can transform their nation for Christ.
---
Kids for the Kingdom

Feeding

Programs
---
One of Kids for the Kingdom's first projects was a feeding program in La Concha, Nicaragua.

"We were running a school and realized the kids weren't able to focus on their schoolwork, but

because their families were too poor to feed them breakfast, they came to school with empty

stomachs." says Kids for the Kingdom Nicaragua Founding Director Mario Aviles, "we knew

the hardworking people of the village wouldn't want their children receiving a handout, so we

required every child at the school feeding program to bring 2 sticks of firewood as 'payment'.

The firewood was used to cook their 'free' breakfast."

Kids for the Kingdom has adopted the 'two-sticks-of-firewood' principle at its feeding programs

around the world - in India, children bring 2 rupees (just a few cents), in Kenya, the children must

bring two pieces of litter from their community, in Zambia, children help bring in supplies, and

clean their own dishes after the meal. At each location, children learn the important lesson that

the meal is not a handout, it is earned. Teaching the Biblical principles of hard work along with

the truth of the Gospel is a core value of each of Kids for the Kingdom's feeding programs.

In 2019,

60,022

children were provided

full, nutritious meals

each week

Those who work their land will have abundant food… - Proverbs 12:11
---
Kids for the Kingdom

Irene

MY TESTIMONY

Hi, I'm Irene from Accra, Ghana. My family has very

little, I don't know my father, he left when I was very

young. My mother takes care of me and my sisters.

One day, Rev. Bernard, Kids for the Kingdom Ghana's

National Director, came to my house to bring food

and supplies for my family. Rev. Bernard told me

that a little girl from the United States had saved her

money and sent $40 to help my family with food and

supplies during the coronavirus pandemic. It just so

happened that the day he brought the food was my

birthday. Rev. Bernard was even able to set up a video

chat with the little girl so we could say 'thank you so

much!'. It was such a wonderful birthday present,

more than I ever could have imagined I would receive

for me and for my family. Thank you Kids for the

Kingdom for helping make my birthday so special!
---
OUR TESTIMONY

In Germany, Kids for the Kingdom National Directors

Josef and Maria Prenniger and their family have

been ministering to underserved youth in Berlin's

Hellersdorf community with a Bible club they call the

'Kinderstunde' each Friday. Every member of their

family participates in some way or another. Now,

their oldest daughter Theresa is continuing the family

tradition of ministry with her new husband Mark.

Theresa and Mark are the next generation of Kids

for the Kingdom team members. Mark came from a

Christian background and loves children's ministry as

much as his wife. When he and Theresa got married,

they teamed up to take the lead on the Kinderstunde

each Friday. Both Mark and Theresa are dynamic,

committed, caring people who love children and care

deeply about each one and their ultimate salvation.

They want to teach the kids who Jesus is, that He

died for their sins and loves them so much that he

was willing to die on the cross for them. In order to

reach the kids, they'll do just about any number of

wacky things including dressing up as a chicken or

even a banana just to get the message through.

Not long after Mark and Theresa took over the

Kinderstunde, they were faced with a new and unique

challenge - Germany was admitting thousands of

refugees from Afghanistan, Iraq, Syria and other

middle eastern nations and the team realized they

needed to find new unique ways to minister to

children who had just arrived in their nation and

barely spoke any German at all. Mark and Theresa

and their entire family met the challenge head on

and started ministering to those children right at the

refugee housing and in their own neighborhoods. Just

a year ago, Mark and Theresa welcomed their new

son Samuel into the world who will likely follow along

in his families' footsteps and help in the ministry to

further the Gospel message around the world.

Mark

& Theresa

Learn to do right; seek justice. Defend the

oppressed.Take up the cause of the fatherless;

"plead the case of the widow. - Isaiah 1:17
---
Kids for the Kingdom

Vocational Training

& Self Sustaining

Programs

All of the children in Kids for the Kingdom programs -

schools, orphanages, feeding programs, and Bible Clubs

- will eventually grow to become adults. They will all need

a viable job skill to support themselves and their families

and help break the cycle of poverty.

High schoolers in Guatemala city, Guatemala get computer

training in the computer lab built by Kids for the Kingdom.

Because of the need for vocational skills Kids for the

Kingdom is constantly working to create job-training and

skills-training programs for youth. In recent years

job-training centers have been established and expanded

in nine countries. Kids for the Kingdom constantly

develops new job-training programs and identifies

national workers to run the programs. Once established,

many of these programs will allow the individual to

run their own business and bring in needed income to

support themselves and their families for years to come.

Kids for the Kingdom's vocational training programs

have produced architects, computer science experts,

carpenters, beauticians, and many other careers for

children in our programs.

May the favor of the Lord our God rest on us; establish the work of our

hands for us—yes, establish the work of our hands. - Psalm 90:17
---
BOARD OF DIRECTORS & STAFF

National Directors Board of Directors Staff

David & Angela Wang - CHINA

Carlos & Maribel De la Rosa - EL SALVADOR

Joseph & Maria Prenninger - GERMANY

Bernard & Gifty Asare - GHANA

Alvaro & Lety Perdomo - GUATEMALA

Anacias Joseph - HAITI

Sam & Prema Sunder - INDIA

David & Sarah Maina - KENYA

Joseph & Jesse Hara - MALAWI

David & Mariya Prasain - NEPAL

Mario Jose & Sandy Aviles - NICARAGUA

Shahzad & Irum Fateh - PAKISTAN/SRI LANKA

Valodia & Natasha Bogomolov - RUSSIA

Garang & Tabitha Chan Majok - SOUTH SUDAN

Esther Mkandawire - ZAMBIA

Rebecca Love, Chairman

Omar Tannehill, Treasurer

Valerie Williams, Secretary

Greg Dabel, Member

Melody Miles, Member

Peter Lundblad, Member

Wendell Walker, Member

Tim Dabel, Executive Director

Sarah Herrera, Chief Financial Officer

Praveen Emmanuel, Communications Director

Derekca McCarty, Accounts Manager

Philip Mink, Program Administrator

Karen Dabel, Public Relations
---
Kids for the Kingdom

Financial Information

Support & Revenues

SUPPORT & REVENUES

Contributions

Restricted Endowment

Investment Income

Total Support and Revenue

EXPENSES

Program Activities

Management & General

Fundraising

Total

Change in Net Assets

Net Asssets at beginning of the year

Net Assets at year end with donor restriction

Net Assets at year end without donor restriction

EXPENSE RATIO

2019 2018

229,710

37,170,455

1,493,642

38,893,807

731,937

119,397

0

851,334

38,042,473

17,572,141

52,170,728

3,443,886

424,723

15,000,000

2,564,239

17,988,962

421,553

56,887

0

478,440

17,510,522

61,619

7,902

17,564,239

$ 229,710

$ 424,723

Contributions

2019

$ 1,493,642

$ 2,564,239

Investment

Income

2018

Expenses Ratio

Program Activities

Management & General

Fundraising

Total Expenses

86%

14%

0%

851,334

88%

12%

0%

478,440

Note 1: 2018 Financial Statements were reissued post release of 2018 Annual Report

Note 2: 2019 Financial Statements are still under annual audit

86%

Program Activities

0%

14%

Management

Fundraising

Kids for the Kingdom is an accredited member of the ECFA, and our financial statements are audited each year by an

independent CPA. You can find our consolidated Financial Statements online at www.kidsforthekingdom.org/financials
---
10,210

In Bible Clubs & Feeding

Programs

880

In Vocational Training

Programs

59,433

Drinking Clean Water

2,312

Attend Schools

& continuing programs

94,821

Benefit from community

outreach & service

9,839

Reached with Disaster

Relief & Medical Aid
---
For Postal Stamp

KIDS FOR THE KINGDOM

PO Box 85

Graton, CA - 95444

Phone: 707.829.5504

www.kidsforthekingdom.org

/kidsforthekingdom

/kidsforthekingdom

/K4Ktv

China | Costa Rica | El Salvador | Germany | Ghana | Guatemala | Haiti | India | Kenya | Malawi

Nepal | Nicaragua | Pakistan | Russia | South Sudan | Sri Lanka | USA | Zambia

CFC#11733

Copyright © 2019 Kids for the Kingdom | All photos by Kids for the Kingdom Staff