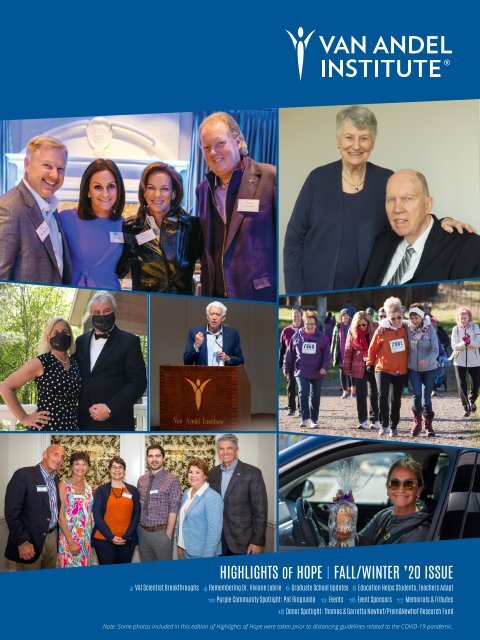 2020 Fall/Winter Highlights of Hope
Create successful ePaper yourself
Turn your PDF publications into a flip-book with our unique Google optimized e-Paper software.
HIGHLIGHTS OF HOPE | FALL/WINTER '20 ISSUE

2 VAI Scientist Breakthroughs 4 Remembering Dr. Viviane Labrie 6 Graduate School Updates 8 Education Helps Students, Teachers Adapt

10 Purple Community Spotlight: Pat Ringnalda 12 Events 16 Event Sponsors 17 Memorials & Tributes

18 Donor Spotlight: Thomas & Garretta Newhof/Prein&Newhof Research Fund

Note: Some photos included in this edition of Highlights of Hope were taken prior to distancing guidelines related to the COVID-19 pandemic.
---
RESEARCH

VAI scientists continue to achieve

breakthroughs during pandemic

Despite the challenges presented by the COVID-19 pandemic, Van Andel Institute scientists continue to make groundbreaking

discoveries, collaborate with colleagues around the world and earn recognition for their efforts. Here is a snapshot of some

recent advances and achievements.

VAI welcomes Parkinson's expert to its team

This summer, VAI welcomed Dr. Michael Henderson to its

growing team of scientists. An expert in Parkinson's disease and

dementia with Lewy bodies, Dr. Henderson investigates the role

of abnormal proteins in disease onset and progression, with the

goal of developing new, life-changing therapies. He has made

landmark contributions to the understanding of Parkinson's and

neurodegeneration, such as showing that alpha-synuclein proteins

take advantage of the brain's own structure to spread and that an

enzyme called glucocerebrosidase (GBA) plays an important role in

propelling alpha-synuclein's propagation.

Scientists recognized for collaborative effort to take on cancer

The American Association for Cancer Research awarded 2020

AACR Team Science Awards to VAI Professor Dr. Peter W. Laird,

Director's Scholar Dr. Stephen B. Baylin and Associate Professor

Dr. Hui Shen for their pivotal roles in the establishment and success

of The Cancer Genome Atlas (TCGA), a landmark National Institutes

of Health-led project that revolutionized our understanding of

cancer and that is hailed as an exemplar of scientific collaboration.

The awards recognize more than 100 individuals who were central

to TCGA from its inception through today. Baylin holds a primary

appointment at Sidney Kimmel Comprehensive Cancer Center at

Johns Hopkins University.

Parkinson's-related gene linked to cellular recycling

Growing evidence suggests Parkinson's disease may result, at least

in part, from breakdowns in cellular recycling systems, which lead

to a build-up of toxic proteins that eventually kill vital brain cells.

Now, Dr. Darren Moore and colleagues have found that LRRK2, a

gene linked to Parkinson's, works with other molecular complexes

to support these critical systems. As such, abnormal changes to

LRRK2 disrupt normal cellular function and could contribute to

disease onset. The discovery opens doors for possibly targeting

LRRK2 as a new way to treat Parkinson's.

A new 'blueprint' reveals inner workings of drug target

A team led by Dr. Wei Lü and Dr. Juan Du has for the first time

described the near-atomic level structure of the pannexin1

channel. The molecular pathway plays critical roles in human

development, blood pressure regulation, inflammation and cell

death. Their findings, published in Nature, serve as a "blueprint"

for developing new medications for a host of conditions, such as

cancer and heart disease.

2 | VAN ANDEL INSTITUTE HIGHLIGHTS OF HOPE
---
Newly discovered potential biomarker could 'flag' tumors

sensitive to metabolic therapy

A recently identified potential biomarker could help scientists

pinpoint which cancers are vulnerable to treatment with

biguanides, a common class of medications used to control blood

sugar in Type 2 diabetes. Biguanides have long been of interest

to cancer researchers because of their ability to target cellular

metabolism, which fuels the growth and spread of malignant cells.

The discovery, published by Dr. Russell Jones and collaborators,

may give scientists a way to objectively determine which types of

cancer are sensitive to biguanide treatment and illuminates how

and why some patients may respond better to biguanides than

other patients.

First detailed images of 'molecular machine' provide

foundation for new therapies

Dr. Huilin Li and his team have revealed the first known atomic

structure of a "molecular machine" responsible for installing critical

signaling proteins into cellular membranes. The findings, published

in Nature, shed new light on how this process works and lay the

foundation for potential future therapies for diseases like cancer,

Alzheimer's and cystic fibrosis.

Releasing a molecular 'brake' kick-starts immune cell function

The immune system's ability to marshal specialized cells to fight

off infection relies in part on tiny molecules called microRNAs,

which act as a release for the "brakes" that keep cells dormant

until needed, according to a study by Dr. Connie Krawczyk and

collaborators. The findings reveal new insights into the nuts

and bolts of immune function and add to a growing body of

knowledge that could one day be leveraged to optimize vaccines or

immunotherapies for a number of diseases.

Early career scientists adapt to working remotely by taking

science virtual

For many scientists, working from home was a temporary transition

away from hands-on research in the lab to more virtual projects

like data analysis. As a way to ensure continued scientific discussion

and collaboration, VAI postdoctoral fellows Dr. Michaela Johnson

and Dr. Liza Bergkvist teamed up with The Cure Parkinson's Trust

and World Parkinson Coalition to establish the Parkinson Postdoc

Program seminar series, or 3P Seminars. Launched in April, the

interactive, virtual seminars give early career researchers who study

neurodegenerative diseases a way to keep the intellectual part of

research alive by connecting with others in their field and providing

space for them to practice presenting their work.

VAN ANDEL INSTITUTE HIGHLIGHTS OF HOPE | 3
---
RESEARCH

Remembering Dr. Viviane Labrie

Van Andel Institute mourns the loss of Associate Professor

Dr. Viviane Labrie, who passed away in a tragic vehicle

accident August 21.

Viviane was a brilliant, imaginative and creative scientist. Her ability

to look at the world through different lenses allowed her to see old

problems in new ways, and ultimately revealed groundbreaking

insights with the potential to change lives.

She quickly established herself as a globally recognized leader in

her field. Although early in her career, Viviane already had made

pioneering discoveries that are transforming the understanding of

Parkinson's and Alzheimer's diseases, including the revelation that

the appendix may be a starting point for Parkinson's. Her findings

led to exciting new avenues of discovery for potential treatments

for these diseases, and shed light on the underpinnings of many

other conditions, including bipolar disorder, schizophrenia and

lactose intolerance. She made an indelible mark on science, her

colleagues and those she mentored, and her impact will be felt for

years to come.

Viviane was born in Ottawa, Ontario, and grew up in the small town

of Deep River, Ontario. Her childhood interest in science and the

natural world later blossomed into a fascination with the brain. She

completed her bachelor's degree in human biology (with honors),

her Ph.D. in genetics and neuroscience and her postdoctoral

research at University of Toronto. She held her first faculty position

in Toronto before joining Van Andel Institute in Grand Rapids,

Michigan, in 2016 as an assistant professor.

Innately curious, Viviane's creativity and tenacity were immediately

evident and energizing to those around her. She rapidly

advanced, earning an early promotion to associate professor in

2019 — a tremendous achievement. Throughout her career, she

earned numerous scientific awards and honors, including highly

competitive grants from the National Institutes of Health and

Department of Defense.

Outside of the lab, Viviane was a passionate and accomplished

equestrian who competed in national events in the U.S. and

Canada, including a combination of cross country, dressage and

show jumping. She had an adventurous spirit, and was an avid

world traveler who had visited all seven continents. She also had

a lifelong passion for animals, and had a horse, Logan, three large

dogs — Mudflap, Nugen and City — and many cats.

Her enthusiasm and zest for life was contagious. Simply being in

Viviane's presence inspired others to rise to the challenge and to

embrace the world with open arms.

Viviane is survived by her beloved husband, David Walters; her

parents, Louise Boileau-Labrie and Jean-Pierre Labrie; and her

brother, Marc Labrie. She will be remembered by family, friends

and colleagues around the world for her vibrancy, brilliance and

kindness.

RECENT BREAKTHROUGHS

Dr. Labrie was an exceptional scientist whose research shed new light on conditions including Parkinson's, Alzheimer's, bipolar

disorder, schizophrenia and lactose intolerance. In recent months, she spearheaded several new breakthroughs that are

shifting our understanding of neurological disorders and the brain.

Being 'right-brained' or 'left-brained' may come down

to molecular switches

A team led by Dr. Labrie may have solved one of the most

puzzling and persistent mysteries in neuroscience: why

some people are "right-brained" while others are "leftbrained."

The answer lies in how certain genes on each side

of the brain are switched "on" and "off" through a process

called epigenetic regulation. The findings could explain

why Parkinson's disease and other neurological disorders

frequently affect one side of the body first, a revelation

that has far-reaching implications for development of

potential future treatments.

Switching off 'master regulator' may shield the brain

from Parkinson's-related damage

Switching off a molecular "master regulator" called TET2

may protect the brain from inflammatory damage and

neurodegeneration in Parkinson's disease, reported

a study by Dr. Labrie and colleagues. The study is the

first of its kind and points to an entirely new avenue for

developing therapies designed to preserve vulnerable

brain cells in Parkinson's disease. Currently, there are no

effective ways to prevent Parkinson's or to slow or stop its

progression.

4 | VAN ANDEL INSTITUTE HIGHLIGHTS OF HOPE
---
DR. VIVIANE LABRIE

VAN ANDEL INSTITUTE HIGHLIGHTS OF HOPE | 5
---
RESEARCH

Graduate School doubles down on

student support and global impact

amid pandemic

The COVID-19 pandemic posed a novel challenge to Van Andel

Institute Graduate School this year: How could VAI continue to

provide students with rigorous, problem-based coursework and

extensive laboratory experience, while largely working from home?

Connecting and communicating

The Institute's faculty don't simply lecture at their classes and

leave the rest up to the students; rather, they strive to engage with

students directly. To combat the challenges created by engaging via

virtual platforms, Graduate School faculty and staff connected with

students in several virtual town halls, providing space to discuss

concerns, challenges and resources to help the students transition

to remote learning.

"Our students are adapting to at-home work environments that

aren't necessarily conducive to rigorous learning," said Dr. John

Vasquez, director of assessment and professional development.

"There are many more distractions at home, and each student

faces their own unique set of disruptions. The same is true for

our faculty, and many have had to adapt to these less than ideal

conditions."

The support of peers and colleagues helped Graduate School

students and faculty alike rise to the challenge and adapt to everchanging

circumstances. Surveys were sent periodically to check in

on students, identify new stressors and pinpoint where faculty and

staff could help.

"I've realized how much my graduate school experience is enriched

by my peers. This support would take the form of unplanned

discussions over lunch and in the elevator, for example," said Nadia

Dehghani, a second-year graduate student in Dr. Rita Guerreiro's

lab. "VAI has worked hard to find simple yet creative ways to

maintain this important component of student life for those of us

that are here now and the cohorts that will join in the future."

DR. JOHN VASQUEZ

"A number of students were asked

by Spectrum Health if any would be

interested in working on a COVID-19

literature review. A lot of the students are

still engaged in this process — reading

material and providing feedback on

which scientific articles may benefit the

physicians treating patients."

— Dr. John Vasquez

6 | VAN ANDEL INSTITUTE HIGHLIGHTS OF HOPE
---
Continuing to provide support

The Graduate School hosted its annual Stress Management Week

in a completely virtual format, thanks to the hard work of Allison

Roman, director of student support services; resources covered

topics such as self-care routines, meditation, journaling and

processing grief. Graduate School Dean Dr. Steven J. Triezenberg

reserved open office time on Zoom each week for students to drop

in with individual or general questions. Relevant questions (and

responses) were also shared online so other students could benefit

from the information.

The support continued outside the classroom and Institute.

"A number of students were asked by Spectrum Health if any would

be interested in working on a COVID-19 literature review," Vasquez

said. "A lot of the students are still engaged in this process —

reading material and providing feedback on which scientific articles

may benefit the physicians treating patients. There's emotional and

mental wear in this, but our students are resilient, innovative and

making great use of the scientist-leader skills we've helped them

develop to contribute to the greater community."

Reimagining normal

Earlier in the year, the Graduate School expected eight students

would complete degrees in 2020; it is now likely, though, that four

will postpone degree completion until at least 2021. Seven new

students joined the Graduate School in August, and it's uncertain

at this point what challenges future cohorts will face. One thing,

though, is clear:

"Even with all of the unknowns, our students continue to rise to the

challenge," said Christy Mayo, director of enrollment and records.

"I get to see every single week how they continue to support one

another and to adapt. I'm proud of their dedication to not only their

work and their education, but to each other."

LOOKING AHEAD

The Graduate School will soon make the move to a

nearby building on VAI's campus to accommodate

larger incoming cohorts. "We're expecting

Graduate School cohorts will double in size in the

coming years, so it was time to dedicate more

space for our students," said Graduate School

Dean Dr. Steven J. Triezenberg. The new building

will include dedicated classroom and study spaces,

social areas, faculty and staff offices, and more.

DR. STEVEN J. TRIEZENBERG

VAN ANDEL INSTITUTE HIGHLIGHTS OF HOPE | 7
---
EDUCATION

Van Andel Institute for Education helps

students, teachers adapt to distance learning

The abrupt closure of schools to slow the spread of the

COVID-19 pandemic created monumental challenges for

students, teachers and parents. Educators were under

immense pressure to shift to online distance learning,

and families hurriedly rearranged their daily routines to

accommodate the new learning environment.

This shift posed big questions for Van Andel Institute for

Education. Months of planning for student and teacher programs,

which largely take place at VAI's Education labs in downtown

Grand Rapids, went out the window — the in-person learning

experiences that underpin the Institute's educational offerings

were no longer possible, so VAI's Education team had to get

creative.

"Switching to virtual on a dime definitely posed some obstacles,

but we thrive on problem-solving; so, we embraced the challenge

and discovered innovative ways to keep both students and

teachers fully engaged in remote environments," said VAI Chief

Education Officer Terra Tarango. "Within weeks, we had students

conducting science right out of their homes and we supported

more than 600 teachers with meaningful projects that they can lead

via remote setting."

Keep Curiosity Alive

The day after schools shut down, Education rolled out a dynamic

resource called "Keep Curiosity Alive," curated in Google Docs.

It linked to numerous thoughtful activities that could be done at

home and was updated every week throughout the remainder of

the school year with new items.

In the course of days, hundreds of people accessed the document

for fun and innovative projects. It was a welcome resource for both

educators and parents who were themselves learning how to adapt

to virtual-only learning.

Virtual student programs

Student summer camps normally are held in-person at the Institute,

over the course of a week. This summer, VAI transitioned to a virtual

format to engage students from the safety of their homes. The

Blue Apple goes virtual

The Institute's educators adapted each of VAI's Blue

Apple project-based learning units — originally

designed for in-person learning — to include

instructions for how to conduct them virtually or in a

blended learning environment.

After schools closed to in-person learning, the

Institute piloted this new approach by rolling out a

virtual version of the "Prevent the Spread" Blue Apple

project, where students learn about germs and their

own unique ability to stop the spread of illnesses like

COVID-19 by adopting good hygiene practices.

The projects are available for purchase at

blueappleteacher.org.

8 | VAN ANDEL INSTITUTE HIGHLIGHTS OF HOPE
---
"Switching to virtual on a

dime definitely posed some

obstacles, but we thrive on

problem-solving; so, we

embraced the challenge and

discovered innovative ways

to keep both students and

teachers fully engaged in

remote environments."

— Terra Tarango

Institute's educators created supply kits that were safely picked up

by families at VAI's Education building, so that virtual learning could

still be hands-on and inquiry-based.

The Institute also is adapting its popular Afterschool Cohort and

Science on Saturday programs to be held virtually.

Teacher programs go online

The Education team has hosted professional development

webinars since 2017. At the outset of the pandemic, Education

adapted the webinars to help teachers and administrators

grappling with how to effectively implement distance learning. Over

the summer, Education saw explosive growth in registration and

participation, with 1,462 registrants between April and August.

TERRA TARANGO

meetings, and sessions can be delivered as one-hour, in-person or

virtual meetings. This allows VAI to meet educators' needs in terms

of content, schedule and budget.

To learn more about Van Andel Institute for Education's student and

teacher programs, visit vaei.org.

This fall, Education's professional development seminars for

teachers will be offered virtually. VAI's Flex PD offers an assortment

of topics important to educators in a variety of formats. Full-day

workshops can be delivered in-person or in a series of virtual

VAN ANDEL INSTITUTE HIGHLIGHTS OF HOPE | 9
---
PURPLE COMMUNITY

The pandemic threatened the Bee Brave 5K —

Pat Ringnalda is fighting for its future

Pat Ringnalda was certain 2020 would be the year she retired

from her daily duties helming Bee Brave — well, as "retired"

as a consummate self-starter can be. She would pass the torch

on day-to-day administrative duties at the organization, which

champions breast cancer patients and survivors and raises tens of

thousands of dollars each year through the Bee Brave 5K to benefit

research at Van Andel Institute.

Ringnalda and her team have built Bee Brave into a community

institution and fundraising juggernaut. In 2017, Bee Brave officially

partnered with Van Andel Institute Purple Community, the Institute's

grassroots community support network. Ringnalda chose to partner

When the first 5K was hosted in 2008, Ringnalda thought it would

be a one-off; she would raise around $500 for breast cancer

research, and that would be that. The event proved successful, so

she hosted another the year after that. And the year after that. And

the year after that.

"You could tell the energy was behind our cause," Ringnalda said

of the race's earliest years. "It's gone on for 13 years. That's not

because of me; that's because of the community and the people

who have rallied behind our cause. It's such a unique and beautiful

organization of people."

"You could tell the energy was behind our cause. It's gone on for 13 years. That's

not because of me; that's because of the community and the people who have

rallied behind our cause. It's such a unique and beautiful organization of people."

— PAT RINGNALDA

with Purple Community after she learned 100% of the proceeds

from race day would go directly to research at the Institute.

Though she would retire from the day-to-day operations, Ringnalda

planned to stay on in some capacity, providing help on race days

and continuing to drum up support from the sponsors who have

supported Bee Brave's mission all these years.

That was the plan before the COVID-19 pandemic, before the world

ground to a halt in the face of a new and deadly threat. Suddenly,

for Ringnalda, 2020 was no longer about retiring. It was about

ensuring the race's survival.

"It's like you're running a race in a mud pond," Ringnalda said

of organizing the 5K amid a pandemic. "You can have all the

momentum and all the great ideas you want, but when there's no

ability to do anything but stay home, what do you do?"

By partnering with the Institute and Purple Community, Ringnalda

was able to elevate the Bee Brave 5K from a race that had raised

around $50,000 each year for research to an event that brought in

$90,000 at its peak in 2018.

"I knew our cause and the money we raised would jump that much

higher, because I could say without a shadow of a doubt that our

money was staying in West Michigan," Ringnalda said. "I don't think

people know just how amazing it is to have Van Andel Institute and

Purple Community right here in Grand Rapids."

To learn more about Van Andel Institute Purple Community and Bee

Brave, visit purplecommunity.org.

Like everything else, things looked different this year. The 13th

annual Bee Brave 5K was hosted on Oct. 10, in accordance with

state guidelines, with a virtual option available. Ringnalda doesn't

know what the future holds as far as her retirement goes. That will

play out in due course. Looking back over the decade-plus she's

spent organizing the race, she's struck by how it's grown.

10 | VAN ANDEL INSTITUTE HIGHLIGHTS OF HOPE
---
MEMORIES FROM THE 2018 BEE BRAVE 5K: PAT RINGNALDA JOINS A GROUP OF 5K PARTICIPANTS;

PATRICK DISCHINGER, DR. MATT STEENSMA, MENUSHA ARUMUGAM & PAT RINGNALDA

VAN ANDEL INSTITUTE HIGHLIGHTS OF HOPE | 11
---
EVENTS

Winterfest Celebration

As one of Van Andel Institute's final public events held prior

to the transition to virtual events, the 15th annual Winterfest

Celebration gave more than 400 donors, supporters and

scientists the opportunity to gather for an evening of food,

entertainment and insights — all in support of Parkinson's

disease research. Attendees enjoyed culinary delights from

local restaurants and cocktails at Cascade Hills Country Club,

accompanied by musical entertainment, a live and silent auction

and a special appearance and remarks by Parkinson's advocate

Ron Rutkowski. In its 15-year history, this signature event has raised

more than $2.1 million to benefit Parkinson's research at VAI.

(STARTING AT THE TOP LEFT, GOING CLOCKWISE) GEORGE & MISSY SHARPE WITH CAROL & DAVID VAN ANDEL;

GEOFF & LEEANNE WIDLAK & GUESTS SOCIALIZE; JASON LAMOREAUX; MIKE & SALLY MURDOCK WITH JIM & DIANE ZUBKAS; SILENT AUCTION ITEMS;

GUESTS GATHERED FOR EVENING PRESENTATIONS; RON RUTKOWSKI

12 | VAN ANDEL INSTITUTE HIGHLIGHTS OF HOPE
---
VAI Forum on Parkinson's,

Alzheimer's & Lewy Body Dementia

In 2020, the Van Andel Institute Forum on Parkinson's,

Alzheimer's & Lewy Body Dementia was held in Naples, Florida

— a welcome respite from the cold of a Michigan February.

The evening — hosted by Mike and Lynette Ellis and Mike and

Sue Jandernoa — featured presentations by VAI Chief Scientific

Officer Dr. Peter A. Jones and VAI associate professors and

neurodegenerative disease experts Dr. José Brás and

Dr. Rita Guerreiro. A Q&A after the presentations gave attendees

the chance to further explore how Parkinson's, Alzheimer's and

Lewy body dementia are related and the significant strides being

made toward the development of new diagnostics and therapies.

(STARTING AT THE TOP LEFT, GOING CLOCKWISE)

MIKE JANDERNOA; DAVID VAN ANDEL, DAN GAYDOU, DAVE VAN PORTFLIET &

JOHN ROWERDINK; MIKE & LYNETTE ELLIS, DR. RITA GUERREIRO,

DR. JOSÉ BRÁS & MIKE & SUE JANDERNOA; ERIC HAUSLER, PETE JOUWSTRA &

DONNA HAUSLER; DR. RITA GUERREIRO SOCIALIZES WITH SUE JANDERNOA

& KAREN CUSTER; DAVID VAN ANDEL, DR. RITA GUERREIRO & DR. JOSÉ BRÁS;

GUESTS SOCIALIZE AT GREY OAKS COUNTRY CLUB IN NAPLES, FLORIDA

VAN ANDEL INSTITUTE HIGHLIGHTS OF HOPE | 13
---
EVENTS

VAI Public Lecture Series:

A Focus on Cancer Research Trends

This public lecture took place at Van Andel Institute in March

2020, prior to state physical distancing guidelines developed

in response to COVID-19, and featured insights from Chief

Scientific Officer Dr. Peter A. Jones. In his presentation, Dr. Jones

— an internationally recognized cancer expert — presented the

latest trends in cancer research and provided attendees with a

broad view of what research and treatment may look like in

the future.

(STARTING AT THE TOP LEFT, GOING CLOCKWISE) ATTENDEES ASK QUESTIONS FOLLOWING THE

PRESENTATIONS; VICKY LUDEMA & GUESTS TAKE PART IN COMPLIMENTARY LUNCH OFFERINGS;

DR. PETER A. JONES; STEVE OZINGA WELCOMES GUESTS IN TOMATIS AUDITORIUM

14 | VAN ANDEL INSTITUTE HIGHLIGHTS OF HOPE
---
Board of Governors Dinner

Van Andel Institute's annual Board of Governors Dinner went

virtual for 2020. Specially selected Cooper's Hawk wine and

mini Bundt cakes from Nothing Bundt Cakes were available

for members of the Institute's Board of Governors to enjoy

from the comfort of their homes while hearing the latest

updates from VAI. The evening featured presentations by

Chairman and CEO David Van Andel and Carol Van Andel, Executive

Director of the David and Carol Van Andel Family Foundation; Chief

Scientific Officer Dr. Peter A. Jones; and Chief Education Officer

Terra Tarango.

(STARTING AT THE TOP LEFT, GOING CLOCKWISE) KATHY & PHIL VOGELSANG;

GEORGE & MISSY SHARPE; MISSY SHARPE PICKS UP COMPLIMENTARY MINI

BUNDT CAKES PRIOR TO THE EVENING; PICKUP STATION AT COOPER'S

HAWK WINERY & RESTAURANT IN KENTWOOD, MICHIGAN.; VICKY LUDEMA

PICKS UP COOPER'S HAWK WINE PROVIDED TO GUESTS PRIOR TO FESTIVITIES

VAN ANDEL INSTITUTE HIGHLIGHTS OF HOPE | 15
---
PHILANTHROPY

Thank you to our generous event sponsors!

To learn more about sponsoring an event, contact Sarah Rollman at sarah.rollman@vai.org.

Winterfest

Buist Electric

AIC Insurance Services

Steven & Amanda Barbour

Barnes & Thornburg LLP

BD's BBQ

Brody's Be Café

Calamos Investments

Carnelian Energy Capital

Corporate Cocktail Co.

Cumulus Media

Custer Inc.

Deloitte

Mike & Jean Dery

Brian DeVries & Barbara Pugh

Edge Natural Resources

Engelsma Homes LLC

Erhardt Construction

Ernst & Young

Grand Rapids Business Journal

Grand Rapids Christian Schools

Harvey Automotive

HB Wealth Management

iHeart Media

Macatawa Bank

McShane & Bowie, PLC

Michigan State University –

College of Human Medicine

Nothing Bundt Cakes

Oppenheimer & Company Inc.

Michael J. Murdock

Owen-Ames-Kimball Co.

Palio

Perper Design

Pioneer Construction

PL Capital Advisors, LLC

Reds at Thousand Oaks

Rockford Construction

Rycenga Building Center

San Chez Bistro

Slows BBQ

Straight Line Design

Suburban Landscapes

The Chop House

The Kitchen by Wolfgang Puck

Sharpe

TKS Security

Townsquare

Trillium Ventures

US Signal

Vintage Prime & Seafood

Warner Norcross + Judd LLP

West Michigan Woman

Geoff & LeeAnne Widlak

Robert & Karen Wiltz

Women's Lifestyle

16 | VAN ANDEL INSTITUTE HIGHLIGHTS OF HOPE
---
Memorials

We appreciate your trust in us to fight disease in memory or in honor of

your family and friends — with hope for a healthier tomorrow. To make a

gift in memory or honor of a loved one, please call 616.234.5552.

James Barcelona

Linda Colvin

Robert Geer

Angeline Meulendyk

Lorraine Stone

Rob & Katie Barcelona

Amanda Maxted

Dave & Cindy Brown

Gary Berkenpas

Wally & Nina Gorak

Roland Barchinger

Mary Lou Cook

James Goen

Benard Meyer

Daniel Terwee

David & Carolyn Setsma

Jason & Melanie Seifert

Norman & Sheryl Veldhoff

David & Sallie Brinks

Janice Wisniewski

Kristine "Kris" Beachum

Thomas Cruttenden

Bruce Lee Hansen

Marlene Moore

Timothy S. Vanderveen

Adam Rodriguez

Richard & Patricia Cebelak

Patricia Ter Haar

Mike & Nanci Marsman

Ted & Joan Vanderveen

Nicole Beuschel

Karen Foster

Kelly Havrilla

Lorraine Nezwek Green

Rebecca Vogelsang

James & Sue Baar

Jones Barton

Jason & Cindy Dawes

Lynn Archer

Stephen & Jennifer Czech

Daniel Bullard

Saad & Rana Sammani

Betty Bowser

Zach Detweiler

Elaine Henning

Holli Todd

Randy Winchester

Irwin Seating Company

David Keifer

Susan Henning

Susanne Woyciechowicz

Chuck & Lois Winchester

Jack & Maria Kindred

Russell Brinks

Christopher Klein

Ronald Hutchings

Austachio Plantamura

Jerry Wright

Connie Beverly

Adam & Kim Thomas

Doug & Kelly Hutchings

Joseph Plantamura &

RT London

Jared & Debbie Warrick

Carol Limberg

Julie Greene

Dolores Burr

Matthew & Jena Winters

Sean & Lindsey Schemmel

Nicole Wyble

David & Tamara Kroll

David Ristow

Louis & Sue Robach

Margaret Frey

Thom Ly

David & Sallie Brinks

Jeff Colby

David & Tamara Kroll

Nickolina Ly

John & Nancy Gormley

Tributes

Lee Formwalt

Sanders Foundation

Pete McAlpin

David Smith &

Peggy Child Smith

Diane Sampson

Mike & Amanda Powers

These lists represent gifts made between Jan. 1, 2020, and

June 30, 2020. The accuracy of these lists is very important to

us. Please call 616.234.5552 if an error has been made.

Jerry Genzink

David & Carol Van Andel

Roger & Sharon Sneller

David & Jane Munn

James & Gail Fahner

Herberth & Ann Alvarado

Michael & Susan

Jandernoa

Erin Overmeyer

Duke Suwyn

Amir Williams

VAN ANDEL INSTITUTE HIGHLIGHTS OF HOPE | 17
---
PHILANTHROPY

Engineering a lasting legacy: The Thomas &

Garretta Newhof/Prein&Newhof Research Fund

West Michigan engineering firm

Prein&Newhof marked 50 years in

business in late 2019. To celebrate,

company leaders wanted to find a

way to honor the firm's co-founder,

Thomas Newhof, while giving back to the

community. When they heard about

Van Andel Institute's Scored Grant Award

Program, they chose to establish a research

fund to support it.

"We learned from VAI's Chief Scientific

Officer Dr. Peter A. Jones how the Scored

Grant Award Program works and that there

were four scientists with great projects that

needed support in 2020," Newhof said. "We

wanted to help make sure that they all could

keep advancing their projects."

Highly competitive grants from federal

agencies like the National Institutes of

Health are one of the main ways scientific

research in the U.S. is funded. The Institute's

Scored Grant Award Program provides

research funding to scientists whose federal

grant applications scored very highly, but

just below the threshold to receive federal

funding. With an extra boost to conduct

With an extra boost

to conduct further

research, scientists

with promising projects

get another chance

to put forth a revised

application for the

next round of federal

grants.

further research, scientists with promising

projects get another chance to put forth a

revised application for the next round of

federal grants.

After learning about the groundbreaking

research at VAI that benefits from

the Scored Grant Award Program,

Prein&Newhof established the Thomas &

Garretta Newhof/Prein&Newhof Research

GARRETTA & THOMAS NEWHOF

18 | VAN ANDEL INSTITUTE HIGHLIGHTS OF HOPE
---
(continued from page 18)

Fund to support the Scored Grant Award

Program. The fund's name also honors

Tom's wife, Garretta, for her unwavering

commitment to the company's success.

"At Prein&Newhof, we work with

communities to provide Michigan residents

with safe drinking water and wastewater

systems — both of which are essential for

public health," said Thomas J. Newhof, the

company's president and son of Thomas

and Garretta.

It's here that Prein&Newhof's goals overlap

with VAI's mission of improving the health

and enhancing the lives of current and

future generations.

Prein&Newhof also invited its 150

employees to support the fund, and

Thomas and Garretta contributed a

generous gift of their own. The combined

gifts from Prein&Newhof and matching

dollars from VAI in 2020 are supporting the

critical research pursued in the labs of

Drs. Laird, Shi, Steensma and Wen.

For more information on how you can help

fund groundbreaking research at Van Andel

Institute, please contact Chief Philanthropy

Officer Brett Holleman at

brett.holleman@vai.org or 616-234-5045.

VAI Voice delivers our

scientists and educators

right to your inbox

Stay updated on Van Andel Institute news and happenings

by subscribing to the VAI Voice blog. It's an easy way to be

informed of the important research and education initiatives

happening every day at VAI.

Here are some examples of what to expect:

• Informative articles about our research in areas like cancer,

Parkinson's and metabolism

• Q&As with Institute scientists, graduate students

and educators

• Easy-to-understand explainers on the diseases and

disorders studied at the Institute

• Updates on K–12 education programs from Van Andel

Institute for Education

• Insights into Van Andel Institute Graduate School's

innovative Ph.D. program

• Recaps of scientific and educational events held at

the Institute

And more!

To subscribe to the VAI Voice blog, visit vai.org/vai-voice.

VAN ANDEL INSTITUTE HIGHLIGHTS OF HOPE | 19
---
PHILANTHROPY

Support VAI through an IRA

charitable rollover

Supporting Van Andel Institute with an IRA

charitable rollover gift helps our scientists

and educators continue their work toward

improving the health and enhancing the lives

of current and future generations. You can also

designate VAI as a beneficiary of your IRA.

An IRA charitable rollover allows any individual who

is age 70.5 or older to transfer up to $100,000 from

their IRA directly to a nonprofit such as VAI this year.

You will pay no taxes on the transfer, and every

dollar of your gift goes directly to the Institute's

research laboratories and education programs.

Your Support

We built our organization knowing that small

gestures make big differences. An IRA charitable

rollover gift, no matter the size, has the potential to

transform an idea from the minds of our scientists

into a discovery that could make a lasting and

profound impact on human health.

For more information about making an IRA

charitable rollover gift or including VAI as a

beneficiary of your IRA, please contact:

Kate Frillmann, Philanthropy Director

616.234.5515

kate.frillmann@vai.org

Steve Ozinga, Philanthropy Director

616.234.5040

steve.ozinga@vai.org