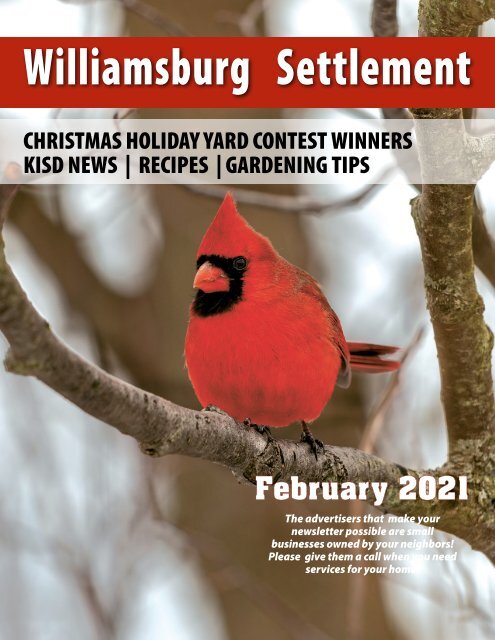 Williamsburg Settlement February 2021
You also want an ePaper? Increase the reach of your titles
YUMPU automatically turns print PDFs into web optimized ePapers that Google loves.
Williamsburg Settlement

CHRISTMAS HOLIDAY YARD CONTEST WINNERS

KISD NEWS | RECIPES | GARDENING TIPS

February 2021

The advertisers that make your

newsletter possible are small

businesses owned by your neighbors!

Please give them a call when you need

services for your home.

Williamsburg Settlement | February 2021 1
---
Providing Better Options for

HEART & VASCULAR CARE

in West Houston and Katy

Through specialized programs, clinical trials and a commitment to

challenging conventional thinking, our comprehensive team of

cardiovascular specialists is improving outcomes and providing

better options for heart and vascular care in your community.

Our doctors specialize in treating a wide spectrum of

cardiovascular diseases and disorders, including:

GREENHOUSE RD.

PARK ROW DR.

HOUSTON METHODIST

WEST HOSPITAL

BARKER CYPRESS RD.

• Coronary artery disease

• Heart failure

• Heart rhythm disorders

• Valve disease

• Vein and artery disorders

West Houston-Katy

And, you can be confident that we are taking every necessary

precaution to keep you safe throughout your visit.

To find a doctor or schedule an appointment, visit

houstonmethodist.org/debakey/west or call 713.DEBAKEY.

2

February 2021 | Williamsburg Settlement
---
LOU'S PAINTING, Ltd.

• Interior - Exterior

• Power Washing

• Sheetrock & Texture

• HardiPlank ® Replacement

• Minor Repairs

Your home is an expensive investment!

Painting beautifies &

preserves that investment!

Free Estimates

O 281-492-2643 C 281-844-4338

"Doing business from the same location since 1978"

KATY

PET

Pet Sitting in

Your Home

Kim & Dave 281-395-0182

www.katypetnannies.com

pets@katypetnannies.com

WILLIAMSBURG SETTLEMENT INFO

WILLIAMSBURG SETTLEMENT MAINTENANCE ASSOCIATION

www.wsmaonline.org

BOARD MEMBERS

President CO Holt 281-347-8702

Vice President Bill Petry 281-347-6465

Landscaping, Perimeter Fence Maintenance and Meeting Room Setup

Secretary/Treasurer/Webmaster Dave Ellis 281-347-2580

Email Communications and Newsletter, Elec Repairs, Keys,

Clubhouse and Pool Rental and Maintenance

UTILITIES

Centerpoint Energy 713-207-2222

Gas Problems 713-659-2111

Reliant Energy 713-207-1111

Street Lights - not working 713-207-2222

Street Repairs 281-463-6300

MUD #61 281-347-8686

MUD #62 281-347-8686

Director Jim Calvert 281-380-8628

Deed Restrictions , Yard of the Month , Architectural Review Chairman

Director Chris Cox 832-413-2432

Community Events Co-Chairperson, Electronic Surveillance

Director Michael Wood 281-347-1027

Community Events Co-Chairperson,

Manage Welcoming Committee and Meeting Signs

Director James Kelley 832-812-5567

Flags

Welcoming Volunteers Krystal Gillogly 832-428-0877

Deni McKay 832-297-3461

For all other issues, please contact:

CREST MANAGEMENT Switchboard 281-579-0761

Cindy Bojé 281-945-4668

Swim Team Katy Hall 713-569-4530

Ladies Tennis Leagues Karen Mace 281-347-4058

TAXING AUTHORITIES

Harris Co. Appraisal Dist. 713-683-9200

Waller Co. Appraisal Dist. / KISD Tax 281-391-3188

SCHOOLS

KISD Administration KISD 281-396-6000

Transportation 281-396-7560

Winborn Elem. 281-237-6650

Morton Ranch Jr. High 281-237-7400

Morton Ranch High School 281-237-7800

Katy High School 281-237-6700

IMPORTANT NUMBERS

EMERGENCIES 911

Sheriff Non-Emergency Dispatch 713-221-6000

HCESD-48 Fire Dept. (Information Calls) 281-599-8888

Memorial Hermann Katy Hospital 281-644-7000

Poison Control 800-764-7661

Animal Control 281-999-3191

Harris County Health Dept. 713-526-1841

BOARD MEETINGS • 3rd Tuesday of each month.

NEWSLETTER DEADLINE: submittals to Dave Ellis (dave@daveellis.com) by the 20th of each month

PUBLISHED BY: KRENEK PRINTING

www.krenekprinting.com • 281-463-8649

INFORMATION ON BUSINESS ADS: ads@krenekprinting.com

NON-PROFIT ARTICLE REQUESTS: news@krenekprinting.com

Williamsburg Settlement | February 2021 3
---
The Winners:

1 st Place - 22402 Wetherburn

2nd Place - 1503 Durfey

• FAMILY OWNED • REFERENCES • INSURED & BONDED

• 21 YEARS EXPERIENCE

2 Call or Text

Estimates@cphou.com

www.cphou.com 81-345-980 0

INTERIOR & EXTERIOR

FREE

Estimates

Carpentry • Sheetrock - Texture • Pressure Washing • HardiPlank ®

Refinish-Staining • Crown Molding • Fences

4

February 2021 | Williamsburg Settlement
---
3rd Place - 22315 Vobe Ct.

CHRISTMAS

HOLIDAY YARD

CONTEST WINNERS

Once again we had a great time with our annual Christmas

Holiday Yard contest. Just as we did last year, instead of letting

one or two Board members make the decision we passed it on

to you, our residents. This year for the first time an additional

category of Best Mailbox was also added. The judges made

their initial selection of the ten light displays which they

considered to be most deserving of recognition. From the

ten homes selected and the mailbox candidates all registered

residents were invited to make their choice. The yard which

received the most votes was recognized as taking first place

with the two runners up taking second and third places and

the mailbox award was given to the one that received the

most votes in that category.

The three homes, together with the Best Mailbox, had the

corresponding award sign placed in their yard.

The Board gives it's thanks to all the residents who participated

both in decorating their homes and in the selection of this

year's winners, as well as to Board member Chris Cox who did

an outstanding job of organizing and managing this event.

myACandHEAT.com

Best Mailbox - 1815 Abby Aldrich

Call Anytime!

HEATING • AIR CONDITIONING

Reme Halo

Air Purifier

$150 OFF

Cannot be combined with any other offer.

Must redeem coupon at time of service. Expires 2/28/2021

TACLB019260E

281-492-3450

Up to $1300 00 Rebates

on a New Qualifying

Home Comfort System

Expires 2/28/2021

FREE ESTIMATES on New Equipment

Same-Day Service

Williamsburg Settlement | February 2021 5
---
JANUARY YARD-OF-THE-MONTH

As we finish up 2020 and begin a new year the Yard of the Month for January 2021 is being awarded to The Lynch family

of 22534 Prince George Street.

The Lynches have lived in the Settlement for 33 years. They have a dog and two grown daughters who attended Winborn

Elementary school.

Mrs. Lynch is a retired school teacher whose hobbies include cooking, baking, animal rescue, fostering felines and when

relaxing enjoys movies and reading.

The Lynch's yard, well balanced in design, consists of two different size Japanese blueberry trees that accent both the

front entry and the corners of their home. The front beds, each bordered with natural looking stone, are filled with wellmanicured

boxwoods and are garnished with colorful snapdragons. You'll notice several large flowerpots filled with

snapdragons, dusty miller and red and pink cyclamen. The large oak tree in the front is bordered by natural looking stone

and is surrounded with a golden glove ground cover that blooms with beautiful yellow flowers in both summer and

spring. Azaleas on the side bloom with lovely colors in the spring. Ferns, ivy, pink knockout roses, snapdragons and a

variety of flowers, finish out the backyard.

The Lynches said that with the Settlement's great location, seeing so many families walking together, bike riding,

pet walking, kids playing at the parks and the memories over the years, makes for a very outstanding family-friendly

neighborhood.

Congratulations to the Lynch Family for being the recipient of the Yard of the Month for January 2021. Your continued

addition to the beauty of the Settlement all these years is greatly appreciated.

6

February 2021 | Williamsburg Settlement
---
A SPECIAL NOTE TO OUR NEW RESIDENTS

As soon as Crest, our Association's management company, receives

notification from the title company of an ownership change this

information will be conveyed to our Welcoming Committee. Although

the committee is currently working off a backlog due to the COVID-19

situation, as soon as it is able one or more of its members will attempt to

contact the new residents to deliver a "Welcome to the Neighborhood"

package. This committee is headed by Board member Michael Wood ably

assisted by Krystin Gillogly and Deni McKay. If you are not at home when

they visit you will receive a notification of the attempt and asked when

would be the best time to drop off the package. As well as welcoming

you the purpose of this welcoming function is to give you the basic

information on the services that are provided to Settlement residents

and to acquaint you with the many benefits of living here. Your Board of

Directors work hard to communicate with our residents to ensure that

everyone is provided with timely notification of neighborhood issues

and know how to get a rapid response to any questions or concerns

they may have. In addition to this newsletter, key tools in this process

are the Association website and the email distribution list to which all

residents are encouraged to subscribe via the website's Registration

page. If you are reading this newsletter on our website but have not yet

subscribed to the email list you are encouraged to do so. To be added to

the email list, go the Registration page and enter your street and email

addresses on the window that will open. When you have submitted your

entry you will receive a confirming email from Campaigner, the company

that handles our bulk email service, to which you must respond before

your subscription becomes effective. Please be assured that the email

addresses that you register will not be divulged to any third party. The

entry of addresses to this list is handled automatically and they will be

used solely for the purpose of distribution of emails by the webmaster to

those who have registered.

Rick Martinez

Broker Associate

(281) 646-2143

Tony Cogliandro

Residential/Commercial

(281) 994-5184

www.REHouston.com

TheRickMartinezTeam

RickMartinezTX

RickMartinezTX

Crystal Martinez

Residential

(281) 646-2121

Cinco Ranch

2877 Commercial Center Blvd

Katy, TX 77494

Each office independently owned and operated

The address of the official Williamsburg Settlement website is: www.

wsmaonline.org. This site includes information on all aspects of our

subdivision so if you have a question, please look for the answer on this

site and if you can't find what you are looking for feel free to telephone

any of the Board members listed on the Board Members page or submit

your question on the website's Feedback/Questions form and you will

receive a rapid response.

In addition, Crest has a secure website on which there is a portal

that residents can use to make payments or just to access detailed

information on their individual accounts. Each resident is sent a personal

ID code once their information is entered into the Crest database. This

website also provides a number of additional on-line services so once

you are registered please take a few minutes to acquaint yourself with

the features it provides.

There are also Facebook and Nextdoor accounts set up by Williamsburg

Settlement residents that many like to use to communicate and share

information with their neighbors. Of these, Facebook is the most popular

and has a very active following. These sites are not officially monitored by

the Board so be aware that they should not be considered as sources of

definitive information.

And lastly, your Board would like to encourage you to attend its monthly

meetings. With very few exceptions, these are held at the clubhouse, 1602

Hoyt Lane, and begin at 5:30 PM on the third Tuesday of each month. The

monthly meeting schedule is posted on the web site's Board Meeting

page from where you can also read the minutes of past meetings for this

and the previous year. A few days prior to each meeting the agenda is

emailed to residents who have registered their addresses on the website.

Please come and introduce yourselves. Your Board would love to meet

you in person and welcome you to the Settlement!

Williamsburg Settlement | February 2021 7
---
Forever Landscape

• Tree Trimming

• Tree Removal

• Tree Fertilizer

• Trim Bushes

• Flower Bed Design

• Planting, Renovation

• Stone Border

• Flagstone

• Drain System

• Garden Soil, Top Soil

• Grass Installation

• Lawn Aeration

• Lawn Dethatcher

• Mulch

• Sprinkler System Repair

• Brush Removal

281-891-0370

Call Everth

Fully insured for your protection.

Free

Estimates

SPECIAL LAWN AERATION

$125

CLUBHOUSE RENTALS

Although this and other newsletter editions are still containing the

clubhouse and pool rental information, due to the Corona virus

pandemic rentals are not currently allowed as they would violate the

Harris County guidance under which we are operating. As stated in the

minutes of the November 17 th WSMA Board meeting, the Board reviewed

this subject and decided that rentals won't be considered until the Harris

County COVID-19 Threat Level is reduced to Moderate, Level 3. At that

point the Board will review the situation and what protocol should be

established to ensure that our facilities can be reopened safely. The Board

understands that the continued closure is causing disappointment, but

believes it would be irresponsible to open the clubhouse for rentals until

it can be done in conformance with the Harris County guidance.

BOARD MEETING MINUTES

There are no minutes to include in this newsletter as there was no Board

meeting in December. The March edition will contain the draft minutes

of the January meeting.

NEXT WSMA BOARD MEETING

The next meeting of the WSMA Board of Directors will be held in the

clubhouse on Hoyt Lane at 5:30 PM on Tuesday, February 16, 2021. If you

wish to be placed on the agenda, please contact Cindy Bojé of Crest no

later than the Tuesday preceding the meeting date.

WILLIAMSBURG SETTLEMENT SECURITY REPORT

NOVEMBER 1 THROUGH NOVEMBER 30, 2020

Type of Incident

Number of Incidents

911 Hang Up 1

Alarm Local 1

Animal Humane 1

Check Park 7

Check School 5

Contract Check 71

Fraudulent Use ID 1

In Progress Life In Danger 1

Meet The Citizen 3

MUD Building Check 12

Neighborhood Check 21

Suspicious Person 1

Traffic Initiative 5

Traffic Stop 3

Vehicle Abandoned 3

Vehicle Speeding 1

Welfare Check 2

The security statistics reported above include all incidents and activity

that occurred within the boundary of the Settlement as reported by the

HCSO deputies operating under contract to MUD 61 and MUD 62.

Dr. Brad McCary, DVM

www.williamsburg-vets.com

281-347-0246

1827 N. Mason Rd.

Katy, TX 77449

Mon, Tues, Thurs, & Fri: 7:30AM-6:00PM

Wednesday: 7:30AM-12:00 Noon

Saturday: 8:00AM-12:00 Noon

Sunday: Closed

STREET LIGHT OUTAGES

To report a burned out streetlight, any resident may call CenterPoint

directly at 713-207-2222. However, for those with Internet access, you may

also make this report on-line. For those interested, you can go to http://

cnp.centerpointenergy.com/outage. Then enter your contact details so that

they can get back to you if more information is required. On the following

page enter the details of the light(s) with the problem. Just as you would

if reporting the outage via the telephone, you will need to provide the

street address where the light is located and the 6-digit number that is

prominently displayed on the front of the pole. Under normal circumstances

the crew will be out to fix the problem within 7 working days.

Anyone noticing a streetlight that is out or has some other malfunction is

encouraged to report the problem to CenterPoint via either of these two

methods without delay. Our Association is charged for every streetlight

each month, irrespective of whether or not the light is functioning. So

please help us get value for your hard earned money!

8

February 2021 | Williamsburg Settlement
---
WILLIAMSBURG SETTLEMENT

CLUBHOUSE AND POOL RENTAL

The Clubhouse is available for rental for non-profit activities to all

residents in good standing with the Association

• The fees are as follows:

BIG ROOM RENTAL FEE:

Up to 49 people - $50

50-100 people - $75

Plus a refundable security deposit:

No alcohol served - $100

Alcohol served or the attendance of 20

or more under the age of 21 - $200*

SMALL ROOM RENTAL FEE:

Up to 20 people - $30 (Small Room is 17' X 15'

and rental does not include kitchen)

Plus a refundable security deposit of $50

• *Note that when alcohol is served, two security guards must also be on

duty. The requirement for two is mandated by the Sheriff's Department.

• The charge for the security guards, which is paid directly to the officers,

is the responsibility of the resident requesting the rental. Also, if there are

more than 20 young people between the ages of 13 and 21 unaccompanied

by their family members the Association requires one responsible adult

for every 10 of these young persons to act as chaperones.

• All deposits refundable upon passing the exit inspection.

POOL RENTAL

The pool is available for private parties during the swim season (only),

subject to the posted pool rules and the following restrictions.

During Pool Hours:

• Only 1 group at a time.

• Parties must be scheduled at least 2 weeks ahead of time using the

Clubhouse Booking Form.

• Parties held during open hours are restricted to 20 or fewer persons

(adults and children) who will be entering the water and do not have

their own pool tags and a total of not more than 60 persons in total

within the pool area.

• Parties that include a total of between 20 and 40 swimmers (i.e. including

those who have their own pool tags) are required to hire one additional

lifeguard.

• Parties that include a total of more than 40 swimmers (i.e. including

those who have their own pool tags) are required to hire two additional

lifeguards.

• The charge for the additional guard(s) will be $26 per hour with a

minimum of 2 hours.

• If at any time the number of swimmers in the water or the number of

persons within the pool area (including regular pool users who are not

members of the party) exceeds the limits that can be safely managed by

the lifeguards on duty then the guards have the authority to ask some

swimmers to leave the water or in extreme cases to close the pool.

• Two responsible adults must be in the pool area at all times acting as

chaperons to ensure the good behavior of all members of the party.

• Party to be over and the area cleaned up by pool closing at 8 PM.

After Hours:

• Parties must be scheduled at least 2 weeks ahead of time.

• Rental Fees: 1-49 people - $50; 50 plus - $75.

• Private pool parties may only be scheduled on days on which the pool

is open. The parties may start at 8 PM and must end, the area cleaned up

and the facility vacated by the scheduled end of the party, either 10 or 11

PM, as selected on the booking form. The lifeguards will clear the pool 15

minutes prior to end time.

WINTER SPECIALS ON EQUIPMENT INSTALLS

• Annual

Maintenance

Programs

• Serving area

since 1994

Free estimate or 2 nd opinion

281-394-0028

$25 off

any

repair

Expires 2/28/2021

License TACLB 24777E and Insured

FREE

Wi-fi thermostat

w/ equipment purchase

• All repairs

guaranteed

0% Interest

financing available

Expires 2/28/2021 WAC Expires 2/28/2021

IdealAirServices.com

MPL#40815

Water Heaters • Drain Problems

Faucet Installation & Repair

Gas Test • Water Leaks & Much More

35+ Years Experience

832-890-8449

info@tonysplumbingtx.com

www.tonysplumbingtx.com

Always there for you!

$30 off

any Job

Over $95

Low Price Guarantee

Licensed & Insured

Williamsburg Settlement | February 2021 9
---
"We work as unto

the Lord"

RESIDENTIAL &

COMMERCIAL

GEYER ROOFING

Specializing in

Re-Roofing

Ron Geyer

713-462-3898

• One responsible adult for every 10 persons under the age of 21 must

be in the pool area at all times acting as chaperones to ensure the good

behavior of all members of the party.

• Lifeguards will be booked by the Association from the pool management

company. There will be a minimum of 2 lifeguards plus an additional

guard for every 25 persons in excess of 50 who will be entering the pool.

The per-lifeguard hourly fee is $26.

• The cost for the lifeguards will be added to the rental fee and will be

payable by the renter to the Association at the time the booking is

confirmed.

• A $150 refundable deposit is required.

For clubhouse and pool availability, refer to the Clubhouse Bookings

page of the Association website www.wsmaonline.org and then to make

a reservation, please complete the pool entries on the on-line Clubhouse

Booking Form.

If you need further information, call Dave Ellis at 281-347-2580.

MPL#40046

REMODELING

• Kitchens • Bathrooms • Windows / Doors • Floors • Hardi Siding

• Rooms Additions • Complete Renovations • Patio Covers

Rob Geyer

281-477-3456

For all of your plumbing needs, call...

'

FREE

ESTIMATES

Low Price Guarantee

10

Licensed and Insured

Follow me on Angie's List

Any job

over $95

info@petersplumbingtx.com

A.A.A.

Tree Services

& Landscaping

925 South Mason Rd. P.M.B. 239

Katy, TX 77450

281-798-5224

a.a.a.landscaping.2005@gmail.com

• Tree Removal

• Tree Trimming

• Palm Tree Trimming

• Stump Removal

• Lots Cleaned Up

• Landscaping Designs

*

Sewer Camera Inspection and Drain Cleaning

Garbage Disposal and Faucet • Water Heater • Repipe

Sewer Repair • Pipe Repair • Toilet Installation

ONE CALL DOES IT ALL!

Sewer Camera Inspections $120

*Cannot be combined with any other offers

15% OFF

Any Service

With this ad.

Fence

Installation

Special

• Flagstone & Paver Patios

• Sod Replacement

• Sprinklers Repair

• Fence Installation & Repair

• Mulch

• Monthly Packages

• Drainage System

PET ID TAGS

Folks - as soon as the vet gives your young pets their Rabies shot

remember to get their ID tags. The Rabies tag lists the name, phone

number and address of the vet. So! All you need to do is put the Rabies

tag onto the pet's collar and leave it there all the time. That way, if the

pet gets loose, anyone finding him or her can look at the tag to see the

vet's phone number and call to report the lost animal. Better yet, add

another tag to your pet's collar that lists the dog or cat's name and your

own phone number or address. You can get these from any pet store.

When a pet has these but goes astray, anyone finding it can call you and

you can go get him or her right away. Your pet will be very glad to see

you! A happy pet is a loving pet.

VETERINARY PUBLIC HEALTH LEASH LAW

Animals that are not properly restrained pose a threat to all our residents.

While you may know your pet is friendly, an animal running at someone

who is walking by is very scary for that person. Many children are afraid of

animals and become frightened, which could result in the child getting

hurt trying to avoid the animal.

Veterinary Public Health (formerly called Harris County Animal Control)

advises that, "All dogs and cats must be kept under restraint while in the

unincorporated areas of Harris County, Texas. The custodian of a dog or

cat is not authorized to have, harbor or keep any unlicensed dog or cat or

to allow any dog or cat to become a stray."

Restraint is defined as the control of a dog or cat under the following

circumstances:

1. When it is controlled by a line or leash not more then six (6) feet in

length, if the line or leash is held by a human being who is capable of

controlling or governing the dog or cat in question.

2. When it is within a fully enclosed vehicle.

3. When it is on the premise of the custodian and the animal does not

have access to sidewalk to street.

February 2021 | Williamsburg Settlement
---
While it may be nice to have your animal out in the yard while you work

or play, it is against the law, unless the animal is properly restrained.

Let's all help keep our community a safe and comfortable place for all

our residents by being responsible pet owners. This will not only protect

anyone who may be walking or bicycling in the area, but also the pet

owner who could be held legally responsible or possibly sued for failing

to properly restrain their pet.

KATY AREA PLAYGROUP

A Katy area playgroup for stay at home moms and their infant-preschool

aged children in the Williamsburg area meets every Monday at different

locations. If you interested in participating or finding out more about the

playgroup, please contact the playgroup coordinator, Laura Bannerman,

at llbannerman@gmail.com. Please share this information with neighbors

and friends!

THE THOMAS A. GLAZIER

SENIOR EDUCATION CENTER

COMMISSIONER STEVE RADACK,

HARRIS COUNTY PRECINCT THREE

The Thomas A. Glazier Senior Education Center is located at 16600 Pine

Forest Lane, 77084; one block south of the intersection of Hwy. 6 and

Clay Road. All classes/programs are FREE for Harris County residents aged

55+. Zumba, Yoga, Spanish, Dance, Legal, Watercolor, Wills and Probate,

Computer/IPhone and Wellness classes are offered among hundreds of

other classes/workshops. For more info, go online to www.pct3.com/

About/Calendars/Glazier-Senior-Center-Calendar for a schedule of all our

programs or call us at 713-274-3250.

TEENAGE JOB SEEKERS

If you are between 12 and 18 and would like to be added to the

teenage job seeker's list, please fill out the form on our website (www.

krenekprinting.com, click submissions and choose Jobseekers) with your

name, birthdate (mo. & yr.), phone number, year you will graduate and

the name of your newsletter/subdivision. Check the list of jobs you want

on your form. Please make sure your email is correct, we send emails

in the summer to make sure all the info is still good and that you want

to stay on the list. If we do not hear back from you after 3 tries, we will

remove you from the list until we do. Must have parent(s) permission.

DISCLAIMER

Neither the subdivision, nor Krenek Printing is responsible for those listed

on the Teenage Job Seeker List. Please ask for and check out references

if you do not personally know those listed. This is just a list of teenagers

from the subdivision who wish to find part time jobs. Responsibility for

any work done by these teenagers is between those seeking helpers and

the teens and their parents.

CODE KEY:

B - BABYSITTING, CPR - CPR CERT., FAC - FIRST AID CERT., RCC - RED CROSS

CERT., SS - SAFE SITTER, SL - SWIM LESSONS, PP - PET/PLANT SITTER,

P - PET CARE ONLY, H - HOUSE CARE, L - LAWN CARE, C- CAR CARE/

DETAILING, T - TUTORING

There are currently no teenage job seekers available. Have your teen

send in their information to be added.

Call

our

experts

for

all of your

electrical

needs!

• Panel Upgrade / Replacement

• Ceiling Fan Installation

• Smoke Detectors

• Troubleshooting

• Generators

24-Hour Emergency !

Service

!

• Indoor/Outdoor Lighting

• Surge Protection

• Flat Screen TV Installation

• Recessed Lighting

• Code Compliance

Residential & Commercial Service • Family Owned & Operated • Licensed & Insured

*5-Year

Warranty,

Satisfaction

Guaranteeded

713 -467-1125 | wiredes.com

s a v e $25 OFF

YOUR NEXT SERVICE

CALL IN FEBRUARY!

Not to be combined with any other discount or

offer. Not valid on generator maintenance.

Expires 3/1/21

Master #100394 TECL # 22809

Williamsburg Settlement | February 2021 11
---
Cream Cheese Brownies

You could make this on National Cream Cheese Brownies Day February 10th!

Ingredients:

1/2 cup all-purpose flour

1/2 teaspoon baking powder

1/4 teaspoon salt

1/3 cup semisweet chocolate chips

5 tablespoons shortening

1 cup white sugar

3 eggs

3 tablespoons cream cheese

2 teaspoons vanilla extract

1/2 teaspoon almond extract

1/2 cup chopped almonds

Cream Cheese frosting - optional

Directions:

Preheat oven to 350 degrees F (175 degrees C). Grease 9 inch square baking

pan.

In top of a double boiler, melt chocolate chips and shortening, stirring

frequently until smooth. Pour into a large bowl and mix in sugar, cream

cheese and eggs. Stir in vanilla and almond extracts. Gradually mix in flour,

baking powder and salt. Fold in almonds and pour the batter into pan.

Bake for 35 to 40 minutes in the preheated oven, until toothpick inserted

near the center comes out clean. Let cool in pan before cutting into bars.

Add Cream Cheese frosting if desired.

Source: allrecipes.com

Rich Banana Bread

You could make this on National Banana Bread Day February 23rd!

Ingredients:

1/2 cup butter, melted

1 cup white sugar

2 eggs

1 teaspoon vanilla extract

1 1/2 cups all-purpose flour

1 teaspoon baking soda

1/2 teaspoon salt

1/2 cup sour cream

1/2 cup chopped walnuts

2 medium bananas, sliced

Directions:

Preheat oven to 350 degrees F (175 degrees C). Grease a 9x5 inch loaf pan. In a

large bowl, stir together the melted butter and sugar. Add the eggs and vanilla,

mix well. Combine the flour, baking soda and salt, stir into the butter mixture

until smooth. Finally, fold in the sour cream, walnuts and bananas. Spread

evenly into the prepared pan.

Bake at 350 degrees F (175 degrees C) for 60 minutes or until a toothpick inserted

into the center of the loaf comes out clean. Cool loaf in the pan for 10 minutes

before removing to a wire rack to cool completely.

Source: allrecipes.com

12

February 2021 | Williamsburg Settlement
---
YOUR AD COULD

BE HERE!

GARDENING TIPS FOR FEBRUARY

FLOWERS

• Plants to set: Alyssum, Calendula, Canterbury Bells, Carnations,

Columbine, Cornflower, Daisies, Delphinium, Hollyhock, Larkspur, Lobelia,

Nicotiana, Pansy, Petunia, Phlox (Louisiana), Shrimp Plant, Snapdragon,

Stock and Verbena.

VEGETABLES

• Plant beets, broccoli (plants), brussel sprouts (plants), cabbage (plants),

carrots, cauliflower (plants), celery, chinese cabbage (plants), chives

collards (plants), endive, kale, lettuce (leaf and head), mustard, onions

(plants), parsley, garden peas, radishes, rutabagas, spinach, tomato

(seeds) and turnips.

TREES AND SHRUBS

• Finish all transplanting, get everything in the ground for a good spring

spurt of growth. Transplant balled and burlap, container-grown, bare-root

deciduous evergreen trees, shrubs, roses and vines while still dormant.

• Finish pruning roses. Weed and cultivate lightly all beds. Replenish

mulch as needed.

• Control early spring insects like thrips on glads and aphids on young

tender growth. Spray with Malathion, Diazinon or Orthene.

• At the end of February: peach, apple and pear fruit must be thinned to

insure quality production at harvest.

• Give groundcovers a haircut. They will spread faster.

• Divide daylilies, daisies and other perennials now.

Helping Build Businesses &

Bring Communities Together since 1979

Local Subdivision Newsletters reaching over 100,000 homes

Visit our website for a full price list or call our office today!

Krenek Printing

NEIGHBORHOOD NEWSLETTERS LLC

281-463-8649

www.KrenekPrinting.com

Home is where e

the heart is.

Not to mention all your stuff.

NATIONAL BIRD FEEDING MONTH

During National Bird Feeding Month in February, keep the bird feeders

filled and your binoculars ready.

Bird watching and feeding have become a popular hobby. By providing

basic shelter and seed, hobbyists watch from their windows or along

trails.

• Be sure to feed regularly and place your feeder away from predators.

• Set binoculars near the window for best viewing.

• Obtain a bird book for identifying new species.

Fill up the bird feeder or add one this month. In 1994, Congressman John

Porter established February as National Bird Feeding Month due to the

harsh conditions endured during one of the coldest months of the year.

Use #NationalBirdFeedingMonth to share social media.

Source: https://nationaldaycalendar.com

Let me help you get the protection you need.

I know home insurance. I can help you protect

your home and everything in it. Call me today to

discuss your coverage options.

WARREN SLOAN

713-464-4442

1400 W. Sam Houston Pkwy N. #130

HOUSTON

warrensloan@allstate.com

Subject to terms, conditions, qualifications and availability. Allstate Vehicle and Property Insurance Co., Allstate

Fire and Casualty Insurance Co. Northbrook, IL. © 2012 Allstate Insurance Co.

87869

Williamsburg Settlement | February 2021 13
---
Katy ISD

www.katyisd.org

IMPORTANT DATES

February 15th: Professional Learning Day - No Students

February 22nd: 5th Secondary Grading Cycle Begins

February 25th: Family Night (No Homework Assigned)

STUDENT COVID-19 TESTING SITE

The District offers a FREE rapid COVID-19 testing option to enrolled Katy ISD students and employees. The FREE test is in collaboration

with the Texas Education Agency's COVID-19 Testing Project. The test consists of a nasal-based testing option (saliva-based option is

still pending) with results in 20 minutes.

The rapid, free tests are available at the District's Agricultural Sciences Center located at 5801 Katy Hockley Cut-Off Road, Monday-

Friday, 7:00 a.m.- 4:00 p.m. and on Saturdays 8:00 a.m.- 12:00 p.m. To help expedite free student COVID-19 testing, while practicing

social distancing at the testing site, Katy ISD has established a Student COVID-19 Testing Sign-Up form that allows families to secure

an appointment time for their student(s). The sign-up can be done at this direct link here. The testing site contact is (281) 396-7749.

Employees do not require an appointment to be tested for free, though are requested to arrive at least 30 minutes before the posted

closing time, to abide by the facilities schedules. Employees' dependents who are not on their Katy ISD insured parents' health care

plan may elect to pay the $125 fee to test with their parents at the site, or if the child is a Katy ISD enrolled student, he/she may

schedule an appointment through the Student Testing Appointment Scheduler, and test for free.

KATY ISD SEEKS 2021 BOND TO

ADDRESS RAPID STUDENT GROWTH

As families continue to move west of the Houston Metro area to enroll

their children in the fastest-growing school district in Texas, tonight Katy

Independent School District Board of Trustees discussed a Community

Bond Advisory Committee (CBAC) coming together to review capital

needs in consideration of a May 2021 Bond Referendum.

Located within 181 square miles and serving more than 84,000 students

at 71 campuses and facilities, Katy ISD is the sixth-largest school district in

Texas known for its high academic performance, its award-winning staff

and its highly sought out school programs, among other extra-curricular

activities. On average, Katy ISD is enrolling an additional 2,400 students

every school year with a projected enrollment of more than 100,000

learners by 2027. Enrollment increases are taking place most significantly

in the northwest quadrant of Katy ISD, where new communities are being

developed and are expected to flourish within the next decade.

The CBAC's planning and review of capital needs will include reviewing

enrollment projections, the need for new schools and facilities to address

capacity limitations while paying close attention to renovations and

component replacements necessary at aging campuses and buildings.

Within the brick and mortar schools, additional areas affecting the

growing student population are technology upgrades and safety and

security projects to support learners and staff needs. Katy ISD has a

history of approving bonds, which dates back to at least 1994. In 2017,

school community voters approved a $609,204,553 bond with a no tax

rate increase. It provided for six new schools, a major comprehensive

renovation at one campus, component replacements, expansions and

safety and technology improvements among other items. Katy ISD

anticipates being able to deliver once again on a zero tax rate increase.

Due to the District's safety protocols, only three socially distanced, inperson

CBAC meetings will take place during the process. Committee

members will have the opportunity to review, vet and decide upon the

capital projects to be included in the school district's bond package,

should they determine a need to recommend a referendum. During

the bond meetings, staff will provide in-depth background information

associated with long-range needs, demographics and finances, which

will allow the CBAC to finalize a bond package to present to the Board of

Trustees on Monday, February 8 th during a Special Board meeting.

14

KATY ISD BOARD OF TRUSTEES

APPROVED 2022-2023 CALENDAR

Katy ISD Board of Trustees approved calendar that includes:

Wednesday, August 17 th : First Day of School

Friday, May 19 th : Seniors - Last Day of School

Thursday, May 25 th : Last Day of School for all other students

172 Instructional Days

"The development of the Katy ISD instructional calendar often begins

in the fall of each year," said Deputy Superintendent Leslie Haack. "The

District values the school community's feedback and has recommended

a calendar based on their preference," added Haack.

The approved calendar also provides teachers two professional

development flex days in August 2022 as well as five additional days

of professional development throughout the school year. Labor Day,

Columbus Day, Martin Luther King Jr. Day and Good Friday are holidays,

and the District will continue providing a full week off for Thanksgiving,

two weeks for Christmas and one week for Spring Break.

DONATUTORS

Donatutors is a nonprofit tutoring organization that donates 100% of

our proceeds to charity. All of our tutors are straight-A students at Seven

Lakes High school and we offer a multitude of courses like creative

writing, computer science, biology, public speaking, ICTW writing and

many different math courses too. We charge $20 per class, but the first

one is free! For more information, check out donatutors.com or email us

at donatutors@gmail.com.

What's even cooler is that this summer Donatutors was able to raise

$1,283 which we used 70% to give to a Houston based charity called

NAMI and 30% to buy a bunch of masks and canned food for donation.

Please check us out!

FEBRUARY FUN FACT

With only 28 days to its credit (except during leap year), February wasn't

always so short. It was originally a 30 day month, falling at the end of

the calendar. When Julius Caesar changed the months around, February

became the second month of the year. He also took away one day and

added it to the month, which was named for him (July). The emperor

Augustus deducted another day and made August a 31 day month.

February 2021 | Williamsburg Settlement