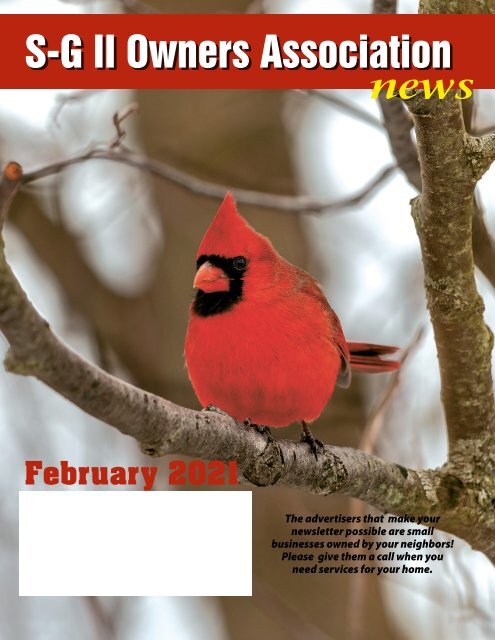 Stone Gate 2 February 2021
Create successful ePaper yourself
Turn your PDF publications into a flip-book with our unique Google optimized e-Paper software.
S-G II Owners Association

February 2021

The advertisers that make your

newsletter possible are small

businesses owned by your neighbors!

Please give them a call when you

need services for your home.

S-G II Owners Association | February 2021 1
---
Providing Better Options for

HEART & VASCULAR CARE

in Northwest Houston

Through specialized programs, clinical trials and a commitment

to challenging conventional thinking, our comprehensive team of

cardiovascular specialists is improving outcomes and providing

better options for heart and vascular care in your community.

HARGRAVE RD.

CENTERFIELD DR.

Our doctors specialize in treating a wide spectrum of

cardiovascular diseases and disorders, including:

• Atrial fibrillation and

heart rhythm disorders

• Coronary artery disease

• Heart failure

• Valve disease

• Vein and artery disorders

Willowbrook

HOUSTON METHODIST

WILLOWBROOK HOSPITAL

249

WILLOW CHASE BLVD.

And, you can be confident that we are taking every necessary

precaution to keep you safe throughout your visit.

To find a doctor or schedule an appointment, visit

houstonmethodist.org/debakey/willowbrook or call 713.DEBAKEY.

2

February 2021 | S-G II Owners Association
---
MPL#40046

FREE

ESTIMATES

Low Price Guarantee

Licensed and Insured

Follow me on Angie's List

For all of your plumbing needs, call...

'

Any job

over $95

*

Sewer Camera Inspection and Drain Cleaning

Garbage Disposal and Faucet • Water Heater • Repipe

Sewer Repair • Pipe Repair • Toilet Installation

*Cannot be combined with any other offers

ONE CALL DOES IT ALL!

info@petersplumbingtx.com

S-G II OWNERS ASSOCIATION, INC. ONSITE OFFICES & IMPORTANT NUMBERS

ASSOCIATION'S MANAGEMENT COMPANY

CONTACT INFO

Principal Management Group of Houston

(PMG) has been contracted by the Board of

Directors to manage the day-to-day activities

of the community.

In order to contact the community's Board

of Directors or if residents have concerns,

questions about their account or deed

restriction violations to report, please put the

information in writing and send via email to

your onsite office in your section.

TO CONTACT THE BOARD:

Principal Management Group of Houston

11000 Corporate Center Drive, Suite 150

Houston, TX 77041

713-329-7100

CANYON LAKES WEST OFFICE (CLW)

19722 Stanton Lake Dr., Cypress, TX 77433

PH: 281-855-0984 • Email: canyonlakeswest@att.net

Hours: Tues/Thurs/Fri/Sat: 9 AM-5 PM

Wed: 11 AM-7 PM / Sun/Mon: closed

MIRAMESA OFFICE (MM)

20150 Miramesa Dr., Cypress, TX 77433

PH: 832-698-4490 Email: miramesarec@outlook.com

Hours: Wed/Thurs/Fri/Sat: - 9 AM-5 PM

Tues: 11 AM-7 PM / Sun/Mon: closed

CLW SPLASH PAD AT THE GROVE (CLWSP)

20526 Morrison Grove Drive, Cypress, TX 77433

PH: 281-855-0984 Email: canyonlakeswest@att.net

GATE ATTENDANTS

Canyon Lakes Wes t 281-858-6100

8212 Canyon Lakes Manor Dr.

TRASH/WATER

WCA Waste 281-368-8397

Tax Office/ MUD #165 713-932-9011

H2O Consulting/MUD #165 281-861-6215

ROVING PATROL - PPI

Patrol Phone: 832-243-8206

EMERGENCY 911

Non-Emergency:

Constable Precinct 5 281-463-6666

Cy-Fair VFD 281-550-6663

Department of Public Safety (DPS) 281-232-4334

SCHOOLS

Cy-Fair ISD

www.cfisd.net

Andre Elementary 281-463-5500

Postma Elementary School 281-345-3660

Wells Elementary School 832-349-7400

Anthony Middle School 281-373-5660

Smith Middle School 281-213-1010

Bridgeland High School 832-349-7600

Cy-Springs High School 281-345-3000

PUBLISHED BY: KRENEK PRINTING

www.krenekprinting.com • 281-463-8649

INFORMATION ON BUSINESS ADS: ads@krenekprinting.com

NON-PROFIT ARTICLE REQUESTS: news@krenekprinting.com

ONE COMPANY.

P Y

ONE AGENT.

GENT.

MANY WAYS A S TO SAVE.

A .

Let me help you save time and money.

Protecting more of your world with

Allstate makes your life easier. And it

can put more money in your pocket.

Bundle your policies and you can save

even more. Why wait? Call me today.

Warren Sloan

(713) 464-4442

1400 W. Sam Houston Pkwy. N #130

Houston

warrensloan@allstate.com

Subject to terms, conditions and availability. Savings vary. Allstate Property and

Casualty Insurance Co., Allstate Fire and Casualty Insurance Co., Allstate Insurance

Co., Allstate Texas Lloyd's, Allstate Indemnity Co., Allstate Vehicle and Property

Insurance Co. Northbrook, Illinois © 2011 Allstate Insurance Co.

87877

STEVE TOUCHY

Attorney At Law

Serving Businesses and Families Since 1983

Copperfield/Cypress

• Wills • Trusts • Probate

• Divorce • Employment

• Adoption • Consumer Law

• Incorporation • Collections

• Partnership • Liens

• Real Estate • Commercial Law

281-858-0700

stevetouchy@yahoo.com

15840 FM 529, Suite 280

Houston, Texas 77095

Located in the Chase Bank Building on FM 529

L#31423

FYI

Electrical Services

For All Your Electrical Needs!

FREE

Surge Protector

With Any Breaker Box Replacement

$350 value

$

50 OFF

Any Job Over $ 150

www.fyi-electricalservices.com

713-319-7456

info@fyi-electricalservices.com

FREE Estimates | Bonded & Insured

Always on time!

S-G II Owners Association | February 2021 3
---
Nobody cares for eyes more than Pearle ®

Dr. A. Bains

Therapeutic Optometrist

Most vision plans accepted

ONSITE OFFICES BY APPOINTMENT ONLY

We are practicing extreme caution for the safety of our residents and

staff by limiting the amount of visitors we receive at the onsite offices.

There are many things that can be resolved via email, but we understand

there are some things you may need to visit the office to resolve. If you

would like to visit the onsite office, please email your Onsite Manager to

schedule an appointment.

Canyon Lakes West canyonlakeswest@att.net

Miramesa Rec Center miramesarec@outlook.com

Thank you for your patience and understanding.

WHO TO CONTACT

In an effort to better serve you and to improve response time, we would

like to remind you that you can contact your onsite clubhouse for

questions and concerns regarding the community and your account.

Canyon Lakes West, please call the Canyon Lakes West Clubhouse at 281-

855-0984 or email canyonlakeswest@att.net.

Miramesa residents please call the Miramesa Clubhouse at 832-698-4490

or email miramesarec@outlook.com.

25905 Hwy 290 @ Spring Cypress

(next door toTarget)

281-256-8774

Store Hours:

Mon/Tues/Thurs/Fri/Sat 9:30 - 5:30

Wed 10:30 - 6:30

KID'S PROMO

FREE Standard

Polycarbonate Lenses

With frame purchase.

Polycarbonate Lenses Included. Some

restrictions may apply. See associate

for details. Good at Cypress location only.

Coupon must be presented at time of

service. Cannot be combined with any

other promotion or insurance benefits.

Expires 3-15-21

FREE Single

Vision Plastic Lenses

with Designer

Frame Purchase

Tint Purchase Necessary.

Dilation extra. Good at Cypress location only.

See associate for details. Some

restrictions may apply. Coupon must be

presented at time of service. Cannot be

combined with any other promotion or

insurance benefits. Expires 3-15-21

Fry Road

Home Depot

Spring Cypress

Hwy 290

Hempstead Highway

Target

40% OFF

Prescription Lenses

With frame purchase.

(excludes Varilux)

Polycarbonate, high-index & progressive.

Good at Cypress location only. Some

restrictions may apply. See associate

for details. Coupon must be presented at

time of service. Cannot be combined with

any other promotion or insurance benefits.

Expires 3-15-21

Eye Exam

& Contacts

$139

Promotions

starting at

Includes eye exam, contact lens fitting, follow-up

exam, care kit plus 2 boxes (12 lenses)of Acuvue

2 Disposable Contact Lenses. Dilation extra. See

associate for details. Some restrictions may

apply. Good at Cypress location only. Coupon

must be presented at time of service. Cannot be

combined with any other promotion or

insurance benefits. Expires 3-15-21

The onsite team members are able to assist you with account information,

deed restriction questions, community concerns and or complaints.

In the event they are not able to assist you, they will reach out to the

Community Manager, Board of Directors and/or Management Company

to answer your questions.

TOWN SQ - HOW TO SIGN UP

We will be sending important community updates, event information

and other announcements through the TownSq app. We encourage you

to please download the app to stay up to date with the community.

TownSq - a new all-in-one mobile app designated to help you connect,

collaborate and stay up-to-date on any device. Meet your neighbors,

manage your account and access the resources you need for better

community living.

TownSq is the preferred method of communication for anything

related to the community association and your account.

FREE exclusively to Associa communities, download the app and register

now to:

• Easily communicate with neighbors, Board members and management

• Manage your account

• Get up-to-date community news and events

• Request and review status of service inquiries

• Participate in community polls

• Reserve common areas and amenities

• And more

Ready to join TownSq?

Your account is already set up and ready to use.

Register using your Account ID and Zip Code https://app.townsq.io/

associa/signup

Login: https://app.townsq.io/login

Download the app and start experiencing community your way!

Note: If you have more than one account you will be able to link them

and have only one login.

Once logged in, you will instantly be able to customize your

communication settings to start receiving notifications - when and how

you want!

4

February 2021 | S-G II Owners Association
---
PLEASE KEEP OUR LAKES CLEAN!

Please help us keep our community beautiful by NOT THROWING trash

and debris into the lakes. In addition, there is NO SWIMMING, BOATING

OR FISHING in the LAKES.

PLEASE BE OBSERVANT OF POSTED

TRAFFIC SIGNS, SPEED AND GATES

Please respect the posted traffic speeds and stop signs in our community.

They are here to make our community a safe and pleasant place to live.

With the pleasant weather, our children are out enjoying our amenities.

Use extra caution when driving near our parks and community pools.

Please also use the correct side of the gates for entry and exit.

• Wood Fences

• Arbors/Decks

• Painting Int/Ext

Specializing in Residential

Home Improvement Projects

• Pressure Washing

• Siding Replacement

• General Home Repairs Int/Ext

713-416-79 81

www.shaffer.cc

Serving your community for over 20 years!

TEENAGE JOB SEEKERS

If you are between 12 and 18 and would like to be added to the

teenage job seeker's list, please fill out the form on our website (www.

krenekprinting.com, click submissions and choose Jobseekers) with your

name, birthdate (mo. & yr.), phone number, year you will graduate and

the name of your newsletter/subdivision.

Check the list of jobs you want on your form. Please make sure your email

is correct, we send emails in the summer to make sure all the info is still

good and that you want to stay on the list. If we do not hear back from

you after 3 tries, we will remove you from the list until we do. Must have

parent(s) permission.

DISCLAIMER: Neither the subdivision, nor Krenek Printing is responsible

for those listed on the Teenage Job Seeker List. Please ask for and check

out references if you do not personally know those listed. This is just a

list of teenagers from the subdivision who wish to find part time jobs.

Responsibility for any work done by these teenagers is between those

seeking helpers and the teens and their parents.

CODE KEY: B - BABYSITTING, CPR - CPR CERT., FAC - FIRST AID CERT.,

RCC - RED CROSS CERT., SS - SAFE SITTER, SL - SWIM LESSONS, PP -

PET/PLANT SITTER, P - PET CARE ONLY, H - HOUSE CARE, L - LAWN

CARE, C- CAR CARE/DETAILING, T - TUTORING

• Diagnose & Repair

• Panel Upgrades

• Generators

• Surge Protection

• Custom Lighting

• Smart Switches

Randy & Sandi Deyo, Owner-operator TMEL 33838

FREE Estimates ● 2 Hour Appointment Windows

5 Year Warranty ● Flexible Payment Plans

Military/Veteran Discount ● Senior Discount

TEENAGE JOB SEEKERS

NOT AVAILABLE ONLINE

Helping Build

Businesses &

Bring Communities

Together since 1979

Krenek Printing

NEIGHBORHOOD NEWSLETTERS LLC

281-463-8649

www.KrenekPrinting.com

YOUR AD COULD

BE HERE!

Local Subdivision Newsletters reaching over 100,000 homes

Visit our website for a full price list or call our office today!

S-G II Owners Association | February 2021 5
---
FORD PIANO STUDIO

Lessons for

your child or yourself.

Classically Trained Teacher.

Experienced & References

832-978-6566

Telge Rd. Area

Cy-Fair ISD

www.cfisd.org

2020-2021 SCHOOL CALENDAR

To download the 2020-2021 school calendar, visit

the CFISD website at www.cfisd.net/en/calendar.

CLASS OF 2021 GRADUATION DATES ANNOUNCED

CFISD has announced graduation dates for the 2020-2021 school year.

All graduation ceremonies will be held at the Berry Center (8877 Barker

Cypress Road). The graduation schedule is as follows:

Thursday, May 27, 2021

Cy-Fair - 8 PM

Friday, May 28, 2021

Cypress Creek - 8 PM

Tuesday, June 1, 2021

Cypress Woods - 8 PM

Wednesday, June 2, 2021

Jersey Village - 8 PM

6

GUTTERS

SEAMLESS ALUMINUM GUTTERS

• Sales • Repairs • Cleanouts

NOW OFFERING FINANCING!

Ask us for more details!

281-492-1991

www.kustomgutters.com

FREE Estimates • Lowest Price Guaranteed • LIFETIME LABOR WARRANTY

MPL#40815

Water Heaters • Drain Problems

Faucet Installation & Repair

Gas Test • Water Leaks & Much More

35+ Years Experience

832-890-8449

info@tonysplumbingtx.com

www.tonysplumbingtx.com

Joni & Jimmy Rechner

Owners

Family owned &

operated for

over 45 years!

Always there for you!

$30 off

any Job

Over $95

Low Price Guarantee

Licensed & Insured

Saturday, May 29, 2021

Cypress Falls - 8 AM

Cypress Lakes - 8 PM

Sunday, May 30, 2021

Cypress Ranch - 8 PM

Monday, May 31, 2021

Cypress Ridge - 8 AM

Cypress Springs - 8 PM

Thursday, June 3, 2021

Cypress Park - 8 PM

Friday, June 4, 2021

Bridgeland - 8 AM

Langham Creek - 8 PM

ALL 12 CFISD HIGH SCHOOLS

RECEIVE LTE 1:1 CHROMEBOOKS

All 12 CFISD high schools have received Chromebooks for students as

part of the district's LTE (Learning Together Everywhere) 1:1 program.

Rollouts began before the Thanksgiving holiday and were completed

before winter break. More than 75,000 CFISD students have received a

Chromebook, which includes 100% of high school students having their

own device. In addition, 52% of elementary students and 46% of middle

school students have received their individually issued Chromebook.

CFISD has met all requests of CFISD Connect students who indicated a

need for a device in order to be successful while learning remotely.

"Successfully deploying individually issued Chromebooks to all

high school students in CFISD is an incredible feat that could not be

accomplished without the support of the community and the CFISD

Board of Trustees," said Katie Gentry, director of 1:1 and inventory systems.

"These devices will enable teachers to transform learning anytime,

anywhere, allowing students to reach their full potential for college and

career readiness. The spirit of CFISD was evident in this project as many

departments stepped up and heeded the call to think outside the box to

make this happen in an expedient manner for our high school students

across the district."

In a special-called meeting on July 7 th , the CFISD Board of Trustees

unanimously voted in favor of authorizing the superintendent to approve

the purchase of portable electronic devices, LTE internet access and

other items needed to support a one-to-one solution for CFISD students.

The LTE 1:1 program provides every student with an electronic device to

support quality instruction and resources. The program allows CFISD to

meet the needs of all students by providing appropriate teacher-directed

instruction, including real-time live virtual instruction.

February 2021 | S-G II Owners Association
---
A Cultural Experience

HOST A FOREIGN EXCHANGE STUDENT:

Want to bring a little culture into your life and the lives of your children?

Why not try hosting a high school foreign exchange student? It's a great

way to learn about a new culture all from the comfort of your home.

STS Foundation is currently looking for host families for the 2021/2022

school year. Hosting is such a rewarding experience and it benefits all of

those involved. STS Foundation accepts all types of host families - from

single parents, newly marrieds, empty nesters and same sex couples. In

order to host, you would need to meet the following qualifications:

• Host must be 25 years or older

• Pass a background check

• Provide food for 3 meals daily

• Ensure reliable transportation to and from school (bus is ok)

• A bed for your student

• A safe and loving home

STS Foundation is a 501(c)(3) organization that places foreign exchange

students with American host families. For more information about

hosting, please contact me at 832-455-7881, PM me or email at vicki.

stsfoundation@yahoo.com.

Pre-School Registrations

CORNERSTONE UMC PRESCHOOL

2021-2022 REGISTRATION ANNOUNCEMENT

New family registration will be on Tuesday, February 9 th at 10 AM. Our registration

will be through our website at www.cornerstoneumc.org-Preschool. You may

visit our website starting in January for more detailed instructions.

Starting in January, if you are interested in touring our facility, contact

us at 281-859-1612 to schedule a tour. Tours will be offered after regular

school hours between 1:30 and 2:30 PM or by appointment for other

times. You may also watch a prerecorded tour of our school from our

website.

ST. CUTHBERT SCHOOL 2021-2022 REGISTRATION

St. Cuthbert Episcopal School offers 2, 3 or 5-day classes for students 18

months to 5-years. A Bridge/Kindergarten class is also available. 2021-

2022 registration will begin on Tuesday, February 9 th at 8 AM for new

families and continue each day during school hours until all the positions

have been filled.

School hours are Monday-Thursday 9 AM till 2 PM and Friday 9 AM till 12

noon. The program is open to all children, regardless of race, nationality

or faith. For questions, contact Lynda at 281-463-1912 or email school@

stcuthbert.org.

For more information, visit stcuthbert.org/school/about. St Cuthbert

School is NAEYC accredited.

LOU'S PAINTING, Ltd.

• Interior - Exterior

• Power Washing

• Sheetrock & Texture

• HardiPlank ® Replacement

• Minor Repairs

Family & Cosmetic Dentistry

Caring Professionals for over 35 years in the Bear Creek Area!

16100 Cairnway, Suite 285

Your home is an expensive investment!

Painting beautifies &

preserves that investment!

Free Estimates

O 281-492-2643 C 281-844-4338

"Doing business from the same location since 1978"

281-859-5637

Valentine Special

$

75 Off for New Patient Exams

$

25 Off Dental Treatment for (existing patients)

(Not valid with any other offer. EXPIRES 2/28/21. Must present

coupon at the time of service. Valid for only one use per patient)

• Advanced Laser Dentistry

• Digital X-Rays for reduced Radiation

• Affordable, Flexible, No interest payment options.

www.CAREYDENTISTRY.com

Come Experience the Transforming

Power and the Accepting Love of

JESUS CHRIST

EPISCOPAL CHURCH

Building the Kingdom of God - Together!

Happy

Valentine's

Day!

Sunday Services: 8 am & 10:30 am

Christian Formation: Adults & Children 9:30-10:15 am

17020 West Rd. @ Queenston

Houston, TX 77095 • 281.463.7330

www.stcuthbert.org

S-G II Owners Association | February 2021 7
---
ICONIC FIGHTER JET TO BE REFURBISHED AND UNVEILED BY THE AMERICAN LEGION POST 521

"ONE MORE MISSION" - COATING SOCIETY OF HOUSTON MEMBERS TAKE PROJECT TO COMPLETION

On July 29, 1984 American Legion Post 521 received a F4D Fighter Jet from the Air Force Reclamation Center and dedicated it to all POW's and MIA's

from all wars and conflicts involving the United States of America. Recently, the Post reached out to the Coating Society of Houston for assistance in

refurbishing this iconic piece of memorabilia, which was showing extreme decay due to local weather conditions.

"We have been working getting this plane restored for several years and were finally able to find a group that was willing to donate their time and

materials to helping us," said Joseph Thomas, 22 nd District Commander of the American Legion Department of Texas.

CREATE A LIGHT JAR

Get Mason jars, mayo or pickle jars or even some vases and I use

the battery operated string lights to make "normal" decorations. In

one, along with the lights, I have the glass beads you can get at

the dollar store in many colors, in another I have seashells we got

in Galveston. I am sure you can find something that would match

your own home and style to place in these.

So if you are like me and just need that pick-me-up of some bright

twinkling lights once the decorations are all down, make one or

more of these and have them year round!

From the KPC Editor

10710 Barker Cypress

(about one mile south of Hwy. 290 in the

HSE Medical Parking Lot)

8

February 2021 | S-G II Owners Association
---
HARRIS COUNTY PUBLIC LIBRARIES

COVID POLICY:

All Harris County Public Library locations will remain closed to the public

at this time

HCPL No-contact Curbside Holds Pick-Up is now available at ALL HCPL

branches.

HARRIS COUNTY PUBLIC LIBRARY WILL CONTINUE TO OFFER

A WIDE ARRAY OF ONLINE SERVICES:

• Use HCPL Wi-Fi service while maintaining social distancing with HCPL's

Drive-up Wi-Fi

• Download ebooks and audiobooks, stream movies, research and learn

at www.hcpl.net

• Attend an HCPL program or story time online through Facebook or

YouTube

• Check your account to renew loans or request books

• eBooks, comics or graphic novels through OverDrive

• Stream classic films, indie cinema and award-winning documentaries

on Kanopy

• Listen to audiobooks through RBDigital or OverDrive

• Read along and play with picture books on TumbleBooks

• Ask us a question via chat on Ask a Librarian

• Get book recommendations via Book Hunters

If you do not have an HCPL library card, you can get instant access to all

HCPL's digital materials including ebooks, streaming movies and research

tools with an iKnow Digital Access Card.

HOW DOES CURBSIDE HOLDS PICK-UP WORK?

Here's how it works: When you receive notification that your holds are

ready for pick-up, call your HCPL pick-up location. Please have your

library card number and PIN handy. You will be given a pick-up time and

instructions for curbside pick-up (These may vary slightly from branch to

branch). When you arrive at the library, follow the instructions you were

provided over the phone. You may be asked to show your library card or

other form of ID for verification.

Note: Library staff will not be able to take your returns during curbside

pick-up, please put them in the book drop. For your safety and that of

HCPL staff, curbside pick-up may be temporarily suspended during bad

weather.

NATIONAL LIBRARY LOVER'S MONTH

The entire month of February is dedicated to the people who love whole

buildings devoted to the reading, housing organizing, categorizing, finding,

studying and otherwise loving books. It's National Library Lover's Month!

Libraries provide so much more than a place for us to enjoy great novels

or to discover amazing adventures and untold history. Yes, they help us

ace our research papers and provide a quiet space to study, but they do

so much more.

For preschoolers, libraries entertain them with theater and hands-on

activities exposing them to music, art and their first friendships. Many

communities rely on their libraries for meeting space for public forums,

socials, fundraisers and classes.

Libraries lend not only books but music and movies. Rotating art displays

give local artists exposure to the community. Larger libraries provide

preservation services, preserving some of the most treasured books,

periodicals and documents for future generations.

Continue enjoying your library, but consider volunteering your time, too.

If you don't have a library card, it's never too late! Visit your library to get

one! Use #NationalLibraryLoversDay to share on social media.

Source: https://nationaldaycalendar.com

Call

our

experts

for

all of your

electrical

needs!

• Panel Upgrade / Replacement

• Ceiling Fan Installation

• Smoke Detectors

• Troubleshooting

• Generators

24-Hour Emergency !

Service

WINTER SPECIALS ON EQUIPMENT INSTALLS

• Annual

Maintenance

Programs

• Serving area

since 1994

Free estimate or 2 nd opinion

281-394-0340

$25 off

any

repair

Expires 2/28/2021

License TACLB 24777E and Insured

FREE

Wi-fi thermostat

w/ equipment purchase

!

• Indoor/Outdoor Lighting

• Surge Protection

• Flat Screen TV Installation

• Recessed Lighting

• Code Compliance

Residential & Commercial Service • Family Owned & Operated • Licensed & Insured

*5-Year

Warranty,

Satisfaction

Guaranteeded

713 -467-1125 | wiredes.com

s a v e $25 OFF

YOUR NEXT SERVICE

CALL IN FEBRUARY!

Not to be combined with any other discount or

offer. Not valid on generator maintenance.

Expires 3/1/21

Master #100394 TECL # 22809

• All repairs

guaranteed

0% Interest

financing available

Expires 2/28/2021 WAC Expires 2/28/2021

IdealAirServices.com

VICTORY PAINTING

& WOOD ROT REPLACEMENT

PROMPT - RELIABLE - AFFORDABLE - SINCE 1993

Interior & Exterior Painting • Storm Damage Repair

Siding Replacement • Custom Woodwork

Extensive References • Free Estimates

Will Meet or Beat Competitor's Prices • Satisfaction Guaranteed

www.VictoryPaintingTx.com • VicNewman@Mail.com

281-853-4575

S-G II Owners Association | February 2021 9
---
Cream Cheese Brownies

You could make this on National Cream Cheese Brownies Day February 10th!

Ingredients:

1/2 cup all-purpose flour

1/2 teaspoon baking powder

1/4 teaspoon salt

1/3 cup semisweet chocolate chips

5 tablespoons shortening

1 cup white sugar

3 eggs

3 tablespoons cream cheese

2 teaspoons vanilla extract

1/2 teaspoon almond extract

1/2 cup chopped almonds

Cream Cheese frosting - optional

Directions:

Preheat oven to 350 degrees F (175 degrees C). Grease 9 inch square baking

pan.

In top of a double boiler, melt chocolate chips and shortening, stirring

frequently until smooth. Pour into a large bowl and mix in sugar, cream

cheese and eggs. Stir in vanilla and almond extracts. Gradually mix in flour,

baking powder and salt. Fold in almonds and pour the batter into pan.

Bake for 35 to 40 minutes in the preheated oven, until toothpick inserted

near the center comes out clean. Let cool in pan before cutting into bars.

Add Cream Cheese frosting if desired.

Source: allrecipes.com

Rich Banana Bread

You could make this on National Banana Bread Day February 23rd!

Ingredients:

1/2 cup butter, melted

1 cup white sugar

2 eggs

1 teaspoon vanilla extract

1 1/2 cups all-purpose flour

1 teaspoon baking soda

1/2 teaspoon salt

1/2 cup sour cream

1/2 cup chopped walnuts

2 medium bananas, sliced

Directions:

Preheat oven to 350 degrees F (175 degrees C). Grease a 9x5 inch loaf pan. In a

large bowl, stir together the melted butter and sugar. Add the eggs and vanilla,

mix well. Combine the flour, baking soda and salt, stir into the butter mixture

until smooth. Finally, fold in the sour cream, walnuts and bananas. Spread

evenly into the prepared pan.

Bake at 350 degrees F (175 degrees C) for 60 minutes or until a toothpick inserted

into the center of the loaf comes out clean. Cool loaf in the pan for 10 minutes

before removing to a wire rack to cool completely.

Source: allrecipes.com

10

February 2021 | S-G II Owners Association
---
GARDENING TIPS FOR FEBRUARY

FLOWERS

• Plants to set: Alyssum, Calendula, Canterbury Bells, Carnations,

Columbine, Cornflower, Daisies, Delphinium, Hollyhock, Larkspur, Lobelia,

Nicotiana, Pansy, Petunia, Phlox (Louisiana), Shrimp Plant, Snapdragon,

Stock and Verbena.

VEGETABLES

• Plant beets, broccoli (plants), brussel sprouts (plants), cabbage (plants),

carrots, cauliflower (plants), celery, chinese cabbage (plants), chives

collards (plants), endive, kale, lettuce (leaf and head), mustard, onions

(plants), parsley, garden peas, radishes, rutabagas, spinach, tomato

(seeds) and turnips.

TREES AND SHRUBS

• Finish all transplanting, get everything in the ground for a good spring

spurt of growth. Transplant balled and burlap, container-grown, bare-root

deciduous evergreen trees, shrubs, roses and vines while still dormant.

• Finish pruning roses. Weed and cultivate lightly all beds. Replenish

mulch as needed.

• Control early spring insects like thrips on glads and aphids on young

tender growth. Spray with Malathion, Diazinon or Orthene.

• At the end of February: peach, apple and pear fruit must be thinned to

insure quality production at harvest.

• Give groundcovers a haircut. They will spread faster.

• Divide daylilies, daisies and other perennials now.

NATIONAL BIRD FEEDING MONTH

During National Bird Feeding Month in February, keep the bird feeders

filled and your binoculars ready.

Bird watching and feeding have become a popular hobby. By providing

basic shelter and seed, hobbyists watch from their windows or along

trails.

• Be sure to feed regularly and place your feeder away from predators.

• Set binoculars near the window for best viewing.

• Obtain a bird book for identifying new species.

Fill up the bird feeder or add one this month. In 1994, Congressman John

Porter established February as National Bird Feeding Month due to the

harsh conditions endured during one of the coldest months of the year.

Use #NationalBirdFeedingMonth to share social media.

Source: https://nationaldaycalendar.com

• FAMILY OWNED • REFERENCES • INSURED & BONDED

• 22 YEARS EXPERIENCE

INTERIOR & EXTERIOR

"We work as unto

the Lord"

RESIDENTIAL &

COMMERCIAL

Call or Text

www.cphou.com

GEYER ROOFING

Specializing in

Re-Roofing

Ron Geyer

713-462-3898

REMODELING

• Kitchens • Bathrooms • Windows / Doors • Floors • Hardi Siding

• Rooms Additions • Complete Renovations • Patio Covers

Rob Geyer

281-477-3456

281-345-9800

Estimates@cphou.com

FREE

Estimates

Carpentry • Sheetrock - Texture • Pressure Washing • HardiPlank ®

Refinish-Staining • Crown Molding • Fences

S-G II Owners Association | February 2021 11
---
The Jill Smith Team -

Your Modern Day

Real Estate Experts

Who you hire truly matters.

If buying or selling a home is in your future, hire

The Jill Smith Team to get results! We live, work,

and play in your neighborhood, and make it a

point to know the local market. And at

Compass, we have the technology platform &

services to provide our clients with a rewarding,

results-focused experience.

Contact us today for a free, no obligation

Premium Market Analysis!

Jill Smith

Broker Associate, ABR, ASP, CNE, GRI, SFR, Certified Luxury Home

Marketing Specialist, Master Certified Negotiation Expert,

Certified Relocation Specialist

281.704.3749 | jill@jillsmithteam.com

jillsmithteam.com

The Jill Smith Team is a real estate team of agents affiliated with Compass.

Compass is a licensed real estate broker and abides by federal, state and

local laws. Equal Housing Opportunity.

12

February 2021 | S-G II Owners Association