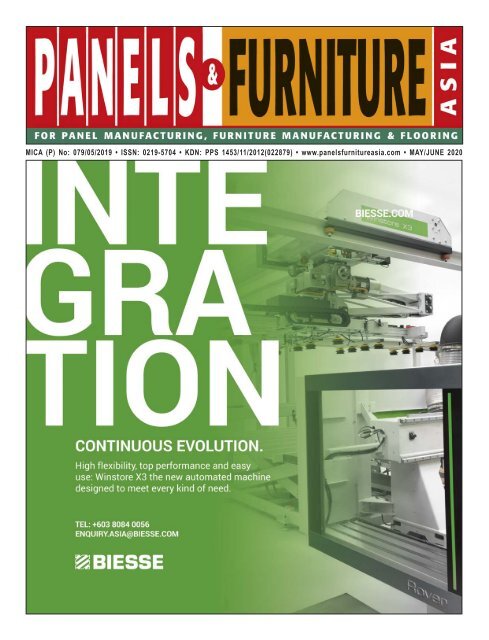 Panels & Furniture Asia May/June 2020
Panels & Furniture Asia (PFA) is a leading regional trade magazine dedicated to the woodbased panel, furniture and flooring processing industry. Published bi-monthly since 2000, PFA delivers authentic journalism to cover the latest news, technology, machinery, projects, products and trade events throughout the sector. With a hardcopy and digital readership comprising manufacturers, designers and specifiers, among others, PFA is the platform of choice for connecting brands across the global woodworking landscape.
Panels & Furniture Asia (PFA) is a leading regional trade magazine dedicated to the woodbased panel, furniture and flooring processing industry. Published bi-monthly since 2000, PFA delivers authentic journalism to cover the latest news, technology, machinery, projects, products and trade events throughout the sector. With a hardcopy and digital readership comprising manufacturers, designers and specifiers, among others, PFA is the platform of choice for connecting brands across the global woodworking landscape.
SHOW MORE
SHOW LESS
You also want an ePaper? Increase the reach of your titles
YUMPU automatically turns print PDFs into web optimized ePapers that Google loves.
MICA (P) No: 079/05/2019 • ISSN: 0219-5704 • KDN: PPS 1453/11/2012(022879) • www.panelsfurnitureasia.com • MAY/JUNE 2020
---
Contents

May / June 2020 • Issue 3 • Panels & Furniture Asia

6 | EDITOR'S NOTE

8 | NEWS

MARKET REPORT

18 | Supply Shocks. Demand Shocks. Aftershocks

ENVIRONMENT REPORT

20 | Turning the Tables: Choosing responsibly sourced

timber to make your furniture

IN PERSON

24 | Global Timber: In constant pursuit of the next level

PANELS MANUFACTURING

30 | Highest capacity particleboard cutting plant in

Southeast Asia

32 | Jiangsu Baolong successfully installs first debarking

line for OSB production in Thailand

34 | IPCO enhances in-house training with QUICKBENCH

36 | Stop manual patching, start upgrading veneer quality

FLOORING

38 | Therrawood: Bringing outdoor solutions from

Turkey to Southeast Asia

MATERIALS

42 | Gabon Forest, a sustainably managed resource

46 | Why Canadian Wood? A sustainable resource for

emerging economies

STRUCTURAL ELEMENTS

48 | Fjorporten, a tower of lightness

DESIGN

52 | 466 Flow chairs add a touch of modern to

historical school building

54 | The Preservation Bench in American oak to make

its India debut this summer

SHOW PREVIEW

56 | The highly-anticipated BIFA WOOD VIETNAM is back

for its second edition

COLUMNISTS

59 | Wood Clinic: How to solve several issues with

manufacturing louvered door

64 | MMMA Newsletter: Between a forest and a

piece of furniture: pandemic control or growth?

64 | CALENDAR OF EVENTS

67 | ADVERTISER'S LIST

24

38

56
---
FROM THE EDITOR

PANELS & FURNITURE ASIA

HIU YAN | Editor

The trees are

still thriving

Depending on which country you live

in, you may still be staying home under

some form of limited outdoor movement

to flatten the curve, such as in Singapore

or Malaysia; or you may be seeing the

light in the tunnel as your country starts

seeing single-digit of new cases, your

government is easing lockdown and

businesses are getting ready to reopen,

such as in New Zealand and China.

For the past few months, the COVID-19

virus has taken the world by storm, morphing from an outbreak into a global

pandemic. The economies of many countries have also since been falling into

a dark abyss.

PABLO SINGAPORE

Publisher

Associate Publisher

Senior Editor

Editor

Business Development Manager

Graphic Designer

Circulation Manager

William Pang

williampang@pabloasia.com

Pamela Buckley

pamela@pabloasia.com

Pang Yanrong

yanrong@pabloasia.com

Szeto Hiu Yan

hiuyan@pabloasia.com

YanJun Pang

yanjun@pabloasia.com

Edwin De Souza

edwin@pabloasia.com

Shu Ai Ling

circulation@pabloasia.com

"Authorities around the world are between a 'rock and a hard place':

they need policies that both limit the spread of the coronavirus and allow

their economies to open for business. The two demands are inherently

incompatible, so neither one can be fulfilled," writes Peter Fitch, founder

of Segamat Panel Boards (Malaysia) and chairman of the Malaysian MDF

Manufacturers Association (MMMA). Do read his insightful analysis of the

current uncertainties and possible outcomes. (Pg.64)

PABLO BEIJING

General Manager

PABLO SHANGHAI

Editor

Ellen Gao

pablobeijing@163.com

Sharon Wu

pabloshanghai@163.net

With manufacturing in China halted for weeks after the Lunar New Year's

holiday, Judd Johnson, managing editor of Hardwood Market Report discusses

the impact of having at least one full manufacturing cycle lost during the

shutdown. "This directly caused supply shocks that impacted essentially

every aspect of human lives throughout the world, even if people were

generally unaware of the risks from shortages," Johnson cautioned. (Pg.18 )

On a lighter note, I would like to share with readers some success stories in

the wood industry.

Be inspired by Global Timber, the Danish wood trading company that

constantly pushes boundaries through streamlining sales processes and

placing their priority on providing clear communication to customers. The

result? Business has been so good in 2019 that one of their challenges now is

to keep pace with growth. (Pg. 24)

In Thailand, Anthon saw the successful delivery and installation of its sanding

and sawing line for Green River Panels, which started operation of its third

production line in Trang – also its largest particleboard production line to

date. (Pg. 30)

As we clamber through each day, let's take comfort in knowing that at least,

the trees are continuing to flourish and thrive.

HEAD OFFICE

PABLO PUBLISHING PTE LTD

3 Ang Mo Kio Street 62 #01-23

Link@AMK Singapore 569139

Tel : +65 6266 5512

Email: info@pabloasia.com

www.panelsfurnitureasia.com

Company Registration No: 200001473N

Singapore MICA (P) No: 079/05/2019

REGIONAL OFFICES (CHINA)

PABLO BEIJING

Tel : +86 10 6509 7728

Email: pablobeijing@163.com

All rights reserved. Views of writers do not necessarily reflect the views of the Publisher. No part of this publication

may be reproduced in any form or by any means, without prior permission in writing from the Publisher and copyright

owner. Whilst every care is taken to ensure accuracy of the information in this publication, the Publisher accepts no

liability for damages caused by misinterpretation of information, expressed or implied, within the pages of the magazine.

All advertisements are accepted on the understanding that the Advertiser is authorised to publish the contents of the

advertisements, and in this respect, the Advertiser shall indemnify the Publisher against all claims or suits for libel,

violation of right of privacy and copyright infringements. Panels & Furniture Asia is a controlled-circulation magazine with

two issues a year. It is mailed free-of-charge to readers who meet a set of criteria. Paid subscription is available to

those who do not fit our terms of control. Please refer to subscription form provided in the publication for more details.

Printed by Times Printers Pte Ltd

PABLO SHANGHAI

Tel : +86 21 5238 9737 / 36

Email: pabloshanghai@163.net

let's connect!

@panelsfurnitureasia

Scan to subscribe to PFA's enewsletter

Panels & Furniture Asia

is the offi cial publication of

Malaysian MDF Manufacturers Association
---
8 | NEWS

May / June 2020, Issue 3 | Panels & Furniture Asia

NEW FOREST LAW TO CRACK DOWN ON ILLEGAL TIMBER IN CHINA

CHINA'S government has implemented

a new forest law that will take effect on

1 July 2020, reported ITTO.

Article 65 of the newly revised Forest Law

clearly states that a timber processing

enterprise shall establish an entry and

storage account for raw materials and

products. No unit or individual may

purchase, process or transport trees of

illicit origin, knowing that they have been

cut or cut indiscriminately.

This provision will provide a clearer

legal basis to crack down on illegal

timber purchasing, processing and

transportation. It will also provide a

clearer legal guide for timber processing

enterprises to fulfill their duty of due

diligence on timber legality. P

OSHIKA DEVELOPED LIGNIN PHENOL ADHESIVE FOR PLYWOOD

OSHIKA Corporation (Tokyo),

adhesive manufacturer, has developed

lignin phenol adhesive for plywood

manufacturing. It has been testing this

new adhesive at Niigata Gouhan Shinko

and has acquired JAS certificate on

January 7, 2020.

Lignin is derived from wood and is an

important component in the formation

of cell walls in wood and bark. Softwood

contains 25-30 per cent lignin while

hardwood contains 20- 25 per cent

lignin. When manufacturing paper and

pulp, lignin is usually removed and used

as fuel. However, since it plays a role in

bonding fibres in wood with phenolic

polymers, it is expected to be used as a

renewable resource in adhesive materials.

For the last 10 years, Oshika has been

studying how to turn plant-originated

materials into adhesive since corporations

are now moving away from fossil fuelsderived

materials and are racing to develop

environmentally friendly materials.

The lignin used by Oshika is procured

from UPM Kymmene of Finland. Kymmene

has been manufacturing resin from

renewable materials like wood and owns

a biorefinery business.

Lignin is blended with phenol resin

and reacts with formalin to make lignin

phenol adhesive. Acquired JAS covers low

formaldehyde structural plywood, termite

treated structural plywood and standard

plywood. P

TELECOMMUTING IS BOOSTING OFFICE FURNITURE SALES

WORKING from home in times of the

coronavirus are contributing to the rise

in sales of office supplies and furniture.

supply manager at brand owner Inter IKEA

Group, which is in charge of supply, in a

report by Reuters.

during the Olympics and Paralympics, in

addition to a surge in tourists and new

traffic regulations.

In the U.S., some companies are offering

employees a stipend to buy what they

need to make the transition from office

to home easier in during the current

pandemic, reported Fox Business.

E-commerce software company Shopify,

which employs 5,000 people worldwide,

is providing them with a $1,000 stipend to

buy equipment such as office chairs, a new

desk and lamps as they work from home

until further notice. Music-streaming

service Spotify, has allowed employees to

spend $250 for a monitor and $250 for a

chair or desk.

IKEA: SALES OF OFFICE

FURNITURE HOLDING UP

Demand for office furniture is holding up

as many people are working from home in

the health crisis, said Henrik Elm, global

"The sales pattern is changing. One

area where we are selling pretty well

compared to others is office furniture.

People are working from home and they

have identified needs in their homes for

it," Elm said.

Telecommuting trending in Japan ahead

of the Olympics and coronavirus outbreak

In another report by Nikkei Asian Review,

the telecommuting trend may have

arrived late in Japan, but is expected to

gain momentum this year as the nation

gets ready for the Tokyo Olympics. The

coronavirus outbreak is also pushing

employers to implement telecommuting.

More employees will consider working

from home in the months ahead as Greater

Tokyo residents begin to dread the added

crush of people on their peak-hour trains

According to a Nikkei survey of some

700 companies across Japan, the share

of those taking up telecommuting

programmes exceeded 50 per cent even

back in 2019. The demand for office

furniture among the country's increasing

number of work-from-home employees

is growing because most home furniture

is not designed for long hours of work.

Domestic office furniture makers are in

turn adapting products for telecommuters.

Osaka company Kokuyo sells a line of desk

chairs with spring-loaded seats that can

tilt in all directions as the user shifts. They

are targeted at both private and business

users. Kokuyo's sales of office chairs for

personal use in 2019 were 150 per cent

higher than those in 2015. P
---
May / June 2020, Issue 3 | Panels & Furniture Asia NEWS | 9

CHINA SEES RISE IN SAWNWOOD

IMPORTS BUT NOT TROPICAL

SAWNWOOD IN 2019

ACCORDING to data from China's Customs, China's sawnwood

imports in 2019 totalled 38.11 million cubic metres valued

at US$8.591 billion, a year-on-year increase of 4 per cent in

volume but a decline of 15 per cent in value.

Of total sawnwood imports, sawn softwood imports rose

15 per cent to 28.62 million m 3 accounting for 57 per cent of

the national total, down 11 per cent on 2018.

Sawn hardwood imports fell 19 per cent to 9.5 million m 3

because China's sawn hardwood imports from the top sources,

Thailand and USA, fell 19 per cent and 44 per cent respectively.

Of total sawn hardwood imports, tropical sawnwood imports

were 6.05 million m 3 valued at US$2.126 billion, a y-o-y

drop of 16 per cent in volume and 21 per cent in value and

accounted for about 25 per cent of the national total, up

5 per cent on 2018 levels.

DECLINE IN THE AVERAGE PRICES FOR SAWNWOOD

The average price for imported sawnwood in 2019 was

US$225 per m 3 , a y-o-y decline of 18 per cent.

The average price for imported sawn softwood was US$172

per m 3 , down 14 per cent y-o-y. The average price for imported

sawn hardwoods was US$386 per m 3 , a y-o-y decrease of

11 per cent.

The average price for imported tropical sawnwood was US$352

per m 3 , down 5 per cent y-o-y.

RISE IN RUSSIAN SAWN SOFTWOOD IMPORTS

Russia was the main sawn softwood supplier to China in 2019

and China's sawn softwood imports from Russia rose 9 per cent

to 17.03 million m 3 , accounting for 60 per cent of the national

total, down 3 per cent y-o-y.

In the meantime, China's sawn softwood imports from

Belarus, Germany, Sweden and Ukraine surged 393 per cent,

349 per cent, 136 per cent and 101 per cent respectively,

however, imports from the U.S. fell 34 per cent mainly due to

the China-US trade conflict.

Average prices for all sawn softwood suppliers fell at different

rates. Average prices for imported sawn softwood from Sweden

and Germany declined 65 per cent and 22 per cent respectively.

SURGE IN SAWN HARDWOOD FROM CANADA

In 2019, China's sawn hardwood imports from the top sources

declined and hardwood imports from Indonesia declined

(44 per cent). However, China's sawn hardwood imports from

Canada surged 56 per cent to 170,000 m 3 while imports from

the Philippines and Germany rose 18 per cent and 8 per cent

respectively. P
---
10 | NEWS

May / June 2020, Issue 3 | Panels & Furniture Asia

PEFC EXTENDS TRANSITION PERIOD FOR 2020 STANDARDS

TO support certified entities and

certification bodies during the COVID-19

challenge, Programme for the Endorsement

of Forest Certification (PEFC) has extended

the transition period for its three revised

international standards by six months.

This extension applies to the 2020

versions of the Chain of Custody (ST

2002), PEFC Trademarks (ST 2001) and

Certification Body Requirements - Chain

of Custody (ST 2003) standards. The

transition date is now 14 February 2022.

This extension gives certified entities and

certification and accreditation bodies

an additional six months to align their

procedures with the requirements in

the 2020 versions of these three vital

standards. The aim of the extension is to

give PEFC stakeholders more flexibility in

when they move to the 2020 standards.

In addition to this extension, PEFC has also

provided guidance to certified entities and

certification bodies regarding auditing. The

document provides general procedures

for the application of this guidance, as

well as specific rules for initial and recertification

audits, surveillance audits

and verification of corrective actions.

PEFC is the world's largest forest

certification system. P

INDONESIA'S CIVIL SOCIETY EXPRESSES DISMAY AT

RELAXATION OF THE V-LEGAL REQUIREMENT

SEVERAL civil society groups have

expressed dismay at the relaxation of

the V-legal requirement saying this

undermines Indonesia's credibility in

international markets. They say since

it has adopted the SVLK and V-legal

system, increase in trade could be seen in

Indonesian wood products, reported ITTO.

In a press release, the Coordinating

Ministry for Economic Affairs on March 13,

2020 stated, the policy of removing V-legal

document from export requirements

documents was a non-fiscal stimulus in

the context of handling Covid-19. The

implication is that there will be a relaxation

of export restrictions including those for

the timber sector.

According to Muhamad Kosar of the

Forestry Independent Monitoring Network

(JPIK), elimination of mandatory Vlegal

document requirements for export

products is a mistake because, in the

long term, this will reduce the credibility

of Indonesian wood products and make

it difficult for the small-medium timber

industry to establish direct business with

international buyers.

In related news, the Indonesian Civil

Society Coalition has sent a letter to

the President asking for the revocation

of Trade Regulation No. 15 of 2020 as

this change is considered detrimental to

efforts of improving Indonesia's forest

governance. P

U.S. IMPOSED DUTIES ON CHINESE CABINET IMPORTS

IN February this year, the U.S. Department

of Commerce announced affirmative final

determinations in the anti-dumping

duty (AD) and countervailing duty (CVD)

investigations of wooden cabinets and

vanities imported from China, reported

ITTO. The petitioner in this case is the

American Kitchen Cabinet Alliance.

Commerce has determined that

producers and/or exporters from China

have sold wooden cabinets and vanities

at less than fair value in the U.S. at rates

ranging from 4.37 per cent to 262.18

per cent.

In addition, Commerce determined that

producers and/or exporters from China

received countervailing subsidies at rates

ranging from 13.33 per cent to 293.45

per cent. In 2018, imports of wooden

cabinets and vanities from China were

valued at an estimated $4.4 billion.

The U.S. Department of Commerce has

recently issued final duty determinations

on Chinese imports of wooden cabinets

and vanities. Anti-dumping and

countervailing duties are as follows:

• Dalian Meisen: 269.91%

• Foremost: 122.1%

• Ancientree: 13.33%

• All others: 58.89%.

This means that almost all Chinese

manufacturers will now face a combined

AD/CVD cash deposit rate of about 59

per cent.

In October 2019, preliminary

anti-dumping duties ranging from

4.49 per cent to 262.18 per cent, with

most Chinese producers facing antidumping

duties of 39.25 per cent, were

imposed.

These anti-dumping duties are in addition

to earlier countervailing duties averaging

16 per cent, which have been in effect

since August 2019. As a result of this final

decision, cash deposits will continue to

be required on all wooden cabinets and

vanities imported from China. P
---
May / June 2020, Issue 3 | Panels & Furniture Asia NEWS | 11

HARDWOOD PLYWOOD, WOODEN CABINETS AND VANITIES

FROM VIETNAM MAY BE INVESTIGATED BY U.S. FOR

TRADE DEFENCE MEASURES

HARDWOOD PLYWOOD, wooden cabinets

and vanities exported to the U.S. are

among the 12 products at risk of being

investigated for trade defence measures,

origin fraud or illegal conveyance,

announced the Trade Remedies Authority

of Vietnam, reported Viet Nam News.

The rest of the list included mattresses,

quartz surface products, seamless

refined copper pipes and tubes, forged

steel fittings, steel wheels, fabricated

structural steel, steel propane cylinders

and carton-closing staples exported

to the U.S., tyres for buses and lorries

to the EU and electric bicycles to

both the U.S. and EU.

VIETNAM EXPORT OF HARDWOOD

PLYWOOD TO THE U.S. ROSE ALMOST

TENFOLD IN THREE YEARS

For hardwood plywood from Vietnam,

the U.S. Department of Commerce may

initiate trade defence investigation.

From 2016 to 2019, China exports

of hardwood plywood fell from

US$1.1 billion to $215.6 million

after being subject to anti-dumping and

anti-subsidy duties by the U.S. In the

same period, Vietnam's exports to

the U.S. rose almost tenfold from

$33.4 million to $322.2 million.

Vietnam's exports of the remaining

products to the U.S. and the EU also saw

substantial increases while China exports

of these products dropped when the U.S.

and the EU's imposed anti-dumping and

anti-subsidy duties.

The list was announced based on the

tracing of exports of products which were

subject to trade defence measures by the

importing countries. P
---
12 | NEWS

May / June 2020, Issue 3 | Panels & Furniture Asia

DIEFFENBACHER HELPS DEVELOP SIMULATION

PLATFORM FOR SMART SERVICES

AFTER-SALES, including process

optimisation, training, maintenance,

conversions and modernisations, is

becoming increasingly important for

DIEFFENBACHER and others throughout

the industry. To maximise after-sales

potential, DIEFFENBACHER and nine

other German companies and institutes

have joined forces to launch a research

project called SEAMLESS (Simulationsupported

assistance system-based

engineering and maintenance solutions

for lean after-sales services).

The aim of the project is to develop and

provide simulation tools on a cloud-based

platform, allowing users to combine

different simulators synergistically

and use them for smart services. By

networking various simulation systems

with each other and production plants,

companies can learn from real-time data,

control processes automatically and make

better decisions.

One potential outcome from the research

project is augmented reality assistance

systems for use during service visits.

Service technicians or customers could

be provided technical support via data

glasses or mobile devices, thus increasing

the efficiency of service visits. Another

example could be wear-based planning

of service activities. By improving

maintenance evaluations and predictions

using simulation-supported condition

monitoring, impending failures of critical

plant components could be detected at

an early stage and proactive service visits

could be scheduled.

SimPlan AG from Hanau is coordinating

the research project. Project partners

include DIEFFENBACHER, Actimage

GmbH from Kehl, EKS InTec GmbH

from Weingarten, EXAPT Systemtechnik

GmbH based in Aachen, the Karlsruhe

FZI Research Centre for Information

Technology, Aachen-based Innolite

GmbH, Seeburger AG from Bretten, the

Chemnitz University of Technology and

the RWTH Aachen University.

DIEFFENBACHER and nine other German companies and institutes have joined forces to launch a

research project called SEAMLESS

SEAMLESS is funded by the German

Federal Ministry of Education and

Research in the funding area "Complex

Products, Production Processes and

Plants (Smart Services)" and is supervised

by the project executing organisation

Research Centre Karlsruhe. P

HOMAG AND 3TEC AGREE ON STRATEGIC PARTNERSHIP

HOMAG Group AG and 3Tec automation

GmbH & Co. KG have signed a cooperation

agreement and intend to work closely

together in future. The aim is to achieve

optimum software integration of

machines from different manufacturers.

"It happens time and again that our

machines and plants have to be linked with

machines from other manufacturers",

explains Wolfgang Augsten, Executive

Vice President of the Homag Group. "This

may be the case for a customer's existing

machinery or for new projects. When it

comes to this integration as part of a

higher-level production control system,

3Tec can provide us with effective support

in order to achieve the best possible result

for the customer".

"It is precisely this know-how that we have

built up over many years and have a great

deal of experience in linking machines

from different manufacturers in terms of

production technology," emphasises Arno

Sturm, Managing Partner of 3Tec.

3Tec is a leader in the development

of software solutions in the field of

production control systems (MES). Using

the latest software technologies, 3TEC

continues to develop production control

systems to optimise the automation

processes of industrial production -

especially in the kitchen and office

furniture industry. P
---
May / June 2020, Issue 3 | Panels & Furniture Asia NEWS | 13

DONGWHA BEGINS CONSTRUCTION OF MDF MANUFACTURING

PLANT IN HANOI

KOREA'S leading wood materials

manufacturer Dongwha Enterprise has

begun construction of its production

facility in Hanoi, Vietnam, reported The

Korean Times.

Located in Thai Nguyen province near

Hanoi, the plant will manufacture mainly

laminate flooring and medium-density

fiberboard (MDF) used for furniture

manufacturing.

Dongwha Enterprise held a groundbreaking

ceremony for its new facility on

22 nd April.

A total 180 billion won (US$0.15 mill)

has been invested in the plant which

covers 50,000 square metres. Besides

production facilities, dormitory and

education facilities for workers and their

families will also be built.

The manufacturing plants for laminate

flooring and MDF are expected to be

completed in April and August next

year respectively. The targeted annual

capacity is 370,000 cubic metres for

MDF and 3.62 million m 2 for laminate floor.

COLLABORATION WITH VIETNAM

RUBBER GROUP

The plant is also expected to produce 1.07

million m 3 of MDF, in collaboration with

VRG Dongwha in Ho Chi Minh City, a joint

venture between Dongwha International

and Vietnam Rubber Group (VRG). VRG is

a state-own conglomerate and a leader

in Vietnam's rubber plantation and

processing industry in Binh Phuoc. With

the new plant, Dongwha will establish

its presence as a dominant player in

Vietnam's MDF manufacturing market.

The construction business boom in

northern Vietnam presents a good opportunity for

Dongwha, with Hanoi carrying out a large-scale

city development project in its northern area.

General Manager Kim Myung-sik of Dongwha

Vietnam said the distance between the southern

part and the northern part of Vietnam is 1,700

kilometres and VRG Dongwha had difficulties

satisfying the market demands in the north.

"Through the construction of our plant near

Hanoi, we will take occupation of the MDF

and laminate floor markets in the north while

solidifying our status as a leading player in the

wood board and construction material sectors

here," said Kim Myung-sik, general manager of

Dongwha Vietnam.

Dongwha established a joint venture with VRG in

2008, signifying its entrance into the Vietnamese

MDF market. It currently has a 40 per cent share

of the MDF market in southern Vietnam. P
---
14 | NEWS

May / June 2020, Issue 3 | Panels & Furniture Asia

FIRST RUBBERWOOD-OSB-CONTIROLL ® FROM

SIEMPELKAMP ACCEPTED BY VANACHAI

ON March 14, a Siempelkamp plant for

OSB at Vanachai in Surat Thani/Thailand

– the first OSB plant in Southeast Asia

– was accepted. The ContiRoll ® with

dimensions of 4' x 48.7 m also sets the

record of being the longest 4'-ContiRoll ®

from Siempelkamp. This milestone

stands for almost 40 years of business

relations between Thailand's leading

panel manufacturer and Siempelkamp.

The cooperation between the Vanachai

Group and Siempelkamp started almost

40 years ago; the first single-opening

presses from Krefeld were installed at

the Chachoengsao location in the early

1980s. In Surat Thani alone, six woodbased

panel plants for particleboard,

MDF, and now OSB cover all performance

facets. The Vanachai site in southern

Thailand is considered a mega-site

among the few plant locations of similar

size - panel production in Surat Thani is

around 2 million m³ per year.

The new OSB plant, ordered by

Siempelkamp in 2017, contributes

700 m³ per day to the total output of

the site, or 210,000 m³ per

year. The plant complements

Vanachai's production

spectrum with OSB and

sets new benchmarks in

the Southeast Asian woodbased

panel market, which

has long been dominated

by particleboard and

MDF plants. This latest

cooperation represents

another important milestone

in Southeast Asia through

the first industrial use

of rubberwood in the

production of OSB boards.

"With the new plant, we are

setting ourselves ambitious

goals for the wood-based panel

production of the future. Our boards are

produced highly efficiently and according

to strict sustainability criteria, and

our plants are state-of-the-art. In this

respect, Siempelkamp, as a partner with

many years of experience and strong

innovative capabilities, is the right choice

for an ambitious project like this one,"

Shaking hands after sealing the deal in 2017, Wanthana

Jaroennawarat (right), Chairman of the Executive Board Vanachai, with

Henning Gloede, Managing Director Siempelkamp Pte. Singapore

says Wanthana Jaroennawarat, Chairman

of the Executive Board at Vanachai.

Marc Müller, Head of Commercial

Sales at Siempelkamp, adds: "We are

proud to play our part in such a futureoriented

project of a visionary woodbased

products manufacturer with this

plant!" P

CHINESE GOVERNMENT DECIDES ON NEXT MOVE FOR ITS

FURNITURE INDUSTRY AFTER BUSINESSES RESUME

AS reported by ITTO, China's State

Council Information Office has reported

the situation in the manufacturing sector

as follows:

DECLINE IN BOTH INTERNATIONAL

AND DOMESTIC DEMAND

Since the epidemic situation in China

has been effectively controlled in the

early stage, the resumption of industrial

production is still good, but with the

current situation, international and

domestic demand is declining, which

has caused a huge impact on some

export-oriented furniture enterprises.

If this problem is not solved in time and

effectively, these furniture enterprises

may face the pressure of shutting down.

At present, the measures taken are

mainly to ensure supply stability.

ESTABLISHMENT OF ONLINE

FURNITURE FAIRS AND EXHIBITION

Many orders are usually made at

important furniture fairs and exhibition in

March or April in the past. However, some

important furniture fairs and exhibitions

have been cancelled due to prevention

and control. The Chinese government

hopes to solve this problem through

online furniture fairs and exhibitions. In

this regard, it is actively making further

exploration.

FORMULATION OF SUPPORTING

POLICIES

Supporting policies can help to stabilise

the domestic furniture enterprises.

Right now, relevant departments are

studying how to stabilise these furniture

enterprises through stimulating demand

on one hand while strengthening policy

support, policy support, financial support

on the other hand, in order to help

furniture enterprises. The follow-up

work will involve further strengthening

policy research and ensuring furniture

enterprises can get through the current

difficult situation. P
---
May / June 2020, Issue 3 | Panels & Furniture Asia NEWS | 15

SOUTH KOREA ANNOUNCES PRELIMINARY DECISION TO IMPOSE

ANTI-DUMPING DUTY ON PLYWOOD IMPORTED FROM VIETNAM

KOREA'S Ministry of Trade, Industry

and Energy has made a preliminary

decision to place anti-dumping

duties on plywood products from

Vietnam, and requested the Ministry

of Economy and Finance to impose

an anti-dumping duty of 9.18 percent

to 10.65 percent on plywood coming

from Vietnam, reported Business

Korea on 17 th April.

one month from its official request.

According to the Ministry of Trade, Industry

and Energy, abnormal prices of plywood

products imported from Vietnam has

adversely impacted the domestic industry.

The plywood products that will be investigated

include those used as interior and exterior

building materials, furniture, packaging

boxes and interior goods. In 2018, the

plywood market of South Korea was

valued at approximately 900 billion won,

with plywood from Vietnam accounting for

about 45 percent of the market.

The investigations will cover the period of

2016 to the first half of 2019. P

The Ministry of Economy and Finance

is expected to make a decision within

FSC INTRODUCES

TRANSACTION

VERIFICATION FOR

ALL FORESTS IN

CHINA

FSC will introduce transaction

verification for all forests in China in

2020. This transaction verification will

cover all FSC claims made between

1 January and 31 December 2019.

All FSC forest management certificate

holders in China are required to

participate.

Affected certificate holders will

receive a direct notification

from their certification body by

14 May 2020 with further details

on requirements. The deadline for

these certificate holders to submit

requested transaction data is

14 June 2020.

Transaction verification is a process

of comparing and then verifying all

transactions within a specific product

type, group or region that are claimed

to be FSC certified over a given time

period. FSC and its accreditation

body ASI have been conducting

transaction verification on supply

chains with selected certificate

holders since 2017. This action is a

response to allegations of non-FSC

certified products being inaccurately

claimed as FSC certified. P
---
16 | NEWS

May / June 2020, Issue 3 | Panels & Furniture Asia

MTC APPOINTS ACTING CEO AND NEW COO

MTC has appointed Mr Wong Kah Cane as

its Acting Chief Executive Officer effective

13 March 2020. Mr. Wong, who joined

MTC on 1 November 2019 as Deputy CEO,

takes over from Mr. Richard Yu Tuan Chong

upon the expiry of the latter's contract.

Mr. Wong, 52, who graduated with a

degree in Business Administration

from Universiti Utara Malaysia in 1992,

started his career transforming SMEs

into successful enterprises by bringing

in experts for training programmes which

centred on strategic management, quality

control, sales and marketing.

He is most noted for his contributions in

Eu Yan Sang, a traditional Chinese

medicine company. Mr. Wong joined Eu Yan

Sang in 2000 as its Area Sales Manager

and in 2006, he was appointed as General

Manager of the company leading Eu Yan

Sang's business development, sales and

marketing operations as well as branding.

Mr. Wong left Eu Yan Sang as its Senior

General Manager to take up the post of

General Manager at Everpro Sdn Bhd

in 2016 and in 2018, he joined Vistage

Malaysia as its Business Coach providing

training for CEOs. In August the same year,

Mr. Wong was appointed as an Independent

Member of MTC's Board of Trustees.

Mr Wong Kah Cane,

MTC's incoming Acting Chief Executive Officer

MTC has also appointed Mr. Roger Chin

Chew Choy as its new Chief Operations

Officer effective 1 March 2020. Prior to

joining MTC, Mr. Roger Chin was attached

to Advance Information Marketing Berhad

where he served as its Executive Director

since January 2018.

A Bachelor of Law graduate from the

University of Wolverhampton, United

Kingdom, Mr. Roger Chin, 54, brings with

him more than 25 years of experience in the

financial services sector with international

banks specialising in consumer, corporate

and Islamic banking.

His career in the banking industry started

in 1993 with Standard Chartered Bank in

Mr. Roger Chin Chew Choy,

MTC's new Chief Operations Officer

1993 which was seconded to its regional

team in Singapore serving in various Asian

countries including Indonesia, Philippines,

India, Pakistan and Bangladesh. He had

also held senior management positions

in Citibank, GE Capital, Hong Leong Bank

and Kuwait Finance House.

"The appointment of Mr. Wong Kah

Cane and Mr. Roger Chin is to further

strengthen the management team of

MTC," said Chairman Dato' Low Kian

Chuan. He added that with their combined

fields of expertise, Mr. Wong and

Mr. Chin will be great assets to the timber

industry and MTC, a council under the

Ministry of Plantation Industries and

Commodities. P

FORESTRY ENTERPRISES BACK TO WORK EXCEPT IN HUBEI

ACCORDING to the State Forestry and

Grass Administration, domestic forestry

and wood processing enterprises are

resuming work especially the state

forestry enterprises, reported ITTO.

With the exception of Hubei Province, the

rate of resumption of work in forestry

enterprises nationwide had exceeded

90 per cent by 22nd March 2020.

However, the Chinese media has reported

that many private employers are operating

at a fraction of normal levels because

employees have been unable to return

from their home provinces.

Even after the government started

allowing some businesses to reopen,

many provinces still have travel

restrictions in place.

The People's Daily newspaper reported

in late March that most migrant workers

had returned to work, however no official

figures for possible job losses have been

reported.

A spokesperson from the State Forestry

and Grass Administration said that

forestry enterprises were seriously

affected by the epidemic; production

costs increased, earnings dropped and

losses increased.

According to a survey by the China Forest

Industry Association, more than 78 per

cent of forestry and timber enterprises

were affected, 14 per cent seriously so

and 8 per cent could not survive.

Currently, forestry and timber enterprises

are faced with practical difficulties such

as a shortage of raw materials, tight

liquidity, blocked import and export of

products and slow domestic sales. P
---
May / June 2020, Issue 3 | Panels & Furniture Asia ENVIRONMENT REPORT | 21

P2 PATCHER

THE EASIEST WAY TO PATCH AND

UPGRADE VENEER QUALITY

-80%

SAVE UP TO 80%

ON LABOR

50M

LIFESPAN OF 50

MILLION PATCHES

PER DIE

OPTIMIZED SOLUTIONS

FOR DIFFERENT

VENEER SIZES

JUST PLUG

AND PLAY

LEARN MORE AT

www.raute.com/p2patcher
---
18 | MARKET REPORT

May / June 2020, Issue 3 | Panels & Furniture Asia

Supply Shocks.

Demand Shocks.

Aftershocks.

Far-reaching effects

of COVID-19 on the U.S.

hardwood trade

By: Judd Johnson

Managing Editor,

Hardwood Market Report

This article considers three problems: Supply shocks,

demand shocks, and aftershocks. By no means are

these problems unique to U.S. hardwoods, though U.S.

hardwoods are certainly affected.

Manufacturing in China stayed offline for weeks after the New

Year's holiday. Arguably, no less than one full manufacturing

cycle was lost during the shutdown. This directly caused supply

shocks that impacted essentially every aspect of human lives

throughout the world, even if people were generally unaware

of the risks from shortages.

Over time, global inventories of Chinese-produced finished

goods declined. Additionally, there were manufacturers located

in other countries awaiting parts from their Chinese sources;

many were forced to either cease operations until the parts

arrived or find new suppliers. Both options have challenges.

First, it is difficult to suspend manufacturing activity indefinitely.

Second, it is not a good time to pursue new suppliers when

supply shortages exist.

The outbreak of Novel Coronavirus in China

became widely known at a time in close

succession with the Lunar New Year. Global

supply chains were prepared for business

closures that normally accompany the Chinese

New Year holiday. But, supply chains were not

prepared for what occurred thereafter – the

world's largest manufacturing hub would shut

down for a protracted amount of time.

While supply shocks were affecting markets downstream of

manufacturing, shuttered manufacturing operations caused

Chinese distributors and producers to limit purchases of U.S.

hardwoods and other raw materials. By and large, U.S. hardwood

logs and lumber were bought to support normal manufacturing

activity that was scheduled to resume after the New Year holiday.

DEMAND SHOCKS: FROM U.S. HARDWOOD SUPPLIERS

TO CHINESE MANUFACTURERS

Of course, manufacturing did not resume immediately following

the holiday as originally expected. Even several months after

the government lifted quarantines, reopened travel, and

rebooted business activities, Chinese industrial output was

not what it was previously, and it is not what U.S. hardwood

suppliers had anticipated. In this sense, suppliers to the Chinese

manufacturing sector experienced demand shocks that left them

with fewer sales and less revenue than was planned.

Now, Chinese manufacturers are also experiencing demand

shocks. As production facilities are coming back online and

gaining momentum, the rest of the world is sheltering in place

as a precaution to limit the spread of COVID-19. And because

Chinese manufacturers are experiencing or likely will experience

pushback in product demand, there is a ceiling on how much

industrial output can increase until consumer activity rebounds

globally. This establishes a benchmark for U.S. hardwood lumber

demand going forward.
---
May / June 2020, Issue 3 | Panels & Furniture Asia MARKET REPORT | 19

Since the purpose of any manufacturing

company is to produce, it is reasonable

to expect U.S. hardwood sawmills

and lumber yards to increase output

when reaching peak production season

this summer. It is hard to dispute this

defined business pattern. But in doing

so, it is unreasonable to dismiss the

severe effects on U.S. hardwood lumber

processing capabilities caused by the

U.S./China trade war. Yes, tariffs on U.S.

hardwoods are suspended for the time

being, but financial damage has been

done to U.S. suppliers.

LOW GRADE HARDWOOD AND

LUMBER AND INDUSTRIAL

TIMBER MOST AFFECTED

U.S. hardwood log and lumber supplies

were low this spring as a result of

conditions previous to COVID-19. The

ability for sawmills and lumber yards

to increase production is limited by

the lingering financial strains alluded

to above, though now, production

capabilities are damaged further by

contraction in domestic U.S. markets

caused by COVID-19.

Affected most is U.S. domestic demand

for low grade hardwood lumber and

industrial timber products. Until recently,

these markets carried U.S. hardwood

companies through the businesses

downturn with China over the past twentyplus

months. But, without sufficient

markets for inherent species and full

range of qualities produced, it will be

difficult for U.S. hardwood lumber output

to increase. Effects on businesses caused

by COVID-19 are unique circumstances

never experienced by anyone in business

today. However, the potential outcome

for supply shortages is reminiscent

of 2013. P

HMR is the leading source of pricing

and market information for North

American hardwoods. It has provided

reliable, expert analysis of pricing

and market trends to hardwood

companies throughout the world

since 1922. Sample copies and

subscription services for Hardwood

Market Report ® and all other HMR

publications are available online at

www.hmr.com.
---
20 | ENVIRONMENT REPORT

May / June 2020, Issue 3 | Panels & Furniture Asia

TURNING THE TABLES: CHOOSING RESPONSIBLY

SOURCED TIMBER TO MAKE YOUR FURNITURE

Wood is making a comeback as the raw material of choice for architects and designers. Inside and out,

buildings around the world are featuring the natural characteristics and embedded strength of timber.

There has been more pressure on governments and the

related industries to be responsible in the sourcing of

wood and ensuring that production and supply chains are

secure and sustainable.

With 17 million hectares of forests certified, Asia is the fastest

growing region in the world for PEFC. However, there's a lot of

room to grow responsible sourcing in countries like Singapore,

Mr Gunneberg pointed out.

As a big consumer of imported materials for buildings and

furniture, Singapore is in an ideal position to become a centre of

influence, committed to responsible procurement from the region's

forests and plantations.

By incorporating it into private and public sector procurement

policies, countries and companies can help to gather the pace

required to move towards the United Nations' 17 Sustainability

Development Goals.

This was the message from Ben Gunneberg, PEFC International

CEO, who visited Singapore in September last year for the

launch of new accreditation programme for PEFC's Chain of

Custody certification scheme, now recognised by the Singapore

Accreditation Council (SAC) and managed by Enterprise Singapore.

IMPACT OF RECOGNISING PEFC'S COC CERTIFICATION

IN SINGAPORE

This scheme will provide greater support to the industry to meet

the Green Mark requirement for Mass Engineered Timber (MET)

and for the timber to be sourced from sustainably managed forests,

said Ms Lee Ham Eng, Deputy Director of Enterprise Singapore.

It also facilitates recognition and acceptance of certified

wood products from Singapore's key trading partners, notably

Indonesia, Malaysia and China, all of which have PEFC endorsed

forest certification systems.

PEFC also asserts that Chain of Custody certification programmes

enables companies to meet legality issues and customer

expectations, as well as introduce traceability solutions into the

supply chain.

SEA: MOST OPPORTUNITY IN CERTIFICATION OF

WOOD FOR BUILDING AND FURNITURE

It's in the certification of wood for buildings and furniture where

PEFC is seeing the most opportunity in Singapore and Southeast

Asia.

Mr Gunneberg points out that Singapore has already made its

mark in the region by providing the expertise of one of its smart

companies, Double Helix Tracking Technologies, to work with

PEFC in Myanmar to help set up forest certification processes to

meet stringent regulations for the export of Teak to the European

Union and United States.

The Local Tree Project by Roger & Sons is described as an

"ethical furniture initiative", as it salvages abandoned logs by

making fine furniture and wooden objects out of them.
---
Trust America's Hardwoods Company.

KEEP PIONEERING

northwesthardwoods.com

Trust the on-grade quality of Northwest Hardwoods, America's largest and only

coast-to-coast hardwood lumber producer. Our inspection and grading ensures that

our lumber quality and appearance are both exceptional and consistent. That's why

our customers rank us above other brands – we always live up to our responsibility.
---
22 | ENVIRONMENT REPORT

May / June 2020, Issue 3 | Panels & Furniture Asia

He also drew attention to The Local Tree Project, an initiative by

Singapore wood crafts company Roger & Sons and supported

by National Parks Board, to turn discarded logs into fashionable

furniture, which is very much aligned with the principles of PEFC's

Trees Outside Forests.

By using already-felled trees that have been cut down for urban

development instead of importing new raw materials, the project

shows that good quality furniture can be made with not only

imported wood but also local waste wood, and that local trees

can have a useful afterlife.

PEFC is currently in talks with the Singapore Furniture Industry

Council (SFIC) to foster the introduction of responsible sourcing

of timber for furniture designers and makers from the Southeast

Asia region.

It has initiated a proposed collaboration between Singapore

and the Sarawak Timber Industry Development Corporation

(STIDC), as there are already a number of certified companies

in Sarawak available to supply the furniture industry and the

State has 635,000 hectares PEFC-certified under Sustainable

Forest Management.

MALAYSIA'S CERTIFIED TIMBER LEADERSHIP

Already Malaysia is ahead of the game when it comes to the

use and application of certified timber. The PEFC-supported

National Governing Body in Kuala Lumpur, the Malaysian Timber

Certification Council (MTCC), has been operating for 20 years.

MTCC and PEFC both support the view that wood is the best

environmental and sustainable choice.

Believing in the crucial role of architects in specifying the use of

wood in designing and constructing buildings, MTCC collaborated

with a renowned architect, AR Azman Zainal and members of the

Malaysian Institute of Architects (PAM), to take advantage of

"good wood" in built structures, providing benefits for the wellbeing

of society and the environment.

Sustainable manufacturing and responsible sourcing are at the

centre of Malaysian firm One-Tech, that recently became the first

manufacturer in Malaysia producing PEFC-certified homeware

under its DAPO brand.

Founded in 1993, One-Tech has been strongly advocating 'green

manufacturing' and sustainable design since 2013, in a desire

to be a more responsible producer. It has future ambitions to

make Malaysia the Southeast Asian hub for sustainable timber

products.

The Malaysia corporation, Sam Ling, manufactures high quality

home furniture. As today's consumers become increasingly

conscious about how natural resources are being used, the

company takes pride in providing assurance that its wood

products come from well-managed forests, in accordance with

an approved standard, specifically MTCC/PEFC.

From basic to ready-to-assemble (RTA) furniture for convenience,

and also flat-packed collections, its furniture products are

principally made for export markets, with major ones including

Japan, United States, United Kingdom and Europe.

VIETNAM'S FURNITURE INDUSTRY

Vietnam is another ASEAN nation which is paying renewed

attention to the value and importance of certified forestry,

particularly since its furniture manufacturing and export industry

are one of the top performers in Vietnam.

PEFC has recently been working with Government and industry

to institute a forest certification scheme and this was highlighted

at the 2019 Vietnam International Furniture Fair (VIFF), which

took place last November in Ho Chi Minh City.

The event welcomed participants from the furniture sector,

including manufacturers of wood-based panels, joinery products,

furniture and flooring, as well as interior designers and architects.

PEFC discussed with invited participants the important role of

sustainably managed forests for the furniture sector.

The DAPO range carries the

MTCC and PEFC labels, and is

helping to raise the profile and

importance of using certified

timber in national and ASEAN

markets. In September 2019,

One-Tech won the MTCC

Sustainability Award for Product

Innovation and Diversification.
---
May / June 2020, Issue 3 | Panels & Furniture Asia ENVIRONMENT REPORT | 23

In addition, PEFC and the Vietnam Forest Certification Office

(VFCS) held a seminar on 'Market Demand and Availability of

PEFC/VFCS Certification', discussing possibilities to increase both

the market demand for and the availability of certified products.

"The endorsement of our national system will promote

sustainable forest management in Vietnam. Together with new

agreements we have with the European Union, this will help to

increase the competitiveness of Vietnamese wood products and

expand access to international markets," said Mr. Bui Chinh Nghia,

Deputy Director of VFCS.

its own particular characteristics, because it is unique in terms of

its grain, colour and lines.

Also, wood is a carbon neutral material and healthy forests are net

producers of oxygen through photosynthesis, the carbon is stored

in the wood for the life of the tree and in the products made from it.

Additionally, natural wood products are among the most energyefficient

to produce, while making products from steel, aluminium,

glass, concrete, and brick can require up to 126 times more energy

to manufacture.

SO WHAT'S SO GOOD ABOUT WOOD?

PEFC asserts that wood in buildings is healthy. It has a positive

influence on the indoor climate and therefore on the well-being

and health of the people who live or work in the building. Wood

is an excellent heat and humidity regulator. Walls made of wood

breathe; they control the humidity of the surroundings.

Wood allows for creativity in design. Wood is strong, flexible and

attractive, and easy to work, process and finish, making it ideally

suited to creative and innovative designs. Every piece of wood has

PEFC, for example, works with the World Architecture Festival

(WAF), to offer the annual prize for the Best Use of Certified Timber.

What's more, PEFC certification assists in meeting regulatory

requirements, such as the European Union Timber Regulation (EUTR)

and the US Lacey Act. By gaining PEFC certification, companies

can sell their certified timber products and maintain access to

these environmentally conscious and demanding markets. P

(All images are credited to PEFC.)

SINGAPORE CASE STUDY:

VENTURING INTO CERTIFIED TIMBER BUILDINGS

If Singapore can make more "responsible" progress with its

furniture industry as it has with construction, it will be welcomed

by PEFC and Government agencies alike.

The ten-year-old Singapore Green Building Council and the

Building Construction Authority (BCA) are seen amongst the

leaders in the Asia region for adopting and maintaining the

most advanced standards in the use of sustainable materials

for buildings.

Singapore has also seen renewed interest in the use of

materials from certified forests for Mass Engineered Timber

(MET) projects, with two major buildings under way, one at the

Singapore Management University (SMU) and one at the Nanyang

Technological University (NTU).

One early pioneer in advocating the use of certified Chain of

Custody timber is Kevin Hill and Venturer Timberwork. He has

long been a user of Cross Laminated Timber (CLT) and Glulam

Timber – from certified European sources – in a number of projects

in Singapore and the region for some years.

Venturer Timberwork is also proud to be the first Mass Timber

Contractor to apply for PEFC Project Certification in Singapore.

Kevin Hill believes the construction industry faces specific

challenges when proving that the timber specified and supplied

for individual construction projects is from certified sustainable

sources.

PEFC solved this challenge with Chain of Custody certification

for specified projects, or 'project certification', a mechanism for

gaining independent verification of the use of certified timber in

a one-off project with a limited duration.

Acknowledging the sustainable choices made within the

construction industry is becoming increasingly important,

as engineered wood such as CLT and glulam becomes more

mainstream. With PEFC project certification, it's now possible

to clearly and reliably demonstrate the decision to build with

responsibly-sourced sustainable timber.

The entrance canopy at JTC Furniture Hub was the first job that Venturer

shipped "break bulk", from Europe to Asia, without having to fit the CLT

Components into a container. The long span and heavy load of the glass

canopy made a single spanning component a necessary engineering

feature for this mass timber construction in Singapore.
---
24 | IN PERSON

Ma

May / June

2020, 0, Issue 3 | Panels & Furniture re Asia

Global Timber:

In constant

pursuit of the

next level

Global Timber opened its brand-new

headquarters south of Aarhus, Denmark,

in January this year

(Image credit: Global Timber/ Studio55)

By Szeto Hiu Yan

To say that business

has been brisk at

Global Timber is an

understatement.

It is booming.

Per Friis Knudsen, Global Timber's Director Asia

(Image credit: Global Timber/ Christian Berg)
---
May / June 2020, Issue 3 | Panels & Furniture Asia IN PERSON | 25

A

few other signs of how well the

company has been performing

– the company has recently

held the grand opening of its brand-new

headquarters south of Aarhus, Denmark

in January this year; its annual turnover

in the Asian region alone was an eightdigit

figure.

Speaking to Per Friis Knudsen, Global

Timber's Director Asia, he mentioned that

one of the challenges at Global Timber

is "keeping pace with our own growth".

Founded in 2006, Danish-owned Global

Timber is a prominent name in the

global wood trading industry and is the

largest stockist of hardwood in Northern

Europe. Its large centralised warehouse

in Denmark holds between 4000 to 5000

cubic metres of hardwood belonging

to more than 40 different species from

35 countries and six continents at any time.

When Knudsen joined Global Timber in

2013, the company already found its

niche in Malaysia's and Indonesia's wood

flooring industry.

"Back in 2013, Thailand was still a

sleeping market and Vietnam was not

explored. With these markets being where

my strong networks lie, I gradually found

the right people to work with us, turning

the company into a significant player

in those markets. We expanded quickly

from 18 employees in 2013 to about

35 in 2020," recounted Knudsen.

"Today, our best performing markets in

Asia are Indonesia, Malaysia, Thailand

and Vietnam. We have also since ventured

and established a strong presence in

the furniture, doors, toys and moulding

industries in these markets," he added.

Global Timber's successful entrance into

Southeast Asia can be largely attributed

to Knudsen. A qualified furniture maker

armed with expertise in the furniture

manufacturing business, Knudsen

Danish-owned Global Timber is the largest stockist of hardwood in Northern Europe and has a

large warehouse in Denmark (Image credit: Global Timber/ Studio55)

switched tracks to be a hardwood trader

in 2009. A Danish native turned global

citizen, he has lived and worked in the

U.S. and Germany before heading to

Southeast Asia in 1995. After working

in Indonesia, Malaysia and Vietnam, he

eventually settled down back in Kuala

Lumpur, Malaysia, with his wife and two

daughters, where they have called home

for the past 13 years.

GREAT SERVICE: ADDING VALUE

TO AN ALREADY EXCELLENT

SUPPLY CHAIN

Global Timber is well-known for its

diverse selection of hardwood. Given that

more than half of its business activities

are global, with international sales

constituting approximately 60 per cent

of its total annual turnover, building an

efficient logistics operation is paramount

to the business and Global Timber has not

only managed to achieve it, but bring it

to the next level.

"We tie the ends of the rope together. We

link the sawmillers, or forest owners with

their export markets and manufacturers

to their source of imported material. A

trading company needs to bring value

to the chain by providing the service

needed to link everything together. It is

not only trying to have the lowest prices

for the best quality available out there and

then hoping we have earned money too,"

explained Knudsen.
---
26 | IN PERSON

May / June 2020, Issue 3 | Panels & Furniture Asia

One way that Global Timber adds

value to the supply chain is through

their commitment in providing clear

communication to customers. "In our

office in Denmark sits a unique and

very experienced international supply

chain team that tie these ends together.

The team consists of employees from

Vietnam, Malaysia, China, Romania

and Denmark. They speak most of the

languages needed at both ends of the

rope. They communicate with suppliers

and customers to keep them updated on

any movement happening in the field and

any shipments on the go," said Knudsen.

"So we have people in most markets at

all times. The sale staff are close to our

customers and our procurement close

to our suppliers." Given any changes in

product price or freight cost, or delays in

shipments, customers will be informed

promptly by staff speaking in their

languages, if not English. "We can say

that we are specialists in logistics on all

continents," said Knudsen with pride.

NEW INNOVATIVE SALES TOOL:

THE POWER BI

Innovations like the use of Power BI, a

sales tool developed by Global Timber,

is another example of the company's

commitment in providing fast and easy

access to information.

"Power BI gives all our sales staff full

access to most of our price lists anytime,

anywhere. They can now have meetings

with customers and use this tool together

with the customer to show them the best

possible specifications that our company

can offer on most standard timbers. Not

only are prices and specifications listed,

but also photographs."

How has that helped its sales staff? "In

the past, there was a lot of back and forth

in communication before we could close a

deal, now we only need to follow up with

our customers on the upcoming shipment

date. Our programmer has really done a

great job to get our sales force up to a

different level. We are now continuing to

improve the interface of our software."

TRENDS IN WOOD MATERIALS

Oak continues to be the bestselling

species and the most popular wood

materials for most wood products in

recent years.

"The bestselling species has to be Oak –

American oak, European oak, White oak,

Red oak. We even sell European oak to

the U.S. and American oak to Europe,"

Knudsen said half-jokingly.

"African species also play a huge role in

our success. Even though Africa is one of

the more difficult areas in our business, we

still managed to sell a very large volume

to Asia," he added.

Currently, European species make up

65 per cent of timber sold at Global

Timber Asia, followed by American

origin (20 per cent), African origin

(15 per cent); 40 per cent of products sold

are logs, with the rest being sawn timber.

Knudsen (left) with part of the Global Timber Asia team, who are based in Petaling Jaya, Selangor, Malaysia

(Image credit: Global Timber/ Christian Berg)
---
May / June 2020, Issue 3 | Panels & Furniture Asia IN PERSON | 27
---
28 | IN PERSON

May / June 2020, Issue 3 | Panels & Furniture Asia

More beech is also sold in the last five

years, as Global Timber has secured very

good sources in FSC-certified beech, the

company still offers PEFC-certified beech

like before.

White oak at the Global Timber warehouse (Image credit: Global Timber/ Christian Berg)

OAK, OAK…AND BEYOND?

resemble oak, that is how much ash and

"Trends in flooring, doors and furniture oak looks alike."

unfortunately continue to be oak, oak,

oak. Unfortunate, because there are NEW PRODUCTS

so many other wood species that I "In recent years, we're selling more

personally think is under-used for birch than we ever have before. It is a

flooring, such as walnut and ash." trend that came up with the trade war

between U.S. and China. Many Chinese

"Ash should be used a lot more; it is manufacturers move production of

more value for money in my opinion and kitchen cabinets and cabinet doors to

its grain structure is a lot like oak but Southeast Asia and it's an opportunity

with many more options for finishing we hope to bank on – we have good

because its base colour is much lighter. supply and some customers need exactly

Its physical properties are very similar to what we can supply in birch, so that has

oak too. One can also easily stain ash to been a great win-win situation."

A unique product that is sold by the

company is smoked oak. "European oak

is high in acid tannic, hence it is suitable

for the ammonium fuming process, where

the ammonium reacts with the tannin in

the wood, penetrating through it and

darkening the wood in black nuances that

is also colourfast," explained Knudsen.

All of Global Timber's products have

environmental certifications or comply

with various internationally recognised

environmental certification.

While Global Timber does not supply

wood directly for construction projects, it

is the largest supplier of outdoor decking

in Scandinavia. A large percentage of

families probably had barbeques on

terraces where the handsome decking

was supplied by Global Timber.

Global Timber also provides a wide

variety of dimensions of sawn timber, as

well as in customised sizes.

FUTURE

In line with the move to its new

headquarters, the company also

implemented a rebranding exercise

where its 12-year-old logo and website

welcomed a new look in 2019, as well as

expanded its warehouse by 655 square

metres to a total of 10,000 m 2 .

"We are also considering entering the

Japan market," revealed Knudsen, "we're

still finding the right partner in Japan." P

Smoked oak is a darkened wood that has gone through the ammonium fuming process

(Image credit: Global Timber/ Studio55)
---
May / June 2020, Issue 3 | Panels & Furniture Asia IN PERSON | 29
---
30 | PANELS MANUFACTURING

May / June 2020, Issue 3 | Panels & Furniture Asia

HIGHEST CAPACITY PARTICLE

BOARD CUTTING PLANT IN

SOUTH EAST ASIA

The Southeast Asian market has always been an important market of Anthon's. One of the

biggest projects over the years was the high capacity sanding and sawing plant for the new

particleboard plant in Trang (South Thailand), ordered by Green River Panels Thailand in

2017. The project has once again shined a spotlight on Anthon's know-how in the field of

high capacity sawing systems.

Anthon GmbH, based in Flensburg, specialises in complex

machine and plant systems for the panel processing

industry. Significant emphasis is placed on board sizing

systems including feeding, stacking and sorting systems for

a wide range of materials in the wood and building materials

processing industry.

By the end of 2019, with after the successful delivery and

installation of Anthon's sanding and sawing line, Green River

Panels Thailand started operation of its third production line in

Trang, which is also its largest particleboard production line with

a sawing capacity of up to 2,800 m³/day.

All of Green River's requests and requirements have been

implemented and optimised to the highest level of

productivity:

high capacity feeding of single

boards

high speed double side sanding

automatic surface inspection

automatic quality grading

high capacity angular cutting

destacking of different quality grades

lowest tolerances of sanding, cutting and destacking

ANTHON THROUGHFEED SAW MODEL PVL/PVQ - A

HIGHLY EFFICIENT CUTTING SOLUTION

PVL/PVQ, the throughfeed sawing system, is more often used to

cut single boards or mini boards, compared to the pressure beam

saw system. This results in significantly lower drive power of the

sawing units and thinner saw blades - energy and raw materials

are reduced. Currently, sawing systems are equipped with saw

blades of approximately 3.0 to 4.0 mm width, whereas saw blades

with twice the thickness are not uncommon with pressure beam

saws. This is one of the reasons why well-known manufacturers

and now, Green River Panels Trang Thailand, chose Anthon's

throughfeed saws systems.

3D rendering of the Green River

Panels Thailand Trang's latest and

largest particleboard production line

LONGEST, WIDEST, HIGHEST, HEAVIEST

PARTICLEBOARD STACK IN SEA

The fully automatic sanding and sawing line has been in operation

at the newly built chipboard plant in Trang since the end of 2019.

At this plant, up to 2,800m³/day of chipboard are sanded, sawn

to various formats and destacked with the highly efficient Anthon

equipment.

The particleboard stack at Green River also sets the record

of being the longest, widest, highest and the heaviest one

in Southeast Asia. At 7.4m long, 2.5m wide, 5.0m high and

weighing 60 tonnes, the particleboard stack is used to transport

particleboards from the storage to the Anthon sanding and sawing

line for final sizing and processing before delivery to Green River's

customer worldwide.
---
May / June 2020, Issue 3 | Panels & Furniture Asia PANELS MANUFACTURING | 31

FULLY AUTOMATIC SANDING AND SAWING LINE

At the infeed of the line, a Storage Transport System delivers the

Masterboard stack to the infeed system of the Anthon Sanding

line. When the stack is lifted, a push-feeder pushes single boards

onto a roller conveyor where they are accelerated to a speed of

approximately 120m/min. The newest generation of a ten-head

sanding machine is integrated into the line for sanding the raw

boards on both top and bottom side with a single pass, according

to the requested quality and thickness. The sanding machines

come with an automatic thickness measurement system that

measure thickness throughout the sanding process

for quality control.

book through the cross cut saw. The cross cut saw is also equipped

with 2x hogging units at the outer sides and 3x main saw aggregates.

All cutting units are also equipped with soring saws to guarantee

a perfect cutting quality. No separate waste disposal is necessary

due to the use of chippers at the outer units. The aggregates are

designed

as under table

units. This allows easy

adjustments and effective work

of the suction system. The controlled

blade projection above the material

surface ensures a good quality of the

cut and in combination with the scoring

saws ensures a chatter free cutting of the

boards. The boards are guided by the push feeder and

are transported through the saw. This ensures continuous

transportation without vibration and highest cutting quality.

AUTOMATIC SURFACE INSPECTION THROUGHOUT THE

SANDING PROCESS

After the sanding process, the board surface is automatically checked

for defects with an automatic surface inspection system. If a board

shows defects, these boards will be separated and transported

into a drop box system for stack building of b-quality boards.

Boards without defects are further transported to and though

the Anthon longitudinal through feed saw Model PVL. This first

rip cut saw is equipped with 2x hogging units on each side and

a main saw aggregate which performs a centre cut. All cutting

units are also equipped with soring saws to guarantee a perfect

cutting quality. The boards are transported by a top pressure

system through the saw. This ensures a continuous transportation

without vibration. Behind the saws, adjustable guides are installed

to avoid board displacement during sawing, results in highest

accuracies and stable sizing within minimum tolerances.

After passing through the rip saw, the cut single boards are

transported to a so-called book building station. Single boards

are stacked up to a maximum height of 65mm. When the

preselected book height is reached, the mini-book or single board

is transported to the preparation of the cross cut saw Model PVQ

which has a width of approx. 7.600mm.

ENSURING THE HIGHEST CUTTING QUALITY

Prior clamping and cutting the mini-book or single board is

aligned in longitudinal and cross direction. The aligned mini-book

or single board is fixed by a push feeding system which pushes the

DESTACKING AND GRADING MADE EASY

After the final cutting the mini-books or single boards are transported

to the destacking section for stack building of the final board size. In

3x drop box systems, the stacks can be graded to different quality

grades. Prior destacking, the drop boxed are supplied with bottom

protection boards on which the mini-books or single boards are

stacked. Every mini-book or single board are aligned. An adjustable

rake aligns the boards against fences in longitudinal and cross

direction. All drop boxes are built with driven roller conveyors

mounted on lifting tables. If the final stack height is reached, the

stack is transported in cross direction out onto the connected chain

conveyor and further into the storage.

WHOLE LINE CONTROL USES NEWEST PROGRAMMABLE

LOGIC CONTROLLER

The whole line control is based on the newest programmable logic

controller Siemens Simatic S7-1500. All operating elements are

mounted in a control desk placed in the middle of the line, giving the

operator an overview of the total sanding and sawing plant.

With an actively cultivated mix of competence in heavy mechanical

engineering and innovative EDP-solutions, Anthon has been opening

up new markets since 1865. In line with the motto "Tradition and

Innovation", the Anthon's drive to improve and optimise products

has been persistent. Its 150 employees in Flensburg work together

on development, production and worldwide sales of the company's

product range. P

All images are credited to Anthon.
---
32 | PANELS MANUFACTURING

May / June 2020, Issue 3 | Panels & Furniture Asia

The first OSB debarking line

produced and installed by

Jiangsu Baolong

JIANGSU BAOLONG INSTALLS FIRST

OSB DEBARKING LINE IN THAILAND

Jiangsu Baolong has successfully installed its first OSB debarking line for VANACHIAI group;

the project is also the first OSB production line in Thailand.

This first OSB production line in Thailand has an annual

output of 220,000 cubic metres. The performance

test for Jiangsu Baolong's debarking line was conducted

in January 2020 and accepted by the customer thereafter.

When Vanachai group, one of Asia's leading particleboard and

MDF manufacturers, decided to build the first OSB production

line in Thailand, they collaborated with Jiangsu Baolong to

customise the debarking line, consisting of a set of drum

debarker machine that is 21 metres in

length and four metres in diameter, as well

as an automatic feeding system starting

from the debarker to strander.

Jiangsu Baolong Electromechanical

Manufacturing Co., Ltd. is one of the

key enterprises in the Liyang city of

Jiangsu province in China. It is a hightech

enterprise and a member of the

China forestry machinery association.

"Baolong" has been selected and

recognised as a "Best-known brand of
---
May / June 2020, Issue 3 | Panels & Furniture Asia PANELS MANUFACTURING | 33

the Jiangsu province" many times, and has

won the "China's best-known brand" before.

Its main products include wood debarking and

preparation line, drying system, drum and rotary

debarkers, drum and disc chippers, wood and

flake screen, re-cutter, flaker and double-stream

mill, silo and transportation equipment that

have been sold in Indonesia, Malaysia, Thailand,

Mexico, Vietnam, Japan and other countries. P

The debarking line installed at

VANACHAI's plant in Thailand

(All images are credited to Jiangsu Baolong)
---
34 | PANELS MANUFACTURING

May / June 2020, Issue 3 | Panels & Furniture Asia

IPCO ENHANCES

IN-HOUSE TRAINING

WITH QUICKBENCH

New training tool to support in-house belt technicians

Press belt manufacturer IPCO has

enhanced its customer support

capabilities with the introduction

of a purpose-designed demo/training

bench that can replicate production line

repair conditions.

Representing the latest addition to

the company's QuickTool range, the

QuickBench is a strong framework unit

designed to hold a section of the steel

belt. The frame itself can be adjusted to

accommodate different sizes of belt and

belts of any thickness. A pair of clamps

on either side of the unit grip the belt

section in place and these can be then

be tensioned to ensure that training

procedures are as realistic as possible.

"Customer support is central to the way

we work," explains Sascha Porst, Global

Product Manager (Press Belts), "and the

QuickBench is a great example of this."

IPCO QuickBench and QuickDisc Plus 500

"Belt damage is an unfortunate but

unavoidable reality of the manufacturing

process and when this happens,

customers need to know that their belts

can be returned to a condition as close

as possible to initial production standard.

While our Global Service Support team

is always on call, some repairs can be

carried out in-house if technicians have

access to the right tools and training,

resulting in a significant reduction in

downtime. This is what we aim to do with

QuickBench."

SERVING AS A DEMO UNIT FOR

SPECIALISED REPAIR TOOLS

As well as enabling IPCO to train

technicians on belt edge repairs, welding,

grinding and suchlike, the QuickBench

also serves as a demo unit for specialised

repair tools such as the QuickDisc Plus

500, the latest in a range that enables

the replacement of a damaged area of

steel press belt.

In its basic form, the QuickDisc is used to

remove the damaged area and produce

a circular blank replacement from the

extra length of belt that IPCO supplies

with each order for this purpose. The

use of a special cutting tool produces a

clean-cut hole to such precise tolerances

that no additional treatment such as edge

grinding is necessary.

The QuickDisk Plus 500 is the most

advanced model in the range. It has

a self-contained cutting and welding

system that can remove and replace

damaged areas up to 480 mm in diameter.
---
May / June 2020, Issue 3 | Panels & Furniture Asia PANELS MANUFACTURING | 35

Other tools available include the QuickCutter, used for

cutting and preparing belts for welding up to 4 mm thick; the

QuickGrinder, which enables engineers to achieve a smooth

surface with minimal thickness deviations, even over large areas;

and the QuickPeener, a portable shot peening unit specially

designed for flattening deformed press belts without having

to halt production.

ENSURING QUICK AND PRECISE BELT REPAIR

"These and other tools and techniques are available to

customers around the world," says Porst, "and we are able to

deliver training and education through local seminars. This

service – this reassurance – is a key reason why customers

continue to place their trust in IPCO."

"Press downtime can be extremely costly so we are geared up

to providing a rapid and efficient response to press belt issues

anywhere in the world. And with the market moving towards

ever thinner boards – produced at speeds up to 2 500 mm/sec

– belts repairs need to be as close to perfect as possible, so we

continue to invest in the precision technologies necessary to

deliver the highest standards." P

IPCO's Quick Bench is designed to hold a section of a steel belt
---
36 | PANELS MANUFACTURING

May / June 2020, Issue 3 | Panels & Furniture Asia

STOP MANUAL PATCHING,

START

UPGRADING

VENEER

QUALITY

Are you still patching veneer by hand? Everyone in the

woodworking business knows that manually patching holes

and knots in veneer can be a tedious and time-consuming job.

Adjusting knives, positioning sheets manually and keeping

the veneer quality consistent also takes a lot of manpower.

That's why one of the biggest advantages in adapting to more

efficient ways to patch is the savings on labour. With a good

patching machine, the labour-saving ratio can be up to 1:10.

Patching with a machine is faster, more efficient and safer.

However, when investing in patching machinery the pros

and cons should be calculated precisely. Does it give

more yield, does it lead to labour savings, how often does the

machinery need to be maintained and does it really do a better

job? The tradition of patching manually is deep-rooted, but there

are better and more efficient ways to patch veneer.

"The technology itself isn't new since patching machines have

been on the market for a long time. However, the quality of the

machines and especially the dies used in them have significantly

improved in the last few years, and Raute P2 technology has set

a new benchmark" says Shawn Cheo, Vice President of Raute

Asia and Oceania, Singapore.

With one-man operated patching machinery, the labour costs

decrease significantly. This is simply due to the fact that the

machine can patch a sheet full of defects even 10 times faster

than when patched by hand. While wood is a delicate material

and needs a lot of manual effort, patching might not be a task

you want to do by hand.

"The patch needs to be the same quality as the rest of

the sheet, but when done by hand, the hole and the patch

are never the same shape or size," states Jukka Siiriäinen,

Raute Group Vice President, Grow. "This leads to irregular

quality. As we all know, a human can never be as precise

as a machine. With a patching machine, the patch is perfectly

fitted for each defect thus upgrading the veneer quality,"

he adds.

KEEPING IT TOGETHER WITH BUTTERFLY PATCHES

Because the quality of the end product is the main point of

patching, the shape of the patch and how it is cut make a lot

of difference. With manual patching, the shapes and sizes vary,

and the quality is uneven. With a good machine, the patch fits

the defects perfectly and there's no need for manual repair and

gluing of the patch afterwards.

"With manual patching, there're always going to be defects on

the edge of the patch, but with P2 butterfly patches, the patch

is secure since the patch holds firmly and doesn't pop off later

in the production process," Shawn Cheo states.
---
May / June 2020, Issue 3 | Panels & Furniture Asia PANELS MANUFACTURING | 37

RAUTE P2 PATCHER CUT

The patch

holds firmly

and doesn't

pop off.

PATCH

90°

VENEER

FIRM HOLD

ANGLE

CONVENTIONAL

MACHINE CUT

PATCHING

PATCH

VENEER

LOOSE HOLD

Raute butterfly patches

even suit joint patching

Hand patched

MANUAL PATCHING COMPARED TO

RAUTE P2 PATCHER MACHINE

Capacity example

Repairing need

120 000 M 3 / Year

12 patches / veneer sheet

Manual

P2 Patcher

Repairing Capacity Pcs/H 210 750

Workers Needed 102 28

SAVINGS IN OPERATORS - 73 WORKERS

The P2 die lifespan is around

50 million patches, and sharpening

interval 2 million patches.

Themo-bond taping

to repair veneer splits.

A butterfly type patch is the

recommended veneer patch

type. The P2 butterfly patches

ensure a bigger contact area

and better adhesion than

oval shaped patches. With

P2 butterfly patches, you

can save up to 25 per cent

in patching material costs

compared to the boat type

patches. Due to their retention

properties, butterfly-type patches bear double the load

compared to other patch types.

"But defects vary in shape and size. That's why we make

several different patch types and sizes. We can also offer

an integrated thermo-bond taping feature in our patching

machines, depending on the customer needs," adds

Marko Perttilä, Portfolio Manager, Raute.

With a patching machine,

the patch is perfectly

fitted for each defect

thus upgrading the

veneer quality

Jukka Siiriäinen, Raute Group

Vice President, Grow

WHY WOULD YOU INVEST?

"Usually mills see the biggest

expense not as the machine itself,

but the possible maintenance. But

with a die that lasts for around

50 million patches, and a robust

machine structure, you can use

the same patching machine for

15 to 20 years and minimise

maintenance costs,"Jukka

Siiriäinen, Raute notes.

All in all, manual patching will soon be history. Machines win in

every aspect: quality, efficiency and safety. The quality of the

veneer is upgraded, and the veneer recovery can be up to 30

times more than with composing. And of course, it's a cliché but

true, safety is always key. Not a single hand will be harmed by

a knife anymore. Last but not least, end product rejects due to

veneer hand patching errors will be significantly reduced with

high quality patches. P

All images are credited to Raute.
---
38 | FLOORING

May / June 2020, Issue 3 | Panels & Furniture Asia

THERRAWOOD:

BRINGING OUTDOOR SOLUTIONS

FROM TURKEY TO SOUTHEAST ASIA

By Szeto Hiu Yan

TherraWood's decking

that is made with the

unique WPC material

Since 2008, Istanbul-based TherraWood has been manufacturing and supplying wood polymer

composite outdoor solutions to more than 54 countries and with more than 230 projects

worldwide. While its biggest markets have been in the Middle East and the Western countries,

TherraWood has set its sight on further horizons with the aim of bringing its products to

Southeast Asia. As TherraWood makes its stop in Singapore, PFA took the chance to speak with

Philippe Van Wassenhove, Managing Partner of TherraWood Middle East.
---
May / June 2020, Issue 3 | Panels & Furniture Asia FLOORING | 39

TherraWood is perhaps best known for its unique wood

polymer composite (WPC) material, which is solely

manufactured by the company at its manufacturing

facilities in Corlu, Tekirdag, 100km west of Istanbul.

WPC is a unique blend of PVC, high quality wood fibre and

other proprietary components, creating a cost-effective,

durable and safe material that resembles the appearance

of wood for both residential and commercial outdoor

recreational areas. With WPC, TherraWood produced a range of

outdoor solutions that include decking, siding, fence, pergola

and railing.

On what makes WPC outperform similar materials from

other competitors, Van Wassenhove shared that "one of the

differences is that we are using PVC as a component, while

many other manufacturers are using PE and PP. PVC is a

harder component compared to PE or PP, hence we are able to

offer hollow profiles for some products such as WPC-coated

hollow aluminium railings, combining strength, durability and

lightweight into one."

Besides, products made from WPC require low maintenance and

are resistant to decay, insects and UV damage. Coupled with

anti-slip and splinter-free properties, the composite material

can be used to make safe structures for outdoor environment.

The products also come in a range of elegant colours. "The main

component for the decking's top coat is rice husks, which can

prevent water penetration."

For the environment conscious consumers, products created

from WPC are 100 per cent recyclable and FSC certified.

"We have always been using the same supplier providing us with

cut-off, therefore we know the quality of the pine wood used is

always the same," said Van Wassenhove.

MOVING INTO SOUTHEAST ASIA

A prominent brand in the Middle East, 50 per cent of

TherraWood's productions are exported.

"Our biggest market is in the Middle East region, followed closely

by Europe and Northern America. For Asia, we still have to invest

more in marketing our products. We are actively looking for partners

that will distribute and promote our materials in Southeast Asia,"

said Van Wassenhove.

TherraWood is currently operating at an annual capacity of

6000 metric tons and has 65 employees, including production
---
40 | FLOORING

May / June 2020, Issue 3 | Panels & Furniture Asia

workers. All production steps — wood

grinding, polymer recycling, wood drying,

mixing, extrusion, tooling and surface

treatment are completed in-house.

TherraWood also saw three joint ventures

since 2015. The first is TherraWood

Middle East Fzc, located at Sharjah Airport

International Free Zone, that has a 400

square metres warehouse and office

facilities. The second is TherraWood

North America LLC which is headquartered

in Richmond, Virginia with 1,000sqm

warehouse facilities in Atlanta.

High profile projects that have used

TherraWood products include Microsoft

Turkey Head Office (Istanbul, Turkey),

L'Oreal Head Office (Paris, France), Hilton

Türkbükü Resort (Bodrum, Turkey),

Trump Towers (Istanbul, Turkey) and

St. Regis Hotel (Dubai, UAE). P

All images are credited to TherraWood.

Therrawood's pergola

TherraWood's decking, pergola and fences are used in this housing project
---
May / June 2020, Issue 3 | Panels & Furniture Asia FLOORING | 41
---
ADVERTORIAL

42 | MATERIALS

Aerial view of Gabon's Furniture

May / June 2020, Issue 3 | Panels & Furniture Manufacturing Asia Cluster

Gabon Forest, a sustainably

managed resource

Gabon lies on the equator in the central west part of Africa, bordering the Atlantic Ocean to

the west, Cameroon and Equatorial Guinea to the north and the Republic of the Congo to the

southeast. It is a picturesque country with rich natural resources.

Gabon's climate is classified as equatorial tropical, with an

extensive rainforest system covering 22.8 million hectares

i.e. almost 88 per cent of the territory. There are three

major forest types:

• evergreen rainforest in the west characterised by abundance

of Okoumé and Ozigo

• the central Gabonese forest covering most of the country with

abundance of species like Azobé and Ayous

• semi-deciduous forest with dominance of Limba, Wenge and Ayous

With a low overall population density and 60 per cent of its

population living in urban areas, there is little anthropogenic

pressure on Gabon's forests. The Gabon government has

indicated an average annual deforestation rate of 0.12 per cent

or 10,000 ha per year. All forests in Gabon is owned by the state.

The 2001 Forest Code divides forest into two categories i.e. First

Category (13.5 million hectares) include Production Permanent

Forest Estate (PFE) managed by private concessionaires and

the protection PFE managed directly by the state. The Second

Category (8.3 million hectares) belongs to the non-PFE, known

as domaine rural, includes open access forest for hunting,

agriculture, mining and gathering of NTFPs, sacred forests and

community protected area for which rights are limited to local

communities.

NEW SUSTAINABLE FOREST MANAGEMENT LAW

Gabon has gone through structural reforms affecting the forest

and timber processing industry. The new forest law emphasises on

Sustainable Forest Management (SFM) as the overall approach in

forest harvesting. Forest management plans are fully developed

for over 9.25 million hectares of forest in concessions and were

under preparation for another 2.5 million hectares of forest in

concessions since 2011. An estimated 8.42 million hectares of

the natural production PFE is under SFM, including 3.37 million

hectares of forest were certified under the FSC (some of them

also had ISO 14001 and Keurhout certificates) as of June 2010.

Gabon's low deforestation rate and forests rich in valuable

timber species are among the best prospects for a healthy and

sustainable forest and timber processing industry. Reforestation

has been continuously promoted, and selective thinning and

clearing have prevented the over exploitation. Over 50 firms are

engaged in the harvesting of Gabon's forests. Forest concessions

covering about 12 million hectares have been granted by the

Gabonese Republic. The timber industry of Gabon already

represents an extremely significant growth potential.

A WIDE ARRAY OF TIMBER SPECIES FROM GABON

Gabon's forests offer enormous possibilities with a logging

potential of 12.5 million hectares with more than 400 species.

Until 2010, i.e. before ban on export of raw logs, Gabon was

the largest exporter of raw wood in the region, and its sale

represents 20 per cent of Africa's raw wood exports. Gabon's

reserves of exploitable timber is estimated to be upwards of 400

million cubic metres which includes 130 million m 3 of Okoumé,

15-25 million m 3 of Azobé and 10-20 million m 3 of Padouk.
---
May / June 2020, Issue 3 | Panels & Furniture Asia MATERIALS | 43

Gabon's rainforests are home to many timber species
---
44 | MATERIALS

May / June 2020, Issue 3 | Panels & Furniture Asia

WENGE

Wenge is the premier dark hardwood from the

forests of Gabon and suitable for contemporary

interiors as it blends quite well with glass and

stainless steel. Due to its dark colour, it is well

suited for straight or clean line furniture and is

quite popular in Europe.

ALTERNATIVE SPECIES FOR TEAK

Iroko, Beli, Tali and Okan species can be

considered as alternative species to provide

teak-like finish. These species are quite popular

in Asia and Middle East for furniture and

joinery. Tali and Okan are extensively used in

furniture manufacturing in Vietnam, mainly for

export and has helped Vietnam to become the

second largest exporter of furniture after China.

Furniture made out of these species is very

popular in Asian and American markets.

Cabinets made from the premier dark hardwood, Wenge

LIGHT COLOUR TROPICAL WOOD SPECIES

Light colour tropical wood species from Gabon includes Izombe,

Movingui and Bilinga. These species have appearance similar to

Merbau / Kwila and are suitable for furniture as well as joinery

and interiors.

Bench made with Iroko

HIGH-END WOOD SPECIES

Kevazingo (Guibourtia Spp.) is the most expensive and coveted

wood species from the forests of Gabon. Trunk diameter of

150 cm is quite common for Kevazingo. Live-edge table tops made

from it are in high demand in China because of its natural beauty

and its relation to customs and beliefs of Chinese community

world over.

REDWOOD

Padouck is a dark coloured redwood found in Gabon; quite

similar to Rosewood and suitable for outdoor furniture as well

as joinery. Outdoor flooring, decking and garden furniture made

out of it is exported to European markets. It is resistant to

damage from weather elements. Padouck is also very popular

in southern part of India due to its red colour and high density.

Door and door frames made from Padouck are very popular in

the Asian markets.

Live-edge table tops made from Kevazingo are popular in China

Padouck live-edge table
---
May / June 2020, Issue 3 | Panels & Furniture Asia MATERIALS | 45

Ready-to-use sheds are provided in Gabon SEZ's Furniture Manufacturing Cluster for furniture manufacturers to kickstart production quickly

CHANGE HAS JUST BEGUN

Gabonese Republic had banned exports of raw logs in 2010.

Thereafter, to facilitate the secondary and tertiary processing

of timber within the country, Gabonese Republic has developed

1126 hectares SEZ at Nkok in partnership with Olam International,

Singapore to provide ready and reliable infrastructure. Gabon

SEZ offers an array fiscal incentives to industrial investors which

includes complete exemption from all taxes (income tax, corporate

tax, capital gain, MAT, VAT, customs, Property Tax), reduced rate

of export duty (0-2 per cent) and permission for 100 per cent

repatriation of profits.

GABON WOOD HUB: FIRST FURNITURE MANUFACTURING

CLUSTER IN CENTRAL AFRICA

Nkok SEZ also has 60,000 square metres of ready-to-use sheds

as Furniture Manufacturing Cluster to promote manufacturing of

finished products i.e. furniture in Gabon. Such sheds are provided

on rental model in module of 500 m 2 to furniture manufacturers

intending to start their unit in the Furniture Manufacturing Cluster.

The cluster also offers common facilities like:

Kiln Drying: With a dedicated 1000 m 2 per month capacity, kiln

dryers are installed to serve furniture manufacturing units.

Show Room: A show room of over 3000 m 2 can provide the space to

showcase furniture manufactured in the cluster.

Packaging and Logistics: 2000 m 2 of packaging and 4000 m 2 of

logistics facility are available within the cluster for customs clearance.

As of now, there are 12 units working from this cluster. The quality of

raw material i.e. wood available and huge variety of wood species found

in Gabon is a unique opportunity for any furniture manufacturing unit.

Matured wood of any size, any length is available in good quantity on

sustainable basis. Furniture Units are starting manufacturing of upscale

furniture for customers in Asian, European and the U.S. markets. Furniture

majors like Wolf Mobile from Germany; Artemano from Canada; Terry as

well as Williams-Sonoma from the U.S.; Habufa from Netherland, have

expressed their interest to buy furniture manufactured from sustainably

harvested wood available in Africa. Solid wood furniture made from

various wood species like Beli, Tali, Sapeli, Mouvingui, Wenge, Padouck

and Kevazingo is of pertinent interest to many furniture majors.

Moreover, major import houses in the U.S. and Europe have taken a resolution

to source minimum 30 per cent of furniture done with SFM compliant / FSC

certified wood by 2020 and this SFM compliant / FSC certified wood with

genuine Traceability and Legality certificates is easily available in Gabon.

For business, investment and trade enquiries, please get in touch with

team of GSEZ at gsez@olamnet.com or at +24102001086. P

All images are credited to Gabon SEZ.
---
Why Canadian Wood?

A sustainable resource

for emerging economies

About 200 million seedlings are planted every year in B.C. as part of sustainable forest practices.

British Columbia

(B.C.), Canada is

recognised as

a world leader in

sustainable forest

management. About

95 percent of the forests are owned

by the Government of B.C. Each year,

the Government allows less than

one percent of the forest to be

harvested and ensures that over

200 million new trees are planted.

In this way, B.C. makes certain there

will be trees for generations to come.

Independent studies have confirmed

Canada has some of the most

rigorous forest laws in the world.

This is further supported by Canada

being the international leader in forest certification. The majority of B.C.'s

harvest comes from operations that are certified to the Programme for

the Endorsement of Forest Certification (PEFC) system and/or Forest

Stewardship Council (FSC).

THE ENVIRONMENTAL IMPACT OF IMPORTING

CANADIAN WOOD

Customers can be assured that sourcing wood products from Canada

will not have a negative environmental impact when it comes to

transportation. An independent study showed that the environmental

benefits of harvesting trees, producing wood products in mills,

transporting them to ports and shipping them overseas far outweigh

any negative impact from the process. This is because trees store

carbon while they are alive, and then afterward in the lumber and in

finished products.

CANADIAN WOOD: A SUSTAINABLE FUTURE IN VIETNAM

MANUFACTURING WITH WOOD

B.C., Canada is your trusted source for wood products from

sustainably managed forests. As a natural, renewable resource,

wood's versatility, character and individuality are unmatched.

THE UNIQUE ADVANTAGES OF CANADIAN WOOD

Some of the B.C. species available in Vietnam are Western Hemlock,

Douglas-Fir, Spruce-Pine-Fir (SPF), Western Red Cedar and Yellow

Cedar. The design flexibility of Canadian wood makes it suitable for a

wide range of applications, both structural and aesthetic.

WESTERN HEMLOCK

Western Hemlock is ideal for

solid wood furniture and interior

finishing. Known for its even colour,

excellent machining properties,

and being non-resinous, Western

Hemlock can be finished naturally

or stained to create traditional or

contemporary appearance. Due

to its high strength, knotty grades

of Western Hemlock are ideal for

structural applications.

DOUGLAS-FIR

Douglas Fir, highly prized as one

of the strongest softwood species

in the world, is used extensively in

structural applications, including

timber-frame construction and

glue-laminated beams. Its attractive reddish-brown colour and

distinctive grain make its clear grades ideal for joinery products

(window frames, doors, cabinets, and panelling).

SPRUCE-PINE-FIR (SPF)

The Spruce-Pine-Fir (SPF) group is mainly a mix of white spruce and

lodgepole pine. Due to its dimensional stability and superior gluing

properties, SPF is used extensively in the flat-packed furniture industry.

Due to its strength and light weight, SPF lumber is used extensively

in wood-frame construction.

WESTERN RED CEDAR

Western Red Cedar is one of the world's most naturally durable

softwood species, making it ideal for outdoor furniture, exterior siding,

fencing, and playground equipment. Its appealing dark colour and

soft, lightweight texture makes it suitable for various interior finishing

applications as well.

YELLOW CEDAR

Yellow Cedar is a species quite unique to the coastal mountains of B.C.

It is easy to work with and therefore is prized for applications such

as joinery and carpentry, decorative panelling, furniture, moldings

and cabinetwork.
---
May / June 2020, Issue 3 | Panels & Furniture Asia NEWS | 17
---
48 | STRUCTURAL ELEMENTS

Fjordporten,

a tower of

lightness

May / June 2020, Issue 3 | Panels & Furniture Asia

Fusing tradition and innovation,

Fjordporten at Oslo central station

merges transport, work, leisure

time, culture and business into

a forward-looking and

robust hub.

Fjordporten is designed to combine effective traffic

logistics with appealing internal and external urban

spaces. This is achieved by high architectural

quality and streamlined transfers between the various

means of transport, resulting in a clear architectural

identity that emphasises on sustainability.
---
May / June 2020, Issue 3 | Panels & Furniture Asia STRUCTURAL ELEMENTS | 49

REFERENCE TO THE CITY'S HISTORICAL USE OF

WOOD

Fjordporten comprises a tower with a base building. The

tower mainly houses offices, while the base building

contains service functions for transport users. The building

volume interacts with the towering "cathedral space" in

the existing Østbanehallen and tapers downwards with

inspiration from Oslo's landscape and buildings.
---
50 | STRUCTURAL ELEMENTS

May / June 2020, Issue 3 | Panels & Furniture Asia

By combining the use of timber with modern materials such as

concrete and high-tech glass, these materials made a subtle

reference to the time when the city was built from wood.

Maximising the daylight entering the building, the workspaces

have shared infrastructure, break rooms and informal meeting

places to facilitate a flexible, mobile working life. "Green lungs"

in the form of vertical connections across multiple levels and

terraces with vegetation provide ample contact with nature

and its landscape. The tower will provide public areas, as a

contribution to city life.

A DESIGN THAT EMPHASISES LIGHTNESS

At the base, the different areas are designed to be easy to

navigate. The building structure is clearly evident and facilitates

smooth transfers between the various means of transport. A

wooden pergola of lightweight mesh structures defines the

central railway station's new main entrance, while spacious

amphistairs connect the area to Østbanehallen's food market.

Outdoor atriums and roof lights ensure optimal daylight

conditions in the base. P

Client: Bane NOR Eiendom

Size: 45770 m²

Location: Oslo, Norway

Year: 2017-

Architect: C.F. Møller Architects in collaboration with Reiulf

Ramstad Arkitekter

Collaborators: Bollinger Grohmann, Transsolar

Prizes: Architizer A+Awards - Unbuilt Commercial, finalist, 2018

1 st prize in architectural competition, 2018
---
BIFA WOOD

VIETNAM 2020

www.bifawoodvietnam.com

27-30 October 2020

Venue:

Binh Duong Convention &

Exhibition Centre (open ground)

Duong Hung Vuong, Phu Hoa ward,

Thu Dau Mot city, Binh Duong province,

Vietnam

Google Map

QR code

Exhibition Site

WOOD &

WOODWORKING

MACHINERY

EXHIBITION

Enquiries For International Exhibitors

Pablo Publishing Pte Ltd

3 Ang Mo Kio Street 62 #01-23 Link@AMK

Singapore 569139

Tel: (65) 6266 5512

Email: williampang@pabloasia.com

info@pabloasia.com

WeChat

Jointly organised by

BINH DUONG FURNITURE ASSOCIATION (BIFA)

PANELS & FURNITURE Group

BINH DUONG FURNITURE ASSOCIATION
---
52 | DESIGN

May / June 2020, Issue 3 | Panels & Furniture Asia

466 FLOW CHAIRS

ADD A TOUCH OF

MODERN TO HISTORICAL

SCHOOL BUILDING

By Szeto Hiu Yan

466 of PlyCollection's Flow chairs recently filled the Jelgava State Gymnasium's

concert hall in Latvia, adding a touch of modern to this historical building that

was built before World War I.
---
May / June 2020, Issue 3 | Panels & Furniture Asia DESIGN | 53

With a clean, timeless design, the Flow chair brings an

understated sophistication to any space. Furniture

connoisseurs will certainly appreciate the construction of

Flow where no screws or metal joints are used, resulting in elegant,

smooth lines. It is also light, both in terms of looks and weight. The

Flow chair personifies a minimalistic perfection – there is simply no

unnecessary details.

With an excellent backrest angle and height, the chair has every back.

Elegance, lightness, versatility, stackibility

This wooden chair with a stable frame is made of bent plywood with

variable thickness in the curves. Due to the stackability of these

wooden chairs (up to 10 pieces), they are easier to keep and move.

Produced in Latvia, the Flow chair was designed by famous Danish

designer Jakob Berg. It is available in a range of finishing. P

All images are credited to PlyCollection.
---
54 | DESIGN

May / June 2020, Issue 3 | Panels & Furniture Asia

The Preservation Bench was recreated in

American white oak for Downtown Design Dubai

(Image Credit - Brett Rubin)

The Preservation Bench in

American oak to make

its India debut this summer

Houtlander and AHEC collaborative installation to go on display at Index Mumbai and Delhi

A

collaboration first presented in 2019 by the American

Hardwood Export Council (AHEC) and Houtlander is

making its way to Mumbai and Delhi this summer as

part of Index - a leading interior design exhibition that has been

held annually for the past 30 years.

'The Preservation Bench', crafted with American white oak,

is a collaborative installation between Houtlander and AHEC

and will be on display at Index Mumbai (June 4 - 7) and Delhi

(July 24 - 26).

Houtlander will also showcase its award-winning

'Interdependence Two' bench, a twisted slatted seat for two

people to sit intimately facing each other, at the shows.

FROM THERMALLY-MODIFIED AMERICAN RED OAK TO

WHITE OAK

The Preservation Bench, in thermally-modified American red

oak, was first presented at 100% Design South Africa in August

last year and then recreated in American white oak for Downtown

Design Dubai, which ran from November 12 - 15, 2019. The
---
May / June 2020, Issue 3 | Panels & Furniture Asia DESIGN | 55

Interdependence Two (Image Credit - Hayden Phipps)

piece going to India was built in American white oak since it is

intended to remain indoors.

Known for its modern take on spindle furniture, the two

designers re-worked their signature style to celebrate the

sapling growing from the forest floor, seeking the light and

growing up towards the canopy.

Three grounded benches in American white oak curve into one

gravity-defying twisted form that seemingly disappears into

the air.

"AHEC's participation at Index Mumbai and Delhi follows

an extremely successful showing of the Preservation Bench

at Downtown Design Dubai last year. We are confident that

visitors will appreciate the beauty of Houtlander's design,

which incorporates American white oak and is a masterpiece in

timber design and craftsmanship. With a minimal environmental

footprint, which speaks to the inspiration behind it, we hope

this unique commission will inspire the next generation of

furniture designers and specifiers in India whilst demonstrating

the versatility and beauty of American hardwoods and the

ability to push the limits of the material," said Roderick Wiles,

AHEC Regional Director.

According to Houtlander, no other material that furniture is made

out of can claim to be carbon negative. The bench therefore is

a visual representation of the furniture 'coming out of the air'

and meant to suggest the form and function of a park tree with

a bench offering some shade. The bench is an expression of

the fact that the material being used comes out of the air - it

is carbon which has been absorbed out of the air by the living

forest and converted into timber.

WHITE OAK USED CAN BE REPLACED THROUGH

NATURAL REGENERATION IN LESS THAN 1 SECOND

AHEC has calculated that all the white oak used to make the

bench would be replaced through natural regeneration in the

U.S. hardwood forest in less than 1 second and, while in use,

the Preservation Bench will keep 733 kg of CO 2

equivalent out

of the atmosphere.

"Our collaboration with Houtlander has resulted in a fascinating

approach to working with an age-old material. This unique

exercise has not only thrown the spotlight on the beauty of

American white oak, but it has also helped in increasing the

understanding of the material for the designers involved with

this project. Celebrating the versatility of timber in design and

the enormous variety that can be achieved with one material,

the Preservation Bench demonstrates the performance potential

of sustainable American hardwoods. By showcasing the bench

at Index, we want to ignite new thinking and excite designers

about new ways to use wood, particularly underutilised, yet

widely-available American hardwoods," concluded Wiles. P
---
56 | SHOW PREVIEW

May / June 2020, Issue 3 | Panels & Furniture Asia

The highlyanticipated

BIFA WOOD

VIETNAM

is back for

its second

edition

Year 2020 marks the second year

for the highly-anticipated biennial

BIFA WOOD Vietnam.

The event is jointly organised by two of

the most influential brands in Southeast

Asia's timber and woodworking sector:

Binh Duong Furniture Association (BIFA)

and Panels & Furniture Asia Group of

wood magazines.

BIFA represents the wood processing

industry in Binh Duong province. It

supports members with market

development, products, raw materials

and technology. It also works with

the government to influence policies

favourable for business. BIFA also works

closely with the Vietnam Timber and

Forest Association (VIFORES), Handicraft

and Wood Industry Association of Ho

Chi Minh City (HAWA), Handicraft and

Wood Industry Association of Dong Nai

Province (DOWOOHA), Binh Dinh Timber

and Forest Association – FPD Binh Dinh.

BIFA WOOD VIETNAM 2020 will take place

This ensures BIFA

from

is connected

27 th to 30

with th October,

the

2020

wood processing industry across the

entire country.
---
May / June 2020, Issue 3 | Panels & Furniture Asia SHOW PREVIEW | 57

Vietnam is increasingly recognised

as the country to be for wood

processing. In 2019, the export value

of wood and wood products was

US$2.7 billion, a 32.8 per cent increase

compared to 2018. And this year, the

country aims to hit US$12.5 billion in

export value of forest products, a 10 per

cent increase compared to 2019.

Year 2020 marks the second year for the highly-anticipated biennial BIFA WOOD Vietnam

For nearly two decades, Panels & Panels & Furniture China,

Furniture Group of wood magazines Wood in Architecture, American

has been delivering timely, thoughtprovoking

insights to its global readership. American Hardwood China. The Group

Hardwood Southeast Asia and

The Group's umbrella encompasses is also the organiser of the Sylva Wood

five titles: Panels & Furniture Asia, show in Shanghai.

With high taxes from the Chinese market,

Vietnam has become the place to be to

meet the demands for wood products. The

country has also implemented a series

of free trade agreements (FTAs) such

as the Comprehensive and Progressive

Trans-Pacific Partnership; EU-Vietnam;

Vietnam-ASEAN; Vietnam-Japan; Vietnam-

Chile; Vietnam-Korea; Vietnam-China; and

Vietnam-Thailand. With the implementation,

import tax in the agreement are set to

be reduced or eliminated, providing a

competitive edge for the country.
---
58 | SHOW PREVIEW

May / June 2020, Issue 3 | Panels & Furniture Asia

1

2

1

3

Photos 1-3: The event is jointly by two of the most influential brands in Southeast Asia's timber and woodworking sector:

Binh Duong Furniture Association (BIFA) and Panels & Furniture Asia Group of wood magazines

Binh Duong, known as the capital for

wood exporting in Vietnam, is at the

centre of all activities. With a plentiful

labour force; dynamic team of

businessmen; strong investments in

manufacturing and processing; and

ideal connections to key timber areas in

the Southeast and the Central

Highlands of Vietnam, Binh Duong has

the favourable business and investment

environment. In fact, about 60 per cent

of Vietnam's furniture and woodworking

factories are located within 40km radius

around Binh Duong, as well as Long An

and Dong Nai provinces, and Ho Chi

Minh city.

"BIFA WOOD VIETNAM fair is really

important event; timely to advertise,

promote trade and investment of the

wood industry, not only in 2018 but also

in the following years," said Ha Cong Tuan,

deputy minister of Ministry of Agriculture

and Rural Development (Vietnam).

"The fair will not only create opportunities

for enterprises to meet, exchange

information and seek business

cooperation, but also for the vertical

linkages in the industry: From suppliers

of raw materials and accessories;

machinery and technology providers to

manufacturers and traders. It provides

an opportunity for businesses to develop

together sustainably," he added.

So do not hesitate, unlock the endless

possibilities for your business that BIFA

WOOD VIETNAM is set to bring! Join the

crowd at Binh Duong Convention from

27 th to 30 th October, 2020. P

For more informaton, please visit:

www.bifawoodvietnam.com

BIFA WOOD VIETNAM 2018 saw a

resounding success in its inaugural

edition. About 183 exhibitors and

740 booths spread across a massive

hall of 14,500 square metres. The show

also saw about 4,200 visitors seeking

the latest technologies and products

in the furniture manufacturing and

woodworking sector.

Many had commented on the show

location, chosen specifically for its close

proximity to the factories and for the

convenience of factory managers.
---
May / June 2020, Issue 3 | Panels & Furniture Asia WOOD CLINIC | 59

Hello, Mr. Shen!

I am a reader of PANELS & FURNITURE ASIA. At present, I am in charge of making wood doors

and interior decoration in a small wood factory. The company purchased a second-hand louvered

door manufacturing facility not long ago and is using Red Maranti and Nyatoh wood for small

batch production of solid wood shutters. We are facing many problems in our production process,

for example:

• The slats near the transom above the louvered door become slanted, damaged or loosened

(see Figure 1)

• Some slats are bent (see Figure 2);

Mr Shim (Shen Yuxin)

• Doorpost would be cracked or damaged;

• The louvered door can be packaged only after several rounds of repairs by hand sanding,

resulting in very low productivity;

• In the finished product warehouse, the doorposts of the louvered doors that are made of Nyatoh wood are deformed and

poorly assembled due to weak glue strength.

I hope you can provide some suggestions for improvement.

Yours sincerely,

Mr Lin

How to solve several

issues with manufacturing

louvered door

(I) Analysis and recommendations to solve the common

shortcomings of solid wood louvered door after assembly:

1. Slats on the louvered door becoming slanted

The main reason why the slats on the upper transom are not

parallel after assembling the louvered door:

- Improper operation of the automatic slotting machine: with

two doorposts on the automatic slotting machine used to

shape a milling slot for slats, if one of them is not pressed

tightly, it may move during milling, resulting in some slats

being non-parallel. It is recommended to make sure that

both doorposts are tightly pressed and both milling cutters

are sharp when operating the automatic slotting machine.

- Inaccuracy of the automatic slotting machine: after a long

period of wear, the automatic slotting machine will become

less accurate. A thorough check and repair is recommended

to ensure that the automatic slotting machine remains

accurate.

2. Damaged slats

If there are broken grains or knots on the slats of the louvered

door, or the wood grains are not straight, the slats will be

damaged during assembly and pressing and need to be

replaced. It is recommended to strictly control the quality of

the slats when preparing materials to ensure they are free of

the defects mentioned above, and confirm that chamfering on

both ends of the slats are in place.

3. Loosened slats

Two reasons for why slats are often loose and ill-fitted after

assembly of the louvered door (as shown in figure 1):

- Mismatched automatic slotting specifications: if the milling

cutter with a metric diameter of 6.0mm is mixed with the

milling cutter with an imperial diameter of 1/4 inch

(1/4" - 6.35mm) in use, slats will get unconsolidated after

assembly of the louvered door. It is suggested that the

worker set the specifications of the milling slot according
---
60 | WOOD CLINIC

May / June 2020, Issue 3 | Panels & Furniture Asia

to the louvered door design drawing and confirm the milling

cutter diameter of 6.0mm when replacing it.

- Inconsistent specifications of slats: if the multiple louver

machine is not set in place, the slats are too thin, or

the thickness is irregularly set during wide-belt sanding,

the thickness of slats will be not consistent, thus leading

to inconsistent tightness of slats of the louvered door. It is

suggested that the workers set the thickness of slats to

6.0mm after sanding, and in accordance to the specifications

on the drawings of the louvered door.

4. Slats arched

When the milling cutter of the automatic slotting machine is

blunt, the depth of milling slot is at critical point, or the slat

arch is too tight because of the excessive length tolerance of

slats... All of these will cause the slats to arch (Figure 2). It is

suggested to check that the milling cutter of the automatic

slotting machine is sharp and the milling slot is deep enough.

The length of slat must be strictly controlled when sawing, and

both ends should be at right angles.

5. Doorpost damaged

There are three main reasons why the doorpost is often damaged

during assembling the louvered door.

- Improper setting of automatic slotting machine: when the

milling slot is too short, the milling slots will become

damaged during the assembling when dozens of slats are

pressed into the milling slot of the doorpost at the same

time. It is recommended to thoroughly check the accuracy of

the automatic slotting machine and train the worker so

that they are skilled in setting milling slots according to the

specifications on the drawings.

- Improper specifications of slats: the thickness and width

tolerance of slats is too large. Suppose an 80-inch-high

door requires about 64 slats. If the slat is 0.30mm larger

than the milling slot, the door post will crack during slotting. It

is suggested to strictly control the thickness and width of slats

according to the specifications on the drawing.

- Improper chamfering of slats: when chamfering on one side

or at one end not in place, it will be stuck in the milling slot

edge when pressing during the doorpost installation,

resulting in crushed milling slots. It is recommended to

check the chamfering equipment and reset it to ensure that

the chamfering at both ends of the slats is even and in place.

- Improper setting of assembly press: in the cases where the

assembly press mold is not set accurately enough, the centre

lines of the louvered door components are not on the same

horizontal surface, or the centre lines of the louvered

door posts, the transom's log mortise and the milling slot

center line are not aligned in the most accurate positions,

the main implication will be a crushed milling slot or

distorted louvered door during the assembling and pressing

process. It is recommended to do a thorough check of the

setting of the mould at the assembly press, confirm that the

setting is in place, and strictly control the positions of the

log mortises of the louvered door post and the transom, as

well as the milling slot centre line.

(II) After assembly, the louvered doors need many rounds of

repairs by hand sanding, affecting production efficiency. Some

suggestions to improve the process are provided as follows:

1. Quality control of materials

- The grade of wood purchased should meet the requirements

of the louvered door order. Wood with too many defects such

as knots, wormholes and discoloration are not acceptable.

When purchasing wood, such defects should be avoided as

much as possible to reduce the screening and repair work,

thus indirectly improving the production efficiency.

2. Four-side planer

- When using the four-sided planer for processing doorposts

and louvered door transoms, the linear speed of the planer

should be maintained at 10 m/min (planer tool mark

12/inch) according to the specifications of the louvered

door design drawings. The planing tool should be kept sharp

to reduce fuzzing and roughness on the surface, thus

reducing the need for puttying and hand sanding after

processing the door components.

Figure 1: After spraying white paint on the louvered door, it can be

clearly seen that there is an obvious loose seam between the slat and

the milling slot

3. Multiple louver machine

- Slats should be produced according to the specifications

of the louvered door design drawing. The arcs on both sides

of the slat should be kept symmetrical (r = 6.0mm).

Linear speed should be kept at 8 m/min and the sharpness

of the planing tool should be maintained to reduce fuzzing

and roughness on the surface, thus reducing the need for

puttying and hand sanding afterwards.
---
May / June 2020, Issue 3 | Panels & Furniture Asia WOOD CLINIC | 61

7. Drilling machine

- The setting of log mortises for the louvered door post and

the transom with the drilling machine must be based on the

specifications of the louvered door design drawing. The

operator must also check the accuracy of the mortises

regularly using a special mould to make sure the mortises

are n place.

8. Nail dowels

- Make sure the dowels in the upper, middle and lower

transoms of the louvered door are nailed as well as uniformly

glued and of the same height. Ensure strict control of the

quality of dowels and that the chamfering of both ends of the

dowel is in place to reduce the possibility of pressure

damage to the door post when assembling the louvered

door.

9. Colour matching of the louvered door components

- The color of the components of each louvered door and the

number of slats (tied in a bundle) should be allocated before

assembling the louvered door. It will improve the efficiency

of the louvered door assembly.

Figure 2: It is clear that there are some flaws in the louvered door

where some slats have become arched

4. Fixed length

- When the radial arm saw is used to cut the parts of the

louvered door, the most ideal sequence is to start sawing the

large louvered doors followed by smaller-sized louvered

doors. Make sure the saw blade is kept sharp and at a right

angle. If the linear speed of the saw is too high, it will lead

to rough and fuzzy surfaces. It is recommended to saw

the parts of the louvered door at an appropriate linear speed,

replace the saw blade and the bottom plate regularly to

reduce the burrs, thus reducing the puttying and hand

sanding work required afterwards.

5. Automatic louver slotting machine

- Set the inclination of the automatic louver slotting machine

and the specification of the milling slot according to the

louvered door design drawing. Check to make sure that the

milling cutter of the automatic louver slotting machine is

sharp, the clamping pressure of the fixed doorpost and the

accuracy of the milling slot are in place.

10. Louvered door assembly press

- Skilled workers are required to accurately set the template of

the louvered door assembly press. When arranging

components of the louvered door on the template of the

assembly press, it is necessary to make sure that the centre

lines of the components are on the same horizontal plane

without any dislocation. When assembling and pressing the

doors, the milling slot of the doorpost is often crushed or

the assembled louvered door is distorted if the centerlines

are not aligned.

- Two stages of pressing are required for the louvered door

assembly press. The first stage of pressing is to confirm that

the dowels of the louvered door transom are aligned with the

doorpost mortises, and that there is no misalignment

between the slats and the milling slot. The second stage of

pressing is to make sure that there is no gap between the

post and the transom of the louvered door, and for spilled

glue to be removed. This will be followed by pressure relief to

complete the assembly of the louvered door. It will also

reduce the repair work and improve the efficiency of the

louvered door assembly.

6. Wide-belt sander

- The wide-belt sander can be used to sand the planer tool

marks, burrs, putty and other imperfections on the flat

louvered door post, upper, middle and lower transoms

and the slat; the wide-belt sander can also be used for equal

thickness treatment.

(III) For the Nyatoh wood louvered doors in the finished product

warehouse that are presenting problems such as deformed

doorpost and weak gluing strength, possible causes and

solutions are provided as follows:

1. The door post of the Nyatoh wood louvered door is deformed
---
62 | WOOD CLINIC

May / June 2020, Issue 3 | Panels & Furniture Asia

Figure 3: Common problems in homemade dowels.

- The moisture content of Nyatoh wood is 12 to 20 per cent,

with the equilibrium moisture content in the warehouse

being 10 to 14 per cent. When other wood with high

moisture content in the warehouse continues to release

moisture, wood shrinkage will lead to deformed doorpost;

the gluing strength of the log nail will also be affected.

Reasons why there is uneven wood moisture content: it can be

due to the non-standardised operation of the drying kiln – the

materials used for the doorpost and the transom are dried in the

same drying kiln, and the material used for the doorpost is high

in water content due to its greater thickness, which results in the

deformation of the doorpost. Suggested solution: in addition to

stacking materials with 1-inch square stickers for wood drying

in the kiln, make sure the wood is of the same thickness, and

avoid mixing with other tree species as much as possible. Before

drying, it is necessary to confirm the hot air circulation in the

drying kiln is uniform without short flow.

2. Weak gluing strength of the Nyatoh wood louvered door

after assembly

- Non-standard, uneven or insufficient glue is applied on the

log mortises. It is common to apply glue only on one side

of the mortise or only on its bottom, which will result in

weak assembly gluing strength. It is recommended to use

a small brush, or a pneumatic glue gun with a nozzle

diameter of 8.0mm and a small hole in the periphery. It will

help coat the glue evenly around the perimeter and ensure

there is sufficient glue.

- Mortise glue film crusts and dries up. After the doorpost

mortise is glued and upon delay in gluing, the glue film in the

mortise will crust and become semi-dry, leading to

insufficient gluing strength after the door is assembled. It

is recommended that assembly should be finished within

3 to 5 minutes after applying Europe D3 water-based

white latex.

Figure 4: Schematic diagram showing that the moisture content of dowels can go

up to 14.5 per cent with the moisture meter

- The quality of the dowel is inconsistent. Shortcomings of

the dowel such as fuzzing, different diameters, different

lengths, uneven chamfering at both ends (as shown in

Figure 3), and high moisture content (as shown in

Figure 4) can affect the gluing strength of the door after

assembly. It is suggested to strictly control the specification

of dowel and its screw thread quality. Diameter tolerance

≤0.1mm and water content control at 8%±2% are the best.

- The quality of the log mortises is inconsistent. The

difference in sizes and depths of the log mortises will also

lead to insufficient gluing strength after assembly of the

louvered door. It is suggested to strictly control the

specification of the log mortise and ensure that the mortise

diameter tolerance is ≤0.1mm, and the drill bit should be

checked regularly to ensure its sharpnesss.

The above brief description and suggestions are provided for

reference, which I hope will be helpful to you when dealing

with the shortcomings of the louvered door, and improving

production efficiency. P
---
May / June 2020, Issue 3 | Panels & Furniture Asia WOOD CLINIC | 63

HANOIWOOD 2021

20-22 JANUARY 2021

Venue:

International Centre of Exhibition

(I.C.E ), Hanoi

91 Tran Hung Dao Street, Hoan Kiem

District, Hanoi , Vietnam

QR Code to exhibition

location on Google Map

JOINTLY ORGANISED BY

BINH DUONG FURNITURE ASSOCIATION

VIETNAM TIMBER AND

FOREST PRODUCT ASSOCIATION

PANELS & FURNITURE GROUP

Pablo Shanghai

Contact: Rain Ma

Mobile: (86) 182 1755 3837

Email: 2229204646@qq.com

PLEASE CONTACT:

Pablo Publishing Pte Ltd

3 Ang Mo Kio Street 62 #01-23 Link@AMK

Singapore 569139

Tel: (65) 6266 5512 Mobile: (65) 9621 4283

Email: williampang@pabloasia.com
---
NEWSLETTER

MAY/JUNE 2020

THE MALAYSIAN MDF MANUFACTURERS ASSOCIATION (MMMA)

Between A Forest and A Piece of

Furniture: Pandemic Control

or Growth?

By Peter Fitch

MMMA Newsletter for PF Asia May/Jun 2020

think it has become clear that

I

authorities cannot limit the coronavirus

and restore global growth to December

2019 levels. So what is next?

Authorities around the world are

between a 'rock and a hard place': they

need policies that both limit the spread of

the coronavirus and allow their economies

to open for business. The two demands

are inherently incompatible, so neither

one can be fulfilled. The problem is the

intrinsic natures of the virus and the global

economy.

The virus is highly contagious during

its asymptomatic phase, and therefore

impossible to control with conventional

tools such as isolating people with

symptoms. Isolation has to be done for the

whole population and not just those with

symptoms. Covid-19 is not like normal

flu, though the vast majority of those that

succumb to the disease are the elderly

and those with chronic health issues; there

is an element of semi-random lethality

in younger and healthier people. In a

regular flu season, people with a healthy

immune system have little fear of dying

from the flu.

To avoid moral hazard, most countries have

opted for some form of Movement Control

or Lock Down of their economies, together

with financial compensation and stimulus

packages.

These financial packages in most cases for

most countries can only be generated by

the creation of more debt. However, over

the past 12 years, debt has been exploding

higher to maintain weak global growth.

Debt is like a shark: it must keep moving

forward in growth or it dies. The difference

we have here is that new debt is being

created but the economy is in real decline

and not growing, the consequences will be

significant in many ways.

The problem is debt must be serviced:

interest must be paid and the principal paid

down. Even at near zero interest rates the

principal payments loom large. This applies

equally to companies and individuals as it

does to nation states, that is why we are

entering a time of extreme uncertainty.

So what happens when income falls as it

is doing now? There is no longer enough

income to pay all the expenses, as a result

large sectors of the economy will default

on the debt. The lenders will then pursue

legal action to collect the debt, but heavily

indebted companies will then have no choice

but to declare bankruptcy and the lenders

will need to take the losses.

If this happens we enter a negative feedback

loop where less lending, less profit, and

more losses pile up. Bailouts are shortterm

emergency measures, they do not

create sustainable debt and will not create

credit worthy borrowers - in fact they do

the opposite.

If we summarise the uncertainties:

• Covid-19 is not as risk-free for healthy

people as ordinary flu. Therefore, this

uncertainty is causing nations to be cautious

and undertaking risk-free strategies, such

as limiting the economy through movement

control.

• From the point of view of borrowers, there is

uncertainty about the future, so lowering risk

makes sense. The easiest way to avoid risk is to

avoid new debt and discretionary purchases.

• From the point of view of lenders, there

is uncertainty to the credit worthiness of

borrowers. So to mitigate the risk, reduce

the lending and as a result halt or limit

future growth.

64
---
NEWSLETTER

MAY/JUNE 2020

The global economy is optimised for a vast and steady

expansion of debt to fund an equally vast and steady increase in

consumption. Once the global economy slips out of this narrow

band of control, it crashes.

Central banks and governments can mask this in the shortterm

by substituting bailouts for revenues, but bailouts are not

sustainable replacements for revenues, incomes, profits and debt

servicing. The only question is how long will the current bailout

fuel last? Like an aeroplane with no fuel, the global economy will

either glide or crash to the ground.

There is no way authorities can limit the coronavirus until a

vaccine becomes universally available and until then global

growth and debt expansion will come to a grinding halt be

greatly reduced.

I believe Malaysia has made significant progress in bringing the

Pandemic under control, but the economic price for doing so

has been very high. Our Wood Panel business has only been able

to operate between 30 per cent to 40 per cent capacity at best

during this difficult time.

The time has now come for us as an industry to "Emerge from

the Twilight of this Coronavirus Pandemic". As we restart our

operations, many things have changed while challenges remain.

Our Supply Chain has been totally destroyed, and this will need

time to rebuild.

On the Raw Material supply, we need the resumption of the

replanting of Rubber Plantations (our main source of wood),

Loggers need to be able to return to the forest, Saw Mills have

to reopen and lorry drivers must be able to transport materials

freely without restrictions. I believe that other essential raw

materials such as chemicals, inks and packaging items can be

resupplied more easily.

On the Demand or Market side, domestically we need the

Furniture Makers of which Malaysia has some of the best in

the world, to restart their businesses. Export markets need

to be informed that Malaysia and Malaysian Manufacturing is

"Back in Business" or as we say in Malaysia – "Buatan Malaysia

Terbaik" (Malaysian Made is the Best). To the rest of the world

and especially to the Malaysian Domestic Market we would like

to clearly announce that we are back in business and ready

to meet your requirements. We would like to wish the best of

luck and good health to all our customers wherever they are

and hope that they are able to restart their businesses as soon

as possible.

Our industry and businesses will not escape this catastrophe, the

only positive thought is that as our industries suffer, our forests

will continue to thrive, grow and flourish.

About the Author

Peter Fitch is the founder of Segamat

Panel Boards (Malaysia) and is

currently chairman of the Malaysian

MDF Manufacturers Association

(MMMA) and executive committee

member of the Malaysian Panel

Manufacturers Association (MPMA).

Prior to working in Malaysia he worked

for Plantation Timber Products (China)

and Takeuchi MDF (Malaysia). Peter

has been based in Asia for more than

25 years and in the wood panel

business for more than 20 years.

65
---
66 | ENVIRONMENT

Events Calendar 2020 / 2021

May / June 2020, Issue 3 | Panels & Furniture Asia

January / February 2020, Issue 1 | Panels & Furniture Asia

MAY

SEPTEMBER

25 MAY TO

27 MAY

GABON WOOD SHOW 2020

Gabon, Central Africa

07 SEP TO

10 SEP

CIFF Shanghai 2020

Shanghai, China

07 SEP TO

09 SEP

Dubai Wood Show 2020

Dubai, UAE

JULY

08 SEP TO

10 SEP

6th Bangladesh Wood International

Expo 2020

Khaka, Bangladesh

16 JUL TO

21 JUL

(Postponed)

SALONE DEL MOBILE. MILANO

Milan, Italy

08 SEP TO

12 SEP

FMC CHINA 2020

Shanghai, China

18 JUL TO

21 JUL

(new date)

CIFF Guangzhou - PART 1

Guangzhou, China

23 SEP TO

26 SEP

IFMAC & WOODMAC 2020

Jakarta, Indonesia

27 JUL TO

30 JUL

(new date)

CIFF Guangzhou - PART 2

Guangzhou, China

27 OCT TO

30 OCT

OCTOBER

BIFA WOOD VIETNAM 2020

Binh Duong, Vietnam

27 JUL TO

30 JUL

(new date)

Interzum Guangzhou 2020

Guangzhou, China

NOVEMBER

10 NOV TO

13 NOV

(new date)

Xylexpo 2020

Milan, Italy

AUGUST

31 AUG TO

02 SEP

(new date)

Domotex Asia China Floor 2020

Shanghai, China

JANUARY 2021

20 JAN TO

22 JAN

HANOI WOOD 2021

Hanoi, Vietnam
---
ADVERTISERS'

INDEX

May / June 2020 • Issue 3 • PANELS & FURNITURE ASIA

COMPANY

PAGE

American Hardwood Export Council

IFC

Anthon GmbH 9

Baillie Lumber 11

Biesse Malaysia Sdn Bhd

FC

BIFA Wood Vietnam 2020 51

Cabinet Vision South East Asia 13

Canadian Wood 39

CMC - Carpenterie Metalliche Colzate Srl 19

Electronic Wood Systems GmbH 57

Gabon Special Economic Zone GSEZ 27

Gabon Special Economic Zone GSEZ (Advertorial) 42 - 45

Gau Jing Machinery Co., Ltd 33

Hanoi Wood 2021 63

IMAL SRL 1

IMEAS spa 53

IPCO South East Asia Pte Ltd 5

Jiangsu Baolong Electromechanical Mfg Co., Ltd 47

Kuang Yung Machinery Co., Ltd 15

Lesnaya Industriya Journal 41

Nanxing Machinery Co., Ltd 2 & 3

Northwest Hardwoods 21

Plytec Oy 49

Raute Corporation OYJ 17

Scheuch GmbH

OBC

Shanghai Wood-based Panel Machinery Co., Ltd 7

Sichuan Hero Woodwork New Technology Co., Ltd 68

Softwood Export Council 29

Technik Associates, Inc

IBC

Tong Fong Cutters Co., Ltd 67

Heavy Duty Helical Planer Cutter

Heads with Changeable Knives

Knife:

14 x 14 x 2 x 30º

14 x 14 x 2 x 37º

Heavy Duty Helical Planer Cutter

Heads with Changeable Knives

Knife:

30 x 12 x 1.5 x 35º

Helical Planer Cutter Heads

with Changeable Knives

Knife:

15 x 15 x 2.5 x 30º

15 x 15 x 2.5 x 37º

Adjustable Planer Cutter Heads

with HSS or TCT Knives

Safety Corrugate Cutter Heads

with HSS Knives

Spindle Shaper Planer Cutter

Heads with Changeable Knives

Knife:

30 x 12 x 1.5 x 35º

50 x 12 x 1.5 x 35º

60 x 12 x 1.5 x 35º

Changeable Knives

-TCT

Single/Double Surface Planers Helical Planer

Cutter Heads with Changeable Knives

Knife: 14 x 14 x 2.0 x 30º

15 x 15 x 2.5 x 30º

15 x 15 x 2.5 x 37º

30 x 12 x 1.5 x 35º

30 x 12 x 2.5 x 35º

14.6 x 14.6 x 2.5 x 30º

Scan to download eBook

PFA May/June 2020