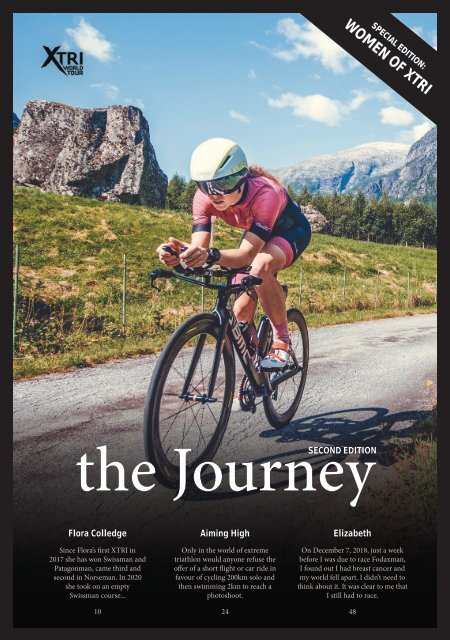 the Journey SECOND EDITION
Women of XTRI A magazine from the XTRI World Tour
Women of XTRI
A magazine from the XTRI World Tour
SHOW MORE
SHOW LESS
You also want an ePaper? Increase the reach of your titles
YUMPU automatically turns print PDFs into web optimized ePapers that Google loves.
WOMEN OF XTRI

SPECIAL EDITION:

SECOND EDITION

Flora Colledge

Since Flora's first XTRI in

2017 she has won Swissman and

Patagonman, came third and

second in Norseman. In 2020

she took on an empty

Swissman course...

10

Aiming High

Only in the world of extreme

triathlon would anyone refuse the

offer of a short flight or car ride in

favour of cycling 200km solo and

then swimming 2km to reach a

photoshoot.

24

Elizabeth

On December 7, 2018, just a week

before I was due to race Fodaxman,

I found out I had breast cancer and

my world fell apart. I didn't need to

think about it. It was clear to me that

I still had to race.

48
---
Journey planner

Editor's Introduction.......................................................................... 5

The Year That Never Was................................................................... 6

Interview – Flora Colledge............................................................... 10

XTRI World Champion...................................................................... 18

Triple Charged................................................................................. 20

Aiming High..................................................................................... 24

Turning Over a New Leaf................................................................. 32

"Someone Made a Race for Me"...................................................... 38

Serial Supporter.............................................................................. 42

Elizabeth.......................................................................................... 48

People Like Me................................................................................. 58

24

Aiming high. It can be argued that only in the world of

extreme triathlon would anyone refuse the offer of a short

flight or car ride in favour of cycling 200km solo across

several steep valleys and then swimming 2km to reach a

pre-arranged location for a photoshoot. But that is exactly

what Nepalese triathlete Sony Gurung chose to do.

Photo: Ayush Bista

Patagonmen..................................................................................... 62

Overcoming Doubts.......................................................................... 68

Immersion........................................................................................ 74

A Vision for Your Future................................................................... 80

Manente – A Tribute......................................................................... 86

RACEID Encyclopaedia Xtremica..................................................... 90

the Journey is a magazine produced and distributed by XTRI World Tour AS Eidfjord, Norway

www.xtriworldtour.com | XTRI World Tour is supported by Innovation Norway.

Editor in Chief: Stuart McInnes

Guest Editor: Caroline Livesey

Design and Layout: Jannika Lantz

Cover photo: Kai-Otto Melau

Athlete: Flora Colledge

Back cover photo: Alexander Koerner/nxtri.com

Athletes: Lucy Gossage, Flora Colledge

Contributors: Flora Colledge, Natasha Hagen, Sony Gurung, Jamie Ross Mackenzie, Susanne Buckenlei,

Polly Middleton, Elizabeth Fernandes, Carlinha Carvalho, Eline Koers, Cat Macleod, Sami Winter and

Paula Gimenez.

Photographers: Alessandro Annunziata, Kai-Otto Melau, Endre Myrdal Olsen, Rakshak Bhusan Bajracharya,

Ayush Bista, Jamie Ross Mackenzie, Lars-Erik Blenne Lien, Samuel Confortala, Polly Middleton,

Barry Middleton, Márcio Neri Araújo, Mariana Andrade, Daniela Correia, Laura Mackay, Jose Luis Hourcade,

Diego Lavin Provoste, Steve Ashworth, Max Montecinos, Koen van Meeuwen, Ido Holtkuile, Wagner Araujo,

Colin Henderson, Mark Livesey, Matej Rumansky, , Duks Moreira, Stuart McInnes, Sampo Lenzi,

Robert Kovalcik, James Lawrence and Kenny Lu.

10

The only Swissman

is a woman. In June

2020, supported by her

crew, Flora completed

the Swissman course

solo despite the race

being cancelled,

earning the right to

state that this year

"the only Swissman is

a woman".

Photo: Kai-Otto Melau

48

Elizabeth. And so it was, once again I prayed, and I cried a lot at

each stage. I will never forget Dani Bertachini at the end of the Serra

do Rio do Rastro, running beside me, shouting: "You rock, you are

amazing, you are Fodax "

Photo: Elizabeth Fernandes

2 3
---
LIVE THE

Photo: Mark Livesey

JOURNEY

Shop at shop.xtriworldtour.com

Photo: Alessandro Annunziata

shop.xtriworldtour.com

CAROLINE LIVESEY

GUEST EDITOR

I

am a reasonably new convert to extreme

triathlon so editing this magazine was

a real journey of discovery for me. I

started with the intention of producing

a publication which would appeal to all

XTRI fans, male and female, but which must

encourage more women to get involved.

Women are underrepresented in the sport

of triathlon as a whole, but even more so in extreme

tri. In fact, at ICON in 2018, there were

only three female entrants. As I sought stories

and was introduced to all sorts of amazing characters,

I grew more and more certain that this

should not be the case.

There were numerous women jumping

at the chance to write, or to support me in

other ways. They were from all sorts of lives,

a range of ages, and from all the sporting and

non-sporting backgrounds you can imagine.

But what struck me the most was their similarities.

These were incredibly normal women

with families, jobs, busy lives, health scares,

Women

of XTRI

doubts and fears. But without exception they had

an internal drive which drew them to XTRI in the

first place.

They were strong, focussed, tenacious, and

carried an enormous sense of purpose and responsibility.

Once committed to a race they were driven

to finish despite sometimes catastrophic events in

their lives which should have derailed them during

the preparation. But I also saw that for many,

pressing the entry button for their first race was

the hardest challenge of all. After that, the finish

was all but a given. It got me thinking, the key to

greater female participation is perhaps tied up with

that very first step.

So if you read this magazine, be you male or

female, and you find yourself with your payment

finger hovering over the "enter now" button for an

event that you deeply long to do – then just do it.

What these women have shown is that if you

complete your entry, you will make it happen.

Caroline Livesey

5
---
How do we describe our approach

to the growth of our sport in a

year like 2020? 'Utvikling gjennom

Innovasjon.' We should never

remain static in our development.

As the great philosopher Gordon

Ramsay once said "Change or die".

Text: Stuart McInnes

When the first discussions began

back in February about the

potential for postponing events,

none of us would admit that

this was a real possibility. We have contingencies,

plan Bs, Cs and Es and Fs

because we never want to cancel

races. The nature of extreme

triathlon is such that when we

encounter a problem, we fix it;

circumnavigate it; adapt to it, or

just ignore it. Our athletes are

resilient and they understand that

exact distances don't matter, road

surfaces may not be perfect or we

may close a mountain to prevent

hypothermia. None of this

dampens the spirits of the events

or the people involved, it simply

enriches them.

But when we were faced

with the travel restrictions, extra

safety protocols and the concerns

of small communities, we had to,

like other organisers around the

world, make tough decisions. And

so 2020, with a couple of small

exceptions, became the year that

never was.

Leaving hundreds of hungry athletes from

dozens of countries to disengage with our brand

or our message, is not what we do. We strive to

motivate, inspire and build life experiences. That's

why the XTRI World Tour was born and why it

will continue to grow.

STUART MCINNES

CEO XTRI World Tour

Photo: Annie Nyander.

Photo: Forest Simon on Unsplash

The year that

never was

6 7
---
Growth plans

We continued with our plans to add new and

exciting locations to the tour; Morocco, Nepal,

Taiwan and the Rocky Mountains in Utah;

working towards the 2021 test events. Whilst

encouraging our existing partners not to lose

faith and to celebrate the opportunity to sit back,

reflect and improve every detail of every event.

We know that in 2021, we will have a world class

product, a showcase of the hard work of our

multiple international teams.

Illustration: Chris Wormell

Virtu-real

Virtual Racing is not new but it took on many

fresh forms in 2020. But it's the antithesis of what

we do, or is it? We knew that many of our athletes

could not train outside, some on full lockdown,

some with flexibility and more with the ability to

train outside but with no events. Thus we created

a "not virtual" event series, MyXTRI. Reflecting

elements from all of our race courses we created

the ultimate remote participation challenge. This

has been hugely popular, with athletes clocking

up hundreds of thousands of kilometres and

millions of metres of ascent.

Now in Chapter 2 "The Mountains of

XTRI", we we will continue to develop this

event starting a new collaboration in the new

year with multisport greats ÖTILLÖ®. This is

a format we believe is here to stay, pandemic

or not.

In a year where so many of us have

decided that being restricted means increasing

creativity, and that may just be the sourdough

starter, the call to art and literature is as strong

as ever before and our artwork project with

English artist Chris Wormell has enhanced

many an office wall across the globe. Now

5 strong, they will be added to over time to

form a complete set.

This issue of XTRI the Journey

magazine is entitled Women of XTRI and

is packed full of inspiring takes from all

angles of the tour, from female writers. To

complete the package, it's being guest edited

and designed by women too. i

8 9
---
y XTRI World Tour

The only

Swissman is a

woman

In June 2020, supported by her crew, Flora

completed the Swissman course solo despite the

race being cancelled, earning the right to state that

this year "the only Swissman is a woman".

Photo: Sampo Lenzi

10 11
---
You are one of the best-known

ladies on the XTRI circuit and

have a number of race wins to

your name. When and how did

you first get into triathlon, and what

made you transition to the extreme

version that is XTRI?

I started triathlon when I was 28 after taking

running very seriously for a few years, but

with little (high level)

success and lots of

injury. I spent a lot of

my time swimming

and cross training, so I

thought I might as well

try a triathlon, despite

having ridden a road

bike clipped in only three

times and being pretty

terrified of it! I did a 24

hour relay bike race in

pouring rain in 2012, and

I decided that triathlon

couldn't be harder than

that. In some ways I was

right, but I think that set

the stage for me enjoying

tougher, colder races.

Originally I thought

I would do best at

Olympic distance racing,

which seems hilarious

now. My coach pretty

quickly convinced me

I was made for long distance, and as soon

as I learned about Norseman, the idea of its

toughness jut captured my heart. My mother is

from Scotland and I grew up in Belgium, so to

me, those pictures of the gray, cold conditions

at Norseman just looked lovely! Once I found

out about Swissman, I signed up straight away,

with only a year of triathlon under my belt. It

was actually my first long distance race.

What do you look for in a race? How do

you pick which ones you go and do?

I mostly look for cold climates, big mountains,

and anything wild! Somehow as soon as

things get a bit crazy in a race, I find myself

smiling and laughing – as if to say "look at how

ridiculous it is to even be in this situation, oh

well, better get on with it!" That gives me this

sense of joy that I don't find in races that are

purely about speed. Also, I love to feel alone

on the race course, so small starting fields are

important to me. If you

would say about a race

"I'm not sure that's a

good idea," I'll probably

be interested!

How do you feel when

you stand on a start

line? Are you always

confident that you will

finish?

That's the funny thing

for me with XTRI races

– there's never doubt

in my mind that I will

finish. I mean, all you

need to do is find a way

to keep moving forward!

Of course you can

finish! It's only once you

start to add the question

FLORA COLLEDGE

of finishing faster, that

BASEL, SWITZERLAND

doubts can creep in.

I think every athlete

stands (or floats!) on the

start line with a similar thought to: "What if my

body just won't do what I want it to? What if it

just hurts too much? What if I just fall apart?"

I think if you care about the race, that fear will

always be there, and that's normal. So firstly

you can tell yourself; the fear is there, that

means I'm doing everything right. Secondly,

you can remember every time in training when

you didn't feel good, but you took some deep

breaths, kept going, and finished; that's all you

need to do, and you've likely done it many

times before.

Photo: James Colledge.

Photo: Kai-Otto Melau

12 13
---
What can you say about the XTRI

community? What is different about these

races? What are your lasting memories

from each one and how is this different

from mainstream races you have done?

One thing that distinguishes XTRI straight

away is the role that your crew plays; you are

dependent on your supporters throughout the

day, so that's your own little community who

lives the whole race experience with you. That's

very unique and it is magical. I've had the

most beautiful times with my friends before,

during and after these races. They've taken us

to incredible places

together. The point-topoint

nature of most

of the courses means

that you also see so

much of a country, and

it really brings home

the achievement. I

remember being on

the Swissman run high

up in the mountains

and some spectators

asking me where the

race started. I realised

how crazy it must

have sounded to them

that this woman just

running along had

started about 200 kilometres away!

The XTRI organisation community

is also a fantastic group of people; they all

have a genuine love for the sport and a real

understanding of how to make a challenging

course, but do it in a completely professional

way. Essentially all those involved in XTRI

-racers, supporters, organisers – are just

exceptionally caring, cheerful and goodlooking

people!

What do you think are the qualities you

see most often in athletes you meet at

races, and what qualities do you think you

have which help you do so well? Do these

"I want to be a great

athlete, but more

than that, I want to

be a brave athlete.

XTRI gives everyone

the chance to discover

their own bravery. "

qualities come from other things you do

in your life, or are they things you have

developed in sport that you then take into

your day-to-day work/life?

I see athletes who, like myself, are looking

for triathlon, but aren't looking to just post a

fast time on a flat course; they're looking for

a real challenge, and to really go back to the

roots of the sport. I felt that very strongly at

Patagonman; the organisers had created an

extremely challenging route and you just had to

get on with it and find a way to move forward.

Climbing over big wooden cattle gates in the

middle of Patagonia

is very different from

just hammering up and

down some 5k looped

course on a pavement

somewhere. You might

be "slower" but you

need to stay calm and

use all your energy to

work with the terrain

and keep moving

forward.

I think that's one

of the main qualities

I have that has made

me good at this kind of

racing; the ability to not

get thrown by difficult

situations or moments when I don't feel so good,

but to just keep moving. In XTRI, that ability

plays an enormous role. I see people tearing up

the start of the bike course and then being totally

thrown about 150k in because they overlooked

the eating, drinking, pacing side of things. It's

about having that patience and knowing, at

any point, what effort you can sustain until the

end. I think you can train and develop that, and

that it also helps you in everyday life. The skill

is to not be fazed when things go wrong, but

just think "ok, what's the next thing I can do

to keep progressing". It is a very tricky skill. It

won't give you the short-term success, perhaps,

but that's the beauty of XTRI – it's a long day,

and you have to be ready to be strong in the last

5 kilometres, not just the first half of the bike.

Perhaps that is also true of life.

How do you structure your training and

how do you know when you are fit enough

to race/compete/complete a race?

My coach, Robin Haywood, structures all my

training, and he clearly knows how to get me

ready for the important races. My training is

tailored to addressing my weaknesses. I don't

need a lot of big volume sessions, but I need to

work on speed almost constantly, so I do a lot

of short intense sessions. I fit it in around work,

so that means early mornings and being pretty

organized most days, although I'm very lucky

with flexible working times and easy pool access.

You have to sign up for XTRI races quite

far in advance, so I'm generally not waiting to

see if I'm fit and then signing up. I trust my

coach and the training I do, and by now I have

the experience to know what the course will

require of me. I do think that at some point you

just have to take the fitness you have and make

sure that you get the very most out of yourself

on race day. But race day won't give a magical

fitness boost. You have to stay calm and make

good decisions, such as not forgetting to eat and

drink, that will let you give your best.

What advice would you give someone who

is considering their first XTRI but perhaps

does not have the confidence to sign up?

If you are considering it, that probably means

you've felt the magic of XTRI, and all I can say

is you should definitely follow your heart and

go for it! You find out a long time in advance if

you have a spot or not, which gives you enough

time to be as prepared as you can be for the

course. An XTRI is an adventure for absolutely

everyone who signs up, not matter how fast or

experienced they are; that's the nature of the

challenge, but that should also feel extremely

liberating! We are just a small group of people

seeing what we can do on different terrains, and

sharing it with friends and family, and that's an

experience that you should embrace if you have

any inkling that you might want to try it.

Triathlon can seem like a hugely expensive,

high-tech sport, full of intimidating equipment,

and it really doesn't have to be. I started out

with no gear, terrified of clip-in pedals, and did

my first triathlon in a swimsuit with a pair of

bike shorts over the top. I was a total rookie, I

wasn't a top junior athlete, but my love of the

sport made it such a great experience. A pricey

bike is not necessary, a fancy wetsuit will not

make a huge difference, and bike computers

won't help you much in my opinion anyway!

Often people like to know what I eat during

a race, and are usually surprised to find out

that it's mostly sandwiches, chocolate bars

and, after Patagonman, a beer downed in one!

Don't make it more complicated than it needs

to be. You shouldn't worry about the endless

list of products and testing that is being sold

to triathletes. None of that is necessary in

XTRI if you have a passion for adventure. Over

time, maybe you'll get more into the gear and

technical aspects, but that should never be a

barrier to giving it a go. Triathlon is a sport that

you can make huge improvements in through

dedication alone; there's no perfect body type

or age to get started, there are so many stories

of people coming to it late, and all of them find

incredible abilities they didn't realise they had.

What question do people most often

ask you about XTRI, and what do you

think are the common misconceptions

about this style of race? How would you

convince people to try it over mainstream

triathlons?

People might feel that course conditions, such as

the extreme climates and mountains, makes it far

more difficult, and I don't think that this should be

a concern. Yes, you will probably be out there for

longer, but you also don't have to go as fast! It's all

about overcoming challenges step by step as they

present themselves, and that's a mental approach.

I certainly wouldn't say you need to train more for

an XTRI than for an Ironman. I think the sense

14 15
---
Photo: Kai-Otto Melau

of achievement of crossing this terrain, being so

close to nature, sharing it with your friends, is one

of the most beautiful experiences you can have as

a triathlete. XTRI is a race, but also a way to enjoy

the fitness you worked so hard for. I hope anyone

who is tempted feels the inspiration to go out there

and push their own limits, because I guarantee it

will teach you amazing things about yourself and

your friends.

Which XTRI are on your future hit list

and why?

Celtman, as my mother is Scottish, so it will feel, in

some ways, like a "home" race, and the course

and weather just couldn't be more perfect

for me. Then there is the

Himalayan XTRI. My father

was a climber and I have

always wanted to go to

Nepal. I couldn't believe it

when I saw that this race had

been created, so that will be

an absolute dream come true.

And of course, I just want to

do Swissman, Norseman and

Patagonman again!

Most memorable XTRI

anecdote?

This is such a tough one,

every race obviously has

hundreds of little moments that become great

stories afterwards! But what really defined XTRI

for me, and also taught me a lot about myself,

was in my first ever XTRI, Swissman, when

some issues meant my crew didn't make it to T2.

Potentially that could have meant the end of my

day, and I momentarily considered that I had to

drop out. But I had this decisive moment where

I realised; I'm not injured, I CAN still move, so I

WILL until I actually can't get further. A spectator

gave me their shoes, I set off holding a bottle

I'd grabbed off my bike, and just sort of jogged

along, making use of the emergency aid stations

and water fountains. I was a million miles off

my goal of a podium finish, but I found this will

"If you would say

about a race "I'm

not sure that's

a good idea,"

I'll probably be

interested!"

inside me to do absolutely everything I could to

finish the race. It was a bittersweet finish, but that

made coming back to the win the next year so

much more special. The experience gave me huge

confidence because I knew: whatever happens,

I can make the best out of it. So even if your

day goes badly, you can get so much out of it for

yourself as a person. Now I always say: I want to

be a great athlete, but more than that, I want to be

a brave athlete. XTRI gives everyone the chance

to discover their own bravery.

On a lighter note – at Swissman 2019 my

great friend was running with me on the final

climb, and we had totally overestimated the

amount of equipment needed. He started the

hike with a huge rucksack,

fully clad in merino, after

forgetting to eat almost

all day. Then I arrived, all

competitive and filled to

my eyeballs with caffeine

and sugar, and we set off

really fast. 30 minutes later,

we were shedding clothing,

pouring out water bottles,

and realizing we probably

didn't need five apples. It's fair

to say we both learned a lot,

and now have a slightly more

streamlined approach!

Top training tip?

Taken from my coach, Robin Haywood: "You

start, you finish." Don't let feeling "slow" stop you

from finishing any session. In fact don't even look

at your pace or heart rate, just keep going. This

will give you so much physical but also mental

strength, and it's exactly what you need for XTRI.

You will be amazed what you can make out of

a "bad" training session if, instead of deciding

you've lost all your fitness and you'll never get

anywhere, you just breathe calmly, commit to

keep going, no matter what, and work through it.

Within two minutes you might be crushing it, and

no matter what, you will get to your race start line

KNOWING that nothing can throw you off. i

16 17
---
XTRI World

Champion

13 times Ironman Champion, Lucy Gossage won her slot to the XTRI World

Championship wave at the Norseman by winning the inaugural Patagonman

in 2018. Prior to going to Chile, Lucy had said it would be her last ever long

distance triathlon. But the experience changed her mind.

Actually, all it did was give me a lust for

adventure and reignite my passion to

try new things. Norseman has always

caught my eye, but with no prize

money and limited lure for sponsors it simply

didn't make sense to do until now."

Since "retiring" from racing professionally,

Lucy has been having adventures and doing all

sorts of races around the world, ticking off her

bucket list and adding to it all the time.

"I may no longer be living my life as a

professional, but I still love racing. For me now,

the joy is turning up with no expectations,

lots of unknowns and the simple challenge of

pushing myself as hard as I can in beautiful

parts of the world."

The first World Champion

Lucy won the XTRI World Championships, but

for her one of the most special parts of the day

was having her parents with her as support crew.

"My parents have been to most of my big

races over the years, but this was the first time

I have been reliant on them to complete a race.

They were a world-class support team and I

don't think anyone could have had better help

than they gave me. Racing with them as an

integral part of my team made the day even

more special and has given me memories I will

cherish forever."

Lucy found the closing stages of the Norseman

run as hard as anyone does, and spent most of her

time looking at her feet on the steep slopes of the

mountain. But unlike conventional races, the finish

line in Norway is not a fleeting moment.

Gaustatoppen

"Arriving at the summit, once you've caught

your breath enough to look around, the view is

overwhelming. I felt like I'd simply popped up on

top of the world, with a vista of mountains, lakes,

clouds and sky. Apparently you can see one sixth

of Norway from the top. The Norseman finish

couldn't be more different to an Ironman finish

line, but it is just as good. Days like this provide

memories that last a lifetime." i

Photo: Kai-Otto Melau

18 19
---
Triple

charged

For most people, just the thought of

doing one XTRI is enough to induce

panic training and night sweats.

Imagine even contemplating two in

a week, or three in the space of six

weeks. It boggles the mind. Surely

that is only the territory of elite

athletes. Perhaps the prerequisites

would be being both a professional

athlete and completely mad.

When Natasha Hagen defied the

odds and somehow landed slots

for Celtman, Swissman AND

Norseman in 2018, perhaps she

should have spent some time considering which

ONE to do. Especially as Celtman and Swissman

were only a week apart, and to her triathlon was

just a hobby, albeit an intoxicating one. But

while Natasha may not have had the first

prerequisite, perhaps she has the second.

She didn't even flinch as she accepted all

three places, and in doing so accepted an

enormous challenge.

Photo: Donna Hagen

Photo: Endre Myrdal Olsen

Loose connection

It takes someone who is wired a little differently

to consider doing something this tough.

Natasha has two things, an ability to dream big,

and a fire in her belly to achieve those dreams.

But despite her incessant internal drive, Natasha

knew she couldn't do this one alone. Immediately

Photo: Endre Myrdal Olsen

20 21
---
after accepting her third slot, she set about

gathering a team of people to help achieve her

goal. She took on coach Alan Cardwell (XTRI

Coaching Network), and sought her crews.

"There's something unique to XTRI World

Tour races which gives them a depth you don't get

with regular triathlon. This depth is the support

crew you plan the race with and who live it with

you on race day. It is

those people who want

more than anything for

the athlete to realise their

dream to get to the finish

line. If I was going to finish

all three races I would

need people with me that

believed in me"

Highland gales

First up was Celtman, and

as Natasha travelled with

her crew to the mysterious

Highlands of Scotland, she

knew this was the start of a

big adventure.

"In true Scottish

tradition race day brought

gale force winds, and I

really struggled on the

bike. I was happy to

get off, and despite not

making the summit finish,

I had a really amazing

run through the valley on the lower course. The

incessant rain finally turned into sun and was

accompanied by a rainbow for the end of course.

That's a memory I will always carry with me."

With just a week to turn herself around for

Swissman, Natasha was nervous that her body

would not recover in time. Before she knew

it, she was in the back of a car, driving some

of the Swissman course with her new crew. It

was daunting. She still felt exhausted from her

exertions in the Scottish mountains, and as is

always the case, the hills looked worse from a car.

NATASHA HAGEN

ESPA, NORWAY

"I was wondering how I could put myself

through the pain again so soon. I didn't know

if my body would find the strength to get up the

steep hills we were driving. Either way, I knew

it would be tough, and my crew could see the

fatigue I still carried from the Celtman. It was a

nervous few days before the race for all of us."

Photo: Endre Myrdal Olsen.

Every emotion

Despite her misgivings,

Natasha made it through

Swissman in one piece.

One of her abiding

memories is of the mental

struggle she had on the

bike. Often the longest

part of the day for athletes,

and definitely the time of

the most isolation, to a

fatigued athlete completing

the 180+km in the

mountains can seem like

an insurmountable hurdle.

"It was a constant

mental battle for me,

wondering if I could finish,

wishing I could stop, pain

overwhelming me, and

then seeing my crew and

persevering as much for

them as for myself. I still

have photos of myself

hanging over the bike that

day, the emotion pouring out of me, wondering

how I was ever going to finish."

But finish she did, and looking back now,

agrees it was one of the hardest physical tests she

has ever completed. XTRI is never just about the

athlete, and Natasha admits that she would never

have finished had it not been for the supportive

words from her crew that day. Oh and the constant

supply of coffee and coke.

Just five weeks later Natasha lined up for

Norseman, a race so notorious their tongue

in cheek slogan "this is not for you" puts most

people off. But she was still tingling with

Photo: Endre Myrdal Olsen

adrenaline and excitement having completed the

double and felt like this hurdle was far lower. She

also had the home advantage which meant that

many of her friends and family were out on the

course supporting her.

"I felt that chill go down my spine as I

looked around at the other competitors prior

to the race. I was excited to get started on the

final chapter of my crazy goal. I was unsure

how my body would respond, but I knew in my

mind that I was ready to face whatever the race

threw at me. I had a huge smile on my face as I

jumped off the ferry into the cold waters of the

Hardangerfjord".

Never, ever give up

But as the day progressed, the physical toll of the

other two races caught up with her, and Natasha

slowed considerably. As other athletes sped

past, she reminded herself that her only race was

with herself, her only goal was to finish, even

though it would not be for the coveted black

t-shirt. But then something strange happened

in the final kilometers of the race. Despite the

overwhelming fatigue in her body, she was

filled with a surge of energy she describes as a

"runner's high".

"I increased my speed to 5 min per km,

which after everything that had come before was

simply unbelievable for me. That last lap around

the hotel it felt as if I was sprinting. I crossed

the finish line with a feeling of pure joy. I had

completed the challenge that I woken up every

day believing I could do. Never before had I

worked with such purpose towards something

so hard and even now it gives me goosebumps to

picture myself completing the final race."

Natasha's experiences show that the body is

capable of way more than we think it is.

"Getting out of my comfort zone means I'm

living life to the full; doing what I love; being

active. It also means pushing new limits for me.

Now I am on the lookout for the next challenge"

Perhaps Natasha proved that the hardest

part of any challenge is dreaming it. Once you

accept the path in front of you, getting yourself

to the end is all about having the right mindset.

Oh, and being a little bit crazy. i

22 23
---
Credit: Sony Gurung.

Aiming

high

SONY GURUNG

DHADING, NEPAL

It can be argued that only in the

world of extreme triathlon would

anyone refuse the offer of a short

flight or car ride in favour of

cycling 200km solo across several

steep valleys and then swimming

2km to reach a pre-arranged

location for a photoshoot.

But that is exactly what Nepalese

triathlete Sony Gurung chose to do

when XTRI World Tour Prospect

Race HimalayanXtri asked to speak

to her and offered transport from

the Nepalese capital Kathmandu to

our race base at Pokhara.

Text: Jamie Ross Mackenzie.

Sony on the HimalayanXtri bike

course with the Annapurna mountain

range in the background.

Photo: Rakshak Bhusan Bajracharya

24 25
---
Photo: Sony Gurung

"Any woman who fights

to achieve their dream

is my role model. "

It turns out this level of motivation and

dedication is typical of Sony as she has

worked her way from a remote hilltop

village to the top step of the podium at the

13th South Asia Games held in

Nepal in 2019.

Destinations are

important to Sony, but so too

is the journey, as she now

prepares to take on her first

extreme triathlon.

She was born in 1994 about

100km west of Kathmandu in

Kali Daha, Dhading. Sony's

family are not involved in sport

but they did encourage her as

her natural strength and appetite

for all things active shone

through from an early age. She

soon became aware of just how

sport could change things for

women in Nepal.

"Because of sports I began

to see that women can be

independent, physically tough

and mentally strong," says

Sony. "It has not been that easy

for women to become socially

and economically independent

in Nepal, but I saw quickly that

sport was one route I wanted

to take. "Any woman who

fights to achieve their dream is

my role model."

Early learning

Sony's first steps into the world

of sport began at her home

village as a young girl when she

took up karate and taekwondo

classes. These were sporadic

as the instructor had to walk several kilometres

from a nearby town to reach the remote villages.

Top-up training was combined with play

as she also joined friends swimming in the local

river and a favourite past-time was swimming

Sony swimming in Lake Phewa,

Pokhara. Photo: Rakshak Bhusan

Bajracharya

Sony crosses the finish line and wins

gold during the South Asia Games, 2019.

upstream against the strong currents. As a result,

swimming became her strongest discipline at an

early age and it opened the door to triathlon later

in life in 2016 when she moved to Kathmandu to

join the Nepalese Assault Police

Force (APF).

Nepal has few

opportunities for development

in sport but services such as

the regular police force, the

army and the APF offer a route

through their supported sports

divisions for those with the

aptitude and desire.

This does provide some

athletes with the opportunity

to train almost full-time and

Sony is one of the lucky ones

as her salary is covered while

she represents the APF. There

is a lot of pride in representing

the respective services. And of

course, a lot of competition.

The experience through

the APF has been invaluable for

Sony as training facilities and

access to coaching is limited

in Nepal. The Nepal Triathlon

Association does support

athletes as best it can, but

resources are scarce.

Locally sourced

Sony has been used to training

alone and she works to her

own schedule and nutrition

plan. Like almost all Nepalis

Sony's favourite dish is the

Sony competing during the South Asia all-conquering dhal bhat, made

Games in Pokhara, 2019.

from lentils and usually served

with rice, spinach and potato.

Perfect carbo-loading for any aspiring triathlete!

"I usually eat the normal everyday meal of

Nepal, though I give a bit more priority to fruits

and nuts. Before and after races I don't have a

particular food that I have to have. I like more

26 27
---
spicy/savoury food than sweet. But mostly, it's dal

bhat for me," she smiles.

That famous 'Dhal Bhat Power' slogan

seen on so many tourist t-shirts from Nepal

may have something to it as it helped fuel Sony

to her biggest success to date in triathlon when

she competed for her country in the 13th South

Asia Games (SAG) last year. She took gold in

the Olympic distance race, which included the

swim section in Lake Phewa, the same lake as the

Himalayan Xtri will use.

Gold

The experience of winning gold on her home

ground crowned an ambition formed many years

ago when she used to compete swimming against

her older brother and others back at her home

village. But it also proved to

her that this is just one more

step on a bigger journey.

"After winning the gold

last year I felt a lot of changes

in me. A very positive

change. The gold was another

step closer to my dream,

and also it was like a turning

point in my career."

She is keen to help

to promote the sport of

triathlon in Nepal and is

especially committed to

encouraging more women to

take up sport.

Sony's gold medal certainly turbo-boosted

that ambition as her performance caught the

headlines in Nepal and across parts of Asia.

"I will continue with this sport as it's new

here, people don't know much about it," she adds.

"Now I can give a hand to future generations

who want to do this, or any sport here. I want to

create that positive environment and to use my

experience to change things, as I had difficulty

when I first started out.

"In comparison to other sports, triathlon is

very small in Nepal, but I feel this sport can grow

very big," she adds.

"Because of sports

I began to see

that women can

be independent,

physically tough and

mentally strong. "

Now she has decided it is time to step up in

distance and the arrival of the Himalayan Xtri as

an XTRI World Tour Prospect Race in Nepal has

proved timely.

"This event came as a surprise for me. It was

like a dream come true. I was actually searching

for something like this. When I used to talk with

my friends, I told them that nobody will take me

to an Ironman-distance event to compete so I will

have to bring my own to Pokhara.

"I am a short-distance triathlete, so I have

never done a long-distance event like this.

Honestly, I have no idea about specific training

that I have to do for this. But I am making

my own training schedule and following it

normally."

However, Sony's lack of experience over the

long distance will be offset

by her local knowledge.

"I do feel an advantage

in the HimalayanXtri

because I am from here

and I can plan a strategy on

where and how much time

I should rest, push on, or

drink water. Because I will

be training here, I will be

familiar with the course and

will feel more confident."

She does have some

serious competition

next May though, as the

international field for the race is strong.

Sony has only competed twice outside

of Nepal, in India and Thailand at World

Triathlon events, but she is hoping the XTRI

World Tour can provide an opportunity to see

more of the world.

"I love tough sports. I would love to travel

the world to participate. Let's see how far I can

go, but the dream would be to go all over the

world to participate."

Hopefully, Sony's journey can inspire more

women to see the opportunities this sport can bring,

and perhaps we'll see a Nepali on the top step at an

XTRI event one day. You heard it here first! i

Ready to run, looking out over the

Annapurna mountain range.

Photo: Rakshak Bhusan Bajracharya

28 29
---
Sony in front of Machapuchre

(Mt Fishtail) on the

HimalayanXtri run course

Photo: Ayush Bista

30 31
---
Turning over a

new leaf

The village and tea plantation of

Lwang will host the finish of the

HimalayanXtri. The community is

also part of a pioneering programme

to empower women in Nepal.

Text: Jamie Ross Mackenzie.

Photo: Jamie Ross Mackenzie

The HimalayanXtri extreme triathlon

will take athletes and their support

crew on a journey from Nepal's second

city Pokhara up into the remote and

tranquil mountain location of Lwang – though it

has a backdrop to shout about!

The race will finish at 1,400 metres above

sea level in Lwang and accommodation will be

provided for each athlete and their support crew

as part of the general entry fee.

One of the unique aspects to this finish is

the chance to experience true Nepali culture, as

the accommodation provided is not in the usual

setting of a hotel or hostel.

Lwang is a homestay village. Visitors,

race athletes and their support will be offered

the chance to stay in one of the well-organised

homestay houses. These are family homes,

adapted to accommodate guests.

This homestay idea was pioneered several

years ago as a way to breathe new life into

remote communities in Nepal hard hit by

migration to the cities and abroad. Villages were

falling into ruin and agriculture in the area was

being left unattended.

32 33
---
Photo: Jamie Ross Mackenzie

and economic life.

This structure typically

assigned women

restricted roles, removed

from decision making

and the financial

decisions of the family.

The homestay

programme had an

immediate positive

impact on the lives

of women in the

community by boosting

their active role,

education and

living standards.

A key aim was to

enhance gender equality

by establishing the right

of women to decide.

And now the women of

the village are key to the

programme, managing

the financial accounts of

the house and organising

cross community cooperation.

It shows... the

village looks and feels

well run.

The principal aim of the homestay

programme was to promote a new kind of

tourism, where visitors can interact and have

direct experience of the day-to-day life of a Nepali

mountain community. This, in turn, was intended

to boost the economy of the villages and to

encourage the young to stay.

Injecting equality

Another key principle identified to turn around

the fortunes of the communities was to empower

the women of these villages through the homestay

programme and management roles.

Communities have been inextricably

bound to the dominant Hindu social structure,

which influences all aspects of social, cultural

Flourishing plantations

Meals served by local hosts are made of organic

produce fresh out of their gardens. Many of the

homestay regions, including Lwang, have green

and eco-friendly initiatives in order to help

preserve the environment and ensure a green

stay. Check out the now flourishing organic tea

plantations the morning after the race, if the legs

will allow!

Lwang has a pristine scenic environment.

The homestay owners help in spreading awareness

to keep their area clean and Lwang is on its way to

becoming a full agroforestry settlement.

The HimalayanXtri race organisation is

committed to making a positive contribution to

the homestay programme and the benefits it has

Photo: Jamie Ross Mackenzie

34 35
---
ought to women of the communities across the

Annapurna Conservation Area, which our run

section crosses.

Tea is a good drink

The race is also fully committed to supporting

the growth of the environmentally positive

programmes in the area, including promoting

organic produce. You may get to enjoy some local

Himalayan green tea in your organic race goody

bag. Only one way to find out.

One word of warning... the village of Lwang

is dominated by the Gurung and Thakali people.

They believe that 'Guests are God' and treat

visitors to their village alike. That exceptional

hospitality can lead to great food, music... and

dancing. Special prizes to anyone who can finish

this race and still muster a dance at the finish! i

Photo: Robert Harding/

Alamy Stock photo

RACE ON

YOUR OWN

Ö TILL X

​TAKE ON THE CHALLENGE AND RECEIVE

A NEW TASK EACH MONTH OF 2021

FIND AND UNDERTAKE DISTANCES AND

VERTICALS FROM RACES IN BOTH

SERIES AND TRACK YOUR

PROGRESS AROUND THE WORLD.

​GREAT PRIZES ARE ON OFFER

MONTHLY AND SPOTS CAN BE

EARNED IN REAL WORLD RACES.​

36

Photo: Kai-Otto Melau

An XTRI World Tour and ÖTILLÖ collaboration – www.myxtri.com
---
"Someone made

a race for me "

In 2009, at 33 years old, Susanne Buckenlei already had a long and

successful professional career in Ironman. The German athlete was

signed up for Ironman Brazil that year, but over the winter she fell ill and

was not fit enough to do the early season race.

Her father, an ex-triathlete and Susanne's most loyal supporter, had been

trying to persuade her for years to do the legendary Norseman. That

summer, by chance, she met a well-connected German journalist who

introduced her to the organisers of the perpetually sold out event.

Photo: Kai-Otto Melau

38 39
---
Given her background, they offered

her a starting slot. She took it without

hesitation, knowing it was too

good to pass on. But Susanne didn't

know much about the race and didn't do a lot of

research or specific training. Perhaps going in

blind to that first edition was good. She wasn't

intimidated and, being a professional athlete, she

never doubted she would finish.

As she reached the

top of Gaustatoppen,

victorious at her first

attempt, the finishing

line emotions dwarfed

the Ironman races she

had done, and although

she raced a few more

after that, her heart

had been stolen by

extreme triathlon.

"I knew that I was

not really a contender

for podium positions in

the mainstream races any

longer, and my motivation

to train for them left me.

But with XTRI I found

a new love. It was like

someone had made a race

for me."

Susanne was just a

few minutes off the course

record in 2009, and broke

it in 2010. Then the triple

was hers for the taking,

so 2011 was a given. She won again, taking

her hattrick, but also achieving her goals for

Norseman, and providing the perfect moment to

retire from professional racing.

No rest for the wicked

Just as she was starting to relax and enjoy that

retirement, she received a call from Celtman.

As a young race, Celtman were keen to have wellknown

women there to encourage more female

entries, and Susanne was the perfect fit. Having

SUSANNE BUCKENLEI

ROTH, GERMANY

never been to Scotland before, she persuaded her

family that it would be an adventure. But her

decision came during the winter and she had not

been training seriously up until that point. With

snow on the ground she found it hard to get the

endurance sessions done. Luckily, with such a

long pedigree in the sport, it didn't take her long

to get fit, and she went to Celtman and won it.

Then came her second retirement. Celtman

in 2012 was her last

serious race but, she says,

the thought of doing

another is never far from

her mind.

"When I am out

training, especially if

it is raining and cold,

memories of those races

creep into my mind. They

were such emotional

experiences that even 10

years later the excitement

stays with me. I often

think about doing another

one just to have that

experience again".

Her parents feel the

same. They are her biggest

fans and crewed for her on

all four of her XTRI race

victories. Despite having

been to many of her

other professional races,

they have the fondest

memories of those Xtreme

experiences. Susanne agrees.

"Sharing those moments in XTRI with

your family and crew is something unique. They

create special memories that we all remember

and treasure. Memories that would not have been

created any other way."

Growth in demand

In 2021 Susanne will coach three athletes for

the Norseman. In the last two years she has seen

interest grow exponentially for XTRI. And not

just from the men. The number of women she

coaches has grown to 50% of her 50 athletes,

where before she had 10% at most. On top of

that, 9 out of the 10 enquiries she has had about

coaching this year have been from women.

"As women have found an increasingly equal

role in society, so they have been getting more

involved with sport. Now women have similar

jobs to men, and home life is more equal, they

have more opportunity and drive to look for

adventures that interest them. Plus, women are

made for this sport. They are better at fat burning

and have great endurance engines."

The simplicity of her approach to extreme

events comes across in her recommended mindset:

"Don't be intimidated by what you see on the

photos, or the stories you hear. Just tell yourself it

is a day of sport and you will get to the end."

But everything is different about XTRI

– not just the race. Susanne describes how

much she loved the challenge of the travel, the

administration, nutrition planning, equipment

and crew. The race headquarters for Celtman was

one of her challenges.

Photo: Lars-Erik Blenne Lien/nxtri.com

facebook.com/groups/womenofxtri

"In Shieldaig, North-West Scotland, you can't

have your bike fixed or even send a text. It's isolated

and raw. You have to be 100% organised; it is all on

you. Have good people around you. That is part of

the attraction of these events for me."

Perhaps every athlete should have that

experience at least once and give themselves a

chance to have those powerful memories.

Lasting memories

"After all these years I can't believe how the

emotion of those events remains so strongly

with me. It can still catch me out at unexpected

moments when I remember snapshots of those

races. I did many races in my career, including

Kona, but I would not want to go back to any

of them except the XTRIs. It is the spirit of

the race that is special. The atmosphere is like

family, and sharing it with your crew is part of

the magic".

Susanne hinted that she will be back for

more at some point. Even though now she would

enter without any expectations of winning, the

draw is too strong to leave it behind. i

JOIN

US AT

FACEBOOK.COM/GROUPS/WOMENOFXTRI

40 41
---
One of the unique and wonderful

things about XTRI races is the role

of the support crew.

Triathlon is usually an individual

sport, but with XTRI that's not

the case.

Text: Polly Middleton

In 2012 I began crewing for my husband

Barry at a well-known 24 hour endurance

mountain bike race in the highlands of

Scotland. Crewing for your partner during

a long, tough sporting event will either kill or

cement a relationship. In our case it was the latter

and the experience lit a spark in both of us.

The next year Barry entered the Celtman.

Neither of us really knew what to expect, but it

was the beginning of an extraordinary journey

in XTRI that has taken us to remarkable places

and connected us with new friends from all over

the world.

Torridon is only 90 miles from where we live,

so without a great deal of planning we threw the

tent and kit in the car the day before that first XTRI

and headed up to Shieldaig to tackle Celtman.

At 02:50 the next morning the occupants of the

campsite emerged, clad in neoprene, ready to

rack bikes and board buses to the race start. As I

organised our kit for the day, a bleary-eyed older

gentleman put his head out of a campervan and

asked what was going on. He and his wife had not

realised they were about to be in the middle of an

event. But to my surprise they gladly joined in,

making tea for the support crews in the campsite

and coming to watch the athletes exit the water. It

was the first time I saw something I now recognise

at all the events. The energy of XTRI draws in

strangers and brings people together.

Serial

supporter

Expletives

As is fairly typical for Scotland, that day was

foul; wet with 40mph wind. I pulled a shivering

Barry from the water and assisted a very sweary

transition to get him underway on the bike. The

Photo: Samuel Confortola

42 43
---
ike leg is now my favourite part of the day as

crew. Once an athlete is moving, they keep a

fairly consistent pace, so you interact with the

same other athletes and

crews throughout the bike

leg. Crews help each other

out when necessary and

that feeling of all being "in

it together" creates special

bonds. I loved that first

experience despite the

weather, and I now have

several good friends I met

supporting XTRI races.

Barry was drenched and

freezing when he crossed

the finish line of that first

XTRI, and I was not much

different, but we were

hooked! From the Lofoten

Islands of Norway, through to

races in Chile, Italy, France,

the UK Lake District and

to Seward in Alaska, over

POLLY MIDDLETON

the years we have explored AVIEMORE, SCOTLAND

and met new friends. The

races have offered not only

incredible travel experiences,

they have also fine-tuned us as a team. My natural

problem-solving instincts have been sharpened

as I try to be the best support crew possible, and

we have developed a system that helps Barry be

his optimum on race day. But that has not always

been the case and there have been some near

misses along the way.

At Swissman I learnt that when racing a route

you don't know, study it, study it and study it again.

It is not always possible to do a recce in the days

before, but if you can it is always worth it. I made

a number of navigation errors including turning

up the narrow Gotthard Pass alongside the cyclists

and it's probably not ideal to carry out a panicked 5

point turn on the race route. As crew if you get lost

on the bike route, or don't have the right nutrition

and kit to hand, then it can cost your athlete their

race. It can be highly stressful at times.

Photo: XXX.

Photo: Polly Middleton

44 45
---
Photo: Barry Middleton

Kryptonite

Swissman was also the first race where

I was both support crew in the car and

the accompanying runner for the final

part of the run. It was a warm day, and

when we arrived at T2 I could tell Barry

was really starting to suffer in the heat,

it's not the natural habitat of a Scot after

all. Usually I am a significantly slower

runner than Barry, so I was secretly

relieved, hoping that a hard day for him

meant I would be able to keep up with

him. That turned out to be true, at least

to start with. As we set out the sun was

burning down, and the temperature was

still in the high 20's. Barry was suffering,

but in reasonable spirits as we headed up

the trail. As the sun started to set, I learnt

something new about Barry: heat is his

Kryptonite. When it's hot he can struggle,

but as temperatures drop his strength

returns. The last 400 metres of the climb

were after sunset, below the North Face of

the Eiger, majestic in the twilight against

a clear indigo sky. He was now pushing

hard, and it was a stretch to keep up. But

the two of us pushing hard in that awe

inspiring place is something that we still

talk about several years later and that will

stay with me forever. Being his buddy

runner really adds to our race experience,

but Swissman taught me that I needed to

get faster and fitter.

It is also true that no matter how

fine-tuned your team is, things out of

your control can always throw a spanner

in the works. On arrival at Swedeman

in 2018 we discovered our luggage,

including the bike, had not arrived. That

is perhaps a triathlete's greatest fear.

The day before the race we still

hadn't heard from the airline, but whilst

having lunch we began talking to a

couple at the next table. The guy was

also and his brother-in-law was a senior

sales manager with SAS airlines. In true

XTRI style, he immediately got on the

phone to help. With enormous relief, I

got a call from the airline about an hour

later to say our luggage had arrived.

Barry headed to the race briefing and I

drove a 4 hour round trip to collect the

gear. From experience I now know that

I will be almost as exhausted as Barry

by the end of a race, but I do anything I

can to make the day go as smoothly as

possible. We just about got organised

in time.

Creating a strong community

Swedeman is an incredibly beautiful

and fulfilling race, and afterwards,

reflecting on the experience we

were able to share a laugh about the

lost luggage. Again we made many

new friends, and our parting words

to one were: "see you in Chile for

Patagonman". That is one of the best

things about XTRI, meeting friends

from the other side of the world in

spectacular locations.

A year later, I joined Barry for the

run to the summit finish line at ICON.

As we ran through Livigno with people

in every restaurant and on every bar

balcony cheering us on, I was filled with

emotion. Sharing that with Barry was

something very special, but we were not

done yet. The run kicks hard with over

1000 metres of climbing to the finish line

at Carosello 3000. It was a long slog, with

head torches illuminating the odd, and

very confused Alpine cow. Reaching the

finish line was the culmination of a very

tough but unforgettable day for us both.

Neither of us know what the future

will hold for races yet. But whatever

happens, we will be there as a team

at whatever XTRI we can do. And we

always know wherever in the world we

end up, that any trip will be full of fun,

friendships, and logistical challenges! i

46 47
---
Elizabeth

And so it was, once again I prayed,

and I cried a lot at each stage. I will

never forget Dani Bertachini at the

end of the Serra do Rio do Rastro,

running beside me, shouting:

"You rock, you are amazing, you

are Fodax"

Text: Elizabeth Fernandes.

It was not until I was 26 years old that I was

finally able to afford a decent mountain bike.

I loved riding it, and after a while I started

to compete. I did a few races, but I was

always looking for bigger challenges. Then came

marathons and some long distance ride. In 2011,

I signed up for my first Ironman having never

cycled a road nor time-trial bike in my life. I had

some running coaching but I had never raced a

triathlon. Despite this, I loved the race and since

then I have completed four Ironmans, three

Fodaxman XTRIs and countless other events.

It was in 2017 after my fourth Ironman

that Rafael, one of the organizers of Fodaxman,

invited me to participate in the competition. He

said, "Beth, we need women at the event."

I couldn't stop thinking about it. The region

is an adventure playground and I grew up nearby

so I knew the roads well. I think it was this

knowledge that held me back initially. Climbing

the Serra do Rio do Rastro by itself seemed

almost impossible. I knew that even if I managed

that, I would still have 90km to ride to Urubici

followed by the uphill marathon. And all this was

Photo: Márcio Neri Araújo

48 49
---
Photo: Fodaxman.

preceded with a night swim which I had never

done. I assumed it would attract only top athletes,

impressive people, and that I would certainly

be the weakest. I tentatively asked Márcio, my

husband, what he thought. To my surprise, from

that first moment he was all in. He said: "Let's go...

I want to be your crew".

Photo: Mariana Andrade

ELIZABETH FERNANDES

FLORIANOPOLIS, BRAZIL

The news

His confidence persuaded me and I started to feel

butterflies in my stomach. The race entry brought

with it that delicious feeling I had before my first

full distance triathlon. Doubt, hesitation, but also

self-belief and excitement. I really didn't know if

I was going to finish. So I gave myself three goals.

One: to complete the competition; Two: not to

die; Three: not to be last.

When I crossed the bottom finish line at that

first Fodaxman it was the most wonderful feeling.

I had loved the race. The landscape was beautiful,

we made great friends, and even my husband was

inspired to enter the following year. And at that

moment, of course, I wanted to race again, and I

wanted to be a top finisher. I started training hard.

Then disaster struck. Every year in

September I have a medical check-up. In 2018

my doctor ordered an additional mammogram.

I was 37 years old, so I found it strange as

mammograms are not typically done in Brazil

before the age of 40. After the mammogram

instead of being told: "everything is fine ... see

you next year", I was booked in for another test. I

began to worry that there was something wrong.

My training started to slip.

On December 7, 2018, just a week before

I was due to race Fodaxman, I found out I had

breast cancer and my world fell apart. My

husband, who was also meant to be participating

that year, asked me: "Do you still want to go? You

don't have to, I'll support your decision ".

I didn't need to think about it. It was clear to

me that I had to race. I was sure I would be able to

complete the competition. But with the diagnosis

came huge uncertainty and I really didn't know

what the next few years would hold. I decided to

take advantage of my fitness while I still had it.

50 51
---
52 53

Photo: Duks Moreira
---
Two days before the competition I had a

biopsy, but I still raced. I cried at each stage, at

each small victory. I prayed that God would allow

me to do it again and I promised myself that I

would do everything possible, perhaps even the

impossible, to do Fodaxman in 2019. I wanted

to prove that I was still in control of my body;

cancer is not in charge.

Sleepless nights

2019 began with

surgery to remove

Photo: Duks Moreira

the tumor. I joke that

I had cancer for less

than a month. With

the operation I felt

like I was leaving that

evil thing behind. To

get better now all I

had to do was follow

the medical protocol.

But unfortunately,

by the time I had

the operation the

cancer had spread

into the lymph nodes

in my left armpit. I

had to have them

removed, and I was

told by the doctor

that the operation

would decrease my

strength. He advised

me to take care of my

left arm as if it were

a baby. The medical professionals doubted that I

would ever be able to swim more than 1000 meters.

Chemotherapy started and hair loss came

with it. My last appearance with hair was at the

launch of the official Fodaxman 2018 video.

Earlier that day I had completed my second

chemotherapy session, and at the end of the video

there was a message from the organisers to me:

"The greatest glory in living it is not in

falling, but in rising every time we fall."

(Nelson Mandela).

They had heard about my diagnosis.

After the surgery I was left with just 30%

of the original strength in my left arm. I was

also continuing chemotherapy with other side

effects. I gained a huge amount of weight, had

extreme tiredness, and I was not sleeping due

to the pain in my arm. I needed a lot of physical

therapy, and a lot of willpower to believe I could

get stronger.

The treatment

also drastically

impacted my

immune system

so I avoided

contact with

other people as

much as possible.

I couldn't go to

the pool because

of the surgery, so

my routine was:

treatment, work

(I didn't stop

working) and

a few training

sessions. If I

ran for too long

my heart rate

would soar and

I would get leg

cramps. I had

underestimated

the consequences

of chemotherapy.

Battlescarred

During this period, despite being bald, I even did

a MTB race. I approached it in a "recreational"

way of course as I had lost so much fitness. I

did not recognise myself physically or mentally,

but the race gave me a sense of purpose and a

connection with the sports I loved.

At the end of chemotherapy, I gradually

returned to swimming in the sea. Because of the

damage to my arm I had to relearn how to swim

but I was still not able to train at the pool. I also

had to learn how to ride again as my left arm had

very little strength and that really affected my

balance. Then I started radiotherapy. The treatment

was not as severe so little by little some of my

symptoms improved. But radiotherapy burns

your skin, which meant I was again restricted to

the indoor bike as I couldn't bare to have clothing

touching the damaged skin.

I also had to start taking oral chemotherapy,

and with that came another phase of adaptation,

which I confess I have yet to completely overcome.

At this point I was four months away

from Fodaxman 2019. Both my coaches (Mari

and Ju from Time) and I were concerned. My

swimming was dire, I had no

pace on the bike, and I still

couldn't run. We adapted my

training as I improved, but

we initially focused on the

cycling and swimming. The

run was the last stage and I

had to hope it would come

in time.

You are Fodax

Another month passed, and

I dragged myself through the

training. I found out how

to minimise the swelling in

my arm and hand because of lymphedema but I

couldn't cycle for more than 5 hours. That was

when I started to hear:

"You shouldn't demand so much of yourself "

"It's a phase, if you want it to pass quickly,

it's better to rest"

"The Fodaxman will be there every year,

you don't need to do this"

"Will you really?".

I even doubted myself: "If all these people are

advising me not to, should I continue? Should I

really try?"

That's when I heard the phrase that hurt the

most: "Just starting in the competition is already

a victory".

No. I'm not just going to start it. I'm going to the end ...

"The greatest

glory in living it

is not in falling,

but in rising every

time we fall. "

– Nelson Mandela

To just be on the start line for the

competition that December 2019 was a

huge moment for me. I have such fondness

for the race and I had a massive sense of

accomplishment being there. But I was also

desperate to finish.

And so it was, once again I prayed, and I

cried a lot at each stage. I will never forget Dani

Bertachini at the end of the Serra do Rio do

Rastro, running beside me, shouting:

"You rock, you are amazing, you are Fodax ".

In the last few kilometers of the bike, I

had such bad cramps that I had to stop several

times. My crew were phenomenal. Mari, my

coach, was keeping me motivated and Dani took

care of my fuel, delivering

what my nutritionist had

plannned out for me. They

were constantly encouraging

me and taking care of me.

My husband, Marcio, was

also racing but he was still

behind me at this point. I

was starting to worry about

him so they were also giving

me updates on his progress

to boost my own motivation.

Support matters

Eventually I made it to the

run, and with every kilometer I ran Marcio

got closer. When he caught up with me I was

so happy to have his company, and with our

combined strength we pushed hard and finished

the competition. It was hugely emotional and I

had an overwhelming sense of accomplishment.

I don't believe I did anything particularly

special, but people tell me I did. They tell me

I am one of those examples of overcoming the

odds, setting an example to inspire many. I still

think that I only believed in myself. I am lucky

to have had the support of my husband and other

wonderful people in my life. They were all there

with me for every gruelling step, and we all ended

hand in hand at the finish line. It is the people

around you that make the impossible possible. i

54 55
---
Photo: Daniela Correia

56 57
---
People like me

Cat Macleod felt this sport was not for her, how wrong she was.

Text: Cat Macleod.

When you read about what it

entails, I challenge you to not

gasp and comment how it seems

utterly ridiculous. Extreme

Triathlon is, quite simply, brutal. Maybe you are

drawn to the allure of the unconventional, the

mystique of the different;

but honestly, and without

question, these races

are extraordinary.

Set in the highlands,

wild and as close as you can

get to feeling on the edge

of reason;. The Celtman

prides itself on being an

event the locals embrace.

The 'circus' you see at

some sporting events is

harsh, noisy and always

attempting to accelerate

mood. The Celtman

doesn't need to do that.

This is not for me

I told myself it was only

for the best of the best,

for "real" triathletes. The

coached, the club members,

the sponsored and the

special. XTRI races don't

say that. What they do say is; it's there for anyone

who thinks they can. There is a risk of dying, well

so says the small print, so if you sign up you have

to be willing to become extremely uncomfortable.

Or be willing to stop. That's what grabbed me. I

CAT MACLEOD

INVERNESS, SCOTLAND

was willing to fail, but I was also willing to crawl if

I had to. The concept scared me. I was filled with

a sense that it was now or never, and the draw to

attempt it became all encompassing. But, I had no

pedigree in any of it. No results to share. Nothing

to speak of to illuminate my determination to do

better than my very best.

Was it really for people like

me?

Not just a number

In the world of multisports,

triathlon, extreme

endurance racing… I'm

just a number. I am not

particularly excellent at

any of the elements which

define extreme triathlon;

I played hockey and

drank alcohol during my

formative years so I can't

profess to having had a

good starting point. But,

I am someone who can

cope with feeling out of my

comfort zone, in that place

where you are alert and

ready to take flight. I am

a mother, a wife, a friend

and someone who works to

help others. I have lived a life at pace; one which

has been speckled with triumph and occasional

trauma, and I wanted to see if I could use those

experiences to get me to the finish line. I wanted

to prove to myself as much to those observing

Photo: Laura Mackay

58 59
---
Photo: José Luis Hourcade

xtri-xperience.com

BE A

PART OF

SOMETHING

SPECIAL

EXPERIENCE THE XTRI ATMOSPHERE

XTRI RACE SIMULATION

POINT TO POINT SESSIONS

MICHELIN STAR CHEF

PRIVATE VILLA

Read more at

xtri-xperience.com

Photo: Cailean Macleod

Photo: Laura Mackay

that XTRI isn't just for experts. You see, there

is nothing remarkable about me; other than my

willingness to try.

The Celtman is 'extreme' because of the

distances asked of competitors; I had a good idea

of what I needed to do. The condition I had to be

in; the speed I had to find, and the technicalities I

had to master. My preparation was varied, atypical

even, but it worked. It was about volume and

consistency; pacing and perspective. It was about

maintaining balance in life and always keeping my

family ahead of my desire to obsess about times,

speeds and distances. People like me don't make

headlines. At best our numbers make it onto the

final results sheet. But people like me want to have

the same chance as others to change their lives.

People like me have to start somewhere and my

start was The Celtman.

The silence required at the start as hubs click

and clack as they are pushed along the tarmac

in the beautiful village of Shieldaig is meditative.

So early. So unique. No loud PA system, no

motivational chants. Just time to think. To

appreciate. To feel very much alive.

Unseen exit

Once the horn sounds and the splashing and

kicks in the face come, nothing else matters.

You enter the water with hope; a slight fizzing

of adrenaline starting to course through your

veins and the realisation that you have chosen

to do something others would never consider,

Photo: Cailean Macleod

preferring instead to stand in the warmth to

observe. Some in awe, some in disbelief. Because

it is, it's truly unbelievable. Swimming towards

an unseen exit. Actually terrifying if you let the

thoughts take hold.

I had never swum as far, never biked as

far and never run as far as I did on the 16th of

June 2018, my first Celtman attempt. My first

triathlon attempt. Idiotic or incredible? Of that

I am unsure...but what I do know is that if it

had been up to just me, I would have failed. In

terms of 'lifeshocks', competing in The Celtman

has to be one of the most arresting. It allowed

me and my crew to come face-to-face with

elements of our personalities and team unity we

would otherwise never have found.

I have many incredible memories to carry

forwards from this event. I know that it IS

possible to complete something as gargantuan as

The Celtman with underlying health conditions;

I delayed major surgery to compete in 2018 and

asthma didn't stop me either. What made my

dream achievable was those I had alongside. I

was willing to take risks and they were willing to

catch me if I were to fall. When you trust others

to keep you safe, and they have passion for

your pursuit then you have it all. My crew are

podium quality for sure. We haven't yet made

the 'mountain' during the race, but we know

what it looks like. We will be back.

It seems, after all, that extreme triathlon is

for people like me. i

61
---
Patagonmen

When I first heard the idea of Patagonman, from the mouth of

someone who at that time was no more than it's dreamer,

I clearly remember thinking: "Well, that's a stretch".

Text: Carlinha Carvalho.

Photo: Diego Lavin Provoste

62 63
---
I

have produced big, complex events

many times in my career. It is work

that I love, and maybe because of that,

I am also very good at it. It is a job

that involves many different people, with

so many different backgrounds, it is too

rich not to be enjoyed. I love leading teams

of sometimes strangers towards a single

objective that, most of the time, is no more

than a blurry vision for one of them. I seek

to understand the vision so I can translate

it into a whole variety of languages. The

design language. The content language. The

tech language and so many others. From

the keynote speaker or the main attraction

to the items in the menu and amenities in

the bathroom; all of it carefully thought of,

planned and supervised.

I have always recognised that events

are much more than corporate activities for

a company's marketing agenda. They can be

a statement. They can define careers, bring

themes and people into the spotlight or out

of it. They move crowds, captivate, inform,

develop, gather, and often they change lives.

But although I knew all that, nothing could

have prepared me for what I was about to

experience in December, 2018.

Organising the organisers

The Patagonman team were all men. They

were rough, they were tough, and they

had never produced an event before. Not

a birthday party let alone an extreme race.

Their language was triathlon and I didn't

speak their language. What they had in

spades, though, was passion, knowledge,

and confidence. But also, they had a

clear vision and that is a language I most

definitely speak.

I felt very comfortable when our first

pre-production meeting started. There was

nothing I hadn't seen before. Logistics, client

support, housing, sponsor relationships,

hotel rooms set up for this or that use, not

enough time; these are generic basics. But I

also distinctly remember how my heart began

pounding in my chest as the discussions

moved on to race day. And in that beat it

remained until we were live, in raw and

amazing Patagonia. I learned very fast that

complex corporate events are one thing.

Extreme triathlons are a whole other.

The guys had a very clear group

understanding of what they wanted to happen

and they had an astounding combined

strength of will. But all their concerns were

laid out in a somehow confusing manner. A

bit like a man's sock drawer.

Crystal clear vision

It's understandable that emotion and

anticipation can be overwhelming in

situations like this. The competitors depend

on your ability to pull it all together. In this

case, it is not their careers that are at risk,

but their well-being and, at times, their lives.

And so, you think you ought to give your life

to make it happen. When I observed this my

role became clear; to make sure nobody did.

It was so rewarding to run through the

race with them in advance, to make them

more detailed, organised and stronger. To

help them agonise over every detail of plan

B, C or D. To take chaotic know-how mixed

with vision and desire and transform it into

a structured and functional timetable. But

most of all, it was wonderful to help them

realize that although we were planning so

the athletes had the safest and most beautiful

race of their lives, so the should crew.

For all of us to make things happen

exactly as envisioned, we also had to be

rested, fed, happy and safe. Call it experience

or woman's touch, but I like to think it

makes a whole lot of difference. The smiles

and feedback we were given after the race,

every thank you, and each individual story

of overcoming adversity proved this to

me. The aftermath reminded me how true

it is that an event can change lives. I know

Patagonman has changed mine forever. i

CARLINHA CARVALHO

SANTIAGO, CHILE

Photo: Patagonman.

Photo: Steve Ashworth

64 65
---
Photo: Max Montecinos

66 67
---
Overcoming

doubts

Photo: Scott Xtrails Houffalize.

Eline Koers was born and raised

in the Netherlands but now lives

in the UK and works as a scientist.

Having done a PhD six years ago

she is now researching hormone

receptor folding. As is the case

with many Dutch people, she grew

up on a bike and the challenge of

getting to school on time while

running late perhaps developed

her strong legs and a desire to seek

that thrill of physical exertion.

ELINE KOERS

NOTTINGHAM, UK

Now, on top of her scientific

research, Eline trains for

endurance events and extreme

triathlons. Here she describes how

she overcame the myriad of doubts

that plagued her before her first

attempt to complete the Norseman.

Text: Eline Koers.

I

was attracted to extreme triathlon by the

beauty of the locations and the promise

of a serious challenge. I have now started

three extreme triathlons and before every

single one of them, I had doubts whether I

would make the finish line. From the outside, I

appear confident. Perhaps people see a picture

of me prior to my first race, holding my bib

and sporting a confident grin. But what they

don't see is that I was crying the day before that

race, doubting my decision to travel with a full

support team from the Netherlands to Norway.

The challenge was daunting and the odds were

stacked against me. But these feelings are often

the reality of racing extreme triathlon.

Photo: ICON XTRI

A little push

I registered for my first XTRI under mild peer

pressure: Two good friends decided to register

for the Norseman lottery and I wanted the

68 69
---
opportunity to race with them. As I

studied the odds for the lottery, I knew

there was only a slim chance we would all

get a slot.

But I wasn't even sure I wanted a

place. I was still recovering from the

Epstein-Bar Virus and my body was

a wreck. The previous year had been

a rollercoaster. I was diagnosed, but

following ill advice, I still undertook

a taxing training schedule for my first

triathlon. I finished the race, but I was

becoming more and more fatigued. My

fitness declined despite training and

eventually I had trouble even getting out

of bed.

Then a small miracle happened; the

draw gave both me and one of my friends

a place in the following year's Norseman.

My first reaction was to decline, it

seemed impossible that I would be ready.

But, on the other hand, I really wanted to

do the race together with my friend. We

could train and prepare together and I

knew it would be so much fun. Perhaps

this opportunity would never appear

again. So, I threw caution to the wind

and accepted.

Analysis paralysis

Given the state of my health, I knew I

had to do everything to prepare myself

in every way. Then I could only hope

my body would respond favourably and

be ready for the race in nine months.

Together, my friend and I analysed the

previous year's slowest times for people

that made it through the cut-offs. We

read weather reports, checked for the

snow height on the Hardangervidda

and spent evenings reading reviews of

triathlon gear. I found a coach with XTRI

experience, made a detailed race and

nutrition plan and instructed my support

team until they could dream the details.

As the weeks passed, my body

slowly began to respond to the training,

and despite a few setbacks I was

becoming a little more optimistic about

the race. That was until three weeks

before the race, when I developed a foot

injury and was unable to wear cycling

or running shoes without being in

agony. My training stopped in its tracks,

and I thought all was lost. A couple of

days before the race I had a crisis of

confidence. I still couldn't wear shoes

without pain, so I wondered how on

earth was I going to finish a fourteen

hour race? My amazing support team

convinced me to start anyway and see

how far I could get.

Zombies

In the event, adrenaline coupled with

three weeks of anti-inflammatory

medication did the job. The ice-cold

wind cooled my heel through

my bike shoes on the

Hardangervidda, and I found

I could keep going. But by the

time I reached the run the day

had warmed up. As I put my

running shoes on for the first

time in four weeks I was totally

unsure what to expect. After

a few uncertain miles, the

pain stabilised and was able

to run. At the foot of Zombie

hill, I finally started to believe

I could make it and I felt a

tentative spring creep back

into my step. Despite all the

odds being stacked against me,

I made the cut off for the top

finish. As I crossed that finish

line, I was full of joy. The race

remains an important memory

for me, since it marked the end

of a period of my life that was

dominated by tiredness, and it was the

moment I knew I had my health back. i

Image caption.

Photo: XXX

Photo: Koen van Meeuwen

70 71
---
72 73

Photo: Ido Holtkuile
---
As my stroke rate started to drop

rapidly, and my brain began to fog,

I knew I was in trouble.

I kept swimming. I could see

the shore now and I told myself

to toughen up. I tried to pick up

my stroke rate, but the blood

had begun to rush to my core,

protecting my vital organs, and

leaving my arms with nothing to

fire up the muscles. As I swam my

swim-skin clad body started to

shudder involuntarily.

The adrenaline of race day had

abandoned me, and I felt sleepy

and weak.

Text: Caroline Livesey.

A

few strokes later I stopped and looked

around for a kayak to help me, but

by now the amateur wave in wetsuits

were cruising past me and I was just

a hat bobbing in a sea of thrashing. I couldn't see

any safety boats. I looked again for the shore and

as swimmers bumped into me, I realised getting

there was my only option. For the first time in

my life I felt really scared of drowning.

I swam with what little power I had left,

and eventually I stumbled on to the shore. For a

reason that is still not clear to me I wove my way

like a drunk person through transition and got

on my bike and went on to finish the race. I don't

remember much of the first hour of the bike,

except a brief conversation with another athlete

who asked if I was ok. With a 10 C air temp, I

was sitting up on the hoods of my TT shivering

uncontrollably and it was probably clear I was not.

I warmed up eventually, but the damage was

done. Ironman Frankfurt was a disaster, and I was

more exhausted after than I have ever been post-

Immersion

Photo: Wagner Araujo

74 75
---
ace. I discovered that a few PROs had ended up

in hospital with hypothermia after the swim, and

one of the toughest girls in the sport had retired

on the bike.

Frozen with fear

That race in 2016 embedded a fear of cold water

in both my body and mind. After it, if I had to

swim in cold water I would start to imagine being

freezing long before getting in. My body would

tense up and I would know I was going to hate it.

I avoided it when I could, but I was even getting

cold in some cooler swimming pools. I got into

a vicious cycle of avoiding feeling cold and so

becoming less and less adapted to the cold. My

tolerance reduced and my beliefs were reinforced

by numerous events. I became convinced it was

just how I was, despite having plenty of evidence

from before the event that proved otherwise. I

grew up swimming all the time in the cold North

Sea, usually without a wetsuit, and I have always

loved all types of open water swimming.

Then I won the Canadaman XTRI

and was offered a place for the XTRI World

Championships at Norseman for 2020. I had

always said I would never do Norseman because

of the cold water and weather conditions, it just

"wasn't my forte". But I stood on the podium

for Canadaman and picked out the lucky female

lottery winner of the other Norseman slot, and

then watched her as she whooped and cheered

and ran to the podium to get her place. Her

excitement shone a light on how ridiculous my

fear was. I knew then I had to find a way to

overcome it. I accepted the place and swore I

would not be the person on the ferry who jumped

last out of fear and then couldn't finish the swim.

If I was going to race I would do it well.

So at the start of 2020 I took the plunge,

literally. On 1 Jan I stripped off for a dip in the

12 C Mediterranean in my swimsuit. It was

unbearable. I think I managed five front crawl

strokes before I was running for the beach. The

water felt painfully cold, stabbing my skin like

tiny knives. I remember being downcast after

the experience, wondering how I was ever going

Photo: Siona Graham-Brown.

CAROLINE LIVESEY

MALLORCA, SPAIN

Photo: Colin Henderson

to overcome those feelings. It just did not feel

physically possible.

Of course, it is physically possible. People

swim at the North Pole in sub zero water. In

fact a man recently did an ironman in

Antarctica. Yes, I know. Completely

impossible to imagine. But that proves

that it is physically possible. The

challenge is a mental one. I knew I had

to commit to the process of adaptation

and get my brain on board. The body

will follow if you convince it to, we are

always capable of way more physically

than we think. Our brains have

survival as their priority after years of

evolution. But this evolution has also

prepared us to be able to survive cold

conditions, it is just that in historical

contexts humans did not go from

heated houses to a freezing lake. The

changing seasons would have readied

them for the temperature changes.

These things take time.

Adapt and survive

There are a few ways to get used

to cold conditions in your daily

life, and I started to embrace them

wholeheartedly. Have you ever switched your

shower to the "damn that's cold" setting midway

through? What is the automatic reaction of

the body? Short, sharp breaths or sometimes a

complete breath hold followed by a few squeals.

That was the first thing to overcome. As any yoga

nut will tell you, the breath is so important in

relaxing the body and mind. Over the course of

weeks I learnt to anticipate the cold water in the

shower with a deep relaxing breath, breathing

out as it hit me and fighting the urge to gasp

and squeal. As you do this the body begins to

associate the cold water with relaxation instead

of the flight response, and it gets easier and

easier. There are so many well documented

benefits of cold showers and swims, including;

improvements to circulation, immunity, short and

long term mental health, libido and stress levels.

76 77
---
If you can embrace them it is worth

it. I continued the routine, but at this

stage in the process I didn't notice

much of a change when it came to my

open water swims.

Then we went into pandemic

lockdown, races got cancelled left,

right and centre, and the weather in

Mallorca started to heat up as we got

into April and May. I kept up my coldwater

adaptation in the shower, but with

Spanish lockdown

rules not allowing

for exercise

outside I had no

opportunity to

swim. By the time

we were out of

lockdown the sea

was lukewarm, and

cold showers are

no hardship when

you are dripping with sweat. I wondered

if the conditioning had all been pointless.

Then in June we went back to

Scotland for two months and I was

finally able to put it to the test. Norseman

had been cancelled by this stage, but I

wanted to know if my techniques had

worked and how long I could extend

my ability to swim in Scotland's coastal

waters and lochs. With few other

challenges on the horizon it became a

necessary physical goal for me, and I

knew if it had worked it would give me

confidence for Norseman 2021.

Deep love

Over the next two months something

unexpected happened. I started off small,

with wetsuit swims and the odd nonwetsuit

dip here and there. But before

long I was diving straight in with no

wetsuit and absolutely loving the feeling

of the icy water on my skin. I learnt

to relax as I hit the water, breathing

deeply and focusing on the sensations

instead of trying to avoid them. There is

something so delicious about that first

envelopment of the cold water. I began

to look forward to it, diving into the

crystal-clear turquoise sea. Or wading

out into the dark lochs and submerging

myself in the velvet waters. Then I began

to crave it. It was a weird thing for me

to experience my fear and loathing being

replaced by that craving. It was like the

water was calling

me, inviting me in

"It was like the water

was calling me,

inviting me in for

that endorphin hit. "

for that endorphin

hit. It became

a daily practice

while I was out in

the Hebrides, and

soon I was able to

spend 15 minutes

sea swimming

nonchalantly

when in previous years I had only lasted

20 neoprene clad mins. I realised the

magnitude of what I had achieved when

I went swimming with a few other PROs

pre-race at the Helvellyn Triathlon back

in September. I was running late and

they were already waiting for me with

their wetsuits on. I knew the swim would

be a short one as they had a race the next

day, and despite having already been

in for my cold water hit that day, I was

craving that feeling again. I jumped in

with just my swimsuit on with complete

pleasure, while they gasped at the cold

temperatures and ice-cream headaches

despite being layered up. Turns out even

the ice-cream headaches stop after a

while. At that moment I was really aware

of how far I had come, how much my

body and mind had adapted, and how

truly astounding that is.

All the months of work had paid

off, and in doing that work I had found

an even deeper love for open water. i

Photo: Mark Livesey

78 79
---
A vision for

your future

The forecast was for 58 degrees F (14 degrees C), 30% chance of rain and 20

mph NW wind. Hmmmm… As I was reading this, the texts came in; " Not riding

today…", " Yikes the weather seems tough…", " Not going to make it…",

" The Peloton is sounding awesome…".

Just me and my Cervelo tackling the weather then.

Text: Sami Winter.

As I was cycling in the crazy wind, no

rain (thank you), and somewhat chilly

conditions, the thought came to me; this

is Norseman, this is Swedeman, this is

Xtreme (well, for North Carolina that is). As both a

coach and an athlete, I relish the days I can send my

athletes out for a session in these tough conditions.

Coaching the Xtreme triathlete is not just about

improving fitness, but also making them tougher,

more resilient and, most importantly, more adaptable.

Andrew Fast, one of the XTRI coaches gives

this advice: "Run the mile that you're in. Nothing

ever stays the same. After you grind up the hill you

get to coast back down. The headwind may shift to

a tailwind after the next turn, the rain may stop and

clouds could reveal an incredible view. But until they

do, run the mile that you're in."

Focus on the moment and be adaptable

The very definition of Xtreme Triathlon sets the tone

for coaching. These events tend to take more time

and are more challenging than your typical long

course race. The swims can be in cold water and

remote locations. The cycle leg climbs and climbs,

80

SAMI WINTER

NORTH CAROLINA, USA

COACHING

NETWORK

At XTRI World Tour we realise that it can be daunting

to take the first step into the world of Xtreme Triathlon.

We have teamed up with the best XTRI specific coaches in

the business to offer you the possibility of receiving a training

program tailored to your XTRI journey. XTRI is different from

traditional long course events in many ways.

Our races are tougher, more technical, include altitude and

ascent, cold water, trail running sections and of course the

support element is also something to seriously prepare for.

Team up at xtriworldtour.com/coaching

Photo: Matej Rumansky

xtriworldtour.com/coaching
---
Photo: We Run Race Photos

and that's before you get to the run which will

include some technical mountain trails. All of

these aspects come together to make the athlete

fatigue faster, use energy stores at a quicker rate,

and so force most to slow down as the

race progresses.

The physical and mental aspects of racing

complement each and to be the best prepared

athlete on race day you need to train both. In

order to be prepared physically, strong is often

the word I use to describe the training plan.

Strong, robust, and resilient. Having the ability to

create power when fatigued stops the pace from

slowing too much. But you also must be able to

ingest enough calories and process those calories.

These are key aspects of the training process

which coaches call: power endurance, fatigue

resistance and a fat adapted or happy tummy.

Honestly, Coach Sami calls that a happy tummy!

Consistency is key and by placing these factors

in a well periodized plan, you will be able to find

your way up the mountain.

Be specific

James "the Iron Cowboy" Lawrence, suggests:

"The secret to success in triathlon and frankly

in life is consistency. We will all inevitably miss

a workout here and there, but as long as you are

as consistent as possible and you chose to keep

showing up, you can't lose. The secret is doing a

lot of little things consistently over a period of

time. Be patient, be consistent, and you WIN!"

If you have a knowledgeable XTRI coach,

who has had experience with many different

athletes their plans can propel you to success.

However, it will also take YOU consistently

doing the work and finding conditions that

mimic your race. If you are sensitive to the cold,

that absolutely does not mean you aren't fit for

the day. It simply means you may need better

equipment, more cold water adaptation before

the race, or more clothing for the mountain

run. If you are sensitive to heat then know your

body is able to handle and process a higher fluid

load, but that you may need to adjust electrolyte

intake. All of these tools take practice and also

have a mental component.

You can't react to changing internal and

external conditions on the day if you don't know

what your reaction should be.

Coach Caroline Livesey, winner of

Canadaman Xtreme Triathlon gives her athletes

this bit of advice: "Get out and have adventures

while training. Be specific. All of the XTRI

courses cross extreme terrain, and you don't want

to be discovering on race day that, for example,

you have the wrong shoes. Find similar terrain

in your training environment and test your body

and your kit. Mountain running is not road

running and cold water swimming is not 20x100

in the pool. You need to adapt before the race."

The secret sauce of coaching the Xtreme

athlete is preparing them mentally to get through

the day. There will be great times, there will

be hard times and they will both come and go.

Mental resilience is built while undertaking the

hard training sessions in tough environments.

But it is also more than that. It is about clothing

preparation; knowing the course; having mantras;

and feeling confident that you are ready. I have

my athletes visualize their day in parts so they can

imagine themselves on each section of the course.

I also have them discuss their reason for choosing

that particular race. Whether it be a "bucket list"

destination, or a chance to challenge themselves,

I have heard some amazing stories. We come

up with a song that defines their entire journey

and they can use that during the race. There is

nothing like a bit of singing to lift the spirits.

Imagine hearing Bon Jovi, It's My Life, out there

during the run. Guaranteed you would hustle up

the mountain.

Keep it social

Lucas Benjamin of KAHA Multisport notes that

mental preparation is a huge part of the XTRI

journey: "The mental work for XTRI events is

essential for the athlete to have the initiative to

make good decisions during the competition.

There are a lot of variables that can happen in

XTRI races. Being ready to decide between plan

A, B or C is critical for success and makes your

82 83
---
experience unforgettable. This mental work must

be polished throughout your preparation, with

hard and challenging training. This care will make

your race a day that will never be forgotten by

you, and your entire support team."

I often find that it is the mental side of the

equation where men and women differ. Men

tend to be more confident; however, women

have a mental toughness that will carry them

to the finish line whatever happens. But both

can be built through targeted training sessions

and celebrating short term goals. For some

athletes, including most women, it is important

to plan quality sessions and not just build

volume. Athletes may look at XTRI and doubt

if it is achievable for them. But with a targeted

plan built for the individual around specific

physiology and life schedule, anyone can gain

the confidence and fitness needed to accomplish

their dream. For athletes who value the social

aspect and teamwork of sport, XTRI's are for

them. The support system is everything. Some

athletes love to plan, love to work with others,

and possess a drive to never give up. Through

planning, proper preparation and targeted

sessions the black/ white/ yellow/ orange shirt

can be yours.

Photo: Steve Ashworth

Vision

Samir Rosolem of Patagonman XTRI: "An

XTRI race starts months before the actual race,

as it demands a lot of planning. Choose your

support crew carefully and invest time and energy

building with them your race plan. This is an

individual sport, but your success depends on the

team effort."

Back to my little Sunday jaunt. Well, I was

solo, but as visions of Norseman 2021 flashed

in my head, I thought the day was absolutely

perfect. When it started to rain, I headed home

for safety reasons and honestly, yes, I was a bit

chilly. I thought of all of the athletes that I train,

and debated how I could build their resilience.

When I parked by bike back at the house, my

final thought was: "Let's start building a vision

for your future." i

84 85
---
Photo: Duks Moreira.

FELIPE DE OLIVEIRA MANENTE

28th September 1988 – 8th September 2020

Manente

Photo: Duks Moreira

Text: Paula Gimenez de Souza (Felipe's fiancée).

Felipe de Oliveira Manente, or simply

Manente, started his journey as

a triathlete at the age of 13 in the

municipal school of São José city in the

state of Santa Catarina, Brazil.

His first trip abroad as a teenage athlete was

to Canada, where he was unaccompanied and did

not have the knowledge of the language, being

totally motivated by the love of the sport.

Dedicated and disciplined, he faced great

challenges to improve himself in triathlon and at

the age of 17 he moved to Espírito Santo to follow

the dream of being an Olympic athlete, where he

also graduated in Physical Education.

Due to his endurance skills and body

composition he naturally moved to long distance

triathlon, competing in several Ironman events,

always with excellent results. With great pride of

his origin, he represented his hometown and his

country whilst competing worldwide. One of his

greatest joys was to accompany the children of the

triathlon school in his hometown.

Founder

In addition to being an athlete, Manente

also became a renowned certified coach. An

experienced athlete and coach made Manente a

respected and admired professional.

To complete his journey and fully live in

the sport, he founded in 2016 with 3 friends, The

Fodaxman Extreme Triathlon, which later would

become part of XTRI World Tour.

Extremely dedicated and passionate, he

was the one to hand over the Fodaxman finisher

medals until the very last athlete would reach the

top of Morro da Igreja.

86 87
---
From humble origin, Felipe

never stopped dreaming and

struggling to achieve his greatest

goals within the sport. Manente

had a heart full of generosity

and gratitude and away from the

spotlight of his professional life,

Felipe dedicated himself to family

and friends, and his greatest mission

in life was to contribute, at any cost,

to the happiness of those he loved.

He was a great life partner,

we shared our routines, dreams

and personal projects. Whenever

possible, I accompanied him on

his travels and nothing made me

happier than watching him do what

he loved most: competing.

Reserved with a hearty smile,

he conquered friendships around

the world and left a great legacy:

"Never give up, no matter how

unfavorable are the conditions".

A small note from the Fodaxman

organisers:

It's still hard to believe that Felipe

passed away suddenly, doing what

he loved most: training. But we

promised him that his legacy of

Fodaxman as a race organized by

athletes to athletes will continue

to guide us.

From now on, his fiancée will

replace Felipe to offer our medal

to every athlete who crossed the

finish line on the summit of Morro

da Igreja. And we are sure he will

be there with us in spirit. We miss

you so much, my friend!

Editor's note: My husband and I

were lucky enough to travel out to

Brazil last year to race the Fodaxman.

We asked the team for some

help with our logistics when we

arrived and we were put in touch

with Felipe.

He went out of his way to

make us feel comfortable, and to

help us in any way that he could.

He and his girlfriend Paula were

absolutely wonderful, welcoming

us into their home and looking

after our bike boxes for two weeks

so we didn't have to cart them

about the country with us.

Our time in Brazil was

made richer by all the people

we met there, but Felipe was

the first and he set the tone for

the whole trip. He was humble,

hardworking, committed to the

team and the race, friendly with

such a contagious smile, and he

was genuinely happy to see all the

competitors taking part in such a

phenomenal event which he had

been instrumental in founding.

His death is a reminder to us

all that life is short, and we must

all embrace it to the full each and

every day.

He followed his dream to

become a professional athlete, but

he also gave back to the community

through the role he took in creating

such an incredible event. He will be

remembered fondly by so

many, and his legacy will live

on in Fodaxman.

The team have established

the Felipe Manente Award which

will be awarded after the event

each year to the athlete who

"behaves during the race with an

attitude that prominently values

sportsmanship". While this

premature death will forever

scar the team, I hope that

through this award they can

keep his spirit alive. i

Photo: Duks Moreira

88 89
---
Sponsored by RaceID.com

Greek Hero XTRI

HimalayanXtri

DATE: Apr 17th, 2021

LOCATION: Corfu, Greece

DATE: May 8th, 2021

LOCATION: Pokhara, Nepal

Photo: Stuart McInnes

Photo: Getty Images

90 91
---
Amazigh

Xtreme Triathlon

Celtman Extreme

Scottish Triathlon

DATE: May 29th, 2021

LOCATION: Ouarzazate, Morocco

DATE: Jun 12th, 2021

LOCATION: Torridon and Shieldaig, Scotland

Photo: Stuart McInnes

Photo: Steve Ashworth

92 93
---
Swissman

Xtreme Triathlon

Canadaman

Xtreme Triathlon

DATE: Jun 26th, 2021

LOCATION: Ascona, Grindelwald, Kleine Scheidegg

DATE: Jul 4th, 2021

LOCATION: Lac-Mégantic, Canada

Photo: Sampo Lenzi

Photo: Steve Ashworth

94 95
---
Norseman

Xtreme Triathlon

Swedeman

Xtreme Triathlon

DATE: Aug 7th, 2021

LOCATION: Eidfjord to Rjukan, Norway

DATE: Aug 14th, 2021

LOCATION: Åre, Sweden

Photo: José Luis Hourcade

Photo: Kai-Otto Melau

96 97
---
ICON Livigno

Xtreme Triathlon

Jánošík Slovak

Xtreme Triathlon

DATE: Sep 3rd, 2021

LOCATION: Livigno, Italy

DATE: Sep 4th, 2021

LOCATION: Terchová, Malá Fatra, Slovakia

Photo: iconxtri.com

Photo: Robert Kovalcik

98 99
---
Blacklake

Xtreme Triathlon

Starvation

Extreme Triathlon

DATE: Sep 11th, 2021

LOCATION: Zabljack, Montenegro

DATE: Sep 11th, 2021

LOCATION: Utah, USA

Photo: Kai-Otto Melau

Photo: James Lawrence

100 101
---
Hispaman

Xtreme Triathlon

Formosa

Xtreme Triathlon

DATE: Sep 25th, 2021

LOCATION: Peñiscola, Castellón, Spain

DATE: Nov 26th, 2021

LOCATION: Taitung, Taiwan

Photo: Jose Luis Hourcade

Photo: Kenny Lu

102 103
---
Patagonman

Xtreme Triathlon

Fodaxman

Extreme Triathlon

DATE: Dec 5th, 2021

LOCATION: Coyhaique, Aysén, Chile

DATE: Dec 11th, 2021

LOCATION: Nova Veneza and Urubici, Brazil

Photo: Steve Ashworth

Photo: Duks Moreira

104 105
---
SCOTLAND

Photo: Alessandro Annunziata

Athlete: Angela Mudge

Race: Celtman 2019

106 107
---
The XTRI World Tour is a journey of amazing extreme triathlons in unique and spectacular places, where the richness of

culture is tangible. It's a journey of exceptional people and their exclusive, diverse stories. It's a journey that will be different

for every traveller, a journey of cold water swims, high mountain passes and beautiful wilderness trails. A journey where all

athletes, supporters and crew will leave with new friends and lasting memories.

Quite simply, it's a Journey like no other.

www.xtriworldtour.com

xtriworldtour

xtriworld

XTRI World Tour is supported by Innovation Norway.

108