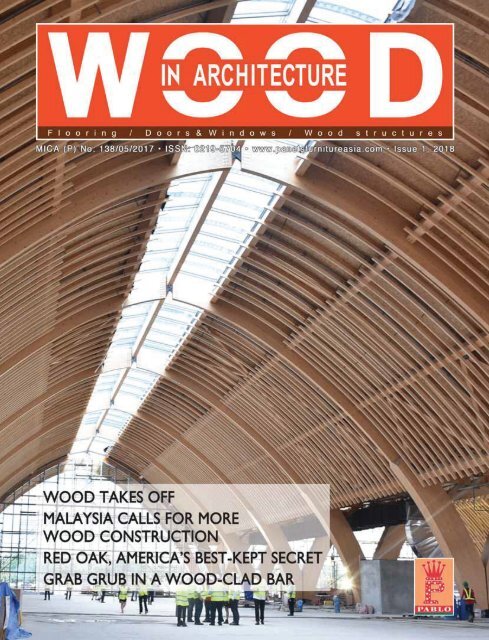 Wood In Architecture Issue 1, 2018
First published in 2017, Wood in Architecture (WIA) is a bi-annual trade magazine devoted to the international timber construction sector. The newest addition to the Panels & Furniture Group of wood magazines, WIA features in-depth insights to the latest industry news, incredible projects and leading trade events. WIA is an advocate for timber as a material of choice for today's built environment, and is the perfect source of inspiration for architects, builders, engineers and interior designers across the globe.
First published in 2017, Wood in Architecture (WIA) is a bi-annual trade magazine devoted to the international timber construction sector. The newest addition to the Panels & Furniture Group of wood magazines, WIA features in-depth insights to the latest industry news, incredible projects and leading trade events. WIA is an advocate for timber as a material of choice for today's built environment, and is the perfect source of inspiration for architects, builders, engineers and interior designers across the globe.
SHOW MORE
SHOW LESS
You also want an ePaper? Increase the reach of your titles
YUMPU automatically turns print PDFs into web optimized ePapers that Google loves.
04 Editor's Note: A meless classic

12 American white oak glulam for Lord's Cricket Ground

16 Wood takes o

26 Nature's advocate

31 Liquid kitchen

40 New tool to assist due diligence

42 Red oak, America's best-kept secret uncovered

48 Prey Fit

50 European laminate ooring sees renewed demand from Asia

52 mura: Versale, durable and sustainable

54 Masters of innovaon

56

61

63

64
---
Singapore MICA (P) No. 138/05/2017

panelsfurnitureasia.com

Editor | Lee Zhuomin

zhuominlee@pabloasia.com

Assistant Editor | Pang Yanrong

yanrong@pabloasia.com

Assistant Editor | Sarah Si

sarahsi@pabloasia.com

Lee Zhuomin | Editor

Deputy Executive Editor (Chinese Edition)

Wendy Wei | pabloshanghai@163.net

Graphic Designer | Edwin De Souza

edwin@pabloasia.com

Admin & Circulation Manager | Shu Ai Ling

circulation@pabloasia.com

General Manager,

Pablo Beijing & Shanghai | Ellen Gao

pablobeijing@163.com

Associate Publisher | Pamela Buckley

pamela@pabloasia.com

A

university recruitment advertisement in the subway reads: Her grandmother lived

in a wooden house; her mother lived in a concrete building; what would her children live in?

Wood was always the go-to material when people needed to erect shelters. In

Southeast Asia's tropics, generations lived under the same wooden roof and in close-knit

kampongs for security and community. As industrialisation kicked in, these kampongs—and

the community spirit—slowly disappeared to make way for modern cities.

Malaysian architect Azman Md Nor once lived in such a kampong where most

household items were made of wood. It was how he started adopting this material for

his projects and eventually became a keen evangelist for it. He bagged the second prize

for his project, Anjung Kelana, at the inaugural Malaysian Wood Awards in 2017 (p. 26).

While the Philippines is probably the last place in the world you'd expect to find a wooden

airport, one is currently being built in Cebu. It will be completed by June 2018 (p. 16).

Although times have changed, wood is still as popular today as it was yesterday. The

same unassuming material is a constant in structural and interior applications. It is strong,

versatile and durable, easy to machine, seismic and fire resistant, and quick to put up. It

stores carbon as the building stands, making it a favourite of eco-conscious architects

and urban planners. It is a classic in a "you can't go wrong with it" way in modern interior

design. It is well-loved for its earthy feel in flooring (p. 48), it adds a dash of elegance to

posh places (p. 31).

With so many uses for wood, you may be forgiven for wondering how the earth

will ever satiate the appetite for more. The truth is, wood use encourages responsible

forest ownership so the lumber shop will always be in business. The plant-as-you-harvest

algorithm is complex but we have tried to simplify an example on p. 40.

Coming back to "what would her children live in," we think it is going to be a wooden

skyscraper. | WIA MENA

CONNECT WITH US:

Publisher | William Pang

williampang@pabloasia.com

Wood in Architecture is a member of

PABLO PUBLISHING PTE LTD

Pablo Publishing Pte Ltd

3 Ang Mo Kio ■ Street 62 ■ #01-23 ■ Link@AMK

Singapore 569139 ■ Tel: (65) 6266 5512

E-mail : info@pabloasia.com

Website : www.panelsfurnitureasia.com

Company Registration No: 200001473N

All rights reserved. Views of writers do not necessarily reflect the views of the

Publisher. No part of this publication may be reproduced in any form or by any

means, without prior permission in writing from the Publisher and copyright

owner. Whilst every care is taken to ensure accuracy of the information in

this publication, the Publisher accepts no liability for damages caused by

misinterpretation of information, expressed or implied, within the pages of

the magazine. All advertisements are accepted on the understanding that the

Advertiser is authorised to publish the contents of the advertisements, and in

this respect, the Advertiser shall indemnify the Publisher against all claims

or suits for libel, violation of right of privacy and copyright infringements.

Wood in Architecture MENA is a controlled-circulation magazine with two

issues a year. It is mailed free-of-charge to readers who meet a set of criteria.

Paid subscription is available to those who do not fit our terms of control.

Please refer to subscription form provided in the publication for more details.

Printed by Times Printers Pte Ltd

@panelsfurnitureasia

4 ISSUE 1 • 2018 • WOOD IN ARCHITECTURE
---
2018

by Panels & Furniture Group

4 th Edition

25 – 27 June 2018

Shanghai, China

ASIA'S SPECIALISED WOOD MATERIALS

WOOD PRODUCTS TRADE SHOW

www.sylvawoodexpo.com
---
NEWS

SOUTH KOREA RAISES GDP FORECAST TO

3%, BUT WOOD DEMAND TO REMAIN LOW AS

FEWER HOUSING STARTS EXPECTED

By Tai Jeong, Canada Wood Korea

- Domestic consumption forecast to rise 0.1 percentage point

- Fewer housing starts and building permits issued in first 11 months of 2017

- Lower lumber demand expected as cooling measures on housing to continue into 2018

Bank of Korea has raised South

Korea's GDP growth forecast for 2018 to

three per cent on the back of domesc

consumpon recovery and robust export

growth.

With minimum wages raised by 16

per cent to 7,530 Won (US$6.60)—the

biggest jump in about two decades—

starng this year, consumer prices are

expected to rise by 1.7 per cent.

February's Winter Olympics will

also boost private consumpon by 0.1

percentage point in the rst quarter of

this year.

The Korean Won fell to a three-year

low of 1,061.2 Won against the U.S. Dollar

on January 2. Analysts say this will further

fall below 1,000 Won if the geopolical

risk on the Korean Peninsula eases.

2017 TRADE

Exports soared to an all-time high of

US$573.9 billion in 2017, a 16 per cent

increase thanks to recovery in the global

economy.

Trade volume exceeded US$1 trillion,

as imports expanded 17.7 per cent to

US$478.1 billion.

Consumer prices grew 1.9 per cent

in 2017 from a year earlier, marking the

steepest gain in ve years since 2012, on

the back of a strong industrial goods and

nancial services sector.

Unemployment stood at 3.3 per cent

in December, up 0.1 percentage point

from a year earlier.

HOUSING CONSTRUCTION

Cooling measures on South Korea's

housing market have seen fewer starts

and building permits, especially in the new

apartment market in Seoul.

Housing starts fell 14.6 per cent

to 90,497 while the number of units

signicantly decreased 23.2 per cent to

440,382 units in Nov last year.

Housing permits during this period

also dropped 10.2 per cent and 13.2 per

cent respecvely to 107,308 and 552,558

from a year earlier.

While the overall residential

construction sector is struggling, the

number of wood building permits issued

in the rst 11 months of 2017 increased

1.7 per cent to 15,841 buildings from

a year earlier. Wood building starts,

however, fell 6.5 per cent to 12,954

buildings during this period.

The total oor area of wood building

permits for the same period in 2017

increased 5.8 per cent to 1,451,320m 2

but that of wood building starts decreased

slightly 3.8 per cent to 1,198,515m 2 from

a year earlier.

LUMBER SHIPMENTS

B.C. sowood lumber exports to South

Korea for the rst 11 months of 2017 fell

5.7 per cent to 238,184cbm compared

to 252,651cbm during the same period

in 2016.

This is mainly due to the government's

efforts in limiting the supply of new

homes (from August 2016), especially

apartments in Seoul to keep household

debt and rising home prices in check.

However, the export value for the

same period rose a slight 2.8 per cent to

US$54.6 million (CAD$68.678 million) for

the same period in 2016.

Lumber prices in Canada have trended

upward for almost two years and reached

13-year highs in July, 2016. On the other

hand, Nordic lumber prices have been

depressed in U.S. Dollar terms, resulng

their current price levels to be the lowest

they have been in eight years. | WIA

Wood construction in South Korea: The Forest

Genetic Resources Department at the Korea

Forest Research Institute features the largest

wood-framed building in the country.

6 ISSUE 1 • 2018 • WOOD IN ARCHITECTURE
---
NEWS

JAPANESE CONSTRUCTION COMPANY

DEBUTS FIREPROOF WOODEN PILLAR,

DRIVES ADVENT OF WOODEN HIGH-RISES

Japanese construcon company has

developed a wooden pillar capable of

withstanding re for three hours without

burning down.

Shelter Co.'s invention will allow

future wooden buildings to be largerscaled,

scoring one for high-rise wood

construcon.

"Japan has a tradition of wooden

buildings, such as Shinto shrines and

Buddhist temples, that are unparalleled

in the world," Shelter President

Kazuyoshi Kimura said in an interview

with Asahi Shimbun. "We would also

be able to pursue urban planning

with wooden buildings even when

it comes to modern architecture,

where fire resistance and safety are

required."

The pillar is a three-ply structure

made of plasterboards covered with

a rectangular wooden pillar. The

plasterboards, in turn, are wrapped with

yet another layer of wood.

When tested in a furnace, the

wooden cover as well as wet plaster

kept the interior rectangular pillar safe.

There were no burn marks on it even

aer being exposed to temperatures up

to 1,000 degrees Celsius for 12 hours.

Shelter originally patented their

invenon in 2009, and produced wooden

products that could be used as pillars,

walls or other building components

capable of resisng re for an hour in

2013, followed by more products that

could withstand ames for two hours

in 2015.

The company has aained approval

from the Ministry of Land, Infrastructure,

Transport and Tourism to apply the

technology in structures reaching over

15 storeys. | WIA

A rendering of

the pillar, where a

rectangular wooden

pillar is covered by

plasterboards, which

are, in turn, wrapped

in yet another layer

of wood.

Image credit:

Shelter Co.

WOOD IN ARCHITECTURE • ISSUE 1 • 2018

7
---
NEWS

HEAVY INDUSTRIES MUST NOW PAY FOR

WASTE EMISSIONS UNDER CHINA'S NEW

ENVIRONMENT LAW

By Lydia Chen, Canada Wood

rst environment protecon

tax law kicked in on January 1 this year,

replacing a pollutant discharge fee

system which, for decades, had been in

place but lacked teeth.

Under the new law, companies will

have to pay levies for waste discharged

into the environment—such as sulphur

dioxide and sewage. They will also be

taxed for noise polluon.

The tax rates range from 1.2 – 12

yuan per unit of atmospheric polluon;

1.4 – 14 yuan per unit of water polluon;

ve yuan per tonne of coal waste; and

1,000 yuan per tonne of hazardous

waste. They are determined based

on each company's operations. For

example, a furniture manufacturer that

earns 50 million yuan per year may

report an overall tax rate of 300,000

– 700,000 yuan, or up to a two per

cent increase on the factory price of its

products, according to industry analysts.

The new law is intended to

discourage heavy-pollung industries,

many which have ocked to the country

to take advantage of its low costs and

weak environmental regulaons.

China has imposed a "pollutant

discharge fee" since 1979. However,

loopholes in the system have seen

companies evading taxes, especially

the bigger ones that contribute to the

local economy. Now any tax reducon

or exemption request must undergo

strict approval procedures and be

documented.

Tackling pollution was listed as

one of the "three tough bales" China

aims to win in the next three years,

according to the Central Economic Work

Conference that concluded in December.

"The launch of the environmental

tax is more serious than the pollutant

discharge fee system and marks

China's rst real eort to use nancial

mechanisms to curb polluon," Liang

Yinlei, partner of Tax Department at

Ernst & Young Greater China, said

in an interview with Jiefang Daily.

"Some manufacturers may buy more

environmentally-friendly equipment to

reduce its sewage waste in order to pay

less tax."

Between January and November

last year, China invesgated over 35,600

cases of environmental violaon, a 102

per cent year-on-year increase from

2016. | WIA

Stock image by veeterzy on Unsplash

EXPECT SIGNIFICANT CHANGES IN DUBAI'S

PROPERTY MARKET: DELOITTE

will be a year of change for Dubai's

real estate market. Across the hospitality,

residenal, retail, oce and industrial

segments, events such as the introducon

of Value Added Tax (VAT) and 3D prinng

will transform the property sector,

according to a new report from Deloie.

"Developers, operators and investors

will need to navigate their way through

increasing geopolical uncertainty, the

adopon of disrupve technologies and

the introducon of VAT. How well they do

so will determine their performance in

2018 and beyond," Marn Cooper, head

of Development Strategy & Investment

in Deloie's Real Estate and Construcon

team, said.

The introducon of VAT in the UAE will

represent one of the biggest challenges

for Dubai's real estate market.

"It not only forces the real estate

sector to relook at their own pracces and

procedures, but those of businesses in the

value chain with whom they interact,"

Bruce Hamilton, a partner in Deloie's

Indirect Tax team, said.

"How well the real estate market, of

whom developers are a crucial sector,

comes to grips with these changes could

impact the sector in 2018 and for years

to come."

In addition, the introduction of

VAT on construction materials and

professional services may cause cash

ow and working capital pressures for

some developers.

Disruptive technologies such as

3D printing will also become more

mainstream. The city is targeng for 25

per cent of new buildings to be 3D printed

by 2025.

Other changes to expect are a more

diverse development nance market and

increased connecvity with the global

economy. | WIA

8 ISSUE 1 • 2018 • WOOD IN ARCHITECTURE
---
NEWS

MENA TO MORE THAN TRIPLE

RENEWABLE ENERGY USE BY 2035

Middle East is expected to more

than triple its share of renewables

in the power mix from 5.6 per cent

(16.7 gigawas) in 2016 to 20.6 per cent

(100GW) in 2035, according to a new

report by Siemens.

Natural gas will remain the

number one power source in the

region, represenng 60 per cent of

installed capacity through 2035.

"We expect the majority of new

power generation capacity to be

via highly efficient combined-cycle

power plants, but renewables will

also gain a substantially increased

share of the energy mix," said Dietmar

Siersdorfer, CEO, Siemens Middle East

and UAE.

With economic diversification

and populaon growth accelerang,

the growth in power demand in the

region—approximately 3.3 per cent

per year—will be realised through

efficient natural gas-fired power

plants.

Aside from new capacity

addions, an addional 45GW could

also be realised through eciencies

brought about by upgrading facilies

above 30 years old.

By 2035, the region will require a

total of 483GW of power generaon

capacity, an addional 277 GW from

2016.

Solar power will account for

addions of around 61GW. There is

signicant potenal for wind power

generaon in Saudi Arabia and Egypt,

but this potential is not entirely

reflected in the moderate capacity

addions expected.

The report also highlights

digitalisation as a tool to increase

the eciency and exibility of energy

supply, while decreasing producon

costs.

"Digitalisaon is an essenal part of

the future energy landscape, and turning

big data into smart data will enable us

to be more reliable, energy efficient

and cost effective," said Siersdorfer.

"However, we must remember that with

greater interconnecvity, the use of data

analycs and cloud technologies comes

with greater exposure to cyber security

threats so organisaons need to be well

prepared." | WIA

WOOD IN ARCHITECTURE • ISSUE 1 • 2018

9
---
NEWS

FIRST WOODEN SKYSCRAPER PROPOSED IN

AFRICA WINS INAUGURAL WAFX PRIZE

first proposed wooden

high-rise is a mixed-use condominium

consisng residenal spaces, sporng

facilies, sky gardens and a carpark.

The 87-metre tall Lagos Wooden

Tower is designed by Hermann Kamte,

an architect from Cameroon. It aims

to improve the urban conditions of

the residents living in the Nigerian

city. It also addresses the problem of

poorly-planned construcon in many

African cies by pushing the boundaries

of contemporary

architecture.

The brief was

initially submitted

for Metsä Wood's

City Above the

City, a global

competition that

invited architects

to rethink new

housing on top

of existing urban

buildings.

Recognised

as one of the

world's most

forward-looking

architectural

concepts, the

Lagos Tower won

the Best Cultural

Identity project at

the inaugural WAFX

Prize in 2017, along

with the Rethinking

the Future Awards

2017. The project

was also a finalist

at the World

Architecture

Fesval 2017.

"Architecture is simple and

incredibly complex at the same me,"

Kamte said. "The challenges are many,

but the potenal rewards are high. In my

opinion, architects are like philosophers

- the more they learn the beer they

are."

The 25-year-old Cameroonian

graduated from the presgious EAMAU

in 2016 and went on to found his own

pracce, Hermann Kamte & Associates

(HKA) in Yaounde, the capital of his

home country. His projects are mainly

based in central African countries such

as Nigeria, Niger and Chad.

"HKA is just embarking on its journey,

but we want to bring a new dynamic to

African architecture," he said. "Our goal

is to contribute to shaping the world, to

ensuring human well-being in harmony

with nature through our designs."

Although African designers and

builders sll use concrete and bricks as

they are far easier and a lot cheaper to

procure, wood, a sustainable resource

could benet African society at large,

Metsä Wood wrote in a statement.

"There is sll potenal for this to

change. As we raise the prole of mberbased

architecture, the demand will

grow and wooden building soluons will

become cheaper and more accessible,"

it noted.

"The Lagos design project has

really caught people's attention and

highlighted the potential of wood

construcon in Africa." | WIA

The 87-metre tall Lagos Wooden Tower

could be a trendsetter in Africa.

RECLAIMED WOOD AMONG MATERIAL

TRENDS TO KEEP AN EYE ON IN 2018

and repurposed wood is

one of the trends to look out for in 2018

according to Architect Magazine.

Warm and visually pleasing to the

eye, repurposed wood has become a

choice for architects and designers for

reasons that range from aesthetic to

environmental.

It claims an even smaller ecological

footprint than virgin wood, which

already boasts a smaller carbon footprint

compared to other materials.

A number of companies is already

exploring the opon, with Houtmerk,

based in the Netherlands, making panels

of solid wood called Replex produced

from pieces of recycled wood.

In the UK, designer Tristan Titeux

uses not only discarded wood furniture,

but reused MDF, parcleboard, plywood

and engineered lumber as well.

Other material trends include

bioplastic from algae, biomimetic

insulaon, and photovoltaic glass. | WIA

10 ISSUE 1 • 2018 • WOOD IN ARCHITECTURE
---
NEWS

2017 WOOD DESIGN AND BUILDING

AWARD WINNERS ANNOUNCED

of the presgious 2017

Wood Design & Building Awards

programme by the Wood Design

& Building magazine have been

announced.

The winning projects were selected

by an esteemed architectural jury

consisting Alan Organschi, principal

at Gray Organschi Architecture; Betsy

Williamson, principal at Williamson

Williamson; and Richard Bonnin,

design principal, HGA Architects and

Engineers.

The Canadian Wood Council, as

well as the sponsors, Sustainable

Forestry Iniave, Sansin and Western

Red Cedar, also granted special awards

unique to the programme in 2017. Two

special jury awards were selected, one

for technical innovaon, and another

for public art educaon.

An opportunity to showcase

exceponal wood buildings that inspire

designers to push the boundaries of

wood in construction, submissions

for the awards programme were

thoughtfully designed and perfectly

highlighted wood's aesthec, funconal

and structural qualies.

"The Wood Design & Building Awards

programme has been in existence for

over 30 years," Eenne Lalonde, vice

president of Market Development for

the Canadian Wood, explained. "We've

been continually impressed with the

quality of submissions each year, and

it's a testament to the sophiscaon of

wood products, due to improvements

in technology and advancements in

applicaons." | WIA

Rundquist Architects

got a Merit for the

Wooden Ventilation

Towers, located in

Stockholm, Sweden.

Image courtesy of the

2017 Wood Design

& Building Awards

Programme.

WOOD IN ARCHITECTURE • ISSUE 1 • 2018

11
---
ENGINEERED WOOD

12 ISSUE 1 • 2018 • WOOD IN ARCHITECTURE
---
ENGINEERED WOOD

"This large-scale commercial application of white oak glulam

should really open architects' eyes to this alternative option

for their structural materials portfolio…"

WOOD IN ARCHITECTURE • ISSUE 1 • 2018

13
---
ENGINEERED WOOD

An engineering marvel made of

American white oak features

in the redevelopment of the

Warner Stand at Lord's Cricket Ground

in London. The primary structure of the

roof is formed from 11 canlever gluelaminated

(glulam) beams, up to 23

metres long, the rst me the species

has been employed in this format on

this scale.

Architects Populous wanted to

create a building that had the impression

of lightness—hence the canopy

comprising fabric rather than glass, and

the 13-metre canlevered secon that

makes it seem to oat over the crowd.

"We wanted to capture cricket's

summer character and the ambience

of a local club marquee," said Philip

Johnson, senior principal and project

lead at Populous.

The new four-storey stand has 2,656

seats with improved sightlines, a new

match control suite and beer facilies.

Sustainability is also at the forefront of

the design thinking, with solar thermal

and photovoltaic roof panels to generate

power. It replaces a 1950s structure

and is part of an ongoing masterplan to

improve visitor experience and boost

the internaonal reputaon of Lord's.

14 ISSUE 1 • 2018 • WOOD IN ARCHITECTURE
---
ENGINEERED WOOD

Part of the brief was also to have its own visual identy,

while sing sympathecally alongside Lord's other buildings.

"Lord's comprises individual stand styles rather than one

stadium design; it's an architectural campus, described as

'pavilions around a village green', so we made design nods to

the other stands, notably the tent-like fabric roof of the Mound

Stand," Johnson added.

WOOD TECHNICALITIES

American white oak came on the scene through discussions

between Arup and the American Hardwood Export Council,

which also provided technical advice and helped source the

mber.

"The imaginaon of the architects, the inspiraon of the

engineers and the skill and tenacity of the fabricators have

produced a landmark structure, which is a pivotal moment in

the evoluon of mber construcon. This is also an excing

moment for us (AHEC), turning our vision of what might be

possible structurally with our hardwoods, into a reality," said

David Venables, AHEC European Director.

The American white oak beams were manufactured

by German timber specialist Hess Timber. Each beam

measures 900mm x 350mm at the deepest point. The longest

glulam beam weighs approximately four tonnes and

measures 23.4 metres in length. The AHEC Grown in Seconds

sustainability calculator showed that the 100m 3 of American

white oak lumber used to fabricate the beams would take only

160 seconds to be replaced in the American forest.

"An advantage of American white oak's stiffness and

uniformity was that we could predict deecon levels and

camber very precisely," said Markus Golinski, head of Sales,

Hess Timber.

The beams also extend back using the same roof fabric,

but double-skinned with a mid-layer of Aerogel insulaon. "So

we have the same translucency, but, combined with double

glazing and renewables, including ground source heang, it

enables the building to be used for hospitality all year round.

Then on summer match days the wide windows can be thrown

open, creang one space that engages spectators with the

game," said Johnson.

Lord's new stand marks another milestone in American

hardwoods' dicult journey to get to this point in structural

uses, but this project, Venables said, "should really open

architects' eyes to this alternave opon for their structural

materials porolio at a me when they're looking to build

more with wood worldwide." | WIA

Project Details

Client

Location

Completion : June 2017

Architects

Engineers

Engineered wood manufacturer

White oak supplier

Photography

: Marylebone Cricket Club (MCC)

: London, United Kingdom

: Populous

: Arup

: Hess Timber

: Robinson Lumber

: Jon Cardwell

WOOD IN ARCHITECTURE • ISSUE 1 • 2018

15
---
BIG PICTURE

Airports: Kids seem to love rolling on their floors,

the frequent flier wants to get out as soon as

possible, others just want to go home. We all

feel differently about being in transit and yet

there is one absolute: waiting. Some airport

authorities have decided on wood for their new

terminals to enhance enjoyment, transforming

waiting into something more pleasant. Here, we

wouldn't mind lingering on, just a little longer.

16 ISSUE 1 • 2018 • WOOD IN ARCHITECTURE
---
BIG PICTURE

WOOD IN ARCHITECTURE Jackson • ISSUE Hole Airport 1 • 2018

17
---
BIG PICTURE

Images By: Ivan Brodey, Knut Ranstad, Dag Spant

Wood serves a practical and

aesthetic purpose in Oslo's new

terminal expansion.

The Oslo Airport Extension is one of

those places we wished we could,

like Tom Hanks in The Terminal,

stay forever. It is not only dubbed the

world's greenest airport, it was also

deliberately designed "to create a

particular atmosphere… [especially]

in areas where passengers spend

a lot of time or where they want a

certain amount of calm," said Chrisan

Henriksen, partner and design manager

at Nordic Oce of Architecture.

Architects Nordic were part of

Aviaplan, the group behind the exisng

airport building, which was completed

in 1998 to handle 17 million passengers

a year. 20 years later, the same firm

added a 140,000sqm extension and

modernised the train staon, doubling

capacity to 32 million. Here, wood fulls

its purpose as a structural element and

design feature. "Wood denes us here

in Scandinavia and it would therefore

also define Oslo Airport," Henriksen

commented.

Exposed glue-laminated (glulam)

beams soar high above the busy ground

while large panoramic windows enable

passengers to enjoy the landscape

around the airport.

But the biggest change is a new

300-metre-long pier that extends out

18 ISSUE 1 • 2018 • WOOD IN ARCHITECTURE
---
onto the tarmac airside. The rounded

pier is held up by glulam arches sourced

from Scandinavian forests. The façade is

mostly glass to let in as much daylight as

possible, while the roof is nished with

oak cladding, protected by a UV-resistant

paint treatment. The wooden façade

gives the pier an aracve aesthec,

but its most important funcon relates

to airport safety.

"A pier that extends out towards

the runways can cause problems

for the air traffic control tower. The

[communication] signals are highly

sensive to distoron and can easily be

reected, for example by metal, making

the tracking on the ground suer. But

with a wooden façade, the signals die

when they hit the pier," Henriksen said.

The massive use of wood also met the

strict environmental requirements set by

the clients. Other low carbon footprint

materials include concrete mixed with

volcanic ash and recycled steel. The

pier is rounded to minimise the external

surface and so save energy. In winter,

snow cleared from the runways is stored

in an open pit covered with grained

timber, which cools the terminal in

summer. This reduces the terminal's

annual energy consumpon by 2 GWh.

The design enables the airport to

cut carbon emissions by 35 per cent

and halve energy consumpon while

at the same me increasing capacity.

It achieved BREEAM "Excellent" rang,

a global benchmark for sustainable

design. WIA

WOOD IN ARCHITECTURE • ISSUE 1 • 2018

19
---
BIG PICTURE

Construction of Terminal 2 is now underway and expected

to complete in June 2018. The most impressive feature

of the building is the dramatic roof structure made of

glulam beams.

Image credit: GMR- MEGAWIDE Cebu Airport Corporation.

20 ISSUE 1 • 2018 • WOOD IN ARCHITECTURE
---
BIG PICTURE

The Philippines' second largest airport is possibly

the first in Southeast Asia to use engineered wood

for its new terminal building.

Blessed with warm sunshine and peanut buery beaches, it

is no wonder Cebu receives so many visitors a year. Airport

authories expect passenger arrivals to hit 10 million by the

end of 2017, a 12 per cent jump from 2016.

To cope with increasing air trac, the Filipino city is upgrading

the exisng terminal and building a second one, making it the

second largest airport in the country.

The most impressive feature of the new terminal is the dramac

roof structure made of glue-laminated mber beams. The arches

span every 30 metres, which enables Terminal 2 to be as columnfree

as possible. The internal spaces are enclosed by a light and

transparent glazed façade. The arch façade is 15 metres tall and

is accentuated by vercal U channels. With sleek, elegant curves,

the undulang roof is reminiscent of the waves of the seas around

Mactan Cebu Island.

Construcon is already in full swing and expected to complete

in June 2018. The new terminal, spanning 65,500sqm, will increase

passenger capacity to 12.5 million.

Hong Kong-based Integrated Design Associates (IDA) forms part

of MCIA Terminal 2's design team. It is also working in tandem with

Budji Layug, Royal Pineda and Kenneth Cobunpue on the design

and look-and-feel of the new terminal.

Envisioned with a unique design that demonstrates the warmth

and friendliness of the local culture, the project is set to transform

the local airport into a world-class facility with a welcoming

ambience that is disnctly Filipino. WIA

WOOD IN ARCHITECTURE • ISSUE 1 • 2018

21
---
BIG PICTURE

Fort McMurray's remote location,

fluctuating temperatures and limited

labour force meant that building its new

airport had to be innovative and efficient,

which can only mean one thing—wood

construction.

Major public areas are defined by a mass timber structure comprising cross-laminated timber (CLT) panels in

North America — in this case salvaged from British Columbia's pine beetle infestation. CLT offers a light and

and reduce the carbon footprint and cost of construction.

Image Credit: Ema Peter.

Home to the boreal forest, the

prairies and the northern lights,

Fort McMurray is unbelievably

beauful.

The Regional Municipality of Wood

Buffalo in Northern Alberta expects

populaon to double by 2030, thanks

to a burgeoning oil sands industry that

has thrusted the small community onto

the global stage. This unprecedented

growth has also created the impetus for

a large transient populaon—temporary

residents drawn to resource-based jobs

who frequently y back home between

work cycles.

While Canada's busiest airports have

seen an average annual passenger trac

growth rate of about three per cent a

year, Fort McMurray grew 25 per cent

in 2012 and 2013, and connues to be

Canada's fastest growing airport. This,

along with more forecasted growth,

inspired the Fort McMurray Airport

Authority (FMAA) to build a new green-

eld airport.

The three-storey, 15,000sqm

building was constructed with signicant

o-site fabricaon, durable materials

and simple technologies in order to

ensure quality and minimise both

the construcon schedule and future

maintenance.

Completed in 2014, the $258-million

project is iconic and memorable, set in

a landscape that is in harmony with the

spirit of its locale. WIA

22 ISSUE 1 • 2018 • WOOD IN ARCHITECTURE
---
BIG PICTURE

combination with glue-laminated wood beams. The airport is presently the largest application of CLT in

rigid structure with a beautiful warm interior finish. This enabled the team to increase construction time,

WOOD IN ARCHITECTURE • ISSUE 1 • 2018

23
---
BIG PICTURE

Jackson Hole Airport, a wooden structure, is at home with the mountains.

People y into Jackson Hole, Wyoming, all year round to

visit the Grand Teton and Yellowstone Naonal Parks. In

summer they hike down the heritage slopes, in winter

they ski. It is the only airport in the United States situated in

a Naonal Park.

In conceptualising its design, the airport had to reect its

mountain environment and western heritage. It also had to

be environmentally responsible. Grand Teton Naonal Park

also has strict boundary limitaons and an 18' height limit—a

challenging framework for design. Incorporang wood was an

important part to achieving these goals.

In the Tickeng Hall 24" diameter FSC-cered Douglas

fir columns anchor the space. The columns are turned

smooth in a rened modern manner in lieu of a convenonal

rustic appearance. Expansive glulam beams dramatically

span across the hall and interface with the columns

via intricately detailed steel connections. Due to height

restricons, a queen post truss system was integrated with

the glulam beams to reduce their depth and bulk, thus

maximising the terminal's spaciousness. The rhythm and

clarity of the structural system is on display as it marches

over 250' within the terminal, culminang with the dramac

17' exterior overhang.

The ceiling and the underside of the exterior overhangs

use 1 x 4 hemlock. The species was selected for its subtle

grain and light, yet rich coloraon that complements the

golden glulam beams. The hemlock ceiling boards are spaced

intermiently to add acouscal value to the terminal that is

primarily hard surfaces of glass, concrete, wood and steel.

Reclaimed weathered snow fence was used extensively in the

millwork and as a wainscot. The weathered grey appearance

oers a nod to the past and is a nice contrast to the new warm

wood structure and ceiling. Glulam beams from the original

demolished building were repurposed into large-scale exterior

and interior benches.

The terminal expansion was completed in 2010 and

achieved USGBC LEED Silver cercaon. WIA

Close-up of the underside of the exterior roof

Steel connections secure the wooden elements in place

FSC-certified Douglas fir columns and hemlock ceiling define the ticketing hall

24 ISSUE 1 • 2018 • WOOD IN ARCHITECTURE
---
BIG PICTURE

The smallness of mankind is immediately evident against the mountains' overwhelming magnificence. Image credit: Matthew Millman.

WOOD IN ARCHITECTURE • ISSUE 1 • 2018

25
---
IN PERSON

Anjung Kelana by Mr Azman.

The project bagged second prize at the

inaugural Malaysian Wood Awards in 2017.
---
IN PERSON

Malaysian architect Azman Md Nor is a huge fan of

wood. He is quietly championing this material in his

country, but the lack of skilled craftsmen and quality

timber, he says, is hindering progress.

Timber is experiencing a renaissance in Southeast Asia as

local architects return to their roots, drawing inspiraon

from the tradional kampong houses of their youth. Or

at least, this is what Azman Md Nor feels is driving the mber

revoluon in the region.

The 55-year-old architect and part-me lecturer grew up

in such an environment—a kampong (or village in Malay) in

Port Dickson where most household items such as toys and

furniture were made from wood.

"We used wood to make whatever we needed, even the

chicken coop. It's convenient and easy to work with," Azman

says. At Deakin University where he read architecture, he was

inspired by the late Professor Kevin Borland who took the class

to visit the mber houses he designed, further fanning the

ames for wood appreciaon. However, it was only in 2006 that

the father of four began acvely pursuing projects in mber at

his own pracce, Arkitek Azman Zainal.

Azman's style can be described as avant-garde, bold and

unique, a "like it or hate it" kind of vibe. He personally feels it is

humanisc, raw and natural, drawing richly from local culture.

"Using wood for the interior is like bringing in all the

aributes of the forest into the hearth. Wood has many health

benets," he says, conrming several studies that a wood-clad

interior calms the nerves and reduces stress levels.

This philosophy is evident in Anjung Kelana, the home and

oce he built for himself. The building brings out the honesty

and raw beauty of mber, and for that, bagged second prize at

the inaugural Malaysian Wood Awards last year. According to

the jury, the curved wall structure is "one of the most interesng

design elements of the house, providing structural stability that

speaks volumes of what could be done with mber."

"Let wood be wood," he says.

Like many of his peers, Azman agrees that wood is easy

to work with: It can be carved or craed using light handheld

tools; it generates minimal waste as the o-cuts, wood chips and

sawdust can be fashioned into other products; damage can be

easily repaired; old mber works can be reclaimed and recycled

for other purposes.

However, external applications of wood pose a great

challenge in Asia's tropical climate. The material must bale

WOOD IN ARCHITECTURE • ISSUE 1 • 2018

27
---
IN PERSON

Azman Md Nor

designs with wood and has his

own practice, Arkitek Azman Zainal.

Wood for window frames and grilles are common in

tropical homes

oxidaon due to prolonged exposure to

the sun's ultraviolet rays. In a couple of

years, it will weather into a silvery grey

colour which is not a structural problem

but can be an aesthec concern for some.

The wooden building in the tropics

must be well-venlated to preserve the

mber. "Those who appreciate mber

and want to use it are mainly worried

about decay, termites, aordability and

maintenance. But these can be easily

addressed. For example, decay occurs

because of dampness which can be due

to poor detailing, poor venlaon and

maintenance," Azman advises.

Having a well-lit and airy indoor space

also improves occupants' well-being,

he adds.

OBSTACLES IN THE WAY

However, there is sll a long way to go

before wood becomes a choice material

in design and architecture.

In Malaysia the industry struggles

with labour shortage. Dependence on a

transient populaon of foreign workers

means few can be trained or retained as

skilled crasmen. It is also increasingly

dicult to have designs built well due to

the lack of quality mber supply—one of

the biggest barriers to building a mber

construcon culture.

Azman stresses that mber delivered

to the construcon site should be ready,

meaning that it should not be deformed,

green or juvenile. Yet over the years,

people have lost condence in mber

because "we don't know what kind of

quality we are geng at the construcon

site. Subjecng it to tesng at the last

minute is disrupve to the construcon

schedule."

Other obstacles include low

awareness and poor perception of

timber's structural strength—a myth

perpetuated by poor mber quality at

the work site.

28 ISSUE 1 • 2018 • WOOD IN ARCHITECTURE
---
IN PERSON

Over time, wood will weather into a silvery grey, which

can be an aesthetic concern for some.

The curved wall structure is "one of the most interesting design elements of the

house, providing structural stability that speaks volumes of what could be done

with timber," according to the jury of the Malaysian Wood Awards.

CREATIVE PROBLEM

SOLVING

Most architects want to see their designs

come to fruion but in reality, Azman

remarks, this is oen hindered by changes

and volale temperaments "pulling you

in all sorts of direcons."

He says, "You have approvals that

come in so late that by then, the project

has lost its feasibility.

"Then you also have impaent clients

who want to get the design to the ground

even though it is incomplete. This puts a

lot of pressure on us."

In the past 20 years, government

authories have also been fond of the

design-and-build approach, estranging

the architect and his design team away

from the end user, Azman adds. Clients

sometimes employ project managers,

adding an unnecessary layer to the

building procurement system which

makes it increasingly challenging

for the architect to communicate values

that the end-user actually wants or needs.

But at the root of the practice,

architecture is about creave problem

solving, Azman says. "We can organise

ourselves so that we have more control

of our intellectual property. I am now

looking at a designer-maker approach and

seeing where this path leads to."

Also, if the mber supply chain can

provide quality mber and be backed

up by a systemac delivery system, the

design and building sector can be more

condent in coming up with bold, quality

and innovave designs.

Finally, the industry must stop

perceiving mber as a commodity: Drop

the consumerist behaviour, stop and

enjoy the material, and experience the

design.

This will perhaps give Malaysian

timber research and design its long

overdue recognion in the internaonal

arena of wood architecture. | WIA

WOOD IN ARCHITECTURE • ISSUE 1 • 2018

29
---
27 - 29 MARCH 2018 | 3 DAYS EXHIBITION

2018

26 - 30 MARCH 2018

5 DAYS CONSTRUCTION CONFERENCES

KUALA LUMPUR

CONVENTION CENTRE

& CIDB IBS CENTRE

ACHIEVING

PEAK

PRODUCTIVITY

HOSTED BY ORGANISED BY CO-LOCATED EVENTS

www.icw.my | www.ecobuildsea.com
---
FIT-OUTS

Modern day diners expect more than just new palate

sensations and to impress the discerning, restaurateurs

have taken interior design as seriously as their

kitchen kungfu. Three restaurants show how 'molten'

wood can create ambience for the evening meal.

WOOD IN ARCHITECTURE • ISSUE 1 • 2018

31
---
FIT-OUTS

Walk into RAW and it will tell you the story of Chef André

Chiang's food.

RAW is somemes lauded the best

restaurant in Taipei. It is hard to

get a reservaon, but if you do,

note how Andre Chiang's arsc vision

for food is translated into a design that

reflects his artistic and minimalistic

creaons.

The architects from WEIJENBERG

used wood in its pure state. The organic

wooden forms are made up of locallysourced

spruce blocks joined together

by local carpenters with techniques used

in shipbuilding. The design was prepared

using 3D modeling soware; the 3D data

was used to determine the tool paths for

the CNC machine.

The central wooden sculpture, a

65-metre long wine bar is held up with

double anchor points on each node.

Since Taipei lies in an earthquake-prone

region, the structure was reinforced

with steel and lateral bracing in order

to tackle the lateral swing in the event

of a tremor.

The design reflects the essence

of RAW's cuisine which is organic and

natural. It incorporates ne, subtle details

of meculous cra complemented by a

subdued and minimal material palee.

Concrete walls and copper light xtures

minimise distracon, allowing the chef's

creaon to take centre stage.

The two wooden islands are not

only visually appealing, they also serve

a praccal purpose: They guide the ow

of spaces in between, eliminang the

'boxy' feeling usually associated with

paroned areas. | WIA

32 ISSUE 1 • 2018 • WOOD IN ARCHITECTURE
---
FIT-OUTS

In keeping with the artistic side of the chef, the space was designed to fl ow from one region to another guided by the undulating geometry of the

wooden forms. Zones are demarcated through transitions in fl oor materials and the positioning of wooden elements. Image credit: MWPHOTOINC

WOOD IN ARCHITECTURE • ISSUE 1 • 2018

33
---
FIT-OUTS

Two Cups Bar shies away from the

uninspiring and gaudy that so typifies

China's urban landscape.

Image credit: Daipu Architects

The bar owner wanted his customers

to enjoy a tipple outdoors over

the unique skyline of the Yuzhong

peninsula. At the same time, Daipu

Architects was experimenng with more

prototype-driven soluons to generate

new building and structural systems.

The project team put this intenon

into Two Cups Bar by introducing a

"mountainous terrain" into the restricted

concrete space. The whole model is

made of pure solid wood and carved by

computerised digital control machines.

The model is designed on computer,

prefabricated, and then assembled on

site, saving considerable me.

This installation can be seen as

topography, landscape or furniture

design. It includes the guide of sight

line at the entrance, spaal parons,

footrests of bar counter, small arcles

for ddling with while drinking, and a

large wooden sofa.

The wood is meant to wear out aer

a few years, giving the pub a rugged,

weathered feel.| WIA

34 ISSUE 1 • 2018 • WOOD IN ARCHITECTURE
---
FIT-OUTS

Project Details

Client : Two Cups Bar

Location : Chongqing, China

Site area : 120sqm

Outdoor area : 200sqm

Architects : Daipu Architects

Completion : Jan 2017

WOOD IN ARCHITECTURE • ISSUE 1 • 2018

35
---
FIT-OUTS

Bar Raval pays homage to

the social and gastronomic

culture of northern spain.

36 ISSUE 1 • 2018 • WOOD IN ARCHITECTURE
---
FIT-OUTS

Bar Raval's molten curves encourage customers to cradle in and become part of the woodwork. All images courtesy of Jonathan Friedman.

WOOD IN ARCHITECTURE • ISSUE 1 • 2018

37
---
FIT-OUTS

The fluid flows within the space have an ethereal quality

Celebrated gastronomists Grant van Gameren, Mike

Webster and Robin Goodfellow wanted to take the

culinary experience to a new level of art. Apart from

mouth-watering tantalisers, their new tapas-style bar had to

be reimagined as a stage for performance, interacon and awe.

Toronto-based designers PARTISANS furnished the

space with a molten quality, fostering fluid circulation,

close encounters, honouring the spirit of its Spanish pintxo

counterparts. The rippled surfaces around the standing space

encourage patrons to get comfortable, lean into their so

edges, and become a part of the woodwork.

"It is a 21 st -century response to Spanish Art Nouveau

design," the architects said. "van Gameren [got us] to execute

an ambious vision… to create an 'art piece', a space that would

become an enduring Toronto instuon."

The team also used advanced digital methods to develop

prefabricated components that could be inserted directly

into the building's exisng fabric with minimal disrupon.

The team worked directly with fabricators MCM Inc, which

enlisted Mastercam to adjust the soware code they would

eventually use to mill over 9km of engravings on 75 panels of

wood. The team also worked closely with engineers to develop

customised acouscs and a tailor-made sound system. The

result is a marvel. | WIA

38 ISSUE 1 • 2018 • WOOD IN ARCHITECTURE
---
24-27 October 2018

THE WOODWORKING

SHOW IN THE HEART

OF VIETNAM'S

FURNITURE CLUSTER

BINH DUONG

BINH DUONG — THE RIGHT LOCATION

Jointly organised by

HAWA CORPORATION

PANELS & FURNITURE Group

Enquiries For International Exhibitors

Pablo Publishing Pte Ltd

3 Ang Mo Kio Street 62 #01-23 Link@AMK

Singapore 569139

Tel: (65) 6266 5512

Email: williampang@pabloasia.com

Venue: Expo Binh Duong

Binh Duong Province, Vietnam.

www.vifawoodmacvietnam.com
---
MATERIALS & TECHNOLOGY

By

Easy-to-use online maps to track the sustainability of American hardwood trees,

species by species and county by county, are being launched by AHEC.

These interactive maps will provide transparent and

veried data on the sustainable hardwood resources of

the USA, state by state and county by county for traders,

speciers and consumers. A series of online maps forming a

key component of the new americanhardwood.org website

and using data from the U.S. Forest Inventory Analysis (FIA)

programme gives new insights into the sustainability of

American hardwood forest resources.

The FIA programme is one of the longest running, most

comprehensive and sciencally rigorous forest inventory

programmes in the world. It dates back to 1928 when the

McSweeney-McNary Forest Research Act iniated the rst

forest inventories in the United States.

In 1974 the Federal Forest and Rangeland Renewable

Resources Planning Act (RPA) required the U.S. Department

of Agriculture to prepare Renewable Resources Assessment

every 10 years.

In 1998 the U.S. Farm Bill enhanced the FIA programme

with annual updates at state level based on measurement

of a proporon of plots, to produce a naonal report every

ve years.

FIA data derives from a combinaon of sources. Satellite

remote sensing is used to measure area, locaon and main

forest aributes at increasingly high levels of resoluon. More

than 125,000 forest sample plots across the USA provide

detailed informaon on forest type, site aributes, tree

species, tree size, and tree health. Quesonnaire surveys

of landowner plans, values, and intenons are made as well

as a survey of wood processing facilies to track commercial

mber producon.

40 ISSUE 1 • 2018 • WOOD IN ARCHITECTURE
---
MATERIALS & TECHNOLOGY

The interactive forest maps offer statistical information about America s forest resources such as species, growth and distribution.

Ulisaon studies of logging sites to record how much

wood is actually removed during harvest are also carried out.

FIA data shows that between 1951 and 2011 the volume

of U.S. hardwood growing stock increased from 5.2 billion

m 3 to 12.0 billion m 3 , a gain of over 130 per cent. This trend

occurred because hardwood growth was well in excess of

harvest volume throughout the sixty-year period. FIA data

also shows that U.S hardwood forest area increased at a rate

of 400,000 hectares per year between 2007 and 2012, adding

an area the size of a football pitch every minute during this

period.

The graph shows the long term net growth of hardwoods,

with an The area interactive increasing forest from maps 99 million offer statistical ha in 1953 to 111

million information ha 2012, about adding America an area s forest the size resources of a football pitch

every minute, such as rising species, at a rate growth of 40,000 and distribution. ha per year or in total

an area equal to France, Belgium, Netherlands and Germany

combined. Removals have been reducing since 1996.

The online interacve maps allow users to visualise U.S.

hardwood forest resource information from a bird's-eye

perspecve to reveal underlying spaal paerns. The most

recent FIA data on the volume of live trees, growth and

harvest is provided for 22 hardwood species which together

account for over 96 per cent of all hardwood standing volume

in the United States. Through a simple and intuive interface,

users can analyse the distribuon of hardwood volume,

growth and removals at naonal level, or drill down to state

and county level.

The online map system was developed by AHEC in

collaboration with BWA Design, a UK-based company

specialising in creave web design. | WIA

WOOD IN ARCHITECTURE • ISSUE 1 • 2018

41
---
Bloomberg's new European headquarters in London:

The lobby, or 'Vortex', features a red oak cladded arch.

Image credit: Foster + Partners and Nigel Young

42 ISSUE 1 • 2018 • WOOD IN ARCHITECTURE
---
By Michael Buckley,

World Hardwoods, Singapore

About 40 per cent of the U.S. national hardwood

resource is oak, of which red oak accounts for

about three quarters, but it is still under-utilised.

WOOD IN ARCHITECTURE • ISSUE 1 • 2018

43
---
44 ISSUE 1 • 2018 • WOOD IN ARCHITECTURE
---
MATERIALS & TECHNOLOGY

There is much discussion as to why red

oak is named as it is. Some say because

the leaves turn red in the fall, rather than

brown as in white oak. Others suggest that

the wood has a reddish nge, although that is

oen not the case. Lincoln* describes red oak

as ranging from biscuit coloured to pink. What

is absolutely sure is that its name has nothing to

do with red wine, for only white oak is suitable

for barrel-making! American red oak is highly

suitable for a whole range of other applicaons

from ooring to furniture, cabinets to coee

tables and every type of joinery from doors to

decorave panels. But many of today's furniture

makers and interior joinery manufacturers,

especially in Asia, remain unfamiliar with this

oak, one of the most sustainable and available

of all temperate hardwoods.

TECHNICAL CHARACTERISTICS

American red oak is a true Quercus, mainly

Quercus rubra Northern red oak and Quercus

falcata Southern red oak, but there are many

other sub species of red oak in North America

such as Spanish oak, cherrybark oak and

shummard oak. They all exhibit much the same

technical and working properes but, as with

most U.S. hardwoods, they can vary in colour

and grain from region to region.

The percentage of heartwood in red oak

is relatively large particularly in northern

grown material. Northern and southern is not

dierenated by merchants. So as usual when

specifying American hardwoods it is best to

research your source, if physical properes are

more important than visual aesthecs. Most

hardwood importers and distributors are wellversed

in their dierent characteriscs.

a) 707 kg/m 3 b) 707 kg/m 3

10.8% (Green to 6% M.C.)

a) 12,549 MPa b) 15,721 MPa

a) 5,738 N b) 6,583 N

a) Quercus rubra b) Quercus falcate

Northern

Southern

Interior staircase in Bloomberg London's new office

Photo credit: Foster + Partners and James Newton

WOOD IN ARCHITECTURE • ISSUE 1 • 2018

45
---
MATERIALS & TECHNOLOGY

Red oak interior flooring

Image credit: Foster + Partners and Nigel Young

RED OAK is everywhere in Bloomberg's new

European headquarters. Designed by Foster +

Partners, the dramatic lobby features a dizzying

1,858sqm of cladding while 37,160sqm of the

material spreads out beneath your feet. The multipurpose

room takes up another 1,350m 3 of red oak,

here used in the form of glulam.

So how did so much wood end up in the media

colossus' office?

Project Architect Michael Jones recalled

[Bloomberg] wanted something "bespoke and

tailored to the way they operate."

On his part, sustainability considerations let him

to timber. (The office scored a record BREEAM

rating of 98.5 per cent.)

In the end, red oak was chosen because it was "a

species with warmth that would mellow and mature

with age," Jones said.

With so much wood, so much could go wrong,

but the technical challenges have been overcome—

such as micro-perforating the lobby's vertical

cladding to absorb sound. Individual flooring boards

can also be lifted and refitted at will, a solution that

prevents creaking. Footsteps are also deadened by

an additional acoustic layer between board and

access floor.

"Businesses now want their buildings to

have a different sense of personality and be more

responsive to people who work in them," Jones said

in hindsight. "Bloomberg loves the result, so do we."

Red oak represents about 30 per

cent of the total American hardwood

standing timber although the sawn

lumber imported into Southeast Asia

does not reect this, and hence the new

promoon of red oak by the American

Hardwood Export Council (AHEC).

Currently in all Southeast Asian

countries the import of red oak falls well

below the volumes of other American

species. Nevertheless the USA exports

around one million cubic metres of red

oak annually because it is so suitable for

interior uses.

EASY TO WORK WITH

Red oak makes excellent lumber but is

also parcularly easy to slice and peel for

veneer and plywood and is very readily

available from U.S. exporters. The trees

grow large and tall, giving much beer

specicaons of lengths than most other

types of oak. As a result it is widely

used for doors and panelling where its

individual character oers decorave

opons for interiors to designers and

architects for ooring, panelling, interior

cladding and joinery.

The seed of the American red oak is

resistant to re and is a pioneer species

after others have been destroyed by

fires, often started by lightning. In

Pennsylvania, aer devastang natural

res in the early 1900s, it was red oak

that came back to regenerate the forest

naturally. It has been cut connuously

for widespread use since the European

selers rst arrived 400 years ago and

yet it increases its growing volume

by sound management and natural

regeneraon – always a true measure

of sustainability. Interactive maps of

all American commercial hardwoods

newly launched show that annual

growth exceeds annual harvest and

mortality.

Lincoln* describes American red

oak as "weighing around 770 kg/m 3

with medium bending properes and

very good bending with steam." It has

"high crushing strength" and is mostly

straight grained. Such properes led to

the American Hardwood Export Council

in Europe to select red oak, along

with ash, white oak and tulipwood for

structural tesng by Building Research

Establishment in the UK years ago. The

results are contained in the publicaon,

Structural Design in American

Hardwoods, which provides architects

and engineers with structural data under

codes not previously available.

46 ISSUE 1 • 2018 • WOOD IN ARCHITECTURE
---
MATERIALS & TECHNOLOGY

HARDY, STRONG AND FIRE

RESISTANT

American red oak is classied as nondurable

although the sapwood is

permeable and easily treated with

preservave, whereas the heartwood

is moderately easy to treat. This fact

also enables American red oak to be

more easily treated with re retardants

than some other hardwood species.

This beer permeability of American

red oak leads to a greater uptake and

retenon necessary to achieve the Class

0 re rang for internal linings used in

escape routes and circulaon areas in

public buildings.

More recently test projects have

revealed red oak as most suitable for

thermal modicaon – so TMT red oak

is now available for exterior applicaons.

Other properes lead to the harder

wood needing pre-boring for nails, but it

machines well and also glues and stains

well to a fine finish. The decorative

properes of red oak are derived from

its strong grain paerns and generally

warm colour.

In performance the hardness of red

oak makes it ideal for ooring, and with

its disnct grain paern it shows wear

and tear less than many other species

used today. Given the sustainability of

red oak, speciers can rest assured that

its use threatens no forests but provides

a material with characteriscs that can

spell both 'contemporary' and 'heritage'.

Bloomberg's new oce in London

is one such marvel, with red oak ed

throughout the 1.1 million sq oce.

| WIA

*"World woods in colour"

William A. Lincoln ISBN 0 85442 028 2

Michael Buckley at World Hardwoods

holds an MPhil for hardwood research

and is a fellow of the Instute of Wood

Science in the UK. He writes widely on

hardwood subjects.

WOOD IN ARCHITECTURE • ISSUE 1 • 2018

47
---
FLOORING

New look for laminate: Digital printing enables unusual design concepts to

be applied, such as decors with a visual material mix and creative colouring.

Image credit: Parador.

Stylish laminate decors with the glamour factor: Deep, warm tones

with a subtle shimmer of gold give a hint of luxury.

Image credit: Quickstep by Unilin.

The latest trends in flooring are becoming

more diverse. They must be as pretty as the

furniture that sits on them, look natural and

of course, be durable and easy to maintain.

MODERN AUTHENTICITY

Industrial Chic, Modern Classic, Bohemian

and Country themes continue to be

popular in homes and commercial spaces

worldwide. Likewise, Nordic styles are sll

welcome for its sober, clean shapes and

light colours.

In addion, many people are looking

for ooring they can "touch and feel",

and this has resulted in users having

a greater understanding of materials.

Authencity is becoming a determinant

in their choice of products and this has

strongly inuenced the way new laminate

oors are being developed.

A NEW KIND OF

NATURALNESS

Vintage and the "used" look are sll major

themes, but overall the appearance of

laminate wood is now more linear and

softer. Textures are now used more.

Some laminate oor coverings feature

slight traces of wear on the surface.

The "rustic" look, popular in recent

years, has given way to a new kind of

naturalness. Special surface treatments

on planks, such as "oiled" and "brushed",

are reflected in a tactile and visual

nish.

No other wood is as expressive as

oak, which is why oak remains a longterm

favourite in the laminate sector. The

48 ISSUE 1 • 2018 • WOOD IN ARCHITECTURE
---
FLOORING

European laminate is popular for its technical and eco-friendly performance.

Image credit: Wineo.

most dominant colours range from light

to medium dark, with various shades

and hues of grey. Equally attractive

are the new interpretations of wood

reproduced to look like maple, acacia,

beech, alder, ash, spruce, larch and

nutwood. Depending on the character of

the ooring, the colour palee extends

from bright ma white through to deep,

warm shades of honey, nutmeg and

cognac. Popular in Scandinavia, pine can

be used as a realisc-looking laminate

decor even in high trac areas.

"LUXURY" BACK IN DEMAND

Modern stone decors that resemble

marble, sandstone and slate are

increasingly in demand. With their

harmonious blend of colour, texture

and shape, these oors have an elegant

look-and-feel inspired by nature.

Concrete eect designs, now available in

new variaons, are also fashionable and

proving to be successful on the market.

A special surface eect can be created

on laminate boards by incorporating

nuanced metallic reecons in gold or

bronze. For example, a subtle gold shimmer

in a warm, dark wood reproducon can

provide a hint of luxury. Mediterraneanstyle

mosaic designs, supergloss laminate,

tradional country-style rusc planks and

the classic herringbone paern are also

popular choices.

AHEAD IN TECHNOLOGY

Industrial digital prinng has facilitated

the design of laminate collecons with all

together more variety and colour. This is a

real bonus as there are no limits in terms

of creave scope and customisaon.

There is more demand for

contemporary, easy-to-maintain wood

eect laminate ooring in the kitchen

and bathroom too. Laminate boards with

special water-resistant features are a

growing product segment. The necessary

swelling protecon is achieved by using

newly-developed HDF core boards with

a high degree of hardness and density,

and also by impregnang the overlay and

edges to make the boards more splashand

moisture-resistant. This is what

makes laminate such an easy-to-maintain,

cost-effective and visually attractive

ooring opon for the commercial sector.

NEW CLICK VARIATIONS

New solutions for click systems now

make installations easier, quicker and

more secure. Some of the designs allow

for dierent connecon methods: the

elements can either be laid row by

row or by following the staggering

principle which allows several installers

to work on the same area simultaneously.

Dismantling is also made smoother with

these new methods.

There are now "assembly kit"

soluons available for laminate, allowing

the chosen design of flooring to run

connuously over mulple storeys. An

increasing number of new and improved

quality laminate products are appearing

in the European laminate flooring

industry as a result of the input of fresh

design ideas and the intelligent use of

innovave technologies. | WIA

Source: European Producers of Laminate

Flooring

WOOD IN ARCHITECTURE • ISSUE 1 • 2018

49
---
FLOORING

Source: European Producers

of Laminate Flooring

Total laminate ooring sales in volume terms

from members of the European Producers

of Laminate Flooring (EPLF) reached 477

million m 2 in 2017. The associaon's home market

of Western Europe continued to decline whilst

Asia was once again the market that recorded the

biggest growth. Exports to the Americas and Russia

also saw gains.

WESTERN EUROPE

Total sales in Western Europe (including Turkey) fell

2.9 per cent to 243 million m 2 . Germany remains the

single largest market in Central Europe, achieving

ooring sales of 57 million m 2 , although this gure is

a 10 per cent decline from 2016 due to consumers'

preference for thermoplasc ooring.

France is sll in second place, demonstrang a

small increase in sales to reach 37.6 million m 2 . UK

sales rose 2.5 per cent to 33.8 million m 2 , pung it

in third place ahead of Turkey.

Global sales of EPLF members in million m 2

Sales gures for Turkey fell by 9.2 per cent, down

to 24.9 million m 2 . The Netherlands is in h place

followed by Spain.

Major regions EPLF members export to (in million m 2 )

EASTERN EUROPE

Although sales in Eastern Europe climbed marginally

in 2017, the region remains a major growth market

for EPLF manufacturers—sales rose 1.9 per cent to

128 million m 2 . (The EPLF is aware that just under

20 million m 2 of laminate produced by Russian

member companies are not accounted for, for

various reasons, since 2015.)

In 2017, EPLF members in Russia reported

sales growth of 5.2 per cent to 35 million m 2 ;

Poland sales were steady at just under 31

million m 2 ; Romania, 13.2 million m 2 ; followed

by Ukraine, which grew 18.4 per cent to

7.4 million m 2 , Hungary and Bulgaria.

50 ISSUE 1 • 2018 • WOOD IN ARCHITECTURE
---
FLOORING

ASIA AND MIDDLE EAST

Asia Pacic saw the biggest growth in 2017 where

total export sales were over 29 million m 2 , an 8.7 per

cent increase. Shipments to China (including Hong

Kong) reached 9.6 million m 2 , a 10.8 per cent increase

over the previous year. Taiwan registered just under

1.8 million m 2 , a rise of over 18 per cent. Kazakhstan,

surprisingly, also saw tremendous growth of over 39

per cent YoY with sales volumes reaching 3.6 million

m 2 . (Stascs from the Central Asian country were

only collected from 2016 onwards.) Israel notched up

to 2.2 million m 2 ; Saudi Arabia remained stable at 2.7

million m².

THE AMERICAS

North America recorded a 4.7 per cent YoY increase

to reach 49 million m 2 . It connues to be a key market

for EPLF members. Shipments to the U.S. were around

32 million m 2 (+8.1%) while that to Canada were just

under 18 million m 2 .

Lan America imported 17.7 million m 2 , a three

per cent increase. Figures for Chile, the largest single

market, rose by 4.6 per cent YoY to 7.7 million m 2 .

Mexico, the second largest market, recorded 4.3 million

m 2 , followed by Columbia and Argenna. | WIA

EPLF members' sales to Asia and Middle East (in million m 2 )

WOOD IN ARCHITECTURE • ISSUE 1 • 2018

51
---
FLOORING

By thermally modifying wood, timura

Holzmanufaktur offers wood in the same durability

class as tropical wood, suitable for both interior and

exterior flooring, as well as cladding for façades.

Renowned for their philosophy in design and innovaon as much

as their commitment to preserving the world's tropical forests,

mura Holzmanufaktur GmbH, a wood manufacturer based in

Südharz, Germany, is dedicated to improving the lives of those around

them in an ecologically sound way.

Certified by both the Forest Stewardship Council (FSC) and

the Programme for the Endorsement of Forest Cercaon (PEFC)

schemes, one of mura's most unique aspects is that they oer

modied wood that is as durable as the endangered and coveted

tropical wood – but made of sustainably sourced German wood.

"The inial idea was to save the tropical rainforests here in

Southeast Asia, which we can do as we have enough resources

in Europe, and especially Germany where our forests have been

sustainable for 300 years and sll growing," Chrisan Pongratz, senior

sales manager of mura, explained. "We use ash, spruce, pine and

beech for our products. But since American ash has a lower density,

we use German ash."

THERMO WOOD

Sustainably harvested, mura's thermally modied ooring, a product

of vacuum press drying, is lighter, holds more moisture than wood not

thermally modied, and oers beer insulaon due to its decreased

thermal conducvity and lower density.

"Mould normally grows on the wood if the moisture is over 25

per cent, but we thermally modify the wood and bring the moisture

down to around eight to nine per cent. Since mould cannot grow on

the wood, the durability is also enhanced," Pongratz said.

But the wood is not only durable due to its water absorpon and

water-binding properes; it also oers beer dimensional stability.

"Because the wood is pressed and thermally modified, its

expansion and contracon is also greatly reduced, and one benet

is that it will not bend or warp. So there is no need to iron out the

wood every few years."

UNIQUE

There are many benefits to building with wood, but the many

properes of thermally modied wood means that this versale

product has a large range of uses, from outdoor and exterior decking

as much as it can be used for interior ooring.

"What is special about our products is that seamless outdoor or

exterior decking – without gaps – is possible," Pongratz expounded.

"The innovaon here is the SenoFix that was specially developed

for our thermo wood. It's one of the reasons why designers and

architects like our products, along with the fancy shapes and colours

they can come in."

timura's products are also suitable

for outdoor decking
---
Although the popularity of composite materials

has risen over the past few years, thermally modied

wood has slowly been gaining aenon as well.

"Some builders and developers have not had

posive experiences with wood, what with it warping

with expansion and contracon, fading under the sun,

and delaminaon," Pongratz stated.

"But because our thermally modied products

are so unique, and architects, builders and developers

are interested in looking for sustainable and durable

wood, we believe that we are able to oer projects

that don't want composites as an alternave."

Thermally modified

and pressed, timura

offers wood in the same

durability class as tropical

wood.

THE FUTURE

"Thermally modied wood, in general, is a great

opportunity in green buildings," Pongratz pointed

out. "Though it is the architect who has to decide

on what is best."

And although thermally modied wood may not

be commonly found in Southeast Asia yet, it is a viable

alternave to many other construcon materials.

"I will be happy if there will be more aenon on

thermally modied wood in the future," Pongratz said

candidly. "It may be a niche product, but that doesn't

mean it will be pricey." | WIA

WOOD IN ARCHITECTURE • ISSUE 1 • 2018

53
---
FLOORING

By

Speaking of ooring companies, the

rst few names that come to mind

are Nature, Treessun, Powerdekor or

Boer. While these brands are well-known

for superior quality and have signicant

market share, they also end up ooding

the market with large quanes of similar

products, resulng in ght compeon.

Furthermore, products that are

marketed as "environment-friendly",

"formaldehyde-free", "waterproof" and

"radiative floor heating" have been

commonplace for the past 20 years.

These practical characteristics attract

consumers but are in fact nothing new

for trade media and industry insiders.

In the west, environmental standards and

grades are no longer business gimmicks;

they are a basic standard. Can we

finally have some fun and novelty in

ooring?

What does creativity in wood

flooring look like? The answer

can be found in INNOMASTER.

VETERANS IN THE BUSINESS

Huang Guang and his business partner,

Liu Shuozhen, can be considered

veterans since each has more than 20

years' of experience in the industry.

But more importantly, the founders of

INNOMASTER broke convenon, taking

ingenious ooring design to a whole new

level. Their products gained popularity

in an amazingly short me.

Liu, who is also the chairman

of INNOMASTER, is the founder of

Elegant Living Baroque Flooring. The

company specialises in branding ooring

and building material enterprises. By

melding stories and cultural elements

into the brand, he proved himself the

innovave storyteller, establishing a new

universe behind INNOMASTER.

At the Shanghai and Guangzhou

trade fairs, INNOMASTER's booth is

always packed with visitors. Even though

it is located in the Chinese hall, it aracts

overseas buyers too. The large spacious

booth, creave design, bright tones and

disncve styles are impressive. Most

cannot resist grabbing snapshots with

the booth.

To approach real design and

prepare for the upcoming Age of

Colour, INNOMASTER worked with Italy's

Stewari design studio and designed over

4000 dierent types of veneer. Although

not every design is praccal, the wide

range of products is enough to leave

many competors trailing

far behind.

At the Shanghai and Guangzhou

trade fairs, INNOMASTER is always

packed with curious visitors. The loud colours

and expressive designs are always a hit.
---
FLOORING

According to Huang, Armstrong,

one of the largest ooring and building

material companies in the U.S., is

negoang the exclusive rights to sell

INNOMASTER's products in America.

"We've been travelling the world in

the last ve years," Huang said. "Now we

are back and we hope to amaze everyone

with what we can come up with."

TRIAL AND ERROR

Many people enjoy the loud colours

and explosive styles in INNOMASTER's

overwhelming variety of products.

But few know that these products are

the result of countless of hours of trial

and error. Furthermore, products with

disncve characteriscs are very hard

to cater to the majority's taste. But this

is easy to nd out—just launch an online

poll and observe the responses. In the

end, some universally popular products

will emerge, which are so original, they

cannot be copied.

"The trial and error process is not

meaningless if they lead to the correct

result," Huang says. He also adds that

the market's unpredictable reaction

forces INNOMASTER to offer good

customisaon service in return.

The building materials sector doesn't

often work with other industries.

Tradional companies can be insensive

to design and style. Unlike the clothing

industry, it usually takes ve to seven

years for the building materials industry

to catch up with trends.

However, as industrial printing

technology becomes more popular now,

a growing number of building companies

are incorporating popular fashion

concepts into their business. Many

companies are also trying to get rid

of faceless styles, which are

mostly grey, white

or wooden tones. And while trending

colours, styles and designs are now more

common at regional exhibitions and

conferences, only INNOMASTER seems

to have undergone the greatest change.

With an internaonal outlook, good

fashion sense and keen understanding of

the ooring industry, things are looking

up for INNOMASTER. It should connue

to grow if it develops these strengths as its

core compeveness. The best products

on the market can be copied, but having

a sense of creavity and adventure is

priceless and irreplaceable.| WIA
---
SHOW PREVIEW

2018

As one the most interesting events in

the international wood market, Sylva

Wood is returning for its fourth edition

to become the one-stop destination

for bringing furniture and flooring

manufacturers, as well as traders

and importers together to strategise,

and exchange ideas and insights.

Sylva Wood 2018 will take

place in Shanghai from

June 25 to 27

The countdown is on for the annual Sylva Wood. Now

in its fourth year, the only specialised wood materials

show in Asia, with no machinery or nished products,

has built a solid reputaon in the region and set to be even

greater.

Once again taking place in June, Sylva Wood remains the

ideal place for industry players to meet while leveraging on

the opportunity to tap into the Chinese market.

"We are overwhelmed by the enthusiasc response.

Sylva Wood has expanded its footprint over the years, and in

this fourth edion, we are looking at the interplay of big and

small companies to bring the best in the industry to visitors,"

said William Pang, director of Shanghai Pablo Exhibion.

56 ISSUE 1 • 2018 • WOOD IN ARCHITECTURE
---
SHOW PREVIEW

The Russian Pavilion will return again for the second time along with the Dongguan Veneer Alliance

The show connues to be endorsed by the American

Hardwood Export Council, American Sowoods, Canada

Wood, French Timber and Sowood Export Council. This

year, it has also received the support from the Thai Timber

Association, Malaysian Timber Council and National

Hardwood Lumber Associaon.

Visitors can also look out for the Russian Pavilion as it

returns again for the second me along with the Dongguan

Veneer Alliance.

"The show has been improving. It focuses on wood

materials and is very useful for our members. We've got

a prey good number of visitors vising and they are

professional mber trade people. The members are very

happy so I believe this is a quality show that is valuable for

us," said John Chan, AHEC's regional director.

EXPLORING CHINA'S POTENTIAL

According to RISI, a company specialising in providing informaon

and data for the global forest products industry, China's imports

of sowood and hardwood logs have jumped by 42 per cent in

the last ve years, while imports of lumber soared by 81 per cent.

The country is the world's largest importer of wood bre, and

largest exporter of plywood, ooring, wooden furniture and other

related products. While rising labour costs and other factors have

been potenal drags on growth, 2017 sll saw record-high imports

of logs and lumber.

In addition, despite the central government's move to

aggressively reduce nancial risk and polluon in the country,

the wood content of China's primary forest products imports will

increase from an esmated 194 million cubic metres in 2015 to

254 million cubic metres by 2025, reported RISI.

The country's mber and forest products imports are expected

to increase by 60 million cubic metres by 2025, and will eventually

account for 12 to 13 per cent of global mber harvest.

As the only premier plaorm for the wood materials sector,

visitors and exhibitors can expect opportunies to explore and

enhance productivity and competitiveness at this dedicated

business-to-business event.

The world-class show will take place in Shanghai from June

25 to 27 and a full programme of workshops and seminars will be

held over the three days – with more details to be provided in the

following months. | WIA

WOOD IN ARCHITECTURE • ISSUE 1 • 2018

57
---
March 26 to 29, 2018

Dubai World Trade Centre

2018:

All images are credited to N

Design for self-expression will be the central theme of the INDEX show in March.

With one of the most diverse and creave catalogues of exhibitors to date, INDEX

will celebrate design as a direct reecon of individuality. The event will feature

the pinnacle of local and internaonal design minds, and bespoke live features brought

to Dubai, UAE, exclusively for the show by leading European designers.

Forecasted to see over 1,000 exhibitors from across 60 dierent countries,

the 2018 show is set to oer a wealth of products for those hoping to nd that

special item which will allow their client's project to feel uniquely theirs.

Architects, interior designers, interior architects, retail managers, purchase

managers, manufacturers and suppliers, and procurement managers will

also be expected at the show.

Samantha Kane-Macdonald, event director at INDEX, said, "Clients

and end-users have more creave input than they have ever had

when dealing with interior designers, product designers and

contractors, no maer what the scale of the project.

"With that, the pendulum of control has swung back to

the people. The design mantra is more and more about

incorporang the traits of the individual: their beliefs,

their experiences, their ambions. Never before have

interiors, furniture and décor been considered such a

direct reecon of those who own the space."

Allowing the scope for personal selfexpression

is already becoming essenal when

thinking about an interior space, explained

Kane-Macdonald.

"For 2018, INDEX will crique the way

we express our individuality through the

products we source for our interiors, be

that at work or at home," she added.

This will be the second me in

the event's 28-year history that

INDEX will incorporate a theme.

At the 2017 show, the

four-day exhibition was

transformed with

lush greens to allow

visitors to delve

into interiors that

stimulate Design

for the Senses.

| WIA
---
SHOW PREVIEW

With over 25,000 homes being

added to the UAE's residenal

market this year, the wood and

furniture market is likely to witness solid

growth.

Wood and wood products are

expected to get a solid boost from

the $2.4-trillion worth of construcon

acvies, especially when new homeowners

start purchasing furniture and

interior décor accessories, industry

experts say.

In the Middle East, 70 per cent of

mber and wood products are used in

construcon; the rest are used in real

estate, interiors, furniture and other

industrial applicaons.

With an average spend of $2,722

on wooden products per home, this

translates to $68 million spent this year

in Dubai alone.

However, with more than 35,000

residential units slated for delivery

in 2018, spend on wooden products

is expected to jump 40 per cent to

$95 million, according to a report released

of ahead of the Dubai WoodShow.

"The growth in the housing market

will drive the wood, wood-related and

mber business across the region and

this creates a great opportunity for the

industry," said Dawood Al Shezawi, CEO

of Strategic Markeng and Exhibions,

the event's organiser.

"As families move into their new

homes, they will require a fresh supply

of furniture. Most families will look for

authenc wooden furniture and products

– wherein lies the new demand."

Al Shezawi said in order to capture

the lucrave UAE market, more than 300

exhibitors from 100 countries are all set

to showcase their innovave soluons

at the next edion of Dubai WoodShow,

which will showcase new designs, style

and product innovation on managing

home space in innovave ways.

The demand for wood products is

also expected to be driven by new hotel

projects.

"Dubai will add 40,000 hotel rooms

and service apartments to meet the

growing demand of tourists as part of

the build-up to the Expo 2020, which

is less than three years away," stated Al

Shezawi.

Dubai's hotel sector has more than

100,000 hotel rooms and serviced

apartments. By October 2020, Dubai will

need to have a strong hotel inventory

of 140,000 hotel rooms and hotel

apartments.

"As we speak, a number of hotel

operators are floating tenders for

wooden beds, tables, and wooden

interior products to oer greater comfort

to hotel guests. This is going to be a great

driver of demand for wooden products,"

he added.

The Dubai WoodShow will be held

from March 12 to 14, 2018, at the

Dubai World Trade Centre. Organisers

ancipate over 300 exhibitors from over

106 countries will participate at the

show. | WIA

60 ISSUE 1 • 2018 • WOOD IN ARCHITECTURE
---
SHOW REVIEW

Amagnicent building material like

timber should not be reduced

to secondary functions and

Malaysian architects as well as structural

engineers need to relook the use of

timber in architecture. As the world

moves towards changing building code

regulations to accommodate timber

high-rises, Malaysia should consider

revising its building tradion with this

material.

This was the message conveyed by

the disnguished panel of speakers at

the Malaysian Timber Council's (MTC)

International Conference on Wood

Architecture held Nov 9 in Kuala Lumpur.

The panel included world-renowned

The Malaysian Timber

Council's International

Conference on Wood

Architecture highlights

why timber is the star

building material of the

21 st century.

or manufactured off-site to improve

productivity and reduce on-site

construction waste. The use of IBS

components with a minimum score of

70 per cent in government projects will

be made mandatory. IBS is also expected

to improve producvity by 2.5 mes,"

he added.

In the recent Budget 2018, Malaysia's

prime minister announced various

initiatives to strengthen small-andmedium

enterprises (SMEs) as well as

enhance automaon and Bumiputera

entrepreneurship.

"Sensaonal mber structures have

been developed primarily in European

countries and this is something which

Conference participants (from left): Kevin Hill, PAM President Ezumi Harzani, Norihide Imagawa, Almaz Salma Abdul Rahim, MTC Deputy CEO Richard Yu,

JKR Civil and Structural Engineering Branch Director Ir Muhammad Azman Jamrus, Azman Md Nor, Boris Iskra and Andrew Waugh.

architects and engineers Andrew

Waugh, Norihide Imagawa, Kevin Hill and

Boris Iskra. Malaysian architects

Almaz Salma Abdul Rahim and

Azman Md Nor, rst and second prize

winners, respecvely, of MTC's inaugural

Malaysian Wood Awards 2017, spoke on

their winning designs as well as on their

other wood-based structures.

The conference promotes the use

of timber and highlights the need

to change the mindsets of those in

the construcon industry. About 300

delegates aended.

Deputy Minister of the Plantaon

Industries and Commodies YB Datuk

Datu Nasrun Datu Mansur ociated the

opening ceremony on behalf of Minister

YB Datuk Seri Mah Siew Keong. Also

present was MTC Chief Execuve Ocer

Datuk Dr Abdul Rahim Nik.

Players in the construcon industry

will nd themselves in a transion period

and will have to employ a different

atude which would be a more nurturing

one when they build with mber as the

government instutes various iniaves

such as the Industrialised Building

System or IBS, said Nasrun, delivering a

speech on behalf of Minister Mah.

"Under the IBS, components such

as mber frames will be prefabricated

we can emulate. Building regulaons

are also being revised, reflecting the

successes accomplished in countries

which have constructed tall timber

structures. Malaysia should embrace the

advancements that mber architecture

is oering," Abdul Rahim said.

A mini exhibition was also held

in conjunction with the conference

to showcase products such as doors,

flooring, decking, panel products,

mouldings and glulam. These enabled

specifiers and users to know what is

available in the market. | WIA

WOOD IN ARCHITECTURE • ISSUE 1 • 2018

61
---
MARCH

5 – 8 Wood Tech & Design Expo Saudi 2018 Jeddah, Saudi Arabia www.wtdexposaudi.com

6 – 9 Architecture + Construction Materials Tokyo, Japan www.messe.nikkei.co.jp

8 – 11 IFFS Singapore www.iffs.com.sg

8 – 12 India Wood Bangalore, India www.indiawood.com

9 – 12 Build+Décor 2018 Beijing, China www.build-decor.net

12 – 14 Dubai WoodShow Dubai, UAE www.dubaiwoodshow.com

14 – 17 Shanghai Design Week Shanghai, China www.designshanghai.com

18 – 21 CIFF Guangzhou, China www.ciff-gz.com

20 – 23 Domotex Asia/ China Floor Shanghai, China www.domotexasiachinafloor.com

21 – 23 International Building and Construction Trade Fair Shanghai, China www.shfair-cbd.no4e.com

21 – 24 CIDE 2018 Beijing, China www.door-expo.com

26 – 29 INDEX Dubai Dubai, UAE www.indexdesignseries.com

27 – 29 EcoBuild Southeast Asia Kuala Lumpur, Malaysia www.ecobuildsea.com

28 – 31 CIFM/ interzum guangzhou Guangzhou, China www.interzum-guangzhou.com

APRIL

17 – 22 Salone de Mobile Milano Milan, Italy www.salonemilano.it

24 – 26 Gulf Construction Expo Bahrain www.gulfconstructionexpo.com

24 – 26 Gulf Interiors Bahrain www.gulfinteriorsexhibition.com

MAY

2 – 6 IndoBuildTech Jakarta 2018 Jakarta, Indonesia www.indobuildtech.com

7 – 8 Kuwait Housing Residential Development Kuwait www.housingkuwait.iqpc.ae

7 – 10 Project Qatar Doha, Qatar www.projectqatar.com

8 – 12 Yapi – Turkeybuild Istanbul Istanbul, Turkey www.yapifuari.com.tr

15 – 17 Guangzhou International Wooden House

& Wooden Structure Fair 2018

www.muwuz.com

30 – 1 Jun Carrefour International du Bois Nantes, France www.timbershow.com

JUNE

13 – 15 Chengdu China Building & Decoration Materials Expo Chengdu, China www.cdjbh.cn

25 – 27 Sylva Wood 2018 Shanghai, China www.sylvawoodexpo.com

AUGUST

20 – 23 World Conference on Timber Engineering Seoul, Korea www.wcte2018.kr/home

WOOD IN ARCHITECTURE • ISSUE 1 • 2018

63
---
AHEC

OBC

American Lumber 7

Arden Precision Technology Co Ltd 1

Baillie Lumber 11

CIFF 2018

IFC

Chia Lung Machinery Ind Co Ltd 51

DOMOTEX ASIA 2018 53

Dubai WoodShow 2018 62

EcoBuild Asia 30

Extend Light Machinery Co Ltd 25

Hoon Hsiang Ind Co Ltd 47

Kuang Yung Machinery Co Ltd 9

Softwood Export Council 3

Technik Associates, Inc

IBC

Wood Taiwan 2018 59

VIFA Woodmac Vietnam 2018 39

Sylva Wood 2018 5

Scan to

download eBook

64 ISSUE 1 • 2018 • WOOD IN ARCHITECTURE