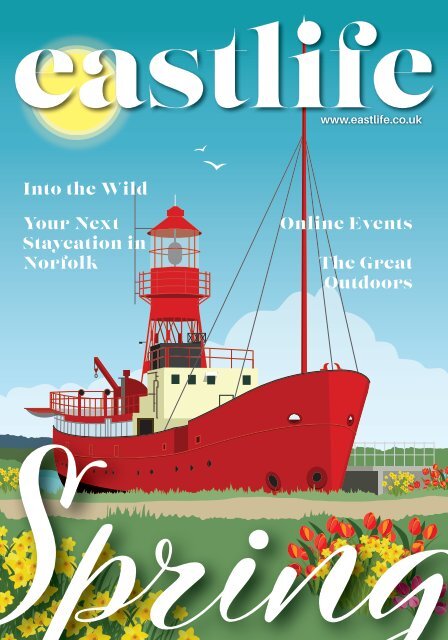 Eastlife Spring 2021
This is our fourth issue during the pandemic. Fourth! I can't quite believe it. Like many other businesses we have learned to adapt. I am no longer flustered when events are cancelled at the last moment before print, it has become the norm.
This is our fourth issue during the pandemic. Fourth! I can't quite believe it. Like many other businesses we have learned to adapt. I am no longer flustered when events are cancelled at the last moment before print, it has become the norm.
SHOW MORE
SHOW LESS
Create successful ePaper yourself
Turn your PDF publications into a flip-book with our unique Google optimized e-Paper software.
www.eastlife.co.uk

Into the Wild

Your Next

Staycation in

Norfolk

Online Events

The Great

Outdoors

pring
---
Live-in Care

Specialists

since 1980.

"Deciding to stay

in my own home

with Jess and my

live-in carers was

the best decision I

ever made."

For a free brochure call us on

01603 764567

We are proud of our reliability

and standards, because your

own front door is priceless!

www.ablecommunitycare.com

info@ablecommunitycare.com
---
10 Facts about a Live-in Care Package

from Able Community Care

1. Able Community Care has been providing Live-in Care Support for 40 years.

2. The service is available throughout mainland UK and The Channel Islands.

3. We have enabled thousands of older and disabled people to remain living in their home

of choice, their own.

4. All potential, Live-in Carers who wish to work through Able Community Care, must have

a minimum of one year's professional experience before we consider their application.

5. Able Community Care writes for all references and telephone checks the validity

of each reference received.

6. All Carers working through Able Community Care have an in-date DBS.

7. Live-in Carers update their training on an annual basis.

8. We also offer Home from Hospital Support, Holiday Care Companions and Respite Care.

(Brochures are available)

9. Live-Care Packages from Able Community Care are reliable, praised and financially prudent.

10. Able Community Care is a family firm.

This is our office on the outskirts of Norwich.
---
IMAGINE...

LIVING THE HAPPY,

SAFE LIFESTYLE YOU'VE

ALWAYS DREAMED OF

"We've always wanted to live in a

wonderful, friendly and safe community.

We have now found that perfect place.

We couldn't recommend Tingdene

Parks highly enough."

t: 01933 426579

e: info@tingdene.net

www.tingdene-parks.net

Mr B, Tingdene Resident
---
Contents

Magazine Production

PUBLISHER Christa Hallam

christa@eastlife.co.uk | 07827 015170

EDITOR Emma Kemsley

emma@eastlife.co.uk

FEATURES WRITER Jacqui Hagen

jacqui@eastlife.co.uk | 07990 881546

GRAPHIC DESIGN Doug Dawson

doug@dougdawson.co.uk

SALES ENQUIRIES

Beth Hagen

Essex and Suffolk

beth@eastlife.co.uk | 07557 649426

Donna Auger

Bedfordshire and Hartfordshire

donna@eastlife.co.uk | 07796 082 836

Jim Leishman

Cambridgeshire and Norfolk

jim@eastlife.co.uk | 07872 469 669

ON THE COVER

Tollesbury Lightship, Essex by Tabitha Mary

Tabitha is inspired by the old railway posters.

She captures places near and far. You can see

her collection of 200+ prints on her website

www.tabithamary.co.uk

EASTLIFE is published by Local Media Publishing

Ltd. All rights reserved. Reproduction, in part or

in whole, without the written permission of the

publisher is strictly prohibited. The views expressed

by contributors are not necessarily those of the

publisher. All times, prices and dates of events were

correct at the time of going to press but readers are

advised to ring and check before setting out.

Printed by Buxton Press.

DON'T FORGET

TO DOWNLOAD THE

EASTLIFE APP AND FOLLOW

US ON SOCIAL MEDIA

(SEARCH "EASTLIFE")

Dear Reader,

This is our fourth issue during the pandemic. Fourth! I can't quite

believe it. Like many other businesses we have learned to adapt. I am

no longer flustered when events are cancelled at the last moment

before print, it has become the norm. I no longer debate whether I

should add COVID guidelines to every article, I think we're all fully

accustomed to wearing a mask and the two-metre rule by now. I

know to include a balance of articles which suggest activities for

lockdown, tiers and normal life (remember that? No, me neither).

However, despite these changes, for the first time in the last 12

months, this issue felt hopeful. With the roll out of the vaccine, I

am hoping this magazine will be read post-lockdown. Confident

attractions will open their doors and welcome us to spring delights.

Optimistic we'll once again be exploring our favourite holiday

destinations and dining in restaurants. I do hope I am right and

that you're reading this with a smile on your face, in a beautiful East

Anglian location, in a post-lockdown life.

As always, we love to hear from you. Share your images and thoughts

with us on social media using the hashtag #eastlife.

Best wishes

Emma Kemsley

5
---
SPILL

LAND

FARM

Country Park, Ashford

ENJOY YOUR OWN

COUNTRY RETREAT

Luxury lodges

from £169,995 *

Open 365 days a year

Bespoke options available

01892 308048

FOR ALL SALES ENQUIRIES *

Benenden Road, Biddenden,

Ashford, Kent TN27 8BX

FIVE

FURLONGS

Country Park, Paddock Wood

A BETTER FUTURE IN

PARK HOME LIVING

Park homes

from £199,995 *

Full residential licence

Bespoke options available

0800 086 2436

FOR ALL SALES ENQUIRIES *

Queen Street, Paddock Wood,

Kent. TN12 6NX
---
Contents

28

34

60

110

08 Word of Mouth

A round-up of the region's news and

upcoming events

015 Lifestyle

Online Mother's Day ideas and socially

distanced spring days out

028 Travel

Staycation inspo; a country esacpe,

the Norfolk Broads, vineyard tours and

wildlife adventure

039 Dog Friendly

Catch up on Tails About Town. Discover

sensory spring walks for your dog

045 Education

Could you child benefit from boarding?

Education experts share their advice

051 Little East

Keep your little ones entertained with

Easter crafts and virtual farm days

063 Food & Drink

The latest food and drink news,

Cambridge's coolest coffee, eating in

Norwich and Beds, and in the kitchen

with chef, James Rix

076 Health

The region's best outdoor exercise

079 Fashion

Add shades of spring to your wardrobe

081 Weddings

Say cheese! Wedding photography tips

085 Motoring

Sue Cooke reviews the DS7 Crossback

Ultra Prestige E-Tense

087 Consumer

Martin Lewis advises how to reduce your

council tax. Plus the latest WFH gadgets.

095 Interiors

Flooring, outdoor offices, sustainable

homes, gardens and staging your house

to sell

107 Arts

A round-up of the region's arts news and

events

110 Area Focus

A spring day out; roadtrip inspiration,

visitor guides and restaurant

recommendations

7
---
Word

of

Mouth

The latest news from around the region

Home Sweet Home in Cambridgeshire

Country living with city links is on the top of most homebuyers

lists, and award-winning developer Laragh Homes is making it

a reality.

Laragh is currently progressing with two additional

developments in Cambridgeshire; The Mews on Histon Road

and Phase 4 of Manor Farm in Stretham.

www.laragh.co.uk

Its latest Cambridgeshire developments, The Old Tannery in

Ely, a collection of 25 lavish apartments, and Emerson Park in

Great Abington, a group of 15 luxury houses, is quickly making

progress with many plots already sold.

The Old Tannery set in the beautiful Cathedral city of Ely

features one studio, seven one-bedroom and 17 two-bedroom

apartments with private parking available. Emerson Park is

located in the picturesque south Cambs countryside in a

quintessential village with access to the River Granta and a

short distance to Cambridge city centre. Each home is designed

to a high-specification with built-in features and impressive

architectural concepts.

A small selection of the homes at Emerson Park will be available

to purchase through the £100K Home Initiative. In partnership

with Cambridgeshire & Peterborough Combined Authority it

creates a solution to ownership by offering affordable housing,

ideal for first time buyers.

8
---
A Scent of Calm

The past 12 months has been stressful for most of us, but a Suffolk

business, launched during the first lockdown, is providing the perfect

antidote. Botanical Forrest, created by Clare Forrest, offers a selection

of candles and wax melts made in small batches using 100 per cent

plant-based soy wax.

Inspired by the beauty of Suffolk's nature, in particular its woodlands

and coastline, each candle is infused with a premium fragrance and

essential oil. Once lit the candle fills the home with a relaxing scent

which lasts long after the flame has been blown out, a sign of true

craftsmanship and excellence.

The products are poured by hand, and in addition to their eco

credentials, Clare has collaborated with local businesses including

web designers, photographers and local artisans.

Botanical Forrest will be giving back to the community through a

partnership with Work For Good, donating 10 per cent of sales from

their spring rose fragrance to Suffolk Mind, until the end of April.

www.botanicalforrest.co.uk

The Perfect Present

If you're stuck for a gift idea for Mother's Day, look no further than

vintage jewellery brand, Trinkets27.

Created at the end of summer 2020, Trinkets27, a Saffron Walden

business, is another delight to come out of lockdown. Each piece

of ornate and beautiful vintage jewellery is carefully curated and

reworked to give it a new life. The brands ethos is committed to

extending the life of jewellery already in existence and giving it a new

home. The jewellery is sourced as locally as possible with charms most

often Victorian, and costume jewellery dating to back to the 1950s.

Shoppers can pick up colourful handmade friendship necklaces,

simple layering chains, vintage charms, earrings and rings, ranging

from £9 to £55. It's a great place to shop for gifts. The only problem is

you may want to keep it all for yourself! www.trinkets27.com

Oxwash Arrives in

Cambridge

Oxwash, a sustainable laundry delivery

service has launched in Cambridge

covering postcodes CB1 to CB5, and

most recently, extending the service to

CB24.

Lines of Lowestoft

Local artist and designer, Mickey

Gibbons, has independently published

a book of his Lowestoft sketches. A

tribute to his father, Peter Gibbons,

the designer returned to Lowestoft to

visit his father's favourite locations in

his MK1 Ford Transit campervan. In

the wake of his father's death, Mickey

curated 48 drawings centred around

a discontinued Ordnance Survey map

of the area. The colourful sketches are

interesting and beautifully illustrated.

The book titled 'Sheet 137 Lowestoft'

and published by The Leiston Press, is

priced £25 and available to purchase at

www.mickeygibbons.com/store

Switched On

A lighting brand has been launched by

a small team of creatives, based in West

Bergholt, Essex.

Designed by David Lam and crafted

by Julie Lam, the lights are fashioned

locally using traditional skills to make

chic, neutral lighting, that embodies a

mindful approach.

The beautiful collection of stylish,

organic porcelain lights launched online

in February.

View the collection at

www.lam-lighting.co.uk

The service operates a sustainable wet

cleaning facility using only water and

biodegradable detergents, avoiding

harmful chemicals usually required for

dry cleaning. It uses a fleet of electric

cargo bikes to return your laundry. It

aims to reduce CO2 emissions, save

water and remove plastic waste from its

network.

An 8kg bag of mixed items to be

washed, dried and folded is priced

£14.95, and based on a 48-hour

turnaround. The company has seen

growth due to the pandemic and

now operates in London, Oxford and

Cambridge. Get £5 off your first order

with the code 'EASTLIFE', valid until 30

April 21. www.oxwash.com

9
---
Centre of Excellence for

children and young people.

referred to us from all over the country.

Our experienced paediatric consultants have been

leading the way for child treatments for a number

of years, employing the safest and least invasive

surgical techniques.

Children from 0-3 years can be seen in our outpatients

department and children over 3 years as inpatients.

If your child needs to stay overnight, a paediatric nurse

stays overnight as well, giving you the reassurance you

need that your child is safe. Alternatively we also have

facilities for you to stay overnight with your child.

It can be a worrying time when your child isn't well.

We understand that sometimes you don't want to wait for

a diagnosis or perhaps you just want a second opinion.

assured that your child is in the best hands possible

for treatment.

Below are just some of the children's services we provide:

• Allergies

• Children's surgery (minor)

• Dermatology

Additional services:

• Physiotherapy

or visit

• Audiology

• Dental services

• Ear, nose and throat

(ENT)

• X-Ray

01277 695 631
---
Specialists in you

Don't put

your life on

Get the treatment y

Get the treatment Join us at

Join us at

or a discrete one-to-one, f

or a discrete one-to-one, f

Thursday 14 June, 6.30pm

Thursday 14 June, 6.30pm

Pay as you go treatment Consultant ENT Surgeon

Consultant ENT Surgeon

Nuffield Health Brentwood Hos

Mr

Mr George George Fayad

Fayad

built around you

Tuesday 19 June, 6.30pm

Tuesday 19 June, 6.30pm

Pay as you go treatment Consultant Ophthalmic bu Su

Some of our services include:

Whether you're ready to see a Consultant

• Breast Care

• Cardiology

searching for prices, we can help.

Visit nuffieldhealth

Pay for the treatment you need – and fe

S

Your treatment guide f

Your

infected

treatment

or enlarged

guide

to

infected or enlarged to

Considering vision corr

Considering

or cataract surgery?

vision corr

Whether you're ready to see a Consultant or are simply or searching cataract surgery?

for prices, we can help.

Pay for the treatment you need – and feel better faster.

• Cataracts / Eyes

• Cosmetic Surgery

• Endoscopy

• Hernia Repair

Consultant Mr Simon Ruben Ophthalmic Su

Mr Simon Ruben

Let's talk hips and knee

Let's talk hips and knee

Wednesday 20 June, 6.30p

Wednesday 20 June, 6.30p

Consultant Orthopaedic S

Consultant Mr Ravindran Orthopaedic Ranjith S

Mr Ravindran Ranjith

• Varicose Veins

• Women's & Men's Health For more information or

For more information or

or please call Or 01277 ca 886

or please call 01277 886

Or call 01277 695 631

• Children's Services

• Ear, Nose & Throat

• Gastroenterology

• Orthopaedics/Sports Injuries

Essex CM15 8EH
---
The

Calendar

Due to COVID-19 event information is being updated frequently

and events may be cancelled or postponed. Please ensure you

check ahead before visiting any event listed.

The Cambridge Festival, 26 March – 4 April

The University of Cambridge has unveiled the programme for its exciting, new festival,

the Cambridge Festival, which is set to host an extensive series of free, online events.

March

The Festival will bring together the Cambridge Science Festival and the Cambridge

Festival of Ideas and aims to tackle and offer solutions for humanity's most pressing

issues, from pandemics, climate change and global economics, to human rights and

the future of democracy.

It will include over 370 events, including debates, discussions, talks, exhibitions, lab

tours, workshops, films and performances, present new ideas, research and insight into

our daily lives and the issues that are affecting all of us.

www.festival.cam.ac.uk

Hertford Arts Trail

10 April – 8 May

Returning to the market town once again, the arts trail will showcase a range of local

artists and businesses. The pop-up art exhibition venues will be located around the

town centre, where venues consist of a multitude of retailers including bars and cafes,

beauty salons, clothes retailers and gift shops. Artwork will be available to purchase.

Norfolk and Norwich Festival

14-30 May

Norfolk & Norwich Festival has confirmed that the 2021 Festival will take place

between 14 – 30 May. The 2021 edition of the arts festival will be a one-off adaptation,

with programme and presentation designed especially for COVID-times. The full

programme will be released in March. www.nnfestival.org.uk

Jess Glynne announces Forest Live dates for 2021

Jess Glynne has announced dates as part of Forest Live, the summer concert series

presented by Forestry England. She will perform at Thetford Forest, near Brandon,

Suffolk on 20 June. www.forestryengland.uk/music

Announcements

12
---
Elephants Parade into Luton, 3 July

A vibrant parade of elephants will arrive in Luton to form a public art trail – raising

funds for Keech Hospice Care. At least 30 dazzlingly designed elephant sculptures

will make up The Big Trunk Trail and trumpet along a free art trail around Luton's

landmarks and public spaces for 11 weeks.

Bedknobs and Broomsticks at Milton Keynes Theatre

Disney's Academy Award-winning movie 'Bedknobs and Broomsticks' will make its

world premiere as an exciting stage musical, coming to Milton Keynes Theatre from

Tuesday 14 September 2021.

Announcements

Classic Ibiza at Hatfield House

Classic Ibiza is returning to Hatfield House, Hertfordshire on Saturday 21 August

with its heady blend of Balearic-infused house music, performed by the 32-piece

Urban Soul Orchestra (USO), headline DJs and globally renowned vocalists. In 2019,

Classic Ibiza performed to 70,000 people in the UK and Spain. The show promises

to be better than ever with an extra hour-long chill-out DJ slot, new tracks, an

enhanced light-show and most importantly…even more toilets!

The concert organisers are working with We Are The Fair, a health & safety specialist

event company, that helps large concerts to take place safely in the current

environment. Tickets priced £45.

www.classicibiza.co.uk

Abbey 1000 Celebrations in Bury St Edmunds

Postponed

In light of the continuing uncertainty around the global pandemic, the Abbey 1000

Group has made the decision to postpone all of the events planned for the 1,000th

anniversary of the founding of the Abbey of St Edmund until 2022.

13
---
PRICES FROM

£775,000

OFF PLAN RESERVATIONS AVAILABLE NOW

15

LOCATED

stunning luxury 3 & 4 bedroom homes

IN A beautiful natural setting

TO REGISTER YOUR INTEREST, CONTACT THE SOLE AGENTS

PROUDLY DEVELOPED BY

01223 214214

Christina Ballands

christina.ballands@cheffins.co.uk

Martin Walshe

martin.walshe@cheffins.co.uk

cheffins.co.uk

laragh.co.uk
---
LAUNCHING

SPRING 2021!

EARLY BIRD RESERVATIONS

ARE AVAILABLE PRIOR TO

THE OFFICIAL LAUNCH

- A RARE OPPORTUNITY

FOR IMMEDIATE BUYERS,

CURRENTLY IN A POSITION

TO PROCEED!

A NEW DEVELOPMENT OF

25 STUNNING 1 & 2 BEDROOM CONTEMPORARY APARTMENTS

ROOFTOP TERRACES WITH CATHEDRAL VIEWS

CENTRAL LOCATION CLOSE TO THE STATION

CALL NOW TO REGISTER YOUR INTEREST

01353 654900

theoldtannery@cheffins.co.uk

www.cheffins.co.uk | www.laragh.co.uk
---
With permission of EDP - credit Simon Finley

Your legacy can help EACH be there for future generations,

helping every child make the most of life – no matter how short.

To receive your information pack, call 01223 204913, email supportercare@each.org.uk or complete the coupon below:

!

Please send me my legacy information pack

Title:

Name:

Address:

Postcode

Email

How your information will be used by EACH

EACH would like to keep you updated about our vital work and the many ways you

can support us, including fundraising and volunteering. Your information will be held

securely with all reasonable precautions used to protect it. We will never sell or swap

your data. Your data may be used for supporter profiling and is only shared with

service providers we work with to further our charitable aims.

EACH requires your consent to process your information in this way. Your data will

be retained by EACH as long as we consider it is in both yours and our interests to

keep you informed. You can request that we remove your data at any time. Under Data

Protection Legislation your rights include erasure, withdrawal of consent, objection,

access and rectification. You can contact the EACH Data Controller or the EACH Data

Protection Officer to exercise these rights, change your contact preferences or to

simply talk to us about our fundraising, as follows:

Email: supportercare@each.org.uk Tel: 01223 800807

Post: 42 High Street, Milton, Cambridgeshire, CB24 6DF.

If you agree to being contacted in this way, please tick the

relevant boxes: Yes No Yes No

By email

By post

By phone

By text

Your details are secure with us. If you would like to know more,

please visit our Privacy Policy at www.each.org.uk/privacy.

www.each.org.uk • Registered charity number:1069284

00002

a1120 EACH half pg Legacy Ads UPDATE 0002.indd 1 07/06/2018 11:50

16
---
LIFESTYLE

Mother's

Day

Treats

Written by Abby Knight

Imaginative ways to

treat your mum this

Mother's Day

Let's hope we will all be

celebrating Mother's Day in the

traditional way but whatever your

plans, here's some creative ideas

to help make it special.

17
---
LIFESTYLE

Play Detective

Why not let mum immerse herself in a fun

murder mystery evening that takes place over

a delicious three course meal? It's available

at one of over 100 top quality locations

nationwide and with over 100 original plots

where mum and her guest get to mingle with

the actors. Once she's solved the mystery,

she can enjoy a comfortable night's stay with

breakfast. Price £179 for two, available at

www.buyagift.co.uk

Brunch for Mum

Why not spoil mum this year with brunch

at Gastrono-me, in the historic town of

Bury St Edmunds? She'll be made to feel

completely special with complimentary fizz

on arrival. Tuck into Gastrono-me's delicious

brunch dishes including home-baked

banana bread sandwiched with whipped

honey mascarpone, tossed almonds and

blackberry compote; lemon berry pancakes

with cheesecake cream and the signature

Gastrono-me hash, spicy diced potatoes,

chorizo, bacon, onion, tomatoes and peppers

served on wilted spinach, farmhouse toast

and topped with a fried egg. There is also the

option to go bottomless for 90-minutes of

unlimited breakfast Me-mosa's! For details on

how to book and availability, visit

www.gastrono-me.co.uk

Treat her to a 'Feel

Amazing' App

Great for stressed-out mums, treat her

to a 'Feel Amazing' membership – a

brilliant new mindful app created by

leading hypnotherapist Ailsa Frank. In

these unsettling times the 'Feel Amazing'

app is the perfect pick-me-up with short

recordings to fit into her day including boost

confidence, calming music and women's

wellbeing. Individual titles retail at £9.99

each and the membership gives her access

to 45 titles, available at Apple App Store or

Google Play.

Enjoy Some Together Time

As part of Sea Salt Cornwall clothing and

Pukka's Make Time campaign, why not get

together with your mum to create something

special? Popular crafter Kate from The Makery,

shows how to bring a little nature indoors by

creating a pretty macrame plant pot hanger.

Simple enough for beginners but stylish

enough to display with pride, you only need a

few materials to get going, plus a glass of wine

to celebrate the finished result with your mum!

For details visit www.seassalt.co.uk

18
---
LIFESTYLE

Roam the Gardens

All Aboard the Steam Train

A lovely way for the family, including mum,

to get together. Bure Valley Railway is a great

way to explore the Norfolk countryside, with

views of the river too, on board an authentic

steam train. Pack a picnic for when you jump

off! For the timetable, to book and for more

information visit www.bvrw.co.uk

One of finest manor houses, Kentwell House,

will reopen its gardens from mid-February

2021 after a long restoration project, giving

you an opportunity to explore and unwind

while at the same time keeping your distance

from other visitors. Hopefully you'll also be

able to visit the Tudor house that's been

tastefully mixed with the contemporary by

current owners for a family home with a real

difference. Visit www.kentwell.co.uk for

details and opening times.

Step into a Legend

Row your Boat

Explore the wonderful winding rivers of

Norfolk by taking a day out on one of popular

Broads Tours comfortable day boats including

the spectacular Belle of the Broads. The day

trips have been specially redesigned to be

safe and socially distanced and even pets are

welcome. For prices and more details visit

www.broadstours.co.uk

Dating from the 17th century, the gardens at

Hatfield House near Hertford, have evolved

into a gardener's paradise. Mums will love the

peace of the West Garden with its scented

garden, fountains and fascinating Longitude

dial. In springtime there's a spectacular show

of bluebells and daffodils not to be missed.

The park also has a series of great walks for all

the family and a picnic area where dogs are

welcome too. Hatfield House has appeared in

many TV shows and films, see if you can spot

where everyone's must watch 'The Crown'

might have been filmed as well Sherlock

Holmes and 'The Favourite'. For details visit

www.hatfield-house.co.uk

Over the Rainbow

An unusual treat for mum and a real spring

pick me up, renowned Coggeshall-based

therapist and healer Britta Hochkeppel,

is offering a new online aura reading and

healing session that will help your mum

discover her true colours! Your emotional and

physical wellbeing is revealed in the colours

around your body that Britta can tap into

that gives a valuable insight and fun healing

session. Your mum will be sent her aura colour

print to treasure too. Price £65 for 45-minute

session, visit www.vitaserena.co.uk or call

07900 211088 for more details.

19
---
Live, work

and play at

Inholm

Inholm is a new neighbourhood

within Northstowe, an exciting new

town for Cambridgeshire.

Inholm begins with 43 Town Houses on The Peninsula, built around

landscaped squares, communal spaces and greenery. Effortlessly

connected with guided busways, cycle routes and footpaths linking

with the future town centre next door, the city of Cambridge and

London. Be an early adopter at Inholm and discover the plans for

Northstowe's new amenities including shops, restaurants, office

spaces, sports hubs and a huge education campus - eight new

schools from nursery to 6th form!

– Minutes by foot to Northstowe's water parks

– 32 minutes by bike to Cambridge Science Park

– 29 minutes by guided bus to Cambridge Centre

– 62 minutes by train to London King's Cross

Contact Brandon today, to book a virtual or

physical appointment

01223 867 000

inholm@housebyurbansplash.co.uk

www.housebyurbansplash.co.uk/Inholm

Stirling Road, Northstowe, Cambridge, CB24 1DJ
---
LIFESTYLE

Put a spring

in your step

As the region begins to bloom, there's no better time to

explore some of the East's best outdoor spaces

22
---
LIFESTYLE

Forests dense with pretty spring flowers. A carpet of daffodils, snowdrops and

bluebells. Grand mansions that have stood the test of time and continue to inspire.

Nature reserves alive with wildlife. Wherever you live or plan to travel to this spring,

ensure you make the most of your time at your chosen destination and this beautiful

season.

Cambridgeshire

With city and countryside, the county offers the best of both worlds. There's plenty to

discover during spring. Begin in the city of Cambridge with a walk along the Backs,

a stretch of reclaimed land, which runs along the back of the riverside colleges.

During spring it is covered with a blanket of daffodils and crocuses. Jesus Green is the

perfect space to enjoy a walk, picnic or sports. Its outdoor swimming pool is ideal for

warmer days. Escape the crowds and seek out Cambridge University Botanic Gardens

featuring 40 acres of seasonal gardens and glasshouses.

Sitting on the very western edge of the Fens, Whittlesey, not only has glorious

walks with an abundance of wildlife but an interesting maze of streets with a mix of

architecture spanning several centuries. Only a few minutes from the city centre of

Peterborough is the glorious Nene Park. Stretching out over four acres along the

River Nene, this is the perfect spot for picnics, bird watching, walking, cycling, riding,

watersports and golf.

Essex

Quaint villages, country walks and lively seaside resorts, when the weather warms

Essex is a delight. Enjoy the thrill of travelling through the countryside on a steam train

at Colne Valley Railway. The pretty line is almost a mile long, with relocated station

buildings, signal boxes and bridges all lovingly restored or rebuilt. The Gardens of

Easton Lodge is an idyllic haven which has been partially restored to its former glory

by a team of dedicated volunteers and the owners of Warwick House. Expect beautiful

seasonal blooms and colourful displays.

Colchester is a metropolis for heritage. Spend the day discovering Colchester

Museum's archaeology collection, step back in time and race a Roman chariot, explore

behind the scenes on a guided tour or hire one of the tablets and watch history come

to life before your very eyes. From here, take a walk around Castle Park with pretty

gardens, expansive green space and history.

23
---
LIFESTYLE

Norfolk

Norfolk certainly isn't short of open

spaces; wind swept beaches, nature

reserves and forest. There are endless

spots to enjoy. However, the county's

stately homes are probably best visited

in spring as the grounds dazzle with

colourful flowers and fresh blooms.

Blickling Estate is a breath-taking

red-brick mansion. Ancient yew hedges

sit at the heart of a magnificent garden

and historic park in the beautiful Bure

Meadows. During spring the grounds

come alive with daffodils and seasonal

flora. Don't miss bluebell season at the

end of April and throughout May. Feel

like royalty and walk the grounds of the

Sandringham Estate. It is the ideal place

for a day out with lots to see and do, and

seasonal events.

If you fancy some fresh air and a gentle

stroll, visit Fairhaven. The Garden is an

eclectic mix of native and cultivated

plantings with a network of dyke

systems and a private broad. There are

four miles of woodland pathways and

boat trips to enjoy, which are great for

spotting local wildlife.

Hertfordshire

Home to historic houses, beautiful

gardens, farms and wildlife parks,

and market towns, there's something

new to discover every weekend

in Hertfordshire. Put your best foot

forward with a walk in the grounds of

Hatfield House. There are three walks

with varying lengths that explore the

parkland. Spend the day exploring

Knebworth House complete with a

maze and walled kitchen garden. Visit

the House, where knowledgeable

guides will tell you the stories of

Knebworth's long history.

For a day of culture, experience Henry

Moore's iconic work against the

backdrop of the beautiful Hertfordshire

countryside with a visit to the artist's

former home, studios and sculpture

gardens. Exhibitions change regularly

throughout the year.

A great family day out, Willows Activity

Farm, features daily Peter Rabbit and

Friends Shows, tractor rides, indoor and

outdoor adventure play areas and lots of

farmyard favourites. During springtime

you can watch live sheep shearing.

24
---
LIFESTYLE

From coast to country, hop between the

sleepy villages, bustling towns and rustic

seaside shores of Suffolk.

Suffolk

Bedfordshire

Bedfordshire may be one of England's

smallest counties but it's still a joyful

place to live and visit. Throughout

its wonderful countryside you'll find

picturesque towns and villages such as

Woburn and Ampthill, great places to

eat and drink and renowned attractions

such as the Safari Park and Woburn

Abbey House and Gardens, which is

scheduled to reopen in spring 2022.

Explore some of the county's parks.

Rushmore Country Park is a great

place to enjoy the outdoors and view

herons nesting in spring. There are

400 acres of woodland, heathland and

meadows offering walking, cycling and

horse-riding trails with play areas and

a treetop café. There's even a fun area

designed for dogs. Barton-le-Clay is a

village at the foot of the beautiful Barton

Hills. Visit the chalk stream river where

children can splash around in wellies.

It's also home to the The Olde Watermill

Shopping Village with independent

stores, crazy golf, restaurant, a tearoom,

antique centre and children's play area.

From coast to country, hop between

the sleepy villages, bustling towns

and rustic seaside shores of Suffolk.

Take a long walk along the footpath at

Oford Ness and climb the small spiral

staircases of the castle to be rewarded

with magnificent views. It's a great

place for foodies. Enjoy tea, cake and

pastries at Pump Street Bakery or try

the legendary oysters at Butley Orford

Oysterage. Walk along the pier at

Southwold while tucking into fish and

chips or stroll along long the water's

edge lined with wild reeds at Snape

Maltings in Aldeburgh before browsing

the independent boutiques, vintage

stores and galleries.

The Muesum of East Anglian Life is set

in 75 acres of beautiful countryside.

Learn about fascinating East Anglian

crafts and traditional Gypsy culture and

discover splendidly restored historic

buildings.

Everyone knows about the castle on

the hill, thanks to local lad and superstar

Ed Sheeran, and quite right too, this is a

Suffolk gem. Framlingham Castle was

once upon a time a fearsome fortress.

Head behind the castle's towering walls

and discover its fascinating history with

its exhibition, take in stunning views and

finish with Tudor treats at the café.

25
---
C O N S E R V A T O R Y R O O F S

SUBSIDIES

AVAILABLE

*Quote Ref

EL0421

IS YOUR

CONSERVATORY USABLE

ALL YEAR ROUND?

Keep warm in the winter and cool in the

summer with a Green Space conservatory roof.

Warmer in winter

Quieter in bad weather

Cooler in summer

Finance available*

Conservatories are usually constructed to add extra living

space to a home, a lot of people find however, for a lot of

the year, their conservatory is either too cold or too hot to

sit in comfortably. Green Space UK have the solution!

A truly wonderful

product, precision

engineered and

expertly fitted.

The conservatory

has been completely

transformed.

Helen, Worcestershire
---
WHAT A DIFFERENCE A DAY MAKES

In 2010 the planning laws were relaxed

and in the majority of cases, you can

fit a solid roof to your conservatory

without planning permission. This

means better insulation, keeping

the room warmer in the winter and

cooler in the summer, and a room

that you can use all year round.

There are a few different options for

fitting a solid roof on your conservatory,

most of which require major upheaval

and disruption. Green Space UK offer

an alternative option that will transform

your room from an unusable space to

a beautiful room in less than one day!

Green Space Ltd is a family run

company who specialise in

transforming conservatories.

The lightweight aluminium roof panels

are made bespoke to fit into your

existing framework.

The insulation compressed inside

of the panels offers a u-value

that is eight times better than

a polycarbonate roof, so they are

much more energy efficient.

We have found such a difference

since the roof was fitted; we are able

to use the room all year round now.

Mr and Mrs Hobbs, Bournemouth

A truly wonderful product, precision

engineered and expertly fitted.

The conservatory has been

completely transformed.

Helen, Worcestershire

The service delivery from the

initial meeting through to project

completion was outstanding.

An excellent product.

Mr Townsend, Devon

GET IN TOUCH FOR A FREE QUOTE TODAY

0800 080 3202

greenspaceconservatories.co.uk

*Finance subject to status. "Terms and Conditions apply. Green Space UK, Unit 8 BH24 1PD & Registered No. 8542786, as shown

on FCA authorisation, trading as Green Space UK, is a credit broker and is authorised and regulated by the Financial Conduct

Authority. Credit is provided by Hitachi Personal Finance, a trading style of Hitachi Capital (UK) PLC, authorised and regulated by

the Financial Conduct Authority (Register no 704348). Subsidies are limited by area and not guaranteed.

Putting off your enquiry could reduce the potential subsidy available to you.
---
Plan your next staycation with

a mini break at Norfolk's most

stylish cottage

A Romantic

Norfolk Hideaway

Written by Emma Kemsley | @emma_kemsley

The fields of swaying reeds speed by in a flash. The villages we

pass are lined with flint cottages, some grand and glass fronted,

others small and cobbled, standing the test of time. The road

becomes narrow and we slowly drive down a winding lane into

the heart of North Norfolk's countryside. With every minute that

passes it feels as though we're escaping further away from the

troubled world and entering a secret location where only my

husband and I exist.

We park directly outside Spinks Nest Cottage; a small flinted

bolthole in the village of Hunworth. A cast iron table for two sits

on the gravel outside and we bustle our way into the cottage

to escape the icy wind. Instantly, our eyes dart around taking

in every colour and detail of the meticulous interiors that

somehow seem effortless. The cottage is a feast for the senses.

Cute and cosy, it boasts a home away from home vibe. Within

little time we had lit the fire, poured a gin and sat blissfully curled

up in the armchair, book in hand.

28
---
The Interior

Curated to perfection, reclaimed and vintage items sit alongside

rustic textures and textiles. Earthy and natural shades provide a

sense of adventure. The living space is inviting with its exposed

flint fireplace and log burner, cosy armchairs and reclaimed oak

beams. Taking centre stage is the green dresser decorated with

a decanter and glasses, dried flowers and a pheasant feathered

wreath.

The wooden kitchen shelves are stacked with glassware and

botanicals, and the old worn timber table calls for a homemade

supper. Spinks Nest brings the outdoors in with its collection

of potted plants and herbs. The kitchen itself is high spec with

everything you need for a self-catered break.

The cottage has been cleverly designed to make the most of

every nook. The living space is raised from the kitchen. Curtains

subtly divide the lounge and bedroom area. The king size bed

with its hypoallergenic wool mattress and divine linen is the kind

of bed you sink into and never want to leave. A rustic ladder

makes for a cool alternative wardrobe.

If you're not already sold on a staycation here, the bath will

secure the deal. A quirky architectural feature, the sunken microcement

bath for two is the perfect place to spend the evening.

Light the candles, pour the Champagne and simply relax

amongst the bubbles.

It's not just the eclectic interiors that set this holiday home apart

from the rest, it's those little touches too. Those you wouldn't

necessarily miss, but are appreciative to have; Jo Malone pillow

mist, Aesop shower gel, a welcome gin, Nespresso machine

and pantry basics.

The Location

While Norfolk's biggest lure is its vast beaches, the countryside

is also a delight to explore. Set in the village of Hunworth, Spinks

Nest is a couple minutes' walk to The Hunny Bell which serves

up tasty pub grub. There are miles of footpaths which take you

through fields and tiny lanes, especially great if you have your

dog in tow. Explore the woodlands and spot the wildlife at Holt

Country Park, which can be reached by a picturesque walk from

the cottage in approximately 45 minutes.

If you can't resist the call of Norfolk's shores, Weybourne,

Sheringham, Cley and Blakeney are within easy reach by car.

This is the ideal location to hop between sleepy country villages

and rustic seaside towns.

The Lifestyle

Spinks Nest compels you to embrace a slower pace of life.

Leisurely mornings with coffee in bed, afternoon snoozing by

a crackling fire and evenings drinking wine over a game of

Scrabble. It's simple living at its finest.

A romantic escape for two, the cottage is one of the few

undiscovered gems of Norfolk. I felt as though I'd been given

the keys to a secret hideaway for only those in the know.

Though, I doubt it will stay under the radar for long, I expect

there will soon be a waiting list for availability.

We departed relaxed and refreshed but with a feeling of

sadness as we headed back to real life. This is one of those

holiday rentals that you don't want to leave, and you driveaway

planning your return.

Booking details:

www.spinksnest.booksterhq.com

Instagram @spinks.nest.cottage

29
---
Life

on the

Broads

Discover the best boat hire to start your

journey on the Norfolk Broads

30
---
Think of Norfolk, and for most, the Broads immediately

comes to mind. The National Park features over 125

miles of lock free waterways, meandering its way through

stunning countryside and historic towns and villages. It's

the perfect destination for a weekend getaway or a day

out at any time of year.

Boat hire

Without a doubt the best way to see the Broads is by

boat. Hiring your own boat for the day is an exhilarating

experience, it's a chance to get up close with the beauty of

the Broads and feel like a captain for the day – no wonder

it appeals to almost everyone. Families, groups of friends

and couples – boat hire is big business on the Broads.

A Google search will list hundreds of companies offering

both day hire and boating holidays, but there are a few

that have been around for generations. Norfolk Broads

Direct have been specialising in boating holidays for over

100 years. It has a modern fleet of luxury cruisers available

to pick up from the 'capital of the Broads', Wroxham. It

also has riverside cottages available for hire for those that

prefer to stay on dry land.

Boating holidays

Potter Heigham is another popular place to begin your

Broads journey. It is home to Herbert Woods, which has had a

presence on the Broads for nine decades. The 'Adventuring

Light,' a small compact cruiser is perfect for couples and

first-time boaters. The boat is easy to moor with an in-built bow

thruster and a central steering position.

If you fancy taking to the Broads in old school style, you

can hire 'Spark of Light'; Herbert Woods' original wooden

motor cruiser. The wooden boat, built in 1927, captures the

old-time cruising fashion of idyllic motor boating in that era,

with in-built mod-cons you would expect to find in its modern

fleet of boats. It has been refurbished, ready to hire to couples,

families and boating enthusiasts for week-long breaks.

Sailing on the Broads

Fancy sailing? Hunter's Yard in Ludham offers the opportunity

to get behind the sail with its fleet of 14 engineless cabin

yachts and seven half deckers (day boats) available for hire.

You can take a two-hour class with an experienced skipper or

holiday and learn to sail at the same time.

Wroxham is a popular place to start your journey. It also

makes a great day out even if you're not planning to

take to the water. Famed for Roys, said to be the world's

largest village store, it is home to plenty of places to eat,

a terminus of Bure Valley Railway and the popular family

attractions of BeWILDerwood and Wroxham Barns.

Pubs on the Norfolk Broads

If you're hiring a boat from Wroxham get to grips with

your vessel as you make your way to Horning, a popular

pit-stop for boaters. Dotted along this stretch of water are

The Innkeeper's Lodge, The Swan and New Inn, great for

a spot of lunch on the water's edge. Just be prepared to

wait for a mooring spot in the summer months.

Things to do

Of course, you don't have to hire a boat to enjoy this part of

Norfolk. There are plenty of cottage and apartments available,

which make a great base for other activities such as fishing

and wildlife spotting. Keen anglers will love the wide range

of fishing on offer. Among the rivers and shallow lakes, the

waters are rich with bream, roach, eels, perch, rudd, tench,

carp and pike.

Get back to nature with a visit to one of the many nature

reserves or take a walk along nearly 200 miles of footpaths

and discover the wildlife and rare plants such as the nationally

protected fen orchid and crested buckler fern.

From here, make your way to Ranworth, a beautiful little

village which is home to St Helen's Church, known as the

Cathedral of the Broads, a nature reserve and a fantastic

pub, The Maltsters. Ranworth is a popular place for

overnight mooring so it's recommended you arrive prior to

sunset as space is limited.

Dotted along the Broads are picturesque villages, market

towns and some of the counties best-loved pubs. Are you

tempted yet?

For the best of the Broads including pubs,

accommodation and day trips visit

www.eastlife.co.uk and search 'Norfolk Broads'.

31
---
One of East Anglia's oldest commercial vineyards

producing a range of White, Red and Rosé wines

as well as Quality English Sparkling wines.

OPEN

Free admission to vineyard trail & wine-tasting

May to September - Monday to Saturday - 10am to 5pm

October to April - Fridays & Saturdays - 11am to 4pm

For full contact details and to view our online shop,

please visit our website:

www.shawsgate.co.uk

Shawsgate Vineyard, Badingham Road (B1120),

Framlingham. IP13 9HZ
---
On the

Grape

Vine

Due to COVID-19, tours may be

postponed. Check before visiting.

Forget Tuscan hills

and sunny Californian

countryside, the UK's

wine industry is fast

gaining an international

reputation, and there's

plenty to sample in the

East

Wine producers from around the world

are planting vines in the UK thanks to

chalky soil and the climate. Each year,

there's a week dedicated to celebrating

England's finest. This year English

Wine Week takes place 23-30 May. To

learn more or to pick up a bottle, we've

listed the best vineyards in the East of

England.

Weststreet Vineyard

West Street Wine Barn, West Street,

Coggeshall, CO6 1NS

Nestled in the countryside of charming

Coggeshall, the vineyard is a great

place for lunch or to celebrate a

special occasion. The shop sells

a good selection of wine and the

knowledgeable staff are on hand to help

you choose.

www.weststreetvineyard.co.uk

Crouch Ridge Vineyard

Fambridge Road, Althorne, Chelmsford

CM3 6BZ

Take a drive through Burnham-on-

Crouch in Essex and you could easily

mistake it for Tuscany as you drive

pass rows and rows of vines. Crouch

Ridge Vineyard is a wine barn, cellar

and vineyard all rolled into one. Tours

and tastings are offered throughout

the year. Owner Ross guides the tours,

leading groups through the rows of

vines used to produce Chardonnay and

Pinot Noir. Thanks to the River Crouch,

the temperature stays above freezing

meaning a harvest is rarely ruined by

frost. The tour is followed by a tasting

of three wines complete with notes and

tasting tips. Book lunch afterwards in the

restaurant, where you can dine al fresco

on the terrace overlooking the vineyard

and river. Wine is available to purchase,

and the Althorne Pinot Cuvee is highly

recommended.

www.crouchridge.com

Saffron Grange

Rowley Hill Farm, Saffron Walden,

CB10 1UZ

Saffron Grange is a family-run vineyard

located just 1.5 miles from the historic

market town of Saffron Walden. The

chalky soil on site tells its own historic

story and was once roamed by woolly

mammoths at the end of the last ice

age. Today the vineyard grows quality

Chardonnay, Pinot Noir, Pinot Meunier,

Seyval Blanc and Pinot Gris grapes to

make premium sparkling wines. Saffron

Grange offers tours and tastings by

appointment from April to October. If

you can't wait, they also occasionally

have a stall at Saffron Walden Market.

www.saffrongrange.com

New Hall Wines

Chelmsford Road, Purleigh, Chelmsford,

CM3 6PN

One of the oldest vineyards in England,

the family-run establishment has been

producing wine since 1969. A number

of tours are available throughout the

year, where visitors can learn more

about English wine and the vineyard's

history. If you're just passing, make a

stop at the shop and stock up on some

fine wine.

www.newhallwines.co.uk

34
---
Flint Vineyard

Camphill Farm, Middle Rd, Earsham,

Bungay NR35 2AH

Owned by Ben and Hannah Witchell,

the vineyard has had tremendous

success within just a few short years.

Thanks to the sheltered and sunny

slopes of the Waveney Valley the

vineyard is producing one of the

best Bacchus in the region. Tours are

available from £25 per person, plus

there's the option of adding the '15 Mile'

lunch which features the best of local

produce. www.flintvineyard.com

Winbirri Vineyard

Bramerton Road, Surlingham, NR14 7DE

Learn about the wine and vineyard

from head winemaker Lee Dyer, who

will show you around the vineyard and

provide an insight into the history, care

of the vines and the grapes grown in this

part of the region. If you're passionate

about wine, enquire about 'The W

Club' which offers members exclusive

discounts and a hands-on experience

during the harvest season.

www.winbirri.com

Dedham Vale Vineyard

Green Lane, Colchester, CO4 5TS

Located in an Area of Outstanding

Natural Beauty, the vineyard features

40 acres of vines, woods and pasture.

Visitors can explore the winery with a

tour and tasting where you'll hear about

the vines and wine making process.

Lunch is included too!

www.dedhamvalevineyard.com

Giffords Hall

Hartest, Bury St Edmunds, IP29 4EX

The vineyard is perfect for a summer's

day out. Join one of the vineyard tours

which includes a tasting of five wines

and a buffet lunch. Personalised and

private tours can also be booked. Don't

leave without a browse of the vineyard

shop.

www.giffordshall.co.uk

Wyken Vineyard

Wyken Hall, Wyken Road, Stanton, Bury

St Edmunds, IP31 2DW

So much more than just a vineyard,

Wyken's is also home to a country store,

beautiful gardens, farmers' market

and restaurant. Wander through the

vineyard from the Leaping Hare over to

Home Meadow and through an ancient

woodland. Wines can be purchased

from the well-stocked store.

www.wykenvineyards.co.uk

Shawsgate Vineyard

Badingham Road, Woodbridge,

IP13 9HZ

The vineyard offers a choice of tour and

tasting experiences, which can also

include lunch or afternoon tea. Visit the

shop to mix and match a case of your

favourite wines.

www.shawsgate.co.uk

Valley Farm Vineyards

Rumburgh Road, Wissett, Halesworth,

IP19 0JJ

The eight-acre vineyard produces

vintage, single estate, still and sparkling

wines. A variety of tours are available

offering customers the chance to

sample wines and learn more about the

vineyard.

www.valleyfarmvineyards.co.uk

Chet & Waveney Vineyard

Loddon Road, Bergh Apton, NR15 1BT

The family run vineyard produces both

still and sparkling wines. Tours and

tastings are available by appointment.

For a one-off experience visit for the

grape harvest in late September, early

October, followed by a supper to

celebrate the vendange.

www.chetvineyard.co.uk

Humbleyard Vineyard

Paddock Farm Shop, Mulbarton,

NR14 8JT

With a history dating back to the Anglo-

Saxon times, the lands of the vineyard

have a story to tell. Pick up a map at the

farm shop and meander through the

grounds on a self-guided tour, before

picking up one of the award-winning

wines at the shop.

www.humbleyardenglishwine.co.uk

Chilford Hall

Balsham Road, Cambridge CB21 4LE

The vineyard is open to visitors from

March to October, with tours taking

place throughout the open season. The

pretty vineyard is home to 17,000 vines

of nine different varieties.

www.chilfordhall.co.uk

Warden Abbey Vineyard

Bedford Road, Biggleswade, SG18 9LS

It's not often you come across a

community run vineyard. Leased

by Bedfordshire Rural Communities

Charity, it produces a handful of awardwinning

wines. Unfortunately, it's not

open to the public and tours can only be

booked in advance. However, you can

support the vineyard by attending one

of its open days, a pre-booked tour or

pruning experience.

www.wardenvineyard.org.uk

35
---
Into theWild

Written by Bob Cox Wrightson | Twitter @bobcw

Ryan Dorling Wildlife Photography

Ryan Dorling Wildlife Photography

With exotic travels off the agenda for the time being,

why not discover the wilderness on your own doorstep?

From tapirs and terns to alpacas and bats, there's sure to be something

for you to discover among the creatures of the Wild East. Here is our

round-up of the most exciting, outdoor wildlife adventures to be had

in the region.

36
---
Nightingale Extravaganza

Wednesday,29 April

Nightingales get into full voice as spring really gets going,

and late April is a great time for this star songbird singer.

Led by David Grimwood of The Froize Inn, Chillesford, the

tour begins at 8am with tea or coffee and an introductory

chat followed by a masterclass on searching for

Nightingales and other birds that you may come across.

The trip finishes at 1pm with a scrumptious lunch back at

the Inn, where you can relax, enjoy your meal and discuss

your morning's sightings.

Priced: £35 including masterclass and lunch.

www.suffolkbirding.co.uk/east-coast-safaris

Bat Safari Punting

Join the Wildlife Trust on a 'Bat Safari' punt for adventures at

dusk on Grantchester Meadows. The local bat population

emerges from hibernation in May, with several species

flying close to the water and the punts. The chauffeured tours

are led by knowledgeable Wildlife Trust bat experts and

they'll make sure you get the most from your experience,

including the use of specialist electronic bat detectors which

convert the bats' sonar signals into audible frequencies.

Your guide will outline the characteristics and habitats of bats

likely to be encountered on your trip and teach you how to

use the detectors.

www.scudamores.com/bat-safari-punting

Deer Safari

Seal Trip

A 'must do' when visiting the Norfolk coast is a trip to see the

seals at Blakeney Point. It's a treat to see the common and grey

seals lolling about on the shore, with the more inquisitive of these

marine mammals swimming up to the boat to say hello. This area

of the coast is also famous for its bird life, with its most popular

summer visitors being the terns – mainly common, sandwich

and little terns and, quite often, Arctic terns. The popular sea trips

operate from early spring, leaving from Morston Quay.

Ryan Dorling Wildlife Photography Ryan Dorling Wildlife Photography

Snettisham Park is a 329-acre working farm, featuring a

spectacular deer safari, where you can meet their magnificent

red deer herd. The tractor and covered trailer, or Safari Land

Rover ride, is an experience not to be missed. During the

45-minute round trip you will meet, and be able to feed, the

spectacular herd of red deer with over 60 hinds and two

stags. You can be sure to get an amazing close encounter

with the deer, all of which are more than happy to feed from

your hands.

Running every hour from 11am.

Pre-booking essential 48 hours in advance by calling

01485 542425.

www.snettishampark.co.uk

Alpaca Trekking

Have you ever thought of becoming an alpaca trekker? Well,

if you like your wildlife cute and fluffy, alpacas are for you!

Let's Go Alpacas in Wretham offers a 40-minute walk through

the lovely scenery of Thetford Forest with these amazing and

characterful creatures, with time for a selfie stop along the

way. Alpacas are adorable and well natured, although they

can be lovably stubborn! Hand feeding is also available, so

that you can give your walking companion a tasty treat.

www.hedinghamalpacas.co.uk/lets-go-alpacas

Jimmy's Farm and Wildlife Park

You've probably seen Jimmy Doherty on TV on Jimmy's

Farm, but did you know that he also has a wildlife park? Get

up close with crocodiles, camels, capybara and skunks,

and book for a private animal encounter. Join one of the

experienced keepers in the animal enclosure of your choice.

Here you will get the opportunity to learn about the animals

whilst giving them a feed, grooming them or even giving

them a bath! Experiences include Reptile Madness, where

you will meet tortoises, snakes, lizards and crocodiles, and

Tapir Tummy Rubs, where you can get hands on with Teddy

and Tip Tap, their two adorable lowland Tapir.

www.jimmysfarm.com/farm-wildlife-park-zoo

Priced: adults £13, children £7

Booking recommended by phone: 01263 740505 or

01263 740038.

www.beansboattrips.co.uk

37
---
ON LOCATION DOG

PHOTOGRAPHY

AT ITS FINEST

WWW.NIGELWALLACEPHOTOGRAPHY.CO.UK

PHONE: 07720 834868

EMAIL: WALLACENIGEL@YMAIL.COM

38
---
Tails About

Town:

Poo Parade

Written by Emma Kemsley

This is not the first time I have spoken about Fletcher's pooing habits for a light-hearted

read, but it always makes for entertainment, and I think we're all in need of some comical

relief.

I should've known he would be trouble. When he was a puppy, he chose to poop in the

middle of a main road during rush hour, stopping traffic. I politely waved an apology to

each driver while I desperately waited for him to finish.

On our strolls through our local town, he'll often wait until he is in the middle of the market

to have his morning poo despite being given the option to do so in the park. The more

people, the better. He'll of course choose the most awkward location too. The middle of a

crowd or the alleyway that joins the car park and Market Square, which causes a queue as

people wait for him to finish and for us to pick up the waste. It's mortifying.

Not only does he choose the busiest location, but he poops strangely with his bum flat

to the floor. He'll look around to ensure all eyes are on him. He sure knows how to be the

centre of attention. He recently got caught in a bramble bush mid-poo. Cue the dramatics.

This time though, he's need for an audience has pushed me to my humiliation limits.

Cambridge was quiet. Almost ghostly. All except for what I assume was a Bollywood

film set outside King's College. We strolled along the King's Parade past the actors and

camera crew of at least fifty men. And that's the moment. The moment Fletcher decided

he'll do the biggest poo of his life. Bum to the floor, he looked eagerly around, mouth open

as though he was grinning, and took his sweet time to relieve himself.

We were met with daggers from a film crew who couldn't quite believe what they were

witnessing. As I held up an apologetic hand and waited for him to finish, my husband

flapped with a poo bag. Seconds seemed to last minutes as we felt a hundred eyes on us.

My husband picked up the poo, which looked like it belonged to a mini horse, in a

haste. Not quite content with his poo performance, Fletcher then decided to howl while

standing on his hind legs as an ambulance siren signalled in the distance. If you're not

familiar with his howling, visit www.eastlife.co.uk/article/tails-about-town-nothingbut-a-hound-dog

My husband and I looked at each other and laughed. What else could we do?

39
---
A lasting tribute

to those no longer

with us

A new tribute site from Wood Green, The Animals Charity gives

pet lovers the opportunity to celebrate the life of a beloved friend,

family member or pet by creating a space to come together, share

anecdotes and keep the memories of loved ones alive. Giving a

gift in someone's memory is a wonderful way to commemorate

their life, whilst also supporting Wood Green's work.

Jensen Calleemootoo, from Wood Green's In-Memory Giving

team, said: "Losing someone is never easy and we understand

how painful it can be. Although nothing can replace them, we

know that many people find a great deal of comfort and purpose

by creating a tribute fund in their name, for a cause close to their

heart. By donating or fundraising around key milestones such as

birthdays and anniversaries, those loved ones stay with us forever

– and help Wood Green be there for even more pets in need."

Funds raised through the tribute site will help cover the cost

of providing veterinary treatment and daily care to pets like Tia

(pictured above). Tia, a six-year-old Rottweiler Cross, was brought

to Wood Green's Godmanchester centre in May as her owner

was too unwell to keep her. The charity has so far spent more

than £1,400 on veterinary treatment, food and supplies for Tia,

and their dedicated team will continue taking good care of her

until the perfect new home is found. This is only possible through

the generosity of Wood Green's supporters.

For Len, a gift to Wood Green was the perfect way to honour his

late wife, Val: "Leaving a lasting tribute to Val means her love for

animals lives on through the care Wood Green gives to homeless

pets. Supporting a cause which brought her so much joy and

happiness gives me comfort. I have something positive to focus

on, despite the pain I felt since losing her."

Based in Cambridgeshire, Wood Green rehabilitates and rehomes

around 3,500 dogs, cats and small animals each year. Many of

these pets require intensive veterinary and behavioural care before

they are ready to be matched with a new home. Going beyond

this, Wood Green also supports pet owners with free one-to-one

advice and behavioural support, expert-led online training classes

and workshops, and even financial support to help cover the cost

of pet care (subject to assessment).

To find out more about setting up a tribute fund for a loved one,

please visit inmemory.woodgreen.org.uk or contact Wood

Green's In-Memory Giving team on 0300 303 9333 option 3.

Celebrate

the memory

of a loved

one

Setting up a tribute fund

is a wonderful way to

commemorate a life whilst

making a difference to

pets in need.

Wood Green, The Animals Charity, Registered Charity No. 298348 009011KS0221

Visit www.inmemory.woodgreen.org.uk

or call our In-Memory Giving team

on 0300 303 9333 option 3

40
---
Raising Frenchies from

the Ashes, with TLC

Phoenix French Bulldog Rescue has been established in the UK

since 2017 not only to offer a home to any French Bulldog, or

cross-breed thereof, in need within the UK, but also to educate

the public on this wonderful breed, promote and support good

ownership and to help keep Frenchies at home with their families

wherever possible. Sometimes, people just need advice and

support to be able to manage and keep their pet, at other times

they need our non-judgemental, professional help in rehoming

their dog. As much as we can often be heard to say that it is 'all

about the dog' we never lose sight of the fact that there is often

a broken-hearted human at the end of a surrendered dog's

lead. We will never judge and all our volunteers are mindful of

this. Other dogs may be genuine 'rescues' and our Team are

well-versed in collecting these and seeking appropriate medical

attention immediately, before they even reach their specialist

foster-homes where the real mending can begin. All our dogs

receive the very best care, medically and psychologically, during

foster and afterwards in adoption. We will never turn away a

dog in genuine need unless there are extremely exceptional

circumstances

For General Enquiries please call 0300 772 7716 or

email: enquiries@phoenixfrenchbulldogrescue.org

www.phoenixfrenchbulldogrescue.org

Registered Charity No. 1171943
---
Doggy Days Out

Bored of the same walks? You may be surprised

to know some of the region's best-loved family

attractions are dog-friendly too

While lockdown may have been great for discovering new walks

on your doorstep, the same scenery can get a little tiresome, not

just for us humans, but dogs too. As restrictions ease why not treat

your dog to a day out? It will be a blast for the family and a sensory

delight for wet noses.

Audley End House &

Gardens

Audley End Road, Saffron Walden

Explore stunning gardens in the

shadow of the grand stately mansion.

The English Heritage property features

manicured lawns and pretty gardens,

perfect for a dog walk. Dogs must be

kept on a lead at all times and are not

allowed inside the house, however

the landscape makes up for it. There's

plenty of opportunities for a picnic

under the trees and on the green by

the water. Dogs are not allowed inside

the café, but there are picnic benches

within the grounds.

www.english-heritage.org.uk/visit/

places/audley-end-house-andgardens

Epping Ongar Railway

Station Approach, Ongar

Hop aboard a steam engine train and

journey through the Essex countryside.

Well behaved dogs are welcome on the

railway at no extra charge. Dogs are not

permitted on the dining trains, but there

is plenty of other options. Should your

companion feel thirsty, there are usually

water bowls on the platforms.

www.eorailway.co.uk

Hedingham Castle

Bayley Street, Hedingham

Step back in time and admire the castle

and its surrounding grounds. Dogs are

very welcome, except on event days.

Dogs must be kept on a lead at all times

and are not permitted in the Castle itself,

but there are lots of lovely walks nearby.

www.hedinghamcastle.co.uk

Lady Grace Boat Trips

Coast Road, West Mersea

Feel the wind in your hair (or fur) as you

take to the seas. Well behaved dogs are

welcome aboard with their owners to

enjoy a 20-minute trip on the estuary.

The boat departs seven days a week

from the crabbing jetty. Trips must be

booked in advance.

www.essexboattrips.co.uk

42
---
The Suffolk Punch Trust

Sink Farm, St David's Lane, Woodbridge

An educational and environmental

charity dedicated to breeding and

preserving the Suffolk Punch horse.

Take one of the three pretty walks

around the farm where dogs are

welcome on leads.

www.thesuffolkpunchtrust.co.uk

West Stow Country Park

Icklingham Road, West Stow

Explore 125 acres of countryside

featuring trails, heaths and woodlands.

There's beauty at every turn but due to

the abundance of wildlife, dogs must be

kept on leads.

Bury St Edmunds

The historic market town has a dogfriendly

initiative in place, which helps

residents and visitors identify which

businesses are dog-friendly. Many pubs,

cafes and shops are happy to welcome

pooches. Take a walk around the town,

explore its parks and stop off for a bite

to eat. There are plenty of water bowls

dotted around too!

www.visit-burystedmunds.co.uk

Outland Broads

Discover walkways along the water.

Carlton and Oulton Marshes are a jewel

of the Suffolk Broads with its flora and

fauna. From Carlton Marsh hop on the

passenger ferry crossing the river to

Burgh St Peter and the Waveney River

Centre.

Bure Valley Railway

Norwich Road, Aylsham

Pooches are welcome to hop aboard on

the trains and walk beside the line with

their owner. Fresh water is provided,

and a marquee will be available for

shade in hot weather. Dogs are not

permitted inside the café, but dog

parking hitches are available.

www.bvrw.co.uk

Redwings Horse

Sanctuary

Alysham & Coldecott

Support this hard-working charity that

rescues and cares for over 2,000 horses,

ponies, donkeys and mules. Take a walk

around the centre with your dog on lead

and learn more about the care of the

animals. There are Norfolk Pooch's dog

treats for sale in the shop too.

www.redwings.org.uk

Blickling Estate

Blickling

Understandably dogs are not allowed

in the house or gardens but there are

four miles of glorious walks within the

grounds. During the spring the forest is

alive with colour with a beautiful display

of daffodils and bluebells.

www.nationaltrust.org.uk/blicklingestate

Salhouse Broad

Lower Street, Salhouse

Salhouse Broad is a great place to

moor with your dog. Dogs can paddle

in the water before taking a stroll into

the village, where they are welcome at

the Fur & Feathers Pub. Be respectful

of local wildlife and rules; dogs are not

allowed on nature serves and must be

kept on lead at Whitlingham Broads.

Wimpole Estate

Arrington

The grounds of this working estate are

guided by the seasons. Visit during

spring for a spectacular display of

seasonal flora. Dogs are welcome on

lead in the park.

www.nationaltrust.org.uk/wimpoleestate

Knebworth House

Old Knebworth Lane, Stevenage

Enjoy the ancient chestnut and lime

avenues. The park is a perfect setting

for country picnics and walks. Wellbehaved

dogs on leads are welcome in

Knebworth Park, but are not permitted

in the House, Gardens, Dinosaur Trail or

inside Fort Knebworth, however there's

still plenty of ground to explore.

www.knebworthhouse.com

Jordan's Mill

Southill Road, Broom

Dogs are welcome to dine with owners

on the veranda and enjoy the beautiful

meadows and gardens.

www.jordansmill.com

43
---
East Anglia State Secondary School of the Decade

Colchester Royal Grammar School

01206 509100 crgs.co.uk

CRGS provides a rich education for its students and promotes their personal development

through outstanding pastoral care, extracurricular activities and leadership opportunities.

It is one of the top-performing schools in the country and one of very few state boarding

schools, with family-style boarding houses designed for 30 Sixth Form students.

Visit our website to find out more,

download a prospectus and

take a virtual tour of the school.

44
---
A

Virtual

World

What is the future of

school open days?

It's safe to say lockdowns and COVID restrictions have propelled

education into a new realm. Online classes and home-schooling

have tested families across the country. But it's not just everyday

teaching causing stress, concerned parents are at a loss on how

to choose a school for their child when they are unable to visit.

Schools are quickly adapting to make the process as simple as

possible for parents and potential students. Like many events,

open days and evenings are moving online. Though it may be

unconventional, schools such as Impington International College

in Cambridge, are urging parents to participate.

Vice Principal, Johanna Sale, said: "My main piece of advice for

parents is to approach virtual events as though they are face to

face events. Of course, one of the benefits of a virtual event is that

you can watch the recorded sessions on-demand, but this is no

substitute for attending the live event because you will be relying

on other people to ask the questions that you want answered.

Due to life behind screens, it's more important than ever to get

involved in the conversations and actively ask the questions that

you want to know."

It is key for parents to have a list of questions ready to ask during a

Q&A session once the presentation is over. If your question hasn't

been answered, voice your query. Grades are a good indication

of a school's performance, but care and support are essential for

a child's wellbeing too.

Sale continued: "We would encourage any prospective parent

and their children to focus on speaking to the students at the

open events they are attending. Delve into the students' minds, as

they will have all of the key information that sometimes teachers

can't provide."

If you're still undecided on a school, contact administrations

directly to see if a private viewing can be arranged following

government safety guidelines and restrictions.

45
---
Life

To make children ready for life means

for

them into flexible, innovative,

developing

Ready

dynamic and resilient young adults.

Virtual Open Morning and Individual Online Tours

available now.

Discover more at culford.co.uk

Independent boarding and day school for girls and boys aged 1-18.

rated as excellent in all areas.

ISI

transport links from Cambridge and Norwich.

Express

Set in 480 acres of beautiful parkland, in Suffolk.

Culford School is part of the Methodist Independent Schools Trust. Registered Charity No. 1142794. Company Number. 7649422.
---
The Benefits of

Boarding

Could your child benefit from boarding?

With more parents working full-time, quality family time can

get squeezed out by work obligations, the daily commute, the

school run, sports/music commitments and homework, which

makes boarding an opportunity for children to learn and grow.

Boarding can give children an academic boost,

independence and free up the time to take part in

extracurricular activities. While all children are different, many

excel in a boarding environment. Nadia Katevska, a student

at Brentwood School, Essex, who left in summer 2019, said:

"We are so advantaged because we have much more time for

studying."

Most boarding schools will offer on-site facilities for students

to part-take in extra activities. From swimming pools,

running tracks, tennis courts and events, children are able to

demonstrate their skills and broaden their horizons through

the extracurricular activities available to them.

Though education, skills and independence may be at

the forefront of parent's minds, the life-long friendships are

frequently the most valued experience by students. Culford

School, prep school housemistress, Melanie Detnon,

explained: "The fun, friendships, diverse activities and

experiences, the opportunity to develop responsibility for

themselves added to the academic and pastoral support

the children receive, are several factors which I believe make

boarding so valuable and so special. I love to see the children

in my care thrive and grow in confidence and am honoured to

be both facilitator and cheerleader. Added to all of that, here in

our surroundings at Culford we have a wonderful mix of ages

and families from a variety of backgrounds, including Forces,

expat and local – what better preparation for life?​"

Both full and weekly boarding can have a positive influence

on children. Felsted School was shortlisted for TES Boarding

School of the Year 2020. Annabel from Suffolk, a pupil and

weekly boarder at Felsted, discussed the benefits of boarding:

"Being a weekly boarder at Felsted means I get the best of

both worlds. In the week I do not have to waste time travelling,

but have time to take part in all the activities on offer, get

support with my homework and have fun social time with my

friends."

She continued: "At weekends, I can then enjoy quality time

with my family. The weeks are less stressful for the whole

family and I have become much more organised and

independent."

Many of the region's independent boarding schools are

hosting online open days and viewings by appointment

during COVID restrictions.

47
---
A world class

education

Impington International College, a sixth form on the

outskirts of Cambridge, gives students a personal sixth form

experience, where education can be tailored to students'

passions and interests.

World class education: The College is extremely proud to have

been teaching International Baccalaureate (IB) programmes

for 30 years, and describes them as curricula with added value.

Both the IB Diploma Programme (DP) and the IB Career-related

Programme (CP) offer students so much more than just subjects

in isolation; allowing for breadth and also depth of study,

something that students, and often parents, want from A Levels.

The programmes also offer a holistic approach to learning,

developing key skills and traits within students that they can take

with them into life beyond education.

Outstanding results: In 2020, 100% of students at the College

passed the DP and CP, and nearly a fifth (18%) of all students

achieved a point score of 40 or above, which is 7% higher than

the international average.

Destinations: The College's academically driven cohort

achieves fantastic results and its alumni have gone on to attend

renowned higher education institutions around the world. In the

midst of students receiving their university offers for September

2021, four IB students at the College, have received conditional

and unconditional offers to study at the University of Oxford

and the University of Cambridge, reading Biology, English,

Geography and Mathematics.

Exciting scholarship programmes: As well as offering

students over 30 subjects to choose from, Impington

International College also has a range of scholarship

programmes on offer. Those who wish to enter the professional

world of theatre and performing arts can choose to study

at the Performance School and work with leading industry

professionals alongside their studies, while those with a high

interest in sport can train alongside their studies through one of

the College's professional sports scholarships.

Development of the whole student: Through the core

elements of the DP and CP, students are given the opportunity to

gain experience of team work, decision making, problem solving,

access to a second language and undertake an independent

in-depth piece of work similar to what the work they will complete

at university.

Impington International College students are motivated to

succeed, with options that allow students to realise their goals

and progress confidently into the next stages of learning,

opening up a world of opportunities for them beyond the

school gate.

To find out more about Impington International College, visit:

impingtoninternational.org.uk

Quality of care: Every individual in the sixth form is known. The

small class sizes ensure high contact time with teachers so that

individual needs are met and the close-knit environment allows

students to flourish, both academically and socially.

48
---
e: international@ivc.tmet.org.uk

t: 01223 200 402

w: impingtoninternational.org.uk

A World Class IB education from

Impington International College –

your ticket to a world of opportunity

With a 100% pass rate for the IB, our students go on to study at Oxbridge,

Russell Group, Ivy League and leading European universities.

We are still accepting applicants for September 2021. Contact us to book

an individual meeting.

The UK's top non-selective provider of

the International Baccalaureate (IB) -

Sunday Times Parent Power list 2020

ImpingtonIntCol

impingtonintcol

ImpingtonInternationalCollege
---
Felsted

for me

Leading all-round education with pupil wellbeing at its

heart. Give your child the space to thrive with our variety

of modern boarding & day options. Based on a safe rural

campus in stunning North Essex, with daily bus routes

from across the region.

Developing character, making a difference.

Co-educational, ages 4-18, boarding & day.

Open Morning: Saturday 8 May

Visit felsted.org to register and explore our Virtual Tours & Events

#felstedforme

Felsted-East-Life-March-21-v2.indd 1 26/02/2021 12:26:37

50
---
LITTLE EAST

Mum's the

Word:

A Time

for Hope

Written by Dolly Osborne | www.raggydollywrites.wordpress.com

Somehow, we have got to the point where vaccines are no

longer a part of our routine but are something controversial. To

me the word vaccination summons up memories of queuing

up in our vests at primary school or the memory of being a sixth

former getting her BCG vaccine late and yet insisting the school

nurse held my hand even though it meant losing face in front of

the younger kids.

Now vaccinations are a tricky topic; talk of them quickly

becomes emotional and divisive with everyone concerned

insisting that they are doing the right thing for their child

whether they be pro or anti-vax. Indeed, the subject is so

emotionally loaded that I was hesitant to even bring it into my

light-hearted mummy column for fear of alienating readers

but given the state of the country right now, I feel it's the only

parenting issue I could possibly address.

COVID-19 has turned our world upside down. It has brought so

many losses with it; the devastating loss of life, loss of freedoms,

of celebrations, the loss of close contact and time together as

families, losses that are too vast to even summarise here.

New Year to most of us is a time of hope. It's a run up to spring

and new life, fresh starts and in 2021 much of the optimism

of the new year seems to be attached to the arrival of the

COVID-19 vaccination rollout. It promises so many of us hope.

Hope that some semblance of normalcy will return. Hope

that we can see friends and family that we have missed all

year. Hope that our lives can take place outside of the virtual

recreation centres that we have had to build and rely on. This

ray of light is the thing helping me get out of bed every day. Yet

every bit of light brings a shadow and I fear that the shadow

attached to this optimism is fear of vaccination.

I'm not an immunisation specialist but I was a nurse for 15 years

and I know that for any vaccination program to be successful

a certain percentage of the population has to participate. Right

now, I'm scared that the chance for my son to get back to

school, to see his grandparents, his aunt, his cousin, that all of

this might be scuppered by fear.

I never thought as an adult I'd long for those days of queueing

in my vest in the primary school corridors, but I do. Back then

we all felt like one community coming together to keep us all

healthy; I really hope we are still.

Find Dolly on Twitter @Osborneosaurus

51
---
Easter

at Home

10 eggs-cellent things you can do at home

this Easter

Written by Liz Mattock | www.wolfauthor.com

52
---
LITTLE EAST

With another national lockdown imposed earlier in the year and

some restrictions still in place, it has been difficult for everyone

to make Easter plans. Hopefully we'll be able to at least enjoy

walks in the countryside and trips to local parks, but just in case

we have put together 10 things to do at home with the family

this Easter.

Why not host a virtual tea party? Invite friends and family to

join you online via Zoom or Skype, with a cup of tea in hand

and a slice of cake. It's a great way to catch up when you can't

meet up.

Organise an Easter egg hunt either around the house or in your

garden. Plan ahead and prepare some clues that little kids and

big kids alike can follow to find their favourite chocolate. Hiding

places can be easier for smaller children and more challenging

for older ones.

Have a hot chocolate and movie night. Stock up on hot

chocolate powder, milk, marshmallows, cream and sprinkles

when you next visit the supermarket. Then pick a film and settle

in for the afternoon. Great Easter themed family films include

'Peter Rabbit' or 'Charlie and the Chocolate Factory'. If it's just

you and your other half and the children are in bed, watch

'Chocolat' or an old classic 'Easter Parade'.

No doubt the children will miss meeting up with friends this

Easter at school fetes and fairs. Get in touch with other parents

and arrange for your child and their friends to meet up online

for an Easter quiz. Parents get to supervise as they will need a

quizmaster and to make sure no one cheats, plus the winner

gets a prize; an Easter egg.

Kids love getting messy. Choose a time where you can put a

few hours aside to get creative. Clear a space, collect together

any crafts, paints, pens, pencils and materials you have and let

their imagination run wild as they create the most outlandish

Easter pictures that they can think of to demonstrate what

Easter means to them. This is a great way for kids to let out all

their energy and boosts their mood by getting them to think

creatively.

If you are a larger family, ask your children to put on a play. Now

we're not talking the Von Trap family here but something simple

that they can put together and perform for you. If you are tech

savvy you could always record them on your phone to send to

grandparents, aunts and uncles to enjoy too.

Make home-schooling a little more interesting, so interesting

that they won't even realise they are learning whilst helping you

to bake a cake or cook a simple meal. Ask your child to join you

in the kitchen and give them tasks relevant to their age. Little

ones can mix cake mixture or add decorations to cakes and

older ones can help with measuring ingredients. Each one will

be so focussed on doing their job right that there won't be time

for squabbles.

Get out in the garden and plant some flowers and vegetables.

Get outside and get digging. Perfect bulbs to plant in April

include sunflowers. We've all had that childhood photo posing

next to our first sunflower, right?

If you don't have a large garden, head to the Garden Centre to

pick up a small planter and some seeds and teach the kids how

to grow their own vegetables. April is the perfect time to sow

peas, carrots, lettuce and radishes.

Have an indoor or outdoor picnic. Just because there are

certain restrictions outside our homes doesn't mean we have

to stay indoors when we can get out into the garden. Get the

children involved in making sandwiches, homemade lemonade

and cakes, grab something to sit on and some cutlery and

take your lunch outside. That way everyone gets some fresh

air and the whole family can enjoy the experience without

being distracted by computer games, the television and mobile

phones.

Try these simple, budget-friendly suggestions and you'll

soon find even the most energetic children are entertained

this Easter.

53
---
Wildlife Reserve is

ahead of the curve

The next few years will see huge changes in farming and

agriculture in the UK as the new Agricultural Bill asks farmers

to both produce more food and protect the environment. It is a

challenge that involves a fine balance between farming highly

productive soil for crops and being brave enough to recognise

that some soil is better taken out of farming and used in other

ways.

Edward Pope is ahead of the curve when it comes to finding

this balance. His venture, Watatunga Wildlife Reserve has been

created on 170 acres of old quarries, lakes and woodland,

previously used for monoculture farming practices. Ed Pope says

the land that makes up the reserve had limited yield potential and

was simply not suitable for modern sustainable agriculture.

twenty-five deer and antelope species, not to mention rare birds,

including the star of the show – the Great Bustard. With many

of the birds and animals on the endangered list, Watatunga

provides a safe haven and a place where important breeding

programmes are carried out.

While the fertile soils of the nearby fen continue to provide food

for the population, the team at Watatunga are leading the way

when it comes to re-imagining land use for the greatest good.

Watatunga re-opens to the public in April. Visit the website:

www.watatunga.co.uk for more information on their

accommodation and to book a guided tour of the wildlife reserve.

Gift vouchers are also available.

Fast forward three years and the once sterile site has been

restored to nature. Watatunga Wildlife Reserve, found in

Watlington near King's Lynn, is now a wildlife paradise of

woodland, grasses and lakes and is home to more than
---
Farm

Life

Make your next family

day out a trip to the farm

56
---
LITTLE EAST

Life on the farm doesn't stop for a pandemic, and while

it's not certain attractions will open their gates for Easter,

new life still blossoms. Last year, many farms decided to

go virtual, posting videos, photos and answering children's

questions about farm life. At the time of print, it's unknown

what will happen this year, but it's worth checking the

farms websites and social media pages to ensure you don't

miss out on any action, be it a real visit or viewing from the

comfort of your own home. Here is our pick of farms to keep

on your radar.

Snettisham Park, Norfolk

A 329-acre working farm, a visit here can involve many

exciting adventures from seeing lambs being born to a

45-minute deer safari where you will see the magnificent

red deer herd. You can bottle feed lambs, collect fresh farm

eggs and ride ponies as well as taking a walk on one of

three wonderful trails. The farm has a shop selling its own

produce too.

www.snettishampark.co.uk

Suffolk Punch Trust, Suffolk

Home to stables and farmyard animals such as pigs, sheep,

cattle and chickens, there's plenty of fun to be had. Explore

heritage exhibitions, walking trails and learn about the

Suffolk Punch breed. Visit the ducks, rabbits, goats and

guinea pigs at the Pets Paddocks. Complete your visit with a

bite to eat at the café. www.suffolkpunchtrust.org

Easton Farm Park, Suffolk

There's a good mix of education and hands-on fun at this

farm. Get up close with the animals with pony rides,

bunny hugs and creepy crawlies. Explore the farm by

following its Green Trail and Meadow Walks. Let children

burn off energy at the adventure play area. Make the most

of your trip with an extended stay at the on-site campsite or

holiday cottages.

www.eastonfarmpark.co.uk

Wimpole Home Farm, Cambridgeshire

Petting, feeding, play areas, pretty gardens and walking

trails, this farm has it all. During lockdown closure the farm

has been virtually offering an insight into what life is like

on the farm. Visit the website to watch videos to meet new

arrivals including calves, lambs and piglets, watch horses

being exercised, seed sowing and the mucking out of the

pig pen!

www.nationaltrust.org.uk/wimpole-estate

Mead Open Farm, Bedfordshire

Covering 30 acres, the farm is home to animals large and

small including sheep, pigs, cows, goats, ponies and

rabbits. There's a focus on education with the opportunity

for children to learn and interact with the animals through

bottle-feeding lambs, grooming ponies, petting rabbits

and more.

www.meadopenfrm.co.uk

Old MacDonalds Farm, Essex

A popular family day out, the farm is alive with animals

bouncing around and colourful adventure areas. During

Easter, there's usually special events with workshops, shows

and baby animal encounters.

www.omdfarm.co.uk

Thrigby Hall Wildlife Gardens,

Norfolk

With its 250-year-old landscaped garden and mostly

outdoor attractions, there's plenty of space to social

distance. Get close to a range of animals throughout the

grounds which is home to snow leopards, tigers, crocodiles,

gibbons and more. The animal feed and talk programme is

an exciting opportunity to learn more.

www.thrigbyhall.com

Paradise Wildlife Park, Hertfordshire

Located in Broxbourne, the wildlife park has an amazing

range of animals including tigers, lions, monkeys, zebras,

camels and wolves. What makes it really special is the

fact that you can get up close and personal, meeting and

feeding many of the animals. There are three themed

adventure playgrounds, children's rides, indoor soft play

areas and more.

www.pwpark.com

Herrings Green Activity Farm,

Bedfordshire

The birds of prey are the big attraction with over 200 birds

on display. Herrings Green Activity Farm is a family run

business caring for all its birds and animals around the

clock. As well as birds, handlings and displays, there is a

farm with goats and alpacas. A number of experiences are

available throughout the year.

www.birdsofpreycentre.co.uk

57
---
ADVERTORIAL

What are we?

We are an independent museum in Huntingdonshire situated in

open countryside on the edge of a small Fenland town. Housed in

renovated 17th century farm buildings, the museum is full of items

and exhibits kindly donated by local companies and the public.

Ramsey Rural Museum is a charitable trust that is managed and

maintained entirely by volunteers.

What will you find here?

On site there are many areas showing a variety of machinery,

implements and vehicles spanning 200 years of rural life.

Both the Chemist Shop and the Cobblers Shop were donated to

the museum – the former had been owned by the Whitwell family

of Peterborough and the latter from the Paul's of Chatteris.

A history of the drainage of the Fens can be found in the Pump

Room along with tools used for hedging, ditching and turfing.

lifestyle rooms and various cabinets exhibit numerous artefacts

from years gone by.

The museum also houses extensive archives of local family history

and the range of paperwork, maps and photographs are available

for photocopying. Ramsey and its surrounding villages are also

well documented.

Light refreshments are provided either in our Tea Room or alfresco

in the courtyard. If you prefer, bring a picnic and enjoy the peaceful

setting.

Throughout the year we hold many events details of which appear

on our 'events page' of the website.

For information regarding our Opening Times, Entrance Charges,

How to find Us or any other information please visit us at

https://ramseyruralmuseum.co.uk/

What else do we offer?

We have a wonderful second-hand bookshop in the Courtyard

where there is a great selection of good quality books at bargain

prices on a large range of subjects. Come along and browse, if

you are just visiting the Bookshop you don't need to pay Museum

admission, but while you're there why not pop into the tea-room

for a cuppa and a slice of cake!

As well as fiction we have books on:

Handicrafts, Sports, Transport, Poetry and classics, WW1 and

WW2, Biographies, Travel, Gardening, Cookery, History. We

welcome donations of clean, good quality books to add to our

stock

The Barn Annexe gives a fascinating insight into the work of

Wheelwrights and Farriers, and amongst the myriad of farming

equipment there are even examples of some 19th century Graffiti!

There is so much to look at in the Trades Room. As the name

suggests there are displays depicting a range of occupations

and memorabilia from local companies. Through the tea room

is Ramsey Stores – an early 20th century shop with well known

brands on view at the counter.

The thatched Well was one of the sources of water for the nearby

Ramsey Abbey. We even have a 2 seater Privy!

The Stable Block is a two storey building packed with nostalgia.

Upstairs is an old schoolroom and displays dedicated to the armed

forces, police and fire services. On the ground floor the three

Opening Times 2021

Please see our website for opening times

Other times by appointment - Phone 01487 815715

Ticket Prices

£4.50 Adults | £4.00 Concessions | £1.00 Children (5 – 16)

Children under 5 FREE

FAMILY TICKET £10.00 (2 Adults & 2 Children)

Facilities

- Tea Room - Gift Shop

- Toilets - Disabled Toilet with Alarm

- Wheelchair Access - Play tent

- Free Parking with Disabled Parking

- Well stocked second hand bookshop

- Baby changing facilities
---
Happy

Campers

Create lasting memories with a

family-friendly camping holiday

Last year opened up our eyes to travel

on our doorstep. Coastal towns were full

of tourists, country cottages fully booked

and campsites full of laughter and joy.

Campsites have come a long way over

the years. Gone are the days of battling

against the elements while pitching

a canvas tent. Now you'll find luxury

tipis, beautiful yurts and cosy pods.

Basic toilet blocks have been replaced

with stylish sustainable solutions and

outstanding facilities, think firepits and

outdoor kitchens.

If your eager to create lasting memories,

then book a trip to a campsite with

family and friends. East Anglia is blessed

with some of the best child-friendly

campsites in the country with attractions

and beaches all within easy reach.

For a back to nature experience escape

to Round the Woods. Located in the

peaceful mid-Norfolk countryside,

you'll find two luxury yurts and a newly

hand-built roundhouse set in a large

wildflower meadow. The 'Willow

Roundhouse' sleeps up to seven and

features everything you need for a

lavish camping adventure. After a day

of exploring the 18-acre nature reserve,

get cosy by the woodburner and

snuggle down in the accommodation's

comfy king-sized beds that have

Hungarian Goose Down bedding and

sumptuous cotton linen.

There's an emphasis on 'off grid' living

and sustainability but comfort isn't

compromised. Yurts include a luxury

en-suite compost toilet and separate

spacious shower complete with fluffy

towels and robes.

There's plenty to do during the day

such as woodland walks, den building

and pond dipping, but at night is when

the camping magic comes alive with

BBQs, storytelling around the firepit and

stargazing from the hammock.

60
---
LITTLE EAST

The riverside campsite

provides the chance to get

back to nature with friends

and family

Owner Kate said: "Our yurts and

Roundhouse are really child friendly

and we're popular with young families.

We have high chairs, travel cots (we ask

guests to bring bedding for these) and

have plastic plates and cups available.

"The site is great for families, there's

a huge meadow for exploring and

running free where parents can easily

see them. There's also a woodland

play area which families love and we're

currently putting up a tipi shelter which

gives outdoor protection from the

elements including the hot sun

for babies."

Discover Cambridgeshire's heritage and

countryside with a break at Waterclose

Meadows campsite near Huntington.

The riverside campsite provides the

chance to get back to nature with

friends and family. Set in the grounds

of the historic Houghton Mill National

Trust watermill, the camp is perfect for

making the most of long summer days

with plenty of local cycling and walking

routes plus water activities such as

canoeing. It's certainly worth packing

your dinghy! Alternatively keep it

classic and hire a punt or rowboat from

Houghton Boats next to the Mill.

At Secret Meadows in Suffolk, there's a

choice of glamping accommodation.

Luxury lodge tents, a hobbits box, gypsy

rest and even a two-storey safari tent.

Each accommodation is designed and

decorated to reflect an extravagant

woodland retreat. You can order extra

touches such as breakfast hampers,

private hen coops and a hot tub. This is

the ultimate glamping experience.

With so much beautiful countryside

across East Anglia, there are some

wonderful campsites to be discovered

with a location to suit all styles and

budgets.

61
---
We're back... in a BIG way!

RE-OPEN

12 th April *

LS

*subject to government guidelines

CHANNELS

Bar & Brasserie

CHAN

We

LS

LITTLE

CHANNELS

Bar & Bistro

NEW RESTAURANT EXTENDED BAR BIGGER GARDEN & PATIO

LI

CHA

We

E

ELS

We've been busy during lockdown, with a major extension & refurbishment.

More details to follow... ready for when we fully re-open and can welcome you inside this summer.

Dine on the finest locally sourced produce crafted into stunning rustic fine dining menus by our

talented Head Chef Dan Pitts. The ultimate destination bar and restaurant in Chelmsford.

Stay up to date with all that's happening at : www.channelsestate.co.uk

Channels, Pratts Farm Lane East, Little Waltham, Chelmsford CM3 3PT (Entrance by the Park & Ride)

CHA

E S
---
FOOD & DRINK

On the Menu

From Field to Front Door

Famed for being the world's best beef, wagyu has long been a favourite among chefs

and food critics, and thanks to Worstead Estate, you can now have it delivered to your

door. Set in 2,000 acres of working farmland, the estate has been rearing livestock since

the 16th century and is the first in Norfolk to rear and sell premium wagyu beef.

What makes this North Norfolk farm extra special is its commitment to raising the Full

Blood and F1 Wagyu Cross animals as ethically and sustainably as possible. The team

works at the cattle's pace of life, with regular monitoring, humane handling and a respect

that goes beyond any assurance scheme. The wagyu roam the land freely, and are fed

forage and maltings from the nearby brewery; an essential part of raising premium wagyu.

NELS

ddings

Farm practices are modernised to reduce carbon emissions and the need for chemical

sprays. Delivery packaging is entirely recyclable and compostable. As Wagyu beef is

only around one third of the animal, Worstead Estate ensure no meat goes to waste

by working with charities that supply food and meals to the homeless, elderly and

vulnerable.

There are a number of meat boxes available with a well-rounded selection of cuts,

delivered nationwide. Don't miss out on the Easter special! Tried and tested by Eastlife, we

can honestly say this will be some of the best meat you will ever eat!

www.worsteadestate.com

Click It Local

Forget fast food, this is speedy shopping! Supporting local business has been made

easier than ever with the help of Click It Local; an online delivery service available in

Cambridge, and since the start of this year, Saffron Walden, Great Dunmow, Bishop's

Stortford and Huntingdonshire too.

TTLE

NNELS

ddings

Avoid long queues and take the stress out of visiting busy supermarkets with the easyto-use

online service. Click It Local work with multiple stores and restaurants to ensure

all needs are catered. Shop at the likes of Norfolk Street Bakery, Steak & Honour, Joseph

Barnes Wines, Hill St Chocolate and The Cambridge Cheese Co, to name a few. The list

continues to grow by the day. It's not just food either, you can also order fresh blooms

and gifts from independent retailers.

Simply visit the website and place your order at various stores. Delivery can be arranged

at your convenience, but the swift service means same day delivery is also available.

The recently launched subscription service enables you to sign up for those weekly

essentials or weekend pastries. www.clickitlocal.co.uk

NNELS

TATE

Dishoom Delivery

Cambridge residents can get a fix of Bombay comfort food, tipples and other sundries

direct to their doors. The newly-opened delivery only Dishoom kitchen in Cambridge

will serve a menu of favourite dishes, prepared by chefs using the same recipes and

first-rate produce as the café kitchens. Available via Deliveroo, enjoy culinary comforts

at home from 12pm to 10.30pm daily in many postcodes between Eddington and

Chesterton, Barnwell, Romsey and Newnham, from Trumpington to Cherry Hinton, and

most neighbourhoods in between. To check eligibility for delivery and to place an order

guests can visit www.delivery.dishoom.com

63
---
eastlife

Summer issue

With restrictions slowly

beginning to ease, make the

most of this summer and let

our readers know you are

OPEN FOR BUSINESS!

Don't miss out, book your

space NOW!

Email ads@eastlife.co.uk

for more information by

Monday 10th May

Book your Perfect Event

at the

George Hotel

Conference and function facilities available,

for up to 120 people

26 en-suite bedrooms

Wedding Packages starting from £999.00

available fully licenced for wedding ceremony

meaning we can hold your perfect day all

under one roof

Food Served all day in our lounge,

bar & restaurant

Contact us on

01480 432444

events.georgehotel@oldenglishinns.co.uk

www.greenekinginns.co.uk/hotels/george-hotel

64
---
FOOD & DRINK

The Cambridge Foodie

Cool Beans

The boom of artisan coffee in Cambridge

Written by Gerla de Boer | www.cbtravelguide.co.uk & www.cambridgefoodtour.com

It's a cold and rainy day in Cambridge, and I spot a long

queue outside one of the small coffee shops. My initial

thought is that they are waiting for a sandwich. How wrong

could I be? One after the other comes out with a steaming

hot cup of coffee. What is the big attraction of clinging onto

an umbrella in the blistering cold just for a cup of coffee? The

answer is the type of coffee. Artisan is much sweeter than

regular coffee, which tastes quite bitter. Most importantly, it's

roasted with love and care.

A good artisan coffee starts at the source. An artisan coffee

roaster chooses his supplier with care. There are important

considerations such as the type of bean, the conditions it

has been grown in and the harvesting practices. As with

everything artisan, it requires plenty of time, dedication

and practice. You don't become an artisan coffee roaster

overnight. Unlike the big brands, artisan coffee is roasted in

small batches and not stored for months.

There is more to it though. The place to get the perfect artisan

cup of coffee is a small independent coffee shop. They

prepare it with love and care, and unlike some of the big high

street brands, they make you feel special.

The artisan coffee movement is growing. Many coffee

fanatics are practising their barista skills at home too. One of

the first coffee roasters who spotted a niche in the market was

Nespresso over 30 years ago. They created a coffee machine

building on the earlier work of Luigi Bezzera with the simple

idea to enable anyone to create the perfect cup of espresso

coffee – just like a skilled barista. Being a lover of a fine cup

of coffee, I bought mine in 1992. My flavour palette changed

over the years, and my Nespresso coffee machine made its

way to a barista-style coffee machine, Sage.

Where to find artisan coffee beans in

Cambridge and Ely?

Silver Oak

Available online and at Ely market

Kerb Project

Available online and The OtherSyde, Cambridge

Hot Numbers

Available online, at their two cafes in Cambridge

on Gwydir Street and Trumpington Street, and Hot

Numbers Roastery in Shepreth

XueCam Coffee

Available online, Cambridge Market and at the La

Latina Bustaurante in the Grafton Centre

Coffee Temple

Available online and from their van close to Orchard

Street at Christ's Pieces, Cambridge

Town and Gown

Available online and at their cafe at Raft Market on

Sidney Street

With so many excellent local artisan coffee roasters around,

it is sometimes difficult to make a choice. It all depends on

your preference as to which coffee bean to choose. I use

Silver Oak coffee beans at the moment, but I have used Hot

Numbers and the Kerb Project too.

65
---
eastlife

CREATIVE

Designed to make your life easier

Perfect your media strategy with our online courses.

Grow your business and media presence and learn

directly from our team of experts.

Join our masterclasses in PR and social media.

Launching 29 March 2020

Sign up at emma@eastlife.co.uk

Struggle with social media, design, branding

and press coverage? We are here to look after

and support you through it all. Get in touch today

to find out how Eastlife Creative can help your

business stand out from the crowd.

PR | Social Media | Copywriting

Design | Branding | Website Design
---
FOOD & DRINK

Norwich

Eats:

Inspiration for

your next

restaurant

experience in

Norwich, post

lockdown

Written by Zena | www.lovenorwichfood.co.uk

The lockdown didn't stop the fine foodies of Norwich, we carried

on eating in the new normal and out of the embers came some

mighty fine places to eat.

Oishi took over the food at Chambers Cocktail bar in the city with

an Asian inspired street food menu. A collaboration between

The Hen House Kitchen and Moco, both street food vans, means

you can choose Hen House's crispy fried chicken burgers like

the Godzilla with crunchy Katsu chicken, pickled ginger and

Japanese mayo, or opt for Moco inspired rice boxes along with

crispy wings and Korean topped fries. If you love a brownie, tag

on a miso caramel topped gooey chocolate hit delight.

Market News

Norwich market has set up its own delivery service,

visit www.norwichmarket.net. Using Norwich Urban

Collective, a local team of bikers, the market is delivering

locally and charging the customer, not the business.

Keep up-to-date with market news on the new Instagram

account @Norwichmarket_life.

If you haven't tried market food yet you're missing out! You'll

find authentic Empanadas, Thai street food, Malaysian

noodles, Punjabi slow cooked curries and bao buns, not to

mention sweet treats like brownie stuffed cookies and that's

only a third of it.

Connaught Kitchen has been recently renovated by team Moco

as a local's café offering breakfast and brunch, plus fine cakes

and bakes. They will also focus on foodie events like tapas

weekends and pop ups with their street food buddies.

A new Middle Eastern shawarma café opened its doors in

lockdown on Unthank Road. 1st Shawarma includes authentic

naans and Turkish bread and proper shawarmas, nothing like a

doner, along with okabasi coal cooked kebabs and Persian sides.

Chick Inn is a rotisserie eat in or takeaway, once Micawbers

Tavern, on the corner of Pottergate. The chicken is slowly cooked

in house for tenderness and served with fries, house slaw,

smashed avocado and lots of sauces. Their sticky BBQ is divine!

Follow Zena at

@love_Norwich_Food

YouTube: Dyslexic Chef

67
---
Explore, visit, take part and connect

with Creative Hertfordshire

www.creativehertfordshire.com

You're a click away from a county full of possibilities

Find out what's on, what to do, where to go and how to take

part across Hertfordshire. Dance, make, sing, visit – Creative

Hertfordshire is the one website that's got it all covered. All

you need to do is sign-up for our regular news alerts - it's quick,

easy, and FREE. Are you a creative individual, organisation

or business? Showcase your work, expand your network and

attract new customers by creating a free online profile.

Visit www.creativehertfordshire.com now and start

discovering a county full of possibilities.

Because one site is all you need to get creative.
---
FOOD & DRINK

On the Plate

in Bedfordshire

Discover Bedfordshire's best waterside dining

Whether it's fine dining by the river, lakeside cocktails or a hearty pub lunch

watching the narrowboats go by, we've rounded up some of the county's

restaurants with the best waterside views.

Corner 5, Box End Park

Box End Park, Box End Road, Bedford, MK43 8RQ

With its lakeside setting, contemporary timber building and panoramic views,

Corner 5 offers a fine dining experience. Menus change with the seasons and

dishes are freshly prepared using the finest ingredients. Part of the Box End Park

complex, a family business offering water sports on two purpose-built lakes,

Corner 5 is a fantastic place to relax and take in the views.

www.boxendpark.com

Riverside Cafe, Jordans Mill

Jordans Mill, Holme Mills, Southill Road, Broom, SG18 9JX

Take a guided tour of the Victorian mill, explore the beautiful gardens with crops

growing alongside ornamental plants and enjoy the wildlife and tranquility of the

meadow and woodland. Relax in the Riverside Café where you can enjoy freshly

prepared food and drink overlooking the stunning River Ivel.

www.jordansmill.com

Waterfront Brasserie, Wyboston Lakes

Wyboston Lakes Resort, Great North Road, Wyboston, MK44 3AL

Perfectly situated with views over the lake, the Waterfront Brasserie offers plenty

of choice with traditional British dishes alongside European classics. With a wide

variety of gins and a dedicated Martini menu, a pre or post dinner drink by the

water is a must.

www.wybostonlakes.co.uk

The Grove Lock

The Grove Lock, Grove, Leighton Buzzard, LU7 0QU

Located beside Lock 28 of the Grand Union Canal, the pub serves hearty food,

traditional ales and wonderful views over the water. On the menu you'll find daily

signatures alongside the classics using seasonal and locally sourced ingredients.

The canal side garden is a beautiful spot to stop and watch the boats go by.

www.grovelock.co.uk

The Wine Glass & Riverside Bar, The Barns Hotel

The Barns Hotel, Cardington Road, Bedford, MK44 3SA

The Wine Glass is a river facing restaurant offering delicious food. In a tranquil

setting, the Riverside Bar is a place to linger for one drink longer or indulge in a

sharing platter. Arrive by river and you can moor alongside the bar; the perfect

place to stop for lunch or sip a few drinks while watching the sun set.

www.barnshotelbedford.co.uk

69
---
Weddings

Ceremonies & Evening Receptions

In the heart of rural Bedfordshire

Spacious Wedding Suite

Wedding Garden for Outdoor Photographs

Wedding Ceremony Licence

Dedicated Wedding Team

Free Parking for Guests

Treat our space like a blank canvas and make it your own

We don't have set packages or insist you use particular suppliers

The Rufus Centre, Steppingley Road, Flitwick, MK45 1AH

Tel: 01525 631905 Email: events@therufuscentre.co.uk

www.therufuscentre.co.uk
---
FOOD & DRINK

In the Kitchen

…with James Rix,

Chef and Owner, at

Fox & Hounds, Hunsdon

James began cooking, aged 15,

in his local village restaurant and

had work experience at Waterside

Inn in Bray and La Tante Claire with

Pierre Koffmann. In 1994, he started

at the Greenhouse with Gary

Rhodes and later moved to one of

the Roux brothers' consultancies in

upstate New York. After a brief spell

at London's Oxo Tower, James

started at Alastair Little's Frith Street

restaurant in Soho, where he worked his way to head chef. In

2000, he moved to Tom Conran's The Cow, before opening the

Fox & Hounds in Hunsdon, Hertfordshire in 2004.

Nat Aubery

What or who inspired you to become a chef?

I fell into cooking with a Saturday job in a pub in the small

Buckinghamshire village where I grew up. My first job after

college was with the legendary Gary Rhodes and he was a real

inspiration to me.

Do you have any standout moments of your career so far?

I always dreamt of opening my own restaurant so opening the

doors of the Fox & Hounds has to be the standout moment. It's

been a labour of love from the start! Another highlight was being

awarded our first Michelin Bib Gourmand in 2012, which we've

held ever since.

Describe dining at the Fox & Hounds in five words.

Welcoming, convivial, gentle, familiar and friendly.

Tell us about the menu at the Fox & Hounds.

Our simple but sophisticated menu features creative food with

seasonal ingredients. We source the best produce we can and

don't mess around with it. We use rare-breed meat, local game

and native fish and seafood. Fox & Hounds favourites include

crab taco with mango salsa, handmade spaghetti with clams,

Swaledale lamb rump and Old Spot pork loin. We're also famous

for our Sunday lunches!

Can you name an ingredient you love to cook with and one

you hate?

Love: game birds…partridge, pheasant. Hate: prunes!

Are there any cooking gadgets that you can't live without?

We're pretty gadget free and don't have any toys – just flames

and knives. My favourite thing in our kitchen is our charcoal

Josper oven that works like an indoor barbecue to give meat a

fantastic flavour while keeping it moist and tender.

When it's your day off, what do you like to do?

My wife and business partner, Bianca, and I love to go for lunch

in London. Our favourite is Kiln, in Soho because it's so different

from the kind of food we cook here. Other than that, I like to go

to the gym or for a run over the fields to de-stress. We have two

teenagers, so it's good to hang out with them too.

What seasonal ingredients should our readers be looking

to buy this spring?

Look for produce from local growers or farmers' markets – spring

vegetables like peas and spring cabbage or foraged greens like

nettles and wild garlic.

www.foxandhounds-hunsdon.co.uk

71
---
Are you looking for an alternative to

Residential Care? We have been providing a

successful live-in service for over 40 years

At Able Care we believe that people are happiest

in the familiar surrounds of their own home. We

can support you in maintaining your

independence by providing a valuable alternative

to Residential Care, whilst easing the reliance

upon family, friends and neighbours. Able Care's

aim is to enable you to remain in your home and

in the community you love. We fully understand

the importance of providing for an individual's

needs and the benefits of maintaining as much

independence as possible.

Able Care can provide you with:

Carers that have time for you

Carers that can assist with personal care

Carers to help you with your domestic needs

Carers that can provide support from

companionship through to palliative care

Carers that you prefer returning regularly

"Able Care have been amazing under the most

challenging of circumstances and I am so grateful for

your support, kindness and professionalism"

T: 01603 624135

T: 01223 606880

e: enquiries@ablecareagency.co.uk

e: ablecareagency.co.uk

Sackville Place, 44/48 Magdalen Street, Norwich NR3 1JU
---
HEALTH

A Bright Smile

How to whiten your teeth

The desire for perfect teeth is something that many of us try to

achieve. While professional teeth whitening is usually the most

effective option, it can be costly. However, there are many other

options that can help you broaden your smile.

Professional cleaning should be the first port of call. Karim

Abdel-Khalek, dentist at Bupa Dental Care, said: "For surface

discolouration, sometimes all that is needed if professional

teeth cleaning by a GDC registered dentist or hygienist which

will reinvigorate the teeth and brighten the smile."

Whitening toothpastes contain abrasives which remove surface

stains; however, Karim advises overuse can lead to thinning

of the enamel which over time can result in making your teeth

more yellow in the long term. Over the counter whitening kits

can also provide a short-term fix, but EU regulations means the

kits contain no more than 0.1% hydrogen peroxide, therefore

the results don't last long.

Home bleaching is a more affective method. Karim explained

that it "involves taking impressions of your teeth for the

fabrication of close-fitting whitening trays that are loaded with a

whitening gel and worn either during the day or overnight. This

usually achieves good results within about 2-4 weeks."

In-chair bleaching by a professional will achieve instant results

and is the safest option. Karmin continued: "When carried

out by a registered dental professional, this procedure is very

safe and does not result in damage to the teeth. The active

ingredient in professional tooth whitening gel is hydrogen

peroxide delivered in the form of either hydrogen peroxide

or carbamide peroxide. These agents penetrate the tooth

structure to oxidise and break up the stain molecules, thereby

making the teeth appear brighter. It is imperative to have a

check-up with your dentist before teeth whitening, to ensure

that there are no ongoing oral conditions that require treatment/

stabilisation prior to whitening."

Understandably teeth whitening is not for everyone. If you'd

prefer a more natural solution to reducing teeth stains, Mayur

Pandya, clinical director at Together Dental, advises using

fluoride toothpaste and avoid over consumption of food and

drinks that cause staining, such as red wine, tomato-based

sauces, coffee and curry.

She added: "Maintaining a bright, healthy looking smile is

a great confidence boost as they are often subconsciously

associated with good health and youthfulness. There are a

number of things we can do to help maintain the brightness

of our teeth; brushing and flossing twice a day and visiting the

hygienist regularly. Avoid smoking and chewing tobacco too."

73
---
INDEPENDENT DIA B E TES TRUST

DIABETES - HERE TO HELP

I N D E P E N D E N T D I A B E T E S T R U S T

These booklets provide you with help

and advice about everyday aspects of

living with diabetes

ASK FOR YOUR FREE

COPIES TODAY

Type 1 Diabetes

Know the Facts

A charity supporting and listening to people who live with diabetes

HELPLINE: 01604 622837

www.iddtinternational.org

I N D E P E N D E N T D I A B E T E S T R U S T

I N D E P E N D E N T D I A B E T E S T R U S T

Diabetes

Everyday Eating

"I want to be told what I can eat – not what I can't".

This booklet provides you with help and advice

about everyday eating and a four week menu plan.

HELPLINE: 01604 622837

Email: enquiries@iddtinternational.org

www.iddtinternational.org

martin@iddtinternational.org

Type 2 Diabetes

Management and Medication

Understanding

Your Diabetes

HELPLINE: 01604 622837

www.iddtinternational.org

A charity supporting and listening to people who live with diabetes

HELPLINE: 01604 622837

www.iddtinternational.org

TELEPHONE: 01604 622837 or

EMAIL: martin@iddtinternational.org

InDependent Diabetes Trust

P O Box 294, Northampton NN1 4XS.

www.iddtinternational.org

Charity Number: 1058284

Registered Number: 3148360
---
What's worrying you...?

Anxiety &

Panic

Anger &

Frustration

Depression &

Low Mood

Children's

Mental Health

Relationship &

Couples Issues

Esteem &

Dissatisfaction.

Life Coaching

Ease your emotional concerns

Many of us suffer with emotional problems but you don't have

to accept being anxious, depressed, frustrated or unhappy.

Emotionalskills is here to help you lose your stresses and

tensions, giving you a happier more contented life.

Emotionalskills offers short term counselling or CBT, Life Coaching

or long term life changing psychotherapy with the Emotionalskills

course. Sessions run with qualified therapists in Norwich & via

online services such as WhatsApp, Skype, Zoom or Facetime.

Arrange a free introductory consultation

In total confidence call, text or email us:

07986 488690

contactus@emotionalskills.uk

www.emotionalskills.uk
---
A Breath of Fresh Air

East Anglia's best outdoor exercises

Written by Phoebe Taylor | www.phoebegracetaylor.journoportfolio.com

East Anglia is packed with exciting activities to do year-round! From UFO trails and gentle

rambles to adrenaline-pumping kitesurfing and competitive rowing, here's your guide to the

region's best outdoor exercises.

Bedfordshire

Canoe along the Great Ouse

During summer, there are several

options to rent a canoe or kayak in

Bedford city centre. While these tend

to close for the winter season, paddling

through this historic market town into

woodland and countryside is just as

charming in cooler months too. If you

have a vessel of your own, it's worth

making the trip.

If you don't have your own boat, you

can still get on the water. Head to Priory

Sailing Club, a calm lake where you can

hire gear and take lessons.

Norfolk

Embrace pedal power

Norfolk is threaded with breezy bike

rides. If you're looking for adventure,

head to Thetford Forest (mountain bike

recommended) to explore trails through

sprawling pine forest and heathland.

Bonus: you'll often see more wildlife on

a bike than on foot, such as the forest's

shaggy wild ponies.

Blow any cobwebs away by taking a

ride along the Norfolk Coast Cycleway.

Break up your journey with a boat ride

to see seal pups at Blakeney Point, and

(when COVID allows) a pub stop along

the route for a steaming hot bowl of

fresh local mussels.

Cambridgeshire

Row your boat

Rowing isn't just for Cambridge Blues;

oar-mad Cambridge city is one of the

best places to try this exhilarating sport.

Clubs along the River Cam cater to

all abilities, from semi-pro scullers to

complete beginners.

If rowing in a team isn't your cup of tea,

the Cam offers plenty of opportunity

for solo recreation. Punt through town,

a surprisingly effective arm workout,

or kayak along the much quieter

Grantchester Meadows stretch, where

you can even take a dip if you're feeling

brave.

76
---
Essex

Try stand up paddleboarding

Stand up paddleboarding (SUP)

is a whole-body workout that's

becoming increasingly popular in

the East of England. Learn the basics

or rent equipment at Mersea Island

Watersports. Once you've built up your

confidence (and balance), Essex has a

surprising number of pretty waterways

to explore.

The channels and creeks around

Mersea Island are an obvious first

choice, but after that you could glide

down the River Stour to Flatford Mill, or

paddle past bird- and wildlife-filled Two

Tree Island. You could even challenge

yourself with SUP yoga classes at

WetnDry Boardsports, Rayleigh.

Hit the beaches

With more than 350 miles of shoreline

on offer, it's no surprise that Essex is

home to some excellent beaches, and

they're not just good for long walks.

Switch up your exercise routine with

a run along the waterline. Running on

sand decreases the impact on your

joints, which is always a bonus. You

could explore places like Walton-onthe-Naze,

where WWII remnants dot

the shore. Pop into the art gallery on

Martello Beach. Try jogging past the

candy-coloured bathing huts on West

Mersea Beach too.

Suffolk

Follow the UFO trail

Do you believe in aliens? Get out and

about by following this trail through

Rendlesham Forest to learn more about

the alleged sightings which took place

here in 1980. Little ones (and not-quiteso-little

ones) will also love the forest's

giant play area, kitted out with gear

including an obstacle course, zip line

and tube slide.

Go kitesurfing

If the thought of plunging into icy ocean

fills you with excitement rather than

dread, head to the Suffolk coast's prime

surfing locations to catch a wave or two.

You'll soon warm up wearing a wetsuit!

Lowestoft has plenty of gear rental

shops where you can kit yourself out,

plus a smooth sandy beach in case of

any mishaps like crashing into the shore.

Stay the night to catch a glimpse of the

UK's earliest sunrise.

Hertfordshire

Get sweaty in an outdoor gym

Are you missing gym workouts? You

could find a replacement in your

local park. In Hertfordshire, you'll spot

outdoor gym equipment in Abbots

Langley, Borehamwood, Elstree,

Harpenden, Hitchin, Potters Bar, St

Albans, Stevenage and Watford.

While this doesn't necessarily cover

everything (weightlifters are likely to

be disappointed), it can add a touch of

variety to your workout routine. It comes

with the bonus of fresh air and vitamin D.

Explore on foot

Hertfordshire is home to several scenic

running trails, like the Grand Union

Canal's serene towpath. Take a look at

a map and try to spot likely contenders

– you might find a new favourite route

right on your doorstep.

If running isn't quite your style, go

rambling through the county's

numerous heritage trails. You could

take in Roman walls and an impressive

cathedral in St Albans, stroll past listed

buildings in pretty Wheathampstead, or

take in scenic views from the Chiltern

Hills.

77
---
Fournel Jewellers At The Amber Shop

SOUTHWOLD

For you very special day come and be inspired

by our specialist range of gem, diamond and

engagement jewellery.

15, Market Place, Southwold, IP18 6EA | 01502 723394 | www.ambershop.co.uk

78
---
Written by Ruth Essex | ruthessex.com

Hands up if you bought your new spring

handbag way before Christmas? I did. I often

shop for seasonal items, many months in

advance. You see, I get excited for change.

I love the new season coming in with fresh

and inspiring items. It makes me feel joyful,

especially after a winter of hibernation.

As a stylist I need to keep abreast of trends.

I have some clients who, like me, prefer to

shop well in advance. And, if you love buying

second-hand items, or rush to be the first

one in store, when new season stock arrives,

knowing the trends in advance can help. It

guides you to the best picks; what to try and

what to pass by.

For a long-term curated wardrobe, my

top tip for any spring season is to look for

lighter backgrounds for any prints you are

considering. They appear fresher and more

uplifting, than the deeper backgrounds we see

througout the winter.

Shades

of Spring

Also, search for items in tulip shades. These

colours return every year without fail. Review

the Pantone predictions too. Designers and

manufactuerers use these to select their

colour palettes, so it is what you will find in the

shops. You can sign up for my free newsletter

at ruthessex.com if you enjoy seeing the

Pantones for each season.

In 2021, the spring colours will be shades of

lilac, mint, light and dark orange, and a midpink

too. Even a bright turquise. Most of us

have some clothes in a few of these colours

already.

But this season, why not consider a new

handbag instead of more clothes? Perhaps a

floral one instead of a neutral? It adds interest

to a plain outfit with no effort. If you don't fancy

a pattern, try a bright colour. Pink for cool tones

and an orange or green for warm tones – you

won't go far wrong. An instant update you can

bring out again next year and already works

with your existing wardobe. What is not to

love?

Ruth Essex is a stylist, writer and

teacher of style. Get in touch at

style@ruthessex.com

79
---
PETER'S BRIDAL WAREHOUSE

Peter Bullman

WEDDING DRESS FACTORY OUTLET

Stunning Dresses,

Size 8 to 36 in stock

or you to try on today

Priced from

£299 to £999

Unit 21 Northfield Business Park, Soham, CB7 5UE

Just off A142 Soham By Pass, (Behind Scampers Pet Store)

Call: 07917757862

www.petersbridalwarehouse.com

Peter Bridal Warehouse
---
Weddings

Your wedding photos will stay with you for the rest of your

lives together and, in many cases, the images will be the

only tangible reminder you'll have of your big day when

it's all over. To make sure that your photos tell the whole

story of your day, here's what you need to think about:

Your Bridal Preparations

Capturing this part of the day, especially the last couple

of hours, is important. Think about the backdrop for these

photos – lots of natural light and tidiness give the best

results. Some of the essential shots for your photographer

to capture include: the details (the ring + ring box, veil,

dress, accessories, bridal bouquet, buttonholes and

stationery suite – this is especially important if you want to

get your wedding featured in print or online afterwards),

bride with bridesmaids, bride putting on her dress,

bridesmaids/parents of the bride seeing the bride for the

first time and moments during hair and makeup.

Your Ceremony

More and more couples are now asking for 'unplugged'

ceremonies. This is a great idea as asking your guests to

put away their phones and cameras means that they are

fully present for your ceremony. It also means that your

photographer can capture absolutely everything without

anyone or anything getting in the way.

Your Family Photos

Family photos are now much more creative and

interesting than the staid line-ups of years gone by and if

there's a particular shot that you want, make sure that you

ask for it. Speak to your photographer for advice and as a

rule of thumb limit your number of family/group photos to

no more than 10.

Your Couple's Portraits

Say cheese

These shots will quite likely become the images that you

share the most on social media and display in your home

after your wedding. If you'd like photos that have that

gorgeous, soft light that you often see in magazines and

online, talk to your photographer about the most suitable

times during the day for couple photos and factor this into

your schedule. This may mean that you have leave your

wedding breakfast or evening reception for a while but

trust me, it's worth it.

Your Reception

Make sure every moment of your

wedding is captured with our wedding

photography checklist

Written by Katrina Otter

www.katrinaotterweddings.co.uk

The speeches, the cutting of the cake, the first dance and

guests having fun all need to be photographed. If there

are any elements of your décor and details that you really

want your photographer to capture, then give them a list.

Trust your photographer

You've chosen them because you love their work and

adore their style so on the day, don't be afraid to go with

their suggestions. You might well be pleasantly surprised

with the results and these unplanned images could well

become your favourites!

81
---
Helping

You

Unlock

Your

Potential

Have you been

furloughed?

Are you facing

redundancy?

Are you

unemployed?

Are you

unemployed?

Are you working from home &

concerned about the future?

eVolve your future can help by offering

FREE remote, confidential & completely

impartial one to one support with our

experienced Careers Advisers through

either phone or social media

platforms of your choice.

evolveyourfuture.co.uk

01933 358250

We would

love to hear

from you!
---
Motoring

DS7 Crossback

E-Tense

Written by Sue Cooke | Twitter @cookecars

Spring for me is new beginnings, new changes and new innovations. DS

Automobiles, which is the luxury arm of Citroen has some wonderful new

technology which I spent a glorious week exploring during my recent road test of

the DS7 Crossback E-Tense.

I have never seen headlights on an SUV that are so fascinating but then I wasn't

around to buy cars in 1955. That was the year of the original DS which inspired

the headlights. With some added technology, the new headlights have a main

projector headlamp and a cluster of three LEDs that rotate 180° and sparkle. My son

videoed them and my daughter wanted to show them off to her boyfriend. These

headlights are not just for show though, they help the driver by focusing the light on

the road. The beam adapts in width and range to the road conditions and vehicle

speed and they do not dazzle oncoming drivers. Six lighting modes are available

and are selected automatically by the system; Parking, Town Beam, Country Beam,

Motorway Beam, Adverse Beam and High Beam. Isn't new technology wonderful.

The DS7 Crossback has plenty of other innovative features which kept me

entertained all week. As I rounded a corner a stick figure and two stick animals

appeared in a red warning light on the dash. Outside the car, a man was walking

two dogs, balancing on the narrow edge of the B road. An infrared camera

positioned in the grille picks up the behaviour of pedestrians or livestock up to 100

metres away and artificial intelligence analyses the camera footage and represents

the picture in front of the driver, using thermal imagery.

On the motorway, I appreciated the warning sign, 'Be Vigilant', which flashed on the

screen when I became hemmed in by several large trucks. A windscreen-mounted

camera scans the road surface up to 20 metres ahead and warns the driver. Only a

handful of high-end limousines currently boast this advanced technology.

Facts at a Glance:

Model: DS7 Crossback Ultra Prestige

E-Tense

Price: £56,075 otr without options

Engine: Turbocharged petrol engine and

two electric motors combined to produce

300hp

Performance: 0-62mph in 5.9 seconds

and on to a top speed of 149mph

CO2 emissions: 33-37g/km (WLTP)

Combined fuel consumption: 166.2-

235.4mpg (WLTP)

Electric range combined: 34-40 miles

(WLTP)

New research by DS Automobiles has revealed that almost a quarter of the UK

public are likely to make a premium purchase over the next 12 months. Nearly half

of those surveyed stated high levels of interior technology and features as the main

qualities they look for.

This is what you will find in the spacious interior of this Crossback offering the very

best of French style, with 'ooh la la' attention to detail. I like the chrome scrolling

cylinders which are used to increase the audio volume or change the view of the

large digital instrument display. From the nappa leather to silver chrome highlights

everything is quality.

The E-Tense plug-in hybrid is powered by a turbocharged petrol engine and

two electric motors that combine to produce 300hp. Up to 30mph the cabin is

exceptionally quiet and even when the engine ignites, silence remains paramount.

CO2 emissions are 33g/km, so new DS owners will find huge tax savings.

My road test review of the DS7 Crossback E-Tense can only be described as a super

smooth spring into a super quiet and stately environment. Yes, you will pay for this

premium purchase and its great technology, but it's a welcome change for 2021.

83
---
ROYTHORNE & SON LTD

Quality Service For A Sensible Price

Roythorne and Son is a friendly, family run

garage situated in the village of North

Wootton, 10 minutes from King's Lynn

town centre.

Our aim is to always look after you as well

as your car, in the most courteous and efficient

way, with all your motoring requirements.

Our workshop is well equipped to deal with

your vehicle repairs and servicing, we are also

BMW specialists.

We have a variety of used cars on display for

you to view and test drive.

Forecourt petrol and diesel sales –

where we still serve you.

TEL:01553 673000

Nursery Lane, North Wootton, King's Lynn, Norfolk PE30 3QB

EMAIL: sales@roythorneandson.co.uk • WEB: www.roythorneandson.co.uk

STUNNING NEW HOMES

IN CAMBRIDGESHIRE, ESSEX, BEDFORDSHIRE & HERTFORDSHIRE

Croft End, Orwell, Cambridgeshire

The Oaklands, Langford, Bedfordshire

Visit our website or call us to find out more

01883 346464

www.croudacehomes.co.uk

84
---
Clear View Ahead

Top dash cams for 2021

Dash cams are rising in popularity among drivers as a way to lower insurance costs and,

should an incident occur, protect against liability. We look at the top products on the

market to help establish which model is best for you.

Local Dash Cam Stockists:

Autotronix – stores in Bedford and Luton

Peter Doige – Great Yarmouth

Pulse Car Audio – Hadleigh, Benfleet

Nextbase 622GW Dash Cam

The Nextbase 622GW has all the high-tech features: 4k image quality, night vision,

Bluetooth, Alexa compatibility, adjustable capture rate, slow-mo playback and digital

image stabilisation for clearer details (even in fog or poor weather conditions). The real

selling point of this model is the use of what3words: a feature which has the ability to

share your location within three-metres, so that you can be located if an emergency

occurs. The 622GW is currently the only dash cam on the market with this potentially

life-saving extra.

GREAT IF:

You enjoy hi-tech gadgets with flashy extras and tightened safety

measures.

Approximate retail price: £249

Garmin Dash Cam Mini, 1080p

Compact, discrete (comparable to car keys in size) and does what it says on the tin.

Its 1080P HD lens does the job, offering quality whilst keeping its retail price low. This

dashcam doesn't have a display, making it incredibly low maintenance, and will begin

recording automatically when plugged in. All footage is viewable on the Garmin Drive

app, which has a good reputation for being easy to use.

GREAT IF:

You are looking for efficiency at a low price.

Approximate retail price: £89

Garmin Dash Cam 66W

The Garmin Dash Cam records in 1440p with an extra wide lens; for its mid-range

price, this is good quality. This dashcam is low maintenance with its automatic incident

detection, lane departure/collision warnings, voice control and a handy 'Travelapse'

mode which condenses your journey into highlights. Footage can be saved to an inserted

micro-SD card or viewed on the Garmin Drive app.

GREAT IF:

You want a little extra security with the hard work done for you.

Approximate retail price: £159

Kenwood DRV-A501W Wide Quad HD Dash Cam

The winner of the EISA Best In-Car Dash Cam category for 2020-21, the DRV-A501W box

includes a polarised filter, to reduce weather glare and keep footage sharp, and a 16GB

SD-Card. These inclusive accessories justify the price as there's no need to outsource

extras, while all the expected features of a dashcam in this price range are provided too:

1440p recording, colour display, audio playback, GPS, the option of desktop software and

easy position adjustability with its magnetic quick release.

GREAT IF:

You're after easy installation and an adaptable device for a range

of journeys.

Approximate retail price: £179.95

85
---
Business Accountants for

Business People

● Accounting and Bookkeeping

● Tax and Tax Planning

● Regulation and Compliance

● Advice and Support

● Fixed Fees

● Straight and Direct Communication

● Local Presence and National Strength

● We Do Not Charge By The Hour

Good Accounting is

Good Business

MIKE BARNES ACA

T: 01 485 521 756

M: 07969 163021

E: mike.barnes@aims.co.uk

www.aims.co.uk

Do you want free advice

to help you have more impact

with your customers?

Tune in to

Communication Strategy 'That Works'

A free weekly bite-sized podcast on how to

promote, protect and grow your biz brand!

short episodes every week

with Emma Drake Chart.PR

founder of Henbe

Download, subscribe

listen and learn at:

www.henbe.co.uk/podcast

Find me on Facebook

@CommsThatWorks

LinkedIn & Twitter @Emma Drake

86
---
CONSUMER

Martin

Lewis

Cut

Your

Council

Tax

Hidden ways to cut

£100s or £1,000s off

your council tax bill

Martin Lewis is

the Founder of

MoneySavingExpert.com.

To join the 13 million

people who get his free

Money Tips weekly

email, go to

www.moneysavingexpert.com/latesttip

Over half of all councils are expected to

increase council tax by the maximum 5%

this April. Councils have always offered

crucial public services, but during the

pandemic, they've been a lifeline to many.

Yet council tax bills – especially if they

increase – are a stretch for many, and

while it's important that people pay

their dues, it's equally worth checking

you're not missing out on legitimate

discounts and reductions. So, let me

take you through my key council tax

need-to-knows…

1. Up to 400,000 homes in England

and Scotland are in the wrong band.

Council tax was first introduced in Great

Britain in 1993 (Northern Ireland has a

different system). It's a payment based

on the value of your home – homes are

banded from band A the least expensive,

to band H, most expensive (Band I in

Wales).

Before the tax came in, a stop-gap '2ndgear'

valuation of all homes was done.

Literally people in cars with a clipboard

assessing a band. Yet in England and

Scotland that stop-gap has never been

updated and is still what dictates most

homes bands – meaning there's been

estimated to be up to 400,000 homes in

the wrong band (Wales has more recently

been re-assessed). Some will be paying

too little, some too much, all the way back

to 1993, and could be backdated.

You can't ask for your band to be lowered,

only evaluated, and to stop yours, or

worse your neighbour's band increasing,

there are two checks you should make.

• The Neighbours check: Are you in a

higher band than neighbours in similar

or better identical homes (see your

and their bands at www.voa.gov.uk

in England and www.saa.gov.uk in

Scotland).

• The valuation check: Effectively back

calculating what your house was worth

in 1991 when bands were set. Don't

worry to make this easy I've a free tool

to help at www.mse.me/counciltax

(which also includes far more help on

how to do this, and FAQs if you run into

problems).

Only if BOTH of these stack up then it's

worth asking for them to check if you're

in the right band (for how to do this see

the link above).

2. Live alone, with under-18s or fulltime

students? There's a single-person

reduction of 25%. Those under aged 18

and full-time students are disregarded for

council tax purposes, so a single parent

would be entitled to this. All student

households pay nothing. Live-in carers in

some circumstances are exempt too.

3. Do you live with someone with a

'severe mental impairment'? You

could be missing discount worth

£1,000s. If someone has a diagnosed

severe mental impairment, which includes

someone with Alzheimer's, Parkinson's,

strokes and more, and are eligible (not

necessarily claiming) for some benefits,

e.g disablement allowance or incapacity

benefit – they may be disregarded for

council tax purposes. Meaning they don't

have to pay council tax if they live alone

and get 25% off if they live with one other

adult. Plus, some councils backdate it,

leading to £1,000s back.

This is wildly underpublicised, but I've

been trying to raise awareness, and

have had many successes. This can be

complicated so do read the full details at

www.mse.me/SMI.

4. Had your home adapted for a

disabled resident. Rather than a

discount you may be able to get your

council tax band lowered, speak to the

council.

5. On universal credit/benefits you

could get up to 100% off. Council tax

reductions are long standing discounts

of up to 100%, which you apply for

directly with your local council (details of

your council is at www.gov.uk/applycouncil-tax-reduction).

87
---
Feeling overwhelmed by

business admin and to-do lists?

A virtual PA can help

relieve the pressure.

Whether you're running a business or

managing a hectic family home,

delegating to an experienced and

organised virtual PA will give you

some valuable time back.

Get in touch for a no obligation

chat and see how I can help.

07834 628 460

hello@lauraharrispa.com

www.lauraharrispa.com
---
Business101

Reasons to Hire a

Business Coach

Lockdown has changed the way we

work. From online meetings to working

from home, many businesses have

had to learn how to adapt. If you're

feeling stuck in your business, new or

established, a business coach could be

the answer.

A business coach will only be beneficial

if you're willing to grow and take advice.

The more you invest in yourself, the

more likely you're to succeed. With this

in mind, we've pulled together reasons

to hire a business coach.

1

Accomplish your goals

A business coach offers so much more

than just advice. Support is available

in all areas of running a business

varying from planning, structure, risk

assessment, improving sales and profit,

design, feedback and action. Initially a

good business coach will help you set

your goals then help you take consistent

actions to reach them.

3

Profit

Making money might be an obvious

choice for starting a business but it's

easy to lose money without realising. A

coach can help you manage finances,

create a strategy and help increase

profits.

2

Priorities

Finding a work life balance can be

tough, especially when you're a

business owner. A coach will help

you structure your priorities and find

a balance which works for you. Once

you've created a method, it will give

you more time to focus on the task

at hand without juggling multiple

jobs at once, ultimately leading to

increased productivity. A virtual PA is

also an effective option for managing

admin. There are a number of services

available. For example, virtual PA

Laura Harris based in Essex, offers

both executive and lifestyle support

taking on administration, planning and

management.

4

Decisions

A business coach is there to offer

support and guidance. Sharing your

ideas with someone who understands

your goals will help you make the right

choices. A coach will be able to provide

constructive views and feedback.

89
---
Get your favourite

magazine on the go

JUST SEARCH 'EASTLIFE' IN THE GOOGLE PLAY OR APPLE APP STORE

GET YOUR FREE

DIGITAL COPY

OF EASTLIFE

EVERY MONTH

eastlife

www.eastlife.co.uk
---
The best gadgets for working from home

It's been a year since many of us started working from home due to the

pandemic. It's not yet known whether the vaccine will mean staff will return

to the office or continue to do so, but if you haven't yet updated your working

space it's about time you do. Make life a little easier with our pick of office

gadgets to help with productivity and comfort.

STM ChargeTree

With the whole family at home and devices

working over-time, the house can become a wire

maze. However, there's no more squabbling over

plug space and chargers with ChargeTree from

STM Goods. Charge three devices at once

whilst taking up minimal space on your desk.

The STM ChargeTree takes things vertical –

charging a phone, Apple Watch and AirPods at

the same time.

Priced: £69.95.

Available from iStore Ipswich and Colchester,

and Amazon.co.uk

Twelve South Curve SE

The perfect stand to pair with a new MacBook.

Not only does it perfectly match clean modern

office spaces and the aesthetics of many Apple

accessories, it also has an improved ergonomic

design. Users no longer have to hunch over and

tilt their head downwards towards a screen, they

can easily elevate their MacBook to a healthier,

more comfortable height.

Priced: £49.99

Available from Currys.co.uk

Sony WH-1000XM4

headphones

Take your concentration and Zoom meetings to

the next level with Sony's latest noise cancelling

headphones. Tune out household noise with

its adaptive sound control and speak to chat

function.

Priced: £350

www.sony.co.uk

Office Chair Gym

With gyms closed and sports classes off limits, this

handy portable office gym equipment is a great

way to get moving. Work your upper body while

you work!

Price: £79

Available at www.menkind.co.uk/office-gym

Home Comforts

91
---
Enjoy your conservatory all year round

Is your conservatory too HOT in summer

and too COLD in winter?

Your local professional in Conservatory Roof Replacement can help.

Specialists in erection of new conservatories with over 30 years experience...

Are you looking for a quick, easy and cost-effective solution?

HERE ARE JUST SOME OF THE BENEFITS OF A LEKA ROOF...

Your new

conservatory roof

will look fantastic

on the INSIDE too!

• 40 YEAR WARRANTY provided by Leka Systems

• Helps to regulate temperature throughout the year

• No aluminium to cause cold bridging (or to condensate or sweat)

• Quick installation by craftsmen with years experience

• 10 years insurance backed guarantee from Homepro

• Reduces noise by at least 90%

• Velux Windows to retain internal light

• Building regs covered by JHAI

BROUGHT TO YOU BY

We can provide an

in-expensive solid

roof solution for

ANY DESIGN ROOF

Contact DAVID MAYNARD to find out more - the only registered installer in the area!

01553 602088 | sales@lynnframe.co.uk | www.lynnframe.co.uk
---
BARKERS

JOINERY

Specialising in Handmade Bespoke Kitchens

and Architectural Joinery

KITCHENS | BATHROOMS | BEDROOMS

07944 489635 • barkersjoinery@hotmail.co.uk

www.facebook.com/barkersjoinery
---
Luxury Vinyl Tiles & Planks • Rugs • Carpets • Vinyl Flooring

Cowdray Carpet Centre

01206 768376

Unit 5, Cowdray Centre, Mason Road (off Cowdray Avenue), Colchester CO1 1BX

www.cowdraycarpetsltd.co.uk

Home Service Available Select your flooring in the comfort of your own home

making luxury

affordable

We are East Anglia's ONLY

Master Installer of Luxury

Vinyl Tiles and Amtico

endorsed fitter and retailer

• Fully inclusive flooring service no

hidden charges

• Wide range of product samples and

colour swatches available

Carpets, Luxury Vinyl Tiling, Engineered

Wood Flooring, Design Flooring, Motifs,

Vinyl, Natural Flooring, Domestic and

Contract Specialists

01379 870190 | info@eyeflooring.co.uk | www.eyeflooring.co.uk

The Old Theatre, Broad Street, Eye, IP23 7AF

94
---
INTERIORS

Flawless

Floors

As spring cleaning time rolls around again, we share

our top tips for maintaining your flooring to keep

the surfaces spotless

Vinyl Floor

Top tip: Wash with soapy water, less is more.

Ideally you want to keep your vinyl floor well-polished without damaging the glossy

appearance. After hoovering the vinyl or dusting it with a dry cloth, clean with a solution

of apple cider vinegar and warm water. Make sure you wring out your cloth properly, so

that it is slightly damp to avoid smearing.

Hard Wood Floor

Top tip: Steer clear of abrasives, hard brushes with bristles and heavy alkaline

substances.

Begin with a sweep or hoover with a softer nozzle/brush end to avoid scratches, so

that any debris is collected. When mopping, warm water with half a cup of white wine

vinegar added can get rid of tougher grease and oil marks. You can always build up the

vinegar quantity as you go; too much may damage the wood's finish.

Carpets

Top tip: Avoid rubbing and scouring, particularly with newer marks.

The first rule with any new carpet mark is do not scrub! Instead use a cloth or towel to

absorb excess liquid. Follow this with either a low alkaline bleach product or sprinkle

stains with baking soda, before rinsing with hot water. For a general carpet clean, steam

cleaning has risen in popularity, keeping carpets looking fluffy and new. Private cleaning

companies offer this service. However, there are many steam cleaners available on the

market if you're comfortable making a small investment.

Laminate Floor

Top tip: Use a damp cloth and avoid any strong substances.

Laminate flooring has a reputation for being easy to clean – weekly hoovering and

using a microfibre mop head monthly will keep the surface in good condition for longer.

Polishing isn't necessary and can do long term damage – simplicity is key!

95
---
Fantastic choice, quality and value for money

has always been at the heart of Cosy's.

A family-run business for 25 years, we're dedicated

to uncompromising customer service.

Sofas • Chairs • Dining & Cabinet Furniture • Beds

Mattresses • Bedroom Furniture Carpets • Rugs • Flooring

Soft Furnishings • Bed Linens • Home Accessories

Charrington Works, Mundford Road, Thetford IP24 1NB

Tel: 01842 766663 www.cosycomfy.co.uk
---
THE AWARD

WINNING

TEAM YOU

CAN TRUST

WINNER

WINNER 2019

TRANSFORMING HOMES FOR OVER 50 YEARS

Your home is important, and when it comes to

improving it you need someone you can trust

and the right team to make sure your dreams

become a reality. At SEH BAC we have provided

homeowners with our unrivalled industry

knowledge, products, and customer service for

over half a century, winning numerous awards

in the process.

• Stunning conservatories and single storey extensions

• Slimline aluminium windows & doors

• High performance uPVC windows & doors

• Expertly crafted timber windows & doors

Rated EXCELLENT

50

Get your quote online www.sehbac.com

Or over the phone 0800 666 444
---
Venetian Blinds Vertical Blinds Wooden Blinds Solar Shadings

Roller Garage Doors Up & Over Garage Doors Sectional Garage Doors Side Sliding Doors Entrance Doors

Industrial Doors

Cooks Industrial Doors

Sweetbriar Industrial Estate,

Norwich, Norfolk, NR3 2BS.

T: 01603 410304 F: 01603 405090

E: sales@cooksdoors.co.uk

Est. 1965

Blinds & Doors

Roller Shutter Doors & Grilles, Fire Shutters,

Sectional Overhead Doors, Steel Door Sets,

Sliding Folding Doors & Fast Action Doors.

We have been established for over 50 years and are renowned in

Norfolk, Suffolk and across East Anglia for providing excellence

of service and an extensive range of high quality products.

Showroom Open: Monday to Friday 8am - 5pm & Saturday 8.30am - 12.30pm

Roller Blinds Fire Shutters Steel Doors Industrial Shutter Doors Awnings Security Grilles Crash Doors

URN29_Norfolk_1.2020_EarshamHomeFurnishings_HP.ai 1 26/02/2020 12:23:20

Dock Shelters Acoustic Doors Curtains Partitions Galebreakers

Our extensive showrooms house a large range of pine, oak & hand painted

furniture in East Anglia, traditional fireplaces, surrounds and accessories,

solid brass lighting, mirrors, prints, giftware and decorative accessories.

9.00am – 5.00pm • Sunday 10.00pm – 4.00pm • Bank Holidays 9.00am – 5.00pm

Tel: 01986 893 423 - Email: earshamhomefurnishings.co.uk - Web: www.earshamhallfurnishings.co.uk

EARSHAM HALL, BUNGAY, SUFFOLK, NR35 2AN

FURNITURE LIGHTING FIREPLACES GIFTS TEAROOM KITCHENS EVENTS

@EarshamHome earshamhomefurnishings @earshamhomefurnishings

98
---
INTERIORS

Take it

Outside

The latest home trend; the outdoor office

The pandemic opened our eyes to a

new way of working. Many of us, for the

first time, embraced the working from

home lifestyle. While it may have bought

stresses with poor Wi-Fi mid Zoom call, a

kitchen table of paperwork and children

interrupting, it also gave us flexibility and

we clawed back time that would've been

wasted commuting.

This new reality has sparked a boom

in outdoor, custom built offices.

From wooden hideouts resembling

Scandinavian cabins to chic glass

fronted summer houses, there's a host

of options to suit all budgets. Forget wall

panelling and crittall doors, the garden

office is the must-have home addition

of 2021.

Gone are the days where a decorated

shed was considered somewhat a man

cave or 'she shed'. These style of huts or

cabins are built to last. The outdoor office

can be customised to reflect personal

style or be an extension of your home

interiors.

A wooden outbuilding can be a costeffective

alternative to an extension.

Anglia Log Cabins have been crafting

timber builds for over 30 years. The

company states that "the log home is a

comparable to the cost of a traditional

brick building." Using natural materials

and with much lower CO2 emissions

during construction and future running,

the savings can add up...up to 25 per

cent off energy bills in fact.

Not only does an outdoor office save

space in the home, it's also beneficial to

If self-care is top priority,

an outdoor space can also

be used as a gym, yoga or

meditation studio.

mental health. It can be difficult to switch

off from work when the laptop is in sight.

Having a dedicated working space

can help you achieve a better work life

balance.

If self-care is top priority, an outdoor

space can also be used as a gym, yoga

or meditation studio. There's a reason

many Pilate and yoga instructors work

from such a space. You can create your

own peaceful haven.

For the ultimate indulgence why not add

an outdoor bath to your garden? Yes,

really. What could be dreamier than a

G&T under the stars? The Outdoor Bath

Co in Cambridgeshire have designed

stylish baths created with no damaging

chemicals. Using well-seasoned

wood, the baths reach optimal bathing

temperature within 30 minutes.

A cabin or hut is a great way of creating

extra space to your home. Research

and getting multiple quotes are key for

finding the right option for your needs.

While the future may be uncertain for

some time, an additional room can be a

welcomed escape.

99
---
PROBABLY THE LARGEST RANGE OF LAWNMOWERS IN

SUFFOLK TO TRY BEFORE YOU BUY

TOMLINSON GROUNDCARE

Hall Orchard, Brettenham Road, Buxhall, Stowmarket, Suffolk IP14 3DL

www.tomlinsongroundcare.co.uk - 01449 736060

City

Guilds

NPTC

Your custom kitchen or

bedroom starts here

At Langtry Fitted Furniture we

design, manufacture and fit

kitchens and bedrooms that

inspire! With over 20 years of

experience we offer a "best-inclass"

local and personal service

where everything is bespoke and

nothing is standard. Get in touch

today for a no obligation chat.

Units 24 & 24A,

Northfield Business Park,

Ely, Cambs. CB7 5UE

Phone 01353 725 380

Visit www.langtryfurniture.co.uk

She ford

·rlll:I: Sl:11\fll:I:

All aspects of

Tree Surgery &

Woodland management

Fully Insured

01763 208 361

07743 406 569

shelfordtreeservice.co.uk

100
---
INTERIORS

How Being

Green Can

Save You

Money

Written by Eilidh Gallagher | www.justeilidh.com

If you want to become more eco conscious but feel you can't afford it, you might

be surprised to find out that you can actually SAVE money by being green! Here

are some easy ways:

Try buying no new clothes for a month, then see if you can stretch it longer.

Instead, experiment with the wardrobe you already have or look into buying

pre-loved. You won't be spending money on any new clothes or adding to

landfill.

Meal plan and use up any leftovers. It's good for your wallet and the environment

by creating less food waste.

Swap to a bar of soap; simple and effective.

See if switching energy providers to a green provider will save you money on

your tariff.

Take your lunch and water bottle with you. It will save you hundreds of pounds

over the year and stop you from having to buy disposables.

Consider eating less meat, your shopping bill will be cheaper, and you will

be having less of an impact. You could even have a go at growing your own

vegetables.

Learn how to mend clothes. It will save you having to buy new and make the

clothes you have last longer.

Make your own natural cleaning products with a few cheap and simple

ingredients, and without the chemicals and endless plastic bottles.

Turn electrical items off rather than leaving them on standby. If you do this

consistently it will save you money and be good for the planet too.

Walk or cycle when you can rather than driving. You'll save on petrol as well as

reducing your carbon footprint.

Bring your own shopping bags so you don't need to get and pay for a plastic

one.

Don't keep the tap running whilst shaving or brushing your teeth. It will save you

money on your water bill and stop water waste.

Look into getting a water butt to collect rainwater to water your plants and

garden rather than water from the tap.

Eilidh is a blogger and

freelance writer who is

happiest outdoors. A mum of

three, she now writes about

their journey as a family to

a simpler more eco-friendly

way of living.

www.justeilidh.com

101
---
Gardens with Ade

With clocks going forward on 28 March,

we can finally say goodbye to winter and

hello to spring. Fresh buds on roses, and

vibrant trumpets of cheery daffodils hailing

the new season in. It's time to put those

plans, we drew up over the winter months,

into action. However, keep horticultural

fleece and cloches close at hand, as

winter still has a sting in its tail.

After a hard season, flower borders

aren't looking at their best. Get them

spring-ready by removing all fallen debris

and weeds, and cutdown last season's

perennial foliage to a few cms above the

ground. You can also increase your stock

by dividing and replanting these plants.

Finally, give the area a heavy mulch,

ensuring you don't cover over plants or

shrubs, as this will prevent sunlight and

warmth reaching them and can cause

them to rot.

Before you sow your first seed, take

them time to clear up and clean your

greenhouse, cold frames and sheds,

including pots, trays and tools. Not only

will this get you into the right headset for

gardening, but it will get rid of unwanted

pests and potential diseases that could

harm young plants. Also, wash away the

grim on your greenhouse glass with warm

soapy water, as new shoots will need all

the light and warmth they can get.

If you're looking for blooms this season, try

sowing French marigolds, cornflower or

cosmos. Sweet pea can also be sown, but

can be tricky to germinate. Try leaving the

seeds overnight in a bowl of water, or give

the seed a shallow nick before planting.

Fill a small pot or tray with either seed or

multi-purpose compost. Tap the container

gently, and brush the excess soil from

the rim. Sow your seeds thinly and then

cover over with a thin layer of compost,

or vermiculite. Once labelled, place your

container in a couple of inches of water.

The pot will draw the water from the

bottom, leaving the seeds undisturbed.

Finally, place in a bright and warm spot.

If homegrown veg is your thing, then early

varieties of peas can be sown indoors. As

legumes have a deep root system, ideally

you want to sow them in root trainers

as they don't like their roots disturbed.

Not only are you providing the best

opportunity to grow strong plants, but

when you plant out, the roots won't suffer

from stress.

There's nothing more satisfying than lifting

and eating your very own homegrown

potatoes. So, if you haven't started chitting

your tubers yet there's still time. Chitting is

simply a process in giving your potatoes

a head start. Newly bought tubers should

be placed in a warm, dry area with plenty

of sunshine. Stand them upright, egg

boxes make a great holder, with their eyes

facing upwards. After several weeks they

should have healthy shoots. Try to keep

these sprouts down to the strongest three

or four. If you don't have an allotment or

raised beds, consider growing them in

sacks or growbags.

Early varieties of forced rhubarb, such

as Timperley Early, will now have strong

growing stems. These could be ready

for harvesting by the end of the month.

Once picked, refrain from forcing further

as you'll weaken the crown. Instead,

leave the crown to rest for a year.

Spring is a time of hope, optimism and

the temptation of a sunny day or two.

Whatever you get up to this spring, take

the time to enjoy the season and get

outside.

Ade is a freelance presenter,

blogger, vlogger, writer and multimedia

producer. Whilst a garden presenter on

the QVC Channel, he's also a live speaker,

who can host stage garden events.

adesellars.com

Both Ade and his wife Sophie run the

blog, 'Agents of Field', which won the

GMG Awards 'Blog of the Year 2016'.

agentsoffield.com

103
---
PEST PROBLEM?

LOCAL, PROFESSIONAL, TRUSTED

DRE Pest Control

Rapid qualifi ed and safe pest control.

Residential, farms, commercial, hotels, hospitals, schools and businesses

Removal of

rats | mice | ants | fleas | cockroaches | wasps

Are you looking for one off,emergency or long-term pest management solutions?

BPCA

British Pest

Control

Association

MEMBER

Contact DRE Pest Control today!

07789 502556

01954 230708

drepestcontrol.co.uk

info@drepestcontrol.co.uk

19 WALLMANS LANE, SWAVESEY, CAMBRIDGE CB24 4QY

104
---
INTERIORS

Stage the Scene

Let your home tell a story

BEFORE

AFTER

Staging for residential sales is big business in the US, but

somewhat overlooked in the UK. With stamp duty suspended

until 31 March, the property market is currently booming. If you're

looking to make a quick sale, home staging could make all the

difference.

The concept of staging means getting your home ready for a

potential buyer. A few simple changes can help speed up the

sale of your home and even add value.

Staging is important for both estate agency photography

and home showings. Don't wait for a prospective buyer to

step through your door, start staging your home for online

photographs. Rightmove and Zoopla are an online platform to

showcase your home. In a competitive market, if you provide

beautiful alluring imagery, you'll see an increase in viewings,

which could lead to a quicker sale. When a potential buyer arrives

to view the home, ensure they see the scene they saw online.

Continue to sell them a well-put together home they could

imagine living in.

Not sure where to start? Home Style Stories, a home staging

company for both residential properties and holiday homes,

offers multiple services to help you sell your home (or increase

booking revenue). Online consultations, styling advice, redesigns,

organisation and more, the small team understand what it takes

to sell a home. With over 30 years' experience in interiors and

marketing, they work closely with every homeowner to ensure a

successful sale.

Lucy Eastwood, stylist and owner at Home Style Stories, said:

"The market is saturated. To sell quickly you must stand out from

the crowd, find your USP and showcase it to the world. At Home

Style Stories we weave styling and marketing together to create

visual storytelling. We help clients sell the dream."

A prospective buyer will make a judgement in seconds, what do

you want them to see?

For a consultation with Home Style Stories visit

www.homestylestories.com or DM on Instagram

@homestylestories

105
---
So much more than just a

retirement apartment

New Retirement Apartments

FOR SALE

A brand new Churchill apartment is safe and secure, with a Lodge Manager

to keep an eye on things. What's more, you'll have a sense of community with

like-minded neighbours, use of the beautiful garden, and a sociable Owners'

Lounge, so you can enjoy your retirement to the full.

SHELDON LODGE High Street, Berkhamsted - FINAL THREE REMAINING

MEADOW LODGE Laindon Road, Billericay - 50% SOLD

WEAVERS LODGE Camps Road, Haverhill - 50% SOLD

DOVEHOUSE LODGE Wratten Road West, Hitchin

MOORHOUSE LODGE Edison Bell Way, Huntingdon

COOPER LODGE Pole Barn Lane, Frinton-on-Sea - 50% SOLD

Call us TODAY to find out more

or to book an appointment

0800 458 1847

churchillretirement.co.uk

OUR HERITAGE • YOUR FUTURE

BUILT ON INTEGRITY AND TRUST
---
The Arts Column

Written by Collette Hoefkens

Proprietor at Norton Way Gallery and artist

www.nortonwaygallery.com

Beech-Mist – Gary Cook

Day-in-the-Sun – David Parfitt

The days are growing longer and so too, hope starts to blossom

in our hearts. Nurture this feeling with an indulgent and

necessary feast upon the arts. The doors may be closed but the

websites are very much open, bringing our wonderful regional

galleries, directly into our homes. With a vast number to choose

from, here are two recommendations, just for starters.

The superb Rye Art Gallery, East Sussex, is scheduling two

exhibitions to run side by side from March to May. The Rye

Society of Artists (RSA), 'There will be Growth in Spring' and

Nick Archer, 'Somewhere the Grass is Greener'. Both promise to

be uplifting and exciting new collections.

The RSA are a society of around 50 members, all of whom are

professional artists, living and working in the Rye area. The

collective work will include a wide breadth of media, with the

focus on that most hopeful of all seasons, spring. Look out for

works by the renowned Fred Cuming RA and Robert Greenhalf.

Nick Archer, also an RSA member, accompanies this group with

a solo showing of his own work. He is a prestigious awardwinning

artist who trained at the Royal Academy Schools in

London. His strangely familiar works are both compelling and

haunting. Exploring the relationship between the natural world

and its place in our imagination, he uses many visual layers of

film, art and folklore references within his vibrant, mysterious

and most thought provoking, oil paintings.

Further north, you will find the wonderful Sea Pictures Gallery

in Suffolk. Nestled in the heart of its smallest town Clare, this

beautiful gallery is a treasure trove of original art and is fully

operational online. Amongst an excellent collection of original,

coastal and maritime related works, I draw your attention to

painters Gary Cook and David Parfitt.

Both Gary and David, manage to capture and convey an

essence of the somewhat darker side of the natural landscape.

Dense thicket, trunk and furrow darkly beckon the viewer to

peer inside their beautiful and serious vistas.

David's traditionally fluid use of watercolour creates romantic

and quietly dramatic, contemporary landscapes. Gary's mixed

media pieces exude a theatrical narrative, evoking memories of

magical tales.

Enjoy browsing and keep an eye out for that very special piece

that just has to come home to you. Many galleries are currently

offering free UK delivery.

Online Collections, March- May

Rye Art Gallery, 107 High Street, Rye, East Sussex, TN31 7JE

Tel: 01797 222433

www.ryeartgallery.co.uk

Online Collection

Sea Pictures Gallery, Well House, Well Lane, Clare,

Suffolk CO10 8NH

Tel: 01787 279024

www.seapicturesgallery.com

107
---
HUNTINGDON TOWN HALL

The beautifully restored Grade II* Listed Georgian Town Hall is situated on

the historic Market Square in Huntingdon. The building boasts two

renovated Court Rooms to provide a unique and intimate setting for up to

60 guests. For larger ceremonies, the Assembly Hall and Council Chamber

provide elegant spaces for parties of up to 120.

We are currently taking bookings for 2021. If you are interested in booking,

please get in touch by emailing Hayley.burns@huntingdontown.gov.uk or

call 01480 410380. Please be assured that in the event that your booking is

impacted by COVID-19 restrictions, we will work with you to reschedule or

cancel your booking at no cost.

For more information on Huntingdon Town Hall weddings,

visit www.huntingdontownweddings.co.uk
---
On the

Canvas

Discover the latest art

exhibitions in the region

The Great Big Art Exhibition

The Great Big Art Exhibition launched on 28 January 2021 and will run until the end

of April. It calls for the nation to create work following leading artists who will choose a

different theme each fortnight.

People across the UK are being invited to make works of art to put up in their front

windows to create the nation's largest ever exhibition – a celebration of creativity to

counter the gloom of the pandemic.

© David Parry_PA Wire

Work can be submitted from individuals or as a community, by joining up 'virtually' with

neighbours, schools, churches or football teams for example, to produce memorable

and exciting artwork.

Presented by Firstsite, Colchester, to celebrate its 10th anniversary and supported by

the Plus Tate Network, which includes leading museums and galleries across the UK,

artworks can be made of anything. Firstsite will be making key works from across the UK

available for download to use as a template, for colouring in or as an inspiration.

www.firstsite.uk

The Robins Project

The Robins Project aims to celebrate the lives of children and adults facing

life-threatening conditions by providing professional photography sessions,

free-of-charge.

Developed by Kristi Atkinson, the photographs will not tell a bleak story, but instead

focus on joy, family, and what it means to truly live. It is a wonderful service that helps

families capture lasting memories.

For more information visit www.humanknd.co.uk/the-robins-project

'Moments' Exhibition of Modern Art

Featuring some of the world's best-known contemporary artists, 'Moments' exhibition will

open on Sunday 2 May and run for an extended time of five months until Thursday, 30

September at Moyse's Hall Museum, Bury St Edmunds.

© John Brandler

Artists will include Banksy, Damien Hirst, Tracey Emin, Kaws, Pure Evil, Connor Brothers

and Rachel List, with both original artworks and prints.

The exhibition, which will be of national importance and interest, is a major coup for West

Suffolk Council which runs Moyse's Hall Museum. It will play a major role in helping the

town's economic recovery, after the impact of the Covid-19 pandemic and subsequent

lockdowns.

It will be supplemented by a range of workshops, live art demonstrations, artist talks and

pop-up activities themed around the concept of 'moments', some will be suitable for

school and college students. These activities will take place at various locations around

the town including The Apex entertainment centre.

109
---
Essex

Exploring Uttlesford;

a Rural Road Trip

Historic market towns and over 100 villages and hamlets make

up this area of North Essex. The bustling small towns are full

of independent business and are surrounded by miles of

country walks. It's no wonder the district regularly lands in the

top five as one of the best places to live in the UK – it's rural

living at its finest.

You could easily visit most of the towns and slightly larger

villages within one day. A rural road trip could be just the

socially distanced spring activity you need. On your travels

you'll discover over 3,500 historic listed buildings, conservation

areas, stunning churches, thatched cottages, tearooms and

cosy country pubs.

Start your journey in Saffron Walden. Combining the best of

both worlds, it's where old meets new. You can often feel as

though you've been transported to a time gone by while doing

your grocery shopping. A wander around the cobbled streets,

while popping into independent boutiques and admiring the

historic architecture is a lovely way to spend an afternoon.

Market day takes place every Tuesday and Saturday, but on

quieter days take advantage of a stroll around the manicured

lawns of The Common, which features a playground and turf

maze. Seek out Bridge End Garden hidden in the back streets of

the town. The grade II listed space consists of seven interlinked

gardens and a popular hedge maze. Saffron Walden is also

home to English Heritage's Audley End House and Gardens

which features immaculate landscaped gardens, a Victorian

country house, service wing, stable yard and café.

From here, hop in the car and travel via the villages of Newport

and Quendon. It's worth finding a spot to park. Both have a

number of country walks and a stunning church. Carry on

towards Stansted Mountfitchet. A small town with a number

of eateries. The Cork House on the corner is a stylish pub with

outdoor seating and a tapas menu.

110
---
Essex

If you're not quite ready for lunch wait until your next stop, Great

Dunmow. The town has seen significant growth in recent years

with an increase in housing developments. Crooked pastelcoloured

buildings line the High Street and house independent

retailers and businesses. The town is one of few in the country

that is made up almost entirely of independent businesses.

At the centre you'll find the war memorial and clock tower, a

reference to its history. Trendy eateries, timeless inns with a

gastro vibe and quaint tearooms are dotted around the town for

those looking for a bite to eat. The Flitch House, Angel & Harp

and Square1 Restaurant are favourites amongst locals. Work off

your lunch with a walk around the Doctor's Pond. The next stop

is Thaxted. Though it's worth making a small detour to explore

the pretty villages of Stebbing or Felsted. On route to Thaxted,

make time for a walk around The Gardens of Easton Lodge; an

idyllic grade II listed garden that looks beautiful all year.

Thaxted is instantly recognisable by its timber-framed Guildhall,

windmill and colourful medieval cottages. Its history dates

back to before the Domesday Book, and much of its character

still remains. It's easy to spend time simply walking along and

admiring the architecture. There's a sense of community spirit

with welcoming businesses and restaurants. Each year it hosts

the Thaxted Morris Men and the Thaxted Festival.

The road out of Thaxted will lead you back to Saffron Walden,

however during the journey you can make pitstops at a number

of country villages including the Sampfords, followed by

Wimbish which is home to a small garden centre. It is located

opposite a cool café called Bonnefirebox, known for its wood

fired pizza. Next stop is Debden. Visit the Debden Barns; a

quirky rural business that features an antiques and home

decor store, florist and barn café with a courtyard terrace and

extensive seating on the lawn.

Stomachs full and horizons broadened, you'll be planning your

move to this corner of Essex in no time.

111
---
Moving?

De-cluttering?

Clearing the garage?

YOUR LOCAL STORAGE

SOLUTION BASED IN MALDON

Short and

long term

Boxed storage,

250 Cubic feet

and more

Can collect by

prior arrangement

Monday to Friday access

- Out of hours with prior notice

Tel: 01245 225420

Fax: 01245 227672

Mob: 07799 654107

www.allcrates.co.uk

INGATESTONE HALL

Hall Lane, Ingatestone,

Essex, CM4 9NR

(off the London end of Ingatestone High St.)

16 th Century manor house & grounds with a wealth of

history.

OPEN TO THE

PUBLIC on

Wednesday, Sunday

and Bank Holiday

afternoons (Noon – 5

p.m.) from EASTER

SUNDAY until the

END OF

SEPTEMBER

A PERFECT SETTING for your wedding or family

celebration The House and/or Gardens are also available

for hire for public or private events such as weddings,

concerts exhibitions or corporate events.

By prior arrangement, guided tours for groups or school

visits are also offered outside normal opening hours

For more information, see our website:

www.ingatestonehall.com

Tel. 01277 353010

Email: house@ingatestonehall.co.uk

.

Danish stove

excellence at

Orion Heating

Garden fires

Featuring a chimney

and windows for

maximum comfort

Contact our Essex showroom now

to discuss your cosy modern fireplace or stunning outdoor fire

OrionHeating.co.uk

01279 813591

SHOWROOM AT

Takeley Business Centre, Dunmow Road,

Takeley, CM22 6SJ

112
---
Essex

Essex

THEATRE, FILM AND SHOWS

25-Apr Milkshake Monkey's Musical

Milkshake Monkey can't wait for his new musical but when stage

fright hits, his favourite Milkshake friends come to help, creating

the most dazzling show you have ever seen!

Charter Hall, Cowdray Ave, Colchester, CO1 1YH

01206 573948 www.colchester-events.co.uk

29-Apr Arsenal Legends in Conversation

Star striker Paul Merson, Ray "The Romford Pele" Parlour and

fans' favourite midfielder Perry Grove talk about their actionpacked

careers with a chance to pose questions during the

evening.

Harlow Playhouse Playhouse Square, Harlow, CM20 1LS

01279 431945 www.harlowplayhouse.co.uk

02-May Friends - The Musical Parody

A hilarious look at the TV phenomenon that ruled the 90's.

Celebrating and poking fun at some of the iconic moments of

the 20-somethings as they navigate the pitfalls of work, life and

love in 1990's Manhattan.

Princes Theatre, Town Hall, Clacton-on-Sea, CO15 1SE

01255 686633 www.princestheatre.co.uk

28-29May Jack Dee Off The Telly

New stand-up tour. "In these difficult and uncertain times people

need hope – a ray of sunshine to brighten their day. And that's

very much where I come in" says Jack.

Cliffs Pavillion, Station Road, Southend-on-Sea, SS0 7RA

01702 351135 www.southendtheatres.org.uk

MUSIC

07-May The Legends of American Country

Award winning show with tributes to Dolly Parton, Johnny Cash,

Patsy Cline, Kenny Rogers and more. Prepare to be transported,

hand clapping and toe tapping, to Nashville and back in one

night.

West Cliff Theatre, Clacton-on-Sea, Tower Road, Clacton,

CO15 1LE

01255 433344 www.westcliffclacton.co.uk

09-May The Glen Miller Story

A feast of Glenn Miller hits and the music of The Andrew Sisters,

Vera Lynn and Frank Sinatra which raised the morale of the

Allies, plus a selection songs from Showboat to Chicago.

Princes Theatre, Town Hall, Clacton-on-Sea, CO15 1SE

01255 686633 www.princestheatre.co.uk

10-May Sophie Ellis-Bextor, Kitchen Disco Tour

Sophie's Instagram Kitchen Discos provided virtual escapism for

many during lockdown. Now, Sophie brings all of the camp and

frivolity of her original show to the stage.

Cliffs Pavillion, Station Road, Southend-on-Sea, SS0 7RA

01702 351135 www.southendtheatres.org.uk

ARTS & CULTURE

27Mar-4Jul

All Fired Up:

A History of Firefighting in Essex

Exhibits include a wide range of artefacts, photographs,

uniforms and equipment which trace the history of firefighting in

Essex from Victorian times to the present day.

Saffron Walden Museum, Museum Street, Saffron Walden,

CB10 1JL

01799 510333 www.saffronwaldenmuseum.org

22May-13Jun Estuary 2021

Large-scale arts festival celebrating the Thames Estuary.

Artworks set in the landscape, online and within Covid-safe

venues explore the estuary through the lens of contemporary

concerns.

Multiple locations across the Thames Estuary region

www.estuaryfestival.com

SPECIAL EVENTS

27Mar-11Apr

Easter Special at Audley End

Miniature Railway

Hop aboard a train and venture deep into the woods to find the

Easter Bunny and receive a gift. Wander around the magical

Easter Trail and let off steam in the adventure play area.

Audley End Road, Audley End, Saffron Walden, CB11 4JB

01799 510726 www.audley-end-railway.co.uk

18-Apr April Open Day

Enjoy a relaxed stroll around the gardens. Locally sourced

bacon, cheese or hummus rolls and homemade cakes

available. Garden produce and plants for sale.

The Gardens of Eastern Lodge Little Easton, Dunmow, CM6 2BD

01371 876979 www.eastonlodge.co.uk

30Apr-3May

Spring Craft Fair

Craftspeople and designer-makers selling fine art, photography,

jewellery, ceramics, textiles and contemporary crafts. Plus

demonstrations, music, food and the garden in full spring

bloom.

RHS Hyde Hall, Creephedge Lane, Rettendon Common,

Chelmsford, CM3 8ET

01245 402019 www.rhs.org.uk/gardens/hyde-hall

2-3May Knights of Hedingham

A fun-filled Medieval re-enactment with hand to hand combat,

horses and magical fighting. Will the lords of the land stand with

the tyrant king or with the people?

Castle Hedingham, Bayley Street, Halstead, CO9 3DJ

01787 460261 www.hedinghamcastle.co.uk

AUCTIONS & ANTIQUES

11-Apr Antique & Vintage Market

Outside stalls with some inside a marquee. Jewellery, silver,

coins, fashion, furniture, sculpture, garden ornaments, curios,

art, collectables, ceramics, bric-a-brac and more.

Museum of Power, Langford, Maldon, CM9 6QA

07519 276507 www.haddonevents.co.uk

113
---
Landscaping Professionals and

Garden Room specialists

Now is the perfect time to get the garden and

outside space you have been dreaming of

Contact us today to arrange a free consultation and garden visit

Garden Offices / studios / pubs / gyms

Driveways and patios

Timber and composite decking

Fencing and balustrades

Fire Pits, pizza ovens, external bars and kitchens

Planters and Raised beds

Turfing and artificial Grass

Full Design Service

01480 509 250

info@wfhgreen.co.uk

www.wfhgreen.co.uk
---
Bedfordshire

Woburn:

5 Hidden Gems

The historic Abbey

and popular Safari

Park have always

attracted visitors to

Woburn but there's

more to explore in

this pretty Georgian

village

WOBURN MOSAIC

An art lover's dream…with a twist. By

day, Woburn Mosaic is a contemporary

art gallery, specialising in original

painting, sculpture, glass and ceramics.

By night, the entire space transforms

into a relaxing lounge bar. Much of the

work remains on display so, wherever

you choose to sit, you are surrounded

by art to admire while sipping wine and

tucking into a sharing platter.

www.woburnmosaic.co.uk

WOBURN LIDO

Gifted to the village by the Duke of

Bedford in 1911, Woburn Lido will be

110 years old this year. It is a popular

summer attraction in a lovely setting

adjoining the Woburn Abbey Estate,

with plenty of space for picnics and

sunbathing. Last winter, for the first

time, the Lido opened for cold water

swimming which proved a big hit. The

pool is heated from May throughout

the summer months. Book a session at

www.woburnlido.weebly.com.

THE WINE CELLAR

Situated in the heart of the village,

The Wine Cellar is an independent

retailer offering hand-crafted stock from

family-owned wineries. Pop in or visit

www.thewinecellar.wine to book an

enlightening wine tasting event with a

cheese and charcuterie board. Recent

events have seen these expand to the

Zoom platform. Available nationally,

each online tasting is designed for two

people with wine delivered in small

bottles along with a cheese platter and

tasting notes.

WOBURN MARKET

The third Sunday of each month sees

the Farmers' Market take place in the

centre of the village. Offering an array of

produce from local farmers and artisan

producers, the popular 800-year-old

street market continues to attract both

new and regular customers. There is

plenty of free parking so make a day

of it by having lunch in one of the

many restaurants and browsing the

independent shops.

WOBURN GOLF CLUB

With three championship courses

and superb hospitality, Woburn has

everything required for a perfect

golf day. The historic Abbey and

surrounding Estate provide a stunning

backdrop while each course offers

a different challenge for golfers of

all abilities. Named after some of the

world's greatest golfers, the Masters

Lounge is the perfect place to relax after

your round. Spring visitor packages are

now available.

www.woburngolf.co.uk

115
---
Exceptional care, companionship and support for your total peace of mind

Signature at Bentley House has an unwavering commitment to creating safe and welcoming

environments for our residents. We are proud to announce that all of our residents and staff have

now been offered the COVID-19 vaccine, providing total peace of mind and reassurance as we look

forward to spring.

We are actively welcoming new residents to Bentley House offering assisted living, nursing and

dementia care in apartment style accommodation. Residents can enjoy a varied programme of

activities and entertainment in expansive communal areas that allow for social distancing.

Safety remains at the forefront of everything we do, having invested in specialist training, equipment

and rigorous additional health protocols – often setting industry firsts.

To find out more about how Signature at Bentley House can provide total peace of

mind for you and your loved ones, please contact Kendra or Dominic today.

01992 721 108 | enquiries.bentley@signaturesl.co.uk | signature-care-homes.co.uk
---
Bedfordshire

Beds

THEATRE, FILM AND SHOWS

3-5Mar Dalloway

Adaptation of Virginia Woolf's celebrated map of hearts, minds

and memories offering a compellingly feminist response to the

aftermath of the First World War.

The Place Online

www.theplacebedford.org.uk

17-Apr How The Koala Learnt To Hug

Ten years after the publication of Steven Lee's best-selling

book, this family musical reminds us why there's nothing quite

as wonderful as a nice warm hug.

Quarry Theatre, 26 St Peter's Street, Bedford, MK40 2NN

01234 362337 www.quarrytheatre.org.uk

08-May Woodland Tales with Granddad

Machines are gathering at the edge of the wood and the

animals are worried. Only Granddad can help them now. But is

there enough time to save the wood?

Leighton Buzzard Theatre, Lake Street, Leighton Buzzard,

LU7 1RX

0300 300 8125 www.centralbedfordshire.com

16-May The Shires

With their hearts in the UK and their heads in Nashville, The

Shires combine the best of both musical worlds. The duo are

the UK's most successful country music act.

Bedford Corn Exchange, St Paul's Square, Bedford, MK40 1SL

01234 718044 www.bedfordcornexchange.co.uk

21-May Beegees Tribute & Disco

Performing all of the hits, from the Night Fever classics to the

more modern songs. The show will be followed by a disco till

late so don't forget your flares...

Forest of Marston Vale, Marston Moretaine, MK43 0PS

01234 718044 www.bedfordcornexchange.co.uk

ARTS & CULTURE

06-Mar Science Lab at Home

To celebrate British Science Week, The Higgins Bedford has

teamed up with local providers for a day filled with free handson

science, animal encounters and interactive online fun..

01234 718618 www.thehigginsbedford.org.uk

8-12Mar Bedfordshire Festival of Music,

Speech & Drama

Annual showcase of talent in amateur performing arts in

Bedfordshire and the surrounding area with classes for all ages.

This year's festival will take place online.

07824 829097 www.bedfordshirefestival.org.uk

9-20Mar Inside/Outside

Cecilia Gatehouse makes wall sculpture using wire drawings

with fabrics, beads and buttons. Jill Taylor is an abstract painter

who works with shapes, colour and rough texture.

The Eagle Gallery, 20 St Peter's Street, Bedford, MK40 2NN

01234 346995 www.eaglegalleryartists.co.uk

SPECIAL EVENTS

16-May An Audience with Anton Du Beke

Join the King of Ballroom and Strictly legend for an intimate

evening of conversation, laughter, song and dance. Get up

close and personal with Mr Showbusiness himself.

Grove Theatre, Grove Park, Court Drive, Dunstable, LU5 4GP

01582 602080 www.grovetheatre.co.uk

MUSIC

15-May Worbey & Farrell

Internationally acclaimed concert pianists and Steinway

ensemble with a wicked sense of humour. You've never seen a

piano played like this before!

Quarry Theatre, 26 St Peter's Street, Bedford, MK40 2NN

01234 362337 www.quarrytheatre.org.uk

21Mar-4Apr

Daffodil Festival

Take a tour with the Head Gardener, find out about the Swiss

Garden's past, listen to a talk by Daffodil specialist Johnny

Walkers or take a self-guided walk around the Daffodil Trail.

Shuttleworth Swiss Garden, Old Warden, SG18 9EP

01767 627927 www.shuttleworth.org

02-May Season Premiere Drive-In Display

Expect thrilling air displays from historic aircraft and explore the

beautiful Swiss Garden. A great day out for the whole family!

Shuttleworth Estate, Old Warden, Nr Biggleswade, SG18 9EP

01767 627927 www.shuttleworth.org

AUCTIONS & ANTIQUES

02-May Flitwick Antique Fair

Offering a wide range of quality antiques and vintage

collectables. Homemade food served all day, disabled facilities

and plenty of free parking.

Flitwick Village Hall, Dunstable Road, Flitwick, MK45 1HP

www.pastpastiche.com

117
---
Hertfordshire

Hertford & Ware

Up too late for

breakfast but too

hungry to wait for

lunch? Brunch,

the meal that

combines the two,

is the answer. From

bottomless brunch

with prosecco to a

traditional fry up

with a pot of tea,

we've rounded up

the best places to

brunch in Hertford

and Ware.

Salisbury Arms Hotel

Fore Street, Hertford, SG14 1BZ

Tel: 01992 583091

Open all day, every day offering

traditional cooked breakfasts, buttermilk

pancakes, eggs 'served your way',

smashed avocado and more. This

beautiful 18th century building is

perfectly situated for refuelling after a

cycle or countryside walk and, if you've

been strolling with your pooch, they are

welcome too.

www.salisburyarmshotel.co.uk

Mudlarks Café

32 Fore Street, Hertford, SG13 1BY

Tel: 01992 538515

Hertford's only vegetarian and vegan

café, Mudlarks is a fantastic community

project providing training and paid

work for adults with learning disabilities.

Vegetables are grown on their own

allotment while cakes, pastries and

bread are made by their on-site bakers.

Gluten, wheat and dairy-free options are

available, and the café is wheelchair,

pushchair, breastfeeding and dog

friendly.

www.mudlarksgarden.org.uk

The Old Barge

The Folly, Hertford, SG14 1QD.

Tel: 01992 581871

A traditional family pub in an idyllic

riverside setting in the centre of

Hertford. Brunch is served from 10am

to 1pm every Saturday and Sunday.

Menu highlights include a vegetarian

full English with halloumi instead of

bacon, savoury and sweet waffles plus

the option of a Prosecco Mimosa or

Bloody Mary to liven up your visit or

recover from the night before. Dogs are

welcome in the garden.

www.theoldbarge.com

Bebo

1 Railway Square, Hertford, SR14 1BG

Tel: 01992 848556

It's all about the coffee at Bebo's with

both their Italian and a special blend

always on offer in their charming,

character-filled building with exposed

beams and wooden floors. Brunch

is cooked to order until noon on

weekdays and all day at the weekends

with everything from a gourmet fry up

to American pancakes, waffles, eggs

Benedict, bagels, baguettes and more.

www.bebocafe.com

118
---
Hertfordshire

Brunch Guide

Hertford House

1 Fore Street, Hertford, SG14 1DA

Tel: 01992 517440

A beautifully converted Grade II listed

Georgian townhouse hotel in the heart

of the town. Alongside the classics, the

weekend brunch menu showcases

spicy breakfast tacos, buttermilk

pancake stacks and smoked duck hash

with the added bonus of a DIY Bloody

Mary bar. If you still want more, try their

'Bottomless Brunch' with unlimited

cocktails, prosecco, wine or beer.

www.hertfordhouse.co.uk

Rose Café

33 Railway Street, Hertford, SG14 1BG

Tel: 01992 553524

If you're looking for a traditional café

offering all-day breakfasts, cooked in the

kitchen from scratch, this is your place.

One of Hertford's most popular eateries,

Rose Café is renowned for serving

generous portions of tasty food with a

proper cup of tea at reasonable prices.

Vegan options are available.

Cinnabar

88-96 Fore Street, Hertford, SG14 1AA

Tel: 01992 660660

A bustling restaurant and cocktail bar

with a reputation for being Hertford's

number one breakfast and brunch

venue. Feel saintly by choosing

smashed avocado, feta and sun-dried

tomatoes on sourdough or the coconut

and passion fruit porridge with cacao

nibs. Satisfy a bigger hunger with a

traditional breakfast or balsamic glazed

chorizo and potato hash. Gluten-free

and vegan options available.

www.cinnabarvenues.co.uk

Ware to Eat

20-22 Baldock Street, Ware, SG12 9DZ

Tel: 01920 486808

A family-run business, specialising in

all day breakfasts and brunches freshly

cooked to order with bread supplied

from a local bakery. Ware to Eat is a

traditional café offering a full English

or build your own breakfast plus a

selection of homemade daily specials.

Milady Tea & Coffee

Lounge

12 High Street, Ware, SG12 9BX

Tel: 01920 469997

A family-run, popular little café in the

centre of Ware. Brunch dishes, which

are served all day until 4pm, include

avocado and egg on toast with smoked

salmon, double eggs Benedict with

spinach, breakfast baguettes, hot

sandwiches, pancakes, waffles and

more.

www.milady-ware.co.uk

The Mexican at Jacoby's

13-15 West St, Ware, SG12 9EE

Tel: 01920 449559

Want to spice things up a little? Head

to this restaurant and cocktail bar for

a Full Ingles or Full Mexican, breakfast

burritos, huevos rancheros, quesadilla

tradicional and churros with chocolate

for dipping. A great Sunday morning

hangover cure especially if you add

a Bloody Mary, Breakfast Margarita,

Cerveza Cubana or Mimosa from their

'Hair of the Dog' drinks menu.

www.themexicancantina.co.uk

119
---
Hertfordshire

Visit Watford,

Hemel Hempstead

& Kings Langley

With bustling town centres, fun entertainment venues and award-winning open

spaces, the south-west corner of Hertfordshire has something for everyone.
---
Hertfordshire

Warner Bros Studio Tours

Located at the studios where the Harry Potter films were made,

this tour showcases the iconic sets, animatronic creatures

and breathtaking special effects. Enter the magical, wizarding

world by wandering down Diagon Alley, visiting The Great Hall,

exploring the Forbidden Forest and boarding the Hogwarts

Express at Platform 9 3 /4. www.wbstudiotour.co.uk

The Lincolnsfields Centre

Home to The Forties Experience, the Centre is open to the

public on the last Sunday of the month. On these open days

you can experience how life was in the 1940s, with hands-on

interaction while volunteers talk you through the artefacts on

display and answer any questions you may have about the

decade. www.lincolnsfields.co.uk

Cassiobury Park

This Green Flag award-winning beauty spot is the jewel in

Watford's crown. With wide open spaces, ancient woodland,

tranquil canal, children's playground, miniature railway and café,

it offers everything for a great day out. At the edge of the park

you'll find Cassiobury Farm, a rare breeds centre housing micro

pigs, miniature horses, alpacas and more.

www.watford.gov.uk/cassioburypark

Shopping

With over 140 stores, restaurants and leisure attractions,

Watford's spacious retail centre is a great place to shop, dine

and play. Located in the heart of the town and housing all the

big brands plus a nine-screen cinema, bowling alley and indoor

climbing, it's certain to be a crowd-pleaser.

www.watford-shopping.co.uk

Cheslyn House & Gardens

Discover Watford's best kept secret. Designed by renowned

architect Henry Colbeck and his wife, Daisy, the gardens display

unusual and exotic plants collected while travelling the world.

Imaginatively laid out with a pond, fernery, herbaceous borders,

aviary and a dense woodland garden, which is full of colour in

spring. Dogs on leads are allowed in the gardens.

www.watford.gov.uk

Planet Ice

An ice rink offering fun family sessions, open skate times,

birthday parties and disco evenings. If you want to take things

more seriously, they also offer lessons in figure skating, ice

dancing and ice hockey: a great way to develop confidence,

balance and fitness. Cute penguin skating aids are available for

beginners to hang on to while you find your ice legs!

www.planet-ice.co.uk

Bhaktivedanta Manor

Originally gifted to the Hare Krishna movement by the Beatle

George Harrison, this stunning mock Tudor mansion is a

sanctuary with beautiful gardens, a children's playground, farm

and lake. It's open all year for visitors to explore the grounds or

take part in yoga classes, mantra meditation, vegetarian cookery

and inspirational talks. www.bhaktivedantamanor.co.uk

The Watford Museum

Housed in the former Benskins Brewery, the museum tells the

story of the town's past and present with displays of local history,

industry and archaeology. Topics include Watford at war, print,

brewing and Watford Football Club with some fabulous Elton

John memorabilia. www.watfordmuseum.org.uk

Watford Palace Theatre

Opened in 1908, this beautiful 600-seat Edwardian Palace

Theatre is a Grade II listed building. The popular venue offers

something for everyone with inclusive drama, plays, musicals,

dance, free outdoor festivals, stand-up and, of course, the

much-loved traditional pantomime.

www.watfordpalacetheatre.co.uk

The Snow Centre

Here you'll find a huge 160m main slope as well as the UK's

largest indoor lesson slope with perfect real snow conditions

all year round. Catering for both beginners and pros, the centre

also has a bar, coffee shop and alpine themed restaurant where

you can relax and enjoy the panoramic views of the action.

www.thesnowcentre.com

Langleybury Children's Farm

A farm run by volunteers where you can get close to all of the

animals including sheep, pigs, goats, ducks, geese, chickens,

rabbits, owls, aviary birds and ferrets. Bring a picnic or buy a light

lunch at the farm shop and let your kids let off steam in the play

area with bouncy castle and mini football pitch.

www.langleyburychildrensfarm.org.uk

121
---
ENJOYSTALBANS.COM

ENJOYSTALBANS.COM

ENJOYSTALBANS.COM

ENJOYSTALBANS.COM
---
Hertfordshire

Herts

THEATRE, FILM AND SHOWS

10-Apr Car Park Party Presents: David Walliams'

Billionaire Boy

Joe Spud is very rich. He has a sports car, £100k a week pocket

money and two pet crocodiles. Can Joe find the one thing money

can't buy?

Knebworth House, Old Knebworth Lane, Stevenage SG3 6PY

01438 812661 www.knebworthhouse.com

15-Apr Meet Me a Tree

An interactive first opera for 0-2 year olds with music by

Schumann, Delibes and Monteverdi as well as nursery rhymes

and original songs.

South Mill Arts, 1 -3 South Road, Bishop's Stortford, CM23 3JG

01279 710200 www.southmillarts.co.uk

18-May Pam Ayres: Up in the Attic

Pam Ayres, who has been making the nation laugh for over 40

years, performs poems from her new book along with classics

from her long career.

The Gordon Craig Theatre Arts & Leisure Centre, Lytton Way,

Stevenage, SG1 1LZ

01438 363200 www.gordon-craig.co.uk

20-22May Horrible Histories (Socially Distanced)

Gorgeous Georgians and Vile Victorians! Can you see eye

to eye with Admiral Nelson? Will you be saved by Florence

Nightingale? A horrible history of Britain with the nasty bits left in!

Hertford Theatre, The Wash, Hertford, SG14 1PS

01992 504537 www.hertfordtheatre.com

MUSIC

30-Mar Rose Royce featuring Gwen Dickey

Car Wash kick-started the band's career and hit after hit

followed including Wishing On A Star, Is It Love You're After and

Love Don't Live Here Anymore.

The Gordon Craig Theatre, Arts & Leisure Centre Lytton Way,

Stevenage, SG1 1LZ

01438 363200 www.gordon-craig.co.uk

27-May The Wild Murphy's perform:

One Night in Dublin

The multi-award winning Irish band perform great Irish songs by

The Pogues, The Dubliners, The Fureys, The Saw Doctors and

more.

Watersmeet, High Street, Rickmansworth, WD3 1EH

01923 711063 www.watersmeet.co.uk

ARTS & CULTURE

10Mar-18Apr

Arriving and Belonging

Experiences of Jewish people in Britain and how they became

part of the city. Fascinating stories bring to life the themes of

sanctuary, courage, compassion, work and community.

Online Exhibition

01279 710200 www.stalbansmuseums.org.uk

10Apr-8May

Hertford Arts Trail

Pop-up art exhibition in venues around the town centre

including bars and cafés, beauty salons, clothes retailers and

gift shops. Free of charge.

Hertford Town Centre

www.gohertford.co.uk

11-Apr Easter in Art

Shot on location in Jerusalem, USA and Europe, this film

explores how artists have depicted the Easter story through the

ages and thus depicts the history of us all.

The SandPit Theatre, Sandringham School, The Ridgeway,

St. Albans, AL4 9NX

01727 799565 www.sandpittheatre.co.uk

SPECIAL EVENTS

20-Mar NGS Gardens Open for Charity

Enjoy spring bulbs in the lime walk, sundial and Old Palace

garden, childhood home of Queen Elizabeth I. The woodland

has masses of naturalised daffodils and bluebells.

Hatfield House, Great North Rd, Hatfield, AL9 5HX

www.hatfield-house.co.uk

1Apr-30Jun

A Celebration of Slytherin

Known for its ambition and links to dark magic, Slytherin is home

to some of the greatest wizards. Discover the secrets behind the

costumes and props of your favourite cunning characters.

Warner Bros. Studio Tour London, Studio Tour Drive, Leavesden,

WD25 7LR

0800 640 4550 www.wbstudiotour.co.uk

05-Apr Tudor Legacies - Meet Henry VIII,

his Wives & Children

Interact and engage with Henry VIII, his six wives and his

children. Find out what it was really like to be married to one of

history's most infamous kings.

Hatfield House, Great North Rd, Hatfield, AL9 5HX

www.hatfield-house.co.uk

30-May Slam Dunk Festival

The number one pop-punk, rock and alternative festival in the

UK is returning to Hatfield House for 2021!

Hatfield Park, Great North Rd, Hatfield, AL9 5HX

www.slamdunkfestival.com

AUCTIONS & ANTIQUES

21-Mar St Albans Antique & Vintage Market

An outdoor street market right in the heart of this amazing

Cathedral City bringing all manner of antiques, vintage,

brocante and architectural salvage.

St Peters Street, St.Albans

www.enjoystalbans.com

123
---
Visitor Attraction

With the aid of Heritage Lottery Funding,

Oliver Cromwell's House will be introducing a

new and exciting audio tour, both for adult and

family groups (coming Summer 2021!).

www.olivercromwellshouse.co.uk

Our products and services we offer are wide and varied and we

are a small independent company which means we can stock

what we want and are not controlled by the manufacturers of

the products we stock.

We hold stock on the most popular ranges of cookware and

bakeware and can order in if required, anything that we do

not hold as a stock item at the time of your visit.

If you ever need our advice we have well trained staff that are

always on hand to help with advice on our product ranges.

If you only require a part for an accessory then please ask as

we also carry many of these on the premises too.

Why not enhance your tour by taking a take a short

trip to further understand Cromwell's fascinating and

controversial story and visit our friends at the Cromwell

Museum, where many original artefacts are housed in

the original building where Cromwell went to school.

www.cromwellmuseum.org.

36 Market Place, Oundle

Peterborough, PE8 4BE

Tel/Fax: 01832 275414

FREE PRESCRIPTION DELIVERY SERVICE

You can order your prescription medicines from us and

we can deliver to your door free of charge.

We deliver for free to these areas:

Cambridge - CB1, CB2, CB3, CB4 & CB5.

It is quick and easy to arrange, just give us

a call on 01223 354383 or visit:

www.petersfieldpharmacy.co.uk/sign-up-today/

We also offer a range of other services including flu

vaccinations, travel vaccinations, weight loss advice,

professional health and wellbeing guidance, emergency

contraception, dossett boxes and minor ailment advice

Petersfield Pharmacy, 56 Mill Road, Cambridge, CB1 2AS

"Excellent and helpful staff. Very polite. Fast and free

delivery of prescriptions. I would highly recommend." Lucy A.

Cambridge's Premier

Giclée Print Provider

With full in-house bespoke

Picture Framing Services

"Their print reproduction

expertise and framing

craftmanship is beyond

professional and my customers

never fail to be delighted with

their work. Highly recommended."

Andy Robinson, Artist

Rectory Farm, Pampisford, CB22 3EN

www.photoartgb.com

info@photoartgb.com

01223

831144

124
---
Cambridgeshire

Cambridge Scene:

Spanish Cuisine

If you can't get away to European shores this year, fear not, Cambridge

is packed with tantalising cuisines to tempt your tastebuds.

Terracotta dishes full of garlicky seafood,

espresso with a punch and delicate

white wine, all enjoyed on cobbled

streets or in restaurants with open

windows. No, we're not describing a

scene from a town in Spain but some of

the best restaurants in Cambridge.

The city is bursting with Mediterranean

flavour. To fine dining and the back street

bars you'd usually find in the likes of

Barcelona, we've listed the best locations

in the city to sample a taste of Spain.

Mercado Central

Located on Green Street, Mercado

Central is inspired by Spain's historic

markets and restaurants, with a particular

focus on Galician and Basque heritage.

The interior is chic and simple with an

open kitchen. The food is centre stage

here. Choose from a range of authentic

dishes using seasonal produce. The

sharing dishes will transport you to the

coast of Galicia with a choice of prawns,

clams and octopus. The Fish Counter

serves up fresh catches and changes

with the seasons. On a sunny day nab an

outside table, order a sangria and watch

the world go by.

www.mercadocentral.co.uk

La Latina

For Latino vibes head to The Grafton

Centre, where you'll find La Latina on the

top floor in the food court. A new location

for the south American eatery, in addition

to its converted double decker bus at

Cambridge Retail Park, it serves up fresh

tropical juices, empandas, pulled meats,

desserts and Colombian coffee. When

life returns to normal there are plans to

offer Spanish language classes and salsa

lessons too!

www.facebook.com/lalatinabustaurante

Tabanco

You'll find this Andalucían inspired

restaurant on Green Street. Staying true

to its culture the menu features Iberian

charcuterie, artisan cheese, fish and

traditional tapas. On warm, sunny days

the bi-folding windows are opened,

and diners gather in the window

seats, clinking glasses and tucking

into sharing plates. If it wasn't for

Cambridge's surrounding architecture,

you could easily mistake this for a

bodega in Seville.

www.tabanco.co.uk

Que Rico Tapas

Bring Spain to your home with the

help of caters Que Rico Tapas. While

some services such as a private chef

and cooking lessons are currently

postponed due to the pandemic, online

cookery classes are available. Learn

how to cook traditional dishes along

with wine pairing from the comfort of

your own kitchen while practicing your

Spanish. Classes are priced £125.

www.quericotapas.com

125
---
We mainly specialise in silver, gemstone

and leather jewellery for both men and

women. We also have a lovely range of new

baby gifts, handbags, purses, scarves,

and gifts for all occasions.

D I S C O V E R T H E B E A U T Y O F

T H E N O R F O L K B R O A D S I N O N E

O F O U R I D Y L L I C R I V E R S I D E

S E L F - C A T E R I N G C O T T A G E S

A N D D A Y B O A T S

P E T S A N D F A M I L I E S W E L C O M E

P U T T I N G T H E R & R I N T O

13 Market Hill, St Ives, PE27 5AL

01480 495198

www.cloudninegems.com

/CloudNineGems

W W W . R I V E R S I D E - R E N T A L S . C O . U K

0 1 4 9 3 3 6 8 3 0 0

Rest & Relaxation

126
---
Cambridgeshire

A Day Guide to

Ely

Think of a Cambridgeshire city and immediately Cambridge

springs to mind, but as the weather improves, why not avoid

the crowds and heaving traffic and instead, take a trip to the

beautiful city of Ely?

Ely has plenty to discover including a wealth of shops, great

restaurants, bars and cafes, fascinating museums and galleries,

green open spaces and a magical stretch of riverside. Absorb

the atmosphere and character of this small city with its

intriguing mix of old and new with many quaint side streets,

always bustling but never frantic. Read our guide to the best

things to do and see to make the most of your trip.

Ely Cathedral

Wander around this magnificent building famous for its

octagon tower or take advantage of having a more informative

experience with a guided tour. Tours also include optional visits

to the octagon and west towers where the spectacular views

make it well worth the climb. www.elycathedral.org

Oliver Cromwell's House

Home to the Tourist Information Centre, the former family

home of Oliver Cromwell features a 'Civil War Exhibition', the

opportunity to try on costumes and play games. It's also home

to an Escape Room. Tours available.

www.olivercromwellshouse.co.uk

Eel Trail

At the TIC, pick up a copy of the Eel Trail which is a self-guided,

circular walk around the city centre. This is the best way to

ensure that you see all the beauty and glory of Ely as well as

learn about the city's history and origins including why Ely is

in love with eels and why it has its own Eel Festival! This year's

event is planned for 7-10 May, but check before visiting.

www.elyeelfestival.co.uk

Ely Museum

Before leaving the city centre, take the time to visit Ely Museum.

Discover the story of Ely from pre-historic times to the 20th

century set in the city's former gaol.

www.elymuseum.org.uk

Waterside

Ely's Waterside is a hotspot for visitors wishing to relax and

enjoy afternoon tea or to take a boat trip. Stop off at one of the

traditional tea rooms or restaurants or take a trip along the Great

River Ouse on board the Liberty Belle, Ely's Fenland Cruiser

(Easter to October) and enjoy the live commentary.

www.facebook.com/LibertyBelleEly

Dining

Ely's food scene is diverse. Enjoy lunch at trendy kitchen and

cocktail lounge Eleven A or pick up pastries to go on your

travels from one of the many cafés. Ely is the perfect setting for

indulging in an afternoon tea. A firm favourite is The Old Fire

Engine House, a restaurant gallery set in a Georgian house

surrounded by a beautiful garden of fruit trees, herbs and

flowers. Peacock's Tearoom with its wisteria covered exterior

and riverside location is perfect for watching the world go

by over a cuppa. There's pub grub at the cosy, oak beamed

Lamb pub and The Cutter Inn on the waterfront. The Almonry

is known for its bistro dining and fantastic garden with views of

the cathedral.

For more information visit www.visitely.org.uk

127
---
Fenchurch House Care Home

Vaccinating against Covid-19

Fenchurch House provides the kind of care we'd want all of our loved ones to receive. Our

brand new home is beautifully furnished, whilst retaining a warm family atmosphere that

makes Fenchurch House feel extra special. If you're concerned about how your relative is

coping and would like them to have more support, Fenchurch House provides family-led care

in a luxurious and homely environment. The Covid-19 vaccine will be offered to all those in our

care, allowing them to live safely and as they wish.

• Bistro Café

• Fisherman's Arms Pub

• Hair and pamper salon

• Tailored meaningful activities

• Daily Fine Dining

• Luxury en-suite bedrooms

01775 711 959

Spalding Common, Spalding,

Lincolnshire, PE11 3AS

www.countrycourtcare.com
---
Cambridgeshire

Cambs

THEATRE, FILM AND SHOWS

11-Mar Keep on Track with Ray Mears

In this fascinating and educational show, Ray demonstrates and

explains techniques that will help us improve our senses and

highlights the problems nature faces today.

Vivacity's Key Theatre, Embankment Road, Peterborough,

PE1 1EF

01733 207239 www.vivacity-peterborough.com

5-9Apr Bleak House

Charles Dickens' tale of a family who wait in vain to inherit

money from a disputed fortune. Blending detective fiction,

romance and satire, the story illustrates what Dickens

considered to be the principle of English law... to make business

for itself.

ADC Theatre, Park Street, Cambridge, CB5 8AS

01223 300085 www.adctheatre.com

19-Apr Jess Fostekew: Hench

Absolute powershed and regular host of The Guilty Feminist,

Jessica explores her big strong strength. Ever watched a

feminist try and take 'hench' as a compliment? It's like watching

a snake eat but funny. "

The Junction, Clifton Way, Cambridge, CB1 7GX

01223 511511 www.junction.co.uk

28-Apr Rob Brydon - A Night of Songs & Laughter

The award winning comedian and his eight-piece band with

songs from Tom Waits to Tom Jones and Guys and Dolls to

Elvis. Expect Rob's usual humour as well as his famed gallery of

voices.

Cambridge Corn Exchange, Wheeler Street, Cambridge,

CB2 3QE

01223 357851 www.cambridgelive.org.uk

MUSIC

17-23Mar Cambridge Music Festival

Ceebrating its 30th year with artists including cello/piano duo

Sheku and Isata Kanneh-Mason, pianist Stephen Hough and

the Choir of King's College. Online alternatives planned if

necessary.

Multiple venues in Cambridge

www.cambridgemusicfestival.co.uk

21-Apr Wardruna

Masterful storytellers Wardruna have carved a dramatic musical

landscape illuminating Norse tradition through contemporary

composition. Beyond genre, theirs is a sound that must be

experienced.

Cambridge Corn Exchange, Wheeler Street, Cambridge,

CB2 3QE

01223 357851 www.cambridgelive.co.uk

27-Apr Flook

Twenty six years after their first gig, Flook continue to enchant.

Taking inspiration from their Irish and English roots, their unique

sound stems from the intuitive exchange between flutes, frets

and skins.

The Junction, Clifton Way, Cambridge, CB1 7GX

01223 511511 www.junction.co.uk

ARTS & CULTURE

18Mar-25Apr Nature Exhibition – Spring 2021

A celebration of the natural world featuring craftwork, picture,

handmade original print, jewellery and sculpture from a diverse

collection of artists.

Byard Art, 14 King's Parade, Cambridge, CB2 1SJ

01223 464646 www.byardart.co.uk

5Jan-3May

The Human Touch: Making Art,

Leaving Traces

Drawing on works of art spanning four thousand years and from

across the globe, this exhibition explores the fundamental role

of touch in human experience and offers new ways of looking.

The Fitzwilliam Museum, Trumpington Street, Cambridge,

CB2 1RB

01223 332900 www.fitzmuseum.cam.ac.ukk

SPECIAL EVENTS

26Mar-4Apr

Cambridge Festival Online

The University's new festival featuring prominent figures in

science, current affairs and the arts. Free, online events tackle

humanity's pressing issues: pandemics, climate change, global

economics, human rights and the future of democracy.

www.festival.cam.ac.uk

23-30Apr Cambridge Literary Festival Online

This year's Spring Festival brings the best authors, speakers and

writers from across the world. With a successful Winter Festival

Online under their belts, you can be assured of top events come

what may!

www.cambridgeliteraryfestival.com

7-10May Ely Eel Festival Weekend

The annual festival with local traders, acts, demonstrations,

celebrity chefs and community organisations. Highlights

include the Eel Food Safari, Eel Day Parade and World Eel

Throwing Competition.

Ely City Centre

www.elyeelfestival.co.uk

16-May Mammal Tracks and Signs

Wildlife Trust BCN online event, with optional outdoor visit to

Hayley Wood, highlighting the mammal tracks and signs you

might come across in the countryside.

Hatfield Park, Great North Rd, Hatfield, AL9 5HX

www.wildlifebcn.org

AUCTIONS & ANTIQUES

21-22May The Festival of Antiques Market

A must-visit event for all antique and vintage enthusiasts. Set

within four buildings and acres of outdoor pitches with furniture,

jewellery, ceramics, silver, architectural salvage, fine art and

more.

The East of England Showground, Peterborough, PE2 6XE

www.festivalofantiques.co.uk

129
---
35

Things to do

in Norfolk

this Spring

Blow away the

cobwebs with a

walk at a Nature

Reserve.

Enjoy an ice

cream at

Wells-next-the-

Sea.

Walk Peddars Way

and soak up the

beauty of the spring

season.

Follow your nose

and find wild garlic

in the woodlands

at Lower Wood,

Ashwellthorpe.

From March to May, discover the

beauty of Norfolk during the spring

Norfolk is one of those great places that can be enjoyed all year

round. To wake you from your sleepy winter coma, we've listed

35 things to be enjoyed in Norfolk during spring – most can be

experienced at a leisurely pace and social distanced too!

Hire a beach hut

on stilts at Wells.

Discover the ancient

grounds of NWT

Honeypot Woods.

It dates back to the

ice age!

Spot the

butterflies and

dragonflies that

flutter on the

Broads Nature

Reserve.

Dine on tasty crab

in Cromer. Rocky

Bottoms and Hot

Rocks are firm

favourites amongst

locals.

Enjoy Easter

lunch at a cosy

country pub.

Stay overnight

in Cley

Windmill.

130
---
It's Lapwing show

time over coastal

marshes during

March and April.

Get up early for

your best chance of

seeing them.

Help bottle feed

the lambs at

Snettisham Park.

Take a long walk

along Brancaster

beach.

See a carpet of

bluebells at NWT

Foxley Woods

from late April.

Tuck into

Brancaster

oysters.

Try pond dipping at

RSPB Strumpshaw

Fen; spring is

the best time for

tadpoles.

Book a food tour

of Norwich.

View the spring

flowers at

Blickling Hall.

There are more

than 100,000

daffodils.

Canoe along

the Little Ouse

from Thetford to

Brandon.

At sunset, hear the

unusual birdsong

of the nightjars

at NWT Roydon

Common.

Find fossils

along West

Runton beach.

Sail the marshes

and sea with a

pitstop for lunch

with the Coastal

Exploration

Company.

Ride the Poppy

Line from

Sheringham to

Holt.

Paddleboard

on the Norfolk

Broads.

Spot the hares

on the coastal

marshes and

heathlands.

Explore the

Victorian walled

garden at

Holkham Hall.

Hop on your bicycle

and pedal your way

along Marriott's

Way Cycle Route;

26-miles of traffic

free cycling.

Brave the cold and

try wild swimming

in the River Bure.

Lammas near

Buxton is a quiet,

clear and deep

stretch of water.

Visit a stately

home such as

Sandringham

House and stroll

around the

gardens full of

spring blooms.

Try trail running

through

Sheringham or

Blickling Park.

Eat fish and chips

on the beach at

Hunstanton while

watching the

sunset.

Keep children

entertained

with crabbing at

Blakeney Quay.

Explore the

restaurants,

cafes and delis at

Burnham Market.

Discover hidden

treasure in North

Norfolk's antique

stores and barns.

Pick up fresh,

seasonal local

produce at a

farm shop.

131
---
Seahorse StudioAdforUNN1#AW:Layout 1 09/05/2017 11:37 Page 1

∙

∙

∙

Relax on the North Norfolk C oast

Six delightful Four Star & Families Welcome Graded houses,

three are also graded for those with limited mobility

Off road parking, free WIFI, private gardens & Sky TV with Sports

Free use of Woodlands Leisure providing Main & Children's

pools, Steam room, Jacuzzi & Gym.

Superb quiet location within 300m/5 min flat walk of: Blue Flag

Lifeguarded Beach, Steam Railway, Theatre, Championship

Golf Course, Shops, Pubs & Restaurants

Unique glass beads,

jewellery and gifts

1 Albert Street, Holt NR25 6HX

01263 478020

www.seahorsestudio.co.uk

seahorsestudio@icloud.com

Find me on Facebook!

www.facebook.com/

seahorsestudioholt

Stay in one of our 4 star & Families

Welcome graded houses

Enjoy our large family rooms with T V

& ensuite bath/shower/WC

Superb kitchen / dining areas

with patio doors

T: 01263 577560 E: enquiries@sheringhamcottages.com

W: www.sheringhamcottages.com

132
---
OPEN 7

DAYS A WEEK

OWN YOUR OWN HOLIDAY

HOME IN HUNSTANTON

WITH A CHOICE OF CARAVANS & BUDGETS TO SUIT ALL

HERE IS A SELECTION, CALL US TO VIEW

2010 Willerby Vogue

Connoisseur

Size: 42 x 13 - £41,995

Sleeps: 6 (2 Bedrooms)

2017 Europa

Cypress

Size: 35 x 12 - £26,995

Sleeps: 6 (2 Bedrooms)

2017 Pemberton

Marlow

Size: 37 x 12 - £44,995

Sleeps: 6 (2 Bedrooms)

2016 Willerby

Brockenhurst

Size: 38 x 12 - £ £32,995

Sleeps: 8 (3 Bedrooms)

4SHORES

Hunstanton, PE36 5BA

Running parallel to the Promenade within

minutes from the Boating & Water Ski Club

and seaside town facilities.

VEGAS

Hunstanton, PE36 5BA

Completely redeveloped with large plots,

mostly west facing, and benefiting from piped

gas as well as all mains services.

"BUY WITH CONFIDENCE FROM the longest established caravan retailer in west norfolk"

contact us : 01553 636243

www.mcdonnellcaravans.co.uk

McDonnell Caravans, Caravan City, Lynn Road,

Gayton, King's Lynn, Norfolk PE32 1QJ
---
10 Reasons to visit Kin

Norfolk

Written by Liz Mattock | www.wolfauthor.com

A pivotal town in Norfolk's maritime past, with its historic waterfront, cobbled lanes

flanked by medieval merchants' houses and two magnificent marketplaces, the town is

a treat to discover and explore. Read our guide to 10 things to do in King's Lynn:

1Green Quay

Situated in the beautiful

Marriott's Warehouse and

home to the local discovery centre,

here you can learn about the wildlife

native to The Wash before setting out

to spot some yourself, nestling along

the banks. Have a pen and paper handy

and you can tick off the species you

spot along the way. A great idea if you

have children with you – take them on a

wildlife trail.

2Custom House

The location of the

Maritime Museum.

Exhibitions here are constantly

changing so make sure you check out

the website before you visit. Previous

exhibitions have included local artists

and historical events.

3True's Yard

Fisherfolk

Museum

This will take you back in time to the

early 19th century where you can

follow the story of the fisherfolk and

their way of life. The story is brought

to life in two original 19th century

converted cottages. This very close-knit

community was made up of mariners,

sailors and boat builders, with some

men travelling over 100 miles away to

bring in their catch while the women

looked after the home and children.

www.truesyard.co.uk

4Vancouver

Quarter

The shopping hub of King's

Lynn. High street stores, coffee shops

and independent retailers fill the centre

with plenty of variety for everyone,

providing a place where you can do all

your shopping in one trip.

5Stories of Lynn

Head to the Saturday

Market Place and you'll

find the Stories of Lynn and the old

Gaol House where you can experience

what jail was like dating back to

the 12th century. Take a tour by

downloading the app and listen to the

tales of the gaol and find out the types

of crimes that got you put behind bars.

Keep your eyes peeled for ghoulish

spirits that are rumoured to still haunt

the cells. A fantastic experience for all

the family.

www.storiesoflynn.co.uk

6The Walks

Wander along the town's

impressive 17-hectare

park enveloping a traditional 15th

century chapel, 'The Red Mount

Chapel'. It boasts some fantastic

photo opportunities for those who

are interested in architecture as well

as a children's play area and coffee

shop. There are walking routes to

follow around the park as well as cycle

and running routes if you are feeling

particularly energetic.

7Greyfriars Tower

It now stands in ruins

but it was once a 15th

century Franciscan friary and is only

one of three remaining in the country:

this being the most complete. It was

once used by sea mariners to navigate

the choppy waters of The Wash. The

tower and the surrounding gardens

were landscaped in 1911 to mark the

coronation of King George V and are

open to the public all year round.

8King's Lynn

Minster

Towering over the market

town in pride of place, this magnificent

building dates from the 12th century

and has gone through restoration in

the 15th, 18th and 19th century. Must

see parts of the minster include the rare

wooden roof and its mid-18th century

organ which stands proudly at the back

of the minster.

134
---
Norfolk

g's Lynn

9Castle Rising

Step back into the 11th

century and visit the

medieval Castle Rising Fortress,

originally built as a fortress and a palatial

hunting lodge surrounded by acres of

park with roaming deer. Even though

only ruins remain, the site is open all

year round for visitors to get a sense

of the vastness of the building and its

surroundings.

www.english-heritage.org.uk/visit/

places/castle-rising-castle

10

Sandringham

Estate

The stately home sits on

the very outer edge of the King's Lynn

boundary. Well-known as one of the

private royal residences in England,

it is now used by the royals from late

December to February where they

celebrate Christmas and the New Year

as a family. The estate boasts 20,000

acres of land and the surrounding

parkland is open to the public all year

round. Deer spotting, wildlife and

waterfowl are in abundance here as

well as walking tours, cycle and running

routes. The site hosts a number of

seasonal events throughout the year.

www.sandringhamestate.co.uk

Disclaimer:

Only travel if current government guidelines allow you

to do so. Please check with individual attractions before

arriving or visit their website so you are familiar with the

COVID safety guidelines.

135
---
FOR ALL YOUR

REMOVAL & STORAGE

REQUIREMENTS

We are pleased to announce that we are now online

and more of our products are being added every day.

We are offering a free delivery service within 10 miles

of Cambridge so why not visit us on line whilst we are

unable to welcome you in person.

Visit our new website is sewkintcraftltd.com

01223 350691

58 King Street, Cambridge CB1 1LN

REMOVALS & HOUSE CLEARING SPECIALISTS

John Ryder Removals and Light Haulage is a local family

business based in Wymondham, offering reliable removal

services throughout the UK along with light haulage and

house clearances.

• REMOVALS & STORAGE

• HOUSE CLEARANCES

• FREE ESTIMATES & ADVICE

• 3.5 TON & 7.5 TON VEHICLES

• FULL PACKING SERVICE

• COLLECTING & DELIVERY

FOR WATTON SALESROOMS

• FULLY INSURED

Call 01953 605553

www.johnryder.co.uk

3 White Horse Street, Wymondham, Norfolk NR18 0BJ

Kitchen Worktops | Bathrooms |

Fireplaces & Wood Burners |

Overstock Material

Come and see us in our newly renovated

showroom, no project is too big or too small.

13 Dewing Road,

Rackheath Industrial Estate,

Norwich, NR13 6PS

01603 721995

office@premiermarble.co.uk

www.premiermarble.co.uk

136
---
Norfolk

Norfolk

THEATRE, FILM AND SHOWS

13-17Apr Private Lives

Patricia Hodge and Nigel Havers star in Noël Coward's entertaining

comedy. A divorced couple find themselves on honeymoon with

their new spouses, in adjacent rooms at the same hotel.

Norwich Theatre Royal, Theatre Street, Norwich, NR2 1RL

01603 630 000 www.norwichtheatre.org

12-15May Horrible Histories: Barmy Britain

Would you lose your heart or head to horrible Henry VIII? Can evil

Elizabeth entertain England? Will Parliament survive gunpowder

Guy? It's the horrible history of Britain with the nasty bits left in!

Norwich Theatre Royal, Theatre Street, Norwich , NR2 1RL

01603 630 000 www.norwichtheatre.org

MUSIC

27-Mar James Taylor Quartet

British four-piece jazz funk band renowned for their live

performances. Their entertaining tunes take inspiration from the

rare-groove style funk, and boogaloo funk of the 60s and 70s.

Norwich Arts Centre, St Benedict's Street, Norwich, NR2 4PG

01603 660352 www.norwichartscentre.co.uk

7-9May Folk on the Pier

A bumper bundle of established artists and rising stars from the folkrock

and acoustic music scenes. Running alongside is the Fringe

Festival with performances in many of the town's venues.

Pavilion Theatre, Cromer Pier, Promenade, Cromer, NR27 9HE

01263 512495 www.folkonthepier.co.uk

29-May Let's Rock Norwich!

The ultimate retro festival returns with the best in 80's music.

Featuring Boomtown Rats, Wet Wet Wet, ABC, Howard Jones,

Tony Hadley, Sister Sledge, Betty Boo, The Undertones and

more.

Earlham Park, Norwich, NR4 7TJ

01493 662832 www.letsrocknorwich.com

14-30May Norfolk & Norwich Festival

Norfolk's biggest arts event offers a culturally diverse

programme of music, dance, theatre, literature, circus and visual

arts. The Festival transforms city streets, venues, parks, forests

and beaches with inspirational events.

Multiple locations

01603 531800 www.nnfestival.org.uk

SPECIAL EVENTS

2-5Apr Easter Treasure Hunt

Follow the clues which will take you all on an exciting journey

around the beautiful gardens, ending at the entrance kiosk

where you can collect your Easter prize.

Hoveton Hall Estate, Hoveton, Norwich, NR12 8RJ

01603 784297 www.hovetonhallestate.co.uk

4-5Apr Easter Country Show & Festivals of Dogs

Main ring attractions, cookery demos, Punch and Judy, magic

shows, motorbike stunt teams, petting farms and some truly

unique shopping.

Summerpit Farm London Road, Elveden Estate Elveden,

Thetford​, IP24 3TD

01728 685302 www.eastercountryshow.co.uk

16-May The Diss Organ Festival

Diss will be alive with the joyful sound of over 50 mechanical

music machines with musical boxes in the Corn Hall and hand

turned instruments in Cobbs Yard. The Park will have a display

of vintage vehicles with veteran traction engines.

Diss Town Centre

www.dissorganfestival.co.uk

30-31May Country Fair

All the fun of the fair, with East Norfolk Militia displays, clay

pigeon shooting, archery, falconry, fun dog show, vintage

games, Punch & Judy, craft and food stalls.

Hoveton Hall Estate, Hoveton, Norwich, NR12 8RJ

01603 784297 www.hovetonhallestate.co.uk

ARTS & CULTURE

6Feb-16May

Grayson Perry:

The Pre-Therapy Years

Grayson Perry's groundbreaking 'lost' pots are reunited to focus

on the formative years of one of Britain's most recognisable

artists. The works explore the themes of fetishism, gender, class,

his home county of Essex and the vagaries of the art world.

Sainsbury Centre, University of East Anglia, Norfolk Road,

Norwich, NR4 7TJ

01603 593199 www.sainsburycentre.ac.uk

11-May Hollie McNish

Ted Hughes Award winner Hollie McNish reading from and

chatting about her latest poetry collections. Expect strong

language. Socially distanced event with seating grouped into

'bubbles'.

Norwich Arts Centre, St. Benedict's Street Norwich, NR2 4PG

01603 660352 www.norwichartscentre.co.uk

AUCTIONS & ANTIQUES

22-Mar Antiques & Collectors Fair

An eclectic mix of items with coins and militaria, silver, jewellery,

ceramics, small furniture, glass and vintage Items. Vintage café

with homemade cakes, sandwiches and all day breakfasts.

Open 8.30am-3.30pm.

Hemsby Village Hall, Waters Lane, Hemsby, Gt.Yarmouth, NR29

4LE

07919 022352

4-5Apr Norfolk Antique and Collectors Fair

Numerous stands in the exhibition hall, unique pieces in the

furniture pavilions and a vast array of vintage and retro items at

the outdoor stands. Hot & cold food available.

Norfolk Showground, New Costessey, Norwich, NR5 0TT

0333 242 7912 www.aztecevents.co.uk

137
---
TRANSPORT & ENGINEERING

HERITAGE IN OUR COUNTY TOWN

Over 100 major exhibits - all made or used in Ipswich!

OPEN EVERY SUNDAY and

BANK HOLIDAY 11am - 4pm

23rd MAY to 28th NOVEMBER

Plus MONDAY to FRIDAY 1pm - 4pm during

SUMMER & AUTUMN School Holidays

WEDNESDAY AFTERNOONS 1pm to 4pm in

JULY and SEPTEMBER

*subject to COVID restrictions – please check website before travel

See website for details and special events

We're on Facebook &

Google Streetview!

Old Trolleybus Depot, Cobham Road, Ipswich IP3 9JD

GIFT SHOP - TEA ROOM - WHEELCHAIR ACCESSIBLE

enquiries@ipswichtransportmuseum.co.uk
---
Suffolk

Plan your Trip to

Ipswich

Discover the best of Suffolk's

'culture capital'

Ipswich is the jewel in Suffolk's crown. Set inland, the town

benefits from a thriving cosmopolitan scene yet embraces its

maritime past. If you're heading to the Suffolk Coast this spring,

it's well worth making a detour for this growing town.

Places to visit

The waterfront

A trip to Ipswich wouldn't be complete

without taking a walk along the

Waterfront. A vibrant area, alive with

restaurants, cafes, bars and home to

the University of Suffolk, all perched on

the water's edge. A great place day and

night; watch world-class contemporary

dance and performances at DanceEast,

relax on a river cruise down the Orwell

River or enjoy the nightlife with drinks

and live music.

Ipswich Museum

Discover history, wildlife and more across

the two floors of this historic Victorian

building. Travel through Ancient Egypt in

Suffolk's only Egyptology gallery, stand

eye-to-beak with an eagle in the Ogilvie

British Bird Gallery or marvel at ship

models reflecting Ipswich's maritime past.

Plus, meet family favourites including

a giraffe, rhino and giant mammoth.

Events for all ages are held regularly at

the museum, including family activities

during the school holidays.

www.ipswich.cimuseums.org.uk/

visit/ipswich-museum

Christchurch Mansion

From intriguing toys in the Victorian

nursey to paintings by renowned Suffolk

artists Gainsborough and Constable,

there is lots to see in this magnificent

Tudor mansion. Christchurch Mansion is

situated in the stunning surroundings of

Christchurch Park and also hosts major

temporary exhibitions. www.ipswich.

cimuseums.org.uk/visit/christchurchmansion

Things to do

Shopping

The town centre is home to a good mix

of high street and independent retailers.

There are two large shopping and leisure

centres, Sailmakers and Buttermarket

Centre, and a great open-air market on

Tuesdays, Fridays and Saturdays, located

right outside the Town Hall Galleries,

which are well worth a visit.

Take a walk

Ipswich is home to two beautiful parks:

Christchurch Park and Holywells

Park. Both great outdoor spaces ideal

for picnics during warmer months,

Christchurch Park plays host to some of

Ipswich's biggest events, while Holywells

features a play area, walled garden and

café.

Theatre

After a tough year, the arts need support

more than ever. If you're planning to

extend your time in Ipswich, fill your

evening with comedy, music or theatre at

one of the many entertainment venues.

The New Wolsey Theatre, Ipswich Corn

Exchange and Ipswich Regent Theatre

host some of the UK's biggest theatre

and musical productions and best-loved

comedians.

139
---
Sponsor a Redwings

rescued horse

Sponsor a rescued

horse or donkey from

as little as £15 a year

and you'll receive

an adoption pack

including your new

friend's story and a

stunning photo, plus

access to their online

diary.

Do your little ones like horsing around?

Trot over to our website and check out the

Young Reds At Home Academy!

www.redwings.org.uk/adopt

01508 481000

We are

open for

admissions

EXCEPTIONAL CARE

IN WOODBRIDGE

Grove Court is one of a select

group of care homes operated by

Elizabeth Finn Homes and offers

a home from home for discerning

guests who appreciate comfort,

quality and exceptional care.

We offer personal or nursing care

on a permanent or short stay basis,

as well as end of life care, all to the

same exceptional standard.

From award-winning restaurant

style dining to beautiful landscaped

gardens and industry leading social

engagement, Grove Court provides

the highest level of service and

facilities.

TOP

20

AWARD 2019

Why not come and see for yourself?

Call Helen Jones, our General

Manager on Tel: 01394 446500

or email:

enquiries.grovecourt@efhl.co.uk

GROVE COURT

Beech Way,

Woodbridge,

Suffolk IP12 4BW

No hidden charges | Charity Owned | Well-established | Reputation for high quality care

www.efhl.co.uk

140
---
Book your Perfect Suffolk Escape

"Ideally located to explore Suffolk's heritage coast"

Self Catering Cottages and Studios

& Caravan and Motorhome Club CL

Now offering finance packages to spread the cost!

Mollett's Farm, Main Road, Benhall,

Saxmundham, Suffolk IP17 1JY

+44 1728 604547

www.molletts.com bookings@molletts.com

2020 12 East Life General HP.qxp_107mm h x 148 mm w 15/12/2020 12:23 Page 1

Hidden treasure

for all to enjoy

A warm welcome and fantastic views await

you; for business, pleasure or leisure.

Our family-friendly hotel boasts a fantastic

18 hole, par 71 golf course (suitable for all abilities),

thermal suite spa, indoor swimming pool,

Congo Rapids Adventure Golf Course and

delicious locally sourced food served all day.

Why not pop in for a Paddy and Scott's

coffee and a piece of homemade cake?

Everyone is welcome,

even your four-legged best friend.

t 01394 383555

w www.uffordpark.co.uk

Yarmouth Road|Woodbridge | Suffolk | IP12 1QW

141
---
Suffolk

48

Hours in

Woodbridge

Woodbridge in 48 hours?

Don't think it's possible?

It is now with our guide to

the best attractions, coffee

shops, restaurants and

accommodation; all you need

to do is book

Written by Liz Mattock | www.wolfauthor.com

With coastal vibes, cobbled streets and

independent retailers, Woodbridge

should be top of your list when visiting

Suffolk. We've planned a two-day

itinerary to ensure you enjoy the best of

what the town has to offer.

Day 1

10am – Arrive early

Your accommodation might not be

ready until later in the day, but you can

park up at one of seven pay and display

car parks in the town and settle yourself

into your surroundings with a coffee

and breakfast at The Tea Hut. Sitting on

the banks of the stunning River Deben

it serves hot drinks, cooked breakfasts

and lighter bites.

11am – 1pm – Deben Cruise

Take a two-hour cruise along the

River Deben; one of the most beautiful

stretches of the water in the East with an

abundance of wildlife to see. You can

sit back, relax and listen to the onboard

commentary as you take in the view. It

is ideal for photographers and wildlife

lovers. Trips leave twice daily between

May and October, on this all-weather

cruiser. You can check availability and

book ahead online at

www.debencruises.co.uk

1pm – 2pm – Pub Lunch

Pop into the Coach and Horses for a

traditional pub lunch, serving salads,

sandwiches, steaks and hot dishes of

the day. The bar stocks local ales as

well as a range of wines, spirits and soft

drinks. The pub includes vegetarian and

gluten free menus and is dog-friendly

too. Food is served all day, every day

12pm until 9pm. www.debeninns.

co.uk/coachandhorses

142
---
Suffolk

2pm – 4pm – Woodbridge Museum

Get to know the history behind the

town by visiting Woodbridge Museum

which takes you through its evolution

from an Anglo-Saxon town to the market

town it is today. Learn about the history

of its ship building connections and

its status as a Garrison town through

the Napoleonic wars. The museum is

open 10.30am to 4.30pm every day

throughout May to October.

www.suffolkmuseums.org/

museums/woodbridge-museum

4pm – 5pm – Check into your

accommodation

By now you'll be ready to find your

accommodation for the night and

freshen up for an evening of dining.

Particular favourites include the stylish

loft inspired holiday home, The Old

Warehouse, situated in a prime location

tucked away off The Thoroughfare

and the chic nautical rooms at The

Crown. Low Farm Cottages is perfect for

families looking to self-cater. If you enjoy

the great outdoors, Sutton Hoo Holiday

Campsite provides camping facilities for

cars and caravans looking to pitch up

overnight.

5pm – 9pm – Pre dinner drink &

evening meal

After all that exploring you will be

ready for a refreshing drink and dinner

to relax into the evening. Visit The

Unruly Pig with its extensive collection

of wine, cider and local ales and

hearty menu. The Ufford Crown is a

superb recommended family pub and

restaurant, while The Ramsholt Arms

provides alfresco dining opportunities

and great views over the river.

Day 2

9am – 10am – Breakfast

Head to the likes of Honey + Harvey or

Wild Strawberry Café, firm favourites

among locals. Further afield, and great

for combining with a walk to take in the

local countryside, is The Blue Rabbit

Café. A small hut located in the field at

Shottisham Campsite, here ingredients

travel mere meters! Hens hop around

on site, there's goats and their own

rare-breed pigs. It may be a 15-minute

drive from Woodbridge, but it's worth a

stop for a breakfast bap or cake if you're

in the area.

10am – 1pm – Deben Peninsula

Boots laced and bellies full, it's time

to take a scenic walk to the Deben

Peninsula; don't forget your camera!

With beautiful purple heathlands, this

Area of Outstanding Natural Beauty is

not to be missed. The area is protected

by the local conservation group and is

home to hundreds of species of wildlife

and birds native to this unspoilt area.

On your route you will also come across

the National Trust Sutton Hoo, home

to one of the greatest archaeological

discoveries of all time – an Anglo-Saxon

ship burial.

1pm – 2pm – Lunch

On your walk you will come across

the village of Orford, which is home

to colourful cottages and some of

Suffolk's finest producers. Pump Street

Chocolate Bakery is a chocolate lover's

dream offering daily baked bread and

pastries, hot drinks, artisan foods and

of course locally produced chocolate

in many forms. The Butley Orford

Oysterage is iconic. Grab a seat in the

rustic restaurant and enjoy a plate of

delicious seafood.

2pm – 5pm – Cycle Tour

For your final afternoon, swap two

legs for two wheels. The 15-mile cycle

ride starts at Woodbridge train station

car park and follows roads and quiet

lanes to the beautiful riverside village

of Waldringfield. The return route visits

the village of Hemley and nearby

Newbourne Springs Nature Reserve.

Bike hire is available from Suffolk Cycle

Hire which hires mountain bikes or

tourers. They can even be delivered to

you at the train station and collected

too. Prices start from £18 per adult per

day, child seats are £5 per day.

Cycle maps are available online at

www.thesuffolkcoast.co.uk/cyclingon-the-suffolk-coast

143
---
Minsmere

It's naturally fun

for everyone!

Start exploring rspb.org.uk/discoverminsmere

/RSPBSuffolk

/RSPBMinsmere

RSPB Minsmere nature reserve, Suffolk coast.
---
Suffolk

Suffolk

THEATRE, FILM AND SHOWS

24-25Mar Peppa Pig's Best Day Ever

Get ready for a road trip full of fun adventures. From castles to

caves, dragons to dinosaurs and ice creams to muddy puddles.

With songs, games and laughter, it really is the best day ever for

Peppa Pig fans!

Regent Theatre, 3 St. Helen's St, Ipswich, IP4 1HE

01473 433100 www.ipswichtheatres.co.uk

28-Mar Wizard of Oz Easter Panto

Starring Bobby Davro as Scarecrow. Join Dorothy and her pet

dog Toto on a magical adventure. Watch in amazement as they

are picked up by a tornado and carried off to the magical Land

of Oz.

Regent Theatre, 3 St. Helen's St, Ipswich, IP4 1HE

01473 433100 www.ipswichtheatres.co.uk

28-31Mar Goldilocks and the Three Bears

The much-loved fairy tale set in the circus where Goldilocks and

Silly Billy fall upon hard times. They enlist help of three talented

and musical bears to bring their circus fortunes back to life.

Haverhill Arts Centre, High Street, Haverhill, CB9 8AR

01440 714140 www.haverhillartscentre.co.uk

07-Apr Jimmy Carr - Terribly Funny

Jimmy's new show contains jokes about terrible things that might

have affected you or people you know and love. But they're

just jokes. Having political correctness at a comedy show is like

having health and safety at a rodeo. You've been warned!

The Spa Pavilion, Undercliff Rd West Felixstowe, Suffolk IP11 2DX

01394 284962 www.spapavilion.uk

MUSIC

23-May Songs of the Sea

Lowestoft's very own shanty choir return with their usual

inimitable mix of sea shanties and storytelling. Singing along will

be encouraged and welcomed!

The Seagull Theatre, 19-75 Morton Rd, Pakefield, Lowestoft,

NR33 0JH

01502 589726 www.theseagull.co.uk

28-May Anything for Love: The Meatloaf Story

Featuring Meat Loaf and Jim Steinman's greatest hits with an

incredible stage set and ten-piece live band. You'll be up on your

feet dancing and singing out loud!

The Marina Theatre, Marina, Lowestoft, NR32 1HH

01502 533200 www.marinatheatre.co.uk

ARTS & CULTURE

20Apr-23May Wayne Tanswell

This well-known Suffolk sign writer and lettering artist's words will

rise and fall and overlap each other, highlighted in contrasting

colours, all painted by Wayne's highly skilful and practiced hand.

The Apex, Charter Square, Bury St Edmunds, IP33 3FD

01284 758000 www.theapex.co.uk

2May-30Sep

Moments: An Exhibition of

Modern Art

A unique collection of modern art created by some of the

world's best-known artists including Banksy, Tracy Emin,

Damien Hirst, The Connor Brothers, Blek Le Rat, Pure Evil,

Rachel List and Kaws.

Moyse's Hall Museum Cornhill, Bury St Edmunds, IP33 1DX

01284 758000 www.moyseshall.org

SPECIAL EVENTS

19-21Mar Spring Awakening

A residential bird identification course with opportunities to view

migrants on the coast, heathland birds and a range of waders

and wildfowl at close quarters.

Bawdsey Hall, Ferry Road, Woodbridge, IP12 3AS

07763 291026 www.bawdseyhall.com

3-4Apr The Framlingham Country Show

The show with something for everybody, from cookery demos,

main ring attractions, Punch and Judy, magic shows, petting

farms, great shopping and more.

Framlingham College, College Road, Framlingham, IP13 9EY

01728 685302 www.classicfestivals.co.uk/shows

19-Apr Genetic Genealogy - DNA for Beginners

Thinking of taking a DNA test? Wondering how it can help

your family tree research? Need help interpreting your

results? Then Debbie Kennett's talk over Zoom is right for you.

The Alde Valley Suffolk Family History Group

01728 830949 www.avsfhg.org.uk

15-16May Stonham Barns Steam & Vintage Show

Traction engines, steam rollers and other historic exhibits with

demonstrations in the show ring. An old-time funfair, stalls and a

vintage market plus buskers, traditional dancing and walkabout

artists.

Pettaugh Road, Stonham Aspal, Suffolk, IP14 6AT

01449 711111 www.stonhambarns.co.uk

AUCTIONS & ANTIQUES

24-25Apr Long Melford Antiques & Vintage Fair

Jewellery, ceramics, militaria, collectables, toys, postcards,

books, tribal art, kitchenalia, vintage clothes and accessories.

Homemade refreshments at the vintage café. 9.30am-4pm

The Old School, Hall Street, Long Melford, CO10 9DX

07837 497617 www.melfordantiquesfair.co.uk

16-May The Grand Brocante

Held in the glorious grounds of Glemham Hall with over 100

brocanteurs offering antiques and vintage items for sale plus a

display of vintage cars, musical entertainment and food from

local producers.

Glemham Hall, Little Glemham, Woodbridge, IP13 0BT

07920 855041 www.glemhamhall.co.uk

145
---
ACCOMMODATION

Accommodation

Varsity Hotel

The Varsity Hotel is situated amidst the Cambridge Colleges

with views from many of the rooms across Kings, St Johns

and Trinity. It is also a stones throw from the main punting

area and has many great shops nearby.

Cambridge

T: 01223 306030

E: res@thevarsityhotel.co.uk

www.thevarsityhotel.co.uk

Cambridge

Lower Farm

Lower Farm Bed and Breakfast is situated in the attractive East

Northamptonshire village of Barnwell, three miles from the

historic town of Oundle. We can provide you with a comfortable

and relaxed country retreat tucked away from busy roads in a

picturesque and traditional farm setting.

Northamptonshire

T: 01832 273220

E: lowerfarmbandb@btconnect.com

www.lower-farm.co.uk

Northamptonshire

Sibton White Horse Inn

Wonderful unspoilt 16c freehouse, same owners for 15

years, just 20 minutes from the coast. Enjoy excellent food

within the warm and cosy inside or outside on the covered

heated terrace. Five adjacent rooms provide the comforts

expected from an AA 4 star gold rated inn.

Nr Saxmundham

T: 01728 660337

E: info@sibtonwhitehorseinn.co.uk

www.sibtonwhitehorseinn.co.uk

Suffolk

146
---
Tye Green Lodge

Harl o w

Are you looking for care?

If you or an elderly friend or loved one needs care

and support, whether for a short break or a longer

term stay, we are here to help.

At Tye Green Lodge we offer the highest standards of

care, delivered by our friendly and professional teams.

Quality, personalised care, day and night

Warm and friendly home offering en-suite bedrooms

Staff trained to the highest standards

Full programme of activities and engagement

Great food, freshly prepared on site

Prescriptions, healthcare and GP visits all taken care of

Stringent Covid protection and prevention measures

Visit www.carehome.co.uk

Tye Green Lodge

Review Score:

9.7

Tel: 01279 770500

Email: tye@quantumcare.co.uk

Tye Green Village, Harlow,

Essex CM18 6QY

If you would like more information about Quantum Care homes or

any of our services please call 01707 393293 or 01707 393294

or email enquiries@quantumcare.co.uk

COVID-19 Prevention:

All Quantum Care homes have the strictest prevention

measures in place including the full use of Personal Protective

Equipment at all times, regular testing for staff and residents

and the highest standards of infection control

www.quantumcare.co.uk

COVID-AWARE

CONVALESCENCE CARE | SHORT BREAKS | RESIDENTIAL | SPECIALIST DEMENTIA CARE