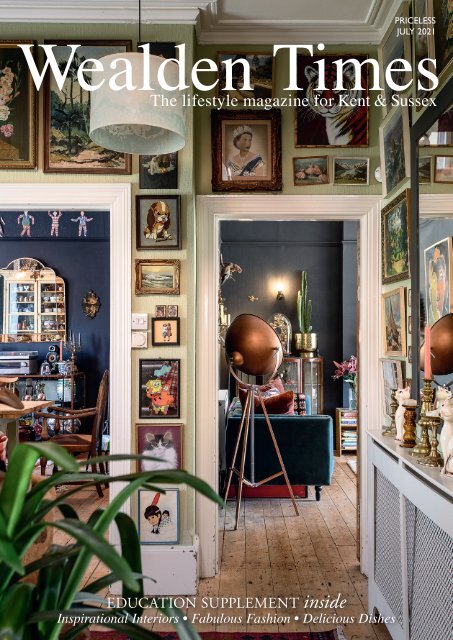 Wealden Times | WT230 | July 2021 | Education supplement inside
The lifestyle magazine for Kent & Sussex - Inspirational Interiors, Fabulous Fashion, Delicious Dishes
The lifestyle magazine for Kent & Sussex - Inspirational Interiors, Fabulous Fashion, Delicious Dishes
SHOW MORE
SHOW LESS
Do you know the secret to free website traffic?
Use this trick to increase the number of new potential customers.
EDUCATION SUPPLEMENT inside

Inspirational Interiors • Fabulous Fashion • Delicious Dishes

PRICELESS

JULY 2021
---
IH. 203

band-sawn oak, carraramarble, skimming stone
---
T H E K I T C H E N M A K E R

1 priceless-magazines.com

inglishall.com
---
MINTERIORS

JMade in Biddenden by a family business

priceless-magazines.com

2
---
01580 291221 jminteriorsuk.uk

Please call to arrange an appointment at our Biddenden showroom

3 priceless-magazines.com
---
priceless-magazines.com

4
---
Beautifully handcrafted, thoroughly bespoke kitchens

Old Surrenden Manor, Bethersden

info@collinsbespoke.com I 01233 822595 I www.collinsbespoke.com

5 priceless-magazines.com
---
5 High Street, Cranbrook, Kent TN17 3EB

01580 715144

www.kingsfords-solicitors.com

"A personal service

given in a relaxed and

friendly fashion."

Conveyancing | Wills & Estates | Commercial Law | Matrimonial Law | Prenuptial

Agreements | Litigation | Employment Law | Family Law | French Property

Litigation Solicitor from £200 *

Conveyancing Services from £550 *

Lasting Power Of Attorney (LPA's) from £250 * *

all prices exclude VAT

Wills from £220.00 / Mirror Wills from £350 * Matrimonial Solicitor from £150 *

Kingsfords Solicitors Limited registered offi ce address 2 Elwick Road, Ashford, Kent TN23 1PD

Regulated by the Solicitors Regulation Authority 621466

We will

always try

& match any

quotation

Development Land Wanted NOW

KingsfordSolicitorsWT229.indd 1 13/05/2021 09:20

We are actively looking for land for

residential development all over

the South East.

Based in Kent, family run Jarvis

Homes is one of the oldest known

house builders in the country and

has unrivalled experience in creating

the highest quality homes using

traditional methods.

We have a great track record of

successful planning applications that

maximise land values.

Plots of any size will be considered,

from half an acre to over 100 acres!

Contact us in confidence:

land@jarvishomes.com l 01580 761300

www.jarvishomes.com

priceless-magazines.com

6

JarvisNewHomesWT229.indd 1 06/05/2021 16:51
---
Contents

July 2021

14

21

36

57

59

66

HOUSE OF THE MONTH

Maggie Alderson selects her

favourite homes on the market

NOTEBOOK

A fresh batch of events and

exhibitions to look forward to

CLICK & COLLECT

Explore a stylish home filled

with delightful thrift shop finds

GET THE LOOK

Shop products inspired by

the 'Click & Collect' style

WINDOWS OF

OPPORTUNITY

Rebecca Cuffe's selection

of inspiration and advice

for perfect windows

85

89

93

97

99

100

GET THE LOOK

Add some of Belinda

Benton's cool elegance

to your own home

LIFE'S A BEACH

Beachy fashion with a

quirky vintage flair styled

by Rebecca Cuffe

GLOW UP!

Josephine Fairley's guide to

achieving the ultimate fake tan

LET'S GO WILD!

Sarah Maxwell on the joys and

benefits of wild swimming

NOURISH TO FLOURISH

Charlotte Lau recommends the

diets of our distant ancestors

109

115

121

122

36

SEED COLLECTORS

Learn how to find, store and

nurture seeds with Sue Whigham

FRUITFUL

Enjoy a sweet summer filled with Jo

Arnell's round up of delicious fruits

that you can grow in your garden

WHAT'S ON

The world is opening up again

and we have a list of events to

mark in your diary this month

SLOW, GROW, EAT

Zoë Colville tells us about the uses and

environmental benefits of sheep wool

and shares a recipe for Lamb Koftas

66

HAVEN SENT

A peak inside the home of

Belinda Benton, founder

of Evernden Interiors

100

PURE & SIMPLE

Get ready for entertaining again

with Charlotte Butterworth's easy

breezy recipes and gorgeous

table settings from SET

Published by Priceless Media Ltd. Kettle Chambers, 21 Stone Street,

Cranbrook, Kent TN17 3HF | Call 01580 714705 | Email info@priceless-group.com

Visit priceless-group.com Copyright © 2021 Priceless Media Ltd. The views of the

advertisers & contributors are not necessarily those of Priceless Media Ltd.

EDUCATION

SUPPLEMENT

38 pages of

inspiring school

news, interviews

and innovations

After page 85

A Priceless Supplement

sponsored by

7
---
47 HIGH STREET

EDENBRIDGE

KENT, TN8 5AL

edenbridge@kesseler.co.uk

Transforming properties across Kent. Kent, Made Sussex to and measure Surrey.

for your

home. Made to Designed measure and for built your in home. Britain. Designed and built in Britain.

WE'RE OPEN AGAIN

Call today to book an appointment

Tel: 01233 556095

www.kesseler.co.uk/edenbridge

priceless-magazines.com

8
---
Editor's

Letter

For an exceptional home

01227 766655

lenleys.co.uk

Roper Road, Canterbury, CT2 7EL

It's Midsummer Fair time and we can't wait! We're welcoming

back stallholders and shoppers to picturesque Hole Park

in Rolvenden for four days of countryside retail therapy

(we've added the Sunday to make up for lost time!). Find

out who'll be there, plan what you'll be making a beeline

for and book tickets online at wealdentimes-fair.co.uk.

This sunny summer issue is full to the brim with

home inspiration, with a visit to interior designer

Belinda Benton's stylish and characterful home and a

look round the uniquely decorated St Leonards house

that's been boldly transformed by Victoria Fowle.

I was lucky enough to visit the stunning Wealden garden of

Charlotte Butterworth (on Instagram as @theneedy.greedy)

to shoot this month's food feature, before making her

ridiculously tasty gateau myself for friends a couple of

days later – believe me, it won't disappoint! See how brand

new dinner party hire company SET have beautifully

styled all four of Charlotte's recipes from page 100.

We're back with a comprehensive look at all things education

in this magazine's supplement, which covers the latest news

directly from schools, chats to the teachers who keep our

children inspired and motivated and discusses all the hot

topics currently affecting schools across the South East.

As a taster of what's to come next month in our brand

new Adding Value To Your Property Supplement, Rebecca

Cuffe looks at ways to improve your windows from

page 59 with a run down of contemporary and classic

designs and the treatments that enhance their style.

Summer

SALE

NOW ON

Enjoy your Wealden Times!

INTEREST FREE CREDIT AVAILABLE*

Wealden Times & Surrey Homes Team

Editor ............................................................................................ Lucy Fleming

News & Features Editor ...............................................................Rebecca Cuffe

Design Director ..........................................................................Anthony Boxall

Design Assistant...........................................................................Phoebe O'Leary

Sales Managers ..................................................................................... Jen Crisp

Lisa Gordon-Hughes

Senior Account Managers ............................................................... Maria Hurley

Rachel Norrie

Social Media ......................................................................................Emily Pavey

Wealden Times Show Director ....................................................... Flo Simpson

Events Manager .............................................................................. Liz Copping

Senior Account Manager, Events ....................................................... Jude Brown

Managing Director .............................................................. Vivien Cotterill-Lee

Executive Chairman ...................................................................... Julie Simpson

01622 753073

clarkesfurnishers.co.uk

Sandling Road, Maidstone, ME14 2RF

*see website for terms & conditions

9 priceless-magazines.com

LenleysWT230.indd 1 10/06/2021 13:51
---
Babington House School

Independent Day School from 3 to 18 years

Grange Drive, Chislehurst, Kent BR7 5ES

Headmaster: Mr T Lello, MA, FRSA, NPQH, PGCE

Inspiring Teachers, Inspiring Children

priceless-magazines.com

Open Day

Saturday, 9th October 2021

Register Now:

www.babingtonhouse.com

10
---
WEALDEN TIMES

Alfriston

• Emmett & White

Antiques & Interiors

Ashford

• Eastwell Manor

• Hunters

• Kingsfords Solicitors

• Northwood

• Perry Court Farm

• Secret Garden, Kent

• Waterstones

• The Wife of Bath

Battle

• British Design

British Made

• Jempson's

Benenden

• Village Shop

Bexhill

• Sivyers Antique

Emporium

• Wards

Biddenden

• The Bakehouse

• Bloomsburys

• Costcutter

Boughton Monchelsea

• The Cock Inn

Bromley

• The Glades

Burwash

• Londis

Canterbury

• Benton Kitchens

• The Duke William

• Fenwick

• Gibson's Farm Shop

• The Goods Shed

• Whitefriars

Charing

• Post Office

Chiddingstone

• Chiddingstone Castle

Chilham

• Bagham Barn

Antiques

Cranbrook

• Ashwal Garage

• Hartley Coffee

House

• Hartley Dyke

Farmshop

• The Hive

• Kingsfords Solicitors

• Pages

• The Wendy House

Crowborough

• Costa Coffee

Eastbourne

• Waterstones

Eridge

• Fuller's Farm Shop

Faversham

• Macknade

Fine Foods

Flimwell

• The Weald Smokery

Folkestone

• Hunters

• Loaf

• Moda

• Quarterhouse

• Rocksalt

• Steep Street

Coffee House

Goudhurst

• Burfields

House Wealth

Management Ltd

• Goudhurst Inn

• Goudhurst

Newsagents

• Furnish & Feather

Greenhithe

• John Lewis

Food Hall

Hastings

• Judges Bakery

• Respire Living

• St Mary in the Castle

Find your copy

Call 01580 714705 to find your nearest distributor of Wealden Times or

Surrey Homes or to get free copies delivered for a year for just £25 postage

Our magazines are available in selected railway stations, Cook, Waterstones,

Tesco, M&S and Sainsbury's stores, as well as these local hot spots.

Please check priceless-group.com/wealden-times-distribution and

priceless-group.com/surrey-homes-distribution for a current list of distribution points.

• Wellington Centre

Hawkhurst

• Kino Cinema

• Park Farm Butchers

• Two Chicks

Headcorn

• Foodie's Emporium

Heathfield

• Cuculo Deli

• The Stores

Horsham

• Cook

• Waterstones

Hurst Green

• Eggs to Apples

• Merriments

Hythe

• The Chair Lady

• The Flower Shop

• Halcyon Days

• Hunters

• Hythe Bay Seafood

Restaurant

• Hythe Imperial

Health Club & Spa

• Hythe Imperial Hotel

• Nutmeg Café

• Oaks Hair &

Beauty Retreat

Ickham

• The Duke William

Kings Hill

• Costa

Lenham

• Corner House

Antiques

Lewes

• Middle Farm

• Riverside

Shopping Hall

Maidstone

• House of Fraser

• Leeds Castle

• Waterstones

Marden

• Marden Village Store

Mayfield

• The Pink Cabbage

Produce Co.

Northiam

• Country Property

Group

• Jempson's Local

• Will's Bakery

and Café

Nutley

• Nutley Antiques

Otford

• Hall & Co

Peasmarsh

• Jempson's

Pluckley

• Pluckley Farm Shop

Robertsbridge

• Vinehall School

Rolvenden

• KM & JM

Linklater

Rushlake Green

• The Stores

Rye

• Adams of Rye

• Jempson's

• Kino Cinema

• Phillips & Stubbs

• The Rye Retreat

• The White House

Sandhurst

• Johnson's of

Sandhurst

Sedlescombe

• Sedlescombe Post

Office and Stores

Sellindge

• Hobbs & Hearts

Sevenoaks

• Cook

• County Clothes

Sheffield Green

• Trading Boundaries

Sissinghurst

• TN17 Food & Wine

Smarden

• West End House

Gallery

St. Leonards-on-Sea

• Shop

• Who's Wearing What

Staplehurst

• Frankie's Farm Shop

Stone Cross

• Sharnfold Farm

& Shop

Tenterden

• County Clothes

• Hunters Estate

Agents

• London Beach Hotel

• Tenterden House

Interiors

• Warner Gray

• Waterstones

• Webbs of Tenterden

• White Lion

• Woodcocks

Ticehurst

• Dale Hill Golf Club

• Londis

Tonbridge

• Cook

Tunbridge Wells

• Fenwick

• Hoopers

• Maddisons

Residential

• Notcutts

• Poggenpohl

• Truffle

Wadhurst

• Jempson's

• Wadhurst Castle

• Wealden Wholefoods

West Malling

• The Swan

Westerham

• Costa

• Nisa

Whitstable

• Hotel Continental

• Tea & Times

• The Whiting Post

Winchelsea

• Winchelsea

Farm Kitchen

Wye

• The Wife of Bath

SURREY HOMES

Ashtead

• Patrick Gardner

Bagshott

• Howlands

Estate Agents

• Longacres Nursery

Banstead

• King of Cotton

Betchworth

• Buckland Deli

• The Community

Shop

Bookham

• Patrick Gardner

Bramley

• Bramley Beds

Buckland

• Buckland Nurseries

Camberley

• Romans

Cheam

• Cook

Chelsham

• Knights Garden

Centre

Chobham

• Melita

• Pasha

Claygate

• Trew Art

Cobham

• Fego Café

• Oh So Coco

Cranleigh

• Notcutts

• Roger Coupe

Dorking

• Denbies Vineyard

• Dorking Travel

• Patrick Gardner

• Princess Alice

Hospice

Epsom

• Mayfield Lavender

Nursery & Shop

Esher

• Sandown Park

Racecourse

Farnborough

• Holiday Inn

Farnham

• Cook

• ME Estate Agents

• Waterstones

Felbridge

• Doves Barn Nursery

Forest Green

• Butchers Hall

& Country Grocer

Godalming

• Cook

• McAllister Thomas

• Sarah Louise Dix

• Waterstones

Godstone

• Knights Garden

Centre

Gomshall

• Lavender Goose

Guildford

• BoConcept

• Elm Nursery

Farm Shop

• Loaf

• Neptune

• Nuffield Gym

• Waterstones

Haslemere

• Lythe Hill

Hotel & Spa

Hindhead

• Grayshott Spa

Horley

• Spire Hospital

Leatherhead

• Patrick Gardner

• Robert Leech

& Partners

Lingfield

• Robert Leech

Lyne

• The Farm Shop Lyne

Milford

• Secretts

Old Oxted

• Fish Plaice & Grill

Ottershaw

• Foxhills Spa

Oxted

• Cook

• Jackson-Stops & Staff

• Limpsfield Stores

• Robert Leech

Oxshott

• The Bear

Redhill

• Priory Farm

Reigate

• County Clothes

• Robert Leech

• RDO Kitchens

Ripley

• Ripley Nurseries

Farm Shop

• The Talbot

Walton on Thames

• Waterstones

Warlingham

• Botley Hill

Farmhouse

• Rayners Estate

Agents

Weybridge

• The Heights

Brooklands

Woldingham

• Fine & Country

McALLISTER THOMAS FINE ART

NEW WORKS

BY

JO VOLLERS

McALLISTER THOMAS

117 High Street

Godalming

Surrey GU7 1AQ

01483 860591

www.mcallisterthomasfineart.co.uk

11 priceless-magazines.com

McAllisterThomasFineArtWT230.indd 1

mcallister-thomas-vertical-advert-stephen-page.indd 1

07/06/2021 10:15

05/06/2021 11:22
---
The Trusted

Regional Auctioneers

Auction

Sales are

Safe in our

Hands

Selling with Skill,

Speed & Efficiency

Entries are continually invited for

our auctions which are scheduled

throughout the year.

Suitable Entries Include

• Vacant residential

• Vacant land

• Commercial investments

• Residential investments

• Commercial premises

• Ground rents

• Unique and unusual

• Conversion & development projects

• Garages/parking spaces

Our Auction Team has

Many Years of Land &

Property Experience

We are only an email, call or click

away

• auctions@cliveemson.co.uk

• cliveemson.co.uk

• 0345 8500333

If you would like to arrange a no

obligation auction appraisal please

do not hesitate to contact us or

complete our form at

cliveemson.co.uk/selling/

Auctions for the remainder of the year will be held during

July : September : November and December

priceless-magazines.com

0345 8500333 : cliveemson.co.uk

12

auctions@cliveemson.co.uk
---
'Our Focus Determines Your Reality'

HARPERS AND HURLINGHAM

STAPLEHURST £1,200,000

CHARMING RURAL DETACHED BARN CONVERSION

• Entrance hall • Sitting room • Dining room • Family room • Study • Kitchen/breakfast room • Utility room

• Ground floor bedroom, ensuite • Two cloakrooms • Principal bedroom, ensuite • Three further bedrooms

• Family bath/shower room • Delightful garden approx. ¾ acres • Double garage • EPC: D

Cranbrook School Catchment Area

Sales & Lettings Team

Harpers&Hurlingham

The Cornerhouse, Stone Street, Cranbrook

01580 715400

www.harpersandhurlingham.com

Jane Emilie Chez Cathy Sara Debbie Debbie S Sharon Caroline Dianne

13 priceless-magazines.com

Wendy
---
House

Month

of the

£4,250,000

Action Stations

Maggie Alderson picks three very appealing houses

right in the action of towns and villages

Frant Grange

The dream: A rare combination of

a substantial and elegant Georgian

house with the best of village life. In

the past ten years the house has been

substantially updated and renovated,

so it is in peak condition throughout.

There is also a new extension

with a beautiful indoor pool.

Where: In the very pretty village of

Frant, with its strong community

ties – there is a film club in the

village hall – but just seven minutes'

drive from Tunbridge Wells.

Setting: In the beautiful landscape

of the High Weald AONB.

Beds: 8 Baths: 5

Special feature: The

stunning indoor pool.

Pleasing details: The house is

exceptionally light and airy.

Outside: Extensive partly-walled

gardens with lawns, borders and

mature trees, with a west facing

entertaining terrace, also accessible

from the pool extension.

Time to town: One hour on the

Charing Cross/Cannon Street line

from 'Frant' station (actually 2.5

miles away in the neighbouring

village Bells Yew Green).

Agent: Savills, Tunbridge Wells

01892 507000 savills.com

priceless-magazines.com

14
---
£875,000

The Strand,

Winchelsea

The dream: A very characterful property

made up of three component parts. The

three-storey main house dates back to the

15th century and is partly stone and partly

tile-hung on the exterior, with beams

galore outside and in. Two-storey Crows

Nest Cottage has been linked to the main

building and Rye Bay Cottage is a separate

converted coach house in the garden.

Where: In the Conservation Area in the

historic Ancient Town of Winchelsea.

Setting: At the base of the hill on

the edge of the town, with views over

adjoining National Trust farmland.

Meandering paths lead up to the town.

Beds (main): 7 Baths (main): 7

Special features: Inglenook fireplace.

Pleasing details: The cottage offers great

opportunities for holiday rental income.

Outside: A pretty garden with lawns, borders,

a gravel terrace and ornamental water features.

Time to town: Just over an hour to St

Pancras, via Ashford International.

Agent: Phillips & Stubbs, Rye,

01797 227338 phillipsandstubbs.co.uk

£700,000

Marina Court

Avenue

The dream: A rare chance to buy one

of those properties that you always

notice walking through a town – in this

case a flat in the terrace of Edwardian

'Moghul' houses right on Bexhill seafront,

built by Arthur Blackford in 1906.

Where: Just along from the

De La Warr Pavilion.

Setting: Bang in the town

– right on the sea.

Beds: 4 Baths: 2

Special features: A conservatory, so

the view can be enjoyed all year.

Pleasing details: Lovely high ceilings and

large windows, to maximise the sea light.

Outside: The sea, which can be

enjoyed from the front garden.

Time to town: An hour and 45

to Charing Cross, or St Pancras,

via Hastings/Ashford.

Agent: M&W Property,

St Leonards 01424 420073

mandwsalesandlettings.co.uk

15 priceless-magazines.com
---
MAXIMISE THE VALUE

OF YOUR LAND

Have you got a large

garden or plot of land?

We are experts at working

with owners to maximise

the full value of their land

Industry leading experts

We take care of the planning permission!

The risk-free way to maximise your land

Zero cost to you!

Planning laws are changing

Act now before its too late!

What our clients say…

"The team had a huge amount of

knowledge and every step was handled

in a professional manner. Their excellent

relationship with the local planning

department helped achieve a fantastic

result for us. We would have no

hesitation in recommending them to

anyone who wants to achieve planning".

Amanda and Robert Petch

June 2016

"The cost involved to try and

get planning on our land

were just not feasible for us.

Working with Country House

meant we didn't have to risk

our money as they took care

of everything"

Mr C Partridge (Loose, Kent)

September 2016

For a free appraisal call 0843 557 4080

www.maximisemyland.co.uk

sales@countryhousehomes.co.uk

priceless-magazines.com

16

"Guy and team at CHH did a fantastic

job securing planning permission on

our rear garden plot. Although a fairly

problematic application (which took

over 18 months), they kept us informed

throughout the entire process.

I would certainly use them again"

David J (Oxted, Surrey)

January 2017
---
Residential Sales

#TheGardenOfEngland

Estate Agents

Sellindge

Guide £1,450,000

A stunning barn conversion with annexe/office and

4 bay car barn. Views to North Downs.

In all about 2.44 acres

Little Chart

Guide £1,350,000

A Grade ll listed period house with guest

annexe and car barn.

In all about 2.5 acres

Smeeth

Guide £1,250,000

A well equipped period farmhouse with holiday

cottage, outbuildings and tennis court.

In all about 2.94 acres

Nr Faversham

Guide £1,050,000

A most attractive period house with beautiful

features and a separate cottage, just minutes

from the M2. Large gardens.

Tenterden

Guide £925,000

A beautiful cottage in a fabulous tucked away

location in the town.

Delightful gardens backing onto fields.

Appledore

Guide £925,000

A charming converted coach house and gardens

in the centre of the village.

Hobbs Parker Estate Agents www.hobbsparker.co.uk

Ashford 01233 506260 Tenterden 01580 766766

17 priceless-magazines.com
---
GILL WOOD,

WADHURST PLACE

PRICES FROM £685,000

3 & 5 bedroom homes

2 & 3 bathrooms

3 reception rooms

Situated in an elevated position in an Area

of Outstanding Natural Beauty on the

outskirts of the much sought after village

of Wadhurst in East Sussex, Gill Wood

is a stunning new development of just

28 homes set in Wadhurst Place, which

enjoys spectacular views over the Wealden

countryside including 47 acres of woodland

that are private to the development.

01892 640 316

TUNBRIDGEWELLS@HAMPTONS.CO.UK

HAMPTONS.CO.UK/GILL-WOOD

PLOT OR NOT?

If you think your land or property has development potential,

why not give us a call without obligation and in confidence.

MediaForceWT230-HAMPTONS.indd 1 11/06/2021 13:02

WE ARE ALWAYS ON THE LOOKOUT FOR LAND AND PROPERTY WITH DEVELOPMENT POTENTIAL

Many of our clients retain our services and, in the majority of

cases, pay our fees saving property owners significant costs.

Commercial buildings for residential conversion, former public houses, redundant

buildings for redevelopment, buildings for conversion or replacement, houses

for improvement, large sites on the edge of town, barn conversions, large

gardens in residential areas and major regeneration projects.

Contact Stephen Donnelly on

07739 514350 or 01892 579937

website: sjd-projects.com

email: steve@sjd-projects.com

For regular updates, visit us at

twitter.com/projects

priceless-magazines.com

18

SJDprojectsWT227.indd 1 25/02/2021 10:59
---
Preserving your place in history

DESIGN & PLANNING | RESTORATION | NEW BUILD | BARN CONVERSIONS | EXTENSIONS | JOINERY

For a brochure or home consultation call 01797 366895

www.anthony-hicks.co.uk

19 priceless-magazines.com
---
JAMontheMarshWT230.indd

Make

1

the most

15/06/2021 15:22

of your visit!

Hire a bike, grab a helmet and explore the

delights of Rye and the surrounding area.

Go further and see more with an ebike!

01797 229 351 • 07951 688 974

info@ryebay-ebikes.co.uk

Electric Bikes - Sales - Servicing - Hire

Unit G15, Rye Industrial Park, Harbour Road, Rye. TN31 7TE

priceless-magazines.com

20

RyeBayE-BikesWT230.indd 1 18/06/2021 17:40
---
Notebook

What to do and see near you this month

The Secret

Garden Live

New Creations Collective is proud to announce a brand-new,

original production of The Secret Garden at Lullingstone Castle

on Wednesday 28 July. This is the first professional dance

adaptation in the UK, based on Frances Hodgson Burnett's

bestselling novel, re-telling the story through classical music

and dance. Join Mary on her journey to discovering The

Secret Garden in this family friendly production, guaranteed

to be an unforgettable experience for audiences of all ages.

Featuring a brand-new score, composed by Adam Kornas

and original choreography by Nina Monteiro, the iconic

story is brought to life like never before, in this high-quality,

one-hour ballet. The Gatehouse entrance will be ready

to welcome visitors at 1.45pm and after the performance

there is the opportunity to enjoy The World Garden

and grounds until 5pm. For tickets (adults £17/children

£13) visit thesecretgarden.live and for more information

on getting to Lullingstone, see lullingstonecastle.co.uk.

As you like it

The award-winning Guildford

Shakespeare Company's 15th Open

Air Season continues in July with

Shakespeare's gloriously sunny comedy

As You Like It, from 19-31 July. Full of

beautiful songs, enchanting characters,

and a fabulous feel-good story,

As You Like It is a celebration of human

nature's desire to forgive and forget,

to love and to laugh. To escape the

tyrannous Duke Frederick's reign,

Rosalind escapes with her cousin and a

cheeky jester into the Forest of Arden,

a playground of hopes and dreams.

Away from the stifling court, this

merry trio discover that the outdoors

has more to offer than just refuge, and

where freedom of thought liberates, so

too can romance flourish for each and

everyone. The venue for the Forest of

Arden is Racks Close, a former chalk

quarry in the heart of Guildford town

centre. Now a luscious oasis of green, the

venue has played host to the company's

previous shows Robin Hood (2018) and

A Midsummer Night's Dream (2017).

guildford-shakespeare-company.co.uk

Shine a

light

On 16 & 17 July, no-waste

warriors Haines Collection

will be running lampshade

workshops for beginners. Join Jules

Haines at her Groombridge office

to make your very own professional

looking 30 or 40cm drum lampshade

in just 3 hours and with half a metre of

fabric. The course costs £65 and all the

kit to make your shade will be provided,

you'll just need to come along with half

a metre of your preferred fabric, or look

online at hainescollection.co.uk to buy

your fabric to have ready on the day.

21 priceless-magazines.com
---
Notebook

Prize

Sculpture

The Hannah Peschar Sculpture Garden is thrilled

to present their inaugural sculpture award, aiming

to celebrate emerging talent and raise funds

and awareness for WWF-UK. Students from

Camberwell College of Arts were invited

to create a piece of sculpture inspired

by the Sculpture Garden, embracing

the theme of sustainability – a core

focus of WWF-UK. Their work

will be on display for 4 weeks

in June to July, culminating in

one winner being chosen to

receive the 'Hannah Peschar

Sculpture Award'. Amongst

various events, the exhibition

will climax with a special

fundraising evening; featuring

speakers from the Sculpture

Garden, WWF-UK, delicious

nibbles from The Salt Box, and

the presentation of the award.

hannahpescharsculpture.com/

sculpture-award-2021

Body

Language

Visit Watts Gallery Artists Village in Guildford to

experience a Cornish summer in Compton through the

colourful paintings of Henry Scott Tuke (1858-1929).

Influenced by the European avant-garde, Tuke is best known

for his depictions of nude males swimming, messing about

in boats and sunbathing. This exhibition explores the varied

reception of his most significant works and considers how

they provoke challenging questions about the depiction

and exhibition of the body, both in the artist's lifetime

and today. Prebooking is essential and admission

starts at £12.50

wattsgallery.org.uk

Plant

Power

Be sure to pop into Cranbrook's houseplant

hub, The Glasshouse, who opened their

doors on Stone Street at the end

of June. Find a wealth of stylish

species all grown as part of The

Glasshouse social initiative

which sees disused prison

glasshouses repurposed

to provide horticultural

training and employment

to ex-offenders. The

project is based at HMP

East Sutton Park in Sutton

Valence where a team of

ex-offenders care for, grow

and propagate temperate

house plants whilst training

to reach a level 2 horticultural

qualification. theglasshouse.co.uk

Pint-sized

Surrounded by the beautiful countryside at Loddington Farm, Kent, Blue Reef

Festival celebrates its tenth year in 2021 with its very own fun-size festival on 17

July. Enjoy live music from rocking bands on the main stage to mellow acoustic sets

on the Blue Reef deck. Make the most of Musket Brewery, based on the farm, for

all your refreshment needs and explore an array of stalls from super talented artists

and makers alongside locally produced food and drink, made from the crops grown

on Loddington Farm. If classics and customs are you thing, marvel at an array of

VW campervans, motorcycles, scooters and much, much more. bluereeffest.co.uk

LOOK FORWARD:

Having operated as an NHS vaccination centre since the

turn of the year, it is perhaps fitting that Guildford's G Live

is set to welcome Doctor turned comedian and author,

Adam Kay to its stage. Opening the doors in late August, it

welcomes two sell-out shows from Sarah Millican before the

writer of the Sunday Times bestselling book, This Is Going To

Hurt: Secret Diaries of a Junior Doctor, Adam Kay brings his

smash-hit stage show to Surrey on 31 August. This hilarious

and heart-breaking performance promises to be a real tonic

for everyone impacted by the pandemic. GLive.co.uk

priceless-magazines.com

22
---
• Interior Design

• Bespoke

Curtains & Blinds

• Unique

Upholstery

• Lampshades including

Pooky

• Huge Selection

of Cards

• Local Artisan's

Products & Gifts

CREATING OAK FRAMED

BUILDINGS THAT LAST

• Out Buildings • Oak Porches

• Offices & Garden Rooms • Bespoke

Oak Frames • Oak Framed Garage Kits

0800 193 1255

hboakframes.com

Come & see us at

THE WEALDEN TIMES

FAIR

(stand 22)

1st—4th July 2021

The Corner Shop

Highgate

High Street

Hawkhurst

TN18 4ER

01580 848303

07400 522081

HBOakFramesWT230.indd 2 07/06/2021 OohHowLovelyWT230.indd 15:25

1 16/06/2021 10:03

Hire Cruisers Ltd, Undercliffe Boathouse,

Bishops Way, Maidstone, Kent ME15 6XG

Telephone: 01622 753740

Email: boattrips@kentishlady.co.uk

Take a peaceful cruise

along the medway

• 1 hour trips to Allington Lock

• 3 Hour cruises, with lunch, to Teston

• Fully licenced bar

• Private hire for all occasions

• DJ and catering service available

Take in the sights and splendour of the

River Medway and Maidstone from

the comfort of your own seat aboard

the Kentish Lady River Boat. Also a

perfect venue for a wedding reception

or private party.

www.kentishlady.co.uk

23 priceless-magazines.com

LolaAndMaseyWT230.indd 1 07/06/2021 KentishLadyRiverCruisesWT230.indd 15:38

1 10/06/2021 14:09
---
Make your outdoors as comfy as your indoors

LUXURIOUS SHEPHERD HUTS & PODS • OUTDOOR STRUCTURES • FURNITURE • OUTDOOR GYM EQUIPMENT

At Outdoorsy we cater for the superior

outdoor experience.

Explore our range of luxurious shepherd huts, glamping pods,

outdoor structures, furniture and outdoor gym equipment to find

everything you need to make your everyday feel like a holiday.

We are

exhibiting at the

Wealden Times

Midsummer Fair,

1-4 July.

Come &

see us at

Stand 54

Customer Services:

01622 844 238 Find Us On Social Media Twitter instagra

info@outdoorsy-living.co.uk

www.outdoorsy-living.co.uk

OutdoorsyLivingWT230.indd 1 16/06/2021 11:46

55 Cinque Ports Street

Rye

East Sussex

TN31 7AN

3 Landsgate

Rye

East Sussex

TN31 7LH

01797 360353 | rye@handmaderugs.co.uk | www.handmaderugs.co.uk

Now open in two lovely showrooms in Rye, we look forward to welcoming you.

Monday, Wednesday, Friday and Saturday 10am to 5pm | Tuesday and Thursday by Appointment or Home Visit

priceless-magazines.com

24

HandmadeRugsTenterdenWT230.indd 1 17/06/2021 17:42
---
Only £895 for

a fully fitted

electric door.

Gotta get a Garolla.

APPROVED

Thomas

Mansfield

The Family Law Solicitors

NOW ONLY

£895

WAS £1,354

INC VAT

WHAT'S INCLUDED WITH EVERY DOOR:

FREE EXPERT MEASURING & FITTING

TWO REMOTE CONTROLS

ACOUSTIC & THERMAL INSULATION

AVAILABLE IN 21 COLOURS

FREE DISPOSAL OF YOUR OLD DOOR

Offer valid for openings up

to 2.6m wide & inc: 2

remote controls, 55mm

white slats, internal manual

override.

WILL YOUR DIVORCE COST

YOU EVERYTHING?

Garolla garage doors are strong and

solidly built. They're made to measure in

our own UK factories. The electric Garolla

door rolls up vertically taking up only 8

inches inside your garage.

Our expert installers will fit your new

door and take away the old one so there's

no mess.

Give us a call today and we'll come

and measure up completely Free.

GOTTA GET A GAROLLA

CALL US TODAY

01252 216 025

MOBILE

07537 149 128

www.garolla.co.uk

When it comes to the breakdown of a

relationship, seeking specialist advice on

the financial arrangements is crucial.

GarollaWT230.indd 1 10/06/2021 14:40

At Thomas Mansfield, we have a team of

experienced lawyers ready to help you

achieve the right outcome.

Working with YOU, not just for YOU

Finances Children Collaborative Mediation Court

We are with you every step of the way

Call us today on

• Tax planning

• Profit improvement strategies

• Business development advice

• Inheritance tax advice

• Succession planning

• Payroll

Get in touch now to arrange your free consultation

01892 337540

For more information visit our website:

www.tmfamilylaw.co.uk

TUNBRIDGE WELLS LONDON SEVENOAKS TONBRIDGE MAIDSTONE

www.mageegammon.com 01233 630000 mg@mageegammon.com

25 priceless-magazines.com

MageeGammonWT194.indd 1 13/03/2018 ThomasMansfieldWT229- 12:30

WEALD (Family Law).indd 1 19/05/2021 18:33
---
CALL US TODAY: 01227 711621

OR VISIT: WWW.SCLGROUNDWORKS.CO.UK

ACCREDITED

CONTRACTOR

TRUSTED FOR MORE THAN

40 YEARS OF EXPERIENCE

priceless-magazines.com

KINGS YARD, THE STREET,

KINGSTON, KENT, CT4 6JQ

26
---
We are a group of qualified

psychotherapists offering

Cognitive Behavioural

Therapy and Counselling.

We are inviting you to change

your life. Work with us and we

will teach you the tools to manage

your unhealthy emotions and

move forward with your life.

IS ANXIETY

OR DEPRESSION

HOLDING YOU BACK?

E-mail us at:

contactus@enhancemindset.co.uk

Or visit our website

www.enhancemindset.co.uk

Local solicitors

for all your

personal and

business needs

Property

Wills, trusts and probate

Family and divorce

Employment law

Dispute resolution

Company and commercial law

Email info@bussmurton.co.uk Call 01892 510 222

For a free initial consultation with one of our

friendly and supportive psychotherapists.

TUNBRIDGE WELLS

EAST GRINSTEAD

CRANBROOK

Buss Murton Law LLP is a Limited Liability Partnership No. OC345994

and is authorised and regulated by the Solicitors Regulation Authority.

27 priceless-magazines.com

EnhancedMindsetWT230.indd 1 16/06/2021 Untitled-3 14:24 1 05/11/2019 10:54
---
ADVERTISEMENT FEATURE

PLANNING YOUR FINANCIAL JOURNEY WITH PANORAMIC WEALTH

The The most most part of our lives,

important has shown, part is to of

live it to financial have had product clients travel could the world, ever retire be. early bespoke since the firms 1930's. such as The ourselves family remaining. flourish Even as a business though owner. we have clients

and even buy boats which is infinitely more Part of this has been the consistency Even though we have clients across the

our lives, as 2020 has shown, Financial planning is a journey, ownership element means we across the country, we centre

the fullest. The most important factor impactful on their lives than any financial and loyalty of our team as together as a country, we centre ourselves around

is to live it to the fullest. The and we see it as such. We work empathise with Owner Manager ourselves around Tunbridge Wells

of this is not money, instead, it is you product could ever be.

team of 6, have worked with each other Tunbridge Wells and have continued to

and most your important life. Our philosophy factor at of Panoramic this with Financial you throughout planning is a journey, your lifetime and we see to cumulatively Business and for over understand 100 years. work very support and Bells have Yew continued Green Cricket to Club support and

is not Wealth money, is that instead, money is only it is the you vehicle ensure it as such. you We are work in with the you best throughout position rarely We have ends actually promptly been involved at 5 o'clock in the Trinity Bells Theatre. Yew With Green the town Cricket being Club so and

and your use life. to achieve Our philosophy what it is you wish at to financially your lifetime while to ensure also you giving are in the you best family Friday business just to environment start again since at the 9 on central Trinity to us Theatre. and our beliefs, With the we even town have being

Panoramic accomplish; PLANNING Wealth see places is that you want money YOUR to see is FINANCIAL peace position of financially mind. while JOURNEY also giving you WITH 1930's. Monday PANORAMIC The morning family ownership when element you WEALTH

are had so Chris central Burke, to a long us standing our friend beliefs,

only and the make vehicle endless you memories. use to Pensions, achieve peace As a of family mind. owned firm, we value means your business. we empathise Looking with Owner after Manager those illustrate we even our headshots have had for our Chris website. Burke, A

what Investments, it is you Protection wish to accomplish;

and Mortgages retaining As a family complete owned firm, control we value over retaining Business who own and their understand own work business very rarely is a Tunbridge a long Wells standing native himself, friend next illustrate time

see themselves places you are

he most

not want important

what to makes see part

us

of and our

as

lives, our have

complete own had clients destiny control

travel

over when the

our

world,

own much retire

destiny

early of the bespoke

ends particular firms

promptly

such as strength ourselves

at 5 o'clock

remaining. of Friday ours. just Starting flourish

to

as a business

you our are

owner. headshots at Tunbridge Wells for our train website. station A

make

humans

endless

tick as but

memories. 2020 what has proper shown, Pensions,

planning is to live can it to wider and when even financial

much buy of boats the

planning which wider is financial infinitely market more planning

is Part of start

and this has again

building been at the 9 consistency on

a

Monday

business

morning

can Even when

be though we make

Tunbridge have sure clients to have across Wells

a the look

native the 35

himself,

metre

next

do is allow the us to fullest. do the The things most important we love. factor We impactful market is being their lives consolidated than any financial leaving fewer and loyalty you of are our your team business. as together Looking as a after country, those we centre long ourselves mural depicting around the town's history.

Investments, Protection and being consolidated leaving fewer a challenging time but also quite time you are at Tunbridge Wells

T of this is not money, instead, it is you product could ever be.

team of who 6, have own worked their own with each business other is a particular Tunbridge Wells Those and we have work continued with are to and always will

Mortgages and your themselves life. Our philosophy are not at Panoramic bespoke Financial planning firms such is a journey, as ourselves

and we see cumulatively strength often for a over of lonely ours. 100 Starting years. experience and building so support a Bells Yew be train the Green most station Cricket important Club make and part of sure Panoramic to have a

what makes Wealth us is that as money humans is only tick the vehicle remaining. it as such. We Part work with of this you throughout has been We have business having actually can someone been be involved a challenging there to time guide but Trinity also Theatre. Wealth With look the and at town the part being of 35 so this metre is we have long been mural

but what you proper use to achieve planning what it is can you wish to the your consistency lifetime to ensure and you are loyalty in the best of our family business environment since the

quite you often through a lonely this experience period of so having time central to us and

recording depicting our beliefs, we

interview the even

styled town's have

podcasts history. in

accomplish; see places you want to see position financially while also giving you 1930's. The family ownership element had Chris Burke, a long standing friend

do is allow us to do the things we team as together as a team of someone can be there crucial. to guide It may you through be that this conjunction Those with we Weald work Productions. with are Topics and

and make endless memories. Pensions, peace of mind.

means we empathise with Owner Manager illustrate our headshots for our website. A

love. We Investments, have had Protection clients and Mortgages travel 6, As have a family worked owned firm, with we value each retaining other Business period you and are understand of time at the can work be other very crucial. rarely end It may of Tunbridge the be Wells we always native have himself, covered will next be included time the most the how important we can

the world, themselves retire are early not what and makes even us as cumulatively complete control over for our over own 100 destiny years. ends promptly that process you at are 5 and o'clock at the are Friday other looking just end to of the to process you exit are the at Tunbridge help part Owner Wells of Panoramic train Manager station Businesses, Wealth the and full

buy boats humans which tick but is what infinitely proper planning more can when We much have of the actually wider financial been planning involved start again and business at are 9 on looking Monday or pass to morning exit onto the when business a succession or make pass sure to have implications part a look of at this of the using 35 is metre we the have Bank of been Mum and

do is allow us to do the things we love. We market is being consolidated leaving fewer you are onto your a business. succession Looking plan after and those now more long than mural depicting Dad (BomaD) the town's and history.

impactful on their lives than any in the family business environment plan and now more than ever will recording interview

examining

styled

when you

podcasts

can

who own ever their will own it be business important is a particular to have plan Those of we work retire with and are and how always it is best will to do so.

strength it

action

of be ours. important

going

Starting

forwards.

and building to have

Regardless

a a plan

of

be

where

the of most important in conjunction part of Panoramic with Weald

business can be a challenging time but also Wealth and part of this is we have been

you

action

may be

going

through

forwards.

this journey

Regardless

of owning If Productions. you would like Topics to know we more have

quite often a lonely experience so having recording interview styled podcasts someone your where

there own to guide business, you may

you through one thing be through

this is the same; conjunction with about covered

Weald how Productions. we included can Topics help the you how through we can

period making this of time journey can the be right crucial. of decisions owning It may be at the your right we own time have covered your help included financial Owner the how lifestyle Manager we can to suit Businesses,

you,

that you is business, are what the will other determine one end thing of the how process is well the it same; works help Owner for Manager please the full Businesses, call implications Panoramic the full Wealth of using today the

and are you making looking and to your the exit family. the right business We decisions or have pass guided implications the many of using on Bank 01892 the Bank of Mum 595555 of and or Dad email (BomaD) -

onto a existing right succession time clients plan is and through what now this more will whole determine

than process Dad (BomaD) and journey@panoramicwealth.

and examining examining when you when can you can

ever will and it be understand important to what have is a plan required of for retire you to and how it co.uk. is best to do so.

action going how forwards. well it Regardless works for of where you and your retire and how it is best to do so.

you may family. be through We this have journey guided of owning many If you would like to know more

your own existing business, clients one thing through is the same; this whole about how we If can you help would you through like to know more

making the right decisions at the right time your financial lifestyle to suit you,

process and understand what is

is what will determine how well it works for please call Panoramic about Wealth how we today can help you

you and required your family. for We you have guided to flourish many as on a 01892 595555 through or email your - financial lifestyle to suit

existing business clients through owner. this whole process journey@panoramicwealth.

you, please call Panoramic Wealth

and understand what is required for you to co.uk.

today on 01892 595555 or email -

journey@panoramicwealth.co.uk.

PanoramicWealthManagementWT229.indd 1 20/05/2021 12:08

priceless-magazines.com

28

TimberGroupWT228-HLFH.indd 1 13/04/2021 15:39
---
A.T. Palmer Ltd

Restoration Specialists Est.1949

CELEBRATING 70 YEARS IN BUSINESS

| Employed Skilled Workforce

| Renovations & Extensions

| Conversions & Alterations

| Design & Build

T: 01233 770077

Smarden Business Estate, TN27 8QL

atpalmer.co.uk

29 priceless-magazines.com
---
CHRISTIAN BROWNE BATHROOMS

CHRISTIAN BROWNE BATHROOMS

CHRISTIAN BROWNE BATHROOMS

Luxury Bath Ware Products - Traditional Towel Radiators

REPRESENTING OVER TWENTY Luxury YEARS Bath Ware OF EXPERIENCE Products - Traditional OVERSEEING Towel THE Radiators SYMPATHETIC RESTORATION OF

BRITAIN'S HERITAGE. EXCLUSIVE

Free Standing

Free LUXURY Standing BATHWARE

Copper Baths

Copper Baths PRODUCTS,

-Toilet Systems

-Toilet Systems MARBLE VANITY UNITS, COPPER AND

CAST IRON BATHS AND TRADITIONAL Beautiful

Beautiful

TOWEL Showers

Showers

RADIATORS & Taps

Taps

BESPOKE TO YOUR REQUIREMENTS.

Marble Vanity Units

Luxury Bath

Marble

Ware

Vanity

Products

Units

- Traditional Towel Radiators

Luxury Bath Ware Products - Traditional Towel Radiators

CHRISTIAN Free BROWNE Standing Copper Baths BATHROOMS

-Toilet Systems

Free Standing Copper Baths -Toilet Systems

Heritage Beautiful Showers & Taps

Heritage Cast Cast Iron Iron Radiators, Radiators, Barretts Barretts Beautiful Park Park Farm, Showers Farm, Sandy & Cross Taps Lane, Old Heathfield, East East Sussex Sussex TN21 TN21 0DE 0DE , 01435 , 01435 868289 868289

Marble Vanity UnitsMarble Vanity Units

Heritage Cast Iron Radiators, Heritage Barretts Cast Iron Park Radiators, Farm, Sandy Barretts Cross Lane, Park Farm, Old Heathfield, Sandy Cross East Lane, Sussex Old TN21 Heathfield, 0DE , 01435 East 868289 Sussex TN21 0DE , 01435 868289

HeritageGroupWT227-RADIATORS.indd 1 09/03/2021 15:14

Wills

Elderly and

Vulnerable

People

Inheritance Tax

and Trusts

PMS

3155

Wills, Trusts and

Inheritance

Disputes

Powers of

Attorney

Deputyship

We're right by you

Probate and

Administration

C 88

M 35

Y 38

K 5

We understand that life Luxury planning Bath is very Ware important Products to - everyone. Traditional Our Towel teams Radiators work with you as life changes

and significant events occur. Free Whether Standing your Copper twenties Baths or in retirement, -Toilet Systems the unexpected can happen to us

all. Our Private Client team are here to Beautiful support you Showers through & all Taps stages of your life.

Marble Vanity Units

enquiries@berryandlamberts.co.uk www.berryandlamberts.co.uk

TUNBRIDGE Heritage Cast WELLS Iron Radiators, SEVENOAKS Barretts Park Farm, PADDOCK Sandy Cross WOOD Lane, Old Heathfield, East Sussex TN21 0DE , 01435 868289

01892 526344 01732 460565 01892 833456

priceless-magazines.com

30

Berry&LambertsWT227.indd 1 15/03/2021 16:55
---
ADVERTISEMENT FEATURE

Meet the

Designer

How did your career begin?

I studied design at university and then

went on to work in a large construction

company, doing site management

and logistics. I really think having

those years working in the middle of

a busy construction company has

enabled me to understand all aspects of

the project and not just the designing.

Can you tell us a little about your team?

I am very lucky that most of my

team are family! We all work really

well together and it's great to be

able to fully trust my whole team.

My wonderful fiancé runs so much

of Hogwood House behind the

scenes so I can spend time creating

designs. I even brought my Mother

out of retirement to run the

studio, I am hoping she'll forgive

me for that one day!

Meet Joely Kate Woodward, Creative Director at Hogwood House,

as she tells us all about her career, her team and her design aesthetic

What has been your favourite

project so far?

Oh that is a very hard question to

answer! We have a few at the moment

that are really quite special so

keep your eyes peeled for them. I

really love it when a client has some

unique ideas, as we say 'Dare to

be different'.

Can you describe your

ultimate dream kitchen?

PINK! It is no secret that I am mad

about pink and this love seems to

be spreading through the team.

Pink teamed with antique brass is

always top of my inspo boards at the

moment. Walk in larders and

pocket door system pantries are our

favourite to design and really give

any kitchen that WOW factor.

What trends have you been tuning

into recently in your designs?

Pantries are a huge thing at the

moment and thankfully we can make

all of ours fully bespoke to really

suit the individual needs. Whether

you want a home gin bar with a

beautiful smoked glass splashback or

a breakfast area to hide away all

the mess of the morning rush!

What's your can't-live-without

kitchen gadget/appliance?

Two things in my own kitchen and studio

I cannot live without: my integrated

coffee machine and the amazing

Quooker tap. We go through

a lot of coffee here!

What's in the pipeline for

Hogwood House?

We'll let you in on a little secret...

Hogwood House is opening up a second

studio and homewares shop in the

near future. We are excited to sell

amazing décor to finish off our designs.

Oh and of course more cute

photoshoots with the dogs!

To find out more about Hogwood House you can call us at our

showroom on 01227 831 663 or visit www.hogwoodhouse.co.uk
---
Come & see us at the

Wealden Times Midsummer Fair

Caring for your pets

through the pandemic

With everything that's been

happening recently, it's all too

easy to forget about the health

of our animals. So many practices

have closed or been forced to make

cuts, making regular veterinary care

difficult. Just because the world has

ground to a halt doesn't mean claws

stop growing or teeth clean themselves.

Then there's the more important preventative treatments such as

vaccinations and worming. These regular trips to the vet are what

keep our furry family members healthy. That regular contact

enables us to notice any changes that might be an indication of

something more serious.

Here at Heronden, we're proud of the fact that we've managed to stay

open and offer a full service to our clients - though you might have

been the one left shivering in the car while your pet was inside in the

warm. We've also been able to deal with pretty much everything that's

been thrown at us - from broken legs

to tumour surgery. That's because,

unlike a lot of practices, we deliver

referral-level diagnostics and treatment

in-house. So you don't have to wait for - or travel to - appointments at

referral centres.

We already offer orthopaedic and soft-tissue surgery, ultrasonography,

radiology, full laboratory analysis, even acupuncture. And now we're

expanding our Nurse Clinics. These can be booked free of charge for

any little worries you might have, as well as weight and dental checks

or advice on diet and nutrition.

If you're one of the many people who have taken their first steps into

pet ownership during lockdown, we'd love to see you at one of our

free Nurse Clinics. lt's so important to

make regular vet visits with your new

friend, and we pride ourselves on being

with you through every stage of your pet's life.

It's been clear during the pandemic just how important pets are to us

- for friendship, for company and for solace. It's only right that we

should look after them as they look after us.

The caring, independent veterinary practice in Tenterden

Pickhill Business Centre · Smallhythe Road · Tenterden · TN30 7LZ

Telephone: 01580 763303 · Email: info@herondenvets.co.uk

www.herondenvets.co.uk
---
Thomas

Thomas

Mansfield

Wills Wills Wills & & Inheritance & Wills Inheritance & Inheritance Planning

Planning Planning

HERITAGE SPECIALISTS

Planning Planning for Planning for your for your your future for future your does future does not not have does not have to not to have to to

be be costly be costly or be or complicated

costly or or complicated

BUILT ON REPUTATION & QUALITY

Having Having a Will a Having Will a gives Will gives a gives you Will you control you gives control you over over control who over who who over who

receives receives your your receives assets your assets your and, and, assets if and, you if you if have and, you have if younger have younger have younger

children, children, it allows children, it it allows you you it to allows you to assign to you assign legal to legal assign legal guardians,

guardians, legal guardians,

should should anything should anything happen. anything happen. happen.

If you If you If are you are intending If are you intending are to intending to leave to leave everything to leave everything to everything to your your to your to your

partner partner and/or partner and/or children and/or children without children without any any without complex any complex any complex

wishes, wishes, then then wishes, we then we are we are then now are now we offering now are offering now a new a offering new a Simple new a Simple new Simple

Will Will service Will service Will at at an service an at affordable an affordable at an price affordable price price but but without but price without but without

compromising compromising on on our our on specialist our on specialist our advice specialist advice and and advice and and

service.

service. service.

And And we And we have we have And have now now we extended now have extended now this extended this offer this offer to offer this to Lasting

to offer Lasting to Lasting

Powers Powers of of Attorney Powers of Attorney of (LPA). Attorney (LPA). If your If your (LPA). If circumstances

your If your circumstances

are are straightforward are are straightforward and and not and not complicated, not and complicated, not complicated, we we we we

can can draft can draft a draft can Simple a a draft Simple LPA a LPA Simple for LPA for a fixed for a LPA fixed a fee. fixed for fee. a fee. fixed fee.

Thomas Thomas Mansfield Thomas Mansfield Solicitors Mansfield Solicitors Solicitors

Legal Legal experts Legal experts in in Inheritance experts in Inheritance in Inheritance Planning, Planning, Powers Planning, Powers of of Powers of of

Attorney, Attorney, Wills, Attorney, Wills, Court Wills, Court of of Protection Court of Protection of and Protection and Probate. and Probate. and Probate.

OUR OUR OUR NEW NEW OUR SERVICES

NEW SERVICES SERVICES

Our Our new Our new Simple new Our Simple Will new Will Service Simple Will Service Will costs costs Service costs costs

£225 £225 plus £225 plus VAT plus VAT £225 for VAT for plus a single a for VAT a single Will for Will a single Will Will

£295 £295 plus £295 plus VAT plus VAT £295 for VAT for plus two two for "mirror" VAT two for "mirror" Wills. two Wills. "mirror" Wills. Wills.

TRADITIONAL & MODERN ROOFING

Ashford &

Cranbrook Roofing

01580 242925

www. c r a n b r o o k r o o f i n g . c o. u k

CLAY TILE , SLATE & CEDAR ROOFING

Our Our new Our new Simple new Our Simple new LPA LPA Service Simple LPA Service LPA Service

Prices Prices start start from Prices start from £350 from start £350 for £350 from for a single a for £350 a single application for a single application application

Call Call today Call today Call on on 01483 today on 01892 610499 on 01483 337540 610499

For For more more For information more For information more and information and the and the terms terms the and of terms these of these of terms these of these

offers offers please offers please please visit offers visit our visit please our website:

our visit website: our website:

www.tmwillsandprobate.co.uk

www.tmwillsandprobate.co.uk

GUILDFORD TUNBRIDGE WOKING GUILDFORD WELLS WEYBRIDGE LONDON WOKING SEVENOAKS ESHER WEYBRIDGE ESHER TONBRIDGE LEATHERHEAD

ESHER MAIDSTONE LEATHERHEAD

NOW PRODUCING

KENT PEG TILES FOR OUR CUSTOMERS

33 priceless-magazines.com

ThomasMansfieldWT229-WEALD (Private Law).indd 1 18/05/2021 Ashford&CranbrookRoofingWT223.indd 11:27

1 04/09/2020 16:57
---
ADVERTISEMENT FEATURE

My sciatica

was so bad, it

was a struggle

just to put

my socks and

shoes on…

Phil Parsons from Staplehurst

was struck with back pain and

sciatica at the age of 38. But this

wasn't surprising given the stress

his body had suffered during his

very physical career.

His job as a freelance lighting technician

meant he was lifting heavy equipment and

stretching his body to its limit on a daily basis.

He often worked long and unsociable hours;

taking care of his back wasn't always a priority.

However, when the shooting

sciatic pain in his leg began to impact

on his daily activities, Phil knew he needed

to take his health seriously. He explains:

"To begin with, the sciatic pain would

come and go, and it was manageable with

painkillers. But soon it became constant and

started to affect the way I moved. It felt like I

had a tight wire between my lower back and foot,

stopping me from bending and stretching."

Soon, Phil found it increasingly

difficult to go about his usual daily activities:

James Pickering's team is changing the lives of

slipped disc and sciatica sufferers with IDD Therapy

Phil's strenuous job took a toll on his back, but IDD Therapy allowed him to continue working

"The pain began to impact on simple

things which I'd taken for granted, like

drying myself after a shower and putting

my socks and shoes on. Travelling to jobs

became more and more difficult too; getting

in and out of a car was a real struggle.

Worst of all, was the effect it had on

my family life: relationships at home were

strained. I was unable to keep up the pace

with my two young children, and my poor

wife had to put up with my moods; I felt low

and exhausted by the constant pain and the

last thing I wanted was to be around people."

"As the programme progressed, the

changes were huge. I've been free of

sciatica for over a year now."

Phil sought advice from his GP;

surgery was discussed, but with the risks

and waiting times, Phil knew this would

be his very last option. In the meantime,

he'd tried sports massage to ease the pain,

but this only gave him temporary relief.

Phil's pain came to a head in Summer

2019. When a friend mentioned that they had

been treated successfully with IDD Therapy

- a specialist disc treatment - at Wealden

Osteopaths, Phil was keen to investigate. A

consultation with Clinical Director James

Pickering confirmed that IDD Therapy was the

best option. James says: "I referred Phil for an

MRI scan and it confirmed my thoughts that he

was suffering a disc bulge which was irritating

his sciatic nerve – IDD Therapy is our firstchoice

treatment for this type of disc-related

condition; it uses gentle pulling forces to relieve

pressure on the discs and surrounding nerves."

Phil was hesitant initially:

"To be honest, I was a bit cynical about IDD

at first, but the pain was so bad I was willing

to try anything. James told me I needed to

commit to a series of treatments, but he assured

me that the result would be a significant

improvement in my pain and mobility. I

was also relieved to hear that I'd be able to

continue working during my treatment."

Phil found the treatment relaxing and he

was encouraged by the results after each session:

"Initially, I noticed small improvements

in my pain and mobility after each session. As

the programme progressed, the changes were

huge. I was still suffering from a little bit of

sciatic pain - something I felt I might have to

live with - but James assured me

that my body would continue to

heal after treatment, now that IDD

had given it a kick start. He was

right: two weeks later, I woke up

with no sciatic pain whatsoever.

I've been free of sciatica for over a year now.

If I get the occasional tightness in

my back from working particularly strenuous

days at work, I can stretch my back out

using the exercises James has shown me.

I'm still astonished at the difference IDD

Therapy has made to my health and quality of

life. My children have got their active Dad back;

we now enjoy bike rides, camping and plenty of

outdoor activities as a family. Great news during

the first lockdown, when I was their teacher:

unsurprisingly, PE was their favourite subject!"

Don't let back pain, neck pain or sciatica

put your life on hold. For a FREE 15

minute phone consultation with one of

our experts, call 01580 212833 or email

enquiries@wealdenosteopaths.co.uk
---
Put your best

face

forward

Dr Dr Christine Or is is an Award-winning Aesthetic Doctor, a member of B.C.A.M.

& trained in Harley Street. She offers a range of treatments, including:

• Advanced Wrinkle Reducing Injections

Advanced Wrinkle Relaxing Injections

• Dermal Filler Treatments • 8 Point Lift

Dermal Filler Treatments Point Lift

• Lip Enhancement • Treatment of Excessive Sweating

• Lip Enhancement Treatment of Excessive Sweating

www.drchristine.co.uk

www.drchristine.co.uk christine@drchristine.co.uk

07928 971683 | hello@drchristine.co.uk

07928 971683 Culverden 17 Down, High Street, Tunbridge Tunbridge Wells, Wells, Kent TN4 Kent 9SG TN1 1UT

BESPOKE AESTHETIC

TREATMENTS WITH A

WHOLE FACE APPROACH

Aesthetic Aesthetic Practitioner Doctor of the

of the Year Year 20162020

DrChristineWT204.indd DrChristineWT229.indd Lose 1 weight feeL great!

05/05/2021 22/01/2019 09:46 12:31

Lose Lose at at least least 14-16lbs of of of toxic toxic fat fat in in 4 weeks 4 and and transform

transform

your your health guaranteed with with RejuvaDetox

We We specialise in in the in the revolutionary RejuvaDetox system system - -

a holistic a wellness and and detox detox programme that that has has helped

helped

transform thousands of of men of men and and women's lives.

lives.

Ideal for:

for:

● Arthritis/Joint ● Pain

Pain

● Fibromyalgia

● ● Stress/Anxiety/Sleep

● ● Allergies/Low ● Immune

Immune

● Lymphatic ● Problems

Lymphatic Problems

● Digestive ● & Intestinal & Health Health

● Digestive Intestinal Health

● Migraines ● & Headaches & ● Migraines Headaches

● Cholesterol/Blood ● Pressure

● Cholesterol/Blood Pressure

● Skin ● Skin Problems

Skin Problems

● Constipation

● Then Then

Now! Now!

● Diabetes Constipation

● "I feel "I feel amazing! amazing! I have I have lost lost 1 stone 1 stone 6lb's 6lb's

● And Diabetes

● And much much more... more...

and and 21 inches! 21 inches! So happy, So happy, I've I've managed managed

www.healths-angels.com

to work to work around around going going away away and and a big a big

● And much more...

as seen in...

birthday birthday celebration! Feel Feel incredible incredible and and RejuvaDetox as seen as seen in... in...

Call Call 01322 555600

so comfortable so in my in clothes!" my clothes!"

RejuvaDetox as seen in...

Call 23 Bourne 23 Bourne 01322 road, road, Bexley, Bexley, Kent. 555600

Kent. DA5 1LW DA5 1LW

Gemma Gemma Bromley Bromley

23 Bourne road, Bexley, Kent. DA5 1LW

35 priceless-magazines.com

a

a

Est.

1999

www.healths-angels.com

HealthsAngelsWT229.indd 1 24/05/2021 12:48
---
priceless-magazines.com

36
---
Click

& Collect

Words: Maggie Alderson

Photographs: David Merewether Styling: Victoria Fowle

Victoria Fowle has created a remarkable family

home in St Leonards, lavishly sprinkled with fairy

dust touches and a cornucopia of thrift shop finds

37 priceless-magazines.com
---
Luxury Kitchens since 1892

Clear structures, sensible space. +SEGMENTO Y

Poggenpohl Tunbridge Wells

39-41 The Pantiles | Tunbridge Wells | TN2 5TE

phone 01892 240745 | tunbridgewells@poggenpohl.com

www.tunbridgewells.poggenpohl.com
---
Previous pages: The huge sitting room has been broken

up into two separate spaces through the effective use

of a contrasting dark and light colour palette

This page: Victoria updated the existing B&Q kitchen with

new painted doors, installing deep, open shelves above the floorlevel

units, to showcase her eccentric collections of objects

Nobody likes a braggart or a smug bunny – but it's

clear from the moment you step over the threshold of

this lovely spacious Victorian house that the bold and

imaginative creator of its quirky interior is way too modest.

Step forward Victoria Fowle and accept your

status as a super creative decorator!

And decorator is the term to use here, because

unlike so many of the lovely houses featured in this

magazine, which have undergone months of de- and

then re-construction, one of the biggest structural

changes Victoria and husband Matthew made was

changing the doors on the kitchen cabinets.

Both Hastings natives, they bought the house eight years

ago, moving west from their former home in quaint All

Saints Street, in the Old Town. While it is a very special

spot, with some of the houses Tudor and every era since

represented, the dwellings are small, garden space limited.

With their first child on the way they were looking

for room to spread out – and St Leonards is certainly

the place to find that, with an unusually ample stock of

large Victorian and Edwardian family homes. So perhaps

it's not surprising that it wasn't an overly stressful

39 priceless-magazines.com
---
This page:

The family's

dining room

seats twenty

people every

Christmas as

well as serving

as an ideal

space to enjoy

vinyl and the

occasional film

on a big pulldown

screen

property search. "We had only looked at a couple of

houses, when we found this one," says Victoria.

Right away they knew it was big enough for their

own growing family – and their large extended ones.

"Twenty people sit down here every Christmas,"

she says. "Christmas is always here."

While a grand dining room is great for that – and

they use theirs to screen films on a big pull-down

screen and play vinyl, too – for the other days of the

year, a kitchen big enough to house a table for the

family to sit at was the priority. "So the kids can sit and

do their homework while I cook," says Victoria.

Although the house's restrained décor was not to

Victoria's taste when they bought it, the original character

of the place had blessedly been preserved and needed

just a few tweaks to make it ready to switch to her vision

– stripping doors and floors being the first stage.

New doors, painted black and furnished with smart brass

handles, was enough to transform the existing simple B&Q

kitchen to bring it in line with Victoria's aesthetic. Deep, open

shelves above the floor-level units, made from scaffolding

planks, were then installed to showcase her eccentric

priceless-magazines.com

40
---
Bespoke Flooring

LONG & WIDE . PRODUCED IN KENT . FINISHED BY HAND

JOINERY

OAK FRAMED BUILDINGS DECKING CLADDING

For more information on pricing or fitting, or to place an order

CALL 01233 732179

VISIT orlestoneoak.co.uk
---
Above left: Shelves, units and walls throughout the house are

filled with collections of objects, artworks and conversationprompting

objects Above right: The downstairs loo is an eyepleasing

combination of raspberry red panelling and soft peach

walls Right: Weaving up between the three floors of the house,

the staircase is flanked by a continually evolving gallery of pictures

that Victoria has collected from boot fairs and charity shops

collections of objects, instantly filling the room with character.

The stuffed seagull – an eBay find – gives it a seaside

context and shares the top row with a classic Victorian

china dog, 1970s ceramics, a brightly patterned tin

tray and some plants. And that's just one shelf.

This pretty much sets the tone for the house. There

is a lot going on in every corner, but because it has

such generous proportions – and because one very

specific eye is behind all the choices – it never feels

cluttered. Rather, it feels rich and rewarding.

Indeed, at times, I had to stop and let myself

have a moment to take it all in, there are so many

lovely things to look at wherever your gaze falls.

The sitting room brought me to a halt, initially, for

another reason – it is so properly big. But what could be

an almost dauntingly large room has been cleverly broken

up with colour, into two more manageable spaces.

The original square room is painted a very matt

priceless-magazines.com

42
---
Museo Slab :: 300, 700, 900

ABCDEFGHIJKLMNOPQRSTUVWXYZ abcdefghijklmnopqrstyvwxyz 1234567890

ABCDEFGHIJKLMNOPQRSTUVWXYZ abcdefghijklmnopqrstyvwxyz 1234567890

ABCDEFGHIJKLMNOPQRSTUVWXYZ abcdefghijklmnopqrstyvwxyz 1234567890

Dominic Walmsley

DESIGNED BY

Enock Senoga

855.763.8669 Ext.204

design@SoftWashSystems.com

www.SoftWashSystems.com

Roof & Exterior Cleaning

To arange you free home visit and quote today, call

01233 550100

We clean it all!

Beautiful Bespoke

Jewellery

When you want a long-lasting, beautiful-looking

exterior for your home, choose an experienced,

professsional exterior cleaning company.

ü Roofs

ü Render

ü Stonework

ü Conservatories

ü Driveways

ü Cladding

ü Patio Cleaning

ü Moss Removal

ü Gutters

3 The Square • Riverhead

15% SPECIAL DISCOUNT

When you choose multiple services.

Quote ref. WT229.

01732 779 555 www.dominicwalmsley.com

Call us TODAY on:

01233 550100

... Or book your free quote at:

www.purple-rhino.co.uk

DominicWalmsleyWT230.indd 1 07/06/2021 PurpleRhinoWT229-QRT.indd 10:26

1 11/05/2021 10:12

ealdon Times 2021.indd 1 04/06/2021 11:03:46

traditional handmade

furniture

Woodworkkitchens.co.uk

Kitchens

Bedrooms

Studies

01892 533273

priceless-magazines.com

44

WoodworkWT227.indd 1 04/03/2021 11:29
---
Back in the main part of the sitting room, you could spend quite some time

making sure you have looked at each interesting thing, including two glassfronted

display cabinets housing shelves of Victoria's off-beat treasures

45 priceless-magazines.com
---
Above left & right: With a protective felt elephant's head on the

wall above the bed and Moomins, mermaids, donkeys, bunting and

a badger cushion, it feels like you are inside the illustration from a

children's book in daughter Jess' bedroom Right: For the bathroom,

Victoria chose a vintage-style basin backed with gold Art Deco

tiling. An old wooden tea trolley now serves as a storage unit

black, while the rear extension – about one third of the size

again, of the first part – is painted white, maximising the

light pouring in through the wall of glass at the back.

Tying the two spaces together, Victoria and Matthew

swapped the white UPVC French doors that were there, for

more contemporary black metal bi-folds. With those fully

opened, the sense of space becomes even more extraordinary,

leading the eye right out to the large south-facing garden.

A generous paved terrace runs across the back of the

house, with a dining table and chairs by MADE in the

section outside the sitting room, next to the big magnolia

tree, which has a very tempting swing hanging from it.

Back in the main part of the sitting room, you could

spend quite some time making sure you have looked at

each interesting thing, including two glass-fronted display

cabinet housings shelves of Victoria's off-beat treasures. Other

bargain-hunter finds pop up in more unlikely spots.

There is a lion sitting on top of the frame of a painting

by Rye artist Matt Hardman, depicting the landmark

priceless-magazines.com

46
---
ENSOR

i n t e r i o r d e s i g n

www.ensorinteriordesign.co.uk

Showrooms in Frant, Nr Tunbridge Wells and Cuckfield, Nr Haywards Heath

We are the UK's leading

restorer and repairer of

traditional, distinctive

oast cowls & kiln roofs.

EnsorInteriorDesignWT230.indd 1 02/06/2021 15:37

New cowl construction. Painting

& cleaning. Repair & maintenance.

Also specialising in Kent peg tile

roof repairs and kiln tile repairs.

Trusted over four family

generations by royalty, businesses

& homeowners alike.

Oast owners

Book a no-obligation visit

01622 725 898 / 07973 332 790

www.dudeandarnette.co.uk

est

47 priceless-magazines.com

Dude&ArnetteWT218.indd 1 09/03/2020 16:33
---
This page: Colour and pattern abound in Benjamin's room, where red metal gym-style lockers from IKEA stand alongside a clothes rail of

fancy dress costumes, vibrant prints and lots of toys

Palace Court building on Hastings sea front. Another

cavalcade of little figures marches across the top of the

mirror over the fireplace – with a puppet hanging down

for good measure. Of course, there is a disco ball.

With so much going on in the room, it was a clever

choice to have two identical large sofas – in teal blue velvet,

from Made. Likewise, a pair of matching candle sconces

(from Refound Objects, online) above one of the sofas

and a pair of Chinese paintings on the adjacent wall, add

a sense of unity to a room, which is a good idea with this

much decorative action. Stuffed kookaburras, anyone?

Another clever detail eluded my – somewhat preoccupied

– eyes, on my first visit into this room. It seemed as

though they didn't have a telly, until Victoria pointed it

out, sitting on a mid-century sideboard in the far corner.

Against the black-painted wall the black screen

simply disappears, which is a very clever way to play

down this most-intrusive of sitting room elements.

Heading back out to the hall to continue our explorations,

you head into what is probably the most striking feature

of the whole house (which is saying something): a French

hang of what Americans call 'thrift store' art, which covers

the entire extensive wall space in the hall, floor to ceiling,

and continues right up the stairs to the first floor.

That US term 'thrift store' in this country covers all

Victoria's favourite resources of boot fairs, charity shops,

junk shops and her favourite, Facebook Marketplace, where

she has gathered these pictures over the years. And she's

not done yet – she has plenty more ready to be hung and

the first-floor landing is going to be galleried with them.

The overall effect is exciting. The eye and the brain

immediately start hopping about, trying to take it

all in – but it's also interesting to take a moment to

stop and look a while at individual pieces.

priceless-magazines.com

48
---
Come

Try

Find our extensive range of walking and

running shoes at our new Cranbrook store.

Book an in-store shoe fitting and gait

analysis online!

Put a spring in your step.

Step into:

Podplus

Julie Rose Stadium

Ashford

TN24 9QX

Podplus

High Street

Cranbrook

TN17 3EE

PodplusWT230.indd 1 15/06/2021 09:29

New

patients

welcome

Stunning smiles at

Bupa Dental Care Cranbrook

Everyone's welcome at Bupa Dental Care Cranbrook -

you don't need to be a member or have insurance.

So why not register and experience quality dentistry today.

Call 01580 715 786 today

Bupa Dental Care is a trading name of Oasis Healthcare Limited. Registered in England and Wales no: 03257078. Registered office: Bupa Dental Care,

Vantage Office Park, Old Gloucester Road, Hambrook, Bristol, United Kingdom BS16 1GW.

DUK02662 | Jun19

49 priceless-magazines.com

BupaUkWT218.indd 1 24/02/2020 11:54
---
monarchoakDesign & Planning

Oak Frame Buildings

Over 50 years' experience making oak frame buildings

Design & Planning

Design & Planning

Restoration

New Build

• Garages Design

Restoration

& Planning

Extensions

Barn Conversions

New

• Garden Rooms Restoration

Build

Joinery

Extensions

• Complexes

New Build www.coxrestorations.co.uk

Joinery

• Gazebos www.coxrestorations.co.uk

• Bespoke Buildings www.coxrestorations.co.uk

T: +44 (0)1825 790 200 | E: showroom@tradingboundaries.com

01323 765410 Quality in its finest form

www.monarchoak.co.uk

Restoration

New Build

www.coxrestorations.co.uk

Open for Shopping | Thursday - Sunday

Barn Conversions

Extensions

Joinery

Barn Conversions

Extensions

Joinery

Trading Boundaries, Sheffield Green, East Sussex, TN22 3RB

WWW.TRADINGBOUNDARIES.COM

Design & Planning

Restoration

New Build

MonarchOakWT147.indd 1 26/07/2018 TradingBoundariesWT230.indd 12:30

1 18/06/2021 15:31

xrestorations.co.uk

Barn Conversions

Extensions

Joinery

Design & Planning

Restoration

New Build

Barn Conversions

Extensions

Joinery

Design & Planning

Restoration

New Build

Barn Conversions

COX

Developments

(Charing) Limited

Design & Planning

Restoration

New Build

Barn Conversions

Extensions

Joinery

Barn Conversions

Extensions

Joinery

COX

www.coxrestorations.

Developments

(Charing) Limited

www.coxrestorations.co.uk

www.coxrestorations.co.uk

Design & Planning

Restoration

New Build

Barn Conversions

Extensions

Joinery

www.coxrestorations.co.uk

For a free consultation please contact: 01233 714950

www.coxrestorations.co.uk

Established 1986

For a free consultation please contact: 01233 714950

For a www.coxdevelopmentscharing.co.uk

free consultation please contact: www.coxrestorations.co.uk

01233 714950

For a free consultation www.coxrestorations.co.uk

please contact:

Established

01233 714950

NATIONAL AWARD WINNER COX DEVELOPMENTS 1986

(CHARING) LIMITED www.coxrestorations.co.uk

– BEST Established SMALL DEVELOPMENT

1986

priceless-magazines.com

CoxRestorationWT138.indd 1 15/07/2013 15:12

For a free consultation please contact: 01233 714950

www.coxrestorations.co.uk

Established 1986

Established 1986

50

www.coxdevelopmentscharing.co.uk

NATIONAL AWARD WINNER COX DEVELOPMENTS

(CHARING) LIMITED – BEST SMALL DEVELOPMENT

For a free consultation please contact: 01233 714950

www.coxrestorations.co.uk

Established 1986

CoxRestorationWT202.indd 1 20/11/2018 12:33

CoxRestorationWT187.indd 1 CoxRestorationWT187.indd 1 21/08/2017 12:14

21/08/2017 12:14

CoxRestorationWT138.indd 1 15/07/2013 15:12
---
This page: In the master bedroom Victoria has used clothing as art, displaying fabulous embroidered and sparkly vintage pieces on

her side, and Hawaiian shirts and baseball jackets on Matthew's. The contents of the couple's day-to-day wardrobes are also on display

on an open rail, with a stack of colourful woolly jumpers on top. The peacock chair was a Facebook Marketplace find – it cost £7

There is no strict theme – flowers, still life, wild animals,

birds, beloved pets, landscapes, buildings, bucolic scenes,

winter scenes, Her Majesty the Queen, and the Virgin

Mary all feature (and I suspect I have left some genres out)

– and equally there is no set measure of, er, excellence.

Some of the pictures – a mix of original paintings

and framed prints – are lovely things in their own

right, while others are gloriously bad. There are some

marvellous examples of amateur home painting-fromphotographs,

while others are fabulously kitsch, such as

an early 1960s Woolworths print of gliding swans.

I was particularly impressed by the hanging on the

stairs – which I know from experience can be hard to

do – and when I asked Victoria how she goes about it,

she was characteristically modest. "I didn't plan anything.

I started at the top left and just kept going…"

Finding myself drawn up the stairs, by looking at

the pictures (I was particularly taken with those swans)

we headed past the Room of Doom, which is used

for storage – presumably a lot of it the collection of

artworks waiting for the next big hanging session.

Next to this is the bedroom of little Jess, four years

old and the happy resident of one of the nicest children's

rooms I've ever been in. It is the same mix of elements

as the other rooms – quirky finds and a mini picture

wall – all specifically chosen for this particular resident.

With an adorable floral fabric sausage dog on the bed, a

protective felt elephant's head on the wall over it, Moomins,

mermaids, donkeys, bunting and a badger cushion, it feels

like you are inside the illustration from a children's book.

One detail of this room is also reflected in the

other two bedrooms on this floor – with appealing

vintage clothes displayed as part of the décor. In

keeping with Jess's age, a classic smocked dress, a

dear little red blouse and a quilted jacket.

Next door, in seven-year-old Benjamin's room, where

two red-sprayed metal gym-style lockers (from IKEA)

give it a groovy male atmosphere, the clothing/art is

51 priceless-magazines.com
---
That US term 'thrift store' in this country covers all Victoria's favourite resources of

boot fairs, charity shops, junk shops and her favourite, Facebook Marketplace, where

she has gathered these pictures over the years. And she's not done yet – she has plenty

more ready to be hung and the first-floor landing is going to be galleried with them

two child-sized Peruvian ponchos, plus a clothes rail of

fancy dress costumes, with Spiderman prominent.

In the master bedroom the clothing-as-art theme

reappears, with fabulous embroidered and sparkly vintage

pieces hanging from the picture rail, on Victoria's side,

with Hawaiian shirts and baseball jackets on Matthew's.

There is also an open rail of colourful clothing, with a

very appealing stack of woolly jumpers on top. The sheer

scale of the house is also apparent in this room, where

there is space for a large bed with a rattan headboard,

a full-sized sofa and a truly fabulous peacock chair.

This was one of Victoria's most pleasing Facebook

Marketplace finds – it cost £7. The striking orange egg

chair in the sitting room was also from there, as was the

sign of coloured lightbulbs spelling out 'hello', in the

hall and two very special mahogany and glass display

cases from a jewellery shop in Battle. "I love it," says

Victoria. "It's my favourite place to find things. It's

become almost a full-time job looking on there…"

The last room on this floor is also full of finds from

that online emporium – and the fact she has managed

to get so many interesting objects into a relatively small

bathroom, sums up what is so special about this house.

As well as a very nice vintage-style basin and

handsome marble and gold Art Deco tiling, Victoria

has made it uniquely her own with the addition of

priceless-magazines.com

52
---
The Oak

Glasshouse Company

Tenterden Roofing Co.

Established roofing in Kent and Sussex

• Kent Peg Tiling • Clay & Concrete Plain Tiling • Interlocking Concrete Tiling

• Slating • Cedar Shingles • Roofing Windows • Guttering • Leadwork

• Fascia, Soffits & Bargeboards • Storm Damage & Insurance Work

Oak garden

offices and

studios

email: tenterdenroofingcompany@gmail.com

call: 01580 241000 / 01233 860301 • mobile: 07921 509 564

www.tenterdenroofing.co.uk

REQUEST A BROCHURE TODAY

07522 544158 | info@theoakglasshouse.co.uk

www.theoakglasshouse.co.uk

OakGlasshouseWT223A.indd 1 04/09/2020 TenterdenRoofingWT202.indd 11:00

1 22/01/2019 15:08

ANTIQUE & UNIQUE

By Grand Designs - Now Open in Bexhill

This is a large shop with lots of antique, modern and unique items.

Friendly and welcoming. Valuations available. Always open to buy. Local free delivery.

We accept all Major Credit cards. Off road parking on front forecourt. Open 7 days a week.

ANTIQUE & UNIQUE: 96 London Road, Bexhill, TN39 3LE. T: 01424 213591

GRAND DESIGNS: 24-25 Grand Parade, St. Leonards On Sea, E. Sussex T: 01424 436 876

53 priceless-magazines.com

Antique&UniqueByGrandDesignsWT230.indd 1 15/06/2021 10:12
---
CurveGardenRoomsWT212.indd 1 02/09/2019 10:44

BEAUTIFUL CONVERSIONS,

RESTORATIONS AND NEW BUILDS

Get in touch today to talk to us about your project:

01580 857718 | 07587 272928 | mike@phoenixdc.co.uk | phoenixdc.co.uk

priceless-magazines.com

54

PhoenixDesignWT229.indd 1 24/05/2021 12:44
---
Top: Matthew created a shell mural on the garden wall next to the pizza oven

Above & right: A children's play and study area leads out into the garden where a

generous paved terrace runs across the back of the house

an old wooden tea trolley as a storage unit and – one

of my favourite things in the whole house – a pirate's

head mug with the family toothbrushes in it.

Somehow that one thing seems to sum up the happy

clamour of this lively family home – pulled together by

someone with the imagination to see how an unexpected

object used in an unexpected place elevates both the object

and the room it is in. A super-creative decorator indeed.

Address Book:

You can follow victoria and her house

progress on Instagram @in.the.new.year

Matt Hardman matthardman.co.uk

Nadia Field Stylist nadiafieldstylist.com

55 priceless-magazines.com
---
West End House

Art Gallery

Looking for inspiration

for your home or the

perfect present?

Contemporary gallery in beautiful,

historic Smarden. Paintings, prints,

ceramics, glass, jewellery and crafts

at all prices from artists near and far

www.westendhousegallery.co.uk

West End House, Water Lane, Smarden, TN27 8QB

01233 770261 • girls@westendhousegallery.co.uk

Browse our easy to use online store

artspringgallery.co.uk/shop

Open Wed - Sat 11-4

167 High Street, Tonbridge, TN9 1BX

T: 01732 365924 E: gallery@artspringgallery.co.uk

SHOP ONLINE

WestEndHouseGalleryWT230.indd 1 11/06/2021 ArtSpringStudioWT230.indd 16:30

1 15/06/2021 10:15

26 t h Summer Exhibition

'Spring Day, Shell Beach' Oil on Board 80 x 101cm framed

'For the Roses' Oil on Board 44 x41cm

Two Floors of Original Contemporary Paintings & Sculpture by Established,

Award-Winning & Emerging Artists of a standard rarely seen out of London.

23 The Pantiles, (Lower Walk), TunbridgeWells, TN2 5TD Tel. 01892 525 525 www.fairfaxgallery.com Est 1995

priceless-magazines.com

56

FairfaxGalleryWT230.indd 1 16/06/2021 12:56
---
Get the

LOOK

See Ragged

Rose and

Homebody Decor at

the Wealden Times

Midsummer Fair

2021

1 Percy Parrot wall light £100 Homebody Decor homebodydecor.co.uk 2 'Phillip, a Somerset Lass' by Claire Longley £180 ArtSpring Gallery

artspringgallery.co.uk 3 Crashing wave art frame £300 Jo Downs jodowns.com 4 'Spring Flowers' by Fred Morgan (1847-1927) for sale at Parker Fine

Art Auctions parkerfineartauctions.com 5 'For the Roses' by Adrian Parnell Fairfax Gallery fairfaxgallery.com 6 Graphite wall paint £21.95/l Annie

Sloan anniesloan.com 7 Loveage wall fitting £79 Pooky pooky.com 8 'Grandview' by Dion Salvador Lloyd £2,950 Belgravia Gallery belgraviagallery.com

9 'Beaulieu-sur-Mer' poster by Charles Avalon £420 Pullman Editions pullmaneditions.com 10 'Fishing Boats, Sizewell, 1920' by James McBey

sold for £360 at Parker Fine Art Auctions parkerfineartauctions.com 11 'White Spring Flowers in Glass' by Annie Waring £480 McAllister

Thomas mcallisterthomasfineart.co.uk 12 'Champagne Celebration' limited edition by Sherree Valentine Daines £795 Trew Art trewart.com

13 Tiger Lily showerproof garden cushion £25 Ragged Rose raggedrose.com 14 Meghan yellow cushion £19 Homebody Decor homebodydecor.co.uk

15 Alma rustic orange velvet chair £495 Ragged Rose raggedrose.com 16 Haresfield sofa in Napoli Airforce £3,584 Sofas & Stuff sofasandstuff.com

57 priceless-magazines.com
---
Extend your Living Space this summer with a

Markilux Awning from ABS Blinds of Tenterden

GreenfinchShopWT230.indd 1 15/06/2021 11:01

• Self Cleaning Fabrics

• Remote Control

• Heaters

• Motion Sensors

• FREE FITTING

• Call into our showroom and have a look

• •

•

ABS Blinds and Curtains

Friendly,

19

1999 - 2021 2019

222Y

YEARS OF T

Blind Blind

ABS

TRADING

family

run

business •

19

Friendly, Friendly, fa fa

2Y

T

Tel: 01580 765169

www.absblinds.co.uk

7 Ashford Rd, Tenterden, Kent, TN30 6AB | Mon-Fri 9am-5pm Sat 9am-3pm

●

●

priceless-magazines.com

58

ABSBlindsWT230.indd 1 11/06/2021 15:15
---
Windows of

Opportunity

Give your windows an update with our

collection of expert tips

Being both indoors and outdoors, windows occupy

a unique space in our homes and deserve careful

consideration. As a source of both light and

movement, they naturally draw the eye so they are key to

achieving a successful interior scheme. But they are also

the eyes of the house and can give a property a real facelift

for that all-important kerb appeal. We've asked the

experts, gathered a few key tips and explored our archives for

inspirational ideas for your window make-over.

"Allusion Blinds create an instant impact with

something a little different. Great for Bifold doors,

these versatile blinds offer the ultimate in shading

flexibility and privacy along with stunning fabrics.

Cleverly combining the delicacy of a voile fabric

with the versatility of rotating vertical louvres, this is

something you won't have seen before."

– ABS Blinds absblinds.co.uk

Right: A beautiful

Gothic mullion

window serves as a

stunning headboard

in this bedroom

featured in our

August 2015 issue

priceless-magazines.com

Heritage uPVC

window by

Fineline Windows

fineline-windows.co.uk

Above: A coastal apartment's vast

double sash window incorporates

a delicate floral design and shows

off views to the sea. From our

January 2014 issue.

priceless-magazines.com

Top: Sheer curtain linens by

Stitched from £30 stitched.co.uk

Nothing says quintessential British

country charm like a traditional sash

such as this one by the The Sash

Window Workshop, who manufacture

all their timber sash windows at their

workshop in Bracknell. Their windows

are made from Accoya, a sustainable

and extremely durable timber, and

come double glazed as standard with

a lovely range of glass, ironmongery

and paint options and they also offer

an installation service. For a free quote,

contact The Sash Window Workshop

on 01344 868 668 sashwindow.com

59 priceless-magazines.com
---
BESPOKE WINDOW TREATMENTS AND SOFT FURNISHINGS

FOR COMMERCIAL AND RESIDENTIAL PROJECTS

Soft Furnishing | Curtains | Blinds

Pole & track supply and automation

01580 241614 | www.lilymatthews.co.uk
---
"My advice – never underestimate the

transformation well-made curtains and blinds

have on a room. So often they aren't included in

a renovation costing and then the budget is blown

on a pricey tap and there's nothing left for what

I believe is one of the most crucial parts of room.

Curtains can dictate style and atmosphere, from

traditional and cosy to contemporary and cool.

They allow creativity and character to be shown;

they can be fun and functional. They can lift the

spirits and give a room the wow factor."

– Jane Cowdry, founder of

LilyMatthews Interiors

lilymatthews.co.uk

Left: Stylist Kimberley

Watson's large

windows in her

Regency flat are

painted the same

teal as her walls and

ceiling. The colour is

brilliantly contrasted

with her choice of

handmade yellow silk

curtains. Featured

in our December

2019 issue.

priceless-magazines.com

Above: Vibrant orange Gala Jazz

roller blinds by English blinds. Prices

from £17.92 englishblinds.co.uk

This is a unique Slimline Set Back Period casement by

Privett Timber Windows. It's the premium-industry's

slimmest casement window and also has a multi-point

locking system and offers extra protection from the

elements. Slimline Set Back casements are authentic to

Edwardian and 1920-1930s periods with their classic

wooden look and are great for traditional extensions,

new-builds or for preserving the traditional feel and

character of a period home. Privett's stunning collection

can be viewed at their showrooms in Cobham or

Richmond, or you can call 01483 901 001 for a free

design consultation. privett-windows.co.uk

No more draughty, rotten,

inefficient sash windows

Professional design

Bespoke making

Expert installation

Using revolutionary 10mm thick

double glazed units we can retro

fit sash windows, retaining the

original appearance but with

the benefits of double glazing.

Improve insulation

Save money on heating bills

Call 01892 532273 for a

FREE site survey & quote sashwindowheritage.co.uk

12 June to

17 July

High Street

Cranbrook

Kent TN17 3DN

Tel: 01580 712555

bellhousefabrics.co.uk

sales@bellhousefabrics.co.uk

up to

15%

off

Sale

61 priceless-magazines.com

SashWindowHeritageWT187.indd 1 15/08/2017 BellHouseWT229.indd 15:18

1 14/05/2021 13:53
---
THE AWARD

WINNING

TEAM YOU

CAN TRUST

WINNER

WINNER 2019

TRANSFORMING HOMES FOR OVER 50 YEARS

Your home is important, and when it comes to improving

it you need someone you can trust and the right team to

make sure your dreams become a reality.

At Fineline we have provided homeowners with our

unrivalled industry knowledge, products, and customer

service to get the home improvements they want for over

half a century, winning numerous awards in the process.

With amazing discounts, flexible finance options and 13

state-of-the-art showcentres to choose from, we make

your home improvements easy.

• Stunning conservatories and single storey extensions

• Slimline aluminium windows & doors

• High performance uPVC windows & doors

• Expertly crafted timber windows & doors

FINANCE PLANS AVAILABLE

3 YEARS

INTEREST

FREE CREDIT

**

OR

£99 DEPOSIT

& PAY NOTHING

UNTIL 2022

**

Rated EXCELLENT

Get your quote online www.fineline-windows.co.uk

Or over the phone 01622 631613

50

*Terms & Conditions apply. FineLine are offering up to 50% off windows and doors or 10% off conservatories. Offer available for a limited period, see website for details. Not to be used in conjunction with any other offer. **

Authorised and regulated by the Financial Conduct Authority FineLine, acts as a credit broker and not the lender, and offers products from a range of financial providers. Credit is subject to application and status. Credit

terms will vary depending on products. Admin fee applies. As part of One Group Construction.
---
"Windows certainly can grab your attention when you

enter a room. Look how the blinds and seating in the

bay draw your eyes to the view without fighting with

it. The designer chose all Sanderson fabrics for this

beautiful look (blinds and seating). Accessories such as

window seats and cushions are a great way to jazz up a

room and are easily updated over the years."

– Jane Cowdry, founder of LilyMatthews Interiors

lilymatthews.co.uk

"The unique design of these

Luxaflex duette blinds creates

an insulating barrier at

your windows to regulate the

temperature in your room

whilst reducing your energy

costs. The look of the room

can be softened further with

bespoke curtains in designer

fabrics."

– Curtain Call, Richmond

020 8332 6250

curtain-call.co.uk

Left: This tall landing

window has been

artfully decorated

with white nightshirts

inspired by Dickens'

Great Expectations

From our August

2018 issue

priceless-magazines.com

Above: Floor length curtains

by H V-J Interiors. Featured

in our May 2021 issue.

Left: The generously high

ceilings on this former

malthouse allow for wowfactor

windows. Featured in

our November 2018 issue

priceless-magazines.com

"Create a traditional feel for your home with some

heritage uPVC windows. Designed to replicate the

look and feel of timber flush sash windows, they also

benefit from the modern qualities of uPVC, meaning

they are durable, require low maintenance, and will

improve the thermal performance of your home."

– Fineline Windows fineline-windows.co.uk

These floor length linen curtains are made

with Floreale Grande (£93/m) and Padua

in pale jade (£105/m) fabrics, both by

Designers Guild designersguild.com

63 priceless-magazines.com
---
g l a c i e r

Replace that old Conservatory Roof

Replace

with Activ

that

Blue

old

Glass

Conservatory Roof

with Activ Blue Glass

The Revolutionary Self Cleaning Glass that keeps your

conservatory The Revolutionary WARMER Self Cleaning Winter Glass and COOLER that keeps in the your Summer.

conservatory WARMER in Winter and COOLER in the Summer.

Now with internal HEAT REFLECTIVE GLASS

Now with internal HEAT REFLECTIVE GLASS

Stunning

Stunning

Bespoke

Bespoke Verandas

Verandas

Transform your Patio

Transform Decking your area Patio and

enjoy or Decking your garden area and all

enjoy year round. your garden all

year Decorative round.

Decorative

Brackets and

Brackets Columns. and

Columns.

Rehau • Windows • Doors • Bifolds • Patios • Coloured GRP Doors • Porches • Conservatories

Rehau • Windows • Doors • Bifolds • Patios • Coloured GRP Doors • Porches • Conservatories

FOR FREE ADVICE AND QUOTATION, R NO PRESSURE, o

CALL: 01622 752288

FOR FREE ADVICE AND QUOTATION, R NO PRESSURE, o

CALL: 01622 752288

Longfield 01474 707007 | Sevenoaks 01732 550054 | Mobile

07860

831791

info@acornglassline.co.uk • www.acornglassline.co.uk • Unit 3, Heronden Road, Parkwood Industrial Estate, Maidstone, Kent ME15 9YR

info@acornglassline.co.uk • www.acornglassline.co.uk • Unit 3, Heronden Road, Parkwood Industrial Estate, Maidstone, Kent ME15 9YR

AcornGlasslineWT225.indd 1 30/11/2020 13:04

SPECIALISTS IN HIGH QUALITY TIMBER

& ALUMINIUM WINDOWS AND DOORS

CALL TODAY FOR A FREE NO OBLIGATION QUOTATION

01959 565343

WWW.THEWINDOWSANCTUARY.COM

S THE

WINDOW

ANCTUARY

priceless-magazines.com

64

WindowSanctuaryWT230.indd 1 17/06/2021 12:52
---
A reputation built on

quality craftsmanship

and service

This period timber window is by Privett

Timber Windows 01483 901 001

privett-windows.co.uk

Left: A stained glass window adds a

pop of colour to a cool white hallway.

From our February 2017 issue.

priceless-magazines.com

Left: A Surrey newbuild's

glorious glass

wall stretches to the

apex of the roof.

Featured in our July

2015 issue.

Kent Peg Tiling, Listed Building

& Conservation Specialists.

High quality work by experienced

award winning craftsmen.

01797 270 268 l kentpegs.com

"One of my favourite looks is simple curtains inlaid

with two rows of silk at the bottom, repeated on the

pelmet. It is clean, classic and contemporary at the same

time and suits so many interiors in every combination."

– Jane Cowdry, founder of LilyMatthews Interiors

lilymatthews.co.uk

The Oak

Glasshouse Company

KarlTerryWT229.indd 1 07/05/2021 12:40

These yellow curtains

from Stitched are made

using upcycled silk

(£65/m). stitched.co.uk

Right: A triangular window from

a converted ambulance station.

Featured in our July 2017 issue.

priceless-magazines.com

Oak extensions,

sunrooms and

orangeries

REQUEST A BROCHURE TODAY

07522 544158 | info@theoakglasshouse.co.uk

www.theoakglasshouse.co.uk

65 priceless-magazines.com

OakGlasshouseWT229B.indd 1 25/05/2021 10:31
---
priceless-magazines.com

66
---
Haven Sent

Words: Maggie Alderson Photographs: David Merewether Styling: Belinda Benton

Belinda Benton's home is as elegantly calm and

welcoming as the interiors she designs for others

67 priceless-magazines.com
---
After 20 years in Cranbrook we have moved to

a new home in Deal...

EI

THE CORNER HOUSE • LENHAM

Antiques, Interiors & Vintage

Open 7 days a week 10am - 5pm

After 20 years in Cranbrook we have moved to

a new home in Deal...

The Square, Lenham, Kent ME17 2PQ | Tel: 01622 859676

WE PROVIDE A FULL OR PARTIAL HOUSE CLEARANCE SERVICE

EVERNDEN

INTERIORS

now trading as Studio Benton

EVERNDEN

INTERIORS

4a, Canada Road, Deal, CT14 7DZ

e: info@studiobenton.co.uk

t: 01304 372271

now trading as Studio Benton

4a, Canada Road, Deal, CT14 7DZ

e: info@studiobenton.co.uk

t: 01304 372271

CornerHouseAntiquesWT223.indd 1 04/09/2020 EverndenInteriorsWT230.indd 17:00

1 18/06/2021 14:35

The tapered Stamp

Duty Holiday may be

coming to an end in

September, but with

many homeowners

keen to prep their

houses for a future sale

to make the most of

their investment, we

take a look at ways to

add that all-important

value, both inside

and outside in our

Adding Value To

Your Property

Supplement

in August's

Wealden Times

& Surrey Homes

magazines

priceless-magazines.com

68

August 2021 adding value to your property ad.indd 1 21/06/2021 15:35
---
Previous pages & above: The basics of the current kitchen

were there when Belinda moved in, but she created the

lovely airy space that it is today with just a few tweaks. She

changed the worktops to Carrara marble, took down the wall

cupboards and replaced them with one shelf extending round

the far corner, and added a classic Victorian clothes airer,

tucked up in the lofty ceiling of the oak-framed space

Right: Saltaire fabric by Blithfield greets visitors in the entrance hall

By the time you have wound your way along the

almost impossibly beautiful country lane that leads

to Belinda Benton's house, you are already starting

to feel an increased sense of oneness with the world.

To be so immersed in nature when spring is springing

forth is a balm to the soul – and this feeling only

increases when you arrive at the 17 th century former

farmhouse, which has been her home for seven years.

From the moment you step into the hall, with a

view through to the beamed vaulted ceiling of the

original building and the wall to your right luxuriously

upholstered with Saltaire fabric by Blithfield, you

have that sensation of breathing out. Aaaaah…

I join Belinda in the kitchen, which leads off the

69 priceless-magazines.com
---
Above: Like the kitchen, the formal sitting room is square, allowing for a satisfying arangement of two sofas, two

armchairs and a large, upholstered ottoman. Belinda often recovers favourite pieces of furniture to suit a room's

changing decor. The chairs – versions of a Nina Campbell chair – have also been enjoyed in three versions, currently

finished in another bold blue and white William Yeoward fabric, which works brilliantly with the ottoman

hallway to the left, in a vaulted oak-framed extension

installed by the previous owners – one of the things that

made the house appeal to Belinda. "The hard work had

already been done," she says. "The kitchen extension

was built and the oak-framed car barn was there."

This structure was perfect for Belinda to convert into a

home office/studio and to add some extra bedrooms to the

three in the house – and these were very necessary, for she is a

mother of six and when everyone comes home, with partners

and grandchildren, bedrooms are at a premium. "We needed

a lot of accommodation for high days and holidays and a

table we could all sit at together," says Belinda. "But I also

needed it to be cosy for two people the rest of the time."

Amazingly, this is exactly what the house delivers,

with a lovely big dining area in the vaulted hall –

where Belinda says the animals would have been kept,

when the farmhouse was built – a smart sitting room,

plus a comfy, book-filled snug, perfect for two.

The other surprising double whammy this house achieves

is feeling so wonderfully remote, down that long and

winding lane – but actually being only five minutes' drive

from Hawkhurst and ten from Stone Street, Cranbrook,

where Belinda has had her interior design business,

Evernden Interiors, for the past eighteen years.

This is all about to change, however. Belinda

is moving the business – with herself – to the

quaint seaside town of Deal, where she has also

had a second home for the last seven years.

Her daughter, Hannah, an architect-trained interior

designer made the big lockdown decision to leave London

for somewhere she and her partner could afford to buy

their own house. With mum already having a base in

Deal – and it being such a lovely place – it was a no

brainer as the relocation destination – and the chance to

have Hannah, with her technical skills, on the Evernden

Interiors team was too good for Belinda to miss.

There is also the advantage that while it is an exciting

change for them both, the new location is close enough

to the current base for them to be able to continue

to look after their loyal roster of happy clients.

And they will want her to. Spending time in Belinda's

own house, you can see exactly why people return to her

priceless-magazines.com

70
---
Rediscover England's First Cathedral

• UNESCO World

Heritage site

• 1,400 years of history

• NEW visitor

experiences for 2021

Silver jewellery inspired by nature. Handmade in the UK.

Kids Go Free until 31 October 2021 (T&Cs apply)

www.canterbury-cathedral.org

07770 612903

www.emmakeatingjewellery.co.uk

Add a pop of colour to your garden furniture

this season with our range of outdoor cushions

CanterburyCathedralChoirWT230.indd 1 14/06/2021 EmmaKeatingJewelleryWT229.indd 11:44

1 07/05/2021 12:11

RaggedRose

01622 812897 | sales@raggedrose.com | www.raggedrose.com

71 priceless-magazines.com

RaggedRoseWT230-HLF.indd 1 11/06/2021 15:01
---
Protecting your

home and business

Expert installers of Alumasc Skyline

aluminium fascias and soffits

Just Fascias

Kent and Surrey's premiere installers

of replacement fascias, soffits, cladding,

bargeboards, guttering and downpipes in UPVC.

LAKESVIEW INTERNATIONAL BUSINESS PARK,

CANTERBURY, CT3 4GP | 01227 271126

www.synergyfireandsecurity.co.uk

Call for a free quotation 0800 048 8872

www.justfascias.com

Proud members of

SynergyFire&SecurityWT227.indd 1 12/03/2021 JustFasciasWT229.indd 18:07

1 20/05/2021 18:41

WORKING FROM HOME?

WE'VE GOT YOUR BACK

SHOWROOM

14 Decimus Park,

Kingstanding Way, Tunbridge Wells,

Kent TN2 3GP

01892 510202

SALES@SITSMART.CO.UK

WWW.SITSMART.CO.UK

FREE Trial

FREE Fitting

PERSONAL Service

priceless-magazines.com

72

SitSmartWT227.indd 1 22/03/2021 09:05
---
time-after-time for professional help with their interiors.

She's just got 'it' – the instinct for what will

work together to enhance a space. She also has

an expert understanding of window treatments,

which I know from a recent adventure in my

own bedroom is a very complex area.

Belinda laughs when I tell her about my curtaindecision-hell

– who knew there were so many choices?

So many details to pick, on top of the broader decisions

of blinds/curtains, pole/track, pelmet/not pelmet.

I bring the subject up, when she takes me into the

cosy snug, which has two windows finished with Roman

blinds – one of the many possibilities I considered, while

having a small nervous breakdown over my bedroom

arrangement. It's not like that for Belinda… "I usually

have a feel for what will work," she says. And looking

round the house, you can see it in action, with each

window perfectly finished for its particular spot. The

amazing thing is she can do this with no formal training.

"I learned by doing it," she says. "I had six children

"We needed a lot of accommodation for

high days and holidays and a table we

could all sit at together," says Belinda.

"But I also needed it to be cosy for

two people the rest of the time."

73 priceless-magazines.com
---
This page: A galleried landing looks down

into the vaulted dining area

in 12 years and moved five times… ending up in a big

old house in Hawkhurst. That was a big project, my first

experience of working with an architect and I loved it.

That was the turning point when I realised 'I love doing

this'. I've had no formal training – I guess if it's in you, it's

in you. Hands on experience is the best way to learn."

This decorator skill is particularly in evidence in the more

formal sitting room. Like the kitchen, this is a square room

and the windows have classic farmhouse glazing bars, with

three sets of three horizontal oblong panes. It gives a similar

effect to the currently fashionable black steel Crittall window,

but this is the original rustic version, painted off-white.

There are two sofas, two armchairs and a large,

upholstered ottoman – furnished with a rattan tray and

appealing books – all of which have their own lesson

and story. The ottoman is a recent arrival in this setting,

moved here from the annexe – hauled over by Belinda

herself, who likes to switch things up. It's covered in a

striking William Yeoward blue and white graphic fabric.

The soft green sofa was made by Belinda's upholsterer –

with whom she has been working for 20 years – and I learned

that this classic style, with loose seat cushions, an upholstered

back and small wooden feet, is called a Howard sofa.

Another great thing to learn from it is Belinda's

approach to the seat cushions. I know from bitter

experience what a pain they can be if they're filled

priceless-magazines.com

74
---
AWARD WINNING, LUXURY SWIMMING POOLS

Specialists in Indoor & Outdoor Swimming Pools & Cleaning

SPATA Contractor of The Year 2020

EUSA Domestic Outdoor Pools Silver Award Winner 2018

39 SPATA Awards

01233 840336 www.xlpools.com
---
D&S Wealden Times Ads 1-4 (Feb'18)_D&S 1/4 page 17/02/2018 11:23 Page 1

Bespoke Planning Advice

for your planning journey

We create striking interior and exterior doors in the finest solid oak, ranging

from simple planked doors to intricately carved panels finished in moulded

framework modelled on the styles and design of the 17th century.

+44 (0)1580 243331

www.deaconandsandys.co.uk

CRANBROOK

01580 201888

www.therpp.co.uk

office@therpp.co.uk

CIRENCESTER

01285 323200

Chartered Town Planner

DeaconSandyWT226.indd 3 28/01/2021 RuralPlanningPracticeWT223.indd 14:04

1 28/08/2020 12:19

The complete kitchen service...

at CLARK'S

Carpets and fine floor coverings

Rug Shown: Mad Men 'Columbus Gold' 140x200

was £388 now £349

...from a hinge to to a complete makeover

100's of Worktops l 1000's of Doors

door replacement l lmade to to measure service l l worktops

appliances l sinks and taps l ldrawer replacement

improved storage and access solutions

door refurbishment service

Instant hot water taps fitted

The Kitchen Doctor's bespoke service supplies

and The fits Kitchen comprehensive Doctor's bespoke range service of components supplies and to

fits a comprehensive range of components

to

give

give

your

your

kitchen

kitchen

a

a

new

new

lease

lease

of

of

life.

life.

01689 850000 01689 850000

chris@thekitchendoctor.com

chris@thekitchendoctor.com

www.thekitchendoctor.com

www.thekitchendoctor.com

serving London and the South-East for 25 years

Serving London and the South-East since 1984

priceless-magazines.com

Made to measure

cabinets now

available

KitchenDoctorS52.indd 1 18/01/2019 ClarksRugNationWT230.indd 09:58

1 11/06/2021 14:42

76

www.clarkscanterbury.com

10%OFF

ALL RUGS

10%OFF

ALL RUGS

Canterbury 12 Roper Road, CT2 7EH, 01227 788588

Whitstable 89 High Street, CT5 1AY, 01227 772774

Deal 48-50 Dover Road, CT14 7JN, 01304 372837
---
This page: The master bedroom has been papered with wallpaper by

Colefax & Fowler. Marble surfaces and upstand tie this bathroom's

grey panelling together with the crisp white walls and ceiling

entirely with feathers. You spend half your life plumping

them up and they weigh a tonne. The rest of the time

they are trying to push you onto the floor, as they

deflate to nothing the minute you sit on them.

Belinda has her seat cushions made with a mix of

foam and feathers, in a Dacron wrap. So you get a soft

landing, with enough resistance, and it stays in place.

The smaller sofa – an unbuttoned Chesterfield – is an

old trooper. "I've had it for more than 20 years. It's been

orange velvet, yellow linen, now it's natural linen."

The chairs – versions of a Nina Campbell chair

77 priceless-magazines.com
---
Above: Burnt oranges picked out from the rug in the velvet cushions add a luxurious twist to a guest bedroom

– have also been enjoyed in three versions, currently

finished in another bold blue and white William Yeoward

fabric, which works brilliantly with the ottoman.

Which all goes to show how personal this house is.

Some decorators treat their own gaffs as show cases

for the business, this is very much a family home.

The gorgeous curtains in her sitting room, however,

do display her credentials. "These curtains were a

client mistake," she says. "The fabric had stretch in

it and it kept dropping." I ask for a professional run

down on the exact details of them: "Pinch pleats and

a ruche on the leading edge. Oversized wooden rings

and reeded polls." Or to put it another way: heaven.

Belinda throws in another decorator tip, as we

are leaving the room and I enquire about two large,

impressive lamps on a cabinet. "They are by Porto

Romano. Low seating – so tall lamps…"

Her light – but very effective – professional touch is

also apparent in the kitchen. Where the same farmhouse

glazing is seen on the windows and French doors, here

painted the same pretty pale grey as the cabinets.

The basics of the current kitchen were there when she

moved in, with a lovely cream Aga and Shaker units,

but Belinda created the graceful airy space – both classic

and contemporary – with just a few tweaks. She painted

it – Storm Grey by Zoffany – and changed the worktops,

to actual Carrara marble. No quartz for her. Don't you

worry about the marks? I asked. "They become patina."

A more radical change was to take down the wall cupboards

and replace them with one shelf extending round the far

corner, stacked with plates, jugs and mugs for instant access

in everyday use. She also put a cupboard on top of the

drawers in the left-hand corner, creating the effect of an old

dresser and echoing the integral fridge in the opposite corner.

She is particularly delighted with the classic Victorian

clothes airer, tucked up in the lofty ceiling of the oak-framed

space – "I couldn't live without one now" – but for me, the

detail which makes this room is the wonderful old, gnarled

kitchen table, which she found in Rye. It ties in beautifully

with the golden oak of the beams and finished with six

mismatched French chairs, it packs the room with character.

With a brand-new table and matching chairs,

priceless-magazines.com

78
---
LOVINGLY HANDMADE

The Estate Yard, Eridge, Nr Tunbridge Wells, Kent, TN3 9JR

01892 572309 www.sofasandstuff.com

H ER E

I N

B RI TA I N

SofasAndStuffWT230.indd 1 08/06/2021 09:05

ThomasHaywood

Family Law Solicitors

Tunbridge Wells - Maidstone - London

Sarah Haywood : 01892 765013

Juliet Franklin : 01892 765017

www.thomashaywoodsolicitors.com

79 priceless-magazines.com

ThomasHaywoodSolicitorsWT225.indd 1 14/12/2020 12:12
---
Traditional Craftsmanship

for Modern Applications

Garages, Outbuildings

and Garden Rooms

Quality Buildings at

Competitive Prices

chartwelloakbuildings.co.uk

Call for a quote 01959 447477

Filston Farm, Filston Lane, Sevenoaks,

Kent TN14 5JU

ChartwellOakBuildingsWT214.indd 1 06/11/2019 11:06

Bespoke design & build treehouses, playhouses

and elevated platforms.

Commercial & International commissions welcomed

Tel: 01403 262219

www.cheekymonkeytreehouses.co.uk

priceless-magazines.com

Relationship at

breaking

Relationship

point?

at

breaking point?

The breakdown of any relationship can be very

distressing. Whitehead Monckton family lawyers

can help you through this stressful and painful time.

We offer sensitive, constructive and cost effective legal

advice. All our lawyers are experienced members

of Resolution, committed to a non-confrontational

approach to resolving family problems.

An initial fixed cost meeting for just £150 (plus VAT)

with one of our lawyers can help you see your

way forward and understand your legal position

and options.

Our town centre offices in Canterbury, Maidstone

and Our Tenterden town centre are offices conveniently in Canterbury, located Maidstone

so please

call to set up your initial discussion:

Emma Palmer on Canterbury 01227 643276

Dawn Harrison on Maidstone 01622 698051

Daniel Bennett on Tenterden 01580 767527

www.whitehead-monckton.co.uk

Whitehead www.whitehead-monckton.co.uk

Monckton Limited (no. 08366029), registered in

England & Wales. Registered office 5 Eclipse Park, Sittingbourne

Road, www.whitehead-monckton.co.uk

Whitehead Maidstone, Monckton Kent ME14 Limited 3EN. Authorised (no. 08366029), and regulated registered by in the

Solicitors England Regulation & Wales. Authority Registered under office no. 5 Eclipse 608279. Park, Sittingbourne

Road, Maidstone, Kent ME14 3EN. Authorised and regulated by the

WT/F11/18

Solicitors Regulation Authority under no. 608279.

WT/F11/18

CheekyMonkeyS40.indd 1 25/01/2018 WhiteheadMoncktonWT225.indd 15:42

1 20/01/2021 12:17

80
---
Above: A twin bedroom is a light and airy space thanks

to its stripped back beams and pale colour scheme

Right: At the top of the house, a bathroom is softened

with just the right upholstered chair for the space

it would still be a lovely kitchen, but these carefully

selected unique details – and two lovely original

paintings – which have travelled with Belinda from

home, to home, take it up a whole notch.

There were more expert decorating tips to be gleaned

across the gravel driveway, past the lovely treehouse and two

perfect pom-pom potted bay trees, and into the annexe.

Belinda has clad the internal walls with horizontal

panelling made out of MDF boards, spaced slightly apart,

hung horizontally, instantly giving the place a Connecticut

beach house vibe. The reception room is a tranquil haven

of linen-covered sofas and wide floorboards, with a big, old

French armoire – another of her long-term pieces, which has

worked in many different places – and a lovely dolls house.

The bedrooms are furnished with old French beds,

the headboards upholstered with linen, and dressed with

rugs and cushions. I noted that in one room the bedside

tables were pleasingly mismatched, giving a relaxing

informal air – it's not a boutique hotel, after all. Belinda

agrees but is quick to point out that while "the tables are

different – the lamps match…". Which is how you make

such a combination work and look pulled together.

But my favourite detail here is in the window treatments.

Gorgeous floral print linen, in fabrics by Kate Forman

81 priceless-magazines.com
---
This page: The oak-framed car barn provided an ideal opportunity for a conversion, allowing Belinda to add some extra bedrooms

for family and guests. The internal walls are clad with painted MDF boards and the reception room is a tranquil haven of linen-covered sofas

and wide floorboards

and Vanessa Arbuthnott, thickly padded with… well,

I'll leave the expert to describe them: "With upstanding

frills on curtain tops and a contrasting lining in a check.

It's nice when you can see it from outside." So, the

first thing I do as we leave the annexe is check out that

effect – and yes, it does look absolutely lovely from the

outside, to see the cheery grey and white check lining.

Which leads me to an unavoidable conclusion:

I need to re-do my bedroom curtains.

Address Book:

To find out more about Belinda's interior

design services, visit everndeninteriors.co.uk

83 priceless-magazines.com
---
BESPOKE JOINERY SINCE 2002

Nothing short of perfection

We are masters in wood — designers and craftsmen

that engineer wood to create beauty. Whether it's kitchen

cabinetry, windows and doors or an elaborate staircase,

if it's wood, we will make it outstanding.

We combine creative acumen with meticulous

craftmanship to ensure that what we create for your

project is nothing short of perfection.

Call 01580 242996 or email office@creative-joinery.com

THE STONE

CREATIVE

TILE

JOINERY

FINE ENGLISH CRAFTSMANSHIP

WAREHOUSE

Bespoke doors and windows project, Wadhurst

creative.joinery

Advert v2.indd 1 21/04/2021 11:01

THE STONE TILE WAREHOUSE

CreativeJoineryWT228.indd 1 21/04/2021 11:09

OUR COMPREHENSIVE RANGE OF WALL AND FLOOR TILES ARE

ESPECIALLY OUR COMPREHENSIVE SOURCED RANGE TO OFFER WALL EXEPTIONAL AND FLOOR VALUE. TILES

ARE ESPECIALLY SOURCED TO OFFER EXCEPTIONAL VALUE.

NATURAL STONE, ENCAUSTICS, PORCELAIN AND MOSAIC

KITCHEN AND BATHROOM RANGES ON DISPLAY.

GARDEN, PATIO AND OUTDOOR TILES - SUPERB RANGE OF PORCELAIN

AND NATURAL STONE OFFERINGS FOR YOUR OUTDOOR AREAS,

AVAILABLE TO VIEW IN OUR EXTERNAL DISPLAY AREAS AT THE SHOWROOM.

NATURAL STONE, ENCAUSTICS, PORCELAIN AND MOSAIC KITCHEN AND

BATHROOM RANGES ON DISPLAY.

NATURAL STONE FLOORING SPECIALISTS

OPEN TO THE PUBLIC AND TRADE

MONDAY - FRIDAY 8AM TO 5PM | SATURDAY 9AM - 4PM

EXPERT ADVICE, INSTALLATION AND CUTTING SERVICE AVAILABLE

WWW.THESTONETILEWAREHOUSE.CO.UK | 01622 679157

ACORN YARD, SUTTON ROAD, LANGLEY, MAIDSTONE, KENT, ME17 3ND

THESTONETILEWAREHOUSE THESTONETILEWAREHOUSE THESTONETILEWAREHOUSE

priceless-magazines.com

84

SouthernAdhesivesWT229.indd 1 10/05/2021 14:30
---
Get the

LOOK

See

Bloomsbury

Revisited at

Wealden Times

Midsummer

Fair 2021

1 Mette six drawer larder cabinet £2,295 Cox & Cox coxandcox.co.uk 2 'A Morning Walk on Shell Bay' oil on board painting

by David Atkins £4,450 Fairfax Gallery fairfaxgallery.com 3 Stirrup 3 pendant in white Original BTC £249 each originalbtc.com

4 Chalk paint in Pure Annie Sloan anniesloan.com 5 Duncan hand-painted standard lampshade £220 Bloomsbury Revisited

bloomsburyrevisited.co.uk 6 Natural willow compartment caddy £9.50 The Contemporary Home tch.net 7 Stoneware shell pink classic

350ml mugs £15 each Le Creuset lecreuset.co.uk 8 Handmade, hand-painted shaker kitchen island with bespoke milled moulded

plinths in blue/grey eggshell, a 30mm Polished Carrara Marble worktop and drawers jointed with Dovetails in solid timber by Ligneous

Kitchens ligneouskitchens.com 9 Farringdon reclaimed wood trestle dining set £1,079 Modish Living modishliving.co.uk

85 priceless-magazines.com
---
An Inspired Education

A dynamic environment where students are inspired by

our adventurous approach to learning

01233 625 171 | registrar@ashfordschool.co.uk | ashfordschool.co.uk
---
Education

A Surrey

A Priceless

Homes

Supplement

Supplement

sponsored by
---
@saintronans

/SaintRonans

www.saintronans.co.uk

"Bursting with character..."

Talk Educaon Top 200

"...rock-solid in quality and totally flash-free"

"this place fizzes with

warmth, gusto and

authenticity"

PREP SCHOOL OF

THE YEAR 2018

Good Schools Guide 2020

"extraordinary creativity and

innovation"

Lead Judge, Tes Prep School awards

Book an appointment on 01580 752271 or e-mail emmatv@saintronans.co.uk

Boys & Girls 3-13 years | Founded 1883 | Hawkhurst, Kent | 01580 752271
---
15

31

4

9

10

15

19

21

23

25

Education Supplement sponsored by

15

Contents

SCHOOL NEWS

Find out what's been

going on

MEET THE HEAD

We chat to Tracey

Fantham, Headteacher

at Manor House School

RECIPE FOR

SUCCESS

Famous alumni who

have made a real

impression

KEEPING UP

COMMUNITY

SPIRIT

How schools foster

relationships with the

local community

INSIDE OUT

Dulwich Prep

Cranbrook's focus

on mental health

MEET THE ART

TEACHER

Bansted Preparatory

School's Mr Matt Ayling

shares his inspiration

A WORLD OF

OPPORTUNITY

Claremont explores the

bonds between schools

across the world

MEET THE HEAD

Spring Grove School's

Head Mrs Therésa

Jaggard discusses skill

sets, hobbies and school

values

15

26

29

31

33

35

37

38

SHOW TIME

A look at Tonbridge

School's EM

Forster Theatre

WHAT'S COOKING?

Benenden School's

restaurant-quality

meals offering

A MOMENT

OF SCIENCE

Mayfield School's

Head of Physics shares

his experiences as a

science teacher

STARTING SMALL

Parkside's Madeline

McMurdo explains how

to ease a child into their

first steps at school

MEET THE MUSIC

TEACHER

Lingfield College's

Director of Music

explains what drew

her to her subject

HOW DOES YOUR

GARDEN GROW?

Educating Cranbrook

Primary's pupils

about good nutrition

and nature through

gardening

WHICH EXTRA-

CURRICULAR

ACTIVITIES WILL

LOOK GOOD

ON MY UCAS

APPLICATION?

Let's find out...

★ Saturday Lunch ★

Lamb Masala Curry

Sweet Potato, Spinach &

Chickpea Korma

Basmati Rice

Poppadums & Chutney

Garlic Roasted Potatoes,

Garam Masala Spiced

Grilled Smokey Bacon Steaks

Char-grilled Cabbage

Apple Crumble & Custard

Cover image: A pupil finds a cosy corner to read in

the Marlborough House Main Building Library

marlboroughhouseschool.co.uk

31

4

37

29

FREWEN

Prep

School

The Dyslexia School

Since 1910

Senior

• •

School

Frewen College, Northiam, East Sussex, TN31 6NL

www.frewencollege.co.uk

COLLEGE

Email: office@frewencollege.co.uk

Tel: 01797 252494

Sixth

Form

Frewen College is a leading independent

Day & Boarding school for boys and girls aged 7-19

with Dyslexia and Dyspraxia. We have private

students and those funded with an EHC Plan.

Best GCSE grades and pupil progress

for 6th consecutive year

Frewen is the oldest dyslexia school in the UK

All classroom staff have specialist

dyslexia qualifications

Assistive Technology is used throughout

the school where appropriate

priceless-magazines.com

FrewenCollegeWT230.indd 1 21/06/2021 09:19
---
Saint Ronan's has

been named as the TES'

Prep School of Year 2021.

Saint Ronan's transformed a

tumultuous 12 months into a 'year of

wonder'. As well as finishing the year with

excellent scholarship and common entrance

results, the school also opened a new art, engineering

and computing centre to inspire pupils' creativity.

Lead judge Michael Abraham said Saint Ronan's showed

"extraordinary creativity and innovation" and "wonderful

care of the development of the individual". He referenced

the outstanding scholarship results, lockdown

TV and radio, the mindfulness programme,

the school farm and cited many examples

of staff 'sprinkling fairy dust'.

saintronans.co.uk

Babington House School

is using outside activities, teaching

and sport to provide much needed

relief after the lockdown and benefit pupils'

health and wellbeing. Children of all ages have

been enjoying Forest School in Elmstead Woods,

a DofE expedition of the North Downs, competetive

rounders matches, and the school climbing wall ( which

is back in action). Meanwhile, at the sports ground they have

engaged in football, tag rugby and cross-country and many

lessons are taking place outside too. Tim Lello, Headmaster

at Babington comments, "It is refreshing to see our

pupils enjoying the outside world and just being

together. We value the mental health and

wellbeing of everyone in our community and

pride ourselves on providing an academic

education with first class pastoral

support." babingtonhouse.com

Marlborough House School has wholeheartedly

embraced their new initiative 'The Great

Outdoors'; a wonderful blend of outdoor learning, wellbeing

and all things eco. In the first weeks of the Summer

Term, pupils excitedly completed the school's project to plant

over 200 native trees; creating a winding woodland walk and growing

their busy Forest School. Next on the agenda was the installation of a

timber outdoor classroom overlooking the lake, creating a focal point to

further support their outdoor learning activities across the curriculum. With

both projects completed in April, it has been a fun and active start of term for the

MHS community, with 'positive energy' pretty much summing up the school spirit.

Marlborough House affirms that while it is the grades acquired in the classroom that will earn

pupils their scholarships and senior school places, it is the character skills that will prepare them

for life and their future wellbeing. With outdoor learning a popular option to drive character strengths

and transferrable skills, such as problem solving, creativity and resilience, 'The Great Outdoors'

aims to encourage children in these areas. Acutely aware of the increased screen time that

children have experienced over the past year, the initiative also heralds a renewed focus on

mental and physical wellbeing for the school in 2021. A keen Eco School, having joined

the scheme in 2019, Marlborough House is also working with the Woodland Trust

and Wild Kent as it steers pupils towards an appreciation of the environment

and an understanding of the world, and climate issues, they will inherit.

Fittingly, the ethos of the school is 'Enjoying Today, Educating for

Tomorrow'. The school welcomed new Headmaster Eddy Newton

in September 2020. In addition to 'The Great Outdoors'

initiative, Mr Newton has announced well-received plans to

extend the school's Art and DT building by 40% this

summer. marlboroughhouseschool.co.uk

Tonbridge School's 'Sleepout'

raises £100,000 for Kent charity.

Tonbridge's First Years joined together

in the Summer Term for the School's largest

annual 'Sleepout' to date. More than 160 boys

and staff built cardboard shelters and spent a night

sleeping rough in the Quad. The event teaches boys

about the issues that can lead to homelessness and raises

funds for Porchlight, a charity which supports homeless and

vulnerable young people in Kent. Tonbridge has been working

with Porchlight since 2011 and in this time the school has

raised over £100,000 for the cause, making it the charity's

largest individual donor. This year's event has already

raised more than £17,300. Juliet Burnett, the school's

Community Action Manager, said: "All went home

reflecting on their experiences and on the

vital role that Porchlight plays in turning

around the lives of those they support."

tonbridge-school.co.uk
---
Education Supplement sponsored by

Mayfield School

On Saturday 12 June the cricketers of Mayfield

girls' School were delighted to welcome the MCC for

School

the first time in their history. The students, ranging in

age from 11 to 18, played two T20 fixtures against a women's

News

representative side from the MCC, the home of cricket.

On a beautiful day, the MCC won the toss and elected to bat, putting

109 runs on the board for their 20 overs. Mayfield started the chase well

with Dii Dii scoring 25 runs before retiring hurt. However, it wasn't to be

for Mayfield and they ended their 20 overs just 23 runs short of their target.

Following tea, the MCC once more won the toss and chose to bat first

again. This time they pushed the run rate and ended on 135, despite an early

breakthrough from Mayfield, with Tilly making an outstanding reaction catch.

With a higher score to chase than the first game the girls batted fiercely. Lizzie top

scored with 42 runs, but the girls once again came up shy of their run target.

Lizzie, one of Mayfield's captains said, "It was so exciting to play against an MCC side which contained

players with so much experience. It was a great occasion and one that I will never forget." Lizzie

has been playing cricket at Mayfield since joining the school in Year 7 and now represents

Sussex in her age group and plays in one of the Mayfield village men's cricket teams.

Emily Starr, Mayfield's Head of Cricket said "Cricket was introduced as a major sport

just 4 years ago and in that time we have established a comprehensive programme

and now have several girls in their respective age group County squads. We

have been recognised by The Cricketer magazine as one of the country's

top 20 all girls schools for cricket, so we were delighted to be selected

to play the MCC. It's a huge honour, and we're keen to play our

part in championing women's cricket. Both games were played

in the spirit of cricket and huge thanks go to the MCC

for affording us this opportunity." mayfieldgirls.org

Hurst College's Young Enterprise team, Plants

with Purpose (PwP) won the Sustainability Award

at the regional Young Enterprise final and made the

final of the JA Europe event. As winners of the overall

county title and the Digital Skills Award, PwP went forward

to the regional competition against schools from Kent, Surrey

and Hampshire. There were six teams in total and PwP were up

against some strong contenders as three of the six teams won awards.

As well as winning the Sustainability Award, PwP only just missed out on

going through to the national finals. The Hurst team also made the final of the

JA (Junior Achievement) competition, the European version of YE, as one of only

five UK teams selected to take part. Earlier in the year, PwP took part in a Dragons'

Den event and won the Business Plan Award and the Dragons' Den Award. The dragons

praised PwP for having the best produced video, a stand-out logo, impressive website, good

market research, cohesive brand identity/packaging/channel marketing as well as a professional

business plan and presentation. They also commented on their product being perfectly

timed with people looking for more things to do away from screens. PwP's product was

a range of herb planting kits packaged in a reusable fabric bag – with a choice of

Thyme, Lavender, Mint, Chamomile and Rosemary. The kits include a readygrown

plant in a ceramic pot, a bag of soil and a mini chalkboard with

chalk to display a personal message. "This is a phenomenal achievement.

Covid has made the whole process of building and running a viable

business more difficult than usual. PwP have achieved financial

success and been recognised by Young Enterprise, JA Europe

and Dragons' Den for the quality of their product and the

exemplary way they have managed their company,"

Jan Leeper, Head of Careers, Hurst College.

hppc.co.uk
---
ENJOYING TODAY

EDUCATING FOR TOMORROW

PRE-PREP & PREP | BOYS & GIRLS 2.5-13 YEARS | DAY & FLEXI BOARDING

Book a

private tour

Email registrar@marlboroughhouseschool.co.uk

Discover more at marlboroughhouseschool.co.uk

Marlborough House School, Hawkhurst, Kent, TN18 4PY
---
BOOSTING CONFIDENCE

AT MARLBOROUGH HOUSE

"Marlborough House offers the perfect mix of fun, creativity and

academic rigour. It's uplifting to see our child run into school with a

big smile on their face each day and the warm embrace of the school

has also helped to build their confidence and capacity for learning"

Current Parent

When it comes to education,

one size does not necessarily fit all.

For a child to flourish and be able to meet

life's challenges with confidence and

optimism, they need to be happy in their own

skin and aware of themselves as learners.

At Marlborough House, we teach children

how to grow their individual strengths and

prepare them for an ever-changing world

through our modern, progressive curriculum;

educating characters as well as minds.

With our small class sizes and high staff

to pupil ratios, we support children in

unlocking their potential and discovering

what really inspires them to succeed.

ISI rated us as "Excellent" in both

Academic Provision and Pastoral Care.

MHS pupils achieve fantastic results, but

more importantly, their experiences here

help build self-assured individuals who

are extremely supportive of each other.

In short, they are good company!

"The school goes far beyond academic results and prides

itself on the development of the whole child"

THE GOOD SCHOOLS GUIDE 2021
---
SCHOOL OPEN DAY

Saturday 2 October

From 10.00am - Register Your Interest

Pre-bookings only

"Unpressured (for the most part) and friendly,

but this is no soft option ... the girls both work hard and play hard,

with results to match." The Good Schools Guide

Celebrating 100 Years in 2020-21

www.manorhouseschool.org | 01372 457077 | admissions@manorhouseschool.org
---
Education Supplement sponsored by

Meet the Head

Tracey Fantham, Headteacher at Manor House

School, reflects on her life-long passion for sport and

many happy memories of her own school days

What was your favourite subject

at school? My favourite subject was

geography as we had an excellent teacher

and I thoroughly enjoyed going on

geography field trips to Keswick in the

Lake District, where I recall climbing

Skiddaw to gather data for colourful

soil podzols. The return trip down

Skiddaw was interesting to say the least!

Can you tell us about one of your

happiest school memories?

I went to a middle school in Sheffield

which was a 1970s experiment in

schooling organisation. The whole

school was open plan and I loved it

there (although I can't imagine trying

to teach in such an environment!). In

my final year I had Mr Elliott who

I can still see now; he was also the

gymnastics coach which I really enjoyed

and looked forward to every week.

Why did you choose to go

teaching? When I transferred to a large

senior school it took a while to adjust

and I remember my Mum having to go

in to speak with the teachers as I really

didn't like it. Thankfully I did settle and

as sport was my passion, I threw myself

into clubs and sports teams. I could

be found in the PE department every

lunch break and it was my PE teacher,

Mrs Hilton who inspired me to become

a teacher myself. She encouraged

me in many ways and introduced

me to club hockey, which I loved.

What were you doing before accepting

the Headteacher position at Manor

House School? I was Head of a large

state school which was very different to

Manor House. I had joined the school

as a Deputy Head 11 years prior and

was promoted to Head after six years.

I learnt so much about both teaching

and learning and leadership and

worked with a fantastic team of staff.

What do you think makes Manor

House School so unique?

The atmosphere at Manor House is

really unique and different to where

I have worked before. The pupils are

welcoming, happy and enthusiastic

about their learning, which adds to

the friendly and open atmosphere,

and supportive, family ethos.

Have your own school days influenced

the way you will approach your role as

Headteacher? I don't recall ever seeing

my secondary school Headteacher

and I certainly wouldn't want that to

be the case for the pupils at Manor

House School. I make sure that I visit

lessons every day and I spend time

with the pupils, across all ages.

What are you looking forward to

this coming school year? Whole

school assemblies! I have really missed

the gathering of the whole school,

singing together and recognising and

celebrating successes as a community.

If you could teach anyone – either

present day or from history – who

would you choose? Mary Berry.

My own food technology lessons

were a disaster so she could teach

me more than I could teach her!

manorhouseschool.org

9 priceless-magazines.com
---
Education Supplement sponsored by

Recipe for

Success

Vinehall School, Brighton College and Reed's tell us about

the famous former pupils inspiring the students of today

Sir Tim Smit KBE

" "

Sir Tim Smit KBE is a much celebrated member of the

Vinehall alumni. Sir Tim is known for his work on

the Lost Gardens of Heligan and the Eden Project, as

well as the Charlestown Shipwreck & Treasure Centre.

A pupil at Vinehall in the 1960s, Tim has often reminisced

about his formative years spent exploring the grounds and

wildlife at Vinehall. 'There were several great teachers,

but I would single out Tom Gilbart, a Cornishman with

skin like bronzed hide, a moustache with handlebars,

eyes that flashed and a voice that transported all of us

children when he read Brigadier Gerrard, King's Solomon's

Mines and Sherlock Holmes. He loved wildlife and

history and turned all of us into Natural Historians.'

We follow Sir Tim's career keenly and are delighted that he

has been able to reciprocate his early inspiration for natural

history whist at Vinehall by supporting us in our recent whole

school commitment to sustainability. We will be working

with Tim and his highly recommended associate, Richard

Dunne of the Harmony Project, to raise an awareness of how

to live more sustainably within the Vinehall community.

We aim to empower our children to consider the path they

want to take and the future they want to create; there are some

major challenges for them to contend with; however, our aim

is to spark the change they wish to ignite." vinehallschool.com

Brighton College alumna and filmmaker Chloé Zhao

scooped the Best Director Oscar for Nomadland

earlier this year. She became only the second woman

to win this accolade. The film also won Best Picture and

Best Actress awards at the event, as well as winning four

BAFTAs earlier on in the year, where she gave Brighton

College a name check, thanking her teachers there.

Chloé was a Sixth Form boarder at the school from 1998

until 2000, where Julian and Alison Withers were the teachers

responsible for her pastoral wellbeing. Alison is still a teacher

at the College, and said: 'Everyone at Brighton College is

incredibly proud of Chloé. We were her Housemaster and

Housemistress during her time here, and remember her very

well. She was always a determined and driven pupil, with a

wonderful sense of humour and a keen sense of curiosity. She

liked to question things, and she was always fascinated by people

and different cultures. She contributed to the life and soul of the

boarding house, and we are delighted for her in her success.'

Renowned for its focus on kindness, Brighton College

is one of the world's leading independent schools for girls

and boys aged 3-18. The College regularly achieves the

best A-level and GCSE results of any co-educational school

in the UK, whilst ensuring children enjoy a wealth of

extracurricular opportunities." brightoncollege.org.uk

priceless-magazines.com

10
---
Minibus pickups

available from

Tunbridge Wells

Be Yourself

at Claremont

Senior School & Sixth Form

Bodiam, East Sussex TN32 5UJ . 01580 830396

Nursery & Prep School

St Leonards, East Sussex TN37 7PW . 01424 751555

enquiries@claremontschool.co.uk . claremontschool.co.uk

2019
---
Toby Tarrant (centre) with Alec Stewart OBE & Reed's cricket

pro, Keith Medlycott at the opening of the Indoor Cricket Centre

"

As far as 'well-known' alumni go, Reed's is very fortunate to

have a great roll call, including the likes of Tim Henman

OBE, Sir Simon Keenlyside CBE and Tom Hardy CBE.

The School is eminently proud of all its 'Old Reedonians' and

what they go onto to achieve. It is our ethos of a values-based

education which means we nurture the individual, giving them

the tools to succeed in whatever they want to do. One particular

Surrey-born Reed's alumnus might be familiar to younger

readers, and his father (Chris Tarrant) will be known to many!

Toby Tarrant started at Reed's in the Third Form (Year 9); a

bright, bean pole of a young man. His passion was, and still is,

cricket. A talented player, with an unorthodox style, he ended

his school career as Captain of Cricket. Having studied English,

History and Drama at A Level, Toby was always known as a bit

of wordsmith with a quick wit, so it was no surprise that – after

reading History at Birmingham University – he should find

himself in broadcasting. Toby currently presents a successful

weekday show on Radio X as well as several sports programmes!

It's wonderful that Toby's mischievous sense of humour which we

enjoyed in the classroom has definitely served him well in life.

What's even more heart-warming is that Toby still has

time for his alma mater. From being a regular in the alumni

cricket team to lending his support of our world-class Indoor

Cricket Centre to keeping in touch with his former teachers,

Toby and his cohort from 2010 very much represent the

sense of Reed's community and fellowship that stays with

our pupils as they continue on their life's journey!

As Toby says, 'Cut me open and I'll have Reed's blue blood,

tinged with red for my beloved Liverpool FC!'" reeds.surrey.sch.uk

Day Boarding

at Benenden

Now welcoming

day boarders

in Years 9 and 12

Registrations now being taken

Details at www.benenden.school/day

priceless-magazines.com

12

BenendenSchoolWT230.indd 1 11/06/2021 11:24
---
Boys 13 - 18 • Boarding and Day • London 40 minutes by rail

OPEN MORNINGS 2021

Saturday 11th September

Saturday 2nd October

Scholarships & Bursaries available

at 11+, 13+ and 16+

Admissions: 01732 304297

admissions@tonbridge-school.org

www.tonbridge-school.co.uk

/TonbridgeUK @TonbridgeUK @TonbridgeUK
---
Registered charity 1101358

Where are the skills your child will need

to resolve global conflict?

Well, negotiation skills are embedded in the

curriculum at Sevenoaks School, so in theory we need

look no further.

Our alumni certainly go on to achieve extraordinary

things; equipped as they are with the skills they need to

change the waiting world.

Stephen Hale for example, mastered negotiation at

Sevenoaks. He left in 1990 to work with Friends of the

Earth and Oxfam, amongst others. Now he has an OBE

and is CEO at Refugee Action, a UK charity that supports

people fleeing war.

It's worth considering then, that many of the skills

your child may need to make a significant impact, can be

acquired here at Sevenoaks.

www.sevenoaksschool.org

Every day at Sevenoaks, students practise negotiation, service provision, team working,

critical thinking, creative thinking and complex problem solving;

essential skills our alumni will use to excel at jobs which have yet to be invented and to reshape their world.
---
Education Supplement sponsored by

Keeping Up Community Spirit

How have schools been maintaining their bonds with the local community

during a very difficult and isolating year? We find out how a pandemic hasn't

stopped The King's School and Sevenoaks School staying connected

A brother and sister team from Junior

King's has raised over £15,000 for the

Evelina London Children's Hospital

The Charity Commission suggests that The

King's School, Canterbury is the oldest charity

in the country. King's, and its prep school

Junior King's, are therefore very conscious of their

duty to the wider community. The pandemic has made

certain aspects of charitable fundraising difficult but

the pupils have not let this hinder their dedication to

raising money for both local and national causes over

the past year. Indeed, the heightened awareness of the

needs of others has brought about some innovative

and praise-worthy initiatives from both schools.

At Junior King's Year 7 pupil Luke and his younger

sister Savannah have raised over £15,000 for the Evelina

London Children's Hospital, which performed life-saving

emergency heart surgery on Luke when he was just five

days old. Together they have completed a 150-length

sponsored swim, run numerous raffles at the local cricket

ground, put on a quiz night, made and sold ceramic

decorations and Mothers' Day gifts, and more!

Pupils at King's have equally raised thousands, both

individually and as a collective, for a wide range of worthy

causes including Suicide Prevention Charity Papyrus

UK, the NHS, Farms for City Children, Hospice UK

and Rising Sun, a Canterbury-based charity countering

Domestic Violence and abuse in East Kent. Chair of the

Charity Committee Millie Lark says: "The past year has

been very disrupted for everyone, but as a school we have

continued to make raising money for charities one of our

main goals with a particular aim to support local causes so

that we could help make a difference in our community."

kings-school.co.uk / junior-kings.co.uk

15 priceless-magazines.com
---
"ONE WORD:

EXCEPTIONAL"

TATLER

"MOST FORWARD

THINKING SCHOOL"

THE WEEK

"THERE'S A RICH

VEIN OF KINDNESS"

TATLER

BRIGHTON COLLEGE

WISH YOU

WERE HERE

United Kingdom

School of the Decade

THE SUNDAY TIMES

OPEN MORNINGS | COLLEGE SAT 2 OCT | PREP SCHOOL SAT 9 OCT

BOOK YOUR PLACE 01273 704200 | BRIGHTONCOLLEGE.ORG.UK
---
,.....J

rd I

ALL COURSES

LOCKDOWN DISCOUNT 25% !

Flexible, Self-Paced Learning

flt/ Learn Something New

flt/ Begin a New Career

flt/ Start Your Own Business

info@adlhomestudy.co.uk

ri .adlonlinecourses.com

2020/21 hasn't hindered Sevenoaks School's plans to

strengthen its community bonds

Service and Partnerships are a hugely important part of

a Sevenoaks education. Even in lockdown we have 400

students working virtually on 35 projects. These include

conversation sessions with local Syrian refugees, knitting for the

NHS, a Poetry Pharmacy and a Primary Schools' Lego Club.

Throughout the pandemic, we have worked with local and

global communities to identify needs and respond. Existing

relationships have grown stronger, and new friendships have

sprung up, building upon our historic commitment to service.

This includes working with the District Council and local

groups, running collections, providing support for the elderly and

creating mud kitchens to encourage local children to enjoy the

outdoors. Our students have been at the heart of our response

helping communities around the world, from delivering meals in

Hong Kong to creating hampers for the elderly in Switzerland.

As part of our education we want to empower students, staff

and the wider community to drive sustainable and inclusive

social change whilst reflecting on the impact of everyday actions.

We have also shared best practice across the education

sector, holding a nation-wide service conference,

writing online courses to bring students from different

schools together, running an online social leadership

programme and our students have supported the creation

of a series of Covid community support toolkits.

sevenoaksschool.org

ADLLearningWT230.indd 1 14/06/2021 15:05

Celebrating our four

expanding Nurseries

across Kent

TONBRIDGE

TONBRIDGE 01732 365188 / tonbridge@juniorsdaynursery.co.uk

CRANBROOK 01580 713033 / cranbrook@juniorsdaynursery.co.uk

HEADCORN 01622 891422 / headcorn@juniorsdaynursery.co.uk

TUNBRIDGE WELLS 01892 341060 / tunbridgewells@juniorsdaynursery.co.uk

Dan Goldsmith Photography

FULL AND PART TIME SPACES AVAILABLE

We are also recruiting experienced, qualified staff across all four nurseries.

We offer numerous opportunities for career progression and training and

offer highly competitive salaries. Please contact us for more details.

O

Ad

Full da

For

Email: t

w

17 priceless-magazines.com

JuniorsDayNurseryWT230.indd 1 16/06/2021 14:26
---
Education Supplement sponsored by

inside out

Dulwich Prep Cranbrook

explains the success behind

its new PSHCEE program

As every child's inner world colours how they approach

life, we believe it makes sense to start with the inside

and work out, which is why in September 2019 we

introduced the iSpace Mental Health and Wellbeing Curriculum.

We're happy pioneers of iSpace – a progressive and preventative

approach to mental health and wellbeing. It's a curriculum

designed to make learning about mental health fun using a

new language, quirky characters and a variety of engaging

exercises. All our children (Nursery to Y8) enjoy a mix of weekly

lessons and assemblies based on the iSpace curriculum and

PSHCEE (Personal, Social, Health, Citizenship and Economic

Education) topics. As part of a whole-school approach, PSHCEE

develops the qualities and attributes children need to thrive

as individuals, family members and members of society.

When surveyed in December 2020, 94% of our children

said they'd used breathing to settle their emotions at times of

anxiety or anger; 85% felt able to talk about their feelings; 94%

understood how to look after their body and mind; 81% felt that

they got on better with their family; and 70% felt they'd spent

less time worrying – quite something, during a global pandemic!

Our PSHCEE curriculum is the perfect complement to our

partnership with the leading mental health charity, Place2Be.

We feel it is very important that conversations around wellbeing,

from troubles in the playground to more deep-seated issues,

take place as a matter of course throughout the school. And

Place2Be's residency helps make this possible, as well as giving

all our children easy access to therapeutic support if needed.

The children at Dulwich Prep Cranbrook are learning the

link between physical and mental health, and workshops on

resilience have looked at building a mental health hygiene

routine – ranging from having a tidy bedroom, to eating the

right foods, having enough sleep, and the importance of time

away from screens. Years 7 and 8 use a wellbeing compass to

gauge how they feel on a particular day. Resilience workshops

have given the children the language to help them build their

confidence – exercise the power of YET. Adding 'Yet' to the

sentence 'I can't do that…' helps to create a growth mindset.

Recent PSHCEE topics have included the Big Legal Lesson,

where children discussed the rule of law and government,

Growing Up Talks, Anti-Bullying workshops, Human

Rights, the US Election, and Internet Safety using SID (Safer

Internet Day) as a starting point. Our youngest children

have regular circle time sessions where they talk about

friendship and kindness. PSHCEE embraces everything

that helps our children become healthy, independent and

responsible members of a diverse and tolerant society.

dulwichprepcranbrook.org

"Children need to develop the necessary skills and language to express their feelings and emotions. They need to be able to recognise

and identify the moments that might cause them heightened anxiety and/or distress and to have tools to equip them to manage these

successfully throughout their life journey. Simple breathing exercises and learning when, and how to take time, are already giving the

children the ability to manage their emotions more effectively. They are also developing the confidence to discuss their feelings openly."

Mrs Alison Eckersley, Assistant Head Welfare at Dulwich Prep Cranbrook

19 priceless-magazines.com
---
CO-EDUCATIONAL | 13 - 18 YEARS | DAY & BOARDING

Under one hour

from London via

High Speed 1

(St Pancras

International)

"A thriving academic school in exquisite

surroundings steeped in history, with

highly motivated pupils who

are hungry to learn"

www.kings-school.co.uk
---
Education Supplement sponsored by

Meet the

Art Teacher

With a BA Hons in Fine Art, Bansted Preparatory School's Mr Matt

Ayling has designed and adapted an excellent Art & Design curriculum,

which makes full use of the school's fantastic facilities and resources

When and why did you become an art teacher? I have

been teaching art for 10 years after studying Fine Art at

university. I have always had an appreciation of children's

art; they exhibit a freedom of expression that is often lost

in adulthood. As Picasso said: "Every child is an artist. The

problem is how to remain an artist once he grows up."

Can you tell us a little about the importance and

benefits of encouraging creativity at school? Where

do I start! Creativity is certainly not limited to art

and the key is teaching children that they are all

naturally creative and to have confidence in applying

this thinking to everything they do, not just art.

At Banstead Prep we recognise that creativity and

problem-solving skills are essential for children's

future careers. Our projects, especially in Life

Skills lessons, are designed to encourage creativity,

giving children the opportunity to make mistakes,

experiment and find new innovative solutions.

Where do you find inspiration for the projects you

set pupils? I find inspiration everywhere, but mostly

from established artists and designers, building projects

that are hands on and allow the children room to

experiment, apply their own ideas and work through

problems. Art should be fun and rewarding for all.

What's the most rewarding part of your job? It is

always rewarding to see excited and happy children

taking part in a lesson that I have designed, but what

sticks most in my mind is witnessing that moment

when a child realises that they can do 'it', or sees their

art on display at our annual exhibition. They glow

with pride, pointing and showing their family what

they have done. It is an extremely rewarding job.

Is there an artist who has been particularly influential

for you? If I had to choose one, it would have to be Henri

Matisse. His work, particularly the paper cut outs, shares

similar qualities to children's art: fusing strong colour,

expressive marks and bold shapes, whilst using a visual

language that is deceptively complex and full of beauty.

What do you like to do in your spare time? I'm

currently working on a series of pastel drawings,

mostly displaying imagined interior or still life 'style'

compositions, combining vibrant colour and abstract

elements. They are certainly inspired by the children's art!

bansteadprep.com

21 priceless-magazines.com
---
ADVERTISEMENT FEATURE

Planning for your

family's future

When it comes to our

finances, not planning

for the future can

result in tens of

thousands of pounds

being unnecessarily lost to the UK

tax office and, in the very worst case,

costly and unpleasant family disputes.

Emma Howlett, an experienced legal

adviser in Thomas Mansfield Solicitors'

wills and inheritance planning team

sets out the steps you can take now

to protect your family's wealth and

plan for your child's future.

Write your Will

Making a Will and updating it when

your circumstances change is critical

to ensuring your family is looked after

following your death. With a Will you

can appoint guardians to care for your

children and choose your beneficiaries,

as opposed to the law determining

who should benefit from the things

you worked hard to accumulate.

Set up a Trust

A Trust can be a good way to put funds

aside for young children to inherit

when they come of age, while also

helping reduce tax liabilities. If you

prefer your child to be older before

taking control of the assets, the Trust

can continue up to the age of 25.

Make a Lasting

Power of Attorney

By putting in place Lasting Powers of

Attorney you can appoint someone you

trust to manage and make decisions

on your behalf in respect of your

property and finances and/or health

and welfare, should you lose the ability

to make your own choices. An LPA

can be used to manage your finances

to the benefit of your children.

Seek expert inheritance

tax advice

Low tax thresholds means that tax

planning is necessary to prevent

inheritance tax and capital gains tax from

being applied to your estate and diverted

from your loved ones. Even straightforward

households can have complicated tax

implications. Add in a business, a second

property, a trust fund, and inheritance

and specialist tax advice is vital.

We help our clients build a detailed

picture of their assets – your possessions,

property, money, investments, shares – and

start to think about passing these on to

the right people in ways that will retain

their value and give maximum benefit.

Speak with a member of our Tunbridge Wells 01892 337540 or Guildford team

01483 610499 today to find out how we can help you plan for your family's future

www.tmfamilylaw.co.uk www.tmwillsandprobate.co.uk
---
Education Supplement sponsored by

A World of Opportunity

Giles Perrin,

Principal of

Claremont

School tells us

how joining the

International

Schools

Partnership is

broadening its

pupils' horizons

The independent schools landscape

in the UK is changing. Challenged

by an increasingly competitive

market, new school groups up and down

the land are developing in size and scale and

creating cutting-edge international learning

communities, capable of attracting dynamic

educationalists who are leading the way in

pedagogy and curriculum innovation.

Claremont is part of a network of 50

schools, with over 45,000 students, 7,000

staff, operating in 15 different countries

and offering 15 different curricula. It's an

amazing network to be plugged into. The

security, stability and support afforded by

being part of a schools group, with the

student learning experience genuinely

at the heart of its decision making, has

had a tangible and profound effect from

the outset. We are part of a learning

community of enormous scale, with central

departments dedicated to improving

student pathways, developing and sharing

education innovations and technologies,

and delivering an evolving programme of

unique international learning experiences

that we believe set us apart from many other

independent 'through schools' in the UK.

The ISP Buddy Exchange programme has

brought a new dimension of internationalism

to our school; opening up the world to

our teenagers so they can safely immerse

themselves in new cultures and the type of

learning opportunities abroad that are often

reserved for the pre-university 'gap year'. In

its pilot year, Claremont students flew off

to Malaga, the British school of Vila Real

in the Castellon region and to Costa Rica

to stay and study with their buddies, before

we played host to them back in Blighty.

Adapting to a virtual model throughout the

pandemic has certainly got us thinking about

the scope for enriched learning experiences in

our modern foreign language departments!

Model United Nations is a stalwart

of many Senior School enrichment

programmes, but for us it is hosted in

a different ISP school each year and

sees students travel to countries all over

the world to meet and work alongside

their international counterparts. It is a

dynamic and authentic learning experience

that enables students to develop their

understanding of global citizenship

and international relations in a real

world setting, whilst also honing their

public speaking and debating skills.

The residential Student Leaders

Conference provides further opportunity

for students across the ISP network

to develop communication skills and

explore leadership styles before presenting

their findings and ideas back to an

international audience of their peers.

Advances in technology continue to play

a key role in bringing our international

learning community close together from

afar. During the pandemic, promising school

chess teams from across the ISP family have

had their cognitive and critical thinking

skills put to the test in the annual ISP Chess

Tournament, whilst speed and accuracy

of mathematics fluency is the name of the

game in the annual ISP Maths Challenge.

Most recently, the launch of The ISP

International Film Festival 2021 inspired

our Performing Artists and over 30 teams

in the ISP schools group to write, direct

and produce their own five minute film

to showcase their talents and creativity on

the international stage. The standard of

work was quite remarkable with Claremont

students' interpretation of the theme 'I wish

I hadn't done that' rewarded with the win

in the Best Production Design category.

The scope for connecting and collaborating

with students from all around the world

as part of the ISP group is so unique.

A centralised programme of learning

experiences that enable ISP students across

the globe to meet, create, share, expand

their minds and broaden their educational

horizons continues to evolve. More

exciting international opportunities await

Claremont students next year, including a

programme dedicated to equipping students

with the knowledge and skills needed

to address issues of global sustainability,

a 'real-world' STEM research project,

International Summer Schools and camps

and new ways for our global community

to come together in support of ISP's Street

Child United Charity Partnership.

Importantly for us, Claremont remains

Claremont, with its own distinctive

character, ethos and spirit. Our partnership

with ISP has empowered us to continue to

develop as a progressive, local school but

with a more relevant and authentic global

outlook. As such we believe we have found

the best place for our school and students

as we press on with the next stage in our

evolution. We have much to look forward to.

claremontschool.co.uk

23 priceless-magazines.com
---
'A great place to grow'

for boys and girls aged

2 to 11 years

Confidence

Creativity

Consideration

Care

Curiosity

Contact 01233 812337 for

more information and to book

a personal tour

Wye, near Ashford, Kent

www.springgroveschool.co.uk
---
Education Supplement sponsored by

Meet the Head

Mrs Therésa Jaggard, Head of Spring Grove School,

chats skill sets, hobbies and school values

Why did you choose a career in teaching?

I enjoyed a range of subjects at school

and thought a career where I could both

use my skill set and have variety would

suit. I then worked as a volunteer for

some youth groups and found sharing

the skills I had learned with young

people very satisfying. I am naturally

motivational and enjoy inspiring others.

Can you tell us about an inspirational

teacher from your school days? My Head

of Music – she took time to recognise

a talent I had and nurtured it. She also

noticed when I needed support and

gave me a lot of encouragement – she

provided me with many opportunities

and signposted me to county orchestras

and choirs to further my skills. She

always went above and beyond.

What do you like doing in your spare

time? Music – I am a violinist, pianist

and singer and enjoy making music

with friends. As well as my wide-ranging

musical interests, I also enjoy a variety of

sports, particularly swimming and skiing –

which I adore. I enjoy cooking and trying

out new recipes, entertaining friends and

family. I have a dog and two Siamese cats

who keep me busy in my spare time.

What were you doing before accepting

the headteacher position at Spring Grove

School? I have had experience in both

the state and independent education

sectors, and most recently was Deputy

Head Teacher at Leybourne St Peter

and St Paul CEP Academy, where

I led the school through Academy

conversion. I had experience as Acting

Head at Leybourne, and was also

seconded by the local authority as

Acting Head to another Kent school.

What do you think makes Spring Grove

School special? Without doubt the

strong family feel at Spring Grove, and

the knowledge that the children are

at the heart of everything we do. The

children at Spring Grove are curious

and friendly – they love learning and

enjoy living. We deliberately cultivate an

appetite for adventure and a tolerance

for error, creating can-do people,

who are able to act independently.

Can you explain a little bit about your

school's values? Our core values are

summed up in the words 'Confidence,

Creativity, Consideration, Care and

Curiosity'. Our expert teachers and

support staff deliver an ambitious,

broad, knowledge- and skills-based

curriculum, where there is mastery of

subjects from phonics through to the skills

needed to play a musical instrument.

What's been your proudest achievement

so far? Steering the school through

a pandemic – safely. I'm so proud of

the team I lead; every member of the

Spring Grove staff has adapted to

face the many challenges that have

been thrown up this year. I drive into

school everyday feeling it's my second

home – which is rather lovely.

What are you looking forward to

this coming school year? Having a

'normal' school year! I am looking

forward to all the things that have

been restricted recently – having whole

school assemblies in the hall, inviting

parents into school, engaging with the

wider community. I am also excited

to restart our ensembles and see the

children making music together again.

springgroveschool.co.uk

25 priceless-magazines.com
---
Education Supplement sponsored by

Show Time

EM Forster Theatre is at the heart of the Tonbridge community,

and is delighted to be opening its doors once again

It is great to be open again. There is nothing quite

like live performance, and the excitement and

buzz of that shared experience. The EM Forster

Theatre is at the heart of Tonbridge School and

has many uses across the school and the wider

community. For the boys it is their drama

classroom, where they have seminars, workshops

and rehearsals.

We also produce three large-scale school

productions a year, as well as many house plays

and other student shows. On our third attempt,

with restrictions lifting, we were at last able to

present Into the Woods, our Junior Play, this

summer, which was an outdoor, musical show

held in the school's Smythe Library Gardens. We

are so lucky to have such beautiful grounds at

Tonbridge School and are making the most of

these this summer with a selection of outdoor

productions.

The Theatre is, of course, open to the local

community and we host a year-round programme

of professional theatre, dance and comedy. Our

summer season includes a mixture of indoor and

outdoor shows, with something for everyone.

In our amphitheatre, The Handlebards are

returning with their particular brand of chaotic

and brilliantly funny outdoor theatre, this time

with their version of Macbeth. Britain's Got

Talent contestants The Noise Next Door will be

performing comedy for all the family, and we are

delighted to say that Wicked Productions will be

back for an open-air panto version of Treasure

Island, starring local favourites Tom Swift and

Ant Payne, which is sure to provide the riotous

fun many of us are in need of this summer!

This has been a tough year for so many people,

and while we are restricted to 50 per cent

capacity, we are committed to ensuring our

events remain accessible to the local community

and have kept our ticket prices low. We have

really missed hosting local companies and, while

it isn't possible to have large casts at the moment,

we can't wait for LAMPS to be back with Tommy

the Musical in the autumn, and look forward

to welcoming back many schools and dance

companies over the coming year.

The Society of London has 'See It Safely'

approved us and we have many safety measures

in place including hand sanitising, socially

distanced seating, temperature checks and mask

wearing. Drinks and snacks can be ordered via

a web app and delivered to your seats, to avoid

queues at the bar.

Other season highlights include a screening

of the classic musical 42nd Street, the graduate

company from Ballet Central returning for

an amazing evening of dance, and children's

CBeebies favourites Sarah and Duck are coming

to us for the first time in July. It will be so good to

see our family audiences back in our auditorium!

Full details are at emftheatre.com or you can call

the EM Forster Theatre on 01732 304241.

priceless-magazines.com

26
---
Dream Big,

Shine Brighter

An incredibly nurturing day and flexi-boarding

school inspiring 3-13 year old boys and girls

to fulfil their extraordinary potential.

dulwichprepcranbrook.org

Shortlisted

Creativity award

Student Wellbeing

dulwichprepcranbrook.org
---
CO-EDUCATIONAL | 3 - 13 YEARS | DAY & BOARDING

Under one hour

from London via

High Speed 1

(St Pancras

International)

"this traditional prep school

brings out strengths, both

academic and creative"

www.junior-kings.co.uk
---
Grilled Smokey Bacon Steaks

Education Supplement sponsored by

What's Cooking?

Benenden School describe their impressive food offering

which has won them a Tatler School Award

Can you run us through the school's

dining offering? Benenden is renowned

for its excellent food – in fact it won the

Best Food Award in the latest Tatler School

Awards. We are able to offer a wonderful

range for pupils and staff, from home-cooked

favourites to the most sophisticated dining.

You can see some typical menus here.

What do you think makes your school's

meal offerings special? The quality and

variety of our freshly prepared and locally

sourced food ensures the Dining Room and

Café are the social hubs of every school day.

We prioritise seasonal menus, with lots of

fruit and vegetables to promote good health.

We were very pleased with Tatler's

description of Benenden's food, in which

they said: "Fuelling all this enterprise must

be the incredible food: comparable to

Ottolenghi's finest, these girls eat bowls of

edamame beans, sushi rice with beetroot

and roasted vegetables and skate fillets with

tomatoes and caper berries – all finished

off with the most delicious brownies."

Do children have access to snacks between

mealtimes? With long and busy days running

from 8.30am into the evening, it is important

for Benenden girls to keep their energy levels

up! There are two specific break times

every day – one in the morning and

one in the afternoon – and the

boarding house kitchens are open

in the evenings for pupils to make a

light snack before bed if required. Fruit

is also available throughout the day.

How often are menus changed or rotated?

New menus are designed each week. Our

fantastic team of chefs are inspired each week

to serve the most delicious food. Enthused

by regular feedback from the pupils and staff,

our chefs create innovative and nutritious

menus, with something for everyone.

We are always taking into account

requests from our pupil body – a great

example being the meatless Mondays

we introduced last year as part of our

drive to be more eco-friendly.

How are reluctant eaters encouraged

and looked after? A wide range of special

diets are catered for, safe in the knowledge

that all ingredients are sourced by the team

and therefore fully traceable. At Benenden,

everyone is wonderful at looking out for

one another and our pastoral team will

quickly pick up on any pupils who

are not eating healthily and will

work with them to help them

achieve a balanced diet.

benenden.school

★ Monday Supper ★

Slow Roasted Italian Pork

Spaghetti Alla Puttanesca

Creamy Polenta

Mushroom Ragu

Garlic, Parmesa

Mozzarella B

Sprouting

Tray Ba

Veget

★ Saturday Lunch ★

Lamb Masala Curry

Sweet Potato, Spinach &

Chickpea Korma

Basmati Rice

Plates: Chicken decoration,

£150 for set of 6 rajtentclub.com;

Newport (hexagons) £38, 1948

(gold splatter), £48, Helsinki

(blue cross), £28, Ether (pale

blue), £18, all jonathanadler.com

Poppadums & Chutney

Garlic Roasted Potatoes,

Garam Masala Spiced
---
Education Supplement sponsored by

a

moment of

science

Dr Darragh Corvan, Head of

Physics at Mayfield School shares his

experiences as a science teacher

the

fun of

physics

Encourage young minds to

enquire and explore physics

with these fun gift ideas

When and why

did you become a

science teacher?

When I was about five years old, my

uncle bought me an encyclopaedia

that contained a section on the

planets. I remember looking at this

pretty much on a daily basis, and

being blown away by some of the

concepts presented there. This first

piqued my interest in Physics. I've

always loved talking about Physics

and, having many friends who

are non-physicists, I often needed

to adjust how I talked about my

work to them. So teaching was a

no-brainer for me. I eventually

became a Physics teacher at the age

of 22, after finishing University,

and I'm currently Head of Physics

at Mayfield School.

What's the most rewarding

part of your job?

Every day is different, and every

student is individual and unique

in their interests and challenges.

I particularly enjoy the moments

where I see understanding on

the faces of pupils who had been

confused about a concept just

seconds before. It is also really fun to

show pupils helium as a super-fluid

running through a glass container!

What is the most popular part of the

curriculum amongst pupils?

This is an interesting one. Each

student is very individual, so it's

really about finding a 'hook' for

each of them in their younger

years. Certainly, at GCSE the most

popular topic is space. At Mayfield,

we have an Astronomy Club, one of

50 extra-curricular activities, where

the students get to do fun things

like observe Mars using a telescope

– they love it.

What are the most exciting

and unexpected careers that

studying Physics leads to?

Some of my friends have ended

up as lecturers in universities

across the world, some as teachers,

engineers and some in finance or IT

sectors. Many went into the medical

profession operating MRI and

radiography machines, but perhaps

more unusually, one went into

working with Team GB developing

sports equipment.

Do you have any advice

for girls looking to study

Physics at University?

Never be afraid to read around your

subject, it is fascinating! The more

I read about Physics, the more I

realise there is to learn. Moreover, it

is becoming increasingly important

to be competent in computer

programming, so get confident

with ICT.

Women in Science:

50 Fearless Pioneers

Who Changed the

World by Rachel

Ignotofsky £9.09

amazon.co.uk

My discovery telescope

£16.50 Thames & Kosmos

thamesandkosmos.co.uk

Space explorer

pencil case £12.50

eatsleepdoodle

eatsleepdoodle.co.uk

Create your own

solar system

£9.99 Oscar & B

oscarandb.com

mayfieldgirls.org

Night sky projector

£15 Natural History

Museum nhm.ac.uk

31 priceless-magazines.com
---
An independent day, boarding

school and nursery for girls and

boys aged 2-13

Vinehall

ROBERTSBRIDGE EAST SUSSEX

VINEHALLSCHOOL.COM
---
Education Supplement sponsored by

Starting

small

Deputy Head & Head of Early Years

at Parkside School, Mrs Madeline

McMurdo explains how to ease a child

into their first experiences of school

Can you tell us a little about your preschool

offering at Parkside?

Parkside nursery is a place for children to feel safe,

happy and nurtured. Situated in a large secure building

within the stunning Parkside grounds, the nursery has

spacious classrooms, a library, music room, interactive

whiteboard and lovely outdoor areas. The children

are taught by experienced Early Years staff, enjoying

a rich and exciting learning environment in which

they are stimulated and challenged through a variety

of experiences. They all flourish under specialist

teaching in forest school, music, French, swimming

and sport with the teachers from the Prep School.

How many sessions are recommended

for each year group?

The 2-3 year olds are required to do a minimum of two

morning sessions and the 3-4 year olds build up from

three mornings in the autumn, to four mornings and an

afternoon in the spring, to the final term of five mornings

and two afternoons. A morning session is from 8.30am

to 12pm with the option to stay for lunch until 1.30pm

in the school salon, which is extremely popular. A full

day ends at 3pm with wrap around care until 6pm.

Can you explain the goals of the Early Years

curriculum and what you focus on?

At Parkside Nursery, the focus is on teaching core skills,

independence and confidence to prepare them for the

transition to reception. With a planned curriculum,

balanced between adult-led and child-initiated activities,

children develop enquiring minds, fully explore their

curiosity and gain a love of learning and questioning. We

focus on all of the 7 areas of learning with importance

placed on good listening, kindness, collaboration and

respect for themselves, each other and the school.

Parkside School is a boys'

school, are girls able to access

your nursery provision?

Yes, the nursery is co-educational and

girls enjoy a full and varied curriculum

from the age of 2. The ratio of girls

to boys is 40/60, with many siblings

of boys in the school. Girls transition

to local girls' schools, notably Notre

Dame, Manor House or Rowan.

What happens at parent and

toddler club and who can join?

Parent and toddler club runs weekly for

children registered to start nursery after their

second birthday. It is an opportunity for the

children to familiarise themselves with the

nursery environment, the grounds, the teachers

and the key workers. It's also a time for the

parents to meet each other in a relaxed setting,

as their children enjoy and engage in play. Each

week there is a planned adult-led activity for the

children to enjoy and time to explore the grounds.

What do you think makes the nursery extra special?

Happiness is the key to learning, which underpins

the ethos at Parkside. With space to grow and staff

who care, all the children thrive, feel loved and secure

and develop a hunger for learning. What can be better

than being in a nursery within a school, set in 45

acres of stunning woodland, with extensive facilities: a

swimming pool, large gym, music room, salon, forest

school area and much more for all the nursery children

to use and enjoy. Come and visit to see for yourself.

parkside-school.co.uk

33 priceless-magazines.com
---
A level

performance in

the top

0.5% of

schools nationally

in 2019.

TO BE KNOWN

TO BE YOU

OPEN MORNINGS

Saturday 25th September

Wednesday 20th October

Visit our website to register.

inspire

bethanyschool.org.uk

01580 211273

registrar@bethanyschool.org.uk

CURTISDEN GREEN, GOUDHURST, KENT, TN17 1LB

Co-ed day

and boarding

Ask about

scholarships

and bursaries

Many minibus

routes offered

See website

for details

BethanySchoolWT230.indd 1 07/06/2021 12:11

A hidden gem of a school and

nursery, just 15 minutes from

Tunbridge Wells in rural Wadhurst.

An Independent Catholic primary

school and nursery welcoming

boys and girls aged 2-11.

ISI rated 'Excellent' in all areas.

Individual and exceptionally high

level of care and education

NURTURING

YOUNG HEARTS AND MINDS

Contact us to book a personal tour

01892 783414 admin@sacredheartwadhurst.org.uk

www.sacredheartwadhurst.org.uk

Scholarship and 11+ success

Small classes

Surprisingly affordable fees

TOP 50 PREP SCHOOLS 2020

priceless-magazines.com

34

SacredHeartSchoolWT230.indd 1 15/06/2021 16:16
---
Education Supplement sponsored by

Meet the

Music Teacher

Introducing Miss Sophie Brack, Director of Music at Lingfield College

Have you always been musical?

Since a young age I just knew I wanted to do something with

music. My family are all musical, so it was always around me

growing up. My main instruments are piano, clarinet and

voice, but I also play the saxophone and ukulele.

What made you decide to teach music?

I had a passion for music when I was at school, and I would

teach friends in my class how to play tunes on the piano. I just

loved sharing the joy of music, seeing people learn a new skill

and engage with it when they didn't think they could. I knew

from the age of 12 or so that I wanted to be a music teacher.

What's your favourite part of the

school's musical offering?

One of the things I'm most proud of at Lingfield

College is that we offer something for everyone

musically. No matter what level or instrument a

pupil plays, no matter what style or genre they

may enjoy, there is a choir, band or ensemble

for them to join to perform and be part of

something and be creative. We are fully

inclusive.

Can you tell us about an inspirational

teacher from your school days?

Two people stand out from my school

days that inspired me musically.

Miss Kutchmy, my Head of Music

at Surbiton High School, gave me

confidence in my singing and helped

shape my voice, and the legend that

was Sir David Willcocks, who was

the conductor of The Bach Choir

when I sang with them for

several of my school years.

How do you encourage more nervous pupils

to increase their musical confidence?

This is a large part of being a music teacher, and it's vitally

important we go about it in the right way; otherwise, a student

can be put off for life. At Lingfield College, we have found that

smaller 'Informal Recitals' with family and staff are fantastic

ways to boost our students' confidence with their music. We

try to provide a warm, nurturing environment where they

focus on practising their pieces and honing performance skills.

What music do you listen to in your spare time?

Oh goodness, a wide variety! If classical, it's likely to be

Rachmaninov or Mozart but I also adore all Musical Theatre,

and I'm currently on a roll of listening to anything by Ben

Platt. I was brought up on all the jazz standards, so I love the

Ratpack too, particularly Frank. But everyone at Lingfield

knows my answer is going to be Michael Bublé!

If you could work with any composer,

from past or present, who would it be?

If I really can only pick one, then probably Rachmaninov. I

adore all his work, particularly Symphony No.2 and Piano

Concertos No2 and No3. To work with him and write a piano

piece would be mind-blowing. Not sure my hands would cope

with some of the chords he writes though!

If you could see anyone live on stage, anywhere

in the world, who and where would it be?

I would have loved to have seen Frank Sinatra at The

Sands Hotel in Las Vegas back in the day, but as for right

now? Frankly, any live concert is good for me; I just

want live music back! It's been such a rough time

for the arts; I think everyone just wants to see the

orchestras return, West End theatres open, and

live gigs come back. I'll be buying as many

tickets as I can once that happens.

lingfieldcollege.co.uk
---
M ay fi eld

AN INDEPENDENT DAY AND BOARDING SCHOOL

FOR GIRLS AGED 11 TO 18

OUTSTANDING ACADEMIC RESULTS • SCHOLARSHIPS AVAILABLE

EXTENSIVE CO-CURRICULAR PROGRAMME

EXEMPLARY PASTORAL CARE & NURTURING ENVIRONMENT

STATE OF THE ART EQUESTRIAN CENTRE

SET IN THE BEAUTIFUL SUSSEX COUNTRYSIDE

FLEXI, WEEKLY AND FULL BOARDING OPTIONS

MINIBUS SERVICE ACROSS SUSSEX AND KENT

Open Mornings

SATURDAY 25 TH SEPTEMBER & TUESDAY 9 TH NOVEMBER

TO BOOK YOUR PLACE VISIT OUR WEBSITE

TO ARRANGE A VISIT PLEASE CONTACT MRS SHIRLEY COPPARD,

REGISTRAR@MAYFIELDGIRLS.ORG

WWW.MAYFIELDGIRLS.ORG
---
Education Supplement sponsored by

How does

your garden

grow?

Cranbrook Primary's kitchen garden project is revolutionising how their pupils

look at nutrition, teaching them about the natural world and giving them time

to enjoy the outdoors, so how do they do it? Judith Caustin explains

How has Cranbrook Primary's garden

developed over the last few years? Tracey

Johnson, our forest school leader, started

Gardening club about 12 years ago. Since

then, the garden has slowly evolved and

it even won an award with Cranbrook in

Bloom for best school garden. A new poly

tunnel was added three years ago and with

the generous help of a financial donation

from Wealden Times, the school garden

has developed a lot over the last two years.

When the founder of Wealden Times,

Julie Simpson, visited the school, she saw

the potential in changing the grassed areas

for a more useable pathway. Gardenscape

provided the bark donation, and Wealden

Country Landcraft resurfaced the area, also

supplying and fitting two new raised beds

to complement our original four. Now the

garden is much more safely accessable all

year round so the kitchen staff and classes

can make use of any produce available,

especially salad leaves and herbs.

How did you get involved? As the school

cook, I am passionate about where our food

comes from, how it is produced, eating

well and food milage. I recognised this as a

place where children can start to develop the

same passion. Three years ago, the volunteer

vacancy for gardening club became vacant,

I was already running cooking club at the

time and could see the benefit of the two

clubs working together. 'Fork to plate'

began.

How have the children reacted? They enjoy

being out in the fresh air, come rain or shine

and are really proud of anything they grow.

They love our homemade wormery and

feeding the worms scraps from the school

kitchen.

Do parents get involved too? Two parents,

Kate Reader and Debbie Bell, volunteer

every Monday to run gardening club and

Kelly Charge runs cooking club every week

with me. Their families often visit the school

out of hours to maintain the garden, water

the plants, prune apple trees, lay vegetable

beds and much much more.Our PTA

also got a community grant from The Coop

which helped provide cooking and

gardening equipment to get us started.

How have you been developing a fork-toplate

culture? It is a slow work in progress,

but fast and convenient is beginning

to lose its attraction in favour of the

homegrown and tastier, often mis-shaped

fruits and vegetables. Children are much

more likely to try a new food if they have

been involved in its growth or production. I

serve food from the garden alongside lunch

in the school hall. We had a food trial at

school only last week and the children who

made the 'green goddess muffins' (spinach

and cheese) were saying 'yuk I'm not eating

that' at first, but were soon tucking in once

the muffins came out warm from the oven!

How have you kept things going over the

past year? It was the garden that helped us!

Cranbrook Primary was open throughout

lockdown for Keyworker families and it

was a key part of school life. The children

helped harvest potatoes and broad beans

which they then had for lunch on the same

day. The financial donation from Wealden

Times helped as we couldn't sell our produce

during the pandemic, and Bumbles Plant

Centre's delivery service enabled us to buy

more seeds, plants and flowers.

cranbrook-cep.kent.sch.uk

37 priceless-magazines.com
---
Education Supplement sponsored by

Which extra-curricular activities will

look good on my UCAS application?

Just how important are impressive lists of hobbies and copious amounts of volunteer work to universities?

Dr Kirsten Dickers, Higher Education, Careers and Research Leader at Ashford School explains

In nine years as an admissions tutor, this was probably the

question I was asked most often. Busy teenagers who were

already trying to juggle Sixth Form studies, part-time jobs

and social lives were worrying about how to cram in voluntary

work, leadership positions in school, competitive sports,

music, Duke of Edinburgh and countless other activities.

I hope that my answer came as a relief: UK universities,

particularly the more selective ones, don't base their selection

decisions on extra-curricular activities. Instead, they look

for super-curricular engagement, or evidence that applicants

are exploring the subject they want to study beyond the

confines of the school curriculum. To be a competitive

applicant, this is what students should focus on.

The good news is that it's easy to do. There are numerous

ways to research topics that they find interesting – reading,

following the news, listening to podcasts, watching

documentaries, MOOCs, essay competitions, olympiads

and other problem-solving challenges, relevant work

experience, attending university webinars, taster days and

summer schools, and many more. In addition, there are

qualifications such as the EPQ and CREST awards, which

help students develop valuable research skills at the same

time as learning more about a subject of their choice.

Universities stress that quality is better than quantity,

in the sense that they would rather see a few things done

thoroughly than a long list of quite superficial engagement.

I normally advise students to focus on three or four main

ideas in a personal statement, demonstrating reflection on

each: What is their opinion of what they have read? How

does it extend their learning? Has it changed their view,

and why? What questions does it leave them with?

Many university websites have suggestions for wider research

and reading, but bear in mind that these are meant to be

jumping-off points for a student's own exploration, not a

restrictive list of 'approved' books. Academia is all about people

following their own ideas and enthusiasms, and this is what

they want to see applicants doing. Admissions tutors will

favour genuine academic engagement over name-dropping and

prestige. For an Economics applicant, work experience at a

major investment firm is not 'better' or more impressive than a

priceless-magazines.com

38
---
summer job in a local supermarket. Both offer a chance to see

economics in action, and the important thing is what a student

makes of that opportunity. Some of the most interesting

candidates I interviewed were the ones who ostensibly had

the least prestigious experience – because rather than wasting

their energies chasing after CV points, they had taken the

time and effort to really reflect on what they had done.

None of this is to say that extra-curricular activities

aren't valuable in their own right. They are an excellent

way of developing skills and qualities such as resilience,

self-motivation, teamwork and leadership, which will be

hugely beneficial at university and in later life. But the

message to students is to do activities because they enjoy

them and want to develop these skills, not just because

they are hoping for extra credit in the selection process.

My advice to applicants is: Think about why you are

applying for a particular degree course. What excites you

about it, and which topics are you most looking forward

to studying? Focus on exploring these ideas independently

and in depth. Find your own enthusiasms, and that will

come across in your personal statement and at interview

– and equally importantly, you will hopefully have a

more enjoyable and less stressful time in Sixth Form.

ashfordschool.co.uk

For boys and girls aged 3 months to 11 years

38 Dry Hill Park Road

Tonbridge

Kent TN10 3BU

Are you considering a new

school or pre-school

for your child?

If so, please get in touch to arrange

a personalised tour with our

headmistress, Mrs Katy Joiner.

Nurturing a Lifelong Love of Learning

www.hildenoaks.co.uk/bookings

registrar@hildenoaks.co.uk

01732 353941

Welcome

Unlock the door to your child's future...

HildenOakSchoolWT230.indd 1 15/06/2021 16:43

87 priceless-magazines.com
---
UNIT 11 HART SHOPPING CENTRE

FLEET | HAMPSHIRE | GU51 3LA

01252 621035

www.experiencethedifference.co.uk
---
For every

lobster swimsuit

sold, a baby

lobster is reared and

released back into

the sea

Life's a

Beach

3

Style your 2021 beach looks sunny side up with whimsical

one-pieces, vintage vibes and on-theme jewellery

4

6

1

2

5

7

8

9

12

10

11

15

13

14

1 Indah handmade sun parasol £285 Trading Boundaries

tradingboundaries.com 2 Palm tree studs £20 Scream Pretty

screampretty.com 3 Lobster swimsuit made with recycled plastic

£50 Batoko batoko.com 4 Bernadette bikini top £45 Holiday

Romance holidayromancestore.com 5 Willow dress £130 Friday's Find fridaysfind.com

6 Cowrie shell huggies £42 Ella Palm ellapalm.com 7 Spring impressionist swimsuit

£80 Cocoeve cocoveve.uk 8 Wide linen trousers £99 Mint Velvet mintvelvet.co.uk

9 Flat wide brim hat £24 BasketBasket basketbasket.co.uk 10 Chimila

blue hoops £38 Friday's Find fridaysfind.com 11 Celeste dress

£79 Marie & Lola marieandlola.com 12 Nazlı Ceren Rache

Kaftan Pareo £214 Wolf & Badger wolfandbadger.com

13 Daffodil stripe tote £49 Braided Rug Company braided-rug.co.uk

14 Capri vacation one piece $215 peony peonyswimwear.com

15 Shell swimsuit £45 Oliver Bonas oliverbonas.com 16 Oriane

dress £79 Marie & Lola marieandlola.com 17 Ribbed guest towel £20

The Multilocal themultilocal.com 18 Tiggy bag £52 Grey Star Interiors

greystarinteriors.co.uk 19 Sea urchin textured ring £1,000 Lucy Sylvester

lucysylvester.co.uk 20 Square sunglasses £15 M&S marksandspencer.com

19

16

See Fridays

Find and Marie

& Lola at Wealden

Times Midsummer

Fair 2021

17 18

20

89

priceless-magazines.com
---
See Katie

Mullally at

Wealden Times

Midsummer Fair

2021

3

4

6

2

5

1

9

13

7

8

11

1 Pink swimming cap topper £30 Tot

Knots of Brighton totknotsofbrighton.com

2 Shell necklace £80 Scream Pretty screampretty.com

10

3 Whale/mermaid tail pendant £100 Katie Mullally

katiemullally.co.uk 4 Gurli coral necklace £38 Solvi Jewellry

solvijewellery.com 5 Aulala Paris bikini £119 Wolf & Badger

wolfandbadger.com 6 Monogrammed sustainable jute hampton bag £55

Initially London initiallylondon.com 7 Khu Khu fan £69 Wolf & Badger

wolfandbadger.com 8 Cream tie side one piece $185 peony peonyswimwear.com

9 Maui rashvest £115 Alma Society alma-society.com 10 Clam shell slide £9.50 Oliver

Bonas oliverbonas.com 11 Immi espadrilles £69.99 Blue Velvet Shoes bluevelvetshoes.com

12 Starfish necklace £14 FatFace fatface.com 13 Pride edition Lemon Superfood

All-in-one Rescue Butter £14.90 Dr Botanicals drbotanicals.com

12

dressing undeniable beauty

35 High St,

Cranbrook

www.odyl.co.uk

01580 714907

See you at Wealden Times

Midsummer Fair

New 2021

CONDICI

Collection

Now In Store

Surrey's Leading

Occasion Wear

Boutique

www.melitaboutique.co.uk

57 High Street, Chobham, Surrey, GU24 8AF

Tel: 01276 856308

priceless-magazines.com

90

OdylWT230.indd 1 16/06/2021 MelitaOfChobhamWT230.indd 16:29

1 14/06/2021 16:24
---
Garden Party Ready

Reader Offer

10% OFF

with code WEALDEN21.

Offer valid until 21/08/21.

www.NoLoGo-Chic.co.uk

The home of contemporary and luxury

footwear direct from the heart of Europe

NoLoGoChicWT230.indd 1 16/06/2021 09:45

Always one step ahead,

they have established themselves

on their quality and first-rate service

Blue Velvet

Call 020 7376 7442 Visit them at: 174 Kings Road, SW3 4UP Buy Online: www.bluevelvetshoes.com

91 priceless-magazines.com

BlueVelvetWT230.indd 1 07/06/2021 12:44
---
INTRODUCING SCOTCH & SODA

GANT

HACKETT LONDON

TOMMY HILFIGER

CLAUDIO LUGLI

SCOTCH & SODA

Opening Hours Mon - Sat 09.30 - 17.30

3 Oakdene Parade, Cobham,

Surrey KT11 2LR.

Telephone: 01932 865700

www.jeremyhobbs.co.uk

info@jeremyhobbs.co.uk

JeremyHobbsS53.indd 1

County Clothes Menswear

A long-established menswear specialist in Kent and East Sussex

JeremyHobbsWT226.indd 1 15/02/2021 17:34

Calling all Grooms!

Find everything you need to prepare for your big day & get free and

professional alterations on all full priced items purchased!

www.countyclothesmenswear.co.uk

Photography by @LWNaturalisticPhotography

priceless-magazines.com

92

CountyClothesWT230.indd 1 15/06/2021 10:08
---
Beauty

Up!

Get that oh-so-desirable sun-kissed look with Josephine Fairley's

ultimate fake tan tips (no sun needed – fortunately!)

To tan or not to tan…? That is

no longer the question. Because

today's fakes – bronzers, instant

tints and other sun-kissing products –

are so darned good, you'll never be able

to tell the difference. You can literally

go from pale-and-terribly-uninteresting

to bronzed goddess, with the swish of a

fluffy brush or the touch of a tint. And

since – at time of writing – summer

really hasn't made up its mind whether

we're going to get so much as a freckle

by venturing outside, I reckon there's

never been a better time to explore all

the fab fakes and faux glows out there.

Personally, I have been putting a

LOT of these through their paces,

this spring. Slightly reluctantly I've

been closeted inside tying up some

loose ends on a long-term project,

with limited opportunities to stroll

even the few hundred yards to

Hastings beach, or to attempt a bit of

gardening before dusk. So, here are

the products I've been reaching for to

make up for lack of IRL sunshine

First up: Guerlain Terracotta

Bronzing Powder, £39, which was

one of the original bronzing products,

but which (so far as I'm concerned) is

better than ever, for 2021 because it

is – for the first time – composed of

almost exclusively natural ingredients.

Same instantly gilded look and finish

– a whisper of colour which can be

built up (with a big, fluffy brush)

to the level of bronzitude you'd like.

It has the same seamless finish for

which Terracotta is widely-loved,

partly thanks to the argan oil in the

blend – but now, it doesn't simply

look 100% natural; the formula itself

is impressively 96% natural, too. It's

available in six shades – and gosh,

that's an improvement on the oneshade-suits-all

bronzers of yore.

Meanwhile, almost every beauty

editor we know also swears by the

easy-peasy Chanel Healthy Glow

Bronzing Cream, £43. This cream-gel

bronzer adds a touch of sun-kiss with

a velvety finish; it comes in possibly

the most glamorous jar on the planet

– in fact, it's all-round gorgeous. It

has become – no great surprise to

me – the #1 Prestige Bronzer in the

UK, but again, from my perspective,

Healthy Glow Bronzing Cream just

got better. We don't all come in one

shape, or one size, nor (all-importantly)

one skin tone – so Chanel just added

a 395 Soleil Tan Deep Bronze to sit

alongside the original 390 Soleil Tan

Bronze, which works with deeper skin

tones, or can be used to enhance a

deeper fake or natural tan. Touch and

blend with your fingers (couldn't be

easier), or use Chanel's particularly

glam version of the kabuki brush.

In terms of fake tanning, meanwhile,

I'm a massive, long-term fan of James

Read's range – and I'm particularly

keen on a couple of innovations from

this tanning brand which really put

you in the driving seat in terms of

the shade. It's clever stuff, because

GLOW20 is 'adjustable'. Apply the

lightweight GLOW20 Facial Tan

Serum, £25 for 50ml, for instance, and

simply remove it after 20 minutes for

a light tan, 60 minutes for a medium

tan or 90 minutes for a full-on, deep

bronzed glow. You can of course top

up whenever you like, and there's a

quick blast of skin-boosting ingredients

while the serum gets to work, too:

hyaluronic acid and aloe vera, plus

vitamin C to brighten, leaving skin

looking perkier and healthier straight

away. But this facial product also

has a 'sister', for bodies, GLOW20

Tan Mousse, £30 for 200ml – same

'controllability', also with a blend

93 priceless-magazines.com
---
Beauty

of nourishing ingredients that include avocado oil, vitamins C

and E, hyaluronic acid, coconut water and honeysuckle flower

extract. (You just need access to a shower to rinse it off, when

time's up – and first time out, I'd stick with the 20 minutes

so you can assess the effect on your individual skintone.)

A growing category for facial self-tanning, meanwhile, is

the self-tan face mist. I particularly like St Tropez Self Tan

Purity Face Mist, £19.75 for 80ml, which smells a little like

a tropical vacation (nothing wrong with that, in the absence

of the real thing), and simply spritzes lightly onto the face

with no need to blend; it also features hyaluronic acid, so it

gives skin a bit of a quench, too. (Though I would always

apply after moisturiser or night cream.) At the affordable end

of the market, and perhaps foolproof for beginners because

it gives a subtle hit of instant colour, is L'Oréal Sublime

Bronze Self Tan Express Mist Spray Face, £12.99 for 90g.

Very streak-proof, with a lovely, summer-fresh scent.

It's one thing to smoosh on a bronzer, add a lip gloss and head

out the door to an impromptu summer rendezvous, meanwhile

– and in my recent experience, everything's all very last-minutedotcom

on the social life front – but realising your legs are

pastry-pale isn't quite so easy to fix. Rather than reach for your

linen palazzos, I recommend keeping handy some vita Liberata

Body Blur Instant HD Skin Finish, £30 for 100ml. Powered by

organic ingredients, it's fantastic for adding a subtle glow (unless

you're naturally fairly dark, I'd choose the Latte Light shade, to

be on the safe side), but also for evening out imperfections like

broken veins and other discolourations. It's lightly shimmering

(hence the 'blur' effect), and can also be used on faces – so

a good one to pack for going away (is anyone going away?).

Perhaps my favourite leg tint of all, though, is This Works

Perfect Legs Skin Miracle, £38 for 120ml, a rich serum with a

wonderful aromatherapeutic scent (from essential oils including

frankincense), which is deeply moisturising and very, very

flattering when its natural, caramel-powered formula is smoothed

into skin. (Not just legs, either – it's good for the whole body.)

For a longer-lasting golden glow, I always recommend

gradual tanners as the safest option; nobody needs a fake

tan 'surprise'. So I'd also put in a good word for some longstanding

favourite gradual tanners. One is the gradual tanning

version of the aforementioned product, This Works Perfect

Legs Gradual Tan, £38 for 150ml, which delivers truly

streak-free results. Secondly, I like ESPA Gradual Tan Body

Moisturiser, £37 for 200ml, which has a delicious 'slippy',

properly moisturising texture and is really easy – in fact, I'd say

utterly foolproof – to apply. Not a hint of hamster cage scent,

either, in my experience. What I do is apply on two consecutive

nights and then perhaps every third night, and the colour

is unbelievably natural. My other absolute favourite gradual

tanner is Eco by Sonya Winter Skin, £41.40 for 200ml (not

that easy to find, but I get mine from gloworganic.co.uk).

It's a multi-award-winning product and although it's

inexplicably called 'Winter Skin', it's summer-perfect for

a subtle, buildable, golden, can't-tell-it-from-real look.

Assemble an arsenal of these, then, and whatever

summer throws at us – heatwaves, flash floods and

anything in between – we can be good to glow.

Visit beautybible.com for Jo's daily 'loves' and features.

94
---
ADVERTISEMENT FEATURE

Emsculpt Neo ®

answers to some of your questions

Following last month's frequently asked

questions, we were very pleased that

so many of you emailed for more

information. Emsculpt Neo® has arrived

at the Penrose Clinic in Fetcham Park

House, so this month Dr Kim addresses

a few more of your questions about this

exciting new machine.

Emsculpt Neo® combines two bodycontouring

procedures — fat removal and

powerful muscle toning — into a single

non-invasive treatment that takes about 30

minutes. Emsculpt® induces supramaximal

muscle contractions that cannot be

achieved during a workout, with the

equivalent of 20 000 muscle crunches in

30 minutes. Because of the way the muscle

pulse patterns work, the treatment feels

like an intense workout, but is not painful

and is adjusted to your comfort level. Your

body rapidly metabolises fat for fuel for

this workout as well as inducing a process

which permanently destroys fat cells.

The Emsculpt Neo® involves the addition

of radiofrequency to heat the muscles,

reducing discomfort and enabling greater

fat reduction, muscle toning and skin

tightening. A number of clinical trials and

over 30 scientific publications demonstrate

an average of 25% more muscle in the

area, and 30% fat reduction after a course

of only 4 treatments.

This is what one patient had to say:

What areas can be treated?

Emsculpt differs from many of the other

body contouring technologies in that it

treats a wide area in a single treatment.

You can treat your stomach, buttocks,

arms (biceps and triceps) and calves and

thighs (inner, outer, back and front).

Unlike many of the fat reducing

treatments, the intense muscle workout

has also been shown to reduce visceral

abdominal fat around the organs,

helping you to manage the effects of

insulin resistance and inflammation,

factors which may well be hampering

your efforts to lose weight. In

addition, people with abdominal

separation (diastasis) after pregnancy

or weight gain, can have significant

improvement after a treatment course.

BEFORE

BEFORE

I had a noticeable difference after my first treatment but

by the 3rd treatment, my stomach had totally changed

shape and was starting to show muscle tone. It's only 2 weeks

since I finished my course, but I have gone down 2 jeans sizes,

with a much slimmer waist. I can work out at a much higher

intensity and amazingly, my body recovers so much faster.

Peter, 43

AFTER

What will I experience after a

treatment?

Emsculpt Neo® has very few side-effects.

Most people will have redness in the

treated area for up to a couple of hours

due to the heating effect of the RF. You

need to hydrate well before and after your

treatment, and you may feel a little tired

with some muscle fatigue, as you would

after an intense workout.

How long does it take to see

results?

Like all body contouring treatments, some

patience is key! You will feel the difference

in strength and muscle tone very quickly,

and some people have measurable

changes in circumference during the

course of treatments. Fat loss – both

subcutaneous and visceral - continues

after your course, so your maximum

results will be seen after 3 months.

If you have any

questions, please email

info@penroseclinic.co.uk or

call 01372 371201.

Dr Kim Prescott practices Aesthetic

and Lifestyle Medicine at the Penrose

Clinic in Fetcham Park House, in

Cobham and in Knightsbridge, along

with lecturing and training in Aesthetic

Medicine and clinical research work.

Emsculpt is available in Knightsbridge

and Emsculpt Neo is available at the

Penrose Clinic in Fetcham Park House.

Drkpclinic.co.uk and penroseclinic.co.uk

@dr.kimprescott @penrosebodyandskin

AFTER
---
vice

Concept

Hair

salon

rs

l care

their

ssible,

home

assist

live

, with

n home.

30 re.co.uk 6HT

SIT-IN PRIVATE

CARE SERVICE

Be it companionship or just someone to sit

with a relative, our Private Care Service

carers can come to your house and help.

Visits can be for as little as one hour or as

long as 15 hours. This help can form part

of a tailored package of care that could

For help a free you assessment stay in your own home for longer,

of rather your care than needs going or into a care home before

receive its really your needed. brochure We can assist those who

Call need us help on 01580 due 762244 to frailty, disability or illness

to live as independently as possible, with

comfort and dignity, in their own home.

Domestic

Care

£9.77

per hour

www.townandcountryhomecare.co.uk

Town & Country Homecare Limited

102a High Street, Tenterden, Kent TN30 6HT

For a free

assessment of

your care needs

or to receive your

brochure Call us on

01580 762244

Town & Country Homecare Limited 102a High Street, Tenterden, Kent TN30 6HT

50 High Street, Tenterden 01580 762 564

Book online at www.williamcharleshair.co.uk

or through our facebook page

THE WORLD'S BEST OUTDOOR WORKOUT

TownCountryHomecareWT227.indd 5 11/03/2021 WilliamCharlesWT216.indd 10:29

1 06/01/2020 16:50

FREE TWO

CLASS PACK

FOR 2 PEOPLE

WORTH £3O

Don't miss out! Grab your TRIAL now at:

bmfoffers.co.uk/jon-truett

BMF Tunbridge Wells

Dunorlan Park

TN2 3QN

BMF Sevenoaks

Greatness Park Playing Fields

TN14 5BX

BMF Redhill and Reigate

Redhill Memorial Park

RH1 1JU

priceless-magazines.com

96

Insight@Infinite SolutionsWT229-BMF.indd 1 19/05/2021 17:41
---
Wellbeing

Let's Go Wild!

Sarah Maxwell takes the plunge and

braves the chill of wild swimming

Something which has caught

my eye over the last year is

open water swimming, or coldwater

therapy, gaining lots of media

attention and there is a good reason

for it. Over the last year of lockdowns

I have had many friends telling me

they have garnered a love of wild

swimming. I have closed my ears

many times because I have to admit

that I have an aversion to cold water!

I have been known to take 30

minutes to ease into the local swimming

pool (inch by inch) and getting into

a cold sea is a horror to me. This

being the case, I have turned down

every opportunity to give it a try.

However, after a lot of research about

the amazing benefits to be had I'm

going to give it a go. Starting my

practice by turning the shower to

cold on occasion to at least start to

gain some benefits and acclimatise.

Swimming in cold water reaps

the rewards of cold water therapy.

Cold water therapy has been used

for centuries and more recently

used in injury rehabilitation. It's

known for reducing inflammation

and pain, it's also a great boost

for the circulatory system.

But just why is wild swimming

in cold water so good for you?

• It has a positive effect with post

exercise recovery and muscle soreness

(I always encourage my athletes to

have a cold bath or shower after

training). I so know that after they all

see this I'm going to have to as well!

• It reduces body pain and

inflammation, improves circulation

and boosts your immune system

and burns more calories!

• Immersing yourself in cold water

and reconnecting with nature is widely

known to benefit our mental health,

reducing anxiety, stress and depression.

• It increases energy levels, improves

your state of mind and releases

endorphins, our happy hormones.

So, combining the therapeutic effects of

cold water and the benefits of the great

outdoors you have a winning recipe.

This is a lovely quote about wild

swimming from Wild Swimmer

Sophie Laurimore: "I swam every

week throughout lockdown and am

convinced that the adventure of ice cold

wild swimming helped keep me sane."

And here's another quote that I

read recently and I thought was a

very fitting one for current times:

"It helps slow down time and calm

the inner monologue." Anonymous

A note of caution:

Please make sure you check with

your doctor before jumping in –

cold water is a shock to the body

and anyone with a heart condition

or contraindications to this activity

should make sure it's safe for them.

Acclimatisation to the cold is a gradual

process, take it easy and stay safe!

In a year when the world has become

unstable and unbalanced, people are

looking for new ways to realign their

physical and mental health and this

has meant being more creative with

how we go about it. Wild swimming

is clearly something that's going to

stay and increase in popularity.

Some essential links to go

wild in the water:

outdoorswimmingsociety.com

wildswimming.co.uk/south-east-england

healthline.com/health/cold-water-therapy

And for those who go to the

extreme, you can download the

following document from the

International Journal of Environmental

Research and Public Health:

https://res.mdpi.com/d_attachment/

ijerph/ijerph-17-08984/article_

deploy/ijerph-17-08984.pdf

Sarah Maxwell is a multiple awardwinning

Fitness and Lifestyle coach

and mum of two who juggles a lot

of balls. Find out more about Sarah

and her work at sarahmaxwell.com

Sarah shares her Fitness and Lifestyle tips

on Instagram @sarahmaxwelllifestyle

97 priceless-magazines.com
---
Jasmine Homecare Services

Caring for people in their homes

Our private care offers the option to be looked after in the comfort of your

own home. Our carers are handpicked for the suitability of the job and are

highly trained to provide good old fashioned quality of care.

Jasmine carers can visit you in your home at times to suit

your daily routine.

It can be anything from 30 minutes to 1 hour or more

to help with everyday tasks.

We will talk to you about just what you want

and respect your wishes throughout.

Jasmine Homecare provide 24 hour on call services to ensure

that we are there when you need us.

Residential | Nursing | Respite

Award-winning Private Care

A Caring family-owned since 1981 care home offering

the highest standard of care & support.

✔ Personal care

✔ Cooking

✔ Shopping (together or for you)

✔ Cleaning your home

✔ Assist with medication

We provide

✔ Visiting relatives or friends

✔ Sightseeing or leisure activities

✔ Visiting your G.P.

✔ Over night care

✔ Live-in care

At Jasmine Care South East Ltd. we are proud to provide a trusted reliable service,

where you, our client is at the very centre of our focus.

To find out more please call our friendly team on

CRANBROOK: 01580 713 533

team.jasminecare@gmail.com

Jasmine Care South East Ltd. offers services in the whole of Kent & East Sussex

"The quality of care & kindness

that Mum has received is second

to none. As her daughter, I can

relax, being 100% confident

that she is being looked after in

a respectful, caring & dignified

way. Mum herself says how marvellous

the staff are." Daughter of resident at Cedar Lodge

Be generous with your

time for wellbeing

JasmineHomecareWT227.indd 1 02/03/2021 13:58

All-Inclusive Fees

& No Deposits

with complimentary

physiotherapy,

hairdressing,

chiropody & more.

£10 off

your first box

use code

WEALDEN

St Catherine's Road, Frimley Green

Camberley, Surrey, GU16 9NP

Tel: 0333 305 1785

Email: enquiries@forestcare.co.uk

forestcare.co.uk @ForestCareLtd

The luxury beauty and wellness experience box

Clean beauty. Luxury British Brands.

Packed with love in Wadhurst.

www.selfcaresundaysbox.com

priceless-magazines.com

98

ForestCareWT230.indd 1 14/06/2021 SelfCareSundaysBoxWT229.indd 14:21

1 11/05/2021 14:55
---
Nourish to

Flourish

Nutrition & Lifestyle

Coach Charlotte Lau

explains the benefits of

eating seasonal whole foods

The more we learn about nutrition, the more it seems

we should take a leaf from our ancestors and base

our food choices around foods that could be either

hunted, such as meat and fish or gathered, such as fruits,

plants, eggs, nuts, herbs and spices. It is estimated that 70%

of the calories that make up a typical western diet come from

foods that weren't available to those living thousands of years

ago. (Think refined cereals, sugars, and vegetable oils.)

Recent research suggests eating mostly 'whole foods'

– those that are as close to their natural form as possible

and have just one ingredient – is key to optimum health.

A healthy and sustainable diet is one that is abundantly

filled with flavourful and nourishing whole foods.

Wellbeing

Give it a go...

read the ingredients list

We may all glance at the traffic light system

on food labels to see if there are more greens

than reds, but do you ever look at the actual

ingredients that are in the food itself? Packaged

food often comes with a long list of ingredients

that you can hardly recognise, let along

pronounce and usually contain hundreds of

different names for what is ultimately, sugar.

With whole foods such as fish, meat, fruit and

vegetables, you are basically eating what you see!

As a general rule, if you choose foods that have

fewer than 5 ingredients, you will be reducing

your consumption of highly refined carbohydrates

and oils. Focus on simple ingredients and add

colour and variety to your meals. Choose a fruit

or vegetable that you've never cooked with before,

add flavour with herbs and spices and fill your

plate with combinations of delicious whole foods.

Learn to... adapt with the seasons

Our convenience-driven modern food network includes

imported foods flown across the world and we can obtain

most of what we want anytime we desire it; strawberries

in winter, asparagus in autumn, and apples almost all year

round. It's easy to think that seasons don't matter.

Eating seasonally encourages diversity (brilliant for

your gut health), provides greater flavour and improved

nutrient density and often comes at a lower cost as

well as being more environmentally friendly.

July is bursting with colour, flavour and variety so

head to your local farm shop, farmers market or PYO

and enjoy the seasonal delights summer has on offer.

Aubergines, basil, beetroot, broad beans, broccoli, carrots,

chillies, cherries, courgettes, elderflower, french beans,

gooseberries, mint, new potatoes, peas, rosemary, spring

onions, strawberries and tomatoes, to name a few!

Some of my favourite summer memories are walking

up and down sun-drenched strawberry fields with

my children, carefully choosing the ripest ones…

and maybe sampling some along the way!

Charlotte runs Plume Nutrition, where she offers support and advice

for weight management, controlling cravings, sleeplessness, stress

and increasing energy levels. Find out more at plumenutrition.com

Step away from...

heavily processed foods

We are surrounded by convenience… food delivered

to our door, microwaveable meals, and having access

to whatever food we want, at any time of the year and

all at the touch of a button! Add to this eye-catching

offers, 'buy one get one free' distractions and carefully

placed confectionery shelves to lure us, it's no wonder

that making meals from scratch can seem like a huge

effort. However, the difference between home cooking

and buying highly-processed foods on our health

and wellness can be huge. Commercial ready meals

often deliver more calorie dense foods but with lower

nutrient density. Instead, try something new by filling

your basket with colour and diversity and build a

bank of tasty, easy recipes to keep you focused in the

supermarket. Creating a more positive mindset and

allowing yourself to add things in, rather than taking

them out, can often lead to eating more nutrient dense

meals which automatically suppress cravings, feelings

of deprivation and ultimately lead to a healthier diet.

99 priceless-magazines.com
---
priceless-magazines.com

100
---
Pure

Food

& simple

Recipes: Charlotte Butterworth

Photographs: David Merewether

Table settings: SET

Keen to entertain, but dreading the prep and clean up? Then look

no further than Charlotte Butterworth's (aka @theneedy.greedy)

delicious, easy and healthy recipes that you can whip up super

speedily. These four seasonal dishes can all be made in advance

giving you plenty of quality (and calm) time to enjoy with friends

and family rather than being in the kitchen. All the dishes were

presented using table settings from brand new hire company,

SET, to create the ultimate fuss-free dinner or lunch party.

Hazelnut meringue gateau

with strawberry Chantilly cream & berries

Prep time: 15 mins Cooking time: 50 mins, plus cooling time Serves 6-10

This glorious nutty gateau is perfect

for entertaining as it can be made a

couple of days in advance, and simply

assembled before serving. It is not a

pavlova, so do not expect a crunchy

meringue, but something more chewy.

If you've never tried hazelnuts in

meringues, then you have missed a taste

sensation. Make the meringue well in

advance to allow to cook and cool.

• 3 egg whites

• 150g golden caster sugar

• 100g blanched/toasted hazelnuts

(whizzed in a food processor

until finely ground)

• 1tsp white wine vinegar

• 150ml double cream

whipped until thick

• 5-6 large strawberries (I used frozen ones,

and defrosted them) – whizzed to a purée

• 1-2 tsp icing sugar

• berries to decorate

1 Preheat oven to 170˚C. Line a

20cm spring form cake tin with

foil, and lightly oil the foil with a

flavourless oil such as groundnut.

2 Whisk the egg whites until stiff

peaks form, then whisk the sugar in,

one spoon at a time. Finally, gently

fold in the nuts and vinegar.

3 Pop into the cake tin, even the top

and put in the preheated oven. After

50 mins, turn the oven off and allow

to cool in the oven. When completely

cold, remove from the oven and gently

peel away the foil. You can keep it

in the tin overnight if needed.

4 Add the strawberry purée and icing

sugar to the whipped cream. Taste – it

may need a little more icing sugar.

5 When ready to serve, place the gateau

on a plate and spread the cream over

the top. Decorate, using the fruit. You

can also add a few mint leaves.

101 priceless-magazines.com
---
Kitchen Studio

THE LARGEST

KITCHEN SHOWROOM

IN REIGATE

FREE

Quooker Flex Boiling

Water Tap with your

new kitchen*

*T&C's available on request.

DESIGN • SUPPLY • MANAGE

• INSTALL

01737 240403 www.rdokitchenstudio.co.uk rdokitchenstudio

priceless-magazines.com

Bancroft Road, Reigate RH2 7RP

102
---
Butternut squash

with roasted

Mediterranean

vegetables &

goats' cheese

Prep time: 15-30 mins

Cooking time: 60 mins

Serves 4

This is a stunning vegetarian

main course that can be

made in advance and sat in

the fridge ready to go in the

oven. You can even roast

the squash and veg a couple

of days before your guests

arrive, so it's a great getahead

dish. It's very versatile

– play around with whatever

Mediterranean vegetables

you choose, or substitute the

goats' cheese for blue cheese.

For the squash layer:

• 1 butternut squash –

sliced into half moons,

about 1-2cm thick (you

can buy 350g ready sliced

which saves on prep time)

• coriander seeds (bashed)

• chilli flakes (optional)

• olive oil, sea salt

and pepper

For the Mediterranean

veg layer:

• 2 fat garlic cloves, crushed

• olive oil

• 1 red onion, sliced

into thin wedges

• 1 each of courgette,

aubergine, pepper – cut

into 2cm pieces

• 200g cherry

tomatoes, halved

For the topping:

• 100g soft creamy goats'

cheese, crumbled

into chunks

• 2 tbsp breadcrumbs

• 2 tbsp grated Parmesan

• 1-2 tbsp chopped

parsley (I use frozen if

I don't have fresh in)

1 Preheat oven to 180˚C.

Brush a baking tray with

olive oil and lay out the

squash moons. Brush the

squash with oil, sprinkle

over the coriander seeds

and chilli flakes (if using),

season with sea salt and

pepper. Put in the oven

to roast for 30 mins, until

softened and starting to

brown at the edges.

2 Put the red onion,

courgette, aubergine and

pepper in a roasting tin.

Toss in a generous slug of

olive oil, salt and pepper

and mix. Place tray in oven

with the squash for 15 mins,

then add the tomatoes and

garlic. Mix well and cook

for a further 10-15 mins.

3 Mix the breadcrumbs,

Parmesan and parsley

in a bowl and add some

salt and pepper.

4 When ready to assemble,

place the cooked squash in

a layer along the bottom

of an ovenproof serving

dish. Add the roasted

veg on top. Arrange the

goats' cheese evenly across

veg. Sprinkle over the

breadcrumb mixture. This

will now happily sit in the

fridge until ready to cook.

5 Cook in a preheated oven

at 180˚C for 20-30 mins,

until the top in golden and

the cheese is melting. Enjoy

with a green salad.

103 priceless-magazines.com
---
This one-dish gorgeous

garlicky fish recipe is

packed with Mediterranean

flavours, all prepped in 15

mins! It can happily be

assembled in advance on

the day and sit in the fridge

until you are ready to cook.

This serves 4 but can be

easily scaled up or down.

• 600-800g cod (or you

can use haddock), skinned

and cut into four pieces

• olive oil

• 1tsp smoked paprika

• 2 big handfuls of

breadcrumbs (ideally

sourdough – I used panko)

• 3 tbsp chopped

flat leaf parsley

• 2-3 cloves crushed garlic

• 3 roasted red peppers

from a jar, chopped and

diced into small squares

• 60g crumbled feta cheese

• 1 courgette, quartered

lengthways and chopped

into small chunks

• 20 cherry tomatoes,

quartered

Oven roasted cod with feta & Mediterranean vegetables

Serves 4 Prep time: 15 mins Oven time: 20 mins

1 Place the fish in a large

ovenproof dish and rub

with olive oil, paprika

and season generously.

2 Mix the diced courgettes

and chopped tomatoes in a

bowl with olive oil, sea salt

and black pepper. Arrange

the courgette and tomato

mix around the fish.

3 Scatter the feta

and chopped peppers

onto the fish.

4 In a separate bowl mix

breadcrumbs with olive oil,

seasoning, crushed garlic and

parsley. Sprinkle this over the

entire dish, spreading evenly.

5 At this stage, either pop it

in the fridge to cook later or

put in a preheated oven at

180˚C for 15-20 mins until

the fish is cooked to your

liking. Delicious with a green

salad and balsamic dressing.

priceless-magazines.com

104
---
PEPPERBOX INN

Terrace garden, heated marquee

& Indoor dining reservations

Now open

Visit our charming pub situated

in beautiful countryside

with outstanding views

of the Weald of Kent

Restaurant menu and

traditional pub food served

lunch times and evenings

Sunday Lunches from £13 per person

Served 12 noon - 3pm

STRAWBERRIES

NOW IN

& CHERRIES

MID JULY

Outside terrace | Ample parking

Walkers & Riders welcome

Warm & welcoming open log fires

Summer Opening Times:

Tuesday to Saturday

from 11.30am - 3pm | 6pm - 10pm

Food Served: Lunch 12noon - 2pm

Evening 6pm - 9pm

Sunday Lunches: 12noon - 3pm

Closed Sunday Evenings

Windmill Hill, Harrietsham, Maidstone, Kent, ME17 1LP

01622842558 | www.thepepperboxinn.co.uk

CHAMPIONING KENTISH PRODUCE

A small family run farm shop sourcing

local produce which includes our

very own Beef and Pork.

Pullen Barn Farm, Headcorn Road,

Biddenden, Kent, TN278JA

www.biddendenfarmshop.co.uk

PepperboxInnWT230.indd 1 Bull 17/06/2021 Green, BiddendenFarmShopWT230.indd 11:07

1 21/06/2021 15:36

indian flavours, reignited

Bethersden TN26 3LB

Bull Green,

Tel: 01233 822463

Bethersden TN26 3LB

Tel: 01233 822463

Email: Shop@BullGreenFarm.co.uk

Email: Shop@BullGreenFarm.co.uk

ing Dexter

e believe

m free in the

green grass.

p with fresh

and a variety

tish honey,

baked cakes.

d with locally

We are a family-run farm rearing Dexter

cows, sheep and chickens. We believe

animals should be able to roam free in the

fields and enjoy fresh air and green grass.

We have a nicely stocked shop with fresh

eggs daily, home grown veg, and a variety

of local products such as Kentish honey,

jams, and occasionally freshly baked cakes.

We also have a freezer packed with locally

made pies and tasty treats.

Bull Green,

Bethersden TN26 3LB

Tel: 01233 822463

Email: Shop@BullGreenFarm.co.uk

& DINING IN

TAKEAWAY'S

WE ARE BACK AS USUAL!

15% OFF *

20% OFF*

We are a family-run farm rearing Dexter cows, sheep and

chickens. We believe animals should be able to roam

free in the fields and enjoy fresh air and green grass.

We are a family-run farm rearing Dexter

cows, sheep and chickens. We believe

animals should be able to roam free in the

fields and enjoy fresh air and green grass.

We have a nicely stocked shop with fresh eggs daily, home

grown veg, and a variety of local products such as Kentish

honey, jams, and occasionally freshly baked cakes. We also

have a freezer packed with locally made pies and tasty treats.

We have a nicely stocked shop with fresh

eggs daily, home grown veg, and a variety

of local products such as Kentish honey,

jams, and occasionally freshly baked cakes.

Bull Green, Bethersden TN26 3LB

Tel: 01233 822463 Email: Shop@BullGreenFarm.co.uk

We also have a freezer packed with locally

made pies and tasty treats.

you can now order

your takeaway online

01580 890420

/895320

*excluding drinks. not to be used in conjunction with any other

offers. takeawy discount only available for collection.

offer expires 31/12/2021

O

www.jumeirarestaurant.co.uk

105 priceless-magazines.com

BullGreenFarmWT223.indd 1 19/08/2020 JumeiraIndianRestaurantWT230.indd 14:14

1 18/06/2021 15:15
---
Endive, orange &

mozzarella salad with

balsamic dressing

Prep time: 10 mins Serves 4

This easy salad is so quick

to put together and is

utterly gorgeous. The slight

bitterness of these small red

endives complement the

sweetness of the orange. Add

beautiful creamy mozzarella,

and you have a sublime main

course salad. This can all be

prepared well in advance,

simply add the dressing

when you are about to serve.

• 4 small red endives

• 2-3 oranges, cut

into segments and all

white pith removed

• 1 ball good quality

buffalo mozzarella

• watercress and fresh

mint leaves to serve

For the balsamic dressing:

These measurements are

guidelines only – you may

prefer your dressing more

oily, vinegary or sweeter

• 150ml extra virgin olive oil

• 50ml apple honey

spiced balsamic vinegar

(or ordinary balsamic)

• 1 tsp runny honey

• 1 tsp wholegrain mustard

• small clove garlic, crushed

• ½ tsp sea salt and

crushed black pepper

1 Put all the dressing

ingredients in a jam jar

and shake like crazy. It

should emulsify to produce

a thick sauce. Taste and

tweak to your palate.

2 Cut the endives into

individual leaves. Soak in

some cold water to clean and

crisp, then dry thoroughly.

3 Put some watercress on a

platter. Arrange the endives,

scatter over the prepared

orange and tear the mozzarella.

Just before serving, sprinkle

over the mint leaves and

drizzle over the dressing.

Recipe developer Charlotte

Butterworth creates delicious,

easy, healthy recipes that work

around real life. Find more of

her recipes on Instagram or

Facebook @theneedy.greedy

Created out of a passion for hosting

and the huge surge in people

wanting to recreate Instagram ready

looks at home, Sarah and Alexandra

founded SET – Tables with Style,

to give clients access to the world of

tablescaping. Hiring out beautifully

curated table settings throughout

Kent and East Sussex for gatherings

for 2-16 guests, each luxury package

comes complete with everything

you need to create the perfect table,

from the plates to the atmospheric

table lighting, candle holders, crisp

linens and fabulous florals. Simply

choose from five styles and SET

delivers to your door along with

setting instructions to recreate the

look at home. For the ultimate

experience you can opt for SET

Up where Sarah and Alexandra

lay the table for you and can

arrange fresh floral arrangements

to complement your chosen look.

You then enjoy, rinse and return.

Prices start at £30 per person.

For more information visit

set-table.co.uk

Instagram @set_hosting

107 priceless-magazines.com
---
We've got designs

We've got designs on

on your

your garden

garden

Tradi'onal or contemporary, large or small, the team at Gardenproud can help you create a garden you'll be proud

Tradi'onal of. Established or contemporary, in 2007, we design, large or build small, and the maintain team at gardens Gardenproud throughout can Kent, help you East create Sussex a and garden HerDordshire. you'll be proud

of. Traditional Established or contemporary, in 2007, we design, large build or small, and the maintain team at gardens Gardenproud throughout canKent, help you East create Sussex aand garden HerDordshire. you'll be proud

of. See Established our Show Garden in 2007, at we Corker design, Outdoor buildLiving, and maintain or ask for gardens our e brochure, throughout Kent, East Sussex and Hertfordshire.

See or call our Tim Show Sykes Garden on 07725 at Corker 173820 Outdoor Living, or ask for our e brochure,

or See call our Tim Show Sykes Garden on 07725 at Corker 173820 Outdoor Living, or ask for our e brochure,

or call Tim Sykes on 07725 173820

GardenproudWT226.indd 1 09/02/2021 12:12

4 Yard Skip £216 inc Vat

6 Yard Skip £252 inc Vat

8 Yard Skip £300 inc Vat

12 Yard Skip £360 inc Vat

priceless-magazines.com

108

GreenBoxRecyclingWT229.indd 1 20/05/2021 13:15
---
Garden

Seed Collectors

Sue Whigham's top tips for gathering and storing for the next generation of blooms

Well, today's been a bit

of a disaster as I've

just realised that I am

about to lose another mature

tree to what I assume must be honey

fungus. I did an early morning

inspection and there were a few

signs of life but not many.

Anyway, whilst I was in that part of

the garden I was also looking for snake's

head fritillary seeds for a friend. All

I could find amongst wild tangles of

common vetch (and myriad feasting

bees) were two remaining fritillary seed

heads awash with seeds which looked

as if they would be dropping to the

ground in the next gust of wind. So

as a delaying tactic to sitting typing

indoors on a glorious day, I've retrieved

them and sown them in a pot of gritty

seed mix for her and they're now safely

tucked in a shady corner where they'll

stay until next year (they need a period

of 'stratification' so a cold winter should

do the trick). The reason for all this

haste was that these seeds should ideally

be sown as soon as they are ripe, as older

seeds develop germination inhibitors.

Fritillary seeds are dispersed by the wind

and land on the soil surface so the idea

is to emulate this by surface sowing.

It is so interesting to see the myriad

methods of seed dispersal that plants

have in their arsenal and to know

different methods of collection too. I

was trying to find out when to collect

seeds of sweet rocket which pop up all

over the garden in June but failed as

most of the seed had dispersed before

I got to them. Hesperus matronalis or

sweet rocket was described as a 'noxious

weed' on an American website I

stumbled upon the other day but I think

it is a glorious plant with its clear white

or purple flowers which waft a sweet

fragrance across the garden.

109
---
White bush vetch

Silene dioica

Salsify

You never know where it is going

to appear the following year.

So what seeds to collect in late

summer? I think that red campions

would be one thing. They are so

evocative of our childhood memories

of the countryside. Campions (Silene

dioica) provide food for butterflies,

moths and bees and can be found in

all manner of habitats but sadly there

are fewer these days. Let's hope that

campaigns to delay the early cutting of

verges gains strength so that plants like

these have a chance to set seed before

having their heads chopped off. If you

are lucky enough to find a plant which

has developed its papery seeds, snip

the seed heads off and shake the seeds

into an envelope or brown paper bag

(never a plastic bag) and store them

until the spring when they can be sown.

If you cut long stems, the heads look

good in a dried flower arrangement.

Another silene or Lychnis coronaria is

the perfect plant for a start up gardener

and like the hesperus is a self seeder. No

effort needed here. The idea is to let

the plant throw its own seeds around

and then move the seedlings to where

you want them – or just leave them

where they have found themselves. It is

such a pretty thing with silver woolly

foliage and shocking magenta flowers.

I love it. Once it flowers in its second

year it'll die away but cleverly it always

replaces itself and saves you the bother.

It is exceedingly hardy and you'll get the

best colour if you grow it in full sun.

It's usually pretty obvious when large,

hard and greasy coated seeds are ready

to be harvested. Those of plants like

peonies can be collected and sown as

soon as they are ripe. I particularly like

and covet Peony delavayi, a Chinese

form of tree peony with single, deep

red flowers and very attractive dissected

foliage. Its black shiny seeds take time to

germinate but they are easy to grow.

priceless-magazines.com

110
---
Made in Great Britain

TheTraditional Verandah Company

TheTraditional Verandah Company

Porches |Verandahs |Gazebos |Wedding venues |Commercial projects

Porches |Verandahs |Gazebos |Wedding venues |Commercial projects

Nationwide Coverage |Family Owned and Run |10YearGuarantee

Nationwide Coverage Full Service |Family fromOwned Designand to Installation Run |10YearGuarantee

Full Service from Design to Installation

Telephone 01233 636025 www.ttvc.co.uk sales@ttvc.co.uk

Telephone

10%

01233

off when

636025

you mention

www.ttvc.co.uk

Period Living,

sales@ttvc.co.uk

quote PLMJUNE21

10% off when Claim you 10% mention off when Period you quote Living, PMJULY21 quote PLMJUNE21

*Terms and conditions apply

*Terms and conditions apply

111 priceless-magazines.com
---
Creating gardens

of distinction

Garden Perfection

City Escapes provide domestic & commercial garden solutions

■

■

■

■

■

Regular Maintenance

Design & Construction

Small one off works

Turf care management

Problem area Solutions

Tel: 01435 868211 | M: 07831 302107 | E: gardensmanager@gmail.com

www.cityescapes.co.uk

■

■

■

■

Seasonal Bedding plant displays

Approved pesticide/

herbicides operators

Habitat Management

RHS qualified gardeners

All Garden

Construction & Maintenance

• Untidy Gardens Made Tidy

• Drives • Paving • Walling

• Fencing • Grass Cutting

Geoff Tiltman

City & Guilds in Horticulture N.C.T

FREE QUOTATIONS, CALL

SMARDEN 01233 770777 or 07775 694963

Creating Beautiful Gardens

CityEscapesWT204.indd 1 24/01/2019 GeoffTiltmanWT227.indd 10:40

1 01/03/2021 15:15

For Brilliant Year Round Results

Wealden Country Landcraft

Wealden Country Landcraft

For all your design, construction and maintenance requirements, contact:

Adam Sutton BSc (Hons) Environmental Science | Tim Playfoot BA (Hons) Garden Design

Tel:01892 722699|Adam:07979 362241|Tim:07990 751353|www.playfootgardendesign.co.uk

priceless-magazines.com

112

WCLandcraftWT223.indd 1 28/08/2020 10:20
---
Lychnis coronaria (below) is the

perfect plant for a start up gardener.

The idea here is to let the plant

throw its own seeds around and

then move the seedlings to where

you want them – or just leave them

where they have found themselves.

Hesperus matronalis or sweet rocket

I remember being in a well known

local garden a few years ago when I saw

a senior member of the then current

Conservative government tuck a seed or

two into his top pocket. His wife asked

him what he had and he said, 'rabbit

droppings, just rabbit droppings!'. That

was in the days when we recognised

the members of the Government. I

wonder if he got his to grow…

And then there are the 'shakers' –

flowers like annual poppies whose

flowers turn into pepper pot seed heads.

These are fun to collect as once the holes

in the top begin to open, all you need

to do is turn them upside down and

shake the tiny little seeds into a paper

bag or direct sow them in autumn or the

following spring. If you sow between the

end of August right through to October

you are more likely to have flowers in

the first season. I love the little pink

poppy known colloquially as Beth's

Poppy which has an extraordinarily long

name (*Papaver dubium subsp. lecoqii

var. 'Albiflorum') for such a small thing

but makes such a statement as it weaves

through the borders. And little treasures

like 'Love in a Mist' too are marvellous

for spreading around a cottage garden

with a shake of their dried seed heads.

Just a thought after a night of thunder

and heavy rain; collect your seeds once

the seed heads have turned brown and

are bone dry. And if there is a heavy dew,

avoid collecting until everything has

thoroughly dried out. Any dampness in

seeds when you subsequently store them

will just result in them going into a bit

of a mush and becoming non-viable.

Keep them somewhere dry and not too

warm until you want to use them and

label, label, label. Basic information

but we all at some time fail in that.

Finally, we've spotted a treasure on

our daily dog walk – just one vetch with

soft grey leaves and large white flowers.

It's a lovely thing, safely tucked away in

long grass, so if you see a short bamboo

cane where you least expect it, perhaps

you could leave it where you find it.

Hopefully, the vetch will set seed and we

can collect a few to sow for next season.

Sue Whigham can be contacted on

07810 457948 for gardening advice

and help in the sourcing and supply

of interesting garden plants.

113 priceless-magazines.com
---
Was Your Property Built Before 1900?

Do you have a lost well? An experienced water

diviner / dowser may be able to locate it

Pipes and leaks are also

possible to be found.

call John Baker

on 01322 525975

johnh2obaker.co.uk

JohnBakerH2oWaterDivinerWT206.indd 1 19/03/2019 10:25

SPECIALISING IN

SPECIALISING IN

SPECIALISING IN

FENCING, DECKING

FENCING, DECKINGFENCING,

AND LANDSCAPING

AND LANDSCAPING

DECKING AND

With over 15 years With experience over 15 years we canexperience we can

undertake any undertake job no matter any how job big

LANDSCAPING

no or matter how big or

small. We are made up of an elite team who

are highly professional and driven. With We are

are highly professional and over driven. 15 We years are

available seven days a week, our prices are

available seven days experience a week, our prices we can are

competitive highest standard. and every job is executed to the

undertake any job

highest standard.

no matter how

big or small. We

are made up of an

elite team who are

highly professional

and driven. We

are available

seven days a

week, our prices

are competitive

and every job is

executed to the

highest standard.

small. We are made up of an elite team who

competitive and every job is executed to the

For more information and a free quote please call

07713 563681 For or more email: information enquiries@thefencehub.com

and a free quote please call

07713 563681 or email: enquiries@thefencehub.com

For more information and a

free quote please call David on 07713 563681

or email: enquiries@thefencehub.com

priceless-magazines.com

114

VerdisWT229.indd 1 13/05/2021 FenceHubWT227.indd 14:40

1 10/03/2021 21:33
---
Garden

Fruitful

Jo Arnell picks the juiciest soft fruit for a

summer of plentiful natural sweetness

I

must grow some more fruit next year. I'm saying this

as I sow seed and set out yet more little vegetable

plants. Most vegetables are annuals and have to be

grown from scratch each year, which is laborious and

time consuming – in fact the process can be endless. You

can buy plug plants from nurseries and garden centres,

which will save some of the work, but in the winter these

annual plants will die and you'll have to start again next

year. Fruit, on the other hand, tends to grow on perennial

plants, mainly bushes and trees, so once planted, will

give you a crop year after year without too much fuss.

So what counts as a fruit? Botanically speaking the foods

that we might recognise as fruits turn out to be rather

complicated. Rhubarb, for instance, is really just a stalk

and tomatoes (and cucumbers) technically are berries. Just

to add to the confusion bananas are berries too, whereas

raspberries and blackberries are drupes (or druplets, as they

grow in clusters) botanically in the same family as peaches

and plums. Apples, pears, strawberries and pineapples

are called accessory or 'false' fruits because their flesh is

not derived from the ovary. But however fruit has been

created, they have all evolved to be delicious – so that

animals and birds will eat them and then distribute the

indigestible seeds away from the parent plant (in a ready

made dollop of fertiliser). Clever plants – and lucky us.

Where to grow fruit

You don't need a huge orchard or dedicated area in which

to grow fruit. If space is the issue, there are small versions

of fruit trees such as cordons, espaliers and single stemmed

versions called minarettes, or ballerinas that will happily grow

in a large pot. Soft fruit is easily grown in containers, or use

vertical spaces – vines will climb and figs will grow against

fences and walls. Blueberries are probably best grown in

containers, as they like moist, acidic soil and strawberries will

be happy in pots on a window sill or spilling from a hanging

basket. Know what conditions they need though. Peaches and

apricots need to be grown in the shelter of a warm, sunny

wall, but raspberries will grow quite happily in semi-shade.

115 priceless-magazines.com
---
Raspberries like moist,

fertile, slightly acidic soils,

but they are easy to grow

and crop prolifically too

If you have the space for a fruit garden, then a

fruit cage will be a worthwhile investment. Fruit is

scrumptious and if not protected it will be snaffled away

by all sorts of creatures. Badgers are particularly partial

to strawberries – and left unprotected, they and the rats,

mice, squirrels and birds will think that you've laid a

picnic out especially for them. Choose netting for the

cage that will stop them getting in, but a gauge (hole

size) that will still allow bees in to do the vital job of

pollination. Fruit will not form unless it is pollinated.

Some easy and fruitful crops to try

Apples and pears – Choose an apple or pear to suit the

space you have available. It is a good idea to get them on

dwarfing rootstocks too, so that your tree is manageable and

you can reach the fruit when it's ready to harvest. Apples

are not always self-fertile, so will need to have a pollinating

partner to ensure a good crop. Check which varieties are

compatible (they fall into several groups) before you buy.

It's also worth having both eating varieties and a cooking

apple too. Apples and pears will need pruning in the winter

to keep them in good shape and to promote fruiting.

Currants – These are very easy to grow, but also need

pruning – confusingly at different times. Blackcurrants

bear most fruit on new growth, so can be pruned quite

hard in late winter/early spring, whereas redcurrants and

whitecurrants produce their fruit on old wood (growth made

in previous years), so just need the very old wood removing

each year and trimming back to keep them compact. They

will need netting though, as the birds love currants.

Gooseberries – another really easy crop that can be quite

prolific. Gooseberries and currants are generally planted

in the winter as bare-rooted plants. The idea with a

gooseberry is to prune the young plant carefully in the

first few years to establish a 'goblet' shaped framework and

then cut back to maintain this framework each year. An

open shape will ensure air circulation and light to ripen

the fruits. Gooseberries can be green or red in variety.

Raspberries – these like moist, fertile, slightly acidic soils,

but they are easy to grow and crop prolifically too. Although

they prefer a sunny site, they will also grow in part shade.

There are two main types of raspberry – summer and autumn

fruiting. The early varieties produce their fruit on old

priceless-magazines.com

116
---
• Automation, repairs, servicing

and installation

• Entry phones and access control

• Repairs and servicing of

• existing systems

• Hardwood and metal gates made

to order for automation and

non-automation purposes

• Supply-and-fit service for fully

automated electric garage doors

FREE SURVEYS &

QUOTES PROVIDED

TEL: 01483 379954

info@harriergates.co.uk

www.harriergates.co.uk

All Weather Tennis Courts

Constructed and Resurfaced

in Kent Sussex & Surrey

HarrierGatesS60.indd 1 20/09/2019 11:11

Topsoils Composts Barks Aggregates

Small Bags, Bulk Bags or Loose Loads

Delivered throughout the South East

www.gardenscapedirect.co.uk

0800 854663 | sales@gardenscapedirect.co.uk

The Wharf, Rye Road, Newenden, TN18 5QG

Please call Martin

for Free Advice & Quotations.

01424 892265 | 07831 643835

www.martingurr.co.uk

117 priceless-magazines.com

GardenscapeWT230.indd 1 02/06/2021 MsgsportsWT226.indd 12:20

1 03/02/2021 09:51
---
INSTANT HEDGES AND LARGE TREES

avilble now

Mke the most of your outdoor spce with rcticl Istt edge

We create tree landscapes and green screening to suit every garden, from specimen trees and instant

Practicality Brown have been installing Trees and Instant Hedges with unrivalled

hedges to bespoke

customer

UK

satisfaction

wide projects

for

for

over

home

35 years.

owners,

We

designers,

create tree

architects

landscapes

and

and

property

green

developers.

screening to suit every garden, from individual trees and Instant Hedges to bespoke

Our Practical UK Instant wide Hedge projects TM for is regarded designers, by architects many as and the best property available developers. and is often used in

award-winning RHS Chelsea and Hampton Court Flower Show gardens.

Our Instant We Hedge offer comprehensive is regarded by supply, many as delivery the best and available planting and services. is often used in

award-winning RHS Chelsea and Hampton Court Flower Show gardens.

Fid more iformtio t:

Find more information at:

www.prcbrow.co.uk

www.pracbrown.co.uk

PRACTICALITY BROWN LTD

THE T INSTANT InTanT LANDSCAPE IaIT

SPECIALISTS

Swan Road Iver Bucks SL0 9LA

priceless-magazines.comTel: 01753 652022 | hedge@pracbrown.co.uk

118
---
"Strawberry plants

are productive for

about three years;

after this they

should be replaced,

but replacement is

easy, as the mature

plants produce

new plants on

runners which can

be potted up and

grown on to provide

future crops."

wood – growth from the previous year. After fruiting the old

canes (stems) are cut out at the base and the strongest of the

new will then need to be tied onto supports to provide fruit

for the following year. Autumn fruiting varieties are cut back

to the ground in late winter, but will produce their fruit on

new wood in the late summer and autumn of the same year.

Blueberries – need to be grown in acidic soil, but

thrive in containers too, providing you grow them

in ericaceous compost. Blueberries make attractive

ornamental shrubs and have pretty, scented blossom

in the spring, followed by small round dark blue-black

fruits and lovely autumn colour on the leaves. They may

need protection from birds while they are fruiting.

Strawberries – can be grown in containers, or directly into the

ground. To prevent the ripening fruit from becoming damaged

by mud and wet, growers used to lay a mulch of straw under

the plants (perhaps they were called mud berries before this?).

Strawberry plants are productive for about three years; after

this they should be replaced, but replacement is easy, as the

mature plants produce new plants on runners which can

be potted up and grown on to provide future crops. These

luscious fruits definitely need netting from hungry animals.

Rhubarb – we can only eat the stalks of rhubarb, as the

leaves, in particular, contain toxic oxalic acid. Rhubarb

likes rich, moisture retentive soil, so mulch regularly, but be

careful not to cover the crowns, as they can be prone to rot.

Young plants need a couple of years to establish before any

can be picked – this is to allow the crown to become strong

and vigorous, so that it will be able to withstand years of

cropping. Stems are harvested in spring, when the growth

is new. The most tender rhubarb stalks come from those

placed under rhubarb forcers (or long upturned flowerpots).

Figs – will become enormous when grown in the open

ground, and will need pruning and training. A fig tree

can also be stuffed in a pot and they don't seem to mind

(and we can't hear them if they do) if their roots are

constricted. Feed regularly with a high potash fertiliser.

At the end of the season remove any unripened fruit, as it

will not ripen over winter in our climate. Leave the tiny

pea-sized fruits for an earlier crop next year. Figs are a little

tender, so can be protected with fleece in a hard winter.

For details of Jo's gardening courses

visit hornbrookmanor.co.uk or contact Jo on 01233 861149

119 priceless-magazines.com
---
Many varieties

of roses from

mid-June on;

gorgeous

herbaceous

borders and

perfumed lilies in

July and August;

then late

summer colour

(dahlias etc.)

KITCHEN

GARDEN WEEK

13th July every day to

18th July

Talks with our Kitchen

Gardener; menu in the café

celebrating produce from

the garden

Gardens, Café with Terrace, Gift Shop, Sculpture

Pre-booking required during some events; booking opens 14 days

beforehand (on other open days tickets sold on the gate on the day)

East Sussex TN5 7HE 01580 200888

pashleymanorgardens.com

C

M

Y

CM

MY

CY

CMY

K

St. Martin's Walk Car Park, Dorking, Surrey, RH4 1UX

• Refreshments • Signposted • Free parking

Sun, 18 th July,

Sun, 8 th August &

Sun, 12 th September

11am - 4pm FREE ENTRY!

Surrey Advertiser Advert Dovehouse copy.pdf 1 02/06/2021 11:28

Sun, 19 th September

Open (9:30 am Trade) 10:30am - 4:00pm

DORKING HALLS, Reigate Road (A25)

Dorking, Surrey, RH4 1SG

• Refreshments

• Signposted

Until further notice Pre-book timed entry tickets: dorkinghalls.co.uk

www.dovehousefineantiquesfairs.com

Telephone 07952 689717

NEW!

Plant Fairs Roadshow

The South East's

best specialist nurseries

coming to great venues near you!

PashleyManorWT230.indd 1 15/06/2021 DoveHouseAntiqueFairWT230.indd 09:10

1 21/06/2021 16:04

Sunday 23rd May | 11am-3pm

Summer Plant Fair, Myddelton House Gardens

Lee Valley Regional Pk, Eneld. EN2 9HG

Sunday 6th June | 12am-5pm

Summer Plant Fair, Sussex Prairie Garden

Wheatsheaf Rd, Heneld, W.Sussex. BN5 9AT

Sunday 22nd August | 11am-4pm

Late Summer Plant Fair, Hole Park Garden

Rolvenden, Cranbrook, Kent. TN17 4JA

Sunday 12th September | 10am-3pm

Autumn Plant Fair, Borde Hill

Haywards Heath, W. Sussex. RH16 1XP

Sunday 19th September | 10am-5pm

NEW! Autumn Plant Fair, Arundel Castle

Arundel, W.Sussex. BN18 9AB

To help create safe and enjoyable events, many venues

will require you to book timed tickets in advance.

Check websites for details.

www.plant-fairs.co.uk

info@plant-fairs.co.uk

@plantfairsroadshow @plantfairs

The House is open for Self-Guided Tours

From Thursday 1 st July, the House is open for Self-Guided Tours on

Tuesday and Thursday afternoons between 1.30 pm - 4 pm. Garden

entry is included in your house tour ticket, so you can enjoy the

gardens before or after your tour. Pre-book tickets online.

Meet the Head Gardener - Tuesday 6 th July, 1-3pm

Join our Head Gardener, Graeme, for a walking tour around our

beautiful gardens to see some of the many species of plants and

trees we have at Belmont. £10.00pp, booking required.

Natural First Aid Workshop - Wed 14 th July, 10am-2pm

During this workshop, you will be able to gather some of the herbs

we have growing in the gardens at Belmont. These will then be

used to make a versatile antiseptic tincture and healing ointment

for you to add to your own first aid kit. £45.00pp, booking

required.

Specialist Clock Tour - Saturday 28 th August, 1.30pm

On the last Saturday of each month, Jonathan Betts, an expert

in Horology and formerly of the National Maritime Museum,

Greenwich, conducts a specialist tour around the clocks of

Belmont House. £20.00pp, booking required.

belmont-house.org • 01795 890 228 • events@belmont-house.org

Belmont House & Gardens, Throwley, Faversham, Kent ME13 0HH

priceless-magazines.com

120

PlantsFairRoadshowWT229.indd 1 06/05/2021 HarrisBelmontCharityWT230.indd 10:36

1 10/06/2021 16:04
---
What's On in July

gardens

Sat 3 July 11am-5pm

Brede, near Rye, East Sussex

Brede Open Gardens and

Orchards

Enjoy seven open gardens including

two orchards and a picnic area,

all within short walking distance.

Wonder at the amazing views of the

Brede Valley and support Autistica

and MS Society. Tickets can be

bought on the day from Shearfold,

Stubb Lane, Brede TN31 6EH

Entry: £5, under 16s free.

Mon 5 – Sun 11 July

Hampton Court Palace

RHS Hampton Court

Palace Garden Festival

Award-winning designer Tom Stuart-

Smith, no-dig champions Charles

Dowding and Stephanie Hafferty

and former RHS Young Designer

Will Williams will be amongst

those designing inspirational

gardens, whilst Mary Berry, Hugh

Fearnley-Whittingstall and Chris

Packham will be providing expert

tips, advice and insights. The RHS

Flower Market will also have an

array of bouquets and everything

you need to create your own.

Alongside the beautiful displays,

visitors will also find plenty of

plants, tools, sundries and accessories

for all gardens, big or small.

rhs.org.uk/hamptoncourt

LITERARY & music

July – September

Chiddingstone Castle

Chiddingstone Castle

Literary Festival

Book lovers can hear from leading

authors in a spectacular line

up including Sebastian Faulks,

Amanda Owen, Hugo Vickers,

and many more. The talks will

take place in the castle's Orangery;

a stunning loggia set amidst

sprawling lawns, pretty gardens

and woodland, with drinks and

refreshments, al fresco picnicking in

the grounds and a chance to meet

the authors during book signings.

Tickets will be limited to meet

social distancing requirements.

chiddingstonecastle.org.uk

Thurs 8 – Sun 18 July

Across Romney Marsh

JAM ON THE MARSH

Experience live music, openair

theatre, a sculpture trail and

exhibitions across Romney Marsh

by world-famous artists including

Michael Collins, Lesley Garrett

and James Gilchrist. Enjoy Saint-

Saens' Carnival of the Animals

played by 4-hands on 1 piano,

Mozart's Clarinet Quintet,

Messiaen's Quartet of the End of

Time and royal composer Paul

Mealor conducting Now Sleeps

the Crimson Petal as sung at

HRH Prince William's wedding,

plus stunning free exhibitions.

jamconcert.org

Sport & wellbeing

Fri 9 – Sun 11 July

Throughout Kent & Sussex

HOSPICES OF HOPE'S

STATELY CYCLE RIDE

A live event for aspiring cyclists

in beautiful Kent and Sussex

countryside with two stopovers at

Lamberhurst, Kent, and Lewes,

Sussex, finishing at Arundel,

Sussex. The route is around

100 miles and the pace will be

leisurely. It's all in aid of Hospices

of Hope to fund their vital work

helping sick and terminally ill

people in South East Europe.

hospicesofhope.co.uk

Weds 28 July 6.30-9pm

Blooming Green, Linton,

Maidstone ME17 4AG

A Mindful Evening at

the Flower Plot

Learn and experience different

mindfulness practices in this

magical ambience with Yvonne

Fernando, NLP Master Practitioner

& Life Coach. With valuable

tips, a private flower-picking

session, refreshments and cake.

Entry: £45

01233 878474 /

yvonnefernandonlp.co.uk

Listings are correct at time of going to press

but may be subject to change. Readers are

advised to check with venues before making

arrangements. We can list your event in

the next issue of Wealden Times or Surrey

Homes for only £15+VAT. Please supply

up to 200 words that should include date,

time, venue, contact for enquiries and any

entry price to whatson@priceless-group.

com or send with payment (cheques

payable to Priceless Media Ltd.) to What's

On, Priceless Media, Kettle Chambers, 21

Stone Street, Cranbrook, Kent TN17 3HF.

Priceless Media reserves the right to edit

text to fit space allocated. If you would like

your event listing to be accompanied by a

full colour reproduction (42.5 x 62.5mm)

of a poster or other pictorial image, the

total charge will be £95+VAT. Deadline

for the August issue is 9 July 2021.

Wood Floor

Sanding

- Family Business -

We also restore wooden kitchen tops

FREE estimates - call any time

07794953597 gerardgrover@gmail.com

AllWoodsSandingServicesWT2171/8.indd 1 21/02/2020 12:55

Ibbett Mosely

AUCTIONEERS & VALUERS

Limited Liability Partnership

The Auctioneer's Next Sale Will Be On

Wednesday 15th September 2021

Currently to be held online only at

clare langdon

easyliveauction.com/ibbettmosely at 11.00 a.m.

Viewing by appointment only, please contact us for more information.

Subject to restrictions, a limited number may be allowed on the premises.

Tel: 01732 456731 Web: www.ibbettmosely.co.uk

125 High St, Sevenoaks, Kent TN13 1UT

Registered in England No. 0C341637 Regulated by RICS Registered at the Sevenoaks office as Ibbett Mosely Surveyors LLP

secondary Primary logo logo & pattern

IbbettMoselyWT230.indd 1 07/06/2021 14:27

clare langdon clare langdon clare langdon

I N T E R I O R S

I N T E R I O R S

clare langdon

secondary logo & pattern

clare langdon

Made to measure curtains, I N T E Rblinds I O R Sand soft furnishings

I N T E R I O R S

Showroom by appointment

clare langdon

C = 20

M = 15

Gotham Book Y = 72

K = 5

Primary logo

I N T E R I O R S

fonts

fonts

clare langdon

C = 0

M = 5

Y = 5

K = 60

Caleigh

I N T E R I O R S

I N T E R I O R S

I N T E R I O R S

01580 712209

colour 01580 palette

clare@clarelangdoninteriors.co.uk

712209

clare@clarelangdoninteriors.co.uk

www.clarelangdoninteriors.co.uk

www.clarelangdoninteriors.co.uk

Association House, St David's Bridge,

Association

Cranbrook,

House,

Kent,

St David's

TN17 3HL

Bridge,

Cranbrook, Kent, TN17 3HL

ClareLangdonWT200.indd Free Written 1 Quotes • Fully Insured

12/09/2018 17:10

C = 20

C = 0

M = 15

M = 5

Y = 72 colour palette Y = 5

K = 5

K = 60

Clare Langdon business card 3 heavier font.indd 1 15/05/2018 21:49

Clare Langdon business card 3 heavier font.indd 1 15/05/2018 21:49

Office: 01580 713599

Mobile: 07856 947840

www.the-wrightway.com

Gotham Book

Caleigh

121 priceless-magazines.com

WrightWayPainters&DecoratorsWT227.indd 1 08/03/2021 13:09
---
Slow,

Grow, Eat

Hairdresser-turned-shepherdess, Zoë Colville

farms nearly 100 acres of land near Maidstone

with her partner, Chris Woodhead. With prime

focus on their animals' wellbeing, together they

rear cows, sheep, goats and pigs, eventually selling

their meat through The Little Farm Fridge. This

month, Zoë tells us about wool and its many uses

Sheep get sheared once or sometimes twice a year

depending on their breed. As discussed in last month's

catch up, it costs us around £1.50 per head to shear

which takes their fleece off, hopefully in one piece. The wool

is most likely then cashed in to a wool merchant or British

Wool. The past few years the price has been incredibly low,

one large scale farmer received a cheque for under £20 for their

entire flock. This is an issue I feel incredibly strongly about

because fleece and fibre could solve lots of our environmental

problems that seem to be snowballing. Synthetic materials and

plastics are rife – fast fashion, hospitality, interiors, everywhere.

I won't go down that route or we shall be here all day!

Anyway, wool has some really handy properties:

Natural fleece is fire resistant unlike most synthetic materials.

It is also biodegradable within roughly six months. It can

absorb 40% of its own weight in moisture without feeling wet.

Wool can absorb certain toxins out the air e.g. formaldehyde.

You are probably wondering why it's not being used more

commonly, I think the answer is how long it takes to process. I

once had a fad where I thought I was going to make yarn out

of our fleeces because my grandma had given me a spinning

wheel. I managed to wash a few fleeces, which takes two days

in itself, then dry it in the sun and 'card it'. Carding is to brush

the strands so they are all facing the same direction, which

again takes a huge amount of time. That's before you even get

the spinning wheel out, safe to say I handed my clean fleeces

to a local crafter and gave up on that pipedream... for now.

Our shipping packaging for The Little Farm Fridge is made

from sheep fleece and I think insulation is one of its brilliant

properties that will be explored in the coming years as we

become more aware of the damage to the environment caused

by plastics. When people order from us they can then reuse

the wool liners around the home, in flower beds to protect

plants against frost, for the local birds to use for their nests and

also for various crafting projects. One of our customers even

insulated the little shed they keep their rabbits in to protect

against the cold! If crafting is something you are into then

we are always interested in learning of new ways our fleece

can be put to good use and keeping it local is even better.

The Little Farm Fridge Recipe of the month

How to cook it... Lamb Koftas

• Serves 4. You will need 8 bamboo skewers for the BBQ

• 500g Little Farm Fridge

lamb mince

• 2tsp ground coriander

• 2tsp ground cumin

• 1tsp ground cinnamon

• 1½ tsp rocksalt

• ½ tsp black pepper

• chopped fresh coriander

• chopped fresh mint

• 2 crushed cloves of garlic

• 30g panko breadcrumbs

(For GF don't add these but will be

drier and more crumbly)

1Add all the ingredients to a bowl and mix well.

Split into 8 pieces and roll into sausage shapes.

2If barbecuing: soak your bamboo skewers in water

before cooking to help stop them burning. Thread

the 'sausages' onto the skewers. Cook for around 6 mins,

rotating throughout. If cooking on the hob in a frying

pan: add a drizzle of oil. They will take around 5 mins

– continue turning to make sure brown all over.

3We serve with a fresh salad with plenty of lemon, flatbreads

and a homemade tzatziki which is natural yoghurt,

cucumber, fresh mint and garlic (plus plenty of lemon juice!).

Follow Zoe on Instagram @thechiefshepherdess

and @thelittlefarmfridge. You can order

meat online at thelittlefarmfridge.co.uk
---
0800 58 58 58 THECALMZONE.NET

UNITED AGAINST SUICIDE

CALM is a registered charity in England & Wales no. 1110621 & Scotland no. SC044347
---
JOHN SANKEY

AT

S AY E R S L A N E • T E NTE RDE N • 015 8 0 7610 0 8

WWW.W O O DCO C K S I N T E R I O R S .C O.U K