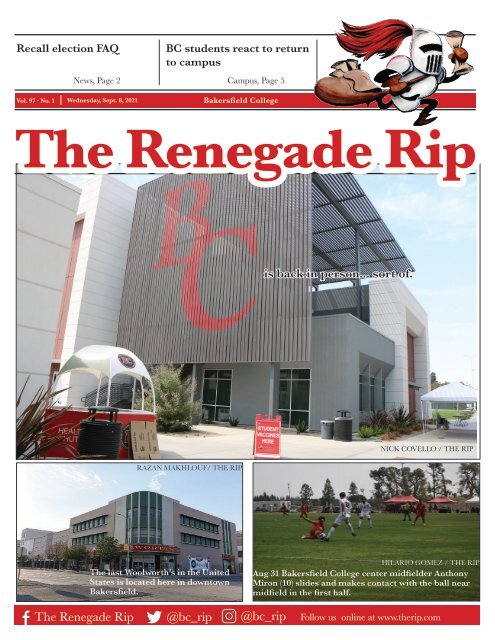 Renegade Rip Issue 1 Fall 2021 Sept. 8, 2021
First issue of the Fall 2021 Semester
First issue of the Fall 2021 Semester
SHOW MORE
SHOW LESS
Create successful ePaper yourself
Turn your PDF publications into a flip-book with our unique Google optimized e-Paper software.
Recall election FAQ

News, Page 2

BC students react to return

to campus

Campus, Page 5

Vol. 97 ∙ No. 1 Wednesday, Sept. 8, 2021 Bakersfield College

The Renegade Rip

is back in person... sort of.

RAZAN MAKHLOUF/ THE RIP

NICK COVELLO / THE RIP

The last Woolworth's in the United

States is located here in downtown

Bakersfield.

HILARIO GOMEZ / THE RIP

Aug 31 Bakersfield College center midfielder Anthony

Miron (10) slides and makes contact with the ball near

midfield in the first half.

The Renegade Rip @bc_rip @bc_rip Follow us online at www.therip.com
---
Page 2

News

The Renegade Rip www.therip.com

Tuesday, Sep. 8, 2021

Recall Election day is Sept. 14

By Hugo Maldonado Garcia

Senior Digital Editor

Many California residents have

mixed signals on the Recall Election,

but one thing is certain: the deadline

to submit your completed Recall Election

ballot is before 8 p.m. on Sep. 14.

The California Gubernatorial Recall

Election ballot will have two parts

to it. The first thing to know is all qualified

candidates for the Office of Governor

will be listed. Along with their

political party preference and possibly

the lack of party preference.

An important thing to note is if a

majority of the votes on the recall

question are a "Yes" California Governor

Newsom shall be removed from

office. The candidate who receives the

most votes on the 2nd question will replace

Newsom even if they do not win

the majority of votes.

The second thing to know is if onehalf

or more of the votes on the recall

election question are "No" California

Governor Gavin Newsom shall remain

in office.

"First of all, I think all elections are

important and it allows the people the

opportunity to choose who is going to

be making the laws by which we all

have to live," stated Bakersfield College

Political Science Professor & former

President of Academic Senate,

Steven Holmes.

According to Holmes, "This recall

election is very unique to California

and approximately 12 other states that

don't necessarily have the right to remove

their public officials before the

end of the term. It gives the people the

ability to hold the officials accountable."

At the back of every California Recall

Ballot, there is a square slit where

a barcode is located. This is intended

to help voters track their ballot, it is an

interesting detail that most registered

voters never paid attention to.

BC Poli-Sci Professor, Charles Kim

stated "if you are not happy about the

government then you need to vote to

voice your opinion. Facebook and Tik

Tok are places to express your feelings,

but to change the government, voting

is your platform."

"Voting is a civil duty, as an American

Citizen voting is something people

take for granted," explained Kim.

"My parents immigrated to America

from a country where at the time my

mother did not have the opportunity

to vote. I think of the sacrifices she

made to come to America to vote and

create a better life for our family."

Contact the County of Kern, Elections

Division at KernVote.com for

any additional election information.

California's mask situation

By Aubrianna Martinez

News Editor

With the arrival of California's wildfire

season and currently seven ongoing

situations according to CAL Fire's

website, there is plenty of cause for concern

for not only being in the path of a

wildfire but the other dangers that they

pose.

In areas such as Kern County, poor

air quality is frequently a factor in discussions

of health, especially where

wildfires are concerned. Additionally,

the Delta variant of COVID-19 threatens

public safety, and some wonder if

there is an intersection between the two

health problems: masks.

After a year of mask mandates in the

golden state and requirements continuing

in certain locations for people to don

them before entering, the question of

whether or not the face masks that people

are wearing to combat COVID-19

and its variants could also protect one

from the effects of wildfires that alter

the air quality. The San Joaquin Valley

Air Pollution Control District issued a

news release on Aug 27 that is available

on their website, stating that fumes

from recent wildfires have resulted in an

air quality alert being issued.

Within the news release, the Air Pollution

Control District cited the multitude

of health issues that could be affected

by the poor air quality and on the subject

of face masks that most have taken

to wearing during the pandemic.

"Common cloth and paper masks being

used as protection from COVID-19

may not be sufficient protection from

smoke inhalation" the Air Pollution

Control District said in their press release.
---
Page 3

News

The Renegade Rip www.therip.com

Wednesday, Sept. 8, 2021

Campus Pass app challenges

Erami Dominguez

Reporter

The Kern Community

College District Board of

Trustees unanimously passed

vaccine mandates for all students,

faculty, and staff returning

to campus on Aug.

12

Ṫhe education system took

on a much different shape

after the initial Coronavirus

outbreak. Students and educators

had the task of transitioning

to completely online

learning, and as life on campus

resumes, the tech-forward

solutions are here to

stay.

New health and safety protocols

are being enforced so

that everyone at BC is safe,

especially considering the

recent development of the

COVID-19 delta variant.

All parties are directed to

download the KCCD app to

complete daily health checks,

and to confirm their vaccination

status with the BC

COVID-19 response team to

mitigate the spread.

Some students have had

difficulties downloading or

using the app.

Paper or non-app health

screening options were addressed

in an email from

Dean of Instruction, Rebecca

Farley, to department

staff:

"There are no paper forms.

They can come to student life

and complete the form (online)

and we give them one (a

printout of the digital health

tracker verification pass)."

Anyone having trouble

with the app can get help at

the Office of Student Life.

Other than accessibility,

it seems the only issue with

the Campus Pass app is

awareness of the app's features

or purpose. It is possible

to overlook new protocol

in the flurry of purchasing

textbooks and locating classrooms.

One anonymous user

expressed confusion about

the QR code contact tracing

system.

"I had no clue why there

were bar codes everywhere,

but once one of my professors

explained it to us, I

caught up pretty quickly and

now it's just a natural part

about being on campus in

my mind."

Information about using

the KCCD app can be found

on the homepage of the BC

website in the "About BC"

section under "COVID-19

Information." Scroll down

to see red labeled sections,

expand the "Fall 2021 Protocols"

tab, and click the red

"KCCD Campus Pass app"

hyperlink for detailed instructions.

Zachary Finch, a third-year

BC studio arts major, stated

the ease of use of the app,

his only negative being that

the contact tracing feature

is "a little anxiety inducing,"

but he feels safe knowing that

he is vaccinated.

"The more people we get

using the app regularly, the

better communication, the

more trust we will have in

each other to return back to

school with the main goal of

pursuing an education."

Alejo summed it up perfectly;

trust and communication

are essential. Familiarize

with the app and remember

to scan QR codes before entering

all buildings.

BC offers Vaccination Clinics

By Breonna Zapiain

Reporter

A vaccine requirement has

been mandated for all Kern

County Community College

campuses, "BC students and

employees will be required to

provide proof of first vaccination

by Sept. 7 and proof

of full vaccination by Nov.

1," according to information

found on the Bakersfield

College website.

Those who do not wish to

be vaccinated are encouraged

to visit the Student Information

Desk on the BC

website to get information

on alternate options that are

available for them.

In an effort to make

COVID-19 vaccines more

accessible, BC is providing

free vaccinations for people

18 or older at the Student

Health and Wellness Center

Mondays through Thursdays

from 9 a.m. to 3 p.m.

BC Student Health and

Wellness Center will also be

offering the Moderna vaccine

Tuesdays and Sundays

in August and September

from 9 a.m. to 2 p.m. for

walk-ins only. Students will

also be provided with the opportunity

to get the Moderna

vaccine Saturdays at BC

home football games. They

will be offered at the Memorial

Stadium located at the

BC main campus from 5:30

p.m. to 7:30 p.m.

Just between Aug. 30 and

Aug. 31, the BC Vaccine

Clinic vaccinated 54 people.

Charles Collom, Director

of the Student Health and

Wellness Center, shared that

there are a few commonly

asked questions from those

getting vaccines.

"Occasionally I'll get questions

like 'How does it work,'

I love that question because

it makes me get to sound

smart," he said. Collom also

shared that there are times

where the clinics get very

busy, often between block

schedules for classes when

students get out of class, and

other times where they are

not busy at all.

The Student Health and

Wellness Center is located

on BC's main campus in

the Levison Center marked

"LEV" on the college's map.

It is next to the M & O building

and south of the library.

Walk-ins will be accepted at

all clinics but those looking

to schedule an appointment

can call 833- 422-4255 or

register for appointments at

myturn.ca.gov. Information

available on the BC website

states that anyone looking for

more information or has any

questions is encouraged to

call 661-395-4336.
---
Page 4

Sportss

The Renegade Rip www.therip.com

Wednesday, Sept. 8, 2021

BC men's soccer

loses season opener

HILARIO GOMEZ/THE RIP

Aug 31 Bakersfield College number 10 center midfielder Anthony

Miron slides and makes contact with the ball near midfield in

the first half.

By Hilario Gomez

Reporter

The Bakersfield College men's

soccer team headed up to Visalia

for their season opener against

the College of the Sequoias Giants

on Friday, Aug 27.

Head Coach Vayron Martinez

was available for comment before

the game and detailed the expectations

and struggles he sees in

this upcoming season.

"We have a positive outlook for

this upcoming season. The boys

have been working extremely

hard this summer and have had

a good preseason so far. There's a

lot of excitement to compete and

represent the institution. I think

that due to us not having a season

in 2020 and then just playing

a few games in the spring, it has

given a lot of motivation to our

returning group and they are instilling

that into the freshman"

Coach Martinez said.

He explained how expectations

are high, with hopes to compete

for another conference title and

make a run into the postseason

and how he emphasizes following

COVID-19 protocols to protect

his team and their season.

The game ended up in a tie 0-0

between the two teams with the

Renegades showing promise with

a very aggressive and energetic

performance.

Players such as Anthony Miron

took multiple decisive shots that

sadly failed to hit their mark.

The Renegades seek a different

result in their home opener

against Fullerton College Sept 7.

Quarterback shuffle

With the start of the

NFL season around

the corner and college

football week zero

concluding, excitement

and speculation over

the upcoming games

have reached their boiling

point. Quarterback

battles raging across

the league are coming

to a climax, and our

first taste of meaningful

taste of football has it

at the forefront of our

minds.

Quarterback being

the most important in

football, there was no

surprise that five quarterbacks

were taken in

the first round of last

year's draft and less

surprisingly, fans are

already clamoring for

many to take the field as

early as week one. With

the highest two picks

with little to no competition

for their jobs,

we turn to Trey Lance,

the polarizing prospect

from North Dakota

State drafted by the

San Francisco 49ers.

While impressive in the

preseason like any other

rookie quarterback,

Lance has his highs and

lows and with quarterback

Jimmy Garrapalo

still on the roster, it

seems unlikely we see

Lance take the field till

mid-season sometime

in Oct.

In stark contrast, Justin

Fields, the big-time

Ohio State quarterback

picked by the Chicago

Bears looks to be the

most enticing option

as he has answered all

Everything football

By Hilario Gomez

Reporter

Hilario Gomez

the questions that surrounded

him throughout

his college days.

Fields might not be the

readiest but expect him

to play often for a team

looking to contend this

year.

With the first meaningful

taste of this college

football season

concluding, it is a perfect

time to highlight an

impressive players from

college football week

zero, UCLA running

back Zach Charbonnet.

Charbonnet, who recently

transferred from

the Michigan Wolverines

program, was playing

like his hair was on

fire against the Hawaii

Rainbow Warriors.

Showcasing explosiveness,

vision, and power,

Charbonnet showed he

was the best player on

the field every time he

touched the ball. This

was a standout performance

with multiple

touchdowns and a

yards per carry average

over 17 that could put

the UCLA runningback

on multiple draft

radars and cement him

as a top player for this

college football season.
---
Campus

Page 5

The Renegade Rip www.therip.com

Wednesday, Sept. 8, 2021

COVID-19 effects on personal habits

By Collin Acevedo

Reporter

The return of in-person learning

flocks many back to campus after a

17-month hiatus. The return of bright

eyes sharing excitement towards the

new year, walking away from the endless

nightmare of zoom calls and deadlines

that only stared closer as the hours

would pass.

Now is the time for new bearings and

beginnings. Dancing within a new image

which covid broke, showing who

we are with no filter, no filler, and no

remorse. For some, it was a time of renewal

within the days, while others saw

the beauty in the darkness rather than

the light.

"My COVID experience was good

because I learned a lot about myself,

but bad because I learned more about

mental health. More than I would've

known before and I think that's good, it

kind of learned what I was on the inside

and what it means to judge people. Just

really worked on myself," Mason Heath

said.

"I think personally that it made me

better. Made me think about new goals

that I actually have for myself, to have

more inspiration to grow," Raquel Lopez

shared. Within COVID-19, seeds

of solitude were planted and now as

we come back together, these beautiful

flowers have bloomed. These petals,

however colorful or dull, possess what

was done with our time spent. Leaving

us to question if we picked up new

habits and whether they are favorable

or not.

"I became more secluded to myself,

not many good things picked up, to be

honest. Now I just like to stay in," Lopez

said.

"Sleep was awful. Sometimes I'd only

get three hours of sleep, but that was

the worst of it," Heath said.

"I became static, it put a dampening

on things to be at home," Matthew

Mier shared.

Yet what lessons were learned during

covid, and how they will be used transitioning

into the post COVID-19 world?

How will a newfound stride move into

a world which still stumbles upon one

step? "Yes, I learned a lot about myself

and a lot about the world around me…

I spent hours thinking and thinking. I

think that solitude was a good thing

because if there wasn't then people

wouldn't have seen what they would see

with solitude and understood whether

to change it or keep it," Heath replied,

"I think in an odd way I learned better

people skills. I'm more eager to speak

with people now because I really want

to."

BC students return to campus

By Erami Dominguez

Reporter

After 18 months, students

and staff are back on campus

at Bakersfield College.

Educators and student services

worked hard to provide

remote support during the

challenging stay-at-home period

of the pandemic. Now

they can provide in-person

instruction and services

again to the maximum benefit

of all new and returning

students.

The financial aid office is

continuing remote support

in addition to their office being

re-open on the second

floor of the Center for Student

Success building. The

Student Health and Wellness

Center is also resuming

on-site care providing all

Renegades with basic health

and mental wellness support.

Mental health services

are available to all students

who have paid the health fee

upon enrollment.

COVID-19 is an ever-present

factor affecting peoples'

ability to attend the school's

reopening. A student, whose

name is withheld, contracted

the virus at work and is not

allowed on campus until they

return a negative COVID-19

test result. They will have to

call into class via Zoom until

after their quarantine period.

"I've always really liked

school and the structure of

being on campus, so it was

mostly very exciting for me!

It's honestly very fun getting

to socialize with classmates

face to face after feeling so

disconnected and isolated

for a year and a half. I have

struggled with sitting for

two hours in the classroom,

though," said Emma Scott, a

BC returning English major.

A lack of structure and

routine were loss when transitioning

to remote work and

education. Peer support was

overlooked, active listening

skills and non-verbal communication

are beneficial to

the learning process. Zoom

meetings continue to support

students who cannot yet attend

class, yet the personal

interaction is missing.

The Fall 2021 experience

is new for incoming freshmen,

Marina Gradowitz is a

theatre student stepping onto

campus for the first time.

She graduated with the high

school class of 2020 and has

had a strictly online experience

at BC so far.

"I've been really enjoying

coming to campus… I am a

little wary of it actually staying

like this though, and I'm

very aware of the possibility

that we'll have to go back

online so I'm enjoying it as

much as I can now."

Construction has been ongoing

through the pandemic

and will continue until 2024.

All building projects are listed

on the Bakersfield College

website in the section

"A Better BC." Some of the

completed projects include

the renovated Levinson Hall,

and a new Campus Center!

BC provides many beneficial

programs for the welfare

of the student body and with

their ability to help in person,

students retain the support

of the Renegade Pantry,

EOPS services, the tutoring

and writing centers, and

Veteran resources. For more

information on campus resources,

visit the "Student

Services" section on the BC

website.
---
Page 6

Campus

The Renegade Rip www.therip.com

Wednesday, Sept. 8, 2021

Former FBI agent recalls

events from his career

By Raul Padilla

Reporter

James Fitzgerald, a criminal

investigator and former

FBI agent, was the first guest

speaker for this year's Distinguished

Speaker Series,

organized by the Bakersfield

College Student Government

Association (BCSGA),

on Sept. 1, via Zoom.

Fitzgerald worked for 11

years as a police officer, solving

numerous homicides,

assaults, and other crimes before

eventually entering the

FBI during the Unabomber

case, the main topic of the

presentation.

"You wouldn't consider

him as infamous as others,

but because it went for 17

years, near the end he was

taunting law enforcement,

taunting his victims," Fitzgerald

stated.

He began with background

information on the case, stating

that it went back to 1978,

with the first bombing of

the UNABOM (University

Airline Bombing) case in the

University of Illinois.

Fitzgerald stated the Unabomber

was finally seen in

person by a computer store

employee after a failed bomb

attempt. Despite the lack

of clear identification, the

FBI finally had a lead. The

bombings stopped after this

information became public,

until 1993.

He explained that in 1993

the bomber would resurface

and continue his spree,

targeting universities and

businesses with nothing left

behind but letters.

Fitzgerald said 1995 was

RAUL PADILA/ THE RIP

James Fitzgerald presenting

his story on Zoom for

BC's Distinguished Speaker

Series.

the year that he joined the

force against the Unabomber.

From there breakthroughs

began to be made in the

case, starting with a letter

from 1985.

"It suddenly hit me, looking

down from the left-hand column…

it formed a sentence,

'DAD IT IS I,'" Fitzgerald

explained as he recalled the

moment where he noticed

something that the FBI had

not known for 10 years.

Immediately after this observation,

Fitzgerald said he

was put in charge of all documents

related to the case.

From there he made more

observations about the Unabomber's

behavior and potential

motives.

On the topic of his letters,

Fitzgerald also explained,

"The Unabomber made

no mistakes in his writing

style…it's perfect and he's a

wordsmith and prided himself

in his language, and I

happen to know for a fact

it truly bothered him when

it was determined it was

his language that identified

him."

Fitzgerald said this lead

toward the critical moment

where a few months after he

joined the case in 1995, the

Unabomber sent a manifesto

towards several media outlets

titled, "Industrial Society

and Its Future."

Fitzgerald said he spent

countless hours reading

through the manifesto until

he came across a breakthrough

of a shorter, older

manifesto sent to him by his

colleagues.

"When I called back my

colleagues at the UTF, here's

the deal, you have an elaborate

plagiarism and someone

got the manifesto… or

you've got your man," he

said, recalling those

exact words.

A phrase that alerted

Fitzgerald was,

"As for the negative

consequences of

eliminating industrial

society – well, you

can't eat your cake

and have it too."

He noted that the

phrase, "eat your

cake and have it

too" wasn't written

correctly, a mistake

made by someone

with otherwise flawless

writing skills.

Fitzgerald said he

then went through

all related files that

he could find, until

he came across a

1970's letter sent to

the "Saturday Review"

magazine,

which said, "We will

be sacrificing some

of the materialistic

benefits of technology, but

there just isn't any other way.

We can't eat our cake and

have it too."

After presenting this information,

as well as a 50-page

affidavit on the matter, this

was enough to issue a search

warrant.

"And behold, the judge

saw this and for the first time

ever, language analysis and

handwriting language and

content analysis of someone's

writing was used to obtain

a search warrant in the

Federal Courts," Fitzgerald

commented.

He said eventually it all

linked back to a man named

Ted Kaczynski. The Unabomber

had been caught.

The first Unabomber sketch

which drove the criminal into

hiding after release.
---
Page 7

Our Town

The Renegade Rip www.therip.com

Wednesday, Sept. 8, 2021

The last Woolworth in America

By Razan Makhlouf

Reporter

The rumors are true.

The iconic Woolworth

building is being sold with

escrow.

Sherod Waite and David

Anderson, the CEO

and co-owner of Bakersfield-based

Moneywise

Wealth Management,

are in the process of

purchasing the historic

Woolworth's building in

downtown Bakersfield.

According to the Kern

County Historical Society,

Woolworth stores have

been in various Bakersfield

locations since 1911. The

most modernly equipped

and air-conditioned Woolworth's

store on the Pacific

Coast opened to the public

on May 6,1950.

By the end of the 20th

century, Woolworth's was

struggling to compete

with other retailers, and

in 1997, it closed its last

American store.

Located in downtown

Bakersfield, Woolworth

served as an antique mall

for decades known as Five

and Dime Antique Mall.

Inside one can find the

iconic Woolworth luncheonette

and soda fountain

with all its original

counters and equipment.

The Five and Dime Antique

Mall is expected to

close down in November,

with the classic diner remaining

intact.

What was once a popular

chain of about 5,000 stores

across the country in the

80s and 90s, Woolworth

locations have either completely

been demolished,

remodeled, or closed. The

Bakersfield location is the

last fully functional Woolworth

store that has maintained

its original design.

Although the luncheonette

at the Bakersfield Five

& Dime is no longer officially

owned by the company,

it's almost exactly as

Woolworth's left it.

The new buyers of the

Bakersfield-based Moneywise

think of Woolworth

as a community asset.

Their intention is to preserve

the historic nature

of the building. They are

keeping the luncheonette

and leaving the outside

pretty much as it is.

While many vendors indicated

they will move on

to other antique stores in

the area, the Moneywise

guys are planning major

renovations, and they

expect to find an operator

who will maintain the

quality and flavor of the

long-favored burger venue.

According to the Californian,

Bakersfield City

Councilman Andrae

Gonzales said, ""I'm very

proud of a local, successful

business making such a significant

investment in the

heart of our city. It really

shows their love and care

for our community".

The current owner, Mark

Sheffield, is hopeful that

the move by Moneywise

from southwest Bakersfield

to downtown will continue

what many believe is a renaissance

of sorts for the

central business district.

RAZAN MAKHLOUF/THE RIP

Taking a peak inside the famous last Woolworth Luncheonette

counter, located in downtown Bakersfield.

RAZAN MAKHLOUF/THE RIP

Entrance of the famous Woolworth Building. This

downtown location is the last one in America.

RAZAN MAKHLOUF/THE RIP

Art on the side of the Five and Dime Antique Mall located

in the Woolworth building in Bakersfield.
---
Page 8

Opinion

The Renegade Rip www.therip.com

Tuesday, Sep. 8, 2021

Bakersfield's new

coffee shop

HUGO MALDONADO GARCIA/THE RIP

Bakersfield Roasting Company is located at 6501 Schirra Court

in Southwest Bakersfield.

By Hugo Maldonado

Garcia

Senior Digital Editor

The Bakersfield

Roasting Company is

the hottest new coffee

place in town! Located

at 6501 Schirra

Court in Southwest

Bakersfield. It's the

perfect place to go for

a quick coffee run.

As someone who

drinks about three

cups of coffee a day

just to stay awake, this

new coffee shop had a

great first impression.

They have a variety

of flavors and coffee

options that can be a

little overwhelming if

you have not taken a

look at their menu before.

Bakersfield Roasting

Co.'s menu consists

of their house

favorites like caramel

lattes, espresso, and

brewed coffee with

the choice of iced or

hot. Other delights

include Italian soda,

house mocha, and

12oz or 1lb purchasable

coffee bags to

make at home. They

also have coffee brewers,

plus branded apparel

like t-shirts and

aprons.

An interesting detail

that caught my attention

about this coffee

shop is they have

a huge coffee bean

roasting machine

right as you walk in by

their main entrance.

The Bakersfield

Roasting Co. roast

their coffee beans inhouse

every Tuesday.

Any day of the week

is great to stop by and

grab a cup of coffee

and your choice from

many of their baked

goods.

When it came down

to taste their coffee I

was impressed with

my order, the flavor

of their iced cold

brew with a dash of

almond milk was just

what I needed before

the busy day ahead.

My iced coffee went

great with the taste of

their cinnamon roll

that is served with a

side of cream cheese

frosting.

You will not only

love the quality, you

will love the price. A

16oz cold brew coffee

with almond milk is

priced at $3.25 which

is almost equivalent

to a grande vanilla

sweet cream cold

brew at Starbucks for

$4.25. Think about it,

you can put that extra

dollar towards your

next cup of coffee at

Bakersfield Roasting

Co.

This new place is

denfinitely in my top

three coffee shops.

Renegade Events

Campus Events

Sep. 13: Finding Articles in Periodical

Databases Workshop at 8:30 am in the Library,

room 217.

Sep. 13: A2MEND Power Hour Event

from 12:50pm to 1:50pm in the Fireside

Room.

Sep. 14: Strategies for Effective Research

Workshop at 4:00 pm, in the Library, room

217.

Sep. 15: Finding Books and eBooks

Workshop at 11:10 am in the Library, room

217.

Sep. 15: Kern County Library One Book

Project Kickoff Event on Zoom.

Sep. 16: Avoiding Plagiarism Workshop

at 11:10 a.m. in the Library, room 217.

Oct. 2: Finding Books and eBooks Workshop

at 11:15 a.m. in the Library, room 217.

Oct. 2: Evaluating Books and Articles

Workshop at 12:30 p.m. in the Library,

room 217.

Oct. 4: A2MEND Power Hour Event

from 12:50 p.m. to 1:50 p.m. in the Library

Fireside Room.

Oct. 4: Evaluating Internet Sources

Workshop at 4:00 p.m. in the Library, room

217.

Oct. 6: Using Google for Internet Searching

Workshop at 1:00 p.m. in the Library,

room 217.

Oct. 6: Virtual Express Enrollment Event

at 5:00 p.m. on Zoom.

Oct. 7: Finding Articles in Periodical Databases

Workshop at 10:00 a.m. in the Library,

room 217.

Oct. 7: Distinguished Speaker Dr. Pamela

Douglas Event at 8:00 p.m. on Zoom and

BCSGA Facebook.