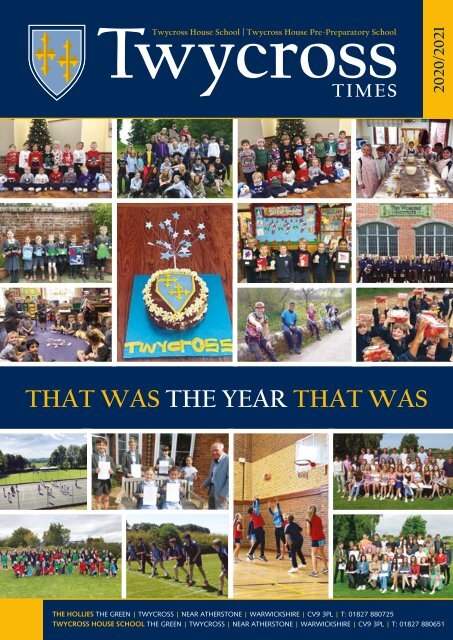 Twycross Newsletter AutumnWinter 2021
Create successful ePaper yourself
Turn your PDF publications into a flip-book with our unique Google optimized e-Paper software.
THAT WAS THE YEAR THAT WAS

2020/2021
---
First Year - Autumn Term Activities

LIGHT

We brought

torches into

school and

explored all of

the dark places

that we could

find. The cellar

was incredibly

dark, and very

exciting.

AUTUMN TERM 2020

First Year children have settled into

school life at The Hollies very well.

We are, making friends, working

hard and learning so much!

SHAPES

We can make amazing pictures

with 2D shapes.

Bee Bot

We have been

using Bee

Bot to learn

about simple

programming.

SPECIAL PLACES

We have been exploring the garden

at The Hollies. We had to find a

special place. There were so many

to choose from.

Sukkot

We made a

Sukkah when we

were finding out

about Sukkot.

The roof has to

have holes in it

so that you can

see the stars.

Atherstone Food Bank

"A Gift for a child at Christmas".

Thank you for your generous

donations.

Wellbeing

This year, as part of the overall

Mental Health and Emotional

Wellbeing programme, we have

introduced Yoga and Mindfulness

classes for the children. The aim is

to improve the children's strength,

motor skills and balance, whilst,

at the same time, enhancing their

focus and concentration. Each

session typically includes breathing

exercises, a Cosmic Kids adventure

and guided relaxation meditation.

A Special, virtual

visit from Father

Christmas

2
---
First Year - Autumn Term Activities

Our displays this term show how hard we have been working

3
---
First Year - Summer Term Activities

Ahoy there!

The First Year children had an

exciting time in the Pirate Wood

(more usually know as Orton Wood).

They found campfires, saw holes

made by cannon balls and followed

clues to find golden treasure. Some

children even walked the plank!

Billy Goats Gruff

The First Year children had a very

urgent letter from the Three Billy

Goats Gruff. They had run out of

grass in their new field!

The children decided to help and

grow some more grass. They used

a tray, compost, water and seeds.

The tray was put in a bright place.

When the grass had grown they

cut it and sent it off to the Billy

Goats; Mrs Bryan and Mrs Rayson

gave them a stamp!

Delicious!

The First Year children made delicious

sandwiches using healthy ingredients.

We were hoping to have a picnic

in the garden but rainy weather

meant we had a 'carpet' picnic in the

classrooms.

4
---
Second Year - Autumn Term Activities

Baking

We enjoyed making delicious apple

pies with apples from our very own

school garden.

Bear Hunt

In September, the 2nd Years enjoyed a visit to

Orton Woods. We marched around the woods

hunting for bears who were hiding!

Science

This term the 2nd Year children have been carrying out several science

investigations. In our first half term we explored the human body and our senses.

Thinking of others

- Christmas Cards

to Linden Lodge

Residents

We have sent cards to local care

homes, our local elderly, Twycross

Zoo and local support services such

as the Fire Station in Bosworth. We

hope that the children's creations

will put a smile on people's faces

and cheer the hearts of every one

who receives a card.

Wellbeing

This year, as part of the overall

Mental Health and Emotional

Wellbeing programme, we have

introduced Yoga and Mindfulness

classes for the children. The aim is

to improve the children's strength,

motor skills and balance, whilst,

at the same time, enhancing their

focus and concentration. Each

session typically includes breathing

exercises, a Cosmic Kids adventure

and guided relaxation meditation.

Diwali

We have been learning about the

festivals of light including Diwali,

Hanukkah and Christmas.

A Special, virtual

visit from Father

Christmas

5
---
Second Year - Autumn Term Activities

Gingerbread Treats!

Christmas Puddings

Beautiful handmade Christmas

pudding decorations will adorn

your tree this season, thanks to our

difficult but delicate work.

We each sent a letter to Her

Majesty the Queen telling her

all about ourselves. We were

delighted to receive a royal

response!

We have been working really hard

and have produced some lovely

writing & art work.

6
---
Second Year - Summer Term Activities

Strawberry Farm

Following on from learning about growing we had a lovely morning at the

strawberry farm. We saw how the plants are grown, had a trailer ride, and each

of us picked a full punnet of delicious strawberries to take home. Thank you to

Mr Busby and his team!

Magnetic attraction

After predicting and testing a

variety of objects to see if they

were magnetic, we had a fun

magnetic fishing game.

Recycle

In the Second

Year we have

been talking

about looking after our planet by

reducing, re-using and recycling.

We are all delighted to have been

awarded a Green Blue Peter badge!

Easter egg drop

Using a variety of materials

we investigated which material

would best protect an egg dropped

from a height. We had

a smashing time!

7
---
Third Year - Autumn Term Activities

Cooking

The third year enjoyed cooking this half term. Firstly as part of science the

children made healthy vegetable wraps, discussing the benefits of healthy

choices. The children all got involved with cutting, grating and slicing, the

children produced some very delicious looking wraps. The following week

the children made some "Fire of London" biscuits. These, thankfully, didn't

burn, and were very tasty.

Hand Washing

As we continue to emphasise

hygiene, 3o and 3y experimented the

best ways to wash our hands. The

children rubbed oil and cinnamon

into their hands and then washed

them in different water bowls.

Thankfully, the warm water and soap

was the winner!

How exercise affects our bodies

In science we have been

finding out how exercising

can affect our bodies. We

found our pulse and noticed

how it increased after

exercise. We are very fit!

Great Fire of London

As a conclusion to the topic

"The Great Fire of London", the

third years experienced how a

fire spreads.

We assembled our Tudor Houses

in tight rows, as they would have

been in 1666. The fire was started

at one end of the street and

with the wind, it carried quickly

and spread to the other houses.

Thankfully some of the houses

beyond the fire break survived.

We collected water from the "River

Thames" in buckets and worked

as a team to put the fire out! Our

own firefighters did a super job of

extinguishing the blaze!

Wellbeing

This year, as part of the overall

Mental Health and Emotional

Wellbeing programme, we have

introduced Yoga and Mindfulness

classes for the children. The aim is

to improve the children's strength,

motor skills and balance, whilst,

at the same time, enhancing their

focus and concentration. Each

session typically includes breathing

exercises, a Cosmic Kids adventure

and guided relaxation meditation.

8
---
Third Year - Autumn Term Activities

Electricity

This term we have had fun learning

all about electricity. The children

have learnt how to make their own

electrical circuits to light up a bulb,

sound a buzzer and power a motor.

Outside learning

We use the school grounds whenever we can to explore our curriculum. We

went outside to look closely through magnifying glasses, try bark rubbings,

collect interesting artefacts and make rainbow sticks.

A Special, virtual visit from Father Christmas

As always, Christmas time is busy with craft making; using our skills to create

cards, calendars and decorations.

Releasing Butterflies

As part of our science work this

term we studied the life-cycle of

butterflies. There was great joy

when we successfully released

the Painted Ladies into the

school garden.

9
---
Third Year - Autumn Term Activities

As always, Christmas time is busy with craft making; using our skills to create cards, calendars and decorations.

10
---
Third Year - Summer Term Activities

Science

Our Science topic 'Plants' started with the Third Year

learning about seed dispersal. We researched different

types of seeds and then had a go at making our own

seed models. Then we investigated hydroponics systems

and experimented with germinating and growing seeds

without soil.

We finished the topic by harvesting our cress plants and

making some yummy egg and cress sandwiches.

Pond Dipping

Following on from our trip to Orton Woods, the Third

Year visited the natural pond at Twycross House. The

children have been studying different habitats and

food cycles. They were very excited to discover lots

of water beetles, fresh water shrimp and two large

smooth newts.

Rainforest

As part of our topic work the children constructed their

own 3D models of a rainforest. Their superb models

featured the different layers of vegetation and a variety

of rainforest animals. These models were completed at

home, many thanks to all the parents and carers for their

support in creating these magnificent models!

11
---
Fourth Year - Autumn Term Activities

Climate Change

The 4th Years have been

discovering ways in which they

can protect the planet and prevent

further global warming. Reduce,

re-use, and recycle!

Finbar's walk

Congratulations to Finbar Millen

from class 4O who walked the 42

mile Battlefield and Borderlands

Way to raise money for the

charity Riding for the Disabled

Association. In total he raised

£289.

Investigating

The 4th Year children have shown a real interest in their science topic this

term. They have learned about the bones and muscles in a human body

and about rocks and fossils. They have really enjoyed learning about two

prominent scientists in history- Marie Curie and Mary Anning.

Finbar said,'I chose RDA because

I love riding and horses and I was

really sad to hear that during the

Covid pandemic, they had to sell

one of their horses'.

Finbar has his own fundraising

page at www.gofundme.com and

search 'Finbar's Battlefield and

Borderlands Way walk'.

Volcano Experiment

As part of the geography topic

"Extreme Earth" the 4th Years

conducted an explosive experiment,

recreating a volcanic eruption. The

lesson certainly went with a BANG!

Autumn Art

This term, the 4th Years have been

busy creating autumn art. Much fun

was had using clay to model their

hedgehogs – ready for hibernation!

12
---
Fourth Year - Autumn Term Activities

Sewing and Christmas Art

The children have been very busy creating lots of Christmas art work. They are very proud of their finished products!

Wellbeing

This year, as part of

the overall Mental

Health and Emotional

Wellbeing programme,

we have introduced

Yoga and Mindfulness

classes for the

children. The aim is to

improve the children's

strength, motor skills

and balance, whilst

at the same time,

enhancing their focus

and concentration.

Each session typically

includes breathing

exercises, a Cosmic

Kids adventure and

guided relaxation

meditation.

A Special, virtual

visit from Father

Christmas

13
---
Fourth Year - Summer Term Activities

Game planning

What fun we had when the Fourth Year children worked collaboratively to

plan a game using a variety of PE equipment. The children then had to write

a carefully, clear set of instructions explaining the rules of their game for

another group of children to follow. We realised how important it is to plan

our writing carefully!

Strawberries

Alice Busby kindly brought in a

whole range of different sized

strawberries to demonstrate the

life cycle of a strawberry plant. It

was great to see.

Victorians

In lieu of our usual Victorian school trip, The Hollies Museum provided the

children with an opportunity to have a hands-on Victorian experience. The

teachers particularly enjoyed wielding the cane!

Bees and Walk

around the garden

The Fourth Years have marked

World Bee Day by completing a

variety of bee- related activities.

They enjoyed a science walk

around The Hollies garden,

admiring the beautiful flowers

coming into bloom.

Shadows

We were fortunate

that the sun shone for

us when we wanted

to investigate how

the length, shape and

position of shadows

changes during the

day. Thanks to Alice

for being our model.

14
---
Whole School

Sports Day

What a fabulous morning we had on a sunny morning in June! Miss Blencoe organised a super morning of races and

PE skills. She even arranged for the sun to shine. We were sorry not to be able to have spectators this year but much

fun was had by children and staff alike. The morning ended with a chest full of stickers and a well-earned ice lolly!

Thank you, Miss Blencoe, for all of your enthusiasm and hard work.

Charity

Christopher (left)

raised £1,347 for

The Captain Tom

Moore Foundation,

by completing 100

laps of his local park,

after hearing that

Captain Tom had

sadly passed away.

Seren rings in the

end of her Treatment

It was the Fourth Years' great

pleasure to be able to celebrate

the end of Seren's treatment by

watching her ring the Children with

Cancer bell. Many congratulations

to Seren on reaching this wonderful

milestone on her journey.

Oliver (left) raised

£2,192 for Cancer

research, by cycling

200 miles in a month!

Layla (right) had her

first ever haircut,

donating her hair

along with £1,224 for

Little Princess Trust .

15
---
Whole School

A tree for every child

We managed to secure, through The

Woodland Trust, a tree for each child

at The Hollies to take home to plant.

Yoga

This year all of The Hollies students

have enjoyed regular yoga sessions.

A typical session begins with a

breathing exercise, followed by

a Cosmic Kids Yoga adventure

and finally a guided relaxation/

meditation.

Cups

Huge congratulations to the children who were

nominated for The Hollies annual cups.

Drowning Prevention

During Drowning Prevention week,

all children at The Hollies watched a

PowerPoint presentation on Safety

in the water by the RLSS.

Fire Safety

All children at The Hollies watched

a video about Fire Safety,

presented by the Leicestershire Fire

and Rescue Service.

16
---
Summer School - Art

17
---
Summer School - New Intake

18
---
Summer School - Sport

19
---
Key Stage 3

Bake off challenge

Bake off challenge winners. This

was so tricky, they all looked so

yummy (I do love cake!!)

The winners are:

Neave O'Shea

FA-BU-LOUS!

Lauren Garland for her

rainbow cake (a brilliant

theme combining hope,

thanks and cake!)

Daisy Whitehall

BE-AU-TI-FUL (breathtaking

decoration, Daisy!)

Harry Trye Instagrammable

loveliness in a sponge :)

(extremely professional)

Thank you so much to all of you

who took part, I hope you enjoyed

the baking and the eating of it as

much as I enjoyed judging!

Lockdown

Photo Challenge

I have been very impressed with

the photography skills and the

quality of the compositions.

Some photos have been carefully posed and composed with varying

subjects whereas others have been successful through chance encounters

in the natural world.

Congratulations to everyone who took part.

Mrs V Knight

The winners are:

Ellen Simmons S2Y A very striking flower composition with vivid

colours. This really stands out and makes me think of spring.

Tom Blood S2Y Two beautiful spaniels sitting to attention. Really

nicely composed photo and the snow on the field really helps the dogs

to stand out.

Harry Trye S1Y A family of ducks beautifully composed and you have

really caught the action on the water.

Harry Ewing-Gerrard S1Y A fabulous bird life shot. A super photo of a

baby bird caught in a snowy garden. Although you must have had to

be quick at taking this, Harry, the compostition is really good

Scarlett Tombs S1Y A beautiful close up – not easy to achieve – and it

is well balanced. You really capture the personality of your lovely dog.

Saehj Bisel 5Y Your shot of a frosty field is not only really well composed

but your soft colours give a very atmospheric feel to the photo

20
---
WINNER

WINNER

WINNER

Form 5Y Isolation

Bake-off!

Owing to isolation Form 5Y missed

a number of days from school. For a

challenge Mr Knight asked them to

bake a marble cake and send photos

of the results to him for judging.

Congratulations to the winners:

Best decoration:

Lilly Winter (top left)

Commitment to cake:

Ella Walker (top middle)

Best Cake Selfie:

Oliver Timberlake (top right)

21
---
Twycross Music – the year of the video

COVID has of course affected all

our lives with restrictions to what

we can and cannot do in both our

personal and professional lives.

In the music department this

has prevented us from running

ensembles of children from different

year groups (such as the school

orchestra and the choirs), putting

on concerts and it has even affected

what we are permitted to teach in

the classroom.

However, from this pit of negativity

has emerged, like the phoenix rising

from the ashes, a series of musical

and dramatic opportunities for

the children of Twycross House

School and The Hollies with videoed

performances, creatively edited

together and presented to parents

for a lifetime of enjoyment and

shared to extended family members,

who would not normally be able to

attend our school performances.

By filming the children individually

or in small groups from the same

bubble, we were then able to put

them together with other children

to form a virtual orchestra or

virtual choir. This had the benefits

of being able to record their music

a number of times for improved

performance, have their sound

edited (e.g. to balance with other

instruments) and even enable

them to appear more than once,

singing and playing "at the same

time"! The musicians were even

given music in different keys to

make it easier to play on their

instruments and subsequently their

sound was put into the same key

with the use of computer software

– if they perform in different keys

in a live concert, it would sound

terrible! Here they are playing

and/or singing A Moment, which

was a song written by Mr. Taylor,

based on the chord sequence of

Pachelbel's Canon, and it's about

taking a moment to think about

our actions that impact on global

warming and on plastic waste.

We also had many more musical

children taking part in these videos

than we would normally see at one

of our concerts, including here a

group from Form 5 performing

The Cup Song (from the film Pitch

Perfect). Each performer recorded

themselves from their own homes

during the Spring home-schooling

period and uploaded to video to us.

It wasn't just additional children

taking part in these videos. For the

Christmas DVD we had 12 members

of staff, who kindly volunteered to

each sing a verse of The Twelve

Days Of Christmas, accompanied

by the virtual school orchestra. This

is quite a long and complicated

Christmas carol to sing but its

structure allowed for quite a lot of

"copy and paste" of video files!

We were disappointed not to be

able to perform to parents at The

Hollies last December but instead

parents were treated to a videoed

performance of the show. One of

the highlights from this video was

watching the Christmas Boogie

Bugs speeded up 2½ times for

the end credits – something that

in a live show would have been

impossible!

One of the challenges of putting

together these videos during this

year has been to come up with

new creative ideas and learn new

video editing techniques. These

have included the use of a green

screen (to make the background

transparent) and for the latest DVD,

the use of stop motion animation.

Here both techniques are combined

to show a rocket taking off from

the school grounds for a journey

into space!

So, while this year has been sadly

devoid of live performances and

rehearsals in schools all across

the country, it has certainly not

been a year without musical and

dramatic performing opportunities

at Twycross House School and

The Hollies. Instead of dwelling on

what cannot be done because of

the COVID restrictions, we have

embraced what we can do to keep

music and drama very much alive

in school, exploiting the benefits of

video recording the children and

exploring new creative ideas to

deliver an end result that is far from

a compromise to our traditional

performances.

Mr A Taylor

22
---
Monologue of a life

in lockdown

When bad things happen to

people, the only thing we can

control is our reaction to it, and

the aftermath. This statement

is extremely true to Lockdown

and Covid.

My dad asks if we live in a

dystopian novel, then I wonder if

dystopian novels are stories that

tell you different futures so that

we learn life lessons like Aesop's

morals, and we all know what

happened to him.

Ever since Lockdown began, I

have despised every minute of

it, everything has been turned

upside-down, and I dread to turn

on the news for more surreal

stories to enter my depressed

mindset.

People say to not run away

from the problems that are

ahead of you, but since they're

being thrown at me everywhere

I have to dodge some.

The only light in the empty abyss

of Covid is history documentaries

and books, and they all have to

eventually end.

Written by a member of Senior 1

FLYIN' DOWN TO RIO

As part of their study of Brazil this

term, pupils from Form 4 enjoyed

recreating some of the glitz and

glamour of the Rio Carnival which

attracts visitors from all over the

country and the globe. They produced

wonderfully creative masks which

wouldn't have looked out of place in

one of the exotic parades that dazzle

the spectators. Other pupils chose to

recreate the facial paint and designs

originally worn in battles with rival

tribes by indigenous warriors but

now worn for ceremonial reasons on

special occasions and as a display for

adventurous tourists. The patterns

were designed to confuse and

intimidate the enemy and were created

from natural materials such as ochre.

The pupils also enjoyed creating

models of the type of simple, self-built

houses that might be found in a favela

built on the hills surrounding São Paulo,

Rio de Janeiro and other major cities

in Brazil. Some buildings were decorated with authentic graffiti, had washing

lines strung between them, displayed brightly coloured walls and corrugated

iron roofs, imitating the appearance and construction techniques of the

dwellings in which nearly half of São Paulo's population live.

Their new topic of Kenya has produced a plethora of cuddly toy animals

that would be found in one of Kenya's many National Parks along with

an abundance of Kenco coffee, photographs from safaris and a genuine

Shuka, the red chequered tribal robe worn by the Maasai. The highlight

of the Kenyan exhibits was a 3m long Back Mamba snakeskin, a precious

family heirloom brought in by Alec Simpson, which wowed 4Y and made

some of the class thankful that snakes are a rarity in the UK.

Mr C Perry

Twycross Census

Following the UK Census day in March, Twycross House Geography department devised our very own school census

for pupils and staff to complete anonymously. These are some of the findings with more information being used

internally in other school projects.

The census was offered to Form 5 upwards and to members of staff – roughly 380 people. Thank you to those who

responded – we had 257 responses – which represents a 68% turnout. The groups who mainly responded were year

groups Form 5, S2, S3 and L6, with 33 members of staff also completing the form.

23
---
Form 4X Show

and Tell

Pupils from 4x had a very

successful show and tell in which

each member of the form brought

in a specific item in relation to their

hobbies. There was a wide variety

of topics from die cast model

cars to gymnastics and various

running activities. Some were even

involved in charitable fundraising.

It was good to see a wide variety

of hobbies that did not include

Maths!

Mrs G Leney

Success for

Twycross chemists!

Congratulations to Alex Jackson

and Warren Smith who were

both awarded gold in the 2021

Chemistry Olympiad competition.

Mr I Smaditch

Form 3 -

Computer Studies

In Computer Studies this term,

pupils have been developing their

hand-eye coordination with their

mouse, screen and keyboard as they

learnt to insert pictures and put

them into place, while also recalling

key skills from lesson to lesson.

Form 3 were challenged with the

task of planning, designing and

creating their own Christmas Dinner

Place mat using Word. As you can

see their designs are fantastic and

will brighten up each and every

Christmas table.

My favourite thing that I have done

on Computer Studies was making

a Christmas Dinner Place mat. I

enjoyed it so much that I decided

to design my own Christmas Cards

for my friends and family on my

computer at home. Isabel Greenall

We all loved making the Christmas

place mats. Selecting the picture

was my favourite as you had so

many festive pictures to select

from. Mrs Williams showed us how

to get snowflakes and baubles onto

our design. All form 3Y loved the

whole process. It was fun and we

were so excited to see the finished

mats. Now bring on my Christmas

Dinner! Ava Price

We loved making Christmas dinner

place mats. I really loved searching

through for festive pictures and

inserting them into my mat. We

also learnt how to place a Santa hat

and baubles onto our name which

was set in word art. Rhia Khela

I really enjoyed finding and

inserting the pictures I especially

liked it when Mrs Williams showed

us how to crop and paste multiple

copies of the same picture. It was

fun being able to put a Santa hat

onto my word Art. AG

I liked how we could pick from

lots of different clip art pictures

to insert onto our mat. Word art is

really good as you can pick your

style of writing and you can change

the colours. Martha Harris

We really enjoyed being able to

design our own dinner placemat

and insert festive clip art images.

We liked how you can move the

pictures around to have them in

different places. Harry Eidukas and

Sam Gobey

We both liked finding the festive

clip art pictures and how Mrs

Williams showed us how to us a

Santa hat on our names, which we

had created using word art. Vinny

Mountjoy and Bobby Sun

Mrs H Williams

24
---
FORM 4 GEOGRAPHERS

BRING SUBJECT TO LIFE

As part of their studies of the

UK's physical features, the Form 4

Geography classes showed their

talents as model and map-makers

with some superb examples worthy

of a place in any museum. The

cliffs, bays, stacks and arches of the

coastline were a popular subject

matter, particularly the arch of

Durdle Door in Dorset, and included

some amazing detail, but there were

also a couple of accurate models of

Ben Nevis, meandering river valleys

and wonderfully illustrated maps of

the UK.

To reinforce their learning about

settlements, the pupils enjoyed

their first field trip to the village

of Shenton, where they were able

to complete a worksheet with

questions on the settlement pattern,

whether its function had changed,

the role of the railway station and

canal through the years and the

importance of Shenton Hall to

the structure and economy of the

village in the past. The children

were rewarded for their excellent

behaviour with a visit to get an icecream

treat for which they patiently

queued, representing the school in

an exemplary manner.

Mr C Perry

25
---
Fruit and

Vegetable animals

In junior Biology we finished the

term with some more light-hearted

activities. What animals and

creatures could you make from fruit

and vegetables?

26
---
Citizen Science!

Two A Level biology students have

been Citizen Scientists for a project

run by Tame Valley Wetlands

and funded by the Environment

Agency. Langley Brook is a site

owned by The Samuel White Trust

in Middleton. The brook has been

channelized, is surrounded by

agricultural land, has issues with

flooding and potentially suffers

from pollution events. The brook

can be improved by interventions

and has been identified as having

the potential for designation as a

Local Wildlife Site. The brook is of

ecological importance and once

water quality issues have been

addressed there is the potential

for fish stocking (e.g. Brown trout,

Bullhead and Stone loach) and

reintroduction of white clawed

crayfish.

Langley Brook, Middleton.

The Tame Valley Wetlands team

have been making improvements

to the brook and surrounding land.

Interventions include control of the

invasive species Himalayan Balsam,

bank reprofiling and stabilisation,

intensive planting of reeds, rushes

etc., introducing more gravel and the

placing of woody debris to act as

flow detectors.

Weekly water samples are being

taken from the brook to assess

the quality of the water, which

was found to be poor on initial

assessments. The A level students

have been trained in using a water

testing probe to carry out a variety of

tests on the samples that they receive

each week. These include measuring

the pH, electrical conductivity and

the levels of ions such as nitrates,

phosphates, aluminium and

chromium. Each week the data is

reported back to the project. This

will help to identify any patterns or

pollution events and monitor the

effect of any interventions at the site

over the course of the project. (www.

tamevalleywetlands.co.uk).

A level biology students have also

been looking at indicators of health

School woods.

in some of the trees in the school

wood. Students identified trees

using identification guides and took

measurements of height, girth of

trunk and leaf coverage. Specific

trees (e.g. Ash) were then examined

using information from the OPAL

(Open Air Laboratory) tree health

survey. (www.imperial.ac.uk/opal/).

27
---
Twycross talents

have written their

way to success in

story competitions

The school was one of seven in the

area invited to enter the Young

Writer Competition, run by the

Market Bosworth Rotary Club. Out

of 243 entrants, Twycross students

secured five of the overall top spots

in the two ages categories 7-10, and

11-13. Judges, including a local author,

set the title "A New Start" and were

looking for signs of positivity or hope

in a story of no more than 550 words,

or poem no longer than 40 lines.

John Whitehead is the Youth Coordinator

of the Rotary Club Market

Bosworth and organiser of the

competition. Congratulating the

winners, he said, "We have chosen to

award joint 1st prizes to May and Lily.

May's strong "New Leaf - New Life"

storyline empathised with abandoned

children taken into care, fostered and

adopted. Lily brilliantly described all

the emotions on the day in which a

trans Rose is supported in outing to

become Dylan.

The six judges, including local author

Samantha Ridgway, commented on

the high standard of work submitted

by Twycross pupils. They loved

Archie Clark's "The Water Bottle",

a recycling story told in the first

person by the bottle! Also impressive

were Frieda Pienaar's story of a

girl in the forest becoming a wolf

and Eva Williams' domestic cat

surviving within the territory of the

feral cats. They would also like to

highly commend Monty Fisher for a

powerful and moving story set in a

Nazi concentration camp. Some of

these pieces will be published in

local magazines.

Mr Whitehead also praised the

"enthusiastic response and the

creative work from Twycross pupils,"

passing on the organisers' admiration

for the wide variety of short stories

and poems submitted by our pupils.

The Rotary Club competition

success came alongside the

Twycross Story Writing Competition.

All students from Form 3 to Senior

2 entered the contest and produced

impressive, imaginative and

thoroughly entertaining pieces

of writing to be proud of.

Voucher prizes of £15 for

first prize, £10 for second

and £5 for third, as well as

certificates, were awarded to:

Form 3

1st - Eva Williams

2nd - Frieda Pienaar

3rd - Sammy Mobayed

Form 4

1st - George Davies

2nd - Alex Pallett

3rd - Penelope Fisher

Form 5

1st - Grace Claringbull

2nd - Leo Geston

3rd - Harriet Guinan

Senior 1

1st - Lily Messer

2nd - Mya Khela

3rd - Jonty Gilman

Senior 2

1st - Keira Day

2nd - Jessica Salt

3rd - Lauren Garland

28
---
The Lower Sixth Friday challenge

Lower Sixth students have been competing in our challenges every Friday during form time. The students have been put

through their paces with mental, physical, and funny challenges to test all of their teamwork skills – sadly due to lockdown

we have not been able to complete as many challenges as previous years. Challenges have ranged from 'pointless'

quizzes, balancing ability, Malteser eating, basketball skills and cup drops. The one here is the 'paper airplane' challenge!

Remembrance Day at Twycross House

On Wednesday 11th November

pupils and staff from Twycross

House School gathered to pay

tribute to the men and women of

the armed forces who have died in

the line of duty.

Mr Taylor sounded the last post

and then Christopher Lumb from

the Upper Sixth read a verse from

the Remembrance Day poem 'For

the Fallen,'

"They shall grow not old, as we that

are left grow old:

Age shall not weary them, nor the

years condemn.

At the going down of the sun and in

the morning

We will remember them."

After the two minutes silence

the Reveille was sounded and

the parade was dismissed.

We were proud to support the

British Legion and wear poppies as

a symbol of Remembrance and in

the hope for a peaceful future.

29
---
Library News

Back to school!

Despite the multitude of pandemic

related challenges we had to face

in the library this term, we did

manage to keep it open with all

the necessary measures in place,

to have fun and celebrate the

festivals and events which were

largely cancelled for most people.

In September we focused our

activities on the students' wellbeing

and how they felt returning to school

after the lockdown. We created

a display with our thoughts and

feelings on this and were delighted

to find that we were all grateful to be

back in our school community.

Halloween and Harry Potter Experience!

After some mindful and calm

autumn activities, such as crafts

involving autumn leaves and

other natural materials, Halloween

brought a lot of excited children in

the library, grateful for the chance

to celebrate it in school with

crafts and a fantastic Harry Potter

experience!

The team of students responsible for

bringing some Harry Potter magic

in the Library was none other than

the amazing S1 group, who designed

and set it up in record time!

They scripted it, decorated the

library in a very atmospheric way,

tested the guest's knowledge of

these wonderful books, impressed

them with magic tricks and

offered, to those who dared have

them, Bertie Botts Every Flavour

Beans, and generous helpings of

Butterbeer. Thank you, Mr Hennigan,

for providing those!

We took the opportunity to make

wands with sticks and yarn with the

students who were waiting to enter

the experience room. The sorting

hat sorted many students into their

houses, with some thoughtful help

from their friends; I was delighted to

see so many Ravenclaws!

Unfortunately, due to the students

having to self-isolate, the experience

did not run for the scheduled second

week and alongside many guests,

I was deeply sorry I missed the

opportunity to watch it! Hopefully

next year? (Hint, hint!)

A huge thank you and

very well done to Amelia

Carthy, Scarlett Tombs, Kara

Mitchell, Isabelle Randle, May

Minderides, Jonty Gilman,

Niamh Daniels, Lily Messer and

their helper, Bethan Tombs.

November

The children explored the chemistry

of fireworks and made pyrotechnic

rockets leading up to Bonfire Night. For

Remembrance Day we made poppies

out of red chocolate wrappers. We

discussed peer friendship issues during

anti-bullying week and made friendship

bracelets which proved to be a highly

popular activity. Many children carried

on making them at home.

30
---
Library News

Festive Fun!

Charlie and the Chocolate Factory Experience!

What better way to conclude our

festive fun than with the amazing

"Charlie and the Chocolate Factory"

experience, organised and run

over two weeks by our creative

and talented Form 5Y students,

mentioned below. The decorations

they had made were phenomenal

and the whole library was

transformed into the interior of Willy

Wonka's Chocolate factory, with

chocolate wrappers and Golden

Tickets everywhere we looked!

The students, like the S1s had

done with their HP experience,

adjusted their script to include virus

related safety measures. Guests

were given, as they were waiting,

themed activities to do, including

a chocolate wrapper and a sweet

wrapper competition, organised by

Ella Walker. During the experience,

the guests would be entertained

with a little history of what brought

them there, a chocolate related

mischief, a quiz on Roald Dahl's

iconic book, a magic trick and

colourful samples of the factory's

products, namely yummy drinks

and chocolates. Many thanks to

Mr Hennigan for providing the

lemonade and shot glasses.

The experience was so popular,

that the organisers had to

adjust the script several times

to accommodate a few more

enthusiastic form 5Ys who wanted

to help out. Very well done to:

Ella Walker, Darcey Gibson, Oliver

Timberlake, Anmaul Lehal, Grace

Siame, Zoe Wolferstan, Nishita

Srinivas, with support from Vivaan

Srinivas, Niharika Juneenath and

Izzy Jones on their respective form

days. Thank you also to the students

of form 5Y who joined later in the

team effort: Harriet Guinan, Amret

Nijjer, Lilly Winter, Hari Rajkumar

and Leo Geston. Thank you all so

much, you were wonderful!

We celebrated the festive season by

making and putting up decorations.

Our super creative S1 group made

the VI form room in the Library

their Christmas HQ from which an

endless stream of paperchains and

snowflakes was produced!

Children from F3 to S1 took part

in the "Snowmen of Literature"

competition which gave us some

amazing snowmen dressed as book

characters. Congratulation to the

winners! They were: Lily Messer,

Amelia Carthy + Scarlett Tombs,

Poppy Ward, Amelie Ewing-Gerrard,

Tanveer Nijjer.

Congratulations to our new Student Librarians!

A huge thank you to Ella Walker

from form 5Y who organised the

training of 22 student librarians!

What a superstar! Many thanks also

to Nishita Srinivas, Zoe Wolferstan

and Izzy Jones for all their help

training the new librarians.

Congratulations and a very warm

welcome to the following students

who have now successfully qualified

as student librarians! I am looking

forward to working with all of you!

Our new Student Librarians are:

Form 3X: Amelie Ewing-Gerrard, Martha Harris, Ellie Lowe, Phoebe

Philips, Jessica Rayson.

Form 3Y: Vivaan Srinivas, Jessica Fenwick, Eliza Gilman, Isabel Greenall,

Niharika Juneenath, Rhia Khela, Frieda Pienaar, Ava Price, Chloe Psaras,

Hemma Sanghera, Bethan Tombs, Marissa Wilson.

Form 4X: Evie Hart, Rose Redfern, Matilda Shade.

Form 4Y: Poppy Ward.

31
---
Library News

Dressing up for World Book Day!

It was fantastic to see the children

back in the Library this March! In

the short time we had together

before the Easter holidays, we had

fun making Mother's Day cards and

enjoyed an Easter Egg hunt, the clues

for which were all book related.

We celebrated the joy of reading

by having belated World Book Day

activities. During the last week of

term, children from Forms 3 and

4 dressed up as book characters

and F5 and S1 students brought an

accessory connected to a book.

Each form visited the library dressed

up on their respective days and took

part in a book swap.

Book Prizes go to:

Form 3X: Jessica Rayson,

Harry Eidukas

Form 3Y: Frieda Pienaar,

Ava Price

Form 4X: Oscar Thompson,

Alexandros Pallett

Form 4Y: Charlie White,

Isabelle Jones

Form 5: Lilly Winter, Corbin

Morris

It was extremely hard to choose

the winners as all the children had

amazing outfits!

S1: Scarlett Tombs,

Jonty Gilman

32
---
Library News

Summer term in the Main School Library

During the Summer Term, the forms of Swallows' Hill spent several

lunch breaks in the Library planning and creating their own individual

experiences, since they can only perform in front of their own bubble.

Form 5Y put on a magical experience based on Jill Murphy's: "Worst

Witch"! Congratulations to Ella, Darcey, Lilly, Anmaul, Zoe, Grace, Amret,

Harriet for the planning, script, decorations and performance and to Leo for

his impressive mind reading card trick!

Bookmark

Competition!

Our bookmark competition

produced many stunning

bookmarks.

Honour marks were awarded to:

Samuel Gobey, Sofia Centonze,

Freya Brown, Eloise Winfield, Tejas

Thakrar, Tashinga Musoko from F3X

Bethan Tombs and Vivaan Srinivas

from F3Y

Ella Walker from F5Y and a merit

for Scarlett Tombs from S1Y for the

most extraordinary Harry Potter

bookmark I've ever seen!

Isabelle Jones

and Rose Redfern

from form 4

entertained their

peers with a

Witch themed fun

Quiz and games.

Well done both!

Form 3 created three brilliant scenes from David Walliams': "Demon Dentist"!

Congratulations to Bethan, Eliza, Jessica R., Niharika, Chloe, Isabel G.,

Vivaan, Annabel, Martha, Hemma, Rhia, Ellie, Phoebe for a hilariously funny

performance! Many thanks to the kitchen who provided treats and drinks to

the audience and performers.

Student Librarians

Congratulations to Ben Clark and

Edward Lauder for completing

their Librarian training. Welcome

to our Student Librarian team!

A big thank you to Ben Clark (4X)

and George Landsborough (S5)

for all their help with electronically

cataloging our library books!

33
---
Charity Head Shave

Congratulations to Andrew

MacCallum from the Lower Sixth

who volunteered to have his head

shaved in December to raise money

for the charity Newlife.

Every day, Newlife changes the

lives of disabled and terminally ill

children across the UK. They provide

thousands of items of equipment

every year, fast-tracking delivery, to

prevent suffering and when time is

very precious. Childhood cancers,

birth defects, accidents, diseases

and infections can all cause disability

and are affecting children and their

families every day.

Thank you to everyone who donated

both at Twycross House and the

Hollies. Andrew was able to donate

over £1700 to this wonderful charity.

Edward's Conqueror Challenges

During lockdown I started doing

online Conqueror challenges.

The first challenge I did was

Hadrian's Wall. I set myself the

target to complete the 90 miles in

84 days but I manged to complete

it in 26 days. I enjoyed it so much I

did a longer trail called the Grand

Canyon which was 280 miles long!

I enjoyed this one because we were

following a river and it looked like I

was swimming the whole way.

I did two more challenges. In the

Great Ocean road I raised £614 for

prostate cancer and in Kilimanjaro

I raised £2000 for cancer patients.

I chose Mt Kilimanjaro because my

grandad wanted to do it in real

life, but he couldn't because he

broke his neck and had cancer. We

climbed together and we really

enjoyed it especially the 360°

picture at the summit.

Altogether I walked 547 miles!

Every 20% completed Conqueror

challenge planted a tree, so I

have planted 20 trees for the

environment.

Edward Lauder

Bake off for charity

This year after watching the

'Stand Up to Cancer Bake Off'

programme, Sophia Anderson

decided to raise money through

baking to support the charity.

Sophia set a target of £150 and

reached this within 48 hours. As it

stands to date she has now raised

£450 (on top of this £112.50 is gift

aid) reaching a fantastic 300% of

her original £150 target.

In June 2020 she raised £204 for

her dance school by doing a bake

sale at home.

Congratulations, Sophia

Food Aid – thank you!

Thank you to pupils, parents and

staff who donated to our Food Aid

charity. We were very pleased to

send this amazing contribution to the

Atherstone Food Bank in December.

34
---
After exam activities

Pupils from Form 3 upwards enjoyed

activities after their school exams.

These included: archery, bushcraft,

a visit to the Twin Lakes, Magna

Science Park, the Black Country

Museum and S1 camp to Wales.

35
---
Duke of Edinburgh

At a time when many activities

for young people have been put

on hold and some schools have

not been able to complete Duke

of Edinburgh expeditions, we are

proud that our D of E teams have

successfully participated in their

Gold, Silver and Bronze practice

expeditions this year. During

the last twelve months we have

undertaken the expedition section

for the award with all our D of E

participants and supported them

in their other chosen activities.

It was poignant that on the day

that HRH Prince Philip, the Duke

of Edinburgh was laid to rest,

our Gold team were out on their

practice expedition. Two weeks

later it was the turn of the Bronze

groups to undertake their first

expedition. After twelve months

of lockdowns and home-schooling

the sheer enjoyment of the young

people at being together and

working as a team was palpable.

Congratulations to all for the

successful completion of these

practice and final expeditions and

to the Twycross House D of E

staff team who train, organise, and

supervise our young people to

achieve their awards.

36
---
S1 Camp 2021

After a long, tiring exam week we

finally set off for Wales…

After 2 hours on the coach we arrived

at Powis castle in Welshpool for lunch

and a look around the grounds, before

walking to the famous sweetshop!

They had every sweet imaginable!

Pockets full of sweets, we headed

back to the bus and continued

our journey to the campsite.

Unfortunately, as we arrived we

were told that we were too heavy

to drive all the way to the site and

so began the long walk through the

countryside towards the campsite.

We finally arrived exhausted,

but there was no time to rest as

everyone set about putting up their

tents before cooking tea –pasta

and tomato sauce! As night fell we

all set out on a badger-spotting

walk. Everyone was excited but

unfortunately we were too loud and

there was no sight of any badgers!

The following day we woke up early,

had breakfast and made sandwiches

ready to take with us for lunch. We

were off to Red Ridge Outdoor

Centre. Here we took part in several

activities including archery, kayaking,

paddle boarding and a rope course.

It was great fun and many of us did

things we had never done before.

After a full afternoon we headed

back to camp for a well-earned

BBQ which we finished off with

toasted marshmallows. All full we

settled down outside wrapped in our

sleeping bags to watch a movie with

hot chocolate and popcorn.

On Sunday we woke to a great cooked

breakfast (cooked by the teachers),

before breaking camp and tidying

our mess! We were heading to lake

Vyrnwy, so we made some lunch and

headed off in the bus. After a short

trip we had lunch and ice creams and

camp awards were given out. We all

embarked on a nature walk around the

lake before heading for home.

We arrived back at school Sunday

afternoon, tired but ready to do it

all again!!

E Limer, S1X

37
---
Senior 2 trip to

the Black Country

Museum

On July 7th, Senior 2 visited the

Black Country Living Museum to

bring to life their learning about the

Industrial Revolution. A fantastic day

was had by all, despite very heavy

rain showers! We went through

limestone miners' caves on a canal

boat, where James, Ben, Linda and

Indiana showed off their 'legging'

skills and pulled the boat through a

tunnel with their feet! We visited the

village shops, with plenty of money

being spent in the sweet shop, before

our fish and chip lunch. Our guide

showed us a range of Black Country

industries being performed, including

chain making and we went inside

various homes and shops that have

been authentically restored in the

village. The students asked some

excellent questions and I was proud

of both their historical knowledge and

exemplary behaviour throughout the

day. A fantastic school trip with a

delightful year group. Many thanks to

Mr Buckton, Miss Robinson and Mrs

Shaw for accompanying us.

Mrs S Adam

Lower Sixth Geology

A level fieldtrips

The LVI geologists managed to fit

in three field trips at the end of term

giving them the opportunity to put

into practice the skills that they have

learnt in the classroom.

38
---
FORM 5 GEOGRAPHY FIELD TRIP TO BRADGATE PARK

What a delight it was to finally escape

the classroom and make a Covidsecure

trip to the beautiful deer park

north-west of the city of Leicester!

This enabled the excited pupils of

Form 5 to engage in a river studies

investigation and to capture and

examine the varied invertebrates

inhabiting the shallow pools of the

meandering River Lin.

Tramping through the crystal

clear, babbling waters of the river

in bare feet or brightly-patterned

wellies seemed to bring a delight

to the pupils akin to an Enid Blyton

adventure as rare fresh-water crayfish

and newts swam for cover under the

river-bed rocks. Measurements of

water acidity, flow and depth were

duly taken and recorded, river bank

erosion and river-bed deposition

were observed and, in the excitement,

equipment was often abandoned to

leave the site looking somewhat like a

medieval battlefield at times.

The tranquil calm of the

invertebrates' afternoon in the

pools was also disturbed as water

boatmen, larvae and even some fry

were gently whisked out of their

peaceful environment by a giant net

to be carefully but unceremoniously

examined on gleaming, white

trays by wide-eyed pupils with all

the curiosity of medical students

observing in the operating theatre

for the first time. Having passed

Mrs Lauder's identity parade, the

creatures were gently and gratefully

returned to their riverside homes

and a mental note taken by the

students of the diversity of wildlife

Twycross House Equestrian Team success

Congratulations to our equestrian team who competed in the British Show

jumping 'Just for Schools' competition on 27th July at Pickering Grange. The

team came second in the 60cm class on a tricky course.

The team members were Sophie Mawdesley 4o, Lilyanne Sullivan 4o, Harriet

Bennett 4y all from the Hollies and Jessica Fenwick and Lara Davenport from

Form 3 at Swallows' Hill.

inhabiting the aquatic regions of

the park.

The field trip concluded with the

undoubted highlight of a visit to Eric's

Ice Cream Kiosk where the children

patiently queued to sample the

delicious delights on offer and greatly

impressed other customers and the

proprietor by their good behaviour

and friendly demeanour. With

battered worksheets and raspberrytopping

stained tops, the weary party

reinstalled their masks and wended

their way back to Twycross hoping

that they would not have to attempt

to retrieve information for homework

from their disintegrating worksheets

or that homework would be forgotten

about altogether as long as everyone

in the class kept quiet about it!

Mr C Perry

Tennis experience

Congratulations to Isabella

Savania who was chosen to take

on the role of ball girl during the

Nottingham Open and the Ilkley

Trophy tennis tournaments.

39
---
Sports Presentation!

After a year where normal fixtures

could not take place our Sports

Presentation had to alter to reflect

the outstanding effort made by the

students. As a department we wanted

to acknowledge the fantastic effort

made by all students along with an

additional tangible reward for those

who went above and beyond.

Once again, throughout this period

the students' commitment to Games

and House Competitions has been

exceptional and I cannot thank them

enough for all of their efforts, well

done everyone.

Mr L Knight

2020-2021 JUNIOR AND SENIOR EFFORT AWARDS

GIRLS

BOYS

Hockey Junior: Poppy Ward

Hockey Senior: Isabella White

Rounders Junior: Darcey Gibson

Rounders Senior: Molly Williams

Football Junior: Romy Saaman

Football Senior: Layla Guintoli

Athletics Junior: Lucy Adey

Athletics Senior:

Madeleine Kerrigan

Cross country Junior:

Eliza Gilman

Cross country Inter: Jessica Salt

Cross country Senior:

Abigail Mitchell

Tennis Junior: Ella-May Gretton

Tennis Senior: Sophie Ashford

All Rounder Junior: Poppy Ward

All Rounder Inter: Daisy Whitehall

All Rounder Senior:

Isabel Whitehall

Football Junior: Rudi Carr

Football Senior: Michael Li

Cricket Junior: Stan Howley

Cricket Senior: Lewis Duffield

Basketball Junior: Baris Clarke

Basketball Senior: James Hicks

Cross country Junior:

Oliver Guintoli

Cross country Inter:

Arthur Davies

Cross country Senior:

Joe Callery

Tennis Junior: Oscar Carley

Tennis Senior: Stephen McHale

All Rounder Junior:

Toby Sanders

All Rounder Inter:

Oliver Salt

All Rounder Senior:

Evan Gilman

40
---
41
---
Sports Day

Although our Sports Day missed

the roar of support from parents

this year, the students still

gave the events their all and I

was delighted with the level of

competition and commitment

shown by every single student.

After combining the final positions

from all track events, Scott

finished 3rd, Hillary and Drake

tied for first in an extremely

tight competition.

Special mentions to our

record breakers:

James Hicks

New 50m Inter record

Ayaan Obaid

New 100m Junior record

James McKenzie

New 100m Inter Boys record

Madelaine Kluger

New 100m Inter Girls record

Sam McKenzie

New 100m Senior Boys record

Jessica Morrell

New 200m Inter record

Well done to all of the students

and I look forward to welcoming

back the crowds next year to

share in the excitement and

success!

Mr L Knight

42
---
Inter House Sports

After a year with restricted

competition against other

schools, we adapted the House

Competition to create a full

tournament experience. Across all

year groups we hosted over 110

House Competitions in Basketball,

Football, Hockey, Netball, TAG

Rugby, Ultimate, Cross Country,

Dodgeball, Orienteering, Cricket,

Rounders, Athletics, Tennis and

Table Tennis! The competitions

were fantastic to witness and I

was delighted that even under

the restrictions, students were still

offered the opportunity to play new

sports and compete against each

other. After fierce competition the

results finished up as Drake and

Scott in Joint 2nd, with this year's

House Winners as Hillary.

A fantastic well done to every

student who took part throughout

the year.

Mr L Knight

43
---
TENNIS SUCCESS 2021

Once again, the LTA team tennis

competition proved to be a fertile

hunting ground for Twycross

tennis teams as much larger

schools came up against our

talented and competitive players

and found themselves outplayed

and outfought. Three inter-school

lunchtime tournaments at Junior,

Inter and Senior level were also

fiercely contested and produced

some outstanding rallies with the

closely-fought House competition

played during Games going down

to the wire. Additional coaching

from a local tennis specialist

and the added experience and

enthusiasm of Miss Blencoe have

given a further boost to tennis in

the school.

Stars of the competitive season

were the U13 Girls team, captained

by Sophie Ashford, along with

Emily Carley, Jessica Salt and

Emily Bewsher, who played

in the top division of the LTA

Leicestershire tournament and

superbly saw off prestigious

competition in the shape of

Leicester Grammar, defeating

them 10-2, winning all but one

44
---
match including an awesome

display against a talented and

experienced opponent in the

singles by Sophie Ashford and a

hugely impressive performance

with her partner Emily Carley in

the doubles. With Covid limiting

entries, this victory enabled

Twycross to progress to the

regional finals in September as

champions of Leicestershire.

The U13 Boys team of Oliver Salt,

Michael Li, Sebastian Savania and

Henry Blunt also enjoyed success

in Division 2 of their competition

and progressed to the regional

tournament as group winners. As

with the girls competition, a series

of withdrawals saw them just

needing to win one match and they

comfortably beat an inexperienced

Countesthorpe team without losing

a match to qualify.

The U15 Boys team of Finlay

Thompson-Lowe, Steven McHale,

Lewis Duffield and Will Simmons

faced far stiffer and much more

experienced opposition in their

Division 2 competition, coming

up against A and B teams from

Uppingham. Steven McHale was

the pick of the Twycross players,

winning both of his singles

matches and one doubles while the

heat and lack of match practice

(and a punishing migraine)

generally took its toll on the

others who struggled to find their

rhythm. The team ended up losing

narrowly to Uppingham's B team in

a sudden death shoot-out and then

by some margin to the A team in

a match played straight after the

first match due to the distances

involved and the limited dates

available.

Lawrence Cockrell triumphed in

the Senior Tennis Final defeating

Michael McHale 6-2 in a pulsating

match whilst Michael's brother

went one better and lifted the Inter

title after beating Sophie Ashford

6-4 in a tense but high-quality final.

The Junior Final was an equally

tight affair with Toby Sanders

ultimately defeating Oscar Carley

in a match brimming with long

rallies in an amazing base-line duel.

Mr C Perry

The Thomas Trophy

We were very fortunate that Mrs Thomas returned to school in September

to present the new Thomas Trophy which is awarded to a girl and boy in

Form 3 for their outstanding commitment and enthusiasm in games lesson

and matches.

The Thomas Trophy for 2019/2020 was presented to Poppy Ward and

Henry Jeans.

Congratulations!

Jill B Thomas

S1 Rounders

Despite COVID restrictions on competitive fixtures, a small number of

students from Senior 1 regularly attended Rounders after-school practice,

which was great to see. They worked on lots of different throwing and

catching drills and had fun practising their batting technique and improving

their power. It was also great to see them remembering what they had

learnt in after-school practice and applying it in lessons, coaching others.

Well done, I've been very impressed with your commitment this year!

Miss S Robinson

S2 Rounders

Despite not being able to participate in competitive fixtures, the response

from students to after-school practice has been fantastic. Each practice

would see approximately 25 students (with a good mix of boys and girls)

turning up to have fun and get competitive! They were always enthusiastic

and applied their knowledge and practical skills to every game; it was a

pleasure to take their after-school practice this term. I look forward to

seeing what they will achieve in competitive fixtures next year!

Miss S Robinson

45
---
Alumni update

Frances Gordon

Fran Gordon left Twycross in 2017 with A levels in Maths, Classical Greek and Music.

changed my studies at Guildhall

between March 2020 and March

2021. Luckily for us, Guildhall were

very imaginative with how they used

technology for our classes and I was

still able to complete the majority

of my exams either over "Zoom" or

via video recording. I also, as part

of a quartet, won the annual horn

competition in 2020.

After leaving Twycross, I won

a Scholarship to the Guildhall

School of Music and Drama to

study French Horn Performance.

Over the last four years I have,

amongst other things, performed

on many occasions with the

Guildhall Symphony Orchestra

at the Barbican Concert Hall, as

well as with the Jazz Orchestra

and in the pit orchestra for their

2019 opera production of Haydn's

"La Fedelta Premiata". I have

also had lots of opportunities to

expand my playing beyond the

walls of Guildhall. After successful

applications, I was able to take the

stage as a soloist and chamber

musician at the British Isles Music

Festival in Surrey, perform in

multiple masterclasses at the

Dublin Brass Week (where I also

discovered a love for Guinness)

and received teaching from one of

the foremost Horn teachers in the

world for a week in Norway. I have

also freelanced on several musical

productions including "West Side

Story" and "The Wizard of Oz."

the Sibelius Academy Symphony

Orchestra (where we played to an

audience in at the Helsinki Music

Centre) and a performance with

the Sibelius Academy Wind Dectet.

In addition to my performances, I

also received one-to-one lessons,

played regularly in a brass quintet,

tried to learn Finnish (emphasis on

"tried"), worked for the Conducting

Department in their orchestra on a

freelance basis and went to Lapland

during the Autumn break.

Aside from my time abroad, the

coronavirus pandemic very much

Jack Pickering

Oxford Tennis success

Looking ahead to the future, I am

continuing to study at Guildhall

having received a scholarship place

on their Masters course in Orchestral

Artistry, with a view to developing a

career as an orchestral horn player.

Jack left Twycross House in July 2020 to read Chemistry at Merton College,

Oxford. Jack played for the Blues in the recent Varsity tennis where Oxford

won overall. This was the first time in 5 years.

My experience in Norway really

inspired me to take my studies

a step further and, despite the

coronavirus pandemic, I went

to study abroad at the Sibelius

Academy in Helsinki between

September and December 2020.

During my four months there, I

managed to squeeze in a twoweek

quarantine, horn trio and

quartet performances, a stint in

46
---
Alumni update

Matthew Raybould

Matthew left Twycross House in 2012 to read Chemistry at Oxford (Merton).

After the taught portion of my

undergraduate Master's in Chemistry

at Oxford, I decided to undertake a

project in computational chemistry

research (much to the relief of

laboratory scientists everywhere

— my practical skills were never

the best!). I enjoyed the challenge

of coding and data analytics but

wanted to apply the methods in a

more biochemical/drug discovery

context. This led me to starting a

DPhil (PhD) in "Systems Approaches

to Biomedical Sciences", also at

Oxford (2016-2020).

I ended up specialising in antibody

research, under the supervision of

Professor Charlotte Deane in the

Oxford Protein Informatics Group

(OPIG). Antibodies are a fascinating

class of protein, since their highly

mutable (yet well-defined) shape

and chemistry allows them to bind

specifically to harmful targets

and mark them for eradication by

other proteins. The body therefore

produces millions of subtly different

antibodies at any one time, termed

an "antibody repertoire", as a

defensive mechanism to fend off

pathogens. Individual antibodies

can also be deliberately engineered

in the laboratory to act as ultraspecific

drugs to tackle a huge range

of diseases.

Work in this field couples

intellectually stimulating problems

with clear biomedical applications.

A key publication from my DPhil

was a new tool (the Therapeutic

Antibody Profiler) that analyses

the biophysical properties of

an antibody surface to advise

pharmaceutical scientists when

an antibody drug candidate may

be tricky to manufacture and

formulate into a medicine. I also

developed a method which analyses

the diversity present in a healthy

human antibody repertoire and uses

this understanding to rationally

design more efficient "antibody

screening libraries". These are initial

pools of candidate antibodies that

a pharmaceutical company can

probe against a new target in the

early stages of a drug discovery

campaign.

When COVID-19 hit back in

March 2020, I was well-placed

to contribute to the pandemic

response efforts. In May 2020, I

worked alongside colleagues at

Oxford, clinicians at Barts Hospital in

London, and scientists at Alchemab

and Illumina, to publish the first

analysis of the antibody repertoires

of UK patients responding to

SARS-CoV-2. We found distinct

molecular patterns indicating

that the repertoires of recovering

patients were responding in a similar

("convergent") manner, knowledge

that Alchemab and fellow start-up

Iontas later applied to produce a

COVID-19 therapeutic antibody.

Throughout the pandemic, I've also

curated the "Coronavirus Antibody

Database", a repository of molecular

information of any antibody tested

under laboratory settings and

found to engage a protein on the

surface of any coronavirus. Now

comprising around 3,500 entries,

this has become one of the major

hubs of information for researchers

studying the immune response to

SARS-CoV-2. It has been accessed

by over 6,500 unique users in 85+

countries and was generously

recognised with an Impact Award

by Oxford University earlier this

year. The deluge of studies into

SARS-CoV-2 is now starting to

abate somewhat, but the experience

of working in such a dynamic and

intense environment is one I will

never forget.

After my DPhil ended, I decided

to stay in OPIG to conduct

postdoctoral research alongside

pharmaceutical company Boehringer

Ingelheim. My current project twins

antibody and T-cell receptor analysis

to improve our understanding of

how their biochemical properties

are linked to their bodily functions.

Ultimately, we hope this knowledge

can be translated in oncology drug

discovery, to develop tumourspecific

antibodies that mimic the

behaviour of T-cells.

I'll always be grateful to the fantastic

teachers at Twycross House (Dr.

Brooks, Mr Pullen, Dr. Wharton, Mrs.

Cartlidge, Mrs. Van Arkel, and many

more besides!) who prepared me so

well for all the challenges I've faced

in this first stage of academic life.

I can't wait to visit again one day,

when the circumstances allow!

47
---
Twycross House School celebrates A level and GCSE success 2021

A level results

39 students took a total of 122

A levels in 16 subjects.

71% were at A* or A

93% at A*, A or B

100% grades at A* to C.

Students, parents and staff at

Twycross House School are

celebrating an exceptional set

of A level results, which are the

culmination of great hard work

under adverse circumstances.

This year, grades were awarded by

teachers following a rigorous series

of internal assessments and final

examinations. The results have been

subject to extensive quality control

both internally and externally.

The following students all obtained

three or more A* grades and

deserve particular mention: Isabelle

Fellows, who will study International

Business and Modern Languages at

the University of Exeter, Alexander

Jackson, who will read Chemical

Engineering at the University of

Oxford, Amy Nugent, who has

an offer to study Liberal Arts at

Durham University, and Warren

Smith (with an impressive 5 A*

grades) who will study Physics at

Imperial College London with a year

abroad. In total, 19 students gained

three or more A*/A grades.

GCSE results

Number of Senior 5 (Year 11)

students: 42

32% of all subjects achieved

grade 9

53% of all subjects achieved

grade 9 and 8

69% of all subjects achieved

grades 9, 8 and 7

100% with 5 or more 9-4

grades

Twycross House School is

celebrating the achievements of its

Senior 5 students. Many individuals

excelled themselves, but special

congratulations go to Ellen Burton,

Lawrence Cockrell, Evie Gibbs,

Abigail Hamilton, William Meadwell

and Sam Nugent, all of whom

achieved grade 9 in nine or more

subjects. In total, twenty students

achieved grade 7,8 or 9 in eight

subjects or more.

Headmaster Steve Assinder said:

'We are extremely proud of our

A level and GCSE results, which

are a credit to the students, their

supportive parents and of course

our teaching staff.

At A level despite having both

years of their Sixth Form experience

blighted by the pandemic, the

students have shown immense

resilience, self-discipline and

commitment to achieve these

results. We wish them every success

in the next stage of their educational

journey and look forward to

celebrating their achievements at

Presentation Evening in November.

We are delighted and proud of

all our GCSE students, who have

shown admirable determination

and enthusiasm in the face

of challenging and uncertain

circumstances.

Both the Upper Sixth and Senior 5

students have been helped along

the way by the commitment of

their teachers and of course their

supportive parents. Congratulations

to everyone, and best wishes for

success in all future endeavours.

48