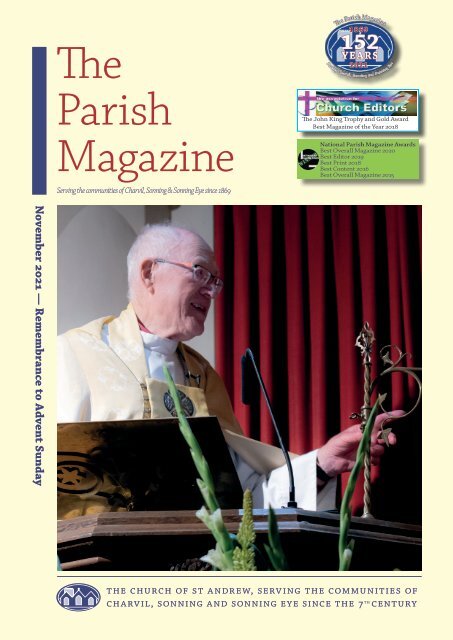 The Parish Magazine November 2021
Serving Charvil, Sonning and Sonning Eye since 1869
Serving Charvil, Sonning and Sonning Eye since 1869
SHOW MORE
SHOW LESS
You also want an ePaper? Increase the reach of your titles
YUMPU automatically turns print PDFs into web optimized ePapers that Google loves.
The Parish Magazine - November 2021 1

The

Parish

Magazine

The John King Trophy and Gold Award

Best Magazine of the Year 2018

National Parish Magazine Awards

Best Overall Magazine 2020

Best Editor 2019

Best Print 2018

Best Content 2016

Best Overall Magazine 2015

Serving the communities of Charvil, Sonning & Sonning Eye since 1869

November 2021 — Remembrance to Advent Sunday

Church of St Andrew

Serving Sonning, Charvil & Sonning Eye

the church of st andrew, SERVING THE COMMUNITIES OF

CHARVIL, SONNING and sonning eye SINCE THE 7 th CENTURY
---
2 The Parish Magazine - November 2021

Please mention The Parish Magazine when responding to this advertisement

Properties are in demand

in the Sonning area.

Sell your home with Haslams

For Sale

For Sale

Glebe Lane, Sonning

Old Bath Road, Charvil

Sold STC Sold STC

West Drive, Sonning

Warren Road, Woodley

0118 960 1000 | Haslams.net

Reading's Estate Agent
---
Serving the communities of Charvil, Sonning & Sonning Eye since 1869

Church of St Andrew

Serving Sonning, Charvil & Sonning Eye

The Parish Magazine - October 2021 1

The John King Trophy and Gold Award

Best Magazine of the Year 2018

National Parish Magazine Awards

Best Overall Magazine 2020

Best Editor 2019

Best Print 2018

Best Content 2016

Best Overall Magazine 2015

information — 1

Contents November 2021

THE VICAR'S LETTER, 5

THE PARISH NOTICEBOARD

— Songs of Praise, 7

— View from the pews, 7

— STAY, 9-11

— All Souls Service, 11

— Remembrance Sunday, 11

— Fire Alarm, 11

— Christmas Fayre, 11

— Toy Service, 11

— For your prayers, 11

— On Reflection: Habakkuk, 13

— From the editor's desk, 13

— The Persecuted Church, 15

features

— 100 poppy years, 17

— Remembering the forgotten, 19

— What Advent means, 21

— COP26, 22-24

— Fire Brigade Trust, 24-25

around the villages

— Food Bank crisis, 27

— Girls at Blue Coat, 27

— New name for Sunrise, 27

— Art Group success, 29

— Sonning Show winners, 29

— School open days, 29

— Sonning arts centre, 29

— Charvil female voices, 29

history, 31

HEALTH

— Dr Simon Ruffle, 33

HOME & GARDEN

— Recipe of the Month, 35

— In the Garden, 35

the sciences

— Faith in science, 37

THE ARTS

— El Greco's Saviour, 37

— Book Reviews, 38

— Poetry Corner, 38

PUZZLE PAGE, 39

children's page, 41

information

— Church services, 3

— From the registers, 3

— Parish contacts, 42

— Advertisers index, 42

This ISSUE's FRONT COVER

November 2021 — Remembrance

The

Parish

Magazine

the church of st andrew, SERVING THE COMMUNITIES OF

CHARVIL, SONNING and sonning eye SINCE THE 7 th CENTURY

Lord Carey preaches at Songs of Praise

Picture: Indy Biddulph

EDITORIAL DEADLINE

The editorial deadline for every issue

of The Parish Magazine is 12 noon on

the sixth day of the month prior to the

date of publication.

The deadline for the December

issue of The Parish Magazine is:

Saturday 6 November 12 noon

The Parish Magazine online

The most recent issues can be viewed at:

http://www.theparishmagazine.co.uk

Earlier issues from 1869 onwards are

stored in a secure online archive. If you

wish to view these archives contact the

editor who will authorise access for you:

editor@theparishmagazine.co.uk

The Parish Magazine - November 2021 3

Services at

St Andrew's

Sunday 7 November

— 8.00am Holy Communion

— 10.30am Family Service

— 4.00pm All Souls Thanksgiving

for the faithful departed

Remembrance Sunday

14 November

— 8.00am Holy Communion

— 10.30am Remembrance Service

Sunday 21 November

— 8.00am Holy Communion

— 10.30am Family Communion

— 3.00pm Messy Church in

The Ark

Advent Sunday 28 November

— 8.00am Holy Communion

— 10.30am Parish Eucharist

— 6.00pm Sunday at Six in The Ark

OTHER REGULAR SERVICES

Mid-week Communion in The Ark is

held every Wednesday at 10.00am

Morning Prayer will be in Church

at 9.30am every Tuesday and once a

month on the first Friday

Compline on Zoom is sung every

Wednesday evening — full details

about how to login from Rev Kate

(contact details on page 42)

Home Communion at Sunrise of

Sonning is held on the first Friday

of each month at 10.30am. Visitors

must comply with the care home's

Covid restrictions so please check with

Sunrise a few days before beforehand.

From the registers

baptisms

— Sunday 12 September, Leo Thomas Monk

— Sunday 12 September, Charlotte Elizabeth Scandrett

weddings

— Saturday 18 September, Jack Alexander Whitfield and Eleanor Jane Fry

— Saturday 25 September, Andrew John Page and Lucy Rose Wigmore

funerals

— Saturday 4 September, David John Stewart Duvall, memorial service with

interment of ashes

— Tuesday 7 September, Jeremy Nicholas Rixon, interment of ashes

— Tuesday 14 September, Reo Muir funeral in church followed by cremation at

Reading Crematorium

— Saturday 18 September, Sheila Diane Siney, interment of ashes in churchyard

— Saturday 25 September, Tanya Niland, memorial service with interment of ashes
---
4 The Parish Magazine - November 2021

Please mention The Parish Magazine when responding to this advertisement

BOOKING NOW

BOOKING NOW

DINNER AND A SHOW FROM £59.50!

THE WATERWHEEL BAR

Open Tuesday - Sunday 11am - 5pm for Hot Bar Food,

Homemade Cakes & Artisan Coffee.

Come and treat yourself to a scrumptious lunch in the

most beautiful setting. Table service and social distancing

will remain in place until restrictions are lifted.

PLEASE FIND FULL MENU ONLINE

FIND (0118) OUT 969 7082 MORE

millatsonning.com/millang
---
The vicar's letter

The Parish Magazine - November 2021 5

DEAR FRIENDS,

It has been said that people are the sums of their memories. This season

of Remembrance is, in part, about the memories that we hold within

us. Some have memories of active service. Some might have memories

of the loved and lost. Some recall memories of civilian life during

wartime. Others may have evidenced a long commitment to peace and

reconciliation. Each of us brings different memories and thoughts to our

season of Remembrance, which helps to make it more comprehensive.

I know of some in this parish who lived through the Blitz. Some served

in the forces. Some of us remember when nowhere on mainland Britain

was safe from IRA bombs. We have all been aware of the Islamist attacks

in Britain and mainland Europe in recent years. Whatever our memories

of war and conflict we acknowledge them in this season. We cannot

hide from what we might choose to forget at other times. During the

Remembrance season we all bring very different and diverse memories.

With those memories, we also bring different and complex emotions.

It is easy to romanticise memories of war, especially for those of us

who never lived through it. Many films turn into humour that which

was devastating. Dad's Army makes everything look funny and almost

something that we would have wanted to be a part of. The nostalgia

industry produces cookery books based on the ration. The Blitz can

make us think of camaraderie and singing songs deep in shelters on tube

station platforms. We can begin to think people might have enjoyed

it. Of course, it wasn't like that. The horrors of the Blitz led to the

destruction of cathedrals, such as Coventry and for that matter Dresden,

and to the destruction of countless ordinary people's homes. For those

of us who never lived through the Blitz, it's impossible to imagine

what it was like to emerge from air raid shelters and find whole streets

destroyed.

Sadly, some people misunderstand what Remembrance Sunday and the

poppy appeal is about which leads to misguided and ignorant virtue

signalling stances. When we meet in church on that sacred day, we

remember all those people who have died in the pursuit of freedom

and goodness. We acknowledge publicly and before God that countless

people have lost their lives for us, for our freedom and for others and

their freedom. We also shall pray for all who suffer and have suffered as

a result of war.

It would be a mistake for us to think that Remembrance is simply about

the past, about what has happened. Our remembrance is not simply

something in the past, but something that we make present here and

now as we realise the significance for each of us. Whoever, whatever,

wherever our thoughts turn to during this season, we acknowledge love

laying down its life for others and we recognise that there is no greater

thing that one can do than lose one's life in the defence of freedom.

'At the going down of the sun, and in the morning, we will remember them'.

Warm wishes,

Jamie

DIVERSE MEMORIES

IMPOSSIBLE MEMORIES

FREEDOM AND GOODNESS

NO GREATER THING
---
6 The Parish Magazine - November 2021

Please mention The Parish Magazine when responding to advertisements

www.velvaerefit.com info@velvaerefit.com 07580 155596

• • Loose covers

• Curtains

• Loose covers

• • Re-Upholstery

•• Tracks Curtains & Poles

• Curtains • Re-Upholstery

• Tracks • && Poles

TEN YEAR GUARANTEE

For personal, helpful service, please call

Tel: 01844 261769

For TEN Mob: personal, YEAR 07802 GUARANTEE 213381 helpful

For personal,

service,

helpful

please

service,

call

grahamblake123@btconnect.com please call

TEL: 0184 426 1769

www.grahamblake.com

Tel: 01844 261769

MOB: 0780 221 3381

Mob: 07802 213381

grahamblake123@btconnect.com

grahamblake123@btconnect.com

http://www.grahamblake.com

TEN YEAR GUARANTEE

www.grahamblake.com

Home Wellness Specialists

Interior Design Equipment Supply Installation

Official Partners of :

Green Retreats - Garden Studios

Please contact us for home design

consultations and showroom tours
---
the parish noticeboard — 1

Notices

Songs of Praise

We raised the roof in songs of praise

on Sunday 12 September with the 10

top favourite hymns, as chosen by

the congregation. The preacher was

the 103rd Archbishop of Canterbury,

the Rt Revd and Rt Hon Lord Carey,

who also blessed the new organ, and

the Rt Hon Theresa May MP and

Sir Philip, as joint patrons, formerly

launched our new choral foundation.

Our choirs were joined by the choir

of Papplewick Prep School and

friends of our former director of

music, including the former Lord

Chancellor, the Rt Hon Sir David

Liddington MP. A special collection,

totalling £656, was taken to support

the Karun School and Orphanage,

South India.

Above: Songs of Praise images by Indy Biddulph

YOUR TOP TEN FAVOURITE HYMNS

1. O Lord my God, when I in awesome wonder

2. And did those feet in ancient time

3. Guide me, O thou great Redeemer

4. Dear Lord and Father of mankind

5. In Christ alone my hope is found

6. Eternal Father, strong to save,

7. The day thou gavest Lord has ended

8. My song is love unknown

9. Glorious things of thee are spoken

10. Be thou my vision, O Lord of my heart;

Thanksgiving services

we will remember . . .

By Claude Masters

On the evening of Sunday 12

September 'Songs of Praise' attracted

a large congregation who joined

with the St Andrew's senior and

junior choirs, and a visiting choir

from Ascot, to heartily sing 10 of

our favourite hymns chosen by the

parishioners. After such a long

period of Covid-disrupted worship,

it was a truly memorable, and very

joyful, occasion.

The main organiser of the event

was our recently retired director

of music, Chris Goodwin, who

conducted the singing with his

newly appointed successor, Hannah

Towndrow, at the new electronic

organ which played a central role in

the proceedings.

Lord Carey of Clifton, the retired

103rd Archbishop of Canterbury,

and always a very welcome visitor at

St Andrew's, officially dedicated the

new organ to God's service.

In his sermon Lord Carey

congratulated the choir for their

fine rendering of the John Rutter

anthem Look at the world and spoke

about the hardships of the Covid

pandemic comparing it with Hitler's

attempt to get rid of us in the 1940's.

He also pointed out that the hymns

we were singing had originated in

many different denominations of the

worldwide Christian faith.

FOUNDATION

A substantial part of the cost of

the new electronic organ was raised

by personal donations from many

of the congregation present and to

celebrate this Sir Philip and Theresa

May ceremonially unveiled a large

'organ stop board' that will be placed

in St Andrew's as a permanent

reminder of everyone's generosity.

Sir Philip and Theresa May also

went on to inaugurate a new 'Choral

Foundation' that will encourage

young, would be, church musicians

to develop their skills by giving

them both financial support and the

opportunity to learn and develop

their art. Managing the foundation

will be a key part of Hannah

Towndrow's new role as director of

music.

The Parish Magazine - November 2021 7

Claude's

view

from

the

pew

David Duvall RIP

The Songs of Praise evening came

just eight days after we had been

treated to another very memorable

thanksgiving service that also

focussed on the church organ, or

rather a previous organist.

One would not normally refer to a

memorial service as a happy event but

that of David Duvall, our esteemed

former organist and choir master, must

be an exception; and that is how he

would have wanted it.

Eulogies by his two sons brought

forth expressions of delight and mirth

from the congregation and a former

incumbent of St Andrew's, Bishop

Christopher Morgan, followed with

a resume of David's life and of the

time when they served together in the

parish.

A large number of folk came

to church at 2pm on a Saturday to

remember a man who made the world a

better place for his having been in it.

For many of us there, the service

was also the first time that we heard

our newly appointed, 24 year old

director of music Hannah Towndrow at

the keyboard. She impressed from the

start as she almost imperceptibly began

to play during the congregational chat

before the service, gradually increasing

the volume as the choir and clergy

entered, culminating as the bishop

took his seat.

The committal of David's ashes

in the church yard was not without

its moment; the hole was a little too

deep for the casket to be respectfully

placed in it, so, rather appropriately, his

remains were laid to rest over a couple

of old hymn books — a worthy tribute

to a much loved long serving organist!
---
8 The Parish Magazine - November 2021

Please mention The Parish Magazine when responding to advertisements

advert-1...vis 1_Layout 1 15/09/2011 11:47 Page 1

Are you thinking about

homecare?

BOOK A BEAUTIFUL

NIGHT STAY WITH

US.

RECEIVE 15% OFF

QUOTE THE CODE

FST1845

TAKE AWAY

FISH AND CHIPS £10

The Bull Inn, Sonning on Thames

Berkshire RG4 6UP, T: 0118 969 3901

e: bullinn@fullers.co.uk www.bullinnsonning.co.uk

If you would like to learn

more please call us on

0118 947 6666

www.thebmgc.com

10% of the value of your first order will be donated to the new community hall fund when you quote Ref: BMGC-CH

• Pull-up banners

• Point of sale

• Window graphics

• Vehicle livery

• PVC banners

• Posters

• Corporate branding

• Graphic design

• Installation services

• Shop signage

• Exhibition systems

• Signage for commerce

• Bespoke wall coverings

For cost effective, locally produced, quality graphics call us on 0118 934 5016

The Homestead, Park Lane, Charvil, Reading RG10 9TR

email: sales@thebmgc.com
---
the parish noticeboard — 2

STAY

St

The Parish Magazine - November 2021 9

STAY on Friday

With STAY on Friday starting back

on 10 September we didn't waste

any time getting straight into fun

activities. With the darker nights

we've also been able to play some

Harry Potter based games in The Ark

grounds. We have also re-opened

The Ark kitchen for more baking

sessions. Rocky road (right) was the

latest yummy treat, we all got to try,

handmade by the youth!

STAY in Schools

Our chaplaincy work in schools

continues to thrive and grow in both

Blue Coat and Piggott schools. Plus,

with the amazing new addition of

Eleanor in Piggott on Wednesdays,

she brings an offering of mentoring

and extra support to pupils through

being a teaching assistant (TA) in

the classroom. The amazing thing

is that the one-to-one mentoring

really does make a difference. One

teacher remarked recently that one

of the students has dramatically

changed their behaviour in class and

she said 'it's all down to the input

of mentoring'. 'I'll take that' I said!

Here's a photo (right) of a typical

mentoring session; smiles, laughter

and thumbs up for space to chat.

STAY on Sunday

This term is about relationships. We

are thinking about questions such as:

— What relationships do we have?

— What's good and bad about them?

— What makes a relationship work?

— How we foster healthy relationships

across our lives?

— We also have Janice (a made up

character) to help us (photo below).

Plus we will be looking at the

relationships Jesus had and how

he maintained healthy boundaries

across all the different relationships

he had.

Keith Nichols

STAY at Sonning Show

On 11 September we had the privilege of joining in with the community

at the Sonning Show. We took along our church gazebo, a tub of sweets,

loads of flyers and some games, including, kubb, connect four and quoits.

Every young person, child, parent and grandparent had a go at winning a

sweet by knocking over the kubbs. Plus they all took flyers of what's on at St

Andrew's church. From STAY on Friday, to Sunday at 6 and Messy Church to

Rendezvous lunch club for older folk

turn to page 11
---
10 The Parish Magazine - November 2021

Please mention The Parish Magazine when responding to advertisements

Independent

Financial Advice

Advice and guidance on:

Retirement & Investment Planning - Mortgage Planning (including Equity Release)

Long Term Care Insurance -

Protection, Trusts and Income Planning

We cut through the jargon to keep it simple and embrace the latest technology to provide you with your own

Personal Finance Portal, designed to give you a holistic view of your finances.

For more information, please contact Andrew Gane:

M: 07796 268 739 E: andrewgane@pennymatters.co.uk W: https://pennymatters.co.uk/andrewgane.html

Andrew is a member of vouchedfor

https://www.vouchedfor.co.uk/financial-advisor-ifa/bracknell/01665-andrew-gane

Remember that past performance is not a guide to future returns and that the value of investments and the income from them can go

down as well as up. Your home may be repossessed if you do not keep up repayments on your mortgage. Some mortgages are not

regulated by the Financial Conduct Authority. Advice fee structure available on request. First appointment at our cost.

Pennymatters Limited is authorised and regulated by the Financial Conduct Authority. Registered as a Limited Company in England

and Wales No. 7331832.

Uncompromising Excellence in Hair Care

Spring Issue

|Hair Cutting and Beauty Therapy

|Experts in Colouring and Permanent Waving

|Hairdressing for Men, Women and Children

@stylebyjulieReading

@stylebyjulie

@stylebyjulieRG

Private Hair

and Beauty Salon

Badgers Rise,

Woodley, Reading,

RG5 3AJ

0118 4378178

salon@stylebyjulie.co.uk

www.stylebyjulie.co.uk

salon@stylebyjulie.co.uk

Banish limescale with a

TwinTec Water Softener

• Enjoy a scale-free kitchen and bathrooms

• Protect and improve the efficiency

of your boiler

• Lower your energy bills

• Reduce time spent cleaning

• Enjoy softer skin and shinier hair

No buttons or routine maintenance: it's easy

Call for a free installation

survey or quote

Twyford: 0118 9344485

Finchampstead: 0118 9733110

thamesvalleywatersofteners.co.uk

10

YEAR

GUARANTEE

THAMES VALLEY

WATER SOFTENERS
---
The Parish Magazine - November 2021 11

the parish noticeboard — 3

STAY

St

from page 9

STAY Detached Project

Our detached project continues

to grow and take shape. This term

we are giving a focus to Charvil on

Thursdays. We start at Nisa shop,

then head to East Park Farm and

finish at the sports courts. We are

regularly seeing around 35-40 young

people each week and have positive

conversations, play games and give

away prizes. It is a highlight of my

week!

Westy's Training

With the rise of poor mental health

among young people I decided to get

myself on a youth mental health first

aid course. It was a two day course

and looked at topics such as: self

harm, suicide, anxiety, depression,

eating disorders and psychosis. I am

by no means an expert but I hope it

goes some way to me being available

to help where I can with young

people and parents struggling in this

area. Let me know if I can help in any

way.

I was also able to bag a place

at the Oxford Diocese Chaplaincy

Conference at Christ Church

Cathedral in Oxford. We heard good

news stories and best practice from

prison chaplains, hospital chaplains,

armed forces chaplains and of

course a whole section on schools

chaplaincy. It was amazing to be

among like minded people, wanting

to share the love of Jesus in all areas

of society. The best bit was walking

up the stairs actually used in the

making of Harry Potter (picture on

previous page) and eating lunch in

the dining hall (above) that gave the

inspiration to Hogwarts dining hall!

Keep in touch!

Feel free to get in touch to chat,

share ideas or if you would like any

help with young people in any way,

please let me know on 0794 622 4106

or youthminister@sonningparish.org.uk

Cheers

Westy!

Notices (continued)

All Souls Service for the Faithful

Departed — 7 November at 4pm

Our Annual All Souls Service of

Thanksgiving the Faithful Departed

is on Sunday 7 November at 4pm,

followed by drinks. During the service

you will have the opportunity to light

a candle for a departed loved one and

join with other bereaved families in

thanking God for the lives of departed

loved ones. If you would like to have

your departed loved one mentioned

while the candles are being lit please

give their name to us on arrival.

Following the service the ministry

team will be available to chat over a

drink.

Remembrance Sunday

At the time of writing the intention

is that the service will go ahead as

normal at 10.30am. If the situation

changes, we will pass the news on via

the parish website and social media.

For your prayers in November

— The work of the Royal British Legion

— All who still live with the scars of war

— All struggling with their mental health

— The work of the Woodley Food Bank

Fire alarm

Recent advice from the Fire Brigade

was that our church should have

a monitored fire detector system.

Westronics Ltd have now installed this,

along with our existing security alarm

system and we are most grateful to the

Sonning Volunteer Fire Brigade Trust

(see page 25) who have made a grant

of £4,000 towards the total cost of

around £8,000.

Christmas Fayre

Because of ongoing uncertainty with

Covid we have decided not to hold a

Victorian Christmas Fayre this year.

Family Toy and Gift Service

During the 10.30am Family Service

on Sunday 5 December we will be

accepting donations of toys and gifts

for the Reading Family Aid Appeal as

well as lighting the Christmas tree

and meeting St Nicholas!

Senoldo, dreamstime.com
---
12 The Parish Magazine - November 2021

Please mention The Parish Magazine when responding to advertisements

Independent And FREE Advice For All Individual & Company Members

• Switch to an alternative scheme – If you are currently insured, switching to a competitor can mean substantially lower rates

• Pre-existing conditions covered – It is often possible to include pre-existing medical conditions currently covered by your existing provider

• Improve your coverage – We can frequently improve your cover whilst also lowering the cost of your premium

• Complexities of different schemes – In many cases, people are over insured – we can ensure you are covered with a scheme that

meets your individual needs and requirements

• Full cover for cancer treatment – Many polices do not cover cancer in full – we are able to advise on your current level of coverage

For further information, please call Steve Maguire at M&L Healthcare Solutions:-

PHONE 01628 945944 or 01223 881779

Email: steve.maguire@mlhs.co.uk

quoting ref: The Parish Magazine

M&L Healthcare Solutions is authorised and regulated by the Financial Conduct Authority (FCA Reference number 554206)

ADD Plumbing

& Heating

THE FUNERAL PEOPLE

A FAMILY BUSINESS SERVING

SONNING SINCE 1826

READING 0118 957 3650

HENLEY 01491 413434

CAVERSHAM 0118 947 7007

ALSO AT MAIDENHEAD, BRACKNELL, WOKINGHAM, THATCHAM

TRADITIONAL AND CONTEMPORARY FUNERAL

SERVICE AND DIRECT CREMATION

FLORAL DESIGN & MONUMENTAL MASONRY

PRE-PAID FUNERALS, LATER LIFE LEGAL SERVICES

BEREAVEMENT CARE

WWW.ABWALKER.CO.UK

Experienced plumber &

heating engineer

Free written estimates

– no job too small

Many positive testimonials

from local residents

'Trustworthy, reliable and efficient'

'Excellent attention to detail'

'Meticulous in his work'

SELECTED

Independent

FUNERAL HOMES

0118 934 4624

07932 072912

addplumbingsolutions.co.uk
---
the parish noticeboard — 4

On reflection . . .

Habakkuk: Why?

By Elizabeth Spiers

The fresco of prophet Habakkuk at Chiesa di San Guseppe Church

Jozef Sedmak, dreamstime.com

The book of Habakkuk the prophet is like a transcript

of a conversation most of us have wanted to have with

God at some point. Although it was written about 2,600

years ago, it is surprisingly relevant today. Habakkuk is

full of questions about what is going on around him: Why

do the wicked prosper? Why isn't justice valued? And

most of all, why does God, who is righteous, allow it to go

on without taking action?

Habakkuk was speaking at a time when evil nations

were oppressing Israel and conquering their land. He was

wondering where was God? Hadn't he promised them the

land forever? It's God's inaction that frustrates Habakkuk.

He wants God to rise up and help his people. And he's

cross that God doesn't even seem to be listening.

It's no different today. Injustice, crime, bad things

happening to good people, evil people prospering. Human

nature doesn't really change. All of us have scars from

being hurt in some way and all of us say: 'Why, God?

Where are you? Why aren't you doing something?'

God makes several statements against the enemy,

listing their sins — violence, pride, greed, idolatry — and

promises Habakkuk that he will demand justice for this.

RIGHTEOUSNESS ONLY FROM GOD

In chapter 2 verse 4 Habakkuk says 'See the enemy is

puffed up, his desires are not upright, but the righteous

will live by faith.'

This is a very important principle. The righteous person

will live and won't have to face God's judgement. Think

about that — God so loved the world that he gave his only

begotten Son, that whoever believes in him will not perish but

have eternal life. Only God can make us righteous and only

then if we choose to accept him as our Lord.

Habakkuk realises that this is true. He understands

that while evil seems to thrive, and God seems silent and

unresponsive, in fact, he has a plan and always works out

justice — eventually. And he finishes his conversation

with a prayer of praise to God which ends like this:

Yet I will wait patiently for the day of calamity to come on the

nation invading us. Though the fig tree does not bud and there are

no grapes on the vines, though the olive crop fails and the fields

produce no food, though there are no sheep in the pen and no cattle

in the stalls, yet I will rejoice in the Lord, I will be joyful in God my

Saviour. The Sovereign Lord is my strength; He makes my feet like

the feet of a deer, he enables me to tread on the heights.

The Parish Magazine - November 2021 13

From the desk

of the editor

editor@theparishmagazine.co.uk

Where has the local

contacts list gone?

Three years ago I decided to overhaul the local

organisations contact list we have published each

month for as long as anyone can remember. The list

had contact details for local clubs, groups, societies

and organisations, as well as the local and county

councillors and political associations. The update was

necessary because I was aware that many of the contact

details were incorrect — new people had taken over the

leadership of the various groups, and the rules regarding

privacy meant that I needed written permission to use

telephone numbers and email addresses. A fresh start

was necessary.

In the December 2018 issue of The Parish Magazine I

removed the list and used the entire half page that it

occupied to announce my plan to create a revised list. I

asked all groups to send me the current contact details

and the necessary permission.

After a few weeks I received three updates, which was

surprising because there were 70 contacts on the original

list. I left it a couple of months to see if I received any

further response, but there was none.

Eventually, I decided to make use of the extra space

by introducing a puzzle page which I know that many

readers now enjoy.

A STRANGE COINCIDENCE

Strangely, a few weeks ago, in the same week, I

received telephone calls from two different people asking

where in the magazine was the list of club contacts? To

my knowledge, it was the first time in three years that

anyone had wanted to use the list that I inherited when I

took over the magazine in 2013.

Creating, and keeping such a list up-to-date, is an

extremely time-consuming exercise, especially as those

who appear on it rarely pass on updates when they hand

over to someone else, and most people nowadays prefer

to do an internet search to find the information they

need on the club's website. Therefore, I have no plans to

reinstate the local organisations contacts list.

On the other hand, I am always more than happy to

support our local groups, clubs and organisations on the

'Around the Villages' pages and whenever possible I will

include information about where and when you meet and

who to speak to for more information.

The deadline for your stories and pictures is always

12 noon on the sixth day of the month prior to the

publication date. Hence the deadline for the December

issue is Saturday 6 November at 12 noon.

The 12 noon deadline is very strict because within a

few hours of this I aim to complete the layout for the issue

so we can begin the proof reading process.
---
14 The Parish Magazine - November 2021

Please mention The Parish Magazine when responding to advertisements

An independent company

rated good

Home Carers Wanted!

Bridges Home Care is growing...

Rated highly by customers... Staff and the profession...

Providing quality care in the Oxfordshire area...

Why not join our close knit team?

I love care work

and being around

to help people

The managers

are approachable

and supportive

My main carer

is very good, she

is wonderful,

like a friend

by Care Quality

Commission, our customers

and staff alike.

The training gives

you confidence to

learn more

• Top brand name flooring at the lowest price

• Samples to view in your home/office day/evening

• Free Advice / FreeQuotes

• Old flooring uplifted & furniture moved

• Fast turn around on fitting if required

Bridges ticks all the boxes

n✔ Full training given

n✔ Existing skills

& experience valued

n✔ Guaranteed work,

local area

UKHCA

Supported by Oxfordshire County Council

n✔ Flexible hours or

shifts available

n✔ Supportive hands-on

management

If you think this might be for you, find out more...

call Bonny or Wendy on 01491 578758

or email bonny@bridgeshomecare.co.uk

visit www.bridgeshomecare.co.uk

Oxfordshire Association

of Care Providers

• Carpet, design and wood flooring specialists

We supply and install: Amtico

Carpets - Laminate - Wood - Vinyl

Non-slip and more...

Tel: 0118 958 0445

10 Richfield Avenue, Reading, Berkshire, RG1 8EQ

info@richfieldflooring.co.uk/www.richfieldflooring.eo.uk
---
The Parish Magazine - November 2021 15

the parish noticeboard — 5

The Persecuted Church: Nobel Peace Prize Nominee Juliana Taimoorazy by Colin Bailey

'She has brought hope where there was despair, she has engendered faith where

there was distrust, and she has brought love where there was indifference'

Juliana Taimoorazy is the founder of the Iraqi Christian Relief Council (ICRC).

For over 15 years, Juliana and ICRC have been at the forefront of humanitarian

and advocacy efforts related to Christians in Iraq and the region. There was a

two-part article featuring an interview with Juliana in the April and May 2020

issue of 'The Parish Magazine'. By the time this issue is published, the 2021 Nobel

Peace Prize award winner will be known — the Award ceremony is scheduled to

take place in Oslo on 10 December 2021.

ICRC's mission is to educate people

around the globe about Iraqi Christian

persecution, ask for prayers and

raise funds to support their basic

humanitarian needs and partake in

rebuilding their lives. During her time

with ICRC, Juliana has proven to be

a voice for the voiceless — those with

no one else to speak for them. This

includes Christians, Yazidis, other

minorities, women and children who

have seen their regions overrun and

their homes and villages destroyed.

As stated in a Newsweek opinion

piece that Juliana contributed to in

August: 'ISIS genocide of Yazidis and

Assyrians accelerated the near eradication

of Iraq's Christian communities.

Christians numbered an estimated 1.5

million before 2003. Now about 150,000

remain in the country."

Professor Geoffrey Khan, the

Regius Professor of Hebrew in

the Faculty of Asian and Middle

Eastern Studies at the University

of Cambridge, said: 'The plight of the

Iraqi Christians — a people relentlessly

persecuted for centuries, and the victims

of genocide twice in the last 100 years

— is one that the world has, with rare

exceptions, chosen to ignore in favour

of playing power politics in the Middle

East. Juliana Taimoorazy has shone a light

where darkness reigned. She has brought

hope where there was despair, she has

engendered faith where there was distrust,

and she has brought love where there was

indifference.'

Juliana was nominated for the 2021

Nobel Peace Prize by three specialists

in Middle East affairs, including Prof

Khan, along with Dr Anahit Khosroeva

of the Armenian National Academy of

Sciences and Fareed Yacoob, Kurdistan

regional government member of

parliament. These experts recognized

the impact she has made in the lives

of so many people in the region and

specifically acknowledge her fight to

save the Assyrian, Chaldean, Syriac

nation, Yazidis and other minorities in

Iraq from genocide.

The chairman of the board

of directors of ICRC, Rev David

Fischler, has said that with the fall of

Afghanistan to the Taliban, 'Her work

on behalf of the Middle East's religious

minorities is more important than ever.'

UNYIELDING FAITH

In a statement on Juliana's Nobel

Peace Prize Nomination, Dr George

Rodriguez, Adjunct Professor of

Biblical Theology, Loyola University

and St Thomas University, says how in

Afghanistan as a result of the 'calamity

that has recently been transpiring, Juliana

is currently working with her partners to

secure and serve persecuted Afghans.'

As well as working with her US

partners to help those wanting to

leave Afghanistan find a safe passage,

she is gathering aid such as clothing

and hygiene products for women

and children, for the US camps. If

you would like to donate to the care

package creation work, you will be

able to find, from November, more

information on the ICRC website

https://iraqichristianrelief.org Also there

are details of other campaigns such as

the 'Adopt a Refugee Family Program'

and ways people can donate.

'Juliana's unyielding faith in God

and her deep Assyrian roots' says Dr

Rodriguez, 'continue to propel her along

this vital…urgent humanitarian path'.

He cites Juliana concerning the

nomination, 'Yes, I am proud of this

nomination. But whether the ultimate

prize is bestowed upon us or not we will

nevertheless continue our mission… to do

so wholeheartedly and relentlessly in the

service of all humanity.'

Juliana's life work has been

dedicated to relieving people's

suffering, and she asks for prayers for

God's grace.

References and further reading:

Newsweek 30 August 2021 'Biden Must Stop ISIS

from Finishing Genocide of Assyrians and Yazidis

| Opinion' – Abraham Cooper, Juliana Taimoorazy

and Hadi Pir https://www.newsweek.com/bidenmust-stop-isis-finishing-genocide-assyriansyzidis-opinio-1624287

Iraqi Christian Relief Council website:

https://iraqichristianrelief.org
---
16 The Parish Magazine - November 2021

Please mention The Parish Magazine when responding to advertisements

Complete Pest

Solutions

WASPS • RATS • MICE • SQUIRRELS

BED BUGS • FLEAS • BIRDS & RODENT PROOFING

Leslie Parker

parkerleslie65@aol.com

0125 624 2135 0799 081 4143

PROFESSIONAL PEST

CONTROLLERS REGISTER

2 Vyne Lodge Farm Cottage, Bramley, Tadley, Hampshire RG26 5EA

Whatever you want to store...

...for whatever reason - house sale and purchase

not coinciding, travelling, house building work,

paperwork overload or even "de-cluttering" to

sell your house more quickly - we offer a

friendly and flexible local service.

With competitive rates, secure storage

and hassle free 24/7 access,

contact us now!

0118 940 4163

www.barn-store.co.uk

Only 5 minutes

from Henley on

the Reading road!

www.etsheppard.co.uk

01491 574 644

36 Reading Road, Henley-on-Thames RG9 1AG

Established in 1858

A.F. Jones

Stonemasons

Limited

0118 9573 537

www.afjones.co.uk

33 Bedford Road, Reading, RG1 7EX
---
feature — 1

100 years of red poppies

The Parish Magazine - November 2021 17

Flanders Poppy field: J Vd, dreamstime.com; Selling poppies, Pawelkowalczyk, dreamstime.com

By The Ven John Barton

Amid the mud, blood and carnage of trench warfare in World War 1, tens of

thousands of bright red poppies grew, marking the graves of the fallen. This

led John McCrae, a Canadian army physician who had lost a colleague, to

write 'In Flanders Fields' . . .

In Flanders fields, the poppies blow

Between the crosses, row on row

That mark our place, and in the sky

The larks, still bravely singing, fly.

Poppies in St Andrew's

Tom Farncombe

This image inspired the adoption

of a red poppy as the symbol of all

soldiers who had died in conflict.

Exactly 100 years ago, on the

11 November 1921, poppies of

remembrance were sold for the first

time in British and Commonwealth

countries. Hostilities had ceased

three years earlier at the 11th hour

of the 11th day of the 11th month.

NATIONAL

This year, on 14 November, which

is the nearest Sunday, a two-minute

silence will be kept at war memorials

throughout the country, and at the

national ceremony at the Cenotaph

in London's Whitehall.

The Queen will pay tribute

alongside members of the Cabinet,

opposition party leaders, former

prime ministers, the Mayor of

London and many others.

Representatives of the armed

forces, fishing fleets and merchant

air and navy will be there, as

well as high commissioners of

Commonwealth countries. All will

wear a red poppy.

About 30 million poppies are sold

each year in the UK by the Royal

British Legion with the proceeds

being used to provide serving and

ex-service personnel with financial

support, advice, employment,

mobility, housing and mental health

facilities.

LIFE SCARS

Today we are more aware than

ever that battles are fought mainly

by young people, and many of those

who survive bear scars for life. The

act of 'remembering' will not only

look back to mark their sacrifice, but

also yearn to learn lessons for the

future.

Reflecting on the poem, In

Flanders Fields, the American

professor Moina Michael, wrote:

And now the torch and poppy red

We wear in honour of our dead.

Fear not that ye have died for naught;

We'll teach the lesson that ye wrought

In Flanders Fields.
---
18 The Parish Magazine - November 2021

Thinking about

Equity Release?

Then speak to us first!

Mortgage Required is a local, friendly award winning

Equity Release Specialist who puts their clients first.

We don't spend thousands on expensive TV advertising or

employ celebrities to represent us. This enables us to pass

these savings on to you.

Compare our low fees

We tick all the boxes

Whole of market

Free first

appointments

Mortgage and Equity

Release Advice

Initial chat without providing

personal details

5 star

Google reviews

Typical Fees

£599

mortgagerequired.com 01628 507477

Finance House, 5 Bath Road, Maidenhead, Berkshire, SL6 4AQ

This is a lifetime mortgage to understand the features and risks, ask for a personalised illustration. There will be no fee for Mortgage Advice. There may be a fee for arranging a mortgage. The precise amount will depend upon

your circumstances, but we estimate it to be £599. Mortgage Required Ltd, Finance House, 5 Bath Road, Maidenhead, SL6 4AQ is authorised and regulated by the Financial Conduct Authority reference 573718 at www.fca.org.uk.

'Excellent' School

'Pupils' social development and collaboration skills

are excellent.'

'Pupils make an outstanding contribution to

the lives of others.'

ISI Inspection, November 2019

Register online: rbcs.org.uk

An Independent Day School for Boys 11-18, and Girls 16 -18

Bathrooms &Kitchens Ltd

Plumbing, Plastering, Tiling

and all associated work

Contact us today for a

FREE

No obligation Consultation

and Quotation

0778 897 2921

markt@kingfisher-bathrooms.com

http://www.kingfisher-bathrooms.com

167 167 Fairwater Kingfisher Drive, Drive, Woodley, Reading, Berks RG5 3JQ
---
The Parish Magazine - November 2021 19

feature — 2

Remembering those not always remembered

Every year, on Remembrance Sunday, the names of those killed in action during World War I & II and other conflicts are

read out as a posy of flowers is placed in front of their individual memorial plaques on the south wall inside St Andrew's

Church. As part of this annual Remembrance, we often list all their names in the November issue of this magazine, but

this year, 100 years after the introduction of the 'Remembrance Poppy' by the Royal British Legion, we thought that we

would remember the names of some others who served our country in the armed forces but whose time or place of death

did not qualify them for the memorial inside St Andrew's Church. The following information is based on the research into

his family by David Hedley-Goddard, a descendant of the Ansell and Goddard families of Sonning — William Ansell was

killed in action in October 1916 and is remembered on the St Andrew's Church war memorial.

Lieutenant John Seymour lngleby

Lived in Appletree Cottage Sonning with his mother and

served in the Royal Flying Corps and Royal Air Force in

World War I but was killed aged 20 years in June 1919 while

on active service after the end of hostilities and so is not

listed on the war memorial. However his family dedicated a

stained glass window in St Andrew's Church to his memory

(photograph above). He is buried in St Andrew's churchyard.

His mother died in 1939 at the age of 75 years and is also

buried in St Andrew's churchyard.

Private Benjamin Dark and Private Albert Ponting

Both were World War I soldiers who are buried in St Andrew's

churchyard but did not live in the parish so their names do

not appear on the St Andrew's Church war memorial. Both

men died under suspicious circumstances, Benjamin Dark

was found hanging from a tree on the tow path at Sonning

and Albert Ponting was found drowned in Wokingham. Their

deaths could be a sad reflection of the violent nature of life

for those serving in the armed forces during World War I.

Private Albert Frederick Middlecoate, Captain Frank

Rushby and Lieutenant Colonel F A Deare

Three World War I soldiers buried in St Andrew's churchyard

but did not die in action and therefore are not recorded on

the war memorial.

Private Albert Frederick Middlecoate. was born in

Reading in 1889. In 1905, when Albert was 16, his father died,

and the family moved to Headley Cottages, Headley Road,

Sonning (now part of Woodley).

Bob Peters

Albert joined the army, becoming a member of the 3rd

Btn/E company Northamptonshire Regiment and on 12

November 1918, just one day after the Armistice was signed,

he died at the Military Hospital at Broadway Sheerness from

pneumonia caused by Spanish flu. His body was returned to

Sonning and he was buried in the churchyard at St Andrew's

Sonning. Albert's mother, who died in 1951 is also buried at

St Andrew's, as was his sister Victoria Grace in 1952.

Captain Frank Rusby was born in 1867 and the family

arrived in Sonning sometime in the early 1900's, at first

living within the village and then moving to Earley in 1911.

When World War I broke out Frank enlisted as a Captain in

the Royal Field Artillery, however in February 1915 he also

caught Spanish flu and died of pneumonia aged 48. He is

buried in a family grave in the churchyard at Saint Andrew's.

Lieutenant Colonel Frederick Arthur Deare was born into

a military family at Port Elizabeth, South Africa in 1862. In

1881 his military career began when he enlisted into the The

Berkshire Regiment and rose through the ranks. His family

lived in Twyford and eventually Caversham. At the outbreak

of World War I, Frederick returned to the colours and served

in home postings. He died at the age of 53 and was buried at

Saint Andrew's Church.

Sergeant Bernard Thomas Abbott, Sergeant Sidney John

Dean and Sergeant Christopher Ronald Young.

Usually, the names on the St Andrew's war memorial only

mention those who are buried in Commonwealth War

Graves, however these three sergeants, are mentioned as

World War II casualties, and are all buried at St Andrew's.
---
20 The Parish Magazine - November 2021

Please mention The Parish Magazine when responding to advertisements

Follow Us

@ShiplakeCollege

Welcoming

Year 7 girls

from 2023

Next Open Morning

Saturday 26 March 2022

www.shiplake.org.uk/opendays

VW Polo Match

1.0 80ps 5dr

CARS FOR

CLERGY

New VW Polo

for less than

£180 per month

Drive away the WhatCar? Small Car

of the Year 2020 for just £179.84

per month. The fixed monthly

payment includes:

4 years' road tax

4 years' breakdown cover

All servicing and maintenance

Tyres excluding damage

4-year lease,

fully maintained

Only

£179 .84

per month †

£539.52 initial

rental

For details,

call us now

or visit

08000 324 900

newgatefinance.com

We're delighted to make our deals

available to all readers of The Parish

Magazine. For more cars and offers,

please visit our website.

†Terms apply. Includes VAT. No purchase option. Up to 6,000 miles p.a. Other mileages available. Ask for details when you call. Newgate Motoring Solutions Ltd acts as a

credit broker and is not a lender and can introduce you to a limited number of finance providers. Newgate Motoring Solutions Ltd is authorised and regulated by the Financial

Conduct Authority, firm ref 730559, and also trades as Newgate and Newgate Finance. Newgate Motoring Solutions Ltd will receive a commission or fee for introducing you to a

finance provider. You can request details of the commission or fee we will receive by contacting us on our Freephone number.
---
feature — 3

What does Advent mean to you?

By Bob Peters

As I have grown older, I have

increasingly believed that my parents

must have had Jewish ancestry — I

won't bore you with my reasons

other than saying that my father

would often use Jewish humour. One

of his favourite sayings was 'if you

lock seven rabbis in a room with one

question you will end up with seven

different correct answers!'

I was reminded of this when I started

to write about Advent, which begins

this month on Sunday 28 November.

Google 'Advent' — there are other

internet search engines available!

— and you will quickly see what

I mean. Advent means different

things to different people around the

world, and the confusion has been

intensified in modern times by the

commercialism that blights many

religious celebrations — most Advent

calendars, Christmas cards and gifts

and other 'traditions' have very little

to do with the religious significance of

the original events.

Even Christian theologians from

different parts of the world have

different 'correct' answers as to what

Advent is about — I've not tried

locking seven of them in a room, but

I'm as sure as my father was about the

rabbis, that I would get seven correct

answers!

PREPARATION

There is, of course, one thing that

all Christians agree on and that is that

Advent is a time of preparation that

leads up to Christmas.

In the Middle Ages, preparations

involved fasting three days a week

beginning on St Martin's Day which is

on 11 November. The original fasting,

which became known as Martinmas,

lasted 43 days but over time it was

reduced to 40 days to reflect the 40

days of Lent before Easter. Because of

this, it is sometimes called, St Martin's

Lent.

Martin was the pioneer of western

monasticism: he founded the first

monastery in Gaul about 360 AD and

by popular demand was made Bishop

of Tours in 372.

Bishop Martin continued

his simple life as a monk and an

evangelist. Christianity had been

largely confined to the urban centres

of population, but Martin took it

into the countryside. He travelled his

diocese by donkey and boat, preaching

the good news of Jesus Christ while

helping his people to tear down their

heathen temples and sacred trees. He

was sought out for his healing prayers,

and also his defence of the faith from

heretical critics.

ADVENTUS

Martin's emblem in English art is

often that of a goose, whose annual

migration is about this time of year.

'St Martin's Summer' in England is a

spell of fine weather that sometimes

occurs around 11 November and it is

why eating goose at Christmas is for

many people a tradition.

In the Western Christian churches,

St Martin's Lent evolved into Advent,

the name being derived from the Latin

adventus which means the coming or

arrival. Adventus was the translation

of a Greek parousia that was used

in the New Testament to mean the

Second Coming of Christ.

Thus, Advent in the Western

Christian calendar anticipates the

'coming of Christ' in three forms: the

Nativity in Bethlehem, the reception

of Christ in the heart of the believer,

and the Second Coming of Christ —

the three things that we focus on each

year during Advent.

For Eastern Catholic and Orthodox

churches, the Advent preparations

This 'Advent Calendar' builds up day-by-day

to become a full Nativity scene for Christmas

The Parish Magazine - November 2021 21

Stained Glass in the Church of Saint Severin,

Paris, depicting St Martin of Tours handing a piece

of cloak to a beggar Jorisvo, dreamstime.com

are known as the Nativity Fast or

Philip's Fast which is observed from 15

November to Christmas Eve. St Philip

the Apostle's feast day is 14 November.

In St Andrew's Church, like many

around the world, Advent is marked

with our own traditions. Each of the

four Sundays of Advent are marked

by the lighting of an Advent Candle

symbolising hope, love, joy and peace

and on Christmas morning, a fifth,

central candle is lit to represent Jesus,

the light that came into the world.

During our first family service of

Advent, which is on 5 December this

year, we light the Christmas tree, an

event that is overseen by St Nicholas

who receives gifts of toys and games

from the congregation which are

passed on to deprived children in

the Reading area. When the Covid

pandemic meant that handing over

gifts was not possible a 'cash' collection

was made for Reading Family Aid who

bought new toys for the children.

The beauty of the Christian faith is

that while around the world there are

many different Advent traditions they

have the same purpose; to celebrate

the coming of Christ into the world,

his coming into our individual lives

and the hope for the future promise of

his second coming.
---
22 The Parish Magazine - November 2021

feature — 4

COP26 — the first 33 years . . .

'Today's children

and teenagers will

face catastrophic

consequences

unless we take

responsibility now, as

'fellow workers with

God' (Genesis 2.4-7),

to sustain our world.'

Archbishop of Canterbury

Pope Francis

Ecumenical Patriarch Bartholomew

June 1988: Dr James Hansen told the US Senate

that he was 99% certain that the earth was

warmer then than it had ever been because of the

greenhouse effect and he explained that freak

weather was the result of this global warming.

November 1988: the World Meteorological

Organization and United Nations Environment

Programme established the Intergovernmental

Panel on Climate Change (IPCC)

November 1990: IPCC's first report said that

'emissions resulting from human activities

are substantially increasing the atmospheric

concentrations of greenhouse gases'. This led to

calls by the IPCC and the second World Climate

Conference for a global treaty.

March 1995: COP1, the first Conference Of Parties

to the United Nations Framework Convention on

Climate Change was held in Berlin.

December 2015: at COP21, 195 nations met in Paris

to agree to combat climate change and unleash

actions and investment towards a low-carbon,

resilient and sustainable future.

November 2021, COP26 meets in Glasgow — it

was postponed by a year because of Covid —

with the objective to 'stabilize greenhouse gas

concentrations in the atmosphere at a level

that would prevent dangerous anthropogenic

interference with the climate system'.

WE ALL HAVE A PART TO PLAY

33 years after Dr James Hansen warned of the

dangerous situation the world was heading towards,

many world leaders, including those from the Roman

Catholic Church, the Eastern Orthodox Church

and the Anglican Communion are demanding more

urgent action. Their statement — A joint message

for the protection of creation — was published in

October and was signed by Pope Francis, Ecumenical

Patriarch Bartholomew and Archbishop Justin

Welby. They urge us all to play our part in 'choosing

life' for the future of the planet, and call on us to pray

for the world leaders attending COP26 this month.

Their message begins with a summary:

'We call on everyone, whatever their belief or world

view, to endeavour to listen to the cry of the earth and

of people who are poor, examining their behaviour and

pledging meaningful sacrifices for the sake of the earth

which God has given us. Today, we are paying the price…

Tomorrow could be worse. This is a critical moment. Our

children's future and the future of our common home

depend on it.'

'We stand before a harsh justice: biodiversity loss,

environmental degradation and climate change are the

inevitable consequences of our actions, since we have

greedily consumed more of the earth's resources than the

planet can endure. But we also face a profound injustice:

the people bearing the most catastrophic consequences of

these abuses are the poorest on the planet and have been

the least responsible for causing them.'

1988: James Hansen testifie

Archbishop of Canterbury

Pope Francis

Ecumenical Patriarch
---
The Parish Magazine - November 2021 23

s

public domain: NASA

commons.wikimedia

commons.wikimedia

commons.wikimedia

A JOINT MESSAGE FOR THE PROTECTION OF CREATION

From the Archbishop of Canterbury, Pope Francis, Ecumenical Patriarch Bartholomew

For more than a year, we have all experienced the devastating effects of a global pandemic, all of us, whether

poor or wealthy, weak or strong. Some were more protected or more vulnerable than others, but the rapidly

spreading infection meant that we have depended on each other in our efforts to stay safe. We realised that,

in facing this worldwide calamity, no one is safe until everyone is safe, that our actions really do affect one

another, and that what we do today affects what happens tomorrow.

These are not new lessons, but we have had to

face them anew. May we not waste this moment.

We must decide what kind of world we want

to leave to future generations. God mandates:

'Choose life, so that you and your children might

live' (Deuteronomy 30:19). We must choose to live

differently; we must choose life.

September was celebrated by many Christians as

the 'Season of Creation', an opportunity to pray and

care for God's creation. As world leaders prepare to

meet in November at Glasgow to deliberate on the

future of our planet, we pray for them and consider

what the choices we must all make.

Accordingly, as leaders of our Churches, we call

on everyone, whatever their belief or world view,

to endeavour to listen to the cry of the earth and of

people who are poor, examining their behaviour and

pledging meaningful sacrifices for the sake of the

earth which God has given us.

THE OPPOSITE DIRECTION

In our common Christian tradition, the Scriptures

and the Saints provide illuminating perspectives for

comprehending both the realities of the present and

the promise of something larger than what we see in

the moment.

The concept of stewardship-of individual

and collective responsibility for our God-given

endowment-presents a vital starting point for social,

economic and environmental sustainability.

In the New Testament, we read of the rich and

foolish man who stores a great wealth of grain while

forgetting about his finite end (Luke 12:13-21).

We learn of the prodigal son who takes his

inheritance early, only to squander it and end up

hungry (Luke 15:11-32). We are cautioned against

adopting short term and seemingly inexpensive

options of building on sand, instead of building on

rock for our common home to withstand storms

(Matthew 7:24-27). These stories invite us to adopt

a broader outlook and recognise our place in the

extended story of humanity.

But we have taken the opposite direction. We

have maximised our own interest at the expense of

future generations.

By concentrating on our wealth, we find that

long-term assets, including the bounty of nature, are

depleted for short-term advantage.

Technology has unfolded new possibilities for

progress but also for accumulating unrestrained

wealth, and many of us behave in ways which

demonstrate little concern for other people or the

limits of the planet.

Nature is resilient, yet delicate. We are already

witnessing the consequences of our refusal to protect

and preserve it (Genesis 2:15). Now, in this moment,

we have an opportunity to repent, to turn around in

resolve, to head in the opposite direction. We must

pursue generosity and fairness in the ways that we

live, work and use money, instead of selfish gain.

The current climate crisis speaks volumes about

who we are and how we view and treat God's creation.

We stand before a harsh justice: biodiversity loss,

environmental degradation and climate change are

the inevitable consequences of our actions, since we

have greedily consumed more of the earth's resources

than the planet can endure.

But we also face a profound injustice: the people

bearing the most catastrophic consequences of these

abuses are the poorest on the planet and have been

the least responsible for causing them.

We serve a God of justice, who delights in creation

and creates every person in God's image, but also

hears the cry of people who are poor. Accordingly,

there is an innate call within us to respond with

anguish when we see such devastating injustice.

PAYING THE PRICE

Today, we are paying the price. The extreme

weather and natural disasters of recent months

reveal afresh to us with great force and at great

human cost that climate change is not only a future

challenge, but an immediate and urgent matter

of survival. Widespread floods, fires and droughts

threaten entire continents. Sea levels rise, forcing

whole communities to relocate; cyclones devastate

entire regions, ruining lives and livelihoods. Water

has become scarce and food supplies insecure,

causing conflict and displacement for millions of

people.

We have already seen this in places where people

rely on small scale agricultural holdings. Today we

see it in more industrialised countries where even

sophisticated infrastructure cannot completely

prevent extraordinary destruction.

Tomorrow could be worse. Today's children

and teenagers will face catastrophic consequences

unless we take responsibility now, as 'fellow workers

with God' (Genesis 2:4-7), to sustain our world. We

frequently hear from young people who understand

that their futures are under threat.

For their sake, we must choose to eat, travel,

spend, invest and live differently, thinking not only

of immediate interest and gains but also of future

benefits. We repent of our generation's sins. We

stand alongside our younger sisters and brothers

turn to page 24
---
24 The Parish Magazine - November 2021

feature — 5

from page 23

A MESSAGE FOR THE PROTECTION OF CREATION

throughout the world in committed prayer and

dedicated action for a future which corresponds ever

more to the promises of God.

Over the course of the pandemic, we have learned

how vulnerable we are. Our social systems frayed,

and we found that we cannot control everything. We

must acknowledge that the ways we use money and

organize our societies have not benefited everyone.

We find ourselves weak and anxious, submersed

in a series of crises; health, environmental,

food, economic and social, which are all deeply

interconnected.

A VISION FOR LIFE

These crises present us with a choice. We are

in a unique position either to address them with

shortsightedness and profiteering or seize this as an

opportunity for conversion and transformation. If

we think of humanity as a family and work together

towards a future based on the common good, we

could find ourselves living in a very different world.

Together we can share a vision for life where everyone

flourishes. Together we can choose to act with love,

justice and mercy. Together we can walk towards a

fairer and fulfilling society with those who are most

vulnerable at the centre.

But this involves making changes. Each of us,

individually, must take responsibility

for the ways we use our resources.

This path requires an ever closer

collaboration among churches

in their commitment to care

for creation. Together, as

communities, churches,

cities and nations, we

must change route and

discover new ways of working together to break

down the traditional barriers between peoples,

to stop competing for resources and start

collaborating.

To those with more far reaching responsibilities—

heading administrations, running companies,

employing people or investing funds — we say:

choose people-centred profits; make short-term

sacrifices to safeguard all our futures; become leaders

in the transition to just and sustainable economies.

'To whom much is given, much is required.' (Luke 12:48)

This is the first time that we feel compelled to

address together the urgency of environmental

sustainability, its impact on persistent poverty, and

the importance of global cooperation. Together, on

behalf of our communities, we appeal to the heart

and mind of every Christian, every believer and

every person of good will.

CRITICAL MOMENT

We pray for our leaders who will gather in

Glasgow to decide the future of our planet and its

people. Again, we recall Scripture: 'choose life, so that

you and your children may live' (Deuteronomy 30:19).

Choosing life means making sacrifices and exercising

self-restraint. All of us, whoever and wherever we are,

can play a part in changing our collective response to

the unprecedented threat of climate change

and environmental degradation. Caring

for God's creation is a spiritual

commission requiring a response

of commitment. This is a critical

moment.

Our children's future and

the future of our common

home depend on it.

THE SO

PART T

The National Firefighters Memor

Cathedral.

Sonning Fire Station

geograp

— Pray for world leaders attending COP26

— For individuals to make meaningful sacrifices for the

sake of the planet, working together and taking

responsibility for how we use our resources

— For those with far-reaching responsibilities, to choose

people-centred profits and lead the transition to just

and sustainable economies

Bill Oxford, unsplash.com

2017: The enclosed cab Sonning
---
The Parish Magazine - November 2021 25

NNING VOLUNTEER FIRE BRIGADE:

WO — A TRUST THAT KEEPS GIVING

ial, London by St Paul s

Chris Dorney , dreamstime.com

h.org.uk, wikimedia.commons

engine

Tony Foster

In Part One, we followed the birth and rise of the Sonning Volunteer Fire Brigade from the first idea in 1904

to tackle the growing dangers of fire to property and lives in the parish, through the early ground-breaking

years as recorded in 'The Parish Magazine'. The pre-World War II years, and the war years themselves,

were to see some inevitable changes that saw many local fire brigades disappear, but in Sonning it lives

on in the form of an active Trust that is still serving the parish today. This part of story is best told from the

records of The Sonning Volunteer First Brigade Trust . . .

Up to the start of World War II, Sonning Fire

Brigade attended numerous fires and won many

prizes at competitions over the South of England,

building up an outstanding reputation for

efficiency and devotion to service.

In 1936 a new Dennis Ace Chassis and pump was

purchased, and a closed-in body was designed by

Tom Edwards, the son of Archibald Felix Edwards,

a leading light in the early years of Sonning's Fire

Brigade. Archibald received a King George VI

Birthday Honour in June 1951.

The enclosed body meant that fire fighters

could travel to a fire in greater safety inside the

fire engine, rather then clinging to the outside as

had been the traditional way until then. It was the

first of its kind in the country and on the day of its

delivery it attended its first fire. Sonning received

many congratulations from other brigades for the

innovative design.

AIR RAID PRECAUTIONS

A year later, the Fire Brigade Act of 1938, was

to herald the start of new era in the management

of local volunteer brigades such as Sonning.

The act put the onus of fire protection on rural

district councils. Financial support for the local

brigades from insurance companies and public

subscriptions ceased and councils contracted with

existing brigades to provide protection. Sonning,

for example, had contracts with Bradfield, Henley,

Wokingham and Cookham councils.

With the Second World War underway in

1940 fire brigades focussed on training in air raid

precautions and they came under the control

of the central government. Sonning became

'Station 15' with subsidiaries at Goring, Holloways

Garage Caversham, Mortimer, Sonning Common,

Burghfield and Checkendon.

Their remit went much further afield, so much

so, that during the war the Sonning enclosed

cab fire engine was to answer calls to air raids

on London Docks, Birmingham, Southampton,

Bristol, Ascot, Oxford, Bagshot, Croydon, Gosport,

Portsmouth, Slough, Winchester, Coventry and

Plymouth — as well as attending to the local calls.

The innovative closed cab engine stayed in

service after the war until 1968 after a remarkable

31 years.

While looking for a photograph of the Sonning

1936 Dennis chassis engine, we came across the

one shown bottom left on https://www.fire-enginephotos.com/picture/number40721.asp

by Tony Foster

in 2017 who told us: 'The picture was taken at the old

Ordnance Depot in Weedon, Northamptonshire, where

it was hoped the Fire Services National Museum Trust

would be. However things conspired against this and

the collection was moved in 2017 to Petersfield. 'Again

there were too many obstacles laid in their path and

sadly the museum had to be broken up and sold off. The

1936 Dennis Ace was bought by a private collector in

Yorkshire and will now receive the attention it deserves.'

In 1948, when the UK government took charge of

the Sonning Brigade, it purchased all the equipment

previously owned by the Sonning Volunteer Fire

Brigade and the proceeds were used to extend the

Robert Palmer Cottages.

The seeds of the idea to support the local

villagers in this way led to the creation, in 1952,

of a Trust fund which also received the benefit

of the rent paid by the Royal Berkshire Fire and

Rescue Service — that was by then responsible for

providing the service — for the use of the Sonning

Fire Station in Pound Lane.

SEVENTY TRUST YEARS

The station was eventually closed in 2007 when

Royal Berkshire Fire and Rescue Services decided to

have a 24-hour crew installed in Wokingham, and

subsequently the site was redeveloped for housing.

However, the Sonning Fire Brigade Trust

continues and next year will be celebrating 70

years of serving the local community by financially

supporting almost every club and voluntary group

in the parish, the local schools and St Andrew's

Church, (see fire alarm on page 11) and helping The

Parish Magazine to create an online archive of past

issues.

We began this two-part review of Sonning's

Volunteer Fire Brigade with the report in the

November 1904 issue of a Sonning Parish

Council meeting when it was suggested to ask

for subscriptions to purchase a stand pipe. This

suggestion led to starting a fire brigade. It was one

that would not only improve village life then, but still

does today, and it also had a significant impact way

beyond our parish boundaries.
---
26 The Parish Magazine - November 2021 Please mention The Parish Magazine when responding to advertisements

STEP INTO THE SEASON WITH OUR LOCAL

EVENTS TO EXPERIENCE

AUTUMN AWAKENING

reception@thegreathouseatsonning.co.uk

0118 969 2277 l www.greathouseatsonning.co.uk

Bright and Fresh

The Professional Carpet,

Upholstery, Curtain and

Leather Cleaning Specialist.

0118 9883026 ~ 07956137308

www.brightandfresh.co.uk

info@brightandfresh.co.uk

Plumbing & Decorating Service

Complete Project Refurbishment

Repairs to Bathroom Suites, Showers

Toilets, Basins, Radiators and more ...

Full Interior and Exterior Decorating

Reliable, Clean and Efficient

DAVID SHAILES

0770 860 2442 i.plumber@btinternet.com

www.iplumberuk.com

Interior & exterior blinds,

shutters, awnings

& screens

Always excellent service

and great value

www.blinds-reading.co.uk

Call John at Blinds Direct

on 0118 950 4272

johndacre@blinds-reading.co.uk
---
around the villages — 1

Food Bank crisis — urgent

donations required!

Reduced donations of dried and canned foods for the Woodley Food Bank and

an increasing demand for more help for struggling families has led to reports

of empty shelves. Add to this the approach of winter and Christmas and the

need for donations is even greater than ever before.

The Parish Magazine - November 2021 27

Blue Coat School

to be fully co-ed

in five years

The following items are in

desperate short supply.

— Tinned Potatoes

— Vegetable Soup

— Tinned Vegetables

— Tinned Fruit

— Custard, tinned and packet

— Tinned Tuna

— Sugar

— Rice

— Spaghetti

— Biscuits

— Cooking Oil

— Coffee

— Tea

— Toilet Roll

— Bathroom items: toothpaste,

toothbrushes, shower gel,

deodorant (male and female)

— Tinned Pies (meat and vegetable)

— Juice (long life) singles and 1 litre

— Milk (long life)

— Tinned desserts

Donations can be left just inside

the door of St Andrew's Church

Sonning between 10am and 4pm

every day, or at Asda in Lower

Earley, the Woodley Baptist Church

(Monday to Friday mornings),

Woodley Library, Waitrose in

Woodley, the Co-op Bulmershe and

the Woodley Food Bank store located

at Emmanuel Church, Southlake

Crescent (Monday to Friday

mornings).

The sun sets on Sunrise care home

as Signature signs in at Sonning

On 1 December 2021 the Sunrise of Sonning residential care home will be

changing its name to Signature. It is part of a UK-wide sale of Sunrise and

Gracewell homes previously owned by the US company Sunrise Senior Living.

The nearest Signature residential home is in Marlow. Signature will take on 18

Sunrise and two Gracewell homes, while Care UK will become the owner of the

remaining seven Sunrise and 19 Gracewell homes in the UK. Sunrise Senior Living

in the US is to focus its future business 0n growing its North American market.

Dr Natalie-Jane Macdonald, UK chief executive of Sunrise Senior Living and

Gracewell Healthcare, said: 'Sunrise has been proud to serve thousands of residents

over the past 20 years in the UK and to provide a great place to work for our

team members. Most recently, the commitment and resilience of our entire team

throughout the pandemic, and the support of our residents and their families, has

been outstanding. We are delighted to be working with two high quality providers

to ensure a smooth transition process to benefit our residents, families and teams.'

Aidan Roche, chief executive of Signature Senior Lifestyle, said: 'Adding 20 new

homes to our portfolio is the latest stage of the growth story that began when we

started the business in 2006 and is a testament to the hard work and dedication

of the entire Signature team. We will be working towards a seamless transition

for staff and residents and are hugely excited to be taking these next steps

together.'

Planning consent from Wokingham

Borough Council for Reading Blue

Coat School in Sonning to increase

the school's number of students has

allowed the governors and senior

leadership team to enable girls to

now join from the age of 11 years.

It is over 50 years since Reading Blue

Coat opened its doors to its first

female student, and 34 years since

the school had a fully co-education

sixth form.

Now, from September 2023,

the school is extending its coeducation

provision by welcoming

girls into Year 7 with the intention

of becoming fully co-educational by

September 2027.

The school's chair of governors,

Peter Bertram, said, 'Reading Blue

Coat School has seen a steady

increase in pupil numbers over the

last 10 years, so this decision to

extend our co-education provision

comes from a position of strength.

Academic results have improved

year on year and at the same time

our 45 acre campus has benefited

from considerable investment

providing 21st Century facilities

for our students and staff. We are

looking forward to our move to full

co-education and seeing the school

continue to develop and improve.'
---
28 The Parish Magazine - November 2021

Please mention The Parish Magazine when responding to advertisements

RENDEZVOUS IN THE ARK

for senior citizens

We meet every second

and fourth Tuesday

of the month.

To reserve your place

call:

WATER SOFTENER SALT

Tablet/

Granular 10kg

• 5 Bags £35

• 10 Bags £60

• 20 Bags £115

0118 969 3298

Tablet/

Granular 25kg

• 3 Bags £33

• 5 Bags £45

• 10 Bags £88

Harvey Block

Salt 2 x 4kg

• 3 Packs £33

• 5 Packs £45

• 10 Packs £88

FREE LOCAL DELIVERY

Email: Martyncollins@portmanpm.com

FOR OFFERS & PRICES ORDER ON LINE AT

www.salt-deliveries-online.com

Tel 07785 772263 or 0118 959 1796

Unit 2, 6 Portman Road Reading RG30 1EA

studio dfp

complete graphic

and web design

service on your

doorstep

Since 1984 · 0118 969 3633

david@designforprint.org

MUCK 'N' MULCH

THE LOCAL COMPOST COMPANY

Organic all purpose horse manure compost

Fully composted and milled to fine crumbly texture

Clean and pleasant to handle — weed free & pet friendly

10 BAGS MINIMUM DELIVERY

Half Pallet: 35 bags — Full Pallet: 70 Bags

FREE DELIVERY — SPREADING & MULCHING SERVICE AVAILABLE

24 hour: 0783 143 7989 T: 0179 357 5100

www.muckandmulch.co.uk

Assisted Living | Nursing | Dementia Care | Respite

WELCOMING NEW RESIDENTS!

Studio suites and one-bedroom apartments,

all with en suite wet rooms and kitchenettes

Cliveden Manor, Signature's care home

in Marlow, provides exceptional care by

compassionate people for both individuals and

couples. The home has a variety of communal

areas and the apartments are typically twice the

size of an average care home.

To find out more or to arrange a visit to our

lovely home, please contact Jan Marples – Client

Liaison Manager

01628 702319 | enquiries.cliveden@signaturesl.co.uk | signature-care-homes.co.uk

210 Little Marlow Road, Marlow, SL7 1HX
---
around the villages — 2

The Parish Magazine - November 2021 29

Back to normal for Sonning Show . . .

George and John enjoyed being back in Pearson Hall

... so say the members of Sonning Art Group after the Sonning Show when they

had a very successful day out. Added to this, the group are now back in Pearson

Hall for their regular meetings. Jill Watkins, pictured left, had a particularly

satisfying show — she carried away the coveted George Lamb Trophy presented

for the most popular picture voted for by visitors to the group's exhibition at the

show.

SONNING VILLAGE SHOW PRIZE WINNERS 2021

Preserves & Cookery: Brutton Cup for most points — Diane Reeves

Victoria Sandwich: Sonning Glebe WI Golden Spoon —Christine Emmett

Jubilee Cup (men only) — Tom Leviss

Vegetables: Hillier Cup for the most points — Jackie Holland

Best Onions: Nobby Clark Onion Cup — Emelia Silvey

Collection of four kinds veg: Les Moss Tankard — Lynn Woodhouse

Overall Winner: David Penny Pumpkin Trophy — John Gale

People's Choice Prize: The Flower Club — Yvonne Hatcher

Children's Prize: The Flower Club — Ashling Hyland

Photography: Sonning Glebe WI Trophy — Karen Mccoy

Craft: British Legion Cup — Jane Hunt

Art Best Exhibit: Bill Gallimore Trophy — Saskia Mercer-Gray

Bygone Days: Martha Angel Centenary Cup — Sonning Club

Overall Winner: Wethered Flower Cup — Arthur Thomas

Children's Section: White Hart Cup — Jonathan & Sophia Smyly

Infants Section: £10 — Izzy Sawyer

Pegs Egg Challenge — Jeff & Hannah

Sonning Art Club People's Choice: George Lamb Trophy — Jill Watkins

Charvil singing for female voices

Here's two, not to be missed, singing opportunities for Charvil's female voices led by

local music teacher and choir director Suzanne Newman in Charvil Village Hall:

Saturday 4 December, 2-4pm: Sing some great Christmas songs arranged for a

two-part female voice choir, including: Deck the Hall, Jingle Bells, We wish you a

Merry Christmas, I'll be home for the Christmas, and Home for the Holidays. The £10 fee

includes music and light refreshments.

10, 11, 12 April, 6-8pm: A Les Miserables singing course from the film version

of the show. This course is limited to 20 singers who will need to attend all three

sessions. The £30 fee includes the music.

For more details contact: Suzanne 0118 934 0589 / suzanneynewman@btinternet.com

An autumn pastel by Jean Hutchinson

Sonning School

open days for

prospective

parents

Sonning CofE Primary School is

inviting prospective parents to

join the staff and pupils at one

of two forthcoming open days

on Wednesday 24 November or

Monday 6 December.

Further details about the school's

excellent facilities and the open days

can be found on the school website:

http://www.sonning.wokingham.sch.uk

or by telephoning the school on:

0118 969 3399.

Performing Arts

Centre Appeal

While a substantial sum has already

been raised for the new Sonning

CofE School's Performing Arts

Studio (see our June 2021 issue) there

is still some way to go. If you would

like to help this worthy local cause

please visit:

http://www.peoplesfunding.com/

fundraising/performing-arts-centre

where there is more information

about this exciting project and the

opportunity to make a donation!
---
30 The Parish Magazine - November 2021

Please mention The Parish Magazine when responding to advertisements

The Window Cleaner

• Interior & exterior

• All windows, frames, sills & doors

• Conservatory cleaning

• Fully insured

We provide a reliable, professional service, ensuring that your home

will sparkle. For a free quote call or email

07967 004426

thewindowcleaner1@googlemail.com

24 hours service | Private client parking | Private chapel of rest

Free home visits | Pre-paid funeral plans | Full written estimate

Woodland funerals | Religious and non-religious services

Tel: 01491 573370

www.tomalins.co.uk tomalin@btconnect.com

Anderson House, 38 Reading Road, Henley-On-Thames, RG9 1AG

A Family Run Independent Funeral Service

Do you, or a loved one, require

support at home?

Q1Care prides itself in offering 'high quality' home

care to enable people to stay safe and independent

at home. We offer as much, or as little, support as

required. From companionship, practical help,

through to complex needs.

Work with us?

Become a valued employee, join a team that cares

and make a difference to your community. Please

email: heloise.slater@q1care.co.uk for more

information.

Home Care across West Berkshire & South Oxfordshire

Email us: info@q1care.co.uk / heloise.slater@q1care.co.uk

Call us: 0118 932 3865

Visit us: www.q1care.co.uk
---
History

Was it really . . .?

. . . 150 YEARS AGO on 10 November 1871 that Welsh

journalist and explorer Henry Morton Stanley (born John

Rowlands) located the missing missionary and explorer Dr

David Livingstone near Lake Tanganyika in present-day

Tanzania. He might, or might not, have greeted him with the

words: 'Doctor Livingstone, I presume?'

. . . 125 YEARS AGO on 16 November 1896 that Oswald

Mosley, British fascist politician, was born. He was

imprisoned for three years in 1940 for founding the British

Union of Fascists.

. . . 100 YEARS AGO on 11 November 1921 that poppies

were sold for the first time in British and Commonwealth

countries to commemorate military personnel who died in

war. In the UK they are sold by the Royal British Legion to

raise funds for current and former members of the British

Armed Forces. Around 30 million poppies are sold each year.

. . . 90 YEARS AGO on 30 November 1931 that the Crystal

Palace in London was destroyed by fire.

. . . 80 YEARS AGO on 13 November 1941 that the British

aircraft carrier HMS Ark Royal was torpedoed by a German

submarine in the Mediterranean Sea near Gibraltar. It sank

the following day.

The Parish Magazine - November 2021 31

. . . 65 YEARS AGO on 5 November 1956 that Premium

Bonds went on sale in the UK. They were designed to

encourage saving, and offered cash prizes instead of interest.

.. . . 50 YEARS AGO on 14 November 1971 that NASA's

Mariner 9 spacecraft (launched in May) reached Mars. It

was the first spacecraft to orbit another planet. Mars was

engulfed in a dust storm, but eventually images were made

of 85% of the surface. It was deactivated in October 1972.

. . . 40 YEARS AGO on 12 November 1981 that the US Space

Shuttle Columbia was launched on its second flight into

space and became the first reusable manned spacecraft.

. . . 30 YEARS AGO on 18 November 1991 that the Church of

England envoy Terry Waite was released by Islamic Jihad in

Lebanon after being held hostage since January 1987.

. . . 25 YEARS AGO on 30 November 1996 that England

officially returned the Stone of Scone to Scotland after 700

years. Scotland agreed to loan the Stone to Westminster

Abbey for future coronations.

. . . 20 YEARS AGO from 12-13 November 2001 that the

Afghanistan's ruling Taliban abandoned the capital as US/

NATO/Northern Alliance forces entered the city.

Planning Your

Traditional Wedding?

Then you might like to

discuss the possibility of

marriage in our ancient and

beautiful parish church.

If so, call the vicar, Jamie

0118 969 3298

He will be pleased to help!

In addition to the stunning and historic location in Sonning,

we will work hard to provide you with a memorable and

moving occasion. We can provide a choir, organ, peal of

eight bells, beautiful flowers, over 100 lit candles set in

ornate Victorian chandeliers and the use of our beautiful

churchyard as a backdrop for your photographs.

Church of St Andrew

Serving Sonning, Charvil & Sonning Eye

the church of st andrew SERVING CHARVIL,

SONNING & sonning eye since the 7 th century
---
32 The Parish Magazine - November 2021

Please mention The Parish Magazine when responding to advertisements

For a helpful professional service

FIELDSPHARMACY

Wide range of health advice provided

including private consultation area

1a LONGFIELD ROAD, TWYFORD RG10 9AN

Telephone: 0118 934 1222

Fax: 0118 932 0372

Email: fields.pharmacy@gmail.com

CHRIS the plumber

I offer the same friendly, reliable service as

always but in addition to general plumbing

I now offer domestic and commercial gas

work — boiler repairs, installations, fault

finding, power flush.

Repairs not covered by Homeserve?

Speak to a tradesman, not a salesman!

Emergency call out available

Ask Chris Duvall for a FREE quote

christheplumber75@gmail.com

0785 095 6354

3584769
---
HEALTH

On the surface we may answer this question with the five

senses in mind: sight, hearing, smell, taste and touch.

However, we all interpret the signal from our sensory

nervous system differently. Some eating a chilli may have

markedly different reactions. Broccoli and sprouts cause

delight and disgust; and there is always the Marmite

argument. Equally, painful stimuli can be agony for one

and mild discomfort in others.

It wasn't until the second half of the 20th Century that

scientists discovered the different nerves that allowed us to

sense temperature, movement, pressure and pain.

Nerves transmit electrical signals. We know from

research that each nerve requires a chemical reaction to

trigger the next nerve to fire and eventually a part of the

brain is triggered and we then perceive the world around us.

What we didn't know was what triggered the sensory

nerves to initiate the signals. Why does chilli make us feel

heat and menthol cold? Why is some pressure on our skin

unpleasant but other pressure is pleasurable?

We are closer to understanding the mechanisms thanks

to the teams led by David Julius and Ardem Patapoutian in

the US who have just been announced as joint Nobel prize

winners in Physiology or Medicine for 2021.

The vast majority of human physiological functions are

triggered by the activation of receptors — the locks. The

triggering factor is the key. The keys well known to us are

chemical keys, such as drugs, alcohol, nicotine, hormones

and surface proteins of bacteria and viruses. When these

receptors are activated they allow the movement of ions

across our cell membranes which creates an electrical

gradient and thus an electrical signal. But how does

pressure work, there is no chemical reaction?

It seems we have receptors that 'open' ion channels

when pressure is applied to the cell membrane.

They found them by, literally, poking cells with a very,

very, small pipette. The receptors are coded by our genes.

For the pressure receptors they found 72 genes that could

be involved.

One by one they switched these genes off until the

cell gave no measurable signal. They named the receptors

'Piezo', from the Greek word for pressure, píesi.

What made us eat chillis? Surely the pain would put us

off trying a second one forever!

Capsaicin is the chemical in chillis that causes us to

feel heat, even if the chilli is cold. Menthol makes us feel

cold, even if it is hot. What is going on?

The team in America theorised that these chemicals

caused a response in the body and there would be a

section of DNA that produced the protein that reacted to

capsaicin. They introduced this DNA to cells that didn't

normally react to chilli. When they found this protein

its activation caused an ion channel to open and set off

the reaction to create a nervous impulse. They named it

The Parish Magazine - November 2021 33

Dr Simon Ruffle asks . . . how do we perceive the world?

LOCK AND KEY

PRESSURE

FEELING HOT HOT HOT

TRPV1. They then studied its reaction to heat and found

that at 430C it opens. Try heating water to 430C. It won't

burn unless you remain exposed for minutes but it is the

point where you will feel uncomfortable.

Similarly menthol also has its own receptor TRPM8

which activates at cooler temperature.

IMPLICATIONS

At the moment our treatments for pain relief is very

crude. The most powerful of medications block channels

in our brain and have pretty awful side effects, they are

also addictive and many studies show that the quality

of some people's lives are significantly reduced over and

above just the misery of pain. For acute conditions they

are brilliant but not for chronic pain. Being able to stop

the signals at source would be fantastic. Capsaicin is

already used in a pain relieving cream.

Being able to change the way we 'feel' pressure may

also have many applications especially in where that

mechanism has gone wrong such as amputees and where

the person feels light touch as pain and in chronic pain

syndromes.

HUGS

So giving a loved one a hug is now understood a little

better, however I wouldn't suggest mentioning Piezo

receptors at that moment or threaten someone with I'm

going to stimulate your Piezo receptors with my fist!

PUTTING IT ALL TOGETHER

Simon Ruffle

The photograph with this article is taken from inside a

bar in Rome.

A pleasantly warm day in spring, we'd walked to the

Colosseum and walked back to Piazza Navaro. Repeated

pressure on our feet started to make it uncomfortable to

walk, so we sat down; enjoyed a cold beer and a delicious

lunch with a slight kick of chilli. Later after a walking

tour of the Forum, we enjoyed a very nice gelato, mine

was mint!

If only I'd have put it altogether I'd have a Nobel prize

to my name. Instead, I have a chemical and nervous

pathway created by stimuli that I can use to remember

that day; which I still perceive as one of my favourite

days!
---
34 The Parish Magazine - November 2021

Please mention The Parish Magazine when responding to advertisements

Cruz Kitchens

Bespoke, Made to

Measure Kitchens

Designed | Supplied | Installed

Call 0118 961 1295

Email: info@cruzkitchens.co.uk

Visit: www.cruzkitchens.co.uk

ALL WASTE CLEARANCE

John and his team can clear all waste and

rubbish from your office, house, garden or loft.

He can deal with property clearance for probate

and the demolition of any outbuildings –

sheds, greenhouses, garages, conservatories,

summer houses, etc

LICENSED WASTE CARRIERS - NO JOB TOO SMALL!

Free phone: 0800 012 6798

Mobile: 0771 021 2056

email: j.garmston@ntlworld.com

DAC Mobility Services

Keeping you on the move

Mobility Scooters

Wheelchairs

Power Chairs

Stairlifts

Contact Your Local Engineer

07885 750350

dacmobility@gmail.com

Sales . Servicing . Repairs . Callouts

We also have a selection of

refurbished mobility scooters.

We come to you!

www.dacmobilityservices.co.uk

It's a new day at Sunrise

As we move into Autumn and the days get shorter, thoughts naturally move

to the future. So what better time to think about what happens next when it

comes to your loved one's care?

At Sunrise of Sonning, residential, nursing, dementia and palliative care is

not just about providing practical support. It's about creating community,

friendships and memories.

We encourage our residents to get involved in their home in whatever way

suits them, from flower arranging to being a Sunrise resident ambassador,

retaining and building purpose and self worth.

Over 96% of our residents and team members have received their

second vaccination.

Call 0118 338 2986 or visit SunriseSonning.co.uk for more details.

25 March 2021

Sunrise of Sonning

Old Bath Road, Sonning, Berkshire RG4 6TQ

Residential, nursing and dementia care home

ADV_SON_0821_ParishMagazine_02.indd 1 24/08/2021 12:30
---
HOME & GARDEN

Recipe of the month

New England Pecan Pie

From Emma of Emma's Kitchen, Twyford

The Parish Magazine - November 2021 35

In the garden

Ingredients

— 500g pack sweet shortcrust pastry

— flour, for dusting

— 75g butter, softened

— 100g golden caster sugar

— 175g golden syrup

— 175g maple syrup

— 3 eggs, beaten

— ½ tsp vanilla extract

— 300g pecan halves

Method

On a lightly floured surface, roll out the pastry. Use the pastry to line a 23cm

tart tin (keeping any off-cuts in case you need to fill any cracks after blindbaking).

Prick the base of the pastry case with a fork and chill for 30 minutes,

or until firm . . .

. . . or, you can cheat and buy a ready made base!

Heat oven to 1900C/1700C fan/gas 5.

Line the pastry case with baking parchment, fill with baking beans and bake

for 15-20 minutes until the sides are set. Remove the beans and parchment and

return the tin to the oven for 5-10 minutes until the pastry is golden and the

base is set. Leave to cool.

Increase oven temperature to 2000C/1800C fan/gas 6.

Use an electric whisk to beat the butter and sugar together until light and

fluffy.

Keep the beaters going and pour in both of the syrups.

Gradually add the eggs, ¼ tsp salt and the vanilla, then whisk until combined.

Stir through the pecans, then pour the mixture into the tart case.

Bake for 10 minutes.

Turn heat down to 1600C/1400C fan/gas 3 and continue baking for 30-35

minutes. The pie should be golden brown and the filling should wobble a little

in the centre when shaken.

Leave to cool in the tin. You will probably need to run a knife around the tin to

lift out the pie.

Serve with whipped cream or ice cream.

is back! . . .

Third Sunday of the month in The Ark at 3pm

revkate@sonningparish.org.uk

motortion, dreamstime.com

Plant beans, peas

and trees now

for tomorrow

November is no excuse not to get

out into the garden. As well as

giving everything a good tidying

you can also sow some broad bean

and hardy pea seeds for an early

spring crop and, of course, it is the

start of winter tree planting season

which runs from November to

March.

Broad beans and early peas such as

'Meteor' and 'Kelvedon Wonder' are

best sown under cloches that not

only protect them from any harsh

winter frosts, but will also save the

fresh shoots from being plundered

by hungry pigeons!

TREE WEEK

This year's National Tree Week

sponsored by the Tree Council

starts on Saturday 27 November.

While there is nothing to stop

you appreciating the old trees in

your garden by giving them a hug,

probably the best way to celebrate

trees is to plant some more!

To find out how to do this visit:

https://treecouncil.org.uk/take-action/

seasonal-campaigns/national-tree-week/

where there is a lot of helpful

information about planting and

caring for trees.
---
36 The Parish Magazine - November 2021

Please mention The Parish Magazine when responding to this advertisement

W E L L N E S S B Y D E S I G N

A T A I L O R M A D E S O L U T I O N , W H E R E L U X U R I O U S

I N T E R I O R D E S I G N A N D F I T N E S S E Q U I P M E N T

C O M E T O G E T H E R T O M E E T Y O U R N E E D F O R A

G R E A T E R S E N S E O F W E L L B E I N G A N D S E R E N I T Y

I N Y O U R H O M E

P R O J E C T M A N A G E D F R O M C O N C E P T T O C O M P L E T I O N

J O A N N A @ S A B E L L A I N T E R I O R S . C O M

W W W . V E L V A E R E F I T . C O M

0 7 7 8 0 8 3 6 7 4 7
---
the sciences

Should we have faith

in science?

dotshock, dreamstime.com

By Dr Ruth M Bancewicz, church engagement director at

The Faraday Institute for Science and Religion, Cambridge

How do you feel about science after more than 18 months

of pandemic: tired or interested, impressed or cynical –

or a bit of everything?

The response to Covid-19 has demonstrated how ideology

or world view are hugely influential in our interpretation

and use of scientific data — and at times in the process

of experimentation itself. Should we trial a vaccine in

Spain or South Africa? Is this treatment safe enough to

administer to the general public? Should vaccination be

made compulsory? The data does not tell us what to do.

So, when we are encouraged to 'trust the science' in our

ongoing response to the pandemic, or in the run-up to the

COP26 UN climate change conference, how can the Church

respond?

The whole Biblical story affirms that God is the only

one in whom we can have complete faith. On the other

hand, I put a certain amount of trust in other things. I can

have faith in a plane, a body of knowledge, or a person.

This trust is within limits because I know that air travel

involves hazards, a body of knowledge will contain some

mistakes, and every ordinary human is fallible.

KNOWLEDGE IS PROVISIONAL

I trust science to some extent because it involves

careful observation and measurement, collecting different

kinds of evidence. Data is interpreted, and competing

interpretations are tried out. We summarise our findings

in general principles or mathematical equations. Scientists

keep each other accountable by looking critically at each

other's work. Our knowledge is always provisional. You

can't prove anything scientifically because we only deal in

evidence, not proof.

On the other hand, there must always be the potential

to disprove a theory or it's not science. Our aim is to

keep getting nearer to the truth about the way the world

is. Overall, I believe this method is reliable and worth

supporting, but that only God is completely trustworthy.

Psalm 8 reminds us both of the splendour of God's

creation, and that he has placed us in a position of

responsibility over it. Scientific knowledge can be part of

what helps us to rule well. The process of doing science can

be a bit like a blurry image coming into focus. The more we

learn, the better we can usually see what's going on, and

hopefully the easier it is to decide on a course of action.

So in answer to the question 'Should we have faith in

science?' I would say yes, when used wisely and within its

proper limits.

the ARTS — 1

All who

pass

this

way,

look

and

see

The Parish Magazine - November 2021 37

By Rev Michael Burgess

El Greco, public domain, Wikimedia Commons

The philosopher Wittgenstein advised people visiting an art

gallery or exhibition to never rush through all the paintings

on show, but instead choose just one painting. Sit in front of

it for 20 minutes. Then get up and leave the art gallery.

It is difficult advice because we feel we want our money's

worth. Once inside we feel so overawed by the number of

paintings and the pressure of the crowd that we go quickly

from one canvas to the next.

The rushing around in a gallery is part and parcel of the

way we meet each day. We rush out of habit, and we rush

because everyone else is rushing. Our world seems set in the

fast lane. Carl Honoré in his book In Praise of Slow tells how,

as a busy journalist, he experienced a flashback to a time in

his youth when life was unhurried. He reflects, with regret,

that it was a better life then.

If we take Wittgenstein's advice seriously and find ourselves

in the National Gallery, Edinburgh, we could do no better than

to sit in front of this month's painting: El Greco's The Saviour.

Born in 1541 in Crete, El Greco travelled to Venice, Rome and

then to Toledo in Spain where he died in 1614.

AN INNER STRENGTH

His art is a fusion of eastern and western traditions, given

extra fervour by the Counter-Reformation and resulting in a

unique style of painting. His canvases have elongated figures

who seem to be straining upwards, just as the Counter-

Reformation was exhorting the faithful to set their sights on

heaven as they made their journey through life.

In Crete El Greco trained as an icon painter, and that is

much in evidence in The Saviour. It shows a half-length figure

of Christ — he painted a fuller figure later. This Christ like

icon is looking out at us, with his right hand raised to bless

us and the world, while the left hand holds that same world

in his care. We can see in the eyes an inner strength, but also

the poignant sadness of longing for this is a Saviour who has

come through suffering and death to bring us new life.

We find in El Greco's work a Christ-calmed steadiness

amid the spinning world of rush and busyness. The nearer we

draw to Jesus, the slower we will find ourselves spinning. The

duties and responsibilities that demand so much from us take

their place in the wider perspective of the Saviour's grace and

love. Then we can begin to experience that peace which the

world cannot offer, but which Christ can bring.
---
38 The Parish Magazine - November 2021

THE ARTS — 2

Celebrating Christmas —

Embracing joy through art and

reflection, Amy Boucher-Pye,

BRF, £9.99: A hardback gift with

images and words to explore

the joys and sorrows of

Christmas in a broken world,

which is 'why Jesus came to

earth!'

The Christmas Story - for

families to share, Martyn

Payne, BRF £2.50: Colourful,

engaging and deceptively

simple, it is designed to help

parents, grandparents and carers

share with their children through

a fun and interactive family Bible.

The Whole Christmas Story — an Advent adventure through

Genesis, Revelation and points in between, Jo Swinney,

BRF, £8.99: Over 120 gospel verses take you from Gabriel's visit

to Mary to the family's escape to Egypt with daily readings,

reflections and prayers, from Advent Sunday to Epiphany.

The Impossible Promise, Bob Hartman, Bible Society, £2:

Get involved with the nativity like never before by colouring in

your favourite characters and imagining what they think and say.

The Christmas Visitors, Deborah Lock, LionChildren's, £9.99:

This beautifully illustrated faithful retelling of the Christmas

story will spark the imaginations of young children. An ideal

read aloud story, sharing with children the joy and wonder of the

events of the first Christmas.

The Christmas Story, Karen Williamson, Candle Books, £6.99:

A delightful re-telling of the Christmas story, ideal for sharing

with toddlers, with bright charming illustrations.

An Advent Book of Days — meeting the characters of

Christmas, Gregory Cameron, Canterbury Press, £9.99:

An Advent Book of Days tells the stories of the characters and

creatures that make up the Christmas story, with daily prayers

and reflections based on their experiences.

The Weirdest Nativity, Andrew Sach and Jonathan Gemmell,

10Publishing, £2.99: As well as the baby, the stable, the manger,

etc it includes an enormous red dragon. His story is tucked away

in the lesser-known pages of the Bible and his terrible deeds are

facts of history. Though few people are aware of him, he is fighting

a battle in which we all must choose sides.

When Santa Learned the Gospel, Simon Camilleri,

10Publishing, £3.99: Follow Santa's journey as he learns about

Jesus' message of grace and discovers what it means for the

naughty and the nice.

The Characters of Christmas Storybook: Ruth Hearson,

10Publishing, £3.50: Lots of different characters play a part in

the wonderful story of Christmas. Children can meet them all in

this beautifully illustrated book, and learn how they can be part of

the most amazing story ever!

Poetry corner

All Saints by Edouard Amedee Didron, stained glass window in Saint

Thomas Aquinas in Paris, France

Zatletic, dreamstime.com

Saints Splendorous

By Steven Rolling, to the tune: Sine Nomine — 'For all the

saints' Revelation 7:9-17

1. John did behold, and, lo, great multitude

Which no one could number, these he sure views

All nations, peoples, kindreds, praise renewed

Alleluia, Alleluia!

2. They stood before the Lamb, and too the throne

Clothed in white robes, Jesus as Lord they own

With palms in hands, they worship Him alone

Alleluia, Alleluia!

3. They cried with loud voice, saying, Salvation

To our God, He atones for each nation

Sits on the throne. The Lamb He be His Son

Alleluia, Alleluia!

4. All angels worshipped, and all gathered there

In endless jubilation they do share

With saints, redeemed ones, e'er under His care

Alleluia, Alleluia!

5. They said, Amen, Blessing, wisdom, glory

Thanksgiving, honour, power, and might be

To our God ever, through eternity

Alleluia, Alleluia!

6. One there said to John, These be they which, see

Came forth from great tribulation, now free

Their robes washed in the Lamb's blood, white now be

Alleluia, Alleluia!

7. Therefore they before God's throne day and night

Serving Him in His temple, in His sight

He swells among them, here endless delight

Alleluia, Alleluia!

8. They hunger nor thirst any more, for so

The Lamb shall feed them lead to fountains flow

Of waters, every tear gone, glory's glow

Alleluia, Alleluia!
---
CROSSWORD

1 2 3 4 5 6 7

8

9 10

11 12

13 14 15

17 18 19

16

20 21

22 23

Across

1 Money that is owed (4)

3 Supervisor (8)

9 Part of an orchestra (7)

10 Floral leaf (5)

11 Takes a break (5)

12 Rubbish (7)

13 Routed (anag) (6)

15 Simple; unrefined (6)

17 Leaning at an angle (7)

18 Latin American dance (5)

20 Existing (5)

21 Selfish person (7)

22 Writer literary works (8)

23 Gelatinous substance (4)

1 - Money that is owed (4)

3 - Supervisor (8)

9 - Part of an orchestra (7)

10 - Floral leaf (5)

11 - Takes a break (5)

12 - Rubbish (7)

13 - Routed (anag) (6)

15 - Simple; unrefined (6)

17 - Leaning at an angle (7)

18 - Latin American dance (5)

20 - Existing (5)

21 - Selfish person (7)

22 - Writer of literary works (8)

CODEWORD

Down Down

1 Completely 1 - Disreputable (opposed) (13) (13)

2 Data entered 2 - Shouts into orders system (5) (5)

4 Distinct being

4 - Countenance

(6)

(6)

5 Children's toy (12)

6 Sincere (7)

6 - Take out (7)

7 Impulsively (13)

7 - Amusement park ride (6,7)

8 Poorly fed (12)

14 Illness (7)

8 - Modestly (12)

16 Urge to 14 do - Totals something up (7) (6)

19 Vegetables 16 - Go related out of a place to (6)

onions (5)

5 - Consequence of an event (12)

19 - Reclining (5)

23 - Gelatinous substance (4)

26 3 8 14 18 17 20 22 24 8 7 10

25 16 12 22 13 4 8

13 16 17 8 19 17 7 3 19 12 21 7

1 13 15 8 13 24 10

24 25 25 8 26 24 10 24 20 13 10 8

8 3 7 24 8 20

3 8 13 6 8 3 22 25 13 7 20 13

7 15 26 24 24 15

7 10 3 13 24 26 2 10 8 15 8 6

23 8 10 17 13 8 13

8 15 15 17 24 13 24 3 25 24 9 10

3 15 19 15 11 26 8

5 24 13 15 15 17 13 25 10 2 17 7

A B C D E F G H I J K L M N O P Q R S T U V W X Y Z

1 2 3 4 5 6 7 8 9 10 11 12 13

R

14 15 16 17 18 19 20 21 22 23 24 25 26

O K

SUDOKU

Each of the nine blocks has to contain all the

numbers 1-9 within its squares. Each number

can only appear once in a row, column or box.

WORDSEARCH FOR POPPIES

Search for 20 words hidden in the grid above

that are from the story below ...

It was 100 years ago this month, on 11 Nov

1921, that Remembrance poppies were sold

for the first time in British and Commonwealth

countries to commemorate military personnel

who died in war. Amid the mud, blood and

carnage of trench warfare in World War 1, tens

of thousands of bright red poppies had grown,

marking the graves of the fallen. This led John

McCrae, a Canadian army physician who had

lost a colleague, to write 'In Flanders Fields':

In Flanders fields, the poppies blow, between

the crosses, row on row, that mark our place,

and in the sky the larks, still bravely singing, fly.

This image inspired the adoption of a red poppy

as the symbol of all soldiers who had died in

conflict. In the UK they are sold by the Royal

British Legion to raise funds for current and

former members of the British Armed Forces.

Around 30 million poppies are sold each year.

The Parish Magazine - November 2021 39

PUZZLE PAGE — the answers will be published in the next issue

REMEMBRANCE

POPPIES

COUNTRIES

COMMEMORATE

FLANDERS

PERSONNEL

THOUSANDS

MUD

BLOOD

SOLD

RED

CARNAGE

TRENCH

WARFARE

BRIGHT

GRAVES

FALLEN

FIELDS

SYMBOL

MILITARY

October

Solutions

CROSSWORD

D A I S W E A K N E S S

I N M N A A P

A S P H A L T L A R G O

M U L I E N N

E A T E N T R I D E N T

T O Y D S A

R A D I U M B O S T O N

I I R E S E

C U S H I O N C E L L O

A E S J O E U

L E A C H O P P R E S S

L S E I E K L

Y I E L D I N G E S P Y

CODEWORD

F I E N D S S E I Z E D

A A E M J E E

C A R I B O U E B A

I L U L A C Q U E R

A X I N G T T L

L E I E M E R Y

S H O P E D N

L A T H E L R A

A R Y K N O W S

R A V I O L I A L I

G E I N U Z Z L E D

O N N G O E E

S I T T E R R O N D O S

SUDOKU

WORDSEARCH HARVEST

MUSICALS QUIZ

1. My Fair Lady

2. Top Hat

3. Oklahoma

4. Singing in the Rain

5. Sound of Music

6. South Pacific

NOVEMBER QUIZ — suggested by Claude Masters: Name the top ten hymns (see page 7) from which these lines came . . .

. . . remember, as Eric Morecambe once said: 'they are not necessarily in the right order!

1. He whose word cannot be broken

2. Whose arm hath bound the restless wave

3. He is my light, my strength, my song;

4. Forgive our foolish ways

5. Be all else but nought to me, save that thou art;

6. My Saviour's love to me,

7. And was the holy Lamb of god

8. I am weak, but thou art mighty;

9. I see the stars, I hear the mighty thunder,

10. The darkness falls at thy behest;

St Andrew's Church by night Peter Rennie
---
40 The Parish Magazine - November 2021

Local Trades and Services

ACG SERVICES - LOCKSMITH

Locks changed, fitted, repaired and opened

Door and window locks fitted, UPVC door lock expert

Checkatrade member - Which Trusted Trader

Call Richard Homden: 0149 168 2050 / 0771 040 9216

Please mention The Parish Magazine when responding to advertisements

CHIROPODY AND PODIATRY

Linda Frewin MInstChp, HCPC member

General foot care and treatments

25 Ashtrees Road, Woodley RG5 4LP

0118 969 6978 - 0790 022 4999

CLARK BICKNELL LTD - PLUMBING & HEATING

Qualified Plumbing and Heating Engineers Gas Safe

25 years experience - local family run company

Office: 0118 961 8784 - Paul: 0776 887 4440

paul@clarkbicknell.co.uk

COMPUTER FRUSTRATIONS?

For jargon free help with your computer problems

PC & laptop repairs, upgrades, installations, virus removal

Free advice, reasonable rates

0798 012 9364 help@computerfrustrations.co.uk

INTERSMART LIMITED

Electrical Installation and Smart Home Automation

intersmartuk@gmail.com

Elliott — 0777 186 6696

Nick — 0758 429 4986

HANDYMAN & DECORATING SERVICES

Reliable and affordable

Small jobs a speciality!

Call Andy on 0795 810 0128

http://www.handyman-reading.co.uk

JAMES AUTOS

Car Servicing, Repairs and MOT

Mole Road, Sindlesham, RG41 5DJ

0118 977 0831

james_autos@hotmail.co.uk

ALL AERIALS

A local business based in Sonning. TV - FM - DAB aerials etc.

Sky dishes. Communal premises IRS systems, TV points.

Free estimates - All work guaranteed

0118 944 0000

MC CLEANING

We are a family business with excellent references

and we are fully insured

All cleaning materials provided

For free quote call: Maria 0779 902 7901

THAMES CHIMNEY SWEEPS

0779 926 8123 0162 882 8130

enquiries@thameschimneysweeps.co.uk

http://www.thameschimneysweeps.co.uk

Member of the Guild of Master Sweeps

PROFESSIONAL HOME VISIT WILL SERVICE

Thames Valley Will Service

Also Lasting Powers of Attorney and Probate Service

We are still working during the pandemic period

0134 464 1885 tvwills@yahoo.co.uk

AJH ROOFING Co (READING) Ltd

Tiling, Slating and Flat Roofing specialists

36 Chatteris Way, Lower Earley, RG6 4 JA

0118 986 6035 0794 447 4070

ajhroofingco.co.uk info@ajhroofingco.co.uk

WANT HELP WITH AN 'ODD JOB'?

For local odd jobs please call Phil on

0118 944 0000

0797 950 3908

Thames Street, Sonning

BIG HEART TREE CARE

Reliable and friendly service for all tree care

NPTC qualified — Public Liability of £10million

0118 937 1929 0786 172 4071

bighearttreecare.co.uk info@bighearttreecare.co.uk

SMALLWOOD

Landscaping, garden construction,

patios, lawns, fencing, decking etc

0118 969 8989

info@smallwoodcc.co.uk http://www.smallwoodcc.com

BEECHWOOD CARPENTRY & CONSTRUCTION SERVICES LTD

All types of Carpentry, Kitchens, Renovations

Built-in Cupboards & Wardrobes, Flooring & Doors

78 Crockhamwell Road, Woodley 0776 276 6110

http://www.beechwood-carpentry-construction.co.uk

CARER — COMPANION

Experienced lady carer who is local to this area

offers live-in support at competitive rates

Excellent references provided — Contact Louise

0784 226 2583 lasheppard61@gmail.com

PAINTER and DECORATOR

Roger McGrath has 25 years experience

Restoration painting work of any size undertaken

For a free quotation call

Roger 0742 332 1179
---
CHILDREN'S PAGE?

The Parish Magazine - November 2021 41
---
42 The Parish Magazine - November 2021 Please mention The Parish Magazine when replying to advertisements

information — 2

Parish contacts

Ministry Team

— The Vicar: Revd Jamie Taylor*

The Parish Office, Thames Street, Sonning, RG4 6UR

vicar@sonningparish.org.uk / 0118 969 3298

*Day off Friday

— Associate Vicar: Revd Kate Wakeman-Toogood

revkate@sonningparish.org.uk / 0746 380 6735

On duty Tuesday, Friday and Sunday

— Youth Minister: Chris West (Westy)

youthminister@sonningparish.org.uk / 0794 622 4106

— Licensed Lay Minister: Bob Peters

bob@sonningparish.org.uk / 0118 377 5887

Children's Ministry

— Alison Smyly office@sonningparish.org.uk / 0118 969 3298

Churchwardens

— Stuart Bowman sdbowman73@aol.com / 0118 978 8414

— Liz Nelson liz.nelson1@ntlworld.com / 0118 934 4837

Deputy Churchwardens

— Simon Darvall sdarvall@businessmoves.com 0793 928 2535

— Sue Peters mail@susanjpeters.com / 0118 377 5887

— Molly Woodley (deputy churchwarden emeritus)

mollywoodley@live.co.uk / 0118 946 3667

Parish Administrator

— Hilary Rennie

office@sonningparish.org.uk / 0118 969 3298

Parochial Church Council

— Secretary: Hilary Rennie 0118 969 3298

— Treasurer: Richard Moore 0118 969 2588

Director of Music, organist and choirmaster

— Hannah Towndrow BA (Oxon)

music@sonningparish.org.uk

Parish Website: http://www.sonningparish.org.uk

The Parish Magazine: http://www.theparishmagazine.co.uk

— Editor: Bob Peters

editor@theparishmagazine.co.uk / 0118 377 5887

— Advertising and Distribution: Gordon Nutbrown

advertising@theparishmagazine.co.uk / 0118 969 3282

— Treasurer: Pat Livesey

pat.livesey@yahoo.co.uk / 0118 961 8017

— The Parish Magazine is produced by St Andrew's PCC and delivered

free of charge to every home in Charvil, Sonning and Sonning Eye.

— The Parish Magazine is printed in the United Kingdom by The Print

Factory at Sarum Graphics Ltd, Old Sarum, Salisbury SP4 6QX

— The Parish Magazine is distributed by Abracadabra Leaflet

Distribution Ltd, Reading RG7 1AW

— The Parish Magazine template was designed in 2012 by Roger

Swindale rogerswindale@hotmail.co.uk and David Woodward

david@designforprint.org

Advertisers index

ABD Construction 10

ACG Services Locksmith 40

ADD Plumbing 12

AJH Roofing 40

All Aerials Sonning 40

All Waste Clearance 34

Barn Store Henley 16

Beechwood Carpentry and Construction 40

Big Heart Tree Care 40

Blandy & Blandy Solicitors 14

Blinds Direct 26

Blue Moose 8

Bridge House 43

Bridges Home Care 14

Bright and Fresh Cleaning 26

Bull Inn 8

Carer Companion 40

Chimney Sweep, Thames 40

Chiropody, Linda Frewin 40

Chris the Plumber 32

Clark Bicknell 40

Complete Pest Solutions 16

Computer Frustrations 40

Cruz Kitchens 34

DAC Mobility Services 34

David Shailes Plumbing & Decorating 26

Design for Print 28

Freebody Boatbuilders 6

Fields Pharmacy 32

French Horn 44

Gardiners Nursing 8

Graham Blake Soft Furnishing 6

Great House Sonning 26

Handyman, Decorating 40

Haslams Estate Agents 2

Hicks Group 16

Intersmart Electrical Installations 40

James Autos 40

Jones & Sheppard Stone Masons 16

Just Brickwork 20

Kingfisher Bathrooms 18

MC Cleaning 40

Mill at Sonning 4

M & L Healthcare Solutions 12

Mortgage Required 18

Muck & Mulch 28

Newgate Car Finance 20

Odd Jobs 40

Painter and Decorator 40

Pearson Hall Sonning 30

Pennymatters Finance Advice 10

Q1 Care 30

Reading Blue Coat School 18

Richfield Flooring 14

Sabella Interiors 36

Shiplake College 20

Signature Cliveden Manor Care Home 28

Sonning Golf Club 32

Sonning Scouts Marquees 32

Smallwood Garden Services 40

Style by Julie 10

Sunrise of Sonning Senior Living 34

Thames Valley Water Softeners 10

Thames Valley Wills Service 40

Tomalin Funerals 30

Velvaere Studio 6

Village Hamper 20

Walker Funerals 12

Water Softener Salt 28

Window Cleaner 30
---
Please mention The Parish Magazine when responding this advertisement

The Parish Magazine - November 2021 43

BRIDGE HOUSE

of TWYFORD

Because you deserve

the very best

Welcome to Bridge House Nursing Home

Established for 35 years, the elegant Georgian Grade II listed Bridge House has extended its facilities to

include a beautiful, light-filled and airy purpose built nursing home.

Our philosophy is built upon helping residents maintain their independence and dignity, whilst ensuring

their needs and expectations are fully met. We believe that being independent means having the freedom

of choice and flexibility over how the day is spent. Working closely with families and professionals

is fundamental in delivering and maintaining the required level of health and wellbeing.

At Bridge House, our comprehensive facilities and care provision is designed to deliver skilled,

professional and individually planned care in an unobtrusive manner.

Call 0800 230 0206

Visit www.bridgehouseoftwyford.co.uk

INDEPENDENT LIVING • ASSISTED LIVING • NURSING HOME

190821 - Bridge House Ad Parish Mag v01.indd 1 21/08/2019 18:06
---
44 The Parish Magazine - November Please mention 2021The Parish Magazine when responding this advertisement

The French Horn,

Sonning. Quality.

A continuing commitment to

wonderful food and wine.

0118 969 2204

www.thefrenchhorn.co.uk