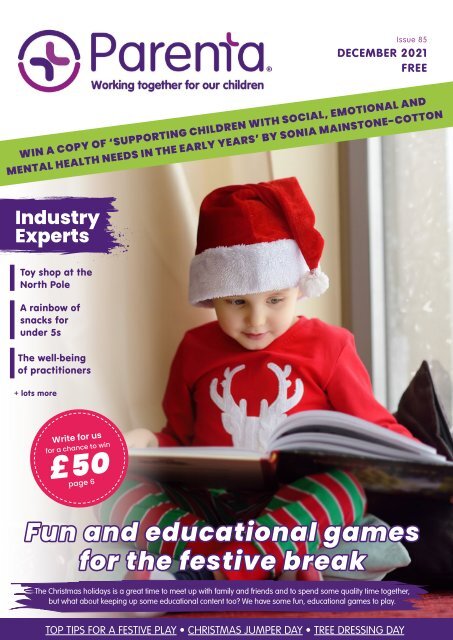 December 2021 Parenta Magazine
Create successful ePaper yourself
Turn your PDF publications into a flip-book with our unique Google optimized e-Paper software.
Issue 85

DECEMBER 2021

FREE

WIN A COPY OF 'SUPPORTING CHILDREN WITH SOCIAL, EMOTIONAL AND

MENTAL HEALTH NEEDS IN THE EARLY YEARS' BY SONIA MAINSTONE-COTTON

Industry

Experts

Toy shop at the

North Pole

A rainbow of

snacks for

under 5s

The well-being

of practitioners

+ lots more

Write for us

for a chance to win

£50

page 6

Fun and educational games

for the festive break

The Christmas holidays is a great time to meet up with family and friends and to spend some quality time together,

but what about keeping up some educational content too? We have some fun, educational games to play.

TOP TIPS FOR A FESTIVE PLAY • CHRISTMAS JUMPER DAY • TREE DRESSING DAY
---
Imagination

and expression

in the arts using

music in the early

years

This article presents ways to

celebrate the twelve days of

Christmas creatively.

hello

welcome to our family

Hello and welcome to the December edition of the Parenta magazine!

The season of joy and goodwill is upon us at last; and in this month's issue of the magazine, we really do have a

fantastic selection of festive advice and ideas for you!

Putting on "the Christmas play" is often the highlight of the year in many early years settings – at least that what

parents say! But anyone who has ever organised any kind of performance knows that behind every slick recital is a lot

of hard work, time and dedication. Turn to page 14 for our top tips that cover all bases to ensure this year's production

runs as smoothly as possible!

Music and movement expert, Gina Bale takes us on a magical journey, as we meet a polar bear and a seal who are looking for Santa's

workshop, in her speech and language article 'Toy Shop at the North Pole' – don't forget to download her free session plan, guide and

activity on page 9.

We also have some wonderful ideas that you can share with parents for the holidays! We've come up with some fun and educational

games to play with the whole family – from an indoor treasure hunt to brushing up on storytelling skills!

With all the excitement and hype that comes at this time of year, you will find Sonia Mainstone-Cotton's advice about supporting children

with social, emotional and mental health needs around Christmas time extremely useful. We have three of her fantastic books to give

away this month on this very subject. Turn to page 17 for details on how you can win one.

As always, all the advice, guidance, crafts and recipes you read in our magazine are written to help you with the efficient running of your

setting and to promote the health, happiness and well-being of the children in your care. We hope you love reading it as much as we

enjoy making it!

Please feel free to share the magazine with friends, parents and colleagues – they can sign up to receive their own copy here!

We wish you season's greetings and a happy new year.

Allan

Top tips for a

festive play

12

14

Anyone who has ever

organised any kind of

performance knows that

it involves a lot of hard

work. So here are some

top tips to help.

Supporting children

with mental health needs

around Christmas

We need to think about how we do

Christmas with children especially

those with SEMH needs.

16

DECEMBER

JUNE 2020

2021

ISSUE

ISSUE

67

85

IN THIS EDITION

IN THIS EDITION

Regulars

6 Write for us for the chance to win £50!

6 Guest author winner announced

22 Fruit kebabs - by The Food Teacher

23 Christmas wreath

News

4 Childcare news and views

35 Congratulations to our Parenta

learners!

Advice

10 National Safe Toys and Gifts Month

14 Top tips for a festive play

26 Fun and educational games for the

festive break

30 Christmas Jumper Day

38 Tree Dressing Day

Industry Experts

8 Toy shop at the North Pole

12 Imagination and expression in the arts

using music in the early years

16 Supporting children with social,

emotional and mental health needs

around Christmas

20 A rainbow of snacks for under 5s

24 Life lessons we can learn from children

28 The well-being of practitioners

32 Egg-cellent advice: A little room

36 What is the sense of learning?

Understanding multi-sensory learning

Life lessons we can learn from children 24

Egg-cellent advice: A little room 32

What is the sense of learning?

Understanding multi-sensory learning 36

Tree Dressing Day 38
---
Childcare

news & views

Education Secretary puts

climate change at the heart of

education

Education secretary Nadhim Zahawi has

promised to put the fight against climate

change "at the heart" of education in

England. During his speech at the recent

COP26 in Glasgow, he spoke about plans

for a new 'model science curriculum', due

to be in place by 2023 as well as his vision

for "all children to be taught about the

importance of conserving and protecting

our planet".

Teachers will be supported to deliver

world-leading climate change education

through a model science curriculum,

which will be in place by 2023, to teach

children about nature and their impact

on the world around them. Children and

young people will also be encouraged

to get involved in the natural world by

increasing biodiversity in the grounds of

their nursery, school or college by taking

small steps like installing bird feeders.

They will be able to upload their data

onto a new, virtual National Education

Nature Park – which will allow them to

track their progress against other schools

in the country, increase their knowledge

of different species and develop skills in

biodiversity mapping. They will also be

able to undertake a new Climate Award

in recognition for their work to improve

their environment, with a prestigious

national awards ceremony held every

year. The Climate Leaders Award will

help children and young people develop

their skills and knowledge in biodiversity

and sustainability and celebrate and

recognise their work in protecting the local

environment. Pupils and students will be

able to progress through different levels

of the award, 'bronze', 'silver' and 'gold',

in a similar way to the Duke of Edinburgh

Awards.

Education Secretary Nadhim Zahawi

said: "We want to deliver a better, safer,

greener world for future generations of

young people and education is one of

our key weapons in the fight against

climate change. Empowering teachers

in every school to deliver world-leading

climate change education will not only

raise awareness and understanding of the

problem, but also equips young people

with the skills and knowledge to build a

sustainable future.

And it goes beyond the classroom – the

National Education Nature Park and

Climate Leaders Awards will let pupils get

hands on experience of understanding,

nurturing and protecting the biodiversity

around them.

Today's measures will also build on

government's pledge for every new school

delivered under the Department's school

rebuilding programme to be cleaner,

greener and net-zero in operation."

Read the full story on the Parenta website

here.

New children and families

minister commits to SEND

review in open letter

Children and families Minister, Will Quince,

has written an open letter to all parents and

carers of children and young people with

special educational needs and disabilities

to talk about his ambitions for them and

their children.

In the letter, he describes his commitments

to the SEND Review, and publishing this in

the first quarter of 2022. He has published

the list of the members of the steering

group and the contact details for the group.

The steering group:

• informs the development of, and

feedback on, the Review's problem

diagnosis, identifying opportunities

and potential solutions, helping to

think through choices and trade-offs

associated with potential options

• shapes and provides steers on

policy solutions, tests the robustness

of proposals to deliver systemic

improvements, and offers advice

on deliverability and unintended

consequences of options

• supports the development of robust

implementation arrangements

informed by the evidence of what

has worked elsewhere, and advises

on arrangements for tracking

implementation and success

• advises, and supports delivery of,

the Review's communications and

stakeholder and user engagement,

identifying opportunities for shaping

content of the green paper

• supports development of consultation

products, including the green paper

itself, and robust, accessible and

inclusive consultation arrangements

He ends by stressing that he will be

visiting more education providers as well

as meeting with SEND organisations and

experts across education, health and care

to listen to their views. If the SEND review

goes according to the newest plan it will be

issued as a full consultation in the Spring

2022.

Read the full story on the Parenta website

here.

Children encouraged to focus on

speaking and listening to avoid

low achievement

Early years settings around the nation

have been invited to take part in 'No Pens

Day Wednesday', which takes place on 24

November.

The aim of the day, organised by the

children's communications charity, I

CAN, is to encourage children to focus

on speaking and listening for the day

and comes at a time when the number

of calls to the I CAN's enquiry service has

massively increased. Over a six-month

period, the charity has received over 600

calls – compared to 482 over a whole year

pre-COVID.

A spokesperson for I CAN said, "In early

years, language levels at age two predict

reading, writing and maths ability when

starting school. They also predict later

ability to regulate emotions and behaviour.

Good spoken language skills are a strong

predictor of academic success. Children

with poor language skills at age five are at

high risk of low achievement."

Read the full story on the Parenta website

here.

4 December 2021 | parenta.com

parenta.com | December 2021 5
---
We're always on the lookout

for new authors to contribute

insightful articles for our

monthly magazine.

Write for us!

If you've got a topic you'd like to write about, why

not send an article to us and be in with a chance of

winning? Each month, we'll be giving away Amazon

vouchers to our "Guest Author of the Month". You

can find all the details here:

https://www.parenta.com/sponsored-content/

Support Parenta Trust

When you shop at smile.amazon.co.uk,

Amazon donates

AmazonSmile is a website operated by Amazon

with the same products, prices, and shopping

features as Amazon.com.

The difference is that when you shop on

AmazonSmile and select Parenta Trust as your

chosen charity, the AmazonSmile Foundation will

donate 0.5% of the purchase price of what you've

bought to Parenta Trust.

Click here!

Visit www.parentatrust.com for more information

Win a copy of Sonia

Mainstone-Cotton's

fabulous book

"Supporting Children with Social,

Emotional and Mental Health Needs

in the Early Years: Practical Solutions

and Strategies for Every Setting "

We have three

copies of

Sonia's book

to give away.

Three lucky

readers picked

at random will

receive a

free copy of

the book!

To enter the competition email

marketing@parenta.com by

Monday 3rd January 2022

Congratulations

Youngest Chef

Award

to our guest author competition winner, Joanna Grace!

Congratulations to Joanna Grace, our guest author of

the month! Her article "Egg-cellent advice: Hand over

hand work" is part 1 out of a series of 10, exploring

her experiences with her youngest son 'Egg'. In this

article, Jo shows the importance of freedom when

children take part in creative activities. Well done Jo!

Sign up and receive:

Videos and Lesson Plans

Stickers

Posters

Books

Medals

A massive thank you to all of our guest authors for

writing for us. You can find all of the past articles

from our guest authors on our website:

www.parenta.com/parentablog/guest-authors

A fun, practical, purposeful and engaging award that ensures curriculum

coverage and basic life skills to support long-term health and wellbeing for

children aged 3+. The award is a 'Mini Muncher Challenge', which includes

5 exciting stand-alone lessons and additional resources/activities.

Find out more at: youngchefoftheyear.com

info@thefoodteacher.co.uk 01582 620178

6 December 2021 | parenta.com

Winner need updating

parenta.com | December 2021 7
---
Toy shop at the North Pole

Meet a polar bear and a seal who are looking for Santa's workshop?

Your very own Christmas Present from

Littlemagictrain

We know how hard it is to plan extra

activities for the children when you have so

much training and paperwork to complete.

To help you out, we wanted to give you

our exciting and fun adventure "Toy shop

at the North Pole" as a Christmas present.

And, we have also included all the linked

activities as part of your gift. Hope you

enjoy and have lots of fun with the children.

Now for the important

information

Gina Bale

Before you leave, tidy up to make sure

everything is ready for Santa as he has a

very busy night ahead.

"

It's

Peek at the presents to see who is inside.

Then find a way to stop and catch the

overexcited polar bear and seal as they

run away with the presents. They can't wait

for Christmas!

Find Rudolph and Dancer, big fans of

Strictly, and dance the tango together.

Open a present to find a very sad and

grumpy bear. We all have to work together

to cheer him up as we don't want a sad

bear on Christmas day.

Help the Nutcracker Prince look for the

Mouse King as he could be hiding behind,

under or on top of presents in the toy shop.

The Littlemagictrain is such a robust and versatile resource for targeting speech,

language and communication development. The "Toy shop at the North Pole"

is one of my favourite sessions. It's jam-packed with festive fun and plenty of

learning opportunities for vocabulary enrichment, developing linguistic concepts

and understanding "wh-" questions. I ran this session last year and despite being

exhausted from cheering up a grumpy bear, tangoing with reindeer and the big chase,

we had a fantastic time. The children shared their experience too saying, "this is the

best one" and "I'll remember this forever". It's so wonderful to make magical Christmas

memories with the children and develop their communication skills at the same time.

Liz Shoreman, Speech and Language Therapist

"

Your coupon code to

receive this gift is:

Christmas

But what does "Toy shop at the

North Pole" include?

• An introduction, session plan, guide,

illustrations and music

• Training videos to help you run the

session

• Certificate for the children to retrace

their journey

• Fun speech and language activities

• Festive creative activities

And there are even some little extras for

you:

Just follow this link to our "Just for the

little ones" page to find the books you will

see the fantastic reading lists supplied by

Campbell Books for all our adventures. In

"Activities", you will also find lots for the

children to use in your setting or at home to

continue the fun.

Do peek at the "Resource Sheets" as we

have sourced some fantastic polar bear

facts for you from National Geographic

KiDS.

"

How do I get this present?

1. Follow this link which will take you into

our "Christmas Activities".

2. Put all the items in this category in your

basket (you will see it comes to £62.25)

3. Then check-out, pop in your details and

then where it says "coupon code" use

the code "Christmas" and it will all be

100% FREE.

What are you waiting for?

Follow this link "Christmas activities" and

pop all the items in your basket. Use the

"coupon code" use the code Christmas and

it will be all yours and you have sorted your

planning for December.

If you have any issues or questions, please

do not hesitate to contact Littlemagictrain

on hello@littlemagictrain.com or 01865

321212.

Merry Christmas!

so wonderful to make magical Christmas memories with the children and

develop their communication skills at the same time.

Liz Shoreman, Speech and Language Therapist

Gina's background was originally

ballet, but she has spent the last 27

years teaching movement and dance

in mainstream, early years and SEND

settings as well as dance schools.

Whilst teaching, Gina found the time to

create the 'Hi-5' dance programme to

run alongside the Australian Children's

TV series and the Angelina Ballerina

Dance Academy for Hit Entertainment.

Her proudest achievement to date is her

baby Littlemagictrain. She created this

specifically to help children learn through

make-believe, music and movement.

One of the highlights has been seeing

Littlemagictrain delivered by Butlin's

famous Redcoats with the gorgeous

'Bonnie Bear' on the Skyline stage.

Gina has qualifications of teaching

movement and dance from the Royal

Ballet School, Trinity College and Royal

Academy of Dance.

Use the code 'PARENTA' for a 20%

discount on Littlemagictrain downloads

from 'Special Editions', 'Speech and

Language Activities', 'Games' and

'Certificates'.

"

8 December 2021 | parenta.com

parenta.com | December 2021 9
---
National Safe Toys

and Gifts Month

December is the biggest present-giving month of the year, and

come Christmas morning, children up and down the country will

be waking up to see if they have made it onto Santa's 'nice' list,

eager to play with all the new toys they receive. These gifts will

have been purchased by parents, grandparents, aunts, uncles,

cousins and many other relatives and friends, sent with love and

the hope that the child will get hours of pleasure playing with

the toy. No one wants the child receiving their present to end up

injured, blind or dead because of the gift they gave, but every

year, many children are unfortunately hurt, injured and some

tragically die because of presents that were unsafe and/or illegal.

December is designated National Safe

Toys and Gifts Month, and although this

started in the US, more and more people

around the world are recognising the need

to raise awareness of the safety of toys to

protect and safeguard our children.

In 2019, The British Toy & Hobby

Association (BTHA) published a report

called "Don't Toy With Children's Safety"

into the safety of toys it had purchased

online from several large online retailers

including Amazon, eBay and AliExpress. It

makes sobering reading for anyone who

has ever purchased toys online and is

even more relevant when we know that

58% of toys are now bought from online

sites rather than in person, in high-street

stores. Of the toys purchased:

• 49% failed to comply with UK safety

requirements

• 22% of the toys in the study had

serious failures that could threaten the

physical safety of children

Some of the most common

issues found included:

• The existence of small parts and small

balls in toys for under-3s which can be

a choking hazard

• Easily removable button cell batteries

which can cause death by burning

through the oesophagus if swallowed

• Overly powerful magnets that can

cause serious injury or death if

swallowed, by sticking children's

intestines together

• Non-conformity issues included a lack

of traceability warnings

• Counterfeit copies

• Lack of warnings markings and/or

appropriate labelling

According to the report:

"Currently, online marketplaces that allow

third parties to sell products through

their platforms have limited insight into

the quality and safety of those products

and little incentive to assume any

responsibility for them because of the lack

of accountability."

Another one of the problems perceived

by the writers of the report suggests that

people assume that just because they can

buy the products, they assume they must

be safe and compliant with all relevant

legislation, but this is far from the truth. In

reality, a lot of online sellers are either not

traceable at all, or they are not within the

UK or EU meaning that it is often unclear if

they are conforming to any kind of country

standards, and even more difficult to

prosecute breaches or enforce standards.

In the UK, Toy Safety Regulations

2011 are made under the Consumer

Protection Act 1987. They prescribe

"Essential Safety Requirements" regarding

general principles including the design,

construction and composition of toys, and

also particular risks including physical and

mechanical risks, flammability, chemical

and electrical properties and hygiene, to

name but a few. A "toy" is defined as "Any

product or material designed or clearly

intended for use in play by children of less

than 14 years of age" but does not include

such items as children's fashion jewellery

or Christmas decorations. Therefore,

these items are not covered under the

same rigorous standards as toys but are

sometimes given to children as presents

unknowingly.

In order to combat the risks, there are a

number of things that you can do, and

advise the parents of your children to

do, before buying presents online, and

definitely before giving them to children to

play with.

How to reduce the risk when

buying toys

• Buy from suppliers with a good

reputation for safe and reliable toys.

Many will be members of trade

associations such as the BTHA whose

rules require them to meet high

standards

• If buying toys online, try to read the

reviews about the quality of the toy

and its suitability – remember that the

price may be a clue to the quality of

the item

• If buying toys second hand, extra care

needs to be taken

• Look for the CE symbol and UKCA

mark or the voluntary BTHA's 'Lion

Mark' which shows that the toy meets

regulatory requirements

• Check the recommended age range

and don't buy or give toys designed

for older children to younger children,

especially those aged 0-3

• Check labels on costumes to ensure

they are not flammable

In general, try to avoid toys with

the following:

• Strong, small magnets and toys with

removable button batteries which

can cause severe harm or death if

swallowed

• Loose pile fabric or hair which sheds

easily or long ribbons on toys and long

neck ties on children's costumes

• Small components or parts which

detach too easily

• Sharp points, edges or finger traps

• Ropes or cords or that can heat up

• Things which are not marked nontoxic

Once purchased, and before

giving them to children

• Always check toys to make sure there

are no loose, sharp or broken pieces

that could hurt children

• Read instructions and any warnings

about their use

• Dispose of plastic wrappings

immediately before they become

dangerous playthings

• Some children, especially under 3s,

or those with special needs are more

vulnerable to choking, and less able

to cope with some toys than older

children

• Be aware of things like deflated

balloons and dispose of these safely

• Encourage children to play with one

toy at a time, to be tidy and put toys

away after play. This applies whether

at home or at school or playgroup.

Many accidents are caused by people

tripping over toys left lying around,

particularly on staircases

• Check toys periodically to see that they

have not become dangerously worn or

sharp

• Keep chargers out of the reach of

children and only use under adult

supervision

• Supervise children's craft projects

including things which need scissors

and glue and things like chemistry sets

• Have children wear the right eye

protection for sports (face shields,

helmets, eye guards)

Toys are meant to be fun so make sure that

the gifts you give are safe, and enjoy them

together for extra special quality time.

References and more

information

• https://www.btha.co.uk/wp-content/

uploads/2021/09/Dont-toy-with-

childrens-safety-Online-Marketplaces-

Report-2019.pdf

• https://preventblindness.org/safe-toychecklist/

• https://www.btha.co.uk/wp-content/

uploads/2021/03/Symbols-on-Toys-inthe-UK-and-EEA.pdf

• https://www.rospa.com/home-safety/

advice/product/toy-safety

10 December 2021 | parenta.com

parenta.com | December 2021 11
---
Imagination and expression in the

arts using music in the early years

Creativity has such a natural place in the early years that it is almost at risk of being overlooked. It

is also one of the characteristics that some philosophers consider unique to humanity. The ability

to create has been shown to reduce symptoms of distress in situations and conditions where

people feel out of control, including abuse/trauma, anxiety, depression and substance misuse.

Arts are now being included in projects known as "social prescriptions", where doctors prescribe

activities instead of medication, from gardening, walking football, to singing.

Childhood can also be seen as a

"condition" where we have little control

over choices. Children are therefore often

easily manipulated into situations because

of their size and inexperience. Tantrums

and upset can occur as children become

more aware of manipulation and try to

resist control. Creating opportunities and

experiences where children may safely be

in control, like imaginative play, can help

to empower them. The arts can be useful

in creating access, including using childsized

furniture and materials and childappropriate

language.

"Arts" can simply cover painting, dancing

and singing. Or it can be extended

to drawing, acting and instrumental

performance or recording, and even

further, into sensory experiences, historical

curation and architecture. By exploring

different substances, equipment and

procedures children can experiment with

the different results they can get as a form

of problem-solving. This article presents

ways to celebrate the twelve days of

Christmas creatively, based on singing.

"The Twelve Days of Christmas" is a

traditional song with unclear origins. Even

the origin of some of the individual lines

are contested by history and language

experts, but the version below is one of

the most common versions used. Often

accompanied by actions, here are different

arty suggestions to explore each sung

verse.

Twelve Days of Christmas

A partridge in a pear tree: Painting.

Simply painting a bird in a tree.

On the first day of Christmas

My true love sent to me

A partridge in a pear tree!

Two turtle doves: Spoken performance.

Memorise and perform this verse for the

adult/group.

On the second day of Christmas

My true love sent to me

Two turtle doves

And a partridge in a pear tree!

Three French hens: Playdough/clay.

Using playdough or clay to make small

hen decorations.

On the third day of Christmas

My true love sent to me

Three French hens

Two turtle doves

And a partridge in a pear tree!

Four calling birds: Photography.

Using iPads or similar to capture local

birdlife.

On the fourth day of Christmas

My true love sent to me

Four calling birds

Three French hens

Two turtle doves

And a partridge in a pear tree!

Five golden rings!: Sewing.

Sewing rings onto fabric or teaching basic

hand-sewing techniques (e.g. tapestry).

On the fifth day of Christmas

My true love sent to me

Five golden rings!

Four calling birds

Three French hens

Two turtle doves

And a partridge in a pear tree!

Six geese a laying: Collage.

Using different media to cut and paste onto

a mosaic pattern.

On the sixth day of Christmas

My true love sent to me

Six geese a laying

Five golden rings!

Four calling birds

Three French hens

Two turtle doves

And a partridge in a pear tree!

Seven swans a swimming: Baking.

Using food creatively, either baking swan

biscuits or using fruit to make swans (e.g.

oranges).

On the seventh day of Christmas

My true love sent to me

Seven swans a swimming

Six geese a laying

Five golden rings!

Four calling birds

Three French hens

Two turtle doves

And a partridge in a pear tree!

Eight maids a milking: Acting.

Taking turns to act each line for adult or

group.

On the eighth day of Christmas

My true love sent to me

Eight maids a milking

Seven swans a swimming

Six geese a laying

Five golden rings!

Four calling birds

Three French hens

Two turtle doves

And a partridge in a pear tree!

Nine ladies dancing: Dancing.

Introducing a range of dances from different

cultures/genres.

On the ninth day of Christmas

My true love sent to me

Nine ladies dancing

Eight maids a milking

Seven swans a swimming

Six geese a laying

Five golden rings!

Four calling birds

Three French hens

Two turtle doves

And a partridge in a pear tree!

Ten lords a leaping: Design outfits/

fashion.

Using fabric remnants, play scarves or

paper outfits.

On the tenth day of Christmas

My true love sent to me

Ten lords a leaping

Nine ladies dancing

Eight maids a milking

Seven swans a swimming

Six geese a laying

Five golden rings!

Four calling birds

Three French hens

Two turtle doves

And a partridge in a pear tree!

Eleven pipers piping: Model making

Using empty boxes and tubs.

On the eleventh day of Christmas

My true love sent to me

Eleven pipers piping

Ten lords a leaping

Nine ladies dancing

Eight maids a milking

Seven swans a swimming

Six geese a laying

Five golden rings!

Four calling birds

Three French hens

Two turtle doves

And a partridge in a pear tree!

Twelve drummers drumming: Instrument

play. Using drums or pots/pans/buckets

like drums.

On the twelfth day of Christmas

My true love sent to me

Twelve drummers drumming

Eleven pipers piping

Ten lords a leaping

Nine ladies dancing

Eight maids milking

Seven swans a swimming

Six geese a laying

Five golden rings!

Four calling birds

Three French hens

Two turtle doves

And a partridge in a pear tree!

There are so many ways that this song can

be used creatively within a wide variety

of arts. Each skill or verse could coincide

with special visits, either to see the animal

or activity, or to local artist residences or

artist visits. And with any luck, each event

or activity will hopefully make each verse

memorable enough to remember the order!

Frances Turnbull

Musician, researcher and author,

Frances Turnbull, is a self-taught guitarist

who has played contemporary and

community music from the age of 12. She

delivers music sessions to the early years

and KS1. Trained in the music education

techniques of Kodály (specialist singing),

Dalcroze (specialist movement) and Orff

(specialist percussion instruments), she

has a Bachelor's degree in Psychology

(Open University) and a Master's degree

in Education (University of Cambridge).

She runs a local community choir, the

Bolton Warblers, and delivers the Sound

Sense initiative "A choir in every care

home" within local care and residential

homes, supporting health and wellbeing

through her community interest

company.

She has represented the early years

music community at the House of

Commons, advocating for recognition

for early years music educators, and her

table of progressive music skills for under

7s features in her curriculum books.

Frances is the author of "Learning with

Music: Games and activities for the early

years", published by Routledge, August

2017.

www.musicaliti.co.uk

(The complete song is available on You

Tube and each day, each verse will

be posted on Musicaliti's new TikTok

channel.)

12 December 2021 | parenta.com

parenta.com | December 2021 13
---
Top tips for a festive play

5

Putting on a festive play is often the highlight of the year in any pre-school setting – at least

that's what parents say! But anyone who has ever organised any kind of performance knows

that behind every slick recital is a lot of hard work, time and dedication. So here are some

top tips to help with this year's offering.

1

Aim for inclusivity

instead of perfection

A lot of children naturally love dressing up

and performing when they are young and

don't have the performance inhibitions that

can sometimes develop as we grow older.

Remember this in your planning and let

the overriding goal be a celebration of your

children's abilities rather than something

that resembles a perfect audition for a TV

talent show. Consider the special attributes

of each child in your setting and respect

that. Celebrate diversity and difference and

play to the strengths of the children you

have, giving each child a chance to shine

in their own way. Your children's parents

will love seeing their little ones 'moment

of glory' and remember that at this age, it

really is the taking part that matters.

2

Get the adults involved

– model things you want

the children to do

Children love to copy and will find it much

easier to remember the moves and the

words if they have someone to follow, so

get your staff involved by positioning them

at the side of the stage or in front of the

children (like a mirror), to lead the actions.

This will help the children focus and allow

parents to really see what they can do,

albeit with an onstage prompt.

3

Use narration to lead the

story

If you are not using a bought-in script, you

can create a strong performance by using

a narrator. Have an adult narrate your

story and show the scenes in a series of

freeze frames or still images as you go.

You could use a piece of special music

or a sound effect to remind the children

to 'freeze' like statues and 'unfreeze' at

certain points. You can also give spoken

lines to the characters if you want to,

and prompt them using the narration.

For example, your narrator could say, "All

the shepherds complained about how

tired and cold they were", and use this as

the prompt to have the shepherds moan

about being cold etc. This usually works

well with younger children who can often

remember what to say, but not necessarily

when to say it.

4

Think of a different angle

to tell the story

Not all stories have to be told from the 3rd

person narrative. Sometimes, it's more

interesting to have a different angle on a

story. For example, in a nativity, you could

use a device such as a news report as

a framework, and have 'reporters at the

scene' sending their reports back to a

newscaster in an imaginary TV studio. You

could even add in some humour with a

crazy weather report or a 'Sky at Night'-

type report on an unusual star. Other

ideas include telling the story from the

perspective of a minor character, such as a

shepherd, innkeeper or animal rather than

the traditional main protagonists.

Use some festive poems or

stories

There are lots of traditional festive poems

and some fun new ones that you can use

as the basis for a performance too. "'Twas

The Night Before Christmas" is a traditional

favourite which is written in rhyme which

children find easier to remember. Consider

an evening of simple Christmas poems and

get the children to perform them in small

groups. The internet is full of simple festive

poems which are fun to act out and easy

to remember, and using actions helps too.

Why not consider teaching the children

some Makaton signing to go with some of

their songs too?

6

Use a screen for the words

Use a large computer monitor or TV screen

to display the words for the songs and or

poems. If you are using some of the many

readily available scripts, they often come

with PowerPoints or videos with the words

highlighted on the screen like a karaoke

track.

7

Consider telling a

sensory story

Why not make your festive play a sensory

story this year and add that 4D element to

the fun? Go through your story and work

out if there are smells, sensations or sound

effects that could add to the atmosphere

or audience experience. It could be

something simple, like a 'gentle rain' where

you add a gentle water spray in the air

above the audience or use some material

to mimic the coat of the donkey or use a

room spray to evoke the smell of incense.

Depending on the space you have, also

think about creating a more promenadestyle

performance which has the audience

move around from one scene to the next (or

room to room) rather than having the actors

move on and off stage.

8

Practice but be aware of

children's attention spans

Most pre-schoolers find it difficult to sit still

– it's in their nature to move and to explore,

so be aware that if you're asking them to

sit still with nothing to do for long periods of

time (and remember that we are talking of

relative pre-schooler time here), then don't

be surprised if some children can't do it.

Instead, give them something to do or focus

on, or some actions to make during the

story to hold their attention.

9

Keep costumes, sets and

props simple

Even with the best stage management

team in the world, if you want to make your

show run smoothly, the best way is to keep

costumes, sets and props as simple as

possible. Take the time to think about how

you can stage the different scenes on one

cleverly-designed set and be creative about

how you do things. If you have Mary and

Joseph travelling through different lands,

could you use the children to represent

different physical landscapes such as trees,

sand dunes or mountains for example?

They are usually easier to move on and off,

and it will give them something extra to

do. Microphones can be useful to amplify

small voices but practice with them so the

children know what to expect.

Enjoy it!

10

Remember that your show is really about

showcasing the children's talents and

celebrating the festive season, so don't

stress too much. Enjoy it!

Online resources for

ready-made pre-school

Christmas shows

• https://www.learn2soar.co.uk/earlyyears-eyfs-preschool-nursery

• https://www.outoftheark.co.uk/

age-groups/pre-school/pre-schoolnativities-and-christmas-plays/

14 December 2021 | parenta.com

parenta.com | December 2021 15
---
Supporting children with social,

emotional and mental health

needs around Christmas

In previous articles, I have written about supporting children with social, emotional and mental

health needs (SEMH) and how we can support staff with their SEMH needs. In this article, I am going

to continue that thread and focus on Christmas.

As I am writing this article, it is November,

many early years settings, schools and

families across the country will be starting

to plan for Christmas. The children I

work with are already talking about it.

The Christmas adverts have just begun

to appear. You may fall in the camp of

loving all things Christmas, hanging out

decorations as soon as you possibly can.

On the other hand, you may be happy to

put a tree up on Christmas Eve and take

it down on Boxing Day ( I must admit I fall

into this category), or Christmas may be an

event you choose to not take part in at all.

Whichever part of the Christmas spectrum

you fall in is fine, but if we work in the

early years, we need to think about how

we do this Christmas thing with children,

especially those with SEMH needs.

You might be wondering why I am

particularly concerned about children with

SEMH needs over the Christmas period; for

the past seven years, I have been working

with a specialised team in Bath called

Nurture outreach service, Brighter Futures.

We support children in the reception year

at school. The children I support often

find transitions tricky; they are often easily

unsettled by change, often they have

high sensory needs and can become

easily overwhelmed by overly stimulating

experiences. The run-up to Christmas is

one big and often long sensory explosion

and change, and many of the children I

work with find this problematic.

Just for a moment, think about all the

things you do around Christmas and when

you start?

Is your usual routine disrupted for

Christmas preparations for weeks before

the event?

Do you have a play which you practice

for weeks before and then perform to

parents?

Do you decorate your setting with lots of

decorations, lights, things hanging down,

a Christmas tree?

Do you play Christmas music in the setting

for weeks in the run-up?

I am not suggesting that you should not

do these things, but I would like us to stop

and reflect on how some children may

experience these changes.

Routine is vital for all children; children who

have higher SEMH needs particularly need

consistent and predictable routines. When

we change their routine, they can find this

unsettling and frightening. Sometimes

they show us how they find this hard

through their behaviour, maybe being

violent, refusing or hiding. It is important

to remember to communicate well with

children about changes. We are often

great at communicating bigger transitions

but can sometimes forget the smaller

changes. If you have planned to start

getting ready for Christmas, let the children

know, pre-warn them. Do some gentle

moving towards it. If you are going to

change the routine, for example, starting

to practice the Christmas play each day,

let them know a few days before this

change is happening. You could make an

additional image for the visual timetable

for it. Talk about Christmas and the story

before you start making the changes to

the routine; this will help them put it into

context. Don't presume they know what all

these preparations are for and about.

each day, Christmas on top is enormous

pressure, and they need to start it early

to fit it all in. I massively sympathise with

this. However, I still feel that starting the

Christmas play preparations and singing in

the second week of November, once bonfire

night is out the way, still feels too early.

Also, by starting it early you are potentially

exciting the children into thinking Christmas

is soon, and it's not; that is very confusing

to a four-year-old.

A question to ask, who are the Christmas

preparations for? This may sound like a

silly question, and you may quickly say it

is for the children. But I encourage you to

ask the question. Are the Christmas plays,

Christmas cards, for the children or are they

for the parents? Sometimes there are things

we do because we think the parents want

them/ expect them. However, this does not

mean it is the best for the children. If we are

going to do plays and cards and parties,

we need to make sure these are something

the children enjoy, and that they are having

a positive experience. Sometimes I watch

the preparations for Christmas, and I

am unsure if anyone is getting a positive

experience.

We want the Christmas experience to be a

positive one for everyone.

A few things to consider for

children with SEMH needs:

Have we done enough preparation to let

them know about the changes?

Is the environment too sensory-stimulating?

For example, lots of things hanging or

flashing and noises can trigger some

children.

Remember that not every child has to do

everything in the preparation; always think

about each child's individual needs, what

they can cope with, and what they enjoy.

For example, if you have children who

love singing and acting out a story, that is

great, but if you have a child who finds that

upsetting, find something else they can be

involved in or adapt it to meet their needs.

Be flexible and make quick changes! If a

child is showing you they cannot cope, then

adapt and change.

I am not advocating ditching Christmas,

but I am encouraging a reflective exercise

to think about what your current cohort of

children will benefit from.

Win a copy of Sonia Mainstone-Cotton's fabulous book

"Supporting Children with Social, Emotional and Mental Health Needs in

the Early Years: Practical Solutions and Strategies for Every Setting "

Sonia

Mainstone-Cotton

Sonia Mainstone-Cotton is a freelance

nurture consultant, she has worked in

early years for 30 years. Sonia currently

works in a specialist team in Bath

supporting 3- and 4-year-olds who have

social, emotional and mental health

needs. Sonia also trains staff across the

country: she specialises in supporting

the well-being of children and staff.

Sonia has written 8 books including:

"Supporting children with social,

emotional and mental health needs in

the early years" published by Routledge,

"Supporting young children through

change and everyday transitions",

"Promoting Emotional Well-being in

Early Years Staff" and "Promoting Young

Children's Emotional Health and Wellbeing".

Sonia is also the series advisor

for Little Minds Matter series of books

promoting social and emotional wellbeing

in the early years with Routledge.

Website - http://soniamainstone-cotton.

com

Email - sonia.main@icloud.com

Instagram - @mainstonecotton

When you did the exercise above about

what you do in preparation for Christmas,

you may find you had an extensive list. In

my experience, early years setting usually

start Christmas preparations later than

schools. Schools often feel they have

so much learning they need to cover

We have three copies of Sonia's book to give away. Three lucky

readers picked at random will receive a free copy of the book!

To enter the competition email marketing@parenta.com

by Monday 3rd January 2022

16 December 2021 | parenta.com

parenta.com | December 2021 17
---
The cheapest all-in-one,

easy-to-use, cloud-based

early years software

package you can buy!

No setup fee – save a massive £2395! | No hidden costs!

All inclusive | Limited time offer | Unlimited support

CPD courses…

Whether you're a manager looking to support your staff by enhancing

their knowledge, or looking at developing your own career, when you

study one of Parenta's online CPD courses, you study in your own time

and at your own pace – all from the comfort of your own home!

For only £99

per month

(paid annually)

with a MASSIVE

saving of £2395

(No setup fee)

What's included?

Book a Demo Today!

Improve staff morale

and motivation

Maximise individual

potential and promote

development

Allows you and your

team to gain brand new

qualifications in many

different policies,

procedures and

practices

Enables you to keep

abreast of industry

changes by constantly

updating skill sets

• Cloud-based Nursery Management

Software for easy and quick invoicing,

reporting & ratios

• User-friendly EYFS tracking software

(Compliant with EYFS 2021

Development Matters Guidance)

• Daily Diary to record activities, naps,

meals and nappies

• Parent engagement app –

maintaining social distancing

guidelines

• Go paperless and limit the spread

of germs

• Accurately record baseline

observations

• Photo Editing, Tagging & Blurring

Technology (GDPR compliant)

• Easy Ofsted reporting

• Unlimited phone & email support

plus videos and help files

Monthly direct debit option available on request

By ensuring your team undergoes relevant, regular refresher training, they'll always be up-todate

with the latest policies, procedures and practices – and it doesn't need to be expensive!

With CPD courses from Parenta costing as little as £7,

what are you waiting for?

Log on and learn today!

0800 002 9242 hello@parenta.com

0800 002 9242 hello@parenta.com
---
A rainbow of snacks for

under 5s

Children can experience dips in their blood sugar levels, which can affect their energy, behaviour and

concentration. For this reason snacking on the right things between larger meals can be beneficial.

Many early years settings provide a mid-morning and mid-afternoon snack and promoting healthy

options is vital in supporting children to understand about 'energy rich' food choices.

The effect of 10 raisins is equivalent to that of a punnet of strawberries, so when planning

snacks keep dried fruit consumption to a minimum.

Some snack examples:

Carbohydrate Balance Protein

Apple + Cheese

Grapes + Ham

Rice cakes + Cottage cheese

Cucumber + Hummus

Berries + Yoghurt

Oatcakes, plum + Cream cheese

Katharine Tate

Title Recipe Outline

Rainbow snacks

Fruit kebabs

• Reasons why different colours are beneficial for health and

how to share this with children

• Blood sugar balance

During snack time it's the perfect opportunity to talk to children about 'snack rainbows' and that different colours of food will work in

different ways to help their bodies grow fit and healthy.

Some food to include for snack time with their rainbow reasons why:

How food is presented to children can

also make a huge difference between

them willingly adding something to their

plate or them simply choosing something

'safer'. Strategies to include children in the

preparation is certainly one way to engage

and asking them to create a face, model or

picture from their food can also help them

to become more adventurous.

Whilst children pick and/or make their

'snack rainbows' it's also fun to sing a

rainbow song, so they're not just learning

about food!

Nutrition know how

Berries contain lots of antioxidants, which

are like 'superheroes' in your body helping

to keep you fit and healthy. They tend to be

found in lots of brightly coloured foods and

can help your digestion and keep youreyes

and brain healthy.

For more food fun in your setting sign up

to the Youngest Chef Award. This award is

for Early Years Foundation Stage pupils

(ages 3-5) and is written by teachers for

early years practitioners/teachers. It is

designed around the popular children's

book 'The Very Hungry Caterpillar' by

Eric Carle and has been developed and

launched by The Food Teacher. The

award is a 'Mini Muncher Challenge',

which can be delivered across 5 sessions

(every day over a single week or once

a week over a 5 week period) with 50

minutes of planned teaching time each

session. Find out more at; https://youngest.

youngchefoftheyear.com/

See page 22 for Katharine Tate's

fabulous fruit kebab recipe

The Food Teacher Founder and

Director, Katharine Tate, has worked

as a teacher and education consultant

internationally in primary and secondary

schools for over 20 years. Qualified as

an award-winning registered nutritional

therapist, Katharine, combines her unique

education and nutrition expertise to

offer schools, organisations and families

advice, education programmes, practical

workshops, and individual/family clinical

consultations. She has written and

published several books: "Heat-Free &

Healthy", the award-winning

"No Kitchen Cookery for Primary Schools"

a series of mini-books and has also

co-authored the award-winning "Now

We're Cooking!" Delivering the National

Curriculum through Food. She has also

launched a programme of Young Chef

awards for schools, which support delivery

of the curriculum and nutrition. In

2019, over 4,000 children completed the

awards across the UK.

LinkedIn | Twitter | Instagram

Red:

Great for helping your body fight

germs and a good memory – apples,

strawberries, raspberries, tomatoes,

pomegranate.

Orange:

Good for glowing skin and healthy eyes

– orange slices, satsumas/clementines,

carrot sticks, orange pepper, peach,

nectarine, apricots, mango.

Yellow:

Great for good memory and healthy heart

– yellow pepper, banana, baby corns,

pineapple.

Green:

Helpful for a healthy brain and for keeping

your bones and teeth strong – apples,

pears, grapes, cucumber sticks, green

pepper, kiwi, broccoli heads, celery,

avocado.

Blue/Indigo/Violet:

Good for a healthy brain and heart –

blueberries, blackberries, grapes, plums.

These fruit and vegetable examples should

ideally be combined with protein to slow

down their release of sugar and support

sustained energy levels until mealtime. Be

aware that dried fruit is very high in sugar

and can have a significant impact on blood

sugar.

20 December 2021 | parenta.com

parenta.com | December 2021 21
---
Fruit kebabs

Ingredients:

• Raspberries

• Strawberries

• Grapes

• Blueberries

By The Food Teacher

A fun and easy recipe for young children encouraging them to create their

own fruit rainbows.

Christmas wreath

You will need:

• Paper plate

• Liquid glue

• Paintbrush

• Green and red craft paper

• Pom poms or anything you would like to add as a

decoration

• Red and green pipe cleaners

Equipment:

• Kebab sticks

• Small knife for chopping

• Chopping board

• Colander/sieve

• Plate for serving

Method:

1. Wash your berries and grapes in

the colander/sieve.

2. Cut your strawberries and

grapes in half (lengthwise).

3. Thread your ingredients onto the

kebab sticks, alternating colours.

Photo credit to:

Pennybird and camera

Instructions:

1. Cut out a circle in the middle of your paper plate, so it resembles a wreath.

2. Cut up your green craft paper into longs strips (long enough to cover the paper plate).

3. Spread some of the glue on the paper plate using your paintbrush. Don't go all over it, do it in parts, so that the glue

doesn't dry up.

4. Stick the green strips of paper over the paper plate so the entire wreath is covered.

5. Now you can add your decorations. You can create a bow with the red craft paper to stick on the wreath and use your

pom poms to decorate as you like.

6. Wrap two pieces of pipe cleaners (one red and one green) around each other and then attach it to your wreath if you

would like to hang it up.

7. You are done!

22 December 2021 | parenta.com

parenta.com | December 2021 23
---
Laughter

Life lessons we can learn

from children

We teach children so many different things. However, it is important to remember

that we can also learn a lot from them too.

Honesty

Children laugh all the time. The smallest of

things will send them into a fit of laughter

and make them howl with delight. It is

totally contagious and usually makes

everyone around them laugh too. When

did we, as adults, stop laughing so much?

Somewhere along the way, we lose our

childlike, carefree qualities and laughter

became less frequent. Maybe we need to

take a leaf out of our children's book and

laugh at the small things until our bellies

hurt.

Here are some life lessons that we can take from children that

will benefit our lives as adults:

Forgiveness

Children are so forgiving. There will

always be days when we aren't our best

selves, yet children move on from those

moments and love us anyway. We are

all human and imperfect by nature and

life will automatically present us with

lessons that will challenge us to learn

and grow. Sometimes we just need to

see the lesson in front of us, forgive and

move on. One of my favourite quotes by

Nelson Mandela is that holding on to

resentment is like swallowing poison and

expecting someone else to die. We don't

need to accept someone's bad behaviour,

especially if it continues. However, we can

certainly find a way to forgive and move on

so that it doesn't affect our own future.

Gratitude

Children see greatness in the simplest of

things. A stick or a puddle can create so

much joy and give them hours of fun and

they are never happier than when they

merely have our time and attention. In this

fast-paced world that we live in, it can be

easy to forget to appreciate the simple

things in life. Some days we should just

stand still, look around, see the beauty

in the things that can't be bought and

appreciate all the small blessings that we

already have.

Faith

Children trust that everything will be okay.

They live in the present and barely worry

about the future. They count down the

days until Santa comes and wait excitedly

for the Tooth Fairy to bring them a coin. As

adults we sometimes lose faith and forget

that there is magic all around us. If we

know where we want to go and work hard

to get there, maybe then it's just about

having faith that what's meant for us

won't pass us by, and that no matter what

happens, everything will be okay. There

can only be rainbows after the rain. Maybe

we just need to dance in that rain until the

clouds clear.

That classic phrase 'out of the mouths

of babes' is so true. Children speak

without a filter and are authentically

themselves. There is a lot to be said for

honest communication, yet as adults we

sometimes find it hard. A lot of the time

we choose kindness over honesty, but

maybe we need to realise that we can

have both. Honesty does not have to lead

to confrontation, but it will always lead to

authenticity.

Being present

Children live in the moment. They don't

dwell on the past or think too far in the

future and they just get emersed in

whatever exciting game they are playing

at the time. As adults, we get lost in to-do

lists and thoughts about what has been

or what's to come. We can't change the

past and most of what we worry about in

the future never happens, so maybe we

could try to be more present and just fully

appreciate and enjoy what is happening

right in front of us now.

Open-mindedness

Children do not judge. They ask questions

and explore ideas, but ultimately, if they

are not presented with judgemental beliefs,

they will accept whatever is presented to

them in a light-hearted, matter of fact way.

As adults we could learn a lot from this.

Differences should be celebrated. If we lived

in a society that lived and let live, the world

would be a much kinder place.

Expressing emotions

Children have no problem with expressing

how they feel. If a child is sad or angry,

there's a good chance that we will know

about it because they rarely tend to hold

back. However, most of the time, after a

good scream, they will dust themselves

off and go on their way. How many times

as adults, do we hold back what we feel?

Sometimes we hold back our feelings so

much that they come out in other ways and

at times that are not related to the problem.

If we could learn to express how we feel in

the moment (maybe in a more balanced

way than throwing ourselves on the floor

in a tantrum!), we would feel much more

balanced and hold on to less frustration.

Children are our greatest teachers. Not

only do they live in a way that is free and

authentic, but they also show us things

about ourselves. They develop our patience

and communication skills and at times

test our limits. However, they also show

us the most amazing ways to see joy in

things that, as adults, would probably go

unnoticed. As much as we are here to

guide our children and lead them down a

path of happiness and success, I genuinely

believe that if we look closely enough at

who they are and what they do, they will

teach us as adults more than we could ever

realise.

Stacey Kelly

Stacey Kelly is a former French and

Spanish teacher, a parent to 2 beautiful

babies and the founder of Early Years

Story Box. After becoming a mum, Stacey

left her teaching career and started

writing and illustrating storybooks to help

support her children through different

transitional stages like leaving nursery

and starting school. Seeing the positive

impact of her books on her children's

emotional well-being led to Early Years

Story Box being born. Stacey has now

created 35 storybooks, all inspired by her

own children, to help teach different life

lessons and to prepare children for their

next steps. She has an exclusive collection

for childcare settings that are gifted on

special occasions like first/last days,

birthdays, Christmas and/or Easter and

has recently launched a new collection

for parents too. Her mission is to support

as many children as she can through

storytime and to give childcare settings

an affordable and special gifting solution

that truly makes a difference.

Email: stacey@earlyyearsstorybox.com or

Telephone: 07765785595

Website: www.earlyyearsstorybox.com

Facebook: https://www.facebook.com/

earlyyearsstorybox

Twitter: https://www.twitter.com/

eystorybox

Instagram: https://www.instagram.com/

earlyyearsstorybox

LinkedIn: https://www.linkedin.com/in/

stacey-kelly-a84534b2/

24 December 2021 | parenta.com

parenta.com | December 2021 25
---
Fun and

educational games

for the festive break

The Christmas holidays is a great time to meet up with family

and friends and to spend some quality time together, but what

about keeping up some educational content too? We've come

up with some fun and educational games to play with the

whole family over this festive season.

1. Festive treasure hunt

Everyone loves a treasure hunt, and you

can make them as fun or as educational

as you like, for all ages. You can make the

clues simple things like easy anagrams

(e.g. kisn = sink), make rhyming riddles,

or just get early years children to say the

letters or blend simple words. They will be

so excited at finding the next clue that they

will not notice the English or maths practice

you're using.

2. Board games

Many traditional board games have a

hidden educational element that can help

pre-school children to learn more about

the world or practice different skills. Rolling

a dice, recalling what the 'squiggle' on it

actually means, or counting the dots on

one or two dice will have your little ones

practicing their maths skills in no time.

Ludo and Snakes and Ladders are simple

games that are suitable for little ones

(usually for ages 3+ due to having small

pieces), but there are many more dicebased

games on the market that can be

used as well. For older children and adults,

Scrabble, Cluedo and Connect Four can

also test English skills and/or reasoning,

and there are also the quiz-based games

such as Trivial Pursuit or other similar

question-games for different ages. You

can often get giant or garden versions that

many younger children like, and this can

also help them with their motor skills too

since the pieces are large and need to be

manipulated around the board.

3. Online learning games and

apps

If you want to get the children to practice

some of their IT skills as well as their

academic ones, you could go to one of

the many sites that now provide free

educational games. These can be sites

such as BBC Bitesize or Topmarks online

games (www.topmarks.co.uk). They

usually have different levels so you can

start simply and move up. They offer

different ways to let the child move through

the game such as answering questions,

or manipulating something online to help

with fine motor and concentration skills.

There are some new apps and learning

tools on the market as well that are good

for creative skills such as Toca Nature,

(a bit like Minecraft for pre-schoolers)

with relaxing music and an eco-friendly

message. You can check out reviews and

information for online games at websites

such as https://www.educationalappstore.

com.

4. Jigsaws

Jigsaws may have gone out of fashion

when tablets came in, but they are great

at teaching early years children many

different skills. For a start they help children

begin to recognise patterns and put things

together with their hands, (fine motor

skills), and they need visual reasoning

and spatial awareness too. If you don't

have any jigsaws in your house or setting,

they are easy to make. Simply print out 2

copies of a picture you like and stick one

on to some strong card. Use the other

for reference. Cut up the card picture into

different pieces depending on the age of

the child. You can use simple squares or

cut more complex shapes. Why not get the

children to make the jigsaw with you for a

creative craft experience too?

5. Storytelling

Storytelling is an ancient art that humans

have used for millennia to pass on

information about life and the human

condition and it is a great way to get your

children to learn more about themselves,

what they think, and how they fit into the

world around them. You can start by telling

different stories or reading from a book,

but it's also great to take turns with your

family to tell your own stories. You can

make it fun by having random objects

that people have to put into the story such

as a broom, hairdryer or a favourite toy.

Remember to let the child's imagination go

free – don't be too quick to say that teddies

can't fly or that trees are always green –

sometimes they're red!

6. Nature walks and natural art

One of the best things that you can do at

this time of year as a family is to go on a

nature walk and introduce your children

to the natural world. You could have rain

and jump in muddy puddles, or you could

have snow and make a snowman or snow

angels, or you could just collect some fallen

leaves and acorns and make some wild art.

7. Twenty Questions with

Christmas characters

In this game, everyone is given a character

and has to answer questions about

them, so it's a good way to develop

conversations, thinking and vocabulary.

Give each person a character – you can

have festive characters such as Father

Christmas, Rudolph, Jack Frost or religious

characters such as Mary, the Innkeeper

or one of the Wise Men, or even just fun

characters from your favourite books or

TV shows. They should not let anyone

else know who they are. You may need to

work in pairs with younger children. Other

players then ask questions to which the

person can only answer "Yes" or "No", such

as "Do you have grey hair?", "Are you still

alive?". You usually have 20 questions to

guess who it is.

8. Put Santa on the chimney

This is a version of 'Pin the tail on the

donkey' where someone is blindfolded

(safely) and has to attach an object to

a picture that they can't see. You can

use sticky tack instead of pins for safety.

You could vary it by having Santa and a

chimney, or a nose or tail for Rudolph or

even a fairy on a Christmas tree. It's fun

and you can make it more educational

by getting your children to draw the

main picture first. You could also make it

different for slightly older children by getting

them to work in pairs. One person wears

the blindfold and the other has to give

instructions as to how to get to the picture

and where to pin it, so saying "left 2 steps",

"forward one step" etc.

More ideas can be found at:

• https://www.topmarks.co.uk/

christmas/ChristmasGames.aspx

• https://www.ef.com/wwen/blog/

teacherzone/ideas-for-classroomchristmas-activities/

• https://www.verywellfamily.com/

indoor-games-to-play-with-yourpreschooler-2764612

26 December 2021 | parenta.com

parenta.com | December 2021 27
---
The well-being of practitioners

Once a coachee is aware of their triggers,

we can spend time developing personal

strategies to allow them to move back to

the Thriving Zone effectively.

"I have been trying mindfulness and yoga.

20 minutes a day recharges me enough to

last till the summer holidays, when I take

two weeks off."

From surviving to thriving – emotions in action

Early years settings continue to be under

pressure. The impact of the COVID

pandemic has threatened sustainability,

raised safeguarding concerns about

children and led to increased sickness

absence or self-isolation of staff. This has

been compounded by constant changes in

regulations and expectations. Leaders and

practitioners are expected to manage a

level of flexibility and creativity far beyond

anything experienced before.

It has been an enormous challenge to

maintain high-quality learning experiences

for young children. Yet, early years

teachers and practitioners have risen

to this challenge, putting the needs

and interests of the children first and

developing positive working relationships

with families, many of whom are under

enormous pressure.

Work in the early years field is never just

a job. It is a vocation. Practitioners literally

'take their children home' with them in

their planning and preparation and there

is usually at least one child they are

holding in mind. The pandemic has made

this worse, and it is usually the children

with erratic or poor attendance who

concern them most. The commitment to

the children often goes unrecognised and

can leave staff feeling undervalued.

Mental well-being

Over the past twenty years there has

been progress in public understanding

of mental health and well-being and has

accelerated in recent months due to the

pandemic. MIND, the leading charity in

this field says we all have 'mental health'

in the same way we have 'physical

health' and changes to these states go

up and down frequently. Most people

experience mental distress at some point

in their lives – experiences that produce

a stress, sadness or anxiety that we are

not sure we can cope with. For most this

is temporary. For people diagnosed with

a mental health condition, the recovery

can be more complex. By reaching their

own decisions about what works for them

and with the support of family and friends,

many manage their mental health well.

Looking after yourself

I am privileged to work with early

years staff at all levels. The coaching

conversations we have allow space and

time for practitioners to talk about their

mental and emotional states, without

feeling judged. Leaders are recognising

the importance of enabling staff to have

some valuable time away from their rooms

to take stock, breathe and be heard.

This can be through supervision,

mentoring, coaching all within an

open culture of safeguarding.

Emotions in

Action

An Emotions in Action

Matrix (mindspring TM )

(fig 1) helps people

organise their

understanding about

emotions and the

important link with

energy. It can be

used either as part

of team training or

Surviving Zone

Defiant

Annoyed

Frustrated

Impatient

Irritable

Negative emotions

Burnout Zone

Sad

Depressed

Empty

in a 1:1 coaching session. I ask coachee

participants to plot the amount of time

spent in each zone in an average week.

There has been a shift over the past year

or so where more people are identifying

with the Surviving Zone and listing triggers

that take them there very quickly. We

look at a forthcoming day or week and

see what triggers there are that move

them from positive to negative emotions.

The aim is to help reduce this pattern

and attempt to keep practitioners in the

Thriving Zone.

Worried

Anxious

Fearful

Envious

Defensive

Hopeless

Tired

High energy

Low energy

Thriving Zone

Challenged

Confident

Receptive

Excited

Proud

Stimulated

Recharge Zone

Passive

At Ease

Carefree

Calm

Optimistic

Engaged

Eager

Enthusiastic

Happy

Astonished

Positive emotions

Peaceful

Mellow

Reflective

Practitioners' personal

strategies to help them thrive:

"If I have to have a difficult conversation

with a parent, I go to the bathroom, take

some deep breaths and brush my hair

before the meeting. It just gives me a few

seconds to take stock. The breathing really

helps." (SENCo)

"When I have to supervise a challenging

member of staff I find an uncluttered

space. Even tidying the space beforehand

helps me feel more in control. Then I make

us both a hot drink and I cradle my warm

cup in my hands as I listen and respond."

(Deputy Manager)

"When I have too many things on my list, I

visualise a big sticky ball of spaghetti and

start to unwind it, one strand at a time. It

will never go away but I can stop it getting

all caught up inside me" (Teacher)

"Fresh air and good company really helps.

I ask a trusted colleague to walk to the

river with me, we sit and look at the water

and I talk through all my stuff. It makes me

feel lighter." (Room Leader)

"I wear my lucky shoes when I have a big

day. When I get anxious, I peep down

and my feet and cannot help smiling. The

shoes fill me with joy and bring me back

down to ground." (Nursery Manager)

With the Emotions in Action Grid, it is

important to remember you cannot spend

all your time in survival mode, otherwise

there will be a danger of slipping into

the Burnout Zone, where low energy

and negative emotions are present. If

this happens, there must be a period in

the Recharge Zone to enable the body

to rest, reflect and replenish. I have met

practitioners who are recognising their

burnout and these are some comments on

how they recharge.

Practitioners' personal

strategies to help them

recharge

"Sometimes I take a whole weekend off

and just walk in the woods with my dog

and my family, eat good food and watch

films to keep my thoughts at bay."

"I needed a complete break and left my

job. I'm only 26 and I still have a whole

life to lead. I now sell vintage clothes and

work at a climbing wall. I may return to the

classroom one day." (Teacher)

How emotions in action

(mindspring) can work for you

1. Look at the two axis on the diagram.

The vertical axis represents the energy

expended whilst feeling the emotions

from low to high. The horizontal axis

represents the quality of the emotions

from negative to positive.

2. Remember all the emotions are useful

and appropriate in response to given

situations. Think of examples when

each zone might be appropriate for

you.

3. Think what you might be doing when

in each of the four zones. Who might

you be with and what emotions are

triggered for you?

4. Reflect on the emotions that you

experience in each quadrant.

5. Note the amount of time you spend in

each zone on an average week

6. What are the common triggers that

prompt negative feelings or reactions

that cause movement from the Thriving

to Surviving Zone.

7. Look at your day ahead. What

meetings or interactions may cause

your triggers?

8. Develop your own strategies for

moving back from Surviving to Thriving.

9. How could you spend more time in the

Thriving Zone?

10. How could you build more Recharge

time?

11. How could you model the Thriving

and Recharge emotions more for your

colleagues?

References:

Emotions in Action Grid available from:

https://mindspring.uk.com/

Ruth Mercer

Ruth Mercer is a coach and consultant,

with a career background in early

education. Ruth is committed to creating

a positive learning environment for staff,

children and families. She has a successful

track record of 1:1 coaching for leaders and

group coaching across the maintained

and PVI sector. She supports leaders

and managers in developing a coaching

approach in their settings through

bespoke consultancy and introductory

training on coaching and mentoring for all

staff.

Ruth is currently writing about coaching

with a playful approach.

Contact: ruthmercercoaching@gmail.com

Website: www.ruthmercercoaching.com

Useful links:

• Early years staff well-being; a resource

for managers and teams

https://www.annafreud.org/earlyyears/early-years-in-mind/resources/

early-years-staff-wellbeing-a-resourcefor-managers-and-teams/

• How to promote well-being and tackle

the causes of work-related mental

health problems

https://www.mind.org.uk/

media-a/4662/resource3_

howtopromotewellbeingfinal.pdf

• Find yourself a coach http://www.

lindenlearning.org

28 December 2021 | parenta.com

parenta.com | December 2021 29
---
Christmas Jumper Day

As the days draw in and the Christmas adverts fill the slots between TV and radio

programmes, it's time to dig out that storage bag from under the stairs and dust off the

one piece of clothing that Christmas would not be the same without… No, not the flashing

Santa hat with a musical rendition of "Jingle Bells" built in (although those are useful too)

– we're talking about that old Bridget Jones favourite, the festive Christmas jumper!

Whether you have a matching set for your

family, a handknitted one made by your

maiden aunt, or have cobbled together

your own with some cut-out reindeers

and an old bobble hat, there's nothing

that says 'Christmas is coming' more

than donning a Christmas jumper and

wearing it with pride, so why not join in

with Save the Children this year and wear

your jumper with pride for their annual

Christmas Jumper Day appeal?

How did it all start?

According to the Save the Children

website, the first Christmas Jumper Day

was held on December 14th, 2012, and

was proposed by the charity as a way

of highlighting the plight of millions of

children worldwide who still live in poverty.

The day was endorsed by a myriad of

celebrities and used the slogan "make the

world better with a sweater" to get the

message across. The idea grew and each

year since then, Save the Children have

used the day as a fund-raiser and over

£18 million has already been raised for

children in the UK and around the world.

Who can take part?

The answer to this is simple – anyone can

take part, even dogs and horses have

been known to wear their festive best

on the day and estimates suggest that

around 15,000 schools and 4 million of us

joined in last year.

Why Save the Children?

For most of us, Christmas is a time to

celebrate with our families, over-indulge

in our favourite foods and exchange

presents in the spirit of love and hope.

But for many children, Christmas does

not hold the same magical promise. For

these children, Christmas can be a time

of loneliness, fear, isolation, and it can

serve merely as a stark reminder that not

everyone's family life is always happy.

In addition, the pressure to buy presents

can be problematic for families who are

living below or just above the poverty line,

and the recent economic pressure from

the pandemic and other factors beyond

their control, may exacerbate the situation

further. This is where Save the Children

can help and the money raised from the

Christmas Jumper Day goes towards

helping children in this country and

around the world who are currently living

in poverty. Save the Children generally

provides emergency food, shelter and

education to children to help improve their

situations and give them hope for the

future. The charity also helps children gain

access to medical services which might

otherwise not be available. Last year, Save

the Children helped 45 million children

across the globe with medicines, nutritious

food and education.

How to get involved

Joining in is simple. You just need to wear

a Christmas jumper on the day, which this

year is Friday 10th December. Ideally, you

would then make a donation to Save the

Children to help with their charity work.

The suggested donation is £2 for adults or

£1 for school children although whatever

you can afford is absolutely fine too. And

you don't have to spend money on buying

expensive jumpers either, you could just

decorate an ordinary jumper to make it

look more festive. There are some useful

resources on Twinkl about Christmas

Jumper Day and a page dedicated to

upcycling your old jumpers into a new

Christmas creation which you can view

here. A quick search of the internet will

also reveal lots of arts and crafts ideas to

do with the children, and we've listed a

few simple ones below.

Simple ideas for

decorating Christmas

jumpers

1

Add some tinsel to the neck and cuffs of

an old sweater and pin or sew on some

tree decorations – be careful about the

types of decorations you use if doing this

for children – make sure they are safe and

safely attached.

2

Cut some festive Christmas shapes out

of felt and either tack or pin them onto

and existing jumper. Think of things like

snowflakes, Christmas trees, reindeers

and presents.

3

Wear a brown coloured jumper and cut

out a jagged white collor to make it look

like a Christmas pudding.

4

Create a Santa-costume jumper by adding

some large black buttons to a red sweater

and sewing on some white, faux fur cuffs.

Add a black belt and some a cushion to

create some extra 'Santa volume'.

5

Sew an old Christmas stocking to the

front of a jumper and add a soft toy in the

stocking for extra authenticity.

6

Tie a large piece of ribbon around your

waist in a bow, and make a large label to

wear like a necklace, turning yourself into

a large Christmas present.

Apart from making and wearing a jumper,

there are a number of other things that

you can do in your setting to help too.

Ideas for celebrating

Christmas Jumper Day in

your setting

If you sign up as a supporter to the page

on the Save the Children website, you will

receive a free fundraising pack with more

ideas of how to get involved. We've listed

a few of our own ideas that don't cost a lot

of money, to help you get into the swing.

There are also some good resources on

Twinkl that you can download and adapt

too.

1. Download or draw a picture of a plain

jumper and get the children (and staff)

to design their own Christmas-themed

jumper

2. Make a mobile using a scaled down

version of a blank Christmas jumper

template and some coat hangers

3. Hold a fashion show or competition

for the best homemade Christmas

jumper. You could invite the parents

in to watch the show. Add some

music, face paint, fun wigs and a

commentary to pretend you're all at a

real designer show

4. Hold a bake sale to help raise money

for Save the Children

5. Hold a Christmas bring and buy sale

where people can donate goods to

sell and hopefully buy some new

things

Whatever you do, let us know and send

your pictures to us at hello@parenta.com.

30 December 2021 | parenta.com

parenta.com | December 2021 31
---
Egg-cellent advice:

A little room

I do not know how he came to acquire the nick-name 'Egg' but ever since he came along, that's

what my youngest son has been called. I run The Sensory Projects www.TheSensoryProjects.co.uk

(which should now really be called The Sensory Projects and Sons!) My work focuses on people

with profound disabilities and sensory differences, but my son's advice will apply to your work too.

bodies in space. Baby gyms present items

to the hands, Little rooms have stuff to

explore everywhere. They are a valuable

resource for all children as they explore

the world around them, combined with the

access to weird and wonderful sensory

resources, being in an enclosed space

can be enabling for some children. Being

tucked away in a little room can feel safe

and secure, children love den building and

playing hiding games. This is like a sensory

version of that.

You do not have to have a big budget

to create a little room. This is ours, it is a

clothes airer with some coloured cellophane

draped over it for me to look through and

some items hanging from it. When I reach

out for them I can slide them along the rails

and make noise. I am fascinated.

Smalls airers or coat hangers can be great

things to use to dangle items off.

Of course make sure you supervise children

all the time when they are using these

spaces and be very aware of the risk of

strangulation from cords that are too long.

To keep things as safe as possible use a

length of thread about the same length as

a child's forearm.

(These words first appeared on Jo's

Facebook profile you are welcome to

send her a friend request to watch out

for more insight www.Facebook.com/

JoannaGraceTSP):

And a little extra advice from my younger

self (yes, that's me) boxes make great little

rooms!

Joanna Grace

Lillie Neilson is one of my sensory heroes,

she worked teaching children with

profound and multiple learning disabilities

in Denmark from the 1980s up until her

death in 2013. One of her great inventions

is the "Little Room". Think of a baby's

jungle gym, the baby lies beneath it and

objects are hung above the baby for

them to explore. The Little Room is like this

but times 100, and the things dangling

around to be explored are so much more

interesting.

Lillie used Little Rooms with children with

profound disabilities to help them develop

reaching skills and an awareness of their

You can make a little room out of a pop up

tent, tie some string between the tent poles

to hang stuff, or fasten things to the side of

the tent.

You can make a little room underneath a

table. Tie string around the table securely to

give you something to dangle things from.

You do not need fancy sensory equipment,

my favourite things to explore were all

things Mummy found in the kitchen.

Joanna provides online and in person

training relating to sensory engagement

and sensory differences, look up www.

TheSensoryProjects.co.uk/online-college

for more information. To view a list of her

books visit www.TheSensoryProjects.co.uk/

books Follow Jo on social media to pick up

new sensory insights, you'll find her at: @

Jo3Grace on Twitter, www.Facebook.com/

JoannaGraceTSP and www.Linkedin/In/

JoannaGraceTheSensoryProjects

Joanna Grace is an international

Sensory Engagement and Inclusion

Specialist, trainer, author, TEDx speaker

and founder of The Sensory Projects.

Consistently rated as "outstanding" by

Ofsted, Joanna has taught in

mainstream and special school settings,

connecting with pupils of all ages and

abilities. To inform her work, Joanna

draws on her own experience from her

private and professional life as well as

taking in all the information she can

from the research archives. Joanna's

private life includes family members

with disabilities and neurodiverse

conditions and time spent as a

registered foster carer for children with

profound disabilities.

Baby Egg in his little den

Little Jo!

Joanna has published four practitioner

books: "Multiple Multisensory Rooms:

Myth Busting the Magic", "Sensory

Stories for Children and Teens",

"Sensory-Being for Sensory Beings"

and "Sharing Sensory Stories and

Conversations with People with

Dementia". and two inclusive sensory

story children's books: "Voyage to

Arghan" and "Ernest and I". There is

new book coming out soon called '"The

Subtle Spectrum" and her son has

recently become the UK's youngest

published author with his book, "My

Mummy is Autistic".

Joanna is a big fan of social media and

is always happy to connect with people

via Facebook, Twitter and LinkedIn.

Website:

thesensoryprojects.co.uk

32 December 2021 | parenta.com

parenta.com | December 2021 33
---
Testimonials

Congratulations

to all our Parenta learners!

Congratulations to all these Parenta learners who completed their apprenticeship

in October and have now gained their qualifications.

I just want to say thank you Yasmeen, for all of your

support and encouragement these past few months.

I've just celebrated turning 40 this weekend and it

was honestly the best birthday I've ever experienced

because I feel I'm in a stronger place and I know

that has come about by speaking with you and your

words of encouragement and support, and so I just

want to say thank you so much for the past few

months and that I appreciate you and your time.

Have a good day and will catch up soon.

...

Hayley McDonald

These range from Childcare Level 2, Childcare Level 3 and Team Leading

to Level 3 and Level 5 Management – that's a huge achievement in the

current climate.

All that hard work has paid off – well done from all of us here at Parenta Training!

Did you know?... Parenta has trained over 20,000 apprentices within the early years sector!

Our Level 3 success rate overall is almost 10% higher than the national average.

That's down to great work from you, our lovely Parenta learners!

If you have a learner with us who has recently completed their apprenticeship, please send in

a picture to hello@parenta.com to be included in the magazine.

October's wall of fame!

As always, very quick to respond and helpful. Puts up

with my daft questions and issues all the time!

...

Polly Sekenofsky

The Parenta support team are so knowledgeable and

helpful with any queries I have!

...

Anonymous

I want to say thank you one more

time for all your support and

help. I very much appreciate your

time and effort. I am fortunate

to have you as my assessor. You

have provided me with many

knowledgeable and informative

resources and platforms for me

to learn and do my research in

detail; that way, I can understand

my assignments and the subject

in-depth before putting it into

practice. Thank you for being

patient with me and giving me

enough time to complete my tasks.

...

Mansi

A. Batts-Smith

A. Borkowska

A. Garside

A. Jennings

A. Moffatt

A. McGuiness

A. Rajan

A. Rizvi

A. Shardelle

A. Wilson

B. Gardiner

B. Wrozek

C. Allenby

C. Bates

C. Bunker

C. Carnevale

C. Dunning

C. Everett

C. Greenfield

C. Impey

C. Smith

C. Stenning

C. Webb

E. Armstrong

E. Agneau-Wilson

E. Coates

E. Elston

E. Falltrick

E. Langham

E. Mitchener

E. Niemela-Baker

E. Pearcey

E. Smith

F. Taylor

F. Tatti

G. Aldridge

G. Beckett

G. Cloono

G. Eaton

G. Kennedy

G. Mitchell

G. Ulcickiene

G. Westbrook

H. Corbett

H. Jagun

H. Pinder

H. Smith

I. Lawrence

I. Schofield

I. Vakulya

J. Edwin-Scott

J. Hickman

J. Ludzite

J. Mortin

J. Peters

J. Rawlings

K .Baker

K. Baxter-Leggett

K. Benstead

K. Bye

K. Edgson

K. Gilfoyle-Blair

K. Griffin

K. Hall

K. Rayner

L. Beleckaite

L. Chalk

L. Gordon-Brown

L. Keenan

L. Moss

M. Barham

M. Beddison

M. Ellinor

M. Fletcher

M. Gardiner

M. Jodie

M. Py

M. Smith

N. Begum

N. Graham

N. Hannam

N. Stradwick

O. Osolos

P. Power

P. Pritchard

R. Dunn

R. Floris

R. Francis

S. Holdship

R. Turville

S. Betteridge

S. Dadson

S. Gilkes

S. Potter

S. Rowden

S. Wiseman

T. Ishari

V. Batt

V. Beddison

V. Evans

W. Nasra

Y. Jaber

Z. Latify

34 December 2021 | parenta.com

parenta.com | December 2021 35
---
What is the sense of learning ?

Understanding multi-sensory

learning

During their early childhood, children are learning and experiencing more than at any other time of

their lives, and this is especially true in the years before school. With every experience, connections

are being formed deep within their brain. Making the structures and pathways that will determine

how they think, feel and behave – and respond to all their future experiences. And they are

Through every object they touch, every

image they see and every sound they

hear, through the flavours they taste

and the smells they detect, memories

are being formed and messages are

being sent. All these sensory inputs are

processed in the cerebral cortex, at the

front of the brain, along with their thoughts

and feelings. This explains why our senses

can be so powerful at triggering an

emotion - I cannot smell coconut without

thinking of holidays on the beach or

hear music from the 1980s without being

whisked back to my childhood.

receiving these experiences through their senses.

When multiple senses are involved in an

experience, even more connections are

being made. So think for a moment of the

experiences you are offering your children

and the senses that they are engaging.

Imagine slicing open a juicy orange, the

vibrant colours, the smell, the juice trickling

through their fingers as they grasp its

slippery texture before tasting it – now

compare this to offering them a plastic

one. Think about the textures on your feet

right now, possibly inside a sock and shoe,

now think about walking barefoot through

damp grass or cold, wet sand.

Multi-sensory learning is hugely powerful

and is why young children make such

good use of it. And we now have the

neuroscience to support this. Studies

have shown that children raised in a

rich environment, where they have been

given opportunities to engage in positive,

sensory-rich experiences, develop

brains more densely packed with these

connections. And that early childhood

is a critical time for this development

to occur. At around three years of age,

through processes of synaptic pruning, a

child's experiences are essentially being

classified. With those often repeated

being identified as worth keeping hold

of and strengthened, and others being

pruned away as the structure of the brain

develops.

Any core experiences that have been

missed during this vital time will not be

easily made up for in later life. You will

have experienced this if you have ever

tried to learn a new language as an adult,

something young children seem to pick up

with ease. Or, if you have spoken to a child

from a language poor environment who

is now struggling to acquire the speech

patterns they are going to need for school.

During this time, no toy or resource is as

valuable as the moments of engagement

and understanding that you can offer

them. Every minute of these precious years

should be cherished and seen for the gifts

that you can offer them. That doesn't mean

purchasing every item in the catalogue or

feeling guilty about the tasks you need to

perform – but it does mean connecting

with them when you are with them.

Turn off the screens and have a

conversation. Be mindful of the

expectations you place on them. Look into

their eyes and really connect – even during

a nappy change. And find time, every day

to connect, with every child. Whether this is

over a meal, a story or some tummy time.

When you appreciate just how engaged

their young brains are, and you can

respect their powerful drives to explore and

understand the world, it becomes more

important to facilitate the opportunities they

need to meaningfully gain experiences,

to investigate and to feel the result of their

actions. And to be mindful of the children

who may not readily put themselves

forward.

As you spend time with the children, be

careful not to dampen their motivations.

At this age they are learning so much

about their desire to learn, and when these

desires are met with disapproval, you are

effectively teaching them not to bother.

Even when this means additional washing.

• Allow your children the time and

opportunities they need to explore

• Let them experiment at their own

pace, repeating and returning to

things time and again as they refine

their understanding

• Take the additional time to explore,

rather than correct – allowing them to

take more from a learning opportunity

than the one way of doing something

that you already had in mind

• Allow them to develop their social and

communication skills with different age

groupings; in a crowd, in small groups

and sharing one-on-one time

• Offer varied opportunities within rich

and varied environments full of openended

opportunities. Where they can

explore and experiment with their

ideas, rehearsing and reinforcing their

ideas through repetition

• Offer them the time and tools for

the job. Along with the permission

and understanding to investigate, to

manipulate and to try things out, just

to see what will happen

And as you do so…

• Consider whether their touch, sight

or hearing, or their sense of taste or

smell are being engaged… or could

they be?

First and foremost, be sure to value every

moment of their early years, when much

of this growth is occurring. Engage with

THEM, rather than the activity you had in

mind. Involve their multiple senses and

allow them to combine and adapt their

experiences. Allow them time to process

their thoughts and feelings, but also be

aware of over stimulation by being in tune

with their need for space, opportunity to

blow off steam, to relax and just be.

And most importantly – ensure your

children feel emotionally stable and

secure. When they feel relaxed and at

ease, within secure relationships, and

calm environments, they can turn their

attention to all their other pursuits. Your

children need you to understand more

than WHAT they need to learn – they need

you to understand HOW they are internally

driven to learn. And how you are laying the

foundations of this learning, now – and for

all their learning to come.

Understanding children from the inside

out is the first session in the new Nurturing

Kathryn Peckham

As Founder of Nurturing Childhoods,

Dr Kathryn Peckham is a passionate

advocate for children's access to rich and

meaningful experiences throughout their

foundational early years. Delivering

online courses, training and seminars, she

works with families and settings to identify

and celebrate the impact of effective

childhood experiences as preparation for

all of life's learning. An active campaigner

for children, she consults on projects,

conducts research for government bodies

and contributes to papers launched in

parliament. Through her consultancy

and research she guides local councils,

practitioners, teachers and parents all

over the world in enhancing children's

experiences through the experiences

they offer. A highly acclaimed author and

member of parliamentary groups, Kathryn

also teaches a Masters at the Centre for

Research in Early Years.

Get in contact with Kathryn by emailing

info@kathrynpeckham.co.uk

Childhoods Accreditation. Offering you a

whole new approach to CPD that is tailored

to the needs of your setting, and the

children and families you work with. With

its complete set of materials and guidance,

it complements the resources available

for your parents, and is underpinned by

professional standards. Check out this

great new website and together we can

surround children with this level of unified

understanding of who they are and what

they need. And really begin developing the

potential of all children in their early years.

36 December 2021 | parenta.com

parenta.com | December 2021 37
---
Tree Dressing Day

Do you remember the old song "Tie a yellow ribbon round the old oak tree" where a man returning

to his hometown after 3 years in prison was unsure whether his lover would want him back, and

asked her to decorate an old oak tree with a yellow ribbon if she did? The story unfolds throughout

the song as he worries about his fate and asks the bus driver to look out for him as he 'can't bear'

to see the tree if it has no ribbons on it. Luckily for him, the song has a happy ending as he sees

"a hundred yellow ribbons round the old oak tree" and we feel his joy and excitement at "coming

home" with the whole bus cheering for him too. This is a simple, heart-warming story which

makes us smile and we cannot help but imagine the old tree covered from top to bottom in

yellow ribbons, announcing how much he is loved, and acting as a metaphor too, since the

oak tree is a symbol for endurance, steadfastness and reliability. It's also a great backdrop

to Tree Dressing Day, which this year is on December 5th in the UK.

ignore our responsibility to the trees on

our planet, and we can start by respecting

the trees in our own local area. Tree

Dressing Day is therefore a perfect way to

announce your commitment to the world

and celebrate these majestic, life-giving

natural wonders.

Some trees can live for thousands of

years, making them among the longestliving

lifeforms on earth. The oldest tree in

the world is thought to be a Great Basin

bristlecone pine tree in the US. At more

than 5,000 years old, it is more than 40

times older than the oldest known human

(122 years). In the UK, the Fortingall Yew in

Perthshire is believed to be our oldest tree,

estimated at between 2,000 and 3,000

years old. Yew tree are our longest-living

species and are not considered as ancient

trees until they are around 800-900 years

old, however, oaks and sweet chestnuts

can also live for over 1,000 years.

Celebrating trees is what Tree Dressing

Day is all about. It was started in 1990

by Common Ground, a Dorset-based

conservation charity who decorated a

group of London Plane trees in Covent

Garden, with the message that "every tree

counts". Since then, people have re-taken

up this ancient ritual and celebrate by

decorating their local trees right across

the country, sometimes with storytelling,

dance and music to really bring the

message home; that trees are our lifeline

and we need to look after them.

Tree Dressing Day comes at the end of

National Tree Week (27th November to

5th December) which marks the start

of the main tree planting season in the

UK (November to March each year). It's

easy to get involved and there are lots of

different things you can use to decorate

your favourite trees.

1. Find a tree or set of trees that are

important to you or your local

community. It could be an ancient and

imposing tree in a park where people

have shared secrets for centuries, or

an avenue of trees that line a popular

walking route to your setting on a

suburban street, or a single tree that

creates a magical silhouette as the

twilight descends

2. Decide how you want to decorate it/

them and plan the resources you'll

need to make your vision a reality

3. Create your masterpiece in your

setting with the help of the children

4. Dress the tree in time for Sunday 5th

December taking care not to disturb

the local wildlife

5. Take a photo of your decorated trees

and perhaps have some singing and

dancing to add to the celebrations

6. Remember to remove all your

decorations a few days after the event

and return the tree and local habitat

to its natural state – you might even

want to 'thank' the tree in your own

way, and we hear they are partial to

the odd hug too!

There are lots of ideas for dressing trees on the internet but The Woodland Trust has

listed some easy ones here. Dressing a tree can count towards earning points for their

Green Tree Schools Award initiative which teaches young people about trees, wildlife and

woodlands. We've created a table below listing a few ideas of decorations you could use.

Coloured or

plain lights

Painted

faces

Green man

Fairies, elves

and nymphs

Painted

hard-boiled

eggs

Rainbows Flowers Mini trees Pom poms Ribbons

Wrapping

paper

Butterflies or

dragonflies

Thank you

cards

Wild art

Balloons or

streamers

Odd socks

Paper

lanterns

School or

club ties

Sun, moon

and stars

Tinsel

Snowflakes

Bird feeders Hearts Flowers

Hand or

footprints

Crochet

or knitted

squares

Patterns:

stripes/spots

Coloured

wool (yarn

bombing)

Photographs

or memories

Strips of

material

Birds and

animal

pictures

Poems

Battery

candles in

jars

Painted

empty plastic

bottles

Costume

jewellery

Tree dressing is an ancient custom that

celebrates the life-giving properties of

trees which has been practiced in many

cultures over the years. In Japan, trees

are decorated with strips of white paper,

or 'tanzaku', bearing poems and wishes,

and many Buddhist and Hindu festivals

decorate trees with material and ribbons

to celebrate our connection with nature

too.

Some of the origins are thought to come

from the festivals of the Green Man, a

Pagan representative of masculine divinity,

who is believed to symbolise the cycle of

life, death and re-birth, heralding in the

new life in spring. He is often thought

of as being a guardian of nature, and

forests and trees in particular, often

appearing as a face in a tree, or covered

in leaves. In the past, the Green Man was

honoured, as the trees and our connection

to the natural world was celebrated

throughout the year in different festivals

and ceremonies. In recent years though,

modern life has changed much of that

for most of us and we remain detached

from nature for much of our working day.

However, as deforestation and its impact

on climate change are now very firmly on

the agenda, we can no longer afford to

Whatever you do, we'd love to see the

results, so send us your photos and

stories to hello@parenta.com and let's

see if we can't light up the country in

our appreciation and celebration of our

wonderful trees.

For more information, see:

• https://www.commonground.org.uk/

tree-dressing-day/

• https://www.woodlandtrust.org.uk/

support-us/act/your-school/greentree-schools-award/tree-dressing/

• https://treecouncil.org.uk/take-action/

seasonal-campaigns/national-treeweek/

38 December 2021 | parenta.com

parenta.com | December 2021 39
---
NON-LEVY CONTRIBUTION

Invest in the

5%

development of

your team...

Let us help you with your training needs - call us today!

By providing training

for your staff, you will:

Improve morale

Support children's safety

Enhance your

setting's reputation

Reduce staff turnover

We have secured funding available and are

enrolling learners on to our courses every day!

Take advantage for you or your staff!

Payment plan available for your 5% contribution

Did you know...

You can now access government funding for up to 10 staff members - instead of 3

- to help get your staff qualified and keep them motivated!

0800 002 9242 hello@parenta.com