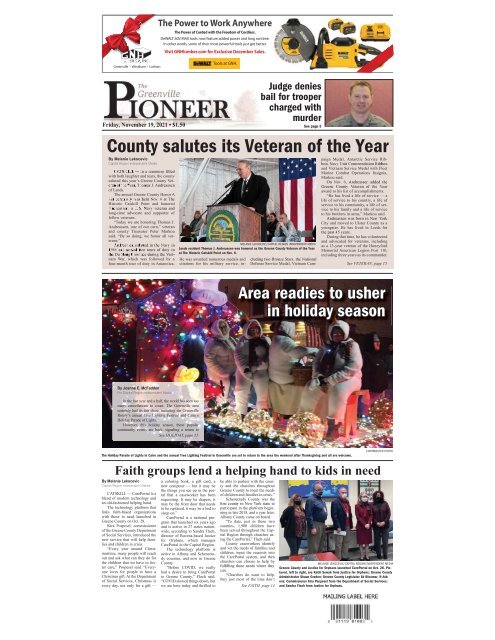 Greenville Pioneer - 2021-11-19
Greenville Pioneer - 2021-11-19
Greenville Pioneer - 2021-11-19
SHOW MORE
SHOW LESS
Create successful ePaper yourself
Turn your PDF publications into a flip-book with our unique Google optimized e-Paper software.
Friday, November 19, 2021 • $1.50

By Melanie Lekocevic

with both laughter and tears, the county

saluted this year's Greene County Vetof

Leeds.

The annual Greene County Honor A

Historic Catskill Point and honored

long-time advocate and supporter of

fellow veterans.

"Today we are honoring Thomas J.

Andreassen, one of our own," veteran

and county Treasurer Peter Markou

said. "By so doing, we honor all veterans."

nam War, which was followed by a

four-month tour of duty in Antarctica.

He was awarded numerous medals and

citations for his military service, in-

Defense Service Medal, Vietnam Campaign

Medal, Antarctic Service Riband

Vietnam Service Medal with Fleet

Marine Combat Operations Insignia,

Markou said.

award to his list of accomplishments.

"He has lived a life of service — a

life of service to his country, a life of

service to his community, a life of service

to his family and a life of service

to his brothers in arms," Markou said.

City and moved to Ulster County as a

youngster. He has lived in Leeds for

During that time, he has volunteered

and advocated for veterans, including

as a 13-year veteran of the Honeyford

Memorial American Legion Post 110,

including three years as its commander.

See VETERAN, page 15

By Joanne E. McFadden

In the last year and a half, the world has seen too

many cancellations to count. The Greenville area

certainly had its fair share, including the Greenville

Rotary's annual Tree Lighting Festival and Cairo's

Holiday Parade of Lights.

However, this holiday season, these popular

community events are back, signaling a return to

See HOLIDAY, page 15

Faith groups lend a helping hand to kids in need

By Melanie Lekocevic

CATSKILL — CarePortal is a

blend of modern technology and

an old-fashioned helping hand.

The technology platform that

links faith-based organizations

with those in need launched in

Greene County on Oct. 28.

Kira Pospesel, commissioner

of the Greene County Department

of Social Services, introduced the

new service that will help families

and children in crisis.

"Every year around Christmastime,

many people will reach

out and ask what can they do for

the children that we have in foster

care," Pospesel said. "Everyone

loves for people to have a

Christmas gift. At the Department

of Social Services, Christmas is

every day, not only for a gift —

a coloring book, a gift card, a

new computer — but it may be

the things you see up in the portal

that a caseworker has been

requesting. It may be diapers, it

may be the front door that needs

to be replaced, it may be a bed to

sleep on."

CarePortal is a national program

that launched six years ago

and is active in 27 states nationwide,

according to Sandra Flach,

director of Ravena-based Justice

for Orphans, which manages

CarePortal in the Capital Region.

The technology platform is

active in Albany and Schenectady

counties, and now in Greene

County.

"Before COVID, we really

had a desire to bring CarePortal

to Greene County," Flach said.

"COVID slowed things down, but

we are here today and thrilled to

be able to partner with the county

and the churches throughout

Greene County to meet the needs

of children and families in crisis."

Schenectady County was the

participate in the platform beginning

in late 2018, and a year later,

Albany County came on board.

"To date, just in those two

counties, 1,900 children have

been served throughout the Capital

Region through churches using

the CarePortal," Flach said.

County caseworkers identify

and vet the needs of families and

children, input the requests into

the CarePortal system, and then

churches can choose to help by

can.

"Churches do want to help,

they just most of the time don't

See FAITH, page 14
---
AUTO LOAN SALE

NOV 1 - 20

ANY YEAR • ANY MAKE

NO PAYMENTS

UNTIL 2022!* 1.69%

AS LOW AS

APPLY ONLINE AT SUNMARK.ORG/SALE

*Interest will begin to accrue immediately upon loan disbursal. Payment deferment will extend the life of your loan and may cause an increase

APR**

Mark Vinciguerra

Warren Dews, Jr.,

wdewsjr@gmail.com
---
Editor's Note: A charge is not a conviction.

All persons listed are innocent

until proven guilty in a court of law.

Charges can be amended or dismissed.

-

ville, was arrested Oct. 31 at 12:38

a.m. in Cairo and charged with driving

while intoxicated, an unclasstatus

was unknown.

was arrested Oct. 31 at 9:28 p.m. in

Catskill and charged with manufacture

of drug-related paraphernalia

and seventh-degree criminal possession

of a controlled substance,

both class A misdemeanors, and

a controlled substance, a class D felony.

He was issued an appearance

ticket.

Prattsville, was arrested Oct. 31 at

with acting in a manner injurious

to a child under 17, a class A misdemeanor.

Her arrestee status was

unknown.

-

tleton on Hudson, was arrested Oct.

31 at 10:40 a.m. in Coeymans and

charged with driving while intoxi-

-

or. She was issued an appearance

ticket.

Castleton on Hudson, was arrested

-

timore and charged with false personation,

a class B misdemeanor,

and second-degree obstruction of

governmental administration and

seventh-degree criminal possession

of a controlled substance, both class

A misdemeanors. She was issued an

appearance ticket.

Tannersville and charged with second-degree

aggravated harassment/

threat by phone, a class A misdemeanor.

Her arrestee status was

unknown.

-

a.m. in Greenville, and charged with

manufacture of drug-related paraphernalia,

a class A misdemeanor;

tampering with physical evidence,

a class E felony; seventh-degree

criminal possession of a controlled

substance, a class A misdemeanor;

-

sion of a controlled substance, a

class D felony. He was held.

in Coxsackie and charged with seventh-degree

criminal possession of

a controlled substance. He was issued

an appearance ticket.

-

p.m. in Coxsackie and charged with

second-degree obstruction of governmental

administration, a class

A misdemeanor. He was issued an

appearance ticket.

male, of Catskill, was arrested

charged with second-degree sex

abuse of an individual under 14

years, a class A misdemeanor. He

was issued an appearance ticket.

forcible touching and endangering

the welfare of a child, both class A

misdemeanors. He was issued an

appearance ticket.

in Tannersville and charged with

second-degree criminal contempt

and second-degree aggravated harassment,

both class A misdemeanors.

She was issued an appearance

ticket.

Greenville and charged with operating

a motor vehicle with a blood-alcohol

content of 0.08 and driving

misdemeanors. He was issued an

appearance ticket.

with manufacture of drug-related

paraphernalia and seventh-degree

criminal possession of a controlled

substance, both class A misdemean-

-

session of a controlled substance,

a class D felony. She was issued an

appearance ticket.

in Hunter and charged with aggravated

unlicensed operation, a class

E felony; operating a motor vehicle

with a blood-alcohol content of 0.08

with two priors, a class D felony;

driving while intoxicated with two

previous convictions in 10 years, a

class D felony; and use of a vehicle

without an interlock system, a class

A misdemeanor. He was issued an

appearance ticket.

Cairo and charged with seventh-degree

criminal possession of a controlled

substance and second-degree

criminal use of drug paraphernalia,

both class A misdemeanors. He was

issued an appearance ticket.

-

p.m. in Athens and charged with

second-degree obstruction of governmental

administration and resisting

arrest, both class A misdemeanors,

and driving while intoxicated,

was released on his own recognizance.

-

sackie, was arrested Oct. 29 at 10

a.m. in Cairo and charged with

class D felony. He was held.

a.m. in Windham and charged with

third-degree grand larceny, a class

D felony. He was released on his

own recognizance.

p.m. in Catskill and charged with

criminal obstruction of breathing/

applying pressure, a class A misdemeanor.

He was issued an appearance

ticket.

Catskill and charged with operating

a motor vehicle with a blood-alchomisdemeanor.

He was issued an appearance

ticket.

in Catskill and charged with seventh-degree

criminal possession

-

of a controlled substance, a class

criminal possession of a controlled

substance, a class D felony. He was

held.

p.m. in Hunter and charged with

operating a motor vehicle with a

blood-alcohol content of 0.08%

and driving while intoxicated, both

issued an appearance ticket.

2:18 p.m. in Catskill and charged

with fourth-degree grand larceny/

property valued over $1,000, and

fourth-degree grand larcey/credit

card, both class E felonies. She was

issued an appearance ticket.

with operating a motor vehicle with

a blood-alcohol content of 0.08%

and driving while intoxicated, an

issued an appearance ticket.

a.m. in Catskill and charged with

hunting while intoxicated, operating

a motor vehicle while impaired

by drugs and driving while ability

impaired combined drugs/alcohol,

manufacture of drug-related paraphernalia,

seventh-degree criminal

possession of a controlled substance

and second-degree criminal

use of drug paraphernalia, all class

A misdemeanors. He was issued an

appearance ticket.

State announces $1.5M

to grow Farm-to-

School program

By Melanie Lekocevic

to-School program, bringing locally

grown food to schools around

Commissioner Richard Ball last

week announced the funding is

available to eligible school districts.

The Farm-to-School program aims

to connect students in kindergarten

through 12th grade by increasing

the use of locally grown food on

school menus.

"The Farm-to-School Program

students have access to fresh,

healthy foods and they understand

where their meals come from," Ball

said. "I'm proud that this program

continues to help schools tap into

the local food movement and serve

more healthy lunches with products

either grown in their school garden

or purchased from their community

farmers. This is a win-win for our

agricultural industry and for our

state's future leaders."

program can be submitted to the

state through Dec. 30, according to

the Department of Agriculture.

State Education Commissioner

Betty Rosa said in a statement.

"Students that have access to

healthy, locally sourced food are

not only better prepared to be successful

in school, they also learn

has been a wonderful way to supplement

food options in schools

across the state and I thank Gov.

Kathy Hochul for expanding this

important program."

Eligible schools include public,

and other entities participating in

-

gram, the School Breakfast Program

or the Summer Food Service

-

Program, that serve students in

kindergarten through 12th grade,

according to the department.

The program provides grant

funding of up to $100,000 per project

and can cover costs including

employing a local or regional farmto-school

coordinator; training

food service staff in procuring and

preparing locally produced food;

purchasing equipment to increase

capacity in school kitchens to prepare

and serve locally produced

food; making capital improvements

for the transport or storage of

locally produced food; and creating

new meals for the menu.

-

marked for applicants that have not

received a Farm-to-School grant in

previous years.

Grant applications must be received

by Dec. 30 by 4 p.m.

Since the launch of the Farm-to-

-

lion has been committed to support

Farm-to-School projects across the

-

ment of Agriculture and Markets

has awarded a total of 119 projects,

-

tricts in every region in the state,

according to the department.

The Farm-to-School Program

is part of the state's ongoing efforts

to combat food insecurity, increase

the amount of fresh, local foods

served in schools, and to connect

-

kets.

Student Goes Hungry initiative and

which increases the reimbursement

schools receive for lunches from

meal for any district that purchases

at least 30% of its ingredients from

Last year, 47 school districts

achieved the purchasing requirement,

with some school districts

spending over 40% of their lunch

products, according to the state Department

of Agriculture.
---
adopt $1.7M town budget

By Melanie Lekocevic

council voted unanimously

budget for 2022.

"It's a flat budget," Town

Supervisor Paul Macko said to

introduce the budget during a

public hearing. "The town tax

rate for general, highway, library

and chargebacks is down

a minute part of a penny, so the

budget is very flat and it is under

the tax cap."

The amount to be raised by

taxes in 2022 is set at $790,000

for the general, or A, fund,

$833,000 for the highway department,

and $117,880 for

the library fund. An additional

$11,224 is allocated for college

chargebacks, which are paid

for local students who attend

community colleges other than

Columbia-Greene Community

College.

The town tax rate is set at

property's assessed value for

2022, which is a fraction of a

cent higher than 2021.

"If you have a house assessed

at $100,000, your tax bill

Macko explained.

The budget does not include

any cuts in services or employees.

Town workers will see a

bump in salary in 2022 under

the new budget.

"Highway and town employees,

with the exception of people

at the library, are all getting

Macko said.

Several special districts

have essentially remained flat,

including the lighting districts.

The ambulance district saw

$1,000 assessed value of the

ville fire district tax rate went

in 2022.

Keeping an eye on spending

and taxes was important to the

town council "because we were

very concerned about our economy

and specifically inflation

going into the winter months,"

Macko said.

"It's a slim budget and the

only way it will possibly work

is if everybody makes a concerted

effort to watch spending

next year," Macko said. "This

year we probably could have

done a little better with the budget

but we put nearly $48,000

into the roof in February or

March on the old part of the

town building."

The Pioneer building, at the

juncture of Routes 81 and 32,

along with a couple of other

big-ticket purchases in years

past, is set to be paid off in a

little over a year and could provide

an opportunity for the town

in future budgets, the town supervisor

said.

"There is light at the end of

the tunnel," Macko said. "The

mortgage on the Pioneer building

will be paid off in 2023.

The three trucks that were

purchased used will be paid

off next year, so we should be

alright. The mortgage on this

years ago. That will be some

savings there."

With the town building

mortgage paid off, there could

be opportunities to improve the

structure, he added.

"My suggestion to the board

is when the building is paid off,

maybe we will work on redoing

some of the replacement windows

and other projects in the

building to make it more energy

efficient," Macko said.

Town Councilman John

Bensen said funding might be

available for a project like that.

"There might be some public

money for energy savings,"

Bensen said.
---
By Melanie Lekocevic

County judge denied bail for a

state trooper facing murder and

other charges.

Christopher Baldner, 43, of

Durham, will remain in jail af-

He was indicted Oct. 27.

Baldner is charged with second-degree

murder, second-degree

manslaughter and first-degree

reckless endangerment,

according to state Attorney

General Letitia James.

Baldner was on duty pa-

Thruway in Ulster County in

December 2020 when he is accused

of using his state police

vehicle to ram a car occupied by

the Goods family of Brooklyn,

according to the indictment.

In the indictment, James

alleges that on Dec. 22, 2020,

at approximately 11:40 p.m.,

Tristan Goods was driving

in the northbound lane of the

Thruway on the way to visit

family for Christmas. Goods'

wife and two young daughters

were also in the vehicle.

Baldner allegedly stopped

the car for speeding and during

the stop, the trooper sprayed

pepper spray into the vehicle,

according to the indictment.

Goods drove away at a high rate

of speed and Baldner followed,

prosecutors said.

"During the pursuit, Baldner

twice rammed his police vehicle

into the rear of the Goods car,"

James said in a statement following

the indictment. "Upon

the second strike, the Goods car

flipped over several times and

came to rest upside down."

Monica Goods, 11, was

ejected from the vehicle and

died.

It is not clear at this time

why Baldner used pepper spray.

Goods has said he sped away

because he was concerned for

his family's safety.

Association expressed disappointment

that bail was denied.

lived in this area for almost two

decades," Thomas Mungeer,

president of the union, said.

"He has a family, he has kids,

he owns a house. He's not going

anywhere."

"I believe the Bail Reduction

Act of 2019 has worked for

everybody," Mungeer continued,

"but in this case, it didn't

work for my trooper."

The union is providing Baldner

with legal representation.

He has been suspended from

the department without pay.

Supporters of the Goods

family demonstrated outside

By Marisa Korytko

8 ways to support an

Alzheimer's caregiver

mer's Disease Awareness Month

and Family Caregivers Month. To

mark these events, the Alzheimer's

Association is encouraging people

to lend a helping hand to the more

members and friends serving as

Alzheimer's caregivers.

"Caregivers are superheroes,

but even superheroes can't do it

alone," said Beth Smith-Boivin,

executive director for the Alzheiprovides

us an opportunity to celebrate

the strength and dedication of

dementia caregivers, but also recognize

the special challenges they

face. Whether it's a friend, neighbor

or co-worker, providing help and

support to caregivers is easier than

most people think. Even little acts

can make a big difference."

The Alzheimer's Association

offers these suggestions for ways to

support an Alzheimer's caregiver:

Alzheimer's disease – its symptoms,

its progression and the common

challenges facing caregivers.

The more you know, the easier it

Staff will be on hand to assist residents with state-related

matters, provide information on state resources

and programs that residents may be eligible for, and

discuss local issues.

Walk-ins are welcome and no appointment is nechours.

To protect communities during COVID-19,

and friends who want to help with

caregiving. The Alzheimer's Association's

website (alz.org) can direct

you to several free, online care

calendar resources that families can

use to build their care team. These

make it easy to share activities and

information within the person's care

for which assistance is needed, such

as preparing meals, providing rides

or running errands, and Helpers can

sign up.

a standing appointment to give the

caregiver a break. Spend time with

the person living with dementia and

allow the caregiver a chance to run

errands, go to their own doctor's appointment,

participate in a support

group or engage in an activity that

helps them recharge. Even one hour

could make a big difference in providing

the caregiver some relief.

and dementia caregivers report feeling

isolated or alone. So, start the

conversation – a phone call to check

in, sending a note, or stopping by

for a visit can make a big difference

in a caregiver's day and help them

feel supported.

a list of errands that need to be run

– such as picking up groceries or

prescriptions. Offer to do yard work

or other household chores. It can be

complete these simple tasks that we

often take for granted.

Greene County are as follows:

411 Main St.

Open-ended offers of support ("call

me if you need anything" or "let me

know if I can help") may be well-intended,

but are often dismissed. Be

to the store, what do you need?").

Continue to let the caregiver know

that you are there and ready to help.

day celebrations are often joyous

occasions, but they can be challenging

and stressful for families facing

Alzheimer's. Help caregivers

around the holidays by offering to

help with cooking, cleaning or gift

shopping. If a caregiver has traditionally

hosted family celebrations,

offer your home instead.

son living with the disease and

unteer with your local Alzheimer's

Association chapter, participate in

fundraising events such as Walk to

End Alzheimer's and The Longest

Day, advocate for more research

funding, or sign up to participate in

a clinical study through the Alzheimer's

Association's Trial Match.

To learn more about Alzheimer's

disease and ways you can

support families and people living

with the disease, visit alz.org.

Marisa Korytko is the public relations

director for the Alzheimer's

Association Northeastern New York

chapter. She can be reached at mekorytko@alz.org.

includes Greene and Montgomery counties and parts of

Albany, Schenectady and Ulster counties.

Delgado named most bipartisan

Democratic member of Congress

sentative Antonio Delgado, D-19,

has been recognized as Congress's

fourth most bipartisan member of

Congress and the most bipartisan

Democratic member of Congress

in the Common Ground Scorecard.

The Common Ground Scorecard,

compiled by the Common

model to assess the degree to which

social and political issues through

listening and productive conversation.

leaders who are solutions-oriented

ground, as opposed to being divisive

and driven by partisan politics,"

Delgado said. "We must work

together to ensure our democracy

can responsibly and effectively represent

all Americans, irrespective of

the fourth most bipartisan member

Democrats."

"Americans are divided over the

direction of the country and how to

solve many issues we currently face.

To make progress, leaders must

be committed to working across

address all our citizens' concerns,"

said Erik Olsen, co-founder of

Common Ground Scorecard. "But

while they are divided on issues,

Americans agree that they want

to see their representatives work

together and solve problems. We

hope that more lawmakers follow

Representative Delgado's lead and

common ground."

The Common Ground Scorecard

was released prior to the 2020

election and updated in October

2021 by the Common Ground

Committee, a nonpartisan, citizen-led

organization devoted to improving

public discourse in politics.

In addition to their commitments

and personal actions, the ranking

cial's score in the Lugar Center/Mc-

Court School Bipartisan Index and

other public sources of data.

Delgado has passed 12 pieces

of legislation into law under both

Republican and Democratic administrations.

The U.S. Chamber of

Commerce has twice awarded Delgado

the Jefferson-Hamilton Award

for Bipartisanship.

Praise and

reward go

a long way

By Charlene Marchand

It is a good mental health exercise to remind ourselves

each day of all the positive aspects of our lives, be they

keep us balanced and positive. It is especially important

to be grateful for loving families and close friends.

As often happens, we can become complacent about

the good deeds, generous people, great weather, et al. that

surround us. To say it another way, most of us can take

the upsides of our day for granted. And so it is with our

companion animals – their good and desirable behavior,

that is.

The premier tenet of positive reinforcement is to reward

all desired behavior – in other words, don't take it

for granted! If Hugo has been quiet by our side while we

read a good book or watch a program or iron our clothes,

remember to periodically reward that lovely, devoted,

passive behavior with a word, pat or a treat.

When Tommy Tom Cat explodes through the door at

a blistering pace and Hugo leaps up to get in "his" practhat,

IF he didn't take those two hours of quiet time for

granted.

When mom and Hugo are out for their daily stroll and

the perfect puppy has trotted merrily by her side, with a

lot of "at attention" eye glances, it is then that she should

be rewarding and reinforcing her canine son. Don't take

it for granted.

When that tantalizing grey squirrel scoots across

mom's path and Hugo decides that he's entered in the

tractor pull at the Chatham Fair, a redirection IS probably

in order – but the truth is that the lesson will be learned

faster, and compliance with the rules will be more reliable,

if we are thankful for and reward that gentle dog by

our side. Don't take it for granted.

The same rules apply to Strawberry Shortcake. While

she's busy exercising those retractable feline nails on her

posts or scratching boards, our praise should be lavish,

effervescent. Falling into the trap of correcting Minnie's

manicuring enthusiasm when she heads for the new

lounge, will render the lesson longer to learn. We took

the desirable behavior, which was to have her nails done

at the feline manicure station, for granted. Always a mistake.

companion animal species for granted. Praise and reward.

Is Herman sitting quietly waiting his turn at the dog doctor?

Praise and reward. Did Polly the Puppy quickly squat

and "do her business" while in the middle of a torrential

downpour? Don't take it for granted. Is Gorgeous George

downtimes increasing with age!

All adoptions at the Columbia-Greene Humane Society

are sponsored for the month of October! Our food

bank is open to any from the public in need of pet food or

for those wishing to donate food from 11:30 a.m. to 4 p.m.

daily. Spay/neuter clinics are available for cats and dogs.

Charlene Marchand is the chairperson of the Columbia-Greene

Humane Society/SPCA Board of Directors.
---
Catskill cemetery participating

in Wreaths

Across America Day

(WAA) has announced that the

Town of Catskill Cemetery has

once again joined in the effort to

support the mission to "Remember,

-

tion for 2021.

Wreaths Across America started

as a simple gesture of thanks

that has grown into a national

movement of dedicated volunteers

and communities coming together

to not only remember the nation's

fallen and honor their service, but

- to teach the next generation about

freely.

This year, there will be more

than 2,700 participating loca-

Wreaths Across America Day –

Saturday, Dec. 18 – with more than

two million volunteers coming together

at noon.

"We are forever grateful for the

thousands of supporters who dedi-

-

ing our mission on a local level,"

said Karen Worcester, executive director

of Wreaths Across America.

"These individuals and their communities

know the value of remembering

the fallen, honoring those

who currently serve and teaching

the next generation about the sacday,

and without their continued

support, Wreaths Across America

would not exist."

Those interested in sponsoring

a wreath for Wreaths Across America

are invited to visit the national

Wreaths Across America web page

Across America Day is a free,

non-political, community event

open to all people.

Wreaths Across America is the

for placing veterans' wreaths on the

headstones of the nation's fallen

However, the organization, in total,

places more than 1.7 million spon-

-

ing locations nationwide and offers

other programs throughout the calendar

year. These programs include

The Mobile Education Exhibit and

Wreaths Across America Radio,

among other education programs.

sponsorship goes toward a fresh

balsam veteran's wreath that will

be placed on the headstone of an

American hero as the group endeavor

to honor all veterans laid to

rest at the Town of Catskill Cemetery

this December.

Flu season may further impact Red Cross blood supply

POUGHKEEPSIE – As the

holidays approach and the Centers

for Disease Control and Prevention

cases this year, it's important that

those who are eligible, healthy and

feeling well make an appointment

to donate blood or platelets. The

American Red Cross continues

to address an ongoing emergency

blood shortage, and donors are

urged to give now to combat the

lowest blood supply levels at this

time of year in more than a decade.

-

es reached an all-time low last year

due to masking, physical distancing

and shutdowns across the country,

and many Americans may have

reduced immunity this year.

When seasonal illness increases,

the number of healthy blood

donors tends to decrease. Paired

with winter weather, busy holiday

schedules and ongoing COVID-19

concerns, the already struggling

blood supply could be further impacted

throughout winter.

There is no blood donation

waiting period for those who have

-

COVID-19 vaccine or booster, so

long as they are symptom-free.

Donors are urged to schedule an

appointment now by using the Red

Cross Blood Donor App, visiting

RedCrossBlood.org or calling

1-800-RED CROSS (1-800-733-

To encourage donors to help

meet the needs of hospital patients

this month, all who come to donate

-

zon.com Gift Card by email, thanks

to Amazon. Those who come to

give around the Thanksgiving holiof

Red Cross socks, while supplies

last.

Each Red Cross blood drive and

donation center follows the highest

standards of safety and infection

control, and additional precautions

– including face masks for donors

and staff, regardless of vaccination

status – have been implemented to

help protect the health of all those

in attendance. Donors are asked to

schedule an appointment prior to

arriving at the drive.

The next donation date in

Greene County will be in Ashland

Town of Ashland Ambulance,

12094, Route 23.

There will also be a donation

Episcopal Church Barclay Heights,

32 Church St., Route 9W.

minutes at the blood drive by completing

a RapidPass. With Rapid-

Pass, donors complete the pre-donation

reading and health history

questionnaire online, on the day of

donation, from a mobile device or

computer.

To complete a RapidPass, follow

the instructions at RedCross-

Blood.org/RapidPass or use the

Red Cross Blood Donor App.

To donate blood, individuals

need to bring a blood donor card or

driver's license or two other forms

check-in. Individuals who are 17

parental consent where allowed

by state law), weigh at least 110

pounds and are in generally good

health may be eligible to donate

blood. High school students and

other donors 18 years of age and

younger also must meet certain

height and weight requirements.

-
---
By Pat Larsen

This is a very ancient Cherokee tale

told long ago and carried forward to be

retold over and over again.

Its message is one of courage, faith,

trust, strength and love in the face of

many challenges. It is a story of the influences

that "mindset" can have on us.

The metaphors contained within the

story are timeless messengers for all of

us to apply to our own lives in our own

experiences. It is a very special tale that

perhaps you will find inspiring enough

to share with family and friends, especially

the younger people who face so

much adversity as they grow up these

days.

It is my Thanksgiving wish for all of

you to enjoy as we surround ourselves

with gratitude at this time of year.

I am paraphrasing this story as it was

told to me.

WOLVES"

The story of the two wolves features

two characters: a grandfather and his

grandson. The grandfather explains to

his grandson that there are two wolves

fighting within him, which is a metaphor

for his inner sense of conflict. The conversation

between two goes like this:

"I have a fight going on in me," the

old man said. "It's taking place between

two wolves. One is evil — these qualities

are anger, envy, sorrow, regret,

greed, arrogance, self-pity, guilt, resentment,

inferiority, lies, false pride, superiority

and ego.

"The other wolf embodies positive

emotions — joy, peace, love, hope, serenity,

humility, kindness, benevolence,

empathy, generosity, truth, compassion

and faith."

"Both wolves are fighting to the

death," the grandfather said. "The same

fight is going on in every one of us."

The grandson took a moment to reflect

on what his grandfather had said

about the two wolves.

He then asked his grandfather,

"Which wolf will win?"

The old Cherokee gave a simple reply:

"The one you feed!"

This parable serves as a powerful reminder

of the fight inside that every human

being must face. Regardless of the

life you lead or the person you are, you

will find yourself battling two conflicting

emotions at some point in your life.

It's then important to learn the lessons

contained within this story so that

you will make the rightful choice of

which one to feed.

The final message is to feed the values

and choices that matter most.

One of the most important lessons

story is the fact that you have more power

over your happiness than you think

you do. In this world, it's easy to get

beaten down by your circumstances. The

more we focus on nourishing those positive

emotions, the less room there will

be for the negative feelings.

fluence on the outcome of the situations

that present themselves during your life.

Feeding the positive thoughts in your

mind will help you to filter out unpleasant

emotions and lift up your spirits and

those around you.

The grandfather's wise words remind

everyone that change is possible

and it can be achieved by focusing one's

thoughts in the right direction.

"Healthy and Fit" is a mindset as

well and can be achieved at any age, regardless

of when you choose to feed that

aspect of yourself with the thoughts of

possibility. It doesn't matter when you

begin.

My fondest wishes for a blessed

Thanksgiving to all.

May this coming holiday season

bring you the blessings of renewal and

faith that together we can do anything.

Pat Larsen is a licensed fitness instructor

certified in hypnotherapy. For

more information call 518-275-8686 or

email Pelarsen5@aol.com.

30th annual Christmas

Craft Fair

everyone is getting ready to shop — so stay

close to home and support the local Auxiliary

of the Greenville Volunteer Fire Company.

iary will be hosting its 30th annual Christmas

Craft Fair from 10 a.m. to 3 p.m. at the Greenville

fire station at the intersection of Routes

32 and 81.

As in years past, there will be local artisans

with unique "handmade" gifts like winter

hats, scarves, doll clothes, solar lights, Christmas

decorations, animal toys, wooden signs,

candles, soaps, baby items, small pouches,

hand towels, jewelry, gnomes, stuffed animals,

wreaths, wall hangings, lanterns, quilts,

pot holders, sock monkeys, face masks, table

runners, teddy bears and honey. Some crafters

will even take special orders.

The sale is well-known, offering only quality

handcrafted items.

The Auxiliary will be selling hot dogs,

homemade chili and home baked goodies all

day, but arrive early as they sometimes sell out

quickly.

Come shop for unique gifts with your family

and friends and support the local Auxiliary

of the Greenville Volunteer Fire Company.

15 different varieties

on the stand

Open 7 Days a Week from 10am-5pm

(518) 731- 6196 • Cty Rt 26, Climax, NY 12042

(1/4 Mile Past Quarry Steakhouse onCounty Route 26. Big red barn on the hill)

BoehmFarmLLC.com
---
Department of Environmental Conservation

Commissioner Basil Seggos

has announced the adoption of

new regulations governing the public

use of Wildlife Management Areas

(WMA) and the simultaneous

repeal of three obsolete area-specific

regulations.

These regulations will become

effective Jan. 1, 2022.

DEC's Division of Fish and

several Unique and Multiple Use

Areas across the state. Collectively

known as the WMA system, these

acres.

"Visitor use and enjoyment of

DEC's wildlife management areas

across the state have increased

gos said. "To protect these special

places for future generations and

sustainably welcome visitors, DEC

is updating our rules to ensure the

WMA system continues to meet the

primary goals of conserving wildlife

and providing opportunities to

safely hunt, trap, and appreciate

wildlife."

DEC adopted the new regulations

following a public comment

tions include provisions to:

• Restrict the use of motor vehicles

and some motorized equipment,

such as chainsaws, in WMAs.

Snowmobiles will be allowed on

designated routes covered by a minimum

of three inches of snow or ice

and only from the close of the regular

big game hunting season until

March 31. This measure will help

prevent the degradation of trails and

habitat, particularly during winter

and spring thaws.

• Prevent the introduction of

aquatic invasive species.

arms other than for hunting or trapping

to designated areas. Only paper

targets will be allowed.

• Restrict the use of boats to

electric or non-powered boats.

Boats may not be stored or anchored

overnight on WMAs.

• Require that dogs be kept on

a leash and under control. Exceptions

include when dogs are being

legally used for hunting, training

for hunting on lands designated as

dog-training areas during training

seasons, or when participating in a

WMAs should always be aware

of the rules governing the WMA.

Each WMA has a webpage that lists

featured activities, available faciland

a map of the area.

annual Troy Turkey Trot, presented by Pioneer.

donation in return for supplying the event

with volunteers.

"Although the Trot drew 41% of its

anniversary on Thanksgiving morning,

The Trot is the nation's 12th oldest road

race and attracts thousands of runners and

spectators to historic Troy for the Capital

Region's largest Thanksgiving Day road

race.

A signature event of the Collar City's

holiday festivities, the Trot begins at 8 a.m.

with the Capital Region's only Thanksgiving

Day 10K. The 10K course will close at

9:30 a.m. to facilitate the start of the Grade

School Mile and Turkey Walk at 9:30 a.m.

said Troy Mayor Patrick Madden. "We

hope Trotters' giving spirit continues this

year as the event returns to in-person this

Thanksgiving. This year's fundraising goal

of $20,000 will help support these organizations

that play a vital role feeding hungry

families and providing warm shelter to

homeless men, women and children."

For those looking to stretch out their

muscles before their event takes place,

Choice Physical Therapy will offer a series

of warm-up sessions at Fourth Street and

River Street's Monument Square. Family

members are invited to show their support

by cheering on loved ones.

when six runners entered, the Trot has

grown to become one of America's largest

road races with more than 7,000 participants,"

said longtime Event Director

George Regan. "It's important for people

to recognize this event is steeped in history

and tradition and they can experience that

during our anniversary year."

Besides offering a welcome return to

in-person racing, this year's Trot will again

feature a virtual option for those concerned

Greenville falls

to Beekmantown

in Class B

regionals

By Melanie Lekocevic

PLATTSBURGH — The Greenville boys' soccer team fell

The team lost a 2-1 heartbreaker in penalty kicks, but the

season had the entire community cheering on the Spartans.

"Greenville loses to Beekmantown in PKs," according to a

statement on the district website. "Our hearts break for our boys.

Amazing season, boys. The Greenville community is proud of

you."

post-season with a 20-1 record. The team won the Patroon Conference

and Section II Class B championships, and were ranked

second in the state in Class B.

One week prior, the Spartans earned a Section 2 Class B title

by defeating Mechanicville.

The state regional game, played at Plattsburgh High School,

was a nail biter, with Greenville and Beekmantown tied 1-1 at

The two regulation play scores came from Greenville's Caleb

Motta, with an assist by Cole Flannery, and Beekmantown's

Markel Mosley.

half. Mosley tied up the game with a goal with 23:39 left in

regulation play. After the regulation play clock wound down, the

game moved into double overtime, where the score remained

snarled at 1-1.

The contest moved into penalty kicks, where Beekmantown

edged the Spartans 4-3 in the overtime shootout.

In the sixth round of penalty kicks, Beekmantown's Rocco

Golden blocked a shot from Greenville's Joseph Davis, locking

ries for the Spartans.

where they were scheduled at press time to face off against

Haverling.

about being around others or who plan to

be away. Virtual participants will use a custom

mobile app, which allows them to race

with others in real time, regardless of their

location.

Last year, 14 other Troy communities

cials from Troy, Kansas; Troy, Michigan;

and Troy, Illinois took advantage of the

app during the event's three-day virtual

running window.

Fall recreation is fun and exciting,

but can also be challenging and

partment of Environmental Conservation

warns.

Whether you're going hiking,

with a list of 10 essentials, guidance

on what to wear, and tips for

planning your trip with safety and

sustainability in mind.

Wear proper gear and attire, including

sturdy, comfortable boots:

• Moisture-wicking synthetic

fabrics that keep your skin dry and

help regulate your body temperature

in both cold and warm weather

— avoid cotton as it holds moisture.

• Layered clothing is recommended

even for summer hikes.

• Light-colored clothing, which

will make it easier to see ticks.

• Waterproof, sturdy, and comfortable

shoes or boots.

• A watch or other time-keeping

device.

• Trekking poles will reduce leg

fatigue and joint pain.

• Snowshoes and traction devices

in the winter.

While registering online, participants

are encouraged to donate to the event's two

main charities, the Regional Food Bank

viate homelessness in the Capital Region.

its participating in the event's Volunteer

Incentive Recruitment Program, an initiative

in which local charities receive a cash

Carry these essentials in a day

pack on all hikes for a safe and enjoyable

experience.

pass, GPS system, extra batteries.

• Insulation/rain gear: Waterproof/windproof

jacket, hat,

gloves, thermal undergarments

(pack extra), wool socks (pack extra),

goggles and a face mask for

winter trips.

lanterns, extra batteries.

• First aid supplies: Use a premade

kit or build your own.

• Emergency kit: Whistle, signal

mirror, duct tape, pocket knife/

multi-tool, bright-colored cloth

• Fire: Matches in a waterproof

tein and high-calorie items, pack

extra food and in the winter, break

food into small pieces and pack in

the center of your pack to avoid

freezing.

• Water: Pack at least 2 liters per

person, carry more than you think

tion or purifying system, and in the

winter, insulate your hydro-tubing

or pack water in the center of your

a.m. (Grade School Mile/Turkey Walk),

Free event parking is available at a

number of Front and River Street parking

lots. A comprehensive map of Troy parking

lots can be found at troyny.gov/parking.

keyTrot.com via ChronoTrack Live and

will also be posted at the awards tent. A

available online at TroyTurkeyTrot.com/

results by 3 p.m.

For more information or to register, visit

www.TroyTurkeyTrot.com.

DEC: Stay safe during

outdoor activities

pack to avoid freezing.

• Sun and insect protection:

Sunglasses, sunscreen, hat, bug repellent,

a bug net.

• Emergency shelter: Tent,

space blanket, tarp.

One extra thing to be cautious

about this time of the year — wet

leaves.

As foliage season nears an end,

many trees have shed their leaves

onto trails below. While the crunch

and swish of dry leaves on the trail

is a signature sound of fall, wet

leaves can be a hazard for hikers

and bikers.

When freshly fallen leaves get

rained on, they can become very

slippery. They can hinder the traction

of your boot or tire treads and

increase your chances of slipping

and falling. This is especially true

when wet leaves conceal rocks,

roots, or muddy patches.

Avoid injuries from slipping

on wet leaves by taking your time

and stepping carefully. When biking,

slow down at turns. This might

mean your trip takes longer to complete,

so plan accordingly. Wear

sturdy boots and use bike tires with

substantial treads to increase your

overall traction. Hiking with trek

poles can provide added balance.
---
By Sarah Trafton, Tobacco-Free Action

Wrestling with nicotine addiction and the

decision to quit smoking is no small task. On

average, quitting may take 8-11 attempts before

a smoker successfully breaks the habit.

The support of family and friends, as well

as a health care provider, increase a smoker's

chances of quitting. In fact, those that seek

help from their physician double or even triple

their odds.

With Thanksgiving on the horizon, it's the

perfect time to count your blessings and appreciate

how much quitting smoking has improved

or could improve your life. In addition

to Thanksgiv-ing, the Great American Smoke

The annual ob-servance became a nationwide

event in the 1970s. Each year, the American

Cancer Society en-courages people to start

their journey to a smoke-free lifestyle on the

Whether you've already quit, are considering

quitting, or would like to encourage and

support a loved one with their quitting process,

it's important to remember the immense

State Department of Environmental

Conservation Commissioner

Basil Seggos announced

deer and bear in the Southern

DEC encourages hunters to

review new safety regulations

and changes this season that

will enhance their hunting experience.

among the state's most important

conservationists," Seggos

said. "Hunters help to balance

deer and bear populations with

local habitats and land uses

while providing more than 11

million pounds of quality, locally

grown, organic meat to

sustain families. With more op-

-

ers to continue practicing the

key tenets of hunter safety for

a safe and enjoyable time outdoors."

20 through Dec. 12.

The Southern Zone regular

most popular hunting season,

-

ers participate. Harvest during

this season accounts for nearly

The average life expectancy for smokers

is 10 years shorter than for nonsmokers.

That's another decade you get to spend with

your friends and family. Twenty minutes after

your last cigarette, your heart rate returns

to normal and over time, your risk of heart

attack, heart disease, stroke and 12 types of

cancer is greatly reduced.

-

ings, such as drinking more water, exercising

and avoid-ing caffeine and alcohol, will contribute

to your overall health and well-being.

Smoking wrinkles your skin, yellows

your teeth and stains your nails. Quitting

smoking can make you appear younger and

your dentist will thank you. People who feel

insecure about their teeth often avoid smiling,

a behavior that releases endorphins and can

worry about the lingering smell of cigarettes

on your clothes, in your car or in your home.

Smoking a pack per day means spending

about $2,292 per year. That's $2,000

that you could put toward a vacation — and

this doesn't even include medical costs from

smoking-related illnesses. Smoking weakens

your immune system, and smokers are more

likely to have respiratory infec-tions.

statewide bear harvest.

Following the regular deer

and bear seasons in the Southern

Zone, late bowhunting and

muzzleloading seasons run from

Dec. 13 through Dec. 21, and

latter of which is an extension

from past years. Hunters taking

part in these special seasons

must possess a hunting license

and either bowhunting or muzzleloading

privileges.

regular deer and bear hunting

season opened Oct. 23 and closincludes

the Adirondacks, Tug

Hill Plateau, Eastern Lake Ontario

Plain, and the Champlain

and St. Lawrence valleys. A late

bowhunting and muzzleloading

season for deer will be open in

13-year-old hunters can hunt

-

companied by a licensed, experienced

adult in counties that

"opted in" to the pilot program.

State Legislature through 2023,

this pilot program applies only

to upstate counties that choose

to participate. The program does

not apply to Westchester or Suffolk

counties; Erie and Rockland

counties did not opt in to

upstate counties opted in.

Also new, DEC extended the

daily hunting hours to run from

30 minutes before sunrise until

30 minutes after sunset, allowing

hunters to utilize the full

daylight period. Hunters should

check the sunrise and sunset

times before hunting each day.

All hunters pursuing deer

-

-

ing, either a hat, vest, or jacket

safety record, but this change

will make hunting even safer.

Hunters are reminded to folsafety:

• Point your gun in a safe direction;

• Treat every gun as if it were

loaded;

• Be sure of your target and

beyond; and,

trigger until ready to shoot.

When hunting in tree stands,

hunters are advised to use a safety

harness and a climbing belt,

as most tree-stand accidents occur

when hunters are climbing

in and out of the stand. Also,

hunters should never climb in or

Smoking affects your sense of taste and

smell. Why not enjoy Thanksgiving dinner to

quality time with family and be more engaged

in holiday fes-tivities without having

to step outside for a smoke. If you're hosting

this holiday season, your home will be more

inviting and healthier for guests without the

-

ier knowing you are not exposing your loved

ones or pets to secondhand smoke — plus

smokers are more likely to snore.

Writing down your reasons for quitting

and reminding yourself of them often can

help keep you focused on your goal.

Similar to how keeping a gratitude journal

-

ing your-self of your reasons can help you

navigate through your cravings and triggers.

It's also important to celebrate your milestones—whether

you made it through your

month or year.

matter what date you pick, or how many

times you've tried, you can quit on your own

terms, for your own reasons, with the support

and methods that work for you.

Firearms season for deer, bear hunting begins

out of a tree stand with a loaded

Bucks Go and Watch Them

see and take more older bucks

than ever before. Older deer

have larger antlers and yield

more meat, vocalize more, and

create more rubs and scrapes.

Chronic Wasting Disease

(CWD) continues to spread in

other states, and hunters can

introduced, CWD could spread

rapidly and be practically impossible

to eliminate once established.

Hunters can help pro-

CWD by following these tips:

• If hunting any type of deer,

elk, moose, or caribou outside

-

mal before bringing it back. See

CWD Regulations for Hunters.

illegally imported carcasses and

parts;

• Do not use deer-urinebased

lures or attractant scents,

as these could contain infectious

material. Choose synthetic lures

instead;

• Dispose of carcass waste in

In addition to enlisting the support of your

friends, family and health care provider, you

can also receive free support by calling the

-

dential counseling via telephone, chat box or

text, as well as free nic-otine patches.

BecomeAnEx is a free online quit service

that allows you to create a customized quit

plan, pro-vides text message support, interactive

guides and tools, tips and advice, and

connects you to a community of other people

on their quit journey. Visit becomeanex.org to

sign up.

For youth looking to quit vaping, "This is

Quitting" is a free and anonymous text messaging

ser-vice tailored to teens and young

adults. To join, text DITCHVAPE to 88709.

For a full list of resources, visit our website

at https://www.rvwtobaccofree.org/

quit-resources/

The Healthcare Consortium is a local

charitable organization with a mission of improving

access to healthcare and supporting

the health and well-being of the residents in

our rural community. The agency is located at

-

mation: visit www.columbiahealthnet.org or

• Report any deer that appears

sick or acting abnormally;

and

• Hunt only wild deer and

support fair chase hunting principles.

The outbreak of epizootic

hemorrhagic disease (EHD) that

will impact the experiences of

hunters in the hardest hit areas.

EHD is a viral disease caused

by a biting midge that affects

deer but is not infectious to humans.

The outbreak ends when

had its fourth and largest EHD

outbreak this summer, with

about 2,000 dead deer reported.

The hardest hit areas were

in eastern Ulster, western

Dutchess, and western Columbia

counties. The disease does

not affect deer populations uniformly,

and hunters may see

variable impacts with few deer

on some properties hit hard by

EHD and plenty of deer elsewhere.

DEC will continue to monitor

the impact of EHD through

the hunting season and make

any necessary management adjustments

next year.
---
By Bob Beyfuss

I hope you escaped some of

parts of the region experienced

in recent days.

event recently dumped as much

the higher elevations of the

Catskills. My rain gauge only

by Tuesday afternoon. I would

guess another inch fell at my

house that did not get recorded.

Heavy rains such as this are

more easily absorbed by the

rapidly growing foliage during

mid-summer, but by now, leaf

growth and evapotranspiration

rates have slowed to a standstill.

The result is saturated soils that

I always worry that Prattsville,

in Greene County, will

once more be washed away,

as was the case when Tropical

Storm Irene dumped about 20

inches of rain in 24 hours. As of

yesterday, the Schoharie Creek

had not reached the street level.

The "Beyfuss Brook," aka

the drainage ditch across the

road from my house, turned

into a raging river that would

have easily swept a car away

or drowned anyone who fell in

it. Fortunately, after my road

washed out earlier this summer,

the local highway department

installed more culverts and they

seemed to do their job. Kudos to

the highway guys once again.

I did not think I would ever

say this, but I have to admit

that this year's fall color display

has been a bit disappointing

so far. In order to develop

the intense and brilliant hues

of shades of yellow, orange and

gold produced by certain speand

carotene, it is critical for

the chlorophyll pigment to disappear

completely. Chlorophyll

masks these pigments, which

have been present in the leaves

all season long. Chlorophyll

degradation only happens when

the plant shuts down water to

the chloroplasts, which is where

the pigment is produced. Cold

weather, particularly hard freezes,

trigger this process most

quickly. This fall, we have yet

to receive a single hard freeze,

at press time, even at higher elevations

in the Catskills.

I don't think leafspot diseases,

which were very common

this wet summer, have much to

do with this, but anything that

causes premature leaf drop is

always a factor. The golden color

of sugar maple, our predominant

tree species in the region,

has appeared muted due to lingering

chlorophyll in the leaves.

It is certainly visible, but not as

brilliant as we would like.

It is not only the yellow colors

that are muted, but other pigments,

which are responsible for

the red, purple and deep maroon

shades, require sunlight to fully

develop. These chemicals are

produced in the fall (for reasons

no one understands) and are not

present all season long. This fall

has been pretty cloudy, except

when it has been pouring rain.

So the combination of warm,

cloudy or rainy days and night

temperatures above freezing

are the main reasons why it has

been a bit disappointing. But I

did say "so far." Different tree

species develop their fall colors

at different times of the fall.

Maples and hickories, sumac,

birch, aspen, (poplar), hop hornbeam,

black locust and ash are

red oak and beech are the last.

These two major species are

still pretty green in most locations

and they will eventually

turn red and golden yellow.

Beech in particular is usually

the last tree species to turn and

by the time that happens, we often

have had enough frost and

subsequent leaf loss to make the

change less noticeable. Beech

trees continue to photosynthesize

quite late in the fall, provided

there is adequate soil moisture.

There is certainly plenty of

soil moisture available.

I am noticing some particularly

vivid fall color on beech

right now that we don't usually

see, and the oaks are yet to

come in many locations. Beech

leaves sometimes go from green

to brown, to gone, in a hurry, but

this year I am observing some

lovely shades of rusty, yellow

appearing.

So, if it ever stops raining,

and some sunny days, I think we

will be treated to a later season

of fall color than "normal."

I expect that some of the

beech and oak leaves will linger

until Thanksgiving this year, especially

in the valley towns.

To quote a line from the song

"My Little Town," by Paul Simon,

"It's not that the colors are

black, it's just imagination they

lack."

Reach Bob Beyfuss at

rlb14@cornell.edu.

By Toby Moore

When my dad told me four

years ago he was going to be a

syndicated columnist, I gave it

that he could do anything he

wanted.

I didn't know much about his

column. He was calling it "Positively

Speaking!" and it was

about having a positive mindset.

That was nothing new to me; as

far back as I can remember, he

promoted thinking positively.

He was a motivational speaker

for a time.

I was a busy kid and was involved

in many different sports.

Whenever my dad drove me to

practice, he'd pop in a cassette

tape or a CD, and we listened to

Zig Ziglar, Tony Robbins, Jim

I would've rather listened to

Ten years from now

some '80's hair bands instead. I

pretended not to hear, but I was

listening.

As I grew older, I began to

listen to them myself. In college,

I was reading the books

I'd heard about in the car with

my dad.

He was a big thinker — he

taught me that anything was

possible as long as I believed

and worked hard.

It's been three months since

he passed away. He always kept

a positive attitude about dying.

If you were a fan of his columns,

you probably remember that he

didn't accept that he would die

soon. He planned on living a

few years longer.

About 10 days before he

died, he asked me to continue

writing his column on his behalf.

It wasn't something I envisioned

myself doing. I was apprehensive,

but how do you tell

your dying father no?

who all of his contacts were with

the newspapers. By the time I

-

tinue the column, he didn't have

the energy to teach me how to

get it to the editors every week.

Sometimes I post links to

his old columns on social media.

They consistently receive

many more likes than mine.

If you were a fan of my dad's

few, you probably thought to

yourself, "This kid doesn't have

anywhere to go but up!"

I've enjoyed getting to know

a couple of his old friends

through this process. Lynda,

with a "y," is of great encouragement;

she will laugh when

she reads that! Hi Lynda!

Another is a lady named Judith.

I thought she was an editor

-

ple of weeks. She emailed me

about how to be a better writer.

She gave great advice; after

was a writing friend of my dad's

and not a newspaper editor. She

and my father shared a love for

writing.

Judith recently recommended

I write a column about how

my dad might have been if he

lived another 10 years.

That's a tricky thing to write.

He was very excited about

the company we started, Cubestream.

He and our partner Ted

helped to develop it from the

beginning. He had big plans to

make it an international company.

We would have gone on a

couple of family road trips. We

planned on doing one earlier

this year, but he was too sick.

He wanted to go out west to see

the mountains and the buffalo

like we did when I was young.

He would've enjoyed seeing

his two grandsons, Caleb

school — they were everything

to him.

He may have even started

lifting weights again. When I

was a child, he was a big weightlifter

and was very strong.

As he grew older and became

more affectionate, he made sure

to let us know how much he

loved us.

-

ly wrote emails to my two siblings

and me telling us things

about his life we never knew to

help us understand him better.

It's hard to say all the things

he might have done if he lived

another 10 years, but one thing I

do know — he would have continued

to be more loving, affectionate

and caring.

Love you, Dad.

Toby Moore is a columnist,

the star of Emmy-nominated "A

Separate Peace," and the CEO

of Cubestream Inc.

WHITTLING AWAY

by Dick Brooks

By Dick Brooks

My biological clock has recently

clicked onto fall. I have

my annual dose of what I refer

to as "Squirrel Syndrome."

I get this anxious feeling

deep down in the parts of me

where the ancient animal lives

and I start to scurry around the

property trying to get all the

jobs I wanted to get accomplished

during the warm months

done. I have so far resisted the

primal urge to stuff my cheeks

with peanuts while doing this

for fear that the neighbors will

worry, but it's been hard.

Everywhere I look there

are signs of the "big sleep"

approaching. The gardens are

Transcribed from her diary by

Kathy Saurer Osborne

to Church. Gertrude Joyce Adri-

I went to the Van Alslyne Anat

another place. Called on Lite.

Home to tea. Chuck here later.

washed. I couldn't hang out the

etc. Did some straightening up.

Girls at school. Sent some letters.

squalls. Went to Westerlo, Gene

1 P.M. Cleaned the cellar a lit-

Thurs. Adam brought us a nice

wilted and what flowers remain

are fading fast, in spite of

the occasional warm weather.

Brown, dried leaves are starting

to collect under some of the

plants and trees. I noticed one

of the deer browsing on some

of our perennials was carrying a

legal pad, probably making out

a winter menu or map of where

the tastier plants can be found

in our gardens. I burned our

copy of "Bambi" recently.

I took a break and sat at the

picnic table and watched one

of my fellow squirrels hopping

from garden to garden, trying to

find seeds or nuts. I didn't have

the heart to tell him the deer had

already eaten all of them. As often

happens on such occasions,

I had a little ponder.

venison roast. Thank you! Gertrude

at Zerberry's today. Made

relish etc.

too.

JoAnn came. Gertrude in bed

all day. Had a good time. Chuck

-

ning. HB,OS

Did cleaning. Girls washed etc.

Crocheted. Chuck here in the

evening.

all day. Wind. Did Sat. work.

We once had an impromptu

gathering at a local restaurant.

We had around a dozen old

friends, the combined age of the

group would have totaled over

days and current medical conditions

were the main topics of

conversations. It was really enjoyable.

I looked around the group

and couldn't help thinking

about my gardens. As a group,

we looked a little wilted and

bowed before the weather. The

time of our big sleep is getting

closer than most of us would

like to admit. However, just as

when a garden is at rest during

the winter, life can be found

with a little digging and warming.

Grandma Mackey's Diary

1950 life in Medusa

Girls did their work. Ironed

etc. Don had to work today. A

Joyce didn't go out. Too stormy.

His mother called. He's staying

here tonite. Joyce got hit by a

skinned. Monday noon.

P.M. Bad storm, Rev Starr had

no sleep, helping over at Mitchel

Hollow. Chuck went home

gone to the Movies tonite. They

have no electric.

put away. Finished Joyce's

white scarf. Girls at the Mov-

-

It was comforting to find the

signs of life in our little group

— the eyes still sparkled, the

smiles and laughter came easily

and often. A shared memory

would shed the white hair and

wrinkles and 30 or 40 years

would slip away and we were

young again, excited by our

journey down life's dusty road.

Just as I have faith that my

gardens will bloom again in the

spring, it's pretty easy at times

like this to have the faith that

my friends will bloom again in

a garden further down the path.

The hopping little gray

squirrel drew me out of ponder

mode when he hopped close to

the picnic table, having seen

no movement to frighten him. I

wished him well, which scared

D.k.

odd jobs. Fixed drawers etc.

with Don. Joyce phoned she got

$93 for her bump by the car. (Dr

Campbell's)

Cloudy. Light snow. Washed

the kitchen windows. Bad time!

one for Adrienne. War news in

Korea bad, bad, bad!

Gertrude went to Chris

Home by 2 P.M. Had a nice

the she-bangs out of him, and

he flew up the nearby maple

tree and proceeded to tell me in

an angry voice what he thought

of my intrusion into his search

for lunch.

The idea of lunch reminded

me that snack time was rapidly

approaching. I reluctantly left

the sun-warmed picnic table

and the irate squirrel and retreated

to the peace and quiet of

the refrigerator. One must keep

their strength up.

Thought for the week —

"Experience is something you

don't get until just after you

need it." — Olivier

Until next week, may you

and yours be happy and well.

Reach Dick Brooks at Whittle12124@yahoo.com.

time. Mrs. Ketchem brought

her back. Children out learning

Christmas Carols. Carl on his

way to Japan.

Friday, Dec. 1: Cloudy.

-

Joyce came with Don. The girls

went to the dance with Dave.

Joyce went too. HB, HA KE

Saturday, Dec. 2: Did nec-

Hill for groceries in the late

school auditorium in the eve-

Very nice program.
---
DEC: 230K pounds of pesticides, chemical waste collected

ronmental Conservation Commissioner

Basil Seggos announced the collection of

230,000 pounds of pesticides and chemthis

year.

the week of May 10, included counties

in the Hudson Valley (DEC Region 3),

and the second event was held during the

week of Oct. 11, and included counties

in the Capital Region (DEC's Region 4).

helps promote healthy and sustainable

communities by providing opportunities

for proper disposal of unwanted and/or

obsolete pesticides and other chemicals.

forts to protect public health and our environment

it's critical to remove excess

pesticides and other chemical wastes

Seggos said. "We are pleased that so

many farmers, businesses and institusafely

removing potential hazards from

the environment."

ical wastes from 89 participants in Ulster,

Sullivan, Orange, Rockland, Dutchess,

Putnam and Westchester counties.

ticipants in Albany, Columbia, Delaware,

Greene, Montgomery, Otsego, Rensselaer,

Schenectady and Schoharie counties.

DEC employees visited four sites for

the collection of waste chemicals unsafe

to transport due to the poor condition

of pesticide containers and storage areas.

DEC also facilitated safe disposal

handling and transporting waste chemicals

to collection locations.

DEC schedules and organizes Cleanportation.

Collection events were held at

multiple DOT facilities.

The 2021 events mark the 29th and

30th collection events administered by

inception in 2002. The program has resulted

in the collection of more 2 million

mental mercury.

plastic pesticide containers, including

pesticide drums, which would otherwise

collected and properly recycled.

The program is endorsed by Cornell

Cooperative Extension, the Agricultural

Container Recycling Council, Soil and

tural associations.

to agricultural and non-agricultural professional

pesticide applicators, schools,

and certain businesses that use pesticides

such as golf courses, cemeteries,

and marinas. Homeowners cannot participate,

but information about reducing

household hazardous waste is available

on DEC's website.

For more information visit www.

Alzheimer's Association virtual programs

December virtual programs.

Registration is required.

RSVP at alz.org.CRF, via the

24/7 helpline at 800-272-3900 or

trants will receive a video conference

link to access and can sign

in as a guest to enter the virtual

program.

vember and December include:

• Dementia Conversations

presented in partnership with

• Meaningful Engagements:

Activities at Home at 3:30 p.m.

• Practical Strategies to Support

Personal Care and Dementia-Related

Behaviors at 4 p.m.

Dec. 2.

• Dementia Conversations:

Financial Planning at noon Dec.

3.

• Effective Communication

• Understanding Alzheimer's

tor: Understanding the Warning

Signs and Diagnostic Process at 4

p.m. Dec. 9.

• Living with Alzheimer's for

13.

• Legal and Financial Planning

presented in partnership

with Herzog Law Firm at 2 p.m.

Dec. 14.

• Helpful Holiday Hints for

TOWN LINE MOTORSPORTS

6003 Rt. 32, Westerlo, NY 12193

(518) 797-3540 | www.townlinemotorsports.com

PARTS | SERVICE | SALES

We service all major brand motorcycles, dirt bikes, snowmobiles, and ATVs.

Call us at (518) 797-3540 to schedule your service.

TOWN LINE AUTO

Full Service Auto Repair | Body Shop & Collision Repair

6501 Route 32, Greenville, NY 1208

(518) 966-8003 | www.townlineauto.com

TOWN LINE SELF-STORAGE

Safe, Secure & Convenient | Storage Units | Boat & RV Parking

6501 Route 32, Greenville, NY 1208

(518) 966-8003 | www.townlineself-storage.com
---
By Mary Lou Nahas

In the last Oak Hill and Vicinity

column, I wrote about the early

general stores in Durham, Oak Hill,

Cornwallville, Potter Hollow and

East Windham. Today I want to

continue the story with information

about those in East Durham and

Preston Hollow.

listed Bagley and Rickerson dealers

in Dry Goods, Groceries, Boots,

Shoes, Patent Medicine and General

Merchandise.

According to the map, the business

seems to have been located

pretty much where Furlong's East is

as being there. Some have said it

served as a stop on the Catskill Canajoharie

Railroad.

H. Bagley is shown as having

the house next door. I don't know

who H. Bagley was, but Bagley

families moved here from Amesbury,

Massachusetts. Cutting Bag-

1784, his son Thomas, a veteran of

the War of 1812, and John Bagley,

a Revolutionary War soldier, also

settled here.

If someone knows the history

of this early store or more about H.

Bagley, I hope they will contact me.

The Baptist church, built about

is a photo of the church and street

in "Picturesque Catskills" by Lionel

DeLisser that does not show the

side of the road that the store was

on, but we have some sense of the

what the early community was like.

There were likely other stores in

the 1800s, but Lawyers and Tubbs

were the 1900s ones many people

remember today.

Both the Lawyer and Tubbs

families moved to East Durham

had been grocers. They were the

grandsons of Irish immigrants, so

ceipts from 1903 show that C.D.

Tubbs was a dealer in choice groceries

and provisions, paints, oils,

varnish. Seneca Elliott, of Shady

sold teas, coffees, sugar and spices

and had a telephone connection. On

dozen eggs for $3.40.

The original Lawyer's store was

in what was later Mooney's, but

it later moved down to Lawyer's

Hall. Loretta Lounsbury, who lives

in Oak Hill today, remembers that

Lawyer's was on one end of East

Durham and Tubbs was on the other.

the Shamrock House, commented

there was no competition in those

days, people just lived and worked

together as members of the community.

That attitude is illustrated by

the picture of the Catskill Mountain

Hotshots, which Kevin Ferguson

included in his book, "Dancing at

the Crossroads," a band that included

Stanley Lawyer (drums), Millard

(sax) and Lyman Tubbs (banjo).

Lawyer's was also the place

where the East Durham Volunteer

Company was organized: "In East

Durham on September 23, 1927,

a small group of 'public spirited

men,' realizing that the village

lic meeting at Lawyer's Hall. Exactly

four months to the day, after

Volunteer Company had been organized,

incorporated, a Hose House

erected and a Pumper installed. On

October 14, 1927, the following

Utter, president; John Lawyer, vice

president; H.B. Tubbs, secretary;

W.A. Fox, treasurer; B.G. Snyder,

chief; M.J. Coventry, assistant

chief; George Williams Sr., Millard

Tubbs, and Daniel Ahern, trustees.

People today have warm

memories of both stores. Loretta

Lounsbury remembers that Mr.

had a big yellow angora cat that

was always on the counter. I think

both of his sons were in the store,

Stanley and Raymond. I know Ray

was on the Durham school board,

she said.

Tubbs, which later became

Reynolds, was down across from

Furlong's. One resident remembered:

Ken Tubbs owned/ran the

store for many years, and his dad

helped out a lot. The dad, whom

everyone called "Old Man Tubbs,"

lived upstairs over the store and Ken

and his wife lived next door. Assessment

records from 1931 show

"Tubbs, Harry store East Durham

valued at 1100; Tubbs House and

lot East Durham at 800."

Reynolds was still there into the

late '70s or so, Kitty Kelly remembered.

"Reynolds was over the top

of the creek across from Mooney's.

Reynolds." Melinda Merritt King

remembers walking to that post ofif

she had mail from her friends.

Geri Moran remembered:

"There was a phone booth there in

I went to make a call and a whopping

$10 in coins spilled out of the

phone. I actually called the operator

and asked her what to do with it all

(a fortune then) and she said, 'Oh,

keep it hon, you probably need it

more than the phone company.' I

was thrilled."

Reynolds: "What memories! We

would walk to town from Hervey

walk home! Then when I was old

Kevin Weis Sr. said: "I remember

Bazooka gum for a penny and

asking the owner if I could climb up

the metal pole at checkout." Dale

Handel replied: "Ten cents and you

had a pocket full of Bazooka gum

and the comics were fun."

Sadly, the Tubbs/Reynolds

building is no longer there. There

is still a Lawyer's store in East

Durham, but it is no longer run by

the Lawyers, although members of

the family still do live in the town

of Durham.

According to the book "People

Made It Happen Here," Preston

was named for Dr. Samuel Preston,

who emigrated from Connecticut

and settled there about 1789.

An early map shows H.T. Devereux

and H. Haynes both listed as

dealers in General Merchandise. "In

the early days, every little cluster of

homes needed the services of the

'country store.' Most families did

not even have a horse and wagon

to go from hamlet to hamlet." As

early as 1828, Robert W. Murphy

had a general merchandise store

store in Preston Hollow."

"People Made It Happen Here"

is a wonderful collection of quotations

from early newspapers and

books and a collection of memories

from residents who lived in the

town of Rensselaerville. Sometimes

it is hard for me to merge all the

memories into one consistent story,

but the store most can remember

today was Elsbree. "In 1893, W.P.

Elsbree built a store and house. This

was passed down to his son Bayard.

The next owners were Harold Stedman,

Franklin Clapper, Charles

Radick, and Henry Theiss."

Advertisements Elsbree was

running in the Oak Hill Record give

us a clearer picture of their merchandise

and philosophy: "A word

about Ready Made Clothing — we

are receiving new goods nearly every

week — impossible to tell you

about them all. It will be to your

interest to look through our stock

before purchasing. All goods are

will speak for themselves. Men's

Dark Suits at 3.00. Men's black

allowed to inspect with your spectacles

on if you wish. Large assortment

of children's goods. Gents'

There is no longer a general

store in Preston Hollow, however

the Elsbree building still stands.
---
By Mary Schoepe

Have you ever had trouble

driving to a familiar place, or

organizing a grocery list? Do

you sometimes forget appointments,

names or other important

facts? Have you ever walked

into a room and forgotten why

you went in there?

If you answered "yes" to

these questions like I did,

you're not alone. According to

recent statistics, more than a

half a million Americans will

die from Alzheimer's disease

this year, making it the third

leading cause of death.

My grandfather passed away

from Alzheimer's disease when

I was in my early twenties. He

was a hard-working, blue-collar

man who loved his wife and

and a cold Rheingold beer. Over

the years, his mental health declined

and it was hard to watch

(and a bit scary) him go from an

intelligent person to one who

didn't recognize friends or family.

What scares me is thinking

that I may end up with the same

fate as my grandfather.

In his bestselling book,

"Grain Brain," David Perlmutter,

M.D., a leading neurologist,

states that "Alzheimer's

is preventable through proper

diet. Diets that are high in sugar

and carbohydrates and low in

fat are devastating to the brain.

heimer's."

And now Mayo Clinic research

reveals that diets rich

in carbohydrates are associated

with an 89% increased risk for

dementia, while diets rich in

healthy fats are associated with

a 44% reduced risk.

If you have a family history

of Alzheimer's or you're worried

it might happen to you as

you age, cheer up. One of the

best things you can do is to

make simple lifestyle changes.

Here's a rundown of diet-related

strategies you can start using

today.

Most people don't realize

the trillions of bacteria in their

gut have a major influence on

creating health or disease. Renowned

psychiatrist Dr. Kelly

Brogan and other health experts

have begun prescribing a

whole-foods diet rich in probiotics

to help people with anxiety,

depression and other mental

illnesses. Adding fermented

foods to your diet that are naturally

rich in friendly gut bacteria

or a probiotic supplement

is the easiest way to recolonize

your gut with friendly bacteria.

fact, 70% of it is fat! Omega-3

fats help prevent cell damage

caused by Alzheimer's disease

by slowing down its progression

and lowering your risk for

the developing it.

Vitamin D is imperative

for proper functioning of your

immune system to combat inflammation

that is associated

with Alzheimer's. Experts recommend

getting between 1,000

and 4,000 IU daily for optimal

brain and immune function.

And finally, research shows

that exercise, particularly exercise

that gets your heart rate

up, increases the size of your

hippocampus — your brain's

memory center. Exercise triggers

a change in the way the

amyloid precursor protein is

metabolized, which slows down

the onset of Alzheimer's.

Losing your memory isn't a

part of the "normal" aging process

and is entirely preventable

through supplementation, dietary

and lifestyle changes.

STATEMENT OF OWNERSHIP,

MANAGEMENT AND CIRCULATION

(REQUIRED BY 39 U.S.C. 3685)

1. Publication Title: Ravena Greenville News-Herald

Pioneer

2. Publication No.:.

3. Date of Filing: 11/19/21 10/1/19

4. Issue Frequency: Friday Thursday

5. No. of issues Published Annually: 26 52

6. Annual Subscription Price: $36.00 $70.00 7. Complete

11 164 Augusta Main Street Ct, Clifton Ravena, Park NY NY 12065 12143 8. Complete

Mailing Address of Headquarters or General

Clifton Park NY 12065

9. Full Names and Complete Mailing Address of

Publisher, Editor, and Managing Editor: Publish-

er: Mark Vinciguerra 11 Augusta 164 Main Ct, Street, Clifton Park Ravena NY

NY 12065. 12143 Editor: Editor: Melanie Kate Lekocevic Lisa 164 2283 Main State Street Route 385

Ravena,

Athens NY

NY

12015.

12143 Managing Editor: n/a

10. Owner: Capital Region Independent Media

11 Augusta Ct. Clifton Park NY 12065

11. Known Bondholders, Mortgages, and Other

Security Holders Owning or Holding 1 Percent

or More of Total Amount of Bonds, Mortgages or

Other Securities: None.

13. Publication Title: Ravena Greenville News-Herald

Pioneer

14. Issue Date for Circulation Data Below:

9/26/19 9/24/2021

15. Extent and Nature of Circulation:

Actual No. Average No

Copies Each Copies of

Issue During Single Issue

Preceding Nearest to

12 Months: Filing Date

a. Total No. Copies

(Net press run) 646 654

b. Paid Circulation (by Mail and Outside the Mail)

1. Mailed Outside-County Paid Subscriptions

Stated on PS Form 3541 (Include paid distribution

above nominal rate, advertiser's proof

copies, and exchange copies)

7823 74 23

2. Mailed In-County Paid Subscriptions Stated on

PS Form 3541 (Include paid distribution above

nominal rate, advertiser's proof copies, and

exchange copies)

402 51 37151

3. Paid Distribution Outside the Mails Including

Sales Through Dealers and Carriers,Street Vendors,

Counter Sales, and Other Paid Distribution

Outside USPS

525 245 525 245

4. Paid Distribution by other classes of Mail

Through the USPS (e.g. First-Class Mail)

0 0

C. Total Paid Distribution (Sum of 15b, (1), (2),

(3), and (4)) 1005 319 970 319

D. Free or Nominal Rate Distribution (By Mail

and Outside the Mail)

1. Free or Nominal Rate Outside-County Included

on PS Form 3541 0 0

2. Free or Nominal Rate In-County Included on

PS Form 3541 0 0

3. Free or Nominal Rate Copies Mailed at Other

Classes Through the USPS (e.g. First-Class

Mail)

0 0

4. Free or Nominal Rate Distribution Outside the

Mail (Carriers or other means)

65 275 20290

E. Total Free or Nominal Rate Distribution (Sum

of 15d, (1), (2), (3), and (4))

65 275 20 290

F. Total Distribution (Sum of 15c and 15e.)

1070 594 1000 609

G. Copies Not Distributed:

1052 1045

H. Total (Sum of 15f and g)

1080 646 1010 654

I. Percent Paid (15c divided by 15f times 100)

54% 95 95 52%

I certify that the statements made by me above

are correct and complete:

Mark P. Vinciguerra,

Publisher
---
FAITH, from page 1

know exactly where the needs are,

how to help or what the needs are,

and CarePortal will really simplify

that process," Flach said. "It

goes into the system, it goes out

to the churches, and the churches

respond."

calls to Child Protective Services

in Greene County, Flach said, and

those are families that could be

helped through CarePortal.

There are essentially four situations

in which the platform

can help, Flach said — to help

prevent a child from entering

the foster care system; to stabilize

biological, foster or adoptive

families and kinship placements;

ological family; or to help youth

who are aging out of foster care

begin their new life.

Assistance can range from

providing beds or bedding to purchasing

diapers or baby wipes, replacing

a broken door or window,

and more.

For one family in Albany

County, help meant four new

beds for the mom and her three

children with autism.

"The four of them were sharis

very common in communities

all around us," Flach said. "That

is the number one need throughout

the portal, not only locally but

nationwide. So when the churches

showed up that day, that family

of four each had their own bed."

Eight churches in Greene

County had signed up to participate

in CarePortal as of the

launch date — Gospel Community

Church in Coxsackie, Lighthouse

Church in Athens, Rock

Solid Church in Hudson — which

will meet the needs of families in

Greene County, Full Life Church

in Catskill, the United Methodist

Churches in Catskill and Palenville,

and St. Patrick's Church

of Catskill and Athens. All have

been enrolled and trained to work

with the portal, and it is hoped

more will join, Flach said.

"An ongoing goal of Justice

for Orphans is to continue to enroll

churches to utilize the platform,"

she said.

CarePortal's launch in Greene

request and response — a single

mother with no present income

who was diagnosed with COVID

while pregnant with twins, who

also has other health issues, ina

leg injury.

"Her most pressing concern

at this time is the need for diapers

and due to safety concerns

with the two toddlers, mom has

the children cannot jump off an

elevated platform bed and hurt

themselves," Flach said. "This

results in mom having to get up

her physical limitations in doing

so. Safety rails for the two toddler

beds will assist mom in keeping

the children safe and preventing

her from having to bend over to

After a launch countdown, a

representative from Gospel Comhelp"

button to assist the family

by purchasing diapers and two

bed rails for the toddlers.

The Rev. Bartly Heneghan

from Gospel Community Church

said his church will meet the

needs of that family and others

moving forward.

"We thought it was a great

opportunity to help. People want

to help, but they don't know what

the needs are," Heneghan said.

"Case workers identifying the

needs make it a lot easier for us."

all too well that strokes can happen

to anyone, regardless of age

she was a 38-year-old Burnt Hills

business owner who just didn't feel

right. On her way to a night out with

a friend, Silver suffered a stroke.

Silver shared her story at the

2021 Go Red for Women Luncheon

in Albany. October 29 was World

Stroke Day.

"I had been having a headache

and dizziness, and feelings of disorientation,

was diagnosed with

a sinus infection and an ear infection,"

Silver said. "The doctor had

set up a scan, and while I was waiting

for it, I had that sense of impending

doom that you hear about

before an event. On Feb. 23, 2008,

when Christianne called to say we

should go out, I could barely lift my

head. But I agreed to go, and before

we went out, I called all my family

members to tell them I loved them."

It's a day that sticks in Silver's

friend Christianne Smith's memory,

too. Smith, owner of Designsmith

Studio, is co-chair, with Michele

Kollmer of CAP COM, of the Go

Red for Women Luncheon.

"We were driving to dinner and

Lisa got a phone call from her sister

Jessica," Smith said. "She called

her Jen, and was quite curt with

me when I corrected her. It's not

like Lisa to be so abrupt. Her sister

asked to talk to me, and we both

knew Lisa needed to go to Urgent

Care. Immediately."

Silver remembers hearing a

back seat of the car, and when

she tried to tell Smith that she had

an MRI appointment, she said

"UFO" instead. At Urgent Care, she

couldn't remember Christianne's

name.

"We've been friends for 20

years, and that was terrifying,"

Smith said.

It was a few days until Silver

was diagnosed with a stroke, and

She has moved to Florida to be closer

to family, and is able to be active,

kayaking, biking and being outside.

"Strokes can happen to anyone,"

said Dr. Alan Boulos, chair

of neurosurgery at Albany Medical

Center and president of the Capital

Region Board of Directors of the

American Heart Association. "We

all need to know the warning signs

and what to do because you never

know when you'll need to help

yourself or someone else having a

stroke. Time to treatment is critical

to improving outcomes so we all

must stay vigilant to look for signs

of stroke among our family, friends,

colleagues, and community members."

Each year approximately

Michael Pirrone, representing

the community of St. Patrick's

Church of Athens and Catskill,

said CarePortal helps faith-based

groups come to the aid of families

in a way that they need.

"We understand that there are

needs and this provides a more

direct way to meet the needs of

people who are in need," Pirrone

said. "Instead of doing things

helter skelter, this is a more organized

way to help."

Kathi Sewak, of Ravena,

has been working with Justice

for Orphans for years. Initially,

the group focused on increasing

awareness of adoption and foster

care, but broadened its focus

when they heard about CarePortal.

most people to consider fostering

cult ask and that's where we started,

to raise awareness of those

needs, which are still there,"

Sewak said. "But when I learned

about CarePortal, more people

— just about anyone — can get

involved and help. Prevention is

huge — some of these kids don't

even have to go into foster care

if we can just provide the parents

with the things that they need."

Helping through CarePortal

is voluntary for churches, and

gives them a simple way to get

involved, Greene County Legislator

Ed Bloomer, R-Athens, said.

"There are needs, people who

need help, and a church might be

quest," Bloomer said. "This gives

them the opportunity to help —

no one is obligated, no one is

forced, it is strictly volunteer and

it saves a great deal of money. It

is win-win, certainly for the county

and for the people in need."

Stroke survivor

shares her story

800,000 people in the U.S. suffer

a stroke. Worldwide, one in four

will suffer a stroke in their lifetime.

Knowing stroke warning signs

and seeking immediate medical

attention can make the difference

between recovery and disability or

death.

The American Stroke Association

encourages people to learn

the acronym F.A.S.T. to help them

remember the warning signs for

stroke. F.A.S.T. stands for:

• Face Drooping – Does one

side of the face droop or is it numb?

Ask the person to smile. Is the person's

smile uneven?

• Arm Weakness – Is one arm

weak or numb? Ask the person to

raise both arms. Does one arm drift

downward?

slurred? Is the person unable to

speak or hard to understand? Ask

the person to repeat a simple sentence

like "The sky is blue."

• Time to Call 911 - If someone

shows any of these symptoms, even

if the symptoms go away, call 911

and get to a hospital immediately.

Check the time so you can tell

emergency responders when the

Research shows that while most

people say they would call 911 in a

stroke emergency, real-world data

or family. Strokes are most treatable

right after they happen. Delaying

getting help often means people

can't get treatment in time and are

more likely to be disabled or die

from their stroke.

Along with learning stroke

warning signs comes another important

message from the American

Heart Association and American

Stroke Association: Don't Die of

Doubt.

"If you or someone around you

shows signs of stroke, get it checked

out right away. It's always better to

err on the side of caution with stroke

signs because you're losing brain

cells every minute during a stroke,"

said Dr. Boulos. "Remember that

even during a pandemic, hospitals

are still the safest place for you to be

when medical emergencies strike.

Please let us help you—don't die of

doubt."

"The Go Red for Women movement

is all about educating people,"

Smith said. "I'm so honored that

Lisa is sharing her story at the Go

Red for Women Luncheon so that

we can save more lives like hers."

For information or to register for

the Go Red for Women Luncheon,

cheon.heart.org.

Learn more and test your stroke

knowledge at stroke.org/warningsigns.
---
HOLIDAY, from page 1

quasi-normalcy as the world continues

to navigate the COVID-19

pandemic.

Last year, the Rotary Club set

up four tall, donated trees in place

-

sored by community members.

This year residents and businesses

again have the opportunity to sponnature-friendly

decorations such as

ornaments crafted from pinecones,

birdseed ornaments, popcorn, and

cranberries, avoiding non-biodegradables

like ribbons, garland,

plastic and glass.

Trees will be set up around the

gazebo in Veterans Park and in front

of the Greenville Public Library.

Each tree will have a sign in front

of it listing the business' name or an

"in memory of" inscription.

While Santa and Mrs. Claus did

not appear for the event last year,

they will be part of the festivities on

-

bo, greeting children from afar.

While in years past every child

had the opportunity to have a photo

with Santa, the Rotarians are not yet

reinstituting that tradition.

"We're doing the tree lighting,

but we've scaled back the Santa

Claus part and all the other things

that we did," said Debbie Smith,

who chairs the event for the club. "I

know that some children are going

to be disappointed, but we're just

trying to be careful. We're hoping

next year that we'll be back to normal."

While there won't be photos,

there will be a toy for each child,

as was the custom in festivals past.

Rotarians will be on the steps of the

gazebo handing out gifts to children

as they pass by waving to Santa and

Mrs. Claus.

"We're excited to be on the road

getting back to normal and to bring

the beauty back to Greenville on the

four corners," Smith said. "When

you drive by and see all those trees

lit, it's such a great feeling."

Another one of the area's feelgood

events is Cairo's Holiday Parade

of Lights, hosted by the Cairo

Hose Company and Auxiliary.

Last year, organizers called off

the parade at the last minute.

restrictions, we couldn't take a

chance," said Brian Feml, president

of the Cairo Fire Company.

This year, the parade returns.

Street will be ablaze with lights.

All are welcome to participate.

Creatively themed and decorated

vehicles, from automated garbage

Where: Town Gazebo in

Veterans Memorial Park,

Greenville

Where: Main Street

in Cairo. Participants assemble

at the Hannaford

and Oak, Birch and Cedar

Streets

More Info: Contact Bri-

4147.

trucks all the way down to golf carts

and four-wheelers will be part of

the lights display. Some years, there

have even been horses adorned

with lights marching in the parade.

"The more lights, the better,"

Feml said.

Participants will be lining up at

the Hannaford and Oak, Birch, and

head down Main Street, turn right

onto Railroad Ave., and then end

Santa will light an over 20-foot

Christmas tree donated by the Cairo

Fire Company, and then three

trophies will be awarded for lights

displays. Santa will go to the Cairo

Public Library after the awards ceremony

so children can come in and

visit with him.

Vendors will be on hand on the

front lawn of the Town Hall and in

the rear of it, as well as on Main

Street.

The evening ends around 8 p.m.

-

sored by the town of Cairo and the

Cairo Hose Company.

Traditionally, the parade has

drawn people from a sizeable radius,

including Earlton, Coxsackie,

Catskill and Kiskatom. Feml encourages

the community to attend.

"They need to get out and get

fresh air," he said. "It was a tough

year."

VETERAN, from page 1

He is also a life member of the

-

erans of America and the Sullivan-Teator

Veterans of Foreign

Wars Post 770 in Catskill. Over

the years, he has volunteered for

many veterans' causes, includ-

-

east USA Vietnam Veterans

Reunion Association, based in

Greenville.

Andreassen said he was honored

to have been selected as

Greene County Veteran of the

"I want to thank the Honor

A Vet Committee for my selection,"

Andreassen said. "It

certainly was a humbling shot

to me as I feel there are many

veterans who have gone through

much more and are much more

deserving than I who should be

standing behind this podium.

There are many hero veterans

out there that need to be recognized

and honored."

During the ceremony at The

Historic Catskill Point, members

of Greenville American

Legion Post 291 conducted the

-

and commendations from the

Delgado, D-19, and state Sen.

Assemblyman Chris Tague,

R-102, presented an Assembly

citation to Andreassen, calling

him "a man who truly exempliand

a good neighbor."

"Having served our nation

Seabees as equipment operator

second class, as well as an additional

tour in Antarctica, Thomas

has answered the call of duty

several times and served bravely

in defense of our nation and

all of it values and liberties,"

Tague said.

After being honorably discharged

from the military, Andreassen's

service to his community

continued, Tague said.

"The degree to which he has

served our nation is incredible

enough on its own, but even

after completing his service,

Tom still wanted to do more,"

Tague said. "Ever since, he has

worked non-stop to support our

veterans and do everything he

can to make Greene County the

best place to live and work that

it can be."

Andreassen was also presented

with citations by Greene

County Legislature Chairman

-

more; Greene County Veterans

Service Agency Director

Michelle Romalin Deyo; and

Catskill Town Supervisor Dale

Finch, among others.

Greene County Sheriff Peter

Kusminsky paid tribute to Andreassen

for his dedication to

both the military and his community.

"I admire and respect Tom

not only for his distinguished

service as a veteran, but for his

true devotion to his fellow citizens

and his country," Kusminsky

said. "Tom is a large-thanlife

hero and his picture should

be next to the word 'patriot' in

the dictionary. He cares about

his country and is not afraid to

tell it like it is."
---
By Dr. Billy Holland

As our spiritual values become

more centered on God, it's normal

to start looking forward to our eternal

existence.

For those who are in Christ,

how exciting it is to know that our

heavenly Father and His Son Jesus,

our loved ones, our new name, our

ship, and crowns and rewards are

all a part of our glorious future.

this world and the only thing we

will take with us when we depart

is an account of how we lived and

loved. How wonderful to know

less praise, everlasting joy, perfect

peace and contentment without

darkness, suffering, worries or sorrow.

It's true that God loves everyone,

but we will not enter heaven

just because we are good or deserve

it. We are given eternal life when

we repent, confess, believe and

accept by faith that within God's

grace, the blood of Jesus is the only

price that can pay the ransom for

our sins. Redemption is all about

God's plan that was accomplished

on the cross.

Listen to these lyrics from the

song "East to the West" by Casting

Crowns: "In the arms of your merfar

the east is from the west... from

one scarred hand to the other."

I cannot imagine a more optimistic

and exciting thought than

going to heaven and spending an

eternity in God's presence. For the

Christian, this promise should be

a wellspring of joy reminding us

that our trials cannot be compared

to the glory that awaits us. May we

tape this to our bathroom mirror to

remind us every morning of how

God's amazing grace provided a

way for us to live with Him forever.

The fundamentals of our salvation

can be basically described as

God's love intervened as a rescue

mission of mercy in order to save

those who were hopelessly lost.

I Peter 1:3-4 promises, "Blessed

be the God and Father of our

Lord Jesus Christ, who according

to His great mercy has caused us

to be born again to a living hope

through the resurrection of Jesus

Christ from the dead, to obtain an

inheritance which is imperishable

away, reserved in heaven for you."

distractions and for most of us, it's

exhausting to keep up. As our daily

routines weigh us down with stress

and frustration, it's important to be

aware of a much higher reality.

If we only consider eternity

when we attend funerals, we are

missing a vital component of our

relationship with God that can keep

us excited and rejuvenated with His

joy and hope.

I'm giving the eulogy for my

aunt this week, and it's truly going

to be a celebration as we rejoice

that her eternal life is just beginning.

She loved the Lord and always

said that spending time alone

with Him was never intended to be

a last resort but rather a daily privilege.

She was always happy and

loved to laugh. She had her share of

struggles, but we can live in a positive

state of mind and stand strong

in our faith no matter what trials we

are going through as Titus 2:13 reminds

us, "Looking for that blessed

hope and the glorious appearing of

the great God and our Savior Jesus

Christ."

Do you have a happy place

when facing a crisis? In Psalm

chapter 91, there is actually a secret

place under the shadow of the Al-

His peace and safety. This awareness

of His presence is a state of

mind that can be attained for those

who enjoy having a personal relationship

with Him.

God desires to abide in the conscience

of His children and this, in

turn, allows Him to be our Lord and

King. Being attentive to His voice

will not come without serious determination.

He must be our highest

priority or the distractions of

this life will slowly turn our eyes

away from His promises.

Many do not realize that as

Christians our allegiance is to King

Jesus and our citizenship has been

transferred from this world to the

spiritual reality of His glorious

eternal kingdom. The concept of

abandoning our independence has

everything to do with trusting His

plans for our lives.

How much does God love you?

How far is the East from the West?

Discover more about the Christian

life at billyhollandministries.

com.
---
By Thomas Christopher

The title of Robert Kourik's

new book is "Sustainable

Food Gardens," a must-have for

those who want to raise their

own food in an environmental-

Solutions" is the subtitle, and

Robert devotes plenty of text

to exposing the former and proposing

the latter.

I should at this point share

the fact that I have been an admirer

of Robert Kourik's work

for many years, and that I wrote

the foreword to this book. I do

not benefit financially from its

sales, though I do intend to put

it to work in my garden.

As the spouse of a scientist

and someone trained to seek out

evidence-based solutions, I am

often frustrated by the gardening

media, where opinions readily

pass themselves off as facts

and tradition commonly trumps

science. Robert's writings are

refreshingly different in this regard.

He's a dogged researcher,

and an avid reader of horticultural

journals and reports. He's

not afraid to contradict popular

opinion, although he's more interested

in getting to the root of

the issue (a special knowledge

of plant roots, incidentally, and

how their habits affect plant

growth and maintenance is one

of Robert's accomplishments

and the subject of a chapter in

this book).

Robert has had his hands

in the soil for a long time. He

started on of the first organic

landscape-maintenance companies

in this country back in

1974 and he is still experimenting

with new techniques and

testing new methods. He was

a personal friend, for example,

of Bill Mollison, half of the

Australian duo that founded the

Permaculture movement, and

Robert shares insights that he

learned from this sustainable

gardening pioneer.

sustainable vegetable gardening

Robert's not slow, however,

to depart from Permaculture

dogma when he finds it contradicting

peer-reviewed horticultural

studies or his own experipages

to a largely positive critique

of permaculture, suggesting,

however, ways in which

its teachings may be adjusted

to better reflect the realities of

American suburban gardening.

Robert doesn't hesitate to

call out his own mistakes as

well. He devotes a full page

of this book to decrying a list

of "dynamic accumulators" he

Dynamic accumulators are

plants that will, through the

action of their roots, bring into

solution and concentrate in

their tissues minerals from the

soil, making them available

ultimately to their less enterprising

neighbors in the garden.

Robert has since come to

question the reliability of his

sources for the original list,

and though he still maintains

the value of the concept, he includes

lists in this present book

based on more reliable research

such as the meticulous work of

the late Dr. James Duke of the

United States Department of

Agriculture.

"Sustainable Food Gardens"

is a remarkably comprehensive

guide that will benefit both beginners

and experienced gardeners

alike, taking them from

Soil" (Chapter 4) to "Attracting

Beneficial Insects" (Chapter

11) and "Designing Sustainable

Gardens" (Chapter 12). He has

even included a chapter (Chapter

13) on "Sustainable Garden

Play," as there should be room

in such a guide for ideas of how

to create children's games, as

well as a recipe for persimmon

margaritas (as well as many others,

including "mocktails" for

those who prefer their beverages

and play to be alcohol-free).

I don't always agree with

Robert. For example, he cites

in this book the publications of

Professor Arthur Shapiro of the

University of California, Davis,

which emphasize the beneficial

role that introduced plants

play in hosting butterflies and

caterpillars in suburban California.

This seems to me to be

contradicted by the findings of

ecologists such as Dr. Douglas

Tallamy of the University of

-

rango of the University of Massachusetts,

Amherst. I respect

the fact, though, that Robert is

not expressing a personal opinion

but rather the peer-reviewed

results of legitimate research.

I would love to listen in on a

debate between the respective

scientists.

As a paperback book priced

costly purchase, but I believe

pages make it a bargain. If

nothing else, Chapter 8, "Free

Fertilizers," will quickly save

you back the cover price and

more, while putting your gardening

on a more sustainable,

more environmentally friendly

path. I highly recommend this

book for any gardener's winter

reading.

"Sustainable Food Gardens"

by Robert Kourik, is published

by Metamorphic Press, Santa

Rosa, California, and distributed

by Chelsea Green Publishing,

Inc. To listen to a conversation

with Robert Kourik, log

onto the Berkshire Botanical

Garden's "Growing Greener"

podcast at www.thomaschristophergardens.com.

Be-a-Better-Gardener is a

community service of Berkshire

Botanical Garden, located in

Stockbridge, MA. Its mission, to

provide knowledge of gardening

and the environment through

a diverse range of classes and

programs, informs and inspires

thousands of students and visitors

each year. Thomas Christopher

is a volunteer at Berkshire

Botanical Garden and is the author

or co-author of more than

a dozen books, including Nature

into Art and The Gardens

of Wave Hill (Timber Press,

2019). He is the 2021 Garden

Club of America's National

Medalist for Literature, a distinction

reserved to recognize

those who have left a profound

and lasting impact on issues

that are most important to the

GCA. Tom's companion broadcast

to this column, Growing

Greener, streams on WESUFM.

org, Pacifica Radio and NPR

and is available at his website,

https://www.thomaschristophergardens.com/podcast.

WE WANT TO HEAR

FROM YOU!

The Greenville Pioneer wants to hear

from you. Send information about upcoming

events and news to news@

greenvillepioneer.com.

We need to have announcements

at least two weeks in advance.)
---
By Russell Gloor

Dear Rusty:

earn as much as possible without having

their Social Security taxed. We would still

be paying into Social Security, which would

help the fund.

I also feel that all people earning over

$100,000 should pay into Social Security

because they can afford it. This would

help fund Social Security without hurting

-

as much as we can without a portion of our

Social Security being taxed.

Signed: Overtaxed Senior

Dear Overtaxed Senior:

Few would argue that paying income tax

-

theless, Congress enacted taxation of Social

package which restored Social Security to

solvency at the time.

Is taxing Social Security fair?

-

ried couples who earned more than $32,000.

That was the law until 1993 when Congress

added another threshold for both single and

-

ers who earned more than $34,000 and for

Ever since they were enacted, those laws

have been viewed as unfair by many senior

organizations and especially by the individ-

The unfortunate reality is that eliminatwithout

also implementing other offsetting

reforms would exacerbate Social Security's

Security's revenue in 2020). Thus, calls

today for repealing income tax on Social

worth noting that 13 U.S. states also levy a

Although the payroll taxes you pay into

Social Security while working are different

-

ple earning over $100,000 today do pay

into Social Security through a FICA tax

(or self-employment tax) on their earnings.

Paying this tax is what entitles you to re-

The 2021 threshold after which SS contributions

are no longer taken from earnings

is $142,800, and this amount goes up a bit

each year. But even completely removing

that payroll tax cap and further taxing higher

earners would not fully resolve Social Se-

Social Security's trustees predict that

starting in 2034 unless Congress acts to reform

the program. Eliminating income tax

being considered in reform proposals, as is

increasing (or eliminating) the payroll tax

cap. Whether Congress will include either

of those suggestions in future Social Security

reform legislation is anyone's guess.

So, while we agree that levying income

"double taxation" (because you also pay

income tax on your earnings used to qualify

for Social Security), taxing your Social

Security income is, nevertheless, permitted

under current law.

As unpalatable as that law may be, and

as unfortunate the effect is on struggling seniors,

the AMAC Foundation can only offer

guidance on how existing Social Security

laws and regulations affect those who contact

us. However, our parent company, the

Association of Mature American Citizens,

is very well aware that paying income tax

on Social Security "isn't fair" and regularly

lobbies Congress on that topic.

This article is intended for information

purposes only and does not represent leopinions

and interpretations of the AMAC

Foundation's staff, trained and accredited

by the National Social Security Association

(NSSA). NSSA and the AMAC Founor

endorsed by the Social Security Administration

or any other governmental entity.

To submit a question, visit our website

(amacfoundation.org/programs/social-security-advisory)

or email us at ssadvisor@

amacfoundation.org.