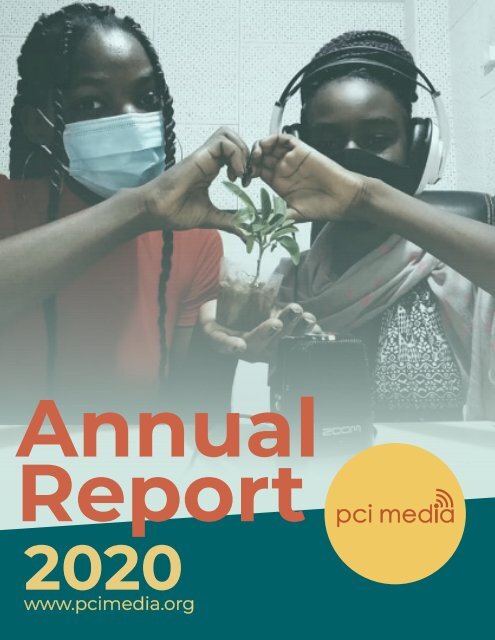 You also want an ePaper? Increase the reach of your titles
YUMPU automatically turns print PDFs into web optimized ePapers that Google loves.
Annual

Report

2020

www.pcimedia.org
---
Who We Are

Our Vision:

A healthy, just, and sustainable world.

Our Mission:

PCI Media creates a healthier, more sustainable,

and just world using the power of storytelling and

community.

Our Promise:

PCI Media promises to deliver lasting results

through stories, unique media programs,

community connections, and partnerships that

inspire new ways of living.

We Offer:

Customized

Communication

Support

for your initiative

Design and

Implementation

of SBCC

(Social and Behavior Change

Communications)

Thought

Partnerships

• Communications Strategies

• Advising and Mentorship
---
`

35

70

33

years

countries

languages

31

active programs

and campaigns

3

4 Letter from our President

5 A few of our Partners in 2020

6 Strategic Framework

7 How We Make Impact Media

8 Our Programs in 2020

10 Empowered People

12 Healthy Living

14 Livable Planet

16 Awards, Board

17 Supporters
---
Letter from our President

Dear PCI Media Friends,

As we reflect on our successes and programs in

2020, we thank our many partners for making

positive change possible. Whether providing

funding for a new production, subject

matter expertise, or broadcast support – our

partnerships empower us to produce the stories

that touch people's hearts, expand their minds,

and inspire action for a better world for us all.

The COVID-19 pandemic has changed all of our lives. It has also

intensified the need for safely produced radio dramas and media that

improve access to information and resources about health, sexual

and reproductive rights, and caring for our planet. Our production

teams practiced social distancing, recording voices one by one, and

disinfecting the studio between each actor. We recreated community

discussion forums online.

This was all made possible because of our partners' flexibility and

additional funding that many of our supporters provided. But there

is a lot more work to be done.

In the pages that follow, you'll see how we help communities tell

stories that change lives, develop capacity, and strengthen networks.

We're proud to be in the business of producing change, one story at

a time. We hope that you'll to join us in our efforts.

Sincerely,

Meesha Brown

4
---
A few of our Partners in 2020

5
---
Strategic Framework

Goals

Over the next 5 years, we're working to expand PCI Media's

reach in order to:

• Triple our impact by expanding our most effective program

models

• Formalize new institutional partnerships to deliver

communications programming on the issues and in the

places where it is most needed.

Impact Areas

EMPOWERED

PEOPLE

Societies thrive when

minoritized groups are

fully included.

HEALTHY

LIVING

Healthy families are

the foundation for

prosperous communities.

LIVABLE

PLANET

The climate crisis

demands action from

all of us, for all of us.

Women

and Girls

LGBTQ+

Communities

Nutrition

Maternal, Infant,

and Child health

Climate

Resilience

Biodiversity

Conservation

Migrants

and Refugees

Noncommunicable

Diseases

Infectious

Diseases

Sustainable

Food Systems

Clean Air, Water,

and Land

6
---
How We Make Impact Media:

Formative research and coalition building. Identify

barriers and drivers for behavior change. Bring

together the agents that facilitate and sustain change.​

Program design. The coalition participates in an

inclusive design process.

Production. Develop high-quality and locally resonant

materials, in partnership with local creative teams.​

Broadcast and mobilization. Engage audiences

through call-in shows, community-based activities and

social media to open space for dialogue and action.​

Monitoring, Evaluation and Learning. Leverage

accountability for learning.​

7
---
Our Programs in 2020

Empowered

People

• Qudwa Community Theater and Puppet Shows,

VAWG, UNICEF Lebanon

• Qudwa Barber Shops & Hair Salons, VAWC, UNICEF

Lebanon

• Dallaalimo, Small Arms and Light Weapons Safety,

Mines Advisory Group (partner/client, program

funded by German Govt.)

• My Choice, Our Choice, Safe Abortion, SAfAIDS

• Accesso sem barreiras (Access Without Barriers),

inclusive adolescent SRH, Government of Flanders

• Estamos a Tiempo (f/k/a Strong Women, Strong

Choices), Foundation and various donors

• Let's Talk! Pregnancy at the Right Time, Early and

Unintended Pregnancy, UNESCO, SAfAIDS, Save the

Children Sweden, UNFPA

• Promotion of Universal Health - advocacy and

communications, Universal Health Care Foundation

of Connecticut

• Spotlight Initiative Timor-Leste, VAWG, UNICEF

Timor-Leste

• Feet on the Ground, Catholic Relief Services

• Icche Dana – Promotion of girls rights and prevention

of child marriage, Bangladesh UNICEF

• Project BETTER – education through COVID times,

Associacao Progresso, Mozambique

• One Community Many Voice

Caribbean, EU

• Familiando, Peru, Weeden F

• Nutrition and prevention of

Mozambique

• Fotebol da Forca, Grand Cha

Mozambique

• Love and Care for Every Chil

Feb 2020)

Healthy

Living

• Nutrition in three districts in

• Communication for acute m

• Shorno Chef (Shining Chef),

• Ouro Negro, UNICEF

• Taifa Imara, Familia Bora, UN

• Fotebol da Forca, Grand Cha

• Stronger with Breastmilk On

breastfeeding, UNICEF WCA

• Production of a guide for ra

nutrition, WFP, Peru

• Nutrition research, Sri Lanka

8
---
s – LGBTI rights,

oundation

child marriage, WFP

llenges Canada,

d, Laos, UNICEF (ended

Livable

Planet

• #WildForLife, UNEP

• Chemical and Waste Management Programme, UNEP

• West Africa Biodiversity and Climate Change, USAID

via Tetra Tech

• Switch Africa Green, UNEP

• Integrated Watershed Management (IWECO),

Caribbean, UNEP (ended Feb 2020)

Peru, WFP

alnutrition, WFP

UNICEF

ICEF

llenges Canada

ly, exclusive

RO

dio programs on

, WFP

9
---
Estamos a Tiempo

Bolivia

Issues: Teen pregnancy & Family Planning

Storytelling that engages teens and families to improve access

to sexual and reproductive health education and services.

30% increase in knowldege about sexual and reproductive health

and family planning.

Change

15% percent increase in family planning.

Local media and community-based organizations developed skills

to create content that raises awareness and leads to behaviors that

reduce teenage pregnancy.

Capacity

Coalition built across Bolivia, bringing together over 40 youth and

women organizations, local organizations, media and journalists,

government representatives and service providers.

Community

10
---
EMPOWERED

PEOPLE

Societies thrive when

minoritized groups are

fully included.

Communications Approach

Teen drama about first love engages Bolivian teens and their families.

Radio

Drama

Call-in

Shows

Social

Media

Community

Mobilization

Videos

When my boyfriend pressures me for sex, I say yes when I want to say no.

I don't want to lose him.

Estamos a Tiempo Teen Drama Character

Capacity and Change Beyond the Program

Estamos a tiempo as a program ended

in 2020. But the radio drama was so

successful, local organizations we

mentored continued what we built

together.

Using the stories and characters

from the 'Calicanto' radio drama and

the training we provided, partners

expanded the program to a website,

comics, videos and video games.

11
---
Ouro Negro

Mozambique

Issues: Children and adolescents' rights and wellbeing, nutrition,

gender equality, COVID-19, overall health issues.

Storytelling designed to improve families' knowledge and

capacities about health and increase disease prevention.

70% of listeners reported

behavior change because

of the radio drama in 2017

94% reported changing

their behavior in 2021

Change

116 radio

stations

digital literacies

for radio staff

facilitation skills

for radio hosts

Capacity

A stronger network of communty leaders, local radio sations,

government agencies, NGOs and UNICEF foster local ownership of

the program and connect audiences to health and social services.

Community

12
---
HEALTHY

LIVING

Healthy families are

the foundation for

prosperous communities.

Communications Approach

Stories about a group of adolescent students and a traditional village leader engages

mothers, families, and teens in Mozambique.

Radio

Drama

Call-in

Shows

Videos

Website

Podcast

Social

Media

Community

Mobilization

After listening to the [radio] program, I realized that my daughter might be

malnourished. I took her to the health clinic where she was diagnosed. Now, I make

sure she eats nutritious food.

Paulina, 23 years old, Mozambique

Expanding Our Impact Beyond Ouro Negro in Mozambique

Access Without Barriers

This program focuses on bringing sexual and

reproductive health education and access

to teens with disabilities, funded by the

Government of Flanders

Project BETTER*

PCI Media partnered with Project BETTER

to provide access to learning during COVID

lockdowns. We trained teens to produce

educational radio shows for children.

*BETTER stand for Better Education through Teacher Training and

Empowerment for Results

13
---
West Africa Biodiversity and

Climate Change Program

WA BiCC

Issues: Climate change, biodiversity conservation.

Storytelling that raises awareness about climate change,

wildlife trafficking, and pollution, and promotes sustainable

behaviors.

As these changes take root, we will see an increase in sustainability

practices that protect coastal communities and forests.

Change

Capacity

Local radio producers are able to design engaging radio shows using

social change strategies and local leaders are able to better advocate

for natural resource protection.

Community

Strengthened network of community leaders, local and national

parks, and governments, including ECOWAS, Mano River Union,

Abidjan Convention.

14
---
LIVABLE

PLANET

The climate crisis

demands action from

all of us, for all of us.

Communications Approach

A drama about a successful fisherwomen and a village chief learn to sustainably use

natural resources for the survival of their families and community.

Radio

Drama

Call-in

Shows

Videos

Website

Policy

Convening

Social

Media

Community

Mobilization

Capacity and Change from Individual to Policy

WABiCC speaks to audiences at every level of

the socio-ecological model and deepens the

communications capacity of regional bodies and

local grantees.

We consider the radio drama program to be a very important tool to advocate;

an important tool for a call to action by state actors. At the end of the drama, we

expect that our state actors and local councils will develop wetland laws that will

protect our environment.

Mayor of Bonthe

15
---
Awards

Board

2020

Lynne, Yeannakis (Chair)

Rita Fredricks Salzman (Vice Chair)

Sally Timpson (Secretary)

Richard Stone (Treasurer)

Robert M. Allen

Brenda Campos-Nesme

January 2020

3x Award of Outstanding Achievement for

Humanitarian Work, Indie Fest

'#CleanSeas Break-Up PSA: Christmas Edition -

Home for the

Holidays'; 'Nature for All: Living'; 'Cocina con

Causa'and UNEP

Fred Cohen (Chair Emeritus)

Paal Frisvold

Theana Iordanou

Jon Kurland

Parag Mehta

Terry Mollner

Pamela Newman

Paula Denise Patnoe-Woodley

2021

May 2020

1x Silver Telly Award: General-Green/Eco-

Friendly for Online

'Breaking Up With Plastics: Caribbean' in

partnership with UNEP

Lynne, Yeannakis (Chair)

Rita Fredricks Salzman (Vice Chair)

Parag Metha (Treasurer)

Rick Olivarez (Secretary)

Robert M. Allen

Brenda Campos-Nesme

Fred Cohen (Chair Emeritus)

Jon Kurland

Terry Mollner

Pamela Newman

May 2020

1x Silver Telly Award: Series-Documentary:

Series for Online

'Let's Talk' in partnership with UNESCO,

UNFPA, SAfAIDS and Save the Children

Sweeden

Richard Stone

Sally Timpson

16
---
C

MEDIA

/pcimedia

@pcimedia1

@pcimedia

/company/pcimedia

pcimedia.org

For more information,

please contact info@pcimedia.org