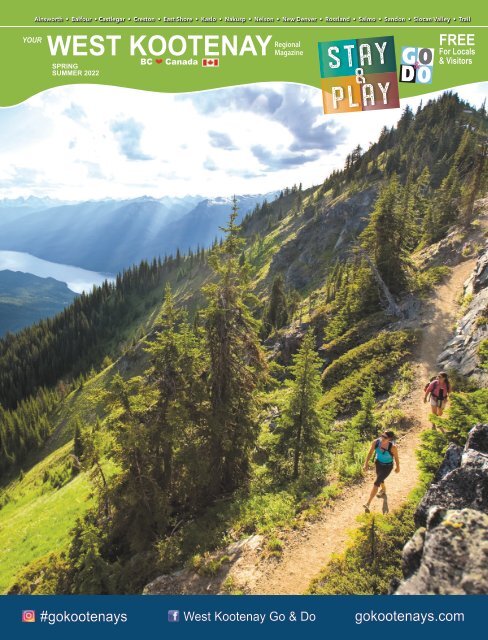 West Kootenay Go & Do - Spring 2022
West Kootenay Go & Do Regional Guide Printed in Canada. Published in Kaslo, BC 3 times a year. 1-800-663-4619
West Kootenay Go & Do Regional Guide
Printed in Canada. Published in Kaslo, BC 3 times a year.
1-800-663-4619
SHOW MORE
SHOW LESS
Create successful ePaper yourself
Turn your PDF publications into a flip-book with our unique Google optimized e-Paper software.
YOUR

Ainsworth • Balfour • Castlegar • Creston • East Shore • Kaslo • Nakusp • Nelson • New Denver • Rossland • Salmo • Sandon • Slocan Valley • Trail

WEST KOOTENAY

SPRING

SUMMER 2022

BC ❤ Canada

Regional

Magazine

stay

&

play

&

FREE

For Locals

& Visitors

INTRO

#gokootenays

West Kootenay Go & Do

gokootenays.com
---
INDEX

"nupika wu'u"

Spirit Water

Hot Springs Pools & Cave

Contemporary Rooms & Suites

Swimwear & Gift Boutique

Spirit Water Spa

www.ainsworthhotsprings.com

Fresh, local, indigenous inspired.

Rooftop patio

2 Stay & Play in the West Kootenay 2022 #gokootenays - share the adventure! www.gokootenays.com BC Canada
---
It's time to get out and explore again, isn't it?

Come to the mountains!

As you travel our winding

roads, on two wheels or four

within the Kootenay Boundary

region, we promise you majestic

views, wildlife sightings,

creatively organized and wildly

unorganized spaces, and plenty

of unique shops and restaurants.

Even if you are a born and bred

Kootenay kid, there are always

new neighbourhoods and new

activities to discover. If you're

coming from further afield,

we are so glad to have you.

It's wonderful that we can

welcome new faces again!

Come and explore our hills,

valleys, lakes and rivers –

and our mountain

villages and towns too.

Even the smallest of towns in the

Kootenays (Silverton, for example,

with fewer than 200 residents) has

always been up for a celebration.

Our fairs and festivals and markets

had to take a pause recently,

but two years of pent-up energy

is set to be released in 2022.

Are we eager? Yes we are!

@gokootenays

INDEX

Ferries..............................5

Creston/East Shore ....7

Trail...................................9

Rossland/Fruitvale....11

West Kootenay &

Area Map .....................12

Castlegar ......................13

Dining Guide...............14

Salmo.............................15

Nelson............................17

On the cover: Idaho Peak

Photo: Dave Heath

courtesy Destination BC

Balfour ..........................23

Nakusp..........................25

New Denver.................26

Silverton........................26

Slocan............................26

Winlaw...........................27

Kaslo...............................29

Ainsworth ....................34

Woodbury ...................34

INTRO INDEX

We have RV supplies, camping and

fishing gear, ice, propane and propane refuelling, tarps,

life-jackets, pet toys and food, batteries, electronics,

wiener-roast skewers, fire pits, stationary, housewares, and even

snacks and drinks for lazy days at the lake or on the road.

everything a traveller could need

Come for a visit, stay for a lifetime.

We have all the contractor contacts, building supplies and hardware you will

ever need ... and might even have employment for you – inquire within!

Silverton Building SupplieS S

216 lake avenue • 250-358-2293

Monday – Saturday: 7aM – 5pM

Silverton.Building

Go & Do West Kootenay

Regional Guide

Is a collective production by the

talented staff at Pennywise

(KS Perry Publishing Ltd)

ADVERTISING: Larissa Scott

CONTENT CREATOR:

Erika Bird

DESIGNERS & PRODUCTION:

Jeremy Taylor, Karma Halleran,

Erika Bird

PUBLISHER: Karma Halleran

WEBSITE GOKOOTENAYS.COM:

Zeb Hansell

Rock face on HWY 31, Photo: Gary Schneider

AUGUST 12-14, 2022

JUNE 24/JULY 29/SEPT 4/2022

BC Canada www.gokootenays.com Stay & Play in the West Kootenay 2022 3
---
WELCOME!

4 Stay & Play in the West Kootenay 2022 #gokootenays - share the adventure! www.gokootenays.com BC Canada
---
West Kootenay

Ferries

Kootenay Lake Ferry

Connects Highway 3A from

Balfour on the west side of

the lake to Kootenay Bay on

the east side. It is the longest

free ferry ride in the world at

approximately 35 minutes.

See schedule on right.

Lower Arrow Lake Ferry

Crossing takes approximately 5

minutes. Runs every 30 minutes

on the hour and half hour

from Fauquier 5 am to 10 pm;

every 30 minutes at 15 and 45

minutes past the hour from

Needles, 5:15 am to 9:45 pm.

On demand 10 pm to 5 am.

Upper Arrow Lake Ferry

Enroute to Revelstoke and

the TransCanada Highway.

The free ferry crosses from

Shelter Bay (west side)

to Galena Bay (east side)

once an hour on the hour,

5 am until 12 midnight;

and returns from Galena

Bay to Shelter Bay once

an hour on the half hour

from 5:30 am to 12:30 am.

Arrow Park Ferry

On demand.

Important info for 2022

Make it a habit to check www.

drive.bc for the most current

information on Public Health

Orders affecting travel. Drive

BC also shows video from the

web cams at the ferry landings

so you can see how many

vehicles are ahead of you.

Samantha Marina, @spitfire.diaries

Kootenay Lake Ferry

Summer Hours June 18 to September 12 2022

Vessel

All Year

Balfour

Summer

Kootenay Bay

All Year

Summer

Osprey 2000 6:30 am 6:30 am 7:10 am 7:10 am

Osprey 2000 8:10 am 8:10 am 9:00 am 9am

Osprey 2000 9:50 am 9:50 am 10:40 am 10:40 am

MV Balfour 10:40 am 11:30 am

Osprey 2000 11:30 am 11:30 am 12:20 pm 12:20 pm

MV Balfour 12:20 pm 1:10 pm

Osprey 2000 1:10 pm 1:10 pm 2:00 pm 2pm

MV Balfour 2pm 2:50 pm

Osprey 2000 2:50 pm 2:50 pm 3:40 pm 3:40 pm

MV Balfour 3:40 pm 4:30 pm

Osprey 2000 4:30 pm 4:30 pm 5:20 pm 5:20 pm

MV Balfour 5:20 pm 6:10 pm

Osprey 2000 6:10 pm 6:10 pm 7:00 pm 7pm

Osprey 2000 7:50 pm 7:50 pm 8:40 pm 8:40 pm

Osprey 2000 9:40 pm 9:40 pm 10:20 pm 10:20 pm

All times are Pacific (Balfour) time.

Sometimes you need to line up early. Check the ferry cam:

www.drivebc.ca/mobile/pub/webcams/SouthernInterior3A.html

FERRIES

Fair Trade

Natural Fibre

XS-4X

Visit our stores at

511 Baker Street in Nelson &

the Balfour Ferry Terminal

or shop online at

blueskyclothingco.com

BC Canada The West Kootenay is COVID compliant, please respect our neighbourhoods. Stay & Play in the West Kootenay 2022 5
---
CRESTON | EAST SHORE

Kootenay

Lake's

Oldest &

Largest

General Store

Celebrating Our 109 th Anniversary!

HIGHWAY 3A

BETWEEN THE FERRY AND CRESTON

If we don't have it, you don't need it!

250-227-9315

WWW.GRAYCREEKSTORE.COM

open 7 days a week

East Shore, Photo: Karma Halleran

@gokootenays

Tasting Room Open

Easter to May Long Weekend:

Thursday to Sunday, 11am - 5pm

May Long Weekend until Thanksgiving:

Open Daily, 11am -5pm

Come visit the Baillie-Grohman Estate Winery!

Experience a tasting with our knowledgeable staff, stay for a drink,

enjoy the views and a bite from our menu

Photo credit: Wines of BC

1140 27th Ave South, Creston, BC | 250-428-8768 | www.bailliegrohman.com

6 Stay & Play in the West Kootenay 2022 #gokootenays - share the adventure! www.gokootenays.com BC Canada
---
CRESTON

CRESTON | EAST SHORE

Creston, Photo: Dave Heath courtesy Destination BC

Creston, Photo: Kari Medig courtesy Destination BC

A road trip that begins with a lake cruise

A great example of the journey

being as memorable as the

destination is a trip to Creston

along Kootenay Lake's East Shore.

It begins when you leave Balfour

on the longest free ferry ride in the

world. Get out on deck and feel the

wind in your hair. That lighthouse

you see is your first port of call.

Once on land again the access to

Pilot Bay Provincial Park is immediately

on your right. There is a

network of hiking trails through

the park and along the Pilot Peninsula

and it's an easy walk to the

historic Pilot Bay lighthouse. Keep

an eye out for the stone ladybugs

that travel. Do your bit to help

them along, then post a photo to

instagram @kootenaybayladybug

Driving south along Hwy 3A You'll

arrive in the Village of Crawford

Bay. There are a lot of interesting

shops and artist's studios to

explore, blacksmiths, potters,

weavers and a traditional broom

maker. Pick up your own Nimbus

2000 or Firebolt - now there's

alternative transportation for you!

If you have kids, stop at the

community park; the playground

is really fun.

Gray Creek is the next stop on

your meandering on the East

Shore. At the Gray Creek Store,

pick up the Gray Creek Historical

Society booklet for information

on self-guided tours.

Kuskanook is where the American

Great Northern Railway met

steamships on the lake in the late

1800s. It once had the reputation

of being the toughest town in

Western Canada. Still on Hwy

3A, the next stop is Sirdar. Here

an Italian gold seeker decided

to settle, terracing the hillside

and establishing a fruit orchard.

Stop and sample the Wynnwood

Cellar wines at the tasting room.

There is a roadside pub, too.

Creston The orchards surrounding

Creston and the rich valley

bottomland produce a bounty

of fruit, vegetables and grain.

The valley's gentle slopes are

seamed with rows of grapevines.

As befits an agricultural hub,

your first view of Creston from

the north will be the tall wooden

granaries. The Visitor Centre is

right there too – so pick up a map,

and ask about the many

different tours. There are

vineyard tours, nature

paddles, and guided

explorations to introduce

you to the legends and

culture of the Ktunaxa.

On the main road

through Creston there

are farm stands where

you can buy local produce

and other products.

Be sure to visit Creston's

fascinating historical

museum at 219 Devon

St, showcasing rural

life and examples of

indigenous culture.

Rich wetlands

A 17,000 acre wetland stretches from the

south end of Kootenay Lake to the US

border. Over 286 species of birds, 57 species

of mammals and 29 species of fish, reptiles

and amphibians call the wetland home.

The Kootenay-Columbia Discovery Centre is

open until October. There are boardwalks, viewing

platforms and a number of trails. Guided

canoe tours start in May. For more info call

250-402-8661 or visit discovery-centre.ca

May 13 – 15

Creston Valley Bird Festival

wildsight.ca/branches/creston-valley/birdfest

May 20 – 23

Creston Valley Blossom Festival

http://www.blossomfestival.ca

Creston Farmers Market

Saturdays, May through October, 9 am until 1 pm,

at the west end of Canyon Street near the Visitor

Centre. An array of flavours!

KOOTENAY LAKE

EAST SHORE

Think Local, for a day, a week or

forever!

www.kootenaylake.bc.ca

BC Canada The West Kootenay is COVID compliant, please respect our neighbourhoods. Stay & Play in the West Kootenay 2022 7
---
TRAIL

5500 Highway 22, Genelle BC | PH: 250-693-2255

www.birchbankgolf.com

• Largest natural grass practice facility

in the area with practice bunker

• CPGA lessons available

• Fully stocked pro shop with demos

and rentals

STARTING $

60

Call ahead for our seasonal specials

AS LOW AS

18 HOLES, SHARED CART

DINING

The Birchbank Bistro is a fully licensed

establishment, open daily to the public, with

a full menu and wide range of refreshments.

Come in after your round of golf and enjoy the

beautiful views on our full service covered

patio. We offer daily specials, event/function

catering, and provide a full service beverage

cart for the course.

Contact our Bistro Manager and book your event!

250-693-5451

Renting & Selling

Quality Cars

at Great Prices

• compacts

• mid size

• full size

Drive a Good Bargain!

• 15 passenger vans

• minivans

• moving trucks

• SUVs

• pickups

Trail 250-364-0211

Nelson 250-352-5122 • Creston 250-428-9343

Castlegar 250-365-1980 • Grand Forks 236-352-0400

trail@practicar.ca www.practicar.ca

8 Stay & Play in the West Kootenay 2022 #gokootenays - share the adventure! www.gokootenays.com BC Canada
---
'The Family' Across from the Arena Photo: Mark Hamilton

TRAIL

Gyro Park, Photo: Mark Hamilton

TRAIL

Five communities hugging both sides

of a curve on the fast flowing Columbia

River make up Greater Trail. Trail boasts

affordable real estate, an abundance of

outdoor activities, superb fishing and

an active arts and culture community.

The City of Trail has a growing and

innovative economy and attracts

investors who are intrigued by this

rural town with a high-tech mindset.

In a phrase, the city and its supporting

economy is now being promoted

worldwide as Metal Tech Alley, which

is a "simple" recognition of a more

complex fact, that Trail is culturally

and historically a mining town.

The 1890 discovery of gold and copper

ore on the face of Red Mountain was

the single most important event in

the history of Trail. In 1898 the first

smelter was built to process the

Red Mountain ores, and the small

town named after the Dewdney Trail

grew. It was incorporated in 1901.

Citizens of Trail have always been active

in sports; it has two baseball teams to

represent the city and is home to the

famed Smoke Eaters Hockey Club, the last

amateur Canadian team to win a world

title. The Home of Champions monument

downtown recognizes the importance

Trail places on excellence in sport.

Colourful murals depict the city's history,

and the flowers and plantings tended

by the Communities in Bloom team are

breathtaking. If you want to know more

about the scenes depicted in the murals,

head to the Trail Riverfront Centre,

where Trail's Visitor Centre is located. There

you can purchase a guide and find out

what's happening while you are in Trail.

Also at the Riverfront Centre

is the Trail Museum.

Trail Historical Society's Sports

Hall of Memories From baseball

and hockey to curling and track and

field, Trail is known for its athletic

achievements. The highlights of

years and years of successes may

be found at 1051 Victoria Street.

Get outside!

The Bluffs Trail is one of the first

to open in the spring due to its low

altitude, sandy soil and southern

aspect. The view from the flagpole

of Trail, the Columbia River and the

Rossland Range is fantastic. For more

info and maps visit www.kcts.ca

For families the Railgrade Trail is

perfect. Halfway to Rossland from Trail,

at Warfield, it is a 7.1 km connector

trail that is popular year round. www.

trailforks.com/region/trail-bluffs

Columbia River Skywalk At 1000 feet

in length, the Columbia River Skywalk is

one of the longest pedestrian bridges

in North America and is on Canada's

Great Trail network. Join the locals in

"Walking the Bridges", a 2 km loop that

takes you over the Columbia twice.

Fish the Columbia River. Fish for

rainbows (the largest rainbow trout in

the world, 24.4 lbs was caught here),

walleye, northern pike and whitefish

right from the boulders near Gyro Park.

There are also plenty of back eddies to

try along the river banks nearby. If you

need gear or would like the guided

fishing experience, ask the staff at the

Visitor Centre at 1505 Bay Avenue.

BC Canada The West Kootenay is COVID compliant, please respect our neighbourhoods. Stay & Play in the West Kootenay 2022 9
---
TRAIL | ROSSLAND | FRUITVALE

Gyro Park In this riverside park you'll find a beach, a

playground (that includes a wheelchair accessible merry-goround),

a brand new skatepark, a spray park, a boat launch,

and an off-leash dog park. On Thursday evenings in the

summer, enjoy live music and the concession at the gazebo.

MUSIIC IIN THE P A RK

MUSIIC IIN THE P RK

THURSDAYS JUNE

A

16 TO AUGUST 25

THURSDAYS JUNE 16 TO AUGUST 25

THE NIGHT MARKET 7 JULY & 4 AUGUST

THE FOOD NIGHT MARKET

BEER GARDEN JULY MARKET

AUGUST

TRAIL-ARTS.COM

FOOD BEER GARDEN GYRO PARK, MARKET TRAIL

TRAIL-ARTS.COM GYRO PARK, TRAIL

Trail Bridge, Riverfront Park Photo: courtesy Trail Chamber

Explore our industrial roots

& sporting heritage.

1970 Main Street

Fruitvale BC

5 RV SITES

• Full hook-ups

(water, sewer, 30 amp electricity)

• On-site sani dump

• NO TENTS

Located behind the Fruitvale Memorial Centre

is the newly constructed Creekside RV Park

with 5 full service RV spaces. Each graveled

space has its own 30 amp service, water and

Explore our industrial roots

sewer connections, picnic table and fire pit.

& sporting heritage.

No reservations – first come first served

www.village.fruitvale.bc.ca

Photo courtesy of Don Conway, Lower Columbia

Spend some time with us at

the Trail Visitor Centre.

Explore our industrial roots

& sporting heritage.

Spend some time with us at

the Trail Visitor Centre.

Visit our gift shop for vintage

Smokies apparel & more.

at the Trail Riverfront Centre

Spend some time with us at Visit our gift shop for vintage

1505 Bay Avenue, Trail, BC

the Trail Visitor Centre.

Smokies apparel & more.

250-364-0821

trailmuseum.ca • museum@trail.catrailmuseum.ca

museum@trail.ca

Explore our industrial roots

& sporting heritage.

10 Stay & Play in the West Kootenay 2022 #gokootenays - share the adventure! www.gokootenays.com BC Canada

at the Trail Riverfront Centre 1505 Bay Avenue, Trail, BC 250-364-0821
---
Uphill from Trail and tucked high in

the Monashee mountains, Rossland

is a mountain town with a turbulent

history. When Rossland was a gold

rush town in the late 1800s and early

1900s, it was one of the largest cities

in Western Canada. By 1897, the town

had 42 saloons, 4 banks and 17 law

firms. Today, Rossland's population is

half of what it once was, but despite

the 20th century, there are still no

traffic lights or sprawling malls.

It seems that the mountain town of

Rossland has just been waiting for

the right bikes and riders to be born.

With so many native advantages –

old whiskey-running routes, miners'

Trail's IncrEDIBLE Farmers Market

Every 2nd Saturday, 10 am – 2 pm

In Gyro Park on the Esplanade

Music in the Park every Thursday

7-9 pm in the summer. Trail, Gyro Park.

Schedule at www.trail-arts.com

Smoke 'N Steel Cruisin' the

Columbia Show & Shine June 17 - 19.

On the Esplanade, downtown Trail.

Sky High Rossland

trails (the "rawhide" trails), the winding

roadbeds from long disused narrow

gauge railways – the mountain

biking scene was all set to explode.

Over twenty trails are graded with either

a green (easy), blue (intermediate) or

black (advanced) rating, so choosing

the right trail for your skills and attitude

is easy. The most famous of all of

Rossland's mountain biking trails is

the Seven Summits. Recognized by

the International Mountain Biking

Association as an official 'Epic' ride

and awarded 'Trail of the Year' by

Bike magazine (2007), it is the crown

jewel of the Rossland trail network.

Beaver Valley May Days May 20 –

22 It all starts Friday, when the ball

tournament gets underway. The little

guys will love the kiddie car rides,

which they can go on again and

again all weekend. Also all weekend

will be live music, vendors, great

carnival food and beer gardens.

For all the details and the schedule

visit beavervalleymaydays.com.

Rossland Gold Fever Follies

Every year since 1987, Rossland's

unique theatre group, The Gold Fever

Follies, has been entertaining visitors

and locals with their live performances

based on Rossland's exciting gold

rush days of the late 1890s.

As always, the Follies will be melding fact,

fiction and imagination when they present

this summer's brand-new musical comedy

WHAT'S IN A NAME? – a story that focuses

on the early days of Rossland before it

got its name, back when Mrs. Allan, the

infamous serial monogamous hotel owner

ran the best establishment in town.

As always, there will be a budding

romance, and some rip-roaring, highkicking

cancan entertainment! It's sure to

entertain adults and children alike. Held

in the restored 1898 Miners Hall at 1765

Columbia Avenue, catch two shows daily,

Tuesday through Saturday at 3 and 7:30

pm from July 2 to August 27 with a special

Canada Day show on July 1 at 7:30 pm.

For advance online ticket purchases and

updates on any COVID protocol, visit their

website: www.goldfeverfollies.com

TRAIL | ROSSLAND | FRUITVALE

Love Italian Food?

Love

The

"Come Twirl With Us"

Italian family style dining featuring

our world famous spaghetti dinner!

Shopping at Waneta Plaza?

Try the Colander Express - Pasta & More!

250-364-3060

And our banquet facility!

The River Belle

Lunch Hours:

11:30 am–2 pm Weekdays

1475 Cedar Ave, Trail • For Reservations 250-364-1816

Dinner Hours:

4:30–8:30 pm Daily

Gold

Fever

Follies

the

July 1 to August 27

(no matinée on July 1)

2 Shows Daily

Tues thru Sat

3pm & 7:30pm

Please check our website for

updates on our COVID protocol

Live Musical Theatre from the Gold Rush Days

New Shows New Music

Advance tickets

available via website

Admit One Admit One

Rossland Miners Hall

1765 Columbia Avenue

Rossland

www.goldfeverfollies.com

BC Canada The West Kootenay is COVID compliant, please respect our neighbourhoods. Stay & Play in the West Kootenay 2022 11
---
Shelter

Bay

Galena

Bay

Halcyon

Hot Springs

Trout Lake

Trout

Lake

WEST KOOTENAY & AREA MAP

Gerrard

West Kootenay

Area Map

Upper

Arrow

Lake

Duncan

Lake

Nakusp

Hot Springs

Nakusp

Meadow

Creek

Cooper

Creek

Lardeau

Argenta

Needles

Edgewood

Arrow

Park

Fauquier

Crawford

Bay

Gray

Creek

Boswell

Kootenay Lake

Lower

Arrow

Lake

Burton

Robson

Summit

Lake

Valhalla

Park

Thrums

Slocan

Lake

Crescent Valley

Slocan

Park

Brilliant

Slocan

Winlaw

Hills

Taghum

South

Slocan

Sandon

New Denver

Silverton

Ymir

Retallack

Kokanee

Glacier

Park

Nelson

Kaslo

Ainsworth

Hot

Springs

Balfour

Pilot Bay

Purcell

Wilderness

Conservancy

Riondel

Gray Creek

Pass Road

gravel road

West on

Hwy 3

Grand

Forks

Revelstoke

North on Hwy 23

Legend:

Golf

Ferry

Passmore

Mirror

Lake

Woodbury

Harrop

Procter

Johnson's

Landing

Sanca

Airport

Kootenay Lake

Pass

Creek

Castlegar

Koote nay

Bay

Kuskonook

22

Salmo

Sirdar

Christina

Lake

Cascade

Rossland

Trail

Paterson

Montrose

Fruitvale

Waneta

Nelway

Kootenay

Skyway

USA

Creston

Valley

Wildlife

Area

Erickson

Creston

Rykerts

Vote for your

favourite sculpture!

Brochures and ballots are available along the route, or

at Kootenay Market, City Hall and the Visitor's Centre.

All of the sculptures are available for sale or lease

after the exhibition year!

www.sculpturewalkcastlegar.com

Special Thanks To Our

Platinum Sponsors!

Area J

"Choosing Hope" by Kyle Thornley

"Rebirth" by Peter Vogelaar

Tied for the 2021

People's Choice Award

Photos by

David Gluns

12 Stay & Play in the West Kootenay 2022 #gokootenays - share the adventure! www.gokootenays.com BC Canada
---
CASTLEGAR

Columbia River, Castlegar

Photo: Mitch Winton, courtesy Kootenay Rockies Tourism

Millennium Park, Castlegar Photo: Gary Schneider

CASTLEGAR

In the heart of the Kootenays.

The City of Castlegar's location at the

confluence of the Columbia and Kootenay

Rivers has had a great influence

on the historic and cultural evolution of

the community. The area was initially

used as a trading and fishing area

for First Nations people. Zuckerberg

Island, separated from downtown

Castlegar by a pedestrian suspension

bridge, has paths and interpretive

signs and features a reconstruction

of the Salish semi-pit-style winter

dwellings of Castlegar's first people.

Castlegar is "The Sculpture Capital

of Canada". Over fifty pieces of

sculpture created by local, national

and international artists are placed

in green spaces or on the sidewalks

in Castlegar's downtown. You'll find

some that are thought-provoking,

some whimsical and playful, and some

are abstract and powerful. You'll be

hard pressed to pick your favourite.

Explore Millennium Park and hang

out at the pools on the shore of the

Columbia River, walk along the river

trails, cross the suspension bridge to

Zuckerberg Island and have a picnic.

In the hills around Castlegar the adventure

recreation possibilities are

limitless: hiking, rock climbing, mountain

biking, trail running…and the

river and lake fishing is legendary.

Castlegar boasts some very good

restaurants and shops, there are

three golf courses nearby, several art

galleries and historical museums.

Doukhobor Discovery Centre

In 1908 the largest internal migration in

Canada took place when 5,000 Doukhobors

moved from Saskatchewan

to the Castlegar area. The community

had little choice but to leave the

prairies, after the government seized

the land they had sought refuge on

from persecution in their native Russia.

The Discovery Centre shares this history,

the culture and stories of what it was like

to have lived through this time.

The Centre is across the highway

from the Regional Airport. Open

Monday to Saturday, 11 am – 4 pm.

www.Doukhobor-Museum.org

For a fascinating journey into the

past, download the OnThisSpot app.

The app offers walking tours of both

Castlegar and area and the Doukhobor

Discovery Centre. Archival photos are

cleverly blended with recent colour

photos at points of interest. If you're

on that spot, and viewing both the

present in front of you and alongside

the past in your hand, time just

slips away. The app also provides a

ton of good historical information.

Millennium Park

This amazing riverside park is the pride

and joy of Castlegar and you can walk

to it from anywhere in downtown. The

natural ponds, complete with sandy

beaches and grassy areas for lounging,

are a calm and welcoming apron along

the shore of the

wild and powerful

Columbia River. The

3 acre bike park

will entertain the

kids while you read

or relax near the

water. Bring a picnic

and stay a while.

Summer at

the Skatepark

Free skateboard

coaching at

Castlegar Rotary

Skatepark (2101

6th Ave) July

to September.

Bookings at

learn2sk8kootz@

gmail.com

Hiking &

Biking

There are many

hiking and biking

trails to explore.

Check 'em all out at

friendsoftrails.org

Summer Markets & Events

Castlegar Craft and Farmers Market

Saturdays, 9 am - 1 pm at the Station

Museum, starting April 9. 445 13th Ave.

Village Market at the Doukhobor

Discovery Centre. Open daily 10 am –

5 pm. Across from the Regional Airport.

Produce and locally produced foods.

Sunfest June 4, 5 at Kinsmen

Park, 910 2nd Street.

West Kootenay Trade Show

April 22 - 24, 2022. The Castlegar

& District Chamber of Commerce

hosts the West Kootenay Trade

Show annually in April, showcasing

businesses, products and services

inside and outside at the Castlegar

Complex. A variety of food vendors

and prize draws. Family event.

Open mic nights at Tailout Brewing

every Monday from 6pm - close. (Weekly

event, see Tailout's Facebook Page.)

Our focus is on simple, delicious

& nourishing food with

locally sourced ingredients.

We welcome you to our table in our newly

renovated space where gratitude abounds!

OPENING HOURS: Tues-Thurs 11:30am-2pm & 4-6pm

Fri-Sat 11:30am-2 pm & 4-7pm | closed Sun-Mon

400 Columbia Avenue

Castlegar BC

250-365-2311

www.gratefultable.ca

BC Canada The West Kootenay is COVID compliant, please respect our neighbourhoods. Stay & Play in the West Kootenay 2022 13
---
DINING

AINSWORTH | WOODBURY

The Ktunaxa Grill at Ainsworth Hot Springs Resort

Fresh. Local. Indigenous inspired. Casual fine dining

with friendly, professional service. 3609 Hwy 31,

1-800-668-1171. Reservations a must:

www.ainsworthhotsprings.com/dining/

JB's Restaurant & Pub at Woodbury Resort

World famous fish and chips, flame broiled burgers,

AAA steak and piled high nachos all at a good value.

Please call ahead for seasonal hours. Located at

Woodbury Resort just 4 km north of Ainsworth Hot

Springs. 4112 Hwy 31, 250-353-7716

CASTLEGAR

Cuisine of India Enjoy the authentic taste of India.

Committed to the highest quality in food, drink and

service. As everything is made fresh to order many

of your special requests, i.e. food allergies and other

dietary requirements, can be respected. Eat-in, catering

and take-out. 908 Columbia Avenue. 250-365-0999

www.cuisineofindia.ca

Grateful Table Family owned Greek restaurant serving

Castlegar and nearby cities since 1998. Offering Greek,

Mediterranean and Pizza. Gluten free, vegetarian,

and vegan options available. 400 Columbia Avenue

Castlegar, 250-365-2311 www.gratefultable.ca

CRESTON

Baillie Grohman Estate Winery During opening

hours (see website) they offer a selection of platters on

the patio or bring along your own picnic. Sit out with

a glass of wine by the vineyard, or drink a glass of wine

on the deck. 1140 27 Ave S, 250-428-8768

www.bailliegrohman.com

KASLO

Angry Hen Brewing Asian inspired street food with

locally sourced ingredients - some made with Angry

Hen beers and all chosen to go well with a pint of

Shirley's finest. 343 Front Street, 250-353-7746

www.angryhenbrewing.com

Kaslo Hotel Dine in the pub or on the patio with

its breathtaking view of Kootenay Lake. Enjoy one of

many craft beers on tap, or try one of the many great

dishes from the extensive menu. 430 Front Street,

250-353-7714

The Clubhouse Restaurant at the Kaslo Golf Course

Open during the golfing season for light meals and

drinks on the veranda 7 days a week. 418 Pine St,

Kaslo. 250-353-2262

The Treehouse Restaurant In the heart of Front

Street. Breakfast all day, burgers, sandwiches, burritos,

nachos, soups, dessert & drinks, all at affordable prices.

Open Tuesday-Sunday, 7am to 3pm. 419 Front St,

250-353-2955 www.kaslotreehouse.com

Sunnyside The organic eatery in Kaslo. Fresh daily

soups, wraps, pitas, salads: green or quinoa. Locally

sourced, seasonal accompaniments. Juice bar with

create-your own options. 404 Front Street,

250-353-9667

NAKUSP

The Lodge at Arrow Lakes Centrally located at 515

Broadway, the Lodge offers something for everyone.

The Arrow Lake Tavern is renowned for its hearty pub

fare. The dining room is perfect for families, serving

everything from a quick bowl of homemade soup to a

full menu. 250-265-3618 www.arrowlakeslodge.com

NELSON

Outer Clove Restaurant Longtime Nelson favourite,

offering modern European comfort food. Everything

on the evolving menu is freshly prepared from scratch,

and there are daily lunch and dinner specials. 536

Stanley Street, 250-354-1667 www.outerclove.ca

SLOCAN

Valley View Golf Club Fully licensed establishment

with a variety of local organic beers and spirits. Open 7

days a week May thru September. We offer affordable,

tasty, healthy food, and look forward to providing

family and friends with a wonderful meal. 6937 Hwy 6

Winlaw, 250-226-7241 www.golfvalleyview.ca

SLOCAN CITY

Harold Street Cafe Classic, home-style cafe, serving

breakfast, lunch , dinner, desserts & delicious coffee,

all reasonably priced. Great service, outdoor seating

& takeout available. Definitely worth a visit – a hidden

gem! 717 Harold St, 250-355-2663

TRAIL

Birchbank Golf Club The Birchbank Bistro is a fully

licensed establishment, with a full menu created by

their Red Seal Chef, plus daily specials and a wide

range of refreshments. 5500 Hwy 22, Genelle. 250-

693-5451 www.birchbankgolf.com/the-bistro/

Colander Family restaurant specializing in great Italian

food. The Colander has become known as "The Trail

Tradition". The Colander Special includes spaghetti and

meatballs, side salad, chicken and jojo potatoes and a

dinner roll. Or you can choose from a variety of other

Italian favourites. 1475 Cedar Ave,

250-364-1816 www.colandertrail.ca

Doukhobor

Discovery Centre

CELEBRATING

51

YEARS

Artifacts displayed throughout the museum

112 Heritage Way, Castlegar

Across from Castlegar Airport

250.365.5327

May thru September 10-5 daily

www.Doukhobor-Museum.org

Cuisine

of India

An

authentic

taste

of

India

Fully licensed

Eat-In • Take out • Catering

clay oven

Mon to Fri 11am-9pm, Sat 12- 9pm and Sun

4pm-9pm. Lunch buffet: Mon to Fri 11-2pm

908 Columbia Ave, Castlegar 250-365-0999 www.cuisineofindia.ca

Sister restaurant in Nelson: Tandoori Indian Grill, 409 Kootenay Street

14 Stay & Play in the West Kootenay 2022 #gokootenays - share the adventure! www.gokootenays.com BC Canada
---
Popular hikes

MelDeAnna An easy to intermediate

trail, it is both bike and dog friendly.

It is a 5 km loop, level and shaded,

and great for bird watching.

Brilliant Overlook Takes you up the back

of the bluff on the east side of the Kootenay

River. Your reward after the 330 m elevation

gain is an incredible view of both

the Columbia and Kootenay River valleys.

Merry Creek Bike Trails: This network

includes the easy Merry Creek Loop,

the intermediate Merry Go Round and

Hail Merry trails as well as the much

harder Crazy Merry trail. To access them,

follow Hwy 3 west from Castlegar to

Merry Creek Forest Service Road, turn

right. Drive about 2km to the trailhead.

Kootenay Gallery of Art

The Gallery, located across from

the airport in Castlegar, provides a

professional venue for regional artists

to show and sell their work.

Outside the gallery

are the butterfly and

xeriscape gardens.

The butterfly garden

has attracted some

rarely seen species

such as the western

tiger swallowtail,

pale swallowtail and

grey hairstreak.

The xeriscape

garden is planted

with native grasses

and perennials. Interpretive signs give

you more information and help you to

identify all the shrubs, plants and trees.

See the ad below for hours and

the website for current shows.

❘

CASTLEGAR

Salmo, originally just a whistle stop on the historic Nelson/Fort

Shepherd Railway, at the turn of the last century became a centre for

supplies and entertainment for prospectors, miners and loggers.

The Hub of the Kootenays

Today Salmo is a quaint town at the

junction of two highways. There are

fishing and swimming holes to be

discovered along the picturesque

Salmo River, hiking and mountain

biking and BMXing at the ski hill, there's

a municipal campground, and on any

summer Thursday until the end of

September you can stroll the Farmers

Market from 3 to 6 pm, where you will

get a taste for the valley and its people.

There are a number of rock murals

throughout the downtown area. Take

a stroll and see how many you can

find. If you come across the pedestrian

bridge, cross over the Salmo River. If

you keep heading west, you'll come to

Springboard Park where huge cedar

stumps are reminders of the Valley's

former old growth forests, harvested

near the turn of the century. There

are still groves of old growth cedar

trees in this park. The park's entrance

and trail route is off of Bakken Road.

The Salmo museum exhibits mining

artifacts, photographs and maps

of the Dewdney Trail among other

items. It's located at the corner of

Fourth Street and Railway Avenue.

Canada Day in Salmo

The epic weekend Salmo festival is back

in 2022! Logger games, bubblegum

blowing and watermelon eating

contests, children's races, fireworks

and the Show 'N' Shine are a few of

the traditional entertainments.

Just out of town

Play a round: Just 3 km south of Salmo

is a great little community-run 9 hole

course that has pretty much everything

you want in a bigger golf course: club

and cart rentals, a restaurant, wide and

flat fairways… But the Salmo District

Golf Club is known for some things the

executive 18 hole courses are not famous

for – small town friendliness and low

green fees. No tee

times required either

and if you are under

12, you play for free!

www.golfsalmo.com

Sheep Creek

Valley 8 km south

of Salmo, follow

Sheep Creek Road

to the Sheep

Creek Mines. The

abandoned gold

mines and mining

towns, dating

from before the turn of the century

until the 1950s, include Kootenay Bell,

Reno, Goldbelt and Queens. There

are quite a lot of ruins to explore, as

well as many trails for ATVers and

hikers that lead into the mountains.

ATVing and dirt biking are popular

activities and there are two volunteerrun

off-road tracks in the area: the Rover

Creek Trails and the Tree Hugger Trails.

Find out more at www.wkrdas.com

Hiking & Biking

The Nelson Salmo Great Northern

Trail is a 48 km stretch of old railway

line that connects Nelson, Ymir, and

Salmo. Since it follows the bed of the

former Burlington Northern Santa Fe rail

line the grade is very family friendly, just

as it was suitable for heavy locomotives

on steel wheels back in its heyday. (Less

than a 4% grade is the standard for

SKYWAY HARDWARE 250-357-9911

SALMO

BC Canada The West Kootenay is COVID compliant, please respect our neighbourhoods. Stay & Play in the West Kootenay 2022 15
---
SALMO

train routes.) It's about 15 km along the

Great Northern from Salmo to Ymir.

Delaurentis Bluffs Lookout This is

the kind of hike – while not long at less

than 3km in length – where you want

to be fairly fit and have well-fitting

shoes. The elevation gain (the key to the

views and the challenge!) is almost 300

metres. The reward is great views up

and down all of the surrounding valleys.

The trail starts on Delaurentis Avenue,

which is a short spur off Airport Road

near where it crosses the Salmo River.

The Salmo Ski Hill is the place to

be in spring and summer too! Trails

have been designed for mountain

bikers, runners and hikers of all levels.

Visit salmovalleytrailsociety.org to

buy a trail pass. Day passes start at

just $10 per day, and if you're a local,

a lifetime pass for all the trails is

only $30. 100% of your membership

fees go towards building and

maintaining trails in the Salmo Valley.

For maps, photos and even video of

most West Kootenay Trails, check out

trailforks.com and enter your location.

share your adventure

#gokootenays

Après Hiking & Biking

Salmo has a new craft brewery – the

Erie Creek Brewing Company at 117

4th Street, downtown Salmo. Raise a

pint of one of their seasonal ales – the

perfect thing to do after a day hiking

Salmo's trails! Check their Facebook

page for live music and events.

To be sure you are dressed appropriately

local, consider buying a Salmo Dinner

Jacket. You can purchase a jacket and

all kinds of accessories to match at the

Village Hall at 423 Davies Avenue.

• FULL SERVICE SHOP • CAR REMOVAL • 24 HOUR TOWING

• USED AND AFTERMARKET PARTS • RIGGING SPECIALISTS

• HEAVY DUTY RECOVERY SPECIALISTS

SALMO AREA

250-357-2091

CRESTON AREA

250-428-2323

ALL OTHER AREAS

TOLL FREE 1-888-357-2091

SALMO VALLEY PHARMACY

FULL SERVICE PHARMACY

Including:

Gifts and Souvenirs

Professional Medication Reviews

Compliance Packaging

Travel Vaccinations • Flu Shots

Mon-Sat 9:30-5:30

107-4th Street • 250-357-9444

Welcome to Salmo

We Love Summer

Salmo, "the Hub of the Kootenays" has a strong community spirit and is a fantastic

place to live or visit. Local residents and visitors love our great outdoor lifestyle,

including excellent hiking, fishing, golf, and in-village camping, while enjoying

close proximity to urban amenities and special village features like

the world's largest penny and our historical stone murals.

Village Office CAMPING? Stay in our municipal

250-357-9433

campground in beautiful KP Park

www.salmo.ca

facebook.com/villageofSalmo

Chamber of Commerce

250-357-2596 www.discoversalmo.ca

16 Stay & Play in the West Kootenay 2022 #gokootenays - share the adventure! www.gokootenays.com BC Canada
---
NELSON

#discovernelson

NELSON

Nelson bridge looking south, Photo: Karma Halleran @gokootenays Pulpit Rock, Nelson Photo: Dave Heath courtesy Destination BC

Set on the shores of the West Arm of

Kootenay Lake and surrounded by

the Selkirk Mountain range, Nelson is

home to approximately 11,000 souls.

This small city is perched on the edge

of a wilderness as vast as any you'll

find in southern Canada. Perhaps that's

why it attracts (or creates?) a strong

contingent of skiers and mountain

bikers, hikers and climbers, and paddlers

of all sorts. Despite its distance

from any major urban centre, Nelson

has a flourishing arts scene as well.

So, where do the artists and the extreme

sports lovers mix it up? On the

patios of the craft brew pubs and the

unique, not-a-chain restaurants in

Nelson's very walkable downtown.

On a warm evening, put on something

lovely and comfortable and

check out the numerous options to

grab a bite, swill a pint, or delicately

balance a bespoke cocktail.

Getting to know the wide variety of

independent shops in Nelson, from

booksellers to handcrafted jewellery,

would take the better part of a week.

There are also heritage tours and mural

tours to get a little calf-burn going

(yes, Nelson does have some serious

hills!) Pick up tour brochures and maps

at the Visitor Centre in the old train

station at the foot of Baker Street.

Nelson has some wonderful parks.

Gyro Park in uphill Nelson has beautiful

gardens, a wading

pool for kids and a

viewpoint where

you can get an

amazing birds-eye

view of the downtown and waterfront.

There is always something going

on at Lakeside Park. Head down for

a picnic on the beach or get out on

the water. Travel upstream under

what locals call BOB (the big orange

bridge) and come back floating over

still waters towards a setting sun.

Canoes, kayaks and paddleboards

can be rented either at the Nelson &

District Community Complex, 305 Hall

Street, or at the marina of the Prestige

Lakeside Resort, 701 Lakeside Dr.

nelsonpaddleboardandkayak.com

Nelson Museum | Archives | Gallery*

Your Cultural Touchstone

It's time for change.

This year, Touchstones Nelson: Museum of Art and

History will be known as the Nelson Museum,

Archives, and Gallery. This change signifies our

alignment with the international museum sector,

which embraces clarity to better support access,

inclusion and decolonization.

We are developing a new brand identity, launching

fall 2022.

502 Vernon Street | Nelson BC | thenelsonmuseum.ca

Red Ribbon Round It, installation view

Photo by Kevin Underwood

*formerly Touchstones Nelson: Museum of art and History

BC Canada The West Kootenay is COVID compliant, please respect our neighbourhoods. Stay & Play in the West Kootenay 2022 17
---
NELSON

20 22

RIDE THE TROLLEY!

May 20 – October 10, seven days a week

Every thirty minutes between 11am and 4:30pm

FARES BY DONATION

Modern European Comfort Food

Freshly prepared lunch, dinner & tapas

Vegetarian & gluten-friendly choices

Generous portions • Children's menu

Licensed • Outdoor patio

536 Stanley St 250-354-1667 outerclove.ca

PRESTIGE

INN

MALL

Get a Season Pass!

(available from Conductor)

Adult (13+) $25

Senior (55+) or Child $15

Family $50

Children under 6 are FREE

250-352-7672

www.nelsonstreetcar.org

info@nelsonstreetcar.org

STREETCAR

MUSEUM

LAKESIDE

PARK

Visit our Museum at Lakeside Park,

noon - 3pm, 7 days a week

Please note: Streetcar and Museum hours

are subject to change

CRYSTAL U-PICK

Rose Quartz $10/lb

Family fun collecting natural

gemstones in the

MAGIC CRYSTAL FOREST

526 Stanley St. Nelson

250-352-7418

Secret location

on HWY 6 North of

Winlaw BC

250-777-1324

Info & Bookings

18 Stay & Play in the West Kootenay 2022 #gokootenays - share the adventure! www.gokootenays.com BC Canada
---
NELSON

Nelson Photo: Ryan Dury

courtesy Destination BC

Heritage Baker Street

Looking down the length of Baker

Street, you might think it will only take

five minutes to go from one end to the

other. Three hours later you still haven't

had time to explore all the gift shops,

bookstores, the hip home furnishing

outlets, or the funky and fine clothing

boutiques. Many stores and restaurants

are ArtWalk hosts and you'll find plenty to

look at, and buy if you like, on their walls.

While away an hour or two with a craft

beer or two, a whiskey cocktail or a

meal. Nelson's architectural heritage

is fully on display here, not to mention

the parade of locals who sport typical

Kootenay style (you'll soon figure it out!)

All Aboard!

Nelson's electric streetcars first started

running in 1899. The line was only

five miles long and could boast only

three cars, but it served the city faithfully

for fifty years. After the Second

World War, the electric tramway service

was replaced by buses. Car 23 was

re-purposed as a gift shop, a storage

shed, even a dog kennel before it

was rescued and restoration began.

The Nelson Electric Tramway Society was

formed in 1988 and soon the vision to

have Streetcar 23 back "on track" started

to become a reality. The car made its

second debut in 1992, carrying over

20,000 people in four months. Today

there are over 70 volunteers who look

after all aspects of the operation and new

members are always welcome. These

people make it possible for you to relive

the past with a ride along the shore of

the West Arm of Kootenay Lake from

the Prestige Inn to Lakeside park, two

kilometres of relaxing nostalgia. The fares

are modest and the ride is great fun.

City camping

Nelson's City Campground offers shaded

campsites, full hook-ups, showers,

picnic tables, a covered dining area, a

sani-station, and best of all, a terrific view

of Kootenay Lake. The campground is

pet friendly, and has reasonable rates

and is centrally located so you can walk

or ride your bike just about anywhere

within minutes Enjoy all the amenities

of the city while camping! Reserve

a spot by emailing campground@

nelson.ca or calling 250-352-7618

Out and UP

Mountain Biking is a journey to Nirvana

for the avid biker. With the breathtaking

backdrop of the Selkirk Mountains,

Nelson's rides include gentle railway

grades where two abreast can cruise,

to challenging single track that climbs

and swoops. Under your wheels may be

rock & roll chutes or blessedly forgiving

loam. There are many great tracks

within a 15 minute drive and quite a

number of trails that you can get to

from Nelson on your own two wheels.

Stop in at one of Nelson's sport or bike

shops for current information and a copy

of The Nelson Mountain Bike Guide. The

knowledgeable staff at Gerick's at Baker

and Hall Streets can help you determine

the best trails for your interest and ability.

Hiking. Nelson is central to many types

of hikes for all abilities. A popular local

climb is Pulpit Rock, a steep climb that

leads to a promontory where you get

a great view of the city from across

the lake. Check the book stores for

Where Locals Hike in the West Kootenay

or ask for trail advice at the Info

Centre or sports stores around town.

Is rock climbing your thing? Enjoy a

day ascending The Date, a very accessible

multi-pitch climb within

reach of Nelson. It is a great

walk into the base of the route,

and a fun and thoughtful climb

from there. You'll enjoy stunning

views at the top – the

rewards of this great adventure.

Pick up a copy of The West Kootenay

Rock Guide book at the Visitor Centre at

91 Baker Street for information on more

than 400 climbs in the Nelson area!

Visit www.mountainproject.com

Day tripping

Cottonwood Lake is the headwaters of

Cottonwood Creek. The regional park is

about 7 or 8 kilometres south-southeast

of Nelson up Ymir Road. It's also on the

Great Northern Rail Trail and you can

cycle up to this pretty little lake in half a

day (it's about 10km from the very top of

Uphill Nelson with a 2% grade overall.)

Bring a picnic and your fishing rod.

Cottonwood Lake is stocked.

Kokanee Creek Park

This beautiful provincial park is just 20 minutes

north of Nelson on Hwy 3A. The adventure

playgrounds and wide sandy beach will

keep the kids busy and active all day.

There is also a good spot to launch your

boat, a viewing platform over a fish-bearing

channel and some great walking

and hiking trails. Spend some time at the

nature centre and find out about their

kids' and evening nature programs.

Kokanee Creek Paddle Sports offers

canoe, kayak and paddle board

rentals off the main beach.

Kokanee Glacier Park Old Growth

Forest

About 19 km north of Nelson on Hwy

3A, then turn left at Kokanee Glacier

Park Road and drive up for 11.4 km.

Zip Kokanee What will stay with you,

long after you are unlatched from your

harness, is the exhilarating sensation

of moving through three dimensional

space, soaring high like a bird over

valleys, and under the sun. Reservations

are a must! Call 1-866-358-8688 or

BC Canada The West Kootenay is COVID compliant, please respect our neighbourhoods. Stay & Play in the West Kootenay 2022 19
---
NELSON

Otter O Bookss

100% locally owned independent bookseller

Helping you enjoy our beautiful province this summer!

Plus loads of HOT reads for beach & hammock.

New Hours: Mon - Fri 9:30 - 5:30, Sat 10 - 5

For updates and to shop online, visit: otterbooksinc.ca

398 Baker Street, Nelson 250-352-3434

YETI • GIANT • NORCO

• GIANT • NORCO • SALSA • SPECIALIZED • CUBE ELECTRIC BIKES • KONA • YETI

for

your

cycling

fix

visit

GERICK'S

YOUR BIKE SHOP

We have what

you forgot!

702 BAKER ST., NELSON 250-354-4622

WWW.GERICKS.COM INFO@GERICKS.COM

KOOTENAYS' BEST SELECTION OF ELECTRIC BIKES

• Sales

• Service

• Rentals

• Trail info

Shop ~~~~~~~ 24/7

at our

web store

www.gericks.com

• SPECIALIZED • KONA

Lainey Benson Fine Art

Columbia Basin

Culture Tour

Aug 6 & 7, 2022

10:00am - 5:00pm

Explore artists' studios,

museums, art galleries and

heritage sites through this

free, self-guided tour within

the Columbia Basin.

A project of

250-505-5505 1-877-505-7355 www.cbculturetour.com

20 Stay & Play in the West Kootenay 2022 #gokootenays - share the adventure! www.gokootenays.com BC Canada

Funded by
---
Lakeside Park beach, Nelson Photo: Patty Axenroth

EVENTS

May 7, race starts 8am

Run Like A Mother Half Marathon

10 KM and 5 KM road race.

The Half Marathon is a beautiful course

that takes you to all the gems of Nelson.

You will experience Baker St, B.O.B (our

big orange bridge), Horlick Point, and

the historic Great Northern Rail Trail.

This race starts and finishes at Hall St

Plaza. The 5 KM is a fun out and back

run along Nelsons new Fairview to

downtown neighbourhood bikeway.

https://runlikeamothereven.

wixsite.com/info

May 8, 9am – 2pm

Garden Starter Market Baker Street,

downtown Nelson. Live entertainment,

food, plants, gifts for Mom

June 18,19

Fathers Day at Cottonwood Lake

Family Fishing Weekend. No licence

required this weekend only.

June 23 – 27, 2022

Elephant Mountain Literary Festival

www.emlfestival.com.

June 24 & 25

Kootenay Burlesque festival

kootenayburlesquefestival.com

June 24, 6 – 9 pm

ArtWalk Opening Night

Showcasing participating artists at

their venues alongside a collection of

street performances and other delights

throughout Nelson's downtown core.

July 1

Canada Day at

Lakeside Park

Fun, food and

fireworks

July 29, 6 – 9 pm

ArtWalk Opening

Night II

NELSON'S OUTDOOR MARKETS

Cottonwood Market

Wed noon – 6 pm, Sat 9 am – 2pm

The Market for both Wednesday and

Saturday is located at Cottonwood

Falls Park 199 Carbonate St, Nelson.

Farm produce, bakers, artisans,

live music and lots of community

spirit, are what makes the Farmers

Market the heart of Nelson.

LIVE MUSIC AROUND TOWN

Finley's Bar & Grill. 705 Vernon St

Hume Hotel 422 Vernon St

The Royal 330 Baker St

The Capitol Theatre 421 Victoria St

Red Light Ramen 308 Herridge Lane

Pitchfork Eatery 518 Hall St

NELSON EVENTS

YOUR CHAMBER.

YOUR FUTURE.

OUR COMMUNITY.

Nelson and our part of British Columbia offer a remarkably

unique mix of big city everything and small town life.

Culture, cuisine, adventure, health and wellness, social

services, education, recreation and relaxation. All right out

your business's front door, or waiting in your backyard. It's a

wonderful place to live, work, raise a family, or own a business.

Located in the historic CP Rail Building

91 Baker Street | 250-352-3433

DISCOVERNELSON.COM

BC Canada The West Kootenay is COVID compliant, please respect our neighbourhoods. Stay & Play in the West Kootenay 2022 21
---
NELSON

22 Stay & Play in the West Kootenay 2022 #gokootenays - share the adventure! www.gokootenays.com BC Canada
---
About halfway between Kaslo and

Nelson is the community of Balfour. For

a driver, it seems like a long strip of a

town that is spread out along the shore

of Kootenay Lake, but first impressions

can be deceiving. You won't see it at first

glance, but 60 businesses contribute

to the lifeblood of this small town.

Find a place to stop at the ferry landing.

There's a great little bakery and right

next door to it is a general store called

Gill & Gift. This establishment is stuffed

to the gills (excuse the pun) with fishing

tackle, souvenirs and lots of fun stuff

for the kids. It's also a dandy place to

get local information on fishing, hikes

and tours, and the opening hours

for Balfour's restaurants and pubs.

Also at the ferry landing is the original

"flagship" store of Blue Sky Clothing. It

was here that owner Marilyn first sold

the comfortable, elegant clothing made

from natural fibres out of her VW van.

Now Blue Sky has several stores in Vancouver,

Victoria, Kamloops and Nelson,

but the production philosophy remains

the same: Kind to the environment and

their workers and kind to all the different

bodies who wear Blue Sky clothing.

Cast a line

A day spent fishing on Kootenay Lake

is like a day in the bank. You'll be withdrawing

from it forever – whenever

you need to find yourself again

There are three different types of rainbows

in Kootenay Lake; Mykiss, Kamlooper

and the world renowned Gerrard

rainbow with sizes ranging from 1 to 20

lbs! Not to be outdone is the bull trout

or Dolly Varden.

They are great to

eat or smoke up

for later and range

from 1 to 15 lbs.

Rent a boat from

Jones Boys Boats

(see page 4) or from

Woodbury Resort

(see page 35) Want

to go fishing with

an expert? Contact

Kerry at Reel Adventures

(ad below.)

Fishing regs are

online at www.env.

gov.bc.ca Kootenay

Lake is Region

4 in the province.

Line up a shot

Designed by Les Furber, the Balfour Golf

course provides the complete golfing

experience. Players will find the front nine

carved neatly through a forested region

with sand and water hazards strategically

placed; the back nine uses the mountains

to provide elevation from tee to

green and has a breathtaking view across

Kootenay Lake to the Purcell Mountains.

Nestled along the shores of Kootenay Lake,

Balfour is a small but vibrant community,

offering multitudes of opportunity

for the avid hiker, biker,

golfer, boater and fisherman.

Please contact us for more information:

Balfour & District Business & Historic Association

contact.balfourcanada@gmail.com

www.balfourcanada.ca

BALFOUR

HEATED BOATS • ON-BOARD BBQ • BATHROOM

Reel Adventures Fishing Charters

Nelson BC | 250-505-4963

www.reeladventuresfishing.com

WE

SELL

FUN!

BC Canada The West Kootenay is COVID compliant, please respect our neighbourhoods. Stay & Play in the West Kootenay 2022 23
---
NAKUSP | NEW DENVER

Relax. Refresh. Return.

1-866-999-4528

250-265-4528

Web: www.nakusphotsprings.com

Email: info@nakusphotsprings.com

Follow us on

Facebook.com/NakuspHotSprings

Markets & More

The Nakusp Farmers Market happens every Saturday

from 9 am until 1 pm on the 600 block of Broadway (in

front of Canada Post) from Victoria Day to Thanksgiving.

Pick up locally grown produce and a bottle of cool climate

craft wine from the Valley of the Springs Winery.

Old Firehall Market

5th Avenue, Saturdays from 10 am to 2 pm.

Fringe Friday Market At the Old Firehall, noon to 4 pm

19th Horizons Unlimited Canwest Travellers Meeting

the premier overland adventure travel event for

motorcyclists & travellers on 2, 3 or 4 wheels! June 9 – 12

https://www.horizonsunlimited.com/events/canwest-2022

Canada Day celebrations: Pancake breakfast, parade,

entertainment, games for the kids, food and fireworks.

Whether your idea of fun is

quiet reflections or late night

beverages in the bar, The Lodge

at Arrow Lakes is more than

happy to accommodate.

• BAR & TAVERN

• PET-FRIENDLY ROOMS

• LIQUOR STORE

• NEARBY NATURAL HOT SPRINGS

AND XC/DOWNHILL SKIING

ARROWLAKESLODGE@CMHHELI.COM

1.800.663.0100 • 515 BROADWAY ST. WEST, NAKUSP, B.C. • ARROWLAKESLODGE.COM

FORMERLY KNOWN AS K2 ROTOR LODGE

24 Stay & Play in the West Kootenay 2022 #gokootenays - share the adventure! www.gokootenays.com BC Canada
---
NAKUSP

NAKUSP

Nakusp & Arrow Lake | Nakusp Hot Springs Photos: Mitch Winton

courtesy Kootenay Rockies Tourism

One of the first things you can do upon

arriving in Nakusp is take a stroll along

the paved path that follows the shoreline

of upper Arrow Lake. The landscaping,

the view, the beach, the fact that

you can walk from one end of town to

the other and feel energized rather than

tired – this is just the beginning of why

residents of Nakusp love their town.

Fishing, boating, swimming, snorkelling,

walking, hiking, biking, camping

and golfing are all possible here.

For a more leisurely adventure, check

out the many downtown shops and

restaurants, or visit the hot springs.

Barrier free adventure

In recent years, the efforts to improve

and expand the number, quality and inclusiveness

of mountain biking trails has

been a phenomenon. Find out more

about Nakusp's amazing new adaptive

mountain biking routes, rental and

riding clinics at https://kootenayadap

tive.com. Get a ton of local information

on all the trails from the Visitor Centre

or from Shon's bike shop and hostel,

downtown on Broadway Street.

Nakusp Hot Springs

Tucked away in the Selkirk mountains,

the circular shaped hot springs

pool of the resort is housed in an

ampitheatre-like structure above

Kuskanax Creek. The hot springs are

located 12 kms up a paved and well

maintained mountain road. In earlier

times there was only a path that was

used by pack-horses escorting paddlewheel

passengers who came to

sample the deliciously warm waters.

After enjoying the soothing waters, go

hiking and mountain biking, or camp at

the resort's campground in the serene

setting of a grove of

old growth cedars

and hemlocks on

Kuskanax Creek.

Open 9:30 am to

9:30 pm daily. Call

1-250-265-4528 to

find out the current

admission requirements

or visit www.

nakusp

hotsprings.com

Hot springs hikes

Starting in the Nakusp Hot Springs

parking lot, hikers can choose trails

ranging from short to long, level to

steep. Begin on the pet friendly, wheelchair

accessible trail leading to the

Kuskananx foot bridge. On the far side

of the bridge you can view a spectacular

waterfall and cathedral cedars, swim

in an alpine lake or walk along the 8.5

kilometres of cross country trails, all the

way back into the village, if you wish.

Maps: Nakusp Hot Springs lobby

or at the Visitor Centre on 6th

Street in downtown Nakusp.

SLOCAN LAKE'S

GROCERY STORE

Corner of Hwy 31A & Hwy 6

New Denver 250-358-2270

LOCALLY OWNED & OPERATED

• Fresh meat cut daily instore • Deli

• Lots of local products • Fresh produce

• Weekly flyer • and more

Hours: 8am - 6pm, 7 days a week

www.newmarketfoods.ca

SELKIRK INN

1-800-661-8007 OR 250-265-3666

email selkinn@columbiacable.net

Only a short walk from the shores of Upper Arrow Lake.

Located close to Nakusp Hot Springs, Halcyon Hot Springs and the Nakusp Golf Course. www.selkirkinn-nakusp.com

WELCOME

MOTORCYCLISTS

210 6th Ave. Northwest

Box 370, Nakusp, BC V0G 1R0

• 39 new and

recently reconditioned spacious units

• Single and deluxe rooms,

some with kitchenettes

• Telephone, fridge, and cable TV

• Wheelchair accessible unit

• Meeting room

• Courtesy coffee with accommodation

• Air conditioning

• Wireless internet

BC Canada The West Kootenay is COVID compliant, please respect our neighbourhoods. Stay & Play in the West Kootenay 2022 25
---
NEW DENVER | SILVERTON

New Denver

Prospectors arrived in New Denver in 1892

and cobbled together the beginnings of

a town. The name they gave to what was

hardly more than a camp with only a few

wooden buildings was El Dorado City. Early

hopes were that the settlement would

soon rival the boomtown cities that had

sprung up during the California gold rush,

but the golden moniker, in the absence of

a major gold strike, was soon to change.

The Silvery Slocan Museum in the old

Bank of Montreal building at the bottom

of Main Street is the place to get an introduction

to this turbulent early history.

Silverton

This village was first settled in 1892 by lead and

silver miners working the south face of Idaho

Mountain. The galena ore was packed down on

horseback or, in the winter, by "rawhiding". The

ore would be loaded and lashed into the hide

of a steer and get pulled by horses downhill

like a toboggan. That packhorse trail is now

called the Wakefield Trail and it's a spectacular,

demanding hike to spectacular Idaho peak.

Silverton has a 40-site campground with

boat launch, and an interesting museum

that is worth a visit even when it's closed,

since many of the mining artifacts from

the silver rush days are outside.

Markets & Events

New Denver Friday Market

10 – 2. June to Sept, downtown.

Slocan Saturday Market

10 – 2. June through August,

Expo Park in the Village of Slocan

The Nikkei Internment

Memorial Centre, dedicated

to telling the story of over

22,000 Japanese Canadians who

were forcibly relocated during

World War II. is located at 306

Josephine St. New Denver, BC

opens for the season on My 1st.

SLOCAN

Slocan Valley

HOME HARDWARE

Welcome to the

beautiful

Slocan Valley

As well as a large selection of hardware, building

supplies and paints, we also carry lots of supplies

and equipment for

river tubing & swimming

kayaking & canoeing

camping & picnicking

hiking & biking

Have a wonderful visit!

5763 Hwy 6, Winlaw

250-226-7771

plus toys for the kids,

food for your pets,

and much more

Open 9-5 Mon-Fri, 10-4 Saturdays • Closed Sundays

Dramatic mountain vistas,

lakes, the serene beauty of

the Slocan River, winding

roads and friendly villages all

combine to make the valley

an inspiring place to visit.

The water of the Slocan

River is crystal clear and

by early summer becomes

warm enough for swimming

in its many deep

pools. Floating down the

river on a raft or inner

tube is a popular activity.

The Slocan Valley Rail Trail

is a beloved local feature

developed from an old rail

line that follows the curves

of the Slocan River, connecting

neighbourhoods from

Slocan Lake downstream

to South Slocan, a 52 km

gentle journey. There are

several trailheads on the

way and enough amenities,

including campgrounds

and a few excellent eateries,

that you could make this

trail the focus of a multi-day

trip with barely a footstep to

take on a paved highway. To

plan a trip, go to the source:

slocanvalleyrailtrail.ca

Slocan Lake is the source of

the Slocan River. If you've

taken the Rail Trail as far

north as you can go, you'll

find yourself in the Village

of Slocan on the shores of

Slocan Lake. The village has a

rich and varied history as an

age-old summer encampment

of the indigenous

people, it was a mining town

during the silver boom, in

the 1940s it was the site

of a Japanese-Canadian

internment camp, and until

recently, a lumber mill town.

share your adventure

#gokootenays

DISCOVER SLOCAN

SPRINGER CREEK

RV PARK & CAMPGROUND

Base camp for

Valhalla Provincial Park,

Slocan Lake and the

Slocan Valley

Rail Trail

35 Sites . Showers . Full Hookups . Wi-Fi

. Wash Station . Sani-dump . Cell Service

5 minutes from beach and boat launch

Harold Street Café

717 Harold St., Slocan (centre of town)

www.slocancity.com E:campground@villageofslocan.ca T:250.355.2266

1020 Giffin Ave,Slocan,BC, V0G2C0

Open 7 days a week • 250-355-2663

26 Stay & Play in the West Kootenay 2022 #gokootenays - share the adventure! www.gokootenays.com BC Canada
---
WINLAW

& SLOCAN VALLEY

WINLAW

Slocan Lake Photo: Kari Medig

courtesy Destination BC

Winlaw Regional

and Nature Park

Winlaw Regional and Nature Park

is a 22.7 acre parcel of land located

just north of the Winlaw Bridge on

the west shore of the Slocan River.

Two boardwalks over wetland areas

are a key part of the trail system. The

rest of the park is beaches, forest

and wetlands with trails meandering

along the river and into the forest.

This is where the locals go to enjoy

the woods and river, to see wildlife,

to walk dogs, to count the birds, to

snowshoe or ski, to have picnics, to

swim and to build sand castles and

visit with each other while the kids play

on the swings or chase each other in

a game of tag. It is the place to share

with guests, to have weddings, to do

yoga, to have Art in the Park shows, for

open air theatre. The park is also the

destination for the famous Slocan River

Poker Float that takes place in August.

Come and visit! Hike down the path

through the shady forest and over the

boardwalk, listen for the cry of the eagle,

watch the ducks and Canada geese

feeding by the shore of the river, have

a seat on a riverside bench, breathe the

fresh air and relax. Welcome to nature.

Attitude meets altitude

For over a century people have been

hiking and scrambling to the top of

mountain peaks in and around the Valhallas

and Slocan Valley.

The early days saw

explorers dressed in

wool clothing and

sturdy shoes carrying

canvas backpacks,

walking sticks or ice

axes and, perhaps,

a hemp rope tied

around their waists.

Today, a new generation

of athlete is

climbing the steep

faces of rock that

abound throughout

the West Kootenay.

In the Slocan

Valley alone there

are four "cragging"

destinations.

The most popular

area for rock climbing

is Slocan Bluffs,

on the outskirts of

the Village of Slocan,

right beside the

lake. For specific

details of the

areas and climbs in the Slocan Valley,

refer to the West Kootenay Climbing

Guide, on sale locally. And for further

information, visit wonowmedia.com.

Valley View Golf Club

Vince Hempsall

Four Seasons

Greenhouse & Nursery

Growers of the finest

bedding plants, trees & shrubs,

and perennials.

5531 SLOCAN RIVER RD, WINLAW

Turn left at Mama Sita's Café, left off Winlaw bridge 1.5 km

250-226-7254

Open 9-5 daily

After June 30: Open 9-3, closed Wed & Sun

Just a 45 minute drive from Nelson or Castlegar, through the

beautiful Slocan Valley on Highway 6, finds you at the picturesque

Valley View Golf Course. After your round enjoy delicious food in our

licensed restaurant with its inviting wrap-around deck overlooking the

course. The friendly and relaxed atmosphere will make you want to

return again and again.

It's a nine hole course with separate tees for the back nine.

The course contains sand traps and some water hazards and offers

rewarding enjoyment for golfers of any caliber.

Affordable Green Fees!

Club rentals as well as pull carts and power carts are available. Free

overnight parking for self contained vehicles. For more information call

the clubhouse.

Valley View

Golf Club

Just north of Winlaw

in the Slocan Valley Ph 250-226-7241

BC Canada The West Kootenay is COVID compliant, please respect our neighbourhoods. Stay & Play in the West Kootenay 2022 27
---
WINLAW

The Regional District Park at Winlaw

Photo by Craig Lawrence

Invites you to come and see the dramatic improvements

done by the Kootenay Adaptive Sports Association (KASA)

The nature park is now more accessible,

especially for those with mobility issues.

Enjoy new boardwalks and pathways, picnic tables and

benches, parking lot and improved washrooms.

Located on the banks of the beautiful Slocan River

1 km north of Winlaw Bridge on Slocan River Road.

28 Stay & Play in the West Kootenay 2022 #gokootenays - share the adventure! www.gokootenays.com BC Canada
---
KASLO

KASLO

Kaslo, Photo: Karma Halleran

@gokootenays

Driftwood moose Photo: Gary Schneider

It's an easy place to fall in love with; the

beauty of its setting is almost overwhelming

at first. Looking across the brilliant clear

water of Kootenay Lake at the mountains

opposite, the Purcells appear unmarked

by roads and man-made structures. The

forested slopes beckon hikers, mountain

bikers and backcountry skiers, and provide

inspiration for musicians and artists.

Kaslo kids grow up with the lake as their

front yard and the bush as their back yard.

Come to Kaslo for a rest, a dose of inspiration,

or to get your pulse racing on the

lake or in the back country. Come for a day,

a week or forever – you'll be welcome!

SS Moyie

The Sweetheart-of-the-Lake is

embarking on a journey through

history and you are invited.

For nearly 60 years, the SS Moyie

and her sister steamships provided

a transportation lifeline to the many

isolated communities on Kootenay

Lake, literally opening the Kootenay

region to miners, businesses, farmers

and pioneer families. When the

Moyie was launched on October 22,

1898, there were no roads or trains

into these remote mountain valleys.

In 1957 the Village of Kaslo purchased

her from the CPR for the

grand sum of $1. Now a designated

National Historic Site and BC Landmark,

the sternwheeler is open daily

after Mother's Day in May. She is also

home to the Kaslo Visitor Centre.

Visit her at 324 Front Street, Kaslo.

The Langham

Narrowly escaping demolition in the

1970s, this building on A Avenue and

5th Street has been re-animated and

re-purposed a dozen or more times

in its 123 year history. When it first

opened its doors as a hotel in 1896, it

was described in the Sandon Streak as

"one of the most commodious residential

quarters in town, having the

benefits of all modern improvements

in the way of electric lights, baths, etc."

The Langham is

now a cultural

centre that houses

artists' studios,

meeting rooms

and two art

galleries. Its WWII

era history – when

it served as tiny

Tasting Room

Patio

Growlers

angryhenbrewing.com

Kaslo Craft Brewery

343 Front Street

Open daily

apartments for families of Japanese

descent who had been forcibly displaced

to BC's interior – is illuminated in

the Japanese Canadian Museum on the

second and third floors. Take a self-guided

tour any time the building is open.

Kootenay Star Museum

The turn of the 19th century was a

time of dangers, hardships, toil and

rewards – an era when fortunes were

made and squandered in a day.

Kaslo's turbulent history and its absolute

determination to survive is

embedded in the mining and forestry

artifacts on display at the Kootenay

Star Museum on Front Street. Definitely

worth a look – and afterwards

treat yourself to Teresa's homemade

pie and a coffee in the front room!

Sunnyside Naturals

Solid Health. Happy Heart.

Come, rest your feet!

Groceries, supplements & body care

that sustains you the natural way

Organic juices, smoothies & specialty

drinks made to your specs

Fresh, organic, gluten-free or vegan

soups & snacks

Professional advice

Open: Tues - Sun

7am - 3pm

Breakfast all day!

Burgers & Sandwiches, Burritos,

Nachos, Soups, Dessert & Drinks.

Fresh • Delicious • From Scratch

www.kaslotreehouse.com

419 Front St, Kaslo • 250-353-2955

404 Front Street, Kaslo | 250-353-9667

BC Canada The West Kootenay is COVID compliant, please respect our neighbourhoods. Stay & Play in the West Kootenay 2022 29
---
KASLO

Come Visit Our Historic

Your Community Grocer

One of the very first courses in BC,

established in 1923.

We are a proud community member,

providing a fine recreation opportunity

to residents and visitors.

Spectacular views from every shot!

Full In-store Bakery • Produce

Meat Department • Deli

411 Front Street, Kaslo • 250-353-2331

Store Hours: 9am - 7pm, Mon–Sat; 10am - 6pm, Sunday

Summer Hours (June 5 - Sept 3) 8am - 8pm 7 days a week including holidays

The course is challenging to golfers of all ages

and skill levels. Set on a bench overlooking the

town, the lake and mountains, the experience of

playing here is unparalleled.

No pre-booked tee times required.

Ask about the 10 pack and other specials!

New electric carts available to rent.

Enjoy a beverage on our patio.

Come and enjoy the day!

• unique

• handmade

• canadian

250-353-2262

KasloGolf.org

kaslogolf

418 Pine Street,

Kaslo, BC V0G 1M0

Since 1986

250-353-2566 408 Front Street, Kaslo

www.figmentscanada.com

30 Stay & Play in the West Kootenay 2022 #gokootenays - share the adventure! www.gokootenays.com BC Canada
---
Golf

At the Kaslo Golf Club there is a spectacular

view at each of the nine holes.

The course has rolling hills, well conditioned

greens and defined fairways.

There is a picturesque water hazard

adjacent to the 9th green that has a

waterfall and an accurate scale model

of the SS Moyie. The club also has a

driving net and a practice green.

After your round, relax with a drink on

the deck of the timber frame clubhouse.

At the Kaslo Golf Club you do not

usually have to pre-book tee times

– come when you want to play, register

and start in order of arrival.

Ride, run, walk

Kaslo's recreational trail system is

the pride and joy of her residents.

The trails are so numerous, with so

many options for access, that you

rarely bump into other users as you

walk, ride or run the various routes.

Fishing on Kootenay Lake Photo: Kendrick Lawless

Kaslo May Days

Kaslo has been celebrating May Days in

its own inimitable style for over a century.

Her first May Days was celebrated in 1892.

In the old days the sternwheelers ran

excursion trips from Nelson and stopped

to pick up revellers at every point along

the way, while others arrived in every

type of boat and conveyance, filling

the streets of Kaslo with miners, prospectors

and their families. The main

event then was a horse race down

Front Street, with prizes as high as $250,

and a unique "Prospectors' Race."

May Days has events for all ages and

tastes - musicians in the park, a slowpitch

tournament, a Show 'n' Shine, kids'

races. On Saturday and Sunday, join the

crowds at the Logger Sports Grounds

down by the beach. Grab a seat on

the grandstand and take in the amazing

athleticism demonstrated by the

competitors at this international logging

skills competition. On Monday catch the

sights and sounds of the Kaslo Parade.

Afterwards, walk down to the Maypole

in Vimy Park and watch the children

weave ribbons in a traditional dance just

as their parents and grandparents did

when they were children themselves.

KASLO

KUL NIJJAR PERSONAL

REAL ESTATE CORPORATION

Find your match

KootenayBC.com

"One of the best

buildings in BC"

Architecture Foundation

of BC, 2014

Gallery:

Japanese Canadian

Museum:

Theatre

Workshops

Community Events

Office:

Visit our website

for schedule of events

honeycandles.com

Handcrafted in Kaslo www.thelangham.ca • 447 A Avenue, Kaslo • 250-353-2661

BC Canada The West Kootenay is COVID compliant, please respect our neighbourhoods. Stay & Play in the West Kootenay 2022 31
---
KASLO

YOUR

#1 SOURCE

BEDDING

P

PFOR

Er

AND AN

ECLECTIC MIX

HOME DECOR

OF

THE KASLO HOTEL

Luxury hideaway on the picturesque

shores of Kootenay Lake.

Mountain and lake views form your

own private balcony.

Relax & unwind in our pub with

local brews and delicious food.

429 Front St, Kaslo BC • 250-353-2257

www.kaslohotel.com

info@kaslohotel.com

250-353-7714 | Toll Free 866-823-1433

430 Front Street Kaslo BC V0G 1M0

LOWEST PRICES IN THE KOOTENAYS

Name Brand Clothing

Basics • Swimwear • Beach Towels

Gifts • Jewellery • Personal Care Products

One Stop Shopping that's worth the drive!

Affordable Luxury

415 Front St, Kaslo 250-353-9688

32 Stay & Play in the West Kootenay 2022 #gokootenays - share the adventure! www.gokootenays.com BC Canada
---
slo Jazz Fest

z is in the name, but over the years

pe of the music has broadened.

stival goers will discover a diversity

musical genres, a natural laid-back

vironment that's very family friendly,

ality sound, and truly exceptional

ent. Mountains rising over 10,000

t from the lake are the backdrop

the performers. The audience can

tch and listen while reclining on the

nny, sandy beach, in the shade of

trees, or even while swimming or

ating in the water around the stage.

kets and info on performers

ps://kaslojazzfest.com

ents & Markets

slo May Days May 21 - 23

idaRide Races for the whole family.

y 3 www.iDIDaRide.ca

slo Jazz Etc Festival July 29 – 31

slo Saturday Market June 11 – Oct 8

turdays 10am – 2pm, Front St

rdeau Valley Sunday Market

ndays 10am – 2pm, Meadow Creek

Kootenay Lake parks

Campbell Bay: A small park on Kootenay

Lake, just across the lake from Kaslo. It

has a sandy beach and is only accessible

by boat. Primitive camping facilities.

Davis Creek: The smallest park

on Kootenay Lake but easily

accessible by Highway 3.

Lost Ledge: Accessible by Hwy 3. Enjoy

spectacular views of the Purcell Mountains

to the east, not to mention fishing,

boating and swimming. Informal camping

experience and lovely wild beaches.

Coffee Creek: Arrive by boat or park

your vehicle at the Hydro substation

just north of the Coffee Creek Bridge on

Hwy 31. It might take a minute or two

to spot the trail leading down to where

Coffee Creeks empties into Kootenay

Lake. Your reward is a secluded beach

with great views and good fishing.

Midge Creek: This boat access only

park is located on the west shore of the

main body of Kootenay Lake, across from

Sanca Creek. It boasts more than a kilometre

of sandy beach and backs onto the

Midge Creek Wildlife Management Area.

Up the lake

North of Kaslo is the beautiful Lardeau

Valley which embraces the small

communities of Lardeau, Cooper

Creek and Meadow Creek, Howser,

Argenta and Johnsons Landing.

The area was first settled at the turn of

the last century when a flood of prospectors

searching for rich lodes of ore

invaded the area. Starting in the 1950s

the area saw an increase of people

including draft dodgers, back-to-thelanders

and hippies as people looked

for a way to get back to nature. Now the

area is becoming a base for eco-tourism

operations and outdoor enthusiasts.

Don't miss the Lardeau Museum in

Meadow Creek. It is filled with homey

items that were treasured or else were

used daily in years past. There are many

displays outside on the grounds including

a steam donkey (an engine which

was used back in the day to winch logs

to the landing) and a new display of

heritage tractors and farming tools.

Open during July and August

or by appointment.

wingcreekresort.com 250.353.2475

Y

Your Adult Vacation Paradise

Romantic Romantic Luxury Luxury Cottages

Cottages

Gift Gift Gift Shop Shop Shop and and and Gallery

Gallery

Falling Falling Water Water Spa Spa Spa

Private Private Beach

Beach

5 c

5 cottages on 20 acres of Kootenay Lake

waterfront just north of Kaslo
---
AINSWORTH | WOODBURY

Ainsworth Hot Springs

The source of the springs lies in the mountains above

the settlement of Ainsworth, in the Cody Caves area.

The water works its way down through porous calcareous

rock to flow through to the pools below.

Today, the site of the ancient hot springs is home to

the Ainsworth Hot Springs Resort. Staying at the hotel

means you have exclusive use of the healing waters in

the mornings before 10 am. Float in the steaming openair

pool, then wade into the horseshoe-shaped cave,

where the darkness, the mineral deposits and the humidity

all combine to offer an exhilarating experience.

The resort also has a restaurant with an indigenous inspired

menu of wonderful food and thoughtful service.

In Ainsworth, don't miss the J.B. Fletcher Museum.

This was Ainsworth's general store from 1891 until

1972. With all its original fixtures, it looks much as it

did when J.B. (Pop) Fletcher first came to Ainsworth

Kaslo & Area

Vacation

Accommodations

in 1912 to manage it for owner Henry Giegerich.

Accommodations

Kaslo Manor Lodge

Kaslo Manor Lodge is centrally located

and offers lodging for 2 to 6 people,

most with kitchen facilities. Your friendly

and knowledgeable hosts can provide

trail information and shuttle service.

Grab a specialty coffee or snacks from

our Kane's Landing store!

250-353-8582 www.kaslomanorlodge.com

Ainsworth Motel

Offers a unique country setting in Ainsworth,

with clean, quiet and comfortable rooms.

Just a 2 minute walk to the relaxing naturally

hot pools. Kitchenettes and suites available,

all rooms with a breathtaking view. Coffee,

satellite TV, Wi-Fi, and shared lawn area

complete with BBQ. Affordable.

250-229-4711 www.ainsworthmotel.com

Woodbury

Woodbury is home to a thriving resort and marina and

the well known Jones Boys Boats, a family firm that offers

boat and ATV rentals, sales and service. The resort, open

year round, is a natural playground right on the shore of

Kootenay Lake. Twice a year, Terry Jones and his staff host

popular fishing derbies. Many a fish story has become

a Kootenay legend over a pint or two in the pub.

Woodbury is also a gateway to Kokanee Glacier Provincial

Park and the Silver Spray Cabin. In summer, you can

access the park by driving up Woodbury Creek Forestry

Road for 13 km to the trailhead. When you're done

playing for the day, enjoy the good company and good

food at JB's. Two of your appetites satisfied, and how!

Cody Caves

Explore this wild but fragile underground world sculpted by

glacier fed waters. The access via Cody Caves Forest Service

Road is just a couple of minutes south of Woodbury Resort.

All tours are by reservation only. For more information call

250-359-CAVE (2283) or visit www.codycavetours.com

Sunny Bluffs Chalets

Our cozy chalets and lodge are

located above Kaslo Bay. The chalets

have an open kitchen living room,

bathroom, upstairs bedroom, deck

with barbecue and beautiful Selkirk

Mountain views. TV and Wi-Fi.

sunnybluffschalets.com 250-353-7728

Beach Gables

This lakefront guesthouse motel is a

beautifully restored heritage building

on Kaslo beach. Walk just one block

to downtown shops and restaurants.

The well appointed suites offer privacy

and comfort with spectacular views of

Kootenay Lake.

www.beachgables.ca 250-353-2111

Bay Shore Escape

An adult oriented, 2 bdrm-deluxe beachfront condo suite.

Everything to make your "escape" a lifetime memory! Incredible

Kootenay Lake and mountain views, beachfront cobblestone deck,

luxurious beds, extensive amenities, underground parking, in-suite

laundry, private Wi-Fi, 10-minute trail walk to Kaslo.

No pets / no smoking. 3 night minimum stay.

bayshoreescape.com • 250-353-1141

bayshoreescape@gmail.com

Wing Creek Resort

Relax in this spectacular lakefront retreat for adults.

Enjoy luxury cottages, wood burning fireplaces, stunning views,

a private beach, forest trails, orchard, gardens, and the

Falling Water Spa. Located on 20 acres of paradise,

5 minutes north of Kaslo.

www.wingcreekresort.com • 250-353-2475

34 Stay & Play in the West Kootenay 2022 #gokootenays - share the adventure! www.gokootenays.com BC Canada
---
Woodbury Resort

& Marina,

Kootenay Lake's Destination Resort

Explore the beautiful

Selkirk Mountains

at your back door.

Hiking/ATV & mountain

biking trails

AINSWORTH | WOODBURY

Kootenay

Angler

Incentive

Program

Depot.

Big Prizes!

Stop in for details.

Marina

Gas, boat rentals & tackle

JB's Restaurant & Pub

Country Store

Family

boats available for rent

at

oa

bo

t

b a

Free

WiFi

for guests

Fish for Rainbows from your front door!

av i

a a

va l

ai

b

il

Motel and Cabins

with full kitchens and

satellite TV

Register at the store

Laundromat

friendly recreation & fishing

Suites and

Chalets

ONLY

Heated Pool

IN THE AREA

Waterfront & treed

tent sites, fire pits

RV sites with full

hookup (30 amp)

JB's Restaurant & Pub

Dine in & takeout available

Seasonal hours - please check our website

Woodbury Resort

& Marina

JB's Restaurant

Same owner since 1982

4 kms north of Ainsworth Hot Springs

PO Box 1262, Ainsworth, BC V0G 1A0

250-353-7717 • JB's 250-353-7716

Toll Free 1-877-353-7717

Email: woodburyresort@netidea.com • www.woodburyresort.com

BC Canada The West Kootenay is COVID compliant, please respect our neighbourhoods. Stay & Play in the West Kootenay 2022 35
---
ai16445250777_Kootenay Co-op Go and Do Spring 2022.pdf 3 02/10/2022 12:31:19 PM

eat well.

shop local.

WITH OVER 130 TRUE

LOCAL FARMERS +

ARTISAN SUPPLIERS

LOOK FOR THIS LOGO TO

C

M

Y

CM

MY

CY

SHOP PRODUCTS FROM

WITHIN 160KM OF

YOUR CO-OP!

CMY

K

777 Baker Street, Nelson | Open Daily 8am - 8pm

www.kootenay.coop | shop.kootenay.coop

36 Stay & Play in the West Kootenay 2022 #gokootenays - share the adventure! www.gokootenays.com BC Canada