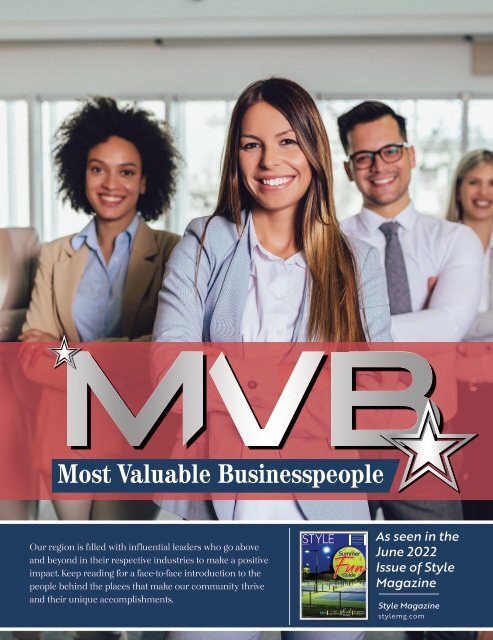 Most Valuable Businesspeople — Stand Alone — June 2022
Our region is filled with influential leaders who go above and beyond in their respective industries to make a positive impact. Keep reading for a face-to-face introduction to the people behind the places that make our community thrive and their unique accomplishments.
Our region is filled with influential leaders who go above and beyond in their respective industries to make a positive impact. Keep reading for a face-to-face introduction to the people behind the places that make our community thrive and their unique accomplishments.
SHOW MORE
SHOW LESS
Create successful ePaper yourself
Turn your PDF publications into a flip-book with our unique Google optimized e-Paper software.
JUNE 2022

STYLEMG.COM

M A G A Z I N E

Most Valuable Businesspeople

Our region is filled with influential leaders who go above

and beyond in their respective industries to make a positive

impact. Keep reading for a face-to-face introduction to the

people behind the places that make our community thrive

and their unique accomplishments.

STYLE MAGAZINE

JUNE 2022 FOOD | HOME | COMMUNITY | EVENTS | ARTS | LIFE

STYLEMG.COM

Johnson Ranch Sports Club

PLUS

Summer

Guide

Fun

Local

Light Beers

Rad

Dads

IN THIS ISSUE!

Most Valuable

Businesspeople

+

Dads and Grads

Gift Guide

Trying Out

Pickleball

As seen in the

June 2022

Issue of Style

Magazine

Style Magazine

stylemg.com
---
SPECIAL SECTION

Most Valuable Businesspeople

Our region is filled with influential leaders who go above

and beyond in their respective industries to make a positive

impact. Keep reading for a face-to-face introduction to the

people behind the places that make our community thrive and

their unique accomplishments.

Mike Bagdonas

Mike Bagdonas Fine Art

mikebagdonas.com | El Dorado Hills

Dr. Ken Sumida

Nuance Cosmetic Surgery

1641 Creekside Dr., Ste. 100 | Folsom

916-984-4242 | nuancecs.com

Northern California artist, Mike Bagdonas,

paints landscapes on-site or larger studio

landscapes. He takes pride in painting from

life quickly and accurately. Mike has won

many awards and honors and his great

works of art have been shown in many

prestigious galleries, museums, and special

venues throughout the United States. Visit

his Virtual Gallery show "The Beauty of the

Garrapata" from June 21st to September

30th.

Dr. Ken Sumida and the staff at Nuance

Cosmetic Surgery aim to improve your

natural appearance and reverse some

signs of aging. Nuance offers surgical and

non-surgical procedures, including face

lifts, eyelid lifts, breast enhancements

and tummy tucks, Dysport, restylane,

and chemical peels. If you're not sure

if cosmetic surgery is for you, Dr.

Sumida offers complimentary cosmetic

consultations allowing patients to explore

the various methods of looking younger.

Dr. Sumida encourages first time patients

to seek out a number of plastic surgeons

so they can find the one where they feel

most comfortable. Dr. Sumida guarantees

personal attention to all of his patients.

"From the time you pick up the phone

to schedule an appointment, you will be

treated like a precious patient," he says.

"We try to schedule our patients with

ample time for their consultations. We

want to answer all of their questions so

that they do not feel rushed." Give Dr.

Sumida and Nuance a call today!

48 stylemg.com | JUNE 2022 | /stylemg /stylemediagroup /stylemediagroup /stylemags
---
SPECIAL SECTION

Palm Beach Shutters

Jeannie Noll

Blind Spot Blinds & Shutters

6624 Lonetree Blvd., Ste. 500 (Near RC Willey) | Rocklin

8020 Folsom-Auburn Road | Folsom

916-773-SPOT (7768)

www.shutterspot.com | ShutterSpot | blindspot.rocklin

I am so excited to be celebrating Blind Spot's 20th year in business!

It has been amazing to grow this business and raise my family in our

wonderful region!

Through the years we have seen many changes and challenges.

The most important thing I have learned to do is constantly reinvent

how I can make my business better, that's part of the reason we

became a Hunter Douglas Gallery. I am always working to give

customers an elevated experience!

Blind Spot is focused on having a solid foundation. We rely on quality

staff, strong values and a commitment to our clients. Blind Spot will

continue to set goals, overcome challenges and celebrate success.

We constantly reinvent for more opportunity and also realize the

importance of giving back to the communities we work with.

And just this past year, we expanded and opened a new location in

Folsom! Our concept for a different 'window shopping' experience

is amazing! Look forward to having you 'Check your Blind Spot'

when you need quality Hunter Douglas window coverings!

The future is bright, everyone needs shades! Locally owned and

operated.

JUNE 2022 | stylemg.com 49
---
SPECIAL SECTION

Pamela Connor, Functional Nutritionist

Connor Wellness Clinic

1891 E. Roseville Pkwy., #170 | Roseville

916-404-0886 | www.connorwellnessclinic.com

staff@connorwellnessclinic.com

We offer a functional

medicine and an

integrative approach to

healing and the factors

influencing health.

Our philosophy is

science and nutritional

based focusing on the

root causes of health

imbalances. A wide

variety of diagnostic

and lab testing

are available for

conditions such as gut

issues, autoimmune

disorders, hormone

balancing, weight

loss, genetic testing.

See our website for

our services and

testing. We specialize

in supporting gut

health, autoimmune

conditions, weight loss,

hormones, and more.

Chris Wilczewski, CFP®, CRPS

Financial Advisor l Edward Jones

1568 Creekside Drive, Suite 204 | Folsom

916-260-5996

I believe it is important

to invest my time to

understand what you're

working to accomplish

before you invest

your money. I hold the

CERTIFIED FINANCIAL

PLANNER

certification and I work

closely with you to

develop an appropriate

financial strategy that

will help you achieve

your goals. Once we

have developed a

strategy, we partner

together throughout

your lifetime to help

ensure you stay on

track to reach your

goals.

Don't just work for your

money…. Make your

money work for you!

Carey Mencarini / Founder

IV Lounge

3161 Cameron Park Drive, Suite 105

Cameron Park | 530-387-7097

ivlounge-edh.com

My passion for helping people led to founding IV Lounge in

February 2021. As someone who battled with a debilitating

chronic illness, I relied on intravenous vitamin therapy weekly.

I am grateful to have the ability to bring this invaluable service

to our local area today! The IV Lounge provides convenient

access to affordable, high quality IV Vitamin therapy customized

and administered by our Naturopath. IV vitamin therapy is

optimal fuel that is effective and reliable!

Are you ready to kickstart your body into gear with nutrients?

Do you need a pick me up after a night out with friends? Are

you suffering from a vitamin deficiency? Maybe you are an elite

athlete or weekend warrior in need of quicker recovery? If you

answered yes to these questions, we have a solution for you, IV

Therapy.

IV Therapy can quickly transport high levels of vitamins and

minerals directly into your bloodstream, bypassing the digestive

tract to absorb quickly. IV therapy has been around for over

50 years. It can provide excellent health benefits, including age

management, improved immunity, illness recovery/prevention,

detoxification, and hydration, to name a few.

Regular vitamin supplementation is key to better immunity and

overall good health.

50 stylemg.com | JUNE 2022 | /stylemg /stylemediagroup /stylemediagroup /stylemags
---
SPECIAL SECTION

Denise Bogard, M.D., FAARFM,

ABAARM

Bogard Health - Well Aging Med

508 Gibson Dr., Ste 290 | Roseville

916-781-4300 | bogardhealth.com

Dr. Bogard has a long history in the health field. From

an RN to a nurse anesthetist to an anesthesiologist, she

spent almost 40 years in the operating room. She was

exposed to critical care, trauma, obstetrics, lots of on

call hours and sleepless nights. As she entered her 50's

she found her own health starting to decline and sought

out a healthy aging physician. After experiencing the

benefits she sought out the fellowship of regenerative

and healthy aging through the American Academy of

Anti-Aging Medicine.

She opened an office in 2014 and continues to grow

and expand her knowledge into this evolving field of

medicine. Rather than prescribing medications and

bandaging diseases she looks for the "root causes" and

integrates each system in the body together. She also

looks at environmental, genetic and lifestyle factors

which result in "dis-ease". Her continued and expanding

practice utilizes bioidentical hormone replacement,

thyroid and adrenal optimization, GI healing, peptide

therapy, ozone therapy, PRP hair therapy, as well as

body contouring and weight management.

Steve Wallen

Steve Wallen Swim School

El Dorado Hills | 1230 Glenhaven Ct., #100 | 916-939-7075

Roseville | 10608 Industrial Ave, #150 | 916-794-7977

www.wallenswim.com

Steve Wallen, Kaleb Wallen, and Mel Amatulli own and

operate Steve Wallen Swim School in El Dorado Hills and

Roseville. Together, they have been leaders in the learnto-swim

industry for over 14 years. Steve started SWSS in

his backyard pool in Folsom over 40 years ago. In 2008,

Steve and his son Kaleb opened their first state-of-the-art

indoor, heated pool facility in El Dorado Hills to offer yearround

swim instruction to their students. In 2018, Steve

and Kaleb brought on their longtime swim instructor, Mel

Amatulli to be an owner of a new SWSS location in Roseville.

This trio's presence in the community continues to grow as

their programs have taught over 50,000 students to swim,

including generations of families in the Sacramento area. They

take pride in supporting the community they have lived in

and continue to raise their families. SWSS continues to stay

involved in community events and donate to local schools and

recreational activities. Steve and his wife Susy have 4 children

and 5 grandchildren and currently reside in El Dorado Hills

with their dog, Hallie. Kaleb and his girlfriend Alex have two

dogs, Kole and Remy, and a cat, Leo, and reside in El Dorado

Hills. Mel and her husband Dennis have one son, Draken, and

two dogs Rayne and Boba, and reside in El Dorado Hills.

JUNE 2022 | stylemg.com 51
---
SPECIAL SECTION

Judy Gillespie, Owner

Sunrise Natural Foods

1950 Douglas Blvd. | Roseville | 916-789-8591

2160 Grass Valley Hwy. | Auburn | 530-888-8973

www.sunrisenaturalfoods.net

Since opening their doors in 1990 Sunrise Natural

Foods has been owned and operated by Judy

Gillespie, a charismatic woman passionate about the

overall health and well being of her community.

The mission behind Sunrise Natural Foods is to

provide the community with friendly, knowledgeable,

and personalized service for those seeking to better

their health naturally.

Sunrise Natural Foods provides only the highest

quality products, ensuring the best with every

purchase and has one of the largest selections of

supplements, vitamins, and probiotics. Sunrise Natural

Foods is also well known for the large selection of

organic produce, bulk foods, and specialty grocery

items.

Omar Dyab DDS, MS

Premier Implant Solutions

& Sedation Dentistry

6661 Stanford Ranch Rd., Ste. D | Rocklin

916-471-2999 | premierimplantsolutions.com

Premier Implant Solutions & Sedation Dentistry is a state-ofthe-art

facility providing dental treatment for the entire family.

In addition to providing traditional dentistry for your family's

needs, Dr. Dyab has spent many years placing dental implants

from single unit to full mouth rehabilitation.

For those patients who experience anxiety about going to the

dentist, Dr. Dyab offers IV Conscious Sedation as he wants all

patients to feel totally relaxed and comfortable during their

visits.

At the young age of 7, after a routine checkup, is when Dr. Dyab

decided to become a dentist. Practicing now for over 20 years

with the last 7 years in Northern California he has chosen to

make Rocklin his forever landing place. He loves how dentistry

changes people's lives so they can smile with confidence!

Dr. Dyab completed his Orofacial Pain & Oral Medicine

residency at USC. During the past 20 years, Dr. Dyab attended

many extended & live trainings in implant and sedation

dentistry.

Dr. Dyab is a member of the ADA, CDA and Sacramento Dental

Society. He's also a member of AGD and ITI.

When not practicing dentistry, he loves to travel and spend time

at the beach with family and friends.

52 stylemg.com | JUNE 2022 | /stylemg /stylemediagroup /stylemediagroup /stylemags
---
SPECIAL SECTION

Tri Counties Bank

Commercial Lending Team

Sacramento Region

3700 Douglas Blvd. | Roseville

916-788-8200 | TriCountiesBank.com

Pictured: Jyoti Mehta, SVP, Commercial Lending Regional Manager; Janelle Hopps, SVP,

Commercial Lending Division Manager; Stephen Cairns, VP, Commercial Lending Regional

Manager; Gretchen Hritz, SVP, Commercial Lending Division Manager

Tri Counties Bank offers comprehensive financial solutions

rivaling those of larger banks, but with the flexibility and

superior level of service of a community bank. With locations

throughout California, Tri Counties Bank is now backed by

assets of more than $10 billion and more than 45 years of

financial success and stability.

The Tri Counties Bank Commercial Lending team understands

the intricacies of the communities they serve. They are local,

seasoned experts who operate with a personal relationship

philosophy. By partnering with other financial specialists, they

can create, monitor and adjust portfolios of products and

services for each business customer.

"We are large enough to offer the types of loans and services

that businesses need, but small enough to be nimble," says

Senior Vice President and Commercial Lending Division

Manager Janelle Hopps. "We're able to structure loans to meet

very specific, complex needs of companies in Sacramento and

throughout California."

Tri Counties Bank has locations throughout California, including

Downtown Sacramento, Roseville, North Natomas, Folsom,

Woodland and Auburn.

Member FDIC

Steven Eriksen

Wise Villa Winery

4200 Wise Rd. | Lincoln

916-543-0323

www.wisevillawinery.com

Wise Villa Winery's esteemed Head

Winemaker Steven Eriksen grew up in

Southern Oregon where he formed a

relationship with the outdoors and nature.

He attended Oregon State University,

where he received his bachelor's degree

in Biology while minoring in Chemistry.

He began his career at Paoletti Winery in

Napa before moving on to Sonoma where

he worked at well-known wineries such

as Pellegrini Wine Company, and Joseph

Jewel, along with Gary Farrell Vineyards

and Winery. Joining the Wise Villa Winery

winery team in 2014, Steven worked his

way up from Cellar Master to Assistant

Winemaker and finally Head Winemaker.

He thrives at Wise Villa Winery where his

passion for winemaking is unmistakable

and clearly demonstrated by the countless

awards his wine has received. In 2019,

while under Steven's direction, Wise Villa

Winery was the most awarded winery in

North America for single-varietal wines as

judged by the San Francisco Chronicle.

JUNE 2022 | stylemg.com 53
---
JUNE 2022

STAY UP TO DATE ON ALL OF

THE LOCAL GOINGS-ON!

Pick up the new issue of STYLE Magazine and follow us online.

STYLE MAGAZINE

M A G A Z I N E

IN THIS ISSUE!

Most Valuable

Businesspeople

+

Dads and Grads

Gift Guide

JUNE 2022 FOOD | HOME | COMMUNITY | EVENTS | ARTS | LIFE

STYLEMG.COM

Johnson Ranch Sports Club

STYLEMG.COM

PLUS

Local

Light Beers

Summer

Fun

Guide

Rad

Dads

Trying Out

Pickleball

M A G A Z I N E

/stylemediagroup /stylemediagroup /stylemediagroup /stylemags