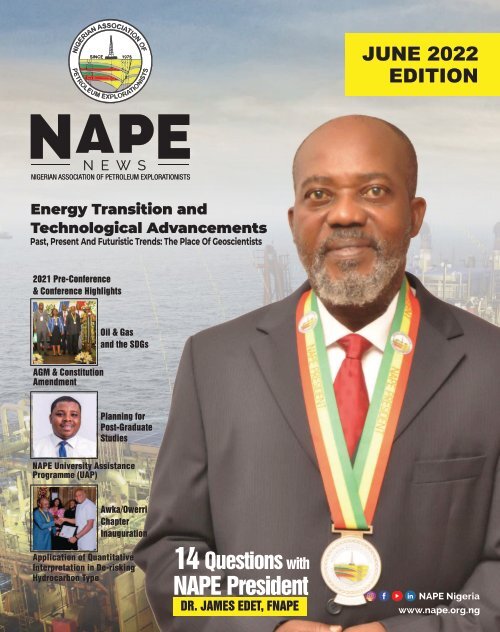 NAPENews Magazine June 2022 Edition
June 2022 Edition of the NAPE News Magazine is the Mid-Year Edition. Happy reading.
June 2022 Edition of the NAPE News Magazine is the Mid-Year Edition. Happy reading.
SHOW MORE
SHOW LESS
Create successful ePaper yourself
Turn your PDF publications into a flip-book with our unique Google optimized e-Paper software.
JUNE 2022

EDITION

Energy Transition and

Technological Advancements

Past, Present And Futuristic Trends: The Place Of Geoscientists

2021 Pre-Conference

& Conference Highlights

Oil & Gas

and the SDGs

AGM & Constitution

Amendment

Planning for

Post-Graduate

Studies

NAPE University Assistance

Programme (UAP)

Awka/Owerri

Chapter

Inauguration

Application of Quantitative

Interpretation in De-risking

Hydrocarbon Type

14 Questions with

NAPE President

DR. JAMES EDET, FNAPE
---
Corporate Ad

DIGITILIZATION OF THE OIL AND GAS SECTOR IN AFRICA

WHO WE ARE

WeSecure Technologies Ltd is specialized in delivering secure solutions with a key interest in the

Oil & Gas industry. We have a wide working experience with clients spread all over the globe in

the area of Cybersecurity, Business Intelligence, Artificial Intell i gence (AI), Blockchain and the

Internet of Things (IoT).

Our Head office is in London and branches in Abuja, Lagos and the United States of America..

For more information, please contact

Mrs Arinade Osibona

Managing Director/CEO

Email: arin.osibona@yahoo.co.uk

www.wesecuretechnologies.com | info@ wesecuretechnologies.com |
---
EDITOR'S NOTE

If there was a time for geoscientists to amplify the use of their multidimensional

skills, I wager, it is now.

Bringing a unique perspective, detailed subsurface knowledge,

ability to quantify risk, manage uncertainties and develop different

scenarios for a single event remain our super-powers. These

powers are what makes us prime solution providers for the energy

challenges of this decade.

In this Energy Transition era, we must contribute to how the

industry harnesses technology to slow down the greenhouse

effect, a major contributor to climate change.

This is because, there are many dimensions to the place of

geoscientists in this constantly evolving era. From conceptualizing

safe sites for carbon and hydrogen storage, identifying geothermal

energy sources and safely storing nuclear waste, the opportunities

to champion these sustainable strategies abound.

Sustainability for the geoscientist is not a mere concept. It is a

game changing mindset; the right mindset of how natural

resources are to be sourced and developed effectively. In cases

where this is non-renewable, embracing the responsibility of recreating

value from previously assumed end-products, and where

non-renewable, acting ethically to safely decommission and reevaluate

for other uses.

It is on this theme "Energy Transition and Technological

Advancement, the Place of Geoscientists" that this edition

rests.

The Oil & Gas Industry have witnessed an upside in the year 2022,

however, challenges remain. In Africa, Energy Access is now

crucial, with fast paced globalization, rising population, and

growing consciousness of the populace. This comes with pressure

on industry players who must also justify between embracing

energy transition, propagating an energy mix strategy, romancing

the energy justice debate, or supporting emerging economies with

enabling policies to eradicate their energy poverty. In the midst of

more demand of shareholders return and dwindling appetite for Oil

and Gas investment.

Nationally, we are witnessing an era flawed by insecurities,

inflation and record low socio-economic indices. These and other

operational activities have led us into discussions on the marginal

fields bid rounds, and ongoing divestment(s). To this end, NAPE is

organizing a divestment workshop in July. Details in this magazine.

With our growing engagement on social media platforms, you will

have observed the shift in how our information are now being

propagated. While the social pages afford us the opportunity for

real time reporting, we continue to evaluate its' impact on our

community building / knowledge sharing / policy advocacy and

member's networking initiatives.

These reports are done with filters, ensuring that we manage and

protect the ethos of our Association, as we continuously strive to

ensure a safe space for you.

Be assured, our publicity and communication efforts are passed

through our social share litmus tests

- Is this ethical? Does this align with NAPE's core values?

- Does this have a social fit?

- Will this pass a front-page test?

It is upon answering "Yes" that we share. Our social pages are safe,

and we welcome your active participation and engagement.

We will continually monitor the suitability of these communication

channels to our information dissemination strategy.

Kindly follow NAPE on:

Facebook

YouTube

Twitter

Instagram

LinkedIn

In this edition, we have curated educative and entertaining content.

You will find various interviews, starting with the President's, three

of the newly elected fellows, update on transiting executives and

their chapters. Also included is a peer reviewed technical paper,

University Assistance Programme Activities and celebrated

members with milestone.

On a sombering note, we lost a young professional, Mr. Emmanuel

Elozona Ezenwa. He was a member of the Publicity Committee

Support Group before his demise. May his soul rest in peace.

Now that I have you for few more minutes, a request: When you flip

through the pages of this edition, read about NAPE activities in your

mailbox, on social media or while attending events. I appeal that

you reflect on what NAPE is about, what you can do for this great

Association, and importantly what all of us can accomplish together

in the future.

This edition is as member centric as it gets, I invite you to relax as

you flip through the pages. You will surely find a familiar face. This

is what makes us a community. This is what makes us NAPE.

Counting on you to actively volunteer.

To your Spiritedness

Tunbosun Afolayan
---
NAPENews is the magazine of

the Nigerian Association of

Petroleum Explorationists

(NAPE).

NAPENews EDITORIAL

BOARD

Tunbosun Afolayan

(NAPE Publicity Secretary/

Editor, NAPENews)

Adewale Sadiq

(Deputy Editor, NAPENews)

Victoria Okorie

(NAPE Assistant Editor-in-Chief/

Contributor)

Lucky Iwu

(Contributor)

Promise Ekeh

(Contributor)

David Anomneze

(Contributor)

Timipire Potoki

(YP Contributor)

Emmanuel Ezenwa

(Contributor)

Elshalom Omokpariola

(Contributor)

Deborah Oyebisi

(Contributor)

Paul Onuoha

(Contributor)

Isah Bunyaminu

(Contributor)

Frank Phido

(Media Consultant)

Abieyuwa Ogbebor

(Secretariat Support)

Tunde Adedeji

(Secretariat Support)

Lawrence Osuagwu

(Secretariat Support)

Graphics Consultant

Karoreva Resources Limited

The Nigerian Association of

Petroleum Explorationists (NAPE)

Secretariat,

47A Femi Okunnu Housing Estate,

Lekki Expressway, Lekki Peninsula,

Lagos, Nigeria.

P.M.B. 12598, Marina, Lagos.

Tel: +234 (0) 1 342 9082

+234 (0) 909 214 3198

info@nape.org.ng

www.nape.org.ng

Trustees of the Nigerian

Association of Petroleum

Explorationists (NAPE)

Chief Chamberlain Oyibo, FNAPE

(Chairman)

Dr. Austin Avuru, FNAPE

Dr. D. Lambert Aikhionbare, FNAPE

Dr. 'Layi Fatona, FNAPE

Mr. Mavuaye James Orife, FNAPE

Advisory Council of the

Nigerian Association of Petroleum

Explorationists (NAPE)

Dr. Ebi Omatsola, FNAPE (Chairman)

Mrs. Patience Maseli, FNAPE (Secretary)

Mr. Abiodun Adesanya, FNAPE

Dr. Austin Avuru, FNAPE

Prof. C. S. Nwajide, FNAPE

Dr. D. Lambert-Aikhiobare, FNAPE

Mr. George Osahon, FNAPE

Mr. Kanu Kanu, FNAPE

Dr. Layi Fatona, FNAPE

Mr. Nedo Osayande, FNAPE

Mrs. Patricia Ochogbu, FNAPE

Mr. Reginald Mbah, FNAPE

Mr. Abraham Udoh

Mr. Aliyu Adamu

Mr. Ekpei Ukam

Dr. Gbolade Olalere

Mrs. Rosina Basorun

DISCLAIMER

The Nigerian Association of

P e t r o l e u m E x p l o r a t i o n i s t s

(NAPE) accepts no responsibility

for the views expressed in any

article in this publication. All

views expressed, except where

e x p l i c i t l y s t a t e d o t h e r w i s e ,

represent those of the author,

and not The Nigerian Association

of Petroleum Explorationists

(NAPE). All rights reserved. No

paragraph in this publication

may be reproduced, copied or

transmitted save with written

permission. The information

contained in this magazine has

been provided as a public

service. All effort has been made

to ensure its accuracy and

reliability, NAPENews makes no

warranties, representations,

e x p r e s s e d o r i m p l i e d ,

c o n c e r n i n g t h e a c c u r a c y ,

reliability or completeness of

the information contained in

t h i s p u b l i c a t i o n . T h e

information in this bulletin is

provided on an "as is" basis

without warranty or condition.
---
NAPE EXECUTIVE

17

20

22

23

41

43

47

48

50

52

53

57

63

FEATURES

14 Question with NAPE President

Energy Transition and Technological

Advancements

Oil & Gas and the SDGs

Personal Leadership in Unifying Biases

Interview with Philip Ajaebili

Pictures from Leadership Forum

Planning for Post-Graduate

Scholarship/Studies

NAPE Student Chapter Inauguation

Ibrahim Badamasi Babangida University

Awka/Owerri Chapter Inauguration

CONTENTS

Transiting Executives: Chapter Coordinators

Meet NAPE Chapter Executives

Fellows' Interview

Covid and Post-Covid Realities of the

Nigeria Oil and Gas Industry

REGULAR

Editor's Desk

President's Desk

About NAPE

Technical Paper: Application of

Quantitative Interpretation in

De-risking Hydrocarbon Type

Pre-Conference Communique

NAPE Chapter Activities

NAPE in the News

NAPE YP Activity Report

NAPE Announcement

Membership Milestone/Recognition

Lagos Business/Technical Meetings

Women of Geology

03

06

08

11

25

39

40

44

56

60

61

62

NAPENEWS JUNE 2022

05
---
President's Desk

Dear Esteemed Member.

It is with great delight that I welcome you to the first edition of

NAPEnews for the year 2022.

The first few months of the year is seeing many oil and gas

companies looking at reinventing themselves by engaging in fiscal

discipline, focusing on financial health, committing to the imminent

energy transition and transforming business models.

As an Association, relying on the patronage of your goodwill, I am

committed to steering the affairs of our great Association to meet

the emerging trends in the oil and gas industry.

My top three goals remain:

1. Lead the collaboration of Geosciences Associations to partner

and drive government policies as they affect the oil, gas and

sustainable energy landscape.

2. Registration of the NAPE Foundation.

3. Diversification of revenue generation avenues for our

Association.

I continue to solicit your support, knowing that with courage and

confidence we can build an Association of our dreams and

aspirations.

As the oil and gas industry responds to the current economic

discontinuities, its' capacity to sponsor our events is waning. For us

at NAPE, no other issue is more critical than building a resilient and

financially strong organization. In this regard, we have taken steps

to reduce deficits, while we continue to explore other revenue

generation avenues. I am glad to state that our efforts are

beginning to bear fruit.

"

if our place as technocrats in

advocacy continue to suffer a loss

and is not arrested, we may end up

without an association, for no

association can run by itself.

"

In March, we successfully held the NAPE- UAP Leadership Forum

in collaboration with the Nigerian Mining & Geosciences Society

(NMGS) in Port Harcourt Rivers State. The theme of the event was

Bridging the Industry-Academia Gap: Consolidating the

Gains of the Past and Projecting into the Future.

The theme was chosen based on the fact that the exploration

landscape is changing, and cleaner energy will be the way to go.

For Nigeria, the transition energy is gas and as we already know,

gas is only found in the Niger Delta as incidental finds while

exploring for oil.

The new landscape therefore will require personnel

who will be deliberately exploring for gas. This

consequently calls for quality education and the

requisite skills for the future will border on problemsolving,

critical thinking, research & development, bigdata

integration, and interpretation skill sets.

These are the qualities NAPE is bringing to its members

in tertiary institutions through its University Assistance

Program (UAP) whose objectives are to support and

augment academic geoscience knowledge with

industry expertise and experience.

The event was attended by over Eighty (80)

professionals from the academia, petroleum industry

and government institutions and it deliberated

extensively on the various ways to move us forward.

The outcome of this successful events is captured in the

Leadership Forum communique.

I have often said that cooperation and collaboration is

the bedrock of a successful association. I represented

NAPE at the Federal Government of Nigeria's flagship

energy event, the 2022 Nigerian International Energy

Summit (NIES). As a panelist on the Upstream Industry

NAPENEWS JUNE 2022 06
---
The Electoral Committee this year has gone through the

pains of making sure that there is a level playing ground

for everyone who nominates himself or herself for any of

the available positions.

The good thing about this year's elections is that the

unhealthy competition, sometimes and unnecessary

distractions that characterizes our elections have been

fully eliminated. Henceforth, NAPE will be doing the

campaigning for everyone. And all that is required of you

is to show up and be ready to serve."

This is my plea to you. Let us unite to forge a common front

as we seek candidates who are available and are good fit

for moving our Association to the next level.

In the latter part of May, the social and print media were

inundated with reports of a gas leak / inferno which

engulfed a water borehole sited within Caritas University

at Amorji Nike (about 3km from Emene) in Enugu State.

NAPE as part of its Corporate Social Responsibility (CSR)

and Advocacy initiative, through the Awka/Owerri chapter

executives and other members led by Dr. Princeton Dim,

visited the site.

Forum I shared insight to the role hydrocarbon will have to play

to meet energy demand through 2050. We also hosted and

exhibition booth.

The 2022 NAPE Election nomination process opened earlier in

the year. Sadly, it was met with a low level of participation and

lack of interest by NAPE members in taking up executive

positions. At the May Technical Meeting held on 18th May

2022, I addressed members concerning this growing apathy

and inertia towards the election process.

At that meeting, I stated and I want to reiterate it here, that while

I recognize that members are very busy professionals working

in a strategic industry and contributing to the socio-economic

development of this nation, like everything else, the place of

technocrats in advocacy continue to suffer a loss, if this is not

arrested, we will end up without an association for no

organization can run by itself.

Their report, upon evaluating the site, led to a Media

Briefing in which NAPE issued a public safety advice. We

offered our support to the relevant agencies on how to

quell the inferno and informed on the need to engage

professional bodies such as ours prior to the

commencement of further drilling activities. NAPE's

technical editorial team have also issued a concise report

of this event with recommendations. Thankfully, the

inferno has been contained.

Our 40th Flagship Annual International Conference and

Exhibition will take place at the Eko Hotel and Suites,

Victoria Island from November13-17, 2022. The theme is

Global Energy Transition and the Future of the Oil and

Gas Industry: Evolving Regulations, Emerging

Concepts and Opportunities. The Conference Planning

Committee has been inaugurated and working hard, and

as is our tradition, set to deliver a world class event.

I ask for your support and collaboration as we strive to

bring into sharper focus our need to engender a

knowledge economy that will be an enduring legacy for

the future.

Thank you for your kind attention.

Dr. James Edet, FNAPE

I urge you to think about a NAPE where we do not have anyone

contesting for an election, think about a NAPE where there is

no president, think about a NAPE where there is no Executive

Committee; that is the situation in which we will find ourselves if

we do not begin to address these recurrent issues about the

lack of our willingness and commitment to volunteer actively at

the executive level for NAPE.

NAPENEWS JUNE 2022 07
---
APE an acronym for "Nigerian Association of

NPetroleum Explorationists" is the largest

professional association of petroleum

geologists and related disciplines in Nigeria and

Africa. Members include geologists, geophysicists,

CEOs, managers, consultants, other professionals,

and students academicians.

NAPE was founded in August 1975 by Akomeno

Oteri.The society which started with only 10 people

attending the inaugural meeting at Federal Palace

Hotel in August 1975 now has 12,535 individual

members and 178 supporting corporate members.

This Association is undeniably the largest Upstream

Oil & Gas professional body for Geoscientists. There

are currently six (6) regional NAPE Chapters in

addition to the Lagos Headquarters (Foundation

Chapter). The NAPE Chapters are located both in and

outside Africa and the Chapters are Abuja, Benin,

Port-Harcourt, UK/Europe, Uyo/Calabar and Warri

Chapters. Each Chapter is headed by a Chapter

Chairman who is a member of the NAPE Executive

Committee.

Our vision and mission statements are "To be the

preferred professional petroleum geosciences

association with a global reach" and "To promote the

study and practice of petroleum geosciences for the

benefit of members and other stakeholders"

BENEFITS OF NAPE MEMBERSHIP

Membership provides a platform to network, promote

and learn about the geological sciences with

emphasis on the exploration of petroleum. NAPE's

mandate is to continuously to promote the

propagation and exchange of technical knowledge in

Petroleum Exploration and Production for the overall

benefit of the oil and gas industry. All these culminates

to inspire high professional conduct among its

membership.

In its efforts to fulfil its mandate, NAPE works diligently

to become vital to the careers of its members and the

industry it serves by providing access to best

practices, operational experience, lessons learned,

technological innovations and a peep into the future

through our diverse platforms and forums such as our

Annual International Conference & Exhibition (AICE),

Monthly Technical/Business Meetings, subsidized

Short Courses, Workshops, University Assistance

Program, Summer school program, Chapters

Program, Young Professional Presentation series,

Student/Post Graduate Scholarships, etc.

Our Individual and Corporate Members receive a

unique suite of valuable NAPE membership benefits.

Which include but not limited to:

Ÿ Invites to Monthly Technical/Business Meetings

Ÿ Discount on in-house continuing education

courses

Ÿ Discount on NAPE Annual International

Conference & Exhibition

Ÿ

Ÿ

Right to publish affiliation with NAPE

Free subscription to NAPE bulletins and

newsletters, etc.

MEMBERSHIP CLASSIFICATION

Membership of this Association consists of the

following classifications:

1. INDIVIDUAL MEMBERSHIP

Ÿ Student Member: Any undergraduate student

majoring in any of the geosciences or petroleum

related sciences at a tertiary institution of an

Ÿ

Ÿ

acceptable academic standard. The duration of

such student membership shall not exceed six

years.

Associate Member: Any person not qualified for

any other class of membership who is a graduate

of an educational institution of acceptable

academic standard with major studies related to

or generally associated with geosciences or

petroleum related sciences.

Active Member: Any graduate with a major in any

o f t h e g e o s c i e n c e s o r p e t r o l e u m

related sciences from an educational institution of

an acceptable standard. Prospective Member

may be engaged in or a graduate student in

geosciences or petroleum-related sciences/

exploration/exploitation or currently unemployed

but maintains adequate affinity with the

profession and activities of the Association.

2. CORPORATE MEMBERSHIP

Any Company or institution registered in Nigeria or

elsewhere and engaged in the practice or teaching of

petroleum exploration, exploitation or research

activities either as an operator, service company,

training or financial institution may apply for Corporate

Membership. Such a Company shall not have less

than five (5) employees.

Other special membership status includes

Emeritus: When an Active Member in good standing

in the Association, with all dues paid to date attains the

age of seventy (70) years and shall have been an

Active Member of the Association for at least thirty

(30) years he shall become an Emeritus Member of

this Association upon advising the Head of

Administration of the NAPE Secretariat that he has

passed his seventieth (70th) birthday, and by

requesting such classification of his membership.

Thereafter upon confirmation in writing by the

Executive Committee, he shall be excluded from

membership dues and will qualify for all the rights and

privileges of membership of the Association.

Young Professionals: A Graduate with a major in

any of the geosciences or petroleum related sciences

with 0-10 years post university experience and less

than 35 years of age

FINANCIAL REQUIREMENTS

The Annual Membership fees for 2022 are as follows:

Individual

Membership

Corporate

Membership

Further enquiries can be directed to the NAPE Membership Officer, see contact details;

Abieyuwa Ogbebor;

Technical - Membership Officer

Tel: +234 (0)8030432784, +234 (0)9092143198

Email: abieyuwa.o@nape.org.ng

Application

Fee ( N)

Registration

Fee ( N)

Student 2,000

Associate 1,000

3,000

12,000

Active

1,000

3,000

12,000

10,000

NAPE AWARDS

Fellows: The NAPE Fellowship Award honor NAPE

members who have distinguished themselves by their

long-term service and commitment to advancing the

science, practice and profession of petroleum

geology and to the Nigerian Association of Petroleum

Explorationists (NAPE).

Aret Adams, FNAPE: This Award is named in honour

of the Late Chief Aretanekhai (Aret) Godwin Adams

and his commitment to excellence, is the highest

award bestowed by NAPE. It is given to deserving

Earth Scientists of any nationality, in recognition of

distinguished and outstanding contributions to, or

achievements in the sciences and practice of

petroleum exploration and exploitation in Nigeria for a

continuous period of 15 years or more.

Honorary Members: This Award honors nonmembers

who by their profession, position/office,

career or business have had a significant and

positive, impact on the affairs of NAPE and the

Nigerian Oil & Gas industry at large. He or she does

not have to be a professional in the Oil & Gas industry.

Ben Osuno: The NAPE Ben Osuno Pioneering

Excellence Award recognizes and celebrates

excellence and outstanding contributions by

individuals or groups in pioneering activities in the

field of the earth sciences in general and the Nigerian

Oil and Gas industry.

Young Professionals: The NAPE Outstanding YP

Service Award honor NAPE members who are under

the age of 35 and have distinguished themselves by

their long-term service and commitment to advancing

the science, practice and profession of petroleum

geoscience and NAPE.

More details available in the NAPE constitution:

Please pay membership dues to:

United Bank for Africa (UBA) PLC.

Account No: 1005158666

Account Name: Nigerian Association of Petroleum

Explorationists

30,000

Annual Dues ( N)

50,000

NAPENEWS JUNE 2022

08
---
NEW MEMBERSHIP LIST

NOVEMBER 2021 - JUNE 2022

NEW ACTIVE CORPORATE MEMBERSHIP

MEMBERSHIP

STATUS

COMPANY NAME

COPORATE

MEMBERSHIP

STATUS

ACTIVE

ACTIVE

ACTIVE

ACTIVE

ACTIVE

ACTIVE

ACTIVE

ACTIVE

ACTIVE

ACTIVE

ACTIVE

ACTIVE

ACTIVE

ACTIVE

ACTIVE

ACTIVE

ACTIVE

NEW ACTIVE MEMBERSHIP

NAME

(SURNAME FIRST)

Achanya Joseph Ojonimi

Okpobiri Okechukwu Eche

Chinemelu Ekeoma Sandra

IBRAHIM ISAH MAYANA

TERNA NATHANIEL ORYA

ODIMA-OJOH ISAIAH UNUNOTOVO

INOMA IKECHUKWU INNOCENT

Abegunrin Ayobami

Aladesulu Adeniyi Temitope

Ejike Chinedu

ADAMOLEKUN OLAJIDE JONATHAN

EJEH OMABEHERE INNOCENT

Adeogun Oluwakemi Yemisi

OMATSOLA BOTOSAN.O.

MOHAMMED SAMAILA

Akpofure Ejiroghene

Amabogha Azibayam Josiah

ACTIVE UMAR MODU M.

ACTIVE

ACTIVE

ACTIVE

ACTIVE

ACTIVE

ACTIVE

ACTIVE

ACTIVE

ACTIVE

ACTIVE

ACTIVE

ACTIVE

ACTIVE

ACTIVE

ACTIVE

ACTIVE

ACTIVE

ACTIVE

ACTIVE

Otobo Solomon Abody

Adaviruku Wofikah

Lucky Charles

Okenwa Juliana Chioma

NSAN NHOYIDI NJAR

ALIYU UBAIDA YELWA

Lelei Esther Ilaye

Mr. ALHAJI SANDA ABBA

DIDI CHEKWUBE

OKEKE SOLOMON EKENE

Sheriff Shadrach Sehmilo

Ujoh Livinus

ASUQUO MICHAEL JOSEPH

Chima Kelvin Ikenna

IREDU AMAKA

ZITADEL LIMITED

Onuchukwu Chidera Rosemary

AMINU ABUBAKAR SADIQ

Amaechi Chinwendu Gospel

Ijioma Nnanna Nwokocha

MEMBERSHIP

STATUS

ACTIVE

ACTIVE

ACTIVE

ACTIVE

ACTIVE

ACTIVE

ACTIVE

ACTIVE

ACTIVE

ACTIVE

ACTIVE

ACTIVE

ACTIVE

ACTIVE

ACTIVE

ACTIVE

ACTIVE

ACTIVE

ACTIVE

ACTIVE

ACTIVE

ACTIVE

ACTIVE

ACTIVE

ACTIVE

ACTIVE

ACTIVE

ACTIVE

ACTIVE

ACTIVE

ACTIVE

ACTIVE

ACTIVE

ACTIVE

ACTIVE

ACTIVE

ACTIVE

ACTIVE

ACTIVE

ACTIVE

ACTIVE

ACTIVE

NEW ACTIVE MEMBERSHIP

NAME

(SURNAME FIRST)

Maxwell Deborah

Oyawale Oludolapo Sarah

EKE CHIAMAKA UDOKA

Athoja Orrelo Jerry

WILLIAM ANDIKAN CHARLES

Bayode Omeiza James

Ogbebor Endurance Osahon

Abejoye Elijah Omoladeoba

EGBO MIRACLE OLUEBUBE

Aribatise Anna Oluwafolaranmi

Ayo - Folorunso Oyinkansola Grace

Fifo Ayowole Glory

Emiabata Mariam Kofoworola

Odili Christopher Opia

ETIM JESSE EDET

ADEKOLA VICTORIA MORENIKE

Elisha Gospel Oluwapelumi

Owumi Victoria Yetunde

Agbim Chinenye Rita

ADEPITAN OPEYEMI OLAKIITAN

Rijiya Muhammad Sadiq

Nnadi Ifeoma Wendy

OLATUNJI OLUWATOBI ABIODUN

Alozie (Nnaji) Mercy Uzochi

Kuye Oluwadamilola Motunrayo

Ude-Akpeh Tobechukwu Oluchukwu

Oyeoka Anita Adaora

Aransiola Opeyemi Victoria

Babalola Oluwasegun

Idahosa Joy Oghoghor

Siloko Oghenero Great

Ibhafidon Juliet Chiamaka

Akudike John Chibundu

Bosah Collins Odera

Okechukwu Princewill Nnamdi

Ojobo Chinenye Cynthia

Onipede Adewale

Mutu Tuboulayefa Daniella

Erekosima Sarah Okorite

Lucky Faith Perpetual

ADENIJI OLUWATOBI JOSAIH

YUSUF FOLOHUNSHO OLATUNJI

MEMBERSHIP

STATUS

ACTIVE

ACTIVE

ACTIVE

ACTIVE

ACTIVE

ACTIVE

ACTIVE

ACTIVE

ACTIVE

ACTIVE

ACTIVE

ACTIVE

ACTIVE

ACTIVE

ACTIVE

Abu Osarenoma

Agbai Paul Godswill

ONUORAH TOCHUKWU JUDE

GAJIMI IBRAHIM IBRAHIM

Akinpelu Akinola Joseph

Mowete Leroy Olusegun

Olawuni Ilerioluwase Ola

Okoye Sylvia Nzube

Akinladenu Iyanu Femi

OYETADE OLUWASEYE PETER

AKUKWE LINDA OLUCHI

ADEGBEMIRO OLUWATOYOSI

Akwashiki Jerry

Udebunu Amara Grace

Jekayinfa Solomon

ACTIVE Eleri Onyemachi F.

ACTIVE

ACTIVE

ACTIVE

FYNEFACE PIRIYE JOSHUA

EZEH ADANMA VERONICA

CHUKWUMA TRACY AMAKA

ACTIVE Okoye Chinedu A.

ACTIVE

ACTIVE

ACTIVE

ACTIVE

ACTIVE

ACTIVE

ACTIVE

ACTIVE

ACTIVE

ACTIVE

ACTIVE

ACTIVE

ACTIVE

ACTIVE

ACTIVE

ACTIVE

ACTIVE

ACTIVE

ACTIVE

ACTIVE

ACTIVE

NEW ACTIVE MEMBERSHIP

NAME

(SURNAME FIRST)

Alabi Blessing Busayo

Ifediora Anthony Chinedu

Eminue Mary George

Orji Iheanyichukwu Kelechi

OLUWADARE DAVID KAYODE

Okafor Chika Faustina

Ogundimu Oluwadamilare Olukorede

Ogaranya Beauty Onyinyechi

George Mercy Ijeoma

Adun Gamaliel Olawale

Usman Amira ojonugwa

EZIOBA ANASTHESIA NKIRUKA

Engr. EMEH IKENNA IFE

Aganbi Efetobore Gladys

Engr. Udoukpong Nnyeneime Bassey

ZAKARI Bashir

Bankole Olalekan Azeez

Adamu Kimayim Gaduwang

OLADEJO KAZEEM ALABI

OJUOLAPE ABIOLA

Kadiri Godson Eshiomomoh
---
NEW MEMBERSHIP LIST

NOVEMBER 2021 - JUNE 2022

MEMBERSHIP

STATUS

ACTIVE

ACTIVE

ACTIVE

ACTIVE

ACTIVE

ACTIVE

ACTIVE

ACTIVE

ACTIVE

ACTIVE

ACTIVE

ACTIVE

ACTIVE

ACTIVE

ACTIVE

ACTIVE

ACTIVE

ACTIVE

ACTIVE

ACTIVE

ACTIVE

ACTIVE

ACTIVE

ACTIVE

ACTIVE

NEW ASSOCIATE MEMBERSHIP

MEMBERSHIP

STATUS

ASSOCIATE

ASSOCIATE

NEW ACTIVE MEMBERSHIP

NAME

(SURNAME FIRST)

Nwambuonwo Emmanuel

BUNONYO TEKENA YEMANAI

SELEMA SOBEREKON BIPIARINENGI

TUKURA BLESSING YECHENU

Odondiri Oyinebielador Derrick

Danwazan Jerry

FUBARA KINGSLEY BOMA

GONI RAHMATU MUSTAPHA

Jarikre Oluwatimilehin Mudiaga

AMOKE GREGORY UNIMKE

Mumuni Yetunde Abimbola

Erhieyovwe Akpevwe Theophilus

Ahmad Bilqees

WALIEZI CHIGBO AKORBUEZE

MOGHALU OGECHUKWU ANN

Omosebi Oluwatosin Adejoke

Edjere Akpoobaro Obadejire

Oluwalade Opeyemi

OWOYEMI FREDRICK BABAJIDE

OJEH JOYMAVIS NKEM

Oborie Ebiegberi

Tyowua Ngutor Prince

ALI TANKO

Akwashiki Jeremiah Adagadzu

AKANA TOMBRA SUSAN

ACTIVE Nwinye-Hassan Anthony C.

ACTIVE

ACTIVE

ACTIVE

ACTIVE

ACTIVE

ACTIVE

ACTIVE

ACTIVE

ACTIVE

ONYENDINAZU EMMANUEL IJEOMA

ONUNKA IKECHI NZERIBE

OVURU CYRIL

OGWOGHO MOMODU

Itiowe Kiamuke

OFOMA OBINNA NKEMEFUNA

Nwanekezi-Phil Chukwumerije

NDONG ROSE CHUNDUNG

ONOSEME OKEH VICTOR

NAME

(SURNAME FIRST)

OKECHUKWU PROGRESS

Adaralegbe Adebayo

NEW STUDENT MEMBERSHIP

MEMBERSHIP NAME

STATUS

(SURNAME FIRST)

STUDENT Afolayan Favour Temidayo

STUDENT Akinola Boluwatife Evelyn

STUDENT Ekwenie Munachiso Zita

STUDENT Obidiegwu Chisom Gift

STUDENT Ojomo Rotimi Damilola

STUDENT Oluwabusola Adebayo Hosea

STUDENT Olatuja Omowunmi Victoria

STUDENT Adegoke Hezekiah Blessing

STUDENT BABALOLA SAMUEL DAMILOLA

STUDENT Lawrence Chukwudi Emmanuel

STUDENT OLAKA VERONICA OBARI

STUDENT Ekpo Victor Michael

STUDENT Olujobi Abigael

STUDENT Ogunyemi Mojubaoluwa Erioluwa

STUDENT Adedokun Toluwanimi

STUDENT Abode Israel Olwaseyi

STUDENT Segun-Ogunleye Praise Anjolaoluwa

STUDENT Keku Oluwatimilehin

STUDENT Dele-Omitiran Blessing Temidun

STUDENT Sanni Ofuje Samuel

STUDENT Ejide Boluwatife James

STUDENT Olugbolahan Emmanuel Olufisayo

STUDENT Ibeh Chukwuemeka Promise

STUDENT Bilesanmi Obafemi

STUDENT Aseyi Olaoluwa Victor

STUDENT BANJO ANJOLAOLUWA

STUDENT Fashola Deborah

STUDENT Keku Oloruntoba Uchechukwu

STUDENT Akilo Agbomeire

STUDENT Izevbigie Freda Eloghosa

STUDENT Val-Izevbigie Sophia Adesuwa

STUDENT UTHMAN IDRIS AYOMITOMIWA

STUDENT OYEWOLE SAHEED ABIOLA

STUDENT AFOLABI MOJIBOLA ESTHER

STUDENT FAWEYA TOBILOBA J.

STUDENT ABIOLA GBEMISOLA ESTHER

STUDENT AKINGBADE JAMES OLAOLUWA

STUDENT OLUWEMIMO PETER OLUWAPONMILE

STUDENT AKINGBADE ADEOLA EBUNOLUWA

STUDENT OLABOYE RIDWAN OLALERE

STUDENT AKANLE MOTUNRAYO DEBORAH

STUDENT Adesola Yetunde Comfort

NEW STUDENT MEMBERSHIP

MEMBERSHIP NAME

STATUS

(SURNAME FIRST)

STUDENT IBITEYE AYORINDE OLUWASEGUN

STUDENT APARA EMMANUEL KAYODE

STUDENT OJEKUNLE AFEEZ ENITAN

STUDENT IROKO SAMUEL JESUTOFUNMI

STUDENT AHMED GOODNEWS OCHE

STUDENT OKEKANMI RUTH BOLUWATIFE

STUDENT OMODARATAN DAVID A.

STUDENT ALALADE KEHINDE AYOMIKUN

STUDENT ALALADE TAIWO AYOMIDE

STUDENT ABEJIDE IFEOLUWA ISRAEL

STUDENT Gboregen Joy Oluwaseun

STUDENT Fadumo Adebowale Adeniyi

STUDENT Fasanmade James Adekunle

STUDENT Essien Prince Etor

STUDENT Adeboye Oluwatofunmi Jeremiah

STUDENT Nwobodo Akachukwu Daniel

STUDENT Akinola Babatola Temidara

STUDENT Ogirri Godfrey Emmanuel

STUDENT Olufayo Oluwasegun David

STUDENT Orisanwo Favour Ayotunde

STUDENT IGWEGBE TOOCHI JESSICA

STUDENT Dan-Obu Nimingonengim Somieari

STUDENT Onyenweaku Chidiebere Favour

STUDENT OGUARIRI PRECIOUS

STUDENT Iwuoha Stephen Precious

STUDENT Itimi Wisdom onome

STUDENT Ogheneochuko Oghenevwegba Pascal

STUDENT ATITI PRINCE

STUDENT DANIEL EBIBOTEI

STUDENT Idiale Philda

STUDENT ONYEMACHI PRINCE EZINDU

STUDENT Desai Walter Seitonkumo

STUDENT Zakariyya Umar Muhammad

STUDENT Kassim Desmond Olajide

STUDENT Olateju Aminat Olasunmibo

STUDENT Adewale Adedoja Olufunlayo
---
Application of Quantitative Interpretation in De-risking

Hydrocarbon Type: Implication for Shallow Water

Exploration in EKEM Field, Niger Delta

Obinna Chudi, Magnus Kanu,Uche Johnbosco, Namso Udoh, Afolabi Fatunmbi,Obobi Onwuka,

Wodu Ebimobowei, Irifeta Ovwigho, Bart Tichelaar, Hong Xian

ABSTRACT

Hydrocarbon exploration and production in the Niger Delta has

mainly been focused on the onshore, and deep-water plays, whilst

the shallow water have in the past received relatively less attention.

EKEM field has one of the largest oil reserves across the shallow

water with five wells drilled penetrating ten hydrocarbon bearing

reservoir and no production to date. Seismic reservoir

characterization study is therefore required for an improved

understanding of the reservoir fairway and most importantly fluid fill

with in prospective blocks in the field. Seismic amplitude analysis

across key reservoirs levels suggests the likelihood of hydrocarbon

Shell Petroleum Development Company

Peer Reviewed Technical Article

accumulation within the key prospects, however an understanding

of the hydrocarbon type across these prospective blocks away from

well penetration is required. Rock physics feasibility study based on

conditioned well logs was conducted and the results show that a

distinction of oil and gas is possible using P-impedance and Vp/Vs

ratio. Consequently, simultaneous inversion technique was

deployed to derive these elastic properties from 3D seismic and well

log data.

KeyWords: Hydrocarbon, Inversion, Impedance, Prospect,

Reservoir, Seismic

INTRODUCTION

EKEM field sits within the larger 'K Block'

located offshore Nigeria,5-20km from the

Eastern Niger delta coastline (Figure1). The

K block extends over an area of some 900

km2 in a water depth of about 40 m.

Fourteen wells have been drilled to date, all

of which have encountered hydrocarbons,

resulting in six discovered fields. None of

the fields have been developed to date. The

EKEM field is the largest oil field in the K

Block and was discovered in the 70's.To

date, five wells and two side tracks

(EKEM4ST1 and EKEM5ST1) have been

drilled in the EKEM field. EKEM-001 was

the discovery well, drilled in 1973, close to

the axis of the main crestal collapse

structure. EKEM-002 (1975) and EKEM-

003 (1982) were drilled as vertical appraisal

wells on the western and southern flank,

respectively. Deviated appraisal wells

EKEM-004 and EKEM-004ST1 (eastern

flank), and EKEM-005 and EKEM-005ST1

(north western flank) were drilled in 2004.

The EKEM field has an expectation STOIIP

of ca. 400 MMstb and GIIP of ca. 600 Bscf.

The main hydrocarbon-bearing reservoirs

are the B4000, D9000, E6000, E8800,

E9900, F1000, F2200 and F3000

reservoirs. No fluids have been produced

from the EKEM field to date, hence there is

no historical reservoir performance

information.

The many fault blocks and separate

hydrocarbon-bearing reservoirs in EKEM

continue to provide opportunity for Near

Field Exploration (NFE) and appraisal

opportunities requiring both Exploration

and appraisal wells to be drilled to better

quantify the uncertainties in volumes inplace

and improve economic robustness of

Figure1:Niger delta map showing shaded relief and sea-floor topography.

Study are a shown in red box.

EKEM oil development. Seismic reservoir

characterization study is therefore required

for an improved understanding of the

reservoir fairway and most importantly fluid

typing within prospective blocks in the field.

GEOLOGICAL SETTING

Stratigraphy and Reservoir Geology

The reservoirs in the EKEM field form part of

the paralic sequence of the Agbada

formation, deposited during the late

Miocene-early Pliocene(). The sequence

studied during this project includes the

reservoirs B2000 through G2000, spanning

around 0.5 million years, from below a major

flooding at (Me.1) at the base of reservoir

E6000 to the following major flooding surface

(Ge.1), located at the top of C7000 reservoir

(Figure 2). Within the EKEM field, 8

parasequence sets could be identified from

the top of the G2000 to the C7000 reservoir.

These parasequence sets average 70ft in

thickness and are internally subdivided by

flooding surfaces. Most of the parasequence

sets start with a coarsening-upward slower

shore face that rapidly progrades and

evolves into massive sands that could

represent stacked shore face deposits and /

or channels developed during the

consecutive relative low sea level stage.

Retro gradational patterns almost always

coincide with the occurrence of thinning

upward sheterolithic channel fill/lower shore

face deposits and a major flooding event at

the top of the last unit.

NAPENEWS JUNE 2022 11
---
Figure2:Stratigraphy flattened on each MF Stop Marine flooding shales as continuous and correlate able seals across EKEM

and neighboring fields within K-block

Facies Interpretation

Facies have been interpreted on well logs, as no core data is yet available in EKEM. The facies interpretation is based on sequence

stratigraphic principles and aims to distinguish flow units with different flow properties(e.g. kv/kh) from one another. The five facies classes

used in the EKEM field are based on analogues from the Book Cliffs (Figure3) and are itemized below:

Figure3: Outcropanalogues in Book Cliffs, Utah

Ÿ Shale is characterized by a continuously

high gammaray(GR) and a large

separation between density and neutron

logs. Shale is not part of net reservoir.

Ÿ Lower Shore face have generally high

GR, but less constant than in a shale

facies, gradually changing to lower GR

with more and more thins and layers

being interbedded in the shaly / silty

background. The density-neutron

separation is not constantly large but

tapers upwards. LSF facies has a low

vertical permeability but can be well

connected laterally.

Ÿ Upper Shore face (USF) has an overall

low GR with a typical coarseningupwards

character. It can contain thin

layers with higher GR. The density and

neutron curves are overlying or slightly

c r o s s i n g o v e r . U S F f a c i e s i s

characterized by massive, laterally

extensives and bodies with a relatively

high vertical permeability.

Ÿ Channel sand facies has a blocky, barrelshaped

GR character with no unique

density- neutron character. Interbedded

thin layers with higher GR (heterolithic

facies) indicate an amalgamated channel

complexes. Individual channel bodies

may not be very extensive, but complexes

of channels are laterally continuous over

the extent of the field. Channel bodies cut

into each other, thus ensuring a relatively

high vertical permeability.

Ÿ Channel heterolithics facies has a varying

character, both high and low GR occur,

but always in an overall fining upward

Figure 4: Definition of interpreted facies

pattern. The density and neutron curves

donotoronlyoccasionallycrossover.Later

allyaccretingsands,tidaldepositsandthinc

oastalplaindepositscanallbepartofthe

channel heterolithics facies. Vertical

connectivity and vertical permeability are

low. Figures 4 and 5 illustrates an ideal log

character of the facies encountered with

examples from EKEM well logs.

NAPENEWS JUNE 2022 12
---
Figure 5: Example facies from E6000 reservoir

Structural Geology

The EKEM reservoirs form part of a crestal collapsed rollover antic line with an 80º

WNWESE trending axis and bounded by parallel arcuate "B-type" growth faults on the north

and south (Figure6). The structuration of the field took place indifferent stages as large

accumulations of paralic sediments of the Agbada formation were deposited over marine

ductile shales of the Akata formation, which forms the core of the roll-over antic line. The

sequential deposition of coastal and marine deposits and complex extensional faulting has

given rise to a series of stacked reservoirs with various degrees of compartmentalization.

The relationship between faults across the field indicates diachroneity in the structure

development, with south dipping synthetic faults generally preceding antithetic faults, and

migration of the crest location at depth. Growth faulting was found to be minimal within the

crestal collapse, making the thickness of individual reservoirs and seals relatively constant

across the field.

Figure 6: General perspective of EKEM crestal collapse structure

The faults have an arcuate geometry in

map view, with synthetic faults being

convex to the south(depositional direction)

and antithetic faults convex to the north.

The maximum vertical displacement of

these arcuate faults occurs at the middle

and decreases toward their tips. The

sealing capacity of the faults is thought to

be determined by the shale gauge ratio,

which depends on fault throw dimension

and amount of clay or shale that has been

smeared along the fault plane of adjacent

reservoir sands. In the EKEM collapsed

crest, antithetic and synthetic faults

intersect each other at their tip ends. It

appears as if the dip direction of these faults

changes along their strike, creating

'flipping' faults. At an intersection point, the

vertical displacement along such a fault is

minimal, and hence the sealing potential is

reduced. The locations of the flip points are

consistent through out the stratigraphy and

are believed to be caused by deep-seated

N-S structural features.

Trapping

The majority of the trap-styles in the EKEM

field are of a dipping fault-sealed type. The

northern portion of the structure is

dominated by south dipping synthetic faults

cutting north-dipping layers, thus creating

fault traps in the up-dip boundary of down

thrown blocks. Wells intersecting this type

of trap include EKEM-005, EKEM-004, and

EKEM-002 (Figure 7). In the central part of

the structure, including the crest, conjugate

faults predominate, of which the sealing

capacity is less certain. EKEM-001 is

located slightly off the crest at C, D and E

levels, and on the crest at the F reservoir

level intersecting the set raps. EKEM-003

intersects similar traps as the northern

wells, but with both the layers and the faults

predominantly dipping to the south, thus

creating fault dependent traps in the up-dip

boundary of up thrown blocks.

The steepness of the layers increases with

depth,so traps generally have a smaller

area and larger vertical closure going down

in the stratigraphy. At the Clevel, traps are

flat and extensive, but at the F level, traps

are steep and narrower.

The top structural map below shows fault

dependent closures for the F3000 level that

are potential exploration prospects. The

main thrust of this paper showcases

quantitative interpretation technique that

was adopted in de-risking hydrocarbon fluid

type across these prospects with the F3000

reservoir level being the case study for this

paper.

Figure 7: Cross section across the EKEM field illustrating the fault dependent trapping style

NAPENEWS JUNE 2022 13
---
Figure 8: Top structure map showing potential prospects at the F3000 level

DATA AVAILABILITY

The focus of this study is to use

3D seismic angle stacks and well

data to characterize reservoir

w i t h i n t h e f a u l t a s s i s t e d

prospects within the F3000 level,

particularly to delineate the

p r e s e n c e a n d t y p e o f

hydrocarbon (gas or oil). The

data sets available for this study

include a full-stack PSDM 3D

seismic volume, pre-stack

gathers and associated partialanglestacksofnear(0°–15°),mid(

15°–30°),andfar (30°–45°)

angles with a recorded duration

of 5sand sampled at 4 ms. The

signal-to-noise ratio is good, with

a vertical resolution in the focus

interval of interest of about 39ft

(12m).Seismic data conditioning

was applied to remove noise and

to correct for time misalignment.

The wells in EKEM field generally

have full suites of wire line logs,

although shear sonic log was

acquired only in EKEM-004. This

well formed the main in put in to

the modelling workflow. Fluid

typing within the prove blocks

was largely based on integrating

well logs (resistivity, density &

neutron) and side wall sample.

The fluid distribution plot below

for the F3000 reservoir shows the

encountered fluid type at well

locations. This data formed the

basis for calibrating results from

the seismic study

can be interactively integrated to

de-risk hydrocarbon fluid types.

DHI Assessment

Direct hydrocarbon Indicators

(DHI) are seismic amplitude

anomalies caused by the

presence of hydrocarbons

( R o d e n e t a l . , 2 0 1 4 ) . T h e

amplitude map below for the

F 3 0 0 0 s h o w a m p l i t u d e

anomalies that conform to

structure which are indicative of

hydrocarbon presence at the

prospect locations. These

anomalies are consistent with

amplitude signatures at the

p r o v e n b l o c k s w i t h w e l l

penetrations. Wells drilled in the

v i c i n i t y o f t h i s p r o s p e c t s

e s t a b l i s h e s a ) r e s e r v o i r

presences and properties b) a

well-defined structure and most

importantly c) hydrocarbon

presence indicative of a working

petroleum system. Hence the

over all geologic chance of

success for these prospects was

adjudged to be high.

Figure 10: RMS amplitude map from the full stack seismic volume.

High amplitude anomalies are seen at the prospects P1 to P4

consistent with amplitude at the proven blocks

The AVO behavior based on amplitudes from seismic angle stack

and from pre-stack gathers taken from the prospective blocks

indicates a Class II/III anomaly consistent with the AVO response at

the proven blocks where wells have been drilled (Figures 11 and

12). This therefore provides confidence of hydrocarbon presence at

the prospective blocks. Haven established the presence of

hydrocarbon at the prospect location the key question yet to be

answered is what type of hydrocarbon are present in these

prospects - gas oroil?

Figure 9: Hydrocarbon fluid distribution plot for F3000 reservoir.

METHODOLOGY

F i r s t l y , t h e e v a l u a t i o n o f

amplitude variation with offset

(AVO) or in this case angle (AVA)

provides a powerful technique in

this study for the assessment of

direct hydrocarbon indication

(DHI) for the prospects within

E K E M f i e l d . S e c o n d l y ,

simultaneous AVO inversion was

built using the partial-angle stack

seismic volumes (near, mid &far)

inverting for seismic elastic

properties that can help polarize

o i l v e r s u s g a s w i t h i n t h e

prospects. The simultaneous

inversion workflow was adopted,

and rigorously quality controlled

to produce fit for purpose elastic

rock property models calibrated

to well log data and consistent

with geological information. The

s t u d y r e v e a l e d t h a t P -

impedanceand Vp/Vs volumes

Figure 11: RMS Amplitude extraction for the sub-stack seismic volumes

showing amplitude increasing with offset (angle) from Near to Far

sub-stacks across the prospective blocks. Star symbol

(at prospect locations) and cycle (proven blocks)

these are locations where pre-stack

gathers were analyzed.

NAPENEWS JUNE 2022 14
---
Wavelet Estimation: Well to seismic tie was carried out on the wells

for all seismic volumes. Three wave lets were estimated from then

ear, mid, and far sub-stack seismic volumes. The character of all

three estimated wavelets are consistent with the seismic data – zero

phased with stable amplitude over the seismic frequency band

(Figure14). The extracted wave lets have a length of ca.120ms and

a phase of approximately 180° across the usable frequency

spectrum. Wave lets are important components in inversion work

flows and have a significant effect on the quality of the in version

result.

Figure 12: Pre-stack gathers at the prospect locations (stars)

(see Mid amplitude map above) show Class II/III AVO anomalies consistent

with AVO behavior at the well location (cycles). Observe the flat AVO

response at the location with white cycle where brine bearing sand

was encountered by EKEM-003 well (see Figure 9).

Red arrow on the gathers indicates F3000 level

Simultaneous Inversion

Simultaneous AVO inversion utilizes a set of angle stacks, each with

their own wave let and low frequency models for P-impedance, S-

impedanceand density to estimate simultaneously inversion

volumes for P-impedance,S-impedance and Vp/Vs. The choice of

this elastic attribute was largely based on rock physics cross plots

that shows a clear discrimination of different fluid types

(seeFigure13).

Feasibility study: Rock physics cross plot based on P-impedance

and Vp/Vs reveals that hydrocarbon distinctions can be made by

interactively interpreting P-impedance band Vp/Vs models where P-

impedance shows a distinction of hydrocarbon from nonhydrocarbon

bearing fluids while Vp/Vs ratio distinguishes gas

bearing reservoirs from oil reservoirs. The integration of these two

models (P-impedance and Vp/Vs ratio) can be compared

respectively to the application of resistivity and density-neutron logs

for fluid typing information evaluation.

Figure 14: Well to seismic tie with derived wave lets for sub-stack volumes

Low Frequency Model: To obtain formation properties from

reflectivity seismic, the conversion to absolute acoustic impedance,

requires frequencies down to zero, lower than that contained in the

input seismic (Brown,2011,Ronghe and Surarat, 2002, Humberto et

al., 2017). The absolute acoustic impedance was obtained by

combing relative acoustic impedance model from seismic

frequency range with a low frequency model (Figure 14) derived

from well data, resulting in a full band inverted impedance volume.

Low frequency models were built for P-impedance, S-impedance

and Vp/Vs ratio.

Figure14:Low frequency models of P-impedance, S-impedance and Vp/Vs

calibrated at well location.

Figure 13: Cross plot of P-impedance and Volume of Shale shows a

separation of hydrocarbon and non-hydrocarbon along the

P-impedance axis. While cross plot of Vp/Vs and P-impedance shows a

separation of gas from oil bearing reservoirs on the Vp/Vs axis. The

data displayed on the cross plot are highlighted on the well log

RESULTS and DISCUSSION

Hydrocarbon typing

Integrating the map displays of P-impedance and Vp/Vs inversion

models (Figure 15) proof to be useful in discriminating gas bearing

sands from oil bearing reservoirs. Based on the feasibility cross plot

(Figure13) that reveals hydrocarbon bearing sands can be

distinguished from brines and sand shale, suggesting that on the P-

impedance map the red patches with low p-impedance values are

hydrocarbon bearings and sand the white background are brine

sands or shale. While on the Vp/Vs maps, the low Vp/Vs values

shown in green are indicative of gas bearing sands considering that

gas have very low Vp/Vs values and the background (white) are oil,

brine, or shale prone areas. Hence by matching the impedance map

where low P-impedance values (red) are indicative of hydrocarbon

bearing sands and the equivalent location on the Vp/Vs map are

white reveals that the reservoir sands at that prospect location are oil

NAPENEWS JUNE 2022 15
---
prone. The model was calibrated at the proven blocks with well penetration where the P-impedance and Vp/Vs model predicted the exact

fluids encountered in the wells particularly for EKEM-1, EKEM-003, EKEM-004 and EKEM-005 St1 (see hydrocarbon distribution plot-

Figure 9).

CONCLUSION

The EKEM field located in the

shallow water space of the Niger

Delta holds significant promise

for future oil and gas exploration.

The field is characterized by

structurally complex faulting

pattern that appear to have

c o m p a r t m e n t a l i z e d t h e

reservoirs into different blocks

leaving untested blocks with

p o t e n t i a l e x p l o r a t i o n a n d

appraisal opportunities.

Considering that wells have been

drilled in the vicinity of this

prospects confirms

a) reservoir presence sand

properties

b)a well-defined structure and

most importantly

c ) h y d r o c a r b o n p r e s e n c e

indicative of a working petroleum

system.

Figure15: P-impedance and Vp/Vs maps interactively used to discriminate gas and oil-bearings ands at the prospect

locations (P1–P4) that matches high amplitude anomalies observed from the RMS amplitude map.

Hence increasing the chance factor of finding reservoirs at the prospect blocks. One key uncertainty within the prospective blocks is derisking

hydrocarbon type. Integrating AVO analysis and pre-stack simultaneous in version model revealed encouraging results. The AVO

analysis of sub-stacks maps and pre-stack gathers show classic Class II/III AVO response indicative of hydrocarbon presence at the

prospect locations. Simultaneous inversion model collaborated the AVO results and further provided an opportunity of polarizing gas and

oil-bearing reservoirs at these blocks. The P-impedance model was used to discriminate between the hydrocarbon bearing reservoirs from

the non-reservoir (brines and sand shale). While for oil and gas differentiation, the Vp/Vs model imaged the prospective blocks that are gas

bearing. The integration of these two models (P-impedance and Vp/Vs ratio) can be compared respectively to the application of resistivity

and density-neutron logs for fluid typing information evaluation. This paper illustrates this technique for one of the key reservoir levels in

E K E M f i e l d – t h e F 3 0 0 0 r e s e r v o i r . T h e s e i s m i c r e s e r v o i r c h a r a c t e r i z a t i o n s t u d y i n d i c a t e s t h a t a l l

4explorationprospects(P1,P2,P3&P4)inF3000are mostly oil prone. As part of EKEM prospect maturation plan, result from this study was

used to improve its probability of success (POS)and high grade commercial prospectivity of the blocks.

AKNOWLEDGEMENTS

We are grateful to Shell Petroleum Development Company for granting the permission to publish the results. Special thanks to the

Geophysics discipline and the Exploration function in Shell Nigeria. Gratitude to NAPE for providing the platform to publish this work.

REFERENCES

Avbovbo, A. A. (1978). Tertiary Litho stratigraphy of Niger Delta: GEOLOGICNOTES. AAPG Bulletin,62,295-300.

Brown, A. R.2011. Interpretation of three-dimensional seismic data. AAPG Memoir,42,309-350.

Doust, H. & Omatsola, E. 1990). Niger Delta. In: Edwards, J.D., Santogrossi, P.A(Eds), Divergent / Passive Margin Basins. American

Association of Petroleum Geologist, 4,239-248.

Short, K. & Stauble, A. (1967). Outline of Geology of Niger Delta. AAPG bulletin,51,761-779.

Humberto, S., Lopez, A., & Dvorkin, J.P. (2017). Simultaneous impedance in version and interpretation for an offshore turbidite reservoir.

Interpretation, Vol.5..

Roden, R., Forrest, M., Holeywell, R.,Carr, M.&Alexander,P.A.2013.TheroleofAVO in prospect risk assessments. Interpretation, Vol.2..

Ronghe, S. & Surarat, K. (2002). Acoustic impedance interpretation for sand distribution adjacent to a rift

boundaryfault,SuphanBuribasin,Thailand.AmericanAssoiciationofPetroleumGeologist,86,1753-1771.

NAPENEWS JUNE 2022 16
---
14 Questions

with NAPE

President

Dr. James Edet, FNAPE

Dr. James John Edet, FNAPE, the 46th President of the Nigerian Association of Petroleum Explorationists (NAPE)

and Manager, Corporate Social Responsibility (CSR), Research & Environment., TOTALEnergies EP Nigeria Limited,

spoke to NAPEnews on a variety of issues ranging from the need to equip the NAPE membership with new skills

needed for the future work place, Nigeria's Geosciences curriculum, how NAPE and its membership can embrace the

imminent energy transition.

1. You graduated with a bachelor's

degree in geology in 1983 and a master's

degree in the same discipline in 1988

from the University of Calabar. In 1995,

you graduated with a doctorate in

geology from the University of London.

Why did you choose to study geology?

I would say that several things had to come

together to determine or inform my choice to

study geology.

Firstly, I had parents who were liberal on

career choices but at the same time

preferred that their children attend schools

in the immediate vicinity to make care,

support and monitoring less cumbersome.

Secondly, I was fortunate to have an

international mix of teachers and instructors

at the Unity school I attended, which led to

my interaction with a British geologist, who

was on a one-year foreign program in

Nigeria but was teaching us English

Language.

Thirdly, during one of my personal

interactions with him, he painted a picture of

how exciting and rewarding the study of

geology could be. As an easily

impressionable and curious young man, I

was hooked and intent on knowing more

about this course that provided deeper

insight into the study of the earth besides

geography which we all knew about.

So, when it came to choosing a course of

study to proceed to the university, for me, it

was a no-brainer that geology was the

compromise course of study because I could

study it close to home in respect of my

parent's wishes and at the same time do the

course of study I chose out of curiosity.

"

I was fortunate to have

an international mix of

t e a c h e r s a n d

instructors. This led to

my interaction with a

British geologist, who

was on a one-year

foreign programme in

N i g e r i a t e a c h i n g

English Language.

"

2. If you were not a geologist, what other

career choice would you have made?

As a science inclined student in secondary

school, I could have chosen a career in

Medicine, Engineering or Architecture but

these would have meant leaving my parent's

comfort zone of an immediate vicinity school

to a distant university and this would have

been against their wishes. It is also pertinent

to note that at the time, the medical school in

my immediate vicinity was at its infancy and

without accreditation.

3. Do you think the geology curriculum

in our tertiary institutions is meeting the

emerging trends in the oil and gas

industry and equipping graduates with

the requisite skills for entrepreneurship?

I have heard general comments and

complaints that the stringent regulations on

the national curriculum imposed by the

National Universities Commission (NUC) is

the reason the quality of education in tertiary

institutions has dwindled or stagnated, and

this invariably means that graduates are not

imparted with the requisite skills for

entrepreneurship as well as meeting up with

emerging trends in the oil and gas industry.

Before giving my opinion on this issue, I

would like to firstly, make a distinction

between curriculum and syllabus because

understanding the place of these two terms

will help clarify my position and hence, what

needs to be done.

A curriculum is a document with a set of

guidelines provided by a body of educators

(in Nigeria this body is the NUC) to help

provide accreditation and decide on the

NAPENEWS JUNE 2022 17
---
program or course of study usually

leading to the award of a degree, diploma,

or certificate (for this discourse, that would

be Geology, for example). The document

broadly defines: (i) the why (course or

program objective), (ii) the what (course or

program content), and (iii) the how

(grading policy, teaching resources,

mode of delivery, assessment methods,

etc.) aspects of the program or course of

study. Furthermore, this document which is

set out by a government body (e.g., NUC) is

unitary, i.e., any specific course defined

therein is the same for all teachers and for

all tertiary institutions in the country and

therefore, not subject to easily being

changed or modified.

A Syllabus, on the other hand, is usually

developed based on a curriculum. It is

simply a descriptive outline of each of the

subjects or courses to be taught, yearly or

semesterly for the duration (4 years) of the

Geology program. The syllabus devised by

the teacher or professor and readily

available to students, defines: (i) the course

overview and structure (i.e., lectures, lab

exercises, field trip, quizzes, practical,

assignment, term paper, project etc.(ii)

learning hours(iii) goals and objectives of

the subject or course(iv) topics to be

covered specifying content deemed

important by the teacher (e.g.,

introduction of sequence stratigraphy as a

topic under the general study of

stratigraphy) (v) time allotted to

teaching/learning relevant topics (e.g.,

limit time allotted to teaching analogue

technology and devote a greater amount of

time to teaching digital technology), (vi)

grading/evaluation scheme for the course

and (vii) materials to be used in delivering

the course, etc.

Considering the foregoing, therefore, the

best way to effect positive change in the

education system is not in seeking to

change or modify the curriculum but in using

the power or authority of the syllabus, which

is already in the hands of the teachers or

professors to bring about the much-desired

changes that will meet the emerging trends

in the oil and gas industry and

simultaneously equip graduates with the

requisite skills for entrepreneurship.

Consequently, my humble opinion on this

issue is that instead of agitating for

curriculum change or modification, teachers

should utilize the power or authority of the

syllabus to effect positive change, for

example, teachers or professors of geology

should:

(a) Introduce in the syllabus, the

modern and relevant subject of

"

Sequence Stratigraphy as a topic

under general stratigraphy and

petroleum geology courses that are

already present in the curriculum of

the geology program.

(b) Allot appropriate times to teaching

relevant topics and devise teaching

strategies with focus on problem

solving and critical thinking.

(c) Devote a greater percentage of

credit unit time to hands-on

teaching and learning by exposing

students to modern geological and

g e o p h y s i c a l i n t e r p r e t a t i o n

hardware and software tools of the

trade that are used in the industry.

(d) Collaborate with engineering

d e p a r t m e n t s ( e l e c t r i c a l ,

electronics, mechanical) of the

tertiary institution on group

projects to design, fabricate,

construct, and produce simple but

functional geological, geophysical,

and geochemical tools (e.g.,

microscopes, stereoscopes,

resistivity tools, geochemical

analyzers, etc.).

making a distinction

between curriculum and

s y l l a b u s h e l p s u s

understand what needs

t o b e d o n e t o t h e

geoscience curriculum.

"

My final remark would be with the question:

"How do we best learn or what is the best

way in which we learn?"If the answer to that

question is by visualization and hands-on

work, then Geoscience in tertiary institutions

must incorporate technology and change

from dominantly classroom lectures to

dominantly hands-on laboratory and fieldoriented

teaching and learning. In other

words, there should be more teaching and

less lecturing, more assignments and

practical classes, and less credit units for

exams simply because learning and

understanding is better espoused by doing

practical work after teaching the rudiments

of the subject. Visualization allows for critical

thinking and this augurs better than endless

words and descriptions.

4. You are the Manager, Corporate

Social Responsibility (CSR), Research &

Environment., TOTALEnergies EP

Nigeria Limited. What is your average

day at work like?

Much of my work as CSR-R&E Manager is

with external parties, mainly tertiary

institutions of higher learning (currently 4 in

number), where TOTALEnergies have

established "research centers" to conduct

research programs and projects to the

benefit of the petroleum industry in

accordance with the 2010 NOGICD Act.

Governance of the research centers provide

for set up of a steering committee and a

technical committee in each of the

established institutions to oversee the

activities and I am directly involved in the

activities of the committees. Essentially, my

average day at work would either be spent

holding steering committee meetings to

chart and define the way-forward on a

particular project or program, or preparing a

work program and budget, and

occasionally participate in technical

hands-on aspects of the project or

program. At the end of the day, all these are

capped with report-writing of the day's

activities.

5. As Chairman of the Conference

Planning Committee of the last NAPE

AICE, you superintended over the

planning of the event, what were some of

the challenges you faced and how did

you surmount them?

The major challenge one faces when

planning a conference is budgeting and the

2021 Conference Planning was no different.

Graciously, most of our major sponsors

came through with sponsorship of some of

our main activities. The other challenge was

brought on by the COVID-19 Pandemic

which made planning for the number of

persons in attendance, logistics, and

production of conference materials such as

bags, lanyards and name tags difficult and

tasking to determine. To surmount this, we

had to decide, very early on, to run a hybrid

event where potential participants had the

choice of attending physically or participate

virtually, especially those who were unable

to travel due to the pandemic restrictions.

6. This year NAPE will be the hosting

th

the 40 edition of the AICE, what do you

think should be done in making the AICE

more relevant, especially in the face of

other competing events that have

emerged in the oil and gas landscape?

To stay ahead of the pack, NAPE should

develop a theme centered around the

Sustainable Development Goals (SDGs)

with particular focus on SDG 4 to ensure

NAPENEWS JUNE 2022 18
---
inclusive and equitable quality education

and promote lifelong learning opportunities

for all. My belief is that quality education is

the solution to political stability,

entrepreneurial endeavor and by extension

the pillar on which all other SDGs will be

achieved.

7. Given the clout and reputation of

NAPE, what in your opinion should

NAPE be doing, especially in advocacy?

I believe NAPE is already doing a lot in the

sphere of advocacy and this goes a long

way back to when NAPE through its Pre-

Conference Workshop communiques

advocated Marginal fields and Deep-water

acts which have brought about progress in

the Nigerian oil and gas industry. Today,

this advocacy trend is continuing with NAPE

calling for an energy bank, and adoption of

innovative technology in hydrocarbon

exploration and production among others.

NAPE will continue to proactively provide

government with key industry best practices

legislation to help proffer policies that

positively impact the petroleum industry.

8. How prepared is NAPE and its

membership to embrace the imminent

Energy transition?

The Nigerian Association of Petroleum

Explorationists (NAPE) is the largest

petroleum geoscience association in sub-

Saharan Africa with over 8,000 members

from the oil and gas industry, government

institutions and the academia. NAPE is

aware that the transition to cleaner energy is

imminent and therefore very much in

support of government's aspiration of seeing

gas as the transition energy of choice. The

executives of NAPE also understand that

collaborations with other sister associations

(e.g., SPE, NSE etc.) will be key in achieving

the desired goals in terms of quality

e d u c a t i o n , t r a i n i n g , r e s e a r c h &

development, home-grown technology, and

infrastructural development.

Consequently, NAPE is poised to

collaborate with other professional

associations in Nigeria, but ultimately,

attainment of the energy transition objective

will require the involvement and shared

responsibility of government/nongovernmental

agencies, the private sector

and civil society.

9. In your inaugural speech you spoke

about the need to position and equip the

NAPE membership with new skills for

their future workplace agility and

adaptability. In what specific areas are

you planning on bringing this to bear?

The fact is that the exploration landscape is

changing, and cleaner energy will be the

way to go. For Nigeria, this transition energy

is gas and as we already know, gas is only

found in the Niger Delta as incidental finds

while exploring for oil. The new landscape

therefore will require personnel who will be

deliberately exploring for gas. This

consequently calls for quality education and

the requisite skills for the future will border

on problem-solving, critical thinking,

research & development, big-data

integration, and interpretation skill sets.

These are the qualities NAPE will hope to

bring to its members in tertiary institutions

through its University Assistance

Program(UAP)which objectives are to

support and augment academic geoscience

knowledge with industry expertise and

experience.

10. High in your agenda for the next year

is collaborating in research and

development with the academia, are you

considering collaborating with other

Sister oil and gas Associations as well as

relevant government agencies?

As a matter of fact, research and

development collaborations with the

academia and relevant government

agencies is already happening and the

research teams are composed of members

who belong to different related associations

including NAPE, NMGS, SPE, EAGE, NSE

etc., with each bringing their expertise and

experience to the fore depending on the

projects they are involved in. The platform

for coordinating, regulating and funding

these collaborations, in my view however,

needs to be formalized and should involve

shared responsibility between government

agencies, IOCs and indigenous operators.

"

My aspiration is to see

N A P E g r o w a n d

become financially

stable.

"

11. NAPE turns 47 next year, what would

be your aspirations for NAPE before she

turns 50?

NAPE is essentially a non-governmental,

non-profit organization that functions on

membership dues, and corporate donations

or sponsorships. My aspiration will be to see

NAPE grow and become financially stable

so she can prosecute its lofty objective of

attaining "education and development of the

scientific mind for economic advancement

of the community".

12. How do you spend your spare time?

I spend my spare time golfing and reading

and that includes any material either on an

intellectual subject or just a novel. I also

watch television and my favorite channels

are Sports, History and Curiosity channels.

13. What is the most inspiring book you

have ever read?

Nelson Mandela's Long Walk to Freedom

(1994). A very inspirational story in the face

of adversity. I dare say, a lesson in

perseverance and survival against all odds.

14. If you were stranded in a deserted

Island, what one item would you need to

keep you company?

That will have to be a human companion to

help maintain conversation and moments of

nostalgic reminiscence.

NAPENEWS JUNE 2022 19
---
ENERGY TRANSITION AND

TECHNOLOGICAL ADVANCEMENTS

PAST, PRESENT AND FUTURISTIC TRENDS:

THE PLACE OF GEOSCIENTISTS

"Oil and gas have given us advantageous gains

in terms of wealth creation, socio-economic

impact, improving quality of life and opportunities

to travel but sadly, it has also brought a high

carbon intensity in our lives. Owing to this fact,

every one of us has some role to play in the

decarbonizing industry and the energy transition,

in which oil and gas play an integral part", said

AAPG Member John R. Underhill, Professor of

Exploration Geoscience at Heriot-Watt

University in Edinburgh, Scotland.

The industrial revolution was initially fuelled by

coal and the subsequent development of modern

society underpinned by oil and gas, which led to

unprecedented economic growth and a rise in the

quality of life. Still, it has also come at the cost of

creating a carbon-intensive economy. Some

countries have made significant strides to

decarbonize the electricity sector with renewable

sources superseding coal. There has been a

drive toward hybrid and battery power replacing

petrol and diesel vehicles. Doing so leads to an

increased demand for a suite of raw materials

(e.g., minerals and rare earth elements) for the

batteries to store the energy. There is a similar

need for these raw materials in the construction

of solar panels and wind turbines in power

generation. Yet, more are required for

smartphones and other applications.

Given that demand cannot be met through

existing operations or recycling of materials

currently in circulation, there is a need to identify

new sources of critical elements, metals and

minerals. Some estimates suggest that the

demand for metals like lithium will lead to a fiveto-ten-fold

increase in production. The intensity

of operations will mean extraction issues will

have to be addressed if sustainable mining is

achievable.

The challenge before us is to decarbonize,

reduce greenhouse emissions and tackle climate

change while simultaneously alleviating fuel

poverty, meeting the energy needs of global

population growth, and maintaining a prosperous

society that ensures equity for all nations.

EMERGING TRENDS IN THE AGE OF

ENERGY TRANSITION

Geoscience has long been understood as part of

the solution to decarbonization. A paper in

Science magazine,'Stabilization wedges:

Solving the climate problem for the next 50 years

with current technologies' by Pacala&Socolow

(2004), established the critical concept which

could use several complementary technological

fixes and behavioral changes to bring about

reduction of emissions to a size that can make a

difference for climate change. Pacala & Socolow

(2004) argued that the climate problem could be

solved with presently proven technology and by

being less wasteful of energy.

Some of the emerging trends for geoscience in

the age of decarbonization (based on

Stephenson et al. 2019) are:

1. Energy storage for economies dominated by

renewable energy systems, including

thermal storage, compressed air storage

and hydroelectric dam storage.

2. Carbon capture and storage (CCS),

encompassing both CCS for net-zero

emission industries and as a vehicle for

enabling negative emissions pathways.

3. Sourcing raw materials (metals and rareearth

elements) to support the rapidly

growing solar and wind power sectors and

the associated demand for electrical

batteries and power transmission systems.

4. The hydrogen economy, where water

electrolysis or methane reforming is used to

drive a new 'green-molecule' economy.

5. Nuclear energy, where geological disposal

facilities for radioactive waste are

successfully deployed to make existing and

future nuclear power genuinely sustainable.

Several of the wedges in Pacala&Socolow (2004)

have a geoscience aspect, including the

geological controls on nuclear waste disposal in

increased nuclear scenarios and the increased

supply of gas to allow a switch of power

generation from coal to gas in thermal power

stations.

Perhaps, the purest geological solution in their

wedge concept was carbon capture and storage

(CCS) – suggesting that if it were applied to coal

power stations totalling 800 GW capacity (about

200 large coal power stations) and the CO2 was

stored underground, then this would achieve a

wedge of emission abatement. Moving on 17

years from Pacala&Socolow (2004), the range of

decarbonization solutions has increased, and the

commitment made by nations towards reducing

emissions has become more robust.

G E O S C I E N T I S T S I N T H E E N E R G Y

TRANSITION ERA

The future for a petroleum geoscientist might

seem more uncertain these days as the transition

to cleaner energy begins. Fewer students have

their ambitions set on oil and gas careers, and

industry professionals are beginning to question

how their knowledge and skills will fit into a world

of new energies. Many universities have

reviewed their undergraduate and Master's

(MSc) programs to see if they are fit for their

purpose. There is now an increasing awareness

of the need to blend traditional strengths in the

classroom, lab-based, and fieldwork with new

technologies like virtual reality and novel

teaching practices, something that has been an

unforeseen benefit of Covid-19 and the drive for

online learning in the absence of residential

opportunities.

What will energy-transition geoscience look

like?

Will there be a job for me as a practicing

geoscientist?

What happens to the previous skills learned?

How can our current developments meet the

demand for the energy transition?

These, amongst others, are the challenging

questions for the current generation of

geoscientists, particularly those working in the

extractive industries.

Now, with over two decades of the 21st century

behind us, the drive for a more sustainable

approach to geoscience, and particularly the

Earth-resource industries, is paramount, and the

urgency of responding to the climate-change

challenge is the dominant Earth-science

question. The energy transition is upon us – how

do we respond?

A new appreciation of the critical issues

associated with the energy transition and netzero

have led to a change in teaching and

learning content and methods to assess,

accurately image, characterize, parameterize

and quantify the subsurface. Where courses

have been found wanting, or the number of

students have declined to unsustainable levels,

universities are revamping them, and poor

rehabilitation of geoscience curriculum that's not

regulated among the professional bodies. Most

notably, this has led some institutions to drop

petroleum-related courses from their portfolio

and others to re-evaluate what constitutes the

essential parts of their studies.

In the United Kingdom, the Geological Society of

London (GSL) has similarly been examining the

issues and sought to articulate the place of

geoscience in addressing the key global

challenges. Their work shows how the role and

career pathway of the geoscientist map onto the

UN Sustainability Goals, describing career

pathways that contribute to making the energy

transition a reality (see Figure 1).

In a Low-Carbon future, apart from the

knowledge of the subsurface, geoscientists'

unique qualities and skill sets are highly

NAPENEWS JUNE 2022 20
---
Mapping Geoscience onto the UN Sustainability Goals. (Published with permission from and acknowledging copyright ©The

Geological Society of London).

transferable to CCUS projects and

developing new energy sources. The

ability to map, interpret seismic data,

think spatially and in multiple

dimensions, be comfortable with

risk, and solve large, multifaceted

problems makes them prime

candidates for new energy frontiers.

"Geoscientists have the knowledge,

the skills, the software technology,

and the data acquisition needed to

understand and avoid inappropriate

site selections", Underhill said.

"Their skill sets are perfectly placed

toward the decarbonization of oil and

gas systems."

Geoscientists also are known for

breaking paradigms. Working

closely with engineers and tech

developers, geoscientists have

made both deepwater productions,

and hydraulic fracturing work on

levels once thought impossible. In

fact, innovation is the "hallmark of

our industry", opined Andrea

Reynolds, (AAPG Member, who is

the general manager of business

transformation, exploration at Shell).

Geoscientists will be needed in the

future to help identify and develop

geothermal energy sources as well

as safe sites for carbon storage,

hydrogen, and the by-products of

nuclear energy. But now, there is a

pressing need for their unique and

d e t a i l e d k n o w l e d g e o f t h e

subsurface as countries worldwide

rapidly ramp up on carbon capture

and storage projects to reach the

global emissions goal of "net-zero"

by 2050.

THE WAY FORWARD

As a nation, Nigeria and a host of

other emerging countries require

fossil fuel as a primary source of

energy and a gateway to energy

poverty alleviation, even as it makes

an effort towards the transition to

cleaner energy.

However, there is the need to ensure

that the Earth is in safe hands and

skilled practitioners oversee the

energy transition as we move to a

decarbonized future. To do so, we

must address the current issues in

geoscience training and research

and bridge the gap between early

career and retiring geoscientists

within the industry.

Given the critical role of geoscience

in a low-carbon future, one would

think that there would be an upsurge

in interest and an appetite to

u n d e r t a k e a c a d e m i c d e g r e e

programs in the subject. However, all

data and evidence point to the fact

that the number of students for

Geology and Geophysics degrees

and vocational applied Masters

Programsis experiencing a sharp

decline. In some instances, such as

those in Petroleum Geoscience,

recruitment is at an all-time low,

implying that students now find it a

far less attractive career option.

More so, fossil fuels and, by

extension, Petroleum geosciences

have been "demonized" in a bid to

transit to cleaner energy sources.

Therefore, we must (through our

curriculum) articulate the key

concepts, skills, and competencies

that are needed for success as a

geoscience student and their use in

the future workforce. Seek to identify

the best teaching practices and most

effective use of technology to

enhance student learning; and

recruit, retain, and ensure the

success of a diverse and inclusive

c o m m u n i t y o f g e o s c i e n c e

graduates.

In conclusion, if students could see

that by learning the skills developed

in oil and gas exploration or mineral

exploitation, they can play pivotal

roles in society especially in finding

low-carbon solutions for the energy

transition, they would realize that

geoscience is a desirable career

option. On a broader scale, the

review, update, and a simultaneous

academic curriculum could help

promote a sustainable plan for

undergraduates and postgraduates

to effectively transition into the

current geoscience trends while

fostering innovative scientific

breakthroughs in the energy industry.

by

Isah Bunyamimu

Elshalom Omokpariola

NAPENEWS JUNE 2022 21
---
OIL & GAS AND THE SDGs

Key issue areas for oil and gas mapped to the SDGs

NAPENEWS JUNE 2022 22
---
PERSONAL LEADERSHIP IN UNIFYING BIASES

A Biased View: The International Women's Day is one of the days to celebrate women.

A Balanced View: A day to turn global attention to critical feminine issues with the aim to educate all and win allies.

The International Women's Day, also known as

IWD or Women's Day, is celebrated on March 8

every year. It commemorates the movement for

women's rights with protests held on this day.

The organizers of IWD have used different

themes since its inauguration in 1911. Each

theme highlights a different problem and talks

about how women can tackle it together. In 1920,

IWD became an official holiday and governments

began to endorse the occasion by issuing official

statements on gender equality and giving women

public roles in society to improve their status.

This year's theme on Breaking the Bias comes

with one main question. Will you help break the

bias?

WE ALL HAVE BIASES. EVEN THE BEST OF

US.

Bias is a pattern of thought that leads us to

process information in a certain way. Biases can

be conscious or unconscious; they can be a

behavior, feeling, belief or even knowledge.

Preferences, attitudes, feelings, and behaviors

are the four most common areas of bias defined

by Psychology Today.

Biases can also be referred to as stereotypes and

discrimination. Discrimination connotes a system

of un-fairness; stereotypes, an age-old "untrue or

in-correct" institutional framework.

The Unifying Bias is a theme made for you.

Specifically, for everyone who care about

experience and inclusion, who want a better

world. BIAS IS EVERY WHERE. Firsthand

experience is very powerful.

We learn from our own experiences and what

others tell us—and we sometimes believe what

we want to believe, seeing only what we want to

see. Or hearing only what makes sense to us.

As humans, we are wired to be more inclined and

receptive to people or things we are familiar with.

Therefore, nature and nurture play a huge role in

shaping our beliefs, aspirations, intuition, and

biases. These can be positive, but they can also

be negative.

The concept of Leadership can also be biased,

as it creates a need to categorize, compare and

as such, reinforces personal "often unintentional"

prejudices, preconceptions, popular or un-

popular ideas on a larger group. Great leaders

may be greatly biased, if they fail to consider how

their own values shape the perceptions of what

Leadership is — which is likely to be biased by

their personal experiences.

Gender biases severely affect the female gender

growth and denies access to opportunities.

Furthermore, it creates a huge disparity in

organizational representation, people, and

process optimization. Without gender equality,

institutions suffer.

Recognizing that we can be biased, causes us to

reflect on the place and importance of personal

leadership. With personal leadership, we each,

can recognize our fallibility and make conscious

effort to intentionally question our beliefs and how

they fit into other narratives.

PERSONAL LEADERSHIP IN BREAKING THE

BIAS

The world currently operates under G-Localism,

a combination of Globalization and Localization.

These two forces continue to transcend borders

and reshape how we see things. Institutions,

organizations, and national entities are implicit on

driving local leadership with a strong reliance on

personal leadership, because biases start with a

person.

Exposing our unconscious bias is extremely

complex. What does "unconscious bias" look

like? Would you know it if you saw it? Would you

know it if you had, or have it?

Taking personal responsibility that you are

biased starts with developing a core value

system of focusing on fair treatment and respect

for others, regardless. Yes, it is this simple!

The challenge to overcome is our forgetfulness

and tendency to overlook this basic human right

amidst the pressures of daily living, goals,

targets, and expectations.

STEPS TO UNIFY YOUR BIASES

1. Always Start with the heart.

Each story you hear has an echo you may not

hear. Give yourself a benefit of a second thought

and wider opinions. In other words, give your first

thought a second look. There is a reason why

writers edit endlessly. This is because errors, like

biases have a way of hiding away from the sight

of a reader's lens.

Question the why. Why do I not like this person?

Why do I think the female gender shouldn't aspire

this much? Why do I feel more connected to a

member of my team than the other? Knowing and

recognizing the why doesn't equate to knowing

how to remedy it. It however makes you

conscious of the chances and opportunities you

need to create to ensure balance.

2. Approach the Heart with Curiosity &

Transparency.

What if the opposite of what you think is true?

Unconscious biases are more than conscious

ones. These unconscious biases always find

their way into policies and practices we exhibit.

We must constantly evaluate opinions and

decisions against the lenses of bias.

There are few good lessons to learn from the

judiciary system, not the element time, but the

picking of jury and the rigor each party goes

through to present and establish fact(s) beyond a

reasonable doubt. Fostering balanced

perspectives is a game changer for personal,

professional, and organizational development. It

is a tough call to develop a practice that drives

100 percent inclusion, but it is imperative to

continually solicit and recognize the opinions of

most (if not all).

3. Embrace Feminist Diplomacy:

Yes! The elephant has refused to leave.

According to a coalition group of Afro, Euro &

Mediterranean women, Feminist diplomacy

hinges on universal feminism against all forms of

relativism, whether religious, cultural, identity or

political, and strives to defend women's rights

wherever they are non-existent, insufficient, or

violated. The gender-based approach, their third

p r i n c i p l e ( a l s o r e f e r r e d t o a s g e n d e r

mainstreaming), attempts to ensure that "a

gender equality perspective is incorporated in all

policies at all levels and at all stages, by the

actors normally involved in policy making.

Feminism is more than a movement; it is a

lifelong cause. It will remain if gender equality is

not achieved. It will continue to be mainstream

because other minority and inequal people,

practice and policies will keep emerging. Equality

is ambitious yet achievable because it is not

asking for the extra-ordinary. It is a basic right.

Representation is very important for women; the

pressure point is to be accepted and regarded as

we are. FEMALE, and this is where personal

leadership begins. Everyone is accountable for

this progress.

With the International Women's Day and every

day, the die is rolled to continually educate and

challenge mindsets through peer /ally

conversion, alignment, and dis-agreement.

Simply because, there is no alternative to

success than to have gender equality.

By Tunbosun Afolayan

NAPENEWS JUNE 2022 23
---
th

2021 ANNUAL INTERNATIONAL

CONFERENCE & EXHIBITION

PHOTO GALLERY

NAPENEWS JUNE 2022 24
---
COMMUNIQUE

Of the Pre-conference Workshop of the Nigerian Association of Petroleum Explorationists (NAPE) on "The Next

Decade of Oil and Gas Business in Nigeria: Impact of Energy Transition" held at the Lantana Hall, Eko Hotel and

Suites, Lagos on Monday November 15th, 2021

The Nigerian Association of Petroleum Explorationists (NAPE) on the 15th of

November 2021, at the Lantana Hall, Eko Hotel and Suites, Lagos, held a Preconference

Workshop with the theme "The Next Decade of Oil and Gas

Business in Nigeria: Impact of Energy Transition". In attendance were oil & gas

executives, senior technical professionals and managers in the upstream oil

and gas sector. The major objectives of the workshop were:

1. To outline progressive strategies that leverage opportunities of energy

transition to enable Nigeria's energy security and promote a competitive

oil and gas business landscape.

2. Propose relevant adaptations of present policies to effectively diversify

Nigeria's oil and gas portfolio, accelerate energy access and take

advantages of the energy transition.

Key technical papers were presented on the sub-themes of the workshop:

1. Impact of the Petroleum Industry Act on the Future of the Nigerian

Energy Landscape, by Mr. Olumide Esan -Senior Partner, Deloitte Nigeria.

2. Impact of the divestments by the IOCs and the Opportunities, by Mr.

Bashir Idowu - GM Assets and Corporate Strategy at Newcross Petroleum

Limited.

3. Impact on Education for the Future Oil & Gas Professional, by Mr. Babs

Oyeneyin - Retired Professor of Petroleum Engineering, Heriot-Watt

University Edinburgh.

4. Future of Employment and Careers in the Oil & Gas Industry in Nigeria,

by Mr. Victor Banjo – Director Executive Education, Lagos Business

School, Pan Atlantic University

5. Future of Employment and Careers in the Oil & Gas Industry in Nigeria

by Mrs Alero Onosode Chairperson Nigerian Content Consultative Forum

– Diversity Sectoral Work Group.

6. What can be done to put Nigeria into the Clean Energy Space? by Mr.

Afolabi Akinrogunde - Investment Manager, All-On Partnerships for

Energy Access

The panel discussion was moderated by Mrs Tunbosun Afoloyan. The panelists

were Dr. Kenny Ladipo (FNAPE) - Retired Geologist & Consultant; Professor

Elijah Ayolabi - Vice Chancellor, Mountaintop University and Professor of

Applied Geophysics; Mr Dayo Adesanmi who represented Mr. Dele Kuti -

Global Head, Oil and Gas, Stanbic Bank, South Africa and Mr. Toyin Akinosho

(FNAPE) - Publisher Africa Oil & Gas Report.

The key considerations addressed by the speakers in the Nigerian energy

transition journey were: PIA provisions, access to energy, the vast oil and gas

reserves, infrastructure deficit, IOCs divestments, the growth of the

indigenous oil and gas companies and the adaptations and evolutions in

human capital. The clarification that energy evolution is not necessarily

replacing fossil fuels or transition to renewables, but rather more of

attainment of zero carbon footprint, decarbonisation, low emission, clean

energy and energy efficiency. The energy supply deficiency in the country

suggests that Nigeria is not yet prepared for the energy transition to ultimately

a net-zero carbon emission renewables driven society, currently being

advocated globally.

The following is the communiqué arising from all the presentations and

discussions at the workshop:

Key challenges identified:

1. Worldwide, the oil and gas industry is no longer as financially viable as it

used to be about 30 years ago. Specifically, in Nigeria, there has been a

reduction of investment in the hydrocarbon-based energy resources

due to the country's reduced competitiveness.

2. The possible impacts of the newly introduced Petroleum Industry Act

(PIA) on future investments in energy are quite high. Areas of concern

include the decommissioning and abandonment costs, cost-price Ratio

limit for tax deductions and Gas Flaring penalties which all have the

potential to reduce the capital available for re-investment.

3. There is an increased administration and tax burden for the unbundled

upstream and mid/downstream companies.

4. IOCs have divested from selected assets to reduce their overall OPEX

and carbon emissions. Indigenous companies that take on these assets

do not have incentives to remedy this situation excluding anti-gas

flaring regulations.

5. The peculiarities of the Nigerian business environment have created

barriers that make it difficult to take advantage of cost reductions in

renewable energy as appropriate option for easing Nigeria's energy

access challenges.

6. Lack of high-quality workforce needed for Nigeria's energy transition is

further compounded by talent flight and high level of competition for

the relatively few well-trained people.

7. Critical R&D outfits that should primarily give academic and industrial

establishments a very sound footing in terms of sustainable supports

and innovations are missing.

8. The Nigerian commercial banks are unwilling (or unable) to fully fund

energy projects which require a long-term view on investment returns.

Recommendations:

1. Actively promote synergy and collaboration amongst operators in areas

of security, finance and services.

2. Deliberate policies and strategies should be provided to facilitate

adequate funding of the energy industries.

3. Stakeholders should stimulate the required investment in logistics and

infrastructures to reduce cost of operation and production.

4. Ensure policies on oil & gas production that incorporate the building of

local refineries are encouraged.

5. Bridge the gap between the old and new generations of workforce in

areas of the grounded knowledge, artificial intelligence and

innovations to avoid knowledge loss and stimulate the expected energy

growth.

6. Recommend an end-to-end energy solution strategy to enable

continuous access to energy supply that drives sustainable economic

growth.

7. Ensure energy policies are timely implemented to facilitate the Nigerian

energy transition.

8. Design and build a National energy infrastructure framework to ensure

energy security.

9. Establish energy development banks and financial institutions to cater

for the high funding needs of the energy industry.

Dr. James Edet, FNAPE

President - Elect (2020 - 2021)

Mrs. Patricia Ochogbu, FNAPE

President (2020 - 2021)

This Commique has been published and forwarded to the Nigerian Upstream Petroleum Regulatory Commission
---
PRESIDENT'S

NIGHT

PHOTO GALLERY

th

2021 ANNUAL INTERNATIONAL

CONFERENCE & EXHIBITION

NAPENEWS JUNE 2022 26
---
NAPENEWS JUNE 2022 27
---
PRE-CONFERENCE

WORKSHOP

PHOTO GALLERY

th

2021 ANNUAL INTERNATIONAL

CONFERENCE & EXHIBITION

NAPENEWS JUNE 2022 28
---
ANNUAL GENERAL

MEETING

PHOTO GALLERY

th

2021 ANNUAL INTERNATIONAL

CONFERENCE & EXHIBITION

Click here to access the NAPE Constitution

CONSTITUTION

NAPENEWS JUNE 2022 29
---
OPENING

CEREMONY

PHOTO GALLERY

th

2021 ANNUAL INTERNATIONAL

CONFERENCE & EXHIBITION

NAPENEWS JUNE 2022 30
---
NAPENEWS JUNE 2022 31
---
ALL CONVENTION

LUNCHEON

PHOTO GALLERY

th

2021 ANNUAL INTERNATIONAL

CONFERENCE & EXHIBITION

NAPENEWS JUNE 2022 32
---
SHORT

COURSES

PHOTO GALLERY

th

2021 ANNUAL INTERNATIONAL

CONFERENCE & EXHIBITION

NAPENEWS JUNE 2022 33
---
TECHNICAL

SESSIONS

PHOTO GALLERY

th

2021 ANNUAL INTERNATIONAL

CONFERENCE & EXHIBITION

NAPENEWS JUNE 2022 34
---
AFRICAN

NIGHT

PHOTO GALLERY

th

2021 ANNUAL INTERNATIONAL

CONFERENCE & EXHIBITION

NAPENEWS JUNE 2022 35
---
AWARDS

NIGHT

PHOTO GALLERY

th

2021 ANNUAL INTERNATIONAL

CONFERENCE & EXHIBITION

NAPENEWS JUNE 2022 36
---
NAPENEWS JUNE 2022 37
---
NAPE Chapter

Activities

NAPENEWS JUNE 2022 39
---
NAPE warns firms against engaging quacks

in drilling activities

https://guardian.ng/business-services/napewarns-oil-firms-against-engaging-quacks-indrilling-activities/

NAPE calls for caution on Enugu gas

leakage

https://punchng.com/nape-calls-forcaution-on-enugu-gas-leakage/?amp

Integrate modern methods in

sylabus, NAPE tells geosciences

lecturers

https://punchng.com/integrate-modernmethods-in-syllabus-nape-tellsgeosciences-lecturers/

How Nigerian vasitities can help boost

petroleum sector

"There is also a need to bridge the gap

between the old and new generations of the

workforce in the areas of grounded

knowledge, Artificial Intelligence, and

innovations in order to avoid knowledge loss

and stimulate energy growth."

https://www.vanguardngr.com/2022/03/hownigerian-varsities-can-help-boost-petroleumsector-nape/

Full Speech: NAPE Calls For

Caution As Caritas Varsity's

Borehole Gas Fire Hits Day 9

https://www.myengineers.com.ng/

2022/06/03/full-speech-nape-callsfor-caution-as-caritas-varsitysborehole-gas-fire-hits-day-9/

N A P E a d v o c a t e s i n c l u s i o n o f

digitalisation in university curriculum.

"The point is that digitalisation is very

important to steer the industry towards growth

and put the academia in the right part to meet

the needs of the industry"

https://sweetcrudereports.com/napeadvocates-inclusion-of-digitalisation-inuniversity-curriculum/

NAPE President Advocates for Industry

- Academia Collaboration to Bridge

Gap, Consolidate Gains

https://www.energyfocusreport.com/napepresident-advocates-for-industryacademia-collaboration-to-bridge-gapconsolidate-gains/

NAPE asks operators to prioritise

domestic gas utilisation above export

https://guardian.ng/business-services/napeasks-operators-to-prioritise-domestic-gasutilisation-above-export/

Group canvasses digitisation of varsity

curriculum to meet current trends

"The lack of high-quality workforce needed

for Nigeri's enery transition has been a

nagging concern for the industry and the

academia The situation is further

exacerbated by talent flight and high level

of competition for the relatively few skilled

and well-trained professional."

https://guardian.ng/features/education/gr

oup-canvasses-digitisation-of-varsitycurriculum-to-meet-current-trends/

NAPE Calls For Caution As Raging Gas Fire

From Caritas Varsity's Borehole Hits Day 9

Here is what 12,000 Nigerian Petroleum

Explorationists said on the natural gas flare

inside a borehole in the University located in

Enugu state, Southeast Nigeria, through the

NAPE President; Dr. James Edet

https://platformsafrica.com/2022/06/03/napecalls-for-caution-as-caritas-varsitys-boreholegas-fire-hits-day-9/

NAPE Seeks Collaboration to

Bridge Skills, Knowledge Gap in

Petroleum Sector

https://www.thisdaylive.com/index.

php/2022/04/06/nape-seekscollaboration-to-bridge-skillsknowledge-gap-in-petroleumsector-2/

Dr. Edet, NAPE's New President,

Highlights Plans for the Association

"Opportunity to take on this prestigious

yet tasking industry representation, a

show of our five core values of a

performance-minded attitude, a pioneer

spirit, safety, respect for each other, and

the need to stand together, all of these

have been demonstrated during my

tenure as President-elect and chairman,

conference planning committee in this

recently concluded conference."

https://www.energyfocusreport.com/dredet-napes-new-president-highlightsplans-for-the-associations/

Omicron, Serious Threat to Global Oil

Industry Recovery

https://platformsafrica.com/2021/11/30/omicronserious-threat-to-global-oil-industry-recoverynape/

Caritas University Gas Flare: NAPE Calls

for Caution

https://www.energyfocusreport.com/caritasuniversity-gas-flare-nape-calls-for-caution/

NAPE calls for caution on Enugu gas

leakage

"As NAPE, we are appealing to members of

the public to tread with caution as they visit

the site to avoid burns and other hazards

associated with this type of flare (water and

gas leak) as it currently lacks appropriate

safety measures to mitigate the flare."

https://championnews.com.ng/nape-callsfor-caution-on-enugu-gas-leakage/

NAPENEWS JUNE 2022 40
---
NAPE

UAP

NAPE UNIVERSITY ASSISTANCE PROGRAMME:

INTERVIEW WITH PHILIP AJAEBILI

I have prioritized the intent of my next 18 months into three key agenda: revamping the Grants-in-aid scheme, developing an

innovative programme to help fix the student internship conundrum and execution of the initiative to enable ease of access to

data for proper research work by students and lecturers - Phillip Ajaebili, newly elected UAPc

Congratulations, again, on your new role

a s N A P E U n i v e r s i t y A s s i s t a n c e

Programme (UAP) Chairman. What would

you say are the reasons for you being in

this role? What are your strategic intents

for the UAP community growth?

I will say having a strong leadership

experience in NAPE Young Professional

interest group was instrumental in landing the

UAPc role. It began sometime in 2015 when

Austin Mgbemere encouraged me to get

involved in YP activities. I came out from my

hiding place and by end 2016, I had

volunteered in anchoring the NAPE Student

Quiz competition and planning the Basin

Evaluation Competition at NAPE Annual

conference in Lagos. For the next three

years, I grew through the ranks in YP

volunteering first as the Financial Secretary in

2017 where I learnt about finances and fundraising

skills, followed by being the General

secretary in 2018 where I learnt the

administrative aspects of leadership and

eventually became the YP Lead in 2019.

As YP Lead, we relentlessly rolled out high

impact projects ranging from delivering first

ever python bootcamps for students and YPs

across the country to organizing technical

workshops in different chapters of the country

and even delivering a first of its kind

community service project anchored by the

YPs. I guess these impacts were quite visible

and I was privileged to receive the coveted

2020 Outstanding Young Professional

service award. I was also fortunate to work

under the current PHC chapter coordinator,

Mr Emo Dayetuawei, for three years as his

General Secretary where I learnt premium

volunteering service under his tutelage. So, it

was on the basis of this background that I had

the momentum to volunteer at the national

executive role of UAPc which I was

successfully elected into about 5 months ago.

UAP is a very strategic platform from NAPE to

foster productive industry-academia

relationship. As you can already imagine,

there are myriad of issues that require a lot of

effort to fix. Having interacted with key UAP

stakeholders and also in delivering on my

manifesto, I have prioritized the intent of my

next 18 months into three key agenda:

revamping the Grants-in-Aid programme,

develop innovative programmes to help fix

the student internship conundrum and

execution of the initiative to enable ease of

access to data for proper research work by

students and lecturers.

It's been an eventful first quarter for the

UAP, were the objectives for the 3

activities met and what are your key

learnings from these activities?

It has been an intense Q1 2022 for NAPE

UAP with lots of quality events held across the

country. However, I will focus on three events:

th

the 15 NAPE UAP Leadership Forum in Port

Harcourt, NAPE Student Retreat and Student

Chapter visits. First learning for me is the firsthand

appreciation of the enormous

challenges facing our academic institutions.

These challenges are overwhelming and

clearly it is obvious that government alone

cannot fix the debacles. A multi-faceted

strategy is needed if we really want to

transform our educational sector in-country.

One of the key players that can contribute

immensely is the industry. Professional

associations like NAPE are helping in

facilitating productive industry-academia

relationships and such advocacy needs to be

continually nurtured and encouraged.

Another eye-opener for me from these

activities is the urgent need for stronger

NAPE presence in the Northern part of the

country. This feedback came out strongly

from the Student Retreat. Other points from

these engagements include the need for

more mentorship opportunities for students,

urgent need to fix the great difficulty in getting

placement for industry internship, difficulty in

getting access to data for research purposes

and the challenge in engaging in meaningful

field work due to security and logistics issues.

Projecting to the end of 2022, how would

you want the NAPE UAP scorecard to

read?

The outlook for the rest of 2022 will be mostly

behind the scenes strategic planning to fix

some pressing challenges within the sphere

of influence of UAP. This includes revamping

our current Grants-in Aid structure to make it

more functional and visible, finding creative

solutions to the current internship challenges

faced by our students and fixing the

challenges of ease to access of data for

academic research. Planning for 2023 NAPE

Mini – Conference will also commence from

the second half of 2022.

Thank you so much, Philip. Let's get to

know you more, beyond your role as a

UAPC, what interests you, your hobbies

and aspirations?

Beyond UAPc, I am a Geophysicist with Shell

where my day-to-day job involves applying

geophysical skills and tools in a multidisciplinary

approach towards identifying and

drilling exploration, appraisal, and

development targets. Simply put, I am a key

contributor in providing energy and revenue

for the Nigerian people and her government.

I grew up with great interest in history as I am

always fascinated about how people before

me lived their lives on earth. Nowadays, I am

beginning to develop interest on how global

financial markets work and their impact on the

world. I also play chess a lot and mostly found

in-doors with my family. I am looking forward

to becoming a professor and businessman in

the not-so-distant future not losing sight of my

life's mission – to help people (whom I

connect with) to become better versions of

themselves.

NAPENEWS JUNE 2022 41
---
COMMUNIQUE OF THE 15TH NAPE - UAP LEADERSHIP FORUM HELD AT CASONI HOTEL,

PORT HARCOURT, RIVERS STATE, NIGERIA

MARCH 11- 13, 2022

The Nigerian Association of Petroleum Explorationists (NAPE), held its 15th

NAPE-University Assistance Programme (UAP) Leadership Forum between Friday

11th March and Sunday 13th March 2022 on the theme: Bridging the Industry-

Academia Gap: Consolidating the Gains of the Past and Projecting into the

Future at the Casoni Hotel, Port Harcourt, Rivers State, Nigeria. The forum

attended by over Eighty (80) professionals from the academia, petroleum industry,

and government institutions deliberated extensively on the various ways of

Bridging the Industry-Academia Gap and moving from "think-tank" to "dotank"

and came up with the following recommendations in creating succession

plan opportunities and career paths for future geoscientists:

1. Digital Transformation: Digitization should be integrated into the University

Curriculum, especially for teaching and learning Geoscience, as it is now the

trend in the industry (Software, Hardware, Internet connectivity, Cloud

infrastructure, etc.). In addition, innovation and digitization should cut across

both geological and geophysical interpretation (E.g. Seismic and well Log

with emphasis on fieldwork), which should also incorporate machine

learning into our curriculum.

2. There should be a sustained collaborative effort between universities and

industry to draft a course content on renewable energy for universities, as

there is the need for academia to align their Research and Development

(R&D) activities to suit industry needs. In addition, there should be

continuous improvement/review of the academic curriculum to meet the

industry needs of today and the future, especially in light of the energy

transition to unlock new initiatives and drive change. University lecturers

should focus on research and development, which will inculcate relevant

skills and knowledge that would produce industry-ready students.

3. NAPE should encourage NOCs and IOCs to offer more internship and

sabbatical opportunities for Nigerian Geoscience students and lecturers,

respectively, to enhance knowledge transfer. In addition, NAPE should

champion funding requests for Scholarships and R & D. NAPE should lead the

campaign to develop a well-structured Internship Programme by NOCs and

IOCs which is well designed and curated. Furthermore, there is a need to

create some short-term industrial visits of 2 weeks to 3 months in addition to

the already existing 6 months to 1-year opportunities and tying internship

opportunities to Contracts Jobs.

4. There should be a creation of Centres of Excellence in various geopolitical

zones in the country which will serve as geoscience research hubs in those

zones

5. As Nigerian industries/companies are gradually taking over the oil and gas

operations, the human capacity development should be improved upon and

well-funded by stakeholders (industry, government, academia, and

professional associations). NAPE should encourage experts/industry

professionals to train students in the schools, hence transferring relevant

skill sets to adapt to future demand. Industry staff (active or retired) should

be encouraged to go to universities to bridge the gap. The universities should

embrace the concept of visiting geosciences programs by NAPE. University

needs to work closely with the industry in a mutual and symbiotic manner,

where values are created on both sides.

6. Nigerian Upstream Petroleum Regulatory Commission (NUPRC) should

collaborate with NAPE to enable data access for the academia for research

and training. An example is having open-source data to be used by academia

and having specific data for research. The Academia and Students should

properly channel the request for data, if they need data from companies, they

should go through the NUPRC for easy data accessibility. NUPRC should be the

agency giving data directly to the Academia and not go through the

companies. All data given for research should be properly georeferenced.

Data older than 10 years should be made available in a dedicated digital

location for easy access upon request. The data from fieldwork by universities

should also be domiciled at the NUPRC.

7. NAPE to act as a Special Purpose Vehicle by providing a buddy system

between industry professionals and academia. There is a need to re-engineer

University-Industry collaboration in Research and Development, Current

Trends, and Emerging Technologies to provide solutions to identified

industry and societal challenges. The industry should assist academic

institutions with industry tools so students can learn using state-of-the-art

facilities.

8. There is a need to provide basic upstream geoscience and reservoir

management and operations geology training platforms for internships with

the intent of building local human capacity for national growth. Capability

development via a detailed and resilient competence framework for the

future as well as upskilling and reskilling of personnel needs to be put in place

for easy adaptation to the changing business environment. We need to build a

Nigerian society that will help ameliorate human capital flight and the

national brain drain.

9. Improved funding to support academic research work through the

endowment of professorial chairs, provision of research equipment, and

support (for example, workstations and software licenses, etc) is advocated.

Academic institutions should access the $50m R&D fund from the Nigeria

Content Development Monitoring Board (NCDMB) and other agencies for

research and development, which adds value to Nigeria's Local Content.

10. Refresher programs for university lecturers are strongly encouraged. The

need for training and retraining of younger career academics cannot be

overemphasized. For example, there should be increased sponsorship for

train-the-trainers programs and short courses.

11. The Basin Evaluation Competition, a hugely successful NAPE initiative, which

promotes talent discovery in Academia, should be extended to all universities

across the country with support from industry through the provision of basic

facilities that are required.

12. NAPE mentoring circle should be sustained and extended beyond the

Industry to Academia.

13. There is a need for universities and industries to collaborate on special

projects that would add value to academia and industry by way of the Student

Industrial Work Experience Scheme (SIWES) and Internship program where

teamwork and business goals can be reached.

Breakout sessions of the forum discussed the essentials of the theme with an

emphasis on:

Ÿ Geoscience Data Repository and Availability in Educational Sector

Ÿ Fixing the Students Internship Conundrum

Ÿ The role of digital Framework in Geoscience Studies and Fieldwork

The forum recommends that with all the above in place, the goal of Bridging the

Industry-Academia Gap and creating succession plan opportunities in career

paths for future geoscientists through well-structured sabbatical and internship

programs is attainable. In addition, there is a need for the provision of good

research data and a geoscience curriculum targeted to meet the demands of the

industry, in order to close up the existing gap.

Philip Ajaebili

University Assistance Programs Chair

Dr. James Edet, FNAPE

President NAPE
---
NAPE

UAP

PICTURES FROM LEADERSHIP FORUM

Event held on March 11- 13, 2022

NAPENEWS JUNE 2022 43
---
NAPE-YP ACTIVITY REPORT

Abuja Technical Workshop

As part of its goals to help students and young

professionals in the petroleum industry adapt to

this era of energy transition, the NAPE-YP held

a Technical Workshop in Abuja on the 5th of

March, 2022 themed "Future Opportunities

for Digital Geosciences: The Young

Professionals Leading Digitalization in the

Era of Energy Transition".

Mr. Ehi Bazuaye in his closing remark

commended the NAPE-YP for the success of

the event in spite of the challenges encountered

during its planning phase. He also

congratulated and encouraged all participants.

The closing prayer was said by one of the

participants after which everyone retired to their

respective hostels and homes.

The Technical Workshop commenced at about

9:45a.m with Opening Remarks by the NAPE-

YP Lead, Mr Ifeanyi Ikueze. In attendance were,

NAPE President, Dr James Edet, FNAPE ably

represented by his Vice, Dr Anthony Ofoma,

FNAPE; Mr Abdullahi Bomai, FNAPE, the

Group General Manager FES-NNPC.The

Guest Speaker was Mr. Gideon Amaechi, the

Country Manager Landmark/Halliburton

Nigeria. Also in attendance were the NAPE

Abuja Chapter Coordinator, Mr. Ehi Bazuaye

and the NAPE-UAP Chairman, Mr. Philip

Ajaebili amongst others.

From the feed back received, the workshop was

indeed an eye opener for many of the students

and young professionals who were in

attendance.

Other Events Delivered...

Ø NAPE-YP Technical Workshop Uyo

The Guest Speaker, Mr. Gideon Amaechi

started his presentation by describing the digital

transformation journey as a process which he

subdivided into: Smart Vision, Smart Deploy

and Smart Evolve. He further stated that it is the

same technology changing other industries that

is transforming the Exploration and Production

industry, and he encouraged the students and

young professionals present to get a digital

skillset.

Mr. Abdullahi Bomai, FNAPE spoke on the

topic, Opportunities for Cost Management

within the Inland Basins. He pointed out that

most of the easy-to-reach resources in the Niger

Delta has been exploited, hence the name

"Matured Basin" and that there's an urgent need

for the application of Digital Geosciences in

Basin Evaluation to reduce petroleum-finding

uncertainties.

A few questions, which were promptly

responded to, followed after the presentations.

Thereafter, there was a presentation of plaques

to the Special Guests and the Workshop

Facilitators.

The facilitators at the event were: Nkechi

Ezepue – Data Science; Suleiman A. Adamu –

Seismic Data Acquisition and Processing;

Ayebawanaimi Ogunu – Petrophysics and

Victor Kailo – Seismic Interpretation.

In the second part of the workshop, the

participants were grouped according to the

workshop module they registered for with each

facilitator enlightening them on the intricacies of

the modules.

A former NAPE President, Mr. Ajibola

Oyebamiji, FNAPE who joined at the later stage

of the workshop congratulated all participants

and encouraged them to build on what they had

learnt at the workshop.

NAPENEWS JUNE 2022 44
---
NAPE-YP ACTIVITY REPORT

Uyo Technical Workshop

The second of the Technical Workshop series, which covered the south-south region, was held in Uyo

on Saturday 30th April 2022 at the Watbridge Hotel and Suites, Akwa Ibom State.

The program started at about 11am with opening prayer by Prof. Akpabio, the Assistant Coordinator of

the Chapter. The event was anchored by the Chair, NAPE-YP Technical Committee – Seun

Ogundipe, who welcomed everyone present and then the YP Lead gave a brief remark highlighting

the objective of the Workshop. The NAPE President, Dr. James Edet fnape, gave a Welcome Address

where he thanked the organizers and the chapter for this program while recognizing the benefits for

students and Young Professionals (YPs).

Images 1, 2 & 3: The Chapter coordinator, NAPE-YP Lead and NAPE President during their addresses

The Key-note address was given by the Special Guest of Honour – Prof. Nse Essien (Vice-

Chancellor, Akwa Ibom State University) who spoke on the theme of the Workshop: Future

Opportunities for Digital Geoscience: The Young Professionals Leading Digitization in the

Era of Energy Transition and encouraged everyone present to take advantage of the Energy

transition by learning and positioning themselves for opportunities to come. The Guest Speaker

Eudorah Ochai-Audu (Business Development Manager/ Planning Lead-Exploration, Shell) gave a

rich breakdown of transition of energy from years passed up until now. It was very enlightening and

Images 9, 10 & 11: Group Photographs with

Speakers, Coordinators, Facilitators and

Participants

Image 4: Prof. Essien addressing the audience

Image 5: The Guest Speaker, Eudorah during her speech

Lunch was served and everyone had to re-fill their energy tank.

After lunch break the participants were split into their different modules. The modules were

delivered by:

1. Data Science – Divine Okon (Data Scientist/Programmer, Christielab)

2. Petrophysics – Collins Nwanya (Petrophysicist, Degeconek)

3. Seismic Data Acquisition and Processing (Callistus Anaele, Lead Processing Geophysicist

Subtra Oil and Gas)

4. Seismic Interpretation – Ifeanyi Ikueze (Snr. Geoscience Consultant, Halliburton)

The Workshop ended at about 4:30pm with

about 70 participants, including students and

lecturers (from Akwa Ibom State University,

University of Uyo & University of Calabar),

attended this Workshop. In attendance were

also some of the Chapter Excos.

1. Dr. Thomas A. Harry – Uyo/Calabar

Coordinator

2. Prof. Idara Akpabio – Assistant Coordinator

3. Dr. Chimezie Emeka – Chapter Secretary

4. Dr. Abraham Udoh – Advisory Council

Member

5. Mr. Nsikan Uduak

Images 6, 7 & 8: The Petrophysicist, Data Scientist and Geophysicist addressing the audience

This session lasted for about 3 hours and everyone re-convened afterwards. Each module had two

(2) representatives share with everyone their learnings from their various sessions. Awards were

presented to Guest Speakers and Facilitators and a group photogram was taken afterwards. The

closing prayer was said by Dr. Abraham Udoh.)

by

Ifeanyi Ikueze

NAPE-YP Lead

NAPENEWS JUNE 2022 45
---
NAPE-YP WORKSHOP AT AWKA

PHOTO GALLERY

NAPENEWS JUNE 2022 46
---
PLANNING FOR POST-GRADUATE SCHOLARSHIP/STUDIES

The first step to graduate school

application is establishing your interests

and deciding on the course or the areas

you want to specialize in. After this is

sorted, you want to choose the

schools/country that offer the courses you

have decided to embark on. The

application process differs for schools and

countries; this article focuses on the

application for North American schools.

Before applying, think about the big

picture of what you want to attain by going

to graduate school. There may be other

ways to achieve your goals. Some other

options may suit you better given your

interests, background, length of time you

are willing to commit to graduate

education, and long-run goals. You can be

flexible with your choice of a graduate

program.

Apply to multiple schools - not all of which

may be similarly ranked. Not all of the

programs you apply to need to be at the

same degree level or in the same

department, but there should be a clear

focus in your search.

Research is a very important step when

c o n s i d e r i n g a g r a d u a te s c h o o l

application. The areas to carry out your

research include:

The School and The Courses Offered

Selecting the right school and the right

course is one of the most important

decisions you would need to make in your

quest for international graduate study.

Among other things, the acceptance rate

of the program at the university you apply

to, in no small way, will determine whether

you will get admitted or not. It also

determines the overall experience during

your studies and the opportunities you

attract after graduation. In addition, some

schools have a track record of not taking

students from a particular region or

certificates from a region.

Decide whether you want to go into a PhD

program directly or if you want a master's

degree. It would be best to do entirely

different types of searches based on your

answer to this question. If you want a

master's degree, it is best to apply to a

school with a terminal Master's degree

program as you would likely get better

financial aid and have an experience that

better fits your desires.

Check out the school/departmental

rankings; some departmental rankings

are based on previous publications of

faculty members who are no longer

associated with a given university. Also,

some departments rank higher in some

speciality areas than their overall ranking.

That can matter.

Check out the placement record of

graduates of the departments you are

considering. Many departments have

information about this on their web pages.

Application Requirements

Visit your prospective program/

department website to understand the

application requirements. Different

schools with their different requirements,

although similar in some cases. Some of

the requirements may include

§ Application Fee

§ Class of degree (undergraduates

or MSc if applying for PhD)

§ cut-offs on Graduate Record

Examination (GRE)

§ English Language proficiencies

(e.g. Test of English as a Foreign

Language (TOEFL) or IELTS)

§ Application deadlines

Some schools may have waivers, and you

can find this information on the

school/program website. You can also

communicate with the graduate

coordinator for updates that may not be on

their websites.

Faculty, Relevance, and Prospects of

Research Areas

This is essential as many universities

require you to contact a supervisor before

submitting your application. Reach out to

potential advisors even if the school

doesn't require that you do so.

However, your chances of getting a

Professor to agree to supervise your PhD

would depend on your ability to show how

the Professor's research interests align

with yours and how you can add value to

that research, laboratory, program, or

university. Interestingly, the essential

information you need to do this is always

on the department's website.

Check out the current faculty of the

departments you are considering and their

research interests and output. Also, try to

determine if important faculty members

are on multi-year leaves of absence.

Funding and Scholarships

Obtain as much information as you can

about departmental financial aid for the

potential maximum term of funding, levels

of financial support, summer coverage,

whether out-of-state differentials are

waived, and what you must do to stay in

good standing for continued support.

Check out what scholarships the school

and the department has on offer. Are there

scholarships, assistantships, fellowships,

etc., that you can apply for at the

department or university? The higher the

school's ranking, the stiffer the

competition and the more realistic you

should be with your chances!

City, country (weather, friendliness)

If there is an assumption that you know the

country or state you wish to study in, you

should research on

§ the city in which the university is

located.

§ the weather and cost of living

§ Perception of the residents of the

city and how they relate to

strangers and visitors

§ Interesting places in the city

§ Opportunities available to

students in the city

Student Support and Post-Studentship

Opportunities

Many often overlook this point, yet it is a

major determinant of your experience

during and after your studies.

First, make inquiries about the support

programs the university has in place for

current students. For example, does the

university have career counselling

services, student representatives, student

support services, etc.?

Secondly, be wary of universities without

post-graduation plans for the graduates.

So, before you apply, ensure you know if

the university has robust alumni

associations? How strong are these

associations? What is the level of support

that the university's alumni bodies provide

to current or former university community

students?

by

Promise Ekeh

Late Emmanuel Ezenwa

NAPENEWS JUNE 2022 47
---
NAPE STUDENT CHAPTER INAUGURATION

IBRAHIM BADAMASI BABANGIDA UNIVERSITY

The Nigerian Association of Petroleum Explorationists, (NAPE), inaugurated the Ibrahim Badamasi Babangida University, Lapai Student

Chapter on the 10thof February 2022.

The Head of Department of Geology, Prof. Nuhu G. Obaje received and led NAPE representatives in the persons of Mr. Ehi Bazuaye

(Coordinator of NAPE Abuja Chapter) and Mr. Lawrence Osuagwu (NAPE Secretariat Acting Head)on a courtesy visit to the Vice

Chancellor, Prof. Abu Kasim Adamu at his office.

The NAPE officials were thereafter led to the University's auditorium, which was the venue of the inauguration with over 100 students in

attendance. The following University officials were recognized; the Vice Chancellor, DVC Academics, Registrar, Deputy Bursar, Chief

Librarian, and are presentative ofthe Dean of Faculty of Applied Sciences and Technology.

Dr James A. Adeoye (IBBU NAPE Faculty Advisor) introduced the purpose of the event, followed by the HOD's opening remark. He

thanked NAPE for coming to the University to inaugurate the IBBU Chapter, as this will boost the students' urge for attaining loftier heights in

their professional careers.

The Vice Chancellor in his speech once again welcomed and appreciated NAPE for extending hands of partnership and collaboration to the

University. Mr. Ehi Bazuaye who represented NAPE's President, expressed his delight, and appreciation for the support the University

gave the department of geology. He highlighted some benefits attached to having a functional NAPE Student Chapter, such as donation of

books, software packages, workstation, etc.

Goodwill messages were presented by Prof. Abraham Onugba (of the Department of Geology); DrIdakwo Sunday(Representative of the

Dean of the Faculty of Applied Sciences and Technology); and Prof. Dennis Balogun. They appreciated NAPE for the opportunity to

inaugurate the IBBUL NAPE Student Chapter. The NAPE Student Chapter President, Mr. Alfa Musa, on behalf of himself and the students,

expressed his gratitude to God for witnessing the inauguration of the Chapter, and has assured the Association that he would do his best as

its pioneer president.

In his closing remarks, the Registrar, Alhaji Musa Ango Abdullahi congratulated the newly inaugurated student executives and urged them

to live up to the expectations of NAPE. He then wished the NAPE officials and other members safe journey to their respective destinations.

Mr. Ehi Bazuaye and

Prof. Nuhu G. Obaje (HOD)

Dr James A. Adeoye (Faculty Advisor) and

Mr. Lawrence Osuagwu (NAPE

Secretariat Ag Head)

Mr.Bazuaye (L), Prof. Abu Adamu Kasim,

VC (C) and Registrar (R)

Mr. Bazuaye (L) and Mr. Alfa Musa IBB

Student's NAPE/NMGS President

Prof. Obaje (L), Prof. Paiko - DVC Academic (2nd L), Mr. Bazuaye (C-L), Prof. Adam VC (C-R), Mr. Osuagwu (2nd R) and Registrar

Mr. Bazuaye and NAPE/NMGS Student

Executives

Students in attendance

Presentation of gifts after the

inauguration

Photo session after the inauguration

Photo session with students after the

inauguration

NAPENEWS JUNE 2022 48
---
NAPE

UAP

PHOTO GALLERY

Pictures from 2022 NAPE-AAPG University of Nigeria, Nsukka (UNN) Student Chapter Week Report

Screenshot from 2022 UAP Student's Retreat

NAPENEWS JUNE 2022 49
---
AWKA/OWERRI CHAPTER INAUGURATION

NAPE's 7th Chapter has been inaugurated. The new Chapter christened '' Awka / Owerri Chapter was inaugurated on 27th March, 2022. It was a day waited for with

heightened anticipation as it was one indicator that activities of the Association are returning to pre-COVID 19 pandemic days. Speaking at the occasion, NAPE's President,

Dr. James Edet, FNAPE said that NAPE will continue its growth trajectory by deliberate policies of opening up more Chapters to embrace members of the Association in

various parts of the country and the diaspora. He added that under his stewardship NAPE will continue to lead the collaboration of geosciences associations to partner and

drive government policies as they affect the oil, gas and sustainable energy landscape.

The Coordinator of the new Chapter is Dr. Chidozie Izuchukwu Princeton Dim a Lecturer in Petroleum Geosciences at the University of Nigeria Nsukka, Enugu State.

Dr. C. I. Princeton Dim

Coordinator NAPE

Awka/Owerri Chapter

Dr. Chidozie Izuchukwu Princeton DIM holds a B.Sc. Degree

(Second Class Hons.) - Upper Division in Geology, M.Sc.

Degree (Distinction) and Ph.D. Degree (Distinction) in

Petroleum Geology, all from the University of Nigeria, Nsukka.

He has had Research Internship with the Geological Services

Department of Shell Petroleum Development Company of

Nigeria Limited (SPDC) and worked as a Research Assistant

at the Petroleum Technology Development Fund (PTDF)

Chair of the University of Nigeria, Nsukka.

Currently, he is a Lecturer in the field of Petroleum

Geosciences at the University of Nigeria, Nsukka. Dr, Dim has

made several technical paper presentations at international

conferences, and published many research works in reputable

peer-reviewed journals.

Cornelius Sunny Nwajide was born in Alor, Idemili South LGA,

Anambra State. His formal education was in the Central School,

Alor, Dennis Memorial Grammar School, Onitsha, University of

Ibadan and University of Nigeria Nsukka. He earned the BSc

( H o n s ) d e g r e e i n G e o l o g y , M P h i l a n d P h D i n

Sedimentology/Stratigraphy. His geological career started in the

1970s as a field geologist in the Geological Survey of Nigeria.

After local and overseas development courses, he served the

Geological Survey as Assistant Director responsible for GSN

Prof. C. S. Nwajide

publications and staff training.

NAPE Advisory

His scholarly output consists of some sixty learned journal

Committee Member

publications as well as four books including one volume on the

sedimentary basins of Nigeria (now in second edition), an

anthropological survey of his hometown, Alor, a co-authored a

book on the marginal oil fields of the Niger Delta Basin, and a new

one titled Field Sedimentology: from Data to Model. He is a NAPE

Fellow and Aret Adams Awardee.

Dr. Adaobi Isabella Okeke

NAPE Awka/Owerri, Deputy-Coordinator

Adaobi Isabella Okeke hails from Isuofia in Aguata Local

Government Area of Anambra State. She earned her B.Sc.

in Geology from Nnamdi Azikiwe University Awka while her

M.Sc. and Ph.D., degrees which are both in Economic

Geology and Geochemistry, were earned from

Chukwuemeka Odimegwu Ojukwu University and Nnamdi

Azikiwe University respectively. She is currently a chief

geologist with the Ministry of Mines and Steel Development.

Dr. Augustine Ifeanyi Chinwuko received a B.Sc. in

Geological Sciences, M.Sc. and Ph.D. in Applied Geophysics

from Nnamdi Azikiwe University, Awka (NAU). He is a

Lecturer in Applied Geophysics of NAU Awka.

He has been a consultant to Economic Planning and

Budget Development of Anambra State (concerning

natural resources) since 2016.

Dr. Augustine Ifeanyi Chinwuko

NAPE Awka/Owerri General Secretary

Dr. Austin C. Okonkwo holds a Ph.D. in Applied Geophysics

from the prestigious Enugu State University of Science and

Technology, Enugu. He is currently a Geoscience

Technician in the Department of Geology and Mining, Enugu

State University of Science and Technology, Enugu.

Dr. Austin C. Okonkwo

Financial Secretary, NAPE Awka/Owerri Chapter

Dr. Ibeneme, Sabinus Ikechukwu is a Senior Lecturer in the

Department of Geology, Federal University of Technology

Owerri, Nigeria. A first class graduate of Geophysics from the

same University, he holds a Masters (M.Sc.) degree in

Geophysics and a Doctor of Philosophy (Ph.D) degree in

Applied Geophysics from University of Nigeria Nsukka.

Dr. Ibeneme, Sabinus Ikechukwu

Treasurer, NAPE Awka/Owerri Chapter

Dr. Kelvin Ikenna Chima is a passionate, results-driven

Geoscientist with over 7 years' combined teaching and research

experience in the academia, and a year-long Postgraduate

Internship at Shell (2013/2014). Kelvin obtained a Bachelor's

Degree in Geology at Ebonyi State University in 2010, Master's

Degree in Petroleum Geology at Nnamdi Azikiwe University, Awka

in 2015, and a Doctorate Degree in Stratigraphy at Sorbonne

University, Paris, France in 2020.

Dr. Ogechukwu Caroline Onyemesili is a lecturer in the

Department of Geology, Chukwuemeka Odumegwu Ojukwu

University. Anambra State, Nigeria.

A member of the organizing committee of the 3rd Faculty of

Physical Science International Conference (FAPSCON 2021)

held at Chukwuemeka Odumegwu Ojukwu University and

secretary of 10th NAPE - NMGS Mini-Conference, 2021 held at

Nnamdi Azikwe University, Awka.

Dr. Kelvin Ikenna Chima

Editor-In-Chief/Technical Chair

NAPE Awka/Owerri Chapter

Dr. Ogechukwu Caroline Onyemesili

Publicity Secretary, NAPE Awka/Owerri Chapter

George Chizoba Okeke

B.Sc. (Geological Sciences)

M.Sc. (Applied Geophysics)

Ph.D. (Applied Geophysics) ...in view.

Reservoir Geomechanics Certification (Stanford University, USA)

Faculty Advisor - National Association of Applied Geophysics Students

(NAAGS) (Unizik, Awka Chapter). 2021 - Date

George Chizoba Okeke

YP Coordinator, NAPE Awka/Owerri Chapter)

NAPENEWS JUNE 2022 50
---
AWKA/OWERRI CHAPTER INAUGURAL

TECHNICAL MEETING PHOTO GALLERY

NAPENEWS JUNE 2022 51
---
TRANSITING EXECUTIVES: CHAPTER COORDINATORS

NAPE will like to thank and congratulate the following outgoing chapter coordinators

and welcome their successors.

OUTGOING

INCOMING

ABUJA CHAPTER

Mr. Ehi Bazuaye

Affiliation: Nigeria Agip Oil Company

Dr. Eunice Ajayi

Affiliation: Biometrics Geo Consult

UK/EUROPE CHAPTER

Dr. Abimbola Durogbitan

Affiliation: AMNI International Petroleum

Mr. Gideon Giwa

Affiliation: Rocksolve International

UYO/CALABAR CHAPTER

Dr. Ekere Akpan

Affiliation: Savannah Energy

Dr. Thomas A. Harry

Affiliation: Akwa Ibom State University

NAPENEWS JUNE 2022 52
---
MEET NAPE CHAPTER EXECUTIVES

ABUJA CHAPTER

BENIN CHAPTER

Ugochukwu Ogamba

Deputy Chapter Coordinator

Mr. Izundu Ikpo

General Secretary

Mr. Danlami Bawa

Financial Secretary

Ekpei Ukam

Advisory Council Nominee

Edward Ozah, MCOMEG, MNAPE

Chapter Coordinator

Mr. Stephen Tsaku

Public Rela ons Officer

Inemesit Udoh

Assistant General Secretary

Darlington Omorowa

YP Chapter Coordinator

Dr. Joel Edegbai

Editor-in-Chief

NAPENEWS JUNE 2022 53
---
MEET NAPE CHAPTER EXECUTIVES

UK/EUROPE CHAPTER

Gideon Giwa

Chapter Coordinator

UYO/CALABAR CHAPTER

NAPENEWS JUNE 2022 54
---
MEET NAPE CHAPTER EXECUTIVES

WARRI CHAPTER

Ebenezer Bamigboye

Secretary

Francis Ikuogu

Financial Secretary

Juliet Emudianughe (PhD)

Ex-Officio I

Wilson Osung

Chapter Coordinator

Temitayo Ologun

Deputy Coordinator

Lucky Iwu

Publicity Secretary

Kemi Taiwo

Ex-Officio II

MEET NAPE NEW ADVISORY

COUNCIL MEMBERS

Mrs. Patricia Ochogbu, FNAPE Mr. Kay K-Kanu, FNAPE Prof. Cornelius S. Nwajide, FNAPE

NAPENEWS JUNE 2022 55
---
NAPE ANNOUNCEMENT

NAPENEWS JUNE 2022 56
---
FELLOWS' INTERVIEW

NAPE 2021, Fellowship Award- Five Members Confereered with Award

Six members from the oil & gas industry and academia were confereed with the prestigious NAPE Fellowship Award at

the 39th Annual International Conference and Exhibition (AICE). The induction of the new Fellowship Awardees,

swells the number of NAPE Fellows to 164. The new NAPE Fellows are , Mr. Abdullahi D. Bomai, Dr. Anthony Ofoma,

Professor Olusola Johnson Ojo, Mr. Mbah Reginald Okechukwu, Mrs. Olabisi Olopade, and Mr. Marcel Ogbonna Amu.

NAPEnews interviewed two of the Awardees, Professor Olusola Johnson Ojo, FNAPE from the academia and Mr.

Marcel Ogbonna Amu, FNAPE from the Oil & gas industry.

What have been your high

points in your professional

journey?

M y c a r e e r s p a n s o v e r

25years, it started as a joke

when I was posted to the

university as a serving youth

corps member and had to

teach. That brought me into

what I called the 'World of

Academics'. Since then, I

have remained in academics.

After my NYSC, I went to the

University of Ibadan (UI) for

m y M S c . i n P e t r o l e u m

Geology. After the MSc, the

top students were selected,

the Vice-Chancellor invited

me to submit my CV, and I

was given a job without

application.

I joined my former teacher, in

a research program at Uni-

Ilorin, where I acquired a PhD,

a n d m y c a r e e r h a s

progressed from assistant

lecturer to professorial rank.

Then, six years ago, I moved

to Federal University Oye Ekiti

(FUOYE), and I established a

Prof Olusola Johnson Ojo, FNAPE

program 'Geology' that is now

fully accredited.

I've held many academic and

administrative positions like

h e a d o f d e p a r t m e n t s ,

postgraduate coordinator,

chairman of the examinations

committee and several other

committees.

I was appointed the deputy

vice-chancellor of the Federal

Univeraity Oye Ekiti, and just

completed my tenure. I have

produced several doctorate

degree holders, one of my

students celebrated his

professorial appointment at

the just concluded NMGS

conference, and others are

doing well. I consider all these

highlights, and I'm still aiming

for more.

W h e n d i d y o u r N A P E

journey start, and how has it

positively affected your

career?

NAPE has played a significant

r o l e i n m y c a r e e r

d e v e l o p m e n t ; I s t a r t e d

f e a t u r i n g i n 1 9 9 4 a s a

member. Each year, with my

mentor's support, I always

make sure to present a paper

a t t h e N A P E A n n u a l

International Conference

(AICE). NAPE presented a

platform to build confidence

and presentation skills. In

those days at the university,

PowerPoint was not used for

presentations, but it was

c o m p u l s o r y t o p r e p a r e

PowerPoint presentations at

NAPE conferences. It was

also compulsory to submit

abstracts in NAPE, this also

instilled in me the skills of how

to write abstracts with 250

words limits. NAPE also

provided incentives for

p r e s e n t a t i o n s , w h i c h

encouraged many of us to

make presentations. In 1996 I

won the 2nd best paper award

and also won the Most

Outstanding Lecturer Award

in 2016.

What contributions should

we expect from you as a

NAPE Fellow?

First, I'll consolidate what I've

been doing for NAPE and

continue to be part of the

t e c h n i c a l c o m m i t t e e ,

i n c l u d i n g t r a i n i n g

geoscientists at various

levels. I'll also be using my

new position to do better,

making contributions to the

editorial committee of NAPE

to see how NAPE's journals

can be registered so that

many more people can

subscribe to it and it can

become fully international.

Finally, as a top education

manager, I can support the

N A P E U A P t o h e l p l i f t

geosciences education in

Nigeria.

Final Words

I must say thumbs up to

NAPE; they should continue

to do what they know how to

do best, they should continue

to bring us a very organised

I n t e r n a t i o n a l A n n u a l

Conference. They should

c o n t i n u e t o s u p p o r t

universities through NAPE-

UAP, a very strong arm of

NAPE. We've not felt the

impact of the UAP in the last

two years as we've always

had. The NAPE -UAP should

scale up and be more active

and involved. Many students

have benefitted from the

research grants; those things

meant a lot. I have benefited a

lot; I've often been called to

Lagos to undergo training on

some software, sequence

stratigraphy etc. I don't know if

such things still happen.

There was a time we had

M o b i l f i e l d w o r k ; t h e

universities were given an

area to produce a map where

both students and lecturers

participated. These things

impacted a lot. These are

some things NAPE should

continue doing, no matter the

challenges.

NAPENEWS JUNE 2022 57
---
FELLOWS' INTERVIEW: Mr. Marcel Ogbonna Amu, FNAPE

You are the current Managing

Director of IDSL with over 32 years of

industry experience. What would

you consider your career highlights?

I started my career at IDSL in 1989 at a

very junior level. I was what we now call

third party or contract staff. One of the

things I would consider as my career

highlight was that in spite of the level I

joined the firm, I worked so hard that my

efforts did not go unrecognised. Five

y e a r s l a t e r , p r e c i s e l y o n 2 4 t h

N o v e m b e r , 1 9 9 4 , I b e c a m e a

permanent staff . I served in various

c a p a c i t i e s a s C h i e f O b s e r v e r ,

I n s t r u m e n t s M a n a g e r , a n d

Seismologist. Around 2002 I returned to

the crew as a seismologist. I worked in

several crews and became Chief

Seismologist for an Agip project called

TOFMAN. TOFMAN was just the

acronym, not that it was because it was

tough, Although it became tough at

some point in time. I was also the NAPE

Benin Chapter Coordinator for about

three years.

I moved to Planning at the time as a

pioneer Deputy Manager, Planning and

Field Monitoring, after which I was

redeployed to NAPIMS to serve as

Deputy Manager Geophysics. What

actually excited me when I got to

NAPIMS, was that I noticed that

exploration activities were at the lowest

at the time. I knew immediately that as

Deputy Manager Geophysics, I needed

to encourage exploration activities. So

for every sub-committe meeting I

attended, I insisted that there must be

increased exploration activities.

Whenever we went for annual

performance reviews, the facility

engineering, petroleum engineering,

and supply chain always outperformed

other functions, but exploration always

underperformed. That meant we were

hardly using our budget.

I attended a management program,

called Chief of Sales Management

Development Program, where I wrote a

paper on exploration activities and

national reserves addition, the star

project. I was privileged to win several

awards. I was the best performing staff

in that group. I also won the NNPC

GMD's award. It was a massive highlight

for me to have won the GMD's award. I

was the best in project writing and best

in class work. Those accolades set the

pace for greater accomplishments in my

career.

There was a need for seismic data

acquisition in Shell, and we were to go

for tendering .Upon further reflection, I

thought there was no need to do that

since our sister company IDSL can do it

very well. By that singular action I took

as Deputy Manager, Geophysics, we

saved the industry about 5,000,000 U.S.

dollars.

Another job that excited me was the

Oform Monitor 2 in Total, which IDSL

handled. I insisted that IDSL should

handle the project since they performed

well during the technical review; by

doing so we saved SPDC $5 million, and

SPDC commended IDSL and wrote a

commendation letter to my team in

NAPIMS.

Very important too is one of the largest

seismic data acquisition volumes that

was acquired in the country. It was the

largest in Africa and the second largest

in the world then, about 3814 square

kilometres. We called it shallow water

OBS seismic data acquisition for SPDC.

IDSL was also part of it, and that job was

completed ahead of schedule. So I am

happy that I was a part of it.

Another job that excited me was about

1100 square kilometres for First E&P.

First E&P being very new, as a J.V.

company, was not interested. Most of

them in that category, like Elton,

Belema, and others, wanted to do

everything humanly possible to get the

first oil, but telling a new company to do

seismic data acquisition was difficult,

but we convinced them. We studied

their block and discovered they have

other potentials. The seismic data

acquisition project was completed

ahead of schedule by IDSL too, and

their partner helped First E&P generate

other prospects in that block (OML 85 &

86).

After that, I became General Manager,

Planning and Strategy on the 6th of

March 2020, that was actually at the

beginning of COVID-19 and a tall order

c a m e f r o m N N P C C o r p o r a t e

headquarters that we should reduce the

budget by 40%. The crude oil produced

was not being sold, vessels were

everywhere in the High Sea, and how

were all these companies expected to

reduce their price?

Because as we normally say in our local

parable, "it is easy to give a Monkey Cup

to drink water, but we cannot collect that

cup very easily". Being in planning,

because I already had experience when

I was planning in IDSL, I assembled my

team, tackled the issue headlong, and

we achieved a substantial reduction in

the budget at about 80%, which saved

the Federal Government of Nigeria a lot

of money. So we've really come a long

way, and last year on my birthday, the

9th of August, I was appointed

Managing Director of IDSL. And I saw

that as coming back home because I

spent 18 years of my youthfulness in

IDSL.

I met IDSL in a very precarious situation,

the cash flow situation wasn't the best

expected of a company of its type. Other

people doing similar business with us

were smiling to the bank, and I looked at

them, I looked at their programs, I could

understand what they went through

during the COVID. Some of their

projects were dropped, and some were

cancelled, and with the experience and

goodwill I had when I was in NAPIMS,

and especially when I was general

manager, planning and strategy, I tried

to revive some of those projects, I

started talking to the clients because I

already knew them.

Currently, we are working for Sahara

Energy. Quite a bit of the proposal was

done when I was general manager,

planning and strategy in NAPIMS, and

without following all the different layers

of bureaucracy to get approval,

NAPIMS was able to work with Sahara

Energy to give us that job. We have

started shooting already, the survey has

advanced up to 6%, and we are already

earning revenue from that. I'm happy to

say that at the end of the first quarter of

this year, 2022, we are going to be

positive. You can imagine you met a

company that is negative, and within a

space of seven months, it is going to be

positive.

I'm also working in the Keana Basin in

Nasarawa state, we're working for our

sister company FPS, we have also

mobilised for 500 linear kilometres in the

Chad basin. We are entering the Chad

Basin, a very difficult area due to

security, but we're starting from the

areas with less security issues, so it has

been a long journey to this place. I would

like to thank the management of NNPC,

especially the group Managing Director,

for deeming it fit, to put a round peg in a

round hole. And by the middle of the

year, I believe we're going to do even

better because we will have more

projects. The cost of seismic data

a c q u i s i t i o n i s e s c a l a t i n g , a n d

companies are looking for other easy

ways of acquiring seismic. We are

adopting every technology that exists,

some non-conventional technology, like

Themo-vision tomography, microbial

exploration technology, enhanced full

tensor gravinometry, So many of them

we're adopting because we don't want to

be left behind, we don't want to play

catch up at any time when seismic data

acquisition, which is very expensive,

becomes obsolete, then we have a

fallback with all these new technologies.

In our reservoir engineering, too, we are

also going into some well services,

these are areas that we would never

dare to do before I arrived here. We

have good partners and one key thing in

our partnership is capacity development

because we don't want to partner

forever, we partner for a period, then we

need to exit the partnership, and we

stand on our own. Because continuous

partnership impacts our revenue. This is

just a summary of what I've done and

what I am still doing now to make sure

that IDSL is on the right footing.

How has NAPE impacted your career

growth and advancement?

I joined NAPE around 1994, it afforded

me the opportunity to know what is

happening in the industry, it actually

exposed me to the oil and gas industry

more. Before then I only knew about

NMGS. When I became a Permanent

Staff in NNPC, NAPE afforded me the

opportunity of knowing more people in

the industry that actually influenced my

career.

When I went into PENGASSAN, one

senior NAPE Fellow told me it was better

t o p a r t i c i p a t e i n p r o f e s s i o n a l

associations like NAPE, NMGS than

going into politics. PENGASSAN is

always antagonistic to management, so

that was actually what encouraged me,

and I became very active in

NAPE. I became the Coordinator of

NAPE Benin Chapter for about three

years. So, my membership of NAPE has

actually enhanced my career in terms of

my interaction during conferences.

Also, it has

allowed me to meet some people that

i n f l u e n c e d m y c a r e e r . H a v i n g

participated as Co-chairs in some of the

presentations has also increased my

knowledge because there are some of

the papers you may not understand very

well, but when an idea stretches your

mind, It can never return to its

original shape. There must be

something you get, so it really

encouraged me, has made me known in

the industry, and has also exposed me

to the industry a lot.

Now that you're a Fellow, what are we

looking forward to? What are the next

level of contributions we should be

expecting?

I know where we are going in terms of

our sponsorship of some of NAPE

programs. I happen to be the first

geoscientist Managing Director of IDSL,

so if you don't have it going well with you

during my time it will be difficult for

another time , we'll sponsor some of the

programs of NAPE within the limit of the

resources we have, but really, it's going

to be well between us, I won't tell you

what we intend to do, but we're not going

to ignore any of your requests in all, no

matter how small, we will do something.

NAPENEWS JUNE 2022 58
---
FELLOWS' INTERVIEW: Dr. Anthony Enebeke Ofoma, FNAPE

1. What are the highlights of your

career so far? Or What are your

m o s t s i g n i f i c a n t c a r e e r

achievements?

M y m o s t s i g n i f i c a n t c a r e e r

achievements are quite numerous;

however, I will narrow it down to recent

happenings. On completion of my

higher education, I had the opportunity

of being employed by Halliburton

Energy Services Limited. Although, I

have worked in other outfits but local

companies before joining Halliburton

such as the Nigerian Building and

Road Research Institute, (NBRRI)

Lagos as a Research officer,

UptonVille Oil & Gas Port Harcourt,

Getamme Geochem Port Harcourt,

Multinational Geosurveys Port

H a r c o u r t , S h e l l P e t r o l e u m

D e v e l o p m e n t C o m p a n y a s a

Research intern and the Petroleum

Technology Development Fund

(PTDF) Chair, University of Nigeria

Nsukka as a research officer. At

Halliburton I started off as a Consultant

Geologist and was in-charge of the

Geographix tool used for Exploration

studies/interpretations.

Although the company does not own or

use the tool anymore. I sold and

mentored industry professionals on

this tool.

Notable among them are the National

Petroleum Corporation (NAMCOR)

Namibia, SONATRACH Algeria,

OANDO PLC Nigeria, Petroleum

Exploration & Production Department

( P E P D ) U g a n d a , P e t r o l e u m

Resources Unit (PRU) Sierra Leone,

Acrep Exploration & Production

Angola and staff & students of the

University of Science and Technology

Massuku, Gabon.

I was later moved to the Business

Development/Sales Management unit

of the same company and since then I

have been generating and surpassing

my revenue target year-on-year (YoY).

This feat earned me many awards

such as Landmark-Halliburton "Best

Deal Maker for ESSA Region 2014

Sales", "Winners Circle 2014 Sales",

"100% Revenue Performer 2014

Sales", "Best Deal Maker for EESSA

Region 2019 Sales'' and "Global

Winners Circle 2020 Sales". I must

confess this segment of my career has

been so rewarding that it has exposed

me to so many industry players that I

might not have known or met.

This latter part of my career has

b a l a n c e d m y t e c h n i c a l a n d

commercial knowledge and above all

has provided me the opportunity to add

to the bottom-line of the company I

work for. In addition to all these

accomplishments, I have reviewed

m a n u s c r i p t s f o r j o u r n a l s a n d

presented/ published over twenty (20)

technical papers in both local and

international journals. One of my

presentations earned me the first

position prize in the 2005/2006

NMGS/TOTAL ELF Award which took

me to France on an all-expense paid

trip by TOTAL ELF. I was also among

the top four winners in the NAPE Mini

conference held at ABU Zaria, Kaduna

State, Nigeria in 2006 and I had the

privilege to be invited for direct

interview in Shell at that time. I must

admit that I have not reached my peak

yet but will

continue to contribute my quota to the

enhancement of the set goals and

objectives of my employers and

advancement of my career as well as

our professional body, NAPE.

2. How has NAPE impacted your

career growth?

NAPE has and continues to play an

integral role in my career growth.

Joining NAPE over

twenty years ago as a junior member

and later converted to active member

over fifteen

years ago is one of the best things that

ever happened to me. The rich

technical meetings, conferences,

networking and lots of activities carried

out by NAPE propelled me to where I

am today. These activities directly or

indirectly exposed me to the many

industry players that I know today. Our

colleagues and senior players in the

industry that I know today are from my

association with NAPE. That I have

and continue to excel in my place of

work is as a result of the many

members that I met over the years and

continue to meet in NAPE.

3. Now that you are a NAPE fellow

a n d V i c e P r e s i d e n t , w h a t

contributions should we expect

from you, and what yardstick

should be used to measure your

impact?

A Fellow and Vice President of the

Association is a call for more

purposeful service to the Association.

Being a Fellow did not come overnight,

it was hard work to the service of

NAPE. I have been a one-time

Publicity Secretary 2015-2016,

General Secretary (2017 – 2018),

Financial Secretary (2019 – 2020) and

now the Vice President. I have served

NAPE in many capacities. In fact,

during my time in some of these offices

we initiated certain programs some are

on-going or have been completed.

While in office I amplified the

Secretariat's staff appetite for revenue

drive for NAPE.

In conjunction with the NAPE

President at the time (Dr. Andrew

E j a y e r i e s e ) w e p e r f e c t e d t h e

registration of NAPE with the

Corporate Affairs Commission (CAC)

after 23 years of dormancy. Saved

NAPE about N10million as Chairman

of Venues and Entertainment

Subcommittee of the 2017 Conference

when compared to 2016 Conference.

Saw to the renewal and purchase of a

new bus and generating set for NAPE

Secretariat at minimal cost. Chaired

the Secretariat staff job functions,

organogram, salary regularization and

condition of service (CoS) committees

respectively, I also supervised the E-

Filing and E-library project for NAPE.

I was a member of the NAPE HMO

Committee that crafted and birthed the

HMO

program for NAPE. I coordinated the

NAPE industry mentor (Basin

Evaluation Competition) for both

FUTO and UNIZIK for 2013 and 2014

respectively. Both Universities won the

competition for those years. I have in

the past years (2011 – date)

facilitated the nomination of resource

persons from Halliburton to anchor the

"Well Log Course" at the Short

Courses Sessions of our conferences.

I have also nominated resource

persons from Halliburton to handle

technical business meetings for NAPE

Chapters. Represented NAPE at the

Oil & Gas week in Cape Town, South

Africa sponsored by my company

(Halliburton).

A member of the NAPE Constitution

review committee for 2016, I was part

of the Executive team that nominated

and inaugurated the NAPE Board of

Trustees (BOT) which was moribund

for some time, Among the executive

that visited and inaugurated the

biennial University Mini-Conference

for Tertiary Institutions co-hosted by

Federal University of Petroleum

R e s o u r c e s ( F U P R E ) a n d t h e

Petroleum Training Institute (PTI)

Warri. As General Secretary of NAPE

at the time I ensured that proper

d o c u m e n t a t i o n o f E x e c u t i v e

Committee decisions/ minutes/

activities as well as other decisions

were archived in the Secretariat. We

discovered at that time that most

records of the Association were nonexistent,

such as minutes of previous

m e e t i n g s , s o m e r e c e i p t s f o r

purchases made, record/numbering

of NAPE properties in the Secretariat,

etc. I doubled as the General

Secretary of NAPE and the BoT as

enshrined in the Constitution, I

ensured that payments in NAPE were

properly streamlined to avoid waste

and duplications in the system, I

instituted strict competitive bidding to

avoid favoritism during contracting

processes as the financial secretary.

I represented the President of NAPE

at Nnamdi Azikiwe University, Awka in

2020 on a courtesy call to the Vice

Chancellor (Prof. Charles Esimone)

for the planned 2020 NAPE-NMGS

Students Mini Conference, which did

not hold due to the out-break of Covid-

19 Pandemic and many other

achievements that I brought to NAPE

while in the Executive Committee.

I will sustain the good aspects of my

predecessor's achievements/legacy

by ensuring that all activities under the

Vice President's portfolio that were

hitherto not completed are finalized

and those activities requiring

sustenance are upheld, such as the

NAPE mentorship program, etc.

Liaise with the NAPE BoT to see that

NAPE Secretariat moves to the

business district of Lagos rather than

operating from a residential area.

Assets/facilities needing disposal are

removed, so that NAPE can face the

main business that it was established

to carry out. Ensure that NAPE

disposes all lingering litigations on

landed properties, so NAPE can face

its core vision/mission which is "To be

the preferred professional petroleum

geosciences association with a global

reach" and "To promote the study and

practice of petroleum geosciences for

the benefit of members and other

stakeholders" respectively. Sustain,

strengthen, and find new partnerships

w i t h c o m p a n i e s / i n d u s t r i e s /

organizations for the purposes of

sponsorship of the Association's

activities. Propose cost saving

m e a s u r e s t o t h e A s s o c i a t i o n

especially at this time we are

experiencing fluctuation in oil price

and coupled with the Covid-19

Pandemic which has negatively

impacted operational activities in the

oil & gas sector.

NAPENEWS JUNE 2022 59
---
MEMBERS MILESTONE/ RECOGNITION

Join Us To Celebrate These Members Who Won The Following Awards:

Mrs. Patricia Ochogbu, FNAPE

NMGS Nnamdi Azikiwe Award

for consistently advancing and promoting the

study of the Earth Sciences

Mrs. Adedoja Ojelabi, FNAPE

NMGS Fellowship Award &

Outstanding Woman in Energy

(Upstream International)

Prof. Deborah E. Ajakaiye, FNAPE

is the pioneer winner of NMGS/ S.O.NWACHUKWU/

A.A. HOLDINGS LTD. AWARD for excellence in

general area of Applied Geology.

NAPE MEMBERS

FELLOWSHIP AWARDEES

DURING NMGS CONFERENCE

1. Dr. Ozumba Bertram Maduka, FNAPE

2. Prof. Imasuen Okpeseyi Isaac

3. Prof. Mode Ayonma Wilfred, FNAPE

Mrs. Jumoke Ajayi

Women in Maritime & Energy Award

for Outstanding Woman in Energy

(Upstream International)

Mrs. Oghogho Effiom

Women in Maritime & Energy Award

Outstanding Woman in Energy - Gas

Mrs. Tunbosun Afolayan

Women in Maritime & Energy Award

for Rising Woman in Enery

4. Prof. Ayolabi Elijah Adebowale

5. Dr. Egesi Ndukauba

6. Mrs. Adedoja R. Ojelabi, FNAPE

7. Dr. Adeigbe Olubunmi Christopher

8. Dr. Frank-Briggs Ibanibongoji

9. Mr. Osadebe Charles Chuka

10. Mr. Oriere Lucky

Dr. Chidozie Princeton Dim

NMGS RESEARCH CHEVRON PRIZE

Mr. Toyin Akinsho, FNAPE

AAPG GEOSCIENCES IN THE MEDIA AWARD

Mr. Victor Ogunmola

AAPG DISTINGUISHED SERVICE AWARD

NAPENEWS JUNE 2022 60
---
LAGOS BUSINESS/TECHNICAL MEETINGS

JANUARY - JUNE 2022

https://youtu.be/RvCOEZ2ostY

https://youtu.be/PgXXcRg4MqE

https://youtu.be/DVqRom21Ljw

https://youtu.be/a10WVfY6toY

Access all past recordings of NAPE

Technical/Business meetings (Lagos

and Chapters) via the

https://www.youtube.com/channel/UC0iYx

NAPE YouTube page. Click L2S5yx0WzN0zgrbR4w here

Direct links above

https://youtu.be/zz-2-ByAYcQ

NAPENEWS JUNE 2022 61
---
WOMEN OF GEOLOGY

Mrs. Bamidele Adefunke

Ogedengbe, FNAPE

Dr. Constance Moro, FNAPE

Mrs. Bamidele Adefunke Ogedengbe graduated with a Bachelor's degree in geology from the University of Ibadan. Oyo State., Nigeria.

She started her professional career with the Nigerian National Petroleum Corporation NNNPC). She worked in the Research and Development

Department as a Research Geologist, during which time she contributed immensely to the study of sedimentary basins in Nigeria.

She was later transferred to the Petroleum Inspectorate Division of the NNPC, which later metamorphosed into the Department of Petroleum

Resources (DPR). She is a pioneer member of the Gas Division in the Department of Petroleum Resources. (DPR)

Mrs. Ogedengbe, FNAPE worked as the head of the Exploration Team for over a decade. With a background in geology, several training

courses and experience in the oil and gas industry, she was able to apply her skills in other departments in the industry. She worked in the

Reservoir Management and Production Engineering Department for several years, where she made useful contributions to Reservoir

Simulation Studies of egwa, okubie, opuekeba, mefa and meji fields. She worked in the Upstream and Monitoring Regulation Division of the

Department of Petroleum Resources (DPR) for many years and retired as Acting Deputy Director at the department.

Mrs. Ogedengbe, FNAPE, is a Fellow of the Nigerian Association of Petroleum Explorationists (NAPE), an associate member of the Society of

Petroleum Engineers (SPE), and a member of the American Association of Petroleum Geologists (AAPG).

Constance Moro holds a Doctorate Degree in Geology awarded by the University of Nigeria.Nsukka. She also holds a Master of Science Degree

in Geology (specializing in Sedimentary/Petroleum Geology) and a Bachelor of Science Degree in Geology, bothfrom theUniversity of Port

Harcourt.

In March 2015, she retired from the Nigerian National Petroleum Corporation (NNPC) after 32 years of service in various capacities including:

- General Manager, Joint Venture Operations Division, NAPIMS, in charge of Joint Ventures(SPDC, TEPNG, Chevron, ExxonMobil,

NAOC, and Pan Ocean) Exploration, Production, Facilities, Projects, Contracts, and Budgets till retirement

- Manager, Joint Venture Exploration, NAPIMS, NNPC

- Deputy Manager, Gas Division, NAPIMS, NNPC

- Regulatory duties, Department of Petroleum Resources (DPR (NUPRC), NNPC)

- Sedimentology, Biostratigraphy, and Sequence Stratigraphic Studies of several wells, core samples,and outcrops of theNiger Delta

basin, Chad Basin, Anambra Basin, and Benue Basin, as a Research Geologist in Research & Development (R & D,NNPC)

- CoordinatedChevron Counterpart funding, Joint VentureStraddled Fields Unitization, Nigerian Liquified Natural Gas (NLNG)

Coordination meetings, NAG Projects, AG Solutions Projects, Equatorial GuineaLNG Project, OKLNG Project Gas Supply,andJV

/PSC Gas Master Plan.

She was awarded theNNPC Group Managing Director's (GMD) Merit Award for 2000/2001.

Dr. Constance Moro is the Vice-Chairman, Women in NMGS, a Fellow of NMGS, Life Member of AGID, ActiveMember of NAPE, and Member of

SPE. Dr. Constance Moro is married to Professor Reginald Sokari Moro and they are blessed with children and grandchildren.

Ekwenye, Ogechi Clementina obtained a B.Sc (Hons) in Geology, M.Sc degree in Sedimentology and Stratigraphy from the University of

Nigeria, Nsukkaand had her PhD in Earth Sciences/Geology from the Royal Holloway, University of London. She is currently an Associate

Professor (Reader) of Sedimentology and Stratigraphy in the Department of Geology, University of Nigeria, Nsukka.

Her research interest focuses on outcrop and subsurface (cores, wireline logs, seismic data) studies of shallow marine environments especially

estuarine, shoreface, deltaic and shallow shelf settings. She focuses on the controls of sedimentation (eg. relative seal-level changes,

hydrodynamic processes, climatic changes, subsidence), the use of ichnology in sedimentary geology and the effect of heterogeneity and

architectural variations on reservoir bodies. As well as integration of sedimentary petrology and geochemistry for provenance studies, source

area weathering, paleoclimatic condition and paleogeographic reconstruction. She is an active member geoscience associations including

NAPE, NMGS, AAPG. She is a virtual fieldwork instructor and participated in 2020 NAPE conference and SPE workshop virtual fieldworks. Dr.

Ekwenye teaches and supervises undergraduate and postgraduate students. She is married with four (4) children.

Dr. Ekwenye, Ogechi C.

TRIBUTES TO EMMANUEL ELOZONA EZENWA

The Late Emmanuel Elozona Ezenwa was an active member of NAPE from his first year as an undergraduate at Nnamdi Azikiwe University. He

was elected as President of the Student Chapter. in 2022, while he was in his fourth year.

Emmanuel's tenure revived the Student Chapter which had been dormant for some time; leading to an immense boost in students' membership

and participation.

He worked assiduously towards ensuring every programme hosted by NAPE was successfully executed. Despite the pandemic, he employed

technological trends to connect his Chapter to the various organized webinars of the Association.

He participated in the Basin Evaluation Competition (BEC) for which his team bagged the second position. He applied for and successfully

obtained the AAPG LAW (L. Austin Weeks) grant of the Nnamdi Azikiwe University Chapter for himself as well as his Chapter. The first-ever in

the history of his Chapter.

He participated in many NAPE conferences and hosted field trips for his Student Chapter. Late Mr. Ezenwa progressed his Chapter and was

actively involved even after his tenure. He assisted students in applying for subsequent AAPG LAW grants. He also played active roles with

other professional geoscience bodies.

Emmanuel was indeed a true leader and an amazing friend to many. He will sorely be missed.

NAPENEWS JUNE 2022 62
---
Covid and Post-Covid Realities

of the Nigeria Oil and Gas

Industry

The emergence of Covid-19 and the

associated restrictions impactedthe

demand for oil and gas globally,

significantly reducing prices to close to

around $0 in 2020. It was predicted by

some analysts that it was going to take

more than two years for theimpact of the

virus toabate taking into consideration the

time it will take for a vaccine with very high

efficacy to be produced and economies to

return to normal globally. However, the

recovery from the pandemic was faster

than predicted. As at 2021, there was a

steady demand forcrude and a cap on

supply mandated by OPEC kept oil

pricesaround $60 to $70 per barrel.

in the peak of the lock down. Thesecompanies managed their operations by reducing

operating costs /expenditures by renegotiating for discounts with vendors and

contractors for their services.

Month-on-month and year-on-year changes of consumer price index in %.

(Source: National Bureau of Statistics (NBS) and Focus Economics calculations)

Steady upward increase in oil price from

2021 to 2022 (Source: oilprice.com)

Between late 2020 and early 2021 Nigeria

started and completed the marginal fields

bid round application and selection

process which led to the award of 57

marginal fields operating licenses to 161

Nigerian companies. The activity led to a

lot of scaled-up engagements of

contracting and partnerships by various

new and existing service and producing

companies. Events such as these

enhances the interest of investors,

professionals and graduates seeking for

opportunities in the oil and gas industry.

Unlike in other climes, many Nigerian

companies did not lay off their staff, even

A cocktail of events eventuallyskyrocketed oil prices beyond $100 after over seven

years, they includethe Russia-Saudi Oil war, post-covid recovery/demandand the

ongoing tensions between Russia and Ukraine. Crude oil priceincreases is actually

good news for any oil-producing nation, but for Nigeria it has also led to inflationary

pressures, with the nation recording a 15.7% increase in inflation.

A good number of projects have been planned by the government and exploration and

production companies to increase production of oil to meet the OPEC demand. while

this brings a good light to the industry, there is still a lot of withdrawn energy from

investors spend on oil and gas activities because of the global reduction of carbon-foot

print plan that has been agreed by many countries. These challenges remain

sacrosanct but with the applicability of crude oil extracts and the global demand to meet

energy needs by most countries, it has become imperative that the energy transition

that should be anticipated in the near and mid-terms should be such that it allows for the

combination of the crude oil and renewable energy till the renewable energy sources

and supplies become more efficient and available for usage by allglobally. However,

gas will still remain relevant in the long-term and will be the greatest source of revenue

to Nigeria in many years ahead.

by

David Anomneze

NAPENEWS JUNE 2022 63