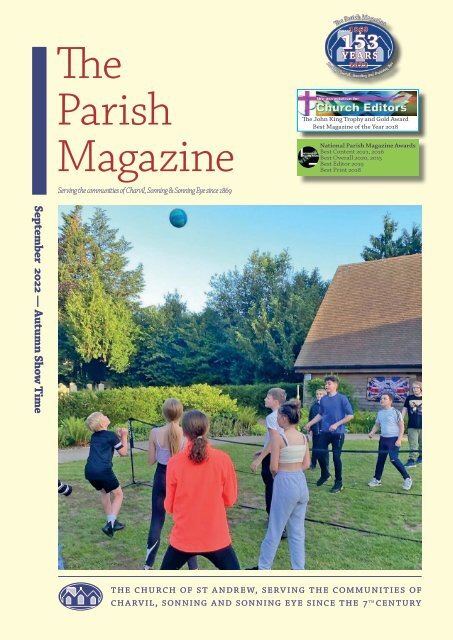 The Parish Magazine September 2022
Serving the communities of Charvil, Sonning and Sonning Eye since 1869
Serving the communities of Charvil, Sonning and Sonning Eye since 1869
SHOW MORE
SHOW LESS
You also want an ePaper? Increase the reach of your titles
YUMPU automatically turns print PDFs into web optimized ePapers that Google loves.
The Parish Magazine - September 2022 1

The

Parish

Magazine

The John King Trophy and Gold Award

Best Magazine of the Year 2018

National Parish Magazine Awards

Best Content 2021, 2016

Best Overall 2020, 2015

Best Editor 2019

Best Print 2018

Serving the communities of Charvil, Sonning & Sonning Eye since 1869

September 2022 — Autumn Show Time

Church of St Andrew

Serving Sonning, Charvil & Sonning Eye

the church of st andrew, SERVING THE COMMUNITIES OF

CHARVIL, SONNING and sonning eye SINCE THE 7 th CENTURY
---
2 The Parish Magazine - September 2022

Please mention The Parish Magazine when responding to this advertisement

Old Bath Road SOLD STC

Recently Sold on Old Bath Road, RG4

With multiple viewings and offers from local and

London buyers, we have more applicants still seeking

their next home in the area.

Get in touch for your market appraisal

0118 960 1000
---
Serving the communities of Charvil, Sonning & Sonning Eye since 1869

Church of St Andrew

Serving Sonning, Charvil & Sonning Eye

The Parish Magazine - September 2022 1

The John King Trophy and Gold Award

Best Magazine of the Year 2018

National Parish Magazine Awards

Best Content 2021, 2016

Best Overall 2020, 2015

Best Editor 2019

Best Print 2018

information — 1

Contents September 2022

THE VICAR'S LETTER, 5

This ISSUE's FRONT COVER

The Parish Magazine - September 2022 3

Services at

St Andrew's

THE PARISH NOTICEBOARD

— Confirmation starts, 7

— From the Register, 7

— For your prayers, 7

— Christian Basics, 9

— Claude's view from the pew, 9

— STAY, 10

— The Persecuted Church, 11

— Reflection: Hosea, 13

— From the editor's desk, 13

FEATURES

— The Queen of Belize, 15-17

— Your Sonning Show Guide, 19

— Wreckage in the Thames, 21

— Tales of a Sonning lad, 22-25

—around the villages

— WI rounders champions, 25

— Volunteers for Family Aid, 25

— Bowls members wanted, 25

— Plan a royal visit, 25

— 1925 cricket photo request, 27

— Chiltern Heritage festival, 27

— Pearson Hall talks, 27

— Painting for Sonning Show, 27

HOME & GARDEn

— Adding value to your home, 29

— Recipes of the month, 31

— Autumn garden show, 31

THE ARTS

— Beauty in the ordinary, 33

— Poetry Corner, 33

history, 33

health

— Dr Simon Ruffle - Monkeypox, 35

— Considering elderly care? 37

PUZZLE PAGE, 39

children's page, 41

information

— Church services, 3

— From the registers, 7

— Parish contacts, 42

— Advertisers' index, 42

September 2022 — Autumn Show Time

The

Parish

Magazine

the church of st andrew, SERVING THE COMMUNITIES OF

CHARVIL, SONNING and sonning eye SINCE THE 7 th CENTURY

STAY summer fun (pages 10-11)

Picture by Westy

EDITORIAL DEADLINE

The editorial deadline for every issue

of The Parish Magazine is 12 noon on

the sixth day of the month prior to the

date of publication.

The deadline for the October

issue of The Parish Magazine is:

Tuesday 6 September at 12 noon

The Parish Magazine online

The most recent issues can be viewed at:

http://www.theparishmagazine.co.uk

Earlier issues from 1869 onwards are

stored in a secure online archive. If you

wish to view these archives contact the

editor who will authorise access for you:

editor@theparishmagazine.co.uk

Sunday 4 September

— 8.00am Holy Communion

— 10.30am Family Service

— 4.00pm Choral Evensong

Sunday 11 September

— 8.00am Holy Communion

— 10.30am Parish Eucharist with

STAY and Sunday Club

Sunday 18 September

— 8.00am Holy Communion

— 10.30am Family Communion

— 3.00pm Messy Church in The Ark

Sunday 25 September

— 8.00am Holy Communion

— 10.30am Parish Eucharist with

STAY and Sunday Club

— 6.00pm Sunday at Six

OTHER REGULAR SERVICES

Morning Prayer is held in church

every Tuesday at 9.30am.

Mid-week Communion in The Ark is

held every Wednesday at 10.00am. Tea

and coffee follows the service.

Home Communion at Signature at

Sonning is held on the first Monday

of each month at 11.00am. Visitors

must comply with the care home's

Covid restrictions so please check with

Signature at least four days before.

Could you be a Governor at Could you be a Governor at

Sonning CE Primary School? Sonning CE Primary School?

Do you want to make a difference to your local Do community you want while to make developing a difference your to own your personal/leadership

local community while developing you

skills? Sonning CE Primary School now has vacancies skills? for Sonning volunteers CE Primary to join School our local now governing has vacancies body. for Our volunteers role to join our lo

is to:

is to:

Set and review the school's vision and strategic Set direction and review and agree the school's improvement vision and targets strategic direction and agree improvemen

• Hold the Headteacher and school leaders to • account Hold the for Headteacher the academic and performance school leaders of the to school account for the academic p

• Oversee the financial performance of the school • Oversee the financial performance of the school

If you are a driven professional with expertise in If one you of are the a driven following professional fields we with would expertise love to hear in one from of the you: following fields we w

• Finance & Accounting • Finance Business & Accounting Marketing

Business & Marketing

• HR • HR Risk Assessment or Health & Safety

Risk Assessment or Healt

If you are interested and would like more information, If you are please interested contact and Clare would Borsberry-Lewis, like more information, Chair of please contact Clare Bors

Governors: cborsberrylewis@sonning.wokingham.sch.uk Governors: cborsberrylewis@sonning.wokingham.sch.uk

Vacancy – Clerk to Governors Vacancy at Sonning – Clerk CE to Primary Governors School at Sonning CE

Required as soon as possible, approximately 2 Required hours per as week. soon as possible, approximately 2 hours per week.

Grade 4 SP7-11 (£10.60-£11.47 per hour) depending Grade on 4 SP7-11 level of (£10.60-£11.47 experience. per hour) depending on level of experience.

Job Purpose: To provide efficient, effective and Job confidential Purpose: administrative To provide efficient, support effective to the governing and confidential body in administrative suppo

the performance of its statutory obligations. Advising the performance the governing of its body statutory on constitutional obligations. matters, Advising duties the governing body on con

and powers and work within the broad current and legislative powers framework and within ensuring the the broad continuity current of legislative governing framework ensuring th

body business.

body business.

If you would like more information please contact If you Clare would Borsberry-Lewis, like more information Chair of Governors: please contact Clare Borsberry-Lewis, Chair o

cborsberrylewis@sonning.wokingham.sch.uk cborsberrylewis@sonning.wokingham.sch.uk
---
4 The Parish Magazine - September 2022

Please mention The Parish Magazine when responding to this advertisement

BOOKING NOW

JONNY LABEY

As seen on

Eastenders

BILLIE KAY

8 SEP - 5 NOV 16 NOV - 30 DEC

W A T E R W H E E L B A R

19 JAN - 11 MARCH

Open Tuesday - Sunday 11am - 5pm

for Hot Bar Food, Afternoon Teas, Homemade

Cakes, Cocktails & Artisan Coffee.

Come and treat yourself to a scrumptious lunch

in the most beautiful setting.

PLEASE FIND FULL MENU ONLINE

FIND OUT MORE

millatsonning.com
---
The vicar's letter

The Parish Magazine - September 2022 5

DEAR FRIENDS,

The Feast of St Michael and All Angels is observed on 29 September.

The fact of spiritual warfare is often neglected, I am sure in most

cases, quite deliberately. Many churches give the impression that the

Christian religion is a comfortable cruise ship instead of a battleship,

at battle stations, but we see in the New Testament a tendency to use

military expressions regularly. Saint Paul, for example, telling the

Ephesians to put on the whole armour of God in order to stand

against principalities and powers, rulers of the present darkness of

this world, and wicked spirits in heavenly places. He tells them to

stand, that is, to hold their ground. Jesus did not tell us to hold a

coffee morning until he comes again, but to occupy until he comes.

If we do this, what can we expect, but opposition and ridicule? A

church that chooses to gather its flock for a comfortable cruise on

calm waters, enjoying the view, the companionship and the

entertainment, bobbing with the tide, will face no opposition. On

the surface at least, all will seem well, but in my experience, a church

that seeks to occupy, to hold its ground and to grow the kingdom, can

expect trouble and hostility ahead. However, rather than avoid the conflict we should embrace it, for

without it, the chances are we are achieving very little for Christ.

A CONFUSED AND COMPROMISED MESSAGE

One of the set readings for this Christian feast quotes Jesus telling of the need to humble ourselves

as the little child. We are not told that children are an example to follow, as some preachers give out

with muddle-headed sentimentality, and as some politicians and media have suggested with Greta

Thunberg. Nowhere did he say that children were examples for us to follow. Rather, he spoke clearly

about their need to be protected, especially, their need to be protected from the influences that would

corrupt them, deprive them of their innocence and rob the children of childhood. This warning has

everything to do with the reality of our spiritual warfare, and of how that warfare applies to the little

child of whom Jesus speaks. For, to lead children into sin brings about a judgment that is terrifying.

Only of the traitor Judas are similar words spoken: 'Better for that man had he not been born.'

One of the main problems with a society that presents a confused and compromised message, and

that teaches moral license that it calls tolerance, is the harm that it is doing to the children. Right

now 'the world' is not aiming its deception and temptations simply at adults, but at children, and

constantly at younger and younger ages. The advertisements and entertainment aimed at their young

minds should anger and shock us. They ought to be allowed those early years of innocence and not be

presented with such adult sexualised themes, not to mention the extraordinary new vocabulary to be

found in our schools of transgender/binary/questioning/intersex/genderqueer/neutrois/pansexual/

transsexual/transmasculine/cisgender man/genderfluid, etc, etc, etc. If they are to be protected, it is

necessary that their parents resist the spirit of the times — real spirits of deception, and, the Church,

and especially its bishops, must teach right from wrong, but God help us in this climate if we dare to

try. He will need to help us, for the opposition will be powerful indeed.

I would suggest that many people, including some Christians, are oblivious to the deception because

we live in an age of deception, an age where lies are preferred over truth. This too is spiritual, and we

need to be vigilant. When Jesus was obedient even to the death of the cross, the powers of evil were

crushed. When he rose from the dead he showed that he was triumphant over the powers of darkness

and had defeated sin and death. As we occupy this ground until he comes, warring for our souls and

the souls of others, we are joined in the battle by Michael and the Holy Angels. It isn't going to be easy,

but then being truly faithful to Christ never has been.

Warm wishes, Jamie
---
6 The Parish Magazine - September 2022 Please mention The Parish Magazine when responding to advertisements

©Alice Morgan Photography

Summer Issue

| Hair Cutting and Beauty Therapy

| Experts in Colouring and Permanent Waving

| Hairdressing for Men, Women and Children

@stylebyjulieReading

@stylebyjulie

@stylebyjulieRG

Private Hair

and Beauty Salon

Badgers Rise,

Woodley, Reading,

RG5 3AJ

0118 4378178

salon@stylebyjulie.co.uk

www.stylebyjulie.co.uk

Banish limescale with a

TwinTec Water Softener

• Enjoy a scale-free kitchen and bathrooms

• Protect and improve the efficiency

of your boiler

• Lower your energy bills

• Reduce time spent cleaning

• Enjoy softer skin and shinier hair

No buttons or routine maintenance: it's easy

Call for a free installation

survey or quote

Twyford: 0118 9344485

Finchampstead: 0118 9733110

thamesvalleywatersofteners.co.uk

10

YEAR

GUARANTEE

THAMES VALLEY

WATER SOFTENERS
---
the parish noticeboard — 1

If you

would like to

explore what being

confirmed in the

Church of England

means call:

0118 969 3298

From the register

The Parish Magazine - September 2022 7

10-18 year old young people will meet on a Monday

Adults will meet on a Tuesday evening

If you decide to be confirmed this will take place in

St Andrew's Church on Sunday 20 November 2022

Paulus Rusyanto, dreamstime.com

As we went to press, about 30 people

had signed up for the Confirmation

preparation groups, half of which

were adults. It's not too late to join

them, simply call the number above.

The adult group begins meeting on

Tuesday evenings from 13 September

and the young people's group (aged

10-18 years) will meet on Monday

evenings from 12 September.

Following the preparation

sessions, the Bishop of Oxford will

be leading the Confirmation service

in St Andrew's Church on Sunday 20

November.

Rev Kate is leading the adult

group and Westy is leading the youth

group. See page 42 for their contact

details if you would like a chat about

what is involved or ring the number

above to book your place.

In The Ark

Sunday 18 September

at 3pm

Fun, Food, Art & Craft,

and Family Worship

for children of all ages

revkate@sonningparish.org.uk

Indy Biddulph

BAPTISMs

— Sunday 12 June, Olivia Erin Draper

— Sunday 12 June, Savannah Katerina Benstead-Costis

— Sunday 10 July, Isabella Rose Costello, Harrison George Costello and

Harper Mae Costello

— Sunday 8 August, William James Perre

weddings

— Friday 10 June, Sam Joseph King and Kate Anne Hartley

— Friday 17 June, Christopher Edward Heath and Eleanor Chantelle Bhasin

— Saturday 2 July, David Mark Townsend and Vivian Vasiliki Praxoulis

— Saturday 16 July, Rupert George Tuggey and Yasmin Ella Rose Parry

— Saturday 30 July, James William Stephen Best and Laura Jayne Mellon

funerals

— Tuesday 14 June, Janet Mary Hunt, service in church followed by

cremation at Reading Crematorium

— Friday 17 June, Christine Anne Emmett, burial in the churchyard

— Saturday 16 July, Gordon Leslie Sanders interment of ashes in churchyard

— Monday 18 July, Arthur John Foden, service in church followed by

cremation at Reading Crematorium

— Tuesday 19 July, Barbara Mary Masters , service in church followed by

Cremation at Reading Crematorium

— Friday 22 July, Josephine Webb, interment of ashes in the churchyard

— Saturday 30 July, Norah Willetts, memorial service in church and interment

of ashes in the churchyard

RENDEZVOUS IN THE ARK

Tuesday 13 September and Tuesday 27 September

at 12 noon for lunch and conversation

To reserve your place call:

To reserve your place call: 0118 969 3298

For your September prayers

— Sonning CofE School and its new headmaster,

Phil Sherwood

— Rev Kate and Westy in their mentoring roles

at Piggott and Blue Coat schools

— Our new Prime Minister

— Those beginning Confirmation preparation

— A peaceful solution to war in Ukraine

Tinnakorn Jorruang, dreamstime.com
---
8 The Parish Magazine - September 2022 Please mention The Parish Magazine when responding to advertisements

TAKE AWAY

FISH AND CHIPS £10

BOOK A BEAUTIFUL

NIGHT STAY WITH

US.

RECEIVE 15% OFF

QUOTE THE CODE

FST1845

The Bull Inn, Sonning on Thames

Berkshire RG4 6UP, T: 0118 969 3901

e: bullinn@fullers.co.uk www.bullinnsonning.co.uk

Gardiner's Homecare is an established family

business that has been serving the local community

since 1968. Proudly supporting people to continue

to enjoy living independent lives in their own homes

for as long as possible.

Our team of experienced care workers can provide

help with personal care, medication, overnight stays,

housework, companionship and much more. You will be

assigned your own Care Manager who will work closely

with you to ensure you receive the care and support

that is tailored to your personal wishes and needs.

For more information, contact us on

0118 334 7474

www.thebmgc.com

10% of the value of your first order will be donated to the new community hall fund when you quote Ref: BMGC-CH

• Pull-up banners

• Point of sale

• Window graphics

• Vehicle livery

• PVC banners

• Posters

• Corporate branding

• Graphic design

• Installation services

• Shop signage

• Exhibition systems

• Signage for commerce

• Bespoke wall coverings

For cost effective, locally produced, quality graphics call us on 0118 934 5016

The Homestead, Park Lane, Charvil, Reading RG10 9TR

email: sales@thebmgc.com
---
the parish noticeboard — 2

Christian Basics — Part 7

By Rev Paul Hardingham

What does the Holy

Spirit do? (Part 2)

Maksim Shmeljov, dreamstime.com

Somebody once defined a football match as '22 people on

the field desperately in need of rest, watched by 50,000

people in the stands, desperately in need of exercise'. It

reminds us that church is not a spectator sport! The Holy

Spirit equips us to serve God in the Church and daily life

through the gifts of the Holy Spirit.

BIRTHDAY PRESENT

These gifts are variously described as spiritual gifts (1

Corinthians 12:1) or grace gifts (1 Corinthians 1:7), the latter

word being used in modern Greek for a birthday present!

They are love gifts from God that we cannot earn or

deserve, that are open to everybody.

Note what Paul says, 'Now to each one the manifestation

of the Spirit is given for the common good' (1 Corinthians 12:7):

EACH ONE

To each one: the gifts are available to every Christian.

Everyone will have a different 'gift-mix', with their own

particular contribution to offer.

VISIBLE

The manifestation of the Spirit: the gifts of the Spirit

enable an invisible God to be real and visible. As we

exercise the gifts that God has given to us, in our speech

or service, people will be able to say, 'God is at work here'!

OTHERS

For the common good: the aim of the gifts is to build up

the body of Christ and extend the kingdom of God. They

are not intended to meet our own needs or reputation, but

simply to serve and encourage others.

UNWRAPPING YOUR PRESENT

With the gifts given by God, we are able to fulfil his

purposes in his world. Paul urges us to 'eagerly desire' the

gifts that God has for us (1 Corinthians 12:31).

How true is this for me? Any present that we are given

needs unwrapping before we can enjoy it. Are we doing

this with our spiritual gifts?

Happy

days

around

the

camp

fire

By Claude Masters

The Parish Magazine - September 2022 9

Claude's

view

from

the

pew

With a few empty places in the pews where the regulars

often sat — they were taking their annual holidays — the

words of an old song came to mind: 'These are the times we

shall dream about and we'll call them the good old days'.

This song, and one about a man named Michael Finnigan,

who climbed a tree and barked his shinigan, were those I

remember singing around a scout camp fire when I was a lad.

Although it was during the austere time after the Second

World War they were happy days. Sometimes it would be a

large fire at a district rally with hundreds of others but most

were at the end of a day in a troop camp when we were around

the fire that had cooked our meals. We sat cross legged on the

ground with the wood smoke stinging our eyes and holding

hot cocoa in chipped enamel mugs. The cocoa was invariably

'accidentally' knocked over as little sugar could be spared

from the meagre rations.

As well as their personal kit each camper was asked to

bring their food rations. At a weekend camp one lad turned

up with a thin slice of butter, not even enough for half a slice

of bread. A bit embarrassed, he explained how his mother

had carefully divided his weekend ration from the family's

allowance. Most mothers were more generous but it was well

known that lads would go home from camp and tell their

parents that they had not had enough to eat.

At one camp salt was accidentally put into a freshly brewed

dixie of tea and another lad poured all the sugar we had into it

thinking it would cover the taste of the salt!

Together with the singing and yelling, a campfire would

include short enactments called stunts. The longer my

favourite took to perform the better it was: Two lads are

dressed as country locals, sat on a log and chewing bits of

straw. It started with a

lengthy silence then a cow

bell rings and they turn

their heads to watch an

imaginary cow wander

slowly by. Another silence

and one lads says, 'That be

farmer Gile's cow'. More

silence then the other says

'No it bain't. Be farmer

Browns'. Longer silence,

then the first lad stands up

and after more silence say's

'I be going 'ome, I bain't

come 'ere to listen to an

argument!' Happy days!

jonathan-forage, unsplash.com
---
10 The Parish Magazine - September 2022

the parish noticeboard — 3

St Andrew's Youth

STAY in School

Our mentoring continued in the local

secondary schools until they broke

up in July when I had the privilege

of recording Wargrave Piggott's last

assembly of the academic year. It was

based on anti-racism.

The idea came about because 12

students in year 8 got together to

raise awareness about kicking racism

out of football. They sold cupcakes

with stats on racism attached, ran

penalty shoot out competitions, had

a guess the weight of the marble cake

— which one of the boys made with

brown and white swirls to represent

being together despite our different

skin colours — and I had the honour

of tying it all together by sharing a

Christian perspective on racism in the

assembly.

My message was clear: God made

us all equal, God loves each of us

to death and racism is never to be

tolerated, anytime, anywhere for any

reason.

In the primary school, I was also

blown away by the amazing year 6

students at the Sonning leavers service

as they shared stories and memories,

and the teachers made an emotional

collage of photos. I wasn't crying, I just

had something in my eye!

STAY Detached Project

Before the schools summer break we

continued to meet young people of the

parish by walking around Charvil on

Thursdays after school. We have given

out over 200 ice pops, served over 300

glasses of cold lemonade and engaged

with about 40-50 young people each

week to make sure they were OK and

to help with advice for particular

situations they may be facing.

STAY on Friday

Our weekly youth club on Friday

nights in The Ark continued until 15

July. We had the usual volleyball, four

square, baking, nail bar, Xbox room,

foosball, table tennis, football, kubb,

skipping, frisbee, board games, tag and

our final thoughts. All young people in

secondary school are welcome to join

us and year 6 students are welcome on

the 4th Friday of each month.

To end the term we hired an

inflatable wrecking ball and joust! The

youth loved spending their energy

playing on this amazing equipment.

We also brought out the classic donut

wall where everyone has a free donut.

Watch this space for photos of our

second upper room, which the youth

designed and the people of the parish,

local friends of the church, members

of the congregation and the office of

Theresa May have very kindly funded!

STAY Summer Activities

As with all school holidays we always

try to offer a selection of activities for

the youth to join in with friends and

this summer was no exception. We

had eight activities over the summer

holiday, including:

— Paddleboarding

— A cinema trip

— A visit to Thorpe Park

— Footgolf

— A day at the Waterpark!

The feedback was fantastic, the

young people loved each activity, the

parents thanked us for organising such

fun things for their children to do and

the activity staff complimented us on

what lovely young people they all were!

STAY on Sunday

At STAY on Sunday we finished our

series on relationships which during

the year has covered 'What is our

relationship with . . .'

— Family: They are all we've got so we

need to love them.

— Friends: We need to lay down our

life for them.

— Romance: Choose carefully, don't

settle for second best.

— LGBTQ: Love them respectfully and

don't judge.

—Celebrities and media people:

Don't let their behaviour shape you

rather let it inform you.

— Persecuted church: Who are our

brothers and sisters in Christ who

suffer, lets pray for them every day?

— Toxic relationships: Get out of

them by telling someone and creating

distance.

— Phones: What's a healthy amount

of time spent on your phone versus

being with people, being outdoors and

having fun doing activities.

— Bullies: the banter and bullying line

is so close. Banter is between mates. It

becomes bullying when it is consistent

and the person stops finding it funny.

— Judging others: Don't do it, its

God's job.

— Creativity: We are all creative in

our own way, because God created us

that way.

— Humour: How does our relationship

with humour affect us and our character?

— Exams: Do they define us? How do

we manage the stress of exams?

— Bible: What do we know about

the Bible? How can we grow our

relationship with it?

We ended the summer term with

a water balloon game of catch!

Want to know more? Contact Westy

youthminister@sonningparish.org.uk
---
The Parish Magazine - September 2022 11

The Persecuted Church by Colin Bailey

the parish noticeboard — 4

'Doing good' in the persecuted world

By Colin Bailey

One of Barnabas Aid's (previously Barnabas Fund) key principles is taken from

Paul's letter to the Galatians – 'as we have opportunity, let us do good to all

people, especially to those who belong to the family of believers' (Galatians 6:10).

Here's a roundup of their work around the world . . .

PIGS FOR NAGORNO-KARABAKH

164 Armenian Christians live in Taghavard village in the enclave of Nagorno-

Karabakh. Azerbaijani forces invaded in 2020 and half the village is controlled by

Azerbaijani military. Christian families are subject to threats and village buildings

are set on fire regularly. Barnabas Aid is supporting families by providing pigs for

the pig-rearing families.

NIGERIAN WOMEN FOUND

Two women who were among hundreds of girls abducted by Boko Haram from the

Nigerian town of Chibok 8 years ago have been found.

Attacks by suspected Fulani militants on a Christian community in Kaduna state

have left 32 dead. Village houses were razed and a church was burned down.

PAKISTAN DEATH SENTENCE

A Pakistani Christian, Ashfaq Masih, has been sentenced to death for 'blasphemy'

after reportedly describing Jesus Christ as the only true prophet. Ashfaq pleaded

not guilty and stated that the case against him was false. The accusation follows a

dispute in which a customer refused to pay for the repair of his motorcycle on the

grounds of his Muslim faith. 'Blasphemy' laws have existed in the region since 1927

and have since been strengthened. They are often used to make false accusations.

Pakistan's Prime Minister Shehbaz Sharif has announced that a task force will

be set up in Pakistan to oversee the implementation of the rights of minorities. PM

Sharif took office in April after Imran Khan was ousted.

SRI LANKA FOOD RELIEF

Sri Lanka is experiencing its worst economic crisis for 70 years. General inflation

is nearly 60% with food inflation at 80%. Barnabas Aid is helping over 4,500 people

with food relief in a project to feed 2,000 of the neediest Christian families in 22

districts of Sri Lanka.

TUNISIA DROPS ISLAM

A new draft of Tunisia's constitution does not name Islam as the country's state

religion. The aim of the change is to combat Islamist extremism.

TURKISH TOMB DESECRATED

An ancient Christian cemetery in South East Turkey in the province of Mardin,

with tombs over 1,000 years old, has been desecrated — bones and sacred objects

have been scattered.

MILLIONS GOING HUNGRY IN ZIMBABWE

Barnabas Aid is supporting malnourished families in Zimbabwe with e'Pap, a

fortified maize-based porridge. UNICEF says 3.5 million children in Zimbabwe are

chronically hungry with more than 2 million malnourished. Malnutrition explains

the rise of serious diseases such as pellagra and measles. Even common illnesses can

become life-threatening.

REFERENCES

Barnabas Aid - https://www.barnabasfund.org/gb/news/editorial-especially-the-family-of-believers/

Nagorno-Karabakh - https://www.barnabasfund.org/gb/latest-needs/give-sheep-and-piglets-to-help-persecutedarmenian-christians-survive-in/

Nigeria - https://www.barnabasfund.org/gb/news/two-nigerian-women-kidnapped-from-chibok-school-found-aftereight-years/

Nigeria - https://www.barnabasfund.org/gb/news/more-than-30-killed-in-attacks-on-christian-community-inkaduna-state-ni/

Pakistan - https://www.barnabasfund.org/gb/news/pakistani-christian-sentenced-to-death-for-blasphemy/

and - https://www.pakistanchristianpost.com/head-line-news-details/7659

Pakistan - https://www.barnabasfund.org/gb/news/pakistan-sets-up-task-force-to-implement-rights-of-minorities/

Sri Lanka - https://www.barnabasfund.org/gb/latest-needs/help-sri-lankan-christians-survive-their-country-sextreme-crisis/

Tunisia - https://www.barnabasfund.org/gb/news/new-draft-of-tunisia-constitution-does-not-name-islam-as-statereligion/

Turkey - https://www.barnabasfund.org/gb/news/ancient-christian-cemetery-desecrated-in-mardin-turkey/

Zimbabwe - https://www.barnabasfund.org/gb/latest-needs/save-christian-children-s-lives-in-zimbabwe-give-e-pap
---
12 The Parish Magazine - September 2022

Please mention The Parish Magazine when responding to advertisements

Independent And FREE Advice For All Individual & Company Members

• Switch to an alternative scheme – If you are currently insured, switching to a competitor can mean substantially lower rates

• Pre-existing conditions covered – It is often possible to include pre-existing medical conditions currently covered by your existing provider

• Improve your coverage – We can frequently improve your cover whilst also lowering the cost of your premium

• Complexities of different schemes – In many cases, people are over insured – we can ensure you are covered with a scheme that

meets your individual needs and requirements

• Full cover for cancer treatment – Many polices do not cover cancer in full – we are able to advise on your current level of coverage

For further information, please call Steve Maguire at M&L Healthcare Solutions:-

PHONE 01628 945944 or 01223 881779

Email: steve.maguire@mlhs.co.uk

quoting ref: The Parish Magazine

M&L Healthcare Solutions is authorised and regulated by the Financial Conduct Authority (FCA Reference number 554206)

A.D.D. Plumbing & Heating

THE FUNERAL PEOPLE

A FAMILY BUSINESS SERVING

SONNING SINCE 1826

READING 0118 957 3650

HENLEY 01491 413434

CAVERSHAM 0118 947 7007

ALSO AT MAIDENHEAD, BRACKNELL, WOKINGHAM, THATCHAM

TRADITIONAL AND CONTEMPORARY FUNERAL

SERVICE AND DIRECT CREMATION

FLORAL DESIGN & MONUMENTAL MASONRY

PRE-PAID FUNERALS, LATER LIFE LEGAL SERVICES

BEREAVEMENT CARE

WWW.ABWALKER.CO.UK

SELECTED

Independent

FUNERAL HOMES

Heating installation, servicing & repairs

All domestic plumbing

Free written estimates

No job too small

Local and fully insured

References available

0118 934 4624 or 07932 072912

www.addplumbingsolutions.co.uk

In-Home Services for

Seniors by Seniors.

We provide friendly and dependable seniors to help

with services such as light housework, transportation,

shopping, personal care, companionship...and much

more. It's like getting a little help from your friends.

Contact us today 01628 302 132

For more information contact:

steve@seniorshelpingseniors.co.uk

www.seniorshelpingseniors.co.uk
---
the parish noticeboard — 5

On Reflection

By Elizabeth Spiers

Jodie Nash, dreamstime.com

Hosea was one of Israel's prophets delivering the word

of God to the Jewish nation. A tough job at any time, it's

especially hard to imagine how it must have felt for this

young, devout man when God told him to 'take a wife of

harlotry' (verse 2). The law of Moses stated that adulterers

should be stoned to death, yet it seems God wanted to

have this message lived out in front of the nation through

Hosea's life.

Once again, the nation had lost their love for God, left his ways

and were worshipping idols, in express disobedience to the

Ten Commandments. To God, it felt like adultery. He provided

everything they needed and they turned their backs on him. In

sheer obedience, Hosea married such a girl, called Gomer.

She gave him children and stayed with him until the

lure of her past became too much and she went back to

her old life. She told herself that the gifts of her many

lovers was preferable to the stable home and family life

offered by Hosea. But by chapter 3, Hosea had to buy her

back from a slave market. He took her home, insisting

that she would stay a long time, but as with many troubled

relationships, they slept in separate rooms.

SPIRITUAL HEALTH CHECK?

In 4:8 it says that harlotry enslaves the heart. The people

were seeking advice from wooden idols because 'the spirit of

harlotry has caused them to stray' (4:12). Anything that takes

us away from our relationship with God is harlotry whether it

be sports, cars, wine or anything else. Just as Gomer behaved

as if she wasn't Hosea's wife, so the people behaved as if they

didn't belong to God.

And yet God never stopped loving his people. Hurt and

angry God spent years using the prophets to warn them of

what would happen if they continued ignoring him. They

were heading for sale to the highest bidder in the slave

markets, or worse, if you read the later parts of Hosea. And

God didn't want that for them. He loved them, but couldn't

let them get away with their behaviour. He longs to have a

relationship with them again, to restore all that they have

lost, if they let him.

Perhaps one of the difficulties is that we tend not to look

too far ahead. We take the treasures of today over the reward

of a lifetime spent with God. But God sees our hearts and

we should be careful not to mistake God's silence for his

blessing. Wherever you are, why not stop for a quick spiritual

health check? Do you need to make adjustments in your walk

with God? He is utterly forgiving. If we go to him in humility

and truth, he will gladly reinstate an intimate relationship

with us, no matter how we may have treated him.

The Parish Magazine - September 2022 13

From the cool

editor's desk

editor@theparishmagazine.co.uk

Why I love The Ark...

How did you get on during the heat wave? Most people I

have spoken to seemed to have found themselves sitting

indoors in the coolest part of the house, either reading

or watching tv. Coming, as it did, in the only time of the

year when I have some extra free time between producing

magazines — the previous combined July and August

issue meant that I had, in theory, a free month. My plan

this year was to catch up on the many outside jobs that

had piled up during the last year because Covid had denied

me of the energy to do them earlier.

The heat wave, however, forced me to stay indoors and

ironically, the coolest place I found was at my desk, the

very place I had planned to avoid!

POSITIVES AND NEGATIVES

Having studied electronic and electrical engineering

at university I learnt early on in my life that the natural

order of life always has two sides — a negative and a

positive. The positive side of sitting at my desk instead

of working in the garden was that I had time to sit back

and take a closer look at how I go about producing this

magazine. Usually I don't have time to think about the

'how' because I am busy doing it!

While I have always appreciated that I could

not produce the magazine each month without our

contributors who write articles and provide information

and photographs, and others who look after the financial

aspects, and our team of proofreaders whose contribution

is invaluable, there is one facility that we are blessed with

that is easy to overlook, and yet without it I probably

would never manage to find all the articles. Yes, I am

talking about The Ark.

IT'S NOT UNUSUAL

You only have to look back through the recent

issues of this magazine (which you can do online at:

http://theparishmagazine.co.uk) and read about all the

different groups that meet there — Sunday Club, STAY,

Rendezvous, Sunday at Six to name the obvious ones.

But for me, wearing my editor's hat, the most important

facility The Ark provides is the opportunity to meet and

chat to people over a fresh cup of coffee or tea, because its

the casual comment or remark that usually sparks off an

idea for a story.

In this issue there are at least four articles that grew

out of conversations in The Ark — Penny Feather's

royal memories (p15); Claude Master's granddaughter's

underwater studies (p21); Ian Clarke's memories of

growing up in Sonning (p22) and a parsnip cake recipe

from Liz Nelson (p31).

This is not unusual, almost every issue has one or more

articles that began life in The Ark. It's why I love The Ark! I

hope that you love it as much as I do.
---
14 The Parish Magazine - September 2022

Please mention The Parish Magazine when responding to advertisements

Follow Us

@ShiplakeCollege

• Top brand name flooring at the lowest price

• Samples to view in your home/office day/evening

• Free Advice / FreeQuotes

• Old flooring uplifted & furniture moved

• Fast turn around on fitting if required

• Carpet, design and wood flooring specialists

Next Open Mornings

Saturday 1 October (Sixth Form)

Saturday 19 November (All Years)

Excellent in All Areas

ISI Inspection (May 2022)

www.shiplake.org.uk/opendays

We supply and install: Amtico

Carpets - Laminate - Wood - Vinyl

Non-slip and more...

Tel: 0118 958 0445

10 Richfield Avenue, Reading, Berkshire, RG1 8EQ

info@richfieldflooring.co.uk/www.richfieldflooring.eo.uk
---
PLATINUM JUBILEE MEMORIES

The Parish Magazine - September 2022 15

BELIZE

Tomas Griger, dreamstime.com

September evokes royal memories for Penny

We continue our Jubilee series of royal memories with one from Charvil resident and active Sonning and Sonning Eye

Society member, Penny Feathers. If you have a royal memory to share please let us know.

On 21 September 1981 Belize, called British Honduras until 1973, became the last British colony on the American

mainland to gain its independence. Unlike other British colonies, Belize chose Elizabeth II as their hereditary monarch

and constitutional head of state, giving her the unique title, Queen of Belize. What the future has in store for this role

is uncertain.

Queen Elizabeth therefore has two

official styles and titles:

— 'Elizabeth the Second, by the Grace

of God, of the United Kingdom of Great

Britain and Northern Ireland and of her

other realms and territories, Head of the

Commonwealth, Defender of the Faith.'

— Elizabeth the Second, by the Grace

of God, Queen of Belize and her other

realms and territories, Head of the

Commonwealth.

In all her official duties relating to

Belize, Elizabeth II speaks and acts as

Queen of Belize, and not as Queen of

the UK. Royal visits during her reign

have helped build the relationship

between the Commonwealth nation

and the Royal Family.

GOVERNOR-GENERAL

As a constitutional monarch, The

Queen is not involved in the day-today

business of the Government of

Belize, though she continues to play

important ceremonial and symbolic

roles in the life of the nation. The

Queen of Belize is officially 'the

guarantor of continuous and stable

governance and a nonpartisan safeguard

against the abuse of power.'

Some of the Queen of Belize's

powers can only be exercised by her,

but most, however, are undertaken

by her representative, the governorgeneral

of Belize. Since since May 2021

this has been Dame Froyla Tzalam,

GCMG (pictured right).

wikimedia.commons

Dame Froyla is a Belizean

Mopan Maya anthropologist and

community leader. She is the first

indigenous person of Maya descent

to serve as governor-general in the

Commonwealth.

For Belizeans, their ancestry is

important, and it can usually be traced

back to Creoles, Cariba, Mestzos,

Mayas, Europeans/Scottish, North

Americans, Chinese, East Indians

or Lebanese, making it a truly

multicultural society.

Belize is only 174 miles by 68

miles at its widest parts, has 175

small islands, and borders on Mexico,

Guatemala, and the Caribbean Sea.

In 1981 it had a population of about

147,000, today it is over 400,000.

Dame Froyla Tzalam, at one of the Platinum

Jubilee receptions in London earlier this year.

wikimedia.commoms

Oleg Kachura, dreamstime.com

Christianity is the country's main

religion with Roman Catholicism being

historically the largest. Other popular

denominations are Seventh Day

Adventists, Baptists, Anglicans, and

Pentecostals. Interestingly, the largest

group after the Roman Catholics in the

2010 census was 'the people who said

they didn't belong to any religion.'

PENNY?

So where, you may be thinking,

does Penny fit into all this?

Penny was British Pro-Consul

in Yokohama, Japan where she met

Bob Feathers who was to become

her husband. He was an American

and worked in the US consulate and

together they lived in nine countries

including Belize, where Bob served

for 3 years. On a Wednesday morning

Penny attended the mid-week

communion service in St John's

Cathedral and it was here that she met,

and became good friends, with Lady

Erica Wolffsohm whose husband, Sir

Arthur Norman Wolffsohn was the

colonial administrator.

Despite the quality of life for the

majority of Belizeans — which would

today be classed as 'poverty' — Penny

remembers the local people as being

'wonderfully, sunny natured and always

smiling'. Most people lived in wooden

structured houses, and the more

wealthy would have homes on stilts

with steps to the front door decorated

turn to page 17
---
16 The Parish Magazine - September 2022

Please mention The Parish Magazine when responding to advertisements

The Window Cleaner

• Interior & exterior

• All windows, frames, sills & doors

• Conservatory cleaning

• Fully insured

We provide a reliable, professional service, ensuring that your home

will sparkle. For a free quote call or email

07967 004426

thewindowcleaner1@googlemail.com

Whatever you want to store...

...for whatever reason - house sale and purchase

not coinciding, travelling, house building work,

paperwork overload or even "de-cluttering" to

sell your house more quickly - we offer a

friendly and flexible local service.

With competitive rates, secure storage

and hassle free 24/7 access,

contact us now!

0118 940 4163

www.barn-store.co.uk

Only 5 minutes

from Henley on

the Reading road!

With 35+ years of experience, the Active Domestic

Appliances team have built an excellent

reputation in and around the local area.

Specialising in the repair of all makes and models

of washing machine, washer dryer, tumble dryer,

dishwasher, oven, hob and refrigeration they are

Gas Safe registered and offer a 12 month

warranty on parts and labour.

Active Domestic Appliances have an extensive

customer base working with letting agents,

landlords, private schools, colleges, care homes

and residential property owners.

Fully insured and DBS checked.

Contact us on:

0118 931 2071

0777 080 6129 (no sms)

repairs@activedomestic.co.uk
---
PLATINUM JUBILEE MEMORIES — 2

Penny's royal September memories

The Parish Magazine - September 2022 17

Ramunas Bruzas, dreamstime.com

St John's Cathedral Belize City

from page 15

with colourful flowers growing in old

food tins.

When Penny and Bob moved on,

she kept in touch with Lady Erica by

letter, one of which, gives a fascinating

insight into the events surrounding

the Belize independence celebrations

in September 1981.

Lady Erica wrote ...

I returned to Belize on 15 September for

independence on 21st. As a descendant

of one of the very early settlers (18th

century from Scotland) I felt I should

come, and I am glad I did. To the

surprise of many, in view of the unrest

in March and April – all went off

peacefully. This, of course, was a relief

to us all!

Belizeans, on a whole, are a

complaisant people, and they enjoyed

the parades, floats, and singing and

Belize City today is a popular port of call for cruise ships.

A typical Belize street in the 1970's

dancing on the streets. On Sunday

there was the state service at St John's

Cathedral attended by a guard of honour

by the sailors from the frigate 'Ariadne'

for Prince Michael of Kent, the Queen's

representative . . . The band of the Gordon

Highlanders accompanied the hymns and

psalms, and everyone sang lustily.

Prince Michael read the second lesson

(nice deep voice) . . . In the evening

there was the governor's reception

at Old Governors House, where the

royal party was staying for four days,

followed by the lowering and raising of

the flags.

Lady Erica's letter continues to

describe the following events which

created a mixture of tears and joy,

and times of clapping and silence,

depending on the different views of

the multiethnic people of Belize.

Lawrence Weslowski, dreamstime.com

Bob Feathers

Waitresses dressed in the national

costumes of each ethnic group served

their national dishes and apart from

isolated minor incidents, all seems to

have gone smoothly.

UNCERTAIN FUTURE

Today, there is uncertainty about

the future of the role of The Queen of

Belize, it may be that the royal title will

soon be confined to history.

Last year, after Prince William

and Kate cancelled their Jubilee

state visit, the country's minister for

constitutional and political reform,

Henry Charles Usher, reportedly told

Belize's parliament: 'Perhaps it is time

for Belize to take the next step in truly

owning our independence. But it is a

matter that the people of Belize must

decide', and Prince Charles, heir to the

Belize monarchy told Commonwealth

nations that decisions about whether

they keep the Queen as head of state or

become a republic are 'matters for them

to decide'.

We could be witnessing the end

of the UK's unique connection with

Belize, but an even more serious

concern must be that 41 years after the

tears and joy of independence the UK

government is warning visitors about

increasingly violent incidents involving

tourists, expatriates and Belizeans

because of gang violence and gun

crimes. Elizabeth II may go down in

history as the only Queen of Belize, but

lets hope that the friendly relationship

between the UK and Belize that Penny

remembers will survive.
---
18 The Parish Magazine - September 2022

Please mention The Parish Magazine when responding to advertisements

Thinking about

Equity Release?

Then speak to us first!

Mortgage Required is a local, friendly award

winning Equity Release Specialist who puts

their clients first.

We don't spend thousands on expensive TV

advertising or employ celebrities to represent us.

This enables us to pass these savings on to you.

We tick all the boxes

Compare our low fees

Whole of market

Free first

appointments

Mortgage and Equity

Release Advice

Initial chat without providing

personal details

5 star

Google reviews

Typical

Fees

£599

mortgagerequired.com

01628 507477

Finance House, 5 Bath Road, Maidenhead, Berkshire, SL6 4AQ

This is a lifetime mortgage to understand the features and risks, ask for a personalised illustration. There will be no fee for Mortgage Advice. There may be

a fee for arranging a mortgage. The precise amount will depend upon your circumstances, but we estimate it to be £599. Mortgage Required Ltd, Finance

House, 5 Bath Road, Maidenhead, SL6 4AQ is authorised and regulated by the Financial Conduct Authority reference 573718 at www.fca.org.uk.
---
feature — 1

Your Sonning Show & Fête Guide

Rules for Show Exhibits

Entries are welcome from residents of Sonning, Charvil, Sonning Eye

and members of village organisations. There is no charge. Entries

must not have been exhibited in previous Sonning Shows; they should

have been completed during the last 12 months (except Section J). Only

one entry per person, per class. Staging of all Sections starts at 10am

and must be completed by 12 noon.

Adult Certificates

There will be no monetary prizes for adult sections. Certificates will

normally be awarded for first, second, third and highly commended.

Section Special Awards — section details are listed below

A & B: Brutton Cookery Cup for the most points

B5: Sonning Glebe WI Spoon for the class winner

B11: Jubilee Cup for the class winner

C: Hillier Cup for the most points

C14: Nobby Clarke Onion Cup for the best onions

C21: Les Moss Tankard for the class winner

C22a, M65, P75, P82: David Penny Pumpkin Trophy, overall winner

E2: Catton Cup for the class winner

F37: Flower Club Trophy for the people's choice

G: Sonning Glebe WI Trophy for the best exhibit

H & O: British Legion Cup for the best exhibit

I: Bill Gallimore Trophy for the best exhibit

J: Martha Angel Centenary Cup most interesting exhibit

L – O: White Hart Cup for the child with most points

P: £10 for the infant with most points

E36/M64/P74/P81: Wethered Flower Cup for the overall winner

ADULT SHOW SECTIONS

A — Preserves

Class 1: pot of marmalade; Class 2: pot of jam; Class 3: pot of lemon curd;

Class 4: jar of chutney

B — Cookery

Class 5: Victoria sandwich – 3 egg mixture; Class 6: Carole's courgette

cake – see recipe on page 31; Class 7: tea loaf – see recipe on page 31;

Class 8: 3 chocolate brownies; Class 9: 3 shortbreads; Class 10: Favourite

cake judged on taste and texture. Please supply recipe, the winner's

recipe will be a class next year; Class 11: Swiss roll — men only!

C — Vegetables

Class 12: 9 runner beans; Class 13: 3 carrots; Class 14: 4 onions; Class 15:

2 vegetable marrows; Class 16: 4 potatoes; Class 17; a truss of tomatoes;

Class 18: 6 tomatoes; Class 19: the heaviest marrow; Class 20: the

longest runner bean; Class 21: Collection of 4 kinds of vegetables (at least

3 of each); Class 22; any other vegetable (at least 3 to be shown); Class

22a: heaviest pumpkin

D — Fruit

Class 23: 4 dessert apples; Class 24: 4 cooking apples; Class 25: 4 pears;

Class 26: any other fruit

E — Flowers

Class 27: 3 large dahlias - 6" (150mm) diameter or greater; Class 28: 3

small dahlias - less than 6" (150mm) diameter; Class 29: hanging basket;

Class 30: 3 roses; Class 31:1 specimen Rose; Class 32: vase of annuals -

max 10 stems (mixed or 1 variety; Class 33: vase of perennials - max 10

stems (mixed or 1 variety); Class 34: pot plant - foliage; Class 35: pot plant

– flowering; Class 36: largest sunflower head (dead or alive)

F — Flower Arrangements

Show visitors are always keen to admire beautiful flower arrangements.

We will be delighted to receive a large number of floral displays. Please have

a go. Everyone is welcome. Arrangements may be brought completed, or

arranged at the show, between 10am and noon on the day.

Class 37: open class (all welcome). Any size from pedestals to table

centre pieces. To be viewed all around or front facing. Class 38: for

children aged 5 - 12. A small arrangement in a container of your choice.

The Parish Magazine - September 2022 19

Saturday 10 September 2022

Sonning CofE School, Ligugé Way RG4 6XF

The fête will open at 2pm. Entrance to show & fête: adults £1, children free. The school rooms will open for viewing the show

exhibits after judging has been completed. Children winning prizes are responsible for collecting their prize money from

the treasurer, not later than 4pm, by showing him their certificates. Exhibitors are requested not to remove their exhibits

before 4pm. Exhibits not for auction are to be collected by 4.30pm. Exhibits to be sold by auction should be acknowledged

when registering entries. The auction starts at approximately 4.30pm. The show committee can accept no responsibility for

the safekeeping or return of exhibits. Profits from the show and fête will go to village amenities.

G — Photography

Class 40: Jubilee year colour print. minimum 3.5 x 3.5 inches; Class 41: the

landscape colour print, maximum 10x8 inches; Class 42: black and white,

or sepia print – any subject.

H — Craft

Class 43: knitted, crochet or woven item; Class 44: item of embroidery,

tapestry or stitch work; Class 45: soft toy or dressed doll; Class 46

unfinished projects - any item of craft started but not finished! Class 47:

article of any other craft.

I — Art

Class 48: pen and ink drawing; Class 49: pencil drawing; Class 50: pastel

drawing; Class 51: oil painting; Class 52: watercolour painting; Class 53:

acrylics painting; Class 54: any other medium painting.

J — Times gone by

Exhibits in Section J will be judged for their interest and rarity. A small card

giving a short description of any knowledge of your entry should accompany

them. (The organisers cannot be responsible for loss or damage of items).

Class 55: A right royal celebration!; Class 56: Childhood favourite; Class

57: A pay slip; Class 58: An old bottle.

CHILDREN'S SHOW SECTIONS* (8-12 year olds)

L — Cookery

Class 60: 3 fruit scones; Class 61 : a 'sandwich & cake' tea for the Queen,

on a tray - judged on presentation as well; Class 62: 3 cheese straws

M — Fun with flowers

Class 63: a posy of flowers; Class 64: largest sunflower head (dead or

alive); Class 65: heaviest pumpkin

N — Photography

Class 66: my favourite scarecrow, minimum size 90mm x 90mm,

maximum 250mm x 200mm

O — Craft, design and technology

Class 67: handwriting, maximum 15 lines; Class 68: poem about the

environment; Class 69: portrait of someone famous from UK history;

Class 70: Jubilee theme craft Item; Class 71: paper mache mask.

INFANTS' SHOW SECTIONS*

P — 6 and 7 years old

Class 72: a portrait of someone famous from UK history; Class 73:

Jubilee theme craft item; Class 74: largest sunflower head (dead or

alive); Class 75: heaviest pumpkin; Class 76: a fairy cake decorated for

the Queen; Class 77: Jubilee garden on a plate; Class 78: poem about an

animal

P — 5 years old and under

Class 79: hand drawn picture of The Queen; Class 80: potato print picture;

Class 81: largest sunflower head (dead or alive); Class 82: heaviest pumpkin

Class 83: a decorated fairy cake; Class 84: Jubilee bunting; Class 85: a

model from Lego or equivalent

*The child/infant's age will be required when their exhibit is entered, and this

will be taken into account by the judges. In addition to the Section Special

Awards, money prizes, sponsored by Sonning Landscapes, will be awarded

for the children and infants — First: £3; Second: £2; Third £1.

Charvil Village Fête

The new organising committee for the Charvil

Village Fête has chosen Sunday 4 September, 2-6pm

for this year's event which will be held on the East

Park Farm playing fields by Charvil Piggott School.

Further details are expected to be posted on Facebook
---
20 The Parish Magazine - September 2022

Please mention The Parish Magazine when responding to advertisements

Reading's local charity caring for older

"putting care before profits"

Call 01252 979111 today,

to discuss your care needs and availability

at our newly refurbished

Maitland House care home

care | compassion | companionship

"The place is always fresh, clean, cheerful and vibrant. The staff are friendly,

helpful,caring and always available for a chat.

There is a lot of laughter and silliness

which is greatly appreciated" Rosemary (89), resident

Maitland House | 11 Maitland Road | Reading | RG1 6NL

Email | admin@abbeyfieldweyvalley.co.uk

www.abbeyfieldweyvalley.co.uk
---
feature — 2

The Parish Magazine - September 2022 21

Live war wreckage lurking on the Thames

Estuary and the English Channel seabed

By Claude Masters

'U-boat on the starboard skipper'

cried the hydrographic surveyor

when she spotted the image of a

wreck on the seabed in the English

Channel — the bright colours in the

picture (right) indicate the depth.

She was using a Multi Beam Echo

Sounder (MBES) aboard the survey

ship EGS Ventus.

Surveys such as these could be for

finding cross channel cables, wrecks,

unexploded bombs or any other

debris. Dredging operations and

checking sea and river walls can also

be mapped using MBES.

There are dozens and dozens of

cables crossing the channels and

river estuaries, not only in the UK

but worldwide.

They are carefully mapped but the

purpose of some has been lost in the

annals of time.

Worldwide, there are hundreds of

survey boats, both large and small,

owned by companies, employed by

governments, or agencies, to inspect

the sea bed for a variety of reasons.

WHALES AND DOLPHINS

My 23 year old granddaughter,

Charlotte, who was one of the

surveyors that spotted the U-boat,

has also surveyed the SS Richard

Montgomery in the Thames Estuary

on the EGS Watchful. She has

surveyed the seabed on offshore

wind farms and mapped pipelines

across streams and rivers from Perth

to Cambridge.

MBES uses the same echo

sounding system as whales and

dolphins so they get attracted to

the survey ship to see what's going

on. While the ship's crew like to see

them, it does mean that time has to

be spent cleaning out all the chatter

from the sea creatures before the

data can be given to the client.

The pictured boat (above) is the

Images (top down): An aerial view of the Thames Estuary, Anna Yordanova, dreamstime.com;

A colour of the seabed showing the depth of U-boat in the English Channel; Charlotte on dry

land; Wind farms near the Thames Estuary, Nicola Pulham, deamstime.com; SS Richard

Montgomery, which sank in the Second World War with its live cargo of ammunitiion,

SS Richard Montgomery, which sailed

from America to London in the

Second World War. A large storm

meant that it could not go up the

River Thames so it anchored in the

estuary. The anchor was dragged

onto a sandbank and the old liberty

ship broke its back and split in two.

Its cargo of ammunition was prefused

and live so it could be loaded

straight onto bombers.

The ammunition was not removed

and the fear is that the masts could

collapse onto the wreck and trigger

an explosion.

The worst case scenario is the

tidal wave created from the explosion

would clear the Thames Barrier and

flood London. Once every 6 months,

a survey boat with an experienced

captain is allowed to survey it to

check for any changes.

When you realised that 70%

of the world's surface is covered

with water — most of it being in

oceans with, as yet, unexplored sea

beds, there is plenty of work for

hydrographic surveyors to do.

One of the things on Charlotte's

bucket list is to visit all the

continents of the world and somehow

I think she will do so.
---
22 The Parish Magazine - September 2022

feature — 3

Tales of a Sonning lad from the

It started, with coffee after the Wednesday communion in The Ark. I was talking to Bob Peters about how Sonning

used to be years ago. He asked if I lived in the village and that was his big mistake! I usually can't remember what

I did yesterday but then various flashbacks came to me and the more we talked, the more I remembered about

the church, the choir, the village shops, the river and village life. He asked me to write it down . . .

CHURCH AFFAIRS

As an 11 year old lad, I joined St Andrew's Church

choir. There were not many village lads so, in term

time, we were supplemented with boys from Bluecoat

School. Joining the choir was quite an ordeal! It was

rumoured recruits were initiated by being thrown

into a bush by the path to the church entrance. I don't

remember being thrown into it — I was lucky! The

bush is not there now so new recruits are safe from

this ordeal.

There was, however, another daunting obstacle —

the scary choirmaster and organist, who I shall call

Mr L. Friday night was choir practice. If you missed it

you were in deep trouble from Mr L when you arrived

for the service on Sunday. My word he was fierce!

We would try to sneak into the vestry without being

seen and escape at the end of the service without

being caught and hope he would forget about it by the

following Friday!

We left our bikes in the old mortuary (now the

St Sarik Room which is used as the choir vestry). The

mortuary table, where the bodies of people drowned

in the river were laid, was still there. This was spooky

enough. It was also dark!

One Friday someone found a bust of Cannon

Pearson in the mortuary and hung it by the neck from

the rafters. When we arrived with our bikes, there

it was hanging in the dark! Needless to say we never

put our bikes there again and the culprit was never

discovered.

Another scary tale involved a large yew tree. It was

said if you closed your eyes and ran round it seven

times you would see the face of the devil! Enough to

scare anyone! Sadly, that yew tree is no longer there,

it was a casualty of the 1987 'Michael Fish, there will

not be a hurricane' storm. The wood was used to make

some splendid church furniture.

HIGH STREET LIFE

The High Street was a sleepy place, except for the cars

that cut through to Thames Street. However, it wasn't

always that way.

There was once a thriving commercial life with

Mrs Edward's shop, Bert Huggins' butchers, Adams

Grocery, which later became the Thrift Shop, the parttime

Midland Bank and even Mrs Prior's front room

from where she sold sweets on Sunday after church.

As a teenager I worked at Mrs Edwards' general

store on a Saturday morning delivering groceries to

people in the village, one of which was Robert Beatty,

a very famous actor in those days. I delivered groceries

on a bike with a basket on the front — strangely, it

was the same bike my dad, Bob, had used when he was

young. It was a bit rickety but it did the job until one

Saturday a large lorry changed the shape of it outside

the shop! lt was completely crushed — thankfully I

was not on it!

Mrs Edwards was unimpressed as it meant the

purchase of a new delivery bike, but I was delighted

because it was a considerably upgraded model that

was far less squeaky and rickety. The highlight of

my morning was when I had my break and always

enjoyed a Lyons individual fruit pie. Yes, they do stilI

make them! I also nipped into my house in Pound

Lane for a second 'unofficial' break, which I hope Mrs

Edwards never found out about!

Opposite Mrs Edwards' shop was Bert Huggins

butchers. It was a small, quiet shop yet Bert had

an assistant whose sole job was to sit in a little

kiosk taking the customers' money. Surely a case of

overstaffing!

At the bottom of the hill was Mrs Edwards'

competition — Pembroke's grocery shop. Imagine,

two grocery shops in one village. Pembroke's was

taken over by the Adams family and later became the

thrift shop, an antique/curio establishment.

There was not a parking problem in those days

and I could glide down the High Street on my new

delivery bike and come to rest against the shop front

where a convenient groove under the window was

where the frame of the front basket fitted.

The highlight of my delivery boy days was asking

Mrs Edwards for a pay increase, to my shock and

delight I received one, which meant that I earned the

princely sum of 10 shillings — I was quite wealthy!

In the quieter moments I would go to the shed at

the back of the shop where the stock was stored and

unpack some of the boxes. Needless to say it was a

good hiding place which always had the overriding

smell of soap powder. I always wondered if Mrs

Edwards suspected that I was taking rather a long

time to unpack the boxes. Eventually, I would be

found and had to get back on the delivery bicycle.

I was 19 years old when I retired from this job —

well passed a lad's retirement age!

VILLAGE SCHOOL DAYS

My school days seem a very long time ago, over 60

years in fact. Some memories are very vivid. The

village school was in Thames Street — it's now a

private house, although it looks the same, except a

large leaded window at the front has been replaced.

I remember clearly the day Christopher (no

surname to protect the guilty) was being disruptive, as

usual, and threw a black plimsoll — an item we all

wore. It missed its intended target but hit the leaded

window shattering one of the panes. We all went very

Images (from the top down):

Ian Clarke today

Ian Clarke by one of Ben the Boa

Sonning Lock in the 1960's from

Sonning High Street in the early

Magazine archives
---
The Parish Magazine - September 2022 23

'Fifties and Sixties'

By Ian Clarke

tman's boats in 1958

the Hoyle collection

1900's from the Parish

quiet and I'm not sure how long it was before Mr C,

the head teacher, discovered it. He was furious!

On another occasion, the same miscreant was

accused of taking money from the blind stocking. He

was sent to the bottom of the school field, where a

stream ran, to choose a stick with which he would be

punished. Times were different then. We watched in

horror as the dust rose from Christopher's trousers in

the ray of sunlight which streamed through the large

leaded window. These punishments were common

and were designed to help us develop real 'character'!

A mass 'slippering' occurred when a group were

caught stuffing grass down the outside toilets. I was

falsely accused and also got 'the slipper'. It still burns

to this day. Ah! Those toilets, the scene of much

misbehaviour and more than a few naughty pranks.

Lunchtimes saw us walk, crocodile style along

Thames Street and into Pearson Road to the infant

school — also now a private house — where we would

have lunch. The smell of cabbage still hangs heavily in

the air for me, and whatever was sago and the awful

synthetic mashed potato we had to endure?

Village school life then was very different to

today's education system, with small classes, everyone

learning the recorder, or not in my case, and desks

where you could lift the lid and graffiti inside to make

them your own. Whatever happened to those desks?

Probably costing a fortune in a trendy antique shop!

HAPPY RIVER HOURS

As it is now, the river was an integral part of village

life. We spent many happy hours breaking today's

health and safety rules and probably alarming our

parents — if they found out.

The front of the White Hart — now the Great

House — was filled with beautifully varnished

wooden punts. These were our playground, much to

the annoyance of Ben the boatman from the White

Hart boathouse.

When Ben was not around we played on the punts,

running across them. When he appeared we were in

real trouble! He could be a real tyrant, although we

probably deserved it.

There was an ice cream kiosk near where the boats

were kept, and another one by the, then, wooden

horse bridge. We were well catered for then.

The mill was a working flour mill and not a theatre

restaurant. I have vivid memories of my brother being

terrified of the ventilation cowls on top of the mill.

It was very busy until 1969 when Huntley & Palmers

stopped making biscuits in Reading.

One of the fun activities was watching the

steamers going under the 1775 built brick bridge. Their

chimney had to be lowered to get under the bridge

and we always mischievously hoped that they would

get the timing wrong and the chimney would strike

the brick arch. It may have happened but we never

managed to witness it.

We weren't always up to mischief and could at

times be helpful. We loved going to the lock which

had wooden gates that had to be opened manually by

pushing on long wooden bars. We would line up along

the bar to give a big push to open the gates and then

run round to the other end to let the boats out again.

Again, disregarding today's health and safety

rules, we would swim in the river, particularly at

Stoney Bay, further along the tow path on the White

Hart side. It was a great place to swim and we thought

little about pollution, currents and other dangers

associated with rivers. It was safer than swimming

by the bridge where a number of serious incidents

occurred over the years.

The river was, and is, a very attractive place to

relax and have fun. Picnics were common and it was a

great place to while away a sunny afternoon and to see

how many cygnets were produced by the swans on the

island situated in the middle of the bridge — and to

see how many boats failed to navigate cleanly through

the arch of the bridge without hitting the sides!

TRAVELLING SALESMEN

Sonning was a hive of activity in the late 50's and

60's. There was no Asda, Tesco, or Waitrose, however,

a number of visiting tradesmen plied their wares

around the village. We eagerly waited for the Corona

man, not to be confused with coronavirus! His vehicle

was laden with fizzy drinks in those unique ceramictopped

reusable bottles. What happened to them?

We also had visits from the rag and bone man,

the fish and chip van, and the Baylis grocery van. I

vaguely remember the muffin man walking around

with a tray of muffins on his head, or did I imagine it?

My brother, Terry, and I were also involved in this

plethora of activities. In 1966 a coloured newspaper,

the Evening Post, was launched and we both had paper

rounds in the village. The bags could be really heavy

and there was nothing worse than completing your

round and finding you still had one paper left. Who

had been missed? We usually found out when we

collected the money!

A highlight of the week was when Eddie, the Job's

milkman, allowed us to help. I can still smell the

diesel fumes of his van and the smell of sour milk

as we made our way through the village and up to

Sonning Eye. The milk was in glass bottles and they

only held one pint. No plastic then.

RECREATIONAL TIMES

Much of our time in the 5o's and 60's was spent

playing in the St George's Field recreation ground in

Pound Lane, which was directly opposite the house

where we lived. At the edge of the road was a wooded

area called the copse. This really was an adventure

playground, a dense jungle of trees and bushes with

slopes and hills. It looks different these days. Then

the hills seemed much steeper and the trees

turn to page 25
---
24 The Parish Magazine - September 2022 Please mention The Parish Magazine when responding to advertisements

Pearson Hall Sonning

is an ideal venue for

your parties, regular

classes or meetings

Complete Pest

Solutions

WASPS • RATS • MICE • SQUIRRELS

BED BUGS • FLEAS • BIRDS & RODENT PROOFING

Leslie Parker

parkerleslie65@aol.com

0125 624 2135 0799 081 4143

PROFESSIONAL PEST

CONTROLLERS REGISTER

2 Vyne Lodge Farm Cottage, Bramley, Tadley, Hampshire RG26 5EA

24 hours service | Private client parking | Private chapel of rest

Free home visits | Pre-paid funeral plans | Full written estimate

Woodland funerals | Religious and non-religious services

Find out more and check availability

using our online booking system

www.pearsonhall.org.uk

Tel: 01491 573370

www.tomalins.co.uk tomalin@btconnect.com

Anderson House, 38 Reading Road, Henley-On-Thames, RG9 1AG

A Family Run Independent Funeral Service

CELEBRATE SUMMER

reception@thegreathouseatsonning.co.uk

0118 969 2277

www.coppaclub.co.uk/at-the-great-house | @the_great_house
---
from page 23

Ian Clarke remembers

much bigger, the whole place was much more scary! We

would build go-karts and race each other down the slopes

desperately trying to avoid serious injury.

The copse was also the setting to act out our cowboy

adventures after tea, having watched The Lone Ranger,

Hopalong Cassidy or Roy Rogers on TV. I can still hear the

sound of cap guns and the smell of the gunpowder as we shot

at the 'baddies'.

At the top of the field during the conker season many

hours were spent throwing sticks up the trees to try and

dislodge a large conker — and trying to avoid the sticks

falling on our heads.

Another aspect of the rec was the swings where we would

play. The 'Witch's Hat' (dangerous) was a favourite, making

sure our fingers weren't trapped in it was a priority'

'Cheeselog' was another lethal piece of equipment which

was a battering ram that could cause real damage to the

unsuspecting passer by! There were also no soft surfaces on

which to fall, just very hard tarmac!

We did have to behave reasonably well, however, and not

make too much of a nuisance of ourselves as opposite the rec

lived the local village policeman who would ride round on a

bike and was not above giving you a clip round the ear! How

times have changed.

Another adventure playground existed in the shape of

Sonning University Farm. The barns, when full of hay bales,

provided us with hours of fun— until we were caught! We

would jump from bale to bale chasing each other around the

barn and would also use them to make secret dens. These

came in handy to hide in if one of the farm workers came

along.

I also remember going to the farm each day with a metal

milk can to pick up a daily ration of milk. We were entitled to

this because our grandad used to be a farm hand who worked

in the dairy. It was full fat milk, no skimmed milk then. The

farm also provided a nightmare in the shape of a large bull

kept in a pen near the farm gate. Many a sleepless night was

had as that bull tore through my dreams! I can still see the

metal ring in its nose. It makes me shudder to this day.

As my memories fade I am glad that Bob prompted

me to commit them to paper. I hope some might

be of interest to newcomers to Sonning as well as

those who also remember so long ago. Those days

are surely never to return!

Sonning High Street, then and now. A montage used as one of the

front covers of Gordon Nutbrown's trilogy of books 'A Thames Parish

Magazine' 1869 - 2015. We have a few spare copies remaining which are

available free of charge from editor@theparishmagazine.co.uk

The Parish Magazine - September 2022 25

feature — 4 around the villages — 1

WI rounders champions!

Sonning Glebe WI (pictured above) just managed to

beat The Sonning Club in this year's village rounders

championship which meant that Sonning School PTA, as

losers, have the honour of organising next year's match!

The other teams taking part were: Sonning Primary School

Teachers, Sonning Tennis Club, Sonning Scouts, and St

Andrew's Church. Despite it being a hot sunny evening on

St George's Field the spectators were well catered for by the

Sonning Cricket Club bar while The Village Hamper sold

plenty of ice cream and the PTA provided the BBQ. Nearly

£100 was raised for Daisy's Dream by a WI raffle.

Wanted: volunteers to put

smiles on children's faces

If you love to see deprived children smile, then Reading

Family Aid can help you! They have been putting smiles

on faces in and around Reading since the 1970's and are

planning to keep doing so as the demand continues to

grow. This is why they are looking for someone familiar

with charity governance to be their governance and

compliance advisor. They are also looking for a publicity

team member to help with media activities and press

coverage. Contact sravanthiyellapragada@readingfamilyaid.org

for more information.

Bowls club short of members

Charvil Short Mat Bowls Club is seeking new members. They

are a friendly group who play indoors on Tuesday afternoons

from 2pm and/or Wednesday evenings from 7-9pm indoors

from September to April at Charvil Village Hall, RG10 9TR.

More from: 0118 969 4022 or 0777 078 7791.

Plan a royal visit . . .

Buckingham Palace, Windsor Castle and many of the

other royal residences are open to visitors throughout

September and October. There are gardens to explore, state

rooms to tour, and Platinum Jubilee exhibitions to enjoy.

To see what's available visit: https://www.rct.uk/whatson/

where you can browse 50 events, get full information, and

create some Jubilee memories!
---
26 The Parish Magazine - September 2022

Welcoming girls in Year 7

from 2023

An independent company

rated good

by Care Quality

Commission, our customers

and staff alike.

Home Carers Wanted!

Bridges Home Care is growing...

Rated highly by customers... Staff and the profession...

Providing quality care in the Oxfordshire area...

Why not join our close knit team?

I love care work

and being around

to help people

The managers

are approachable

and supportive

My main carer

is very good, she

is wonderful,

like a friend

The training gives

you confidence to

learn more

With 40 years' experience teaching girls at

A level, Reading Blue Coat is excited to extend

its Co-Ed provision to welcome girls

into Year 7 from September 2023.

Open Morning: Saturday 8 October 2022

Register your attendance at: rbcs.org.uk

Bridges ticks all the boxes

n✔ Full training given

n✔ Existing skills

& experience valued

n✔ Guaranteed work,

local area

n✔ Flexible hours or

shifts available

n✔ Supportive hands-on

management

If you think this might be for you, find out more...

call Bonny or Wendy on 01491 578758

or email bonny@bridgeshomecare.co.uk

visit www.bridgeshomecare.co.uk

An Independent Day School for Boys and Girls 11-18

UKHCA

Supported by Oxfordshire County Council

Oxfordshire Association

of Care Providers

Interior & exterior blinds,

shutters, awnings

& screens

Always excellent service

and great value

www.blinds-reading.co.uk

Call John at Blinds Direct

on 0118 950 4272

johndacre@blinds-reading.co.uk

Bathrooms &Kitchens Ltd

Plumbing, Plastering, Tiling

and all associated work

Contact us today for a

FREE

No obligation Consultation

and Quotation

0778 897 2921

markt@kingfisher-bathrooms.com

http://www.kingfisher-bathrooms.com

167 167 Fairwater Kingfisher Drive, Woodley, Reading, Berks RG5 3JQ
---
around the villages — 2

The Parish Magazine - September 2022 27

Can you help Richard write the history of Sonning clubs?

This 1925 photograph, taken in front of the original pavilion at King George V Playing Field, inspired Richard

Anderson to delve into the history of the Sonning cricket and football clubs which were formed in 1887 and 1886

respectively. He is particularly interested in the village characters who have contributed to the history of the clubs.

The photograph gives the impression of an inter-club village match, possibly to celebrate the opening of the new

pavilion, complete with thatched roof. If any readers have any information relating to this photograph, perhaps an

ancestor who features, or to either of the clubs going back over time, particularly pre-1950, and in particular any old

photographs, they are able to share, please contact Richard at moleanderson1961@gmail.com

Walks, talks, and

music at Chiltern

Heritage Festival

Just 30 miles from our parish are 660

square miles of the Chiltern Hills,

one Britain's 38 areas of outstanding

natural beauty — which are

unfortunately known by the not very

beautiful acronym, AONB.

For almost 69 years, The Chiltern

Society's volunteers, members

and partners have worked to

preserve and protect their AONB by

maintaining 2,200 miles of paths and

bridleways, managing woodlands,

clearing streams and creating safe

environments for wildlife.

From 17 September to 2 October,

the Society is staging it's 5th

Chiltern Heritage Festival and has

arranged a programme of events and

visits to 'beautiful gardens, historic

houses, private tours, plus walks,

talks and music'.

You will need to book in advance

for most of the events. To see what is

happening, when, and how to book,

go to: https://chilternsociety.org.uk/

heritage-festival/

Upcoming talks in Pearson Hall

Graham Horn, 23 September, 7.30pm: An Heir and a Spare - The monarchs we

never had - the lives of the heirs who did not inherit, and maybe hints at how our

history might have changed.

Sarah Somerville, 28 October, 7.30pm: Shaw House one of the best preserved

Elizabethan Mansions in England. It has welcomed royalty, seen action during the

Civil war, housed soldiers during WWII and schooled local children.

Tickets for both talks for Sonnng and Sonning Eye Society members are £4 and can

obtained from: https://www.sonning.org.uk/ or penny.feathers@btinternet.com 0118 934 3193

Painting from one show to the next

Following Sonning Art Club's successful Scarecrow Trail exhibition they are

now working towards their next one at the Sonning Show when, as well as

entering several classes in the competitions, the club's main exhibition will be

in one of the classrooms where some original greetings card will also be on sale.

A pen and ink drawing by Sue Sheppard and a watercolour of Peonies by Lynda Tolworthy
---
28 The Parish Magazine - September 2022

Please mention The Parish Magazine when responding to advertisements

Cruz Kitchens

Bespoke, Made to

Measure Kitchens

Designed | Supplied | Installed

Call 0118 961 1295

Email: info@cruzkitchens.co.uk

Visit: www.cruzkitchens.co.uk

studio dfp

complete graphic

and web design

service on your

doorstep

Since 1984 · 0118 969 3633

david@designforprint.org

WATER SOFTENER SALT

Q Tablet 10kg Q Tablet 25kg Harvey Block

• 5x10kg=£35

*

• 3x25kg=£35

*

Salt 2 x 4kg

*

• 10x10kg=£65

• 20x10kg=£130

• 5x25kg=£55

• 10x25kg=£100

• 5 Packs £35

• 10 Packs £65

• 20 Packs £115

FREE LOCAL DELIVERY

Email: Martyncollins@portmanpm.com

FOR OFFERS & PRICES ORDER ON LINE AT

www.salt-deliveries-online.com

Tel 07785 772263 or 0118 959 1796

Unit 2, 6 Portman Road Reading RG30 1EA

*Prices are subject to change please check our website.

The

50

plus

Home Repairs

Handy and Property

Services for domestic

& commercial customers

Call us or visit our

website for full details of

our broad range of

services, helpful advice

& pricing

• Book a timed appointment

• Free estimates

• Friendly advice

0118 207 1387

www.the50plus.co.uk

Serving customers for over 20 years

For the best deal

on heating oil,

buy direct

Local depots

Order 24/7

online

For a quote call

01635 926606 or

visit cpsfuels.co.uk

Use code

'Sonning'

online for a £10

discount
---
HOME AND GARDEN — 1

The Parish Magazine - September 2022 29

How to add more than 8% to the value of your home ...

By Angela Cox, The Style Counsellor Ltd (0787 656 8917)

Over the last few months I have been asked by a number

of people what 'home staging and styling' is? What

happens when you ask a 'stager' to come into your

property, and what are the benefits?

Even at a time when the property market is strong there is

still that desire, and a need, for a home buyer to completely

fall in love with it and with the lifestyle it offers. When

potential buyers view your home, you want them to see

themselves living there, to feel at home, and not feel they are

in someone else's house.

Too many personal items can be distracting, while

completely bare rooms can look cold and impersonal.

Research shows that just as we form an opinion of

someone within 7 seconds of meeting them, most buyers

form an opinion of a property within the first 8 seconds of

entering it, and only 2 seconds if viewing online. It's really

important, therefore, to create a good first impression by

presenting your property at its best. This is where home

staging can provide the solution.

ADDING 'WOW'

Staging is a proven technique to market your home

and success stories show professional staging can increase

the offer value by up to 8% or more. It adds the 'wow' to

your home and sets you apart from other properties in the

neighbourhood by addressing exterior kerb appeal, interior

layouts, furniture and furnishings, lighting, traffic flow,

colour schemes and lifestyle appeal.

Professional home stagers can advise on refurbishments,

organise new flooring, decoration and window treatments,

as well as temporary rental furniture and soft furnishings,

accessories and photography that will make your property

stand out from the competition.

Videos and 3D virtual tours are becoming 'the new

normal' to provide an immersive experience of your home

and minimise unnecessary footfall so hiring a professional

photographer to emphasise the key focal points in your

home, and portray a lifestyle that buyers crave, is being used

increasingly by agents to showcase their best properties.

The before and after photographs above show the

difference in appeal between a cluttered and a staged room.

A buyer can immediately imagine themselves using the space

that was previously cluttered and cold.

KEY STAGING BENEFITS

— Professionally staged homes are eye-catching, intriguing and

encourage more buyers to consider your property, before seeing it.

— It makes your home feel aspirational. It's important that a buyer

falls in love with the property they choose to buy. Staging can create

that emotional connection. Professional colour combinations, smart

layouts and unusual pieces help develop positive feelings about the

space and are therefore able to imagine living in it.

— It shows ways to use extra rooms. An empty room can be

difficult to imagine how it might be used, especially if there are

areas to work around or dated features. Staging can help buyers

see the potential and how to get the most value out of it and how

it can be used. Empty rooms can look smaller than they are and

staging can help them appear larger — most buyers are not able to

imagine an empty space filled.

— Increased selling price. If your property has been sitting on the

market for a while and you've been considering cutting the price to

help move it, you might want to try staging it. This not only tends to

move properties faster, but you could sell it for higher than expected

Generally, staged homes sell over 8% above the asking price.
---
30 The Parish Magazine - September 2022 Please mention The Parish Magazine when responding to advertisements

Louise Amanda Sheppard (BA/Dip)

EMDR Specialist

Hypnotherapist

Mobile Therapist covering

Oxfordshire & Berkshire

EMDR Therapy

(Eye Movement Desensitisation Reprocessing)

A powerful tool, proven to be extremely useful in the

treatment of traumatised individuals, which can give

people back control in just a few sessions

Trauma . Victims of Rape . Assault

Combat . Drug Addiction . Bereavement

Fears/Phobias . Anxiety . Depression

Hypnotherapy

Pain . Anxiety . Fears . Phobias

Smoking . Weight Management

Age Regression/Past-Life Regression

Gestalt Therapy/Dreamwork

Parts Therapy

07842 262 583

lasheppard61@gmail.com
---
HOME AND GARDEN — 2

Recipes of the month

Parsnip, apple and lime loaf cake

By Helen Goh https://www.goodfood.com.au/

Churchwarden, Liz Nelson, tells us, 'it's surprisingly good!'

Ingredients

For the loaf cake

— 180g plain flour

— ½ tsp bicarbonate of soda

— ½ tsp baking powder

— ½ tsp cinnamon

— ½ tsp ground ginger

— ¼ tsp salt

— 2 large eggs

— 90g soft light brown sugar

— 90g castor sugar

— 160ml sunflower oil

— ½ tsp vanilla essence

— 180g grated parsnip

(2 medium parsnips?)

— 150g peeled and cored apple

(2 small Granny Smiths), in 1cm dice

— zest of 2 limes (save the limes for garnish)

At last, something to do with

this! - editor

For the icing: 180g icing sugar and 40ml lime juice

Method

Preheat oven to 160°C fan (180°C) and line a small loaf tin

(about 1kg capacity, 20 cm x 10cm) with baking paper.

Sift the flour, bicarbonate of soda, baking powder,

cinnamon, ginger and salt in a medium bowl and set aside.

In a separate large bowl, whisk the eggs and sugars until

combined, then add the oil. Continue whisking until creamy.

Add the sifted dry ingredients in three batches, mixing

lightly with a rubber spatula until almost combined (there

should still be flour visible), then fold in the vanilla, parsnip,

apple and lime zest. Mix until just incorporated, then scrape

the mixture into the prepared loaf tin.

Bake for about 60 minutes, or until a skewer inserted into

the middle comes out clean. Remove from the oven and rest

on a cake rack for 30 minutes before lifting onto a cake plate

to cool completely.

While the loaf is baking, prepare the lime icing. Measure

40ml of juice and whisk into the icing sugar to make a

smooth icing. When the loaf has cooled completely, drizzle

over the icing and allow to settle for a few minutes; it won't

set hard, but will form a glaze. Enjoy!

Carole's Courgette Cake

Sonning Show Section B Class 6

Ingredients

— 250g courgette, grated

— 125ml vegetable oil

— 175g sugar

— 2 eggs, beaten

— 150g plain flour

— 1½ tsp baking powder

The Parish Magazine - September 2022 31

Method

Heat oven to 180˚C, 350˚F, Gas 4; Cooking time 60-90mins

Mix together courgette, oil, sugar and eggs. In a separate

bowl sift flour, baking powder, bicarb, spices and salt. Add

flour mixture to courgette mixture, combine thoroughly. Stir

in walnuts and chocolate. Pour into 2lb, lined, loaf tin. Bake

until skewer comes out clean. Leave in tin for 15 minutes,

then turn onto wire rack to cool

Tea Loaf

Sonning Show Section B Class 7

Ingredients

— 200ml cold black tea

— 225g mixed dried fruit

— 225g self-raising flour

In the garden

Local autumn show for gardeners of all ages

Twyford and Ruscombe Horticultural Association is busy planning its

Autumn Show, to be held in Loddon Hall, Twyford, on 10 September.

Junior members will be taking

along sunflower heads they have

been growing to be measured, and

judging by the success of a recent

potato growing competition, TRHA

is convinced it has some budding

horticulturists in their midst.

Visitors are welcome at the show

and refreshments with homemade

cakes will be available.

There is also an open invitation to

join a TRHA coach trip to RHS Wisley

on Wednesday 14 September. The £22

per person cost includes entry and

transport from Twyford. Details can

be found in the TRHA newsletter, or

on the website: http://www.trha.org.uk.

Payment can be made at the TRHA

store in Loddon Hall Road, Twyford,

RG10 9JA any Sunday morning. TRHA

hopes this first post lockdown trip will

be one of many more in the future.

If you would like to take advantage

of all the benefits of TRHA you can

Make a tea loaf and/or a courgette

cake and compare your baking

skills at the Sonning Show . . .

If parsnips are not your favourite vegetable to use in a

cake (see left) then here are two other unusual cakes . . .

and if you bake one or both of these why not enter them

in the Sonning Show Section B Cookery? (See page 17)

— 1 tsp bicarbonate of soda

— 1 ½ tsp ground cinnamon

— 1 tsp grated nutmeg

— 1 tsp salt

— 75g walnuts, chopped

— 75g dark chocolate, chopped

— 100g caster sugar

— 1 large egg, beaten

— 2 tbs orange marmalade

Method

Place fruit in a small bowl, pour over cold tea, leave to soak

overnight or until fruit swells.

Pre-heat oven 180˚C /160˚C fan /Gas 4. Grease a 900g/2lb

loaf tin. In a larger bowl combine flour, sugar, egg and

marmalade, add fruit and tea mix, stir thoroughly. Bake for 1

hour. Leave to rest for 10 minutes, then turn out to cool.

NB: cooking times and temperatures are for guidance only.

Ken Cole, dreamstime.com

apply for membership in the TRHA

store, or email Jenny Wager at:

trhamembership@gmail.com
---
32 The Parish Magazine - September 2022

Please mention The Parish Magazine when responding to advertisements

For a helpful professional service

FIELDSPHARMACY

Wide range of health advice provided

including private consultation area

www.etsheppard.co.uk

01491 574 644

36 Reading Road, Henley-on-Thames RG9 1AG

1a LONGFIELD ROAD, TWYFORD RG10 9AN

Telephone: 0118 934 1222

Fax: 0118 932 0372

Email: fields.pharmacy@gmail.com

www.afjones.co.uk

0118 9573 537

33 Bedford Road, Reading, RG1 7EX

Established in 1858

A.F. Jones

Stonemasons

Limited

CHRIS the plumber

I offer the same friendly, reliable service as

always but in addition to general plumbing

I now offer domestic and commercial gas

work — boiler repairs, installations, fault

finding, power flush.

Repairs not covered by Homeserve?

Speak to a tradesman, not a salesman!

Emergency call out available

Ask Chris Duvall for a FREE quote

christheplumber75@gmail.com

0785 095 6354

3584769

57732 AF Jones Parish Magazine Advert.indd 1 19/11/2014 10:43
---
THE ARTS

Beauty in the ordinary

Rev Michael Burgess looks at 'Dust Motes Dancing in Sunbeams' by

Vilhelm Hammershøi. It is found in Ordrupgaard, Copenhagen.

The Parish Magazine - September 2022 33

History

Was it really . . . ?

. . . 1,900 YEARS AGO, from 13 September 122 - 128 that

Hadrian's Wall was built in northern England. It ran for 80

miles from coast to coast and marked the northern limit of

the Roman Empire. The Roman Emperor, Hadrian, wanted to

separate the Romans from 'the barbarians'.

Poetry Corner — Creation Comfort by Steven Rolling

Tune: Ruth ('Summer suns are glowing')

Saviour, ever-living

Kind and forgiving

Merciful and gracious

He comes unto us

Offer of salvation

Unto each nation

Through sun, rain, wind, whate'er

Conditions be there

Pernille Klemp

Vilhelm Hammershøi was inspired by the simple and

ordinary. A recluse, he lived in Copenhagen with his wife,

painting a few pictures a year. He died in 1916 aged 52

years. Most of his paintings are limited to the world of his

apartment at different times of the day and night.

Dust Motes Dancing in Sunbeams (above), was painted in

1900. It is an empty room, a wall, a window, a floor and a

door without a handle. All is stillness and peace. All is in

shadow until the winter sun streams in, lighting up the

dust and the floor. The miracle of sunlight brings life into

stillness. An ordinary aspect of creation.

In all his paintings, Hammershøi seems to be saying:

accept the simplicity of the present, find beauty there and

live in that beauty. For him the grass is never greener in

the next field, it is in the here and now that we find beauty

and meaning.

When young, our backcloth embraces the wider world

full of promise. As we grow older, it shrinks to our town,

church, and home. In illness our world may be a bedroom

or hospital ward. In that smaller world life can seem trivial

and ordinary. But wherever we are, Hammershøi invites

us to pause, to ponder and to find there beauty and light

which will bring us 'daily nearer God.'

He shall stay unchanging

Good things to us bring

Ups and downs of life's rhymes

Through varying time

No shadow turning

Praises we Him bring

Gospel message to share

With folks everywhere

. . . 200 YEARS AGO, on 11 September 1822 that the

Catholic Church admitted that the 16th century astronomer

Galileo Galilei might have been right about the Earth

orbiting the Sun. The College of Cardinals reversed the

Church's condemnation of his ideas. Galileo had spent the

last 9 years of his life under house arrest for publishing his

work on the subject. He died in 1642.

. . . 100 YEARS AGO, on 13 September 1922 that the highest

temperature ever recorded in the world was reported to be

57.7 0C in Al'Aziziyah in Libya. (Unofficial record)

. . . 90 YEARS AGO, on 23 September 1932 that Saudi Arabia

was founded when the Kingdoms of Hejaz and Najd were unified.

. . . 70 YEARS AGO, 6 September 1952 that the Farnborough

Air Show crash took place. A de Havilland fighter jet broke

up and fell into the crowd, killing 31 people. Stringent safety

measures were introduced to ensure it could not happen again.

. . . 65 YEARS AGO, on 2 September 1957 that the Everly

Brothers best-known song Wake up Little Susie was released.

. . . 50 YEARS AGO, on 5 September 1972 that Palestinian

terrorists invaded the Olympic Village in Munich, West

Germany during the 1972 Olympic Games and took 11

members of the Israeli team hostage. All the hostages, and

five of the eight terrorists, and a German police officer, were

killed when a rescue attempt failed.

25 years ago, on 5 September 1997 that Mother Teresa,

Macedonia born/Albanian India nun and humanitarian died.

She founded the Missionaries of Charity and was winner of

the 1979 Nobel Peace Prize.

25 years ago, on 9 September 1997 that Sinn Fein renounced

violence and committed itself to resolving the troubles of

Northern Ireland through peaceful means. This led to the

Good Friday Agreement in April 1998.

All His creation too

Praises Him anew

Hills, mounts, valleys, and fields

Each their produce yields

And in His image see

Man created be

In His plan and purpose

Reaching e'en to us

Hanalei Valley and the Fields of Taro, Hawaii

John Sohm, dreamstime.com
---
34 The Parish Magazine - September 2022 Please mention The Parish Magazine when responding to advertisements

Your local

interior

designers,

internationally

recognised
---
HEALTH — 1

Dr Simon Ruffle writes . . . Monkeypox

For those of us who remember the 1980's a new illness

swept through the world and became known as the gay

plague. Discrimination and myth stalled the research and

treatment of this disease. In September 1983 a building

owner took his tenant to court because he was researching

AIDS and treating affected people in 'their' building. It

seems inconceivable that in this short history — author

clinging on to youth — that discrimination could rage in

Manhattan. The judge in the case, against public opinion,

stuck to the law and barred the eviction.

'This attempt to evict a distinguished researcher and clinician is

symptomatic of the hysteria that has surrounded the AIDS crisis,'

said Mr Abrams. 'Our lawsuit is a classic anti-discrimination

case and is being filed to combat this irrational prejudice.' 1

Fast forward to 2022. Hot on the back of Coronavirus a

new disease starts to spread. It is blamed on MSM people

— men who have sex with men — with haunting reminders

from the 1980's. Once myth and misinformation is spread by

sensationalist headlines and poor reporting the cork rarely

gets back in the bottle. Let us in Sonning, and surrounds, rise

above this and know what we are seeing.

CLOSE PERSONAL CONTACT

Monkeypox is not a new disease. A quick Wiki search will

show a picture of a case in 1971. Monkeypox is endemic in

the Democratic Republic of Congo and central and Western

Africa. It was first found in monkeys in 1958 in Denmark.

Outbreaks have been known in Africa for years with a low

mortality rate.

One of the first Western outbreaks occurred in 2003 in

the USA. Exotic animal importers in Midwest brought in

rodents from Ghana infected with the virus. It was passed to

their owners and a mild infection ensued.

It is spread by close personal contact with an infected

person. It passes into the body through the mucous

membranes. This is why it was believed to be a sexually

transmitted disease. Foreskin, vaginal, rectal and the mouth

are examples of membranes that are especially designed

to introduce pathogens — viruses, bacteria etc — to the

immune system to deal with it.

It can also be spread via cut abrasions and weakness in

skin. Prolonged contact is required. It is known to live in

bedding but the risk is low. Healthcare workers caring for

patients are also at risk. Skin to skin transfer has been seen.

At this time it is not known to spread by an airborne

method — it is a reliably large virus — but is found in other

bodily fluids.

SUPPORTIVE TREATMENT

Monkeypox in the UK was imported from travellers

to Nigeria, the first person to person transfer was in a

healthcare worker. 2

It is a DNA virus and causes an illness similar to

chickenpox and smallpox. Distinguishing the disease is

possible without tests. Smallpox is eradicated apart from

samples in stasis. Chickenpox rarely causes lymph node

swelling, Monkeypox does, and the lesions are generally

painful whereas chickenpox lesions are only sore if

secondarily infected or in more delicate areas. Treatment

The Parish Magazine - September 2022 35

is supportive and, as I write, only two people have died in

Europe. Both died from swelling of the brain due to cerebral

infection or secondary causes. It hasn't been established

which.

Prevention of Monkeypox is the use of barriers such

as gloves. Condoms can help prevent but are not foolproof

as the disease is spread by skin contact other than genital.

Remember anyone can get it.

There is a vaccine which is a modified smallpox vaccine

and is in production and available to certain groups and

those that get exposed by their job.

Discrimination, bias — conscious or unconscious — and

stereotyping seriously affected the AIDS pandemic from

being researched properly. I think the science community has

grown up and the media in some areas have as well.

1 NYTimes October 1, 1983,Section 1 Pg 31

2 'Human-to-Human Transmission of Monkeypox Virus, United

Kingdom, October 2018'. Emerging Infectious Diseases. 26 (4): 782–785.

Planning Your

Traditional Wedding?

Then you might like to

discuss the possibility of

marriage in our ancient and

beautiful parish church.

If so, call the vicar, Jamie

0118 969 3298

He will be pleased to help!

In addition to the stunning and historic location in Sonning,

we will work hard to provide you with a memorable and

moving occasion. We can provide a choir, organ, peal of

eight bells, beautiful flowers, over 100 lit candles set in

ornate Victorian chandeliers and the use of our beautiful

churchyard as a backdrop for your photographs.

Church of St Andrew

Serving Sonning, Charvil & Sonning Eye

Monkeypox © Planetfelicity, dreamstime.com

the church of st andrew SERVING CHARVIL,

SONNING & sonning eye since the 7 th century
---
36 The Parish Magazine - September 2022 Please mention The Parish Magazine when responding this advertisement

Visit our website or follow us on

Facebook for details of events and

Platinum Jubilee celebrations

ASSISTED LIVING | NURSING | DEMENTIA CARE | RESPITE

Delivering peace of mind - the Signature way

Our award winning care team are on hand 24 hours a day providing care that

is responsive to individual preferences and needs. We take pride in going above

and beyond for your loved ones.

We encourage and empower residents to live independent lifestyles, providing discreet

assistance as and when needed. From a little assistance with washing, dressing and

taking medication to those residents who have greater needs, all our residents receive the

tailored support they need delivered in their own apartment.

To find out more, please contact the Client Liaison Manager at a Signature home near you:

Cliveden Manor, Marlow

01628 702310

Sonning

0118 338 2986

signature-care-homes.co.uk
---
The Parish Magazine - September 2022 37

HEALTH — 2 the sciences

Considering elderly care?

Keeping calm in the storm

By Philippa Robertson Smith

Comfort in Care/Shuttlestock

http://comfortincare.co.uk

Most people are happy to be able to help an elderly

parent or other loved one in need, but it's common to find

it difficult especially when an elderly parent is reluctant

to accept help or make changes — which is probably the

norm rather than the exception!

Trying to help an elderly parent tends to create lots of

issues that you haven't been prepared to address, for

example, in considering the potential of your new care

giving role you have to bear in mind the possibility of

continuing to work, or to manage charity work, or to tend

to the children and grandchildren, and so on.

A family member caring for a loved one can be

a difficult and demanding job and the physical and

emotional demands involved in caring for somebody else

can lead to strain, isolation and even mental or physical

illness.

As the one who is caring primarily for your loved

one, you need to recognise your own needs for help and

support, and you have a right to expect others, such as

professionals to recognise those rights and direct you

towards support which is appropriate for your individual

situation.

SOME THINGS TO CONSIDER

— Helping an elderly parent is rewarding but can easily

become a source of chronic stress. This can be managed

carefully with preparation, planning and possibly

assistance from your local council. The assistance is called

home care or domiciliary care and depending on your

circumstances, your local council may contribute to the

cost of home care or you may have to pay for it yourself.

— Because family caregivers are often busy, they can

easily neglect their own needs and wellbeing, which can

jeopardize their own health, and affect their ability to care

for and connect with their elderly parent.

— Family caregivers can use a variety of self-care

strategies to keep the strain manageable. These include

joining a support group, asking for help, setting

boundaries, allotting time to tend to one's own health and

other needs, and more.

— Reach out to a third party to assist with day-to-day

care or even consider a live-in carer. Carers are trained and

qualified to care for your loved one and this leaves you to

enjoy a healthy relationship with your elderly parent or

loved one.

Zatletic, dreamstime.com

By Dr Ruth M Bancewicz, church engagement director, The

Faraday Institute for Science and Religion in Cambridge

One of the most famous stories about Jesus is the

calming of the storm (Luke 8:22-25). Of course, anyone

could say that the wind stopped suddenly of its own

accord, but the disciples were not fooled. They had seen

a number of these 'coincidences' in Jesus' ministry, and

they weren't about to ignore this one. Jesus had calmed

the waves with only his words. Wasn't this an act of

God? Who else could be in complete control of creation?

Jesus dealt graciously with the very pressing and practical

issue of the raging storm before he did a bit of teaching,

asking his followers, 'Where is your faith?'

It's not surprising that they were scared, given the

circumstances, but clearly Jesus expected better of them.

He had already been teaching them for some time, and

clearly knew they were ready to trust him.

In similar circumstances, Christians often do several

things in quick succession. We start by panicking and

being afraid. After a while we might remember what we

know about God's character and pray for help, trusting

that whatever happens he will help us to handle it. Most

often, we don't get the storm-calming effect when we ask

for it, but battling on with faith and God's help is much

easier than trying to keep going in a panic.

KNOWING SCIENCE

'Peace' in this kind of situation is a very active holding

on to what we know about God. The difference between

trusting and not trusting can be like night and day in

terms of stress levels. I have found that it can make the

difference between unmanageable stress and something

that stretches me and teaches me something new.

Knowing some science can help us to trust God. A

being who created the whole universe, sustaining the

wonderfully creative processes that produced diverse life

on earth, must be both extremely powerful and extremely

wise. The God who can both calm the waves and walk on

them must be in complete control of the things he made.

When this knowledge goes hand in hand with experience

of God's intimate love for us and care for us in every

situation that we find ourselves in — I am reassured

that he's got things in hand. I will always need help

from others to pray faithfully in stormy situations, but

hopefully I've seen enough now not to panic for too long.

Time (and my closest friends) will tell!
---
38 The Parish Magazine - September 2022

Please mention The Parish Magazine when responding to advertisements

One of the country's foremost

independent girls' schools from 3-18

Leading with confidence, learning with purpose, living with joy

We would like to invite you to attend

any of our forthcoming Open Events

Junior School - 12 October - 13:00 - 15:30

Senior School - 22 September - 17:00 - 20:00

Sixth Form - 29 September - 16:30 - 19:30

To register your place, please visit:

www.theabbey.co.uk/events

Abbey Events 125H x 175W.indd 1 29/07/2022 14:41
---
CROSSWORD

1 2 3 4 5 6 7

8

9 10

11 12

13 14 15

17 18 19

16

20 21

22 23

ACROSS Across

Down

1 - Individual article or unit article (4) or unit (4)

3 - Launch with great with force (of great a rocket) (5,3) force (of a rocket) 2 - Discharge (5,3) (5)

9 V-shaped line or stripe (7)

- V-shaped line or stripe (7)

10 Flour dough used in cooking (5)

10 - Flour dough used in cooking 5 - Occult (12)

11 Religious acts (5)

11 12 - Religious Sully acts (7) (5)

6 - Driving out (7)

12 13 - Sully Unbolt (7) (6)

15 Sharp knife (6)

13 - Unbolt (6)

17 Particular languages (7)

15 - Sharp knife (6)

14 - Ancestry (7)

18 Male relation (5)

17 20 - Particular Wild languages animal (7) (5)

18 21 - Male Listening relation (5) (7)

22 Commonplace (8)

20 - Wild animal (5)

23 Owl cry (4)

21 - Listening (7)

DOWN

22 - Commonplace (8)

1 Forever honest (13)

232 - Discharge Owl cry (4) (5)

4 Measurement of extent (6)

5 Occult (12)

6 Driving out (7)

7 Boxing class division (13)

8 Long athletics race (5-7)

14 Ancestry (7)

16 Respiratory condition (6)

19 Coarse twilled cotton fabric (5)

CODEWORD

1 - Forever honest (13)

4 - Measurement of extent (6)

7 - Boxing class division (13)

8 - Long athletics race (5-7)

16 - Respiratory condition (6)

19 - Coarse twilled cotton fabric (5)

24 8 11 17 19 25 26 6 2 26 10 26

17 24 15 11 6 23 13

24 5 15 15 6 1 14 6 11 25 15

5 19 26 12 16 2 25

24 4 26 26 1 5 6 15 24 24

4 18 14 21 1 6 15

9 15 17 25 6 24 17 10 17 10 14 17

1 7 17 24 2 15 24

5 17 7 14 1 17 1 14 26 6

14 15 14 25 1 24 19

10 17 25 16 26 14 5 17 14 22 11

17 15 6 12 15 3 15

2 17 19 9 6 15 20 24 25 15 15 2

A B C D E F G H I J K L M N O P Q R S T U V W X Y Z

1 2 3 4 5 6 7 8 9 10 11 12 13

B

14 15 16 17 18 19 20 21 22 23 24 25 26

X S

SUDOKU

Each of the nine blocks has to contain all the

numbers 1-9 within its squares. Each number

can only appear once in a row, column or box.

WORDSEARCH

The Parish Magazine - September 2022 39

PUZZLE PAGE — the answers will be published in the next issue

PARABLE OF WEEDS

Ever wonder why there is both good

and evil allowed in this world? Jesus

told a parable that touched on this

subject — it is called the Parable of the

Weeds.

It runs like this: Consider the world

as if it were a field where a Farmer has

sown good seed. But then an enemy

came and sowed weeds among the

wheat. So, when the wheat came up,

so did the weeds. What to do? Instead

of destroying the weeds, and thereby

risking the wheat, the Farmer tells his

reapers to wait and let both wheat and

weeds grow together until the harvest.

At the harvest he will instruct the

reapers to gather up the wheat, but to

discard the weeds. So do not despair

when evil seems to thrive in this world

– there is a reckoning still to come, and

justice will be done.

LET

SOW

REAP

ROOT

GOOD

SEED

FIELD

GROW

BARN

GRAIN

WEEDS

ENEMY

MASTER

GATHER

SERVANTS

SLEEPING

TOGETHER

HARVEST

BUNDLES

HEAVEN

KINGDOM

BURNED

July/August

Solutions

CROSSWORD

A B D I C A T E A C I D

C I E Y L E

M O L A R P O S S E S S

E A T I R I

CODEWORD

D R A W E R A C I

O R A C Q U A I N T

O H M Z U F J

D I N V O K E F L U X

L N R O E R

E A G E R J U B I L E E

M C S N

A C T U A R Y R E F E R

O L A D I E

S O F A M O U N D S V

P T P C C H I

B E H E M O T H A E

R D N Y E L L O W

SUDOKU

T I F A W N I N G

D E E P F R Y A C N

E I T E

S C E A T E L I E R

P R O D D E D R N

O H A P D O

T W O S T E P O R I O N

I R T L A U

C I T Y A S T O U N D S

WORDSEARCH SEA SUNDAY

Here's one for our

much appreciated

proofreaders . . .

pinterest.co.uk
---
40 The Parish Magazine - September 2022

Local Trades and Services

ACG SERVICES - LOCKSMITH

Locks changed, fitted, repaired and opened

Door and window locks fitted, UPVC door lock expert

Checkatrade member - Which Trusted Trader

Call Richard Homden: 0149 168 2050 / 0771 040 9216

Please mention The Parish Magazine when responding to advertisements

CHIROPODY AND PODIATRY

Linda Frewin MInstChp, HCPC member

General foot care and treatments

25 Ashtrees Road, Woodley RG5 4LP

0118 969 6978 - 0790 022 4999

CLARK BICKNELL LTD - PLUMBING & HEATING

Qualified Plumbing and Heating Engineers Gas Safe

25 years experience - local family run company

Office: 0118 961 8784 - Paul: 0776 887 4440

paul@clarkbicknell.co.uk

COMPUTER FRUSTRATIONS?

For jargon free help with your computer problems

PC & laptop repairs, upgrades, installations, virus removal

Free advice, reasonable rates

0798 012 9364 help@computerfrustrations.co.uk

INTERSMART LIMITED

Electrical Installation and Smart Home Automation

intersmartuk@gmail.com

Elliott — 0777 186 6696

Nick — 0758 429 4986

HANDYMAN & DECORATING SERVICES

Reliable and affordable

Small jobs a speciality!

Call Andy on 0795 810 0128

http://www.handyman-reading.co.uk

JAMES AUTOS

Car Servicing, Repairs and MOT

Mole Road, Sindlesham, RG41 5DJ

0118 977 0831

http://www.jamesautos.co.uk

ALL AERIALS

A local business based in Sonning. TV - FM - DAB aerials etc.

Sky dishes. Communal premises IRS systems, TV points.

Free estimates - All work guaranteed

0118 944 0000

MC CLEANING

We are a family business with excellent references

and we are fully insured

All cleaning materials provided

For free quote call: Maria 0779 902 7901

PROFESSIONAL HOME VISIT SERVICE

Thames Valley Will Service

Also Lasting Powers of Attorney and Probate Service

We are still working during the pandemic period

0134 464 1885 tvwills@yahoo.co.uk

THAMES CHIMNEY SWEEPS

0779 926 8123 0162 882 8130

enquiries@thameschimneysweeps.co.uk

http://www.thameschimneysweeps.co.uk

Member of the Guild of Master Sweeps

CALLAGHAN CARPETS & FLOORING

Thirty-six years local experience

Family run company

0118 962 8527 0779 223 9474

callaghancarpets@btinternet.com

WANT HELP WITH AN 'ODD JOB'?

For local odd jobs please call Phil on

0118 944 0000

0797 950 3908

Thames Street, Sonning

BIG HEART TREE CARE

Reliable and friendly service for all tree care

NPTC qualified — Public Liability of £10million

0118 937 1929 0786 172 4071

bighearttreecare.co.uk info@bighearttreecare.co.uk

SMALLWOOD

Landscaping, garden construction,

patios, lawns, fencing, decking etc

0118 969 8989 https://www.smallwoodlandscaping.co.uk/

office@smallwoodlandscaping.co.uk

ALL WASTE CLEARANCE & DISPOSAL

Waste clearance from office, house, garden, loft

Licensed waste carriers, no job too small or large

Contact: John

0771 021 2056 j.garmston@ntlworld.com

BERKSHIRE STUMP REMOVALS

Stump grinding and tree stump removal

Latest narrow access machinery

Contact: Mark

0798 495 7334 http://www.berkshirestumpremoval

PAINTER and DECORATOR

Roger McGrath has 25 years experience

Restoration painting work of any size undertaken

For a free quotation call

Roger 0742 332 1179
---
CHILDREN'S PAGE

The Parish Magazine - September 2022 41
---
42 The Parish Magazine - September 2022 Please mention The Parish Magazine when replying to advertisements

information — 2

Parish contacts

Ministry Team

— The Vicar: Revd Jamie Taylor (Day off Friday)

The Parish Office, Thames Street, Sonning, RG4 6UR

vicar@sonningparish.org.uk / 0118 969 3298

— Associate Vicar: Revd Kate Wakeman-Toogood

revkate@sonningparish.org.uk / 0746 380 6735

On duty Tuesday, Friday and Sunday

— Youth Minister: Chris West (Westy)

youthminister@sonningparish.org.uk / 0794 622 4106

— Licensed Lay Minister: Bob Peters

bob@sonningparish.org.uk / 0118 377 5887

Children's Ministry

— Alison Smyly office@sonningparish.org.uk / 0118 969 3298

Churchwardens

— Stuart Bowman sdbowman73@aol.com / 0118 978 8414

— Liz Nelson liz.nelson1@ntlworld.com / 0779 194 4270

Deputy Churchwardens

— Simon Darvall sdarvall@businessmoves.com 0793 928 2535

— Sue Peters mail@susanjpeters.com / 0118 377 5887

— Molly Woodley (deputy churchwarden emeritus)

mollywoodley@live.co.uk / 0118 946 3667

Parish Administrator

— Hilary Rennie

office@sonningparish.org.uk / 0118 969 3298

Parochial Church Council

— Secretary: Hilary Rennie 0118 969 3298

— Treasurer: Richard Moore 0118 969 2588

Director of Music, organist and choirmaster

— Hannah Towndrow BA (Oxon), LRAM

music@sonningparish.org.uk

Sonning Bell Ringers

— Tower Captain: Pam Elliston

pam.elliston@talktalk.net / 0118 969 5967

— Deputy Tower Captain: Rod Needham

r06needham@gmail.com / 0118 926 7724

Parish Website: http://www.sonningparish.org.uk

The Parish Magazine: http://www.theparishmagazine.co.uk

— Editor: Bob Peters

editor@theparishmagazine.co.uk / 0118 377 5887

— Advertising and Distribution: Gordon Nutbrown

advertising@theparishmagazine.co.uk / 0118 969 3282

— Treasurer: Pat Livesey

pat.livesey@yahoo.co.uk / 0118 961 8017

— The Parish Magazine is produced by St Andrew's PCC and delivered

free of charge to every home in Charvil, Sonning and Sonning Eye.

— The Parish Magazine is printed in the United Kingdom by The Print

Factory at Sarum Graphics Ltd, Old Sarum, Salisbury SP4 6QX

— The Parish Magazine is distributed by Abracadabra Leaflet

Distribution Ltd, Reading RG7 1AW

— The Parish Magazine template was designed in 2012 by Roger

Swindale rogerswindale@hotmail.co.uk and David Woodward

david@designforprint.org

Advertisers' index

ABD Construction 6

Abbey School 38

Abbeyfield Wey Valley Society 22

ACG Services Locksmith 40

Active Domestic Appliances 16

Active Security 30

ADD Plumbing 12

All Aerials 40

All Waste Clearance 40

Barn Store Henley 16

Berkshire Stump Removals 40

Big Heart Tree Care 40

Blandy & Blandy Solicitors 14

Blinds Direct 26

Blue Moose 8

Bridge House 43

Bridges Home Care 26

Bull Inn 8

Callaghan Carpets & Flooring 40

Chimney Sweep, Thames 40

Chiropody, Linda Frewin 40

Chris the Plumber 32

Clark Bicknell 40

Complete Pest Solutions 24

Computer Frustrations 40

CPS Fuels 28

Cruz Kitchens 28

Design for Print 28

EMDR Hypnotherapist 30

Freebody Boatbuilders 6

Fields Pharmacy 32

French Horn 44

Gardiner's Homecare 8

Great House Sonning 24

Handyman and Decorating Services 40

Haslams Estate Agents 2

Hicks Group 16

Intersmart Electrical Installations 40

James Autos 40

Jones & Sheppard Stone Masons 32

Kingfisher Bathrooms 26

MC Cleaning 40

Mill at Sonning 4

M & L Healthcare Solutions 12

Mortgage Required 18

Muck & Mulch 28

Nutrition & Health Consultant 38

Odd Jobs 40

Painter and Decorator 40

Pearson Hall Sonning 24

Reading Blue Coat School 26

Richfield Flooring 14

Sabella Interiors 34

SecureHeat 22

Seniors Helping Seniors 12

Shiplake College 14

Signature Care Homes 36

Sonning Golf Club 32

Sonning Scouts Marquees 30

Smallwood Garden Services 40

Style by Julie 6

Thames Valley Water Softeners 6

Thames Valley Wills Service 40

The 50 Plus Home Repairs 28

Tomalin Funerals 24

Walker Funerals 12

Water Softener Salt 28

Window Cleaner 16
---
Please mention The Parish Magazine when responding this advertisement

The Parish Magazine - September 2022 43

BRIDGE HOUSE

of TWYFORD

Because you deserve

the very best

Welcome to Bridge House Nursing Home

Established for 35 years, the elegant Georgian Grade II listed Bridge House has extended its facilities to

include a beautiful, light-filled and airy purpose built nursing home.

Our philosophy is built upon helping residents maintain their independence and dignity, whilst ensuring

their needs and expectations are fully met. We believe that being independent means having the freedom

of choice and flexibility over how the day is spent. Working closely with families and professionals

is fundamental in delivering and maintaining the required level of health and wellbeing.

At Bridge House, our comprehensive facilities and care provision is designed to deliver skilled,

professional and individually planned care in an unobtrusive manner.

Call 0800 230 0206

Visit www.bridgehouseoftwyford.co.uk

INDEPENDENT LIVING • ASSISTED LIVING • NURSING HOME

190821 - Bridge House Ad Parish Mag v01.indd 1 21/08/2019 18:06
---
44 The Parish Magazine - September Please mention 2022The Parish Magazine when responding this advertisement

The French Horn,

Sonning. Quality.

A continuing commitment to

wonderful food and wine.

0118 969 2204

www.thefrenchhorn.co.uk