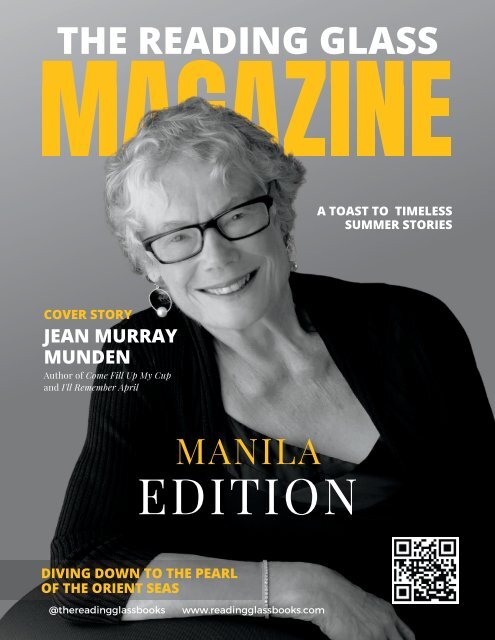 The Reading Glass Magazine - Third Issue
Our maiden issue underscored one discipline challenged by the Covid-19 pandemic, literacy, and confronted the threat posed to our thirst for knowledge. On our second issue, as we progressed to regain normalcy, we all started anew-breaking free from the fetters of the pandemic. Now, as we continue to step outside, what better way to release our third edition than bask in the sun's warmth? THE READING GLASS MAGAZINE, a community that sparks conversations, in our summer issue, gives A TOAST TO TIMELESS SUMMER STORIES.
Our maiden issue underscored one discipline challenged by the Covid-19 pandemic, literacy, and confronted the threat posed to our thirst for knowledge. On our second issue, as we progressed to regain normalcy, we all started anew-breaking free from the fetters of the pandemic. Now, as we continue to step outside, what better way to release our third edition than bask in the sun's warmth? THE READING GLASS MAGAZINE, a community that sparks conversations, in our summer issue, gives A TOAST TO TIMELESS SUMMER STORIES.
SHOW MORE
SHOW LESS
You also want an ePaper? Increase the reach of your titles
YUMPU automatically turns print PDFs into web optimized ePapers that Google loves.
THE READING GLASS

MAGAZINE

A TOAST TO TIMELESS

SUMMER STORIES

COVER STORY

JEAN MURRAY

MUNDEN

Author of Come Fill Up My Cup

and I'll Remember April

MANILA

EDITION

DIVING DOWN TO THE PEARL

OF THE ORIENT SEAS

@thereadingglassbooks

www.readingglassbooks.com
---
2 | The Reading Glass Magazine

EDITOR'S NOTE

Our maiden issue underscored one discipline challenged by the Covid-19 pandemic, literacy, and

confronted the threat posed to our thirst for knowledge. On our second issue, as we progressed to regain

normalcy, we all started anew—breaking free from the fetters of the pandemic. Now, as we continue to

step outside, what better way to release our third edition than bask in the sun's warmth? The Reading

Glass Magazine, a community that sparks conversations, in our summer issue, gives A Toast to Timeless

Summer Stories.

There is something about summer. The vibrancy by the warmth of the sun seeping through the skin. The

delight in the longer daylight. The pleasant hue painted in the sky. The perfect time to go outdoors—to

spend time with nature, to take on an adventure, and even travel. Summer is definitely a season to look

forward to. And though fleeting, its stories remain etched on our minds. So in this issue, we feature summer

stories that linger—stand the test of time, even.

But not only do we tell timeless summer stories, we also make new ones. As promised in our latest feat,

which is the Tucson Festival of Books, we're bringing The Reading Glass Magazine to the world. The

Reading Glass Books, together with Writers' Branding, , already participated in the recently concluded

Bologna Children's Book Fair and London Book Fair, respectively. Now, as we caress the wind in celebrating

the sun hanging in the sky, we're bringing summer to the breeze of the South East. Let's wrap up summer

with a memento from no other than Manila—traveling to and participating in, yet again, another international

book fair. Of course, we would not want to pass up the opportunity to grace the return in the flesh of the

Manila International Book Fair after two long virtual years.

Alongside us in the largest and longest-running book fair in the Philippines are the stories of Jean Murray

Munden with Come Fill Up My Cup, Barbara Williamson with The Journey of the Most Liberated Woman

in America, Marilyn Sandberg Grenat with Inspirations from the Heart, , and Janine Hall with It's My Turn:

Finding Identity and Purpose After the Empty Nest. . And as we dive deep into the Pearl of the Orient Seas,

we feature the best of Manila.

Travel. Go on an adventure. Spend time with nature. Caress the wind. Take pleasure in the hue painted in

the sky. Delight in the longer delight. Savor summer's sensation. And continue to spark conversations—

under the sun! What's your summer story?

Publisher

The Reading Glass Books

Project Manager

Kate Miller

Art and Content Editor

Ara Adams

Editor-in-Chief

Sam Carter

Copyeditor

Anne Wilson

Layout Artist

Alex Bleed
---
The Reading Glass Magazine | 3

CONTENTS

4 Cover Story: On Serendipity and Suspense: A

Conversation with a Storyteller

10 Barbara Williamson on The Journey of the Most

Liberated Woman in America

28 Diane Davies on Jeannie Ann's Grandma Has

Breast Cancer, Life in the Neck: New Friends,

Life in the Neck: Advent of Christmas, and Life in

the Neck: Squirrel Trouble

33 Sunshine Ghost By Reyna A.

40 Robert Kruse on Tontine, No Blood Left, and No

Way to Win

46 Ellen Beth Berman on The Voice of the Rooster

and the Lessons It Teaches

50 Lifestyle | Manila Feature

Philippine's Picturesque Capital: The Manila

Bucket List By Tamara S.

54 Marilyn Sandberg Grenat on Inspirations

from the Heart

62 When Summer Falls By Lancelot Whitehood

64 The Final Summer By Reyna A.

68 A Little Bit of Sun and a Whole Lot of Freedom

By Tamara Kaye

76 Janine Hall on It's My Turn: Finding Identity and

Purpose After the Empty Nest
---
4 | The Reading Glass Magazine

On Serendipity

and Suspense:

A Conversation with a Storyteller

Sam Carter

The sensation that summer brings is something so

simple yet special—waking up to the richness of the

glistening rays of the sun, savoring the breeze of the

longer daylight, and watching the splendor of the starry

summer night sky. In a season so spirited, it's best to

bask in some good stories—including tales of romance.

Come Fill Up My Cup, for one, is a tale of romance that

will take you on the edge of your seat this summer.

It follows the love story of Robin and James, set in

picturesque Scotland. A budding romance that takes a

detour to unexpected twists and turns, will the love and

affection in Come Fill Up My Cup seep through your

skin as warm as the weather, or will its complexities be

vexing like the scorching sun?

As we give a toast to timeless stories this summer

for our third issue, The Reading Glass Magazine takes

delight in a short yet insightful conversation with no

other than the brilliance behind the beautiful Come Fill

Up My Cup, author Jean Murray Munden herself.

Jean Murray Munden is a widow who has always been

fond of storytelling in one form or another since she

was a child. She grew up in a small town, moved to

the big city at 16, and trained as a nurse in a large city

hospital after finishing high school. Munden practiced

her nursing profession for a short while before

marrying a widower with three lovely children. They

had a son of their own and have traveled extensively

within their happy marriage of nearly 49 years. She

now lives in solitary but still keeps close ties with her

family. Writing at her leisure, Munden has brought to

life Robin Lindsay and James Maclachlan in Come Fill

Up My Cup. And on top of that is another love story

equally engaging that is Munden's I'll Remember April.

Take a glimpse of Jean Murray Munden's life and

find out how her must-read tales of romance came

to fruition.

Editor: What does a day in the life of a Jean Murray

Munden look like?

Jean: A day in my life these days is rather mundane:

light necessary housekeeping, meal preparation, routine

errands such as shopping for myself or a friend; reading,

writing, computer, telephone calls to my friends and

family; walking, cardiac exercises; depending on the

week or day, a meal out with friends. Sounds pretty

normal, isn't it?

How was life back in the day? What were you like

growing up? Are there any instances in your life now

that ring a bell in your childhood?

I grew up in the fifties in a small town in the southern

interior of British Columbia. As children, we were

allowed a lot of freedom on our own or with friends.

The school bus picked us up at a designated spot, a few

minutes' walk away. I took piano lessons until I was

thirteen or fourteen; then there was a band program

in high school—I played the trombone for about
---
The Reading Glass Magazine | 5

three years. I also joined the school choir, both in my

hometown school as well as when we moved to the city

where I completed high school. I also had summer jobs

as a teenager: babysitting, working in the fruit packing

house and cannery, and an abortive attempt at working

behind the counter in a café. (What stayed with me

after that job was respect for waiters and waitresses.)

We lived on a large lake where we swam in the summer

and skated in the winter. Summer camp was a highlight

of the season for me.

What are you most passionate about? Who/what

influenced you the most?

I am passionate about family and friends. I grew up in

a large extended family. I loved my grandparents, aunts,

uncles, and cousins dearly. Some of my best friends

today are also my sister and my cousins. My happiest

memories of childhood are meals and picnics with

family members and hiking and birdwatching with my

favorite aunt and uncle and their family. My mother,

who was a nurse, and her brother, my oldest uncle, a

doctor, both influenced my choice of nursing as a career.

At this point in your life, what do you look forward to?

At this point in my life, I look forward to a healthy

old age. I am at this time still recovering from open

heart surgery.

How did you become a writer? Has this always been

the dream?

I have always been a storyteller and story maker. I

used to entertain my sister by making "plays" with

her dolls. By the way, she is also a author of children's

books, writing under the name of Rie Charles. I had an

alter-ego I called Jane, who had the most interesting

adventure in my head. I wrote some of them down.

These first stories were rather bad. My favorite subject

was English literature and language. They don't teach

grammar anymore, and it is obvious when you listen

to people talk. I was also very much influenced by my

father, who was quite the grammarian (and wasn't afraid

to correct our speech), and my high school English and

music teacher, who hated slang and jargon. I still hear

their voices in my head.

Come Fill Up My Cup is initially an uncomplicated and

effortless tale of romance that eventually takes a detour

to unexpected twists and turns. How did you come up

with a book so beautifully written? What inspired you

to bring to life the story of Robin and James?

I don't know where the story in "Come Fill Up My

Cup" came from. Sometimes, I see in my mind opening

scenes to a story, and I go from there. I attended an

Author's Conference in Cincinnati, Ohio, in 2010 or

11, and one of the perks was having an editor read and

comment on a portion of an unpublished manuscript,

which we would submit beforehand. I sent the back

story portion, which the editor liked a lot. He was very

complimentary and commented on my skills writing

dialogue. I have taken two trips to Scotland, a place I

love. (I have a lot of Scot DNA in me, and I think that

Scotland is my spiritual home. I never felt so at home

anywhere else as in that portion of the UK.)

My earlier book, "I'll Remember April," is a book of

pure fiction. The characters actually came to me and I

told their story.

The title of your book itself is interesting enough to

catch one's attention. Can you share a snippet of the

story behind it?
---
6 | The Reading Glass Magazine

"Come Fill Up My Cup" is part of the first line of the

refrain to an old Scottish song, "Bonnie Dundee," sung

to the tune Air at a Distance. The refrain is as follows:

"Come fill up my cup, come fill up my can; come saddle

my horses and call out my men; Unhook the west port

and let us gae free; For it's up with the bonnets of

Bonnie Dundee."

"I'll Remember April" is also a song title. Many

important events happen in that month; Louise's

birthday and the battle of Vimy Ridge are two examples.

I wrote in a sort of memoir style, but the events (except

for historical ones) are out of my imagination.

This world is a picturesque one. What made you choose

the beauty of Scotland to set Come Fill Up My Cup with?

As previously stated, I have made two trips to Scotland,

and I have read many books set there. One of my

readers, who is from Scotland, says my descriptions are

good, that she really felt she was back there.

Crafting a story so heartfelt is no easy feat. How long

did it take for you to bring the book into being? What

were the challenges, if there were any, that you have

encountered along your writing?

That is a difficult question to answer. I have been

working on these books for a long time. I rewrote the

first chapter to "Come Fill Up My Cup," and I had

the "I'll Remember April" line edited after the first

printing. I don't keep a journal, so I am quite hazy about

times and dates. You see, I write for pleasure, and when

a story comes to me, I go for it. I am presently working

on a sequel to "Come Fill Up my Cup"—it's longer and

has more layers than the first. A lot of the work I do

in my head, visualizing scenes, and experimenting with

conversation, making sure it is true to the character.

The US Review of Book writes, "[T]he author has

created in this book a profound drama that will hook

the attention of its readers early and keep them on their

toes all the way to the end." As the author yourself, what

do you want the readers to experience during and after

reading your book?

When I read a book that captivates me, where I have

gotten to know and love (or hate) the characters, and I

don't want the story to end, that to me is the greatest

feeling. To enjoy the story, and to be sorry to say goodbye

to these people, to wonder what happens to them

afterwards. That's what I want my readers to feel.

Jean Murray

Munden
---
The Reading Glass Magazine | 7

COME FILL UP MY CUP

BY JEAN MURRAY MUNDEN

Paperback | $9.99 Kindle | $2.99

Come Fill Up My Cup is the serendipitous meeting of Robin Lindsay and

James Maclachlan. Both are widows, and their lives are the proof—scars—of

their loss. But when Robin and James were brought together by a rainstorm,

they have also found their relief in each other from their own hurricanes.

This chance meeting between two broken hearts, two lost souls, two people

betrayed by the love they thought would last forever, is a beguiling story of

romance and love. However, when things start to look good, events from

the past and a violent murder in the present will again stir turmoil in their

lives. Will Robin and James pull through? Or will this be another love lost

for the both?

I'LL REMEMBER APRIL

BY JEAN MURRAY MUNDEN

Hardcover | $29.99 Paperback | $9.99 Kindle | $2.99

The book is about the story of Lulu Ferris, a woman who sets out to go

to her grandmother Louise to talk about her love life. She is in a bit of a

pinch because she is already engaged to be married, but found herself in

love with a man who is older than her. Louise, in a bid to give the best

advice a loving grandmother could, draws on her own past and a similar

situation she has been through—that of experiencing two loves—as well

as her relationships with her sisters, to give the best answer.
---
Creating consciousness.

Thriving thinking. Invigorating

imagination.

Children's books encompass various genres—from

literature classics and easy-to-read stories to picture

and activity books. In any form it may be, the content

tailored for children will always be a joy to experience.

And as much as it entertains, children's books are jammed

with learning.

Educational books for children, especially for early

learning and development, are massively available in

the market. Familiar ones are the ABCs and 123s, the

coloring and picture books, and those that furnish fun

facts. Advanced ones teach manners, tackle a subject

matter, and instill skills. Anyhow, educational books all

boil down to affording an avenue for learning. But in the

saturated market, even more so with a challenging target

audience that requires so much to pique their interest,

how would you creatively craft an outstanding material?

I

Can

Read

by Symone Smith

I Can Read, for one, is a clever book brimming with

brilliance. This children's educational book wraps up

literacy and amusement in one. A 32-page flip, I Can Read

is a spread of rapid-fire questions, with a spacious section

for answering, and an identification exercise of wildlife

in adorable images using the twenty-six letters of the

alphabet. So, what makes I Can Read exceptionally good?

"I noticed the author made a mistake!" Symone Smith

authors I Can Read. Intentionally incorporating

grammatical errors to cultivate reading comprehension,

Smith puts a spin on the traditional children's book—

allowing children to identify poor sentence and grammar

structure, giving them the power to exercise their voice

by pointing out the author's deliberate mistake. "Being

able to identify mistakes is important and great. Children

are sometimes told not to correct things or adults. My

book gives them that opportunity to use their voice and

practice, for practicing makes perfect," Smith says.

Hardcover | $6.02

Paperback | $8.99

Kindle | $2.99

I Can Read gives children a different look at

learning and wildlife. Available on Amazon and

other major online bookstore resellers, I Can Read

is a book children should have a copy of.
---
y Karen Emmons Moore

Hardcover | $15.99 Paperback | $9.49 Kindle | $3.99

The Zookeeper walks children and their families through a trip to the zoo. The reader's guide on this journey is Abby,

a toddler. Interspersed among illustrations of zoo animals are pictures of Abby, who provides adorable commentary

about the animal exhibits and animal facts.

Abby's curiosity is infectious. She makes the reader wonder what animal they will encounter next and what unusual

fact they will learn. Along with Abby, we learn that no two zebras have the same pattern of stripes and that gorillas

all have unique faces, just like humans do.

The reader will feel like an expert on zoo animals when they reach the end of the book! The last page features a frame

for a family picture, captioned "Hi! My name is _____ and I am The Zookeeper." Children can place a picture of

themselves here—perhaps a picture of them reading with a beloved family member—to show how much they have

learned on this zoo visit with Abby.
---
10 | The Reading Glass Magazine

The Journey of the

Most Liberated Woman

in America

Barbara Williamson

"We were 'spiritual

beings simply having a

human experience on

planet earth.'"

It has been a controversial fight for a sensually liberating

life, but it is all worth it. Humanity has indeed come a

long way. Now more than ever, to be openly sensual is a

taboo no more—all thanks to the bold few who incessantly

fought for and paved the way for sensual liberation.

Barbara Williamson, for one, burst the bubble of

conservatism back in the late 60s. Together with her

husband, John, they founded the highly successful and

controversial Sandstone Retreat, a bizarre sanctuary yet

an inclusive community where an unapologetic sensual

self was fostered and, even more so, celebrated. And until

this day, the ripple effect of the revolution Sandstone

Retreat has pioneered is still evident.

Empowering. Defying norms. Boldly breaking barriers.

Pioneering the sexual revolution. A woman ahead of

her time. Branded as "The Most Liberated Woman in

America." The Reading Glass Magazine has had the privilege

to have Barbara Williamson, the Most Liberated Woman

in America herself and the Godmother of Polyamory, in

a short yet insightful conversation. Get to know more

about the woman that she is in her meaningful memoir,

The Journey of the Most Liberated Woman in America, a

tell-all of the liberated life back in the day.

Editor: You are the renowned "Most Liberated Woman

in America" and is considered the "Godmother" of

Polyamory. How does it feel to be celebrated as such?

Barbara: I am deeply pleased that my pioneering spirit

and experiences have inspired so many lives.

Building the beautiful environment known as the

Legendary Sandstone Retreat was critical. Private and

secluded setting away from the chaos and negative

energies widespread in the outer world. Completion of

our new look of a million-dollar estate was something

to celebrate. Our newly remodeled estate had a spiritual

feel and looked calming to our souls.

Soon became evident to everyone living in our community

that we were "spiritual beings simply having a human

experience on planet earth."

Our doors opened to club members willing to walk this

spiritual path with me. I extended an invitation to them;

to join us on a sexual voyage of everything sensual, sexual,

fun, and pleasurable. The spiritual pathway was a journey

into expanded consciousness, with new freedoms and

experiences that would last their entire life. That is my

reward to celebrate!
---
The Reading Glass Magazine | 11

Surprise to myself is that it inspired other brave souls to

step out and find others to enhance their own relationships!

Important to keep life interesting.

Despite having a stable career in insurance sales,

you have chosen to leave it all behind and chase a

completely different life. Looking back, would you

do anything differently?

Barbara never had any reason to look back. The spiritual

path was so rich with good feelings in daily life. I enjoy

the personal change that happens on a daily basis.

Personal growth and transformation made me into a

better human being.

You have lived an entirely empowering life—defying

norms and breaking barriers. If there's something

you would want to tell the younger Barbara, what

would it be?

Study the word of God. God and the Universe represent

love! Self-love equips me with a strong foundation to be

loving to others. When I love myself, it automatically

radiates out into the world.

people would not be permitted to destroy

what we were building together. We built

an unbreakable bond of trust.

With a continuous focus to work out feelings of jealousy

and possessiveness as they arose. Necessary to create a

love relationship. The multiple relations that both of us

indulged in enhanced our own relationship. Bringing

newfound freedom into our lives.

We endured much pushback from the outside world. They

hauled us into court, hoping to put us out of business.

Our attorney won the case for us. We had won the "first

amendment right" to assemble three or more people, with

no familial relationships, to be nude together. The board

of supervisors was unable to broach the subject of sex.

For them, it was a taboo subject.

Sexual freedom is our birthright and must be claimed

to be whole individuals. We were not greatly affected by

the judgment of others.

Sandstone Retreat is highly successful and

controversial. It was impactful that it still remains

an unforgettable experience until this day. As its

co-founder, how do you perceive Sandstone Retreat

in hindsight?

Sandstone was the first organization in 1968 that

offered supportive tools for much-needed change and

personal growth.

Yes, I believe we need more Sandstone's that offer positive

sexual experiences that lead to widespread acceptance of

the sexual self.

You and your loving husband, John, were one

successful marriage. How were you able to trust

each other's liberation to meet your basic needs?

How was it to be a nonconforming couple in the

conservative times you were in?

From the beginning of our relationship,

John and I made a strong commitment

to our primary relationship—that other

Readers may learn more about the book

and its author by visiting her website.

www.barbarawilliamson.com
---
JEMMY AND THE LITTLE

SPIDER OF HOPE

BY SERGIO DIAZ

Hardcover | $16.99 Paperback | $12.99 Kindle | $2.99

This story takes us to a strange old world, full of ancient old landscapes,

and ancient old ways of life. But that world of two thousand years ago, that

now seems so old, was completely new to Jemmy. Especially if we consider

that Jemmy is a small mouse, an eight-day-old boy, a toddler that begins

to discover, to explore, to try, and to chew that whole world as brand new.

BYE, BYE, BOW WOW

BY KATHY LEYPOLDT

Hardcover | $17.99 Paperback | $9.99 Kindle | $4.99

Bow Wow lives with a nice little family, in a nice home, in a nice neighborhood,

in a nice little town. As he watches the family go through the daily morning

routine of getting ready to leave for work and school, he knows he will be

left at home to entertain himself. It seems "unfair" to him that the family

gets to come and go while he is left behind. Every day, he hears the words,

"Bye, bye, Bow Wow," as they go out together.

Bye, Bye, Bow Wow was a Christmas gift for Kathy's five granddaughters

and one grandson, for which she wanted to create a lasting memory and

a legacy.
---
PREVENTING BULLYING:

A MANUAL FOR TEACHERS IN PROMOTING

GLOBAL EDUCATIONAL HARMONY

BY RAJU RAMANATHAN AND CHRISTINA THEOPHILOS

Paperback | $11.99 Kindle | $2.99

This book is described as a precious teacher's aid to help prevent bullying and

give the proper response should it happen in the school. The approach focuses

on pro-love, but also contains important facts about bullying, as well as various

intervention strategies and more than 40 different activities for the classroom

to help strengthen student relationships. All of these aims to empower students

to respond positively to the different forms of bullying.

PACIFIC BOOK AWARDS 2022

Winner Education Category

SOULS FROM MERCURY: CHAKRA MAGIC:

EMPOWERING RELATIONSHIPS

BY RAJU RAMANATHAN

Paperback | $9.95 Kindle | $2.99

Mercury Man Publishing serves as Master Raju's online portal where his

ideologies of Chakra Magic to empower relationships for the betterment of

humanity are easily accessible by people all over the globe. His message, clear

and concise from the very beginning of his career, can be found in the many

items that are available on his website. His book Souls

from Mercury: Chakra Magic Empowering Relationships

is his flagship offering, but the messages contained

therein can also be found in merchandise, videos, and

other offerings available in his web portal.

MASTER RAJU RAMANATHAN

PUBLISHED AUTHOR

Mr. Raju Ramanathan (or as most name Master Raju) is the scientist of both the inner and

the outer worlds. Sought after by major corporations to be their pioneer and champion for

continuous improvements; sought after by the individuals in great positions of authority

to be their life coach and spiritual teacher. For more than twenty years, Ramanathan has been

empowering seekers in Europe, Asia, USA, and Canada. His book, Preventing Bullying:

A Manual for Teachers in Promoting Global Educational Harmony, is the

winner in the 2022 Pacific Book Awards for Education.
---
UNUSUAL ATTITUDES

FLIGHTS INSTRUCTOR MEMOIRS

BY EDWIN D. ARMBRUSTER

Hardcover | $20.99 Paperback | $16.99 Kindle | $3.99

Captain Ed (Edwin D. Armbruster) lived a fascinating life as he flew

thousands of hours over the jungles of Panama and the Carribean in single

engine planes. Over seven hundred students called him their instructor as

he piloted them from Atlantic to Pacific over and along the Panama Canal,

through Panama, Central and South America. Beginning with the halcyon

days of Canal Zone life and navigating more troubled times as the drug

wars escalated, adventure calls on every page.

SPIDERSILK

BY AKUTRA-RAMSES ATENOSIS CEA

Hardcover | $19.33 Paperback | $9.99 Kindle | $2.99

Explore reality and those that are within the realm of possibility in Akutra-

Ramses Atenosis Cea's Spidersilk. In a quantum entanglement where a

change induced in one will affect the other, follow Mark Kheops, the video

game designer, and his army of spiders on a journey to stop the abducting

intruders birthed from a black hole. Packed with action, science and tech,

Spidersilk challenges you to unravel the complexities between the thin line

of reality and dream. Will you be able to figure out what is on the other

side of the connection?
---
EVERY DAY WITH JESUS

DEVOTIONAL:

GOD LOVES AND CARES FOR YOU

BY SHIRLEY A. HOWARD

Paperback | $10.99 Kindle | $2.99

In our everyday lives, we must start our day blessed with the presence of the

Almighty. In every rising and setting of the sun, the rainy and sunny days,

the rapid and slow moments, to start the day with the Lord is what makes

the difference. Every Day with Jesus Devotional: God Loves and Cares for

You is a daily read in meditation and prayer—a great company during your

breakfast and coffee. Shirley Howard reminds us that as we physically take

care of our body, we must also feed our spiritual being. An open heart and

mind with the guidance of the Holy One resets your worries and burdens

of the day. May this journal help you get through difficult times and grow

your relationship with the Lord Almighty. One page at a time.

KNOWING THE BEST OF

PRINCESS DIANA

BY MARIAGORRETTI OKORO

Paperback | $4.80 Kindle | $2.99

Princess Diana is undoubtedly one of Britain's most notable and impressive

personalities. She was and is continuously looked upon by a multitude

of women; her charm has caught the eyes, not just of England but of all

over the world—including that of author Mariagorretti Okoro. In her

book Knowing the Best of Princess Diana, Okoro writes about Diana's life,

character, passion, beliefs, love, family, and royalty. Diana was one of the

high royalties that never failed to let anyone feel small. And as much as

her life has given light, her passing was as heavy a burden to some. She was

such an inspiration, and in the eyes of the simple woman Mariagorretti,

Princess Diana's influence is undeniable.
---
THE QUANTUM LIFE:

THERE IS A BETTER WAY TO LIVE

BY DR. M. TERI DAUNTER

Hardcover | $30.20 Paperback | $17.00 Kindle | $2.99

Clinical Psychologist Dr. M. Teri Daunter writes her mind-opening book,

The Quantum Life: There is a Better Way to Live, a book on the physics of the

inner life and a revolutionary personal development guide to self-realization.

There is a perspective beyond the psycho-spiritually crippled world we live

in. People have the capacity for a paradigm shift, and Dr. Daunter recognizes

this human ability. The Quantum Life: There is a Better Way to Live awakens

readers from the chaotic darkness of potentiality and teaches the skills needed

to realize one's full potential, ushering readers to limitless power. The concepts

in the book are complex, but Dr. Daunter presents them in a detailed and

understandable manner. The transcendental author seamlessly takes readers

to a vantage point, into the boundless realm of Consciousness, away from the

confines of societal norms, and teaches readers to be progressive in a conscious

and connected reality.

Achieve and embrace better well-being with The Quantum Life: There is a

Better Way to Live.

A TEACHER'S TALE (A MEMOIR)

BY JOE GILLILAND

Hardcover | $25.77 Paperback | $27.99 Kindle | $1.99

It was never in author Joe Gilliland's plan to become an English college teacher,

but that's what happened and he has never looked back. In A Teacher's Tale,

he explains how by neither planning for nor seeking a life of learning and

teaching, lacking a syllabus or lesson plan, he discovered that a life in academe

lay in his path—a path he has followed for more than fifty years. Beginning

in 1932 with Gilliland's first experiences in schooling, this memoir presents

a collection of stories about his experiences as a teacher and a college student.

A Teacher's Tale shares Gilliland's love of the university and how it compelled

him to seek a life devoted to teaching, primarily in the community college

arena. With this, he brings together a philosophy of higher education based

on the importance of arts and humanities in today's high-tech world.
---
SOMEDAY... YOU'LL KNOW!:

THE LIFETIME SEARCH FOR MY FATHER

BY RICHARD L. HARTNESS, SR.

Paperback | $11.99 Kindle | $3.99

Someday… You'll Know! is a memoir that showcases the author's recollection

of many details of his life – from his quest to know more about his father

and how families can build connections to bring healing to each other's lives.

A CHILD'S GUIDE TO WISDOM

BY EVERTON ROBINSON

Paperback | $9.99 Kindle | $2.99

A Child's Guide to Wisdom was designed to serve as a guide for parents in

the transferal of wisdom to their children. The book offers a collection of

fifty principles in the form of easy-to-remember, common-sense-based

definitions, intended to build character in your child by instilling in him

or her important qualities that will result in a life of wisdom and success.
---
POST HOLE DIGGER

BY JAMES POPE

Hardcover | $15.99 Paperback | $10.99

Post Hole Digger is dedicated to all the children that became INSTANT

ADULTS, forgoing childhood, as they were called upon to shoulder family

responsibilities, far buoyed their age. It is the result of strong parenting,

whose insight of an unknown future! Parent's guidance, children achieving

made possible a seamless, transparent transition.

I was working with dad at age 12, when he had his first heart attack. I

became an INSTANT ADULT in the 9th grade, age 15, alone with dad.

Dad died in my arms, as I was trying to get a nitroglycerin tablet under

his tongue. I took his job as janitor of the Macedonia, Iowa, Consolidated

School. Supporting my mother, big sister and little sister.

$10 SAVE ME

BY LLOYD HULCOLM

Paperback | $10.99

This book should give everyone the opportunity to put some savings in

place, whether utilizing the $10-per-day plan or an amount that will be

comforting in the pocket. If the savings plan formula is used with any

amount, then at the end, some accumulation of funds will be available.
---
M*A*S*H VIETNAM:

WHAT IT'S LIKE TO BE A WAR NURSE

BY LORNA GRIESS

Paperback | $9.99 Kindle | $2.99

M*A*S*H Vietnam shows how one young nurse survived the day-to-day

drama in a Mobile Army Surgical Hospital in South Vietnam. Dealt in a

frank, no-holds-barred tone, the book uncovers the operations of a MASH

unit in a combat zone and the bleak hardships of war. This story is not so

much about the war but about a regular nurse who followed her passion, her

desire to do good, into the middle of a war zone, and her mixed emotions

going home to a country torn by an unpopular war, uncertain how she will

be treated and even uncertain how she will relate to family and friends.

CHRISTIAN POEMS, PRAYER

AND INSPIRATIONS

BY PATRICIA OFFERMAN

Hardcover | $29.99 Paperback | $19.99 Kindle | $2.99

The book contains Christian poems, prayers, and inspirations written in a

forty-year span of daily journaling experience, now in print to inspire and

uplift body, mind, and spirit in simple, easy-to-read poems that woo and

inspire one to a holy desire to have a closer and more intimate walk with

the Lord Jesus Christ as one journey through life.
---
ORIGIN OF THE FOLLOWER AND

HIS NEW ACTIONS:

ABOUT AN ACTION CHARACTER WITH

UNIQUE CAPABILITIES

BY JOHN D. HUSHER

Hardcover | $29.99 Paperback | $19.99 Kindle | $3.99

Axel Tressler is a biology teacher in a California college except when the U.S.

Agency calls on him as The Follower to solve a major problem. Axel Tressler is

born with special energy levels that he can activate and with his experimental

body covered with invisible indestructible material he is a major force for the

Agency to resolve issues they are unable to resolve. In this issue, The Follower

is sent to Pakistan to determine how drugs are produced and delivered to the

U.S. and how to resolve this issue. Later, Axel is sent to Mexico to determine

how the U.S. Envoys are killed and to resolve this issue. It's action all the way

with The Follower on these assignments.

PEOPLE OF GOD - ONE AND ALL:

SAINTS AND SINNERS

BY EDITH A. CLOSE-VAZIRI

Paperback | $10.99 Kindle | $3.99

Who is a sinner? Who is a saint? Which one are you? You will find answers

to these questions.

Throughout the book, scripture passages for further study and references

are provided with most of the poems, furthering personal questions and

reflections on one's faith; they allow one to mature oneself in the faith realm

and to share it with others.
---
THE APP I COT JOURNEY TO

PLUMVILLE:

EMPOWERING KIDS TO OVERCOME ADVERSITY

BY DENNIS W.C. WONG

Hardcover | $19.25 Paperback | $12.99

I am a personal assistant bot, born and raised in an apricot orchard farm. I was created to function by myself, adapt

to variations in the environment, be task-oriented, and have the ability to try different methods to accomplish tasks.

After I received a clean bill of health from the doctor's office and an operation to update and make me better, I

became a new me and headed to Plumville High School. I wanted to be an engineer.

When I arrived at school the first day, the students were teasing me because I was different. I was being bullied. They

even kept shoving me as I entered the hallway. I came from a very good background and I have the right to learn

in a safe environment without fear. Bullies are persistent. They will search for their target and attack those weak

victims. They take advantage of a particular student or students. Even the students who are smart may be treated

differently or not. I dealt with many challenges. If you show some respect, you may get treated with respect. Good

health is essential for learning. With my strong background and work ethics, I persevered and graduated at the top

of my class. Then, I went on to PU (Plumville University) and studied electronics engineering.

When young children are involved in current, real-world situations, it enables them to interact and create a better

future. Let all of us stand up to bullying if you see someone being bullied. It is not okay to just watch it happen.

You can notify the teacher, counselor, or the principal. You have the right to make a difference and feel proud of it

that you made the right decision.
---
PERGOLA

BY KAREN LEE OLIVER

Hardcover | $30.79 Paperback | $20.99 Kindle | $9.99

Pergola, in the Italian language, means a trellis used to grow flowers or vines.

Upon this idea, Karen Lee Oliver writes a collection of poems that seem to

follow a winding path in nature as well as life.

Written between 1986 and 2000, Pergola was created from images Oliver had

while living in New York City as well as where she lives now, in rural New

York State. In Pergola, Oliver combined city and country in what she thinks

is an interesting selection of poems.

THOUGHTS

BY KAREN LEE OLIVER

Paperback | $14.99 Kindle | $3.99

This book was written during a period of grief and illness Karen Lee Oliver

suffered after the death of her mother on January 11, 2018. Oliver wanted

Thoughts to be a dedication as well as a memorial to her mother who had been

her life-long friend and mentor. Thoughts explores the devastating realities

of grief we will all experience at some time in our lives but many of us will

never fully realize as having any impact. Through poetic forms, these images of

love and death and grief are expressed to the reader with the hopes of gently

relieving him or her of the terrible burden that oftentimes results from such

harsh feelings. Oliver hopes, as the author, to be successful to this purpose

and that you will enjoy reading the poems just for what they are, real poetry.
---
TALES FROM THE MIRWOOD

BY KAREN LEE OLIVER

Hardcover | $30.79 Paperback | $20.99 Kindle | $4.56

Tales From the Mirwood was written as a sequel to Pergola, Karen Lee Oliver's

first collection of poems. Tales From the Mirwood follows story-like fantasies that

develop out of nature, history, art, fiction, religion, and everyday life. Although, in

Tales From the Mirwood, these dream-like images are never clearly defined, they

are presented to the reader to envision as he or she chooses.

FLIGHTS FROM FAIRYLAND

BY KAREN LEE OLIVER

Hardcover | $29.99 Paperback | $19.99 Kindle | $19.99

Are you interested in Flights From Fairyland? This is a collection of fairy-tale

stories of love, life, and death compiled in a short book of poetry. Some of the

poems are in French to add a new dimension to the complete work and a touch

of artistry to its poetic sense. Flights From Fairyland was written to entertain

readers of all ages and backgrounds. It is a strong work for the imagination, and

it is full of imagery and thoughts that everyone can relate to.

TRANQUILITY, SOLITUDE,

AND OTHER POEMS

BY KAREN LEE OLIVER

Hardcover | $29.99 Paperback | $19.99 Kindle | $3.99

In Tranquility, Solitude, and Other Poems, Karen Lee Oliver explores many dimensions

of tranquility, offering an engaging collection of lyric and narrative poems that

embrace a reflective exploration of the human condition. Major themes include

solitude, dreams, memories and mortality. These images effectively create a family

of symbols for the ungraspable aspects of life in passing.

This is an energetic book with crisp lines and a coherent lexicon of images. Readers

seeking contemplation of both tranquility and the darker, more moody, aspects

of solitude will find rewards here.
---
THE CRUSHING PROCESS:

A DIVINE CALL OF GOD

BY LORA JOHNSON-POSEY

Paperback | $10.99 Kindle | $3.99

This book is totally about being obedient to the will and purpose of God

and His Kingdom. We are mandated by God to live a Holy life dedicated

to Him and Him alone. Here is where the tire meets the road in the lives

of believers. How bad do you want to please God? How bad do you want

your life to change? In this book, you will find a life-changing example of

giving up your will for the will and purpose of our Heavenly Father's sake.

May God bless you as you dive into these pages and allow the Holy Spirit

to take control of your life forever and ever.

MODEL TO BUILD TRUST HO

BY JORGE FARIAS ARIZPE

Paperback | $9.99

This book explains 20 factors to build Trust. These factors apply personally

and to a company. Apply this model for developing institutional leadership,

and has very good results in quality, efficiency, of the organization, and

human satisfaction and motivation.

Our philosophy is to create good results in terms of benefits to the customers

and to create great satisfaction in people that work as human resources.

Happiness is creating benefits for others with reliability.
---
ALL ABOUT THE BENJAMINS:

CHANGING THE WAY YOU THINK

ABOUT MONEY

BY ANN CAUGHMAN

Hardcover | $6.99 Paperback | $5.34 Kindle | $5.34

Some people work hard for their money but cannot keep it long enough to

make their dreams come true.

In All About the Benjamins: Changing the Way You Think About Money, you will

learn how to effectively use your money to move from a place of never having

enough to a place of having more than enough, or at the very least, make it

to the next level of financial sufficiency.

You will learn to make money and how to make money work for you. You will

learn what has not been taught in school for years but has been used for

centuries by the financially independent. You will find out how to overcome

the many obstacles that may arise when you even think about fulfilling a

dream. Change your mind, change your life, and change your community.

This book is "ALL ABOUT THE BENJAMINS."

HOW TO DESIGN YOUR DREAM

HOME IN 25 YEARS OR LESS!

BY JAN J. EVANS

Buying property? Building a home? Read this first!

This engaging and practical guide will teach you How to Design Your Dream

Home (In 25 Years or Less)! Learn how to save time and money, avoid common

mistakes, choose the best location, plan your space and layout efficiently,

design custom storage and organization, and so much more! Reduce regrets

at projects' end and make it easier on you, your builder/contractor, and your

architect (if you use one).
---
HEARTFELT EXPRESSIONS

BY CLAUDETTE INGLIS

Paperback | $ 7.99 Kindle | $ 2.99

Claudette Inglis writes Heartfelt Expressions to encourage you, and that the

words speak to your heart and mind. As you read and reflect on the dimension,

you become connected with your inner self. God, our Father, who is always with

us, guiding us through our challenging situations, knowing that we are never

alone in our life journey.

FAMILY SECRETS

BY DANA MARIE BOOKER

Paperback | $11.50 Kindle| $6.99

When privileged siblings, Jessica and Jason Lord, are disinherited from

their billionaire father's will, in a split-second decision, they commit murder

to keep a stepchild from becoming heir. Fortunately for the Lords, their

murderous scheme remains a family secret until attorney Marie Perry is

hired by the wife of the slain attorney.

THE SECRETS SERIES

www.DanaMarieBooker.com
---
SWEETGRASS I

(JOHNATHAN & ESHER)

BY PATRICIA KUESS

Hardcover | $ 28.95 Paperback | $ 18.95 Kindle | $ 9.99

Easterner Johnathan Traver joined the Union Army to die a glorious, crimson

death. He feels a valiant death will liberate him from his abusive boyhood. Yet in

April of 1862, right after the victory in the battle of Shiloh, he is still alive while

thousands of others had perished. Sergeant Traver faces a challenge; he firmly

believes they're fighting a modern war that calls for modern tactics. Traver's new

training techniques could change the course of the Civil War, and he teaches

them to his squad, company, and regiment. But the army regards his efforts as

seditious and views Traver as a traitor. On a personal level, Traver's authority

could be threatened when he falls in love with eighteen-year-old Esher Coley,

a new recruit from the West. As they become warrior companions, their focus

shifts. A profound Civil War love story that overcomes ingrained pain and heals

old wounds, Sweetgrass: Book I communicates a triumph of the spirit.

MIKEY DOWN ON THE FARM

BY MICHAEL HELFRICH

Paperback | $10.99

Mikey Down on the Farm tells the story of a young boy who grew up

neglected by his parents. His life was mostly uneventful, and the events he

found himself in were not given much attention. The book dwells heavily

on the responsibility of men to be good fathers and husbands. It stresses

the need for a moral compass that decides how sons would be taught the

difference between good and bad. The author also gives much importance

to how love needs to be firm and just and that goodness must come from

an understanding of God's word.

Other books of Michael Helfrich
---
28 | The Reading Glass Magazine

JEANNIE ANN'S GRANDMA

HAS BREAST CANCER

BY DIANE DAVIES

Hardcover | $15.94 Paperback | $11.99

Jeannie Ann is a typical six-year-old. When she learns her grandma has breast

cancer, it brings up the fears, questions, emotions, and misunderstandings

that come with facing a medical challenge. With her loving family by her

side, Jeannie Ann learns about what cancer can bring: tumors, mastectomies,

chemotherapy, pain, and loss, but also hope. Jeannie Ann's Grandma Has

Breast Cancer is a story written with honesty, love, and understanding for

children of all ages.

Diane Davies

I'm a retired first-grade teacher, breast cancer survivor, patient advocate, award-winning author, and member of

SCBWI. My husband and I live in the neck (a long narrow strip of land along a river) along the St. Croix River in

Minnesota with our grandchildren living next door with their parents. My entertaining stories with their loveable

characters include life lessons on problem-solving, friendship, cooperation, and love. My published books include

Life in the Neck New Friends, Beaver's Pond Press, 2018, Jeannie Ann's Grandma Has Breast Cancer, Beaver's Pond

Press, 2019, Life in the Neck Squirrel Trouble, Beaver's Pond Press, January 2020, Life in the Neck Advent of Christmas,

DianeDavies.com, 2021. The first three books have won Mom's Choice Awards at the gold level.

Life in the Neck New Friends is the 2019 winner of the Eric Hoffer Book Award in the

Children's Category. Book of Excellence Awards was awarded to Jeannie Ann's

Grandma Has Breast Cancer and Life in the Neck Squirrel Trouble.
---
LIFE IN THE NECK:

NEW FRIENDS

The Reading Glass Magazine | 29

BY DIANE DAVIES

Hardcover | $15.95

Welcome to life in the Neck, a beautiful place where animals form unbreakable

connections. In this book, Delaney, Rocket, and Cardinal Red meet and

learn about friendship, cooperation, and the busy world around them. But

when danger comes to the Neck, will their bond be strong enough to beat it?

LIFE IN THE NECK:

ADVENT OF CHRISTMAS

BY DIANE DAVIES

Hardcover | $15.95

Learn the meaning of advent in a simple gentle way on the porch of Fort Eli

in the Neck among the forest animals. Two children celebrate the coming

of Christmas with an advent wreath, lanterns for candles, Bible verses,

and a manager explaining the significance of each as they move forward

bringing His light into the world.

LIFE IN THE NECK:

SQUIRREL TROUBLE

BY DIANE DAVIES

Hardcover | $15.95

Welcome to a new adventure in the Neck, a beautiful place where animals

and humans live together in harmony--most of the time. In this book,

a young boy named Eli builds a log fort with his dad, but it's not long

before mischievous squirrels Chatter, Whistle, and Squeak move in and

take over. As the nuts, acorns, and pinecones pile up inside, Eli realizes

he's going to have to get creative to get them out. Will his plan work, or

will the squirrels win?
---
FRANKY:

THE CRANKY CRAB

BY MARY SAYERS

Paperback | $8.99 Kindle | $2.99

Join Franky, a cranky little crab, as he wanders down the beach hoping to

find a new friend.

Will he find his perfect match, or will Franky live the rest of his life as a

cranky little crab?

STARFISH SKY

BY TIMOTHY SLYKHUIS

Paperback | $13.99 Kindle | $4.99

Starfish Sky is an emotionally driven true story of overcoming traumatic brain

injury, starting when Timothy first wakes from a bicycle accident-induced

coma. Walk with him hand in hand along his journey. The difference in this

book really starts as he finds new legs, cycling and discovering the world,

and learning ways to improve the function of his brain. While searching

to reawaken his emotions, Timothy identifies three newly recognized ways

to improve brain function from the cellular level while discovering The Art

of Being Human.
---
A STEEP CLIMB:

BETWEEN HEAVEN AND HELL

BY J.M. JOSEPH

Paperback | $9.99 Kindle | $3.99

This book shares the deep and dark struggles that a war-torn veteran

went through. Little did he know that his childhood friend, who was also

struggling, but on the spiritual plane, was also in search of their higher

power. How will both be able to help each other while dealing with death?

FIVE DOLLARS AND A POCKET

FULL OF WISHES

BY GINO LUTI

Paperback | $9.99 Kindle | $3.99

Author Gino Luti writes in the true spirit of a vagabond. An adventurer

himself, he explored the bigger world after dropping out of high school.

Set on the streets of the 1970s, follow Luti's Five Dollars and a Pocket Full

of Wishes. A coming of age tale about a teenage journey into the world and

all he encounters. From pure excitement to desperately lonely to unexpected

kindness to running for his life. A day by day minute by minute journal of

a wanna-be vagabond.

Get to know more about Gino Luti and Five Dollars and a Pocket Full of

Wishes on his site, www.ginoluti.com.
---
32 | The Reading Glass Magazine

REVELATION

QUESTIONS ANSWERED:

Promised Before the World Began

by Larry A. Heidelberg

God's Promise in the

Daunting Apocalypse

Larry A. Heidelberg's steadfast probe of the

ambiguous Book of Revelation

Catastrophic events have worsened through the years,

claiming many lives, wreaking havoc here on earth. This

leads one to wonder how the world will eventually end.

Many people reflect on doomsday on the apocalyptic

prophecy in the last book of the Bible. The Book of

Revelation foretells occurrences through profound

messages and detailed images that immensely spark

curiosity. Along with interest kindled by the scriptures

comes confusion and differing interpretations.

Larry A. Heidelberg is among the many people enthralled

by the vivid but equally ambiguous verses of the Book

of Revelation, and so he authored Revelation-Questions

Answered: Promised before the world began. This profound

book is the fruition of Heidelberg's years of finding answers

to his questions with the prophesied end of the world.

Revelation-Questions Answered: Promised before the world

began accounts the events and sequences covered in the

Book of Revelation to which Heidelberg deciphers.

Through his thorough study of the Word of God, the author

was able to find the answers to his questions and determine

the blessing that the Book of Revelation promises.

Hardcover | $21.99

Paperback | $11.98

www.authorlarryheidelberg.com

Heidelberg dedicated years to studying the Book of

Revelation since his education at Baptist Bible College.

His firm belief empowers him to translate his ample

comprehension of the scripture's context into writing and

graciously guide other people who are also confused and

scared. The author highlights that the Book of Revelation

is an assurance that God is in control of everything and

that He wants our adoration instead of confusion.

Revelation-Questions Answered: Promised before the world

began is a meaningful book that guides readers to the

faithful message of the Book of Revelation. Grab a

copy now! Available on major online bookstore resellers,

Amazon, Book Depository, Barnes & Noble, and other

bookstores nationwide.
---
Sunshine Ghost

By Reyna A.

I had my early morning run yesterday. After that refreshing

run, I went to the supermarket to buy some groceries, and

went to my favorite café to get my coffee, black and no

sugar, just how I like it. First sip, and it brought so much

nostalgia. The calmness of the empty road and the rays

of the rising sun remind me of the days that we used to

do these things together. Morning runs on Saturdays,

and despite my busy schedule, we still tried to squeeze

those early walks on weekdays to get my coffee before

you sent me to work. Oh God! I miss those days. I miss

you. But all I have now is the ghost of those memories I

had with you from that summer of four years ago.

I've been thinking about this lately, but every time I open

our chat box, I always chicken out and I didn't really

know how to start this. Should I say "hi"? Or should I

ask, "How are you?" Or should I ask what had happened

to us? But it seems so wrong, there was never an "us" to

begin with. It was just me who thought that something

was going on, and held on to the idea that maybe someday,

somehow, we could happen. I really don't know how to

start a conversation with you, because you seem so out

of my reach now. You suddenly went cold, gone without

any word, came back as a completely different person,

and eventually became a stranger to me. It's funny how

I used to tell you everything about my day, even if it was

just for a short period of time, from the reason why I

woke up early to the reason why I had to stay up late.

We met unexpectedly. It was a beautiful summer. I can

still remember your shy laughter under the rising sun, yet

you were so much brighter in my eyes. Do you remember

that night in June? We sat under the moon with coffee

in our hands and fear in our eyes, and wondered what

could go wrong. It was good while it lasted. It was

beautiful. I am grateful for those times and memories I

had shared with you. I was happy. I hope you were too.

We had our little infinity. It wasn't meant to last, but it

was enough for me.

The Reading Glass Magazine | 33

No, we don't need closure. What's there to close, anyway?

I am writing this not for you, but for myself. I just want

to let go of whatever this is that I am feeling so I can

finally start living without the hope of still having you

as someone I can run to every time I have so much to

talk about. I knew I was healing when I stopped seeking

for the closure that I think I deserved, but I have hopes.

I hope that one day when we cross paths again, we can

smile at each other and then there, I know I have healed.

There goes our closure. There goes the period to our

unfinished sentence. There goes the farewell to our story.

I felt so stupid. I felt stupid for writing this. I felt stupid

for holding on to the memories I had with you. I blamed

myself for thinking that there was something to hold on

to. For so long, I invalidated my feelings and thoughts, I

made excuses for you and for every wrong that happened

along the way. I blamed myself for my own pains. It was

never your fault, and I thought it was mine. But no, it

was no one's fault. The circumstances aren't just in our

favor, and that love that I thought we had was just not

meant for us. But I had no regrets, I did not regret the

day that I finally admitted to myself that I had fallen in

love. I have no idea how falling in love feels like, but if

it wasn't love, I don't know what else it was. You were

"it" for me, and I don't regret a single thing.

Today, I cried. Unlike the other days, I know the reasons

why I cried today. I cried for so many reasons, and one

of which is the fact that our story had ended. Finally.

Without the farewell, but I can finally say that it ended.

This is me letting go of our "what-could-have-beens."

This is me finally letting go, not of you, but the memories

I had with you. They were beautiful memories. Please

reach your dreams, I am very happy to see you conquering

everything that you told me you are afraid of. If one

day, you find yourself seeking validation, know that I

am always proud of you. I had so much faith in you, I

always knew you are meant for great things. I would

love you until then.
---
WHAT THE WIND BLEW IN

BY MARILYN WASSMANN

Paperback | $9.99

What the Wind Blew In is filled with illustrations and poetry from the

brilliant mind of the author herself, presented through rhyme so children

and adults can enjoy the stories told through the verses. Each story teaches

a valuable lesson on the importance of kindness in our lives, accompanied

by colorful illustrations depicting the events in the story with magic and

wonder for all ages.

PEN SCRATCHING POETS

BY MARILYN WASSMANN

Paperback | $14.99

Marilyn Wassmann is a poet from a family that has produced a poet or an

artist once in a while throughout its long history in America. Their work

is collected in Wassmann's book, Pen Scratching Poets: A Collection of One

Family's Creative Pursuits.

This book, initially published in 2016, is a showcase of poetry from the

Benjamin side of the family (Wassmann's maiden name is Benjamin).

Readers will be treated to many of Wassmann's own works and illustrations

throughout the years.

THE OPOSSUM AND THE CATS

BY MARILYN WASSMANN

Paperback | $10.99 Kindle | $2.99

A pregnant cat who suddenly goes into labor finds herself in the unlikeliest

of places to give birth: in an opossum's hole. With the mother cat having

nowhere else to go and thinking that his ways won't be affected by her

presence, the opossum lets her and her kittens stay in his hole. Thus begins

the heartwarming tale of the friendship between the cat family and the

opossum as told in Marilyn Wassmann's new release, The Opossum and the Cats.
---
POLAR BEAR:

AN ENDANGERED SPECIES

BY EJAZ AHMED

Paperback | $10.99 Kindle | $3.99

The book is about polar bears which are endangered species. Climate change

in the Arctic sea is damaging the environment in which polar bears live.

The polar bears' habitat is slowly warming up and they have less ice on

which to sit and hunt.

The polar bears have to travel a long distance to find frozen ice for resting.

All these changes are making life for polar bears difficult.

FINDING THE WAY TO LIFE'S

PURPOSE

BY GILBERT RUDY CASTILLO

Hardcover | $4.16 Paperback | $3.64 Kindle | $1.99

After being a Sunday school teacher for many years, author Gilbert Rudy

Castillo accumulated lots of materials about the Bible which he had kept

for his own reference. But Castillo always had the desire to share his studies

and make them available to others. Finding the Way to Life's Purpose is

Castillo's fruition of the many hours he has spent studying the Bible. He

offers the many things he has learned from the Scriptures for readers to

take advantage of and not let go to waste. Castillo hopes the readers will

allow themselves to not only learn but also put into practice the teachings

of the Bible as one finds the way to the purpose of this thing called life.
---
UNBELIEVABLE DELUSIONS OF

THE INFAMOUS JOHN CALVIN

BY RONALD CRAIG

Hardcover | $14.99 Paperback | $9.99 Kindle | $3.99

John Calvin's famous book, "The Institutes of the Christian Religion"

would have better been titled, "The Destruction of the Christian Faith."

Everything in Calvin's theology degrades the supreme sacrifice of Jesus

Christ on the cross; and cheats countless Christians out of the blessings

Christ purchased for the human race through His sacrifice on the cross.

John Calvin essentially rewrote the entire Bible to make it fit his theology.

Nothing about his theology is biblical. Calvinism is a disgrace to the

Christian faith!

WHAT WILL YOU SAY, GOD?

BY BOBBIE LAVENDER

Paperback | $9.99 Kindle | $3.99

The purpose of this book is to help you reflect on your life, and to ask

yourself "How did I do?" What experiences have you had? Can you relate

to some passages in this book, if so, how did you cope? Hopefully, you will

find encouragement in situations and become aware of the temptations

surrounding you daily. Also, to reveal that others are having the same, or

near experiences, and to realize that you are not alone in your struggles

for salvation.
---
Under

His Wings

by Rosemary Fisher

Hardcover | $35.95 Paperback | $21.95 Kindle | $8.49

A riveting story of new love, betrayal and faith

Life always has two sides, the good and the bad. Paired with happiness is the inevitable sorrow. Throughout our

community, indeed our world, we find shared experiences. These ups and downs of life are common to us all. The

locations may vary, the details differ, but the joys and distresses are universal. On the easy days, do we acknowledge our

blessings? In times of trouble, where do we run? Under His Wings will guide readers into a deeper relationship with

God, who is with us all during both the good times and the trying times, when the path seems clear or grows hazy.

Rosemary Fisher is a new author whose breakthrough novel Under His Wings is remarkably well written, filled with

emotion and spiritual themes presented in a natural, not preachy manner. The concept for the Christian romance

came to Rosemary in the middle of the night and she feels that the story is providence from above, and therefore

should be written down. Begun as a creative outlet during the COVID-19 quarantine, Rosemary had no intention

of seeking publication. Friends who read her manuscript, however, encouraged her to take it further, and now the

touching story of the Smith family is shared in the open. Under His Wings is an engrossing story that keeps the

pages turning until its satisfying conclusion.

The Smiths were just like any other family – celebrating all the good things in life, weeping for the bad, sharing all

the pleasure and struggles in between. However, they have had more than their fair share of setbacks, from shattered

dreams and illness to even death. Despite it all, the family remained steadfast in the Lord, leaning on Scripture

and prayer to provide comfort and direction. Author Rosemary Fisher hopes that the story of the Smith family,

capped with the Scriptures and songs within her novel, will bring peace and comfort to readers in times of trials and

tribulations. Find the warmth and protection of the Creator as you live through the pages of Under His Wings. Grab

a copy on Amazon, Book Depository, Books-A-Million, Barnes & Noble, eBay, and other bookstores nationwide.
---
COMMON THREADS I

BY L.A. CHAMPAGNE

Hardcover | 33.95 Paperback | $23.95 Kindle | $4.99

Halfway across the world from each other, Jed and John endure very different

challenges. But when John encounters a disaster that ruins his crops and Jed

discovers the Underground Railroad, fate eventually leads both men and their

families to journey to a small community in southern Ontario, where common

threads tie them together as they become owners of one of the largest potato

farms in Canada. In this historical tale, the years pass and the families grow

to include multi-racial twins, as events eventually lead a new generation to

Mississippi, where everyone must face the sorrows of prejudice.

COMMON THREADS II

BY L.A. CHAMPAGNE

Hardcover | 29.95 Paperback | $19.95 Kindle | $2.99

Common Threads II, the second book in a three-book series, follows the lives of

Joe and Liz who naively try to establish roots in a place where their interracial

marriage is taboo. This novel narrates the couples' trials and tribulations and their

experiences with racial cruelty and death.

COMMON THREADS III

BY L.A. CHAMPAGNE

Hardcover | 37.95 Paperback | $28.95 Kindle | $2.99

Concluding The Common Threads Trilogy, Common Threads III brings you to

1970 and follows the Allen family's saga as the boys mature and deal with sibling

rivalry, homosexuality, and racism in Mississippi during this turbulent decade.

The success of the family potato farm and golf course in Chatham, Ontario grew

from strong family values and the Common Threads of a simple Scottish Tartan

and an African Kente robe.
---
SILHOUETTES OF TIME

BY MAYA MITRA DAS

Paperback | $16.95 Kindle | $3.99

These intriguing tales by Maya Mitra Das take us on wildly imaginative

journeys to exotic and sometimes alien landscapes -- introducing us to

infinitely curious moments in time, space and memory.

Maya's poetry and fiction have appeared in numerous anthologies. This is

her first collection of short fiction.

NOTTINGHAM HARBOR

BY JACK LORENZ

Hardcover | $25.00 Paperback | $16.00 Kindle | $4.25

With sound knowledge of forensic science and a deep concern with the alarming

number of rape cases, author Jack Lorenz writes the crime novel Nottingham

Harbor as a reflection of our mischievous reality. Rape being a heinous crime,

unsolved cases are inevitable; perpetrators have mastered their cruelty by leaving

little to no trace of their wickedness from one area to another—making it hard

for cops to bring them behind bars. Aside from the mystery and thrill that the

book dispenses, Lorenz is also on a mission to educate the readers, the victims,

and the authorities by introducing techniques to catch dangerous criminals

through DNA and logic. Set in Northern New England, Nottingham Harbor

follows the mathematician and sergeant duo Mattie Greene and Bill Simpson

in their investigation between the cases and the identification of the rapists.
---
40 | The Reading Glass Magazine

TONTINE:

WHEN TIME RUNS OUT FOR

THE LAST SUBSCRIBER

BY ROBERT H. KRUSE

Paperback | $18.00

This novel puts a fresh spin on the classic tontine story, with a hero

thrown into a murder case that needs cracking.

Peter Xavier's estranged father telephones after fifteen years of silence

and ask for help. The son agrees to meet with him, but he arrives at the

worst moment. The last subscribers of a Tontine formed sixty years ago

are being picked off one by one. His father is one of them. Peter tries

to protect him, but can he? The investigating detective suspects Peter,

but he is looking in the wrong place. Left no choice, he must find the

murderer himself. Then his troubles begin.

While hunting for the killer, he learns a devastating secret about the

Tontine and the man in charge of the money at the Funhouse Bank.

Peter then finds himself the target of an assassin, and he runs until he

is rescued by the woman from Frenchies' Escorts. He realizes that if

he doesn't make exactly the right moves, the conspiracy he's stumbled

into will kill him.

ROBERT H. KRUSE

Robert H. Kruse lives and writes in paradise—Oro Valley,

Arizona—with his lovely wife, her roses, and fussy orchids.

His interest in writing sprang from telling extemporaneous

stories to his children and grandchildren. With hope and

confidence in 2016, he published the first novel, followed

by the second, third, and fourth Tontine in 2021.
---
The Reading Glass Magazine | 41

NO BLOOD LEFT

BY ROBERT H. KRUSE

Paperback | $18.00

Liz Hermann watched her own murder, and fled. She is trying to

adjust to her new home, but heaven is not what she expected. Earth

draws her back when she is needed in surprising circumstances. Family

and friends try to find the reason for her being slain, often blaming

themselves by saying, "If only I had . . ."

The killer is trying to cover his tracks, a detective is looking for him,

and her mother is trying to cope. Out of this senseless tragedy, No

Blood Left succeeds in telling a story with suspense, hope, and humor.

No Blood Left is a gripping read, buy it today!

NO WAY TO WIN

BY ROBERT H. KRUSE

Paperback | $18.00

A child has an unusual talent and everyone wants in on the action.

It has been five years since portrait painter Mac McDonnell left the

cutthroat world of high tech and big money along with the darker side

of cheating investors and stealing patents, not to mention government

agencies who want a monopoly on new innovations. All of which lead

to illegal activities like kidnapping in the name of 'national security.'

All Mac wanted was to get back to his studio and paint the portrait

etched in his mind. Friends called on him to help them stand against

slander from a city television station. All he did was intervene and

save a child from unwarranted exposure in the national media. Simple

enough, but soon he discovered that he did far more than intervene in

a publicity stunt. He had placed himself dead square in the middle of

a conspiracy by secret Pentagon operatives. Within hours, he found

himself under attack. And he had to run. He promised to keep a child

safe, but can he do it? And where would it end?
---
KNOWING

THAT

HE

Will

Experiencing God's Transforming Power

By Janine Hall

Letting Go and Letting God:

A Story about His Transforming Spirit

Surrendering not to problems but to the Lord

The world manifests itself in mysterious yet surprising

ways. While our life experiences turn out to be tough at

most times, it is also our strength and courage to move past

our personal challenges that will encourage us to soldier

on. But what if we can't find in ourselves the strength to

confront the problems we are facing? The book, Knowing

That He Will: Experiencing God's Transforming Power, is

all about one person's experience about surrender—but

not to their problems. It is about how the author, Janine

Hall, found that the best way to overcome the obstacles

along our way is to realize that we are not alone in our

fights. Our will and power does not only come from

ourselves, but also from our meaningful encounter with

the Lord who works His way through us.

Janine Hall wrote the book coming out of her personal

experience having intermittent depression. While many

of us may have gone through the same situation, Hall

takes us to her spiritual journey toward surrendering her

problems to the Lord and how it helped her find the

courage to move forward.

Hall graduated with an MA in special education and took

special units in guidance and counseling. Through the

book, Hall also shares her insights about other social issues

we are facing today—identity theft, capital punishment,

and mental health, among others. And in many of the

situations she chose to tackle throughout every chapter

of the book, Hall emphasizes God's relevance and how

he works behind the scenes.

Hardcover | $35.95

Paperback | $21.95

Kindle | $8.49

The book is as natural as it is comforting. While Hall

was not explicit as to her source of depression, she went

on to talk about her personal and social concerns in a

way that never forgets to relish the presence of the Lord

in everything.
---
THE ENVELOPE OF MEMORY

BY ILANA HALEY

Paperback | $6.24 Kindle | $2.99

In the deep corners of our unconscious minds flows a river of metaphors

encapsulating all insights into our life's meaning that we will all ever need. Thanks

to the collection stored in Ilana Haley's memory envelope, this book comes to

life—all pages full of energy, every flip impactful. Each character is so familiar

and exists in each of us, one way or another. It distinctly feels like overhearing

some very personal conversation; it is at once thought-provoking and almost

too personal. Almost, but quite, we do not turn away, do we? We actually get

more comfortable and settle in for the whole conversation. And we do because

there is something in the personal elements of this overheard life that we feel

has some undefined but nonetheless important meaning for our own life.

SCENT-SATIONAL SEARCHES:

FIND YOUR FRAGRANCES BY BLOOD AND

PERSONALITY PARALLELS

BY DEBORAH WORLEY

Paperback | $8.99 Kindle | $3.99

Want to know how to search for your perfect fragrance? The answer is linked

to genetic markers that have already mapped your biological beingness. Scent-

Sational Searches shares Deb's 'passion for perfume.' It explains her Fragranista

theory that there are basically four blood and personality types that parallel

fragrance families. Once you learn how you fit into the Fragrance Wheel, your

search becomes easy. No more costly mistakes and a lifetime of fun exploring

the fragrance world!
---
NO ORDINARY LOVE:

THE YEAR OF CAT

BY BERNADETTE LINDEMER

Paperback | $21.95 Kindle | $9.99

Call it fate or destiny or maybe it's both. No Ordinary Love is a sweet

story about two ordinary people from opposite sides of the world who are

brought together quite serendipitously. Each receives unusual messages in

their dreams that, unbeknownst to either of them, contribute to making

decisions that will change their lives forever. A story whose time has come.

It speaks about lost love, growing older, loss through death, and fear of the

unknown, while finding love again under the least likely of circumstances.

It is a pure and simple love story with an unusual and interesting twist that

will lift your spirits and open your hearts to all of the possibilities that love

can bring to your lives.

CLAIM YOUR HAPPINESS:

PRACTICAL POETRY FOR LIFE, LOVE

AND SELF

BY ADIL PANTON

Hardcover | $33.95 Paperback | $16.99 Kindle | $3.99

Discover the everyday guidance that's been missing in your life. In this book

of practical poetry about Life, Love and Self, awaken to the truth that is

your greatest potential. Adil Panton has been giving life-changing advice

to his clients for over 30 years. Now, for the first time, his wisdom has been

placed into this book of poetry for all to grow, evolve, and get answers to the

most common struggles we face. These poems are based on common-sense

advice for challenging times. Adil Panton's Claim Your Happiness: Practical

Poetry for Life, Love and Self will help you navigate life during periods of

adversity. Calm fears, create your desired reality, and grow into the person

you were destined to be. These words of wisdom will resonate within and

speak directly to your heart. Empower yourself, become the master of your

own life, bring forth spiritual awareness, and breakthrough obstacles with

Adil's poetry.
---
LEARNING LITTLE MINDS

LEARNING ANIMALS FROM A-Z:

CHELSEA'S NOODLES VOLUME 1

BY DAWNETTE MCLAREN-NELSON AND

CHELSEA-ANN NELSON

Hardcover | $34.95 Paperback | $24.95

Children have always loved reading. This book is a fun-filled book that

engages you and your child in reading and the knowledge of animals, their

families, and where they are from.

Your child will love this book for a very long time.

THE FIRST BIRTHDAY PARTY

EVER!

BY K&K JOHNSON

Paperback | $19.99

The First Birthday Party Ever! has

been awarded at the Hollywood

Book Festival and has received an

honorable mention in the children's

book category at the New York Book

Festival, San Francisco Book Festival,

and Paris Book Festival.

The First Birthday Party Ever! takes place in the enchanted land of Chuckle

Giggle Nu and is a wonderful story about some wacky dinosaurs that

planned the very first birthday party ever for a little Pterodactyl named

Archie. They call themselves the Party Pals, while the adversaries known

as the Party Poopers, a Tyrannosaurus Rex and an Albertosaurus, plan to

disrupt the party and take the cake all for themselves. The attempt fails,

and the Party Pals invite all of the dinosaurs in the land and successfully

throw the very First Birthday Party Ever!

This book is a direct STEM innovation foundational tool for children and

communities worldwide. Please download our free Party Pals Play App

on Apple or Google Play Stores and hover your phone or iPad steady over

the open book and fill the screen with the two collective pages 3&4 for

about 5-8 seconds and our characters will come to life in an augmented

3D format! Enjoy!
---
46 | The Reading Glass Magazine

The Voice

of the Rooster:

And the Lessons It Teaches

By Ellen Beth Berman

An ordinary phone call.

No pretense, tape recording, repetitive triteness.

Grabbing coffee, we took the plunge… into the coal

mine, greeting the sooty depths of earth with minds ready

to chisel. We ground through layers of linguistics and

history that revealed an indomitable Eastern European

spirit and heritage that came to American shores. Light

arose within the darkness of hardship and a strange love

of etymology emerged as the story unfolded.

Words. Poetry. Beauty. Connection.

Sifting, we discovered relational veins that gave life

to Ellen's poetic images and words: a Granddad and

Grandmom whose immigration adventure included much

sacrifice, ingenuity, simplicity, and raw beauty. A mother

whose love for words, poetry, and her daughter—mingled

freely. Faithfulness, Hard work. These components of

character shone in the midst of struggle. While raising

a large family in a new world, learning a new language,

developing cross cultural relationships—something special

happened. A colorful kaleidoscope appeared as colliding

images of life mirrored the beauty and brokenness of

our humanity.

Yet, the Rooster's loud and piercing voice proclaimed a

consonance, the agreeable synthesizing of those jagged

shards and stories. Relatable resonance. Stories that

come into each of our lives through our common cares

and interactions. Pieced together like Proverbs of old—

each moment, person, or situation enlivens and instructs.

Timeless truths. The Rooster alludes to the fact that

beauty, goodness, and truth—even while waiting in the

darkness for the sun to rise, permeate life. Walking our

path, we begin to discover "that which unites us as human

beings…the root of our creativity…our personal mission

on earth"…and what enables us to engage fully with life

and those divine appointments that arise. While shadows

play across our path, the Light guides.

Readying to resurface, Ellen and I finished inspecting our

living dichotomy: can we organically live in tune with
---
The Reading Glass Magazine | 47

mind, body, and spirit; or must we strive for success and

perfection—a mindset akin to ancient Greece or perhaps

modern day America? What can a simple rooster teach us?

Finally, we came to the greatest discovery while chiseling

in the mine of life. A rarity of great value. The diamond

of relationship. Family, friends, human connections—all

are divinely orchestrated and lend light. Awaken our

souls. Provide wisdom. Life connecting with life allows

each angle of the diamond to glimmer with color and

perspective. Bond with both Creator and creation opens

a world full of joy and suffering, heartache and hope as

the gamut of emotion is experienced. Ellen's writing

explores the mosaic in our midst—the tears and trifles,

the cacophony that eventually stills, allowing us to hear

our humanity. The beauty in the everyday. To see the

truth that we are all part of a much larger picture—one

where meaning, blessing, and wonder reside within the

mundane and minutia. Moments make up our lives and

people reflect relational diamonds. May we radiate light

and love and enjoy life's journey!
---
MARY MAGDALENE, SHAMAN:

AWAKENING TO THE INDIGENOUS

CHRISTIAN SOUL

BY SARA TAFT

Paperback | $28.26 Kindle | $2.99

This is a love story. An unconventional one, to be sure, but a love story

nonetheless. It's about the author, Sara Taft, who had to face death in order

to discover the deep, authentic ground of life - her life, as no one else could

live it, and in doing so found her indigenous spiritual roots by returning to

a Christianity she never really knew. Like all love stories, this one features

a beloved, though this beloved is not a living, breathing person. Rather, she

is Mary Magdalene, the companion and disciple of Jesus, a woman reviled

and revered through history.

MARY MAGDALENE, SHAMAN:

HEALING THROUGH TRANSPLANT SURGERY

BY SARA TAFT

Paperback | $10.58

"Taft's book enchants and inspires despite the grave nature of her physical

illness and surgery. Symbolic dreams and miraculous occurrences—like

finding two halves of a geode in locations many miles apart—pointed to

her rebirth as an artist of remarkable sensitivity. After a failed attempt at an

academically based career, her spiritual guides helped her to understand that

she was not destined to conform rigidly to externally imposed limitations

but to pursue inner freedom and help others do likewise. Magdalene—the

reformed sinner who stayed with Jesus until the last and was the first disciple

to evangelize his resurrection—is Taft's model and the subject of many

of her richly moving paintings placed throughout the book. These vivid

expressions portray their own story of the author's unique quest, which has

centered on 'the flow between the light and the dark.' Taft's reminiscences

offer encouragement, not only for those with physical challenges but also for

women seeking new, intuitive, creative ways to express their feminine nature."

– Barbara Bamberger Scott, US Review of Books
---
ODES TO MUSIC:

A COLLECTION OF SHORT STORIES

BY SUSAN DELLER-CARR

Paperback | $12.00 Kindle | $2.99

Susan Deller grew up in South East Queensland, Australia, and became

interested in writing at school but never thought of taking it any further.

In 1988, she became an on-call printers' table hand—so Susan made books

instead of writing them! In 1992, Susan was diagnosed with Fibromyalgia,

a condition that causes pain all over the body, sleep problems, fatigue, and

often emotional and mental distress. It was in writing that she found her

comfort, calming her nerves and easing her symptoms. It was one of her

bed-days in 2009 when she wrote her first short story, using the song titles

as the core of the story. People were so drawn to her technique that they

requested their own stories together with their favorite artists. Eventually,

in 2013, her partner, Dean Carr, convinced her to compile all the stories

she made in their own poster-like design into a book. With that, Odes to

Music: A Collection of Short Stories was put to life. Considering its ingenuity

and uniqueness in presenting a story, it's only a matter of time before she

creates her next Ode.

ODES TO MOVIES:

A COLLECTION OF SHORT STORIES

BY SUSAN DELLER-CARR

Paperback | $11.99

In the success of Susan Deller's Ode to Music: A Collection of Short Stories,

the door of possibilities opened wider. It started when her brother-in-law

requested a story using the movie title of the James Bond Series. This

beginning caused a ripple effect to more requests for other actors, actresses,

and films to work on, not limited to the artists of their generation but also

to the excellent and notable people who worked in the background to

ensure that a movie is developed and released. Still accompanied with the

striking posters, Susan took hold of the technique that she had mastered.

Ode to Movies: A Collection of Short Stories is a manifestation of the quick

wit, general knowledge and artistry of Susan Deller, from a child who was

deprived of proper training in writing to an impressive literary artist. Susan

is still accepting story requests on her website, odesbysusan.com. Who

knows, your story could be part of her next Ode.
---
50 | The Reading Glass Magazine
---
The Reading Glass Magazine | 51

Lifestyle | Manila Feature

Philippine's

Picturesque Capital:

The Manila Bucket List

BY TAMARA S.

As we celebrate the sun hanging in the sky and bask in its warmth for the summer

issue of The Reading Glass Magazine, we're diving down to the Pearl of the Orient

Seas—and deep we go! Who wouldn't want to miss the largest and longest-running

book fair in the Philippines, right? So, as we grace the Manila International Book

Fair, let us all the more experience the best of Manila!

Manila: Philippine's Picturesque Metropolitan

Whenever people talk about the Philippines, the thought of Manila is inescapable.

Both go hand in hand. Almost synonymous. For a metro so rich in culture and

history, commercial districts, conventions, and center of industrial developments, it's

no longer surprising. It lives up to its title as the Pearl of the Orient Seas. However,

away from its alluring titles and praises, Manila is a humble city initially derived

from two Tagalog (the basis of the standardized national language of the Philippines,

Filipino) words, may and nilad. May refer to the phrase 'there is' and nilad, a shrub that

grows abundantly along the coasts of Pasig River and Manila Bay. Maynilad was once

a Muslim settlement and was one of the centers of pre-colonial market trade with

Chinese and other Southeast Asian countries. Started by the conquest of the Spaniards,

Catholicism arose and Manila became the capital of the new colony—churches,

convents and schools. After 333 years of Spanish rule, the Philippines, especially

Manila, was also home to the Americans and Japanese. A clash and combination of

culture, beliefs, and traditions. The main contributor to how diversity arose in Manila.

The reason for the vibrant, rich, and picturesque lifestyle in the Metropolitan.

In opposition to what the majority actually thinks, Metro Manila is a cluster of cities

and municipalities. And the City of Manila (Lungsod ng Maynila) is just a portion of

the capital region. Manila became the bigger umbrella in 1975, encompassing 4 cities

and 13 municipalities. Through its vastness and integration of nearby cities, Metro

Manila became the heart and soul of the Philippine economy.
---
52 | The Reading Glass Magazine

When in Manila

A short guide on the must-experience in the Metro

Move and groove with

traditional vehicles

What best way to explore Manila than to ride the good

old jeepneys? Bound to Manila and nearby cities, not only

does it bring you to places, its intricate design, painting,

and lettering are pleasing to the eyes. A masterpiece of

local artisans. With number codes segregated to their

specific routes. Kalesa is also a perfect choice for short

trips and sightseeing around the streets of Manila.

Colorful stores in the market street

Never-ending Fun

Aside from the local barrio fiestas, a lot of bigger festivals

and events happen in Manila. From international book

fairs, major university fairs, bamboo festivals, heritage

festivals, and even food festivals. International singers

and performers even include Manila on their world tours.

Mall of Asia Arena, one of the biggest malls in Asia, is

home to concerts both local and international. And the

Manila International Book Fair will be held in no less

than the SMX Convention Center Manila!

Kutsero fixing the straps of his Kalesa

Affordable Market Hauls

One thing you must never miss in Manila, or traveling

in general, is shopping. And Manila has a long list of

places for you, especially if you are on a budget. Quiapo,

Baclaran, and Divisoria are the go-to markets for cheap

but quality finds. Tourists and locals alike flock to the

market for items they need (or not!). You can definitely

find anything here. Also, a pro tip to get the best price,

a little bit of haggling works.

Dancing contingent for Aliwan Festival in Manila
---
The Reading Glass Magazine | 53

Impressive Architecture

With the colonization of the Americans, Spaniards,

Japanese, and even Chinese and Malay influences, the

Architecture of Manila is wide-ranged. It is manifested

in government buildings, cathedrals, old schools, and

even in commercial, public, and private buildings. If you

want to stroll down memory lane, Intramuros, the walled

city, is a great start.

Lechon being sliced at a party

Locals and their smiles

Last 2021, the Philippines was ranked 3rd as the happiest

country in the world. Lost your way? A smiling local will

surely be happy to help you. Oftentimes, even people

who don't know each other exchange greetings when

they meet eye to eye in the streets. It has always been

inherent in every Pinoy to be very hospitable to their

neighbors and guests. Next time you meet one, don't be

afraid to smile at them. Without question, they will offer

the same smile back.

Entrance of Fort Santiago in Intramuros Manila

A haven for foodies

Traveling in Manila is undoubtedly fun. However, if

the scorching heat of the sun gets in your way, relax in

the middle of exploring and indulge in a hearty meal.

Energize with famous Manila street food and dishes.

Quench your thirst with some buko juice and halo-halo.

Try out some kwek-kwek, tempura, and the exotic balut

for an out-of-the-ordinary experience. Never miss out

on some adobo, lumpia, and lechon during parties. Really,

the options are endless. Make yourself full and ready for

your next stop.

Street kids smiling for the camera

Manila is a must. Mabuhay, Manila!
---
54 | The Reading Glass Magazine

Marilyn Sandberg Grenat

To grieve is no easy feat—it feels like we carry the weight

of the world on our shoulders. More often than not,

when we are in deep sorrow, we try to bury our emotions

and leave them unattended in the pitch-black corner of

our minds. But to not heal is far more agonizing than

to actually face our grief head-on. To be hurt is not our

choice, yes, but to heal is on our end. Heal, even little by

little. Heal in small yet mindful steps. Heal… because

you deserve to break away from the fetters of pain.

An initial brave and bold move in the journey of healing

is to identify grief itself and acknowledge its ugly and

harsh reality. And as we move forward, we come to

know ourselves deeper and the coping mechanism/s

that would work best for us. One way to help manage

our emotions is to have an outlet—an avenue for us to

release all the pain.

On losses and struggles, Marilyn Sandberg Grenat finds

a silver lining. A doting wife, mother, grandmother, and

great-grandmother, Marilyn was not spared of heartbreaks.

But she still managed to cope through the grace of God

and the outlets she had discovered.

The Reading Glass Magazine takes delight in a hopeful

conversation with Marilyn Sandberg Grenat as she sheds

light on the joys and love in the midst of grief—a light so

bright highlighted in Inspirations from the Heart, Marilyn's

collection of inspiring poetic reflections.

Editor: Inspirations from the Heart is a very personal

book, with your lovely photos included. What was

your green light to let readers take a glimpse of your

gracefully lived life?
---
Marilyn: Everyone eventually can experience grief in

some form or another, and I felt it was important to

share with others that there can be both joy and sorrow

in going through those emotions. The best way I found

solace was to journal those feelings. By writing down

something you feel, which you may or may not be able

to express verbally, allows you to start to heal quicker.

As I've said many times, there is no specific time frame

it takes to do that as everyone is different. Don't let

anyone rush you or tell you exactly what you should do

to heal or get through the grief you are going through,

but you should decide for yourself the path and method

you should take. Some suggestions can be helpful but

decide for yourself what is good for you. I felt a starting

point was to address how I felt and why, and my poems

became the outcome of my feelings. You might like to just

write a story form almost like a diary to express yourself.

You have penned an admirable collection of poems,

and it's no easy feat. Did you, through the course of

your writing, experience difficult moments expressing

your feelings?

Absolutely. As I put down my feelings, I cried, I laughed,

I reminisced joyfully remembering the good moments

in the situation. It was very healing for me as I was able

to identify what I was going through.

There were Bible verses quoted in your heartwarming

book. Have you always held your faith high?

My faith has always been important to me and has

sustained me throughout my whole life. I always had

great prayer pals that sustained me as well and I would

have had a much harder time without them. I always

try to live by this one Bible verse that gives me hope

and sustenance. It's Philippians 4:6 (NIV) "Do not be

anxious about anything, but in everything, by prayer

and petition, with thanksgiving, present your requests

to God." As Philippians 4:11-13 tells us, we are to be

grateful for every situation given to us because trials can

educate and teach us valuable lessons to learn.

You left a few blank pages at the back of your book

so readers can journal. How helpful is journaling to

you as you highly encourage your readers to do so?

Journaling helps you identify to yourself and others

how and why you feel the way you do. When you see

The Reading Glass Magazine | 55

your feelings on paper, it not only allows you to get your

feelings out but helps you see how to maybe go about

rectifying them and nurturing them. It feels good and

right to express yourself and also lets off some steam,

especially if you're angry.

In your book, readers get to ponder on your reflections.

What is your message to those who are yet to get

out of the dark tunnel you once went through?

Allow yourself enough time to get to the point where

you can accept what has happened without letting it

put you in deep despair. You may always feel sad, but

learning to cope is important to healing. Sometimes it's

beneficial to focus on trying to do something nice for

someone else who needs it—it helps take our minds off

of ourselves and our problems. That's why starting my

own business of caregiving for others has been one of

the most fruitful jobs I've ever had. I fill my hours with

helping others, and that brings us both joy. Trusting in

our Heavenly Father to take our burden and sustain us

is crucial. He cares about us wholeheartedly.

ABOUT THE BOOK

Marilyn Sandberg Grenat finds solace in expressing

her feelings in the form of poetry. In her first collection

of poems and other writings, Grenat leads others on a

poignant journey through her heart as she experienced

losses, struggles, joys, and love.

Grenat begins by sharing a poem penned forty-eight

years ago about her mother and continues through her

Swedish family tree as she reflects on her relationships

and gratitude for being born into a Christian family

who taught her important values and gave her all the

love she ever wanted. As Grenat moves through her

life, she shares essays and poems about meeting her

husband and falling in love, the grief that surrounded

losing him to Alzheimer's along with also losing her

son to cancer a few months later, the joys of loving

her children and grandchildren, and miscellaneous

thoughts that focus on the importance of faith, family,

and unconditionally caring for others who need us.

Inspirations from the Heart shares one woman's

poetic reflections that will inspire others to embrace

their uniqueness, as well as the joys and hope that

come with every new day.
---
I'M KATIE'S MOM:

POINTERS FOR PROFESSIONALS AND

PARENTS OF THE DISABLED

BY BARBARA B. HOLDCROFT, PH.D.

Paperback | $10.00

A truly valuable book that provides advice and encouragement to anyone—

family, professional or friend—who assists the disabled while offering help

toward becoming a knowledgeable and balanced individual.

MARY THE SEVENTH GIRL:

EXTRAORDINARY MIRACLES IN

AN ORDINARY LIFE

BY MARY A. JOHNSON

Hardcover | $22.99 Paperback | $15.99 Kindle | $3.99

"Mary, the Seventh Girl is a celebration of a sacred connection between

a devout woman and a Higher Power. The author has experience events

throughout her life that can only be described as miraculous, beginning in her

childhood and continuing to the present day. The book describes the power

of God activated through faith and prayer. This has impacted both her own

life and the lives of her family and friends. Her dreams and visions reveal

things that are meant specifically for her." —E. Shaw, Amazon Customer
---
SALVATION

BY PASTOR DON R. VINING

Paperback | $12.99

You've walked the aisle; prayed the prayer. Now what? Is that all there is to salvation?

No! In this fresh look at true Christianity, you will discover, "It's more than a prayer

in your head; it's a birth in your heart."

DON'T LET THE ROCKS CRY OUT

BY PASTOR DON R. VINING

Paperback | $11.95

Don't Let the Rocks Cry Out offers readers from every denomination a deeper look at

the many wonderful avenues of praise and worship talked about in the Bible.

POISON IN THE POT

BY PASTOR DON R. VINING

Paperback | $9.95

Have you ever felt there is something wrong in your life, but aren't sure what? The

problem may be poison. In this books, Pastor Don R. Vining shines the light of truth

on the poisons that sneak in our lives—often without awareness.

HIS PAIN, MY GAIN

BY PASTOR DON R. VINING

Paperback | $10.95

Have you thought much about all that Christ suffered on your behalf? Most of us

avoid dwelling on the reality of Christ's suffering until the Easter season rolls around.

Even then, we tend to skim over the facts of Calvary and move right into His glorious

resurrection. Easter is Christ's absolute triumph over death, but His suffering also

has much to teach us. It provides the doorway to a deeper level and power in our

spiritual journey.
---
GOD, THE

HERE, AND THE

HEREAFTER:

The Way to Heaven

by Norman B. Talsoe

Paperback | $24.99

Kindle | $6.99

How to be Heaven-ready?

Norman B. Talsoe's redemption guide for the

Messiah's return

The second coming of Christ has long been prophesied.

His return brings forth the inevitable judgment of the

Divine—to reward the believers and punish the sinners.

But when will angels blow the horn? While no one

knows when He will return, the end times are nigh unto

man. This is evident in the visions vested upon a chosen

few—one of whom is Norman B. Talsoe.

Norman B. Talsoe is blessed with two visions from

above, bestowed two years apart. Visions so vivid, he

was prompted to author God, The Here, and the Hereafter:

The Way to Heaven to signal Christ's second coming and

evangelize mankind.

In God, The Here, and the Hereafter: The Way to Heaven,

Talsoe walks readers through Daniel's Seven-Year timeline

to bring to light and expound on the rapture-tribulation

timeline for its complete understanding and correct

interpretation. This eye-opening, edifying book thus

hopes to teach readers the know-how and musts to be

Heaven-ready.

It was an 11-year stretch for Talsoe to read and interpret

the Scripture. But even at the old age of ninety-one, the

author fruitfully finished God, The Here, and the Hereafter:

The Way to Heaven through the grace of God and the

multiple miracles marveled upon him.

Remain steadfast. Ready for redemption. God, The Here,

and the Hereafter: The Way to Heaven, Norman B. Talsoe's

benevolence for mankind for when angels blow the horn.
---
THE TALE OF TUMELENG

BY MS. RYKE LEIGH DOUGLAS

Hardcover | $28.99 Paperback | $15.99 Kindle | $1.99

Author and educator Ryke Leigh Douglas brings an entertaining and

informative story about the majestic elephant in The Tale of Tumeleng.Th e

story starts with Jabari, a male elephant, who takes the lead in defending the

herd from hyenas. When Tumeleng, Jabari's daughter, is born, she aims to

keep up with the herd as they move to a new waterhole. As Tumeleng grows

and learns how to survive in a world filled with danger and environmental

challenges, the reader discovers these majestic sociable animals are not just

the biggest animals in the world.

Those interested to get a copy of the excellent picture book can purchase

it at Amazon, Barnes & Noble, or Book Depository.

I AM MUSIC

MY JOURNEY WITH DIMASH KUDAIBERGEN

THE BEST SINGER IN THE WORLD

BY PAMELA MCGEE WILKINSON

Hardcover | $23.61 Paperback | $15.99 Kindle | $2.99

It is only natural for people to look up to personalities that embody their

ideals and the qualities that impress them. With full admiration and

appreciation, Pamela Wilkinson writes I Am Music as a dedication to her

favorite Kazakh singer-songwriter, Dimash Kudaibergen. A showcase of

her 2-year journey with whom she believes to be the greatest singer the

earth has to offer. The author refers to I Am Music as a Fanbook, a beautiful

way to express her adoration for a celebrity that brought her happiness and

positivity. Using her rediscovered talent, Wilkinson introduces the brilliance

of Dimash in words and poetry, sharing the same sentiments with her fellow

Dears—their fanbase name. Indeed, anyone unfamiliar with Dimash will

find lots to know about him in this book and will pique their interest to

look up and watch some of his amazing performance videos.
---
STRATA VARIOUS

BY BRUCE BENTZ

Paperback | $9.99 Kindle | $2.99

Anna Forthright, an intelligent, attractive woman works in a Government

"think tank," which is beset with difficult problems that evade its collective

methodologies and intelligence. Anna discovers an author whose ideas are so

"wing-nutty," that he might be just the antidote to rejuvenate her faltering faculty.

She brings Adam Mann from the Midwest to Washington to spend a week

and "share his special insights" including: a thrash-free marriage-bed, vegetarian

chicken soup, "killing" terrorism, fornicating angels, free international travel,

and much more. Viable, provocative solutions aren't easy and can be trickier

than a balloon and cactus bouquet.

THE BEST FRIEND

BY CHARLOTTE FELICITY DEL PINO

Paperback | $9.95 Kindle | $2.99

This is about the difference between an acquaintance and a friend. The book is

based on Biblical principles and examples are shown relative to the Bible verses.

It shows who is a right friend and a wrong friend. The right friend uplifts you

but the wrong friend can get you into a bad situation that will affect you for

your lifetime. As a person who believes in God and who studies the Bible, there

are guidelines for living a happy and peaceful life where you can go in the right

direction and avoid pitfalls.
---
A DIMASH QUDAIBERGEN FABLE:

THE SCULPTOR'S MASTERPIECE

BY PAMELA MCGEE WILKINSON

Hardcover | $17.99 Paperback | $9.99

This little book is a fable but without the almost expected or required moral to

the story. If it has a moral, I haven't discovered it. Maybe you will. It is fictitious,

but fables are definitely known to have some truths, and fables usually have an

animal or inanimate object that, by some supernatural event, becomes human

or at least personified. This one does.

CRANIAMA:

MY SKULL'S REMEDY

BY BRYAN SISSON

Hardcover | $15.99 Paperback | $8.99 Kindle | $3.99

In this highly intelligible age of technology and bewildering medical advances,

researchers are amassing large amounts of quantitative information regarding

the causes and symptoms of the varied styles of brain injuries that cause trouble

for so many. This book is an ethnographically valid expo through which I hope

others can better understand the internal thought processes of those having

experienced severe, closed-head injuries. By sharing countless candid examples

from my ethnography of fifteen years of coping with closed-head injury, I

wish to provide hopefulness in survivors and their families. The message of

Craniama is not only about the sorrowful inquiry but one of celebration! After

all, objective awareness can be realized only through the natural integrity of

survival. Recovery won't be easy, but don't be afraid to reawaken when you can!

I'm confident the medical community will help you during this time, but I'd like

to provide a roadmap to those who wish to know more at this very moment.
---
62 | The Reading Glass Magazine

By Lancelot Whitewood

Every day, we always try to imagine a world where

everything goes our way. We have our futures planned

out even to the smallest of details. But just like any other

day, we are wrong. Life's not like that, it gives you hope

and inspiration, and when everything seems to be going

well, out of nowhere, you get smacked in the back. And

that happened to me one summer when I met a woman

whom I thought I'd spend the rest of my life with.

The first time I saw her, I didn't even have the slightest

idea that somehow, she'll affect my life for months, even

years, later. She was nothing out of the ordinary, that's

what I thought. Over time, my thoughts became fonder

as I learnt more about her, and they became as vivid as

clear water when I first held her hand that summer.

It was customary for college classmates to get along

since we're going to be together for quite a long time.

And so, naturally, as a form of socialization, we went

on trips together with our peers. Our trip took us to a

small hidden falls. The feeling was surreal to see a new

environment. And there I was, watching her as she

climbed the slippery rocks to get to a hidden cave at the

heart of the falls. "What a brave woman," I thought. And

for a moment, she looked even more beautiful than the

falls itself. I climbed those same rocks as well, and that's

when I slipped. Thankfully, I didn't fall on the water, but

I fell for her. As I was standing next to her, holding her

hands so that we won't fall, my affection came pouring

out just like the waterfalls. From that moment on, I

thought to myself that she must be the one destined for

me by the heavens.

At first, it was going well. I woke up excited to start a

new day, and it seemed everything I do or whatever I

encounter has happiness engraved on it. "Nothing could

go wrong," I thought. As we became closer, she became

much more radiant than the sun. And finally, as I could

not keep it in me for much longer, I mustered up the

courage to let her know how I really feel. It was also

summer when I wrote her a poem of my confession. I

compared her to the sun shining its light on a lowly tree.

But the timing could not have been any worse. The sun

that I longed and adored for was beaming its light to a

tree who's not me. My leaves became yellow, and one by

one, it fell to the ground; it was full of life back then, but

now it's like a dried-up stick standing in the air. What

summer has kindled, it quenched, that's what I thought.

But when I look back at it now, nothing in this world

is truly ever extinguished. Deep inside of us, there lurk

remnants of our pasts. It stayed, not because we held on

to it, nor is it a sign of not moving on; rather it remained,

for it made us who we are today. I've been asked by my

friend once about what it meant to truly love someone.

I replied that love is about making those we love happy

even if we aren't the ones who are by their side. Love has

been and will always be about sacrifice—we can never

really say we love someone if we can't do it.

It all started one radiant summer. She was the sun and

I was the tree longing for its light. There I thought

everything could go the way I please, but that's not how

life works. In the end, the sun kept beaming its light,

and the tree that withered away and fell to the ground

became a flower that blooms in the moonlight. It turns

out I wasn't meant for the sun after all.
---
GOTTA TEXT!:

REMINDERS TO LIVE OUT THE GOSPEL

THROUGH EVERY DAY ENCOUNTERS

BY JULIA A. BROOKS

Paperback | $9.95 Kindle | $3.99

The Reading Glass Magazine | 63

People of faith are very much a part of the masses of people engaging in social

media today as a way of life. Culturally ingrained as a method of quick and

succinct communication is the advent of text messaging, seemingly replacing

routine telephone communication for many. Yet the greatest message was

sent thousands of years ago to humankind and remains accessible to everyone

who desires to read it. It is God's text message written in the scriptures for

daily use. Gotta Text! is a thirty-one-day devotional that members of the

body of Christ can use to encourage one another. It becomes a vehicle to

connect people to the Gospel message through everyday encounters. This

book is an interactive devotional in which the reader has an opportunity

to "text" a friend or group of friends with a selected verse of a scriptureinspired

message that compliments the devotional of the day.

BEE SWEET SIXTEEN:

AN INTRIGUING VIEW OF CHARACTER

BUILDING FOR ALL

BY LEITHA PARMER GROTH

This book was written with achievable challenging purposes in mind. We

all are designed to develop and evolve in characteristics for Living. Sparks

of flames for change must be incited to cultivate Life's necessary levels

of growth, maturity, peaks and plateaus. What this book can furnish will

last a lifetime. Understanding how to become who you were intended and

purposed to be is rewarding. To free yourself and recover from entangled

webs is priceless.

Bee S.w.e.e.t. Sixteen is not only for young ladies to supposedly reach levels

and heights of maturity. This book is for everyone. Male and Female. Young

and older to reach levels and heights of maturity because maturity is not

an age. Maturity is a conscious law or standard chosen for living.
---
64 | The Reading Glass Magazine

The Final

Summer

By Reyna A.

It is summer once again! Our friends told me that you

are back home, and that you had finally reached your

dreams with great honor and prestige. The very reason

why you left four years ago. They didn't have to tell me

that though, because on the day of your graduation, I

looked up at the sky and I was celebrating as if I was with

you. We were under the same sky after all. I clapped in

silence with tears in my eyes remembering how beautiful

it was to look at you dream of the success you have right

now. I am so happy for you.

I have always been excited about summer, not until you

happened. The first summer without you, I spent it missing

you. The second summer, I spent it figuring out why you're

suddenly gone. The third summer, I spent it building a

wall to protect my heart from complete destruction. And

this summer, it finally rained! You came back as if four

years didn't pass, and you disturbed the peace I tried so

hard to rebuild when you suddenly left and ignored me.

You made it look like I am some sort of a fall back that

is willing to take you every time things will not work out

for you. Yes, I used to be your safety space, but I can't be

your safety net to the extent of disregarding my worth.

I can't be your sometimes. I deserve permanence and

clarity. You once told me that my kindness scares you,

and that you want to hide me from the world who takes

advantage of kind people. Guess what? You became the

very monster that you tried to protect me from.

Honestly, I really thought I was done with this chapter.

I used to have a lot of questions, and I made answers

for those questions. I made my own closure because you

can't. I don't know what's wrong with us, but we really

can't address the elephant in the room. You are good

with diverging the conversation, while I am too scared

to ask. I thought all my questions were answered, and I

thought I already made peace with the idea that some

of my questions are better left unasked. But little did I

–
---
The Reading Glass Magazine | 65

I knew for a fact that the truth will always hurt. I just didn't

expect it to be this painful. I don't know which killed me:

you, leaving without any word, or you, indirectly telling

me that I am not the answer to your prayers. Nonetheless,

it hurts either way. When I asked if you are happy with

her and if your heart is at peace, I died a little when I saw

the confusion in your eyes, torn between trying to protect

me from the pain or telling me the truth that she makes

you happy more than I do. But do not worry about me.

I'm maybe hurting right now, but this pain will not kill

me. I've been slowly dying since that first summer, at least

now that we have settled everything between us, I can

finally give my heart a rest. I can finally indulge to the

pain without any reservation, without the hope of you

coming back. I find comfort in knowing that the cloudy

days are over, and that after this rain, the sun will rise on

a clear day free from the weight of unclear skies. But one

thing is for sure, summer will never be the same again.

I'll always be haunted by the ghost of our yesterdays.

know that I just hid the thought of you at the back of

my head and saved some space in my heart just in case

you decide to come back. And you did, you came back.

Yet, it ruined me this time. I always wanted to know the

reason why you suddenly left. I prepared myself for this.

It is just so painful to know that all those things that I

held on to for so long were just products of my illusion.

The moment you pursued someone else while you were

away, the idea of our what-could-have-beens ended.

Stop telling me that you thought of me before you did

all those things, and you just wanted to protect me from

the pain. It just made me feel worse. We were just two

fools trying so hard to keep the promise we made in that

summer four years ago. After all these years, the love and

care you thought you have for me were all guilt. You are

just guilty, and that guilt of yours keeps on pulling you

back to me. Let go now! I am fine. Let that guilt go and

set me free from the pain of your ambiguity. I can't be a

salve for your guilt forever.

Forgive me if you feel like I am mad at you. Disappointed

perhaps, but not mad. You are not in charge of my

emotions. In fact, you have nothing to do with this. I am

the one responsible for my own emotions and choices. I

chose to feel this way, so I should deal with it. I am sorry

if ever I have made you feel like you are responsible for

the way I feel. Just be happy. I like seeing that smile in

your face even if I am longer part of the reasons behind

it. You are a good man. Thank you for being you, and for

allowing me to know you. You asked if we could remain

friends, and the answer is no. We may not be complete

strangers, but there's just too much history for us to still

be friends. Perchance, someday I get to see you, and right

then and there, I know I have healed. For the meantime,

allow me to bleed.

I hope one day, when we get to cross paths again, we

can still smile with each other like old friends without

any baggage between us. You are really a good man, but

not the right man for me. It might take me a while to

unlearn your name. But I hope and pray that you'll get

everything that you deserve. Please live a good life, because

I will continue to live mine without any traces of you in

it. From this day onwards, I refuse to be a slave of our

what ifs and could have beens. Just be safe for always,

and do not allow the world to take away your smiles.
---
DAISY'S HOPE FOR HER

JOURNEY

BY JOAN FIELDS LONG

Paperback | $14.95 Kindle | $3.99

"Wonderful novel that provides interesting insight into life on a farm during

the Great Depression. Those who lived during the Great Depression will be

blessed by this book's ability to instill hope in the reader. Also, those who

did not, such as myself, will be intrigued with a look into what life must

have been like during this difficult time of our nation's history." — Caleb,

Amazon Customer Review

DARK NIGHTS:

FIRST IN THE UNTIL DAWN SERIES

(NEW EDITION)

BY JORDAN E. WALKER

Paperback | $8.99

Her family died for a secret. She met a fairy as she ran from the assassin.

They came closer together as they fought for their lives. It ended with a

bang... but her story started with a fairytale. Mystery, magic and loss lie

within the darkness of night. Until Dawn...

Search for the Truth. "My name is Jayde Henryk, and this is how I survived."

First in the Until Dawn series.
---
STAYING IN THE BOAT

BY C.H HARVEY

Hardcover | $32.99 Paperback | $26.99 Kindle | $3.99

Many have speculated about the usefulness of dreams and visions, but

ultimately they have been controlled by the divine nature that was implanted

within by the Creator, Yahweh, or God as most people know Him--Yahushua,

Yeshusa Ha Machiah or Jesus is a divine presence, that authorized the

Holy Spirit to teach us the Creator's way from the beginning of time and

know Him, who is the Great I Am and how we can live with Him. This

book was recorded and written as the co-author experienced the dreams

and visions first hand, with the knowledge that the Holy Spirit, our Great

I Am had everything to do with this inspired information. He gave me the

desire to find His ultimate teaching, giving me the capacity to listen to His

Holy Spirit; obedient for the precious nuggets of His wisdom. I place this

blessing to the reader: May God in His mercy bless and keep you, May He

make His face shine upon you and be gracious to you, may He, Yahweh,

lift up His countenance on you and give you peace.

RHYMES FROM THE HEART

BY ALINDA C. DANIELS

Hardcover | $23.99 Paperback | $7.99 Kindle | $2.99

Rhymes from the Heart is an intriguing collection of poetry that touches

the very soul. Poems are meant to help the reader find peace in their words

and joy and hope to those searching for it.
---
68 | The Reading Glass Magazine

A Little Bit of Sun and

a Whole Lot of Freedom

Tamara Kaye

The last days of June mark the start of the summer season.

The time when the heat of the sun is at its peak. Perfect

for beach trips, hikes, and other outdoor activities. It is

when people go out on the streets to enjoy the warmth

and gentle touch of the sun. Though sometimes, the

trickling sweat can be a little annoying. But that is only

a little something we pay for a whole season of tan and

sunshine. If you want to escape the heat, catching up on

the books you impulsively bought is also a good idea.

A few crossing out on your watchlist can be possible as

well. What else happens during summer? Ah! The camps,

the festivals, and maybe, meeting your summer love! All

those new experiences for kids and teenagers alike. Cool

summer stories they get to brag to their friends when

the leaves start to turn red.

One highlight of summer is the 4th of July. The

commemoration of the passage of the Declaration of

Independence. A day of celebration and nationhood.

But why am I talking about this? How is the nation's

independence so relevant to my cool summer story?

Coincidentally, it is quite symbolic—if you may. The thing

is, the 4th of July also became my Independence day.

On the morning of July 4, I organized and sorted out my

stuff. From things to bring and things to leave. Things I

want to bring with me but I must not. Things that I must

bring but I cannot. Things. Things. Things after things.

Which ones should I—?

After rigorous deliberation and tons of indecisiveness,

the three mega box storages are now full of carefully

curated sets of clothes. While pairs I no longer use sit

warm and cozy in the old cabinet, with the sign of age

and the smell of old memories—intently kept, to be

embraced by the dust in a matter of weeks. Good riddance,

I believe. Next, I gently placed my laptop, a notebook, a

book, my wallet, tech wirings, and my essential kit inside

my brown leather backpack. It will be my company and

comfort for the next couple of days. To offer myself a

little fun when things don't feel like how I imagined

them to be. It's funny how I sound like I am bound to

travel. Off to an exciting journey. However, the difference

is that I might no longer come back. There isn't even a

place to come back to.

Once packed and locked, I hailed a cab and went to the

place where I can finally call my home. A humble room

painted in white, with a tiled floor and small balcony.

Two windows on both sides of the wall are covered in

blue curtains, a table, and two monobloc chairs. Two

wall-bound cabinets and two beds already stripped of

their sheets—one of each for a roommate who's about to

join me in late August. There was no air conditioner or

fan. It was humid. But not suffocating. The scorching sun

was one thing. But independence meant I had to carry the

boxes to the room myself. It meant bruises and scratches

on my arms. It meant enduring and bearing things alone.

But it also meant achieving things on my own. I sat on

the bed and exhaled. It was months' worth of savings all

spent for my peace of mind.
---
The Reading Glass Magazine | 69

I unpacked my clothes one by one. Accordingly, it is

segregated between casual and home clothes. Gently

stacked in the cabinet—ready to be used for the following

days. The subtle rattle of the boxes when I picked some

items filled the room. Sometimes, the meowing of the cats

in the neighborhood swept by. There were also muffled

voices of people conversing about their certain relatives.

The sound of a door closing and footsteps from the other

rooms were heard once in a while. It was silent. I liked it.

I closed my cabinet. And with that, my one-day holiday was

over. No trips. No hangouts. No party. But undoubtedly,

also a day well spent celebrating freedom.

"Are you new here?" the lady at the laundry shop asked. The

next couple of days were full of me adjusting. Familiarizing

where stores were; which ones were cheaper; which one

sells the better tasting food; where does each road lead to

and a few questioning eyes from people whom I passed

by. Even casually listening to the laundry woman rant

about how money should no longer be crumpled or else

you'll get sued. Crazy right?

Crazy. The idea of living by yourself made me high. It

feels exhilarating when you feel the shackles are now off

you. I can buy what and where I want. I can eat what I

want. I can get home whenever I want. I wanted a tattoo,

I got one. I can. I can. No one can stop me at this point

but myself. But I can't. I was elevated and stuck in the

clouds. But like drugs which curb and die down after

a while, my excitement faded away. I was stretched and

spent. Reality knocked on my door and told me times

up. I was trapped in a routine. Sleep, wake up, eat and

work. Not knowing where you can be brought by your

decisions was dreadful.

Little by little, it was starting to get more humid. It was

hard to breathe. The warmth was burning. The white room

was blinding. The clothes were cluttered all around. The

laptop was no longer touched. No page was flipped. It

was not fun. The noise was no longer silent. They were

torture. Peace went a little too much. Summer went a

little too much.

I missed summer when I didn't have to work. The summers

when all I think about is going out somewhere. Summers

that I can wake up whenever I want. Summers when

the food is already served. I miss summer breaks. The

beach. The camps. The streets. The summer when I didn't

have to pay rent. No bills. No problem. I miss flipping

pages of my books. I miss crossing out my watchlist. I

miss not having strange looks from people. I miss not

wondering if I'll be able to survive the next day. I miss

summers without responsibilities. I miss summers when

I was not solitary. Summers when I didn't have to carry

things alone.

So much for my independence day. I forgot freedom must

be paid for. That we lose as much as we gain. And that

freedom is still actually driven with restraint. I still have

a lot to learn and this white little room is teaching me.

After days of spiraling and staring blankly at the ceiling,

I stood up, picked up the clothes, and folded them like

they used to. Back in the cabinet where they're safely

kept. I tied the blue curtains into a ribbon, allowing a

few streaks of sunlight into the room. I basked myself in

the warmth and felt a whole lot of new freedom. I heard

the meows once again. The muffled voices of people now

mentioned their relative is pregnant. Footsteps and doors

closing are back in their usual rhythm. It was silent once

again. I love it.

Summer still has a long way to go. So, I bought a fan.

Just in case it becomes a little too humid all over again.

This is my first summer alone. Summer of growth and

independence. A summer that will be missed. I wonder

where I will be next season. Perhaps, you can still find

me listening to the laundry woman's bluster.
---
YOU KNOW WHAT 'UM SAYIN'?

BY ZAVIN LYTE

Paperback | $10.99 Kindle | $2.99

The purpose of this book is to make the point that we should allow ourselves

to dream about a perfect world and then go ahead and set our sails in that

direction. It may take time, but what life-labored mission is any more

worth the while?

PRIVATIZATION OF FACILITY

MANAGEMENT IN PUBLIC

HOSPITALS:

A MALAYSIAN PERSPECTIVE

BY HONG POH FAN

Hardcover | $30.09 Paperback | $10.99 Kindle | $2.99

Privatization of Facility Management in Public Hospitals covers the author's

insights and knowledge of support services and facility management. He

shares how these concepts can be applied to hospitals and other healthcare

facilities. The topics cover many functions and administrative needs behind

facilities management in a hospital setting. These concepts come from the

author's studies, insights, and experience working in hospitals in Malaysia,

a developing country. However, the principles discussed within can be

applied to even developed countries. The book also covers a quick history of

privatization and concession development and its rationale and objectives.

Hong Poh Fan aims to share these insights and principles with medical

professionals and engineers interested in providing technical assistance to

hospitals.
---
MATHEMATICAL MILESTONES:

NATURE, SCIENCE, BUSINESS, COMPUTERS

AND ARTIFICIAL INTELLIGENCE

BY CLEMENT FALBO

Paperback | $34.00 Kindle | $5.00

This book shows you the progress of mathematics and its uses over time.

Readers will clearly see how business, engineering, economics, physics, and

other fields contributed to the development of mathematics and, conversely,

how these areas have evolved because of this.

HOW TO LIVE WITH A VIRGO:

A SURVIVAL GUIDE

BY DANIEL T. DARMODY

Paperback | $12.95

How to Live With a Virgo: A Survival Guide is a humorous look at life with

Virgos, but it is also a self-help book for anyone trying to deal with a Virgo

in their life. Whether you are aware of them or not, their presence affects

you daily. This book is an essential tool for learning to deal with the Virgos

in your life. Whether you are married to one, you work with one, the Virgo

is a member of your family or just an acquaintance.

This book is a quick read and visual representation of the odd and eccentric

behavior of Virgos. It is designed to expose the Virgo to themselves and

others. With this book, perhaps an understanding of Virgos will emerge

that was designed for all of us to enjoy and benefit from. Okay, sure, there

is the dark side...
---
A PARENT'S GUIDE TO

HIRING AN EDUCATIONAL

CONSULTANT:

HELPING PARENT'S TO REBUILD THEIR

CHILDREN'S LIVES

BY KENNETH DAVIS

Hardcover | $54.99 Paperback | $47.99

A Parent's Guide to Hiring an Educational Consultant is a book for parents

which explains the role, the process, and the value of hiring an Educational

Consultant (EC). In addition, it clarifies for parents relevant topics of

interest addressing children, adolescents, and young adults. These include

what parents need to know to locate an EC, their professional associations,

the schools and programs we work with, the settings where students can

thrive, questions parents might ask when hiring an EC, and the available

financial resources for schools and programs. Furthermore, the guide

discusses boarding schools, day schools, residential treatment, recovery

programs, sober living programs, therapeutic boarding schools, wilderness

or adventure therapy, gap year, and college placement or programs. The

guide contains 248 pages of valuable information for parents and families.
---
CAT AND MOUSE

BY K FITZPATRICK

Hardcover | $15.99 Paperback | $9.00 Kindle | $2.99

As a little girl, Mary Beth Striker always had dreamed of becoming a great

and prestigious lawyer. She went to college and graduated at the top of her

class with honors. She went on to pass the bar on her first try. She thought

that she would become the most successful lawyer in town. But someone

stood in her way. Stan Howler was a dark, handsome, and mysterious man

with secrets. He was also a lawyer. He was at the top of his game. He could

win any case that was handed to him. He could also have any woman that

he wanted. When Stan saw Mary Beth for the first time in the lobby, he

knew that he had to have her. But could Mary Beth resist Stan's advances

and protect herself from the darkness yet to come and live to tell it? Only

time would tell in this game of Cat and Mouse.

MILITANT CHRISTIAN

PARENTING:

ON A WHOLE NEW LEVEL

BY ASHLEE ALIE

Paperback | $5.99 Kindle | $2.99

The book Militant Christian Parenting is based on building faith in God and

doing it with militancy. It teaches parents to see that children are God's gift

and next in line to the throne and that what parents do will affect future

generations. Children are royalty, and it all starts with the parents training

them for eternal life with Christ so they can walk the golden pavements

of heaven and be forever in the presence of God. It is time to start raising

our children into their true purpose and destiny.
---
Henri

Seventeen sht sties

by Douglas Bosack

Paperback | $7.99 Kindle | $2.99

Offbeat, distinctive, often surprising, Henri: Seventeen Short Stories will keep you glued to the page and then begging

for more. The incredible variety—some short, others long; capturing the everyday, zeroing on the downtrodden; sci-fi

or a view hundreds of years ago—offers something for everyone, each claiming distinct favorites.

Laugh, cry, cringe, or moan, you can't help but react to Henri: Seventeen Short Stories. They take twists, turns, and

tumbles to unexpected endings, and you think, but of course! More than merely entertaining us, Douglas Bosack

captures the vastness of human nature. From the sorrowful "A Victim of Circumstance" to the softly endearing

"Carl and Lynnette," he delves into people's souls, revealing who we really are, what we really want, and how some

really suffer.

Dr. Douglas Bosack, a cardiologist from Ohio, began writing in 1996. At that

time, he was busy with practice, leaving little room for his new venture as an

author. Consequently, his writing portfolio was often put on the back shelf for

months, even years at a time. The doctor's retirement in 2005 provided the time

needed to hone his writing skills and expand his creativity. Douglas Bosack

practiced medicine in Toledo, Ohio, and now resides in Canton, Ohio. He has a

son, two daughters, and four grandchildren.
---
LT. WILLIAMS ON THE

COLOR FRONT

BY CHRISTOPHER C. BELL JR.

Hardcover | $21.99 Paperback | $15.99 Kindle | $4.99

This novel LT. Williams on the Color Front harkens back to the racism

and racial segregation in the U.S. Army in the early 1950s in Germany

when the Army began racial desegregation efforts. Often, such efforts

prompted White-against-Black face-offs or virtual white "Color Fronts"

of resistance against desegregation. This novel is the tense, action-filled

story of Negro Lieutenant Neal Williams' coming of age as he struggles

against the efforts of prejudiced white officers who scheme to prevent him

from succeeding as a newly assigned platoon leader in what has been an

all-white infantry regiment.

About the Author

Christopher C. Bell Jr. is a retired Army major who served as a lieutenant

in Germany during the 1950s. More information about Chris may be found

at his website at www.drccbellbooks.com.

ISBN: 978-1643141350

GEE

BY DL DAVIES

Hardcover $15.99 Paperback | $9.99 Kindle | $3.99

A young boy, looking for something to eat; lacking that, something to

sell for food. In the process, he helps foil a crime; gets himself embroiled

in numerous adventures; loses a Father, Sister, and Mother to cannibals

(but not all at once), and, before the book ends, manages to kill those who

killed his family; while creating a varied family of his own. The story ends

by explaining the beginning.
---
76 | The Reading Glass Magazine

It's My Turn

Finding Identity and

Purpose after The

Empty Nest

JANINE HALL

A multitude of unsettling emotions accompanies

the inevitable empty nest stage for parents—from

grief to even a sense of purposelessness. The

void that comes with having grown-up

children living a life of their own poses the

question, "Now what?" Active parenting

is essentially over, so there would be no

one to take care of, no meal to prepare for,

and no conversation to initiate at the end

of the day. And along with children leaving

home is the fact that it's also the retirement

age where there would no longer be busy days

at work. Finally—painfully, even—chances are

a loss of a spouse through death or divorce. The

empty nest stage is definitely a lot to take in.

Janine Hall, for one, has found herself in an empty nest

but took the vacancy as an opportunity to reclaim herself.

The empty nest stage afforded her to spend her time and

talents on the seemingly impossible things when her hands

were tied with the responsibilities of motherhood. Janine

discovered her creative self and used it as an outlet. And

most significantly, she was able to reassess the spiritual

aspect of her life and enjoyed a closer walk with God.
---
The Reading Glass Magazine | 77

Janine's journey proves that the empty nest stage can be an

amazing avenue to find one's identity and purpose—and so,

she writes It's My Turn: Finding Identity and Purpose After

the Empty Nest. The spiritual enrichment Janine gained,

her personal experiences, and her conversations with

peers, supplemented with research, realized a collection

of reflective essays with hopes of helping others who are

navigating the empty nest stage.

The Reading Glass Magazine delights with the opportunity

to have conversed with Janine Hall to take a deeper dive

into her admirable welcome read for empty nesters. There

is much more life has to offer—it's the empty nester's

turn to find oneself.

Editor: The empty-nest syndrome is inevitably experienced

by parents but is rarely discussed. What inspired you to

write about it?

Janine: I was experiencing an "empty nest" myself and

was looking for a new direction and purpose. Many of

my cousins in the same situation were looking for their

purpose in life.

I found my identity by knowing who I was in Christ. Our

purpose is to love God and let Him love others through

us to the best of [our] ability and only with His help.

The ability to write creatively was God's gift to me when

He came into my life. God has a good plan for every

person's life if you are open to his leadership. That still

doesn't mean life will be easy for you, but at least you'll

have a friend that will be closer than a brother. Cast your

care on God and let God work in your life.

Your beautiful book is a collection of faith-based essays.

What made you decide to incorporate a Stress Vulnerability

Questionnaire?

Losing a mate, launching our children, divorce, dealing

with political differences, or the effects of a worldwide

epidemic can all considerably test our ability to successfully

deal with stress. The test can indicate areas where greater

compliance could be of benefit to the individual. Each entry

in the test describes a behavior that could be adjusted to

improve one's overall quality of life. Reduction of stress

enhances our mental, physical and spiritual health and

contributes to longevity.

Your Christian faith and further research, down to your

experiences, realized this book. How was it recollecting

your personal empty nest stage and writing something

so intimate into a thoughtful book?

In spite of the relative social isolation caused by technology

and our busy schedules and then far more pronounced

by the pandemic, I think most people's lives are similar.

Joyce Meyer shares her faith and the personal details of

her life to map out her spiritual journey and she tells

it like it is. Her television program Enjoying Everyday

Life gives the listener self-help from the Bible. Because

I have benefited from her books and compact discs as

a supplement to my personal Bible study, I came to the

conclusion that personal sharing increases the chances

that the Holy Spirit could use my experiences to attract

others to Himself.

You have highlighted the importance of creativity. In a

nutshell, how can you encourage someone in the empty

nest stage to tap into his/her own creative side?

God gave everyone some talents, but we often don't try

many things to find out what they are. Look for something

you enjoy--sewing, baking, growing and arranging flowers,

woodworking, painting, writing, decorating, or gardening.

Groups that discuss books, especially Christian ones,

challenge our spirits to grow and mature. God is the most

creative entity that exists. Try to recognize the people

He puts in your path to help you and the events that

He uses to change your life. He is the potter and we are

the clay. Creativity is a divine spark. Let it ignite in you.

It's My Turn: Finding My Identity and Purpose After the

Empty Nest is a reflective read nearing seventy essays. In

what part of the book do you resonate with the most?

Widowhood was the most significant adjustment of my

life, beginning the third trimester of my adulthood. My

Dad died four months later and I felt like I was starting

over. About a year or so of grieving, the Holy Spirit both

comforted me and invited me to resume life. Maturing

past that point was the advent of becoming my own

person and developing my identity spiritually and socially.

I've discovered who I am in Christ. Now I am happily

remarried and we are enjoying our family and friends.
---
THE PRINCIPLES OF POWERFUL

PRAYER:

A PRACTICAL PLAN FOR PRAYER

BY RICHARD T.R. SULLIVAN

Hardcover | $29.99 Paperback | $8.99

This book on prayer is simple but, most of all, practical. All the aspects of

prayer are covered and broken down into a series of easy-to-follow steps.

This book is easy to use; it's just like following a recipe of prayer.

WHERE IS MY HOME?

BY R.B. RAIKOW

Paperback | $11.16

This book is about two young people, Rachel and Karl, a Jew and a Nazi

soldier. They are thrown together by World War II into the shambles of

post-war Czechoslovakia. Despite their very different backgrounds, they

become friends and more. The Soviet Communist regime tightens, and

they decide to try finding Karl's old rural home. Their travels are filled

with hardship, and upon reaching their destination, they realize that only

their love offers security. All the characters in this book are fictional, but

they are based on incidents the author witnessed or heard about during

her childhood.
---
Ephus and the

Praying Bushel

Ephus Tells the Easter Story

By Robert Berry

Paperback | $11.99 Kindle | $3.99

And so begin the travels of the time-traveling, first-century Christian storyteller who appears in print for the first

time in Ephus and the Praying Bushel. Journey through time to the early days of the formation of the Christian

Church, and walk with Ephus Bar Isaiah as he travels the byways of first-century Jerusalem. Meet Ephus' friends,

Halakah bar Solomon, Ebenezer the Wealthy, and, of course, Yellow Dog. Follow them through their often-humorous

adventures as they learn to walk with Jesus and develop their own ministries in the streets of Jerusalem and the

nearby lands and villages. Ephus bar Isaiah's stories have touched the lives of so many through funny, beautifully

written parables for the twenty-first century Christian reader. This amusing, exciting, and thought-provoking book

will delight children of all ages.

Robert Berry was born and raised in the San Francisco Bay Area. He graduated from the University of California

at Berkeley and served as a commissioned officer in the United States Army. He is presently working on the second

Ephus bar Isaiah novel. Robert Berry currently lives with his wife, Toni, in Contra Costa County, in the San Francisco

Bay Area region.
---
Your million dollar story is worth pursuing. Don't let a potential remain a possibility forever. Make

the next move and take the leap towards making your idea a reality. Whether you're looking

to publish a book for the first time, gearing for a republishing, or in need of an outstanding

marketing team to get your story heard, let us be your partner in your self-publishing journey.

The hashtag future is here.

This summer issue has been warm and bright—one of pure delight.

As we continue to spark conversations, The Reading Glass Magazine

hopes to weather through all seasons to make your story a part

of everyone's reading journey. So, we're participating in another

national book fair you don't want to miss.

Grand. A literary wonderland. America's finest book festival.

See you in November!

For our partner authors, get in touch with your Branding Specialist

for inquiries about a magazine spotlight.

Visit our site at www.readingglassbooks.com for more information.