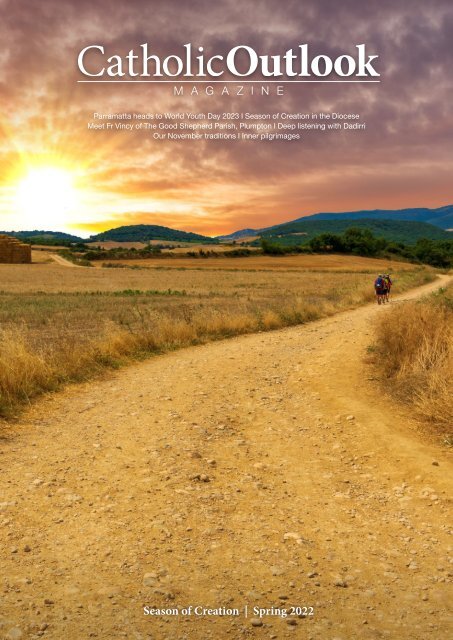 Catholic Outlook Magazine Ordinary Time Spring Edition 2022
You also want an ePaper? Increase the reach of your titles
YUMPU automatically turns print PDFs into web optimized ePapers that Google loves.
M A G A Z I N E

Parramatta heads to World Youth Day 2023 I Season of Creation in the Diocese

Meet Fr Vincy of The Good Shepherd Parish, Plumpton I Deep listening with Dadirri

Our November traditions I Inner pilgrimages

Season of Creation | Spring 2022
---
M A G A Z I N E

Parramatta heads to World Youth Day 2023 I Season of Creation in the Diocese

Meet Fr Vincy of The Good Shepherd Parish, Plumpton I Deep listening with Dadirri

Our November traditions I Inner pilgrimages

Imprimatur and Publisher:

Bishop Vincent Long OFM Conv

Bishop of Parramatta

(02) 8838 3400

PO Box 3066,

North Parramatta, NSW, 1750

bishop@parracatholic.org

www.catholicoutlook.org

Editor & Vicar for Communication:

Br Mark O'Connor FMS

(02) 8838 3400

PO Box 3066,

North Parramatta, NSW, 1750

comms@parracatholic.org

Communications Manager:

Christina Gretton

Communications Officer:

Mary Brazell

Nihil Obstat:

Very Rev Peter G. Williams AM

Accounts:

Alfie Ramirez

(02) 8838 3437

alfie.ramirez@parracatholic.org

Printing:

IVE Group Australia Pty Ltd

All material in this publication is copyright and

may not be reproduced without permission

of the publisher. 8,500 copies are printed and

distributed to 47 parishes and more than 80

schools, after school care centres and early

learning centres in Western Sydney and the

Blue Mountains.

Catholic Outlook is a member of the

Australasian Catholic Press Association.

© Diocese of Parramatta 2022

Jenny Kuchta and Elyse Provest worked with Aboriginal students at

Our Lady Queen of Peace Primary Greystanes to create this Rainbow

Lorikeet artwork. Many local schools are adopting totems in the

lead-up to the Aboriginal and Torres Strait Islander Catholic Education

NSW State Conference in Leura in October 2022. This event will be

proudly hosted by Catholic Schools NSW and Catholic Education

Diocese of Parramatta.

The Diocese of Parramatta reaffirms the

wise axiom attributed to Saint Augustine of

Hippo, "In essentials, unity; in non-essentials,

freedom; in all things, charity." In this spirit,

Catholic Outlook publishes a variety of

Catholic viewpoints. They are not necessarily

the official views of the Diocese of Parramatta.

Season of Creation | Spring 2022

Cover Image: Sunset on the road to Santiago de Navarra,

Spain. The Camino de Santiago is one of the world's

greatest pilgrimages. Image: Shutterstock.
---
From Bishop Vincent

Dear Sisters and Brothers,

Only the Kingdom therefore

is absolute and it makes

everything else relative.

As we enter into Spring and see God's creation

bursting forth into new life, let's remind ourselves that

the Kingdom of God is shining forth all around us!

We are all pilgrims of faith, on a journey to spread the

Good News that Jesus of Nazareth was crucified but

is now risen from the dead.

Sometimes, however, we are blinded from living

our joyous faith and noticing God's Kingdom

breaking through.

We are like the masses in Jesus' day, who were

yearning for God to send a messiah to rescue

them but were looking in all the wrong places.

Yes, there are many things in our chaotic

contemporary world that can blind and depress

us and threaten our hope. We can be tempted to

despair at so much injustice, rampant greed, the

destruction of our environment and especially

the horror of war and the suffering of innocents in

places like Ukraine.

But let's never forget that Jesus proclaimed the

Kingdom and insisted that God's reign could begin in

people's lives any time they are ready to awaken to

this presence.

Jesus still speaks to us today:

St. Pope Paul VI

Do not look for God to

appear in the desert or on a

mountaintop, because the

Kingdom is not about location.

Instead, the Kingdom of God

is within you.

If, however, we can resist the temptation to despair

and overcome the delusion that we can save

ourselves, we can discover this divine presence.

As the Anglican biblical scholar N. T. Wright puts

it: "...we need to discover that when God wants to

take charge of the world or the Church, he does

not send in the tanks. Instead, he sends in the

poor and the meek."

That is what Pope Francis has also been tirelessly

saying for the last ten years. Our salvation is not

achieved by 'circling the wagons' and seeking refuge

in some supposed 'Golden Age' of the Church.

Our recent Plenary Council was a moment of hope

and new life for many of us Australian Catholics.

Why? Because it rightly discerned that we Australian

Catholics need to march on in our journey of

synodality, to make the Kingdom a reality in the

Australia of today.

We, the People of God in the Diocese of Parramatta,

are sent on mission as 'kingdom people' to the

'peripheries'. As a pilgrim people, the poor and meek

are our salvation and our guides, the 'anawim' of

God who live their witness in the world and in history.

With them, we go on a journey to form a community

of 'kinship' for God longs for us to encounter him at

the margins.

This season of Spring 2022, we are called then to

open our eyes to see the Kingdom of God breaking

through all around us: "for the vision still has time,

presses on to fulfillment, and it will not

disappoint; and if it delays, wait for it"

(cf. Habakkuk 2:3).

Let's continue our pilgrimage of

hope. For: Only the kingdom

... is absolute!

Bishop Vincent Long OFM Conv

Bishop of Parramatta

This was not a message most people of Jesus' time

wanted to hear. I suspect it is not something we want

to accept deep down either.

We can be tempted to want a Kingdom even a

Church where we are in 'control'.

01
---
CATHOLIC EDUCATION

DIOCESE OF PARRAMATTA

Enrolling now

for 2023

Belong.

BE WELCOMED | BE VALUED | BE CONFIDENT

Visit www.parra.catholic.edu.au today to find your local Catholic school and join one of our

caring, faith-filled communities.
---
44

22

14

9

On the Inside

Season of Creation | Spring 2022

Get instant updates on Catholic

Outlook stories and news from

our Diocese - follow the Diocese

of Parramatta Facebook page

facebook.com/parracatholic.

Subscribe to Catholic Outlook

online at catholicoutlook.org

to get Catholic news, opinions

and worship resources delivered

straight to your inbox totally free

of charge every week.

04 OutlookLooks

08 Short & Sweet

09 Dadirri

10 Spring awakens our care

for refugees and our

common home

12 Sustainable gardening

harvests a strong community

14 Diocese of Parramatta

announces pilgrimage to

World Youth Day 2023

16 The impact of saying 'yes' to

God through World Youth Day

18 Being a World Youth Day

witness eleven years on

20 A renewed era of pilgrimage

21 Saints to inspire young people

on their WYD pilgrimage

22 Nurturing a child's

cultural heritage

24 A servant leader

26 Speak up, speak out

and speak on

28 A reflection on the

Plenary Council

32 Looking Deeper

34 The journey within

36 Journey to Emmaus

38 Living in the monastery

of the heart

40 The Pilgrim Church

42 Our traditions for those

who have died

44 Fr Vincy D'Costa OFM Cap,

Parish Priest The Good

Shepherd, Plumpton

46 Parish Profile: The Good

Shepherd Parish, Plumpton

48 Quest to know sets

a life in motion

50 Let us care for those who

have cared for us through

their lifetime of service

52 Watch, Listen, Read, Think

54 Kid's Corner

56 Directory of services

57 Latest appointments

57 Diocesan Award

Recipients 2022
---
OutlookLooks

A time for journeying

With the announcement of the Diocese of Parramatta's World Youth Day 2023 pilgrimage, we've asked pilgrims

young and old what being on pilgrimage is like. Check out the testimonials throughout this edition of Catholic

Outlook on how you can grow through pilgrimage, no matter your life stage. You don't even need to leave home.

Support our

HSC students

Our HSC students are soon

to sit their final exams. Parish

communities in the Diocese will be

holding Masses to pray for our local

students and show them support

and encouragement.

Find the Mass for students in your

parish at bit.ly/HSCMass22

Year 12 Students from Emmaus Catholic College,

Kemps Creek with Bishop Vincent in June 2022

Sustainability tips from Ambrose Early Learning

The start of our Spring in September is also the Season of Creation.

Throughout the month, we are encouraged to take action and care

for our common home. The children of Ambrose Early Learning in the

Diocese of Parramatta are learning how to reduce their impact on the

environment.

Here are their top tips:

Children at Mary Queen of the Parish

Ambrose Early Learning learn about

recycling. Image: Ambrose Early Learning.

• Get a worm farm and feed your worms food scraps.

The 'worm juice' is great fertiliser.

• Recycle water through the use of rain tanks.

• Grow things in the garden rather than buy them,

especially your own food.

• Recycle plastic soft drink and milk bottle lids.

The 'Lids for Kids' project collects plastic bottle lids

to be recycled to help make mobility aids for children.

Sign up as an

Earthcare Family

Catholic Earthcare has a program

to help your family live more

sustainably. There's a program for

parishes and schools too. Find out

more on page 10.

Signup at

catholicearthcare.org.au

Earthcare

Family Game

Combine learning about

ecological care with fun and

play the Catholic Earthcare

Game. Image: Supplied.

You can purchase the

Earthcare game through

earthcaregame.org

04
---
OutlookLooks

Soul Cakes

Image: Cath Family website

Baking for All Souls

Following All Saints Day on 1 November, we

commemorate All Souls Day on the 2nd, when we

pray for those who have died. It is a centuries-old

tradition, originally accompanied, in England and

Ireland, by the baking and distribution of 'soul cakes'

for the poor. Try one of the recipes and talk with your

families about the tradition of All Souls Day, and

loved ones who have died.

Check out this recipe on the Cath Family website

at bit.ly/allsoulscake

Season of Creation

Spring camping

Take time out from your busy lifestyle for

a few days to camp in nature with friends,

family and other members of the Christian

community to celebrate the Season of

Creation. To be held at Wooglemai Catholic

Bush Retreat Centre, Oakdale from

30 September to 2 October.

Details seasonofcreationcamping.org

Speaking out against

violence and abuse

The Australian Catholic Church launched its social

justice statement for 2022/23 in August. The

statement, Respect: Confronting Violence and

Abuse looks at family and domestic violence and

explains that using religious teachings to excuse

violence or exert control over others is wrong. The

Australian Catholic bishops call for all people to do

their part, so all people can live in safety and peace.

Social Justice Statement Image: The Office for Social Justice,

Australian Catholic Bishops Conference

Download the statement at bit.ly/SJS22-23

Supporting our retired clergy

Our clergy accompany us during some of the most important times of our lives. Having given a life of service

to others, when it comes to retirement or illness, sometimes they need our help.

You can contribute to the Bishop's Father's Day Appeal at catholicoutlook.info/csfFathersday

05
---
OutlookLooks

Active4Vocations

Did you see our team with Bishop Vincent, priests,

seminarians and parishioners who ran the City2Surf in

August this year? They hope you'll join them next year

to help promote vocations.

You can still donate to their campaign raising

funds for Holy Spirit Seminary, Harris Park at

catholicoutlook.info/City2SurfA4V

What's On in the Diocese?

1 SEPTEMBER TO 4 OCTOBER

Season of Creation. Find resources at

parracatholic.org/seasonofcreation

25 SEPTEMBER

World Day for Migrants and Refugees.

25 SEPTEMBER

Diocesan Journey... Walking with Refugees

event celebrating the gifts and contributions of

refugees in our community. Find out more at

parracatholic.org/socialjustice

8-9 OCTOBER

Parish HSC Masses. Our parishes invite you to

Mass to support our students. Find a Mass at

bit.ly/HSCMass22

6 AND 13 OCTOBER

Sacraments, Blacktown. A short course on

the Sacraments for your parish community.

Details at MET@parracatholic.org

13 TO 15 OCTOBER

National Deacons' Conference, Baulkham

Hills. Details at catholicoutlook.info/

deaconsconference22

Seminarian Tom Green (right), Fr Pawel Barszczewski OP

(centre) and Head of Clergy Wellbeing in the Diocese of

Parramatta, Mark Buhagier (left) run in the Active4Vocations

campaign in the City2Surf 2022. Image: Diocese of Parramatta

Talking about the Church

The National Deacons' Conference

is being hosted by the Diocese of

Parramatta 13 to 15 October. All

interested parishioners are invited

to attend and hear the lineup of

great speakers.

Find out more at

catholicoutlook.info/deaconsconference22

20 OCTOBER

LIFTED Live in the Forecourt. Join the largest

outdoor youth festival in the Diocese at St

Patrick's Cathedral Precinct Parramatta 7-10pm.

Register at parracatholic.org/liftedlive

26 OCTOBER

The FaithFeed for those aged in their 20s to 40s.

Details at MET@parracatholic.org

9 NOVEMBER

Peace, Justice and Ecology Sharing Online. A

sharing opportunity for those interested in Social

Justice, Care for Creation or Global Peace.

Email MET@parracatholic.org for a Zoom link.

20 NOVEMBER

World Youth Day Parramatta. Each year Pope

Francis celebrates young people around

the world! Join us for an outdoor mass and

celebration. 6pm St John XXIII Catholic

College, Stanhope Gardens

25 NOVEMBER

Mass for Deceased Clergy in the Diocese of

Parramatta. Mass will be followed by prayers at

the graves of deceased clergy buried in Castle

Hill Cemetery. 10.30am St Bernadette's Parish,

Castle Hill.

Members of the Permanent Diaconate in the Diocese of

Parramatta and their wives at their formation weekend in 2021

Image: Diocese of Parramatta

06

STARTING NOVEMBER

• Scripture and Socials for young adults

20's-40's online courses.

• Spirituality for beginners

• Interpersonal Skilling for Ministry

Details at pfparra.org.au or

MET@parracatholic.org
---
Image: Shutterstock

World Day of Migrants and Refugees

On 25 September, the Catholic Church around the world celebrates the World Day of Migrants and

Refugees. On this day, we express concern for vulnerable people on the move, pray for them as they face

many challenges, and increase awareness about the opportunities that migration offers. In 2022, Pope

Francis invites us all to join in "Building the Future with Migrants and Refugees". One practical step is to hold

a food drive for the local refugees in our midst.

Find out more at parracatholic.org/diocesanfooddrive

AFRICA IS FACING

A FOOD CRISIS

You can help deliver

urgent humanitarian aid to

communities facing hunger

www.caritas.org.au | 1800 024 413
---
Short & Sweet

I thank God that the Plenary Council had the humility

and courage to not go home with a false unity but

a deep and new awareness of God's unfolding

revelation and our evolving maturity. At least

that is the indication of the majority. The synodal

journey can be messy, painful and uncertain. But

it can lead to renewed and

deepened commitment and even

transformation.

Bishop Vincent Long OFM Conv

on the Plenary Council 17 July 2022

I believe some people – lots of people – pray to the

witness of their lives through the work they do, the

friendships they have, the love

they offer people and receive from

people. Since when are words the

only acceptable form of prayer?

Dorothy Day Image: Wikimedia Commons

Noel Pearson also said Australians have an epic story.

It's one of the greatest epic stories of this planet.

We will recognise the scale of our story when we

recognise each other.

Image: Wikimedia Commons

Federal Opposition Leader Peter

Dutton at the opening of the

Australian Pariament 26 July 2022

The use of digital media, especially social media,

has raised a number of serious ethical issues that

call for wise and discerning judgment on the part

of communicators, and all those concerned with

authenticity and the quality of

human relationships.

His Holiness Pope Francis

to the lay communication network

SIGNIS August 2022 Image: Shutterstock.

The teaching of Christ urges us to promote

relationships marked by respect and freedom

rather than coercion and control. The message of

the Gospel is not a message of domination of one

person over another but a message of mutual

esteem and kindness.

Archbishop Timothy Costelloe SDB

launching the Australian Catholic

Bishops' Social Justice Statement

for 2022/23 Respect: Confronting

Violence and Abuse Image: ACBC.

The profit-driven and self-oriented model that

undergirds our consumerist, economic system is

no longer viable going forward. We will perish under

these conditions unless we return to the roots of

nature and rewire ourselves to be part of nature.

For we humans belong to nature;

nature does not belong to us.

Bishop Vincent Long OFM Conv

Tri Diocesan Social Justice evening,

July 2022

Pope's Prayer Intentions

This Spring, Pope Francis asks us to pray

together as a worldwide community:

SEPTEMBER | For the abolition of the death penalty

We pray that the death penalty, which attacks the

dignity of the human person, may be legally

abolished in every country.

OCTOBER | For a Church open to everyone

We pray for the Church; ever faithful to, and

courageous in preaching the Gospel, may the Church

be a community of solidarity, fraternity and welcome,

always living in an atmosphere of synodality.

Pope Francis at World Youth Day 2016 in Poland

Image: Shutterstock

NOVEMBER | For children who suffer

We pray for children who are suffering, especially

those who are homeless, orphans, and victims of

war; may they be guaranteed access to education

and the opportunity to experience family affection.

08
---
Image: Shutterstock

Dadirri

Our Aboriginal culture has taught us to be still and to

wait. We do not try to hurry things up. We let them

follow their natural course – like the seasons. We

watch the moon in each of its phases. We wait for

the rain to fill our rivers and water the thirsty earth…

When twilight comes, we prepare for the night.

At dawn we rise with the sun.

We watch the bush foods and wait for them to ripen

before we gather them. We wait for our young people

as they grow, stage by stage, through their initiation

ceremonies. When a relation dies, we wait a long

time with the sorrow. We own our grief and allow

it to heal slowly.

We wait for the right time for our ceremonies and

our meetings. The right people must be present.

Everything must be done in the proper way. Careful

preparations must be made. We don't mind waiting,

because we want things to be done with care.

Sometimes many hours will be spent on painting the

body before an important ceremony.

We don't like to hurry. There is nothing more

important than what we are attending to. There is

nothing more urgent that we must hurry away for.

We wait on God, too. His time is the right time. We

wait for Him to make His Word clear to us. We don't

worry. We know that in time and in the spirit of dadirri

(that deep listening and quiet stillness).

His way will be clear.

We are River people. We cannot hurry the river. We

have to move with its current and understand its ways.

We hope that the people of Australia will wait. Not so

much waiting for us – to catch up – but waiting with

us, as we find our pace in this world.

There is much pain and struggle as we wait.

The Holy Father understood this patient struggle

when he said to us:

"If you stay closely united, you are like a tree,

standing in the middle of a bushfire sweeping

through the timber. The leaves are scorched and

the tough bark is scarred and burnt; but inside the

tree the sap is still flowing, and under the ground

the roots are still strong. Like that tree, you have

endured the flames, and you still have the power

to be reborn".

An excerpt from Dadirri by Miriam-Rose Ungunmerr

To read the full reflection go to

miriamrosefoundation.org.au/dadirri/

Miriam-Rose Ungunmerr,

(left) 2021 Senior

Australian of the Year,

will visit the Diocese

of Parramatta for the

Aboriginal and Torres

Strait Islander Catholic

Education Conference in

Leura in October 2022.

Image: Salty Dingo

09
---
Spring awakens

our care for

refugees and our

common home

STORY SEBASTIAN SALASKE-LENTERN

AND JAMES ATANASIOUS LUKERE

Image: Shutterstock

September is a special time for social and

environmental justice in the Catholic Church.

Sebastian and James from the Mission

Enhancement Team (MET) explain why.

Each year, the Season of Creation and the World

Day of Migrants and Refugees fall in the month of

September. It's a time when Catholics around the

world are particularly reminded to care more deeply

for God's creation and for people seeking refuge in

their community.

Where to start

Sometimes, knowing how to start can be confusing

or overwhelming. To help you, Catholic Earthcare, the

ecological advisory agency for the Catholic Church in

Australia, has a special program for families, parishes

and schools to take them through the steps, from

understanding our connection to nature, to taking

stock and taking action.

Take action in the Season of Creation

Coinciding with our Australian Spring, the Season

of Creation is a worldwide ecumenical initiative from

1 September to 4 October. Concluding on the Feast

of St Francis of Assisi, considered the patron saint

of our natural environment, it is a time when Pope

Francis and the Australian Bishops encourage all

Catholics to prayer and action in caring for God's

creation, our common home.

In April this year, Bishop Vincent Long OFM Conv,

Bishop of Parramatta launched our Diocesan

Laudato Si' Action Campaign, aimed at achieving

the seven Laudato Si' Goals set by Pope Francis.

All Catholic schools, parishes, families, and

organisations in the Diocese of Parramatta are

invited to join us on the journey.

Watch the video at parracatholic.org/laudatosi

Image: Supplied

Parishes will learn how to audit where your parish

is at regarding sustainability, and help you plan

for the future, including how to build and motivate

your community.

Already four parishes have signed up from the Diocese

of Parramatta including The Good Shepherd at

Plumpton, and St Madeleine Sophie Barat at Kenthurst.

Find out more about the Diocesan Laudato Si'

action campaign and the Laudato Si' Goals at

parracatholic.org/laudatosi

The Good Shepherd Parish responds to

Cry of the Earth, Cry of the Poor

The Good Shepherd Parish in Plumpton has

envisaged and actioned their response to the

Diocesan Laudato Si' Action Campaign. In January

2022, the parish's social justice group initiated a

discernment process, resulting in the decision to

join Catholic Earthcare's Parishes Program and to

undertake an Earthcare audit.

10
---
Parishioners from The Good Shepherd, Plumpton raised money for refugees at a special concert. Image: Supplied

They have taken stock of the ways in which the

parish is responding to "the cry of the earth and the

cry of the poor." Actions include using solar energy,

regular food drives for the refugee organisation the

House of Welcome, and holding a concert to raise

funds for refugee families.

Read more about the parish's actions on page 46.

The Laudato Si' Goals

Respond to the Cry of the Earth

Response to the Cry of the Poor

Ecological economics

Adoption of sustainable lifestyles

Ecological education

Ecological spirituality

Community resilience and

empowerment

Details at laudatosiactionplatform.org

Find more opportunities to get involved

with social and environmental justice at

parracatholic.org/socialjustice and subscribe

to the Peace, Justice, Ecology Newsletter at

bit.ly/pjenews

World Day of Migrants and

Refugees 25 September

Celebrate and support refugees in the

Diocese of Parramatta

The Catholic Church celebrates the World Day

of Migrants and Refugees in 2022 on Sunday 25

September. It is a time to pray and raise awareness

of the challenges of vulnerable people on the move.

In the Diocese of Parramatta, our network of refugee

organisations and parishes come together in the

Diocesan Journey... Walking With Refugees to

support and keep the conversation going.

You're invited...

Celebrate the gifts refugees bring us all,

at a special event

25 September

Details parracatholic.org/socialjustice

As a former refugee myself, I

understand the sufferings, destitution,

and cry for prosperity of those who

are seeking a place of safety where

they can rebuild their lives. I want

you to be hopeful and prayerful, for

the Lord will provide. No condition is

permanent, and change is possible.

James Atanasious Lukere

Sebastian Salaske-Lentern and James Atanasious Lukere are

members of the Diocese of Parramatta's Mission Enhancement

Team (MET) focusing on Peace, Justice, Ecology.

11
---
Margaret (left) and Hanna (right) in the garden

Image: Diocese of Parramatta

Sustainable gardening harvests

a strong community

STORY MARY BRAZELL

The Season of Creation coincides with our

Australian Spring weather. In Blacktown, a

group of gardeners are sustainably growing their

favourite vegetables and following the call to

care for each other and our common home.

It's Thursday morning and Margaret Bayoa has

finished her night shift.

After getting home at 7am, she gets her kids ready

for school and drops them off.

But instead of heading home to rest after work,

she is pulling weeds and cultivating her garden bed

alongside other Sudanese women in the community

garden at the All Saints of Africa Centre, next to St

Patrick's Church in Blacktown.

I ask her why she isn't at home taking it easy. "My

heart is here," she replies with a beaming smile,

looking over the beds of traditional African crops.

Catholic Care Western Sydney and the Blue

Mountains Family Support Worker Rafa Godo

explains that the All Saints of Africa Centre was

established as a central hub for members of the

African community to gather and to socialise.

Originally established for young people, over time,

local Sudanese women have become the main

group of gardeners. They grow okra, black beans,

white corn, sukuma and sugar cane – crops that

are Sudanese staples and remind the gardeners

of home.

Although it is an overcast day when I visit the garden,

it fails to dampen their spirits as the women chat

as they pick from the existing plants and begin

preparations for Spring.

Each woman has her own garden bed, but if

someone is not around, the other members of the

community are allowed to harvest their crops.

The food is also shared amongst the community

members free of charge.

12
---
"We often have a lot of people asking for the food

from the garden," one of the women explains.

"My kids ask me when I am cooking whether the food

is from the garden. When I say 'yes' they get excited."

The garden is a living example of sustainability. The

women harvest their own seeds from the crops, and

the only item they pay for is water. Any leftovers are

frozen for use throughout the year.

"It's really encouraging that we are planting our own

seeds, and it's organic and healthy for us to eat,"

Esther Kenyi says.

As well as tending to the garden, the women are also

nurturing their relationships with one another and

with their community.

"On Thursdays, we have playgroup and then

afterwards, I go and do garden work," Hanna Abadia

says. "Working in the garden is exercise for me and it

feels really good."

Helping out in the garden is beneficial for older

members of the community too, says Hanna. "For

some of them, it is the only way to get them out of

the house, out exercising and keeping them busy

during the day," she says.

The women feel that they are embracing Pope

Francis' call to care for creation and care for the

earth through their traditional gardening practices

and also by sharing the food with others.

Sukuma with ugali and chicken. Image: Shutterstock

A recipe for sukuma

• Wash sukuma and cut finely

• Chop onions and tomatoes

• Cook onion in oil until it browns then

add sukuma

• Cook for five minutes

• Add tomatoes

• Flavour with salt, seasoning or finely

cut onion leaves

• Add a small amount of water to

prevent it burning

• Cook it on slow until you are happy

with the taste

• Serve with meat and ugali

Growing their own food helps the members of the

community save money. Their native vegetables are

often hard to find in markets, and, as the women

explain, don't taste as good.

As the garden remains a staple for the community,

the gardeners hope to find a bigger plot of land

around Western Sydney and expand their garden.

Tips from the All Saints of Africa gardeners:

• Keep older crops in for longer – it enriches the

soil for new planting in the spring.

• Use grass clippings, manure and homegrown

compost, instead of fertiliser.

Gardener Night Drania

Image: Diocese of Parramatta

• If you have leftovers after your harvest, freeze

them for use throughout the year.

• Sharing your harvest builds community!

13
---
Diocese of Parramatta announces

pilgrimage to World Youth Day 2023

STORY MARY BRAZELL

Young people across Western Sydney and the

Blue Mountains are invited on a once-in-alifetime

spiritual experience.

Bishop Vincent Long OFM Conv, Bishop of

Parramatta has launched the official Diocese of

Parramatta pilgrimage to the 16th International World

Youth Day (WYD) in Lisbon, Portugal, in August 2023.

The 22-day pilgrimage takes place from 21 July to

11 August 2023. Across four countries. young people

will walk in the footsteps of saints who changed the

course of history. Starting in Paris, the young pilgrims

will travel to Spain before the official WYD event

in Lisbon, Portugal, and conclude with a retreat in

Assisi, Italy.

World Youth Day is a gathering of young people

from all over the world with the Pope: a celebration

of youth, an expression of the universal Church

and an intense moment of evangelisation for the

youth world.

It was created in 1986 by Pope St John Paul

II and is hosted in a different international city

every few years.

To find out more information and to register

your interest in attending World Youth Day, visit

www.parrawyd.org

The image (on facing page) for the Diocese of Parramatta

WYD 2023 pilgrimage depicts the Blessed Virgin running,

indicating her haste and honouring the WYD 2023 theme

"Mary arose and went with haste" (Lk 1:39) – the third

chapter in Pope Francis' Marian-based themes for

World Youth Day.

The elements of creation depicted remind us of St Francis

of Assisi's love and care of the natural world and the Lisbon

lettering is reminiscent of local Portuguese art styles, with a

yellow tram and flamenco guitar nods to the host city.

15
---
The impact of saying 'yes' to God

through World Youth Day

STORY MARY BRAZELL

We hear the stories of four of our young adult

pilgrims who attended World Youth Day in

Panama in 2019.

In his invitation to young people across Western

Sydney and the Blue Mountains to join him in

journeying to World Youth Day, Bishop Vincent says

for young people, the worldwide celebration of faith

has a "profound impact on their relationship with

Jesus, their prayer life, their lived mission and their

relationship with others".

Qwayne Guevara, Manager – Catholic Youth

Parramatta, explains that "past World Youth Day

pilgrims have returned to their local communities

taking up leadership and service opportunities

in their schools, parishes, workplaces, pursuing

further theological study and some discerning

their vocation."

As the youth of Western Sydney and the Blue

Mountains consider journeying with Christ on World

Youth Day, we asked pilgrims from previous World

Youth Day pilgrimages to reflect on what called

them to this amazing mountain-top experience,

and how they share the love of God with their

local faith communities.

Chantelle Ocsan, parishioner of

Holy Family Parish, Emerton

While I entered World Youth Day hoping to always be

surrounded and be comfortable with people I already

knew, throughout the pilgrimage, WYD taught me

the beauty in virtuous friendships. WYD allowed me

to create friendships with the other pilgrims knowing

that we were all on the same faith journey but just at

different points in our lives.

On pilgrimage, I learnt how much I love serving

the people around me, and it is through making

sure I showed a Christ-like joy every day, even

when I wasn't feeling 100%. It was the ability to

recognise that in any circumstance, God is trying

to call out to me.

World Youth Day is a continuous pilgrimage where

every day, I learn how God is trying to call me to be

His servant. My faith was strengthened throughout

World Youth Day to emulate this unwavering yes

Mama Mary gave to God; inspiring me to do

what I can to make sure I answer His call in my

day-to-day life.

Qwayne Guevara (back far left), Kathleen (middle right) and

Chantelle (front right) at WYD 2019 with other pilgrims from

the Diocese of Parramatta. Image: Supplied

16
---
Dale Ahern

Image: Supplied

Dale Ahern – Head of Learning,

St Clare's Catholic High School, Hassall Grove

There are people that I would not have met without

this experience who are people in my life I can count

on for anything. I very much cherish the friends I

have made along the way, some I know will be in

my life forever.

I remember in Panama being near the beach with

two other groups and in that moment, we decided

to share how we were feeling in that moment and

prayed together. After we prayed, I remember feeling

this calm come over us – I felt like Christ was with

us. It felt as if we were all meant to be there in that

moment, sharing and appreciating the world around us.

As a teacher, I have had many opportunities to share

my experiences and my own faith journey after WYD.

Kathleen Hernadez

Image: Supplied

Kathleen Hernandez, parishioner of

St Aidan's Parish, Rooty Hill

During WYD week in Panama city, there was a

'Fiat Night' which centred around the theme of

WYD. There were talks and a time of Adoration of

the Blessed Sacrament. When I looked at Jesus in

the tiny host in the monstrance, I felt His gaze upon

me. In my vulnerability, I knew deeply that God's love

was for me.

In the procession of the Blessed Sacrament that

followed, I heard deeply in my heart the words,

"Come back to me, my love. Come back to me, my

love. Come back to me, my love." It felt as if Jesus

and I were speaking the words to each other – heart

to heart – and I was drawn into a deeper intimacy

with Him.

Abigail Diaz

Image: Supplied

I entered a new season of my life after World Youth

Day. I gave the year to God, fell more deeply in love

with Him, and felt called to step out to join a religious

community. I discerned Religious Life for two blessed

years and recently felt called to come back home.

Abigail Diaz, parishioner of

Good Shepherd Parish, Plumpton

No day was the same on pilgrimage – there was

time for prayer and reflection, great friendships and

fellowship being developed with each experience,

lots of food, excitement, music, learning, moments

of laughter, vulnerability, tears of sorrow and

tears of joy.

During the pilgrimage, I crossed paths with some

fellow parishioners whom I only ever knew as a face

in the pews prior to WYD. Our encounters during the

pilgrimage soon lead the way for deeper friendships.

These friends are a source of hope and continue to

inspire me and my faith journey.

17
---
Claire Brown (second from left)

at the WYD lunch she attended

with Pope Benedict XVI in 2011

Image: Supplied

Being a World Youth Day witness

eleven years on

STORY CLAIRE BROWN

A World Youth Day pilgrimage can bring

experiences you never imagined, as Claire Brown

found out.

I experienced my first taste of what a pilgrimage

would be like at World Youth Day Sydney, 2008.

I, along with 350,000 pilgrims from here and

around the world, attended the final Mass

which Pope Benedict XVI celebrated. It was an

unforgettable time.

When the Pope announced that WYD 2011 would be

in Madrid, Spain, I remember thinking very clearly,

"I wonder if I'll be there?" and praying about it there

and then.

Turns out God had some amazing things in store

for me on that journey.

Not only did I attend WYD in Madrid, but I also had

the great privilege of being chosen, with eleven

others, to have lunch with Pope Benedict!

The Pope was a very kind, humble, gentle person

who showed such care and concern for the youth of

the church. Meeting him was incredible and certainly

a highlight of my pilgrimage. Although, God's hand in

that circumstance has been even more incredible. He

has used that experience for me to be able to bless

and witness to many people over the years.

Another highlight for me was experiencing over three

million people gathering together to celebrate our

faith. When my pilgrim group first arrived in Spain,

we spent some time in a town called Cáceres. The

parishioners there made us all feel so welcome. It felt

like a home away from home. There were the older

ladies preparing home-cooked meals, the parish

dads being our tour guides, families inviting us into

18
---
their homes and the local priests hanging out, playing

games and praying with us.

What really struck me was that even though our

cultures were so different – a lot of us didn't speak

Spanish and most of them couldn't speak English

– but our faith and connection with God surpassed

all of that. We are all the same in Christ. We share

similar joys, struggles, heartaches, and triumphs.

It was also a wonderful experience sharing the

journey with my pilgrim group. It was great getting

to know them, hearing their stories and sharing the

same experiences together.

Pilgrimages aren't always easy. Sometimes we

think that a pilgrimage will be a holy, adventurous

time where nothing goes wrong and we become

enlightened and grow deeper with God.

Don't get me wrong, that does happen. But there

were a lot of times when it was hard and exhausting.

We sometimes got on each other's nerves, things

didn't always go to plan and there were sicknesses

and injuries. We were reminded a lot that we were on

pilgrimage, not a holiday, and to offer everything up

as prayer.

Of course, with those struggles also came many

wonderful times. From the amazing moments

when the Holy Spirit touched our hearts in so many

different ways, to playing games, sharing meals and

many discussions. We were all so blessed to share

it together.

Pilgrimages don't stop affecting your life once you

return home. I had many profound moments on the

trip, but also so many when I got home. It took years

to process and unpack the journey.

Even though it's been 11 years since Madrid, I'm still

seeing the effect of it in my Faith and walk with God

and my ministry with the youth and young adults of

our parish and diocese.

Also witnessing the effect it has had on the other

pilgrims, many of whom have taken incredible steps

in their various vocations.

I encourage anyone who is discerning going on

a pilgrimage to go for it! To be able to journey

and experience God in new and deeper ways is

something that you will never regret.

Claire Brown is a parishioner and youth ministry leader at

St Finbar's Parish, Glenbrook.
---
A renewed era of pilgrimage

STORY SELINA HASHAM

Engraved in marble along the side of St Mary of

the Cross MacKillop's tomb at her shrine in North

Sydney are her words "Remember we are but

travelers here".

Sage words from a woman who made a pilgrim

of herself while on earth, travelling the length and

breadth of Australia to fulfil her mission of serving

the poor and remote, often on horseback in the most

challenging conditions.

Pilgrimage has long been part of our spiritual heritage

as the people of God. As the prophet Jeremiah (6:16)

reminds us:

Stand at the crossroads, and look,

and ask for the ancient paths,

where the good way lies;

and walk in it,

and find rest for your souls.

In Australia, the profile of a typical pilgrim is

dynamic, and varied. Many pilgrims are young like

those who attend World Youth Days, and many

are older who have the time and means to travel;

some are workers, professionals, parents, and

students seeking to walk a pathway that will lead to

meaningful and spiritual encounters.

Some are religious including priests and consecrated

women and men. Others are not as engaged in

the Church and come as seekers, open to all

the experiences that pilgrimage provides. Many

are looking for friendship and fellowship, and an

enriching break from the everyday. In recent years

there has been an increase in the number of pilgrims

from Church agency sectors (particularly Catholic

Education) for the purposes of faith formation and

professional development.

Whatever a typical pilgrim might look like, the

wonderful thing about pilgrimage is, that it is a great

leveller. We are all pilgrims on the journey and walk

the sacred pathways together.

Embarking on a pilgrimage to a holy place, for a

sacred purpose, reminds us that we are but travellers

in this life, and like every Christian pilgrim before us,

are wanderers without permanency, destined for an

eternal home.

After an extraordinary two years, with international

travel interrupted on a global scale as never before,

the appetite for travel, and for travel with meaning

and purpose, is bouncing back.

Well-worn pilgrimage paths, such as the Camino

in Spain, the via Dolorosa in Jerusalem, and the

entrance to St Peter's Basilica in Rome, smooth with

the footsteps of the faithful over hundreds of years,

after a pandemic reprieve, are once again receiving

pilgrims.

Lesser-known pilgrimage paths in our own country,

such as the footsteps of Mary MacKillop from

Melbourne to Adelaide, or the outback trail to the

Red Centre, are revealing themselves and being

discovered by a new cohort of Aussie pilgrims eager

to walk the pathways of the Great South Land of

the Holy Spirit.

Selina Hasham is the CEO of Harvest Journeys.

Holy Land

Pilgrimages

11 Days / 10 Nights: Watch the

Gospels come alive as we set out

on this true pilgrimage of faith and

retrace the progressive stages of

the life of Jesus from his Nativity in

Bethlehem to his Passion on Calvary.

TOLL FREE: 1800 819 156

www.harvestjourneys.com

Footsteps of St

Mary MacKillop

Land only from $4790 Land only from $3990

11 Days / 10 Nights:

Set out together on a true Australian

Pilgrimage through the life and times

of Mary MacKillop, as we rekindle the

story, landscapes and spirit of our

nations' first Saint.

20
---
Saints to inspire

young people on their

WYD pilgrimage

On their journey to World Youth Day 2023 in Lisbon,

Portugal, young people from across the Diocese of

Parramatta will be walking in the footsteps of 13 Saints

that changed the course of history.

We ask these holy men and women to pray for our

pilgrims, group leaders, chaplains, Bishop Vincent, and

young people across the Diocese and around the world.

Our Lady of Lourdes

Feast Day:

11 February

"I do not promise

you a happiness

in this world, but

in the next."

St Bernadette

Feast Day:

16 April

"Enjoy God's amazing opportunities bestowed

on us. Have faith in Him always."

St Dominic

Feast Day:

3 August

"I am not capable

of doing big things,

but I want to do

everything, even

the smallest things,

for the greater

glory of God."

St Ignatius of Loyola

Feast Day:

31 July

"Whatever you are

doing, that which

makes you feel the

most alive... that is

where God is."

St Thérèse of Lisieux

Feast Day:

1 October

"Holiness consists

simply in doing

God's will, and being

just what God

wants us to be."

St Clare of Assisi

Feast Day:

11 August

"We become what

we love and who we

love shapes what

we become."

Our Lady of Fatima

Feast Day:

13 May

"My Immaculate

Heart will be your

refuge and the way

that will lead you

to God."

St Vincent de Paul

Feast Day:

27 September

"Love the poor.

Honour them,

my children, as

you would honour

Christ himself."

St Francis of Assisi

Feast Day:

4 October

"Do all you can to

preach the gospel

and if necessary

use words!"

Blessed Carlo Acutis

Feast Day:

12 October

"The only thing we

have to ask God for,

in prayer, is the

desire to be holy."

St Teresa of Ávila

Feast Day:

15 October

"Trust God that you

are exactly where you

are meant to be."

St John of the Cross

Feast Day:

14 December

"In sorrow and suffering, go straight to God

with confidence, and you will be strengthened,

enlightened and instructed."

St Catherine of

Labouré

Feast Day:

28 November

"One must see God

in everyone."

21
---
Nurturing a child's

cultural heritage

Sarah with a student at

Ambrose Winston Hills

Image: Diocese of Parramatta

STORY CHRISTINA GRETTON

Are your children shy about their cultural heritage?

Our educators in the Diocese of Parramatta have

some tips to keep children connected with this

part of their lives.

Sarah Prego, Assistant Coordinator of Ambrose at

St Paul the Apostle Primary School, Winston Hills,

already sees some differences in how children today

see their cultural heritage compared to when she

was a child.

With a South American heritage, she was reluctant to

learn Spanish, her family's language. Sadly she also

experienced some teasing around this.

"I just wanted to take Vegemite sandwiches to school,"

she says, instead of the delicious pastas, schnitzels

and other foods her mother prepared for her.

Still only in her mid-twenties, she is thrilled to see the

children at Ambrose embracing their cultural heritage.

Ambrose Winston Hills, like most of the Diocese

of Parramatta, has a varied cultural makeup. She

counts around nine different nationalities represented

at the centre.

While part of her own experience was due to,

attitudes that had been around under previous

immigration policies, Sarah credits the change in

attitude to a more intentional approach to children's

cultural heritage today.

"We've incorporated food from the countries our

students come from," she says, as an example of

the strategies they use at Ambrose. "We've served a

South American bread called alfajores, and children

have told me how their grandma also makes it. We've

also served roti bread which was very exciting for a

student from Malaysia. When we served butter chicken,

one of our students with an Indian heritage was very

proud to tell us it is what his mum makes at home."

The centre keeps the conversation going throughout

the activities. "We play lots of soccer," says Sarah,

and we tell one of our students who's a great player,

that he's sure to represent Lebanon one day!

We also read and discuss

books, such as those on

Aboriginal culture, which

a child brought to read to

the other students about her

family's heritage.

Sarah cautions that children need to find their own

pace, particularly around the age group of 9 to 13

years old. This is when they will be finding out who

they are as people, so it's natural they might 'push

back' at times. She reassures parents that as long as

the connection to culture is there, young people will

pick it up again when they are developmentally ready.

This is exactly what happened to her.

22
---
It's an experience that the school community of St

Andrews College at Marayong can relate to. With

over a dozen nationalities at the school at any one

time, the school comes together to celebrate with

a 'Unity Day' celebration, also attended by around

1,000 family members. At the event, students can

showcase their culture in music, dance, clothing,

food, sport and more. Leader of Learning Music

and Performance, Antonio Chiapetta, sees not only

the enjoyment it brings the students, but also the

confidence and school spirit it fosters.

"Students realise it's cool to embrace their story, and

perhaps share their vulnerability," he says. "It's great

to see them comfortable in their own skin."

Manager - Catholic Youth Parramatta, Qwayne

Guevara sees the impact of accepting our cultural

heritage in her work with young people's faith.

"When we embrace our multicultural reality, we send

a message that faith is not just for a few, but for all,"

she says.

"This is important in our work in youth ministry. We

want each young person to know that they belong

- in all that they are, even in the way their culture

expresses faith, builds community, and engages in

service and mission."

Tips to help your

children embrace their

cultural heritage:

• Be patient – make your culture

accessible to your children.

• There may be culturally-based activity

groups in your community your child

might enjoy – check them out.

• Understand where your child is at

developmentally. From ages 9 to 13,

children are finding out who they are. At

this age they tend to be resistant to lots

of things, including pressure to conform

to the family. Don't worry, it's a natural

stage of child development.

• Be proud yourself – set an example of

living your cultural heritage with pride.

Students at St Andrews Marayong celebrate their

cultural heritage at their annual Unity Day celebration

Image: St Andrews Marayong
---
From left: Geoffrey Kemmis (Assistant Principal),

Jeanette Holland (Principal), Julia Freeman (School Captain),

Abhishek Maharaj (School Captain), Gavin Hilder (Assistant Principal

Image: CEDP

A servant leader

STORY CATHOLIC EDUCATION DIOCESE OF PARRAMATTA

St Agnes Catholic High School Principal Jeanette

Holland loves the Rooty Hill community she

serves, her staff and most importantly, students.

Yet when asked about her role as a school leader,

she quickly turns the conversation to those

around her.

"I'd prefer to talk about the school, the students

and our great teachers rather than me front and

centre. I want to celebrate the things that we all do,"

Jeanette said.

St Agnes Catholic High School is a proudly culturally

diverse co-educational Years 7 to 12 school. From

its humble beginnings in 1962, St Agnes Catholic

High School has grown from a school of just 27

girls to a vibrant community of 865 students. With

a strong focus on sharing their Franciscan charism

through all they do, the school looks to serve the

community, others in need and seeks to make a

genuine difference.

Leading this community requires the type of leader

who not only has a deep understanding of learning

and teaching but who values the importance of

building relationships to bring people together for a

common purpose.

"It is not just about me," Jeanette said. "My role is

to serve the community, that is really important. The

work we do in schools is relational, whether it is in

the classroom or in the staffroom, so it starts with

getting to know each other as people," she said. "It's

all about caring about others, not being removed

from them. It is about being on the ground, building

relationships, working things through and being

present to the students, the staff and the parents.

It's not leadership, it's leading," she said. "Anyone

can talk themselves up, you need someone who

walks the talk."

24
---
It's all about caring about

others, not being removed

from them. It is about being

on the ground, building

relationships, working things

through and being present to

the students, the staff and the

parents. It's not leadership,

it's leading.

Jeanette also comes to supporting teachers with this

same view. Her colleague Lauren Walters, who just

won the Australian Schools Plus Early Career Teacher

Award in the Commonwealth Bank Teaching Awards,

says Jeanette is the best boss she's ever had.

"Jeanette is a truly inspiring leader. Since coming

to St Agnes, Jeanette has taken the time to get to

know each and every one of her staff, learning their

professional interests and strengths, and providing

opportunities for us to explore those interests, Lauren

reflects. "She has a real team mentality, welcoming

and appreciating our input into decisions. What's in

the best interest of the students underpins everything

that she does."

As Jeanette herself reflected: "Leadership isn't about

being centre stage, it is about putting other people

forward and giving them a voice and an opportunity

to lead. It is about building capacity in others,

working with and assisting them in their leadership."

"I guess you could call that being a servant leader."

Careers Advisor and teacher Nashwa Karafotias,

who leads many of the school's outstanding

programs to support students from culturally diverse

backgrounds, said this approach instills a positive

culture of mutual respect at St Agnes. "Jeanette

treats staff and students on an equal playing

field bringing consistency and a new perspective

to all that she does," said Nashwa. "She is the

true definition of a servant leader leading at the

ground level."

Jeanette previously served as Assistant Principal

and Acting Principal of Marian College Kenthurst

and most recently worked within the Learning team

at Catholic Education but said she was drawn to St

Agnes because of the community. "I thought I could

make a difference here and the students are lovely,

so respectful and grateful," Jeanette said. "For our

school, we have to be very aware of cultural context

and communication because of the diversity. We

offer pathways leadership opportunities looking at

the students wholistically, identifying where they

are at, opening their worlds to where they can go,

guiding them to achieve their goals."

Being an advocate for students and building their

confidence to achieve is a top priority. "Self efficacy

is really important and we really look at how we can

help to build that up in the students so they can look

at themselves as learners and know that they can

do anything – work hard, overcome obstacles and

achieve," she said.

Childcare Services

built on Catholic values

ENROL NOW!

Ambrose Early Learning Traditional and

extended hours Preschool education

Ambrose School Age Care Before and

After School Care (OSHC) for K-6 children

Ambrose Activities Innovative afternoon

Masterclasses led by schoolteachers,

covering exciting topics like art, sport,

robotics, dance and cooking

Vacation Care School holidays and

pupil-free days, K-6 children enjoy fun activities

in professionally supervised, caring environments

A social enterprise of Catholic Diocese of Parramatta Services Limited (CDPSL)

ENROL NOW!

Government subsidies available to eligible families.

Visit ambrose.org.au or scan the QR Code

25
---
Speak up, speak

out and speak on

Sr Joan Chittister at a speaking

event in Parramatta in May

2022. Image: Diocese

of Parramatta

STORY MARGURITE O'CONNOR

Prophets are the heroes

of the day. They keep one

eye on society's will for a

few and the other eye on

God's will for everyone.

The time is now to be people who are committed

and have courage to speak the word of God. The

roar of silence is no longer acceptable and we

need to take steps to determine the future of our

planet and our people.

This was the message of American Benedictine

nun, theologian and author Sr Joan Chittister as

she addressed her audience at Monte Sant' Angelo

Mercy College North Sydney on 30 May 2022.

Sr Joan spoke with passion about our need to be

challenged by the example of Jesus and to be people

who speak out against injustice. Speaking about

the prevalence of violence, she shared her fears

for the modern world, where people come second

to personal profit and advancement and where the

planet is carelessly used and not protected.

Taking action for change

• Get involved in the conversations

that matter through blogs, petitions

and groups.

• Study the issues that threaten life and

justice by reading and engaging in

dialogue with others.

• Seek solutions that are not the trusted

old way but are innovative, capable of

making real change and taking us into

the future.

Her concern, she said, is for the choices that

we make when faced with challenges. Sr Joan

suggested that we are people who choose to ignore,

leaving it to others to answer the problems. We are

people who surrender and eventually just accept the

situation, taking on the values of society rather than

the Faith. Her response is to not ignore or surrender,

but rather disrupt. She suggests we become prophets

who speak up against all that goes against the voice

and vision of God so loudly it cannot be ignored.

Sr Joan acknowledged that being a prophet is

not easy. She recounted the stories of the Biblical

Prophets who were afraid to accept the call from

God, not wanting to have their lives interrupted, and

so made a list of all the reasons why they could not

accept the call, including their personal limitations.

God's answer was that He needed them now,

demanding that they be courageous and committed,

trusting they had something great to offer.

The reluctance to be a prophet in the modern world

has not changed. We too feel that we are unavailable

to do the will of God for all the same reasons – too

busy, not skilled enough, or afraid. Just like the

prophets of old, God needs us now. God wants us

to disrupt rather than ignore and challenge rather

than surrender.

26
---
On a personal level, I felt inspired to learn more about

the issues that threaten the equality of people and

the planet so that I would no longer be a passive

observer but rather someone who was able to

contribute to the discussion in a meaningful way. Sr

Joan's suggestions made me think that the call to be

a prophet in the modern world was possible, stating

that even the smallest of acts have the potential to

seed change and make life better for everyone.

...we must show our

students the way to a

Gospel-centred culture

of love and compassion,

solidarity and service in

the world where there is so

much fear, indifference and

marginalisation...

Bishop Vincent Long,

CEDP System Leaders' Day, January 2018.

Margurite O'Connor is a member of the Mission Team,

Catholic Education Diocese of Parramatta.

Schools leading the way

Catholic Education Diocese of Parramatta

schools work with various agencies to

actively live out the message of Sr Joan to

be prophets who speak up, speak out and

speak on. Examples of initiatives include:

• The Winter Appeal and Winter Sleepout

(St Vincent de Paul)

• Project Compassion Fundraising (Caritas)

• Socktober (Catholic Mission)

• Food Drives (Jesuit Social Services)

• Interfaith Education (Together for Humanity)

• Catholic Earthcare Summit

(Catholic Earthcare)

• Recycling and sustainability initiatives

(Catholic Earthcare)

Through such initiatives, our students and

staff are invited and are accepting the call

to be prophets who say NO to everything

that goes against God and YES to equality,

justice and life.

Children and their families at Our Lady of the

Nativity Primary, Lawson recently slept out in

the cold in solidarity with the homeless as part

of the Winter Sleepout for St Vincent De Paul

Image: CEDP
---
The Second Assembly of the

Plenary Council of Australia

on Wednesday 6 July 2022

Image: Diocese of Parramatta

A reflection on the

Plenary Council

Bishop Vincent Long OFM Conv, Bishop of

Parramatta, wrote this reflection on 17 July 2022,

following the conclusion of the Second Assembly

of the Plenary Council of the Australian Catholic

Church which took place 3 to 9 July 2022.

Dear friends in Christ,

BISHOP VINCENT OFM CONV,

BISHOP OF PARRAMATTA

Last week, nine delegates from our Diocese,

including myself, participated as members of the

Plenary Council in the Final Assembly in Sydney.

This was a historic event in the life of the Church in

Australia. We gathered to pray, listen, discern and

make decisions, mindful of the voice of the Holy

Spirit through God's Word, tradition, the magisterium

and the signs of the times. We were conscious of

your communion with us through personal interest,

prayers and loving support. As at the first gathering

on the feast of St Francis of Assisi in 2021, we were

stirred by the call issued to us as once to him: "Go

and rebuild my Church that is falling into ruins". We

earnestly sought to address the many challenges

we face as a community of disciples and map out a

better future for the Church going forward.

I am pleased to say that the Plenary Council has

been a moment of grace, a celebration of hope and

a conviction of God's enduring accompaniment. Like

the disciples with Mary in the Upper Room, we were

bonded in one common faith, one baptism and one

Lord. Despite our differences, which were many and

intense at times, we came together with the best

interest of the Church at heart.

Of the many issues discussed, debated and voted

upon, the Plenary Council showed strong support for

the Uluru Statement from the Heart. Catholics have

largely been ahead of the general community on First

Nations concerns. We have long learned to honour

Indigenous language, culture, wisdom, sovereignty

28
---
and way of life. Calling for a First Nations Voice to

Parliament to be enshrined in Australia's constitution

is indeed a momentous step.

On ecology, there is a recognition of the urgency in

addressing the environmental crises of our times and

a commitment to join the Laudato Si' Action Plan.

This call to action obliges us not only to care for our

common home as a matter of planetary sustainability

but also a sense of God-given stewardship. In

other words, ecological conversion in all of its

manifestations is a deeply spiritual concern arising

from our love of God and all of his creation. Our

response to the cry of the poor and the cry of the

earth is inextricably linked together.

One of the most contentious issues was the motion

concerning the equality and dignity of women and

men in governance structures, ministry and decisionmaking

mechanisms. The discussion took place at a

half-way point and proved to be a pivotal moment.

Providentially, the reading for that day was part of the

Pentecost story. It read "and suddenly from heaven,

there came a sound like the rush of a violent wind

and it filled the entire house where they were sitting".

We did not expect a kind of "violent wind" that

disrupted, changed the group dynamic and led to a

moment of profound revelation.

When the initial motion failed to receive the majority

of the deliberative votes, the bishops realised we

could not continue business as usual. There were

tears, deep sorrow and hurt in the room, especially

among those who staged a silent protest. This

caught me totally unawares at first but I eventually

walked around and shared the pain. Later on, the

bishops held crisis talks, agreed on the re-drafting

and the assembly passed the re-worked motion.

Like the disciples with Mary

in the Upper Room, we were

bonded in one common faith,

one baptism and one Lord.

For some, the protest might have been judged as

a stunt and an act of intimidation. For many others,

myself included, it was a respectful and powerful

gesture of dissent, rooted in the prophetic tradition.

29
---
There was a

profound sense of

being together and

working together

even if we have

distinct roles in

the Church.

Bishop Vincent casts a vote

at the Second Assembly of

the Plenary Council

Image: Fiona Basile/ACBC

The assembly could have walked away with a

superficial unity had we not addressed this iconic

issue of our time. I believe that the Church cannot

have a better future if it persists in the old paradigm

of clericalism and male dominance. So long as

we continue to exclude women from the Church's

governance structures, decision-making processes

and institutional functions, we deprive ourselves of

richness of our full humanity.

I thank God that the Plenary Council had the

humility and courage to not go home with a false

unity but a deep and new awareness of God's

unfolding revelation and our evolving maturity.

At least that is the indication of the majority.

The Synodal journey can be messy, painful and

uncertain. But it can lead to renewed and deepened

commitment and even transformation. The mood

of the assembly changed after the matter had been

dealt with. For many, it was like a paschal moment

that brought a ray of hope out of despair.

The Plenary Council was an act of enormous trust,

or perhaps in betting terms, a massive gamble.

It was an Abrahamic journey from the start. We

gambled on the invitation of Pope Francis to be

the People of God, walking together, sharing the

burdens of humanity, listening to the voice of the

most marginalised, reforming its structures and ways

of doing things. We did not set out to resolve every

question of importance. For instance, on matter of

sex and gender, there was very little on the agenda.

The acceptance of LGBTIQ+ as the reference to nonbinary

brothers and sisters was perhaps not a small

consensus among the members.

In the end, the significance of this synodal exercise

was much more than what was decided. What was

highly symbolic and paradigm-shifting was the

fact that we met as equals. The emphasis on the

superiority of the ordained gave way to an ecclesial

communion based on common baptism. Bishops,

priests, religious and lay were all addressed by our

first names. No one's voice counted more than

another's. There was a profound sense of being

together and working together even if we have

distinct roles in the Church.

30
---
Dear sisters and brothers,

In today's Gospel, Martha was occupied with serving

her guests, while Mary sat at Jesus' feet and listened

to his teaching. Martha wanted her sister to help

with the serving, but Jesus gently informed her that

Mary had chosen the better portion, which would

not be taken from her. This stance was more radical

than modern readers may realise. In Jewish culture,

women weren't allowed to study theology, and the

student's place at a rabbi's feet was reserved for men

only. By welcoming Mary as a pupil, Jesus flipped

that cultural script on its head.

There were many other stories of how he treated

women with kindness and respect, affirming their

value and dignity as those made in the image of

God. He welcomed them, defended them, freed and

empowered them to find their identity as daughters

of God. He included women in his ministry team and

welcomed them as disciples, to follow and learn from

him – actions unheard of for a Jewish rabbi.

Inspired by the example of Jesus and the guidance

of the Holy Spirit on the Plenary Council, may

the Church learn to embody a way of being

together, sharing responsibility and proclaiming

God's Kingdom. We must continue to embody the

alternative relational paradigm that Jesus taught.

This counter paradigm turns the world's system of

power structures on its head because it is rooted in

the biblical narrative of the new social order of radical

inclusion, justice and equality.

All things considered, the Plenary Council has

moved decisively towards the vision of Vatican II. I am

heartened to say that most of its insights have already

been captured by our unique "Parramatta Way".

Women, in particular, are indispensable in our synodal

structures and decision-making processes such as

the Diocesan Curia. We hope to keep the momentum

going and implement all the endorsed decrees.

As we move into a new era, may we grow to be a

more fit for purpose Church, so that we can be a more

effective vehicle for the Good News. May the Holy

Spirit "lead the Church in Australia into a hope-filled

future, that we may live the joy of the Gospel, through

Jesus Christ our Lord, bread for the journey from

age to age." Amen.

Read the motions and decrees from the Plenary

Council at plenarycouncil.catholic.org.au

Have you been considering

broadening your faith

understanding?

Wondering where to next in your pastoral activities?

What paths study may lead to?

• Many tertiary theological degrees to choose from

• Small class sizes and quality of lecturers ensure a personalised learning experience

• Classes can be audited (attended without completing assessment)

• Government assistance for tuition fees is available to eligible students

For more information contact us on:

T: 02 9752 9500 I e: registrar@cis.catholic.edu.au

or visit our website: www.cis.catholic.edu.au

CIS is a Partner Institution of the University of Notre Dame, Australia

99 Albert Road, Strathfield NSW 2135
---
Looking Deeper

The following articles encourage deeper reflection,

prayer and personal learning.

Lisbon, Portugal, the location of World Youth Day 2023

Image: Shutterstock
---
Looking Deeper
---
The journey within

Gospel Pointers

STORY DR ROBYN REYNOLDS OLSH

As persons on pilgrimage, we engage in the

quest for meaning, and in the movement towards

spiritual health and maturity.

We strive, individually and together, for human

wellbeing, and for the flourishing of all life on

Earth. Whether or not we may identify ourselves as

'pilgrims', we are all members of the global family,

moving onwards in a world of continuing war and

violence, of dramatic and increasing climate change,

and of a continuing COVID culture.

This brief reflection will consider some of the

questions Jesus Himself faced in relation to His own

human journey, as well as some of the questions

He poses to those He invited to 'Come, follow me'

(Lk 18:22). As ones beloved by our Creator God, we

yearn and strive for life within the daily pilgrimage of

the unfolding of our life's story. And as disciples of

Jesus, we remember that all is grace:

No one can come to me unless

the Father who sent me,

draws him.

(Jn 6:44)

In the fullness of time, the Divine Pilgrim began His

journey: 'The Word became flesh and dwelt among

us' (Jn 1:14). And as we know 'He emptied Himself…

becoming like us in all things' (Phil 2:7). He struggled,

questioned, agonised. Being the beloved Son of God

did not remove Him from the doubts, temptations

and challenges faced by us all.

A query (perhaps something like 'Why should I

help you'?) was implied in Jesus' response to the

Canaanite woman's plea (Mt 15:24). Similarly at Cana

– before his public journey began – with the question

to His mother: 'Woman, what does this have to

do with me?' (Jn 2:4). Experiencing and reflecting

integrity includes voicing the questions along the

way, looking for answers, struggling with the truth:

the truth of who I am, to what (and to whom) I am

called. Jesus experienced these challenges.

Along the way He Himself took, we may ask what

were His own deep feelings and queries behind such

questions as 'Who do they say I am?' (Mt 16:13)

Along with the scholarly biblical commentaries on

such passages, may we also surmise that Jesus

had hopes and fears about his reputation? And what

were His feelings behind the sad, quiet question?

34

Image: Shutterstock
---
Looking Deeper

'Where are the other nine?' (Lk 17:17). He too,

experienced disappointment, ingratitude, dismissal.

His integrity however, did not depend on the approval

or admiration of others.

Jesus' integrity was reflected in His daily living

and dying. 'I am the Way' (Jn 14:6), He told us. We

witness in His living an everyday engagement and

unfolding of the paschal mystery. Yes, there was a

price to be paid for proclaiming and witnessing to the

Kingdom. What sustained Him all along the way? He

told us: 'My meat is to do the will of Him who sent

me' (Jn 4:34) and furthermore, as faithful pilgrim, we

hear Him say: 'I came forth from the Father and have

come into the world; I am leaving the world again

and am going to the Father' (Jn 16:28).

Such profound and total belonging did not cancel

out that final deep cry from the heart: 'Why have you

abandoned me?' (Mt 27:46). Jesus' walk with the

Spirit, and with His Abba, along with His faithfulness

to the human condition and struggle remained to the

end when, with the Resurrection, His transformation

was accomplished.

And what of His questions to us, as we ourselves

continue on our way and strive for personal integrity,

and for that freedom of spirit which it brings?

'Who do you say I am?' He asks. So how do I name

who He is for me. And His later stark question: 'Do

you love me?' Such a direct question invites us to

respond truthfully, and in so doing to recognise and

name the nature of our relationship. The question

may move us to face our insecurities perhaps, or our

duplicity, our hypocrisy, our lack of integrity.

Another challenging question Jesus poses 'What do

you want me to do for you?' invites us to sit with the

question awhile and then to respond with humility

and honesty. Similarly, with the even more specific

invitation: 'Do you want me to wash your feet?' which

may encourage us to sit quietly with our own reality

– and with our relationship with the One we call

'Lord and God'.

To own and address these – and other questions, to

address them with sincerity – this is our on-going

task. It is one that requires courage, but one that

can bring freedom – and ultimately, deep peace.

We hold on to those encouraging words of the Divine

Pilgrim: 'I am going away and I will come to you.'

(Jn 14:28). On our own pilgrim way, we trust in the

loving presence and guidance of the Spirit (Jn 16:7).

We walk on together.

Dr Robyn Reynolds OLSH spent many years living and

working in remote Aboriginal communities in northern and

central Australia. She now teaches at the University of

Divinity in Melbourne (Yarra Theological Union) and also at

'Heart of Life', Centre for Spiritual & Pastoral Formation.

WHAT WILL BE

YOUR LEGACY OF

FAITH, HOPE AND CHARITY?

Good deeds will live beyond your lifetime

with a gift in Will to your parish and faith community.

After providing for your family and loved ones,

please consider sharing God's blessings with

future generations.

For information on remembering your

family in Christ and our compassionate

Catholic ministries in your Will, please scan
---
Journeying to Emmaus

STORY BR MARK O'CONNOR FMS

Many of us like to travel. But Christians are not

just tourists but pilgrims on a faith journey deep

into God's loving presence.

Of course, it's great that we can literally walk 'in the

footsteps of Jesus' when we visit the Holy Land.

It's also wonderful for us to encounter the sacred as

we pray and meditate at such holy places as Rome,

Assisi and Lourdes. Such pilgrimages are often

the highlight of many people's spiritual lives. And

certainly, World Youth Day pilgrimages have helped

energise many young people's faith lives in our own

recent times.

But Jesus of Nazareth calls us to go far deeper than

these external physical pilgrimages.

There is a little verse from the early Irish Church

that points this out:

Who to Rome goes,

Much labour, little profit knows.

For God, on earth though

long you sought him.

You'll miss in Rome

unless you brought him.

Like the disciples on the road to Emmaus, in reality,

our inner journey of faith can actually be quite

confusing! We can often experience moments of

despair ("we had hoped") before recognising that the

Risen Jesus has been there all along!

Karl Rahner, the great Jesuit theologian, helps us

pilgrims navigate that spiritual journey.

Rahner once wisely observed that there are

essentially two types of spirituality in the Church

today. One is a 'summertime' spirituality where

people find God easily accessible and understood.

Such people are gifted with a sense of certainty and

a conviction that the beauty and truth of God is very

nearby. Perhaps this more external style of faith was

easier to live in a culture that was thoroughly Catholic

like in the medieval period.

The other spirituality however is a 'wintertime' style

of faith where people, battered and bruised by the

chaos and suffering of the world, need to go an inner

pilgrimage to address the mystery of pain and chaos

all around them.

Rahner argued that this is the more typical journey

of contemporary Catholics struggling to believe. It

is a difficult pilgrimage that goes on inside our own

souls, as we seek to discover the hidden Christ who

mysteriously dwells in our very own hearts.

Not surprisingly, that's a pilgrimage we are all too

often very reluctant to undertake. For it can involve

loneliness, depression and even tempt some

to self-hatred.

It inevitably demands navigating a 'dark night of the

soul'. For at some point in all our lives, like Jesus, we

each have our own personal 'agony in the garden'.

Then the demons of our inner life come to the fore

and wreak havoc. Old obsessions and wounds,

perhaps even guilt and shame at past failures rush in.

Martin Laird OSA, in his wonderful book Into the

Silent Land, describes it poetically as "the liturgy

of our wounds". Unquestionably, it is a long and

demanding task for most of us. It certainly is for me.

Laird explains that there is a deeply ingrained

tendency to recoil from our own brokenness, to judge

it as others have judged it, to loathe it as we have

been 'taught' over a lifetime to loathe it. In doing

this we avoid what God, in Christ, draws close to

and embraces.

Like the companions of Jesus on the road to

Emmaus, our Resurrection moments can come as

quite a shock to us! Like them, as we ponder the

Scriptures and break bread with our Risen Lord, we

can be often surprised, even shocked, by grace.

36
---
Looking Deeper

Supper at Emmaus,

detail of high altar by

Sieger Koder in Church

of Our Lady of Sorrows in

Rosenberg, Germany

For at such moments of epiphany we discover,

alongside the depressed and despairing disciples

of Emmaus, how God interrupts our lives. For our

God meets us at that precise point where we are

most in need, in our poverty and brokenness. And

paradoxically, this costly acceptance of Christ's

compassionate love, opens our eyes to the reality

that 'all is grace'.

As Gerald Manley Hopkins S.J divined:

I say móre: the just man justices;

Keeps grace: thát keeps all his goings graces;

Acts in God's eye what in God's eye he is –

Thank God we are each given many 'resurrection'

moments on our Emmaus like journey of faith.

They console us on our pilgrimage home to the

Father of all mercies.

For as the early Irish mystics would say:

Let your feet follow your

heart until you find your

place of resurrection.

Chríst – for Christ plays in ten thousand places,

Lovely in limbs, and lovely in eyes not his

To the Father through the features of men's faces.

Br Mark O'Connor FMS is the Vicar for Communications

in the Diocese of Parramatta.

37
---
Living in the monastery

of the heart

STORY SR PATTY ANDREW OSU

Image: Shutterstock

Historians note that when the period of Christian

martyrdom ceased around the beginning of the

4th Century A.D, the phenomenon that we know

as Christian monasticism began to sprout and

flourish. It was as Tertullian, an early Christian

writer said, "the blood of the martyrs is the seed

of the Church." Martyrdom transformed the

person into the perfected, complete, full and

whole image of the divine.

Such a process of transformation is the hope and

goal of our Christian life. St Paul expresses this

central reality of our faith journey in the third chapter

of his second letter to the Christian community in

Corinth. Using the beautiful image of the mirror, he

describes our transformation into Christ in terms of

light. Paul portrays our life journey in faith, as one

in which we reflect like mirrors the brightness of the

Lord. In doing this faithfully, we all grow brighter and

brighter until eventually we are transformed into the

image of the one that we reflect (2 Cor:18).

The spiritual movement of the Desert Fathers and

Mothers which formed the foundations of Christian

monasticism, was grounded in this Pauline belief of

the divinization of the human person. St Athanasius,

Bishop of Alexandria from 328, said "that God

became man in order that man might become God."

In a short biography of Anthony of Egypt one of the

earliest of the desert fathers, Athanasius shows how

only God incarnate can transform human nature into

divine likeness. To participate in this transformation,

certain spiritual practices were adopted by those in

the monastic desert communities. One of these was

a simple focussed mantra called "The Jesus Prayer."

This prayer is founded on the biblical view that God's

name is conceived as the place of God's presence.

The Vatican II Council (1962-1965) called us all

to renewal in the light of the foundational story of

Christianity. In current times, many books are being

written and programmes created which reflect the

grounded spirituality of the early centuries of our

Christian tradition. One of these is a book titled,

Joy in God - Rekindling an Inner Fire by Joachim

Hartman SJ and Annette Clara Unkelhäußer.

They propose a method which is titled the "Gries

Path." It is based on a contemplative approach to

prayer characterised by simplicity, silence and an

attentiveness which enables God in the present

moment, to be revealed.

The authors have developed a consistent approach

structured in conversational style, to assist those

who wish to deepen this way of enabling God to

illuminate and transform their lives.

It is framed within what they term, as a spiritual

conversation concentrated around two central

questions. These echo the experience of the

Emmaus Disciples (Luke: 24:13-35)

Why was my heart burning?

Where were my eyes opened?

38
---
Looking Deeper

In all the reflections there is an accent on awakening

the senses. They are seen as significant doorways

leading us to become more aware of the presence of

God in us, in our lives and in all that is. The chapters

are focussed on the following foundational themes

relating to the life of the human spirit;

Gratitude and Joy

Emptiness and Fullness

Healing and Wholeness

Suffering and Consolation

Forgiveness and Reconciliation

Vocation and Mission

The pairing of these themes with what appears to

be oppositional movements, enables a perception of

spiritual wholeness wherein as Richard Rohr (2003)

says "everything belongs." Our journey to wholeness

or as the Vatican II Document, Lumen Gentium

(1964) says "holiness," is about integrating these

apparent opposites.

In recent years, Lawrence Freeman osb, Director of

the World Community for Christian Meditation, spoke

of this contemplative way of prayer as being for all.

He described those who are engaged in the prayer

of the heart as the new monks of the modern world.

Noting that "some live in traditional monasteries

but the majority do not. Many are integrating what

previously seemed impossible to reconcile – deep

spiritual practice, and conjugal love, solitude and

social responsibility."

Through our Baptism, we are

all called into this "way of the

pilgrim" wherever life finds us.

Just as the pilgrim travels lightly,

this small accessible book gives

us the essentials to find and

remain dwelling in the heart of

God, thus enabling our inner

divine spring, to continue to well

up within us to the fullness of life.

The book can be used in a

supportive way both personally or

with small faith sharing groups.

Sr Patty Andrew osu is an Ursuline

Sister in the Diocese of Parramatta.

Images: Messenger Publications and

Diocese of Parramatta

Let us care for those who have cared

for us through their lifetime of service

Please give generously to the Bishop's Father's Day

Appeal supporting our retired and sick clergy

parracatholic.org/fathersdayappeal
---
The Pilgrim Church

STORY DR ANTONIA PIZZEY

After almost three years without travelling

anywhere, I embarked on my first international

journey. I was struck by the vulnerability of being

a traveller.

The language, customs and food were foreign, and I

felt uncomfortable and out of place. Even with those

who spoke English, my accent immediately betrayed

my foreignness. Even the night refused to come, as

the Scandinavian midnight sun stayed up 23 out of

24 hours. I was no longer "at home", a jarring feeling

after endlessly "being at home". I could not take

anything for granted. Even simple conversations

required effort to bridge the language and cultural

gaps. I was confronted with how much easier it is to

be at home – and how challenging to be a foreigner.

This sense of strangeness, of "not-being-at-home"

evokes something of what St Augustine meant when

he called the Church peregrinatio. Notoriously hard to

translate, peregrinatio means "foreigner", "stranger",

"exile", "migrant" – and "pilgrim".

What does it mean to call the Church "pilgrim"?

To be a pilgrim Church is to be a journeying people,

continually on the move. More than this, it is to be a

"home-less" people. This understanding resonates in

Vatican II's Lumen Gentium, article 6: "The Church,

while on earth it journeys in a foreign land away from

the Lord, is like in exile." The pilgrim travels far from

home, facing many dangers, moving without rest.

Dr Antonia Pizzey

Image: ACU
---
Looking Deeper

This sense of Church as pilgrim is also central to

Pope Francis. In Evangelii Gaudium, he insists that

the Church is "first and foremost a people advancing

on its pilgrim way towards God." In a 2021 address,

he says, "When the Church stops, she is no longer

Church, but a beautiful pious association which

imprisons the Holy Spirit." Journeying is part of our

nature as Christians – Church is not a "what," it is

who we are. We are pilgrim. Being pilgrim means to

be not at home; to be vulnerable, but also enriched

by the journey.

Pilgrim Church is not meant to be an individualistic

image; pilgrims travel together. In Christian thinking,

we travel with the entire communion of saints. This

sense of "journeying together" is being evoked by

Pope Francis' concept of synodality. The Preparatory

Document for the 2023 Synod states: "Our

'journeying together' is, in fact, what most effectively

enacts and manifests the nature of the Church as the

pilgrim and missionary People of God." To be pilgrim

is to be synodal.

Aside from this, the Church as pilgrim highlights two

key dimensions of being Church. Firstly, it refers to

the living Church in history, the Church here and now.

The Church is not a great ark sailing untouched and

impervious over the choppy and dangerous waters of

history. Instead, the Church is a pilgrim people, living

in and with the world. This understanding is reflected

by the opening lines of Vatican II's Gaudium et Spes:

Understanding the Church as pilgrim reminds us of a

certain "now-but-not-yet" that is part of being Church.

As Gaudium et Spes states, in article 48, "The

Church…will attain its full perfection only in the glory

of heaven." As such, the Church is called always to

conversion and repentance. Repentance is a key part

of being pilgrim, along with the humility to recognise

that we are not yet what the Spirit calls us to be.

Of course, we do not know what the Kingdom will

be like. But Scripture gives us an idea: "See, the

home of God is among mortals. He will dwell with

them; they will be His peoples, and God Himself will

be with them and be their God; He will wipe every

tear from their eyes." (Rev 21:3-4). For now, we are

a wandering people; but we are walking homeward.

Under the circumstances, what else can we be but a

pilgrim Church?

Dr Antonia Pizzey is a Postdoctoral Researcher at Australian

Catholic University's Research Centre for Studies of the

Second Vatican Council. Dr Pizzey has a PhD in Theology

from ACU and is a lecturer at the university's School of

Theology. Her research focuses on Receptive Ecumenism

and the Church as "pilgrim".

"The joys and the hopes, the griefs and the anxieties

of the people of this age, especially those who

are poor or in any way afflicted, these are the

joys and hopes, the griefs and anxieties of the

followers of Christ."

As pilgrim, the Church journeys within history, not

outside of it. This Pilgrim Church must be humble,

open to recognising the Spirit at work in other

cultures and languages, not just reinforcing the status

quo. Walking a pilgrim path is one of hardship and

struggle – but also of rebirth through conversion. So,

the image of "pilgrim" reflects the historical nature of

the Church.

Secondly, the Church as pilgrim highlights the

connection between Church and Kingdom. The

Church is not moving purposelessly, like a mouse

running on a wheel, going nowhere. The Church is

journeying always towards the Kingdom of God.

This is what brings hope to the sometimes dark

and suffering journey of the pilgrim people. There

is a destination, a home where we belong, and that

destination is with God.

41
---
Our traditions

for those who

have died

On 2 November, we commemorate All Souls Day,

a day we pray for people who have died. This

year, the Diocese of Parramatta also invites you

to its first official Mass for our deceased clergy to

be held 25 November at St Bernadette's Parish at

Castle Hill, followed by prayers at the gravesides

of clergy buried in Castle Hill Cemetery.

We look at some of the Catholic traditions around

death and new life.

Pope Benedict XVI in his encyclical (letter) on hope,

Spe Salvi writes about our encounters with Christ

on our deaths and how it is a chance to shed the

trappings of our earthly existence and heal.

"Before His (Christ's) gaze, all falsehood melts away.

This encounter with Him, as it burns us, transforms

and frees us allowing us to become truly ourselves.

All that we build during our lives can prove to be

mere straw, pure bluster and it collapses. Yet in the

pain of this encounter, when the impurity of sickness

of our lives become evident to us, there lies salvation.

His gaze, the touch of His heart heals us through an

undeniably painful transformation."

Pope Benedict continues, "The belief that love can

reach into the afterlife, that reciprocal giving and

receiving is possible in which our affection for one

another continues beyond the limits of death – this

has been a fundamental conviction of Christianity

throughout the ages and it remains a source of

comfort today. Who would not feel the need to

convey to their departed loved ones a sign of

kindness, a gesture of gratitude or even a request

for pardon?"

How then, do we show our love to those who have

left us?

Spe Salvi November 2007

A funeral Mass commends the soul of those who

have passed to God as well as consoling family and

friends. Masses can also be offered for the repose of

their souls, whether on the anniversary of their death

or at other special times of the year. This is a gentle

way to pray with our parish communities for our

loved ones.

We can light an offertory candle at our parish church

and ask the intercession of Jesus, Mary, and the

Saints. Visiting our loved one's grave and offering

special prayers is beautiful, and we can keep

photographs of them in our homes or place of work

to prompt us to say a prayer for them.

Praying the Rosary is particularly powerful. Each

Hail Mary concludes with a petition for grace in

death: "pray for us sinners, now and at the hour of

our death."

All Souls Mass in November 2020 at St Patrick's

Cathedral, Parramatta. Image: Diocese of Parramatta

Our God is an incredibly merciful and loving God.

He longs to be with each of us. He welcomes our

prayers for the living and the dead, and He will

certainly reward them.

42
---
Looking Deeper

You are invited

The Mass and prayers for the

deceased clergy in the Diocese of

Parramatta commence at

10.30am

25 November 2022

St Bernadette's Parish,

Castle Hill.

You are invited to attend and give

your gift of prayer to those whose

lives were dedicated to bringing

us all closer to Christ.

Bishop Vincent celebrates All Souls Mass in November

2020 at the St Francis Chapel in St Patrick's Cemetery,

Parramatta. Image: Diocese of Parramatta

SUPPORT

Religious Sisters

Photo © ACN International

Sister Rita Kurochkina was born

in Kazakhstan and joined the order

of the Sisters of the Immaculate

Conception of the Blessed Virgin

Mary, which was founded in Poland in

the 1850s to support both the spiritual

and the intellectual formation of

women and girls.

To this day, the congregation is

primarily active in Poland, but

can also be found in a number of

Eastern European countries, such

as Kazakhstan. The religious sisters

run schools, kindergartens, and

children's homes, teach catechesis

in parishes and give religious

instruction at public schools, take

care of poor children and support

impoverished families. They provide

pastoral care to prisoners and also

organise retreats.

Three sisters, all of them born in

Kazakhstan, work in the house

of St. Clara. They currently take

care of 18 children with difficult

family situations. Sister Rita says,

"Spiritually, the communist system

devastated the people in this

country. Many stopped believing in

God, which led to addiction problems

and dysfunctional families. And the

children suffer the consequences.

The children who come to us have

experienced trauma and tragedy."

ACN helps one in every 34 of the

630,099 religious Sisters in the

world today! Can you help provide

subsistence aid to religious sisters in

countries throughout the world so they

can continue to live their vocation

and help keep the faith alive through

their physical and spiritual aid?

To watch a video on Sr Rita and the

Sisters and to make

a donation visit

www.aidtochuch.

org/helpsisters or

scan the QR Code.

Founded in 1947, ACN is the only international

Catholic Charity dedicated to the pastoral

support of suffering and persecuted Christians.
---
A cuppa with the priest

Fr Vincy D'Costa OFM Cap, Parish Priest

The Good Shepherd, Plumpton

STORY CHRISTINA GRETTON

When Fr Vincy D'Costa OFM Cap, Parish Priest of

The Good Shepherd, Plumpton, was growing up

in Goa, India, all he knew about Australia was its

national cricket team. Meanwhile, he had plenty

of time to observe the local Capuchin Franciscan

Friars who were based close to his home, and

was drawn into their simple, welcoming and

dignified approach to life and faith.

It was not until a few weeks before his ordination to

the Capuchins that he would make any connection

between the two. Having been told he would be sent

to Australia from his homeland where he loved the

natural beauty including mountains and beaches, he

slept little that evening.

"I had nightmares," he said. "I didn't know anything

about Australia. They had a cricket team that was

going through its 'golden era'," he says, but that was

about it.

On arriving in Australia, one of the first events

he was taken to was 'Theology on Tap', a talk on

faith held in a pub in Parramatta, a completely

new experience, he admits.

Since then, he's discovered a lot he likes about

Australia. Starting as Assistant Priest under Fr Gerard

O'Dempsey OFM Cap at The Good Shepherd, he

became Parish Priest only four years later when Fr

Gerard was elected Provincial of the Capuchins.

"I never expected it," he says of his appointment

which, at 34, made him the youngest Parish Priest in

the Diocese. "I expected my hair would turn grey," he

laughs, "but five years later, I'm still ok."

There are a few secrets to his success in ministering

a parish of around 13,000 that sees some Masses

attended by around 600 people, he says.

The parish community

has supported me from the

very beginning," he says.

"They respect how I run the

parish, allowing them (lay

parishioners) to lead and I

support and guide them.

When asked what this means to parishioners, he

reflects. "They feel it is their parish, they belong. They

are doing things for themselves."

He is delighted how this plays out in practice as

he tries to follow the example of St Francis of

Assisi. St Francis set the example of 'poverty of

spirit' meaning, he explains, letting go of pride and

allowing guidance by the Holy Spirit. While following

this example himself, he also sees it in the Good

Shepherd parishioners. "They come to me with

humility," he says. "If I see something, I can approach

them and talk to them about it," he says. "I feel this is

how Christ would have wanted the Church to be," he

says. "Christ asked us to serve."

44
---
Looking Deeper

Fr Vincy D'Costa OFM Cap, Parish Priest of The Good Shepherd, Plumpton

Image: Diocese of Parramatta

This gentle approach saw the parish stay together

during the pandemic, when there were limitations

on how many people could attend Mass. Along with

livestreaming, they prayed the Rosary of an evening,

allowing everyone to participate and feel like they

belonged, he says.

Fr Vincy's lifelong love of nature sees him

bushwalking whenever he can in the Blue Mountains.

And it has seen him enthusiastically support the

parishioners who were keen to turn around the

Good Shepherd's ecological footprint. They have

purchased solar panels and LED lights and are

already seeing big savings. "It's Pope Francis'

ecological economics in action," says Fr Vincy. He

recalls that even in his homeland of Goa, the words

of Pope Francis "the cry of the earth" resonated with

him. "I could sense Mother Earth weeping," he says.

He is thrilled the parish is surrounded by nature, and

that children love to come and discover insects and

wildlife in the parish grounds. At the same time, they

heed "Cry of the Poor" and he is overwhelmed by the

generosity of his parishioners in their support of the

House of Welcome and St Vincent de Paul.

Fr Vincy wants to keep growing the parish and

extending that sense of welcome the Capuchins

extended to him.

Regardless of where they come

from," he says "All people are

welcome. We always want to

be a welcoming parish.

45
---
The Good Shepherd Church, Plumpton

Image: Mary Brazell/Diocese of Parramatta

Parish Profile

The Good Shepherd Parish, Plumpton

STORY MARY BRAZELL

The Good Shepherd is a parish hearing the

cry of the earth and cry of the poor and whose

parishioners are taking action in response.

Patricia (Trish) Pacleb has been a parishioner of The

Good Shepherd Parish, for most of her life. However,

it wasn't until her experience at the 2019 World Youth

Day in Panama that she felt called to become more

active in the parish community.

"I wanted to keep the WYD spirit strong, and

promised to say 'yes' to wherever God wanted to

take me," she says.

In strengthening her faith and connection to her

parish community, Trish is part of the parish's Antioch

youth group, and is a former member of the Good

Shepherd Youth Choir.

These are just two of the dozens of active, dedicated

and passionate groups in what is one of the largest

parishes in the Diocese.

In speaking with Trish and a few of her fellow

parishioners, I ask why they think so many other

parishioners have put their hands up to get actively

involved in the parish.

"Being a part of a community that takes care of you give

you a sense of hope, it strengthens you and makes

your relationship with Christ stronger," Trish says.

"Everyone in the parish is always so welcoming

and encouraging. As long as you have an open

heart and willingness to serve, you will always

find a part in the community."

Sacramental coordinator Priscilla Corpuz adds,

"Serving our church community is a gift and we need

to share that gift.

"The parish is my spiritual home and the

parishioners, who have become friends, are my

extended family.

"The Good Shepherd is always alive and active

through the dedication and involvement of

each parishioner."

Another passionate ministry of the parish is the social

justice group, which started three years ago following

the parish's involvement in the 'Diocesan Walking

with Refugees' initiative.

46
---
Looking Deeper

Sr Colleen Foley osu has been connected to the

parish since 1991 and has been a social justice

advocate for a similar length of time. She is the selfdescribed

"grandmother" of the social justice group.

"We're a small group, but whatever we discuss as a

group, we take to [Parish Priest] Fr Vincy [D'Costa]

and the rest of the parish.

"Fr Vincy is very easy to work with. He is open and

willing to engage with the initiatives of the social

justice group. He is very busy with such a large

parish, but makes time to listen.

The social justice group's latest project is

channelling their Franciscan roots and enacting

Pope Francis' call to listen to the "cry of the earth"

and the "cry of the poor" .

A few months ago, the parish signed up to the

Catholic Earthcare Parishes Program, which

provides assistance for parishes on their journey to

enacting the Laudato Si' Action Platform's 7 Goals

for 7 sectors over 7 years and to become a living

Laudato Si' community.

The parish has started small by opting for

environmentally friendly products including wooden

and paper cutlery in their kitchen, eliminating the

use of single-use plastics as much as possible

and encouraging the children of the parish to

create messages of hope to be displayed during

Season of Creation.

In the future, the parish hopes to begin planting local

species and more trees on church grounds, switching

to a renewable energy provider and committing to

using locally-sourced produce and suppliers.

Anthony Matthews, a parishioner of four years, and

Religious Education Coordinator at St John XXIII

Catholic College Stanhope Gardens, is one of the

driving factors of the Catholic Earthcare process.

"When my family moved to Plumpton, through my

social justice involvement in schools, I was able

to connect with an action the parish held through

which I was already connected on a school level,"

he explains.

"From here, I was able to continue to work with and

accompany the social justice team to serve those

most vulnerable."

Sr Colleen says that the parish has been very

receptive of the changes they are implementing

with the Catholic Earthcare plan, saying that even

15-year-olds are coming to the social justice group

full of energy and passion and hoping to make the

world better.

"The young people and children of the parish are

the ones who love this stuff. They're really aware of

sustainability, which gives me a lot of hope," she says.

Trish adds, "It is our duty to preserve God's creation

because it is a gift, worthy of our care and protection.

How we take care of our environment shows how we

value God's gift."

When asked what other parishes across the

Diocese can do to be proactive in social justice, the

parishioners recommended by starting small.

"Having the opportunity to listen to stories of the

most vulnerable and asking them what they need

most – this drives your discernment process, and

then action," Anthony says.

"Mary MacKillop said, 'never see a need without

doing something about it.' Let us practise her words

and put it into action," Priscilla says.

Trish adds, "it only takes one person to say yes to

an opportunity for others to be empowered and be

inspired to take action too. Be that one person to

start the chain reaction."

(L-R) Parishioners of The Good Shepherd Parish, Plumpton, Priscilla Corpuz, Patricia (Trish) Pacleb, Anthony Matthews,

Parish Priest Fr Vincy D'Costa and Sr Colleen Foley osu. Image: Mary Brazell/Diocese of Parramatta

47
---
Quest to know sets

a life in motion

STORY CHRISTINA GRETTON

If planning her life was up to Dr Anne Benjamin,

an Honorary Professor of Australian Catholic

University, who has written several books,

travelled the world and worked at senior levels

of education, she thinks it would have turned

out quite uninteresting.

"I find my plans for myself are fairly unimaginative,

and if I had the total say, life would have been quite

dull," she says.

Dr Anne Benjamin

Image: Supplied

Anne has recently published a book After All

This Time: Reflections on Jesus sharing her inner

pilgrimage, an idea that sprang from being on

pilgrimage on the Camino in Spain. In the book

she calls on Gospel readings, deep insights gained

through her many life experiences, and neat

engrossing 'tankas' - short poems of precisely chosen

words which set an otherworldly mood. The aim of

the book, she says, is to help people look at Jesus

in a new way and perhaps make connections with

scripture they would not have otherwise have made.

She was a young person when the Second Vatican

Council took place and its message of a church that

is engaged with the world resonated with her. It led

her to travel to the USA to study religious education

– the start of her life's quest to seek experiences that

enhance her sense of meaning.

Working with her husband in India for a number of

years enriched her with the experience of being "an

unknown" and an "outsider". "When we returned to

Australia," she added, "I had a small taste of being a

migrant, which is the experience of many people in

our society."

For Anne, pilgrimage is "seeking home and coming

together in wholeness". It helps her understand

and feel closer to the scriptures she has studied to

answer the question: "Who was Jesus?"

48
---
Anne's top tips for pilgrims

A trip to the Holy Land brought her in touch with land

that Jesus would have walked on. "To be in the land

and to be on the soil, to be on the lake and to try and

absorb the feeling of being on the hillside and to be

alone in the desert. That was powerful," she says.

"You get an immediacy."

"You think what it would have been like for Christ to

be praying in the desert." Later in the discussion, she

returns to the power of the desert, "To me the desert is

an image of searching for God – a place of healing and

redemption. It is a place where you can discover God."

"Being there awakened in me the need to understand

Jesus better, the need to answer the question "Who

is this Jesus and how did He work out His mission?"

On the Camino, pilgrims walk at their own pace.

You may therefore have several different walking

companions along the way, and need to adjust your

speed. "I thought that was one of the biggest lessons

for me, to walk through life at my own pace," she says.

"As I walked, I would encounter different people for a

couple of hours. They were wonderful encounters."

For Anne, Vatican II was life changing, and

encouraged her to seek further formation. She is now

hearted by Pope Francis' insistence on synodality as

THE way of being church. "Today we are walking a

synodal path – what's that if not pilgrims searching,

going forward together?"

• Be open to possibilities – there is mystery and

uncertainty in every journey. Without space for

mystery, the search is cut short.

• Come with a mindset that the searching is

more important than the answer.

• Be brave enough to walk alone.

• There is immense freedom in carrying only

what you need on your back.

• Pilgrimages can be done with others –

it doesn't need to be a lonely journey. Those

with you can help you find gems along the way.

• Keep a journal – you don't have to write

everything, just whatever you can.

• Read the daily Mass readings – sit with the

readings each day and note the thoughts that

come into your head.

• Invite others to reflect and pray with you –

reflection together creates special bonds.

• Can't go overseas? Walk where you can –

and be present to your walk.

Dr Anne Benjamin is a parishioner of St Anthony of Padua

Parish Toongabbie. She is a former Executive Director of

Catholic Education Diocese of Parramatta, and was one

of the co-creators of the recently launched Biographical

Dictionary of Australian Catholic Educators, a website for

researchers and those wanting to learn about Catholic

education. Her book After All This Time: Reflections on

Jesus is available from Coventry Press.

Classifieds

To place your ad in Catholic Outlook and reach over

8,500 families in Western Sydney and the Blue Mountains

contact Christina Gretton at comms@parracatholic.org

Toongabbie Legal Centre provides free legal services to

vulnerable, disadvantaged and marginalised persons.

NALL DONATION ARE TAX DEDUCTIBLEN

Support

TLC's 15 th Annual Dinner

& Crowdfunding

Campaign Launch

Saturday 26 November 2022

Blacktown Leisure Centre, Stanhope Gardens

Ticket $100 includes dinner & entertainment –

more details see www.tlc.asn.au

WHAT'S ON

AT MAMRE HOUSE

Mondays:

Tuesdays:

Shared reading group

English classes and Crafty Kritters

Wednesdays: English classes and Seniors day activities

Thursdays:

Seniors tech classes

VOLUNTEERS NEEDED TOO!

181 Mamre Rd, Orchard Hills

Contact Lisa on (02) 8843 2514 or email lisa.malcher@ccss.org.au
---
Let us care for those who

have cared for us through

their lifetime of service

STORY CLERGY SUPPORT FOUNDATION

As we prepare to celebrate the father figures

in our lives this Father's Day, the Diocese of

Parramatta's family of faith is also being urged

to care for our spiritual fathers, priests now

living in retirement after a lifetime of caring

for parish communities.

The Clergy Support Foundation supports the

Diocese of Parramatta's ageing priests and those

in ill-health, providing the necessary care and

guidance for them to transition to a well-deserved,

spiritually fulfilling retirement.

Diocese of Parramatta's Head of Clergy Health

and Wellbeing, Dr Mark Buhagiar, is supported

by Clergy Healthcare Coordinators, Elizabeth

Hanrahan and Ellen Small in caring for retired and

ill priests across Western Sydney and the Blue

Mountains.

"As well as supporting our priests' healthcare and

wellbeing, Mark and his team keep an eye on their

mental health and attend to their practical needs,"

said Fr Wim Hoekstra from the Clergy Support

Foundation.

"This includes important daily tasks like organising

meals, taking them to appointments and making

sure they are taking their medicines. They also put

a lot of care into ensuring that our priests' social

networks are maintained."

Other ongoing assistance includes organising

independent retirement living and aged care or

nursing home accommodation.

Mark said the work of the Clergy Support Foundation

recognises the fatherly spiritual and pastoral care

that the Diocese's priests have given to people for

many decades.

"Our priests have looked after us in parishes for their

whole life, including the important moments such as

Baptism, First Holy Communion, Confirmation, and

Marriage," he said.

"So, this is our opportunity, as Catholics and as

parishioners, to show our gratitude and care for

those who have cared for us, when they need us.

This speaks very strongly to me and it's why I love

what I do."

Retired priests, Monsignor John Boyle and Fr Chris

Dixon now live in accommodation set up by Diocese

of Parramatta's Clergy Support Foundation.

Mons John said he is deeply grateful for the care

being bestowed on him in his retirement, thanks to

the support of the Diocesan community.

"It brings out a huge sense of gratitude in me, that

we're able to live in this comfortable place, and have

people who come to make sure we're safe and well,"

he said.

Fr Chris agreed, saying he recognises the support of

so many for the Clergy Support Foundation:

It's a joy to be able to

retire and to live as we do.

It's quite a privilege.

50
---
Fr Chris Dixon (left) with Clergy Healthcare Coordinator Ellen Small and Monsignor John Boyle. Image: Diocese of Parramatta

I'm deeply thankful for the

generosity of the people

in our Diocese.

Another big aspect of the Clergy Support

Foundation's work is making sure the Diocese's

retired priests stay involved in parish life.

Both Mons John and Fr Chris are still very active in

the Diocesan community, celebrating Mass most

weekends and stepping in when priests go on leave.

"I'm regularly invited out to dinner by my former

parishioners," said Mons John.

"They're keen to look after me. I feel like I'm still

in their community even though I'm no longer

there 24/7."

For Fr Chris, it's providing ongoing spiritual guidance

and sharing the faith, that he finds to be life-giving.

"The privilege of being able to tell people your own

experience of getting to know Jesus, that, to me, is

sharing something sacred and wonderful."

The Clergy Support Foundation's Father's Day

Appeal is an opportunity to care for the priests who

have cared for us all through a lifetime of service to

our faith community.

To donate, please call

(02) 8838 3482 or visit

parracatholic.org/

fathersdayappealcsf

51
---
Play it

Check out our latest spirit-filled recommendations to

add to your daily mix!

Watch, Listen

Read, Think

Books, movies, music

and more for Spring

Há Pressa No Ar

the official World Youth Day 2023 theme song

Receive the Power

(Sydney WYD 2008 theme song)

by Guy Sebastian and Gary Pinto

Every Little Thing

Hillsong Young & Free

Garden

Matt Maher

Soul on Fire

Third Day

Welcome Here

by Fr Rob Galea featuring Michela

Watch it

St Francis of Assisi: Sign of Contradiction

With his feast day on 4 October, here's a movie that

explores more than just St Francis of Assisi's faith

and appreciation of creation. This film is about a

sinner and a saint who was on a lifelong journey

animated by grace. St Francis of Assisi was a real

person with real struggles, temptations, and doubts.

He was a disciple, perhaps, the greatest disciple.

Francis is known as a lover of peace and of

nature, and this is true. But he also went against

all social norms. All that the world said would lead

to happiness, he abandoned for something else,

something more. It wasn't until he encountered

Christ that darkness and confusion were replaced

with light and peace.

His life was marked by an unwavering openness to

the Holy Spirit and a deep call to live penance.

Image: Supplied

Watch it on Amazon Prime or the subscription

service 4pmmedia.com

52
---
Read it

A Wide and Open Land – Walking the Last of

Western Sydney's Woodlands

By Peter Ridgeway

This Season of Creation, find out about the hidden beauty

and fragility of the lands on which our Diocese sits. In

the Winter of 2019, Peter Ridgeway set out to walk 179

kilometres across the Cumberland Plain, the region

of rural land west of Sydney, and home to the Darug,

Gundungurra and Dharawal people. Carrying his food and

water and camping under the stars, he crossed one of the

least-known landscapes in Australia, all within view of its

largest city. This book recounts a unique journey across a

landscape few Australians will ever see.

Peter shares many wonderful places across Western

Sydney including Wivenhoe at Camden, conserved by the

wisdom of the wonderful Good Samaritan congregation.

This book provides an immersion in the history, wildlife,

and culture of one of Australia's most rapidly vanishing

landscapes, and reveals how the destruction of 'the West'

is erasing not only itself, but something central to the

identity of all Australians.

Image: Supplied

A Wide and Open Land – Walking the Last of

Western Sydney's Woodlands

By Peter Ridgeway

Published by Peter Ridgeway April 2022

ISBN : 9780645308914

Listen in

Little Green Pod with Fiona Poole ABC Listen App

Little Green Pod is a podcast for busy people who know

they could do more to help protect the world and save the

environment. Join mother-of-two Fi Poole on her quest to

find quick and easy ways to live a little greener in these

bite-sized episodes.

https://www.abc.net.au/radio/programs/little-green-pod

The Average Shepherd

A weekly homily podcast dedicated to opening, exploring,

and living the Word of God, produced by young priest

Fr Sam French from the Diocese of Broken Bay.

Apple/Spotify/Google Podcasts

Images: From podcasts

53
---
KIDS' CORNER

Design a border around this prayer

using nature as inspiration.

Cut it out, stick on recycled

cardboard and hang it up.

Dear God,

you are in the

whole universe and

in every tiny creature.

Help us protect your world,

which gives us life.

Thank you God for being

with us each day.

Amen.

These activities are from our catechists in the

Diocese of Parramatta. Melissa McDonald,

Regional Catechist Coordinator for the Blue

Mountains, says that looking after God's creation

often comes naturally to children and they love

talking about the topic.

To find out more about becoming a

catechist in the public schools in the

Diocese of Parramatta contact Maree at

maree.collis@parracatholic.org

Prayer adapted from Pope Francis'

Prayer for the Earth.

Images: Shutterstock
---
WHY DOES POPE FRANCIS' LETTER

LAUDATO SI' EFFECT EVERYONE?

Using the clues below, complete the words going across.

The answer will be revealed in the blue boxes running down the page.

1. First words of the the Bible : In _ _ _ beginning when God created the

heavens and the earth

2. The third person of the Trinity who is present in all Creation. H_ _ _ S_ _ _ _ _

3. The name of our planet _ _ _ _ _

4. I became man to show God's endless love for all his creatures _ _ _ _ _

5. The Latin name of the Pope's letter to everyone on Earth aboutcaring for our

common home. L_ _ _ _ _ _ S_

6. Instead of throwing paper products away we should _ _ _ _ _ _ _ them.

7. Too often we W_ _ _ _ resources instead of using less, reusing and recycling.

14

7

8

17

22

23

4

5

10

11

15

18

20

21

1

2

3

6

9

12

13

16

19

8. In theLord's prayer we call God

'Our F_ _ _ _ _ '

9. In the Bible Creation story we

see that people are made in

God's _ m _ g _

10. From the Lord's prayer: "Thy

kingdom come, thy will be done

on Earth as it _ _ in heaven.

11. When we burn fossil fuels it

causes air p_ _ _ _ _ _ _ _ which

contributes toclimate change.

12. It is up to all of _ _ to work

together to look after the Earth.

13. At Easter we celebrate that Jesus

has r_ _ _ _ from the dead.

14. Pope _ _ _ _ _ _ _ took the name

of this saint, the patron saint of

animals and the environment.

15. In the Bible story, after creating

all things, God looks at it and

sees that it is all very G_ _ _ _

16. This lights up our night sky and in

his poem 'Canticle of Creation' Saint

Francis called it our sister _ _ _ _

17. C_ _ _ _ _ _ C_ _ _ _ _: Pope

Franciscalls this "one of the

principle challenges facing

humanity in our day" (LS25)

18. The Pope calls for an Ecological

C_nv_rs_ _n. This means

changing our ways and taking

better care of the Earth.

19. One important way to feel

God's presence is to spend

time outdoors in n_ _ _ _ _.

20. Jesus says "I am the Good

S_ _ _ _ _ _ _ _" who loves

and cares for his sheep.

21. "Climate change affects us all but

it is the P_ _ _ _ _communities

that will suffer the most."

22. We are called to live s_ _ _ply

and not take more than we need

of the Earth's resources.

23. Caring for the Earth, wasting less

and consuming less is being a

good st_ _ _ _ _ _ of the Earth.

55
---
Directory of services

(02) 8843 2500 or visit catholiccarewsbm.org.au

Chancery Office

www.parracatholic.org

(02) 8838 3400

diocese@parracatholic.org

Bishop Vincent Long OFM Conv

(02) 8838 3400

bishop@parracatholic.org

Catholic Education

Diocese of Parramatta

parra.catholic.edu.au

(02) 9840 5600

communityliaison@parra.catholic.edu.au

Catholic Diocese of Parramatta

Services Limited

(02) 9407 7044

enquiries@cdpsl.org.au

www.cdpsl.org.au

Ambrose Early Years Education

and School Age Care

(02) 9407 7044

enquiries@ambrose.org.au

www.ambrose.org.au

Catholic Care Western Sydney

and the Blue Mountains

(02) 8843 2500

catholiccarewsbm.org.au

Mission Enhancement Team

(MET Parramatta)

Catholic Youth Parramatta

Marriage, Family and Natural Fertility

Pastoral Formation

Peace, Justice and Ecology

Worship

met@parracatholic.org

parracatholic.org/met

Confraternity of Christian Doctrine

(02) 8838 3486

ccd@parracatholic.org

Tribunal Office

(02) 8838 3480

tribunal@parracatholic.org

Vocations

(02) 8838 3460

vocations@parracatholic.org

Parramatta Catholic Foundation

(02) 8838 3482

yourfoundation@parracatholic.org

Diocesan Development Fund

(02) 8839 4500

enquiries@parraddf.org.au

Holy Spirit Seminary

(02) 9296 6300

Office for Safeguarding

(02) 8838 3419

safeguarding@parracatholic.org

Ageing Well

Whatever your age, you will never be invisible to the people at Catholic Care. Our range of

supports aim to keep you living independently in your own home for as long as possible,

while staying connected with your friends and community.

Our Commonwealth Home Support Program support elderly people to stay living

independently at home, while our Community Visitor's Scheme aims to reduce loneliness

and enrich people's lives through fortnightly visits to residents at aged-care facilities.

Bringing a baby into the world

There are few things more important than caring for a newborn child. Our programs have helped

many young women who are feeling lost or have been excluded from their community and are

at risk of homelessness, to get the support they need. Our parenting support program supports

new parents finding the challenges of a newborn overwhelming.

Chaplaincy

Our chaplains provide spiritual and emotional support for patients and inmates, their

families and staff in the seven hospitals and three correctional centres throughout the

Diocese of Parramatta. An inclusive ministry available to all faiths, our 15 chaplains work

alongside others involved in the care of patients and inmates.

Children

Catholic Care offers a range of support services to ensure children are taken care of in any

situation. It starts with early years learning and childcare — our home-based early learning and

parenting program for families with young children helps them and their parents develop skills,

and our family day care helps kids get a good start with their education. Our creche is a thriving

early learning centre, providing care for children of Sudanese refugee women enrolled in English

classes offered on the grounds of Catholic Care.

Connecting with my Community

Our drop-in centres provide a safe place for people to belong and connect with others.

They are a place to be, a place to get information, join a group, and be accepted.

In Emerton, Aboriginal Catholic Services is a drop-in centre led by Aboriginal people for

Aboriginal people. In Blacktown, culturally and linguistically diverse families are accessing

support to settle into life in Australia by the team at All Saints of Africa. And at our Springwood

Drop-in Centre, established to support the community after the 2014 bushfires, clients stop by

for a chat, join a reading group or seek support with their mental health.

Living well with Disability

We all need a support network to live our lives to the fullest. Our disability support team, can

help you with living, learning and overcoming obstacles on your journey, whatever they may

look like. We can help you set goals, and achieve them, and help you build a brighter future.

As a registered National Disability Insurance Scheme (NDIS) provider, we support clients

at home and in the community, whether you want to learn how to cook, need support with

personal care, or want to play sport.

Support for my Family

When life gets tough for our families, the people we care about most can suffer. Our range

of family support services can support you to better relate to your spouse and understand

their behaviour, to deal with dependence or gambling problems, single parenting, or just

connecting with your kids.

We support families who are going through the most difficult of times to cope through

separation, and with grief and loss. We help parents deal with all the stresses that can

impact your family, from anxiety and depression to money worries, gambling—we have the

people, the resources and the support to help you make it through.

56
---
Latest appointments

Most Rev Vincent Long OFM

Conv, Bishop of Parramatta, has

confirmed these appointments in

the Diocese of Parramatta:

Deacon Jack Elkazzi

Deacon Assisting

St Bernadette's Parish

Castle Hill, from 25 July 2022

Fr Paul Gurr OCarm

Part-time Assistant Priest

Our Lady of Mount Carmel Parish

Wentworthville, from 27 July 2022

Bishop Vincent (centre) with recipients of the Diocesan Awards, presented on 8 August 2022. Image: Diocese of Parramatta

Diocesan Award Recipients 2022

On the feast of St Mary MacKillop, 8 August 2022, Bishop Vincent Long OFM Conv, presented the

following members of our faith community with Diocesan Awards at St Patrick's Cathedral Parramatta.

Diocesan Medal of Honour

Sylvia Belsey, Our Lady of the Rosary Parish, Kellyville

Juan Caceres, St Nicholas of Myra Parish, Penrith

Vincent Connelly, St Bernadette's Parish, Castle Hill

Joseph Doyle, St Andrew the Apostle Parish, Marayong

Enrico Enriquez, St Andrew the Apostle Parish, Marayong

James Eves, Mary Immaculate Parish, Quakers Hill-Schofields

Maureen Fearnside, St Bernadette's Parish, Castle Hill

Annette Hartman, St Patrick's Cathedral Parish, Parramatta

Norman Heffernan, St Nicholas of Myra Parish, Penrith

Roderick Hilliker, St Patrick's Cathedral Parish, Parramatta

Dudley Littlewood, Holy Spirit Parish, St Clair-Erskine Park

Deirdre Said, Diocese Development Fund, Diocese of Parramatta

Helen Steyns, Diocese Development Fund, Diocese of Parramatta

Annette Tan, Our Lady of the Rosary Parish, Kellyville

Citation of Merit for Youth

Mindy Mercado, St Patrick's Cathedral Parish, Parramatta

Patrice Moriarty, Holy Spirit Parish, St Clair-Erskine Park

We congratulate all our recipients and thank them for

their dedicated service to our faith community.

You can read more about them at

catholicoutlook.info/Awards22
---
THE DDF: AN INVESTMENT IN GOOD

FAITH AND A SOUND FUTURE

The parish of St Aidan's Rooty Hill is undergoing a church extension and renovation project. The building works include an extension to

the church foyer, installation of external sunshades, recarpeting the church and refurbishment of the sanctuary including the installation

of a baldacchino. The foyer extension is to accommodate the increasing number of parishioners attending St Aidan's - the flow-on

effect of the rapid development of the suburb of Rooty Hill. However, projects aren't always smooth sailing; building works were halted,

parishioner numbers fell, and costs rose rapidly due to the impact of the pandemic. "Hopefully, the Parish will be able to complete the

project in the near future," said Fr Alan Layt, Parish Priest of St Aidan's.

The DDF provided finance for the project which was flexible enough to support the changing needs of the parish as the project

unfolded and moved to completion.

The Diocesan Development Fund (DDF) provides financial services that helps to promote the continued growth and development of a

vibrant and evangelising Catholic Church in the Diocese of Parramatta.

The DDF's services include:

• Providing loans to assist Catholic agencies to further their Mission. Loans are available for any worthwhile purpose including

construction, renovation, land purchase, furnishings, and equipment.

• Facilitating transactional services to Catholic agencies such as parishes and schools.

• Operating efficiently to generate income for the Diocese to support the Mission of the Church, pastoral priorities, and ministry

programmes.

• The development of deep long-term relationships with all Catholic entities within the Diocese.

To contact the DDF please phone (02) 8839 4500 or email enquiries@parraddf.org.au

Visit the DDF website at www.parracatholic.org.au/ddf

Disclosure Statement The Diocesan Development Fund Catholic Diocese of Parramatta (DDF) (the Fund) is required by law to make the following disclosure.

The Fund is not prudentially supervised by the Australian Prudential Regulation Authority nor has it been examined or approved by the Australian Securities

and Investments Commission. An investor in the Fund will not receive the benefit of the financial claims scheme or thedepositor protection provisions in the

Banking Act 1959 (Cth). Investments in the Fund are intended to be a means for investors to support the charitable, religious and educational works of the

Catholic Diocese of Parramatta and for whom the consideration of profit are not of primary relevance in the investment decision. The investments that the

Fund offers are not subject to the usual protections for investors under the Corporations Act (Cth) or regulation by Australian Securities and Investments

Commission. Investors may be unable to get some or all of their money back when the investor expects or at all and an of the Fund are not comparable to

investments with banks, finance companies or fund managers. The Fund's identification statement may be viewed at https://parracatholic.org or by contacting

the Fund. The Fund does not hold an Australian Financial Services Licence.