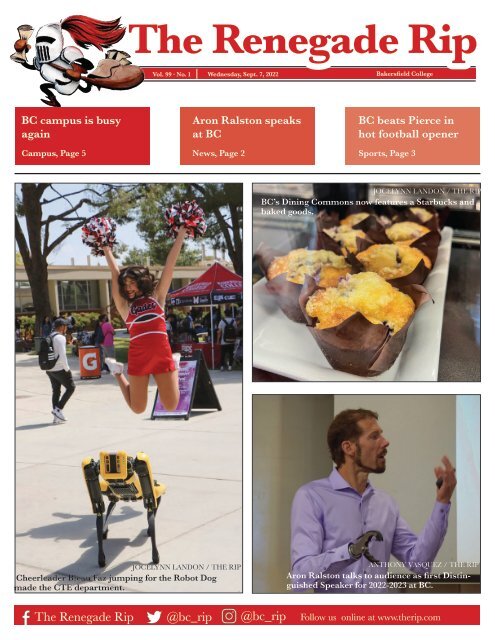 Renegade Rip Issue 1, Sept. 7, 2022
The campus news publication of Bakersfield College.
The campus news publication of Bakersfield College.
SHOW MORE
SHOW LESS
You also want an ePaper? Increase the reach of your titles
YUMPU automatically turns print PDFs into web optimized ePapers that Google loves.
The Renegade Rip

Vol. 99 ∙ No. 1 Wednesday, Sept. 7, 2022

Bakersfield College

BC campus is busy

again

Aron Ralston speaks

at BC

BC beats Pierce in

hot football opener

Campus, Page 5 News, Page 2 Sports, Page 3

JOCELYNN LANDON / THE RIP

BC's Dining Commons now features a Starbucks and

baked goods.

JOCELYNN LANDON / THE RIP

Cheerleader Bleau Faz jumping for the Robot Dog

made the CTE department.

ANTHONY VASQUEZ / THE RIP

Aron Ralston talks to audience as first Distinguished

Speaker for 2022-2023 at BC.

The Renegade Rip @bc_rip @bc_rip Follow us online at www.therip.com
---
Page 2

News

The Renegade Rip www.therip.com

Wednesday, Sept. 7, 2022

Aron Ralston Speaks at BC

By Anthony Vasquez

Editor-in-Cheif

After two years of BC hosting the special

Distinguished Speaker series online,

the first installment of the series within the

fall semester of 2022, was finally hosted

in-person. "127 Hours, Turning Adversity

into Advantage," featuring Aron Ralston,

was

the first installment of the series.

When asking KCCD Student Trustee

and BCSGA President, Shehrazad Barraj

what it was like to host the event in-person,

she stated, "It feels really good you know,

we're back in-person so people get to actually

meet the speaker who's actually coming

in here today, Aron Ralston, and to get

to hear his story which sounds amazing."

Ralston came to speak at BC last Thursday,

Aug. 29, at the Levan Center at 2:00

p.m. and the Edward Simonsen Theater at

7:00 p.m. During both of the scheduled

events, BC was able to host an audience

of students, staff, faculty, and the Community.

He is known for his story of how he

was able to survive being trapped by an

800-pound boulder while hiking in a canyon

in Utah. His story has impacted many

around the world as it has been shared, by the Oscar-nominated

film "127 Hours," along with his New York Times

Bestselling Book, "Between a Rock and a Hard Place."

ANTHONY VASQUEZ /THE RIP

Aron Ralston speaks at BC about his survival

story. It was the first in-person Distinguished

Speaker Event in more than two years.

Ralston recounted the

story, he talked about

the process that went

through his mind when

he was in a severe situation,

such as him trying

to carve his way out of

the boulder, to then realizing

that his only way

out was to cut through

his arm.

He did not skip any

details while he spoke

about the process of

cutting his arm. The

pain of how he first had

to stab through his flesh,

then cut through the

arm, to have to break

his bones, and finally

cut the arm's nerves, all

made the audience understand

how severe it

all was.

"It's not the will to

live, but the will to love,"

Ralston stated last week.

He expressed that the

biggest reason that he

was able to survive was

because of the people that he loved in his life. He also told

the audience that the "Boulders" in life will come along, but

that the blessings in life will follow along.

BC hosts Energy & Ag Academy

By Eduardo Martinez

Reporter

BC will host the Annual

KCHCC Energy

& AG Academy with

sessions from Sept. 30

through Dec. 2. Application

forms for joining

are due by 5 p.m.

on Sept. 12.

Chevron, KCHCC,

and other partners

are looking for eligible

high school students

and students enrolled

at Bakersfield College,

Taft College, CSU

Bakersfield, and CSU

Fresno who are interested

in the energy

and agriculture sectors

to participate.

The academy will

introduce participants

to local professionals

and experts in the Energy

and Ag industries,

financial scholarships,

field trips to Energy

and Ag facilities, leadership

opportunities,

and other features

from the industries.

Kern Community

College District has

partnered with Energy

and Ag sector

group leaders and

has worked alongside

them to secure funding

for energy focused

programs and to ensure

the transition to

renewable energy and

net zero carbon emissions

in the San Joaquin

Valley.

Kern Community

College District is positioned

to establish

the California Renewable

Energy Laboratory

(CREL) with

centers of excellence

focused on three areas:

Carbon Management,

Clean Energy &

Grid Resilience, and

Clean Transportation.

Several officials are

opportunistic of how

these partnerships will

help Kern be recognized

as an energy

leader. "It has now

expanded to be an Energy

and Agriculture

program with tremendous

value as Kern

is increasingly recognized

as a national

leader for energy resilience,"

Kern Community

College District

Chancellor Dr. Sonya

Christian said in a

press release. This year

academy will provide

opportunities not only

to students who are

interested in the Energy

and Agriculture

sectors but to Kern

County as a whole.
---
Page 3

Sports

The Renegade Rip www.therip.com

Wednesday, Sept. 7, 2022

Football: BC Renegades hot

with big win in home opener

over Pierce College Brahmas

By Amanda Hernandez

Reporter

Bakersfield College's football

team opened its season

on Sept. 3 with a huge 59-12

win over Los Angeles Pierce

College.

The first touchdown was

made by Jihad Marks, assisted

by BC quarterback

Joseph Campbell, and their

teammates followed in their

footsteps throughout the

game.

The Renegades' defense

also stepped up against the

Brahmas' offense with multiple

interceptions, first by

Christopher Thompson in

the first quarter, and another

by Jayden Harris-Elvin in the

second quarter.

The team worked well together

to keep the numbers

up in the first half, going

into halftime with a score

of 49-6. One of the major

plays was made by Freshman

Jaquell Bonner who scored

an 80-yard touchdown in

the second quarter. He had a

few words about his play. He

explained, "I felt good about

it. I had not only that touchdown

but two touchdowns

during the game, and I am

only a freshman. We are going

to go far this season, and

when I say that, I mean deep

into the playoffs."

As the second half began,

the Renegades continued to

put numbers on the board.

Bonner laid down another

touchdown and kept the

rhythm of the game in their

favor.

One of the major factors

that goes into how well these

players perform is weather

conditions. The game was

originally scheduled for 6

p.m. but was pushed back

an hour due to extreme heat.

Considering the way the

Bakersfield College football

team carried out their duties

on the field, it was clear that

the weather had no negative

impact on the Renegades.

In fact, the team ended the

game with a touchdown and

celebrated their victory right

there on the field.

After the game, the players

talked about their expectations

of the season going forward.

"The game was cool, we

started off a little slow, but we

definitely got it done on offense,"

running back Anyale

Velazquez said. "The lineman

did really well, and the

rest of the season is only up

from here."

Coach R. Todd Littlejohn

explained that the team's

performance resembled the

way they have been practicing

all summer. "Thankfully

yes. It was good to see multiple

guys get an opportunity

to perform what we have

been preaching all summer,"

he said.

With this dominant performance,

the Renegades set

high expectations for the season

ahead.

AMANDA

HERNANDEZ/

THE RIP

Right: DB Dylan

Tooker running

the ball into the

endzone, scoring

a touchdown

while fellow DB

Jakwon Lamb

and safety

Tyrone Wilson

celebrated his

victory alongside

him.

AMANDA HERNANDEZ/

THE RIP

Left: QB Joseph

Campbell, RB Antonio

Robinson and WR-

Dominique D'Amato

working as a team

in the second half to

keep the up the score.
---
Campus

Page 4

The Renegade Rip www.therip.com

BC students return to campus

By Blake Burton

Reporter

During the first week of the fall 2022

semester, many students returned to BC's

campus on Panorama, creating an atmosphere

that more closely resembled pre-pandemic

numbers of people on campus.

Several students shared their thoughts on

what it was like to be physically back at BC.

Alexis Brown is a nursing and psychology

major and stated, "It's been a tiring week

but overall has been good."

Jocelynn Landon said, "It's been a good

and super fun week and it feels great being

back on campus. Finding classes was

easy because of the resources that are on

campus." She also explained that she was

looking forward to the student involvement

festival scheduled for the following week,

and that it is super important to get involved,

so she can't wait to see all the clubs

and resources.

Harvind Grewal is a Political Science

major at Bakersfield college and stated

that his first week was "enthusiastic, energetic

and very inspiring to see so many students

on campus," he said, adding," I look

BLAKE BURTON/ THE RIP

Students hang out on BC's main campus in

Aug. 24. The first week of school saw the

biggest number of students on campus since

before COVID-19 hit in 2020.

forward to the many events

next week such as the distinguished

speaker series

with Dr. James Lindsey."

Nick Harris, a criminology

major at BC, said "It

has been a pretty good and

easy week and that finding

classes was easy."

Yakelin Canales, a Biology

major at Bakersfield college,

stated that she "overall

had a great week" even

though it was somewhat

difficult to find her classes,

but next week she plans to

get more comfortable with

her classes.

BC Librarian Faith

Bradham explained that

she loves the energy of being

on campus and seeing

students enjoying being

back on campus. "It was

a really good first week,

and it was really busy," she

said.

Starbucks at BC Commons

By Jocelynn Landon

Reporter

The new dining

commons at Bakersfield

College, formerly

known as the BC

café, was renovated

this past year and is already

a popular choice

to eat for not only the

students but faculty

and staff as well.

It features a variety

of foods, and several

staff member work

there, offering help.

"It's really like kind

and respectful and

welcoming," BC student

Yareli Campos

said. "You can't deny

the food… tons of

choice."

This includes everything

from healthy

selections to daily specials

everything is also

super affordable making

it a great place to

stop by to crush your

hunger. Students who

bring their BC ID card

to campus will also get

the perk of not having

to pay tax on food.

Have you heard of

BC Starbucks? Over

the summer of 2022,

Bakersfield College

got a Starbucks. Staff

member Kellie Tucker

said, "The coffee first

thing in the morning,

especially if you're

running late" is a perk.

The Starbucks at BC

is something unique

because they employ

mostly BC culinary

arts alumni. The cafe

manager, Gabrielle

Mosley, a recent graduate

of Bakersfield

College stated, "The

culinary team here

and the culinary team

at the Renegade Room

really try and partner

here so we make the

best like experience for

the students."

The staff members

also put their creativity

to a test with their

"Drink of the Week''

option. At the start

of the fall 22' semester,

they had Dragons

Blood, created by

barista Austin, a mango

dragon fruit lemonade,

with strawberry

purée.

In addition to coffee,

plenty of

snacks are available.

From blueberry muffins

to wraps, there are

several options to satisfy

a sweet tooth.

JOCELYNN LANDON/THE RIP

Bakersfield College Starbucks employees

helping make the students drinks.
---
Page 5

Campus

The Renegade Rip www.therip.com

Wednesday, Sept. 7, 2022

Student Involvement Festival

By Jocelynn Landon

Reporter

Bakersfield College has put on several

events since the school year began

two weeks ago to help students find resources

and make connections with the

start of the new Fall 22 semester. These

"Welcome Weeks'' saw BC host events

to encourage student engagement and

help new and returning Renegades find

their way around campus. The last day

of the event was the student involvement

festival.

"I'm most excited about meeting people

and getting more people into our

program," Umoja club Vice President

Alexis Brown said.

Over the last two years, Bakersfield

College has seen a drop in not only students

but in activities and engagement

from peers due to COVID-19. This year

they are trying to get back in full swing

and help the students get involved.

The event started off with the Folklorico

Club dancing the day away with

their Mexican-inspired dancing and

outfits. This is the first Folklorico club

at BC.

"I'm most excited about teaching

some of these kids here at BC some

moves, and I can't wait to get the group

started," said club president Isabell

Ramirez. They will be teaching their

By Jason Mena

Reporter

Bakersfield College Student

Government Association

Officers held a public

meeting on Aug. 29 in the

Levan Center for the student

government and staff members

to introduce themselves

to students and answer some

questions as the fall semester

kicks off.

BC Dining Commons provided

tacos and beverages

for the event with an array

JOCEYLNN LANDON/THE RIP

Celeste Gonzalez and Isabell Ramirez dancing

during the Student Involvement Festival

of options between carne

asada, chicken, and even a

vegetarian alternative.

SGA President Shehrazad

"Raz" Barraj, Vice President

Brenda Abad, and the

directors and senators who

lead the student body gave

insight on some of the activities

they engage in, on and

off campus. President Barraj

is also a KCCD Student

Trustee and provides advice

and a young perspective at

the monthly KCCD Board

of Trustees Meetings.

Director of Legislative

affairs Harvind Grewal is a

board member for CA Coalition

for Youth, a Statewide

nonprofit Organization in

charge of serving disconnected

students between the

ages of 12-24.

"Follow the BCSGA social

media pages, all the

upcoming events are posted

there" Vice President Abad

said. "Or join SGA, there

are plenty of open positions

including Director of Finance,

Secretary, and seven

members dances and having showcases

throughout the year.

The student involvement festival was

filled with vendors, clubs, small businesses,

and organizations, from Bakersfield

College personnel to the surrounding

Bakersfield community. Within BC they

had representatives from all sorts of organizations

such as the Consent

Project, which aims to promote

healthy relationships, and to

chemistry club which puts on

experiments to get students excited

about science. The event

also featured a variety of clubs

that are eager to start back up

or start for the first time, such as

the International Student club,

which connects fellow international

students to each other

NAMI, which is advocating for

mental health.

Booths on Financial literacy,

community outreach/ partnership,

spirituality, and creativity

all were busy giving out information

to many BC students

and faculty walking around the

campus center to gain new, or

more, knowledge of the school's

offerings.

More information on what

type of Bakersfield College

student organization,

clubs, and resources are

available through the Bakersfield

College website under

the student life section.

Some "taco" about SGA involvement

senator positions."

If you'd like to join SGA,

applications are in "Student

Government" under the

Student Services tab on the

BC Website. The Codes of

the Bakersfield Renegade

Association (COBRA) is also

located there. This document

contains information

ranging

from the duties of the

SGA, to the contextual requirements

for applying and

joining.
---
Page 6

Campus

The Renegade Rip www.therip.com

Wednesday, Sept. 7, 2022

Rengegades get their Gameon

at campus event

By Jaspreet Multani

Designer and Reporter

Renegades

sing way into

new semester

at Karaoke

Night Aug. 30

By Amanda Hernandez

Reporter

Bakersfield College organized

the open Game-on event on Aug.

31 at Campus Center from 11

a.m. - 3 p.m.

Students were invited to join in

an experiment in playing video

games. Office Center of Bakersfield

college arranged the projector

and TV screens with tons of

video games for students to play.

Eveyone had great time by playing

childhood games, it brought

back lots of good memories and

helped refreshed students for the

upcoming semster.

A welcome week event

had BC students sing

"Karaoke" in the Center

Ballroom, on the

Third Floor of Campus

Center building.

Students from various

backgrounds joined

the event and had fun

singing along to lyrics

displayed on a video

screen and music

video images.

First place nationally for two year college Websites at

the Associated Collegiate Press 2020 midwinter conference.

Fifth place newspapers. First place for newspaper

in 2011, third place in 2013, 2014, 2015 for CNPA General

Excellence

Fourth place nationally in 2019 for website publication

by Associated Collegiate Press

The Renegade Rip is produced by Bakersfield College

journalism classes and is circulated on Thursdays

during the fall and spring semesters. The newspaper is

published under the auspices of the Kern Community

College District Board of Trustees, but sole responsibility

for its content rests with student editors. The Rip is

a member of the California Newspaper Publishers Association,

Associated Collegiate Press, and California

Colleges Media Association.

EDITORIAL BOARD

Editor-in-Chief....Anthony Vasquez

Designer..............Jaspreet Multani

The Renegade Rip

Adviser.........................................Erin Auerbach

STAFF

Reporters/photographers:

Blake Burton

Amanda Hernandez

Jocelynn Landon

Eduardo "E.J." Martinez

Jason Mena

Jaspreet Multani

Write The Rip

Letters should not exceed 300 words,

must be accompanied by a signature

and the letter writer's identity must be

verified.

The Rip reserves the right to edit

letters, however, writers will be given

the opportunity to revise lengthy or

unacceptable submissions.

If an organization submits a letter as a

group, it must be signed by only one person,

either the leader of the organization

or the letter writer. Anonymous letters

will not be published.

How to reach us

-Address: Bakersfield College,

1801 Panorama Drive, Bakersfield,

CA 93305

-Phone: (661) 395-4324

-Email: ripmail@bakersfieldcollege.edu

-Website: therip.com
---
Page 7

Opinion

The Renegade Rip www.therip.com

Wednesday, Sept. 7, 2022

"Nope" uses sound over gore

to scare audiences to the core

By Eduardo Jr. Martinez

Reporter

Jourdan Peele has struck it again with

his most recent film, "Nope," starring

Keke Palmer, Daniel Kaluuya, Steven

Yeun and, Brandon Perea. The film

subverts the usual depiction of aliens

and westerns while delivering to audiences

a critical lens to view exploitation

within the film industry and its lasting

effects.

The film shifts away from conventional

scare tactics within horror films

and character tropes. Instead, it uses

suspense and subverts the usual horror

characters fates that end up leading the

cast to victory.

The story begins with O.J.'s,

(Kaluuya), father's death as O.J. must

now must take over the family business

of a horse supply company for film and

television. As the family business fails to

keep afloat, O.J. and his sister, Emerald

(Palmer), concoct a plan to make money

by attempting to film aliens after an

alien appears on the family ranch.

"Nope" twists our usual understanding

of extraterrestrials and UFOs,

or unidentifiable ariel phenomenon

(UAP), on its head as we watch this

brother and sister's desperate attempt

at filming aliens as havoc breaks loose

around them.

Peele has proven himself to be a master

director of suspense even comparable

to the late great Alfred Hitchcock in

the way he withholds the monster and

the gore from the audience.

The audience does not see the actions

of the heinous monster but they sure

hear it. And that makes it all the more

terrifying.

The instrument of the use sound to

convey violence is evident in this one

scene that depicts Gordy the chimpanzee

as he goes on a rampage on set every

time a balloon pops, filling the audience

with a sense of terror and suspense.

Jordan Peele and his spectacular cast

has found a way to convey absolute terror

with the minimum amount of gore

on camera.

"Bullet Train" full of action

By Edgar Quintanilla

Reporter

The Brad Pitt movie lead

"Bullet Train," based on

the book, does the most to

surprise anyone watching.

It's easily one of the top

contenders for best action

movie of the year. Despite

all the mixed reviews this is

something you must experience

for yourself. You're either

going to love it or hate

it, and for most casual viewers

maybe you might feel a

bit unsure.

It takes place in Japan

and, you guessed it, on a

Bullet Train. Pitt plays a

character named Ladybug

as he is taken throughout

many different stops on

the train's route to retrieve

a mysterious suitcase and

meets many others along

the way.

Director David Leitch is

no stranger to action movies

as he has some serious pedigree

under his belt directing

movies such as "Fight

Club," "John Wick," and

"The Matrix Reloaded."

He does not skimp out on

this one. Many beautifully

shot action sequences are

jam packed into this movie.

It's filled with many jaw

dropping scenes that really

keep you intrigued throughout

the entirety of the film.

Even the music goes perfectly

with what the movie

has to offer as one of the

standout songs was "Staying

Alive" by The Bee Gees,

which goes perfectly since

this movie is a giant free for

all battle throughout a bullet

train.

Not only does "Bullet

Train" offer tons of action,

it features an all-star cast of

actors. This includes Sandra

Bullock, Brian Tyree

Henry, Benito Antonio

Martinez Ocasio aka (Bad

Bunny), and even more

surprise cameos spread

across the film that will

make you jump up from

your seat and say, "Oh my

god."

At times you may think

to yourself 'what is going

on?' at certain points in the

movie, but one of the main

themes of the film is fate.

All throughout the film it is

brought up so many times

you don't even realize it

until the very end of the

movie. Each little detail

plays a role that contributes

to drive the plot forward.

Despite a confusing

plot at certain points if you

pay close attention, you

will easily be able to understand

this film.

GOOGLE IMAGES
---
Page 8

Opinion

The Renegade Rip www.therip.com

Wednesday, Sept. 7, 2022

The COVID-19 pandemic

brought so many challenges

to international students

By: Jaspreet Multani

Designer and Reporter

The beginning of a new chapter makes life very interesting. Shifting a

base from India to the United States of America to study can be quite a

change, especially for the first time being outside the country.

The first thing which I noticed upon arriving in America was the clouds,

as I felt they were falling on me. But it was quite beautiful to see huge

buildings between the clouds and people walking on the streets as they

were in a rush to win the golden prize.

It took me some time to learn new ways of living in another country,

learn a new language, adjust to the taste of new food, try to make new

friends, and cope with the difficulties of getting around in a new country.

During the pandemic, the struggle for international students doubled

and it also hit our mental health, due to financial burdens, living expenses,

transportation, homesickness. At that point in time, I realized that there

was no one to take care of us.

I graduated from Full Sail University, Florida on December 20, 2019,

hoping to join a company and kick-start my career with the Multimedia

designer position, but life had a different path for me. After six months

beginning of pandemic, I suddenly got financial stress from my parents, it

was getting difficult for them to afford my living expenses.

At one point I started hating my situation and went into a phase of

emotional distress. I felt that anxiety, frustration, sadness, and restlessness

behavior.

Finally, I met a businesswoman on LinkedIn, and she wanted me to

design her three editions of her magazine named "Living day by day".

That day I felt, my work has been recognized.

Over the years, international students have been very competitive and

worked hard to get good grades in their fields of interest. In my opinion

colleges and universities should encourage and guide international students

in the right direction.

In daily life, mental stress has a higher rate; in international students, it

can be helpful to talk to them and make them feel comfortable discussing

their daily challenges.

The National Library of Medicine says international students are more

prone to mental disorders, struggle with the local medical system, and less

motivated to seek psychological services than their domestic peers.

"During the pandemic, the struggle for

international students doubled and it also

hit our mental health, due to financial

burdens, living expenses, transportation,

homesickness. At that point in time, I realized

that there was no one to take care

of us."

Renegade Events

Campus Events

Sept. 7: Science & Engineering Building

Grand Opening , BC Panorama Campus, 9:15

a.m. – 10:15 a.m.

Sept. 8: Distinguished Speaker, Dr. James

Lindsay, Levan Center, 2 p.m. and 7 p.m.

Sept. 8: Artist Lecture by Fresno-based

artist Audia Yvonne Dixon, 2:40 – 3:40 p.m.

– Fine Arts 30 Artist's gallery reception, Jones

Gallery, 4 – 7 p.m.

Sept. 8: Opening, "Eden," a solo exhibition

by Fresno-based artist Audia Yvonne Dixon,

Wylie and May Louise Jones Gallery, open

through Oct. 13 (Fall 2022 Jones Gallery hours

of operation are: Monday-Thursday: 2 - 5 p.m.)

Sept. 12: Transfer Day, Renegade Ballroom

Campus Center, 10 a.m. to 1 p.m.

Sept. 28 & Oct. 5: Panorama Music Summit,

Edward Simonsen Indoor Theater, 7 p.m.

Sept. 30: Manufacturing Day, Bakersfield

College Outdoor Theater, 9:30 a.m. – 1:30 p.m

Oct. 2: Distinguished Speaker, Rev. James

Lawson, Renegade Ballroom Campus Center,

1 p.m.

Oct. 5 -15: Kern Shakespeare Festival featuring

performances of "Romeo and Juliet"

and "Love's Labour's Lost," Edward Simonsen's

Outdoor Theater

Oct. 11: Bad Deal for America: A Conversation

with Dr. David Schein, Levan Center, 6

- 7:30 p.m.

Oct. 15: Inaugural Renegade Promenade:

Alumni, Family, & Friends Day at BC! Admission

is FREE! Panorama Campus, 11 a.m. - 4

p.m.

Oct. 28: Fall Choir Concert, Edward Simonsen

Indoor Theater, 7:30 p.m.

Nov. 15: Distinguished Speaker Mark Rabbitt,

Renegade Ballroom, 3rd floor, Campus

Center, Panorama Campus, 2 p.m. and 7 p.m.