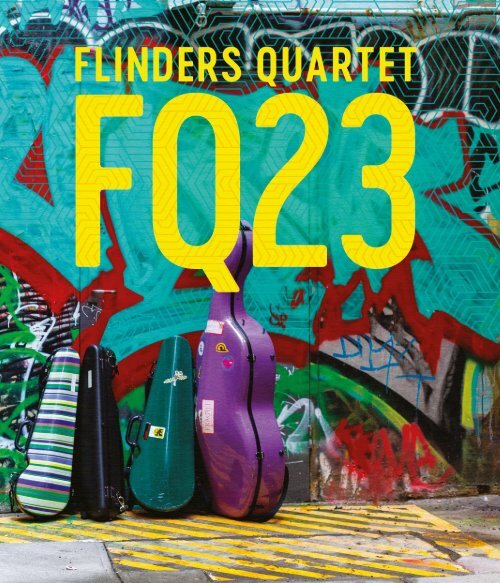 Flinders Quartet 2023 season brochure
You also want an ePaper? Increase the reach of your titles
YUMPU automatically turns print PDFs into web optimized ePapers that Google loves.
The most sublime thing about playing in a string

quartet is the repertoire we get to rehearse,

investigate and perform, and one of the natural sideeffects

of that is the camaraderie and togetherness

we feel as we walk on stage. In 2023, we say a fond

farewell to our beloved first violinist, Thibaud. It is

a chance to reflect on everything each individual

brings to FQ and Thibaud's impact on the group will

be felt for many years to come.

In our 2023 subscription concerts, we are playing

with three outstanding individuals: Elizabeth

Sellars, Natsuko Yoshimoto, and Cameron Hill. All

long time friends of FQ and familiar to many of you,

we know many musical adventures await.

We always challenge ourselves to strive for the

highest artistic ideals and to be catalysts for others

to do the same through our mentoring and composer

programs. In the brochure, you will read about our

many activities away from the concert stage, such

as mentoring, composer development, recording

and the numerous videos on FQ Digital Free, but

for us, it all comes back to the sound of four string

players on stage together experiencing and sharing

the power of the greatest music ever written.

Wilma, Helen, Zoe, Thibaud, Liz, Natsuko & Cam

"The Flinders Quartet is woven into the fabric

of Melbourne's audience of classical and

contemporary Australian compositions."

(AUDIENCE MEMBER)
---
A NOTE FROM JULIAN BURNSIDE AO, QC CHAIR OF THE FLINDERS QUARTET BOARD OF DIRECTORS

I have always been drawn to string quartets as the epitome of great

chamber music. The repertoire is some of the best in Western classical

music which naturally leads to the fact that some of the best concerts

I have been to have been given by string quartets. Flinders Quartet

has proven time and time again that they are greater than the sum

of their parts, and with a collective vision for the role they play in

Australia's art music industry, have curated a year that epitomises

them as an ensemble. I am very proud to be associated with a quartet

that does so much for chamber music with such care, tenacity and

creative ability, but most importantly, an ensemble that always plays

sublimely well and with great musical integrity. Beethoven is always

a highlight for me, but I am intrigued to learn more about Elizabeth

Maconchy and her oeuvre. One of the joys of FQ is the perfect balance

of the known and the unknown and 2023's season celebrates that

vision brilliantly.

FLINDERS QUARTET

VISION

An industry exemplar for

diversity, relevance and

masterful performance.

MISSION

To be the vanguard of artistic excellence &

generosity, championing art-form renewal,

community engagement, creative

and commercial vibrancy.

PURPOSE

To challenge and champion

the role of the string quartet

in 21st century Australia.
---
MELBOURNE RECITAL CENTRE • PRIMROSE POTTER SALON • SOUTHBANK

Cnr Southbank Boulevard & Sturt St, Southbank

MONDAY 29 MAY, 1PM & 6PM

TUESDAY 25 JULY, 1PM & 6PM

MONDAY 30 OCTOBER, 1PM & 6PM

Single Tickets: Standard $40 / Concession $30

Three Concert Subscriptions: Standard $99 / Concession $78

FQ+ Subscription including three live concerts in the Primrose Potter Salon

plus access to FQ Digital for 12 months: Standard $124 / Concession $103

(transaction & delivery fees may apply)

Bookings: (03) 9699 3333 melbournerecital.com.au

MONTSALVAT • ELTHAM

7 Hillcrest Ave, Eltham

SUNDAY 28 MAY, 2:30PM

SUNDAY 23 JULY, 2:30PM

SUNDAY 29 OCTOBER, 2:30PM

Single Tickets: Standard $40 / Concession $30

Three Concert Subscriptions: Standard $99 / Concession $78

FQ+ Subscription including three live concerts at Montsalvat plus

access to FQ Digital for 12 months: Standard $124 / Concession $103

(transaction & delivery fees may apply)

Bookings: (03) 9699 3333 melbournerecital.com.au
---
ST JOHN'S CHURCH • FLINDERS

King St, Flinders (Mornington Peninsula)

SATURDAY 27 MAY, 2:30PM

SATURDAY 21 OCTOBER, 2:30PM

Single Tickets: $30

Two Concert Subscriptions: $52

FQ+ Subscription including two live concerts at St John's Church

plus access to FQ Digital for 12 months: $77

(transaction & delivery fees may apply)

Bookings: flindersquartet.com/tickets

or phone Wendy Avilov 0417 798 523 between the hours of 10am & 2pm, Monday to Friday

FQ DIGITAL digital.flindersquartet.com

On-demand digital concerts, premiering:

WEDNESDAY 14 JUNE, 7:30PM

WEDNESDAY 9 AUGUST, 7:30PM

WEDNESDAY 15 NOVEMBER, 7:30PM

and then available on-demand viewing

Annual Subscription: $50

Single Digital Concert: $20

To subscribe, visit digital.flindersquartet.com

For all other concert bookings & further information about

FQ's 2023 programs & projects, please visit:

flindersquartet.com
---
PROGRAM 1 • MAY 2023

FROM LITTLE THINGS…

"Even when music doesn't have a specific

narrative, it tells a story. I've never been to

America, but somehow Dvořák's music takes me

there. Perhaps it's the openness, sunniness and

optimism of G major. Dvořák actively encouraged

American composers to use Native American

culture, which inspired Amy Beach to write her

string quartet based on Inuit tunes; and we've

followed the musical trail to Caroline Shaw,

who inspired Anne Cawrse to write "in spaces

between" - a story of finding the space just to

create while life pulls in multiple directions.

The thing I love most about delving into a new

piece of music is how much I learn about a

composer just from how they construct and

organise sound. In a way, I feel like I know Amy

Beach and Antonín Dvořák from centuries past,

just as well as I know Anne Cawrse who has been

right there in the room with us as we rehearse.

That's the power of great music."

ZOE KNIGHTON, CELLO

"There are some other groups who share some of the Flinders Quartet's qualities, but not

many. I would say that in addition to the commitment and skill, it is the joy and pleasure

they have in what they do, and the clear expression of it, that differentiates

the Quartet from other Ensembles."

STEPHEN SNELLEMAN, INDEPENDENT MUSIC PRODUCER & COLLABORATOR
---
PROGRAM ( 60mins, no interval )

AMY BEACH String Quartet, Op. 89

ANNE CAWRSE "in spaces between"

ANTONÍN DVOŘÁK String Quartet No.13 in G major, Op.106

ST JOHN'S CHURCH, FLINDERS SATURDAY 27 MAY, 2:30PM

MONTSALVAT UPPER GALLERY SUNDAY 28 MAY, 2:30PM

PRIMROSE POTTER SALON, MELBOURNE RECITAL CENTRE

MONDAY 29 MAY, 1PM & 6PM

Also touring to Northern Tasmania and regional Victoria - check flindersquartet.com

for details and to find program notes and other content.

FQ DIGITAL PREMIERING WEDNESDAY 14 JUNE, 7:30PM

and then available for on-demand viewing

ELIZABETH SELLARS Guest Violinist

Elizabeth Sellars has been acclaimed as "powerful…dynamically exciting"

(The Australian) and as "one of the few violinists … who can handle works

that move in new directions" (The Age).

A prize-winning graduate of the Guildhall School of Music in London,

Elizabeth is a sought-after chamber musician and has appeared for

Musica Viva and in festivals and on radio worldwide. Her performances

have been published by Move, Naxos, ABC Classics, Toccata Classics and

Tzadik. In collaboration with Kenji Fujimura her world premiere recording

of the 'The Messiaen Nexus' received international acclaim, including

winning the 2014 Limelight Chamber Music Recording of the Year. Future

releases include Australian Horn Trios and premiere recordings by Arthur

Benjamin. Elizabeth has toured with the Academy of St Martin-in-the-

Fields and The Australian World Orchestra. She is a founding member of

the Sutherland Piano Trio and Quercus and collaborates regularly with

Ensemble Liaison.
---
PROGRAM 2 • JULY 2023

BEETHOVEN / MACONCHY

"I was introduced to the music of Elizabeth Maconchy

in 1985 while a member of the Lydian Quartet. That

year, we competed in the Portsmouth International

String Quartet Competition (now the Wigmore) and

Maconchy's 13th string quartet was the commissioned

set work. It was challenging and rewarding. More

recently, I listened to recordings of all of her earlier

quartets and realised what a sophisticated and classy

composer she was. She admired and studied the

masters who had gone before and I'm sure she would be

chuffed that a 21st century Australian quartet found her

rigorous compositional style to be an excellent fit with

that of the great master himself. The chance to play

one of Beethoven's incomparable Op. 59 "Razumovsky"

quartets, named after their commissioner, Count

Razumovsky, the Russian Ambassador in Vienna, is

something akin to a religious experience for quartet

players, such is the consummate artistry of Beethoven

in his middle period. I'm excited to pair Maconchy's

Quartet No. 5 with Beethoven's Opus 59. No. 1 and to

see what the experience of each brings to the other."

WILMA SMITH, VIOLIN

PROGRAM ( 60mins, no interval )

ELIZABETH MACONCHY String Quartet No.5

LUDWIG VAN BEETHOVEN String Quartet No.7 in F major, Op. 59, No.1

PRIMROSE POTTER SALON, MELBOURNE RECITAL CENTRE

TUESDAY 25 JULY, 1PM & 6PM

FQ DIGITAL PREMIERING WEDNESDAY 9 AUGUST, 7:30PM

and then available for on-demand viewing
---
MID-WINTER AT MONTSALVAT ( full length concert, with interval )

LUDWIG VAN BEETHOVEN String Quartet No.7 in F major, Op. 59, No.1

ELIZABETH MACONCHY String Quartet No.5

FELIX MENDELSSOHN String Octet in E-flat major, Op.20 with Piccolo String Quartet

MONTSALVAT UPPER GALLERY SUNDAY 23 JULY, 2:30PM

Also touring to regional Victoria - check flindersquartet.com

for details and to find program notes and other content.

NATSUKO YOSHIMOTO Guest Violinist

Born in Japan, Natsuko Yoshimoto began playing the violin at the age

of three. She has studied at the Yehudi Menuhin School, the Royal

Northern College of Music in England and the Curtis Institute of Music in

Philadelphia. She has won awards in international competitions including

the Gold Medal in both the prestigious 1994 Shell/London Symphony

Orchestra Competition and the Orchestra Ensemble Kanazawa Award

and the Iwaki Award for outstanding achievement as a Japanese artist.

Natsuko is currently co-Concertmaster of the Queensland Symphony

Orchestra and is also a member of highly acclaimed chamber group,

Ensemble Q. She has been the leader of both the Australian String Quartet

and the Grainger Quartet as well as the Concertmaster of the Adelaide

Symphony Orchestra. Natsuko regularly appears in major chamber music

festivals and is a teacher at the Queensland Conservatorium of Music. She

has given many world premieres of works by Australia's most prominent

composers and has recorded for Virgin Classics, ABC Classics, Melba

Records and Tall Poppies. In her little spare time she loves to do pottery!

"The quartet has always had a very warm relationship with its audience,

and people love their enthusiasm. This enables them to bring new

and unfamiliar works to audiences which trust their choices."

(AUDIENCE MEMBER)
---
PROGRAM 3 • OCTOBER 2023

MUSICAL PORTRAITS

"I can still remember hearing Shostakovich's

String Quartet No. 8 for the first time and being

riveted from beginning to end. This incredibly

powerful work was officially dedicated 'to the

memory of the victims of fascism and war' but

there is much to suggest that Shostakovich

meant it as a musical self portrait.

Smetana's String Quartet No. 1 "From My

Life" is a different type of musical portrait,

taking us on a vivid, programmatic journey

through young love, and the devastation

of tinnitus. I still get goosebumps in the

opening viola theme every time I hear it

or better still, play it. In discussing these

works, we began to be curious about how

a composer would capture the essence of

Flinders Quartet and have commissioned

Tasmanian composer Maria Grenfell to paint

us in sound. It will be fascinating to create

our very own musical portrait."

HELEN IRELAND, VIOLA

[They have] "a spirit of curiosity about the repertoire

- here and elsewhere - and take us on remarkable musical voyages."

(AUDIENCE MEMBER)
---
PROGRAM ( 60mins, no interval )

DMITRI SHOSTAKOVICH String Quartet No.8 in C minor, Op.110

MARIA GRENFELL New Work*

BEDŘICH SMETANA String Quartet No.1 in E minor, "From My Life"

* Commissioned by Flinders Quartet

ST JOHN'S CHURCH, FLINDERS SATURDAY 21 OCTOBER, 2:30PM

MONTSALVAT BARN GALLERY SUNDAY 29 OCTOBER, 2:30PM

PRIMROSE POTTER SALON, MELBOURNE RECITAL CENTRE

MONDAY 30 OCTOBER, 1PM & 6PM

FQ DIGITAL PREMIERING WEDNESDAY 15 NOVEMBER, 7:30PM

Also touring to regional Victoria - check flindersquartet.com

for details and to find program notes and other content

CAMERON HILL Guest Violinist

Cameron Hill is an Australian violinist who appears as soloist, chamber

musician and orchestral player. He studied in Melbourne with Cathryn

Bills, William Hennessy and Alice Waten, and in Vienna with Dora

Schwarzberg and Boris Kuschnir. He has performed as a concerto soloist

with many Australian orchestras, including the MSO, ASO, QSO, TSO, CSO

and the Melbourne Chamber Orchestra. Cameron has also had success in

major competitions, winning both the 2006 ABC Young Performer of the

Year, and the 2005 Dorcas McClean National Violin Competition.

His love of chamber music has seen him perform various works with

Pinchas Zukerman and Emmanuel Pahud. He was the founding leader of

the Hamer Quartet, appeared as leader of the Flinders Quartet, and has

toured Europe with the Mahler Chamber Orchestra. During 2014, Cameron

appeared as guest Concertmaster of the MSO for several months, and

in 2015, toured and performed as guest leader of the Australian String

Quartet. He is currently the Associate Concertmaster of the ASO.
---
FQ COMPOSER PROGRAMS

EMERGE

Providing composers with a year-long program

of string quartet score study, workshops, and

development, culminating in a 6-minute piece

performed and filmed by Flinders Quartet and

promoted on FQ Digital Free alongside ongoing

industry advocacy.

ASCEND

Providing composers with a career leveraging

opportunity to write a 12-minute piece for string

quartet which is workshopped, developed,

performed, filmed and studio recorded by

Flinders Quartet and promoted on FQ Digital

Free alongside ongoing industry advocacy.

The overwhelming success of our Composer Development Program has inspired us to offer a more tailored

approach to the development of string quartet composition. It is our favourite time of year, getting to know

composers and their music, and crafting sounds that represent Australia in the 21st century.

In 2023, we embark on our first Emerge program. Up to five composers have been chosen to immerse

themselves in string quartet scores and write a new work for us. At the time of printing, we were in the

selection process, but by now you should be able to read all about the participants on our website. Details

about the live and on-demand digital performances can be found at: flindersquartet.com/composer

PAST FQ COMPOSER PROGRAM PARTICIPANT SUCCESS STORIES

MATTHEW LAING

Matt has received significant commissions from Melbourne Symphony Orchestra,

Melbourne Chamber Orchestra, Musica Viva Australia and Affinity Quartet.

ELLA MACENS

Ella was commissioned for FQ's 2021 subscription concert series and the resulting

piece, "A Love Worth Fighting For" has been recorded for ABC Classic. Ella has

been commissioned by Sydney Symphony Orchestra, Sydney Chamber Choir, and

the Canberra International Music Festival, to name a few.

ANNE CAWRSE

Anne's work, "in spaces between", which was premiered as part of our 2022

Ascend composer program, will appear in FQ's 2023 subscription season. Anne is

a recent recipient of two Art Music Awards and continues to receive numerous

commissions from Australia's leading orchestras and ensembles.
---
PAST FQ COMPOSER PROGRAM PARTICIPANT SUCCESS STORIES

LEE BRADSHAW

Lee was commissioned by FQ to write a piece for string quartet and band for

FQ's 2021 Footscray High School residency. He has also been commissioned by

Musica Viva Australia to write the set string quartet piece for the 2023 Melbourne

International Chamber Music Competition. Lee has had works recorded by Baiba

Skride, Ivan Vukčević and Harriet Krijgh on his album, "The Ties That Bind".

A CALL FOR SUBMISSIONS FOR ASCEND 2024

All Australian composers are encouraged to apply

APPLICATIONS OPEN MAY 1, 2023

APPLICATIONS CLOSE AUGUST 31, 2023

Program commences January 30, 2024 & concludes January 30, 2025

Full information will be available at flindersquartet.com/composer in early 2023

NATIONAL TOURING

Flinders Quartet is undertaking a national tour for Musica Viva Australia in 2023 with renowned guitarist,

Karin Schaupp, featuring a new guitar quintet by Carl Vine and the much-loved Boccherini "Fandango".

TOURING NATIONALLY FEBRUARY 18 TO MARCH 12, 2023

Visit musicaviva.com.au for details

REGIONAL TOURING

In addition to our subscription concert series, we are adding a special regional touring program in 2023 which

includes a world premiere by Yuin composer, Brenda Gifford, and an arrangement by Julian Yu of J.S.Bach's

Goldberg variations for erhu and string quartet, to be performed with Dong Ma. Combining cultures in sound

with new virtuosic possibilities is an exciting prospect, providing endless avenues of creative exploration.

TOURING AUGUST 3 TO 6, 2023 • Visit flindersquartet.com for details
---
EDUCATION

- MUSICA VIVA STRIKE A CHORD COMPETITION -

FLINDERS QUARTET MENTORSHIP PRIZE WINNERS

Eureka Quartet & Cousin Quartet (2020-21)

Pirulí Quartet (2021-22)

Piccolo Quartet (2022-23)

The Flinders Quartet Mentorship Prize is presented as part

of Musica Viva Australia's annual Strike a Chord competition

and offers mentoring, performance opportunities and career

guidance to our nation's top young string quartets. Each year,

FQ awards a unique suite of activities to the most deserving

quartet. In 2023, we will take the Piccolo Quartet from NSW

on tour with us to play the much loved Mendelssohn Octet

together.

HIGH SCHOOL RESIDENCIES

In 2019, we began our high school residency program with Footscray High School with the aim of introducing

chamber music repertoire to teenagers in a new and innovative way. Partnering with Drama, Visual

Communications, Art, Music and Dance departments, we created a program tailor-made to the students,

enabling them to engage directly with our music. Projects have involved poster design, dramatic monologues

integrated with a Shostakovich quartet, and even connecting Jimi Hendrix to Bartok, giving the students a

vividly relevant experience ahead of hearing FQ play live at Melbourne Recital Centre.

In 2023, we expand our program to include Ringwood Secondary College.

"... I just wanted to let you know that it was

an amazing performance, and the other

kids I talked to really loved it too!"

FHS STUDENT
---
JOHN NOBLE'S ITET PROGRAM

Since 2018, FQ has been Artistic Patrons of John Noble's Itet program and now works with seven regional

Victorian ensembles from Mildura, Bairnsdale, Shepparton, Bendigo, Warrnambool, Traralgon and Sunshine/

Wyndham Vale. FQ presents side-by-side concerts and ongoing mentoring, culminating in a weekend that

brings all of the ensembles together in a true celebration of the chamber music collaborative spirit.

In 2022, we launched the FQ/Itet regional quartet-in-residence program with the Mallee String Quartet from

Mildura as the inaugural Quartet-in-Residence. This has seen the MSQ perform a series of concerts in Mildura

and surrounding areas while FQ provided governance support and delivered over 20 hours of in-person and

online coaching to develop instrumental and ensemble skills.

"The biggest thing they (FQ) have done for me is in

showing me the true joy of playing ensemble music.

They took me away from my fear and feelings of selfconsciousness

and showed me what sharing music could

really be. And they made our ensemble feel we were

worthwhile and capable. Such a gift and an incredible

journey with them. And an honour."

JOHN NOBLE'S ITET PROGRAM PARTICIPANT

RESONANCE STRING ORCHESTRA - FQ QUARTET PROGRAM

Based in Castlemaine and Woodend, FQ supports two

quartets born out of the Resonance String Orchestra

in a program of string quartet study. In our newly

created curriculum of sequential string quartet

repertoire, these groups have begun performing for

their local communities.
---
SUPPORT FQ IN 2023 AND BEYOND

Immense thanks to everyone who has enabled FQ to develop over the past 22 years. We simply wouldn't be

here without you!

As our vision grows, we welcome your support to ensure that we can continue to thrive and embrace our

role in the vanguard of Australian chamber music. Together, we can cultivate a dynamic future for the art

form we all love so much.

HOW CAN I DONATE?

CREDIT CARD

flindersquartet.com/support-fq

CHEQUES PAYABLE

Flinders Quartet Inc. Development Fund

DIRECT DEPOSIT

Flinders Quartet Inc. Development Fund

NAB BSB: 083-636 Account: 84 464 4885

Please enter your surname in the reference field

To ensure your tax receipt for donations via cheque or direct

deposit is sent to the correct address, please fill out the donation

form available at: flindersquartet.com/donate

Everyone's circumstances are unique. You may not be in a position

to support the quartet at the moment but would like to leave a

legacy for future generations. If you are considering leaving a gift

in your will, please contact us for a confidential discussion.

Wendy Avilov • Company Manager

wendy@flindersquartet.com • 0417 798 523

FIFTH STRING DONOR PROGRAM

Members of our Fifth String program are insightful

and passionate lovers of extraordinary chamber music.

They are a vital part of the FQ community, contributing

a profound appreciation of exceptional chamber music

and a deep commitment to the work we do.

Through their annual contribution of $1,000 or

more, Fifth String members provide the stability and

sustainability we need to flourish. This cherished

relationship allows FQ to pursue uncompromised

creative excellence and plan strategically for the future.

We invite you to join our Fifth String program to enjoy

VIP events, newsletters, and exclusive access to insights

into the FQ creative process.

FQ LOVE OF MUSIC LITERACY CAMPAIGN

A project to inject resources into FQ's multi-pronged

musical literacy and engagement initiatives: from the

development of our online learning hub and expansion

of FQ Digital Free, to the hands-on delivery and

unpacking of top-quality chamber music to music lovers

from the ages of 8-88 (and beyond).

With a goal of $50,000, you can be part of the FQ vision.

GIFT IN WILL

We are also grateful to those who have chosen to share

their love of Flinders Quartet with future generations.

Leaving a gift in your will has a profound impact on the

quartet and provides long term sustainability, ensuring

that audiences will continue to enjoy exceptional

musical experiences for many years to come. Thank

you to those who have entrusted us with their legacy.

FQ SYNDICATE

Being a part of the creation of new music is a passion of

ours and we know many of you would love to be part

of that process as well.

Introduced in 2022, FQ Syndicate aims to enable the

collective commissioning of new works.

In recognition of the fact that the joy of commissioning

a work is cost prohibitive for many, the FQ Syndicate

joins the forces of like-minded lovers of chamber music

who contribute donations of $500 or above towards a

specific project.

Our fourth and most recent syndicate was for the

commission of Brenda Gifford's new string quartet, to

be premiered in FQ's 2023 season. Stay tuned for news

about our 2023 syndicate.
---
CURRENT FIFTH STRING PATRONS

PLATINUM PATRONS $20,000+

Kaye Birks*

Julian Burnside AO, QC

Peter & Leila Doyle*

Carrillo Gantner AC & Ziyin Gantner

David Hamilton & Dorset Renewable Industries

Kim Williams AM

GOLD PATRONS $10,000+

Krystyna Campbell-Pretty AM*

Peter Kingsbury

Andrew Domasevicius-Zilinskas & Aida Tuciute

SILVER PATRONS $5,000+

Anthony Adair & Karen McLeod Adair

In memory of Maggie Dowling

John & Irene Garran

Linda Herd

PATRONS CIRCLE $1,000+

Joanna Baevski

Esther and Brian Benjamin

Helen Brack

Di Bresciani

Elise Callander

Calvin Crisp

Sandra Dent

Sheela Edwards & Aurora Early Education

Morag Fraser

Kingsley Gee

Faye Goldsmith

Richard Gubbins

Robert Heathcote

Andrea Hull AO

Dr Garry Joslin & Prof Dimity Reed AM

Janet McDonald

Helen & Peter Murdoch

Ben Rimmer and Bronwen Hamilton

Philip Rounsevell & Nelson Estrella

Hywel Sims

Jane Smith

John Smyth

Dr Bruce and Mrs Leona Sterling

Mary Vallentine AO

John & Sue Warburton

Sieglind D'Arcy

Anonymous [1]

*Supporter of FQ musician 'chair'

CURRENT FQ SYNDICATE SUPPORTERS

Brad & Maggie Robinson

Patricia Speck

Daniel Kirkham

Vivienne Reed

Elizabeth & Sam Golding

Helen Murdoch & Macedon Music

Geoffrey Hayes

Marion & Michael Webster

Peter Kingsbury

John & Sue Warburton

Nicholas Garnham

Mark Vendy

Barry Jones AC & Rachel Faggetter

Linda Herd

Sharon Nathani

Julian Burnside AO QC

Elise Callander

(correct at the time of printing)
---
READY TO BOOK YOUR TICKETS?

MELBOURNE RECITAL

CENTRE TICKETING

To purchase tickets for the concerts

listed below, please visit Melbourne

Recital Centre online at

melbournerecital.com.au

or phone (03) 9699 3333

FQ TICKETING

To purchase tickets for the concerts listed

below, please book directly with

Flinders Quartet at

flindersquartet.com/tickets

ST JOHN'S CHURCH, FLINDERS

PRIMROSE POTTER SALON,

MELBOURNE RECITAL CENTRE

MONDAY 29 MAY, 1PM & 6PM

TUESDAY 25 JULY, 1PM & 6PM

MONDAY 30 OCTOBER, 1PM & 6PM

SATURDAY 27 MAY, 2.30PM

SATURDAY 21 OCTOBER, 2.30PM

FQ DIGITAL

2023 DIGITAL CONTENT ON-DEMAND

digital.flindersquartet.com

MONTSALVAT

SUNDAY 28 MAY, 2.30PM

SUNDAY 23 JULY, 2.30PM

SUNDAY 29 OCTOBER, 2.30PM

For all other concert bookings and further information about FQ's 2023

programs and projects, please visit flindersquartet.com
---
THANKS

GOVERNMENT PARTNER

TRUSTS AND FOUNDATIONS

CANNY QUINNE

FOUNDATION

VENUE PARTNERS

COLLINS STREET

BAPTIST CHURCH

QUARTET PARTNERS

(correct at the time of printing)

ST JOHN'S CHURCH

FLINDERS

All details correct at the time of publication. Flinders Quartet reserves the right to change program

and performance details. Tickets are not available for refund, and exchanges for another venue are

subject to availability and the payment of any increase in ticket price. If you are unable to make a prebooked

concert, why not give a friend the gift of chamber music?

Please note: event details are subject to change based on further updates from the Victorian State

Government in relation to COVID-19 guidelines. Performance seating capacities are also subject to

alteration in alignment with Victorian Government determined social distancing restrictions of

the time and the CovidSafe plans of the relevant venue. Please refer to the Australian Government

Department of Health and the Department of Health and Human Services Victoria websites for

current information.

flindersquartet FlindersQtet flindersquartet flindersquartet

flindersquartet.com

digital.flindersquartet.com

FLINDERS QUARTET

BOARD OF DIRECTORS

Julian Burnside AO, QC Chair

Mary Vallentine AO, Vice Chair

Sarah Hunt

Sandra Stoklossa

Fiona Phillips

Zoe Knighton

Helen Ireland

Wendy Avilov

P

Graphic Design by Donna Gee

Photography by

Pia Johnson: pages 1, 2 (Smith, Ireland, Knighton,

Pavlovic-Hobba), 6, 8, 10, 20

Jiriki Photography: 2 and 9 (Yoshimoto)

Claudio Raschella: 2 and 11 (Hill)

Karen Wilson: 2 and 7 (Sellars)

Julian Meehan: 3 (Burnside)

Sharon Gertner: 12 (Laing)

Darwin Gomez: 12 (Macens)

Emma Luker: 12 (Cawrse)

Peter Lamont: 13 (Bradshaw)

Liting Jiang: 13 (Yu)

Marissa McDowell: 13 (Gifford)

Agatha Yim: 14 (quartet & band screenshot)

admin@flindersquartet.com

PO Box 12301 A'Beckett St.

Melbourne VIC 8006

Artistic Director: Zoe Knighton

zoe@flindersquartet.com

Company Manager: Wendy Avilov

wendy@flindersquartet.com • 0417 798 523