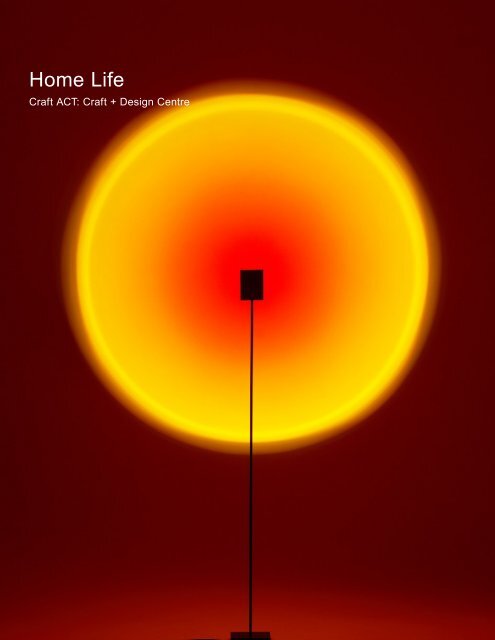 Create successful ePaper yourself
Turn your PDF publications into a flip-book with our unique Google optimized e-Paper software.
Home Life

Craft ACT: Craft + Design Centre
---
Craft ACT: Craft + Design Centre is partial supported by the ACT

Government, the Visual Arts and Craft Strategy – an initiative

of the Australian State and Territory Governments, and the

Australia Council for the Arts – the Australian Government's arts

funding and advisory body.

Craft ACT: Craft + Design Centre acknowledges the

Ngunnawal people as the traditional custodians of the

ACT and surrounding areas. We honour and respect

their ongoing cultural and spiritual connections to this

country and the contribution they make to the life of this

city and this region. We aim to respect cultural heritage,

customs and beliefs of all Indigenous people.

Craft ACT: Craft + Design Centre

Tues–Fri 10am–5pm

Saturdays 12–4pm

Level 1, North Building, 180 London Circuit,

Canberra ACT Australia

+61 2 6262 9333

www.craftact.org.au

Cover image: Portrait of Robert Foster. Photo by Damian McDonald.
---
Home Life

27 October – 10 December 2022

Falegnameria Pisu for Pretziada | Campeggi | Pedrali | Beeing

| Claudio Larcher | Miniforms | Tubes radiator | Artemide | Halo

Edition | PM Studio | Maria Elena Bompani | Studio Natural | G.T.

Design | Krill Design | Fabita | UniFor | Alcarol | Caimi Brevetti

Spa | Danese Milano | Xilografia |

Exhibition organised by

IMF Foundation, EP studio

In collaboration with

Craft Act: Craft + Design Centre

With the support of

Embassy of Italy Canberra, Italian Cultural Institute Sydney

Sponsored by

Consorzio Prosecco doc – Italian Genio

Curated by

Elisabetta Pisu

Text contribution

Giulia Zappa

Exhibition setup plan

MC studio

Press office

Sign ress

Craft ACT: Craft + Design Centre

27 October - 10 December 2022
---
Acme21, B-BOX, 2020, Beeing. Photo courtesy of Beeing
---
Ludovica+Roberto Palomba, Eve, 2018, Tubes Radiatori. Photo Courtesy of Tubes
---
Home Life

The home – the place of intimacy and daily

habits - is part of a constant metamorphosis

process and, at the same time, it is the

reflection of our evolving lifestyles.

As a result of globalization and its effects on

new nomadism, as well as of a pandemic

that confined billions of people to their own

four walls, the home is now at the center

of renewed attention and innovative design

research.

No longer linked to a functionalist ideal

nor conceived as a status symbol or the

representation of a symbolic universe,

the home is the expression of our desire

for physical and psychological wellbeing.

Furniture and objects designed in the

third decade of the new millennium are

conceived to meet modern needs and

establishing a lasting complicity with users.

Contemporary furniture pieces are highly

modular and adaptable to specific space

configurations. More and more efficient,

they combine multiple functions and change

their appearance to address our needs for

transformability. Smarter than ever, these

pieces contribute to purify air, spark our

imagination, or amuse us with unexpected

functions.

Together with versatility, sustainability is a

fundamental topic of contemporary home

design. In a threatened ecosystem like

ours, the desire for more greenery in indoor

environments becomes stronger by the day.

Through plants and flowers accessories,

multispecies artifacts as well as decoration

evoking nature, design now aims at soothing

our souls in need of a reconnection with

Mother Earth. The choice of ecofriendly

materials is a fundamental element: be

them recycled or natural or both, they are

given organic shapes and are intentionally

designed to have a second life.

Through the selection of a few particular

projects, Home Life represents the

contemporary focus on comfort, versatility

and environmental awareness and it

highlights the role of the home as epicenter

of a new habitat.
---
Paolo Cappello, Cigales, 2018, Miniforms. Photo Courtesy of Miniforms
---
Maddalena Casadei, Accanta, Side Table Collection, 2021, made by Falegnameria Pisu for Pretziada. Photo Courtesy of Pretziada
---
Accanta, 2021

Side Table Collection

Designer: Maddalena Casadei

Firm: Falegnameria Pisu for Pretziada

This collection of three stool\tables is entirely

made of cork, a sustainable material obtained

from the bark of a type of oak typical of the

Mediterranean area. Based in Sardinia, where

cork trees are part of the natural landscape,

the high craftsmanship firm Pretziada has

rediscovered cork thanks to a young designer

and a local factory. The flared line highlights

the sculpture-like appearance of Accanta,

that can be used to serve many different

purposes.
---
Anish, 2018

Designer: Emanuele Magini

Firm: Campeggi

A transformable object, intentionally elusive,

Anish's functions are apparently mysterious

and to be discovered only with use. At a first

glance, it looks like a circular dividing curtain

made of stretch fabric. As one surrenders to

its softness, the semicircular seat becomes

apparent – as one can also find out looking

from behind. Anish invites us to put aside

our most rigid expectations about furniture's

appearance and functions, and to consider

them as a playful opportunity, a chance for

wonder and surprise.
---
Image: Emanuele Magini, Anish, 2018, Campeggi. Photo Courtesy of Campeggi
---
Image: Odo Fioravanti, Babila XL recycled grey, 2020, Pedrali. Photo Courtesy of Pedrali
---
Babila XL recycled grey, 2020

Designer: Odo Fioravanti

Firm: Pedrali

One of the first products by Italian brand

Pedrali made from recycled polypropylene,

Babila XL recycled grey, is produced 50%

from plastic material post-consumer waste

(as plastic bottles or food packaging) and

50% from plastic material industrial waste.

This combination - resulting from a long process

of industrial research – contributes to

the armchair's better durability and resistance

to wear and tear. The wide monocoque with

integrated armrests provides high comfort

standards, while the legs are made of FSC®

C114358 certified solid ash wood finished

with water-based paints composed mostly of

plant-derived resins.
---
B-Box, 2020

Designer: Acme21

Firm: Beeing

B-Box is the first beehive designed for small

urban spaces like a private garden or a terrace.

The bee entrance - a plywood chimney

- is placed over 2 metres above the ground

so that it's possible to safely approach the

hive without wearing protection. Honey can

be collected through a small box on the lower

part of the hive: B-Box patented system allows

the user to easily extract the "favetti", the

collection combs where the bees deposit the

honey, without touching the insects. Moreover,

the transparent Plexiglas walls make the

hive suitable for close observation.

Launched via crowdfunding, B-Box has been

purchased by customers in more than 40

countries around the world, both by individuals

and public institutions such as municipalities

and schools.
---
Image: Acme21, B-BOX, 2020, Beeing. Photo Courtesy of Beeing.
---
Image: Claudio Larcher, Belt, 2021. Photo Courtesy by Stefania Zanetti.
---
Belt, 2021

Designer: Claudio Larcher

Belt is a collection of storage furniture that

innovates industrial objects and components

already on the market. Composed of metal

sheets, a belt and four wheels – all elements

easy to be found in DIY stores – Belt is a

versatile and informal piece of furniture that

modernizes the aesthetic of DIY through its

vivid colors.
---
Cigales, 2018

Designer: Paolo Cappello

Firm: Miniforms

Inspired by the need for more greenery in

home environments, Paolo Cappello has

designed a collection of two-armed étagères

to hold plants and flowerpots. Available both

freestanding and wall mounted, this slender

support can transform a room into an urban

oasis and make daily life more relaxing and

joyful.
---
Image: Paolo Cappello, Cigales, 2018, Miniforms. Photo Courtesy of Miniforms.
---
Ludovica+Roberto Palomba, Eve, 2018, Tubes. Photo Courtesy of Tubes Radiatori
---
Eve, 2018

Designer: Ludovica+Roberto

Palomba

Firm: Tubes radiator

This fan heater's iconic rounded shape reveals

its double function related to two fundamental

elements of the home environment:

light and heat. In Spring and Autumn, it becomes

a very useful design object, as it can

quickly produce hot air, while in the warmest

months of the year it can be used as a lamp

- a light band at the bottom creates a cosy

atmosphere. Powered by electricity, Eve is a

free-standing piece that can follow its owner

everywhere inside the house.
---
Flexia, 2020

Designer: Mario Cucinella

Firm: Artemide

Flexia is a suspension lamp combining a

sound-absorbing panel with a transparent

emitting surface; a single object designed

to control both light and sound in an indoor

location. Inspired by papiroflexia, the art of

papyrus-folding, Flexia is reminiscent of the

Japanese art of origami. The lamp's wings are

flexible and modular so that it can be adjusted

to all room sizes. An example of sustainable

design, a subject dear to architect Mario

Cucinella, Flexia features multiple integrated

and synergic elements: the adaptability to

the characteristics of all environments, the

interpretation of human needs – both physiological

and psychological - and the use of

ecofriendly materials.
---
Mario Cucinella, Flexia, 2020, Artemide. Photo Courtesy of Artemide
---
Halo Evo, 2019

Colour: Sunset Red

Designer: Mandalaki Studio

Halo Evo is a light installation that recreates

sunlight inside a home environment giving a

warm and calming sensation in the space, favoring

meditations. The optical device developed

by Milan based Mandalaki Studio guarantees an

accurate visualization as it projects different analogical

hues in a very natural fashion: the result

is an intense and vibrant natural color palette

that creates a sense of infinity. The anodized

aluminium stand supports a flexible head that

allows different projection orientations while a

dimmer can be used to lower the brightness of

the light.

Mandalaki Studio, Halo Evo - Colour sunset red - 2019, Halo Edition. Photo Courtesy of Halo Edition
---
Hug, 2022

Designer: PM Studio (Barbara

Medeot, Giulia Piovesan)

Hug is a multifunction furniture system designed

to be used in different ways in the home

environment. Its components – a semicircular

top, two curved wooden planks and a series of

sticks – can be easily assembled with a plain

coupling mechanism without additional tools

as nails or glue. According to the selected configuration,

Hug can be a stool, a seat with backrest,

a bookcase or a single piece of furniture

including all the above functions. Made from

beech wood waste, Hug is an example of sustainability

and durability.
---
PM studio (Barbara Medeot, Giulia Piovesan), Hug, 2022
---
Itaca, 2016

Designer: Maria Elena Bompani

Increasing mobility is a challenging topic for

designers who need to rethink furniture in

order to make frequent relocations easier and

cheaper. Starting from her personal experience,

Maria Elena Bompani designed a minimal, modular

and flexible furniture set. Made of beech

wood poles, leather belts and fabric elements,

the components can be assembled as needed

to create a daybed, a stool or a room divider

equipped with a built-in desk and storage

spaces. When it's not needed, the system can

be stored in a suitcase and easily carried to the

next destination.
---
Maria Elena Bompani, Itaca, 2016
---
Lucio (Solar Charger Table), 2014

Designer: Studio Natural

One of the first pieces of furniture to feature

solar panels, Lucio combines new energy technologies

with home design. Via a built-in charger

and small solar panels, this coffee table uses

the natural light inside a room and store it to

recharge your laptop and tablet at the end of

the day without any plugs.
---
Studio Natural, Lucio - solar charger table - 2014. Photo Courtesy by Studio Natural
---
Moving Forest 0, 2019

Designer: Deanna Comellini

Firm: G.T. Design

Designer Deanna Comellini has transformed an

ancestral object as the rug in an opportunity to

evoke nature and its fascination in one's home.

The pattern of Moving Forest – made of the

juxtaposition of blue stripes on a green background

– recalls the visual and sensorial perception

of a forest, while the chromatic shades and

the light effects reproduce the vitality of the

flora. Moving Forest aims at creating a visual effect

as well as representing a metaphor; it is an

invitation to surrender to nature and reconnect

with the primordiality of its emotional sphere.

The rug is made of digitally printed high-quality

wool.
---
Deanna Comellini, Moving Forest 0, 2019, G.T. Design. Photo courtesy of G.T. Design
---
Ohmie - The Orange Lamp, 2021

Designer: Yack Di Maio and Sofia

Durarte

Firm: Krill Design

Produced by Milan-based startup Krill Design,

Ohmie is the first lamp made from orange peel

waste printed in 3D. The peels are reduced to

dust and mixed with a vegetal biopolymeral

starch that makes the material waterproof. In

order to further reduce waste, the quantity of

material used for each print can be controlled

via the 3D printing procedure. Ohmie's sinuous

profile evokes the organic forms of nature while

its porous texture recalls that of an orange. The

name derives from the crasis of Ohm (Ω – unit

of electrical resistance) and Home. At the end

of its life cycle, the lamp can be biodegraded

together with compost.
---
Yack di Maio and Sofia Durarte, Ohmie, The Orange Lamp, 2021, Krill Design. Photo courtesy of Krill Design
---
Ordine, 2019

Designer: Adriano Design

Firm: Fabita

Winner of the the ADI Compasso d'Oro Award

2022, Ordine is designed to optimize food

cooking thanks to its versatility and efficiency.

Two circular induction plates can be positioned

on any flat countertop, even a small one. Once

used, the plates can be hung near the touchscreen

control, leaving the kitchen top free.

Ideal for small spaces, Ordine is the result of

breakthrough innovation.
---
Adriano Design, Ordine, 2019, Fabita- Photo Courtesy of Fabita
---
Secretello, 2015

Designer: Michele De Lucchi

Firm: UniFor

Secretello is a hybrid piece of furniture combining

the functions of two personal items: a secretaire

and a display cabinet. Lifting the tilting

crystal and lowering the oak top, Secretello

turns into a workstation. The niche created by

transparent surfaces provides a secret shelter

and enhance concentration. With its doors

closed, Secretello becomes a little contemporary

wunderkammer, an intimate place for

showcasing personal items, collectibles and

ordinary but treasured souvenirs.
---
Michele De Lucchi, Secretello, 2015, UniFor. ph Mario Carrieri
---
Stump Stool, 2015

Firm: Alcarol

Stump is an invitation to contemplate nature:

it's a stool that captures the life of trees valuing

it in a hyper realistic key. Made from discarded

logs from the undergrowth of the Italian Dolomite

mountains (UNESCO heritage site), Stump

is embedded in a resin - recalling the idea of

water and the seed that generated the tree's life

– that fills all the cracks enveloping mosses and

lichens. The natural wood surface - not covered

by resin on the section planes - features a selective

wood coating with an opaque finishing preserving

the tactile experience of wood.
---
Photo: Tim Bean Photography

Stump Stool, 2015, alcarol. Photo Courtesy of alcarol
---
Teleta, 2021

Designer: Alessandro Zambelli

Firm: Caimi Brevetti Spa

A seemingly traditional lamp, Teleta is instead

a multifunctional and innovative device. With

a ceramic diffuser body and a LED, the lamp

includes a clever shell-shaped filter that purifies

air from bacteria. The result of a long research

and development project, the filtering system

uses the heat produced by the LED to push air

upwards where an anodized filter with silver

ions is placed. Thanks to this air-purifying system,

Teleta contributes to the home sanitization

and well-being.
---
Alessandro Zambelli, Teleta, 2021, Caimi Brevetti spa. Photo courtesy of Caimi Brevetti
---
Window Garden, 2016

Designer: Big

Firm: Danese Milano

Window Garden is a system of flowerpots suitable

for hydroponic cultures in home environments.

Made of high-pressure porcelain and

held together by a steel wire, the twelve pots

are fitted with a small water reservoir so that no

watering and no saucer is needed. Window Garden

adds a touch of green in your apartment or

office and encourages the user to home grow

vegetables and herbs.
---
BIG (Bjarke Ingels Group), Window Garden, 2016, Danese Milano. Photo Courtesy of Danese Milano
---
Xilo Station, 2021

Designer: Matteo Ragni

Firm: Xilografia

Xilo Station is a solution for home environment

where spaces are reduced as it easily turns into

a writing desk. Designed as a wall painting with

customizable graphics, it features a frame and a

folding panel that can be opened when needed,

providing a support surface for computers.

A piece of home décor and a workstation, Xilo

Station has it all.
---
Matteo Ragni, XiloStation, 2021, XILOGRAFIA
---
Michele De Lucchi, Secretello, 2015, UniFor. ph Mario Carrieri