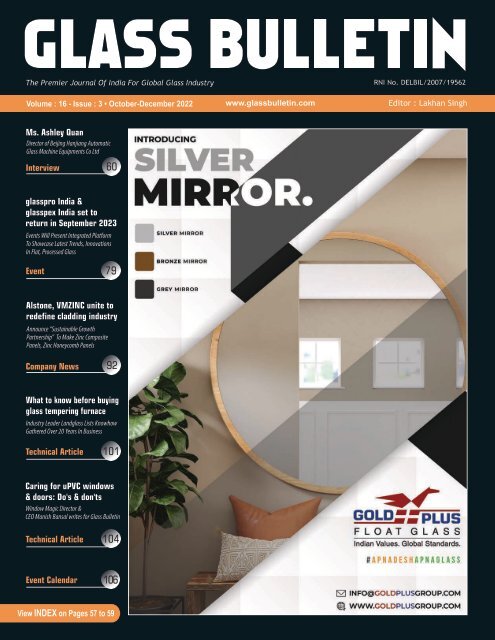 Edition 68 (October-December, 2022)
GLASS BULLETIN is a publishing company, managed by a highly experienced editorial and administrative staff. It has a dedicated and responsible team for providing quality journals and related services to its readers. The company publishes GLASS BULLETIN which is the fastest growing top-notch journal of India for the global glass industry. It is published quarterly and circulated among glass manufacturers, glass processors, glass-machinery & tool manufacturers, art glass processors, glass dealers, architects, builders, aluminium fabricators, interior decorators and the automobile industry across the globe. GLASS BULLETIN is the ideal platform, both in the print and digital media, for worldwide exposition of news, reports, products and exhibitions related to the glass industry. It is a one-stop solution for all queries and needs related to glass–machinery and technology, its innovation, product-procession and marketing in India. By its permanent columns, it enjoys the status of highest readership among all Indian glass journals. GLASS BULLETIN is the media partner for international glass exhibitions in Beijing, Shanghai and Guangzhou in China besides in other parts of the world, including Europe, India and the Middle East. GLASS BULLETIN e-magazine, the first glass-related e-magazine of India, is also available online and on mobile phone, free of cost at http://www.glassbulletin.com
GLASS BULLETIN is a publishing company, managed by a highly experienced editorial and administrative staff. It has a dedicated and responsible team for providing quality journals and related services to its readers. The company publishes GLASS BULLETIN which is the fastest growing top-notch journal of India for the global glass industry. It is published quarterly and circulated among glass manufacturers, glass processors, glass-machinery & tool manufacturers, art glass processors, glass dealers, architects, builders, aluminium fabricators, interior decorators and the automobile industry across the globe.

GLASS BULLETIN is the ideal platform, both in the print and digital media, for worldwide exposition of news, reports, products and exhibitions related to the glass industry. It is a one-stop solution for all queries and needs related to glass–machinery and technology, its innovation, product-procession and marketing in India. By its permanent columns, it enjoys the status of highest readership among all Indian glass journals.

GLASS BULLETIN is the media partner for international glass exhibitions in Beijing, Shanghai and Guangzhou in China besides in other parts of the world, including Europe, India and the Middle East.

GLASS BULLETIN e-magazine, the first glass-related e-magazine of India, is also available online and on mobile phone, free of cost at http://www.glassbulletin.com
SHOW MORE
SHOW LESS
You also want an ePaper? Increase the reach of your titles
YUMPU automatically turns print PDFs into web optimized ePapers that Google loves.
06
---
07
---
Looking to reach

the highest quality

for all types of

laminated glass?

Here are three reasons why Glaston ProL

technology is your best choice:

1. Unmatched yield and output

2. Lowest operating cost – highest profitability

3. Lifetime business growth

How to avoid common mistakes and

succeed in the glass lamination business —

Download THE LAMINATING LINE BUYER'S

GUIDE here www.glastory.net

Machinery, services and solutions designed with the future in mind for

the architectural, automotive, solar and appliance industries.

info@glaston.net | www.glaston.net | www.glastory.net | www.gpd.fi

11
---
12

25m/min
---
Glass processing is

not only machinery,

but always a solution!

All drilling solutions:

Double Heads Online Drilling Machine

Multiple spindles drilling machine with tool magazine

MAC super laser drilling & Cutting

Corner Grinding Machine

Online corner grinding machine for straight and round corner

Mac scanner for automatic reading QR Code of drawing

Integrating with double edging line freely

CNC Processing Center

Online / offline for different solution lines

Perfect cutting, drilling, milling, inner/outer shape grinding

and polishing

Integrated with MACsoft for any online processing

MAC machinery and MACsoft work together

for the whole line intelligent processing of

Architectural Glass,Appliance Glass,

Automotive Glass and Solar Glass.

CNC Drilling Machine Double / Triple Spindles CNC Processing Center Corner Grinding Machine

Tel: +86-757-25583203 Mob: +86-18942463709 18610067296

E-mail: export@macglastech.com / global@macglastech.com

Web: www.macglastech.com

13
---
Dry waste

Dry waste

Clean water

Clean water

FILTRATION MACHINE FOR

FILTRATION LARGE VOLUMES MACHINE OF WATER FOR

LARGE VOLUMES OF WATER

FAST INVESTMENT

FAST RETURN INVESTMENT

RETURN

NO AGGRESSIVE

NO CHEMICALS

AGGRESSIVE

CHEMICALS

EASY AND FAST

EASY MAINTENANCE

AND FAST

MAINTENANCE

EXTENDS THE LIFE

EXTENDS OF MACHINERY THE LIFE

OF MACHINERY

info@filtraglass.com

info@filtraglass.com

filtraglass.com

filtraglass.com

15
---
E IUS

INTERMAC.COM

QUALITY WITHOUT

COMPROMISES.

Genius CT-A TECH Glass cutting tables process

the sheets, maintaining high levels of cutting

precision over time and guaranteeing an excellent

return on investment in a short time.

Genius CT-A Tech

16
---
19
---
1 ST HAND AUTHORIZED SELLER

OF XINFU PvB IN INDIA

XINFU

INTERNATIONAL

3 Production lines in China

with Capacity of 6 Million Square meters

Architecture grade, Automotive grade, Solar grade

Transmittance 91 %

Best Production Facility

Loss in weight feeder

-- Brabender Germany

Screen changers and melt pump -- Maag, Switzerland,

Extrusion die

-- CLOEREN USA,

The online thickness scanner, Automatic gauge control (AGC) systems,

Online scanning moisture tester -- Honeywell USA,

The online surface vision test system -- ISRA Germany.

XINFU CUSTOMER MAIN MARKET

Pilkington China BSG Auto Fuyao Auto Taiwan Glass 40% Oversea Market

Iran

Australia

Turkey

Middle East

South American

India

Korea

BLG International Pvt. Ltd.

FROM THE HOUSE OF

LAKSHMI FLOAT GLASS LTD.

Supply

all over India

Displayed at :

Redg. Office: A-2/30-31, 3rd Floor W.H.S,

DDA Marble Market, Kirti Nagar New Delhi

Mumbai Office: L-135, Midc, Taloja, Raigarh,

Maharashtra, Mumbai-410208, INDIA

Contact us @

adityagupta@blginternational.in,

www.lakshmifloat.com sales@blginternational.in

Whatsapp us:

+91 99562 95454

24
---
INTERNATIONAL

Insulating Glass

Silicone Sealant

BUSINESS LEADERS IN GLASS

GLASS PROCESSING, MATERIALS & GLASS PROCESSING MACHINES

Aluminium

Spacer

EVA

EVA

PVB

Plastic Corner

Keys

Steel Straight

Connectors

Pressure Equaliser

for Insulating Glass

2 Component

Silicone Sealant

Pump

Warm Edge

Spacer

Butyl Tape

INCA / NET

WAVE / CLOUDY

LINIO /

CROSS SMALL

MARINA /

SEA WAVE / OCEAN

SAVONA /

BUBBLE

CANDI / SONA

OUR PRODUCTS

PVB | EVA | MESH | FABRIC | INSULATING GLASS SILICONE SEALANT | FENZI BUTYL | SWISSPACER | WARM EDGE SPACER

ALUMINIUM SPACERS | CORNER KEYS | STEEL STRAIGHT CONNECTORS | MOLECULAR SIEVE 3A | GLASS BLOCKS | FLOAT GLASS | MIRROR

BULLET RESISTANT GLASS | PROCESSED GLASS & PATTERN GLASS | BUTYL TAPE | GLASS SEPARATOR | GLASS PROCESSING TOOLS

GLASS PROCESSING MACHINES |

SentryGlas ® | Trosifol ® | ExtraStiff ® | Butacite G ®

BLG International Pvt. Ltd.

FROM THE HOUSE OF

LAKSHMI FLOAT GLASS LTD.

Supply

all over India

Displayed at :

Redg. Office: A-2/30-31, 3rd Floor W.H.S,

DDA Marble Market, Kirti Nagar New Delhi

Mumbai Office: L-135, Midc, Taloja, Raigarh,

Maharashtra, Mumbai-410208, INDIA

Contact us @

adityagupta@blginternational.in,

www.lakshmifloat.com sales@blginternational.in

Whatsapp us:

+91 99562 95454

25
---
INDIA'S FIRST

NABL ACCREDITED

PRIVATE GLASS

TESTING FACILITY

We provide testing

services for

Toughened safety glass

Heat strengthened glass

Laminated safety glass

IGU / DGU

WHY CHOOSE WINWALL

EFFICIENCY

Our comprehensive testing

solutions have provided our

clients by providing them

with timely reports and

analysis of the test.

TRANSPARENCY

Transparency fosters trust and

open communication. This is

our unique way of functioning

which helps build great

relationships with our clients.

RELIABILITY

Competent, professional,

passionate and supportive.

Our dedicated staff is reliable

which makes it easy for the

client to deal with us.

CONTACT US NOW

+91-9080992502

harish@winwallindia.com

info@winwallindia.com

27
---
35
---
39
---
40

14
---
avontuffglass.com

WE ARE

GLASS APART!

SERVING GROWING DEMAND

FOR ARCHITECTURAL

GLASSES SINCE A DECADE.

"Avon Tuff Glass has accepted new

challenges and change & we have been

processing High Quality - High Performance

glass for the construction since 2012.

With over 10 years of experience in

architectural glass processing, we bring our

passion for customer, innovation and

dedication to quality.

Join us on the journey as we see the possibilities together:

• SAFETY GLASS

• ACOUSTIC GLASS

• ENERGY GLASS

• SECURITY GLASS

• DECORATIVE PAINTED GLASS

FACTORY & REGD. OFFICE :

S. No. 201-1, Devicha Pada, Sonale, Dist. Thane Bhiwandi - 421 302,

AVON TUFF

AVON TUFF GLASS PVT. LTD.

CREATING BETTER TOMORROW

Sales: +91 8879543317 • Tel: 02522- 282002 /282004

Business (WhatsApp): 8879543316 • E: sales@avontuffglass.com

42
---
Harmara Road, Industrial Area,

Madanganj, Kishangarh, Rajasthan

India / Pin no. 305801

91 73000 68444

sales@aardwolf.co.in

# 9/27, Ground Floor, 5th Main Road,

Ganesha Block, Sultanpalya,

R. T. Nagar Post, Bengaluru-560032

91 99017 24600

raghavendra@aardwolf.co.in
---
55
---
56
---
Interview

'When we place customers' interest

above ours, we earn their trust'

Hanjiang Director Ashley Quan Talks About Company Strategy, Focus And

Future Plans In India

In an interview with Glass Bulletin,

the Beijing Hanjiang Automatic

Glass Machine Equipments Co.

Ltd. director talks about how setting

up service centres and storing spare

parts abroad helped cement the

company's position in international

markets.

Excerpts from the conversation:

Q: How long have you been

associated with Hanjiang?

Hanjiang was my first job after I

graduated as an MBA in 2012. This

year marks my 10th year working for

Hanjiang. This also is Hanjiang's 20th

anniversary. I am proud of the 10

golden years I have spent here.

Q: What steps does Hanjiang

follow for development of its

machines?

First, we focus on the market

trend. A lot of new demand and even

new equipment appear in the market,

we should not follow anyone blindly.

Our teams analyse what value we can

bring to our end-customers with these

new products and what benefit can

bring to Hanjiang by following a new

trend. We analyse SWOT and decide

our development direction.

Once we have decided on a

new development, we put in the

best resources to make it happen.

For example, in 2008, we got an

enquiry from a European company

about online gas filling line. At that

time, argon gas filling was a very

new technology in China. Through

two years of continuous efforts, we

put major R&D on one thing, and

we achieved it. Still now, argon gas

filling line is one of the hottest selling

products in Hanjiang. It's the same

logic we applied for the high speed

sealing robot, super spacer robot, and

even on TPS.

Q: Hanjiang is a reputed

name in IG line machines across

the globe. What does it take

to maintain this reputation

internationally?

In my opinion, we should

understand our core competence

well and try to keep it. Obliviously,

without continuous development in

terms of technology, we cannot keep

up a good reputation in the market.

Refreshing technology is always the

most important thing what we follow.

But it is not enough on this case.

60 Glass Bulletin | October - December, 2022
---
Hanjiang• 2

Hanjiang team realized that if we

care for our customers' interest ahead

of ours, we can win their trust. We

started building service centres in

many regions in China and overseas.

Till now, we have reliable service

centres in more than 20 countries.

When Hanjiang service and spare

parts are easily reachable to endcustomers,

trust building becomes

easier.

During the pandemic, we never

stopped sending engineers to our

customers when needed. "Easily

reachable" is what we have been

bringing to our customers for 20

years. For our users, Hanjiang is safe

to invest, trustable and reliable, so

they can repeat orders with Hanjiang

and they love to recommend us to

other industrial people too.

Q: Currently Hanjiang is the

market leader in the Indian

subcontinent. What makes you

the leader in the Indian glass

processing industry?

When I join Hanjiang in 2012,

we had this idea that Indian market

is tough – margin is low and market

" Now we have installed more

than 70 IG lines in India with

a market share of 50 per cent

and will complete our 100th

installation in the country by the

end of this year. Our warehouses

in Mumbai and Delhi keep

spare parts for daily running

and sufficient material for IGU

production."

demand less. I remember the first

time I came to India with an assistant

in 2014, we planned to stay one

month see the market. We faced

a lot of troubles, but I could feel

very strongly that the market had

potential and we could change the

market situation. So I hired two local

engineers during that trip and set up

our first office in India.

Then we have decided to bring our

IG lines to Indian local exhibitions. At

that time, people knew about IG lines

from Europe, Turkey or Korea, but

rarely from China.

We want to be the first Chinese

company to display an IG line in an

India expo. From 2014 to 2019, we

successfully displayed IG lines to

potential Indian customers at expos.

We realized that customers also need

reliable consumable material for IG

production.

So in 2018, we build "UNEX

INDIA". Customers can now get

comprehensive service from Hanjiang

team. Surprisingly, with this new

segment, we covered more customers

without using Hanjiang equipment.

Now we have installed more

than 70 IG lines in India with a

market share of 50 per cent and will

complete our 100th installation in the

country by the end of this year. Our

warehouses in Mumbai and Delhi

keep spare parts for daily running

and sufficient material for IGU

production.

Q: How is the India market

crucial for Hanjaing?

We do believe the Indian market

will be one of the most significant

markets for Hanjiang in the next

5-10 years. Currently, the Indian

market is around three per cent of

Hanjiang turnover. But if we consider

the population of India, development

speed of the market, and the rising

demand, we are sure our size in the

Indian market will become bigger in

the future.

Q: With travel being closed

between India and China, how

are you managing sales and

installation here?

It was very challenging for our team

at the beginning. The first challenge

was the service part. We had one

fixed engineer in 2019, but due to too

many machines awaiting installation,

we hired one more. With our online

and on-site training, both engineers

can now work well independently.

Very soon, a third engineer will join us

from this month. I am sure Hanjiang

service will maintain very high

standards.

We use most of all the traditional

ways for sales – calls, emails,

WhatsApp etc – and we manage social

media more actively. We also invite

Glass Bulletin | October - December, 2022 61
---
Interview

customers to online meetings so

we can show our factory, workshop.

We also organize visits to Hanjiang

customers' factories to see our

machinery in running condition.

Q: Tell us about the advantages

Hanjiang machines offer

I believe any investment should

consider return on investment as the

most important factor.

"Future of IG processors will

belong to someone who get higher

productivity with less manpower

and better quality with products

differentiation. We can help

customers from the following ways.

Productivity: To achieve target

output, we recommend suitable

solutions for customers and help them

achieve their 3-5 years' target on IG

production.

Quality products: We must help

customers make their IGU quality

different from normal standard.

Hanjiang has very strict Q/C system to

challenge more difficult IGU products.

Varieties of products: Hanjiang

provide full solution for various IGU

products with various spacers, such

as architectural glass, window &

door(including blinds glass), metro/

bus glass, home appliance IGU, solar

IGU, or vacuum IGU, etc.

Labour: Labour is another issue

most customers face now. We focus on

increased automation level to increase

productivity with limited labour.

Data collection: Hanjiang built

an Industrial cloud department to

help customers collect and analyse

production and machinery. Glass

factory owners can check machine

status, production status on mobile

devices easily. With this data, users

can understand their situation better

and Hanjiang will improve faster with

these.

So, we are not simply offering

machines for today, we consider

future development and try to create

more possibilities together with our

users.

Q: You are well aware that the

Indian glass processing industry

is very price-sensitive. How do

you balance quality and prices

here?

Machines we supply to India and

Europe are the same. We do not

engage in product differentiation. If

customers know how to make wise

calculation on productivity, labour

saving and future development, they

will notice Hanjiang machines are one

of the best cost-performance products

in this industry. So we help customers

understand their investment and not

just simply compare machine cost.

In India, around 80 per cent

of Hanjiang orders are from old

customers or someone who has rich

experience about IGU production. We

are quite happy with the numbers, it

means the market accepts our value.

For new processors or those with zero

experience on IG, we make them

understand the Hanjiang value.

Q: Do you have any other

business activity or associates

except selling IG lines in India?

Yes, UNEX, as I mentioned is

for IG consumables. Hanjiang also

manufactures industrial caster. We

apply our own foot on Hanjiang

equipment as well. We hope to open

more market for our foot and caster

business in India.

Q: What is the future vision of

your company?

For the products part, we will

still focus on higher automation

and reduced labour. Our industry is

moving towards Industrial 4.0 rapidly.

To reduce the human factor, increase

productivity, collect production data

and machine data on time, we have

to increase automation level on

mechanical and software both.

We will keep to building jumbo IG

solution, high automation IG solution

and develop more intelligent software

to contribute on industrial 4.0.

For the service part, we will help

international service become more

efficient and cost effective. We will

reinforce our team to bring more

value to the market.

To corresponding Carbon neutral,

Hanjiang will help bring environment

friendly and energy-saving insulating

glass to thousands of households.

– Ms. Ashley Quan

Email: Asia@hjglass.com.cn

Website: www.hjglass.com.cn

62 Glass Bulletin | October - December, 2022
---
Event

glasstec 2022 sees

successful restart

World's Leading Trade Fair Underlines Its

Relevance In 'International Year Of Glass'

glasstec has clearly underscored its relevance for the

global glass industry with its restart as a face-to-face trade

fair after the pandemic-induced break.

In the "International Year of Glass",

936 exhibitors from 47 countries

impressively demonstrated to

30,000 visitors from 119 countries

the operational excellence of the

sector. In focus were the global trend

topics Climate, Resource Efficiency,

Urbanisation, Value and Well-Being

but also current challenges such

as high energy costs, supply chain

bottlenecks or skilled labour shortage.

Held concurrently over three

days, the decarbXpo trade fair with

its ranges revolving around the

decarbonisation of industries was also

perceived as a meaningful addition in

this context.

"glasstec 2022 came at precisely

the right point in time to provide

the glass industry with orientation

again after the pandemic-induced

changes and in a difficult economic

climate. The participants' feedback

has been unambiguous here: as a

face-to-face trade fair glasstec allows

in-depth exchange of experience and

knowledge transfer on a global level in

a uniquely concentrated form as well

as offering an unparalleled, packed

line-up of innovations and solutions,"

Erhard Wienkamp, Managing Director

at Messe Düsseldorf GmbH, said.

64 Glass Bulletin | October - December, 2022
---
glasstec• 2

This impression was also shared

by Egbert Wenninger, CCO and

board member at Grenzebach

Maschinenbau GmbH, Chairman of

VDMA's Glass Technology Forum as

well as Chairman of the Exhibitors'

Advisory Board at glasstec.

"We are very happy with the

way the fair went! It was absolutely

the right decision to participate in

glasstec. We notice the positive mood

in the teams, among customers and

new contacts. Personal meetings and

the opportunity to see innovations on

the machines on site as an essential

experience that was simply missing

in the last few years. Now you really

realise the importance of a trade

fair like glasstec, and we are already

looking forward to the next event in

two years," Wenninger said.

Many decision-makers, very

international

Over 75 per cent of visitors travelled

to Düsseldorf from abroad. This

means the share of international

guests continues at a very high level,

confirming the leading global position

of glasstec for the industry in the

"International Year of Glass".

The United Nations declared 2022

as the International Year of Glass

to create visibility for the scientific,

economic and cultural importance

of the material that is glass as well as

its vital role in future-focused topics

like climate protection and CO2-

reduction.

At 75 per cent, the equally high

percentage of executives who are

involved in investment decisions

underlines the high quality of the

trade fair. Visitors were highly satisfied

with the ranges on display at glasstec.

Well over 90 per cent stated they had

achieved their objectives set for the

visit. For the majority, seeking new

suppliers as well as innovations and

trends was the main goal.

Not only have the broad-based

ranges displayed by exhibitors made

glasstec so attractive for decisionmakers

but also the high-calibre

Glass Bulletin | October - December, 2022 65
---
Event

accompanying programme of Special

Shows and conferences. This way

glasstec provides a comprehensive

platform for knowledge transfer and

presents all target groups – from the

skilled trades to architects' offices,

from glass processors to producers

and from upstream suppliers to the

industry and technology vendors –

with innovations and solutions for

their respective demands.

glasstec conference – the think tank

for the glass industry

The programme of the glasstec

conference combined the industry

know-how from theory and practice

in the context of the five global trend

topics Climate Protection, Resource

Efficiency, Urbanisation, Value and

Well-Being. Every day, the glasstec

visitors were informed about current

developments and trends in lectures

on glass production, glass processing

and finishing as well as glass products

and applications. In addition, the

Conference was streamed on the

glasstec website.

Foresight. Sustainable architecture

with glass – The International

Architecture Congress

Also forming a traditional part of

the line-up of side events is the

International Architecture Congress.

Eight representatives from renowned

architects' and engineering offices,

who are pioneers in planning and

building with glass, presented their

exciting projects to the approx.

100 participants. Discussions also

revolved around the contribution that

glass facades can make to moving

away from fossil fuel dependence,

improving human well-being in

increasingly warmer climates and

highlighted the technical and design

potential glass holds for architecture

today.

Innovation Show glass technology

live

The Innovation Show glass technology

live was centre stage in the line-up

of side events and under the heading

"NEXT IN GLASS" presented

spectacular exhibits to reflect the

latest trends and results of scientific

research thereby providing insights

and outlooks on the performance of

the sector. The Innovation Show was

organised by the network of the four

technical universities Darmstadt,

Delft, Dortmund and Dresden.

Craft LIVE and WorldSkills Germany@

glasstec

The Special Area Craft LIVE in Hall

10 again showed the top innovations

for skilled craftsmen in the glazing

trade in hands-on demonstrations

this year. At the WorldSkills

Germany@glasstec young glaziers

from throughout Germany competed

with each other to secure a place

for participation in the EuroSkills

2023 in Poland. Maximilian Kröger

from Dieburg is the winner of the

WorldSkills Germany@glasstec.

With a live demonstration on the

fire resistance of fire-resistant glass,

ift Rosenheim showed how glass can

ensure safe containment in the event

of a fire. The supporting programme

was rounded off by the Special Show

"glass art", which showed art objects

made of glass.

START-UP ZONE – market entry for

young companies from the glass

industry

The glasstec "START-UP ZONE"

offered a total of 11 young and

innovative companies an excellent

platform for networking and

professional exchange with top

decision-makers from the glass

industry. Visitors benefited from

new and innovative applications and

solutions.

First decarbXpo builds momentum

for energy transition in industry and

commerce

The first international trade fair

for industrial and commercial

66 Glass Bulletin | October - December, 2022
---
glasstec• 4

decarbonisation, decarbXpo, came

to a successful close. Around

100 exhibitors from 15 countries

presented their technologies and

solutions in Hall 9 of Düsseldorf's

exhibition centre. Together with three

concurrent conferences, the trade

fair demonstrated both investors'

and industrial users' need for an

intensive exchange of information on

new technologies and cooperation for

climate protection. Held concurrently

with glasstec, provided additional

attention: production companies from

the glass industry visited decarbXpo

to discuss reducing energy costs and

CO2 emissions as well as energy

storage.

-------------------------------------------------

The next glasstec will be held

in line with its two-year cycle

from 22 nd to 25 th October 2024 in

Düsseldorf.

-------------------------------------------------

– Brigitte Küppers

Email: KueppersB@messe-duesseldorf.de,

KraussD@messe-duesseldorf.de

Website: www.glasstec.de

Voices of glasstec 2022

"Meeting customers and partners in person after a long time is something we've all been

waiting for. Joining glasstec 2022 as unified Glaston team with extended offering covering the

wide range of insulating glass, heat treatment and automotive and display glass technologies

has been a great experience.

In addition to good discussions and seeing happy faces, we have had a very successful four

days with new deals, new insights and strengthening existing relationships."

– Sasu Koivumäki, CSO at Glaston Corporation

"Since the beginning, SCHOTT has been an exhibitor at glasstec in Düsseldorf. After four

years, we could participate on-site again with a great booth, engage in exciting conversations

and expand our overall network.

In addition to our creative product presentation, visitors learned how we, as an energyintensive

specialty glass company, plan to become climate-neutral by 2030. All in all, the

glasstec has been a great success."

– Dr Frank Heinricht, CEO of SCHOTT

"It was an important signal that glasstec 2022 could take place. Personal contact is a

catalyst for successful international business. What was apparent was as well the high quality

of visitors in terms of expertise and professional competence. It was an excellent fair."

– Dr Philipp Zippe, CEO, Zippe Industrieanlagen GmbH.

"We are very satisfied with the trade show. As in previous years, our booth was very

well attended and we were able to have a good exchange with our local and international

customers in the numerous, intensive discussions.

A central theme throughout glasstec was sustainability and the decarbonization of the

glass industry. We were therefore particularly pleased with the high level of response to the

world's first low carbon glass ORAÉ®, which we are now making available for our customers.

Leading in decarbonization is completely in the sense of our purpose. So, all in all, we draw a

very positive conclusion from glasstec 2022."

– Dr Stephan Kranz, CEO, Saint-Gobain Building Glass Deutschland

Glass Bulletin | October - December, 2022 67
---
Event

68 Glass Bulletin | October - December, 2022
---
glasstec• 6

Glass Bulletin | October - December, 2022 69
---
Event

Sişecam presents new

launches at glasstec

Showcases Stunning Installation To Mark United

Nations International Year Of Glass

Şişecam attended glasstec in Düsseldorf, Germany,

where it exhibited its array of innovative and wide range

of products which provide effective thermal insulation and

solar control.

Şişecam, the only global player

operating in all key areas of

glass, presented its wide range

of innovative products to visitors at its

exclusively designed booth at glasstec.

The company attracted great interest

from visitors with its innovative

product offerings.

In addition, a stunning installation

was exhibited at the booth to mark the

United Nations International Year of

Glass, of which Şişecam is the main

sponsor.

A special installation, composed

with glassware, glass packaging, and

flat glass, in Şişecam's booth conveyed

to the visitors the company's strong

and extensive relationship with glass

70 Glass Bulletin | October - December, 2022
---
Sişecam• 2

through an abstraction of nature.

Visitors were invited to an

underwater world to experience the

contribution of glass to a sustainable

and healthier world in an imaginary

environment. The magical effect

of brilliant green oceanic plants,

multi-coloured fish, floating jellyfish,

and sea urchins were conveyed via

Şişecam products in this captivating

installation.

Şişecam's installation served as a

clear reminder of how sustainability is

critical to ensuring a healthier world.

Şişecam is focusing on sustainability

as a key topic of discussion in 2022

which is declared as the International

Year of Glass by the United Nations.

Şişecam presented its hightech

products to visitors at the fair,

demonstrating its expertise in product

development and R&D. Visitors

were informed about Şişecam's new,

advanced technology, and value-added

products that provide energy savings,

safety, security, and noise control.

The comoany also exhibited

the triple silver product 'Şişecam

Temperable Solar Control Low-E

Glass Neutral 63/29' which has the

highest selectivity value. Neutral

63/29 provides energy savings with

maximum solar control and U value

of 1.0 W/m²K without compromising

natural daylight and offers solutions to

prestigious projects.

'Şişecam Temperable Solar Control

Low-E Glass Neutral 70/40' has the

same colour and performance with its

standard equivalent 'Şişecam Solar

Control Low-E Glass Neutral 70/40',

provides high light transmission

and low reflection. Neutral 70/40 is

preferred for residences, villas, and

retail stores where natural appearance

is desired.

Another product that was exhibited

at the Şişecam booth is 'Şişecam

Temperable Solar Control Low-E

Glass Neutral 50/25'. It has the same

colour and performance with its

standard equivalent 'Şişecam Solar

Control Low-E Glass Neutral 50/25',

provides effective solar control and

excellent thermal insulation with U

value of 1.0 W/m²K. Neutral 50/25

offers solution for projects where

the neutral effect on façade, low

reflectance indoor and outdoor are

required.

'Şişecam Temperable Solar

Control Low-E Glass Neutral 43/28'

is designed for warm climates and

skylights where daylight control and

efficient solar protection are required.

'Şişecam Temperable Solar Control

Low-E Glass Neutral 40/22' was one

of the most outstanding products at

the Şişecam booth with its excellent

thermal insulation, maximum solar

control and neutral effect on façade.

Neutral 40/22 offers solutions for

warm climates and skylights with its

U value of 1.0 W/m²K and provides

controlled daylight.

'Şişecam Temperable Solar Control

Low-E Glass Green 40/28' coloured by

coating on the clear glass is preferred

in warm climates and skylights where

daylight control and more efficient

solar control are required. The

neutral effect continues when looking

through inside to outside while

creating green color effect on the

façade.

About the company

Founded in 1935 in Turkey, Şişecam

is a strong global player in the fields

of glass and chemicals. It is the only

global company operating in all core

areas of glass production – including

flat glass, glassware, glass packaging

and glass fiber. Currently, Şişecam

ranks among the world's top two

manufacturers of glassware and the

top five producers of glass packaging

and flat glass.

Website: www.sisecam.com

Glass Bulletin | October - December, 2022 71
---
Event

Cugher introduces plant

configurator EVA at

glasstec

Local Partner Kunal Enterprise Ensures Sales And

After-Sale Support For Clients In India

EVA provides a vision of Cugher machinery with a

tri-dimensional perspective. It allows customized

configuration of a line and its direct representation in a real

space through augmented reality.

Glasstec, the world's foremost

trade fair for the glass industry

held in Germany, was the

first international event to witness

Cugher's innovative plant configurator

EVA.

EVA is a brand-new virtual

technology that affords a vision of

Cugher machinery by leveraging

digital. It is an innovative application

which enables customized

configuration of a plant to its direct

representation within real space - all

through augmented reality.

In fact, framing the surrounding

environment with a camera's device,

the machinery previously configured

are projected in the display, in overlap

with the real space. Once placed in

the line, it is possible to discover its

details simply by moving the tablet

around and inside the machinery.

EVA involves the visitor to

experience an immersive feeling

in Cugher's world. It facilitates the

enrichment of sensorial perception by

way of a perfect integration between

physical reality and the digital world.

Indeed, by simply moving a tablet

'inside and around' the projected

machinery, it's possible to discover

every detail whilst enhancing the

characteristics of each component.

Not only that, an information

section will enable simultaneous

consultation of the technological

details, with photos and videos

included, thus widening the data

scope accessible to the user.

EVA allows a vision of Cugher

machinery with a tridimensional

perspective, thanks to an application

which allows the customized

configuration of a line and its direct

representation in a real space through

augmented reality.

The big advantage of augmented

reality is that it can integrate the

real world with a digital/virtual one,

creating a unique experience for the

user.

With companies facing increasing

competition within a global market,

innovation alone remains the sole

pathway towards a competitive

advantage. Here Cugher's own

interventions in engineering,

72 Glass Bulletin | October - December, 2022
---
Kunal Enterprise• 2

production and sales procedures have

all generated positive change in its

introduction of new products and

services.

In this context, technology

represents a great ally when it comes

to innovating to do things in new

ways - enabling transition against the

backdrop of digital while contributing

to both operational flexibility and the

optimization of customer experience.

Cugher is also a very reputed

brand name in automotive and

home appliance screen printing lines

because of the centering systems in its

printers, handling of big-size frames

and handling of glass during printing.

The company emphasizes a lot on

high-quality drive and motors and

mechanical equipment.

Cugher has been producing screen

printing plants for flat glass processing

for more than 50 years, offering a

wide range of solutions that cover the

entire productive process, starting

immediately after the cutting and

washing of glass sheets, up to the

phases preceding tempering and

bending processes.

Besides printing machines, the

company provides technologically

advanced systems for drying and

handling glass, such as IR and UV

dryers, tilt loading and unloading

conveyors, flat and vertical inspection

stations, rotating tables, stackers,

roller and belt conveyors, corner

conveyors, tilting bridge conveyors and

booking stations.

Cugher also offers the flexibility of

creating entire lines as per customer

needs and requirements. It has

printing machines which can print

different size of glass on one machine.

The company can also supply

individual vision systems, different

types of handling equipment like the

Symphonia Rack System, which can

be used for loading and unloading

glass. This can be used in any glass

processing technique and can be

in addition to all solar module glass

manufactures.

Apart from these, Cugher also

supplies different types of conveyor for

handling glass like roller conveyor, belt

conveyor, lift conveyor, rotating table,

corner conveyor and stacker to stack

glass (long and short edge).

The entire printing lines of Cugher

can be operated automatically via

remote display. Even an unskilled

operator can run its machines easily

after just a day's training. The entire

parameters of a job can be stored as

a recipe for a particular company.

One just needs to select a job and

automatically it will run the specific

job without any human intervention.

Cugher also provides machine

solutions for automotive glass,

architectural glass, home appliances

and solar glass modules. All of these

and more from the house of Cugher is

brought to the Indian market by Kunal

Enterprise.

Kunal Enterprise is a leading

complete solution provider in

industrial printing/packaging industry,

specifically in the screen printing

genre in India since 2001.

Email: kunalgandhi@kunalenterprise.com,

uday@kunalenterprise.com

Website: www.kunalenterprise.com

Glass Bulletin | October - December, 2022 73
---
Event

D-arc BUILD creates

benchmark in building

and construction industry

Expo Saw Over 25,000 Visitors From Across India,

150+ Exhibitors & International Participation

Architecture industry of India witnessed the grand opening

of one of the biggest expos – D-arc BUILD – which took

place from 22nd to 25th September, 2022.

D-arc BUILD was organized by

Zion Exhibitions with an aim

to bring forth a venture with

worldly opportunities for B2B industry,

manufacturing brands, entrepreneurs

and organisations from the industry

of architecture, design, building

and construction with an innovative

approach of showcasing their latest

trends, technological advancements

and related services.

With the presence of relevant and

niche crowd of architects, interior

designers, builders, developers,

hoteliers, purchasing managers,

more than 150 exhibitors across

India showcased their innovations,

including leading industry players

such as Philips India, Jk Cement, Apl

Apollo, Saint Gobain, K2India, Bestone

Impex, Hogar, Epson, RAK Ceramics,

Alankaram, Dolphy India, Zen Stone,

Interior Craft, Maranello, Daikin,

Lamiwood Floorings, Surie Polex,

Mahayco.

The mega exhibition was supported

by many acclaimed associations and its

hosted a series of conferences:

On 22nd September, the Indian

Institute of Architects (IIA) held its

Northern Regional Conference, BUZZ,

moderated and conceptualized by IIA-

Northern Chapter.

On 23rd September, the Institute

74 Glass Bulletin | October - December, 2022
---
Zion Exhibitions• 2

of Indian Interior Designers (IIID)

celebrated its golden jubilee by holding

a national-level conference attended

by interior designers and architects

from 34 regional chapters curated and

conceptualized by IIID- Delhi Regional

Chapter. In the evening, a gala

networking dinner was organised.

On 24th September, Prof Charanjit

Shah also known as the 'Airport

King' hosted a global conference

with a theme- 'The Dawn of Modern

Infrastructure and Transportation'

with prominent architects, urban

planners, engineers, builders,

developers construction consultants,

project management consultants

for construction of railways sidings,

highways, railway and road over

bridges, buildings and mechanical,

electrical, and plumbing consultants.

On 25th September, the Hospitality

Purchasing Managers' Forum (HPMF),

a forum of purchasing managers from

the hospitality Industry representing

star hotels, catering companies, standalone

restaurant chains and airlines,

held a national-level conference on

the theme – "Reinvent X Rethink, The

Future of Hospitality Procurement"

attended by over 250 hospitality

professionals.

The event has been marked as a

huge success with more than 25,000

visitors from across India, over 150

exhibitors, international participation

from more than five countries,

exclusive pavilion exhibiting premium

and luxury brands, and showcase by

renowned architects.

The Indian construction industry

recorded a growth of 17.1 per cent

in 2021 and it is expected to register

an average annual growth of 6.2 per

cent during 2023-2026, becoming one

of the major contributors to Indian

Economy.

The purpose of this exhibition was

to offer a platform for networking and

knowledge-sharing. The show was

held at a venue with over 16,000 sq. m

space that provided visitors a hasslefree

experience where they could

explore all things design under one

roof.

Additionally, there was presence

of premium and affordable

manufacturing brands showcasing

their proprietary products, innovative

solutions equipped with next-gen

technologies.

What stood out most to the visitors

was the exclusive, D-arc Ultra Luxe

Pavilion – a decorated and stand-out

pavilion meant for signature collections

and premium ranges of products.

The expo turned out to be a great

success and witnessed the presence

of architects, designers, engineers,

real estate developers and consultants

apart from huge number of general

visitors and has been possible with the

strength of the team of D-arc BUILD.

D-arc BUILD wishes on creating a

revolution of the construction and the

infrastructure industry and hopes do

so to every year.

—: INDUSTRY SPEAK :—

"I would like to congratulate D- arc

BUILD because the way they have

exhibited the things and the quality of

the exhibitors is fantastic. Whosoever

participated have participated with

complete excitement. I would also

like to congratulate D-arc BUILD team

for relentless efforts in putting up a

fantastic show."

–Sunil Jha, Bestone Impex

"Thank You D-arc BUILD, Adarsh and

team for bringing us here on this great

platform. I would like to wish you the

best for next year. We had a good time."

–Mahesh Nagreja, Super Surfaces

"We participated in D-arc BUILD

2022 and received a huge response, it

was very well managed and we got a

huge amount of enquiries and orders.

Everything was amazing and we are

in full support of Zion. Kudos to team

Zion."

–Ratan Sehgal, MD, Hybon Elevators

Website: www.darcbuild.com

Glass Bulletin | October - December, 2022 75
---
Event

Glasstech Asia & Fenestration Asia 2022

reinstate position as industry meeting

point

Leading Trade Fair For Glass And Façade Industry Marks Successful

Comeback In Southeast Asia

Three-day event hosted over 1,500 unique visitors and 535 industry professionals

covering 19 countries. Marks a pivotal restoration of physical meetings to aid in growth of

businesses

The latest edition of Glasstech

Asia and Fenestration Asia

celebrated its success after its

conclusion on October 28. In total,

more than 2,000 attendees from over

28 countries were attracted to the

event that held the fair alongside an

all-inclusive variety of side events

such as the inaugural Asia Façade &

Glass Conference, Singapore façade

tour, International Year of Glass

(IYOG) art exhibition – Through the

Looking Glass, buyer-seller meetings,

and an annual networking gala dinner.

The influx of exhibitors, delegates

and visitors demonstrates the

importance of the onsite exchanges

of knowledge and the value of

establishing our regional platform as

the leading industry meeting place.

A brief analysis of the post-show

statistics reflects a promising rise of

international visitor and exhibitor

support on having real time, in-person

display and sharing of new technology

and innovations amongst the industry,

proving an increasing confidence of

the ASEAN market's role.

The positive turnout at the event

indicates the region's demand for a

holistic space to conduct physical

meetings in lieu of restrictions caused

by the recent pandemic.

Mr Michael Wilton, CEO and

Managing Director of MMI Asia,

underlined, "The importance of

this event and its success shows a

promising trajectory for the glass and

façade sector. The personal touch

of having face-to-face discussions

remains undisputed as the most

effective way to set growth in the

industry. The event was very well

received from both exhibitors and

visitors alike to mediate companies

in their endeavour to pursue deeper

connections with their audiences.

With more plans to integrate

Glasstech Asia and Fenestration Asia

into the global BAU Network, I foresee

an exciting future in providing the

76 Glass Bulletin | October - December, 2022
---
Glasstech Asia 2022• 2

industry with increasing opportunities

to share their story with a wider global

audience."

Two-thirds of surveyed trade

visitors expressed interest in

returning for the next edition of

the show, projecting a definite rise

in numbers and traction in the

trade fair's popularity. In addition

to aisle discussions and hosted

buyer gatherings, a total 519 private

meetings were created to facilitate

businesses in engaging the highquality

trade visitors present and

expanding their global business

contacts.

"The success of this edition does

not only represent a restoration of

industry norms, but the revival of

close knitted connections made

possible by regional platforms such

as Glasstech Asia and Fenestration

Asia," emphasised Mr Gan Pay

Yap, Chairman of Singapore Glass

Association. "We are excited to see the

continuation of the industry's success

next year and witness the sharing of

new developments and innovations in

the region".

The next Glasstech Asia - the

19th International Glass Products,

Glass Manufacturing, Processing &

Materials Exhibition, and Fenestration

Asia – the 6th International Windows,

Doors, Skylights, Curtain Wall &

Facade Technology Exhibition, will

take place from 29 November - 1

December 2023 at the IMPACT

Exhibition and Convention Centre in

Bangkok, Thailand.

About Glasstech Asia and

Fenestration Asia 2022

Glasstech Asia and Fenestration

Asia aims to meet and satisfy the

increasing global demands for ecofriendly

windows, doors, and facades

by focusing on new industry standards

in sustainability, automation, and

energy-efficiency topics.

About BAU Network

BAU is the world's leading trade

fair for architecture, materials and

systems. Everyone involved in the

international community for planning,

building and designing buildings

comes together here—i.e., architects,

planners, investors, representatives of

the industrial and commercial sectors,

the building trades, etc.

About Messe München

Messe München is one of the leading

exhibition organizers worldwide with

more than 50 of its own trade shows

for capital goods, consumer goods

and new technologies. Every year, a

total of over 50,000 exhibitors and

around three million visitors take

part in more than 200 events at the

exhibition centre in Munich, at the

ICM – Internationales Congress

Centre München and the MOC

Veranstaltungs centre München

as well as abroad. Together with

its subsidiary companies, Messe

München organizes trade shows in

China, India, Brazil, Russia, Turkey,

South Africa, Nigeria, Vietnam, and

Iran.

Email: syafia@mmiasia.com.sg

Website: www.glasstechasia.com.sg

Glass Bulletin | October - December, 2022 77
---
Event

glasstec 2022: Quality footfall, great

interactions at Bavelloni booth

Bavelloni Set Up Live Demos Of Its Glass Processing Solutions, Expert Meets

Company's straight-line edgers and cutting tables were hot topics of several negotiations.

Techni's waterjet system was much appreciated.

At glasstec 2022, Bavelloni,

manufacturer of machinery

and tools for flat glass

processing and Techni Waterjet (coexhibitor),

one of the oldest and most

experienced waterjet makers in the

world, utilised the opportunity to

re-engage with customers in person,

re-establish personal relationships and

reconnect with people.

The company offered visitors

the opportunity to experience its

complementary glass processing

solutions, live demos and meet

experts.

The meetings and discussions held

during the event were interesting. The

attendance was good and, certainly,

of a high standard. Visitors showed

interest in investing, with clear ideas

about products to focus on, with some

of them even expressing willingness to

place orders at the show itself.

"We registered a high attendance

especially in the central days of the

event," reported Federico Bassi,

Sales Director, Bavelloni Spa.

"As usual, there was a significant

participation from central Europe

and the Mediterranean basin, even

though there were also visitors from

overseas; Asian operators and visitors

were almost absent. Besides many

handshakes and conviviality - which

we really needed – some deals were

also signed at the show."

"We felt a positive mood at our

booth, although the pandemic is

not yet completely over and there

are some economic and political

uncertainties in the global scenario.

Our customers' confidence in

Bavelloni's products and in our

organization was noticeable. There

was also strong commitment and

involvement from our partners and

distributors," Bassi said.

Visitors were able to attend live

demonstrations of the machines on

display and take advantage of the

combined presence of Bavelloni

and Techni Waterjet specialists, all

together on the same stand for the

first time.

Bavelloni straight-line edgers and

cutting tables were the hot topic of

several negotiations. Techni's waterjet

system was also much appreciated.

"Thanks to the interesting group

synergies and the complementarity

of our respective portfolios, we are

able to propose targeted solutions

to the market for each specific

requirement," Bassi added.

Stanislaw Jakubiec, General

Manager of EMEA, Techni Waterjet,

also expressed his satisfaction:

"Techni's waterjet solutions are

suitable for cutting any material,

including glass. We are confident that

our attendance at glasstec together

with Bavelloni will certainly drive the

development of our business in the

glass segment as well."

About the company

Bavelloni's machinery range, entirely

made in Italy, includes NC machining

centers, technologies for cutting,

edging, drilling/milling, bevelling and

washing, available as stand-alone

solutions and in integrated lines. It

also specializes in the design and

production of a wide variety of tools.

– Bavelloni SpA

Email: info@bavelloni.com

Website: www.bavelloni.com

78 Glass Bulletin | October - December, 2022
---
Event

glasspro India & glasspex India set to

return in September 2023

Events Will Present Integrated Platform To Showcase Latest Trends,

Innovations In Flat, Processed Glass

Messe Düsseldorf India and Glass Bulletin are gearing up for the fourth edition of India's

premier exhibition on glass products and technology, glasspro India 2023.

Glasspro India will be held from

September 14-16, 2023 at the

Bombay Exhibition Centre,

Mumbai. Alongside with this, Messe

Düsseldorf India will also organise the

seventh edition of glasspex India, the

nation's leading exhibition on glass

production and processes. Both events

are powered by glasstec Düsseldorf,

the world's leading exhibition for the

glass industry.

Block your calendars as glasspro

India and glasspex India 2023 will

bring together a well-integrated

platform to showcase the latest trends

and innovations in the field of flat

and processed glass. Once again, the

exhibition will feature the largest

display of the latest glass processing

solutions, tools, auxiliary products and

services.

A spirited and future-ready

comeback

The shows have seen tremendous

year-on-year growth in terms of the

participation from domestic and

international players. This time,

the show will continue the streak

of unrivalled participation from the

entire glass fraternity. It will feature

dynamic discussions on sustainable

building technologies and trends

that will shape the future of energyefficient

designs. The concurrent

conference, organised by All India

Glass Manufacturers' Federation

(AIGMF) will talk about the shifting

trends inspired from climate change

and the emerging need for sustainable

designs.

With participation from major

global players, both the shows will

be attended by architects, interior

designers, façade consultants,

builders and developers, construction

engineers, dealers and distributors,

glass manufacturers, processors

and fabricators, serving as a unique

confluence of India's massive glass

community.

In addition to that, glasspro India

will bring along fenestrationpro

India, a show dedicated to the door,

window and the façade segments.

fenestrationpro India will take place

in conjuction with glasspro India 2023

and glasspex India 2023 at the same

time.

Visitors for this interesting and

evolving section of the show will

range from architects, fabricators,

developers, façade consultants

and engineers to policymakers and

stakeholders from the Indian industry.

Appreciating the great response

from the industry on the comeback,

Thomas Schlitt, Managing Director,

Messe Düsseldorf India, said, "It is

wonderful to see an encouraging

response from the industry for the

upcoming edition of glasspro India,

glasspex India and fenestrationpro

India. The forthcoming edition will

reflect the modern and innovative

facet of the glass, façade, door and

window industry and position the

leading Indian market as a forerunner

on the global stage. We look forward to

welcoming the industry stakeholders

for this impressive line-up of

innovative and sustainable products

on display to discuss and steer

conversations on upcoming design

trends."

The shows continue to receive

support from leading associations and

media of the industry. With the display

of latest innovations, products and

trends along with the conversations

that matter, the stage is set for a

promising show in September 2023.

About Messe Düsseldorf India

Messe Düsseldorf India Pvt. Ltd. is

a fully owned subsidiary of Messe

Düsseldorf GmbH which is a global

player both as a trade fair organizer

and as a provider of trade fair-related

services for exhibitors and visitors.

About Glass Bulletin

Glass Bulletin is the fastest growing

top-notch quarterly journal of India

for the global glass industry. It is the

ideal platform, in print and online, for

publication of news, reports, products

details and exhibition information

related to glass industry.

Website: www.glassproindia.com,

www.glasspexindia.com

Glass Bulletin | October - December, 2022 79
---
Interview

MR VIKRAM YATENDRA SINGH,

National Manager – Distribution,

Hafele India Pvt. Ltd.

'Hafele perfect fit for customers looking

for ease of mind'

Head Of Hafele's National Sales Vikram Yatendra Singh Tells GB About

Company, Its Products & Plans

In India, the company is recognized as a one-stop solution brand for any home interior

needs owing to its vast product portfolio and strong service approach.

In an interview with Glass Bulletin,

Hafele National Sales head Vikram

Yatendra Singh spoke about the

company's heritage, work culture,

focus on quality, vast product range,

as well the challenges the company

faces in the country.

Excerpts of the interview:

Q: Tell us about Hafele India

Häfele India is a wholly-owned

subsidiary of the Häfele Global

network and has been operating in

India since 2003. An authority in

the field of architectural hardware,

furniture and kitchen fittings and

80 Glass Bulletin | October - December, 2022
---
Hafele India• 2

Asia, including Nepal, Bhutan and

Maldives.

Q: Take us through your

journey with the company

I joined the organization as a

market head for Delhi in 2013 and

worked there for around five years. I

was primarily responsible for the retail

business in the northern part of India.

In 2018, I took over as national sales

head for Hafele's Distribution vertical,

which deals in furniture fittings,

glass fittings, glass sliding solutions,

architectural hardware, and digital

locks.

Q: Describe the Hafele product

range for us

Häfele has pioneered the way

interior fittings are sold across the

globe for many years now. Being

a German company, our foremost

concern has always been to offer

our customers, premium quality

products at competitive prices

paired with solution-based services.

In India, we are also recognized as

a one-stop solution brand for any

home interior needs. This is owing

to our vast product portfolio that

includes door hardware (wood and

glass), sliding solutions for doors

and furniture, furniture fittings,

kitchen solutions, digital locks, home

appliances, lighting, interior surfaces,

and bathroom fittings. These holistic

solutions are backed by a strong

service approach which has over

the years made Häfele the preferred

partner for our different customer

accessories, the company also has

a strong presence in synergized

product categories like home

appliances, interior and furniture

lighting, sanitary solutions and

surfaces positioning itself strongly as a

complete solution provider for interior

solutions in India and South Asia.

Hafele India has a strong

nation-wide presence with offices

in Mumbai, Pune, Ahmedabad,

Bangalore, Chennai, Hyderabad,

Delhi, Kolkata and Cochin. It has

full-scale operations in Sri Lanka

and Bangladesh with regional offices

and design showrooms in both the

countries; and has also spread its

operations to other regions of South

Glass Bulletin | October - December, 2022 81
---
Interview

segments.

Q: What is the latest trend in

the hardware industry?

While the market is moving

toward providing solutions, the

hardware industry is transitioning

towards becoming organized from

what was earlier a fairly unorganized

set-up. Many European companies

are attempting to enter the Indian

market with a variety of product

offerings. According to estimates,

65 per cent of the Indian hardware

market is still unstructured, leaving

several competitors a lot of room for

expansion.

Q: Have you launched any new

products recently?

Our latest launches include

;;

A comprehensive range of

digital locks that include

models with a host of security

and access features along with

a variety of executing different

applications like main-door

security, office-cabin security,

access for hotel rooms, etc.

;;

A complete range of kitchen

solutions that are engineered

by Häfele and come with

assured Hafele quality. This

range includes the Matrix

Drawer and Runner systems,

Free Flap Fittings, Metalla

Furniture Hinges, and Clever

Storage Solutions like tall

units, side pull-outs, narrow

cabinets, and corner units.

;;

A floor-to-ceiling sliding range

called the Aluflex that can

execute the most flexible

applications within your home

- be it an enclosure for a walkin

wardrobe or an attractive,

life-sized wardrobe unit

;;

Additions in colours to our

in-house range of Premium

Interior Surfaces – Terra.

Terra was launched in 2021

and we have now added three

new colours to this range to

provide you with more options

in design and applications

;;

Additions in our floor spring

and door closer range

Q: What are some of the

prestigious projects you have done

at Hafele?

At present, I work in the retail

market where Hafele is growing by

approx. 60-70 per cent annually.

The fundamental rule for gaining a

good and sustainable customer base

is to offer good customer service,

high-quality products, and timely

availability of stocks.

Q: What should be the criteria

to select good architecture

hardware?

There are two categories of

architectural hardware: One is used

for functional purposes while the

other is used to make your door

look aesthetically pleasing. Products

like mortise locks, cylinders, door

closers, and floor springs are used

for functional purposes while door

handles and other door accessories

enhance the look of the door. Hafele

is known for its product range that

delivers top notch functionality along

with stylish aesthetics.

Q: How do you compete with

cheap and unbranded hardware

available in the market?

Although Hafele will always

face competition with unbranded

products in the market, what sets it

apart is its attention to the quality of

products it introduces, its competitive

pricing strategy, its ability to cater to

the leading market trends and the

standard of service it offers to its

customers. For customers who are

hence looking for ease of mind, Hafele

becomes the perfect fit.

Q: What are the major

challenges to the hardware

industry?

Although we are making progress,

65-70 per cent of the hardware

market in India still remains relatively

unorganized. There is a need to

educate the retail industry regarding

the benefit of working with organized

players. Besides this, some of the

other challenges faced are:

;;

Recommendation of the right

hardware to the end customer

;;

Availability of the product in

the city

;;

Good product quality that

can be perceived as value for

money

;;

Display space available for

hardware that is offered by

major branded players

Q: What is your future plan for

your business?

We aspire to achieve a sales

revenue of approx. Rs 1,800-2,000

crores in the next three years of which

the retail vertical will contribute to

more than 50 per cent of the share.

Q: Describe the current scenario

of the Indian architectural

hardware industry.

The Indian architectural hardware

industry is majorly dominated

by players who have a strong

manufacturing set-up, whose products

majorly follow the 'Make-in-India'

theme or those who can guarantee

ready availability of stocks.

Q: How much does your

company focus on quality?

Our focus has always been on

providing our customers with the

best quality products and there is

absolutely no compromise in that. In

the Indian Hardware industry, people

buy or recommend products based

on their quality and sustainability

so for us it all the more becomes

very important to ensure that our

products excel in quality as well as

functionality.

Q: What is the future of the

architectural hardware industry

in India?

The building material industry

is growing by 8-10 per cent yearon-year.

Any branded player can

expect a growth of 20-25 per cent

in architectural hardware with good

quality and value-for-money products.

The purchasing power of the upper

middle class and salaried employees is

increasing year after year. At least for

the next five years, there is a scope for

growth in the architectural hardware

industry.

Email: customercare@hafeleindia.com

Website: www.hafeleindia.com

82 Glass Bulletin | October - December, 2022
---
83
---
Interview

Filtraglass and Daks-96: A successful

partnership

Filtraglass Specialises In Water Filtration Systems For All Types Of Glass

Industries

Daks-96 reports reduction in water consumption, improvement in quality of final product

and increased productivity after installation of Filtraglass system.

Filtraglass, water filtration system

specialist for all types of glass

industries, has recently installed

one of its systems at Daks-96.

With more than 15 years of

experience, Filtraglass covers a wide

sector of the automotive and optics

industries, and the transformation of

flat glass in general.

Throughout its long history, the

company has managed to become an

international market leader, breaking

new ground and exporting its systems

to several different countries. Today,

its water filtration systems can be

found in the Americas, Europe and

Asia.

Following are excerpts from an

interview of Viktor Zdravkov, General

Manager of Daks-96.

Q: Why did you decide to buy a

purification machine?

For many reasons, actually.

Having a water treatment system in

place reduces water consumption

considerably. This way we are able to

improve our production rate (because

we don't have to stop the machine

to change water) and we can reduce

pollution. It was also very important

to us that by using clean and good

quality water in our handling

machines help these last longer. This

means we would have to change

their parts much less frequently. And

we also reduce the consumption of

84 Glass Bulletin | October - December, 2022
---
Filtraglass• 2

coolant, because water is not changed.

Q: Why did you choose

Filtraglass systems?

We chose Filtraglass because it's

an internationally recognised brand

with many years of experience.

What's more, they were reliable and

professional from the onset, which

inspired a great deal of trust when it

came to making our decision. When

we met them, they understood our

needs and were able to offer us

customised advice on which system

best suited the characteristics of our

company. For us, their professionalism

and attentiveness was key. In addition,

of course, it was a plus for us that

their systems allowed us to do our bit

to combat pollution.

Q: On a day-to-day basis, what

are the most noticeable differences

you have experienced after

purchasing a Filtraglass system?

In addition to the obvious reduction

in water bills, I would highlight

two changes. First, of course an

improvement in the quality of the final

product. Since we installed the first

Filtraglass system, our glass has had

a transparent finish and is completely

clean and free of dust marks and

debris. This clean finish reflects

positively on the quality of the product

we offer and the image our customers

have of us. What's more, and also

very importantly, our productivity has

improved because now we no longer

have to stop the production line for

maintenance work. Our machines are

constantly working, so we're now able

to offer more within the same time

frame.

Q: What are your reasons for

repurchasing a system?

Basically, since our previous

experience with Filtraglass had been

positive in every way, we didn't want

to take any risks and decided to stick

with them, as they already know our

company and our way of working, and

we know theirs. We were very satisfied

with the purchase of the first system.

Since we installed the machine, our

productivity has increased and our

costs have gone down. Naturally, as I

said, the environmental factor is also

important to us. In this day and age,

commitment to the environment and

sustainability is, or should be, key for

all companies. We're glad that our

values and those of Filtraglass are

aligned in this regard.

Q: What has your relationship

with Filtraglass been like over

time?

Our business relationship with

Filtraglass has been positive from

the beginning. First, before buying

the machine, with their advice,

then during installation, which

also went very smoothly, with the

technical and after-sales service. The

Filtraglass team is always available

to resolve any queries or problems

and we also appreciate being able

to contact them by various means,

including WhatsApp, which is very

practical. Since we started working

with Filtraglass, Luis and his team

have been monitoring the smooth

running of the machine and have

always offered to help when necessary.

This excellent relationship and aftersales

service is, of course, a plus to

everything else the company offers.

Email: info@filtraglass.com

Website: www.filtraglass.com

Glass Bulletin | October - December, 2022 85
---
Company News

Glaston Convection

Control tech marks new

era of structural glazing

production

Developed Specifically To Increase Production

Capability With Structural And High-Strength

Laminates

Convection Control system makes processing complex

laminates feel more like working with standard ones

which means glass processors will be able to reach higher

capacity and yield.

Laminated glass is one of the

fastest-growing product areas

in the glass industry today.

The primary reason for the growth

is the increasing demand for safety.

More and more regulations require

safer products, and the number of

applications mandating safety glass

86 Glass Bulletin | October - December, 2022
---
Glaston• 2

is booming, too. At the same time,

architects are looking to maximize the

transparency of their buildings while

making their designs unique.

Greater demand for high-strength

laminates

One of the products increasingly

required by the market is highstrength

/ structural laminate.

Originally this demand started

from special applications, such as

structural laminates (that can replace

load-bearing structures such as pillars

in buildings, perhaps the most famous

example being the Apple Store in New

York) and hurricane-resistant glazing.

But with ever-increasing safety

demands for products, high-strength

laminates are rapidly making their

way to traditional applications such as

railings, as well.

While these type of laminates

offer often superior performance for

the application, they also are more

complex to process. This leads to a

situation where glass processors are

facing a demand to produce these

products in increasing quantities,

while struggling with yield and

capacity. When this is combined with

the fact that structural interlayers

are typically more expensive than

traditional ones, being able to ensure

high yield is of utmost importance.

Narrow operating window resulting

in air bubbles

A narrow operating window (range

of optimal process temperature) is

the main reason for these difficulties.

In general, the more complex the

laminate is in terms of size, shape,

glass type or laminate composition,

the narrower the range of optimal

temperature is for the process. As a

result, quality can be impaired.

One of the most common quality

issue seen in the laminating process

is bubbles at the trailing end of the

laminate. In practice what the bubbles

mean is that there is too much air left

inside the laminate. While there can

be multiple reasons that are causing

this, with high-strength laminates

the reason is often overheating of the

edge areas of the laminate. The same

phenomenon happens regardless

of the heating type used, and it

happens on every edge of the laminate

(leading, left, right and trailing). The

issue is predominantly seen on the

trailing edge as that's where most of

the air gets pushed during pressing.

New convection technology cracks

the challenge

The good news is that an efficient

solution for the issue has been found.

Glaston's patented Convection Control

technology has been developed

specifically to increase production

capability with structural and highstrength

laminates.

Until now, glass processors have

had to be very precise to achieve good

quality with complex laminates while

struggling with yield. With the new

convection control system, processing

these products becomes more like

working with standard laminates.

In practice this means that glass

processors will be able to reach higher

capacity and yield with complex

laminates.

-------------------------------------------------

Source: https://glastory.net

-------------------------------------------------

Email: info@glaston.net

Website: www.glaston.net

Glass Bulletin | October - December, 2022 87
---
Company News

Automated insulating

glass production by LiSEC

at Felbermayer Fenster &

Türen

Felbermayer Confident Full Automation, Output

And Actual Costs Give It Massive Advantages

'LiSEC only manufacturer that can supply everything

needed – machinery, software and services. Thanks to its

all-in-one solutions, all coordination takes place internally.'

Felbermayer Fenster & Türen

combines the tradition of

window and door construction

with innovative technology. Previously,

the insulating glass required to

manufacture the products was bought

in. This year, however, the company

started its own insulating glass

production and LiSEC was allowed to

support Felbermayer with this project.

Felbermayer Fenster & Türen was

founded as a joinery back in 1964. In

1993, Helmut Felbermayer took over

the company from his father. Back

then, only two employees worked in

the small company in Klosterneuburg/

Lower Austria. Over the years

that followed, Mr Felbermayer has

gradually expanded the company.

Today, 210 employees work at the site

in Unterwaltersdorf, Lower Austria,

on the production of windows and

doors, insulating glass manufacturing

and powder coating. Felbermayer

works together with subcontractors on

installations.

Felbermayer owns two companies:

Felbermayer Fenster & Türen

Erzeugungs GmbH, which produces

the windows and then sells them to

Felbermayer Vertriebs GmbH, which

in turn takes care of the installation.

88 Glass Bulletin | October - December, 2022
---
LiSEC• 2

The company is primarily active

in the contract market and it covers

the market from Vienna and Graz to

Salzburg and Vorarlberg - supplying

windows made of wood, woodaluminium,

plastic and plasticaluminium.

In 2021, Felbermayer

generated sales of 44.2 million euros,

while the figure this year is expected

to stand at 50 million euros. "We

have developed the window such that

highly automated finishing is possible.

That's our strength compared to

the competition. We achieve a high

output with a very small number

of employees," Managing Director

Helmut Felbermayer said.

From green field to insulating glass

production

Previously, Mr Felbermayer always

bought in the insulating glass.

He said, "I always purchased

exclusively from Interpane. Then

the company's managing director,

Mr Hattmannsdorfer, recommended

that we manufacture the insulating

glass ourselves because the required

quantities and scale were suitable

for in-house production. Initially, I

literally laughed at him. However, one

time while away on holiday I mentally

went over the scenario and relatively

quickly came to the conclusion that it

wasn't such a bad idea at all."

The project was originally planned

for 2023/2024, but thanks to an

investment grant it was rescheduled

and could be started at the end of

2020. Within a very short time, a new

hall for insulating glass production

had been built and intensive work had

taken place on the layout planning:

"Over a period of two months, plans

were sent back and forth almost daily

to identify the best possible solution

- and I think we succeeded. The

collaboration worked really well. It was

a joint project that was also thoroughly

enjoyable," said Mr Felbermayer.

And he is delighted with the project

progress to date: "Top performance

was delivered by everyone involved.

The excavator arrived at the end

of February/beginning of March

2021. In August, the hall was ready

on schedule and installation of the

machinery began. This continued

in stages at full throttle, right up to

the start of production. We had an

outstanding team from LiSEC!"

Mr Felbermayer went on to report

that everything on the project worked,

from the machines to the software,

and no mistakes were made: "We

would do everything exactly the same

again. Throughout my career - during

which we have bought numerous

machines and planned plants - I

have never experienced such perfect

implementation within such a

timeframe."

Felbermayer is the only contract

window company that manufactures

the insulating glass itself. Mr

Felbermayer is confident that "thanks

to the full automation, output and

the actual costs, we enjoy massive

advantages over the competition".

All solutions from a single source

LiSEC's solutions satisfy Mr

Felbermayer's expectations. He has

always known the LiSEC name: "I

have always had an eye on insulating

glass production - we are genuine

machine freaks at heart. We've been

attending trade fairs for years and we

have seen LiSEC machines and the

machines offered by competitors. It

Glass Bulletin | October - December, 2022 89
---
Company News

has been clear to us that LiSEC tops

the list when it comes to machinery

construction."

The software is also impressive:

"Machines are one thing, but the

software behind them makes a big

difference too. The installation went

without a hitch - we had nothing to

worry about. Our LiSEC software

contact worked together with my

colleague Gerhard Czervenka to

compile all the basic data and update

the master data and the whole thing

was up and running."

Mr Felbermayer highlighted the

advantages of obtaining solutions from

a single source: "With the project

being highly complex in nature, it

was hugely beneficial to work with

LiSEC - because everything came

from a single source. LiSEC is actually

the only machine manufacturer

that can supply all the elements

you need: Machinery, software and

services. Thanks to the all-in-one

solutions at LiSEC, all coordination

takes place internally and you don't

really notice (or only rarely notice)

the coordination and planning

measures that are taking place in

the background - yet another huge

advantage with LiSEC: they make it

look easy!"

Felbermayer was also impressed

with the electronic plans. Planning

had to be accurate down to the

last centimetre here, because all

connections are in the ground and

were laid before the concrete slab

was cast. Mr Felbermayer emphasises

that although other suppliers also

offer good stand-alone machines,

you just cannot beat LiSEC when it

comes to high-quality fully automatic

machinery and high-output processes.

The LiSEC fleet of machines at

Felbermayer

It was not only the range of machines

and software that impressed Mr

Felbermayer: "I believe that the

machinery construction is more

carefully thought-out than in other

companies. The development

phase takes longer than that of the

competition. It is clearly apparent in

the workmanship and components

that everything is very coherent. The

LiSEC design department does an

excellent job."

The LiSEC machinery fleet at

Felbermayer includes the following

machines: PKL/SBL, ESL-RS, two

VSL-A stations, KSR, GSL, VHW-F,

ARL, TPA-A, AGP-A, VFL-1F as

well as automatic tempering bed

loading and unloading. The glass is

loaded by the PKL/SBL glass gantry

loading system. With its rotating

double suction frame, the system

is able to stack large format sheets

automatically and precisely.

In addition to cutting flat glass

using the LiSEC ESL-RS cutting

table, Felbermayer has two LiSEC

VSL-A cutting systems with Dynamic

Load Balancing for cutting laminated

glass. This is an intelligent form of

dynamic utilisation control that can

achieve a high output. The edges

are seamed with the LiSEC KSR

processing machine.

Once the quality has been checked

by the GSL quality scanner, the

sheets are sorted into the ASM sorting

magazine by the SHL glass transport

shuttle. The system is able to pick

up glass lites sheets vertically and

horizontally, buffer and transfer the

90 Glass Bulletin | October - December, 2022
---
LiSEC• 4

sheets, and transport them between

the processing stations.

The VHW-F is characterised

by features including its flexible

expandability, the contactless spindle

guide and the self-cleaning gap filter

system in the washing zone area.

The sheets are washed and dried in

an energy-efficient manner and with

optimum polishing quality. With the

desiccant filling machine ARL-45F,

spacer frames made from all common

materials can be filled with desiccant,

both as rectangular frames and as

shapes.

Filling at the back of the frame

guarantees a stable process, even

with delicate plastic materials.

The optional measurement of the

desiccant quantity can ensure that

there is sufficient desiccant in the

frame compared to other systems.

The LiSEC TPA - a fully automatic

system for applying thermoplastic

spacers - enables maximum flexibility

by seamlessly changing between the

different dimensions of the glass.

The stepless width adjustment allows

switching between different spacer

widths without the requirement for a

waiting time.

The high-end gas filling press

AGP-A is suitable for a wide range

of applications due to the individual

configuration options and impresses

with the highest precision and quality.

The LiSEC VFL-1F is a system for

sealing insulating glass units with twocomponent

sealants. The perfected

build-up of this system guarantees a

high degree of process reliability and

top corner quality - even for units

with a high weight.

Changes to the market

The economy has changed

dramatically since 2020. "We are

currently experiencing an economic

situation that we have never had

before. The damage is not even fully

tangible yet. The coming years will be

difficult for every company," said Mr

Felbermayer.

He is delighted to have accelerated

the insulating glass production

project: "The insulating glass and the

financial savings it delivers benefit us

because we have a huge advantage

over the competition, thanks to

production automation. It was the

right decision for us to bring this

forward. It will be a big help to us in

the long run and with the challenges

of the coming years."

About the company

LiSEC, headquartered in

Seitenstetten/Amstetten, is a globally

active group that has provided

individual and comprehensive

solutions in flat glass processing and

finishing for 60 years.

CREATING VISIONS, PROVIDING SOLUTIONS.

– Claudia GUSCHLBAUER

Email: claudia.guschlbauer@lisec.com

Website: www.lisec.com

Glass Bulletin | October - December, 2022 91
---
Company News

Alstone, VMZINC unite to

redefine cladding industry

Announce "Sustainable Growth Partnership" To

Make Zinc Composite Panels, Zinc Honeycomb

Panels

Alliance provides a wide range of products for exterior

cladding with FR-grade safety standards for commercial,

institutional, and residential requirements.

Alstone, one of India's leading

manufacturers of high-pressure

laminate (HPL) and fire-rated

Aluminum Composite Panel (ACP),

joined hands with VMZINC, France,

the world's largest zinc titanium

rolled products and finished goods

manufacturer in a recent event held

in Delhi.

The two conglomerates announced

a "sustainable growth partnership" to

manufacture zinc composite panels

and zinc honeycomb panels, which

eventually becomes one of the biggest

initiatives towards green metal being

used in the Indian cladding industry.

Zinc as a metal is eco-friendly due

to its recyclability, longer life, and

self-healing properties yet providing a

beautiful aesthetician effect due to its

naturally ever-changing appearance.

This alliance provides a wide range

of products for exterior cladding

with FR-grade safety standards

for commercial, institutional, and

residential requirements while taking

care of the aesthetician effect.

It will combine Alstone's worldclass

metal composite panel

manufacturing expertise with

VMZINC's extensive access to the

zinc value chain. The combination

will create the largest and most

credible partner for building

material sectors and an ecosystem

that embraces architects, urban

planners, and city planners that are

seeking a role in accelerating the

longer-lasting building and cladding

infrastructure sector. It will meet the

enormous demand from governments,

corporations, and investors and

ensure adequate and long-term

aesthetics and functionality in the

metal composite sector – for all times

ahead.

The event comprised a crosssection

of the premier and most

reputed architects from the country

– who were avid participants in an

animated panel discussion on fireretardant

materials and zinc and

sustainability in the building and

construction sector and the notable

role of zinc in such materials.

The highlight of the evening was

the stunning product launch of

Alstone Zinc honeycomb panels and

Alstone Zinc Composite Panels –

which was the cynosure of the entire

gathering, including the press and

electronic and digital media.

Speaking on the collaboration, Mr

92 Glass Bulletin | October - December, 2022
---
Alstone• 2

Sumit Gupta, Managing Director,

Alstone, said, "We are proud to have

collaborated with VMZINC- one of

the world's leading Zinc titanium

players, and join hands to lead this

initiative. This alliance will not only

offer revolutionary cladding products

to Indian consumers but also will

take care of the environment and

sustainable future."

"We understand participants at

various climate conferences globally

– including India have declared their

intention to decrease the carbon

footprint globally, and it is a great

responsibility for us to lead such an

initiative," he added.

"We have been early backers of the

renewables building material market,

and in terms of capacity enhancement

– all along and it is clear to us

that zinc is going to take a similar

trajectory," Gupta said.

"This collaborative partnership is

exactly in line with how Alstone has

operated so far. We are confident

that the partnership will be able to

play a leading role in accelerating the

building and cladding scale-up needed

to decarbonize our economies. And

most importantly - lending a hand

to renewable and recyclable building

materials and going the extra mile in

the process of nation building," he

noted.

Commenting on the alliance, Ms

Judith Juando Ribe of VMZINC said,

"As Alstone is a trusted brand in the

market for the last 20 years, we are

building upon the equity that our

customers have come to expect from

us – building upon the legacy of Zinc

from VMZINC and Alstone's metal

composite expertise and quality – will

work wonders in the Indian, regional

and global market, in the times

ahead. We are truly invested in this

partnership and confident of doing

well."

Mr Sumit Sahay, General

Manager of VMZINC, said, "Together

with Alstone, and the ambitious

backing of VMZINC's zinc sheet

metal excellence, global reach and

networks, we are well-placed to do

this, combining a unique skill set and

track record. With strong industrial

expertise at its core, the joint venture

will have a unique capacity to scale up

the manufacture of zinc honeycomb

and zinc composite panels."

About the company

Alstone is a leading manufacturer

of high-pressure laminate, firerated

composite panels, aluminum

honeycomb panels, and louvers in

India. It was established in 2004

and has its manufacturing unit near

Dehradun.

– Lalit Midha

Email: lalit.midha@alstoneindia.com

Website: www.alstoneindia.com

Glass Bulletin | October - December, 2022 93
---
Company News

Gold Plus Glass Industry,

Uniparts India get nod to

float IPOs

They Filed Preliminary IPO Papers With The

Securities Exchange Board Of India (Sebi) In April

Both companies have obtained observation letters from

the regulator during September 22-23, a recent update

from the markets watchdog showed.

Float glass maker Gold Plus

Glass Industry and engineering

solutions provider Uniparts

India have received capital markets

regulator Sebi's approval to raise

funds through initial public offerings

(IPOs).

The two companies, which had

filed preliminary IPO papers with the

Securities Exchange Board of India

(Sebi) in April, obtained observation

letters from the regulator during

September 22-23.

In Sebi's parlance, the regulator's

observation implies its go-ahead to

launch an initial share-sale. Going

by the draft papers, Gold Plus Glass

Industry's IPO comprises a fresh issue

of equity shares aggregating up to Rs

300 crore and an offer for sale (OFS)

up to 1,28,26,224 equity shares by

promoters and existing shareholders.

As a part of the OFS, promoters —

Suresh Tyagi and Jimmy Tyagi — will

offer up to 10,19,995 equity shares

each and investor PI Opportunities

Fund-I will sell up to 1,07,86,234

equity shares.

The company proposes to utilise

net proceeds from the fresh issuance

of equity shares towards funding debt,

working incremental requirements

and general corporate purposes.

Gold Plus Glass Industry is one

of the leading float glass makers in

India with a 16 per cent share of

manufacturing capacity in fiscal

2021. The company's products cater

to a range of end-use industries,

including automotive, construction

and industrial sectors, with a variety

of applications.

The initial share-sale of Uniparts

India is entirely an OFS of

1,57,31,942 equity shares by promoter

group entities and existing investors,

according to the draft papers.

Those offering shares in the OFS

are promoter group entities — The

Karan Soni 2018 CG-NG Nevada

Trust, The Meher Soni 2018 CG-NG

Nevada Trust, Pamela Soni — and

investors Ashoka Investment Holdings

Ltd and Ambadevi Mauritius Holding

Ltd.

Since the IPO would be entirely an

OFS, the company will not receive any

proceeds from the public issue.

This would be the company's third

attempt to go public. Earlier, Uniparts

had filed its IPO papers with Sebi in

December 2018 and in September

2014. It also obtained the regulator's

clearance to launch the IPO on two

occasions but did not go ahead with

the initial share sale.

Uniparts India is a global

manufacturer of engineered systems

and solutions. It is one of the leading

suppliers of systems and components

for the off-highway market in

agriculture and construction, forestry

and mining and aftermarket sectors

on account of its presence across over

25 countries.

Email: info@goldplusgroup.com

Website: www.goldplusgroup.com

94 Glass Bulletin | October - December, 2022
---
Company News

Glaston wins deal for 5

new-generation solar

lines in China

Solar Industry Growth-Capturing Customer

Segment, Already A Booming Market

Glaston Group has signed a contract for five flat tempering

lines for solar panel tempering with Chinese company

Kibing Glass. This is the first win for Glaston's new tailormade

concept for the solar industry.

In Glaston's updated strategy,

the solar industry is identified

as a growth-capturing customer

segment. Amid rising concerns over

climate change and energy security,

significant growth in renewable energy

is expected.

In China, the solar market is

booming and the new installed solar

capacity was up 148 per cent in

the first quarter of 2022 compared

to the corresponding period in

2021 (Source: China National

Energy Administration, April 2022).

Reflecting these growth numbers,

the output of solar glass in China has

increased thereby driving demand

for solar panel glass processing

equipment.

Glaston's long-term customer,

Kibing Glass is an innovative hightechnology

company, specializing

in float glass, energy-saving

building glass, low-iron ultrawhite

glass, photovoltaic glass, and

pharmaceutical glass. Currently,

Kibing Glass invests heavily to expand

its photovoltaic glass production

base in China and Malaysia and the

number of photovoltaic glass projects

has been accelerating.

Kibing Glass already operates close

to 20 Glaston insulating glass lines.

Glaston's technological advantage,

service capabilities and strong brand

name contributed to the positive

outcome when the customer was

looking for a technology supplier for

their growing solar business.

"Kibing Glass is a highly valued

customer and we are honored to

support their growth initiatives in the

solar business. Glaston's tailor-made

solar concept, which combines huge

volumes and high-quality thin glass,

is a perfect choice," Sasu Koivumäki,

CSO at Glaston Corporation, said.

The CHF Solar line is designed

for high volume and operates 24/7

with an automatic setup. The cycle

time per glass is only 15 seconds. As

the line is running continuously, the

daily throughput is approximately 250

tonnes.

The order, valued at close to EUR

5 million, is booked in Glaston's

Q3/2022 order book. The CHF

Solar lines will be delivered to the

customer's facility in Malaysia during

the first half of 2023.

With total assets of RMB 19 billion

and more than 10,000 employees,

Kibing operates from six glass

processing plants located throughout

China and Malaysia. The company

also has 26 high-quality float glass

lines in production. Since 2011, the

company is listed on the Shanghai

Stock Exchange.

About the company

Glaston is the glass processing

industry's innovative technology

leader supplying equipment, services

and solutions to the architectural,

automotive, solar and display

industries. The company also supports

the development of new technologies

integrating intelligence into glass.

-------------------------------------------------

Source: https://glaston.net

-------------------------------------------------

Email: info@glaston.net

Website: www.glaston.net

Glass Bulletin | October - December, 2022 95
---
Company News

The eT-Litocran700, originally an autonomous add-on module for cranes and telehandlers,

has been fully integrated by MAGNI TH.

MAGNI TH, euroTECH mark partnership

with joint appearance at BAUMA 2022

Visitors Admired Litocran At The International Trade Fair For Building

Industry Held In Munich

Collaboration will offer unprecedented levels of precision and mobility to customers

seeking to moving loads with telehandlers.

In the end of June, euroTECH

managing director Thomas Schulz

travelled to Castelfranco Emilia in

Italy to seal an important partnership:

MAGNI TELESCOPIC HANDLERS

SRL, a local manufacturer of

telehandlers, has chosen the eT-

Litocran700 as an add-on module for

the precision vacuum lifters used in

its products.

This new collaboration between

two innovative companies will offer

unprecedented levels of precision

and mobility to customers seeking to

moving loads with telehandlers. The

Magni family looks back on 50 years of

experience in mechanical engineering

with a focus on telescopic handlers.

As early as 1980, their company –

then trading under the name FARGH

– designed and constructed the first

reach forklifts with a patented boom

in continental Europe. Following a

joint venture with a global industry

leader, the Magni family decided

to forge its own path in developing

innovative heavy-duty telehandlers in

2013.

Drawing from its own strengths and

experiences, they founded MAGNI

96 Glass Bulletin | October - December, 2022
---
euroTECH• 2

The two managing directors, Carlo Magni (on the right) and Thomas Schulz (euroTECH), will be focusing on the Litocran as a high-precision

add-on module with a sensitive 3D control system for efficient installation of window and facade elements in future.

TELESCOPIC HANDLERS SRL,

initially with a team of ten. Today,

MAGNI TH employs 450 members of

staff around the world and produces

more than 3000 units every year. An

efficient decision-making process

and a keen understanding of its

customers' needs have made this

steep and successful growth curve

possible.

Of course, euroTECH in Rosenfeld

adhere to the exact same philosophy,

so Thomas Schulz and Carlo

Magni found it easy to come to an

agreement. With their Litocran,

the specialists for vacuum lifting

technology have filled a very specific

gap between telehandlers and vacuum

lifters.

Unlike other devices currently

available on the market, the

Litocran is equipped with a highly

sensitive 3D control system offering

maximal mobility across the last

few centimetres. It enables the user

to carry out all movements with

millimetre precision.

This is particularly interesting

for facade engineers, for instance,

as it allows them to install even

hard-to-place elements rapidly

with minimal staff. The system

completely eliminates the need

for elaborate preparations. In

times of surging building costs and

personnel shortages, this constitutes

a considerable competitive advantage

for the window and facade sector,

especially when the combination

of a MAGNI telehandler and the

et-Litocran700 can be sourced costefficiently

from an equipment hire

provider.

High flexibility

Users of the Litocran do not need

to set up scaffolding to install,

repair or replace window and facade

elements. Instead, the elements are

simply loaded onto the Litocran on

the ground, which is easily possible

even on construction sites with lessthan-ideal

surface conditions for the

transport rack. The Litocran can,

for example, reach across an A rack

and manoeuvre individual elements

to their precise installation site at a

height of up to 50 metres depending

on the lifting height of the MAGNI

telehandler.

MAGNI TH and Litocran at BAUMA

The 'red gazelle', as the Litocran has

been dubbed for its remarkable speed

and precision, provides clear value to

customers of MAGNI TH. Its seamless

integration in the form of controls,

hydraulics and energy supply was an

obvious choice for managing director

Carlo Magni.

Visitors to BAUMA 2022 admired

the Litocran at the MAGNI TH

booth at Freigelände Süd 1108/3,

where the combination of MAGNI

telehandlers and the eT-Litocran700

was on impressive display. The joint

appearance of the two partners

also granted insights into future

installation possibilities in the window

and facade sector.

About the company

euroTECH offers handling and

transport solutions in the field of

vacuum technology. The company

develops and produce customerspecific

vacuum systems and

components for automated handling

tasks.

– euroTECH Vertriebs GmbH

Email: info@etvac.de

Website: www.etvac.de

Glass Bulletin | October - December, 2022 97
---
Company News

Ozone sets up its first

'experience centre' in

Lucknow

Aims To Provide Live Display Of Its Range Of

Architectural Hardware And Security Solutions

The centre is dedicated to the people of Lucknow to dwell

in the world of Ozone and experience the world-class

offering of modern and contemporary interiors

Ozone Group, a leading

Indian company in the

architectural hardware and

security solutions space, has recently

inaugurated its experience centre,

The Ozone Hub, in Lucknow.

The hub comprises a live display

of architectural glass fittings, shower

enclosures, digital locks and safes,

hardware for wooden and glass doors,

and more.

The centre is dedicated to the

people of Lucknow to dwell in the

world of Ozone and experience the

world-class offering of modern and

contemporary interiors.

The hub was launched to impart

technical know-how, functionality, and

usage of the products to both B2B and

B2C audiences. At this experience

centre, the product displays and

practical demonstrations from

Ozone's experts will give a first-hand

experience to the customers, offering

them an end-to-end exposure to the

perfect blend of modern aesthetics

and innovative designs that are a vital

component in Ozone offerings.

Speaking on the launch, Mr Alok

Aggarwal, Managing Director, Ozone

Group, said, "We are delighted to

announce the launch of our latest

98 Glass Bulletin | October - December, 2022
---
Ozone• 2

experience centre, The Ozone Hub

in Lucknow, one of our key markets

in the north region. This strategic

expansion will play an integral role

in increasing our footprint in the

region. We are confident that this will

help our audience make informed

decisions while choosing from our

'Made in India' products portfolio and

be assured of their quality."

Rajiv Agarwal from Doorbhai, the

local channel partner of Ozone, said,

"The experience centre will enable

a client to perceive how a solution

will look once installed. The centre

will also be used as a training centre

for architects, dealers, installers, and

fabricators to understand the actual

installation process of the Ozone

fittings & give a better finish to the

final solution."

Ozone provides a wide variety

of solutions across safety, security,

and hardware across residential and

commercial establishments. All fittings

are manufactured as per international

standards and come with certifications

proving their quality and sustainability.

Email: customercare@ozone-india.com

Website: www.ozone-india.com

Vinod Tandon,

Secretary, Federation of Safety Glass

Mob: +91 9810176936

E-mail: vinod.tandon@fosg.in

IMPORTANT INFORMATION FOR ALL FOSG MEMBERS

This is an important information for all our members as Quality Control Order (QCO) on safety glass is going to be mandatory

and implemented from 1st of April 2023.

Keeping in view of the above, we strongly recommend/request all our members those who have not yet got the BIS

certification to please expedite the process and get the BIS certification done ASAP.

Please note you will not be able to sell/buy material without BIS marking after the above mentioned date i.e. 1st April 2023.

In case of any assistance required please feel free to contact the undersigned 24x7.

We also take this opportunity to inform all that FOSG will be participating in the upcoming Zak Glass Technology Expo

scheduled in Pragati Maidan, New Delhi from 1st to 3rd December 2022.

Glass Bulletin | October - December, 2022 99
---
Company News

Şişecam Chairman receives

top award from Italy's Le

Fonti business news channel

The Award Is A Recognition Of Company's Inclusive,

Excellence-Oriented, And Sustainable Activities

Professor Ahmet Kırman, Şişecam Chairman & Executive

Member Of Board, Accepted The Award At A Ceremony

Held In Milan On October 6th.

Şişecam, a global player in the

glass and chemicals industries,

is a standout with its worldwide

footprint and exemplary practices. In

recognition of its inclusive, excellenceoriented,

and sustainable activities,

Şişecam received an award at the Le

Fonti Awards.

The Chairman of the Year

(Chairman Dell'Anno) award was

granted by a platform organized by

Le Fonti, a leading economic and

business news broadcaster in Italy.

The Le Fonti Awards recognize

outstanding organizations and their

leaders who demonstrate corporate

excellence in business innovation,

leadership, technological achievement,

and employee engagement. Professor

Ahmet Kırman, Şişecam's Chairman

and Executive Member of the Board,

was presented the award.

Dr Kırman said: "Şişecam, a global

player in the glass and chemicals

industries, ranks in the top five

globally in its core business areas.

In our pursuit of sustainable valuecreating

growth and global excellence,

we conduct manufacturing operations

in 14 countries on four continents at

45 facilities with 24,000 employees.

We are focused on investing and

growing further to become one of the

world's top three players in our core

business areas."

"Şişecam is committed to creating

sustainable value in every geography

where it operates. To ensure our

ongoing success, we focus on

achieving excellence across all our

business operations and processes

while effectively managing our

robust and agile global organization.

At Şişecam, we believe that healthy

growth is only possible with an

inclusive approach that supports the

development of our entire ecosystem.

With this perspective, we are

implementing innovative projects and

initiatives to improve the environment,

society, and life in every territory

where we operate," he added.

Dr Kırman said that Italy, where

Şişecam engages in chromium, flat

glass, and refractories production,

is an important gateway to Western

Europe. He continued: "We are

expanding our business activities in

Italy, which started in 2005, with new

investments. Currently, we employ 550

people in the country and Şişecam is

the largest Turkish investor in Italy.

We are also the leading manufacturer

of flat glass in the country. Şişecam

contributes to Italy's economy with its

value-added products, employment

opportunities, and exports. We are

pleased that the significant value

we add to the country's economy is

recognized and appreciated. In 2019,

I was honored with the "Cavaliere"

of the Order of the Star of Italy,

bestowed by the President of the

Italian Republic. This distinction was

a source of tremendous pride for me.

Today, I am very pleased once again to

receive such a meaningful award from

Le Fonti TV. I would like to thank for

this special award. I sincerely believe

that Şişecam's strong cooperation with

Italy will continue and contribute to

our ongoing global success story."

About the company

Founded in 1935 in Turkey, Şişecam

is a strong global player in the fields

of glass and chemicals. It is the only

global company operating in all core

areas of glass production – including

flat glass, glassware, glass packaging,

and glass fiber. Currently, Şişecam

ranks among the world's top two

manufacturers of glassware and the

top five producers of glass packaging

and flat glass.

Website: www.sisecam.com

100 Glass Bulletin | October - December, 2022
---
Technical Article

What to know before

buying glass tempering

furnace

Industry Leader Landglass Lists Knowhow

Gathered Over 20 Years In Business

LandGlass talks about product positioning, criteria that

determines the correct furnace, different kinds available

in the market and ways to make a furnace more profitable

among others.

Buying a glass tempering furnace

is the largest investment for

a glass processing enterprise.

It could determine an enterprise's

market value, the distribution

of customer base, and overall

profitability.

Being in the glass processing

machinery business for more than 20

years, LandGlass has seen numerous

successful cases of investment in

glass tempering furnaces. This article

intends to help those who plan to

invest in glass tempering machines

to properly evaluate the operating

environment and their own situations

before making a purchasing decision.

Before purchasing a glass tempering

furnace, have a clear view of the

product positioning.

The customers of the tempered glass

market can be divided into Type B

customers (who place more regular

orders) and Type C customers (mostly

are small and irregular orders). Type

B customers place engineering orders

including glass for doors, windows

and curtain walls. These products

generally have standard specifications;

Type C customers refer to the

customers in the home improvement

market that can be further divided

into customers for high-end system

windows and for general household

windows.

Among them, both Type B curtain

wall and Type C system windows

have very high requirements on

optical quality and glass surface

quality. As such, the requirements

for machine configurations are also

high. Customers should choose the

glass tempering furnace with the

appropriate configurations according

to their product positioning.

What are the criteria typically used

to determine the right tempering

furnace?

Capacity matching: The capacity

of the glass tempering furnace should

match the estimated annual overall

production output. Take LandGlass

A2850 glass tempering furnace as

an example, to produce 5mm Low-E

glass (E=0.08), the production

capacity is 15-18 loads/hour. The

annual output is approximately

1.50 million square meters of glass.

An enterprise may calculate the

required capacity according to the

estimated annual output and select

the appropriate model of the glass

tempering machine.

Floor space: Different types of

Glass Bulletin | October - December, 2022 101
---
Technical Article

glass tempering furnaces, such as flat

glass tempering furnace, bent glass

tempering furnace, flat and bent bidirectional

glass tempering furnace,

combined tempering furnace, and

continuous tempering furnace have

very different longitudinal sizes.

Customers should take into

consideration the actual space

available when choosing their models.

Besides, the space for the temporary

storage of unfinished glass products

needs to be reserved in advance.

Power load: Different glass

tempering furnace models need

different installed power. Take

5mm clear glass as an example, the

installed power of the A2850 single

chamber is about 1300kw while the

installed power of a combined glass

tempering furnace is approximately

2400kw. Enterprises should consider

the installed capacity of their existing

transformer and the possibility

of expansion when choosing the

machine models.

Machinery the competition

uses: In line with the consideration

of competitive differentiation, the

capacity of your glass tempering

furnace generally should be larger

than that of your competitors' in

the region. For instance, if your

competitor is equipped with a glass

tempering furnace for glass size

2.4mx5m, you should consider a glass

tempering machine for glass size

2.4mx6 m or 2.8mx5m.

Forced convection glass tempering

furnace or radiation glass tempering

furnace?

When it comes to forced convection,

we have to talk about Low-E glass.

Low-E glass is known for its low-

Emissivity properties. In short, it

reflects a lot of radiation heat, making

it difficult to heat up quickly with

radiation heating. When using a

radiation glass tempering furnace to

heat the Low-E glass, the radiation

heating takes too much time and the

uneven heating between the upper

and lower glass surfaces seriously

affects the quality of glass.

While forced convection glass

tempering furnaces take the air

convection approach, directly blowing

heated air to the glass surface,

overcoming the reflection of Low-E

glass in radiation heating. Therefore,

when the volume of coated glass

tempering accounts for more than

30% of an enterprise's orders or there

is a great variety of glass tempering

tasks, it is recommended to choose a

convection glass tempering furnace.

Even for clear glass, the

performance of a convection

tempering furnace is significantly

better than that of a radiation

tempering furnace. Hence, it is

recommended that enterprises should

buy forced convection glass tempering

furnaces.

Are all convection technologies the

same? No, they are not the same

Three key factors to consider when

evaluating the convection technology:

;;

The proportion and efficiency

of convection heating

;;

Whether the heat is distributed

evenly

;;

Whether the temperature

control is accurate

At present, there are primarily three

convection technologies in the

industry: pipe convection, chamber

convection, and OptiFlow convection.

As a basic technology, pipe convection

is the transitional technology between

radiation furnace and convection

furnace. Chamber convection is an

102 Glass Bulletin | October - December, 2022
---
LandGlass• 3

upgraded technology based on pipe

convection.

OptiFlow convection is a

further upgrade from the chamber

convection, effectively improving

the heat exchange efficiency and

heating uniformity in the furnace

for a better result when tempering

double-silver and triple-silver Low-E

glass. In addition, for true convection

heating, the heating elements should

be located in the positions where the

convection system blows air, not the

positions where the air returns.

Top and bottom full convection glass

tempering furnace or top convection

tempering furnace?

Top convection glass tempering

furnaces use air convection in its top

part to heat the upper surface of the

glass. The bottom part still retains

the conventional radiation heating

method. It will work well for those

who have fewer Low-E glass orders.

Full convection tempering furnace

adds convection devices to the bottom

part to enhance the bottom heat

transfer. This will avoid the spherical

bending problems caused by the

situation where the heat transfer

rate of the upper glass surface is

significantly higher than that of the

lower surface when heating largesized

glass or coated glass thinner

than 4mm in a top convection glass

tempering furnace. It ensures that

the top and bottom surfaces of the

glass are heated simultaneously for

better heating quality and higher

productivity. Meanwhile, the full

convection glass tempering furnaces

can better heat Low-E glass with

complicated coatings.

In an era where quality dominates,

the touchstone for tempered glass is

anisotropy and flatness

Anisotropy, also known as the

iridescence, is a common defect seen

on tempered glass in the curtain

wall industry. It directly destroys the

overall aesthetic effect of a building,

may even result in product return.

A good glass tempering furnace

will minimize anisotropy through

appropriate structural configurations

and manufacturing processes,

improving the quality of building

curtain walls.

Flatness is also an essential

indicator of tempered glass.

Laminated glass in particular has

a higher requirement on flatness.

The national standard has clear

definitions on how to measure

glass flatness, especially the overall

bow and the waviness. At present,

advanced glass tempering furnaces

can achieve overall bow≤1 ‰, center

waviness≤0.05/300mm, and edge

waviness≤0.10/300mm in 6 mm clear

glass mass production, far higher than

the national standard.

Customers should consult the

actual machine users or do the field

research before buying the machine

rather than relying merely on

advertising.

How to make your glass tempering

furnace more profitable?

Generally, glass tempering furnaces

account for the largest proportion of a

factory's total electricity consumption.

Good integrated energy-saving

technology adopted in the glass

tempering machine can save you a lot

of money. For 4mm or thicker glass,

the main energy consumption unit of

the glass tempering furnace is in the

heating section.

The amount of heat required to

heat the glass is constant. Reducing

heat loss during machine operation is

a good approach to save energy. Heat

loss in the heating section is primarily

from the furnace walls and in the

convection structure. LandGlass'

glass tempering furnace adopts

ThermoLock technology, Labyrinth

sealing, and grid-structure insulation

to minimize heat loss and reduce

operating costs.

How not to spend money in vain

when purchasing a glass tempering

furnace?

The quality of the tempered glass

products and the reliability of the

tempering furnace will determine

the development and profitability of

the enterprise in the next 5-10 years.

Therefore, the reliability and product

quality are far more important than

the price of the machine.

The success of the enterprise is

dependent on the high quality of your

tempered glass products. Reliable

machine and a complete maintenance

plan can effectively reduce the

frequency of machine failure and

downtime. If the purchase of cheap

machine leads to a substantial

increase in annual maintenance time,

additional labour costs and possible

penalties on delayed delivery could

add up to millions. As such, low cost

may save you money for the moment.

However, the resulting product quality

issues, additional operation expenses,

and increase of maintenance could

cost an arm and a leg in the long run.

How to choose your long-term

partners to win the future?

Brand strength: Major brands often

have their own R&D, design, and

manufacturing teams. Their products

have been proven in the market and

quality is guaranteed. In addition,

LandGlass has the ability and

experience to offer tailored design,

manufacturing, and commissioning

based on your actual needs to better

meet your requirements for product

quality. When you buy glass tempering

machine from brand manufacturers,

you also receive their brand support,

which may directly determine your

pricing power and influence on the

market.

Innovation strength: Companies

that have powerful innovation

strength are highly sensitive to

the market. They can clearly

identify market changes and

update or upgrade their products

accordingly. Partner with them

may better assure the technical life

of your glass tempering machine.

Enterprises should focus on their core

competitiveness and work with the

right partners to win the future.

Website: www.landglass.net

Glass Bulletin | October - December, 2022 103
---
Technical Article

MR MANISH BANSAL,

Director & CEO, Window Magic

Caring for uPVC windows

& doors: Do's & don'ts

Window Magic Director & CEO Manish Bansal

writes for Glass Bulletin

When it comes to windows

and doors, choosing the

right product from the

right company is quite important.

Questioning which type of product

you want, both aluminum and

uPVC windows are considered

contemporary, durable, and affordable

window solutions for a home.

Even more important is, choosing the

right company, as in, is that company

going to be there when you have

problems or when maintenance is

required for those products? These

are the two aspects people should look

at.

There are a few dos and don'ts that

you should follow so that you don't

have to do costly and unnecessary

replacements. Here are a few tips you

can follow:

;;

One myth that everyone

believes in is that since uPVC

windows and doors require less

maintenance than traditional

windows and doors, they don't

require being cleaned. However,

it is quite the opposite. People

tend to forget to clean their

doors and windows which in turn

destroy the product. For example,

if the sliding door or window

is not cleaned, the water holes

get clogged and blocked and the

water starts getting inside the

house.

;;

Windows and doors need to be

thoroughly cleaned regularly, just

like the other parts of your house.

;;

Since each season brings with it a

unique set of weather conditions

that can have an impact on your

windows and doors, be sure to

regularly inspect the frames of

your windows and doors.

;;

Having proper working locks

104 Glass Bulletin | October - December, 2022
---
Window Magic• 2

on your doors and windows is

important so that you can sleep

well at night knowing your loved

ones are safe in their own home.

If the locks have become stiff

and have stopped working then

lubricating them is the best idea.

However to be safe, clean the

locks regularly as it's probably

safe to assume many homeowners

don't tend to do that.

Maintaining uPVC windows and

doors is quite similar to maintaining

other priceless assets like vehicles

or electronics. Even though they

require little maintenance, you won't

appreciate the fruits of your labour

until the doors and windows continue

to be sturdy decades after purchase.

For a door or window to retain its

brilliance and attractive aesthetics,

you must be prepared to spend

the time and work necessary.

After all, according to a common

misconception, doors serve as a

welcome to a home and windows

serve as our eyes from which to view

the outside world.

About the company

Set up in 2002, "Window Magic",

a division of Window Magic India

Pvt Ltd is a part of the JV Group. It

emerged from collaboration with the

Profine Group of Germany which is

the world's largest manufacturers of

uPVC profiles operating under the

brand name of Kommerling.

Window Magic myriad products

include casement windows & doors,

tilt & turn windows, sliding windows &

doors, designer window, conservatory

and lift and slide doors. Vert spring

windows, Plisse Double Window,

Lat Single Window and Lat Double

Window are their notable other

products.

Email: info@windowmagicindia.com

Website: www.windowmagicindia.com

Glass Bulletin | October - December, 2022 105
---
109
---
128
---
129
---
glass technology

Added Value Storage

Broad Product Range

Customer-Specific

Greater Flexibility and

Extended Product Range

Increase your flexibility and extend the product range in your glass storage with

Rapidstore. Glass and packages find their optimal place in the movable rack frames.

Benefit from direct access to additional types of products in your gantry or floor

loading system for customer-specific products with faster availability.

• Optimal for custom-tailored extension of your glass storage

• One or more cutting lines have direct access to more types of products

• Ideal for flat halls without craneways

HEGLA • Industriestr. 21 • Beverungen, Germany • info@hegla.de

HEGLA Trading & Service GmbH • Chennai 600034, India • naresh.kumar@hegla.de