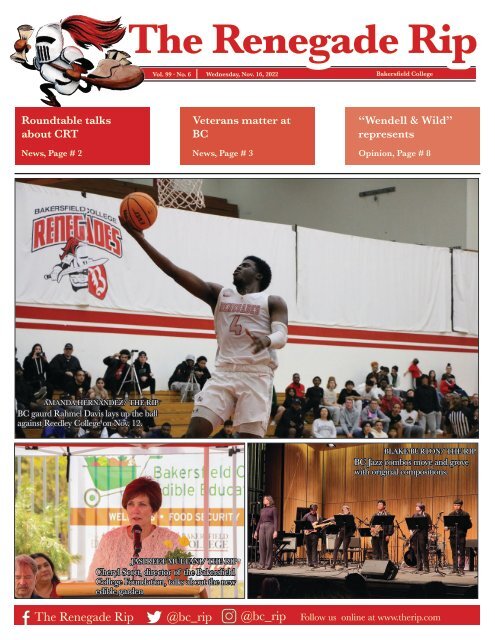 Renegade Rip, issue 6, Nov. 16, 2022
The campus news publication at Bakersfield College
The campus news publication at Bakersfield College
SHOW MORE
SHOW LESS
Create successful ePaper yourself
Turn your PDF publications into a flip-book with our unique Google optimized e-Paper software.
The Renegade Rip

Vol. 99 ∙ No. 6 Wednesday, Nov. 16, 2022

Bakersfield College

Roundtable talks

about CRT

Veterans matter at

BC

"Wendell & Wild"

represents

News, Page # 2 News, Page # 3 Opinion, Page # 8

AMANDA HERNANDEZ/ THE RIPP

BC gaurd Rahmel Davis lays up the ball

against Reedley College on Nov. 12.

COURTESY OF DAVE SEY-

MOUR

Drone footage from BC's

first Light up the night on

BLAKE BURTON/ THE RIP

BC Jazz combos move and grove

with original compositions.

JASPREET MULTANI/ THE RIPP

Cheryl Scott, director of the Bakersfield

College Foundation, talks about the new

edible garden

The Renegade Rip @bc_rip @bc_rip Follow us online at www.therip.com
---
Page 2

News

The Renegade Rip www.therip.com

Wednesday, Nov. 16, 2022

Fliers question proposed BC

housing before midterms

By Anthony Vasquez

Editor-in-cheif

During the events of the 2022 Midterm elections, a dispute

between BC faculty occurred over the coalition for housing

security for students.

During the recent disputes, fliers were distributed around

the neighborhoods near the main campus which included

some negative remarks against the plan. The flier presents

a picture of a run-down apartment complex, a title that

states "Bakersfield College is building LOW INCOME

HOUSING next to your home," which is then followed by a

statement that says "220 beds for low income residents (not

student dorms)."

The flier also claims that the student housing is a current

plan that is under the current KCCD Chancellor Sonya

Christain, dubbing it the "Sonya Christain Projects."

Trustee Nan Gomez-Heitzeberg was also negatively called

out on the flier by mentioning her support of the project,

"This Project is supported by your KCCD Board Area 3

Trustee Nan Gomez-Heitzenberg. Good luck changing her

mind." The statement views her support in a negative way

through the fact that they are falsely presenting the project

to be something that could be a harm to the neighborhood.

A bullet list of negative aspects of the idea is also in the

flier. A few of them include:

• "loud Parties"

• "safety issues"

• "crime"

• "crowded daily parking issues"

• "overflow of parking for events"

• "decrease in property values"

Communications professor, Christine Cruz-Boone stated

in a press release that was sent out on Nov. 7, "Bringing

back the residence halls to BC appeared to be supported by

the Bakersfield community until the appearance of the inflammatory

flyers this weekend." Cruz-Boone also included

a statement made by English Professor Andrew Bond that

stated his support for the project and for the students at BC,

"fake news tactics like the ad circulated this weekend are all

too common in the Central Valley and often students are

cannon fodder for dirty political tactics, but we want them to

know their teachers stand with them."

When asked about what the goals are for promoting the

student housing projects, and the support that they have

so far received, Cruz-Boone stated, "Our long term goal

is to help people understand why BC students need access

to housing security. Our short term goal is to counter any

misinformation about student centered development at our

college. The response has been overwhelmingly positive and

we have become a great hub for sharing questions and information

about why dorms are a huge gain for our students

and community"

BC Roundtable tackles CRT

By Nicolas Watson

Reporter

Bakersfield College hosted its final

session of The Renegade Roundtable

this semester, where a panel discussed

and debated timely political and social

issues amongst themselves and the audience.

This Nov. 9 installment tackled

Critical Race Theory – what it means,

what purpose it serves, and the myths

surrounding it. It was headlined by panelists

Savannah Andrasian from the English

department, Javier Llamas from

History, Dave Moton from English, and

Joe Saldivar from Biology and hosted

by Reggie Williams from Philosophy.

The panelists spent much of their

time trying to pin down exactly what

the highly publicized and controversial

Critical Race Theory exactly was, and

how its rise to the spotlight began.

They were generally in agreement on

where it came from, though Saldivar

did express his concern for the inability

to find the 'principle' paper, like in

other scientific fields. Overall, though,

a consensus was reached pretty quickly

that Critical Race Theory was the

study of historical racial injustices and

inequalities and how they continue to

impact the United States today.

The focus of the conversation then

turned to the dispelling of the various

myths that surround Critical Race

Theory, such as its confusion with other

similar programs, such as The New

York Times Magazine's '1619 Project.'

This led to the panelists discussing

among themselves on how Critical

Race Theory, or the study of race itself

in school, should be handled in America.

While it was agreed upon that learning

about America's history in regard

to race was vital, how exactly it should

be tackled was a point of divergence

for some of the panelists, where they

weren't sure how it could be taught in a

digestible but also 'child-friendly' manner,

especially for younger children,

with one of the primary questions being

raised was "At what point do we educate

children on these topics?"

Those looking for more Renegade

Roundtable Events, however, will have

to wait for next semester, as this marked

the final talk of the semester.
---
Page 3

News

The Renegade Rip www.therip.com

Wednesday, Nov. 16, 2022

Veterans matter at BC

By Jocelynn Landon

Reporter

Bakersfield College hosted a veterans resource fair on Nov.

9th. This event was all to showcase the amount of support

that Bakersfield College and the community has for veterans

and their families.

"Take advantage of the resources… don't wait, go get

help" stated one of the panel speakers.

Because of measure J, passed in November 2016 that allocated

$502 million bonds to provide funding on the Bakersfield

College campus, the main campus resulted in the

Veterans Resource Center.

Veterans and their dependents can go alongside people

who understand them and are out there trying to help them

every step of the way.

Faculty member Paul Beck was a major help in launching

the program. President Dr. Zav Dadabhoy spoke about

how he was one of the first faculty members to speak up

about how we can be more supportive of the veterans at Bakersfield

College. He understood and knew what they would

need to be more successful.

At the veterans resource center they provide an ample

amount of support from counseling, tuition assistance, peer

tutors, computers, and book vouchers. They are fostering a

community to make sure that they have what they need to

succeed. "Democracy needs to be protected and nurtured

and the veterans give their life limb and soul to protect our

democracy" stated Jenny Frank the centers manger. They

then went on to say that because of all the work that they do

for our country, it's time they seek out the resources that are

available so that we can help them succeed. There were also

outside partners such as CSUB Veterans Center, American

Job Center, Bakersfield Behavioral Health, and CapK there

as well to talk about services and how they could help.

"Veterans, thank you for your service" states Nan Gomez-Heitzeberg,

the KCCD vice president of area 3. BC really

showed their praise for veterans by informing all of them

about the support from faculty, programs, and the community.

They thanked them and showed them how much they

have for them to have a more supportive and successful college

experience.

JOCELYNN LANDON/

THE RIP

(Left) Jenny Frank

speaking at the Veterans

Resource Fair

about the resources

that BC offers.

JOCELYNN LANDON/

THE RIP

(Right) Marines listening

to the guest

speakers thanking

them for their service.

JOCELYNN LANDON/THE RIP

Students asking recruiters how to get

involved in the military.
---
Page 4

Sportss

The Renegade Rip www.therip.com

Wednesday, Nov. 16, 2022

Basketball falls to Reedley

By Amanda Hernandez

Reporter

Bakersfield College's Renegades

basketball team lost to

Reedley College with a score

of 71-75 on Nov. 12.

In the beginning, Reedley

took the lead against Bakersfield

College, as they struggled

to defend the court.

Though many shots were

made by the Renegades,

Reedley had speed in their

favor.

As halftime approached,

Bakersfield College was

down by ten points with a

score of 25-35, still able to

make a comeback.

In the second half of the

game, the Renegades fought

hard while going back and

forth with their opponent.

The score was up and down

rapidly as both teams attempted

to take the win.

Andrew Townson had multiple

lay ups. His teammates,

Dusten Henderson Tyler

Silva and London Taylor all

contributed to the score with

their shots.

However, in the last minute

of the game, Reedley came

back fast and strong, scoring

four points on Bakersfield

College, finishing the game

and taking the win.

AMANDA HERNANDEZ/THE RIP

Sean Fry scores a free throw shot after being

fouled by Reedley.

AMANDA HERNANDEZ/THE RIP

Ipreye Egbe drives the ball toward the basket

before passing off to a teammate.

AMANDA HERNANDEZ/THE RIP

Sean Fry thinks smart against Reedley when attempting to

put a lay up in the basket.
---
Page 5

Features

The Renegade Rip www.therip.com

Wednesday, Nov. 16, 2022

BC celebrates opening of the

Edible Education Garden

By Jaspreet Multani

Reporter and Designer

Bakersfield College celebrated the

grand opening of the Edible Education

Garden on Nov. 3. This garden

will provide a learning space for students

in the culinary arts, nutrition,

and agriculture programs at BC. This

will benefit students through the BC

food Assistance program.

Executive Director for the Bakersfield

College Foundation Cheryl Scott

says the garden will also serve as a

learning space for the community.

"Students will learn the process of

growing their own fresh food as they

grow up, and then instilling those ideas

in their families as they go back home,"

Scott explained.

Scott says the garden will make a difference

for BC students to get handson

agriculture

training.

She also mentioned

that the

edible garden will

produce fresh food

for the Renegade

Pantry.

Scott concluded

by saying, "You

can't learn everything

you need to

know about agriculture

by reading

it in a book, watching

videos, and

hearing people talk

about it, you need

to have hands-on.

That's what this

project is for our

students."

JASPREET MULTANI/THE RIP

BC president Zav Dadabhoy speaks at Edible Garden

ribbon cutting on Nov. 3

Binge-worthy for Turkey Day

By Jocelynn Landon

Reporter

"Love is Blind"

It's your classical love show… except

they never see each other until after the

proposal. Love is blind is currently on

season 3 and is streaming on Netflix.

Is love really blind? Well in this show

you really see love get tested. They have

to fall in love with who they are on the

inside and not the outside.

There are ring conversations that

should have not happened, wine given

to dogs, squinty eyes, and blind men

who can't see beauty that makes this

show captivating and entertaining to

say the least.

I recommend this show because it

really does dive deep into serious questions

and creates lots of good conversations.

"Elite"

Who doesn't love a good murder mystery?

Elite, is based in Madrid at an exclusive

boarding school. I do watch the

dubbed version in English, rather than

Spanish and there are rarely times that

the voices don't match.

Okay let's get into it, there are questions

of morals, murderer, friends covering

up for murders, swimming pools,

fancy restaurants, fakes, LGBTQ+ representation,

and so much more. With

every season there is something fresh

making you want to solve the mystery

before they do. This show is drama

packed and there is always something

new to keep you entertained. Currently

they have five seasons, with season six

coming out mid November and can be

watched on Netflix.

"Gilmore Girls"

This one is perfect for curling up on

the couch, coffee, and watching with

your friends or family. This mother

daughter duo is the talk of the small

town Stars Hollow in Connecticut. As

Rory, a high school student, needs to go

to a private school in order to have a

better opportunity in getting into Harvard,

Lorelei, Rory's mom, navigates

the issue of money with the help of

their grandparents. Throughout the

show there are boyfriends, 1,000 yellow

daisies, candy shops, and so so so much

coffee. I like Gilmore girls because of

how much each character grows and

the storyline of not only the main characters,

but side characters such as Paris,

Jess, and Lane. It has a total of seven

seasons, with an additional spin off

called Gilmore Girls: Year in the Life

and can be watched on Netflix.
---
Page 6

Campus

The Renegade Rip www.therip.com

Wednesday, Nov. 16, 2022

BC hosts pathway event for

Kern high school seniors

By Jason Mena

Reporter

High school students swarmed

campus on Friday Nov. 4 as The

Kern High School District partnered

with Bakersfield College

to host the Early College Pathways

Program. A few faculty

put the event together including

Stephanie Baltazar, the lead

Program Director, and Ashley

Wagner, the Director of Outreach.

"We're providing long- and

short-term certificates for full

time graduates and those looking

to transfer." Says Director

Baltazar.

With over 1000 high school

students in attendance, 95% of

them being seniors, many BC

Staff members came to campus

and set up booths and helped

educate some of the future Renegades

in the fields of study they

teach.

SGA officials lead tours

throughout the campus, highlighting

key features of our institution,

and some staff even held

interactive labs for students to

First place nationally for two year college Websites at

the Associated Collegiate Press 2020 midwinter conference.

Fifth place newspapers. First place for newspaper

in 2011, third place in 2013, 2014, 2015 for CNPA General

Excellence

Fourth place nationally in 2019 for website publication

by Associated Collegiate Press

The Renegade Rip is produced by Bakersfield College

journalism classes and is circulated on Thursdays

during the fall and spring semesters. The newspaper is

published under the auspices of the Kern Community

College District Board of Trustees, but sole responsibility

for its content rests with student editors. The Rip is

a member of the California Newspaper Publishers Association,

Associated Collegiate Press, and California

Colleges Media Association.

engage with. The tech lab provided

some of their robots that

had been engineered by previous

BC graduates to talk and

put on a show.

The campus Starbucks provided

free coffee to the students

and teachers while the "Folkloric

club" played festive music

and staged cultural dances

that some high school students

decided to participate in. Free

lunches were also provided with

complimentary BC backpacks

and other Renegade merchandise.

When students were interviewed

about their thoughts

about BC, most came to the

conclusion that they would

be planning to enroll. Uzziel

Roque, a MiraMonte student,

stated that he wanted to go to

BC and major in Astronomy,

"I've always wanted to work

with telescopes." Says Roque,"

But I'm going to transfer to UC

San Diego to finish my major."

Most of the other students

shared the same sentiment in

wanting to finish their education

at a UC or CSU.

The Renegade Rip

EDITORIAL BOARD

Editor-in-Chief..............Anthony Vasquez

Jaspreet Multani........................Designer

Adviser.........................................Erin Auerbach

JASON MENA/THE RIP

High school students observe Industrial Automation

robots in BC's STEM building on Nov. 4.

STAFF

Reporters/photographers:

Blake Burton

Amanda Hernandez

Jocelynn Landon

Eduardo "E.J." Martinez

Jason Mena

Jaspreet Multani

Nicolas Watson

Write The Rip

Letters should not exceed 300 words,

must be accompanied by a signature

and the letter writer's identity must be

verified.

The Rip reserves the right to edit

letters, however, writers will be given

the opportunity to revise lengthy or

unacceptable submissions.

If an organization submits a letter as a

group, it must be signed by only one person,

either the leader of the organization

or the letter writer. Anonymous letters

will not be published.

How to reach us

-Address: Bakersfield College,

1801 Panorama Drive, Bakersfield,

CA 93305

-Phone: (661) 395-4324

-Email: ripmail@bakersfieldcollege.edu

-Website: therip.com
---
Page 7

Opinion

The Renegade Rip www.therip.com

Wednesday, Nov. 16, 2022

"Till" is a

movie not to

be forgotten

By Blake Burton

Reporter

"Till" tells the true story

through the eyes of Mamie

Till (played by Danielle

Deadwyler), the mother of

Emmett Till, who was brutally

murdered in a 1955

lynching. It is a very emotional

movie for the audience

to watch at the horror that

can occur in this world.

This movie was directed by

Chinonye Chukwu, mostly

known for her films in drama

such as her 2019 film "Clemency."

This movie will have you

crying, angry and astonished

at some of the things that are

happening in the movie and

in real life.

Emmett Till (Jalyn Hall),

a 14-year-old boy got

lynched out of malice. He

was a young boy visiting

his aunt's house to see his

cousins. During the trip to

his cousins' house, he saw

a woman in the store and

called her beautiful and

said that she looked like a

movie star. In that time period,

Black people weren't

allowed to talk to white

women in that way, so both

of his cousins pulled him

back and told him that he

might get into some trouble

for talking to white people

like that.

A few days later a few

men came by his aunt's

house and Emmet got

called up to the door. They

took him to an abandoned

shed, and a few weeks later

he was pronounced dead.

This movie is very heart

wrenching. Imagine a mother

sending her only child to

his aunt's house for a fun

time only to return home in

a coffin.

This ugly piece of American

history is shown well in

a movie should be seen by

all ages to educate people on

what happened to this child

and how something like this

should never happen to future

generations of people.

The crazy thing is that this

story took place 67 years

ago, but it took until March

29, 2022, for the Emmett

Till Antilynching Act, which

makes lynching a federal

hate crime, to become law.

GOOGLE IMAGES

Monters are heroes

The Horror Files

While, they may bring up

thoughts of terror and shivers;

there no one that capture

the hearts of the public

other than monsters. Monsters

are beloved around the

world for how they terrorize

and fill people with fear but,

there might be more to this

love than scares.Our love for

monster draws from a feeling

of sympathy. Monsters

from their very formation

are sympathetic creatures

with most of them being the

victim of bad luck or tragedy

compared to any actions

they actually committed.

Monsters such as Frankenstein's

monster, Jason Voorhees

and Leatherface are

victims of happenstance

with their formation of becoming

horror icons were

out of their control due to

their environment. Therefore,

audiences shed tear

when Frankenstein's monster

is chase by pitchforks

and torches when all he

wanted was to be accepted.

The audience have a sense

of heartbreak when the

camera flashback to Jason

Voorhees being bullied as a

child because of his deformity.

Movie goers are filled

with pity when Leatherface

is ridicule by his brother and

father. Monsters provide a

sense of vicarious freedom.

Monsters are unique as they

are unconstrained by laws

of nature or man-made

laws allowing them to have

superhuman ability and

to enact any activity they

choose to partake in even

murder. While most people

are unwilling to partake in

By Eduardo Jr. Martinez

Reporter

Eduardo, Jr. Martinez

such activities in real life

monsters allow viewers to

participate in the dark side

of their imagination. These

monsters allow us to explore

the dark side of ourselves in a

safe and secure environment

without the fear of hurting

anyone by doing so. Monsters

allow for the redressing

of injustices. Although, the

often cliché about horror

movie monsters is that they

attack innocent individuals,

in some films monsters attack

those who deserve it.

Films such as Basket Case,

Leprechaun franchise, Dolls

are perfect examples of

monster redistributing their

own sense of justice taking

out their violent tendencies

on greedy, cruel and sexual

predators that well deserve

it. Monsters are very much

the dark and gore version

superheroes, before there

were superheroes, pulling

on our heartstrings with

their tragic origin stories,

dispensing their own sense

of justice and allow us to

live out our wildness imaginations

through them.
---
Page 8

Opinion

The Renegade Rip www.therip.com

Wednesday, Nov. 16, 2022

Representation

in stop motion

animation

By Eduardo Jr. Martinez

Reporter

This girl has demons and

their names are Wendell and

Wild. "Wendell & Wild" is the

new stop motion film on Netflix

directed by Henry Selick with a

screenplay by Henry Selick and

Jordan Peele.

After the death of her parents,

Koniqua Elliot, or Kat (voiced

by Lyric Ross), has to go to Rust

Bank Catholic School while two

demons enlist her help to be

summoned to the land of the

living.

The stop motion animation

keeps the movie going at a very

fast pace, which works to its advantage

as it keeps the audience

participating in the movie while

being quite enjoyable. The film

also carries much of Jordan

Peele's sense of humor in the

subversion of expectations.

Selick's design of characters

and direction of stop motion

still remain as hallmarks. As

well, this film is not afraid to

use its PG-13 rating with many

of the scenes coming outside

of left field for a supposed children's

film.

The film has excellent representation,

with characters and a

cast that represents a variety of

people of color.

This includes Asians, Native

Indigenous and Hispanics

within the film, especially with

the main Black lead and having

a trans character represented

within a stop motion film. Ross

really sells herself as a 13-yearold

punk girl and Keegan-Michael

Key and Jordan Peele

perform spectacularly as a comedic

duo of demonic brothers.

The movie soundtrack is

amazing, using punk and soul

to set the vibe for the rest of the

film and using it for comedic

elements and symbolizing characters.

The film gets heavy handed

in its themes surrounding the

prison industrial complex and

trauma. The flick uses the demons'

position in hell and the

school plans to Kat dealing with

the trauma of the death of her

parents help explore the school

to prison pipeline and children

that are dealing with trauma.

Still, the movie is very much

heartfelt with the theme family,

with Kat and her parents and

the demonic brothers, Wendell

and Wild, with their father

teaching the importance of the

parents' role in protecting one's

own child.

This film, while not in the

same league with Henry Selick's

other works such as "Coraline"

and "The Nightmare Before

Christmas," at least deserves a

watch for Jordan Peele's writing

and wonderful representation

of characters.

It is also great to watch Henry

Selick return to stop motion after

13 years.

Jazz moves

and grooves

By Blake Burton

Reporter

Bakersfield College's

Jazz program presented

"The Old and The

New" on Nov. 7. The

Audience members

were on the edge of

their seats to hear some

old and new jazz from

the performers.

This event was held

at BC's outdoor theater

and was directed

by Professor Kris Tiner.

The concert featured

BC student musicians

playing works by Mary

Lou Williams, Billy

Strayhorn, and Count

Basie alongside new

classics by Pat Metheny.

This was a show you

didn't want to miss. The

music that was played at

the theater was amazing.

This reviewer was

moving and grooving in

his seat all night.

One of the songs

that really stood out

was "Superstitious" by

BC jazz studies student

Andrea Sotelo. It was a

very good song and the

fact that it's an original

composition she created

made the song even

more special.

Another song that

shined was "Starlight"

by Gina Fields. It had

this reviewer mesmerized

by the music and

the sound of her voice.

This was all in all was

a very good concert and

makes you want to go

to future events to enjoy

BC Jazz Combos' music.

Renegade Events

Campus Events

Nov. 17-19: "Celestials: The Chiness Question."

a play directed by Professor Kimberly

Chin, Edward Simonsen Indoor Theatre

Nov. 29: BC Concert Band, Classical, Contemporary

and Holiday Favorites, Edward Simonsen

Indoor Theatre, 7 p.m.

Nov. 30: BC/CSUB Orchestra, Classic and

Contemporary String Music, Edward Simonsen

Indoor Theatre, 7:30 p.m.