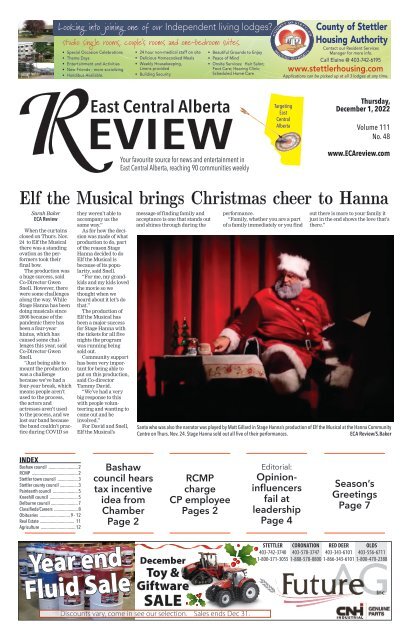 ECA Review 2022-12-01
ECA Review 2022-12-01
ECA Review 2022-12-01
SHOW MORE
SHOW LESS
You also want an ePaper? Increase the reach of your titles
YUMPU automatically turns print PDFs into web optimized ePapers that Google loves.
Looking into joining one of our Independent living lodges?

studio single rooms, couple's rooms and one-bedroom suites.

• Special Occasion Celebrations

• Theme Days

• Entertainment and Activities

• New Friends - more socializing

• Handibus Available.

R

R

72 pt

East Central R Alberta

EVIEW

60 pt

R

48 pt

R

36 pt

Your favourite source for news and entertainment in

East Central Alberta, 30 pt reaching 90 communities weekly

R

R

• 24 hour non-medical staff on site

• Delicious Homecooked Meals

• Weekly Housekeeping,

Linens provided

• Building Security

24 pt

• Beautiful Grounds to Enjoy

• Peace of Mind

• Onsite Services: Hair Salon;

Foot Care; Hearing Clinic;

Scheduled Home Care

Call Elaine @ 403-742-6195

www.stettlerhousing.com

Applications can be picked up at all 3 lodges at any time.

Thursday,

December 1, 2022

Volume 111

No. 48

www.ECAreview.com

Elf the Musical brings Christmas cheer to Hanna

R

18 pt

Sarah Baker

ECA Review

When the curtains

closed on Thurs. Nov.

24 to Elf the Musical

there was a standing

ovation as the performers

took their

final bow.

The production was

a huge success, said

Co-Director Gwen

Snell. However, there

were some challenges

along the way. While

Stage Hanna has been

doing musicals since

2006 because of the

pandemic there has

been a four-year

hiatus, which has

caused some challenges

this year, said

Co-Director Gwen

Snell.

"Just being able to

mount the production

was a challenge

because we've had a

four-year break, which

means people aren't

used to the process,

the actors and

actresses aren't used

to the process, and we

lost our band because

the band couldn't practice

during COVID so

they weren't able to

accompany us the

same way."

As for how the decision

was made of what

production to do, part

of the reason Stage

Hanna decided to do

Elf the Musical is

because of its popularity,

said Snell.

"For me, my grandkids

and my kids loved

the movie so we

thought when we

heard about it let's do

that."

The production of

Elf the Musical has

been a major success

for Stage Hanna with

the tickets for all five

nights the program

was running being

sold out.

Community support

has been very important

for being able to

put on this production,

said Co-director

Tammy David.

"We've had a very

big response to this

with people volunteering

and wanting to

come out and be

involved."

For David and Snell,

Elf the Musical's

message of finding family and

acceptance is one that stands out

and shines through during the

Targeting

East

Central

Alberta

performance.

"Family, whether you are a part

of a family immediately or you find

County of Stettler

Housing Authority

Contact our Resident Services

Manager for more info.

out there is more to your family it

just in the end shows the love that's

there."

Santa who was also the narrator was played by Matt Gillard in Stage Hanna's production of Elf the Musical at the Hanna Community

Centre on Thurs. Nov. 24. Stage Hanna sold out all five of their performances.

ECA Review/S.Baker

INDEX

Bashaw council .......................... 2

RCMP ......................................... 2

Stettler town council .................. 3

Stettler county council ................ 3

Paintearth council ...................... 5

Kneehill council ......................... 5

Delburne council ........................ 7

Classifieds/Careers ..................... 8

Obituaries ........................... 9 - 12

Real Estate ............................... 11

Agriculture ............................... 12

Bashaw

council hears

tax incentive

idea from

Chamber

Page 2

RCMP

charge

CP employee

Pages 2

Editorial:

Opinioninfluencers

fail at

leadership

Page 4

Season's

Greetings

Page 7

Year end

Fluid Sale

December

Toy &

Giftware

SALE

Discounts vary, come in see our selection. Sales ends Dec 31.

STETTLER

403-742-3740

1-800-371-3055

CORONATION

403-578-3747

1-888-578-0800

RED DEER

403-343-6101

1-866-343-6101

OLDS

403-556-6711

1-800-470-2388
---
2 D ecember 1'22 HANNA/CORONATION/STETTLER, AB. ECA REVIEW

International

VOLUNTEER DAY

SEE OUR NEW SPACE, HAVE A TREAT

AND ENTER TO WIN A DOOR PRIZE!

Tuesday, December 6

1-3 pm

4804-50 St (accross from Scotiabank)

International Volunteer Day is a global celebration of

volunteers. It takes place every year on December 5 to shine

a light on the impact of volunteer efforts everywhere.

Paintearth Lodge's

Christmas Memory Tree

Please

Consider

Participating in

The Paintearth Lodge Christmas

Tree recognition program for the year 2022.

We are selling beautiful porcelain star ornaments,

'In Memory' of someone special to you - who is no longer with us,

The stars are sold for $25 each and will be on display on the

Paintearth Lodge Christmas Tree throughout the Season. When

the 'Memory Stars' are taken down the names will

Be written

In a Book

Of Memories

Along with your

Additional comments.

The $ 25 00 is a tax-deductible donation to the Paintearth Lodge

BASHAW COUNCIL

Council hears tax incentive idea from chamber

Stu Salkeld

Local Journalism Initiative reporter

ECA Review

It's an idea that's gaining steam in a

number of central Alberta communities:

an incentive for new and existing

businesses that could amount to low or

no tax bills on certain construction for

a year.

The idea was floated to Town of

Bashaw council Nov. 21 at their regular

meeting.

Bashaw Chamber of Commerce representatives

Ty Wilson and Dan

Zembal appeared before council as a

delegation to discuss the idea of a tax

incentive that lowers or even eliminates

tax bills for new and existing

businesses, depending on

circumstances.

As the chamber delegates began

they described the idea as a tax benefit

on improved properties that's a pilot

program running in neighbouring

communities that seems like a good

idea and is rather new.

The chamber delegates stated they

understand how intricate a town's

budget can be but also saw the value in

a tax incentive to attract new business

or encourage existing businesses to

improve their operations, and in

return earn a reduction or elimination

of their tax bill.

The chamber delegates suggested a

three year program that ran in tiers

and with certain minimum dollar

amounts.

It was noted at the meeting some

other communities that offer such an

incentive have up to 100 per cent tax

rebate on development that meets the

program criteria in the first year, and

as years go by the rebate shrinks until

it eventually disappears.

The chamber delegates stated that

having a high rebate early would be

useful as most new businesses don't

make money in their first year.

The chamber delegates noted that

the provincial government has given

municipalities the ability to offer programs

like this and pointed out one

nearby community, the Town of

Stettler, adopted a bylaw offering this

incentive.

The chamber delegates stated the

Stettler bylaw doesn't affect the

existing tax base but only applies to

new developments or improvements.

The chamber delegates stated they

see a program like this as something

that attracts new business to Bashaw

and helps out the Bashaw business

community. They stated a bylaw similar

to Stettler's seems the most

appropriate for Bashaw and seems

easy to administer which shouldn't

increase costs to the town while

boosting the tax base.

The chamber delegates stated that

RCMP charges CP employee

Wainwright RCMP, the Eastern

Alberta District (EAD) Crime

Reduction Unit (CRU), along with

Postal Inspectors

from Canada Post

executed a search

warrant on the

evening of Nov.

23, 2022, for a residence

and vehicle

belonging to a

Canada Post

employee.

A significant

seizure of stolen

property in

excess of 500

deliverable items

were recovered.

An employee of

Canada Post from

Wainwright,

Alta. has been

arrested and

released with

undertaking and

conditions to

appear in

Wainwright

Provincial Court

Jan. 5, 2023.

Criminal code

charges have not

been laid before

the provincial

court at this time.

The deliverable

parcels have been

returned to

Canada Post for

continuation in

the delivery process

to their

intended

destination.

RCMP in EAD

continue to work

closely with our

partners in

Canada Post and

other police agencies

for this

investigation into

the offences of

RCMP

theft from mail under $5,000 and possession

of property obtained by crime

under $5,000.

Bashaw has a high tax rate and that

people seem surprised at just how high

it is compared to Red Deer. However,

the chamber delegates also added

Bashaw has a lot of services that it is

proud of.

Town Chief Administrative Officer

(CAO) Theresa Fuller stated it would

be useful to look at the assessed property

values and budgets of

communities that adopted this program

as compared to Bashaw; she

added that Stettler for example is much

large than

Bashaw.

Fuller also

stated existing

taxpayers would

be shouldering

the burden for

Caring for you & your Smile!

Formerly Baird Caring Denture for you & Clinic your Smile!

this program.

All those

present then discussed

who

actually shoulders

the burden

for tax incentive

programs of this

kind with the

chamber delegates

stating

since this is only

new business or

improvements it

should have no

effect on the town

budget while

town staff and

some councillors

Formerly Baird Denture Clinic

• Dentures • Implant Dentures

• Partials • Relines/Repairs

• Dentures • Implant Dentures

• Partials • Relines/Repairs

We offer out of office appointments to senior lodges

David Ho, DD

(owner/manager)

"Did you know, if you are

65 years or older you might

stated new busi-

Over 10 Years experience

We offer out of office appointments be eligible to for senior up to lodges

ness and

improved businesses

still have

an effect on the

town and can

cause expense

which has to be

covered by other

taxes.

Call now for your

FREE consultation!

David Ho, DD

100% coverage on a

new set of dentures?"

OFFICE HOURS: MONDAY TO TO THURSDAY 9 - 9 A.M. A.M. TO TO 45 P.M.

FRIDAY - 9 A.M. - TO NOON 3 P.M.

403.742.2351 • 5021-50 - 50 St. St. Stettler

After hours available by appointment only

(owner/manager)

Over 10 Years experience

*After hours available by appointment only at 587.736.0128*

Call now for your

FREE consultation!

Coun. Bryan Gust seemed hesitant

about the idea noting that if a new

business pays no taxes in its first year

the town staff and the rest of the business

community will have to step up

help.

The CAO noted the idea seems to

suggest different treatment for new

businesses compared to existing ones,

and stated some existing businesses

had a very hard time during the

COVID pandemic.

Turn to Two, Pg 4

"Did you know, if you ar

65 years or older you mig

be eligible for up to

100% coverage on a

new set of dentures?"

OFFICE HOURS: MONDAY TO THURSDAY - 9 A.M. TO 5 P.M

FRIDAY - 9 A.M. TO 3 P.M.

403.742.2351 • 5021-50 St. Stettler

*After hours available by appointment only at 587.736.0128*

22121ka0
---
ECA REVIEW HANNA/CORONATION/STETTLER, AB December 1'22 3

Santa Claus himself arrived in Stettler Fri. Nov. 25 for the Moonlight Madness tree

lighting. Afterwards he visited with kids on Main Street. ECA Review/S.Salkeld

STETTLER TOWN COUNCIL

Council decides not to hike business license fees

Stu Salkeld

Local Journalism Initiative reporter

ECA Review

Stettler town council decided against

hiking its business license fees after a

debate at the Nov. 15 regular meeting

of council.

Councillors read several memos provided

by staff that are usually treated

as formalities at this time of year: the

business license fee, dog/cat registration

fee and the business tax bylaw.

The business license fee was the first

item discussed and it was presented by

Director of Planning and Development

Leann Graham and prepared by

Roxann Anderson.

"Each year Town of Stettler council

sets the business license fees for the

upcoming year," stated the memo,

which noted that the Town of Stettler

issued 445 commercial business

licenses for a potential revenue of

$66,750 in 2022 and 46 home occupation

licenses for a potential revenue of

$6,900.

The memo also noted Stettler issued

62 non-residential business licenses in

2022 for a potential revenue of $21,700.

Anderson compared Stettler's business

license rates with other Alberta

communities such as Ponoka, Olds and

Camrose which revealed Stettler sits

mostly in the middle of the pack.

Town Chief Administrative Officer

(CAO) Greg Switenky reminded councillors

that revenue from business

licenses is traditionally used to support

the Stettler Regional Board of

Trade (BOT).

The staff memo also noted business

license rates, $150 a year for resident

and $350 for non-resident, haven't

STETTLER COUNTY COUNCIL

Balance of tax bill must be paid

Stu Salkeld

Local Journalism Initiative reporter

ECA Review

A Stettler county ratepayer had one

of his two requests granted: a tax penalty

was waived by county council, but

the ratepayer must pay the outstanding

tax bill. The decision,

including details of a tax payment mistake,

was discussed at the Dec. 15

regular meeting of council.

Councillors heard a request for tax

forgiveness from a Stettler county

property owner, who explained he

thought he paid his property tax bill

but due to a mistake within the county's

system it turned out he hadn't paid

the entire bill.

Tax Clerk Sharon Larsen read the

ratepayer's letter, which had the name

and contact information redacted.

"Last Oct. 2021 I walked into your

county office and asked how much I

owed for property taxes," stated the

letter received by the county on Oct. 27.

"I was told an amount and I paid the

amount in full on the spot."

The ratepayer stated he returned

this year to once again pay his tax bill

and was told by county staff that he

owed current taxes plus some unpaid

taxes and a late penalty.

"After some discussion with your

staff I was able to find out someone had

made an online payment to the wrong

account i.e. my tax roll account and

that the total I had been given in 2021

had been reduced to the amount stated

because of this credit of which, at the

time, I had no knowledge of whatsoever,"

stated the ratepayer.

The ratepayer requested the outstanding

taxes plus the penalty applied

to them, a total of $553.61, be waived.

Larsen stated that upon investigation

it was revealed an unrelated

ratepayer made an online payment and

used the wrong tax roll number, which

was then erroneously applied to this

fellow's account. After the mistake was

discovered county staff tried to get

ahold of the fellow using contact information

they had on file, which later

turned out to be out of date.

Reeve Larry Clarke asked if the ratepayer

in question provided updated

information after the 2022 tax bills

were mailed to which Larsen

answered yes, he came into the county

office in July.

Coun. Ernie Gendre stated that if the

payment went to the wrong account,

then someone else's account should

have come up short. Larsen answered

a problem like that usually isn't

noticed until the actual property

owner notices as it's not something

that shows up right away with staff

searches.

Larsen noted councillors had three

options, including granting the request

to waive the entire amount, waiving

only the late penalty or standing by the

entire bill.

Coun. Les Stulberg stated he felt

wrong addresses don't really matter

because every property owner knows

they owe taxes. However, this person

did appear in person and the mistake

wasn't his so Stulberg proposed option

#2, waiving the late fees but standing

by the property taxes owing.

Councillors unanimously approved

waiving the late penalties applied to

tax roll 715900 with the expectation the

outstanding tax bill is to be paid.

changed since 2013.

Coun. Gord Lawlor asked if councillors

would consider increasing the

town's business license rate by $10 per

year.

Coun. Cheryl Barros stated she

would prefer to see the rate stay as it is

for another year, citing stresses on

local business ranging from COVID

and very high utility expenses.

Coun. Travis Randell stated that if

the BOT needs more revenue the town

could ask that organization for advice

first.

Coun. Wayne Smith stated that an

extra $10 isn't much but the act of

raising fees in a high inflation

economy may not give a positive

appearance.

Mayor Sean Nolls stated the BOT

has revenue streams of its own which

it can increase if the organization

desires.

Councillors approved leaving Town

of Stettler business license at their

existing levels for 2023.

Business tax

Every year the Town of Stettler considers

a business tax which is similar

to the business license fee but applies

to certain businesses,

including

professions,

which don't fall

under the license

umbrella.

In 2022 the

Town of Stettler

charged $150 a

year tax on such

businesses, 41 of

which were

affected which

raised $6,150 in

revenue.

BYEMOOR COMMUNITY CLUB

Christmas Market Tables

& Santa Claus Day

Sat., Dec. 3, 2022

11 AM - 3 PM Byemoor Hall

2 PM – Pictures With Santa

SLEIGH RIDES AVAILABLE

Great gift ideas & Christmas baking.

Concession Booth Available.

Raffle draws.

Christmas MarketTables

available $10 each

To Book tables please call

Doreen at 403-579-2460

Tinsel

The staff recommendation was to

leave the business tax rate the same in

2023. Councillors unanimously

approved that recommendation.

Dog/cat fees

Staff also presented a report written

by Anderson containing information

on dog and cat licensing, fees in the

Town of Stettler in preparation for

councillors setting the 2023 rates.

The report noted in 2022 the town

issued 664 tags for altered dogs and 62

tags for unaltered dogs, while in the

same period the town issued 272 tags

for altered cats and one tag for a lone

presumably more satisfied unaltered

cat.

It was noted potential revenue from

dog and cat tags if left at 2022 rates was

estimated to be $26, 550.

The memo noted dog and cat registration

fees have not changed since

2014. In her memo Anderson compared

Stettler's rates to five other Alberta

communities and found Stettler again

falling somewhere in the middle.

Staff recommended fees be left at

their 2022 levels and councillors unanimously

agreed.

Spondin

Christmas

POT LUCK SUPPER

Friday, December 16

Spondin Community Centre

Potluck Supper 6 p.m.

a Magical Entertainer followed by

a visit from Santa Claus

Everyone welcome

BERRY CREEK

AG

S O C I E T Y

ANNUAL

GENERAL

MEETING

Thursday, December 8

7 pm at the

Hardgrass Hub

in Pollockville, AB

'N TEARS 2022

Dean, Verna, Corinne, Shannon, Calvin, Makyla & Matthew

Would like to invite everyone to a

TINSEL 'N TEARS

CHRISTMAS EVENT 2022

Thursday December 8, 2022

2 PM at the Paintearth Lodge in Castor

as we host our annual event.

As in the past we always include all the families we have served from the past year in tribute to their

memory. We will include anyone you wish us to list so please give us a telephone call

@ 403-742-3422 (Stettler), 403-882-3141 (Castor)

or 403-578-3777 (Coronation) to add the names you wish.

Stettler Funeral Home & Crematorium Parkview Funeral Chapels

Dean Ross, Verna Rock, Corinne Adair, Shannon Shirley, Calvin Blauel,

Makyla Hiemstra, Matthew Kneeland

"Every Life Lived Is Worthy of a Celebration"
---
4 December 1'22 HANNA/CORONATION/STETTLER, AB. ECA REVIEW

OPINION

The opinions expressed are not necessarily

the opinions of this newspaper.

EDITORIAL

Opinion-influencers fail at leadership

R

R

R

R

R

Published by

Coronation

Review

Limited

Brenda Schimke

ECA Review

My dream job was to become a radio

talk show hostess, a high profile and

powerful opinion-influencer. No budgets

to manage, no employees and little

prep or skill—just the gift of gab and

an opinionated self. No requirement

for facts as long as one didn't cross the

legal line into slander.

Then there is the premier's job that

oversees an organization with a $60

billion dollar expense budget, fluctuating

multi-billion dollars revenues

annually, 290,000 direct employees and

300 agencies, boards and commissions

representing another 70,000 employees.

In contrast to an

opinion-influencer,

this job

comes with

loads of responsibility

and a

reckoning every

four years.

Now we have

a new premier,

Danielle Smith,

who has made

the big leap from

opinion-influencer

into the

premier's chair. She isn't the first one

in the conservative world to make this

leap.

Preston Manning spent his entire

life as an opinion-influencer. He was a

'consultant' before successfully

becoming the father of the reform

movement and setting in place the

demise of a hundred-year-old progressive

conservative party. After politics,

he continued his highly successful

influence through the Manning

Foundation and was instrumental in

the rise of both Pierre Poilievre and

Danielle Smith.

Stephen Harper's only job before politics

was an opinion-influencer with

the right-wing think tank, the National

Citizens Coalition. Since leaving office,

he's become a 'consultant'!

Jason Kenney's life before politics

was an opinion-influencer with the

Canadian Taxpayers Federation, a

single-issue, right-wing lobby group.

Pierre Poilievre had no real-life

employment experience. He first

worked as a staffer for Alliance Party

leader Stockwell Day and then as a

'consultant' with former PC cabinet

minister, Jonathan Denis.

Granted, no one is qualified to

become premier or prime minister, but

life experiences, critical thinking and

developed leadership skills are essential.

Regretfully, these are qualities

that life-time, opinion-influencers get

little practice at perfecting.

One doesn't learn management

skills as an opinion-influencer.

Everyone they've ever worked with, or

for, has the same worldview. Usually,

they have the same religious background,

values and ethnicity. Their

work has kept them from having any

meaningful contact or experiences

Subscriptions:

$52.50 in Canada; $98.70 in US;

$183.75 Overseas.

with 'the others'. They are in a bubble

and are easily jaded into believing they

are superior and entitled, and 'the

others' are the enemy who have negatively

impacted their lives.

Given the job of opinion-influencers,

once in power the quality of truth

takes a dive. Moving from the world of

'spin' to real life is too big a leap.

Opinion-influencers' lifework is spin.

Spin the facts so that fund-raising letters

are more successful. Spin the facts

to keep tribe members angry at 'the

others'. Spin the facts, to push ideological-driven

government policies, rather

than public policies good for everyone.

Opinion-influencers aren't the ones

working jobs in our society that raise

food, teach students,

invent,

"

A wise leader understands

the importance of experience,

history, wisdom, continuity and

makes changes only after

gaining a better understanding

of facts and reality.

heal the sick,

produce electricity

and

gasoline, save

lives, build and

maintain critical

infrastructure.

They do not

create wealth

nor add to a

country's gross

domestic output.

They just opine.

So, it should come as no surprise

how unceremoniously Manning and

Kenney were kicked out of their

respective parties, or the thrashing

that Harper took in a general election

when he lost to Justin Trudeau.

Sad indeed, Stephen Harper was an

exceptionally good Prime Minister

while leading a minority parliament,

but once gaining a majority, Harper

quickly turned his attention to governing

for his tribe which became

unpalatable to the majority of

Canadians.

A new Alberta premier, who really

wanted to save public health care,

would have met with AHS management

and the Chief Medical Officer to

discuss why they made the decisions

they did during the pandemic. She

would have asked them whether they

made their decisions alone or were

they acting on the direction of the UCP

government and the health minister?

An unwise premier just picks and fires

scapegoats.

A wise leader understands the

importance of experience, history,

wisdom, continuity and makes

changes only after gaining a better

understanding of facts and reality. A

wise leader would have consulted with

stakeholders, looked at options, considered

the benefits and pitfalls of each

option then made a decision. An

unwise leader charges ahead with 'her'

decision because she 'knows best'.

The UCP government under Kenney

and now under Smith are clear examples

of unwise leadership. Take for

example Kenney's non-consultative

decisions that were all reversed within

three years or less.

Placing a cap on doctor services in

2020 (maximum number of patients

72 pt

East Central Alberta

EVIEW

60 pt

48 pt

36 pt

Website ECAreview.com

Office Hours Mon. - Fri. 9 am - 5 pm

R

30 pt

4921 - Victoria Avenue

Tel. (403) 578-4111

R

24 pt

Mail: Box 70, Coronation, AB Canada, T0C 1C0

"

LETTERS POLICY • Letters to the Editor are welcomed •

Must be signed and a phone number included so the writer's

identity can be verified. • ECA Review reserves the right to edit

letters for legal considerations, taste and brevity. Letters and

columns submitted are not necessarily the opinion of this

newspaper.

MEMBER OF:

per doctor), only to reverse it in 2022

when it became obvious this change

had triggered even worse odds for

Albertans to find a family doctor.

Tearing up the Master agreement

with doctors in 2020, then reversing it

in 2021 after it became clear this decision

caused many physicians to take

early retirement or move to another

province, adding to Alberta's already

critical doctor shortages.

Getting rid of the NDP's funding

grants to the film and television

industry, and replacing it with an

industry tax credit program with a cap

offering much less money than the

NDP grant program. Reversing the cap

a year later, after losing major projects

to other provinces.

Announcing 'coal-mining in the

Rockies' after inking deals with foreign

coal companies, then reversing

course after finding out ranchers and

the Agri-industry in southern Alberta

actually consider clean water more

important than coal revenue.

De-indexing tax rate brackets, disability

payments for severely

handicapped Albertans and seniors

benefits, effectively increasing personal

tax rates and reducing income

Local Journalism Initiative is funded

by the Government of Canada.

Sure is easy to pick out

the Paintearth county

from way up here!"

JOYCE WEBSTER

Publisher/Editor

publisher@ECAreview.com

YVONNE THULIEN

Marketing/Digital 403-575-9474

advertise@ECAreview.com

and benefits to seniors and the most

vulnerable in the middle of a 100-year

pandemic event. Today they are all

being re-indexed.

When you think about it, why would

we expect opinion-influencers to be

any different?

Opinion-influencers don't consult,

they know what they and their insiders

want. Opinion-influencers don't seek

all the facts before making a decision,

they already know what 'facts' they

believe. Opinion-influencers don't

compromise, they work for their tribe

only. Opinion-influencers don't build

trust with the whole, they only seek

trust and obedience from their followers.

Opinion-influencers never

work with competing ideas or experts,

their decisions are pre-set.

So, no one in Alberta should be surprised

how poorly Jason Kenney

performed as premier and absolutely

no one should expect anything but

more chaos and poor management to

continue under Danielle Smith.

Management is a skill learned and

developed in a world of competing priorities,

values and ideas—alas, a skill

completely foreign to life-long

opinion-influencers.

Two sides to the debate

Cont'd from Pg 2

Coun. Cindy Orom suggested contacting

other communities who offer

this program to get feedback. Before

councillors debated the presentation

Coun. Orom declared a pecuniary

interest and excused herself from the

meeting.

Mayor Rob McDonald noted there's

value in both sides of the debate.

"I see both sides of this" said the

mayor, adding the town wants to

encourage business but also wants to

treat everyone fairly.

Coun. Gust mentioned that several

large businesses recently changed

hands and this program would exclude

them. Gust also stated he didn't think

the small rebates offered by this program

would make much difference to a

business.

Coun. Jackie Northey acknowledged

Gusts' comment, but added that the

community may see this program as a

way of trying to encourage business.

"I think it's worth looking at," said

Northey.

Coun. Kyle McIntosh stated he liked

the idea but was opposed to any 100 per

cent rebate and would vote against

that.

Councillors passed a resolution that

the CAO investigate tax incentive programs

and report back to them at a

future meeting.

BRENDA SCHIMKE

Editorial Writer

JUDY WALGENBACH

Marketing 403-740-2492

marketing@ECAreview.com

STU SALKELD

LJI Reporter 403-741-2615

reporter@ECAreview.com

LISA MYERS-SORTLAND

Graphic Artist

SARAH BAKER

Reporter 780-907-0313

news1@ECAreview.com

R

18 pt
---
ECA REVIEW HANNA/CORONATION/STETTLER, AB December 1'22 5

PAINTEARTH COUNCIL

Tax write-offs to gain back education tax

Sarah Baker

ECA Review

Paintearth county council will apply

for the Property Tax Education

Requisition Credit (PERC) program to

offset the amount of education tax the

county would have paid to the province

for taxes owed in 2019-2020 from

the companies that are now considered

by administration to be uncollectible.

The decision was made at the regular

council meeting on Tues. Nov. 22.

"This is important," said Chief

Administrative Officer (CAO) Michael

Simpson, "because otherwise we'd

have to fund that requisition amount

to the province out of general tax revenue,

essentially forcing all taxpayers

to pay the education tax amounts that

some companies aren't paying,".

Total tax write-offs for 2019 are

equal to $156,403.27 and the county will

be applying for a PERC credit worth

$13,938.25. Total tax write-offs for 2020

are equal to $202,128.48 and the county

will be applying for a PERC credit

worth $16,064.32.

This is often an issue that affects

many municipalities and write-offs are

necessary to get the small amount of

education tax back, said Simpson.

"In order to get this small amount

back, it's noted we have to write off a

number of property tax amounts to

qualify those properties. The total

amount of property tax we must write

off is often upwards of 10 times higher

than the amount we get back."

Halkirk 2 Wind Power Project

amendment

The County of Paintearth was given

notice that the Capital Power

Corporation has filed applications for

amendments to the approved wind

power project in the Halkirk area at

the Alberta Utilities Commission

(AUC).

Recently the county has opted to

require developers to get their AUC

approvals before coming to the county

for development permits, said

Simpson.

"We've had misunderstandings in

previous years, and as a result of those

experiences, we've streamlined our

process to ask that the AUC approval

already be granted prior to seeking

development permit approvals from

the County."

If the project is approved there can

KNEEHILL COUNCIL

Council pre-approves

$4.5 million in vehicles

Stu Salkeld

Local Journalism Initiative reporter

ECA Review

Kneehill County council preapproved

$4.5 million in vehicles

purchases as staff explained the

municipality's efforts to deal with

serious supply chain problems. The

decision was made at the Nov. 15 regular

meeting of council.

Councillors heard a presentation

from Director of Infrastructure Mike

Ziehr requesting $4.5 million from the

county's capital equipment replacement

reserve to purchase many new

vehicles needed by the municipality

complicated by the serious delays

Kneehill County is facing to obtain

them.

"Administration is requesting a preauthorization

to purchase specific

capital equipment and vehicles prior to

the interim budget being approved,"

stated Ziehr's memo.

"The equipment and vehicles have

been scheduled for procurement based

on the lifecycle replacement strategy

which considers the initial costs,

repair and maintenance costs as well

as the expected disposal revenue."

Ziehr's memo listed the following

vehicles: four three quarter ton pickup

trucks, one half ton pick-up truck,

one highway tractor truck, one super

B gravel trailer, one end dump gravel

trailer, three 160M Caterpillar motor

graders, one 14M Caterpillar motor

grader, one fire engine (joint purchase

with Town of Three Hills) and two

community peace officer vehicles.

County Chief Administrative

Officer CAO) Mike Haugen stated the

$4.5 million price tag is a block

amount, meaning the exact prices of

each individual vehicle may not be

presently known, but the total cost of

everything listed will be under the

total pre-authorized amount.

Ziehr stated supply chain delays are

crushingly bad in some cases: some of

the equipment on the list isn't expected

to be delivered before the fourth

quarter of 2024.

"It is extensive delays on here," said

Ziehr.

He noted some of the current equipment

is nearing the limit of its lifespan

and the county wants to ensure the

older vehicles still have re-sale value.

On the bright side he reported he's

been told the Caterpillar equipment

will be held at its current price despite

delivery delays.

During discussion he pointed out

the 160M graders are 4X4 models that

best fit Kneehill's needs.

Coun. Faye McGhee pointed out the

vehicle replacement was planned

ahead of time and she was glad to see

extra effort exerted to secure the best

deals for Kneehill County.

Coun. Carrie Fobes noted the

Caterpillars appeared to be quoted by

Finning; she asked if any other dealers

were approached as she'd heard

Finning's has serious supply chain

problems.

Turn to Supply, Pg 9

Want to

start a

business?

Looking to

grow your

business?

We can

help!

WE OFFER FREE SERVICES FOCUSED ON

MAKING SURE YOU ARE SUPPORTED!

Battle River Innovation Centres are offering FREE 1-on-1 PROGRAMS

to support you in reaching your goals.

Contact us today to see how we can help!

Forestburg:

587-844-2111

cwilkes@breoc.com

be many benefits, said Simpson.

"To the county, it offers more property

tax revenue and also offers participating

landowners some additional revenue. It

may also lead to some additional jobs

within the county as service and field

technician work for the wind farm. This

project in particular is one of three new

wind farms underway in Paintearth,"

said Simpson.

Promotional banner

Council was able to get a first look at

the design for a new banner advertising

the county.

"The banner highlights some comfortable

images and feelings people in the

area are familiar with," said Simpson.

The banner will be displayed at community

markets where the County of

Paintearth has made a financial contribution

to some of the market's costs.

A further policy on which market

groups will be able to receive funding

and how much will come forward to

council at a later date.

Superfluity recently made a sizeable extra donation to each of the

local charities they support throughout the year. Below is a letter

which accompanied each donation:

November 28, 2022

Please find enclosed a special donation to your organization.

We are delighted to present these funds and be of assistance.

Due to the tremendous support from Stettler and area

communities, Superfluity has had an amazing year.

Incoming donations are at an all-time high and customers

from far and near appreciate and support our store.

Our Simply Christmas store drew a huge crowd on opening

day and it was a pleasure to experience.

Our loyal (and in many cases, elderly) volunteers are

dedicated and appreciated.

May this special one-time donation aid your worthy causes

and efforts. We wish you and your organization successful

years ahead.

Sincerely, Superfluity Thrift Shop Board and Volunteers.

Castor:

587-854-3233

asimpson@breoc.com

Banner in the concept stage for the

County of Paintearth.

Superfluity Thrift Shop

4832 - 50 Street

Stettler, AB T0C 2L0

Supporting Stettler & area

communities since 1980
---
FEATURE

6 D ecember 1'22 HANNA/CORONATION/STETTLER, AB. ECA REVIEW

Be entranced by thousands of lights

Under a blanket of snow, Stettler

Museum slows to a crawl, where the

only activity and light comes from a

lone building, surrounded by twenty-five

quiet buildings and nine acres

of untouched land. And it has done so

since its founding in 1972.

That is, until 2014, when we decided

to Light the Night on the museum's

grounds.

The first year, sixteen participants

mustered their creativity and braved

the cold to light up all manner of

trees, snowmen, cutouts, and even a

makeshift corral!

In turn, our stalwart staff members

adapted through ten nights of

December weather to usher visitors

through Stettler's newest winter

attraction (step one: wear lights so

approaching vehicles know when to

stop).

It was a triumphant experiment,

and the next year solidified its success

when the number of participants

nearly tripled, to forty-five.

Having had the first year to test the

waters, it was 2015 when the creativity

of the town really began to shine.

The trees and snowmen of yesteryear

were joined by a small book

nook, a tire tree, decorated farm

equipment, festive Minions, and a

meticulously luminated firetruck.

Now in 2022, we still boast 45-50

participants each year, are proud to

have drawn in 925 vehicles last year

and are continually amazed by the

ingenuity and gumption of the

decorators.

Most of the displays are set up by

local businesses and organizations,

and each gives their display a distinctive

touch, which helps generate a

vibrant, communal atmosphere.

We try to make each year unique

and have set up an annual People's

Choice Award for the most-voted display,

to encourage innovation and

creativity.

This will also be our third annual

Gingerbread House contest, where

frosting architects of all ages create

festive gingerbread scenes.

Entries are accepted throughout

December, but for optimal exposure,

consider submitting by opening night,

Friday, December 2.

Join us 5:30 to 9pm, Fridays and

Saturdays in December (until

December 24), as well as the 21st and

22nd.

The grounds will once again be

open for walking tours or continue to

enjoy the sights from the comfort (and

warmth) of your vehicle.

Hayrides are available Friday,

December 2 and select other nights.

If you're looking for an outdoor

family activity, want to be entranced

by thousands of lights, or have ever

wondered just how many ways

someone can make a lighted tree,

remember Stettler's Light the Night.

1/2 KM OF LIGHTED DISPLAY

December Friday's & Saturdays

until Christmas

PLUS December 21, 22, 23 & 24

5:30 pm - 9pm

ANNUAL GINGERBREAD HOUSE CONTEST

COME VOTE FOR YOUR FAVORITE

FOR MORE INFORMATION PLEASE CONTACT KAREN@403-742-4534
---
ECA REVIEW HANNA/CORONATION/STETTLER, AB December 1'22 7

Free services

Brenda Schimke

ECA Review

Best Wishes

Stettler Building Supplies Ltd.

Stettler Building Supplies Ltd.

4201 - 49th Ave Stettler, AB • 403-743-0684 www.stettlerbuildingsupplies.ca

DELBURNE COUNCIL

The holiday

season brings

us no greater

joy than the

opportunity

to express our

thanks for

your trust and

support.

Sgt. Jamie Day of the Three Hills

RCMP was in attendance at the

Delburne village council meeting on

Nov. 22, 2022 to update them on the

work of the detachment.

He advised that calls of service to

Delburne and area were greatly

reduced since more tours were being

made by officers into the area. He

reported that crime policing was down

but crimes against persons have been

going up.

"In the case of sexual assaults, the

detachment gets lots of timely help

from Ottawa headquarters for DNA

profiling and DNA testing", said Sgt.

Day. We also have access to sketch artists,

adding that these services come

without cost to the province or the

detachment.

The detachment is currently short

one officer so Sgt. Day has been covering

some calls.

He continues to prioritize meeting

community leaders and residents,

attending parades, Remembrance Day

ceremonies and Christmas events in

all detachment-area communities.

"The more community policing",

said Sgt. Day, "the more crime policing

goes down."

Sgt. Day said the creation of their

facebook page is going well and once

the staff have been trained, it will be

launched. It is a sharing platform, not

a reporting platform.

"We want to hear directly from the

people we serve about their concerns

or suggested improvements", said Sgt.

Day.

Recreation and Culture Grant

Every five years, the County of Red

Deer enters into agreements with the

seven urban municipalities within its

municipal boundaries to provide grant

money to share the burden of operating

and maintaining cultural and

recreational facilities in towns and

villages.

The formula includes a $42 per

person fee for county members living

in Delburne's catchment area—currently

1,300. There is a base amount

which under the new agreement was

doubled from $2,500 to $5,000. Then

there are lump sum grants for specific

Delburne facilities including the

curling rink, ball diamonds, cemetery,

community hall, skateboard park,

splash park and museum.

There is also a new inflation provision

which increases the grant by 2.25

per cent in each of the five years.

The council unanimously approved

a motion to accept the terms of the

Recreation and Culture Grant

Agreement which in year one represents

$86,100.

"This grant makes a huge difference

to the village", said Mayor Tim Wilson.

"It's a good deal".

Library board appointees

Tiffany Therrien and Rene Rusaw

brought their names forward to join

the library board. Both expressed a

wish to offer their skills and time to

SEASON'S GREETING FROM AREA BUSINESSES

L-R: Cindy Tschirren, Kara Tomkow, Alicia Kneeland-Teasdale, Lori McKay

further enhance the great work of the

library.

Council unanimously approved their

appointments.

Costly fire hydrants

Four to five fire hydrants in the village

need replacement as parts are no

longer available to keep them in

working condition. The cost, however,

to replace just one is $25,000.

Council asked the Chief

Administrative Officer (CAO) Karen

Fagan to ask larger municipalities

such as the City of Red Deer whether it

would be possible to piggyback off their

replacement program and get a volume

discount break, or whether there are

any re-conditioned hydrants available

to purchase.

It was agreed that the village should

have a capital replacement program

for hydrants knowing now how expensive

they are to replace.

The CAO will bring forward her

findings to the next meeting.

Happy Holidays to our amazing community!

May your Holidays be beautiful!

4822 50th St

Stettler, AB

T0C 2L0

Stettler Medi-Aesthetics

Call or Book Online

1-403-743-0500

stettlermedicalaesthetics.com

Sincerest Thanks for your valued business.

Looking forward to working with you in the new year.

Have a Merry Christmas

and a prosperous New Year.

Matt Stahl

ONSTRUCTION

Hanna, AB • 403-857-9885

Dr. Patel

Family Dentistry

4906-51 St., Stettler, Ab

403 742 6741

Back row left to right:

Karen Sorenson,

Kelli Hoopfer,

Kyla Johnston,

Miranda Mailer, Sara

Hegberg. Front row

Left to right: Shaunna

Ackerman, Dr. Patel,

Amy Helgeson,

Rebecca Jensen.

We would like to wish everyone a

Happy and Healthy Holiday!

CASTOR

It's

403-882-3055

been a privilege

serving you

another year.

And although it's

been said many

times, many ways,

Merry Christmas

to you.

- Randy Kary

Wishing you all the wonders of Christmas and

beautiful new memories throughout the coming year

Terry, Mark, Ted and Jim.

McKenzie Motors 403-578-3866 • Coronation

Wishing family, friends and clients a very

Merry Christmas.

Lamontagne & Son Holdings Ltd.

403-575-5468 Coronation

Thank you for our

warm welcome.

We are looking forward to

being a part of Coronation

for many years to come.

Have a great year!

- From the

Lee family.

5006 Victoria Ave.

Coronation Ab

403-578-3571

May health, peace and

happiness be with you.

Dennis
---
8 D ecember 1'22 HANNA/CORONATION/STETTLER, AB. ECA REVIEW

Ph. 403-578-4111CLASSIFIEDS/CAREERSEmail: office@ECAreview.com

Classified Ad Rates

$13.85 + tax for 25

words or less + 20¢ a word

after 25 each week or 3

weeks for $38.55 + tax

(based on 25 words or less).

Reach 75,000 readers with

your classified. This

includes For Sale, For Rent,

Card of Thanks, Coming

Events, etc.

Payment Necessary

All Classified Ads are on a

Cash Only basis and must

be prepaid before running.

There will be a $5.00

service charge on every

classified not paid for prior

to publication.

We accept cash, cheque,

e-transfer, VISA or MC.

It is the responsibility of

the advertiser to check ad

the 1st week and call us if in

error. The Review is

responsible for their

mistakes the 1st week only.

Deadline For Ads

All classified ads must be

received by 5 pm on

Mondays preceding

publication. For Too Late To

Classifieds ad must be

received by 10 am Tuesday.

Ph. 578-4111. Mail to Box

70, Coronation, AB T0C

1C0.

REAL ESTATE

FARMLAND And

Pasture Land by

Saskatchewan River.

160 acres. Best

hunting in

Saskatchewan.

Excellent fishing.

Thick pine & poplar

bluffs, by water coulee.

Old yard site

with power and

water. Revenue

Potential. East of

Prince Albert, SK.

$248,000. Call Doug

306-716-2671.

3 QUARTERS OF

Cropland south of

Weyburn, SK.

Distressed sale.

Priced below market

at 1.27 x assessment,

with a 4%

return with lease.

$594,800.00. Call

Doug at 306-716-

2671.

BUSINESS FOR SALE

Selling your

business?

The Affordable

Business

Partner.com

Providing Affordable

& Confidential Rural

Family Business

Selling Solutions.

How can we help

you?

Gil 403.708.0903

MISC.

WIRELESS

Driveway alarms,

one mile range,

motion sensor triggers

receiver in

house alerting you

of intruders. Pick up

in Hanna or Calgary

or we ship free.

$249. + tax. Farm &

Acreage Security.

Text or call 403-

616-6610.

INTEGRITY POST

FRAME Buildings

since 2008 Built

With Concrete

Posts. Barns,

Shops, Riding

Arenas, Machine

Sheds and more,

sales@integritybuilt.

com 1-866-974-

7678 www.integritybuilt.com.

FEED AND SEED

WE BUY

DAMAGED Grain -

Heated, Mixed,

Tough, Light, Bugs,

Spring Thrashed....

Barley, Wheat,

Oats, Peas, Flax,

Canola. "On Farm

Pickup". Westcan

Feed & Grain

1-877-250-5252.

ALBERTA FEED

Grain: Buying Oats,

Barley, Wheat,

Canola, Peas,

Screenings, Mixed

Grains. Dry, Wet,

Heated, or Spring

Thresh. Prompt

Payment. In House

Trucks, In House

Excreta Cleaning.

Vac Rental. 1-888-

483-8789.

Lawyer

E. Roger Spady

Professional Corporation

Barrister & Solicitor

Coronation Mall Coronation, AB

403-578-3131

Office Hours: Tuesday to Friday 9 a.m. to 5 p.m.

Dentist

Dr.McIver

In Coronation (Located in Coronation Mall)

MONDAYS 9 a.m. - 5 p.m.

Call Anytime for Appointments

403-578-3811

GET YOUR

MESSAGE SEEN

ACROSS Alberta. The

Blanket Classifieds or

Value Ads reach over

600,000 Alberta readers

weekly. Two

options starting at

$269 or $995 to get

your message out!

Business changes,

hiring, items for sale,

cancellations, tenders,

etc. People are

increasingly staying

home and rely on their

local newspapers for

information. KEEP

people in the loop with

our 90 Weekly

Community

Newspapers. Call

ECA Review now 403-

578-4111 or email

classifieds@awna.

com for details. 1-800-

282-6903, 780-434-

8746 X225. www.

awna.com.

WANTED

DESPERATE. Retired

couple desperately

seeking 2 bedroom

rental property in

Camrose or Stettler

area. Cat friendly. Ph.

403-323-9500.

WANTED

SASQUATCH Skull -

Also purchasing

SILVER & GOLD

coins, bars, jewelry,

scrap, nuggets, sterling,

999+ Bullion,

maple leafs, bulk silver,

pre-1969 coins.

Coin collector Buying

Entire Coin

Collections, old $ &

Royal Canadian Mint

coins. TODD 250-864-

3521.

CONTRACT SERVICES

CAMPGROUND ATTENDANT –– PRAIRIE OASIS PARK

2023 Season

PRAIRIE OASIS PARK - - Special Areas is is requesting proposals for for the the

provision of of campground attendant services for for the the 2023 season at at Prairie

Oasis Park.

Visit https://specialareas.ab.ca/services/purchasing-contracts/ for for full full RFP details.

Closing Date: December 15 15 th th , , 2022

Please submit proposals to to the attention of: of:

Requisitions Clerk

Special Areas Board

Box 820

Hanna, AB AB T0J 1P0

Email: requisitions@specialareas.ab.ca

www.specialareas.ab.ca

An An agency of of the the Government of of Alberta

CAREER TRAINING

LOOKING FOR A

Rewarding Career?

Massage Therapy

offers many options.

Study full time or in a

distance format.

Contact the Alberta

Institute of Massage

for details at www.

albertainstituteofmassage.com;

phone

403.346.1018.

BLANKET THE

PROVINCE with a

classified ad. Only

$269 (based on 25

words or less).

Reach almost 90

weekly newspapers.

Call NOW for details.

1-800-282-6903 Ext

225; www.awna.com.

Professional Directory

Optometrist

CORONATION VISION CLINIC

Dr. Ward ZoBell

Tues & Thurs 10 - 4

403-578-3221

HANNA VISION CENTRE

Eye Health, Glasses, Contacts

Dr. Dennis A. Heimdahl Dr. Ward ZoBell

Tues, Wed 9-4:30; Thurs, Fri 9-4

403-854-3003

Dentist

Our families serving yours!

Phone: 825-300-0049

Book Your

Christmas

Greeting

and reach 28,000

current & potential

customers PLUS

online targeting!

Drop into the office

to check out all the

choices! Call:

Judy cell 403-740-2492

marketing@ECAreview.com

Yvonne 403-575-9474

advertise@ECAreview.com

Joyce 403-578-4111

office@ECAreview.com

Email: drballdental@gmail.com

Location: 4913 50 St, Killam AB, T0B 2L0

Mail: Box 389, Killam AB, T0B 2L0

SERVICES

CRIMINAL

RECORD? Why suffer

employment/

licensing loss?

Travel/business

opportunities? Be

embarrassed? Think:

Criminal Pardon. US

entry waiver. Record

purge. File destruction.

Free consultation.

1-800-347-2540.

www.accesslegalmjf.

com.

GET BACK On

Track! Bad credit?

Bills? Unemployed?

Need Money? We

Lend! If you own

your own home - you

qualify. Pioneer

Acceptance Corp.

Member BBB. 1-877-

987-1420. www.pioneerwest.com.

HEALTH

HIP/KNEE

Replacement. Other

medical conditions

causing Trouble

Walking or

Dressing? The

Disability Tax Credit

allows for $3,000

yearly tax credit and

$30,000 lump sum

refund. Take advantage

of this offer.

Apply NOW; quickest

refund

Nationwide: Expert

help. 1-844-453-

5372.

check us out online

www.ECAreview.com

PUBLIC WORKS FOREMAN for the Village of Alix

Location: Alix, Alberta

Job type: Permanent & Full-Time

Job Status: 40 hours per week and requires on call availability

Salary: $66,560 to $70,720 based on experience plus overtime

JOB OPPORTUNITY - Central Alberta

TANKSTORE LTD.

HALKIRK, AB

STRUCTURAL

WELDERS

MUST BE ABLE TO READ DRAWINGS

Comparable Benefit Package

After 3 Months

WAGES BASED ON EXPERIENCE

Phone: 403-884-2001

Email: colint@tankstore.ca

POSITION SUMMARY

The Village of Alix is seeking a motivated, positive individual to fill the permanent position of

Public Works Foreman. You will be an integral member of the Village's senior management team

responsible for the overall operation of the Public Works department. This position reports to

the Chief Administrative Officer. The Village of Alix offers a competitive compensation package

and continuous learning opportunities in a community that enables a superior work-life balance.

MUST HAVES

• Class 3 Operators licence with acceptable driving record

• Clean Criminal Record

• Live in or able to commute to Alix, Alberta

• Ability to operate and maintain heavy equipment

• Working knowledge of road and sidewalk construction, water and sewer line

construction as well as building construction and maintenance

• Demonstrated leadership skills

• Strong interpersonal skills, ability to communicate courteously and effectively orally

and in writing

• Computer literacy utilizing Microsoft Office Suite (Word, Excel, and Outlook)

• Grade 12 education or equivalent

NICE TO HAVES

• Previous experience within Public Works related occupation and/or post-secondary

training in a related field

• Alberta Environment Certifications in

• Water Distribution and Treatment Operator Level 1

• Wastewater Distribution and Treatment Operator Level 1

HOW TO APPLY

Please send your CV to recruitment@hrcovered.com and title the email "Village of Alix."

Maintenance Worker, Full Time

The County of Stettler Housing Authority is a not-for-profit organization which operates

three Senior's Lodges and provides affordable housing for families in Stettler and the

surrounding area. We are seeking a full-time Maintenance Worker to work in our seniors'

lodges as well as Community and Affordable Housing. This position offers extended

health benefits including dental and Local Authorities Pension Plan or LAPP.

The successful candidate should have the following qualifications:

• Minimum of five years' proven commercial experience and proven commercial

knowledge in evaluation, repair and preventative maintenance of industrial and

domestic building carpentry, plumbing, electrical and HVAC systems.

• Experience in grounds keeping and small equipment operation

• Valid Class 5 driver's license, clean driver's abstract and own vehicle

• Physically and cognitively able to complete "Job Demands"

• Able to work independently in a safe and acceptable manner

• Current and satisfactory Criminal Record Check

• Valid Emergency First Aid/CPR Certification

• Current WHMIS Certificate

• Good computer, verbal and written communication skills

• Able to deal compassionately, patiently and effectively with vulnerable people

• Strong team participant with all departments

• Maintain adequate fitness level to work in a physically demanding job

• Flexible and able to work in fast paced changing environment

• Share in a 24/7 on call rotation with the other member of the maintenance team

We offer extended Health Benefits, Dental Plan and

Local Authorities Pension Plan (LAPP).

PLEASE SUBMIT YOUR RESUMES TO:

Sylvie Tremblay, Human Resources Manager

COUNTY OF STETTLER HOUSING AUTHORITY

6011-50 Avenue Stettler, Alberta T0C 2L1

Phone: (403) 742-9220 Fax: (403) 742-9221

Email: sylvie.tremblay@stettlerhousing.com

We sincerely thank everyone for your submissions, however only those

candidates selected for an interview will be contacted.
---
ECA REVIEW HANNA/CORONATION/STETTLER, AB December 1'22 9

Family and friends the heart of Letty's life

Letty (Loretta) Browne passed away

always busy creating crafts for family

unexpectedly on Nov. 21, 2022 at the

and friends.

age of 80 years. Her death is a great

As a friend pointed out, the world

loss to her beloved family and close

blooms a little less bright with her loss.

friends who were so thoroughly

Letty leaves behind her husband of

enriched by her love and devotion.

58 years Darrell Browne, son Brett

Letty was born on Jan. 20, 1942 and

Browne (Cathy Browne), daughter

raised in the small rural community of

Becky Osoba (Perry Danylyshyn),

Endiang, Alta. An only-child she cherished

the love of her mother Vi (Violet)

Van Dale), grandson Dryden Browne,

granddaughter Alexis Van Dale (Nick

and a large extended family including

great grandson Theodore Van Dale,

her Grammy, uncle

and adopted grandchildren Amber

Herman and other members

of the Schultz family

who farmed in the Endiang

and Scapa areas.

Letty left the community

for a time with her mother

and stepfather. She earned

her education degree while

living in southern

California but returned

home to marry partner for

life Darrell Browne on July

11, 1964.

She began her teaching career in

Browne

Byemoor, Alta. but the couple moved to

Stettler shortly before the birth of their

son Brett in 1967. They were blessed

with a second child Becky in 1972 and

Letty took time off from teaching to

nurture her young family.

It wasn't long before she returned to

teaching, first as a kindergarten

instructor and then as a Grade 2

Supply chain issues

Cont'd from Pg 5

Ziehr noted Kneehill County uses

several methods for obtaining offers

and all are in line with the trade

agreement but are not always open

bid.

Ziehr added that some details like

warranty have yet to be ironed out.

Fobes asked if the county has ever

considered leasing, to which Ziehr

responded yes, the idea has been

investigated but when the numbers

were crunched leasing didn't seem to

come out in Kneehill's favour; he

pointed out issues such as equipment

modifications and repairs.

Fobes stated she had a ratepayer

question, specifically a concern from

three ratepayers who apparently saw a

Kneehill County pick-up truck leaving

the municipality at about 5 p.m. and

wished to know why that was

occurring.

The CAO answered by saying some

vehicles in that situation may be oncall

and some employees take vehicles

as a taxable benefit.

Coun. Laura Lee Machell-

Cunningham asked how elected

councillors have a say in the vehicle

replacement programs, adding she

gets questions from ratepayers about

all the brand new trucks county staff

are driving.

The CAO responded Kneehill

County has benchmarks for vehicle

teacher at Waverly School where she

also taught music.

"Mrs. Browne" was a fixture at the

school until its closing when she

moved to Stettler elementary school. In

a 30-plus year career as a teacher, she

touched the lives of hundreds of

Stettler children who often stopped to

say "Hi" when she was out in the

community.

In the early 80's Letty and Darrell

purchased an acreage just

west of Stettler. Their family

flourished in the embrace of

this little piece of paradise

where bountiful gardens, fruit

trees and flowers bloomed

under their careful attention.

It has always been a place of

love and friendship where

everyone was welcome.

Family and friends were at

the heart of Letty's life. She

was never happier than when

she was together with those

she loved, whether it was in at the

curling rink, out camping and fishing,

or chatting around the kitchen table.

Letty and Darrell travelled the province

supporting their children and

later grandchildren in their sporting

and recreational endeavours but also

enjoyed the quiet pleasures of their

acreage. Letty was an avid reader, a

fan of curling and baseball, and was

replacement such as keeping them

when they're under warranty and not

running a vehicle into the ground so it

has little re-sale value.

Haugen stated councillors would see

vehicle replacements in the budgeting

process and within five and ten year

capital plans.

Haugen also reiterated the large preapproval

was being done to address

supply chain delays.

Machell-Cunningham asked how

old equipment is disposed of. Ziehr

answered several different methods

are used, including auctions and

closed tender, to get the best return.

Haugen pointed out Kneehill County

may price and advertise a vehicle

locally to give neighbouring municipalities

a chance to buy it if they wish.

Councillors unanimously approved

spending up to $4,500,000 from the capital

equipment replacement reserve to

fund the purchase of the equipment

and vehicles 3" listed wide above. version

Airdrie Dream Vacation

Lottery Draw 2023

Purchase tickets at airdriedreamvacation.ca

AIRDRIE COUNCIL #8045

$

35,760

In Prizes

plus 2 EARLY BIRDS

worth $3,900

Village of Donalda 3.75" wide version

Franchise Fee Increase Notice

Tickets $120

Only 600 Printed

Airdrie Dream Vacation

Lottery Draw 2023

Purchase tickets at airdriedreamvacation.ca

All monies raised

go to local charities.

Resolution 177-22. The Village of Donalda can revise the franchise fee on an See annual

website for list of charities:

airdriedeamvacation.ca/about

basis pursuant to Clause 5(b) of the Standard Natural Gas Distribution System Franchise Plus Agreement as per

In Prizes

plus 2 MARCH EARLY MADNESS BIRDS Tickets $120

Alberta Utilities Commission Decision 24796-D01-2019. The fee is recovered BONUS by DRAWS Only 600 Printed

worth $3,900 Apex Utilities Inc. from its

worth approx.

customers that receive natural gas service in the Village of Donalda.

$2,700

AIRDRIE COUNCIL #8045

$

35,760

All monies raised

go to local charities.

See website for list of charities:

airdriedeamvacation.ca/about

ELIGIBLE FOR

ALL DRAWS

Licence #614455

Please be advised the Village of Donalda is proposing to increase the local franchise

fee, which is charged to Apex Utilities Inc. effective January 15, 2023, as per Council

The franchise fee will be increased from 16%to 17% on the delivery charge of Apex Utilities Inc.

The average residential increase has been estimated at $0.81 per month.

Residents of the Village of Donalda will have until December 16, 2022 at 4:00 p.m., to make their concerns

known to the Village of Donalda. Please contact Kristie Vallet, Chief Administrative Officer at:

Village of Donalda

PO Box 160 Donalda, AB T0B 1H0 Ph: 403 883 2345 Email: cao@village.donalda.ab.ca

OBITUARY

ELIGIBLE FOR

ALL DRAWS

Licence #614455

ACREAGE & SHOP DISPERSAL – TRUCK,

ENCLOSED TRAILERS, GENERAL INT.

WOODWORKING, FISHING TACKLE & EQUIP., ETC.

TIMED ONLINE AUCTION

PINE LAKE ACREAGE DISPERSAL

& GUEST CONSIGNORS

BIDDING OPENS: Dec. 1, 2022 @ 9AM

STARTS CLOSING: Dec. 6, 2022 @ 9AM

SALE SITE: Montgomery Auction Sales Centre - 26514-Twp Rd. 400 Lacombe County, Ab

1-Mile North Of Blackfalds, Ab on Hwy 2a, 2 Miles East on Lakeside Sargent Rd.

VEHICLES

• 2010 Ford F150 P/U Truck, King Ranch,

4x4, Crew Cab, 338,564 Kms Showing

ACREAGE EQUIP.

• Log Splitter w/ Subaru 6.0hp Engine on

Trailer

• Concrete Mixer w/ Elec. Motor

• 3-Gas Power String Trimmers

• Generac Gas Powered Pressure Washer

• Powermate 10hp X5000W Gen Set

• Homelite Gen Set

• Power Ease 9000W Gen Set

• 4-Gas Powered Chain Saws

• Kenmore Elite SS LPG BBQ

WOODWORKING

• General Industrial 90-240 M1 Band Saw

1ph/110v/2hp

• Bosch GCM12sd Dual Bevel Sliding Hinge

12" Compound Mitre w/ stand

• General Industrial Dust Collection System

1ph/110v/1.5Hp

• General Industrial 30-125 14" Thickness

Planer

• Saw Stop Professional 10" Table Saw

• Nova Dvr XP Wood Lathe 42" Bed, 16"

Swing, digital read out

BUILDING

• Tarp Shelter Car Port

• Fold-up Canopy

TRAILERS, BOAT, & FISHING

• 2011 20Ft Look Enclosed T/A Trailer w/

Rear Ramp Door, Side Door

• 14Ft Aluminum Fishing Boat w/

Johnson Seahorse 15hp Motor,

Shorelander Trailer

Danylyshyn (Evan Rosentreter) and

Dallas Danylyshyn as well as adopted

great grandchildren Rilynn and

Parker Rosentreter.

A funeral service for Letty will be

held at 1 p.m. on Fri. Dec. 2, 2022, at St.

Peter Lutheran Church, Stettler, Alta.

Stettler Funeral Home &

Crematorium have been entrusted

with the care and funeral arrangements,

403-742-3422.

• Pop Up Ice Fishing Shack

• Large Quantity of Fishing Tackle and

Equipment.

SHOP TOOLS & EQUIP.

• 2013 CEMB C7 EVO Tire Balancer Machine

• 2007 Accu-turn 526T Tire Changing

Machine

• Hoffman Monty 1625 Tire Changing

Machine

• 2-Easy-Kleen Magnum 4000 Series Gold

Hot Water Diesel Fired Pressure Washer

COMMERCIAL SEWING

• USM Hytronic Model B Cutting Machine

(Clicker Press)

• Landis 12 Model F Industrial Stitcher S/N

F17991

• Landis 12 Model K Industrial Stitcher S/N

K422455

• Doit DT-U1 Commercial Sewing Machine

S/N 20092401

• Doit Automatic Cloth Cutter

• 4-Doit EX Automatic Overlock Commercial

Sewing Machines w/ Tables, Foot Tables

• 2-Uni-Safe 508C1 Cutters

• 90 100m rolls of Non-Woven Fabric

OTHER ITEMS

• Hyd. ATV Lift

• Assorted Aluminum ladders

• Bicycles

• Pro-Form Power 795 Treadmill w/ i-Fit

Compatibility

Auctioneers Note: We are selling an amazing selection of General International

woodworking equipment just in time for Christmas. If you haven't found that perfect gift

this is your chance!

15% Internet Fee w/$1000 Cap/Lot

VIEWING: Dec. 1, 2 & 5: 9am - 4pm REMOVAL: Dec. 7 - 9: 9am – 5pm

M ONTGOMER Y

AUCTION SERVICES LTD.

BLACKFALDS, AB 403-885-5149 1-800-371-6963

Lic #19517

www.montgomeryauctions.com
---
10 D ecember 1'22 HANNA/CORONATION/STETTLER, AB. ECA REVIEW

OBITUARY

Was a true cowboy until his passing

Harvey Otto Stuber passed

away peacefully at Seasons

Retirement Community in High

River, Alta. on Mon. Nov. 21,

2022 at 84 years old. Harvey was

a husband, father, son, brother,

brother-in-law, neighbour,

friend, rancher and cowboy. He

loved his family and friends; his

passions were his ranch and

animals.

Harvey was the first child

born to Otto and Mary Stuber.

He grew up and attended school

in Medicine Hat, Alta. where he

learned to play hockey and

apparently was the undisputed

marble champion!

He moved to

Hanna with his

family in 1955.

There, he attended

church where he met

his future wife,

Della. He and Della

got to know each

other when he was

hired to work on

Della's parents' farm

southwest of Hanna.

They were married

on Dec. 7, 1963.

Stuber

Harvey and Della lived south

of Hanna, where Dad worked as

a hired hand until he and mom

bought his parents' ranch southeast

of Hanna in 1964. They

remained on that ranch until

retiring in 2006.

Harvey kept busy with his

ranch and his family. He and

Della parented their two daughters

while running the ranch,

which included all tasks and

responsibilities associated with

farming and ranching: sowing

and harvesting crops; raising

and training horses; raising and

marketing cattle, pigs and

poultry; milking cows; and

keeping dogs and cats. He was

skillful and meticulous with his

cattle and horses.

One fond memory of dad was

after he had moved from independent

living into the

retirement home. He stayed

with Janice on the farm for a

few days and wanted to go out to

the coulee on the side-by-side

and check the cows. He was the

first to notice a single cow was

off by herself and sure enough,

we investigated and discovered

she had foot rot. Always a diligent

rancher!

Dad and mom taught us the

ropes when it came to breaking

and riding horses as well as

checking, herding, sorting and

generally dealing with cattle

and other farm animals.

They spent years working

hard on the ranch and attending

auction markets to buy and sell

cattle and horses. They travelled

endlessly to haul us to rodeos,

horse shows, Big

Country Riding and

Roping Club (BCRR))

events, 4-H, music lessons,

swimming and

figure skating lessons.

Dad was a detail guy.

He worked together with

mom to ensure the

ranch was tidy, the animals

were cared for, and

the fences were mended

and painted. Perhaps

his attention to detail was, in

part, why he was the designated

prairie oyster surgeon (a.k.a.

castrator) at many community

brandings.

Harvey was uncomplicated.

He preferred to lead a quiet

simple life. If he wasn't eating

Alberta beef, his meal of choice

was a bologna sandwich. He also

loved "Christmas dinner with

all the fixin's".

He took time to think things

through but once he made his

decision, that was that. He was

quietly wise and soft-spoken

unless he was dealing with an

unruly cow or an opponent who

slashed him in a hockey game.

He also did not like it much

when the Flames lost.

At one of the last Handhills

Turkey Suppers he attended

with Lorna, he remained silent

throughout the meal until he

finally said, "There are sure a

lot of old people here," to which

Lorna immediately replied,

"Have you looked in the mirror

lately?" And then he laughed

loudly.

Dad's hearty guffaw was well

known. He had a memorable

and unmistakably dry sense of

humour and was known to have

a lot of fun with neighbours,

friends and family.

There were team roping weekends,

dancing up a storm at

community dances and basement

parties, card playing and

all night canasta tournaments,

old-timer hockey games and

occasional vacations to BC,

California, Las Vegas and

Arizona when mom could pry

him off the ranch, which wasn't

often; he hated being away from

home.

When we were kids, we

bought him a T-shirt that said,

"I Hate Holidays". Dad was the

only person on the beach or 30

degree heat wearing jeans and

cowboy boots!

He loved playing as well as

watching hockey and continued

playing well into his forties. In

his last game he was awarded a

trophy for "Best Effort".

Dad was a true cowboy to the

end. When his dementia took

over, his mind and body started

to fail; doctors told him he

needed to use an oxygen

machine. He hated having the

tubing poke into his nose and

staff at his residence told us that

whenever they put the tubing

into his nose and around his

head, he would rip it off, twirl it

around over his head, and then

throw it across the room as if it

were a lasso.

He always greeted the staff

with a "Howdy", and after several

months, one of the staff, a

lovely woman from Eastern

Europe, finally asked Lorna,

"What does 'howdy' mean? You

always say that to your dad

when you come to visit, and he

always says it to us when we

come into his room. I don't know

this word." Lorna told her, "It's

the way cowboys say hello."

Harvey is predeceased by his

wife of 47 years, Della. his

father, Otto and his mother,

Mary.

He is survived by daughters

Janice and Lorna; sister

Mable (Ben) Rath; brothers

Roger (Sandra) Stuber and

Gerry (Gail) Stuber; niece

Marnie; nephews Darren

(Pierrette) and

Kent (Caterina);

plus numerous

aunts, uncles,

cousins and greatnieces

and

nephews.

A memorial

and burial for

Harvey will be

held in the spring

of 2023 in Hanna.

Details will be

forthcoming.

In lieu of

flowers, donations

in memory

of Harvey can be

made directly to

the Heart and

Stroke

Foundation 119 14 Street

NW, Floor One, Calgary,

Alta. T2N 1Z6. Ph:

1-888-473-4636.

Hanna Funeral Services

Ltd. has been entrusted with

the care and arrangements.

403-854-5956.

Big Valley Villa's

Senior Self Contained

HAS VACANCIES

Applications can be picked up

at Paragon Place lodge

5011 - 55 Street

Stettler, Alberta T0C 2L2

or obtained off of our website

www.stettlerhousing.com

For more information

Call Elaine at

403-742-6195

or email at

elaine.dumonthudye@

stettlerhousing.com

Sign Up today!

1-800-642-7028

www.netago.ca

Business

Directory

space available

for under $30

Ask us about available

discounts.

Big Country Construction

& Building Supplies

2018 Ltd.

• Custom New Homes • All Farm Buildings

• Renovations • Windows and Doors

• Overhead Doors & Service • Retail Sales

Quality Customer Care

403-854-3585

53' Ground Load Services

Benson Van Hienen

403-741-5735

bvhtrucking@gmail.com

Cell 403.742.9442

Cell 403.742.9442

Cell Office Office 403.742.6747

| Ldelwo@remax.net

Box 1421, 4913-51 Street, Stettler, AB T0C 2L0

Office 403.742.6747 | Ldelwo@remax.net

Box 1421, 4913-51 Street, Stettler, AB T0C 2L0

Cell 403.742.9442 Ldelwo@remax.net

www.stettlerrealty.com

Office 403.742.6747 Box1421, | Ldelwo@remax.net 4913-51 St, Stettler, AB

Box 1421, 4913-51 Street, Stettler, www.stettlerrealty.com

AB T0C 2L01st CHOICE REALTY

Each office is independently owned and operated

www.stettlerrealty.com

1st CHOICE REALTY

Each office is independently owned and operated

www.stettlerrealty.com

1st CHOICE REALTY

Each office is independently owned and operated

Bill's Waterwell

Services Ltd.

Well Drilling

Pumps & Repairs

403-747-2120

drillerbill@xplornet.com

UNLIMITED

HIGH‐SPEED INTERNET

Now Serving:

Coronation, Veteran, Talbot, Brownfield,

Alliance, Fleet, Castor, Halkirk, Botha, &

Stettler areas. More to come!

Plans starting at $50/mo.

Packages from 7 to 50Mbps

403-578-4214

Toll Free 866.57.VITAL

CAN'T SEE OUT?

Option #1

Replace

the Foggy

Unit

Option #2

Replace

the

window

Financing Available

Anchor Glass

403-854-4414 • 1-800-463-3148

www.anchorglass.ab.ca

tim@anchorglass.ab.ca

Scott Lourance

403-916-4600 Cell

403-742-2551 Home

• Specializing in Repairs to

ALL Makes & Models of RVs & Trailers

• Full selection of RV Parts & Accessories

• RV Storage

53' Cattle Liner

53' Ground Load

Hay Trailer

403 742 5667 generationsrv@gmail.com
---
ECA REVIEW HANNA/CORONATION/STETTLER, AB December 1'22 11

REAL ESTATE/HOMES

OBITUARIES

Contagious smile and laugh remembered

Connie Campbell

1959 ~ 2022

Connie June Campbell sadly passed

away on Nov. 18, 2022 in Yuma, Ariz. at

the age of 63 years.

Connie is survived by her husband

Dan, son Derrick (Katie) Campbell,

daughter Dawn (Russell) Lyon, grandchildren:

Scotland, Jorgie, Courtney,

Scarlett, Lyla and Sutter.

She also leaves behind her sisters

Valerie (Dale) Falk, Marjorie (Stan)

Pudlowski; brothers Norman (Brenda)

Van Petten, Sid (Peggy) Van Petten;

sister-in-law Virginia Van Petten; and

many nieces and nephews.

She is predeceased by her sisters

Kathy and Diane, brothers Arnold and

Dennis and parents Stewart and

Clarece Van Petten.

Connie was born in Camrose, Alta.

on June 18, 1959. She was one of nine

Van Petten children born to Stewart

and Clarece. She grew up on the family

farm and attended school in Rosalind.

She met the love of her life Dan

Campbell and they were married on

July 7, 1979. They had two children

Derrick and Dawn.

Dan's career with CN relocated them

to many places in the years to come,

finally landing them in Hanna, Alta.

in 1991 where she spent the rest of her

life. She began working at

ConocoPhillips where she later retired

after 17 years.

She loved golfing, winning various

club championships, and curling in the

winters with her husband. As her kid's

activities took over, she spent her

winters in hockey rinks and summers enjoyed their winters in the sunshine.

at swim meets all over Alberta.

Connie will be remembered for her

She loved to travel and

warm heart, kind soul, and her

enjoyed camping in the

contagious smile and laugh.

Kananaskis and being

She will be forever loved and

wherever her kids and

cherished by all who knew her.

grandkids were.

A memorial service will be

Connie remained active

held in the new year.

her whole life, either on the

If desired, donations in

pickle ball court, golf

memory of Connie can be

course, or even playing on

made directly to the Kidney

the playground with her

Foundation of Canada, 6007 1A

grandchildren. She was

Street SW, Calgary, AB, T2H

positive and optimistic and Campbell 0G5, or www.kidney.ca

compassionate towards

Hanna Funeral Services

others. She was very artistic

Ltd. has been entrusted with

and enjoyed sharing her talents with the care and arrangements.

her granddaughters.

Condolences can be sent to the family

In recent years, her and Dan bought at www.hannafuneral.ca. Ph.

a home in Yuma, Ariz. where they 403-854-5956.

Spent last 30 years

living in Stettler

Elizabeth (Betty) Arnold

Aug. 2, 1945 - Nov. 22, 2022

Betty C. Arnold, age 77 passed away

peacefully on Tues. Nov. 22, 2022 at

Stettler Alberta hospital with her

family by her side.

Betty was born to Joseph and Rose

Simon at Saskatoon, Sask. on Aug. 2,

1945.

Betty spent many years in Rabbit

Lake until she later moved to Big

Beaver and Bengough. She then later

moved to Stettler, Alta. where she

spent the last 30 years.

Betty enjoyed gardening and had a

love for flowers. Many people

remember her being goofy, fun to be

around, dancing and stern when she

needed to be.

She was predeceased by her parents

Joseph and Rose Simon, nephews Matt

Trout and Harvey

Krelow.

Betty will forever

be

remembered by

her husband Ron

Arnold, her

daughter Bonnie

(Glenn) Lillejord,

granddaughter

Reena, great

granddaughter

Felicity and

Macey, granddaughter

Jodi

(Leith)

Watamanuk,

great grandchildren:

Marissa,

Aurora, Geriko

and Alyss;

daughter,

Dawnita (Melvin)

Holmes, grandchildren

Catlin

(Justin), Chass

(Cory) and great

grandchildren

Alexis, Hailey,

Karson and

Kenzie; Ron's

daughters Barb

and family, Diane

and family,

Jackie, Taniassa

and family.

Betty is also

survived by her

sisters and

brothers: Agnus

Peters, Lilian

Sarenco, Elaine

Quessy, Joyce

Simon, Gladys

Serving

the east

central

Alberta

region

Jeff & Alison Southworth,

bringing 20 years of experience

• Water well drilling & servicing

• Well pump installation and servicing

• Pressure systems

• Backhoe services for water lines

• Water well Chlorination

• Ritchie waterers • Pasture Wells

Emergency services • 24 hr on call

Legacy

Drilling Ltd

SOLD

Call Dallas Ellerby

Your Farm & Ranch Specialist

403.578.8105

403-854-0172 • Hanna, AB

legacydrillingltd@outlook.com

403-396-2254 • Delburne, AB

LAND FOR SALE

CROP LAND

4500 acres - Chinook area

6000 acres - Cereal area

2400 acres - south of Hanna

1 Quarter - south of Veteran

GRASS LAND

16 quarters - south of Veteran

90 quarters - Youngstown area

2 quarters - south of Veteran

and Don Hall, Roger and Mary Ann

Simon, James and Anita Simon,

Douglas Simon and Brian Simon.

A Celebration of Life will be held at

a later date.

Memorial donations may be made to

the Alberta Lung Association, 208,

17420 Stony Plain Road, NW

Edmonton, Alta. T6E 9Z9, Canadian

Cancer Society 200-325 Manning Road,

NE, Calgary, Alta. T2E 9Z9 or to the

Alzheimer Society of Alberta Unit 1,

550-45 Street, Red Deer, Alta. T4N 1L1.

Condolences may be sent to the

family at www.stettlerfuneralhome.

com.

Stettler Funeral Home &

Crematorium entrusted with the care

and funeral arrangements

403-742-3422.

www.greaterpropertygroup.com

GREATER PROPERTY GROUP

1/4 section north of

Veteran - 90 acres

broke, home site,

16' x 76' mobile

home, 40' x 60'

SOLD

shop & working

corrals. Owner

willing to subdivide

acreage out.

cancow@

xplornet.com

FARMLAND FOR SALE BY TENDER

Tenders are invited for the purchase of the following properties located SE of

Forestburg in Flagstaff County. The properties are legally described as:

FIRST:

THE SOUTH EAST QUARTER OF SECTION THIRTY ONE (31)

TOWNSHIP FORTY (40)

RANGE FIFTEEN (15)

WEST OF THE FOURTH MERIDIAN

CONTAINING 64.7 HECTARES (160 ACRES) MORE OR LESS.

EXCEPTING THEREOUT: ALL THAT PORTION REQUIRED FOR RESERVOIR AS SHOWN

OUTLINED IN RED ON FILED PLAN 6049 H.W., CONTAINING FOURTEEN AND SIXTY

TWO HUNDREDTHS (14.62) ACRES MORE OR LESS

EXCEPTING THEREOUT ALL MINES AND MINERALS

Contains approximately 145.38 acres more or less of which 80 acres is cultivated crop

land 65.38 acres is native pasture. The crop land is fenced separate from the pasture

land. 2022 county taxes were $360.00. 2022 industrial lease income was $3844.05 (not

guaranteed).

SECOND:

MERIDIAN 4 RANGE 15 TOWNSHIP 40

SECTION 31

ALL THAT PORTION OF THE SOUTH WEST QUARTER

WHICH LIES TO THE NORTH EAST OF THE RESERVOIR AS SHOWN

OUTLINED RED ON RIGHT OF WAY PLAN 6049HW

CONTAINING 26.345 HECTARES (65.11 ACRES) MORE OR LESS

EXCEPTING THEREOUT ALL MINES AND MINERALS

AND THE RIGHT TO WORK THE SAME

Contains 65.11 acres all native pasture. 2022 county taxes were $94.07. 2022 industrial

lease income was $289.80 (not guaranteed).

INCLUDED ASSOCIATED LEASED PASTURE LANDS:

1. Alberta Power (2000) Ltd. pasture lease located above Battle River Reservoir

including the following lands in Flagstaff County:

SE 31-40-15 W4 16.01 acres

SW 31-40-15 W4 8.56 acres

NE 30-40-15 W4 5.39 acres

N ½ 29-40-15 W4 35.53 acres

Total leased area 65.49 acres

Present lease rate is $8.00 per acre.

2. Flagstaff County

Road Plan 882-2820 lease agreement dated October 24, 2007 with Flagstaff

County and Alberta Power (2000) Ltd. Approximate area of 7.403 acres pasture

fenced.

3. Private Lease Agreement with adjacent land owner - 7.8 acres of pasture located

in SW corner of SW 32-40-15 W4. Land is fenced in with existing pasture.

Total leased pasture land is approximately 80.693 acres more or less.

2023 property taxes will be paid in full by any successful purchaser without

adjustment. No adjustment for any lease/rental income received prior to closing

date. Any successful purchaser will receive any/all future surface lease payments after

closing date. Seller will assign the existing pasture leases to any successful purchaser.

Tenders must be for the purchase of both SE 31-40-15 W4 and Part SW 31-40-15 W4

and the existing pasture leases.

Tenders are to be submitted in sealed envelopes marked "Marcinkoski Tender", with

tenderer's GST number and accompanied by a certified cheque or bank draft made

payable to Andreassen Borth in trust for 5% of the amount of the tender and must be

delivered before 12:00 noon on December 21, 2022 to the offices of Andreassen Borth,

Barristers and Solicitors, 5014-50 Street, P.O. Box 727, Killam, Alberta, TOB 2LO.

The balance of the purchase price shall be paid to Andreassen Borth on or before

January 31, 2023. The seller and any successful purchaser will share the cost of title

insurance on the purchase. Tenders are irrevocable and shall remain open until dealt

with by the offices of Andreassen Borth. Tenders will not be opened in public. If a

successful tenderer does not complete the purchase after acceptance of that tender,

their deposit shall be forfeited to the owner. The highest or any tender will not

necessarily be accepted. The owner reserves the right to reject any and all tenders.

Deposits received from any unsuccessful tenderers will be returned to them by regular

mail.

For further information, or to arrange an appointment to view the subject property,

please call Bob at (780) 781-1432.
---
12 D ecember 1'22 HANNA/CORONATION/STETTLER, AB. ECA REVIEW

Infectious laugh and

incredibly kind heart

Bradley James Richaud

Nov. 30, 1966 - April 10, 2022

Bradley James Richaud of Castor,

Alta. passed away suddenly on April

10, 2022, at the age of 55 years.

Bradley, youngest son of Louis and

Eleanor Richaud, was born on Nov. 30,

1966 at Galahad, Alta.

Brad grew up on the family farm

near Forestburg, Alta. where he helped

with the race horses and

farm operations. He

attended Forestburg

School for Grades 1-12.

Growing up, summers

were often spent at the

race tracks with his

family and the horses.

From a young age,

Brad loved to drive and

given the chance, he was

often the first one to the

steering wheel of any

vehicle or piece of

equipment.

In his younger years, he

had a strong passion for

motorcycles and preferred

to spend most of

his time on one wheel, rather than two.

As he grew older, his passion

changed to trucks and he was only too

happy to spin the wheels.

Upon graduating from Forestburg

High School in 1986, Brad worked at

various jobs.

In June of 1988, Brad began employment

at the local Paintearth Mine,

where he worked as a heavy equipment

operator.

On Oct. 26, 1991 he married Corrine

Blonski of Castor. Brad and Corrine

have two children: Blaire, born

September 1993 and Jayden, born June

1995.

Brad and Corrine resided in

Forestburg until 1994 when they

moved to Castor. Shortly thereafter,

Brad's employment transferred to the

OBITUARIES

In the end it's not

the years in your

life that counts,

it's the life in your

years…

Forever loved

Wayne "Harley" Endersby

Feb. 18, 1948- Nov. 23, 2022

Wayne "Harley" Endersby of

Medicine Hat, Alta. passed away at

home surrounded by people that loved

him on Nov. 23, 2022, at the age of 74.

Harley will be forever loved, remembered

and missed by his partner,

Brenda Dube; his daughter, Cheryl

Endersby-Connelly (Robert); daughter,

Kim Turton (Mike); son, Lincoln

Endersby; and step-daughter, Rachael

Wilson (Carrie).

Wireless Camera Security For Your Livestock Barn

"Cow Cam"

• Monitor Livestock at Critical Times • Check on Sick Animals

• Monitor Tack Rooms • Observe Calving, Foaling, Farrowing & Lambing

The livestock Monitoring System (Cow Cam) comes

with a high quality HD color camera, which offers an

approximate 360° field of view - the best available

for this application. The camera has Infrared

lights (great for low light conditions) and gives an

awesome night time picture. It sees better than the

human eye and offers unparalleled picture quality.

The unit is encased in a durable weather resistant

metal housing with rubber gaskets to provide

protection from the elements of high moisture

or ammonia. The metal mounting bracket can be

manually positioned left, right and up or down.

Sheerness Coal Mine near Hanna.

Mining was one of his passions and

he was very proud of the fact that he

operated the large dragline excavators.

Brad worked at Sheerness Mine/

Westmoreland Coal/Prairie Mines &

Royalty, right up until the time of his

passing.

Brad enjoyed the outdoors and

camping with family and friends. He

loved Autumn, when he looked

forward to spending time

hunting, shooting and fishing.

He enjoyed his work and fellow

co-workers.

Brad was known by all for

his warm personality, quick

wit, sarcasm and sense of

humour. He had an infectious

laugh and incredibly kind

heart. Brad will forever be

greatly missed by all who

knew him.

Brad was predeceased by his

paternal grandparents Louis

and Bertha Richaud, maternal

grandparents Fred and Lydia

Roth (Dietrich), and mother-inlaw

Verna Blonski.

Left to cherish his memory are his

wife Corrine; children Blaire (Jared)

Dewald, Jayden Richaud (Logan

Tisdel); parents Louis and Eleanor

Richaud; brother Maurice (Sonja)

Richaud and their children, Leah

Richaud (and daughter Everleigh),

Garrett Richaud; father-in-law John

(Fran) Blonski; sister-in-law Debbie

McCallum (Lewis Gamroth) and

family, sister-in-law Peggy Bower

(former husband Les) and family, as

well as several great nieces and

nephews; numerous aunts, uncles,

cousins, friends and co-workers.

If family and friends so desire,

memorial contributions in Brad's

memory may be made to the Alberta

Heart and Stroke Foundation or the

Alberta Diabetes Foundation.

Also his grandchildren,

Trelle

(Andrew), Olivia,

Tiffany (Jordan),

Cole and great

granddaughter,

Sara; his

brothers, Dan

(Dianna), Dennis

(Ella), Rick

(Cherryl), and

Todd; as well as

numerous nieces,

nephews, cousins

and friends.

He was predeceased

in death

by his parents,

Dan and June

Endersby.

A Celebration

of Life will be

held in the spring

2023.

Condolences

may be made at

www.gracememorial.com.

Arrangements are

made by Grace

Memorial

Affordable Burial

& Cremation, 1924

10th Ave NW,

Medicine Hat, Alta.

T1C 1T5; 403-905-

0440; info@

gracememorial.

com.

Endersby

5004-48th ave

Stettler, AB

403-742-4320

AGRICULTURE