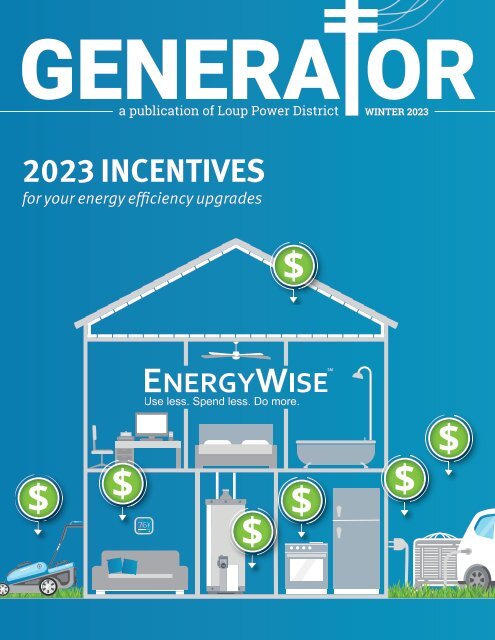 Winter 2023 Generator
Learn more about our EnergyWise programs, a change in rates and the Board of Directors for 2023, and cell charger safety.
Learn more about our EnergyWise programs, a change in rates and the Board of Directors for 2023, and cell charger safety.
SHOW MORE
SHOW LESS
Create successful ePaper yourself
Turn your PDF publications into a flip-book with our unique Google optimized e-Paper software.
GENERA OR

a publication of Loup Power District WINTER 2023

2023 INCENTIVES

for your energy efficiency upgrades

$

$

$ $

$ $ $
---
BOARD OF DIRECTORS

Steve Heesacker

Chairman

Bob Cerv

First Vice Chairman

Jim Donoghue

Second Vice Chairman

Mike Fleming

Secretary

Dick Tooley

Treasurer

Rich Aerni

Alan Drozd

Chris Langemeier

Larry Zach

EXECUTIVE STAFF

Neal Suess

President/CEO

Walt Williams

Vice President,

Accounting & Finance/CFO

Todd Duren

Vice President,

Corporate Services

Korey Hobza

Vice President, Engineering

Dan Hellbusch

Vice President, Operations

The Loup Generator is

published quarterly

as a service for Loup

employees, families,

friends, and associates.

For feedback, story ideas

and submissions, contact:

Stacy Wemhoff

Communications Coordinator

402-562-5711

swemhoff@loup.com

Communities receive more than $1.6M

Loup Power District officials

recently delivered lease

payments totaling more than

$1.6 million to area communities.

Each of these communities

owns their electric distribution

systems.

These payments compensate

them for the use of those systems

for the third quarter of 2022.

Communities use the funds for a

variety of public projects.

Fight the winter chill and save energy

We all have our favorite season. Some people

love crisp, cool weather and bundling up under

a favorite blanket, while others prefer the warm

temperatures summer brings and all the fun

outdoor activities that go with it.

But there's one thing we can all agree on: high

winter bills are never fun. Here are some tips to

help you manage your home energy use and keep

winter bills in check.

The payments were:

Columbus — $1,232,382.74

Platte Center — $10,743.15

Monroe — $8,544.47

Tarnov — $1,422.77

Creston — $5,804.40

Humphrey — $28,541.28

Lindsay — $45,774.88

Cornlea — $1,756.01

Newman Grove — $19,955.51

Duncan — $17,400.11

Fullerton — $38,204.93

Genoa — $27,063.72

1. MIND THE THERMOSTAT.

This is one of the easiest ways to manage your

home energy use. We recommend setting your

thermostat to 68 degrees (or lower) when you're

home. When you're away for an extended period of

time, try setting it a little lower — there's no need

to heat your home when you're away or sleeping

and less active.

2. BUTTON UP YOUR HOME.

The Department of Energy estimates that air leaks

account for 24–40 percent of the energy used for

heating and cooling a home. Caulking and weather

stripping around windows and doors is another

simple, cost-effective way to increase comfort and

save energy. If you can feel drafts while standing

near a window or door, it likely needs to be sealed.

3. USE WINDOW COVERINGS WISELY.

Open blinds, drapes or other window coverings

during the day to allow natural sunlight in to warm

your home. Close them at night to keep the cold,

drafty air out. If you feel cold air around windows,

consider hanging curtains or drapes in a thicker

material. Heavier window coverings can make a

significant difference in blocking cold outdoor air.

4. CONSIDER YOUR APPLIANCE USE.

When combined, appliances and electronics

account for a significant chunk of our home energy

use, so assess how efficiently you're using them.

Belgrade — $3,950.17

Richland — $2,541.36

Howells — $20,526.03

Leigh — $15,624.36

Clarkson — $21,796.13

Albion — $55,231.07

Cedar Rapids — $14,640.57

Primrose — $1,648.76

Petersburg — $11,169.31

St. Edward — $20,629.42

Total — $1,605,351.15

For example, if you're running the dishwasher

or clothes washer, only wash full loads. Look for

electronic devices that consume energy even when

they're not in use, like phone chargers or game

consoles. Every little bit helps, so unplug them to

save energy.

5. THINK OUTSIDE THE BOX.

If you're still feeling chilly at home, think of other

ways to warm up beyond dialing up the thermostat.

Add layers of clothing, wear thick socks and

bundle up under blankets. You can even add layers

to your home! If you have hard-surface flooring,

consider purchasing an area rug to block cold air

that leaks in through the floor.

If you're taking steps to save energy but continue

to see major increases in your bills, give us a call at

402-562-5718 or check out our energy calculators at

loup.com.

Winter months often bring some of the highest

energy bills of the year. By being proactive about

saving energy, you can increase the comfort of your

home and reduce monthly bills.

2 | GENERATOR
---
president's message

Board of Directors goes

from 10 members to 9

As you may be aware, the District will see a distinct

change in our Board of Directors next year. Effective

with the new year in 2023, the District will go from

a ten-member Board of Directors to a nine-member

Board of Directors.

Why did this happen? It was due to the change in the

distribution of people in the District's four-county

service area from the 2010 Census to the 2020 Census.

As the District's Board and management started

to look at the 2020 Census figures, it became clear

that the District needed to go to a nine-member

Board to keep an even population between District

subdivisions.

The populations in the District's two largest cities

—Columbus and Schuyler — are growing at a rate

much faster than the rest of the District. Many areas

of the District outside of Columbus and Schuyler

actually decreased in population from 2010 to 2020,

which caused an even greater shift in the population

numbers.

As the Board members started to review the data,

it became very clear that the western part of the

District's operating area (specifically Boone County

Petersburg

and Nance County) would be unable to support a

director from each county. Instead, the counties

needed to have one director from Boone and Nance

County.

In the November election, Board member Alan Drozd

defeated Board member Ross Knott for this seat. In the

other races involving District subdivisions, Director

Jim Donoghue and Director Larry Zach were victorious

in their reelection bids.

With that, we at the District will say goodbye to

Director Ross Knott from Petersburg. Director Knott

has been on the District Board since 2017 and served

as Board Chairman in 2021. He brought a wealth of

knowledge to the District with his involvement in the

banking industry and his vast knowledge of ranching

in the panhandle areas of Nebraska.

The Loup Power District Board of Directors has always

brought a wide variety of business understanding to

their positions and this has made the District Board

very unique. This is one of the main reasons that I

have enjoyed working at Loup Power District — I get

a better understanding of different industries from

people who are leaders in those industries.

We want to wish Director Knott, his wife Danielle, and

the rest of his family the best of luck in their future

endeavors. They will be missed as part of the Loup

Power District family.

NEAL SUESS

President/CEO

ALAN DROZD

Albion

Newman

Grove

Lindsay

Cornlea

Humphrey

Creston

Leigh

Clarkson

Howells

Primrose

Cedar Rapids

St. Edward

STEVE HEESACKER

Tarnov

Platte Center

BOB CERV

Belgrade

Genoa

Monroe

JIM DONOGHUE

Columbus

Richland

Schuyler

Duncan

Fullerton

LARRY ZACH

MIKE FLEMING

DICK TOOLEY

RICH AERNI

CHRIS LANGEMEIER

1=1

WINTER 2023 | 3
---
RETIREE PROFILE:

JIM FREAR

Jim Frear was happily teaching industrial

tech students at Kearney State College in

1990. Then he found out that the college

was going to become part of the University

of Nebraska-Lincoln. They required a

doctorate degree.

Frear earned his bachelor's degree in

industrial technology and a master's degree

in vocational education. He was was tired of

taking classes, so he went to the Nebraska

job service to see about a new career. Before

teaching, he worked with the U.S. Forest

Service in the engineering department.

When he learned about an engineering

tech opening at Loup Power District, he

decided to give it a try.

"I said, 'Hey, I'll take that for a few years

until we can move back west,' and 30 years

later I was still there."

That's the way it tends to happen at Loup.

Frear found he really enjoyed the work and

his coworkers. And it was a good job to help

him support his family. Even so, he thought

about returning west to Chadron for 20

years. "That was always the plan," he said.

So, following his retirement in late 2019,

that's exactly where he headed. In his new

home, he is surrounded by a national forest.

He loves the trees, the hills, the cliffs —

something he really missed while living in

Platte County.

Frear has no time for boredom in retirement.

He has reconnected with college

friends who live in the area. His hometown

of Valentine is close enough that he can

connect with high school friends.

He spends a lot of time maintaining his

five acres. This includes putting up fences to

keep the deer out. He helps his wife, Shelley,

with her garden. She works at Chadron State

4 | GENERATOR

College and they attend college functions

together. Almost every night, he plays one of

his guitars.

Frear also works on motorcycles — a

passion he has had since he was 14 years old.

He finds "junkers" and rebuilds and repaints

them. He has completed six in the last three

years. "You learn a lot," he said. "It's fun and

enjoyable to get them running."

He faced some heartache in retirement,

too. "I had to put my old dog to sleep which

is the hardest thing I've ever done," he said.

While he still feels that loss, Frear got

a new lab from Loup employee Jon Blaser

in July 2021. Finn has eased that pain and

brought new joy to the Frears. "I've never

spent a day apart from him," he said.

Finn also does a good job chasing away

the deer — and the neighbors. "He keeps

pretty much everyone chased away which is

fine by me," Frear joked.

But, he is wary of wildlife. There are a

bunch of coyotes nearby who can cause

trouble. He's spotted a mountain lion. There

is a breeding population of black bears 45

miles north. And he's heard the wolves are

making their way southeast from Yellowstone

National Park.

But that comes with the territory — a territory

that Frear was glad to get back to after

years of planning. A territory that comes

with everything he worked for.

"I got my dog. I got my friends, I got the

motorcycles, and the forest," he said.

Top: Jim Frear's shop and motorcycles.

Above: Frear working at Loup. His duties

included working with Federal agencies and

customers involved with the District's hydro

facilities: the Genoa Headworks, Columbus

and Monroe powerhouses, canal, and lakes.

He was also on the team that worked on the

relicensing of the Loup River Hydroelectric

Project.

Bottom Left: Frear and his wife, Shelley, at

the wedding of their son, Don. Both sons

have gotten married on their acreage.

Bottom Middle: Frear lost his yellow lab,

Cap, after 16 years. Finn, a black lab, has

helped to fill that loss. He is great at chasing

deer and neighbors.
---
Cheap chargers come

with safety concerns

The chargers that came with our phone, digital camera, and other

electronics seem to disappear as often as a sock mate sometimes. As

a solution, many people reach for the low-cost, generic plug-in USB

chargers and charging cables found in the sea of impulse items that

flank checkout lines. It can save money and it's so convenient, most

people rationalize the purchase.

Knockoffs can be great, but not when replacing original charging

components for a variety of reasons. For instance, generic mobile

phone chargers are less likely to meet safety and quality guidelines

than the higher-priced brand-name replacements, according to

an article in the Annals of Emergency Medicine, an international

medical journal.

The article cites a significant injury that involved a generic phone

charger near a bed. A woman experienced pain around her neck

after resting on her bed with a generic iPhone charger (not an

Apple brand) underneath her pillow. The charger was plugged

into an outlet but not into her phone, which is not advised but a

common practice. She felt a sudden burning sensation in her neck

and instinctively pulled off a necklace she was wearing. The injury

caused significant burn marks around her neck.

pillow. The heat gets trapped, which could cause the pillow or

bed to catch fire.

• Only buy product-approved chargers and cables (those made or

certified by the manufacturer). Using cheaper devices can cause

damage to the USB charge chip, which can have a lasting impact

on how quickly and effectively your device charges in the future.

The bottom line is this: Don't buy charging equipment with prices

that seem too good to be true or from companies you've never heard

of. And even if you've heard of the company, be leery of fakes. In

2016, Apple sued a company that sold counterfeit wall chargers with

Apple's name on them for less than $10 each.

For more information, visit SafeElectricity.org.

"In a study conducted by Electrical Safety First in the United

Kingdom, Apple provided 64 generic chargers for safety testing.

Fifty-eight percent of these generic chargers failed the electric

strength test, indicating a breakdown of the insulation barrier," the

article states.

Amazon recalled 26,000 AmazonBasics portable lithium-ion battery

chargers and power banks after the massive online retailer learned

the units can overheat and ignite, causing fire and burn hazards.

According to the U.S. Consumer Safety Product Commission, the

products were sold between December 2014 and July 2017.

"Although it is tempting to pick up an inexpensive phone charger

to save money, buying and using cheap chargers is one place you

might not want to cut corners," according to Erin Hollinshead,

Executive Director of the Energy Education Council/Safe Electricity

program. "Using an authentic replacement charger made by your

mobile phone's manufacturer is always a better choice."

Along with being a potential fire hazard, using cheaply made

charging components and devices can also cause electrocution.

Dangers aside, they may cost you more in the long run since they

can cause damage to whatever's on the other end of the cable.

When using charging gear, Safe Electricity recommends the

following:

• Do not leave items that are charging unattended.

• Do not touch charging electronic devices with wet hands or

while standing in water.

• Make sure charging components are certified by a reputable

third-party testing laboratory.

• Always keep charging items away from flammable objects,

especially bedding, and do not take them to bed with you. Tell

kids and teens to NEVER place any charging device under their

WINTER 2023 | 5
---
6 | GENERATOR
---
WINTER 2023 | 7
---
employee notes

TONY MILLER

Columbus Plant Operator

Tony Miller of Columbus

has joined Loup

Power District as

a Plant Operator

at the Columbus

Powerhouse.

As a plant operator,

Miller monitors and

controls the three

generation units

at Columbus and

WELCOME

remotely controls

the Monroe Powerhouse.

He also works closely with the

Genoa Headworks to divert maximum

Loup River water into the District canal

system for power plant generation.

His other duties include coordinating

generation with NPPD's control center

in Doniphan and monitoring Loup's

115 kV and 34.5 kV subtransmission

system.

Miller is a graduate of Fort Calhoun

High School. He graduated from

Nebraska Law Enforcement Training

Center and attended Maintenance

Management school while serving in

U.S. Marine Corps. He most recently

worked in zoning and maintenance for

the City of Humphrey. He and his wife,

Kim, have two children— Cameron and

Courtney.

BO OLSON

Maintenance Technician

Casey "Bo" Olson

joined Loup Power

District as a Maintenance

Technician at

the Genoa Headworks

in 2021.

Olson is responsible

for maintaining district

parks, facilities,

and equipment

in the hydraulic

1 YEAR

operations of the

District. He will also

assist the Dredge/Maintenance Canal

Technicians and serve on the dredge

during the dredging season.

Olson is a graduate of Genoa High

School. He and his wife, Jill, have one

son, Colby.

8 | GENERATOR

JOSH SIEBRANDT

Clarkson Local Superintendent

Josh Siebrandt

joined Loup in

2007 as a Journey

Line Technician

at the Humphrey

Retail Operation.

He was promoted

to Clarkson Local

Superintendent in

2008.

As a Local Superintendent,

Siebrandt 15 YEARS

is responsible for

overseeing the

maintenance and construction of

Loup's electric power transmission and

distribution systems in Leigh, Clarkson,

and Howells. He also directs customer

service in the area.

Siebrandt is a graduate of Pierce High

School. He earned an Associate of

Applied Science Degree in Utility Line

from Northeast Community College in

Norfolk. He and his wife, Serena, live

west of Clarkson with their daughter,

Abigail.

KYLE AINSWORTH

Journey/Line/Service Technician

Kyle Ainsworth

joined Loup Power

District in 2012 as a

Line Technician on

the Columbus Line

Crew.

He was promoted

to Journeyman

Lineman in 2014

and transferred

to Journey/Line/

Service Technician

in 2018.

10 YEARS

Ainsworth is responsible for maintaining

street lights, conducting electrical

locates, and working with customers

during outages and during the installation

of new electric services.

He is a graduate of Columbus High

School and earned an Associate of

Applied Science Degree in Utility Line

from Northeast Community College

in Norfolk. He and his wife, Jill, are the

parents of three children: Brooklyn,

Avery, and Emery.

DAVE MEYER

Crew Leader

Albion Crew Leader

Dave Meyer retired

from Loup after 46

years of service

Meyer joined

Loup in 1976 as an

Apprentice Line

Technician at Albion.

He was promoted to

Line Technician in

1977 and to Journey

Line Technician in RETIRED

1980. He transferred

to Journey/Line/Service Technician in

1984 and became Journey Line Technician

at Albion in 1986.

In 1995, Meyer transferred to Columbus

and was promoted to Crew Leader at

Fullerton in 2001. He transferred to

Albion in 2005 and worked as Line

Technician before being named Line

Foreman at Albion in 2014.

In that role, Meyer led the line crew in

charge of construction and maintenance

of Loup's electrical transmission

and distribution systemS in the Albion

Division.

Meyer is a graduate of Sheldon High

School in Sheldon, Iowa. He attended

Northwest Iowa Technical College

in Sheldon, Iowa, where he earned a

degree in Utility Line. He has three

children — Patrick, Amy, and Shannon.

TREY HAMLING

Journey Line Technician

Trey Hamling has

joined Loup Power

District as a Journey

Line Technician in

December.

He is member of the

crew that is responsible

for the construction,

operation,

and maintenance

of electric transmission

and distribution

systems and substations

in the Columbus Division.

WELCOME

Hamling earned a degree in Utility Line

from Northeast Community College. He

and his wife, Sabrina, live in Columbus.
---
REY JARECKI

Carpenter/Utility

Loup Power

District Carpenter/

Utility Rey Jarecki

of Columbus was

recently recognized

for 30 years

of service to the

District.

Jarecki joined

Loup in 1992

as an Assistant

Plant Operator

at the Columbus

Powerhouse. He was promoted to

Plant Operator at the Columbus

Powerhouse in 1993.

In 2012, he transferred to his current

position of Carpenter/Utility on

the Canal Crew based out of the

Columbus Service Center.

Jarecki's duties include the construction

and maintenance of District

facilities including substation foundations

and buildings, office buildings,

and retail offices.

Jarecki is a graduate of Columbus

Scotus High School. He and his

wife, Lori, are the parents of three

children — Ryan, Liz, and Emily. They

also have six grandchildren — Rylie,

Maddix, Reece, Charlotte, Memphis,

and Thomas.

KENTON ZIMMER

Equipment Operator

Kenton Zimmer of

Genoa transferred

to the Columbus

Service Center

where he will be

an Equipment

Operator.

30 YEARS

In his new role,

Zimmer operates

the District's

heavy equipment

and is part

TRANSFER

of the crew that

performs maintenance on the canal

system from Genoa to Columbus. He

also works at the two powerhouses,

helps build substations, and maintains

District parks and lakes.

Zimmer joined Loup Power District

as a Maintenance Man at the Genoa

Headworks in 2015. In 2017, he was

promoted to Dredge/Maintenance

Canal Technician.

Zimmer is a native of Duncan and a

graduate of Columbus High School.

He attended Central Community

College-Columbus.

He and his wife, Betsy, are the

parents of four children.

GRANT MEYER

Line Technician

Grant Meyer

joined Loup

Power District as a

Line Technician in

December.

He is member of

the crew that is

responsible for

the construction,

operation, and

maintenance of

electric transmission

and distribution

systems and substations in the

Albion Division.

Meyer is a graduate of Norfolk High

School and earned a degree in Utility

Line from Northeast Community

College.

PAUL BURBACH

Journey Line Technician

Burbach joined

Loup in 2007 as

a Journey Line

Technician at the

Fullerton Retail

Operation and

continues in that

position today.

WELCOME

As a Journeyman

Lineman,

Burbach is

15 YEARS

responsible for

the construction,

operation, and maintenance of

electric transmission and distribution

systems and substations in the Fullerton

division.

Burbach is a graduate of Central

City High School. He earned an

Associate of Applied Science

Degree in Utility Line from Northeast

Community College in Norfolk.

He and his wife, Brooke, have four

children.

JEREMY MOORE

Utility Arborist

Jeremy Moore

of Columbus has

transferred to Utility

Arborist at the

Columbus Service

Center.

In his new role,

Moore is responsible

for safely

assisting fellow

crew members

TRANSFER

with utility line

clearance tree

removals. He will also handle ground

work in tree removal, construction,

and operation and maintenance of

the District's electric system.

Moore joined Loup Power District

as a Plant Operator at the Columbus

Powerhouse in 2019. He is a graduate

of Cedar Rapids High School. He

and his wife, Carri, have three sons

— Talon, Parker, and Barrett.

KURTIS KNOPIK

Maintenance Technician

Kurtis Knopik

has joined Loup

Power District as

a Maintenance

Technician

at the Genoa

Headworks.

He is responsible

for maintaining

District parks,

facilities, and

WELCOME

equipment. He

will also assist

the Dredge/Maintenance Canal

Technicians and serve on the dredge

during the dredging season.

Knopik is a graduate of Fullerton

High School and earned an associate's

degree in electrical construction

from Northeast Community

College.

WINTER 2023 | 9
---
Slight rate increase for 2023

After five years of stable rates, the Loup

Power District Board of Directors approved a

1.6 percent retail rate increase at its monthly

December meeting. The increase comes

amid increasing power costs, material price

increases and supply chain issues.

"Even with the small retail rate increase,

Loup's retail rates remain among the lowest

in Nebraska and the Nation," said Loup

Board Chairman Alan Drozd.

Loup's average residential customer will see

an annual increase of $21.41 for electricity

costs.

Before voting to increase retail rates, Board

members reviewed current rate levels for all

classes of customers, as well as budgeted

revenue and expenses. This also included

a review of a retail cost-of-service study

performed by management.

As part of this review, the board analyzed

the purchased power costs from Nebraska

Public Power District (NPPD), the District's

wholesale power supplier. NPPD's overall

costs to Loup are expected to increase

approximately six percent in 2023, due in

large part to a change in the Production

Cost Adjustment and small wholesale rate

changes.

Loup's retail rates are 24.8% below the national

average and 8.1% below Nebraska's average.

Average Prices for Residential Electricity

2021 figures, in cents per kWh

CA

22.8¢

WA

10.1¢

OR

11.4¢

NV

11.5¢

AK

22.6¢

ID

10.2¢

UT

10.4¢

AZ

12.5¢

MT

11.2¢

WY

11.2¢

CO

13.1¢

NM

13.5¢

ND

10.9¢

SD

12.2¢

NE

10.8¢

KS

13¢

TX

12.1¢

OK

11¢

MN

13.5¢

IA

12.7¢

MO

11.4¢

AR

11.3¢

WI

14.5¢

LA

11¢

IL

13.2¢

MS

11.6¢

U.S. Average: 13.7¢ per kWh

MI

17.5¢

IN OH

13.4¢ 12.8¢

KY

11.5¢

TN

11.1¢

AL

13¢

VT: 19.3¢

NH: 19.9¢

MA: 22.9¢

RI: 22.3¢

CT: 21.9¢

WV

12.2¢

PA

13.8¢

12.9¢

GA

12.5¢

FL

11.9¢

NY

19.5¢

VA

12¢

NC

11.3¢

SC

ME

17¢

NJ: 16.4¢

DE: 12.5¢

MD: 13.1¢

DC: 13.1¢

The District has also seen an increase in

material costs in recent years, which coincides

with nationwide supply chain issues

and inflation pressure.

Chris Langemeier, chairman of Loup's Rate

Committee, said the Board worked with

management to successfully keep rates

steady since 2018. They were able to do

that despite the 2019 storm that damaged

District's hydroelectric system and the

impact of the COVID-19 pandemic in 2020

and 2021.

"However, with the increase in wholesale

power costs and material cost increases,

the Board felt it was prudent to implement

a small increase in retail rates to maintain

the District's financial health," Langemeier

added.

Langemeier indicated the Board has implemented

a long-term strategy to maintain its

HI

33.5¢

reserve margin at reasonable levels and keep

retail rates competitive.

Loup Power District's overall rates are 24.8

percent below the national average and 8.1

percent below the Nebraska average based

on data from a 2020 American Public Power

Association survey. This places Loup Power

in the lowest tenth percentile both statewide

and nationally.

Energy or kilowatt-hour (kWh) usage is

Residential Average Price

(cents per kilowatt-hour)

More than 12.5¢

Up to 12.5¢

Source: U.S. Energy Information Administration

Numbers rounded to nearest tenth of a cent

always the determining factor in a customer's

bill.

Customers in all rate classifications continue

to have opportunities to reduce their costs

by taking advantage of numerous programs

offered by the District.

These programs include energy incentives

and home energy audits. For more information

on the District's retail rates and energysaving

programs, visit www.loup.com.

For more information on the District's retail rates and energy-saving programs,

visit the District's website at www.loup.com.

10 | GENERATOR
---
Staying Safe

Lineworkers have a dizzying array of gear they carry and wear to safely do their jobs. Some items, like

climbing hooks and hot sticks, have been around since the early days of electricity, though they've

been updated and improved over the years. Others, like wireless headsets and arc-rated clothing, are

more modern innovations. Here's a comprehensive (though not exhaustive) look at the tools line

crews use to stay safe.

Voltage tester

Hot stick

High visibility

safety vest

Hardhat

Face shield

Eye protection

Wireless headset

Arc-rated and fire-retardant clothing

Neck gaiters

Hoods or hardhat liners

Shirts

Pants

Rubber sleeves

Fall-protection harness

Rubber gloves

Wire cutters

Line hoses

and

blankets

Hand line and hoist

0

2

1

7

9

Pole tags

Climbing hooks

Tool holders

Gear bags

Additional cover up and PPE equipment

Personal grounding

WINTER 2023 | 11
---
2404 15th Street | PO Box 988

Columbus, NE 68602-0988

Share the warmth this winter

Many of us take a warm house for granted. Others

face winter knowing they can't afford to heat their

homes. Your donation to the Heat Helper Fund helps

these struggling families stay warm.

The Heat Helper Fund was established by Loup Power

District and is administered by Columbus Emergency

Relief, Inc.

All donations are handled locally through Columbus

Emergency Relief, Inc., and 100 percent of donations are

used to pay heat-related bills for Platte County residents

and those served by Loup Power District.

Donations are tax deductible. Add your contribution

to your Loup Power District payment or send it to Heat

Helper Fund, PO Box 164, Columbus, NE 68602-0164.

HELPER FUND