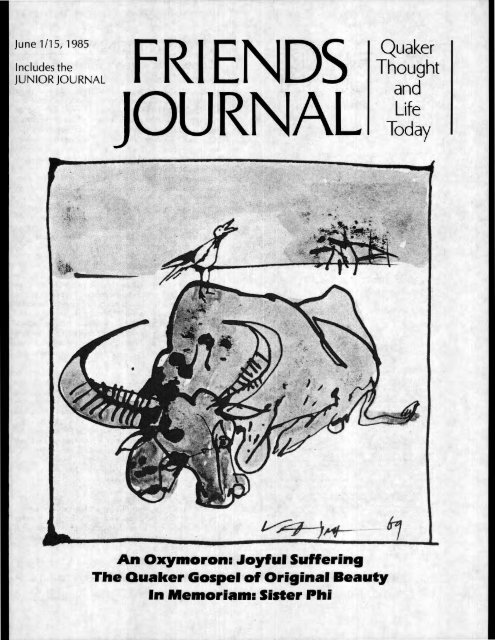 Friends Journal
Friends Journal
Friends Journal
SHOW MORE
SHOW LESS
Create successful ePaper yourself
Turn your PDF publications into a flip-book with our unique Google optimized e-Paper software.
June 1/15, 1985

Includes the

JUNIOR JOURNAL FRIENDS

OURNAL

An Oxymoron= Joyful SuHering

The Quaker Gospel of Original Beauty

In Memoriam= Sister Phi

Quaker

Thought

and

Life

Today
---
2

FRIENDS

JOURNAL

June 1/15, 1985 Vol. 31, No. 10

Contents

Cover art by Vietnamese artist Vo-Dinh, courtesy of

the Fellowship of Reconciliation.

Among Friends: Climbing to Higher Places

Vinton Deming .......................... 2

In Memoriam: Sister Phi Marjorie E. Nelson . . . . 3

Vietnam Veterans Memorial (a poem)

Maxwell Corydon Wheat, Jr. . .............. 5

An Oxymoron: Joyful Suffering

Rich Van Dellen ......................... . 6

The Magic of Meeting Carol Vi rginia Ferm ...... 6

The Quaker Gospel of Original Beauty

Alfred K. LaMotte ................ .. . . . . ... 8

The Lie of Politics David Oates .............. 10

Forcing Children to Meeting

Lawrence D. Spears . . . . . .. ..... . . . . . .... 12

Junior Journal ............................ 14

Reports ........... 16 Calendar .......... 22

World of Friends .... 18 Milestones ......... 22

Forum . .. . ........ 19 Classified .......... 23

Books ............. 20 Meetings .......... 27

F'R.a;ND$ JOURNAL (ISSN 0016-1322) was established in 1955 as the succtSsor to The Friend

(1827-1955) and Friends lntelligencer (1844-1955). It is associated with the Religious Socitty

of Friends. It is a member of Associated Church Press.

STAFF

Vinton Deming. Editor·Manager

Eve Homan, Assistant Editor

Barbara Benton and John Davis Gum mere,

Design

larry Spears, Promotion/ Circulation/

Advertising Manager

Susan Hardee Norris, Phyllis Kline,

and Margaret Emery, Typography

Jeanne G. Beisel, Secretarial Servicts

J ames Neveil, Bookkeeper

Karin Spiegler, Proofreader

Carolyn Terrell, Promotion/ Circulation/

Advertising Assistant

Volunteers: Jane Burgess (Index); Renee Crauder, Edward McCaleb, a nd Emily Conlon

(Editorial Assistance); Mary Erkes and Marguerite L. Horlander (Office Assistance).

BOARD OF MANAGERS: 1983-1986: Kirk L. Bjornsgaard, Dean Bratis, Helen Morgan

Brooks, Sol A. Jacobson, Leonard Kenwonhy, Rowland K. Leonard, Mary Mangelsdorf,

Linell McCurry (Clerk). 1984-1987: Frank Bjornsgaard, Emily Conlon (Assistant Clerk),

Peler Fingesten, Mary Howanh, Marcia Paullin, William D. Strong (Treasurer), Thomas

Swain, Allen Terrell, Mary Wood. 1985-1988: John Breasted, Carol H. Brown (Secrttary),

Teresa J . Engeman, Norma P. Jacob, Herben L. Nichols, Elizabeth B. Watson.

HONORARY MANAGERS: Eleanor Stabler Clarke, Mildred Binns Young.

FORMER EDITORS: Olcutt Sanders, Susan Corson·Finneny, Ruth Geibel Kilpack, James

D. Lenhan, Alfred Stefferud, Frances Williams Browin, William Hubben.

• FtuENDS JouRNAL is published the first and fifteenth of each month (uctpl January,

June, July, August, and September, when it is published monthly) by Friends Publishing

Corporation, 1501 Cherry St., Philadelphia, PA 19102. Telephone (215) 241-1277. Second·

class postage paid at Philadelphia, Pa.

• Subscription: United States and "possessions": one year $12, two years $23, three

years $34. Add $4 per year for postage outside U.S. Foreign remittances should be in

U.S. dollars or adjusted for currency differential. Single copies: Sl; samples sent on request.

• Information on and assistance with advertising is available on request. Appearance

of any advenisement does not imply endorsement by FRiENDS JouRNAL.

Copyright @ 1985 by Friends Publishing Corporation. Reprints of articles available

at nominal cost. Permission should be received before reprinting excerpts lpnger than 200

words. Available in microfilm from University Microfilms International.

POJI IIUisler: send address changes lo FRIENDS JOUR NAL, 1501 C henry Sl., Phlladelpbla,

PA 19102.

AMONG FRIENDS

Climbing to Higher Places

I

n mid-May, as we prepared to send our June issue to the

printer, Philadelphia was in a state of shock. A community

group called MOVE exchanged gunfire with city police,

barricaded themselves in a house, and refused to be evicted.

Police dropped a "concussion device" on the house, and while

millions of TV viewers watched the live coverage, an entire

city block erupted in flames. By the next morning, some 60

homes were burned and at least 11 MOVE members-some

of them children-were dead in the debris.

That same week another news story attracted far less attention,

but its implications are as deadly. It was acknowledged

in Washington, D.C., that the Central Intelligence Agency

funded and helped to organize several "counterterrorist"

units abroad designed to strike against terrorists who are considered

a threat to U.S. facilities. One such group this spring,

apparently without CIA approval, set off a massive car bomb

in a suburb of Beirut. More than 80 people were killed and

some 200 injured. A suspected terrorist leader, target of the

attack, escaped unharmed.

What clearer examples could we give as we say forthrightly,

violence is not the way to resolve differences! The inevitable

result of armed violence is more violence. When police departments

arm themselves with sophisticated weapons, including

bombs, there is great danger such weapons will ·be used. And

governments that use covert, terrorist techniques become

terrorist. Even more significant, when we depend upon guns

and terror to force solutions to serious problems, we become

less creative in our efforts to seek peaceful, lasting solutions.

At Philadelphia Yearly Meeting this March, during a session

on U.S./USSR relations, a Friend urged us " not to be

afraid to ask for what we really want," in this case zero

nuclear weapons. Later, Winifred Rawlins told of sitting next

to a young boy at breakfast who informed her that "there's

a new disease goi'ng around. It's called 'claustrophobia' and

it means fear of high places."

"Perhaps," Winifred said, "our young Friend was right.

The claustrophobia induced by the Iron Curtain has made

us afraid to climb up to high places and ask for what we really

want.''

Friends should say as clearly as possible that what we really

want is a world without weapons.

• • •

Look for a birthday surprise in your mailbox next month.

The July l/15 Jou RNAL will be an expanded issue to mark

the 30th birthday of our magazine. It will contain articles

selected from our early issues-our way to remember our past

and to thank our readers for their continuing support over

the years.

June 1/ 15, 1985 FRIENDS JOURNAL
---
0

In Memoriam: Sister Phi

by Marjorie E. Nelson

Y esterday

morning I stopped at

the post office to pick up a registered

Jetter from Vietnam. It

was from Nguyen due Bich, the nurse

who worked with me at the American

Friends Service Committee project in

Quang Ngai during the war. Filled with

eager anticipation I opened it as soon as

I got to work.

Quang Ngai

8th/ 12 mo./'84

Dearly remembered Dr. Mai!

I must inform you that my wife, Chi

Phi, died at 3:45 on the 6th of II th month

lunar calendar, that is the 28th of 11th

month, 1984, after a 3-month illness of

liver cancer.

Doctor, please convey this news to all

the Quaker brothers and sisters who

formerly were here in Vietnam and still

FRIENDS JOURNAL June 1/ 15, 1985

remember me. My daughter, Thanh-tra,

will explain everything clearly.

I send my heartfelt wishes to your

father, you, and your son, Christopher,

for good health, good luck, and happiness

in the coming Christmas season.

Affectionately,

Nguyen due Bich

Enclosed was another Jetter from

Thanh-tra, but I couldn't read it just

then. I held the letters in my lap, wept,

and weeping, remembered ...

She was a little woman; she barely

came to my shoulder, but her spirit was

limitless; her soul knew no boundaries.

It encompassed her family, her neighbors,

her country, and even this large

stranger, this lady doctor from the

United States across the sea.

I first met her husband, Bich, in the

local province prison. Imprisoned on

suspicion of antigovernment political

activity, he was volunteering as infirmary

nurse for the other prisoners. Back

home, Phi supported the family, made

weekly visits to her husband, and badgered

the authorities to clear him of all

charges. She succeeded; Bich was released

and came to work for the Quakers.

Phi remained at home in the countryside,

looking after the family. On

weekends Bich went home with supplies

and money, and Phi sent him back each

Sunday afternoon with clean clothes, a

shopping list, and greetings for us.

Occasionally some of us visited their

Marjorie Nelson is an assistant professor in the

Department of Family Medicine of Ohio University.

She is clerk of Athens (Ohio) Meeting and

of the Quaker Office at the United Nations Committee.

She is also a member of Lake Erie Yearly

Meeting's Ministry and Oversight Committee and

of the American Friends Service Committee

Corporation.

3
---
6

An Oxymoron=

.Joyful Suffering

by Rich Van Dellen

Early Christians

and early Quakers

suHered, yet

they radiated

a certain joy.

I

learned a new word a few weeks

ago-oxymoron. An oxymoron is

the combination of contradictory

words or, as the American Heritage

Dictionary says, ''A rhetorical figure

in which an epigrammatic effect is

created by the conjunction of incongruous

or contradictory terms."

Examples include: "thunderous silence,"

"mournful optimist," "cruel

kindness," and "detached concern."

The oxymoron "thunderous silence"

is a powerful description of

the unprogrammed Friends meeting

at its best. I think another oxymoron,

"joyful suffering," also applies to

Friends.

Early Christians and early Quakers

suffered, yet they radiated a certain

joy. Paul and Silas sang in prison.

James spoke to early Christians,

"Count it all joy . . . when you

meet various trials" (James 1:2). Paul

said, "I rejoice in my sufferings

. . . " (Col. 1 :24), and Peter,

"In this you rejoice though .. . you

may have to suffer various trials" (1

Peter 1 :6). Jesus' suffering on the

Cross ended in the joy of the Resurrection

and Pentecost. Robert Barclay

visited Quakers in prison on

First-day to taste of their joy, Mary

Cosby told Friends in her talk at the

Friends General Conference gathering

in 1984. In more modern times,

Rich Van Del/en, a physician, is a member of

Rochester (Minn.) Meeting. He also wrote

"Friends, Holistic Health, and Modern

Medicine" (FJ 4/ 15/82).

Thomas Kelly stated that a "fruit of

holy obedience is entrance into suffering"

(A Testament of Devotion).

Isn't it abnormal and pathological

to enjoy or seek out suffering?

Psychiatrists call people who enjoy

suffering "masochistic." We try to

avoid suffering and to relieve pain

when it occurs. The suffering in my

own life, albeit minimal, has not been

enjoyable. To me, suffering commonly

seems to cause despair and

depression, not joy. How, theQ.

do we respond to this seeming

paradox, this joyful suffering of early

Quakers and Christians?

Early Quakers and Christians did

not seek out suffering, but rather

sought to follow the Light. Suffering

resulted. Still, a noble ideal or action

that results in suffering should not

in itself make the suffering any easier

to bear.

My daughter inadvertently helped

give me another possible solution to

this paradox. A junior in college, she

was home for the funeral of a

classmate and friend who died

suddenly while jogging. To help her

with her grief, I gave her a small

booklet on bereavement (Shadow

and Light in Bereavement, published

by Philadelphia Yearly Meeting in

1959). She was reading aloud from it

as we were driving her back to school,

and she read the familiar statement

of George Fox: "I saw also that there

was an ocean of darkness and death,

but an infinite ocean of light and

love, which flowed over the ocean of

darkness. And in that also I saw the

infinite love of God.'' Could this not

be true with suffering? It is not, then,

that suffering is enjoyed, but our

faith and belief is that suffering can

be overcome by joy. Thomas Kelly

said it well, writing in the Eternal

Promise: '' . . . those who go into

the travail of today, bearing a seed

within them, a seed of the heavenly

dimensions of humanity, can return

in joy." 0

The Magi

by Carol Virginia Ferm

I

am often met with puzzlement when

I try to describe Friends meeting for

worship. The small, unprogrammed

meetings that I have attended do not

lend themselves to pat descriptions.

"We sit in a circle in silence, and anyone

who feels moved to speak may do so."

A circle? Moved? Silence? Small wonder

some people nod uncomprehendingly.

Yet for me, joining with others in silent

worship has been both profound and

intimate.

Sharing silence leaves Friends feeling

joined and centered in a way that they

themselves may not be able to explain.

While spoken confidences may be awkward,

and spoken words, chosen in

haste and comprehended imperfectly,

may stumble and falter, silence soothes

and binds, sweeping over the trivial,

awakening the spiritual. How this comes

about is a mystery. I do not propose to

explain it, but simply to chronicle my

own experience, so inexplicable and

fleeting, with the magic of meeting.

A room sits empty, with the abandoned

stillness of an unoccupied schoolroom

awaiting the arrival of pupils.

Somewhere in the building, a door

opens, and a breath of outside air

precedes the sound of footsteps down

the hall. The first Friend enters, putting

d?wn the inevitable sheaf of papers,

and tlien straightening, looks about the

room! which, no longer deserted, seems

expectant. The Friend begins to arrange

the chairs, old acquaintances, into a

loose semicircle. Soon another Friend

arrives. The first smile of meeting is

exchanged, a few words are spoken.

Before long, more Friends come in and

seat themselves, offering smiles and

words of greeting to one another.

After some moments, an unspoken

agreement is reached; meeting for worship

begins.

Silence spreads out over the circle,

Carol Virginia Ferm, who works for Science 85

magazine, is a member of Columbia (S.C.) Meeting.

She attends the William Penn Worship Group,

which is under the care of Friends Meeting of

Washington (D.C.).

June J/15, 1985 FRIENDS JOURNAL
---
y Alfred K. LaMotte

F or

more than a thousand years

Christianity has hinged its claim

on the promise of redemption

from original sin. Like a medicine huckster

who must first convince his audience

that they are sick before he can

bring them the good news of his medicine,

the Christian preacher has based

his gospel on the assumption that people

are essentially sinful and in need of

redemption. The good news of their gospel

is actually bad news: We are all

sinners condemned to death. Only in

such a context does the orthodox Christian

gospel have meaning. If you don't

feel guilt-ridden, it won't appeal to you.

But in fact, Western culture has been

generally neurotic, guilty, full of repressed

violence and self-hatred. So the

gospel, invented for this culture, has

done quite well here. It is not the truth

of this gospel, but the fundamentally

neurotic condition of Western culture,

that accounts for the success of Christian

orthodoxy.

Yet there is a more authentic and

original Christian message, which was

reawakened by the first Quakers and

stands not only as the original gospel but

the Quaker gospel. It is the "godspell,"

the "good word," that was uttered in

the moment of creation when God said,

"Let there be light," and pronounced

that it was good. This gospel is the word ®

about our essential goodness. We are

created good, blessed, and beautiful in

the image of God. And we are good not

because of what we have done but

Alfred K. LaMotte teaches religion at William

Penn Charter School in Philadelphia, Pa., and is

a member of the Wider Quaker Fellowship. His

last article for the J oURNAL, "The Unified Field

and the Mind of Christ," appeared in the

November I, 1984, issue.

8 June 1/15, 1985 FRIENDS JOURNAL
---
The Quaker Gospel

of Original Beauty

simply because we are. Existence in itself

is good.

If we have any sin, it is that we deny

our essential goodness, and cut ourselves

off from the word of creation that

flows , from the moment of creation, all

around and through us, to make us part

of the mystical body of God's logos, the

Christ. Our world is good, our flesh is

good, our soul is beautiful. Our very

center and substance is beauty itself.

This is the good word, the original

godspell. And for the early Christians

who preached it, sin was not an essential

negative condition in the human self, a

state of original badness. Sin was rather

a lack-a lack of attunement with the

Word, with the underlying harmony and

goodness of the cosmos. How arrogant

of us later-day Christians to presume

that our sin, which is our creation, is

more important to God than our goodness,

which is God's.

The real gospel of the Bible is not the

word about sin and redemption, but the

primal word of creation, by which we

are created good in dazzling radiance

each moment, as fresh as the first morning

of eternity. This more ancient gospel

links the word of Christ, the Logos

of the Fourth Gospel, with the word of

creation in Genesis and with other ancient

traditions as well. Scriptures from

the Mayan to the Babylonian, the Hindu

to the Hebrew, echo the theme of creation

through the Word. God creates a

living Word by speaking. The biblical

creation story in the first chapter of

Genesis affirms again and again that this

creation is good, pleasing to God. " God

saw everything that he had made, and

indeed it was very good" (Gen. 1:31).

A word is an organized stream of

thought and feeling expressed. How

could God find his own incarnate

thought anything but good?

FRIENDS JOURNAL June I/ 15, 1985

The first Christians magnified this

word of joyful creation in their hymns,

some of which are embedded in the text

of the New Testament (Col. 1: 15f, Eph.

l:3f). "In the beginning was the Word,

and the Word was with God, and the

Word was God . . . through Him all

things were made" (John 1:1 ,3). The

Greek imperfect tense here expresses,

not the big-bang of a single creationmoment,

but an ongoing activity. The

word of creation is a constant stream of

Light and love flowing forth from- the

silence of the Godhead, first into ourselves,

irradiating our feelings and

senses, then infusing the world of matter,

unfolding its vibrant, luminous

energy in every atom, every cell of our

bodies, every grain of wheat and sand

and star.

Recognizing Jesus as the person who

fully opened up to this word of creation,

the first Christians honored him as its

incarnation and made him their archetype,

their pattern-not because he was

more than human but because he was

humanity fully alive, fully receptive to

the indwelling Spirit that would, if allowed,

fill us all. " Ye are gods," he

said, quoting the Scriptures. And, "If

anyone believes in me, these things I do,

he shall do also" (John 10:34, 14:12).

Can we open our arms as Jesus did

on the Cross, and be as vulnerable to the

mysteries of life and death? Can we, like

him, experience death and rebirth-not

once, but continually? One moment of

this openness, this vulnerability to birth

and death, can redeem us from all the

past. In the words of George Fox:

Now was I come up in spirit through the

flaming sword into the paradise of God.

All things were new, and all the creation

gave forth another smell unto me than

before, beyond what words can utter. I

knew nothing but pureness, and innocency,

and righteousness, being renewed

up into the image of God by Christ Jesus,

so that I say I was come up to the state

of Adam which he was in before he fell.

. . . Great things did the Lord lead me

into, and wonderful depths were opened

unto me, beyond what can by words be

declared; but as people come into subjection

to the spirit of God, and grow up

in the image and power of the Almighty,

they may receive the Word of wisdom that

opens all things, and come to know the

hidden unity in the Eternal Being.

(Journal, chapter 2)

This is the good word, the gospel of

Quakerism. We should preach it joyfully

to a people made sick with the

denial of their own goodness. If we

would rejoice in this gospel, rather than

preaching fear and nuclear Armageddon,

we might grow as a church, and we

might heal the anxiety-neurosis that is

the root of our culture's fascination with

violence and war.

But let us never forget that our word

grows only when it is grounded in silence-the

silence of our meeting. For

it is in silence that creation occurs, as a

word spoken to an infinite listening.

Listening in silence is our openness and

vulnerability. In silence we reach our

own deep beauty, which is the image of

God. In silence we receive the radiance

of a new creation.

Only in silence is our doing reduced

to being, and we are humbled by a confrontation

with our goodness, which we

have not earned or created through our

deeds. It is we who are good, not our

deeds. Do we have the courage to be

silent and listen to our goodness, and

hear the terrible judgment of the voice

of Christ whispering: "You are precious

to me just by being here, just because

you are"? 0

9
---
T he

The Lie of Politics

by David Oates

political season is over at last.

The ballots have been counted,

the predictions silenced. And, at

least in the circles I travel-teachers, fellow

Quakers, the various left-leaning

people encountered on Los Angeles's

Westside-an emotion approaching despair

is rampant.

A phone call pulled me from the television

on election night. " I'm so

depressed," said the friend. She laughed

a little, but she meant it. Her voice was

flat and had a where-do-we-go-fromhere

quality that you associate with

people in newscasts who stare at their

burned houses or wrecked farms.

In meeting on Sunday, others spoke

of their alienation from most Americans,

their sense that the nation's values

had become so distorted that we no

longer held anything in common with

them. People struggled to find sense in

this overwhelming catastrophe. They

did not find much.

It concerns me. In fact, the reaction

to Ronald Reagan's reelection concerns

me far more than the election itself. The

depression that afflicts us shows how far

we have all begun to believe the lie of

politics.

It is a common observation that politics

is theater. We joke about the makeup,

the false promises and speeches, the

shallow television performances, but we

often miss the deeper import of the observation.

Politics, like theater, is fiction. The

political theater is set up as a ritual combat

in which good guys may triumph

over bad guys, to the general satisfaction

of the audience. This may be a good

way to unite and express a people's will,

but it is, nonetheless, a mostly fictional

reality.

But aren't the stakes real? Of course

A member of Santa Monica (Calif.) Meeting,

David Oates is a writer, carpenter, poet, and

teacher who lives in Venice, Calif. His article is

reprinted with permission from the Other Side

magazine, 300 W. Apsley St., Philadelphia, PA

19144. Copyright © 1985.

10

they are. The presidency is real enough,

and so were the differences between

Reagan and Mondale. The actual lives

of millions of people will almost certainly

be affected for good or ill.

But the theatrical production by

which we choose our leaders only dimly

reflects these realities. It doesn't take

much thought to see that the real world

can seldom be reduced to a single eitheror

choice. And it takes only a little sophistication

to realize that the choices in

U.S. politics are always between two

fairly centrist positions.

On the global political spectrum,

Democrats and Republicans are very

close together, huddled around a consensus

that ignores the issues facing the

rest of the world: mass starvation, economic

development and indebtedness,

cultural invasion, ecological devastation,

nuclear survival. Whichever side

wins, it will make only a fine-tuned

change in U.S. actions.

From this perspective, our electoral

choice looks, if not unimportant, at least

a lot less than cosmic.

Nevertheless the political fiction lures
---
us into identifying with one side and

hating the other. By its structure it leads

us to define "our side" as good and the

other side as evil (or at least very, very

bad). And it has us awaiting a clearly

decisive climactic battle between two

symbolic gladiators.

In short, the political climax becomes

a mini-Apocalypse. For those caught up

in it, politics takes on a religious weight

and importance. The nuclear issue certainly

intensifies this kind of thinking:

it seems ultimate, final. But the fictional

structure of all politics, nuclear or

otherwise, mythically overstates the

importance of politics.

"The lie of politics" is a phrase I

encountered several years ago in Doris

Lessing's novel Shikasta. It is one of

those expressions that has stuck in my

mind, puzzlingly, because there seems to

be an elusive truth in it. Was Doris Les-

sing calling for withdrawal from the

world? No. There is undeniable importance

in wars, social programs, freedoms

and repressions, wages and jobs.

Quietism and privatism cannot be the

right responses to this noisy, messy

world. So if politics has a reality, an importance,

where is the lie?

I have begun to see that the lie of politics

is treating politics as a religion. To

elevate the partial truths and poor

choices of politics into absolutes confuses

what is of merely passing importance

with what is of permanent importance.

Whether by confusion of the

mind or of the emotions, the lie of

politics allows the contest and its consequences

to matter as if they were

moral absolutes. This is a devastating

mistake.

People in the United States usually

think they are immune. Isn't "separa-

tion of church and state" our watchword?

But the formal separation of

churches and governments has never

gotten in the way of what Senator Mark

Hatfield calls "the American civil religion":

the almost universal belief that

the United States has a special, divine

destiny and that God is particularly and

intimately involved with our national

fate. We write God's name on (of all

places) our money. Our chaplains bless

military troops and legislatures. Our

leaders voice the stubborn belief that the

United States is virtuous and Russia evil,

as if both sides were not deeply mixed

human institutions of good and ill. Our

national belief, though it is not popularly

admitted, is that God and country,

together, are what make life worth

living.

Let's not be too hard on ourselves: almost

every successful state has done the

same thing. Throughout history, most

monarchs have claimed divine sponsorship-and

often divinity itself. Alexander

and 1 ulius Caesar are merely the best

known of the ancient god-kings; in our

century we have had Hirohito and Haile

Selassie. In the national churches of

Europe the same impulse arisesvirtually

every one has used religion as

an expression of national identity, often

creating a special church where the English

or Russian or Greek God can be

worshiped.

Something in us wants to identify our

group with God, to make the two one.

The lie of politics, therefore, is

making an idol of something mortal. We

allow our political contests first to represent

and then to replace our religious

struggles; we invest one side with godhead,

the other with wickedness.

Paul Tillich has written eloquently of

how disastrous this mistake is-losing

sight of that which is truly of ultimate

importance and letting something temporary

and provisional take its place.

Like any other idolatry, it leads to spiritual

emptiness, an aching bewilderment

in the heart, a confused question about

why life is so empty and vain after all.

The lie of politics infects our public

life in many ways. Perhaps people in the

United States are least guilty of the

Iranian style of outright, literal fusion

of the spiritual and the political. In Iran

we can see clearly enough the resulting

fanaticism and ruthlessness. Evidently

God tells us all to be merciful to our

fellow human beings-but to give no

11
---
quarter to the devil.

Nevertheless, in my district a candidate

for U.S. Congress apparently believed

he represented God's side in the

election (he was a moral majority Republican

and a fundamentalist). At his

election-night headquarters, when early

returns showed him temporarily ahead,

outstretched hands flew heavenward accompanied

by cries of " Thank you,

Jesus!" This, too, is deeply perverse. So

are conclusions that God and Ronald

Reagan are somehow in league simply

because Reagan won or because he invokes

the divinity of the United States

more often than other candidates.

The lie of politics makes bad politics

and even worse religion. If it meets with

success, hypocrisy inevitably breeds

under the merciless confusions of wielding

power. The experience of the

Puritan theocracies in U.S. history only

underlines the same dilemmas so badly

dealt with by Guatemala's Rios Montt

or Iran's Khomeini. Deals, halfvictories,

and brutal necessities don't go

well with spiritual scrupulosity.

But political religion is worst when it

meets failure. Here, perhaps, is where

the mostly liberal readers of this

magazine may find something closer to

home. To judge by my fellow Quakers

and other political true-believers, the

common result of political overearnestness

is a deep and pervasive anxiety that

extends far beyond the present situation.

Political defeat becomes part of an angst

that shows that we have wholly lost sight

of our spiritual bearings. The temporary

rises up and blocks our view of the permanent.

Frantic, wearying activism replaces

centeredness and right action.

Anxiety is a consuming state, one that

does not coexist with contraries like joy

or hope. Yet surely, short of the grave,

hope is never lost. My friends, though

well meaning and " politically correct,"

need to remember that even Ronald

Reagan is a human being; that even Republicans

desire peace and can bring

good into the world.

Indeed, history teaches that many

conservatives have accomplished progressive

steps that more leftward politicians

would never have been trusted

with. Richard Nixon's China trip is one

example. Tory Prime Minister Benjamin

Disraeli's Second Reform Act in Victorian

England is another. Good exists

on all sides of politics. Religious despair

is a deeply wrong response to elections.

12

Real spirituality, as I take it, is a

greater perspective, an awareness of a

larger reality than the one immediately

visible. It remembers the sweep of time

in which present problems are, after all,

just the ordinary stuff of mortal life, not

cataclysms at the end of time. Even

more importantly, it remembers a

stream of pure good will and lovingkindness

that flows through all times,

good or bad, and through all hearts,

correct or mistaken.

Real spirituality does not allow anxiety

to blot out the sense that goodness,

like evil, is always possible, always on

the brink of breaking out all over. But

in the fictional combat of political theater,

such gritty and essential hope is

quite lost. And in the anxious mentality

of modern liberals, too often one finds

only a crushing sense of the world's

problems.

Whether found in left-wing hopelessness

or right-wing zealotry (roles which

could easily be reversed), political religion

seriously erodes both real politics

and real spirituality.

Unfortunately, the political delusion

leads to other sad and horrific effects.

The waging of war is one of them.

Death becomes the ultimate solution to

any disagreement. One presumably

employs it when the issue at hand is of

ultimate importance. But this ultimacy

can only apply to the inevitable jockeying

among countries when politics is allowed

to become a moral crusade. It is

permissible to kill evil beings and to exterminate

"evil empires."

At its limit, this attitude produces the

present nuclear threat. Astonishingly,

nations and people claim the right to destroy

all human life, forever, in order to

avoid political defeat. The awareness

that nations come and go, that today's

burning issues are forgotten tomorrow,

seems to be beyond the fully deluded political

consciousness.

The political present can become a

consuming god, producing raging anxiety

and terrible destruction. The only

bulwark I know against this mass psychosis

is an inwardness, a style of living

and being that knows the difference between

the merely important and the actually

ultimate. Goodness and peace are

inward qualities of life achievable under

any regime or condition. That we also

work to make them outward, literal conditions

of life must not blind us to the

difference. 0

Forcing

Children

to

Meeting

by Lawrence D. Spears

First-day morning started quietly

enough. Breakfast was set as usual.

Then, my 12-year-old daughter

found the dog had vomited on her bed

quilt. Later, I yelled at her sister when

the dog jumped out of her arms to avoid

ear medication. As events unfolded in

the final minutes before departure to

meeting, she announced she could not

get dressed until she had read the

newspaper columns which her sister was

slowly beginning to read in the corner

of the kitchen.

At three minutes to departure, without

shoes on, she announced she was not

going to meeting, which was her choice

according to long-standing family policy.

Her sister announced solidarity and

invoked the free choice policy. My wife,

Joanne, and I left for meeting alone.

My anger at my daughters' refusal to

attend meeting was partially due to the

circumstances of the morning and the

chain of events. These situations occur

and take on a quick momentum of their

own before the participants are even

vaguely aware of their power and their

attachment to deeper themes of family

life. Life presents these constellations of

happenings. They occur all the time.

They are part of family life.

But in a larger sense, these events and

their effects are a part of the adolescence

through which we are all passing-

Lawrence D. Spears, an atlorney and court administrator,

is a member of Bismarck Meeting in

North Dakota. His article first appeared in the

Canadian Friend, January-February /985.

June 1/]5, 1985 FRIENDS JOURNAL
---
16

DO YOU NEED "FRIENDLY"

. TAX LAW ASSISTANCE?

We provide:

• Wills

• Estate Planning

• Estate Administration

• Financial Plan Review

• Business Tax Analysis

• An alternative to large law firms

Jay R. Rosner, Esq.

(admitted to practice in PA, NJ, and the

U.S. Tax Court) and Associates

1745 Hillside Road

Southampton (Bucks County), PA 18966

(215) 322-0890

Our reasonable fee, personalized tax services

make possible our reduced-fee assistance

to those who, for reasons of conscience,

challenge compulsory taxation for

war-making.

Specify:

Size (,... s.m,l,xl)

Cok>r (lt.blue,silver)

Slogan

T-SHIRTS

Brighter Ideo

Woodcreat Drive

RD 7 Box 28

Hopewell Jet., N .Y.

12533

$9.95ea. Post Paid

check or m;o onlr

. . . how a student sees the

world depends on how a stu·

dent is shown the world. . . .

1785-1985

MOORESTOWN

FRIENDS SCHOOL

Page Lane

Moorestown, NJ 08057

• An independent, co-educational

Quaker day school for Pre-Primary

through 12th Grade

• Under the care of the Moorestown

Monthly Meeting

• 200 years' experience in education

PLEASE PHONE OR WRITE:

Admissions Office (609) 235-2900

I :l ;!1 !I•J :) t;;l

Hope for the Future at

Philadelphia Yearly Meeting

As I sat in quiet waiting in the midst of

almost 500 other Friends at Philadelphia

Yearly Meeting, held March 26-31, several

overriding themes and "feelings" pervaded

my consciousness.

Many issues brought before Friends at

Philadelphia Yearly Meeting were concerned

with peace. There was a renewed commitment

that we should strengthen the United

Nations in accordance with Friends' directions.

The Saturday morning session on

U.S./USSR relations revealed many innovative

avenues to peaceful relations with the

Soviet Union, such as exchanging high

school students for a year, the Sister Cities

project, and the opportunity to take Russian

language .in Friends schools. Having adopted

the proposals of that session, I felt a great

sense that peace with the Soviet Union was

indeed a possibility. During that session,

Charles Price quoted a leader in Moscow as

saying, "We should agree to have an equal

number of weapons. It's easy if that number

is zero." During the Saturday session on war

tax concerns, Friends struggled with how best

to express their testimony of peace. Through

much careful, sensitive, and deliberate consideration,

the yearly meeting agreed to support

(physically, morally, and financially, if

necessary) any yearly meeting employees who

feel their consciences have been violated.

A second overwhelming feeling was that

there is hope for the future of the world and

for the Society of Friends. I learned that the

quilt pieces on display were to be sewn

together in April and joined with other peace

rectangles from around the world, which

would then be used to encircle the Pentagon.

What a beautiful, constructive way to act on

the Peace Testimony!

When the Committee on Education and

Care of Members reported that Philadelphia

Yearly Meeting's membership is no longer

dropping, I felt again a renewed sense of

hope. How to get the membership to do

more than "bottom out" was a subject

addressed by the Outreach Task Force, a

subcommittee of the Field Committee. It was

exciting and hopeful to see that ideas,

materials, and workshops are being formulated

to stimulate outreach and growth in

our meetings. That we have tremendous

potential for expressing our concern and love

to others in our meetings was aptly expressed

by Sam Caldwell, yearly meeting general

A Message From the

New Zealand Friends Peace Committee

The history of New Zealand's opposition

to nuclear weaponry is of long standing

and is consistent. Ten years ago a

New Zealand naval vessel was sent to

Mururoa to protest French atmospheric

testing. New Zealand took France to the

International Court of Justice on the

same subject. New Zealand has supported

and brought resolutions to the United Nations

on the NPT and CTB treaties and

worked hard in disarmament conferences.

However, there has always been quite

strong opposition to such policies on the

basis of fear that we might be left open

to attack or suffer a drop in living standards.

Also there is a history of reliance

on U.S. arms since World War II.

Peace activists here can look back and

remember resistance to participation in

the Vietnam War, opposition (successful)

to setting up an Omega Station to communicate

with strategic nuclear-armed

submarines, and opposition to other U.S.

military intelligence work at Mt. John

Observatory. Nowadays there is opposition

to the radio spying station at Tangimoana.

However, we are as polarized a

nation as we can be over these military

issues and others such as sports contact

with South Africa.

Friends Peace Committee sees all this

as a creative struggle, part of development

into an independent nation free from colonial

attitudes. Therefore, the reaching

toward our own national pride, the incidental

touching of the live wires of hope

for freedom in small neighboring nations

in the Pacific, the stimulus of liberation

theology, these new movements have both

frightened us and filled us with joy. Such

cyclones of the spirit seem never to arrive

one at a time and often appear overwhelming

in the short term. Therefore,

we remember our Quaker heritage, the

bravery of the women at Greenham Common,

the growth of the peace movement

throughout the world, and the faithfulness

of those who pick up their cross

daily. For in a strange way, we have

become involved in a larger struggle than

we intended and we New Zealanders feel

far from heroic or united.

In this situation, at this time, we are

drawn to you all and ask for your prayers,

not for ourselves, but that God's kingdom

may come on earth as it is in heaven.

Bill Carter

June J/15, 1985 FRIENDS JOURNAL
---
18

A sma ll co-ed high school with

QUALITY ACADEMICS, ART &

FARM PROGRAMS. Familystyle

boarding and COMMUNITY

LIFE based on QUAKER PRIN­

CIPLES.

A CHALLENGE IN

CREATIVE LIVING

AND LEARNING

THE

MEETING SCHOOL

Rindge, N.H . 03461

(603) 899-3366

Individual and Family

Counseling

Philadelphia and Baltimore

Yearly Meetings

Confidential professional service

for individuals, couples, or families.

All counselors are active

Friends and respectful of Quaker

values.

Counselors are geographically dispersed.

For specific information

regarding names and locations of

counselors in your area contact:

PHILADELPHIA YEARLY

MEETING

1501 Cherry Street

Philadelphia, PA 19102

Family Relations Committee

Arlene Kelly, ACSW

(215) 988-0140

BALTIMORE YEARLY MEETING

17100 Quaker Lane

Sandy Spring, MD 20860

Counseling Service

Margery Larrabee, ACSW

(202) 554-5021

Would you like to write to a family in the

German Democratic Republic? Michael and

Renate Pahle are Lutherans who wish to correspond

with Americans to help them "to

, understand the ordinary people in the United

States." They have two children, Agnes, age

3, and Ruth, 1. Michael is a stack designer

and Renate, a pharmacist. Write to Michael

and Renate Pahle, Bienitzstrasse 1, 7033,

Leipzig, German Democratic Republic.

On the 40th anniversary of the bombing of

Hiroshima, you and your meetings may join

the ceremonies at Hiroshima via a telephone

link. The World Hiroshima Telephone

Project will provide telephone contact

directly from Hiroshima's Peace Park to

individuals and gatherings throughout the

world. For $30, meetings may reserve a telephone

line to those gathered for the

memorial service in Peace Park. During the

12- 15-minute telephone call, the mayor of

Hiroshima will be heard delivering the

annual Peace Declaration (simultaneously

translated into English). In the United States,

the call must be made on August 5, although

it will be August 6 in Japan. To make a reservation,

call the World Friendship Center in

Hiroshima, Japan, at 082-25 1-5529, or write

to the center at 5-8-20 Midori, Minani-ku,

Hiroshima, 734, Japan.

Honeywell Corporation, maker of antipersonnel

weapons used in the war in Indochina,

will pay the American Friends Service

Committee $35,000 in an out-of-court settlement.

The money will provide shovels to help

farmers in Laos dig up many of those same

weapons, allowing Laotian farmers to

cultivate their fields with much less risk of

detonating the weapons in the ground.

Honeywell was involved in FBI surveillance

activities against nonviolent anti-war

activists who were protesting the company's

actions. Paid FBI informants reported back

to Honeywell. The lawsuit was the first to

tie a major corporation into the FBI's

massive operations against the anti-war

movement. The AFSC joined the suit in

1977, which was filed by the American Civil

Liberties Union in Minneapolis.

The AFSC Shovel Project, one of nine

plaintiffs in the case, is still active against

Honeywell weaponry production.

The editor of Sojourners magazine reports

that a delegation of religious and peace

leaders delivered a message to the Office of

the Secretary of State "announcing that

42,352 U.S. citizens have signed the Pledge

of Resistance," a plan for civil disobedience

in the " event of a U.S. invasion or military

escalation in Central America." For more

information, write Sojourners, P.O. Box

29272, Washington, DC 20017.

The 25th anniversary celebration of the

Earlham School of Religion, June 9- 11, will

include workshops, speakers, and a lot of

reminiscing. Among the speakers and workshop

leaders will be D. Elton Trueblood, Wil

Cooper, Miriam Burke, Paul and Felicity

Kelcourse, Eugene Roop, Virginia Esch,

Charles Thomas, Torn Brown, and Landrum

Bolling. For reservations and assistance,

write Sue Kern, anniversary secretary, ESR,

Richmond, IN 47374.

Visitors are invited to join West Falmouth

(Mass.) Meeting on July 14- 21 in celebrating

the 300th anniversary of the founding of the

meeting. Former members or attenders of the

meeting, as well as descendents or other

relatives of Cape Cod Friends, are invited to

share in this time of homecoming. Names of

Friends to be especially remembered for their

steadfast· witness to their faith may be sent

to the clerk of West Falmouth Meeting, to be

added to the Memorial Registry list. Minutes

from other meetings and messages from

former members and attenders will be incorporated

in the records of the 300th celebration.

For more information, write Alta Mae

Stevens, 13 Two Ponds Rd., Falmouth, MA

02540.

" Atonement" is the theme of this summer's

Quaker Theological Discussion Group meeting

July 15- 18 at Olney Friends School in

Barnesville, Ohio. The three papers to be discussed

are "Atonement: A Biblical Study,"

by Robert Buswell; "Atonement From the

Perspective of Historical Theology,'' by

Dean Freiday; and " Atonement and Transformation:

What It Means to Be Reconciled

to God and to One Another," by James

Newby. The total cost per person is $60. For

more information, write to QRT, Route 1,

Box 549, Alburtis, PA 18011.

The people and government of New Zealand

have taken a bold initiative for peace by banning

nuclear-armed and nuclear-powered

ships from New Zealand ports. Unfortunately

there is increasing pressure on the New

Zealand government to reverse its decision.

Dale Hess, convener of the Australian

Quaker Peace Committee, has written that

friends in New Zealand have asked for help.

People in the United States and elsewhere

can send statements of support to New

Zealand newspapers and radio and television

stations. For a list of New Zealand media

addresses, send a self-addressed, stamped

envelope to New Zealand Support, FRIENDS

JouRNAL, 1501 Cherry St., Philadelphia,

PA 19102.

June 1/15, 1985 FRIENDS JOURNAL
---
Part-time Field Secretary for Friends Committee on

National Legislation. Interpret work and financial needs of

FCNL to constituents in the South. Needed by Sept. 1.

Send inquiries or suggestions to David Boynton, FCNL, 245

Second St. NE, Washington, DC 20002.

Chicago-based fundralser to assist with general fund·

raising activities with specific responsibility for North Central

region programs. Requires familiarity, compatibility with

Quaker principles, philosophy; commitment to nonviolent

social change; strong communication and administrative

skills; ability to travel. Resumes to Karen Cromley, AFSC,

1501 Cherry St., Philadelphia, PA 19102 by June 30. Appli·

cants considered without regard to race, sex, sexual

orientation, or disability.

Associate Director of Development. Earlham College is

seeking an experienced development officer to join its

professional staff. The Associate Director will have primary

responsibility for directing Earlham's annual fund and other

current support programs. The Associate Director also will

have a key staff role in planning and supporting all phases

of the college's fundraising and constituent programs.

Earlham is a distinguished residential college of liberal arts

and sciences with over 1 ,000 students. The college is under

the care of the Society of Friends (Quakers). Candidates

must have a bachelor's degree and should have at least

three years' experience in development or a related field.

Salary is commensurate with qualifications and experience.

Forward letter of application, resume, and names of three

references to: J. Brooks Jones, Director of Development,

Box 3, Earlham College, Richmond, IN 47374. An Equal

Opportunity, Affirmative Action Employer.

tive Action Employer.

Director of Development. Part·time position available,

please send resume to Administrator, Friends Fellowship

Community, Inc., 2030 Chester Blvd., Richmond, IN 47374.

Opportunity for Quaker couple to be houseparents in a

foster home under the care of the Virginia Beach Friends

Meeting. Please call (804) 481-1300.

Trombone teacher for Friends Music Institute, summer

music camp for ages 12-18. Inquire immediately (513)

767-1311, between 6 and 7 p.m. P.O. Box 427, Yellow

Springs, OH 45387.

FRIENDS ACADEMY

A Quaker·affiliated, co-educational

country day school including over

690 students in grades pre-kindergarten

through 12. A strong selected

student body, made diverse

by our cosmopolitan community and a generous scholarship

program, is nurtured by a full- and part-time faculty

of 75. Friends Academy, which is over 100 years old,

seeks to provide demanding, somewhat traditional but

lively, college preparatory, academic, athletic, and

activities program within a friendly, supportive atmosphere.

Each year we usually seek one or more top-rate

beginner or experienced and versatile teachers who are

strong in the classroom and competent and willing to

coach boys' and girls' team sports. We seek teachers who

can command the respect and affection of young people

and colleagues. Write to Frederic B. Withington, Headmaster,

Friends Academy, Locust Valley, NY 11560.

The Meeting School is looking for couples interested in

creative teaching and houseparenting in a community that

operates from a spiritual base and from the Quaker values

of simplicity, trust, and nonviolence. Grades 10-12.

Accredited by NEASC. Send inquiries to Claudia and Kurt

Brandenburg. The Meeting School, Rindge, NH 03461 .

(603) 899-3366.

Live-In director at New England Friends Home, a

nonsectarian Quaker facility and retirement home for 14

residents. Applicant need not be licensed but should have

managerial skills, innovative ideas, and enjoy being with

the elderly. For more information please call lise Reich (617)

238-1171 or Meg Money (617) 545-1810, or write: New

England Friends Home, Turkey Hill Lane, Hingham, MA

02043.

FRIENDS JOURNAL June 1/15, 1985

Soar With Us I

FRIENDS JOURNAL's new Friendly Flyer Is getting ott the ground

just In time to catch the summer breezes.

Our flyer, an easy-to-throw 9-1/4 H blue, green, and white disk,

Is a great way tor you Quaker kids from 7 to 70 to create your

own summertime fun-at the beach, In the park, or In your back

yard.

For yourself, your family, or as a gift, the Friendly Flyer will

come soaring your way for just $4.

Name ____________________________ __

Address __________________________ _

City· ________________ _

State/Zip

Please rush me the JOURNAL's

Friendly Flyer.

Our flyers are 54 each fS3 plus

S 1 for postage and handling)

and will be shipped by first class

mall.

I enclose __ for __ flyers.

FRIENDS JOURNAL, I 501 Cherry St., Philadelphia, PA 19 I 02

25
---
BALTIMORE-Stony Run: worship 11 a.m. exceptiO a.m.

July & August. 5116 N. Charles St. 435-3773. Homewood:

worship and First-day school!! a.m. 3107 N. Charles St.

235-4438.

BETHESDA-Classes and worship 11 a.m. Sidwell Friends

Lower School, Edgemoor lane & Beverly Rd. 332-1156.

CHESTERTOWN-Ghester River Meeting, 124 Philosophers

Terrace. Worship and First-day school 11 a.m. Clerk:

Ann Miller, 116 Cedar St. (301) 778-2367.

EASTON- Third Haven Meeting, 405 S. Washington St.

10 a.m. David Hawk, clerk; Jane Caldwell, ass't. (301)

822-2832.

FALLSTON-little Falls Meeting, Old Fallston Rd. Worship

10:30 a.m. Clerk, Hunter C. Sutherland, phone (301)

877-1635.

SANOY SPRING-Worship 9:30 and 11 a.m., first Sundays

9:30 only. Classes, 10:30 a.m. Meetinghouse Rd. at Ate.

108.

UNION BRIDGE-Pipe Creek Meeting. Worship 11 a.m.

C. J. Swet, clerk, (301) 831-7446.

MASSACHUSETTS

ACTON-Worship and First-day school tO a.m. Harvey

Wheeler Community Center, corner Main and Church Sts.,

West Concord. (During summer in homes.) Clerk: Sally

Jeffries, 263-4992.

AMHERST -NORTHAMPTON-GREENFIELD-Worship

and First-day school!! a.m. Mt. Toby Meetinghouse, Ate.

63, leverett. 549-0588; if no answer 584-2788 or 549-4845.

BOSTON-Worship 11 a.m. (summer 10 a.m.) First-day.

Beacon Hill Friends House, 6 Chestnut St. , Boston 02108.

Phone: 227-9118.

CAMBRIDGE- Meetings, Sunday, 9:30 and 11 a.m. During

July and August, Sundays, tO a.m. 5 longfellow Pk. (near

Harvard Sq. , off Brattle St.) Phone: 876-6883.

FRAMINGHAM-Worship 10 a.m. First-day school. 841

Edmands Rd. (2 mi. W of Nobscot). Visitors welcome.

Phone: 877-0481 .

GREAT BARRINGTON-South Berkshire Meeting,

Blodgett House, Simon's Rock College, Alford Rd.

Unprogrammed 10:30 a.m. Phone: (413)528-1847 or (413)

243-1575.

MARiON-Meeting for worship 9:30 a.m. Sunday in the

Tabor Academy library, 65 Spring St.

NEW BEDFORD-Meeting for worship and First-day school

10 a.m., Sundays. Potluck, worship-sharing, 5:30-8 p.m.

Wednesdays at the meetinghouse. 83 Spring St. Phone

(617) 636-2829.

NORTH DARTMOUTH- Unprogrammed, First-da;·s 11

a.m. State Road, west of Tucker. (617) 994-9829.

NORTH EASTON-Worship 11 a.m. First-days at Friends

Community. 238-2682, 2282.

NORTH SHORE-Worship and First-day school t 0:30 a.m.

landmark School, Ate. 127, Beverly Farms. Child care for

those under 6. Clerk: Nancy Coffey, 922-2513.

SANDWICH-East Sandwich Meeting House, Quaker

Meeting House Rd. just north of Ate. SA. Meeting for

worship Sunday 11 a.m. (617) 888-1897.

SOUTH YARMOUTH-CAPE COO- Unprogrammed worship

10 a.m. 58 N. Main St. 362-6633.

WELLESLEY-Meeting for worship and Sunday school

10:30 a.m. at 26 Benvenue Street. Phone: 237-0268.

WEST FALMOUTH-CAPE COO-Meeting for worship,

Sunday, 11 a.m. Ate. 28A.

WESTPORT - Meeting, Sunday, 10:45 a.m. Central

Village. Clerk: J. K. Steward Kirkaldy. Phone: 636·4711.

WORCESTER- Unprogrammed meeting for worship 11

a.m. 901 Pleasant St. Phone: 754-3887.

MICHIGAN

ALMA-MT. PLEASANT-Unprogrammed meeting 10:30

a.m. First-day school. Clerk: Nancy Nagler, 772-2421.

ANN ARBOR-Meeting for worship 10 a.m. , adult

discussion 11 :30 a.m. Meetinghouse, 1420 Hill St. (313)

761-7435, 761-5077. Clerk: Nancy Taylor, 769·3354.

BIRMINGHAM-Worship and First-day schoolt0:30 a.m.

Clerk: Brad Angell. (313) 647-6484.

DETROIT -Meeting 10 a.m. 7th floor Student Center Bldg.,

Wayne State Univ. Write: 4011 Norfolk, Detroit 48221 .

341-9404.

EAST LANSING-Worship and First-day school, Sunday,

12:30 p.m. All Saints Church library, 800 Abbott Road. Call

371-1754 or 351·3094.

GRAND RAPIDS-Worship and First-day school 10 a.m.

25 Sheldon St. SE. (616) 363·2043 or 854·1429.

KALAMAZOO-Meeting for worship and First-day school

10 a.m., discussion and child care 11 a.m. Friends

Meetinghouse, 508 Denner. Phone: 349-1754.

MARQUETTE-LAKE SUPERIOR- ! p.m. Sundays.

Unprogrammed. Forum. Child care. P.O. Box 114,

Marquette 49855. 228-7677, 475-7959.

MINNESOTA

MINNEAPOLis-Unprogrammed meeting 9 a.m., First-day

school tO a.m. semi-programmed meeting 11 a.m. W. 44th

St. and York Ave. S. Phone: 926-6195.

MOORHEAD- Red River Friends Meeting, UCM House,

1313 9th Ave. S. Unprogrammed worship 10 a.m.

233-1215.

NORTHFIELO-SOGN-CANNON FALLS TWP.-Cannon

Valley Friends Meeting, 2nd and 4th First-days.

Unprogrammed worship 11 a.m. Child care. (507)

645-4869; (507) 789-5735; (612) 258-4292.

ROCHESTER-Unprogrammed meeting 9:30 a.m. in

homes. Call (507) 282-4565 or (507) 282-3310.

ST. PAUL- Twin Cities Friends Meeting, 540 Hamline Ave.

N. Unprogrammed worship now at St. John's UMC, 10:30

a.m. Call (612) 222-3350 or 644-7017.

STILLWATER-St. Croix Valley Friends, Senior Citizens

Center, 112 S. Main St. Unprogrammed worship 10 a.m.

Phone (612) 777-1698, 777-5651.

MISSOURI

COLUMBIA- Meeting for worship and First-day school tO

a.m. Presbyterian Student Center, 100 Hilt St., Columbia,

MO 65201 . Phone: 874-7154.

KANSAS CITY-Penn Valley Meeting, 4405 Gillham Rd.,

10 a.m. Call (816) 931·5256.

ROLLA-Preparative meeting 11 a.m. Elkins Church

Educational Bldg., First & Elm Sts. (314) 341·3754 or 2464.

ST. LOUIS-Meeting 10:30 a.m. 2539 Rockford Ave., Rock

Hill. Phone: 962-3061 .

MONTANA

BILLINGS-Call (406) 656-2163 or 252·5065.

MISSOULA-Unprogrammed 10:30 a.m., Sundays. 105

Mount Avenue. 542-2310.

NEBRASKA

LINCOLN-Discussion 10 a.m. , worship 11 a.m. 3319 S.

46th. Phone: 488-4178.

OMAHA-Unprogrammed worship. 453-7918.

NEVADA

RENO-SPARKS-Unprogrammed worship at 10 a.m.

Senior Citizens Service Center, 1155 E. 9th St. 747-4623.

NEW HAMPSHIRE

CONCORD-Worship 10 a.m. Children welcomed and

cared for. Merrimack Valley Day Care Center, 19 N. Fruit

St. Phone: 783-4743.

DOVER-Unprogrammed worship 10:30 a.m., sharing at

noon. 141 Central Ave. Clerk: Silas Weeks, (207) 439-2837

or write P.O. Box 98, Dover, NH 03820.

GONIC-Programmed worship 10:30 a.m. except Jan. and

Feb. Maple St. Clerk: Shirley leslie. Phone: (603) 332-5472.

HANOVER-Meeting for worship, Sundays, 10:45 a.m.

Friends Meetinghouse, 43 lebanon St. (next to Hanover

H.S.). Clerk: Lafayette Noda. (603) 643-4138.

KEENE-Worship, Sundays, 10:30 a.m. P.O. Box 185.

Phone: 357-()796.

PETERBOROUGH-Monadnock Monthly Meeting, 46

Concord St. Worship 9:45 a.m. Singing may precede

meeting.

WEST EPPING- Friends St. Worship 1st and 3rd Sundays,

10:30 a.m. Clerk: Fritz Bell. Phone: (603) 895-2437.

NEW JERSEY

ATLANTIC CITY AREA-Atlantic City Meeting gathers at

11 a.m. in Northfield on Burton Ave. Call (609) 927-6547

or 965-4694.

BARNEGAT- Meeting for worship 11 a.m. left side of East

Bay Ave., traveling east from Route 9.

CINNAMINSON-Westfield Friends Meeting, Ate. 130 at

Riverton-Moorestown Ad. Meeting for worship 11 a.m ..

First-day school 10 a.m.

CROPWELL-Meeting for worship 10:45 a.m. Old Marlton

Pike, one mile west of Marlton.

CROSSWICKS-Meeting and First-day school 10 a.m.

DOVER-RANDOLPH-Worship and First-day school 11

a.m. Randolph Friends Meeting House, Quaker Church Rd.

and Quaker Ave. between Center Grove Ad. and Millbrook

Ave., Randolph. (201) 627-3987.

GREENWICH-6 miles from Bridgeton. Meeting for worship

10:30 a.m., First-day school 11:45 a.m.

HADDONFIELD-Worship 10 a.m. First-day school follows,

except summer. Babysitting provided during both. Friends

Ave. and lake St. Phone: 428-6242 or 428-5779.

MANASQUAN-First-day school tO a.m., meeting 11:15

a.m. Ate. 35 at Manasquan Circle.

MARL TON-See CROPWELL.

MEDFORD-Worship and First-day school 10:30 a.m.

Union St. Meetinghouse. (609) 654-3000 for information.

MICKLETON-Worship 10 a.m., First-day school 11 a.m.

Kings Highway, Mickleton. (609) 468-5359 or 423-()300.

MONTCLAIR-Meeting and First-day school 11 a.m.,

except July and August 10 a.m. Park St. and Gordonhurst

Ave. Phone: (201) 744-7449. Visitors welcome.

MOORESTOWN-First-day school 9:45a.m. Oct. through

May. Meeting for worship 9 a.m. and 11 a.m. Main St. at

Chester Ave. Visitors welcome.

MOUNT HOLLY -Meeting for worship 10:30 a.m. High and

Garden Streets. Visitors welcome.

MULLICA HILL- Main St. Sept.-May FDS 9:45, meeting

for worship 11 a.m. Meeting only, June, July, Aug., 10 a.m.

NEW BRUNSWICK-Meeting and First-day school10:30

a.m., no First-day school summers. 109 Nichol Ave. (201)

846-8969.

NORTHFIELD-First-day meeting for worship 10 a.m.

Atlantic Friends School, Burton Ave. (609) 646-8700 or

345-2458.

PLAINFIELD-Meeting for worship and First-day school

10:30 a.m. Watchung Ave. at E. Third St. 757-5736.

PRINCETON-Worship 9 and 11 a.m., First-day school!!

a.m. Oct.-May. Quaker Rd. near Mercer St. (609) 924-7034.

QUAKERTOWN-Worship and First-day schoolt0:30 a.m.

Box 502, Quakertown, 08868. (201) 782-()953.

RANCOCAS- First-day school 10 a.m., meeting for

worship 11 a.m.

RIDGEWOOD-Meeting for worship and First-day school

11 a.m. 224 Highwood Ave.

SALEM-Meeting for worship 11 a.m., First-day school

9:45a.m. July and August worship tO a.m. East Broadway.

SEAVILLE-Meeting for worship 11 a.m. July/August

worship at 10 a.m. Main Shore Rd., Ate. 9, Cape May Co.

Beach meeting July/August, 9 a.m. N. of first aid station,

Cape May. Visitors welcome.

SHREWSBURY-Meeting for worship and First-day school

Nov.-Apr. 11 a.m., May-Oct. 10 a.m. Ate. 35 & Sycamore.

Phone: 741-7210 or 671·2651 .

SOMERSET HILLS- Meeting for worship 10 a.m.

September-May, Community Club, East Main St..

Brookside. Contact: (201) 543-4429 or 234-1812.

SUMMIT - Meeting for worship and First-day school!! a.m.

(July, August, 10 a.m.). 158 Southern Blvd., Chatham

Township. Visitors welcome.

TRENTON-Meeting for worship 11 a.m. Hanover and

Montgomery Sts. Visitors welcome.

WOODBURY- First-day school 10 a.m., meeting for

worship 11 :15 a.m. 140 North Broad St. Telephone (609)

845-5080, if no answer call 848-8900 or 845-1990.

WOODSTOWN-First-day school 9:45 a.m., meeting for

worship 11 a.m. July & August, worship tO a.m. N. Main

St. Phone 769-1591.

NEW MEXICO

ALBUQUERQUE-Meeting, First-day school, 10:30 a.m.

815 Girard Blvd. NE. Mary Dudley, clerk. 873-()376.

LAS CRUCES-tO a.m. Sunday, worship, First-day school.

2610 S. Solano. Barry and l ynda MacKichan, co-
---
FREDONIA-Unprogrammed meeting 11 a.m. Call (716)

672-4427 or (716) 672-4518.

HAMIL TON-Meeting for worship 10 a.m. Chapel House,

Colgate University. Phone: Joel Plotkin, (315) 684-9320.

HUDSON-Meeting for worship tO a.m. first and third

Sundays. 343 Union St. Claudia Anderson, clerk, (518)

966-8940 or (518) 329-0401 .

ITHACA-First-day school, nursery, adult discussion tO

a.m .• worship 11 a.m. Anabel Taylor Hall, October-May,

phone: 256-4214. June-September summer schedule.

LONG ISLAND (QUEENS, NASSAU, SUFFOLK

COUNTIES)-Unprogrammed meetings for worship, 11

a.m. First-days, unless otherwise noted.

Farmingdale-BETHPAGE-Quaker Mtg. Hse. Rd., op.

Bethpage State Park. (516) 249-0006.

FLUSHING-Discussion tO a.m., First-day school 11

a.m. 137-16 Northern Blvd. (718) 358-9636.

Huntington-LLOYD HARBOR-Friend s World College,

Plover Ln. (516) 261·4924 (eves.).

JERICHO-Old Jericho Tpke., off Ate. 25, just east of

intersection with Rtes. 106 and 107.

Locust Valley-MATINECOCK-Duck Pond & Piping

Rock Ads. First-day school 11 a.m.

MANHASSET -Northern Blvd. at Shelter Rock Rd. (July

& August, 10 a.m.).

St. James-CONSCIENCE BAY-Moriches Rd. Adult

discussion/singing, 10:30 a.m. (516) 862·6213.

SHELTER ISLAND-10:30 a.m. Memorial Day through

Labor Day, circle at Quaker Martyr's Monument on

Sylvester Manor. (516) 749..()555.

Southampton-EASTERN U .-Administration Bldg ..

Southampton College. (516) 537-3867.

SOUTHOLD-Colonial Village Recreation Room. Main

St. (June through Labor Day, 10 a.m.).

WESTBURY-550 Post Ave .• just south of Jericho Tpke.

at Exit 32-N, Northern State Pkwy. (516) 333-3178 (July

through Labor Day, tO a.m.).

MT. KISCO-Meeting for worship and First-day school tt

a.m. Meetinghouse Road.

NEW PALTZ-Unprogrammed meeting 10:30 a.m.

Sundays. Plutarch Church; First-day school, first and third

Sundays 10:15 a.m. (914) 255-5678 or 6179.

NEW YORK CITY-At 15 Rutherford Place (15th Street),

Manhattan: unprogrammed worship every First-day at 9:30

a.m. and tt a.m.; programmed worship at 10 a.m. on the

first First-day of every month. Earl Hall, Columbia

University: unprogrammed worship every First-day at 11

a.m. At 110 Schermerhorn St., Brooklyn: unprogrammed

worship at 11 a.m. every First-day. Phone (212) 777-8866

(Mon.-Fri., 9-5) about First-day schools, monthly business

meetings, and other information.

OLD CHATHAM-Meeting for worship 11 a.m. Powell

House, Ate. 13. Phone 794-8811 .

ONEONTA-10:30 a.m. worship tst Sunday, 11 Ford Ave.,

3rd Sunday in members' homes. Call (607) 746-2844 for

location.

ORCHARD PARK-Worship and First-day school It a.m.

East Quaker St. at Freeman Rd. 662-3105.

POPLAR RIDGE-Worship tO a.m. (315) 364-7244.

POTSDAM-Worship and First-day school followed by

potluck. 41 Main St. (315) 265·5749.

POUGHKEEPSIE-Unprogrammed meeting 9:15 a.m.,

meeting school 10:15 a.m. , programmed meeting 11 :15

a.m. (summer worship tO a.m.). 249 Hooker Ave. 454-2870.

PURCHASE-Meeting for worship and First-day school 11

a.m. Purchase St. (Ate. 120) at Lake St. Co-clerks: Nancy

First, Bittersweet La., Mt. Kisco, NY 10549, (914) 666-3524,

and Fred Feucht, 88 Mountain Rd. , Pleasantville, 10570.

(914) 769-1720.

QUAKER STREET -Worship 11 a.m. Ate. 7 Quaker Street,

New York 12141 . Phone (518) 895-8169.

ROCHESTER-Sept. to June, meeting for worship 9:30 and

11 a.m .• First-day school 11 a.m. June 15 to Sept. 3,

worship at 10 a.m. with babysitting sometimes available.

41 Westminster Rd., 14607.

ROCKLAND-Meeting for worship and First-day school tt

a.m. 60 Leber Rd., Blauvelt. (914) 359-2730.

SCARSDALE-Meeting for worship, 2nd Sunday in Sept.

through June, tt a.m.; July through tst Sunday in Sept.

10 a.m. First-day school, 3rd Sunday in Sept. through 2nd

Sunday in June, 11 a.m. 133 Popham Rd.

SCHENECTADY -Meeting for worship 10 a.m. Albany St.

United Methodist Church, 924 Albany St. from Labor Day

to Memorial Day; Quaker St. Friends Meeting House,

Memorial Day to Labor Day.

SYRACUSE-Worship 10:30 a.m. 821 Euclid Ave.

NORTH CAROLINA

ASHEVILLE-Meeting t O a.m. French Broad YWCA.

Phone: Phillip Neal, 298-0944.

BEAUFORT - Worship group; 728-7338, 728-5279.

CELO-Meeting 10:45 a.m. Yancey County, off Ate. 80 on

Arthur Morgan School Rd. 675-5936.

CHAPEL HILL-Meeting for worship, 11 a.m. Clerk: Benie

Flash. Phone: (919) 942·3528.

CHARLOTTE-Unprogrammed meeting for worship and

First-day school tO a.m., forum and child care tt a.m. 2327

Remount Rd. (704) 399-8465 or 537-5808.

DURHAM-Unprogrammed meeting and First-day school

tO a.m. 404 Alexander Ave. Contact Alice Keighton, (919)

489-6652.

FAYETTEVILLE-Unprogrammed. Phone 323·3912.

GREENSBORO-Friendship Meeting (unprogrammed)

Guilford College, Moon Room of Dana Aud., except

vacations and summers at Friends Homes. Worship 10:30

a.m. Contact Alfred Henderson, 294-0745.

GREENVILLE-Worship group. 752-0787, 752·9438.

GUILFORD COLLEGE, GREENSBORO-New Garden

Friends Meeting. Unprogrammed meeting 8:45 a.m .•

church school 9:45 a.m., meeting for worship 11 a.m. E.

Daryl Kent, clerk and David W. Bills, pastoral minister.

RALEIGH-Unprogrammed 10 a.m. 915 Tower St.

(Schelley Sch.) Clerk: R. Doak, 783-3135.

WENTWORTH/REIDSVILLE-Open worship and child

care 10:30 a.m. Call (919) 349-5727 or (919) 427·3188.

WILMINGTON-Unprogrammed meeting 9 a.m. Women's

Resource Center, 20 N. 16th St. Call (919) 392-2269.

WINSTON-SALEM-Unprogrammed meeting 10:30 a.m.

in parlor of Winston-Salem Friends Meeting House, 502

Broad St. N. Call725-800t or 723-4528 (Jane Stevenson).

WINSTON-SALEM-Ardmore Friends, 2434 Rosewood.

Unprogrammed meeting tO a.m ., first and third Sundays,

761-0335.

WOODLAND-Cedar Grove Meeting. Sabbath school. tO

a.m .• meeting for worship tt a.m. Janie 0 . Sams, clerk.

NORTH DAKOTA

FARGO-See Red River Friends, Moorhead, Minnesota.

OHIO

AKRON-Unprogrammed worship and child care weekly,

business and potluck monthly. Call (216) 929·9590 or

733-7683.

BOWLING GREEN-Broadmead Friends Meeting FGC.

Unprogrammed worship groups meet at:

BLUFFTON-Sally Weaver Sommer. (419) 358-5411.

DEFIANCE-Jon Shafer, (419) 596-4641

FINDLAY-Joe Davis, clerk, (419) 422·7668

TOLEDO-Rilma Buckman, (419) 385-1718

CINCINNATI-Clifton Friends Meeting. Wesley Foundation

Bldg. 2717 Clifton Ave. Worship tO a.m. 793-9241.

CINCINNATI-Community Meeting (United FGC and

FUM), 3960 Winding Way, 45229. Unprogrammed worship

and First-day school10 a.m. Phone: (513) 861-4353. Eileen

Bagus, clerk.

CLEVELAND- Meeting for worship and First-day school

11 a.m. 10916 Magnolia Dr. 791·2220.

COLUMBUS-Unprogrammed meeting tO a.m. 1954

Indianola Ave. Call Rod Warren (614) 863..()731 or Marvin

Van Wormer (614) 267-8834.

DAYTON-Friends Meeting FGC. Unprogrammed worship

and First-day school10:30a.m. t5t6Salem Ave. Am. 238.

Phone: (513) 433-6204.

KENT-Meeting for worship and First-day school 10:30

a.m. 1195 Fairchild Ave. Phone: 673·5336.

MANSFIELD-Unprogrammed meeting tO a.m., first and

third Sundays, Rock Road. 756-4441 , 347-1317.

MARIETTA-Unprogrammed worship group. 422-5299

(Parkersburg).

OBERLIN-Unprogrammed meeting 10:30 a.m. Wilder

Hall, Oberlin College. Ruth Schwaegerle, clerk.

SALEM-Wilbur Friends unprogrammed meeting. First-day

school 9:30 a.m., worship 10:30 a.m.

WAYNESVILLE- Friends meeting, First-day school 9:30

a.m., unprogrammed worship 10:45 a.m. 4!h and Hight Sts.

(513) 885-7276, 897-4610.

WILMINGTON-Campus Meeting (United) FUM & FGC,

College Kelly Center. Unprogrammed worship 10:15 a.m.

Barbara Olmsted, clerk, (513) 382·4118.

WOOSTER-Unprogrammed meeting and First-day school

10:30 a.m. SW corner College and Pine Sts. (216) 262-8533

or 345-7650.

YELLOW SPRINGS-Unprogrammed worship, FGC, 11

a.m. Rockford Meetinghouse, President Street (Antioch

campus). Clerk, Hazel Tulecke, (513) 767-1633.

OKLAHOMA

NORMAN-Unprogrammed worship group; (405)

329-6673.

OKLAHOMA CITY-Unprogrammed meeting for worship

10:30 a.m .. followed by forum and fellowship. 312 S.E. 25th.

(405) 949·2106 or 631-4174.

STILLWATER-Unprogrammed, 10:30 a.m. (405)

372-5892 or (405) 372·9373.

TULSA-Friends church 10:45 a.m., 6 p.m. 13322 E. 31.

John & Betty Jean Penrose, (91 B) 663-4496.

TULSA-FGC unprogrammed. 5 p.m. (918) 369·1978.

OREGON

CORVALLIS-Meeting for worship 9:30 a.m. 3311 N.W.

Polk Ave. Phone: 752-3569.

EUGENE-Meeting for worship 10 a.m. Religious education

for all ages 11:15 a.m. 2274 Onyx.

PORTLAND-Multnomah Monthly Meeting, 4312 S.E.

Stark. Worship tO a.m. Phone: 232-2822.

SALEM- Friends meeting for worship 10 a.m. Forum 11.

YWCA, 768 State St. 393·1914.

PENNSYLVANIA

ABINGTON-First-day school tO a.m .• worship 11:15 a.m.

Child care. Meetinghouse Rd./ Greenwood Ave. ,

Jenkintown. (E. of York Rd., N. of Philadelphia.) 884·2865.

BIRMINGHAM-First-day school and meeting for worship

10:15 a.m. 1245 Birmingham Rd. S. of West Chester on

Ate. 202 lo Ate. 926, turn W. to Birmingham Rd., turn S.

Y• mile.

BUCKINGHAM-Worship 11 a.m. Lahaska, Rts. 202·263.

CARLISLE-First-day school (Sept.-May) and worship tO

a.m. 2nd. fl., Bosler Hall. N.E. corner College St. and W.

High St. 249-2411 .

CHELTENHAM-See Philadelphia listing.

CHESTER-Meeting for worship 10:30 a.m .• meeting for

business 2nd First-day at 9:30. 24th and Chestnut Sts.

CONCORD-Worship and First-day school tt:t5 a.m. At

Concordville, on Concord Rd. one block south of Ate. 1.

CONNEAUTVILLE-Unprogrammed worship group.

Mershon, RD 2, Conneautville 16406.

DARBY -Meeting for worship and First-day school 11 a.m.

Main at 10th St.

DOLINGTON·MAKEFIELD-Worship 11·11 :30 a.m. Firstday

school It :30·12.30. East of Dolington on Mt. Eyre Rd.

DOWNINGTOWN- First-day school (except summer

months) and worship 10:30 a.m. 800 E. Lancaster Ave.

(south side old Ate. 30, Y2 mile east of town). 269·2899.

DOYLESTOWN-Meeting for worship and First-day school

10:30 a.m. East Oakland Ave.

ELKLANDS-Meeting for worship 11 a.m. May through

October. Ate. 154 between Forksville and Canton, Pa.

ERIE-Adult discussion and First-day school tO a.m.,

meeting for worship 11 a.m. 509 Sassafras St. 898-1077.

FALLSINGTON (Bucks County)-Falls Meeting, Main St.

First-day school tO a.m., meeting for worship tt a.m. No

First-day school on first First-day of month. Five miles from

Pennsbury reconstructed manor home of William Penn.

GOSHEN-First-day school tO a.m., worship 10:45 a.m.

Goshenville, intersection of Ate. 352 and Paoli Pike.

GYWNEDD-First-day school 10 a.m ., except summer.

Worship 11 :15 a.m. Sumneytown Pike and Ate. 202.

HARRISBURG-Worship tt a.m .• First-day school and

adult education (Sept. to May) 10 a.m. Sixth and Herr Sts.

Phone: (717) 232· 7282 or 232·1326.

HAVERFORD-First-day school 10:30 a.m., meeting for

worship 10:30 a.m., Fifth-day meeting for worship 10 a.m.

during college year. Buck Lane. between Lancaster Pike

and Haverford Rd.

.. AVERTOWN-Oid Haverford Meeting. East Eagle Rd. at

Saint Dennis Lane, Havertown. First-day school and adult

forum, tO a.m., meeting for worship 11 a.m.

HORSHAM-Ate. 611 . First-day school, meeting, 11 a.m.

KENDAL-Worship 10:30 a.m. Ate. t , 1 mi. N. of Longwood

Gardens.

KENNETT SQUARE-First-day school tO a.m., worship 11

: .m. Union & Sickle. Mary Faye Glass, clerk, (215)

444-0788.

LANCASTER-Meeting and First-day school tO a.m. Off

U.S. 462, back of Wheatland Shopping Center. 1 12 miles

west of Lancaster.

LANSDOWNE-First-day school 9:45a.m., meeting for

worship t t a.m. Lansdowne and Stewart Aves.

LEHIGH VALLEY-BETHLEHEM-Meeting and First-day

school 10 a.m. On Ate. 512 'h mile north of Ate. 22.

LEWISBURG-Worship 10:30 a.m. first,third, and fifth

Sunday of each month. Vaughan Lit. Bldg. Library, Bucknell

University. Clerk: (717) 524-7969.

LITTLE BRITAIN-First-day school tO a.m., meeting for

worship 11 a.m. Eastland near Kirks Mills on Friends Rd.

and Penn Hill at U.S. 222 and Pa. 272.

LONDON GROVE-Friends meeting Sunday 10 a.m., child

care/First-day school 11 a.m. Newark Rd. and Ate. 926.
---
MARLBOROUGH-Worship 11 a.m. Marlborough Village,

1 m1le S of Ate. 842 near Unionville, Pa. Clerk, (215)

688-9185.

MARSHALL TON-Bradford Meeting (unprogrammed),

Ate. 162, 4 mi. west of West Chester. 11 a.m. 696-6538.

MEDIA-Worship t 1 a.m. (1 0 a.m. June-August) except 1st

Sunday each month, worship 10 a.m., bus. 11:15 a.m. 125

W. 3rd St.

MEDIA (Providence Meetlng)-Meeting for worship 11

a.m., except at 10 a.m. on the first Sunday of the month.

Meeting for worship at 11 a.m. every Sunday in July and

August. Joint First-day school 9:30a.m. at Providence MM

February-June; at Media MM September-January. Providence

Ad. (Ate 252) near 4th St.

MERION-Meeting for worship 11 a.m., First-day school

10: 15 except summer months. Babysitting provided.

Meetinghouse Lane at Montgomery.

MIDDLETOWN-Meeting for worship 10:30 a.m. Delaware

County, Ate. 352 N. of Lima.

MIDDLETOWN-First-day school 9:30 a.m .• meeting for

worsh1p 11 a.m. 7th and 8th months worship 10-11 a.m.

At Langhorne, 453 W. Maple Ave.

MILLVILLE-Main St. Worship 10 a.m., First-day school

11 a.m. Dean Girton, (717) 458-6431 .

NEWTOWN (Bucks Co .)-Worship 11 a.m., First-day

school 9:45 a.m. Summer worship only. 968-5143 or

968-2217.

NEWTOWN SQUARE (Del. Co.)-Meeting 11 a.m. Ate.

252 N. of Ate. 3. Clerk, (215) 356-2740.

NORRISTOWN-Meeting for worship and First-day school

10 a.m. Swede and Jacoby Sts. Clerk: Clifford A. Gillam,

Jr., 539-1361.

OXFORD-First-day school9:45 a.m., meeting for worship

11 a.m. 260 S. 3rd St. Caroline C. Kirk, clerk. Phone: (215)

593-6795.

PENNSBURG-Unami Monthly Meeting meets First-days

at 11 a.m. Meetinghouse at 5th and Macoby Sts. Bruce

Grimes, clerk, 234-8424.

PHILADELPHIA-Meetings, 10:30 a.m. unless specified;

phone: 241-7221 for information about First-day schools.

Byberry-one mile east of Roosevelt Boulevard at

Southampton Rd., 11 a.m.

Central Philadelphia-15th and Race Sts.

Cheltenham-Jeanes Hospital grounds, Fox Chase,

11:30 a.m. July & August 10:30 a.m.

Chestnut Hill-100 E. Mermaid Lane.

Fourth and Arch Sta.-First- and Fifth-days.

Frankford-Penn and Orthodox Sts., 11 a.m.

Frankford-Unity and Wain Sts., 11 a.m.

Germantown Meeting-Coulter St. and Germantown

Ave.

Green Street Meetlng-45 W. School House Lane.

PHOENIXVILLE-Schuylkill Meeting. East of Phoenixville

and north of juncture of Whitehorse Ad. and Ate. 23.

Worship 10 a.m., forum 11:15.

PITTSBURGH-Meeting for worship and school 10:30

a.m., adult class 9:30a.m. 4836 Ellsworth Ave, East End.

PLYMOUTH MEETING- Worship, First-day school 11:15

a.m. Germantown Pike & Butler Pike.

POTTSTOWN-READING AREA-Exeter Meeting. Meetinghouse

Rd. off 562, 1 and 6/1 0 miles W of 662 and 562

intersection at Yellow House. Worship 10:30 a.m.

QUAKERTOWN-Richland Monthly Meeting, Main & Mill

Sts. First-day school and meeting for worship 10:30 a.m.

RADNOR-Meeting for worship and First-day school 10:30

a.m., forum 11:15 a.m. Conestoga and Sproul Ads., lthan.

READING-First-day school 10 a.m., meeting 11 a.m. 108

North Sixth St.

SLIPPERY ROCK-Meeting for worship 11 a.m. Franklin

St., United Methodist Church. Phone: 794-4547.

SOLEBURY-Worship 10 a.m., First-day school 10:45 a.m.

Sugan Rd., 2 miles NW of New Hope. 297-5054.

SOUTHAMPTON (Bucks Co.)-First-day school9:30 a.m.,

worship 10:30 a.m. Street & Gravel Hill Ads. Clerk:

639-2144.

SPRINGFIELD-Meeting 11 a.m., discussion 10:15 a.m.

(Oct.--June). W. Springfield and Old Marple Ad. 544-3624.

STATE COLLEGE-First-day school and adult discussion

10 a.m., worship 11 a.m. 611 E. Prospect Ave. 16801.

SWARTHMORE-Meeting and First-day school 10 a.m.,

forum 11 a.m. WhiUier Place, college campus.

UPPER DUBLIN-Worship and First-day school 11 a.m.

Ft. Washington Ave. and Meetinghouse Ad., near Ambler.

VALLEY- First-day school and forum 10 a.m. (except

summer), worship 11 :15 (summer, 10). Monthly meeting

during forum time 2nd Sunday of each month. West of King

of Prussia on old Ate. 202 and Old Eagle School Ad.

WEST CHESTER-First-day school 10:30 a.m., worship

10:45. 400 N. High St.

WEST GROVE-Meeting for worship 10 a.m. 153 E.

Harmony Road. P.O. Box 7.

WESTTOWN-Meeting for worship 10:30 a.m. Sunday.

Wesllown School campus, Westtown, PA 19395.

WILKES-BARRE-North Branch Monthly Meeting,

Wyommg Seminary Lower School, 1560 Wyoming Ave.,

Forty Fort. Sunday school 10:15 a.m., meeting 11 a.m.,

Sept.- May. Summer phone: (717) 675-2438.

WILLISTOWN-Worship and First-day school 10 a.m.

Goshen & Warren Ads., Newtown Square, A.D. 1.

WRIGHTSTOWN-First-day school9:30 a.m., worship 11

a.m. Summer months worship only 10 a.m. Ate. 413.

YARDLEY-Meeting for worship 10 a.m. First-day school

follows meeting during winter months. North Main St.

RHODE ISLAND

PROVIDENCE-Meeting for worship 11 a.m. each Firstday.

99 Morris Ave., corner of Olney St.

SAYLESVILLE-Worship 10:30 a.m. each First-day.

Lincoln-Great Ad. (Ate. 126) at River Ad.

WESTERLY-Unprogrammed worship and First-day

school 10:30 a.m. 57 Elm St. (203) 599-1264.

SOUTH CAROLINA

CHARLESTON-Worship 9:45 a.m. Sundays. The

Christian Family Y, 21 George St. (803) 556-7031 .

COLUMBIA-Worship 10 a.m. Presby1erian Student

Center, 1702 Green St. , 29201. Phone: (803) 781 -3532.

SOUTH DAKOTA

SIOUX FALLS-Unprogrammed meeting 11 a.m. 2307 S.

Center, 57105. Phone: (605) 338-5744.

TENNESSEE

CHATTANOOGA-Worship 10:30, discussion 11 :30. 335

Crestway Dr. Bill Simmons, (615) 622-1308.

CROSSVILLE-Worship 9:30, then discussion. (615)

484-6059 or 277-5003.

NASHVILLE-Meeting and First-day school tO a.m. 2804

Acklen Ave. Clerk: Bob Lough, (615) 298-1269.

WEST KNOXVILLE-Worship and First-day school tO a.m.

D.W. Newton, 693-8540.

TEXAS

ALPINE-Meeting for worship, Sunday, 10:30-11 :30 in the

home of George and Martha Floro. Call (915) 837-2930 for

information.

AUSTIN-Forum 10 a.m., worship 11 a.m. Supervised

activities and First-day school for young Friends. 3014

Washington Square, 452-1841 . David Ferris, clerk,

926-9600.

BAY AN/COLLEGE STA liON- Unprogrammed worship,

first and third Sundays. Call (409) 779-6904 or write 1104

C Verde, Bryan TX 77801.

CENTRAL TEXAS-Unprogrammed worship. Call (817)

939-8596 or write 816 Lake Ad., Belton, TX 76513.

CORPUS CHRISTi- Unprogrammed worship 11 :15 a.m.

1015 N. Chaparral. (512) 884-6699.

DALLAS- t O a.m. Park North YWCA, 4434 W. Northwest

Hwy. Clerk, Dorothy Watts. (214) 576-3868, 361-7487, or

258-0578.

EL PASO-Meeting at 10 a.m. Sunday. Meetinghouse at

1020 E. Montana Blvd., El Paso, TX 79902. Blaine Nelson,

clerk.

FORT WORTH-Unprogrammed meeting for worship.

Phone: (817) 535-3097 or 926-1526.

GALVESTON-Meeting for worship, First-day 6:30 p.m.

Call 7 44-1806 or 762-1391 for information.

HILL COUNTRY-Unprogrammed worship 11 a.m.,

discussion 10 a.m. Schreiner College, Old Faculty Club,

Kerrville, TX 78028. Clerk: Don Warrington (512) 833-5368.

HOUSTON-Live Oak Meeting. 1105 W. 10th St. Meeting

for worship 11 a.m., First-day school/adult discussion 9:30

a.m. Phone: 862-6685. Clerk: P. Bell, 664-5505.

LUBBOCK-Unprogrammed. Elsa Sabath, mail 2810 23rd

St.,79410. (806) 797-D916, 747-8230, 796-1905.

MIDLAND-Worship 10:30 a.m. Trinity School Library,

3500 West Wadley. Clerk, John Savage, Phone: 682-9335.

RIO GRANDE VALLEY-Winter worship group. For time

and place call (512) 787-9437.

SAN ANTONIO-Discussion 10:30 a.m., unprogrammed

worship 11 a.m. New Age School, 217 Pershing, 78209.

William Donovan, clerk, 11634 Caprock, San Antonio, TX

78230. (512) 690-8961 .

UTAH

LOGAN-Unprogrammed worship, Sundays, 10:30 a.m.

Logan Public Library. Contact AI Carlson 563-3345 or Allen

Stokes 752-2702.

SALT LAKE CITY -Unprogrammed meeting and First-day

school 10 a.m. Seventh Day Adventist Church, 2139

Foothill Drive. Phone: (801) 583-2287 or 582-4357.

VERMONT

BENNINGTON-Worship, Sundays, 10:30 a.m. Monument

Elem. School, W. Main St. opp. museum. Phone: (802)

447-7980 or (802) 442-4859.

BURLINGTON-Worship 11 a.m. Sunday. 173 North

Prospect St. Phone: (802) 862-1439.

MIDDLEBURY-Worship 10 a.m. 3 miles out Weybridge

St. at Weybridge School. (802) 386-7684.

PLAINFIELD-Worship 10:30 a.m. Phone Gilson, Danville,

(802) 684-2261, or Hathaway, Plainfield, (802) 223-6480.

PUTNEY-Worship, Sunday, 10:30 a.m. The Grammar

School, Hickory Ridge Ad.

SOUTH STARKSBORO- Hymn sing 10:30 a.m., unprogrammed

worship 11 a.m., 2nd and 4th Sundays. Off Route

17. Phone Whites, (802) 453-2156.

WILDERNESS-Sunday meetings for worship in Rutland.

Phone Kate Brinton, (802) 228-8942, or Len Cadwallader,

(802) 446-2565.

VIRGINIA

ALEXANDRIA-1st and 3rd Sundays 11 a.m., unprogrammed

worship and First-day school. Woodlawn Meeting

House, 8 mi. S. of Alexandria, near US 1. Call (703)

765-6404 or (703) 780-1653.

CHARLOTTESVILLE-Adult discussion 10 a.m., worship

11 a.m. 1104 Forest St. Phone: (804) 971-8859.

LINCOLN-Goose Creek United Meeting for worship and

First-day school 10 a.m.

McLEAN-Langley Hill Meeting, June. old Ale. 123 and

Ate. 193. 10 a.m. First-day school, adult forum 11 a.m.

RICHMOND-Worship 11 a.m., First-day school 10 a.m.

4500 Kensington Ave. 358-6185.

ROANOKE-Blacksburg/Roanoke Monthly Meeting;

Roanoke section, Genevieve Waring, 343-6769, and

Blacksburg section, Sandra Harold, 382-1842.

VIRGINIA BEACH-Meeting for worship 11 a.m. (based on

silence). 1537 Laskin Road, Virginia Beach, VA 23451 .

WILLIAMSBURG-Unprogrammed meeting for worship 10

a.m. 104 West Kingswood Dr. (804) 229-6693.

WINCHESTER-Hopewell Meeting, 7 mi. N. on Ate. 11

(Clearbrook). Unprogrammed meeting for worship 10:15

a.m., First-day school 11 a.m. Clerk: (703) 667-1018.

WASHINGTON

BELLEVUE (Seattle)- Eastside Friends Meeting (NPYM),

4160 158th St. SE. Unprogrammed worship tO a.m., study

11 a.m." (206) 822-2461 or 632-7006.

OL YMPIA-Worship 10 a.m. except first Sunday each

month in homes. YWCA. 943-3818 or 357-3855.

SEATTLE-University Friends Meeting, 4001 9th Ave. NE.

Silent worship, First-day classes 11 a.m. 547-6449.

Accommodations: 632-9839.

SPOKANE-Unprogrammed worship. Contact Jean

Fredrickson, 328-8133.

TACOMA- Tacoma Friends Meeting, 3019 N. 21st St.

Unprogrammed worship 10 a.m., First-day discussion 11

a.m. Phone: 759-1910.

WALLA WALLA- 10 a.m. Sundays. 522-0399.

WEST VIRGINIA

CHARLESTON-Worship, Sundays, 10 a.m. YWCA, 1114

Quarrier St. E. (304) 345-8659 for information.

MORGANTOWN-Monongalia Meeting. Unprogrammed

worship and First-day school11 a.m. Phone John Gamble

(304) 599-1767 or Lurline Squire 599-3109.

PARKERSBURG-Unprogrammed worship group.

422-5299.

WISCONSIN

BELOIT -Unprogrammed worship 11 a.m. Sundays, 811

Clary St. Phone: (608) 365-5858.

EAU CLAIRE/MENOMONIE-Meeting for worship and

First-day school, Sunday, 10:30 a.m. 1718 10th St.,

Menomonie, 54751 . Call 235-5892 or 832-D094.

GREEN BAY/APPLETON-Meeting for worship and Firstday

school11 :30 a.m. Contact Bruce Will ever, clerk, (414)

682-71 75.

MADISON-Sunday 9 and 11 a.m., Friends Meeting, 1704

Roberts Ct., 256-2249; and 11 a.m. Yahara Allowed

Meeting, 2201 Center Ave., 249-7255.

MILWAUKEE-Worship sharing 10 a.m., meeting for

worship 10:30. 3224 N. Gordon Pl. Phone: 263-2111 .

OSHKOSH-Unprogrammed worship 11 a.m. Sundays.

Call (414) 233-5804 or write P.O. Box 403.

WYOMING

CASPER- Unprogrammed worship in Friends' homes at

variable times. Phone Eileen Haney at (307) 472-3015.