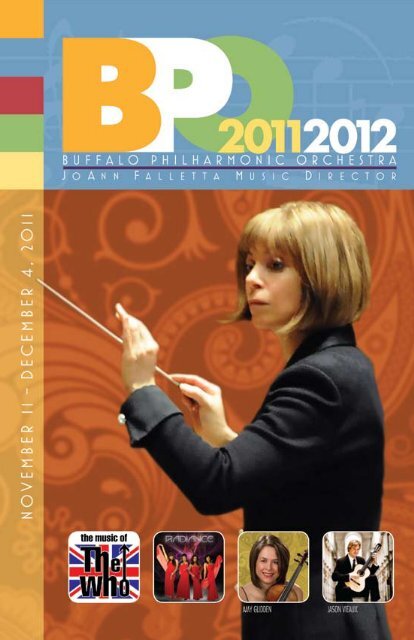 Untitled - The Buffalo Philharmonic Orchestra
Untitled - The Buffalo Philharmonic Orchestra
Untitled - The Buffalo Philharmonic Orchestra
SHOW MORE
SHOW LESS
You also want an ePaper? Increase the reach of your titles
YUMPU automatically turns print PDFs into web optimized ePapers that Google loves.
Table of Contents | November 11 – December 4

BPO Board of Trustees 7

BPO Musician Roster 11

The Music of the Who 13

November 11

Radiance: 17

Tribute to the Ladies of Motown and R&B Music

BlueCross BlueShield of WNY Pops Series

November 12

Tchaikovsky's Fourth 19

M&T Bank Classics Series

November 19, 20

Baroque Masters 24

M&T Bank Classics Series

December 3, 4

Annual Fund Donors 36

Spotlight on Sponsors 40

Patron Information 44

Contact

BPO Administrative Offices (716) 885-0331

BPO Administrative Fax Line (716) 885-9372

Box Office (716) 885-5000

Box Office Fax Line (716) 885-5064

VoIP phone service powered by

Development Office (716) 885-0331 Ext. 420

Subscription Sales Office (716) 885-9371

Group Sales Office (716) 885-5001

Kleinhans Music Hall (716) 883-3560

Buffalo Philharmonic Orchestra | 499 Franklin Street, Buffalo, NY 14202

www.bpo.org | info@bpo.org

5
---
6

Message from Board Chair

As the temperature drops and the leaves begin to fall from

the trees, I am reminded that we are lucky to live in a place

that fully experiences all four seasons. This is the time of the

year that I'm most thankful to be a Buffalonian. It reminds

me that we are a community that supports one another and

comes together on the brightest and darkest of days.

Our days are bright indeed at the Buffalo Philharmonic and

we owe our success to loyal patrons like you. This year has

been a great year of news for the BPO: the extension of music director JoAnn

Falletta's contract for five years, the successful negotiation and signing of the BPO

musician's five-year contract, the creation of a strategic plan that will chart the

organization's course for the next ten years and record ticket sales. On October 22,

I had the privilege of making the announcement that the Baird Foundation has

made a pledge to match each new or increased gift to the 2011-2012 annual

fund campaign, dollar for dollar, up to $100,000. This challenge grant will help

the Buffalo Philharmonic grow its support and to continue to provide memorable

musical moments for our community. For all of this good news, I am thankful.

The Buffalo Philharmonic is an orchestra of and for Buffalo and the Buffalo Niagara

Region. It is my belief that symphonic music, in all its artistic forms, has a profound

impact. Our work has purpose and is part of the fabric of Western New York and

Buffalo. For this, I am thankful.

With this in mind, please take a moment to consider a gift to the BPO 2011-2012

annual fund campaign. Ticket sales alone make up less than 40% of the funding

needed to infuse our music and educational initiatives into our community. In turn,

these efforts strengthen and enhance the quality of life in Western New York.

To make a fast, secure, easy gift today, call (716-242-7820), visit BPO.org or

email donate@bpo.org.

On behalf of all of us at the BPO, thank you for your unwavering support. For this,

we are thankful.

Cindy Abbott Letro

Chair

Buffalo Philharmonic Orchestra Board of Trustees
---
Buffalo Philharmonic Orchestra Society, Inc.

Board of Trustees

offICers

Cindy Abbott Letro, Chair

Louis Ciminelli, Vice Chair/Chair Elect

Donald Ogilvie, Vice Chair

Randall Odza, Secretary

Angelo Fatta, Treasurer

Cheryl Howe, Immediate Past Chair

Board of TrusTees

Martin Anderson

Karen Arrison

James Beardi

Dennis Black

Donald Boswell

Anthony Cassetta

Paul B. Cronin

JoAnn Falletta*

Music Director

Lynne Marie Finn

John Fleischman*

Erie County Music

Educators Association

LIfe MeMBers

Ida Christie

Anthony J. Colucci, Jr.

G. Wayne Hawk

Marion Jones

Daniel Hart*

Executive Director

Robbie Hausmann

Monte Hoffman

Kate Holzemer

John Horn

John J. Hurley

Luke Jacobs*

BPO Foundation Chair

Dinesh Joseph

Richard Kay

Carol Kociela

Doreen Rao*

Buffalo Philharmonic Chorus

Music Director

Wilfred Larson

Edwin Polokoff

John N. Walsh, III

Robert G. Weber

Gary Schober

Brett Shurtliffe

Robert Skerker

Stephen Swift

Nicole Tzetzo

Joseph Voelkl

Stephen Wydysh

John Yurtchuk

*ex-officio

7
---
8

JoAnn Falletta, music director

Peter & Elizabeth C. Tower Endowed Chair

JoAnn Falletta has a rapidly growing international

reputation as a vibrant ambassador for music and an

inspiring artistic leader. An effervescent and exuberant

figure on the podium, she has been praised by The

Washington Post as having "Toscanini's tight control over

ensemble, Walter's affectionate balancing of inner voices,

Stokowski's gutsy showmanship, and a controlled frenzy

worthy of Bernstein." Acclaimed by The New York Times

as "one of the finest conductors of her generation", she

serves as the Music Director of the Buffalo Philharmonic

Orchestra and the Virginia Symphony Orchestra,

Principal Conductor of the Ulster Orchestra in Belfast,

Northern Ireland, and Principal Guest Conductor of the

Brevard Music Center.

Ms. Falletta is the recipient of many of the most prestigious conducting awards

including the Seaver/National Endowment for the Arts Conductors Award, the

coveted Stokowski Competition, and the Toscanini, Ditson and Bruno Walter Awards

for conducting, as well as the American Symphony Orchestra League's prestigious

John S. Edwards Award. She is an ardent champion of music of our time, introducing

over 400 works by American composers, including more than 100 world premieres.

Hailing her as a "leading force for the music of our time", she was honored with

her 10th ASCAP award in 2008. Ms. Falletta serves as a Member of the National

Council on the Arts.

The Buffalo Philharmonic, which celebrated its 75th Anniversary Season, last year,

will release three new recordings, and record a fourth this season and has been

invited to perform at Carnegie Hall in May 2013, as part of the Spring for Music

Festival. This spring, the League of American Orchestras and ASCAP presented the

BPO with a 2010-2011 ASCAP Award for Adventurous Programming and second

place nationally for Programming of Contemporary Music.

Since stepping up to the podium as Music Director of the Buffalo Philharmonic

Orchestra in the fall of 1999, Maestro Falletta has been credited with bringing the

Philharmonic to a new level of national and international prominence. Under her

direction, the Buffalo Philharmonic returned to recording, releasing 12 discs on the

NAXOS label over the course of 10 years, earning two Grammy Awards and five

Grammy nominations, and making the BPO one of the leading orchestras for the

Naxos label and one of the most frequently recorded orchestras in the country. This

season, the BPO is scheduled to release a disc of works by Gershwin and record

music of Duke Ellington for the Naxos label. The Orchestra will add to its Beau

Fleuve discography with two new discs. This season, the BPO will once again be

featured on national broadcasts of NPR's Performance Today and SymphonyCast,

and international broadcasts through the European Broadcasting Union.

Ms. Falletta received her undergraduate degree from the Mannes School of Music in

New York, her master's and doctorate degrees from The Juilliard School.

For more information on JoAnn Falletta, visit her website at www.joannfalletta.com
---
Matthew Kraemer, associate conductor

Recognized for his "musical sensitivity" and "energized

sense of interpretation," conductor Matthew Kraemer is

quickly gaining notice for his inspired performances and

innovative programming. Mr. Kraemer currently serves as

associate conductor of the Buffalo Philharmonic Orchestra

and in this role appears on each of the orchestra's major

series in addition to leading the orchestra's award-winning

education and community engagement programs.

Upcoming season highlights include performances with

fiddler and composer Mark O'Connor, jazz trumpeter

Chris Botti, pianist Jamie Parker, and tour performances

with Tony award-winner Idina Menzel. He additionally

appears as guest conductor with Canada's Mississauga

Symphony, the Rochester Philharmonic, the Butler County

Symphony, and returns to the Jacksonville Symphony

Orchestra for multiple performances.

Recipient of the distinguished Herbert von Karajan Conducting Fellowship and the

Bruno Walter Career Development Grant, Mr. Kraemer served a residency with the

Vienna Philharmonic at the Salzburg Music Festival during the summer of 2006.

His numerous guest conducting engagements have included appearances with the

symphony orchestras of Akron, Asheville, Atlanta, Baltimore, Cincinnati, Hartford,

Indianapolis, Jacksonville, Nashville, North Carolina, Spokane, St. Louis, and

Virginia, the Reno Chamber Orchestra, and in Europe with the Vidin Philharmonic

and the Orquesta de Cadaqués. He has served as conductor for Broadway

superstar Idina Menzel's numerous symphony engagements nationwide and he has

also collaborated with many other leading artists, including Awadagin Pratt, the Los

Angeles Guitar Quartet, Philippe Quint, Jennifer Koh, Ben Folds, Chris Botti, and

Richard Stolzman. He recently conducted the BPO to considerable acclaim when

internationally renowned superstar Lang Lang performed Tchaikovsky's First Piano

Concerto at Kleinhans Music Hall.

Prior to his appointment in Buffalo, Mr. Kraemer completed a highly successful, threeyear

tenure as associate conductor of the Virginia Symphony Orchestra. He has held

positions with the Akron Symphony and the Akron Youth Symphony, having led the

AYS into its 50th anniversary season with a performance in Carnegie Hall.

An Indiana native, Mr. Kraemer is a graduate of Butler University and the University of

Nevada, Reno. He studied conducting in Vienna, Austria with Salvador Mas Conde

and was twice a fellowship conductor at the American Academy of Conducting

at Aspen. His conducting teachers include David Zinman, Robert Spano, Stanley

DeRusha, and Jorma Panula. An accomplished violinist in his own right, he was a

member of the Nightingale String Quartet. Fluent in German and French, his principal

violin teachers include Phillip Ruder, Herbert Greenberg, and Larry Shapiro. When

he is not performing, Mr. Kraemer enjoys cooking, running, and reading. He and

his wife Megan reside in Buffalo, NY.

For more information on Mr. Kraemer, visit his website at www.matthewkraemer.com.

9
---
10

History of the Buffalo Philharmonic Orchestra

As Buffalo's cultural ambassador, the Grammy Award-winning Buffalo Philharmonic

Orchestra under the leadership of music director JoAnn Falletta presents more than 120

Classics, Pops and Youth Concerts each year and reaches over 40,000 students per

year (K-12) across all eight counties of Western New York. Since 1940, the orchestra's

permanent home has been Kleinhans Music Hall, a National Historic Site with an

international reputation as one of the finest concert halls in the United States.

The BPO has toured widely across the United States and Canada including the recent

Florida Friends Tour with JoAnn Falletta in March 2010, the first multi-city tour since

the 1988 European tour. The BPO has been invited to perform at Carnegie Hall as a

participant in the prestigious Spring for Music festival in 2013. This will be the orchestra's

24th appearance at Carnegie Hall and its first since Music Director JoAnn Falletta led

the orchestra in a much heralded appearance there in June 2004.

During the tenure of current music director JoAnn Falletta, the BPO has rekindled its

distinguished history of NPR broadcasts and recordings, including the release of 18

new CDs of a highly diverse repertoire on the NAXOS and Beau Fleuve labels. The

Philharmonic's Naxos recording of composer John Corigliano's "Mr. Tambourine Man:

Seven Poems of Bob Dylan," featuring soprano Hila Plitmann, won Grammys in two

categories of the three for which it was nominated: Classical Vocal Performance and

Classical Contemporary Composition.

For more information about the Buffalo Philharmonic Orchestra please visit

www. bpo.org.

History of Kleinhans Music Hall

Kleinhans Music Hall is a National Historic Landmark with an international reputation

as one of the finest concert halls in the United States. It was designed by the famous

Finnish father-and-son team of Eliel and Eero Saarinen with F.J. and W.A Kidd, architects.

Kleinhans is considered one of the most acoustically perfect halls in the world.

Kleinhans Music Hall was built thanks to the generosity and vision of Edward and Mary

Seaton Kleinhans and the stewardship of their charitable dreams by the Community

Foundation for Greater Buffalo. The Community Foundation was bequeathed the estates

of Mr. and Mrs. Kleinhans who made their fortune from the clothing store that bore their

name and who died within three months of each other in 1934.

The Kleinhans, who were music lovers, found the Elmwood Music Hall drafty and

acoustically imperfect and specified their money was to be used "to erect a suitable

music hall…for the use, enjoyment and benefit of the people of the City of Buffalo."

Kleinhans Music Hall was officially opened on October 12, 1940; this date also

marked the Buffalo Philharmonic's first concert in the hall.

There are three notable rooms within Kleinhans: the Main Auditorium, Livingston Hall

(named in memory of Mary Livingston, mother of Mr. Kleinhans), and the Mary Seaton

Room (a memorial to Mr. Kleinhans' wife, Mary Seaton Kleinhans).

For more information about Kleinhans Music Hall please visit www.kleinhansbuffalo.org.
---
JoAnn Falletta, music director

Peter & Elizabeth C. Tower Endowed Chair

Matthew Kraemer, associate conductor

FIRST VIOLIN

Michael Ludwig

concertmaster

Clement & Karen Arrison

Endowed Chair

Amy Glidden

assoc. concertmaster

Louis P. Ciminelli Family

Foundation Chair

Ansgarius Aylward

asst. concertmaster

Marylouise Nanna

Douglas Cone

Frances Kaye

Karen Soffer

Deborah Greitzer

Diana Sachs

Alan Ross

Melanie Haas

Andrea Blanchard-Cone

Loren Silvertrust

SECOND VIOLIN

Antoine Lefebvre

principal

Jacqueline Galluzzo

assoc. principal

Richard Kay

Jeffrey Jones

Frances Morgante

Donald McCrorey

Robert Prokes

Amy Licata

Dmitry Gerikh

Diane Melillo

Shieh-Jian Tsai

VIOLA

Valerie Heywood

principal

Natalie Piskorsky

assoc. principal

Matthew Phillips

Kate Holzemer

Janz Castelo

NingNing Jin

CELLO

Roman Mekinulov

principal

Jane D. Baird

Endowed Chair

Feng Hew

assoc. principal

Nancy Anderson

Monte Hoffman1 Robert Hausmann

David Schmude

Amelie Fradette

BASS

Daniel Pendley

principal

Garman Family Foundation

Endowed Chair

Brett Shurtliffe

assoc. principal

William Burns

Michael Nigrin

John Haas

Makoto Michii

Edmond Gnekow

FLUTE

Christine Lynn Bailey

principal

Betsy Reeds

Natalie Debikey Scanio

PICCOLO

Natalie Debikey Scanio

OBOE

Pierre Roy

principal

Catherine Estes

Anna Mattix

ENGLISH HORN

Anna Mattix

CLARINET

John Fullam

principal

Patti Dilutis

Salvatore Andolina

E-FLAT CLARINET

Patti Dilutis

BASS CLARINET

& SAXOPHONE

Salvatore Andolina

BASSOON

Glenn Einschlag

principal

Ron Daniels

Martha Malkiewicz

CONTRABASSOON

Martha Malkiewicz

FRENCH HORN

Michael Winter*

Kay Koessler Endowed Chair

Daniel Kerdelewicz,

assoc. principal

Daniel Sweeley

Jay Matthews

Duane Saetveit

TRUMPET

Alex Jokipii

principal

Geoffrey Hardcastle

Philip Christner

TROMBONE

Jonathan Lombardo 2

principal

Timothy Smith

BASS TROMBONE

Jeffrey Dee

TUBA

Don Harry

principal

TIMPANI

Matthew Bassett

principal

Dinesh Joseph

asst. principal

PERCUSSION

Mark Hodges

principal

Dinesh Joseph

HARP

Suzanne Thomas

principal

* one year appointment

1 Chair dedicated to the memory

of Maer Bunis

2 Chair dedicated to the memory

of Scott Parkinson

11
---
Friday, November 11, 2011 at 8:00 p.m.

BPO ROCK SERIES

ThE MuSIC Of ThE WhO

Brent Havens, conductor

Brody Dolyniuk - vocals/guitar

Dan Clemens - bass

Powell Randolph - drums

Allegra - electric violin

George Cintron - guitar

Bart Kuebler - keyboards

Program will be announced from the stage.

Patrons are asked to turn off all pagers, cell phones and signal watches.

The use of cameras and recording devices is strictly prohibited.

Brent Havens - Conductor, Arranger

Berklee-trained arranger/conductor Brent Havens has

written music for orchestras, feature films and virtually

every kind of television. His TV work includes movies for

networks such as ABC, CBS and ABC Family Channel

Network, commercials, sports music for ESPN and even

cartoons. He has worked with some of the world's greatest

orchestras including the Royal Philharmonic in London,

the Cincinnati Symphony Orchestra, the Minnesota

Orchestra, the Indianapolis Symphony Orchestra,

the Houston Symphony, the Baltimore Symphony, the

San Diego Symphony and countless others. Havens is

Arranger/Guest Conductor for seven symphonic rock programs – the Music of Led

Zeppelin, the Music of the Doors, the Music of Pink Floyd, the Music of the Eagles,

the Music of Queen, the Music of Michael Jackson and most recently, the Music of

The Who!

13
---
14

Brody Dolyniuk - Vocals/Guitar

Brody Dolyniuk remembers mimicking voices even as

a child, listening to old records and tapes. He is a

gifted, self-taught musician, capable of playing several

instruments, with a particular knack for capturing the

voices and mannerisms of classic characters from

music, TV, and movies. With a longing to perform the

music of the many rock bands that inspired him, Brody

assembled Yellow Brick Road, unquestionably Las

Vegas' most successful classic rock band. Since 1997,

YBR has been reshaping the casino entertainment scene

by bringing a rock concert atmosphere to showrooms

previously reserved for Top-40-style lounge acts. Along the way, Brody has made

numerous radio and TV appearances, and earned a spot in the finals of two national

singing competitions, and even self-produced several large rock production-style

shows utilizing multimedia, lasers, comedy and special effects.

Dan Clemens - Bass/Background Vocals

Dan Clemens has been playing bass since the age of 13. A 1989 graduate of

Berklee College of Music, he has performed in bands throughout the United States.

In 1993 he formed "Waterworks" which received the Budweiser Best Unsigned

Band sponsorship for the next two years. Clemens has also recorded Radio and

Television jingles along with independent music CD's. His bands have opened

up for various musical acts including Fleetwood Mac, Little Feet, Del Amitri, The

Romantics, and The Hooters. Clemens has also performed with Elliot Easton of The

Cars and Robbie Krieger of The Doors. He has played with symphonies in several

cities such as Atlanta, Denver, Detroit, Toronto, Long Island, and Jacksonville.

Powell Randolph - Drums/Background Vocals

Powell has been a professional musician and instructor for over 14 years. A 1989

graduate of Berklee College of Music, Powell majored in song writing with a

concentration in percussion performance. Powell's classical/orchestral resume

includes performances with the Buffalo Philharmonic, The Virginia Symphony, and

the Virginia Opera. As a studio musician, he has played on countless recordings...

film scores, jingles and CDs for a wide range of clients. Powell can be heard on the

score for the upcoming remake of Quo Vadis for Premier Pictures playing a wide

range of percussion instruments. Additionally, Powell is an instructor in all styles

and all levels on drum set as well as music theory, site reading and composition.
---
Allegra - Electric Violin

Allegra was born in Vermont and received classical training and degrees in violin

performance from Boston University (Bachelor degree) and Philadelphia College

of the Performing Arts. Her orchestral jobs include the New Mexico Symphony,

the Santa Fe Symphony and Glimmerglass Opera in Cooperstown, NY, the

Virginia Symphony and Virginia Opera and is a founding member of the Harbor

String Quartet. She had a post-undergraduate residency at Walt Disney World

All American College Orchestra. Allegra is a frequent performer with the Trans-

Siberian Orchestra and with artists such as Josh Groban, Rod Stewart, Smokey

Robinson and Sarah Brightman. Allegra's non-classical pursuits are quite recent.

Jazz studies with John Toomey, former pianist with Maynard Ferguson and the Mark

O'Connor's fiddle seminars in San Diego working with such players as Natalie

MacMaster, Darol Anger, Matt Glaser, Paul Anastasio and Mark Wood.

George Cintron - Guitar/Background Vocals

Having grown up in New York, George has played in numerous bands throughout

the Tri-State area since 1976. In 1981 George founded "Cintron." Developing the

band into one of the top live acts around, he played over 1500 shows including

appearances with Zebra, Twisted Sister, Rat Race Choir, Ritchie Blackmore, Joe

Perry, Edgar and Johnny Winter and Mountain. Over the course of three world tours,

he performed over 150 concerts and numerous television programs, including The

Tonight Show and Dick Clark's New Year's Eve Special. Milestones include playing

Madison Square Garden and The American Music Awards. In 1995 he was a

founding member, along with Danny Miranda and Bobby Rondinelli, of Pyramid. In

2000 he joined the West coast tour of the Trans Siberian Orchestra for their annual

tour. George is an accomplished studio musician having recorded with artists

including Blue Oyster Cult, Leslie West, Danger Danger and The Good Rats.

Bart Kuebler - Keyboards/Background Vocals

Bart Kuebler has been playing piano since age five. Over the years he has

performed a wide variety of music with an eclectic mix of ensembles including the

Tokyo Symphony, the Virginia Symphony, the Gene Krupa Orchestra, the Jimmy

Dorsey Orchestra, the Benny Goodman Band and the Nelson Riddle Orchestra.

Bart has also toured and performed with numerous Filipino artists in the U.S.,

including Pops Fernandez, Piolo Pascual, Ariel Rivera, and Carol Banawa. Bart

also finds time to play in pit bands for regional productions and national tours of

Broadway shows, and holds recording and production credits for a number of

projects in both the U.S. and South Korea. Bart is also a gentleman, in that he

owns an accordion but chooses not to play it!

15
---
Saturday, November 12, 2011 at 8:00 p.m.

Pops Series

RADIANCE: TRIBuTE TO ThE LADIES Of

MOTOWN AND R&B MuSIC

Matthew Kraemer, conductor

Wendy Edmead, vocals

Marque´ Munday, vocals

Patrice Petway, vocals

Tai Lewis, vocals

Tex Richardson, music director

Radiance

Program will be announced from the stage.

Patrons are asked to turn off all pagers, cell phones and signal watches.

The use of cameras and recording devices is strictly prohibited.

The ladies of Radiance consist of some of the finest that

Las Vegas has to offer. Members of the group include

MarQue Munday, Wendy Edmead, Patrice Petway

and Tai Lewis, a lineup of phenomenal talent that never

leaves the audience wanting, unless it is wanting more!

Each brings her years of experience to the stage, having

performed in major theatrical productions in virtually

every showroom on the Vegas Strip, on and off Broadway

as well as in various national and international Motown

tribute tours. The Musical Direction and the majority of the arrangements are handled

by our illustrious Musical Director Mr. Tex Richardson Some of the many songs in

their repertoire include "Dancing In The Streets", "Stop In The Name Of Love", "You

Keep Me Hanging On", "When Will I See You Again", "R-E-S-P-E-C-T" and many

more. The costuming, the choreography, the harmonies, the energy and excitement

are second to none and make for a spectacular show transforming your audience

back to an era of music that formed a major cornerstone in American music of the

60's and 70's.

17
---
Saturday, November 19, 2011 at 8:00 p.m.

Sunday, November 20, 2011 at 2:30 p.m.

Classics Series

TChAIKOVSKY'S fOuRTh

JoAnn Falletta, conductor

Amy Glidden, violin

Rautavaara Isle of Bliss

Prokofiev Concerto for Violin No.2 in

G Minor, Op.63

Allegro moderato

Andante assai

Allegro, ben moderato

Amy Glidden, violin

Intermission

Tchaikovsky Symphony No.4 in F Minor,

Op.36

Andante sostenuto; Moderato

con anima

Andantino in modo di canzona

Scherzo (pizzicato ostinato)

Finale (Allegro con fuoco)

Musically Speaking sponsored by

Patrons are asked to turn off all pagers, cell phones and signal watches.

The use of cameras and recording devices is strictly prohibited.

19
---
20

Amy Glidden

Amy Glidden is currently the associate concertmaster of

the Buffalo Philharmonic, a position she has held since

2000. A native of Wichita, Kansas, Amy attended

the University of Kansas, where she received a B.A.

in Biology as well as a B.M. in Violin Performance.

Subsequently, she received a Master of Violin

Performance degree from the Cleveland Institute of

Music. Amy has performed with the Phoenix Symphony,

the Toronto Symphony, the Fort Worth Symphony,

and the Canadian National Ballet Orchestra. While

a resident of San Francisco, Amy served as assistant

concertmaster of the Marin Symphony and concertmaster of the Mendocino Music

Festival. She travels west each summer to participate in the Sun Valley Summer

Symphony and the Grand Teton Music Festival, where she has been a festival

participant for 4 years.

Amy has often performed as a soloist with the Buffalo Philharmonic, including

performances of the Chausson Poeme, Mozart's Violin Concerto No. 5, and

Vaughaun-Williams The Lark Ascending. Other local solo engagements include

performances with the Ars Nova Chamber Orchestra and the Amherst Symphony.

Amy is a founding member of the Clara String Quartet, comprised of BPO

musicians, which has performed on many chamber music venues across Western

New York. In addition, Amy periodically returns to her hometown of Wichita,

Kansas to collaborate in the "Chamber Music in the Barn" series. Locally, she

performs with the Roycroft Chamber Music Festival and Buffalo Chamber Players.

Besides maintaining a private violin studio, Amy is a Suzuki violin instructor and

teaches at Orchard Park Suzuki Strings.

Program Notes

Einojuhani Rautavaara

Finnish composer

Born: October 9, 1928, Helsinki

Isle of Bliss

These are the first performances of this

work on the Classics series; duration

11 minutes

Einojuhani Rautavaara is a graduate

of the University of Helsinki and the

Sibelius Academy, with additional study

in Vienna and at New York's Juilliard

School of Music. In the United States he

also studied at the Tanglewood Music

Center with Roger Sessions and Aaron

Copland. He was appointed Rector

at the Käpylä Music Institute in Helsinki

and later became a tenured professor of

composition at the Sibelius Academy.

Rautavaara's catalog includes a wide array

of genres, from chamber music to opera,

with a variety of symphonies, concertos

and tone poems. As a whole his output is

almost a textbook case of Post-Modernism,

having traversed several stylistic periods

throughout his long career including

Neo-Classicism, Serialism and Neo-

Romanticism. However most of his works

comprise a variety of stylistic elements as a

means to express his belief in the presence

of a mystic link to human experience. He

often refers to Thomas Mann in describing

compositions as "having a metaphysical

mind of their own."

About Isle of Bliss the composer writes:

"I originally composed the orchestral

fantasia Isle of Bliss (1995) for the
---
Espoo Music Institute orchestra. The

work was inspired by the Finnish

poet Aleksis Kivi's (1834-72) version

of the island paradise, one of the

greatest themes in world literature,

which Kivi called, Lintukoto, or

Home of the Birds. Although not

a "programmatic" depiction, the

composition parallels Kivi's poem in

terms of overall form: the fast-moving,

bright and carefree opening leads

up to a dreamy, static section which

matches the mysterious ceasing of

time in the poem, where "no answer

is sought, none found.." Like the

poem, however, the composition

reverts to the "crimson rise of dawn,"

and finally vanishes into the distance.

The enigmatic, distant yet brightly-lit

and, as it were, gentle world of the

poem seemed to me like the depiction

of another reality, a different form of

consciousness, only truly accessible

through music, with its precise but

wordless language.

"The Finnish title of the composition,

however, is also associated in my

mind with a personal memory from

one of the outer islands in the Baltic

Sea, where I often used to spend the

summer. Once late at night I saw a

large bird there, pacing solemnly

back and forth along the rocky shore.

The next morning it lay there, dead.

And the fishermen told me that it was

the custom for old seagulls, when

they felt death approaching, to fly out

to that solitary shore, the last home of

the birds."

Isle of Bliss begins with the sumptuous

crash of a great ocean swell, flooding

the shore with myriad timbres, including

strident sea chanteys from gulls high on the

wing overhead. The seascape is painted

with plaintive effects, vibrant colors and

harmonies from the late Romantic Age.

For reference: Rautavaara's remark that

the piece is not "programmatic" indicates

only that the music does not follow a

strict, line-by-line correspondence with

the original poetry - as can be found in

masterworks like Schönberg's Verklärte

Nacht. Otherwise. Isle of Bliss is

altogether tonal poetic in the best sense

of the genre known as program music.

Sergey Prokofiev

Russian composer

Born: April 23, 1891, Sontsovka,

Ukraine

Died: March 5, 1953, Moscow

Concerto for Violin No.2 in G

Minor, Op.63

Allegro moderato

Andante assai

Allegro, ben moderato

First Classics performance: December

21, 1948, conducted by William

Steinberg, with violinist Eudice

Shapiro; most recently performed on

February 12, 1989, conducted by

Semyon Bychkov, with violinist Daniel

Heifetz; duration 26 minutes

As it is often remarked that Mozart

composed with his heart in opera,

it might also be said that Prokofiev

composed with his eyes and ears tuned

to ballet theater. His work in that genre

was immensely successful, marked by

major contributions to the permanent

ballet repertoire, including Romeo and

Juliet, Cinderella and the very popular

children's ballet Peter and the Wolf.

Likewise, his well-known symphonies

and concertos display such a direct

kinship to the nuance of ballet that

several have been choreographed,

including the current work, Violin

Concerto No.2.

Scored in 1935, the concerto was

written after Prokofiev's 16-year sojourn

in Western Europe. When he returned

to his beloved Russia, the country was

ruled by the Soviet regime of Joseph

Stalin, who had made it clear to all

Russian artists that modern works

21
---
22

would be forbidden if they did not

reflect proletariat ideals. Thus a cadre

of Soviet 'culture cops' managed to

send a deathly chill through the ranks

of Russian writers and composers,

highlighted in particular by the censure

of Dimitri Shostakovich. For his part

Prokofiev had the urbane savvy to give

the official politick what it wanted.

Without blinking his equivocal eye,

he issued a coy statement to the state

newspaper Izvestia in 1934, repeated

in his carefully worded autobiography:

"It is the duty of Soviet composers, like

poets, sculptors or painters, to serve

their fellow men, to beautify human

life and point the way to a radiant

future. This is how I view the immutable

code."

In sum, Prokofiev played his cards well.

His message trumped the censors who

thereafter left him free to write whatever

he pleased - the 'ruse' turned well.

With regard to the music of Violin

Concerto No.2, we might tune in

with rhapsodic ears. Moreover, the

work has a theater bearing - perhaps

even a story is told. Marked Allegro

moderato, the curtain opens with a

dark, poetic lyric from the solo violin

which soon vaults into the virtuoso air

over lush and singing timbres from the

orchestra.

Speaking of ballet theater, the second

movement Andante assai has been

choreographed as a pas de deux. A

gorgeous, intimate solo line from the

violin lingers over pizzicato figurines

from the strings and woodwinds. The

various rhythmic patterns are perfect

for ballet theater, and here in fact we

detect a few harmonic snapshots from

Prokofiev's own Romeo and Juliet, which

was composed in the same year.

Biting colors and an irreverent rhythmic

base set a peppery, testy mood for

the third movement. The adventurous

cascades for the soloist seem daring

and dashing, as if they trip forward

on their own melodic momentum -

skipping and teasing off-balance like

a circus clown. Jazzy two-steps and

even a cabaret tune with castanets

serve to round out the sassy fun, all the

while providing a display of dazzling

pyrotechnics. Brilliant.

Peter Ilich Tchaikovsky

Russian composer

Born: April 25, 1840, Votkinsk

Died: October 25, 1893, St.

Petersburg

Symphony No.4 in F Minor,

Op.36

Andante sostenuto; Moderato con

anima

Andantino in modo di canzona

Scherzo (pizzicato ostinato)

Finale (Allegro con fuoco)

First Classics performance: April 19,

1936, conducted by Lajos Shuk; most

recent performance: December 3,

2006, conducted by Robert Franz;

duration: 44 minutes

Like Prokofiev who followed (noted

above), Tchaikovsky seems to have

composed with his spirit in ballet. In

particular, his spectacular symphonies

seem perfect for dance theater - replete

with sadness, joy, love, heartbreak,

fear and passion on the wing. This is

more than idle speculation, especially

when glancing at Tchaikovsky's musical

chronology. Many listeners believe that

his first truly great symphonic masterpiece

is the current work, Symphony No.4,

written just after his ballet Swan Lake

of 1876; in turn, Symphony No.5

was concurrent with Sleeping Beauty

of 1888; and, Symphony No.6, the

Pathétique, was completed just months

after the popular Nutcracker of 1892.

Moreover, in addition to his penchant

for story ballet, Tchaikovsky also

acknowledged that, whether identified or
---
not, a 'program' of one kind or another

guided his symphonic works. He once

noted that he composed "...as a lyric

poet expresses himself in verses" and

that "...a symphony without a program

was music which meant nothing."

Symphony No.4 was dedicated to

the composer's long-time benefactress,

Nadezhda von Meck. As the famous

story goes - they never met. But their

correspondence reveals a kinship

which doubtless enabled Peter Ilyich to

ward off the deep manic depressions

which at times had even threatened

his life. Coincidentally, his association

with Madame Meck began just as

the composer suffered the collapse of

his marriage of only nine weeks. His

fourth symphony was completed shortly

afterward.

Op.36 begins with a heralding call in

the horns and trumpets, a theme which

Tchaikovsky identified as a 'Fate motive'

(with reference to the opening rhythms of

Beethoven's fifth symphony). The powerful

fragment becomes the modus vivendi of

the entire work, as permutations of the

motif echo at many points along the

way. Note also the splendid rise-and-fall

interplay in the woodwinds, after a deft

interlude by the bassoon, chanting over

deep currents in the vibrant strings. After

a full-bodied development, the episode

reappears like magic near the end of

the movement * we might say a kind of

measured peace prevails before 'Fate' is

again interposed.

Perhaps the most lyrical solo in the oboe

literature is heard at the beginning of the

second movement. Andante in the style

of song is Tchaikovsky's cue. The tune is

taken up by the strings and mirrored over

dotted woodwinds. Note the dance-like

interlude which follows, escorted by

additional rise-and-fall snippets in the

woodwinds. The entire principal tune

is then recast in a breathless yet tender

moment for the solo bassoon.

Speaking of dance, the prancing

pizzicato which opens the third

movement is marked Scherzo. And

stand by for feisty and fleet jitters in

the clarinet and piccolo - before a

blink of the baton brings us back to

the pizzicato game room. Serves and

volleys are exchanged between the

orchestral sections until a final pizz turns

out the lights.

But don't get too comfy - at hand is the

air-shredding wail of the final Allegro.

A blizzard of notes storms the scene to

announce what sounds like a Russian folk

tune. But the music seems determined

to purge bleak sadness, even as we

are brought back to our senses with

a souvenir of 'Fate.' For a moment the

motion is blended into melancholy. Not

to worry - the cathartic storm rips the sky

once again, with little doubt as to what

the outcome will be as the symphony

draws to a close in a triumph of sheer

jubilation.

Program Notes by Edward Yadzinski

Check out YOUR Buffalo Philharmonic Orchestra online!

23
---
24

Piotr Gajewski, conductor

Jason Vieaux, guitar

Saturday, December 3, 2011 at 8:00 p.m.

Sunday, December 4, 2011 at 2:30 p.m.

Classics Series

BAROQuE MASTERS

Handel Overture to Samson

Vivaldi Concerto for Guitar and

Orchestra in D major, RV.93

Allegro giusto

Largo

Allegro

Jason Vieaux, guitar

Rodrigo Fantasia para un

Gentilhombre for Guitar and

Orchestra

Villano y Ricercare:

Adagietto - Andante moderato

Españoleta y Fanfare de la

Caballeria de Nápoles:

Adagio - Allegretto - Adagio

Danza de la Hachas:

Allegro con brio

Canario: Allegro ma non troppo

Jason Vieaux, guitar

Intermission
---
Handel Water Music - Suite No.2 in

D Major

Allegro - Adagio

Alla Hornpipe

Minuet

Lentement

Bourée

Bach Orchestral Suite No.3 in

D Major BWV 1068

Overture

Air

Gavotte

Bourée

Gigue

Musically Speaking sponsored by

Patrons are asked to turn off all pagers, cell phones and signal watches.

The use of cameras and recording devices is strictly prohibited.

Jason Vieaux, guitar

One of the "youngest stars of the guitar world" (New

York Times, 2010), Jason Vieaux is a musician regularly

noted for his engaging and virtuosic live performances,

imaginative programming, and uncommon communicative

gifts. Recent concert highlights include recitals for Lincoln

Center and the 92nd St. Y in New York, Dumbarton Oaks

in Washington DC, a debut with the Charlotte Symphony,

and recitals for Spivey Hall and Indiana University.

As one of the "leading guitarists of his generation"

(Absolute Sound, 2009), Jason Vieaux is a frequent

guest with orchestras across the United States. He has performed as concerto soloist

with, among many others, the Cleveland Orchestra, Ft. Worth Symphony, San Diego

Symphony, the Florida Orchestra, the Chamber Orchestra of Philadelphia, Orchestra

2001, IRIS Chamber Orchestra, and the Auckland Philharmonia in New Zealand.

As a passionate advocate of new music, Vieaux has premièred new pieces by

Jerod Impichchaachaaha' Tate, José Luis Merlin, Eric Sessler, Arthur Hernandez,

Gary Schocker, Fazil Say, and frequently plays works by Mario Davidovsky, Roberto

Sierra, and John Corigliano.

Jason Vieaux has ten recordings to his credit and many more to come under his multirecord

deal with Azica Records. Bach; Works for Lute, Vol.1 was released in the

spring of 2009, and, after hitting #13 on Billboard's Classical Chart after its first

week, received rave reviews by Gramophone Magazine and The Absolute Sound.

25
---
26

His previous CD, Images of Metheny, features music by renowned American Jazz

guitarist/composer Pat Metheny. Metheny, after listening to this landmark recording,

declared: "I am flattered to be included in Jason's musical world." Sevilla: The

Music of Isaac Albeniz, was rated one of the Top Ten Classical CDs of the year by

both The Philadelphia Inquirer and Cleveland's Plain Dealer.

Vieaux's recordings and live performances are on the radio and internet; he is often

heard on such top-rated programs as NPR's "All Things Considered", "Morning

Edition", and American Public Media's "Performance Today". Mr. Vieaux's expressive

and communicative gifts have been the subject of many newspaper and magazine

articles around the US and abroad. Acoustic Guitar Magazine named Jason Vieaux

in its January 2008 cover article The New Virtuosos as "one of three young musicians

pushing the instrument beyond the traditional". England's MUSO and Gramophone

Magazine have published feature articles on Mr. Vieaux.

Jason Vieaux began guitar studies at age eight with Jeremy Sparks in Buffalo,

New York, and continued study at The Cleveland Institute of Music with John

Holmquist. He is the youngest First Prize winner in the history of the prestigious

Guitar Foundation of America International Competition, a Naumburg International

Guitar Competition prizewinner, and, in recognition of his prodigious talent and

extraordinary professional career, The Cleveland Institute of Music honored Mr.

Vieaux with their Alumni Achievement Award in 1998. In 1995, Mr. Vieaux was

an Artistic Ambassador of the United States to Southeast Asia, and concertized in

Cambodia, Thailand, Laos, India, Nepal, Bangladesh, and Myanmar (Burma). He

has also toured Europe, Mexico, Canada, the Far East, Australia and New Zealand.

Aside from his duties as a performer, Mr. Vieaux is highly dedicated to the art

of teaching. He currently resides in Cleveland, Ohio, where he is Head of the

Cleveland Institute of Music Guitar Department, the youngest Department Head to

serve at the prestigious conservatory. He is also affiliated with Philadelphia-based

Astral Artists. Jason's website is www.jasonvieaux.com.

Piotr Gajewski, conductor

Piotr Gajewski is widely credited with building the

National Philharmonic to its present status as one of the

most respected ensembles in the Washington region; he

has been hailed in The Washington Post as an "immensely

talented and insightful conductor, whose standards,

taste and sensitivity are impeccable." In addition to his

appearances with the National Philharmonic, Maestro

Gajewski is much in demand as a guest conductor. In

recent years, he has appeared with most of the major

orchestras in his native Poland, as well as the Royal

Liverpool Philharmonic in England, the Karlovy Vary

Symphony in the Czech Republic, the Okanagan Symphony in Canada and

numerous orchestras in the United States.

Born in Poland, Gajewski began studying piano at age four. After immigrating to the

United States in 1969, he continued his studies at the New England Conservatory

Preparatory Division, Carleton College and the University of Cincinnati, College-

Conservatory of Music, where he earned B.M. and M.M. in Orchestral Conducting.
---
Upon completing his formal education, Gajewski continued refining his conducting

skills at the 1983 Tanglewood Music Festival in Massachusetts, where he was

awarded a Leonard Bernstein Conducting Fellowship. His teachers there included

Leonard Bernstein, Seiji Ozawa, Andre Previn, Gunther Schuller, Gustav Meier, and

Maurice Abravanel.

Maestro Gajewski has conducted many important world premieres, including works

by Steven Gerber, Joel Hoffman, Andreas Makris, Gerhard Samuel and Peter Ware.

Gajewski's recording on the Koch International label of Steven Gerber's Violin

Concerto, Cello Concerto, and Serenade for String Orchestra with the National

Chamber Orchestra, garnered enthusiastic reviews.

Gajewski is also a winner of many prizes and awards, among them a prize at New York's

prestigious Leopold Stokowski Conducting Competition and, in 2006, Montgomery

County's Comcast Excellence in the Arts and Humanities Achievement Award.

Program Notes

George frideric handel

English composer

Born: February 23, 1685, Halle,

Germany

Died: April 14, 1759, London

Overture to Samson

These are the first performances of this

work on the Classics series; duration:

7 minutes

Born and trained in Germany, George

Frideric Handel began his life-long

assimilation of English culture not later

than his 22nd year. From very early on

he enjoyed popular support as well as

the patronage of British royalty. It was a

time (the late Baroque) when musicians,

painters, writers, philosophers and

scientists began to travel extensively

across Europe as the spirit of the

Enlightenment beamed at high noon.

For Handel, the Age was a catalyst for

his cosmopolitan and eclectic nature.

He was free at once to draw from

German, French, Italian and English

traditions. Furthermore, he became a

humanist who saw relevance in theater

music and other entertaining forms.

However, Handel is best-known by far

for his enduring Messiah of 1741, an

oratorio written on biblical themes. While

his full catalog contains several sacred

oratorios, including Samson (scored just

a few weeks after Messiah); he also

composed many operas and art songs,

as well as a trove of instrumental music

including diverse concertos, orchestral

suites and overtures, volumes of chamber

music and many works for organ and

harpsichord.

Samson is grandly set for soloists, chorus,

and orchestra, and is based on Samson

Agonistes and other selected verse by the

English poet John Milton (1608-1674).

The biblical storyline is derived from the

Old Testament (Judges 13-16), from the

point where Samson has been betrayed

by Delilah, blinded and imprisoned by

the Philistines, who hold the Israelites as

captive slaves. The oratorio concludes after

Samson conjures the strength to topple the

stone pillars to which he was chained. He

perishes with the Philistines, thus freeing

the Israelites. The oratorio contains many

musical references and analogies, and

concludes with selected lines from Milton's

poem, A Solemn Music, of 1630:

27
---
28

Their loud up-lifted Angel trumpets blow,

And the Cherubic host in a

thousand choirs,

Touch their immortal Harps of

golden wires,

Till God his celestial consort us unite,

With Him, and sing in endless morn

of light.

Samson begins with a rather brief

Overture (the composer knew the

journey ahead was adventurous: in all,

63 numbers, including 26 recitatives,

14 arias, 2 duets, 18 choruses and

3 instrumentals). The Overture is set

brightly in G major and cast in 3/4

time in a stately, heralding manner.

Scored for a Baroque orchestra and

marked Andante pomposo, elegant

strings set the tone, complemented

by lambent horns in a primary role.

Listeners who are familiar with Messiah

will note the master's signature at every

turn. At the midway point a momentary

interlude prepares for a brisk Allegro

in four-quarter time. Lilting rhythms and

cascading scales bear the style mark

known as rococo - ornamented melodic

writing inherited from the courts of

France.

As an aside: from time to time

conscientious listeners might notice that

some Baroque era CDs seem to be in

a lower key than noted in the title. The

reason is that today's Renaissance and

Baroque specialists (some, not all) try to

recreate the same tonal effects which

prevailed when the music was written.

Here is the story: 'pitch inflation' began

to afflict performers after about 1790-

1800, when the 'pitch standard' began

to rise in very small increments to the

point that by around 1900 the great

masterworks were performed a solid

half-step higher than originally written.

As a result, some of today's 'authentic'

interpreters lower the tune-up pitch by

about a semitone. Thus, the Overture to

Samson, scored in G major, is recorded

in F-sharp major. Believe-It-Or-Not..!

Antonio Vivaldi

Italian composer

Born: March 4, 1678, Venice

Died: July 28, 1741, Vienna, Austria

Concerto for Guitar and Orchestra

in D major, RV.93

Allegro giusto

Largo

Allegro

First and only Classics performances:

April 3 and 4, 1987, featuring guitarist

Christopher Parkening, conducted by

Emmanuel Krivine; duration: 10 minutes

Antonio Vivaldi produced a catalog of

more than 850 works, including at least

475 concertos, 94 operas, and an

assortment of other pieces, both secular

and sacred. With regard to his life and

times, complete biographies reveal a

worldly individual with enough color

and zest for a Hollywood film.

Antonio became an ordained priest in

1703 (a means to the best education

in Italy), and by 1709 was assigned to

teach music at the Ospedale della Pieta

in Venice, a school for abandoned or

orphaned girls. It was at there that he

picked up his famous name tag - il prete

rosso - 'the red priest' - because of his

flaming red hair and ecclesiastical

office (to be sure, his celebrated

flamboyance also had something to do

with the nickname). But della Pieta was

a first class institute, with many gifted

students. Under Vivaldi's direction both

the school orchestra and choir flourished

and became known around Europe for

their regular Sunday concerts. None

other than Jean Jacques Rousseau noted

in his famous Confessions:

"Music of a kind that is very superior

in my opinion and that has no

equal throughout Italy or perhaps

the world is that of the schools for

girls in Venice. Every Sunday at

church during Vespers music which

is composed and directed by the
---
greatest masters in Italy is performed

in the side galleries solely by girls,

of whom the eldest is not even

twenty years of age. Nothing is

more voluptuous nor more moving

than this music."

It was for these performances that Vivaldi

produced the greatest body of his work,

including the Four Seasons and specialty

concertos like the current work. The

Concerto D major, RV.93 is believed to

date from about 1740, originally scored

for lute, mandolin or guitar. Today the

work is by far best known as a staple of

the classical guitar repertoire.

In the familiar three-movement form, the

concerto features outer movements in D

major, each with momentary modulations

to A major. Marked Allegro giusto

(moderately fast), the first movement is

a blithe showcase for the soloist, with

delightful interplay between the guitar

and orchestral strings.

Like the first movement, the centerpiece

Largo is in common time, also in D major.

At a point midway, a cryptic blend into

B minor offers phrases worthy of an

Italian arioso from the era. The closing

Allegro is metered in buoyant 12/8

time, lithe and elegant at every turn,

with dance-like accents and melodic

color in the solo line. Just one regret -

the concerto is over too soon.

Joaquin Rodrigo

Spanish composer

Born: November 22, 1901, Sagunto

Died: July 6, 1999, Madrid

Fantasia para un Gentilhombre for

Guitar and Orchestra

Villano y Ricercare: Adagietto -

Andante moderato

Españoleta y Fanfare de la

Caballeria de Nápoles:

Adagio - Allegretto - Adagio

Danza de la Hachas: Allegro con brio

Canario: Allegro ma non troppo

First and only Classics performance:

November 16, 1985, version for

flute featuring soloist James Galway,

conducted by Semnon Bychkov;

duration: 21 minutes

Joaquín Rodrigo received copious

awards and appointments during his

long and distinguished career. The

Manuel de Falla Chair was created

for him at Madrid University in 1947,

and he was honored by Spain with the

Cross of Alfonso X the Wise in 1953.

In France he was celebrated as an

Officier des Arts et des Lettres in 1960,

and in 1963 received the Cross of the

Légion d'honneur.

Blind from the age of three, Rodrigo

began his musical education very

early with piano lessons which quickly

revealed his exceptional gifts. Beyond

the rigors of his classical training,

Rodrigo's music displays a strong

French connection, doubtless derived

from his advanced training in Paris

at the Sorbonne and at the Paris

Conservatoire, where he was a pupil

of Paul Dukas.

In addition to nearly sixty songs,

dozens of chamber works, two ballets

and several settings of incidental music,

Rodrigo composed twenty-nine pieces

for orchestra, from which his Concierto

de Aranjuez for guitar is best known.

Fantasia for a Gentleman was

composed in 1954 with a dedication

to Andrés Segovia, the Spanish master

of the classical guitar. (The great

Segovia appeared with the BPO here

at Kleinhans in 1959 and again in

1966.) Written in the manner of a

French homage (sometimes known as

a tombeau), the piece is crafted upon

original themes by the 17th century

Spanish guitarist and composer Gaspar

Sanz. For his part, Sanz was also an

ordained priest, author and educator,

who wrote Instrucción de música sobre

la guitarra española, the finest treatise

29
---
30

on the guitar from the late Renaissance.

In three volumes, the work includes 90

pieces for study and performance,

virtually all based on various dance

forms popular at the time. For each

movement of the Fantasia, Rodrigo

develops a theme borrowed from Sanz,

blending the dulcet tones of the guitar

with a delicate orchestration.

Titled Villano y Ricercare (see below),

the first movement is in two parts,

beginning with amber strings and high

woodwinds as escort for the lyrical

solo lines. Like a Renaissance tryptich,

the second movement presents an

Españoleta in the outer frames, with

a tender tune in triple meter marked

Adagio, escorted by poetic strings

and woodwinds. For the central panel,

Rodrigo conjures a spirited memoir,

Fanfare de la Caballeria de Nápoles,

with galloping strides, trumpets and

fifes, after which the lovely Españoleta

is reprised.

With Allegro con brio as a style ciue,

the third movement Danza de la Hachas

represents common joy at harvest.

Strutting strings and up-beat bugles

cavort in celebration, with the guitar as

master of ceremonies. In turn, a guitar

flourish introduces the last movement

Canario, with Allegro ma non troppo

on cue. Mixed 3-to-2 accents offer

alluring Andalusian rhythms under a

scintillating orchestration. Olé..!!!

For reference:

Villano: a 16th century, slow village

dance with words

Ricercare: a light theme with variations,

precurser to the fugue

Españoleta: a moderate Italian dance

with Spanish nuance

Caballeria de Nápoles: Spanish

cavalry in Naples

Danza de la Hachas: a harvest dance

with hatchet rhythms

Canario: an up-beat dance with mixed

accents from the Canary Islands

George frideric handel

Water Music - Suite No.2 in D Major

Allegro - Adagio

Alla Hornpipe

Minuet

Lentement

Bourée

First Classics performance: December

10, 1961, conducted by Arthur Fiedler;

most recent performance: December 8,

1974, conducted by Neville Marriner;

duration: 12 minutes

One of the most popular works in the

Baroque repertoire is Handel's Water

Music, a collection of about twenty

numbers which had been originally

composed for just enough players to fit

on a river raft. The title derived from

novel circumstances: on July 17, 1717,

when King George took a holiday trip

down the River Thames on the royal

barge, Handel provided a musical

escort, floating beside the royal party.

The various numbers are scored for

strings with various combinations of

horns, trumpets, and woodwinds. For

convenience of relative key, the pieces

are traditionally broken up into three

general suites, of which Suite No.2

(mostly in D major) is featured on this

concert.

For at least half of the pieces Handel

selected tempos and rhythms according

to courtly French dance forms (also

a favorite device of J.S. Bach). For

reference, a hornpipe is a jig-like

dance, played on the English hornpipe,

a kind of folk clarinet made from an

ox horn and reed. A bourrée is an old

French court dance in moderate 4/4

time. Moreover, listeners will surely

recognize an exceedingly familiar

tune, made famous as a program logo

by PBS television.
---
Johann Sebastian Bach

German composer and organist

Born: 1685, Eisenach

Died: 1750, Leipzig

Orchestral Suite No.3 in D Major

BWV 1068

Overture

Air

Gavotte

Bourée

Gigue

First Classics performance: November

22, 1936, conducted by Franco Autori;

most recent performance: February

26, 1995, conducted by Maximiano

Valdes; duration: 20 minutes

The period known as the Late Baroque

- with its ornateness of fashion, decor

and style - is often regarded as a natural

precursor to the more serious and austere

Classical Age, particularly with regard

to music. But another idea holds that,

throughout the arts, a yin-yang momentum

prevails, represented by two alternating

modes: the Classical and the Romantic.

From this we can infer that Bach was a

Romantic; the music of Haydn, Mozart

and the scores from Beethoven's early

period were Classical; what ensued

was again Romanticism in Chopin,

Brahms, Wagner, Tchaikovsky et al; then

what followed was another period of

Classicism from the early 20th Century

through Schoenberg, Webern and Berg;

etc. And while qualified exceptions can

be made to such a rotating theory of

aesthetics, the idea has held its own in

the real world.

Bach scored just four orchestral suites,

all of which are structured similarly:

an opening overture followed by a set

of dance movements based on well

established motifs borrowed from Italy,

Spain and France.

Suite No.3 in D Major was composed

roughly at the time of the Brandenburg

concertos, perhaps in 1720, and is

scored for strings, harpsichord, oboes

and trumpets, the latter assigned an

ambitious role in all of the movements

except the second. The Overture offers

an invocation that peals as if to a

firmament beyond. The slow and elegant

movement which follows is sometimes

known as the Air on a G String - one

of the most treasured movements in all

of music - a good example of why the

Baroque era enjoys such a 'Romantic'

reputation. Bach then offers a rhythmic

counterpoise through the remaining

dance movements, each of which is a

paradigm of elegance and charm.

A Gavotte was originally a bright folk

dance believed to have originated in

the Britanny region of Northern France.

Likewise, the origins of the Bourrée

are also traceable to French soil,

emerging first as a folk dance and then

appropriated as formal entertainment by

the leading courts of the 17th and 18th

centuries. The provenance of the Gigue

(originally 'jig') was altogether from the

British Isles as a light, quick-stepping,

common dance, here all dressed up in

formal attire by Johann Sebastian. About

50 years earlier a witty English writer

and composer named Thomace Mace

observed: Toys or Jigs are Light-Squibbish

Things only fit for Fantastical and Easie-

Light-Headed People. Bach would have

enjoyed the word play.

Program Notes by Edward Yadzinski

31
---
36

Annual Fund

The Buffalo Philharmonic Orchestra gratefully acknowledges contributions, grants and sponsorships received

from the following individuals, corporations and foundations who gave $500 and above. While the thousands

upon thousands of donors whose gifts ranged from $1 to $499 are too numerous to list here, we gratefully

acknowledge those additional individuals, groups, companies and foundations who give to us so generously.

Millonzi Society

$150,000+

The Cameron and Jane Baird

Foundation

BlueCross BlueShield

of Western New York, Inc.

Louis P. Ciminelli Family

Foundation

Carol & Angelo Fatta

First Niagara Bank

M&T Bank

The John R. Oishei Foundation

$100,000-$149,999

Clement & Karen Arrison

Peter & Elizabeth Tower

$50,000-$99,999

The Baird Foundation

Community Foundation for

Greater Buffalo

HSBC Bank USA N.A.

Jaeckle Fleischmann &

Mugel, LLP

Corinne & Victor Rice

$25,000-49,999

Brent D. Baird

Mr. Bruce C. Baird and

Mrs. Susan O'Connor-Baird

Robert J. & Martha B. Fierle

Foundation

Mr. & Mrs. Peter B. Flickinger

Grigg Lewis Foundation

National Grid

J. Warren Perry & Charles

Donald Perry Memorial

Mr. & Mrs. George F. Phillips, Jr.

John & Carolyn Yurtchuk

Maestro's Circle

$10,000-$24,999

Anonymous (2)

Ms. Cindy Abbott Letro and

Mr. Francis M. Letro

Elizabeth & John Angelbeck

Mr. & Mrs. Brian D. Baird

Mr. Charles Balbach

Bank of America

Paul* & Catherine Beltz

The Rev. and Mrs. Peter Bridgford

Anthony J. & Barbara Cassetta

The Robert and Patricia Colby

Foundation

Members, Erie County Music

Educators Association

Ms. JoAnn Falletta

& Mr. Robert Alemany

Foundation for Jewish Philanthropies

Dick & Pat Garman

Ann & Gordon Getty Foundation

Gioia Fund at the

Community Foundation

Daniel & Barbara Hart

Mr. & Mrs. George G. Herbert

Hodgson Russ LLP

John & Cheryl Howe

Independent Health

Roberta & Michael Joseph

Seymour H. Knox Foundation

Bradford Lewis, Ph.D.

LPCiminelli Employees

"Creative for a Cause"

Mr. & Mrs. Carl J. Montante

Moog, Inc.

Mulroy Family Foundation

The Vincent and Harriet Palisano

Foundation

Perry's Ice Cream Co., Inc.

The Frederick S. & Phyllis W. Pierce

Family Fund

Salvatore's Italian Gardens

Mr. & Mrs. Robert B. Skerker

Scott and Rachel Stenclik

Harriet B. Stewart

Superior Group

Time Warner Cable

Uniland Development Company

Joyce L. Wilson

Leslie & Howard Zemsky

Concertmaster Circle

$5,000-$9,999

Anonymous (2)

Dr. & Mrs. Friedrich J. Albrecht

Allentown Village Society, Inc.

Joan and Peter Andrews

Family Foundation

Anthony Baldi & Associates

AXA Network, LLC

Buffalo Pharmacies Inc.

Mr.* & Mrs. William Christie

Mrs. George A. Cohn

Anthony J. and Carmela M. Colucci

Dr. Timothy G. DeZastro

Donald & Sarah Dussing

Ecology & Environment, Inc.

Ellicott Development Company

Eric Mower & Associates

Neil & Doris Farmelo

Robert Fashano

Ms. Lynne M. Finn

Fisher-Price, Inc.

Mr. & Mrs. William J. Frederick

Friends of the BPO

General Mills Foundation

George & Bodil Gellman

Gordon & Gretchen Gross

Charles J. Hahn & Joy Rogers

Harter, Secrest & Emery, LLP

Carlos and Elizabeth Heath

Foundation

Barbara W. Henderson

The Hicks Fund

Monte Hoffman & Niscah Koessler

Mrs. L. Nelson Hopkins, Jr.

Nick & Bonnie Hopkins

Ms. Nancy Julian* &

Mr. Kenneth Schmieder

Dwight E. King & Leslie Duggelby

Carl Klingenschmitt & Sue Fay Allen

Mrs. Mary M. Koessler

Mr. John W. Koessler, III

Kosciuszko Foundation

W. & J. Larson Family Foundation

Linton Foundation

Sandra & Dennis McCarthy

Merchants Insurance Group

Carolyn & Bob Montgomery

Mrs. Frances L. Morrison

Mr. & Mrs. Reginald B. Newman, II

Dr. Patricia & Burt Notarius

Daniel C. Oliverio

Oliver's Restaurant

Ms. Catherine F. Schweitzer

Vaspian

Carolyn & Joe Voelkl

The Western New York Foundation

Dorothy Westhafer

Encore Circle

$2,500-$4,999

Anonymous

Vanda Albera

Mr. & Mrs. Martin G. Anderson

Andy T. Anselmo
---
Ansie Baird

Anthony Baldi & Associates

Nancy S. Barrett

James M. Beardsley & Ellen M. Gibson

Mr. & Mrs. Gary M. Brost

Paul & Niamh Cronin

Mr. & Mrs. Joseph S. DePaolo

Alan Dozoretz & Judith Clarke

Bob & Doris Drago

R. Irene Dwigans

E3 Communications, Inc.

Mr. & Mrs. Warren E. Emblidge

Mrs. Rosemary G. Esty

Marion S. Fay

Edward N. Giannino, Jr.

Dr. Samuel Goodloe, Jr.

Ms. Constance A. Greco

Dr. Elisabeth Zausmer &

Dr. Angel A. Gutierrez

Mrs. Halim A. Habib

The Hahn Family Fund

Mr. Thomas J. Hanifin

Edwin P. Hart

Mr. & Mrs. G. Wayne Hawk

Barbara W. Henderson

Mr. & Mrs. John G. Horn

John J. & Maureen O. Hurley

Dr. Robert & Hana Jacobi

Kenneth A. & Gretchen P. Krackow

Reverend* & Mrs. Warren W. Lane*

Lawley Service Insurance

Ms. Marie A. Marshall

Mrs. Frances L. Morrison

Carol & Emmett Murphy

Dr. & Mrs. George H. Nancollas

Donald F. & Barbara L. Newman

Mr. & Mrs. James D. Newman

Mr. & Mrs. Franklin Nice

Jane & Don Ogilvie

Karen & Richard Penfold

Polish Cultural Institute

The Reid Group

Miss Frances M. Rew

Mr. & Mrs. David L. Rogers

Maureen W. & Dr. Richard J. Saab

Ms. Anne Schneider &

Mr. Ronald L. Frank

Arnold Shykofsky

Joan & Roger Simon

Drs. Stephen & Monica Spaulding

Steve & Nicole Swift

UBS

Michal & Jim Wadsworth

Mr. & Mrs. Robert C. Wetter

Mr. & Mrs. Kurt Wiedenhaupt

Xerox Corporation – Buffalo

C. Richard & Joyce T. Zobel

Principal's Circle

$1,750-$2,499

Anonymous

John & Joan Bozer

Michele O. Heffernan & John J. Cordes

Saxon P. Graham, Jr.

Dr. and Mrs. Ralph W. Hinds, III

Mr. & Mrs. Richard A. Honsberger

Drs. Clement and Margot M. Ip

Mr. & Mrs. Robert Irwin

Joy Family Foundation

C.F. and A.F. Kurtz

Norma Jean Lamb

Dr. & Mrs. William D. Lawrence

Mr. and Mrs. Sanford M. Nobel

Mrs. Judith Parkinson

Richard and Karen Penfold

The Ralph F. Peo Foundation, Inc.

Ms. Georgeann W. Redman

Drs. Robert and Maxine Seller

Lowell and Ellen Shaw

Lionel Shub*

Frank & Deetta Silvestro

James and Karen Stephenson

Superior Staff Resources, Inc.

Nancy S. Warner

Mr. & Mrs. Ted W. Wetherbee

Mrs. Mary W. Wickett

Paul B. Zuydhoek & Tamar P. Halpern

Bravo Circle

$1,000-$1,749

Anonymous (3)

ASCAP

Charlotte C. Acer

Mr. & Mrs. Philip C. Ackerman

Ronald E. and Mary L. Banks

Mr. Steve Earnhart &

Mrs. Jennifer Barbee

Dr. Kevin J. Barlog &

Dr. Elizabeth A. Barlog

David & Wendy Barth

Brenda B. Benzin

Mr. and Mrs. Joseph F. Biondolillo

Dennis and Leilani Black

Mr. and Mrs. Donald K. Boswell

Elaine & Mel Brothman

Mrs. Dorothy J. Brown

Buffalo Bills Youth Foundation

Buffalo Dental Group

Richard and Barbara Byron

C.S. Behler, Inc.

Rudolph and Ann Casarsa

Barbara & Jerry Castiglia

Mr. & Mrs. Kenneth Christie

Mrs. John Churchill

Ciminelli Development Company

Elizabeth G. Clark

Mr. & Mrs. Frank M. Collins

Dr. Elizabeth Conant &

Ms. Camille Cox

Ellen Todd Cooper

Andrea and Donald Copley

Mrs. Betty Cornelius

Marilyn R. Cornelius

Arthur & Elaine Cryer

Roger and Roberta Dayer

Juan & Silvia B. De Rosas

Lois and Tim DiCarlo

Joan M. Doerr

Alan Dozoretz & Judith Clarke

George T. Driscoll, Jr.

Mr. & Mrs. James J. Eagan

Mr. & Mrs. Douglas P. Easton

Jeanne C. Eaton

Peter & Maria Eliopoulos

Paul Erisman

Ms. Gretchen Fierle

Peter & Ilene Fleischmann

Mrs. Burt P. Flickinger, Jr.

Frey Electric Construction Co., Inc.

Bill & Marjorie Gardner

Reed E. Garver*

Mr. and Mrs. Michael A. Giambra

Dr. and Mrs. Louis J. Goldberg

Ms. Sarah C. Goodyear

Goya Foods Great Lakes

Susan Graham & Jon Kucera

Dr. James O. Grunebaum &

Dr. Penelope Prentice

Mr. & Mrs. Paul R. Guenther

Mr. & Mrs. Charles F. Harrington

Dr. & Mrs. David F. Hayes

Mr. & Mrs. Sherlock A. Herrick, Jr.

Dr. Theodore Herman and

Ms. Judith Ann Cohen

Lynn & Richard Hirsch

Hiscock & Barclay

Duncan C. Hollinger

Dr. & Mrs. Curtis F. Holmes

Mr. and Mrs. Frederic K. Houston

Mrs. Jayne T. Hubbell

Mr. & Mrs.* Philip H. Hubbell

Drs. Clement & Margot Ip

Laurie Menzies, Esq. &

David James. MD

William & Genevieve James

Bruce and Gail Johnstone

Dr. & Mrs. Kenneth R. Kahn

Kavinoky & Cook

Kathleen Keenan-Takagi

Ms. Kathie A. Keller

Milton Kicklighter

Mr. Douglas G. and

Mrs. Nancy M. Kirkpatrick

Mr. and Mrs. John T. Kociela

Ms. Ellen Koessler

Bob & Liz Kolken

Kreher Fund at The Community

Foundation for Greater Buffalo

Robert and Mary Ann Kresse

Rise & Kevin Kulick

Paul & Claudine Kurtz

Michael & Stephanie Laipple

Norma Jean Lamb

Lamparelli Construction Company

Dr. and Mrs. Louis Lazar

Dr. and Mrs. Richard V. Lee

Mrs. Blossom Levy

Gerald S. Lippes Esq.

Howard and Lorna Lippes

Dr. & Mrs. Jack Lippes

Madison Community Foundation

Judy & Edward* Marine

Jim and Kathy Marshall

Mr. & Mrs. William E. Mathias II

Ray and Louise McGrath

37
---
38

Elsie P. & Lucius B. McCowan Private

Charitable Foundation

Julian R. McQuiston

Enrico & Marisa Mihich

Mr. & Mrs. John A. Mitchell

Mr. & Mrs. Randall M. Odza

Dr. & Mrs. James P. Nolan

Dr. Joseph A. Paris

Patricia* & Robert Patterson

Dr. & Mrs. John H. Peterson

Rev. Diane & Craig Phinney

Mr. & Mrs. Henry M. Porter

J. Forrest Posey

Mr. and Mrs. Theodore J. Pyrak

Ms. Elaine Ragusa

Dr. Doreen Rao

Mr. & Mrs. John Reinhold

Sylvia L. Rosen

Russo Family Charitable Foundation

Anne Saldanha M.D.

Saldanha Family Foundation

W. Scott & Kristin Saperston

William F. & Elizabeth M. Savino

Mr. & Mrs. David M. Schmidt

Mr. & Mrs. Gary M. Schober

Mr. & Mrs. William D. Schulz

Sealing Devices, Inc.

Joseph & Carole Sedita

Sevenson Environmental Services, Inc.

Mr. & Mrs. Arthur M. Sherwood

Shuman Family Foundation, Inc.

Robert and Dixie Siegel

Mrs. Maurice C. Smith

Rosemarie C. Steeb

James and Karen Stephenson

Ms. Carol Sundberg

Supermarket Management Inc.

Joseph R. Takats Foundation

Mr. James J. Tanous

Tapecon Inc.

Nancy & Donald B.* Thomas

Hon. and Mrs. Paul A. Tokasz

Mr. & Mrs. Peter R. Travers Jr.

Tzetzo Brothers, Inc.

Nicole & Nicholas Tzetzo

Mr. & Mrs. Joseph Varga

Persis & Robert Vehar

Vogt Family Foundation

The VIYU Foundation

Theodore Walsh & Amy Clifton

Jeffrey and Susan Wellington

Janet & Wayne Wisbaum

Mr. & Mrs. Frederick S. Wood

Mr. Paul M. Wos

Gregory & Donna Yungbluth

Paul Zarembka

Dr. & Mrs. Stanley Zionts

Patron Circle

$750-$999

Anonymous (2)

Dr. David B. Bender

Natalee Benstock*

Barbara & Alan Blackburn

The Reverend Sarah J. Buxton-Smith

Mr. & Mrs. James M. Campbell

Mrs. Janet M. Casagrande

James and Mary Frances Derby

Mr. & Mrs. Cornelius F. Donovan

Dr. Philip Dvoretsky and

Dr. Linda B. Ludwig

Mr. and Mrs. Arthur Efron

Nitza & Avery Ellis

Stephen & Suzanne Evans

Mr. and Mrs. James S. Fanning

Dr. Robert Fenstermaker

Mr. Kim A. Ferullo

Mrs. George H. Forman

Arnold* and Sue Gardner

Robert* & Roberta Grimm

Mr. Gary B. Greenfield

Mr. and Mrs. Philip M. Henderson II

Ms. Michaelene J. McFarlane

Mr. & Mrs. Sheldon E. Merritt

Dr. & Mrs. Donald E. Miller

Mr. Henry Murak

Mary G. Peterson

Ted & Mary Ann Pyrak

Darwin and Ruth Schmitt

William Kenneth Schmitt Fund

Dr. Gary & Patricia Smith & Family

Edwin and Virginia Sprague

Mrs. Sheila Trossman

U-C Coatings Corporation

Dr. Raymond & Sheila Vaughan

Dr. Pierre Williot

Dr. Michael F. Wilson

Crescendo

$500-$749

Anonymous (6)

Morton and Natalie Abramson

Mr. David Alexander &

Ms. Margaret McDonnell

Burtram W. & Ellen Anderson

Monica Angle &

Samuel D. Magavern III

Architectural Resources

Mr. & Mrs. James M. Arena

Astronics Corporation

Bradford H. Banks

Mr. and Mrs. Tibor Baranski

Mrs. Rudolf L. Bauer

Mrs. King D. Bird

Dr. & Mrs. Theodore S. Bistany

Barbara & Alan Blackburn

Rev. Paul R. Bossi

Mr. & Mrs. F. B. Bossler

Mrs. Janet A. Boyce

Mr. and Mrs. William D. Broderick

Dorothy J. Brown

Mr. & Mrs. Bruce R. Brown

Bernice M. Brown

Mrs. Audre Bunis

Drs. Douglas R. & Barbara B. Bunker

Mr. William D. Burns

Tim and Belle Butler

Dr. & Mrs. John L. Butsch

Mrs. Robert E. Buyer

The Buyer Family

Mr. & Mrs. James E. Buzzard

Grace E. Caines

Joseph and Susan Cardamone

Jackie Castle

Mr. & Mrs. James L. Cecchini

Miss Victoria A. Christopher

Dr. Sebastian & Marilyn Ciancio

Nan & Will Clarkson

Mrs. Ruth Cohan

Debby and Gary Cohen

Joan & Michael Cohen

Mr. & Mrs. Frank M. Collins

Commercial Pipe & Supply

Complete Personnel Solutions

Conax Technologies LLC

Marilyn R. Cornelius

Mrs. Nancy A. Cunningham

Michael D'Ambrosio

Mr. & Mrs. Lawrence H. Dautch

Beverly J. Davies

Juan & Silvia B. De Rosas

Dr. & Mrs. David C. Dean

Mr. & Mrs. Joseph A. Deck

Dental Health Products

Mr. & Mrs.* Roger V. DesForges

Mr. & Mrs*. David A. Di Carlo

Don Davis Auto World

Richard and Cornelia Dopkins

Mr. and Mrs. Shaun T. Doyle

David T. Duff

David and Martha Dunkelman

Ms. Marianne G. Dunn

E. I. Dupont De Nemours & Company

Mr. & Mrs. Edward Eardley

Dr. Edward G. Eberl

Stephen Edge & Cynthia Swain

Nitza & Avery Ellis

Erie and Niagara Insurance

Association

Joan Michael Eschner

Mr. & Mrs. Robert Falkner

Paul & Karen Ferington

Ms. Joyce E. Fink

Mr. George Fisher

Thomas and Grace Flanagan

Mr. and Mrs. Robert B. Fleming, Jr.

Dr. & Mrs. William A. Fleming

Mrs. George H. Forman

Laurence & Eileen Franz

Maryann Saccomando Freedman

Dr. Ellen S. Friedland &

Dr. Thomas A. Hays

Mr. Richard L. Friend

Mr. & Mrs. Philemon R. Galanis

Bill and Marjorie Gardner

Mrs. Billie Jean Gates

Joe and Lynne Giroux

Dr. & Mrs. Louis J. Goldberg

Mr. Mark Goldman

Grand Island Transit

Mr. & Mrs. Robert M. Greene

Kathryn Karlic & Peter Gross

Mr. & Mrs. Paul R. Guenther

Thomas & Barbara Guttuso

Mr. & Mrs. Kenneth I. Hardcastle

Mr. & Mrs. Paul M. Hassett Jr.

Arlene Haug

Dr. & Mrs. Reid R. Heffner, Jr.

Ms. Ana M. Hurd
---
Mr. & Mrs. Clinton F. Ivins, Jr.

Suzanne M. Jacobs

Craig & Deborah Johnston

Ms. Marilyn Jones

Mr. & Mrs. Timothy W. Jones

Joy Family Foundation

Dr. & Mrs. Stephen T. Joyce

Dr. Richard & Dr. Barbara Jurasek

Marie L. Keller

Mrs. Irvine J. Kittinger, Jr.

Ms. Juliet E. Kline

Dr. & Mrs. Robert A. Klocke

The Herbert & Ella Knight Family

Charitable Fund

James & Mona Kontos

Mr. & Mrs. James Kramer

Ms. Joan Kuhn

Ted Kuzniarek

Mr. & Mrs. Erick J. Laine

Peter T. Lansbury, Ph.D.

Mr. & Mrs. Paul R. Lazarus

Mrs. Kalista S. Lehrer

Fern & Joel Levin

Dr. George R. Levine

Mr. and Mrs. Jordan A. Levy

Mr. & Mrs. Robert Lindenfeld

Rita and Richard Lipsitz

Anne and Alan Lockwood

Dr. & Mrs. Thomas A. Lombardo Jr.

Mr. James L. Magavern

Mr. Edward G. McClive

Dr. G. Allen McFarren

McLain Foundation

The Mentholatum Company

Mrs. Anita Kaye Militello

Dr. & Mrs. Donald E. Miller

Mr. & Mrs. Hugh I. Miller, Sr.

Mr. John E. Milner

Dr. Michael C. Moore

Andrew T. Morgan

Ms. Sandra G. Morrison

Mr. & Mrs. Leo W. Nalbach

Philip Nicolai* & Linda Nicolai

Mr. & Mrs. Sanford M. Nobel

Dr. & Mrs. James P. Nolan

Phillip L. Nones

Mr. Robert J. North, Jr.

Ms. Susan Nusbaum and

Mr. Ronald G. Van Blargan*

Osmose, Inc.

Thomas & Lois Pause

Mr. & Mrs. Roger J. Peck Jr.

Mr. & Mrs. James R. Peterson

Mr. Gregory Photiadis and

Ms. Sandra Chelnov

The Pierce Family Charitable

Foundation

Mr. & Mrs. Christopher D. Porter

John & Betty Preble

Mr. Joseph Priselac, Jr.

Mr. & Mrs. Charles J. Privitera

Mr. Dennis P. Quinn

Mr. Paul D. Reid and Family

Susan Reynell

Rigidized Metals Corporation

Dianne & Irving Rubin

Elizabeth S. Rundle

Maryann Saccomando Freedman

Mr. & Mrs. W. Scott Schaefer

Mr. & Mrs. William L. Scheider

Mr. & Mrs. John H. Schlegel

Mr. Daniel J. Schmauss

Mr. David Schopp

Mr. & Mrs. William D. Schulz

Caren & Stuart Shapiro

Mrs. Brenda K. Shelton

Dr. Peter Siedlecki &

Ms. Lynnette N. Mende

Mr. Carlton M. Smith

Ruth & Ted Steegmann

Mr. Eric Stenclik

Mr. & Mrs. Edwin F. Stohrer

Mr. & Mrs. Edwin F. Stohrer, Jr.

Mr. & Mrs. David G. Strachan

Jonathan S. Sullivan & Laura Devine

Marilyn & Irving Sultz

Mr. & Mrs. Harry A. Sultz

Mr. Robert Tell & Ms. Rebecca Landy

Mr. & Mrs. John M. Thomas

Freddie M. Thompson

Dr. & Mrs. D.J. Triggle

Rev. William R. Tuyn

U-C Coatings Corporation

Ron and Susan Uba

Ms. Francine Valvo

Mr. William Vosteen

Mr. & Mrs. Peter J. Walsh

Dr. Maryjane Petruzzi &

Dr. Wayne R. Waz

R. Thomas Weeks

Ms. Marlene A. Werner

Dr. & Mrs. Milton M. Weiser

Dr. & Mrs. Richard A. Wiesen

WILLCARE

Mr. & Mrs. Frederick S. Wood

Dr. & Mrs. Douglas F. Wright

Arden and Julie Wrisley

Stephen & Maureen Wydysh

Cynthia Zane & Stephen Mazurak

Amy M. Zeckhauser

*deceased

Government

City of Buffalo

State of New York

Erie County

Major support for the BPO is provided

New York State

by Erie County, County Executive Chris

Council on the Arts

Collins, the Erie County Legislature.

Senator Timothy M. Kennedy

Senator Patrick Gallivan

Senator Catharine M. Young

Senator Mark J. Grisanti

Assemblyman Daniel Burling

Assemblymember Jane L. Corwin

National Endowment for the Arts

Assemblyman John Ceretto

Assemblyman Dennis Gabryszak

New York State Office of Parks, Assemblyman James Hayes

Recreation & Historic Preservation Assemblyman Sam Hoyt

Western New York

Delegation

Senator George Maziarz

Senator Michael Ranzenhofer

Assemblyman Andrew Goodell

Assemblymember Crystal O. Peoples-Stokes

Assemblyman Kevin S. Smardz

Assemblyman Robin Schimminger

Assemblyman Mark J. Schroeder

Gift-In-Kind Partners

Ms. Cindy Abbott Letro &

Mr. Francis M. Letro

Avenue Art & Frame

Balloon Masters

Bennett Direct, Inc.

Bloom Floristry

Brian Parisi Copiers Systems, Inc.

Buffalo and Erie County Public Library

Buffalo Limousine

Buffalo News

Buffalo Spree Publishing, Inc.

Comfort Suites Downtown

Ronald W. Daniels

Downtown Buffalo

Eber Bros. Wine & Liquor Corp.

Enterprise Car Rental

Paul Ferington

Gates Circle Liquors

Hyatt Regency Buffalo

Jaeckle, Fleischmann & Mugel, LLP

Casey Kelly

Maureen's Wholesale Flower Market

McCullagh Coffee

Ray and Louise McGrath

Nickel City Studio Photography

Oliver's Restaurant

Rich Products

Vaspian

Zenger Group

39
---
40

Tribute Registry

Music is timeless & lives on, as do memories of good deeds & special friends. Gifts made in honor or

memory are lasting tributes that perpetuate those memories while ensuring the music lives on. Donors'

names are listed below the names of those in whose honor or memory the gifts were made. These gifts were

received between July 1, 2011 and September 30, 2011.

In Honor Of:

Kathy Kreis & Bob Grzedzicki

Your Wedding

Anne Reagan Perricelli

Gilda Raiken

Your 85th Birthday

Donald & Dvorah Joseph

Eli & Velina Ruckenstein

In Memory of:

Nancy Julian

Dr. Carlos & Judith Jimenez

Mathew & Anne Knapp

Barbara A. McCulloch

Wolfgang Kolodziej

Mary Bloom

Larry Justinus

Chet Kryszczuk

Nancy B. Kryszczuk

Mary Mancuso Sottile

Your 100th Birthday

Marjorie Schafer

James & Karen Stephenson

Your 50th Wedding Anniversary

Quinton & Ingrid Meyer

Joseph E. Malkiewicz

Mr. & Mrs. Lawrence S.

Osolkowski

Katherine Paglia

Olga A. Deavitt

Dr. J. Warren Perry

Stanton H. Hudson, Jr.

& Anthony P. Ippolito

Stephen M. Shrestinian

Peter & Maria Eliopoulos

Spotlight on Sponsor

Edward S. Spector

Alisa, Sean, Hannah, Rachel

and Jacob Collins

Leonard & Kathleen Lenihan

Vanda Spicola

My Mother

Vanda A. Albera

Mary Jean Daly Varga

Mr. & Mrs. Joseph Varga

We are very proud to support the Buffalo Philharmonic Orchestra, and to say that

Vaspian is the largest Hosted Telephony Provider in Upstate NY. Our company

provides Telephone and Internet solutions for small and midsized businesses right

here in Buffalo, as well as a few customers scattered throughout the Northeast. Our

solution bundles local and long-distance calling, high speed Internet access and

our unique business class telephone system and service.

For the past several years, Vaspian has been named as one of the fastest growing

companies in WNY by Business First's FastTrack 50 program. We are a very

energetic company that is passionate about our customers, our employees and on

providing great technology supported by even better service. We believe that the

most important secret behind our success is listening to our customers and tailoring

a solution that is specific to their needs. Vaspian does not sell phone systems, we

sell solutions... And selling solutions is a killer business!
---
Planned Giving

Musical heritage Society

We are pleased to list the current members herein because they have realized the importance

of "the gift that keeps giving." Each of these individuals or couples have made provisions for a

contribution to the BPO in their estate plans and while there are many different methods, the most

common is by adding the BPO as a beneficiary in one's will.

Charlotte C. Acer

Elizabeth & John Angelbeck

Anonymous

Carol & Charles Balbach

The Reverend and

Mrs. Peter W. Bridgford

Anthony J. Cassetta

Barbara & Jerry Castiglia

Mrs. Ida Christie

Louis & Ann Louise Ciminelli

Ms. Elizabeth G. Clark

Mr. & Mrs. William M. Clarkson

Miss Mary E. Clemesha

Ruth Cohan

Mrs. George Cohn

Dr. Elizabeth Conant

Marilyn R. Cornelius

Beverly Davies

Mrs. Roberta Dayer

Charles* & Nancy Dowdell

Sarah & Donald Dussing

Mr. Neil R. Farmelo

Angelo & Carol Fatta

Mrs. Marion Fay

Judith & John* Fisher

Mr. & Mrs. Byron R. Goldman

Gordon & Gretchen Gross

Marion Hanson

Margaret W. Henry

Mr. & Mrs. George G. Herbert

Monte & Cheryl* Hoffman

Mrs. L. Nelson Hopkins, Jr.

Bruce and Gail Johnstone

Kathleen Keenan-Takagi

The Herbert & Ella Knight

Family Charitable Fund

Norma Jean Lamb

Mrs. Virginia Lane*

Eric E. & Ruth F. Lansing

Mr. & Mrs. Wilfred J. Larson

Francie D. & Joel N. Lippman

Marie Marshall

Mr.* & Mrs. J. A. Mattern

Donna & Leo Nalbach

Drs. Howard & Karen Noonan

Robert & Marion North Fund

Dr. J. Warren Perry*

Mrs. Frederick S. Pierce

Dr. Julia C. Piquette

Edwin Polokoff

Dennis Quinn

Virginia Ann Quinn

Evelyn Joyce Ramsdell

John and Susan Rowles

Nancy E. Ryther

Paul and Gerda Sanio

Catherine F. Schweitzer

Roger & Joan Simon

Mr. & Mrs. Robert B. Skerker

Dennis M. Smolarek

Jane Snowden

Harriet Stewart

David D. Stout &

Janet E. Popp Stout

Gerald R. Strauss

Sue W. Strauss

Mrs. Donald Thomas

Jim and Michal Wadsworth,

as trustees of the Mulroy,

Heath and Colby Foundations

Mrs. Robert Warner

Mrs. Marjorie W. Watson

Wayne & Janet Wisbaum

Betty Ann Withrow

Mr.* & Mrs. J. Milton Zeckhauser

Bequests

* deceased

Dr. Theodore S. Bistany Charles Dowdell Dorothy F. Goldman Marilyn J. Hillman

Donald I. MacDavid Richard F. Miller Catherine K. Parkes

Trusts

Anonymous

Cameron Baird Fund

Virgil A. and Margaret L. Black Memorial Fund

Mildred Bork Conners & Joseph E. Conners Fund

Buffalo Philharmonic Orchestra Society Inc.

Endowment Fund

Grace Neff Daniels Memorial

Joan Hetzelt Hanifin Memorial Fund

The Herbert & Ella Knight Family Charitable Fund

Janet K. Larkin & John D. Larkin III Fund

Albert H. Laub Bequets

Marie A. Marshall Fund

MPZ Endowment Fund

Benjamin and Lila Obletz Endowment Fund

Susan Harvey Prentis Fund

Natalie Kubera Roth Fund

William Kenneth Schmitt Fund

Franz & Katherine Stone Trust

Joseph and Loretta Swart Fund

Nellie B. Warner Endowment Fund

Charlotte Potter Whitcher Trust

The Buffalo Philharmonic Orchestra endorses the LEAVE A LEGACY® WESTERN NEW YORK

program, an initiative of the WNY Planned Giving Consortium and a public awareness campaign

of the National Committee on Planned Giving.

Make a Difference in the Lives that Follow

www.leavealegacyWNY.org

To ensure your wishes are carried on for generations to come,

you may call (716) 879-0944 for more information.

41
---
44

Patron Information

Backstage Access

Access to backstage after a performance

is strictly controlled. If you wish to see one

of the performers please present yourself at

the Stage Door (on the left as you face the

stage) at the end of the performance. After

a 10-minute waiting period the House

Manager will be notified when and if

access is available.

Cameras, Recording Devices

Filming and/or recording a performance is

strictly prohibited. If you have a camera or

recording device when you arrive, please

ask an usher to arrange for safekeeping of

the item until after the performance.

Food and Beverages

Food and beverages are not allowed in

the main hall.

Handicapped Seating/Assistance

Patrons requiring special assistance are

urged to contact the Box Office prior

to attending the concert for special

handicapped seating arrangements.

Handicapped seating is located on the

main floor on the extreme outside aisles

from rows A-CC. Hearing Assistance

Devices are available at the coat check.

Late Arrivals

Patrons arriving after the performance has

started will be seated at the discretion of the

House Manager. Seating will not be until

the first suitable break or at intermission.

Note that late seating may not be in the

purchased location.

Lost and Found

You may present items to any usher. All items

found in the hall will be held at the coat

check area during the performance and

at the Kleinhans Music Hall Administrative

Office (716) 883-3560 (press 7).

Medical/Security

Security staff is available at all times. Please

notify an usher if there is a security need.

Medical assistance is available when

required; again please notify an usher or

any BPO staff member.

Parking Options for 2011-2012 Season

Kleinhans/Grace Manor Lots $5

For Saturday evening performances.

Located on Wadsworth St. and North St.

Price Rite North Street Lot

FREE Parking for Saturday/Sunday concerts

at 253 North Street for 200 vehicles. This

is a comfortable walking distance to the

music hall.

D'Youville College $2

On nights where capacity crowds are

expected, Parking and Shuttle service

will be available from 6:30pm and

immediately following the concert from the

lot located at 430 West Ave.

Join our email club at www.bpo.org for

notification or call the box office at 885-

5000 for exact dates.

Symphony Shuttles

Salvatore's Symphony Shuttle $10

Salvatore's Italian Gardens, offers shuttle

service from the rear corner of their parking

lot for $10. Patrons are encouraged to enjoy

a gourmet dinner before the concert from

a Prix Fixe "Symphony Menu" for $28.95.

Call 683-7990 for dinner reservations

and 885-5000 to reserve your seat on the

shuttle. Dinner and shuttle sold separately,

shuttle leaves at 7pm sharp.

Henry's Restaurant

Enjoy dinner at Henry's located on the

ground floor of Kleinhans Music Hall before

evening BPO concerts. For reservations

call (716) 881-4438.

Sonoma Grille

Sonoma Grille in Snyder offers shuttle

service on Saturday concert nights for $10

round trip (minimum passengers required to

run.) Call 204-0251 for dinner reservations

and 885-5000 to reserve your seat on the

shuttle. Dinner and shuttle sold separately.

Shuttle leaves at 7pm sharp.

31 Club

31 Club, on N. Johnson Pk. in Buffalo, offers

a Prix Fixe dinner menu and complimentary

shuttle service to and from Kleinhans on

all concert nights. Call 332-3131 for

reservations or more information.
---
BPO Administrative Staff

Administration

Daniel Hart

Executive Director

Diana Martinusek

Executive Assistant

Development

Jennifer Barbee

Director of Development

Kelly Campbell

Annual Fund Coordinator

Wendy Diina

Event and Project Coordinator

Barbara A. McCulloch

Manager of Information

Resources

Alison Merner

Development Assistant

Education

Robin Parkinson

Director of Education

Patrick O'Herron

Education Coordinator

finance

Kevin James

Finance Director

Nicole Bzibziak

Financial Accountant

Jacqueline Henry

Receptionist/Finance Assistant

Susan Hill

Payroll and Accounts Payable

Associate

Information

Technology

Mike Rosati

IT Administrator

Marketing

Susan M. Schwartz

Director of Marketing and

Communications

Lindsay Adornetto

Marketing Associate

Jennifer L. Smith

Media & Community Relations

Manager

Cary Michael Trout

Graphic Designer Consultant

Ed Yadzinski

BPO Historian

Operations

Lisa J. Gallo

Director of Orchestra and

Artistic Operations

Maggie Shea

Operations Coordinator

Jennifer N. Comisso

Personnel Manager

Becky Davidson

Assistant to JoAnn Falletta

Richard George

Master Property Person, IATSE

local 10

Charles Gill

Assistant Property Person,

IATSE local 10

John Giarratano

Concessions Manager

Travis Hendra

Assistant Librarian

Patricia Kimball

Principal Librarian

Jon Mosbo

Production Manager

Elaine Riek

Audience Services Manager

Sales and Patron

Services

Michael Giambra

Director of Sales and Patron

Services

Joshua Fehskens

Sales Manager

Adam Cady

Patron & Ticket Services

Manager

Phil Cunningham

Ticket Services

Anika Lindquist

Ticket Services

Abbott Nixon

Ticket Services

Cheryl Selib

Ticket Services

John Van Haneghan

Patron Services Supervisor

Subscription Sales

Deborah Camizzi

Solomon Dixon

Karl Hohn

Sarah Mayer

Andrea Zlotowitz

Kleinhans Music

hall Staff

Chuck Avery

Master Electrician, IATSE

local 10

Danny Gill

Sound Engineer, IATSE

local 10

Charlie McDonald

Chief Engineer

45