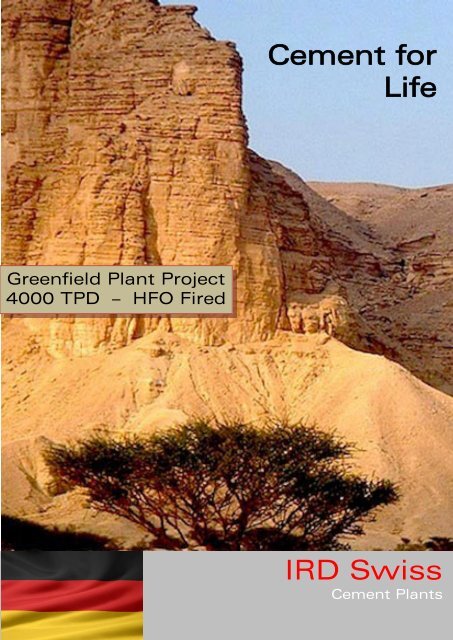 Cement for Life IRD Swiss
Create successful ePaper yourself
Turn your PDF publications into a flip-book with our unique Google optimized e-Paper software.
Cement for

Life

Greenfield Plant Project

4000 TPD – HFO Fired

IRD Swiss

Cement Plants
---
Plot Size

900 x 450 m

Cement for

Life

IRD Swiss

Cement Plants
---
Limestone will be transported into the plant by a

covered belt from the quarry site into a circular preblending

storage yard of a diameter of 90m which

can contain 8-day storage. The pile will be

permanent layered by the new incoming raw

material to provide low chemical differences.

IRD Swiss

Cement Plants
---
The most needed additives, Clay and Gypsum will

be stocked in open yards to be crushed and moved

by hydraulic windlasses into a huge roofed yard.

Accordingly the prevailing local weather conditions

all walls of the yard can be closed.

IRD Swiss

Cement Plants
---
The roofed yard will be fed with other additives like

Ore, Sand and special process amendments which

can be stocked directly by dump trucks also from

back side;

...and comes out automatically by belts to be fed

into the clinker and cement process.

IRD Swiss

IRD Swiss

Cement Plants

Cement Plants
---
The pre-mill section contains a vertical mill with a

capacity of 460 to/h of the latest generation

inclusive an effective dedusting and a

homogenisation silo for 3-day storage.

All devices and aggregates are in-housed.

IRD Swiss

Cement Plants
---
Lifted by feeder the pre-blended raw mix will be

moved in the pre-heater tower and pass a 5-stage

cyclone heater to be warmed up in a high graded

calciner at the end of the pre-heating process on

650°C.

IRD Swiss

Cement Plants
---
A state of the art rotary kiln with a length of 56m

plus tertiary air duct guarantees an optimized

energy and fuel need. The clinker will be cooled

down after passing kiln by a high efficiency grate

cooler.

IRD Swiss

Cement Plants
---
If NG or Oil available we offer a sufficient Oil / Gas

firing unit as part of turn-key price, includes either

HFO oil dust blower or Gas nozzle system;

inclusive entirely auxiliary equipment. For coal

firing need please call for an optionally and suitable

coal treatment and milling plant.

IRD Swiss

Cement Plants
---
A central situated process control building contains

all control options and a fully equipped cement Lab.

A water treatment system including a re-circulation

sewerage dispose unit let drop the daily fresh

water need to a minimum amount.

IRD Swiss

Cement Plants
---
After clinker cooling the crushed clinker will be

lifted up by belt into the top of the clinker silo,

Ø50x45m with 8-day storage capacity before

entering the grinding department where two lines

of roller presses plus 13m long ball mills grind the

clinker material with Gypsum to Portland-Cement.

.

IRD Swiss

Cement Plants
---
4 cement silos can store for 8 days cement,

Ø18x40m each with separate dedusting filter and

automatic belt conveyor feeding the loading

department to fill bags, big-bags and bulk truck

cement. The silos are connected to each other due

to level the cement amount similarly.

Execution of the cement silos as well as all other silos can be done

in steel or concrete. Between the two possibilities there are

considerable pricing differences, so we will advise the right solution

for your circumstances. All silos belong except from the inside

technical equipment like lifts, in and outlets, to the civil work (CW).

We hand over at start of construction all necessary drawings and

statement of works therefore, so the CW-company must not do any

design work. Executing the silos in concrete and steel re-inforceded

construction needs to have an experienced team of concrete

workers to setup a sufficient slipform by a well known shuttering

formwork manufacturer. Use our lots of experiences in this field!

IRD Swiss

Cement Plants
---
The loading department provides a bag loading

zone, a big-bag zone and a bulk loading zone.

4 bag trucks, 2 big-bag trucks and 2 bulk trucks

can be loaded simultaneously. In addition are 3

hand-loading truck places available, 2 at outer wall

and 1 in the rear loading department yard.

IRD Swiss

Cement Plants
---
Bulk loading zone provide 2 self-filling stations with

easy connecting flanges to load up the silo trucks

through the truck drivers themselves. Bags and big

bags will be loaded up by forklifters which requires

piling the bags on pallets according the European

pallet system EURO-PALLET.

All vehicles, trucks, dump loaders and forklifters don't belong to

our equipment delivery but are in responsibility of each client

himself. If wished we will assist to buy a sufficient motor pool.

IRD Swiss

Cement Plants
---
The pallet system needs to hand back all used

pallets before loading new. Therefore the plant

provide a pallet revoking place where all unused

pallets will be returned to the filling department

above the loading zones in order to be reused.

IRD Swiss

Cement Plants
---
Well structured plant traffic guarantees a clean and

safe vehicle management within the factory.

Arriving trucks have to be parked on a separate

truck waiting zone before entering the loading

department. All ways are obviously denoted on the

ground as well as by special traffic signs.

IRD Swiss

Cement Plants
---
Incoming and leaving pick-up trucks are complete

controlled by SAP® management software system

SAP-ALL which guarantees a secure sale of

cement amounts and customer clearness while

staying in the plant area to every point in time.

After passing the loading

department all trucks have to be

weighed on a truck weigh bridge to

specify the loaded data which will

be instant submit to the sales

department, where a SAP software

system recognize the difference

between the tare weight and the

loaded weight to compute the

cement amount which leaves the

plant by each truck. Every incoming

truck gets a special transponder

sticker on each vehicle for

determining of customer's purchase

record, readable in the sale, so each

client becomes invoiced

instantaneously. Cash payers have

to pay before loading, but can just

leave the plant if the amount hasn't

overstepped the payment in

advance. On the same weigh bridge

will be weighed the incoming traffic

after a truck will be prompted to

enter the loading department by an

electronic pager on the opposite site

of weigh bridge. In addition to the

electronic bill of loading paper will

be submitted all vehicle data on the

mentioned transponder as well.

Hence are thefts impossible

because mismatching data between

the weights or driving past at the

weigh bridge keep the exit gate

closed because the transponder

transmits a wrong rapport. This

system is new and very efficient to

manage a cement plant under

avoiding losses.

IRD Swiss

Cement Plants
---
The plant has 2 Gates which can be entered. First

is the main gate, controls the incoming and leaving

traffic. All vehicles get stick a flexible one-way

transponder to submit the position, customer data,

plate number and times while staying in the plant.

Finally the transponder gives way out if all is done.

Second gate let only supplier

traffic in. All deliveries for

additives come by dump

trucks from outside and will

be controlled by plate

numbers and materials

delivered. It is independent if

the incoming trucks belong

to the plant owner or are

sent from sub contractors

from other companies

….each vehicle has to pass a

registration while entering

and leaving. The traffic ways

for such deliverers do not

disturb the customer truck

ways inside the plant.

Anyway, truck accidents

happen a lot within cement

companies worldwide a year.

IRD Swiss

Cement Plants
---
In some regions of the world customers have either

Natural Gas or Oil available, so we can offer several

solutions for nearly all energy problems, either

using different Oils or other waste gas; that is also

valid for creating own electrical energy within the

plant area.

Optionally we offer a wide range of

additional equipment to run a cement

plant. Either you have a special need of

pyro-sourcing, neither oil nor gas available,

or you face a lack of internal electricity, we

find the right way out. You can choose

between several facilities to produce a

needed electrical power supply by a

sufficient own power plant or you have

Brown Coal availably only and need a coal

firing system for the kiln. Anyway we find

and install the right solution for you.

Therefore please get a separate quotation

under filling a questionnaire. Please

consider a sizable additional more price we

have perhaps to setup. Fueling the plant by

Gas or Oil is included in our standard offer.

IRD Swiss

Cement Plants
---
An integrated social area imply a main office for

managing personnel, worker homes, a dining hall

inclusive a drinking water plant, a relaxing green

zone, prayer facilities and a medical care point.

All buildings belong to the responsibilities of the

CW contractor, but can be chosen by drawings.

We provide a

various range of

sufficient building

design drawings for

customer's choice

according his

requirements.

Because of lots of

experiences from

different parts of

worldwide cement

plant configurations

we like to introduce

our client suitable

offers regarding the

local need of his

region and there

people behaviours.

IRD Swiss

Cement Plants
---
We are permanent endeavoured to reach the

figures in quality and quantity promised to our

clients when closing the contract. Our highest aim

is to satisfy our customers completely for their

confidence in our work and the high investment the

clients have to transact during a long period of time

Trust us!

IRD IRD Swiss

Swiss

Cement Plants

Cement Plants