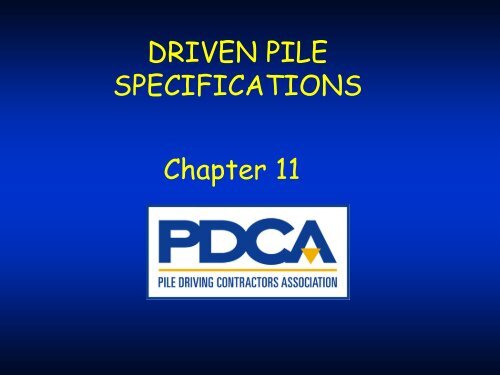 DRIVEN PILE SPECIFICATIONS - Pile Driving Contractors Association
DRIVEN PILE SPECIFICATIONS - Pile Driving Contractors Association
DRIVEN PILE SPECIFICATIONS - Pile Driving Contractors Association
SHOW MORE
SHOW LESS
Create successful ePaper yourself
Turn your PDF publications into a flip-book with our unique Google optimized e-Paper software.
DRIVEN PILE

SPECIFICATIONS

Chapter 11
---
Generic Specification (11-6)

Owner responsible to "estimate" pile lengths

Contractor responsible to provide

and install undamaged piles.

Must satisfy minimum required depth

of embedment

Must drive to required ultimate

capacity, w/ reasonable BC
---
Approved Hammers (11-9)

OED Measure Stroke (11-10)

CED Bounce Chamber

Pressure (11-10)
---
Battery

Proximity

Switches

Transmitter
---
Approval of Pile Driving Equipment (11-11)

Wave Equation Equipment Form

(11-14)

Reasonable Blow Count

30-120 bpf (11-15)

Driving Stresses (11-15, chap 10)

Concrete (f'c, f pe )

Steel (f y )
---
Grade

50 ksi
---
ASD Factors of Safety (11-16)

Ultimate Pile Capacity (i.e. "target"

capacity must be shown on Plans: ASD

Or LRFD

Optimum Pile Installation –

Maximum Curvature (11–17)
---
Hammer Cushion

Capblock

Bonnet

Helmet

Pile Cushion

Concrete

Pile
---
Drive System Components (11-19)

Hammer Cushion (11-19)

Pile Cushion w/ concrete piles (11-20)

New Pile Cushion for each Pile

Used Pile Cushion for Re-Strikes

Leads (11-21)
---
Hammer Cushions

• Are materials placed between the pile

hammer ram and the helmet

• It's function ?

To relieve impact shock and thereby

protect the hammer while at the

same time transmit consistent energy

to the pile
---
Hammer Cushions

Recommended:

Not Recommended:

Man-made cushion

materials made of micarta,

nylon, urethane, or other

polymers

Hardwood

Plywood

Wire rope

Asbestos
---
NIM
---
Pile Cushion

• Concrete piles require a pile cushion

between the helmet and the pile lead

• Typically made of plywood, hardwood,

plywood & hardwood composites, or

other man-made materials
---
Followers(11-21) Only with

Engineer's Approval

Jets (11-22) Only with

Engineers Approval

Pre-Boring (11-22) Only with

Engineers Approval
---
Follower

• Is a member interposed between a pile hammer

and a pile to transmit blows when the pile head

is below the reach of the hammer

• Use of a follower is accompanied by a loss of

energy delivered to the pile due to compression

of the follower & losses in connection
---
NIM
---
Jetting

• The use of a water or air jet to

facilitate pile driving by displacing

parts of the soil

• Jetting is useful in driving piles

through very dense material
---
Predrilling

• Soil augers or drills used where jetting is

inappropriate / ineffective to

- Penetrate obstructions, boulders, debris fills

- Facilitate pile placement through embankments

- Reduce ground movements

• Predrilled hole diameter 100 mm less than diagonal

of square pile, or 25 mm less than diameter of

round pile
---
NIM
---
Gates Formula – limited (11-23)

Phase in WEAP (11-25)

Static Load Tests (11-26 & 27)

Include Dynamic Testing (11-28)

Contractor Responsibilities (11-29)

Restrike (11-30)

Duration

Cold Hammer
---
Tolerances (11-35)

Pile Heave (11-35)

Installation Sequence (11-36)

Unsatisfactory Piles (11-36)

Pay Items (11-40)
---
ANY QUESTIONS ?