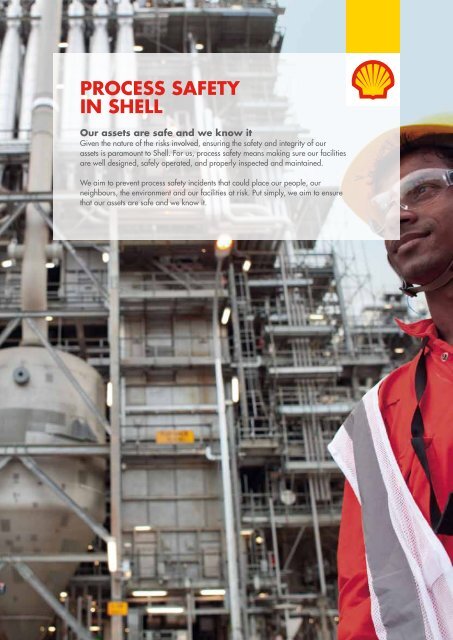 Process safety in shell
Process safety in shell
Process safety in shell
SHOW MORE
SHOW LESS
Create successful ePaper yourself
Turn your PDF publications into a flip-book with our unique Google optimized e-Paper software.
Process safety

in shell

our assets are safe and we know it

Given the nature of the risks involved, ensuring the safety and integrity of our

assets is paramount to Shell. For us, process safety means making sure our facilities

are well designed, safely operated, and properly inspected and maintained.

We aim to prevent process safety incidents that could place our people, our

neighbours, the environment and our facilities at risk. Put simply, we aim to ensure

that our assets are safe and we know it.

Process safety in Shell

1
---
2 Process safety in Shell

ManaGinG HSSE – a SyStEMatic aPProacH

to achieve continuous performance improvement

shell companies manage health, safety, security,

environment and social performance in a

systematic way.

At Shell, we aim to help meet the energy needs of society

in ways that are economically, environmentally and socially

responsible. To manage the impact of our operations and

projects on the environment and society we have a

comprehensive set of business principles and rigorous

standards covering health, safety, security, environment

(HSSE) and social performance (SP).

Our business principles provide high-level guidance, and the

Commitment and Policy on HSSE & SP reflects our aims on how

we operate and involve communities close to our operations.

Those aims include:

n do no harm to people;

n protect the environment; and

n comply with all HSSE laws and regulations.

HSSE & SP control framework

All Shell companies, contractors and joint ventures under our

operational control must manage HSSE and SP in line with the

Commitment and Policy. To help our staff and contractors to put

the Commitment and Policy into practice we launched the

Shell HSSE & SP Control Framework in 2009. It is a single,

mandatory source for rules covering areas such as process

and road safety. While the Control Framework was launched

in 2009 its standards and manuals include all of the HSSE

requirements we have followed in the past, such as our

industry-first biodiversity standard.

Our focus on compliance includes tackling the cultural issues

that can lead to unsafe behaviour. This includes our efforts to

reinforce our mandatory 12 Life-Saving Rules with all employees

and contractors who work for us. We also hold annual global

safety days for employees and contractors to reflect on their role

in making Shell a safer place to work.

shell.com/standards

shell.com/safety
---
ManaGinG ProcESS SaFEty riSK

We identify the hsse risks associated with our

business activities and work to reduce these risks

through mitigating controls.

Having strong controls for process safety and asset integrity risks

at our facilities is critical.

Business managers in Shell are accountable for identifying HSSE

hazards, assessing and documenting their potential impact, and

reducing or eliminating risks using controls and recovery

measures.

One of the ways we are building a strong safety culture

throughout our organisation is by focusing on compliance.

With the launch of our HSSE & SP Control Framework in 2009

(see page 2) we released a new Process Safety manual, which

builds on our previous standards.

the 'Bow tie' Model

The 'Bow Tie' Model illustrates the importance of both preventive and recovery measures in

dealing with risk. Risk is defined as the likelihood that a Top Event (hazard release) will

occur, combined with the severity of the consequences of the event:

H

A

Z

A

R

D

THREAT

CONTROL

BARRIERS

Prevention

■ keep within control limit

■ reduce likelihood

Top

Event

SCENARIO

RECOVERY

MEASURES

Mitigation

■ mitigate consequences

■ plan for recovery/re-instate

Risk Management Responses

Process safety in Shell

We audit our businesses and seek assurance that process safety

requirements have been implemented and are effective. We

also have a dedicated team of process safety experts that assist

in auditing our operations and facilities. We regularly report on

process safety matters to the Board of Royal Dutch Shell plc.

Our process safety performance is continually improving.

For example, the number and volume of operational spills

have fallen since 1998 through clear procedures and consistent

compliance. We have a mandatory process to review and

learn from incidents and develop measures to prevent future

recurrences.

CONSEQUENCE

CONSEQUENCE

CONSEQUENCE

hazard: Potential to cause harm.

threat: A possible cause that will potentially release a hazard and produce

a 'Top Event'.

control Barriers: Measure to prevent threats from releasing a hazard.

top event: The 'release' of the hazard, i.e. the first consequence.

recovery Measures: Limit the consequences arising from Top Event.

consequence: Event(s) that result from the release of a hazard.

3
---
4 Process safety in Shell

DESiGn intEGrity

shell has compiled more than 350 design and

engineering practices. these practices reflect the

many years of shell experience applying industry

design and engineering standards and design

codes in a safe and reliable manner.

We have mandatory technical standards for design and

construction that are used for exploring, drilling, producing,

processing, transporting or storing hazardous substances or

energy. A rigorous process is in place to monitor and review

the acceptability of any deviations from these mandatory

technical standards, and to manage change.

Process safety management

Design

integrity

integrity

leaDershiP

oPerating

integrity

technical

integrity

Shell also prescribes mandatory technical standards relating to

process safety requirements. Our standards are informed by

recommendations arising from industry incident investigations,

such as the Baker Report on the Texas City incident. This

included guidance on safe siting of occupied portable

buildings and avoiding liquid release relief to atmosphere.

We perform process safety reviews for new facilities and for

modifications of facilities. We also perform regular reviews

of existing facilities to assess changes made, including the

application of new design and engineering standards, new

technology, operational experience and lessons learned

from incidents.
---
aSSEt intEGrity

We prevent process safety incidents by maintaining

our hardware barriers and by working within

operational barriers.

Asset integrity and process safety are high priorities for Shell.

We aim to operate all assets, regardless of age or location,

in a way that meets or exceeds our internal standards and

relevant legal and regulatory requirements

Shell continues to invest in maintaining and improving the

safety and reliability of our operations. This includes a more

than $5 billion dollar program in our upstream business to

improve equipment.

Process safety in Shell

We have detailed maintenance and integrity programmes in

place to keep continued focus on the technical integrity of our

facilities. This includes making sure pre-defined barriers to

prevent incidents are well maintained and controlled.

Our procedures focus on clarity of expectations, transparency

and open communication with staff. We ensure our managers

and staff know and understand safe operational limits and

operating procedures and that we have rigorous asset

monitoring protocols.

Shell Eastern Petrochemical complex (SEPc), Singapore 2010,

Separation columns at night Perdido deep water project, Gulf of Mexico, USa, 2010

5
---
6 Process safety in Shell

intEGrity LEaDErSHiP

leaders play an important role in avoiding

process safety incidents and must demonstrate

visible and felt leadership in the field.

For each life cycle phase of a facility, a Shell manager is

accountable for process safety management. All of our

managers have the technical and professional qualifications

and experience required for such a position. They understand

the hazards present in their facilities and the barriers available

to reduce process safety risk.

We expect our managers to demonstrate leadership in process

safety. They communicate regularly with staff to ensure process

safety expectations and accountabilities are clear. They are

also responsible for ensuring that incidents are investigated,

and for taking corrective action and sharing learnings.

air monitoring at the Phenol 3 Unit, Deer Park refinery, Houston, USa 2006

Our managers help ensure that our facilities are safe and fit

to operate. For example, a manager will not start or re-start

a facility without following a detailed set of safety criteria. This

includes making sure employees and contractors are competent

and that procedures are in place to operate equipment within

defined operational limits.

We have a company-wide approach for engaging local

communities near our facilities. We use contributions from

community panels and open days to understand their concerns

about the safety of our facilities and provide information on

the measures in place to prevent incidents.

Gas Storage norg, netherlands, 2010
---
cautionary note

The companies in which Royal Dutch Shell plc directly and indirectly owns investments are

separate entities. In this publication "Shell", "Shell group" and "Royal Dutch Shell" are sometimes

used for convenience where references are made to Royal Dutch Shell plc and its subsidiaries

in general. Likewise, the words "we", "us" and "our" are also used to refer to subsidiaries

in general or to those who work for them. These expressions are also used where no useful

purpose is served by identifying the particular company or companies. ''Subsidiaries'',

"Shell subsidiaries" and "Shell companies" as used in this publication refer to companies in

which Royal Dutch Shell either directly or indirectly has control, by having either a majority of

the voting rights or the right to exercise a controlling influence. The companies in which Shell has

significant influence but not control are referred to as "associated companies" or "associates"

and companies in which Shell has joint control are referred to as "jointly controlled entities".

In this publication, associates and jointly controlled entities are also referred to as "equityaccounted

investments". The term "Shell interest" is used for convenience to indicate the direct

and/or indirect (for example, through our 34% shareholding in Woodside Petroleum Ltd.)

ownership interest held by Shell in a venture, partnership or company, after exclusion of all

third-party interest.

This publication contains forward-looking statements concerning the financial condition, results of

operations and businesses of Royal Dutch Shell. All statements other than statements of historical

fact are, or may be deemed to be, forward-looking statements. Forward-looking statements are

statements of future expectations that are based on management's current expectations and

assumptions and involve known and unknown risks and uncertainties that could cause actual

results, performance or events to differ materially from those expressed or implied in these

statements. Forward-looking statements include, among other things, statements concerning the

potential exposure of Royal Dutch Shell to market risks and statements expressing management's

expectations, beliefs, estimates, forecasts, projections and assumptions. These forward-looking

statements are identified by their use of terms and phrases such as ''anticipate'', ''believe'',

''could'', ''estimate'', ''expect'', ''intend'', ''may'', ''plan'', ''objectives'', ''outlook'', ''probably'',

''project'', ''will'', ''seek'', ''target'', ''risks'', ''goals'', ''should'' and similar terms and phrases.

There are a number of factors that could affect the future operations of Royal Dutch Shell and

Published June 2010

for further information visit shell.com/safety

Design and layout by Creative Services The Hague

Process safety in Shell

could cause those results to differ materially from those expressed in the forward-looking

statements included in this publication, including (without limitation): (a) price fluctuations in

crude oil and natural gas; (b) changes in demand for the Shell's products; (c) currency

fluctuations; (d) drilling and production results; (e) reserve estimates; (f) loss of market share

and industry competition; (g) environmental and physical risks; (h) risks associated with the identification

of suitable potential acquisition properties and targets, and successful negotiation and

completion of such transactions; (i) the risk of doing business in developing countries and

countries subject to international sanctions; (j) legislative, fiscal and regulatory developments

including regulatory measures addressing climate change; (k) economic and financial market

conditions in various countries and regions; (l) political risks, including the risks of expropriation

and renegotiation of the terms of contracts with governmental entities, delays or advancements

in the approval of projects and delays in the reimbursement for shared costs; and (m) changes

in trading conditions. All forward-looking statements contained in this publication are expressly

qualified in their entirety by the cautionary statements contained or referred to in this section.

Readers should not place undue reliance on forward-looking statements. Additional factors that

may affect future results are contained in Royal Dutch Shell's 20-F for the year ended December

31, 2009 (available at shell.com/investor and www.sec.gov ). These factors also should be

considered by the reader. Each forward-looking statement speaks only as of the date of this

publication, June 2010. Neither Royal Dutch Shell nor any of its subsidiaries undertake any

obligation to publicly update or revise any forward-looking statement as a result of new

information, future events or other information. In light of these risks, results could differ materially

from those stated, implied or inferred from the forward-looking statements contained in this

publication.

The United States Securities and Exchange Commission (SEC) permits oil and gas companies,

in their filings with the SEC, to disclose only proved reserves that a company has demonstrated

by actual production or conclusive formation tests to be economically and legally producible

under existing economic and operating conditions. We may have used certain terms in this

publication that SEC's guidelines strictly prohibit us from including in filings with the SEC. U.S.

Investors are urged to consider closely the disclosure in our Form 20-F, File No 1-32575,

available on the SEC website www.sec.gov. You can also obtain these forms from the SEC by

calling 1-800-SEC-0330.

7
---
8 Process safety in Shell