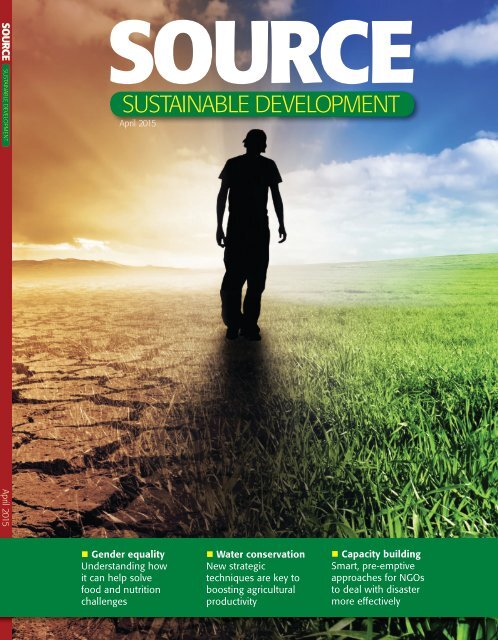 SOURCE: Sustainable Development
SOURCE Sustainable Development magazine will be exploring the post 2015 international development landscape. It will engage the private sector to drive innovation and support the ever growing need to achieve the UN Sustainable Development goal's
SOURCE Sustainable Development magazine
will be exploring the post 2015 international
development landscape.
It will engage the private sector to drive
innovation and support the ever growing
need to achieve the UN Sustainable
Development goal's
SHOW MORE
SHOW LESS
Create successful ePaper yourself
Turn your PDF publications into a flip-book with our unique Google optimized e-Paper software.
SOURCE

SUSTAINABLE DEVELOPMENT

SOURCE

SUSTAINABLE DEVELOPMENT

April 2015

April 2015

• Gender equality

Understanding how

it can help solve

food and nutrition

challenges

• Water conservation

New strategic

techniques are key to

boosting agricultural

productivity

• Capacity building

Smart, pre-emptive

approaches for NGOs

to deal with disaster

more effectively

SSD_Cover.indd 1 04/03/2015 18:20
---
RISING THREATS.

YOUR ASSETS, EXPOSED.

ARE YOU COVERED?

Organisations face rising threats, especially in politically unstable

regions. Evacuating employees could cost tens of thousands, while

other financial losses could be potentially catastrophic.

For over 65 years, Clements Worldwide has been protecting

international organisations from the perils of catastrophic events

while operating overseas. We provide coverage for emergency

evacuation, kidnap and ransom and commercial property

protection, so that you can continue your mission with peace of

mind.

Protect your personnel and assets from unforeseen threats.

Don't wait to secure the right insurance protection for your

organisation.

Visit clements.com/middleeast or call +971 (0)4 3 75 4758

NEVER LEAVE ANYTHING TO CHANCE

TAKE CLEMENTS WITH YOU

CAR | PROPERTY | LIFE & HEALTH | SPECIALTY & HIGH RISK

Washington, DC London Dubai |

SDD_IFC.indd 2 04/03/2015 14:11
---
SSD_Cover.indd 1 04/03/2015 18:20

VIEWPOINT

SOURCE

SUSTAINABLE DEVELOPMENT

SOURCE

SUSTAINABLE DEVELOPMENT

April 2015

COVER IMAGE: WWW.SHUTTERSTOCK.COM

April 2015

• Gender equality

Understanding how

it can help solve

food and nutrition

challenges

April, 2015

Publisher

Mohammed Rami

Mo.rami@mediawireglobal.com

Editor-in-Chief

James Hayes

James.hayes@mediawireglobal.com

Art Director

Jon Bonny

Jon.bonny@mediawireglobal.com

Picture Editor

Faye Bonny

Faye.bonny@mediawireglobal.com

Production

Joao Rami Hernandez

Production@mediawireglobal.com

Sales

Abdullah El Belguiti, Michael McCarthy, John Browne

Publishing@mediawireglobal.com

Commercial Director

Teresa Elizabeth Rami Yahyaoui

Info@mediawireglobal.com

SOURCE: Sustainable Development is distributed

to sustainable development professionals in sectors

including: finance, business, civil society, and local

leaders from public and private sector; governmental

and development ministries; military and civil defence;

multilateral agencies; Non-governmental organisations

(NGOs); scientific laboratories and research institutes;

senior personnel at United Nations member states

SOURCE: Sustainable Development is published by

Mediawire Limited, Unit 3, Merlin House, West Road,

Harlow, Essex CM17 9QH, United Kingdom.

+44 (0) 203 588 5900 http://mediawireglobal.com

Circulation and subscription enquiries to:

circulation@mediawireglobal.com

mw

Sustainable Solutions

• Water conservation

New strategic

techniques are key to

boosting agricultural

productivity

• Capacity building

Smart, pre-emptive

approaches for NGOs

to deal with disaster

more effectively

© Mediawire Limited UK 2015

Disclaimers: every effort has been made to ensure the accuracy

of this publication, neither SOURCE: Sustainable Development,

nor its contributors, accept any legal responsibility whatsoever

for consequences that may arise from errors or omissions, or

any opinion or advice that appears.

No part of the content of this publication may be copied,

scanned, or reproduced, stored in a retrieval system, or

transmitted in any form, or by any means, without the prior

written permission from the Publisher.

SOURCE: Sustainable Development is printed on responsiblysourced

paper stocks.

The mid-point in a decade is often seen as a time to pause for reflection, a chance to

review progress against set objectives, and re-set them if necessary. This certainly

applies for 2015: the year in which the Millennium Development Goals give way to

the Sustainable Development Goals offers a rare opportunity for people engaged

with humanitarian and sustainability programmes around the world to appraise

their plans and actions, and decide if they are still fit for the purposes they were

set-up for. Alas, they have precious little time to do so, in this world beset with an

unprecedented number of humanitarian emergencies, environmental challenges, and

human bellicosity. The demands being placed on the many different organisations

and agencies now intent on remediating those tragic zones, taking time out for

reflective analysis is not feasible. There's just too much that needs to be done – and

done yesterday.

Meeting the information requirement for sustainable development professionals

is one of the primary aims of SOURCE: Sustainable Development. The publication has

been created for the post-2015 international development sector, with special interest

in highlighting ways in which private sector engagement will drive innovation and

support the impetus to deliver on the UN Sustainable Development Goals as they are

agreed and implemented.

What is a sustainable development professional? Not an easy question to answer

with absolute assurance – but a demographic profile has emerged. It enfranchises an

increasingly broad range of skill-sets and competences from lawyers and diplomats,

medicos and nutritionists, to aid workers to logistical managers, entrepreneurs and

scientists. All these professional disciplines (and many others), are in some capacity

engaged in working toward a common set of aims – aims that will inform the editorial

foci of SOURCE: Sustainable Development going forward.

The achievements of the sustainable development sector should be better

recognised and celebrated. As prosecuted under the auspices of the United Nations,

sustainable development is of course a matter of global importance that has the

power to affect millions of lives for the better. Presenting key innovations and success

stories is an aim of this new publication. Sharing the fruits of experience and firsthand

knowledge – the sharing of professional expertise usually described as 'best

practice' – is another.

Sustainable development as a professional sector is also benefiting from a broad

base of qualified new recruits, as well as a volunteer base that is richly skilled and

highly-motivated. More people than ever before are pursuing careers that are shaped

– directly or indirectly – by sustainable development programmes and initiatives.

The principles and practices of sustainable development hold a political resonance

that has been widely recognised. Indeed, taking sustainable development ideas as a

'the central organising principle for the whole of government' is no new idea, but its

adoption has some way to go. However events unfold, SOURCE: Sustainable Development

will cover them.

James Hayes

Letter From the Editor

1

SSD_Eds Letter.indd 1 05/03/2015 10:01
---
CONTENTS

50

1 From the Editor

Time for change: 2015 is the year that the sustainable

development sector must recognise and assert its

professional identity, says James Hayes.

5 Foreword

The rule of law is an inseparable part of sustainable

development: it embodies the principles and institutions

that render justice – legal and social – and as such, it is

the foundation on which to build durable development,

believes Irene Khan, Director-General of the

International Development Law Organization (IDLO).

7 Foreword

Challenges associated with the new operating environment

for global humanitarianism call for a reaffirmation and

strengthening of core principles, insists Angharad Laing,

Executive Director of the International Association of

Professionals in Humanitarian Assistance and Protection.

10 Best Practice Profile: OCHA

There is much for the sustainable development profession

to learn from the ways in which the UN Office for the

Coordination of Humanitarian Affairs – OCHA – pursues

its aims and objectives, explains James Hayes, Editor-in-

Chief of SOURCE: Sustainable Development.

16 Interview

Gerhard Putman-Cramer discusses on the nature

of progress in humanitarian assistance, and explains

the rationale behind this year's DIHAD themes of

opportunity, mobility, and sustainability.

20 Youth and education

Helping young people to successfully make the transition

between their education and their employment prospects is

achievable when multiple parties join forces, finds Sustainable

Development Goals Fund Director Paloma Durán.

8 News round-up

Gender work gap cost 'now surpassing GDPs' says

ActionAid; Global Ocean Commission wants an 'ocean

SDG' to counter high-seas 'anarchy'.

UN PHOTO/JEAN-MARC FERRÉ

10

24

24 Interview

HE Shaima Al Zarooni talks about her focus on extending

awareness of the global humanitarian agenda into the

many other spheres of public life that she is committed to.

2

SSD_Contents.indd 2 04/03/2015 13:49
---
CONTENTS

56 Food security

At first sight, the factors that make gender equality and

women's empowerment a food and nutrition issue may

not be obvious – but the issues are closely interdependent.

By understanding how, we are better placed to promote

equality, social equity, gender equality – and women's

empowerment, writes Sonsoles Ruedas, Director of the

Gender Office at The World Food Programme.

UN PHOTO/MARK GARTEN

34

29 Digital technology

For anyone looking to invest in technology start-up

projects that are emerging in Africa, the risk levels may

seem daunting – but anyone with a passion for funding

entrepreneurial innovators should not be deterred, argues

Dr Loren Treisman, Executive, The Indigo Trust.

34 Cities and sustainable innovation

Smart city concepts can go beyond their original remit

and help create incubatory environments that encourage

and promote innovative sustainability at grass-roots levels,

reports Professor Martin Charter, Director of the Centre

for Sustainable Design ® .

40 Interview

Professor Mukesh Kapila shares his perspectives on the

nature of humanitarian progress, and on why the mix of

cultures between private and public sectors in the cause

of better aid relief is not necessarily something to be

concerned about.

62 Economic growth

Enabling the efficient and effective spending of public and

private funds for an array of development purposes has

been an important facet of Crown Agents' work for many

years. Senior Fund Manager at Crown Agents Defrim

Dedej looks at how challenge funds can help to strengthen

the private sectors of developing countries, and the

important considerations of their use

68 Impact, scalability, and sustainability

Bringing water and sanitation to 220 of Haiti's

earthquake-struck schools has not only re-established

their students' educational prospects, but also made a

quantifiable contributed toward community health and

well-being. Tariq Al Gurg, Chief Executive Officer at

Dubai Cares, tells the inspiring story, and explains the

factors behind Dubai Cares' success.

72 Sustainable tourism

When it comes to making the most of the opportunities

tourism brings without jeopardising sustainability, islands

– especially small islands – can find mutually-supporting

solutions that balance the needs of them both, finds

Dr Rachel Dodds, Director/Owner, Sustaining Tourism.

76 DIHAD Conference Guide

Your at-a-glance guide to the Agenda Sessions and

Speaker Details for the 2015 DIHAD Conference taking

place on 24th, 25th and 26th March in Dubai.

78 Contributors Profiles

SOURCE: Sustainable Development contributors represent a

wide range of expertise and specialist knowledge. Find out

more about them.

80 Events calendar

Conferences, exhibitions, and seminars that sustainable

development professionals will want to know about.

44

44 NGOs and capacity building

Capacity building is a vital element in taking a pre-emptive

approach to dealing with distress and disaster, explains

Martin McCann, Chief Executive Officer, RedR UK.

50 Water management

A changing climate will cause us to adapt our management

of water to new techniques and practices - techniques and

practices that can also contribute to greater productivity,

explains Peter McCornick, Deputy Director General,

Research, International Water Management Institute.

72

3

SSD_Contents.indd 3 04/03/2015 13:49
---
SSD_Khan_Foreword.indd 4 04/03/2015 19:34
---
FOREWORD

Law must prevail:

setting standards for the

bedrock of development

World governments are working to pindown

what has become known as the

Post-2015 Agenda. A blueprint for our world

over the next generation, this Agenda will

set out a series of commitments known as

the Sustainable Development Goals (SDGs),

with targets and indicators to measure

progress. There is strong consensus on some

goals, such as fighting hunger and eradicating

poverty, and less so on some others, such

as access to justice and the rule of law.

The rule of law trails a baggage of controversy.

Some governments see it as West-centric,

prescriptive, and irrelevant to development;

some others argue that it is too hard

to measure, and unsuitable as a development

target.

From the perspective of my organisation,

with both development and law embedded

in its very name, the rule of law is an inseparable

part of sustainable development. It

embodies the principles and institutions that

render justice – legal and social. As such, it

is the essential foundation on which to build

development, and to do so durably.

When the rule of law does not function

properly, inequality grows: when the law

does not protect against discrimination;

when opportunities are only open to a few

based on wealth and privilege; when corruption

and bribery thrive unchecked; when

the law is selectively applied for the benefit

of the powerful and against the poor; when

public goods are siphoned off by private

interests with total impunity.

Equality, equal protection and fair treatment

are fundamental principles of the rule

of law.

Take women and girls. In many countries,

the law, whether formal or customary, continues

to exclude and discriminate against

them. This is not only morally reprehensible:

it also deprives societies of wealth and skills;

it endangers food security; and it has adverse

effects on the health of nations. This is not

rule of law, but rule by law. Properly understood,

the rule of law upholds the universal

values of human rights, and far from hampering

development, strengthens it.

Or take business and economic growth.

The rule of law ensures predictability and

certainty, and by so doing, creates confidence

and promotes responsible investment.

By contrast, its absence opens the way to

corruption and predatory practices. Natural

resources are unlawfully exploited. Environmental

degradation follows. Climate resilience

may suffer. Entire communities may be

uprooted or destroyed.

By setting the standards and institutions

for equitable development and providing

avenues for redress when rules and regulations

are breached or rights are violated, the

rule of law promotes transparency, accountability

and inclusive participation. Legal

empowerment strategies help the poor and

the marginalised to access justice and claim

their rights.

Far from being impossible to measure, the

justice sector – like any sector of governance

– can be evaluated, and people's ability to

access justice can be measured. Far from importing

'foreign' norms, the principles of the

rule of law can be applied in context-specific

ways that encourage local ownership.

Challenges vary from country to country,

and so do legal systems. There is plenty of

good practice to show that solutions can be

tailored, while the basic principles of the rule

of law remain the same: fair, predictable,

equally applicable, and equally accountable.

If sustainability is to become a principle of

global governance, the rule of law must be

the bedrock of development. The alternative

is a world of conflict and perpetual humanitarian

crises.

Irene Khan

Director-General, International Development

Law Organization (IDLO)

For more information about the IDLO, visit

www.idlo.int

5

SSD_Khan_Foreword.indd 5 04/03/2015 19:34
---
WFP/Joelle Eid

Join us

on Facebook

follow us

@WFP

Syria

Millions of Syrians are displaced

inside Syria or in neighbouring

countries. They face a 5 th year

away from home and their needs

continue to grow.

The World Food Programme is

helping them by providing food or

vouchers or e-cards to buy food.

Fighting Hunger Worldwide

If you would like to know how

you too can help, please visit:

www.wfp.org/Syria

SDD_Laing_Foreword.indd 6 04/03/2015 13:52
---
FOREWORD

Focus on the individual: responding

effectively and responsibly to

current and future crises

Global humanitarian need has increased

significantly in recent decades – in

terms of the frequency, severity, and scale of

natural disasters, as well as the number of

people affected by armed conflicts and other

situations of violence. Although the scale of

the global humanitarian response has also

been increasing, with humanitarian aid flows

having been on an upward trend for over a

decade, it has been in the context of an increasingly

complex humanitarian landscape.

The challenges associated with this new

operating environment call for a reaffirmation

and strengthening of core principles

and approaches, together with concerted efforts

to anticipate and address the questions

and concerns that arise among humanitarian

actors – both at the organisational and

individual level.

The International Association of Professionals

in Humanitarian Assistance and Protection

(PHAP) was established five years ago

in an effort to help address these challenges.

As a global and sector-wide professional

association, bringing together all kinds of

humanitarian actors at the individual level, it

is the first and only organisation of its kind.

The main strengths of PHAP's unique

approach and structure are three-fold: it

encompasses diversity, it is complementary

to existing organis ational initiatives, and it

offers long-term sustainable support to the

humanitarian community.

First, an individual-based professional

association is ideal for fostering cross-sector

exchange and understanding. The membership

already spans all the major 'divides'

in the humanitarian landscape: members

are affiliated with organizations that are

'Northern' and 'Southern'; large and

small; secular and faith-based; and local,

national, and international. They include

staff and volunteers of NGOs, the United

Nations, the Red Cross and Red Crescent

movement, academia, and governmental

agencies. They are based in field and headquarters

locations around the world.

They have different areas of expertise,

such as health, nutrition, logistics, child protection,

international law, communication,

and management. PHAP offers members

the opportunity to share experiences and

learn from others beyond their current

organisational affiliations, which improves

understanding among different actors and

enhances humanitarian capacity as a whole.

Second, the overarching mission of

PHAP is shared by many important initiatives

operating at the organisational level,

which PHAP through its individual-based

approach can support and strengthen.

Initiatives and organisational networks that

PHAP has worked with in various ways

include ALNAP, the developers of the Core

Humanitarian Standard, ELRHA, ICVA,

InterAction, the IASC's Transformative

Agenda, the World Humanitarian Summit,

and others. The membership of PHAP

has come together on multiple occasions

to provide their views and expertise, to

help clarify questions and issues that arise,

and to amplify the positive impact of these

organisational networks and initiatives.

Finally, the individual-based structure

of the association provides the basis for a

much-needed longer-term perspective in a

sector that operates – out of necessity – almost

exclusively in the short term. PHAP's

more than 2,500 professional members, and

more than 30,000 active contacts in its larger

practitioner network, are a truly global

community, with a majority based in – and

from – the Global South.

By joining and participating as members

of PHAP, people from all over the world

demonstrate their individual commitment

to effective, responsible, and principled

humanitarian action. With this broad base

of membership, PHAP is able to serve as

a long-term resource, steadily enhancing

humanity's capacity to respond effectively

and responsibly to current and future crises,

for years and decades to come.

Angharad Laing

Executive Director, PHAP

For more information about PHAP, visit

https://phap.org

7

SDD_Laing_Foreword.indd 7 04/03/2015 13:52
---
NEWS

News round-up

PHOTOREPORTER/SHUTTERSTOCK.COM

Gender work gap cost 'now

surpassing GDPs' – report

Gender inequality in work costs women

in poor countries $9 trillion each year –

more than the combined gross domestic

products of the UK, France, and Germany –

according to research report by international

development agency, ActionAid. The

inequality exists because women get paid less

than men, and do not attain the same levels

of employment.

The report, 'Close the Gap', calls for exploitation

of women's work to receive more

attention. Closing the gender pay gap and

gender employment gap could, dramatically

improve, women's lives, and as well as help

their wider communities, as women tend to

spend increased income on food, health, and

Women's care comes with a cost

Maltese singer and personality, Ira Losco

has been appointed as the island's goodwill

ambassador for sustainable development,

Malta Today has reported.

The 33-year-old artist has had a succession

of top-charting recordings, and competed

for Malta in the 2002 Eurovision Song

Contest, finishing second.

"I am very honoured by this title, and

I understand it is a great responsibility,"

Losco told an conference audience of

representatives of the Mediterranean

Commission for Sustainable Development

(MCSD). "I will... use my position to promote

sustainable development in my everyday life,

and to bring this concept closer to members

of society who might not be aware of how

[they] can make a change themselves."

education of their families. The report found

two main causes of the huge inequality in

the developing world.

First, across the developing world, women

do the most exploitative forms of work – jobs

such as garment makers, roadside hawkers,

and domestic servants – for the lowest wages.

The second causes is that women do not

get the same employment opportunities as

men, because they spend so much of their

time caring for children, the sick, and the

elderly – all work that is largely invisible and

totally unpaid. In poor countries women's

burden is increased by having to spend time

on collecting fuel and water, and taking-up

the slack when governments cannot fund

basic health and education services.

Women living in poverty have a vast mine

of untapped potential which could improve

their own lives and those of their families,

the report concludes: 'The costs of economic

inequality to women are not only monetary,

but also affect their life choices, leaving them

vulnerable to violence and other forms of

discrimination and exploitation'.

ActionAid is calling for concerted action

from governments, businesses and international

institutions to value women's work in

its entirety – from caring for families and

communities, to toiling long hours on the

factory floor.

'Food security and gender' – page 56

Malta music star Losco made sustainable development ambassador

Losco added: "Some concepts and

terminology [around sustainable

development] might seem complicated to

some people, and... it will be my task to

help society understand that they need not

necessarily be so confusing."

Maltese Minister for Environment,

Sustainable Development, and Climate

Change, Leo Brincat, told conference

delegates that it was important to have

a guiding strategy to inspire and direct

activities in sustainable development that can

benefit all stakeholders and members of the

public, both in Malta and the Mediterranean

region, according to the report.

More details at http://www.unepmap.org/index.

php?module=content2&catid=001017002

RAIN project wins prestigious

agriculture-for-nutrition award

A project that aims to improve under-nutrition

and mortality rates in children under

two years old that's been rolled out in

Zambia has won an international World

Bank award for its potential impact on

nutrition in developing countries.

The project, known as RAIN (Realigning

Agriculture to Improve Nutrition) – a

joint imitative been humanitarian NGO

Concern Worldwide and food processing

firm Kerry Group – was a winner in the

Harvesting Nutrition Contest awards

for bridging the gaps between nutrition,

agriculture and food security.

Launched in 2011 by Ireland's Minister

for Agriculture, Food and the Marine,

Simon Coveney, the RAIN project has seen

Kerry Group contribute €1.25m of the overall

€3.7m budget to the five-year initiative.

The World Bank, in collaboration

with the Global Alliance for Improved

Nutrition (GAIN) and Save the Children

UK, selected RAIN one of three

winning projects of the SecureNutrition

Knowledge Platform's 2013 Harvesting

Nutrition Contest for bridging the gaps

between nutrition and agriculture and/or

food security.

As the winner in the category entitled

'Potential Impact on Nutrition', the RAIN

project will receive a boost of $5,000

(approximately €4,465), and will also be

documented by a multimedia portrait.

Under-nutrition results in stunting - and is

the underlying cause of 3.5m deaths a year

ANTON_IVANOV/SHUTTERSTOCK.COM

8

SDD_News.indd 8 04/03/2015 13:53
---
NEWS

SDG investment in youth 'could help counter extremism'

ALASTAIR WALLACE/SHUTTERSTOCK.COM

Siemens wins technology partnership

for Triangulum project

Manchester City Council has selected

Siemens as the technology partner to The

University of Manchester, Manchester

Metropolitan University, and IT Solutions

provider, www.clicksandlinks.com, on the

pioneering European-wide smart city project

Triangulum, in a contract worth around

€6million over five years.

The project will aim to transform the

city's 'Manchester Corridor' student district

into a 'smart quarter.' Supported by

European Commission's 'Smart Cities and

Communities' Horizon 2020 funding call,

the Triangulum project will install a range

of energy management technologies in a

number of Manchester Corridor's buildings,

developing an autonomous energy grid that

demonstrates how the entire district could be

supplied with heat and electricity.

The Corridor covers some 243 hectares

and is home to The University of Manchester

and Manchester Metropolitan University,

and The Central Manchester University

Hospitals NHS Foundation Trust – making

the Corridor the largest academic campus in

the UK and also the largest clinical academic

campus in Europe.

Siemens will lead the energy-related aspects

of the Triangulum project in Manchester,

connecting-up a number of local energy

generation assets, electrical storage devices

and buildings, within the Corridor to a centralised

control platform. The Triangulum

project is led by Fraunhofer IAO with the

support of the Steinbeis-Europa Zentrum,

and involves 23 European partners.

Investment in social sectors as part of SDG

programmes would help address extremist

recruitment, outgoing United Nations

Resident and Humanitarian Co-ordinator

in Pakistan, Timo Pakala, has said. In a

newspaper interview, Pakala said that a

growing number of the country's young

people and out-of-school children were

becoming major challenges for its security

and economic development.

Appreciating the efforts of the federal

and provincial governments to come

together to work on education under the

Millennium Development Goals, Pakala

was also quoted as saying that the Pakistan

government was now making efforts to

overcome bottlenecks to send 6 million

children to school.

GOC wants 'ocean SDG' to counter

wave of high-seas 'anarchy'

The Global Ocean Commission (GOC) has

called for a stand-alone Sustainable Development

Goal (SDG) for the global ocean, in an

effort to catalyse the development of more

co-ordinated ocean management and the

restoration of ocean health.

It has warned that the high seas, the

portion of the global ocean outside national

jurisdiction that covers 45 per cent of the

planet's surface, and contains more than 50

per cent of its biodiversity, are suffering from

over-exploitation and ineffective management.

"The high seas are in a state of anarchy,"

said GOC Co-chair David Miliband.

"Regional stability, food security, climate

resilience, and a flourishing 'blue economy'

are all at risk. Fragmented and inadequate

management has pushed ocean systems to

the point of collapse – a stand-alone SDG

for the ocean can deliver integrated and

holistic management across the whole ocean

system."

Miliband adds: "Healthy oceans must be

at the centre of the global sustainable development

agenda post-2015. SDGs present an

opportunity to recognise ocean threats, and

"Moving on to the SDGs does not

[now] mean that challenges aren't there,"

he told The Express Tribune last month.

"You cannot have sustainable economic

development unless you have well

educated, well nourished, and healthy

population. There is no shortcut to

development."

"If I look at the trends from 2010,

disasters have taught the country a lot," he

says. "There is a positive trajectory in the

capacity of the country's response."

Pakala added that the safe return of

the 1.6m displaced population remains

a major challenge for Pakistan, and the

UN was working with the government of

Pakistan to find a sustainable solution to

the displacement issue.

Miliband:

high seas are

in a state of

'anarchy'

to galvanise efforts by governments and civil

society – including the private sector and

NGOs – to work together in pursuit of targets

and indicators that are bold, ambitious,

and pragmatic."

The GOC – an independent international

body addressing ocean health and high seas

governance – was created to propose solutions

to address the principal threats facing

the global ocean, including acidification,

illegal and destructive fishing, overfishing,

plastic pollution, and inadequate governance.

It will publish proposals for reform in

mid-2014.

9

UN PHOTO/ESKINDER DEBEBE

SDD_News.indd 9 04/03/2015 13:53
---
BEST PRACTICE PROFILE

Dealing with a

new world disorder

There's much for the sustainable development profession to learn from the ways in

which the UN Office for the Coordination of Humanitarian Affairs – OCHA – pursues its

aims and objectives, explains James Hayes, Editor-in-Chief, SOURCE: Sustainable Development

Implicit in the broader realisation of the

Millennium Development Goals is the need

for the many agencies and organisations involved

in achieving them to base their efforts

on exemplary organisational techniques and

strategy, and the application of the most upto-date

methods of situation management.

Governmental – and non-governmental

organisations, humanitarian bodies, and

charitable agencies, et alia, have in recent

decades adopted many techniques from the

worlds of business and commerce in order

to bring improved performance (and help

recruit personnel from the private sector), but

have also built upon this with their own direct

experience and sense of professionalism.

The term 'best practice' is overused in our

public discourse, but is useful in denoting the

way in which professionals working in any

sector can benefit from a knowledge of the

working methods of the successful entities in

10

SSD_Best Practice.indd 10 04/03/2015 13:53
---
BEST PRACTICE PROFILE

OCHA chief Baroness Amos's public

profile ensure that her organisation's

concerns are communicated to those it is

working with - and seeking to help

their given field of expertise. In the humanitarian

field, the UN Office for the Coordination

of Humanitarian Affairs – OCHA – is

a 'market leader', and there's much to be

learned from the methods and procedures by

which it pursues its objectives.

OCHA has tremendous asset in being

helmed by Baroness Valerie Amos. The

opening months of 2015 proved exceptionally

busy ones for UN Under-Secretary-General

for Humanitarian Affairs and Emergency

Relief Co-ordinator, to give the OCHA chief

her full job title.

The year opened with an unprecedented

number of emergencies raging on the

humanitarian aid global horizon, caused by

a range of natural- and man-made disasters.

The statistics for any one of these troubled

regions continue to update their shocking

news. At the beginning of January, by the

OCHA's estimation, there were some 78

million people in 31 countries requiring humanitarian

support just to survive on a daily

basis. Last year was dominated by the three

emergencies that have claimed the highest

of priorities – those in Syria, South Sudan,

and the Central African Republic. These

and other humanitarian events unfolded

alongside protracted crises in Yemen, Sudan,

Somalia, the Sahel, the Democratic Republic

of the Congo, and Afghanistan, and many

others.

The challenge facing the OCHA and its

many partners and affiliates (working in

home countries and 'in the field' in response

to these emergencies) is not only of massive

scale, but also of escalating and exasperating

complexity. As the OCHA's 'Strategic

Plan 2014-2017' explains, such multifaceted

catastrophes – and again, these include

both the forces of nature and the forces of

arms – are causing even greater burdens

for humanitarian operators. "The effects of

climate change, environmental degradation,

economic inequality, population growth, political

unrest, and migration, have weakened

community resilience in many countries,"

the plan's authors report. Protracted and

recurring emergencies, they add, are creating

groups of people for whom crisis is 'the new

normal', and this phenomenon is "making

humanitarian case-loads harder to define".

In addition to the making additional demands

on aid organisations, these malevolent

trends are making, in terms of funding

and resources, co-ordination and delivery,

there's been an upsurge in threats aimed

at front-line humanitarian personnel. The

ferocious nature of much of civil warring –

where armed militias are actors in conflicts

that pay no heed to international law, national

governance, or the basic tenets of human

decency – mean that aid workers and their

local partners in field operations are increasingly

targets of attack.

In the face of this escalation of disastrous

incidents, the role of OCHA has become

even more prominent, and the scope for it to

demonstrate even greater leadership has become

more acute. The OCHA is the part of

the United Nations Secretariat responsible

for bringing together humanitarian actors

▲

11

SSD_Best Practice.indd 11 04/03/2015 13:53
---
SYRIA

EMERGENCY

APPEAL

Scared and exhausted

Fleeing for their lives

Learn more about their needs

www.unhcr.org/syria

SSD_Best Practice.indd 12 04/03/2015 13:53
---
BEST PRACTICE PROFILE

Aid workers and

their local partners in

field operations are

increasingly the targets

of violent attack.

– be they charities, humanitarian assistants,

or aid suppliers, say – to ensure a coherent

response to emergencies. OCHA also ensures

there is a framework, within which, each actor

can contribute to the overall response effort.

To be sure, the OCHA is much more than

that in its many activities and programmes;

and its structure and organisation, its principles

and philosophy, provide a strategic blueprint

for best practice that contains much that

could be adopted by – or prove inspirational

to – those professionals engaged in the delivery

of Sustainable Development Goals (SDGs).

As the figurehead of OCHA, Baroness

Amos's position empowers her to cast the

most authoritative perspective on many of the

humanitarian challenges that the world faces

in this pivotal year when progress toward

SDGs starts to gather pace. The OCHA's

mission now, she suggests, is nothing short of

helping to set the agenda for future humanitarian

action. Amos's declarations can serve as

a focal point around which much of the sustainable

development sector can take bearings

for its future challenges.

Telling it as it is

Amos's enhanced status is perhaps best

illustrated by two speeches she made earlier

this year, which evidenced her ability to

encapsulate the many jarring aspects of the

humanitarian world-view in a style that is

lucid and hard-hitting.

Baroness Amos and UNESCO

Special Envoy Forest Whitaker

called for peace while visiting

South Sudan in February

In the first, delivered on 13th January, as

part of of the Sorenson Lecture series in

New York, she told the Council on Foreign

Relation that the world is seeing a "convergence

of global trends which is increasing

the risk of major crises, as well as their scope

and complexity... Conflict and complex

emergencies drove over 75 per cent of

humanitarian response needs [in 2014], and

most of the conflicts we are responding to

have implications far beyond their borders."

This knock-on effect, particularly when it

occurs in neighbouring nations in the same

region, can have significant deleterious impact

on countries not directly involved with

the initial conflict or disaster. "The crises in

Iraq and Syria have consequences across the

whole of the Middle East and beyond," said

Amos. "The fall of Moammar Gaddafi in

Libya led to major insecurity, and the spread

of weapons across West and Central Africa,

the impact of which is still being felt."

Perils of mission creep

Humanitarian actors are increasingly being

called on to deal with the consequences of

crises that "essentially have their roots in a

complex set of interrelated factors" Amos

continued, citing poor governance, political

paralysis, underdevelopment, rising levels of

poverty, and inequality; and these negative

dynamics are, in many countries, "overlaid

by the growth of terrorist and radical armed

groups, and [other] challenges to democratisation,

which create further instability".

Force for change

The nature of these remarks and others

made since being appointed to her position

in 2010, indicate how far Baroness

Amos can be credited with having been a

profound influence over how the OCHA

has adapted to such changed circumstances,

and to a shift in the core expectations

being placed upon it and its partners. Amos

has also used her role to voice widely-held

frustration at the failure of governments,

international organisations, and other

political agencies in finding even partial or

temporary solutions to the tide of strife that

globally confronts us on a daily basis – if

only in our newspapers and on our TV

screens.

Later in her Sorenson Lectures address,

Amos described 2015 as set to become "a

particularly critical time when the world is

grappling with a series of challenges which

are bringing us closer together and pushing

us wider apart". Amos holds a position –

arguably a unique position – to publicly

raise questions over how, at a time when

many are seeking to redefine the role of the

nation state, of governments, and of the

United Nations itself, and given the complex

set of challenges we are facing, we are

also debating searching questions about the

nature of terrorism, security, freedom of

speech and religion; the limits (or otherwise)

of press freedom; tolerance, racism, inequality;

the impact of social media and the

Internet; the lack of connectivity between

people and cultures, and – most poignantly

– the quality of global leadership.

That sounds like a lot to include in a single

sentence; but an all-encompassing purview

is essential if the nature of the complexity,

and the inter-relatedness of its causes, is to

be comprehended constructively.

Furthermore, a comprehensive understanding

of these 'back-story' issues is essential,

Amos maintains, if we are to stand

a chance of moving away from the (essentially)

fire-fighting model of humanitarian

aid and developmental assistance, and progress

toward programmes that predictively

and pre-emptively tackle root causes that,

▲

13

SSD_Best Practice.indd 13 04/03/2015 13:53
---
BEST PRACTICE PROFILE

With an escalation of disastrous

incidents, the role of OCHA has

become even more prominent, and

the scope for it to demonstrate

even greater leadership has

become more acute.

left unchecked, will lead to future human

tragedy, be it from societal disharmony or

environmental imbalances.

Baroness Amos's concern over this issue

was perhaps at its most pointed in the 3rd

February address she gave in Budapest to the

World Humanitarian Summit. During this

two-day event, representatives from national

governments, regional bodies humanitarian

and development organisations, academia,

civil society groups, and the private sector

discussed how to reshape aid to improve the

response to critical humanitarian events.

"Year on year, humanitarian needs are

outstripping our capacity and the resources

available to us to respond effectively,"

Amos warned. The situation is no longer

one of providing aid to contained numbers

of displaced civilian refugees or the victims

of cyclical storms and floods that will, in

time, pass and hopefully return to something

resembling normality. "Now, nearly 80 per

cent of our work is in countries and regions

affected by conflict – countries where active

zones of conflict, proliferation of armed and

terrorist groups, and [other] parties to the

conflict combines with other factors, producing

complex operating environments."

The scale of the challenges is immense, but

Amos's closing message was that many of them

can be addressed with greater co-operation –

and by informing our responses evaluations with

an abiding and genuine sense of honestly. ■

SOURCE: Sustainable Development Best Practice file: UN Office for the Co-ordination of Humanitarian Affairs

UN PHOTO/FARDIN WAEZI, UN PHOTO/ISAAC GIDEON, WWW.SHUTTERSTOCK.COM

OCHA OFFICIAL DECLARED MISSION

OCHA is the part of the United Nations Secretariat

responsible for bringing together humanitarian

actors to ensure a coherent response to

emergencies. OCHA also ensures there is a

framework within which each actor can contribute

to the overall response effort. Its mission is to

mobilise and coordinate effective and principled

humanitarian action in partnership with national

and international actors in order to alleviate

human suffering in disasters and emergencies;

advocate the rights of people in need; promote

preparedness and prevention; facilitate

sustainable solutions.

Open strategy, defined aims,

achievable objectives

The OCHA is committed to ensuring

that its guiding principles and aims are clearly

articulated into the public domain, and it's

'Strategic Plan 2014-2017', published last year,

should be required reading for anyone tasked

with directing programmes in the humanitarian

or sustainable development professions. This

40-page document is both an action plan and an

insightful study of key aspects of contemporary

world history.

Well-informed statements that

are routinely updated

The OCHA information management

systems are consistent and effective; this is a core

factor to its success. Organisations of all kinds in

the sustainable development sector should be

aware of the growing the growing importance

of digital information and communications

technologies – not as a means of disseminating

key messages to the wider world, and ensuring

that teams in the field are kept informed about

developments back at base and elsewhere, but

also for communications between co-actors in

the field. ICT is having a demonstrable effect on

humanitarian actions across a range of contexts,

from supporting platforms that enable the

monitoring and delivery of improved healthcare,

to tracking the movements of individuals acting in

risky locations. Increasingly, it will provide key tools

for validating and quantifying aid programmes,

and enabling them to be quickly modified in

response to changed circumstances, to deliver

better outcomes.

Lucid, cogent, well-informed

key messages

There are no shortage of assessments

and top-level surveys of the crises that beset our

societies around the world. In the same way that

the humanitarian aid sector is being influenced

by international media, in terms of a a connection

between response and coverage, organisations

such as international agencies, charities, and

NGOs, who are aligned with the Post-2015 sDGs

are learning how to deliver their key messages

more effectively. Baroness Amos's remarks are

lucid and well-researched.

Seek-out and benefit from

colleague/partner experience

OCHA is part of a wider, well-established

and very experienced organisation, and is well

placed to take advantage of the expertise that this

can put it in contact with. Many organisations –

in public and private sector – could boost their

efficiency and effectiveness by doing more to

extract value from the data that already existing

somewhere on the system, or by soliciting

intelligence from co-workers, contacts, or other

affiliates.

Facing-up to political realities without

adopting a political standpoint

This issue is already a tough one for

NGOs and agencies working on the ground. As

Amos has noted, humanitarian workers must be

impartial as they do their work, even though they

may be acutely affected by politic considerations

both locally, nationally and internationally. In this

context it is constructive to place greater emphasis

on the importance of international law and justice

as a benchmark that transcends political issues,

and to call upon governments to do their utmost

to ensure that the relevant laws are applied in a

compelling manner.

Technologically-informed speculation

While fully engaged and committed

to immediate priorities, the OHCA is

not blinkered by them. If Baroness Amos and

her teams are correct, there will be increasing

convergence between the humanitarian

assistance and sustainable development

sectors going forward. Successful pre-emptive

humanitarian programmes will reply on know-how

in predictive analysis involving a multi-disciplinary

approach to interpreting data from diverse sources

– meteorological data is an obvious example for

informing capacity building in areas vulnerable

to extreme weather. The OHCA's ideas remind

us that open-data initiative, for instance, makes

freely-available information that could usefully

shape future strategies.

Leadership that engages with policy

making and agenda setting

Baroness Amos's status means that

she has direct access to heads of state and

other high-ranking civil leaders, as well as

senior executives in the private sector. As a

public figurehead for the OCHA and other

groups she represents, her role is defined and

focused. It is, of course, essential that those

figurehead roles stay focused, and that their

roles and responsibilities are openly defined in

order to manage expectations that may arise

during the course of interactions with partners

and stakeholders, etc. The role of figurehead

can easily become diffused by 'over-exposure'.

Although they may serve as the public-facing

'face' and 'voice' of the body and ideology which

they represent, organisational figureheads must

be cautious of accepting too many invitations to

provide media comment or speak at events.

14

SSD_Best Practice.indd 14 04/03/2015 13:53
---
SPONSORED FEATURE

Reflections On CSR

By Beatriz Bayo

If we look back ten years, we can say that much

has changed in the world and also of course,

in business, and in great measures thanks to

corporate social responsibility (CSR). That does

not mean that CSR has changed the world, is

not even what it claims, but it has contributed to

a new business perspective, and in my view, a

more friendly one that goes beyond the purely

economic.

Today, it is hard to imagine a company that does

not integrate into the business strategy aspects of

CSR. In our organization we have always believed

in this sustainability model. A global organization

like ours that operates in over one hundred

countries and with great influence worldwide

through its supply chain has much to contribute

and great responsibility for the impact it has on

both people and the environment.

But social demands and increasing international

initiatives on human rights and environment have

worked for the commitment of companies to be

increasingly more solid and credible. In today's

world everything is governed by measurable

values, tools that allow us to quantify: balances,

risk analysis, indicators, etc. To such an extent, that

it seems that everything that can not be measured

is worthless. But in reality the true CSR is not

measurable but it is a behavior, internally within the

company and externally towards the stakeholders.

In the same way that companies seek ways to

improve the competitiveness, there is the need

to contribute to the positive development of the

environment, make commitments that favor the

impacts of our activities and that these provide a

socialy beneficial opportunity. It is essential to listen

and meet their demands and give a response that

satisfies them. We may not always succeed, but

that should be a daily challenge and the engine

that drives us to move forward.

Brands have the duty and the need to contribute

to social and environmental development through

tangible, innovative and collaborative actions

with shared value both for society, community,

consumers and of course, for the brand itself

because when companies took CSR efforts,

consumers responded with enthusiasm and

participation. For this reason, the communication

of these aspects is also critical: if a company

discloses information about its relevant social and

environmental issues, it provides a transparency

which gives greater confidence and credibility to

consumers.

Obviously doubts will arise, there are limitations

and mistakes but also there is the willing to

improve in this regard. Only then can a credible

policy can be settled, through an open dialogue

with groups of interest, focused on the people,

very clear and with the main goal of improving

progressively.

It is time to be optimistic. There are still

challenges ahead but progress is undeniable.

www.mango.com

15

SSD_Best Practice.indd 15 04/03/2015 13:53
---
INTERVIEW

16

SSD_Q&A_Gerhard Putman Cramer.indd 16 04/03/2015 13:54
---
INTERVIEW

Q & A

Gerhard Putman-Cramer

Director of DISAB for DIHAD 2015

Gerhard Putman-Cramer talks about the nature of progress in

humanitarian assistance, and explains the rationale behind this

year's DIHAD themes of opportunity, mobility, and sustainability.

SOURCE: Sustainable Development

How, in your view, has DIHAD developed in

terms of influence and significance during

the time that you have been associated with

the event?

Gerhard Putman-Cramer DIHAD is an

event that is now recognised in the region,

and well beyond, as an annual get-together

of all parties concerned with humanitarian

assistance and development, to jointly

review best practices, to exchange views and

experiences on topics of common interest,

and to establish effective partnerships in this

context.

SSD Some years ago in an address to

Organization of the Islamic Conference

(OIC), in your role as Deputy Director

UN Office for the Coordination of

Humanitarian Affairs, you said that much

greater international recognition should be

given to Muslim NGOs for the humanitarian

assistance these organizations and countries

have provided. Do you think that this

recognition deficit, so to speak, has been

corrected since then?

Gerhard Putman-Cramer Yes, Muslim

NGOs have increasingly gained recognition

for their most valuable efforts in the realm of

humanitarian assistance and development.

[This has come about] on account of the

intensification of their interaction with

international organisations and non-Muslim

NGOs, and also on account of the visibility

gained in fora, such as DIHAD.

SSD You explain in your DIHAD 2015

message that DISAB (DIHAD's Scientific

Advisory Board) decided to adopt Dubai's

EXPO 2020 theme, and specifically its

sub-themes 'opportunity', 'mobility', and

'sustainability', as its own themes. Can you

enlarge on why these themes have such

resonance for DISAB?

Gerhard Putman-Cramer From a

humanitarian and development assistance

perspective, this year's DIHAD will

endeavour to elaborate on these sub-themes

with an eye to pro-actively seizing the

'opportunity', further developing various

aspects of 'mobility', and contributing to the

essential 'sustainability' of achievements,

past and present.

SSD Let's take those sub-themes one at a

time. First, 'opportunity' – can you elaborate

on its resonance in this context?

Gerhard Putman-Cramer Opportunity is

to be found everywhere, every day; and yet

we have to identify and capture it. Our ever

more frequent innovations, in all fields, have

to constitute opportunities for the production

of enhanced structures, new instruments

and improved systems and mechanisms.

Importantly, we have to seize opportunities

to diminish the need for humanitarian

assistance!

SSD And 'mobility'?

Gerhard Putman-Cramer In regard to

mobility, we need free flows of knowledge,

competences, data, ideas, goods, and

services. We need efficient logistics and

transportation systems. In humanitarian

operations, we need access to those in need

of assistance, and the mobility to reach all

of them, quickly and effectively. That said,

crises also cause the forced mobility of

persons – who seek shelter, refuge, asylum

or simply better conditions elsewhere. The

reasons for this type of mobility (numbering

over 50 million internally displaced, refugees

and asylum seekers today, according to

UNHCR) have to be urgently addressed.

SSD That leaves 'sustainability'. You have

said that "Sustainability is what we wish for

our collective achievements, our objectives

and our goals. Development has little value

without it." Can you explain this further?

Are you suggesting that, in the context of

sustainable development, there has been a

tendency to place too much emphasis on

'development', and not enough emphasis on

the 'sustainable' aspect?

Gerhard Putman-Cramer It is not so

much that 'sustainability' has not been given

the required emphasis vis-a-vis development,

but more that development activities have

not always been planned in the appropriately

sustainable manner.

A culture of sustainability is crucial – be it

in regard to our environment or to our natural

resources, including water and energy,

of course. Much will be said and written in

2015, in various fora, on the sustainability

17

SSD_Q&A_Gerhard Putman Cramer.indd 17 04/03/2015 13:54
---
INTERVIEW

Opportunity is to be

found everywhere,

every day; and yet

we have to identify

and capture it.

of development objectives as we collectively

continue to 'create the future', endeavouring

to productively 'connect the minds' of all

concerned in this regard.

SSD How will these aims be explored at

DIHAD 2015?

Gerhard Putman-Cramer We will

capitalise on existing partnerships and

past discussions in our attempt to arrive

at a number of constructive conclusions.

Moreover, by bringing together international

agencies, governmental and nongovernmental

organisations, foundations

and charities, the media and academia,

the corporate sector, Red Cross and Red

Crescent Societies – as well as individual

practitioners and experts – we will try to

make valuable contributions to the ongoing

global discussions on development goals,

climate change, disaster reduction, and

best practices in the realm of humanitarian

assistance.

Besides being an educational platform, DIHAD also provides an opportunity for a variety of partners

to get together and become acquainted – or better acquainted – with each-other.

speaking, these organisations have become,

besides more numerous, also larger, more

experienced, better funded and, on that

account, more ubiquitous.

huge expansion over the years of the need

for humanitarian assistance – this specifically

in the context of unresolved 'complex

emergencies', some seemingly never-ending.

DIHAD

SSD So DIHAD is looking to improve the

delivery of humanitarian aid for this year,

2015 – what are its key strategies?

Gerhard Putman-Cramer Besides

being an educational platform, DIHAD

also provides an opportunity for a variety

of partners to get together and become

acquainted – or better acquainted – with

each-other, and to enhance knowledge

of each other's capacities. This means

that international organisations, NGOs,

foundations, charities, Red Cross and Red

Crescent Societies, et alia, are increasingly

cognisant of [their respective] mandates,

capacities, and resources.

This, in turn, enables all concerned to act

in a much more collaborative and co-ordinated

manner – which minimises both gaps

and duplication, and hence enhances the

overall humanitarian assistance effort and

efficiency of aid delivery.

SSD In the context of your own estimable

career and experience in the humanitarian

aid and sustainable development sectors,

what have been the most significant

changes to the role of non-governmental

organisations, and aid charities?

Gerhard Putman-Cramer Generally

18

SSD You once observed that the impact of

natural disasters is increasing because of

factor such as population growth, climate

change, and more extensive urbanisation. Is

there anything that technology-based tools,

such as computer-based predictive analysis,

can do to help us try and locate pre-emptive

aid relief to areas most vulnerable to these

kinds of adverse natural events?

Gerhard Putman-Cramer Much

can be done – and is being done – with

technology-based instruments, in terms

of disaster reduction and preparedness.

This is an issue that will be addressed in

Session 1 on the first day of DIHAD 2015

[session entitled 'Disaster Reduction and

Preparedness – opportunities', to be chaired

by Ms. Margareta Wahlstrom, Special

Representative of the Secretary – see

DIHAD Conference Programme guide on

page 76 of this issue of SOURCE: Sustainable

Development].

SSD Looking back on your career, what

would you say were the general or specific

developments in the history of humanitarian

aid that were perhaps least-well anticipated

by the sector?

Gerhard Putman-Cramer Possibly, the

SSD As the conference agenda for DIHAD

becomes confirmed, which of the speakers

are you looking forward to hearing and/or

meeting during the course of the event?

Gerhard Putman-Cramer All of them,

naturally!

Gerhard Putman-Cramer:

career briefing

LEADERSHIP ROLES: Ambassador, Permanent

Observer of the Parliamentary Assembly of the

Mediterranean (PAM) to the United Nations and

other International Organisations in Geneva; and

Director, DIHAD International Scientific Advisory

Board (DISAB) of Dubai International Humanitarian

Aid and Development Conference and

Exhibition (DIHAD).

He has previously held the office of Deputy

Director and Chief, Emergency Services Branch

for the Co-ordination of Humanitarian Affairs

(OCHA), Geneva, Switzerland

Mr. Putman-Cramer completed his Diplome

Universitaire en Santé Humanitaire through

the Centre européen de santé humanitaire,

Université Claude-Bernard after completing his

Postgraduate Diploma (Economics, International

Relations, Political Science, International Law and

Organizations, History), Diplomatic Academy of

Vienna, Austria.

You can read his DIHAD Message at http://dihad.

org/about-dihad/message.

SSD_Q&A_Gerhard Putman Cramer.indd 18 04/03/2015 13:54
---
SPONSORED FEATURE

Natural resource trading opportunities drive positive change

Conflict-free minerals delivered through the ITSCI Programme

What are 'conflict minerals'?

Many developing countries are rich in natural resources, a sector from

which earning and development opportunities are frequently lost

through poor management and corruption. The UN has also highlighted

concerns over the role that mineral trade can play in funding armed

conflict such as from cassiterite (tin), tantalite (tantalum), wolframite

(tungsten) and gold production from the Democratic Republic of the

Congo (DRC) and surrounding areas; the so called 3T&G 'conflict

minerals'. Other organisations also aim to encourage responsible conflictfree

supply chains with a key framework being the OECD Due Diligence

Guidance for sourcing from high risk and conflict areas.

Co-operative action to facilitate responsible trade

Since 2010 the ITSCI supply chain initiative has rapidly developed

from a small pilot to become the foundation of conflict-free 3T mineral

trade across the DRC, Rwanda and Burundi. ITSCI is a voluntary private

sector initiative understanding the importance of global markets and

open, business friendly trading opportunities, yet working hand in hand

with Government services and international (Pact) and local NGO's to

deliver capacity building and improved governance. ITSCI is a practical

mechanism developed to implement complex OECD due diligence

expectations in an accessible and appropriate manner for the small

businesses and artisanal miners of the African mining sector. This rule

based trading environment instils confidence and assures credibility thus

allowing conflict-free African minerals to access international markets at

fair prices.

Delivering results locally to access global markets

ITSCI has demonstrated the power of market incentive to create change in

the most challenging areas of the world. Even small miner co-operatives

in the remotest areas of central DRC have come to understand the

importance of responsible trading in order to maintain their market

and earnings. They are playing their part in this global mechanism of

information collection and exchange which also integrates technology

into activities of local communities and authorities. The knowledge that

wayward actions of police and security forces can create 'conflict minerals'

unacceptable to the international market brings a new focus to local

accountability and contributes to the objective of increasing stability and

peace.

Trade incentive as a driver to associated change

Aside from delivering responsible mineral trade, and encouraging industry

investment, ITSCI has indirectly created employment, improved earnings,

created opportunities for learning, and increased professionalism. The

programme is also reducing illicit trade and tax evasion, as well as

discouraging corruption and increasing mineral revenue transparency.

Stakeholders, including women and civil society groups, participate in

resolution of local conflicts through a committee process producing

effective results around the mining areas as a result of the highly valued

market access incentive.

ITSCI was developed and is managed by the global not-for-profit tin

and tantalum industry trade associations ITRI and T.I.C.

http://itsci.org email: itsci@itri.co.uk

ITSCI is an inclusive, sustainable, multi-stakeholder programme with a track record of global co-operation and achievement contributing to better

governance, human rights and stability. The programme currently supports more than 1,000 artisanal mine sites, providing a livelihood for around

75,000 miners, with a likely 400,000 dependents.

We welcome new donors and participants to help the programme expand and be part of this success

19

ITSCI Ad.indd 19 04/03/2015 13:55
---
YOUTH AND EDUCATION

Prioritising Post – 2015

youth opportunities

20

SSD_Youth and Education.indd 20 04/03/2015 13:56
---
YOUTH AND EDUCATION

Helping young people to successfully make the transition between their education

and their employment prospects is achievable when multiple parties join forces,

finds Sustainable Development Goals Fund Director Paloma Durán

According to the United Nations Fund

for Population Activities (UNFPA)'s State

of World Population 2014, there are more

than 1.8 billion young people in the world,

many of who find themselves in the disadvantageous

situation of not having access to

education, or of not being equipped with the

proper skills to prosper in the employment

market.

Another report, this time by United

Nations Educational, Scientific and Cultural

Organisation (UNESCO), Education For

All Monitoring report, Youth and Skills: Putting

Education to Work (2012), says that that many

adolescents of lower secondary school age

are out of school, and many others have limited

access to primary and secondary education

and employment opportunities. Poverty

has a negative impact on youth (a term used

here collectively), and creates obstacles in

obtaining basic education and technical skills

necessary to access decent jobs and acquire

skills necessary to live productive, healthy,

and enriching lives.

Secondary schooling is considered to be

one – if not the – most effective way to develop

the set of skills needed for work and for

life. It is in the transitioning from schooling

to finding job opportunities where young

people face the most number of obstacles.

This is where they encounter a lack of training,

and professional orientation services,

incentives to stay in school, and thus quality

employment opportunities are limited.

To survive in their communities, youth

finds itself choosing low-paying jobs over education.

This has led to governments, United

Nation agencies, development partners,

businesses, and civil society, to find new ways

of providing education and livelihoods opportunities

for youth: this is necessary if they

are to be able to provide for their families

while receiving an education and building

thriving societies. The Sustainable Development

Goals Fund (SDG-F) – an initiative

which expands on the previous experience of

the MDG (Millennium Development Goals)

Achievement Fund (2007-2013) – has been

working in creating livelihoods opportunities

for young people. We count with an

extensive experience of promising practices

of what can be done to promote inclusive

growth that creates livelihoods and education

opportunities for youth, especially in the

context of the new Post-2015 development

agenda.

Capacity building for youth

Determining the skill-sets necessary for

youth to thrive in its respective communities

calls for a multi-sectorial approach. Engaging

the communities, governments and

businesses creates windows of opportunity

for youth to apply the skills it learns in school

when they enter the job market.

The importance of quality education

(versus quantity), is essential to ensuring

that we can target outputs and indicators to

measure the results of youth programmes. In

fact, the tentative list of sustainable development

goals, targets and indicators, agreed by

the Open Working Group on SDGs, has put

youth at the very epicenter of sustainable

development.

Something that is clear from the SDG-F

experience is that the approaches that try to

bridge the efforts of the different stakeholders,

with a clear understanding of the needs

of the job market, community and private

sector needs and opportunities, will help us

to guarantee sustainable development for

young women and men. The importance of

integrating gender sensitivity guidelines in

such programmes is also key to bridging education

gaps between female and male youth.

To address this, for example, the SDG-F

has supported programmes in 15 countries

to improve young people's chances of

securing decent work, self-employment, and

entrepreneurial opportunities, as well as

promoting socially-inclusive development

and respect for youth's fundamental rights.

These initiatives have created community

▲

21

SSD_Youth and Education.indd 21 04/03/2015 13:56
---
YOUTH AND EDUCATION

Creating opportunities

for youth through formal

and non-formal education

is required to achieve

sustainable development.

employment services, encouraged new job

opportunities, promoted legal frameworks,

and tackled the issues around migration,

with new policies and awareness-raising

campaigns.

Engaging community Post-2015

There has been a growing awareness among

stakeholders of the potential role that youth

plays in the development process. Engaging

the community, governments, development

partners, UN agencies and civil society

organisations is key towards creating efficient

and effective strategies in tackling high youth

unemployment and dropout rates.

Private sector co-operation sparks innovative

exchanges of ideas, and promotes

entrepreneurship among youth. Engagement

with the inner-workings of commercial

organisations, for instance, can provide

inspiration for future drive. Education can

also be used as a vehicle to convey ideas that

improve communities, as youth acquires the

understanding of their role in a community.

It is for these reasons that empowering

youth is a priority in the new development

agenda, including the Open Working Group

Proposals for Sustainable Development

Goals[itals] outcome document, which outlined

the importance of education as a vehicle

towards achieving a global development

The importance of quality education is essential to ensuring that we can target outputs and

indicators to measure the results of youth programmes

agenda. It also enforced the needs for a cross

sectoral approach in achieving the SDGs.

By engaging all actors in the discussion,

we can create linkages between the education

youth receives, the needs of the

community and those who employ them.

There is now a greater understanding that a

great loss of potential can occur when youth

unemployment rates are high, as this phenomenon

creates an obstacle to the overall

development of a given region. So it is that

all parties stand to gain from the contributions

of an empowered youth.

The Sustainable Development Goals Fund

is the first cooperative mechanism created

to achieving the SDGs. Created under the

leadership of the United Nations Development

Programme with an initial contribution

Success story: the Philippines

With a long-standing tradition in youth

employment, the SDG-F supported a joint

programme in the Philippines that tackled

high youth unemployment and also youth

underemployment. Its priorities included

improving policy coherence and implementation

on youth, employment, and migration, through

full stakeholder participation and increasing access

to decent work for poor women and men though

public private partnerships, more inclusive basic

education and life skills, and career guidance,

including guidance on safe migration, vocational

training, and entrepreneurship.

In order to combat the low retention rates of

secondary students, the programme implemented

an education subsidy system aimed at increasing

youth participation and decreasing high education

drop-out rates. School fees, and a monthly

allowance, were paid, but the allowance was

based on school attendance. It also provided

Proudly proficient: graduates of a computer

hardware servicing training course

gender sensitivity guidelines in its curriculum

for public secondary education, and it engaged

the community and local stakeholders in the

importance of gender mainstreaming. Four Public-

Private Partnership (PPP) Fora were carried-out,

with the aim of increasing access to livelihood

opportunities for poor young women and men.

The results included 115 partnership agreements,

and 115 commitments made by public and

private sectors to provide on-the-job training and

post-training services for 2,000 youths.

Opportunities for youth to develop a specific

set of skills that aligned with the needs of the

job market are often limited, and in the case of

the SDG-F programme in the Philippines, this

issue was targeted by providing support to the

development of entrepreneurship training through

Career Pathways and Livelihood Education (CP-

TLE) courses at the secondary education level.

This training was also extended to teachers,

and teacher trainers and supervisors, in four pilot

provinces and 17 regions. The 2,000 youths

who were reached underwent career profiling for

technical vocational skills training, with 995 having

received vocational training.

22

SSD_Youth and Education.indd 22 04/03/2015 13:56
---
YOUTH AND EDUCATION

There has been a

growing awareness

among stakeholders

of the potential role

that youth plays in the

development process.

from the Government of Spain, the SDG-F

understands the importance of having progammes

with a focus on youth and gender.

The SDG-F implements multi-sectorial

approaches towards youth education and

employment that, to date, has proved to be

very successful. Two actual examples, in the

Philippines, and in Bosnia and Herzegovina

– highlighted in the panel box-outs elsewhere

in this article – bear out two important

lessons of this work. First, that it is necessary

to create opportunities while young

people transition from the school system to

the job market; and second, that successful

approaches should articulate the work of all

stakeholders.

Success story: Bosnia and Herzegovina

The multistakeholder partnership for youth

employability in Bosnia and Herzegovina is an

excellent example of multi sectoral collaboration.

Within this programme Government, United Nations

agencies, civil society organisations, and the

private sector, worked closely to ensure disadvantaged

youth would be provided with entry points

to the labour market while strengthening primary

and secondary education for youth.

Two thousand students from 188 primary

and secondary schools took part in the creation

of 142 small- scale business projects. Employment

opportunities were created as selected

students were able to present the results of these

projects to local community stakeholders, such

as businesses, with the aim of fundraising, and of

securing support for similar activities in the future.

The programme in Bosnia and Herzegovina

took advantage of incorporating a gender-responsive

policy and operational guidelines relating

to facilitating school enrollment and retention,

including disabled youth, Roma, and girls from

rural areas. It also created teacher modules trainings

packaging and competency-based education

modules for primary and secondary schools.

Students were taught the direct application of life

skills to their employment and income-generating

prospects.

Future directions

The SDG-F is in the process of launching

new programmes, and these will take

stock of the lessons learned in previous and

ongoing initiatives. Its programmes which

are now underway in Bangladesh and in

Sierra Leone, for example, are tackling high

unemployment and drop-out rates, creating

gender-sensitive curriculum and employment

guidelines and engaging key community

stakeholders to ensure sustainable results.

The joint programme in Bangladesh

incorporates non-formal education training

through the use of informal apprenticeship

to provide life skills to youth. It is a community-based

training for rural economic

empowerment, and is designed to be gender-mainstreamed.

This entails designing training courses to

promote the strategic interests of women,

and in increasing gender responsiveness of

training institutions, as well as guidance of

instructors, and the use of women instructors.

Youth employment forms one of the key

challenges in Sierra Leone, and its Government

has placed youth employment as a core

area of their agenda, which allows for an

alignment of guidelines for all stakeholders.

The programme will support diversification

in sectors that offer potential for job creation

and business opportunities. Strategic

public/private partnerships will be established

with regional and local businesses,

and with local councils, for risk-sharing and

resource-leveraging with focus on promoting

job creation and income generation for

youth and for women

Unemployed young women and men

(including rural communities) will benefit

from workshops, entrepreneurial training,

post-training support, mentorship, coaching,

business advisory services, seed funds (that

will help them gain skills); they will also have

the opportunity to acquire the knowledge

and the confidence to help them transform

their lives.

Stakeholder partnerships

These examples show clearly that creating

opportunities to youth through formal and

non-formal education is required to achieve

sustainable development. In order to make

the most of the experience gained and

lessons learned from the transition from the

MDGs to the SDGs, it is important to keep

youth as a priority in pushing forward the

development agenda.

All parties involved must continue to

bring awareness to governments, donor

agencies, and civil society – as well as the

private sector – of the key role that youth

can play in empowering communities and

contributing to local economies. As the

international community weighs-in on the

Post-2015 agenda, it is imperative for all

interested stakeholders to commit themselves

to supporting education programmes

that empower youth and the marginalised

around the world. Let us always remember

that the opportunities of 1.8 billion youth

are at stake. ■

Engagement with the inner-workings of

commercial entities can provide inspiration

for future drive

The Sustainable Development Goals Fund

(SDG-F) is a new development co-operation

mechanism created in 2014 by the government

of Spain and UNDP, on behalf of the UN system,

to support sustainable development activities

through integrated and multidimensional

joint programmes. It builds on the experience,

knowledge, lessons learned and best practices

of the previous MDG Achievement Fund,

which supported 130 joint programmes in 50

countries, while expanding its activities towards

sustainable development, a greater focus on

public-private partnerships, and updating its

operational framework to incorporate recent

advancements in development.

For more information about the Fund, go to

http://proposals.sdgfund.org

23

SUSTAINABLE DEVELOPMENT GOALS FUND , WWW.SHUTTERSTOCK.COM

SSD_Youth and Education.indd 23 04/03/2015 13:56
---
INTERVIEW

24

SSD_Q&A_Shaima Al Zarooni.indd 24 04/03/2015 13:56
---
INTERVIEW

Q & A

HE Shaima Al Zarooni

CEO, International Humanitarian City

HE Shaima Al Zarooni talks about her focus on extending

awareness of the global humanitarian agenda into the many

other spheres of public life that she is committed to.

SOURCE: Sustainable Development

You are well known as being a member of,

and involved in, quite a number of national

and international institutions and bodies. Can

you remind us of some of those?

Shaima Al Zarooni I was privileged to be

a member of various local and international

institutions [such] as the Executive Office of

UAE National Olympic Committee, Dubai

Free Zones Council, DIHAD Scientific

Advisory Board, Humanitarian Partnership

and Information Sharing Steering

Committee, External Advisory Council of

the University of Wollongong in Dubai,

Prestigious Judge on the 2013 and 2014 Hult

Prize Committee, Sphere Project Trainer:

Humanitarian Charter & Min. Standards

in Humanitarian Response, and I was a

mentor of Hamdan Bin Mohammed Student

Personal Development Programme.

SSD That's quite a schedule – and the

guiding principle between them is your

humanitarian work?

Shaima Al Zarooni Definitely, joining those

institutions is in line with my humanitarian

work main objectives. And it maximizes the

role of the International Humanitarian City

(IHC) and its engagement in various sectors

– which enhances partnership, collaborations,

and humanitarian efforts on a local and an

international level.

SSD In your closing remarks to the 11th

DIHAD in March 2014 you said that one

of the key points that the event highlighted

was how women can take the lead in solving

major social and economic problems,

especially in areas like agriculture, nutrition,

and small-scale businesses. How do you

think that aspiration has developed since a

year ago?

Shaima Al Zarooni I am inspired by

the leadership of UAE, and especially

HH Sheikh Mohammed bin Rashid Al

Maktoum, to 'Vice-President, Prime

Minister, and Ruler of Dubai. The UAE is

keen to empower women, and encourages

them to assume leadership positions in

various sectors. We in the UAE are keen to

find best solutions and methods to support

women, also to praise Emirati women's

achievements in the public sector, of which

they now make up 66 per cent of the

workforce.

SSD Another important point that you made

in your closing remarks last year referred to

the fact that a disabling outcome of conflicts

for women caught-up in them is that their

access to education becomes blocked. Could

you update us on any positive developments

that have occurred that are relevant to this

issue?

Shaima Al Zarooni Education is the most

important element in the development of

any nation, and women in particular are

the first to be affected by any conflict, being

less fortunate in underdeveloped countries.

To overcome this challenge, we need to

give more attention to the educational

development projects and ensure that it is

serving females equally.

During my last visit to the Syrian refugee

camps in Jordan, I had the chance to meet

smart and intelligent young women who

are keen to continue their education despite

all the challenges and lack of resources.

The UAE government is supporting several

educational programmes around the world

and we shall continue our work. According

to UNICEF reports, while most of the

Millennium Development Goals face a

deadline of 2015, the gender parity target

was set to be achieved a full ten years earlier

– an acknowledgement that equal access

to education is the foundation for all other

development goals. Yet recent statistics show

that for every 100 boys out of school, there

are still 117 girls in the same situation.

SSD What is the outcome of that statistic?

Shaima Al Zarooni Until equal numbers

of girls and boys are in school, it will

be impossible to build the knowledge

necessary to eradicate poverty and hunger,

combat disease, and ensure environmental

▲

25

SSD_Q&A_Shaima Al Zarooni.indd 25 04/03/2015 13:56
---
INTERVIEW

Media plays an important and

big role in shaping the future

of nations and definitely, it

has a great impact on forming

the humanitarian work

development and progress.

February 2014: Shaima Al Zarooni presents HE Ahmed Butti Ahmed, Executive Chairman of Ports, Customs and Free Zone Corporation, and Director

General of Dubai Customs, with the IHC Shield and a Letter of Appreciation, during an IHC delegation visit to Dubai Customs. The IHC Board of Directors

expressed their gratitude to Dubai Customs for its support and co-operation with IHC through facilitating customs transactions for IHC members, such as

UN organisations and international humanitarian organisations.

sustainability. And, furthermore, millions

of children and women will continue

to die needlessly, placing the rest of the

development agenda at risk.

SSD In January 2014 International

Humanitarian City launched, in coordination

with the United Nations High

Commissioner for Refugees (UNHCR) in

Dubai, regional training workshops on the

topic of 'Emergency Management'. Could

you tell us something more about how that

initiative has structured itself, and how it has

progressed?

Shaima Al Zarooni The International

Humanitarian City is proud to join hands

with the UNHCR in augmenting the Gulf

Co-operation Council region's emergency

capacity. With various humanitarian crisis

26

reaching an exceptional level, and crises

elsewhere around the world, there is an

increased urgency for comprehensive and

effective training in emergency response

management. Holding the training session

in Dubai is a critical step that reflects the

Gulf Co-operation Council's commitment

towards the international humanitarian

response.

Upon completion of the training, the

participants are able to respond to international

emergencies with increased capacity,

apply key emergency standards and indicators

in emergency operations planning and

implementation, manage personal and team

security on disaster and humanitarian crisis

sites and function successfully with other

international humanitarian actors within

humanitarian clusters and international

emergency response standards.

SSD How is the workshop structured?

Shaima Al Zarooni The workshop is

structured based on the UNHCR's longstanding

training exercise held at regular

intervals throughout the year in Germany,

Norway, Sweden, and will be commencing

later this year in Senegal. The UNHCR has

fielded specialist trainers from its Global

Learning Centre in Budapest to manage

the exercise as well as experienced resources

from Amman, Beirut, and Riyadh to support

the training.

SSD Is formal training in various skills for

aid workers generally an area that may have

been under-resourced in the past?

Shaima Al Zarooni International

SSD_Q&A_Shaima Al Zarooni.indd 26 04/03/2015 13:56
---
INTERVIEW

Until equal numbers of girls and

boys are in school, it will be

impossible to build the knowledge

necessary to eradicate poverty and

hunger, combat disease, and ensure

environmental sustainability.

Humanitarian City is keen to enhance

the capabilities of the international and

local humanitarian workers through

utilising the exceptional platform provided

by the International Humanitarian City

community, where international and local

experts exchange experiences, knowledge

in emergency response implementations,

and explore potential collaborations and

partnerships.

The International Humanitarian City's

strategy launched recently in January 2015

includes an important pillar, 'Connect:

Humanity', with an aim to position the International

Humanitarian City as a leading

organiser, facilitator, and host of annual

regional and world humanitarian events.

Also, the International Humanitarian City

launched the World Humanitarian Forum

which will be held in September, every two

years, in the UAE.

SSD Digital technology is obviously a vital

element in organising aid. Are you able

to say something about its importance

to the implementation of International

Humanitarian City's four strategy pillars?

Shaima Al Zarooni Through 'Innovate:

Humanity' pillar, the International

Humanitarian City shall create a 'think-tank'

for the humanitarian sector, develop global

online humanitarian portal, and support

start-ups focusing on innovations applicable

to humanitarian aid, in order to position

International Humanitarian City as a global

centre of research, development and thought

leadership in the humanitarian space.

There will be a global online knowledge

and experience sharing portal, innovation

labs to drive entrepreneurship in line with

Dubai plan 2021, and the smart city.

SSD In February 2014 the International

Humanitarian City's board of directors

expressed their gratitude to Dubai Customs

for its support and co-operation with the

International Humanitarian City through

facilitating customs transactions for

International Humanitarian City members

and partners. Clearly, such bodies have a key

role to play in ensuring that humanitarian

aid is transported expediently, and that aid

consignments comply with the necessary

regulations, so that delays are minimised

– and that's hard work. Stakeholder

partnerships are clearly important in this

respect.

Shaima Al Zarooni There are several local

partners who play big role in supporting

the International Humanitarian City work

and its valuable members' operations – in

particular, those run from UAE and Dubai.

Those partners comprise a large number of

federal and local government departments

and institutions. The International

Humanitarian City's partnership with

the different stakeholders maximises the

facilitations given to the International

Humanitarian City members to deliver aid

as fast as possible with less cost. I take this

opportunity to extend the International

Humanitarian City's gratitude and

appreciation to the leadership of the UAE

who leads this inspirations and to all our

partners who support the humanitarian work

and its efforts.

SSD In 2012 International Humanitarian

City signed a memorandum of

understanding with the Dubai press club

as part of a partnership to support and

enhance humanitarian journalism as a

media genre. How is the impact that the

mainstream media has on humanitarian and

development programmes changing?

Shaima Al Zarooni Media plays an

important and big role in shaping the future

of nations and definitely, it has a great

impact on forming the humanitarian work

development and progress. Whether we

are in need to spread awareness about the

humanitarian crises and appeals to overcome

the challenges and needs of beneficiaries, or

to encourage media intervention to reflect

the reality and ensure active engagement by

the local community and public support.

SSD Last November, the International

Humanitarian City hosted the first

Humanitarian Action Rooted in Islam and

International Humanitarian Law (IHL)

Forum. Can you explain why you believe the

outcomes of this gathering are important for

the humanitarian aid sector, and also what,

for you, were the most interesting aspects of

the event?

Shaima Al Zarooni This forum is first of

its kind, it tackled the complementary rules

of Islam and International Humanitarian

Law (IHL). The forum also presented

the opportunity to increase participants'

awareness on our neutral and independent

humanitarian action in the region and

we were pleased to join the efforts with

International Committee for Red Cross and

the Norwegian Refugee Council to host such

an informative Forum.

Our unique platform at the International

Humanitarian City enables our members

and partners to utilise Dubai's unique

facilities for capacity building, information

sharing and dialogue about various relevant

topics in the humanitarian field. ■

HE Shaima Al Zarooni:

career briefing

PRINCIPLE LEADERSHIP ROLE: Chief Executive

Officer, International Humanitarian City, Dubai.

HE received her Bachelor Degree in Business

Sciences from Zayed University and two Master

Degrees – one in International Business from the

University of Wollongong, and the other in Public

Administration from the Dubai School of Government.

She also graduated from the Mohammed

Bin Rashid Centre for Leadership Development

in June 2011.

Prior to joining IHC in 2011, HE worked for the

Office of HRH Princess Haya Bint Al Hussein,

Wife of HH Sheikh Mohammed Bin Rashid Al

Maktoum, Vice-President and Prime Minister of

UAE, Ruler of Dubai. HE also worked in the Office

of HH Sheikh Mohammed Bin Rashid Al Maktoum,

Vice President and Prime Minister of the

UAE and Ruler of Dubai at the Ruler's Court prior

to joining the Executive Council of Dubai.

HE is a member of various local and international

institutions and bodies, among which are:

• Member of the Executive Office of UAE National

Olympic Committee

• Member of Dubai Free Zones Council

• Member of DIHAD Scientific Advisory Board

• Member of Humanitarian Partnership and Information

Sharing Steering Committee

• Member of External Advisory Council of the

University of Wollongong in Dubai

• Prestigious Judge on the 2013 and 2014 Hult

Prize Committee

• Sphere Project Trainer: Humanitarian Charter &

Min. Standards in Humanitarian Response

• Mentor of Hamdan Bin Mohammed Student

Personal Development Programme

27

SSD_Q&A_Shaima Al Zarooni.indd 27 04/03/2015 13:56
---
SPONSORED FEATURE

SADIK GULEC/SHUTTERSTOCK.COM

Accountability

in Somalia

Somalia, with an estimated population of 10 addressing its underlying causes – social, economic

Million, is a country emaciated with war. Its and environmental. Illegal fishing and waste

terrain is known to be challenging and significantly dumping are now seen as a new form of piracy,

dangerous. This is largely owing to high levels including by the new pirates themselves. While

of insecurity, poor infrastructure and a widely security in Mogadishu has improved as armed

scattered population. After more than two

confrontations moved to agricultural areas of Lower

decades,the international community recognized Shabelle and Middle Shabelle, as well as to the

a new federal government in 2012. However, regions of Lower Jubba, Gedo, Bay, Bakool and

insecurity still remains a grave threat in most Hiiran, the costs for these badly drought-affected

parts of country. This has thus, led to the country areas will be huge

remaining under the control of militant groups. The United Nations for years handed out tens of

Oxford's Multidimensional Poverty Index (MPI) millions of dollars to non-government organizations

reported from a 2006 survey that 65.6% of the involved in humanitarian work in strife-battered

population lives in severe poverty, lacking basic Somalia with "no assurance" that the money

services, including access to education. Moreover, was used for the intended purposes. In 2012,

the Fund for Peace report in 2012 indicated that Somalia received US$627 million in international

appalling as it was in the past, the situation is humanitarian assistance, making it the fourth

growing worse. Together with the rest of Horn of largest recipient. In 2014, the U.S. has contributed

Africa, Somalia is now facing another food crisis, $207.6 million, or nearly 38 percent of the total

and the politicized aid system is unable to meet donated so far. Overall, Somalia's consolidated aid

basic needs

appeal for 2014 is calling for $933 million.

Massive deforestations, concomitant shortages The dozens of organizations assess the needs

in rainfall, and the long-neglected impacts of prior to their interventions, as a practical way to

droughts are the main issues related to conflict and discover the needs of destitute people. However,

environment. Although the incidence of off-shore the findings are seldom used to refine objectives,

piracy has declined, it is generally recognized, develop new strategies or design new interventions

including by the UN Security Council that patrolling that are tailored to the needs of the targeted

the coast is not enough to fight piracy without people. It was reported that one rural villager,

addressing a United Nations team commissioned

in 2012 to conduct assessments in that area,

stated: 'Every month, two or three assessment

teams come to our village enquiring about our

needs. We tell them the challenges we face. They

disappear and do not come back. I wonder what

kind of needs these people look for that they are

not seeing in our communities.'

In view of this, large donors have recently

begun auditing the millions of dollars pumped

into Somalia. Baker Tilly Merali's, Certified Public

Accountants is an established firm of accountants

having being formed in 1983. Its head office

is based in Nairobi and it has other offices in

Uganda- Kampala, Rwanda- Kigali and recently

opened an affiliate office in Mogadishu - Somalia.

It is an independent member firm of Baker Tilly

International Ltd - the 8th largest accountancy and

business advisory network in the world. Baker Tilly

International is owned by its members, all of whom

hold an equal interest in the legal entity. Client

services are delivered regionally and nationally

by the members of Baker Tilly International, each

of which is a locally owned and managed as an

independent firm.

Baker Tilly Merali's conducts its Somalia audits

and other assessments keeping in mind the safety

of its staff with low profile, 24 hour armed security,

coupled with local and international intelligence

as they traverse the unfriendly region. Despite

numerous challenges such as limited movement,

threats on personal safety, presence of Al Shabab

and lack of governance structures, the firm has

created safeguard pillars within its structures to

ensure top quality on all assignments.

Baker Tilly Meralis partners and staff are aware

that Somalia is an intimidating and fearsome

country for auditors seeking to uncover the truth.

Managing partner, Bhandari says a massive 'bravo'

to his auditors who have done a great job in

Somalia and continue to do so! He adds that

accounting is not accountability and ultimately

it is up to the citizens of Somalia and those in

the diaspora to hold the government and the

international community to account. Developing

such a framework will take time.

Jimmy Merali

Practice

Development

Manager

Madhav Bhandari

Managing

Partner

Mahmud Merali

Group Executive

Partner -

EMEA region

28

Baker Tilly Merali Ad.indd 28 04/03/2015 13:57
---
DIGITAL TECHNOLOGY

Why it's worth taking a risk…

Around the world, some new business ideas succeed, and some don't. For anyone looking

to invest in technology start-up projects that are emerging in Africa, the risk levels may

seem daunting – but those looking to fund grassroots innovation should not be deterred,

argues Dr Loren Treisman, Executive, The Indigo Trust

As a grant-making foundation, The Indigo

Trust provides small grants – usually

in the region of £10,000-£15,000 – to

organisations which are using Web and

mobile communications-based technologies,

in demonstrably innovative ways, to bring

about social change in Africa. While it has a

special interest in the areas of transparency,

accountability, and citizen empowerment,

the Trust also supports the use of digital

technologies in other social sectors. These

include health, education, and agriculture.

Although technology can prove a tremendous

enabler when applied to social

transformation, it is not a panacea for all

social problems; but it certainly has the

ability to enable people to access, create and

share information at a cost, scale, and speed

which was never previously possible. This, in

turn, empowers people to make the changes

which they wish to see in their own lives and

communities.

When integrated into well-devised programmes,

technology can also help to

▲

29

SSD_Digital Technology.indd 29 04/03/2015 13:58
---
DIGITAL TECHNOLOGY

Successful grassroots projects

can have a tremendous impact

at a scale and cost that was

almost impossible before new

digital technologies arrived on

the African aid scene.

amplify the voices of marginalised communities,

and to strengthen offline mobilisation,

campaigning and development programming.

The Indigo Trust views itself as a

'high-risk' funder: providing small grants to

grassroots organisations across the African

continent allows social entrepreneurs,

community-based organisations, and technologists,

to pilot new ideas, with room for

trial-and-error to occur.

It is a risky business, and the Trust freely

acknowledges the fact that many of the projects

supported are unlikely to achieve scale

or financial sustainability; so, it is reasonable

to ask – why does it bother?

The risk-innovation equation

The answer is both simple and complex. A

high-risk strategy allows a thousand flowers

to bloom, in a manner of speaking. Encourage

people to test-out many ideas from many

sources, and while some will falter, those that

do succeed can have a tremendous impact at

a scale and cost that was almost impossible

before new digital technologies arrived on

the African aid scene.

Furthermore, some have the potential to

become financially sustainable, removing the

on-going reliance on aid that often results in

given projects falling to the wayside at the

end of their funding cycles.

While the Indigo Trust is happy to award

App specialist Pledge 51 has developed a

Nigerian Constitution App which has now been

downloaded more than 1,000,000 times.

Nigerian start-up Co-Creation Hub generates revenue through consultancy work and from

corporates for training, managing community relations, business advice, and corporate membership.

high-risk grants, it takes a portfolio approach,

so the risk is managed across lots of

different grants. This might prompt another

question: why does the Trust fund projects

that many would view as more appropriate

for commercial investment from venture capitalists

and 'angel' investors than a charitable

foundation? This time the answer is simple.

To begin with, few investors will come in

at the critical early stages from ideation to

prototype – and sometimes beyond. While

they are willing to take some risks, they are

seldom ready to take a leap of faith before

they are confident in their investment.

For social entrepreneurships, this consideration

can take time. So The Indigo Trust

comes in to fill the gap, giving entrepreneurs

some crucial breathing space to innovate,

experiment, and optimise their concepts so

that they are then ready for commercial investors

to scrutinise. Entrepreneurs may also

seek funding from larger donors when they

are ready to scale, or become sustainable via

partnerships with the public/private sectors.

Challenges to innovation

It is also worth mentioning that the pool of

venture capitalists and angel investors willing

to invest in African countries is very small.

The 'social tech sector' is still at a relatively

early stage in its development, and the continent

of Africa is viewed as risky to investors

for a variety of factors.

First, in many countries on the continent,

the policy environment, high costs, and

poor infrastructure, minimise the likelihood

of a project's eventual success. Second,

the tech for social change sector is in its

infancy; and there are few examples of

profitable, scalable solutions for them to

draw upon.

So investors entering this space need to

adopt new investment models and shift

their expectations in terms of returns on

investment. Many just are not ready to take

the plunge.

This is a key consideration in how Indigo

trust differs in its approach. It is often even

willing to take a chance to support driven

and talented individuals who have not

even established an organisation yet. For

example, three years ago the Trust awarded

a grant of £5,000 to Bosun Tijani and

Femi Longe to run a 'Tech in Governance

Hackathon' in Lagos, Nigeria. It brought

together techies, government officials, and

activists, to explore the ways in which technology

could improve governance in that

country, and empower citizens to hold their

leaders more to account.

The event attracted much interest on the

day, and it was clear that Bosun and Femi

▲

30

SSD_Digital Technology.indd 30 04/03/2015 13:58
---
SSD_Digital Technology.indd 31 04/03/2015 13:58

31
---
DIGITAL TECHNOLOGY

Investors entering

this space need to

adopt new investment

models and shift their

expectations in terms of

returns on investment.

really understood how to build community

and stimulate innovation. The concepts

being developed were certainly impressive.

They included iWatch Live, a platform

that enables citizens to track the budgets of

government projects, and to submit reports

monitoring their progress. Another concept,

called BudgIT, develops infographics which

explain critical elements of Nigeria's national

and state budgets in a simple format,

contributing towards more informed public

debate. More on them later…

Following the event, Bosun and Tunji

expressed an interest in establishing a technology

innovation hub in Lagos to support

social tech entrepreneurs, and they were the

right people to do it. Back in the UK, The

Indigo Trust was able to stimulate interest

from social investor Omidyar Network and

together, the organisations funded them to

set up Co-Creation Hub with $245,000.

Investing in such an unknown entity

might seem, on the face of it, rather crazy;

but it was certainly worthwhile. Walking

into the Co-Creation Hub space now brings

to mind Silicon Valley. Set on two floors,

with a roof balcony and funky furniture,

the space buzzes with activity. State-of-theart

facilities, high-speed Internet access, and

a stimulatingly collaborative environment,

have attracted young, tech-savvy talent. The

team support social entrepreneurs from

ideation through to incubation.

Impressively, they generated 40 per cent

of their income independently in the first

year, and they are aiming for 55 per cent in

the second. This has been achieved through

consultancy work and from corporates for

training, managing community relations,

business advice, and corporate membership.

The UK's Department for International

Development has paid them £30,000 for

innovation mapping, and tech companies

pay $3,650 each to pitch to the community

they have created.

They also managed to leverage free

Internet access from African telecommunications

services provider MainOne; and

they have been so successful that industry

is now leading an initiative to turn Lagos

suburb Yaba, where the hub is located, into

an 'innovation city' – a hotspot attracting

a range of stakeholders with adequate

resources and infrastructure where creative

ventures can thrive and prosper. Fibre-optic

cables are now being brought directly to the

hub, which should help attract more tech

players into the area.

Hi-tech start-ups are enabling Nigerians to become more involved in how their country is run

Success leads to success

So what about the projects they're supporting?

BudgIT, mentioned previously here,

has secured over $500,000 in grants, and is

already generating some of its own income

through providing infographics to banks, the

Extractive Industries Transparency Initiative,

and other clients.

Wecyclers, meanwhile, collect recyclable

waste from households on bicycles in

exchange for points which are managed

through mobile phones, and can be exchanged

for household products and other

goods. Wecyclers then brings the waste to

processing plants, which utilise it to make

products and pay the team for the raw materials:

a win-win situation for all involved.

To date, around $3,000-worth of prizes have

been collected, and it has generated $13,000

in revenue, and now generates $25-per-day

in profit.

Efiko, a mobile platform (based on Android)

designed to enhance learning through

fun-to-use social quizzes, already has over

10,000 users, and over 150,000 quizzes have

been played. And Pledge 51 has developed a

Nigerian Constitution App which has been

downloaded more than 1,000,000 times.

The Indigo Trust has invested in both enterprises,

and is naturally delighted with the

progress made so far: how often can a funder

say that an investment of just £7,000 has

gone on to reach this many people?

Business applications

It is not easy for projects to become financially

sustainable in the social space, but

models are emerging. Some are based on

end-user charging. Take iCow, one of the

best cases in point. It provides critical information

to dairy farmers in Kenya through

SMS. Farmers are willing to pay a premium

rate for the services.

This is because through using this service,

their incomes have increased as a result

of increased milk yields, and of decreased

disease outbreaks. The iCow service is now

scaling across the country with Safaricom,

Kenya's largest mobile network operator,

and adopting a revenue share model.

Organisations are also exploring 'freemium'

models, where users are able to pay

for additional services, generating income

32

SSD_Digital Technology.indd 32 04/03/2015 13:58
---
DIGITAL TECHNOLOGY

Impressively, they

generated 40 per cent of

their income independently

in the first year, and they

are aiming for 55 per cent

in the second.

through advertising, providing chargeable

services like consulting and data mining/

analysis, and through seeking impact investors

who pay for delivery against outcomes

which save governments money in the longterm.

Private-public-charity partnerships can

also provide a route to sustainability.

This is not to suggest that The Indigo

Trust, as a charitable foundation, expects all

the projects that it supports to be financially

sustainable. Many of the projects which it

supports fall into a category which economists

refer to as 'public goods and services',

an area which has experienced conspicuous

market failure. Although some examples of

projects focusing on transparency, accountability,

and citizen empowerment, do generate

income, these are certainly the exception

rather than the norm.

Models are being explored – such as the

consultancy services offered by BudgIT and

mySociety – which build websites to benefit

the civic and community aspect of people's

lives. Others, like the Lungisa platform

(created by Cell Life) enables citizens in

Khayelitsha to report problems in local service

delivery aim to outsource their service to

other non-governmental organisations.

Nonetheless, whether on the African continent,

in the UK, or anywhere else around

the world, it is likely that many transparency

projects will require on-going funding; and

in these cases, The Indigo Trust simply expects

teams to keep their operating costs low.

Grant proposal attributes

Given its somewhat unorthodox ethos in

respect to the projects its supports, what does

The Indigo Trust look for when reviewing a

grant proposal? Crucially, a proposed solution

must address a genuine need in society,

and it needs to be convinced that technology

is the right way to tackle the problem. The

trust wants potential grantees to demonstrate

a clear theory of change, that is, it

wants them to be able to demonstrate how

their solution will contribute towards social

change, and to show how they will measure

their potential impact.

Whatever form it takes, digital technology

on its own is rarely provides the total

solution. Tech platforms need to be integrated

into a well-devised programme. Techies

Wecyclers collect recyclable waste from

households on bicycles in exchange for points

which are managed through mobile phones

working in isolation often struggle to create

societal change. This usually requires close

connections to end-users, such as farmers

groups or community health workers.

Projects are also usually most successful

when the tech solution is built into a broader

campaign, and connected to an organisation

which is able to respond to queries or reports

through close connections to communities

on the ground – and ideally, to government

and other service providers.

It is important that grantees utilise technology

that is appropriate to their target users.

If a project is targeting rural farmers or

pregnant mothers, they are unlikely to have

the latest smartphones or broadband-speed

Internet access; so the use of SMS, USSD

(Unstructured Supplementary Service Data,

a protocol used by GSM phones to communicate

with the service provider's computers),

or Interactive Voice Response services

(IVR) from basic feature phones are most

appropriate.

In some cases, information does not

necessarily have to reach the whole population

to be impactful. For example, if the

information in a parliamentary monitoring

site – such as People's Assembly in South

Africa or Odekro in Ghana – is picked up

by journalists, other media, or activists, who

can amplify crucial messages, this can have

the desired effect of holding politicians to

account. In these such cases, smartphone or

Internet-based solutions may be appropriate.

The Indigo Trust also requires grantees to

be transparent and open about their work,

just as the Trust itself is. Ideally, it looks for

sustainable, replicable and/or scalable solutions,

or solutions with low operating costs.

And it admits to a soft-spot for local organisations

with small budgets, open-source, and

interoperable solutions, innovative approaches,

and two-way interactivity.

The Trust has often found that it is a passionate

individual that really drives a project

forward – someone who really understands

the sector and local context, and who is truly

dedicated to the cause. ■

For more information about The Indigo Trust,

visit http://indigotrust.org.uk.

33

THE INDIGO TRUST, CO-CREATION HUB, WWW.SHUTTERSTOCK.COM

SSD_Digital Technology.indd 33 04/03/2015 13:58
---
CITIES AND SUSTAINABLE INNOVATION

34

SSD_Sustainable Cities.indd 34 04/03/2015 13:59
---
CITIES AND SUSTAINABLE INNOVATION

Smart gets

Smarter

Smart city concepts can go beyond their original remit and help create incubatory

environments that encourage and promote innovative sustainability at grassroots levels,

reports Professor Martin Charter, Director of the Centre for Sustainable Design

Cities are major hotbeds of environmental,

social and economic problems, as we well

know; but they can also be catalysts for the

development of new sustainable solutions.

Cities are important, and are predicted to

become even more important: 70 per cent of

the global population will be located in cities

by 2050, compared to 50 per cent at present

(according to UN World Urbanisation

Prospects); at present, 60 per cent of global

GDP is from 600 cities (says consulting firm

McKinsey); and cities currently account for

70 per cent of greenhouse gas emissions

(according to UN Habitat).

The expanding city populations will

mean growing environmental impacts and

challenges, as well as, potential opportunities

related to the development of more

sustainable solutions for energy, water,

and food production/storage/distribution,

transportation, housing and waste (or

resource) management.

What, however, will the increase in

urbanisation mean for regions, towns,

villages and rural areas? What will be the

future role and influence of regional and

provincial governments (and other local

stakeholders) as populations migrate to

cities? And what will be the implications for

more sustainable economic development?

'Green Growth'

Post-2008, the concept of 'green growth'

has gained international support among

policy makers as a means of reconciling

the ongoing need for economic growth set

within environmental limits. Reports in

the late 2000s from the World Economic

Forum (WEF), United Nations Environment

Programme (UNEP), and the Organisation

of Economic Cooperation and Development

(OECD) helped to shape the development

of the 'green economy' and 'green growth'

policy agendas. This thinking has now

filtered down into a range of national,

regional, and city government initiatives as

illustrated in the recent report by the Global

Green Growth Institute.

To facilitate discussion, the Danish

government have established and host the

3GF (Global Green Growth Forum), an

annual gathering of policy makers, CEOs,

and other key decision-makers that debates

the evolving 'green growth' agenda while

acting as a platform for the development of

national and international public-private

partnership projects.

A number of cities are engaging in and

taking leadership on the 'green growth'

agenda and are embracing the associated

change. For example, Copenhagen is the

2014 European Green capital, was voted

number one in the European green city

index, and hosts the 3GF.

Climate change returns

Cities face major climate change impacts

and will increasingly need to implement

climate change mitigation and adaptation

strategies. In 2013, the Intergovernmental

Panel on Climate Change (IPCC) reported

that the evidence for global climate change

is unequivocal, and there are likely to

be an increased number of extreme and

unpredictable weather events.

Climate change is moving back into the

spotlight. In September 2014, there were

demonstrations in New York and London

over the need for action over climate

change in parallel to United Nations

Climate Change Summit in New York.

Coupled to this, the Hollywood movie

actor and environmental activist, Leonardo

DiCaprio, was appointed the United Nations

Messenger of Peace, and delivered a keynote

speech on the climate change imperative as

part of a strategy of raising the media profile

in advance of the 2015 United Nations

Framework Convention on Climate Change

(UNFCCC) in Paris.

November 2015 will be a pivotal date in

the climate change agenda as UNFCCC will

aim to decide on a legally-binding agreement

on greenhouse gas emission targets linked

to the 1997 Kyoto Protocol. City leaders are

likely to play a prominent role in discussions

drawing on lessons from initiatives such as

C40 and the Mayors Covenant that have

developed city-based learning networks

focused on reducing carbon emissions and

developing low-carbon innovation.

Related challenges

Alongside climate change, cities need to

tackle many other environmental challenges

– such as access to water and food, and

health issues associated with air and water

pollution. For example, over the last 12

months, Beijing has faced significant air

pollution problems, where on a significant

number of days, emissions have far-exceeded

World Health Organisation (WHO) safety

levels.

While not achieving the public visibility of

climate change, there is growing recognition

among policy makers, business, civil

society, and a number of innovative cities,

of the need to move away from the linear

'take-make-waste' economy, to a Circular

Economy model that aims to stimulate

improved resource efficiency and innovation

through, for example, re-manufacturing,

re-conditioning, refurbishment, and repair –

35

▲

SSD_Sustainable Cities.indd 35 04/03/2015 13:59
---
SSD_Sustainable PSIPW 7th Ad 21x27_6cm.indd Cities.indd 36 1

3/3/2015 04/03/2015 1:50:4513:59

PM
---
CITIES AND SUSTAINABLE INNOVATION

'Places and spaces' are

emerging where people

come together to make,

modify and/or repair

products – such as

consumer goods.

while at the same time creating jobs. Despite,

the financial cut backs that many cities in

western economies have faced post-2008,

there is a sense that sustainability has moved

back onto the agenda for many mayors.

'Turning point'?

Despite the financial challenges imposed

by the 'austerity age', are we now moving

toward a turning point in relation to the

sustainability of our cities? Are we now in a

time of major change driven by a range of

environmental, social, and economic issues?

And how significant will that change be?

Some cities may embrace the change and

transform (e.g., Copenhagen); and some may

react or rebel against it. Will responses to

the change be driven 'top down' (by policy

makers) or emerge 'bottom up' (by civil

society and citizens)? If we are to achieve

more resilient, resource-efficient, low-carbon

economies and societies, we will need to

break away from the conventional 'ways

of doing things' to the creation of new

models of – for example – consumption and

production.

Managing that change will not be

easy. Cities are large and complex 'living

organisms', and include many subsystems

and networks that are often unconnected.

To enable change, those subsystems and

networks will need to be connected-up more

effectively; and this may mean re-designing

city systems to bring together those groups in

different ways.

For example, building new platforms to

connect-up policy makers with inventors,

thinkers, designers, financiers, entrepreneurs,

and researchers to accelerate the creation,

development, and commercialisation

of sustainable solutions through labs,

incubators, clusters and new 'places and

spaces'.

Smart city motivators

Cities need to get 'smarter'. There has

been a growing discussion over smart cities,

and significant interest being expressed

in the concept by some. However, are

smart cities purely large-scale strategic

experiments created by a small number of

transitional corporations, rather than being

real catalysts for smarter, more sustainable

Seen here with UN Secretary General Ban Ki-moon, actor and environmental activist Leonardo

DiCaprio was appointed the United Nations Messenger of Peace

urban regeneration? At present much of the

smart city development is being driven by a

few key information and communications

technology (ICT) players – names such as

IBM, Cisco Systems, Schneider Electric,

and Siemens, in co-operation with a

number of major cities. For example,

Songdo in Korea, is a smart city that has

been built from scratch in partnership with

companies, including Cisco.

To develop smarter, more sustainable

cities will require partnerships between

a range of stakeholders, including

government, business, finance and civil

society. Smart cities, smart grid, and Big

Data (of more later) discussions should

dovetail and a key part of the focus should

be on how we establish secure and effective

systems to collect, analyse, and present

environmental, social and economic data to

enable improved decision-making.

The 'Internet of Things' (IoT) – the

network of physical objects accessed through

the Internet – linking-up data from vehicles,

buildings, smart meters, lighting systems,

etc., will expand the available pool of Big

Data. A standard definition of Big Data is

as an all-encompassing term for data sets

so large or complex – in terms of volume

or structure – that it becomes impractical,

if not impossible, to process using

traditional data processing applications.

Main challenges posed by Big Data include

analysis, capture, search, storage, transfer,

and visualisation.

In a number of cities – Barcelona is a

good example – major networks of sensors

have been installed throughout the city to

monitor, for example, recycling rates and

levels of air pollution.

Smart cities are a techno-centric concept,

and a key issue will be how we move

beyond technological discussions to explore

how civil society and citizens can engage

and involve themselves in the process of

making cities smarter, more sustainable, and

importantly, liveable. How cities democratise

smart city development to engender and

motivate citizen feedback (in terms of

ideas and information through online polls,

observations and sharing pictures through

social networks and mobile devices) will

again be key to helping to develop new

behavioural-, as well as, technological-,

solutions to environmental, social, and

economic problems.

▲

37

PM

SSD_Sustainable Cities.indd 37 04/03/2015 13:59
---
CITIES AND SUSTAINABLE INNOVATION

City leaders are likely to play a

prominent role in discussions

drawing on lessons from initiatives

that have developed city-based

learning networks focused on

developing low-carbon innovation.

Innovation toward sustainability

As part of the Big Data revolution, many

companies are starting to explore the use of

open innovation competitions to source ideas

and funding from 'the crowd'. A number

of major companies have started to utilise

crowd sourcing strategies related to the

development of more sustainable solutions

– they include big names like Unilever and

GE.

In parallel, a range of new initiatives are

starting to emerge from city governments

and civil society. These include 'hackathons'

and 'jams' focused on environmental or

broader sustainability issues. Hackathons

bring together computer software coders,

programmers and other creatives in intensive

sessions. They have been established by some

cities to hack Big Data datasets to produce

apps to improve, for example, recycling. At

the leading-edge of this initiative are New

York and Singapore, for example.

Such sustainability-focused hackathons

and jams – intensive 'open' innovation

collaborative workshops – have also been

organised by civil society groups from the

'bottom-up'. For example, last year the

Sensors are monitoring air pollution levels in

Barcelona - good news for the city's cyclists

38

Futuristic metropolitan

developments, such as

Chengdu in China, set

the benchmark for the

smart cities concept

Global Sustainability Jam documented

around 80 simultaneous events worldwide in

late November 2014.

There are indications that traditional

boundaries of innovation are starting

to dissolve, with the potential means to

innovate increasing from civil society

and citizens. So are we moving into

(or have already entered) a new age of

industrialisation – 'Industrialisation 4.0' –

that is based on information, collaboration,

and decentralisation. The advent of this

'new Industrial Age' appears to be driven by

a new spirit of doing and making, increased

access to information through Internet,

increased sharing of ideas and information

through social networking technologies,

increased access to Open Source designs,

availability of new 'making' tools such as

additive manufacturing (or 3D printing), and

new 'places and spaces' to enable individuals

to 'make, modify, and fix'.

New places and spaces

We may be starting to see the emergence of

a new Industrial Renaissance. As indicated,

these new 'places and spaces' are starting to

emerge in many cities where individuals are

coming together physically, face-to-face to

discuss, collaborate, experiment, and share

information and ideas to make, modify

and/or repair products – products such as

consumer goods. As indicated above, these

new 'places and places' are part of a process

of democratising innovation by providing

access to the knowledge and equipment for

prototype development and job production

outside of corporate research and

development laboratories and factories.

Fab Labs

Is this a threat or opportunity in relation

to the established order? At present, this

democratisation appears to be primarily

in the spirit of experimentation but there

some indications that some of these new

'places and spaces' may start to incubate the

development of new products and businesses.

Perhaps the most well-known example of

these new 'places and spaces' are the 'Fab

Labs' that emerged from Massachusetts Institute

of Technology in 2001, by providing

organised facilities to enable individuals to

fabricate products from digital images utilising

a portfolio of manufacturing equipment

including 3D printers and laser cutters.

As of 2013, there were 125 Fab Labs in

34 countries. Alongside Fab Labs, there has

been the explosion of Makerspaces around

the world, where organised facilities are

being created or 'opened up' for individuals

to network, design, and make products. For

example, the RDM campus in Rotterdam in

the Netherlands has established the RDM

Makerspace where citizens can rent the

use of equipment from the technical school

SSD_Sustainable Cities.indd 38 04/03/2015 13:59
---
CITIES AND SUSTAINABLE INNOVATION

for a fee during certain time periods. More

informally, Hackerspaces have also seen

significant growth from around 20 in 2005 to

1035 in 2014 (Hackerspaces, 2014 1 ).

Other recent research (Charter & Keiller 2 )

has indicated that individuals participating

in Hackerspaces are not just making and/or

hacking or modifying products, but are also

fixing or repairing products. For example,

members of the Reading Hackspace in

the UK reported that they repaired (and

therefore extended the product life) of

broken baby stroller by downloading an

Open Source design and 3D printing a

missing component (Charter, 2014 3 ). Repair

Cafés – informal groups that get together to

repair and modify products – have also seen

significant growth.

Since the inception of the Repair Café

Foundation in 2010, numbers have grown to

more than 700 Repair Cafés worldwide, with

the Netherlands accounting for more than

200, and Amsterdam around 15 (Repair

Café Foundation, 2014 4 ). A new group that

may start to emerge are hybrid community

businesses that combine facets of the above:

cafés for networking with repair workshops

for learning, incubators for making up-cycled

products with in-house retail outlets to sell

the products; a notable example of this is

Repair cafés are expanding in cities and towns

worldwide, with over 400 starting in 2014. For

example, after a series of test sessions, Farnham

Repair Café (FRC) was launched in February 2015

as a unique collaboration between a university and

civil society organisation (The Centre for Sustainable

Design at University for the Creative Arts and Transition

Town Farnham). FRC provides repair stations covering

a range of product categories: electronics, electrical,

mechanical; and bicycles; and has a 'creative zone' to

create art and products from waste.

Editor's background briefing: smart cities investment and the smart money

The promise of smart cities was already gathering

pace when United Nations Secretary General Ban

Ki-moon, opined that new ideas from smart cities

will point the way to sustainable urbanisation,

in a message issued to mark World Habitat Day

2009. In the intervening five years the smart city

concept has evolved apace with developments in

information and communications technology and

the connected built environment.

A general definition maintains that smart cities

use a mix of digital technologies to enhance

performance and well-being, to reduce costs

and resource consumption, and to engage

more effectively and actively with its inhabitants.

Key 'smart' sectors include transport, energy,

healthcare, water and waste. A smart city should be

able to respond faster to city and global challenges

than one with a simple 'transactional' relationship

with its citizens. "Smart cities are places where IT is

wielded to address problems [both] old and new,"

explains Anthony M. Townsend, author of the book

Smart Cities: Big Data, Civic Hackers, and the

The Goldfinger Factory in London, UK.

Futures and forecasts

The world is a very different place, in many

senses, compared to even five-to-ten years

ago. Change is the constant, and predicting

the future is an increasingly difficult exercise.

However, it is likely that cities will become

significantly more important and powerful;

but will cities become smarter, more

sustainable and liveable? As we see more

urbanisation, what will this process mean

outside of cities, in regions, in provinces, in

towns and rural areas?

The process is likely to mean that

knowledge, finance and other resources

may get more concentrated in major cities.

Cities may increasingly be designed to be

the 'hubs of innovation'; however, we may

increasingly see innovation arise bottom-up

from civil society and citizens in a new age

of experimentation driven by a new 'do it'

mind-set of Generation Z (people born after

the Millennial Generation or Generation Y),

increased access and sharing of information

and ideas, availability of new tools and new,

decentralised 'places and spaces' that enable

collaboration, making, modifying, and fixing.

That said, it is reasonable to ask: will

these trends be truly transformative or

Quest for a New Utopia.

Since then the perception that the smart cities

concept applies mainly to high-profile future

(and futuristic) builds – such as Songdo in South

Korea, Dubai in United Arab Emirates, Chengdu

in China, and Konza City in Kenya – has been

overtaken by developments in the smart built

environment sector. More recently there has

also been growing interest in applying smart

city principles and techniques to established

metropolitan areas that might be anything but

'smart' – a trend that has been described as

'retrofitting the future'.

Interest in smart cities is motivated by major

challenges, including climate change, economic

restructuring, the transition to online retail and

entertainment, ageing populations, and pressures

on public finances. It has sponsorship at the

highest levels: the European Union, for instance,

has assigned constant efforts to devising a

strategy for achieving 'smart' urban growth for its

many city-regions.

just be a peripheral grassroots innovation

movement that does not enter the

mainstream? Will cities become the nexus

for new developments or will innovators

increasingly feel that cities stifle creativity

with 'innovation hubs' breaking out of cities?

Will this new age of experimentation lead

to a more sustainable path (environmentally,

socially or economically)? Or not? There are

many open questions – and the book is still,

very much, open. ■

Professor Martin Charter is Director of the Centre for

Sustainable Design ® - mcharter@ucreative.ac.uk /

www.cfsd.org.uk.

References

1. Hackerspaces (2014), List if Active Hackerspaces

[online]. Available from http://hackerspace.org/wiki/

List_of_Hacker_Spaces [accessed on 20th May 2014].

2. Charter & Keiller (2014), Grassroots Innovation &

Circular Economy: A Global Survey of Repair Cafés

and Hackerspaces [online]. Available from www.cfsd.org.

uk/news/circular-economy-innovation [accessed on 27th

October 2014].

3. Charter (2014), Makers & Fixers: Circular Economy

& Grassroots Innovation: 10 Lessons Learnt [online].

Available from www.cfsd.org.uk/news/circular-economyinnovation

[accessed on 27th October 2014].

4. Repair Café Foundation (2014), Repair Café Locations

[online]. Available from http://repaircafe.org/locations

[accessed on 09/02/2015].

The smartening of urban centres around the

world shouldn't be easily confused with more

traditional concepts of urban regeneration and

renewal, although there are many overlaps. The

sustainability element to smart cities is, arguably,

the defining factor that takes urban renewal

toward a more comparable level of achievement.

Another compelling motive is that cities large and

small, smart and non-smart, will continue to be

both sources of environmental challenges, but

also continue to be critical revenue generator

and contributors to their respective gross national

products well into the foreseeable future.

Investment in smart cities and smart city projects

is also good news for economic growth prospects.

According to market analyst Frost & Sullivan, the

global smart city market will be valued at $1.565

trillion in 2020, with over 26 global cities expected

to be in a position to qualify as 'Smart Cities' in

2025. More than 50 per cent of these smart cities

will be located in Europe and North America.

James Hayes

39

UN PHOTO/MARK GARTEN, ANNA KOMMERS, NATSUMI ARAGAKI, IAKOV FILIMONOV/WWW.SHUTTERSTOCK.COM

SSD_Sustainable Cities.indd 39 04/03/2015 13:59
---
INTERVIEW

40

SSD_Q&A_Mukesh Kapila.indd 40 04/03/2015 13:59
---
INTERVIEW

Q & A

Professor Mukesh Kapila CBE

Professor of Global Health and Humanitarian Affairs / Executive Director,

Office for Global Health, University of Manchester, United Kingdom

Professor Mukesh Kapila shares his perspectives on the nature of

humanitarian progress, and on why the mix of cultures between

private and public sectors in the cause of humanitarian aid

provisioning can prove to be constructive

SOURCE: Sustainable Development

You are speaking on Day 2 of the DIHAD

2015 conference sessions - a keynote address

on the topic of 'Sustainability'. One of the

great advantages hosting the three-day event

in Dubai is that it affords opportunities

for contact with the city's entrepreneurial

atmosphere. In what ways do you think that

the spirit of entrepreneurism, so to speak,

affects the way in which humanitarian aid in

general is organised and delivered?

Professor Mukesh Kapila Good

partnerships between the private and public

sector are vital – because the best methods

and capacities of both need to deployed

in service of humanity, as the needs are so

great. [My view is that] DIHAD and Dubai

provide good models for doing that.

SSD One of the principle objectives of

DIHAD is the sharing of knowledge –

through presentations, through debate, and

via face-to-face dialogue. Are there more

ways in which the first-hand experience of

professionals engaged in the humanitarian

and sustainable development sectors, for

instance, could be captured, and best

practice made available to colleagues and

other agencies facing similar challenges? If

so, what are they, in your view?

Professor Mukesh Kapila DIHAD

provides a great opportunity for mutual

learning, as it brings together experts,

practitioners, and students from many

walks... More could be done through

organising more training and coaching

sessions beyond the conferencing. Sponsors

for that are welcome.

SSD What are the most significant

developments that you have been aware of

over the seven years in the humanitarian

▲

41

SSD_Q&A_Mukesh Kapila.indd 41 04/03/2015 14:00
---
INTERVIEW

Listening to their feedback is

the best way to co-ordinate

– rather than top-down

bureaucratic co-ordination that

can be remote from issues.

programmes you have been involved with?

Professor Mukesh Kapila A great deal

of progress has been made – especially in

making the cause of humanitarianism a

global concern and improving co-operation.

SSD How important are modern

communications technologies in bringing

about progress?

Professor Mukesh Kapila Modern

technologies being used now, especially for

needs assessments, and for communications,

as well as greater emphasis on beneficiary

participation and accountability for results,

have [certainly] improved effectiveness.

SSD You have spoken about the importance

of partnerships between private and public

sector in support of the humanitarian cause.

Do you think there is any risk of a clash

of 'cultures' with the corporate world as

gets more directly involved in supporting

humanitarian aid and development

programmes? We mean, as it finds that its

approaches differ from those of what might

be called the 'professional' aid providers,

such as NGOs, charities, and other agencies?

Professor Mukesh Kapila Such a clash

in organisational cultures [if it does occur]

is not necessarily a bad thing if each side is

sufficiently open-minded to learn the best

practices from the other.

SSD There are now many organisations

and agencies active in the humanitarian

aid initiatives around the world. What do

you see as the challenges in terms of coordinating

those efforts, and in ensuring that

efforts are not duplicated, nor that the coexisting

bodies are not inadvertently creating

problems for each-other?

Professor Mukesh Kapila We should not

over-emphasise the problem of co-ordination.

It is good that many more groups are interested

in contributing to addressing [the alleviation

of] human misery. There is plenty for all to

do. The best coordination is on the ground

– addressing real problems, and providing

necessary services. Those at the receiving end

soon figure out who is working well, and who

is not. Listening to their feedback is the best

way to co-ordinate – rather than top-down

bureaucratic co-ordination that can be remote

from issues, and certainly more expensive.

Long-time allies: UN Secretary-General Ban Ki-moon (right) met with Mukesh Kapila, former UN staff member and currently Professor of Global Health

and Humanitarian Affairs at the University of Manchester in November 2012.

42

SSD_Q&A_Mukesh Kapila.indd 42 04/03/2015 14:00
---
INTERVIEW

ICT is transforming the

humanitarian world, because

knowledge and experience can

be instantly shared, as well as

skills and opportunities

SSD In your opinion, is the world actually

getting better at responding to crises or

disasters as they happen?

Professor Mukesh Kapila Yes, by and

large, the world is getting better at disaster

response – not least because of more and

more practice.

Dubai is an

event location

that affords

opportunities for

entrepreneurial

interaction

SSD It is a situation that varies from country

to country.

Professor Mukesh Kapila For many

communities and countries, living with

repeated disasters is a new norm, and they,

and their governments, have a direct stake

in investing for preparedness and protection.

Of course, more can be done – but best

returns are at local level.

SSD The information and communications

technology that has had a profound impact

on the developed world is increasing finding

its way into the developing world. Could you

comment on the impact this is having on

humanitarian programmes, and on how you

feel this will continue into the future?

Professor Mukesh Kapila This is

transforming the humanitarian world because

knowledge and experience from anywhere

can be instantly shared, as well as skills and

opportunities. And most importantly, people

can witness the suffering of others, even if

they are far away. This builds empathy – the

most important human and social capital

necessary in humanitarianism. ■

For full DIHAD 2015 Conference Programme

details, see page 77 of this issue of SOURCE:

Sustainable Development

Professor Mukesh Kapila: career briefing

PRINCIPLE LEADERSHIP ROLES: Professor of

Global Health and Humanitarian Affairs / Executive

Director, Office for Global Health, University of

Manchester; Special Representative of the Aegis

Trust for the prevention of crimes against humanity;

Vice Chair of the Board of Nonviolent Peaceforce;

Associate Fellow of the Geneva Centre for Security

Policy; and Adjunct Professor at the International

Centre for Humanitarian Affairs, Nairobi.

Professor Kapila has extensive experience

in the policy and practice of international

development, humanitarian

affairs, human rights and

diplomacy, with particular

expertise in tackling crimes

against humanity, disaster, and

conflict management, and in

global public health. He is an

extensive public and media

speaker. His published memoir

Against a Tide of Evil was

nominated for the '2013 Best

Non Fiction Book award'.

Previously in his career he was Under Secretary

General at the International Federation of Red

Cross and Red Crescent Societies, the world's

largest humanitarian and development network.

Earlier, he served the United Nations in different

roles as Special Adviser to the United Nations

High Commissioner for Human Rights in Geneva

and then Special Adviser at the UN Mission in

Afghanistan. Subsequently, he led the UN's largest

country mission at the time as the United Nations

Resident and Humanitarian Co-ordinator for the

Sudan, and then became a Director at the World

Health Organisation.

Prior to the UN, Professor Kapila was at the UK

Foreign and Commonwealth Office's Overseas

Development Administration (now Department

for International Development), initially as senior

health and population adviser, and latterly as the

first head of a new Conflict and Humanitarian

Affairs Department that he set-up.

He has also been Chief Executive of the

PHG Foundation, a senior policy adviser to the

World Bank, worked as part of the UN Disaster

Assessment and Co-ordination system, and

advised the UN International Strategy for Disaster

Reduction, International Labour Organisation,

UNAIDS, and many other agencies. In 2014 he

founded People4Sudan.

His earliest career was in clinical medicine,

primary health care, and public health in the British

National Health Service in Oxford, Cambridge, and

London, where he helped set up the UK's first

national HIV and AIDS programme at the Health

Education Authority, becoming its deputy director.

He has initiated several NGOs, and served

on the Boards of many bodies, including the

UN Institute for Training and Research, and the

International Peace Academy in New York, and as

Chair of Minority Rights Group International. He is

also a Senior Member of Hughes Hall College at

Cambridge University.

Born in India, Professor Kapila is a citizen of

the United Kingdom. He has qualifications in

medicine, public health, and development from

the Universities of Oxford and London. In 2003, he

was honoured by Queen Elizabeth II, and named a

Commander of the Order of the British Empire for

his international service. In 2007, he received the

Global Citizenship Award of the Institute for Global

Leadership. In 2013, he received the 'I Witness'

award for his work on human rights, and a special

resolution of the California State Legislature for

'lifetime achievements and meritorious service'.

More information about Professor Kapila's life

and work can be found at www.mukeshkapila.

org, and on his blog, 'Flesh and Blood', at

www.e-ir.info/category/blogs/kapila/

UN/RICK BAJORNAS, WWW.SHUTTERSTOCK.COM

43

SSD_Q&A_Mukesh Kapila.indd 43 04/03/2015 14:00
---
NGOS

Capacity at the core

Capacity building is a vital element in taking a pre-emptive approach to

dealing with distress and disaster, explains Martin McCann, CEO, RedR UK.

In July last year, Ian Birrell, an occasional

columnist in the UK's Guardian

newspaper, and former speechwriter for UK

Prime Minister David Cameron, highlighted

what he felt were major shortfalls of the

humanitarian sector.

Citing a report by MSF, he claimed

the sector was failing in its most basic

duty: to help ensure the continuation and

improvement of people's lives. He claimed

aid organisations were instead choosing

to undertake: 'lucrative work on modish

concepts such as conflict resolution, capacity

building and governance'.

We should, of course, welcome criticism

of our sector. Openness and transparency

should be priorities in all our activities, and

enabling people to understand what we do

– and why – helps us focus our attention on

the most important elements of our work. But

criticism can sometimes miss its target.

Capacity building, for example, may

be 'modish' (though it is not especially

'lucrative'), but just because an idea is

popular – particularly among experts in a

sector – does not make it wrong. In fact,

capacity building is central to what the

44

SSD_NGO_capacity_building.indd 44 04/03/2015 14:00
---
NGOS

In response to the Syria

crisis, for example, dedicated

Syrians, Lebanese, Turkish,

Jordanian and Iraqi people

are committed to helping the

millions of displaced - but

the helpers also need help

humanitarian sector is, to the role of NGOs,

to the saving and improvement of lives

around the world.

There is a multiplicity of potential roles

for NGOs in the modern world. Front-line

delivery of services, policy discourse and

suggestion, the facilitation and promotion

of best practice. But in all cases, the aim

of these organisations is to preserve and

promote life. To keep people alive despite

immense challenges, and to help them thrive

and succeed. And capacity building is one of

the surest ways to help that happen.

RedR UK focuses on front-line agencies:

their skills, and the future humanitarian

agenda. In times of disaster, local capacity,

even including the state, is by definition

overwhelmed. When war, earthquake,

typhoon or floods strike, the state – the

guarantor of the welfare of the people –

may be forced to call upon the UN, other

nation states, and national and international

NGOs.

The work of each of these actors

deserves – and receives – praise. But each

also have their own limitations. The UN

and international donors cannot possibly

be expected to have sufficient manpower to

reach all areas affected by disasters. And in

the kind of life-and-death situations caused

by disaster, speed is critical.

Speed of response

In the Asian tsunami of 2004, 80 per cent

of those who died, did so in the first hour. It

is a reminder that although an international

response and the expertise and help it brings,

is vital, many lives will be lost if we only wait

for people to fly across numerous time zones

to arrive where disaster strikes.

People in regions where disaster strikes need

the skills and abilities to respond when it

happens; and local knowledge is also vital.

In the ongoing Ebola virus outbreak in

West Africa, some communities resisted

outside expert assistance because of

unfamiliarity with Western medical practice,

and because of a desire to continue local

burial traditions – in some cases delaying aid

being delivered.

This is a timely reminder that all those

operating on the ground must understand

the cultural and legal norms in the

location in which they are working; and

▲

45

SSD_NGO_capacity_building.indd 45 04/03/2015 14:00
---
NGOS

One positive shift in the last

decade has been a move away

from external players flooding an

area to assist 'helpless victims',

or regarding local people as

'consumers of assistance'.

people actually within those communities

understand those norms better than anyone

else. Equally, the unfortunate truth is that

regions where natural disaster strikes once

are likely to experience other, similar,

disasters in future.

Disaster mitigation

So disaster response must go further than the

on-the-spot, immediate saving of lives, and

begin also to work on disaster mitigation:

showing people how to build their homes

stronger. How to restructure water supply

systems, and what to do while a disaster

is taking place, as well as in its immediate

aftermath.

All of these things save lives. And

all require a commitment to capacitybuilding,

enabling people to prepare for

and respond to disasters themselves, with

outside assistance helping to support existing

expertise.

The humanitarian sector has significantly

altered its approach to aid and development.

One positive shift in the last decade has

been a move away from external players

flooding an area to assist 'helpless victims',

or regarding local people as recipients,

consumers of assistance. And the

professionalisation of the sector is another

encouraging improvement. Initiatives such

as the NOHA Humanitarian qualifications,

and ELRHA's adoption of a 'humanitarian

passport' set the basis for recognisable

industry-wide standards, and are important

recognitions that it takes more than just

abstract technical knowledge to make an

effective humanitarian.

Capacity building develops

RedR UK illustrates this trend of continuing

improvement in the global humanitarian

Success story: building back stronger in the Philippines

The Build Back Safer

scheme is helping up to

5,000 Filipino households

affected by Typhoon

Haiyan to construct more

resilient dwellings

"I carried my nephews through the surges the

typhoon caused. I was a council worker, but I found

myself up to my neck in water, with two boys raised

above my head to keep them safe": Kenneth

Renera was one of the estimated 11 million people

caught in and affected by Typhoon Haiyan, which

struck the Philippines on 8th-9th November 2013.

Across the state, the Typhoon's 195mph winds

caused more than 7,400 deaths, and more than

20,000 injuries. More than one million homes were

destroyed or damaged, leaving more than four

million people homeless.

"More than 50 per cent of homes in some

parts of this region were destroyed," said Kenneth

– who lives in Santo Nino, near the town

of Palo on the eastern side of Leyte island. "My

own house was swamped by flood waters, and

the oil refinery close to my home spilled oil into

the water I waded through while carrying my

nephews."

In response, using training developed and

delivered by RedR in Disaster Risk Reduction and

Shelter, he is mobilising people in his and neighbouring

communities, to benefit from the Build

Back Safer scheme. The initiative, which RedR

UK designed for Oxfam and its Philippines-based

partner Green Mindanao, has trained Philippines

nationals to build more resilient housing and

community buildings – and to pass those skills

on to others.

It was attended by 16 people, who are

training 3,000-5,000 households to reconstruct

their homes to help them stand up better to

future disasters. Kenneth added: "The training is

excellent. It means I can help people not just to

rebuild their homes, but to make them stronger."

46

SSD_NGO_capacity_building.indd 46 04/03/2015 14:00
---
NGOS

People in regions where

disaster strikes need

the skills and abilities

to respond when it

happens; and local

knowledge is also vital.

sector. It was set-up more than 30 years

ago, as a register of engineers to provide

technically-skilled people to international aid

agencies responding to disasters.

From there, it developed to take the

lessons learned from those engineers'

experiences, and use them to train people to

adapt these technical learned skills to other

environments. For many years, its main

activities were sending Western experts to

the field, and training Western experts to

improve the quality and effectiveness of their

work.

But in the last decade, it has turned

this model on its head. Now, it is taking

the skills in which we specialise – water

and sanitation, shelter, security, logistics,

needs assessment, project management

and humanitarian procedural training – to

communities in disaster-prone regions of

the world. To the first responders, who live

where disasters strike.

In the last year, RedR trained 8,600

people in more than 30 countries, including

INGO and NGO workers, government

employees and community members. Ninety

per cent of those were nationals of disasterprone

countries.

In response to the Syria crisis, for example,

dedicated Syrians, Lebanese, Turkish,

Jordanian and Iraqi people are committed to

helping the millions of people displaced by

the nation's grim, four-year war. But they are

new to the humanitarian sector.

We are training them in humanitarian

skills, including security, so they can stay

safe and deliver life-saving food, water and

shelter to the people who urgently need

them. In Pakistan, we are training teachers

and schoolchildren potentially lifesaving

The Syrian crisis has caused millions to flee their homes, some leaving the state altogether. Al Za'atri

refugee camp was, in 2013, officially Jordan's third largest 'city' by population.

RedR training in the

Middle East is helping

humanitarian aid

workers develop the

skills they need to

operate in the field.

skills. Communities in the South Asian

state have, in recent years, faced floods,

earthquakes and conflict involving illegal

militia groups.

And shocking recent experience shows

that schools, children and teachers are just as

likely to be struck by the latter as the former.

The skills we and our partners in Pakistan

are delivering have the potential to save lives

when disaster strikes.

Skills transference

These skills are not restricted to those

who take the first training. In the Lower

Dir region, we have trained 16 teachers,

who have in turn passed on the life-saving

techniques to 551 pupils. Those pupils took

their new knowledge home to their families,

while the teachers themselves shared their

skills with their families and with 46 more

teachers.

Training just 18 people has already spread

skills to hundreds of people, and has the

potential to deliver the ability to save lives to

many thousands. This is capacity building in

action.

The same approach was used during

▲

47

SSD_NGO_capacity_building.indd 47 04/03/2015 14:00
---
NGOS

Capacity building is central

to what the humanitarian

sector is, to the role of

NGOs, to the saving and

improvement of lives

around the world.

the response to Typhoon Haiyan, which

struck the Philippines on 8th-9th November

2013. Haiyan killed more than 7,400

people, injured 20,000 and left four million

homeless. It inspired a unified response,

as the public funded INGOs to deliver

shelter, WASH (water, sanitation and

hygiene) materials, food, water and technical

assistance, while the state's government and

national NGOs met the crises the Typhoon

had caused (see panel box-out, p46).

RedR UK trained 577 people, 98 per

cent of them Philippine nationals, who were

employed by large international and local

NGOs, as well as government workers and

community members. In one project, Build

Back Stronger, we worked with Oxfam and

Philippine organisation Green Mindanao

to develop and deliver training to people in

how to rebuild their homes and community

structures to better withstand future disaster.

And those skills are transferable. The 16

people we trained spread the knowledge

they had gained to 4,000 households, and it

can be shared further, building the capacity

of communities to mitigate against future

disaster. A similar 'domino effect' was used

to spread skills and expertise in Haiti, in the

aftermath of the devastating earthquake

in January 2010, which killed more than

200,000 people.

One part of our skills-based training there

took the form of a WASH week, in which

local aid workers were given core water,

sanitation and hygiene training in Port

Au Prince, where more than one million

people had been left homeless. In total,

1,439 people received WASH training, each

training 30 more, meaning the skills reached

more than 43,000 people.

At RedR UK, we use the slogan We

Train Lifesavers. There are many ways to

save lives, but capacity building – spreading

knowledge and delivering skills to help

people respond to and mitigate against

disaster – is a central component of that.

If the humanitarian sector is dedicated

to saving and improving lives, then building

capacity is one of the most vital and

appropriate roles NGOs can play. ■

For more information about RedR and its work,

see www.redr.org.uk.

Success story: school safety training in Pakistan

"I have been taught that if I see a person unconscious

I should remove anything dangerous and

check if they are breathing, and clear the airway

then check the circulation by checking their

pulse. I will then put them in the recovery position

and wait for help to arrive..." Sawera Saad*

is eight-years-old. She attends school in a village

in Lower Dir region, Pakistan, where natural and

man-made disasters are a real risk.

She has already experienced serious flooding

in her home town, and also faces risk simply

because she attends school, as illegal militia

organisations operating in the region oppose the

education of girls, as well as the employment of

female teachers. As a result, she and her classmates

brave potential attack by going to school.

RedR UK is training teachers who can show

girls like Sawera, as well as boys, teachers and

community members, how to reduce risk,

perform first aid and give them other potentially

life-saving skills. Asma, an English teacher at

another school, says: "First aid saves life. I have

taught the children and other teachers how to

stop bleeding, deal with burns and poisoning.

We learned how to stop fires, and what to do

if the school comes under gunfire and attack.

We have taught children to take cover under

desks, or if they are outside to run inside into the

classrooms."

Pakistani

schoolchildren

learn first aid as

part of RedR's Safer

Schools initiative.

RedR UK, with local partner Khwendo Kor,

trained 18 teachers in the Lower Dir region. In

turn, they have trained 551 pupils, and another

46 teachers (who will in turn train their students).

The skills they have learned will be taught to each

new intake of pupils, meaning many thousands

of young people will have the knowledge and

ability to reduce risk, and save lives.

And girls like Sawera are sharing the knowledge

they have learned. She said: "My mother

learned how to tie a bandage from me, and was

very happy that she could do it all by herself."

*Names changed to protect those interviewed

First aid training taking place as part of RedR's

Safer Schools initiative in Pakistan.

DONNA BOZZI/REDR, WWW.SHUTTERSTOCK.COM

48

SSD_NGO_capacity_building.indd 48 04/03/2015 14:00

Buty
---
EMERGENCY AID • TEMPORARY CAMPS •

INDUSTRY • CONSTRUCTION • AGRICULTURE

Flexigester

The FIRST rapid deployment anaerobic digestion system with a capacity of 10 tonnes+

Developed to provide a simple solution to many of the challenges facing communities in the global south, the Flexigester kit is an anaerobic

digestion system which easily converts organic waste into biofertiliser and biogas.

It can be attached directly to a pourflush latrine system, capturing sewage and effectively removing waste from the vicinity. This in turn reduces

the risks associated with open defecation / odours / vermin / flies. In addition, waste water from kitchens and latrines, animal manures & food

waste can be reutilised via the Flexigester, returning valuable plant nutrients from the waste material to the land in the form of liquid fertiliser to

help improve soil quality and therefore crop yields.

The smokeless biogas helps to protect and sustain the environment, reducing the need for charcoal and wood as a fuel, potentially decreasing

cases of smoke related respiratory issues and helping to maintain a cleaner kitchen while reducing the time needed for cooking meals.

Small and lightweight : the system can be delivered by air to destinations around the world. The standard V10 unit fits into the back of an

estate car, yet has the capacity to treat around 280 litres of waste per day. The system is available in larger sizes and is scalable dependant

on client requirements. Can be ready for use within 24 hours using simple hand tools for installation. The Flexigester system is an ideal tool to

promote health, agriculture and employment, enabling communities to start building a better world in a matter of weeks.

Flexigester installed at Namisu Orphanage, Malawi Flexigester Biogas storage bags Children at the Namisu Orphanage

Sewage Isolation Bag

An innovative alternative to open sewage pits / lagoons

Holds sewage in a watertight and gas tight robust Butyl Rubber bag.

Associated fittings keep the contents secure.

Once isolated inside the SIB there are:

• No odours from sewage in the bag

• No flies, disease or other vermin attracted to the sewage

• No risk to groundwater from the secure contents of the SIB

• Many options for treatment and disposal of the sewage

A standard 5000 litre capacity system fits neatly into a 120 x 80 x 50cm crate and can easily be carried by 2 people.

The bag is available in a range of sizes dependant on requirements and needs no concrete or other groundworks. It is simply installed in a

shallow trench that can be dug by hand.

The input tubes can be connected to latrine pipework or used for manual filling.

The Sewage Isolation Bag is ideal for temporary camp use and can be cleaned and packed for transport and reused elsewhere as required.

Butyl Products Ltd carry an extensive range of Water Storage, Treatment, Distribution and Testing equipment designed for use in emergency aid, camp

infrastructure, civil engineering and agricultural applications, and has the experience and framework in place to react quickly to client's needs with

worldwide shipping to meet those important deadlines. Please visit our website to see how our range of products and services can help you.

BUTYL PRODUCTS LIMITED

11 Radford Crescent, Billericay, Essex, CM12 0DW, England

Telephone: +44 (0)1277 653 281 Fax: +44 (0)1277 657 921

Email: Craig@butylproducts.co.uk (Sales & Business Development Director)

Website: www.butylproducts.co.uk

Butyl_Ad.indd SSD_NGO_capacity_building.indd 49 49 03/03/2015 04/03/2015 17:27 14:00
---
WATER MANAGEMENT

Managing canals

both for multiple

users and natural

systems ensures that

the water they carry

can benefit as many

people as possible

50

SSD_Water_Management.indd 50 04/03/2015 17:56
---
WATER MANAGEMENT

Protecting our

liquid assets

A changing climate will cause us to adapt our management

of water to new techniques and practices – techniques and

practices that can also contribute to greater productivity,

explains Peter McCornick, Deputy Director General, Research,

International Water Management Institute

Population growth may be slowing, but

the world is projected to have around

9.6 billion inhabitants by 2050. Most of the

population increase will be in developing

countries where land and water are already

under considerable pressure, and producing

food is already stressing ecosystems. There

remains great uncertainty in how climate

change will affect given localities; but it is

likely that it will have a profound effect on

water resources, exacerbating the effects of

other drivers, such as urbanisation and the

need for more food.

Projected rises in average temperature,

more extreme temperatures, and changes

in precipitation patterns, are likely to alter

the amounts and distribution of rainfall,

soil moisture, river flows, groundwater

availability, and ice and snow melt. Now

and in the future, agriculture and food

security depend on managing water,

particularly the variability in time and

space.

Managing water to adapt to changes in

climate emphasises the need to measure

and improve understanding of variability,

and improve understanding of the impacts

of climate change on that variability.

Options to improve the management of

water includes rethinking water storage,

▲

51

SSD_Water_Management.indd 51 04/03/2015 17:56
---
SPONSORED FEATURE

Harnessing the Power of Earth

Observations to Manage Disaster

Risk and Water Resources

Understanding the Earth system is crucial to addressing the challenges of

economic and social development and environmental sustainability.

Comprehensive, coordinated and sustained observations of the Earth improves

monitoring of the state of the planet, increases our understanding of Earth

processes, and enhances the predictive capability of the behavior of the Earth

system. Earth observations from space, airborne, land or marine-based systems,

collected consistently over time, are critical to providing decision makers at all

levels of society with the information and tools necessary to protect and improve

the lives of citizens while, at the same time, encouraging sustainable growth.

Established in 2005, the Group on Earth Observations (GEO) is a voluntary

partnership of governments and organizations that envisions a future where

decisions and actions for the benefit of humankind are informed by coordinated,

comprehensive and sustained Earth observations and information. GEO

Member governments include 96 nations and the European Commission, and

88 Participating Organizations comprised of international bodies with a mandate

in Earth observations. Together, the GEO community is creating a Global Earth

Observation System of Systems (GEOSS) that will link Earth observation

resources world-wide across multiple Societal Benefit Areas - agriculture,

biodiversity, climate, disasters, ecosystems, energy, health, water and weather -

and make those resources available for informed decision-making.

One of the key elements in preventing humanitarian crises caused by natural

disasters is for countries to develop robust national disaster risk management

(DRM) systems. Coordinated Earth observations, complemented by in

situ measurements and properly linked to modeling, can provide reliable,

accurate, consistent and continuous information, which is the foundation for

the development and operation of national DRM systems. Natural and humaninduced

extreme events require Earth observation capacities that almost never

can be provided by one country alone; effective response requires regional/

international collaboration and coordination so that, when such events occur, the

flow of data from various countries, as well as international organizations, occurs

seamlessly. GEO is committed to facilitating dialogue between science and civil

society; encouraging the adoption and use of quantitative and qualitative tools

to measure risk; and creating mechanisms and guidelines to communicate and

understand risk and uncertainty.

In the area of water security, members of the GEO community have spent

much of the past decade developing Earth observation-based tools to better

manage and predict the floods and droughts of the natural water cycle. The everchanging

climate poses ever-greater challenges to water management, as variation

in components of the water cycle can wreak havoc on water and energy resources

and food security, and cause both catastrophic droughts and floods, engendering

tremendous human and economic damage. The Water Cycle Integrator (WCI),

developed and refined by GEO

members through years of field

experience in Africa and Asia,

can help national and regional

governments around the world

mitigate water-related disasters and

promote the efficient use of scarce

water resources.

GEO is prepared to work with

governments, development and aid

organizations, the private sector and

civil society, in the Arab region and

across the globe, to develop robust

disaster risk management and water

cycle management systems that will

contribute to the national, regional

and global resilience necessary

to withstand the harsh forces that

nature displays.

www.earthobservations.org

Changes in use of pivot-irrigation in

Saudi Arabia 1991-2012.

NASA Goddard Space Flight Center

Jeddah Flood-King Abdullah Street

by Rami Awad (2009) - Own work.

Licensed under CC BY-SA 3.0 via Wikimedia Commons

52

SSD_Water_Management.indd 52 04/03/2015 17:56
---
WATER MANAGEMENT

Managing water to

respond to climatic

variability is not

something that can

be done in isolation.

from small to large scale, and emphasising

underground opportunities to improve water

security.

Fundamental to any such approaches

is recognition of the vital role played by

ecosystems, so we need to improve our

understanding of the function of ecosystems

in variability, and how human interventions

influence variability. Our goal should be to

develop and manage water resources fairly –

share water, land, and food, in a co-operative

manner, and in a way that also emphasises

the needs of vulnerable groups and ensure

that they as not disproportionately burdened

by the impacts of variability.

Managing water to respond to climatic

variability is not something that can be done

in isolation. Water underpins sustainable

development. There is broad consensus

that adapting to climate change is best

addressed in the context of sustainable

development. Depending on local contexts,

needs, and interests there are opportunities

for improving water management that

simultaneously help adaptation to climatic

and other changes, and simultaneously

advance development. Improving

our collection of data and developing

comprehensive models will enable scientists

to better advise policy makers how this can

be achieved – and yet decisions will also need

to be made in data scarce environments,

especially in the developing world.

Agricultural changes

Change is nothing new – but the people,

communities, and societies that cope best

with change of any kind are resilient and

able to adapt. The more resilient they are,

the more they are able to manage climatic

variability, diversify their livelihoods, and

reduce risk.

Given that globally agriculture accounts

for 70 per cent–80 per cent of fresh

water use, competition for water among

agricultural and other water users will be an

issue for years to come in many countries.

Over the next 40 years, farmers will have

to find ways to produce 60 per cent to 70

per cent more to feed the growing global

population. They will have to do this

while faced with growing competition for

resources from other sectors, minimising –

▲

A holistic approach to

water management can

support both agriculture

and the ecosystems on

which it depends.

53

SSD_Water_Management.indd 53 04/03/2015 17:56
---
WATER MANAGEMENT

Farmers have always lived

with climate variability

and have coping strategies

that they can build on to

adapt to climate change.

or even reducing – the impact on already

stressed ecosystems and while adapting to a

progressively changing climate. This means

making each unit of water produce more.

Poverty and food insecurity are often

highest where water productivity is lowest.

Increasing water productivity is an effective

way to intensify agricultural production,

improve community resilience, and reduce

environmental degradation. In many areas

this is already happening.

In South-East Asia and Africa, farmers

who have adopted the 'system of rice

intensification' not only use less water –

because they irrigate intermittently instead

of flooding paddy fields continuously – but

also raise yields and benefit the environment.

Nevertheless, adoption of such technologies

often involves trade-offs. In this case,

growing rice more intensively requires more

labour, more weeding, and more attention

to water management. There are very few

completely win-win solutions.

Managing variability

Farmers have always lived with climate

variability and have coping strategies that

they can build on to adapt to climate change.

They already deal with variations between

seasons, and rains coming earlier or later

than usual and lasting for shorter or longer

periods. Following several years of low

rainfall, farmers in the Upper Bhima River

Basin in South-West India, for instance, are

already shifting from 'thirsty' sugar-cane to

less-thirsty soybean: an adaptation to water

scarcity that also gives them a better return.

In diversifying their cropping system by

An International Water Management Institute

review has shown that women in Nepal have

less access to land, education, information, and

social networks than men, so are less resilient

than men and have fewer options for adapting to

changes in climate.

Indigenous and Dalit women in Nepal are

more vulnerable still, as they face gender and

caste discrimination. Although Nepal has a

strategy for targeting adaptation programs to the

vulnerable, such as Dalits, women, and disabled

people, this is mainly through groups.

Storing water

at farm level

is an effective

insurance policy

against periods

of water scarcity

Unequal access to adaptation funds in Nepal

planting vegetables as well as rice to adapt

to urbanisation and developing markets, rice

farmers on the outskirts of towns and cities

in South-East Asia are producing more food

per unit of water. At the same time they

are also becoming more resilient to climate

change.

Combining tactics such as growing a

greater variety of crops, growing crops that

are more drought-resistant or need less water

at critical times, installing micro-irrigation,

and constructing small ponds or tanks

However, a study on 'unequal citizens' found

that Dalit men and women have no time to be

involved in group activities.

Groups are dominated by men and women

from higher castes. This means that although

the national climate change adaptation policy

endeavors to direct adaptation funds to women

and marginalised groups, Dalit men and women,

and indigenous communities are not accessing

these funds because group members from higher

castes control their distribution.

Source: Sugden et al. Forthcoming

decrease the risk of crop failure, raise overall

farm yields, sustainable use the resource,

and build resilience to changing conditions.

In Madhya Pradesh, incomes of farmers

who constructed on-farm ponds to irrigate

pulses and wheat have risen by over 70 per

cent.

In Tanzania, meanwhile, half of the

dry-season cash incomes of smallholders

come from growing irrigated vegetables.

In Zambia, meanwhile, the 20 per cent of

smallholders who cultivate vegetables in the

dry season by irrigating on a small scale earn

35 per cent more than those who do not.

While farmers can be helped to adapt to

climate variability and change at local level,

the authority to plan and approve basinwide

projects, such as diverting saved water

from irrigation to preserve the environment

and benefit from ecosystem services, may lie

in political or other spheres. Assessments –

for example, that value the benefits forgone

by reallocating water from canal irrigation

to environmental flows under different

water allocation schemes and climate

change scenarios – can help decision-makers

understand trade-offs and manage demand.

54

SSD_Water_Management.indd 54 04/03/2015 17:56
---
WATER MANAGEMENT

Download the free book

Tackling Change: Futureproofing

water, agriculture

and food security in an era

of climate uncertainty at

www.iwmi.org

Sixty percent of the world's food

is produced on rain-fed crop-land.

Supplemental irrigation – irrigation applied

only at the critical stages of crop growth

– combined with better management of

soil, nutrients, and crops can more than

double water productivity and yields in

small-scale rain-fed agriculture. Major

increases in production in the Mekong

delta, for example, have been achieved by

supplemental irrigation in the dry season.

Simple water-lifting equipment – powered

by fossil fuels, electricity, the sun, people, or

animals – and micro-irrigation techniques,

ranging from clay pots to drippers, can,

when appropriately used, also dramatically

boost the ability to cope with climatic

variability, and can have a profound effect

on agricultural productivity. Dry-season

irrigation of rice could improve yields

between 70 per cent and 300 per cent across

sub-Saharan Africa.

How governments can help

In the short-term, adaptation in many

agro-economies is likely to involve the

uptake of improved agricultural and

water management technologies. In the

long term, however, diversifying sources

of income is likely to become the main

Farmers will need to

diversify their crops to

cope with climate change

adaptation strategy. Trends in migration

to urban centres, off-farm employment,

remittances from abroad, and new businesses

that capitalise on advances in information

technology and other infrastructure, signal

that adaptation to changes in climate and

Data collection is

vital for sustainable

water management

other circumstances is already underway.

Governments could help men, women,

and communities adapt to changing

circumstances – including more variable

and extreme climate – by delivering public

services (such as sanitation, drinking water),

and information about agriculture, livestock,

and fisheries, more effectively.

Taking a sustainable development

approach to adaptation addresses

vulnerability, rather than just climate change.

Promoting broad-based agricultural

development, appropriate to the respective

ecosystems, to lift rural communities out of

poverty, represents an effective adaptation

strategy in rural areas. The sustainable

development approach builds resilience

in the production and ecosystems and the

ability to cope with climatic variability and

unforeseen circumstances both now and in

the future.

For many communities, adaptation and

sustainable development will be one and the

same. As incomes, livelihoods, and wellbeing

improve, so will resilience. ■

Peter McCornick is Deputy Director General, Research, at the

International Water Management Institute, and co-author

of Tackling change: Future-proofing water, agriculture and

food security in an era of climate uncertainty

DAVID BRAZIER, HAMISH APPLEBY, DAVID WILLIAMS, PETTERIK WIGGERS, FASEEH SHAMS/IWMI

55

SSD_Water_Management.indd 55 04/03/2015 17:56
---
FOOD SECURITY

Feeding the need

for food education

At first sight, the factors that make gender equality

and women's empowerment a food and nutrition

issue may not be obvious – but the issues are closely

interdependent. By understanding how, we are better

placed to promote equality, social equity, gender equality

– and women's empowerment, argues Sonsoles Ruedas,

Director of the Gender Office at The World Food Programme.

56

SSD_Food security and gender.indd 56 04/03/2015 14:02
---
FOOD SECURITY

The World Food Program (WFP)'s

mandate is to end hunger. In recent years

the organisation has moved from a food aid

model to a food assistance one, that allows

us to close the gap between its humanitarian

work and its development work: this means

that it increases impact and delivers more

efficient and effective services – and more

long-term results and impacts on the lives of

the most vulnerable.

We do not have a real chance of achieving

the Zero Hunger goal unless we better

understand who is hungry or malnourished –

and why. It is for this reason that setting goals

for gender equality in food assistance is a

must-have. If we do not use a gender 'lens' to

analyse vulnerabilities to food and nutritional

insecurity, we will fail in our duty to the

world's hungry.

As long as there is one hungry person in

the world, we will need to continue to ask

'why?', and also who that person is (woman?

man? girl? boy?). We will continue to ask their

age, and try to understand what other factors

(disability, race, ethnicity, etc.) keep them

unseen – and unheard; and how all these

factors together contribute to making that

person more likely to suffer from hunger.

The Zero Hunger Challenge

Eliminating hunger means investing in

agriculture, rural development, decent

work, social protection, and equality of

opportunity, investments that will make a

major contribution to peace and stability and

the reduction of poverty and will contribute

to better nutrition for all – especially during

the first 1,000 days of life for a baby girl or

boy: from conception to the age of two.

During pregnancy, under-nutrition can

have a devastating impact on the healthy

growth and development of a child. Babies

who are malnourished in the womb have

a higher risk of dying in infancy, and are

more likely to face life-long cognitive and

physical deficits, and other chronic health

problems. For children under the age of

two, under nutrition can be life-threatening.

It can weaken a child's immune system and

make him or her more susceptible to dying

from common illnesses such as pneumonia,

diarrhoea and malaria.

There are five challenges outlined in the

Zero Hunger Challenge that will require

contributions from the global community:

1. Zero stunted children less than two

years

Ensuring universal access to nutritious food

in the 1,000-day window of opportunity

between the start of pregnancy and a

child's second birthday, supported by

nutrition-sensitive health care, water,

sanitation, education, and specific nutrition

interventions, coupled with initiatives that

empower women.

2. 100 per cent access to adequate food

all year-round

Enabling all people to access the food

they need at all times through decent and

productive employment, a social protection

floor, targeted safety nets, and food assistance

3. All food systems are sustainable.

Encouraging and rewarding universal

adoption of sustainable and climate-resilient

agriculture practices; pursuing cross-sectoral

policy coherence (encompassing energy,

land use, water and climate); implementing

responsible governance of land, fisheries,

and forests.

4. 100 per cent increase in smallholder

productivity and income

Supporting nutrition-sensitive agriculture

and food systems and marketing; boosting

food supply from local producers; through

open, fair and well-functioning markets

and trade policies at local, regional and

international level, preventing excessive food

price volatility.

5. Zero loss or waste of food

Minimising food losses during storage and

transport, and waste of food by retailers

and consumers; achieving progress through

▲

57

SSD_Food security and gender.indd 57 04/03/2015 14:02
---
FOOD SECURITY

During pregnancy,

under-nutrition can

have a devastating

impact on the

healthy growth and

development of a child.

financial incentives, collective pledges,

locally-relevant technologies, and changed

behaviour.

But achieving zero stunting and 100 per

cent access to adequate food (and, indeed,

all five goals) requires systematic gender

analysis: a profound understanding of

what are the specific barriers that prevent

vulnerable women, men, girls and boys

from having access to appropriate food no

matter what context they live in.

Breaking the cycle of poverty and hunger

requires more efforts in joining-up the dots

between peoples' ability to produce food

from their own land, their off-farm or selfemployment

earnings so that they can meet

their entire food and nutrition needs.

One example of a programme designed

to close some of the gaps described above

and in ensuring access to food that has

transformative potential for the lives of

subsistence women and men farmers comes

from WFP's Purchase for Progress (P4P)

programme. This type of project can make

a significant contribution to the economic

and social empowerment of both genders,

with specific targeted actions to include

women and promote gender-equality at the

grass-roots level.

P4P started in 2008 as a pilot initiative

to assist smallholder farmers – most of

whom are women – by offering them

opportunities to have better access

to agricultural markets and become

competitive players in the market place.

P4P was designed to boost the skills and

incomes of women farmers, as they often

are not on the agenda when it comes to

having access to training, inputs, and skillsbuilding.

The vision of P4P is to promote

opportunities for small-holder women

and men farmers in supporting the

development of agricultural markets so

that a targeted number of low-income

smallholder farmers (again, mostly women),

are able to produce food surpluses and sell

them at a competitive price. The result is

improved incomes and capacity-building

training offered to farmers of both sexes,

so as to increase their skill-sets, improve

their production, and make their business

models better suited for the market place.

Piloted from 2008 to 2013 in 21 countries,

of which 15 were located in Africa, it

enabled 41,230 women farmers to sell their

agricultural surpluses to WFP, and 225,575

women farmers to participate in capacitybuilding

training sessions.

Throughout the five-year pilot project,

P4P has shifted from gender-conscious to

gender-transformative, specifically targeting

women farmers and testing models that

benefit them.

In collaboration with a wide range

of partners, P4P has supported women

producers to gain greater control over

their lives, as well as enhanced voice at

community and household levels. Women's

participation in P4P-supported farmers'

organizations tripled during the pilot period.

However, the experience demonstrated

that numerical participation in a project,

while necessary, does not directly translate

into a positive impact on the lives of women

farmers, nor provide them with the same

financial gains as their male counterparts.

Instead, a range of interventions are

needed to address underlying inequalities,

empowering women farmers socially,

economically and through capacity

development, and assisting them to access

markets and benefit financially from their

work.

Cash transfer schemes

Another of the WFP's interventions that

has significantly contributed to reducing the

burden of poverty, especially for women, is

the Cash Transfers, Voucher Programmes

and Cash for Work initiatives. Since 2008,

Cash Transfer and Voucher Programmes

and Cash-for-Work (CFW) programmes

have been designed to ensure that women

benefit equally with men, without any

harmful effects.

For years labour-intensive programmes

have targeted women with the well-meaning

objective of increasing their income and

productivity; other income-generating

schemes have demanded that women attend

a slew of training courses and sit on project

management bodies. The results of these

endeavours have, however, often resulted in

doing more harm than good.

A large percentage (if not all) of the work

that women do at the household level is

Involving men in food projects and learning betters the chances that a family's nutrition will improve

58

SSD_Food security and gender.indd 58 04/03/2015 14:02
---
FOOD SECURITY

Numerical participation in a

project does not directly translate

into a positive impact on the lives

of women farmers, nor provide

them with the same financial gains

as their male counterparts.

unpaid and hence uncounted. The poorer

the woman, the heavier the burden: she has

to fetch and carry firewood and water; she

has to cook and clean; she is more often

than not responsible for tending the fields

and the small animals. And here comes the

development project heaping more activities

on this already over-burdened woman…

Through cash-transfer schemes the WFP

ensures that:

• The programmes take into account the

needs of women and children, including

food and nutrition security and links analysis

of the potential for domestic violence with

the issue of control over cash or vouchers

distributed

• A monitoring system is put in place to

ascertain whether women are empowered

by cash transfer and voucher programmes,

through gender analysis of decision-making

processes at the household level, improved

livelihoods, and the introduction of laboursaving

technologies.

• The long-term goal of all of these projects

and interventions is that there will come a

time when all nations will move from social

protection to full empowerment and food

security as envisaged in the Zero Hunger

Challenge.

Challenges: cultural barriers,

stereotypes

If Zero Hunger is to be achieved within in

our lifetime we need to challenge harmful

cultural barriers that render people invisible,

unheard and, as a result, excluded. Together

with stereotypes of women's and men's roles

in society, in agriculture, in commercial

business, and the public sector, these cultural

practices can limit people's ability to become

empowered, accountable citizens who have

the freedom to have a hand in their own

future. While respecting cultural diversity,

we do need to tackle harmful traditions that

perpetuate gender inequality.

These include:

• Child marriage and female genital

mutilation (FGM)

• Empowering women to have better access

and control over agricultural resources will

also increase food security (see the UN Food

and Agriculture Organisation's 'State of

Food and Agriculture' report, 2011 – lifting

Recognition of unpaid

work breaks down

mistaken notions of

women in the home as

just being consumers

100 million out of hunger if women get

better access to improved agricultural to

inputs, and so forth.)

• Involving men in nutrition projects and

learning – because men are entitled to be

educated too about good nutrition; and in

many cultures, because they are responsible

for buying food at the market, there is a

better chance that their family's nutrition will

improve also

• Keeping children out of school

• Reaching women and children with

lifesaving services, including nutrition

interventions: in food-insecure contexts

asks that we link health and food systems,

and our experience of working in difficult

contexts and in close collaboration with

governments.

• Taboos on food consumption in pregnancy,

which affect nutrition and the well-being

of the unborn child; knowing that there is

a direct link between better nutrition and

healthier children

Over the last 20 years, WFP has done a lot

to contribute to improving women's access to

food and better nutrition. Mother-and-child

health and nutrition (MCHN) programmes

can break gender barriers in childcare, and

as we have learnt by including men and boys

in nutrition and health education activities,

these improvements have greater impact and

sustainability.

While in the past WFP MCHN programs

had a tendency to focus solely on mothers,

and to ignore fathers and other household

members who can potentially play a

supportive role in improving mother and

child nutrition.

This situation is rapidly changing.

Some WFP programs have taken steps to

introduce gender sensitive approaches to

MCHN by involving men. In Sri Lanka,

for the MCHN program pregnant women

and their husbands were invited to the first

ante-natal check-up at the clinic to discuss

issues related to pregnancy, such as nutrition,

food taboos, hygiene, and domestic violence.

This ensured that both partners were aware

of basic health and nutrition issues during

pregnancy.

In Burkina Faso the evaluation of a WFP

programme there for protracted relief

and recovery in 2012 highlighted that

the gender-bias towards mothers reduced

the possibilities of influencing change in

maternal health and nutrition. Husbands

▲

59

SSD_Food security and gender.indd 59 04/03/2015 14:02
---
FOOD SECURITY

Eliminating hunger means

investing in agriculture,

rural development,

decent work, social

protection, and equality

of opportunity.

WFP-AMJAD JAMAL, WFP-FRANCES KENNEDY, WFP-AHNNA GUDMUNDS, WFP-TERESA HA, WWW.SHUTTERSTOCK.COM

Breaking the cycle of poverty and hunger requires more understanding of the food-earnings relationship

were only involved erratically in clinic visits.

The evaluation recommended that positive

changes in MCHN could result, if husbands

are involved and also other members of

the household, such as mothers-in-law and

aunts, who often influence young mothers'

nutritional and behavioural health choices

during pregnancy and after.

Supporting evidence...

Gender equality can make substantial

contributions to a country's economic

growth, and is the single most important

determinant of food security. According to

an the recently-published report, 'Gender

Equality and Food Security – Women's

Empowerment as a Tool against Hunger'

(FAO/ADB, 2013), a pan-national study of

developing countries covering the period

1970 –1995, 43 per cent of the reduction of

hunger that was achieved was attributable

to progress in women's education. The

study goes on to suggest that 55 per cent of

the gains against hunger in said countries

were due to the improvement of women's

situation in society, reinforcing recent global

comparisons that show a strong correlation

between hunger and gender inequalities.

If the unpaid work of women and girls in

developing countries were to be financed by

the public purse, it would represent 94 per

cent of the total tax revenue of the Republic

of Korea, and 182 per cent of the total tax

revenue of India, according to the 'Gender

Equality and Food Security' report. The

contribution made by care and carers to the

economy needs better acknowledgement –

especially in developing countries, because

research indicates that this is done, mostly, by

women.

Recognition of unpaid work in the

care economy breaks down the common

dichotomy that, while men (and women who

join the labour market) produce, women

at home consume. The difference is not

between production and consumption,

it is between work that is recognised and

compensated and work that is not.

Improved representation of women at the

local level is at least as significant as such

improvement in national parliaments and

executives. Decisions made at the local level

are of great practical importance to what

matters most to women's ability to contribute

to food security.

Such decisions may concern allocation

of land, choice of which crops to grow, or

how available labour is shared between the

plots of land. 'Gender Equality and Food

Security' documents how participation

in local decision-making is where women

can most readily challenge dominant

representations concerning power and

voice. Effective gender sensitisation efforts

incorporate the needs of communities,

responding to the opportunities, challenges,

and recommendations identified by countryand

region-specific assessments. Both men

and women have been included during

gender awareness training, providing a

space to stress the economic gains gender

equality can provide for households and

communities.

These methods can assist men to

understand that women's empowerment

does not mean men's disempowerment.

They have also proven effective at acquiring

the buy-in of influential members of

communities, such as religious and

customary leaders. In some cases, male

authorities and community leaders have

played leading roles in supporting women

farmers to increase agricultural production

and access markets, recognising the value

of women's equitable participation in

agriculture.

These are some of the considerations that

motivate the WFP to ensure that women's

agency in projects such as RWEE, P4P,

R4, etc., as they are based on the idea that

economic and political empowerment are

mutually supportive. ■

The World Food Programme is the world's

largest humanitarian agency fighting hunger

worldwide – more information at www.wfp.org.

We have a better chance of achieving Zero

Hunger if we know who's feeling hungry...

60

SSD_Food security and gender.indd 60 04/03/2015 14:02
---
SSD_Al-Khair_ad.indd 61 04/03/2015 14:37
---
ECONOMIC GROWTH

Challenging times

for challenge funds

Enabling the efficient and effective spending of public and private funds for an

array of development purposes has been an important facet of Crown Agents'

work for many years. Defrim Dedej, one of Crown Agents' senior fund managers,

looks at how challenge funds can help to strengthen the private sectors of

developing countries, and the important considerations of their use

62

SSD_supply chain.indd 62 04/03/2015 14:03
---
ECONOMIC GROWTH

In recent years, a number of donors have

increasingly championed the importance

of supporting economic growth to help

bring about sustainable gains in developing

countries. Large volumes of public capital

from DFID, SIDA, and others, have been

targeted at developing with the aim of

private sector development (PSD).

The approaches to facilitating this are

varied but one mechanism utilised with

enthusiasm – one that is seen to yield real

results – is the challenge fund. As a grant

making mechanism, challenge funds are

used in a variety of contexts and targeted at

specific groups of people or issues.

Managed carefully, they can achieve not

only the desired outcomes, but also encourage

innovation and foster genuine partnerships

among various stakeholders, which can

then lead to better learning and stronger

impact in the future. Some of the benefits

arising from using a challenge fund mechanism

include:

• A cost-effective and transparent funding

mechanism

• A mechanism that encourages competition

through triggering a search for smart and

cost-effective solutions

• The ability to generate and test new business

ideas without distorting local markets

▲

63

SSD_supply chain.indd 63 04/03/2015 14:03
---
ECONOMIC GROWTH

It is vital to have a mindset

that acknowledges

the risk and a clear

acceptance of a challenge

fund's fundamental role

in funding experiments

Challenge funds can

encourage innovation

and potentially

transform how

particular complex

problems are tackled

• A mechanism that if managed well can

encourage and achieve systemic change to

benefit the poor

However, bear in mind that no funding

mechanism is without risks, and neither are

there any funding mechanisms that cannot

be improved upon. Based on Crown Agents'

wide experience in managing donors' funds

in this way, here, we look at some key ways

in which we try to improve the efficiency of

challenge funds, increasing the likelihood of

more efficient use of private and public capital

and enhancing developmental outcomes.

Better programme design

Strengthening the design of challenge

funds can ensure that they are based

on good research, a strong theory of

change and carefully constructed logical

framework. From Crown Agents perspective,

active challenge funds that are rather

unfocused and overly ambitious and fail

to take particular local conditions into

consideration, are numerous. The potential

implication of this is damage or distortion of

local economies – which goes against the key

'do no harm' principle of grant making.

64

It is important to think about the different

components of a challenge fund, and how

they work as a whole – recognising that

there are numerous factors to be considered.

These include:

• The area of focus

• The type of grant winner desired, and

proposals that will lead to grants

• …And, of course, the outcomes anticipated

Each decision along the way makes an

impact upon the others, and may limit a

donor's choice in other areas or even ruleout

other choices completely. It is important,

therefore, to consider how decisions relate

to each other; no decision should be taken

in isolation, since this could lead to a huge

waste of money and resources.

As part of the challenge fund design

process, donors also need to specify the

outcomes and impacts they are seeking to

achieve and their plans to measure success.

Without doing so – and without clear key

performance indicators – attached, the end

result can take on an 'Alice in Wonderland'

sense of uncertainty, which naturally is to

nobody's ultimate benefit. To recall Lewis

Carroll's classic's exchange between Alice

and the smug purrings of the grinning

Cheshire Cat,

'Cheshire Puss,' [Alice] began, rather timidly…

'Would you tell me, please, which way I ought to go

from here?'

'That depends a good deal on where you want to get

to,' said the Cat.

'I don't much care where —' said Alice.

'Then it doesn't matter which way you go,' said the

Cat

'—So long as I get somewhere,' Alice added as an

explanation.

'Oh, you're sure to do that,' said the Cat, 'if only

you walk long enough.'

The focus factor

One approach to focus this is, for

example, to concentrate on a specific

country and/or particular sector (such as

agriculture, education, health, or mobile

communications technology), rather than

a multi-country and more widely-focused

approach. Such targeting can increase

understanding of real dynamics and needs

and improve the cascade of learning in the

chosen sector, while enhancing opportunities

for replication and improving end impacts.

The resources available to manage the

challenge fund can be used more efficiently

As the Cheshire Cat advised Alice, you're bound

to get somewhere if you walk for long enough...

SSD_supply chain.indd 64 04/03/2015 14:03
---
ECONOMIC GROWTH

Bear in mind that no funding

mechanism is without risks,

and neither are there any

funding mechanisms that

cannot be improved upon

A privately-funded challenge fund can have a greater appetite for risk, supporting unconventional problem solvers

– which can improve services to the grantees.

For example, the challenge fund manager

can deliver capacity building to grantees

through a workshop instead of a one-to-one

basis.

All grantees will benefit when they speak

the same language; and all are operating in

the same field, and might be facing similar

challenges with, for example, the legal system.

Undertaking monitoring and evaluation

could also be easily facilitated, using

meaningful standard indicators, and allowing

a donor to report succinctly on the challenge

fund's overall outcomes and impact.

Balancing risk with returns

Balancing risk with returns on successful

innovation is a key consideration. By design,

the key purpose of a challenge fund is to

encourage innovation which, given the possibility

of a lack of precedent or best practice

on which to base business activity, implies

risk. A high proportion of new businesses fail

for a wide range of reasons even in apparently

prosperous and opportune Western

markets, so the risks of innovation must not

be ignored at any point. It is vital to have a

mind-set that acknowledges the risk and a

clear acceptance of a challenge fund's fundamental

role in funding experiments, and in

finding new approaches – and potentially

creating a breakthrough change, by transforming

the way that we tackle a particular

complex problem.

While this might mean accepting a higher

risk of failure, the trade-off has the potential

to be a truly game-changing investment if a

venture succeeds. So, the key question when

assessing challenge fund proposals aimed at

supporting private sector development, is

less 'Is this going to work?', and more about

'What could the end impact be in terms of

poverty reduction and wealth creation?'

Another consequence of funding only

those business ventures that are deemed 'sure

bets' is that a donor runs the risk of distorting

local markets, as the sure bets may well

be more likely to obtain commercial business

loans without the need for donor grants.

So risk and reward trade-offs hold good

for challenge funds – with the key aim of

generating larger scale, positive social impact

when successful, set against the potential

downside of financial loss when innovations

fail. Failure, in itself, is not necessarily a bad

thing, so long as lessons can be learned, and

they are not repeated.

Setting–up a Challenge Fund

Bearing in mind the above, when creating a

private sector-focused challenge fund, donors

could take several steps to manage the risk,

while also seeking strong impact:

• Collaborate more with private trusts or

foundations, whose risk profiles may be less

constrained by use of private (rather than

public) funds. Their aim could well be to

find the innovative solutions to complex

social problems, and to learn from the

experience or to concentrate the challenge

fund objective on supporting the scale up of

innovative business venture ideas that have

already proved successful.

• Require the challenge fund manager to be

more proactive at identifying and reaching

beyond the 'usual suspects' in order to scout

for promising new business ventures whose

growth will significantly assist the poor.

• Use a selection process that views positively

engaging unconventional problem solvers and

high-risk, high-reward business venture ideas.

65

▲

SSD_supply chain.indd 65 04/03/2015 14:03
---
ECONOMIC GROWTH

The resources available

to manage the

challenge fund can be

used more efficiently

– which can improve

services to the grantees

CROWN AGENTS, NEFTALI/WWW.SHUTTERSTOCK.COM

• As well as providing capital, provide

targeted technical assistance to the new

ventures as they develop. Take a hands-on

approach in helping to shape and guide

early-stage ideas as they move from concept

to implementation – and use mentors, or

others who have good experience of microbusiness

and its growth path.

• Closely monitor and evaluate all funded

business ventures, and consider diverting

funding from weaker performers to the more

promising ideas, allowing enough time for

ideas to percolate, iterate, and emerge.

To conclude, the challenge for statutory

donors as far as deploying the mechanism

of challenge fund to support private sector

development is to achieve a realistic and

balanced approach. In practical terms,

this means improving the challenge fund's

programmatic design and finding innovative

means of management and perhaps accepting

a higher risk profile.

A key point worth remembering is that the

biggest risk to any donor is not financial loss

but inability to achieve the desired outcome/

impact for their funds because after all money

given away for social purposes is effectively

gone, regardless of outcomes. ■

Crown Agents is an international development

company that partners with governments, aid

agencies, NGOs, and companies in nearly 100

countries. Find out more at www.crownagents.

com.

Challenge funds can generate and test new

business ideas without distorting local economies

Background Briefing: what are challenge funds?

Challenge funds sit among a wide range of funding

mechanisms that exist on the development

finance landscape, but its name is very specifically

defining.

In a challenge fund, a donor provides grants or

subsidies aimed at addressing a core 'challenge':

the donor defines a goal and then invites service

providers or agencies to achieve it through competitive

bids for the money. The goal generally

has an explicit public purpose and the grant

recipients are given broad control over how the

goal is achieved and they can share risks with the

grant provider.

They often invite innovation and risk-sharing

– particularly when aimed at private sector

development – opening-up opportunities for new

development ideas to be put forward and tried,

as mentioned in the main part of this article.

Despite inviting this innovation, the allocation of

funding is still strictly monitored through clearly

defined and advertised rules and procedures.

So: what makes challenge funds different from,

say, managed funds or prize funds?

Unlike managed funds, challenge funds are

more defined in what they what to achieve but

they also put more responsibility in the hands

of those being challenged – the grant recipients.

And prize funds are more reward-focused and often

look at the past performance of the recipient.

While bearing strong similarities to prize funds,

challenge funds generally have higher expectations

on the outcomes. Within the definition

of challenge funds there are further variants:

enterprise challenge funds, for example, promote

innovation and enterprise in developing markets

and must pass the business test of being potentially

viable without recurrent subsidy. And civil

society – or social – funds largely contribute to

social goals such as building people's livelihoods,

promoting human rights or improving public

sector accountability.

Crown Agents has managed numerous challenge

funds over the years, including Department

for International Development (DFID)'s Global

Poverty Action Fund (GPAF), and its Civil Society

Challenge Fund (CSCF).

GPAF is a £120 million fund, running from

2010 to 2017 that supports projects focused on

poverty reduction, service delivery and the most

off-track Millennium Development Goals in countries

including Afghanistan, Cambodia, the Central

African Republic and Somalia.

CSCF, meanwhile, is a fund that Crown Agents

has managed since 2010, funding projects that

are all scheduled to be completed by the end

of 2015. It is aimed at UK-based civil society organisations

(CSOs) to strengthen the role of civil

society in reducing levels of poverty among poor

and marginalised groups around the world.

In both funds we have been integral in carrying

out duties including technical appraisals of project

proposals, performance assessments of project

implementation and overseeing financial management

of the fund to ensure value for money.

66

SSD_supply chain.indd 66 04/03/2015 14:03
---
IDRF (International Development & Relief Foundation)

A Canadian, registered charitable organization, dedicated to empowering the disadvantaged people of the world.

IDRF provides effective humanitarian aid and sustainable development programs, without discrimination, based

on the Islamic principles of human dignity, self-reliance and social justice.

IDRF SAVE LIVES

When disasters strike or conflicts disrupt communities leaving people in desperate need of shelter, food, medical

attention and psychological support, IDRF swiftly partners with organizations on the ground saving lives, helping them

recover and rebuild.

IDRF DEVELOPS COMMUNITIES

For the past 30 years, IDRF has helped victims of war and disasters while working towards alleviating poverty. We have

reached out to deprived communities in Asia, Africa, Eastern Europe, the Middle East and the Americas.

SUSTAINABLE DEVELOPMENT PROGRAMS

Nearly 75 million children in the world have no opportunity to attend primary school. IDRF's Enabling Education

campaign provides quality education for poor girls and boys through several strategic initiatives.

Access to safe water is linked to food security, health and hygiene. IDRF Water helps poor families and communities get

clean water through wells and mobile distribution in several regions.

www.idrf.com

908 The East Mall Road

Toronto, Ontario, M9B 6K2

Canada

1 866 497 IDRF (4373); office@idrf.ca IDRF Charitable #: 132542705RR0001

SSD_supply chain.indd 67 04/03/2015 14:03
---
IMPACT, SCALABILITY, AND SUSTAINABILITY

WASH and learn

Bringing water and sanitation to 220 of Haiti's earthquake-struck schools

has not only re-established their students' educational prospects, but

also contributed toward community health and well-being.

Tariq Al Gurg, Chief Executive Officer at Dubai Cares, has the inspiring story.

Haiti was already an impoverished and

politically-unstable country when a 7.0

magnitude earthquake struck on January

12, 2010, reducing much of the Caribbean

country to many mounds of rubble, and

killing tens of thousands of its inhabitants.

In 2015, the country is still suffering from

the aftermath of the earthquake which has

caused poverty and widespread diseases,

such as cholera.

Over one million people were displaced

by the catastrophe, many of them forced to

live in camps with limited access to clean

water and sanitation. Some 5,000 schools

were damaged or destroyed by the disaster

– a staggering figure, by any estimation

– but even before that, sanitation in Haiti's

schools was often very substandard, putting

the children who attended them at risk of

waterborne diseases.

More than 60 per cent of schools across

the country (both public and private) had no

access to water, hygiene, or sanitation. This

created a difficult learning environment for

children, to say the least.

After the quake, a devastating cholera

outbreak made proper sanitation more

important than ever before. Hundreds of

thousands of people have been sick with

cholera since the outbreak began in October

2010, and there have been more than 7,000

fatalities.

Dubai Cares, in close collaboration with

UNICEF, worked primarily on schools which

are a priority according to the Ministry of

Education. A comprehensive list of 220

68

SSD_Ensuring Impact, Sustainability and Scalability.indd 68 04/03/2015 14:03
---
IMPACT, SCALABILITY, AND SUSTAINABILITY

WASH and go on: pupils

at the Institution Mixte de

Beauvoir in Port-au-Prince

have learnt how personal

acts as simple as washing

hands with soap, will ensure

better productivity at school.

lacked proper facilities. Children used

latrines; but due to lack of water, they were

constantly dirty, posing a health risk for the

students. To find water, they had to dig a

well, install a pump, and then carry water to

the facilities.

"It was really complicated," recalls Ms.

Beauvoir. "Now there are enough toilets

for all the school children – and the air is

breathable. Now children can go safely without

worrying about soiling their clothes."

The change is not just limited to bricks

and mortar. Now that good knowledge can

actually be practiced, Ms. Beauvoir has

instituted new hygiene promotion activities.

"We are doing permanent outreach work

with the students on hygiene," she explains.

"That way they also become 'health officers'

– passing on the information they learn here

at school to their families at home, and [then

into the] communities in which they live.

These practices should now become part of

their habits."

Year after year, millions of school-age

children fall prey to diseases linked to poor

water and sanitation which leave them weakened,

and therefore unable to attend school

on a regular basis or participate to their full

potential. The tragedy of the situation is that

this could be easily prevented by enforcing

sound hygiene and sanitation practices.

Through Dubai Cares' WASH programs

in Haiti, the organisation is tackling the

issue by changing student attitudes towards

hygiene, and showcasing how a personal act

as simple as washing hands with soap, will

ensure better productivity at school.

These positive results of the WASH

program, achieved in the context of a life

threatening cholera outbreak, and combined

with higher level advocacy, inspired

the Government of Haiti to declare WASH

in schools one of its key priorities – and to

establish a National Alliance for WASH in

Schools. Launched on March 20, 2012 with

the Ministry of Education, this national

alliance unites a variety of actors that see

children as key 'agents of change' in their

communities and their nation.

Dubai Cares helped improve the wellbeing

of children through the integration of

water and sanitation facilities and hygiene

activities in primary schools. As part of

the program, Dubai Cares supported the

sustainable integration of WASH in primary

schools by reinforcing the child as the 'Agent

of Change' and the school as a 'centre of

excellence' for sanitation and hygiene in

the community. With the support of Dubai

Cares, UNICEF has also provided WASH

services in displacement camps in the aftermath

of the disaster.

▲

schools was developed and agreed upon with

the Ministry of Education.

Through this programme, from 2010 to

2011, Dubai Cares reached 132,000 children

and 6,600 teachers and at least a further

20,000 future school children benefiting

from the installation of child-friendly water,

sanitation, and hand-washing facilities.

The WASH (water, sanitation and hygiene)

programme has also provided schools with

chlorine tabs, posters about cholera prevention,

and soap.

Ms. Andrelita Beauvoir, headmistress of

Institution Mixte de Beauvoir in Port-au-

Prince, explained that before the earthquake,

the school was in a different building that

Information technology can play a key part in knowledge-sharing when it comes to hygiene

69

SSD_Ensuring Impact, Sustainability and Scalability.indd 69 04/03/2015 14:03
---
IMPACT, SCALABILITY, AND SUSTAINABILITY

With the right support,

leadership, and opportunities

– individuals can flourish, and

in turn, initiate real change in

their communities.

Best practice file: Dubai Cares

The United Arab Emirates is a relatively

young country, having only recently celebrated

its 43rd National Day. Despite its

youth, or perhaps because of it, it has fostered

a legacy of change, and has created

a setting where anything may be possible.

Yet just 42 years ago, the UAE was a radically

different place, with approximately

500,000 residents, many of whom lived in

Bedouin communities; in 2015, the UAE is

home to nearly 10 million people, representing

over 200 nationalities.

The UAE has transformed into a vibrant

knowledge-based community – a hub of

culture and commerce where change is celebrated,

and its leaders have the capacity

to contribute and make a real difference.

Experience has taught its citizens that

within the right setting – with the right

support, leadership, and opportunities – individuals

can flourish, and in turn, initiate

real change in their communities.

The UAE has become a substantial

contributor to development aid worldwide,

owing to the vision and hard work

of the UAE's forefather, His Highness

Sheikh Zayed Bin Sultan Al Nahyan –

who instilled the virtues of giving, and

this is also due to the leadership of our

President His Highness Sheikh Khalifa

bin Zayed Al Nahyan and His Highness

Sheikh Mohammed Bin Rashid Al Maktoum,

Vice President and Prime Minister

of the UAE and Ruler of Dubai – who have

committed themselves to continue in the

same footsteps. In addition to contributing

to international humanitarian activities,

the UAE has also constantly taken full

advantage of its geographical location and

global standing in procuring aid for the

Middle East.

Much of the UAE's humanitarian work

that has been contributed locally, regionally

and internationally is spearheaded by

government institutions or philanthropic

and charity organisations, such as the

Abu Dhabi Development Fund, Khalifa Bin

Zayed Al Nahyan Foundation, Zayed bin

Sultan Al Nahyan Charitable and Humanitarian

Foundation, UAE Red Crescent Society,

Mohammad bin Rashid Al Maktoum

Humanitarian and Charity Establishment,

Sharjah Charity Association, Noor Dubai

Foundation, and Dubai Cares, as well as

many others, alongside contributions by

the private sector and individual donors.

The January 2010 earthquake devastated

Haiti's educational infrastructure: this

site used to be a university

Dubai Cares was established in 2007

by His Highness Sheikh Mohammed Bin

Rashid Al Maktoum, Vice President and

Prime Minister of the UAE and Ruler of

Dubai, as a philanthropic organisation with

the aim of improving childrens' access to

quality primary education in developing

countries. Dubai Cares is headquartered

in Dubai, a strategic location which gives

the organisation a vantage point to access

one-third of the world's population within

a four-hour flight of UAE airports, and twothirds

within an eight-hour flight.

This enables Dubai Cares to reach out to

developing countries, both regionally and

globally, and be active participants in the

world-wide conversation surrounding the

importance of education.

As an organisation, Dubai Cares' work

stems from His Highness Sheikh Mohammed's

vision, guidance and directive. It

works towards eliminating the underlying

obstacles that prevent children from going

to school and learning, and relies on a

holistic approach that motivates children

to attend school, study and move onto the

next level of education.

There are 58 million primary-age

children today who do not have access

to education, and a further 250 million

primary school-age children globally are

still not able to read, write, or count adequately.

Dubai Cares' basic mandate is to

provide primary-age children in developing

countries with the provisions to gain a

good education while eliminating factors

that lead to drop-outs and absenteeism.

Dubai Cares designs and funds integrated

programmes along with its international

and local implementing partners, which

are aligned with the strategies of the

educational ministries in beneficiary countries.

Programmes comprise building and

renovating schools and classrooms, improving

water, sanitation, and hygiene in

schools; providing school feeding, deworming

activities; early childhood education,

70

SSD_Ensuring Impact, Sustainability and Scalability.indd 70 04/03/2015 14:03
---
IMPACT, SCALABILITY, AND SUSTAINABILITY

Dubai Cares is

headquartered in

Dubai, a location which

gives the organisation a

vantage point to access

the world's population

Dubai Cares' basic mandate is to provide

primary-age children in developing countries

with the provisions to gain a good education

Boys and girls need equality of access to

safe learning environments with adequate

facilities, materials, and academic support

as well as teacher training, curriculum development,

literacy and numeracy. Gender

equality is a cross-cutting theme in Dubai

Cares programs, with an approach that

aims to secure equality of access for boys

and girls to safe learning environments

with adequate facilities, materials, and

academic support from qualified teachers

and engaged communities.

In 2012, Dubai Cares was selected by

UN Secretary General Ban Ki-Moon to join

as a partner in his five-year Global Education

First Initiative, launched during the

week of the UN General Assembly in New

York in September 2012. This initiative is

designed to ensure high-quality, relevant,

and transformative, education for all

children around the world.

Moreover, in 2014, and as part of the

London Declaration on Neglected Tropical

Diseases (NTDs), Dubai Cares joined a

global alliance led by the Bill & Melinda

Gates Foundation, with 13 leading pharmaceutical

companies, global health organisations,

private foundations and donors, and

governments pledging support to reduce

the global burden of NTDs.

One of Dubai Cares' strategic approaches

to improving student

enrolment, and learning

outcomes, is through an

integrated school health

and nutrition model that

is made-up of NTD control,

school feeding and WASH

(water, sanitation and

hygiene) in schools. Dubai

Cares was also a member

of the Learning Metrics

Task Force (LMTF)

between 2012 and 2014,

which was convened by the Brookings

Institution and UNESCO in order to ensure

that learning becomes a central component

of the global development agenda, in line

with the Global Education First Initiative.

Dubai Cares is currently working directly

with developing countries to support the

implementation of the LMTF recommendations,

assisting governments to evaluate

and improve their national assessment

systems.

Dubai Cares is reaching more than 13

million beneficiaries in 38 developing countries.

In 2014 alone, Dubai cares launched

seven programs in India, Kenya, Namibia,

Pakistan, Palestine, Uganda, and Vietnam;

and during the first quarter of 2015, it

oversaw two successful events in the UAE

– the 'Rebuild Palestine. Start with Education'

campaign, and 'Walk for Education

2015' to engage a total of 11,500 supportive

UAE community members.

Monitoring and evaluation of programs,

as well as targeted research, are integral,

as is the importance of evidence-based

programming. Dubai Cares policy is that

its programmes must be based on, or

contribute to, the evidence base, if they

are to have quantifiable impact. Sixty-five

per cent of its programme designs are

based on existing evidence and proven

models; the remaining 35 per cent of its

programs contribute to the evidence base

by including a research component into

the interventions in order to test and

document the impact.

Sharing experiences and learning are

essential when it comes to tackling the

huge humanitarian aid challenges that

confront us. Dubai Cares has convened

four workshops (in Dubai) on topics as diverse

as 'Building Evidence in Education',

'Home Grown School Feeding programs',

'Water, Sanitation and Hygiene in Schools

programs', and 'Girls Education programs'.

In February 2012, Dubai Cares also

supported and hosted the second Learning

Metrics Task Force (LMTF) meeting in

Dubai to identify common learning goals

necessary to improve learning opportunities

for children and youth around the

world. These workshops

bring together high-level

representatives and technical

experts from UN

agencies, international

aid organisations and government

representatives

to discuss projects and

exchange best practices,

as well as disseminate key

learnings. ■

For more information about

Dubai Cares and its work,

go to www.dubaicares.ae.

DUBAI CARES, ARINDAMBANERJEE/WWW.SHUTTERSTOCK.COM

71

SSD_Ensuring Impact, Sustainability and Scalability.indd 71 04/03/2015 14:04
---
SUSTAINABLE TOURISM

72

SSD_Sustainable Tourism.indd 72 04/03/2015 14:05
---
SUSTAINABLE TOURISM

Islands of

knowledge

When it comes to making the most of the opportunities tourism

brings without jeopardising sustainability, islands – especially

small islands – can find mutually-supporting solutions that

balance the needs of them both, finds Dr Rachel Dodds, Director/

Owner, Sustaining Tourism

The Maldives is one

of the few countries

to establish a tourism

policy that focuses

on setting guidelines

for environmental

construction

Islands are unique not necessarily by size,

but by the physical separation from a

mainland. Being surrounded by water

requires humans to navigate this space by

either air or boat. In a sense, being remote

from other landmasses also gives rise to

heightened challenges for sustainability.

Furthermore, islands – small island

developing states (SIDS) in particular – face

increasingly growing concerns over resource

depletion, climate change, biodiversity loss

and socio-economic inequalities 1 .

The challenge for sustainable development

of these islands involves considering social,

economic and environmental considerations

more urgently than many other destinations

in the world as their predicament is much

more tenuous. Tourism is very often put

forward as a way to achieve sustainable

development, as it can provide employment,

increased foreign exchange, improved

communications, and access and develop

much-needed infrastructure. It should,

however, be properly recognised that tourism

is also dependent on the very resources that

attract tourism and the impacts on islands

are perhaps far greater.

Finite factors

Islands are particularly susceptible to

significant environmental impacts that

may result from the overuse of resources

or uncontrolled tourism development, for

instance. They are also at risk due to their

limited species diversity, often lack of fresh

water, land mass and increasing development

for tourist arrivals.

The sustained beauty of natural and

social environments and hospitality of the

communities where the tourism industry

operates are the core assets of most islands;

yet increased tourism exerts disproportional

influence on the local community; and

cultural homogeneity is ever-increasing.

As the tourism experience is inevitably

linked to many natural and cultural

▲

73

SSD_Sustainable Tourism.indd 73 04/03/2015 14:05
---
SUSTAINABLE TOURISM

Sustainably-developed

tourism can showcase

positive initiatives that

other countries could

duplicate.

resources that are provided by and shared

with the local community, the need to

address sustainability challenges is vital.

More than 10 per cent of the world's

population can be designated as islanders,

and recognising and addressing their

vulnerabilities is vital to ensure more

sustainable livelihoods.

Island strengths

Islands of various sizes attract tourism not

only for their natural beauty and beaches

(e.g., the Maldives, Mauritius, Caymans,

Seychelles, etc.), unique environmental

attributes (the Galapagos islands are a pereminent

example), but also their history and

culture (e.g. Andaman and Nicobar Islands,

Guam, and Malta). Looking at global

tourism growth, the number of islands

that are focusing on tourism is increasing

rapidly. Seven of the 15 fastest-growing

countries between 1985 and 1995 were

tourism economies and most of them were

island tourism economies with more than

30 percent of gross domestic product (GDP)

coming from tourism 2 . Indeed, of the most

prosperous countries in the world in 2014 3 ,

nine of the top 30 are islands.

As mentioned earlier, tourism also acts as

a multiplier for employment. The countries

74

The Galapaogos Islands

are a sustainability

success story, with a

higher GNP than Ecuador

that have the highest multiplier effect from

tourism are all islands – Jamaica, Mauritius,

Bermuda, Solomon Islands, Malta, Western

Samoa, and Fiji 4 .

Tourism as an enabler

Tourism, when developed sustainably,

can provide a useful tool for sustainable

development and islands, as well as island

states, now showcase positive initiatives that

other countries could duplicate. Islands

benefit from strong kinship networks – that's

to say, strong family ties leading to high VFR

tourism (visiting friends and relatives) – and

many of the challenges they face have given

islanders the ability to adapt.

When examining sustainability, islands

have showcased many positive initiatives:

• From a management perspective Chumbe

Island, located off the coast of Tanzania,

developed Africa's first marine park and

established alternative sources of livelihood

for fishermen 5 .

• In Fiji, villagers are using their traditional

practices and an iterative approach to

safeguard their interests in their island

environment. Lacking the resources to make

new drainage systems and seawalls, local

residents are restoring mangroves and coral

reefs to help prevent flooding and erosion 6 .

• The island of Dominica has focused on

smaller scale tourism that has benefited the

local indigenous community through greater

recognition, revival and maintenance of

their culture, as they are less dependent on

imports to satisfy the mass markets.

• The Maldives is one of the few countries

worldwide to establish a tourism policy

that focused on setting guidelines for

environmental construction 7 . They are also

the first country to aim to be carbon neutral

by 2020 8 .

• Bonaire is famous for its marine strategy

where it was the first of its kind to actively

manage marine resources 9 .

Barbadian farmers

are also turning their

hand to selling local

handicrafts

SSD_Sustainable Tourism.indd 74 04/03/2015 14:05
---
SUSTAINABLE TOURISM

Of the most prosperous

countries in the world

in 2014, nine of the top

30 are islands…

• When looking at energy and waste,

Tokelau, one of New Zealand's territories

recently began producing 100 per cent of its

energy from solar sources.

• St Kitts and Nevis are working towards

converting biomass to local electricity and

the Bahamas is aiming to be 99 per cent

fossil fuel free by 2030 10 .

Many islands have put in place waste

water treatment plants to reduce water

pollution, and work towards re-nourishment

and land reclamation (for example, he

Caribbean and Thai islands). In Bonaire, a

small-scale desalination facility powered by

solar energy was established.

The facility was relatively inexpensive

to construct and maintain and is used to

provide communities with safe drinking

water in an environmentally friendly

manner, thus reducing ecological footprint in

remote areas.

In Roatan, Honduras micro-enterprise

solutions have been put in place to

emphasize how to use local knowledge to

manage waste on the island. Now when

islands use traditional wrapping such as

banana leaves, or other plant materials,

for food, it is considered authentic and

interesting to tourists; and these materials

naturally decompose, thereby eliminating

the need for imported plastic bags that may

end-up as unsightly litter 11 .

Island sustainability exemplars

Economically, islands also showcase

positives. The Galapagos, through protection

of wildlife, went from being a largely

unpopulated volcanic outcrop, to become

the richest department in Ecuador – and

now has a higher gross national product

References

1. Graci, S.R. and Dodds, R. Sustainable Tourism in

Islands. Earthscan Press, ISBN 9781844077809

(2010).

2. Giannoni, S. & Maupertuis, M.A. 'Environmental

quality and optimal investment in tourism infrastructures:

A small island perspective. Tourism Economies, 13(4)

(2007).

3. http://www.businessinsider.com/the-30-mostprosperous-countries-in-the-world-2014-11

499-513

4. http://www.unep.org/resourceefficiency/

Portals/24147/scp/business/tourism/greeneconomy_

tourism.pdf . P423

The island of St. Barthélemy's

airport's size limitations have

helped curb mass tourism

(GNP) than mainland Ecuador 12 .

In St. Barthélemy, in the Eastern

Caribbean, meanwhile, a small airport has

prevented the growth of mass tourism, and

has also helped to develop an up-market

destination for French cuisine 13 .

Islands are also supporting livelihoods by

supporting local handicrafts and sourcing.

In Barbados, Antigua and Tobago, efforts

to use local farmers for food production for

tourism as well as selling local handicrafts

have shown many positive benefits 14 .

In the light of these and many other

5. Dodds, R. Ecotourism education and marine conservation:

The Case of Coral Park Chumbe Island, Zanzibar.

Teoros. Vol 1 (2012) .

6. http://www.unep.org/wed/SIDS/about/#.

VNjLY1XF_K0.

7. http://www.unesco.org/culture/natlaws/media/pdf/

maldives/maldives_act_11_08_1998_engl_orof.pdf.

8. http://www.pri.org/stories/2012-01-28/maldivesworking-be-carbon-neutral-2020.

9. http://www.dcnanature.org/bonaire-national-marinepark/.

10. http://www.gseii.org.

success stories, it is evident that islands,

because of their isolation and size and

marginalization and resource limitations

face significant challenges for the sustainable

development of tourism and other

industries. These same traits however, also

offer good examples of how islands can

utilise innovative strategies to become more

sustainable. ■

Dr Rachel Dodds is Director/Owner, Sustaining

Tourism (www.sustainabletourism.net), and Associate

Professor, Ted Rogers School of Hospitality and

Tourism Management, Ryerson University.

11. Graci & Dodds, 2010 ibid.

12. Kerr, S. A. (2005) 'What is small island sustainable

development about?' Ocean and Coastal Management,

48: 503-524.

13. McElroy, J. & Dodds, R. 'What does sustainable

tourism mean for islands'. ID21 Island Insights. P 3

(2007). Special issue invited contribution.

14. PPT (Pro Poor Partnership) & CTO (Caribbean

Tourism Organization). 'Making Tourism Count for the

Local Economy in the Caribbean: Guidelines for Good

Practice'. UK Travel Foundation, London (2006).

75

DR RACHEL DODDS, STYVE REINECK, MARISA ESTIVILL/WWW.SHUTTERSTOCK.COM

SSD_Sustainable Tourism.indd 75 04/03/2015 14:05
---
About

DIHAD

DIHAD was launched in 2004 as the Middle East's first ever humanitarian aid and development event, with a vision of

creating a platform for exchanging humanitarian ideas and values between the East and West. Over the years, DIHAD

has grown into one of the world's largest humanitarian events that brings together various humanitarian actors and key

decision makers from leading International, Regional & Local NGOs, UN Agencies, Governmental Departments, Charities,

Relief Suppliers, Donors and Funding Agencies.

DIHAD 2015

FEATURED LIST OF SPEAKERS

UN Messenger of Peace and

Chairperson of International

Humanitarian City

HRH Princess Haya Bint Al Hussein

Wife of HH Sheikh Mohammed Bin

Rashid Al Maktoum, Vice-President and

Prime Minister of the United Arab

Emirates and Ruler of Dubai

HE Mr. Christos Stylianides

European Commissioner for

Humanitarian Aid and Crises

Management

HE Mr. Elhadj As Sy

Secretary General, International

Federation of Red Cross and Red

Crescent Societies (IFRC)

HRH Prince Hassan Bin Talal

of Jordan

HE Mr. Ibrahim Bumelha

Humanitarian Advisor of H.H Sheikh

Mohammed Bin Rashid Al Maktoum,

Chairman , DIHAD Higher Committee

and President, DISAB

HE Sheikha Lubna Bint Khalid Al

Qasimi

Minister of International Cooperation

and Development, UAE

HE Mr. Pierre Kraehenbul

Commissioner General, United Nations

Relief & Works Agency Palestine

Refugees in the Near East (UNRWA)

HE Mr. William Lacy Swing

Director General, International

Organisation for Migration (IOM)

Mr. Alfredo Zamudio

Director Internal Displacement

Monitoring Centre, Norwegian

Refugee Council – Geneva

Mr. Amin Awad

Director, Middle East & North

Africa Bureau & Regional

Refugee Coordinator (Syria

Situation), United Nations High

- Commissioner For Refugees

(UNHCR)

Mr. Andrew Scott

Research Fellow, Climate &

Environment Programme,

Overseas Development Institute

(ODI) London

H.E. Amb. Atta El Manan

Bakheet El- Haj

Adviser to the Minister, Ministry of

Foreign Affairs, Khartoum, Sudan

Mr. Claus Sorensen

Director General, European

Commission Directorate General

for Humanitarian Aid & Civil

Protection (ECHO)

Ms. Daryl Grisgraber

Senior Advocate For the Middle

East, Refugees International,

Washington DC

Mr. David Kaatrud

Director, Regional Office for Asia &

The Pacific , WFP Bangkok

Ms. Degan Ali

Executive Director, African

Development Solutions (ADESO),

Nairobi

Mr. Didier Le Bret

Director, Crisis Center, Ministry of

Foreign Affairs and Development,

Paris

Mr. Dominique Burgeon

Coordinator, Resilience Strategic

Objective & Director, Emergency

& Rehabilitation Division, Food &

Agriculture Organisation (FAO),

Rome

H.E. Professor Eizi Hibat Allah

Ali Shuraim

Minister For Water & Environment,

Sana'a, Republic of Yemen

Ms. Florika Fink Hooijer

Director Strategy Policy &

International Cooperation,

European Commission Directorate

General for Humanitarian Aid &

Civil Protection (ECHO)

Mr. Francois Grunewald

Executive Director , Groupe

Urgence, Rehabilitation,

Development (URD) France

H.E. Amb. Gerhard Putman-

Cramer

Director , DIHAD International

Scientific Advisory Board

Dr. Ghaith Fariz

Director & Coordinator, Arab

Knowledge Report & (UNDP's)

Arab Water Governance Report

H.E. Dr. Hamdan Musallam Al

Mazrouie

Speaking on Behalf of H.H Sheikh

Hamdan Bin Zayed Al Nahyan,

Representative of the Ruler of

Abu Dhabi in the Western Region

and President, UAE Red Crescent

Authority

H.H Sheikh Abdul Aziz Bin Ali Al

Nuaimi, Ph.D.

Environmental Advisor to the

Ajman Government, UAE

Mr. Henry Gray

Emergency Operations Manager,

Medicins Sans Frontieres (MSF)

SSD_DIHAD_Programme.indd 76 04/03/2015 14:06
---
AGENDA SESSIONS

f

y

,

H.E Mr. Hesham Youssef

Assistant Secretary- General

for Humanitarian Affairs,

Organisation of Islamic

Cooperation

Ms. Margareta Wahlstrom

Special Representative of

the Secretary - General for

Disaster Reduction

Mr. Mario Stephan

Gulf Office Director, Norwegian

Refugee Council (NRC), Dubai

Mr. Matthew McKinnon

Specialist, Climate Vulnerable

Forum Support, Environment

& Energy Group, United

Nations Development

Programme (UNDP)

Mr. Michael Talmahi

Regional Water & Habitat

Advisor, ICRC Amman

Mr. Mohamed Beavogui

Director Partnerships &

Resource Mobilisation

Office, Senior Advisor to The

President, International Fund

for Agricultural Development

(IFAD) Rome

Dr. Mohamed Ateeq Al Falahi

Secretary General, UAE Red

Crescent Authority

Dr. Mukesh Kapila

Professor of Global Health

& Humanitarian Affairs,

Humanitarian & Conflict

Response Institute, University

of Manchester, UK

Mr. Olaf Janssen

Project Director, Humanitarian

Logistics , KUHNE Foundation

Swtizerland

Dr. Rami Ghandour

Managing Director, Metito

Utilities Ltd., Dubai UAE

Mr. Ramiro Lopes Da Silva

Deputy Executive Director ,

World Food Programme

Mr. Rashid Khalikov

Director, Office of The

Coordination of Humanitarian

Affairs (OCHA), Geneva

Mr. Robert Turner

Director, United Nations Relief

& Works Agency Palestine

Refugees in the Near East

(UNRWA)

Mr. Ross Mountain

Deputy Special Representative

of The Secretary General,

Resident Humanitarian

Coordinator - Lebanon

Ms. Salam Kanaan

Care Country Director,

Amman

Mr. Sean Lowrie

Director, Start Network,

London

H.E. Dr. Sergio Piazzi

Secretary General,

Parliamentary Assembly

of The Mediterranean- St.

Julians, Malta

Dr. Shadi Hamadeh

Director, Environment &

Sustainable Development

Unit, American University of

Beirut

HE Ms. Shaima Al Zarooni

CEO, International

Humanitarian City (IHC), Dubai

Day 1: Tuesday, 24 March 2015

10:00 OPENING CEREMONY

14:00 – 15:30 SESSION 1

Disaster Reduction

and Preparedness –

opportunities

16:00 – 17:30 SESSION 2

Environmental Protection

and Climate Change –

opportunities

Day 2: Wednesday, 25 March 2015

09:00 – 10:30 SESSION 3

Moving relief items, where/

when required efficiently

10:30 – 10:45 KEYNOTE ADDRESS –

"MOBILITY"

11:15 – 12:45 SESSION 4

The forced displacement

of persons, causes and

consequences

14:00 – 15:30 SESSION 5

Sustainable development,

what happens after 2015?

15:30 – 15:45 KEYNOTE ADDRESS –

"SUSTAINABILITY"

16:15 – 17:45 SESSION 6

Water and Energy: will we

have enough tomorrow?

Day 3: Thursday, 26 March 2015

09:00 – 10:30 SPECIAL SESSION (Part 1)

The role of NGOs in the

provision of humanitarian

assistance in today's crisis

environments

SPECIAL SESSION (Part 2)

The role of NGOs, also as

partners in development

assistance

14:00 – 15:30 SPECIAL PRESENTATIONS

The World Humanitarian

Summit (Istanbul, May 2016)

SSD_DIHAD_Programme.indd 77 04/03/2015 14:06
---
CONTRIBUTOR PROFILES

Writing for this issue

SOURCE: Sustainable Development contributors represent

a wide range of expertise and specialist knowledge...

Appointed its Chief Executive

Officer in 2009, Tariq Al

Gurg has been the driving

force behind Dubai Cares'

role as a global advocate,

champion of education,

strategic convener, and

information disseminator

on key thematics in primary

education. Tariq Al Gurg's

experience includes 12

years at senior management

positions within the consumer

and corporate banking at

Emirates NBD (formerly the

National Bank of Dubai). He

is a Founding Board Member

and Deputy Chairperson of

the UAE Genetic Diseases

Association (UAE GDA),

which is under the presidency

of His Highness Sheikh

Nahyan bin Mubarak Al

Nahyan (UAE Minister

of Culture, Youth and

Community Development).

He was also a member of

the National Anti-Money

Laundering Committee of

the UAE (NAMLC).

Professor Martin

Charter is the Director

of The Centre for

Sustainable Design® at

University College for

the Creative Arts. Prof

Charter has completed

product sustainability and

sustainable innovation

research, knowledge

transfer and training projects

worldwide since 1995. He

has also led missions to

Japan, China, Hong Kong,

and Taiwan to explore the

'state of the art' in ecodesign

and circular economy;

and he is the organiser of

the Sustainable Innovation

series of international

conferences that is now its

twentieth year. Prof Charter

is the author/co-author,

editor/co-editor of various

publications. Books have

included Managing Ecodesign

(1997), Sustainable

Solutions (2001), and

System Innovation for

Sustainability (2008).

Defrim Dedej is a

Senior Consultant

in Grant and Fund

Management at Crown

Agents, with a strong

academic background

in grant management

and extensive practical

experience. He has

designed and managed

a number of grant

programmes in the

public, CSO, and

private sectors in

the fields of health,

research, education,

poverty, gender equality,

strengthen communities,

civil rights, and arts/

culture. Among Defrim

Dedej's current projects

are the Global Poverty

Action Fund and Civil

Society Challenge Fund.

Dr Rachel Dodds is a

world-renowned expert

in sustainable tourism. A

Director of consultancy firm

Sustaining Tourism, she is

also an Associate Professor at

Ryerson University in the Ted

Rogers School of Hospitality

and Tourism Management.

Dr Dodds has published and

presented globally about

sustainable tourism, and has

written numerous journal

articles, papers and articles,

and is author of the book

Sustainable Tourism in Island

Destinations. Her expertise

focuses on sustainable tourism

development, climate change,

corporate social responsibility,

and determining tourist

motivations. Dr Dodds holds

a PhD from the University of

Surrey in England, as well as

a Masters degree in Tourism

Management from Griffith

University in Australia.

78

SSD_Contributors.indd 78 04/03/2015 14:06
---
CONTRIBUTOR PROFILES

Paloma Durán is

the Sustainable

Development Goals

Director at the United

Nations Development

Programme. She holds a

Master and PhD in Law,

as well as a Master and

PhD in Political Science

and has authored

numerous journal

articles, book chapters,

and books in the area

of human rights, gender

issues, development,

and equality. Paloma

Durán has an extensive

professional experience

in government

and international

organisations.

Chief Executive of RedR

UK Martin McCann

has been involved in

international development

and humanitarian work for 30

years, ranging from a volunteer

posting in West Africa, to

being the Programme Director

and Deputy International

Executive Director of a

$700m-a-year charity. He also

worked at the appropriate

technology organisation ITDG

(now Practical Action), where

he designed the restructuring

and systems to restore it to

financial viability. McCann

was a founding Board

member of ChildHelpline

International, and the Hope

for African Children Initiative;

and he is an Independent

Member of Council of the

University of Sussex, a Trustee

of Engineers without Borders,

and the Sphere Project, a

member of the Steering

Committee of ELHRA, and

a Fellow of the Institution of

Civil Engineers.

Sonsoles Ruedas was

born in Spain, where her

father was in the first batch

of Spaniards to join the

United Nations, so she grew

up in New York and Geneva.

Sonsoles has worked at

World Food Programme for

30 years, and during her

career has worked in Angola,

Bhutan, Cape Verde, Cuba,

Nicaragua, South Africa,

and Vietnam,as well as at

the World Food Programme

headquarters in Rome,

Italy. Sonsoles Ruedas has

been Director of the Gender

Office since February 2013.

Peter McCornick is Deputy

Director, General (Research) at the

International Water Management

Institute, based in Colombo, Sri

Lanka. His career focus has been

to improve the understanding and

sustainable management of water

resources. He has led research

and development programs

on water, agriculture and the

environment in Africa, Asia, and

the Middle East. Present areas of

particular interest include water

and food security, the waterfood-energy

nexus, water reuse,

irrigation management, and

water and climate adaptation.

McCornick is a licensed

professional civil engineer in

the US State of Colorado,

a member of the American

Academy of Water Resources

Engineers, a senior fellow at

Duke University's Nicholas

Institute for Environmental

Policy and an affiliate of the

Faculty of Geosciences, Warner

College of Natural Resources,

Colorado State University.

He has contributed to over 30

peer reviewed publications,

and regularly presents at major

international events.

Dr Loren Treisman is

Executive of Indigo Trust,

a grant-making foundation

which supports technologydriven

projects in Africa

with a focus on transparency,

accountability and citizen

empowerment. She holds

a PhD from Cambridge

University, and has

expertise in international

development, health and the

use of new technologies to

stimulate social change.

Dr Treisman was recognised

as one of 2014's Powerful

Women to Watch in the

Huffington Post, and regularly

writes in the international

Press including Al Jazeera,

The Guardian, and CNN.

79

SSD_Contributors.indd 79 04/03/2015 14:06
---
EVENTS

Events calendar 2015

A selection of conferences, exhibitions, and seminars of interest to

sustainable development professionals. For more detailed information

about featured events, please visit the event website via the URL provided.

WWW.SHUTTERSTOCK.COM

ICTTB 2015 International Conference

Sustainable in Tourism Technology

Logistic & Innovation Business Paris

April 12th to 15th April, 2015 / Paris, France

'The first objective of this program is to

give academics an opportunity to present

their academic works, concepts and new

discoveries; moreover, participants will have

a chance to exchange their ideas and develop

their works; also, they will meet academics

from universities around the world and

create alliances to improve their works.'

Website: http://www.icbtstoronto.

com/14850598/paris-call-for-paper

The Third Conference on Sustainable

Tourism and Hospitality in Asia (COSTA

2015) Conference

April 26th to April 28th 2015 / Hiroshima, Japan

'The aim of the conference is to foster

greater communication and collaboration

between scientists, practitioners, and policy

makers, in seeking innovative and pragmatic

approaches to sustainable tourism and

hospitality.'

http://presdafoundation.org/sustainabletourism-hospitality-conference

Humanitarian Technology: Science,

Systems and Global Impact

12th May–14th May 2015 / Cambridge, United

States

'Technically-focused international

conference designed to explore emerging

technologies that further enable global

humanitarian assistance.'

http://www.humanitariantechnology.org

80

7th International Conference on

Sustainable Development and Planning

May 19th-May 21th 2015 / Istanbul, Turkey

'The Conference addresses subjects of

regional development in an integrated way

as well as in accordance with the principles

of sustainability.' http://www.wessex.ac.uk/15-

conferences/sustainable-development-andplanning-2015.html

Joint International Conference Managing

Sustainable Growth (MIC 2015)

May 28th to May 30th, 2015 / Portorož, Slovenia

'The aim of the conference Managing

Sustainable Growth is to analyse various

aspects of sustainable economic growth

and development, and to offer researchers

and professionals the opportunity to

discuss the most demanding other issues of

sustainability.'

Website: http://www.mic15.fm-kp.si

Modelling Innovation Sustainability and

Technologies Conference

June 8th-June 9th, 2015 / Lisbon, Portugal

'The rise of the middle class in China,

Brazil, and India, among other countries,

the challenges on the employment and the

future of work in the context of automation,

poverty reduction, water and climate

change, represent just a shortlist of very

good reasons to investigate and to discover

innovative solutions to answer the world

global questions, and to design from the

scratch new business models that address

environmental impacts.'

http://misteike.org

Sustainability in Energy and Buildings,

SEB-15 Conference

1st July-3rd July, 2015 / Lisbon, Portugal

'Aim of the conference is to bring together

researchers and government and industry

professionals to discuss the future of energy

in buildings, neighbourhoods and cities from

a theoretical, practical, implementation, and

simulation perspective. The conference will

be an exciting chance to present, interact,

and learn, about the latest research in

Sustainability in Energy and Buildings.'

http://seb-15.sustainedenergy.org

Sustainable Development Conference

July 5th-July 7th 2015 / Bangkok, Thailand

'A forum, discussion and networking place

for academics, researchers, professionals,

administrators, educational leaders, policy

makers, industry representatives, advanced

students, and others.'

http://www.sdconference.org

Humanitarian Innovation Conference

2015: Facilitating Innovation

July 17th-July 18th, 2015 / Oxford, United

Kingdom

'A key focus of the conference will explore

how we enable innovation, by and for

affected communities. It will also seek to

examine what facilitation means across the

wider humanitarian ecosystem, and how

we can better convene the collective talents

of people within and across traditional and

non-traditional humanitarian actors.'

http://www.ox.ac.uk/event/humanitarianinnovation-conference-2015-facilitatinginnovation

International Conference on Education for

Sustainable Development (ICESD 2015)

October 6th-October 7th, 2015 / Ebonyi State,

Nigeria.

'The conference aims to provide a forum

to researchers, practitioners, educators,

entrepreneurs, representatives of industries,

educational research institutes across

developing nations, and scholars in the

education sector, for sharing their research

findings and experiences on various aspects

of education, including recent trends, issues,

and challenges.'

http://icesd2015.org

SSD_Events.indd 80 04/03/2015 14:07
---
Print? Digital? Editorial?

Design? Social Media?

We've got you covered!

Mediawire's publications are all about meeting our client's needs and

requirements from inception, creation, printing, distribution, through to delivery.

Our ability to handle complex publishing projects is unrivalled.

Over the last few years Mediawire has built a reputation for producing high

quality publications, from customer magazines to global business publications.

mw

Sustainable Solutions

We would love to hear from you

mediawireglobal.com T: +44 203 588 5900 M: +44 7958 344 329

Info@mediawireglobal.com publishing@mediawireglobal.com mo.rami@mediawireglobal.com

Mediawire Ad.indd 2 04/03/2015 14:08
---
SDD_BC.indd 2 04/03/2015 14:12