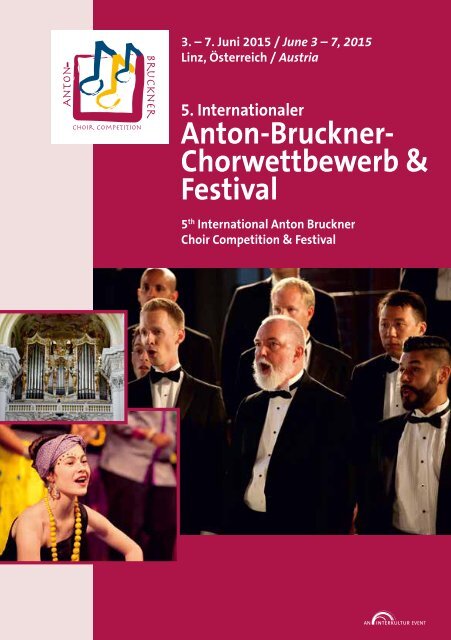 Linz 2015 - Program Book
The program book of the 5th International Anton Bruckner Choir Competition and Festival June 3 – 7, 2015 | Linz, Austria The International Anton Bruckner Choir Competition is both an international choir competition with various categories of different levels of achievement for amateur choirs and presents itself at the same time as a Festival of Choral Music in which choirs from all over the world can give concerts and make the most of the atmosphere of this international event. The attraction of this event consists of performing at a competition for a grand prix as a basic artistic component on the one hand and the possibility of participation in the friendship and gala concerts at St. Florian on the other hand. Of course, the city of Linz has the attraction of its wide variety of event offerings and as the point of departure for tourist excursions to interesting places in Upper Austria and beyond.
The program book of the
5th International Anton Bruckner Choir Competition and Festival
June 3 – 7, 2015 | Linz, Austria

The International Anton Bruckner Choir Competition is both an international choir competition with various categories of different levels of achievement for amateur choirs and presents itself at the same time as a Festival of Choral Music in which choirs from all over the world can give concerts and make the most of the atmosphere of this international event. The attraction of this event consists of performing at a competition for a grand prix as a basic artistic component on the one hand and the possibility of participation in the friendship and gala concerts at St. Florian on the other hand. Of course, the city of Linz has the attraction of its wide variety of event offerings and as the point of departure for tourist excursions to interesting places in Upper Austria and beyond.
SHOW MORE
SHOW LESS
Create successful ePaper yourself
Turn your PDF publications into a flip-book with our unique Google optimized e-Paper software.
3. – 7. Juni 2015 / June 3 – 7, 2015Linz, Österreich / Austria5. InternationalerAnton-Bruckner-Chorwettbewerb &Festival5 th International Anton BrucknerChoir Competition & Festival
---
35. Internationaler Anton-Bruckner-Chorwettbewerb & Festival5 th International Anton Bruckner Choir Competition & Festival3. – 7. Juni 2015, Linz, Österreich / June 3 – 7, 2015, Linz, AustriaVeranstalter / OrganizerFörderverein INTERKULTUR Österreichin Kooperation mit / in collaboration withder LIVA (Linzer Veranstaltungsgesellschaft mbH)dem Land Oberösterreich, Direktion Kulturin Zusammenarbeit mit / in cooperation withder Oö. Vokalakademie, dem Brucknerbund Oberösterreichund dem Chorverband Oberösterreichmit finanzieller Unterstützung von / with financial support byLand Oberösterreich, Direktion KulturStadt Linz, Linz KulturBrucknerbund OberösterreichPräsident INTERKULTUR / President INTERKULTURGünter Titsch (Deutschland/Germany)Ehrenschutz / PatronageDr. Josef Pühringer, LandeshauptmannMag. Klaus Luger, Bürgermeister der Stadt LinzVize-Bürgermeister Mag. Bernhard Baier, Kulturreferent der Stadt LinzEhrenkomitee (Ehrenpräsidium) / Honorary Committee (Honorary Presidency)Prof. Hans-Joachim Frey, Vorstandsdirektor und künstlerischer Leiter der LIVAMag. Reinhold Kräter, LandeskulturdirektorDr. Julius Stieber, Kulturdirektor der Stadt LinzDr. Hermann Bell, Präsident des Brucknerbundes OberösterreichProf. Dr. Ursula Brandstätter, Rektorin der Anton-Bruckner-PrivatuniversitätMag. Josef Habringer, DomkapellmeisterProf. Fritz Hinterdorfer, Konsulent der Oberösterreichischen LandesregierungKünstlerisches Komitee / Artistic CommitteeProf. Dr. Ralf Eisenbeiß (Deutschland/Germany), Direktor/directorFred Sjöberg (Schweden/Sweden)Christian Ljunggren (Schweden/Sweden)Johan Rooze (Niederlande/Netherlands)Assoc. Prof. Romāns Vanags (Lettland/Latvia)INTERKULTUR BoardGünter Titsch (Deutschland/Germany)Qin Wang (China)Stefan Bohländer (Deutschland/Germany)Prof. Dr. Ralf Eisenbeiß (Deutschland/Germany)
---
4Sponsoren und Förderer / Sponsors and SupportDANK DEN SPONSORENAls Veranstalter des 5. Internationalen Anton-Bruckner-Chorwettbewerbs& Festivalist es dem Förderverein INTERKULTUR Österreichein Herzensbedürfnis, den Sponsorenunseres erfolgreichen Festivals im Namenaller ca. 700 Mitwirkenden für ihre großzügigeUnterstützung zu danken. Ohne diefolgenden Firmen und Institutionen wäredie Durchführung dieses herrlichen Treffensvon 19 exzellenten Chören aus 12 Ländernnicht möglich gewesen.Unser besonderer und herzlichster Dank gilt:dem Land Oberösterreich, der Stadt Linz, derLIVA (Linzer Veranstaltungsgesellschaft mbH),die uns die optimalen Bedingungen für denChorwettbewerb im Brucknerhaus ermöglichthat. Weiterhin danken wir dem Brucknerbundund der Oberbank 3 Banken Gruppe für diefreundliche Unterstützung. Dem Brucknerbunddanken wir insbesondere für die Spendedes Anton-Bruckner-Chorpreises.THANKS TO THE SPONSORSAs organizer of the 5 th International AntonBruckner Choir Competition & Festival, it is adeep pleasure for INTERKULTUR FoundationAustria to thank the sponsors of our successfulfestival for their kind support in the nameof about 700 participants. Without the followingcompanies and institutions, this outstandingevent with 19 excellent choirs from12 different countries would not have beenpossible.We would especially like to thank:The Province of Upper Austria, The City ofLinz, LIVA (Linz Event Association), whichprovided the optimal conditions for the competitionin the Brucknerhaus. Furthermorewe would like to thank the Brucknerbundand the Oberbank 3 Banken Gruppe for theirfriendly support. We give special thanks tothe Brucknerbund for donating the AntonBruckner Choir Prize.
---
5Inhalt / Table of contentsSeite / PageVeranstalter / Organizer 3Sponsoren und Förderer / Sponsors and Support 4Inhaltsverzeichnis / Table of contents 5Teilnehmende Nationen / Participating countries 6Grußworte / Greetings 8• Günter Titsch, Präsident INTERKULTUR / President INTERKULTUR• Dr. Josef Pühringer, Landeshauptmann / Governor of Upper Austria• Mag. Klaus Luger, Bürgermeister der Landeshauptstadt Linz / Mayor of the regional capital Linz• Dkfm. Dr. Hermann Bell, Präsident des Brucknerbundes für Oberösterreich /President of the Bruckner Association of Upper Austria• Mag. Bernhard Baier, Vizebürgermeister und Kulturreferent der Stadt Linz /Vice Mayor and Head of the Dept. of Culture of the city of LinzÜber INTERKULTUR / About INTERKULTUR 20Anton Bruckner – Komponist der Romantik /Anton Bruckner – Composer of the Romantic Period 28Künstlerisches Komitee und Jury / Artistic Committee and Jury 36Ablauf / Schedule 46• Eröffnungskonzert / Opening Concert• Freundschaftskonzerte / Friendship ConcertsWettbewerb / Competition 54Chöre / Choirs 68Statistik / Statistics 80Impressum & Team / Imprint & Team 81Stadtplan Linz / City map of Linz 82
---
6Teilnehmende Nationen / Participating countriesDänemark /DenmarkNorwegen /NorwayDeutschland /GermanyÖsterreich /AustriaEstland /EstoniaPhilippinen /PhilippinesFinnland /FinlandRumänien /RomaniaKroatien /CroatiaSingapur /SingaporeLitauen /LithuaniaVereinigte Staatenvon Amerika / UnitedStates of America
---
9GRUSSWORTEGREETINGS
---
10Günter TitschPräsident INTERKULTUR /President INTERKULTURLiebe Freunde der Chormusik,liebe Sängerinnen und Sänger,herzlich willkommen zum 5. InternationalenAnton-Bruckner-Chorwettbewerb & Festival!Es ist für uns ein hervorragendes Gefühl inLinz, dieser für INTERKULTUR so traditionsreichenStadt der ersten Chorolympiade2000, nun bereits den fünften Bruckner-Wettbewerb durchführen zu können. Kontinuitätund Vertrauen zeichnen sich aus.Deshalb ist es mir in diesem Jahr wiedereine ganz besondere Freude, der Landeskulturdirektiondes Landes Oberösterreichsowie der Stadt Linz, der Linzer Veranstaltungsgesellschaft(LIVA) und dem Brucknerbundfür Oberösterreich für die seit Jahrenandauernd Unterstützung herzlich zu danken.Ganz besonderer Dank gilt aber HerrnProf. Fritz Hinterdorfer für seine jahrelangeunermüdliche Arbeit in dieser Sache.Ich freue mich sehr, dass beim diesjährigenBruckner-Wettbewerb erneut 19 Chöre aus12 Nationen teilnehmen, um mit ihremChorgesang einen der größten Komponis-ten des 19. Jahrhunderts zu ehren: AntonBruckner. Die Chöre werden sich aufseine Spuren begeben, wenn sie nebeneigener Chorliteratur auch seine Werkeim Brucknerhaus, im Mariendom oder inder Stiftsbasilika und dem Mamorsaal desAugustiner Chorherrenstiftes St. Florianinterpretieren. Mittlerweile einer schönenTradition folgend führen wir zur Eröffnungmit internationalen und lokalen KünstlernBruckners "Te Deum" auf!INTERKULTUR bereitet bereits für dienächsten Jahre sehr interessante Veranstaltungenvor, die ich Ihnen ans Herz legenmöchte. So stehen neben den traditionsreichenEvents in Deutschland, Italien, Spanienund Österreich einige neue Festivals inChina, Griechenland und den USA an. Geradein den USA finden bis 2017 vier neueWettbewerbe statt. Und natürlich lade ichSie herzlich zu den 9. World Choir Gamesim Juli 2016 nach Sotchi in Russland ein.Nähere Informationen finden Sie auf unsererInternetpräsenz.Ich wünsche Ihnen schöne Tage in Linz undgutes Gelingen!Ihr Günter TitschPräsident INTERKULTUR
---
12Dr. Josef PühringerLandeshauptmann /Governor of Upper AustriaWillkommen!Ein herzliches Willkommen beim 5. InternationalenAnton-Bruckner-Chorwettbewerb inLinz. Der Name Anton Bruckner alleine bürgtbereits für Qualität. Dieser hohen Prämissewird der nunmehr 5. Anton-Bruckner-Chorwettbewerb,der Anfang Juni in Linz und St.Florian veranstaltet wird, auch gerecht. Dieserinternationale Chorwettbewerb hat sichin der Zeit seines bisherigen Bestehens weitüber die Grenzen Oberösterreichs und Österreichshinaus einen Namen gemacht. Deshalbfreut es mich als Kulturreferent des LandesOberösterreich ganz besonders, dieses Jahrneben den zahlreichen europäischen Chöreninsbesondere auch Chöre aus Übersee – ausSingapur, den Philippinen und den USA – hierin Linz begrüßen zu dürfen.Diese weltweite Beteiligung und die positiveEntwicklung des Chorwesens allgemeinzeigt, dass wir mit der intensiven Chorarbeitauch innerhalb unseres Bundeslandes dierichtige Richtung eingeschlagen haben. Wirwerden diese intensiven Bestrebungen auchzukünftig weiterführen, um im internationa-len "Chorfeld" mithalten zu können und auchweiterhin in die Nachwuchsarbeit in diesemBereich investieren.Mit seinen musikalischen Institutionen,sei es mit dem Brucknerhaus oder mit denRäumlichkeiten im Stift St. Florian, kannOberösterreich die optimalen Rahmenbedingungenfür diese Großveranstaltung bieten.Den Organisatoren des internationalen Chorwettbewerbeswünsche ich für die Durchführungviel Erfolg und danke allen herzlich fürden erbrachten Einsatz. Den teilnehmendenChören wünsche ich eine spannende und bereicherndeZeit in unserem schönen Bundesland,nehmen Sie viele positive Eindrücke mitin Ihre Heimat.Viel Freude am gemeinsamen SingenwünschtDr. Josef PühringerLandeshauptmann
---
13Welcome!A cordial welcome to the 5th Anton BrucknerChoir Competition! Anton Bruckner – thename itself stands for quality at its best. Andthis year's Anton Bruckner Choir Competition- taking place here in Linz and in St. Florianat the beginning of June this year already forthe fifth time – is sure to live up to the standardsset so high by this outstanding artist.Ever since it was staged the first time, this internationalcontest of choral music has beenable to build up a reputation that reaches waybeyond the region of Upper Austria and thecountry of Austria where it originated. This iswhy it is a particular pleasure for me and inmy function as councillor in charge of culturalaffairs in the Austrian state of Upper Austriato welcome an impressive number of choirsfrom all over the world here in Linz. In additionto the numerous choirs from Europe, we feelparticularly proud to welcome several choirsfrom overseas this year as well – from Singapore,the Philippines and the USA.The participation of choirs from all over theworld as well as the positive developmentof choral singing in general show that we inUpper Austria have taken steps in the right directionby encouraging and supporting choralmusic and singing on all levels. We will continueour intensive efforts in this field in futureas well - to stand the pace in the area of internationalchoral singing and competitions andto contribute our share to working with youngtalents and promoting the next generation.Thanks to its magnificent musical institutions– be it the Brucknerhaus or the facilities locatedat St. Florian Monastery - Upper Austria iswell able to provide the ideal locations and tomeet the general conditions required by majorevents of this kind.I wish the organisers of the International ChoirCompetition great success with their eventand thank you very much to everyone involvedfor their time and effort. And of course: Goodluck to the participating choirs! Have an exciting,enriching and rewarding time here in ourwonderful state of Upper Austria that may staywith you back in your home countries as greatmemories of a great place.Have a wonderful time and enjoy the singingtogether with your friends in music!Cordially yours,Josef PühringerGovernor of Upper Austria
---
14Mag. Klaus LugerBürgermeister der Landeshauptstadt Linz /Mayor of the regional capital LinzChorgesang auf hohem Niveau"Singen ist ein Abglanz der Seele", meinteeinst der deutsche Startenor Rene Kollo. Beider heurigen fünften Ausgabe des InternationalenAnton-Bruckner Chorwettbewerbessorgen 19 Chöre aus 12 Nationen für Wohlklang.Dieses musikalische Ereignis zählt zuden Höhepunkten des abwechslungsreichenund hochkarätigen Konzertprogrammes unsererLebensstadt Linz.Ich wünsche den teilnehmenden Chören bestestimmliche Disposition, unvergesslicheTage in Linz und ein begeistertes Publikum.Choral singing at a high level"Singing is a reflection of the soul", the famousGerman tenor Rene Kollo once stated. Duringthe current fifth edition of the InternationalAnton Bruckner Choir Competition 19 choirsfrom 12 nations will provide for euphony. Thismusical event belongs to the highlights of thevaried and top-class concert programme ofour home town Linz.I wish all participating choirs an excellent vocalcondition, memorable days in Linz and anenthusiastic audience.Mag. Klaus LugerMayor of the regional capital LinzMag. Klaus LugerBürgermeister der Landeshauptstadt Linz
---
16Dkfm. Dr. Hermann BellPräsident des Brucknerbundes für Oberösterreich/ President of the BrucknerAssociation of Upper AustriaSehr geehrte Damen und Herren!Als Präsident des Brucknerbundes, freue ichmich ganz besonders, dass nunmehr schonzum 5. Mal der Internationale Anton-Bruckner-Chorwettbewerbhier in Linz stattfindet.Ich begrüße die Teilnehmerinnen und Teilnehmerdes Anton-Bruckner-Chorwettbewerbs,die von nah und fern angereist sind,um sich diesem Wettbewerb zu stellen. Esist äußerst erfreulich, dass so viele Menschenso viel Zeit und Mühe für das Einstudierenkostbarer Musik von Anton Brucknerund anderen Komponisten aufgewendethaben, um sich in Linz einer Jury zu präsentieren.Es sollen aber auch Tage der Begegnungmit Ihren "Freundinnen und Freunden imGesang" aus aller Welt sein. Als Obmanndes Brucknerbundes wünsche ich mir auch,dass viele von der Möglichkeit zu einer Begegnungmit Anton Bruckner Gebrauch machen:Zur Begegnung mit seinem Geburtshausin Ansfelden, mit der Landschaft, demsanft hügeligen und waldreichen Mühlviertel,die ihn geprägt und inspiriert hat, mitden Kirchen, in denen er gewirkt hat; mitden Orgeln, auf denen er gespielt hat unddie nach seinen Vorstellungen und unterseiner Anleitung umgebaut wurden, mitden vielen anderen Gedenkstätten und natürlichin aller erster Linie mit der Musik,die hier in Oberösterreich entstanden ist.Ganz besonders bedanke ich mich bei denOrganisatoren, den Förderern und den Juroren:erst durch Ihren großen Einsatz istdieses Fest der Begegnung und der Musiküberhaupt möglich geworden.Ich wünsche allen Teilnehmerinnen undTeilnehmern viel Erfolg beim Wettbewerbund jedem einzelnen von Ihnen, dass Siebereichert wieder heimkehren: bereichertvon der Musik, von den Begegnungen undvon der Inspiration durch den "Genius loci"Anton Bruckner. Der Brucknerstadt Linzwünsche ich, dass Sie, die Sängerinnen undSänger aus den verschiedenen Ländern derErde, viele positive Gedanken mit in IhreHeimatländer nehmen um dort als die bestenWerbeträger für Anton Bruckner undfür unser schönes Land zu wirken.Dkfm.Dr. Hermann BellPräsident des Brucknerbundes fürOberösterreich
---
17Ladies and Gentlemen,As President of the Brucknerbund, I am highlydelighted that the International Anton BrucknerChoir Competition is taking place here inLinz this year already for the fifth time.I would like to welcome all participants of theAnton Bruckner Choir Competition that havegathered here from far and wide to take partin this contest. It is particularly delightful andgratifying for me to see that so many peoplehave taken so much time and effort to studyand rehearse the precious pieces of music byAnton Bruckner and other composers in orderto perform them in front of a jury here in Linz.Your days here in Linz, however, are also meantto be days of meeting and encounterswith your "friends in music" from all over theworld. As chairman of the Brucknerbund, itwould be a great pleasure for me as well to seemany of you seize this opportunity and get ineven closer contact with Anton Bruckner andhis life: There is the house in Ansfelden wherehe was born, and there is the landscape in thesoftly undulating Mühlviertel region that isso rich in woodlands and that was so formativeand inspiring to Bruckner. There are thechurches that he worked at, there are the organsthat he played and that were modifiedaccording to his ideas and closely followinghis instructions. There are the numerous memorialsites to be visited, and there is – firstand last – the music that was created here inUpper Austria.In particular, I would like to express my deepgratitude to the organizers, patrons, supportersand jurors of this competition: It is onlythanks to their great effort that we are able tobe here today at all and celebrate this feast ofmusic and joyful encounter.I wish good luck and success to all participantsin the competition and hope that each of youmay return home safely, inspired and enriched:Enriched by the music, the encountersand the inspiration drawn from the work andlife of our genius loci Anton Bruckner. And ona final and quite personal note, I would like toadd that I would be more than happy for Linz,the city of Anton Bruckner, to see you - thechoristers coming here from many countriesaround the world - take with you many positiveideas and sensations back to your homecountries and act as our ambassadors in thebest sense of this term - for Anton Brucknerand our wonderful country.Dkfm. Dr. Hermann BellPresident of the Bruckner Association ofUpper Austria
---
18Mag. Bernhard BaierVizebürgermeister und Kulturreferent derStadt Linz / Vice-Mayor and City of Linzcouncillor in charge of cultural affairsMusik ist die gemeinsame Sprache der WeltZeit seines Wirkens und auch darüber hinauswurde die Geschichte der Stadt Linzdurch den Komponisten, Organisten undPädagogen Anton Bruckner wesentlich geprägt.In Anerkenntnis seines Wirkens erinnerndas Brucknerhaus, das Brucknerfestsowie zahlreiche Gedenkstätten an diesenAusnahmemusiker. Darüber hinaus freueich mich, dass auch der Int. Anton-Bruckner-Chorwettbewerb diesen Namen trägt.Aus Anlass des heuer stattfindenden 5. InternationalenAnton Bruckner Chorwettbewerbswerden Chöre aus zahlreichen unterschiedlichenNationen die KulturhauptstadtEuropas 2009 mit faszinierenden Klängenerfüllen. Im kulturellen Angebot der StadtLinz nimmt die Musik ohnehin eine besonderswichtige Rolle ein. Zahlreiche Kulturinitiativen,Vereine und öffentliche Einrichtungenpflegen dieses bedeutende Kulturgut.Musikhauptschulen, das Landesmusikschulwerkund die städtische Musikschule, mit120 Lehrern und über 4000 Schülern übrigensdie größte Österreichs, bringen die Mu-sik Kindern und Jugendlichen schon in frühenJahren näher. Besonders wichtig sinddabei neben einer fundierten Ausbildungdas Musizieren in der Gemeinschaft unddie damit verbundene Vermittlung sozialerKompetenzen.Für die fünfte Ausgabe des Anton-Bruckner-Chorwettbewerbwünsche ich den Organisa-torenviele gelungene musikalischeDarbietungen, zahlreiche Besucher undden Musikern viel Freude und Erfolg beimWettstreit.IhrMag. Bernhard BaierVizebürgermeister und Kulturreferent derStadt Linz
---
19Music is the Common Language of the WorldThroughout and even beyond the entire timeof his life and work, Anton Bruckner, the greatcomposer, organist and educationalist, continuedto leave his impressive mark on the Cityof Linz and its history, and one can still see andfeel it today. The Bruckner House, the BrucknerFestival as well as numerous memorial sites inLinz honour the out-standing achievementsof this exceptional musician. Furthermore, itis a great pleasure for me that the Int. AntonBruckner Choir Competition bears his name aswell.On the occasion of the 5 th International AntonBruckner Choir Competition taking placethis year, choirs from many different countriesfrom around the world are going to visit the2009 European Capital of Culture and fill itwith fascinating sound. It almost goes withoutsaying that music assumes a central role in thecultural activities and events organized here inLinz. There are numerous cultural initiatives,associations and public institutions that alltend to this significant cultural property andkeep it alive. Several secondary schools with afocus on musical education, the Landesmusikschulwerk(Upper Austria State Music School)as well as the municipal music school – with its120 teachers and more than 4,000 pupils thelargest music school in Austria – are dedicatedto familiarizing children and young personswith music already at an early age. In additionto the profound musical education they aregiven, particular importance is placed on theirmaking music together with others to facilitatethe acquisition of social skills and competence.So, for this year's 5 th Anton Bruckner ChoirCompetition and addressed to the organizers,I would like to wish for plenty of visitors andmany successful musical performances, and toall participating musicians and singers: Goodluck to you all and enjoy the contest!Cordially yours,Mag. Bernhard Baier, Vice-MayorCity of Linz councillor in charge ofcultural affairs
---
21ÜBER INTERKULTURABOUT INTERKULTUR
---
22… Brücken der BegegnungMit dem 1. Internationalen Chorwettbewerb Budapest im Jahre 1988 war der Anfang für eineder größten und erfolgreichsten kulturellen Veranstaltungsreihen in Europa gemacht. DerName dieser neuartigen Chorwettbewerbe und Festivals, INTERKULTUR Veranstaltungsreihen,ist mittlerweile in der ganzen Welt durch das hohe künstlerische und organisatorische Niveaubekannt. INTERKULTUR ist zu einem Begriff in der Welt der Chorbegeisterten geworden und dieweltweite Gemeinschaft um seine Wettbewerbe wächst.Organisiert werden diese Veranstaltungen vom gemeinnützigen Förderverein INTERKULTUR e.V., dessen bislang größter Erfolg es war, die Olympische Idee auf die Chormusik zu übertragen.Die Chorolympiade 2000 in Linz (Österreich) war der Beginn einer chorolympischen Bewegung.Ihre Erfolgsgeschichte setzte sich 2002 in Busan (Korea), 2004 in Bremen fort. Und ab 2006 alsWorld Choir Games in Xiamen (China), 2008 in Graz (Österreich), 2010 in Shaoxing (China) und2012 in Cincinnati (USA). Im Juli 2014 fanden die World Choir Games in Riga, Lettland stattund waren mit 27.000 Teilnehmern die bis dato größten in der Geschichte der chorolympischenIdee, der heutigen World Choir Games. Im Jahr 2016 kommen sie in die Olympiastadt Sotschiin Russland.Ein weiterer Meilenstein in der Geschichte von INTERKULTUR war die Einführung der Weltmeisterschaftder Chöre. Die erste Weltmeisterschaft fand 2009 in der Provinz Gyeongnam in Südkoreastatt, im Juli 2011 wurde die Chorweltmeisterschaft der Jugend in Graz (Österreich) ausgetragen.Graz war im Juli 2013 mit den 1. European Choir Games und dem Songs of Spirit Festivalnoch einmal Austragungsort für eine INTERKULTUR-Veranstaltung. Die zweite Ausgabe diesereuropäischen Version der World Choir Games findet im Juli 2015 in Magdeburg statt.Die IdeeINTERKULTUR ist mittlerweile zum Symbol für eine einzigartige künstlerische Idee geworden.Sie besteht in einer neuen Auffassung über die Durchführung von Chorwettbewerben: Währendsich bei den verdienstvollen traditionellen Chorwettbewerben nur Chöre vergleichen,die zur internationalen Spitzenklasse gehören, stehen die INTERKULTUR – Wettbewerbe allenChören, mit oder ohne Wettbewerbserfahrung offen. Alle Chöre der Welt können sich im Wettbewerbentsprechend ihrem Leistungsstand vergleichen. Für das künstlerische Komitee liegendie Schwerpunkte auf Qualität aber auch auf größter Vielfalt der Chöre in allen Wettbewerben.Diese neue Art der Wettbewerbsorganisation hat in den letzten Jahrzehnten zahlreiche Nachahmergefunden. Mit der Idee der World Choir Games, die alle zwei Jahre stattfinden, hat esINTERKULTUR geschafft der nationalen und internationalen Chorszene neue Impulse und Perspektivenzu geben.
---
23Das QualitätssiegelSeit über 20 Jahren ist MUSICA MUNDI® das exklusive Qualitätssiegel aller INTERKULTUR-Wettbewerbe.Seit dem ersten Wettbewerb, den INTERKULTUR 1988 in Budapest veranstaltet hat,besteht ein Bewertungssystem, das als Basis für alle INTERKULTUR-Wettbewerbe dient. DiesesSystem wird regelmäßig überarbeitet und ständig weiter entwickelt. Es garantiert Vergleichbarkeitzwischen allen Wettbewerben und setzt einen Standard in der Welt der Chormusik.Die WettbewerbeEs gibt verschiedene Kategorien für alle Arten und Stufen der Chöre in verschiedenen Schwierigkeitsgraden,mit und ohne Pflichtstück. Sie bieten eine einzigartige Atmosphäre, gute Wettbewerbsbedingungen,intensive künstlerische Kontakte, unterschiedliche Beratungsprogrammeund Workshops, sowie Praxis mit internationalen Künstlern. Mehr als 200 Experten und führendeChordirigenten aus der ganzen Welt gewährleisten ein hohes Maß an Kompetenz in allenINTERKULTUR-Veranstaltungen.Das WertungssystemDie Jury vergibt Goldene, Silberne und Bronzene Diplome in 10 Stufen bei INTERKULTUR-Wettbewerbenund Bronzene, Silberne oder Goldene Medaillen bei den World Choir Games und denWorld Choir Championships nach dem MUSICA MUNDI® Bewertungssystem. In jeder Kategoriegibt es einen Sieger oder Champion, herausragende Leistungen werden mit besonderen Preisengeehrt. In manchen Wettbewerben gibt es zusätzliche Wettbewerbe der Kategoriesieger umden Großpreis, hier wird dann der Gesamtsieger des Wettbewerbs bestimmt.Das pädagogische KonzeptDie INTERKULTUR – Veranstaltungen sind nicht nur Wettbewerbe und internationale Chortreffen,sondern stehen auch für Kompetenz durch zahlreiche pädagogische Angebote, die für einenachhaltige Wirkung bei den teilnehmenden Chören sorgen. So können sich Chöre beispielsweisein Beratungsrunden vor dem Wettbewerb und in intensiven Gesprächen mit der internationalenJury wertvolle Hinweise zu ihrem derzeitigen Leistungsstand geben lassen, fachkundigepädagogische und künstlerische Hinweise erhalten oder Ratschläge zur Interpretation bekommen.Weitere exklusive Möglichkeiten, dem eigenen Chorsingen neue Impulse zu verleihen, bestehenin Proben mit internationalen Chorfachleuten.Außerdem werden bei vielen INTERKULTUR-Veranstaltungen Fachtagungen, Chorleiterseminare,Komponistenporträts und Fachvorträge angeboten. Freundschaftskonzerte und gemeinsamesSingen verstärken die große emotionale Wirkung der internationalen Chortreffen des FördervereinsINTERKULTUR e. V.Die Wettbewerbs- und FestivalorteDie Veranstaltungen von INTERKULTUR fanden bisher in folgenden Ländern statt: Deutschland,Indonesien, Israel, Italien, Malaysia, Malta, Österreich, Republik Korea, Serbien, Spanien, Schweden,Tschechische Republik, Ungarn, USA, Vietnam und in der Volksrepublik China. Im Herbst2015 findet erstmalig eine Veranstaltung in Griechenland statt.
---
24Die TeilnehmerÜber 7.700 Chöre mit rund 350.000 aktiven Sängerinnen und Sängern aus 100 Ländern nahmenbisher an den INTERKULTUR – Wettbewerben teil. Mehr als die Hälfte der Teilnehmer sind jungeMenschen im Alter bis 25 Jahre.Die FördermöglichkeitenGemäß seiner Satzung unterstützt der Förderverein INTERKULTUR e.V. folgende Aktivitäten:Internationale Musikfestivals und Chorwettbewerbe, die das Ziel verfolgen, Chöre aus unterschiedlichenRegionen der Welt zusammenzubringen und in gegenseitiger Achtung internationaleZusammenarbeit zu pflegen sowie zum Austausch der Kulturen und der Verständigungzwischen den Völkern beizutragen;• Kinder- und Jugendchöre, besonders aus finanzschwachen Ländern;• Laienchöre aus dem In- und Ausland, die eine intensive und nachhaltige Jugendarbeitnachweisen können;• Nachwuchschorleiter, junge Musiker und Sänger (Vergabe von Stipendien);• zweckgebundene Förderprogramme.KulturPreis EuropaDer Förderverein Interkultur e.V. wurde im Jahr 2006 mit dem KulturPreis Europa ausgezeichnet,der vom deutschen Bundesaußenminister a. D. Hans Dietrich Genscher initiiert wurde und vomKulturForum Europa präsentiert wird. In der Begründung zu dieser Ehrung heißt es, INTERKUL-TUR gebe den Choren aus aller Welt die Gelegenheit, sich im friedlichen Wettstreit unter demMotto "Kultur schafft Toleranz – Frieden stiften mit Kultur" zu treffen.… Connecting BridgesThe first INTERKULTUR International Choir Competition in Budapest, held in 1988, was the start ofone of the largest and most successful series of cultural events in Europe. The INTERKULTUR EventSeries has meanwhile become known throughout the world for its high artistic and organizationalstandards and as a concept for the choirs and choir enthusiasts worldwide. These events are organizedby INTERKULTUR, a non-profit organization based in Germany.INTERKULTUR´s biggest success to date was to bring the antique Olympic idea to the choral community.The Choir Olympics 2000 in Linz, Austria was the beginning of a Choir Olympic movement, with
---
25subsequent events in Busan, Republic of Korea in 2002, and Bremen, Germany in 2004. This successcontinued as the "World Choir Games" in Xiamen, China in 2006, Graz, Austria in 2008, Shaoxing,China in 2010, and Cincinnati, USA in 2012. In 2014, the World Choir Games were held in Riga, Latviaand marked the biggest event in the history of the choir Olympic idea attracting 27,000 participants.In 2016, the World Choir Games will come to the Olympic city of Sochi in Russia.Another milestone in the history of INTERKULTUR was to establish a World Championship for choirs.The first World Choir Championships debuted in 2009 in the Province of Gyeongnam, Republic of Korea,followed by the World Choir Championships for Youth and Young Adults in July 2011 in Graz,Austria. Graz again was the host city for a INTERKULTUR event, the first European Choir Games andthe "Songs of Spirit Festival" were held in July 2013. The second edition of this European version of theWorld Choir Games will be held in Magdeburg, Germany in July 2015.The IdeaINTERKULTUR has become the symbol for a unique artistic idea, consisting of a new interpretationconcerning the execution of choir festivals. In comparison to traditional meritorious choir competitionsthat only invite international elite choirs to take part; the INTERKULTUR competitions are opento all non-professional choirs. Choirs from all over the world, interested in gaining international festivaland competition experience, can compete according to their level of artistic achievement. TheArtistic Committee puts emphasis on the presence of the highest level of choral performers as well ason the presence of the greatest diversity of choirs in all competitions. This new type of competition hasbeen copied by numerous organizations in the past two decades. With the idea to organize the WorldChoir Games, formerly known as "Choir Olympics" biennially, INTERKULTUR has opened a door to newimpulses and perspectives for the national and international choral movement.The Quality SealFor more than 20 years, MUSICA MUNDI® has been the exclusive quality seal for all INTERKULTURevents worldwide. The evaluation system on which all INTERKULTUR competitions are based uponsince the first event in Budapest in 1988 have been improved continuously. MUSICA MUNDI® ensurescomparability among all events, a smooth organization and has set standards in the world of choralmusic.The CompetitionsThere are various categories for all types and levels of choirs in different degrees of difficulty, withor without compulsory pieces. The competitions offer good competitive conditions, valuable artisticcontacts, various workshops and seminars, as well as practice opportunities with international performers.More than 200 experts and leading choirmasters from all over the world guarantee a high levelof expertise in all INTERKULTUR events.
---
26Evaluation SystemThe jury awards Bronze, Silver, and Gold Diplomas on 10 levels at INTERKULTUR competitions alongwith Bronze, Silver and Gold Medals at the World Choir Games and World Choir Championships, accordingto the MUSICA MUNDI® evaluation system. In each category, a winner or champion is determinedand outstanding achievements are honored with special prizes. In some competitions there is a grandprize competition of the category winners which determines the overall winner of the competition.The Pedagogical ConceptINTERKULTUR events are not just competitions and international choir festivals. Choirs are able toreceive feedback from various pedagogical offerings. In evaluation rounds, choirs have the chance towork with international jury members and gain advice on their current level of achievement, receiveproficient pedagogical and artistic information and obtain suggestions as to how to interpret the chosenpiece. Choirs may also attend workshops and seminars along with participation in Friendship andCelebration Concerts which allow international choirs to interact with choirs of the host city duringINTERKULTUR events.Locations of Festivals and CompetitionsTo date, INTERKULTUR events have taken place in Austria, Czech Republic, Germany, Hungary, Indonesia,Israel, Italy, Malaysia, Malta, People's Republic of China, Republic of Korea, Spain, Sweden, USA,Vietnam and Serbia. In 2015 also Greece will fill a gap on the map of INTERKULTUR events.The ParticipantsIn total, more than 7,700 choirs with roughly 350,000 active singers from 100 countries have takenpart in the INTERKULTUR competitions to date. An interesting note is that more than half of the participantshave been children and youth up to 25 years of age.Means of SupportIn accordance with its statutes, INTERKULTUR supports the following activities:• International music festivals and choir competitions whose goal is to bring together choirs fromdifferent regions of the world and encourage international collaboration through mutual respect,as well as to contribute to cultural exchange and understanding among nations• Children and youth choirs even from financially challenged countries• Non-professional choirs that focus on the growth of youth development• Young, talented choirmasters, young musicians and singers through the support ofscholarship awards• Specific sponsorship opportunitiesEuropean Culture AwardINTERKULTUR was awarded the 2006 European Culture Award, by former German Minister of ForeignAffairs, Hans Dietrich Genscher and presented by KulturForum Europa, for its activities on behalf ofunderstanding between peoples and furtherance of common European thinking in the field of culture.
---
ANTON BRUCKNER – KOMPONIST DER ROMANTIKANTON BRUCKNER – COMPOSER OFTHE ROMANTIC PERIOD29
---
30Anton Bruckner – Komponist der Romantik /Anton Bruckner – Composer of the Romantic PeriodAnton Bruckner – *4. 9.1824 Ansfelden (Oberösterreich) – † 11. 10. 1896 WienAnton Bruckner ist einer der herausragendenösterreichischen Komponisten der Romantik.Tief in der katholischen Tradition verwurzelt,zählt er zu den wichtigsten und innovativstenTonschöpfern der 2. Hälfte des 19. Jahrhundertsund ist neben Brahms und Wagner derKomponist, dessen Schaffen wohl am stärkstenrichtungweisend für die Entwicklung dereuropäischen Musik wurde. Seine Werke übtenbis weit ins 20. Jahrhundert hinein einen großenEinfluss auf die nachfolgenden Musikergenerationenaus.Anton Bruckner stammt aus einer oberösterreichischenLehrerfamilie. Nach dem Tod desVaters wurde er 1837 Sängerknabe im Stift St.Florian in Oberösterreich. Der Familientraditionfolgend schlug er zunächst die Lehrerlaufbahnein. 1845 absolvierte er die Prüfung und wirktenun als Lehrer und Organist in St. Florian. SeinEntschluss, den Musikerberuf ganz zu ergreifenfestigte sich 1855. In diesem Jahr wurde er zumDomorganisten in Linz berufen. Hier begründetsich auch sein Ruf als ausgezeichneter Organistund Improvisator. In die Linzer Zeit fallendie ersten großen vokalen Meisterwerke Bruckners,unter anderem seine Messen in d-Moll,e-Moll und f-Moll. Er betreibt weitere Studienbei Simon Sechter in Wien, dessen Nachfolgeer als Professor für Generalbass, Kontrapunktund Orgel am Konservatorium Wien 1868 antritt.Sein bedeutendes sinfonisches Schaffenfällt vorwiegend in die Zeit nach 1870. SeineSinfonien unterzog er ständigen Revisionen,Umarbeitungen, Verfeinerungen, ja sogar Neufassungen.Bruckner begeisterte sich für die Musik RichardWagners, und geriet so in den Parteienstreitzwischen den Traditionalisten (umden Musikkritiker Hanslick) und den sogenannten"Neudeutschen" (Wagner). DieserStreit brachte ihm jahrelange Anfeindungenein und bescherte ihm große Enttäuschungen.Obwohl das sinfonische Schaffen Brucknersdie vokalen Kompositionen überwiegt, gelangenihm auch hier Meisterwerke von großerSchönheit und Vollendung. Sie sind musikalischvon der Klassik beeinflusst, gehen abervielmehr zurück zu den Traditionslinien Palestrinasund der venezianischen Meister des16. und 17. Jahrhunderts. Seine berühmten a-cappella Motetten gehören heute zum Standardrepertoirevieler Chöre.Anton Bruckner starb am 11. Oktober 1896im Alter von 72 Jahren. Sein Leichnam wurdenach Sankt Florian überführt, wo er in derStiftskirche unterhalb der Orgel begrabenliegt.Notenblatt: Bruckners "Requiem in d-Moll" / Score sheetof Bruckner's "Requiem in D Minor"
---
31Anton Bruckner – *4 September 1824 in Ansfelden (Upper Austria) – † 11 October 1896 in ViennaAnton Bruckner is one of the outstanding Austriancomposers of the Romantic Period. Deeplyrooted in the Catholic tradition, he countsamong the most important and innovativecomposers of the second half of the 19 th centuryand, after Brahms and Wagner, is probably thecomposer whose work had a guiding function inthe development of European music. His worksexercised a great influence on following generationsof musicians well into the 20 th century.Anton Bruckner hailed from an Upper Austrianfamily of teachers. After the death of his fatherin 1837, he became a choirboy at the monasteryof St. Florian in Upper Austria. He first embarkedupon a teaching career in accordance with thefamily tradition. Passing his examination in1845, he was active as teacher and organistin St. Florian. His decision to dedicate himselfwholly to the music profession was made in1855. During this year he was appointed cathedralorganist in Linz, where his reputation as anoutstanding organist and improviser was firstformed. Bruckner's first vocal masterworks werecomposed during this period in Linz, includingthe Masses in D minor, E minor and F minor. Heundertook further studies with Simon Sechter inVienna, whom he succeeded in 1868 as professorof figured bass, counterpoint and organ at theVienna Conservatory. His important symphonicproduction began for the most part after 1870.The symphonies underwent constant revisions,re-writings, refinements and even new versions.Bruckner was enthusiastic about the music ofRichard Wagner and was thus drawn into thewar between the traditionalist faction (aroundthe music critic Hanslick) and the so-called "NewGermans" (centred around Wagner). This quarrelbrought him animosity for years, causing himgreat disappointments. Although Bruckner'ssymphonic production dominates his vocal com-positions, he also succeeded in the latter area increating masterworks of great beauty and perfection.They are musically influenced by the classicsbut, more importantly, go back to the traditionsof Palestrina and the Venetian masters of the16 th and 17 th centuries. Today, his famous a-cappellamotets belong to the standard repertoire ofmany choirs.Anton Bruckner died on 11 October 1896 at theage of 72. His remains were brought to Saint Florianand buried in the monastery church underthe organ.
---
37KÜNSTLERISCHES KOMITEE UND JURYARTISTIC COMMITTEE AND JURY
---
38Deutschland / GermanyProf. Dr. Ralf EisenbeißDirektor des Künstlerischen Komitees /Director of the Artistic CommitteeRalf Eisenbeiß wurde 1952 in Zeulenroda geboren.Nach dem Abitur studierte er an der PädagogischenHochschule Zwickau Pädagogik, Germanistikund Musikerziehung. Er promovierte1979 zum Dr. phil. Von 1978 – 1981 studierteer an der Musikhochschule "Franz Liszt" in WeimarChor- und Orchesterdirigieren.Als Inhaber des Lehrstuhles Chorleitung undChorgesang an der Pädagogischen Hochschulein Zwickau wurde Ralf Eisenbeiß 1987 zum Professorberufen. Er war Leiter des Chores dieserEinrichtung, der im In- und Ausland bekanntwar und bei nationalen und internationalenWettbewerben zahlreiche Preise gewann.Ralf Eisenbeiß war Dozent beim ZentralenChorleiterseminar in Berlin und leitete selbstzahlreiche Seminare. Er ist häufig Gastdirigentim In- und Ausland, so unter anderem in Vancouver(Kanada) und Shaoxing (China). Er dirigierteverschiedene Orchester in Deutschlandund im Ausland, darunter Österreich, Lettland,Korea, Indonesien und China.Seit mehr als 20 Jahren ist er künstlerischer Direktorvon INTERKULTUR. Er gründete den Int.Robert-Schumann-Chorwettbewerb in Zwickauund ist Mitbegründer der World Choir Games.Bisher war er künstlerisch in der Verantwortungfür etwa 120 internationale Wettbewerbe. RalfEisenbeiß wurde sehr oft als Juror von nationalenund internationalen Chorwettbewerben inder ganzen Welt eingeladen.Ralf Eisenbeiß was born in 1952 in Zeulenroda.After his secondary school examination hestudied pedagogy, German philology and musicaleducation. He received his PhD in 1979 atthe Pedagogical University of Zwickau. From1978 to 1981, he studied choir and orchestraconducting at the Franz Liszt Conservatory inWeimar. Ralf Eisenbeiß was working as the directorof the choral department at the PedagogicalUniversity in Zwickau and appointed professorfor choir conducting and choral singingin 1987. He was conductor of the renownedPedagogical University Zwickau Choir. Withhis choir he performed a wide repertoire ofcompositions for a cappella choirs and with orchestra,too. Under his direction the choir wonnumerous prizes at national and internationalchoir competitions. Ralf Eisenbeiß was lecturerat the central seminar for choral conductorsin Berlin and organised numerous workshopshimself. He often appears as guest conductorat home and abroad. Since more than 20 yearshe works as artistic director of INTERKUL-TUR. Ralf Eisenbeiß is founder of the Int. RobertSchumann Choir Competition in Zwickau andone of the founders of the World Choir Games.Since 1992 he was responsible for about hundredinternational competitions of INTERKUL-TUR in Germany, Italy, Korea, Indonesia, China,Austria, Spain, USA and other countries. Ralf Eisenbeißis very often invited as a juror in nationaland other international choir competitionsall over the world.
---
40Schweden / SwedenFred SjöbergKünstlerischer Leiter des 5. Int. Anton-Bruckner-Chorwettbewerbs / Artistic Director of the5 th Int. Anton Bruckner Choir CompetitionFred Sjöberg, geboren 1953, ist ein ausgebildeterSänger und Chorleiter an der KöniglichSchwedischen Musikakademie in Stockholmund Örebro. Unter anderem studierte bei Prof.Solvieg Grippe, Prof. Eric Ericson und Prof. HelmuthRilling. Er war der erste Chorleiter, derdie drei führenden internationalen Jugendchöreleitete: World Youth Choir (1991 und2005), World Chamber Choir (1993) und denEuropean Youth Choir (1999). Bei Gründungder schwedischen Organisation für Jugendchöre"UngiKör" wurde er zu ihrem ersten Präsidentengewählt. 2000 wurde er vom SCDA(Schwedischer Chorleiterverband) in Schwedenzum "Dirigent des Jahres" ernannt und2001 erhielt er die Johannes Norrby Medaillefür herausragende Dienste und Weiterentwicklungdes schwedischen Chorlebens. 1997– 2004 war er Musikdirektor und Leiter desProjektes "Noten für Millionen". Von 2000-2004 war er außerdem Musikdirektor desSchwedischen Chorzentrums sowie von 2005bis 2006 Künstlerischer Leiter des internationalenChorfestivals Lund. Seit 2009 ist er Musikdirektordes Schwedischen ChorzentrumsÖrebro. Fred Sjöberg war Vizepräsident vonEuropa Cantat und Präsident der MusikkommissionEuropa Cantat und ist derzeit Präsidiumsmitglieddes IFCM. Er ist Council-Mitgliedund seit 2014 ist er Mitglied des künstlerischenDirektoriums von INTERKULTUR. Seit2015 ist Sjöberg Gastprofessor an der IonischenUniversität in Griechenland.Fred Sjöberg, born 1953, is an educated singerand choral conductor at the Royal Academy ofMusic in Stockholm and Örebro. Among othershe has studied with Prof. Solwig Grippe, Prof.Eric Ericson and Prof. Helmuth Rilling. He hasbeen the first conductor to conduct the threemajor international youth choirs as WorldYouth Choir (1991 and 2005), World ChamberChoir (1993) and European Youth Choir(1999). When the Swedish organization foryoung choirs "UngiKör" started he waselected as their first president. 2000 he wasappointed as the "Conductor of the Year" inSweden by SCDA (Swedish Choral DirectorsAssociation) and 2001 appointed with the JohannesNorrby Medallion for outstanding serviceand development to the Swedish ChoralLife.1997 – 2004 he was the Music Director andconductor of the project "Notes for Millions".Since 2000-2004 he was also Music Director ofthe Swedish Choral Centre as well as ArtisticDirector for Lund International Choral Festivalfrom 2005 to 2006. Since 2009 he is Music Directorof Swedish International Choral Centrein Örebro. Fred Sjöberg has been Vice Presidentof Europa Cantat as well as President of theMusic Commission of Europa Cantat and hasalso been Vice President of IFCM.He is Council Member of Interkultur and from2014 he is also on the Artistic Directorium ofInterkultur. Since 2015 Sjöberg is Guest Professorat the Ionian University in Greece.
---
41Spanien / SpainÒscar BoadaJuror / Jury MemberAls Absolvent der Royal Schools of Music, begannBoada seine Karriere als Begleiter undKammermusikspieler. Er arbeitete mit renommierteninternationalen Orchestern und denbedeutendsten zeitgenössischen Chorleiternzusammen (Mehta, Comissiona, Jürgen Jürgens,Foster, Hitchkoks, Heltay…).Er wurde mit dem "Ciutat de Barcelona" , einemSonderpreis in der Kategorie Musik, sowiemit dem Reus Preis für Kompositionenfür Kinderstimmen ausgezeichnet. Darüberhinaus errang er im Wettbewerb mit 42Chorleitern aus ganz Europa den 3. Preis fürChorleitung beim "Concorso Internazionale"Marielle Ventre". Er gilt als einer der heruasragendstenSpezialisten für Kinder- und Frauenchörein Spanien und ist zugleich Entwicklermehrerer pädagogischer Methoden fürden Musikunterricht an Schulen. Oscar Boadawird häufig zur Teilnahme an Wettbewerben,Konferenzen und internationalen Meetingseingeladen (Cantonigros International MusicFestival, Torrevieja, Certamen de Habaneras,Florilege Vocal Tours, in France und JugendkammerchorUsedom in Deutschland).Er gewann Anerkennung mit dem katalanischenKinderchor COR VIVALDI, der mehrerewichtige internationale Preise errang, über 15CDs aufnahm, in über 1000 Konzerten auftratund mehrere Touren durch Europa, Südamerikaund den USA absolvierte, bei denen er stetsein außergewöhnlich positives Feedback vonden Medien und dem Publikum erhielten.Licenciate from the Royal Schools of Music,Boada began his career as an accompanistand chamber music player.He worked withinternational prestige orchestras and themost important conductors of the moment(Mehta, Comissiona, Jürgen Jürgens, Foster,Hitchkoks, Heltay…)He has been awarded the "Ciutat de Barcelona"Special Mention Prize in the categoryof Music, the Reus Prize for children's voicescomposing, and was awarded the third prizein the Concorso Internazionale "MarielleVentre" per direttori di Coro amongst other42 directors from all Europe.Being recognized as one of the most outstandingspecialists in children and femalechoirs in Spain, he is also the author of severalpedagogical methods on school musicteaching, and he is often invited to participatein contests, conferences and internationalmeetings (Cantonigros International MusicFestival, Torrevieja, Certamen de Habaneras,Florilege Vocal Tours, in France and JugendkammerchorUsedom in GermanyHe has achieved recognition with the catalanchildren's choir COR VIVALDI, which haswon important international prizes, recordedmore than 15 Cd, performed about 1000concerts and made several tours throughoutEurope, South America and the United Stateswhere they always received highly favourablecomments from the media and audiences.
---
42Deutschland / GermanyPeter HabermannJuror / Jury MemberPeter Habermann erhielt seine erste musikalischeAusbildung als Mitglied des DresdnerKreuzchores. Es schloss sich ein Gesangsstudiumin Dresden an, welches ihn mit dem Prädikat"mit Auszeichnung" zum diplomiertenGesangslehrer führte. Seit 1984 ist er in Wernigerodeam heutigen Landesgymnasium fürMusik tätig. Sein Arbeitsfeld umfasst sowohlden Bereich der Stimmbildung als auch derchorischen Ausbildung von Schülerinnen undSchülern dieser Einrichtung. So war er vieleJahre stellvertretender künstlerischer Leiterbei Friedrich Krell und dem Rundfunk-JugendchorWernigerode. Er leitete erfolgreich denKinderchor dieser Einrichtung und übernahmvon 1996 bis zunächst 2004 die künstlerischeLeitung des Rundfunk-Jugendchores, die erseit 2008 nun wiederum inne hat. ZahlreichePreise und Auszeichnungen bei nationalenund internationalen Wettbewerben sowie CD-Produktionen und Konzertreisen ins In- undAusland kennzeichnen seine Tätigkeit mit deminternational renommierten Ensemble.Er gründete 2003 den Kammerchor Wernigerode,einen Projektchor von ehemaligenMitgliedern des Rundfunk-Jugendchores, mitdem er bis zum Jahre 2010 eine äußerst erfolgreicheEntwicklung gestalten konnte. Aberauch dem Laienmusizieren ist er verbunden:10 Jahre leitete er den Männerchor Drübeck.Als Juror, Sänger und Sprecher ist weiterhinvielfältig aktiv, so unter anderem bei INTER-KULTUR Chorfestivals und beim DeutschenChorwettbewerb.Peter Habermann received his first musicaleducation as a member of the DresdenKreuzchor. This was followed by a course ofVocal Studies in Dresden which he passedwith a First Class Honours degree to be asinging teacher. Since 1984, he has beenteaching at the Landesgymnasium für MusikWernigerode. His scope of work coversboth the field of vocal training and the choraleducation of this institution's students.For many years, he acted as a Deputy ArtisticDirector of the Rundfunkjugendchor Wernigerodewith Friedrich Krell. Later, he led theinstitution's Children Choir with great successbefore he became Artistic Director ofthe Rundfunkjugendchor in 1996, a responsibilitythat he held until 2004 and has beenholding again from 2008 until today.His work with this internationally renownedensemble has been rewarded with numerousprizes, and has resulted in many CDrecordings as well as concert tours both athome and abroad.In 2003, he founded the Wernigerode ChamberChoir, a project choir comprising formerRundfunkjugendchor members which he leduntil 2010. He is also committed to amateurmusic: for 10 years, he conducted the men'schoir of the village Drübeck.Peter Habermann is an active singer, speakerand juror for INTERKULTUR events and theGerman Choral Contest.
---
43Slowenien / SloveniaPrimož KerštanjJuror / Jury MemberPrimož Kerštanj graduierte am Musikkonservatoriumin Ljubljana und studierte ander Musikakademie der Universität Ljubljana.Momentan unterrichtet er Klavier undStimmbildung am Willems Music CenterDO RE MI Bled, wo er auch den KinderchorDO RE MI und die Vokalgruppe DO RE MIleitet.In seiner Laufbahn leitete der mehrere Chöre:Den Milko Škoberne Frauenchor Jesenice,Vox Carniolus und von 2000 bis 2010den Akademski pevski zbor France PrešerenKranj Chor. Von 2006 bis 2014 leitete er denChor Dekliški pevski zbor Gimnazije Kranjund brachte ihn auf ein hohes musikalischesNiveau.Primož Kerštanj wurde als bester Chorleiterbei den Wettbewerben in Riva del Garda2007 und in Calella/Barcelona 2013 ausgezeichnet.Der Frauenchor Carmen manet ist einerder drei Chöre, die er momentan dirigiert.2011 gründete er den Chor, der die bestenSängerinnen aller Altersstufen des GimnazijaKranj Mädchenchores umfasst. Die bedeutendsteLeitung dieses Chores war derSieg beim Grand Prix Wettbewerb des 50.Montreux Chorfestivals im April 2014.Primož Kerštanj machte sich kürzlich ebenfallsals Komponist und Musikarrangeur einenNamen.Primož Kerštanj graduated from the Conservatoryof Music in Ljubljana and has studiedat Ljubljana University, Academy of Music.His current professional position is teachingpiano and solffegio at Willems Music CenterDO RE MI Bled, where he also conductsthe children's choir, DO RE MI and the vocalgroup DO RE MI.He has conducted several choirs in his career:Milko Škoberne female choir Jesenice, VoxCarniolus and from 2000 to 2010 Akademskipevski zbor France Prešeren Kranj. He hasbeen directing Dekliški pevski zbor GimnazijeKranj from 2006 to 2014 and has brought itto a high quality level.Primož Kerštanj was awarded as best conductorin the competitions in Riva del Garda in2007 and in Calella/Barcelona in 2013.The female choir Carmen manet is one of thethree choirs Primož Kerštanj conducts nowadays.He was the founder of the choir in2011 and the choir concludes the best singersfrom all generations of Gimnazija Kranj Girls'Choir.The last and most important acchievementof the choir was winning the Grand Prix at50 th Montreux Choral Festival in April 2014.Primož Kerštanj has also recently becomeknown as a composer and musical arranger.
---
44Schweden / SwedenHelen StureborgJuror / Jury MemberHelene Stureborg graduierte an der HochschuleStora Sköndal mit einem Master derBildenden Künste im Bereich Kirchenmusikund schloss 1993 am Royal University Collegeof Music einen Aufbaustudiengang imBereich Chorleitung mit einem Diplom ab.Sie studierte Chorleitung unter ProfessorGustaf Sjökvist und Professor Eric Ericson.Seit 1990 arbeitet Helene Stureborg als Chorleiterinund Musiklehrerin am MusikgymnasiumStockholm. Von 1994 bis 2002 leitetesie den Chor Kongl Teknologkören am RoyalInstitute of Technology. Im August 2002 wurdesie die Nachfolgerin von Gary Graden unddamit Chorleiterin des Kammerchores desMusikgymnasiums Stockholm.2011 gründete sie mit einer Gruppe graduierterSänger des SMK den Helene StureborgKammerchor. Darüber hinaus arbeitet sie mitdem Schwedischen Radiochor für verschiedeneProduktionen.Im Mai 2014 wurde sie zur künstlerischenBeraterin der Schwedischen Agentur für DarstellendeKünste (Statens Musikverks Konstnärligaråd) ernannt.Mehrere Jahre lang unterrichtete HeleneStureborg Chorleitung am Royal UniversityCollege of Music und wird häufig für diverseKurse als Lehrerin für Chorleitung und Chorpädagoginengagiert.Helene Stureborg has graduated with aMaster of Fine Arts in Church Music at StoraSköndal and a Postgraduate Diploma inConducting at the Royal University Collegeof Music in 1993. She has studied conductingwith Professor Gustaf Sjökvist and ProfessorEric Ericson.Since 1990 Helene Stureborg has been workingas a conductor and music teacher atthe Stockholm's Musikgymnasium. From1994 to 2002 she was the conductor ofKongl Teknologkören at the Royal Instituteof Technology. In August 2002 she replacedGary Graden as conductor of the StockholmsMusikgymnasium Chamber Choir.In 2011 a group of graduated singers fromthe SMK and Helene Stureborg started HeleneStureborg's chamberchoir. She also rehearsesproductions with the Swedish RadioChoir.In May 2014 she was appointed Artistic advisorat the Swedish Performing Arts Agency(Statens Musikverks Konstnärliga råd).During several years Helene Stureborg alsotaught choral conducting at the Royal UniversityCollege of Music and she is frequentlyengaged as conducting teacher and choralpedagogue at varying courses.
---
47ABLAUFSCHEDULE
---
48Allgemeiner Ablauf / General ScheduleMITTWOCH / WEDNESDAY, 03.06.2015Brucknerhaus, Mittlerer Saal / Middle Hall15:30 hBeratungskonzert / Evaluation Performance(Keine öffentliche Veranstaltung / not open to the public)DONNERSTAG / THURSDAY, 04.06.2015Brucknerhaus, Mittlerer Saal / Middle Hall10:00 – 17:00 hBeratungskonzert / Evaluation Performance(Keine öffentliche Veranstaltung / not open to the public)Neuer Dom (Mariendom)19:30 hEröffnungskonzert des 5. International Anton-Bruckner Chorwettbewerbs & Festival /Opening Concert of the 5 th International Anton Bruckner Choir Competition & FestivalFREITAG / FRIDAY, 05.06.2015Brucknerhaus, Großer Saal / Main Hall10:00 – 10:30 hWettbewerb in Kategorie G – Kinder- und Jugendchöre /Competition in category G – Children's and youth choirs10:30 – 12:30 hWettbewerb in Kategorie B – Männer- und gemischte Chöre ohne Pflichtstück /Competition in category B – Male and mixed choirs without compulsory piece14:30 – 16:00 hWettbewerb in Kategorie C – Kammerchöre und Vokalensembles /Competition in category C – Chamber choirs and vocal ensembles
---
49Augustiner Chorherrenstift St. FlorianMarmorsaal / Marble Hall17:00 h & 19:30 hFreundschafts- und Galakonzerte / Friendship and Gala ConcertsStiftsbasilika / Basilica17:00 h & 19:30 hFreundschafts- und Galakonzerte / Friendship and Gala ConcertsSAMSTAG / SATURDAY, 06.06.2015Brucknerhaus, Großer Saal / Main Hall10:00 – 12:30 hWettbewerb in Kategorie S – Sakrale Chormusik /Competition in category S – Sacred choir music14:30 – 16:00 hWettbewerb in Kategorie A – Männer- und gemischte Chöre mit Pflichtstück /Competition in category A – Male and mixed choirs with compulsory piece19:30 hGroßpreiswettbewerb um den Anton-Bruckner Chorpreis 2015 /Grand Prize Competition for the Anton Bruckner Choir Prize 2015danach / afterwardsPreisverleihung / Award Ceremony
---
50Eröffnungskonzert / Opening ConcertDONNERSTAG / THURSDAY, 04.06.2015Mariendom (Neuer Dom)19:30 h1 Münchner FrauenchorDeutschland / GermanyDirigentin / Conductor: Katrin Wende-EhmerProgramm / Program:• Carl-Nertil Agnestig: Missa in discantu – Gloria• Arvo Pärt: Psalm 122 - Oeace upon you, Jerusalem2 Kaari-ensembleFinnland / FinlandDirigentin / Conductor: Saara AittakumpuProgramm / Program:• Maurice Duruflé: Quatre motets sur des thèmes grégoriens – Tota pulchra• Mikko Sidoroff: Rukoushuokauksia Neitsyt Marialle – Älä itke äitini• Robert Schumann: Die Capelle3 Nanyang Technological University ChoirSingapur / SingaporeDirigent / Conductor: Chee Foon YongProgramm / Program:• Rihards Dubra: Ubi Caritas• Trad. Malaysia, arr. Toh Ban Sheng: Rasa Sayang4 Sing'n'Joy FestivalstagechoirAnton Bruckner: Te DeumMitwirkende / Participants:• Copenhagen Girls' Choir, Dänemark / Denmark• Domchor Linz, Österreich / Austria• Kammerkoret Ultima Thule, Norwegen / Norway• Pärnu Kammerkoor, Estland / Estonia• Orchester der Dommusik Linz, Österreich / AustriaLeitung / Conductor:Mag. Josef Habringer
---
51Mariendom (Neuer Dom) LinzAls größte Kirche Österreichs bietet der 1924fertig gestellte "Neue Dom" Platz für ca. 20.000Personen. Lohnenswert ist ein Blick auf diewunderbaren Gemäldefenster, wie das "LinzerFenster" oder das "Kaiserfenster". Die beiFührungen begehbare Innengalerie gibt in 15m Höhe faszinierende Aussichten auf den Kirchenraumfrei. Empfehlenswert sind auch dieTurmführungen, bei denen man einen herrlichenBlick auf Linz genießen kann. Im Mariendomfindet im Rahmen des InternationalenAnton-Bruckner Chorwettbewerbs das Eröffnungskonzertstatt.Mariendom – Neuer Dom (New Cathedral) LinzThe Cathedral of St Mary was completed in 1924and offers space for around 20,000 people. Ofparticular interest are the window paintings suchas the "Linz Window" or the "Emperor Window".The interior gallery is open to the public on guidedtours and provides a fascinating view from aheight of 15 metres. There are daily guided visitsof the spire with its magnificent views over Linz.The Opening Concert of the International AntonBruckner Choir Competition will take place in theMariendom.
---
52Freundschafts- und Galakonzerte /Friendship and Gala ConcertsAugustiner Chorherrenstift St. FlorianFREITAG / FRIDAY, 05.06.2015Marmorsaal / Marble Hall17:00 h• Capella Polifonica, Rumänien / Romania• Chor der Technischen Universität Wien, Österreich / Austria• Copenhagen Girls' Choir, Dänemark / Denmark• Nanyang Technological University Choir, Singapur / SingaporeStiftsbasilika / Basilica17:00 h• Marijampolė Cultural Centre Children's Choir "Vyturėlis", Litauen / Lithuania• Sängervereinigung 1875/99 Neuss e.V., Deutschland / Germany• Kangasalan Mieslaulajat, Finnland / Finland• Kammerkoret Ultima Thule, Norwegen / NorwayMarmorsaal / Marble Hall19:30 h• Männerchor Frohe Stunde Weroth, Deutschland / Germany• Haapsalu Kammerkoor, Estland / Estonia• The Kids Performing Choir, Singapur / Singapore• Kaari-ensemble, Finnland / Finland• Münchner Frauenchor, Deutschland / GermanyStiftsbasilika / Basilica19:30 h• Pjevački Zbor "Josip Štolcer Slavenski" Čakovec, Kroatien / Croatia• Collegium vocale Kapfenberg, Österreich / Austria• Pärnu Kammerkoor, Estland / Estonia• Choir of the West, Pacific Lutheran University, USA / United States of America
---
53Augustiner Chorherrenstift St. Florian bei LinzSt. Florian, das älteste Kloster der Augustiner Chorherren in Österreich, ist ein Barockjuwel der Sonderklasseund zählt zu den bedeutendsten Wahrzeichen von Oberösterreich.Entstanden am Grabe des bekannten Märtyrers, des Heiligen Florians, ist das Augustiner ChorherrenstiftSt. Florian heute einer der bedeutendsten Beispiele der Barockarchitektur in Österreich. Inder Stiftsanlage gibt es viel zu entdecken: die prächtige Stiftskirche mit der berühmten Brucknerorgel,in deren Gruft der Sarkophag des Komponisten Anton Bruckner zu besichtigen ist, die Bibliothek,die an die großen wissenschaftlichen Leistungen, vor allem auf dem Gebiet der Geschichtsforschung,erinnert, den Marmorsaal, die Kaiserzimmer, die Bildergalerie mit den bedeutendstenWerken des Meisters der Donauschule "Albrecht Altdorfer" und die Gedächtnisräume von AntonBruckner. Sowohl in der Stiftskirche als auch im Marmorsaal singen internationale Chöre beiFreundschaftskonzerten.St. Florian – Monastery of the Augustinian Canons RegularSt. Florian, the oldest Monastery of the Augustinian Canons Regular in Austria, is an outstandingBaroque jewel and landmark for the entire Central Upper Austrian Region.The Monastery was constructed over the grave of Christian martyr Saint Florian. The imposant pileof buildings is an outstanding and superb example of baroque architecture. The Augustinian Abbeyprovided a wealthy and culturally sophisticated milieu for the creation of paintings, compositions, andscientific research. On your way around you can visit the splendid Collegiate Church, the Library, theMarble Salon, the Imperial Apartments, and the Picture Gallery with elaborate works by Albrecht theLibrary, the Marble Salon, the Imperial Apartments, and the Picture Gallery with elaborate works byAlbrecht Altdorfer, a master of the Danube School of Painting. The greatest composer of church musicin 19thcentury Austria, Anton Bruckner became the organist at St. Florian as a young man. You canvisit his crypt as well as the room where he lived for about a decade. Both, in the Collegiate Church andin the Marble Salon, international choirs perform in Friendship Concerts.
---
55WETTBEWERBCOMPETITION
---
56Wettbewerbsort / Competition VenueBrucknerhaus LinzErbaut nach den Plänen des finnischen ArchitektenHeikki Siren ist das Brucknerhaus seit seinerEröffnung 1974 durch Herbert von Karajanein Wahrzeichen von Linz. Mit dem Brucknerfestund dem "Klassisch Anderen" Programm bietetdas renommierte Konzerthaus Besuchern jedenAlters einen Querschnitt aus verschiedenstenMusikrichtungen mit hochkaratigen KünstlerInnenaus aller Welt. Sie können das Brucknerhausgegen Voranmeldung mit einer Führungbesichtigen. Im Brucknerhaus finden die Wettbewerbsauftritteder Teilnehmerchöre sowie diepädagogischen Angebote statt.Brucknerhaus LinzDesigned by Finnish architect Heikki Siren, theBrucknerhaus has been the symbol of Linz sinceit was opened in 1974 by Herbert von Karajan.The famous concert hall's Bruckner Festival and"Klassisch Anderen" program delight audiencesof all ages with a crosssection of diverse musicalstyles performed by top artists from aroundthe world. The competition performances of thecompeting choirs as well as the pedagogical offerstake place in the Brucknerhaus.
---
57C h e r y lA n d e r s o n( U S A )J a nS c h u m a c h e r( G e r m a n y )
---
58Beratungskonzerte / Evaluation PerformancesDie Beratungskonzerte sind keine öffentlichen Veranstaltungen /The Evaluation Performances are not open to the public.MITTWOCH / WEDNESDAY, 03.06.2015Brucknerhaus, Mittlerer Saal / Middle Hall15:30 h1 THE KIDS PERFORMING CHOIRSingapore, SingaporeDirigentin / Conductor: Shelly Chong Choy HarProgramm / Program:• Felix Mendelssohn Bartholdy: Eliah, op. 70 - Nr. 28 Lift Thine Eyes• Kuo Po, arr. Shelley Chong: Who I Want to Be• Julie Knowles: O Clap Your Hands• Ella Yelich O'Connor, Joel Little, arr. Sharon Deke: RoyalsDONNERSTAG / THURSDAY, 04.06.2015Brucknerhaus, Mittlerer Saal / Middle Hall10:00 h1 MARIJAMPOLĖ CULTURAL CENTRE CHILDREN'S CHOIR "VYTURĖLIS"Marijampolė, LithuaniaDirigent / Conductors: Bronislava Barauskienė & Laima VenclovienėProgramm / Program:• Artūras Novikas: Sodauto• Banga Balakauskienė: Čiūta Čiūtoji• Galina Savinienė: Lietuva2 COLLEGIUM VOCALE KAPFENBERGKapfenberg, AustriaDirigenten / Conductors: Helmut Traxler & Beata FormanekProgramm / Program:• Anton Bruckner: Os justi• Josef F. Doppelbauer: Das Hohe Lied Salomonis/Madrigal V• Orbán György: Daemon irrepit callidus
---
593 KANGASALAN MIESLAULAJATKangasala, FinlandDirigent / Conductor: Jussi TamminenProgramm / Program:• Mihkel Lüdig: Aamunkoitto• Selim Palmgren: Serenadi• Juha Holma: Löylyloitsu14:00 h1 MÄNNERCHOR FROHE STUNDE WEROTHWeroth, GermanyDirigent / Conductor: Jens RöthProgramm / Program:• Anton Bruckner: Der Abendhimmel• Felix Mendelssohn Bartholdy: Periti autem• Klaus Ochs: Veit Stoß• Erasmus Widmann: Wohlauf, ihr Gäste2 CHOR DER TECHNISCHEN UNIVERSITÄT WIENWien, AustriaDirigent / Conductor: Andreas IppProgramm / Program:• Felix Mendelssohn Bartholdy: Jagdlied• Mia Makaroff: Butterfly• Trad. Spiritual, arr. Moses Hogan: The Battle of Jericho3 CANTATA CHOIR - PUERTO PRINCESA CITYPuerto Princesa, PhilippinesDirigent / Conductor: Manolito A. AndradaProgramm / Program:• Francis Poulenc: Salve Regina• Rodolfo Delarmente: Ilay Gandangan• Fabian Obispo: Chua-ay
---
60Wettbewerb / CompetitionFREITAG / FRIDAY, 05.06.2015Brucknerhaus, Großer Saal / Main Hall10:00 hWettbewerb in der Kategorie G1 – Kinderchöre bis 16 JahreCompetition in category G1 – Children's Choirs up to 16 years1 THE KIDS PERFORMING CHOIRSingapore, SingaporeDirigentin / Conductor: Shelly Chong Choy HarProgramm / Program:• Felix Mendelssohn Bartholdy: Eliah, op. 70 - Nr. 28 Lift Thine Eyes• Kuo Po, arr. Shelly Chong: Who I Want to Be• Ella Yelich O'Connor, Joel Little, arr. Deke Sharon: Royals• Julie Knowles: O Clap Your Hands10:15 hWettbewerb in der Kategorie G2 – Gleichstimmige JugendchöreCompetition in category G2 – Youth Choirs of equal voicesFREITAG / FRIDAY, 05.06.20151 COPENHAGEN GIRLS' CHOIRValby, DenmarkDirigentin / Conductor: Anne Marie GranauProgramm / Program:• Franz Schubert: Ständchen• Per Nørgård: Løft mig kun bort• Svend S. Schultz: Yndigt dufter Danmark• Maurice Duruflé: Tota pulchra es
---
6110:30 hWettbewerb in der Kategorie B2 – Männerchöre, ohne PflichtstückCompetition in category B2 – Male Choirs, without compulsory piece1 SÄNGERVEREINIGUNG 1875/99 NEUSES E.V.Freigericht-Neuses, GermanyDirigent / Conductor: Gerd ZellmannProgramm / Program:• Erasmus Widmann: Wohlauf, ihr Gäste• Sven-David Sandström: Tre Stycken för Manskör:No. 1 Kyrie & No. 2 ...och åter tomhet• Carl Reinthaler: Sechs Männerquartette, op. 11: No. 4 Auf dem See10:45 hWettbewerb in der Kategorie B1 – Gemischte Chöre, ohne PflichtstückCompetition in category B1 – Mixed Choirs, without compulsory piece1 PÄRNU KAMMERKOORPärnu, EstoniaDirigent / Conductor: Elo KeskülaProgramm / Program:• Javier Busto: Laudate pueri• Siim Aimla: Mõistatused• Kärt Johanson, arr. Pärt Uusberg: Õhtu ilu2 CHOR DER TECHNISCHEN UNIVERSITÄT WIENWien, AustriaDirigent / Conductor: Andreas IppProgramm / Program:• Felix Mendelssohn Bartholdy: Jagdlied• Mia Makaroff: Butterfly• Trad. Spiritual, arr. Moses Hogan: The Battle of Jericho3 HAAPSALU KAMMERKOORHaapsalu, EstoniaDirigentin / Conductor: Ulrika GraubergProgramm / Program:• Anti Marguste: See on Eesti• Cyrillus Kreek: Meil aiaäärne tänavas• Cyrillus Kreek: Meie errFREITAG / FRIDAY, 05.06.2015
---
62FREITAG / FRIDAY, 05.06.20154 CAPELLA POLIFONICAArad, RomaniaDirigent / Conductor: Tiberiu ArdeleanProgramm / Program:• Kiriac Dumitru-Georgescu: Heruvic• Cezar Corneliu: Flăcări si roti• Danga Gheorghe: Sârba pe loc5 NANYANG TECHNOLOGICAL UNIVERSITY CHOIRSingapore, SingaporeDirigentin / Conductor: Chee Foon YongProgramm / Program:• Pēteris Vasks: Madrigāls• Kentaro Sato: Mae-e• Trad. Singapore, arr. Toh Ban Sheng: Rasa sayang6 CANTATA CHOIR - PUERTO PRINCESA CITYPuerto Princesa, PhilippinesDirigent / Conductor: Manolito A. AndradaProgramm / Program:• Francis Poulenc: Salve Regina• Rodolfo Delarmente: Ilay Gandangan• Fabian Obispo: Chua-ay14:30 hWettbewerb in der Kategorie C1 – Gleichstimmige KammerchöreCompetition in category C1 – Chamber choirs of equal voices1 KAARI-ENSEMBLEHelsinki, FinlandDirigentin / Conductor: Saara AittakumpuProgramm / Program:• Piae Cantiones, Daniel Friderici: Aetas carmen melodiae• Robert Schumann: In Meeres Mitten• Olli Kortegangas: Three Fiord Sketches• Einojuhani Rautavaara: Der Brief• Robert Schumann: Die Capelle
---
632 MÜNCHNER FRAUENCHOROtterfing, GermanyDirigentin / Conductor: Katrin Wende-EhmerProgramm / Program:• Giovanni Gabrieli: Ahi, senza te• Gustav Jenner: Ich will ein Haus mir bauen• John Muehleisen: Joy• Vytautas Miškinis: Ave maris stella• Sandra Milliken: Jubilate Deo15:10 hWettbewerb in der Kategorie C2 – Gemischtstimmige KammerchöreCompetition in category C2 – Chamber choirs of mixed voicesFREITAG / FRIDAY, 05.06.20151 KAMMERKORET ULTIMA THULEStraumsbukta, NorwayDirigent / Conductor: Ivar SolbergProgramm / Program:• Antonio Lotti: Misa in octavi toni• Anton Bruckner: Os justi• Egil Hovland: Jerusalem• Trad. Norway, arr. Bjørn Kruse: Jeg lagde meg så silde• Edvard Grieg: I himmelen15:30 hWettbewerb in der Kategorie C3 – VokalensemblesCompetition in category C3 – Vocal ensembles1 PACIFIC LUTHERAN UNIVERSITY CHAMBER SINGERSTacoma, USAProgramm / Program:• Luca Marenzio: Già torna a rallegrar l'aria e la terra• Clément Janequin: Le Chant des Oyseaux• Franz Josef Haydn: Alles hat seine Zeit• Trad. England, arr. Ralph Vaughan Williams: Greensleeves• Jonathan Alfred Clawson Redford: Glossolalia
---
64SAMSTAG / SATURDAY, 06.06.2015Brucknerhaus, Großer Saal / Main Hall10:00 hWettbewerb in der Kategorie S – Sakrale ChormusikCompetition in category S – Sacred choir music1 PJEVAČKI ZBOR "JOSIP ŠTOLCER SLAVENSKI" ČAKOVECČakovec, CroatiaDirigentin / Conductor: Senka Bašek-ŠamecProgramm / Program:• Anton Bruckner: Locus iste• Vytautas Miškinis: Multi dicunt• Branko Stark: Plaudite manibus2 COLLEGIUM VOCALE KAPFENBERGKapfenberg, AustriaDirigenten / Conductors: Helmut Traxler & Beata FormanekProgramm / Program:• Josef Rheinberger: Drei Geistliche Gesänge, op. 69 - Nr. 3 Abendlied• Heinrich Schütz: Die Himmel erzählen die Ehre Gottes• Trad. Spiritual, arr. Albert Hosp: JosuaSAMSTAG / SATURDAY, 06.06.20153 MÜNCHNER FRAUENCHOROtterfing, GermanyDirigentin / Conductor: Katrin Wende-EhmerProgramm / Program:• Joseph Rheinberger: Wie lieblich sind deine Wohnungen• Knut Nystedt: Søk Herren• David Hailton: Got a Home on that Rock4 KAARI-ENSEMBLEHelsinki, FinlandDirigentin / Conductor: Saara AittakumpuProgramm / Program:• Johannes Brahms: O bone Jesu• Bengt Johansson: Pater noster• Maurice Duruflé: Tota pulchra es
---
655 CHOIR OF THE WEST, PACIFIC LUTHERAN UNIVERSITYTacoma, USADirigent / Conductor: Richard NanceProgramm / Program:• Tomás Luis de Victoria: Vidi speciosam• Ola Gjeilo: Tota pulchra est• Max Reger: Oster Motette: Lasset uns den Herrn preisen6 COPENHAGEN GIRLS' CHOIRValby, DenmarkDirigentin / Conductor: Anne Marie GranauProgramm / Program:• Franz Schubert: Gott ist mein Hirt (Psalm 23)• Francis Poulenc: Ave verum corpus• Claus Vestergaard Jensen: Make a Joyful Noise7 NANYANG TECHNOLOGICAL UNIVERSITY CHOIRSingapore, SingaporeDirigent / Conductor: Chee Foon YongProgramm / Program:• Anton Bruckner: Locus iste• Vytautas Miškinis: O salutaris hostia• Rihards Dubra: Ubi caritas8 KAMMERKORET ULTIMA THULEStraumsbukta, NorwayDirigent / Conductor: Ivar SolbergProgramm / Program:• Anton Bruckner: Ave Maria• Sergei Rachmaninov: Hexapsalmos• Edvard Grieg: Ave, maris stellaSAMSTAG / SATURDAY, 06.06.2015
---
6614:30 hWettbewerb in der Kategorie A2 – Männerchöre, mit PflichtstückCompetition in category A2 – Male choirs, with compulsory piece1 MÄNNERCHOR FROHE STUNDE WEROTHWeroth, GermanyDirigent / Conductor: Jens RöthProgramm / Program:• Anton Bruckner: Der Abendhimmel• Felix Mendelssohn Bartholdy:Zwei geistliche Chöre, op. 115 - Nr. 2 Periti autem• Klaus Ochs: Veit Stoß• Erasmus Widmann: Wohlauf, ihr Gäste14:50 hWettbewerb in der Kategorie A1 – Gemischte Chöre, mit PflichtstückCompetition in category A1 – Mixed choirs, with compulsory piece1 COLLEGIUM VOCALE KAPFENBERGKapfenberg, AustriaDirigenten / Conductors: Helmut Traxler & Beata FormanekProgramm / Program:• Anton Bruckner: Os justi• Felix Mendelssohn Bartholdy: Richte mich, Gott• Josef F. Doppelbauer: Das Hohe Lied Salomonis/Madrigal V• Orbán György: Daemon irrepit callidusSAMSTAG / SATURDAY, 06.06.20152 PJEVAČKI ZBOR "JOSIP ŠTOLCER SLAVENSKI" ČAKOVECČakovec, CroatiaDirigentin / Conductor: Senka Bašek-ŠamecProgramm / Program:• Anton Bruckner: Os justi• Dušan Prašelj: Trešete• Stevan Mokranjac: Statija treća• Davor Bobić: Zeleni jure3 CHOIR OF THE WEST, PACIFIC LUTHERAN UNIVERSITYTacoma, USADirigent / Conductor: Richard NanceProgramm / Program:• Anton Bruckner: Os justi• Felix Mendelssohn Bartholdy: Ehre sei Gott in der Höhe• Tomás Luis de Victoria: O quam gloriosum• Mark Adamo: Supreme Virtue
---
67Probe mit einem internationalen Chorexperten /Individual CoachingDie Proben mit einem internationalen Chorexperten sind keine öffentlicheVeranstaltungen/ The Individual Coachings are not open to the public.SAMSTAG / SATURDAY, 06.06.2015Brucknerhaus, Großer Saal / Main Hall11:00 h1 THE KIDS PERFORMING CHOIRSingapore, SingaporeDirigentin / Conductor: Shelly Chong Choy HarProgramm / Program:• Ella Yelich O'Connor, Joel Little, arr. Sharon Deke: Royals15:00 h1 CHOR DER TECHNISCHEN UNIVERSITÄT WIENWien, AustriaDirigent / Conductor: Andreas IppProgramm / Program:• Mia Makaroff: Butterfly17:00 h1 COLLEGIUM VOCALE KAPFENBERGKapfenberg, AustriaDirigenten / Conductor: Helmut Traxler & Beata FormanekProgramm / Program:• Felix Mendelssohn Bartholdy: Richte mich, Gott
---
69CHÖRECHOIRS
---
70COPENHAGEN GIRLS' CHOIRValby, Dänemark / DenmarkGegründet / Founded: 1973G2 & S & Sing'n'Joy FestivalstagechoirDirigentin / Conductor: Anne Marie GranauMÄNNERCHOR FROHE STUNDE WEROTHWeroth, Deutschland / GermanyGegründet / Founded: 1900A2Dirigent / Conductor: Jens Röth
---
71MÜNCHNER FRAUENCHOROtterfing, Deutschland / GermanyGegründet / Founded: 1989C1 & SDirigentin / Conductor: Katrin Wende-EhmerSÄNGERVEREINIGUNG 1875/99 NEUSES E.V.Freigericht-Neuses, Deutschland / GermanyGegründet / Founded: 1875B2Dirigent / Conductor: Gerd Zellmann
---
72HAAPSALU KAMMERKOORHaapsalu, Estland / EstoniaGegründet / Founded: 2006B1Dirigentin / Conductor: Ulrika GraubergPÄRNU KAMMERKOORPärnu, Estland / EstoniaGegründet / Founded: 2001B1 & Sing'n'Joy FestivalstagechoirDirigent / Conductor: Elo Kesküla
---
73KAARI-ENSEMBLEHelsinki, Finnland / FinlandGegründet / Founded: 2008C1 & SDirigentin / Conductor: Saara AittakumpuKANGASALAN MIESLAULAJATKangasalan, Finnland / FinlandGegründet / Founded: 1945FestivalDirigentin / Conductor: Jussi Tamminen
---
74PJEVAČKI ZBOR "JOSIP ŠTOLCER SLAVENSKI" ČAKOVECČakovec, Kroatien / CroatiaGegründet / Founded: 1975A1 & SDirigentin / Conductor: Senka Bašek-ŠamecMARIJAMPOLĖ CULTURAL CENTRE CHILDREN'S CHOIR "VYTURĖLIS"Marijampolė, Litauen / LithuaniaGegründet / Founded: 1962FestivalDirigentinnen / Conductors: Bronislava Barauskienė &Laima Venclovienė
---
75KAMMERKORET ULTIMA THULEStraumsbukta, Norwegen / NorwayGegründet / Founded: 1992C2 & S & Sing'n'Joy FestivalstagechoirDirigent / Conductor: Ivar SolbergCHOR DER TECHNISCHEN UNIVERSITÄT WIENWien, Österreich / AustriaGegründet / Founded: 2012B1Dirigent / Conductor: Andreas Ipp
---
76COLLEGIUM VOCALE KAPFENBERGKapfenberg, Österreich / AustriaGegründet / Founded: 1995A1 & SDirigenten / Conductors: Helmut Traxler & Beata FormanekCANTATA CHOIR – PUERTO PRINCESA CITYPuerto Princesa, Philippinen / PhilippinesGegründet / Founded: 1981B1Dirigent / Conductor: Manolito A. Andrada
---
77CAPELLA POLIFONICAArad, Rumänien / RomaniaGegründet / Founded: 2008B1Dirigent / Conductor: Tiberiu ArdeleanNANYANG TECHNOLOGICAL UNIVERSITY CHOIRSingapur / SingaporeGegründet / Founded: 1989B1 & SDirigent / Conductor: Chee Foon Yong
---
78THE KIDS PERFORMING CHOIRSingapur / SingaporeGegründet / Founded: 2013G1Dirigentin / Conductor: Shelly Chong Choy HarCHOIR OF THE WEST, PACIFIC LUTHERAN UNIVERSITYTacoma, USAGegründet / Founded: 1925A1 & SDirigent / Conductor: Richard Nance
---
79PACIFIC LUTHERAN UNIVERSITY CHAMBER SINGERSTacoma, USAC3Fotonachweise / Photo CreditsTitelseite/front page: links/left: © INTERKULTUR (oben/top), © Studi43 (unten/below),rechts/right: © Studi43 | Grußworte/Greetings: Seite/Page 8/9: © Fingerlos,Seite/Page10 – 18: Alle Portraits wurden von den entsprechenden Personen privat oder durch derenDienststellen zur Verfügung gestellt. / All portraits were supplied by the correspondingpeople either privately or through their office | Über INTERKULTUR/About INTERKULTUR:Seite/Page 20/21: © Studi43 | Anton Bruckner – Komponist der Romantik/Anton Bruckner –Composer of the Romantic Period: Seite/Page 28/29: © Studi43, Seite/Page 31: © Orginal vonAnton Paul Huber 1895 ((Öl auf Leinwand) | Künstlerisches Komitee & Jury/Artistic Committee& Jury: Seite/Page 36/37: © Studi43, Seite/Page: 38 – 44: Alle Portraits wurden von denentsprechenden Personen privat oder durch deren Dienststellen zur Verfügung gestellt. / Allportraits were supplied by the corresponding people either privately or through their office |Ablauf/Schedule: Seite/Page 46/47: © Studi43, Seite/Page 49: © Studi43, Seite/Page 51: ©INTERKULTUR, Seite/Page 53: © INTERKULTUR (links/left), © INTERKULTUR (rechts/right) |Wettbewerb/Competition: Seite/Page 54/55: © Studi43, Seite/Page 56: © Fingerlos, Seite/Page 60: © INTERKULTUR | Chöre/Choirs: Seite/Page 68/69: © Studi43, Seite/Page 70 – 80:Die Chorfotos entstammen aus Privatbeständen der einzelnen Chöre. Alle Portraits wurdenvon den entsprechenden Personen privat oder durch deren Dienststellen zur Verfügunggestellt. / The choir photos are from private collections belonging to the choirs themselves. Allportraits were supplied by the corresponding people either privately or through their offices |Stadtplan Linz/City map of Linz: Seite/Page 82/83: © Linz Tourismus | Rückseite/back page:links/left: © Studi43, rechts/right: © INTERKULTUR
---
80Gewinner des Anton-Bruckner-ChorpreisesWinner of the Anton Bruckner Choir Prize2007 2009CORO POLIFONICO DI RUDAItalien/ ItalyDirigentin / Conductor: Fabiana NoroMAGNIFICAT YOUTH CHOIRUngarn / HungaryDirigentin / Conductor: Valéria Szebellédi2011 2013LALÁ VOCALENSEMBLEÖsterreich / AustriaENSEMBLE THIOS OMILOSDeutschland / GermanyWorld Ranking ListTOP choirs, results andupdated statistics about ourfestivals on our websitewww.interkultur.com
---
81Impressum & Team / Imprint & TeamVERANSTALTER / ORGANIZERVeranstalter im Sinne des BGB Deutschland ist die Interkultur Management GmbH (PlatzderEinheit 1, 60327 Frankfurt, Deutschland - HRB 77821 beim Amtsgericht Frankfurt am Main– vertreten durch Günter Titsch, Präsident INTERKULTUR). / Organizer according to law is theInterkultur Management GmbH (Platz der Einheit 1, 60327 Frankfurt, Germany - Registered atAG Frankfurt, HRB 77821 - represented by Günter Titsch, President INTERKULTUR).TEAM INTERKULTURFestivalbüro / Festival Office: Stefanie Schreiber, Elisabeth StockmannIT & Abwicklung / IT & Stage Management: Andreas KirdjakinAbwicklung / Stage Management: Reinhold Schunk, Jonas SiebertKONTAKT / CONTACT FESTIVAL OFFICEFestivalbüro / Festival Officec/o BrucknerhausUntere Donaulände 7, 4020 Linz, Österreich / AustriaPhone: +43 650 8 720 127mail@interkultur.comIMPRESSUM / IMPRINTRedaktion / Editors: Stefanie Schreiber, Prof. Dr. Ralf EisenbeißGestaltung / Design: Ina Irmisch, Appelt Mediendesign GmbH, Werdau, DeutschlandDruck / Print: online Druck GmbH, Neudorf, ÖsterreichPreis / Price: 5,- €
---
82Stadtplan Linz / City map of Linz
---
Internationaler Anton-Bruckner-Chorwettbewerb & FestivalINTERKULTURRuhberg 135463 Fernwald (Frankfurt/Main) GermanyPhone: +49 (0)6404 69749-25Fax: +49 (0)6404 69749-29mail@interkultur.comwww.interkultur.com