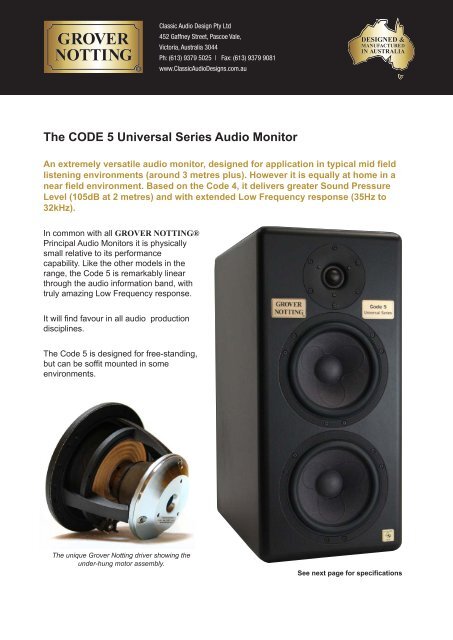 Grover Notting CODE 5 Brochure - ATT Audio Controls
Grover Notting CODE 5 Brochure - ATT Audio Controls
Grover Notting CODE 5 Brochure - ATT Audio Controls
SHOW MORE
SHOW LESS
Create successful ePaper yourself
Turn your PDF publications into a flip-book with our unique Google optimized e-Paper software.
Classic Audio Design Pty Ltd452 Gaffney Street, Pascoe Vale,Victoria, Australia 3044Ph: (613) 9379 5025 | Fax: (613) 9379 9081www.ClassicAudioDesigns.com.auThe CODE 5 Universal Series Audio MonitorAn extremely versatile audio monitor, designed for application in typical mid fieldlistening environments (around 3 metres plus). However it is equally at home in anear field environment. Based on the Code 4, it delivers greater Sound PressureLevel (105dB at 2 metres) and with extended Low Frequency response (35Hz to32kHz).In common with all GROVER NOTTING®Principal Audio Monitors it is physicallysmall relative to its performancecapability. Like the other models in therange, the Code 5 is remarkably linearthrough the audio information band, withtruly amazing Low Frequency response.It will find favour in all audio productiondisciplines.The Code 5 is designed for free-standing,but can be soffit mounted in someenvironments.The unique Grover Notting driver showing theunder-hung motor assembly.See next page for specifications
---
Classic Audio Design Pty Ltd452 Gaffney Street, Pascoe Vale,Victoria, Australia 3044Ph: (613) 9379 5025 | Fax: (613) 9379 9081www.ClassicAudioDesigns.com.auCODE 5 SpecificationsEnclosure configuration2 way passiveEnclosure typeInfinite baffleEnclosure shapeRectangleEnclosure size (H x W x D)530 x 245 x 405mmEnclosure weight (no packing)18.2kg.Enclosure construction material25mm Customwood (premium MDF)FinishGN Neutral blackBreakout connectorAirtight lockable 4 pin male, 8m cable and connector includedTransducer compliment:HF transducer1 x 26mm soft domeCone transducer2 x 184mmNominal Impedance8 ohmsFrequency divisionPassive filterFilter type4th order double LRCrossover point2,500HzWith Bandwidth Extension Module (BEM) YesLiveryFront baffleRecessed hand cut, acid etched brass brand, model & BEM badge.Rear panelAcid etched anodised aluminium model & serial number plaquePerformance SpecificationsSensitivity (1W @ 1m)86dBSound Pressure Level (SPL)105dB @ 2 metreTypical mid-band Harmonic Distortion Less than 0.2%Frequency Response (-3dB)35Hz~32kHzA note on loudspeaker specifications:It is a fact that while technical specifications are definitive; performance specifications are not. A speakerwill perform differently subject to the constrains of its acoustic environment. When producing performancespecifications, we believe they must represent the "real world". We also suggest they be used as a guide onlyto the potential of a specific system. Therefore our performance specifications are produced, as a result of "realworld" testing, conservative and with the goal of publishing useful data as opposed to marketing hyperbole.Note: All models designed to deliver maximally flat/critically damped Butterworth Low Frequencyalignment into the air. Information provided may be modified at any time without prior notice.Specifications & appearance may differ from those listed or depicted.