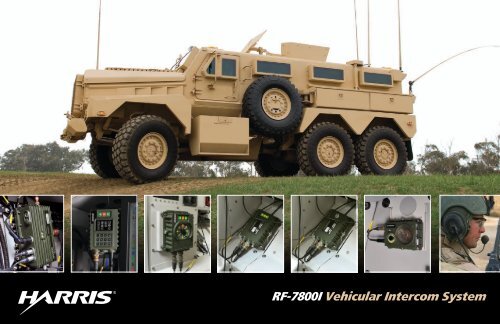 RF-7800I Vehicular Intercom System - Harris RF Communications ...
RF-7800I Vehicular Intercom System - Harris RF Communications ...
RF-7800I Vehicular Intercom System - Harris RF Communications ...
SHOW MORE
SHOW LESS
Create successful ePaper yourself
Turn your PDF publications into a flip-book with our unique Google optimized e-Paper software.
DriverCommanderGunnerRotaryDial UnitKeypadDisplayUnitPassengerBasicUnitBasicUnitPassengerCentral UnitThe RF-7800I Vehicular Intercom System is the customizable, reliablechoice for intercom communications – any vehicle, any mission.The RF-7800I is a comprehensive solution for in-vehicle voice anddata communication, tactical network connectivity, and battlemanagement system interoperability. The RF-7800I provides voiceand data connectivity among vehicle crew members while creatinga network backbone to integrate vehicle communication systems.With a modular, configurable platform, the RF-7800I is not onlyeasy to install, but also is lightweight and power efficient.Built to MIL-STD-810F specifications, the rugged RF-7800Iinteroperates with the family of Harris Falcon ® tactical radiosas well as other military, government and commercial devices.This allows crew members to communicate with dismountedpersonnel and other vehicles or command centers throughHF, VHF, UHF, SPR and BGAN satellite communications technology.HF CNRVHF/MB CNRA Highly Customizable System.The RF-7800I provides integrated, all-in-one support for data and Ethernetconnectivity while its speech recognition and noise elimination technologyprovide clear voice transmission in noisy environments.
---
RF-7800I-CUCentral UnitThe Heart of the RF-7800I Intercom SystemThe intercom system's main component, the Central Unit, performs voice channelswitching and digital data packet routing between 8 crew stations and 4 combat netradios. The Central Unit also has 4 general purpose serial ports, a Speaker Unit port,and 2 Ethernet ports for full network integration. A "light" version is available forvoice-only applications with support for 4 crew stations and 2 radio transceivers.The Central Unit provides clear voice communications using digital signal processingtechnology that eliminates vehicle background noise for maximum voice intelligibilityfor all crew members. In addition, the Central Unit monitors vehicle system status,crew station controls, and crew station indicators.The Central Unit, Crew Stations, and additional components are all softwareconfigurable and upgradable through a simple, PC based user interface. Thisapplication allows for the easy incorporation of feature enhancements andreconfiguration of the system to support new mission requirements. The central unitcan be configured to provide notifications to the users in their native language.Modular Components and Simple Cabling for Easy Installation.The compact, modular design integrates seamlessly with a variety of combat netradios including Harris Falcon ® products and is extensible to BMS and situationalawareness applications.The communication between the Central Unit and the Crew Stations is established overa single, easy to install two-wire interface providing power to the crew stations andANR headsets, programming and real time configuration capabilities, duplex streamsof 64 kbps digitized PCM voice channels, and duplex streams of digital synchronouscommunication with data and control signals of the serial asynchronous ports.
---
Intuitive User Interface and Flexible Functionality.The Keypad Display Unit is customizable to the needs of thespecific users including the function and position of the icons.RF-7800I-KDKeypad Display UnitThe fully featured Keypad Display Unit provides real-time command and control of the intercomand radios for maximum mission flexibility. This crew station offers a high resolution OLED screenfor displaying options, messages, and commands. The keypad drives the icons on the displayallowing the user access to the intercom and radio channels with a simple, single key press.When selecting different options, operators receive audible feedback in their native languageas configured through the central unit programming software.Harris Falcon radio users can take advantage of the Keypad Display Unit to remotely control radioparameters. Users are able to navigate through presets, issue calls to radio network users, displayGPS information, and control power configuration.
---
RF-7800I-RDRotary Dial UnitThe Rotary Dial Unit provides operators with real-time selection of16 pre-programmed modes of operation through a single turn of a knob.Users can easily determine the Crew Stations or radio assets that are inuse by the status indicators provided at each dial position. When switchinginto the 16 different positions, operators receive audible feedback in theirnative language as configured through the Central Unit.Second Nature Operation.The Rotary Dial Unit allows the user to focus on the missionand leverage the preprogrammed intercom system to streamlinecommunication. Switching into the appropriate position tocommunicate with the team, make a phone call, or respond toan alarm becomes second nature with just the turn of a knob.
---
Additional ComponentsRF-7800I-SASpeaker UnitThe Speaker Unit features an 8-watt amplifierand a 5-step volume control knob. Its highpoweris ideal for command broadcasts or radiomonitoring. The system can be preconfigured tosimultaneously monitor any or all of the audiosources connected to the intercom viathe speaker.RF-7800I-TATelephone & Alarm UnitThe Telephone & Alarm Unit provides seamlessintegration with an analog PBX or a field telephone toenable direct dialing from the Crew Stations. One unitcan connect a PBX and field phone at the same time tosupport incoming and outgoing calls. The unit can alsoprovide networking capabilities with other intercomsystems through an inter-vehicle field wire interface.The unit includes an alarm/sensor interface for monitoringwarning signals originated by vehicle subsystemssuch as engine, NBC and IR warnings. Events trigger awarning voice broadcast relevant to the alarm sourcewhile flashing the Crew Station's red LED.The Telephone & Alarm Unitis configurable to detect thefollowing signals:• GND/ not connected• 24V/ not connected• GND/ 24V• 300Hz – 3KHz electrical signals atvoltages between 3Vpp – 10Vpp
---
RF-7800ISpecificationsCentral Unit Keypad Display Unit Rotary Dial Unit Basic Unit Speaker Unit Telephone & Alarm UnitPart Number RF-7800I-CU RF-7800I-KD RF-7800I-RD RF-7800I-BU RF-7800I-SA RF-7800I-TADescriptionCentral unit, maingateway of all voiceand data commsOLED display withintegrated keypad16 position rotary switchcontrolBasic voice and dataaccess8W speaker/amplifierwith 5 step volumecontrolMonitor 8 vehiclesensors / alarms,connect field telephoneor PBXInput Voltage Range 18-36 VDC 18-36 VDC or Central Unit 18-36 VDC or Central Unit 18-36 VDC or Central Unit 18-36 VDC or Central Unit 18-36 VDC or Central UnitCurrent Efficiency(Max)Dimensions(LxWxH in cm)300 mA + eachconnectedcomponent80 mA 40 mA 40 mA 1 A max 100 mA25.60 x 15.29 x 8.46 17.20 x 12.60 x 5.28 17.2 x 12.6 x 6.0 17.2 x 12.6 x 5 17.2 x 12.6 x 6.1 17.2 x 12.6 x 5Weight (kg) 2.2 kg < 1 kg < 1 kg < 1 kg 1.2 kg < 1 kgAll RF-7800I components are designed for the harshest environmental andinterference-rich conditions. Environmental specifications for all components:Operating Temperature Range: -32°C to +50°C MIL-STD 810F method 501.4 Procedure 2Storage Temperature Range: -50°C to +65°C MIL-STD 810F method 501.4 Procedure 1EMC Emissions:MIL-STD 461E (RE102,CE102)EMC Susceptibility:MIL-STD 461E (CS101)RF Communications Division | 1680 University Avenue | Rochester, NY USA 14610585-244-5830 | www.rfcomm.harris.comGet quotes real-time at eHarris. Order parts online at: https://premier.harris.com/rfcommsalesThis information was approved for publishing per International Traffic in Arms Regulations, 22 CFR 120-130, and Export Administration Regulations, 15 CFR 730-774.Specifications are subject to change without notice. In cooperation with WB Electronics. Copyright ©2010 Harris Corporation 03/10 B2233F.