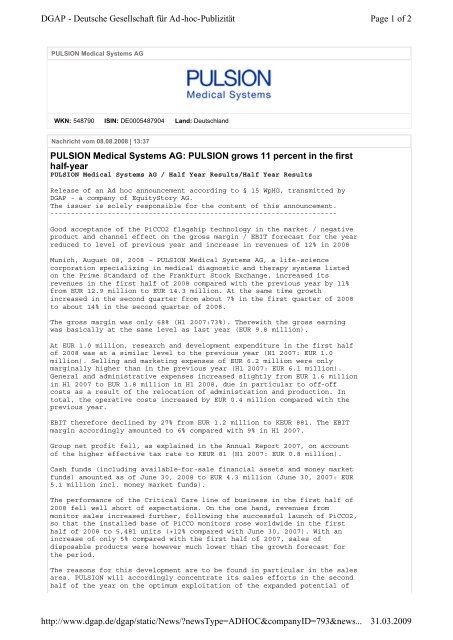 PULSION Medical Systems AG - PULSION Medical Systems SE
PULSION Medical Systems AG - PULSION Medical Systems SE
PULSION Medical Systems AG - PULSION Medical Systems SE
SHOW MORE
SHOW LESS
Create successful ePaper yourself
Turn your PDF publications into a flip-book with our unique Google optimized e-Paper software.
DGAP - Deutsche Gesellschaft für Ad-hoc-Publizität

PULSION Medical Systems AG

WKN: 548790 ISIN: DE0005487904 Land: Deutschland

Nachricht vom 08.08.2008 | 13:37

PULSION Medical Systems AG: PULSION grows 11 percent in the first

half-year

PULSION Medical Systems AG / Half Year Results/Half Year Results

Release of an Ad hoc announcement according to § 15 WpHG, transmitted by

DGAP - a company of EquityStory AG.

The issuer is solely responsible for the content of this announcement.

----------------------------------------------------------------------

Good acceptance of the PiCCO2 flagship technology in the market / negative

product and channel effect on the gross margin / EBIT forecast for the year

reduced to level of previous year and increase in revenues of 12% in 2008

Munich, August 08, 2008 – PULSION Medical Systems AG, a life-science

corporation specializing in medical diagnostic and therapy systems listed

on the Prime Standard of the Frankfurt Stock Exchange, increased its

revenues in the first half of 2008 compared with the previous year by 11%

from EUR 12.9 million to EUR 14.3 million. At the same time growth

increased in the second quarter from about 7% in the first quarter of 2008

to about 14% in the second quarter of 2008.

The gross margin was only 68% (H1 2007:73%). Therewith the gross earning

was basically at the same level as last year (EUR 9.8 million).

At EUR 1.0 million, research and development expenditure in the first half

of 2008 was at a similar level to the previous year (H1 2007: EUR 1.0

million). Selling and marketing expenses of EUR 6.2 million were only

marginally higher than in the previous year (H1 2007: EUR 6.1 million).

General and administrative expenses increased slightly from EUR 1.6 million

in H1 2007 to EUR 1.8 million in H1 2008, due in particular to off-off

costs as a result of the relocation of administration and production. In

total, the operative costs increased by EUR 0.4 million compared with the

previous year.

EBIT therefore declined by 27% from EUR 1.2 million to KEUR 881. The EBIT

margin accordingly amounted to 6% compared with 9% in H1 2007.

Group net profit fell, as explained in the Annual Report 2007, on account

of the higher effective tax rate to KEUR 81 (H1 2007: EUR 0.8 million).

Cash funds (including available-for-sale financial assets and money market

funds) amounted as of June 30, 2008 to EUR 4.3 million (June 30, 2007: EUR

5.1 million incl. money market funds).

The performance of the Critical Care line of business in the first half of

2008 fell well short of expectations. On the one hand, revenues from

monitor sales increased further, following the successful launch of PiCCO2,

so that the installed base of PiCCO monitors rose worldwide in the first

half of 2008 to 5,481 units (+12% compared with June 30, 2007). With an

increase of only 5% compared with the first half of 2007, sales of

disposable products were however much lower than the growth forecast for

the period.

The reasons for this development are to be found in particular in the sales

area. PULSION will accordingly concentrate its sales efforts in the second

half of the year on the optimum exploitation of the expanded potential of

http://www.dgap.de/dgap/static/News/?newsType=ADHOC&companyID=793&news...

Page 1 of 2

31.03.2009
---
DGAP - Deutsche Gesellschaft für Ad-hoc-Publizität

installed monitors with catheter sales. PULSION therefore has reduced its

sales growth target for 2008 to 12%, representing total revenues of EUR

31.7 million. In addition, the Company anticipates a shortfall in EBIT.

Instead of the EBIT of EUR 5.1 million originally budgeted, PULSION now

expects an EBIT in the range of previous year.

The full half-yearly report will be published on August 11, 2008 in

accordance with the financial calendar.

08.08.2008 Financial News transmitted by DGAP

----------------------------------------------------------------------

Language: English

Issuer: PULSION Medical Systems AG

Joseph-Wild-Strasse 20

81829 München

Deutschland

Phone: +49 (0)89 4599 14-0

Fax: +49 (0)89 4599 14-18

E-mail: info@pulsion.com

Internet: www.pulsion.com

ISIN: DE0005487904

WKN: 548790

Listed: Regulierter Markt in Frankfurt (Prime Standard); Freiverkehr

in Berlin, München, Hamburg, Düsseldorf, Stuttgart

End of News DGAP News-Service

---------------------------------------------------------------------------

http://www.dgap.de/dgap/static/News/?newsType=ADHOC&companyID=793&news...

Page 2 of 2

31.03.2009