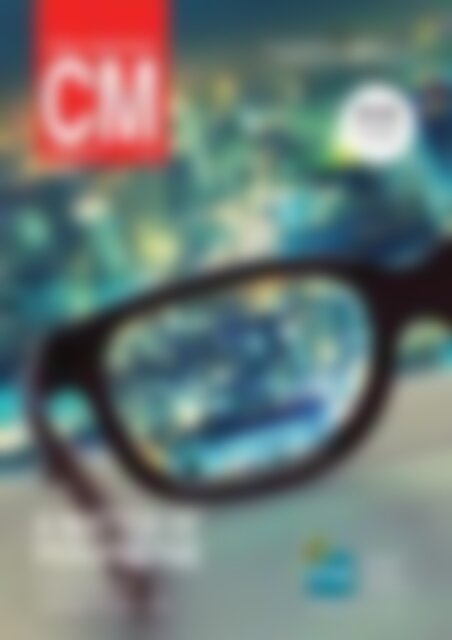 201512 CM December
The CICM magazine for consumer and commercial credit professionals.
The CICM magazine for consumer and commercial credit professionals.
SHOW MORE
SHOW LESS
You also want an ePaper? Increase the reach of your titles
YUMPU automatically turns print PDFs into web optimized ePapers that Google loves.
CREDIT MANAGEMENT

CM

DECEMBER 2015 £10.00

THE CICM MAGAZINE FOR CONSUMER AND

COMMERCIAL CREDIT PROFESSIONALS

INSIDE

2016 DESKTOP

CALENDAR

A MATTER OF

PERSPECTIVE

A DIFFERENT WAY OF

LOOKING AT DEBTORS

www.cicm.com
---
Are you on the

right track to SUCCESS

End of the line

Knowledge

& skills

Enhanced

earnings

& career

potential

Still going

nowhere

Networking

CPD

Training

Can't progress

Not qualified

No recognition

What next?

Get qualified

No support

Out of date

Lack of

Knowledege

Get CICM

magazine

Struggling

Going

nowhere

Become a

member

The recognised standard in credit management

Join online today

experience the benefits

www.cicm.com

+44 (0)1780 722900 | info@cicm.com

FLC
---
CONTENTS

DECEMBER 2015

www.cicm.com

REGULARS

4 Editor's column

6 News

34 Freeths Legal Matters

38 International Trade

43 HR Matters

52 Forthcoming Events

54 Branch News

58 New members

59 Cr£ditWho? directory

63 Crossword

FEATURES

11 INSOLVENCY NEWS

David Kerr takes a look at the latest news

from the world of insolvency.

22 EDUCATION

Which qualification is right for you?

24 BUSINESS APPS

Credit Management takes a look at the

most useful business apps for tablets

and the most popular games for passing

the time.

26 VIEW FROM THE SEAFRONT

Feature special

David Andrews discusses his various

attempts at acting and how suffering

for one's art is a cliche.

28 MAKE YOUR CASE

Front cover feature

What's in a word? Well quite a bit

apparently, especially if you are navigating

your way through the relatively new

regulatory landscape of the Financial

Conduct Authority (FCA). Sean Feast

reports.

32 SOAPBOX CHALLENGE

Chris Sanders FCICM shares our managing

editor's dislike of jargon, and specifically

how it has infiltrated the world of the

consultant.

13

28

12 OPINION

Philip King reflects on a successful 12

months.

13 ASK THE EXPERTS

Stephen Pigney considers the issues of

'dirty money' and the implications of the

4th Anti-Money Laundering Directive on

banks and businesses.

33 DEEPER POCKETS

Salaries are increasing for credit

professionals, but it is career development

that you really want says Karen Young.

34 LEGAL HELP FOR CICM MEMBERS

The CICM's legal partner Freeths provides

legal advice for CICM members and their

employees.

16 LEGAL MATTERS

Peter Walker says that banks have

to question complicated financial

arrangements as a result of a recent

case of money laundering originating in

Gibraltar.

19 INTERVIEW

Sean Feast speaks to Kevin Still MCICM

about the future of debt management.

36 PAYMENT TRENDS

Jason Braidwood FCICM(Grad) analyses .

the latest monthly business-to-business .

payment performance statistics.

45 EDUCATION

Once you have made the decision to

pursue a CICM Credit Management

qualification you need to decide on your

preferred method of study.

26

CICM GOVERNANCE

PRESIDENT

Stephen Baister FCICM

CHIEF EXECUTIVE

Philip King FCICM CdipAF MBA

EXECUTIVE BOARD

Bryony Pettifor FCICM(Grad) - Chair

David Thornley FCICM

Gerard Barron FCICM

Laurie Beagle FCICM – Vice Chair

Larry Coltman FCICM – Treasurer

Victoria Herd FCICM

ADVISORY COUNCIL

Bryony Pettifor FCICM(Grad) – Chair

Carole Morgan FCICM

Catherine Bradford MCICM (Acting)

Charlie Robertson FCICM

Chris Sanders FCICM

David Thornley FCICM

Edward Judge MCICM

Eleimon Gonis MCICM

Gerard Barron FCICM

Glen Bullivant FCICM

Jacky Cooper FCICM

Larry Coltman FCICM – Treasurer

Laurie Beagle FCICM – Vice Chair

Neil Jinks FCICM

Paul Woodward MCICM(Grad)

Peter Powell MCICM (Acting)

Peter Whitmore FCICM

Richard Seadon FCICM

Salima Paul FCICM

Sharon Adams MCICM(Grad)

Sue Chapple FCICM

Victoria Herd FCICM

The recognised standard in credit management

www.cicm.com December 2015 3
---
CREDIT MANAGEMENT

CM

THE CICM MAGAZINE FOR CONSUMER AND

COMMERCIAL CREDIT PROFESSIONALS

the

Editor's

column

WHERE HAVE ALL

THE FIREMEN GONE?

WHEN I was training to be a

journalist in the early 1980s,

people were beginning to tie

themselves up in knots in

how certain roles and objects should be

described so as not to offend: Firemen

became firefighters; policemen became

police officers; and air-stewardesses

became in-flight attendants, long before

they ultimately emerged as cabin crew.

Blackboards, if you recall, similarly

became chalkboards. White boards, for

some strange reason, remained white

boards, a fact I never understood then or

now.

The National Union of Journalists

helpfully provided us with a crib sheet to

ensure we didn't get it wrong. I wish I'd

kept it. Some of the chosen alternatives

were hysterical. Chair as opposed to

chairman was a particular favourite.

Watching senior fire chiefs and police

officers being interviewed and struggling

to use the correct terminologies was

car-crash television. It wasn't natural. It

was politically correct nonsense that they

were obliged to follow without ever truly

believing it.

Wind forward the clock 30 years and

we are now having the same debate in

relation to debtors who, for the past few

years, seem to have been transformed

into customers in the language of debt

collection. Some will argue that debtor is

a correct accounting term, and therefore

should continue to be used. Others that a

debtor is a customer who has simply

fallen behind in their repayments. But

they are still, fundamentally, a customer.

It makes for a good and healthy debate

(see article page 28).

Whatever word we choose, we must

learn a lesson from the 80s. We should

not change an accepted terminology or

word to something different, just because

of political correctness or to tick a

regulator's box. Neither should we use a

word pejoratively. If we truly see a debtor

as a customer whose circumstances

have changed, perhaps only temporarily,

then that has to be expressed in the way

that they are dealt with, and the respect

that they receive. It must be believed and

believable and willingly embraced.

CM MAGAZINE | CONTACT AND PUBLISHING DETAILS: ISSN 0265-2099

Publisher

Chartered Institute of Credit Management

The Water Mill

Station Road

South Luffenham

OAKHAM

LE15 8NB

Telephone: 01780 722910

Fax: 01780 721333

Email: editorial@cicm.com

Website: www.cicm.com

CMM: www.creditmanagement.org.uk

Managing Editor

Sean Feast

Deputy Editor

Alex Simmons

Art Editor

Andrew Morris

Telephone: 01780 722910

Email: andrew.morris@cicm.com

Editorial Team

Imogen Hart, Tom Berger, Iona Yadallee

Advertising

Anthony Cave

Telephone: 0203 603 7934

Email: anthony.cave@cabbell.co.uk

Printers

Warners (Midlands) Plc

2015 subscriptions

UK: £85 per annum

Overseas: £110 per annum

Single copies: £10.00

View our digital version online at www.cicm.com Log on to the Members'

area, and click on the tab labelled "Credit Management magazine"

Credit Management is distributed to the entire UK and international CICM

membership, as well as additional subscribers.

Reproduction in whole or part is forbidden without specific permission. Opinions expressed in this

magazine do not, unless stated, reflect those of the Chartered Institute of Credit Management. The Editor

reserves the right to abbreviate letters if necessary. The Institute is registered as a charity. The mark 'Credit

Management' is a registered trade mark of the Chartered Institute of Credit Management.

4 December 2015 www.cicm.com

The recognised standard in credit management
---
The recognised standard in credit management

www.cicm.com December 2015 5
---
CICM NEWS

CMNEWS

A

round-up

of news stories

from the world

of consumer and

commercial

credit.

By SEAN FEAST

BUSINESS GROWTH SPLUTTERS

AFTER RECORD HIGHS

BUSINESS confidence and the

outlook for growth appear to be

stuttering, following two previous

quarters' record highs.

According to the latest (Q3 2015)

quarterly barometer from the Chartered

Institute of Credit Management (CICM),

confidence has fallen in both Manufacturing

and Services.

The CICM's Credit Managers' Index

(CMI) shows a 7.1 percent drop in the

headline index, which closed down 4.3

points to 56.4. It is caused by a dip in both

the Manufacturing sector (down 3.7 points

to 55.5) and Services (down 2.2 points to

56.8).

Crucially, however, both sectors remain

comfortably above the 50-point threshold,

indicating that overall confidence and

performance remains positive.

The index, sponsored by Tinubu Square,

is important because it gauges nationwide

levels of credit being sought and granted by

credit managers across industry. It therefore

acts as a primary indicator of actual levels

of business being conducted.

The Manufacturing sector has taken a

significant hit over the past two quarters,

closing down 6.13 points; while the

Services sector, has fared better over the

same time period and is down 0.43 to its

current standing at 56.8.

On average, the three favourable factors

– new applications for credit, sales and

the order books – reduced by 4.1 points to

65.9. Yet with each factor remaining well

above the 50-point benchmark, the warning

bells are not ringing quite yet; however, it

will present a worrying issue if this is the

start of a longer-term trend and further

reductions are to come.

Although unfavourable factors have

remained positive for the tenth quarter in

a row, with the average currently standing

at 52.3, six out of seven of the factors

decreased in Q3 – with disputes falling by

6.8 points to close at 46.9.

Philip King, Chief Executive of the CICM,

says that the index appears to contradict

the Office for National Statistics, which has

recently announced an improvement in

Service sector performance:

"This points us to alternative factors

when explaining the UK CMI services

sector fall," he says. "Current instability in

emerging economies, the slowdown

in China, and estimates that UK interest base

rates will remain at 0.5 percent for another

18 months, may be having an effect.

"The FTSE All Share index has shrunk

steadily over the quarter by 6.6 percent,"

he continues, "and it may be the case that

the same factors impacting the market have

contributed to the UK CMI's 7.1 percent fall."

In better news, 15 out of 20 sectors

remain above the crucial watermark, with

telecoms reporting the highest level of

confidence at 71.0. However, four sectors,

including oil and gas, which reported high

results in Q2, are now sub-48 – with the

basic resources sector falling 19 points to

close at 37.

The latest CMI prompted some 300

responses from credit managers in

companies of various sizes broadly split

by region, although slightly weighted to

business in London and the Southeast.

The CMI is a diffusion index, producing

'scores' of between one and 100 (typically

in a range of 40 – 60). Ten equally weighted

factors are included – three favourable

and seven unfavourable – and the index is

calculated on a simple average of the 10

factors.

In better news, 15 out of 20 sectors

remain above the crucial watermark, with

telecoms reporting the highest level of

confidence at 71.0.

6 December 2015 www.cicm.com

The recognised standard in credit management
---
CROSS BORDER PAYMENTS MADE EASIER

FROM 1st Feb 2016, making a cross

border payment will be easier as banks will

require less information from consumers

and businesses – customers will just need

their International Bank Account Number

(IBAN). Currently customers are required to

give their (BIC) Bank Identifier Code to help

the bank identify an account when making

SEPA transactions.

This move, which was driven by the

European Parliament, will bring the UK in

line with the Eurozone countries that use

this internationally-recognised standard

format. It will also increase efficiency and

reduce the instances of payment errors, as

more payments can be made without the

need for manual intervention through the

use of Straight Through Processing.

Although customers will no longer be

required to supply their BIC, some banks

may still need it to correctly route the

payment on behalf of their customers.

In order to ensure that the UK complies

THE Financial Conduct Authority (FCA)

has published plans for implementing a

'regulatory sandbox' – an opportunity for

businesses to test out new, innovative

financial products, services or business

models without incurring all the normal

regulatory consequences of engaging in

those activities.

The FCA was asked to investigate the

feasibility and practicalities of developing

a regulatory sandbox for financial services

by Her Majesty's Treasury, following

recommendations by the Government

Office for Science.

The publication will extend the

FCA's Project Innovate, and marks

its first anniversary. Project Innovate

was developed by the FCA to foster

competition and growth in financial

services by supporting both small and

large businesses that are developing

new products and services that could

genuinely benefit consumers. In its first

with the European legislation in this area,

Payments UK, the trade association for

the payments industry, has led the project

to develop the SEPA IBAN-Only directory,

with SWIFT and in liaison with the Bank

of England and the Financial Conduct

Authority.

Maurice Cleaves, Chief Executive of

Payments UK says the move to SEPAIO

constitutes the first change in decades to

how international payments are processed:

"Our system in the UK offers one of the

most comprehensive and sophisticated

solutions, and it will help ensure the

correct routing data is identified.

"Efficiency in payments is a key priority

of ours, and by adopting the new SEPA

standards, not only will those receiving

payments in the UK benefit from a more

streamlined system, but this simplification

also has the potential to attract and

encourage more European business."

paymentuk.org.uk

FCA'S PROJECT INNOVATE CELEBRATES

FIRST ANNIVERSARY

year, Project Innovate has helped over

175 innovative businesses, five of which

have now been authorised to undertake

regulated activities.

Christopher Woolard, Director of

Strategy and Competition at the FCA, says

to promote competition it is vital to support

firms – both regulated and unregulated:

"Whether large incumbent or small

start-ups – that want to bring new ideas

that can benefit consumers to market. In

just one year, Project Innovate has helped

over 175 innovative businesses and

undertaken a number of steps to address

some of the challenges that firms face."

The FCA believes that a sandbox could

deliver a number of benefits to innovators,

including reducing the time it takes for

innovative ideas to come to market. The

benefits to firms should lead to better

outcomes for consumers, such as an

increased range of products and services.

fca.org.uk

TECHNICAL

JARGON

THE latest meeting of the CICM Technical

Committee meeting discussed updates

on: the proposed Debt collection preaction

protocol, which the CICM has been

collaborating on with The Civil Courts

Users Association (CCUA); the Government

publishing an Enterprise Bill that aims

to back business to drive growth, create

jobs and ensure economic security for all;

the formation of the pre-pack pool and

oversight group activity; the strengthening

of the Prompt Payment Code and issues

around late payment; Government

publishing responses received to its

consultations: 'Late payment: Challenging

grossly unfair terms and practices', 'UK

Implementation of Chapters 1-9 of the EU

Accounting Directive', and 'Invoice finance:

nullifying the ban on invoice assignment

contract clauses'; and cheque image

processing and proposals for the future.

NEWS IN BRIEF

GRAND FINALE

BANKS and building societies can

enable their customers to send Faster

Payments of up to £250,000 per payment,

following an increase to the scheme limit

announced by Faster Payments Scheme

Limited (FPSL). The increase from the

previous £100,000 maximum is the first

time the scheme limit has been increased

since 2010. The change has been made

in order to meet growing demand from

large corporate users. A further review of

the scheme limit is planned during 2016,

to ensure all customers' needs continue

to be met.

fasterpayments.org.uk

CLOUDY OUTLOOK

A further sharp downturn in emerging market

economies and world trade has weakened

global growth to around 2.9 percent this

year – well below the long-run average –

and is a source of uncertainty for near-term

prospects, says the Organisaion for Economic

Co-operation and Development (OECD). In

its latest twice-yearly Economic Outlook, the

OECD projects a gradual strengthening of

global growth in 2016 and 2017 to an annual

3.3 percent and 3.6 percent respectively. But

a clear pick-up in activity requires a smooth

rebalancing of activity in China and more

robust investment in advanced economies.

oecd.org

The recognised standard in credit management

www.cicm.com December 2015 7
---
NEWS IN BRIEF

SOCIALMEDIA

STAY CONNECTED WITH THE CICM, WITH

THESE EASY STEPS ...

SOUTHERN COMFORT

RESEARCH commissioned by Aldermore

has found that 77 percent of businesses

in the South of England are confident

that they will grow over the next five

years.

Of key decision makers within SMEs

in the South of England, 34 percent plan

to invest in technology, 47 percent plan

to grow by increasing their marketing

spend, 37 percent plan to launch a new

product or service; and 31 percent plan

to hire more staff.

aldermore.co.uk

How to follow

CICM on Twitter:

• Visit: https://twitter.com/signup.

• Enter the details requested e.g. name, a password.

• Click Sign up and follow the easy instructions.

• Select a username (you can type your own or choose one Twitter will suggest).

• Don't forget to follow the CICM twitter account https://twitter.com/CICM_HQ.

• If you have any problems, contact CICM Head of Social Media, Tracy Carter.

How to follow

CICM on Linkedin:

• Visit: https://www.linkedin.com/reg/join.

• Enter details requested e.g. name, email address, a password.

Note: You must use your true name. Company names and pseudonyms are

not allowed.

• Click Join Linkedin.

• Complete any additional steps as prompted.

• Join the Chartered Institute of Credit Management (CICM) company page

and the active discussions on the CICM Credit Community Group.

THE CICM ACTIVELY USES SOCIAL MEDIA TO PROVIDE NEWS, COMMENTS,

PROMOTE EVENTS AND ENCOURAGE DISCUSSIONS AMONG BUSINESS

AND CREDIT PROFESSIONALS INCLUDING OUR LEARNERS.

CE Blog

TAKE A LOOK

CICM_HQ

www.cicm.com/ceoblog/

Chartered Institute

of Credit Management

SPOOKY FIGURES

UK retail sales decreased 0.2 percent on

a like-for-like basis from October 2014,

when they were unchanged from the

preceding year. On a total basis, sales

were up 0.9 percent, against a 1.4 percent

rise in October 2014. Adjusted for the

BRC-Nielsen Shop Price Index deflation,

total growth was 2.7 percent. Total growth

was below the three-month average of

1.8 percent and the 12-month average of

1.9 percent. Retailers reported that the

timing of Halloween on a Saturday had

a negative impact on shopping that day,

while categories popular on Black Friday

registered some slowdown in October.

brc.org.uk

NAUGHTY GREMLINS

OUR November issue included a piece on

the FCA Authorisation process by Heather

Greig-Smith. Unfortunately, Gremlins

seem to have infiltrated the publishing

process between sign off and print and

some of the quote from Sara De Tute

of the Lowell Group was missing from

paragraph five on page 20.

The paragraph should have read: "It's

not something to be concerned about,"

says Lowell Group's Chief Risk Officer

and Legal Counsel, Sara De Tute. "They

just want to understand the business and

the business model. Everybody is going

to present their application in different

ways."

8 December 2015 www.cicm.com

The recognised standard in credit management
---
CICM NEWS

SCOTTISH INSOLVENCIES DOWN

BY A QUARTER SINCE 2014

THE latest quarterly figures from

Accountant in Bankruptcy (AiB) show

Scottish total personal insolvencies,

which include both bankruptcies

and protected trust deeds, are 25.4 percent

lower than in the same quarter a year ago.

In the second quarter of 2015 to 30

September, a total of 2,230 personal

insolvencies were recorded, significantly

down on the same period a year ago.

The statistics also show fewer

companies in Scotland going into

insolvency, with 180 Scottish-registered

businesses becoming insolvent. This is

a 13.9 percent drop on the same quarter

a year ago and 8.6 percent down on the

previous quarter. There were no companies

at all entering receivership during the

quarter.

Personal insolvencies in Scotland have

been dropping consistently since 2008-09,

and the numbers fell significantly in the first

quarter this year, following the first months

since legislation governing bankruptcy

was amended by the Bankruptcy and Debt

Advice (Scotland) Act.

This legislation introduced a suite of

measures such as mandatory money advice

for people seeking access to statutory

debt relief solutions such as bankruptcy,

and a Common Financial Tool to promote

consistency in assessing whether individuals

can contribute towards repayment of their

debts.

As well as a new web-based bankruptcy

application system, the changes introduce

a lower cost access route to bankruptcy

for those with few assets and who would

be unable to make contributions, and a

requirement for those who can pay to make

payments for an additional year.

The new figures show this Minimal

Asset Process (MAP) route into bankruptcy,

which replaces the Low Income Low Asset

process, is providing access to debt relief

for those most in need. Of the 697 debtor

applications for bankruptcy in the current

quarter, 50.9 percent were MAP cases.

The number of protected trust deeds

recorded and bankruptcies awarded both

rose over the quarter compared to the last,

indicating the money advice sector and

those seeking debt relief are becoming

familiar with the wide-ranging reforms to

personal insolvency introduced in April.

However, debt payment programmes

approved under Debt Arrangement

Scheme fell by 14 percent compared to

the previous quarter to 456, which is the

lowest number.

Over £100 million has been repaid

to creditors since the reform of the

Debt Arrangement Scheme (DAS) in

2011, according to Business Minister

Fergus Ewing. The Minister made the

announcement at the Insolvency and

Restructuring Conference hosted by

chartered accountancy professional

body ICAS. CICM Vice President Stuart

Hopewell was also a speaker at the

conference, presenting on the Pre Pack

Pool arrangements. aib.gov.uk

CAPTION COMPETITION

£50 WORTH OF

AMAZON VOUCHERS

UP FOR GRABS!

For your chance to win £50 worth of Amazon vouchers, send us your funniest

caption to the picture (right) of Credit Management's Art Editor, Andrew Morris,

who is dressed as Santa waiting to give out the presents at CICM HQ.

Please submit entries to editor@cicm.com by 21 December.

HO HO HO

MERRY

CHRISTMAS

The recognised standard in credit management

www.cicm.com December 2015 9
---
NEWS IN BRIEF

CCUA APPOINTS NEW

CHAIRMAN

AMIR AIi, Director of Client Services and

Business Development at High Court

Enforcement Group, has been appointed

Chairman of the Civil Court Users

Association (CCUA) at the Association's

AGM.

Amir has served as Vice Chair of the

CCUA for the last six years, the last six

months as acting Chairman: "I am both

honoured and privileged to have been

elected to this position," he says. "I am

looking forward to the challenge ahead

and immensely proud to lead the CCUA

Council which is made up of some of the

most talented, committed and ambitious

individuals I have ever had the pleasure

to know and work alongside."

He says that the next five years will

be a very exciting time for all Civil Court

Users and the CCUA will do its utmost to

protect their collective interests.

The Association is charged with airing

and addressing the concerns of all Civil

Court users in England and Wales at

the very highest levels of Government,

MOJ, and Her Majesty's Court & Tribunal

Service (HMCTS) to include all other

Stakeholders concerned with Policy

Change in the Civil Realm. ccua.org.uk

CICM IN BRIEF

This month's briefing includes details

of the CICM British Credit Awards,

the IRRV Completion Notices events

in Manchester and Hinckley, the ICTF

Webcast on Credit and Collections in

the Far East, and the new Hays Skills

Gap Report.

COLD CALLER'S RECORD FINE

OXYGEN, a South Wales-based

lead generation company has been

fined £120,000 by the Information

Commissioners Office (ICO) for making

unsolicited automated marketing calls

claiming to be a 'government awareness

call' and offering to write off debt.

The calls gave no indication of who they

were from. After an initial 214 complaints

from the public, an ICO investigation

discovered the company had made over

one million automated calls, without

people's consent, during April 2015.

Oxygen was responsible for the marketing

campaign and used another company to

make the calls.

Steve Eckersley, Head of Enforcement

at the ICO, says this is a classic example of

a company that has ignored the regulations:

"Companies making recorded marketing

calls like this need permission, and need

to be clear who is making the calls.

Oxygen did neither, and even falsely

FOOD PRODUCERS WAIT LONGER TO

RECEIVE PAYMENT

SMALLER food and drink producers are

waiting more than two weeks longer than

their larger competitors to receive payment

from their customers, research by the Asset

Based Finance Association (ABFA) has

revealed.

Food producers with a turnover of less

than £10 million are waiting an average of

48 days to receive payment, whereas

the largest businesses – those with a

turnover in excess of £500 million – see

their invoices to customers paid within 33

days.

The ABFA adds that it is the very

smallest food and drink producers that

experience the longest delays in the

sector – businesses with a turnover below

£1 million are waiting an average of

56 days for payment, or an additional

three weeks, compared to the bigger

businesses.

The Government hopes to address

the growing problem through its recent

Enterprise Bill. It will establish a small

implied they were part of a government

campaign.

Peter Tutton, Head of Policy at

StepChange Debt Charity, says nuisance

calls are a serious problem that cause

considerable anxiety and stress: "While

this fine is welcome, there is still much more

to be done. Our research shows that over

half of British adults have been contacted

by fee-charging debt management

companies or marketers selling high-cost

credit and this is still a real, everyday

problem.

"The FCA now needs to move more

quickly and bring forward its review of the

rules on unsolicited real-time promotion of

high-risk financial products. With increased

power for regulators and a complete ban on

unsolicited high-risk credit marketing calls,

we can stop this harmful and unacceptable

behaviour before it begins.''

ico.org.uk

stepchange.org.uk

business commissioner with the remit of

helping SMEs in disputes over issues with

larger businesses; this will include referring

SMEs with issues over payment delays to

mediation.

Jeff Longhurst, Chief Executive of the

ABFA, says payment delays are a deepseated

problem for SMEs in the food and

drink sector and it is clear that, despite the

best efforts of the Government, they're still

suffering more than their larger rivals:

"With competition intensifying in the

supermarket sector thanks to the expansion

of the German discounters, perhaps that's

no surprise.

"These extra delays to receive payment

hit SMEs particularly hard as they are often

relying on this income to pay their own

suppliers, and it can have repercussions

down the supply chain. Introducing

mediation is a start, but it won't help SMEs

with their immediate cashflow problems

when payment on an invoice is late."

abfa.org.uk

10 December 2015 www.cicm.com

The recognised standard in credit management
---
INSOLVENCY NEWS

COMPLAINTS –

CONSISTENCY, INDEPENDENCE, AND TRANSPARENCY

THE Insolvency Service is conducting

a review of complaints handing

across the insolvency regulatory

bodies with a view to making

recommendations early next year on ways

to further improve both consistency and

perceptions of the effectiveness of the

present system. But why is this necessary?

The Service's last annual report

highlights some apparent differences

in approach, or at least in outcomes, in

2014. It is important that the Service,

in its oversight role, understands the

reasons behind this and addresses them.

Complainants, whether they be creditors or

(increasingly) debtors – 48 percent of cases

last year – have a right to expect that their

complaints will be dealt with even-handedly,

against common benchmarks, and produce

demonstrably consistent outcomes.

In part, that is about the evidential

requirements imposed on complainants, a

willingness to investigate, and the extent

of proper scrutiny at the decision-making

stage in the system. The latter is best

achieved with an appropriate degree of

independence, but also with necessary

input from other insolvency professionals

who know the technical intricacies and

practical demands of the IP's job.

We have to recognise that the propensity

for dissatisfaction in and around insolvency

processes is such that this area of work

will likely attract more than its fair share of

complaints. Individual debtors, particularly

those in IVAs where PPI claims might be

an issue, have come forward in significant

numbers to raise concerns about the

supervision of those cases, where often

a lack of effective communication is at

the heart of the problem. In corporate

insolvencies, creditors, directors, wouldbe

purchasers, employees and others

sometimes have cause for concern, or at

least questions about the processes or

outcomes that require explanation. The

number of complaints has increased since

the Service's gateway opened two years

ago, so the need for consistency has

become more acute.

Some aspects of the system have seen

improvement already. There are fewer

regulators in the mix than there were two

years ago, and all those now licensing IPs

are subject to the gateway process. That

assists the Service's ability to monitor

throughput and outcomes, or will do over

time. But does the Service really have a

detailed appreciation of how complaints

work their way through the bodies'

separate systems, and the factors in play

in determining how they are decided?

Hitherto, probably not, hence the need for

this review, which must flush out those

points.

I know from cases referred to me that

some bodies put up barriers that all but the

most persistent will find insurmountable.

That is not desirable and, while all bodies

suffer the inconvenience of having to deal

with a few complainants who are simply

barking up the wrong tree, it should always

be a concern to regulators when those

who take the trouble to engage leave

the process disappointed to the point of

questioning the integrity of those who have

considered their complaint.

Transparency is one answer to that,

but also a greater degree of independence

in the decision-making. At the Insolvency

Practitioners Association (IPA), we have

decided to increase the lay input on our

Investigation Committee, which considers

most of the complaints we receive and

has the ultimate say in whether matters

are investigated. It has a healthy mix of

practitioners, but from January will have

a narrow majority of lay contributors

for the first time. We believe this strikes

the right balance between technical

and practical input from professionals

and the independent scrutiny needed

to demonstrate the effectiveness of this

public-facing aspect of regulation and

the crucially important function this plays

in winning hearts and minds amongst

those who find themselves embroiled in

insolvency for one reason or other.

The bodies are also moving towards

common Reviewers of Complaints – the

second tier, independent, review that

can be instigated where a complainant is

dissatisfied with a 'no case' outcome. That

should further enhance consistency by

ensuring that the same panel is considering

cases at that stage, irrespective of the body

dealing with the initial decision.

But more could be done. We still

need a level playing field on publicity; the

largest regulators have resolved historic

differences, but some bodies are not

publishing disciplinary orders, and the

Service will surely iron out those wrinkles

before long.

New obligations on IPs to report others'

misconduct may see a spate of complaints

generated within the profession, but the

Service will need to guard against the

potential for inconsistencies in how they

are addressed, especially as not all of those

matters will go through the gateway.

So, this is a work in progress. There have

undoubtedly been a number of welcome

developments driving enhancements

to the effectiveness of the complaints

process, but there is still some way to go

to convince external stakeholders that the

system serves them well in the majority of

circumstances. It's in all our interests to

reach that destination as soon as possible.

David Kerr MCICM is the

Chief Executive of the Insolvency

Practitioners Association (IPA).

The recognised standard in credit management

www.cicm.com December 2015 11
---
OPINION

ANNUS MIRABILIS

(WITH APOLOGIES)

By Philip King, Chief Executive of the

Chartered Institute of Credit Management

WHAT an incredible year it has

been. So much has happened;

so much has been achieved.

A true Annus Mirabilis – a

Wonderful Year.

Of course our elevation to Chartered

status at the start of the year set the tone

for what followed. Outwardly, it changed

our name. It made us 'look' different to

the outside world, and we celebrated

by refreshing our brand. But it has done

much more than this. On the one hand, it

has changed the way that others see us;

perhaps more importantly, it has changed

the way we see ourselves.

Our members have a voice, and we

are increasingly using that voice to make

ourselves heard in government across

many departments, from the MoJ and

the Insolvency Service to HMRC and the

Cabinet Office. This work is ongoing,

and engagement with our colleagues

including the new Ministerial team at the

Department for Business, Innovation and

Skills (BIS) will continue throughout 2016

as we are consulted on direction and

policy.

Often we share a platform with other

business organisations, and have the

opportunity to share our thoughts, insights

and opinion with the national, local and

business media, and this work similarly

continues. We are invited to take part in

many different consultations and initiatives

with interested third parties, and this will

also continue as people and organisations

learn more about who we are and the value

that we can bring.

As a Chartered Institute, serving

the needs of our members remains our

number one priority. I am pleased to say

that we continue to maintain and grow

our membership, and that many more are

seeking training and formal qualification

through the CICM. More members

are recognising the importance

of staying up to date, informally

through reading this magazine

(which itself improves with every

issue) and our regular briefings, as

well as more formal learning, and

recording it using our Continuous

Professional Development (CPD)

Scheme. A scheme which now also

applies to all forms of CICM learning.

Third party research is now underway to

help us better understand our members,

their needs, and their aspirations. Please

respond to the survey you will receive

early in 2016; the results will help us set

the blueprint for the next few years and

it's important we have as wide a range of

views as possible.

At a corporate level too we are seeing

more companies recognising the benefits

of CICMQ – the benchmark for quality

excellence in credit management – and

greater numbers seeking accreditation and

re-accreditation on a regular basis. We

are also seeing more companies taking

advantage of other initiatives that enable

us to work even more closely with the

industries we serve, such as our Corporate

Partnerships.

We know that we are hitting the mark,

quite literally, because we can monitor the

number of hits to our new website as well

as the numbers of those who engage in

our quarterly Credit Managers Index (CMI);

and through our social media channels

indeed more than half a million visits were

recorded this year of visits to our website

as the go-to destination for credit-related

resources, which is extremely pleasing

for those who work so hard to ensure

members and non-members alike have

access to the sort of information they need

to support their ongoing development.

I have talked previously about

the CICM community – a community

that informs, supports, and drives

professionalism, and I see it everywhere

I look. In 2016, of course, we want to

do more, and with the support of our

fantastic Headquarters staff, and our

volunteers who do such sterling work in

the branches, I am sure we can achieve it.

As individuals, find ways to become even

more engaged where you can, either by

attending branch meetings or standing for

election to our Advisory Council. Respond

to surveys so we can see and hear what

you're thinking, and how we can take

our great organisation and make it even

better for our members. And think too

about what more you could do to support

new members, those starting out as

apprentices or at university, helping them

to carve a professional career in credit

management.

But for now, let us celebrate all that has

been achieved in 2015. From everyone

here at CICM headquarters, I wish you all

a Merry Christmas and a Happy New Year.

12 December 2015 www.cicm.com

The recognised standard in credit management
---
ASK THE EXPERTS

DIRTY DANCING

Stephen Pigney considers the issues of 'dirty money' and the implications of the

4th Anti-Money Laundering Directive on banks and businesses.

NEXT year will be the 25th anniversary

of the 1st Anti-Money Laundering

(AML) Directive published by the

EU in 1991. This first AML Directive

tailored the Financial Action Task Force

(FATF) recommendations to the needs of

the EU, complemented by Member States

national rules.

One of the main drivers for the review

of the 3rd EU AML Directive was the issue

by the FATF of updated financial crime/

AML recommendations during 2012. The

European Commission engaged Deloitte

to assess the current Directive and

subsequently adopted the report making

recommendations for further development

of the existing legislation.

The 4th Anti-Money Laundering

Directive reflects the concern that the

previous Directive had been implemented

inconsistently across the EU. This was seen

as problematical for businesses operating

cross-border. It was approved by the EU in

June this year and has replaced the current

3rd AML Directive. EU Member countries

have two years to implement these rules

into national law so we can expect changes

over the next two years.

It is fair to point out at this stage that

there is unlikely to be a substantial impact

on UK businesses as the UK AML regime

is considered by many to be amongst the

'Gold Standard' for AML legislation.

So how do the new regulations differ

from the current 3rd AML Directive? We will

consider some of the changes in this article

but first it will be useful to look at the extent

of money laundering on a global basis to

get an idea of the size of the problem.

THE CHALLENGE

The IMF has estimated that the amount of

money laundered in the world is between

two percent and five percent of global

GDP. Last year, global GDP was USD77.8

trillion so that suggests that the figure could

be between USD 1.5 trillion and USD 3.9

trillion. As a comparison, Germany's GDP in

2014 was USD 3.9 trillion equivalent.

Of course a common misconception

is that money laundering is primarily a

problem for banks and financial institutions.

We are all aware of the massive fines

being paid by the banks in respect of

anti-money laundering breaches but it is a

problem that encompasses every business

and individual. For the calendar year to

September 2015, the UK Financial Conduct

Authority has levied 31 money laundering

fines totalling GBP826m. This comprised

seven banks, seven corporations and 17

individuals.

Criminals go to great lengths to hide

their activities and make 'dirty' money

appear legitimate and it is incumbent on

everyone that due diligence is given to all of

the transactions in which we are involved.

From a corporate perspective, great care

has to be exercised when dealing with all

counterparties – do you know who your

company trades with, what processes are

in place to ensure clients – both new and

old – are an acceptable counterparty and

what processes are in place to enable staff

to identify and report any potential issues?

The recognised standard in credit management

www.cicm.com December 2015 13
---
As an example of an area in which many

banks and corporates have suffered

losses is trade-based money laundering

techniques. These have become very

sophisticated and include over/under

invoicing, over/under shipping of goods,

multiple invoicing, falsely describing goods

and even phantom shipping.

NEW EU REGULATIONS

Now that we have had anti-money

laundering regulation for almost 25 years,

it is not surprising that the regulations and

law have changed to take account of the

experience gained during this time and to

overcome the sophisticated techniques

employed by criminals.

The 4th EU AML Directive has

introduced both new requirements and

changes to existing procedures.

The key changes for the UK can be

summarised as:

• Introducing a risk-based approach

• Ongoing Monitoring

• Increased requirements with regard to

politically exposed persons

• Register of Beneficial Owners

• Increased scope re customer due

diligence

These changes are expected to provide

benefits to businesses, Governments

and law enforcement by ensuring that

resources can be targeted towards areas

of higher risk. The Directive's more riskbased

approach and, hopefully, a greater

consistency in the implementation of 4th EU

AML Directive across the EU member states

is designed to simplify EU cross-border

trade and implementation of the various

FATF regulations.

In addition, the AML regulations will

have to be met by any business involved

in making or receiving cash payment

for goods worth at least EUR 10,000

equivalent, regardless of whether payment

is made in a single or series of individual

transactions.

Where a business operates in the

gambling sector, the new rules apply where

individual stakes or winnings are in excess

of EUR 2,000. EU Member States can

legitimately decide to opt those companies

affected out of the requirements of the

Directive but the Government making the

decision has to justify this to the European

Commission.

Let's consider these changes in more

depth.

Risk Based Approach

The new regulations introduced will require

EU Member States to evidence that they

have taken necessary actions to identify,

assess and mitigate both AML and Counter

The old saying, to be

forewarned is to be

forearmed, continues

to be true. There will

undoubtedly be some

consultation and

awareness sessions

where businesses

can learn more

about the new AML

requirements. It is

an investment worth

making.

STEPHEN PIGNEY

TRAINER AND EXAM BOARD

MEMBER OF THE ASSOCIATION OF

CORPORATE TREASURERS (ACT)

Terrorist Financing (CTF) risk.

Whilst designated persons (now to

be called 'Obliged Entities') are already

required to comply with this requirements in

the existing rules, the 4th EU AML Directive,

is more explicit in the areas to be assessed.

In addition, under the 4th Directive, the

list of jurisdictions with AML/CTF legislation

which is considered to be equivalent to

that across the EU will be rescinded and

obliged entities will need to perform a

risk assessment on countries where they

do business outside the EU. This change

acknowledges that the levels of action

required by EU Member States, Supervisors

and businesses will vary according to the

nature and severity of the risk.

Worthy of particular mention is that

under the new Directive, transactions

involving public limited companies, public

bodies and some defined jurisdictions

will qualify for simplified due diligence.

Conversely, transactions involving asset

holding vehicles, cash-intensive businesses,

those where unusual or unnecessary

complex share ownership structures are

in place and jurisdictions associated with

higher risk will require enhanced due

diligence.

Politically Exposed Persons (PEP)

It has always been a requirement to

undertake enhanced due diligence where

a counterparty includes a PEP and the

4th AML Directive confirms that enhanced

due diligence is required in all transactions

where a PEP is involved.

For clarification, a PEP is considered

a person that has, or has influence, over

positions of power and includes Members

of Parliament, high ranking officials and

senior figures in Public Bodies. A close

family member or close associate of a

PEP also has to undergo enhanced due

diligence.

A PEP has been defined to include

domestic and overseas domicile, although

this currently is the case in the UK. Obliged

entities will therefore be required to review

their customers to ascertain if there is

a need for re-classification and, where

applicable, apply enhanced due diligence.

Obliged entities will be required to

monitor the risk posed when a person

ceases to be so classified for a period

of 18 months, rather than the 12 month

monitoring period.

Register of Beneficial Owners

As part of the 4th AML Directive, EU

Member States are obliged to maintain

central registers listing information on the

ultimate beneficial owners of a corporate

or other legal entity to provide greater

transparency in financial transactions.

This requirement also extends to Trustees.

Together, the measures are designed to

make it increasingly difficult to undertake

transactions to mask money laundering

activity.

This does of course raise questions

regarding potential inappropriate access or

use of the personal data held on the register.

The Directive requires the information on the

central register to be accessible to people

and organisations who can demonstrate a

'legitimate interest'.

Increased Scope re Customer Due Diligence

The previous Directive allowed businesses

to apply simplified due diligence in certain

situations which reduced the regulatory

burden. The EU's view was that blanket

exemptions are too permissive and lenient

and this will be changed. The new regime

will bring into force new customer due

diligence checking requirements. All

counterparties will need to be identified with

records being maintained showing what due

diligence has been undertaken.

The level of customer due diligence

undertaken will be dependent on the

perceived risk of that customer and where

the risk is considered low, simplified due

diligence is acceptable. The 4th Directive

has prescribed minimum factors to be taken

into account before simplified due diligence

is considered acceptable. If simplified due

diligence is undertaken, the obliged entity

will need to be able to evidence the factors

giving rise to reduced due diligence being

carried out.

14 December 2015 www.cicm.com

The recognised standard in credit management
---
ASK THE EXPERTS

Conversely, where a customer risk is

perceived to be high, the Directive details

additional factors for consideration in the

due diligence process.

The 4th AML Directive has also

introduced new obligations to report

suspicious transactions and maintain

records of payments. All business subject

to the Directive will also be obliged to

install internal controls to combat money

laundering and terrorist financing under the

framework.

BUSINESS REQUIREMENTS

All businesses must take reasonable care in

establishing and maintaining AML controls

and, where a business is regulated, must

appoint a Money Laundering Office. Internal

systems and controls must be sufficient to

achieve:

• Development and documentation of

risk assessment requirements

• Internal training and awareness

• Periodic testing of policies and

procedures

• Business compliance monitoring and

reporting

It is also recommended that detailed

policies and procedures are put in place so

that all employees are aware of the action

they need to take if they become suspicious

regarding any customer or transaction.

Records of client identity, business

relationship and details of one-off

transactions need to be kept for varying

periods as set out in the relevant legislation.

Clearly, all banks will make the relevant

changes to their existing procedures

as soon as possible to ensure they are

compliant with the law. In addition to the

banks, however, businesses will need to

review the effectiveness of their current

policies and procedures; allowing their

employees to be able to identify potential

money laundering.

For example;

• Identification and scrutiny of complex

or unusually large transactions

• Unusual patterns of transactions with

seemingly little apparent economic

and lawful purpose

• Customer anonymity

• Determination and procedure relating

to a PEP.

Then of course, if a suspicious transaction

is identified, to whom should this be

referred and what reporting procedures are

in place to advise the relevant authorities?

RISK STRATEGIES

As has already been said, the UK's AML

regime is considered to be very robust so

it is unlikely that changes in the law will

be substantial. What it will do is to ensure

that a risk-based approach is used in all

dealings with customers and there will be

some changes in processes to ensure that

the correct parameters are being applied

across all businesses.

By far the most significant change will be

the need for the UK to maintain a register

of beneficial owners. This is the one area

that is likely to be subject to much debate

before the 4th AML Directive is brought

into UK law. It may also lead to some

businesses that do not have an internal

AML process to introduce a companywide

policy for recognising and reporting

suspicious transactions.

What does seem clear is that banks

and other financial institutions, if they

are not already doing so, will question

all of their customers about their internal

AML procedures and systems to ensure

compliance with the law.

At the latest, there is still over 18

months to go before the 4th AML

Directive is brought into UK law. Financial

Institutions will already be ensuring that

their procedures will comply with the 4th

AML Directive and corporates should also

take the opportunity to review internal

procedures.

The old saying, to be forewarned is to

be forearmed, continues to be true. There

will undoubtedly be some consultation and

awareness sessions where businesses

can learn more about the new AML

requirements. It is an investment worth

making.

Stephen Pigney is a Trainer and Exam

Board member of the Association of

Corporate Treasurers (ACT)

The recognised standard in credit management

www.cicm.com December 2015 15
---
LEGAL MATTERS

NO DIRTY MONEY

FOR THE BANK

Peter Walker explains that banks have to question complicated financial arrangements as

a result of a recent case of money laundering originating in Gibraltar.

OVER 90 years ago Chicago gangster

Al Capone reputedly used his

criminal wealth to set up laundries

to turn his metaphorically dirty

money into outwardly respectable business

assets, but the term 'money laundering' is

of modern times. The methods of money

launderers are now different, and we want

to trust our banks to be alert to defeat

such criminals. A case involving a bank

and allegations of money laundering was

recently referred by the Gibraltar Court of

Appeal to the Privy Council.

In Papadimitriou v Credit Agricole Corpn

and Investment Bank (2015) 1 WLR 4265

the judges were considering the facts and

law arising from the sale of a collection

of art deco furniture designed in Paris by

Eileen Gray in the 1920s and 1930s. It was

a very expensive collection worth some

US$15 million, and the sale of just 14

items of furniture and with various other

transactions, according to Lord Clarke of

Stone-Cum-Ebony, JSC, 'were part of a

fraudulent scheme devised by' the seller,

Robin Symes, an antiques' dealer, who,

despite such riches, had subsequently

become bankrupt. The proceeds of sale

as part of the scheme went on a long

journey. Some US$4 million ended up with

one Panamanian company and another

Panamanian company was the recipient of

US$10.4 million.

The complications and the money's

journey did not end there, and eventually a

bank's Gibraltar branch received US$10.3

million for the account of a company

formed in the British Virgin Isles at the

request of the seller. A London branch

of the bank gave another of the seller's

companies a facility of US$10.3m on the

basis of the balance in Gibraltar, of which

balance some US$9.8 million was used to

pay off the facility.

The family claiming to own the furniture

following the unexpected death of one

of its members then discovered what

had happened, and wanted to recover

the money. The judges in various courts

had to decide whether the family were

the owners, and, if so, whether the bank

had to pay the money to them. There had

been an earlier Privy Council case, Calyon

v Michaelides (Gibraltar) (2009) UKPC 34,

where the judges rejected the judgment

of a Greek court as to the ownership of

the furniture. There was also what Lord

16 December 2015 www.cicm.com

The recognised standard in credit management
---
Rodger of Earlsferry described as 'a web

of intricate and hard-fought litigations in

various jurisdictions concerning the affairs'

of the deceased family member and of

Robin Symes. There was, for example,

Phillips v Symes (2008) 1 WLR 180 which

was a dispute about an alabaster statue of

Akhanaten, an Egyptian Pharaoh, sold by

Robin Symes for US$3 million.

This time the Privy Council limited their

decision making to the bank, as to whether

in the circumstances and at the material

time it had constructive notice of the

family's title to the funds. Two years earlier

in the Gibraltar Supreme Court Dudley

CJ had ruled that a member of the family

was the owner of the furniture. That family

member was the claimant in the case being

considered by the Privy Council.

The judges examined next what had

happened when the Gibraltar branch

of the bank became involved. It started

with a 'know-your-client' procedure and

account-opening forms, which were sent

to London. The completed forms and

copies of the passports of two directors

were duly returned to Gibraltar. A branch

of the bank in London prepared a credit

analysis in respect of the requested facility

of US$11.3 million of one of Robin Symes'

companies. That company wanted it to pay

an existing facility with another bank. There

was collateral in the form of a guarantee

for US$10.3 million given by the Gibraltar

bank, and there was a charge over some

antiques. The completed form anticipated

that the reliance on the antiques would be

reduced to nil. The opinion of the bank was

that it would then have a fully guaranteed

facility. There were various subsequent

transactions including transfers of funds.

CONSTRUCTIVE NOTICE

The Privy Council judges had to decide

whether these circumstances gave the

bank constructive notice that the depositor

was not entitled to deal with the funds.

Lord Clarke drew attention to the decision

of Lord Neuberger in Sinclair Investments

(UK) Ltd v Versailles Trade Finance Ltd

(2012) Ch 453. He and the other judges of

the Court of Appeal were told about money

going on long journeys. Investors paid

various sums to a trade-finance company,

and their funds were to be held on trust

for them until their investments could be

used for the company's supposed financing

purposes. The director also had a company

with a subsidiary supposedly engaging in

factoring. The latter issued debentures on

three banks secured by fixed and floating

charges.

There was consequently plenty of

money, but it was not used for trade

finance. The loan was applied to pay for

investments in the other companies, a

system known as 'loan kiting', while there

were other transfers between all the three

companies, i.e. 'cross-firing', so outwardly

they appeared to be trading genuinely.

A good time perhaps for the

shareholders to leave: the director sold his

shares for £28.69 million, and that sum was

used for various purposes including the

repayment of various loans. The factoring

company's activities came to light, and they

had caused the trade-finance company

to make losses. The director and another

person knowingly involved in scheme or

scam were sentenced to prison sentences,

and were disqualified from being directors

for some years.

There remained a problem: who owed

what to whom? The creditors, including

the liquidator of the trade-finance company,

claimed under a constructive trust a

proprietary interest in the profits from

the sale of shares. The banks and the

factoring company in turn claimed to

be entitled to the money that had been

transferred from the trade-finance

company, such money traceable into the

banks' possession. In the 19th century

language of Sir William Page Wood V-C,

who observed in Frith v Cartland (1865) 2

H&M 417, 'If a man mixes trust funds with

his own, the whole will be treated as trust

property, except so far as he may be able to

distinguish what is his own.'

Neuberger MR and the other judges

of the Court of Appeal decided, however,

that in the circumstances the banks did not

have notice of the trade-finance company's

proprietary interest at the relevant time.

In the Papadimitriou case on the other

hand Lord Clark referred to a judgment of

Neuberger MR in the Court of Appeal, when

he mentioned the decision in Barclays Bank

plc v O'Brien (1994) 1 AC 180. This was

appropriate, because Lord Neuberger was

also one of the Supreme Court judges in

Papadimitriou.

UNDUE INFLUENCE

He was interested in the O'Brien decision,

although it initially seemed to be on a

completely different topic, a wife's guarantee

of a loan to her husband's business. She

signed the document creating a second

charge over the matrimonial home, but

did not read it, because her husband told

her that the bank's liability was limited

to £60,000. He further told her that the

arrangement was for three weeks. The bank

did not enlighten her by explaining what the

documents meant, and did not suggest that

she should ask a lawyer for advice.

That would have been helpful, when the

husband's company did not repay the loan,

and the bank wanted to repossess the

property. The wife claimed that the charge

should be set aside due to her husband's

misrepresentation and undue influence.

In the House of Lords the first

consideration was whether there had been

undue influence. Lord Wilberforce noted that

in the case of spouses there was a greater

risk of undue influence that in other cases

'where no sexual or emotional ties affect

the free exercise of the individual's will.'

This principle could apply 'to all other cases

where there is an emotional relationship

between cohabitees.'

In these circumstances a creditor should

be put on enquiry to take further steps to

ensure that all was well. This is particularly

necessary in the case of a wife acting as

surety for her husband's debts, when the

transaction is ostensibly not to her financial

advantage, and when there is a substantial

risk that the husband has 'committed a

legal or equitable wrong' entitling her to set

aside the transaction. In the O'Brien case

the bank had constructive notice of the

husband's misrepresentation, and should

have ensured that the wife had taken advice.

In light of this and other similar judgments

the Privy Council in the Papadimitriou case

ruled that the bank had constructive notice

of impropriety. There was a web of legal

entities among other factors, which should

have alerted a reasonable bank that there

was a possible improper motive behind

the proceeds of the sale of the furniture. It

was insufficient to restrict any enquiry into

the source of the funds, and the bank as

constructive trustee had to account to the

real owner for US$9.8 million.

As a result of this decision money

launderers will find it more difficult to

wash their dirty money through complicated

banking schemes. It is good to know

that the banks have to be careful with

money.

The recognised standard in credit management

www.cicm.com December 2015 17
---
Why not

give your

credit

control team

the best gift

of all this

Christmas?

Solutions for: cash allocation, cash application, bank reconciliation,

cash forecasting and credit management.

Looking forward to Christmas and the end of year break? Alloc8 by Rimilia never takes a

break and will save you 70% on your current cash allocation costs and give you peace of

mind on the run up to year end. By using unique self-learning technology, our solutions

remove the repetitive and often manually intensive tasks associated with cash transactions

by providing unrivalled levels of one-click automatch decisions.

Benefits...

• Cloud based solution • Out of the box in 6 weeks

• Fast ROI • Risk free decision with transparent pricing

• Award winning solutions • Intelligent self-learning solutions

Book a demonstration...

01527 872123

enquiries@rimilia.com • www.rimilia.com

/rimilia

/company/rimilia-ltd

/+RimiliaSoftware

"Alloc8 has allowed

the credit controllers to

focus on collecting cash

and managing risk. It

is no coincidence that

in this period we have

achieved outstanding

cash collections and our

bad debts are lower than

the industry standard".

Brian Morgan

UK Credit Manager

Veolia UK

What our customers say

Happy Christmas from the team at Rimilia

18 December 2015 www.cicm.com

The recognised standard in credit management
---
INTERVIEW

• DEMSA •

STILL TALKING

Sean Feast speaks to DEMSA Chief Executive Kevin Still MCICM about the

future of debt management.

AS the Chief Executive of DEMSA

– the Debt Managers Standards

Association – Kevin Still has

arguably one of the toughest briefs

in the world of consumer credit.

On the one hand his task is to provide

a genuine conduit with the primary sector

regulators and ombudsmen, notably the

Financial Conduct Authority (FCA) and the

Financial Ombudsman Service (FOS). On

the other, it is to defend and protect an

industry that has suffered significantly in the

hands of an unforgiving media, not helped

– he admits – by the actions of a few debt

management companies (DMC) tarnishing

the good works of the many.

Although the mission may be

challenging, Kevin seems well equipped

for the role, with a CV that reads like a

'who's who' of the great and the good in

the world of credit. But it might have been

different. At the British School of Brussels

in Belgium, where he mixed with the sons

of ambassadors and diplomats in a building

that was once the headquarters of General

Blucher, he had his mind set on becoming

a marine biologist: "I grew up in the era of

Jaws and had a passion for marine life, but

found that I was good at Maths and so my

future took a different direction."

Kevin went to the University of Surrey

between 1980 – 1984, graduating with a

BSc Joint Honours in Mathematics and

Computer Sciences: "In reality," he jokes,

"I did a degree in rugby with a little maths

thrown in!"

While at university, he spent a one-year

industrial placement at Unisys, a grounding

that was to stand him in good stead

throughout his subsequent career. Upon

graduating, he was recruited as an analyst/

programmer at Friends Provident, widening

his experience to IBM-based systems

and learning about the fundamentals of

wholesale banking, mortgages and data.

It was an exciting time to have IT and

systems knowledge within a financial

services and banking environment, and

in 1985, Kevin joined UAPT Infolink which

was, at that time, the UK's largest and

longest-established independent on-line

information services organisation. It was the

start of a 30-year career in the credit and

financial services world not only in the UK

but also across Europe.

In that time, Kevin has held senior

executive roles at Equifax, Intrum Justitia

(working from Amsterdam), I-many

International, Credit Professionals and

Pentagon (UK) among others. (The latter

is the name behind MoneySave Solutions,

one of the UK's larger DMCs and DEMSA

members managing over a quarter of a

billion pounds worth of debt.)

With Credit Professionals, a specialist

credit management consultancy, he helped

to establish the Lowell Group and provided

strategic advice to other debt purchasers

including Marlin and investors like Cabot

Square. He worked alongside Trevor

Phillips, a former Chairman of the Institute

of Credit Management (now the Chartered

Institute): "Trevor has the ability to bring

people and services together in a unique

and challenging atmosphere," he says.

The recognised standard in credit management

www.cicm.com December 2015 19
---
There is less distinction between debt

management companies and debt purchasers

than one might think. It is almost a question

of who has the biggest share of the wallet.

KEVIN STILL

CHIEF EXECUTIVE OF DEMSA

20 December 2015 www.cicm.com

The recognised standard in credit management
---
INTERVIEW

Being authorised and under the

scrutiny of the FCA, will increase

confidence in our industry and

among consumers. It demonstrates

that we are not unregulated, and we

are not cowboys.

KEVIN STILL

CHIEF EXECUTIVE OF DEMSA

Kevin's knowledge of consumer and

commercial credit spans virtually every

discipline from software to strategy, crossborder

receivables management to pan-

European debt purchase.

He is a former Director of the Credit

Industry Fraud Avoidance Scheme (CIFAS)

and Registry Trust (RTL), the UK clearinghouse

for County Court Judgments and

Decrees. He is also a former DEMSA

auditor, working not only with DMCs but

also Debt Purchasers and Insolvency

Practitioners, all of who have a role in

managing people in debt. "There is less

distinction between debt management

companies and debt purchasers than one

might think," he explains. "It is almost a

question of who has the biggest share

of the wallet. To put that relationship

into context, up to 25 percent of

revenues in some DPs is comprised of

debt management plans, such are their

importance."

In 2010, he set up the Association of

Professional Debt Solution Intermediaries

(APDSI) with two other directors with the

aim of raising standards in the commercial

debt advice sector. In August, APDSI

merged with DEMSA, Kevin taking on the

role as CEO of the combined body.

Kevin is under no illusions as to how big

the regulatory challenge will be, and one

already detects a note of frustration in his

voice at the current position:

"In the 18 months since the new FCA

authorisation process began, not a single

DMC has been authorised," he says. "Some

of the submissions have been with the FCA

for more than 12 months and although

there have been many requests for further

information during that time, we are still yet

to see our first member over the line."

Kevin ponders why organisations such

as StepChange Debt Charity are still on the

waiting list and why there has been such a

delay. He accepts there is a legacy issue,

and is not surprised that his members are

considered in the highest risk category

following the Thematic Review, a review,

he believes, that was actually a fact finding

mission by the FCA, and that what it

discovered did not necessarily correlate

with what it might have been told.

"The profile of consumers within a debt

management plan, and their general lack of

engagement with their debt situation, came

as a shock to the FCA," he says. "Many

are homeowners, with a regular income

and a minimal reliance on benefits. As

homeowners, it means that a rise in interest

rates or a rise in property values can

impact their financial position. When a debt

management plan is cancelled, the reaction

seems to be that they must have been given

bad advice, when the reality can be that

they have moved from an unmanageable to

a manageable debt position."

DEMSA in many ways finds itself in

the same position as its colleagues in the

world of debt collection, and the Credit

Services Association (CSA). Like the CSA,

it is not a quasi regulator. But it is further

developing its Code of Conduct and

reviewing its Quality Assurance framework

so that the Code is focused around the

suitability of debt advice, and on training

and competency standards: "It needs to

be principles based and outcome focused

to treat customers fairly," he explains. "But

that does not mean hiding behind rhetoric

or mission statements. "We need to align

the rulebook with the practicality of high

quality advice. It is not about 'free or fee',

but more about making sure consumers

are aware of all of the options available to

them. If it has the kite mark from Trading

Standards, then it has to mean something; it

has to give consumer confidence."

Also drawing parallels with the CSA,

DEMSA is launching a new data gathering

initiative. Kevin sees data as being the key

to lobbying, PR, creditor liaison activity

and strategic responses to regulatory

consultations: "The more routine the

collection and analysis of anonymised data,

the better equipped DEMSA is to support

the sector," he argues.

"Robust data can be used to defend

what we do and to prove the benefits of the

services supplied. The data once amassed

can be used to demonstrate the size of the

sector and the value placed on it by the

consumer."

Another similarity is the Association's

focus on training and development, and its

need to support its 'smaller' members who

are struggling with the cost of compliance.

Despite the challenges, however, he still

views the authorisation process as a glass

that is half full: "Our members operate in a

very challenging environment but despite

that, complaints against our members are

very low.

"Being authorised and under the scrutiny

of the FCA, will increase confidence in

our industry and among consumers," he

says. "It demonstrates that we are not

unregulated, and we are not cowboys."

Kevin is nothing if not phlegmatic. He

acknowledges the difficulties that lay ahead

but is not afraid of tackling them head on.

In many ways, it could be an allegory for his

rugby career, playing Prop in the front row:

"My hero was Jason Leonard," he says,

"but both of us had the good grace to retire

with the advent of lycra."

The recognised standard in credit management

www.cicm.com December 2015 21
---
EDUCATION

CICM IS THE RECOGNISED STANDARD IN CREDIT MANAGEMENT

CREDIT MANAGEMENT

WHICH QUALIFICATION IS RIGHT FOR ME?

Looking to gain recognition and build your knowledge skills?

This article helps you identify the qualification which is right for you.

CICM professional qualifications are the recognised standard in credit management, debt collection, enforcement

and money and debt collections. They are specifically designed to raise knowledge and performance at work.

Specialised units and a flexible structure gives the opportunity to build qualifications to suit roles and career

ambitions. Find out more about the credit management qualifications below:

LEVEL 2 CERTIFICATE IN CREDIT MANAGEMENT

This level covers baseline skills in credit management and is suitable for anyone new to credit or looking to broaden credit

management knowledge and skills. The Certificate is the recommended start for credit professionals and helps you understand the

significance of your role and how to maximise cash collections and customer relations.

LEVEL 3 DIPLOMA IN CREDIT MANAGEMENT

This level has a choice of two pathways:

The vocational pathway focuses on skills and combines training and assignments with an examined course in credit management

covering all areas of credit.

The knowledge pathway provides essential knowledge for credit roles through coverage of key areas of credit management,

business environment business law and accounting. If you aspire to more senior roles and would like to build in-depth knowledge

and skills, this pathway, assessed by four exams, covers all aspects of the credit management function, while developing core

business understanding. The knowledge pathway is for credit professionals with some experience and graduate entrants who

would like to progress to leadership roles. The route covers the units required to progress to the CICM Level 5 Diploma in Credit

Management MCICM(Grad).

LEVEL 5 DIPLOMA IN CREDIT MANAGEMENT

The CICM Graduate Programme provides essential knowledge and skills for senior credit controllers. The qualification demonstrates

a high level of knowledge and expertise in credit management and the ability to maximise the efficiency of the credit function. It

covers strategic planning, credit risk management, compliance, process improvement, strategic communications and leadership and

legal proceedings and insolvency. Pass rates are good with over 80 percent of candidates passing recent assignments in process

improvement and strategic planning.

(You need Level 3 qualifications in credit management, accounting principles, business law and business environment to progress to

this level).

EXEMPTIONS

The CICM accredits prior learning and you can apply for an exemption if you have passed a relevant subject in an equivalent

qualification this must be at the same level or higher. You can also apply for recognition of credit from other business related

qualifications, including CICM debt collection, enforcement and money and debt advice awards.

FURTHER INFORMATION

CICM qualifications offer a choice of study methods to suit your personal circumstances. (See page 45)

For advice contact the team at professionalqualifications@cicm.com,

call 01780 722909 or visit www.cicm.com

22 December 2015 www.cicm.com

The recognised standard in credit management
---
The B2B

debt recovery

specialists

The expertise of an award

winning law firm with the cost

of a debt collection agency

24 hour turnaround for bulk LBA distribution

Dedicated client teams with legally qualified case handlers -

even for 'pre-legal' chasing

Online case management system with real-time reporting on all debt cases

Highest customer service standards with

a net promoter score of 71%

Cost-effective recoveries

Flexible charging structures to suit

From 'Early Arrears Collections' through

to expert Litigation, all handled in-house

by a Legal 500 'Tier 1' law firm.

" 93.5% of cases have

been resolved without

the requirement to

progress through court,

thus keeping our legal

costs to a minimum."

Alison Martin

AR Manager – Shared Services

Marley Eternit

The recognised standard in credit management

0800 294 6555

www.fbdebt.co.uk

www.cicm.com December 2015 23
---
TECHNOLOGY FOCUS

BUSINESS APPS

CLOUD MAGIC

Cloud Magic has been hailed as the best combined email

app available for iPhones, and it's certainly one not to miss! It

supports a maximum of 5 email accounts, displaying individual

inboxes separately and also offering one combined inbox to view

all of your mail at once. The app is colour coded so that your

different emails are easily identifiable. It integrates other features

such as Evernote, Pocket, Trello and OneNote, so all work can be

completed without having to go elsewhere.

AVAILABILITY: iOS

COST: Free

PSYCH

This is a tricky game which requires speed, but is great fun for

playing on-the-go and a perfect time killer. The aim is essentially

to avoid black obstacles, with simple one-touch controls. The

app keeps things interesting with 'psychedelic' effects and colour

variations introduced randomly in-play.

AVAILABILITY: Android/iOS

COST: Free

LETTERSPACE

This minimalist note-taking app will organise your jumbled

thoughts into one clear and simple interface. The swipe-bar

navigator enables you to move your cursor and edit your text

in a fun and different way from the conventional iOS notes

application. It includes a useful to-do-list feature on iPhone and

iPad with checkboxes to mark once actions are completed. The

app automatically organises your ideas as you go along, using

your hashtags and mentions (@) to categorise the notes. You can

also sync with iCloud for further accessibility.

AVAILABILITY: iOS

COST: Free

MINESWEEPER – WIDGET

VERSION

This popular classic has been reinvented for iOS, enabling you to

play Minesweeper instantly as a widget in place of the pull down

notifications screen. Quickly kill time on the go, even when your

device is locked. Varied difficulty levels offer a challenge if you

prefer, in an ultimately fun and simple game which will save and

load your game progress automatically. Compete with friends,

share your scores on Facebook, and take the boredom

out of that train journey to work.

AVAILABILITY: iOS COST: 79p

AROUND ME

This handy little app is a quick guide to the places – restaurants,

bars, coffee shops, hotels, ATMs, petrol stations etc – around you,

wherever that may be. Using your location services, AroundMe

provides a list of all the facilities in the selected category and

specifies the exact distance away from you, offering a map with

clear directions and extra information on the opening hours and

contact details of your chosen destination.

AVAILABILITY: Android/iOS

COST: Free

KHAN ACADEMY

Khan Academy is used as an app by millions of students, teachers,

and adults from all walks of life to learn about maths, economics,

science, humanities and computing. Portable, practical and freely

accessible for all, the app has unsurprisingly been enormously

popular. Users may access all the content that is available online,

including over 4,000 educational videos and engaging practical

exercises. You can also see your own stages of progression in this

personalised learning resource and unlock achievements as an

incentive to expand your knowledge on any given subject.

AVAILABILITY: Android/iOS

COST: Free

In our ongoing series, Credit Management takes a

look at the most useful business apps for tablets

and the most popular games for passing the time.

Is there an app that you can't live without or a game

that you are currently hooked on that helps you

while away the time on the long journey to work?

Let us know at editor@cicm.com

24

December 2015 www.cicm.com

The recognised standard in credit management
---
Hoist Finance.

Season's greetings.

Christmas is a time for giving and receiving, and over the last 12 months we

have given thousands of pounds and hundreds of hours of our time to good

causes in our local community. We've funded school trips for children who

have never been away; sent food parcels to the most in need; and provided

vital support and advice to those seeking to better manage their income

and expenditure. This year, as in 2014, we've not sent Christmas cards,

but made a donation to one of our local projects. To us, Corporate Social

Responsibility (CSR) is not a tick in a box. It's at the heart of our culture,

a sustained commitment to help people have better lives. With this in mind,

may we wish you all well over the festive season, and a Happy New Year.

Hoistfinance.com

Authorised and regulated by the Financial Conduct Authority for matters governed by the Consumer Credit Act 1974 (amended 2006).

The recognised standard in credit management

www.cicm.com December 2015 25
---
VIEW FROM THE SEAFRONT

I WAS AN ACTOR

David Andrews discusses his various attempts at acting and how

suffering for one's art is a cliche.

POST-GRADUATE drama school

training after university. Immersed in

the method as taught by Stanislavski,

with ambitions to get to LA and hit

the big time.

A few hysterical months as a standup

comedian, occasional Tarzanogram

and endless fringe theatre jobs, and I

finally secured the elusive Equity card. I

was a professional. Finally. Now for world

domination, I thought.

As with all the best laid plans, mine

were derailed very early on. The freezing

winter of 81/82 pretty much did for me.

Having played a singing, dancing bear in a

fringe pantomime production at the Grove

Theatre, Hammersmith, I began to have

second thoughts about my career path

when I could not afford to buy a hot dog

(they were 37 pence…I still get a Proustian

whiff of those sizzling onions as I emerged

blinking into the London gloom) from the

stall which lurked tantalisingly outside

the theatre. Finding the rent that winter

was a nightmare. I remember one day in

desperation joining a concrete laying gang.

For a 10-hour, back-breaking shift in the

pouring rain I was paid £18. I spent most

of it in the pub that night and then suffered

a terrible bout of 'flu' which laid me up for

a month.

I did get a few breaks – one of the

Chariots of Fire producers, Paul Knight,

cast me in a couple of episodes of the

popular kids' series Robin of Sherwood,

which first screened in 1985. Can you ride

a horse, he asked, barely looking up from

his desk.

No. I mean...yes, I mean. I could learn.

Learn to ride David. Learn to ride. Script

will be in the post. Filming starts at the

beginning of June. We will be in touch. And

with that I was dismissed. Around ten

riding lessons later, I am on the set of Robin

of Sherwood, filmed mostly in and around

the Cheddar Gorge, a few clicks from

Bristol.

You can check me out getting an

arrow through the chest, courtesy of a

grumpy Ray Winstone, who was cast as

Will Scarlett and spent much of the shoot

getting hammered in bars and clubs in

and around Bristol. Ray didn't like me very

much. I think he thought I asked too many

questions. Was too full of myself. Mea

culpa, probably. I can't remember exactly. It

was a long time ago.

26 December 2015 www.cicm.com

The recognised standard in credit management
---
FEATURE

SPECIAL

But in the purest sense of the pursuit of

art and beauty actors, and fellow travellers

like writers and musicians, have a sense of

destiny. One that does not rely on being glued

to a screen full of figures day-in day-out.

You'll be able to read more about

my adventures on stage and screen in

a collection of stories which are to be

published next year (The Book Guild,

Lewes).

I always regarded myself as an artist,

one way or another. I know I was side

tracked into journalism and then formed my

own PR consultancy, but hey, a man needs

to make a living. And you try bringing up

two kids on the typical actor's income.

Being an artist and grinding penury

often go together. Mozart, on his brief stay

in Soho, literally starving, stealing food

where he could find it. Know the feeling,

Wolfgang.

Van Gogh, constantly in poor health

through lack of regular nutrition and damp

living conditions. James Joyce, forever

dreading the rent collector's knock on the

door and wondering how he would clothe

and feed his young family.

The poet Rimbaud, half crazed with

malnutrition despairing of another freezing

winter in a hostile and unforgiving Paris.

Dostoyevsky, skeletal and ill, the bank

account and the cupboards bare, all hope

long since evaporated. F.Scott Fitzgerald,

before the spectacular success of The

Great Gatsby, reduced to begging in the

streets to help fund the next marathon

drinking session.

Suffering for one's art is a cliché. Oscar

Wilde, while entertaining lavishly in the

salon of Paris, would remark that when

bankers got together they liked nothing

better than to discuss art. But when artists

got together the theme was invariably

money, the folding stuff, and the lack of it.

Art and artists come in all shapes

and sizes. Along with the painters and

illustrators, poets and writers, musicians

and composers, filmmakers and dramatists,

there are the actors, the thespians - the

grubs that populate this seductive world.

Back in Shakespearean times, which

is around the time that theatre troupes

were properly established in a more or

less coherent form, medieval actors were

the absolute dregs of society, occupying

a social standing barely elevated above

common thieves and pimps – the so called

travelling players, nomadic performers

typically regarded with contempt, fear and

suspicion.

Fast forward a few hundred years and

actors are still having a rough time of it.

Despite being unequivocally aligned

to an industry which contributes billions

of dollars to the global economy, recent

data reveals that over 75 per cent of actors

earned less than £5,000 from being on

stage or in front of the cameras last year

(2014). Less than £5,000. That's not even

£100 a week.

And despite the undeniable glamour

that is invariably associated with this

penurious world, Casting Call Pro (CCP), a

professional casting website, found that just

two per cent of our thespians earned over

£20,000 in 2014.

A further one in five failed to secure

a paid acting job at all over the last 12

months.

Track back to 2013 and another bleak

statistic is revealed: 46 percent of actors

made less than £1,000 from acting jobs

and a further 30 percent had made a paltry

£1,000 to £5,000.

So many a bitter thespian eyebrow

would have been raised by the recent

revelation that Daniel Craig, the actor par

excellence du jour, has trousered around

£39 million from his latest outing as 007.

Thirty nine million pounds. It might not

be enough to get him onto next year's

Sunday Times Rich List, but it will keep the

diminutive performer in Aston Martins and

Omega Speedmaster wristwatches until

they are banging the nails in.

The sheer imbalance in the harsh

realities of this precarious world become

even more pronounced when you look at

the vast fortunes amassed by the likes of

Robert Downey Jnr, a man alleged to make

north of £50 million every time he climbs

into an Iron Man whistle.

These riches of Croesus are rewards

granted to just a handful of actors, who

by some fortuitous route or other have

managed to achieve the near on impossible

– make it big in Hollywood.

Millions chase this dream. Millions fail.

And I speak from experience.

There are lots of actors based in

Brighton, where I rest my head. Many a

time I would overhear conversations in my

local gym, of glum faced actors, sighing in

between grunts on the bench deck.

The subject is invariably the next job.

Where – if at all – it was coming from. News

of the steady success of the wider economy

to those who have staked all on a career on

stage – and screen, if they are fortunate.

The phone seldom rings in many of

these conversations I overhear, and I am

struck by how useless and bleakly hopeless

one feels at these times.

A couple of older actor chums of mine,

both at one time very successful in their own

right, with lots of high profile film and TV

credits between them, recently had to move

out of Brighton to a much cheaper area as

the strain of bringing up young children on

irregular or entirely absent incomes began

to tell.

An actor who was in the same couple of

episodes of Robin of Sherwood (The Swords

of Wayland, check it out on YouTube) as me

went on to become a household name. He

now lives in Brighton with teenaged children

and rarely works. It is hard.

Tales of bailiffs pounding on the front

door looking to take away the television or

whatever else might be removed to cover

the mounting debt pile are common. I

wondered how in 2015 anyone could really

live like that. The nobility of art must seem

distant at these times.

But in the purest sense of the pursuit of

art and beauty actors, and fellow travellers

like writers and musicians, have a sense

of destiny. One that does not rely on being

glued to a screen full of figures day-in dayout.

Worship of Mamon, then, is not a good

reason to pursue a life in art – whichever

discipline it might be. Art should be for art's

sake, and if you happen to strike a chord

along the way, then that is all to the good.

I think of Rothko, finally, after 30 or so

years of struggle to make his voice heard,

drawing the knife deep into the vein below

the elbow, despite having had the success

of the Seagram Building series of works and

the spotlight of fame slowly panning in his

direction. And of Van Gogh, whose poverty

was so pitiful that days would pass when

he would lie in a semi coma, too weak to

call for help. How he would have laughed

to think his canvases are now being fought

over in auction rooms around the world, the

stratospheric price tags only within reach of

the oligarch and the billionaire hedge fund

founder.

And I wonder, glumly, what will happen

to the mass rank and file of artists in a world

so determined to be seduced by the cult of

'celebrity.'

Daniel Craig got lucky, by some miracle

of fate and happenstance, and has made the

transition from 'actor' to 'celebrity'. A man

who has been able to command astonishing

sums of money by being cast in the role of a

1950s fictional Secret Service creation.

It may not be art. But it is a living, of

sorts.

The recognised standard in credit management

www.cicm.com December 2015 27
---
MAKE YOUR CASE

CALL ME MAYBE?

What's in a word? Well quite a bit apparently, especially if you are navigating your

way through the relatively new regulatory landscape that has been ushered-in to the debt

collection world. Sean Feast reports.

At the UK Credit and Collections

Conference (UKCCC) in the

Autumn, delegates were treated to

a genuinely fascinating debate on

the subject of whether 'debtors' should in

fact be called 'customers' and/or vice versa.

The host, journalist and broadcaster John

Humphreys, seemed somewhat perplexed

at the thought of a collections agency being

focused on 'customer service'. His co-host,

Julia Hartley-Brewer, was more vociferous:

she would have debtors in Queer Street or

placed in the Stocks.

Notwithstanding these rather extreme

views, what is apparent is a lack of true

consensus: some agencies undoubtedly feel

obliged to call debtors 'customers' because

it is the language of the FCA. Others are

more truly devoted to the cause, and see it

as a cultural mind-set that ultimately leads

to better outcomes for the 'debtor' and

agency alike.

REWIRING THE HARD DRIVE

Stuart Knock, Managing Director of EOS,

is certainly one who is not afraid to talk

openly and honestly about the issue: "I

don't think I am alone in having to rewire

my onboard hard drive to ensure that I utter

'customer' every time that I want to refer to

an individual who is enjoying the 'benefits'

of our service," he says. "Colleagues still

find it amusing that I struggle with this, but

over 20 years of conditioning takes a while

to archive off the system."

This naming convention, Stuart says,

appears to be the preference of the FCA

and it seems that they will address an

individual as such throughout their journey

through the debt collection process.

"In old talk the individual would have

been a debtor of course, or god forbid as

they were when I first joined this company,

a 'defendant' even though we actually sued

very few debtors. I changed our reference

term to 'liable party', a throwback to my

banking past which seemed to identify the

individual's plight quite accurately, be they a

business or a consumer."

Fast-forward to the present and the

naming convention of 'customer' actually

suits the EOS mix of business quite well:

"We do quite a bit of work in the water utility

market where an individual can still be

receiving current supply as a customer as

well as owing a debt for the prior year."

Using the example above and without

getting overly technical, Stuart thinks the

suitability of the term 'customer' might

actually vary: "Might it be appropriate for

an individual who will be welcomed back

by the creditor into a normal 'customer'

trading status once the current debt event

has been resolved to be addressed as a

'customer' in order to foster the hoped-for

future relationship?" he ponders. "But does

this mean that those individuals who aren't

wanted back by the creditor under any

circumstances should be referred to as a

debtor? Perhaps.

"Also, a company being labelled as

a debtor appears to be viewed as less

confrontational than an individual being

identified in the same way. So should we be

at ease with our conscience if we use the

'debtor' label more freely in business-tobusiness

transactions?"

Nick Cherry, Managing Director of

Philips & Cohen Associates, is similarly

confused. He says that both descriptors are

technically correct and wonders whether

it is simply a matter of perception or

something more substantive:

"A customer, by definition, is

somebody who buys goods or services

from a business, and whether willingly

or not, customers of agencies and debt

purchasers 'buy' or at the very least,

agree to honour the payment solutions we

provide. Similarly a debtor, by definition,

is a person or organisation that owes

money, which - excluding any disputed or

fraudulent accounts - is an irrefutable fact

in all matters handled by the industry."

Is the choice of terminology therefore

merely semantics? Nick thinks not:

"Our business focuses on demographic

change and we have studied how attitudes

to credit have moved on generationally, to

the current state where the use of credit is

accepted as a part of everyday life. The 'old

world' stigma attached to being in debt no

longer carries weight and this is mirrored

in many facets of life, not least the gradual

evolution in insolvency law to a far more

proportionate and forgiving regime.

"For me the change in terminology

reflects this generational change. Whilst

some regulators still refer to debtors in their

codes, the introduction of the regulatory

concept of Treating Customers Fairly (TCF)

in the early 'noughties' has also driven

an evolution of thinking. Akin to those

organisations who are actually selling goods

and services, businesses in the recovery

space have truly started to embrace the

benefits of a more positive, long-term, twoway

relationship with customers, regardless

of whether the customer actually chose us

in the first place."

Nick believes that the phrase 'debtor'

harkens back to the distant past: "It

conjures images of a small number of

disreputable businesses who would do

anything to persuade customers into paying

their debt first, without a second thought to

the customer's personal circumstances or

of the broader impact of their actions," he

continues.

"Dealing with customers is therefore

not only the modern incarnation of the

phraseology, but also speaks of treating

'customers' with basic dignity and respect,

of being cognisant of their circumstances,

of offering assistance where appropriate

and critically of focusing on finding the

appropriate solution in each situation.

Whilst the recovery industry still has a job

to do and a balance to be struck, our goal

should be to fulfil this obligation in the best

manner possible and in so doing, look to

turn our customers into advocates of our

businesses."

QUESTION OF INTERACTION

Carol Ord Lowell Group's Head of Customer

Experience, agrees that the debtor/

customer/consumer debate is certainly an

interesting one - but says that in many ways

the term used to address individuals who

interact with debt recovery companies is

irrelevant; what is more important is the way

in which companies working in financial

services (whether at the application end

or the collection end) interact with these

individuals.

"That said, several years ago the

industry shifted from using terms such

'debtors' or even 'defendants' (which may

28 December 2015 www.cicm.com

The recognised standard in credit management
---
Both descriptors are

technically correct and I

wonder whether it is simply

a matter of perception or

something more substantive.

FRONT

COVER

FEATURE

NICK CHERRY

MANAGING DIRECTOR

OF PHILIPS & COHEN ASSOCIATES

imply that people are 'guilty' of falling into

debt') to the now more common term

'customer'. This did feel indicative of a

change in industry practices and a growing

focus on treating customers fairly, which in

part was initiated by the Financial Services

Authority (FSA).

"At Lowell, our customer focus is based

upon the understanding that we are dealing

with individuals from different walks of life

with varied (and indeed ever changing)

circumstances. This means that they require

tailored and flexible solutions. Culturally, we

have sought to ensure our team members

identify with these individuals throughout

their interactions. We have found the use

of the word 'customer' to be an important

enabler and supporter of this approach. It

also has external benefits, both in terms of

encouraging engagement and supporting

our recruitment."

EMOTIONAL THINKING

This is certainly an interesting approach,

but it is as much a practical solution as

an emotional one: "Our customer base

is incredibly diverse," she continues.

"It covers some people who have fallen

behind on many payments, it also includes

individuals who have simply moved away

(and therefore did not realise they had

an overdue account) and everything inbetween.

There is a mix of high net worth

individuals and those in financial difficulties.

"Given this diverse range, the term

'customer' feels like a more appropriate

'catch all'. And, last but not least, in terms

of the consistent journey, these individuals

began their interaction with the original

provider as a customer and we believe

there is merit in the continuation of this

term."

Deborah Green, Head of Customer

Journey at Cabot Credit Management,

chooses to illustrate her view with

something of a parable: "A young lady,

aged 28, bought a watch for her husband

for his birthday and used her credit card to

pay the bill. She had been a customer of the

bank for many years and her intention was

always to pay the credit card bill on payday.

"Unexpectedly, her hours decreased

at work and in turn her income dropped.

After her bills were paid each month

she found herself struggling to keep up

with her payments and over a period of

several months started paying less and

less towards her credit card, until she

found she could not afford to make any

payments. She still had her bank account

and continued to go into the branch and

managed her account adequately on line.

She was a customer of the bank for over

ten years.

"Then one day she received a letter

that her credit card account had been

purchased by another company, a debt

recovery company. From her perspective,

she is still the same person (loyal to the

bank) and therefore was expecting the

same level of customer service.

"She was a customer of the bank,

having a two way interdependent

relationship of mutual trust and respect,

so then she should seamlessly become a

'customer' of the debt recovery company,

who should also seek to build a relationship

of equal trust and respect."

The recognised standard in credit management

www.cicm.com December 2015 29
---
MAKE YOUR CASE

DIFFERENT TREATMENT

Deborah's argument, therefore, is that a

change of ownership should not result in

her being labelled a 'debtor' or treated

differently than she was before. She is still

the same person, a customer, and she has

the same expectations and needs, although

this is now a 'forced' customer relationship.

"There is such a strong link between

customer satisfaction and positive customer

behaviour," she continues. "Where trust

and mutual respect can be built, it can

help build partnerships and loyalty with

customers. It is imperative we understand

the needs of customers and build trust

with them, to help them take positive steps

towards repaying their accounts."

If we stereotyped all account holders

as 'debtors', Deborah says, we wouldn't

be recognise them as true individuals and

would be emphasising the one negative

experience they had which resulted in

them getting into debt: "Those working

in the debt recovery industry need to

recognising people as customers, enabling

them to connect with them as an individual,

responding to their unique circumstances

and the appropriate treatment required.

"Customers have higher expectations in

today's savvy social media environment, so

we need to recognise that if our service is

substandard to someone else's then there

will be a commercial impact. If you don't

have a relationship with the customer, you

are going to have less success in recovering

their outstanding debt.

"Furthermore, a business centred around

the customer, which measures customer

feedback so that it can systematically

improve, will result in better, more efficient

processes and generate improvements in

customer experience and in turn drive up

commercial revenue."

In Deborah's opinion, calling someone

She was a customer of

the bank, having a two

way interdependent

relationship of mutual

trust and respect,

so then she should

seamlessly become a

'customer' of the debt

recovery company,

who should also seek

to build a relationship

of equal trust and

respect

DEBORAH GREEN

HEAD OF CUSTOMER JOURNEY

AT CABOT CREDIT MANAGEMENT

a derogatory name such as 'debtor' when

you are trying to establish a relationship of

trust with that person, is likely to lead to

a poor experience and outcome for both

the customer and the business. And that

is certainly an interesting way of looking at

things.

Najib Nathoo, Chief Executive of

Hoist Finance UK shares similar thoughts:

"It can rightly be argued that 'debtor' is

a correct accounting term but there is no

getting away from the fact that the word

has a stigma attached to it. But more

importantly, perhaps, it fails to accurately

describe the relationship between the

individual and the creditor, whether it's a bank

or a DCA.

"Certainly the word 'customer' is preferred

by the FCA, and to that extent there seems

little point in swimming

against the tide, but again it is more than that.

It is not about semantics. Seeing and treating

somebody as a 'customer' brings

a different mindset both within the DCA

and to the individual concerned, and that

in turn leads to a better relationship and

ultimately a better outcome from all

parties.

"Individuals start their 'journey' as a

customer, and to switch to become a 'debtor'

somehow implies a change to how they can

expect to be treated, and that is simply not the

case."

STICKY LABELS

Leigh Berkley, President of the Credit Services

Association (CSA), says that there are some

who still prefer 'debtor', especially since

a 'debtor' is a factually correct term, but

'customer' would now be considered the

norm:

"The reality is that to many the word

'debtor' has a negative connotation to the

point of even being offensive in today's world,

and a better alternative needed to be found. A

more accurate description, perhaps, would be

'a customer in debt'.

"The simple truth is that by thinking of a

'debtor' as a 'customer' we are helping to

break down barriers and avoid a label that

does not accurately reflect an individual's true

position."

Stuart Knock, however, does not mind

admitting that he still finds it all a challenge:

"Of course, I'm pretty sure that 'debtor' will

remain on the list of accepted accounting

terms; it's just that we all have to access

our hard drive more frequently to select the

appropriate word in polite conversation."

30 December 2015 www.cicm.com

The recognised standard in credit management
---
THE CICM British

Credit Awards 2016

"Read all about it"

ICM granted

Royal Charter

Have you booked

ICM

granted

Royal

Charter

ICM

granted

Royal

Charter

ICM

granted

Royal

Charter

Now

your

even

seat?

more

the recognised standard

Jointly hosted by the Chartered Institute of Credit Management (CICM), and jobs in Credit, the

CICM British Credit Awards are the recognised standard in the credit and collections industry,

Join

representing

online

the

today

pinnacle

to

of achievement

enhance

and

your

rewarding

career

outstanding

and

performance.

earnings

potential, and experience Contact the Anthony benefits Epega of networking with

Europe's T: 020 largest 7316 9092 professional E: anthony.epega@incisivemedia.com

credit community

www.cicm.com | +44 (0)1780 722900 | info@cicm.com

The recognised The standard standard in credit management in credit management

www.cicm.com December 2015 31
---
SOAPBOX CHALLENGE

SOAPBOX

challenge

RETURN OF THE JEDI

Chris Sanders FCICM shares our managing editor's dislike of jargon, and specifically

how it has infiltrated the world of the consultant.

I

read that a senior management recruiter

said that people who have to wrap an

idea up in meaningless jargon probably

don't have an idea...or at least not an

original one...how very true!

As a Jedi Master Level Process

Imagineer, I know about this stuff as I was

a QAT Leader (Quality Action Team) back in

1990, proving the Six Sigma 'revolution' is

nothing new, but hey, give it some Jargon

(especially foreign jargon such as Japanese)

and you have a new idea. By the way we

called it 'fish bone' back in the day! Also,

sadly, we had about the same level of

success with this management initiative

as Six Sigma has ...why? Management

commitment...big on jargon and soundbites

small on long term commitment! Of course

there are exceptions but they are very few

and far between.

Some jargon gets into everyday

business language which is a worry, like

'thinking out of the box' or something that

is equally annoying now 'we don't have a

box' who works in a box? Why do people

say 'Let's take that offline' in other words

I don't what to talk about that, I don't

understand that or we will just ignore it

later...why have the meeting if you don't talk

about stuff people want to talk about? There

is a workshop equivalent, the 'Parking Lot' a

flip-chart page with loads of good stuff on it

that people want to talk about but never do.

When I had a 'proper job' in industry

(Cable & Wireless) I had a senior manager

whose favourite phrase was 'moving it

forward for what it is about'. What the

hell does that mean? We also had a huge

management programme called 'Imagine'

which seemed to be essentially advocating

anarchy...it was a bit bonkers, but the

management speak that surrounded it

was even crazier. We had to 'stand in our

listening', if someone can tell me what that

means please do...I have been racking my

brains on that one for 20 years!

Business jargon is nothing new but sadly

it never gets any better. If you are a thought

leader fed up with reinventing the wheel and

vanilla solutions, try embedding some game

changing blue-sky thinking through a deep

dive session, drive out the duck shufflers

from your right-sizing programme to push

the envelope of strategic thinking and

aligned enablement...do me a favour! Hang

on 'Thought Leadership' haven't I got that

on a banner stand? Oops!

I am too impatient for this nonsense now

(apart from 'Thought Leadership' obviously)

so if someone talks jargon to me, trying

to baffle me with management speak,

especially if they are a 'smart consultant',

I just say 'Interesting, specifically what do

you mean by that?' Sit back and watch as

their nonsense jargon unravels.

I leave the last nonsense comment to

a candidate on The Apprentice who said

'There is no 'I' in team...but there are five

in individual brilliance!'...so bad it was

brilliant...thank you Sir Alan for firing him!

Chris Sanders FCICM

'Thought Leadership Consultant and Jedi

Level Process Improvement Imagineer'

Do you have an issue worthy of the soapbox challenge?

If you do, the editor would love to hear from you. Send your email to editorial@cicm.com

32 December 2015 www.cicm.com

The recognised standard in credit management
---
OPINION

DEEPER

POCKETS

Salaries are increasing for credit professionals, but it is

career development that you really want says Karen Young,

Director for Hays Credit Management.

CREDIT professionals are at the height

of demand, and appetite for hiring is

increasing salaries as organisations

are competing to attract and retain

the best credit management professionals

to help them harness their cash flow.

Pay for credit professionals increased on

average by two percent in the past year,

with some of the highest salary increases

for some roles reaching double-digit

percentages.

Findings from the Hays UK Salary

and Recruiting Trends 2016 Report show

that the average salary Hays Credit

Management have recruited on for credit

management professionals within the last

12 months is now £35,115, two percent

up from £34,594 in 2015. The salary

increases received by credit professionals

is above the 1.7 percent salary increase

that accountancy and finance professionals

received overall. In fact, last year 66 percent

of employers said they would increase

salaries, but this year a much higher

proportion of employers, 76 percent, said

that they actually did so. Further good

news for credit professionals looks to be

on the horizon, as 74 percent of employers

say their workforces' salaries are likely to

increase again over the next 12 months.

Salary increases are not isolated to

London and the South East, with many

areas of the UK receiving above average

salary increases. Credit Managers in

Wales, the West Midlands and Northern

Ireland received salary increases of six

percent or more, such is the demand for

their skills. This is all good news for credit

professionals, however, despite these salary

increases, salary rises are not the answer.

Over 1,400 employers of finance

professionals and nearly 250 credit

management professionals shared their

views with us on employment prospects

and what they value most from their

employer. Employees tell us they feel they

have the skills needed to fulfil their current

role, however many think they won't have

the opportunity to further develop these

skills, as nearly two-thirds of employees do

not think that there is scope for progression

within their organisation.

With employees feeling positive about

their skills but uncertain about their futures,

employers must look at what is most

important for their staff to retain them and

attract professionals looking to move. One

in three credit management professionals

are planning to move jobs in the next

six months, fuelled by expectations of

higher salaries and career progression

opportunities elsewhere.

Credit professionals tell us that their

career progression is most important

to them, more so than their salary and

benefits, so employers must place this at

the top of their agenda. For employers, my

recommendations are to create an open

dialogue and put in place career plans,

offering new project work to employees.

Don't get caught up in the day-to-day

running of things and overlook the longterm

development, skills and motivations

of staff.

We know the demand for credit

management professionals has not

diminished, credit professionals have the

confidence to move and employers have

the appetite to hire offering increased

salaries. To ensure organisations don't miss

out on the best talent, offering an attractive

salary and benefits package is not enough

on its own. Employers must prioritise the

career development opportunities that

these credit professionals are asking for.

For further information visit hays.co.uk.

Karen Young is Director for Hays

Accountancy & Finance in the UK. She

has 17 years of recruitment experience

and leads a team of 400 accountancy

and finance recruitment professionals.

CREDIT MANAGEMENT

CM

Further good news for credit professionals looks

to be on the horizon, as 74 percent of employers

say their workforces' salaries are likely to

increase again over the next 12 months.

The recognised standard in credit management www.cicm.com December 2015

33
---
LEGAL MATTERS

CONSUMER

RIGHTS ACT 2015

EMMA EMERY IS A PARTNER AT FREETHS : emma.emery@freeths.co.uk

In this month's legal matters we explain the introduction of the Consumer Rights Act 2015

that came into force on 1 October 2015.

THE Consumer Rights Act 2015

("the Act") aims to consolidate

existing legislation in the hope that

the law in this area becomes more

straightforward so that both businesses

that supply goods and services to

consumers and consumers themselves

understand their rights, responsibilities and

remedies.

The Act (amongst other things) governs

what should happen in various situations

involving consumers and businesses such

as if goods or digital content are faulty or if

services are not provided with reasonable

care and skill.

All businesses which supply goods

and/or services directly to consumers

are affected by the Act and it is therefore

vital that businesses and their employees

understand the Act and its implications.

An overview of the changes

GOODS

A consumer's rights concerning goods

are similar to previous legislation in that

the goods should correspond with the

description given, be of satisfactory quality

and be fit for purpose.

The consumer's 14-day right to decide

that they no longer want a product still

applies under the Consumer Contracts

Regulations 2013. This means that a

consumer can cancel a contract within this

time frame if they change their mind – even

if there is no problem with the service.

However, the Act now provides

consumers with the right to reject faulty

goods within 30 days. The 30-day period

begins after ownership or possession of the

goods has been transferred to the consumer

and consumers are also able to request that

the trader repairs or replaces these faulty

goods. In this instance the period of 30 days

can be paused and, as a result, extended

to account for the time taken to meet the

request of replacement or repair.

By law, a consumer is entitled to request

a repair or replacement after the 30-day

short-term period and up to six months

after purchase. A consumer who agrees

to a repair however, cannot require a

replacement and vice versa. If the repair or

replacement takes place but the goods are

still faulty, the consumer can then request a

price reduction or refund.

Consumers cannot make a claim if:

• the work was carried out with reasonable

care and skill;

• the defects in the goods provided was

brought to the consumer's attention

before the sale;

• the consumer is responsible for something

that has gone wrong;

• faults appear due to general wear and

tear.

SERVICES

The legislation concerning services again

largely remains unchanged. Services

must still be carried out with reasonable

skill and care, within a reasonable time

frame and for a reasonable price. If the

service does not meet the minimum

statutory requirements, the consumer

can demand: (a) a reduction in price if the

service cannot be repeated; or (b) a repeat

performance if the service is not carried

out with reasonable care and skill.

For example, the business that

provided the service must bring it into line

with what was agreed with the consumer

or, if this is not practical, they must give

some money back. However, it is for the

consumer to prove that the service did not

meet their statutory rights.

The remedies under the Act do not

include a right for the consumer to have

someone else complete the service and

then claim reimbursement from the initial

trader.

When a consumer makes a complaint,

the trader is under a legal duty to respond

to the complaint as quickly as possible,

and to make their best efforts to resolve

the issue. The trader must respond to

emails and letters of complaint and return

phone calls in a timely manner.

It is highly important that you ensure

you know your responsibilities as

suppliers to consumers as otherwise

you could face potential claims from

consumers if you have not acted in

accordance with the requirements under

the Act.

AS A CICM MEMBER YOU CAN RECEIVE FREE LEGAL ADVICE FROM FREETHS

CALL THE CICM LEGAL HELPLINE 0845 0779698

34 December 2015 www.cicm.com

The recognised standard in credit management
---
Does my bum look

big in this?

Improve your bottom line with Safe Credit Control

Comprehensive software solution that reduces debtor days, enhances

customer service, cuts the cost of cash collection, improves cash flow,

eliminates manual processes and speeds up the query resolution process.

0844 583 2134

Head office: Safe, 20 Freeschool Lane, Leicester, LE1 4FY

info@safecomputing.co.uk www.safe-creditcontrol.co.uk

The recognised standard in credit management

www.cicm.com December 2015 35
---
PAYMENT TRENDS

ONE STEP FORWARD,

ONE STEP BACK?

Jason Braidwood FCICM(Grad), Head of Sales Ledger Consultancy at Creditsafe Business

Solutions analyses the latest monthly business to business payment performance statistics.

ONCE again our monthly analysis payment performance suddenly 8 7 showing 6 5 4 3 2 1 0 0 1 2 3 4 5 6 7 8

of trade payment data databases significant improvement now seems

9 7 6 5 4 3 2 1 0 0 1 2 3 4

is showing very little overall

little more than a blip, as Construction,

movement in the national picture, Manufacturing, Transportation, Energy Region

and while we can see 8a small 7 6improvement

5 4 3 2 Supply 1 0 and Water 0 1 and 2 Waste 3 4make 5 up 6 7 8 Region Getting Better

from September to October, we are still this month's top five in terms of worsening

Region

+0.3 Scotland

Getting Better

seeing average days beyond terms stay at performance and equally disappointingly

25

an unacceptably high level, and more than they are all showing numbers well above

Getting Better

20

15.

+0.9 North +0.9 WestScotland

a day worse than at this time last year. the national average.

15

While we have seen a number of changes On +0.3 the positive Scotlandside there has been a

10

+0.1North Yorkshire West &-2.3

Humberside

across regions and sectors, it would seem very real improvement in the Finance and

+0.9 North West

5

that these are cancelling each other out at Insurance and IT and Comms sectors

Yorkshire West Midlands & Humberside -9.7 -4.1

0

a national level.

which +0.1 is always Yorkshire an encouraging & Humberside sign.

No

These sector swings have seen

Once again the Hospitality sector retains

Scotland

West Midlands -9.7

East Midlands West Midlands -2.8 -3.3

October's encouraging signs in the larger its position as one of our 'Top five' better

17.7 DBT

East Midlands paying industries -2.8 and after last month's East Anglia East Midlands -3.7 -5.7

dip, we can see the public sector-oriented

East areas Anglia of Education -3.7 and Health and Social

+3.5

East

Wales

Anglia -1.0

back +3.5 in their Wales usual stronger position. At the

South West -4.3

other end of the scale International Bodies

Wales -5.2

Northern

South have West seen -4.3 a small improvement, but is still

Ireland

+1.6 South East

23.1 DBT

the North Yorkshire &

+1.6 worst paying South sector East with days beyond

South West -3.9

20.1 Humberside

DBT

terms of nearly a full month.

London -2.7

14.0 DBT

London -2.7

South East -3.2

REGIONS

+2.6 Northern Ireland

+2.6 Northern Ireland

Last month saw the apparent flattening

London -3.8

sectors reversed, showing a continued

level of volatility and a static broader

picture as some of the poorer performing

areas experience corresponding

improvements. Unsurprisingly, this is

also the case on a regional basis with

the changes across the country leading

to a somewhat unchanged situation. It is

of course misleading to see a stagnant

national position as an excuse for not

checking out the position within your

own industry or region. We have already

highlighted the possible variances and

month on month movements you might be

seeing in your own area and believe that

credit managers should get the very latest

information to help in both setting terms

and prioritising collections. Back on my

soapbox I would just ask whether we are

Getting out of Worse the traditional North-South divide,

but this month's analysis would seem to

have well and truly put that behind us.

Yorkshire and Humberside is no longer the

nation's swiftest paying region with the

South West taking that particular crown,

followed closely by East Anglia, and the

East Midlands has taken a step forward.

Finance &

Insurance

Getting Worse

Wales

19.1 DBT

Getting Worse

West

Midlands

14.7 DBT

Northern Ireland -2.2

Education

all happy to see this ongoing picture as Top Five The Prompter other side Payers of the equation, Wales has Bottom Five Poorer Payers

Getting Better

-15.3 -14.5 -12.7

acceptable. There are many countries in the taken a step backwards and Northern

Top Five Prompter Payers

Region Oct 15 Change on Sept 15

Region Oct 15 Change on Sept 15

world where the thought of an average of Ireland is once again up near the top of

Getting Better

South West 13.3 -4.3 Getting Worse Energy Northern Supply Ireland Construction 23.1 Water +2.6

16-17 days beyond terms would be seen as the chart for poor payment performance.

& Waste

East Anglia 13.6 -3.7

+11.9 North West Top Five +5.0 Prompter 20.1 Payers +0.9 +2.8

a badge of national shame.

It's always worth singling out London for a

East Midlands 13.8 -2.8

Wales South West 19.1 +4.5 +3.5 13.3 -4.3

Yorkshire bit & Humberside of further analysis, 14.0 and +0.1 while it's good London East Anglia 17.7 -2.7 13.6 -3.7

INDUSTRY SECTORS

West Midlands to see some improvement 14.7 -9.7 in days beyond Scotland

East Midlands 17.7 +0.3 13.8 12.2 -2.8 -5.7

Last month's encouraging signs in seeing terms, it still remains firmly nearer the

Yorkshire & Humberside 14.0 12.3 +0.1 -4.1

the industries with traditionally poor

bottom than the top.

South West Midlands West 14.7 12.9 -9.7 -3.9

Wales 13.4 -5.2

East Anglia 13.5 -1

36 December 2015 www.cicm.com

The recognised standard in credit management

South West

13.3 DBT

Health &

Social

East

Midlands

13.8 DBT

London

17.7 DBT

East Anglia

13.6 DBT

South East

17.3 DBT

IT & Comms

-10.9

Intern

Bo

-8

Bott

Manufacturing

Transportation

Region Oct 15 Change on Sept 15

Regio

+1.1 Bot

Getting Worse Energy Nor Su

Region August 15 Change on July 15

Reg

+11.

Nor

Getting Be

Wal No

Lond Sco

Getting Scot No W

We

Lo
---
67 56 45 43 23 12 01 0

9 7 6 5 4 3 2 1 0

Top Five Prompter Payers

0 10 21

32 43 45 65 76 87 8

15.9 16.3 15.7 15.8 16.2 1

18.2

15.7 15.9 16.3

15.9 16.3 15.7 15

Nov Dec Jan Feb Mar A

Nov Dec Jan F

Northern

12.3 DBT

Ireland

East

+2.6 Northern Ireland

Finance Finance & 23.1 DBT &

Midlands

19.0 DBT

Health & Health &

International International

Finance &

North West Yorkshire

Insurance Insurance Education Education 13.8 Health &&

International

+1.6 South London East -3.8

Social DBT Social IT & Comms IT & Comms Bodies Bodies

Insurance

Education

Getting Worse

20.1 Humberside

West DBT

Social East

IT & Comms

Bodies

Getting Getting Better Better -15.3

-14.5

Midlands -12.7 14.0 Midlands

-12.7

DBT

Getting Better

-15.3

-10.9 -8.5 -8.5

Business -14.5

East Anglia

Wales

Mining & -12.7 Professional

London -2.7

14.7 12.2 DBT International -10.9

Health -8.5

Northern Ireland -2.2

DBT

from 13.6 DBT

Northern

19.1 Home Quarrying West & Scientific Bodies

& Social

DBT

Midlands

Ireland

East

East Anglia

Getting Getting Worse Worse

Wales

Energy Supply

Construction

Water

23.1

+2.6 Northern Ireland

Energy Supply

16.0 DBT

Getting Worse

Getting Worse Getting Energy Better Supply

Construction

-14.2 -12.2 Water -10.7 Manufacturing

-10.0Transportation

Transportation -6.5

London Midlands 13.5 DBT

DBT

13.4 DBT

Yorkshire &

& Waste && Waste Waste

North West

+11.9 +11.9 +11.9 +5.0

+5.0

17.7 DBT

13.8 +2.8 +2.8 +1.1

DBT

20.1 Humberside

DBT

+4.5 +4.5

+1.1

South East

Getting Worse

West

London

Getting Worse

14.0 DBT

South West Midlands 17.3 IT & Comms

DBT

East Anglia

Wales

15.8 DBT

13.3 DBT 14.7 DBT

South East 13.6 DBT

+2.6

19.1 DBT

South West

15.4 DBT

East

12.9 DBT London

Midlands

Finance &

Health &

International

Insurance

Education

Social

IT 17.7 DBT

13.8 Top Five Prompter Payers

Bottom & Five Comms Poorer Payers Bodies

DBT

West Top Five Top Bottom Five Prompter Prompter Five Payers Poorer Payers Payers

South East

Getting Better

-15.3 -14.5 -12.7Bottom Bottom Five -10.9 Five Poorer Poorer Payers -8.5 Payers

Sector Oct 15 Change on Sept 15 South West Sector 17.3 DBT Oct 15 Change on Sept 15

Midlands

East Anglia

Region Oct Wales 15 Change on Sept Sector 15 Sector Region Oct 15 Oct 15 Oct Change 15 Change on Sept Change on 15Sept on 15 Sept 15 Sector 13.3 DBT

Top Five Prompter Payers

Hospitality Sector Oct 15 Oct 15 Change Change on Sept on 15Sept 15

14.7 DBT

Bottom Five Poorer

9.7 -4.5

International Bodies 27.4 -8.5

13.6 DBT

South West 19.1 13.3 DBT -4.3 Getting Worse

Education Top Five Prompter Business 10.3 Payers -14.5 Mining & Professional Professional International

& Bottom Scientific Five 25.0 Health Poorer -4.8 Payers

Hospitality Hospitality Energy Northern Supply Ireland Construction 9.7 9.7 23.1 -4.5 -4.5 Water +2.6

Manufacturing

International International Bodies Transportation

Bodies 27.4 27.4 -8.5 -8.5

& Waste

East Anglia 13.6 Yorkshire -3.7&

Finance & Insurance

from

10.7

Home

-15.3 Quarrying & Scientific Energy Supply Bodies

24.7 & Social +11.9

Region North West

August 15 Change on Education July 15Education +11.9 North Region West Sector

Finance +5.0 10.3 & 10.3 20.1 -14.5August +0.9 15 15 Change on

Health Professional on

+2.8

July 15

& Professional 15 & Scientific Sector & Scientific +1.1 25.0 25.0 International -4.8August -4.815 Change

London Getting Health Better & Social -14.2 11.7 -12.7

East East Midlands Midlands 13.8 Humberside -2.8 Finance Finance & Insurance Wales & Insurance Insurance 10.7 10.7 19.1 -15.3 Education -15.3 +4.5 -12.2 -10.7 Water & Waste -10.0 22.0 -6.5 +4.5

+3.5

SocialEnergy Supply Supply IT & Comms 24.7 24.7 Bodies+11.9

18.2

12.2 -5.7

Northern International Ireland Bodies 21.2 5.9 -2.2 -10.0

Mining & Quarrying 22.9 -12.2

DBT

Agriculture 12.7 -7.8

Manufacturing 20.3 +2.8

17.7 DBT

Yorkshire Yorkshire & Humberside & Humberside 14.012.3 +0.1 Health Health & Social London & Bottom Social Five 11.7 Poorer 11.7 17.7 -12.7 Payers

Getting Better

-12.7-2.7

Water Water & Waste & Waste 22.0 22.0 +4.5 +4.5

-4.1

Scotland Business from Home

DBT

South East -15.3 -14.5 19.0 6.2 0.9 -14.2

Energy Supply 22.7 -2.6

-12.7 -10.9 -8.5

West South Midlands West 14.712.9 -9.7 -3.9 Agriculture Agriculture Getting Scotland 12.7 12.7 17.7 -7.8 -7.8 +0.3

Manufacturing 20.3 20.3 +2.8 +2.8

South West

17.3 North Worse

Public

West

Administration

18.2

11.8

-2.3

-6.0

Business Admin & Support 20.6 -2.4

IT & Comms

DBT

Region Wales Oct 13.4 15 Change -5.2 on Sept 15

Region Education

West Midlands 16.0 Oct 11.9 15 -3.3 Change -5.4 on Sept 15 Water & Waste 18.6 -0.8

13.3 DBT

+2.6

South East West Anglia 13.3 13.5 -4.3 Getting -1 Worse Energy Northern London Supply Entertainment Ireland Construction 15.8 23.1 12.1 Water -3.8 +2.6 -3.0

Manufacturing Transportation Transportation

& Storage 18.1 -2.5

& Waste

East Anglia 13.6 -3.7

+11.9 North West +5.0 20.1 +0.9

East

+2.8 +1.1

The recognised standard in credit management

www.cicm.com December 2015 37

Top Five Prompter Payers

East Midlands 13.8 -2.8

Midlands

Yorkshire & Humberside 14.0 +0.1

0 1 2 3 4 5 6 7 8

8 7 6 5 4 3 2

Getting

1

Getting

0Better

Better 0 1 2 3 4 5 6 7 8

WHILE WE HAVE SEEN A NUMBER OF CHANGES

+0.3 +0.3 Scotland Scotland

Getting Better ACROSS REGIONS AND SECTORS, IT WOULD SEEM

+0.9 +0.9 North North West

Getting +0.9 West

Better Scotland THAT THESE ARE CANCELLING EACH OTHER OUT AT A

NATIONAL LEVEL.

+0.1 +0.1 Yorkshire North +0.3 Yorkshire West Scotland & &-2.3

Humberside

– Jason Braidwood FCICM(Grad)

4 3 2 1 0 0 1 2

West West Midlands Midlands -9.7+0.9

3 4 North

5

West

6 7 8

7 6 5 4 3Yorkshire 2 1 & 0Humberside 0 1 -4.1 2 3 4 5 6 7 8

Region East East Midlands Midlands -2.8+0.1

Yorkshire & Humberside

25

4 3 2 1 0 0 West 1 2Midlands 3 4 5-3.36 7 8

Region West Midlands -9.7

20

East East Anglia Getting Anglia Better

25

-3.7 East -3.7 Midlands -5.7 UK DBT Trend

15 20

+0.3 Scotland

East Midlands Getting -2.8 Better

Region +3.5 +3.5 Wales Wales

25

East Anglia -1.0 UK DBT Trend

10 15

East

+0.9

5

20

South South West North Getting

West West Better +0.9 AngliaScotland

-3.7

-4.3 -4.3

25

10

+3.5 Wales -5.2

25

0 5 15

+0.1 +0.3 North Yorkshire +1.6

Scotland

+1.6 West South & South Humberside -2.3 East East

20

20

18.2

17.4 17.3 10

South South West West -4.3 -3.9

15.9 16.3 15.7 15.7 15.8 15.9 16.2 16.1 16.3 16 15.7 15.8 17.1 0 16.2 16.9 16.7 16.1

Scotland

West Yorkshire Midlands +0.9 & London Humberside -9.7

5

London North -2.7 West -2.7 -4.1

15

17.7 DBT

South +1.6 South East East -3.2

15

Scotland

0

East Midlands +0.1 -2.8

10

+2.6 Yorkshire +2.6 Northern Northern & Humberside

19.0 DBT

West Midlands London -3.3

London -2.7 Ireland Ireland -3.8

East Anglia -3.7

510

Scotland

West Midlands Getting East Getting Worse -9.7 Midlands Worse +2.6 -5.7Northern Ireland

Northern Ireland -2.2

17.7 DBT

0

+3.5 Wales Getting Worse

5

East Midlands East -2.8Anglia -1.0

Nov Dec Jan Feb Mar Apr May Jun Jul Aug Sep Oct

Getting Worse

Northern

South West -4.3 Scotland

Sector

Ireland

East Anglia -3.7Wales -5.2

0

17.7 DBT

23.1 DBTNorthern

North West Yorkshire &

+1.6 South East

Sector

Ireland

20.1 Humberside

DBT

+3.5 Wales

Sep Oct Nov Dec Jan Feb Mar Apr

South West -3.9

21.2 DBT

14.0 DBT

Sector

North West Yorkshire &

London -2.7

18.2 Humberside

DBT

Scotland South West South -4.3 East -3.2

+4.5

Wales 19.1 +3.5

London 17.7 -2.7

Sep Oct Nov Dec
---
MONTHLY ROUND-UP OF THE LATEST STORIES

IN GLOBAL TRADE BY ANDREA KIRKBY.

STEEL YOURSELF FOR A CHALLENGING FUTURE

METALS producers everywhere are hurting

from low prices and an oversupply of

productive capacity. Consumption is down,

and will be further hurt by a softer Chinese

economy, but investment in new facilities

has boosted total supply, so that some

observers say it will take 20 years for a full

rebalancing of the sector to happen.

Worse, according to a study by UBS,

only three of the largest 10 producers of

steel are profitable at current price and

utilisation levels. Other metals are also

under pressure – lead for instance has been

hit by a slowdown in both car and electric

bike production, as well as Chinese destocking.

Europe seems to be doing the best,

with recovery in Germany and Poland in

particular based on turnarounds in the

construction and automotive sectors.

European steelmakers are also benefiting

from an anti-dumping tax on Chinese steel

for six months from August – though that's

obviously a short-term effect.

But Atradius warns that there are

still problem areas – in particular Turkey,

where the weak currency has exacerbated

already low profit margins. Atradius expects

payment delays – and further insolvencies

– so anyone involved in this supply chain

needs to keep their payment policies tight

and ensure they're on the ball when it

comes to collections.

ABRACADABRA! OR NOT?

MAGICIANS know how to distract you with

one hand while the other is doing the trick. I

don't think anyone's actually being tricked,

but a lot of people are being distracted by

China at the moment.

Slowing Chinese growth? Yes, it's true

China might not hit the seven percent target

– but that's a distraction. Six percent plus

is pretty good, considering the number

of nations in full recession, and the fact

that global growth will be lucky to hit three

percent this year.

The thing we're being distracted from is

the fact that a low growth world seems to

be here to stay. This will be the fourth year

of subdued growth, despite huge amounts

of stimulus from the central banks. Interest

rates are low, but so is growth. There

are a few bright spots, but on the whole,

business isn't booming.

There aren't a lot of upgrades around,

and there's a swathe of downgrades

coming through. Brazil, Ecuador, Chile,

Tunisia, and Hungary have all seen their

ratings cut in the past couple of months –

That may be good news for some - less

chance of companies going bust through

overtrading – but it also means no getout-of-jail-free

cards for badly planned

investments. Industries with overcapacity

have got a problem that isn't going to be

solved soon. It also means the magicians

in the central banks may have run out of

magic tricks – if the last lot of QE hasn't

boosted global trade, don't expect the next

lot to work.

IF MUSIC BE THE FOOD OF EXPORT

THE Music Export Growth Scheme recently

announced a further £200,000 grants to

boost British exports of music. These

grants are targeted at the independent

music community, rather than the big record

labels. They'll be spent on such activities

as marketing and promoting overseas

tours – helping sell tickets now, and further

products in the longer-term.

Another company making sweet export

music is Liberty Drums, a niche producer

in what's often thought of as a commodity

market. They've signed up Farhad

Humayun, frontman of a leading Pakistani

rock back, to promote their products in

Asia. As part of the deal, they'll tailor their

drums to his individual sound. It seems

an imaginative way for a company to

move into a new export market, and other

brands could well learn from it - don't hire a

distributor, find a brand ambassador.

38 December 2015 www.cicm.com

The recognised standard in credit management
---
INTERNATIONAL TRADE

INDIA SPICES UP ITS GROWTH

INDIA has just cut its repo rate a full half

point, from 7.25 percent to 6.75 percent, in

an attempt to spice up its economy.

Inflation, at 3.7 percent, is well below

target, but it's weaker growth in both

external demand and domestic investment

that has the bankers worried – hence the

decision to provide some stimulus.

India can probably afford to do it. The

country has managed to lower its current

account deficit, and the Government's

economic management appears pretty

credible, even if not all its promises have

been kept. Foreign investors have benefited

from changed regulations, which should

get investment funds flowing. So at the

moment, India looks to be one of the few

economies set for significant growth.

Definitely a market I'd be interested in.

ONE MAN'S MEAT IS ANOTHER MAN'S POISON

OR rather, one company's problem is

another's opportunity. Trade Finance

Partners is doing excellent business in the

metals sector. While the mining giants and

the banks are stymied, TFP can provide

transactional financing for metals, timber

and other bulk commodities.

It can do it because it's not lending – it

actually buys the physical assets and owns

them till they've arrived at their destination.

HIGH LOW TREND

GBP/EUR 1.4194 1.3391 Up

GBP/USD 1.5495 1.5029 Down

GBP/CHF 1.5346 1.4602 Up

GBP/AUD 2.1721 2.0972 Up

GBP/CAD 2.0318 1.9820 Up

And if they're not paid for? It simply sells

them to someone else – and TFP makes

sure they already have a dozen phone

numbers to call.

As so often in the world of finance, the

small and nimble are prospering where the

big banks don't want to get their fingers

burned, and offering a valuable alternative

source of financing for exporters, too. Good

luck to them!

YANKEE DOODLE NOT SO DANDY?

WATCH out! While investment managers

everywhere are telling us that bonds look

cheap following the summer sell-down,

the ratings companies aren't buying that

line – in the US, they're downgrading more

corporates than at any time since 2009.

Equities analysts, meanwhile, are warning of

a second consecutive quarter of declining

earnings from big companies.

While everyone's expecting a train crash

in China, it looks as if the US economy is

hitting the buffers. Oil and energy companies

account for about a third of the downgrades

- shale oil in particular has been badly hurt

by low prices – but the pain is everywhere,

with companies from Petsmart to McDonalds,

wireless phone company Sprint and Barbie

maker Mattel all downgraded. Some major

companies are now announcing layoffs,

particularly where they have been hit by lower

Asian demand. If I were exporting to the

US I'd be keeping a pretty close eye on the

ratings agencies and the next earnings season

- and on my customers' balance sheets.

FOREIGN EXCHANGE SPECIALISTS

FOR THE LATEST

EXCHANGE RATES VISIT

CURRENCYUK.CO.UK OR

CALL 020 7738 0777

Currency UK is authorised and regulated

by the Financial Conduct Authority (FCA).

NEWS IN IN BRIEF

IT'S GIN O'CLOCK

ANOTHER company which shows

the importance of good research is

Pickering's Gin. It's a fledgling drinks

producer – it only launched in 2014

– but it's already exporting from its

Edinburgh base to Canada, Hong Kong,

and Europe, having identified these

as key global gin markets it wanted to

break into. Germany, Austria, Benelux

and Switzerland have all proven good

markets; gin has become increasingly

popular in Germany in recent years, with

both local small producers and imported

gins on a roll. Pickering's is now looking

down under for further export growth,

and will be joining the Edinburgh Tattoo

on an antipodean tour.

SPUDS YOU'LL LIKE

THINK of potatoes and you don't

automatically think of the Middle East. But

King Edward Catering Equipment has found

the area a great export market for its potatobaking

ovens. The Herefordshire based

company sent a 20ft container full of spudbaking

equipment to Lebanon this summer,

and will be attending the next Gulfood Show

in Dubai to promote its wares.

I'm always surprised how some

companies I speak to say "Oh, there

won't be any demand over there" without

checking it out – and how many companies,

like King Edward, do well in what seem at

first glance like unlikely markets. A lesson to

do your research properly!

BRAZIL GETS JUNKED

BRAZIL has suffered the indignity of S&P

reducing its bonds from investment grade

to junk bond status. The reasons for the

downgrade included increasing public debt

and political infighting, but behind it all are

sliding commodity prices, which in a big oil

and soft commodity producing country have

hit exports and corporate profitability hard.

Latin America as a whole is suffering.

Coface has also downgraded Chile and

Ecuador, suffering from the impact of low

copper and oil prices, respectively. But it's

Brazil – erstwhile industrial powerhouse

of the region - that is the biggest

disappointment. Getting to investment grade

was a dream for many emerging markets,

and one that Brazil achieved; now it's all

gone wrong, and Brazil seems to be walking

backwards to Christmas.

GBP/JPY 187.6064 182.3902 Up

The recognised standard in credit management

www.cicm.com December 2015 39
---
HOSTED BY:

SHORTLIST TO BE

ANNOUNCED ON

1 DECEMBER!

CICM BRITISH CREDIT AWARDS 2016

THE RECOGNISED STANDARD

10 FEBRUARY 2016, THE BREWERY, LONDON

Thank you to all those who submitted an entry

for the CICM British Credit Awards!

We received a record number of entries, and the

shortlist will be announced on 1 December!

Jointly hosted by the Chartered Institute of Credit

Management (CICM), and Jobs in Credit, the

CICM British Credit Awards are the recognised

standard in the credit and collections industry,

representing the pinnacle of achievement and

rewarding outstanding performance.

BOOK YOUR TABLES TODAY!

To book your tables contact

Anthony Epega:

E: anthony.epega@incisivemedia.com

T: 020 7316 9092

SPONSORS:

IN ASSOCIATION WITH:

40 December 2015 www.cicm.com

The recognised standard in credit management
---
THE RECOGNISED STANDARD IN CREDIT MANAGEMENT

THE RIGHT TOOLS

FOR THE JOB!

Plus...

TRAINING

DAY OFFER

Book and attend a CICM

training day before the

end of the year and get a

training webinar free for

yourself or a

colleague.

CICM Training days offer inspiring and motivational training covering

all aspects of credit and collections with current and relevant content,

built firmly around the skills that employers require.

E: training@cicm.com or T: 01780 722907

VISIT OUR WEBSITE FOR DETAILS

WWW.CICM.COM

Annual General Meetings

NOTICE OF ANNUAL GENERAL MEETINGS

On 10 December 2015 at the offices of the Chartered Institute of Credit Management, The Water Mill,

Station Road, South Luffenham, Oakham LE15 8NB at 13:00 (or at the rising of Advisory Council from

its preceding meeting, whichever is later) for the business of Ordinary General Meetings.

Notice convening the Seventy Sixth Annual General Meeting

of the INSTITUTE OF CREDIT MANAGEMENT

1. To receive the Balance Sheet and Accounts of the Institute

and Report for the 18 months ending 30 June 2015, together

with the Auditors' Report in accordance with the provisions

of the Articles and of the Companies Act.

2. To note that all assets and property held by the Institute of

Credit Management have been transferred by a resolution

of the Executive Board dated 12 June 2014 to the Chartered

Institute of Credit Management and an application for it

to be struck off the Company register will be filed in due

course.

3. To reappoint the auditors, Moore Stephens LLP.

4. To receive any questions and transact any other relevant

business.

Notice convening the First Annual General Meeting of the

CHARTERED INSTITUTE OF CREDIT MANAGEMENT

1. To receive the Balance Sheet and Accounts of the Institute

and Report for the 6 months ending 30 June 2015, together

with the Auditors' Report in accordance with the provisions

of its Charter and By-laws and of the Companies Act.

2. To note that all assets and property held by the Institute of

Credit Management have been transferred to the Chartered

Institute of Credit Management by a resolution of the

Executive Board dated 12 June 2014.

3. To receive any questions and transact any other relevant

business.

By order of the Executive Board

Philip J King FCICM

Chief Executive

The recognised standard in Credit Management

The recognised standard in credit management

www.cicm.com December 2015 41
---
AML AUDIT

PASS OR FAIL?

Would your AML checks stand up

to scrutiny?

In the event of an AML Compliance Audit, SmartSearch

delivers in real-time any requested previous search

plus it's Sanction & PEP status along with historic alerts

& Enhanced Due Diligence information, if appropriate.

Call us now to book a free demonstration on:

0113 333 9835

Or visit us online:

SMARTSEARCHUK.COM

Powered By

THE ONLY AML RESOURCE YOU NEED

SmartSearch delivers UK and International Business checks, plus Individual checks along with Worldwide

Sanction & PEP screening, daily monitoring, email alerts and full enhanced due diligence intelligence.

INDIVIDUAL &

EDD-BIOGRAPHY,

DAILY MONITORING

RETROSPECTIVE

BROWSER, API &

WORLDWIDE

ADVERSE MEDIA,

BUSINESS AML

SANCTIONS & PEPS

BATCH PROCESSING OF

"SINGLE SIGN ON"

42 December 2015 www.cicm.com

SANCTIONS & PEPS

& PHOTOGRAPHIC

The recognised standard in credit management

UK & INTERNATIONAL

WITH EMAIL ALERTS

EXISTING CUSTOMERS

CONNECTIVITY

EVIDENCE
---
HR MATTERS

HR MATTERS

Gareth Edwards emphasises the need for employers to fully

document any decisions regarding employees.

THE European Court of Justice

(ECJ) has confirmed, in João

Filipe Ferreira da Silva e Brito and

Others, that a business which has

been broken up and assimilated into its

parent company's structure, still retains its

identity, bringing it within TUPE.

TUPE is intended to apply where there

is a sale of a business as a going concern

or where there is a 'service provision

change' (say an outsourcing). On the sale

of a business, TUPE only applies where

the business 'retains its identity' after the

transfer. This has not been an easy test to

apply in practice.

In February 1993, Air Atlantis SA

(AIA), a charter flights airline, was wound

up following a resolution by its main

shareholder, Portuguese airline TAP. This

resulted in the dismissal of a number of

AIA's employees (claimants).

Following the winding up, TAP

subsequently took over everything – the

contracts, leases, equipment and kept

TAP employees who had previously been

seconded to AIA.

The claimants brought an action

seeking reinstatement and compensation,

claiming that their contracts of

employment had transferred to TAP under

the Portuguese equivalent of TUPE. The

claimants went through the Portuguese

courts to the ECJ. It held that the

business did retain its identity and, as a

result, the employees had transferred to

TAP.

A key factor in determining this was the

fact that tangible assets were transferred,

enabling TAP to pursue business activities

previously carried out by AIA. This is not

an overly surprising decision on the facts.

However, it is a useful illustration of how

attempts to avoid the application of TUPE

can be risky.

VICTIMISATION CLAIMS – WHO YOU

KNOW?

Has the scope for discrimination under the

Equality Act 2010 (EqA) widened further to

include victimisation by association? The

recent case of Thompson v London Central

Bus Company Ltd (2015) suggests that it

has.

Mr Thompson was a bus driver for the

London Central Bus Company Ltd (LCBC).

After giving his high visibility vest to another

employee, he was dismissed. Thompson

issued various claims, including one for

victimisation.

Thompson claimed that he was subjected

to a detriment because of the 'protected

act' of other members of his trade union,

which he was associated with in the mind

of his employer, and that this amounted to

victimisation. Thompson himself had not

undertaken 'a protected act'.

In a preliminary hearing, the Employment

Tribunal (ET) assessed whether a claim

for victimisation by association could be

brought under the EqA. The ET concluded

that the EqA should be interpreted as

including victimisation where there is

detriment to another 'because of a

protected act', rather than the claimant's

own protected act. This decision was not

appealed by LCBC.

A second preliminary hearing was to

decide the causal connection between the

detriment and the 'protected act'. It was

held that the link between Thompson and

the individuals who performed the act was

too tenuous, and therefore the claim for

victimisation was struck out. Thompson

appealed against this decision to the

Employment Appeal Tribunal (EAT).

The EAT allowed Thompson's appeal

against strike out. The ET should have

considered whether there was a link

between the claimant and third party 'in the

mind of the employer' rather than assessing

how strong the link was in practice. The

ET therefore struck out the claim on an

incorrect legal basis and the case was

remitted for rehearing.

This case reminds employers about the

need to carefully document the reasons for

making a decision in order to defend any

allegations that the decision is motivated by

improper purposes.

MOST TRIBUNAL ISSUE FEES PAID

OUTRIGHT

The Ministry of Justice has published

statistics for all types of tribunal claims

from April to June 2015. The report shows a

continued decrease in the number of claims

compared to last year.

There were 5,412 employment tribunal

issue fees requested for this period. Sixtyeight

percent were paid outright; 21 percent

were awarded either a full or partial issue

fee remission (meaning they did not have

to pay depending on whether they received

certain state benefits or whether their gross

monthly income was below the threshold).

This is a three percent increase from the

same period last year; and 11 percent were

not taken further. It is possible some of

these have not yet progressed through the

system.

Other interesting statistics note that

there were 12,563 new ET claims from

April to June 2015; In 2014/15, there were

1,129 claims that received compensation

for unfair dismissal. The maximum award

was £238,216, but the average award

was £12,362; and the EAT received 1,207

appeals (30 percent less than in 2013/14)

and disposed of 1,340 appeals (20 percent

less than last year).

Gareth Edwards is a partner in the

employment team at Veale Wasbrough

Vizards.gedwards@vwv.co.uk.

The recognised standard in credit management

www.cicm.com December 2015 43
---
THE CICM British

Credit Awards 2016

"Read all about it"

2016 CICM events

NOT TO BE MISSED

Masterclasses

ICM granted

Royal Charter

ICM

granted

Royal

Charter

Webinars

British Credit Awards

Law Conference

Fellows Lunch

Showcases

ICM

granted

Royal

Charter

Have you booked

Now CICM even Best more Practice

your seat?

the recognised standard

Jointly hosted by the Chartered Institute of Credit Management (CICM), and jobs in Credit, the

WATCH OUT FOR THE FULL PROGRAMME COMING SOON

CICM British Credit Awards are the recognised standard in the credit and collections industry,

Join

representing

online Just another today

pinnacle

to

of great achievement

enhance reason and

your

rewarding to career be outstanding a member and

performance.

earnings

potential, and experience Contact the Anthony benefits Epega of networking with

Europe's T: 020 largest 7316 9092 professional E: anthony.epega@incisivemedia.com

credit community

For more information contact T: 01780 722902 E: events@cicm.com

ICM

granted

Royal

Charter

Education Conference

www.cicm.com | +44 (0)1780 722900 | info@cicm.com

The recognised standard in credit management

44 December 2015 www.cicm.com

The recognised standard in credit management
---
CICM IS THE RECOGNISED STANDARD IN CREDIT MANAGEMENT

EDUCATION

STUDY OPTIONS

Once you have made the decision to study CICM Credit Management qualifications

you need to decide on your preferred method of study. Fees vary according to the

amount of support you would like to have. Below is a summary of the different study

options and how to get started. See CICM website for full details.

EVENING CLASSES

CICM teaching centres offer classroom-based learning in Credit Management (trade, export and consumer), Accounting Principles,

Business Law and Business Environment towards the CICM Level 3 Diploma in Credit Management and some centres offer units

towards the CICM Level 5 Diploma in Credit Management. See CICM website for details of teaching centres.

VIRTUAL CLASSROOM

The CICM Credit Academy has virtual classes for Level 3 Diploma in Credit Management examined units (Credit Management

(trade, export and consumer), Accounting Principles, Business Law and Business Environment) and all Level 5 Diploma units. Classes

are led by an experienced tutor, are interactive and there is plenty of opportunity to ask questions and test your knowledge. You will

hear the presenter through the telephone and see interactive PowerPoint slides on your PC.

IN-COMPANY CLASSES

Some teaching centres and CICM Credit Academy offer in-company classes for CICM Level 3 examined units and Level 5 units.

Fees depend on location, length of course and are generally cost effective for groups of ten learners or more.

SUPPORTED HOME STUDY WITH 3 SATURDAY CLASSES

Some centres offer home study with the support of 3 tuition days for Credit Management (trade, export & consumer), Accounting

Principles, Business Law and Business Environment towards the CICM Level 3 Diploma and units towards the Level 5 Diploma.

SUPPORTED HOME STUDY

This is a practical option for those unable to attend college classes or who wish to study on their own. Tutorial support is included for

CICM Level 3 Diploma in Credit Management examined units as well as support with preparation for exams or submission of Level 5

assignments, support is also available for Debt Collection, Money and Debt Advice,and High Court Enforcement.

UNSUPPORTED HOME STUDY

CICM has prepared study texts for Level 3 Diploma examined units, Level 5 Diploma units and CICM qualifications in Debt Collection,

Money and Debt Advice, and High Court Enforcement qualifications. These consist of notes covering main syllabus topics and a

number of self-assessment questions and exercises. This is not a correspondence course and in using this method you work alone.

OPEN AND IN-COMPANY TRAINING

Training days provide knowledge and skills to support CICM assignment units at Level 2 and Level 3 in Credit Management, Debt

Collections, Money and Debt Advice and Enforcement.

FURTHER INFORMATION

For advice contact the team at professionalqualifications@cicm.com

call 01780 722909 or visit www.cicm.com

The recognised standard in credit management

www.cicm.com December 2015 45
---
EDUCATION

CICM IS THE RECOGNISED STANDARD IN CREDIT MANAGEMENT

TOP CLASS

GRADUATES

Catherine Edmonds and Agnieszka Nabialczyk scooped credit management prizes

at Plymouth University's graduation ceremony in September.

CATHERINE Edmonds and Agnieszka

Nabialczyk scooped credit

management prizes at Plymouth

University's graduation ceremony in

September.

Professor Salima Paul, Professor

of Credit Management, and Professor

Nikolaos Tzokas, Executive Dean of Faculty

of Business, congratulated the graduates

and introduced them to Dr Debbie

Tuckwood, CICM Director of Learning and

Development, and Sue Chapple, Head of

Revenue Management at EDF Energy.

Catherine Edmonds, who won the CICM

Prize for top credit management student,

was delighted with the award: "I thoroughly

enjoyed the range of content that was

covered during my credit management

module, and I was particularly interested in

the topical issue of late payments and their

effects on SME's and how past, current

and proposed actions have influenced their

impact," she says.

"Having such an inspirational and

knowledgeable lecturer who encouraged

us to inquire and innovate also contributed

heavily to my enjoyment of the module,"

she continues. "The reason I really enjoy

credit management is because there are

no black and white answers, you are able

to think creatively and really challenge

yourself."

Students on Plymouth University's BA

(Hons) degree courses in Accounting and

Catherine Edmonds

Finance, Business Studies, International

Finance and Economics all have an

opportunity to select a third year module

in Credit Management Theory and Practice

led by Professor Salima Paul, CICM Chair in

Credit Management. The course is popular

with over 100 students choosing credit

management in the 2014/15 academic year.

Salima encourages students to find oneyear

placements in a credit management

department to gain practical experience.

Agnieszka Nabialczyk who won the EDF

Energy prize for best credit management

assignment says she thoroughly enjoyed

Agnieszka Nabialczyk

the course and would love to get into credit

management as it is such a vital career:

"Nowadays nearly 80 percent of business

transactions are made on credit," she says.

"To remain competitive businesses grant

credit to their customers. However, firms

constantly face two risks: the risk of being

paid late or not being paid at all; and the

risk of losing sales if credit is not granted.

Ability to weigh both risks is therefore

critical to the survival and performance

of every business. Such ability lies 'at

the heart' of credit management," she

concludes.

Nowadays nearly 80 percent of business

transactions are made on credit. To remain

competitive businesses grant credit to their

customers.

– AGNIESZKA NABIALCZYK

46 December 2015 www.cicm.com

The recognised standard in credit management
---
FROM LEFT: Professor Salima Paul, Catherine

Edmonds, Dr Debbie Tuckwood and Professor

Nikolaos Tzokas

FEATURE

SPECIAL

"Having such an inspirational and knowledgeable lecturer who encouraged us to inquire

and innovate also contributed heavily to my enjoyment of the module. The reason I

really enjoy credit management is because there are no black and white answers, you

are able to think creatively and really challenge yourself."

– CATHERINE EDMONDS

FROM LEFT: Sue Chapple, Agnieszka Nabialczyk and Professor Salima Paul

The recognised standard in credit management

www.cicm.com December 2015 47
---
IS IT TIME

TO GET

QUALIFIED?

WITH busy work and personal lives, study towards qualifications can be hard to fit in.

Also expectations about qualification levels vary between organisations. However, as

new classes start in January for CICM qualifications, is it time that you signed up?

Choose an answer for each to help make your decision.

1. Which option best describes your department?

A. Best practice team, high expectations and regular

improvements.

B. New manager introducing new processes.

C. First class manager, successful department with new initiatives

D. Experienced manager and established procedures.

2. The training I receive is:

A. Comprehensive and ongoing.

B. Changing, our manager plans to offer more.

C. Targeted to meet specific requirements.

D. Limited, mainly support from an experienced colleague when I

started.

3. What additional support do you receive?

A. KPIs and personal development plans reviewed in monthly

one-to-ones.

B. Recent introduction of more regular one-to-ones with our line

manager.

C. One-to-ones to review KPIs with line manager.

D. Some advice at departmental meetings and an individual

meeting with the manager if there's a problem.

4. Which option best describes your department's

approach to qualifications?:

A. Established qualification pathway for the credit team

B. Manager encourages engagement in qualifications.

C. Limited focus on qualifications.

D. Qualifications are not valued – personal qualities and experience

thought to be more important.

5. Which option best describes your views about

qualifications?:

A. They are highly valued and make a significant difference to

people's knowledge, skills and confidence.

B. Our manager thinks they are important but I don't want to get

involved at the moment.

C. Personality and experience are more important than

qualifications.

D. Never really thought about it.

Is it time for you

to get qualified?

Mainly As

You're probably already partly qualified being lucky to be

in a department which supports personal development and

recognises the value of qualified credit professionals. Look out

for advice in Study Updates and aim to progress to the Level 5

Diploma in Credit Management. The Level 5 Diploma will get

you involved in a range of projects which will raise your skills

tremendously and make a significant difference at work.

Mainly Bs

Your manager is obviously keen to support you. Why not give it a

go? A local class would be perfect because you'd have plenty of

support. If there isn't a class nearby, perhaps try a CICM Virtual

Classroom. Classes are interactive and you meet regularly with

your teacher and class over the web. If you don't fancy this at the

moment, perhaps have a go at an assignment on cash collections

or telephone collections? I bet your manager would give plenty

of support.

Mainly Cs

Sounds like you are good at your job and work in an exciting

department. It is a shame though that few have invested in

qualifications because these would broaden your knowledge

and skills and help your department move into another league.

If you're a large department, ask about CICM corporate

membership or if your company would offer an in-company

evening class for credit management. If a group shows interest

you are likely to get support. Just think how stimulating it would

be to spend time with a class of like-minded people and a first

rate credit management teacher.

Mainly Ds

You should definitely try a qualification course. It would help

fill gaps in your understanding and give you confidence. Why

not start with the credit management unit? In classes you would

meet other credit professionals and discover new aspects about

credit management which will make you better at your job. Also

qualifications may give you opportunities in the future.

Visit cicm.com to view more about your options, or contact one of our education advisors

to find out more. Book a place early to avoid disappointment because classes, particularly for

CICM Virtual Classrooms, fill up quickly. For details E: professionalqualifications@cicm.com.

48 December 2015 www.cicm.com

The recognised standard in credit management
---
www.portfoliocreditcontrol.com

At Portfolio Credit Control we pride ourselves on our

commitment to service delivery, business ethics, honesty

and integrity and ensuring our service exceeds your

expectations every single time. We have achieved enormous

growth over the last couple of years because we offer a uniquely

specialist approach that no-one else in the market provides and our

goal is to be the largest specialist recruiter of Credit Control staff in

the UK.

We know Credit Control and we also understand what makes

a good Credit Controller and the correct skills to succeed in this

industry. If you are planning to recruit or looking for the next

step in your career please get in touch with the Credit Control

recruitment specialists on 0207 650 3199 or contact us at

recruitment@portfoliocreditcontrol.com. We look forward to

working with you.

ROLES WE RECRUIT FOR:

CREDIT CONTROLLER

SENIOR CREDIT CONTROLLER

CREDIT MANAGER

HEAD OF CREDIT CONTROL

CREDIT AND BILLING MANAGER

COLLECTIONS ASSISTANT

COLLECTIONS MANAGER

SALES LEDGER/ACCOUNTS RECEIVABLE

CREDIT ANALYST

THE

CREDIT CONTROL

RECRUITMENT

SPECIALISTS

tel:020 7650 3199

The recognised standard in credit management

New Liverpool House, 15 Eldon Street,

London EC2M 7LD

email: recruitment@portfoliocreditcontrol.com

www.cicm.com December 2015 49
---
PARTNERS

WITH THE BEST

IN BUSINESS

Hays Credit Management is the award winning

national specialist division of Hays Recruitment,

dedicated exclusively to the recruitment of

credit management professionals in the public

and private sectors. Whether you are looking

to further your career in credit management,

strengthen your existing team, or would

simply like an overview of the market, it pays

to speak to the market leaders.

hays.co.uk

Data Interconnect provides integrated

e-billing and collection solutions via its

document delivery web portal, WebSend. By

providing improved Customer Experience

and Customer Satisfaction, with enhanced

levels of communication between both

parties, we can substantially speed up your

collection processes.

datainterconnect.com

Experian is the leading global information

services company, providing data and

analytical tools to clients around the world.

The Group helps businesses to manage

credit risk, prevent fraud, target marketing

offers and automate decision making.

Experian also helps individuals to check

their credit report and credit score, and

protect against identity theft.

experian.co.uk

Freeths is one of the UK's leading regional

law firms with offices across the UK.

We advise on book debt collection and

asset recovery in insolvency situations and

everything in between. We are very proud

to be the CICM's Corporate Legal Partner

and host the CICM Legal Helpline, providing

free and quick initial legal advice to CICM

members.

freeths.co.uk

Key IVR provide a suite of products to assist

companies across Europe with credit

management. The service gives the end-user

the means to make a payment when and

how they choose. Key IVR also provides a

state-of-the-art outbound platform delivering

automated messages by voice and SMS.

In a credit management environment,

these services are used to cost-effectively

contact debtors and connect them back into a

contact centre or automated payment line.

keyivr.co.uk

OnGuard is a leading supplier of sophisticated

software in which Credit, Collections,

Complaints and Cash Allocation are

integrated into a single solution. With

customers around the world we offer a truly

global, proven, low-risk high-value proposition

enabling you to achieve results in process

optimization, cost savings, lower DSO and

reduced write-offs whilst strengthening the

relationship with your valued customers.

onguard.co.uk valuable time savings.

This

Rimilia provides award winning Cash

Application & Cash Allocation software

products that deliver industry leading

tangible benefits like no other. Having

products that really do what they say is

paramount – add to that a responsive

and friendly team that are focused

on new and ongoing benefit realisation and

you have the foundations for successful long

term business relationships.

rimilia.com

50 December 2015 www.cicm.com

The recognised standard in credit management
---
Ability to manage cashflow is crucial and

control and management of debtors is

often a 'painful' task involving manual and

repetitive processes. Safe Credit Control

solutions enable your credit management

team to improve cash flow, reduce debtor

days, increase customer service, cut the

cost of cash collection, eliminate manual

processes and speed up the query

resolution process.

safe-creditcontrol.co.uk

Sidetrade's market-leading Cloud solutions

co-ordinate the activities of finance, customer

services and sales involved in the

Order-To-Cash cycle, reducing late payment

and controlling customer risk. Sidetrade's

Clients reduce their DSO the first three

months and increase the productivity (31%)

of their collection teams, allowing Credit

Managers to dedicate more time to building

long term customer relationships and

achieve their goals.

sidetrade.co.uk

Tinubu Square is a trusted source of trade

credit intelligence for credit insurers and for

corporate customers. The company's B2B

Credit Risk Intelligence solutions include the

Tinubu Risk Management Center, a cloudbased

SaaS platform; the Tinubu Credit

Intelligence service and the Tinubu Risk

Analyst advisory service. Over 250

companies rely on Tinubu Square to protect

their greatest assets: customer receivables.

tinubu.com

InnovationSoftware

- CreditForce

Innovation Software is a global software

house with clients in 26 countries. Our team

of highly educated, talented and creative IT

and Management consultants are focused on

providing elegant solutions to optimise your

Accounts Receivables.

We are authors of CreditForce, with

functionality to manage Collections,

Customer Service enquiries and Disputes,

Automated Cash Allocation, Automated

E-Bill Collection Tracking, Electronic Payment,

Direct Debit Management, Computer

Telephony Integration with automated

Dialing and Caller identification, Risk and

Workflow Management utilising Big Data

Algorithms.

innovationsoftware.uk.com

M.A.H. is a global leader in Export Debt

Collection & Trade Dispute Resolution

Services. Headquartered in Switzerland,

we specialise in resolving cross-border

cases swiftly and amicably. Our mission is to

ensure that all creditors receive full payment

for products or services sold out of the UK

without expensive and lengthy litigation.

Having recovered payments from 112

countries, we rank as first choice among major

international exporters, export credit insurers,

governmental organisations, and other B2B

customers in all industries.

mah-international.com

Credica are a UK based developer of specialist

Credit and Dispute Management software.

We have been successfully implementing our

software for over 15 years and have delivered

significant ROI for our diverse portfolio of

customers. We provide a highly configurable

system which enables our clients to gain

complete control over their debtors and to

easily communicate disputes with anyone in

their organisation.

credica.co.uk

The recognised standard

in Credit Management

For further information and to discuss the opportunities of entering into a Corporate

Partnership with the CICM, contact Peter Collinson, Director of Business Development

and Marketing on 01780 727273 or email peter.collinson@cicm.com

The recognised standard in credit management

www.cicm.com December 2015 51
---
FORTHCOMING EVENTS 2015

FULL LIST OF EVENTS CAN BE FOUND ON OUR WEBSITE:

WWW.CICM.COM/EVENTS

CICM

EVENTS

8 December

CICM Thames Valley Branch –

Christmas Ghost Tour of Oxford

OXFORD

The ghost walk lasts approximately 1 hour 15 minutes

and involves less than 1 mile of walking. The cost for the

tour is £5 per head (payable on the day).

Contact: E: jonathan.swan@hachette.co.uk

or T: +44(0)7818 542617

Venue: Trinity College, Broad Street, Oxford, OX1 3BH.

8 December

CICM Kent Branch – Wine and

Wisdom Evening

KENT

We would like to invite you to our final branch event of

2015, our ever popular Wine and Wisdom Quiz.

Contact: Simon Paterson at E: simon.paterson11@

gmail.com or telephone 07775 195727

Venue: The Assembly Rooms, Faversham Building

Preservation Trust, 66 Preston Street, Faversham, ME13

8PG

9 December

CICM North East Branch – Christmas

Quiz

NEWCASTLE

Free entry with Christmas buffet and top prizes, hot

competition. Book early to avoid disappointment

Contact: E: angie.deverick@inchcape.co.uk by

Wednesday 2 December 2015.

Venue: The Old George Inn, Old George Yard, Newcastle

upon Tyne, NE1 1EE

TRAINING

DAYS

3 December

INTRODUCTION TO CREDIT RISK

ASSESSMENT

LONDON

Pro-active, upfront assessment of credit risk and

an appreciation of the basics will improve your

ability to manage credit risk.

Contact: E: training@cicm.com T: 01780 722907

Venue: Venue to be confirmed.

7 December

CICM WEBINAR – NEGOTIATING AND

INFLUENCING SKILLS

Details to follow.

Contact: E: training@cicm.com T: 01780 722907

Venue: Webinar

8 December

COLLECTING WITH CONFIDENCE

LONDON

Highly interactive programme which helps

improve your collections performance especially

by educating the customer about future business

dealings.

Contact: E: training@cicm.com T: 01780 722907

Venue: Venue to be confirmed.

OTHER

EVENTS

3 December

IRRV – Completion Notices

MANCHESTER

This Professional Meeting is aimed at those working

within both Local Government and the Private Sector. It

will focus on the importance of serving completion notices

for Council Tax and Non-Domestic Rate, when (and when

not) they are served, how they are served and the options

then available to the owner, billing authority and valuation

/ listing officer.

Contact: Enquiries can be made by email to

conference@irrv.org.uk or by telephone 020 7691 8987.

Venue: INFORM Offices, 2nd Floor, 5 New York Street,

Manchester, M1 4JB

8 December

ICTF Webcast: Credit and Collections

in the Far East – China, Japan, South

Korea

WEBCAST

As you may have already experienced, due to the

language and cultural barriers doing business and

understanding the credit and collection environments the

Far East is often very challenging. Though it's complicated,

our presenter will provide you with a framework and

important ideas that will give you confidence to extend

credit to customers in Japan, China, and Korea. This is a

must hear and see webinar!

CICM members can obtain a US$50 discount against

the advertised registration fees by emailing tim.lane@

ictfworld.org

Contact: http://www.ictfworld.org/events/event_details.

asp?id=701912&group=#

10 December

Experian Credit Forum

– Oil and Fuelcard Ireland

DUBLIN

Ireland Oil & Fuel Card Group Credit Forum Established in

2008, meet quarterly in Experian offices, Dublin

Membership includes companies from the Oil and Fuelcard

sector. Agenda includes accounts for discussion, best

practices, topics and guest speakers

Contact: Email: brent.cumming@experian.com

CPD

4

10 December

Experian Credit Forum

– FMCG Ireland

DUBLIN

Ireland FMCG Group Credit Forum (Fast moving

Consumable Goods, Manufacturers) Established in 2008,

meet quarterly in Experian offices, Dublin Companies from

confectionery, drinks, tobacco, frozen, ambient and bakery

sectors attend. Agenda includes accounts for discussion,

best practices, topics and guest speakers.

Contact: Email: brent.cumming@experian.com

15 December

CPD

4

Experian Credit Forum

– On-trade Supplies

NOTTINGHAM

Details to follow

Contact: Email: brent.cumming@experian.com

15 December

IRRV – Completion Notices

HINCKLEY

This Professional Meeting is aimed at those working

within both Local Government and the Private Sector. It

will focus on the importance of serving completion notices

for Council Tax and Non-Domestic Rate, when (and when

not) they are served, how they are served and the options

then available to the owner, billing authority and valuation

/ listing officer.

Contact: E: conference@irrv.org.uk or T: 020 7691

8987.

Venue: The Atkins, Lower Bond Street, Hinckley, LE10

1QU

16 December

Experian Credit Forum

– Recruitment (APSCo)

LONDON

Recruitment Credit Forum (APSCo)

Experian host a Credit Control Forum for Credit Managers

of companies who are members of APSCo (Association of

Professional Staffing Companies), the professional body

that represents the interests of organisations engaged in

the acquisition of business professionals.

APSCO provides a powerful unified voice for the

Professional Staffing Industry. www.apsco.org.

The group meet quarterly at Experian offices in Victoria,

London, and Experian have chaired the forum since 2001.

Best practices, guest speakers, accounts and topics make

up the agenda.

Contact: Email: brent.cumming@experian.com

CPD

4

CPD

4

52 December 2015 www.cicm.com

The recognised standard in credit management
---
CM

Credit Management magazine for consumer

and commercial credit professionals

THE CICM'S HIGHLY ACCLAIMED MAGAZINE

SPECIAL

FEATURES

IN DEPTH

INTERVIEWS

ASK THE

EXPERTS

GLOBAL

NEWS

LEGAL

MATTERS

INTERNATIONAL

TRADE

CURRENCY

EXCHANGE

HR

MATTERS

MOBILE DIGITAL

EDITION

EDUCATIONAL

STUDIES

THE LEADING JOURNAL FOR CONSUMER AND COMMERCIAL CREDIT PROFESSIONALS

TO SUBSCRIBE CONTACT: T: 01780 722903| E: ANGELA.COOPER@CICM.COM

CICM MEMBER

EXCLUSIVE

CHECK YOUR SPAM!

REMEMBER TO

WHITELIST

Your CICM lapel badge demonstrates your

commitment to professionalism and best practice

TAKE PRIDE IN

WEARING YOUR BADGE

If you haven't received your badge

E: cicmmembership@cicm.com

YOU COULD BE MISSING

IMPORTANT EMAIL UPDATES!

WHITELIST KEY CICM EMAIL ADDRESSES:

watermill@cicm.com | info@cicm.com

professionalqualifications@cicm.com

events@cicm.com | consultations@cicm.com

cicmq@cicm.com

The recognised standard in credit management

www.cicm.com December 2015 53
---
CICM BRANCH NEWS

To include your

branch reports in the

December issue of

Credit Managment magazine,

submit your copy by

7 January via email to

branches@cicm.com or

andrew.morris

@cicm.com

TAKE

TO THE

SKIES

ANDE Peachey, Learning Support

Administrator at the Watermill, recently

completed a Glider experience in aid of

the Cottesmore Military Wives Choir, of

which she is the Events Manager.

She completed the 20-minute flight,

even taking the controls for a short while,

raising £300 in the process. The money

will go towards travel expenses and

childcare when the choir is performing

– most recently at De Montford Hall in

CICM HEADQUARTERS

Leicester for the Royal British Legion's

Festival of Remembrance.

"A sincere thank you to everyone that

donated," says Ande. "The Cottesmore

Military Wives have ten events booked for

2016 already and this will help us to keep

to those dates."

To see where the choir are performing,

visit: Cottesmore@militarywiveschoirs.org

or visit our Facebook page: CMWC

Author: Ande Peachey

SOUTH WALES BRANCH

REMEMBER, REMEMBER THE FIFTH OF NOVEMBER!

WELL we certainly will! Thursday 5

November saw Tracy Carter and Philip King

attending at Atradius UK's HQ in Cardiff,

to present to the assembled members and

guests.

After an initial period of networking and

breakfast rolls Tracy gave a fascinating

talk on the power of social media, and as

a twitter user myself (@thornburycs) it was

good to see others in the room tweeting

during the talk. She also covered LinkedIn

and Facebook. On the back of this I have

made contact with some local people in the

credit arena that were unaware of the CICM

and will be visiting soon!

After a lively Q&A session Philip then

spoke about the history of CICM and the

road to gaining the Charter and some very

amusing anecdotes surrounding it.

The time flew by and before you know

it people were drifting away and out into the

bright Cardiff sunshine.

Many of us stayed behind and were milling

around, some to catch up with old colleagues,

or make new acquaintances, but I know it was

because there were some spare bacon rolls!

Our next event is on 9 December, see the

events page or the website for details. Fiftynine

attendees at a CICM event in South Wales,

who'd have thought it! Author: Steve White.

54 December 2015 www.cicm.com

The recognised standard in credit management
---
FULL NAME:

Calum Daniel Baxter

YORKSHIRE RIDINGS BRANCH

A FIVER, FROM A

YORKSHIREMAN?

THE October CICM Yorkshire Ridings

Branch Conference in Leeds has become

a very successful annual event, hosted by

DWF at its splendid Leeds headquarters

at Bridgewater Place. This year was no

exception, with an array of presentations

from best-in-class speakers. Upwards of

40 delegates were welcomed by David

Scottow FCICM of DWF, without whom

the event would not have been possible.

The speakers were introduced by Alan J

Smith MCICM, Chairman of CICM Yorkshire

Ridings Branch.

The first to speak was our very own

Philip King FCICM who not only managed

to persuade a Yorkshireman to lend him

five pounds, but was able to give a real

insight into the long road to the Institute's

chartered status. It was clear that the Chief

Executive and the gallant band at The Water

Mill faced deadlines that many would have

found impossible to meet, but meet them

they did. It is hard to believe that as recently

as 2001, today's CICM charter was little

more than a distant dream – not even that,

in reality it was not considered possible to

achieve in what was then the foreseeable

future. But achieve it, Philip and his team

did, and as for what it means – as Philip so

succinctly put it: "Who'd have thought it?

Nobody, unless we tell 'em'.

Next up, John Curbison, the Official

Receiver in Leeds, who gave a fascinating

insight into The Insolvency Service.

Although 2015 is the 25th anniversary of

The Insolvency Service as an Executive

Agency, the subject of insolvency itself

dates back centuries, with perhaps the first

formally recognisable Bankruptcy Act being

in 1542. It was the Bankruptcy Act of 1883

that in effect created the role of the Official

Receiver. In 2015 there are just 14 Official

Receivers in England and Wales, many OR

offices having been replaced by a network

of Remote Interview Facilities for use when

required by the 14 ORs. John went on to

highlight the current and future roles of the

OR, discussing the introduction and growth

of Debt Relief Orders, the investigative work

involved and the planned move in 2016 of

bankruptcy applications from the courts

to an online portal run by The Insolvency

Service.

After a break the conference was

intrigued to hear from Andrew Gregory on

the hotly debated topic of Pre-Packs and

the Pre-Pack Pool. After a brief history

of the whys and wherefores of pre-packs

themselves, Andrew introduced delegates

to one of the main recommendations

put forward by Teresa Graham in her

report. This was the establishment of a

Steering Committee, with 20 experienced

business men and women who would

be able to pronounce on any particular

pre-pack referred to them. Although the

exact way this will operate is still being

discussed, the objective is to be able to

offer an independent review of the pre-pack

process referred to the Pool. The aim is

not to substitute the role of the insolvency

practitioner in assessing what is considered

to be in the best interests of creditors, but

to try to achieve more public confidence in

the process.

The final speaker was James Perry,

Technical Director at DWF, who alongside

David Scottow is a firm supporter of CICM

branch activities. James aimed to highlight

how to get the best results from Summary

Judgments and Set Aside Applications.

He described these as being a bit like nonidentical

twins in that both share the same

'test' feature – is there a real prospect of

success? Suffice to say, delegates were

entertained by James' ability to describe in

detail a series of scenarios and examples,

which in less capable hands could have

been similar to watching paint dry – James

had us on the edge of our seats, intrigued,

better informed and very much willing to

make sure we get it right next time!

The conference ended with a very lively

Q&A session, dominated as it was by prepacks

– it was clear that credit managers

would take a lot of convincing! Very many

thanks to Davis Scottow and DWF, to all

the speakers and to all who attended. I look

forward already to 2016.

Author: Glen Bullivant FCICM

Philip King FCICM not only managed to

persuade a Yorkshireman to lend him five

pounds, but was able to give a real insight into

the long road to the Institute's chartered status.

CURRENT JOB TITLE:

Credit Manager

CURRENT COMPANY

NAME:

Newbury Investments (UK) Ltd

YEARS IN CREDIT MANAGEMENT: 21

60SECONDS

NUMBER OF YEARS IN CURRENT ROLE: 14

HOW DID YOU GET INTO CREDIT

MANAGEMENT?

Completely by accident; I was working in

administration in the motor trade and just fell

into it. I liked the detail aspect of the work and

the investigations you had to do for some credit

applications.

WHAT IS THE BEST THING ABOUT WHERE

YOU WORK?

The ability to work on your own and make your

own decisions (which of course you have to

be able to justify!). I also have a fantastic team

around me and a great boss.

WHAT MOTIVATES YOU?

At work it is the results, having low bad debts

and tidy aged debts. I have the same philosophy

at home and I have a great attention to detail

when carrying out a task.

WHAT IS YOUR FAVOURITE MEAL?

A smelly Camembert, some crusty French bread

and a bottle of wine, absolute heaven.

WHAT IS YOUR FAVOURITE HOLIDAY

DESTINATION?

Brussels,. I grew up there as a teenager and

find it a home from home. It's such a pleasant

city, not too big, easy to get to and plenty to do

when you get there.

NAME THREE PEOPLE YOU WOULD

INVITE TO A DINNER PARTY AND WHY?

The actress Patricia Routledge, I think she

would be a riot at the dinner table, the politician

Diane Abbott as she is as daft as a brush but

not disconnected from real life unlike most

politicians and Sir Tim Berners-Lee, the inventor

of the internet which has completely changed

our lives and shaped the way we all work.

WHAT IS YOUR FAVOURITE PASTIME/

RELAXATION ACTIVITY?

Eating out, I always seem to be doing that these

days as I'm not keen on cooking. I am also

extremely interested in genealogy, and I have

traced quite a few family trees for friends as I

enjoy the detective work.

WHAT IS THE BEST/WORST QUALITY IN A

LEADER?

Stick to your principles and people will respect

you even though they may not agree with you. I

find it very irritating when people blame others

for their failures or misfortunes; personal

responsibility seems to be dying in this country.

IF YOU WEREN'T WORKING IN CREDIT

MANAGEMENT, WHAT WOULD YOU BE

DOING?

Working for the Police, probably in forensics. I

do wish I had pursued that path, I really would

have enjoyed the detail and I love gathering

facts about people and events.

WITH

The recognised standard in credit management www.cicm.com December October 2015 55
---
DON'T MISS YOUR

NEXT BIG CAREER

MOVE IN CREDIT

At Hays Credit Management, our consultants are all affiliate members of the

CICM and understand both the demands you face and the skills you need to

thrive within your industry. We can therefore offer you personalised careers

advice and the support that you need.

MEDIA ASSISTANT BUSINESS MANAGER

PROGRESS YOUR CAREER

City of London, up to £35,000

A rare opportunity has arisen for a progressive media

biller/revenue controller to join a globally recognised

communications organisation. With strong emphasis

on WIP billing and client contractual agreements, you

will work closely with the credit control department to

resolve queries, assist with annual budgets and produce

regular reports including monthly profit and losses.

Strong Excel skills and previous experience working for

a media/public relations company is required. You will

be a team player with the ability to work autonomously

and thrive in a vibrant workplace where hard work is

recognised. Ref: 2551548

Contact Julia Foster on 020 3465 0020

or email julia.foster2@hays.com

LITIGATIONS TEAM MANAGER

ESTABLISH STRATEGY AND STRUTURE

St Mellons, £27,911 + benefits

A leading utilities company based in South Wales is

seeking an experienced professional in litigation and

team management to join its growing collections team.

The company has received many accolades including a

Responsible Business in the Community award. You will

be required to lead the litigation team in issuing and

enforcing county court claims for the recovery of debt

and reduce the bad debt in line with business targets.

You will have experience managing teams of around

10 in size and be passionate about improving the

performance of others.

Ref: 2551769

Contact Abigail Claydon on 02920 222500

or email abigail.claydon@hays.com

If you are looking to further your career, want to strengthen

your team or would like an overview of the market, it pays to

speak to the market leaders.

Contact us at creditcontrol@hays.com

hays.co.uk/creditcontrol

56 December 2015 www.cicm.com

The recognised standard in credit management
---
ACCOUNTS RECEIVABLE TEAM LEADER

PROVIDE SUPPORT AND GUIDANCE

Manchester, £27,000 + benefits

This expanding company established in the 1970s has

been growing rapidly in recent months. Reporting

directly to the Credit Manager, the role will have a strong

emphasis on people management and the general dayto-day

running of the department. You will also play

a crucial role within the accounts receivable function.

You will have previous management or team leader

experience, with a strong background in credit control/

accounts receivable. Ideally you will also have a good

understanding of SAP software.

Ref: 2523182

Contact Richard Salmon on 0161 236 7272

or email richard.salmon@hays.com

REGIONAL CREDIT

CONTROLLER (EUROPE)

WORK WITH A LEADING GLOBAL BRAND

Sunderland, up to £25,000

An exciting opportunity has arisen with a wellestablished

international engineering consultancy and

inspection services organisation. As a credit controller

you will interact closely with the accounting team

travelling across Europe addressing any overdue

payments, providing regular reports and managing

invoicing and allocating payments. You will have

extensive experience in credit control, as well as

exceptional communication skills and a genuine interest

and passion for credit management. This is an excellent

opportunity to communicate with clients across Europe

in an exciting, fast-paced role. Ref: 2593685

Contact Hasan Hamid on 0191 261 3996

or email hasan.hamid@hays.com

CREDIT CONTROLLER

EFFECTIVE QUERY RESOLUTION

Norwich, up to £22,000

This prestigious, expanding organisation based in

the heart of Norwich is looking for an effective credit

controller to bolster its team. You will be responsible for

chasing debt via telephone, email or letter, attend regular

meetings with client portfolio managers and liaise with

treasury team over allocation of funds. You will also

be required to prepare monthly and quarterly reports,

instructing solicitors and other third parties and dealing

with all internal and external queries. Previous experience

in a credit control position or equivalent type of role

is desirable.

Ref: 2572016

Contact Matthew Jones on 01603 760141

or email matthew.jones2@hays.com

MULTI-LINGUAL CREDIT CONTROLLER

MANAGING INTERNATIONAL RELATIONS

Basildon, up to £26,000

A global leader in technology solutions is looking for

an experienced credit controller to join its' reputable

team. With excellent communication skills you will build

good rapports with in-house teams and customers

and have the opportunity to travel. Previous credit

experience either in credit control or a wider accounts

job is essential. You will be fluent in English and speak in

either Danish, Swedish or Norwegian. This is a fantastic

opportunity where you can influence, achieve results and

be rewarded accordingly.

Ref: 2604015

Contact Claire Grainger on 01702 352452

or email claire.grainger@hays.com

KEY ACCOUNTS CREDIT CONTROLLER

MANAGE AND MAINTAIN

WORKING RELATIONSHIPS

Leeds, £22,000 per annum + competitive bonus

+ CICM Study

An internationally known service provider who has

been a market leader for over 20 years is looking for

a confident credit controller to manage a ledger of its

corporate accounts. This role gives you the opportunity

to develop your career in credit, maintain your own

debtor's ledger, manage the cash allocation for your own

set of accounts and take on a trouble shooting role within

the team to reconcile and resolve issues on delinquent

accounts. In return the role offers plenty of growth and

development opportunities.

Ref: 2582879

Contact Kerry Ferguson on 0113 200 3735

or email kerry.ferguson@hays.com

TRAINEE CREDIT CONTROLLER

DISCOVER A NEW CAREER

Barnsley, £14,500 + full ICM study support

With a great presence in South Yorkshire, this

organisation specialises in manufacturing and fitting

bedroom, kitchen and bathroom furniture to both public

and commercial properties. The company now seeks

a motivated credit controller to join an established

£multimillion turnover PLC. With great emphasis on

training and supporting team members through studies

and on-the-job learning, you will be keen to develop a

career in the credit industry. This opportunity is suited

to any new professionals. In return, the role offers great

potential for further internal promotion.

Ref: 2603235

Contact Anna Smith on 0114 273 8775

or email anna.smith@hays.com

The recognised standard in credit management

www.cicm.com December 2015 57
---
NEW CICM MEMBERS

THE INSTITUTE WELCOMES NEW MEMBERS WHO JOINED DURING OCTOBER

FELLOWS

NAME

Jeffrey Longhurst

Geoffrey Swain

MEMBER BY EXAM

NAME

Gillian Couvreur

Annie Stephenson

COMPANY

Asset Based Finance Association

Midland Food Group Ltd

COMPANY

Yorkshire Building Society

Cartus Ltd

MEMBER

NAME

Abdorahman Ahmed

Andrew Brown

Peter Gordon

Gary Grant

Chrisoula Heffernan

Angela Miller

Neil Miller

Joanne Morley

COMPANY

Gates Engineering & Services

Sola Technology Ltd

Baker Hughes

Citygate COC

Excel Group Services Ltd

Total Financial Solutions Ltd

The Depository Trust & Clearing Corp

Les Mills Fitness UK Ltd

ASSOCIATE

NAME

Albert Boateng

Sharon Gordon

Maria Murray

Ashley Norton

Stephen Shone

Beverley Yates

COMPANY

The Bridge Centre Ltd

Workstylz

Live Nation Merchandise Ltd

DLA Piper UK LLP

Atlantic Container Line UK Ltd

AFFILIATE

NAME COMPANY NAME COMPANY

David Acton

Bristow & Sutor

Davinia Alexander

Southwark Council

Mark Armstrong

Bristow & Sutor

Jeremy Ball

Ageas Insurance Ltd

Jacqueline Barbar

Towergate Insurance

Raymond Barrow

Bristow & Sutor

Stephanie Bean

Hays Credit Management

Sarah Beck

StepChange Debt Charity

Erika Bone

Credit Reporting Agency Ltd

Mark Boucher

Cardiff County Council

Jacob Box

Kennet Equipment Leasing Limited

Holly Bray

Norse Commercial Services

Katie Brown

South Cambridgeshire Distict Council

Shaun Brown

Precise Media

Paul Bugeja

ARP Enforcement Agency

Neeta Bulsara

Local World

Pavel Burda

Edwards Services s.r.o.

Alan Burrows

Bristow & Sutor

John Burton

Yell Ltd

Granville Campbell Arcadis LLP

Riikka Carr

StepChange Debt Charity

Tanvi Chatralia

NSL LTD

Rachel Davies

Matthew Clark Wholesale Ltd

Sadia Deen

Southwark Council

Barbara Desax

Patsy Dorset

Canal & River Trust

Joy El Bamby

Thomas Farmer

Bristow & Sutor

Stuart Fawcett

StepChange Debt Charity

Neale Finney

Bristow & Sutor

Mark Foster

Cofely

Sharmarke Gabayre

Tradex

Rebecca Gale

Belvoir

Carlos Garrido

JDA Software UK Ltd

Rafal Gibas

Electronic Arts Ltd

Simon Gibbons

Styliani Gketsiou

Lisa Gunning-Price

Shaw Healthcare Ltd

Claire Hathway

Cardiff County Council

Kevin Healey

Finlays Bureau of Investigation Ltd

Joris Henry

WSP Group Ltd

Laura Heritage

NHBC National House Building Council

Ian Higley

Bristow & Sutor

Jennifer Hopgood

Zurich Financial Services

Allison Horrell

Claudia Howden

David Hoyal

Jamie Hughes

Clare Hunt

Gemma Jacklin

Riley Jay-Crage

Angela Jennings

Sanaa Karrar

Shazad Khan

Sulliman Khan

Mansell Lawrence

Chantelle Lowe

Shona McLennan

Dene Mercer

Barrie Minney

Ali Mohammed

Julija Morozova

Holly Naughton

Katherine Ochoa-Cardenas

Thomas O'Connell

Carlos Pannell

Elaine Pickering

Sean Prescott

David Rees

Sarah Reis

Mahjouba Rguiti

Marcia Robinson

David Rose-Wardle

Fabiano Saraceno

Carl Shaw

Rebecca Shirley

Katharine Smith

Katrina Thomas

Emma Thomas

Julia Tyzack

Marie Vachkova

Simon Waller

Dean Watkins

Mark Watt

James Wiafe

Deborah Wingate

Matthew Wynn

Shahid Younis

Six Consulting Ltd

Oxford University Press

Bristow & Sutor

Danone- Nutricia Medical

Good Energy Limited

ARP Enforcement Agency

Total Gas and Power Ltd

Canal & River Trust

Oxford University Press

WSP Group Ltd

Bristow & Sutor

Bristow & Sutor

Co-Op Energy

Organised Computer Systems Ltd

Ryder ltd

Brighton & Hove City Council

Sues - Environnement

The Informa Group

StepChange Debt Charity

Carlsberg UK

Looprevil Limited

StepChange Debt Charity

Local World

George and Dragon

Cardiff Council

Wolverine Europe Limited

Cabinet Gide

Direct Collection Bailliffs Ltd

Southwark Council

StepChange Debt Charity

Southwark Council

South Holland District Council

Capita Plc

South Holland District Council

GBP Loans Limited

Edwards Services s.r.o.

County Legal Services

Cardiff Council

Direct Collection Bailliffs Ltd

ACCO UK Ltd

Jet2.com

South Cambridgeshire Distict Council

Hepworth PME LLC

58 December 2015 www.cicm.com

The recognised standard in credit management
---
Cr£ditWho?

CICM Directory of Services

FOR INFORMATION,

OPTIONS AND PRICING

PLEASE EMAIL:

anthony.cave@cabbell.co.uk

COLLECTIONS

COURT ENFORCEMENT SERVICES

Premium Collections Limited

Office 3, Caidan House Business Centre, Canal Road,

Timperley, Altrincham, Cheshire, WA14 1TD

T: 0161 962 4695.

F: 0333 121 3843

E: enquiries@premiumcollections.co.uk

W: www.premiumcollections.co.uk

Premium Collections Limited has the credit management solution

to suit you. Operating on a national and international basis we

can tailor a package of products and services to meet your

requirements. Staffed by dedicated professionals with over 60

years combined experience of handling virtually every type of

debt issue, the company was formed in December 2002 and

is owned by our Managing Director, Paul Daine FCICM. Paul's

particular areas of expertise are the motor finance, insurance

and international debt collection sectors. Services include B2B

collections, B2C collections, international collections, absconder

tracing, asset repossessions, status reporting and litigation

support.

INTERNATIONAL COLLECTIONS

Lovetts Solicitors

Lovetts, Bramley House, The Guildway,

Old Portsmouth Road, Guildford, Surrey GU3 1LR

T: +44(0)1483 457500

E: info@lovetts.co.uk

W: www.lovetts.co.uk

Lovetts has been recovering debts for 30 years! When you

want the right expertise to recover overdue debts why not use a

specialist? Lovetts' only line of business is the recovery of

business debts and any resulting commercial litigation.

We provide:

• Letters Before Action, prompting positive outcomes in more

than 80% of cases • Overseas Pre-litigation collections with

multi-lingual capabilities • 24/7 access to our online debt

management system 'CaseManager'

Don't just take our word for it, here's recent customer feedback:

"...All our service expectations have been exceeded..."

"...The online system is particularly useful and is extremely easy

to use... "...Lovetts has a recognisable brand that generates

successful results..."

Court Enforcement Services

Wayne Whitford Director – Business Development

M: 07834 748 183

T: 01992 663 399

E: info@courtenforcementservices.co.uk

W: www.courtenforcementservices.co.uk

We are a new Court Enforcement company that has over 100 years'

experience, of helping credit professionals to enhance both data and

collection performance.

Court Enforcement Services provides faster resolution of unpaid

County Court Judgments (CCJs) over £600 with our free transfer

up service to High Court Enforcement. We offer tailored solutions for

Businesses, DCA's, Debt Purchasers, Solicitors and Utilities.

As owners of the company we lead and manage all aspects of

the services that are provided on your behalf. Court Enforcement

Services brings a fresh, modern and above all personal customerfocussed

approach to High Court and Civil Court Enforcement.

CREDIT INFORMATION

M.A.H. INTERNATIONAL CORPORATION

Breitenweg 6, 6370 Stans, Switzerland

Ms. Melina Schuler – Business Development Manager

T: ++41 41 618 30 54

F: ++41 41 620 90 26

E: m.schuler@mah-international.com

W: www.mah-international.com

M.A.H. is a global leader in Export Debt Collection & Trade

Dispute Resolution Services. Our head office is located

in Stans, our group law office in Zurich. We specialise in

resolving cross-border cases swiftly and amicably (99

percent of our cases are settled out of court).

We have recovered payments from 112 countries on all five

continents for exporters and other B2B customers of all sizes

in all industries. We rank as first choice among international

export companies, export credit insurers, and governmental

organisations.

Our mission is to ensure that all creditors receive full payment

for products or services sold out of the UK without expensive,

stressful, and lengthy litigation.

Contact us to benefit from our personalised, full-package,

No Collection – No Fee services, provided by our qualified

multilingual global negotiators, collection attorneys, and

affiliate local partner law firms in 65 countries.

COLLECTIONS (LEGAL)

Blaser Mills LLP

Head Office: Park House, 31 London Road,

High Wycombe, Buckinghamshire, HP11 1BZ

T: 01494 478660/478661

E: Jackie Ray jar@blasermills.co.uk or Gary Braathen

gpb@blasermills.co.uk

W: www.blasermills.co.uk

Established in 1888, leading multi-disciplinary law firm Blaser

Mills specialises in services for businesses and individuals.

The Firm has particular expertise in Dispute Resolution and

Debt Recovery working with experienced credit managers and

finance directors providing solutions to both contested and

uncontested claims.

Blaser Mills provides an experienced team including CICM

qualified legal representatives and the Firm is cited in the

Legal 500 law directory based on quality of work and strong

client feedback.

Offices in Aylesbury, London (Central), London (Harrow), Old

Amersham, Rickmansworth, Staines-on-Thames

CONSULTANCY

Company Watch

Centurion House, 37 Jewry Street, LONDON. EC3N 2ER

T: +44 (0)20 7043 3300

E: info@companywatch.net

W: www.companywatch.net

What would happen if one of your key customers failed? Do

you rely on company information that is up to 18 months' old?

Company Watch provides a credit management system that's

predicted around 90 percent of company failures. Not only

that, our interactive system allows you to input more up-to-date

accounts, and to stress-test company financials to generate an

instantly updated analysis of a company's financial health. With

a portfolio and email alert system, and a user interface showing

5-year trends along with everything you need to know at a

glance, Company Watch is an invaluable resource in the credit

management process.

Freeths Solicitors

Third Floor St James' Building,

61-95 Oxford Street, M1 6FQ

T: +44(0)845 634 2540

F: +44(0)845 634 2541

E: emma.emery@freeths.co.uk

W: www.freeths.co.uk

Freeths is one of the UK's leading regional law firms with

10 offices across the UK. We have a specialist team that

advises on book debt collection and asset recovery in

insolvency situations and everything in between. We believe our

role is not just to collect your debts but also to increase your

recoveries by working smarter. We have a range of flexible

funding options to suit businesses of any size and advise on

all matters from debt recovery and retention of title to disputes

about the quality of goods and services. For undisputed claims

we can offer low fixed rates or 'no win no fee' and we work fast

taking the first steps in recovering your debt the same day. We

are very proud to be the CICM's Corporate Legal Partner and

to be hosting the CICM Helpline providing free and quick initial

legal advice to CICM members.

The recognised standard in credit management

Sanders Consulting Associates Ltd

T: +44(0)1525 720226

E: enquiries@chrissandersconsulting.com

W: www.chrissandersconsulting.com

Sanders Consulting is an independent niche consulting firm

specialising in leadership and performance improvement in all

aspects of the order to cash process. Chris Sanders FCICM, the

principal, is well known in the industry with a wealth of experience

in operational credit management, billing, change and business

process improvement. A sought after speaker with cross industry

international experience in the business-to-business and businessto-consumer

markets, his innovative and enthusiastic approach

delivers pragmatic people and process lead solutions and significant

working capital improvements to clients. Sanders Consulting are

proud to manage CICMQ on behalf of and under the supervision

of the CICM.

CoCredo Limited

Missenden Abbey, Great Missenden, Bucks, HP16 0BD

T: 01494 790 600

E: helpdesk@cocredo.com

W: www.cocredo.co.uk

CoCredo were proud winners at the CICM British Credit Awards

for 'Credit Information Provider of the Year 2014.' We provide

live online company credit reports and related business

information within the UK and overseas. We have direct

feeds from Dun & Bradstreet, Companies House and other

premium providers. We provide business information on over

228 million companies across 240 countries. Our information

is updated over 500,000 times per day and we have some

excellent tracking mechanisms which provide proactive

daily monitoring of changes in the global information

on record. We can offer a wealth of additional services

including D.N.A portfolio management, CoData marketing

information, Consumer and Director Searches. We pride

ourselves in delivering outstanding customer service

offering you unrivalled support and analysis to protect your

business.

www.cicm.com December 2015 59
---
Cr£ditWho?

CICM Directory of Services

FOR INFORMATION,

OPTIONS AND PRICING

PLEASE EMAIL:

anthony.cave@cabbell.co.uk

CREDIT INFORMATION

CREDIT INSURANCE

Experian

The Sir John Peace Building,

Experian Way,

NG2 Business Park,

Nottingham

NG80 1ZZ

T: 0844 481 9920

E: Business.Information@uk.experian.com

W: experian.co.uk/businessiq

Managing commercial credit can be a real challenge. That's

why we've created a business management system called

BusinessIQ – an advanced web portal that meets all your

credit risk assessment, customer management and collection

needs in one easy-to-use integrated platform.

Powered by our intuitive business information – blending

business, director, consumer and payment performance data,

BusinessIQ offers a more informed solution for today's credit

risk challenges. It makes credit management operations far

more sophisticated without adding complexity.

EFCIS Limited t/as ICBA UK

Specialist Trade Credit Insurance Broker

The Office, Mill House Farm,

Mill Street, Hastingwood,

Essex, CM17 9JF

T: 01279 437662

E: amoylan@efcis.com

W: www.efcis.com

EFCIS Limited - Trade Credit Insurance, Debt Collection,

Dispute Resolution and Legal action for small/medium &

multinational businesses. EFCIS secures limits for clients

where the financials alone do not support the full limit. We are

tenacious when negotiating settlement of claims, securing full

payment for claims and proactively working with our clients in

claims avoidance. We are the industry's only Broker to develop

policy compliance software to ensure client's maximum benefit

and protection from the policy. We believe that a well-managed

ledger supports business growth within increased profit and an

improved return on investment.

Credica Ltd

Building 168, Maxell Avenue, Harwell Oxford, Oxon. OX11 0QT

T: 01235 856400

E: info@credica.co.uk

W: www.credica.co.uk

Our highly configurable and extremely cost effective Collections

and Query Management System has been designed with 3 goals

in mind:

• To improve your cashflow

• To reduce your cost to collect

• To provide meaningful analysis of your business

Evolving over 15 years and driven by the input of 1000s of

Credit Professionals across the UK and Europe, our system is

successfully providing significant and measurable benefits for our

diverse portfolio of clients.

We would love to hear from you if you feel you would benefit from

our 'no nonsense' and human approach to computer software.

Creditsafe Business Solutions

Bryn House, Caerphilly Business Park, Van Rd,

Caerphilly, CF83 3GG

T: 0292 088 6500.

E: ukinfo@creditsafeuk.com

W: www.creditsafeuk.com

Creditsafe is Europe's most used supplier of credit &

business intelligence. Creditsafe have helped over 60,000

customers across Europe and the USA with a range of

products which includes our UK, European and International

Company Credit Reports, which reach over 129 countries

and 90m companies; customer and supplier Risk Tracker and

our 3D Ledger product which has captured over 35 million

Trade Payment Data Experiences since its launch in 2012.

All of which will help companies manage their exposure to

risk, make informed decisions in relation to credit limits whilst

looking at how you can identify gaps within your sales ledger

to prioritise collections and leverage sales.

Arthur J. Gallagher

Insurance Brokers Limited

7 Floor, Temple Point, 1 Temple Row

Birmingham B2 5LG

T: 0121 203 3127

W: www.ajginternational.com

With the risk of default by customers still a major threat to UK

and Global companies there has never been a better time to

consider trade credit insurance. Arthur J. Gallagher's Credit

and Surety team, which now includes the 2014 – CICM award

winning 'broker of the year' team, has considerable experience

and market influence and recognises the unique nature of the

credit insurance market. Our team of experienced professionals

deal with a wide range of businesses, from SME to large

corporate and global risks. Please contact us to discuss how

a specifically tailored trade credit solution can benefit your

business

CREDIT MANAGEMENT SOFTWARE

Prof. Schumann GmbH

innovative information systems

Weender Landstr. 23, 37130 Göttingen, Germany

T: +49 551 38315 0 F: +49 551 38315 20

E: info@prof-schumann.de W: www.prof-schumann.de

Our Credit Application Manager (CAM) is a leading credit

risk management solution for major corporations, as well as

insurance, factoring and leasing companies. In their daily work,

CAM allows credit and sales managers to call up all the available

information about a customer or risk in a few seconds for decision

support: real-time data from wherever they are. CAM keeps an

eye on customers whose payment behaviour stands out or who

have overdue invoices! CAM provides an up-to-date forecast

of customers' payments. Additionally, CAM has automated

interfaces for connecting to leading suppliers of company credit

data, payment record pools and commercial credit insurers. The

system is characterised by its great flexibility. We have years

of experience in consulting and software support for accounts

receivable management.

Top Service Ltd

2&3 Regents Court, Farmoor Lane, Redditch,

Worcestershire, B98 0SD

T: 0152 750 3990.

E: enquiries@top-service.co.uk

W: www.top-service.co.uk

Top Service is the only credit reference and debt recovery

agency to specialise in the UK construction sector. Top

Service customers benefit from sector specific information,

detailed payment history intelligence and realtime trade

references in addition to standard credit information.

There are currently 3,000 construction sector companies

subscribing to the service, ranging from multi-national

organisations to small family firms. The company prides

itself on high levels of customer service and does not tie

its customers into restrictive contracts. Top Service offers

a 25% discount to all CICM Members as well as four free

credit checks of your choice.

Co-pilot Limited

73 Flask Walk, London, NW3 1ET

T: +44(0) 20 7813 2182

E: info@co-pilot.co.uk

W: www.co-pilot.co.uk

Credit Managers who manage large or multiple ledgers have

come to realise that they need to use specialist software to

achieve or maintain performance improvement – be that risk,

collections or both.

For many Credit Managers a key question is where to start.

How do you examine and evaluate the options? How and

when do you start the budgeting process? What are the

steps?

Co-pilot has advised on credit management software for a

number of years. We have good knowledge of the available

solutions, what's good, how they work and what type of

solution best fits given situations. We combine this with

considerable experience of credit management Best Practice

so that you can pull everything together into one place and

achieve a flexible and sustainable position going forward.

We work with you through a structured evaluation process

which is designed to enable you to have a clear view of

what you can achieve going forward, what is practicable,

the business case implications, the preferred supplier(s) and

what the implementation process would sensibly look like (in

our opinion, there is no such thing as "Plug and play").

STA International

3rd Floor, Colman House, King Street, Maidstone, ME14 1DN

T: +44(0)844 324 0660.

E: enquiries@staonline.com

W: http://www.stainternational.com

Getting Business Paid

STA is an award winning B2B and B2C debt collection, receivables

management and tracing supplier. ISO9001 quality accredited,

and with the CSAs Collector Accreditation Initiative, duty-of-care

is as important to us as it is to you. In the past 12 months we've

collected from 138 countries worldwide; with Your Debts Online

giving you transparent access to our collection success and the

cost of each and account placed with us for collection. Collected

funds are remitted via BACS. We look forward to getting your

business paid.

60 December 2015 www.cicm.com

The recognised standard in credit management
---
Cr£ditWho?

CICM Directory of Services

FOR INFORMATION,

OPTIONS AND PRICING

PLEASE EMAIL:

anthony.cave@cabbell.co.uk

PROFESSIONAL BODIES

Tinubu Square UK

Holland House, 4 Bury Street, London EC3A 5AW

T: +44 (0)207 469 2577

E: uksales@tinubu.com

W: www.tinubu.com

Tinubu Square's mission is to control and minimise trade credit

risk. Founded in 2001, Tinubu Square has become a trusted

source of trade credit intelligence for credit insurance leaders

and now offers the service to corporate customers enabling

them to assess their credit risk. Tinubu Square's B2B Credit

Risk Intelligence solutions – including Tinubu Risk Management

Center (RMC) cloud-based SaaS platform, Tinubu Credit Intelligence

service with real-time credit risk intelligence reporting

and Tinubu Risk Analyst advisory service provide companies

with an accurate picture of their customers' financial health from

sales and marketing through the entire order-to-cash cycle.

Based in Paris, Tinubu Square has offices in London, Brussels,

Singapore and Mumbai.

CICMos (CICM Online Services)

www.CICM.com

T: 01780 722 907.

E: training@cicm.com

W: www.cicmos.com

CICMOS has been designed to help busy credit managers by

providing them with a suite of online tools to support and

quickly develop their teams. The virtual learning centre is an

open platform system, accessed via the website, which is

easy to use, modular and each module is completely optional,

which means the system can be tailored to suit specific

requirements and time constraints. This wide ranging system

is more than just a training tool it is easy to set up and use

and can be accessed securely via the CICMOS website for a

low annual subscription.

CREDIT MANAGEMENT SOFTWARE

OnGuard

40 Gracechurch Street, London, EC3V 0BT

T: 0203 4403 825

E: info@onguard.com

W: www.onguard.co.uk

OnGuard is a leading supplier of sophisticated software in which

Credit, Collections, Complaints and Cash Allocation can be

integrated in a single solution. With customers around the world

we offer a truly global, proven, low-risk high-value proposition

which focusses on maintaining positive customer relationships

helping to contribute to improving your competitive edge. Our

integrated accounts receivables solution enables you to achieve

faster payment of your invoices plus the benefits of improved

insights into customer behaviour and valuable time savings. This

not only results in process optimisation, cost savings, a lower

DSO and reduced write-offs but contributes to a stronger,

positive relationship with your valued customers. See more at

www.onguard.co.uk.

Safe Computing Limited

20, Freeschool Lane, Leicester, LE1 4FY

T: 0844 583 2134

E: info@safecomputing.co.uk

W: www.safe-creditcontrol.co.uk

Designed to manage your customer credit accounts effectively,

Safe credit control enables your credit management team to:

• improve cash flow

• reduce debtor days

• increase customer service

• cut the cost of cash collection

• eliminate manual processes

• speed up the query resolution process

Our unique approach is centred on changing the perception of

the credit control function, from a series of reactive processes

to proactive ones. Credit controllers are traditionally regarded

as an essential element in business, to chase late payments

and respond to customer queries. Safe credit control has

taken the concepts of customer relationship management

(CRM) and applied it to the credit control function, enabling

a softer, service orientated team of customer service

representatives.

Data Interconnect Ltd

Unit 7, Radcot Estate, 7 Park Rd, Faringdon,

Oxfordshire. SN7 7BP

T: +44 (0) 1367 245777

F: +44 (0) 1367 240011

E: sales@datainterconnect.co.uk

W: www.datainterconnect.com

Data Interconnect provides integrated e-billing and collection

solutions via its document delivery web portal, WebSend.

By providing improved Customer Experience and Customer

Satisfaction, with enhanced levels of communication between

both parties, we can substantially speed up your collection

processes.

SIDETRADE

Sidetrade UK: Amadeus House, Floral Street, Covent

Garden, London WC2E 9DP

T: +44 203 608 9850

E: Samantha@sidetrade.com

W: wwwsidetrade.co.uk

Sidetrade offers companies the opportunity to digitise the

management of their financial relationships with customers.

Sidetrade's market-leading solutions, complementary to ERPs,

meet the challenges of securing what is often a company's

largest asset, its accounts receivable, by reducing late payments

and controlling customer risk. With sales in 65 countries and 34

million invoices managed annually, the Group enables 69,000

users from companies of all sizes and all sectors to collaborate

via its cloud solution and accelerate cash-flow generation.

FINANCIAL PR

Gravity London

Floor 6/7, Gravity London, 69 Wilson St, London, EC21 2BB

T: +44(0)207 330 8888.

E: sfeast@gravitylondon.com

W: www.gravitylondon.com

Gravity is an award winning full service PR and advertising

business that is regularly benchmarked as being one of the best

in its field. It has a particular expertise in the credit sector, building

long-term relationships with some of the industry's best-known

brands working on often challenging briefs. As the partner

agency for the Credit Services Association (CSA) for the past 13

years, and the Chartered Institute of Credit Management since

2006, it understands the key issues affecting the credit industry

and what works and what doesn't in supporting its clients in the

media and beyond.

Chartered Institute of

Credit Management (CICM)

The Water Mill, Station Road, South Luffenham,

OAKHAM, LE15 8NB

T: 01780 722910 E: info@cicm.com

W: wwwcicm.com

The Chartered Institute of Credit Management (CICM) is Europe's

largest credit management organisation. The trusted leader

in expertise for all credit matters, it represents the profession

across trade, consumer, and export credit, and all credit-related

services. Formed over 70 years ago, it is the only such organisation

accredited by Ofqual and it offers a comprehensive

range of services and bespoke solutions for the credit professional

(www.cicm.com) as well as services and advice for the

wider business community (www.creditmanagement.org.uk).

RECRUITMENT

Hays Credit Management

107 Cheapside, London, EC2V 6DN

T: 07834 260029

E: karen.young@hays.com

W: www.hays.co.uk/creditcontrol

Hays Credit Management is working in partnership with the CICM

and specialise in placing experts into credit control jobs and

credit management jobs. Hays understands the demands of this

challenging environment and the skills required to thrive within

it. Whatever your needs, we have temporary, permanent and

contract based opportunities to find your ideal role. Our candidate

registration process is unrivalled, including face-to-face screening

interviews and a credit control skills test developed exclusively

for Hays by the CICM. We offer CICM members a priority service

and can provide advice across a wide spectrum of job search and

recruitment issues.

PORTFOLIO

CREDIT CONTROL

Portfolio Credit Control

Portfolio Credit Control, New Liverpool House,

15 Eldon Street, London, EC2M 7LD

T: 0207 650 3199

E: recruitment@portfoliocreditcontrol.com

W: www.portfoliocreditcontrol.com

Portfolio Credit Control, solely specialises in the recruitment of

permanent, temporary and contract Credit Control, Accounts

Receivable and Collections staff. Part of an award winning

recruiter we speak to and meet credit controllers all day everyday

understanding their skills and backgrounds to provide you with tried

and tested credit control professionals. We have achieved enormous

growth because we offer a uniquely specialist approach to our

clients, with a commitment to service delivery that exceeds your

expectations every single time.

The recognised standard in credit management

www.cicm.com December 2015 61
---
Cr£ditWho?

CICM Directory of Services

FOR INFORMATION,

OPTIONS AND PRICING

PLEASE EMAIL:

anthony.cave@cabbell.co.uk

RECRUITMENT

Jobs in Credit

Foxhall Business Centre, Foxhall Road,

Nottingham, NG7 6LH

T: 0207 316 9533

E: info@jobsincredit.com

Established in 2004, jobsincredit.com is the only UK job board

dedicated to the credit and collections industry. The site attracts

over 30,000 monthly visits, and advertises over 1,000 roles from

a broad mix of employers and recruiters. For candidates our

service is free of charge, and offers an easy way of searching

for and securing your next role. For employers jobsincredit.com

offers the most cost effective recruitment method, no matter the

seniority. Many leading employers are clients, including Barclays,

RBS, Deloitte, Centrica Barclaycard. For more information about

advertising your vacancy, please visit www.jobsincredit.com

ANTI MONEY LAUNDERING

SmartSearch

Station Court, Station Road, Guiseley, Leeds, LS20 8EY

T: 0113 238 7660

F: 0113 238 7669

E: info@smartsearchuk.com

W: www.smartsearchuk.com

SmartSearch is the first system to bring together Business

and Individual AML Verification on a single platform. Our data

providers Experian and Dow Jones provide SmartSearch

access to over one billion data items enabling AML

verification in all Markets. AML verification data subjects are

automatically screened against the latest Sanction, PEP and

SIP Lists. Ongoing monitoring for the duration of your contract

is provided at no extra cost. Efficient processes; less than 3

minutes to execute a business AML check and a sub 60 second

individual check. Why not let your Compliance Team test drive

SmartSearch for 14 days free of charge? (Ref:CM101)

ATTENTION PRODUCT

AND SERVICE PROVIDERS

You can connect with them all now by

having a listing in CreditWho.

For just £1,247 + VAT per annum:

- your business will be listed in Credit

Management magazine, which goes out to

all our members and subscribers and has an

estimated readership of over 25,000

To book your listing in CreditWho contact

Anthony Cave on 020 3603 7934

For even greater exposure to

our membership and a closer

association with CICM, why not

enquire about becoming a Corporate

Partner. To find out more contact

Peter Collinson (07584 993548).

CICM Corporate Partners now get

CreditWho included.

10%

DISCOUNT

On

CICM IN-COMPANY

TRAINING

WE CAN HELP YOUR TEAM

SMASH THEIR TARGETS

Smash your targets Improve your DSO

Build lasting customer relationships Reduce legal costs

Advanced Telephone Collections Negotiating and Influencing

Psychology of Collections Credit Risk Analysis/Assessment

CICM qualifications, training and webinars are the recognised standard in the credit industry.

They can be delivered at your premises and tailored to meet specific organisation or industry-sector

requirements. Visit our website to see our full Training Directory

For an informal chat about your specific requirements, contact Julie

t: 01780 722907 e: julie.dalton@cicm.com

62 December 2015 www.cicm.com

The recognised standard in credit management
---
Puzzle by © 2012 Mirroreyes Internet Services Corporation. All Rights Reserved - CROSSWORD NBR 35

CREDIT MANAGEMENT

CM

in association with

CREDIT CONUNDRUM

FOR ALL EMAIL ENTRIES FOR THE CROSSWORD PLEASE EMAIL:

ANDREW.MORRIS@CICM.COM

NAME ....................................................................................................................................

ADDRESS ..............................................................................................................................

...............................................................................................................................................

POST CODE .................................. TELEPHONE NUMBER .....................................................

The CICM is registered with the UK's Information

Commissioner under the Data Protection Act 1998 (the

"Act"). All the data contained on this form, is held and

processed electronically in accordance with the Act.

The Institute holds and processes your personal data in

order to give you the full benefits of being a member and

for administrative purposes.

We might from time to time notify you by post or email of

details of CICM events or other similar CICM services or

products which we think July / August be of interest to

you. If you do not wish to receive such notification please

tick here q

If you subsequently decide that you do not wish to

receive such notifications please email the Institute at

unsubscribe@cicm.com or write to the Data Controller at

the address given below.

The Data Protection Act gives you the right at any time to

see a copy of all the data that we hold about you. If you

would like a copy, please send a letter requesting this

information together with a cheque for £10 payable to :

The Chartered Institute of Credit Management to:

Data Controller, CICM, The Water Mill, Station Road,

South Luffenham, OAKHAM, LE15 8NB.

CREDITMAN by MIKE FLANNAGAN

MONTHLY PRIZE CROSSWORD

ACROSS :

1. Trades

6. Puts down

10. Hairdo

14. Lengthways

15. Baking appliance

16. Component of urine

17. Bog hemp

18. Quash

19. Fit snugly into

20. Showman

22. Strikes

23. A sizeable hole

24. Picture

26. Orchards

30. Transparent

32. Work hard

33. Scaremongers

37. Sweeping story

38. Skedaddles

DOWN :

1. Indian dress

2. Test

3. Not stiff

4. Den

5. Roomette

6. A green fabric mixture

7. Affirm

8. Abominable Snowman

9. Spies

10. Sanctioned

11. Apple or orange

12. Odd-numbered page

13. Trees of the genus Quercus

21. Female sib

25. An unskilled actor

26. Delight

27. Whacks

28. Death notice

29. Lexicon

39. Ardor

40. Set up

42. Latin name for our planet

43. Tiny balls strung together

44. Fervent

45. A thin porridge

47. Actress Lupino

48. Sense

49. Overplaying

56. Ancient Peruvian

57. It comes from cows

58. Forbidden

59. Terror

60. Being

61. Any compound of oxygen

62. Catch a glimpse of

63. Accomplishment

64. Ascends

30. Elegance

31. Strip of wood

33. Corrosive

34. Arid

35. Mountain pool

36. Thin strip

38. Raced on skis

41. Spelling contest

42. Farm vehicle

44. American Dental Association

45. Segments of DNA

46. Summary

47. Annoyed

48. A small high-pitched flute

50. Workbench attachment

51. If not

52. Cab

53. Nile bird

54. Connecting point

55. "Comes and ____"

THERE WILL BE THREE PRIZES

OF £20 EACH FOR THE FIRST THREE

NAMES DRAWN

CROSSWORD SOLUTION 34

NOVEMBER CROSSWORD

WINNERS ARE :

Frances Langley CICM(Grad)

Christine Barradell MCICM(Grad)

DH Feder FCICM

For the chance of winning £20,

forward your completed solution to:

Art Editor, Andrew Morris,

Chartered Institute of Credit Management,

The Water Mill, Station Road, South

Luffenham, OAKHAM, LE15 8NB

or email: andrew.morris@cicm.com

DON'T ALLOW LONG-STANDING

DEBTS AFFECT YOUR BUSINESS

For a detailed discussion on how we can help your business or for a quotation for any of our services

please do not hesitate to contact: Paul Daine FCICM, MIoD, Managing Director

Office 3, Caidan House Business Centre, Canal Road, Timperley, Altrincham, Cheshire, WA14 1TD

F: 0333 121 3843 E: enquries@premiumcollections.co.uk W: www.premiumcollections.co.uk

For all your credit management requirements Premium

Collections Limited have the solution. Staffed by

professionals with over 50 years combined experience.

Call: 0161 962 4695

The recognised standard in credit management

www.cicm.com December 2015 63
---
CreditForce

Richly featured end-to-end

revenue, collections, customer

service and query management

software for the world's

leading businesses.

Our state-of-the-art software systems

are proven to improve Cash Flow

whatever your business. With clients

in 26 countries, and integration with over

40 of the world's leading ERP systems,

you can have confidence in making

CreditForce the centre of your revenue

and collections management processes.

Visit www.innovationsoftware.uk.com

or call +44 (0)1 634 812300 for more

information.

Innovation Software